Tear staining:
On many persians, we may see a brown stain on the skin and hair below the inside corner of the eye. This is a common cosmetic problem caused by an overflow of tears onto the cheeks. The color change of the hair and skin occurs when the normal bacteria on the hair and skin react with the clear tears.
In normal animals, tears are constantly produced and drain out through small ducts in the eyelids.
There are several causes of the overflow of tears. Persians often have more prominent eyes. This stretches the eyelid and may cut off the drainage system. This is the most common cause and there is little we can do to correct it.
Hair can act like a wick, drawing the tears out of the eye. This can be corrected by removing the offending hair. In some cases, tear overflow may be due to excessive tear formation caused by irritation of the eye by a particle of something in the eye, an allergy, or an abnormal eyelid or eyelash which turns inward and rubs against the surface of the eye. Inflammation or ulcers of the surface of the eye (cornea), or inflammation of the duct system is also a cause. These conditions, which are often painful, need to be seen immediately by your veterinarian.
Since the tear accumulation on the facial hair can also lead to matting of the hair, skin irritation and possible infection, you must keep this area clean. Trimming the hair below the eye will help. Clean the area and remove any accumulated material or crusts.
There are products available which are used to remove the brown stain from the hair. These products can be irritating to the eye. They should NOT be used directly in the eye. If necessary, to protect the eye, apply an ophthalmic ointment to the eye prior to using these products.
There are pleanty of products for sale...Eye Envy comes to mind, as well as Eye & Wound Powder. You CAN make up your OWN cleansers however.
CAUTION!! You are cleaning the FUR - do NOT get in the eyes!!!
Here are a few:
Measure equal parts Boric Powder, Baby Powder, mix together with Milk of Magnesia to smooth paste. You can make up a jar full. Apply to affected area with a soft toothbrush, allow to dry then brush off. If badly stained use a few drops of 10% peroxide in paste.


Make a paste with corn starch and peroxide, apply with a small toothbrush, leave overnight and remove it with warm water or peroxide in the morning.


Optrex Eye Wash - Clean around the eye area with cotton pads moistened with Optrex (contains Boric Acid and Witch Hazel).


Mix equal amounts of Cornstarch and Boracic Acid Powder and pat gently onto the hair being extremely careful not to get any into the eyes or the mouth. The powder mixture will bleach the white whilst absorbing the stains.


Add one tablespoon Boracic Acid to a cup of boiling water, mix well. Add a tablespoon of Witch Hazel. Place several cotton swabs into a plastic container. Pour the cooled solution over the swabs and seal the container. Use one swab daily to clean away tear and face staining. Make up a new mix at least once weekly.


Use equal amounts of Cornstarch and Boracic Acid, mix well, then add sufficient water to make a paste. Carefully apply the paste to the stained areas, then allow to dry. Once dry, brush off and wipe the face with a clean cloth..Breeders call this PACKING the fur

Once the cat is stain-free, you need to simply maintain. A daily face wash with a warm washcloth with baby shampoo should do it. Rub dry. Get your container of equal amounts of Cornstarch and Boracic Acid Powder and pat gently onto the hair being extremely careful not to get any into the eyes or the mouth. The powder mixture will bleach the white whilst absorbing the stains.
Don't get into the constant peroxide habit..it will dry the hair shaft out, make it brittle and make it MORE absorbent.
Remember, the key to success here is DEDICATION!!!
Water Bowl Diving:
If you are lucky, you cat get the cat to drink from a water bottle. Some of ours like it..others don't and you can take away the water bowl, but you are risking too little water intake if they won't drink from that bottle.
Get some small "bird" crocks - better to offer up a line of smaller dishes. If you are not planning on showing, simply clip the fur short from under the chin and on the ruff. You can get these at any PETCO store...

These 16 ounces water fountains are also excellent! as they offer a good supply of water and a small drinking area.

We buy them at P-K Products

These water hole dishes are a favorite of Persian breeders at the shows.


They are available at P-K Products

If you are showing, then your show cat would be in your bedroom anyway where you can make sure no surprise knots happen. In this case, you would be able to fluff that fur dry as it happens.
Dry your show cat's fur thoroughly before giving her back her dry chow.
For some odd reason, once you are done showing the cat, it seems to outgrow the water bowl diving. Go figure. I often wonder if because they are bathed and blow-dried that they have excessive thirst or nervous and just drink.
One thing that can happen with a cat that keeps constantly drenched is that their skin can get a yeast infection and get a black grunge happening. In this case, you might even need to use Animax to help. But keeping it clean and dry helps
Food Staining:
This is the easiest to fix. Either use a cat bib (a big coffee filter with a hole in the center works), or after the meal, wash the cat's face and bib and fluff dry. When we were showing Gio, we only fed him white foods...chicken and rice, turkey...any actual meat doesn't stain.
General Bathing:
When planning on showing your white, you will want to bathe weekly. There are plenty of brightening shampoos on the market these days (E-Z Grrom Crystal White, White Lightening, etc...visit www.showdogstore.com for a wide selection of products. Remember to condition the coat with all these frequent bathings.
Once your cat is stain-free, just maintenance baths are needed...
---
HELP! My cat is beginning to get knots frequently!! What should I do??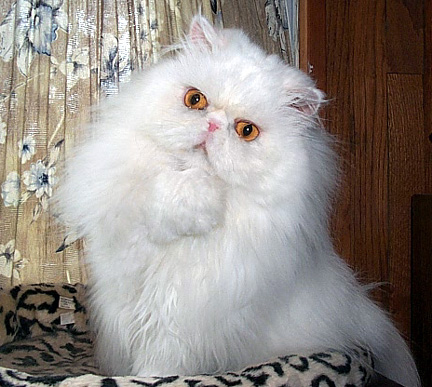 Did you know that when a cat's fur begins getting 'greasy' it begins to knot up?? It's true! The solution, is a bath. I don't have a set schedule for baths…just when I notice a cat begins to get knots day after day.
CHECK OUT OUR 'BATH' PAGE with step by step images

BACK TO FAQ PAGE...