STONE HOUSES, MANSIONS AND OTHER OLD HOUSES
OF THE NORTH COUNTRY

Originally published in The Watertown Daily Times
(730) Articles and photos by David Lane, Newspaper Staff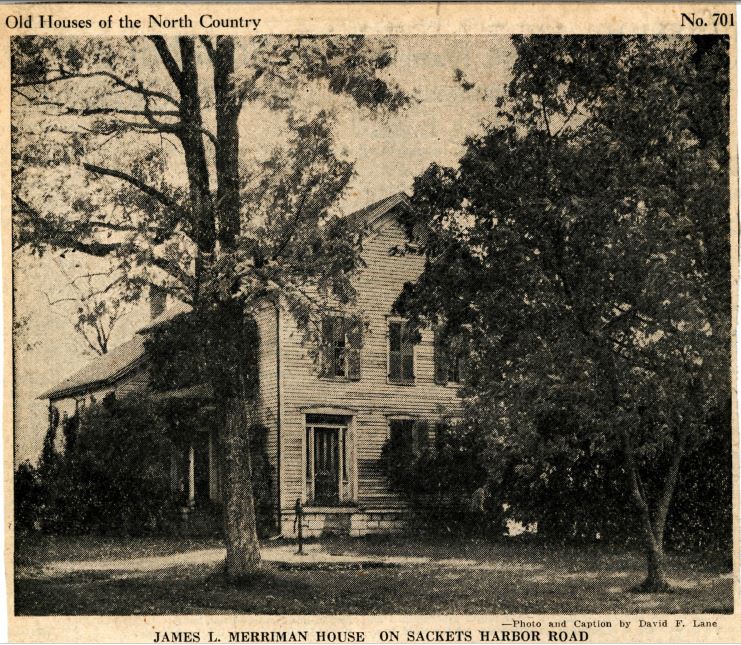 Rt 3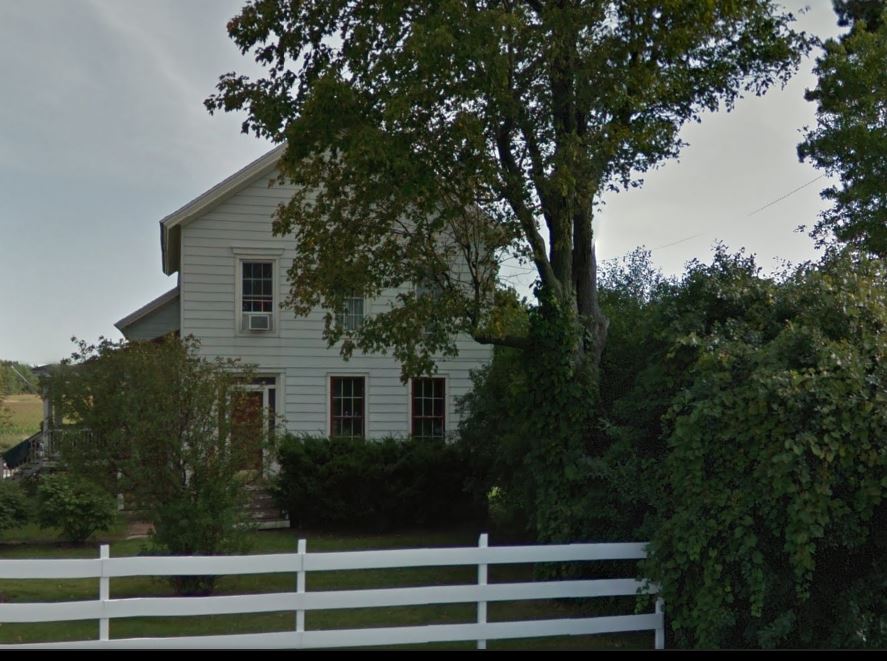 While this house on the south side of the Watertown-Sackets Harbor state road has not the exterior appearance of age that many old North Country houses have, it is said to be well over a century old. It was built by James L Merriman of old colonial New England ancestry, great grandfather of Mrs Thomas M (Cora Reeves) Jumps, city. The wife of James L Merriman was Sally Whitcomb from Whitehall, Massachusetts, a member of the distinguished Whitcomb family who traced from the historically famed John Alden of Mayflower pedigree.

Thus Mrs Jumps, prominent in the LeRay de Chaumont chapter of the DARand past president of Northern Frontier chapter, Daughters of 1812 traces a proud ancestry.

This house, built by James L Merriman, is located in the Ebenezer Allen and Warren district of the town of Hounsfield. There, according to county records, Mr Merriman bought a little over an acre and a half of land from Ebenezer and Phebe Allen on March 23 1820. On June 13 1822 he bought 21.1 acres from Henry R Storrs of the Storrs Harbor family, and on April 14 1830 a little over 19 acres from Isaac and Jemima Leonard. April 10 1938 he bought 23.10 acres from Joseph and Eliza Trumbull, and on June 19 of that year 13.33 acres from the Storrs estate.

Apparently James L Merriman indulged in fishing for on April 19 1838 he bought an acre known as the Merriman fishing ground on Black River Bay from William Waring in the town of Brownville and on February 20 1843 a parcel of 243 acres of Storrs Harbor marsh lands.

On February 16 1853 Jason and Mary Fairbanks of Watertown village sold James L Merriman 130 acres in the St. Lawrence district of the town of Cape Vincent and there the Merrimans removed to spend the rest of their days, James L and Sally Merriman selling this house and about 80 acres of land to William Brimmer of Ellisburg on November 12 1852.
Mr Merriman did not live long after that, dying on April 6 1857 and being buried in the St. Lawrence cemetery. Mr Brimmer never lived in the house shown above and, with his wife Nancy, conveyed it to his sons, Porter and Francis M Brimmer July 22 1854. Francis acquired the interest of his brother and resided in the place until his death on September 22 1880 leaving his widow, Elizabeth J Brimmer and several children. On March 27-31 1883 his estate sold it to Desting Moore who conveyed it to John T Brimmer two days later on April 2.
John T Brimmer died early in 1916 giving his widow, Harriet E Brimmer, a life-use of his estate and after her death equally to their children, Burleigh L Brimmer, Mrs Maude Brimmer Taylor and Mrs Edith H Jock. Burleigh L Brimmer, a foreman of the state highway department, died July 29 1919. On January 8 1920 his estate and Mrs Taylor conveyed their interests in the house shown above and its lands to Mrs Jock and her husband, Frank C Jock, a carpenter. There Mrs Jock still resides, her husband having died about four years ago.

In the above house, Mrs Jumps States, her father, Thomas H Reeves, and uncle, Martin VanBuren Reeves, were born, sons of Aimer and Lorinda Merriman Beeves, Lorinda having been a daughter of James L and Sally Whitcomb Merriman. Mrs Jumps' father, Thomas H Reeves, died April 2 1896 leaving a widow, Marvelta, besides Mrs Jumps, Burt E Reeves and J A Reeves.
Abner Reeves died in 1874 leaving his widow, Lorinda, and several children, and so this place has sentimental bonds for the Merriman, Reeves and Brimmer families, all of which have been richly associated with the lake and St. Lawrence river part of the county.

This property is perhaps better known as the Brimmer place, for it has been owned in the Brimmer family for 103 years.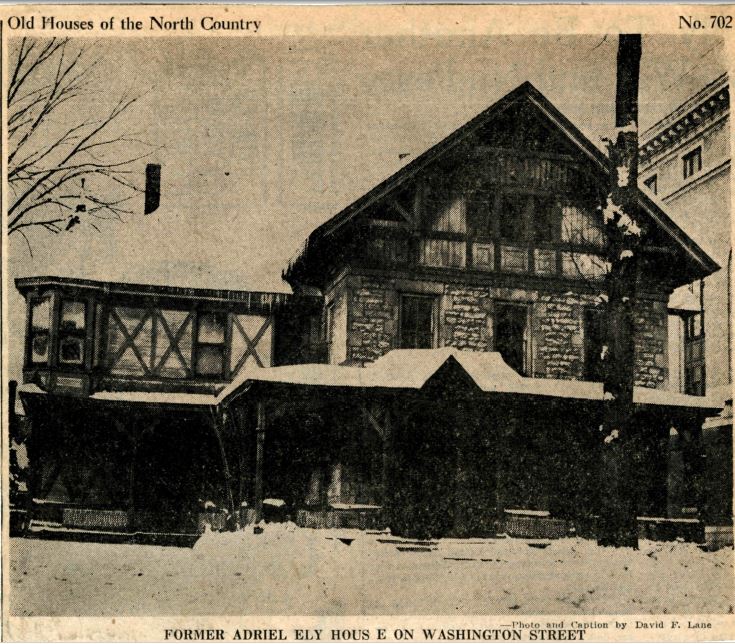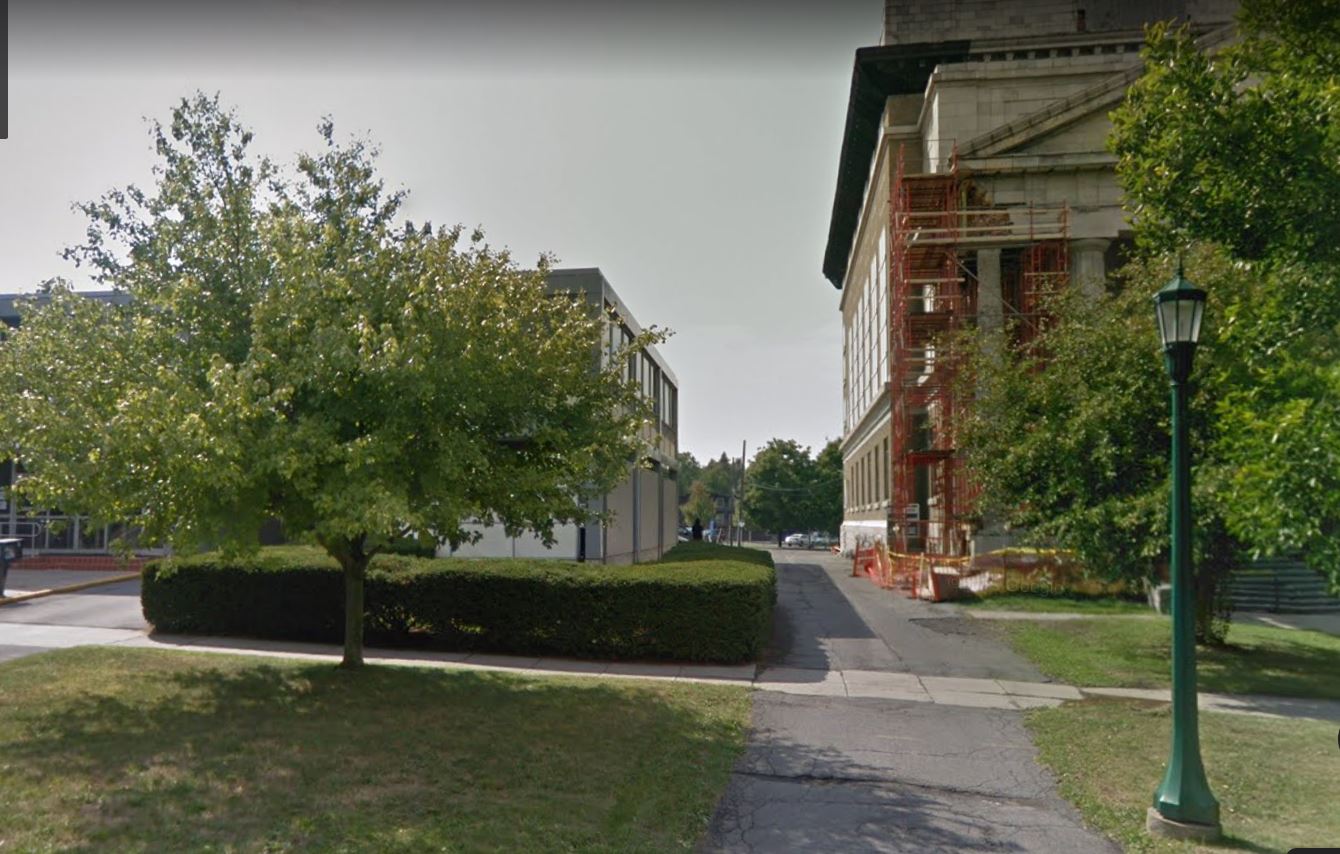 Adriel Ely was one of the most prominent early residents of Watertown and probably had this native limestone house completed on the west side of Washington Street sometime in 1826 ready that year for his bride. It was an attractive Georgian mansion with beautiful doorway. Under the late Edmund Quincy Sewall ownership the upper story was raised, the gable given an elaborated English effect, the one-story wing raised to two stories and a verandah added. The result was an architectural hybrid.

The house stood on that portion of the Watertown Times parking lot next above the Masonic temple, but it was razed more than a decade ago. Where the Masonic temple is stood the Judge Robert Lansing house, and next north of that where the museum of the Jefferson County Historical society is was the attractive mansion of Judge Jabez Foster, father-in-law of Mr Ely.
Adriel Ely was born in Lyme, Connecticut February 9 1791 son of Adriel and Sarah Stow Ely. He was well educated and taught school for a time. In 1814 he came to Watertown clerked in Olney Pearce's general store, later became a partner as Pearce & Ely, and still later a partner of Orville Hungerford, merchant, as Hungerford & Ely. On March 24 1826 he bought a part of the grounds for this house from Orville and Betsey Hungerford and on December 28 of that year married Evelina, daughter of Judge Jabez Foster. On August 26 1829 he bought the remainder of his mansion grounds from Judge Foster. Mr Ely was prominent as a Presbyterian, merchant and pension claims attorney. He was instrumental in founding the Children's Home.
He died April 20 1859 and his wife on August 14 1863. A daughter, Gertrude Sumner Ely, became the wife of the late George W Knowlton, prominent paper manufacturer for many years.
On September 4 1866 the estate of Mrs Evelina Ely sold this mansion to Edmund Quincy Sewall for $9,000 and he enlarged and remodeled it. The Sewall family traces back to William the Conqueror. In the reign of the first Queen Elizabeth a Henry Sewall was mayor of Coventry and his nephew, Henry, came to the American colonies. Since then the line has had a traditional Harvard background.
Samuel, a Boston merchant, married Elizabeth Quincy and had a son Samuel who attained high legislative and judicial eminence in Massachusetts.
The latter, born in 1757 was graduated from Harvard and married Abigail Devereux of Salem. They had a son Henry Devereux Sewall, merchant, who moved to Montreal in 1811 had to leave there in 1813 traveled in western New York in 1811 engaged in the shipping and commission business in New York City a number of years and finally located in Watertown. He married Mary Catherine Norton, daughter of the owner of Norton's island, now Sewall's island, and in 1828 built a stone mansion there. He also built the original structure of the Bagley & Sewall machine shop and died in June 1816 his wife having died in 1810.
A son Edmund Quincy Sewall, born in New York City July 1 1826 graduated from Harvard at 18 became a lawyer, studied two years at Heidelberg, practiced here for a time, married Katherine, daughter of Major Henry Smith, USA, and left the law to join with George A Bagley in forming the Bagley & Sewall company. He was an incorporator of the National Union bank, president of the board of education 1882-1 and Trinity church vestryman. He died August 21 1892.

His widow's estate sold this house lo John L Taylor, grandfather of Frederic H Taylor Sr and Roswell F Taylor on May 3 1910 and seven days later John L and Lanah M Taylor conveyed it to the John B Taylor company. On July 25 1910 the John B Taylor company sold it to Dr George B Parker who located his offices there and on March 21 1921 with Jane L Parker disposed of the place to the trustees of Media Temple, AAONMS which planned to erect a Shrine temple there but never did.

On February 17 1911 the trustees of Media Temple conveyed the site to Hayward B Arthur, local real estate broker for his customer, the Brockway company. On February 18 1944 Mr Arthur conveyed to the Brockway company, which incorporated it into the parking lot, still used as such.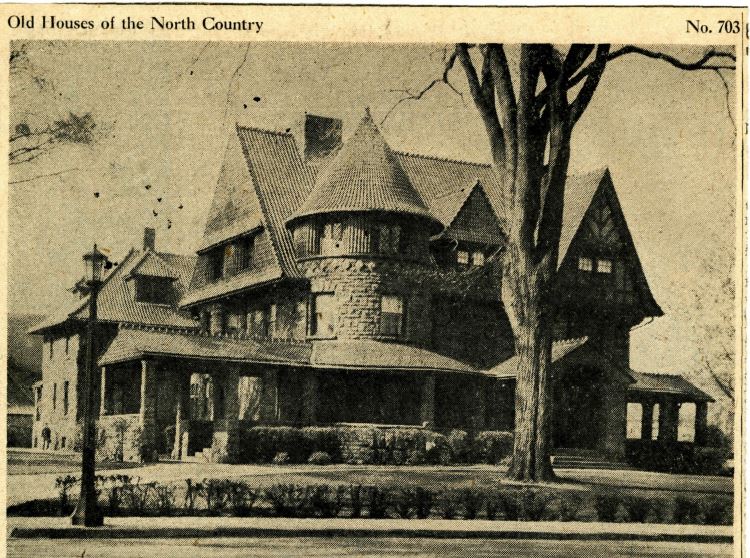 Mrs Emma Flower Taylor Mansion on 241 Clinton Street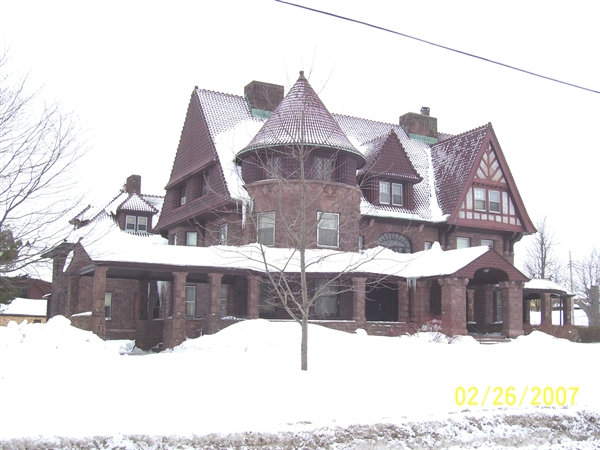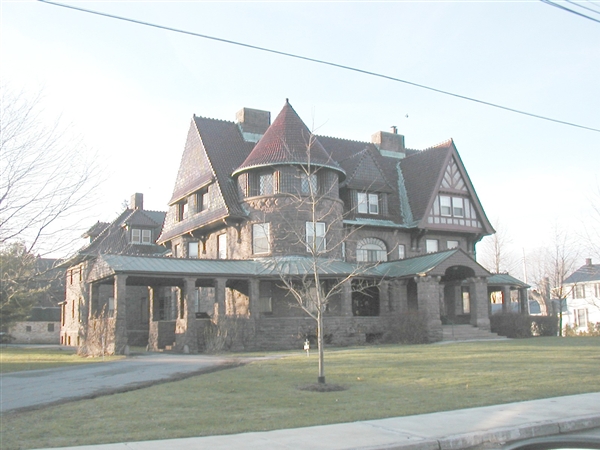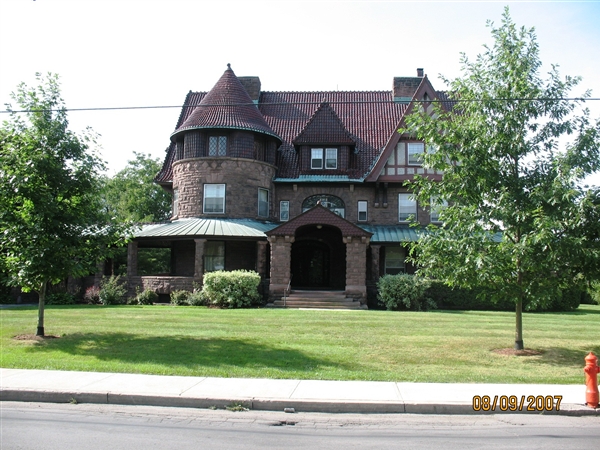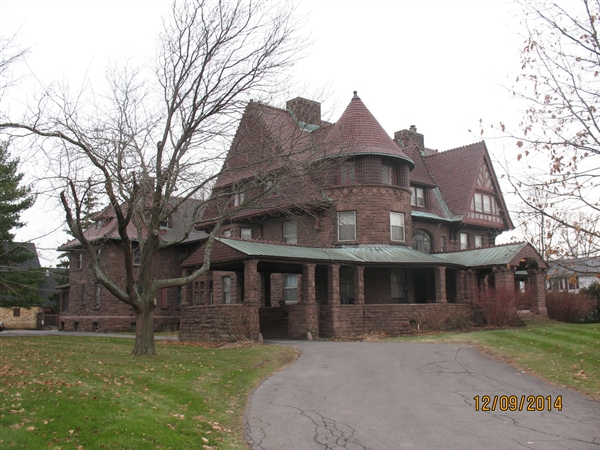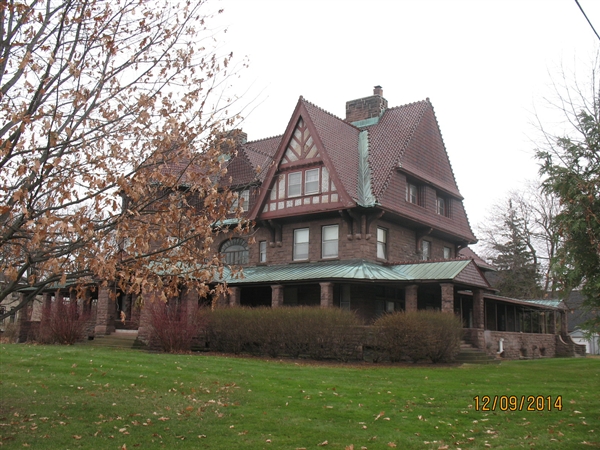 The most magnificent, completed and occupied mansion ever built in northern New York between this city and the state's northernmost boundary is this castle-like residence of brownstone constructed about 65 years ago for Mrs Emma Gertrude Flower Taylor, daughter of Governor Roswell P Flower, onetime king of Wall Street, and Mrs Sarah Woodruff Flower, daughter of Norris M Woodruff, first owner of the Hotel Woodruff.

This mansion, now an apartment house at 211 Clinton Street, was erected in 1891 for Mrs Taylor the year after her marriage to John Byron Taylor, later northern New York hydroelectric power mogul who built the foundation for the present Niagara-Mohawk Power corporation.
The architects were Lamb & Rich, New York City, nationally famed. The contractor was the late Patrick Phillips, city, builder of many of this city's best buildings and father of Architect Thomas P Phillips who worked on this Taylor mansion. Brown Medina sandstone from Pennsylvania was the exterior material. The pagoda-like roofs are of the best tile. The windows are of the finest French plate. The five-acre site occupies a city block and borders both Clinton and Mullin Streets. The original cost of the mansion is unknown, but its replacement value today is close to half a million dollars.

Upon the site of the mansion had stood the fine residence of Judge Frederick W Hubbard, noted lawyer and jurist who served eight years as supreme court justice from 1852 and who was a son of Captain Noadiah Hubbard, Champion, county pioneer settler.
On January 2 1890 while Roswell P Flower was a congressman his daughter, Emma Gertrude, was married in the Flower Washington, DC, residence to John B Taylor, a young Watertown bank clerk. On the following November 13 this young bride bought from her cousin, Silas L George, his residence and the Clinton Street half of the mansion site.
On November 11 1890 Mrs Taylor had purchased part of the Mullin Street half of the site from her uncle, Anson R Flower, and on November 26 1890 she bought the remainder of the Mullin Street half from Mrs Emma A Butts, who had acquired it March 1 1887 front Anson R Flower. Anson R Flower had bought the whole of the Mullin Street half from Silas L George August 9 1884.

Mr George, prominent local jewel merchant, purchased the whole property from Clinton to Mullin Streets October 6 1883 from Mrs Mary P Hubbard, widow of Judge Hubbard, and so the Hubbard residence became the residence of Mr George until he sold it November 13 1890 to Mrs Taylor to be razed for this big brownstone mansion. Mr George, then went to his large new mansion on Keyes avenue.
Mr and Mrs Taylor were divorced about 1912 but Mrs Taylor continued to occupy the brownstone house until about 1918 when she went into her new one at 224 South Massey Street. That year she offered this brownstone mansion to the United States government as a convalescent hospital for World War I soldiers, but it was not accepted. Next she offered it to the Canadian government and Canadian convalescent soldiers were cared for there in the summer of 1918.

Mrs Taylor's father and Uncle Anson gave the present Trinity church edifice on Sherman Street and later she gave the present Trinity parish house. She and the Flowers were the leading Watertown philanthropists and it was she who gave lo the city the beautiful library opened in 1901 as a memorial to her father.

Mrs Taylor died in Miami Fla, April 4 1934 leaving a gross estate of $4,085,235.99 and willing this brownstone mansion to her two sons, Frederic H Taylor Sr, and Attorney Roswell F Taylor. In June 1936 Roswell F Taylor conveyed his interest in the property to his brother, Frederic H Taylor, who resided there for a time.

On March 10 1939 Frederic H and Louise Young Taylor sold the brownstone mansion to Mayor John B Harris, who had long been financial adviser and secretary to Mrs Emma Flower Taylor. Mayor Harris converted the property into high-class apartments. Mayor Harris died February 11 1952 willing a three-quarter interest in these apartments to his daughter, Mrs Betty Jane Harris Roberts, and the other one-quarter to a son Attorney Robert L Harris, now of Denver, Colonel They are the present owners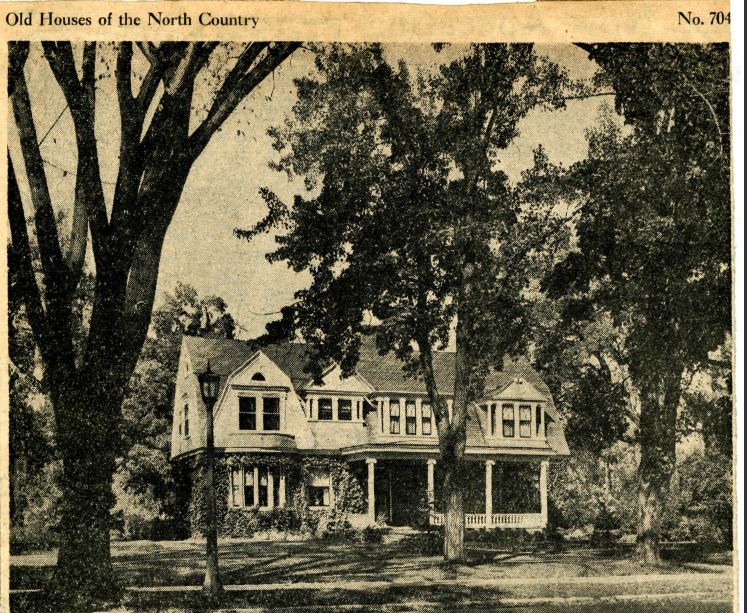 William G Johnston Mansion on 246 South Massey Street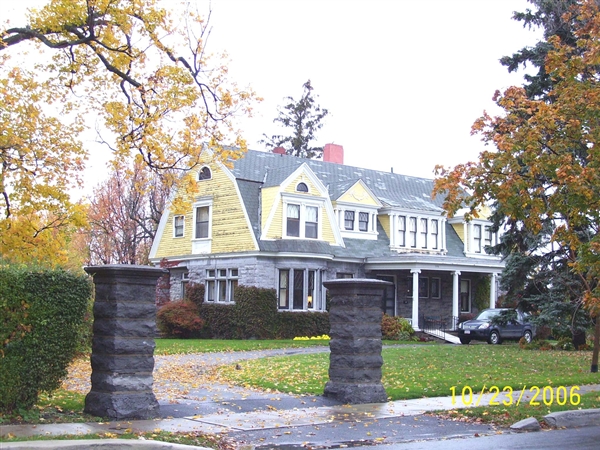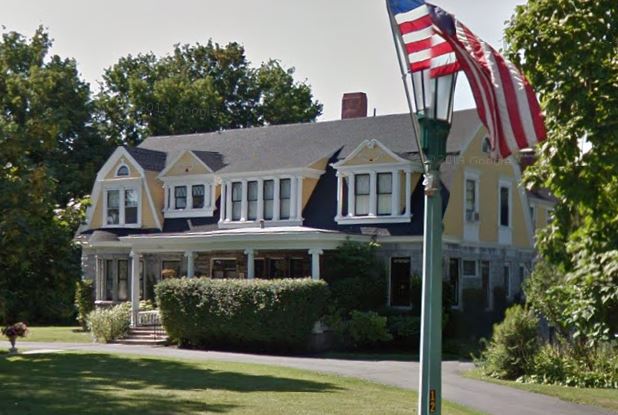 The beautiful Dutch Colonial part-stone part-frame residence of Supreme Court Justice and Mrs Henry A Hudson at 246 South Massey Street, with its large and nicely landscaped grounds is not only one of the show places of the city but its story roots deep into city history. The site was part of the lands owned by Hart Massey, one of Watertown's original settlers. Later it was owned by his son Edward Swain Massey, first coal dealer in Watertown, who occupied a residence next northerly.
The Johnston mansion, however, was not built until 1895 from designs made by Architect John W Griffin, city, and replaced one formerly owned by Mrs Minoit Mitchell, wife of a paper manufacturer; Ambrose W Clark, a local newspaper publisher and editor; Charles G Harger, a local banker, and Hiram Holcomb, one of Watertown's earliest cotton-woolen manufacturers.
Mr Holcomb bought the property from Edward S Massey November 15 1817. Mr Holcomb was a trustee of the Watertown Woolen company formed February 4 1834 of the Watertown Woolen Manufacturing company formed December 24 1835 of the Black River Woolen company and the Williams Woolen company formed November 7 1836 and the Watertown Cotton company formed January 6 1846.
Mr Harger, who came from Pamelia where the Bargers had been engaged in meat packing, acquired the property in the early spring of 1850. Shortly after moving here Mr Harger and his son, Charles G Harger Jr opened a private bank under the name Charles G Harger & Son at 5 Court Street, on the Fairbanks corner, in the Flatiron building where Court and Arsenal Streets come together. About 1876 the bank suspended and a compromise was made with creditors. The Holcomb-Harger house was designated 24 Massey Street, and August 29 1877 Charles G and Maria Harger sold it to Ambrose W Clark for $8,000. During the Clark ownership the house was numbered 54. Mr Clark, father of Mrs George A Bagley, was supervisor in 1859-00 and on the committee which accepted the contract for building the court house January 7 1861. That year he became congressman from the 20th district made up of Jefferson, Hamilton and Lewis counties. He was a first trustee of the Jefferson County Savings bank formed April 5 1859.
When Joel Green's Black River Journal failed in 1843 Mr Clark bought it and conducted it a short time. In 1846 he bought Greene's Daily Journal, which had become the Watertown Tri-Weekly Journal and changed it to the Northern New York Journal, which he and his partner Fayel sold to the American party in 1856 but bought it 'back after the campaign and published it until 1861
Ambrose W and Emma S Clark and Sabine P Bagley sold the South Massey Street house Sept 30 1889 to Mrs Almira G Mitchell and on May 31 1895 Mrs Mitchell disposed of it to William G Johnston, who immediately had it razed to make room for the present beautiful mansion. The grounds consisted of 2.59 acres to which Mr Johnston added more land with a Cross Street outlet.
Mr Johnston was a man of much wealth and distinction. He was born in Pittsburgh, PA, August 22 1828 son of S R Johnston of the Pittsburgh publishing house of Johnston & Stockton. His father had been a proprietor of the Pittsburgh Gazette 1818-22.
William Graham Johnston, builder of the South Massey Street mansion, was a member of the first wagon train to cross the continent in the 1849 gold rush and was a graduate of Western college. His grandfather John Johnston was fourth postmaster of Pittsburgh. His great-grandfather Samuel Johnston was a surgeon in the Revolution.

William Graham Johnston organized the William G Johnston & Co, stationery company in Pittsburgh, organized and was president of Pittsburgh Exposition, the Duquesne National Bank, the Hainsworth Steel company, and the Atlantic & Pacific Telegraph company, and bought the Woodruff Sleeping Car Company. In 1855 he married Sarah Stewart, Pittsburgh, mother of Ins children. She died in 1889 and in May 1894 he married Miss Charlotte Winslow, city, daughter of General Bradley Winslow and sister of Mrs Samuel A Upham . Mrs Johnston died July 21 1897 in the mansion shown above July 6 1899. Mr Johnston married Miss Julia G Ely, city. He died June 1 1913 and she April 13 1947. The next October 16 the Johnston estate sold this mansion to Justice Hudson, who was mayor of Watertown 1948-52 county judge 1952 and has been supreme court justice since January 1 1953. Mrs Hudson was the former Miss Gwendolene M Hubbard, city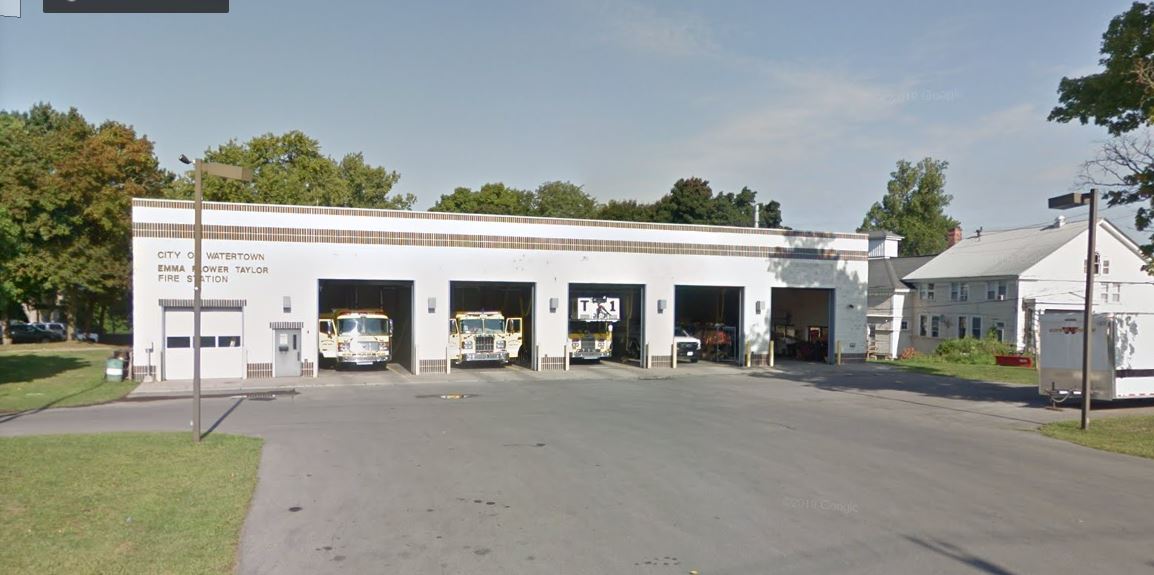 Emma Flower Taylor Residence on South Massey Street
Perhaps Watertown's finest show place in the residence category is the magnificent house built for Mrs Emma Flower Taylor at 224 South Massey Street, and until some months ago the home of her son, Attorney Roswell Flower Taylor.
This beautiful Georgian mansion was designed by the late Addison F Lansing, prominent local architect and was constructed in 1917-18 by the late John P Charlebois, long established local contractor and builder. It occupies 3.81 acres of rolling grounds on the west side of South Massey Street, adjacent to the residence of Supreme Court Justice Henry A Hudson, and is magnificently landscaped, with attractive little summer house well in the rear. Originally also there was a small brook, fed by city water, purling down across the rear lawn. In addition the estate had its own nicely designed swimming pool. Across the rear of the house is a 70-foot screened-in porch.

The ground floor of the house contains five rooms, at least three fireplaces, kitchen, pantry, servants' sitting room, three lavatories and toilets. On the second floor are four master bedrooms, three dressing rooms, four baths, four fireplaces, four servants' rooms with one bath, while the third floor contains three servants' rooms and two baths.

Until last summer the property was never out of ownership of the Taylor family and was filled with beautiful priceless furniture and bric-a-brac much of which consisted of invaluable antiques. The house built for Mrs Taylor when she gave up her big brownstone mansion on Clinton Street and occupies one of the city's historic sites, viz, that of the residence of Edward Swain Massey, son of one of Watertown's initial pioneer settlers, farmer, commission merchant, first Watertown coal dealer and president of the Jefferson County Agricultural society in 1855.
Mrs Emma Flower Taylor, Watertown philanthropist who died April 4 1934 bought the main parcel of this 3.81-acre South Massey Street site from Jacob and Elizabeth M Vogt on April 27 1917. It then contained the Edward Swain Massey brick residence, which he had constructed in 1828. Mr Vogt was A wealthy retired manufacturer of limburger cheese and had bought the property August 2 1915 from Attorney Fred B Pitcher as administrator of the estate of George B Massey, former president of the Jefferson County National bank and son of Edward Swain and Esther Bragg Massey.
Also Mrs Taylor bought additional adjoining parcels of land to make up the 3.81 acres and moved into her new residence in 1918. After her death her son, Roswell F Taylor look up residence there and occupied it until he sold it last June 30 to the American Stores company, a Delaware corporation with Philadelphia, Pa, headquarters, for a supermarket. Attorney Roswell Flower Taylor, son of the late John Byron and Emma Flower Taylor, is a former corporation counsel of the city, lawyer and financier of many years' standing.

George Bragg Massey, who had resided in the Edward Swain Massey house on the site up to the time of his death was born there January 1 1836 and took title to the property from the other heirs of Edward Swain Massey in 1887. Edward Swain Massey died July 14 1876 had been a director of the old Jefferson County bank, first in the county, and a militia adjutant during the Fenian raids on Canada
Educated in the local schools and Homer academy, George Bragg Massey early became a clerk in Talcott H Camp's local drug store at the age of 14 became a partner in the firm of Camp & Massey at 22 later became sole owner from 1889 until he sold the business in 1899 became vice president of the New York Air Brake company, president of the Excelsior Carriage company, director of the Watertown Street Railway company, of the Watertown Steam Engine company and Davis Sewing Machine company, vice president for six years of the Jefferson County National bank prior to becoming its president for many years, treasurer of the YMCA, for a quarter of a century, treasurer of the Jefferson County Bible society, and was a founder of the Jefferson County Historical society. In 1861 he married Sarah H Thompson who died the next year. He had no children
Bertrand L Taylor Mansion on 121 Mullin Street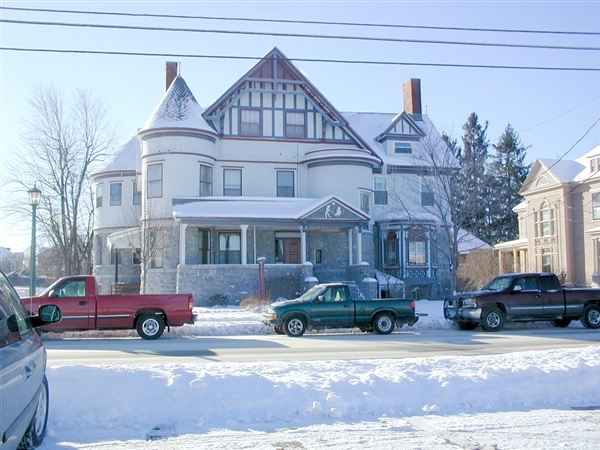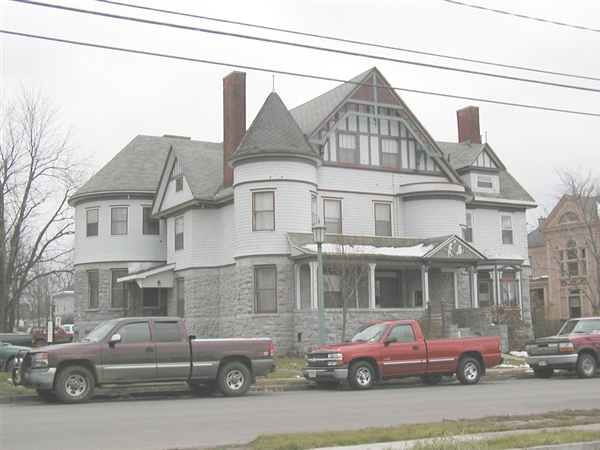 At about the same time that the Emma Flower Taylor brownstone mansion was being built on Clinton Street for residence of herself and husband, the late John Byron Taylor, this large, round-towered marble frame mansion was rising upon its foundations for her brother-in-law, Bertrand LeRoy Taylor and his wife on the next street to the southward Mullin Street. Bertrand LeRoy Taylor and John Byron Taylor were natives of Three Mile Bay, sons of John Loreen Taylor and Lanah M Taylor. Coincidentally Mrs B L Taylor and Mrs J B Taylor were granddaughters of Norris M Woodruff, for whom the Hotel Woodruff was built in 1852.
Mrs Bertrand L Taylor, nee Nellie Cadwell, was the daughter of Henry V and Mary Woodruff Cadwell. On November 17 1886 she was married in this city to Bertrand LeRoy Taylor. She inherited a substantial slice of the Woodruff fortune. Her young husband, son of a harness and saddlery maker and leather dealer, naturally turned to the leather business, became a wholesaler of boots and shoes, engaged in the wholesale hide and tallow business, made a fortune in the stock market, became president of the Woodruff Hotel company under his wife's ownership of the hotel and for a number of years was an officer and one of the heaviest stockholders of the Powell River Paper company on the west coast. Through his business ventures he built himself a fortune at one time estimated about $15,000,000.

After Bertrand L Taylor's marriage to Nellie Cadwell, they resided for a short time in the Judge Robert Lansing mansion where the Masonic temple now is on the west side of lower Washington Street. There with their daughter, Dorothy, who was first married to Claude Grahame-White, pioneer English aviator, and later became Italian Count Carlo Dentice di Frasso's countess, was born February 13 1888.

It was when the countess was about three that her parents began occupancy of their large residence shown above. The site for it had been bought March 5 1890 by Nellie Cadwell Taylor from Martha P Covert. Mrs Covert had acquired the site from Richard E and Harriet C Hungerford and from Myers and Lucy Thompson, November 19 1872.

New York City architects designed this Taylor mansion, the lower story of which is constructed of Gouverneur marble and the two upper stories of shingles. The finest mahogany and workmanship mark the interior, which is one of grandeur, although now greatly deteriorated through many years of unoccupancy.
There the late Countess di Frasso spent the days of her girlhood. There also her brother, Bertrand L Taylor, 2nd was born. But early in her life her parents took residence on New York's Fifth avenue.
Bertrand L Taylor died in 1934 in Beverly Hills, Calif. Her mother, Mrs Nellie Cadwell Taylor died in New York City, September 3 1923.

On June 10 1919 Frank B Clark, who had made money in a Dexter general store and in the paper mill business, bought this Mullin Street residence from Mrs Nellie Cadwell Taylor and moved into it The next year he acquired a large interest in F A Empsall & company and five years later owned the company. He died intestate May 9 1937 his estate going to his widow, Mrs Nina E M Clark and son, Edwin S Clark, now deceased. The mansion has been vacant and deteriorating but is still owned by the Frank B Clark estate.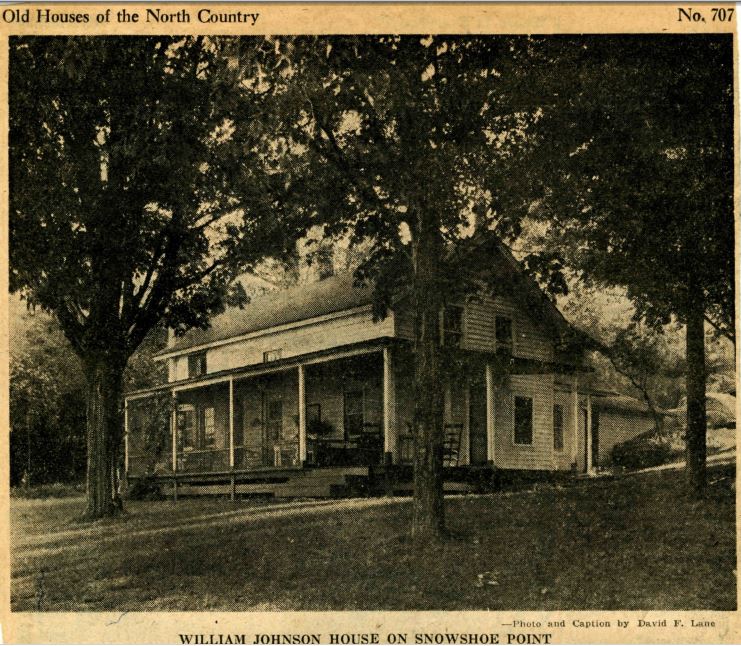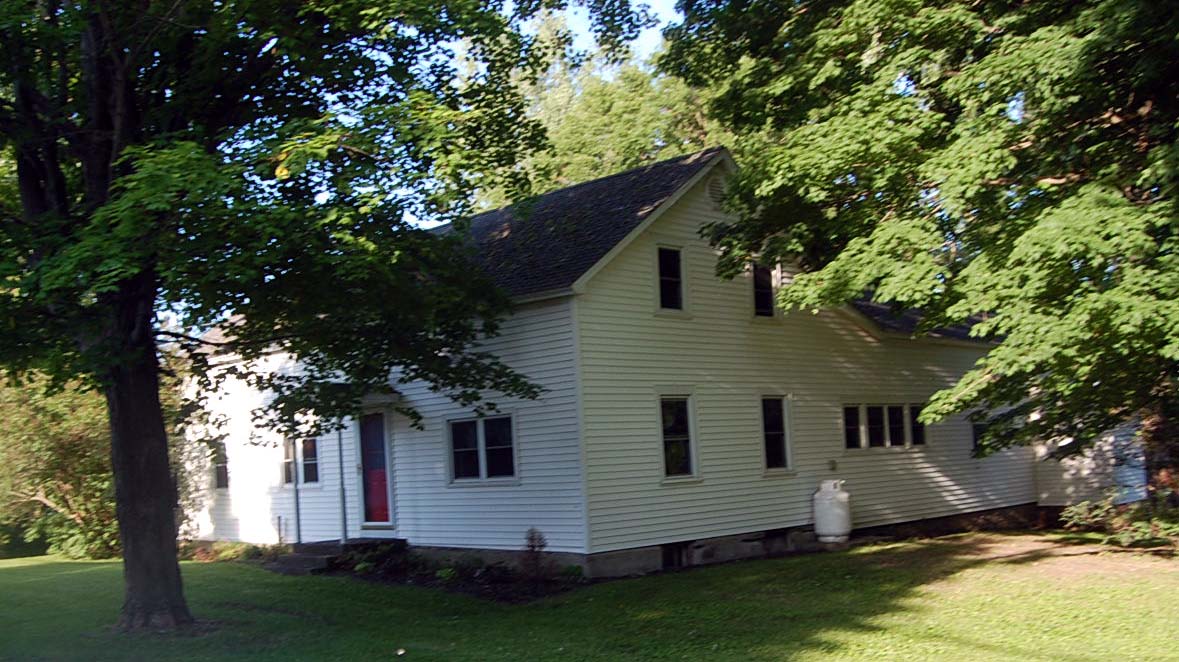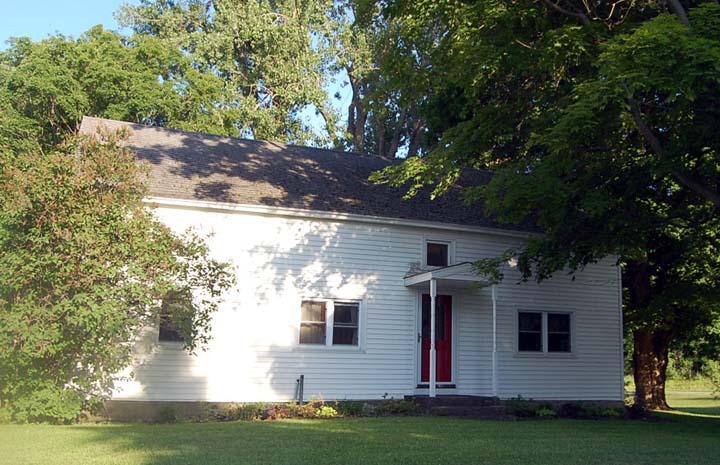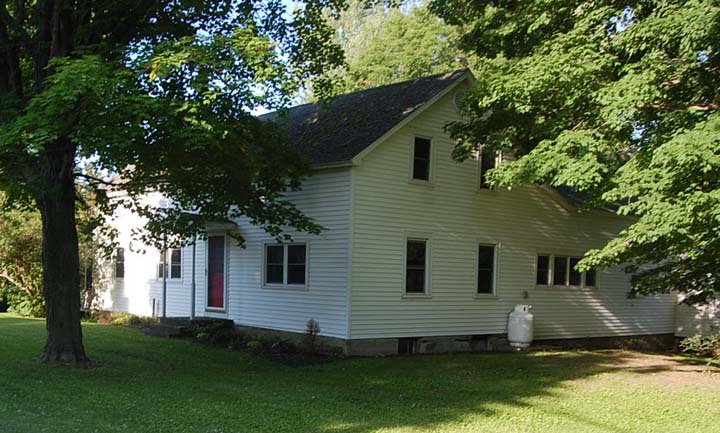 Left Side...additions occurred mid 1850's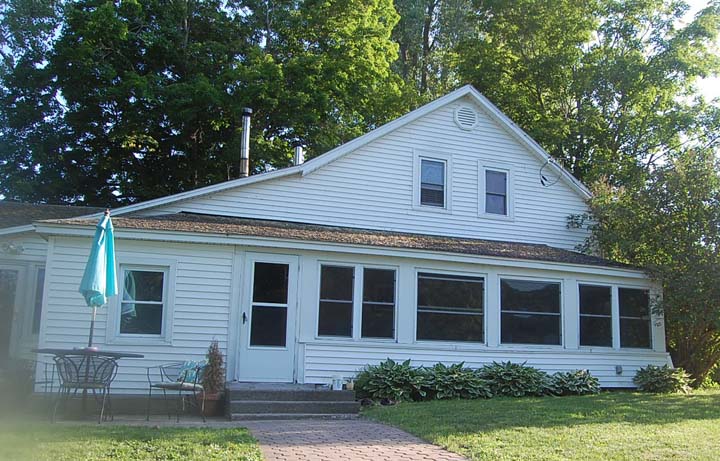 Very Large Old Tree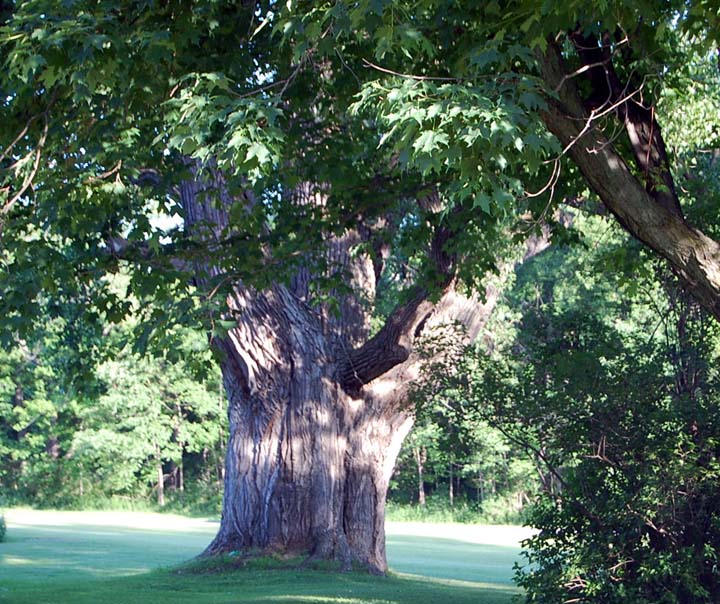 On Snowshoe Point stands this quaint old house, residence of Mr and Mrs Ralph Dodge Johnson, which looks from its thick shelter of trees across Henderson Bay to the summer resort hamlet of Henderson Harbor. The house, with its three levels, was supposedly built by Ralph Dodge Johnson's great-grandfather, William Johnson, a New Englander, about 1810.
A mysteriously ventilated basement chamber, furnished with a bench made from half of a split log with crude legs set in, secretly entered through a trapdoor in the floor, is considered evidence that the house was a station on the "underground railroad" for escaped Negro slaves being spirited across the border by Abolitionists in pre-Civil war days. This presumption is strengthened by the fact that William Johnson's son, Captain Frank Byron Johnson, was a vigorous and outspoken Abolitionist.

The locale of the house is in one of the most outstandingly historical regions of the county, for in front of the house site Samuel de Champlain is believed to have floated serenely along in an Indian paddled canoe in October , 1615 to be the first white man to enter what is now Jefferson County. A few rods further to the east from the house is Six town Point where Fort L'Observation was built in 1756 by a company of French soldiers commanded by Captain de Villiers the same officer who accepted the defeat of George Washington at the head of British troops at Fort Necessity two years earlier.

All through its century and a half of history this house has been owned in the Johnson family. William Johnson, soldier, sailor, farmer, was born in Massachusetts December 31 1776 and, with his family, came to Snowshoe Point in the town of Henderson in 1802 having been a member of the group that came from Middletown, Connecticut, with Captain John Bishop, founder of Henderson's so-called Bishop Street. Here on Snowshoe Point William Johnson died January 18 1863. He was twice married, his first wife having been Eleanor Green and his second Frances
Captain Frank Byron Johnson, fifth of twelve of William Johnson's children, born on Snowshoe Point June 21 1810 was a lake sailor establishing a family tradition that has come down to the present time, and also he was a stout Abolitionist. On May 11 1836 he married Sally Ann Rogers of Oswego and had seven children. He died June 21 1884. Captain Frank Everett Johnson was his seventh child. The latter, born on Snowshoe Point July 1 1851 followed a seafaring life on the Great Lakes from 1869 til his retirement in 1917 having been master of many ships during that period. Later for some years he supervised ships in Buffalo harbor.
On February 12 1880 he was married to Mary Abigail, daughter of Gilbert and Lucina Jones Dodge of Adams. He died in the homestead on Snowshoe Point October 24 1932 and she, a charter member of the Daughters of the American Revolution at Adams, died May 24 1931 aged 75. They were survived by two sons, Captain Roy E Johnson of Pulaski, a Great Lakes shipmaster, who died September 24 1947 aged 66 and Ralph Dodge Johnson, the present owner and occupant of this old house on Snowshoe Point.

Ralph Dodge Johnson was born in Adams June 3 1889 and after completing his education devoted more than 40 years of his life to retail publicity in the Middle West. For nearly a quarter of a century of that time he was in charge of the display publicity division of the J L Hudson company in Detroit, Michigan
On May 15 1912 he was married to Miss Aurora A Ware who died at their residence at Grosse Point MI, May 2 1949. For 30 years of their married life they had spent their summers at the old Johnson homestead on Snowshoe Point and on January 3 1945 they acquired the half interest of Mr Johnson's brother and wife, Captain Roy E and Dorothy I Johnson in the property, which includes 64.49 acres of land with a long shorefront on Henderson Bay. Mrs Aurora A Johnson was a member of the Detroit Historical society and Friends of the Grosse Point Public Library association.
Mr Johnson was married to Miss Margaret Ann Morgan on March 11 1950 and after his retirement they left Grosse Point in November, 1952 to make their permanent residence in this old Johnson homestead. Mr Johnson, who was chairman of Jefferson County's sesquicentennial general committee last year, is a former vice president of the National Society Sons of the American Revolution, was commodore of the Grosse Point Sailing club, is vice commodore of the Henderson Harbor Yacht club, and a trustee of the Jefferson County Historical society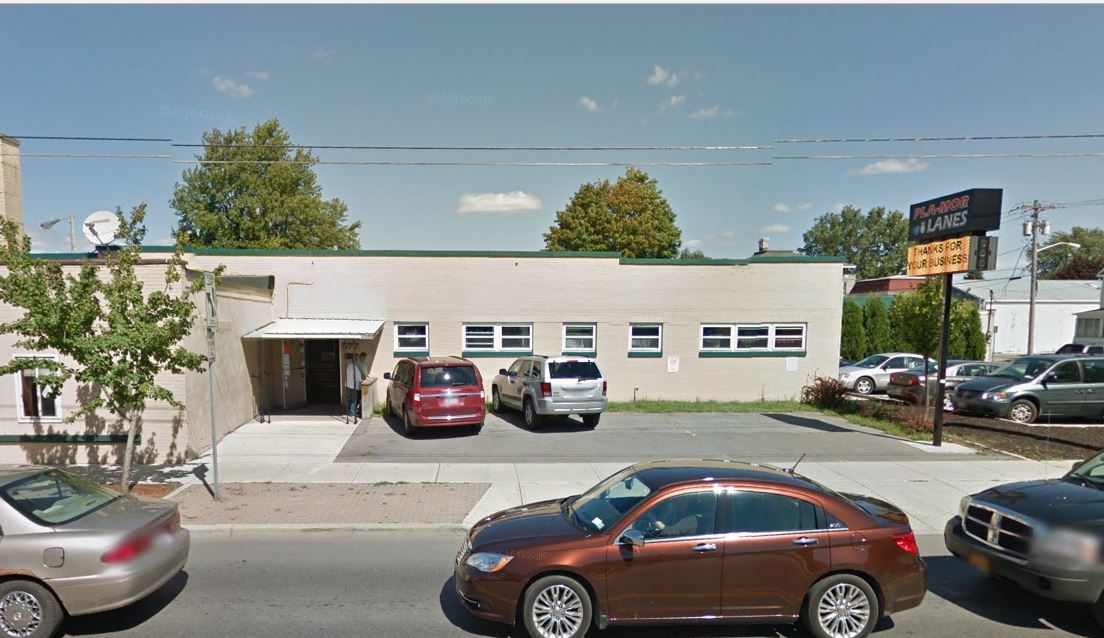 If this house were standing today it would be about 105 years old but it was razed a few years ago to make way for the Sowan bowling alleys. Its street number then was 583 but in its first years it was 45 and later 39 State Street.

The site for it was purchased for $300 by Charles Dayan Smith, town of Rutland, on November 25 1851 from Francis and Mercy Lamon, who resided a few rods away on the north side of State Street near High Street and owned a considerable amount of land in that area
Charles Dayan Smith who, as a partner of Richard VanNaraee, was the largest manufacturer of furniture in northern New York in his day, was born in the town of Rutland, son of Anson and Polly Smith, natives of Connecticut who became early Rutland settlers, locating on the state road.
Educated in the common schools of his town and in the old Academy at Champion, Charles Dayan Smith spent his early years on the farm and in 1844 was married to Sabra Andrus of Rutland. In 1847 they moved to Watertown and within a year he became a partner of Mr VanNamee. About three years after that he bought the site and built this house. He was prominent in this community and the firm of VanNamee & Smith operated a retail as well as a wholesale furniture store. When the Jefferson County Savings bank was incorporated April 5 1859 Mr Smith became one of the original trustees. Suffering from tuberculosis he was compelled to retire in 1870 and on March 24 1871 he died intestate survived by his widow and two daughters, Mrs Charles H (Emma A) Tubbs, and Miss Adelaide C Smith, all of whom continued to reside in this house.

Charles Hobart Tubbs, hat manufacturer and proprietor of a local haberdashery store for many years, was a son of Alanson and Camilla Canfield Tubbs. Born on February 15 1801 at Chatham, NY, Alanson Tubbs was a hatter and conducted a small business first in Champion and then in Evans Mills.

In 1827 he moved to Watertown and manufactured hats in the old red factory on the river bank at the foot of Arch Street. His hats were among the best in- the country, his business grew and he prospered. In 1820 he had married Camilla, daughter of Jared Canfield, a Champion farmer. Of their three sons Charles Hobart joined him in business and, after his father's death in February, 1874 continued the business opening a store, which his wife purchased from Edwin C White, at 18 Public Square. Like her father, Mrs Tubbs whom Charles H Tubbs had married in 1869 died of tuberculosis August 13 1894. Mr Tubbs and his mother-in-law, Mrs Sabra Andrus Smith, continued to reside in this house and Mrs Smith was for some time a trustee of the old Jefferson County Orphans' Home.
When the Watertown Electric Light company, was incorporated in 1885 Mr Tubbs was one of its founders and treasurer. In 1893 he was a founder of the Watertown Canning company and for a time he was a public works commissioner Mrs Sabra Smith died December 31 1900 and Mr Tubbs on Sept 3 1909 but as he had married a second time, this house on State Street came into possession of Desting Moore some time after Mrs Smith's death.
On June 3 and June 6 1908 the house, which had been tenanted for some time by Mr and Mrs Frank Lyell Handley, was sold by the Moore heirs to Mrs (Lucy May) Handley. Mr and Mrs Handley were ardent bicyclists in the heyday of bicycles. Mrs Handley was the former Lucy May Baldwin, Some 60 years ago Mr Handley with his brother-in-law, Charles Baldwin, conducted a large bicycle store in the Flower building. Later Mr Handley was employed by the New York Air Brake company for a number of years.
Mr Handley, who had served in the United States Navy; was born at Milton-on-the-Hudson July 3 1858 son of Alonzo and Fannie Thompson Handley. During his 16 years in the Navy he circled the globe three times and was stationed in China three years. On June 7 1886 he married Lucy May Baldwin who was born in Smithville June 7 1863 daughter of Rufus W and Mary Lawton Baldwin. For a number of years Mrs Handley conducted a millinery business in this house. Her husband died February 6 1941 and Mrs Handley on November 15 1942. On November 17 1944 her estate sold this house to Charles J and George J Sowan.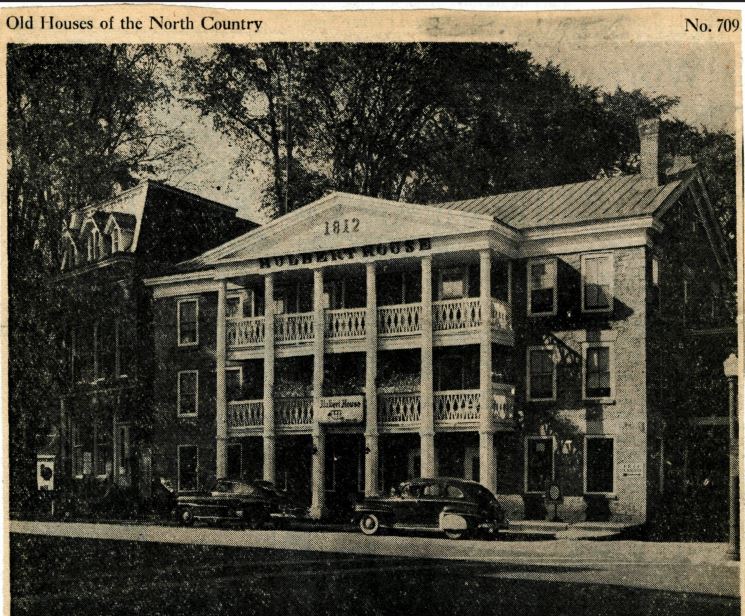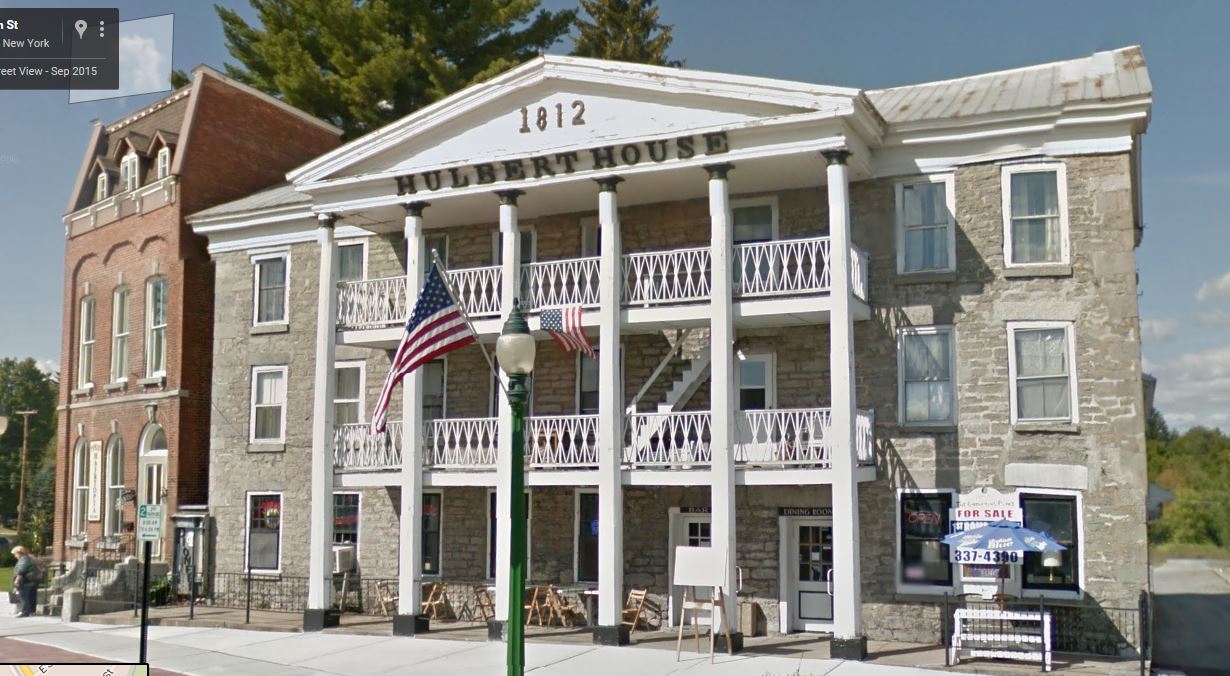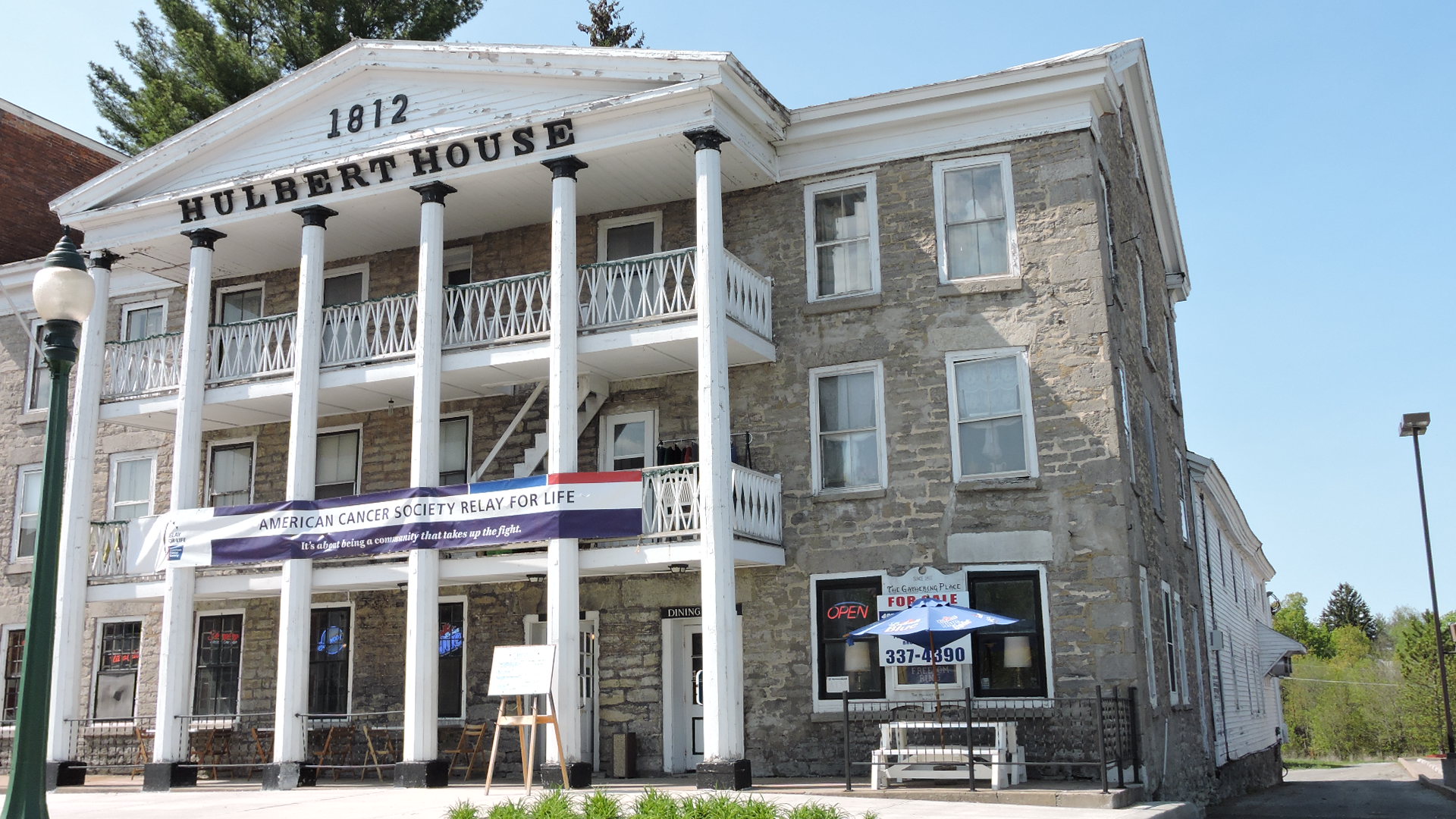 The Hulbert House in Boonville
General U S Grant, General Phil Sheridan, Editor Horace Greeley, Colonel William F ("Buffalo Bill") Cody, Poet Edwin Markham, Novelist Harold MacGrath, President Franklin D Roosevelt, Henry Wallace, Socialist Norman Thomas, Gov. Thomas E Dewey, Gov. Herbert H Lehman and many other notables have stopped here. "Here" is the beautiful old Hulbert House on the village square in Boonville, one of the finest old stagecoach taverns in the state and still doing business.
Built of native limestone with graceful Doric columns, the pediment blazes out that the ancient hostelry was built in 1812 which, if Oneida county history is correct, is not the case. On the contrary its erection was 1819 and the glass of the original windows was the same as in those of Constable Hall completed the same year.

Originally but two stories high, it was built by Ephraim Owens who two years before, 1817 had built a sawmill and a grist mill on Mill creek in Boonville, of which place Owens was one of the earliest settlers. Entrance is into a spacious lobby and reading room, back of which is the dining room. Original floors are of maple and interior finish has cherry wainscoting seven feet high.
Owen or Owens operated the tavern about four years and sold it to Henry Graves of Turin who conducted it until 1837 when he disposed of it to Benjamin Blackman who became famed as the proprietor of a number of Jefferson County taverns during his career.
At the end of three years Jackman sold to "Blackhawk" Higby, who retained possession but 13 days before Richard Hulbert took over Hulbert added a third story and built an addition on the west end, doubling the capacity of the tavern which, under his management attained statewide fame as a Mecca for men of prominence, adventurers, hunters, trappers, anglers and lumbermen en route to the great North Woods. It also became the focal point for Boonville's important celebrations down through the decades to the present day.
"Dick" Hulbert was a man of great popularity and this tavern, which took his name, became a community meeting-place. He ran the hotel without a bar at a time when whiskey sold at three cents a glass. And venison, partridge, salmon and brook trout featured his menus. He was elected to the state legislature and twice was Oneida county clerk. On December 23 1861 in behalf of the Boonville women he presented the beautiful silk flag they had made to Colonel Charles Wheelock's 97th New York Volunteer regiment which, battle-scarred and decimated, returned the flag at a welcoming dinner at the hotel after the war.

In 1868 Hulbert sold his tavern to George A May, who operated it until 1883 and then disposed of it to George Beck of Rome. For 20 years Beck operated it and, on March 1 1903 sold it to Jerry Buckley. When he died in 1918 it was taken over by his son, Fred Buckley who conducted it until his death in February 1942.

Next, on March 16 1913 Angelo J ("Joe") Garbarino bought the Hulbert House and in September 1949 began its restoration to its original interior appearance so far as possible. The rehabilitated tavern was opened with a housewarming on January 25 1950 and in its "Pioneer" room with its refinished black walnut-pegged maple floor, there appears upon one wall four historic murals painted by John David Mahaffy, a 23-year-old Boonville boy and commercial artist who had studied at Pratt Institute and the New York School of Applied Arts and Sciences.
Early in the history of the Hulbert House Indians roamed the Boonville area and when the Black River canal and the Black River railroad tapped the region in the 1840's and 1850's the business of the tavern developed immensely, for cargoes of potatoes, lumber and dairy produce were shipped out of the port of Boonville.
Sketches of Boonville history appear in the Mahaffy murals, one showing Gerrit Boone, Holland company land agent, on Park hill selecting the site for Boonville. One is an action scene on the old Black River canal. One is the arrival of the first train in Boonville in 1853 and one shows the presentation of the flag to the 97th volunteer regiment.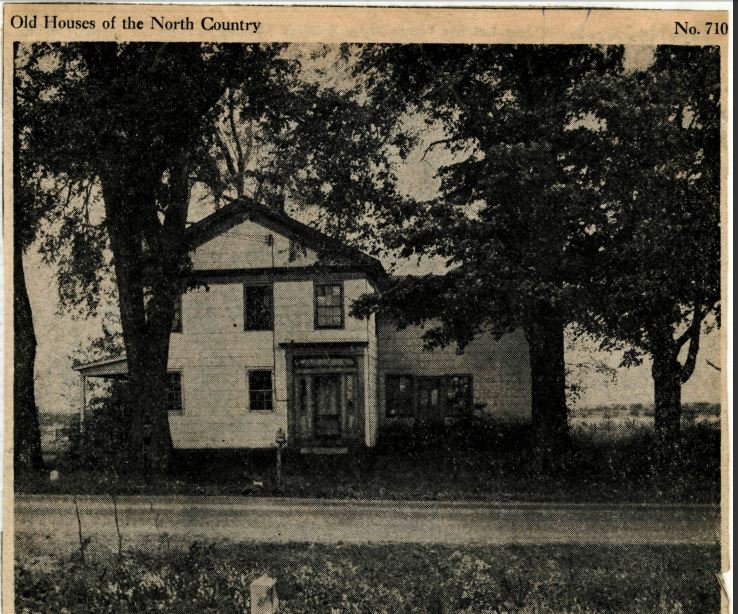 Alfred Kilborn House at Gunn's Corners
In spite of the fact that Gunn's Corners is now only a crossroads name on the map, where the Limeriek-LaFargeville road intersects the Watertown-Clayton state highway, it has figured frequently in the news during the last century and a half. At one time there was a tavern, a store or two and a small cluster of houses at the corners. There the towns of Clayton, Brownville and Orleans come together, and just over the boundary in the southeast corner of the town of Clayton lies this house, which is upwards of a century old.
Gunn's Corners got its name from John N Gunn, a veteran of the War of 1812 who settled in the town of Pamelia sometime before 1819 and operated a store in Pamelia Four Corners. On September 1 1836 he bought 10.34 acres in the town of Clayton in the vicinity of the corners named for him and operated a store. Then on April 11 1842 he bought another plot of 16.4 acres nearby. His wife was the former Orra Moffitt and their daughter, Jane, was married to Altheus J Kilborn, who became a veteran of the Civil War 10th New York Heavy artillery. John N Gunn died at his home in the town of Clayton December 17 1850 at the age of 71.

Joel Kilborn, native of Plainfield NJ, was a son of Jacob and Catharine Knapp Kilborn as were Alfred and Alpheus Kilborn who were twins, and Chauncey, Hannah and Lydia Kilborn. Jacob Kilborn was a Revolutionary war veteran and was born at Litchfield, Connecticut, son of John Kilborn. Jacob Kilborn was one of the earliest settlers to the town of Brownville, having established himself there in 1805. Later he settled in the town of Clayton, where he died May 17 1851 aged 81. In 1796 he married Catharine Knapp of Adams, Massachusetts. She died in 1864
Their son, Alfred Kilborn, was born at Adams, Mass, Sept 23 1798 and was young when his parents removed to the town of Brownville. In February 1838 he married Eliza E daughter of Samuel and Esther Hildreth Cobb of Orleans.
Just when Alfred Kilborn bought this house and its 141 1/2 acres of farm land at Gunn's Corners is not known. Nor does it immediately appear from whom he purchased it, but on August 24 1805 he sold it for $3,000 to his nephew, John H Kilborn, who resided there and operated the farm until his death on June 21 1878. Under the provisions of his will executed three days before his death, his widow, Helen Isabelle Kilborn, was to have all of his personal property including the avails of his Pamelia Four Corners property and a life use of this house and farm. After her death it was to go to members of the Kilborn family, if she died without children.
Accordingly on February 18 1886 John H Kilborn's aunt, Mrs Asaph (Lydia) Green of Chilton, WI, quitclaimed her interest in the old house and farm to William P Smith of Brownville. On March 12 1887 Alpheus J and Jane E Kilborn and Frances E (Kilborn) Steele also quitclaimed their interest to Mr Smith.
William P Smith, native of the town of Brownville was tied in with the Kilborn family through marriage. He first married Clara Lounsbury of Niagara county and had one son who died in 1878. He then married Mrs Belle Kilborn of the town of Clayton, daughter of Lewis and Helen Cramer Lawton and became a successful Perch River farmer. Mr Smith was a Civil war veteran and Mrs Smith's grandfather, Hezekiah Lawton, fought in the War of 1812 battle of Sackets Harbor.
On October 15 1924 William P Smith and wife disposed of this old house and farm of 141 1/2 acres to Leslie Landon of the town of Orleans and Mr Landon resided there until his death at 78 on December 27 1952 his wife having died April 15 1950. Mr Landon was born Sept 19 1874 on Wells island, son of Augustus and Harriet Duclon Landon.

On April 6 1895 he married Mary Ann Constantine, native of London, England, and they resided on Wells island until they bought this Kilborn farm, which, after their death went to their children, Norman H Landon of Gunn's Corners and Mrs Hanley (Bertha) Cuppernall of Fisher's Landing.

The old Gunn's Corners house has been vacant for some time and is in a state of disrepair but it still retains a stately dignity among the fine old Georgian houses of the county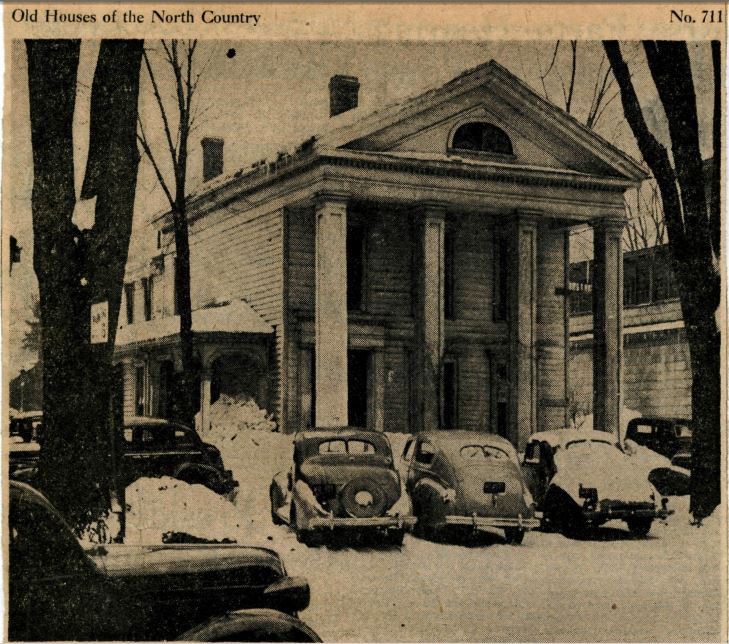 Former Dr H G P Spencer House on Stone Street
Three generations of skillful physicians and surgeons spread thrdugh more than a century of practicein Jefferson County was the proud boast of the Spencer family. This record began with Dr Gordon P Spencer, a War of 1812 surgeon with a distinguished record at Sackets Harbor. Lundy's Lane and Chippewa, who settled in the town of Champion after that war to assist Dr John Durkee, one of the earliest doctors in the county. The second generation was represented by Dr Henry Gordon Percival Spencer, of this community, son of Dr Gordon P Spencer. And representing the third generation were 43rd Henry Gordon Percival Spencer's sons, Dr James Dexter Spencer and Dr Gordon P Spencer 2nd, both of this city.

This family stemmed from Michael and Elizabeth Spencer of Stotfold, Bedfordshire, England, who had five grandchildren settle in the American colonies in 1631 One of these was William who located at Newtown, now Cambridge Mass and was a founder of the Ancient and Honorable Artillery Company, and from William was descended Jefferson County's noted medical family.
Dr Gordon P Spencer was born at Salisbury, Connecticut April 29 1789 son of Revolutionary Soldier Eliphaz and Statira Hall Spencer of East Haddam, Connecticut. After graduation with honors from Williams college. Dr Gordon P Spencer studied medicine, received his diploma from the Medical Society of New London, Connecticut, in 1812 offered his services, WHS commissioner by Secretary of War John Armstrong and assigned to the 11th Infantry regiment.
In 1815 he married Deborah, daughter of Deacon Amos Mallery of Rutland, resided in Champion 42 years, located in Watertown in 1857 and died March 25 1859. His son, Dr Henry Gordon Percival Spencer, was born in Champion August 21 1821 was graduated from the Jefferson Medical college, Philadelphia, PA in 1816 and located in Watertown in 1849. In 1848 head been married to Emily Antoinette, daughter of James Decker of Troy.

He was one of New York state's 30 volunteer aid surgeons in the Civil war and, among other places, served at Fredericksburg. On June 25 1851 he bought from the heirs of Orville Hungerford the house shown above, and which stood on the south side of Stone Street where the Pritchard parking lot now is next to the Stone Street Presbyterian church. However, this house, which was probably built between 1846 and 1849 by George Dahn, was razed about 15 years ago to make space for the parking lot, long owned by William H Owens and later by his widow, Mrs Florence L Owens.
Dr H G P Spencer resided in this house until his death June 27,1899 survived by his widow, Mrs Emily Antoinette Spencer, his daughter, Mrs Ada Antoinette Myers, wife of Ephraim H Myers, a Carthage banker, and sons, Drs James Decker Spencer and Gordon P Spencer the former of whom died May 5 1910 and the latter on January 5 1916. As Dr H G P Spencer died intestate Francis M Hugo as trustee of his assets conveyed this house to his widow. Mrs Emily Antoinette Spencer on February 16 1900 and the following August 24 she transferred the property to her daughter, Mrs Myers, and on June 24 1916 the other Spencer heirs quitclaimed their interest to her also, she then being a resident of Flatbush.

After the house was conveyed to Mrs Myers she and her family consisting of her daughters, Antoinette, Frances, Bessie and Henry, resided in it a number of years. On July 26 1927 Mrs Myers sold the property to William H Owens and wife, Florence L Owens. Born in this city and in this house, Mrs Myers resided in it until her marriage and then resided in Carthage for a number of years. About 40 years ago she removed to Flatbush with her daughters and died in Brooklyn on August 7 1932.

The old house was a large and stately one of Greek Revival type and in its day was one of the finer residences in the city, located in one of the best residential sections of Stone Street, which was, up to 50 or 60 years ago one of the best residential thoroughfares in Watertown. The interior of the house was featured by a beautiful hall and classic staircase and its rooms were large and beautifully fitted up.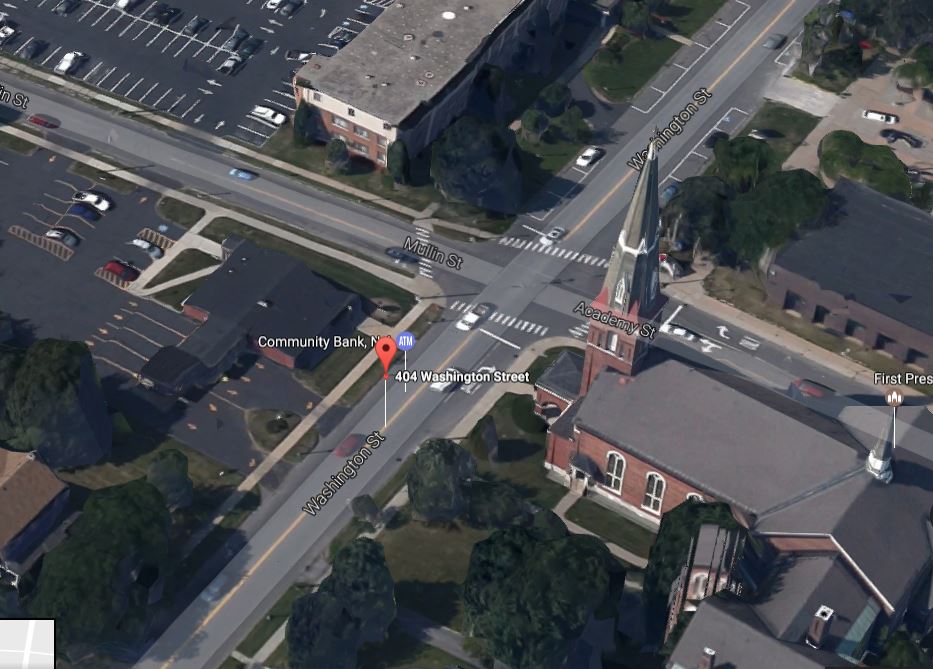 Constructed of gray Gouvcrneur marble almost 60 years ago this building at 404 Washington Street was originally the residence of former Mayor Florentine D Roth who for many years was one of the leading department store owners in this city.
The house stands on the west side of Washington Street at the southeast corner of Mullin Street and replaced the residence of the late Richard E Hungerford, railroad operator and banker.
The Hungerford residence, which was itself a fine dwelling had been there close to a half century before it was razed to make room for this Roth mansion. Mr Hungerford was born about 1824 son of Orville and Betsey Stanley Hungerford, native of Connecticut.

Orville Hungerford was the first president of the Watertown & Rome railroad company, but died April 6 1851 about five months before the first train came into Watertown. His son, Richard E Hungerford, was graduated from Hamilton college in 1844 and upon the active organization of the Watertown & Rome railroad company became its secretary, treasurer and paymaster, serving for 17 years, after which he organized and headed the Security Bank. He was also a director of the Jefferson County National Bank for a lime, president of the Watertown Steam Engine company, vice president of the Watertown Cemetery association, and prominent in Trinity Episcopal church. By his first wife Helen M Osgood Hungerford he had two sons, Richard S and Orville E and by his second wife Harriet R Cooper Hungerford, he had two daughters. Mrs Helen (L G) Woolworth, and Miss Harriet Hungerford, the latter of whom now resides in the old Orville Hungerford mansion on the opposite corner of Mullin Street.
It was on Sept 1 1888 that Richard E and Harriet G Hungerford sold their house to Florentine D Roth and after that this marble mansion was built.
Mr Roth was born at Nazareth, PA, July 17 1855 son of John W and Elizabeth Roth. As a young boy he began as a clerk in a village store and before 21 was manager of a large Nazareth department store. Next he became Easton PA, branch manager for Bush & Bull. After a year he was sent to this city to establish a Bush & Bull branch dry goods store where F A Empsall & company now is on Court Street.
At the end of a year he was made a partner and the firm became Bush, Bull & Roth. In April 1897 that firm dissolved and, with his,brother-in-law, Elmer V Santee. Mr Roth bought the business under the firm name of Roth & Santee. He served on the local board of education, was alderman of the old third ward in 1890-1 and mayor in 1892. In politics he was a Democrat, and he attended the First Presbyterian church.
Mr Roth was married to Miss Emily V Santee, a native of Stockertown, PA, in 1880 two years before he located in Watertown, and they were the parents of one son, Roswell John Roth. In 1903 Mr Roth built the eight-story Roth building on Court Street, the tallest building in town, and established the Rothstock hotel in the tall portion, his store occupying the other part. Some months before his death on July 31 1907 Mr Santee withdrew from the company, which then became the F D Roth company. After Mr Roth's death his widow managed the business for a time and then disposed of it to the late Frank A Empsall who formed F A Empsall and company. Mrs Roth died April 23 1910 and Roswell J Roth came into full possession of the estate.
On March 23 1910 he disposed of his Washington Street mansion to the Society of the Sisters of St Joseph, who converted it into the conservatory of music which has since existed there and is still operated under their control. The mansion is one of the finest in Watertown and is still remembered by old residents as the home of a onetime mayor and leading businessman, who was descended from English and German stock.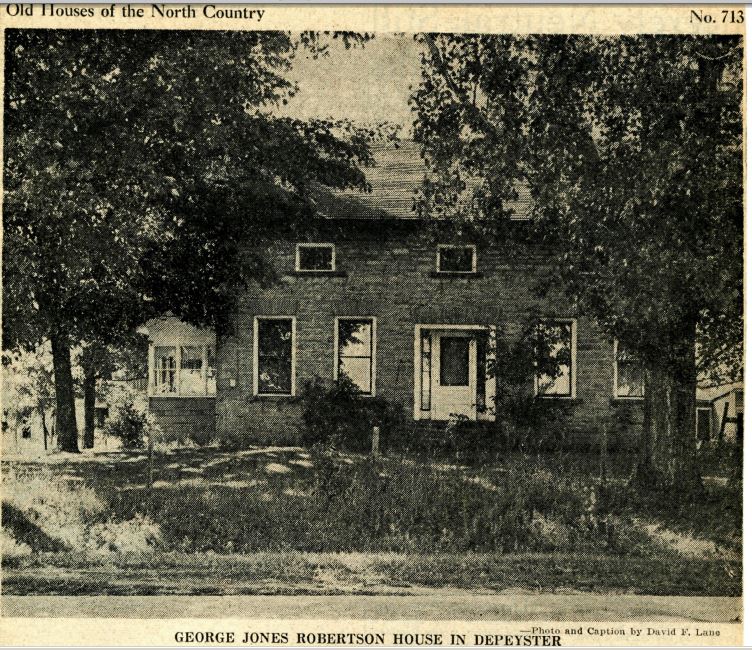 1404-1500 Co Rt 184 Heuvelton NY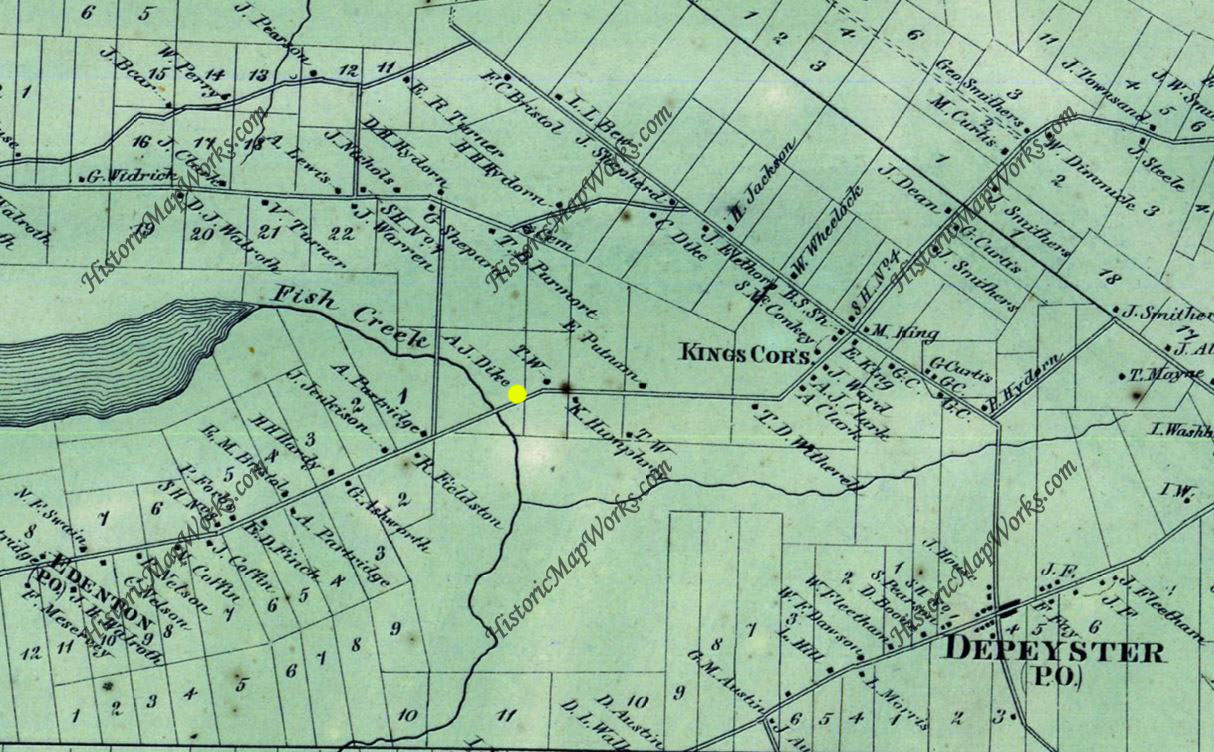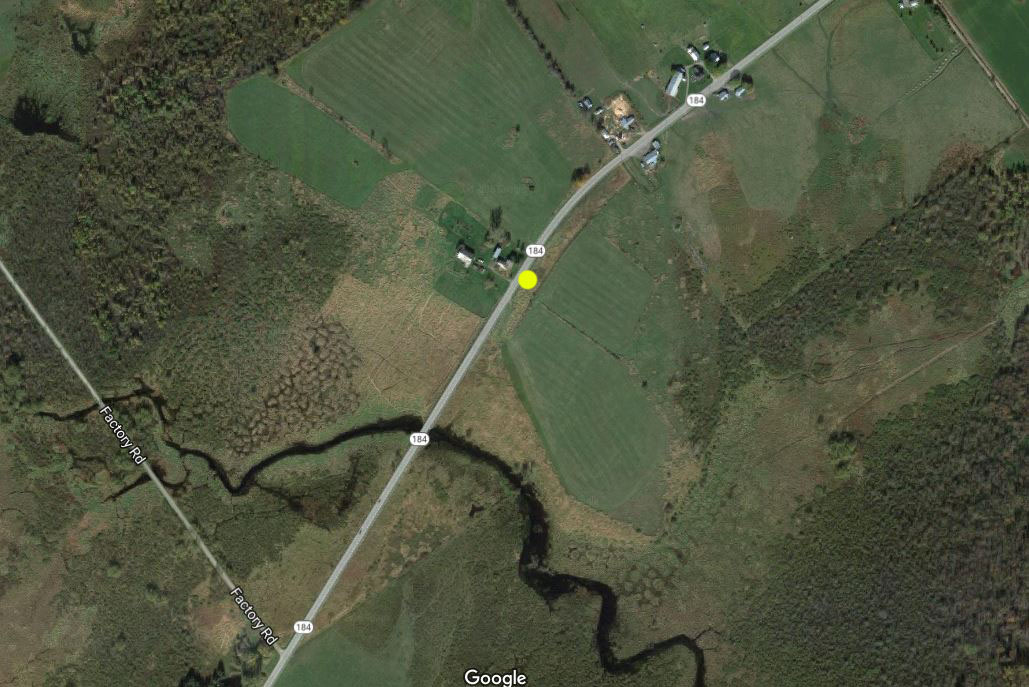 Perhaps the first substantial house built upon the Heuvelton-Pope's Mills, or Fish Creek road, now state route 184 in the St Lawrence county town of Depeyster was this fine old native stone house of George Jones Robertson. While settlement of the Fish Creek road was not begun much before 1825-6 George Jones Robertson, a well-educated, courtly gentleman, bought the two main parcels of this farm, one of 100 acres and the other of 95 acres on July 10 1822. It is likely that he got the land cleared ready for the building of the house within the next two or three years.
The 100-acre parcel was bought from Jacob van den Heuvel and the 95-acre parcel from Lincoln and Eliza Morris. Mrs Nina Smithers, St Lawrence county historian, is authority for the statement that Robertson's is one of but two stone houses ever built in the town of Depeyster And about that time, in fact on May 3 1825 the first town meeting was held in Timothy Morris' house, with Morris chosen town clerk and Jonathan Morris'elected a poor overseer.
George Jones Robertson was a man of distinction. He is reputed to have driven a coach-and-four and to have conducted a select school for study of French at Ogdensburg and elsewhere. On July 19 1852 be and his wife, Sarah Mariah, sold this house and farm to Alexander J Dike or Dyke for $5,000
Ten years later Mr Robertson died. There are many of his descendants in St Lawrence county today including some of the Ogdensburg Wells family, the Smithers family and Mrs Murray Simons, town of Rossie historian.
Other parcels of laud were added lo the farm by the Dykes and Abial Dyke acquired the two original parcels plus others from Alexander J Dyke. Abial and Olive Dyke conveyed those two original ones with modifications to Timothy D Witherell on April 1,1863.
Timothy D Witherell was a man of substance also. He was a merchant at Depeyster Corners and operated a sawmill as well. And he was town supervisor 1848-51 1852-4 and 1872-4. On October 1 1871 he and his wife, Mary, disposed of his house and farm to Homer M Morris who, so far as known, was not related to Lincoln Morris.

For the past 85 years the house, outbuildings and farm have been owned by the Morris family, substantial farmers and citizens of the town of Depeyster. Of that time Homer M Morris and wife Emma retained title until November 5 1904 when they quitclaimed to their sons, Charles H, James B, and George C Morris. Homer M Morris died June 25 1909 and on March 9 1910 Charles H Morris acquired the interests of the other heirs in this farm, now an excellent dairy farm of 234 acres.

Charles Homer Morris, born March 1 1871 lived on the farm nearly all his life and died there November 14 1939 survived by his widow, the former Miss Ida Wood of Depeyster to whom he was married July 3 1893. Also by two daughters, Mrs Fred G (Eva) Morris and Miss Elsie Morris. Mrs Ida Wood Morris died July 4 1941.

Mrs Eva Morris and Miss Elsie Morris then jointly owned this place until November 1 1953 when Mrs Eva Morris died and her share of the property went to her husband, Fred G Morris who now jointly owns the farm with Miss Elsie Morris.
Mrs Charles H (Ida Wood) Morris was a daughter of Robert D and Polly Milous Wood of the town of Oswegatchie. Mrs Eva Morris, who was but 54 at the time of her death, was married to Fred G Morris on April 5 1921.
Many English and persons of English extraction were early settlers of the town of Depeyster, which was three-fourths set off from the town of Oswegatchie and one-fourth from the township of DeKalb March 24 1825 by legislative act and this Robertson-Morris stone house is one of the finest, staunchest stone houses now remaining in that area of St Lawrence county.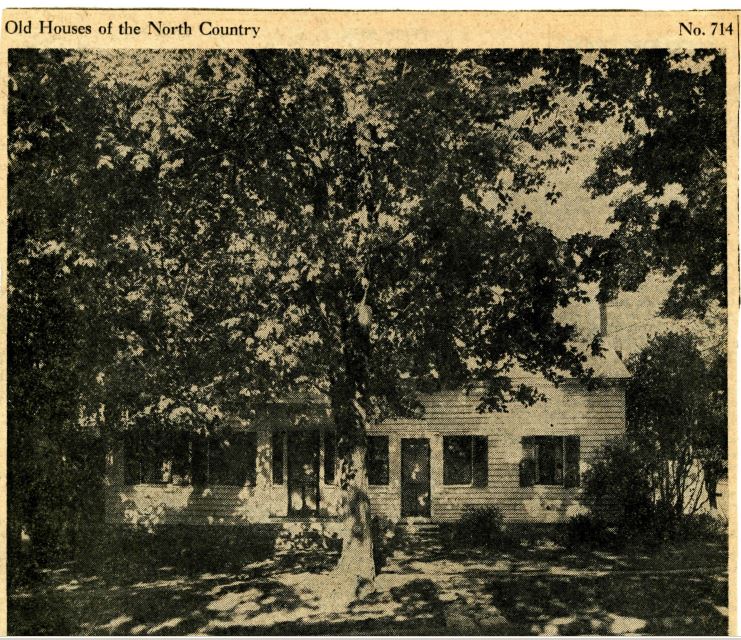 Aaron Eddy House on 344 Webb St, Corner of Jane and Webb in Clayton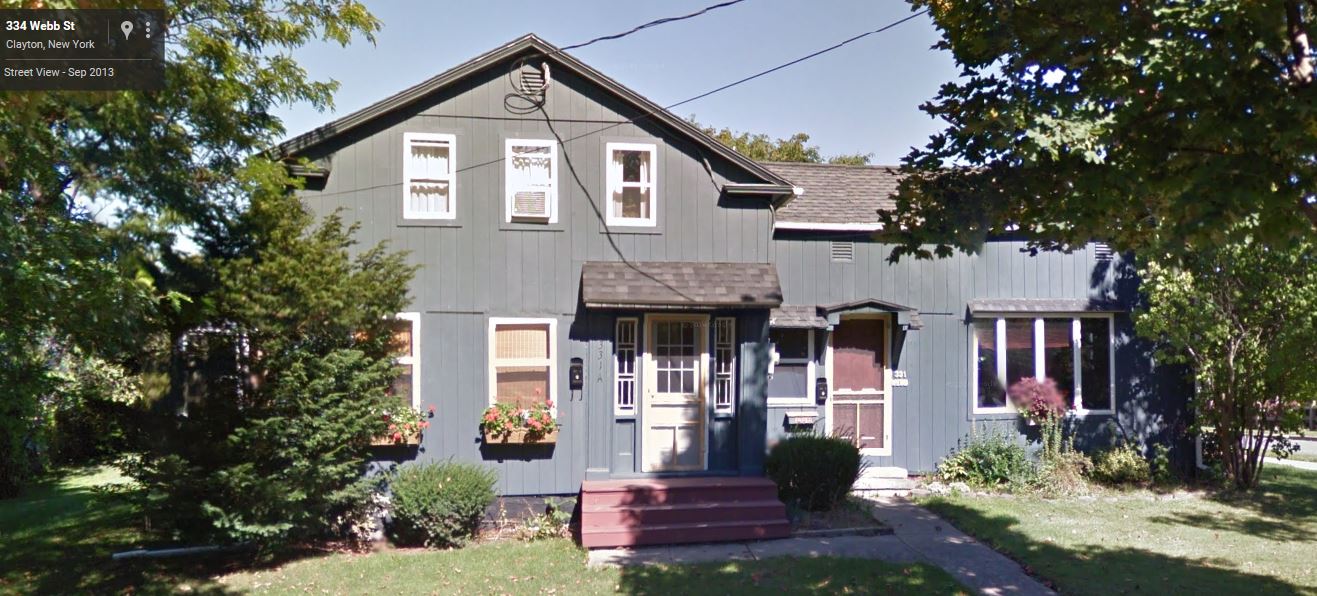 Ship pictures, ship and marine relics, ship lore and many priceless antiques fill this attractive more than century-old house, owned and occupied by three retired metropolitan area schoolteachers on the east side of Webb Street at the corner of Jane Street in Clayton.
These owners are Miss Agnes M Marshall, town of Clayton historian and descendant of a number of notable Great Lakes-St Lawrence ship captains and pilots; Miss Mabel L Peck and Miss Alice Montgomery.
It was Miss Eddy's'great-grandfather, Aaron Eddy, an early Clayton merchant, who became owner of the house more than a century ago. Her grandfather, Captain Archibald Marshall, charted the Cedar rapids, last obstacle to complete St Lawrence navigation, and took the first ship through. Her father, Captain Willard R Marshall, 85 who died in Clayton on February 20 1934 was one of the last of the old-time Great Lakes-river master pilots.
The story of the house site, begins with Elbridgc G Merrick, wealthy Clayton banker, business man, lumber dealer and village promoter, who acquired a number of lots and tracts of land in the area of Webb Street, named after Joseph Webb, about 1834 when Clayton village was still remembered as Cornelia
On December 11 1852 Elbridge G and Jane C Merrick sold this Webb Street property to Aaron Eddy for $900. In May, 1837 Mr Eddy, a native Vermonter who had been residing in Potsdam, removed to Clayton bringing with him Alden F Barker, a native Vermonter. Mr Barker next began as a clerk in the Clayton general store conducted by Aaron and Luther Eddy under the name A & L Eddy.
Aaron Eddy died September 7 1887 leaving life-use of his estate to his widow, Catharine Smith Eddy, and then equally to his daughters, Mrs Horace E (Helen E) Morse, Clayton, and Mrs Frank C (Amy) Brown, Grand Rapids, MI. Horace E Morse was trustee of the estate and about mid-July, 1900 title to this property became vested in him through transfers.
Mr Morse was prominent as an attorney and in Clayton civic and business affairs and under his will, recorded June 24 1903 his residuary estate went to his sons, George E, and Horace W Morse, and daughter, Mrs Florence Alice Nash. Through transfers in late 1917 and early 1918 title to this house was acquired by William H Consaul, another prominent Clayton businessman who, on August 4 1920 deeded the place to Miss Agnes M Marshall, then of Brooklyn. From that time until her retirement in June, 1942 she and her two close teacher friends spent their summers there.
On February 10 1949 Miss Marshall decided to deed a third interest each in the house to these associates, Miss Peck and Miss Montgomery and now the trio owns it together.

Miss Marshall is a descendant of John Marshall and Janette Given Marshall, natives of Scotland who for a time lived on a Lisbon NY, farm before locating on Galloups island early in the last century. There Miss Marshall's grandfather, Captain Archibald Marshall was born and came in 1820 to Clayton, where there was but one log house, and died at 80 in 1886. His wife was the former Julia Ann Hawes, daughter of William and Ann Whitney Hawes of Cleveland, OH.
Of their children was Captain Willard Rennie Marshall who first married Nellie M Estes and had Agnes M, Jesse T, and Clarence P Marshall. Second he married Catharine Mills of Ogdensburg and had three more children. Captain Willard R Marshall became the first Clayton policeman, was a member of the Clayton fire department and, from his retirement until the fall of 1933 was a river guide.
Miss Agnes M Marshall was born in Clayton, was graduated from the Clayton High school about 1895 then attended and was graduated from the Albany Teachers' college and New York university, after which she taught in the metropolitan area until her retirement. She was appointed Clayton historian in April, 1945 and in March, 1944 became head of the Clayton Red Cross chapter. The Misses Montgomery and Peck retired from teaching school in 1945 and for more than ten years these three former teachers have resided together enjoying this Clayton house with its wealth of history and the wealth of antiques and relics of the Great Lakes and the St Lawrence river which it contains.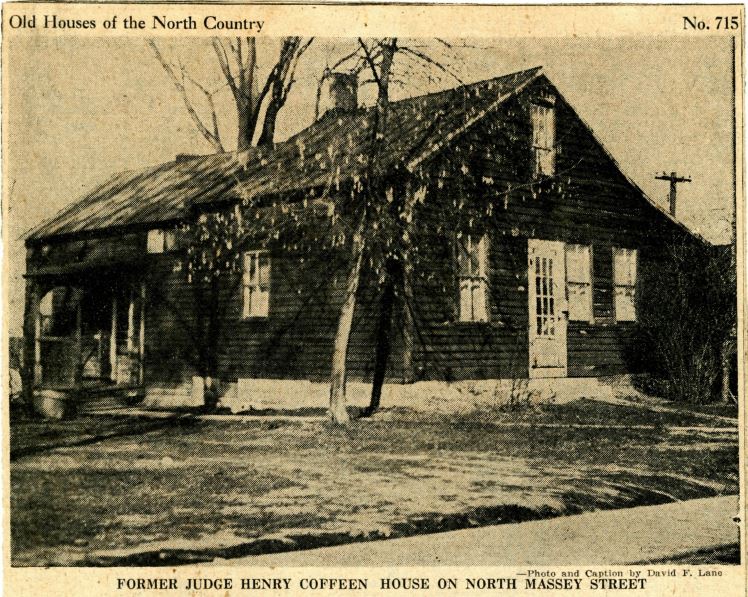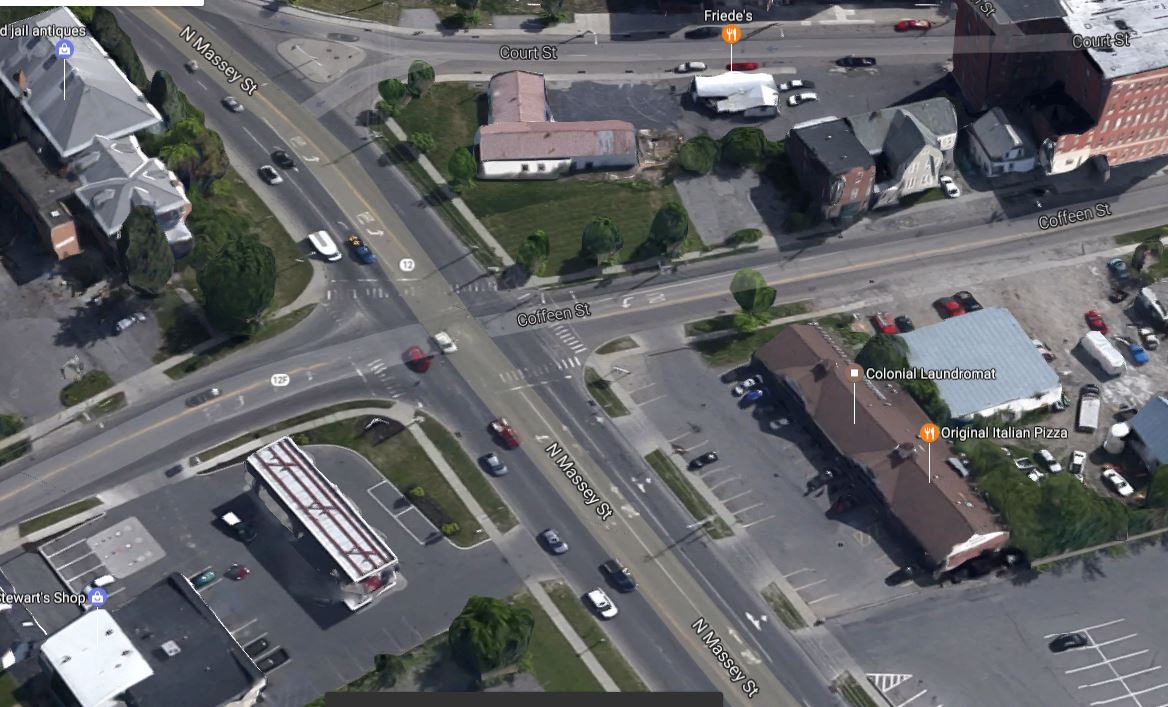 Judge Henry Coffeen was the very first settler of what is now the city of Watertown having brought his family and household goods from Schuyler, Oneida county by ox-drawn sled in March 1800 a brief space before Zachariah Butterfield. He took up a large stretch of land between the present Public Square to near the Brownville line and between the river and Arsenal Street. In the then dense forest he built a log cabin about where the Crest restaurant is.

Although 39 he was a pioneer of energy, vision and determination to create here a planned and thriving community which, being a Jefferson Democrat, he named Jefferson. Madison Street or square he laid out where North Massey Street now is as a business and governmental center. In 1803 he and Andrew Edmunds built the first local bridge about where the Court Street bridge is. On April 1 1804 he was appointed the first postmaster. He fought to set off two counties from Oneida in 1805 with Jefferson village the seat of Jefferson County, and became supervisor of the town of Watertown. With others he gave the land for Public Square that year.

In 1806 he built his grist mill and that year was sent to the state assembly as assemblyman. He and his brother Amos in 1807 gave the land for the county jail and court house which were about where the present county jail is. Prior to that he had built a hotel about where the Woolworth store is. In 1809 he established a weekly newspaper, The American Eagle, printed in a stone building near that first court house and with Abram Taylor Jr, as publisher. James B Robbins, founder of the Black River Gazette at Martinsburg two years earlier was connected with it.

Sometime between 1804 and 1807 he built the above house, first frame house here, on the west side of the present North Massey Street at the southwest corner of Coffeen Street and directly across from the jail. Almost 20 years ago this house was razed and a gasoline station replaced it. The framework of the house was of stout hemlock logs pinned together with wooden pins or pegs.
It had seven rooms downstairs and two upstairs. Its floors and clapboards were of the best pine and there Henry Coffeen and his family lived. But he became heavily financially involved and in 1819 removed to Edwardsville, IL, where he died within a year.

Henry Coffeen or Coffin was born at Ringe or Jaffrey, New Hampshire, son of Henry and Lucy Hale Coffeen. His ancestors were from Brixton, Devon, England, early American colonial settlers and there were many Tristrams in his family tree, of which Robert P Tristram Coffin was another descendant. Henry Coffeen's wife's Christian name was Heiress.

On January 18 1812 Sheriff Perley Keyes sold most of Henry Coffeen's lands to Thomas Edwards of Johnstown to satisfy creditors. Edwards conveyed this house where Henry Coffeen and family was then living to Henry's son, Henry Hale Coffeen on August 4 1813. The latter deeded it back to his father August 21 1815 but it came back to Henry Hale Coffeen and after his death his daughters, Mrs Sarah H Robert, Mary C Coffeen and Mrs William (Emeline) Cowan, sold it to Egbert W Dodge, who on November 26 1860 conveyed it to General Bradley Winslow. The next day General and Mrs Winslow transferred it to Mrs Eliza M Dodge. Egbert Dodge. On August 12 1854 Egbert and Lydia Dodge conveyed it to George W Dodge who on November 26 1860 conveyed it to General Bradley Winslow. The next day General and Mrs Winslow transferred it to Mrs Eliza M Dodge.

On March 22 1866 she and George W Dodge sold the place to Elijah Carter and on November 5 1870 the other heirs of Mr Carter conveyed it to his son DeWitt M Carter, a civil engineer, draftsman and abstractor who was connected with the construction of the Watertown, Carthage & Sackets Harbor railroad and who lived in this house with few changes in it for over 60 years.
Mr Carter was born in the town of Denmark January 1 1843 and on March 11 1871 married Jane M, daughter of Charles and Martha Weil Brown. She died January 9 1929 and he on October 18 1935. On July 31 1934 this house was sold by Attorney Frederick M Boyer referee to George F Leak, Mr Carter's son-in-law, to satisfy a mortgage. On April 22,1937 Mr Leak leased the property to the Shell Union Oil corporation and the house was razed for a gasoline station. On November 26 1941 Mrs Gertrude Carter Leak, widow of George F Leak, sold the property to the Shell Oil Company, Inc the present owner.
In his will he provided "sufficient and comfortable" maintenance for his widow and then his home and furnishings to two unmarried daughters, Harriet and Maria. The residuary estate was divided among his sons, Oliver A, Samuel and John. John was a school teacher the greater part of his life, but in his latter years resided in the mansion with his sisters, Maria and Harriet. They resided in the beautiful place with its hammered stone walls and beautiful interior all of their lives and on March 2 1897 made identical wills.
Maria provided a life-use to Harriet if she should survive and Harriet vice versa. After the survivor's death their estate was to go to their nephew, Samuel Felt Jr, of this city.
Harriet Felt died January 7 1907 and Maria on February 24 1911. Samuel Felt Jr, when he died January 24 1919 leaving close to $200,000 provided that the old mansion and farm should go to the Methodist church of Felts Mills in memory of his mother.
For many years since then the church has leased the mansion and for the most of that time up to and including the present it has been the home of Mr and Mrs Ward B Gorman who have it filled with beautiful antiques and heirlooms. Last summer it was thrown open by them to the public as one of the show places of the county in connection with the Jefferson County sesquicentennial celebration. Scores of people visited it, and found it as sturdy, sound and well kept as during its original days almost 130 years ago.

Felts Mills is one of the oldest and most historic hamlets in the county dating back lo 1800 when David Coffeen was given ten acres for the erection of the first grist mill in the county. It was on Mill creek. In 1801 the first sawmill in the county was also built there. In 1804 Wolcott Hubbell built another grist mill, which was the one bought by John Felt in 1813 and operated by him until 1821 when he prepared lo construct the big stone grist mill on the banks of Black River. John Felt is said lo have been one of the leading businessmen and civic figures in the county, a vigorous opponent to the use of intoxicating beverages and of tobacco despite the fact that he was an early distiller.
Micah Sterling, Yale classmate of John C Calhoun and of James Fenimore Cooper, prominent early Watertown figure and leading northern New York lawyer in the early half of the 19th century, had among his outstanding clients James D LeRay de Chaumont who was the north country's most noted land baron.
Mr Sterling was born at Lyme, Connecticut, November 5 1784 entered Yale in 1800 in the class with John C Calhoun and J Fenimore Cooper and graduated in 1804. He later studied law, was admitted to the bar, came first to Adams about 1807 and then to Watertown about 1809. His first recorded and purchase in Jefferson County was slightly over 96 acres in the town of Ellisburg from Silas and Betsey Allen oil May 7 1810. Next he acquired a tract of 25 1/2 acres in what is now the Franklin Street area from Lemuel and Betsey Storrs on February 6 1811. From that time on he added materially to his local land possessions until he owned a stretch that extended from Washington Street to the present Thompson park.
In 1824 he was owning the Edmenston House, a two-story wooden structure on the north side and towards the upper end of Public Square. In this he at that time had his law office. It had previously been operated as a hotel under the name of the Gilson House by Luther Gilson, and in 1826 was replaced by the three-story stone Mansion House.
It was in 1826 also that Mr Sterling built his beautiful Georgian limestone mansion in Sterling park which extended from State Street to Franklin Street and from the junction of Franklin, Sterling and Clay Streets to William Street. Most of the stone was quarried from the ridge in front of the mansion, but the facing stone came from Chaumont. There were no houses on the south side of State Street at the time from the present Parker Street to William Street and the mansion was numbered 32 State Street. A long drive led from State Street to split near the beautiful front entrance and circle to the barn and coach house in the rear.

The front doorway with its mahogany door is one of the finest upstate, and through it went President Martin Van Buren when he was the guest of Senator Sterling at the mansion in 1839.
Watertown village was incorporated April 5 1816 and al the ensuing election in May, Micah Sterling was chosen village treasurer. He became auditor of the Bible Society of Jefferson County when it was formed January 29 1817. In 1820 he was elected congressman to represent the 18th district, Jefferson, Lewis, St Lawrence counties. He was state senator from the fifth district 1836-9. He was an incorporator of the Jefferson County Agricultural Society and president in 1842. He was a "trustee of Watertown Academy formed in 1832 and a stockholder of the Black River Navigation company organized June 5 1810. At one time he was law partner of Isaac H Bronson in the firm of Sterling & Bronson and their offices were just south of the present Roswell P Flower Memorial library. He was president of the Jefferson County bank 1833-4.
Mr Sterling died April 11 1844 willing his widow, Mrs Ruth Sterling, life use of the mansion estate and farm, and then to John Calhoun Sterling, son, a local bookstore proprietor. When the latter died May 22 1903 he left this mansion property and residuary estate equally to his three children, John, Edward B, and Susan B Sterling and niece, Emma B Wardwell.
The mansion was last occupied by the Sterling family in 1909 and on July 25 1910 the John C Sterling heirs sold the mansion property to John L Taylor who, transferred it March 23 1911 to his son, John Byron Taylor, founder, head and controlling factor of the Northern New York Utilities.
Mr Taylor spent over $50,000 rehabilitating and expanding the property for his residence, and, with his wife, Edith M Taylor, sold it to the Holy Family church society on Sept 19 1922 for the beginning of the Holy Family parochial school, of which it is still a part.
The mansion remains one of the beautiful landmarks, of this city, its doorway with leaded-glass fan and sidelights, its splayed keystone arch being one of the most exquisitely-designed house entrances in northern New York, The old original door itself is of excellent craftsmanship, and in the fanlight above is featured an American eagle.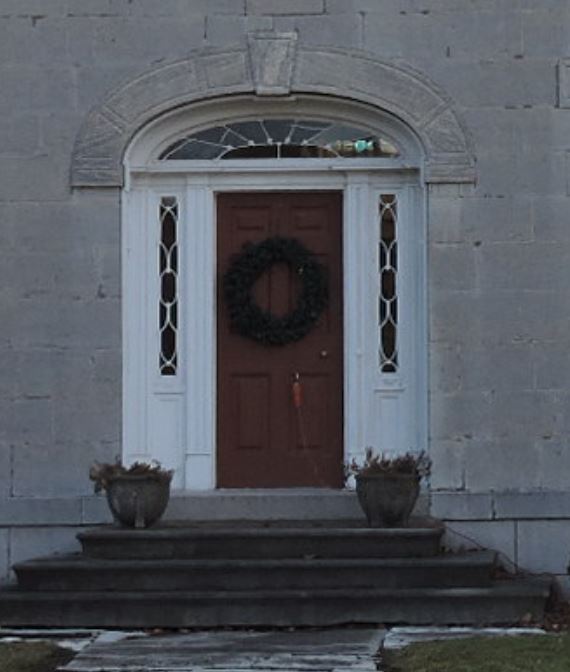 John Felt Mansion Doorway in Felts Mills
The architecture of a house reflects the artistic sense of the owner and the doorway is its smile or its frown.
Of the several beautiful doorways in northern New York, one of the finest and most architecturally perfect is that in the John Fell native limestone mansion erected for him in-Felts Mills in 1827. It long since passed out of possession of the Felt family and is now owned by the Methodist church of that village, having been given by Samuel Felt Jr, prominent local druggist who died here January 24 1919. He was the son of Samuel and Pamelia Losee Felt, a grandson of John Felt, and willed the mansion to the church as a memorial to his mother, who was a lifelong member of that church.

John Felt, native of Somers Connecticut, was born May 11 1781 son of Captain Samuel Felt, soldier in the French and Indian and Revolutionary wars. At 13 John moved with his parents to Madison county and in 1806 to the town of Leyden, Lewis county. Two years later he married Polly, daughter of Oliver and Elizabeth Ackley of Haddam, Connecticut. In 1811 he bought 350 acres and settled in Felts Mills, first known as Truckville. The next year he served as a private in the War of 1812.

In 1813 be built and operated a distillery. The same year he bought Wolcott Hubbell's grist mill. In 1821 he bought the island of Vincent LeRay, built dams and in 1822 the stone grist mill which still stands near the mansion. In 1823-1 he built the first sawmill on the island and a second larger one there in 1842. He did an extensive lumber business, shipping fine pine lumber from the plains to Troy New York and other places.
In 1851 he sold the island and mills and in 1858 the stone gristmill, turning his attention to farming. In 1836 he was town of Rutland supervisor. Also he was Felts Mills postmaster. In 1834-5 he shipped the bedrails for the first railroad in the state from Albany to Schenectady. He died December 3 1868
In his will be provided "sufficient and comfortable" maintenance for his widow and then his home and furnishings to two unmarried daughters, Harriet and Maria. The residuary estate was divided among his sons, Oliver A, Samuel and John. John was a school teacher the greater part of his life, but in his latter years resided in the mansion with his sisters, Maria and Harriet. They resided in the beautiful place with its hammered stone walls and beautiful interior all of their lives and on March 2 1897 made identical wills. Maria provided a life-use to Harriet if she should survive and Harriet vice versa. After the survivor's death their estate was to go to their nephew, Samuel Felt Jr, of this city.

Harriet Felt died January 7 1907 and Maria on February 24 1911. Samuel Felt Jr, when he died January 24 1919 leaving dose to $200,000 provided that the old mansion and farm should go lo the Methodist church of Felts Mills in memory of his mother.
For many years since then the church has leased the mansion and for the most of that time up to and including the present it has been the home of Mr and Mrs Ward R Gorman who have it filled with beautiful antiques and heirlooms. Last summer it was thrown open by them to the public as one of the show places of the county in connection with the Jefferson County sesquicentennial celebration. Scores of people visited it, and found it as sturdy, sound and well kept as during its original days almost 130 years ago.

Felts Mills is one of the oldest and most historic hamlets in the county dating back lo 1800 when David Coffeen was given ten acres for the erection of the first grist mill in the county. It was on Mill creek. In 1801 the first sawmill in the county was also built there. In 1804 Wolcott Hubbell built another grist mill, which was the one bought by John Felt in 1813 and operated by him until 1821 when be prepared to construct the big stone grist mill on the banks of Black River. John Felt is said to have been one of the leading business men and civic figures in the county, a vigorous opponent to the use of intoxicating beverages and of tobacco despite the fact that he was an early distiller.
General Jacob Brown Mansion Doorway At Brownville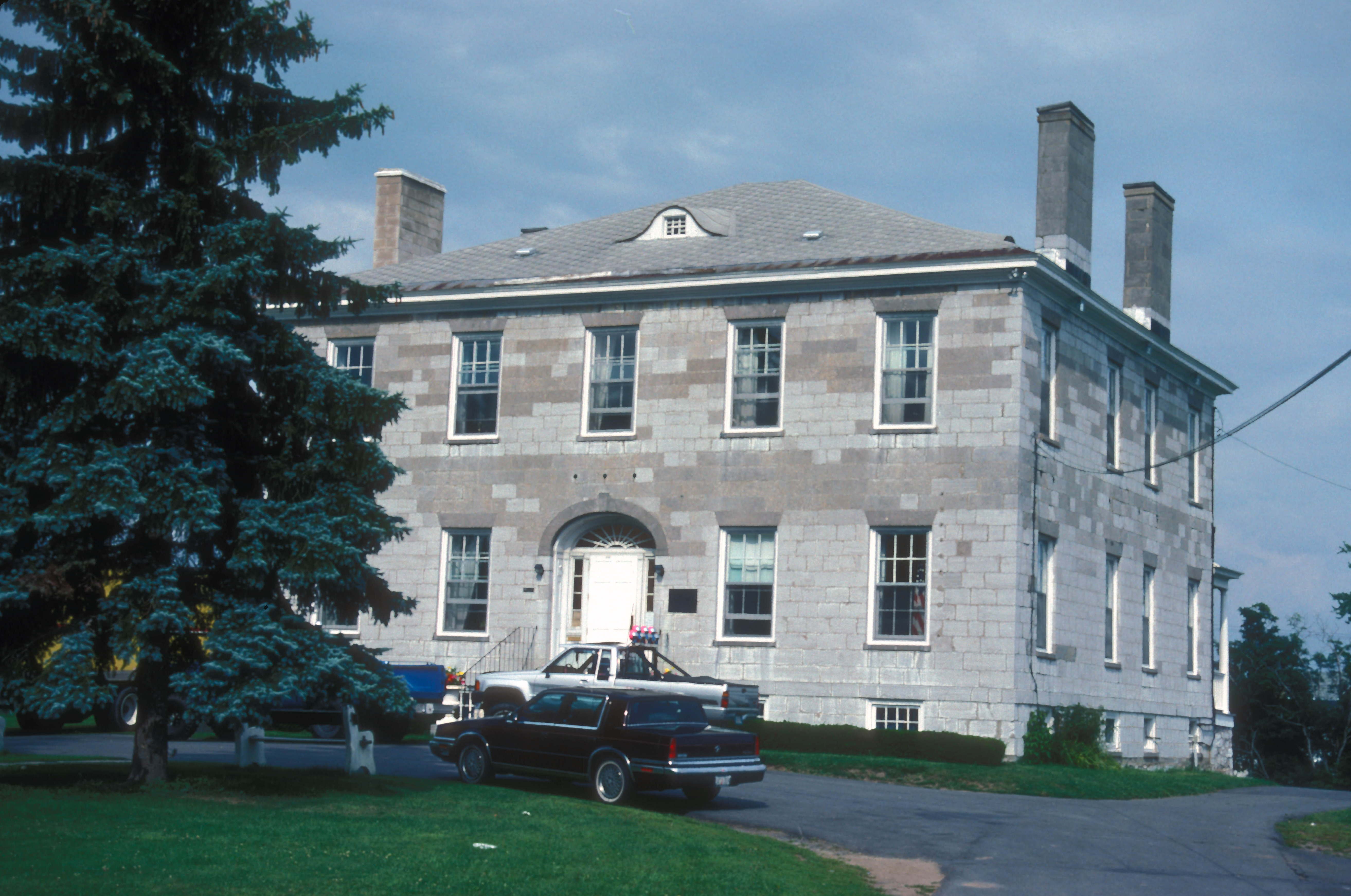 While the doorway of the Major General Jacob Brown mansion at Brownville is an attractive one, it lacks the artisticness of design of those of the Orville Hungerford mansion and the Micah Sterling mansion in this city, or the Hiram Hubbard mansion in Champion. The materials and craftsmanship of the mansion, however, are as good as can be found in any in the country, and the house is as sound and true today as when it was built upwards of 140 years ago.
A most durable grade of limestone, quarried near by, excellently cut, faced and laid up, was used for the exterior walls. The interior woodwork and floors are choice selections of the finest native woods and at this mansion, which sits back among beautiful trees on a site which originally consisted of ten acres, were entertained President James Monroe, Gouverneur Morris James D LeRay de Chaumont and others of America's great. The mansion was constructed about 1815 approximately the same time that Vincent LeRay's "Stone House" at Cape Vincent was started. It was in early August 1817 that President Monroe was entertained there while on tour of inspection of the nation's fortifications.
Major General Brown was himself one of America's great men. Hero of the battle of Sackets Harbor, of the battles of Chippewa, Lundy's Lane and Fort Niagara he proved himself the top American general in the War of 1812 ranking both Andrew Jackson and Winfield Scott. As a result he was made general-in-chief of the United States regular army early in 1821 and served in that capacity at Washington, DC, until his death on February 24 1828. His death dashed the nation in mourning and his funeral was one of the impressive military affairs of its kind. He lies buried in the Congressional cemetery at Washington.

During his Washington residence General Brown was a warm friend and adviser of President John Quincy Adams.
As he was one of the nation's military great be was also one of New York state's great, having been a pioneer leader in the development of northern New York.
Born May 9 1775 a Quaker at Falls Township, Bucks county, Pennsylvania, he became a Quaker schoolteacher, joined his father in buying wilderness lands here in 1798 came on in May, 1799 to clear and settle them, found the township and village of Brownville, where he located his home, became a land agent for James D LeRay, survey many northern New York areas, promoted the organization of militia, and became one of the key civic and political leaders in this part of the state, having been a staunch Federalist.
When he died his mansion at Brownville became the property of his widow, the former Pamela Williams of Oneida county and there her son-in-law and daughter, Colonel Edmund and Eliza Brown Kirby, resided with her. Colonel Kirby died at Avon Springs, NY August 20,1849 and his widow in January 1861. Following that Mrs Brown and the other representatives of her husband's estate sold the mansion property to Mrs Annie Augusta Clark of Brownville for $3,000. Mrs Brown died in 1878.

Mrs Clark kept the property until October 5 1896 when she conveyed it to Lenna Gertrude Judd of New Haven county who transferred it the same day to Adelaide Clark. The latter later became Adelaide Clark Johnson who sold the mansion and a portion of the original grounds having a frontage of 215 feet on Main Street and a depth of 475 feet on December 8 1916 to C Howard Greene, manager of the Hotel Woodruff in this city. Mr Greene purchased it for his mother, the late Mrs Althea O Greene, of this city, a prominent leader in the Daughters of the American Revolution.
Mr Greene retained the mansion for 30 years, maintaining it as a private residence and show place until April 1 1946 when he disposed of it to Samuel A Upham, philanthropist, of this city. Mr Upham immediately conveyed it the same day to the Village of Brownville on condition that the property be used for purposes of education or diffusion of knowledge, establishment of a library, a park and recreation grounds for healthful activities, and for military functions and parades. It is accordingly now being used as a village civic center.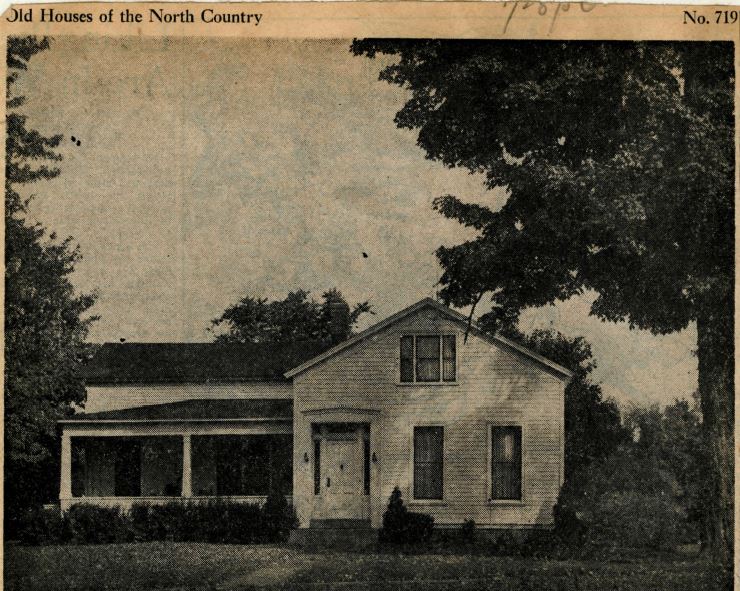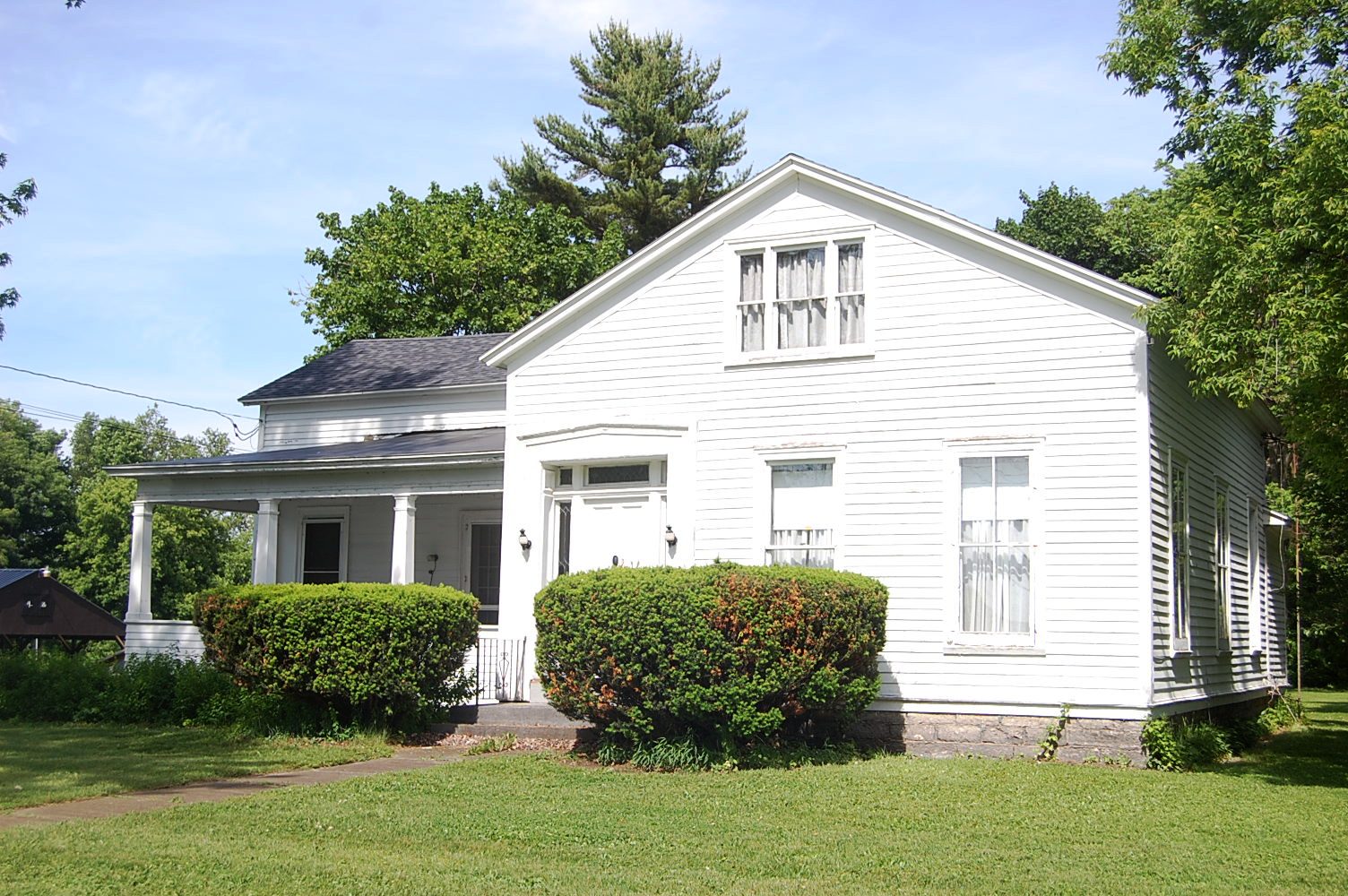 Joseph Sterling House In Adams
One of the oldest houses in the village of Adams is this one at 16 South Main Street. It is far up on that thoroughfare, diagonally across from the birthplace of J Sterling Morton, founder of Arbor Day, and is believed to have been built about 140 years ago for Joseph Sterling. Of simple design, it is an attractive old dwelling and maintained in excellent condition.
The Sterlings were early residents there. Micah Sterling, intimate friend and frequent correspondent of John C Calhoun, located there before he came to Watertown to become one of the leading men of this community, to be sent to congress and to the state senate, and to occupy one of the finest mansions in northern New York, at one time entertaining there President Martin VanBuren. Also after the death of Joseph Sterling, Micah conveyed this Adams house to David Smith Jr, son of the David Smith who pioneered the village of Adams upon the tract of land which he owned, which village was first known as Smith's Mills because of the grist and saw mills which this elder Smith early established there.
Records in the county clerk's office show that Joseph Sterling bought small parcels of land in the vicinity of this house on August 4 1810 and January 15 1811. The records also show that this house was next west of the elder David Smith's house, now the home of the American Legion.

On June 10 1839 Micah and Ruth Sterling transferred the house shown above to James Dunn of Adams, the deed stating that it had lately been occupied by Joseph Sterling deceased. On August 29 1850 James and Jane Dunn sold it and its site of about two acres of land to David Smith Jr. The latter was a dealer in butter and produce, but apparently he was not a man of wealth for on January 15 1887 the house was sold to George Frasier for $2,225 to satisfy a mortgage given by Jane M and David Smith Jr, to John R Pawling and assigned to Eliza Gates. Paul C Maxon was the referee of sale.

George Frasier was a wealthy Adams resident, owner of a number of rich farms in the town and village trustee in 1874-5. His wife was the former Miss Cinderella Root and their son was the late George H Frasier, also a wealthy resident and owner of valuable farms, who died May 30 1950 aged 76.
George and Cinderella Frasier disposed of this South Main Street house on September 26 1889 to Lafayette Caulkins of Lorraine and Reverend Gordon Moore, Utica. Caulkins was a prominent Lorraine farmer, mill owner and, with William R Grow in the firm of Caulkins & Grow, an extensive wholesaler of "pickled" or water-glassed eggs. He was a son of Daniel Caulkins who served at Sackets Harbor in the War of 1812.
On December 24 1890 Lafayette and Julia M Wilkinson Caulkins his wife, conveyed their half interest in this South Main Street house to their daughter, Mrs Harriett I Moore, wife of Frank G Moore. Frank G Moore was the son of Reverend Gordon and Florilla F Moore. Frank G Moore, who died June 17 1922 was identified with D E Taylor & Company in Adams and his interest in the house went to his widow Harriett Irene Moore. They had one daughter, Laura M Moore.
Mrs Florilla F Moore died May 24 1926 her husband, Reverend Gordon Moore having predeceased her on September 23 1905 and such interest as she had in the house went to her daughter-in-law Harriett Irene Moore plus $3,000 the balance of her estate going to Laura M Gerow, granddaughter.
Mrs Harriett Irene Moore died Sept 10 1934 and her daughter, Mrs Gerow, wife of H B Gerow, well known Adams business man and former president of the Jefferson County Grand Jury association, then acquired title to this house. The house is historic in that it was once owned by the son of the founder of the village of Adams, so named after the name Smith's Mills was discarded, because of the fact that Adams was once regarded as a veritable Garden of Eden and hence of Adam, according to the late Mrs Clara Willard, historian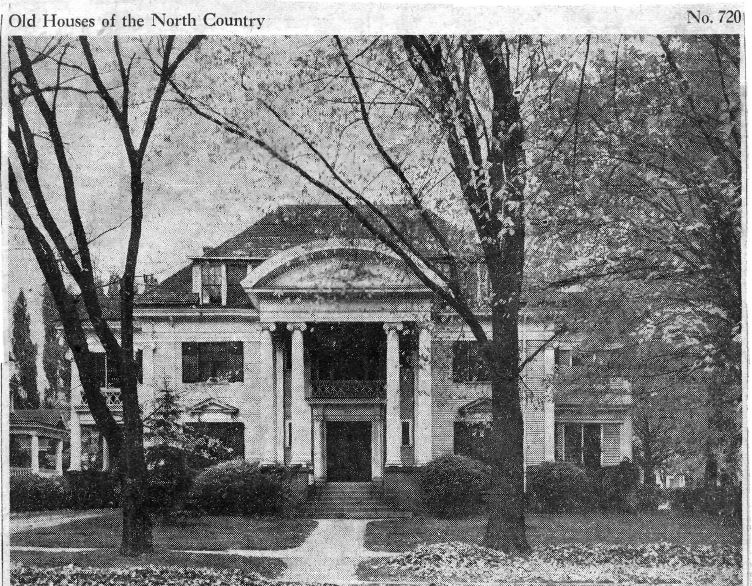 Former Stanley E Hunting House On 273 Paddock Street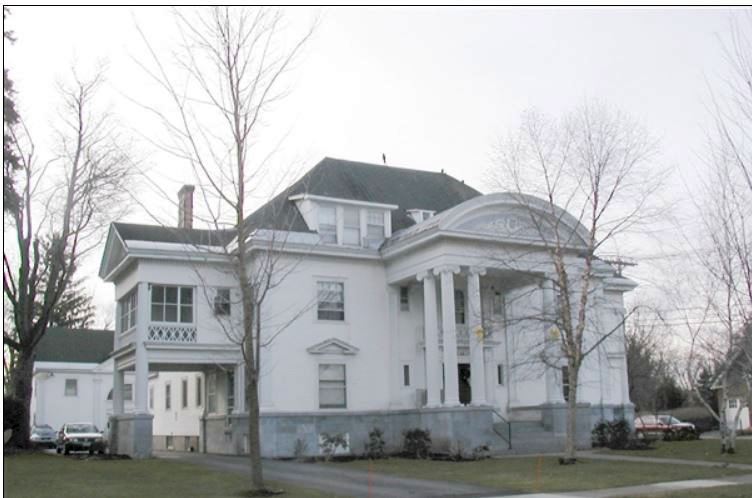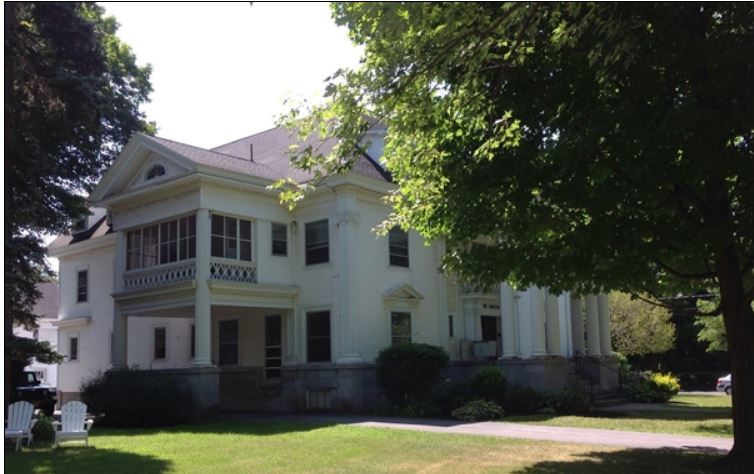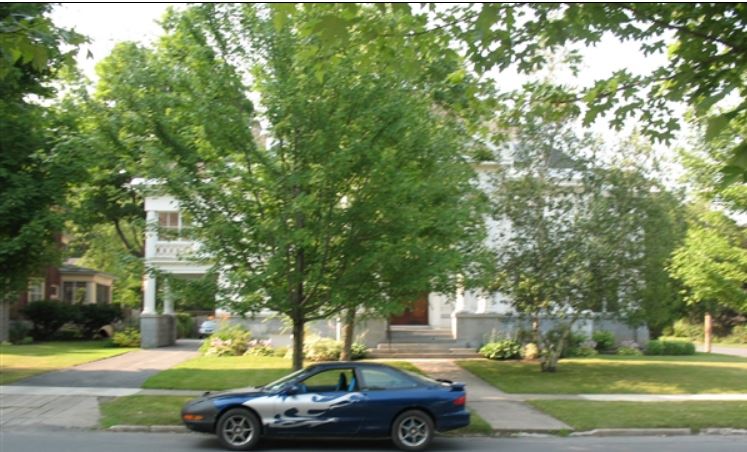 Built 50 years ago at 273 Paddock Street, for Stanley E Hunting, founder of the Hunting company, wholesaler in plumbers' supplies, the above became one of the largest and most palatial mansions in the city. During its first quarter century it accumulated historic prominence through having been the residence of Floyd L Carlisle, founder of a large banking institution, creator of a huge paper-manufacturing corporation, and builder of a giant electric power corporation. Also the residence of his brother, John N Carlisle, former state public service commissioner, and state superintendent of highways.

Of classic design the house was constructed in 1905-6 for Stanley E Hunting upon a lot at the southeast corner of Paddock and Holcomb Streets purchased on August 14 1905 by Mr Hunting's wife, Mrs Grace L Devendorf Hunting from the late Edwin L and Olive A Paddock. Ten years later Mr Hunting decided to remove to Rochester to give his attention to a branch I business and on August 16 1916 Mrs Hunting sold the mansion to George H and Nettie B Richmond of Pittsford.
The following day they conveyed it to Floyd L Carlisle, who resided there until he transferred his business headquarters to New York City and purchased a mansion at Locust Valley when, on July 6 1922 he and his wife Edna Rogers Carlisle conveyed this Paddock Street mansion to his brother, John N, Carlisle. The latter resided in it until his death July 21 1931 and his widow, Carrie C Carlisle until her death on March 27 1933. Later her grandchildren, Frederic H Taylor Jr, Sallie Taylor and Catherine C Taylor by Frederic H Taylor Sr, special guardian, disposed of the local mansion to the Watertown Improvement & Construction company, a Frederick N Kirch concern which on November 1 1937 conveyed it to Mr Kirch's son, Russell D Kirch and wife Ellen P Kirch, city, the present owners. During the Kirch control it has been conducted as an apartment house.

Stanley E Hunting, the initial occupant of the mansion, was born July 26 1865 on a LeRay farm just outside the city, son of Maro B, and Jane Ann Converse Hunting. He was educated in the local schools and the C T Gove business college. Engaged with his father in the milk business, came here in 1892 as a partner of F B Devendorf in the plumbing business, married the latter's daughter February 28 1893. The late John Weeks acquired the Devendorf interest in 1894 and Hunting & Weeks was formed. A block was built on Factory Street in 1896. Frank D Pierce, bought the Weeks interest in 1900 to form The Hunting company. In 1922 Mr Hunting sold to William H Waite and Lloyd Casler and concentrated on his Rochester business until 1926 when he transferred his residence to Florida and formed the Standard Supply Co Inc, of St Petersburg. There Mr Hunting died December 12 1947 aged 82.

Floyd L Carlisle, son of William S and Catherine Rose Burdick Carlisle, was born in this city March 5 1881. His mother was daughter of former Mayor Nelson Burdick. His father was superintendent of the Davis Sewing Machine company, which transferred to Dayton, Ohio, where Floyd continued his schooling, graduating from the Steel High school in 1899 and from Cornell university at Ithaca in 1903. At Cornell he was twice president of his class and head of a debating team. He later studied law, was admitted in 1905 joined his brother in the firm of Carlisle & Carlisle and when his brother became public service commissioner in 1910 formed the Northern New York Trust company, becoming board chairman.
He married Miss Edna Rogers November 21 1912 formed the Carlisle Syndicate and took over the St Regis Paper company in 1916 gained control of the Northern New York Utilities in 1921 formed the F L Carlisle & Company investment house and moved to New York in 1922 started St Regis on the way to giant proportions, developed the power field into the Niagara Mohawk company and died November 9 1942 leaving a $6,226,762.31 gross estate, and holding the position of board chairman of Consolidated Edison company.
John N Carlisle, born August 24 1866 studied law with Judge Henry Purcell, was admitted in 1889 was city attorney 1891-2 chairman of the Democrat county committee, member of the Democrat state committee, major in the 4th Battalion National Guard, director of the Northern New York Trust company, president of the Northern New York Utilities and member of the Black River Regulating board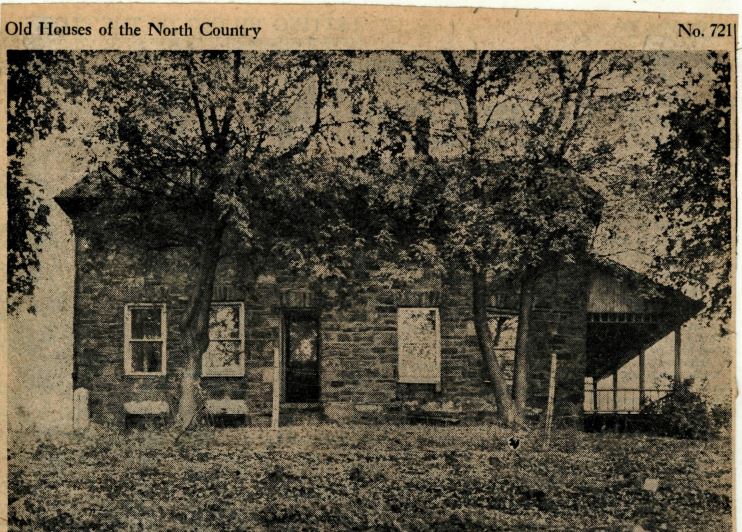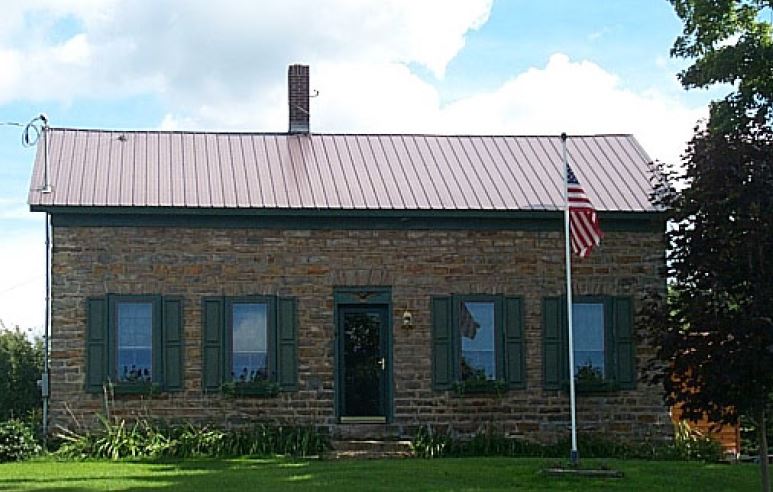 George Ormiston House In Rossie
The Ormistons, the Dicksons and the Laidlaws were among the early Scotch settlers in the town of Rossie, St Lawrence county, and with them they brought many Scotch customs and ideas. In fact between the Oswegatchie and Indian rivers, both of which flow through that town, is the "Scotch Settlement."
The land that became the town of Rossie was bought by David Parish, millionaire financier on December 2 1808 and set off from Russell as a township on January 27 1813. Some months before that Robert Ormiston and James Dickson, coming up the St Lawrence from Quebec in Durham boats met the Parish land agent, Joseph Roseel, who induced them to go to Ogdensburg to see Parish. While there they decided to settle in Rossie, named for Parish's sister, Rossie or Rosa whose husband owned a Scotch castle also named Rossie.
Settlement of the town was started in 1807 by Reuben Streeter only a mile or two from the hamlet of Oxbow towards Wegatchie and along the Oswegatchie river in the vicinity of the native, rust-tinged gray sandstone house shown above.

This house, extremely simple in its architecture, stands high upon a ridge well back from the road and effectively fenced in with barbed wire. It is believed to have been built by George Ormiston about 119 years ago, he having bought two parcels of land where the house is in 1837 one of 24 acres for $141 from William and Isabella Robison on April 3 and the other of 56 acres from Aaron and Harriet Teal on Sept 1.
On January 14 1862 Jennet or Janet Ormiston quitclaimed her interest in the property, which then comprised a farm of over 180 acres to Robert D Ormiston for $2,500 and on February 19,1864 he and his wife, Josette sold it to Alexander Dickson of the town of Antwerp.
On November 19 1870 the property was sold by Alexander L and Frances Dickson to Stephen Markwick for $10,848. Markwick was one of nine children of Samuel and Mary Shadwell Markwick of Sussex, England who came to America and located in Rossie in 1836.
Markwick heirs to the above house and farm apparently transferred the place back into the Dickson family, for on July 1 1919 James A Dickson, Jane S Dickson and James Walter Dickson transferred it to Charles A Dickson who, with his wife Carrie, deeded it to George E Laidlaw the following November 12.
From George E Laidlaw it passed to his widow, Mrs Nina M Laidlaw who died intestate on August 11 1947 leaving a son Stanley G Laidlaw and a daughter Mrs Kathleen Munger who sold it on October 31 1947 to George W and Ellen F Shaw. They, in turn, disposed of the property to Elmer E and Mary P Halladay in 1949.

Robert A Ormiston, former treasurer of the Northern New York Utilities company under the J B Taylor ownership, and who died June 22 1936 in this city, was a grandson of Robert and Jeanette, Jennet or Janet Ormiston. Corporation Counsel Lawrence R Ormiston was also descended from the Rossie Ormistons.
Many Ormistons and Dicksons also resided in the town of Antwerp which abuts the town of Rossie between Oxbow and Wegatchie. William Markwick, who was born near Hastings, England in July 1803 came to New York City at 16 remaining two years before two and a half years of service with George Parish at Ogdensburg, and then settled in Rossie marrying Mary, daughter of James Ormiston, who was one of the first to locate in Rossie's "Scotch Settlement."

George E Laidlaw, onetime owner of the above house, was born April 5 1889 on the Johnstown road, son of William and Lottie Hicks Laidlaw. He married Miss Nina Storie of Gouverneur on June 1 1910 and for a number of years was justice of the peace in the town of Rossie. He died March 8 1940 aged 50 and his wife on August 11 1947 aged 59.
Orville Hungerford Mansion Front Door
One of the most perfect architectural types of stone mansion as well as one of the best maintained north of the Mohawk valley is that at 330 Washington Street of the late Orville Hungerford, first president of the a first railroad to tap the north country, the Watertown & Rome.
Built of the finest quality of native limestone, perfectly cut, faced and laid up by the finest craftsmen in the field of masonry this mansion at the end of two years was completed in time for Mr Hungerford and his family to move in on November 11 1825. That was nearly 131 years ago and at that time it was the most outstanding residence in the village of Watertown.
The mansion has a most inviting broad central hallway with beautiful stairway. On either side are beautiful drawing rooms furnished with magnificent antiques. The dining room, kitchen and service rooms are on the main floor. Large, sightly and pleasant bedrooms are on the second floor. One of the most exquisite features of the mansion is the front entrance with its limestone cap embodying keystone, its graceful elliptical fanlight, its rectangular sidelights, all three with the most graceful and artistic tracery of leaded glass, the Doric pilasters on either side of the door and the beautiful six-paneled door with its attractive old eaglc-knocker. The steps are excellently laid up and maintained in perfect alignment.
The picture shown above of the doorway was taken at night with the hallway illumination bringing out the delicate tracery of the leading design of the doorway's fan and side lights. While the English ivy on either side of the entrance is thrown into deep shadow by the night, the simplicity of the front windows of the mansion is accentuated. Altogether the mansion, which has never been out of the Hungerford family ownership, is a north country example of perfect dwelling and architecture.
Orville Hungerford, the original owner, was an example of a self-made man who rose from a pioneer store clerk to merchant, banker, industrialist, congress man and onetime candidate for governor. He was born at Farmington, Connecticut, on October 29 1790 came into this Black River country with his parents at the age of 14 worked in Jabez Foster's store at Burrville until 1808 when Foster opened a store in Watertown with young Hungerford as clerk.
A few years later Orville Hungerford became a partner under the name of Foster & Hungerford. Then after some years he withdrew from the firm to set up his own business. In 1816 he became a founder of the old Jefferson County bank, the county's first bank, and was its president when he died on April 6 1851. At that time also he was president of the Watertown & Rome railroad, which brought the first locomotive steaming into Watertown in the night of Sept of that year just five months too late for him to see it.
Like Silas Wright of Canton, Mr Hungerford was an ardent Democrat, served two terms in the United States House of Representatives and was defeated for the governorship of the state in 1817.

He was an extensive real estate operator, was active in the Jefferson County Agricultural society and in the Jefferson County Bible society and was one of the largest contributors to the building of the First Presbyterian church edifice.
Mr Hungerford was married on October 13 1813 to Miss Betsey P Stanley, a native of Wetherfield, Connecticut, who died in this city Sept 17 1861. Their children were Mary S, who married Adreil Ely; Orville, Richard E, Marcus, Martha and Frances E, the latter of whom never married. It was her estate that conveyed this mansion to Mrs Leland G (Helen H) Woolworth in 1921 and the latter willed it at her death to her sister, Miss Harriet Hungerford, the present owner and occupant, also a granddaughter of the original Orville Hungerford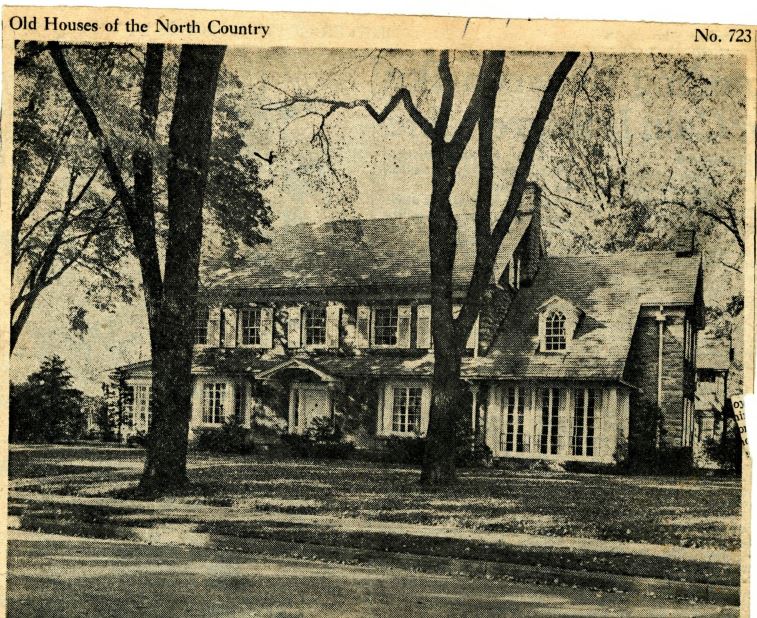 Miss Madeleine Bagley House on 204 TenEyck Street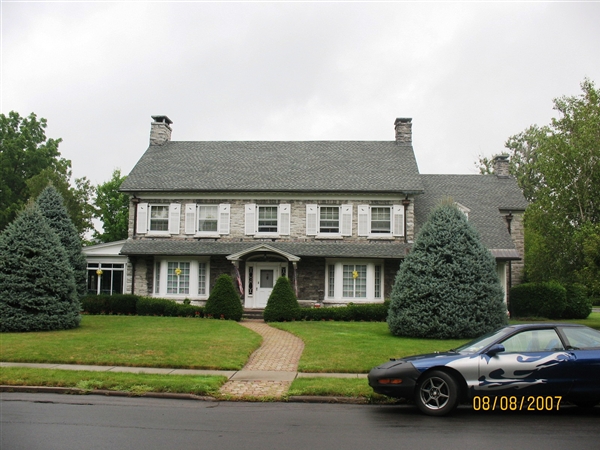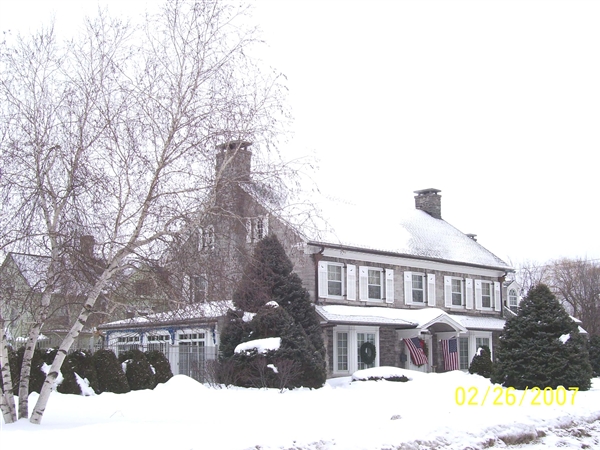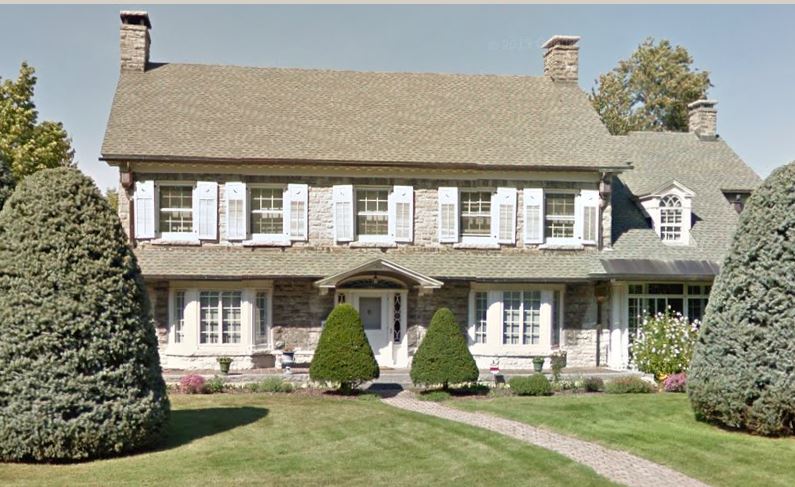 One of Watertown's beautiful houses of today is that of Miss Madeleine Bagley at 204 TenEyck Street. It is at the southwest corner of Sherman Street, occupying a large lot and is one of the show places of the city.
The architecture is Germantown Colonial with a Germantown hood extending across the front between stories. Shutters embellish the beautiful windows, while inside a staircase of the pallette type graces the hall. The living room is capacious and on the west side of the ground floor. There is a conservatory on the east side, a library, dining room, kitchen, pantry and maid's room are also on the ground floor. On the second floor are five pleasant bedrooms and three baths.

The mansion has especial import to Watertown in that it was designed by local architects, erected by a Watertown builder and its walls are made of fine Jefferson County limestone. The architects were the late Addison K Lansing and Harry W Greene, partners in the local firm of Lansing & Greene and the design is of high credit to them, as is the excellence of construction, which was by the late John P Charlebois, contractor and builder.

Erected in 1921 the residence replaced a dignified and imposing one of brick with high limestone basement walls and high front steps which had stood there since the time of its erection in 1853 and fronted on Sherman Street. For a number of years that brick house, which was built for John H Rice was the only one except the Babcock residence in the entire block encompassed by Sherman, Ten Eyck, Holcomb and Mulhn Streets, and the Babcock residence was on the south side of Mullin Street near Holcomb.
The story of that brick house seems pertinent in hat three of the city's most prominent early families lived in it at different times, the Rice, Knowlton and Johnson families.
John H Rice, original owner of the house, was the son of Clark Rice, partner of George W Knowlton Sr in the acquisition of Watertown's first paper mill, and the wife of Mr Rice was Mr Knowlton's daughter, Maria C Mr Rice was a partner in Knowlton, Rice & company insurance brokers occupying the "Old Insurance office" over the Wooster Sherman bank at the corner of Court Street and Public Square. A few years later Mr Rice operated the Jefferson County Insurance agency in the Paddock arcade and in 1858 was one of the founders of The Daily Telegraph newspaper headed by John D Huntington and succeeded by the Daily News.

On October 21 1852 John H Rice bought the first parcel of land for his brick house from Joseph and Lydia Mullin and, on November 29 1852 bought the larger parcel cornering on TenEyck and Sherman Streets from William Smith. At the end of about seven years Mr and Mrs Rice removed to Albany and on April 23 1860 Mrs Rice leased the brick house lo Robert H Boyd, car wheel manufacturer, for $250 a year with privilege of renewing the lease up to an additional four years. On January 10 1863 Mrs Rice and her husband sold the place to John Clarke, attorney and father-in-law of George W Knowlton Jr, one of the founders of Knowlton Brothers Paper company. And on January 1 1864 John and Cornelia C Clarke conveyed the property to their daughter, Mrs Knowlton.
Mrs Knowlton, the former Miss Frances G Clarke died in 1868 and on April 28 1869 Mr Knowlton, his son George Seymour Knowlton and daughter, Elizabeth F Knowlton, minors, sold the house to Levi A Johnson, one of the principal officers of the Davis Sewing Machine company.

The Johnson family resided there a number of years and, on October 1 1901 Mary Louisa Johnson, who was also a daughter of Attorney John Clarke, and her husband, Levi A Johnson, sold the property to Richard S Hungerford grandson of Orville Hungerford first president of the Watertown & Rome railroad. Richard S Hungerford was a brother of Miss Harriet Hungerford, present owner and occupant of the old Hungerford mansion at 336 Washington Street Mr Hungerford died in 1919 and on June 15 1920 his daughter, Mrs Hugh D (Ida H) Wise, executrix and the Farmers Loan & Trust company of New York City trustee of his estate sold the brick house to Miss Bagley who had it razed for her fine mansion erected there in 1921. Miss Bagley is the last of the children of George A Bagley, a founder of the Bagley & Sewall company, manufacturers of paper and pulp producing machinery.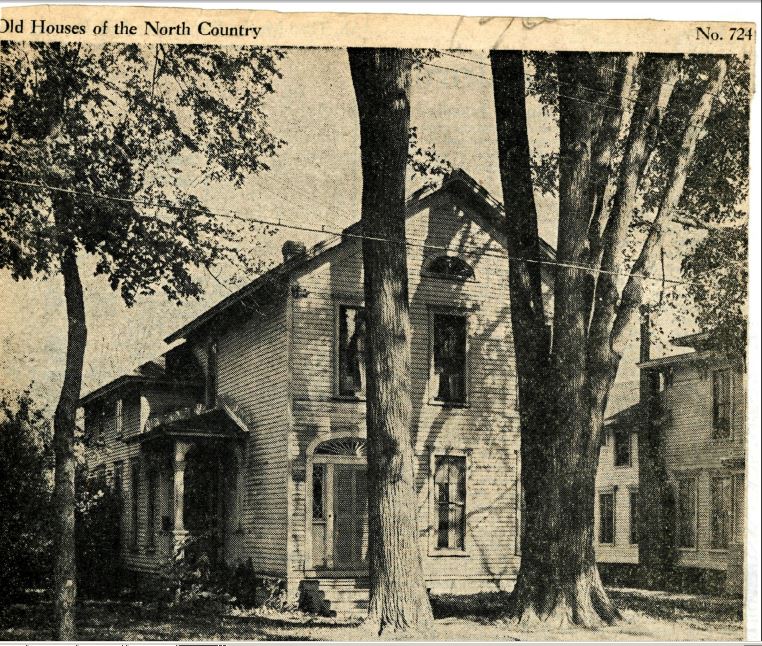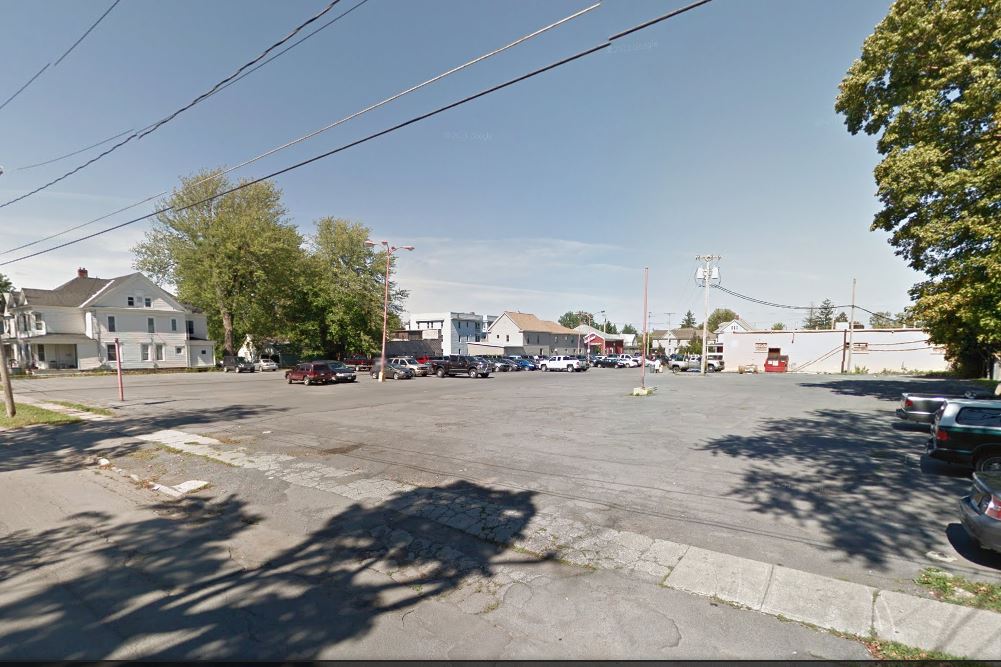 Orrin J Robinson House on Boyd Street
On the north side of the first block of Boyd Street is this house, No 623. It was constructed in 1875 and is one of the oldest dwellings on the street, now being over 80 years of age. In fact Boyd Street consisted of only this block extending from William to the present South Rutland Street for many years, before it was eventually extended to finally tap Park drive.

The original street, named for James R Boyd, was part of the Camp & Boyd subdivision purchased by Boyd and Colonel Elisha Camp of Sackets Harbor from H Emerson. On August 3 1848 Mr Boyd and his wife, Elizabeth C Boyd, conveyed their interest in the tract to Colonel Camp.

The lot, upon which the above house was built, has an 80-foot frontage and a depth of about 137 feet, and was sold by Colonel Camp and wife, Sophia, to Orvis Goulding of Watertown on June 21 1856. On September 12 1861 Luceneth Goulding, and Emma E Timerman of Pamelia disposed of it to Augustus P Schreiber of Watertown for $200.

Mr Schreiber apparently removed from Watertown to Hudson and on January 16 1869 he and his wife, Margaret, disposed of it to Paul Yager of Watertown for $240. Next on January 2 1875 Paul and Anna Yager sold the lot to Orrin J Robinson for $575. Old city directories indicate that Mr Robinson undoubtedly erected the above house there that year and it remained in his family for 52 years.

Mr Robinson was a native of Watertown, son of Mr and Mrs Israel Robinson, who resided on the southeast corner of State and William Streets, the elder Robinson having been a carpenter by trade. Orrin J Robinson lived with his parents in their house until he was married to Miss Florence Reid, the mother of his children. After her death he was married to Mrs Eunice Reamer.

It is likely that his first marriage occurred but a short period before he built the above house. Orrin J Robinson learned the painter's and glazier's trade and for a number of years worked for York & Moore consisting of Anson E York and Elisha D Moore at the corner of Mill and Moulton Streets. Later the firm became York & Starkweather and continued the manufacture of sash,, blinds and doors, at the same time supplying architectural designs and estimates for church edifices, business blocks and dwellings arid occupying the York block on the south side of Factory Street at the northeast corner of Polk Street. For a number of years before that York & Moore also had an office in the Doolittle & Hall block, now the Lincoln building on the north side of Public Square. During the last ten years of his life Mr Robinson was employed by S W Johnson in the builders' supplies business on lower Polk Street.

Although he never sought public office Mr Robinson was an active Republican and the barn at the rear of this Boyd Street residence was used as one of the city's polling places at election time for a number of years before and after his death. And during a part of the first World War was employed for the registration of draftees, particularly for the last call when the late Attorney William K Mott had charge of the place.

The house, consisting of a large hallway with beautiful black walnut stair rail, a large living room, study, dining room, rest room, kitchen, pantry and lavatory on the first floor, four individual bedrooms, a back hail bedroom and bathroom on the second floor, is set off by two beautiful American elms in front. One of these elms is one of the largest in the city. The present colonial doorway and semicircular attic gable window were installed in 1928 and have since attracted much attention.
Mr Robinson died at the age of 60 on November 23 1912 willing the house to his children but leaving a life-use to his widow, Mrs Eunice R Robinson. On November 1,1927 his estate through his son-in-law, Arthur P Clark, New Hartford, as trustee, sold the property to David F Lane, who remodeled it and has since made his residence there. On May 18 it was purchased by the Empire Properties corporation of Rochester and soon the house will be razed to make room for the Loblaw supermarket parking lot extension.
Howell Cooper Mansion on Washington Street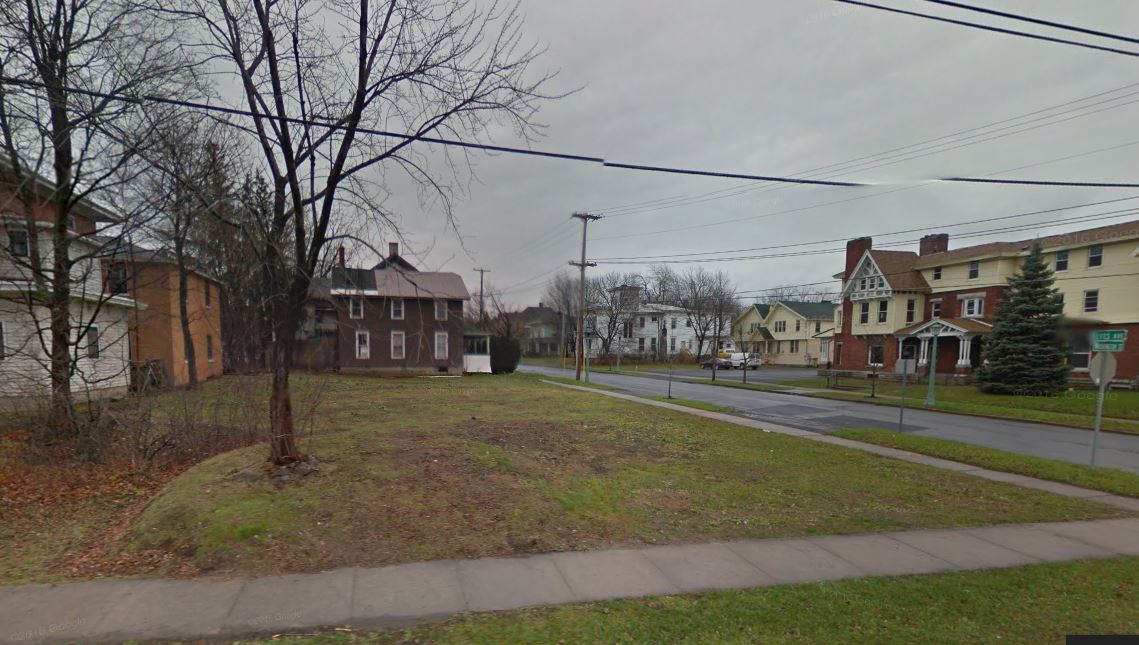 Slightly more than a century ago this large, square brick house with the observation cupola and the heavy, carved cornice brackets was built on the west side of Washington Street at the northeast corner of TenEyck Street. And it was in 1853 that Mr and Mrs Howell Cooper moved into it. Mr Cooper was a merchant, inventor and manufacturer who became one of Watertown's leading citizens. His wife was the former Lois Patterson Woodruff, one of the daughters of Norris M Woodruff, founder of the Hotel Woodruff.

Howell Cooper, born at Trenton, NY, in 1815 was a son of Abraham and Susannah Howell Cooper, and Abraham Cooper was the eldest son of John and Susannah Cooper. Abraham Cooper was born at Southampton, Long Island, June 18 1781 and about 1795 accompanied his parents to Utica. There he helped his father haul goods from boats to the stores, later got a job in a store and on June 14 1810 opened a store of his own at Trenton. Also he owned a large farm there.

In 1817 he bought a large tract of land and also opened a store at Oxbow, which he operated until 1847 when he turned it over to one of his sons. Abraham Cooper was twice married and had three children by his first, wife, Susannah Howell Cooper. By his second wife, Harriet, daughter of Phineas Howell, he had four children, one of whom was Elias F Cooper. Abraham Cooper died February 7 1861.

At 19 Howell Cooper became associated with his father in business in Utica and had a branch store at Hammond. Howell made frequent business trips to Watertown, became acquainted with Norris M Woodruff and on September 21 1839 married the latter's daughter, Lois. After that, he became associated with Horace W Woodruff in the hardware business on the north side of Public Square. Later Howell's half-brother Elias F Cooper joined him in the firm of H & E F Cooper in the same business at No 2 Iron block.

After a time, Elias F Cooper went into the drug business at 6 Court Street. The 1855 directory shows him residing at the Hotel Woodruff and Howell in this brick house at 44 Washington Street. In 1859-60 Elias was residing at 54 State Street and in 1863-4 at 43 Washington Street.
Howell Cooper bought the lot May 1 1850 and built this brick house on Washington Street. The record shows that on May 9 1857 he and his wife, Harriet M Cooper, conveyed it to Mrs Lois P Cooper and on December 1 1865 she quitclaimed the property back to Elias, reserving a life-use of the house.
When a municipal water system was set up in 1853 Howell Cooper became one of the original water commissioners. In 1864 he began manufacture of the Buckeye mower and reaper. On August 15 1865 he was one of the incorporators of the Portable Steam Engine & Manufacturing company. He was one of the promoters of the Potsdam & Watertown railroad and of the railroad to Carthage. He died July 24 1870 but his widow continued living in the big mansion until her death on August 12 1915 in her 95th year. Two of their children died in infancy. Harriet married Richard E Hungerford. Irene married Dr Judd Dayen. Addie married Dr Theodore French and Kate married Orville E Hungerford. Two sons were Charles Howell Cooper and Norman.

Charles Howell Cooper, born July 11 1845 in a house next to Trinity rectory, went to live in this brick mansion when he was seven and remained there until his mother's death, when he went to reside with his daughter Mrs Nicholas D (Gertrude) Yost at 522 Washington Street. Charles Howell Cooper married Anna R Churchill of Ohio October 23 1873. She died in May 1892. Mr Cooper was an inventor and extensive world traveler. He died December 10 1927 survived by his daughters Mrs Yost and Mrs William A Moore of New Rochelle. A TenEyck Lansing, trustee under the Howell Cooper will, sold this big brick mansion to Colonel Hugh D and Ida Hungerford Wise on April 22 1920 and on October 29 1941 they disposed of it to the Watertown Improvement & Construction company, an F N Kirch enterprise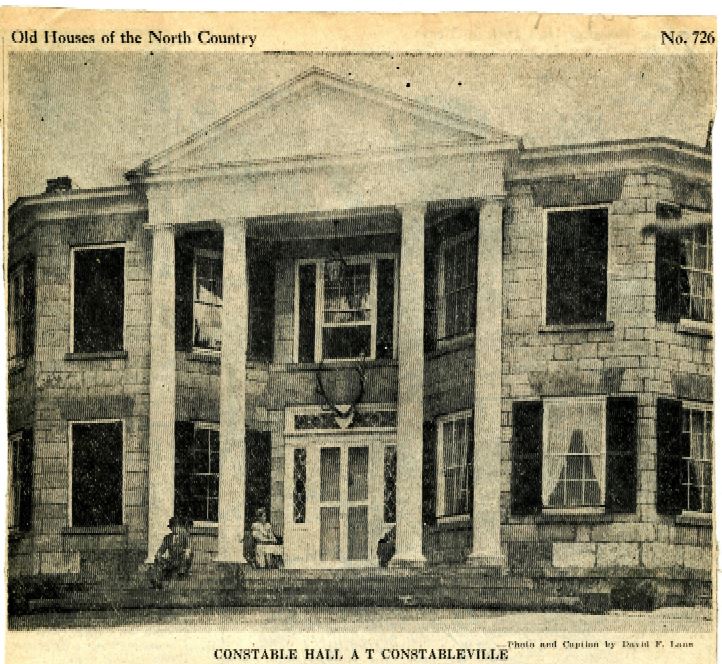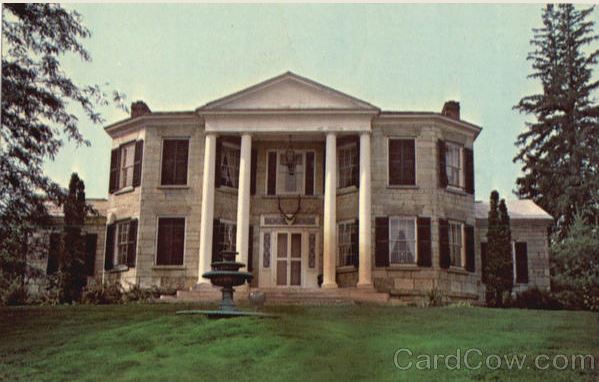 See Also Article #2 - same house, but a different write-up
The classic portico of Constable Hall, magnificent 137-year-old mansion of the historic Constable family on the outskirts of the village of Constableville, Lewis county, is one of the most unique as well as one of the most beautiful on any dwelling in the state. It is unique in that it is recessed as an almost half hexagon flanked by equal nearly half-hexagon bays on either side. Thus the facade of the main structure is a string of three half hexagons, the middle or portico one of which is sunk back in.
Tall pillars of graceful Doric simplicity support the simple pediment of the portico to thrust a beauty into the mansion's front that is unsurpassed anywhere in the north country.
Back behind the pillars in the center of the portico is a most attractive doorway bordered by artistic leaded glass transom and sidelights, and the six-panelled door is embellished by an interesting old bronze door-knocker.
Upon a shield in the center of the transom are the antlers of an elk that has been there many years, a trophy of the early Constables. In the huge limestone capstone back of the antlers is carved "1819", the year that the Hall is said to have been completed after its nine-year construction period, for it is said to have been started in 1810 for William Constable Jr, son of the great northern New York landowner.
Constable Hall, for the past eight years an historic museum owned and controlled by the Constable Hall Association Inc, is designed in the Georgian manner but carries a close similarity to the old Constable manor where William Constable Sr was born in 1752 in the Dublin district of Ireland. He was a son of Dr John Constable, a British army surgeon who served in the French and Indian wars, with Wolfe at Quebec, and later as aide-de-camp to Marquis de LaFayette.
Marriage mingled the grandchildren of this Dr John Constable with the noted Pierrepont, Livingston and McVickar families. William Constable Jr, the original owner of Constable Hall, was born April 4 1786 was educated in Europe and married Eliza, daughter of James McVickar. His father, William Constable Sr, partner in the ownership of almost 4,000,000 acres of northern New York wild lands, died May 22 1803 and is described as a most magnetic and impressive personality.
In June, 1810 William Constable Jr, came to Constableville and resided in a house built by Shaler. Plans for Constable Hall are said to have then been gotten under way and limestone for the exterior walls was hauled by ox-team from near Talcottville, carefully cut, hammered and laid by skilled masons. Only the finest native woods and materials were used in the construction and it is likely that the War of 1812 delayed work for a number of years, explaining the cause for the nine-year completion. When it was finished, there it stood upon a ridge facing one of the most beautiful vistas to the eastward and in a setting of handsome trees. With its low, one story wings on either side the "Hall" was and still is perfectly symmetrical. But William Constable Jr lived but two years to enjoy it, he having died on May 28 1821.
After that the mansion's ownership and surrounding acres passed down through descendants until 1948 when it was sold to the late Harry S Lewis and his sister, Mrs H D Cornwall of Beaver Falls. They conveyed it to the Constable Hall Association, Inc which has restored it, fitted it up with much of the beautiful old Constable furniture and other family possessions and added many historic articles of interest to build up one of the most worthwhile historic museums in the east. And every summer and fall thousands of people visit it, the small admission fee being thrown into the fund for its maintenance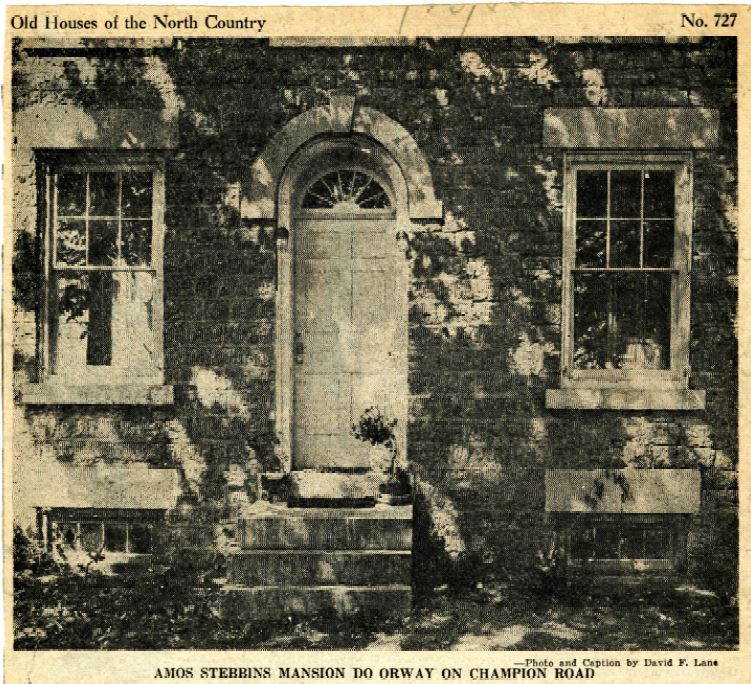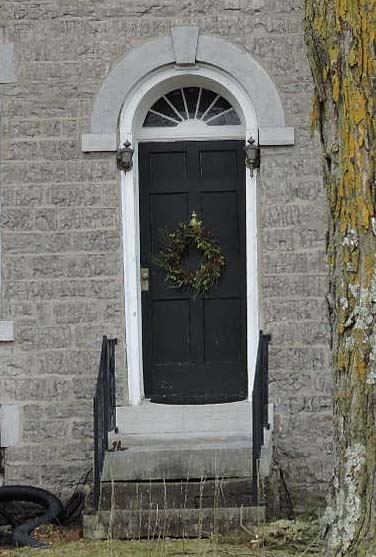 The character of a house is indicated by its facade, and the facade is the same to a house that a face is to a person. It smiles or frowns through its doorway. At the same time it tells the spectator some of the character of the ones for whom it was built. Whether they were possessed of an artistic sense and were concerned with the better or with the more indifferent ways of life. Whether those who came after the original possessors in ownership maintained the same standards can well be judged from how they have kept up or treated the old house, although not always, as financial circumstances may not have permitted them to have done as well as they should have. Pride in maintenance of an old house helps tell the story of the owner, the kind of person he is, and his status in society.
Beautiful doorways are a joy as long as they last and there arc many of them in the North Country. Simplicity and grace are the basic elements of fine architecture. They are the great elements of beauty and they are to be found in this simple, narrow entrance to the old Amos Stebbins mansion, now owned and occupied by Mr and Mrs Samuel Kellogg Frink on the Watertown-Champion highway.
Featuring it are the original six-paneled door, the simple casings, the deep semicircular transom light and the graceful cut-limestone semicircular arch with keystone. Dappling sunlight across the front of the house greatly enhances the beauty of it and its native limestone walls. Construction of the house is believed to have been started by Amos Stebbins shortly after he gained sole title to the 321.48 original acres of land, upon a portion of which it stands, on June 7 1812. It is thought to have been completed about 1815.
It was on September 19 1807 that Mr Stebbins and William Keyes, who was a cousin of his mother, Hannah Keyes Stebbins purchased this 321-48 acres from Isaac and Ann Bronson. On June 7 1812 Keyes disposed of his interest in the property to Mr Stebbins, who was a native of Massachusetts and son of Menuman and Hannah Keyes Stebbins.
Amos Stebbins, who served at Sackets Harbor in the War of 1812 was married to Hannah Prior. He was town clerk several years, assemblyman 1816-17-21 and supervisor of Rutland 1824-26. A daughter, Cornelia, born in 1815 was married May 24 1836 to Dr Isaac Munson, Evans Mills, a founder of the Agricultural Insurance company in 1853 and vice president, secretary and president successively. Shortly after the marriage of Dr Munson to Miss Stebbins this house and farm were deeded to them by Amos Stebbins and there they resided until 1849 when Dr Munson became county clerk and removed to Watertown.
On December 5 1855 he sold this house and farm to Pliny Monroe of Delhi, whose wife was the former Samanfha Ball of Rutland.
On March 7 1864 Pliny Monroe sold the property to Simeon Hadcock and removed to Watertown and on March 1 1871 Mr Hadcock did the same, disposing of the place to the late Samuel Frink who served as town clerk, justice of the peace and in 1869 and 1870 was supervisor. He died on May 26 1903 and the farm then went to his son, the late Asa B Frink who never married and who died February 26 1924. On the following May 29 the estate conveyed the property to his nephew. Samuel K Frink, the present owner, son of the late Carl H and Stella Kellogg Frink.
For a number of years it was unoccupied and got into a serious state of disrepair, but was restored to its present condition in 1952-3 by Samuel K Frink.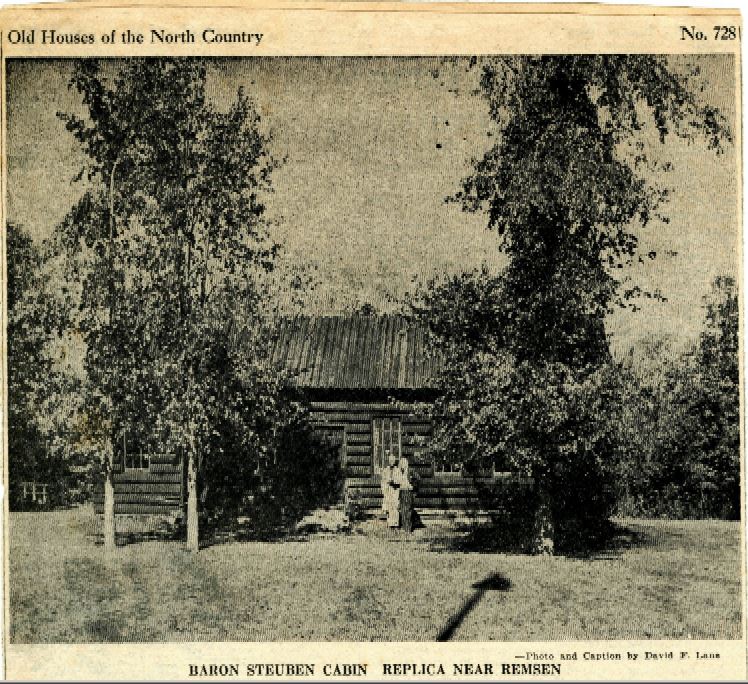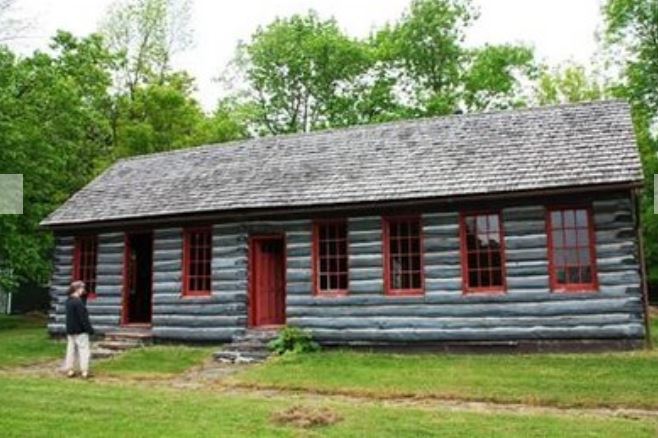 The Baron Friederich Wilhelm Ludolph Gerhard Augustin von Steuben, the Prussian soldier and aide de camp to Frederick the Great, who later played such an important role on the side of the Colonies in the American Revolution, is of some slight interest to the people of Jefferson County. This interest attaches to the fact that Noadiah Hubbard, first white settler in the northern part of Jefferson County, was a neighbor of the baron in the town of Steuben and was one of those summoned to his side the night that he was stricken fatally by apoplexy on November 28 1794. It was three years later that Captain Hubbard took land in the town of Champion.
Few Americans today realize the enormous credit that is due the baron for the success of the American colonies in winning their independence and in establishing a new nation. It was he who brought to General George Washington at Valley Forge February 23 1778 a technical military training unknown to 'either the British or French armies, was made assistant inspector general of the Colonial army, developed a code of training and strategy, reformed Charles Lee's disordered forces, was promoted to inspector general, with General Nathaniel Green reorganized General Gates' southern army, served under LaFayette in Virginia during the Cornwallis invasion, was assigned to command a division at Yorktown contributing to the defeat of Lord Cornwallis, was a trusted military adviser to General Washington and, in the spring of 1783 helped with demobilization of the army and helped Washington prepare a plan for the future defense of the United States.
It was he who was a leader in founding the Society of the Cincinnati; who was sent to Canada to receive the military posts from the British. And when Washington relinquished command December 23 1783 his last official act was to write a commendatory letter to the baron.
On March 24 1784 Baron von Steuben was honorably discharged. The Pennsylvania legislature made him a citizen in March, 1783 and the New York state legislature in July 1786. He took residence in New York City where she was a social lion and in 1786 the New York legislature granted him 16,000 acres along the Mohawk near Remsen. He became president of the German Society and of the New York branch of the Cincinnati. With the creation of the state board of regents in 1787 he was made one of the original regents. On July 1 1794 he laid the cornerstone of the Hamilton-Oneida academy, beginning of Hamilton college, and after prayer by Reverend Samuel Kirkland, made an address. On April 15 1784 congress directed that a gold-hilted sword be made, engraved and presented to him in recognition of his services. The sword was created in London under supervision of Colonel William L Smith, American legation secretary. Shortly after the 16,000 acres of Mohawk valley land was granted him, he planned to build a large frame mansion there, but it was never done. Instead a two-room log cabin with lean-to was constructed with bake-oven in the kitchen and located in a 60-acre clearing of the 800 acres of his tract that he had ordered set aside for himself.
After his retirement from American Colonial military service, he lived in New York City winters and in his log cabin summers. In the latter he died of an apoplectic stroke November 28,1794. There he was buried and later, when the town planned a road near his grave, Colonel William North, one of his aides, had his remains taken up and hidden in another grave in the forest near his cabin. That is known as "the hallowed wood," and there is a great boulder and a number of historic markers. The original cabin disappeared some years ago and the replica was built in 1936 to become an historic state shrine containing many Steuben effects.
The Baron was not of royal lineage. His grandfather, Reverend Augustin Steube of the German Reformed church, added "von" to the name about 1708. While serving as chamberlain at the court of Prince Hohenzoller- Heckingen at Hechingen in 1764 he was created a baron. He was born Sept 17 1730 at the fortress at Magdeburg, where his father, Lieutenant Wilhelm Augustin von Steube, served in the Royal Prussian Engineers. King Frederick William of Prussia was his first godfather.
His mother was Maria Justina Dorothea von Jagow. The baron was only a captain when Benjamin Franklin and Silas Deanc recognized his military ability in 1777 and sent him to Washington in America slyly as a "lieutenant general."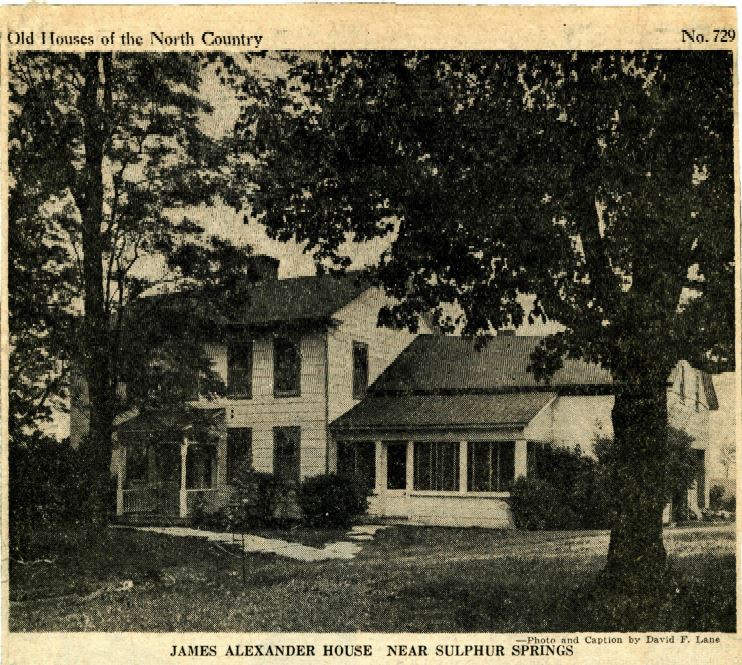 Some modernization has taken place on this approximately 120-year old farmhouse, which lies sequestered at the junction of the Sulphur Springs road and an old dirt road in a beautiful setting in the town of Hounsfield. The beautiful interior, artistically furnished with priceless antiques, and original fireplaces and mantels, however, remains delightfully unchanged.
It occupies five naturally landscaped acres of rolling land with ancient maple and locust trees. These five acres are part of a 97.38-acre farm sold on June 4 1859 by Loren F and Lucinda C Shed and James Rodolphus and Marion T Alexander to Mary A E Slater, wife of Stephen D Slater, for $4,000. The deed declares that this farm was being sold in the division of the property of James Alexander among his heirs.
The construction of the house has every evidence of having been built much more than the 97 years that have elapsed since the date of the above deed, and it is assumed that it was constructed for Alexander well over a century ago. The estimated 120 years' age of the house is deduced from parcels of land sold to James Alexander in the same area by Andrew and Nancy Lisk on February 22 1831 and by Aristarchus Champion, Rochester, on June 29 1832.
The property is now the country home of Howard R Elitharp, secretary of Park-Elilharp, Inc local shoe merchants, and his wife, Mrs Doris M Elitharp. In recent years it has had a number of owners, but for practically nine decades it was held in the Slater family. Mr and Mrs Elitharp purchased it January 23 1933 from Robert L and Glenna RIves, who acquired it March 5 1952 from Mayo W and Nora E Borrman and Robert L and Joy O Morrow who, in turn had purchased it from Lawrence W Isham on February 10 1950.
On July 20 1949 it passed out of possession of the Slater family with its sale by Charles M and Muriel Slater Boynton, city, to Mr Isham. Mrs Boynton was the daughter of the late Herschel and Muriel Eleanor Slater and a granddaughter of James H Slater who died August 23 1933. On Sept 18 1942 Mrs Boynton, a school teacher, then of Linthicum Heights, MD, conveyed the property jointly to herself and husband, Charles M Boynton, having on Sept 12 of that year acquired the interests of Mrs Fern Fields Eveleigh and Harold S Fields, also grandchildren of James H Slater.
Mrs Mary A E Slater, who had purchased the old house and farm in the division of the estate of James Alexander by his heirs, died on May 17 1914 and the property went to her son, James H Slater, her only heir. From then until his death on August 23 1933 he owned and occupied the place. He willed his widow, Mrs Alice V Slater, a life-use of his estate. She died June 6 1936 and her daughter, Mrs Serephene Delia Fields and husband, Talcott C Fields, resided in the house under a life-tenancy of Mrs Fields. Mrs Fields died August 7 1942 and, under the will of James H Slater, title to the property then went to Harold S Fields and sister, Mrs Fern Fields Eveleigh, children of Talcott C and S Delia Fields, and to Mrs Muriel Slater Boynton, the latter of whom later acquired full title.
The Slaters are of an historical colonial line. John Slater, traditionally from Wales, came to America about 1680 and is supposed to have settled in Lynn, Massachusetts. Later he removed to the town of Mansfield, Connecticut, on the Willimantic river, and still later to Windham. A great-grandson, Stephen, horn August 1 1752 married his cousin, Hannah Slater, and lived in Halifax and Plymouth, Vermont. His son, Joseph, married Zylpha Morgan, a Canadian girl and, among their children was Angeline E Slater who, on April 30 1858 married William Kirby, a native of St John, New Brunswick, educated in England, a teacher, a "Fortyniner" who made and lost a fortune in mining and who died at the home of his son, Fred Morgan Kirby, millionaire five-and-ten cent store magnate, in Wilkes-Barre, PA, February 22 1895.
Joseph Slater, the maternal grandfather of Fred M Kirby, was an East Hounsfield farmer, blacksmith and constable a number of years. At 15 he had come from Vermont to Lewis county and in 1837 he located in Hounsfield where he died in 1869 at 71.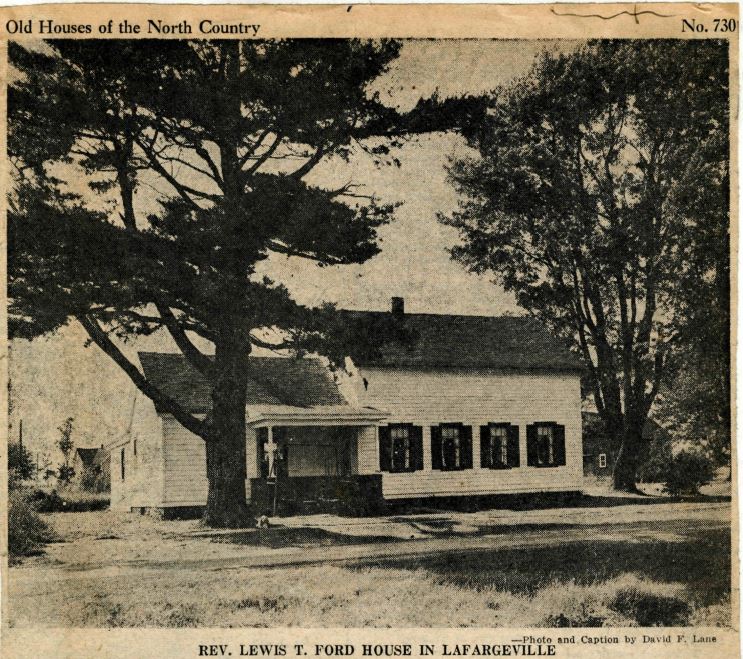 20086 Ford Street, LaFargeville NY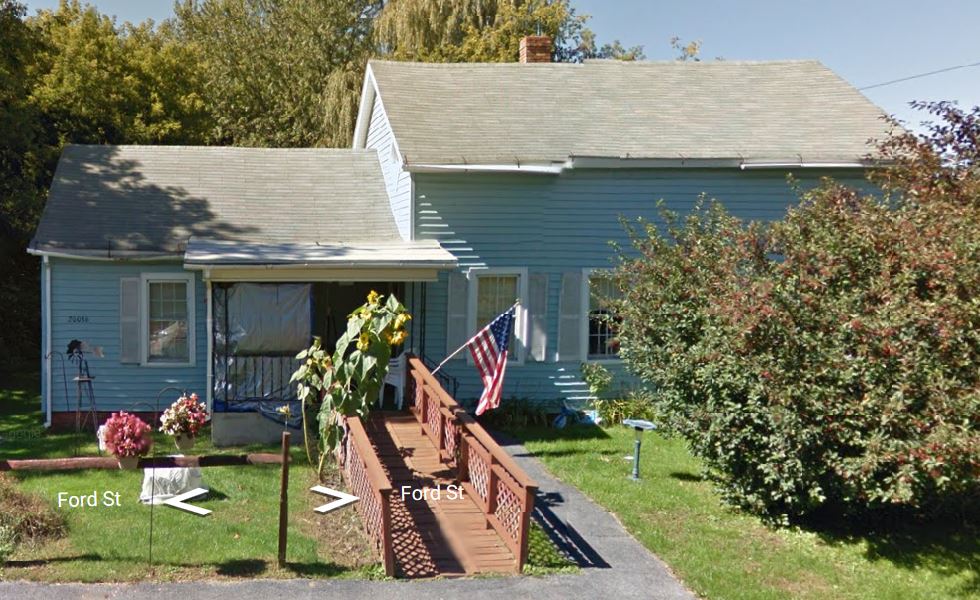 This simple but pleasing little white house with red blinds is believed to be one of the oldest frame houses in the village of LaFargeville. Just when it was erected is not known, but it may have been by John Ford who, with his wife, Lucy Rich Ford, and his brother-in-law Reuben Rich, came from Madison county to settle early in that community which was originally called Log Mills.
Reverend Lewis T Ford, son of John and Lucy Rich Ford, was born at Eaton, Madison county in 1809 worked on his father's farm and in his mill as a boy, attended Madison (now Colgate) college, was graduated from its theological school, was ordained a Baptist minister and first preached at Peterborough where Gerrit Smith, philanthropist and abolitionist, was not only a member of his congregation but one of his lifelong friends. Later Reverend Mr Ford preached in the Baptist church at LaFargeville and about 1841 in Watertown. From here he went to Parishville for four years, but eventually returned to LaFargeville where he remained until lie died.
A deed dated April 29 1847 from John and Lucy Ford conveyed to Horace Vincent a parcel of 72.97 acres, less some small exceptions, plus 1.8 acres beginning at a limestone post and upon which latter parcel this house was probably built. These two parcels were purchased by John Ford from John and Louisa LaFarge of New York City along with greater acreage early in March 1810 and on February 12 1848 Horace and Matilda Vincent sold the 72.97 acres minus, and the small parcel to Reverend Lewis T Ford, who was back in LaFargeville to make his final residence.
On February 5 1851 the State board of regents chartered Orleans Academy, a short-lived institution, of which Reverend Lewis T Ford was president and which first occupied an abandoned tavern. Allen C Beach, later lieutenant-governor of this state, was principal of the academy in 1852.
On December 6 1852 Reverend Lewis T Ford and wife, the former Armindi Stetson of Cooperstown, sold 1.2 acres believed to be the house and site to George Tucker. George and Betsy E Tucker disposed of it to Judson Marshall on May 1 1857 and on February 21 1869 A Judson and Sarah E Marshall sold it back to Reverend Mr Ford who, with his wife, Arminda, conveyed it to George W VanCoughnel February 16 1870. On-March 18 1878 George W and Mary A VanCoughnel sold the property to Michael Lehr, 2nd, and on May 21 1882 Michael and Elizabeth J Lehr transferred it to Charles H Ford, a son of Reverend and Mrs Lewis T Ford who, with his wife, Lillian A Ford, conveyed to Mrs Lehr the same day. Under the will of Mrs Lehr recorded October 5 1909 this property went to her son, John W Johnson.
On December 9 1915 Mrs Hattie A Cleveland, Tarpon Springs, Fla, former widow of John W Johnson, quitclaimed her interest in the property to Hiram Mount, Clayton, who, with Jennie B Sams and Sarah Burton sold it to Tester Miller, LaFargeville, on June 26 1916. Tester and Tillie Miller disposed of it to Eugene Nash Sept 8 1923 and on March 29 1937 he transferred it to Bertha Plato Nash who, as a resident of Dewitt, sold it to County Judge Milton A Wiltse of LaFargeville October 30 1953.
The place is located directly across the street from Judge Wiltse's residence, and after his purchase of the above house he did some remodeling including the removal Of the front doorway and a general rehabilitation of the property. During the work done there a limestone post was unearthed, the nature and origin of which has caused some speculation. By some it was thought to have marked one corner of historic Penet Square, but undoubtedly it was the limestone post mentioned in the 1847 deed from John and Lucy Ford to Horace Vincent as being one of the markers for the lot upon which this house stands.
Judge Wiltse, present owner of the house, points out that his law partner, Attorney Lewis H Ford of Clayton, is a great-grandson of Reverend Lewis T Ford and a great-great grandson of John Ford, said to have come from Connecticut to first locate in Madison county. Also Attorney Wayland F Ford, grandfather of Attorney Lewis H Ford, was born in LaFargeville June 26,1838 was one of the first students of Orleans Academy, was graduated from Madison college in 1859 studied law with E R Keene of Watertown, was admitted in April 1861 served in the Civil War and practiced his profession many years.
Windmill in Morristown - Built in 1825 by Hugh McConnell, a miller from Scotland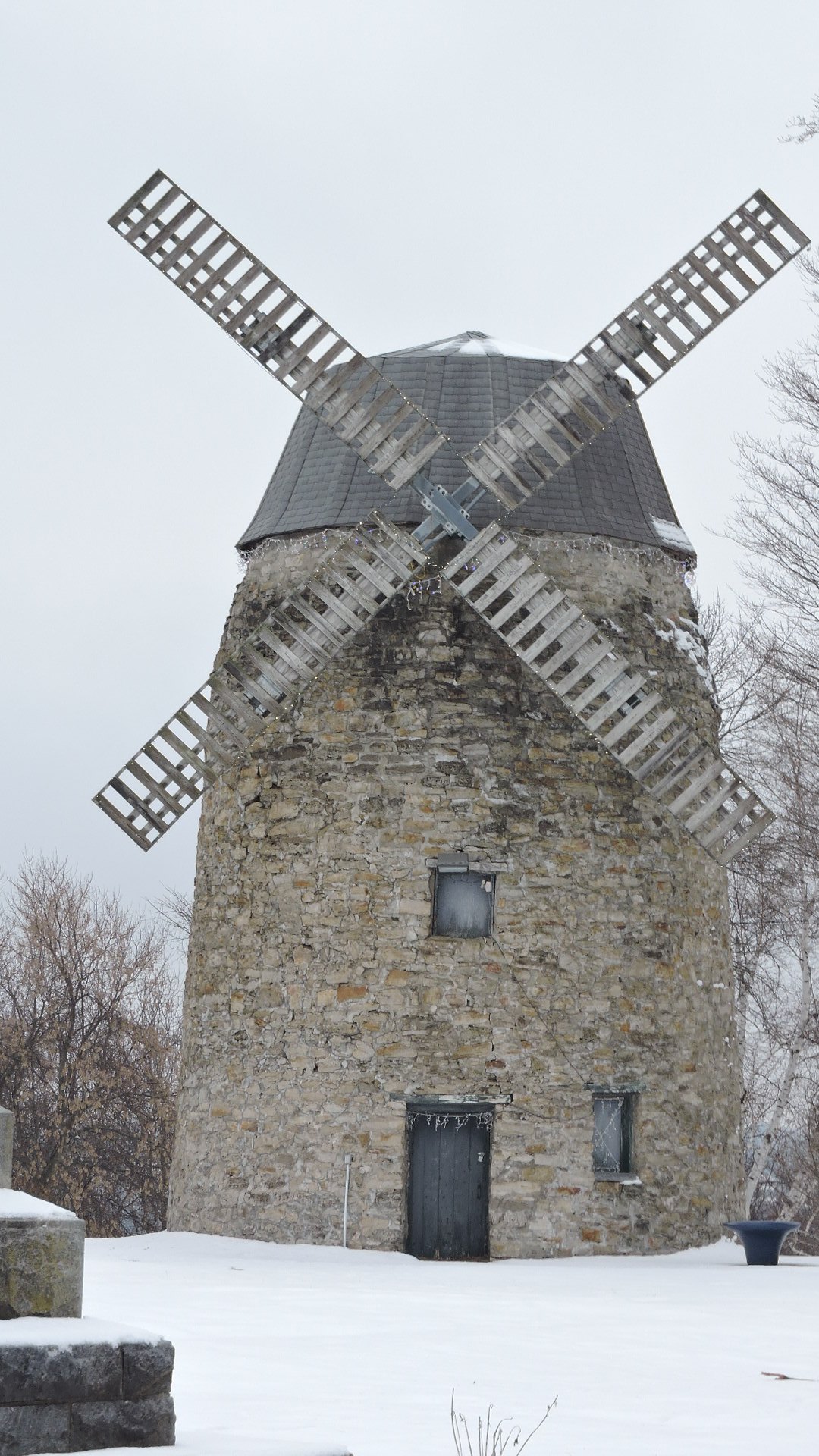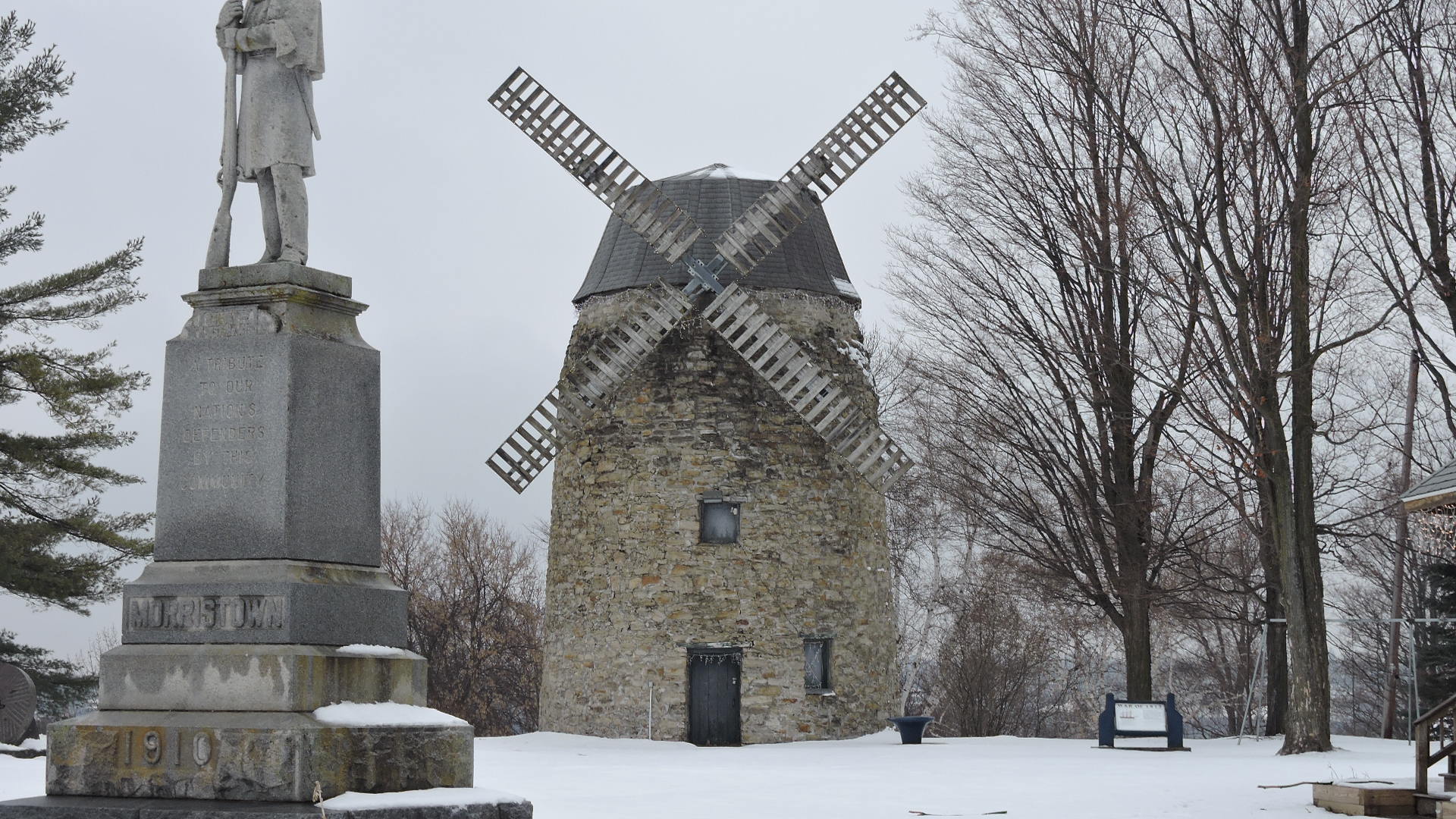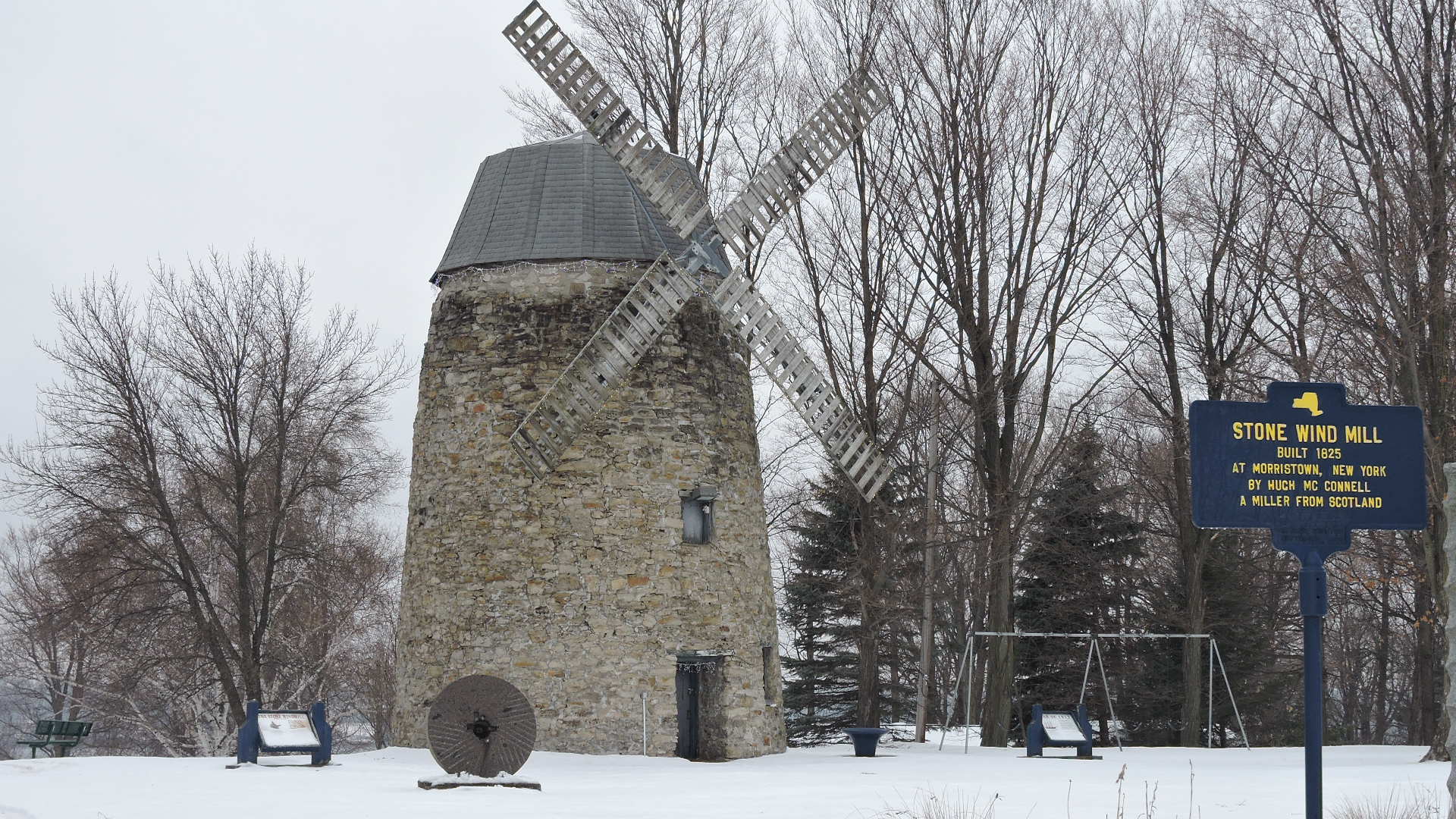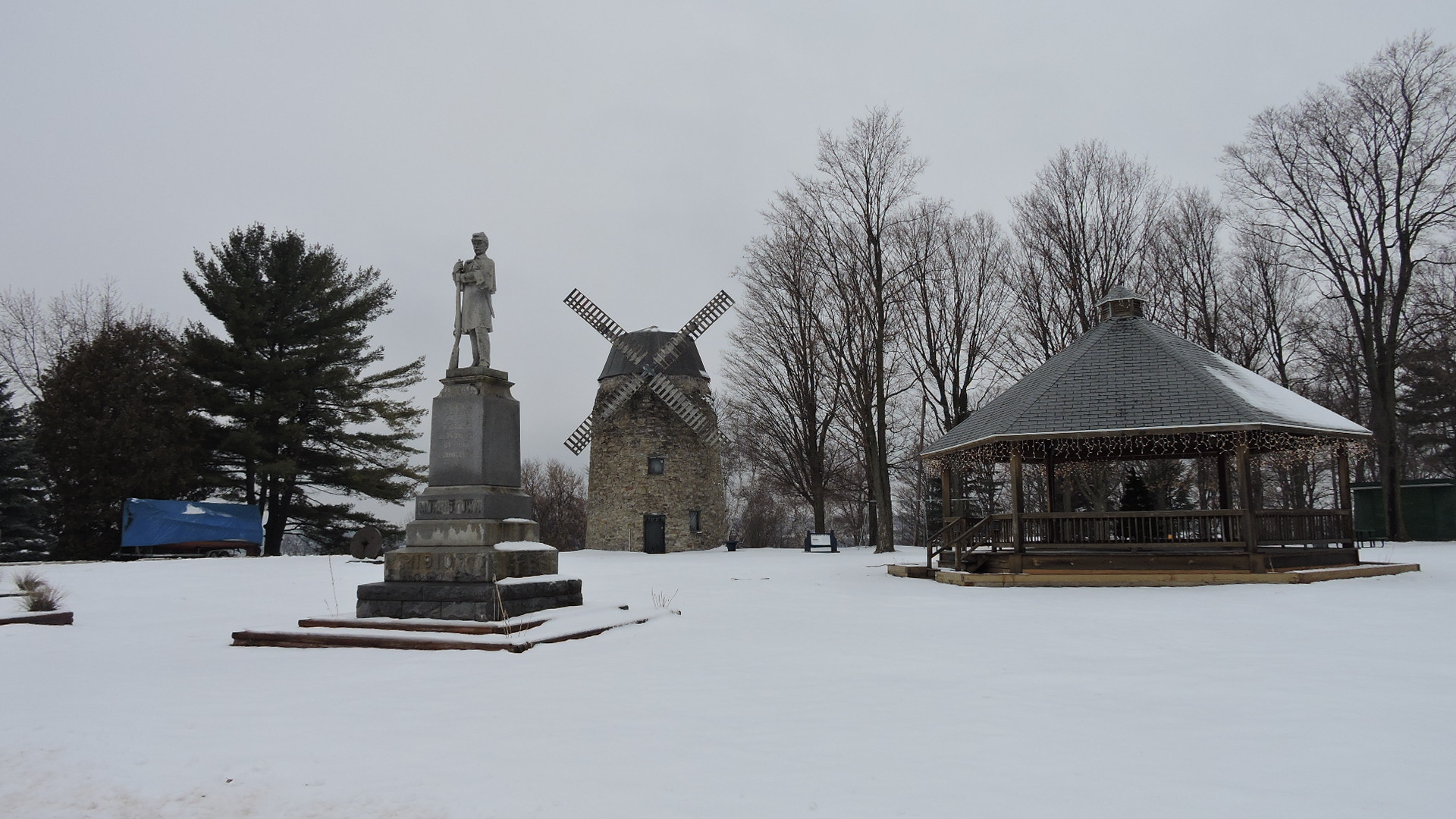 A square stone silo in the town of Hammond on Rt 37...have never seen one like this before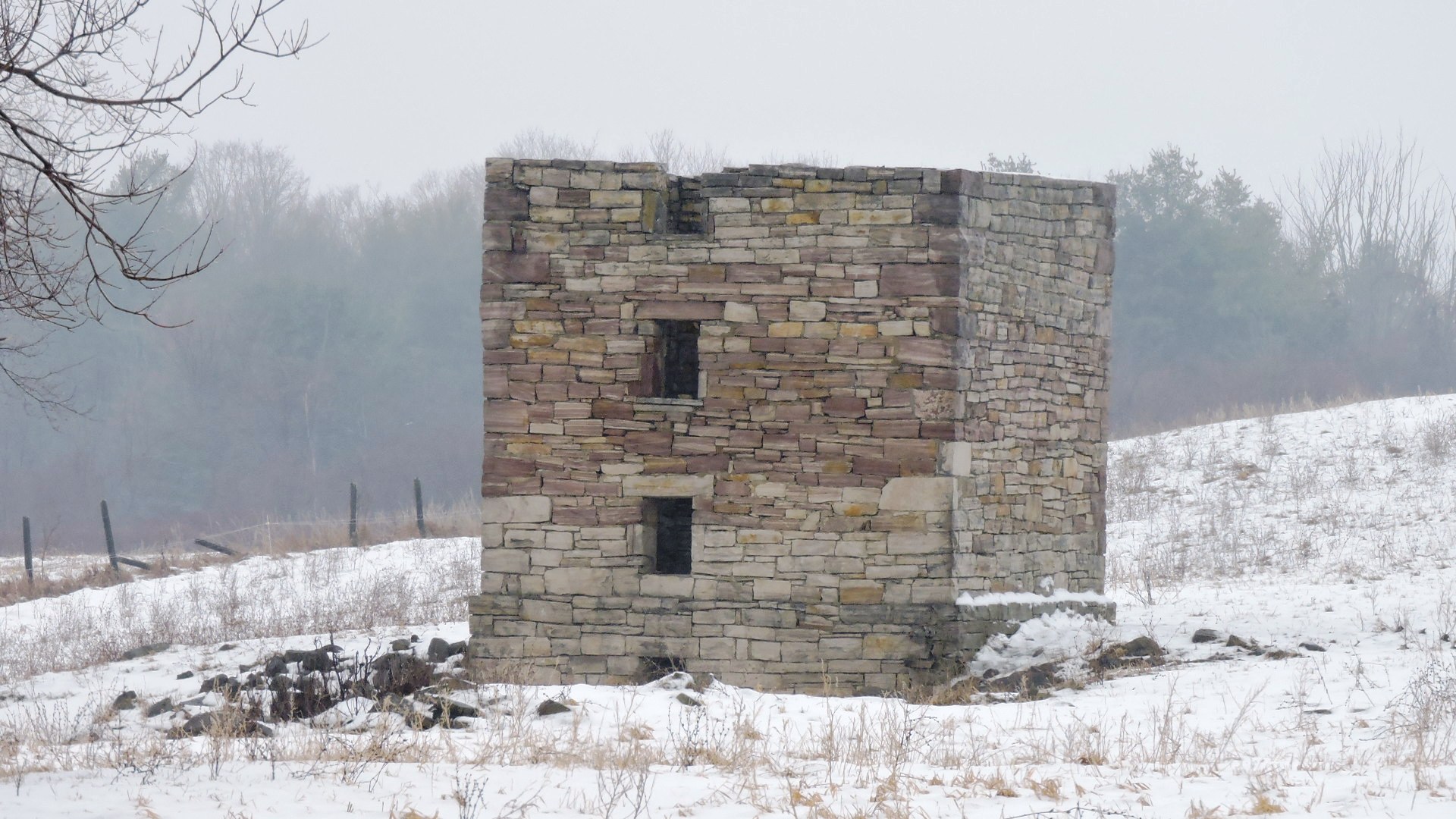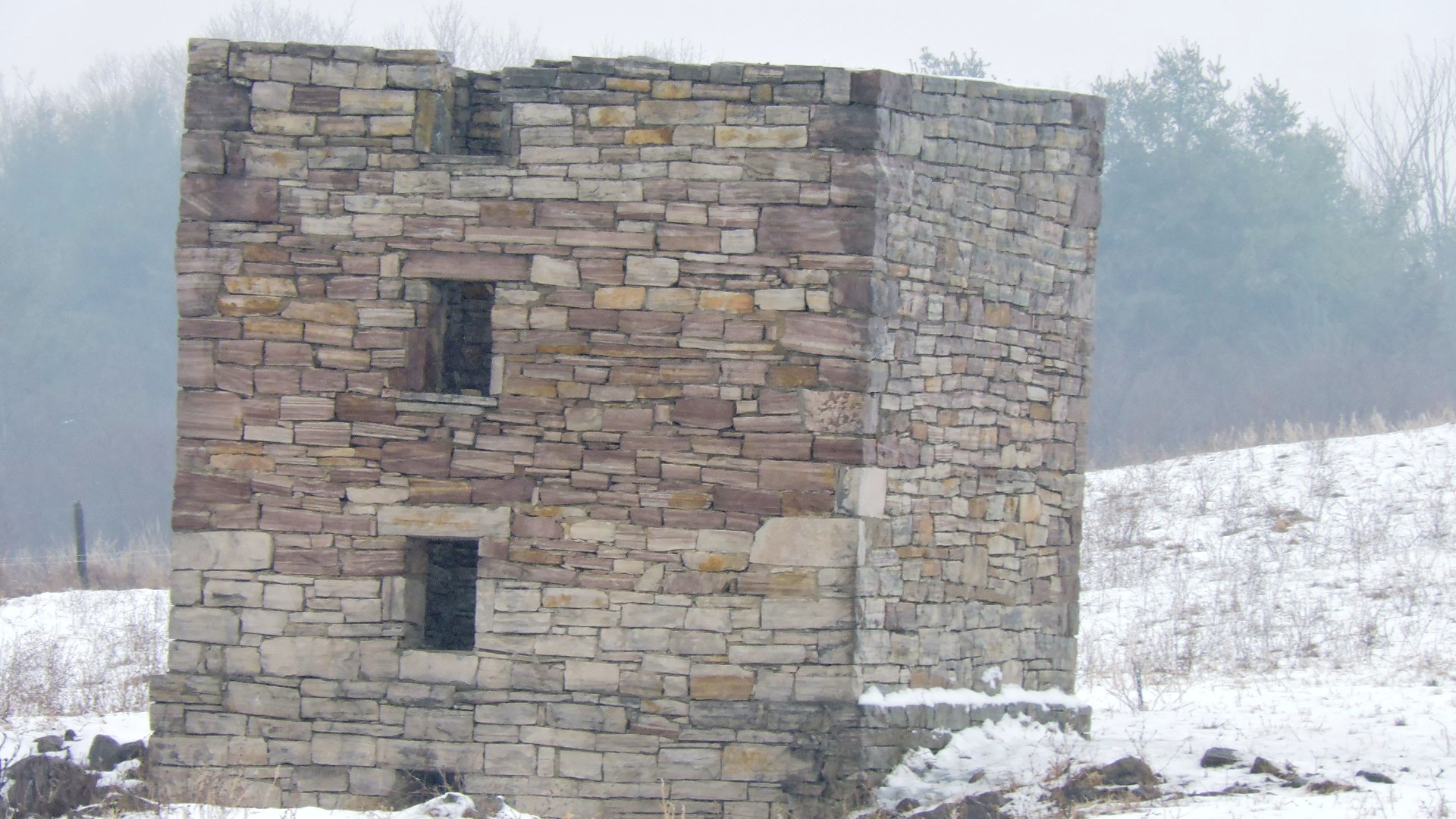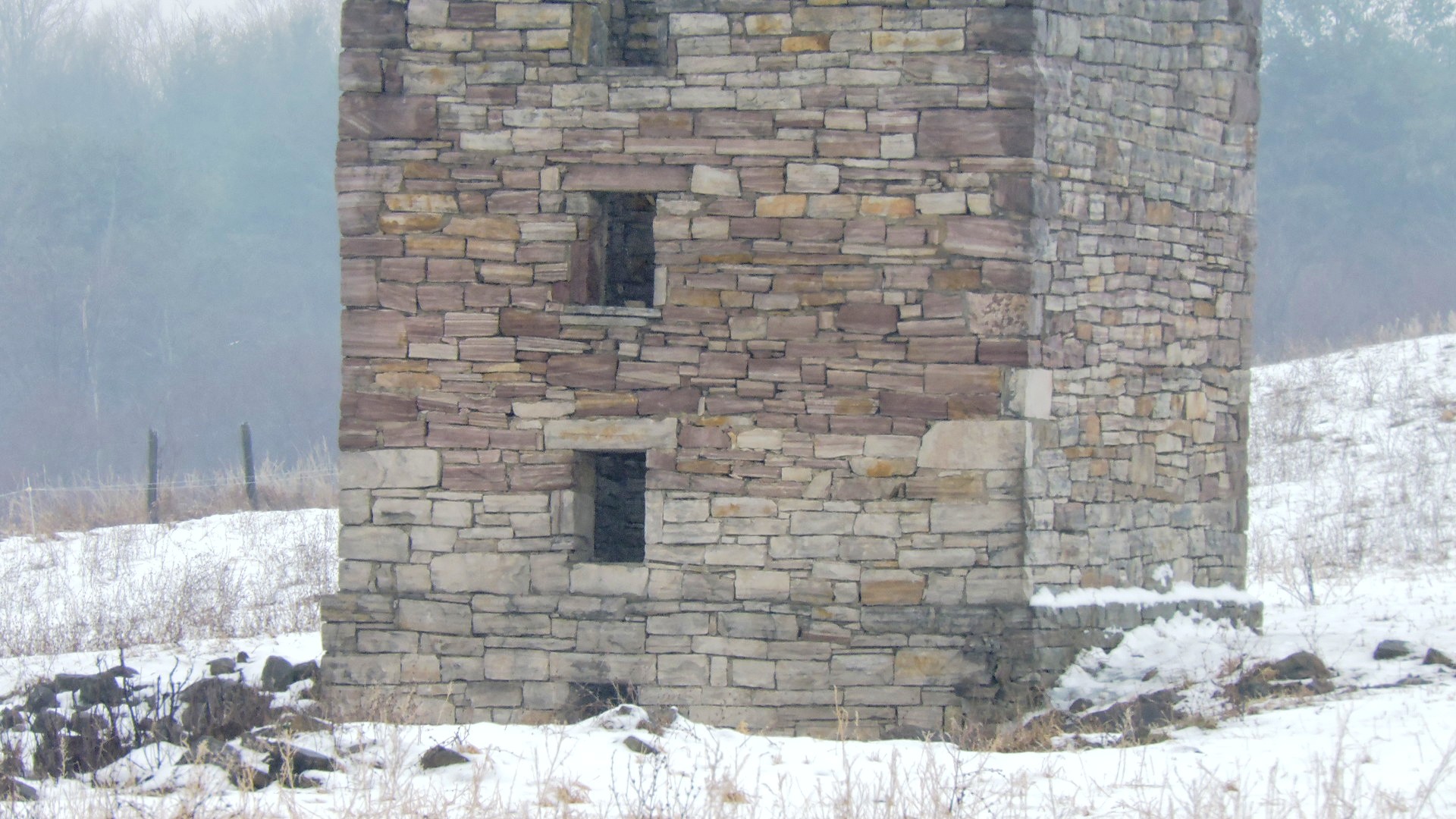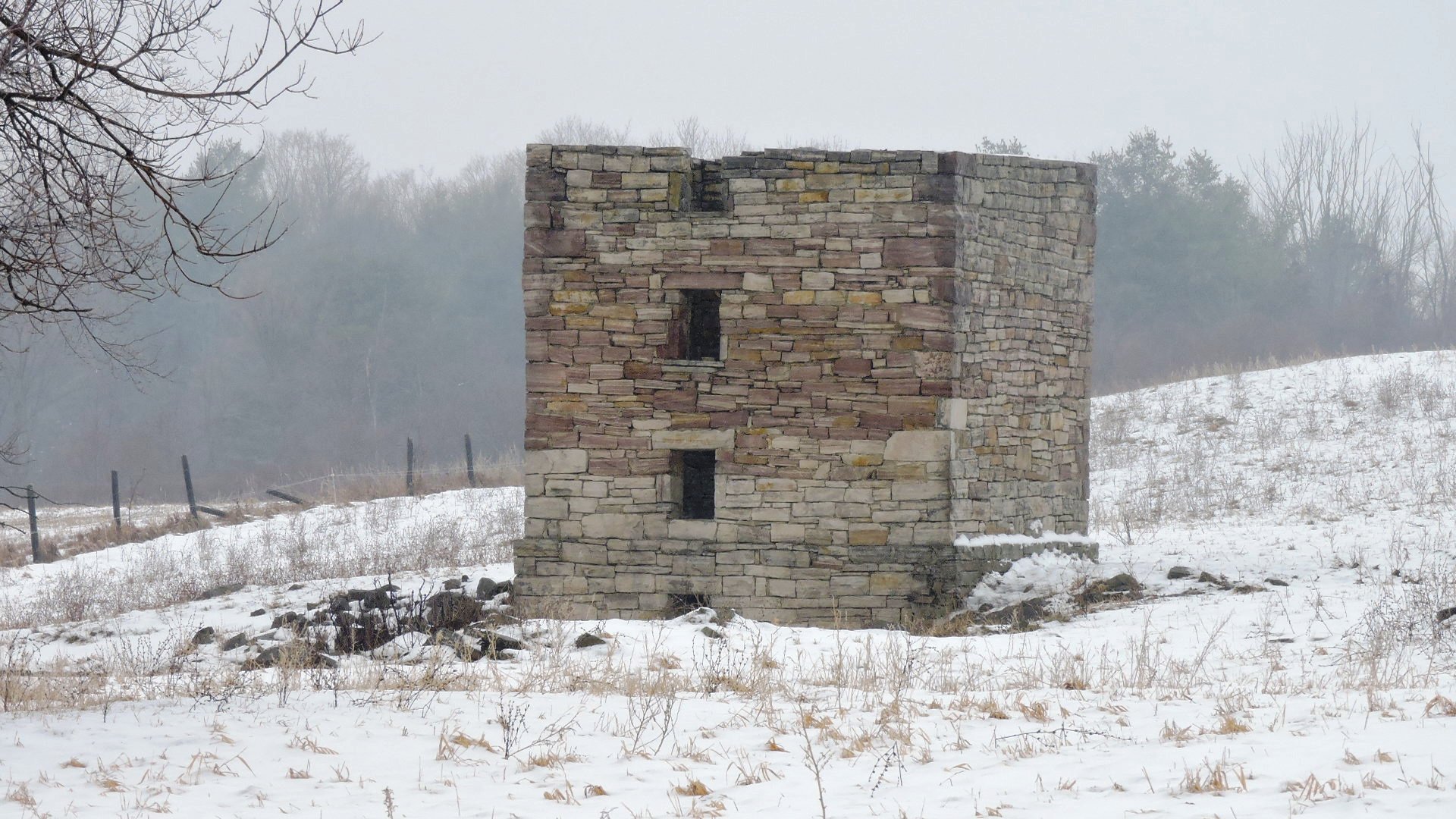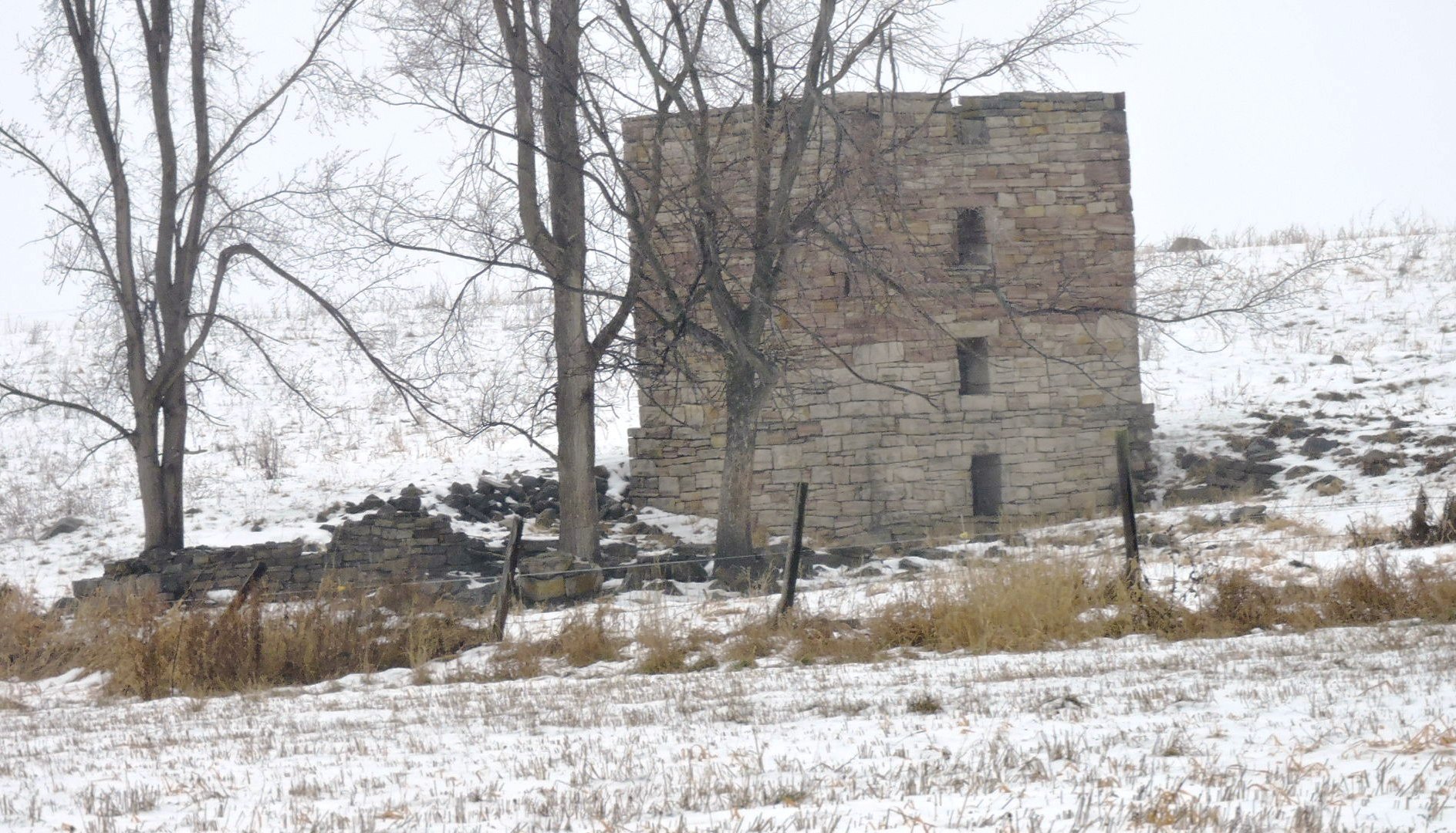 This is the last of the Watertown Daily Times old house series.
The 801-824 series is devoted to Watertown Houses as celebrated by the Preservation Committee in 1970