STONE HOUSES, MANSIONS AND OTHER OLD HOUSES
OF THE NORTH COUNTRY

The 801-824 series is devoted to Watertown Houses as celebrated by the Preservation Committee in 1970
801
Daniel Mohan frame house at 228 Chestnut Street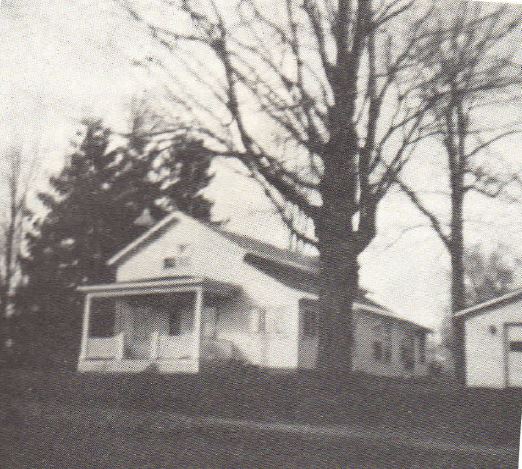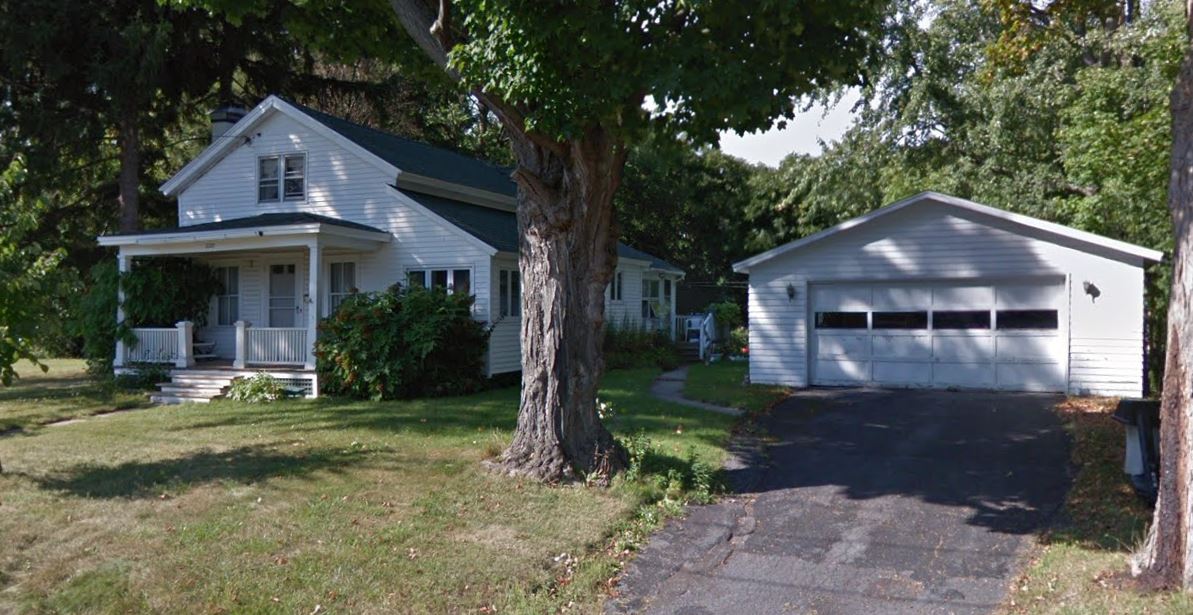 The original owner of 117 year old house at 228 Chestnut Street was Daniel Mohan the present owners are Earl J and Ruth Hyland LaVigne.
This is one of those little farm houses built by young people in the middle of the nineteenth century around the periphery of the village where there would be room to have gardens and perhaps a cow and a horse.
On July 1918 58 John and Electa Adams deeded this property from 18 Chestnut Street West to Holcomb Street about eight acres. It was bought by Daniel Mohan who in the basic structure of the present house brought up a large family. He built a barn which sheltered a horse, a cow, a supply of hay, a buggy and a cutter. he was a farmer and a gardener but at any rate he is known to have raised quantities of carrots which he quite astute stored until winter when he sold them by parcels to City owners of fine carriage horses to keep their coats healthy and glossy through the winter and spring months. He also had a large apple orchard.
In 1859 he sold the portion of the property fronting upon Holcomb Street to his brother Philip Mohan. In 1886 Mary, his daughter, was to marry Charles Bailey and her father gave her a plot of land which is now 232 - 233 Chestnut as a gift. A son, Daniel Mohan Jr was a member of the Watertown Police Force for many years. This house later in 1916 was bought by James and Ann Warren Hyland who made some changes in the interest of convenience.
After James Hyland's death and Hyland sold the house to Earl J and Ruth Hyland LaVigne
James Hyland a private contractor built houses on some of the land, selling the hillside property in later years to another contractor.
In the early years even up to the 1870s children from this area walked to a school very near Watertown Center, School House Number 6, passing on the way the toll house and the gate at the village limits on Washington Street. an old lady, the late Mary Hickey Carrie, recalled having picked up coins from the mud near the gate as she walked to school in the 1860s.
An interesting point concerning this land is that the old camp power canal or camps ditch ran through the flat land below the hill having come to the Tucker (Henry Keep) pasture land and in reverse, Woodruff, Park avenue and Nellis.
Some confusion as to the history of the Mohan property and 18 Chestnut Street and the Doudican property, 12 Chestnut Street which is now 202 Chestnut, arose because of the reversal of the names in the 1861 topographical atlas of Jefferson county published by Stone. The error could easily be detected by referring to the deeds of the two cases, another reference to correct this error is found in the listings in the Watertown directory for 1878.

# 802
Upham frame House at 206 Clinton Street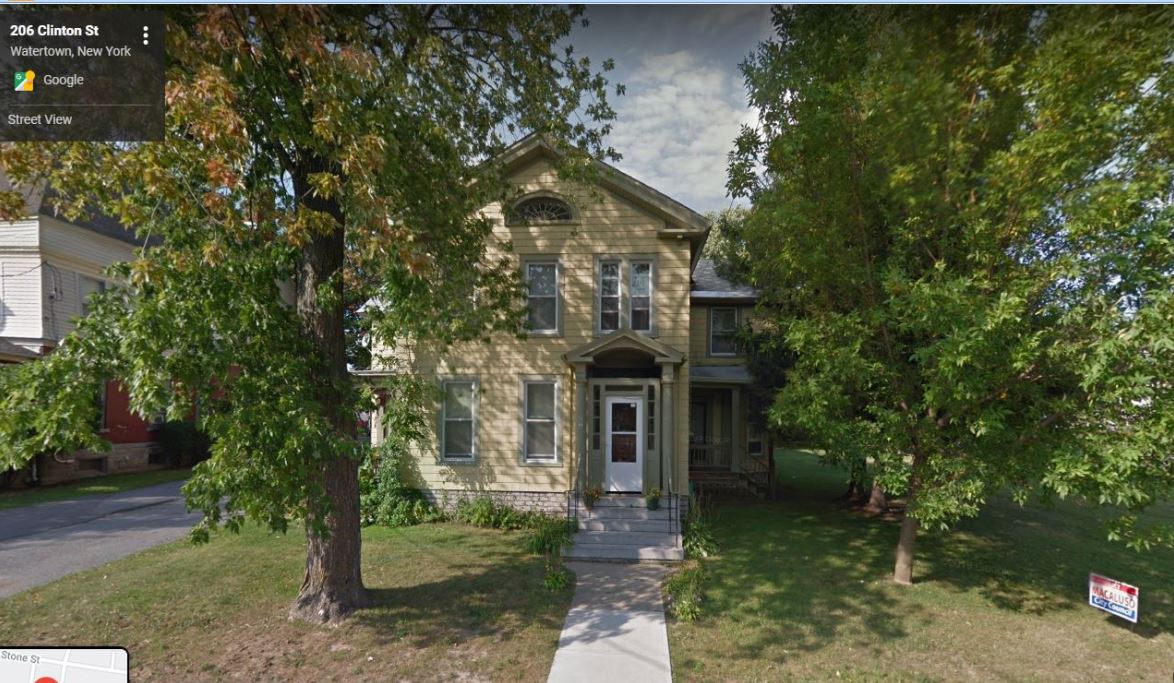 The Upham house At 206 Clinton Street was built before 1860 as it was conveyed by Wesley Sage in early builder with his wife Mariah D Sage to mrs. Geraldine W Winslow on May 25th 1860. It is now owned by Dr John F and Margaret Flood, 162 Paddock Street
Mrs. Winslow, wife of brigadier general Bradley Winslow, a civil war veteran, and daughter of John Cowles Cooper, second President of the agriculture insurance company, at her death will the residence in 1896 to her daughter Florence, on December 3 1896 Florence married Samuel A Upham a banker and paper manufacturer and for many years president and controlling factor of the brownville paper company a director and second vice-president of the agricultural insurance company and the Mrs Upham, the owner of the historic major-general Jacob Brown Mansion at Brownville to the village of Brownville. Mrs. Upham died in 1952 and Mr. Upham in 1956. The home went to their son John Cooper Upham live there from his birth in 1900 until his death in 1968.
John Cooper Upham was an artist who painted early saint Lawrence River steamboats and other Marine subjects and was a member of the Jefferson county historical society board of managers.
Dr and Mrs Flood purchased the house and property from Margaret U Harris in 1969 who was willed it by John C Upham in 1968. John C Upham received it in 1952 from his mother
#803
Maloney frame Home at 215 Clinton Street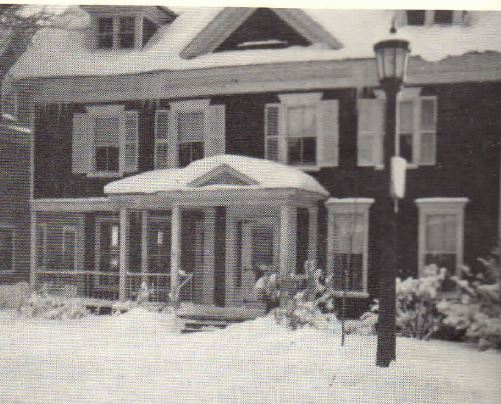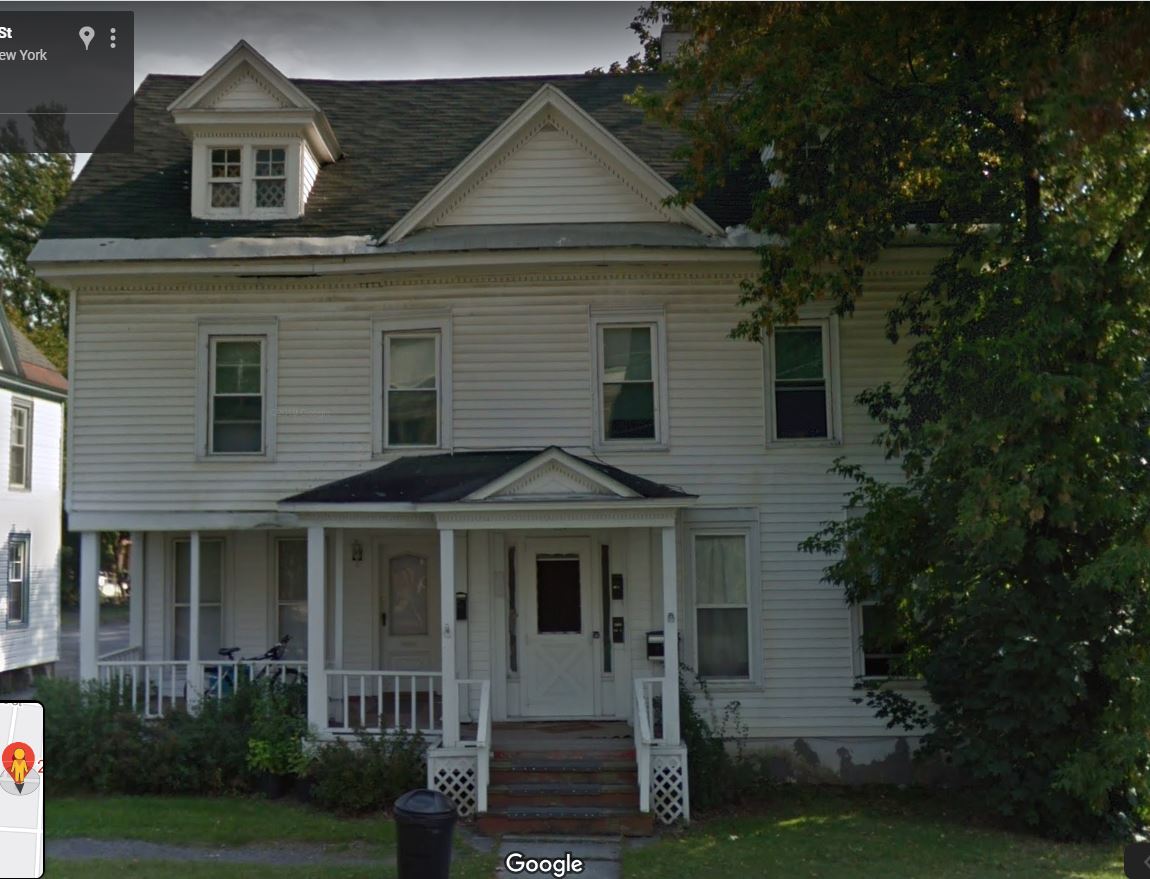 The home of Robert and Suzanne Maloney at 215 Clinton Street is believed to have been built between December 28th 1854 and February 28th 1861.
A review of the abstract shows that the lot was first subdivided and conveyed in 1854 and then conveyed for $1,500 in 1861 and a mortgage placed against it on March 29th 1864
Nancy and John S Dunlap sold it to Minerva R Dunlap in 1861 and Minerva Dunlap conveyed it to Henry W Hubbard in 1864. It went to John Lansing in 1865 to August Hubbard that same here and to George H Sherman in 1876.
Emily J Thompson acquired it in 1882 and William J Shepherd in 1895. It was none conveyed to James G Outterson 1910 Jennie E Quencer 1910 and Ida M Quencer 1914 and Eva P Arthur 1925 and Frank J and Adelaide Loomis 1925.
The Maloneys acquired it from Adelaide H Loomis in 1956
804
Wheeler frame house at 774 Gotham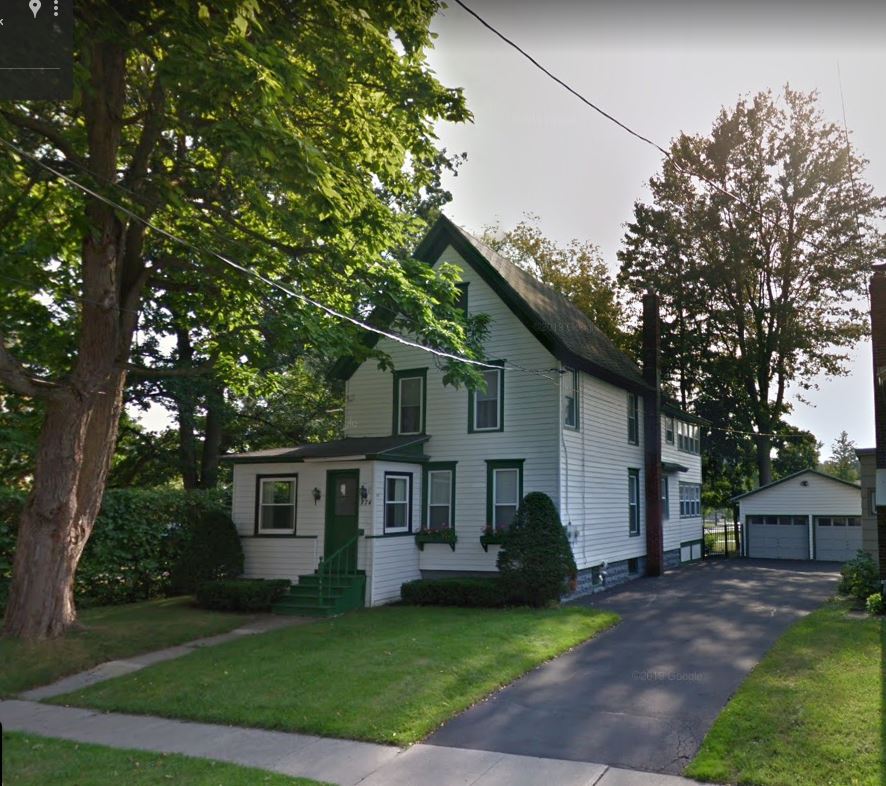 Originally on Gotham Road and and now 774 Gotham Street this house has been in the Sweeney family for several generations. According to a warranty deed dated January 5th 1854 and recorded in the Jefferson county clerk's office on January 6th 1854 Thomas W Wheeler and his wife Emma sold the property to Owen Sweeney. Mr. Sweeney died on January 25th 1902 and on September 3rd 1904 title to the property was assumed by his daughter Caroline M Hendrick according to a deed recorded September 16th 1904. Carolyn was married to Patrick J Hendrick who later added an S to his name. In 1924 following the death of Carolyn S Hendricks title of the property was conveyed into her daughter Margaret now Mrs John E Ryan. Mrs. Ryan and her daughter Peggy Ann still reside in this home.

805
R J Keys frame house at 128 Keys Ave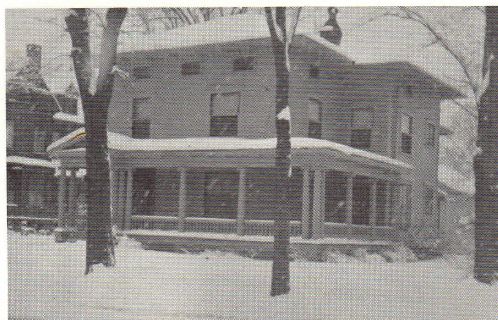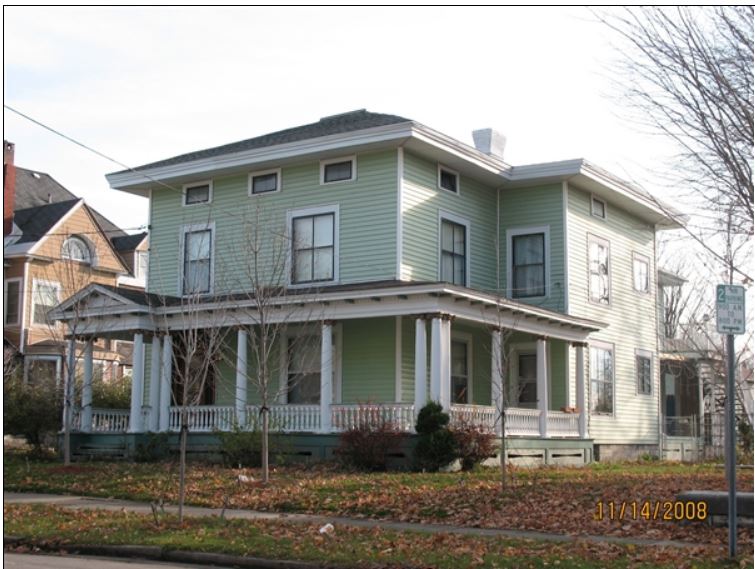 This was once the property of R J Keyes and George C Wilson purchase the land from the Keyes estate and built the house in 1869. the house has passed through many owners and occupants. In 1875 Judge John C McCarton bought it and sold it in 1887 to John Streeter. Mrs Mary L Lot bought it in 1887 and sold it to Silas L George in 1891. In 1910 Delmont S and Claire L Brown purchased it and sold it in 1911 to contractor Fred A Caswell.
The Watertown Ecclesiastical Society bought it for a parsonage in 1916 the Reverend Darwin F Pickard the first pastor of the first Presbyterian Church occupied it. James L Newton founder of Newton Falls and of the Newton Falls paper company is reported to have lived here the latter part of the 19th century and early 20th century.
Norman A Brass water plant operator at Fort Drum and Mrs Brass purchased the 128 Keyes Avenue property in 1949 to go with the property next door at 134 Keyes avenue. Both houses contain apartments with the Brasses living at 134 Keyes Avenue.
806
Best frame house on 228 West Lynde Street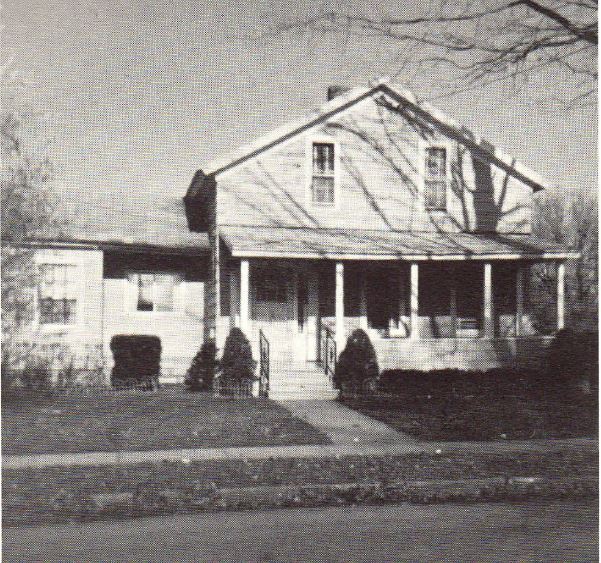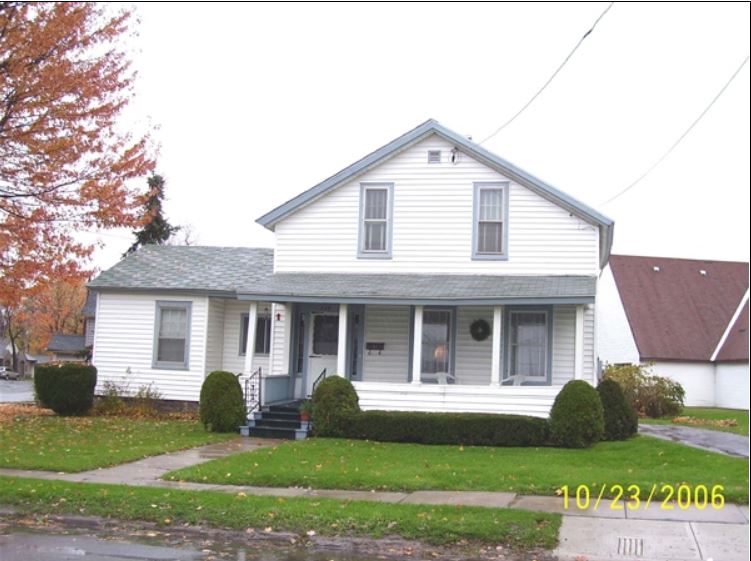 This house located at 228 West Lynde street is now the property of Theodore A and Irene Best. Deeds show that Henderson and Emily Howk sold this property to Samuel Niblock in 1852. In 1863 Anna E Wilson purchase the property. The exact date that the house was built is not known although it does appear in the 1864 Atlas. Annie Wilson sold the house to Edmund and Emily victory. They kept it only a short time selling it to Albert L Gleason in 1866. The residents remained in the Gleason family until 1921 when it was sold to Louis F Brown.
Louis F and Ethel Brown sold it in 1921 to Gertrude H Moran who in 1925 sold it to Carl APhillips. The home was sold in the same year to James A and Jessie H Trumbull and then to Charles S Pringle and Arthur E Sherwood. Anthony and and Hazel Derouin purchase the residence in 1933 from Mr. Pringle and Mr. Sherwood. Charles S Pringle repurchased the residence in 1936.
His widow Mary I Pringle sold it to Edward W Tierney in 1950 who in turn sold it to Roger H and Beatrice Schwartz in 1951. Mr. And Mrs. Best bought the home in 1954.
807
Reverend Pitt Morse frame house at 149 High Street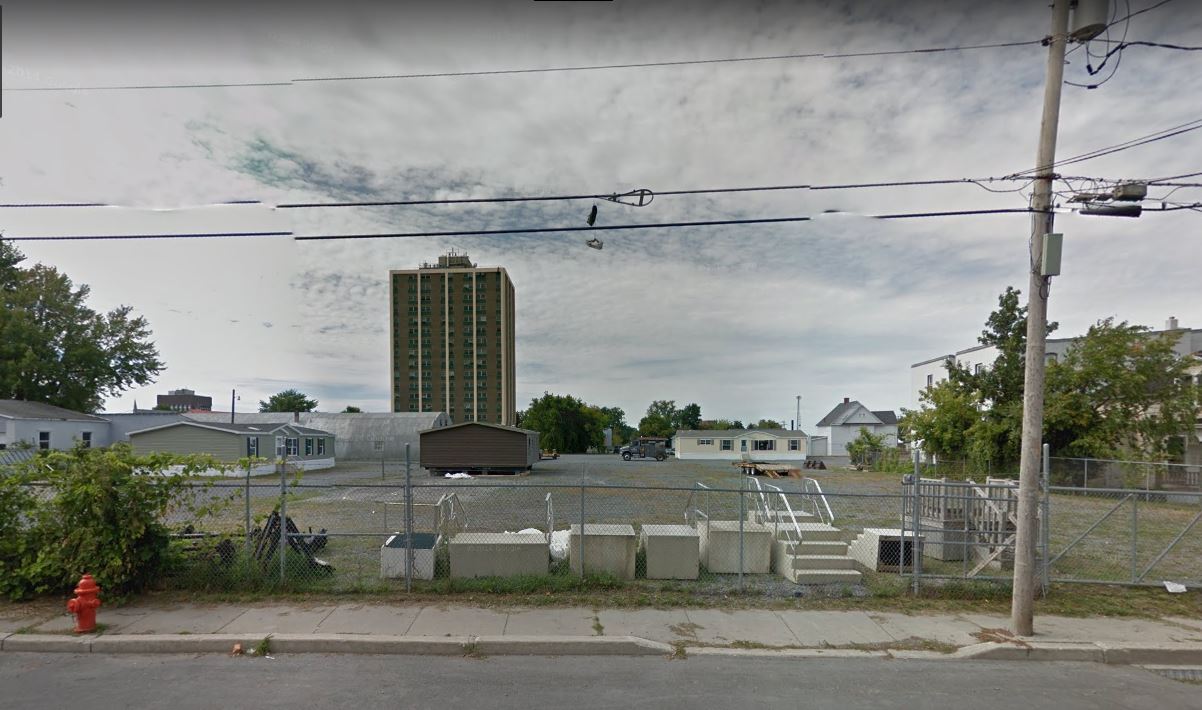 The Rev Pitt Morse founder of universalism in Watertown and in Jefferson county owned and resided in this house at 149 High Street from July 10th 1856 to his death March 19 1860
The Reverend Mr. Morse was ordained at Morrisville in 1819 and sent to Watertown. A universalist society was formed in 1820. The Reverend Mr. Morse brought out the Herald of Salvation a semi monthly paper from November 20th 1822 to February 26th 1825. A stone church was built circa 1823 and burned in 1850 and replaced by a brick Church in 1852 which was raised in 1906. The Reverend Mr. Morris left Watertown in 1826 but returned in 1827. He organized a universalist society in Henderson and during his pastorate in Watertown he preached regularly in Henderson and Brownville.
In his will he gave his widow Mary S Morse a life use of the house and provided that after her death it should be sold and half the proceeds given to Saint Lawrence University and the other half to the theological school at the University. However on April 20th 1868 St Lawrence University quitclaimed the interest and that of the theological School in the property to Mrs. Morse upon her payment of $1,000. She sold the house on November 8th 1872 to Curtis Goulding for $2,800.
The Reverend Mr. Morse had purchased the house July 10th 1856 from Ira Simmons the carpenter who had built the house in 1853. Simmons had bought the land from Francis and Mercy Lamon.
Curtis and Mary J Goulding disposed of the house April 16th 1883 to Peter Nellis, a farmer and mowing machine agent. Upon his death in 1891, the house passed to his widow Amanda and then to his granddaughter Jenny after his wife's death. Jenny Nellis later became Mrs. George B Macomber and on January 19th 1917 sold the house to Mrs. Ellen J Berdeau. William H and Mary A Laughlin purchased it September 19th 1922. Under his will Mr. Laughlin gave 1/3 interest each in this house to his sister Mrs Ellen E Briceland and his nephew Joseph Laughlin and heirs of a deceased sister Mrs Catherine Hennessy. The house was sold to Mrs. Margaret D Briceland the present owner.
808
124 North Massey once 24 Massey, now gone. Goodnow frame house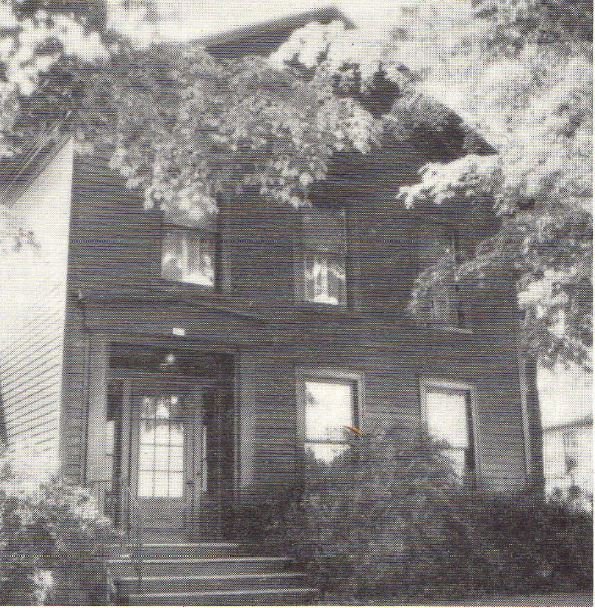 When Watertown renumbered its streets the house at 24 Massey became 125 North Massey. The city directory for 1864 lists Lewis A Goodnow as the owner of 6 Massey later to become 125 North Massey according to an early map. The house was in the Goodnow family until 1889 when Hattie A Goodnow Baldwin on May 24 sold the property that Edward H Boll. The house is now in the possession of his daughter Mrs George W Toerge.
809
Brown frame house at 146-148 East Main Street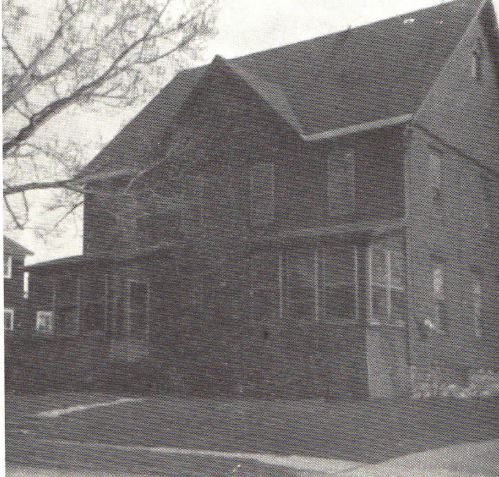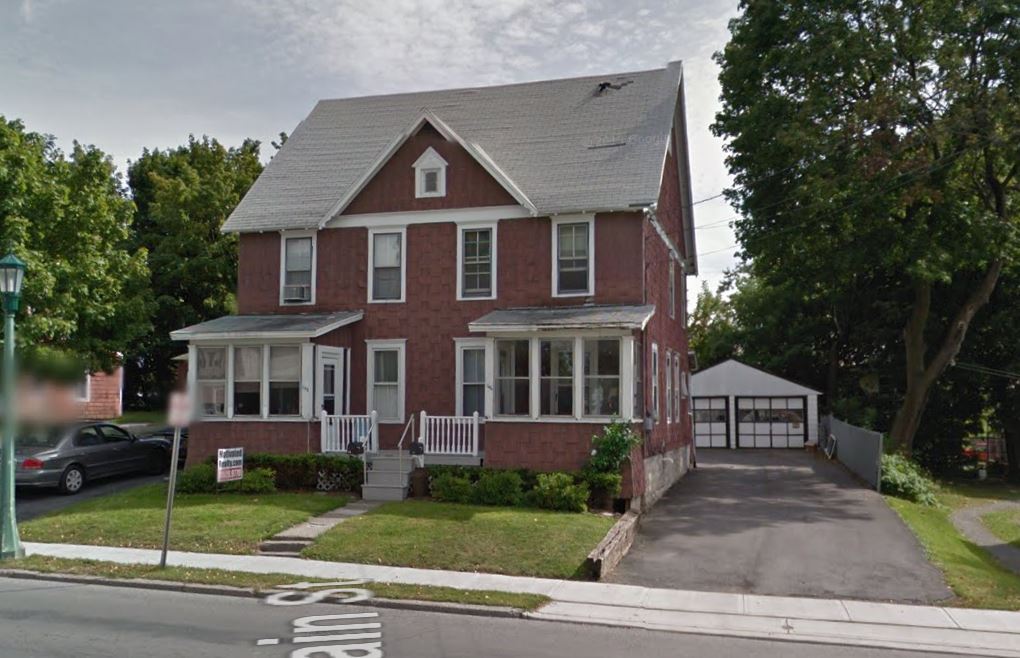 Residence at 146 - 148 East Main Street owned by Wesley and Brown Sr and Adabel C Brown.
The residence at 146 - 148 East Main Street was sold in 1855 from Walter N Woodruff to James B Lyon. Mr Lyon owned the home until 1876 when he sold it to Ann M Burnam. Ann M Burnam sold the residence inn 18842 James Sherry and then it went to Henry Shinners.
The home was left to Margaret Shinners in 1910 in the will of Henry Shinners. Margaret Shinners sold the residence to Roswell F Potter in 1946. Roswell F Potter sold the home to Wesley N Brown Sr and Annabel C Brown the current owners in 1955
810
108 South Massey old Wilson frame house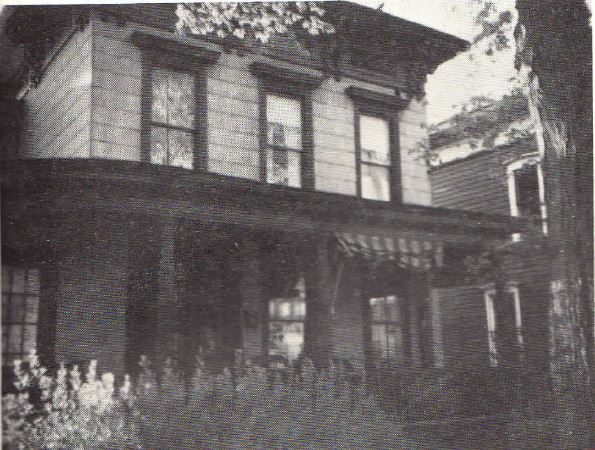 Residence at 108 South Massey Street owned by Mrs. Ann M Fiorentino, 401 Stone Street. Date of purchase was September 25 1974. The residence at 108 South Massey Street was sold by Ada C Wilson to Andrew P Baltz in 1873. In 1885 and Andrew P and Mary Baltz sold the home to Alice and Hattie Hines who in turn sold it to John Mains in 1889.
John and Sarah Mains sold it to Mabel A Kellogg in 1902. Mabel A Kellogg estate deeded ownership to the Jefferson county Savings Bank in 1932 who sold it to James and Clara McCormican in 1932. Clara McCormican Scherf widow of James McCormican sold it to John and Clara Scherf in 1949. Mary D Marra as administrator of Clara Scherf estate sold it to Ann Marie Marra Fiorentino in September 1974.
811
frame house at 1709 State Street once called Maplefield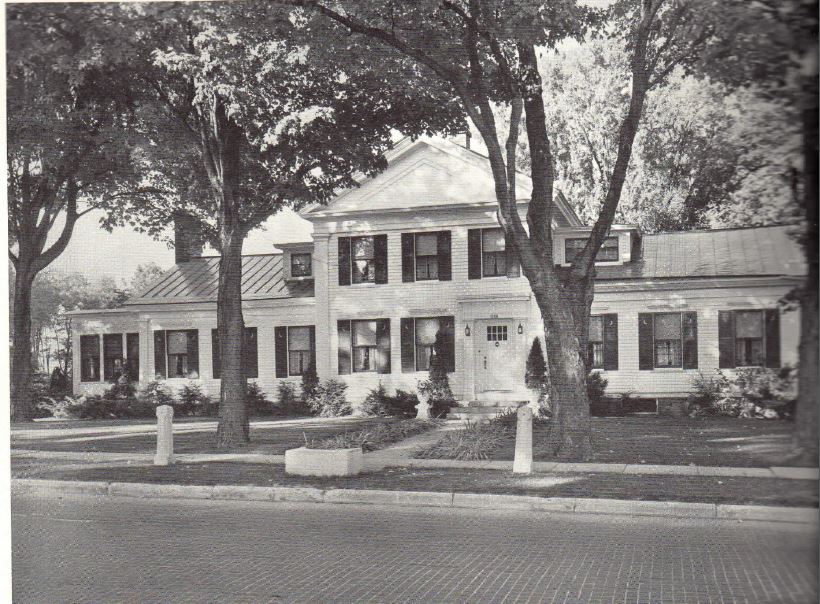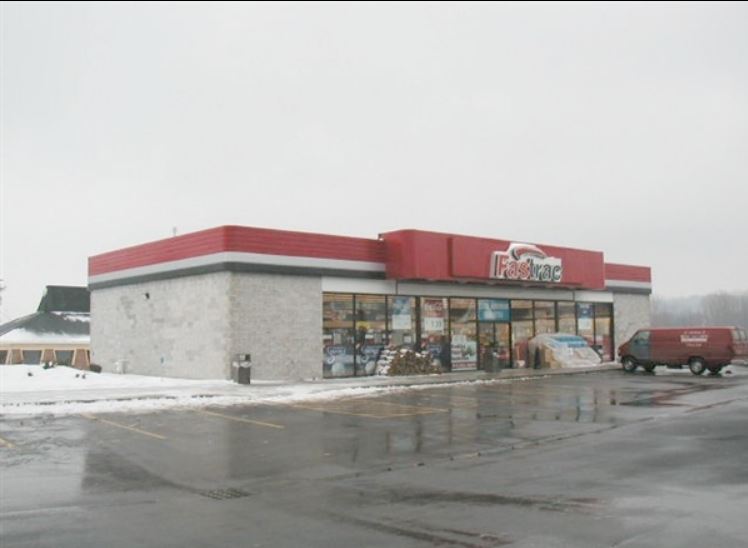 The beautiful in 1946 white Georgian residence with the flanking wings at 1709 State Street at the southeast corner of Eastern Boulevard will be best remembered by older residents as "Maplefield" owned and occupied for many years by Frank A Hinds one of the most outstanding citizens of the North country
Harmon and Maria F Burnam bought the place from Frederick and Lodema Woodruff April 5 1848 for $3,400 and Mr and Mrs Woodruff were said to have purchased it early in 1839 the price indicating that the house was then there. On March 1st 1859 William and Mary T Thompson paid the Burnams $8,500 for this fine old house out buildings in 85 acres of land on the north side of upper State Street and on June 7th 1876 Frank A and Mary R T Hinds purchase the house and 65.95 acres of land from the Thompson estate adding more acreage later. Mary R T Hinds was the daughter of William and Mary T Thompson. About the house behind developed a beautiful Grove of sugar maples.
Franklin A Hines was born in Jefferson county November 17th 1843. He began studying civil engineering in the county finished at Yale and for a year worked with a engineer and landscape architect in New York City. He returned to Watertown and surveyed for the C & A railroad in 1868 and later became chief engineer of the C W & S H R R. Then he designed and surveyed Thousand Island Park, Westminster Park, Round Island Park, Central Park and others in the Thousand Islands region. He was for some years Watertown city engineer surveying the city boundaries and at the turn of the century made the surveys for Thomson Park. Mr Hinds died suddenly August 23rd 1913.
Eventually his house with its 8 by 8 by 8 roof timbers it's bricked outer walls and its lands went to a number of ownerships and most of the land was sold off. On March 29th 1929 William D Moran bought it from the State Street Land company Inc and repaired, restored and remodel its 16 rooms. Mr. Moran was a prominent banking and stock investment official.
Curtis- ho!mes music Inc acquired this house in 1970

812
Cape Cod frame house on Sterling Street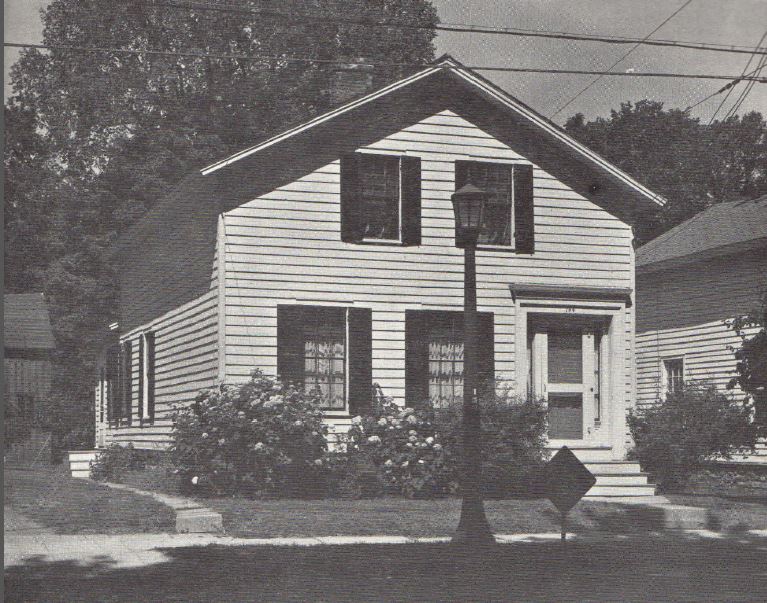 A cape cod House of century vintage on Sterling St is owned by Harold Newell Peck and has been in his family for more than 100 years
The site was originally part of the extensive local land holdings of Micah Sterling. It was sold October 7th 1853 to Martin W Symonds a local speculator and one-time billiard parlor operator who apparently built the house and sold it to William Goundrel on May 11th 1857 subject to a lease to the Reverend W S Titus pastor of the old State Street Methodist Church, 1857 - 8. on September 21st 1857 the Goundrels disposed of the house to Mrs. Ruth Schram who resided in the house for 14 years. Henry and Artymasia Williams owned the house next. They were the great grandparents of Harold and Peck and the house as remain in the family ever since.
Mrs. Artymasia Williams deeded the property to Harriet Newell Williams wife of her son Henry on October 18th 1880. Then on May 20 1883 the house was transferred to her aunt Clarissa Alexander.
The estate sold the house in 1901 to Mrs. Anna S Williams Peck, the daughter of Henry and Harriet Williams and wife of Clifford Peck. Their son Harold received ownership in 1942. Mrs. Peck owns the property today
813
318 Stone Street frame house owned by Hart Massey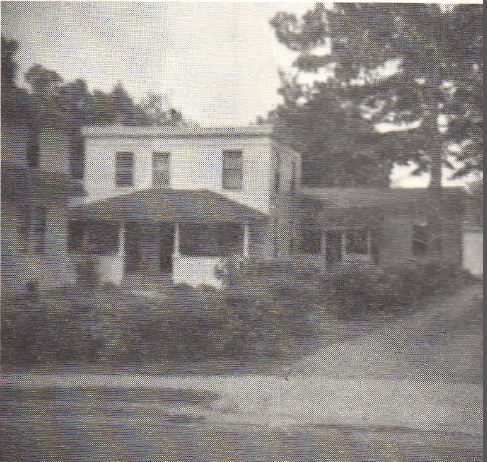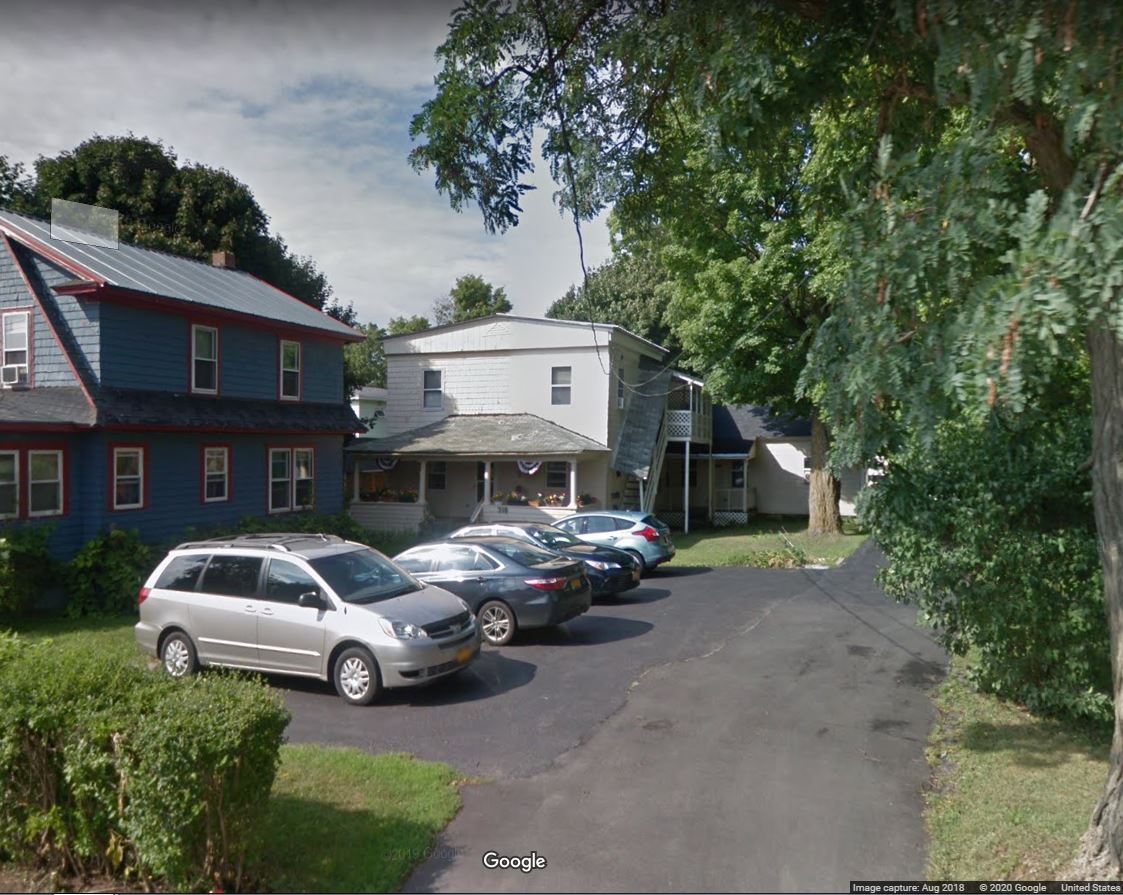 The house of Florence Ward VanOstrand at 318 Stone Street was a farmhouse with property and an orchard extending to Coffeen Street, the reason for the name of Orchard Street.
The first warranty deed dated July 7th 1851 showed Mr. and Mrs. Hart Massey and Mr. And Mrs. Edward S Massey conveying the property to John W Tamblin. In 1865 John Tamblin and his wife sold it to Lewis Pierce and then to Emaline B Tamblin on the same date. Transfers were then from Emaline B Tambin to Hattie Flanders in 1872 and from Emmaline to Jacob Shoecraft 1877 and from emmaline to John E Collins in 1881..
Then from Cordelia M Holcomb to Ida Grace Holcomb 1910 to Charlotte, Genevieve L and Eva L Rogers 1915, to Pauline M Brown in 1915 from Charlotte Butts, Genevieve Rogers, and Eva L Rogers to Frank ward in 1918, to Elias A Ward in 1926 to Raymond ward in 1937. Mrs. VanOstrand acquired from Raymond Ward June 23rd 1938
814
Abner Baker frame house at 151 TenEyck Street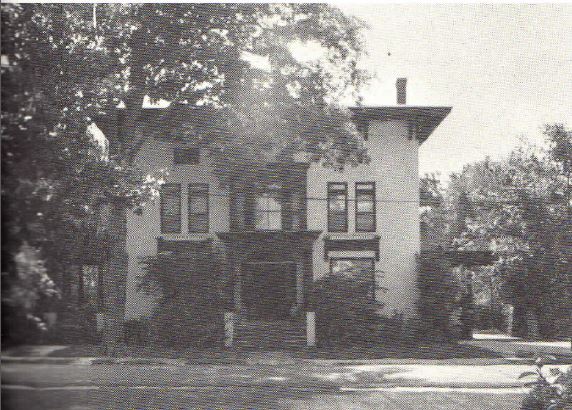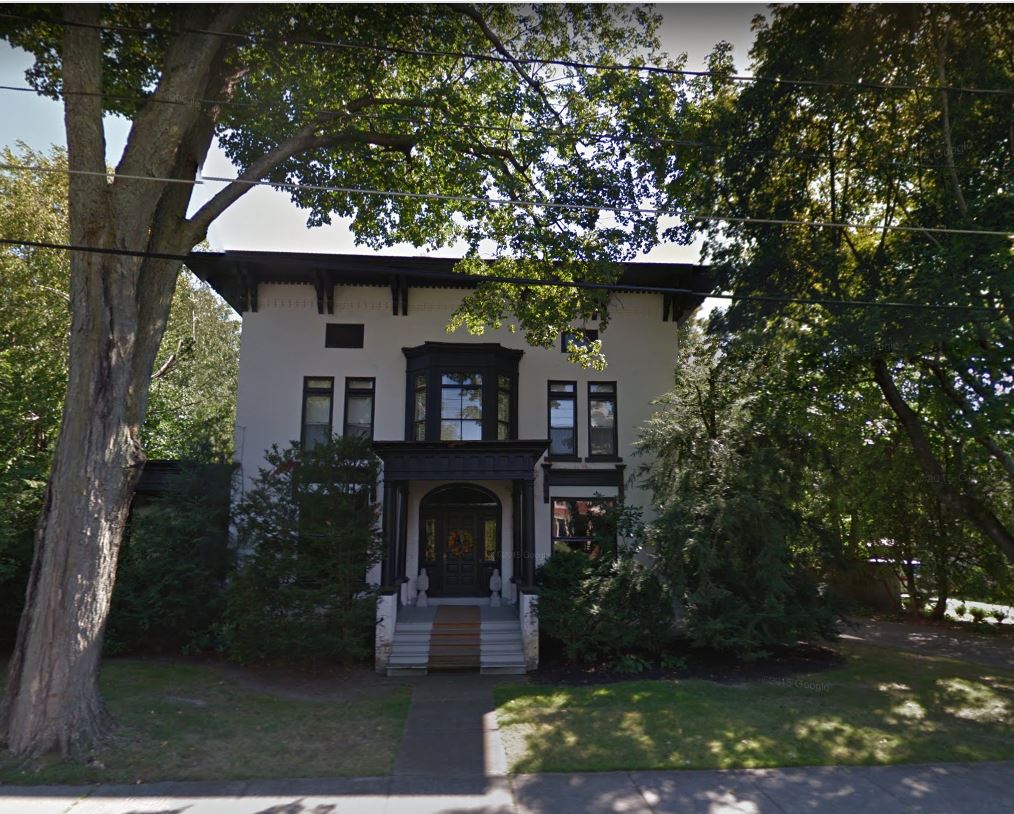 The history of this house at 151 TenEyck evolves around 2 parcels of land. in 1856 Abner and Eunice Baker sold the land to Libeus Andrus. Solon Hungerford, founder of the Hungerford Bank in Adams, purchased the property in 1863 and that same year sold it to Catherine E TenEyck wife of Robert TenEyck. In 1865 Catherine sold the property to Edward Lansing. The following year Maranda Ingalls purchase the property.
In 1867 she purchased the second parcel of land that now comprise the property. This section had been sold in 1858 by Maria C Rice to Milton Clarke. Micajah and Caroline Horton purchase the land in 1863 and sold it in 1865 to Lotus Ingalls. Lotus sold it in 1867 to Roswell and Clarissa Murray from whom Marina Lotus purchased it that same year. In 1888 Jean R Stebbins bought the house and in her will in 1898 passed it to Adelaide C Stebbins. Upon her death in 1917 William C Stebbins Grace Sherman and John C Stebbins received the house. John C Stebbins acquired the property. His wife Edith W Stebbins became the owner at his death in 1947. The present owners William C and Margaret Couch bought the house in 1966
815
173 TenEyck street frame once owned by prominent merchants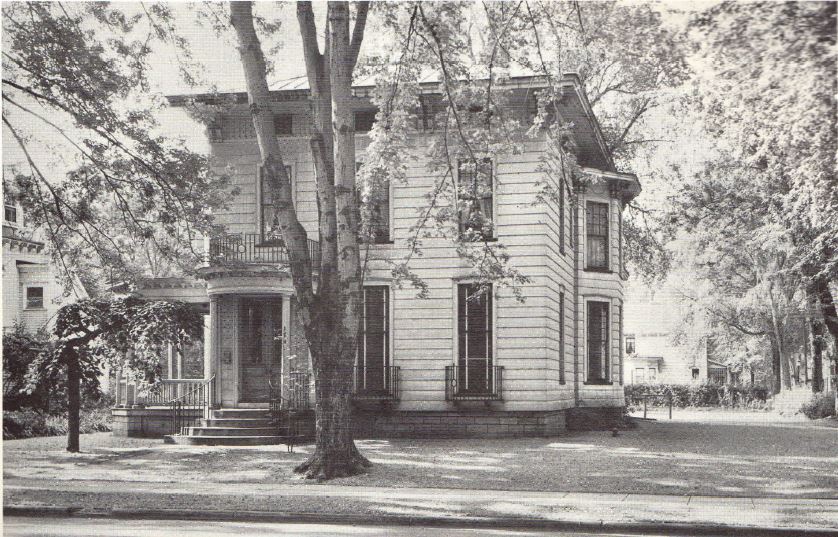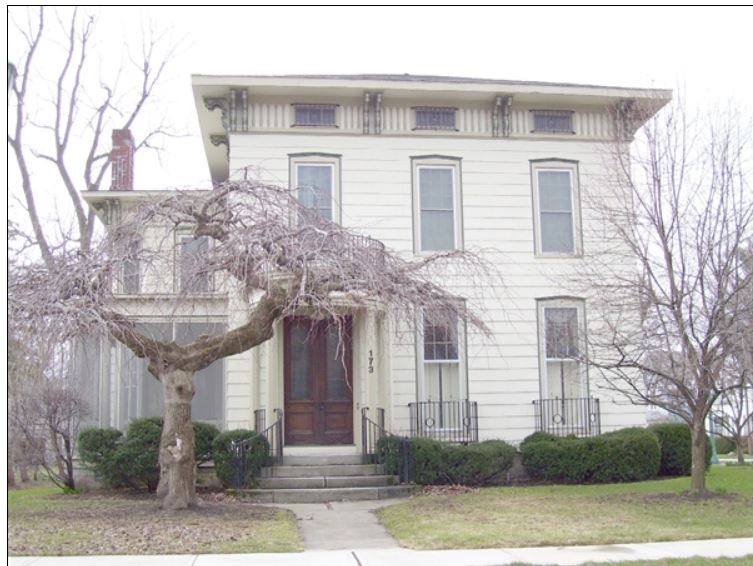 Over the century plus existence of this house a prominent local merchant, three physicians, a Phoenix life insurance company official, and agricultural insurance company secretary, a city mayor -Secretary of the State, a Baptist clergyman, an ophthalmologist, a county judge and a state public service commissioner, and a dentist have resided in this house at 173 TenEyck Street
The site at the Southeast corner of TenEyck and Sherman streets was a part of the Paddock tract. There on February 14th 1853 Abner and Eunice Baker sold .87 of an acre for $800 to George Ludlow a local saloon proprietor who split it into two equal lots. Stillman and Almira Massey acquired the one upon which this house stands and sold it to Merritt M Andrus local grocer September 5th 1859 for $350 and upon it Mr. Andrus shortly built the house.
On December 1st 1868 Mr. Andrus and wife Angelica disposed of it to David Beaman a one-time Antwerp hat merchant and farmer for $7,500 and on June 27th 1873 David and Sally Beaman sold it to Seth V Warner proprietor of a restaurant at the old R W & O Depot for $8,000. On April 27th 1876 Seth V and Elizabeth Warner conveyed it to Dr. William T Laird for $7,000 and on November 4th 1880 Dr Laird who had moved to Augusta Maine sold it to Mrs. Elizabeth S Stevens wife of Dr. Henry M Stevens Secretary of the Agricultural Insurance company.
Dr. Stevens joined with his wife April 1st 1881 in selling it to rev Hugh C Townley pastor of the Baptist Church and on July 12th 1888 Rev Hugh C and Margaret A Townley sold it to Dr. Addison W Goodale physician, civil war veteran, adjuster and medical staff superintendent of the Phoenix Life insurance company of Hartford Connecticut. Doctor Goodale's will recorded May 2nd 1921 gave the property to his daughter Mrs Florence G Hugo wife of Francis M Hugo Secretary of the Remington papermill group, mayor of the city and Secretary of State and on July 24th 1925 while she in Mr. Hugo were residing in New York, she disposed of it to Mrs. Margaret McCaw, wife of Dr. James F McCaw, local ophthalmologist. On May 31st 1944 Mrs McCaw sold it to county Judge Howard B and Violet H Donaldson
Judge Donaldson later became state public service commissioner and after his death in 1945 title to the house vested in his widow who eventually married Frederick M Parker. On July 15th 1953 she sold this property to Anthony C and Angeline O Capone. Dr. Capone is a local dentist, Mr. And Mrs. G Allen Westbrook who had purchased the house from the Capone's sold the house in 1972 Mr and Mrs Edmund J Keene the current owners
816
228 TenEyck Street, Barnard frame house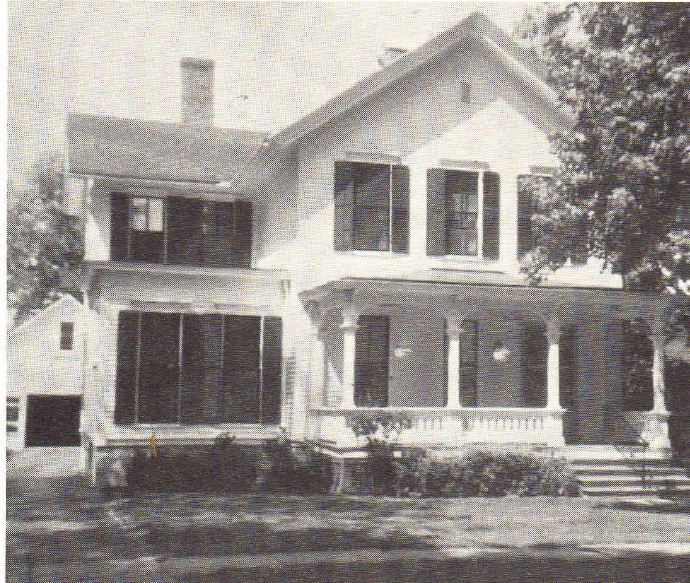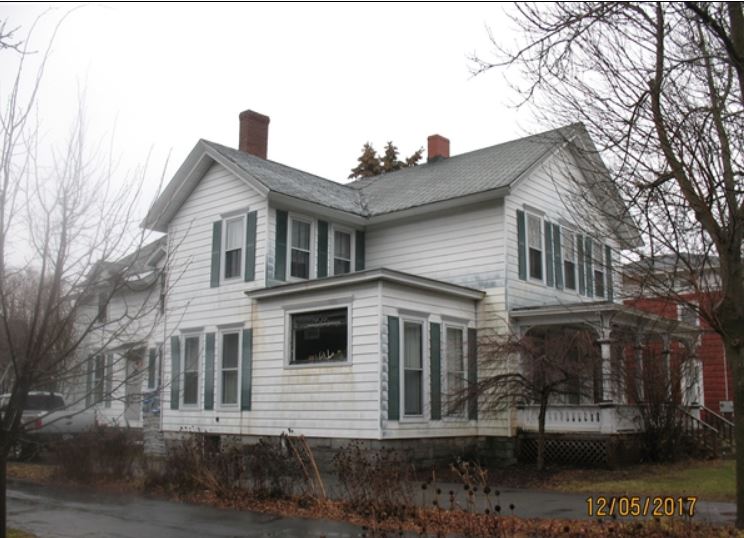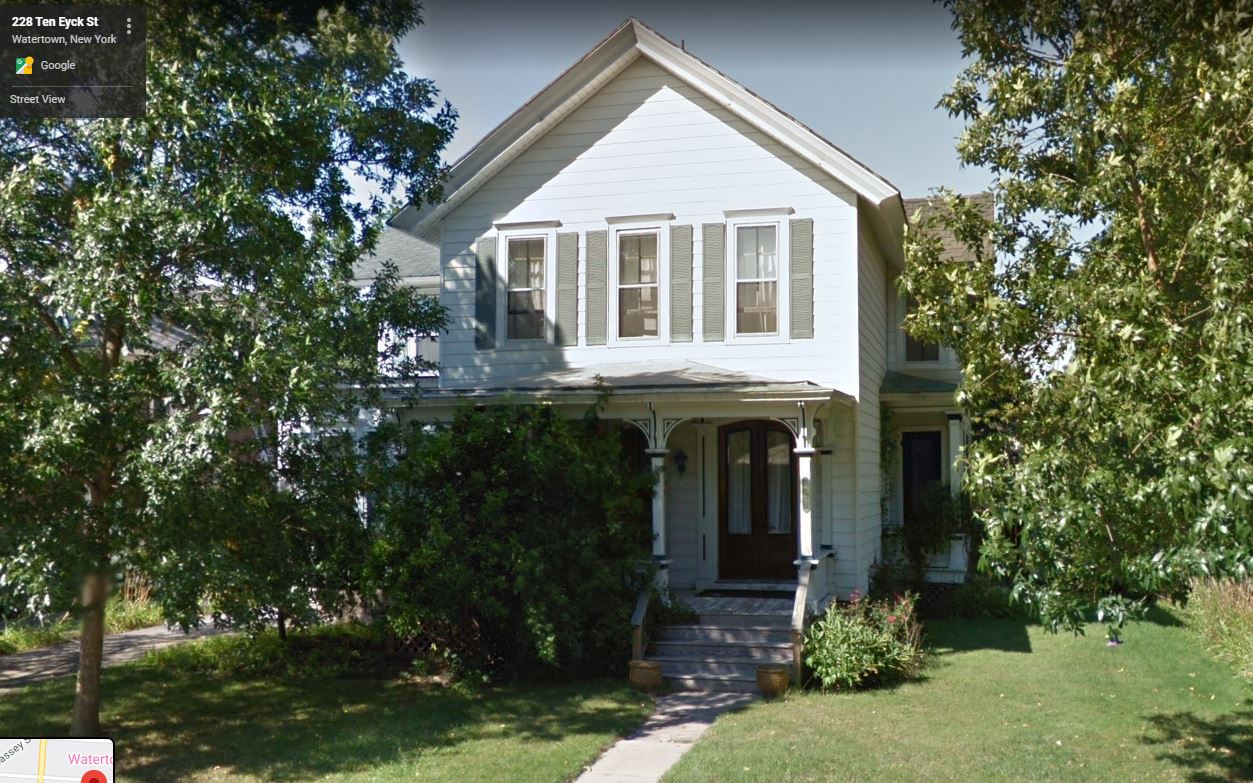 The home of Mr. And Mrs. John D Barnard at 228 TenEyck Street was built in 1875 for the late supreme Court Justice Watson M Rogers by J P Morgan, and experience contractor and builder who lived on Mullin Street.
It was sold by his daughter Miss Harriet E Rogers in 1943 to Mr. Barnard then manager of the Watertown district of the metropolitan Life insurance company and head of the Jefferson county war price and rationing board
The lot was bought in June 21st 1875 by then attorney Rogers about 29, from William H Hathway, local banker for $900. Mr Rogers then commissioned Mr. Morgan to build the white frame house. Attorney Rogers had married Miss Mary Adele Webster Watertown two years earlier. Mr Hathway had purchased the lot from Pardon C Williams, leader supreme Court Justice, and Mr. Williams had bought it April 7 1869 from Lotus Ingalls in Lafayette J Bigelow prominent real estate dealers.
There were few residents of TenEyck street at the time attorney Rogers bought the house. Henry M Sponenburgh once a member of the hardware firm of Sponenburgh and Whitingham, Fred H Waddingham, partner of Sponenburgh and father of William W Waddingham, L R Murray, crockery dealer, L A Johnson and Colonel Albert D Shaw, several years a congressman, lived there however.
In 1874 attorney Rogers became district attorney and in 1902 supreme Court Justice after a stirring political election
With the exception of us commissioner John B Rogers oldest of six children of the Rogers, all were born in this house, Justice Rogers died there in 1911 and Mrs. Rogers in 1932. The property then passed to Harriet Rogers.
817
671 Thompson Street built by Walter Woodruff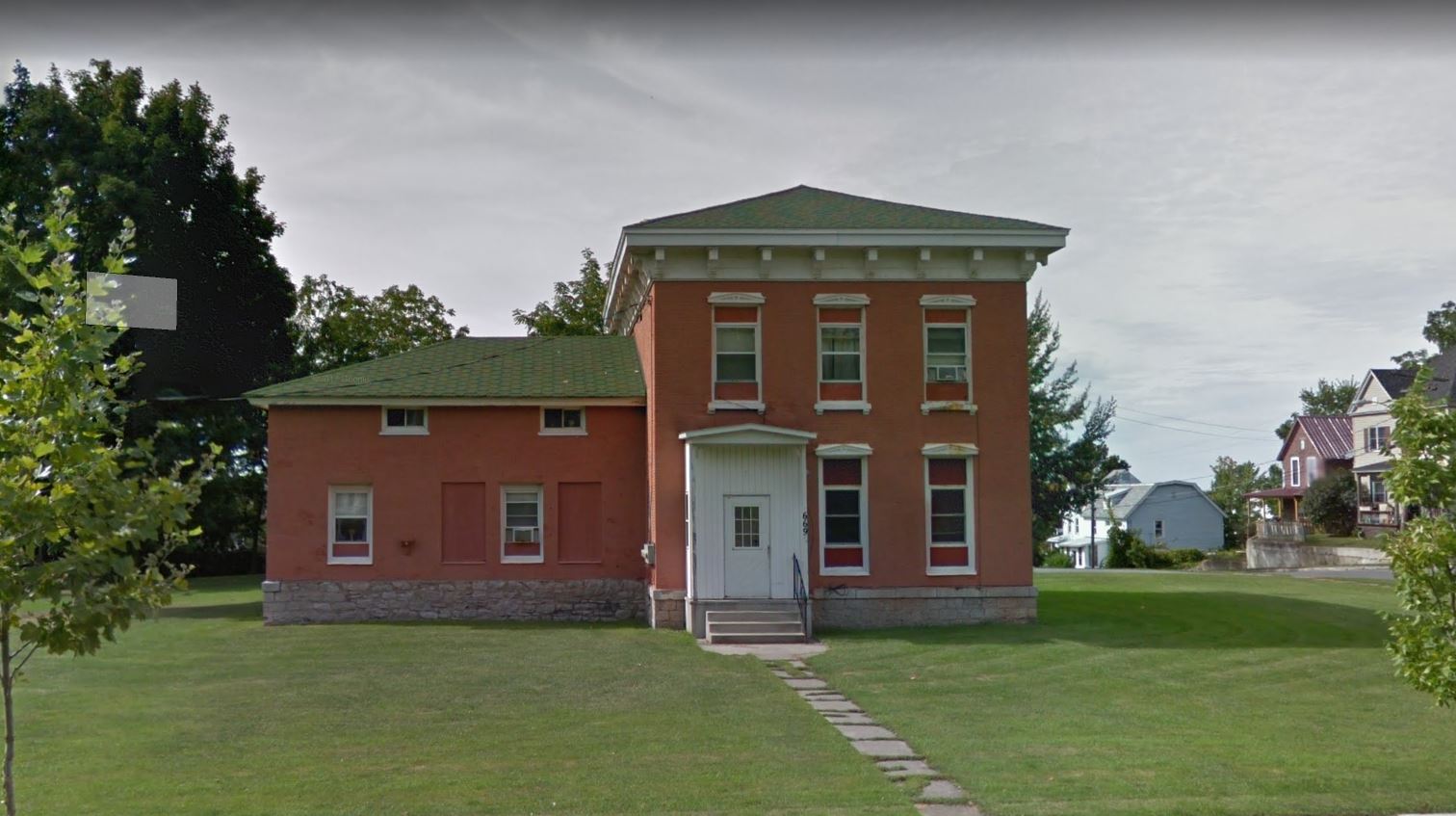 The big red brick house at 669 Thompson Street was built about 1852 by Walter N Woodruff early Watertown builder in partnership with James G Lynde as part of a development of north Watertown then in the town of Pamelia
However as the result of a mortgage foreclosure it was sold to Joseph S Frisbie of Pamelia August 20th 1856. In 1862 Frisbie and his wife Eliza sold it to John Griffin father-in-law of Solomon O Gale
Gale and his wife Jane then moved to North Watertown from his farm in the town of Leray and lived in the house but did not buy it until August 17th 1864
Gale was the son of Nehemiah and Lucy Parker Gale who came to Champion from Vermont in 1810 and Nehemiah figured in an historical tale of the war of 1812
He found the small package of bills that US army paymaster Samuel Whittlesley purposely dropped in homes field to divert suspicion from him as the embezzler of $30,000 in army pay a which he was bringing here at the close of the war. Gale turned the money over to the authorities and soon pearly Keyes and Jason Fairbanks obtained a confession from Whittlesley
Solomon Gale was a Whig who became an ardent Republican and he served for several years as an assessor. Gale Street, then Elm, was named for him. He was an uncle of William S Gould former president of the Savings and Loan association Watertown and former chairman of the Jefferson county board of supervisors. The Gale house became the property of the Church of our Lady of the sacred heart March 15th 1950
819
522 Washington Street, brick home torn down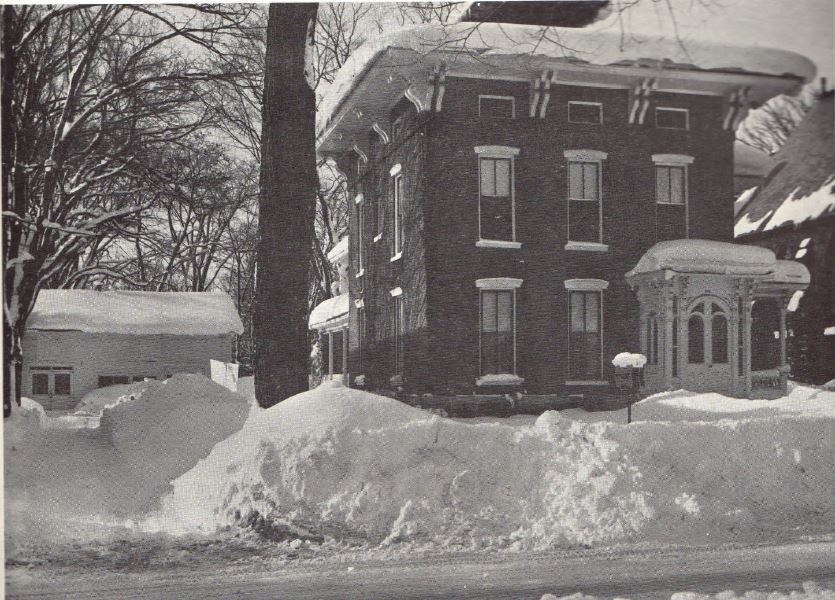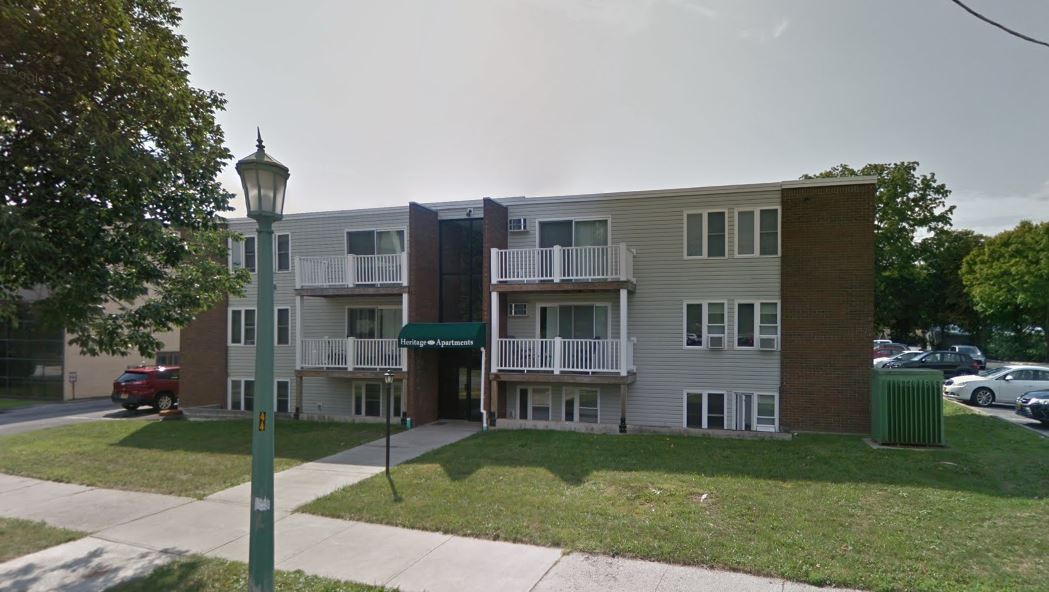 This spacious square root brick house which stood next to the All Souls Universalist Church in the block of 500 Washington Street was the boyhood home of Charles W Yost former United States ambassador to the United Nations. Mr. Yost has a long and brilliant career in the United States diplomatic service.
The house at 522 Washington Street was torn down in April 1971 to make way for the heritage apartments which stand on this site today.
The imposing residence was built in the early 1860s and in 1864 was owned by Edward S Lansing and Mary Lansing. In that year they sold it to Ira T Curtis and Lovisa Curtis and after 2 years later the Curtises sold this house to Mandana G Smith for $9,500. In 1879 she in turn sold it to Sydney Cooper and an 1898 Mr. Cooper deeded it to Roette Cooper. Mary M Peck and Maude E MacKeane, sisters, sold the house in 1909 to Nicholas D Yost was the Jefferson county district attorney and the father of Charles W Yost
Charles was not born in this house but move there as a young boy with his father and mother, Mrs. Gertrude Cooper Yost. his father died suddenly in this house just prior to world war 1. Mrs. Yost continued ownership until 1936 when she sold it to Mr. And Mrs. Robert Seastrom
Mr. And Mrs. Guy M Pooler purchased the house in August 1939 and after Mr Pooler's death Mrs. Pooler live there until the house was torn down in 1971 and the heritage apartments were built. Mrs. Pooler now lives in those apartments still 522 Washington Street
Charles Yost was graduated from Watertown high School in 1924 and from Princeton University in 1928. He later studied at the Sorbonne in Paris and then enter the US diplomatic service.
Mr. Yost has served in many prominent diplomatic posts in Europe, Africa, and Asia. He was United States ambassador to the United Nations from 1969 to 1971. He has written several books and numerous magazines and newspaper articles and columns on foreign affairs. His mother when she left Watertown after selling this house in 1936 move to New Rochelle

820
132-134 William Street old Blodgett frame house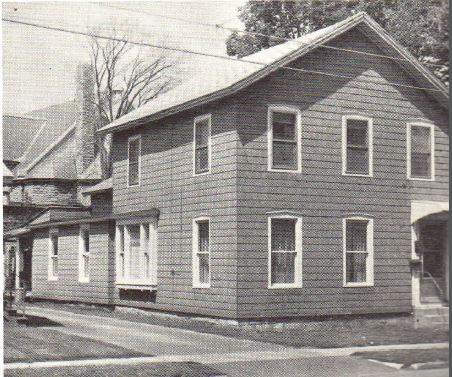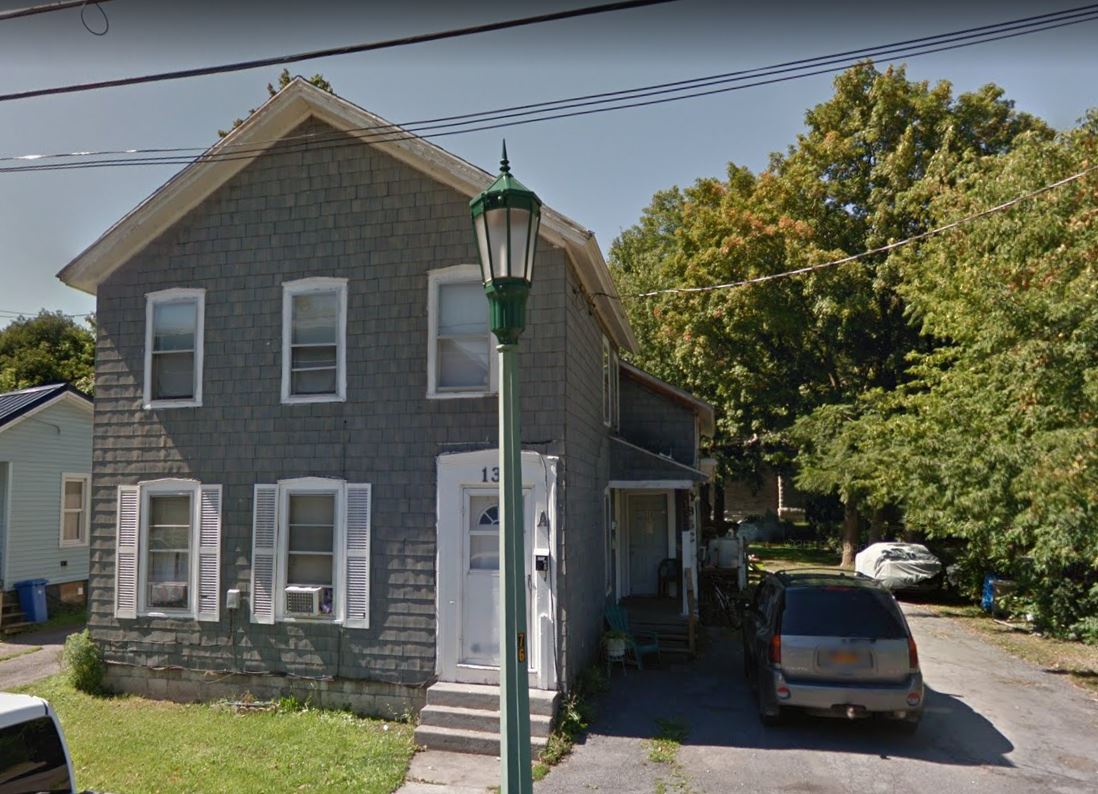 The earliest date found on this house at 132- 134 William Street taken from the abstract of title is when Gustonus Blodgett sold it to Susan Bostwick on April 9th 1857. Next it was sold to John F Moffett March 17-1865 and next to Thomas Richey on March 25 1868 and then to a daughter Cora Stillman on February 26th 1907.
The house is of plank construction some of which are as wide is 33 in. Most of the partitions throughout the house are also plank. It has not been altered much from the original
One interesting thing found on removing one of the thresholds in one of the outside doors was an uncirculated Indian Head Penny as shiny is the date that it was put there. It was an 1846 coin and some of the builders in those days would do this for good luck or some other superstition..
The house came into the possession of William Wendell Wilson in 1963. It has 20 rooms and two stories and has hardwood floors throughout.

821
133 Winslow Street owned by Norris Winslow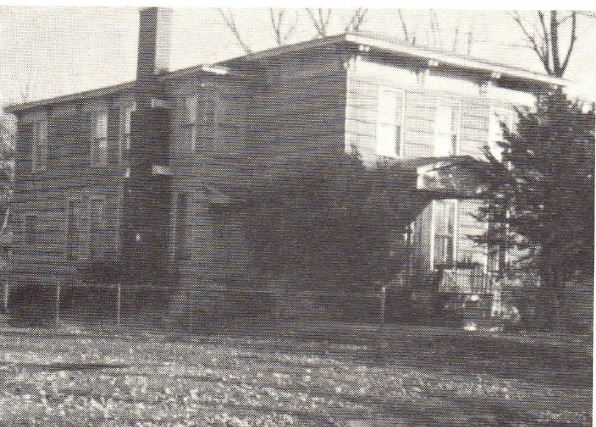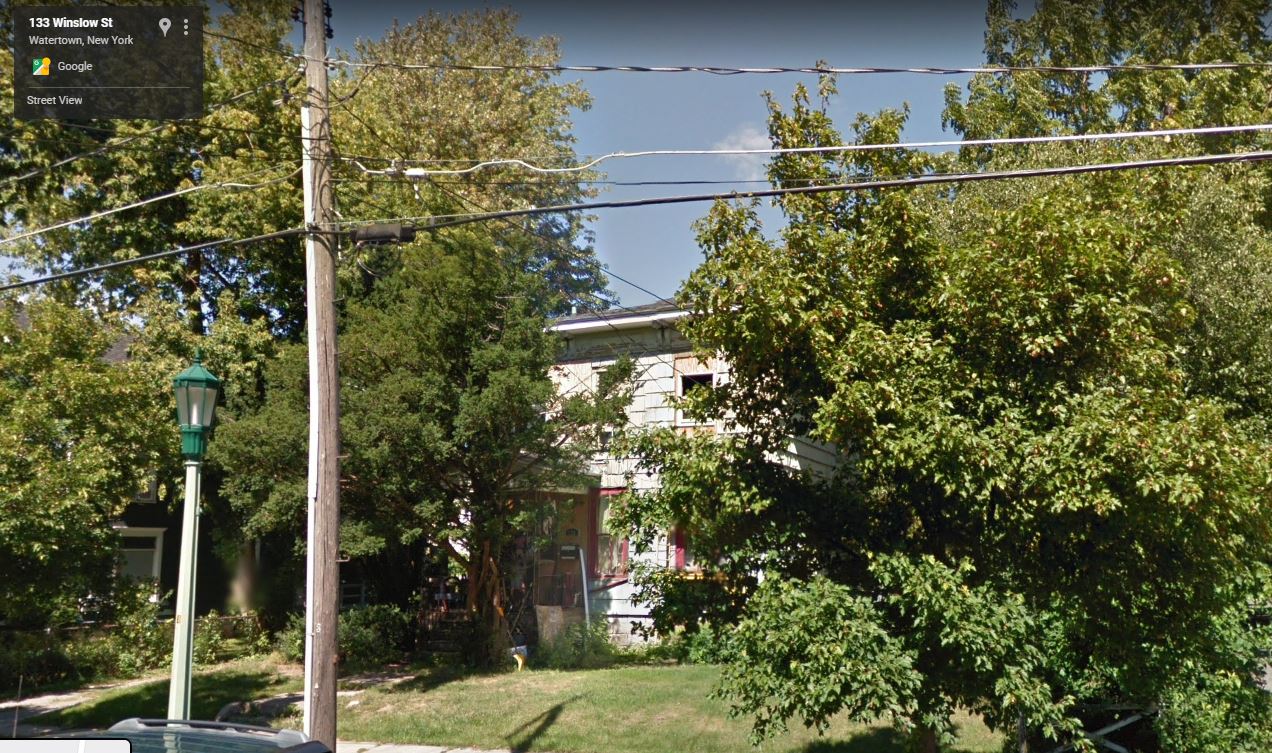 On February 8th 1868 Norris Winslow purchase from Richard G Keyes the land upon which this house was later built. Norris and his wife sold the house to Cyrus A Clark in a deed dated 1870. Nine years later Alta McMullin purchased the property. Henry J and Martha Salisbury Brimmer bought the house in 1910. also moving in with The Brimmers were their daughter Carol, son-in-law attorney Mason Martin Swan, then four years old. Mr Brimmer was an owner of the clothing form of Streetor, Brimmer and Oleau, located near the hotel Woodruff.
Mrs. Brimmer, the daughter of one of the first settlers in the Adams area, deeded the house to her daughter Carol in 1917. The house eventually passed to her son's Theodore B and Daniel M Swan. Theodore B purchased the house from his brother and it is now the property of his wife Dorothy M Swan and is located at 133 Winslow Street.
#822
358 Franklin Streetowned by Rozell Hall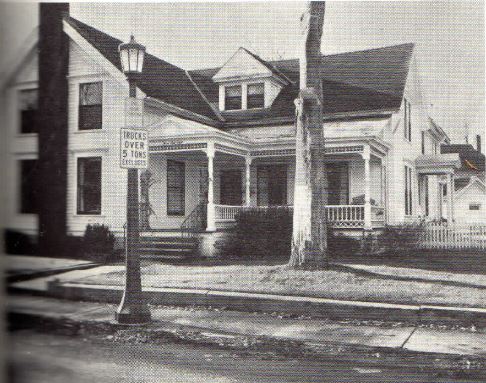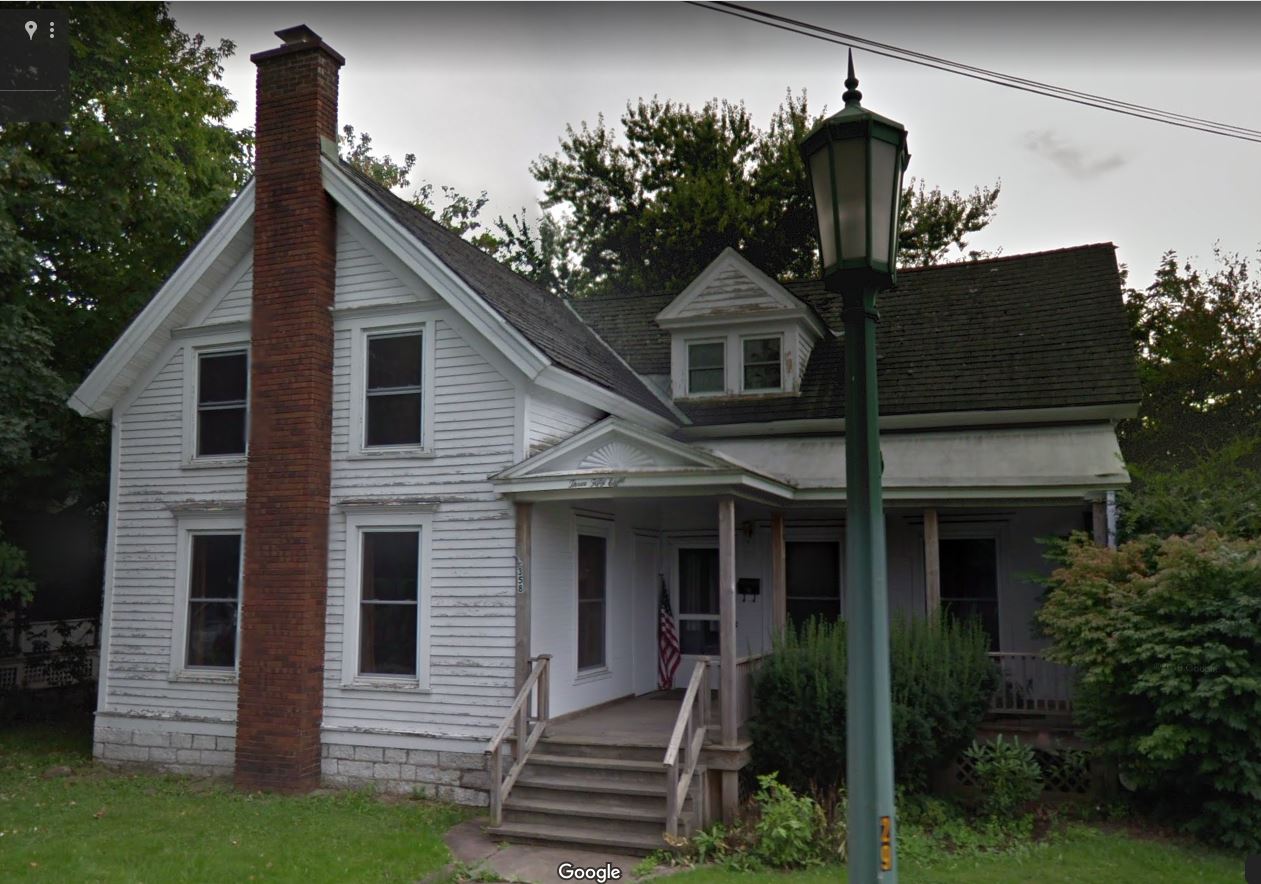 The date of construction of this house at 358 Franklin Street has not yet been determined. During a re-decoration in 1929, a note was found written on a closet wall dated -32, perhaps 1932. The earliest conveyance listed on the title was transferred by Rozell H Hall as special guardian for Mary E Sylvester and Jennie A Sylvester, minors, to George Hass and George Hass Jr. Also mentioned is a transfer from Almira Fay dated Jan 3 1854. The estate of Elizabeth M Haas sold the house to Mr and Mrs fred H Peterson, the current owners.
823
Arunah Monroe frame house at 318 Academy St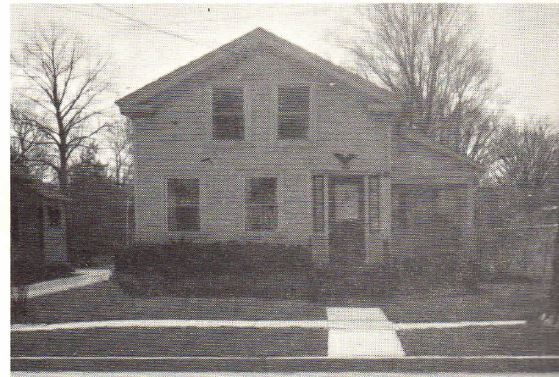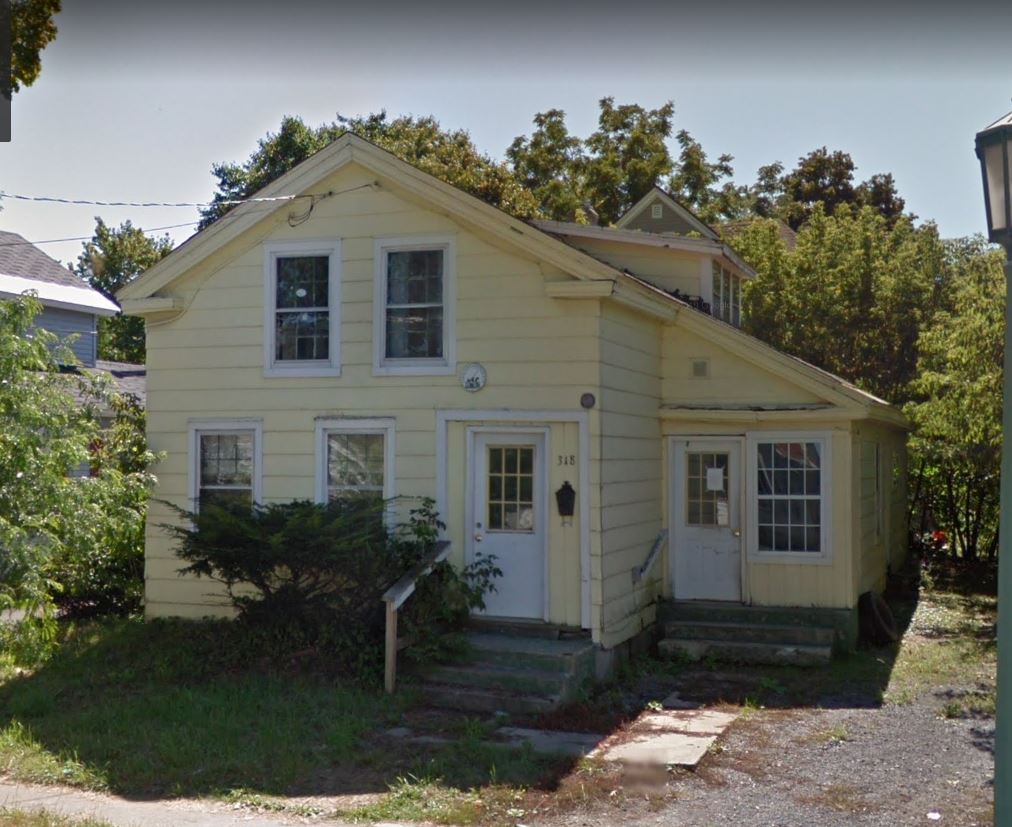 The First Wesleyan Methodist Church was one of the first owners of the land where this house now sets. Trustees of the Church were F J Blodgett and G W Amaden in 1856 when the land was sold to Arunah Monroe on Feb 12 1856. According to the city directory Arunah Monroe was a silver plater and the present owners assume he built the house. The city directories list many different owners of the house at 318 Academy St. The present owners are Mr and Mrs Lyle G Bonney (1970)
824
Mayor Karl Burns frame home at 420 Holcomb St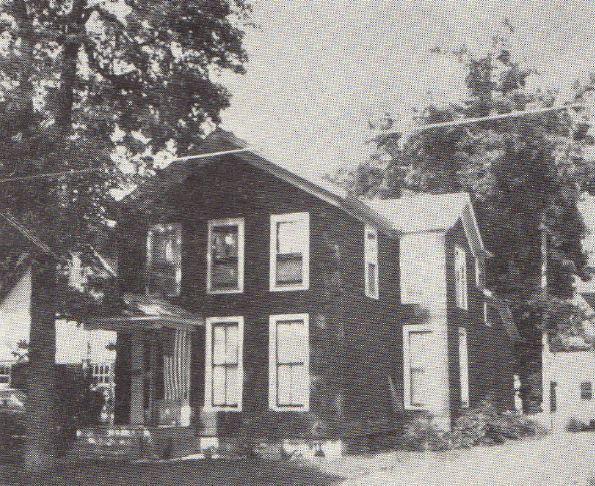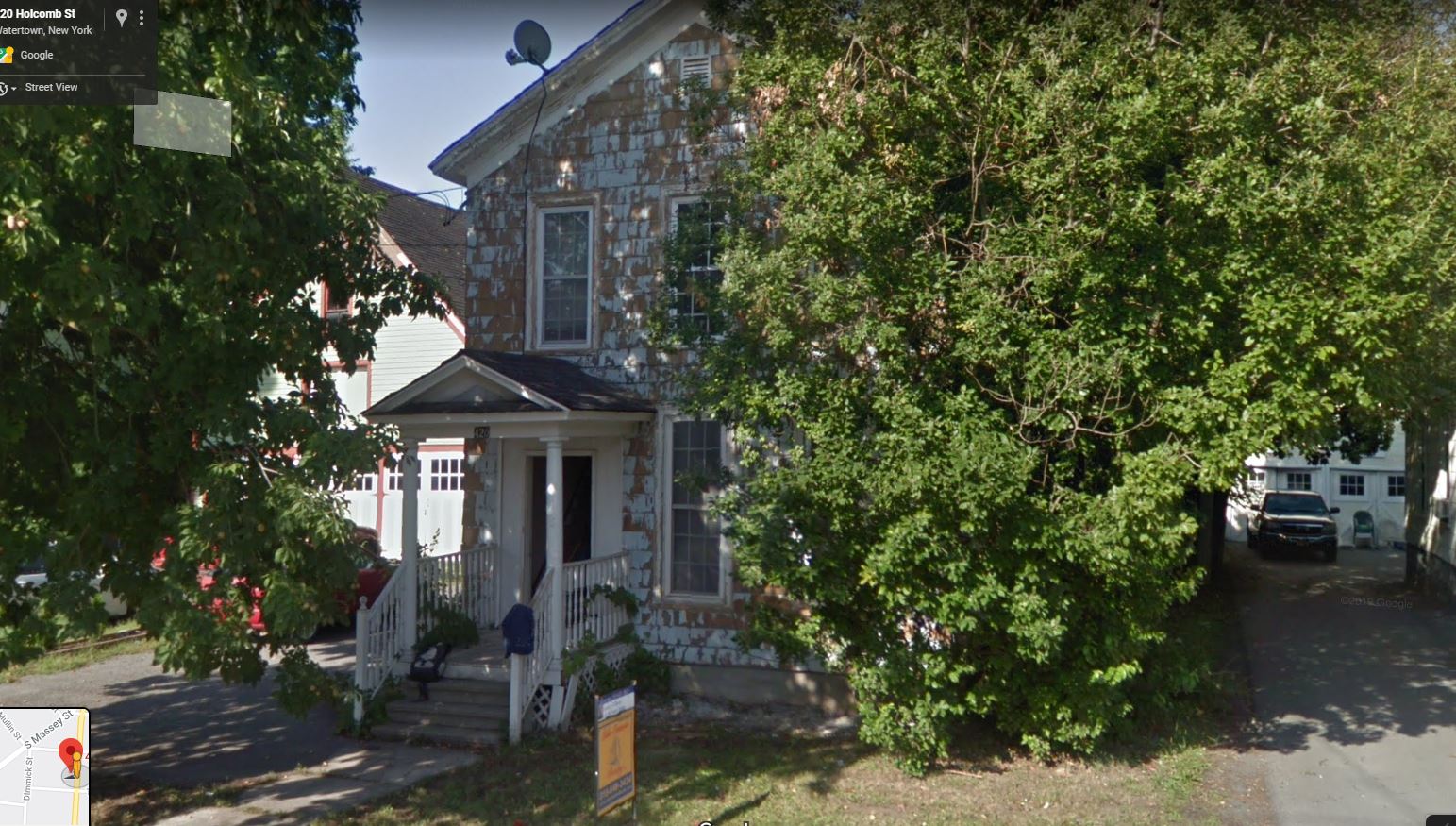 This century plus house at 420 Holcomb Street is the home of Watertown's mayor and his wife. Karl E and Rosemary L Burns purchased this property from Robert I and Leah S Inglehart. Hiram F Inglehart was apparently the first owner. He sold it on June 21st 1871 to Harriet G Farnham. She sold the house in June 1888 to Harriet E & Alanson Seaver. Harriet retained ownership until November 25 1919 when Frank G Bnister and his wife Elizabeth bought the house. They sold it to Carola Craig Kimball and Henry J Campbell on January 19th 1939. Carola sold the house next to Robert I and Leah S Ingelhart on September 23 1955.
850
History of The Oxbow Presbyterian Church, source: https://newyorkgenealogy.org/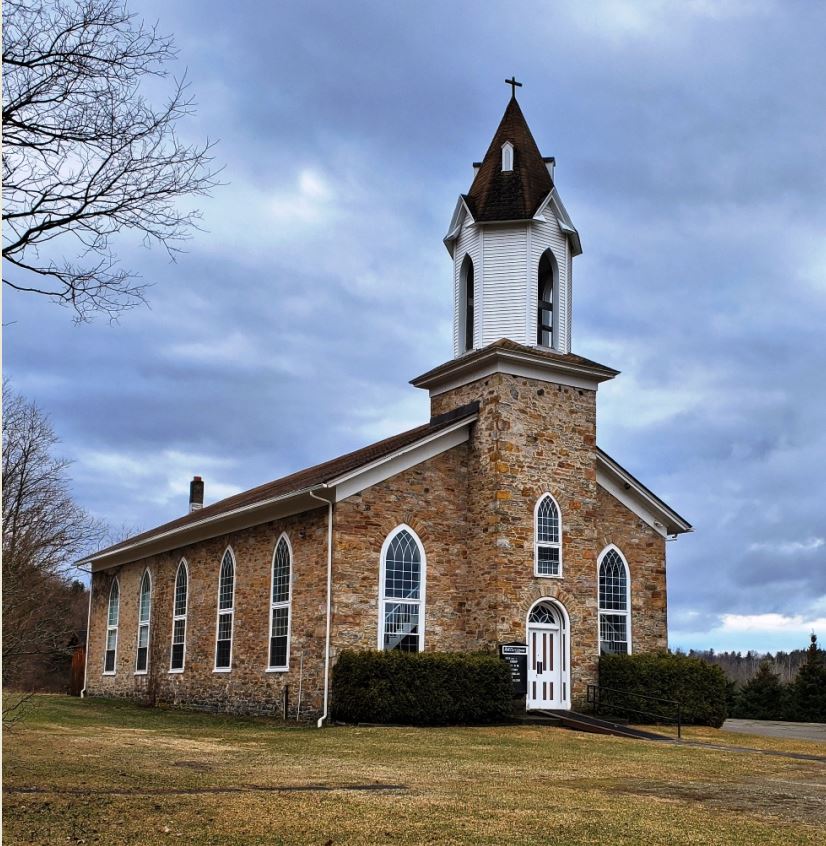 Thank you to Shelene Atkinson for the photos

On the 15th day of May, 1820, the Ox Bow Presbyterian society of Antwerp and Rossie, a body corporate, was formed, with Abraham Cooper, Reuben Streeter, James Ormiston, Abraham Lewis, James Douglas, Abner Benton, Orren Matthews, and Percival Hawley, as trustees. During the same summer a church organization was formed with forty members, principally people from the south of Scotland, who had then recently settled in this and in the neighboring town of Rossie. Their first pastor was Rev. James Sandford, from Massachusetts, who continued with them for ten years, and was succeeded by Rev. Mr. McGregor, after whom came Reverends Stowell and Nicol. Following these came other pastors, under whose ministrations there grew up a dissatisfaction which resulted in a dissolution of the church's allegiance to the Assembly, and a change of name to that of "The Associate Reformed Church of Antwerp and Rossie." This took place in May, 1837, when a reorganization was made, with Andrew Culbertson, James Dickson, Robert Darling, John Barrow, William Fleming, and William Turnbull, trustees. Their first minister after the change was Rev. Mr. White, who remained more than a year, and was followed by Rev. Alexander Proudfit, who labored but a short time, and was succeeded by Rev. James Williamson, who ministered to them as stated supply for a period of more than ten years. Their first settled pastor, after the change in 1837, was Rev. J. S. Cowper, a native of Scotland, who came to them on the first Sabbath in January, 1852.
Since that time (the precise date cannot be given) they have resumed their original relations to the General Assembly, as a regular Presbyterian church. The present pastor is Rev. Alexander Adair, who has now served them for about ten years.
During the first eighteen years of its existence this congregation worshiped in the brick school building erected by Abraham Cooper; but in the year 1838, during the ministry of Rev. Mr. White, they erected the stone edifice which they still occupy, fronting on the village green. Some changes and improvements have since been made in it, as the addition of twenty-five feet to its length and an increase in the height of its spire, giving it greater symmetry. Its first cost was $2500. Auxiliary to the church is a large and flourishing Sabbath-school, under the superintendency of Dr. Wood.