STONE HOUSES, MANSIONS AND OTHER OLD HOUSES
OF THE NORTH COUNTRY

Originally published in The Watertown Daily Times
(730) Articles and photos by David Lane, Newspaper Staff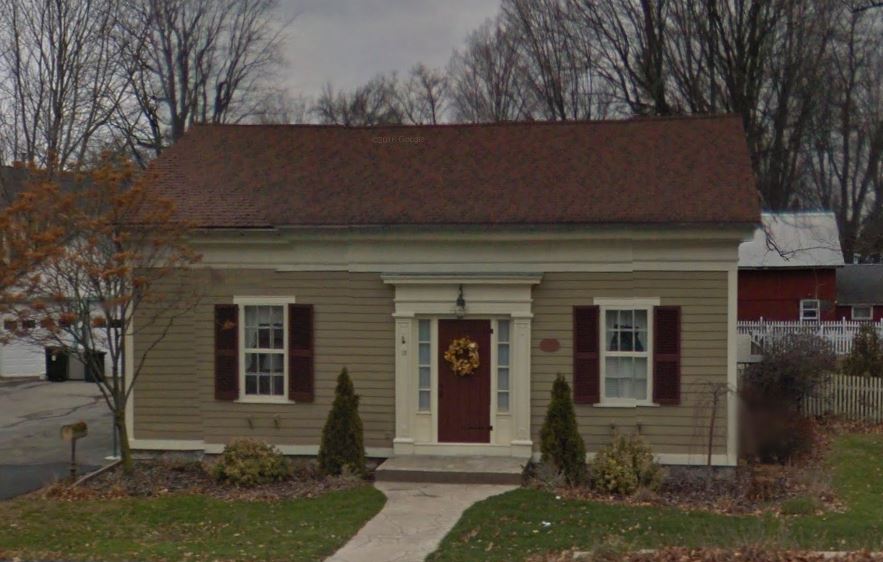 Said to have been built about 109 years ago by Theodore B Marvin this beautiful old house at 15 East Main Street, Canton, now owned by Mr and Mrs John W Earl is better known as the Barnes house. It has an interesting history. Not the least of this was the ownership in later years by Reverend Roswell Pettibone's granddaughters, Mrs George B Helme and Miss Clara B Pettibone. Reverend Roswell Pettibone was an outstanding Presbyterian minister in northern New York over a century ago. He was so much admired by Mr and Mrs Nathan Monroe Flower of Theresa, that they gave his name to their distinguished son, Roswell Pettibone Flower born in Theresa August 8 1835 later New York state governor, millionaire and king of Wall Street.
When Governor Flower was born Reverend Mr Pettibone was located in Theresa. The First Presbyterian society was formed there May 8 1825 and incorporated December 22 1835 with Mr and Mrs Nathan M Flower original trustees. In 1837 the Presbyterians and Methodists built the Union church, Reverend Mr Pettibone being the first Presbyterian minister in it. Today's edifice is the Flower Memorial church erected in 1879 to the memory of Nathan Monroe and Mary Ann Flower by their children.
In February 1836 the Watertown Presbyteryn united with the Black River Congregational association in founding the Black River Literary & Religious Institute in Watertown with Reverend Mr Pettibone an original trustee. In January 1839 he became the second pastor of the Presbyterian church in Canton, and served there until 1854. The site for that edifice and for the Canton village park was given by Governor Silas Wright and Joseph Barnes, both of whom became trustees when the Presbyterian society was incorporated in July 1823 and the first edifice completed in 1831. Reverend Mr Pettibone was a founder of St Lawrence lodge, No. 111 F & A M, in December 1845 and of St Lawrence chapter, R A M, February 3 1848.
The Noble, Barrows, Sykes and Barnes were among Canton's prominent early families. Dr William Noble, Canton's first physician, owned much upper Main and Park Street lands. On June 20 1829 Dr Noble sold Prosper Barrows an acre of land in the locale of this house for $50. Deacon Prosper Barrows, who was a village president between 1846 and 1852 was a son of Aaron and Huldah Langdon Barrows who came from Dorset, Vermont, in 1814. A carpenter, Aaron constructed the first building in Vermont by "square" rule.

On April 19 1844 Prosper and Harriet Barrows sold the site of this house to Theodore B Marvin for $100. Marvin apparently built the house after that and sold the property October 6 1847 to Harman A Packard who, with his wife, Clarissa, disposed of it to Benjamin A and Edwin J Sykes March 27 1855. The next day they conveyed it to John S Barnes, a daughter of whom married a son of Reverend Roswell Pettibone, and on July 21 1949 Mrs George B (Alice B Pettibone) Helme and her niece, Mrs Clara P Jones, Holland Patent, as heirs of Juliet E Barnes, disposed of this house to the present owners, Mr and Mrs John W Earl.
But prior to that Mrs Alice B Pettibone Helme and her sister, Miss Clara B Pettibone, had lived in the house together a number of years. On October 6 1886 Alice B Pettibone married George B Helme '85 SLU, later Nyack newspaper man, banker and postmaster who died November 12 1913 his widow returning to Canton. Mrs Helme died March 14 1951. She was an aunt by marriage of Carlyle H Black, president of American Can company, of Malcolm S Black, secretary-treasurer of Union Bag & Paper company, and of Mrs Cleland R (Mabel Black) Austin, whose husband was a former New York book publisher.
Mrs Helme's sister, Miss Clara B Pettibone, who died in Canton October 25 1938 was a talented artist who studied under Frederic Remington, distant relative. Joseph and John Barnes were early comers in Canton and Joseph was village president 1860-1861 and 1871 and village trustee 1863-1865-6 and 1870. Barnes & Sackrider ran one of Canton's earliest stores. On the island in 1846 Barrows & Blanchard built a cooperage. Today this beautiful old house, filled with antiques, shows the original fluted woodwork in the eleven low rooms, the original broad-board pine floors, and the graceful stair-rail of butternut.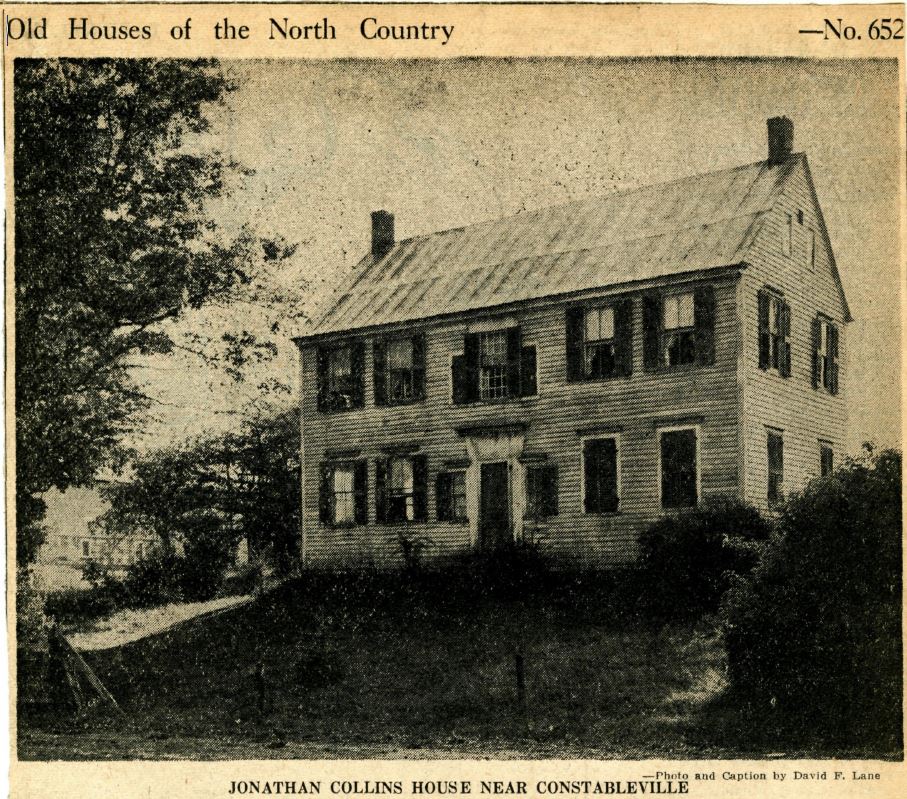 2971-2825 W Rd, Constableville, NY 13325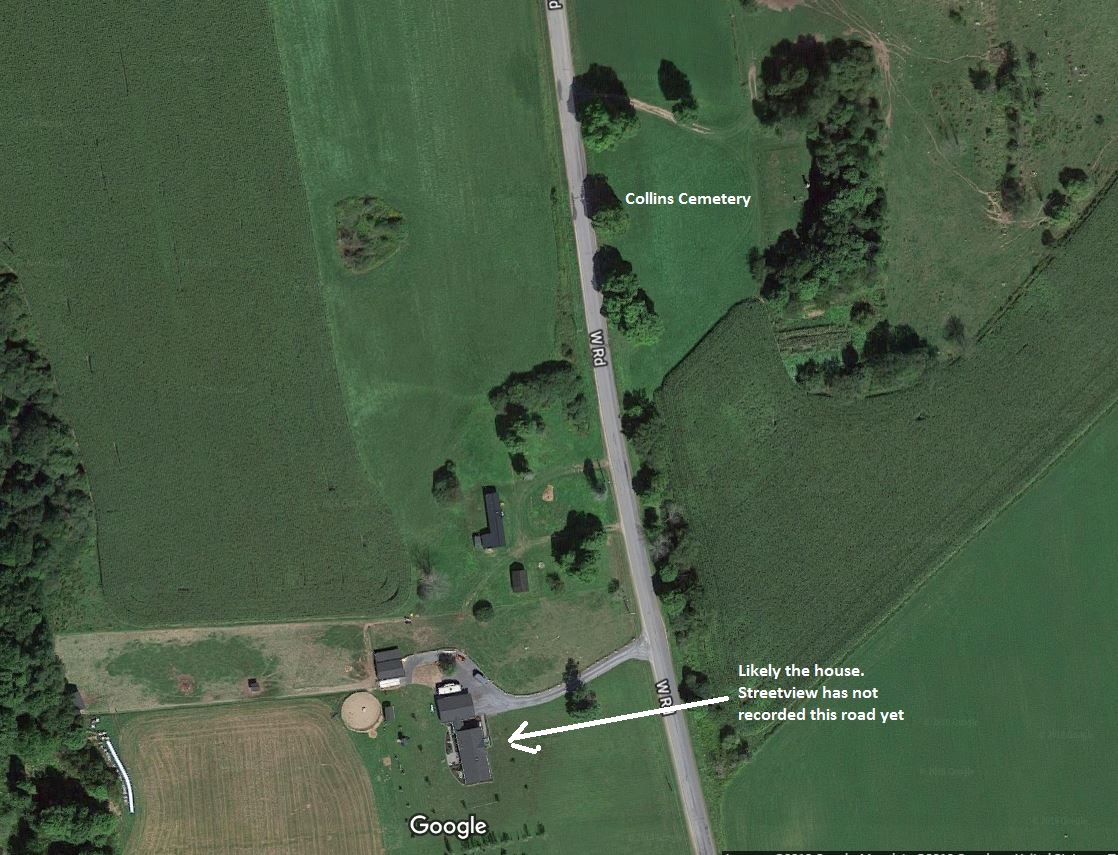 Jonathan Collins was one of the most outstanding figures in northern New York history, and his house on the West road in West Turin is one of the oldest and most historic in Lewis county. Collins came there from Meriden, Connecticut, to settle in March 1797 and first built a log cabin. For a short time after building this house in 1803 he operated it as a tavern. There, for some years after the chartering June 29 1804 of Farmers lodge, No. 101 F & A M, Turin, of which he was master, Masonic meetings were held in the big upstairs ballroom, and on St John's Day a fine dinner was served there to members.
It was Jonathan Collins who presided at the convention at Captain Freedom Wright's tavern at Denmark in November, 1801 when decision was made to form the twin counties of Jefferson and Lewis and it was Collins who was one of the early judges of Lewis county. In the Revolutionary war he was a sergeant and was descended from Lewis Collins, who came to America in 1630. His independent religious ideas, however, necessitated his leaving Connecticut for northern New York.
Jonathan Collins was born at Wallingford, Connecticut, May 3 1735. On January 10 1775 he married Sarah Crouch, daughter of Captain John Crouch, in whose company Collins enlisted the next December 10 and helped build Dorchester Heights fort. Discharged in 1776 he went to New York and enlisted in Captain John Hough's company. A later enlistment took him on the lines at Horse Neck, April 1 1778.
On January 21 1797 he bought 201.75 acres of choice land between the Sugar and White rivers in West Turin from William Constable for 320 pounds and later 153.75 acres for 254 pounds, paying cash both times, for he was a man of some means as well as education. The swollen Sugar river posed difficulties getting his horses, cattle and goods across. On high ground about 50 rods from the stream he built his cabin.
Six years later he built this big 2-1/2 story house with a 1-1/2 story wing and large woodshed. The upright's first floor contained parlor, sitting room; dining room, a bedroom, linen and china closets and a wide hall running through from the front. In the wing was kitchen, pantry and storeroom, with two bedrooms and closet above the kitchen. Four bedrooms, closets and a hall, with attic staircase, were on the upright's second floor. In the woodshed extension a corner was partitioned off with plastered walls and ceiling and flagstone floor for a milk and butter room. Later a separate cheese house was built. A brick and stone partition divided dining room and kitchen. Through it ran a chimney with wide fireplaces in each room, including a kitchen Dutch oven for baking.
The family moved in the fall of 1803. The house has since continued occupied and for 151 years but two families have owned it, the Collins's and the Murphy's. Across the road the barns were built. And across the road is the Collins family cemetery. There are buried Jonathan Collins, who died April 6 1845 aged 90; his wife, Sarah, who died March 22 1840 aged 84 and several other members of the family. This cemetery was reserved when Jonathan C Collins, who was born in the old house January 30 1804 sold the property to John B Murphy, grandfather of John and Leo T Murphy, the present owners.
Jonathan Collins was a handsome, intelligent man, and leader in his county. He was an early magistrate and judge from 1809 to 1815 and served as first judge in the county. In 1820 he was chosen a residential elector. Of the highest integrity, he enjoyed unusual public confidence and various town and county trusts. He had sound judgment, strict integrity and scrupulous regard for public welfare.
His sons, Levi, a Collinsvlle merchant; Homer, Collinsville, and Jonathan C, who succeeded to ownership of this house, were assemblymen, the latter also being a presidential elector. Today, there are some of Jonathan Collins' great-grandchildren living, including the Misses Florence, Gertrude and Huldah Loom is, who reside between Turin and Talcottville, and who furnished much information.
John B Murphy, who bought the farm from Jonathan C Collins, was born in County Cork, Ireland; emigrated to America as a young man; joined the California gold rush; returned east and eventually bought this farm. His wife was the former Margaret Doyle, mother of his four sons and four daughters, two of whom, James B and William, acquired this farm after he died in 1892. William died in 1922 and James B became sole owner. He died in 1928 and in 1940 his nephews, John and Leo T Murphy, acquired joint title, Leo and his wife, Margaret, now managing the place, upon which they drilled a 283.5-foot well in 1953 going through 173.5 feet of limestone, 100 feet of clay and ten feet of shale. Mrs Murphy also contributed much information.

Picture taken June 2015: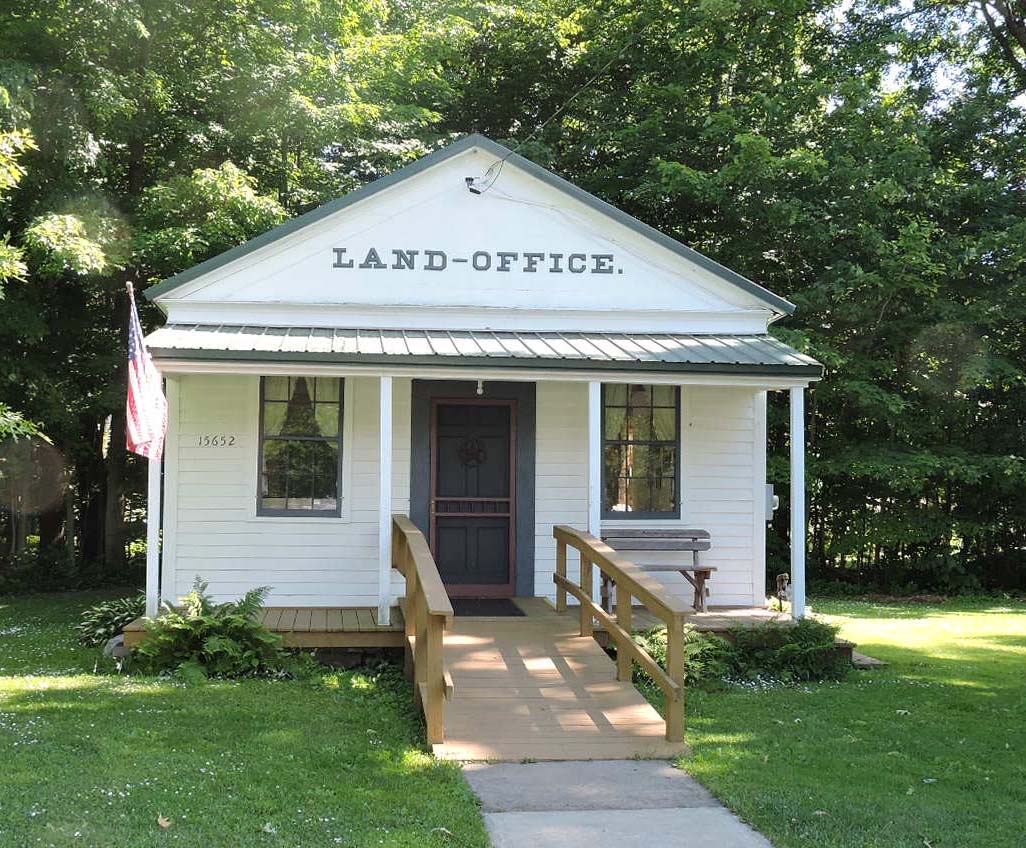 William Constable Pierrepont was only 19 when he came to Pierrepont Manor in 1822 to manage extensive northern New York lands of his father, Hezekiah Beers Pierrepont who, at one time owned almost 500,000 acres. And it was in that year 1822 that young William built his land-office, now the village library of the Pierrepont Manor Improvement Club & Library association.
It is on Railroad Street, formerly Ellisburg Street and occupies the up-street corner of the 7.17-acre lot upon which he built his manor house in 1826 which still stands in use, but to which he did not bring his bride the former Cornelia Anna Butler of Oxford, NY, until four years later not having married her until 1830. William Constable Pierrepont was born in Brooklyn October 3 1803 son of Hezekiah Beers and Anna Marie Constable Pierrepont. He was descended from Robert de Pierrepont of Normandy and from John Pierrepont of Nottinghamshire, England, who came to the American colonies and settled near Boston in 1610.
At Pierrepont Manor and in northern New York William Constable Pierrepont was a man of many business activities including the promotion of the first railroad, the Watertown & Rome, into northern New York and in the rear room of this two-room land office was the safe in which he kept his money.
Across the street from the land office is Zion Episcopal church which he gave and which was consecrated August 16 1836 with Reverend Amos C Treadway first rector and Mr Pierrepont one of the first wardens, and in the church is said to be the first pipe organ in this part of the state. Beside the church is the cemetery in which William Constable Pierrepont is buried with other family members.
In his will Mr Pierrepont mentioned that in 1861 he had set aside 15 Rome, Watertown & Ogdensburg railroad bonds for endowment of the church, and when he died December 20 1885 he was buried in the cemetery lot he bought of Albert Earl in 1858.
Ten years before he died he made a codicil expressing wish to be buried in a plain pine coffin with his head to the north and that a plain red granite boulder in natural state located in a certain lot be his monument to mark his grave unless his children felt otherwise. A big, rectangular gray granite slab plainly inscribed and laid flat, however, is his monument.
On April 10 1851 William Constable Pierrepont was elected president of the Watertown & Rome railroad company to succeed the first president, Orville Hungerford who had just died. From that time until his death Mr Pierrepont was head of the company, and from the time the railroad was completed from Rome to Pierrepont Manor May 28 1851 it is said that he went to the depot, watch in hand, to check the arrival and departure of trains.
William Constable Pierrepont's father was born at New Haven, Connecticut, November 3 1768 went into the New Haven office of his uncle, Isaac Beers, as a young man, later amassed the nucleus of his fortune in Philadelphia, Pennsylvania, buying government obligations, established with his cousin William Leffingwell in New York in 1793 went to France to look after firm shipments, became intimate with William Constable the great northern New York land magnate, and with Robert Fulton, married Constable's daughter Anna Maria in 1802 and bought Philip Livingston's brewery in Brooklyn that year turning it into a gin distillery which made him much money. Later be acquired much of Constable's northern New York land holdings, was one of 26 freeholders to own Brooklyn where he had established his residence on the Heights, and died August 11 1838 his wife living until 1859.
His son William Constable Pierrepont was Ellisburg supervisor 1840, 1843, 1846 - 7 and assemblyman 1840 and a promoter of northern New York turn pike roads. Much of his fine scientific library went to Hobart college.
On December 1 1899 his estate sold the manor house property to William McConnell, reserving the right to use the land office. August 12 1929 William and Florence McConnell sold the land office to Oliver J McConnell, Henderson, and on November 18 1930 Oliver J McConnell, widower, sold this property to the Pierrepont Manor Improvement club. The mansion property was sold by Ralph B McConnell to Guy E and Belle Elizabeth Mendell April 18 1935.
The inventory of William Constable Pierrepont's estate showed him owning personal property mounting to $569,228.26 most of which was in railroad securities.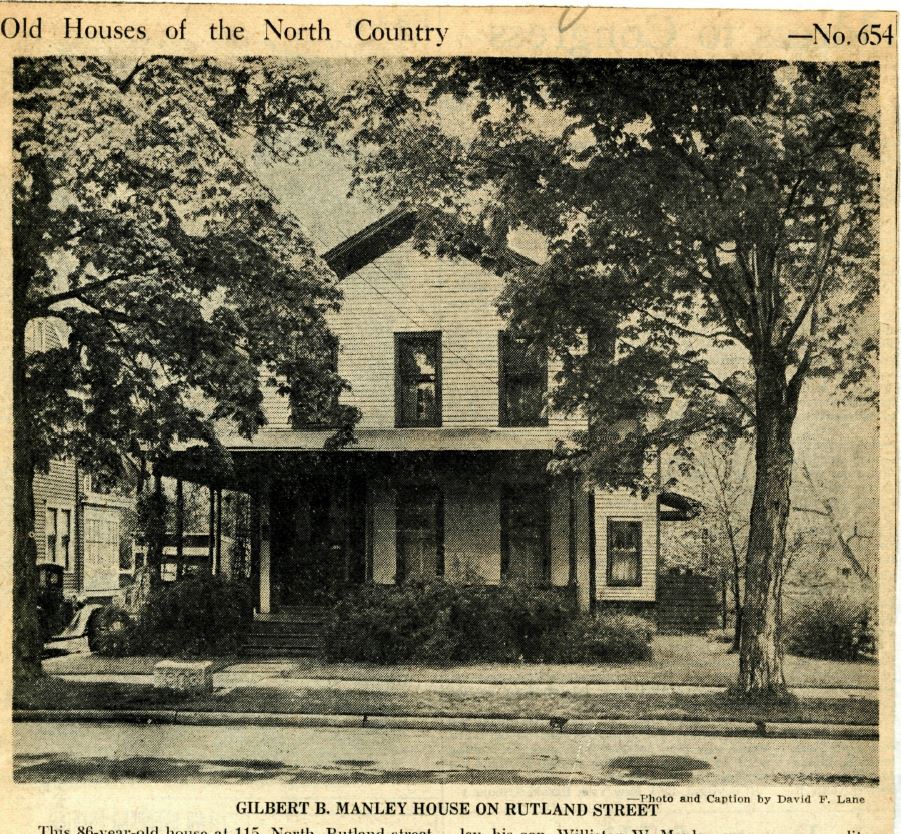 This 80-year-old house, at 115 North Rutland Street, now owned by Mrs Abbie C Miller, was in the beginning the successive residence of two prominent northern New York teacher-newspaper men. They were Gilbert B Manley, long the editor-publisher of The St Lawrence Plaindealer at Canton, and Hannibal Smith, a founder, director and treasurer of The Standard Publishing company organized March 21 1891 to publish The Watertown Daily Standard. Both men had been early principals of the Watertown High school.
The lot on the west side of North Rutland Street was bought June 2 1869 by Mrs Frances A Hallock from Oscar and Edwin L Paddock, local land speculators. Immediately the above house was constructed by her husband, George Hallock, a local builder and on September 25 1869 Mr and Mrs Hallock sold the place for $2,500 to Mr Manley, who had just come to be principal of the high school that first year that Watertown was a city.
Mr Manley was born at Johnstown, NY, December 1 1829 son of Reverend George and Esther Smith Manley, both natives of Berkshire county, Massachusetts. His parents, who had later lived at Brick Chapel and at DeKalb, both died when he was seven and he was brought up by Moses Huntley at Potsdam. There he attended St Lawrence academy, entered Williams college in 1853 was graduated in 1857 and taught school 16 years. In 1856 he had married Martha L, daughter of Ephraim Hyde, Massena, and they had a daughter and two sons.
Mr Manley resigned the local high school principalship in January 1870 and was succeeded by Hannibal Smith, to whom Mr and Mrs Manley sold their house December 27 1870. In 1873 Mr Manley bought The St Lawrence Plaindealer from Colonel Seth Pierre Remington, father of Frederic Remington, noted painter and sculptor of plains life in the old west. The Plaindealer had been started by Colonel Remington and William B Goodrich as a Republican campaign paper in 1856. After a few months Goodrich sold to Remington to enter the Union army.
In 1862 Mr Remington also entered the army and sold The Plaindealer to J VanSlyke, but in 1867 Colonel Remington repurchased and published the paper until he sold it to Mr Manley in 1873. Upon the death of Mr Manley his son, Williston W Manley, was successor editor publisher and upon his death, his son, G Atwood Manley carried on until he disposed of it to the present interests a few years ago.
Hannibal Smith was born at Vermilion, NY, November 20 1839 son of Savillian and Louisa Chappell Smith. At 17 Hannibal entered West Winfield academy. At 19 he was called home to teach. He finished reparation at Cazenovia seminary and was a Hamilton college honor graduate in 1866 winning the Pruyn medal, the Hawley medal for excellence in classical culture and the Head oratorical medal. On September 13 1866 he married Amelia, daughter of Eli and Elizabeth Chard Marsh of Utica.
He was principal of Little Falls academy in 1867 entered Hamilton law school in 1868 was graduated in 1870 then came here as high school principal until July, 1874 when he entered law partnership with General Bradley Winslow but in 1877 withdrew to practice alone until joined by his son, Edward N, who later in life became supreme court justice.
Shortly after the founding of The Watertown Standard, Hannibal Smith became its treasurer until his death December 17 1899. A younger son, William Hanniball Smith, was a former city editor, and managing editor of The Standard, and a son-in-law, Dr Frank A Gallup was the paper's editor-in-chief a half century ago. Besides his law practice and The Watertown Standard, Hannibal Smith was an officer and director of the Siouski Paper company, the Watertown Thermometer company, the Taggart & Moffett Land Improvement company and M Harbottle & company.
On June 17 1902 Hannibal Smith's widow and children sold this Rutland Street house to Mrs Hattie A Walter, Theresa. Mrs Walter sold it to Mrs Ursula C Walker January 27 1905 and February 28 1913 Mrs Walker sold to J A Zimmer, who disposed of it to Constantine Ganter April 4 1917. His estate disposed of it to George W Crouch January 4 1921 and May 3 1926 Crouch sold to. Carl A Phillips, who sold to Jerome E and Abbie C Miller the same day. Mr Miller, operator of the Watertown Steam Laundry, died July 11 1939 and his wife succeeded him in ownership of this house.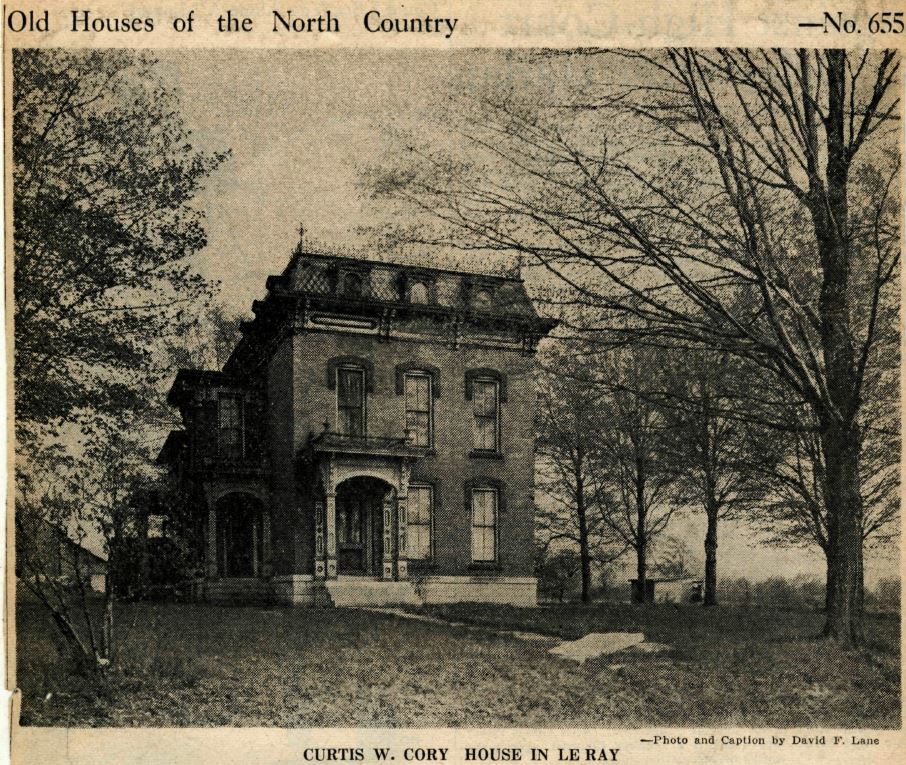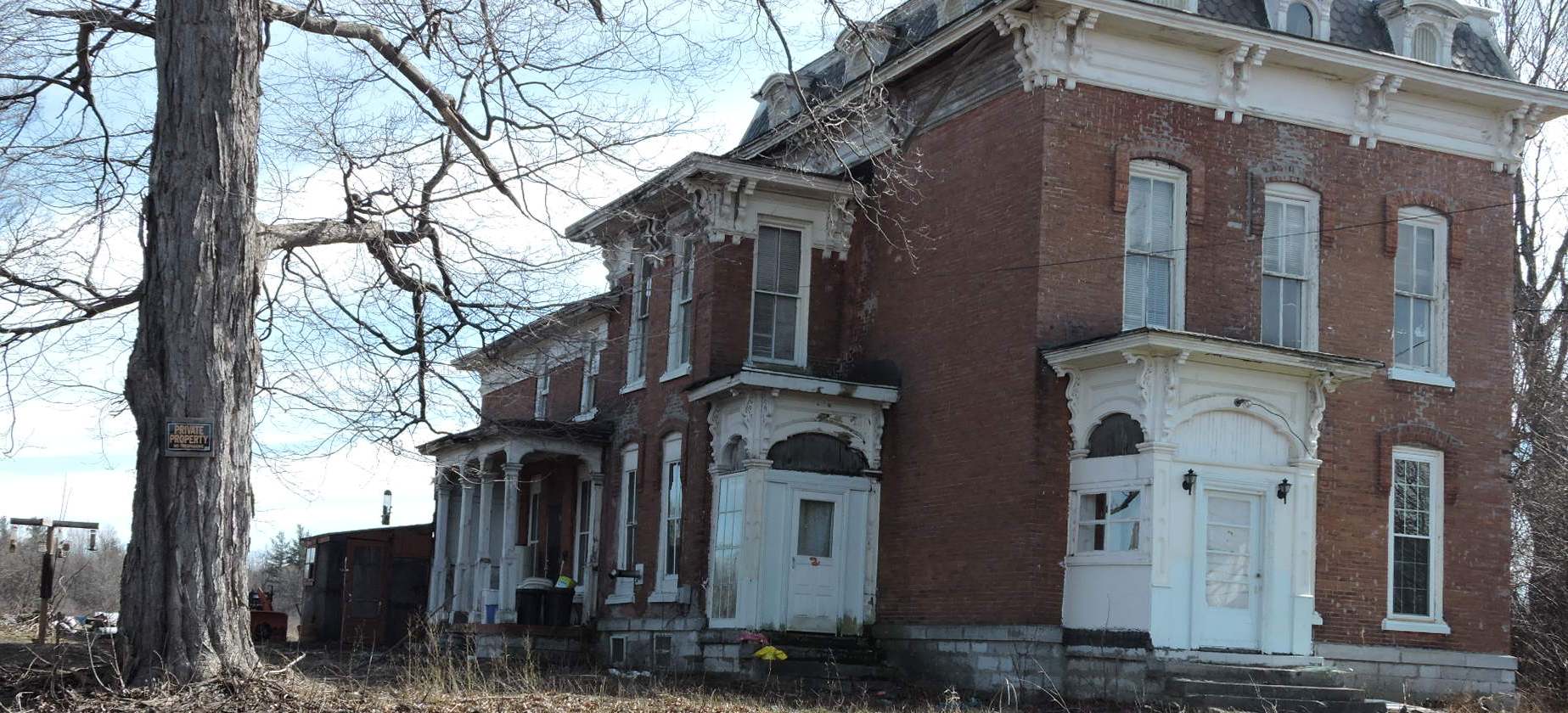 A fine old Victorian house with Mansard roof and nice iron balustrade around it is that owned by Mr and Mrs Russell W Ames, formerly of Black River. This house was built about 1874 by the late Curtis W Cory and stands on the south side of the Pearl Street road a short distance outside the city in the town of LeRay. The house has a dozen large, high rooms, a hallway with a beautiful old staircase and the interior doors are apparently of black walnut or butternut with curly maple panels. The high attic was designed as a ballroom, and in its day the house was as fine as anything in the city.
Curtis W Cory was a son of Joseph and Jane McMullen Cory. Joseph Cory was born at Keene, New Hampshire, in 1789 and in 1809 settled in this Pearl Street area of the town of LeRay, his ancestry dating back to the Rhode Island colonial pioneer Cory family.
Joseph Cory served the American forces at Ogdensburg in the War of 1812. About 1816 he married Jane McMullen of the town of Rodman and had several children. While he operated a farm in LeRay he also conducted a large lime kiln near this house for about 40 years, having constructed the first patent lime kiln in this county. There were enormous deposits of limestone there and his lime enjoyed a wide demand throughout northern New York. Joseph Cory died in 1818 but his kiln still stands.
Curtis W Cory was born in LeRay February 15 1820 managed the homestead farm, assisted his father at the kiln, went west, returned in 1873 had two large farms of over 300 acres and built this big house. From 1850 on he had many land transactions and was a man of prominence in the county. He was a devout Methodist, a staunch Republican and a director of the old Merchants' bank in this community.
On January 20 1845 he married Charlotte, daughter of Cornelius Waters, a native of Russia, NY. Their children were Caroline E, who married George A Fisk and resided in this house for some years; Oscar E, Edith C, Frank C, Maud E, and George F Curtis W Cory died July 16 1883 and his wife on May 18 1904. His properties were split up in February, 1884 and the 91.31 acres where this house is was acquired by George F Cory, Oscar E Cory and Mrs Caroline E Fisk, who deeded it to Charlotte Cory four days later. After her death, however, it was conveyed by Referee Nathaniel M Smith in a partition action to George F and Oscar E Cory on September 5 1905 and on August 7 1908 they and their wives sold it to Elizabeth J Brown of Cleveland, OH
It was later acquired by Arthur B and Inonda M Richards of LeRay, who sold it to Berton M and Sarah E Hart of the town of Rutland September 26 1927 and upon the death of Mr Hart the title to the property passed to his widow. On June 4 1934 Sarah E Hart, then of Hawkinsville, disposed of the place to Anna May Bishop of Bigelow, NY. A little later it was purchased by Ruth B Slack of Linden, NJ, who, on December 18 1945 disposed of it to Aaron and Mary W Levine of Fairfield, Maine. A little more than a year after that Mr and Mrs Levine sold to Ora and Gladys E Sloan of this city, and on September 25 1951 they sold it to Russell W and Doris A Ames, Black River, the present owners. Mr Ames is employed by the Niagara Mohawk Power corporation. George Francis Cory, who formerly had an interest in the property, was born in LeRay April 4 1853 and on May 7 1879 was married to Miss Jennie Ide, daughter of Harvey and Lucinda Swan Ide, town of Fowler, St Lawrence county. Their daughter was the late Miss Bertha Cory of this city, who died a few years ago and left a large bequest to the House of the Good Samaritan hospital
During recent years the house has become much deteriorated inside, but Mr and Mrs Ames are planning to gradually restore it and bring it back to its former grandeur. It is located in a beautiful setting on a road that leads from the city to historic LeRaysville and is more or less sequestered.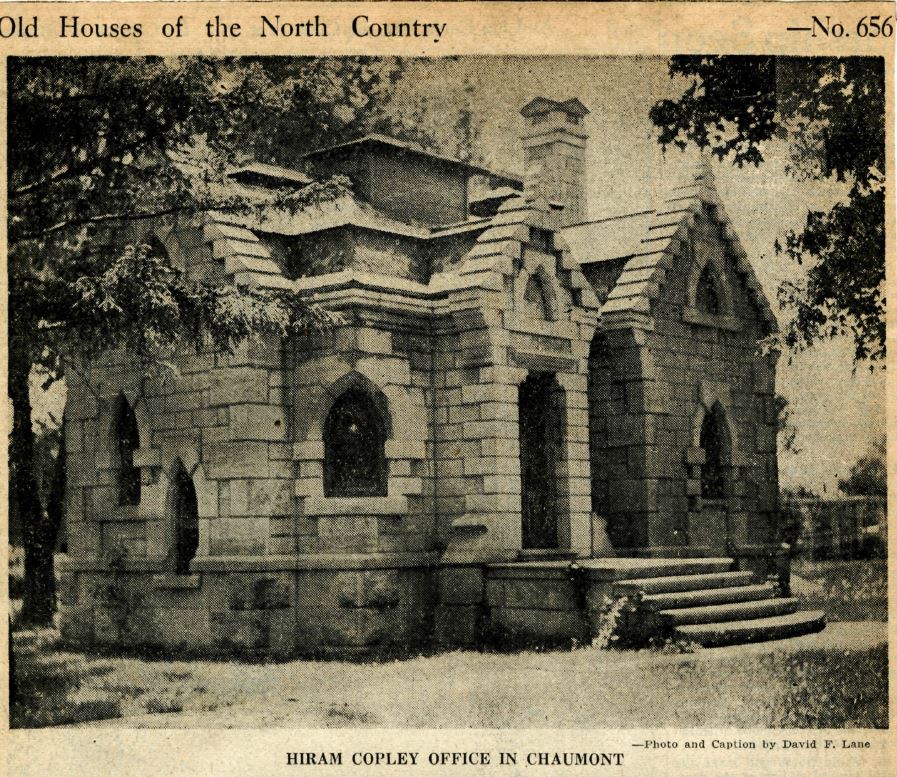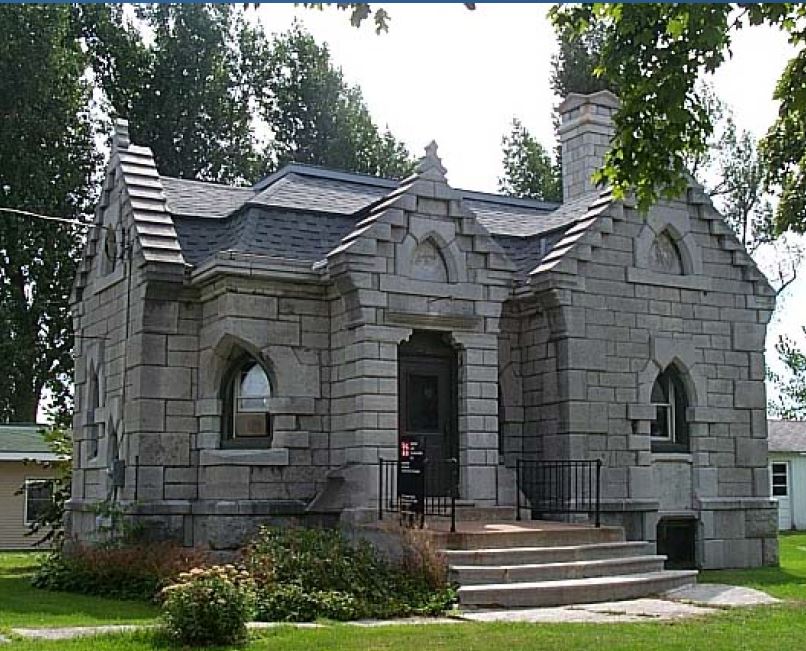 Copley was once a big name in the lumber and limestone industries of northern New York, especially in Jefferson County, and the above chapel-like building erected by Hiram Copley, probably in the early 1870's, of native Chaumont limestone, is a monument to the Copley name. It is now the residence of Mrs Bertha M McFarlane, formerly of this city and, widow of Dr W S McFarlane. However, it has had many uses, for many years having been the office building of The Chaumont Company and of Adams & Duford Company, both huge limestone and lime enterprises, but originally it was likely a chapel, which history says Hiram Copley built in Chaumont.
The founder of the Copley industries was Alexander Copley, born September 10 1805 in Denmark, Lewis county, son of William and Hannah Hand Copley and descendant of Thomas Copley of Springfield, Massachusetts. After a year in Lowville academy, Alexander clerked in Felts Mills stores, became a partner of Jason Francis, sold his store interest to Francis St Butterfield, became a partner of John Felt and William Coburn in the lumber trade, owned 10,000 acres of Antwerp timberlands, October 30 1833 married Lucy, daughter of Charles Kelsey of Antwerp, and removed to Chaumont where he had bought 2,502 acres of Vincent LeRay, acquired a house, store, saw and grist mills of William Clark, three years later purchased 10,961 more acres of Gouverneur Morris, engaged in shipbuilding, became a Union bank director and accumulated a large fortune. He died February 5 1871. He was supervisor 1843-1818-18.
His son, Hiram, born at Chaumont in May, 1831 graduated from Rensselaer Polytechnique Institute, married Mary, daughter of Gaylord Enos of Depauville took over his father's town of Lyme properties in April 1871 operated a number of quarries and lime kilns, was village president in 1876 and a founder and director of the Alexandria Bay Steamboat company.
Hiram, with his sons, Allen E and George W Copley, incorporated The Chaumont Lime and Stone company March 2 1894 and changed the name to The Chaumont company June 1 1896. George W was village president in 1886 and Allen E in 1895. On July 17 1891 Hiram sold his properties in Brownville, Clayton and Lyme to Allen and George including the above building for $150,000. They conveyed them for 13,000 to The Chaumont Lime & Stone company April 9 1894 including the above building.
On January 8 1898 the Jefferson County National bank foreclosed on the above building and residence of George W Copley, the bank bidding them in, and January 22 1898 sold the above building to Mary Romeyn O'Connor, wife of James O'Connor and daughter of Hiram Copley. On August 7 1901 Mrs O'Connor conveyed the place to her mother, Mrs Mary Copley, who sold it to Ashton W Adams May 19 1902 and it became the office of the Adams & Duford company. Mr Adams died August 7 1922 leaving his property to his widow, Ella J Adams, and children. Mrs Adams died in 1947 leaving all to her children. A daughter, Miss Grace E Adams, now of Chaumont, acquired title to the above building and, on May 19 1919 sold it to Harold H and Dorothy P Warner who disposed of it May 3 1954 to Mrs McFarlane.
The Adams name has been as famous in the Chaumont stone and lime business as that of Copley, beginning in the early 1890's as Adams Brothers, consisting of Ashton W and Hector Adams and changing to the Adams & Duford company with the Adamses, Francis A Duford, George W and Allen E Copley turning over their interests to the company which, for years operated many quarries, kilns and a crusher plant, until the company sold to the Solvay Process company in February 1929.
Ashton W Adams, born at Milton, Vermont, February 26 1851 and Hector born at Colchester, Vermont, March 5 1858 were sons of John Quincy and Emily Lincoln Ayers Adams, South Hero, Vermont, who settled at Chaumont in 1867. They are descendants of George Adams, found in Watertown, Massachusetts, in 1645. Hector Adams was Chaumont's president in 1885 and town supervisor 1918-1919-1922-1923 1921 1925. He was married to Sarah E, daughter of Henry and Cecelia Haas, Chaumont, April 2 1890. For years they owned and occupied the Allen E Copley residence. Hector Adams died February 25 1933 and Mrs Adams August 15 1948. Their son, Alton H Adams, is circulation manager of the Watertown Daily Times.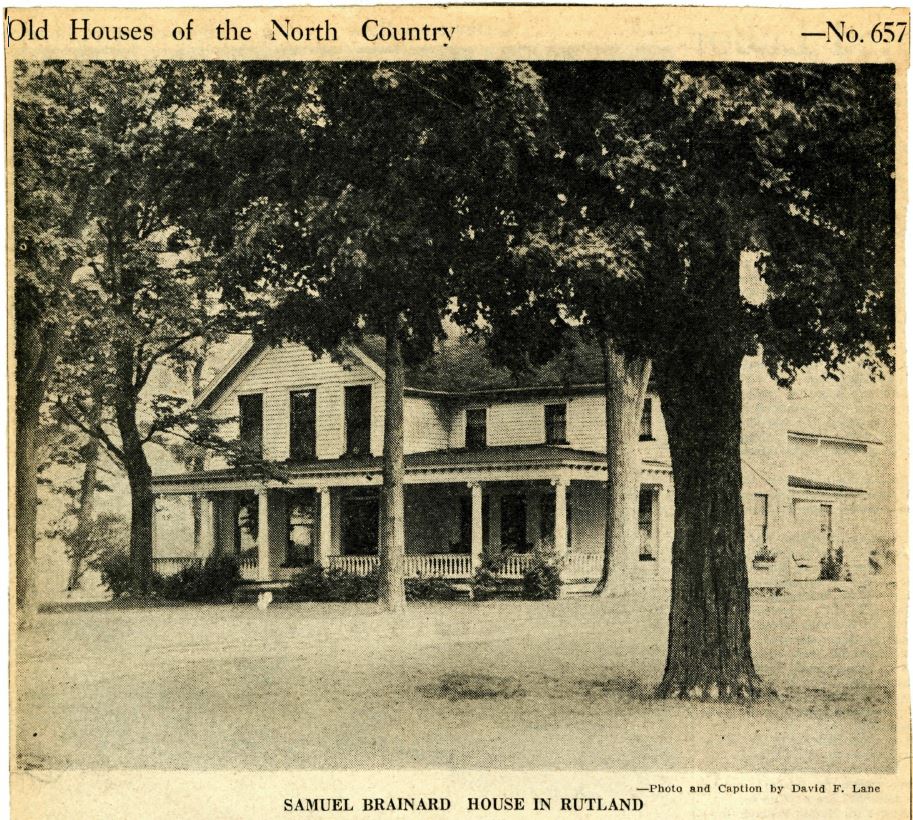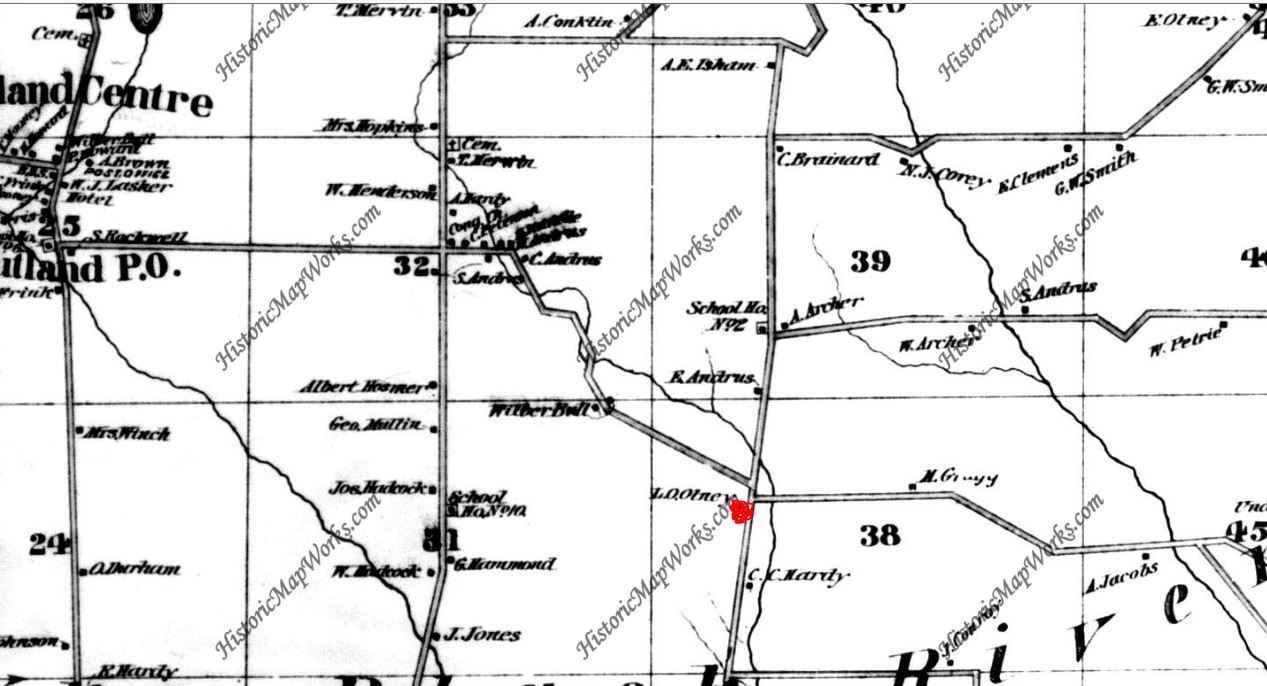 Sometime after May 14 1865 when Samuel Brainard purchased the approximately 150 acres, upon which this house stands, from Isaac Bronson, Greenfield, Connecticut, the Jefferson County land speculator, the house was built. Just how much over a century old it is, is unknown, but it must have been there November 5 1849 when Brainard sold the property to Davis Olney, also of Rutland, for $4,500.
The Brainards and the Olneys were among the earliest settlers of the town of Rutland. Samuel Brainard was a son of Jeptha and Abigail Mack Brainard of Oneida county, but earlier the line was in Haddam, Connecticut, to which Deacon Daniel Brainard, native of England, came in 1662. The Olneys begin with Thomas, born in Hertford England, in 1600 who emigrated to Salem, Massachusetts, April 2 1635. Three years later he located at Providence, RI.
Davis Olney, born at Smithfield, RI, in 1777 married Olive Rowe of Connecticut in 1807. He had been a teacher some years and then a merchant, but lost everything in a fire and located in Rutland in 1806. He died October 17 1868.
One of his 13 children was Luman D Olney, born in Rutland February 19 1825. Luman attended the Jefferson County institute, Watertown, and began teaching at 20. On September 28 1853 he married Miss Adaline E Huntington, daughter of Chancy D Huntington and granddaughter of William Huntington who founded Huntingtonville. On November 1 1853 Davis and Olive R Olney sold this house and the original 150 acres to their son, Luman, for $4,500.
He operated the farm a number of years and served as supervisor for a time. He was entertained at the White House by President Lincoln and there met young Tad Lincoln. He served five years on the New York State board of control under appointment by Governor Roswell P Flower, became secretary-treasurer of the Watertown Canning company when it was formed May 16 1893 and died in this city some years later. His wife died May 13 1886. One of his daughters, Mrs Carolyn E Hadcock, died here October 28 1953 aged 98.
Mrs Hadcock was born in this house, July 8 1855, and married Charles E Hadcock of Rutland October 13 1875, Frank W Woolworth, founder of the F W Woolworth company, being groomsman. Mr Hadcock was a son of Joseph Hadcock of Rutland and March 1 1888 he and his wife bought this farm of Luman D Olney. Mr Hadcock is said to have built on the big verandah. There he died October 13 1902 and later his widow came to this city to live the rest of her life with her daughter, Mrs Grace L Hadcock Baron, and son-in-law, the late J Victor Baron.
Another daughter of Mr and Mrs Luman Olney was the late Miss Chanez Olney, who was one of the first students in the Watertown Business college when it opened in September, 1888. She became stenographer for Attorney Hannibal Smith, studied in the Wheatcroft School of Acting in New York City and became famed as an actress, playing with John Drew and the Barrymores
She was in the first stock company, along with Guy Bates Post, Brandon Tynon and J Henry Kolker, that played in the Bastable theatre, Syracuse, when Sam and Lee Shubert took it over. She married Kolker, a later movie producer, but divorced him in a short time. She fell at Gray's roller skating rink in this city, seriously injured her spine and later died. Kolker married again and was divorced, the famed screen actress Anna Q Nilsson having been named in the case.
On April 15 1911 Mrs Hadcock, Mrs Baron and Lunman Olney sold this farm to the late Clyde A Gragg, son of former Sheriff Morris S Gragg, and he operated the farm with considerable additional acreage until December 7 1937 when he and his wife, Mrs Jane E Goodnough Gragg, disposed of it to Adam G and Ruth M Dorr, of this city. Mr Gragg died about two years ago, but Mrs Gragg still resides here.

Mr and Mrs Dorr converted the old house into two apartments for their tenants and operate the farm as a big dairy establishment. With a present acreage of about 270 and a large herd of cattle. It is one of the finest and most imposing farm houses in the county and is maintained in excellent condition, although the original beautiful staircase and hallway have been dispensed with in the conversion of the house into two apartments.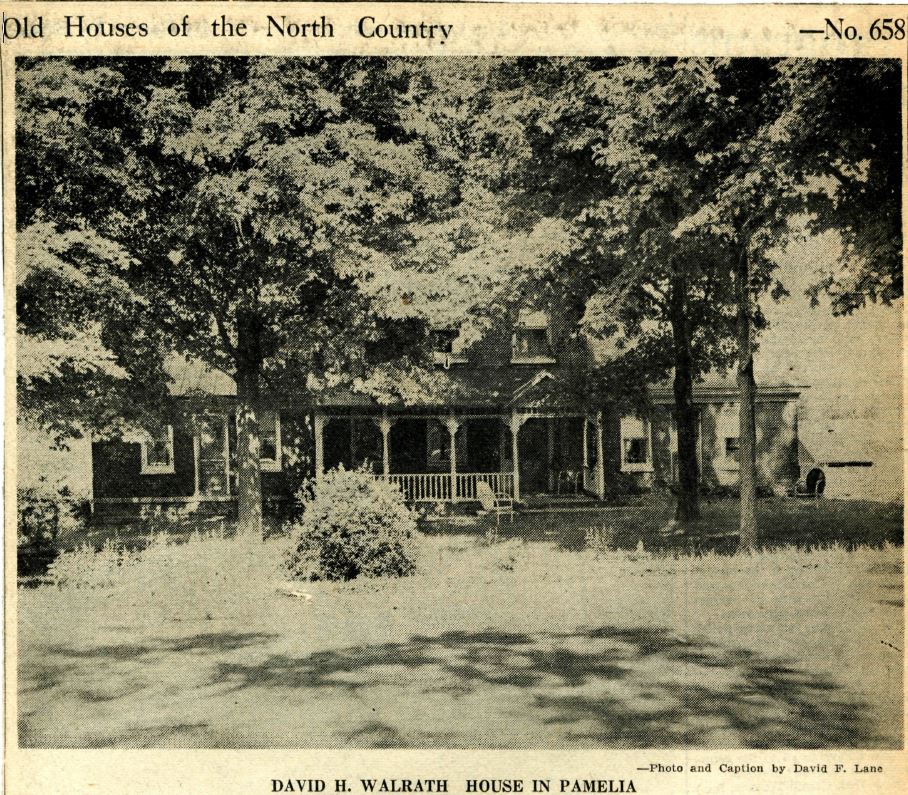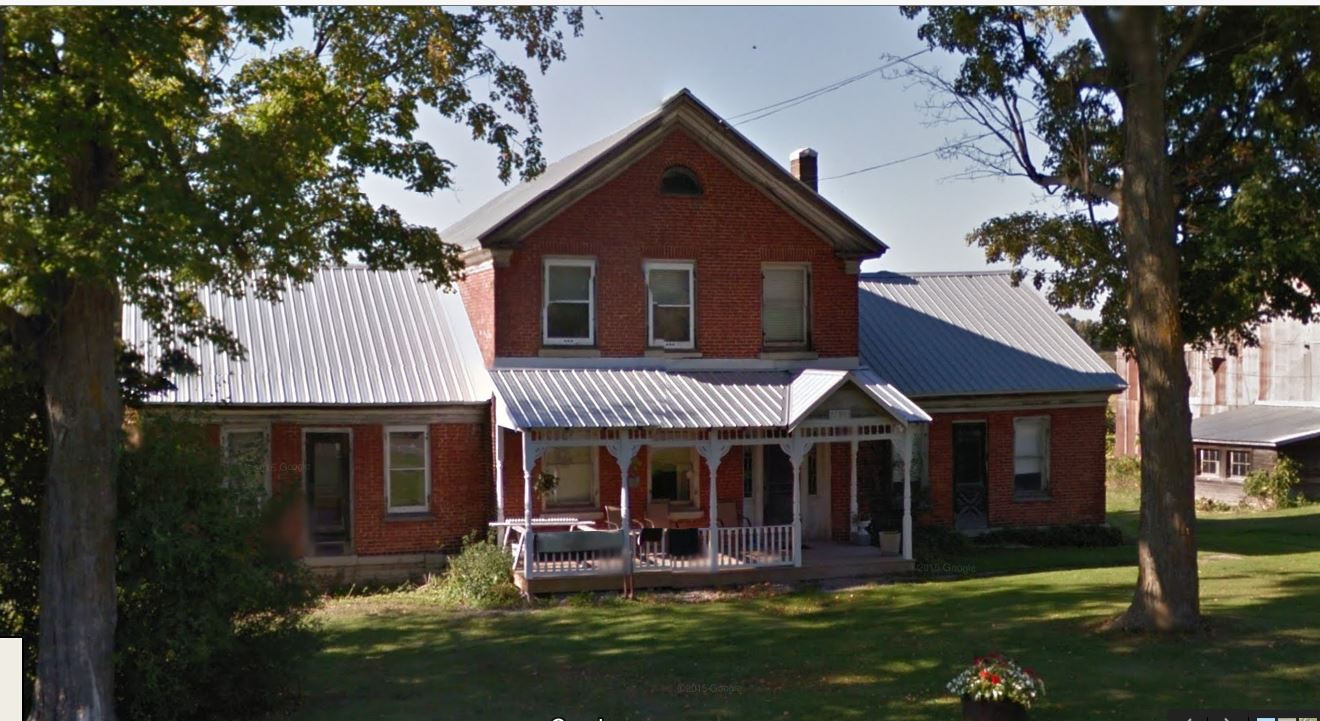 The township of Pamelia is filled with fine old historic houses, many of which are of native limestone. There are some excellent ones also of frame construction and a few of red brick from Jefferson County kilns. Especially attractive among the latter is the farm residence of George Dewey Contryman a short distance southwest of Pamelia Four Corners and one the left hand side of the old Military road as one proceeds from Watertown towards the Corners.
It is of symmetrical type with balancing wings and was probably constructed about 1833 by David H Walrath, but for considerably more than the Biblical lifespan of man has been owned in the Contryman or Countryman family.
Both the Walraths and the Contrymans were not only early but prominent settlers in that areA Both came from the Mohawk valley and the two families were connected by marriage.
David H Walrath, who died intestate August 13 1878 came from the town of Schuyler, Herkimer county in the summer of 1832 and on June 9 of that year bought 110 acres where this house is from Joseph and Ruby Elnora White. On the ensuing December 27 he purchased 82.54 acres from Ann C Morris, widow of Gouverneur Morris of MorrisaniA On March 16 1839 he bought 33.02 acres from Samuel Miller Jr, and on April 9 1839 another 35 acres from Isaac H Bronson. A parcel of 40.13 acres was obtained by him from the estate of Mary Salisbury April 3 1850.
Apparently Susanna, wife of David H Walrath, predeceased him and before his death he disposed of his real estate, this house and farm coming into the possession of George H Contryman.
Mr Countryman's parents were Henry and Elisabeth Walrath Contryman of Danube, Herkimer county, from which place they removed to this Pamelia area in 1823 There Elisabeth Contryman died December 27 1873 and her husband on June 16 1875. They were the parents of five sons and four daughters.
One of the sons was George H Contryman, prominent farmer in the township, who served it as supervisor in 1878. His wife was the former Olive Eddy and on January 7 1884 he conveyed this property to his son Fred D Contryman, who was born in the township November 23 1861. Fred D Contryman was also a prominent Pamelia farmer and member of the Pamelia grange. He was educated in the schools of the district and on January 3 1882 was married to Miss Hattie M Lewis of Pamelia
At the age of 68 years D Contryman died on March 30 1930 providing in his will that his widow should have a life-use of all of his real estate, and that after her death it should become the property of their son and only child, G Dewey Contryman, the present owner. However, Mrs Contryman survived her husband only a few months and died on September 4 1930 aged 67. She was a daughter of Sterling and Helen Denney Lewis.
G Dewey Contryman, owner of the farm for the past 15 years, has 230 acres of land and a herd of 35 head of Holstein cattle besides a sizeable flock of poultry upon it. For the past three years he has also been a town assessor and is prominent in agricultural matters. On June 22 1922 he was married to Miss Mayfred Harris, daughter of Mr and Mrs Frank Harris of Evans Mills. Mr and Mrs Contryman have one son, DeWitt Contryman, who assists them in the operation of the large farm. The house, maintained in excellent condition, is well screened by large old sugar maples,, which partially hide it from view in the summertime, but it never fails to attract the attention of the passing tourist over the old military road which was built shortly after the War of 1812
OPPOSITE of 28578 Co Rt 69 Main St, Copenhagen (Tylerville)

This store with living quarters attached is one of the landmarks in the historic hamlet of Tylerville. It has been a store for at least 100 years and, perhaps, a great deal longer if the conjectures of some are right that it was erected by Josiah Tyler in 1810 becoming the property of Frederick Tyler a few years later. It was in operation when Tylerville was a thriving community with a sawmill, grist mill, hotel, two carriage shops, a similar number of blacksmith shops and an ashery. If line that Josiah Tyler built it in 1810 it was there two years before Jefferson County's first woolen mill was erected.
If that supposition is not correct, then the store was probably built in the earliest 1850's by Simeon Oakes, a Vermonter who was farmer, merchant, hotel proprietor, miller and manufacturer. Since then it has had many owners, particularly in the last two decades. Simeon Oakes was born at Athens, Vermont, September 27 1803 son of Nathaniel and Susannah Evans Oakes. On March 4 1823 he was married to Florilla Davis, a Vermonter, mother of his children. She died in Tylerville May 12 1846 and on September 22 1847 he married Rosetta Crosby. On October 1 1862 Simeon died survived by Rosetta, three sons and a daughter, willing her his farm while the house and a quarter acre where this store is went to Fylinda, wife of his son, Oscar S Oakes, who carried on the operation of the store following his father's death.
Fylinda Oakes, however, died on June 7 1864 willing her residuary estate to her sons, Frank A, and Oscar L Oakes. On September 2 1875 Frank A and Florence A Oakes convolved their half interest in the store with attached house and quarter acre of land to Oscar L Oakes. On March 25 1878 Rosetta who, after the death of Simeon, had become Rosetta C Cornwell, disposed of the half interest of Simeon's estate in the store and attached house to Oscar L Oakes. On the following April 15 he and his wife Carrie A Oakes disposed of the store property to Mrs John W (Elizabeth) Beecher, Oscar S Oakes having died November 25 1875
For a number of years Mr Beecher operated the store, dealing in general merchandise, but died December 23 1893 and the next year his widow sold this house and store to her daughter, Mrs Charles J (Eva E) Riordan. The Riordans conducted the store until February 20 1905 when Mrs Riordan disposed of the property to Mrs Emma A Green, wife of George Green. Mr Green carried on the business until shortly before his death and on September 18 1933 Mrs Green sold the place to Mrs Mabel E Metcalf of Utica
The new owner carried on business and for some time dealt in antiques, but on November 6 1943 sold the property to Robert L and Minnie Graham, husband and wife, but on June 17 1944 they disposed of it to Durwood F and Eleanor B Daynard.
The Daynards retained the property until September 30 1952 when they conveyed it to Francis E and Virginia B Freeman, the present owners of the property. For a number of decades under the Oakes, Beecher and Riordan ownerships the Tylerville post office was also located in the store and it was one of the centers of activity in the hamlet of Tylerville.
Next to it, where the Kraft cheese factory now is was the village hotel, scene of many balls, entertainments and oyster suppers. At an early date it was owned and conducted by William Howell. Later it was taken over by Sylvester Kellogg, father of a number of children including the late Attorney Virgil K Kellogg, one time district attorney of Jefferson County. A later owner and operator of the hotel was Byron S Scott. A number of years ago the hotel was destroyed by fire and has been succeeded by the Kraft cheese factory.
The old woolen mill, the sawmill, grist mill, mill dam and all of the other industries of the thriving early period have vanished, but the old Oakes store remains, not only a landmark of the community but a monument to the Oakes family, town of Rutland pioneer settlers from Vermont who became prominent in the township.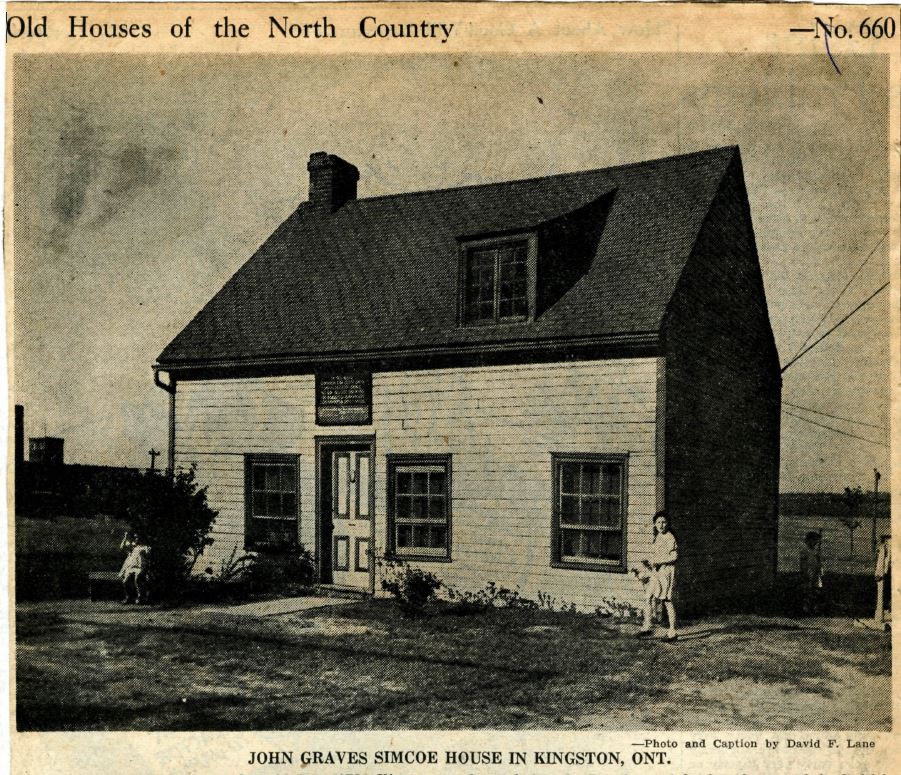 For less than two weeks in mid-July, 1792 Kingston, a village then of some 200 people, enjoyed the glory of being the capital of Upper Canada, now better known as the Province of Ontario. And in this house, which no longer occupies its original site but is now located in Kiwanian square as a children's playground center in Rideau Street well off Kingston's business center, representative government was inaugurated for Upper Canada. It is the most historic building in Kingston.
Over the doorway a simple plaque bears the inscription: "In this house Governor John Graves Simcoe and His Executive Council Met for the First Time in 1792 and Inaugurated epresentative Government for Upper Canada" Below the inscription is the statement: "Its preservation (the building) has been made possible by E Chown & Son, Ltd, 1935 Kingston Kiwanis club, Kingston Historical society."

Upon the front of Kingston's Whig-Standard building in King Street in the business heart of the thriving Canadian city is a bronze plaque which states: "Site of St George's Anglican Church (1792-1828), in which on July 8 1792 was held the first meeting of the executive council of the Province of Upper Canada. Members present Lieutenant Governor John Graves Simcoe, the able William Osgoode, chief justice. The Honourable Peter Russell, Receiver General Jacques Raby."

Agnes Maule Machar in her history "The Story of Old Kingston" asserts that Governor Simcoe was inducted into office in a place then used for divine service and describes St George's church as a small, newly erected wooden building then uncompleted. It took place on July 8 and the life of Simcoe says: "The event was one of solemnity; the place, the old wooden church opposite the market place, Kingston. Here in this church were read and published His Majesty's commissions." Royal instructions gave Governor Simcoe five members of his executive council.

Besides Osgoode, Raby and Russell they were William Robertson and Alexander Grant. The legislative council was not selected until July 17 at a meeting of the executive council, only a few sessions of which were held in the above building before Governor Simcoe and his government left on July 21 to establish the provincial capital at Newark (Niagara) at the head of Lake Ontario. There it remained about two years before being transferred to York (Toronto). His first parliament was held at Newark.

Because of the divergent French and British cultures the two were divided into Upper and Lower Canada, the latter being the Province of Quebec, by act of the British parliament May 18 1791 propounded by Pitt and opposed by Fox. After it Governor Simcoe spent the winter in Montreal and on June 13 1792 was on his way up the St Lawrence with Mrs Simcoe and staff in bark canoes. At Cataraqui or Kingston he was greeted with a salvo of artillery and was met by the Queen's Rangers, of which he had once been commander.
Son of Commander John Graves Simcoe of H M S Pembroke, the first governor of Upper Canada was born in England and after the death of his father in an important expedition against Quebec in 1759 lived with his mother in Exeter, England where he went to Free Grammar school, later to Eton and then to Merton college, Oxford. At 19 he had an ensign's commission in the 35th Regiment, which was sent against the American Revolution. He landed at Boston June 17 1775 the day of the battle of Bunker Hill. Soon he bought command of a 40th Regiment company, fought against Washington at Brandywine September 11 1777 and became major in command of the Queen's Rangers October 15 1777.
This was originally raised by Colonel Rogers in Connecticut and the vicinity of New York, and at one time mustered 400 men, all American Loyalists. It was a remarkable regiment and Major Simcoe wove strong contacts with the Loyalists and with the Indians. His policy was always to conciliate the people of this country as much as posible and his Loyalist-Indian contacts made him a valuable governor of Upper Canada. Early in the summer of 1778 he was made a lieutenant colonel and his military career ended January 14 1783. He returned to live in England, married a Miss Guillem, was elected to Parliament from St Maw's borough, Cornwall in 1790.
In 1805 he returned to England from Canada. He became a lieutenant general and died at Topham, Devonshire October 25 1806 from ilness contracted on shipboard during an important mission to Portugal.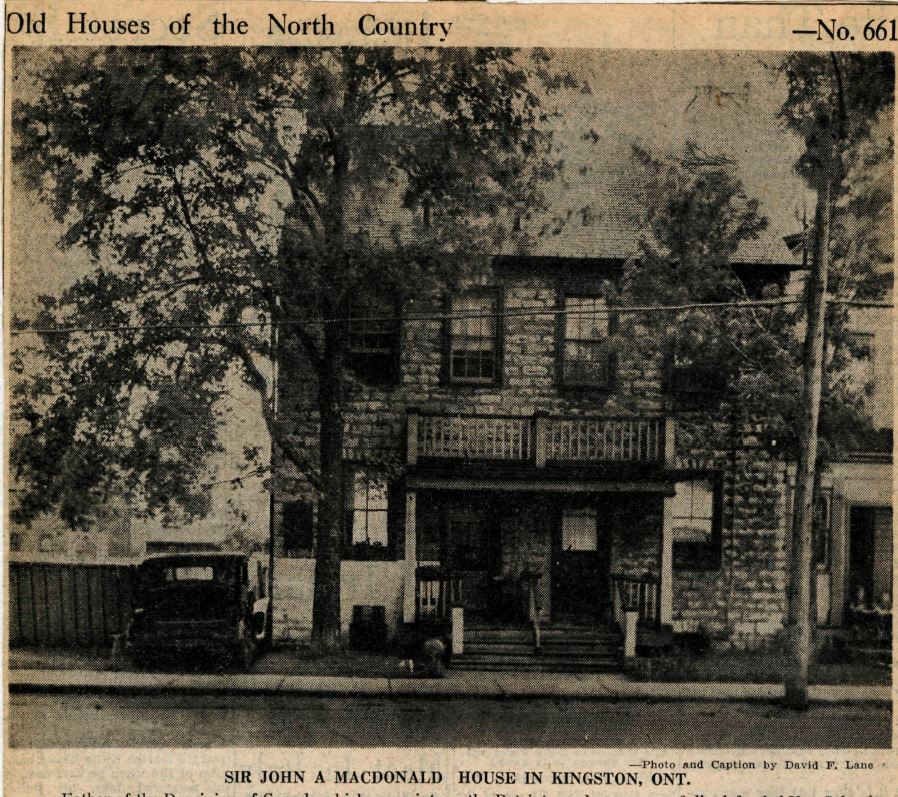 110-112 Rideau Street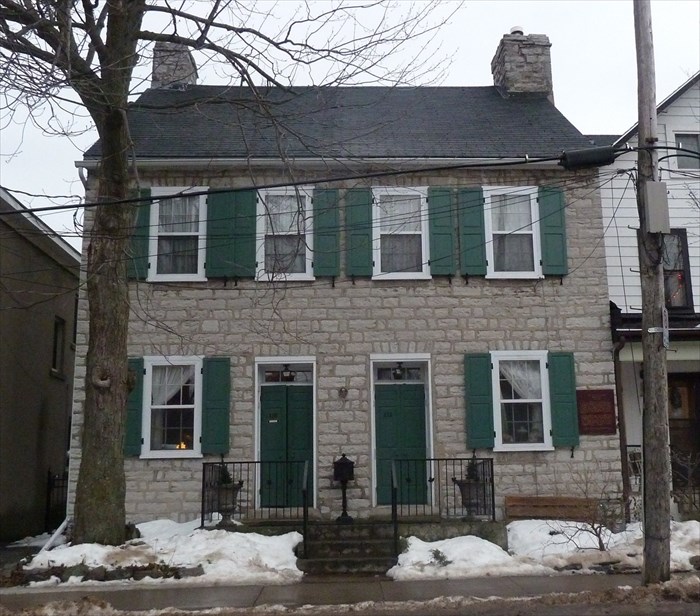 Father of the Dominion of Canada which came into being July 1 1867 as a confederation of provinces under the British North American Act passed by the British Parliament the preceding spring, John Alexander Macdonald was knighted for his services and became first prime minister.
For 50 years he was a power in Canada, right up to the time of his death June 6 1891 and historians rate him a statesman "head and shoulders above every other figure in Canadian history." It was he who founded Canada's Liberal-Conservative party. It was he who was responsible for establishment of a Canadian national protective tariff policy that built up her industries. It was he who was responsible for founding the Royal Canadian North West Mounted Police in 1870. It was he who was responsible for building the Canadian Pacific railroad linking two great oceans with attending development of Canadian commerce.
He was a man of strictest personal integrity, but a master of every known political device in campaigns a great political strategist. Possessed of a miraculous memory he never forgot a name or a face. Tall, lanky, big-nosed he was homely as Lincoln and much like Lincoln in other ways, particularly in his endless fund of stories. He "ribbed," ridiculed and bantered his political opponents and he died "with clean hands," a poor man. Throughout his career he was stoutly and steadfastly loyal to Great Britain insisting that "the prosperity of Canada depends upon its permanent connection with the mother country and, I will resist to the utmost any attempt which may tend to weaken that union."
Son of Hugh Macdonald, a Glasgow cotton merchant, he was born in the Scottish Highlands in 1815.His mother was a strong-charactered Jacobite. At five he came with them in the East Indiaman "Earl of Buckinghamshire" to Canada, where his father unsuccessfully set up shop in Kingston, Ontario, later failed in the flour business and became a clerk in the Commercial bank.
In his boyhood days the Macdonalds lived in the limestone house, shown above, in a quiet street in eastern Kingston. Young John studied five years in the Royal Grammar school in Kingston. In 1830 he entered the law office of George Mackenzie, a friend of his father. At 18 he was sent to Picton to take over the practice of an absentee lawyer. In 1836 at 21 he was called to the bar and opened an office in Kingston.
After the Patriot war he unsuccessfully defended Von Schoultz, the leader, his first important case. Later he became solicitor for the Commercial bank. When Upper and Lower Canada were united by Royal proclamation February 10 1841 he had attained wide fame. Lord Sydenham was the first governor-general and Kingston the first capital of United Canada until 1845 when it moved to Montreal Kingston, with 5,000 to 6,000 people, had been chosen because of importance as a military-naval depot.
In 1843 Macdonald was elected councilor of the town of Kingston. In 1844 when Lord Metcalfe was governor-general Macdonald was a Conservative electee to represent Kingston in the parliament. In 1847 he received the cabinet post of receiver-general. From that time on he grew to powerful stature as a leader in the government. He was the architect of the Confederation which brought Ontario, Quebec, Nova Scotia and New Brunswick together and later resulted in Prince Edward Island, British Columbia and the Northwest joining. But British Columbia came conditionally that a transcontinental railroad be built and in 1873 Macdonald granted acharter to Sir Hugh Allan and a group of financiers for the CPRR
Later he solicited a $300,000 campaign contribution from Sir Hugh which political opponents branded the "Pacific Scandal" and caused Sir John Macdonald's temporary downfall, but historians say that while it was a grave indiscretion it was not a moral offense and that Macdonald reaped not one-cent of personal gain from it. At any rate he came back strong to power, was again prime minister, turned his attention to building the Canadian Pacific, which was started in the fall of 1880 and completed November 7,1885. Six years later he died "a British subject I was born and a British subject I will die." He is buried under the pines in a little cemetery outside Kingston, which city has a bronze statue of him in Macdonald park on King Street.
A tablet on the front of this house is inscribed: "Sir John Alexander Macdonald, 1815-1891. Statesman and Patriot, His boyhood days, those critical years that decide the character of the man, were spent here in the old town which has seen more than a century of Canadian history. Erected by the National Committee for the celebration of the Diamond Jubilee of the Confederation A D 1927."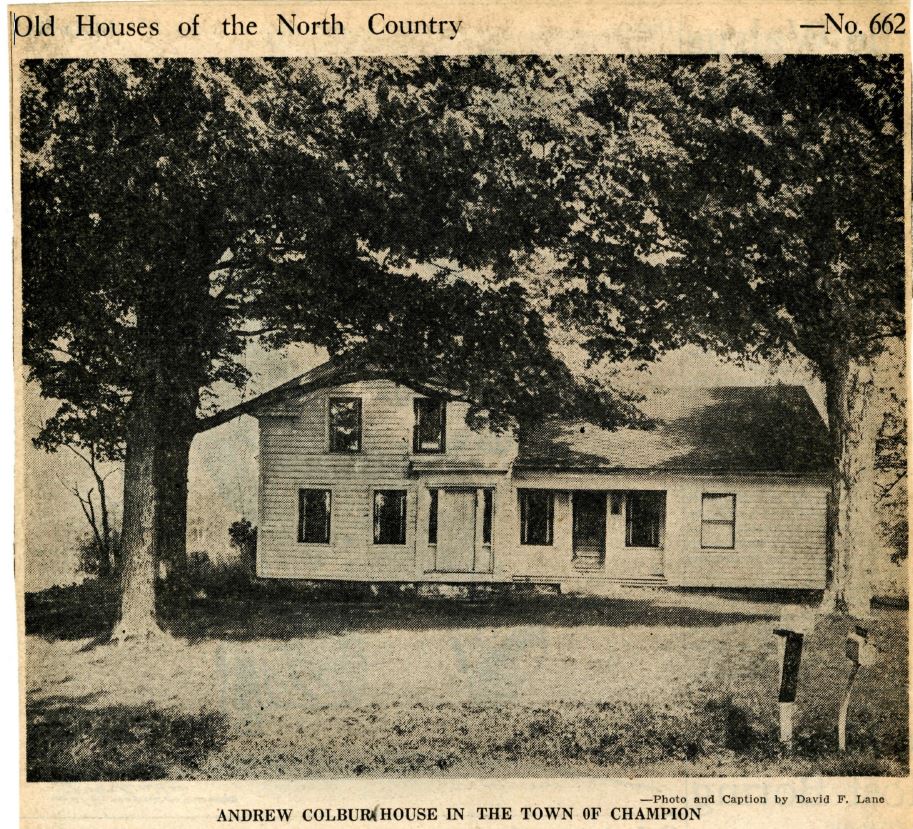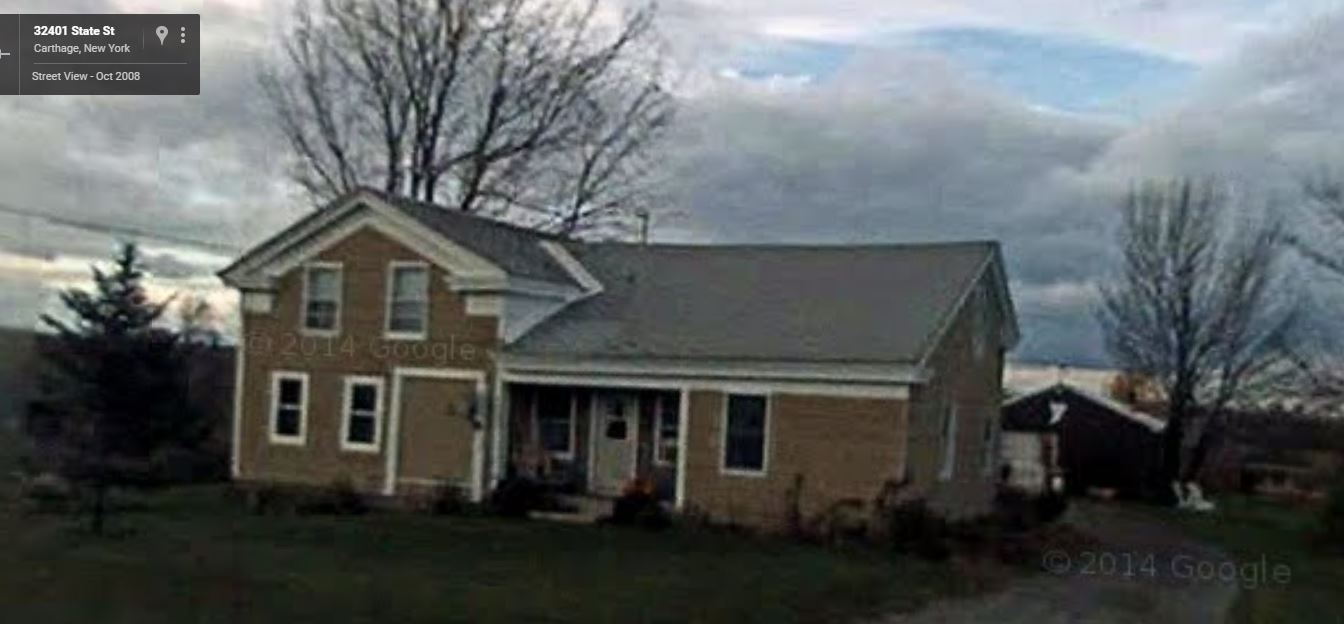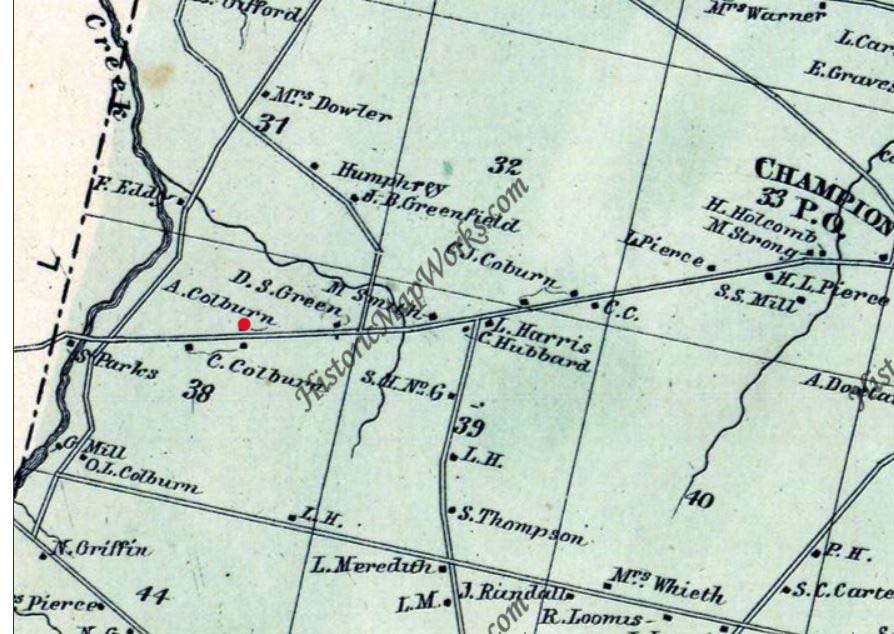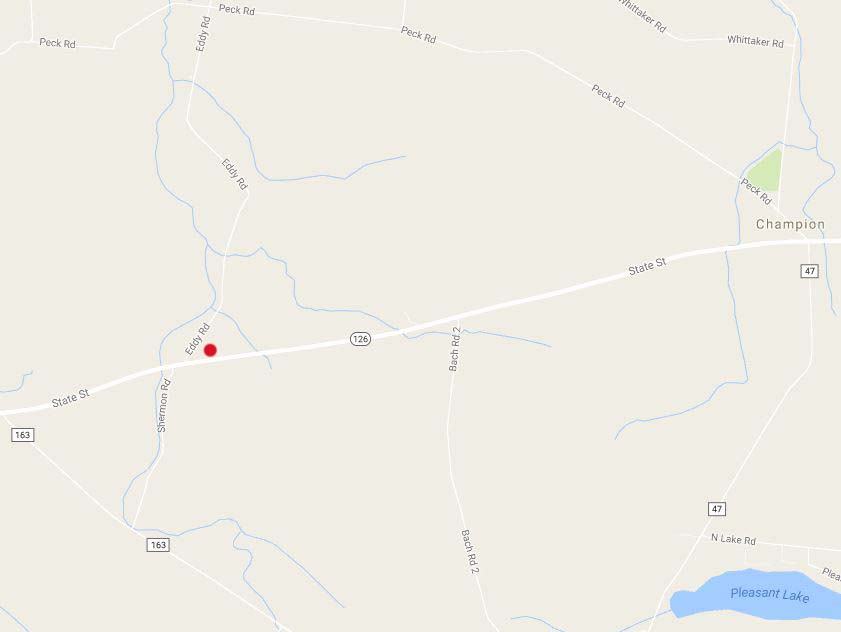 Champion, one of the two first townships within the boundaries of the present Jefferson County to be settled, has many fine old and historic houses still standing to its credit. Among them of course is the mansion of Noadiah Hubbard, who claimed to have been Jefferson County's first settler, although that claim was always disputed by Lyman Ellis of the town of Ellisburg.
Besides the Hubbards, the Dorwins, the Colburns, the Wilmots, the Sages and many others were prominent among the town of Champion's earliest settlers. Of these the Colburn family, some of whose members are said to have later changed their name to Coburn, was an especially prominent Champion family and there were a number of them located in the section where the above house is.
This house, of the fine old Cape Cod type, was built well over a century ago and was owned by the late Andrew Colburn, who died April 9 1873 survived by but one child, Chauncey Colburn, who resided a little farther towards Champion village on the road leading from Watertown to West Carthage.
A few years later this house, featured by a recessed front veranda, a feature to be found in many of the farm houses of this part of northern New York, was owned and occupied by the late Guevera M Wait over a considerable period of time. Mr Wait was not only a prosperous farmer but became a heavy real estate owner in the city of Watertown, having a residence in Washington Street and at one time having considerable property in State Street in the vicinity of Central Street.
As far back as 1852 Andrew Colburn and his wife, Louisa, were selling property in the area of this house. Another Colburn that resided nearby was Otis L Colburn, who owned the Colburn mill on the cross road running from the state road to the South Champion road passing the William Case and Elias Sage farms.

The road, upon which the Colburn mill was situated, runs parallel to Townsend Creek, which follows close to the Rutland boundary line for a way before dipping back into Champion and finally swinging west to empty into Black River.

How close the connection is between the Colburn and Coburn families does not at present appear, but there were many prominent members of the latter family in the Carthage area including William M Coburn, banker, and his sons, Fred W Coburn who was also a Carthage banker and John Coburn prominent in the paper industry of a half century ago.
One of the owners of this house and its 91 acres of land after Mr Wait was Frank Fields, and successor to Mr Fields was his son, Glenn Fields. Together their ownership ran over a considerable period of years and then it passed to Mrs John Caster, a daughter of Glenn Fields.

From the Casters it was acquired by Donald Bach of this city, and upwards of a year ago Mr Bach disposed of the property to John W Brown of this city. Mr Brown and his family including his son reside in the house, which is maintained in spotlessly neat and attractive condition. Directly across the road from it is the farm residence of Mr and Mrs Leonard T Tyner, which they acquired a decade ago from the late Wilbur T Stoddard and which had been in the Stoddard family for a period of 65 years. That property, early owned by a member of the Dorwin family, was also owned for a time by Chauncey Colburn, son of the owner of the house shown above.
Both houses are familiar to those passing over this much-traveled road to WCNY-TV, the Watertown Daily Times television station, which has been responsible for greatly increasing the highway traffic over the road that was a century ago designated a state road and one of the principally traveled routes in northern New York, it leading from Watertown to Utica and the south.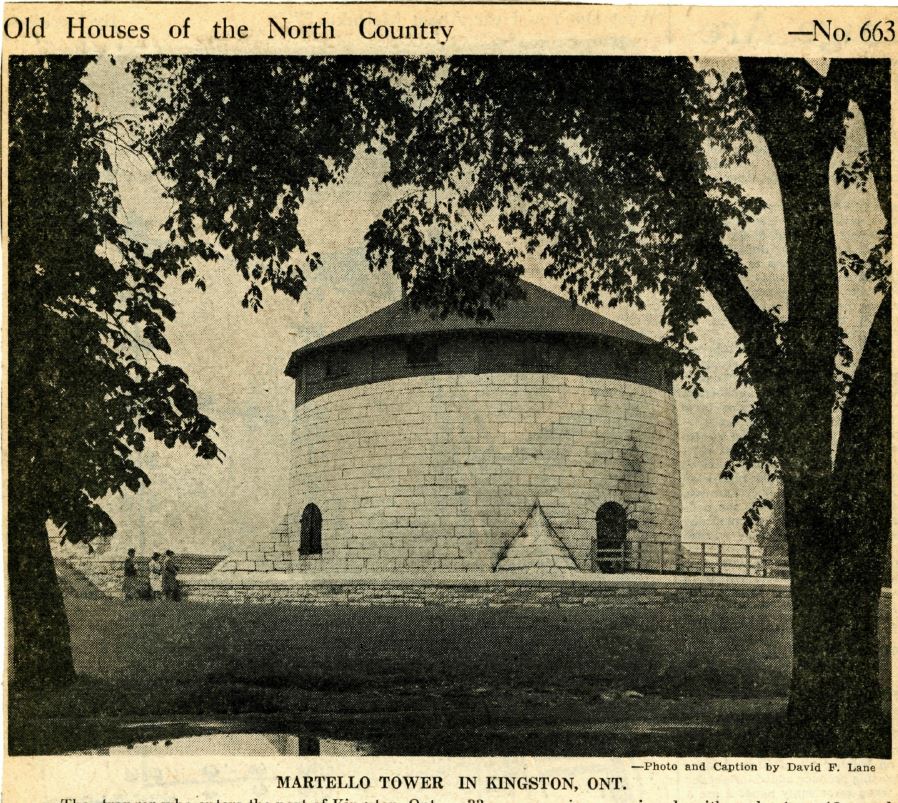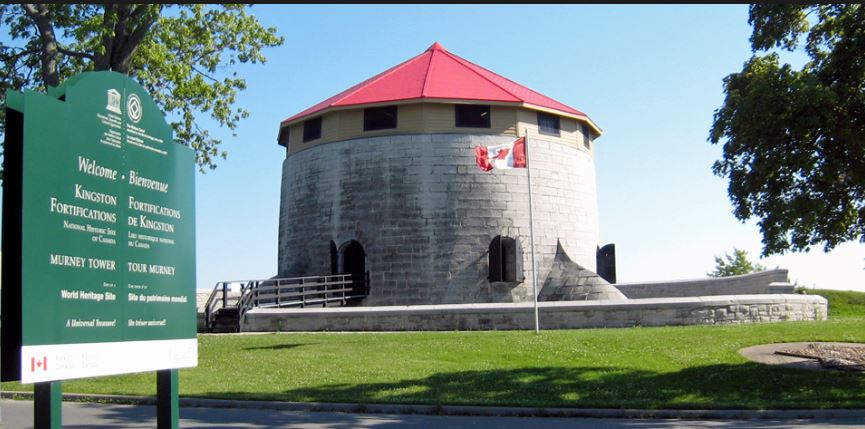 The stranger who enters the port of Kingston, Ontario, by water is always puzzled over the big, round tower that rises up off a shoal in the harbor in front of the "Limestone City's" well known market place. It is a Martello tower and was one of a cordon of four of them built as a part of the defense system of that city in the latter 1840's.

The Martello tower shown above is one of the cordon of four. But it is no longer considered an instrument of defense, although it might well serve as a shelter in a bombing raid. It is located near the shore along the upper readies of the city's important King Street and for a number of years has been employed as an historical museum.

It is a beautiful piece of masonry and the limestone is of the excellent, quality found so lavishly deposited in Canada at the mouth of Lake Ontario and along the upper St Lawrence river. Undoubtedly the stone for these towers was quarried along the roadway between Kingston and Gananoque as was the stone for Fort Henry, which fortification was started on Point Henry in 1832 and put into use in 1836. The Martello towers followed about ten years later as a part of the plan of defense, which also included a number of blockhouses. Garrison batteries were maintained in both Fort Henry and in the Martello towers.


Kingston, occupying a strategic position which, in reality, is a sentry post enabling a close watch on traffic coming up from the Atlantic or passing ocean ward from the Great Lakes, was much concerned about its defenses as far back as the early 1600's, and it was only natural a century ago that everything in the book should be employed in its protection. Hence Martello towers, which had been constructed in large numbers along the English coast and which were so admirably regarded by the mother country, because of their minimum requirements of men and armament.

The name Martello is a corruption of the name Martello from Cape Martello and one of these towers upon it which commanded the Gulf of San Fiorenzo. The 33-man garrison equipped with only two 18-pound cannon and one six-pounder in that tower wrought such havoc in the assailing British sea and land forces there in 1794 that England decided that the tower was a tremendously effective and economical defensive type of fortification for its coastline. The building of many of them there was the outcome.

Their introduction into English waters therefore came as a result of the French revolutionary wars, for it was in September 1793 that a British squadron of three ships-of-the-line and two frigates was ordered into Mediterranean waters to support the Corsican insurgents.

And so it was this squadron that planned the assault upon the tower of Cape Martello early in 1794 and came away victorious but badly battered from the conflict. Troops were landed from the fleet and the planned attack made from both land and sea with the tower in between. But so valiantly did the 33-man garrison operate with the three small cannon that there were 62 killed and wounded on one of the British ships. But for a hot shot from the squadron, which arched high and came down into the five-foot deep "bass junk" that lined the parapet setting fire to it, the garrison undoubtedly would not have capitulated. Construction of the towers is of thick and solid masonry with vaulted rooms for the garrison and a platform on top for the emplacement of two or three guns to be fired over a low masonry parapet. Access is usually provided by means of a ladder to an iron door about 20 feet above ground or water as the case may be.

In some instances a ditch was dug around the base of the land towers. In the case of the shoal tower in Kingston harbor, it was built up from the solid rock beneath the water. To accomplish this crib-work and a cofferdam were constructed on the ice in wintertime and sunk in spring. The water was pumped out of the cofferdam from an anchored steamer and then construction was begun and carried out. And today the Martello towers are a unique attraction in the fine old Canadian city.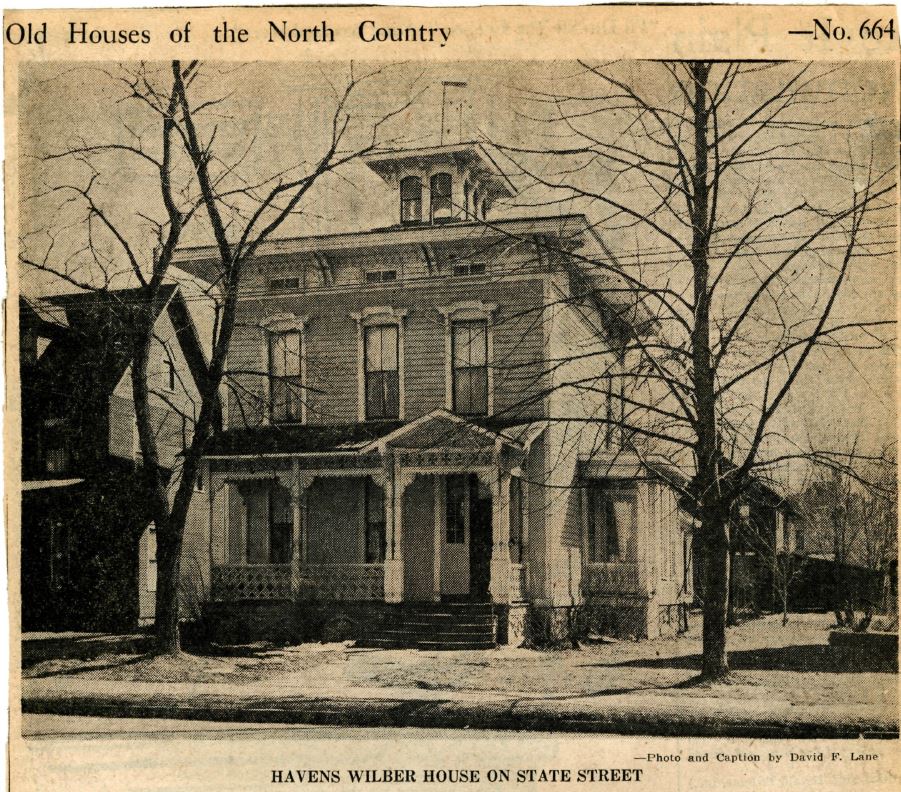 One of the four large residences on the south side of the 700 block of State Street to be razed to make way for the new Loblaw super-market is this century-old one at No 702. Its last private owner is Francis Alfred Helin. The house, of large square-roofed type with cupola, double front doors, fine hallway and staircase, is one of many of that style in this city and throughout northern New York.

It was probably constructed about 1850-1 by Havens Wilber on a site which Mr Wilber had bought for $150 from Colonel Elisha and Sophia Camp of Sackets Harbor on December 3 1819. Colonel Camp, one of the earliest settlers and principal promoters of Sackets Harbor, was noted as the creator of the canal known as "Camp's Ditch," running from a point above Huntingtonville across the eastern and southern outskirts of the city through the beaver meadow to Sackets Harbor. It was to be primarily an industrial power project but failed to prove a success.

Undoubtedly expecting a residential development at the eastern end of this community Colonel Camp invested in a considerable tract of land including many building lots in the State Street-Boyd Street sector. The site of this house was one of those lots. Mr Wilber is said to have been a builder and in a little more than three years after he acquired this lot he disposed of it and the house to William Howard on March 31 1854 Mr Wilber's wife, Eveline, joining with him in the transaction.

Mr Howard was a merchant for many years in this city and resided in this house until his death on July 20 1900 46 years after he purchased the property. Mr Howard was born in Springfield, Massachusetts, October 16 1825 son of William and Susannah Howard. His father was a native of South Carolina and his grandfather, Henry Howard and brother, emigrated from England to Boston at the beginning of the Revolution. At its close Henry settled in South Carolina. The parents of the subject of this sketch settled on a farm in this county about 1843 having come from Hampden county, Massachusetts.

In Massachusetts, young William had worked in cotton mills from ten until 18. Upon coming to tins county he learned tin smithing. In 1843 he married Miss Laurinda Pelton of Springfield, Massachusetts, who died in 1859. Second, he married Mrs Helen M Fanning, and sometime after her death he married Miss Martha A Maynard, who survived him a number of years.

For 14 years, Mr Howard was employed as tinsmith by John G Harbottle, who also operated a hardware stove and plumbing establishment. At the end of that time, he became junior partner under the firm name of Harbottle & Howard. Later Mr Howard went into business for himself and in 1887 formed a partnership with the late Hiram S Arthur under the name of Howard & Arthur. After the death of Mr Howard, Mr Arthur succeeded to the business. In his will Mr Howard made his residence, then No 60 State Street, part of his residuary estate which he willed to his son, the late Dr Charles W Howard, a local dentist, and on January 2 1904 he disposed of it to Hugh Roberts. After Mr Roberts' death his widow, Mrs Jennie F Roberts, sold the property to Francis Alfred and Minnie A Helin.
Mr Helin, a native of Katka, Finland is a graduate of Viborg Technical college in 1902 and March 28 1910 entered the engineering department of the Bagley & Sewall company in this city and at the lime of his retirement from that company, May 1 1946 was its chief designer of papermaking machinery. On June 2 1913 Mr Helin married Miss Minnie A Foley, city, a secretary for the Bagley & Sewall company.

In this house, Mr and Mrs Helin resided and raised their family of four children to maturity. Also in this house, Mr Helin had his meteorological equipment for he is a skilled meteorologist and regularly furnished statistical weather reports to the Watertown Daily Times. Some of this equipment is still observable atop the cupola of his house.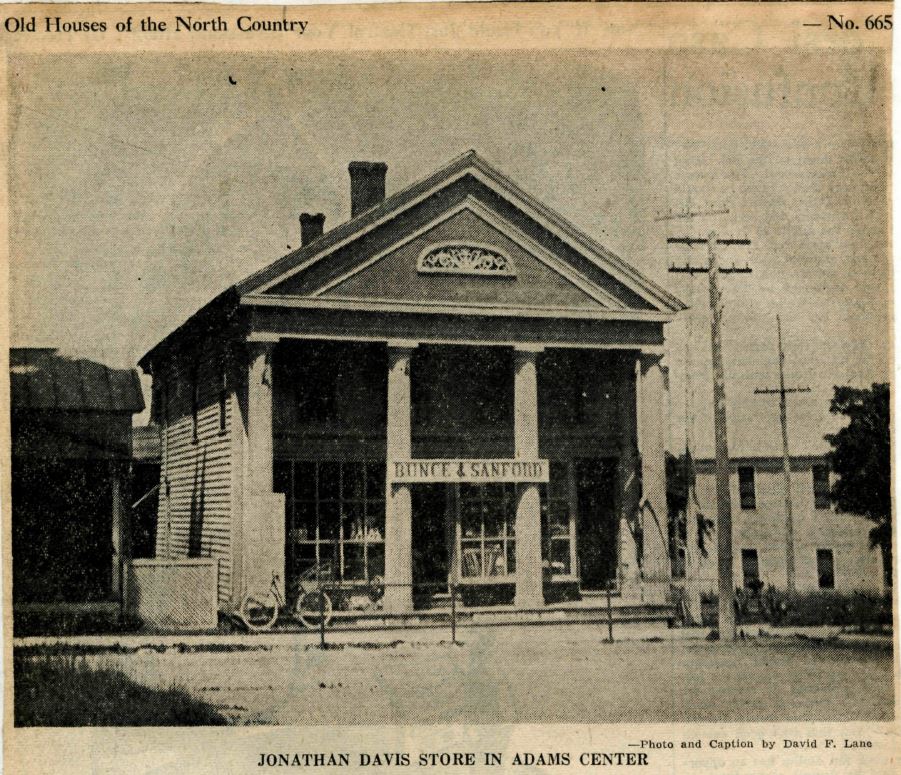 In 1830 Jonathan Davis opened the first store in Adams Center. It was likely in the building shown above, as a deed dated April 21 1836 states that he had paid Hiram and Sophia Ellinwood $350 for "a certain store lot" then in his possession in the village of Adams Center.

The first to start settement there were Hiram and Luman Arms who located on a farm just north of the village in 1816. Hiram Arms established a wagon shop in the village in 1822 and a man named Wellman opened a blacksmith shop in 1823. R Warriner had opened a tavern south of the present village about 1810 and conducted it until 1827 when Luman Arms built the two story Aims Inn. A postoffice was opened in Adams Center in 1828 and from that time on it was a growing community for a number of years and was noted for its carriages, cutters and wagons. Eventually it began to decline because of lack of waterpower.
Jonathan Davis did a lucrative business there for many years and died December 22 1863 leaving an estate of about $23,000. In his will, executed six days before his death he gave his widow, Susan, his residence and lot of about four acres including all buildings upon it. Also he gave her the entire contents of the house plus $10,000 in United States securities. To their only child, Oren R Davis, who carried on the store after him, lie gave the remainder of his estate, but provided that if the United States government did not pay all of the value of its securities Oren should make up the difference to Susan, his mother. Oren was named executor of the estate.

W D Arms, born February 14 1829 son-of Luman and Caroline Arms Arms, became a business partner of Oren R Davis, but on September 19 1866 Oren R Davis and his wife, Lavena, sold this store and 3.31 acres of land where it is to Jacob Titsworth of Middlesex county, NJ, for $4,000. Titsworth continued to operate the store for a number of years, but on January 4 1878 assigned to O DeGrasse Greene for benefit of creditors. Apparently Josephine A Titsworth had taken title to this property, for on May 23 1878 she leased it to Jacob. For a number of years she operated a millinery business there. Later the building and site came into ownership of the Greene family and after a number of transfers was purchased by Ray F and Mabel R Crandall, the present owners, from Mrs Lena Sawver Kilborn June 26 1951.
In the first story of the building Mr Crandall operates a hardware store, a tradition which has prevailed for about 70 years. Interestingly that tradition evolved through a number of Runce partnerships. Walter G Runce, father of Mrs Charles C Johnson, city, was born July 3 1866 in Adams Center, son of Myron D and Sarah Glazier Runce. He was educated in Hungerford Collegiate Institute and, after clerking in Adams Center stores for a time, formed the hardware firm of Glazier & Runce with Charles E Glazier.
Later the partnership became Runce & Dean, William R Dean becoming Mr Runce's partner. After a few years Alton M Sanford bought out the Dean interest and the firm became Runce & Sanford until about 1908 when Fred A Withington, father of DeWitt W Withington and grandfather of Dr Lawrence F Withington, city, bought out Mr Sanford and the firm then was Runce & Withington.
This continued until the death of Mr Runce March 25 1928 after which Mr Withington operated the business alone for a time, but shortly took into partnership Ray F Crandall who had come into the store in 1928. The new firm was Withington & Crandall and lasted until the death of Mrs Withington August 13 1935 after which Mr Withington retired and went to St Petersburg, Florida, where he died January 1 1940. He was born in Mannsville March 23 1863 son of William and Mary Ann Harrington Withington. He married Emma Hubbard of Belleville November 30 1884 and came to Adams Center in 1886 where, after a short time be went to work for Glazier & Runce. All through the history of this evolving firm the building was leased by it, but never owned by it.
It is understood that the Greek revival facade was built close to a half century ago and the above photograph was taken during the Sanford partnership. Mr Sanford, born on Point Peninsula May 15 1859 son of Mark and Mary Miller Sanford, was a builder and had the contract for the Adams Center Central school. He was town clerk several years and president of the village board of education several years. He died January 6 1937. On August 13 1882 he married Miss Mary Rice, who died March 29 1922. For a number of years beginning more than four decades ago this building was owned by Mrs Jeannette M Miller and her sister, Miss Anna K Green, who resided in the apartment on the second floor.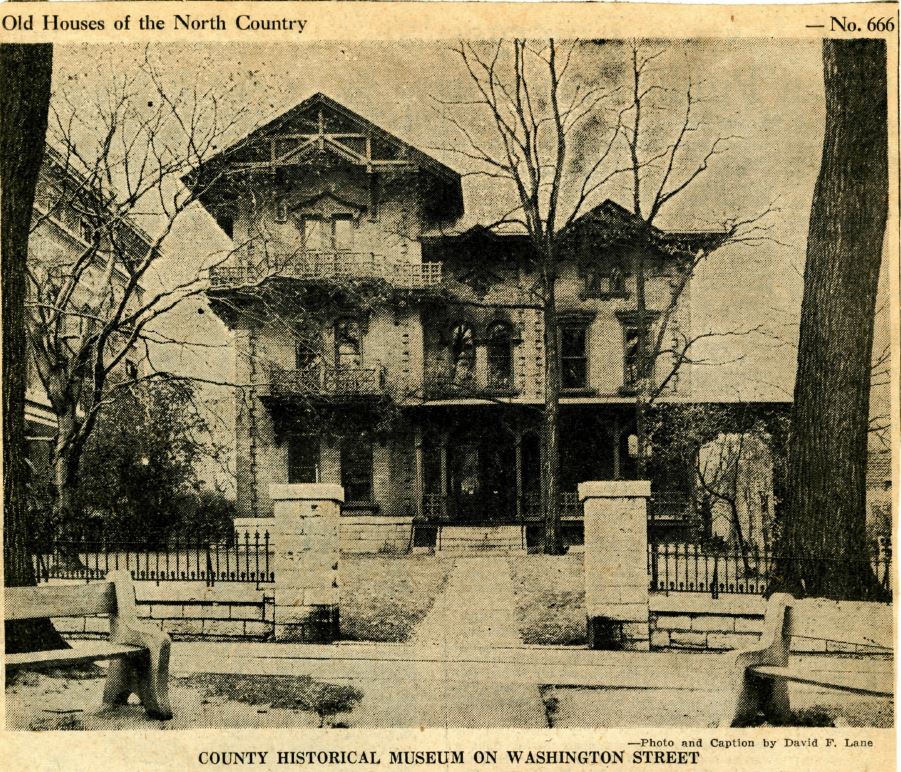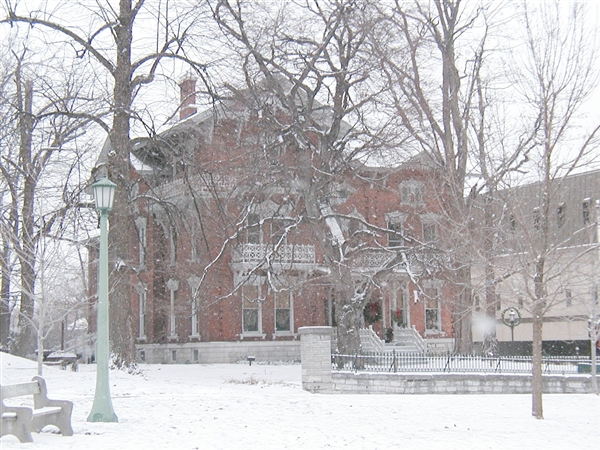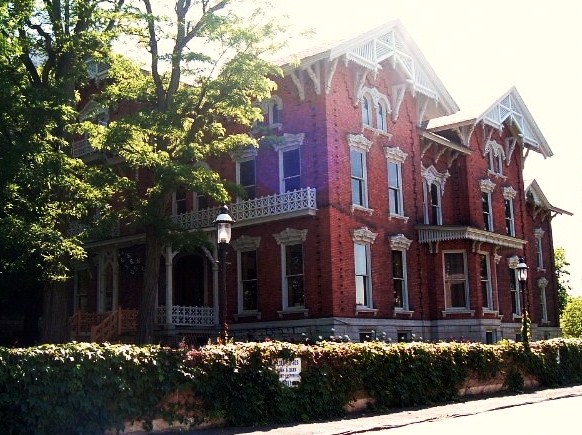 At 228 Washington Street, across the road from the Roswell P Flower Memorial library, is the museum of the Jefferson County Historical society. It is a building of red brick that is an architectural mixture of Queen Anne and Swiss chalet and was once the mansion of the late Edwin L and Olive A Paddock. It was probably constructed about 1874 of locally manufactured brick, finished interiorally in black walnut, ash and woods said to have been cut from Paddock lands. It is on the site of the Judge Jabez Foster limestone mansion, understood to have been acquired by Mr Paddock's father, Loveland Paddock some time after December 10 1847 when Jabez Foster died.
Loveland Paddock lived some years after that and apparently his three sons, Oscar V, Edwin L, and George F, came into possession of his lands on the west side of Washington Street and upper Stone Street. On October 25 1873 Oscar V, and Charlotte F Paddock sold their one third interest to Edwin L Paddock. On the same day George F and Kate Paddock likewise conveyed their one third interest to Edwin L Paddock.
It is likely that shortly after that the latter razed the Foster mansion and caused this red brick mansion to be constructed for his residence. Both he and his wife had traveled extensively abroad and acquired many objects of art and valuable pieces of furniture with which they furnished this house. Many of these things are still there and the property of the museum, which is said to have some of the finest collections of any small museum in AmericA Outstanding are the collections of ancient Indian artifacts.
Unsurpassed in North America is the Clarence E Kirine collection of early waterwheels. There is also an extremely fine collection of early fire-fighting apparatus, and the Robert Lansing memorabilia, concerned of course with President Wilson's World War I secretary of state, is most notable.
The Paddock family was one of the earliest and most historic in the county and came from Middletown, Connecticut. John Paddock and William Smith in 1805 had the first store in Watertown. John's brother, Loveland, born in 1795 opened his own store in one of John's buildings on the west side of Public Square. In 1821 Loveland married Sophia Foster of Rowe, Massachusetts. Loveland became a director of the Jefferson County and Sackets Harbor banks and on March 25 1844 established the Black River bank in Watertown, being its president and his son, Oscar, vice president. His son, Edwin L Paddock, born March 19 1824 was graduated from Hamilton college, immediately entered the Black River bank, soon became vice president and after his father's death, president.
On June 8 1863 the bank became the First National, one of the first national banks in the state with Loveland, Edwin L and Oscar its head officers. Some time prior to 1866 the Second National bank was running here with Edwin L Paddock president and George F Paddock cashier. In 1880 the First National bank was liquidated and Edwin L Paddock retired, traveling and looking after his large estate.
In 1852 he had married Miss Olive A Wheeler, daughter of Thomas Wilson and Emma Andrus Wheeler. They had no children. Edwin L Paddock died intestate July 22 1909 leaving an estate estimated about $400,000. On December 31 1912 his widow, Mrs Olive A Paddock bought the interests of the other Paddock heirs for $35,000. She died May 16 1922 willing the mansion and grounds to the Jefferson County Historical society for a museum, and the present parking lot for a permanent city public park. Among the Paddock personal effects willed the society was a pearl-encircled cameo with a carved relief of her husband's profile. In this museum Jefferson County's 150th anniversary celebration will focus August 14-20.
The Jefferson County Historical society, which inherited this Paddock mansion for its museum, was organized in May 1886 with the late Beman Brockway, editor and publisher of The Watertown Times, as its first president and the late Historian Daniel S Marvin, librarian and custodian. Colonel Walter B Camp, William H Stevens, Isaac L Hunt, Clarence E Kinne, Harry F Landon and Frederick F Bugbee have been the succeeding presidents. Mrs Nora Washburn Cruikshank, Carthage, became the first curator of the present museum and served 18 years. She was succeeded by Miss Faith Common, now Mrs Clayton Wodell, and Miss Common was succeeded about six years ago by James Reese Price, the incumbent curator, also county historian.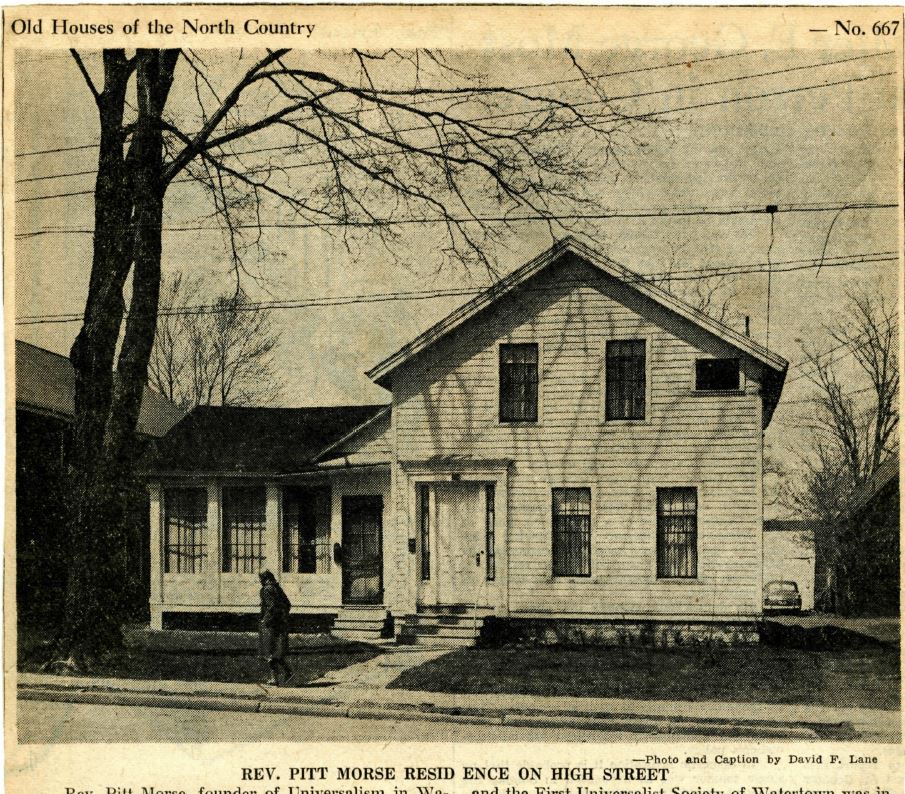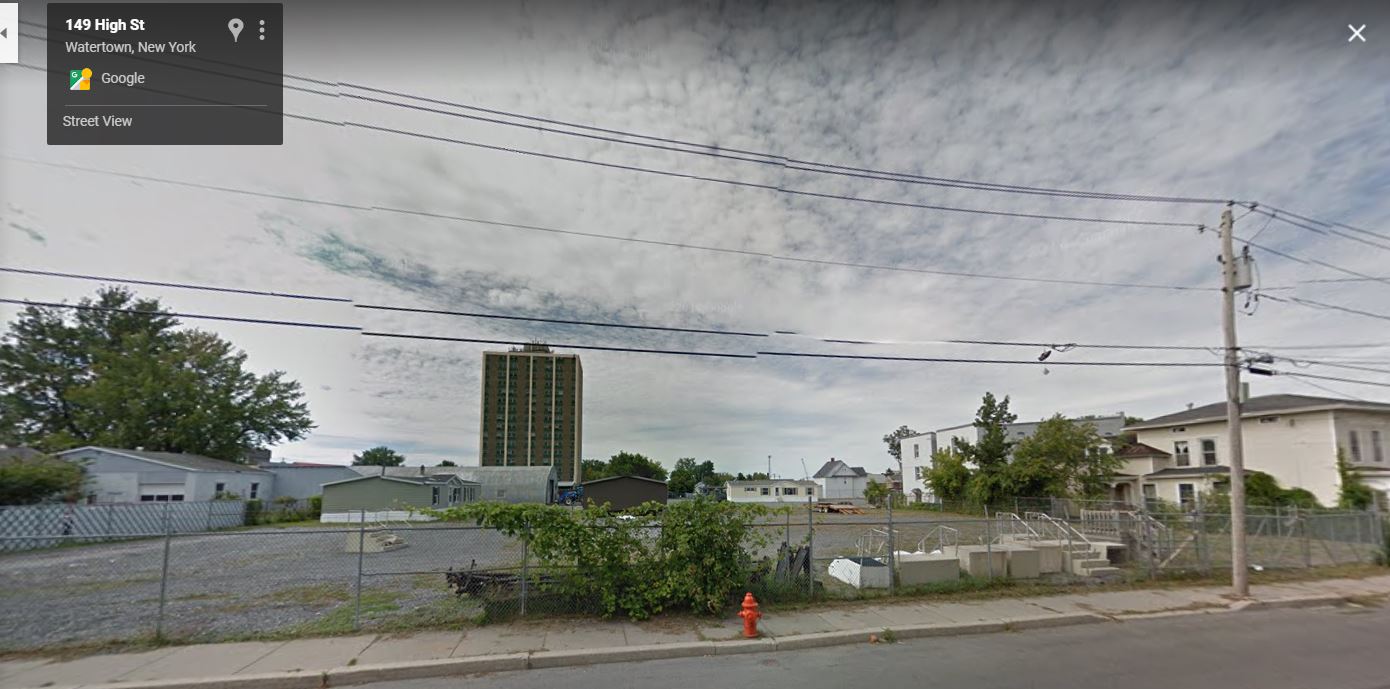 Reverend Pitt Morse, founder of Universalism in Watertown and in Jefferson County, owned and resided in this beautiful white house now designated 149 High Street from July 10 1856 until his death March 19 1860. In his will dated February 9 1860 he gave his widow, Mrs Mary S Morse, a life-use of it and provided that after her death it should be sold and half the proceeds given to St Lawrence university and the other half to the Theological school at St Lawrence university.
However, on April 20 1868 St Lawrence university quit-claimed its interest and the interest of the Theological school in the property to Mrs Morse upon her payment of $1,000 for those interests. In consequence she sold the house to Curtis Goulding for $2,800 on November 8 1872. Reverend Pitt Morse was born in Brooklyn, Connecticut, on February 21 1796 son of Elihu and Lucy Palmer Morse. In his childhood he resided in Pomfert and Woodstock and attended Woodstock academy. At 16 he taught school and clerked in cotton mills when not teaching. Shortly he was teaching at Palatine for an entire year and coming in contact with a Universalist minister, became interested in religion. At 18 he removed to Rochester and taught school in Pittsford nearby. There he met Reverend Thomas Billinghurst, Universalist, and decided he wanted to be a minister. So he taught school week-days and assisted Reverend Mr Billinghurst preaching in Pittsford Sundays. He read theology in the home of Reverend Stephen R Smith in Clinton and was constantly called on to preach in western and central New York.
The Western Association of Universalists granted him a letter of fellowship in 1819. That June he was ordained at Morrisville and shortly was sent to Watertown. A Universalist society was informally organized at a meeting in the old court house April 26 1820 and meeting were held in William Smith's store. November 20 1822 he brought out The Herald of Salvation, a semimonthly paper published until February 26 1825. Largely through his efforts the Black River Association of Universalists was formed January 8 1823 and the next year a stone edifice was built here on the site of the first school where the Electric building now is. It was dedicated by Reverend Hosea Ballou November 10 1824 and the First Universalist Society of Watertown was incorporated January 3 1825. The stone church burned in 1850 and a brick church replaced it in 1852 which remained until razed in 1906.
First Universalist minister in Watertown, Reverend Pitt Morse accepted a call to the Lombard Street church in Philadelphia, PA, in 1826 but returned to the Watertown pastorate in 1827 and preached until the middle of 1838 when he went to Henderson and organized a Universalist society which was incorporated December 25 1839. An edifice had been built there that year. During his pastorate in Watertown he had preached regularly in Henderson and Brownville. From Henderson he returned to Watertown with the purchase of this house July 10 1856. The house had been built in 1853 by Ira Simmons, a local carpenter on land purchased by him on April 1 of that year from Francis and Mercy Lamon. Simmons resided there until he and his wife Marinda sold it to Reverend Mr Morse for $900. It was then No 9 High Street. Curtis and Mary J Goulding, who acquired the house from Mrs Morse November 8 1872 disposed of it April 16 1883 to Peter Nellis of Pamelia. Mr Goulding was one of the first directors of the old Merchant's bank. Mr Nellis was a farmer and mowing machine agent. Mr Nellis died in the early summer of 1891 providing a life-use of the house and contents to his widow, Amanda, giving it outright to his granddaughter, Jennie, after his wife's death.
Miss Jennie Nellis later became the wife of Attorney George B MacComber and on January 19 1917 sold this house to Mrs Ellen J Berdeau, wife of William Berdeau. Mrs Berdeau sold the property on September 19 1922 to William H and Mary A Laughlin, Wolfe island. Under the will of Mr Laughlin recorded July 30 1930 he gave a tjiird interest eacli in this house to his sister, Mrs Ellen L Briceland, his nephew, Joseph Laughlin, and heirs of a deceased sister, Mrs Catharine Hennessy. As executrix of Mr Laughlin's estate, Mrs Ellen L Briceland sold the house to Mrs Margaret D Briceland, the present owner and occupant of one apartment in the house, the other apartment in which she leases. Mrs Briceland is the widow of Thomas H Briceland, and is a nurse by profession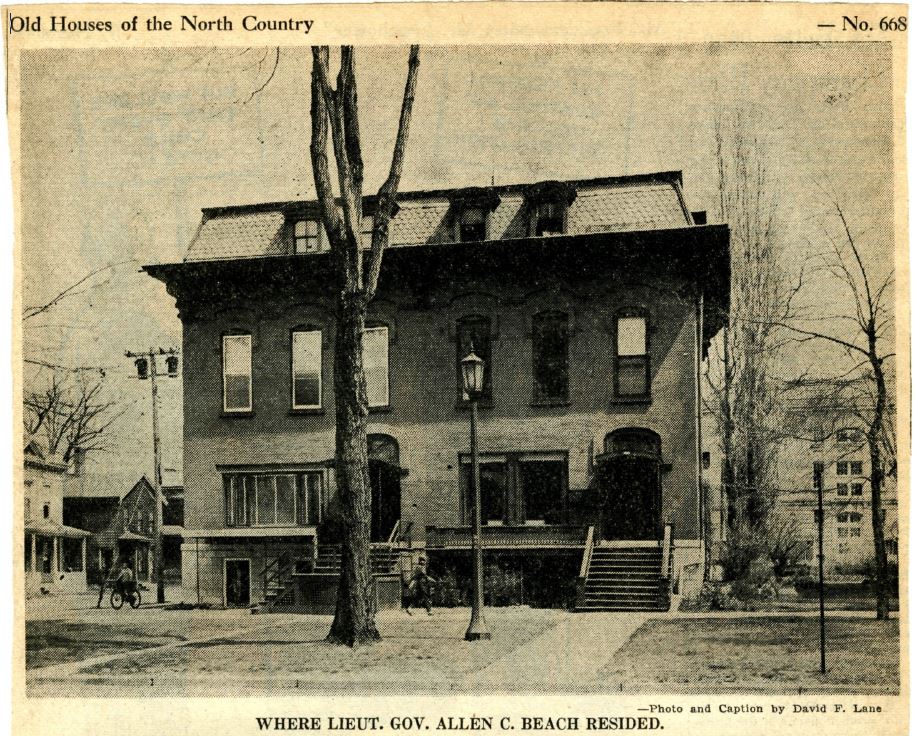 Watertown has been blessed with men of note. It has given New York state one of northern New York's two full-time governors, a full-time lieutenant-governor and two federal secretaries of state. Incidentally, three of these men were Democrats.
The name of Governor Roswell P Flower is familiar to most Watertown residents today although the man himself is recalled by only a comparative few. Not more than a handful, however, recall or remember Lieut Governor Allen C Beach, a man of unusually fine mind, great ability and fine distinction. He was a lawyer and statesman and he played an important role in the governmental, professional and business life of this community. For many years he owned and resided in the southern half of the building shown above and now known as 305 Washington Street, th portion until recently owned and occupied by Edwin D Wilcox as an undertaking establishment. This building was erected by Colonel George W Flower, Watertown's first mayor, about 1870 and the Beach residence was next north of Colonel Flower's own limestone residence now owned by Dr Julius Rath.

The site of the Beach residence was acquired by Colonel Flower from members of the Hungerford family. After completing this double red brick building Colonel and Mary E Flower sold the southern half to Lieut Governor Beach on August 1 1871 for $9,000. On October 11 1901 Lieutenant Governor Beach conveyed it to his daughter, Mrs Amy Beach Ewers, Rochester, and on November 24 1919 she transferred it to Attorney Frederick M Boyer who sold it two days later to Edwin D Wilcox and his then business partner, Arthur D VanNess. On August 1 1947 Mr VanNess and wife sold their interest to Mr Wilcox and November 18 1954 Mr Wilcox disposed of it to Alice O Cooper, the present owner of the entire building.
Allen C Beach began life as a poor boy. He was born October 9 1828 in Fairfield, Herkimer county, was educated in Jordan and Mexico academies and was graduated from Union college in 1849. He then taught here a year in the Black River Literary & Religious Institute and studied law under Joshua Moore. In 1852 he was principal of the LaFargeville academy and in 1853 was admitted to the bar. The next year he formed a law partnership with Levi H Brown under the name of Brown & Beach and it was one of t he leading northern New York firms, lasting until 1871
He was superintendent of the Watertown schools in 1852-3. In the spring of 1852 he married Abbie A, fourth daughter of Norris M Woodruff, other daughters having married; Roswell P Flower, Henry Keep, Pearson Mundy, Howell Cooper and Henry Cadwell. But in September, 1856 Allen C Beach's wife died and in 1862 he married Olivia, daughter of Captain Augustus Pickering, Sackets Harbor, commander of the first commercial ship to enter Chicago. To them was born one daughter, Amy, who eventually became the wife of Dr William Vaux Ewers. Mrs Olivia Pickering Beach died in 1892.
Mr Beach was a member of Watertown's first board of education formed June 12 1865 and its president in 1868-9. He was chairman of the Jefferson County Democrat committee 1860-1870 and during the controversy over the Tweed ring in 1868 was elected lieutenant governor, (through Tilden influence) with Tammany's gubernatorial candidate John T Hoffman. Two years later Beach was re-elected with John A Dix for governor, and in 1877 Beach was chosen secretary of state. He was chairman of the Democrat state executive committee 1868-72 and was delegate to Democrat national conventions in 1860 1872 and 1876. In 1873 he was acting chairman of the state committee.
He was a founder and first president of the Homestead Fire Insurance company incorporated in 1873 and served until it folded up in 1878. He was chairman of his party's state committee in 1874 when Samuel J Tilden was elected governor. He retired from law practice in 1880 to attend to his many affairs including management of the Henry Keep Home of which he was vice president and treasurer. He was a first trustee of the Watertown Savings bank incorporated October 2 1893 was a member of the executive committee of the Watertown Spring Wagon company, executor of several estates, was high priest of Watertown chapter No 59 R A M, 1862-5 died aged 90 in Rochester October 17 1918 leaving a $175,352.65 estate. His daughter died in Somerset, Bermuda, January 9 1936 willing to Sackets Harbor the Pickering homestead now the Pickering- Beach historical museum.
Although architecturally unlovely and lacking in physical distinction this tall grey house at 716-718 State Street, was for many years owned and occupied by Rensselaer Allston Oakes, historian, a founder of the Jefferson County Historical society and one-time city editor of the Watertown Daily Times. The house, which is on the south side of State Street in the block between William and South Rutland Streets, is upwards of a century old and appears today the same as it has for the past several decades. Whether it was ever raised up and enlarged from a smaller dwelling there is no record. In it Mr Oakes resided 49 years.
The lot, upon which it stands, was a part of the Camp-Boyd tract and March 2 1850 was sold by James R and Elisabeth C Boyd to Mary Collins for $100. Sometime after that she built the house and on November 30 1858 disposed of it to Mr Oakes for $1,000. On July 20 1861 he transferred title of it to his father, Simeon Oakes, farmer, miller, manufacturer, hotel-owner, merchant of Tylerville. At his home in that hamlet Simeon died October 1 1862. On September 18,1863 Mrs Rosetta C Oakes, widow and second wife of Simeon Oakes, and the other heirs of Simeon's estate conveyed the above house to Mrs Myra C Oakes, wife of Rensselaer Allston Oakes. Mrs Myra C Oakes died August 12 1887 willing all of her property to her son, Robert Paul Oakes, city.
Robert Paul Oakes died November 2 1914 and his estate went to his widow, Mrs Cora C Oakes and son, Harold R Oakes. Harold R Oakes died September 16 1942 and his motlier on May 3 1952. On May 20 1952 Robert R Oakes, Douglaston, NY, son of Harold R Dakes, sold the above property to John G Simpson and his wife, Caroline F Simpson. Mr Simpson, mortician, rents the property and resides in the house next east of it.
Descendant of Nathaniel Oak, an Englishman who settled in Massachusetts in the 1600's, Rensselaer Allston Oakes was born at Mayville, NY, where Beman Brockway once edited a paper, May 17 1835. He was the son of Simeon and Florilla Davis Oakes. Simeon was born at Athens, Vermont, September 27 1803 and moved to Mayville about 1824. In the late fall of 1836 he removed with his family to Tylerville, Rensselaer being about a year old. The latter was educated in the Tylerville district school, the Black River Literary & Religious Institute here and finished at Cazenovia Seminary.
After that Rensselaer studied at home for the Universalist ministry, but did not follow it. On September 11 1855 he married Myra, daughter of Jason and Crombie Mooar in Hollis, New Hampshire In 1856 Rensselaer removed his family to Watertown and opened a grocery on the north at 8 Washington Place. For about three years he was in the dry goods trade in Middletown, NY, and then a partner of Leonard R Murray under the name of Murray & Oakes in the crockery business here. For 18 months from 1872 to 1876 Oakes was in this business alone.
On August 29 1846 the Democratic Union, a weekly newspaper, was founded. In late 1854 it united with the Jeffersonian as the Jefferson Union and in the fall of 1856 it became the Jefferson County Union. One historian says Stephen Canfield merged it with the Weekly News January 19 1865 with Oaks as editor, but Historian John A Hadock says that Oakes bought the paper January 1 1865 from E J Clark. He was editor of it from then through a part of 1866 and in 1873-4 was editor of The Watertown Post, in which he bought an interest from Hanford & Wood. It was founded in 1870. In August, 1874 Lotus Ingalls who, with Beaman Brockway, had published The New York Reformer and changed it to The Daily Reformer April 22 1861 bought the Post. The Reformer became The Watertown Daily Times January 4 1870 and after leaving the Post Rensselaer A Oakes became city editor of The Times.
Oakes retired about 1880 and concentrated on writing. He was a contributor to the Independent and Century magazines, brought out a book of poems in 1859 and after his death, which occurred April 23 1904 there was published his big, two-volume Geneological History of Jefferson County. Orlo B Rhodes, editor of The Watertown Daily Standard said, "He was a man of extensive learning, an omniverous reader and a deep sfudent of metaphysics and psychology, fluent writer and lifelong Democrat." He was a founder of the county historical society April 6 1886 a reviewer of its constitution, and its first librarian.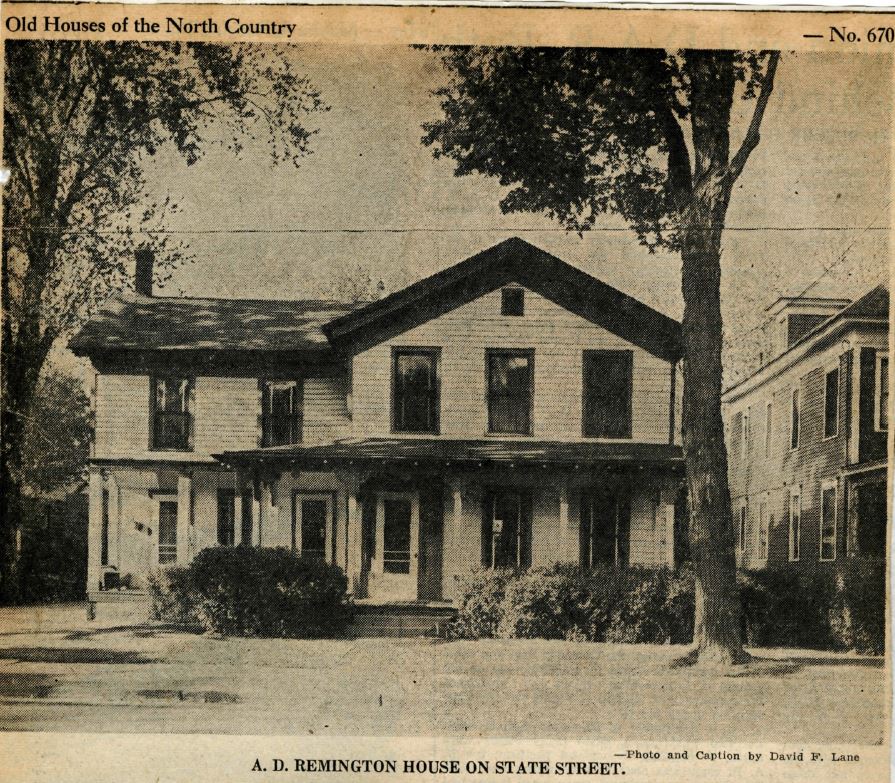 Ahout 1852 this house on the north side of State Street just above High Street was built by Alfred D Remington,one of the pioneer paper manufacturers of Watertown, and first in northern New York to introduce groundwood pulp and later the first to use sulphite pulp. Today the house, numbered 623 is owned by the Misses Edith S and Emily Smith, descendants of the pioneer Smith, Massey, Sigourney and Scott families. Alfred D Remington was practically the founder of the northern New York paper manufacturing Remington dynasty.
Mr Remington was born in the town of Manlius, Onondaga county, April 13 1827 son of Illustrious and Eunice Denison Remington. Illustrious was a cotton and paper manufacturer at Fayetteville. Young Alfred was educated in the academy at Manlius and joined his father as I Remington & Son in paper manufacture in Fayetteville. Not long afterward he came to Watertown as a hat merchant and in 1849 married Helen M, daughter of Dr Sidney Houghton of Belleville. She died in 1894 and her husband on March 9 1909 willing his $130,000 estate to establish Remington Institute. Impressed by Watertown's water power, A D Remington induced his father and brothers, Hiram and Charles R, to come here and lease the old O'Dougherty cotton mill on Water Street in 1854 and, as I Remington & Sons, convert it to a newsprint mill. A few years later he bought full control and formed the Remington Paper company, first of a number of Remington paper companies that ensued.
On November 15 1851 he paid Colonel Elisha and Sophia Camp, Sackets Harbor, $200 for the lot where this State Street house is, built the house and resided there until November 10 1853 when he and his wife sold it to George W Wiggins and removed to a house on Court Street. Born in Montpelier, Vermont, in 1822 George W Wiggins located in Watertown in 1843 clerked in the Peck & Welch dry goods store until 1847 then joined with Peter Horr as Horr & Wiggins in the clothing business.
Later he was with J W Clark as Wiggins & Clark in the same business and in 1854 was partner in Horr, Fiske & Co, employing 600 hands in the manufacture of clothing. With Levi A Johnson as Wiggins & Johnson, he founded the Great Wardrobe clothing store in the Woodruff hotel block in 1857. It operated many years and went through a number of firm changes until Edmund S Goodale became sole owner.
Mr Wiggins was prominent also in banking, in the Henry Keep home, and in the Jefferson County Orphans' Home. On May 9 1866 George W and Delia Wiggins sold this State Street house to Guevera M Waite and became a neighbor of A D Remington on Clinton Street.
On April 9,1870 Waite and wife sold the above house to Abner Baker who, on April 1,1872 disposed of it to Norris Winslow, merchant, banker and real estate promoter. Mr Winslow and wife sold to Augustus L Darling March 1 1873 and on October 8 1875 Mr and Mrs Darling sold to Nelson Burdick who, on March 15 1879 deeded it to Timothy A Smith, prosperous Arsenal Street hop-grower and real estate owner.
Timothy A and Lucy A Massey Smith conveyed this house to their son, Ralph T Smith on September25 1882 and on June 18 1883 he transferred it to his mother-in-law, Mrs Emma Scott Sigourney and all resided there together.
In her will, recorded April 2 1915 Mrs Sigourney gave her daughter, Mrs Ralph T (Carrie) Smith, a life use of all her property and then provided that it go equally to Mrs Smith's children, the Misses Edith S and Emily Smith and their brother, the late Ralph S Smith, Ralph T Smith died July 30 1928 aged 73 His wife, Mrs Carrie Sigourney Smith, died July 23 1937 aged 79 and Ralph S Smith died at a later date, the Misses Edith S and Emily Smith becoming sole owners of this house, two business blocks and other real estate.
Ralph T Smith was born in this city October 17 1854 married Miss Carrie Sigourney, August 29 1878. She was born here February 19 1858 daughter of John M and Emma Scott Sigourney. Mr Smith operated a grocery on the north side of Public Square for a number of years and then devoted himself to the management of his extensive real estate holdings. He was first ward alderman from January 1 1912 through November 18 1913 when he became supervisor and served through 1915. He was an active Republican, prominent member of the Lincoln League and local Masonic bodies, and member of the First Presbyterian Church
It was in 1883-4 that Alfred D Remington built his big, red brick mansion with its four-story, sharp-spired tower and stained glass windows and its beautiful interior woodwork finished in the natural. Mr Remington was 57 at that time and not pnly the leading, but wealthiest paper manufacturer in upstate New York. A history of papermaking in this country says of him that he was a man of extraordinary business ability and that he gave a decided impetus to the paper industry in northern New York. A decade and a half before he had this mansion erected he had, in 1869 been the first to introduce the use of groundwood pulp in this part of the state. That was two years after the Pagenstetchers had initiated the use of groundwork pulp in the United States in their mill at Curtisville near Stockbridge, Massachusetts. Prior to the utilization of groundwood pulp, newsprint paper had been made from rag pulp.
Mr Remington employed groundwood pulp in his Remington Paper company mill, which he had established on Sewall's island in September, 1865 and of which company he was the president, George P Folts first vice president, Charles R Remington second vice president, Charles H Remington secretary and Nelson R Caswell treasurer. The company, having $1,350,000 of property, acquired 26,000 acres of Adirondack timberlands, had four Fourdrinier paper machines and produced 32 to 36 tonss of newsprint per day.
The groundwood process used in the Remington mill was the Keller-Voelter process developed in Germany from Freidrich Gottlieb Keller's observations of wasps' nests. As he had been the first in this part of the state to use groundwood pulp, so was Mr Remington the first in this part of New York and one of the first in the nation to use sulphite pulp, when he built his digester plant on Sewall's island about 1890 using the Swedish Eknian sulphite process. Mr Remington bought the large lot on Clinton Street where this big brick mansion stands from Cornelia M Lansing, John and Maria L Lansing on May 10 1883. On October 27 1898 Mr Remington sold the mansion to Mrs Abbie C Fairbanks Remington, wife of his nephew, Charles H Remington. Four years before that conveyance, A D Remington's wife, Helen M Remington, had died in 1894 and about the time of the sale of the mansion he had sold his paper manufacturing enterprises to the International Paper company.

After the sale of the mansion Charles H Remington, founder of the Remington group of paper mills in northern New York, resided with his family in the mansion now designated 132 Clinton Street, and on October 4 1935 Mrs Abbie C Remington sold the mansion to the city of Watertown for use as a vocational school under the name Remington institute to carry out the plans of A D Remington set forth in his will.
A Remington institute corporation had been set up and it had'been Mrs Abbie C Remington's intent to sell the mansion to the institute, but through probable error it was conveyed to the city instead. After the board of education abandoned the mansion and hansferred its vocational classes to the new senior high school, litigation was carried on in the courts to got the title of the mansion shifted from the city of Watertown to the Remington Institute corporation and last year a supreme court decree was handed down approving the shift. Accordingly on September 14 1954 the city deeded the mansion to Remington Institute, which now owns it. But since the new senior high school was put into use over four years ago, the mansion has been vacant. It is of the soundest and finest construction with excellent basement, an extremely ornate piece of architecture, but a monument to one of the great pioneers of the pulp and paper industry not alone in northern New York but in the entire country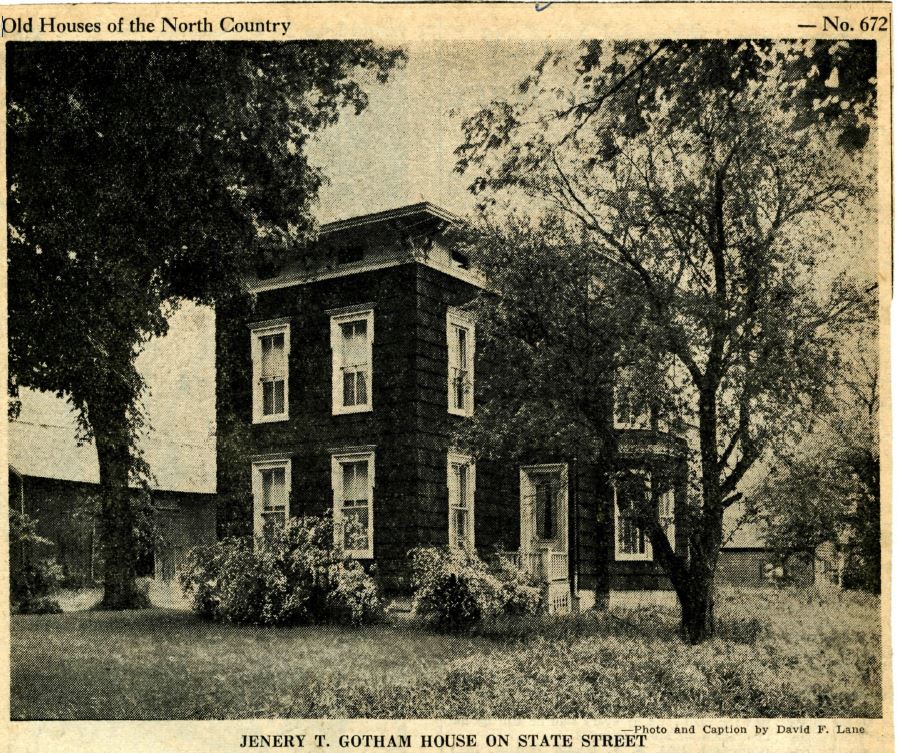 One of the early pioneers of the town of Watertown was John Gotham, a New Hampshireman who came about 1804 and left as a memorial to him Gotham Street, in the vicinity of which he owned about 500 acres of land in the 1830's. He was born about 1783 son of one of two Englishmen who came to the New England colonies to avoid the British army draft. In 1805 he married Nancy Penniman, also of New Hampshire, and when Colonel William Lampson of Burrville organized the Watertown Rifles at the beginning of the War of 1812 John Gotham enlisted as a corporal, served at Sackets Harbor, became an orderly sergeant, continued active in the militia after the war and rose to the rank of colonel.
At 57 while attempting to drive from Horse island to the mainland in a blinding snow storm his team got off the narrow causeway November 15 1840 and he drowned in Lake Ontario. But during his lifetime he was an excellent farmer and on one occasion the Jefferson County Agricultural society awarded him a silver pitcher for having the best farm in the county.
Just above the city's eastern limits, east of Gifford Street and mostly south of State Street is Great Lot 16. In the southeast subdivision of this great lot John Gotham bought 60 acres of land from Nicholas and Alice Low on May 3 1813. On April 20 1814 he bought from them 83.25 acres in the southwest subdivision and on July 9 1814 he bought another 55 acres in the southwest subdivision. It is in Great Lot 16 that the above squareroofed house was built by John Gotham's son, Jenery T Gotham, probably a little over a century ago and that house has never been out of the Gotham family down to the present time.
Jenery T Gotham was born in the town of Watertown March 10 1813 remained upon his father's farm until 1839 when he married Caroline, daughter of Daniel and Elizabeth Hutchinson of Saratoga county, operated a farm in Lewis county three years and settled just east of this community in 1843.
On February 26 1851 Jenery bought of Charles and Polly Webber 44.05 acres in the locale of this house. On December 18 1865 he bought an adjoining 39.74 acres from Simeon H and Racy Bush. It is likely he built the above house shortly after the 44.05-acre purchase for a map of 1855 shows him then living there. Jenery's will executed May 23 1882 and recorded March 15 1883 gave his widow a life-use and then divided his estate among his three children, John H, Darwin B and Mrs Zeruah Fish. June 8 1898 his estate conveyed the 83.79 acres to Darwin B, who conveyed it to John H, on April 1 1903 and on that day John H Gotham and wife sold off 65 acres to Merritt A Cleveland, keeping 18.79 acres for himself, and the right to farm use of Cold creek which crossed the farm.
John H Gotham, farmer and brick manufacturer in the town of Watertown many years, was born August 3 1840 married Cynthia Kelsey February 2 1869. They had one son, John J Gotham, and Mrs Gotham died September 7 1887. On March 19 1889 John H Gotham married Mary, daughter of James and Isabella Byers Henderson for his second wife.
John H Gotham died in 1910 and the above house and property later went to his son, John J Gotham. John J Gotham was born in this house July 29 1871 was educated in the city schools and on November 27 1895 was married to Mabel, daughter of Henry and Melissa Lacy Haile of Hermon. Mr Gotham operated the farm during his life and died October 12 1931 aged 60 leaving his widow and one son, John H Gotham who conveyed his interest in the place to his mother, Mrs Mabel Haile Gotham who still resides there.
Across the road is Hampton Gardens which Mr Gotham sold for development about 1921 and on the south side of the road Mrs Gotham has sold off a few building lots in recent years. This week she contracted with the Sowan Realty corporation to sell the house and about 13 remaining acres of land in the old Jenery T Gotham farm to it. Charles J Sowan, president of the Sowan Realty corporation, will, with his family, begin occupation of the house shortly after his company takes title to the property on August 1.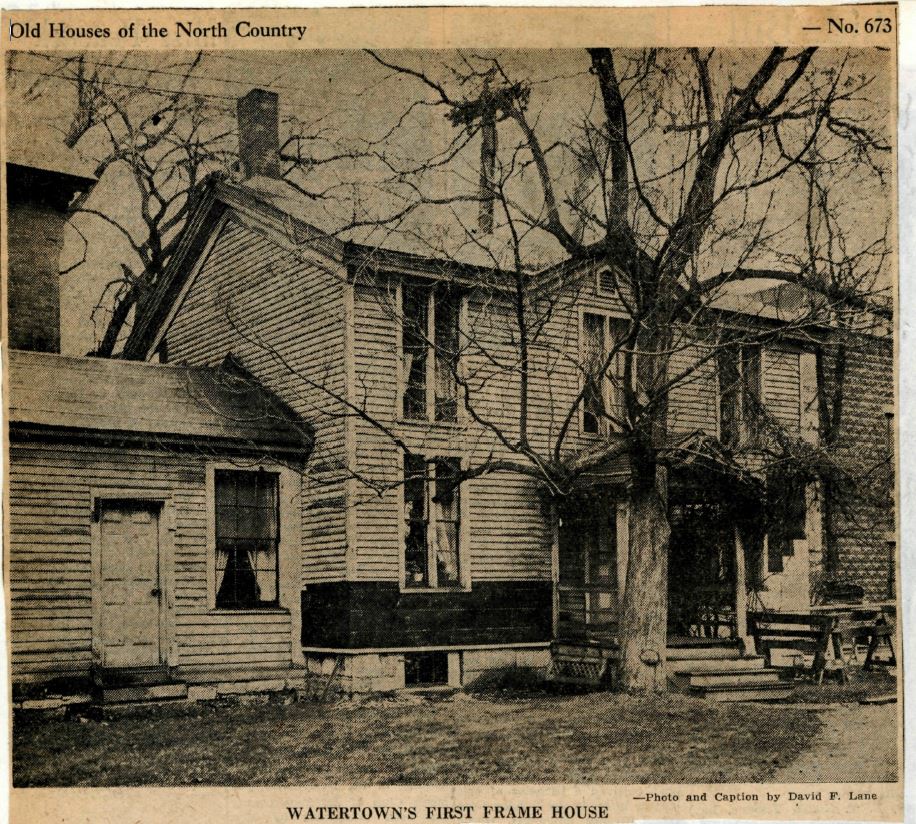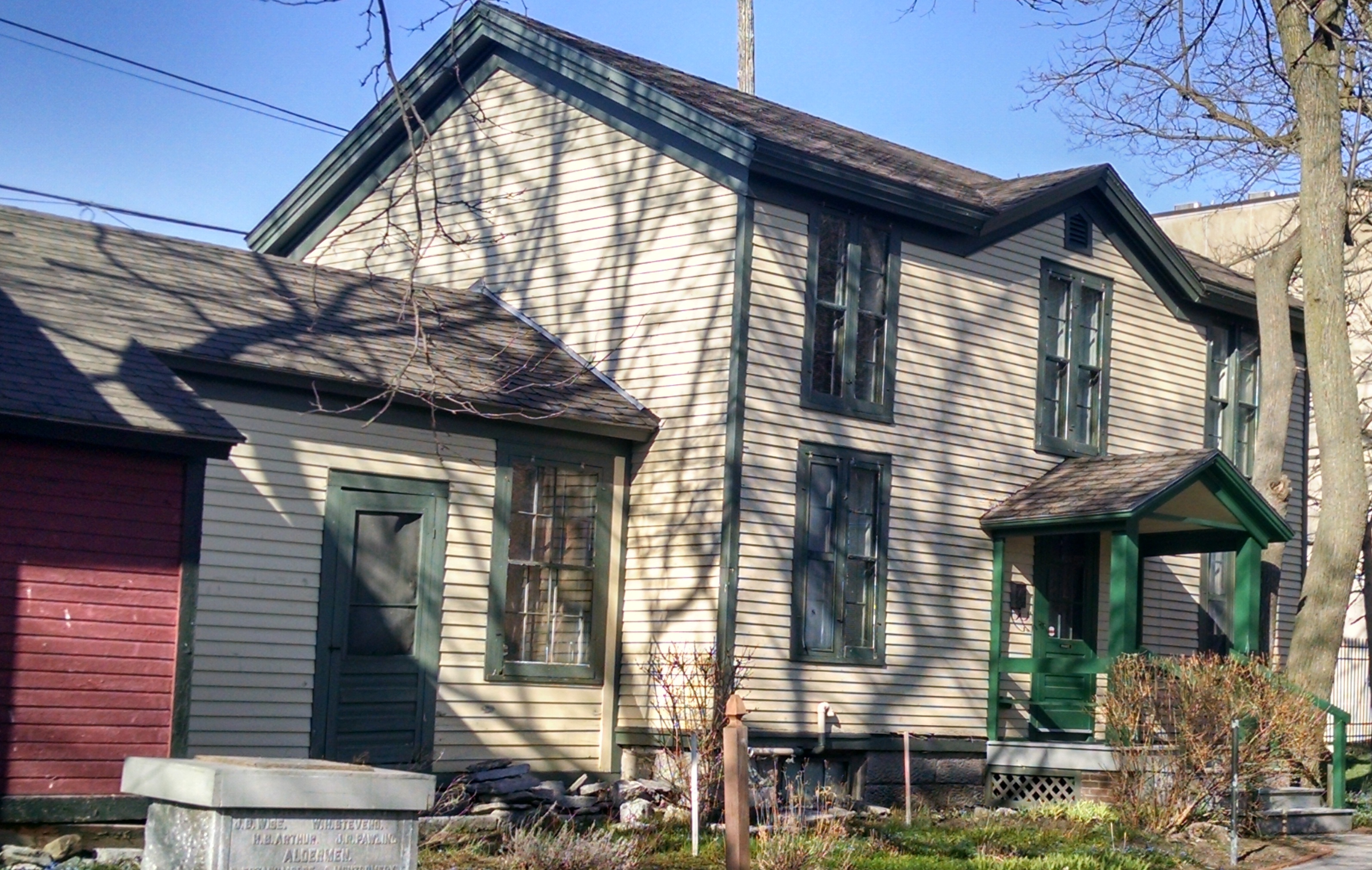 Marcellus Massey wrote some 63 years ago that the frame house of his father, Hart Massey, an original Watcrtown pioneer, was believed to be the first frame house in this community. It was erected on the west side of lower Green alley, now known as Washington Street, possibly as early as 1802 or 1803 and stood where the big brick museum building of the Jefferson County Historical society now is.
For upwards of 150 years it has been occupied and now is and, for many years has been the Historical society's caretaker's house. During its long existence it has been twice moved. First, to the rear and southerly side of the present grounds. At some later date, to its present location near the rear and tight against the northern boundary of those grounds.
Hart Massey, Henry Coffeen and Zachariah Butterfield came here almost simultaneously with the setting off of the town of Watertown from the town of Mexico, Oneida county March 14 1800 Coffeen being a little in advance. The area was a virgin wilderness, and the trio, first Watertown pioneers, immediately built log cabins on their tracts.
That of Massey was about where the front entrance to the Paddock arcade is. Butterfield's was where the YMCA building is, and Coffeen's where the Barrett Men's store and Crest restaurant building is. Massey had 90 acres of land fronting on lower Washington Street. Shortly he bought another 100 acres adjoining the west side of that tract and extending westerly to where the old railroad junction and first depot were.
After Hart Massey had sufficiently cleared his lands and outgrown his log cabin he built the house shown above. A few years later he sold the site to Judge Jabez Foster. The sale did not include this frame house, which Massey moved back onto his farm. Historian Joel H Monroe says that Judge Foster bought the site in 1807 but a card in the historical museum states 1810. In 1812 Hart Massey built himself a more pretentious domicile, the first brick house in the county. It still stands in use on the west side of Rexford place near Stone Street a lieutenant in the New Hampshire militia early in the American Revolution in 1776 and died here in Watertown, March 30 1830.
Hart Massey, son of Deacon Jonathan Massey, was born in Salem, New Hampshire, December 5 1771. In 1792 Deacon Jonathan removed his family to Windsor, Vermont, where Hart married Lucy, daughter of Deacon Nathaniel Swain in 1795. She was a native of Reading, Massachusetts. Shortly Hart Massey and his bride located in the new town of Saltash, now Plymouth, Vermont In March, 1800 he came to see his new lands in Watertown and on March 7 1801 he brought his family here. He was but 29 at the time, energetic and enterprising and played a most vital role in the starting and developing of this community. He was a Quaker and the first religious service in the town was held in his cabin the Sunday after he brought his family from Vermont.

That he was an important figure in the county there is no question. On July 13 1808 he was made a colonel and inspector of state troops, having previously been quartermaster in Colonel Abijah Putnam's regiment and adjutant to Colonel Gershom Tuttle. In the War of 1812 he was customs collector at Sackets Harbor, and long prior to that, before Jefferson had become a county, he was deputy collector for this area. He became a judge of common picas in 1820. He had been one of the founders and one of the most active members of the Jefferson County Agricultural society, and he took a major part in the entire life of the community. He died here March 20 1853 and today there are still many of his descendants residing here, several of whom bear the name of Massey and many of whom have also played prominent roles in the governmental and civic life of this city and county.
Descended from Sir Charles Massey, a prominent figure in England in the time of Cromwell, Hart Massey was the great-great grandson of Jeffrey Massey who was born in England in 1593 and settled in Salem, Massachusetts, where he died in 1677. In 1631 Jeffrey's son John was the first male while child born in Salem. In 1668 there was a son John born to John Massey and on July 6 1747 Deacon Jonathan Massey was born to the latter became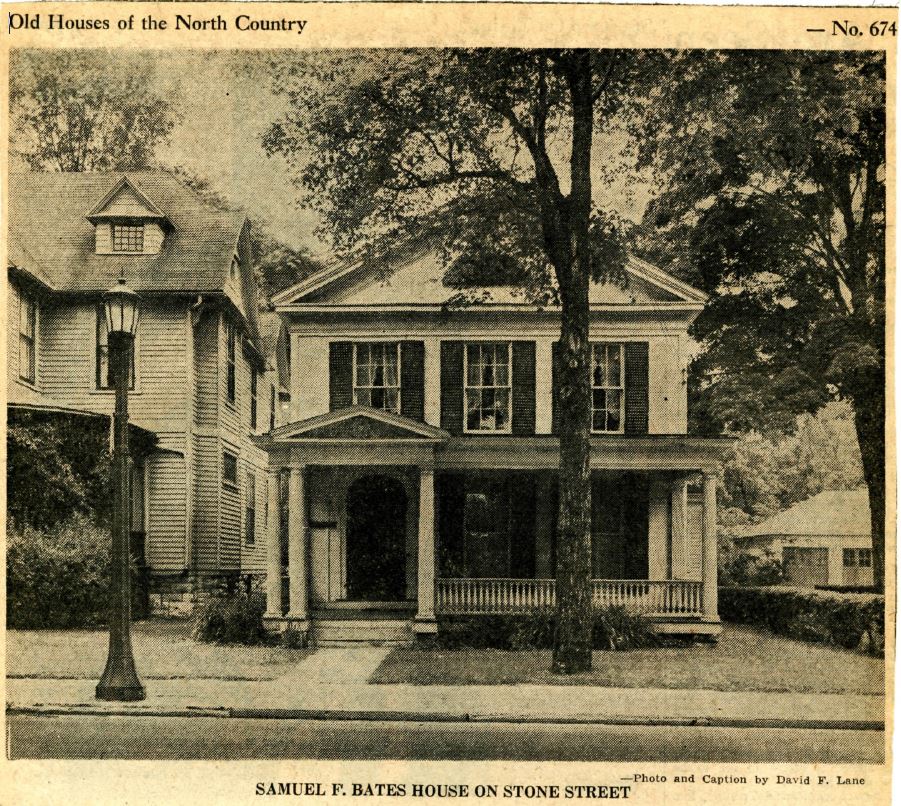 The attractive white house owned and occupied by Philip W Gardner and his wife, Frances H Gardner, at 229 Stone Street, has an interesting history in that it has been the home of one of Watertown's first tanners and leather merchants, and of the telephone company superintendent who saw the first telephones installed here.
Samuel F Bates, said to have been a partner of Jasan Fairbanks, Watertown's first tanner, purchased the site for the house from Hart and Lucy Massey February 8 1841 for $250 and built this house, which originally had a wing extending toward Massey avenue, designated a private thoroughfare at that time. After severing his connection with Fairbanks, Bates established his own bark mill and tan yard on Newell Street near the P S Howk grist mill. In 1844 his firm was Fisk & Bates.
The local 1855 directory shows that he was in partnership with Frederick Baker as Bates & Baker and also had a leather good store at 6 Washington Street, dealing in leather findings, Morocco, French calf and belting. Early in life he had sold dry goods, boots and shoes in Court Street. When the $100,000 Watertown Cotton company was incorporated January 10 1834. Bates was one of its original directors. His wife, Maria C Bates, was a sister of the first George W Knowlton who, with Clark Rice took over the Gurdon Caswell paper mill in 1824 and Knowlton resided in the house next west of Bates in Stone Street.
On September 1 1858 Bates sold his tanning business to Addison M Farwell of Brooklyn ,and Frederick Baker of Watertown, and retired. Bates died February 12 1861 and his widow continued to reside in this house until June 1 1869 when she sold it to Frederick G Ely and removed to Washington, DC. A little later the house came into possession of Judge James F Starbuclc who, on April 1 1876 conveyed it to Mrs Agnes L VanOstrand, wife of Dexter VanOstrand, and they made it their residence.
Son of Dr Alonzo and Cordelia Smith VanOstrand, he was a native of Evans Mills. When Dexter was 15 his father died and he entered the employ of the Western Union and manager of the district in this city. At the same time he was superintendent of its affiliate, the Great Northwestern, and also was identified with the Bell Telephone company when the first telephones were installed here. At the age of 32 he died on January 4 1885.
His widow, the former Agnes Law Phelps, daughter of George B Phelps, continued to reside in this house with her two, daughters, Agnes and Katherine, the former later becoming the wife of Addison F Lansing and mother of Mrs Joseph A (Agnes Lansing) Blake Jr, city. Dexter VanOstrand was married to Miss Phelps in November 1875. At a later date Mrs VanOstrand built a residence in Mullin Street and on November 7 1895 sold the Stone Street residence to Martha Armstrong and on August 5 1901 her husband, John Armstrong, widower, sold it to Miss Frances S Lansing who, with her brother, Charles S Lansing, resided there many years. Under the provisions of her will recorded May 9 1941 she gave her Stone Street residence and property to Charles S Lansing, dealer in mill supplies and brother of Architect Addison F Lansing and of President Stuart D Lansing of the Bagley & Sewall company.
The will of Charles S Lansing, recorded January 30 1942 gave his sister, Mrs Katharine Lansing Paine, Durham, New Hampshire, and niece, Mrs Agnes Lansing Blake, city, his esstate. On September 2,1942 these legatees disposed of the place to Everett A and Grace S Overton, town of Henderson, who rented it to Mr and Mrs Philip W Gardner. Then, on May 2 1946 Mr and Mrs Overton transferred full title to the property to Mr and Mrs Gardner, who occupy most of the house as a residence while Mr Gardner uses the remainder for his masseuring establishment.
Of old and strong construction with massive handhewn beams the house now consists of eleven rooms and three baths. The lot it occupies is small, but in the days of the Bates and VanOstrand families the site extended to and up Massey avenue, now Rexford place, had beautiful flower gardens and tennis court in the rear and a carriage entrance on Massey avenue. Although 114 years old the Bates house is in excellent condition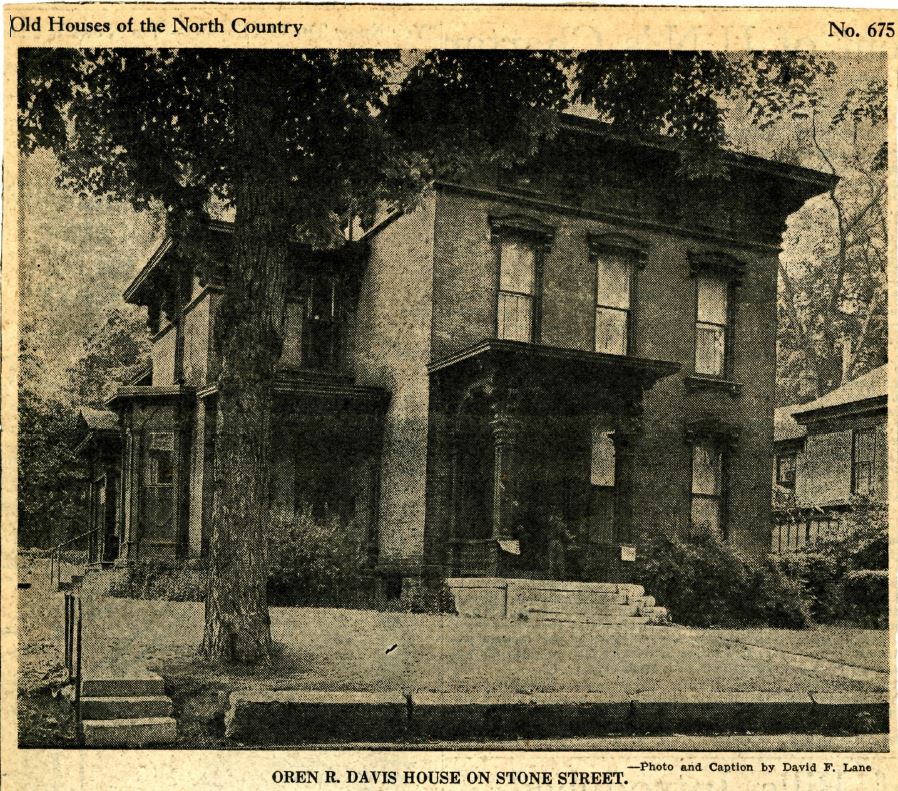 201 Paddock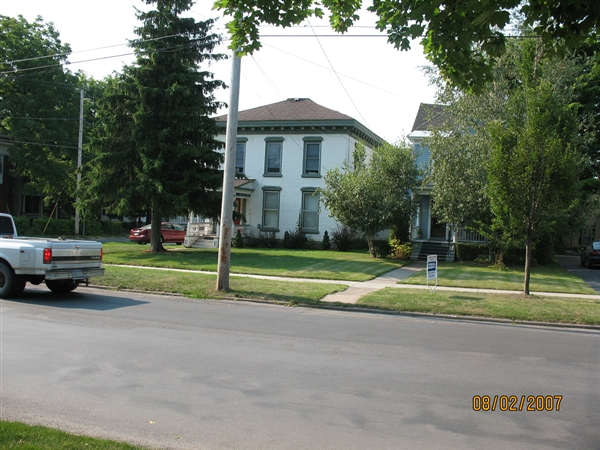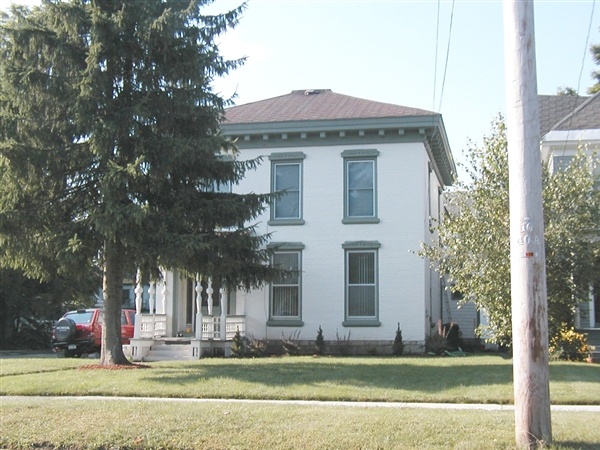 In the century class is this big square-roofed brick house, which for a long period of years was one of the fine residence mansions in the city. Numbered 185 it is on the south side of Stone Street at the southeast corner of the Paddock parking lot. Early in its history it was the home of Oren R Davis, onetime partner of the Taggarts in the paper manufacturing busines here. From Mr Davis it passed to his daughter, who was the wife of the late Frederick W Streeter, prominent local clothing merchant, talc company officer and for almost 16 years Watertown city clerk. Later it was the residence for a long time of Dr J Munroe Smith and next of his son, Dr Walter Fox Smith. Since then it has been a combination apartment house, dental and medical office establishment.
On January 1 1852 the lot was sold by Howell and Lois P Cooper to Daniel W Rickerson, a local grocer, who never resided there, but who owned arid developed many local real estate properties. On October 5,1867 Daniel W and Emily H Rickerson sold it to Oren R Davis for $7,000 and it is likely Rickerson caused the house to be built shortly after he purchased the lot. Davis died intestate May 14 1874 and his estate went to his widow, Lavera, and daughter, Carrie M, who later married Frederick W Streeter, member of one of Watertown's oldest merchant families.
After a few years Mrs Davis married a Mr Grove and removed to Philadelphia, Pennsylvania On February 1 1881 Mrs Grove conveyed her interest in the house to her daughter, Mrs Streeter. In 1903 the place passed from her to the Jefferson County National Bank, which sold it on May 5 of that year to Mrs Grace M Fox Smith, wife of Dr J Munroe Smith. Dr Smith died May 10 1935 and his widow on January 25 1941 leaving the place to their son, Dr Walter Fox Smith, who died February 3 1951 but prior to that had sold it to Louis G and Laura N Grieco, the present owners who retain it as an investment.
Oren R Davis and his wife, the former Lavera Salisbury, were from Adams Center. The Taggart paper industry had its origin here in 1866 when George West of Saratoga, Lewis Palmer of Evans Mills and Byron B and William W Taggart as West, Palmer & Taggart began making paper bags. A year later West bought out Palmer and the firm became West & Taggart. In 1871 Taggart brothers bought out West, took in Davis and the firm then was Taggarts & Davis. After the death of Davis his family retained his interest in the business until 1881 when it became Taggart Brothers. That was the year title to the above house passed to Mrs Streeter, who had been married the year before to Frederick W Streeter. Born here about 1856 Frederick W Streeter was the son of John C and Mary White Streeter. John C Streeter, onetime postmaster, mayor and clothing merchant here was the son of Nelson W Streeter, a native of Goshen, Massachusetts, who started here as a merchant tailor, became a clothing manufacturer and dealer, built the Streeter block, now the Wise building, at the corner of Public Square and Mill Street and, about 1850 turned his business over to his son, John C Streeter.
John C Streeter in time took his son into partnership as John C Streeter & Son operating the Grand Central Clothing company on the north side of Public Square. Later John C Streeter sold his interest to H J Brimmer and F W Olean who with Frederick W Streeter formed the firm of Streeter, Brimmer & Olean. Olean retired in 1893 and the firm became Streeter & Brimmer until Frederick W Streeter retired in 1900 and on November 28 of,that year was appointed city clerk by Mayor Wilbur F Porter. He continued to serve as city clerk under Mayors James F Pappa, Charles D Bingham, Daniel W Cahill, Francis M Hugo and Isaac R Breen, until his death March 8 1916.
When the Gardner Pulp company of Gouverneur, was formed in December 1893 with A L McCrea Jr., president and Frank H Munson, city, vice president, Mr Streeter, a part owner and director, was chosen secretary- treasurer. The company operated the talc mines of the old Agalite Fibre company, first talc company of Gouverneur, until the plant burned on March 5 1894.
The Smiths, who owned the above house for over 40 years after the Streeters, was . also a prominent local family, a family that furnished three leading Watertown physicians, two brothers, Drs. James Munroe Smith and M Lee Smith, and the former's son, Dr Walter Fox Smith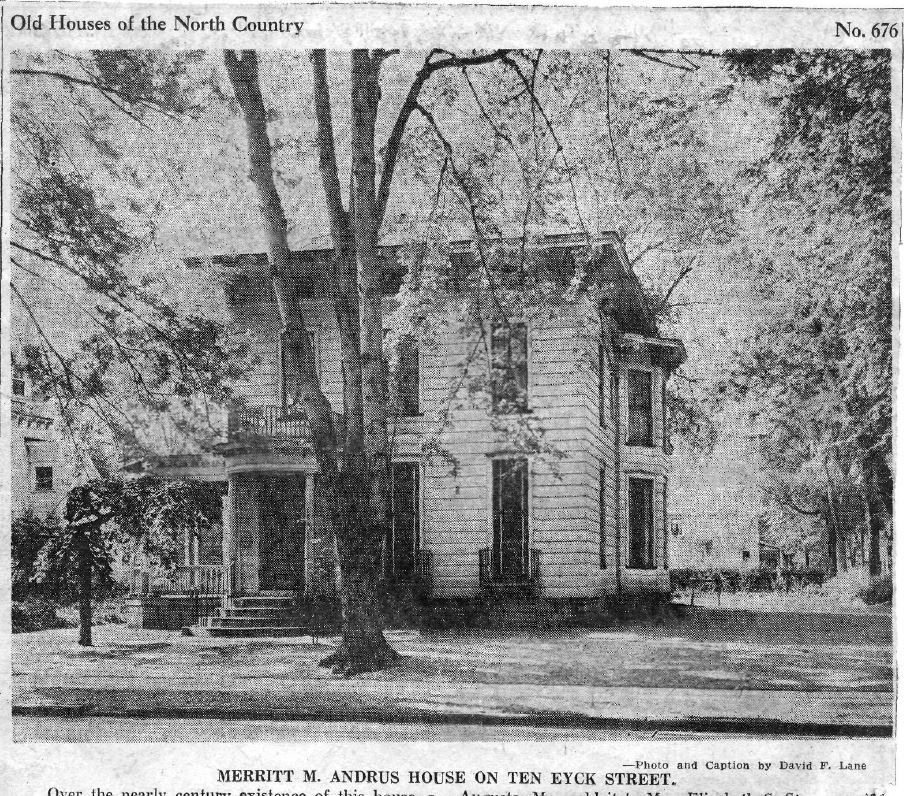 109 TenEyck St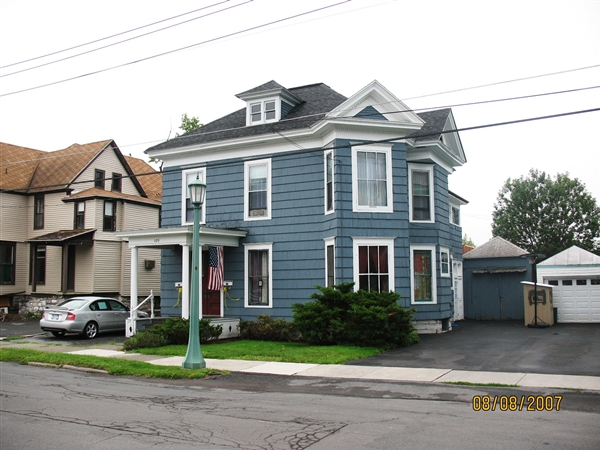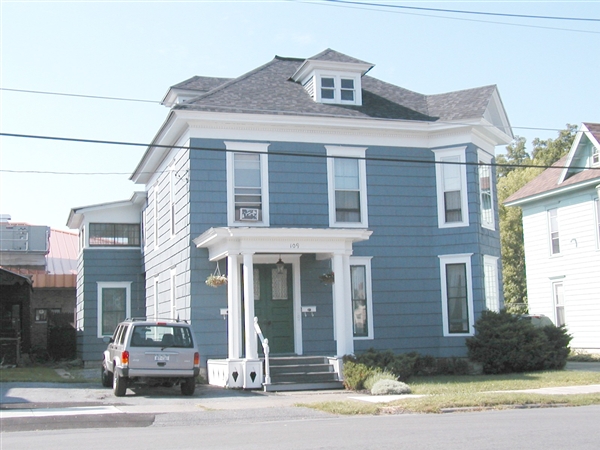 Over the nearly century existence of this house, a prominent local merchant, three physicians, a Phoenix Augusta, Maine, sold it to Mrs Elizabeth S Stevens, Life Insurance company official, and Agricultural Insurance company secretary, a city mayor-secretary of of Dr Henry M Stevens, secretary of the Agricultural Insurance company.
The site, at the southeast corner of TenEyck and Sherman Streets, was a part of the Paddock tract. There, on February 14 1853 Abner and Eunice Baker sold .87 of an acre for $800 to George Ludlow, a local saloon proprietor, who split it into two equal lots. Stilhnan and Alrnira Massey acquired the one upon which this house stands and sold it to Merritt M Andrus, local grocer, September 5 1859 for $350 and upon it Mr Andrus shortly built the house. On December 1 1868 Mr Andrus. and wife, Angelica, disposed of it to David Beaman, a one-time Antwerp hat merchant and farmer, for $7,500 and on June 27 1873 David and Sally Beaman sold it to Seth V Warner, proprietor of a restaurant at the old R W & 0., depot for $8,000. On April 27 1876 Seth V and Elizabeth Warner conveyed it to Dr William T Laird for $7,000 and on November 4 1880 Dr Laird, who had moved to Augusta, Me., sold it to Mrs Elizabeth S Stevens, wife of Dr Henry M Stevens, secretary of the Agricultural Insurance Company
Dr Stevens joined with his wife April 1 1881 in selling it to Reverend Hugh C Townley pastor of the Baptist church and on July 12 1888 Reverend Hugh C and Margaret A Townley sold it to Dr Addison W Goodale, physician, Civil war veteran, adjuster and medical staff superintendent of the Phoenix Life Insurance company of Hartford, Connecticut.
Dr Goodale's will, recorded May 2,1921 gave the property to his daughter, Mrs Florence G Hugo, wife of Francis M Hugo, secretary of the Remington paper mill group, mayor of the city and secretary of state, and on July 24 1925 while she and Mr Hugo were residing in New York, she disposed of it to Mrs Marguerite McCaw, wife of Dr James F McCaw, local ophthalmologist. On May 31 1944 Mrs McCaw sold it to County Judge Howard B and Violet H Donaldson.
Judge Donaldson later became state public service commissioner and after his death in 1945 title to the house vested in his widow who eventually married Frederick M Parker. On July 15 1953 she sold this property to Anthony C and Angeline O Capone, the present owners. Dr Capone is a local dentist.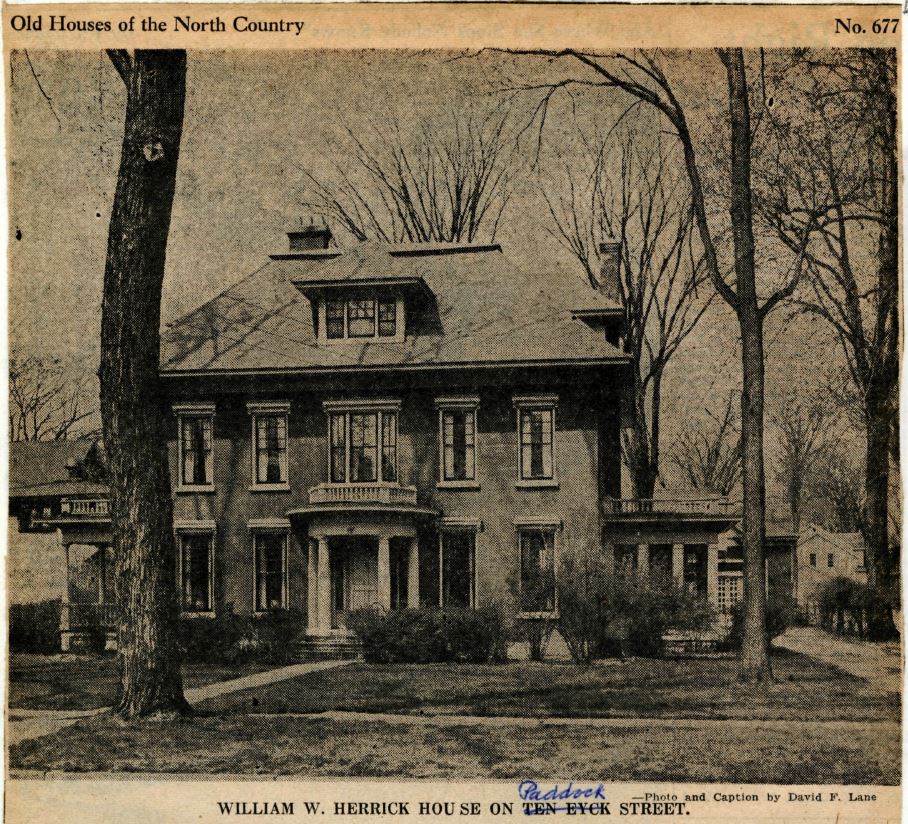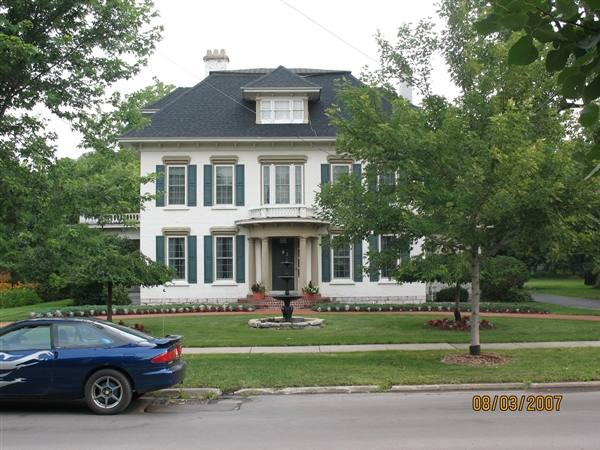 Of Georgian type this century-old beautiful brick mansion with classic portico at 162 Paddock Street, was early in its existence the property of William W Herrick, one of Watertown's leading dry goods merchants of the middle part of the 19th century. At the present time it is the residence of Mrs Juliet Salisbury Huested, widow of Herbert R Huested, a leading Watertown photographer for many years prior to his death January 12 1944.
The site on the north side of Paddock Street, upon which the house was built, was part of the Oscar and Edwin L Paddock tract and sub-division. The lot was sold by them to Mrs Nancy Bartlett January 5 1853 for $265 and after the house was constructed the property was sold November 20 1854 by Mrs Bartlett and her husband Orlando S Bartlett of Oswego to William W Herrick. The village directory of 1855 shows that Mr Herrick was then a merchant and also village treasurer. The directory of 1863-4 shows that with Humphrey Sisson and Henry H Avers he was a member of the dry goods firm of Herrick, Sisson & Avers with store at 7-8 Washington place. Later the firm became Herrick & Ayers and still later the firm's store was transferred to 6 Commercial building located where the chamber of commerce building now is. In the late 1880's the firm ran into financial difficulties and the 1889-1890 directory states that Mr Herrick was then in the insurance business.
To satisfy a mortgage against Mrs Catherine P Herrick this house was sold March 26 1890 by Sheriff Willard E Saxe to the Jefferson County National Bank. On October 26 1891 the bank conveyed it to Daniel Kieff, a local builder, and on October 26 1891 Daniel and Elizabeth Keiff disposed of it to Elizabeth V Otis who, on March 30 1892 sold it to Miss Hannah E Goulding as an investment. Miss Goulding sold it on June 20 1901 to Supreme Court Justice Pardon C Williams and for a number of years it was occupied by Justice Williams' son, the late Robert P Williams and family.
Justice Williams, born upon a farm, of New England ancestry, July 12 1842 attended school at Pierrepont Manor, Union academy, Clinton Liberal Institute and St Lawrence university, taught school, studied law with Hammond & Bigelow here in 1862-3 and was admitted in October , 1863 forming a partnership with Hammond. After that he had other partnerships, served two terms as district attorney, went to the supreme court in 1884 and had a most notable record in the trial of murder cases which included that of Roxanne Druse in Herkimer county for the horrible axe murder of her husband, and of the Bartholomew Shea case in Troy.
He also served in the first and fourth appellate divisions many years. On April 3 1929 the property at 162 Paddock Street was sold by Judge Williams' estate to Photographer Herbert R Huested, who resided there until his death 15 years later, since which time it has been occupied by his widow, with whom resides a daughter, Mrs Florence H Draper, widow of Charles R Draper. Mr Huested came from the southern end of the country and for a number of years followed professional
photography in Mannsville before locating in Watertown, where for a time he had a studio where the Curtis-Holmes music company now is on Stone Street and later bought the building next south of the Rosewell P Flower Memorial library and set up his studio on the ground floor.

On October 23 1895 Mr Huested was married to Miss M Juliet Salisbury, daughter of Mr and Mrs Moreau J Salisbury of Sandy Creek and from the marriage were born three children, Richard S Huested, Mrs Draper and Mrs Helen H Huggins. Mr Huested died January 12 1944 aged 69. A large collection of his photographic negatives was given by his estate to the Jefferson County Historical society. The house is one of the most beautiful in the city and was extensively remodelled by Mr Huested who added the beautiful portico at the front entrance.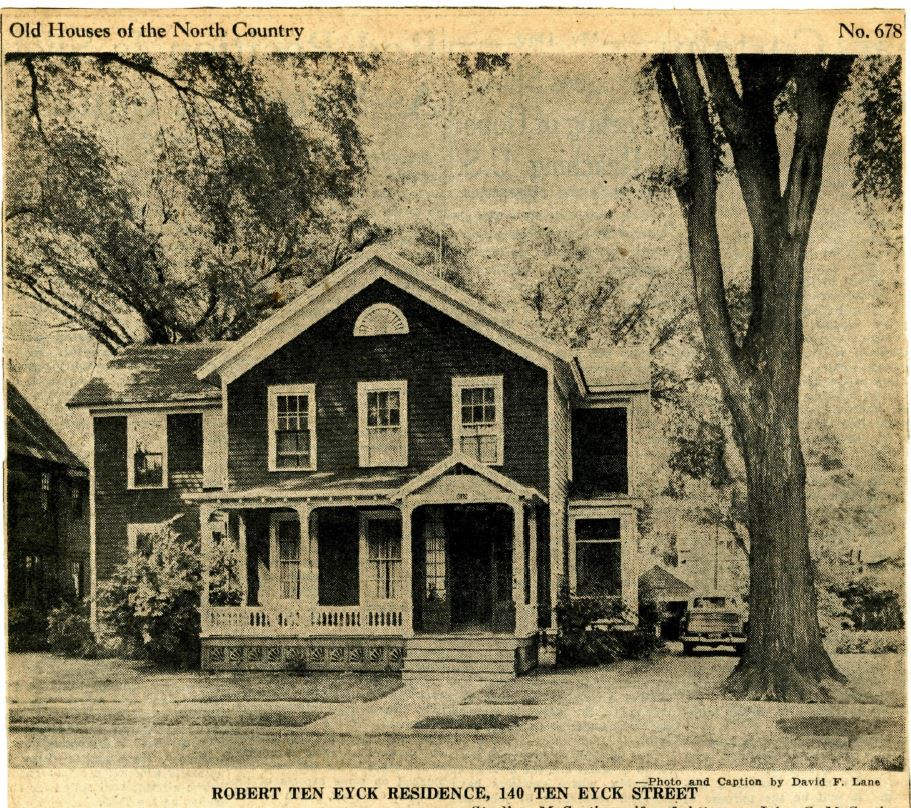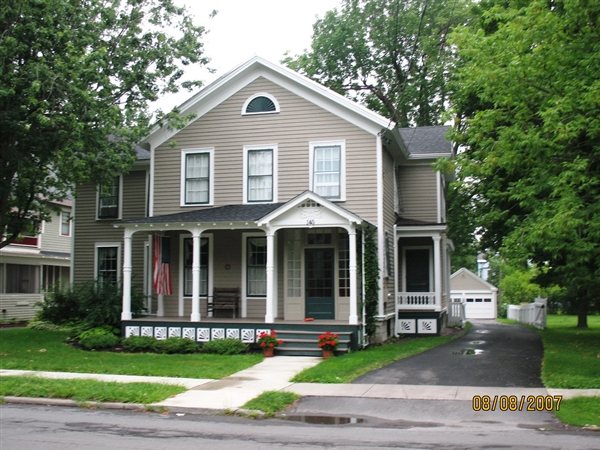 The residence of Mr and Mrs Joseph A Blake Jr at 140 TenEyck Street is one of the excellently typed old residences in the city. The house was built apparently soon after 1852 by William Smith, one of Watertown's earliest settlers, who erected the first brick building here in 1806 and many other buildings afterward. On December 24 1852 Judge Joseph Mullin sold to Smith all of his land north of TenEyck Street, south of a line fence, and west of Washington Street, and the new brick house of Howell Cooper on the corner of the latter.
On February 26 1853 Smith contracted the site of the above to William H Robinson, and on October 28 1859 John Clark sold this property to Anthony TenEyck, Detroit, Michigan Next on June 18 1860 Anthony and Harriet J TenEyck conveyed it to Robert TenEyck, city. Anthony was an older brother of Robert TenEyck and both were sons of Judge Egbert and Rebecca TenEyck. Judge Egbert TenEyck, one of the county's earliest settlers, was the first county judge, was assemblyman for four years, and later congressman. TenEyck Street bears his name.
Robert TenEyck, a local hardware merchant for years, was 17 when his father died April 20 1844. Robert's mother, Rebecca, died February 26 1850 and, on February 9 1874 Robert TenEyck died at 46 leaving a widow, Catherine G TenEyck, and a son, William G TenEyck. September 10 1863 Robert TenEyck sold this house to Jacob C Lepper. Jacob C Lepper, born in the town of Pamelia August 19 1814 became a miller and with his wife, the former Maria Styon, removed to this city where he owned and operated the Eagle flour mills for a time, and later was part owner of the Excelsior Mills.

On February 23 1865 Lepper sold the above house to Attorney Milton H Merwin, who had been admitted to practice in 1854 and was a member of the local board of education the year that he purchased this residence which he occupied for years. After being appointed to the supreme court bench to succeed Justice Doolittle, he was elected November 28 1874 to a full term on condition that he remove to Utica
Accordingly on February 19 1875 he and his wife, Helen K Merwin, disposed of this house to Mrs Julia Sterling McCartin, wife of Attorney John C McCartin. Mr McCartin was a native of Redwood, where be was born March 8 1840 son of Thomas McCartin, a native of Ireland.
John C McCartin worked on his father's farm until 1858 when he began two years of law study in the offices of Brown & Beach in this city, and was admitted. In 1863 he enlisted in the 14th NY H A, but was discharged for physical disability in the summer of 1864 resumed law practice here, became a partner of Pardon C Williams as McCartin & Williams in 1868 practiced alone after Williams went to the supreme court bench in 1883 and in 1889 McCartin was elected county judge over Elon R Brown.
He was the only Democrat in 40 years to be elected Jefferson County judge. He married first Julia, daughter of John R and Roxanna Church Sterling, by whom he had a son, George S McCartin. Mrs McCartin died in 1889 and in 1891 Judge John C McCartin married Fanny Paddock of Norwich Corners. He died January 2 1893.
On September 30 1899 Attorney George S McCartin sold the TenEyck Street home to Mrs David M Anderson who, on September 28 1904 disposed of it to William C Stebbins and on February 21 1907 Grace S and William C Stebbins sold it to James T Hall of Chicago. On January 28 1908 Mr Hall conveyed it to Architect Addison F Lansing who made it his residence.
Born October 16 1870 in Vineland, NJ, son of Dr Fdward S Lansing, Mr Lansing was educated in Farnham Preparatory school, Beverly, NJ, was graduated from the University of Pennsylvania in 1892 practiced with Carter & Day in Philadelphia, Pennsylvania, 16 months and one year with S F Brown in Trenton, NJ In 1896 he came to Watertown, formed a partnership with Horatio A Ramsay, designer of the city hall.
They designed the Church of the Redeemer, the Bagley & Sewall offices, the Dr Allen Macy Dulles and Stuart D Lansing residences and remodelled the Hotel Woodruff. Later Mr Lansing headed a partnership with Harry W Greene and they designed many northern New York buildings. He married Miss Agnes Van Ostrand. He died June 5 1929 and Mrs Lansing November 23 1931. Their daughter and only child is Mrs Joseph A (Agnes Lansing) Blake Jr.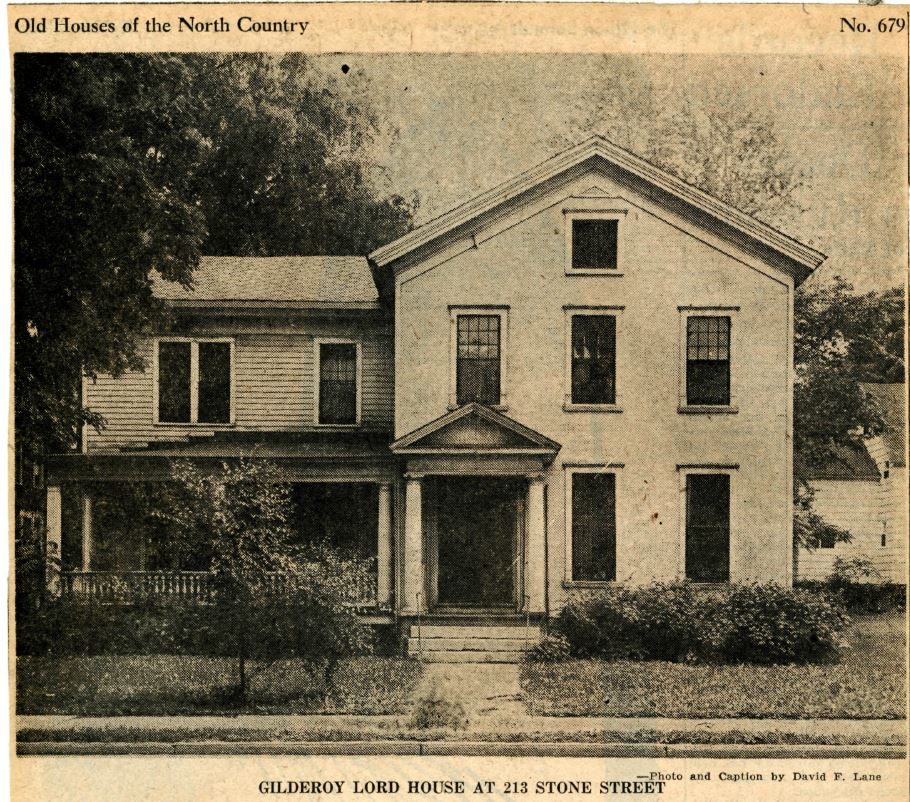 Two of Watertown's most outstanding men have owned and lived in this large house on the south side of Stone Street. They were Gilderoy Lord, one of the greatest northern New York industrialists and prominent bankers of the 19th century, and Virgil K Kellogg, champion of clean politics and independent courts, close friend and adviser of President Theodore Roosevelt, and the district attorney of Jefferson County who convicted Private Edward G Haynes of the murder of two Sackets Harbor women in one of the county's leading murder trials.
This house, typed under the Georgian influence, was built a little more than a century ago upon a lot that early belonged to the Hart Massey tract. The lot was purchased by Orrin C Utley from George A and Sarah F Benedict of Cleveland, Ohio, on October 11 1847. Utley undoubtedly built the house on the lot sometime after that date, for on May 1 1854 he and his wife, Catherine J Utley, sold the property to Gilderoy Lord for $2,900. Lord resided there when he died intestate on May 21 1891 leaving his wife, Lucina H Lord and two daughters Mrs Alice I Wheeler and Mrs Frances L Bennett.
Mrs Bennett died September 2 1896; and Mrs Lord-on January 15 1897. On January 11 1898 Henry Lord Wheeler and Mabel Wheeler Young, Chicago, Illinois, individually, and Demertis L Cornwell, city, and Henry Lord Wheeler, executors of Lucina Lord, disposed of this house to William H Hathway, local banker. On September 12 1908 Mr Hathway conveyed it to Mrs Jessie Bagley Kellogg, wife of Attorney Virgil K Kellogg, and they resided there until December 13 1915 when Mrs Kellogg transferred the property to her sister, Mrs Stuart D Lansing who sold it 15 days later to Francis L Ruddy, masseur. Francis L and Eva H Ruddy sold it to St Joachim's (now Mercy) hospital July 21 1917. The house was then used as a nurses' annex for a time, but is now the property of a Mrs Bolivar of Rome.

Descended from Thomas Lord, an Englishman who sailed from London, April 19 1635 and settled in Newtown (now Cambridge), Massachusetts, Gilderoy Lord was born at Brownville in 1816 son of Colonel William and Charlotte Lord, William having been a native of Winslow Vermont. Gilderoy learned the molder's trade and plough manufacturing in his father's plant at Brownville, becoming his father's partner in William Lord & Son. In 1850 Gilderoy withdrew, came to Watertown and, with his uncle, Judah Lord, and F H Gregory, formed J & G Lord & Company with foundry and machine shop on Beebee's island. There they manufactured four successive types of ploughs, mowing machines, agricultural implements and did general foundry work and machine work. In 1865 Gregory died and Gilderoy bought his interest. Five years later he purchased his uncle's interest and became sole owner of the business, employing about 20 men. He manufactured Lord's Improved Young America mowing machine, steel, cast and gang ploughs, woodburning furnaces, castings for bridges, buildings and mills, machinery, etc.

In 1872 Gilderoy Lord became second mayor of the city. He was a founder and director of the Union Bank of Watertown incorporated June 14 1852 and president of its successor National Union bank in 1877-1889. He was a founder, director and first president of the City National bank organized May 17 1890 president of the Northern Insurance company in 1875 a founder of the Watertown Thermometer company May 5 1886, of the Union Carriage & Gear company February 15 1888. His wife was a daughter of Luther G Hoyt, local merchant and justice of the peace.
Virgil K Kellogg was born in Tylerville March 17 1858 son of Sylvester and Irene Gerry Kellogg, attended Tylerville school, the Watertown High school and Adams Collegiate institute. On June 27 1879 he entered the law office of Levi H Brown in this city, was admitted in October 1882 moved back to Carthage as associate of Allen E Kilby. In 1892 he was elected district attorney and returned to Watertown January 1 1893. He died in New York City April 16 1943.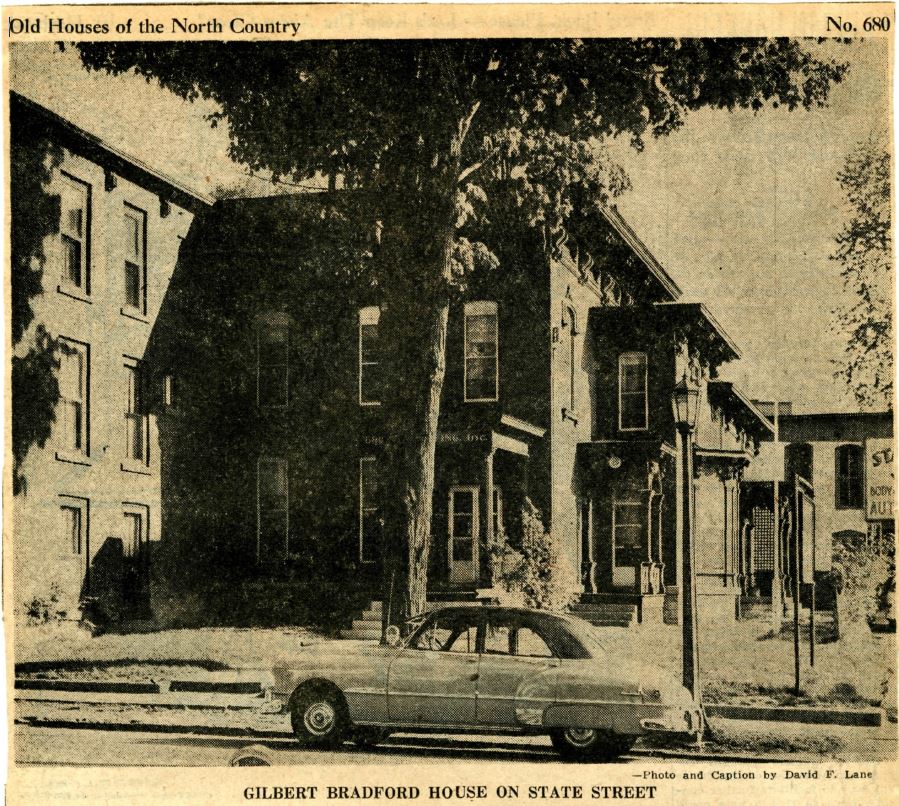 The first portable steam engine in the United States was invented by Gilbert Bradford in this community and was manufactured here. Mr Bradford was born in Hartwick, NY, September 8 1814 and was descended from William Bradford, of England, who came over on the Mayflower in 1620 to become the first governor of Plymouth colony. Gilbert's father was a Revolutionary soldier. Gilbert Bradford's parents were Peres and Polly Nickerson Bradford, Peres having been a native of Woodstock, Connecticut, and his trade was that of card-maker for the woolen industry. Gilbert learned this trade with his father, but at 18 was apprenticed to a blacksmith and, being naturally mechanical, he also became an expert machinist.
For a year he had charge of a cotton factory at Butternuts, NY, and then located in Clayton, but soon removed to Watertown in 1838 because of better employment advantages, and took charge of the machine shop of George Goulding & company, forerunner of the Bagley & Sewall company, on Sewall's island. It was while there that he conceived the idea of a portable steam engine and in 1818 made two of them, one of which was used by John A Haddock to operate his newspaper press. This attracted the attention of Editor Horace Greeley in 1850 the year that Bradford left the Goulding company to form the firm of Hoard & Bradford with Charles B Hoard to manufacture the engines and, July 13,1850 The New York Tribune carried an article on the engine. Later Bradford sold his interest to Hoard & Sons, but on August 15 1865 the Portable Steam Engine & Manufacturing company was formed with him as superintendent and general manager. In 1872 the concern became the Watertown Steam Engine company.
On August 13 1844 Bradford was a founder of the Watertown Mechanics' association, and in 1845 he was a member of the Factory Square Lyceum. He constructed the first suspension bridge in Mill Street, across the north channel of Black River from Beebee's island to the north shore. Gilbert Bradford is reputed to have contributed in many ways to the growth of Watertown. He was a charter member of the Homestead Insurance company and continued a director and executive committee member during its existence. For a number of years he was president of the Watertown Steam Engine company.
In 1841 he was married to Miss Adeline Thornton and early they resided at 47 High Street. Later they resided on the west side of Washington Street near Woodruff Street. Mrs Bradford died March 14 1874. After a time Mr Bradford married Mrs Myra Woodward Adams, widow of Ely S Adams and to them was born a daughter, Sarah Myra, who became the wife of Dr Fred C Peterson. Mrs Bradford died June 7 1894. Mr Bradford died April 4 1885.
This red brick house, shown above, was one of two of the same architecture standing side by side, the other having been the Hiram Remington residence located where a gasoline station is at the southeast corner of State and Parker Streets. It is believed they were built about 1865 on the State Street front of the Micah Sterling mansion grounds, known as Sterling's grove.
On May 12 1866 Ruth and John C Sterling sold the Bradford property to John G Harbottle and, on July 2 1869 John G and Marcia A Harbottle disposed of it to Clark O Maltby, a local tanner. Next on January 26 1874 Frances E Maltby and husband, Clark O Maltby, sold it to Mr Bradford for $15,000. The ownership of the property eventually passed to Mr Bradford's daughter, Mrs Peterson, who, on August 1 1901 with her husband, Dr Petersen, joining, disposed of it to John F Romang. The Romangs began occupancy of the place and on June 19 1905 Mr Romang conveyed it to his wife, Mrs Julia Romang, who built a brick business block against the east side of the house. June 17 1946 Gladys Romang Maxson and Anna L O'Neill, daughter of Mr and Mrs Romang, sold the property to John F Tooley who, the same day transferred it to the Watertown Marine Veterans' Association, Inc., and on June 22 1948 that association sold it to Ward E and Helen G Griffin, who use the ground floor as offices of the Griffin Roofing company. The house is now numbered 424 State Street.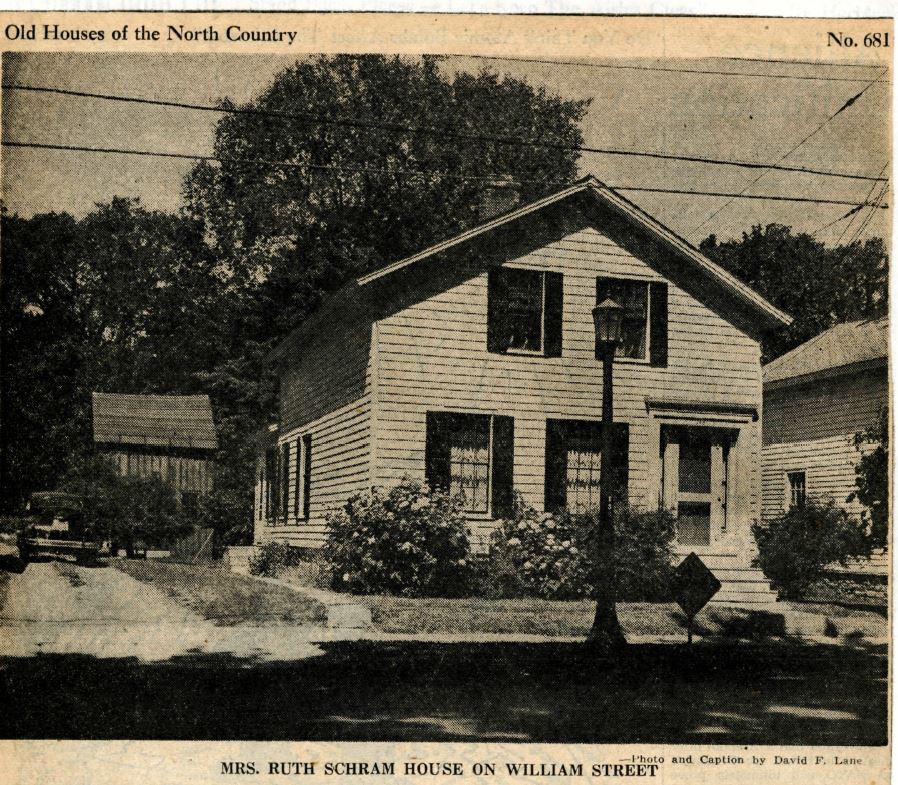 An immaculate Cape Cod house of century vintage owned by Harold Newell Peck, local professional photographer, and occupied by him and his family, has been kept unspoiled by material changes or modernizations. For 84 years it has been in his family and its site on the west side of William Street, with a house number 144 was originally part of the extensive local landholdings of Micah Sterling.
This site was sold October 7 1853 by John C Sterling as special guardian for Lewis B Sterling to Martin W Symonds, a local speculator and onetime billiard parlor operator who, apparently built the house and on May 11 1857 sold it to William Goundrel, subject to a lease to Reverend W S Titus, pastor of the old State Street Methodist church 1857-8.
On September 21 1857 William and Sarah Goundrel disposed of the house to Mrs Ruth Schram, wife of Walter Schram, listed in old directories as a clerk. The Schrams resided in the house 14 years and on April 21 1871 Mrs Schram sold the place to Mrs Artymatia Williams, wife of Henry Williams, farmer and real estate owner. They were the great grandparents of Mr Peck and since that purchase the house has never been out of the family.
Mrs Arlymatia Williams deeded the property to Harriet Newell Williams, wife of her son, Henry Gladwin Williams, October 18 1880 and on May 20 1883 Harriet Newell Williams, transferred it to her aunt, Clarissa Alexander. On October 8 1901 Clarissa's estate sold to Mrs Anna S Williams Peck, wife of Clifford
Johnson Peck. They were the parents of Harold Newell Peck, and upon the death of Mrs Peck, January 6 1942 the place went to Harold Newell Peck, the present owner of the house.

Mr Peck is descended from a number of notable New England colonial families. Among them is the famous Adams family founded by Henry Adams, who was born at Braintree, England, and settled at Braintree, Massachusetts. The Yale, Paine and Whiting families are still others.
The immigrant ancestor of his paternal family was William Peck, born about 1601 in London, or near by, England, and came to the colonies with John Davenport and Theophilus Eaton to found what became the New Haven colony in Connecticut, in the spring of 1638 of which colony Eaton became the governor. William Peck died October 4 1694.
A descendant of his, Hamilton Peck, grandfather of Harold Newell Peck, was born at Flushing, Long Island, May 4 1815 and was twice married, first to Jane Morgan on June 15 1845 and after her death, to Anna Maria Johnson August 13 1857 who was the daughter of Philo Swift Johnson, one of the earliest settlers of Watertown and in 1812 builder of his low, white Cape Cod residence which stood for more than a century at the corner of Washington and Sterling Streets, where a gasoline service station now is. In that house Mr Peck's father, Clifford Johnson Peck, and uncle, Charles Frederick Peck, were born.
After Hamilton Peck's marriage to Anna Maria Johnson they resided in Flushing two years, where Mr Peck was in business, and then removed to this city where he conducted a store for a time and then went to Milwaukee, Wisconsin, where he was in business several years before returning here, where he died August 12 1886. His wife died here February 12 1916. Clifford Johnson Peck, born December 26 1859 was educated in the local schools, attended business college, was employed in the office of the Davis Sewing Machine company, later was paymaster of the New York Air Brake company four years, and for 35 years prior to his retirement was in the registry department of the Agricultural Insurance company. His brother, C Fred Peck, first Associated Press operator of the Watertown Daily Times, was a founder of the local insurance firm of Seaver & Peck.
On August 12 1886 Clifford Johnson Peck was married to Miss Anna S Williams, daughter of Henry Gladwin and Harriet Newell Alexander Williams. He died in this William Street house December 28 1929 and his wife January 9 1942. Harold Newell Peck, owner of the Charlebois Studio in this city, was graduated from the local schools, and on May 5 1914 was married to Miss Delia Mary, daughter of George H and Jeanette Mayne Carmichael of Heuvelton. They have two sons, Armand C Peck of Oswego and Richard L Peck of this city.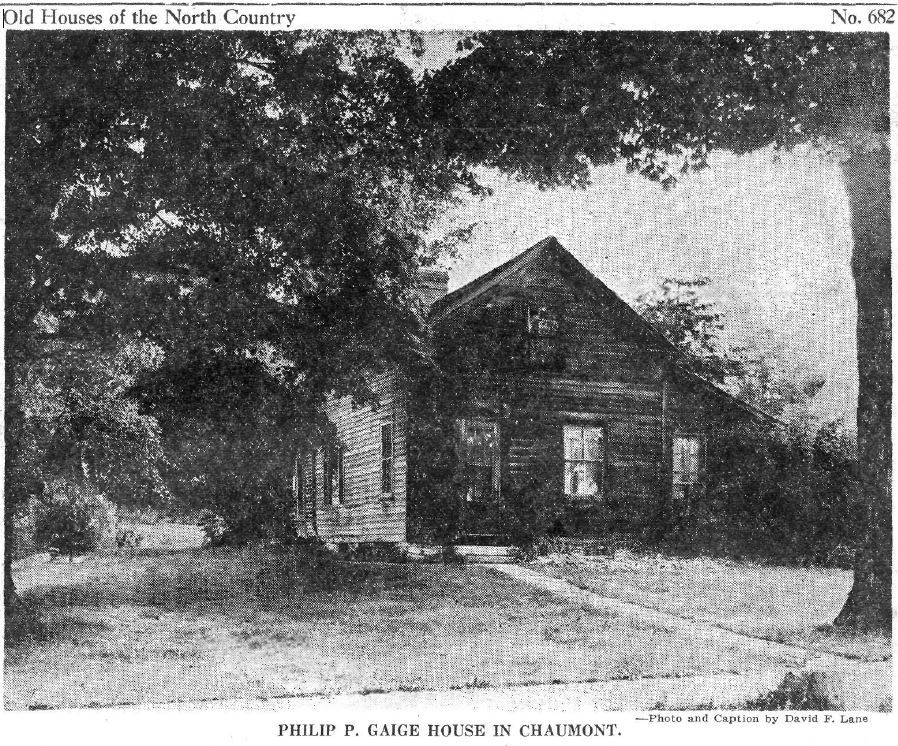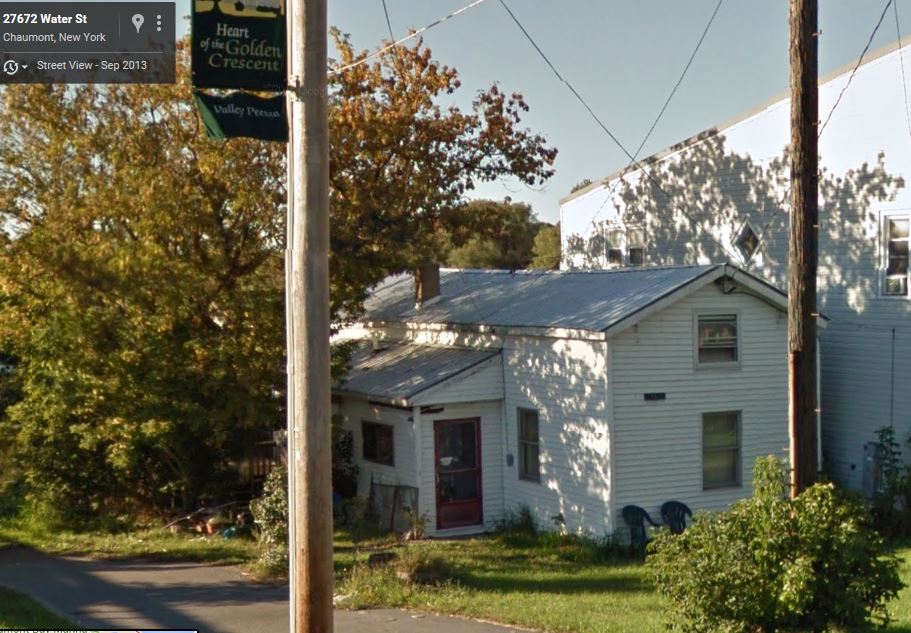 Across James Street, which is Chaumont's main street, from James D LeRay de Chaumont's old limestone tavern and near the highway bridge across the Chaumont river, is this quaint little old framehouse which may be the oldest house in the old cisco village. Both it and the old stone tavern are owned and occupied by Mrs Martha E Congdon, widow of Charles H Congdon, who was the former secretary-treasurer of the Brockway company and publisher of The Watertown Daily Times until he died July 30 1933.
The stone tavern, filled with priceless antiques and maintained in a fine state of preservation, is the main residence of Mrs Congdon, while this small wood-colored house is her winter home.
The limestone tavern was, at the direction of James D LeRay , built by his agent Musgrove Evans sometime prior to Elans' removal to Michigan in 1823 to found the - village of Tecumseh. Some writers have averred that construction of the tavern was started in 1802 and completed in 1815. This is grossly unlikely as "The Stone House" of LeRay 's son, Vincent, in Cape Vincent was not started until 1815 and completed four or five years later.
In any event, both James and Vincent LeRay stayed at this Chaumont tavern many times and on one occasion their guest, Joseph Bonaparte, brother of Napoleon and ex-king of Spain, spent the night in it. There is a story that while the stone tavern was in construction this little frame house housed its workmen, which would mean that it is at least 135 years old. About 1830 Philip P Gaige was landlord at the stone tavern for a time and then bought the Musgrove Evans stone house, which stands next towards the village business district from this little frame house. Gaige bought his first real estate in Chaumont from Vincent LeRay on November 16 1829 and later acquired several other parcels and considerable acreage.

Gaige became one of the leading men of the county, serving the town .as supervisor, in 1838, 1840 and 1849 and was assemblyman in 1838. He died June 4 1866 leaving a widow, Laura, and a son Lawrence, and estate of about $30,000. After life-use to his widow and son, Lawrence, his real estate went to his grandsons, William P, Philip P, Frederick A, and Augustus Gaige who sold this house to Moses J Knapp, a house-painter of Brownville on April 9 1879.
An early deed states that Philip P Gaige one time owned this house, and later deeds refer to it as the Lawrence Gaige house. Lawerence Gaige lived in it but never had title to it. On July 17 1889 Moses J and Hannah Mary Knapp sold it to Stephen Williams, and on June 26 1893 Stephen and Martha J Williams disposed of it to David and Malissa Peters who, on March 2 1896 conveyed it to Walter N Van Doren. Mr Van Doren sold it on April 7 1896 to Jay Hartman and on October 10 1928 Jay and Addie Hartman, town of Clayton, sold it to Emma Jane Faulkner Place. She resided in the house about ten years and on February 10 1938 transferred it to Ray S Dunaway, then county welfare commissioner. On May 20 1940 Mr Dunaway sold it to Mrs Congdon, who made certain repairs and improvements and has since utilized it herself.
The little house is located in that section of Chaumont where the. first houses were built facing the river when Henry Delamater and Jonas Smith engaged to colonize the place for James D LeRay de Chaumont in 1802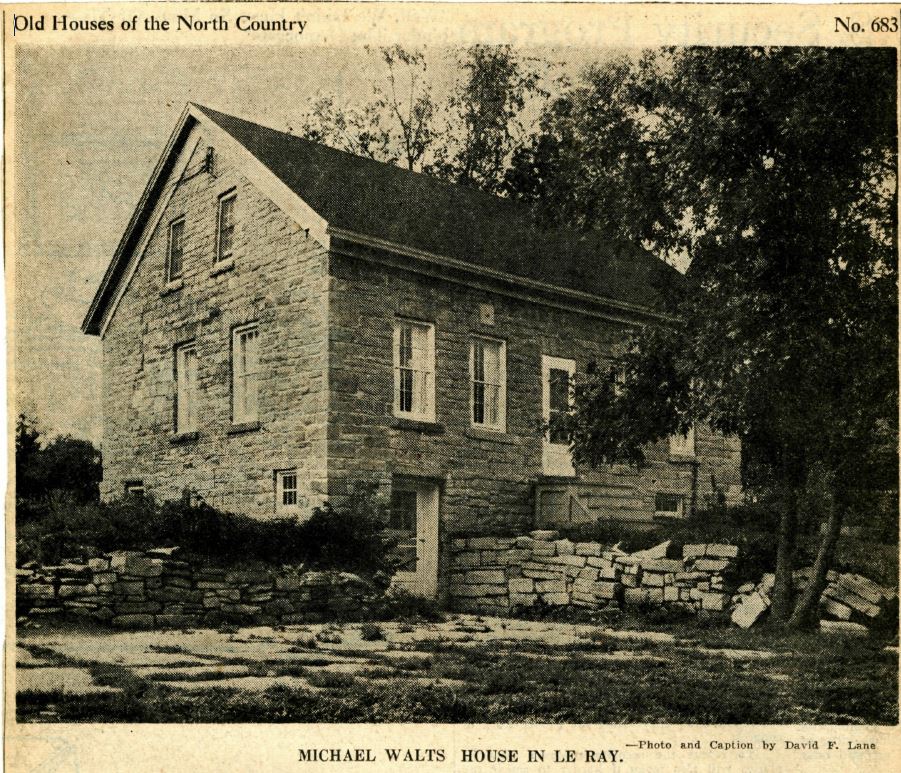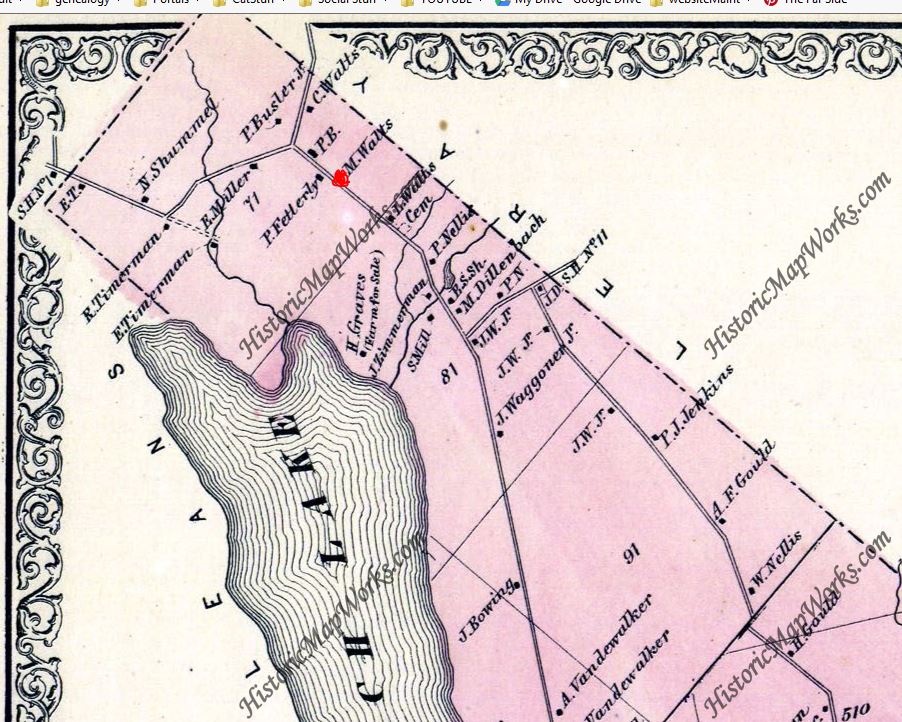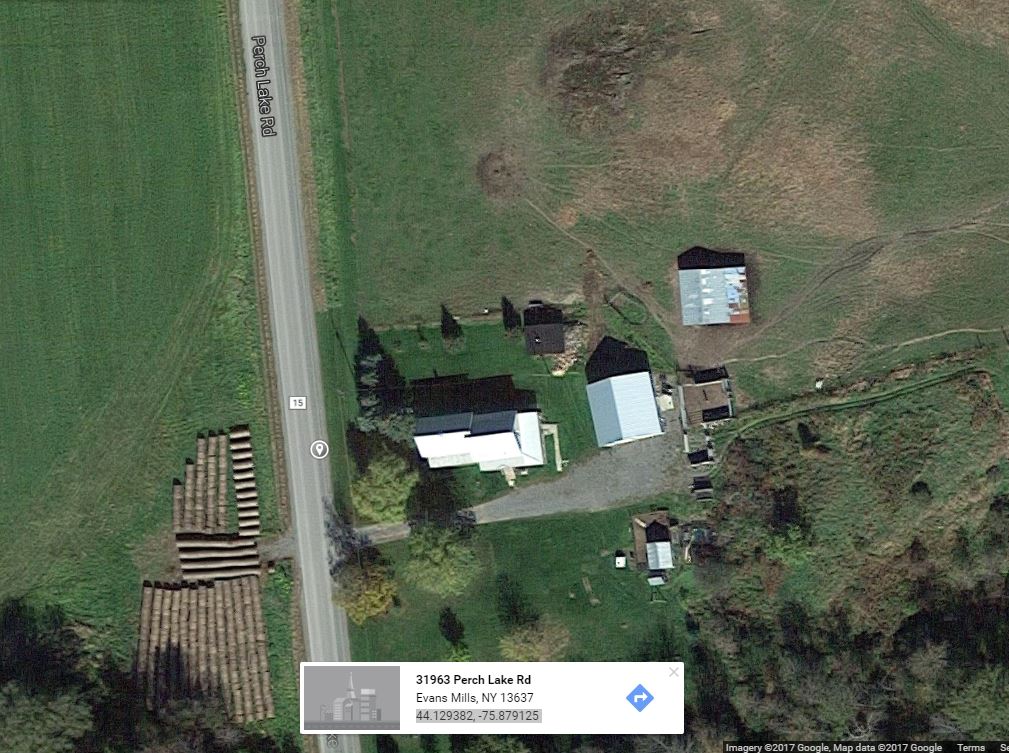 One of the very old and primitive native limestone houses in the town of LeRay is the present home of Mrs Elgin A Branche located on the Evans Mills-Perch Lake road about four miles from Pamelia Four Corners. The site runs to the center of Lowell creek, which crosses under the road. It is not far from the LeRay-Pamelia line and the creek is named for Jacob Lowell, one of the earliest settlers in that areA The house was probably originally that of Gilbert Taylor, who was a settler there before 1812 and the construction and type of the house, built of stone obtained near by, indicates that the house may have been erected in the 1812 period. It was close to Taylor's grist mill, whic1 got its power from Lowell creek. This mill was one of the earliest in the town of LeRay .
Mr Branche, who is treasurer and a founder of Chemical Linings, Inc, of this city, and his wife, Mrs Marion C Branche, acquired the old house and present site April 18 1952 from Clarence E Williams of (his city and have spent a considerable amount of effort and money restoring it, which they have done excellently including modern convenience installations. The house environment is most pleasant with Lowell creek in front and a beautiful rural vista beyond. The house is constructed of a good quality limestone, undoubtedly quarried nearby as there are rich deposits of it in the town.
The house and present site were purchased by Clarence E Williams from Wilburt C and Rhoda Wahl, town of Clayton, on April 17 1951 and Mr and Mrs Wahl got the property from LeRoy C and Pearl C Keet August 5 1949. Mr Keet used the property for his bee ranch, and for a time had had it under lease before purchasing it from Fred E and Lizzie M Riordan December 6 1924.
The Riordans purchased the place from Herman Walts and Judson Walts as executors of Hiram Walts on July 27 1915. That purchase included the Michael Walts farm together with the original Gilbert Taylor mill seat lot as included in an eight acre plot and another tract of 46.30 acres.
Michael Walls is mentioned as having owned adjoining farm lands in 1847. On March 13 1852 he bought 57.19 acres from Peter and Delilah Dillenback and on April 1 he acquired from Jacob and Amy Bort all of the land formerly owned by Gilbert Taylor and later acquired by Peter Dillenback. This consisted of two parcels of 46.39 acres sold by Taylor to Dillenback December 6 1830 and eight acres less about three acres sold by Taylor to Dillenback November 10 1836.
In the three excepted acres was the one-acre mill seat. These excepted acres came into Dillenback's possession later. Late in 1856 Michael Walts died. In his will executed October 18 1856 and probated January 12 1857 he gave his son Hiram the 57.19 acres and to his son Marvin the 46.39 acres and the eight acres. Mary, widow of Michael Walts, quitclaimed her interest in her husband's estate to Hiram Walts December 11 1856. Hiram died January 23 1872 willing his estate to his son, Herman.
On February 20 1868 Marvin and Martha Walts sold the 46.39 acres and the eight acres to Hiram Walts, so that the latter then owned the whole of the Michael Walls farm. So it was that the farm passed by sale to Mr and Mrs Riordan in 1915 but the old stone house and site upon which is stands apparently formed part of the Gilbert Taylor tracts sold by the latter to Peter Dillcnback in the 1830's and later acquired by Jacob Bort.
Mr Branche, the present owner of the house, is a native of Rosiere, son of Simeon and Sarah J Branche, was educated in the Watertown High school, was employed for a time by the Newton Falls Paper company, later by the Hummel-Roth Fibre company of Hopewell, VA, and still later by the Stebbins Engineering and Manufacturing company of this city. He married April 5 1926 Miss Marion Cyener, daughter of Mrs Edward Hall and the late Guy Cyener of this city and graduate of the Rochester School of Fine Arts.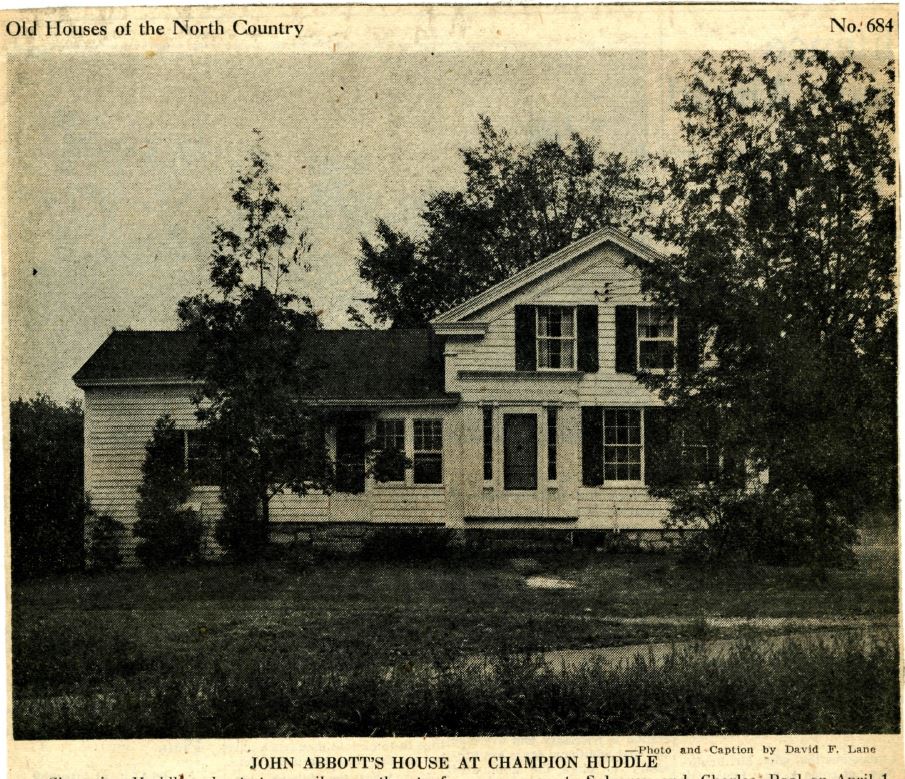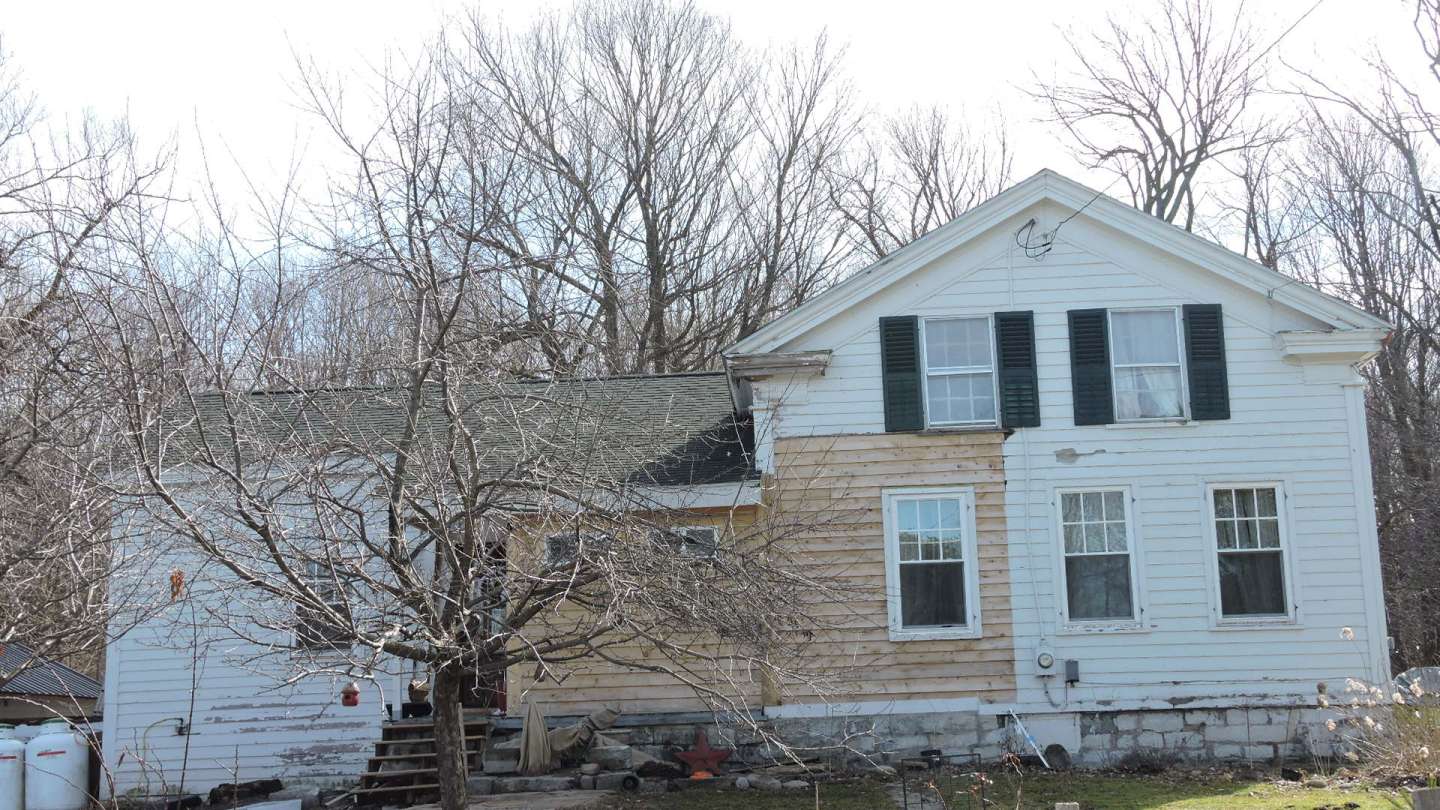 Champion Huddle, about two miles northeast of Champion village, was a thriving community in the early part of the 19th century, with a three-story log hotel, a carriage shop, a shoe shop, a tannery, grist mill, sawmill and two distilleries.
Long, however, they have been gone from the scene and only a few houses remain. The hotel and a distillery were kept by Caph John Pardee who came from Herkimer county in 1804. Charles and Sylvanus Pool conducted a tannery. Two brothers, Zolotes D and Royal G Merriam, operated a carriage shop for 23 years that employed a dozen men The Merriam shop was later conducted by A T and A F Allen and one of (lie distilleries was turned into a carriage shop operated by one Henderson. Deacon Asa Carter and his son, Asa Barnes Carter, were prosperous farmers who won prizes from the Jefferson County Agricultural society and who were active in promoting that society.
The beautiful, well preserved and well maintained white house shown above, now owned by V Leo and Mary C Davidson, Great Bend, motel proprietors on the Black River road, was built about 120 years ago and occupies a plot of eight and one-half acres. It is being occupied this summer by Colonel and Mrs P J Cooke of Camp Drum. The land consists of two parcels of six and two and one-half acres and the house is upon the former. It is at the intersection of the Champion-Great Bend road with the road running east past the old William Rockwood stone house now owned by the George L Fleming estate.
On August 29 1832 John Abbott bought ten acres there from George Newbold of New York City for $300 and probably built this house shortly after that. The house has a narow boxed stairway inside and original soft pine floors nicely finished in the natural. John Abbott and his wife, Laura Ann, sold off about seven acres to Sylvanus and Charles' Pool on April 1 1841 and on October 11 1852 they disposed of six acres to Royal G and Zolotes D Merriam and Sylvanus Pool removed to Watertown purchasing the old Jason Fairbanks tannery; first in this community and located on the north side of lower State Street a short distance above the First Baptist church. A little way up the street from the tannery Mr Pool had his residence.
Of new England ancestry Sylvanus Pool was born in Boston, Massachusetts, on October 17 1810 son of Sylvanus Pool, a stone mason. There Sylvanus lived until he was 25 and removed to Brownville where he engaged in tanning three years before going to Champion Huddle as a tanner and currier. He remained at Champion Huddle about 15 years before buying the Fairbanks tannery here and conducting it until he sold it in 1880. Here he became the first vice president of the Merchants' bank when it was formed, but lost heavily when it failed. His wife was the former Miss Fanny Steele, daughter of Eliakim Steele of Brownville. Mr Pool, a Univcrsalist, died June 9 1883 willing $10,000 to that church.
The two Merriams were sons of Daniel D Merriam, who was born in Connecticut in 1783 came to Champion in 1808 and served in the War of 1812 at Sackets Harbor.
On January 9 1854 Boyal G and Zolotes D Merriam sold this house and six acres to Libbous Field Jr, but Mr Field died in 1856 and his widow, Lucy M, later became the wife of Alvin C Brainard and resided in the house. On February 18 1867 she sold it and the six acres to Amos Colvin, a farmer and livestock dealer of Theresa. Mr Colvin died in 18S5 willing the house and lot to his daughter, Mrs Edmund R (Abigail A) Wright. On April, 1923 her estate sold the property to Henry and Julia Lewin, Deferiet, and on December 24 1943, Henry W Lewin, Carthage, R D 3 and Julia L Smith, city, sold it to Mr and Mrs Davidson, the present owners.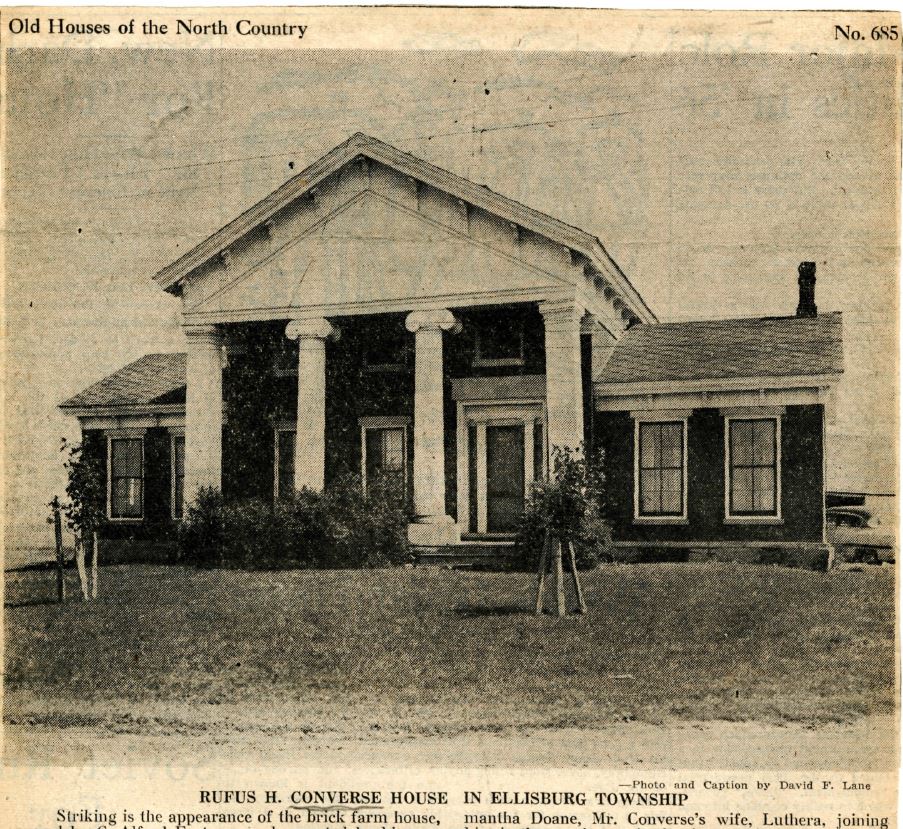 Pictures Taken June 2015: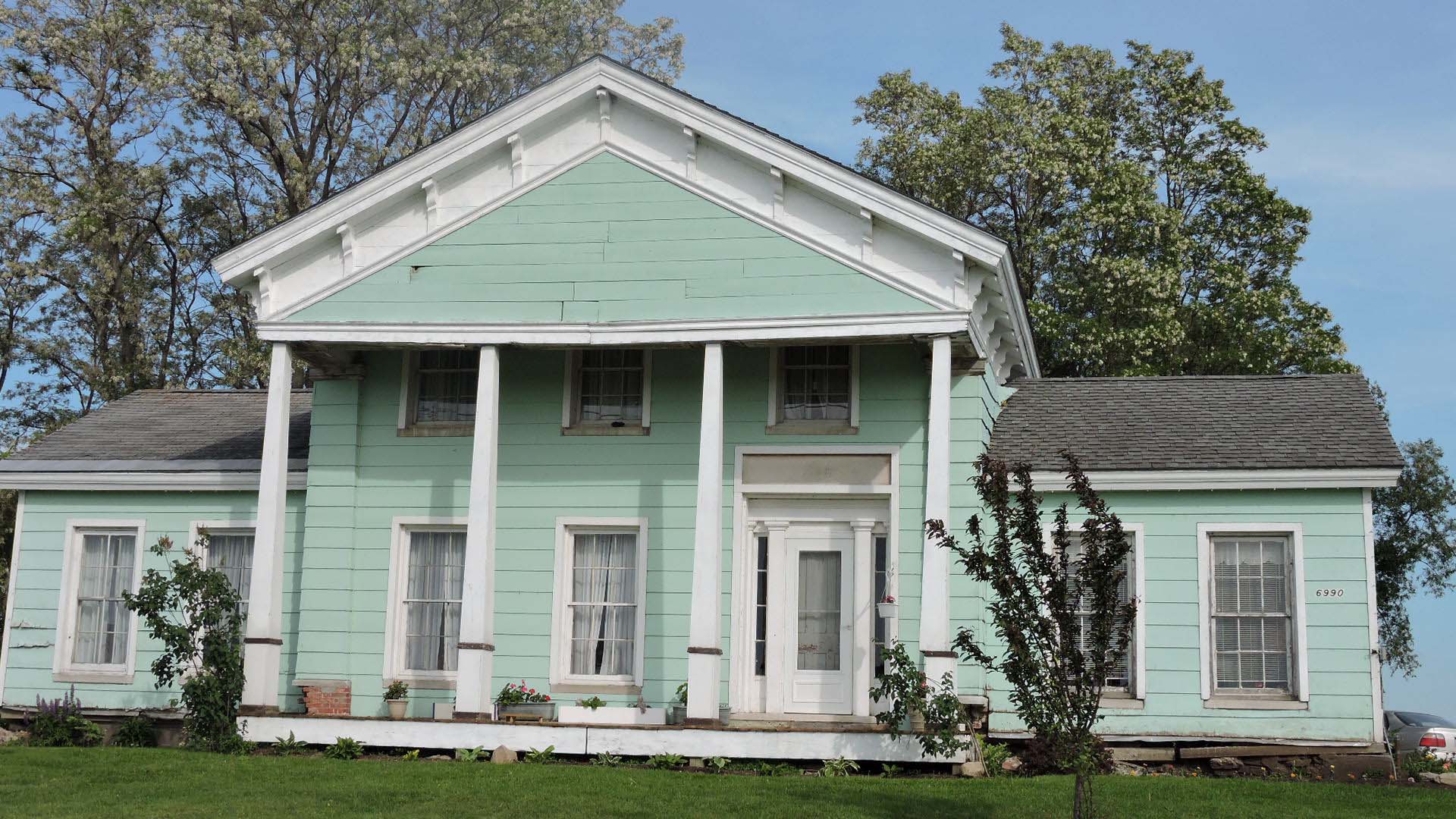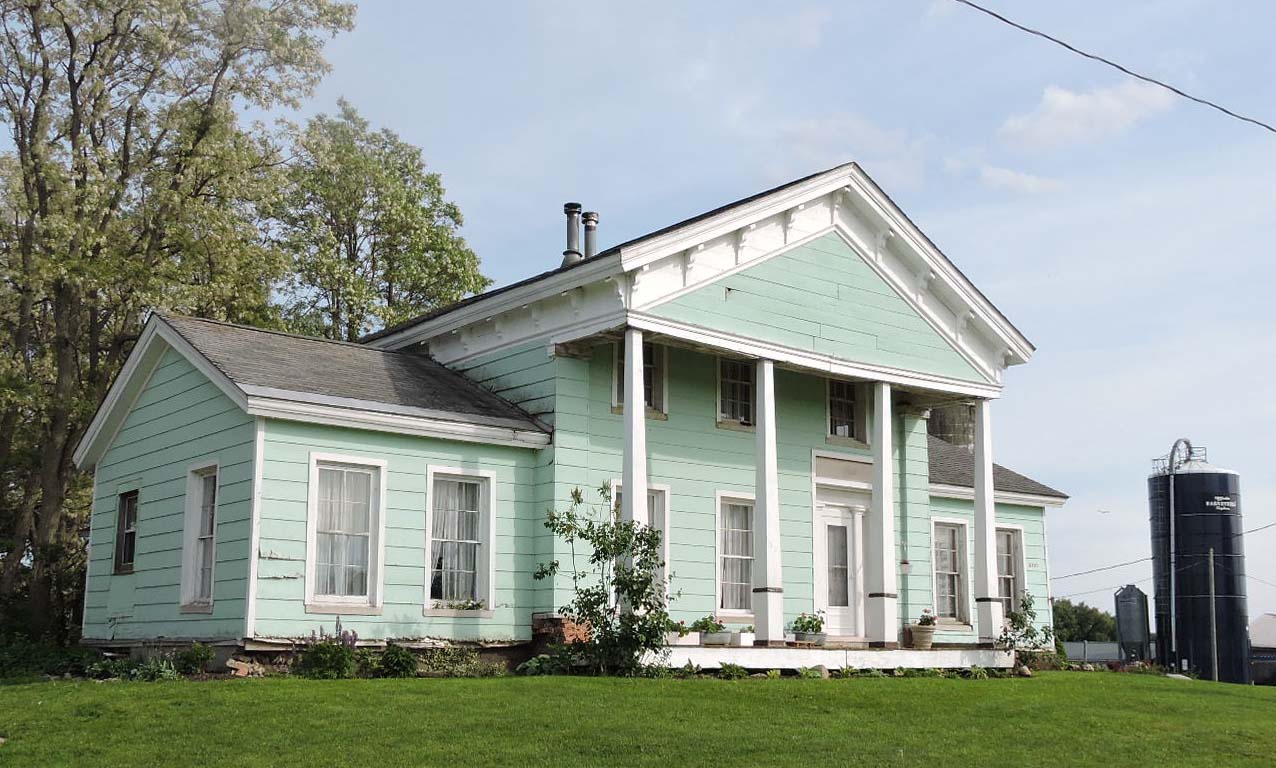 Striking is the appearance of the brick farm house, owned by C Alfred Eastman and operated by his son, Harley, and family on the road between Belleville and Woodville in the town of Ellisburg. It is Greek revival in type and is lavishly ornamented by the portico with its fluted central Ionic pillars and its square outside . pillars with the Doric capitals. An inscription in the capstone over the front entrance states that the house was constructed in 1856 which was about two years after Rufus H Converse became the owner of the farm.
Both the Converse and the Eastman families are among the oldest in the town of Ellisburg. Rufus H Converse, who died March 10 1885 was a prosperous and outstanding farmer as was his younger brother, James F Converse, who lived near Woodville and was a noted breeder of Ayrshire cattle and Shetland ponies, having been five years president of the American Ayrshire association, member of the New York State Agricultural society and onetime president of the Jefferson County Agricultural society.
These two brothers Were grandsons of David Converse, native of Belchertown, Massachusetts, Revolutionary war corporal who removed to Bridgewater, NY. Thomas Converse, son of David Converse, was born in Belchertown and was married to Lydia Stratton of Bridgewater, later removing to Ellisburg in March 1835. Thomas and Lydia Converse were the parents of Rufus Hi, and James F Converse. Lydia died June 18 1858 and Thomas the following September 24.
On January 13 1854 Rufus H Converse bought the 57.02 acres where this house is from Jefferson and Samantha Doane, Mr Converse's wife, Luthera, joining him in the purchase. At the time of his death, Mr Converse was survived by his widow, brothers and sisters, and willed his entire estate to his widow, Luthera
On February 14 1895 she disposed of this house and 64.28 acres of land to John M Stilwell of Geneva, Illinois. Mr Stilwell and wife, Mary L, conveyed the property to Daniel W Lee on October 23 1895 and the next day Lee transferred it to Mrs Stilwell, whose heirs, Ernest and Ida N Stilwell of Brockton, Massachusetts, Hal J and Mabel Stilwell of Belleville and Blanche S Allen of Skaneateles, sold it to Frank W Allard of the town of Ellisburg on January 25 1913.
Mr Allard died in June 1926 leaving this farm and residuary estate to his widow, Ethel, and from her it was transferred to her son-in-law and daughter, C Alfred and Nina Allard Eastman, the present owners. Mr Eastman is the son of Enos E Eastman of the town of Ellisburg who died February 10 1914 and was descended from Enoch Eastman of Rupert, Vermont.
The latter had a son, Enos Eastman, who was born in Rupert in 1786 and who married Vashti Green, who died in 1823 leaving a number of children including an Enos E Eastman.

For his second wife, Enos Eastman married Charity Woodward in 1824 by whom he had six other children.

One of the latter was Charles B Eastman, born in 1828 and married Julia A Meacham in 1858. Children of the latter included Enos E Eastman, born in 1860 and married to Sarah A VanPatten in 1886.

LEFT - Enos Eastman in Ellisburg NY with team of oxen
Not only is the Eastman family one of the oldest in the town of Ellisburg but there are few families in that part of the county having more descendants of the same name still prominent and residing in the town. Harley Eastman, the operator of the farm, was married to Miss Isabel England, daughter of Mr and Mrs Allen England of Mannsville, on May 9 1947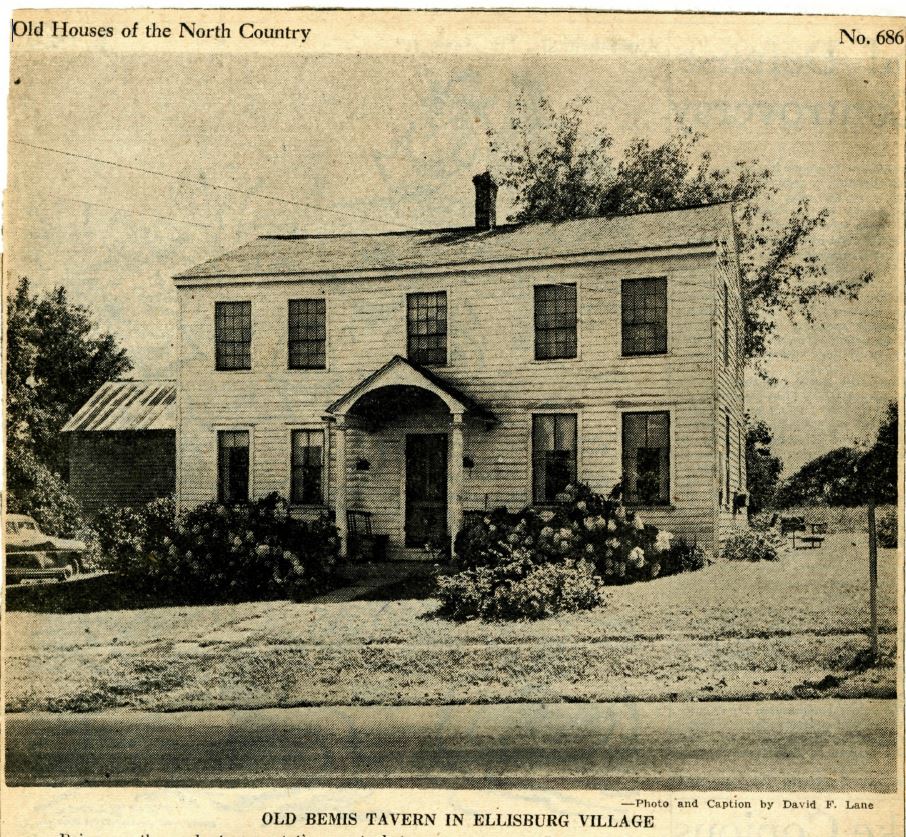 Picture Taken June 2015: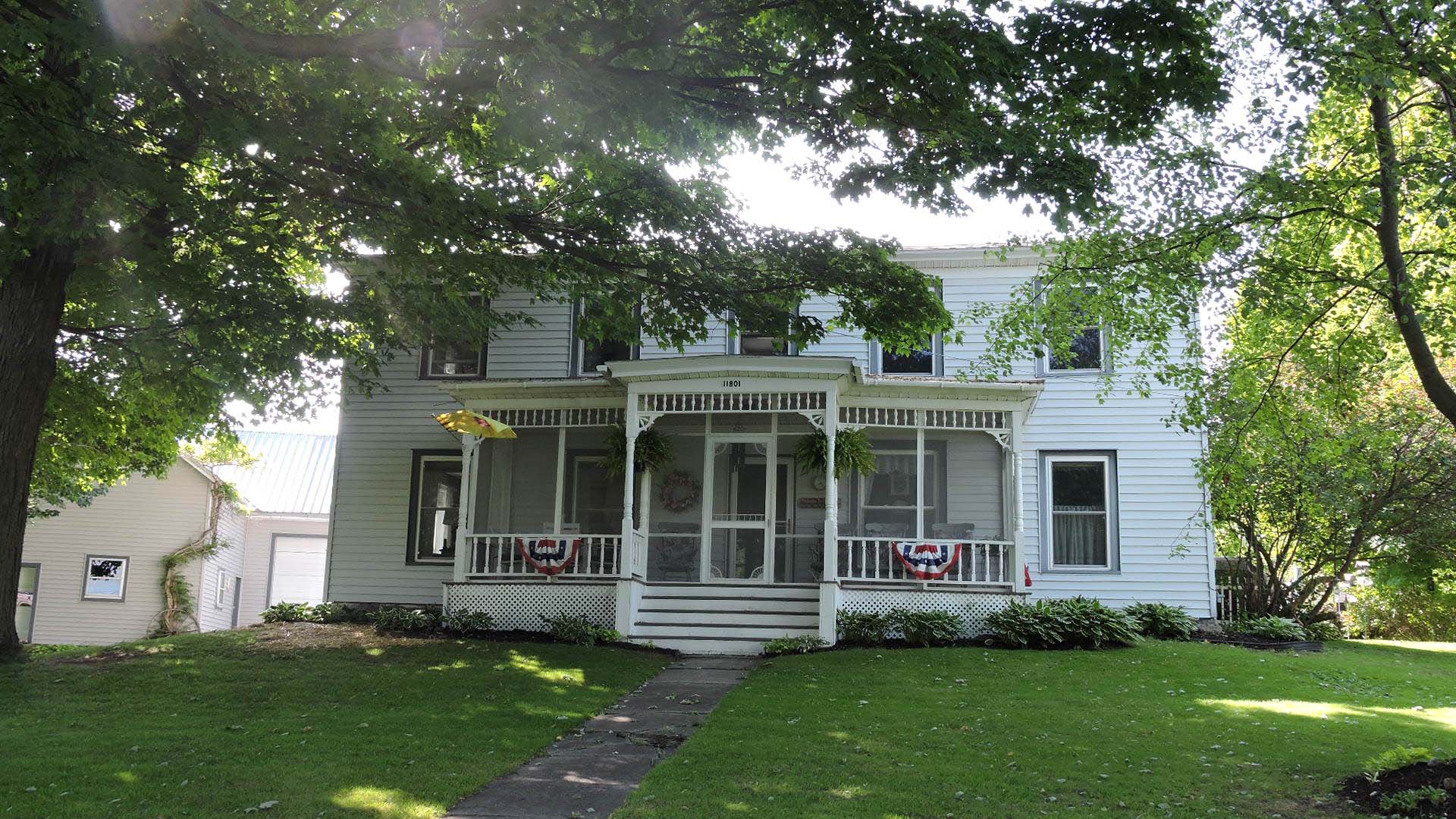 Being on the early transportation route between Rome and this north country, this old tavern in Mill Street in the business heart of the village of Ellisburg was undoubtedly well patronized. It is typically an early tavern type and still has its original 24-paned windows at its second story.
In good state of preservation, the old tavern, said to have been built about 1828 has for niany decades been a private dwelling house and is now owned by Maurice and Lucille Golding. They purchased it on April 13 1944 from Cora Mae Murphy to whom it was deeded by Henry C Murphy of Ellisburg on May 3 1934. Mr Murphy had bought the property two years prior to that, on January 26 1932 from Ralph J and Lulu Belle Redden. The record shows that the Reddens acquired title to the place on July 3 1923 from the estate of Catherine M Redden and it had been in the Redden family ownership since Catharine M Redden purchased it on January 26 1886 a period of 37 years.
That sale to Catharine M Redden was from George A and Louise Washburn, Tryphena Albro, Adele Albro of Ellisburg and Nettie Whitney of Sandy Creek as heirs of the Mrs Harriet E Albro estate, the latter having been the widow of William T Albro. Mrs Albro had taken title to the property on April 15 1850 from Prosper and Eliza Washburn and so it had been in the Albro ownership for 36 years. William T Albro had been a harnessmaker by occupation. Eight years before the sale of the old tavern to Catkavine M Redden, Mrs Harriet E Albro had died on August 26 1878 and apparently her husband had predeceased her as only her children were mentioned in her will and she bequeathed all of her property to them in equal shares.
They are listed Tryphena E Albro, Batavia, IL, Eliza Phinette Albro, Mrs Melissa L Bettinger and Adele C Albro, Ellisburg, and Egbert L Albro, Sioux Falls IA. Mrs Bettinger quitclaimed her one-fifth interest in the tavern to George A Washburn on January 20 1882. Benjamin Bemis Jr, apparently did not own the old tavern long before it passed into the Albro ownership, for on January 14 1848 he purchased it from George R Russell of Duxbury, Massachusetts, and gave back to Russell a mortgage for $700. The mortgage mentions that the property is the same as had previously been sold by Russell to Jonathan Russell. Jonathan Russell, who likely was the first proprietor of the tavern, had apparently died before April 1 1842 for on that date his widow, Lydia Smith Russell, quitclaimed her interest in his estate to his heirs, among whom was named George R Russell.

A Jonathan Russell began buying land in the town of Ellisburg as early as October 10 1809 when he purchased 259 acres for $780 from the William Constable estate. Whether he is the same Jonathan Russell, who owned the tavern, is uncertain as a mortgage given March 24 1828 by Jonathan and Lydia Smith Russell, then of Milton county, Massachusetts, to Murza Chapin for $206 on 34.33 acres of land in this section of the town of Ellisburg, definitely connects them with the tavern and it is possible that that parcel of land included the hotel and hotel site. The date of this mortgage would coincide well wilh the tradit ion that the tavern was built in 1828. Benjamin Bemis Jr, who was born in Brattleboro, Vermont, in 1798 was a son of Benjamin Bemis who settled in the town of Ellisburg in 1806. Benjamin Bemis Jr, had learned the clothier's trade and established a carding mill on Bear creek about 1825. About 1838 he built a mill just above the stone mill in the village where the south branch of Sandy creek runs through.
In 1843 he built the Universalist church in Ellisburg. He was a prominent man in the town, having been both town clerk and collector for a considerable number of years. In 1820 lie was married to Marilla Spink and they had two children.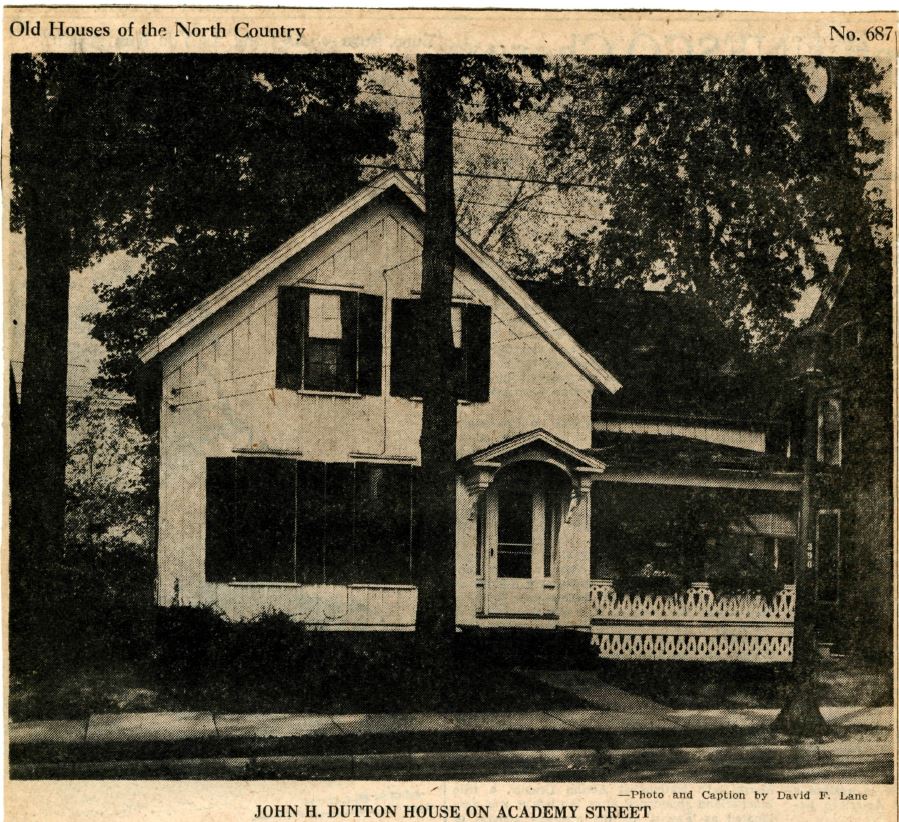 State Office Building Now occupies this location
Most of the original glamor has been retained by this spotlessly white Gothic house owned and occupied by Miss Naama E Washburn at 157 Academy Street. It still has its original windows and for approximately 95 years it has been owned in her family the first of the line to possess it having been Hugh Connelly a local merchant, grandfather of Miss Washburn, who acquired it about April 25 1860 when he placed a $600 mortgage on it to the estate of John H Dutton, a local attorney.
The lot was formerly part of the extensive Keyes lands in that area, and on April 1 1849 Perley G and Lydia P Keyes sold it to Frederick W White who sold it to John H Dutton for $300 in March, 1851. Dutton, a bachelor, boarded at the old American hotel and probably soon thereafter had the house built. He was the son of Reverend Nathaniel Dutton, one of Jefferson County's earliest divines, who was born at Hartford, Vermont, September 28 1779 and was graduated from Dartmouth in 1802 the year after Daniel Webster, whom he knew. On April 30 1806 he started for this north country on horseback. On May 21 1807 he was installed pastor of the church at Champion and preached there until his death September 9 1852 meantime establishing many other churches in the county. On February 15 1808 he married Sally Ward of Middletown, Connecticut, sister of Mrs Noadiah Hubbard.
John Henry Dutton was born in Champion, studied law with Lansing & Sherman in Watertown, was admitted to the bar in 1839 and later formed a partnership with Judge Frederick W Hubbard. He was a founder of the Young Men's Association of Watertown December 3 1840 and an incorporator of the National Union bank June 14 1852. For many years he was a justice of the peace. He died of tuberculosis March 3 1860 and his executor, John Lansing, sold this house to Hugh Connelly the ensuing April 25. Connelly had come from Belleville and, with his brother, John, opened a dry goods store on the site of the present F A Empsall & Co., store in Court Street.
Hugh Connelly died August 4 1865 intestate leaving his widow, the former Naama Salisbury, and three daughters, Mary L, Georgiana and Phebe. Georgiana, born in Belleville March 16 1853 was married to Wallace E Washburn, native of Hounsfield, August 4 1885. He came to Watertown from Depauville in the early 1880's and formed a shoe and leather goods store with G C Martin as Martin & Washburn in the Taggart building. At one time also he was salesman for O B Cadwell and with A Bushnell & company.
Wallace E Washburn was the son of Robert and Emeline Manley Washburn, Robert Washburn, native of Schoharie county, having bought a farm near Camp's Mills in 1825. Robert Washburn was a son of Stephen and Selinda Washburn of Schoharie county. When Hugh Connelly died in 1865 his widow and children continued to reside in this house, title to the property having previously become in 1862 vested in his wife through mortgage foreclosure transactions. After her death more than 30 years after his decease the title to the house eventually came to Mrs Washburn. Mr Washburn died November 10 1917 following a residence of about 35 years in this city and in this house his widow and daughter, Miss Naama E Washburn continued their residence. Mrs Washburn died on April 21 1933 but one year prior to that, on April 20 1932 she transferred title to it to Miss Naama E Washburn,. daughter, and present owner and occupant. Miss Washburn is well known in this city as a secretary in the office of the principal of the Watertown High school, a position which she first took under the late Principal Gary M Jones. She has held the post under a number of succeeding principals and, as a result has been intimately known by many hundreds of students in the school.
Her house, both in exterior appearance and with respect to its antique furnishings, never ceases to attract attention. One of its attractions is to be found in its original twelve-paned windows, which have never been replaced by modern ones
State Office Building Also Now occupies this location. This stone house was not part of the original
David Lane articles but is worth noting. Don't even know who owned it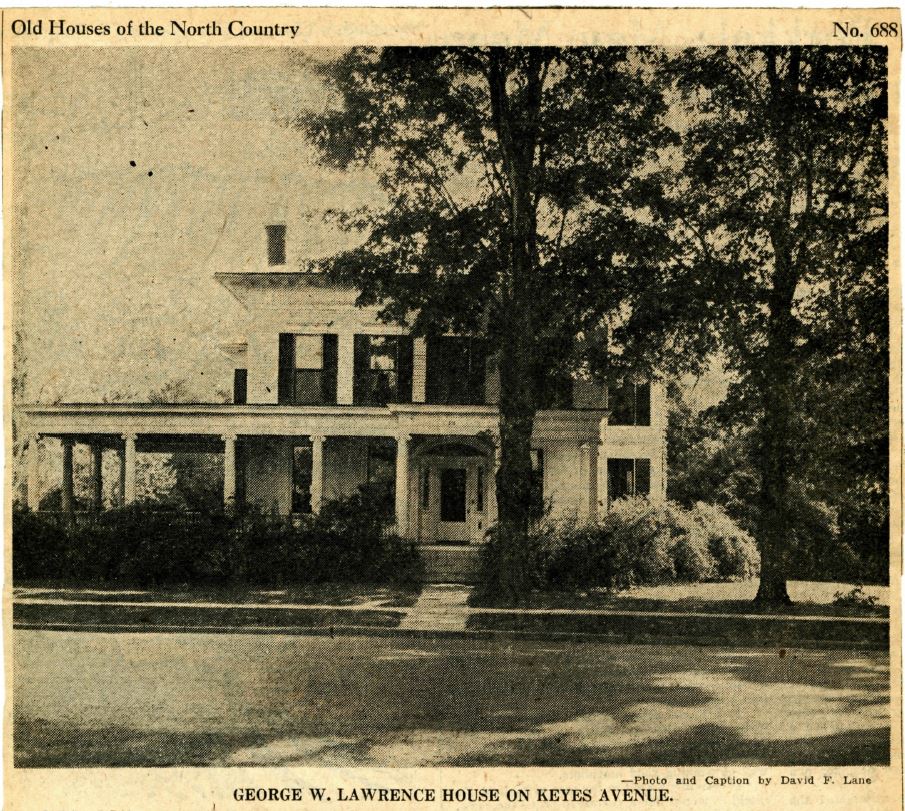 216 Keyes Ave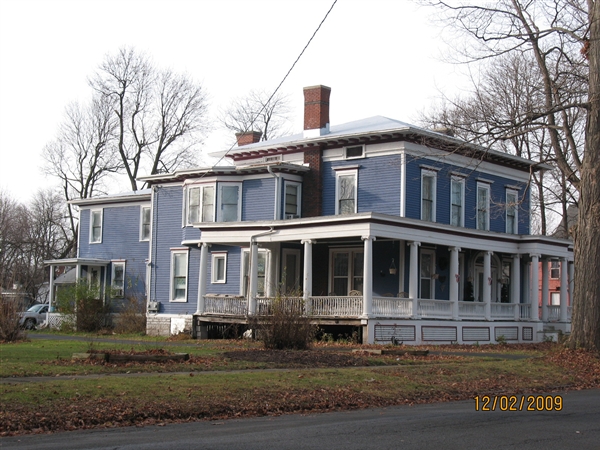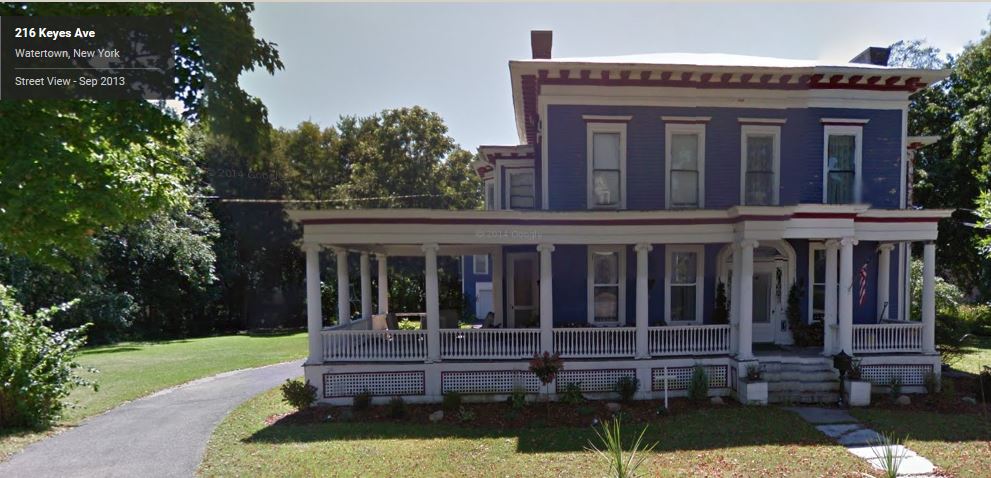 While this house at 216 Keyes avenue is but 85 years old, it has had a highly distinguished ownership. Among these owners have been George W Lawrence, who operated a meat market here, Judge Denis O'Brien of the New York state court of appeals, Martin W Shaughnessy of the Shaughnessy Knitting mills, Frank A Empsall, SR, founder of the Frank A Empsall Company, Inc., J Munson Gamble, long president and controlling stockholder of the Brownville Board company and, at present, his widow, Mrs Blanche C Gamble, who occupies it as her residence.
Keyes avenue, which runs through the former Judge Perley Keyes tract from Washington Street to Franklin Street, was accepted by the city as a street in 1865. Its development as a residential street began shortly afterward and on January 2 1871 Richard G Keyes sold the plot upon which this house stands for $600 to Robert TenEyck from the subdivision surveyed in October , 1870 by H S Woolworth.

Mr TenEyck must have had the house in a State of completion at the time for on January 11 he sold it to George W Lawrence for $6,500. Mr Lawrence, who carried in many real estate transactions, with his wife, Martha J, disposed of it to Denis O'Brien, attorney, May 2,1873 and later added two other lots to it to expand the grounds. Mr O'Brien was born in Ogdensburg March 13 1837, was educated in its local schools, studied law in the office of Meyers & Magone, was admitted to the bar in 1861 removed to Watertown in November of that year and began practice.
In 1869 when Colonel George W Flower became mayor, Attorney O'Brien was third ward alderman and served four terms. In 1879 he was mayor and in 1880 member of the Democrat state committee, serving four years. He was selected attorney general in 1883 and re-elected in 1885. In the fall of 1889 he was elected a judge of the court of appeals, serving 17 years and retiring in 1907. He died May 18 1909 and, on April 9 1921 his estate sold the residence to Frank A Empsall.
Mr Empsall removed the cupola, greatly expanded and improved the house and added the great front veranda, residing there until he bought the H E Machold residence at 205 TenEyck Street, October 10 1925. On May 21,1926 Frank A and Pauline S Empsall sold the above house to Martin W and Norma D Shaughnessy and on July 6 1927 they conveyed it to J Munson and Blanche D Gamble.
Mr Empsall was born in Pitlsfield, Massachusetts, May 5 1867. As a boy he worked in the Kennedy & MacInnes department store in Pittsfield, and in 1907 purchased the Roth & Santee department store on Court Street organizing the Frank A Empsall & Company to operate it. In 1916 he joined the syndicate that bought the St Regis Paper company, owned a huge block of its stock, became secretary-treasurer of the company and head of its sales department. Later he was vice president. In May 1920 he sold his interest in the store to Frank B Clark and September 1 1924, started the Campbell & Company department store, where his son Frank A Empsall Jr, now operates the Empsall Men's store. Mr Empsall died May 24 1929.
Mr Shaughnessy, who resided in the house but a short time was vice president of the Shaughnessy Knitting company, of which his father, Martin J Shaughnessy was the founder, president and treasurer. John Munson Gamble was born in West Camden, NY, March 28 1866 came with his parents to Watertown at the age of two, was educated here, began work for the Sloat & Greenleaf Lumber company, later bought and shipped hay, entered the C R Remington & Son paper company office in 1891 joined with Charles H Remington in 1892 in founding the Brownville Paper company, of which he was secretary, later had Samuel A Upham as a partner and in 1897 his brother, Charles Willard Gamble, as another partner.
In 1901 the Gamble brotliers sold their interest and formed the Brownville Board company, of which J Munson Gamble was long the president, and controlling stockholder until his death September 25 1942. His wife was the former Miss Blanche Chapman of Chicago, whom he married June 2 1895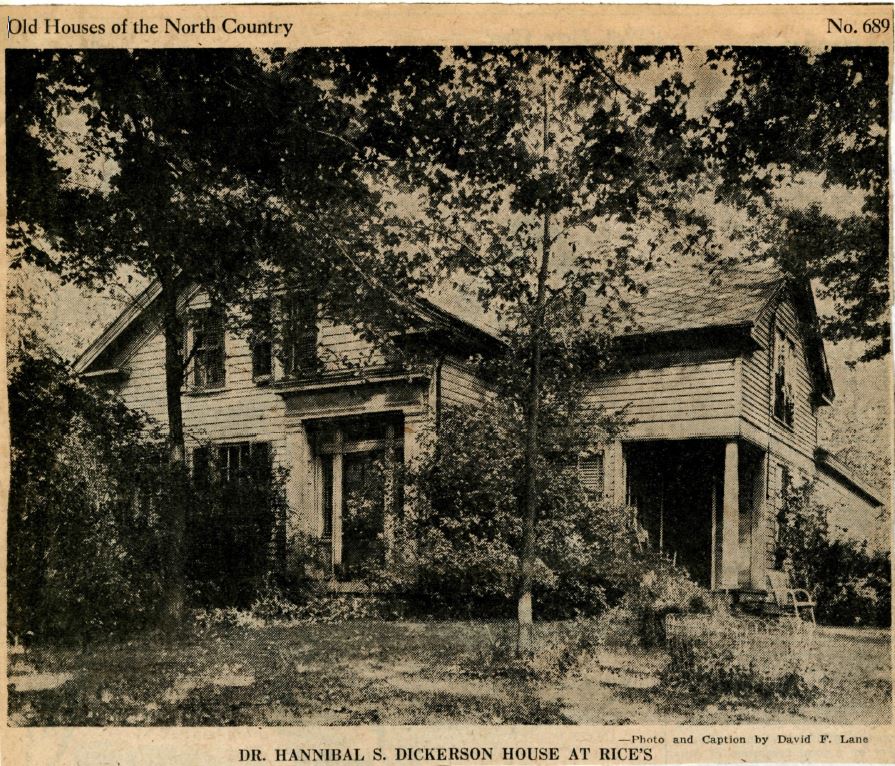 Old Rome State Rd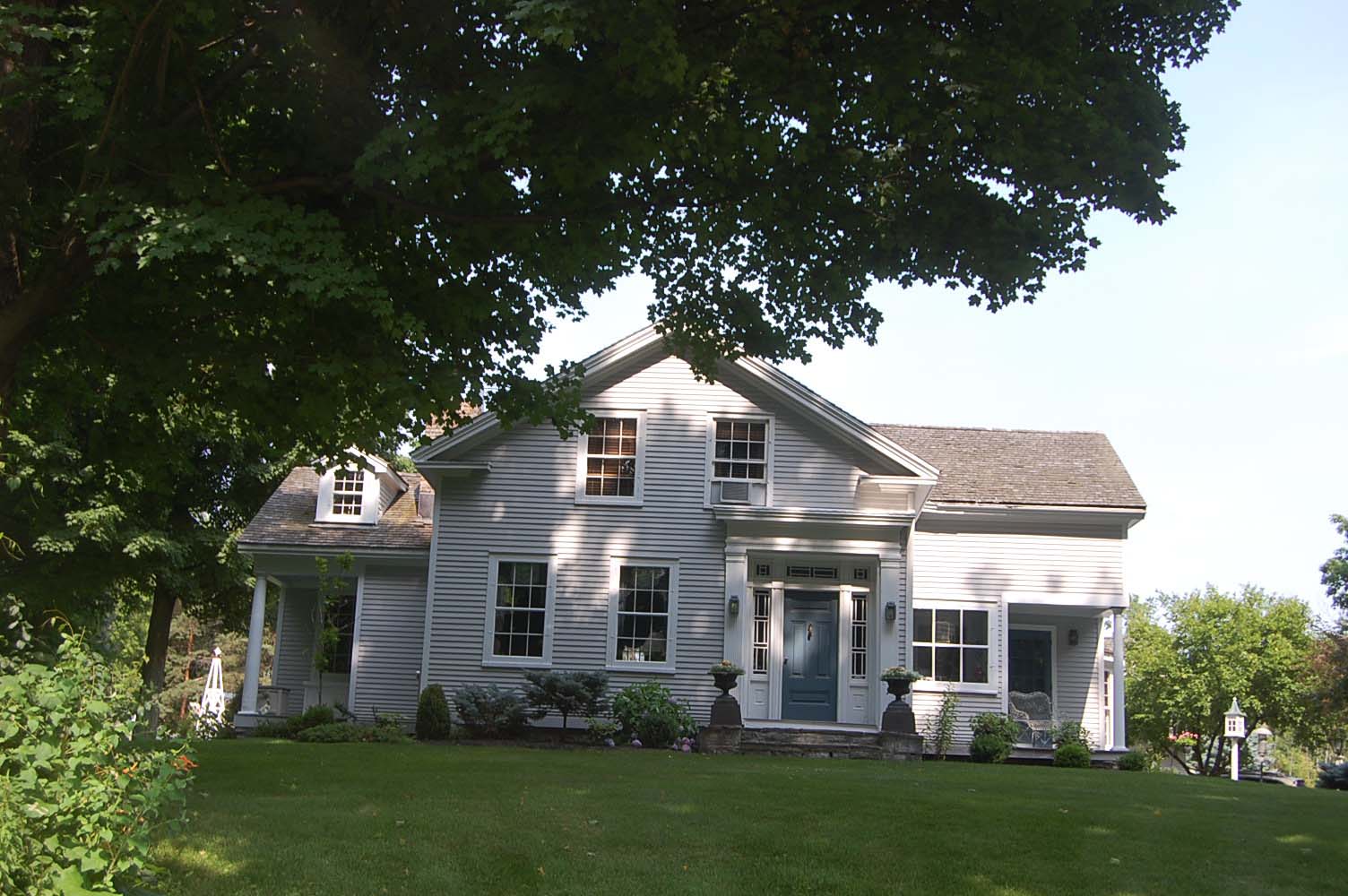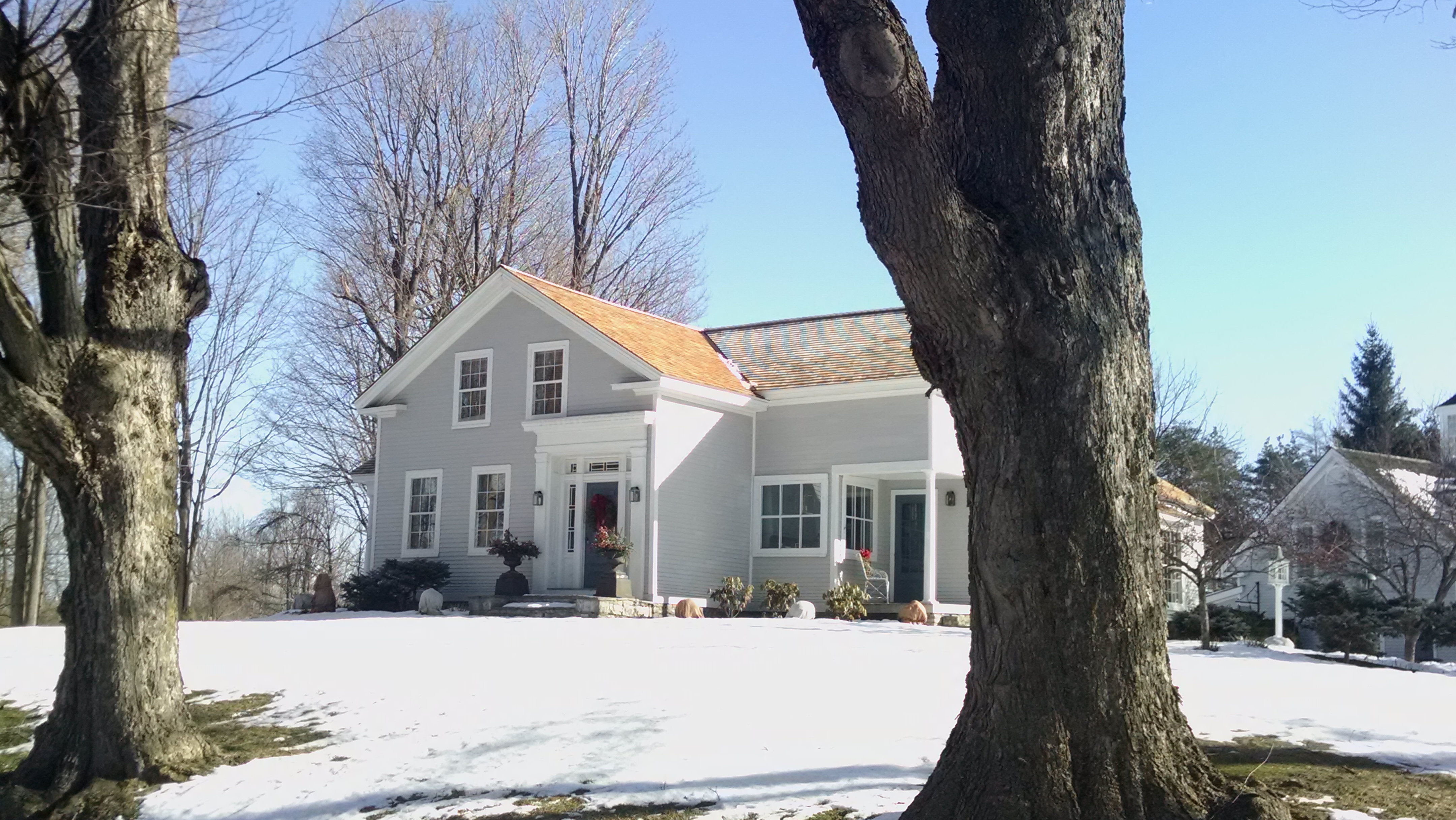 A few houses drowse today in picturesque rurally at the four corners once known as Rice's Station, a former thriving hamlet about four miles southwest of this city in the town of Watertown. Jason Rice was one of the earliest settlers in that locality and a number of others of that family name located on farms near by.
Upon a high knoll overlooking the corners where the Adams-Brownville road and a road from this city to Sackets Harbor cross Dr Haunibal S Dickerson, an early physician in that part of the town, erected his house about 1834. There he resided and had his office until his death on August 19 1845 at the age of 37 having been born in January, 1808. He died of the effects of a self-performed operation. Little seems to have been recorded of the ancestry of Dr Dickerson. He was the son of Dr David B Dickerson who practiced at Sackets Harbor and Adams Center and who was admitted to the Jefferson County Medical society in 1826.
Dr Hannibal S Dickerson received his diploma from the College of Physicians and Surgeons at Fairfield academy December 25 1826 and his license to practice from the Herkimer County Medical society July 26 1828. Both documents hang upon the museum walls of the Jefferson County Historical society. He is said to have located at Rices shortly thereafter.
The wife of Dr Hannibal S Dickerson was the former Abigail (Abi) Richardson, daughter of Russell and Bial Richardson, and her father was on the assessment rolls of the town of Watertown as early as 1809. A son of Dr Hannibal S and Agibail Dickerson was Dr D'Esting Dickemm who located in Kansas City, Missouri That Dr Hannibal S Dickerson was a prominent physician in this county in his day is evidenced by the fact that he was elected president of the Jefferson County Medical society in 1841. His daughter, Angelica, was the wife of Merritt M Andrus, a prominent Watertown merchant, and another daughter was Victoria. Both Dr Dickerson and his wife are buried on the Andrus lot in Brookside cemetery.
It was on February 10 1834 that Dr Dickerson bought for $70 the original eight acres, upon which he shortly built this house, from George and Olive Lee of Hounsfield and Lee had acquired the site from Egbert TenEyck of Watertown September 30 1818 After the death of her husband, Mrs Dickerson continued to live in this house and on June 12 1868 she sold it to Ebenezer A Ayers, grandfather of Eben A Ayers who was an assistant press secretary to Presidents Franklin D Roosevelt and Harry S Truman. Ebenezer A Ayers, born January 29 1827 in the town of Watertown, was the son of Charles and Eliza Allen Ayers, the former a native of Bridgewater, Vermont, and the latter of Hartland, Vermont. Ebenezer Allen Ayers was a grandson of John Ayers, a War of 1812 veteran. In 1865 Ebenezer A Ayers built a cheese factory on a corner across from this house. On February 2 1889 he was a founder of the Jefferson County Butter & Cheesemakers association and became its president. He was a charter member of the Watertown Dairymen's Board of Trade and in 1892 was appointed county cheese instructor. On May 20 1884 - he was appointed postmaster at Rices and served several years. By his first wife, the former Lucy Ives, he had a son, Charles E Ayers, father of Mrs Marguerite Hathway, city, and children of his second wife, Jane S Warren, were Jesse W, Henry L, Lucy A and Mary E, the latter a Watertown schoolteacher, and Edward A Ayers, father of Eben A Ayers and Leonard F Ayers.
Ebenezer A Ayers died January 18 1897 and on April 12 1898 his widow sold this house to Lewis G Ives and for the past 57 years it has been owned in this family, one of the oldest and most prominent in the town. At the same time Mr Ives bought the Ayers cheese factory. Son of Garrett and Louisa Read Ives, Lewis Garrett Ives was born June 20 1847 and became a prominent Watertown farmer for 29 years before buying this house. He was descended from William Ives who came to Boston in 1635 and his grandfather Jotham Ives on August 20 1802 became one of the first seven to receive deeds of land in the town of Watertown. On December 25 1873 he married Mary Jane Livermore and a son, Lewis Garrett Ives Jr was born to them October 14 1874. Lewis G Ives Sr died January 10 1925 and this house passed to his son who served as treasurer of the Jefferson County Agricultural Society 17 years and as town assessor many years.
On November 12 1896 the latter married Emma May, daughter of Harvey C and Emily Herrick Rice. Mr Ives died October 27 1945 and his widow continued to live in this house until her death last August 6 (1955) with her sister Mrs Grace Rice Hodge. Title to the then passed to Mrs Llewellyn F (Mabel Ives) Murray, city, only daughter of Mr and Mrs Lewis G Ives Jr, born July 4 1898 and came into the house in 1902 to live there until a year after her marriage to Mr Murray, New York Air Brake company shipping clerk, June 19 1919. Mrs Murray, former schollteacher recently sold the house and about 17 acres of and to William T and Dorothy Parr, city, who plan to rehabilitate it retaining its original aspect with its comfortable layout of rooms and hallway with the beautiful walnut stair rail making it their future residence.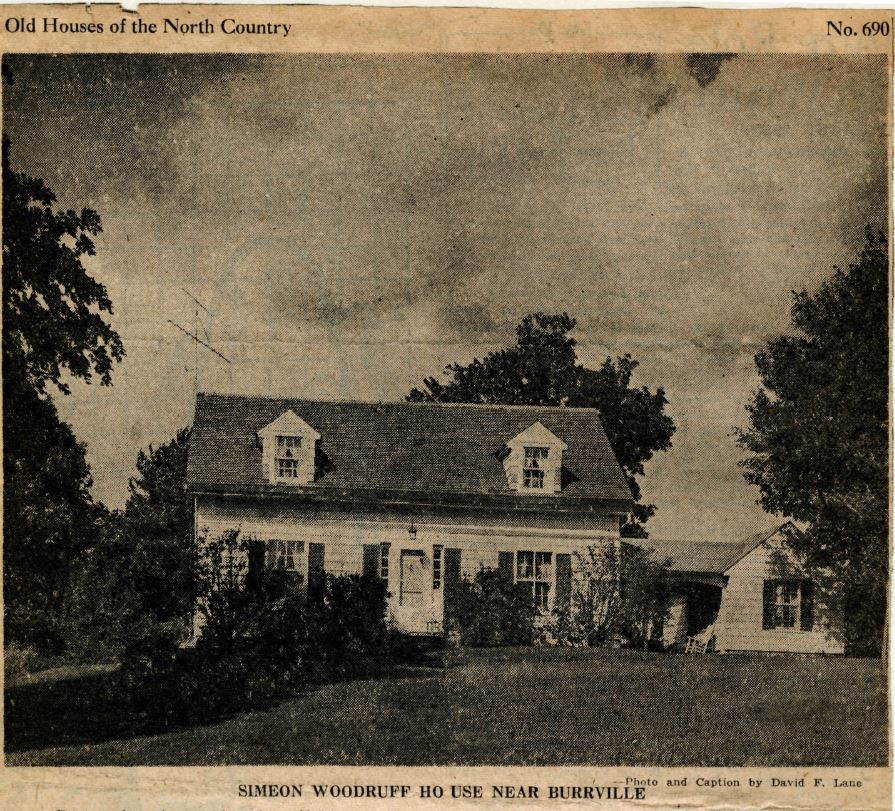 This may NOT be the same place..but it is in Burrville on the hill overlooking the Lake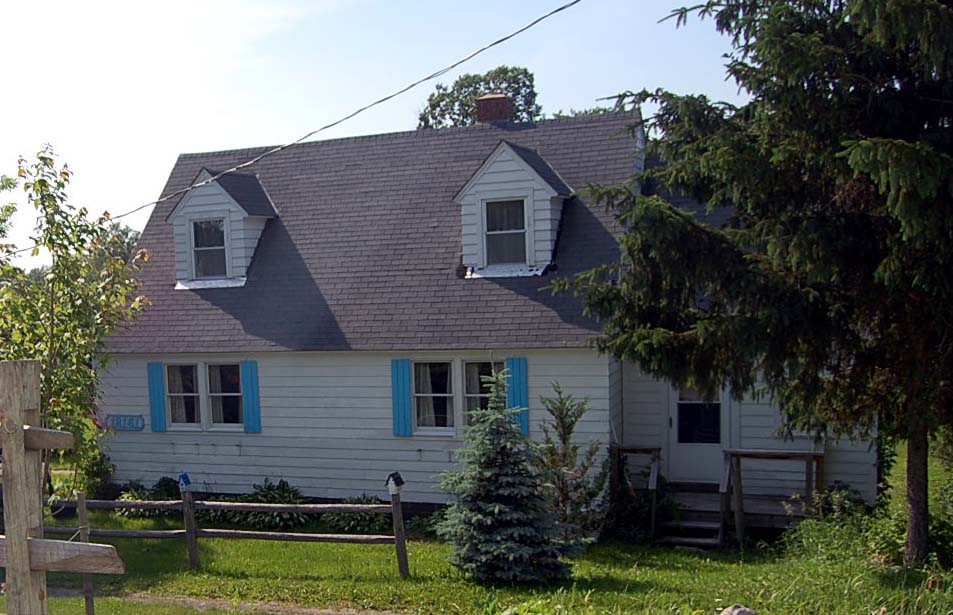 Protected on the west by a beautiful screen of trees the historic Simeon Woodruff house nestles upon a hillside, from which is one of the most majestic views in this area of Lake Ontario. In fact it was from there that the non-combatants of this neighborhood known as Woodruff Settlement watched the rising powder smoke from the second battle of Sackets Harbor in May 1813 while Benjamin Woodruff, arriving home several hours after his brothers had left, grabbed his musket and hastened for the fray, stopping at the Waterlown arsenal for powder and later at Sackets Harbor for priming powder. All three Woodruffs, Simeon, Benjamin and Frederick, were members of Captain William Lampson's Watertown Rifles, first uniformed militia in the county. Simeon and Rosannah Adams Woodruff, incidentally, were the parents of Colonel Theodore Tuttlc Woodruff, inventor of the first practical sleeping car.
Members of this Woodruff family were first settlers in the eastern part of the town of Watertown and natives of Litchfield, Connecticut. Simeon, Benjamin and Frederick being sons of Revolutionary Sgt. Jonah Woodruff. In October 1799 Simeon and Benjamin came on from Steuben, Oneida county, where they had tarried for about a year after leaving Litchfield with their parents, Jonah and Mary.
It was in Steuben in 1798 that Simeon married Rosannah Adams. Upon arriving in this spot a mile northeast of Burrville they selected land and came on the next spring by ox-team with their families ta build log cabins and clear away I he furxht. It is said that Simeon took up 100 acres and built this house about 1810 in which case the deed must be recorded in Oneida county as the first deed on record in this county to Simeon is from Landowner Nicholas Low, New York City, involving 273.5 acres, dated April 20 1814. Later he removed his family to the town of Pamelia, where he in 1821 built the excellent Georgian stone house still standing. On January 6 1823 Simeon and Rosannah Woodruff, then of Pamelia, sold the above house and 35.37 acres of land to Simeon's brother, Benjamin.
Benjamin Woodruff married Sarah Cleveland and had two sons, Orlin S and Clark S. On January 16 1855 Benjamin Woodruff transferred his farm including this house and its 35.37 acres to Clark S Woodruff whose wife was the former Julia Drummond. Clark S Woodruff became bankrupt and assigned his properties to Asa Clark of Black River for benefit of creditors. As assignee Asa Clark deeded the farm, including this house, to Julia Drummond Woodruff August 31 1877 for $4,165. Under her will probated November 24 1909 it went equally to her children, Mrs Ellen Chidester, Mrs Julia Pool and Benjamin B Woodruff who disposed of the property to Jesse G Porter January 2 1912. Walter C Woodruff and George B Woodruff, sons of Benjamin B Woodruff, were born in this house and the former operated the farm for a time.
In late November and December 1931 the estate of Mr Porter disposed of their several interests in this house and lands to Lucie Gragg and her husband, the late Karl WT Gragg. On March 5 1945 Mr and Mrs Gragg sold this house and 35.37 acres to Kenneth W and Madge W Coseo of this city. Mr and Mrs Coseo then made a restoration of the house, retaining the original appearance of the exterior mostly, but adding the breezeway and small room one story part on the east end where the wing formerly was.
Mr Coseo was for a number of years from 1927 to the fall of 1932 office manager of the Champion Paper company, subsidiary of the St Regis Paper company. Later he was president of the K & M Paper company and still later proprietor of an upper State Street liquor store for some years. He has added to his Woodruff Settlement land holdings until he has about 280 acres and a herd of 80 purebred cattle. He and his wife and their family reside in this house, which is one of the most attractive country estates in Jefferson County. The Woodruff family contributed many members of distinction besides Colonel Theodore Tuttle Woodruff, Walter and Gilbert Woodruff having been builders of the old Washington Hall where the YMCA now is and builders of many local houses and other structures a century ago.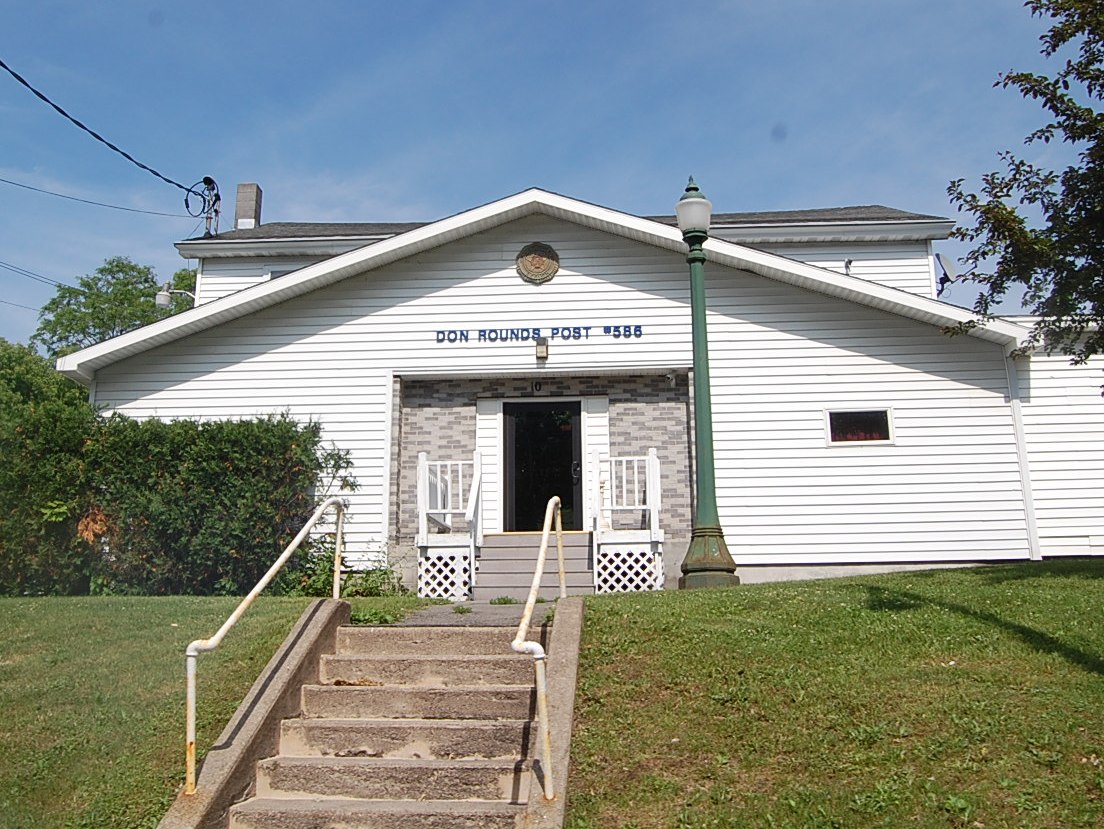 The present village of Adams was one time called Slab City. Also it was known as Smith's Mills, and its confines were 500 acres of David Smith's lands. It got its nickname Slab City because many of its early structures were of slabs that had come from Smith's sawmill, which Smith had built in 1800. Two years later he had a grist mill also in operation to supply the wants of the people of the little community.
Nicholas Salisbury, who came on from Western, NY, April 16 1800 and immediately built a log cabin, is said to have been the first settler of Adams, but David Smith had bought lands there from Nicholas Low of New York City October 29 1799 and also came on in 1800 to build a cabin, a sawmill and to settle. He was an aggressive promoter of the settlement and within a few years had a thriving community established, nucleus of the present Adams, which is one of the busiest and most beautiful non-industrial villages in the county.
The town of Adams was surveyed by Benjamin Wright in 1796 and was set off from the town of Mexico by legislative act April 1 1802. The first town meeting was held in Eliphalet Edmonds' house on March 1 1803 and David Smith was elected fence viewer. Smith prospered and by 1807 had replaced his cabin with this large house of some 18 rooms and eight fireplaces including one for cooking, equipped with a bakeoven. The house, with some modification and expansion, but still with its fine front doorway embracing rectangular transom and sidelights, is now the home of Don Rounds Post, No. 586 American Legion.
David Smith died March 18 1844 aged 73. Charlotte, his first wife, died February 18 1813 aged 43 and Elizabeth, his second wife, on May 21 1844 aged 60. On March 9 1837 David Smith and wife had deeded this house with about three acres of land to his daughters, Clarissa and Betsey (Elizabeth).
In 1845 Clarissa was married to Ward W Hunt, a 26-year-old schoolteacher who had been graduated from Hamilton college in 1843. Clarissa died in 1848 and that year Ward W Hunt entered the Methodist ministry, preaching in a number of places during the next 30 years. Apparently he inherited Clarissa's half interest in this house which stands in the Whitcomb hill district of South Main Street at the western outskirts of the village. A year before Clarissa's death, her sister, Elizabeth A (Betsey) Smith sold her half interest also to Mr Hunt. In due time he married the latter, by whom he had four sons and a daughter, one of the sons being the late Edward S Hunt Sr. Reverend Ward W Hunt, descended from Edward Hunt, and a daughter of Lord Gilmore, who emigrated to New England in 1661 was the son of William L Hunt, a native of Stratfield, Connecticut, who became a tanner and currier and was married to Betsey Calkins, also of Connecticut.
William L Hunt came to Hillsdale, NY, and in 1812 located at Westmoreland. There, in 1817 Reverend Ward W Hunt was born, one of ten children, one of whom, an older brother, Isaac L Hunt, was also a Methodist minister. It is likely that the latter persuaded Ward to enter that profession.
Coincidentally Edward S Hunt Sr, son of Reverend Ward W and Elizabeth A Smith Hunt, and Isaac L Hunt Jr, son of Reverend Isaac L and Judith Lamberton Hunt, resided in Adams and became lawyers, the latter to serve the Watertown Savings bank 27 years as president and to head the Jefferson County Historical society a number of years.
Edward S Hunt Sr, born August 2 1860 attended Adams Collegiate Institute, was graduated from Syracuse university law college in 1883 was admitted to the bar in November, 1885 practiced in Adams and was several years justice of the peace. Under the will of his father, Reverend Ward W Hunt, the auovc house went to him and his sister, Frances E Hunt, jointly. In that year 1889 Edward S Hunt married Lena C Brimmer who died December 1 1932. Edward S Hunt died February 14 1949 aged 88 but on November 9 1945 lie, joined by his sons, N Brimmer Hunt and Ward W Hunt, and daughter, Mrs Electa H Lown, sold this house to Commander Kenneth Priest as trustee of the Don Rounds American Legion post, which formally dedicated it as post headquarters on October 13 1946. The post was formed in 1920.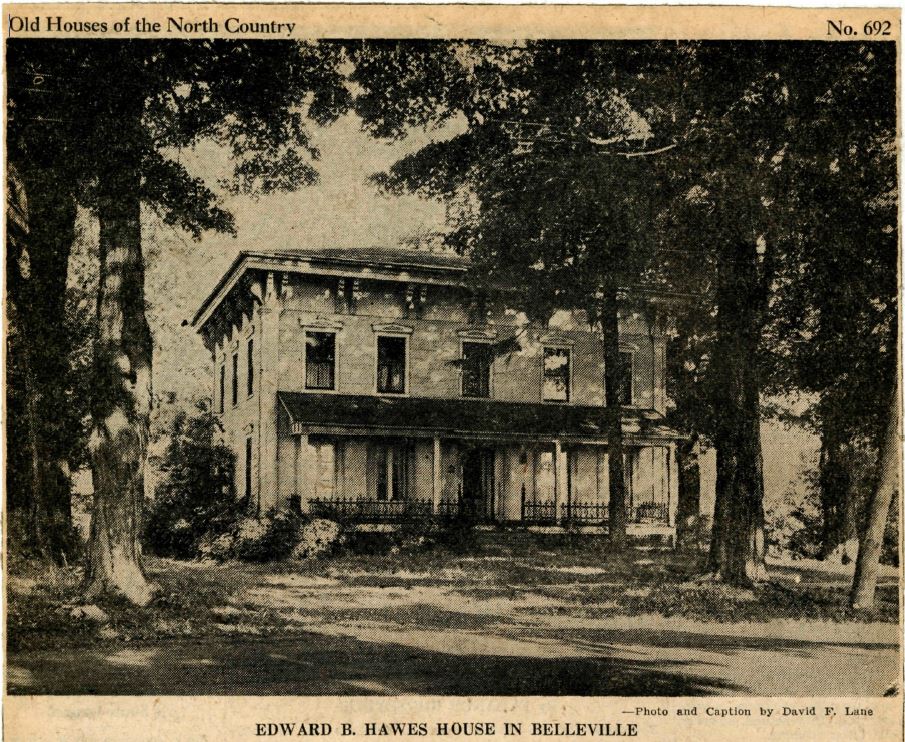 Picture Taken June 2015: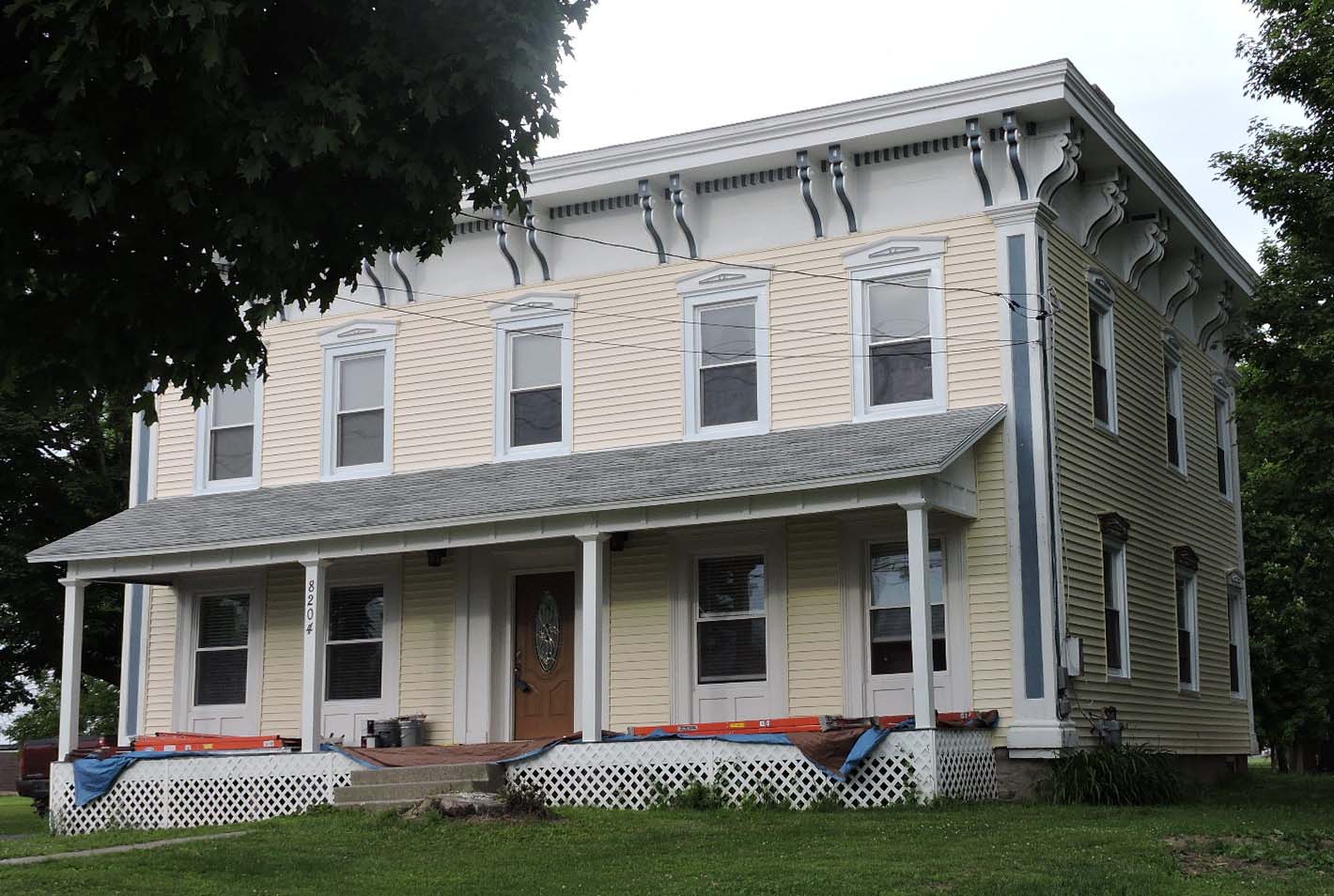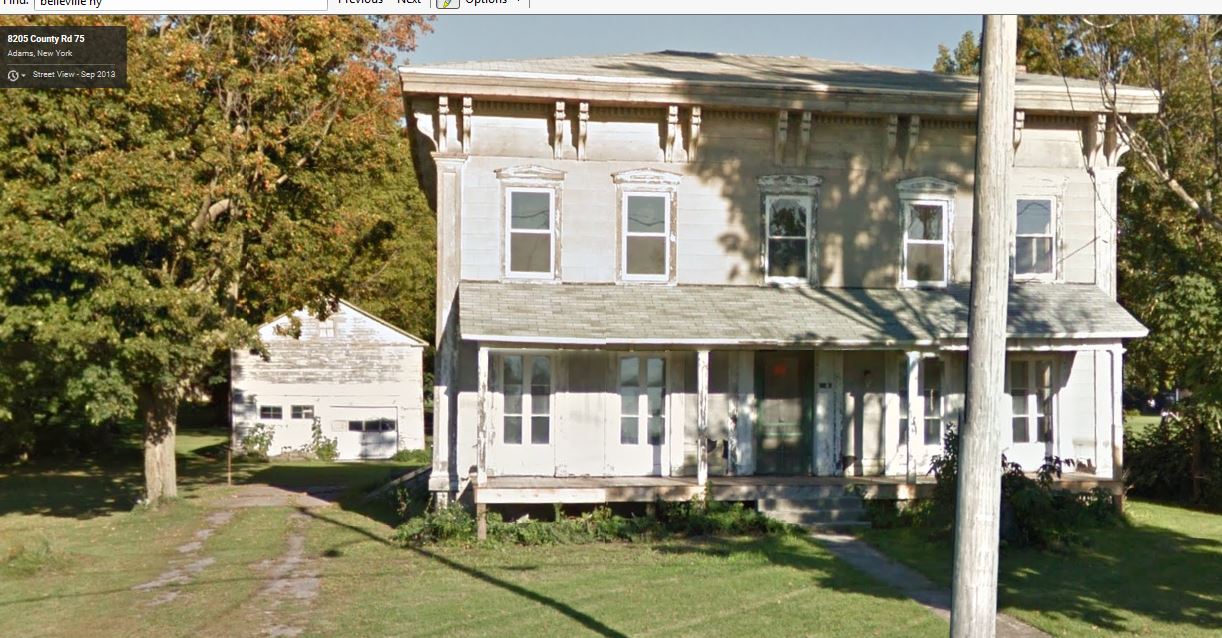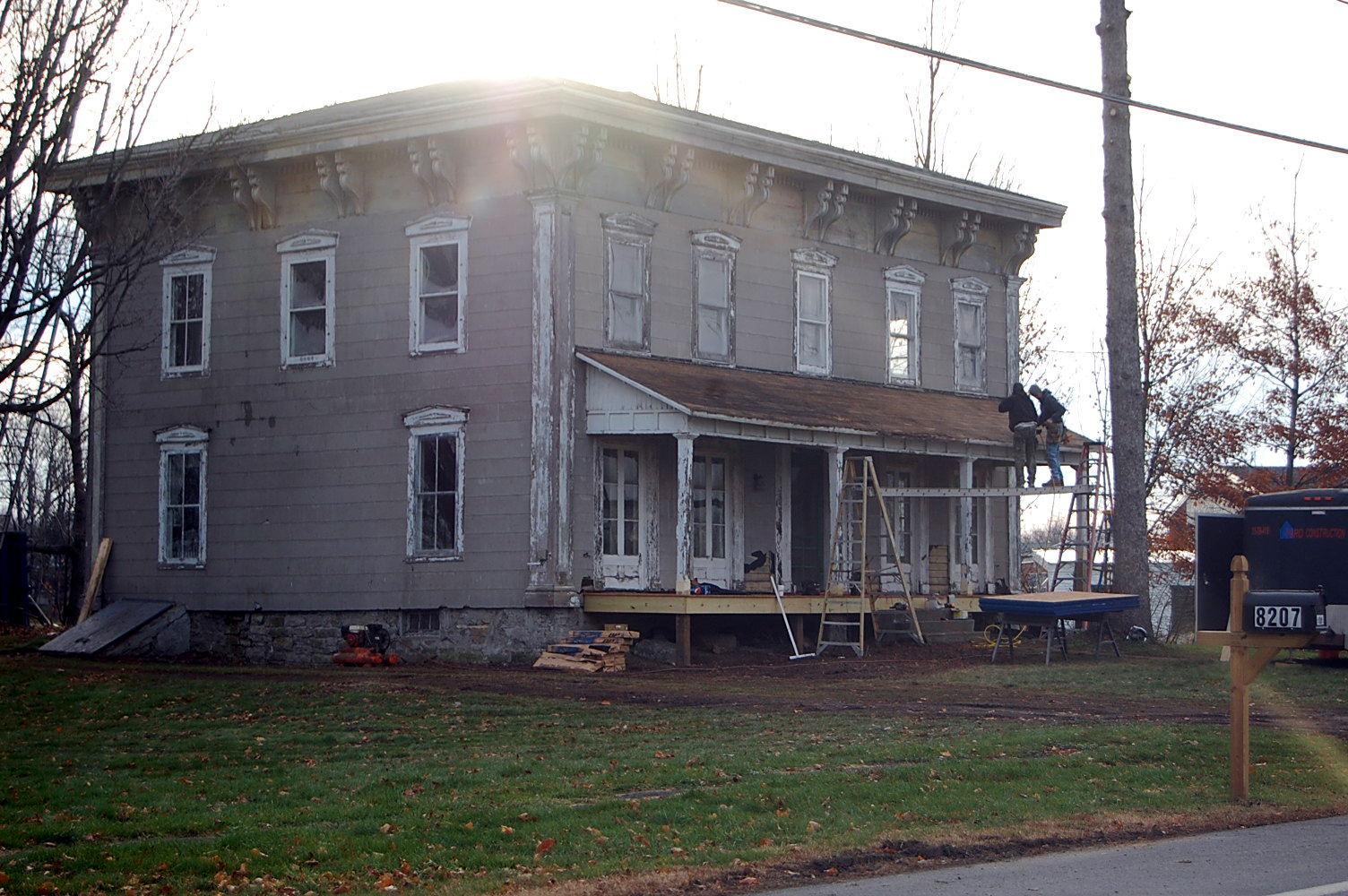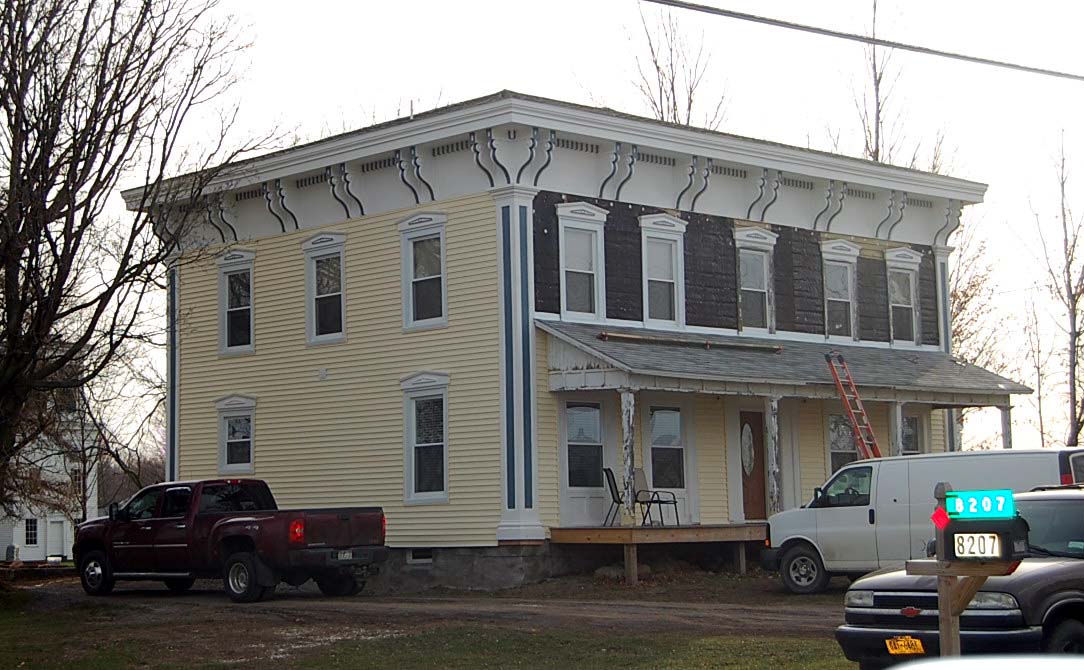 In less than a half dozen years after the Ellises settled in the town of Ellisburg in 1797 came Daniel, Ebenezer, Samuel, William and John R Hawes from Vermont via Rome. Daniel was first of the Hawes quintet to buy land in this town which was then a part of the town of Mexico, having purchased 50 acres on April 29 1802 from Dyer and Susanna McCumber. During the ensuing century the Hawes family was to create the unusual record of developing six attorneys. They were John R, Edward B, Bradford K, John, Henry Clay and James W Hawes, the latter having died November 1 1946. The five first Hawses are said to have come with the Boomers, for Daniel Hawes was married to Ruth, daughter of Edward and Rejoice MacCumber Boomer, a native of Freetown, Massachusetts. Children of Daniel and Ruth Hawes were Ruth, Harry B, Edward B, Bradford K, William W, John, Albert and SabrA Daniel Hawes died November 28 1861 and his wife in 1849. They are buried in Evergreen cemetery at Roberts Corners.

Edward B Hawes, born in 1803 is described in the histories as an eccentric, alternately pious and highly profane, generous and charitable withal, able and one of the best known men in the southern end of the county. He was admitted to the bar in 1831 and practiced much in justices' courts. Apparently he was twice married, his first wife having been Elizabeth Thurston Searle, daughter of James and Abigail Thurston Searle of Belleville.
When he died March 3 1880 Susan B, is named as his widow and her whereabouts unknown. His children were Henry Clay Hawes and Lucia Elizabeth Hawes. Lucia married James L Hunting, a Belleville lawyer. Family tradition has it that Edward B Hawes built the above house 1850-1855 from lumber washed ashore from a wrecked Canadian lumber schooner. But there is a strong possibility that he built the house before that, for on March 9 1838 he bought from Giles and Rachel Hall the four-acre lot on Belleville's Main Street where the house is, and later sold off some of the land.
The lot adjoined the Union academy grounds, and the academy had its beginning a mile away in John R Hawes' house at Mather's Mills in the fall of 1824. When the Union Literary society was incorporated April 13 1826 Samuel S Hawes was one of its trustees. In his will, executed December 18 1869 Edward B Hawes states that he had previously deeded this house to his daughter, Lucia E Hunting, and a recorded deed shows that transfer to James L and Lucia E Hunting, who, on November 2 1869 sold it to Henry Clay Hawes. To his grandson, Eddie Hunting, Edward B Hawes willed his gold watch and the rest of his property he gave to his son, Henry Clay Hawes.
Henry Clay Hawes, who was born in 1844 and married Lenora G Hart, daughter of Reuben and Betsey Cole Hart of Tylervile, on October 28 1874 gave his father a life-lease of the above house. On October 29 1874 Henry Clay Hawes mortgaged the house to his aunt, Mrs Abner M (Alicia S) Durfee, who paid on June 1 1889 $325 for it over and above the debts of Henry Clay Hawes estate, of which Frederick Williams and Lenora G Hawes were the administrators.
Next, on January 26 1891 Abner M and Alicia S Durfee sold the house and remaining 2 1/2 acres of land to Mr Williams who, with his wife, Marionette, disposed of it to Mrs Lucy Edith VanEmen of Leavenworth, Kansas, on March 24 1902. Mrs Van Emen held the property 20 years and on September 2 1922 sold it to Mrs Harry (Hazel Hungerford) Jones, the present owner.
In 1929 Mrs Jones made extensive repairs and improvements, installing electricity, running water, bathroom and fireplace. Today the house with fine circular stair is filled with antiques and the long veranda is graced by a beautiful wrought iron baluster.
Born in the house on October 27 1871 was Attorney James W Hawes, son of Henry Clay and Lenora G Hawes. James W Hawes, who died November 1 1946 was educated in the Belleville schools, studied law in Leavenworth, Kansas, married first Harriet Nutting of Henderson by whom he had two sons. Ssecond he married Isabelle Hellenback of Cazenovia by whom he had two sons and third he married Janet C Wiek of Topeka, Kansas.
After practicing law in Kansas and Missouri James W Hawes returned to this county. In 1930 after which he was a familiar figure in the courts of the county. He was also a stone-cutter and conducted a monument business with his brother, Bradford K Hawes, in Adams Center where he resided. His grandfather, Edward B Hawes, was town supervisor in 1856 and with Oliver Child was a commissioner of the United States Deposit Fund in 1841.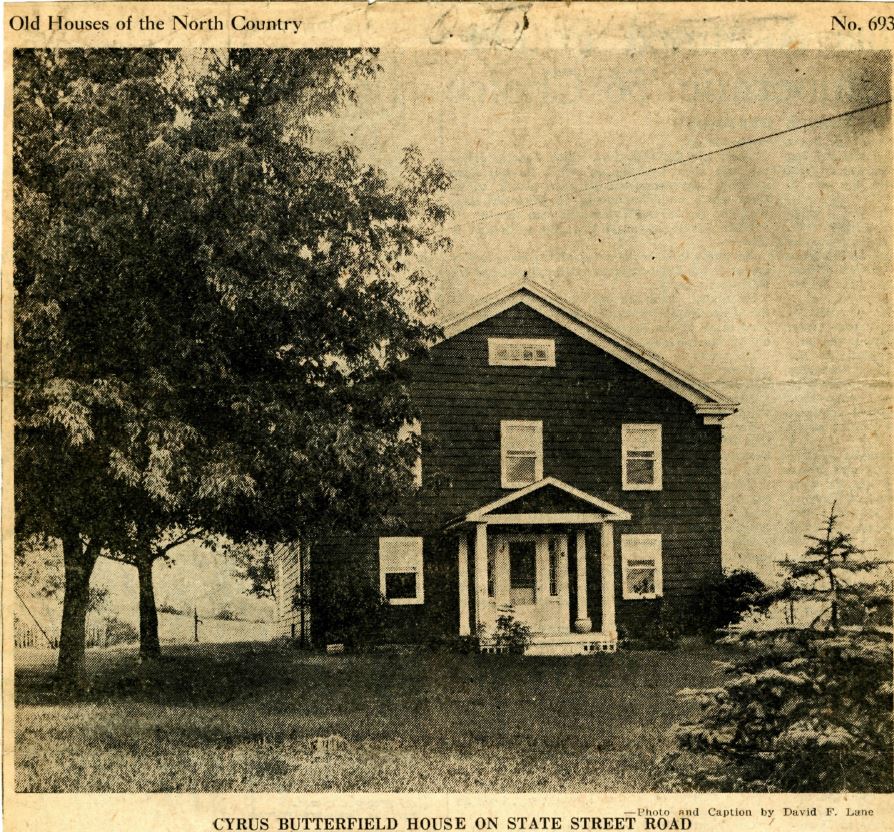 25501 State St Road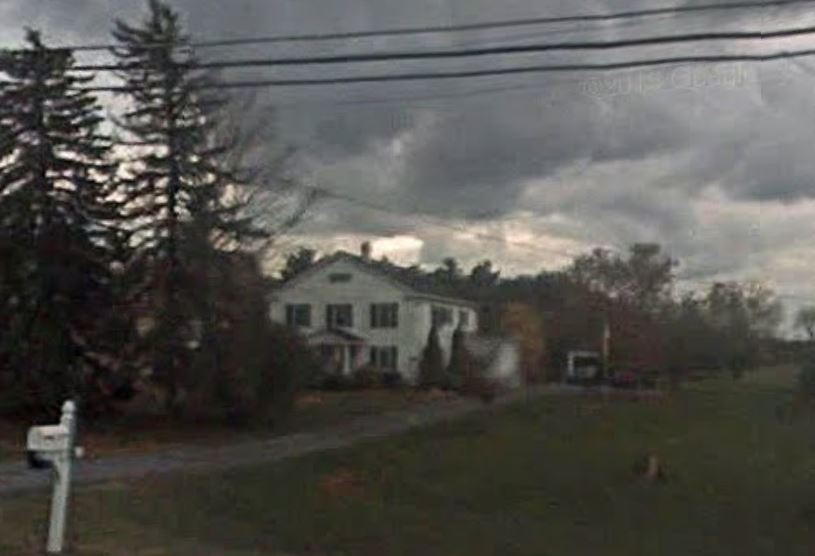 With the development of the residential colony out the State Street road less than a mile beyond the eastern boundaries of the city this 137-year old Cyrus Butterfield farmhouse on the south side of the road has become a country residence now owned by Mrs Marjorie Loughlin VanAllen, formerly of Gouverneur. Cyrus Butterfield was one of the early residents of the east end of the town of Watertown and is believed to have come from Vermont to settle here. His earliest recorded land purchase in this county was 51 acres nearby in the town of Rutland from Isaac and Anne Bronson of Fairfield, Connecticut, on August 31 1815. Two years later, on October 13 1817 he bought 60 acres in the town of Watertown Where this house is from Nicholas and Alice Low of New York City paying $180 for it.
It is believed that part of the house was built the following year and later, according to his great-granddaughter Mrs George (Mary P) Newman, moved to its present location farther back from the highway to the spot where it now is and increased in size. Under the ownership of Mrs VanAllen the exterior has been shingled and some other exterior as well as interior changes made to modernize it. The heavy roof timbers and its handwrought interior woodwork evidence its early construction. Wooden pins were used to fasten together some of the heavy framework and old-fashioned cut nails were employed elsewhere.
Sometime after the house was built Cyrus Butterfield sold off 18 acres to Aldrich Luther and C Thorpe leaving 12 of the original 60 acres in this tract. On February 15 1839 Cyrus Butterfield conveyed a fourth interest in the house and 42 acres to his son, Hamilton. Early in 1850 Cyrus died willing his interest in this property equally to his children, Alexander, Xenophon, Hamilton, Wellington and Amanda Shepard.
On January 21 1851 Wellington H Butterfield and wife, Caroline, Marquette, Wis, deeded their interest to Hamilton. On March 8 1851 Reverend Hiram and Amanda Butterfield Shepard, Ogdensburg, conveyed their interest to Hamilton, as did Alexander and Lucinda Butterfield, Xenophon and Martha Butterfield of Niagara county on the same date.
Hamilton Butterfield died January 18 1851 aged 45 and this property went to his widow, Kasandana, daughter of William and Sarah Boom who resided nearby on a cross road. Kasandana resided in the above house until her death June 18 1896 at the age of 81. It then went to her daughter Sarah V, wife of John G Parker, a farmer and cheesemaker who had bought an adjoining farm from William Boom May 27 1867. Mr Parker enlisted in the Union army at the outbreak of the Civil war and served through the war. Mr Parker died May 3 1910 leaving his widow, a son James H, of Gouverneur, a son George J, city and a daughter Mrs George Newman, but this place went to his widow, who had married him just before the Civil war.

On November 14 1919 Mrs Sarah V Butterfield Parker sold this house and the then remaining 30 acres of land to Richard T and Emma Putnam Loughlin, twelve acres having been sold off July 5 1904 to Samuel Mooney. Mr and Mrs Loughlin continued to reside in this house until their deaths and in 1926 built the house immediately west of it, owned and occupied by Mr and Mrs Frederick T Matthews, Mrs Matthews being a granddaughter. Mr Loughlin died September 17 1940 and his widow, Mrs Emma Putnam Loughlin lived until the spring of 1948. Under the provisions of her will recorded August 11 1948 her property was distributed among her children Mrs Marjorie Loughlin VanAllen, Mrs Reta Shay, Mrs Gladys Dealing, Airs. Edna Fawcelt, Mrs Verna Ragsdale, Mrs Leona Walts and Carlyle Loughlin. Mrs VanAllen, widow of Dr Harry C VanAllen, a former Gouverneur dentist, acquired the rights of the other heirs in this house and the approximately three acres of land that is now left witli it and still retains title to it. The house is in an attractive setting with the Rutland hills spreading off to the rear and the Rutland valley far off in front of it, while the city of Watertown nestles low in the bowl of the Black River Valley to the westward
325 Gotham St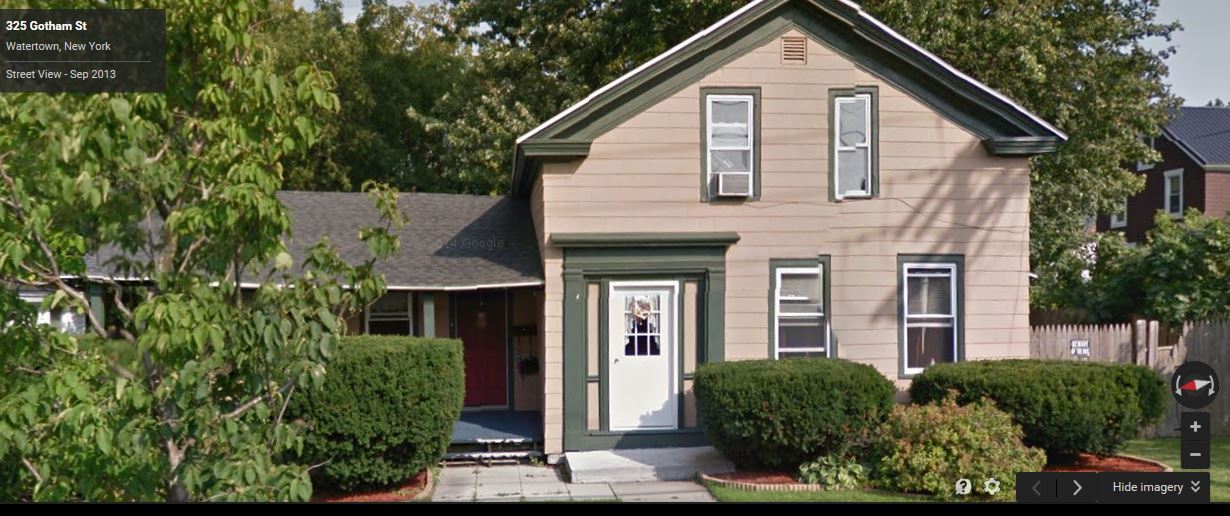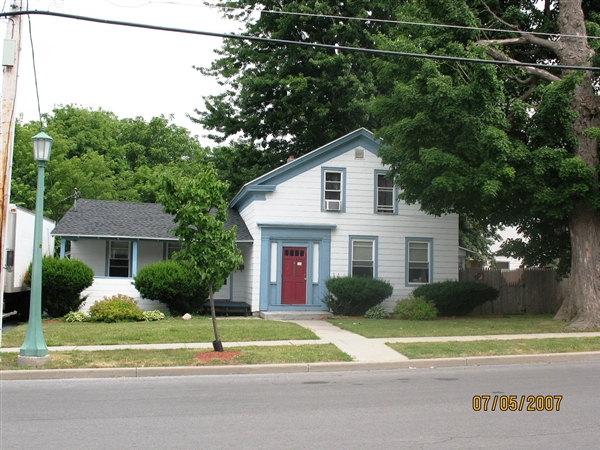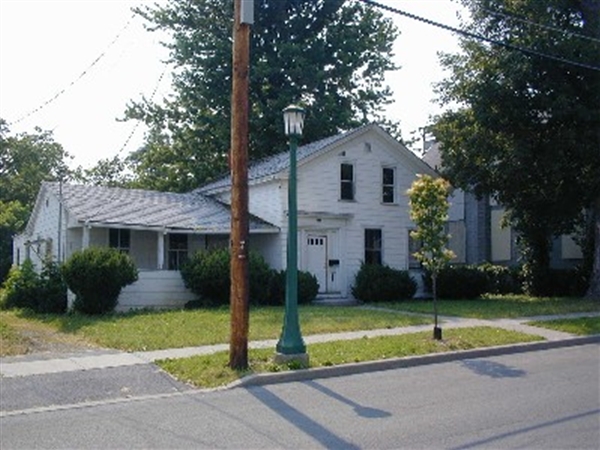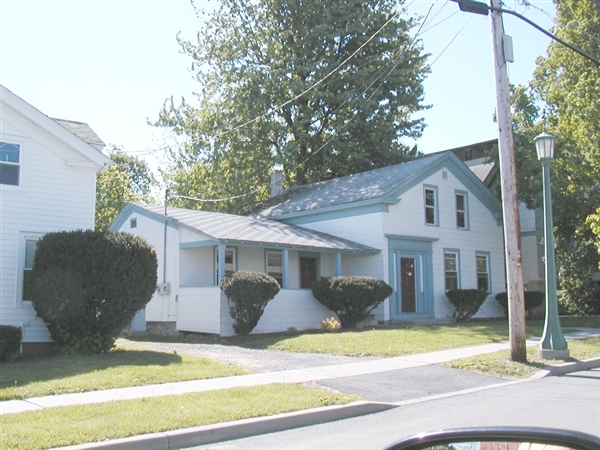 Unusual historic interest attaches to this house of an estimated 115 years age at 323-5 Gotham (formerly Jay) Street, now owned by Joseph M and Ethel M Furness. Early owners and occupants were Reverend Isaac Stone, astor of the Arsenal Street Methodist church, and John A Haddock, author of a Jefferson County history and early Watertown editor. And in it somewhat later Miss Antoinette C Rogers conducted her private kindergarten school, teaching among others Secretary of State John Foster Dulles, his brother Allen Welch Dulles, head of the nation's C I A, and the late Countess Di Frasso.
The attractive little house, situated on the east side of the street near Academy Street, was apparently built by Micah Sterling prior to 1843 Sterling having been the early owner of all the land in that section. On April 15 1843 he and his wife, Ruth, sold it to John Dunlap for $1,400. On August 4 1846 John on Louisa Dunlap disposed of it to Reverend Isaac Stone. On March 16 1850 Reverend Isaac Stone, then located in the town of VanBuren, Onondaga county, was joined by his wife, Rachel, in selling it to John A Haddock. A few houses away on the corner of Sterling and Jay Streets lived Benjamin Cory, another early Watertown editor. On September 2 1847 Mr Haddock became publisher of the Democratic Union, a local weekly newspaper.
Later Mr Haddock and Charles A Stevens became the owners of that paper, whose offices were destroyed by the great fire of May 14 1849 and on September 12 of that year Mr Haddock became sole proprietor and publisher. On. August 28 1850 was founded the New York Reformer, antecedent of The Watertown Times and Mr Haddock later became city editor. In August, 1858 he bought an interest in that paper. In 1861 he was one of the original trustees of the Watertown Home for Destitute and Friendless Orphans and Children.
In 1894 Mr Haddock brought out his history of Jefferson County, but on October 5 1852 he and his wife, Mary F, had sold this house to Deziah, wife of Henry Murray of Adams, and on April 15 1862 they disposed of it to Albert R Ralph. On March 19 1863 Albert R and Lydia M Ralph conveyed it to Gustavus Hardy, a carpenter who came here in 1849 from his native Rutland to help rebuild after the fire and worked on the Iron block, the American building and the Hotel Woodruff. Still later he worked on the Commercial block where the chamber of commerce building is. He died next October 5 they sold to John E Jones who, on December 17 1866 sold it to Alonzo M Rogers and his wife, M Antoinette Thompson Rogers.
They were the parents of Miss Antoinette C and her sister Miss Jennie A Rogers, a local teacher and stenographer. The Misses Rogers continued to live in the house until their deaths. Miss Jennie A Rogers died September 20 1933 aged 74 and Miss Antoinette C Rogers on September 15 1938. She was nearly 73 having been born September 29 1865 and having lived in the house since she was nine months old. In this house and later in a building in the rear, she conducted her kindergarten school 17 years, until the local public schools established kindergarten departments.
Mrs Ruth Rogers Cooper, Chicago, a niece inherited this property which had been deeded to the Misses C Antoinette and Jennie A Rogers and their mother, Antoinette Rogers, by Frank A and Minnie A Rogers, Fred C and Charles D Rogers on September 19 1888 and sold it to Mrs Julia Gladys Stephenson of Sturbridge, Massachusetts, on November 22 1939.
Mrs Stephenson continued to own and reside in the old house until August 6 1953 when she sold it to Joseph M Furness, Brooklyn, retired, and his wife, Mrs Ethel M Furness. They reside in and maintain the house in excellent condition. It is of attractive Cape Cod design and now contains apartments, the wing being numbered 323 and the upright 325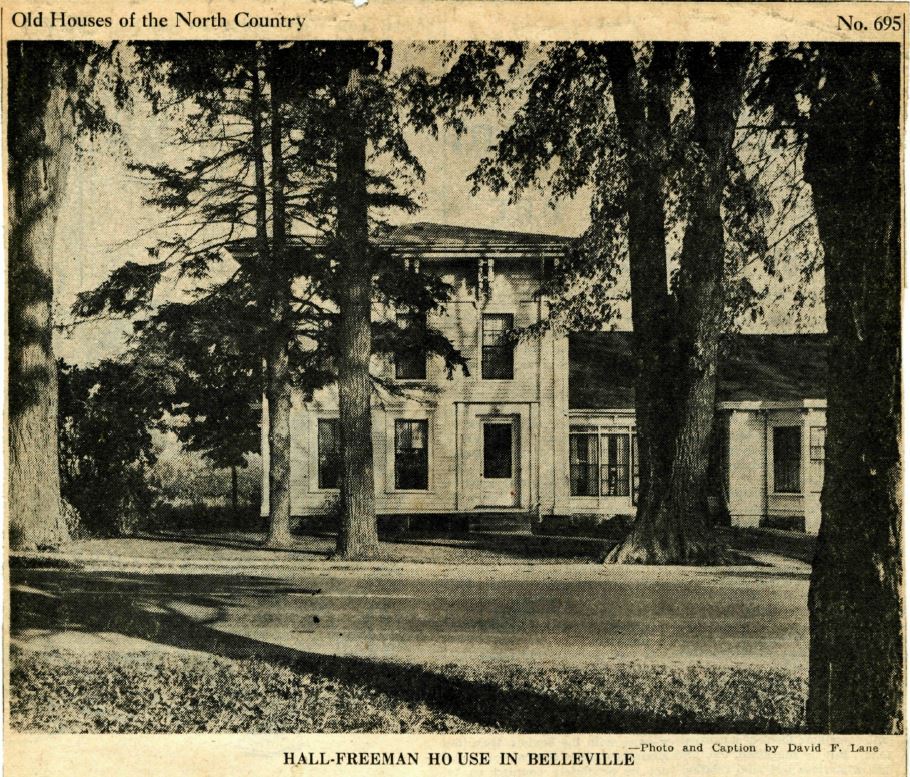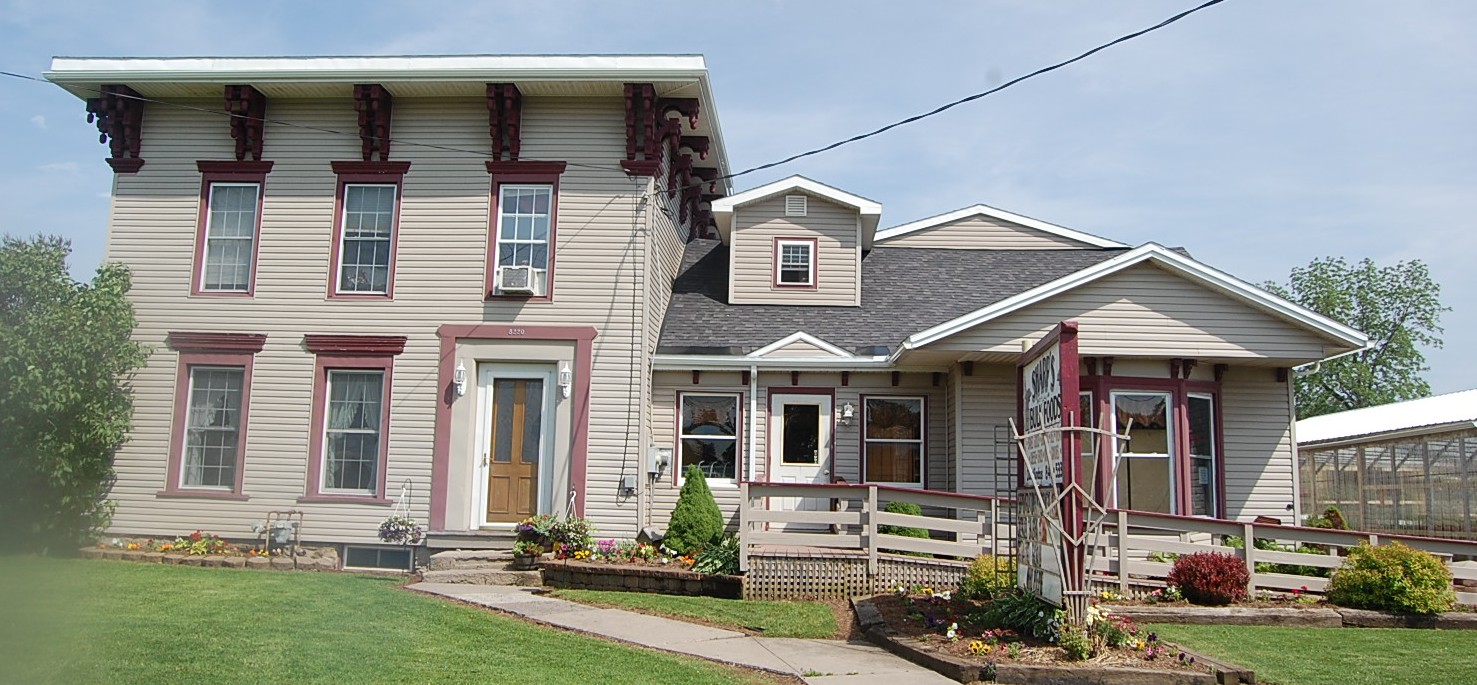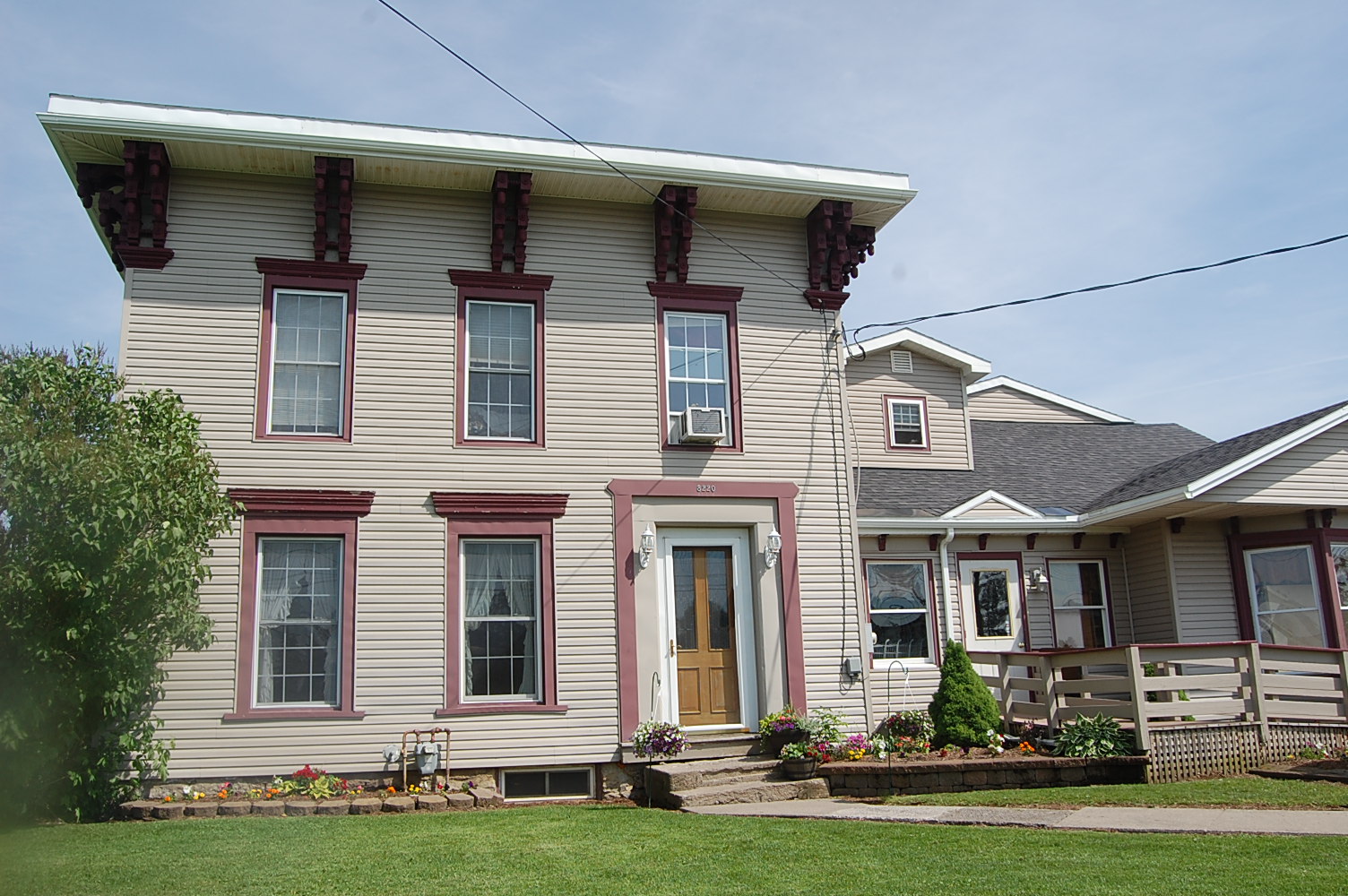 The first settlement in the county was made in the town of Ellishurg by Lyman Ellis in 1797. The village of Belleville is in the town of Ellisburg and was first named Hall's Mills for Giles Hall who acquired hydraulic rights there from Jedediah McCumber and built the first saw and grist mills in 1806. The sawmill later was sold to Harvey C Stacey and the deeds relating to the plot of land bearing the house shown above mentions that the Hall-Stacey mill and a right-of-way to it were excluded from the transfers.
Belleville historians say that the wing of the big square-roofed house shown above at the outskirts of the village on the road from Belleville to Adams is the oldest dwelling in Belleville. The square-roofed upright, although built at a later date, is said to have been constructed 115 to 120 years ago by James M Freeman. About the time of the outbreak of the Civil war Freeman's business affairs were in such a poor state that he was compelled to turn his assets over to an assignee for benefit of creditors. Since then this house has had a number of owners.
Over 9.5 years ago it was purchased by Ernest G Shaad and wife. Mrs Maybelle B Shaad, and they occupy the upright, while Mrs Eva M Hodge, former owner, leases the wing.

For the past 28 years Mr Shaad has been principal of Union academy at Belleville, having come there from Lowville academy to take that position at the beginning of the fall term in 1927. He is a graduate of Kansas State Agricultural college, class of 1914. He took a summer course at Cornell university that summer and from 1914 to 1922 Inclusive taught in various Minnesota agricultural schools. From 1922 to 1924 he joined his father in the operation of a large farm at Salisbury Center, after which he taught agriculture three years at Lowville academy.
In October 1947 he was elected chairman of the South Jefferson district of the Jefferson-Lewis Council of Boy Scouts of America. In May 1952 he was chosen president of Frontier Schoolmasters for 1953 and is one of the leading educators of the county, identified with one of its oldest and best known schools. The Halls, the Freemans and the Barneys were among the earliest settlers of Belleville.
James M Freeman owned many properties in that section of the county, but on August 6 1861 was compelled to assign his assets to Benjamin Randall of Adams for benefit of creditors. As assignee Benjamin Randall conveyed this house and lot to Joseph Randall, also a member of a Belleville early family, for $6,000. In late December 1914 Sherman T Thompson, Adams, sole surviving executor of Joseph Randall, and Harriet L Bacon of Hamilton, an heir, sold this house and lot to Albert Ellis and immediately on December 31 of that year Mr Ellis disposed of it to Thomas V and Anna Williams of the town of Ellisburg. They retained it until February 20 1920 when they sold to Hiram S Barney and wife Dora E Williams Barney. Son of David P and Lucinda Barney, Hiram S Barney was born November 24 1847 on a farm a mile west of Belleville. He was descended from Edward Barney, who died in Braddcnham, England in 1601 and from Jacob Barney who died in Massachusetts in 1673. Hiram S Barney's wife was the former Dora E Williams.
After his death on October 23 1922 this house and lot passed to his widow. Following her death in 1925 her son, Alden F Barney, as executor of her estate, sold this place on October 14 1926 to Calvin W Hodge and wife Eva M Hodge. On May 26 1936 Calvin W Hodge, then of Columbus, Ohio, transferred his interest in the property to Mrs Hodge and she sold the place to Principal and Mrs Shaad, the present owners but has continued to reside in the house wing as a tenant.
The house is one of the best-kept and most imposing in the village of Belleville and occupies a beautiful setting among large trees, while well back to the rear flows the north branch of Big Sandy creek, the water of which has turned the wheels of many mills of this historic village in the past, a village which from 1853 to 1862 boasted the service of the old Sackets Harbor & Ellisburg railroad.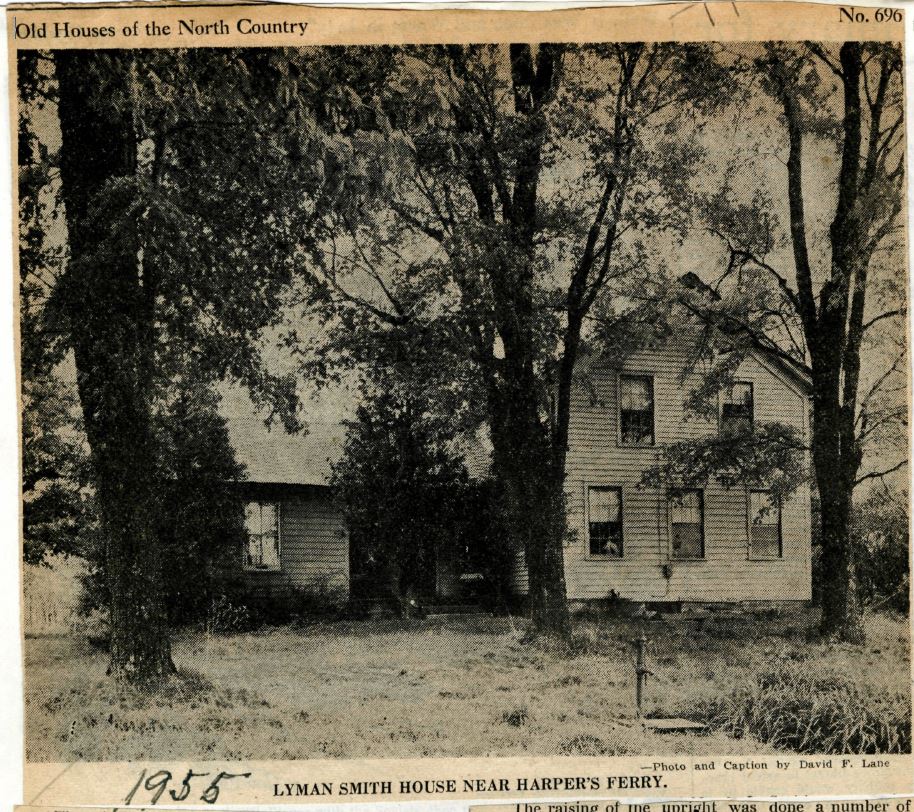 There is a place on the old State road from Watertown to Champion known as Harper's Ferry. It is near where an intersecting road runs off to South Champion and Copenhagen. How it got its name is much beclouded today. Some think that in abolition days of October 1859 when Captain John Brown, famed abolitionist, led his little force against the arsenal at Harper's Ferry, WV, in his campaign lo free the southern negro slaves, a fist fight took place between sympathizers and non-svmpathizers in the Harper's Ferry tavern that then existed on this Watertown-Champion state road.
Near the beginning of the 19th centurv this old state road was laid out from Watertown through Rutland Center, Harper's Ferry, Champion, Denmark, Lowville to Utica. Between here and Denmark there were stagecoach taverns at East Watertown, Rutland Center and Harper's Ferry. That at Harper's Ferry was built shortly after the War of 1812 by Richard Hurlburt, and later was run by Stutely Weeks, Elisha Andrus, John Hill and Colonel Carter. Toll gates were located along the state road and in 1810 a road was cut through from Harper's Ferry to .Copenhagen to avoid toll fees. It was known as the "shunpike" road.
On March 20 1811 Lyman Smith, a New England carpenter, bought 50 acres of land near Harper's Ferry from Alden and Mercy Bucklin for $650. Bucklin had acquired it August 13 1808 from William and Bathsheba Coffeen and is said to have built what later became the woodshed part of the above house. In 1801 Coffeen had become one of the earliest settlers of Rutland, but the 50 acres where this house is was acquired by him from Isaac and Anne Bronson of Fairfield, Connecticut, September 19 1807.
Soon after he purchased the 50 acres in 1811 Lyman Smith built the upright and wing of the above house and it has been owned in the Smith family for the 144 years to and including the present date. Aside from raising the upright a few feet, the house, which stands well back from the south side of the Watertown-Champion road, is little changed from its original appearance. The raising of the upright was done a number of years ago by George L Smith, the present owner and grandson of Lyman Smith. George L Smith, now 88 farmer and historian, is a son of the late Sidney L and Hannah McMichael Smith, the latter having been of Irish lineage. George L Smith recalls that Harper's Ferry was once a spot of activity with a cheese factory, Reuben Palmer's blacksmith shop, a number of houses and the Harper's Ferry tavern which his father came to own and which was destroyed by fire about 1878.
Besides the 50 acres where the above house stands Sidney L Smith acquired a considerable amount of adjoining acreage and the Palmer blacksmith shop.
Lyman Smith was 82 when he died on April 11 1866. His children were Merritt, Sidney L, Noyes, Mrs Nancy Kibbie, Mrs Dorothy Woodruff and Mrs Betsey Burr
On March 11 1862 Lyman Smith conveyed the above house and 50 acres to Sidney L Smith who on December 7 1850 got 64.5 acres from Orville and Mary C Kelsey and on June 1 1857 had bought from Isaac and Mercy Carter parcels of 71.44 acres, 12.5 rods, a quarter acre and the ten to eleven acres where the Harper's Ferry tavern was and which Richard Hurlburt had earlier sold to Stutely Weeks. Sidney L Smith died September 12 1897 making money bequests to his daughters, Maude L Smith, Mary A Smith, Ellen A Smith and Mrs Cordelia C Baker. To his son, Byron J Smith, he gave the land where the Harper's Ferry tavern had stood. All of the remainder of his farm including the 50 acres, and the above house he willed to his sons, George L and Eugene S Smith.
In the will he expressed desire that members of his family have residence in the homestead as long as they needed to and that George L Smith and Maude L Smith manage the business until all specific bequests were paid. On July 6 1900 Eugene S Smith quitclaimed his interest in the estate lo his brother, George L Smith, who has since owned it and resided in this house. The farm consists of a total of about 200 acres and near the house stands the old but much-ruined blacksmith shop with some of its dilapidated equipment.
Through the nearly century and a half the old house has seen much interesting history for the road was a main-traveled one in stagecoach days.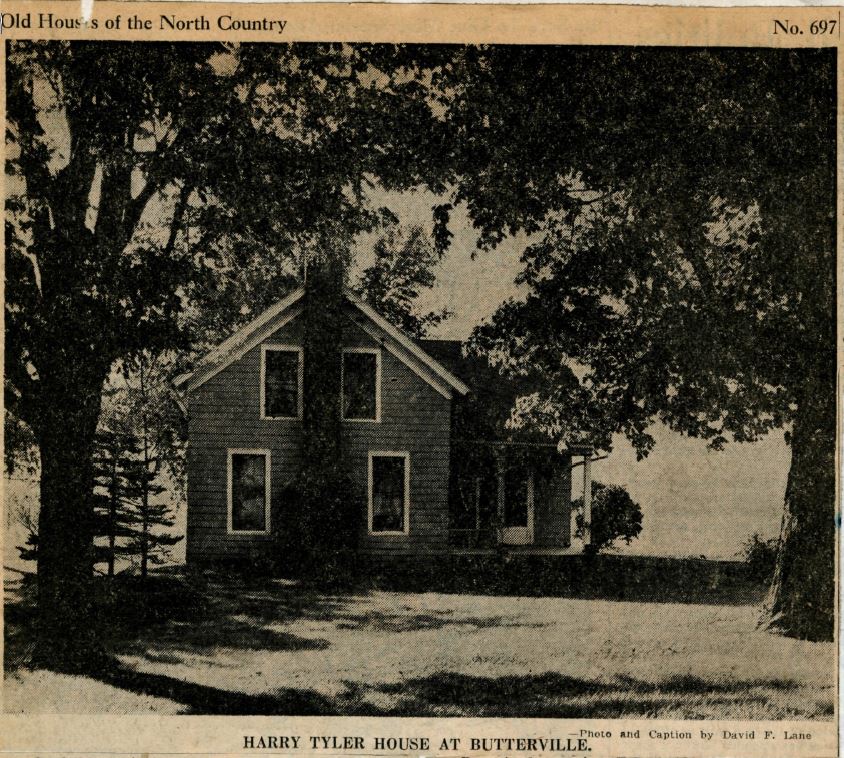 Picture Taken June 2015: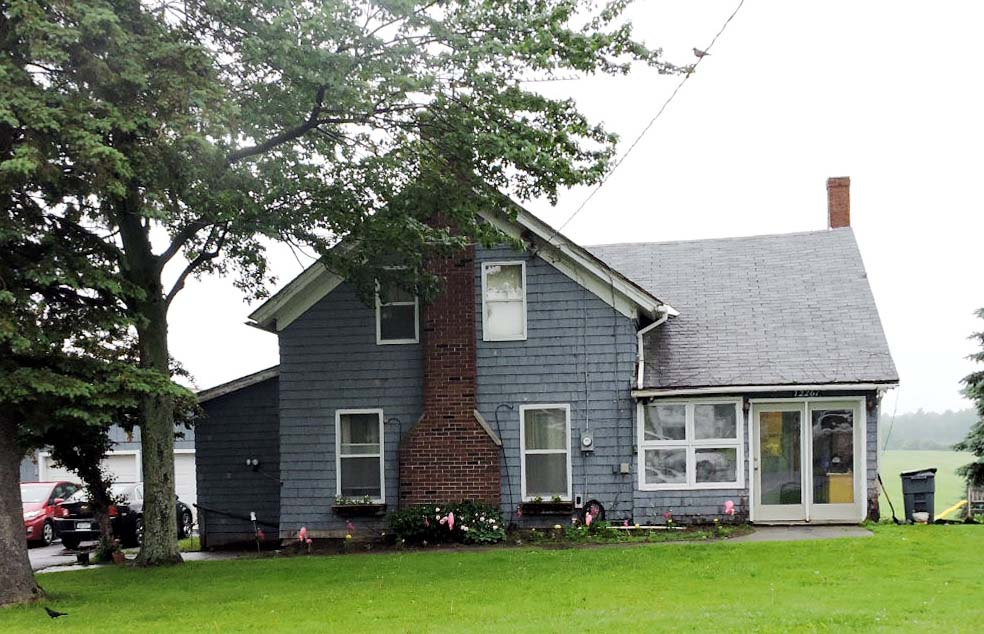 Probably no Jefferson County creator in the field of art has left a better remembered or more lasting impression than Harry Tyler, designer and weaver of the famed Tyler coverlets or counterpanes. For 24 years he made them in his house at Butterville, town of Henderson, where it abutts the town of Adams.
During that period he created many of them in beautiful patterns of his own design. Some of them were a combination of red and white. Others were a combination of blue and white. Only one was pure white. That was a bridal gift for Cynthia, wife of his son, Elman, and they were the parents of the late Birt Tyler of Henderson Harbor and of Mrs Arthur L (Etta Tyler) Chapman, city. They were two-ply, woven in halves and sewn to each other. The first one was produced in 1834. In 1857 just 99 years ago, the last one was unfinished in his loom and was completed by his daughter, Cynthia
Being of English parentage his coverlets until 1850 bore the design of a lion in the corner. After that the emblem was the American eagle with a streamer inscribed "E Pluribus Unum." Also in a corner was woven the name of the person for whom made. Meticulously did he have his woolen yarn spun. To Sackets Harbor did he send his son, Elman, deftest of his assistants, on horseback to buy from Colonel Elisha Camp the indigo used to dye his blue and the cochineal to dye his red. And in a brightly polished brass kettle in a small building back of his house, the dying was done. His sons. Elman, Leman and Lewis, were his chief assistants, but to none of them did he entrust the secrets of his methods. So when he died on August 22 1858 aged 57 years, six months, 17 days his process died with him.
Today a considerable number of Tyler coverlets still exist in good state of preservation, scrupulously cared for and highly prized. His granddaughter, Mrs Chapman, has a fine collection of them, and another excellent collection is owned by the Jefferson County Historical society.
The house, in which he made them still stands but somewhat changed in appearance, owned by Leon S and Minnie W Chrisman formerly of Oswego
Born in Connecticut February 5 1801 Harry Tyler was son of a marine merchant who lost his ship and cargo in the Atlantic. Harry spent his early years in Millford, Otsego county, married Ann Cole, granddaughter of a Revolutionary hero who won the George Washington medal, and in 1830 he removed to Erie county and in 1832 to North Adams. Children by that marriage were Cynthia, Elman, Leman and Lewis. His wife died August 27 1843 aged 34 years, 21 days. Later he married Mary Ann Dye by whom he had Beloit, Deloit, Harriet and Idese.
Harry Tyler and his first wife are buried in the Smithville cemetery. After building his house he designed and constructed his looms, the coverlet loom being in the downstairs front room of the upright. In the room above was a loom, in which he wove ingrain carpets and he did an extensive business.
Although it is family tradition that he bought the land where his house is in 1832 probably on contract, his first deed is dated September 26 1840 and covers .75 of an acre from John Morris. The second parcel was ten acres deeded to him by George and Polly Penney March 7 1844 and sold by Harry and Mary Ann Tyler to Robert Muzzy February 1 1849 excepting .30 of an acre for a schoolhouse. A third parcel of 2.87 acres was bought by Tyler April 1 1847 from Joseph and Sophronia Withington and lay in the town of Adams. His fourth parcel of .35 of an acre was purchased from Charles A Benjamin October 22 1853. All but the ten-acre parcel are now with the house.
Mrs Mary Ann Tyler, widow of Harry Tyler, individually and as special guardian of her daughters, Beloit and Harriet E Tyler, minors, sold the house with its 3.97 acres to Esther Cagwin, Henderson, on October 19 1866. On April 3 1871 she sold it to Daniel Babcock who, with Susan Babcock conveyed it to Seymour M Beebee April 2 1873. On April 5 1895 Beebee transferred it to Phoebe P Beebee, who died intestate, leaving Mrs Jacob I (Ada S) Chrisman her only heir. Mrs Chrisman died intestate about 1928 and on October 8 1937 Jacob I Chrisman, Henderson, Leola Chrisman of Syracuse, Alctha C Dowkes, town of Adams, and Harold Raymond Chrisman, Albany, her heirs and next of kin sold the property to Leon S and Minnie W Chrisman, the present owners. The house has been slightly modernized with asbestos shingles on the exterior and probably in other Avays. And it should be mentioned that Elman Tyler who died on July 21 1906 went to Henderson Harbor where he early established the Avell known Tyler's Inn so long operated as a summer hotel and which was occupied so many years by ILLEGIBLE ---125 acre farm in the (text missing)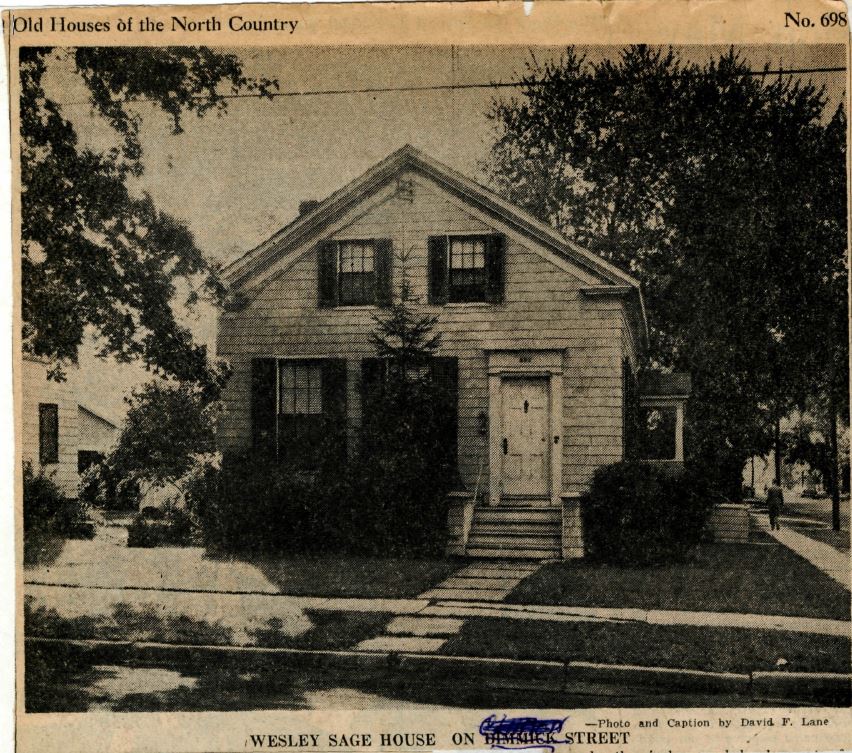 502 Dimmick St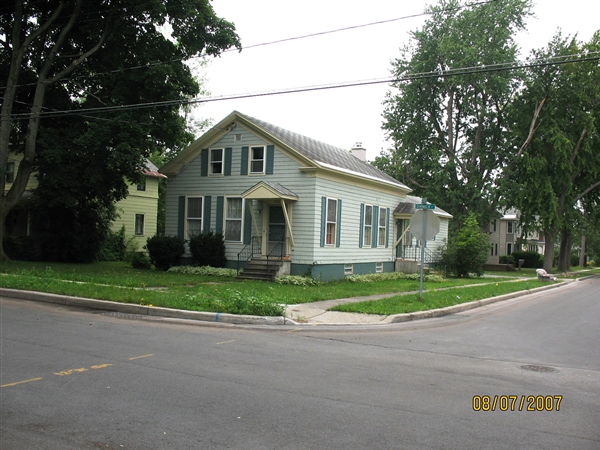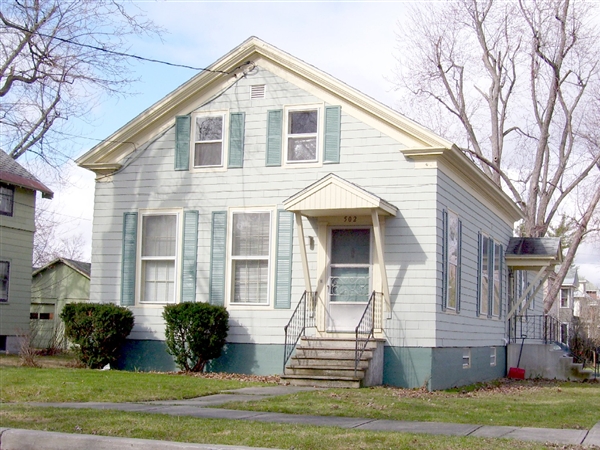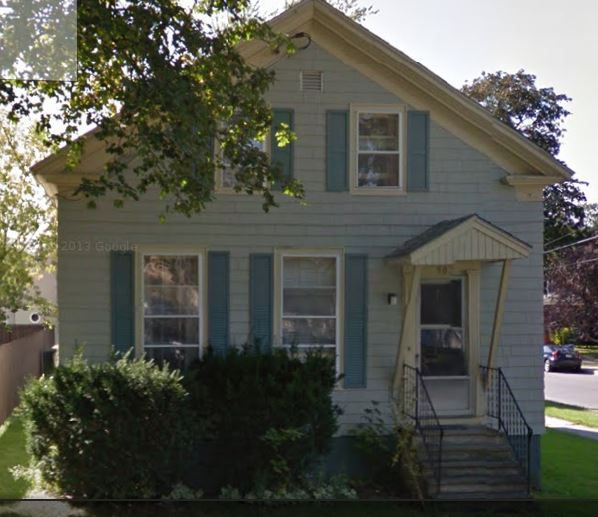 One of the early house builders in Watertown was Wesley Sage, a younger brother of Colonel Elias Sage of Champion, and one of the houses he erected here was that which originally stood at 202 Clinton Street, at the corner of Sherman Street. The site is now a part of Samuel A Upham's residence lot, but for the past 10 years the house, now owned by Newton S and Louise J Russell, has been at 502 Dimmick Street. To that place it was moved in midwinter 1939-40.
Built probably in 1810 or 1841 by Wesley Sage this little Cape Cod type house has a wealth of history connected with it. It was probably constructed for sale by Mr Sage who resided only a house or two away on Clinton Street. It occupied half of a lot which Mr Sage purchased on February 17 1840 from Clarke Rice and George W Knowlton and their wives. There is a possibility that Mr Sage may have lived in it for a brief period, but on February 1 1847.
He and his wife, S M D Sage deposed of it to Silas Clark. Silas Clark was one of the original trustees of 110 Watertown Woolen company formed December 24 1835. For a time he was also county treasurer, but evidently he decided to go west as he was residing in Kenosha Wisconsin, April 2 1857 when be and his wife Hannah F Clark sold this house, then designated 22 Clinton Street, to David Hamlin, a wealthy and prominent town of Rutland farmer.
Mr Hamlin never lived in the house and on June 1 1857 transferred it to Olivia C Meigs, wife of Benjamin R Meigs. Mrs Meigs was a sister of Mr Hamlin. Mr Meigs was for some years a bookkeeper in the Black River bank, more familiarly known as the Paddock bank, for it was organized by Loveland Paddock and began business May 25,1844 with him as president and owner of 90 per cent of the stock. The balance was owned by his sons, Oscar and Edwin L Paddock.
On June 8 1863 the bank became the First National bank of Watertown, first national bank in the county and one of the first in the state. When Mrs Meigs died February 25 1911 she made bequests to a number of Hamlin nieces and nephews and jointly to her nephew-in-law, A TenEyck Lansing, and his wife, Mary Hamlin Lansing, she willed this house at 22 Clinton Street. Also she made Mr Lansing executor of her estate.
Mr Lansing, son of Dr Edward S and Mary Sherman Lansing, was a grandson of George C Sherman, founder of the Jefferson County Savings bank, with which A TenEyck Lansing was connected for half a century, rising to its secretary-treasurership and later to its presidency, posts which he held for many years.
He was a great-grandson of Captain Noadiah Hubbard who claimed to be the first white settler of the county. Mr Lansing's wife died June 21 1919 and Mr Lansing February 13 1937. On October 21 1939 Charles S Lansing, brother and executor of his estate, sold this Clinton Street house, then designated No. 202 to Mrs Florence Winslow Upham, wife of Samuel A Upham, and in December of that year the removal of it was begun and completed the following January to the Dimmick Street site. There is became No. 502. Later it was conveyed to Newton S and Louise J Russell, the present owners and occupants. Mr Russell has for many years been in the employ of the Upham family.
After Mr and Mrs A TenEyck Lansing removed from this house to one on Sterling Street, this little house was rented. Among its tenants were the late Mr and Mrs Harry C Whitney, Mr Whitney having been president of the old Watertown Gas Light company. Count and Countess Hermel Gustave Marie de Sallier du Pin were also tenants for many years. Count de Sallier, native of Brittany and son of a marquis, was onetime United States cousul to Brittany under President Benjamin Harrison, and in his last years was clerk of Jefferson County surrogate's court.
His wife Emily Binsse de St Victor was daughter of Dr John Binsse, Drotlier-m-law and land agent-of John La Farge. His daughter, Emerance, became Countess Kelley, wife of Papal Count Thomas Hughes Kelley
For a number of years Lafayette E Tuft, St Lawrence division train dispatcher and father of Madolyn King Tuft, an accomplished dancer, lived here. Mr and Mrs Louis S Lansing were also tenants for a time. Mr Lansing, also a great grandson of Noadiah Hubbard and son of former state senator and Congressman Frederick Lansing, was for a considerable time secretary-treasurer of the Frontenac Paper company at Dexter. His widow is Mrs Grace S Moffett Lansing, a founder and former regent of LeRay de Chaumont chapter of the DAR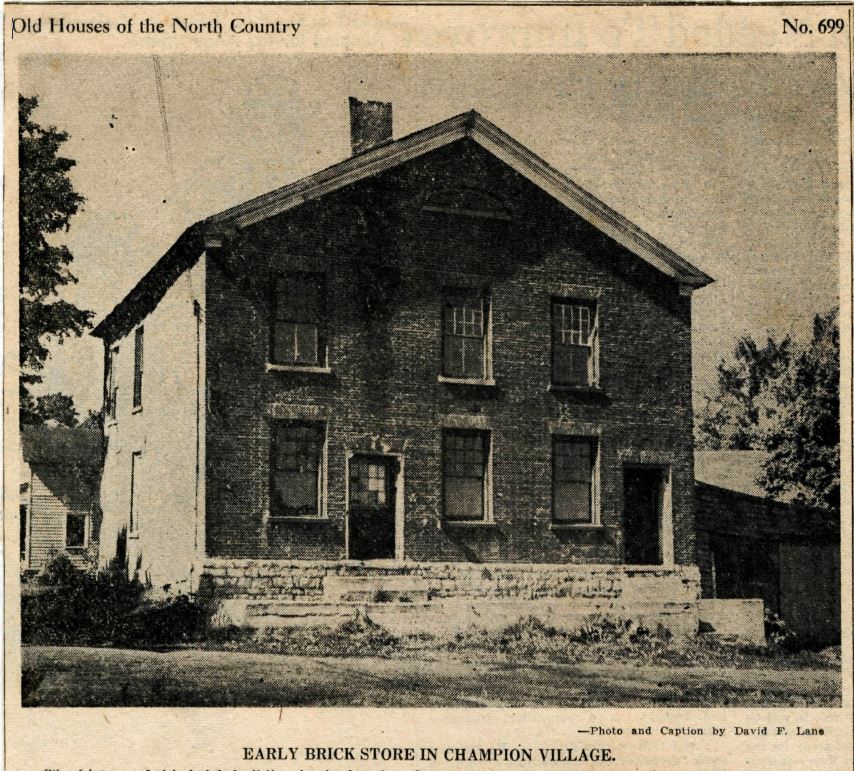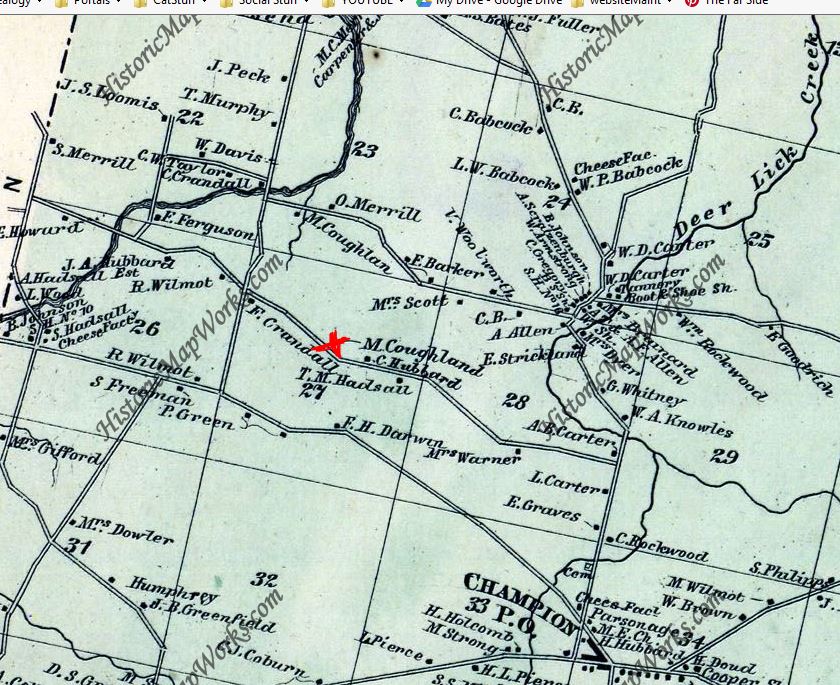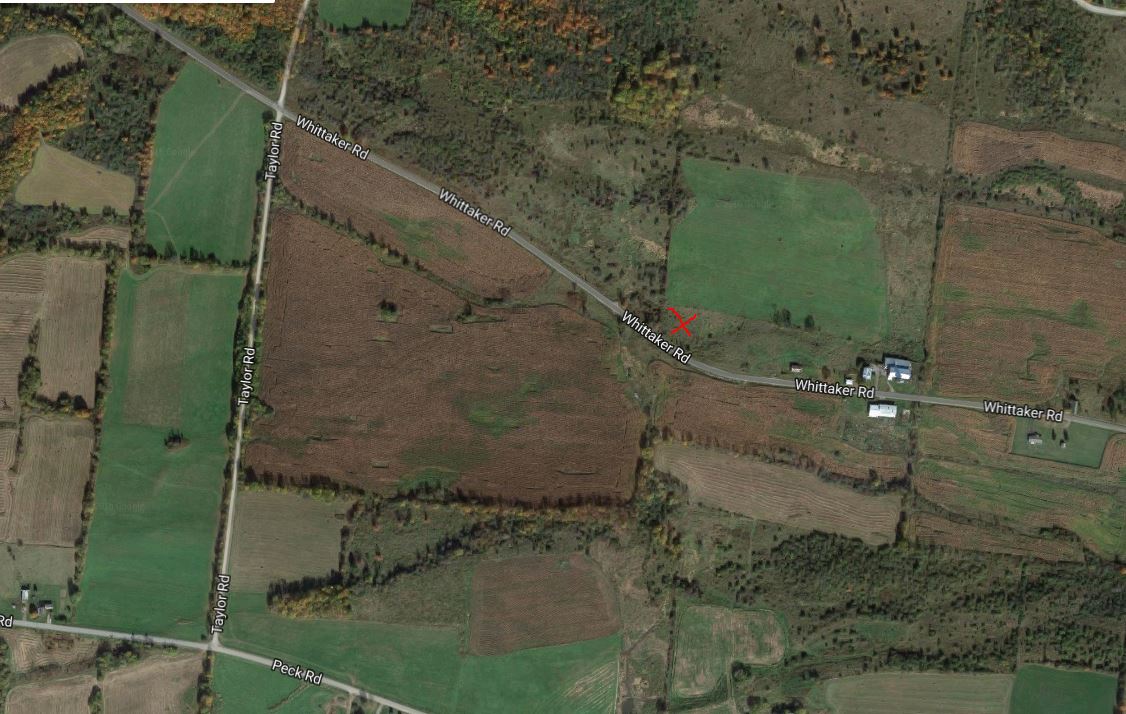 The history of this brick building in the hamlet of Champion has spurred the curiosity of hundreds of people for years, and the time of its building and the nature of its origin conlinucs elusive. Old settlers of the town of Champion disclaim knowledge that would solve the Sphinx-like riddle. It is located on a corner of the Watertown-West Carthage state road, where the road from Great Bend intersects, only a few rods from the beautiful Hiram Hubbard stone house and only a little way further off is the mansion of stone owned and occupied by the late Captain Noadiah Hubbard, founder of the hamlet and of the town.
Comparatively recently it was purchased by Sylvester J Parks, proprietor of the hamlet's general store, and is used as a tenement house. But for a number of decades in the more prosperous and active days of the hamlet it housed a general store.
Probably the earliest of its proprietors was Merinus G Coughlan back in the 1860's, almost a century ago. Later it was conducted by Alonzo Shedd and still later by Sidney Looinis and Orrin Fletcher. But the design as well as the wear and tear of the years upon the building indicate that it was constructed, in all likelihood, considerably before Merinus Coughlan owned and operated it. Just when Coughlan acquired it is unknown, but an 1864 atlas map of the hamlet showed that he had his store there in 1864.
Likely he had then been established there for some time, for on March 7 1860 he had bought the Noadiah Hubbard mansion up the road from Miss Parnelle F Hubbard, a daughter of Noadiah Hubbard, for $2,200. Noadiah having died June 12 1859. That poses the thought that Mr Coughlan was a man of some financial substance.
On September 20,1864 Merinus G Coughlan bought 57.17 acres of the McNitt farm near Orson Merrill's land from Palmer and Emeline Green, but there is no description of the small lot where this brick building stands. George L Coughlan was one of the early and prosperous farmers in the vicinity and when he died July 1 1867 his son, Merinus, inherited the farm where he resided and most of his estate. On January 10 of that year Merinus G Coughlan and wife, Maria A, sold this brick store building and a half acre to John T Waite, but on September 1 1870 John T and Emma D Waite sold it back to Mrs Maria A Coughlan for the same price of $800. Merinus G Coughlan died May 15 1884 and on March 30 1885 Maria A Coughlan sold the brick store building and a quarter acre to Mrs Acta E Fox for $800. Mrs Fox kept it until March 14 1887 when she sold it to Helen Shedd for $2,200. The record does not show when title passed from Helen Shedd to Alonzo Shedd, but on March 22 1919 Alonzo A Shedd and wife, Amy C Shedd, sold the brick store building and quarter acre upon which it stood to Hiram D Clark.
Hiram D Clark and wife, Amelia Clark, disposed of it to Raymond H Allen, Chester F Allen and Sherman B Allen and they retained the property until October 25 1932 when they conveyed it to the Wilna-Gormley Oil company, of which the late Supervisor Ambrose Gormley of West Carthage, was the head. Mr Gormley died only a few months ago and this brick store building and site was sold to Mr Parks.
It stands near the historic Congregational church building of Champion which is now the grange hall. The church society was originally established in 1816 and its original church was dedicated on December 25 of that year. But the original edifice was located upon a hill overlooking the hamlet and because of its windy, exposed location, was transferred to the present site in 1841 the historic bell given by General Henry Champion in 1816 being placed in the tower of the new church where it now is.
The old brick store has a beautiful half-eliptical fanlight in its gable and many of its original windows of the small-paned type. While the architecture of the building is simple it is also pleasing and restful, lending itself to conversion into a fine country residence. Just across the road from it Mr Parks conducts his grocery.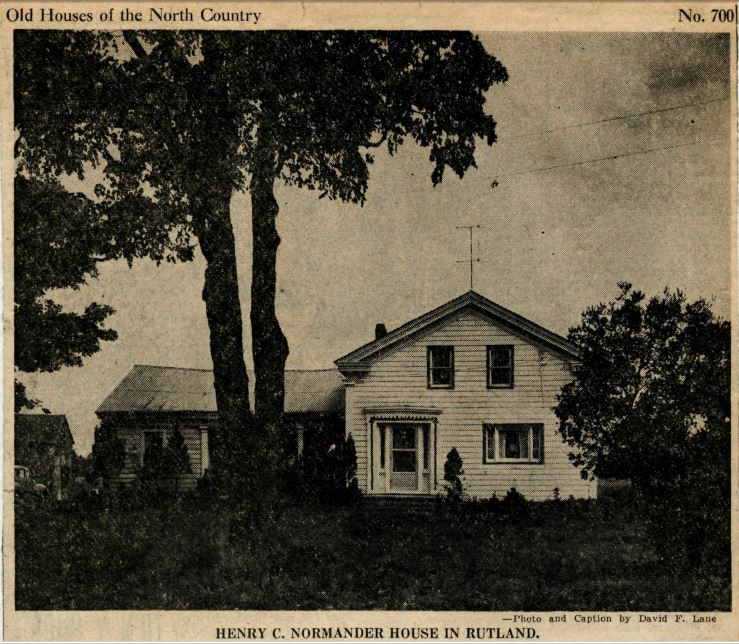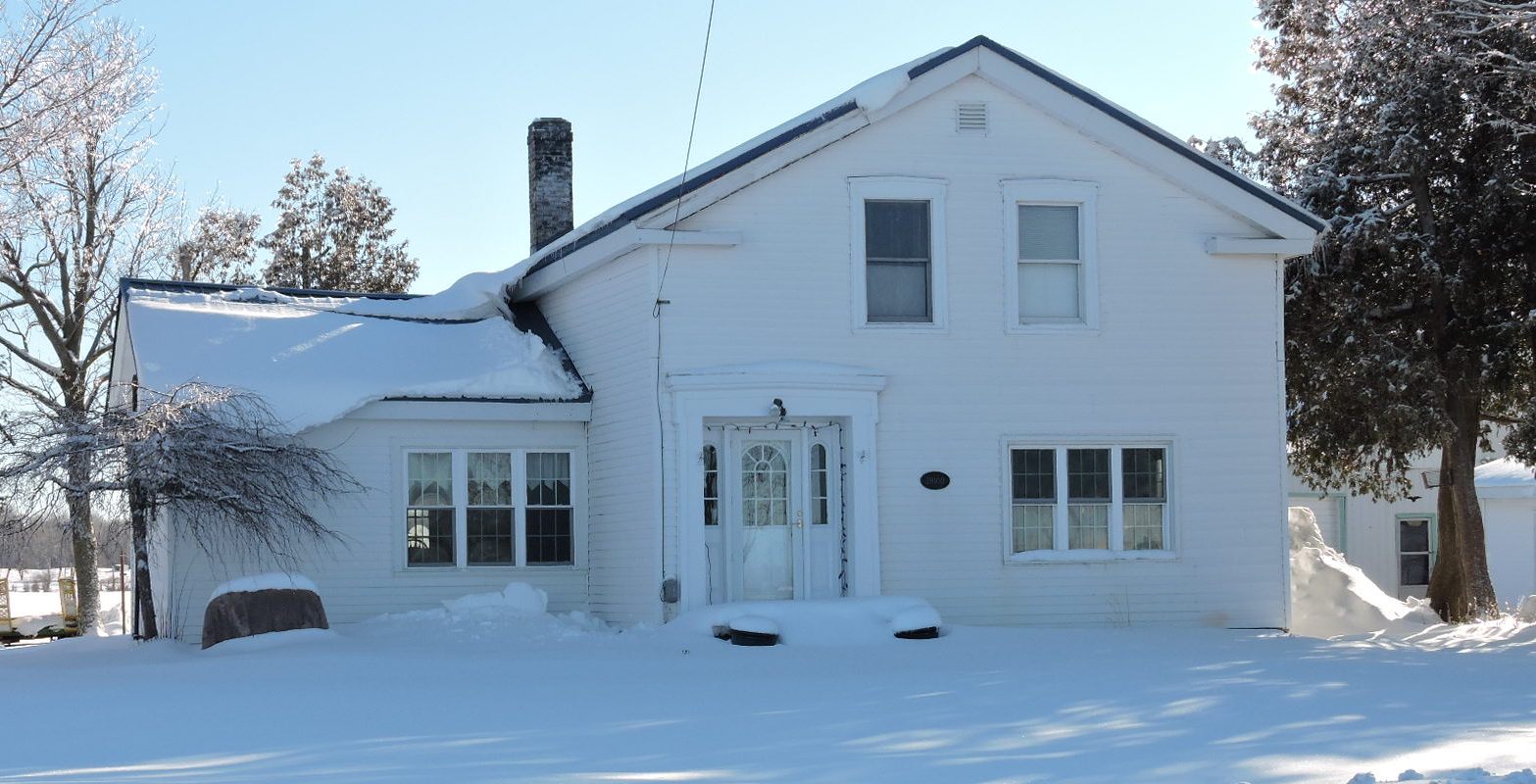 One of the most uncommon names in the history of Jefferson County is that of Normander, and never in 150 years have there been many of the family in this section of the state Not a single Normander has been listed in the Watertown city directory in years, yet Henry C Normander was once prominent in this community. For over 20 years he was the owner of the old Harris House, which stood on the site of the present YWCA building on the south side of Public Square. In addition he was a local builder and real estate operator. He was born in the town of Rutland on September 8 1827 was educated in the district schools of that town and in the Jefferson County Institute. He was married February 25 1851 to Harriet M, daughter of Amos and Malinda Ford Malroy and had four children, all of whom died comparatively early.

His early years until he was 10 were spent farming and his farm house, shown above, was on the Eddy load a short distance north of the Watertown-Champion road. Part of his large farm had been once possessed by Charles Normander, first of the Normander name to own land in the county. The first recorded land purchased by Charles Normander had been bought by him from George and Lydia Coffeen in the vicinity of tin's house May 12 1820.
On January 30 1849 Charles and Lucy Normander sold the 134.5 acres where this house is to Henry C Normander and if is likely that the house was there then and had been for sonic time, perhaps having been built almost 135 years ago. On February 6 1856 Henry C Normander acquired an adjoining 49.47 acres from James Eddy and wife and on February 26 1861 he added another 90 acres bought from John C and Julia M Hardy, making a total of 273.97 acres.
In 1867 Mr Normander decided to give up farming and on January 8 of that year he purchased the Harris House from Arnold M and Lucy Ann Harris. The hotel was then being operated by George W Jones, whose lease ran until the following March 7 After purchase by Mr Normander the hotel became known to many as the Normander House and was conducted by a number of proprietors under lease. On November 19 1890 Henry C and Harriet M Normander sold it to William W Taggart, Byron B Taggart, John F Moffett, Hiram F Inglehart and Joseph Mullin and on November 13 1891 bought from the Jefferson County Savings Bank a site on the southwest corner of State and Union Streets, where he erected the three-story brick apartment house which still stands there and which his estate had to sell in 1902 to satisfy a mortgage.
On April 18 1879 Mr Normander and his wife sold the Rutland farm where the above house is to John Winslow of this city. Mr Winslow transferred it to his wife, Sarah Winslow, in April, 1884 and on May 1,1903 she conveyed it to Catharine H Winslow then of Rutland. On March 1 1916 the latter disposed of it to Silas D Ball and Constantine Ganter, real estate operators of this city, Mr Ball later took title with James J and Eva Brett and on April 21 1927 they sold it to Carl A Phillips, another local real estate operator, who sold it on June 17 of that year to Robert H Staplin of the town of Rutland.
Mr Staplin kept the farm until May 2 1916 when he and his wife, Anna E Staplin, sold it to Mr Brett. On October 19 1946 James J and Gladys M Brett sold it to Gerald P Garvin, the present owner. Henry C Normander died on August 21 1900. On November 28 1904 his widow entered the Henry Keep Home and was a guest there until her death at 83 on October 24 1921. She was survived by five nieces and one nephew.
Under the ownership of Mr Garvin the old house has been much rebuilt and restored, a large and expensive modern barn has been built and operation of the farm brought up to date with tractors and mechanized equipment. It is now part of upwards of 1,000 acres of land owned and operated by members of the Garvin family in that part of the town of Rutland.