STONE HOUSES, MANSIONS AND OTHER OLD HOUSES
OF THE NORTH COUNTRY
Originally published in The Watertown Daily Times
(730) Articles and photos by David Lane, Newspaper Staff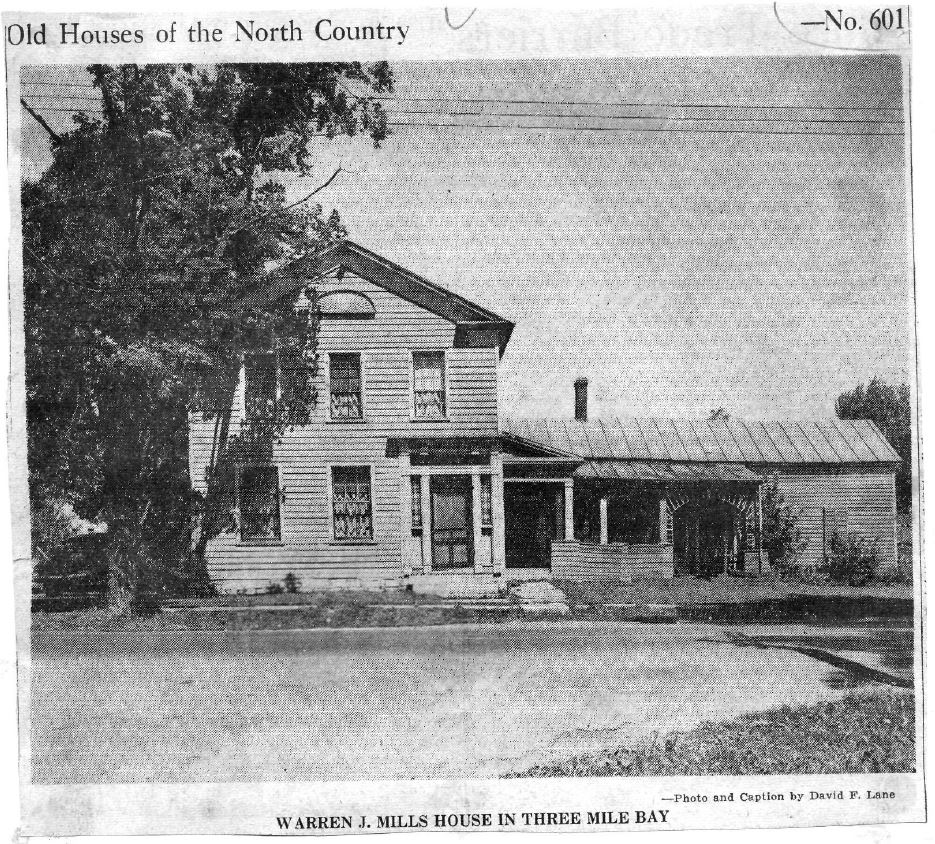 Three Mile Bay Fire Department occupies the space now
Built probably about 1840 by Warren J Mills, an early settler, this excellent old architectural specimen on the north side of the main street in the heart of Three Mile Bay, is familiarly known as the Deacon Allen house and is now owned by the children of William and Cora Hyatt Dick. One of the latter, Mrs Goldie Dick Braman resides in the house, which has been owned in the Dick family for nearly 62 years. The house, consisting of 13 low rooms and containing many antiques of the George Hyatt family, has a beautiful front doorway with rectangular transom and sidelights and exceptionally nice original small-paned windows. Its cornices are of the return type and in the front gable there is an excellent elliptical louvre window. It is sturdily built with planked walls. The plain while interior woodwork is nicely crafted, and the front stairway has plain white spindles with a walnut rail. There are no fireplaces. The site is part of the tract of land sold by Vincent LeRay February 20 1827 to Peter Estes, one of the prominent early Three Mile Bay settlers who with Benjamin and Richard Estes came there about 1816. In 1820 Peter and Richard Estes built and operated a sawmill at the mouth of Three Mile Creek. When Warren J and Charlotte Mills sold this property with its half-acre site to Russell Day, the price paid indicates that there was a house on it and it may be presumed that Mills had built this house about ten years before that.
Russell Day was an early Three Mile Bay merchant and his name poses the thought that he may have been a relative of Dr Russell A Olin, long rector of Trinity Episcopal church in this city and father of Dr Joseph Day Olin, MD, city, retired. In any event Russell and Eliza E Day sold the house and site November 11 1857 to Mrs Amelia Allen, wife of Deacon John Allen, a retired farmer, who resided there until his death April 29 1891. His children were Mrs John (Catherine) Doolittle and Mrs Chauncey (Polly) Vincent of Michigan; Mrs Herbert (Emma) Loveland, Mrs George (Elizabeth) Clark, Mrs Benjamin (Jane) Hunt, Adams Center, and Mrs Frederick (Estella) Page, Three Mile Bay.
On July 29 1892 George Hyatt and William Dick purchased the place from Mrs Josephine DeLong and Mrs Estelle Page, city, Mrs Amelia E Empie and Jerry C Wells of Lyme, and the Hyatts and the Dicks occupied the house together, William Dick having married George Hyatt's daughter, Cora, of Cape Vincent. The Dick family was of Scotch origin, William Dick's grandfather, Thomas Dick, having been born in Ayrshire, Scotland, where he died aged 55. The latter's wife was Elizabeth, daughter of Hugh and Jane Semple Reed of Scotland. The Dick family has long been prominent in this county.
One of the children of Thomas and Elizabeth Reed Dick was Hugh, born in Scotland in 1849. From there Hugh came to Canada for two years, then to Cape Vincent for 13 years and from there to Three Mile Bay. He married Johanna, daughter of Daniel and Mary Lawton McCarthy of Kingston, Ontario, and William was one of the several children of Hugh and Johanna McCarthy Dick.
William Dick was born February 7 1860 was educated in the public schools, became a photographer, crayon and India ink artist in Three Mile Bay, where he was also a guide and owner of a boat livery. On December 11 1884 he married Miss Cora Hyatt of Cape Vincent. Mrs Cora Hyatt Dick died December 6 1928 giving her four children her estate after a life-use to her husband.
He died March 19 1941 and left his entire estate also to his four children. It included this house and lot. These four children are Mrs Goldie Braman, widow of Reverend Frank P Braman, a Baptist minister whose parishes included churches at Three Mile Bay, Canton, and Oxford, NY; Wesley E Dick, city; George W Dick, Three Mile Bay, and Clay H Dick, Clayton. Reverend Mr Braman, to whom Miss Goldie Dick was married about 1912 died August 11 1927. The Hyatt family was of English origin arid George Hyatt, 2nd, father of Mrs Cora Hyatt Dick, was the son of George Hyatt who came from England. Further research discloses that the Brownville brick house of last week was built by Levi Torrey from brick which he made some time after he bought the site in 1820. Torrey was also the surveyor who surveyed Penet Square for John LaFarge some time prior to LaFarge's purchase of a large part of it.
Torrey was born in Chesterfield, New Hampshire, in 1789. With his brother, Joel, he came to Lorraine in 1811. In the War of 1812 he commanded a company that served along the border from Cape Vincent to Ogdensburg and later he was breveted a colonel. He is believed to have been the first surveyor in the county to run a line by backsights. He was twice married. His first wife died of cholera in 1832. In 1857 he moved to Wisconsin and later to Minnesota where he died October 18 1875. His brother, Joel, was a minuteman at Sackets Harbor, made brick on the chamber of commerce building site in Watertown, later for Abraham Jewett at Jewettsville and then operated a brick yard here at the present railroad junction for Edward S Massey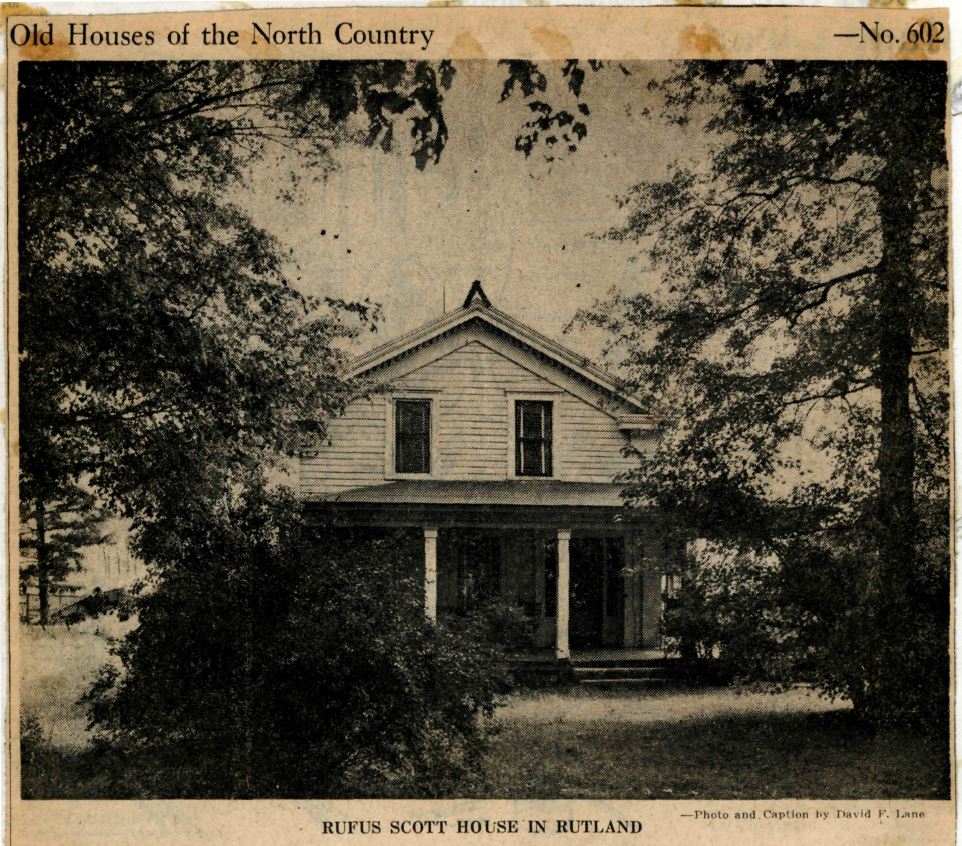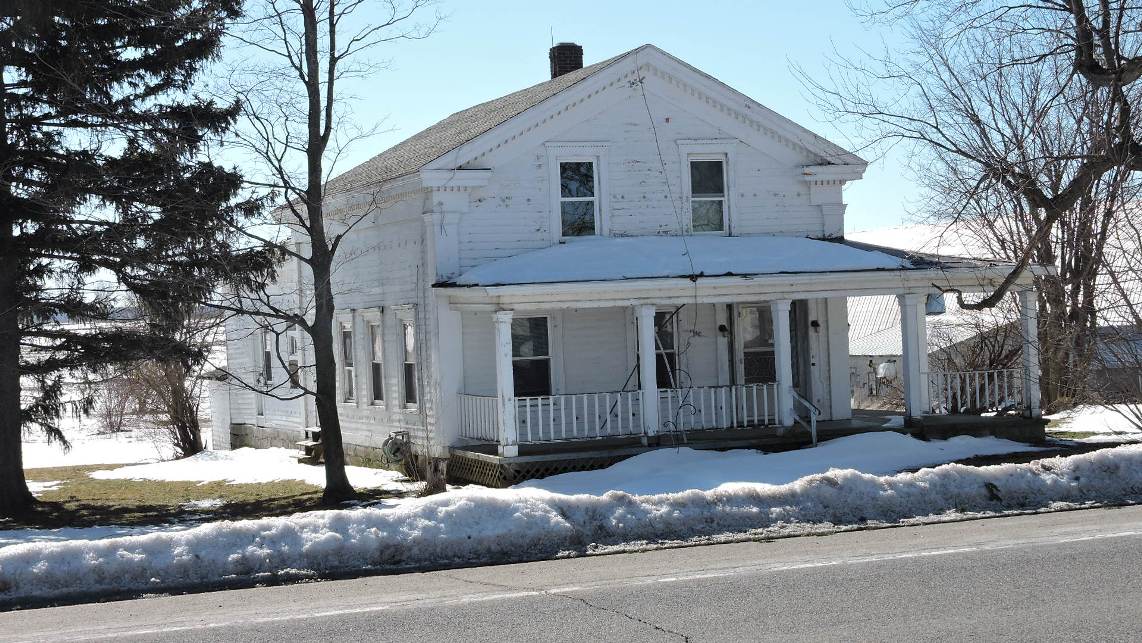 The town of Rutland attracted several members of the New England Scott families to become pioneer settlers. One of the first of these was Reuben Scott who settled in the Hollow district at the beginning of the 19th century. Some years later than that Rufus Scott came to the Rutland Center district where Amos Stebbins, William and Perley Keyes settled. Stebbins and the two Keyes brothers settled there also at the beginning of the last century, having come from New Hampshire.
William Keyes bought about 350 acres of land where this house is from Isaac Bronson September 19 1807 and June 27 1812 Stebbins conveyed to him his half interest in 93.46 acres which he had held jointly with Keyes in the locals of this house. There was a partition of the Stebbins-Keyes interests in 200.79 acres and on December 28 1829 Solon Keyes as one of William Keyes' heirs sold his one-third interest to Merrill Coburn. The farm where this house is consists of 83 1/2 acres, 0.76 acres and about 20 acres. On April 1 1837 Amos Stebbins sold the 83 1/2 acres to Stephen White and on February 15 1812 Major George White disposed of it to Rufus Scott for $1,500.
Just who built the house and when is unknown, but it is believed to be more than 110 years old. Rufus Scott was one of the leading residents in the Rutland Center area, his house shown above being on the south side of the old state road between Watertown and Champion and at the junction of the cross road that comes out on the Middle road where the Supervisor Ross D Andrus farm and the Middle Road Congregational church are. Although on the opposite side of the old state road, it is the next house above Mr and Mrs Samuel K Frink's old fine stone house built by Amos Stebbins.

It was about 1859 that the first cheese factories were established in the county and Rufus Scott built one at Rutland Center, which burned a few years later. In those days it was the custom for many of the settlers to make shoes for their own families. Rufus Scott, however, had had a shoe factory at Rutland Center before his cheese factory, and employed four or five men making shoes for the trade in that area Rufus Scott died August 11 1861 leaving a widow, Mary L Scott, and son, Frank K Scott. On March 1 1858 Rufus and Mary L Scott sold the 20-acre parcel of this farm of Jeremiah Tuttle for $2,475. The 83 acre parcel was sold July 11 1862 in a foreclosure action brought by the Union bank of Watertown against the Scott estate and bid in by the bank which sold it to Catharine Peterson December 12 1863.
On January 15 1867 she disposed of it to Simeon Rockwell along with the 6.76 acres she had acquired from Simeon Hadcock June 29 1864. On January 4 1868 Rockwell bought the 20 acres from Jeremiah Tuttle for $3,000. Simeon Rockwell died December 3 1912 and his wife, Caroline W Rockwell, passed away June 11 1911. She was a sister of Mrs Ely Collins (Sarah) Baker, who was the mother of Mrs Stephen R (Emma Baker) Cleveland, Mrs Charles (Olive A) Baldwin and Mrs Charles (Florence B) Comstock, all of this city. Wilbur C Bull, Rutland farmer, was administrator of the two Rockwell estates, and June 27 1914 acquired this house and farm from the heirs through the late Attorney Delos M Cosgrove as referee. Leon W and Gertrude C Mullin, city, next purchased the property in 1928 and on May 24 1939 sold it to Mrs Anna E Staplin, who conveyed it to her son, George F Staplin, May 21,1941. Mr Staplin is the present owner.
Mrs Staplin is the former Miss Evelyn M Parks, daughter of Mr and Mrs Arthur H Parks. She is a former member of the Watertown recreation department and of the Wells college recreation department. She and Mr Staplin were married at Rutland Center June 15 1939 and began occupancy of this house and farm at that time. Mr Staplin is the son of Mr and Mrs Robert H Staplin, now of this city but formerly of Rutland. Mrs Robert H (Anna E) Staplin it was who purchased this farm from Mr and Mrs Mullin. Robert H Staplin, father of the present owner of this property, is a son of the late Mr and Mrs Frank J Staplin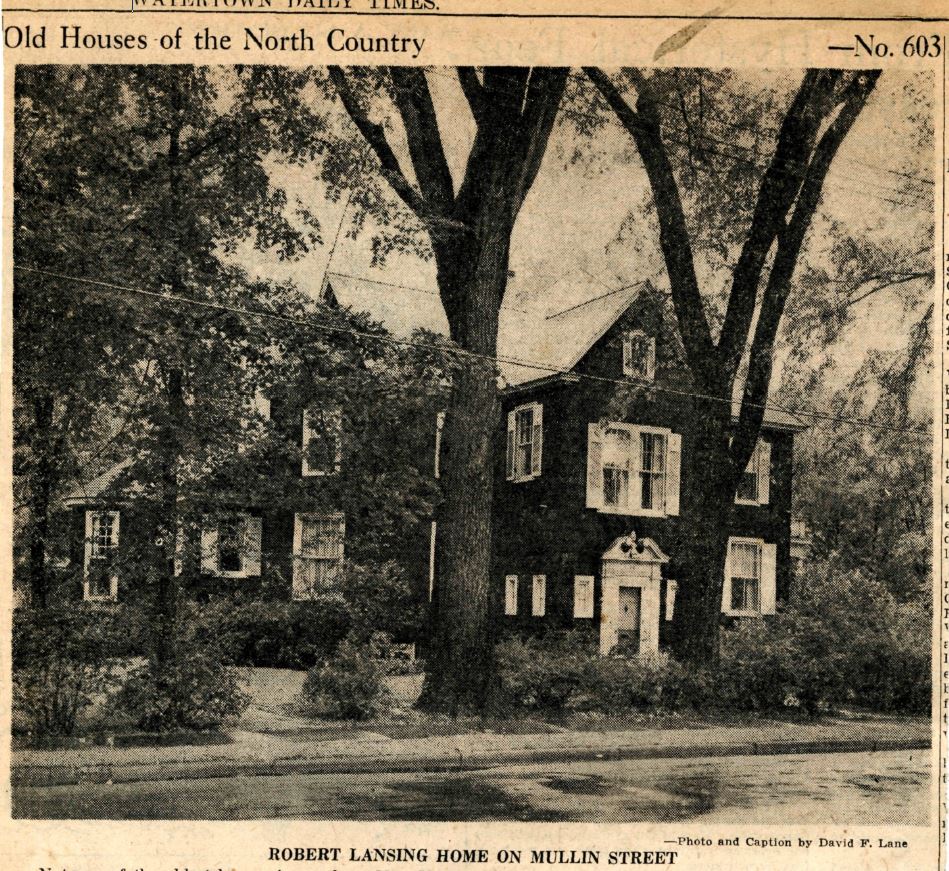 Not one of the oldest houses in northern New York but one of the most historic is the residence of Dr and Mrs Walter S Atkinson at 146 Mullin Street. Through its approximately six decades its ownership has been distinguished and during those decades it has been possessed by but two families, that of Robert Lansing who was one of the most noted secretaries of the United States state department, and that of Dr Atkinson, one of the outstanding American ophthalmologists and ophthalmologic surgeons.
The appearance of the house, which is a large one, is radically different today from the original. Where it was first a three-story, clapboarded dwelling with shingled gables and a Moorish touch to its two-story verandah, it is now a two-and-one-half story brown shingled house of Colonial influence with the two-story verandah removed from the southwest front, a beautiful doorway with broken-arch placed in the center of the front gable and a one-story verandah on the east side. The original house was designed by Mr Lansing himself. Dr and Mrs Atkinson caused it to be changed to its present design after they acquired it March 23 1927 from Secretary of State and Mrs Lansing 27 years ago.
While the original house was designed by Secretary Lansing it was given him as a Christmas present by his parents, Captain John and Mrs Maria Dodge Lansing December 25 1897 and occupies the Mullin Street side of the lot which runs through from Clinton Street and which John Lansing bought December 3 1863 from Reverend Isaac Brayton, pastor of the First Presbyterian church from 1837 to 1864. It is directly south of the John Lansing residence at 143 Clinton Street where Secretary of State Lansing was born and which is now the home of his sister, Miss Emma Lansing.
Robert Lansing, secretary of state in President Woodrow Wilson's cabinet through World War I, having succeeded William Jennings Bryan June 23 1915 and served until February 13 1920 during which period he was a member of the American Commission to negotiate peace 1918-1919 was born in the Clinton Street house October 17 1864. In boyhood he attended a private school, was graduated from Watertown High school in 1882 receiving his BA from Amherst college in 1886. He then studied law in his father's office, was admitted to practice in 1889 traveled in Europe and became a member of the law firm of Lansing & Lansing.
In Washington, DC, January 15 1890 he married Miss Eleanor Foster, daughter of General John W and Mrs Foster, general Foster having been secretary of state in President Benjamin Harrison's cabinet. Secretary Lansing died October 31 1928. A few houses east of Secretary Lansing's residence was the residence of Reverend Dr and Mrs Allen Macy Dulles, parents of the present Secretary of State John Foster Dulles, whose mother was a sister of Mrs Lansing.
Dr Walter Sydney Atkinson was born in Parrsboro, Nova Scotia, February 3 1891 son of the late Dr Martin G and Emma A Cutlen Atkinson. He married Miss Mary Annis Gamble, daughter of Mrs Gamble and the late J Munson Gamble, April 5 1921; is the father of two daughters and a son; is a fellow of the American College of Surgeons; has studied at eye clinics and hospitals in England, France, Spain, Italy, Germany, Austria and Czechoslovakia since 1925; is past president of the Jefferson County Medical society and has been secretary and chairman of the eye, ear, nose and throat section of the New York State Medical society. He now heads the local firm of Drs Atkinson and Kennedy.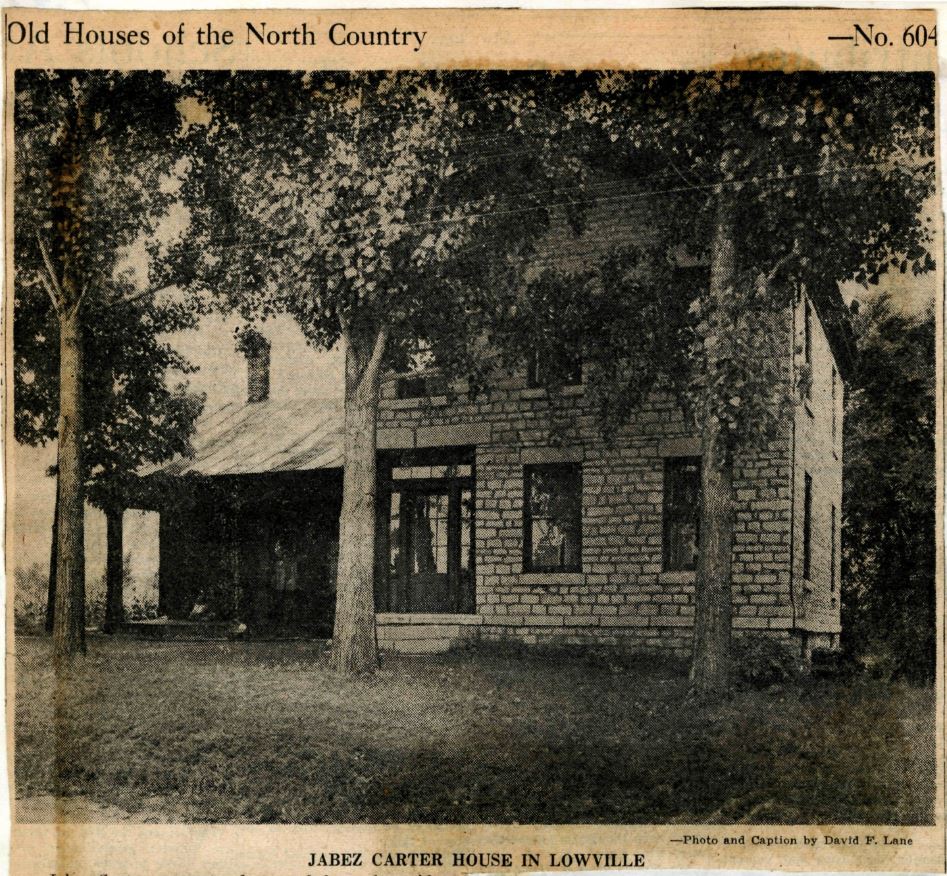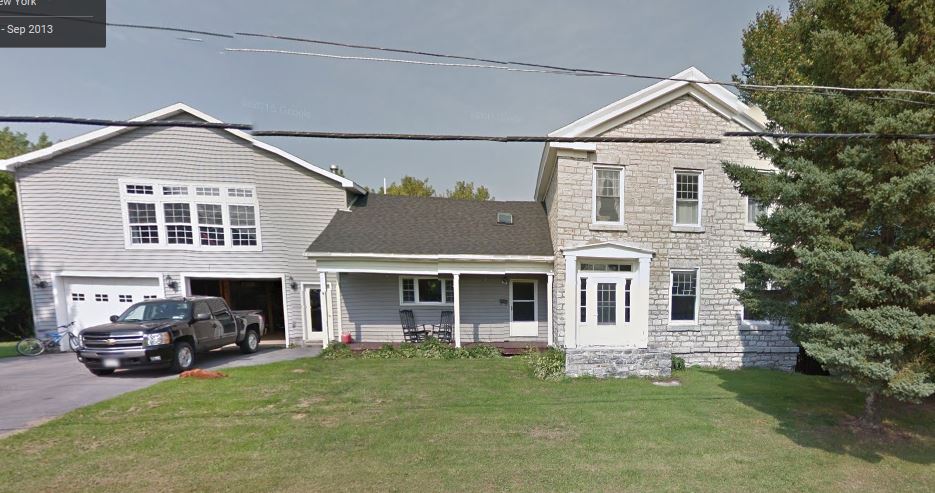 Jabez Carter was not only one of the early residents of Lewis county, but one of its early stone masons and head of a family of stone masons as well, and in the early 1810's is said to have built this native limestone house on the south side of River Street in Lowville for his residence.
It is near the Lewis county fairgrounds. Later in life he removed to Seneca Falls, but several years afterward Madison, George and Luman H Carter were carrying on operations in Lowville and Lewis county as stone masons. Many of Lewis county's stone and brick buildings were laid by the Carters. Among the earliest Lewis county residents was Colonel Zeboam Carter, who was born at Westfield, Massachusetts, January 15 1772 took up a farm in the town of Lowville in 1799 served in the War of 1812 and died in Lowville April 22 1853 aged 81.
Isaac Carter, who was born October 20 1884 and died September 9 1872 was another early Lowville resident. On September 10 1830 Jabez Carter bought a 102-acre farm in the town of Watson from John Brown Francis, Rhode Island, descendant of Rhode Island's John Brown who owned the big John Brown tract in northern New York. On June 20 1834 Jabez Carter bought four acres in the locale of this stone house from Rufus and Clarissa Stephens for $300 and adjoining the Friends meeting house property. Apparently Jabez Carter later became financially involved and on May 22 1843 assigned his properties for benefit of creditors, but on February 6 1854 William Carpenter, John Benedict and Charles Dayan assignees conveyed his lands back to him.
Except for this stone house and two other small parcels, Jabez and Hannah Carter, while residents of Seneca Falls, sold the balance of the four-acre River Street plot to Frances A Carter, Lowville, for $2,500. She was the wife of Luman H Carter. On February 20 1875 Francis D Carter, as executor of Jabez Carter, conveyed the four acres, less exceptions, to Frances A Carter, and on February 25 1884 the Jabez Carter heirs conveyed an Interest to Cynthia Sheldon. By her will, recorded October 4 1899 Cynthia Sheldon gave all her real estate equally to two nieces, Maud E Carter Scanlin and Lillian M Porter. On May 10 1899 Frances A Carter quitclaimed her interest in the stone house to Lillian M Porter and Maud E Scanlin.
Attorney Charles S Mereness, as referee in a mortgage foreclosure action, sold the four-acre parcel plus the stone house property to Herbert J Brown, Watertown, mortgage, on May 28 1900. Then, on January 9 1913 Herbert and Cornelia M Brown, then of Pulaski, sold the house and lot to William Tarpy of Lowville for $800 and on November 1 1919 James T Tarpy, as executor of William Tarpy, disposed of it to Burton L Ward. On March 3 1943 Mr Ward conveyed it to his son-in-law and daughter Westin and Theo Tarpy Schmitt, the present owners and occupants.
William Tarpy died in 1919. His wife, Anastasia, died June 2 1833 aged 87. James T Tarpy, their son, was 30 years employed in the Lowville postoffice, retiring in January, 1946 as assistant postmaster after 30 years' service, He was a native of Martinsburg. Burto L Ward, a native of Lowville, has been many years in lie trucking business and in 1932 sought the Republican
nomination for sheriff of Lewis county. He was first mailed to Miss Ethel Cooke, daughter of Alvin and Carrie Carter Cooke. Mrs Ward died August 1 1936. Mrs Weston Schmitt was one of their children. Mr Ward next married Mrs Maude Hellenger of Watson. Miss Theo Ward, daughter of Burton L and the late Ethel Cooke Ward, is a graduate of Lowville Academy, and was married to Weston Schmitt of Glenfield on August 1 1935. The stone house on River Street, while sturdily constructed of limestone quarried in that area, has been somewhat modernized by replacement of the original fine front door and the installation of large-paned modern windows in place of the small-paned ones originally there. Also there are interior changes.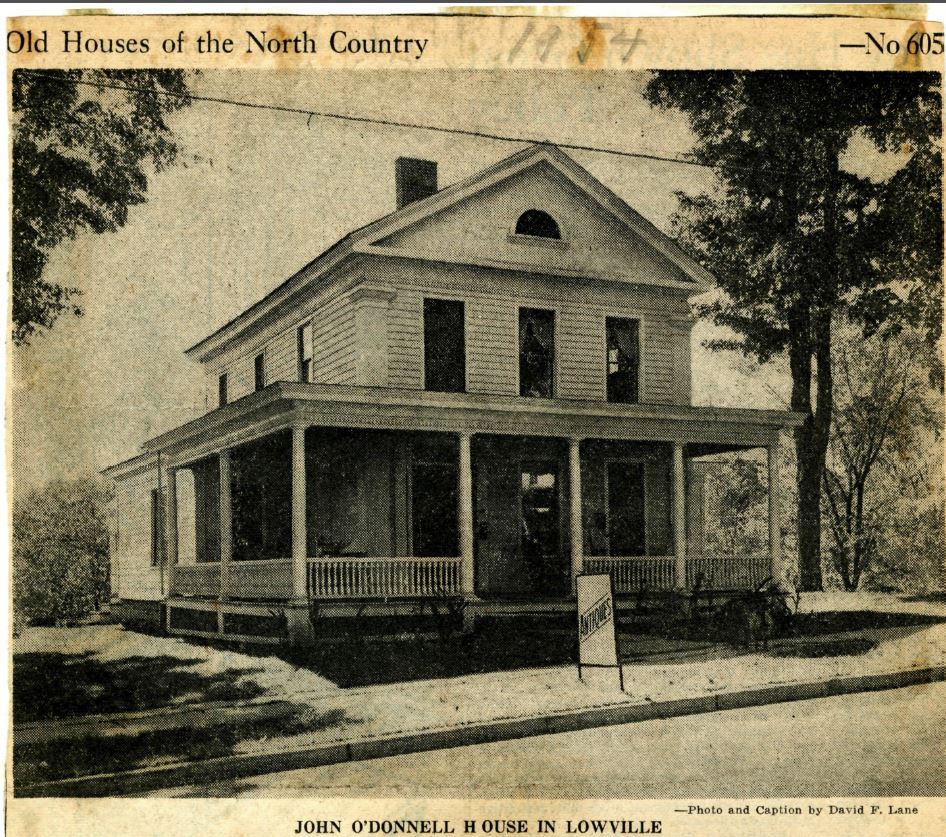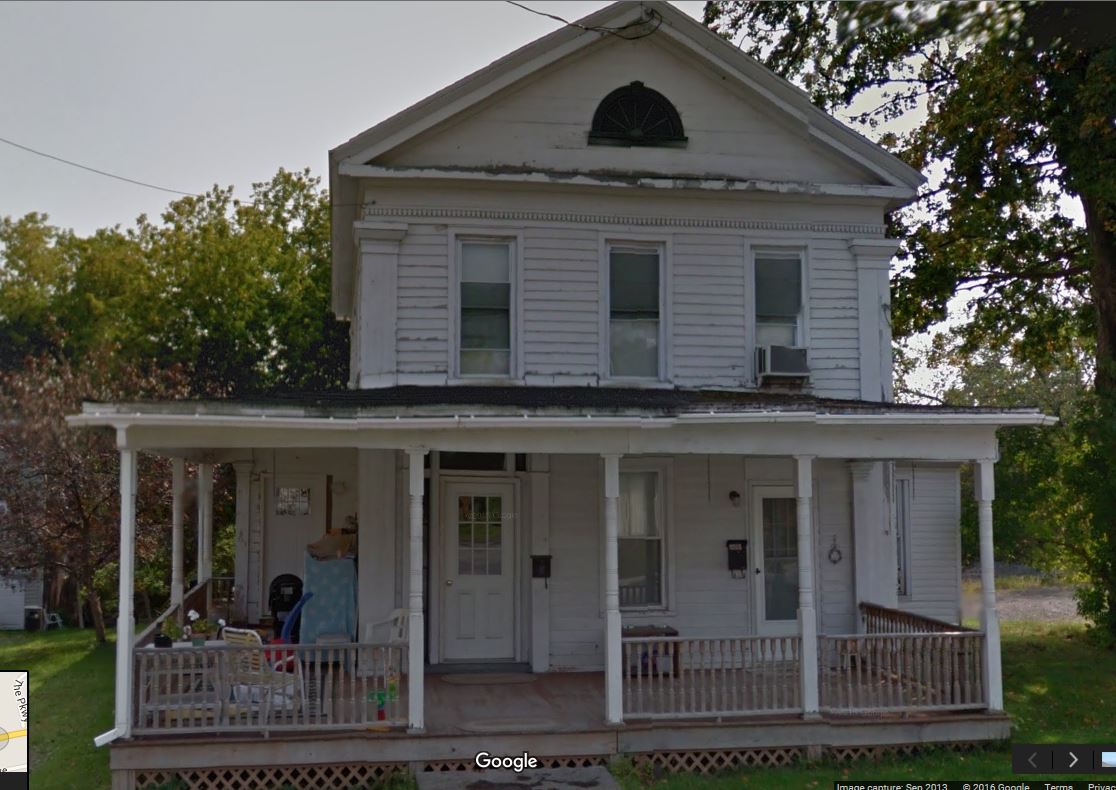 Two of Lowville's most prominent figures of the 19th century owned this house in the last half of that century. They were former State Senator John O'Donnell and former Supervisor Curtis Gould Lane, whose great-great-great-grandfather, William Lane of Boston, Massachusetts, married Mary Brewer, sister of Mrs Thomas (Sarah Brewer) Webster, ancestors of Daniel Webster, great American statesman.
It was about 100 years ago that Mr O'Donnell had the house built for his own occupancy on a lot now designated 71 Dayan Street, Lowville, and contained in the map made by Historian Nathaniel B Sylvester for Charles Dayan in May 1851. Mr O'Donnell made the house his own residence until June 14 1869 when he and Lydia M O'Donnell, his wife, sold it to Edward E Brown. On August 1 1870 Edward E and Olive E Brown disposed of it to Mr Lane who, up to that time had occupied the farm established by his father, Gad Lane, on Lowvilles' West road in 1817.
Born September 4 1806 son of Gad and Polly Gould Lane, Curtis Gould Lane first married Prexepta Allyn November 1 1830. She died July 1 1843 and December 31 1843 he married Mary Brewer. Of their three sons, Daniel Webster Lane, survived beyond maturity to become a prominent Minneapolis, Minnesota, attorney. Besides being a prominent Lowville farmer Mr Lane was an active politician, vigorous tariff advocate, member of the Whig party later joining the Republican party when it was formed.
Few in Lewis county had served on its board of supervisors as many times as he, 1843,1845, 1846, 1848-1852, 1854-5, 1858-1861 and 1868- 1870. He died in this house February 8 1882 aged 76 willing it to his widow, Eliza Brewer Lane and the rest of his estate equally to her and their son, Daniel Webster Lane. They continued to reside there for a time and removed to Minneapolis, from which place on September 24 1901 Mrs Lane sold this house to George M Hutchins of Lowville.
Mr Hutchins kept the property until October 27 1919 when he and wife Ida R Hutchins disposed of it to Charles and Joanna Miller. Mrs Miller survived her husband and on March 25 1926 conveyed it to Elmer P and Mary E Miller, the present owners and occupants. while the house, of fine Georgian type with heavy pilasters and cornices, still has some of the original small-paned windows, it has also been considerably modernized
Mr O'Donnell, an uncompromising temperance advocated stumped the state. He was a keen politician also, was elected a trustee of Lowville village in 1860 was one of the founders of the Baptist society there June 19 1860 was assemblyman from Lewis county in 1864 and state senator 1866-9. He owned many parcels of Lewis county real estate after building this house and after the fire that burned the old Bostwick Hotel rebuilt the business block north of it on Shady avenue in 1869. He was still operating a book store in Lowville in 1882.
Besides his other business activities he was a publisher. On July 4 1876 he started The Lowville Times, soon afterward buying and merging The Farmers' Journal, a Carthage Grange paper, with it and conducting it until 1882 when Warren R Filch acquired it. About the same time that Mr O'Donnell bought The Farmers' Journal he bought The Watchword of llion and continued it about three years. In 1881 he started The Farmers' Workman's Journal, a monthly publication made up mostly of editorials from The Lowville Times.
Mr Lane, successor to Senator O'Donnell in ownership of this house, which stands in excellent state of preservation at the bend in Dayan Street, was of old New England ancestry. His father, Gad Lane, was born in Suffield, Connecticut, December 27 1780 married Polly Gould, later removed to Lowville and died there March 3 1860. Gad Lane was the son of Gad and Olive Tree Lane of Suffield. The latter Gad was the son of Samuel and Elizabeth Adams Lane of Suffield, and Samuel was the son of Samuel and Sarah Foote Dickinson Lane of Hadley, Massachusetts, and Suffield. The latter Samuel was the son of William Lane, native of England, who located in Boston in 1650.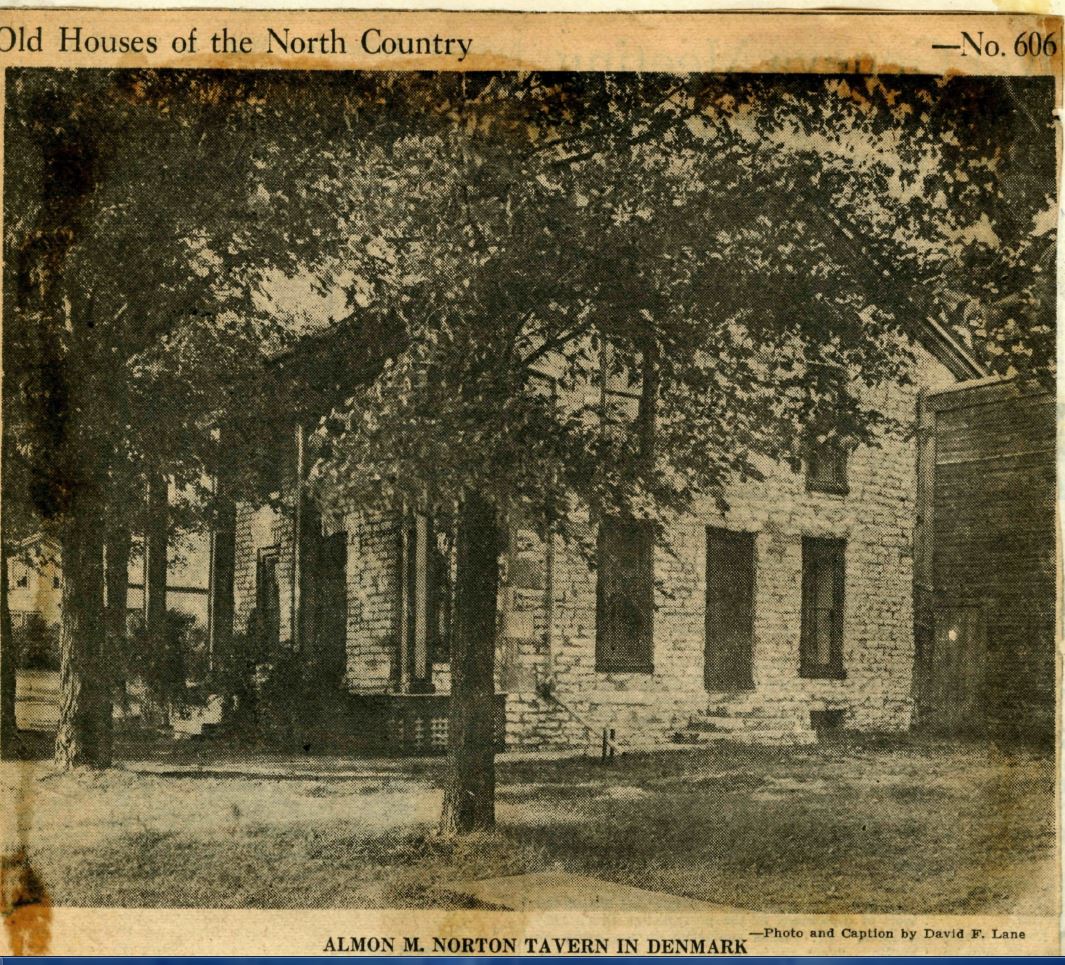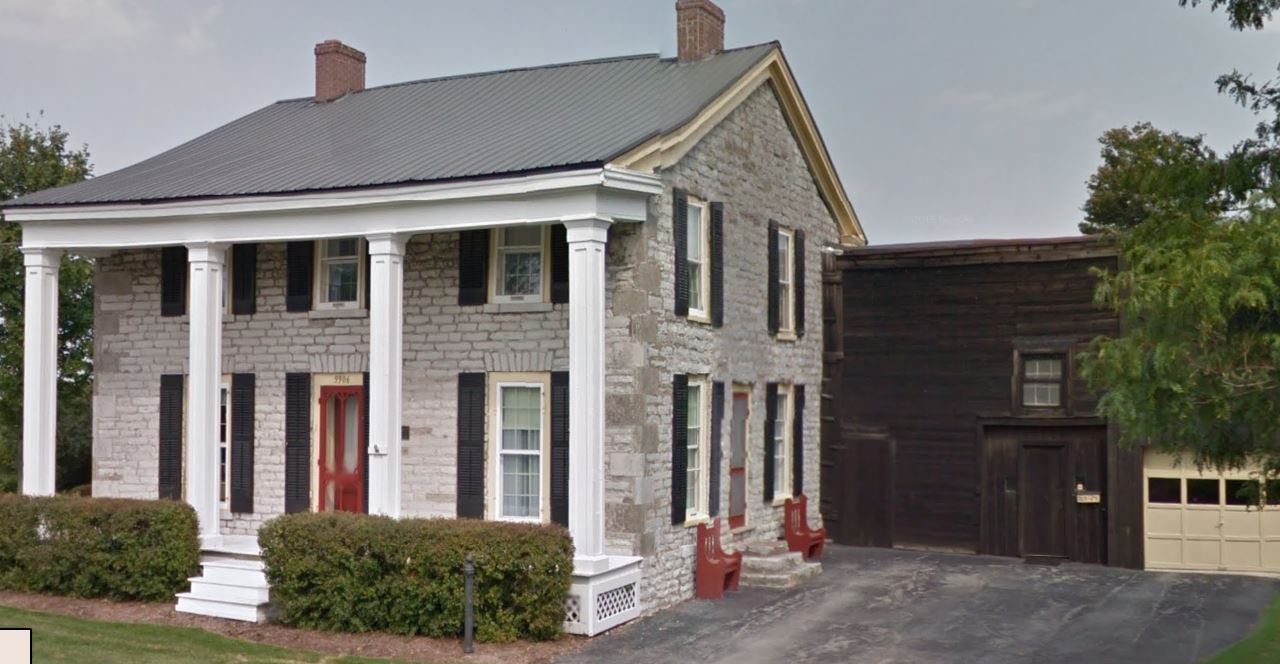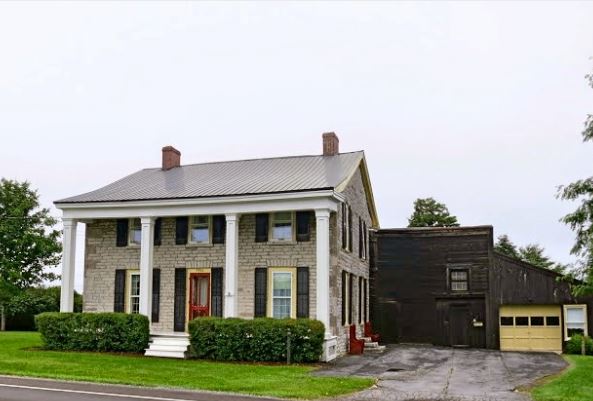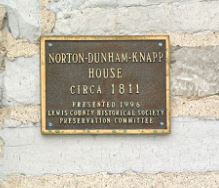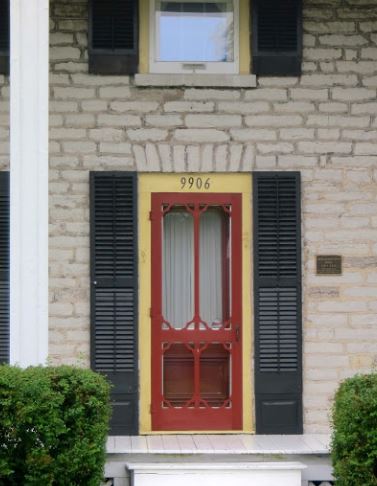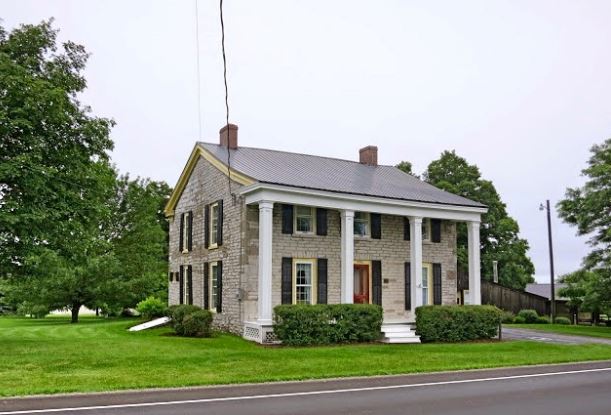 Denmark is one of the oldest communities in Lewis county. Jesse Blodget, in 1800 its first settler, later became a prominent tavern proprietor there, and it was for many years an important junction point for stagecoach traffic from Sackets Harbor, Watertown, Ogdensburg and Utica The place attained historic eminence in November 1804 when a convention was held in Freedom Wright's frame tavern and decided upon setting off a part of Oneida county to form the twin counties of Jefferson and Lewis early the following year.
In fact it was Freedom Wright and his wife, Jerusha who, on March 21 1811 for $70 sold to Almon M Norton the site upon which Norton built his tavern of limestone from a Deer river quarry at a little later date. The site is only a few hundred yards Utica-ward from the Freedom Wright tavern and across the road from the former Dean Herbert E Cook limestone farm residence.
Norton apparently was not successful and to satisfy the mortgage held by William James of Albany on this stone tavern Sheriff David Miller sold it to James for 10 at foreclosure sale January 27 1832. On the following May 22 William and Catharine James disposed of it to Philip Vedder, Denmark and at the end of a dozen years Philip and Margaret Vedder conveyed to Oliver Pierce September 12 1844. That same day Oliver and Polly Pierce sold the stone tavern to Seth Sylvester and March 5 1847 Seth and Hannah Sylvester deeded it to Peter Bent. Peter and Sally Bent kept it until April 12 1860 when they sold it to Benjamin Nichols of Antwerp.
On June 4 1863 Benjamin and Harriet Nichols disposed of the tavern to Orrin Dunham and for 91 years it has been held in the Dunham family, the present owner being Miss Ruth M Knapp, librarian in the Clyde Central school and great-granddaughter of Orrin Dunham. Miss Knapp, daughter of Harold E and Antoinette Q Knapp, spends her summers there.
The Dunhams, Knapps, Sylvesters, Bents, Blodgets and Wrights were among the earliest residents of the town of Denmark, which was set off from the town of Harrisburg April 3 1807 and the first town meeting was held at the house of Simeon Dunham. The electors census of 1807 shows Almon M Norton, Peter Bent, Daniel and Simeon Dunham, Jared, John and Wright
Orrin Dunham, son of Daniel and Deborah MacComber, Dunham, married Eliza Townscnd. Orrin's children were Harriet who married George W Parmenter, Duane B who married Louise H Loomis, Marion E, who married Jay E Knapp. The latter were grandparents of the present owner, as well as of Mrs Amos (Antoinette) Moshier, and of Blanche Knapp.
Orrin Dunham was born at Denmark July 15 1820 and died November 10 1872. His wife, a native of Champion, died August 6 1904 aged 82. A letter July 14 1863 from Harriet Dunham to George W Parmenter, her fiance, stated that Orrin had bought the tavern from "Preacher" Nichols and would take possession in the fall, but had already taken over the ballroom and bar. A dance was to be held there that night and plans were made to paint the woodwork and put on the tall, square-pillared verandah that is now there.
A later letter from Harriet Stated many travelers were staying there nights and Christmas night, 1863 a ball was held there with music by Hess' band. "Our last party, the night Swan's show was there, there were nearly 100 to supper and about 60 or 70 couples that danced," she wrote. Originally there was a fireplace in every room. After Orrin Dunham took over, the north and south wings were removed. The ballroom and horse sheds were on the south side. The interior was remodeled in the 1890s by George W Parmenter, a skilled carpenter.
A general store was operated there by Mr and Mrs Jay E Knapp from 1904 to 1929 and a postoffice was located there from 1915 to 1934. Edgar Dunham, a son of Orrin, was postmaster from 1915 until his death in 1923. Also for 13 years Edgar had been employed in the Bush, Bull & Roth dry goods store in this city. Today the old tavern stands sturdy and true like many another of the old stone buildings of that era in this area and is a north country landmark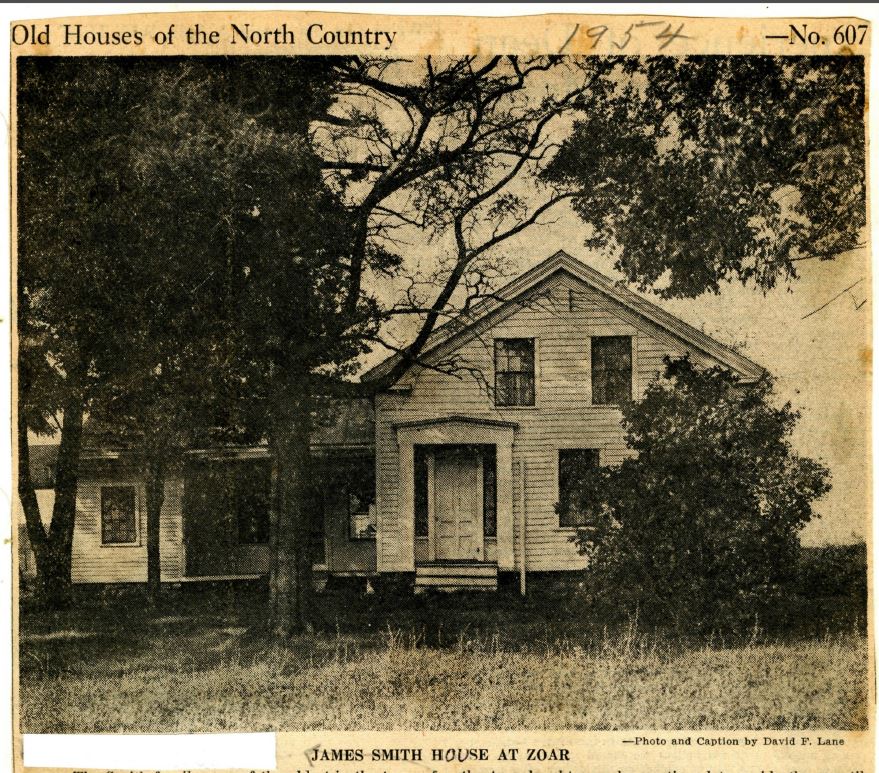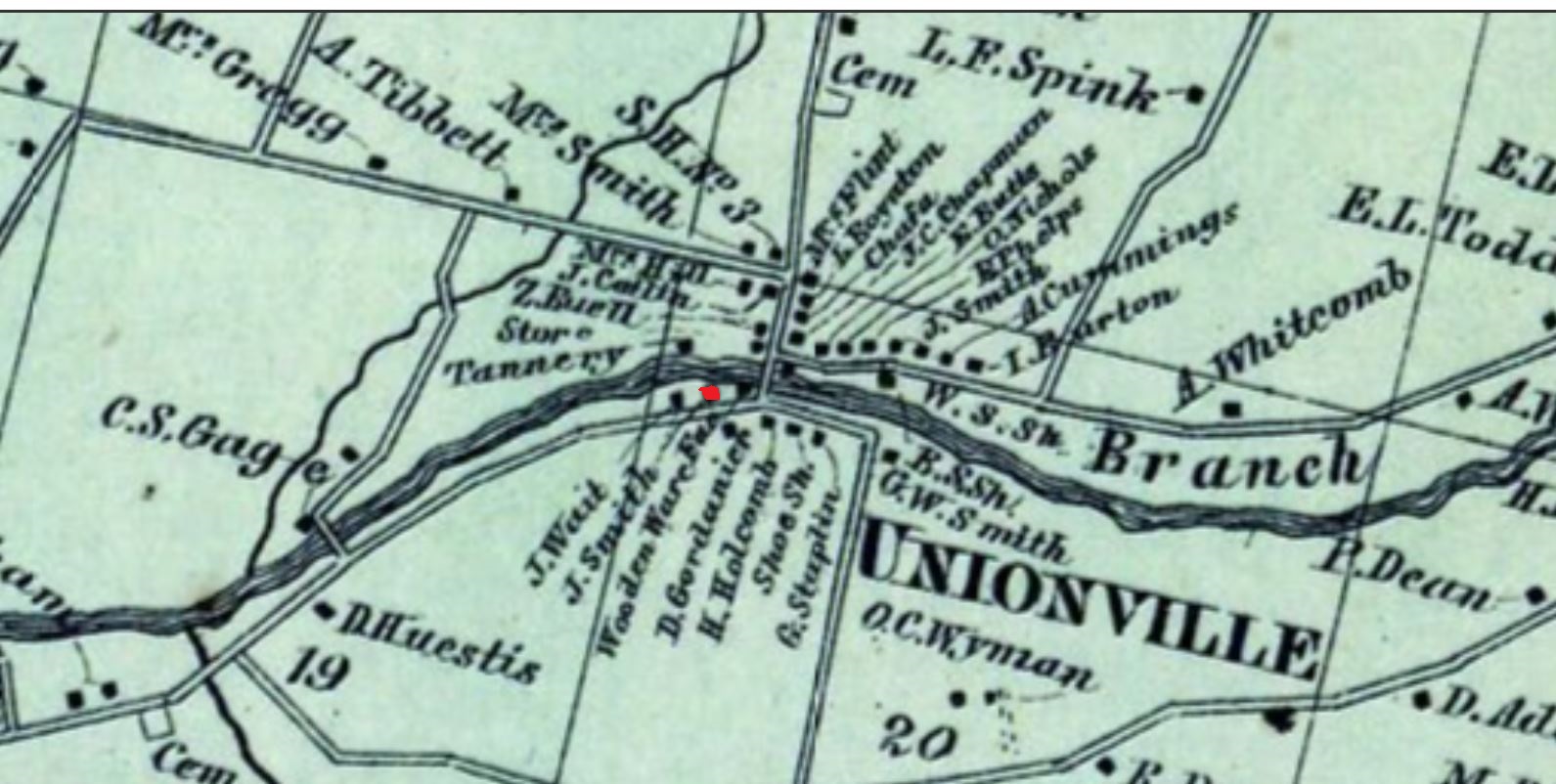 The Smith family, one of the oldest in the town of Rodman, was well clustered around the once active and thriving hamlet of Zoar, which was also known as Unionville on the banks of the north branch of Sandy Creek.
Reuben Smith, the head of this particular family, came from Nelson, New Hampshire, to locate on a farm near Zoar 1802. His wife was the former Pamelia Wright, daughter of Mr and Mrs Jesse Wright. One of their sons was George W Smith, whose house, built about 1850 is on the south side of the creek at Zoar and now owned by Mr and Mrs George A Worden.
The house shown above is directly across from it on the north side of the creek on the scenic highway that runs from Rodman to Whitesville and Tylerville. According to family tradition it was built by James Smith, an older brother of George W Smith, about the same time. However, it may have been constructed prior to 1850 by John Nickles or Nichols, as on August 21 1847 John and Catharine W Nickles sold 64.73 acres in that location to James Smith for $2,265.55 and the price indicates that there was a house on the property at that time.
The 1855 county map shows James Smith residing where this house is at that time. James Smith was the third child and second son of Reuben and Pamelia Wright Smith and was born on the Reuben Smith farm in the town of Rutland in 1808. He married Harriet E, daughter of Miles and Mary Ralph. James Smith was a Zoar farmer and died in 1884. Adelia, a daughter of James and Harriet E Smith, was married to Laban F Spink and lived on a farm nearby this Smith place for a number of years.

In 1907 Mrs Spink and her daughters, the Misses Mary Henrietta and M Janette Spink, moved from the Spink farm to this Smith house at Zoar. Laban F Spink had died February 7 1904 leaving all of his property to his widow, Mrs Adelia W Smith Spink, and after her death this Smith house and farm went to the two daughters, who continued to reside there until their deaths.

From the time Mrs Spink and daughters, Mary Henretta and M Janette, moved to this house they employed the late George Breen to operate the farm. Mary Henrietta Spink, born January 29 1862 died September 11 1943 willing her interest in the place to her sister, M Janette, who continued to reside there and operate the farm with the help of Mr Breen.
Miss M Janette Spink died August 30 1952 at the age of 81 she having been born October 30 1870. Under the provisions of her will, a homemade instrument, she gave Mr Breen a life-use of the property, with explicit instructions as to how he should manage it. Accordingly Mr Breen remained there alone until his death last January 11.
The other children of Laban F and Adelia Smith Spink besides the two unmarried daughters were the late Rosaltha E, who married the late Will D Hickox, Harriet R, who married C P Dodge, and Albert L Spink who married Miss Susan L Tohnan and also resided in this James Smith house for a time, later moving to the town of Watertown where he died February 3 1932 aged 65 he having been born March 9 1865. His widow, Mrs Susan L Spink and daughter, Miss Gwendolyn Spink now reside in this city.
Since the death of Mr Breen in January this James Smith house and farm belonged in equal shares to two nephews of Miss M Janette Spink under the provisions of her will. They are Laban G Hickox of the town of Rutland and Kenneth D Bibbins of the town of Rodman The house, with its original twelve-paned windows, beautiful original front entrance, its recessed porch in the wing and its excellent cornices, has always been so excellently cared for that it is as strong and true and immaculate today as when it was constructed. Fine old trees and shrubs ornament the grounds, once enclosed by a white picket fence, inside which there used to be beautiful flower gardens.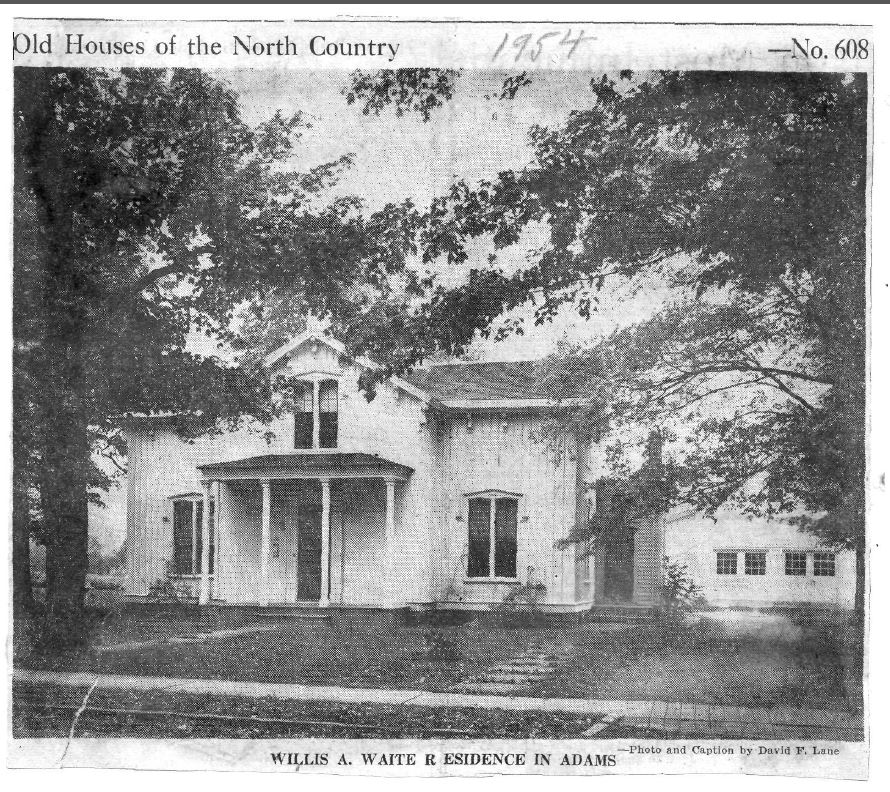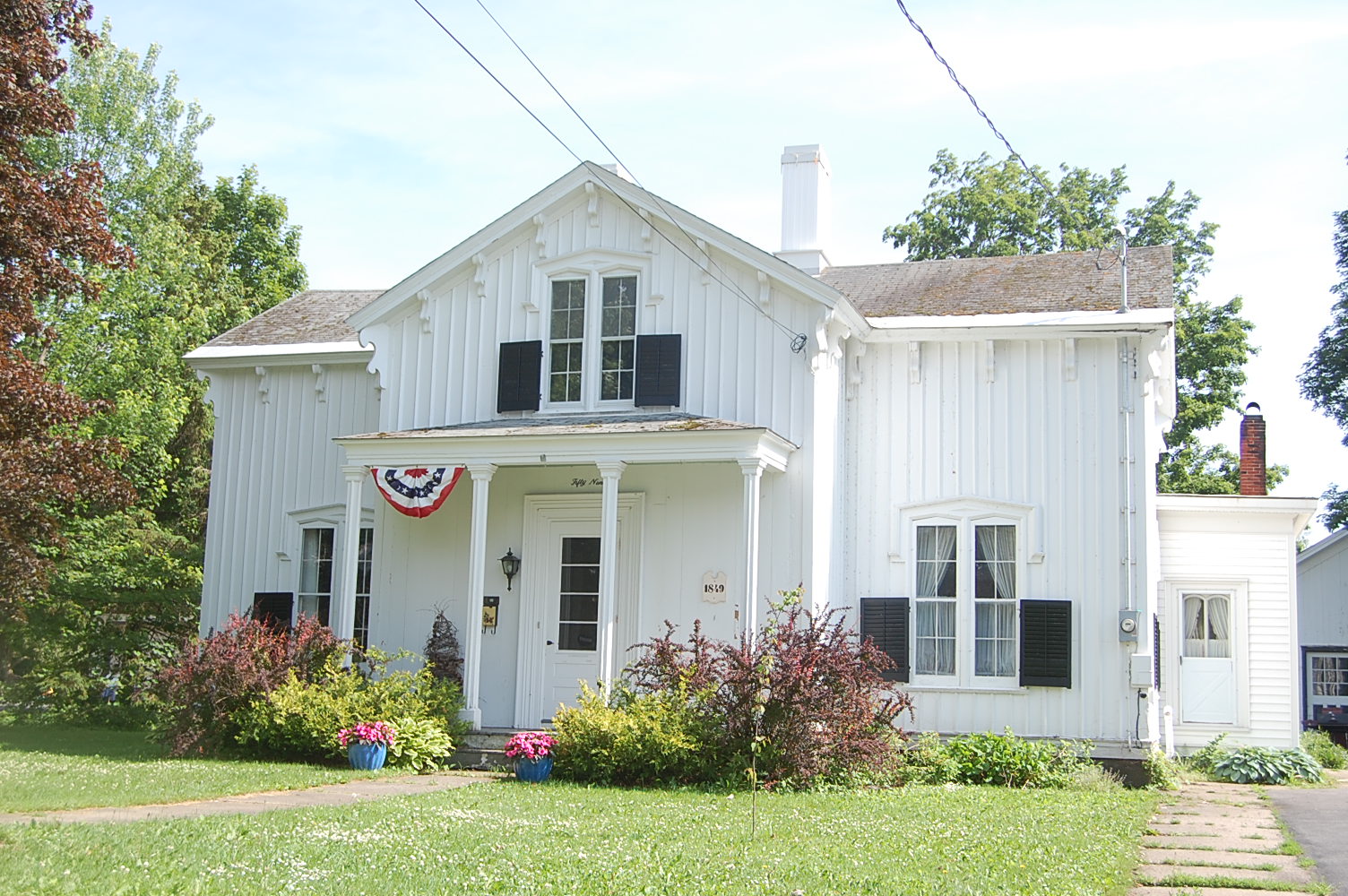 While this attractive Gothic-type residence at 59 Church Street in the village of Adams has been owned in the Waite family-for the past 86 years it was probably built by Lcbeus Andrus about 104 years ago. The extensive site of 3.454 acres which extends back to Sandy creek was part of a tract of 94 acres sold by Perley Keyes to William Wood.
On June 6 1831 Wood sold the 94 acres to Hitty Goodell for $800. Goodell on November 22 1838 sold off 13 acres to John Barney and on June 12 1843 Master-in-Chancery Calvin Skinner sold the 13 acres to Ashbel Barney of Cleveland, OH in a foreclosure action brought by Goodell against John Barney, et al.
Ashbel H and Susan F Barney conveyed about twelve acres to Charles Clark of Adams March 11 1817 and on April 11 1849 Charles and Paulina Clarke disposed of the present 3.454-acre lot to Lebeus Andrus of Adams for $338.57. Next Lebeus and Elizabeth Andrus sold the property to Julius K Bartlett for $1,675. On October 21 1856 Julius K and Mary G Bartlett transferred it to Norman Wood, Adams, for $2,200.
Norman and Cornelia Wood disposed of it ten years later to Daniel B Lockwood on October 30 1866. Daniel B and Annette Loekwood sold the place to Willis A Waite February 1 1868. Mr Waite died January 12 1915 givng the property to his widow, Mrs Ruth M Allen Waite, his daughter, Mrs Earl E Averill, and to his sons, Herbert H Waite and Robert H Waite. Mrs Ruth M Allen Waite died July 14 1928 giving all of her property equally to those three children. Herbert H Waite died April 28 1950 giving his property to his sister, Mrs Averill and her brother, Robert H Waite, and Robert H Waite died May 31 1952 giving his property, including his interest in this house to Mrs Averill, the present owner. The ownership of this house has been distinguished, particularly under the Waites.
Lebeus Andrus was a prominent Adams resident and deacon of the Baptist church. Daniel B Lockwood, son of Sylvanus and Martha Lyman Lockwood, married Annette Dickinson and was also a farmer and Adams liveryman. His father was born in Vermont and removed first to Rural Hill in 1823. Daniel B Lockwood was village trustee in 1871, 1872 and 1877. Norman Wood was village president in 1866 1872 and 1873.

Willis A Waite, an Adams Collegiate Institute trustee many years, was first president of the Adams National bank when it was formed January 2 1883. It was succeeded by the Farmers National bank, organized March 29 1889 and when the Citizens National bank was established August 7 1889 Willis A Waite was one of its directors. Mr waite established the W A & E J Waite malt business, in which his sons became interested, and later acquired the F L Webster canning factory.
In 1861 he was married to Miss Ruth M Allen, daughter of Hiram and Fannie Taylor Allen of Pierrepont Manor, where she was born August 7 1839. She was prominent in the DAR at Adams and in the Presbyterian church
Herbert H Waite, born at Pierrepont Manor November 2 1864 graduated from the Hungerford Collegiate Institute and from Williams college in 1887. He was associated with his brother, Robert H Waite, in the feed and malt business in Adams many years and also for many years was president of the Citizens National bank before it was taken by the Northern New York Trust company. He died aged 85.
Robert H Waite, born in Adams August 2 1872 also graduated from the Hungerford Collegiate Institute and from Williams college. His entire life was spent in Adams where he was engaged many years in the feed business and where he died aged 79. Mrs Bertha Waite Averill, the present owner of the attraetive house with its beautiful winding stairway, was born in this house. She was graduated from the Adams Collegiate Institute and in 1900 from Mount Holyoke college. She has been active in the DAR, and the Presbyterian church.
On November 1 1905 she married Earl E Averill, Richland native who died April 3 1951 at 72. He was a mechanical engineer specializing in railroading, was graduated from ACI and Cornell, a former editor of Railway Age magazine, member of the American Society of Mechanical Engineers and the American branch of the English Newcomen society, also former president of the Adams Improvement society.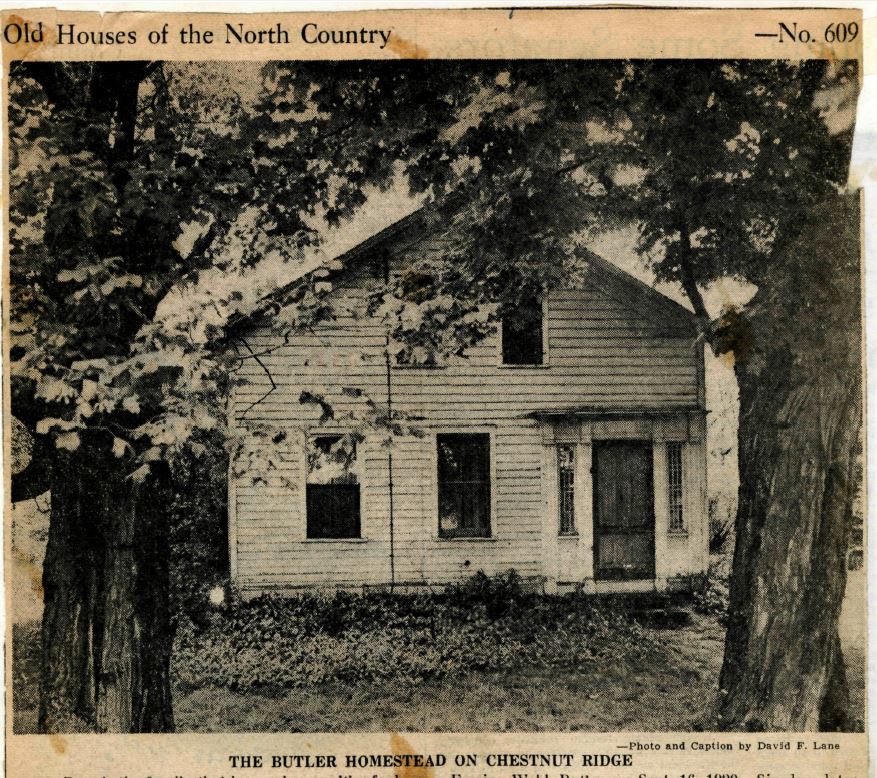 Pictures taken June 2015: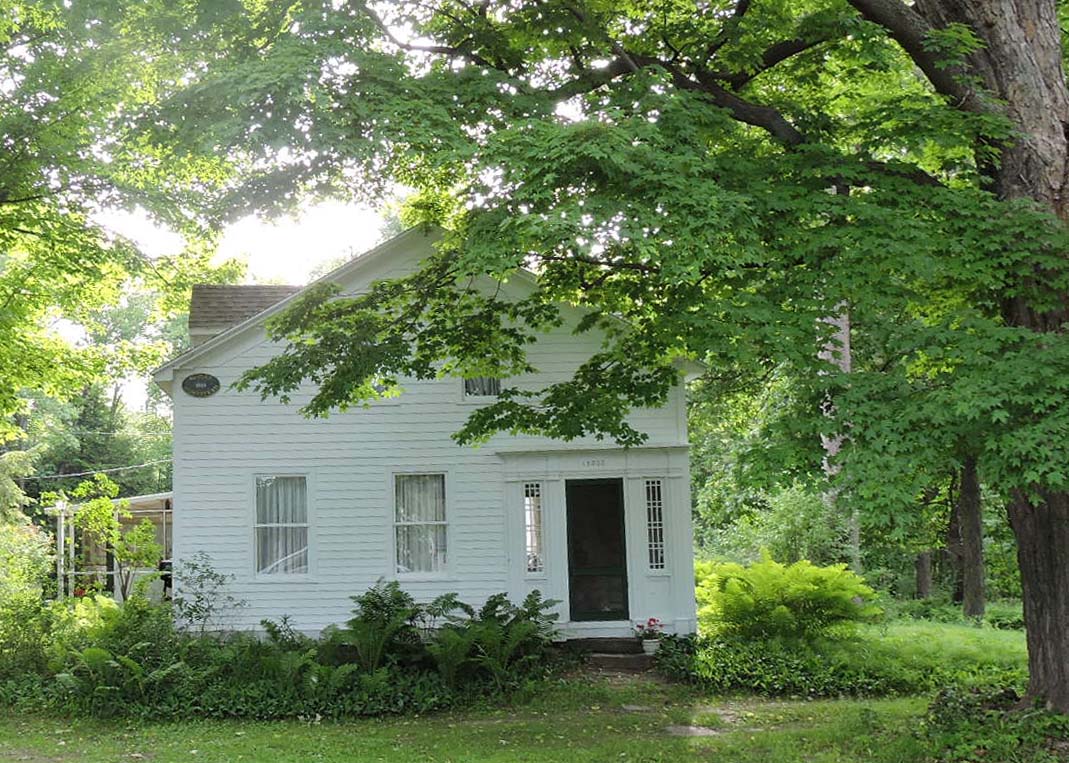 Rare is the family that has such a wealth of educational and historical distinction as that of the late Captain James J Butler of Chestnut Ridge, town of Hounsfield, near Campbell's Point. And today two of his daughters, Mrs Frank (Norma E) McEnhill and Miss Laura Butler, reside in the quaint little Georgian-type Butler homestead on Chestnut ridge near the Hounsfield-Henderson line.
Veteran of the Mexican war of 1846-8 and Civil war of 1861-5 Captain Butler a close personal friend of President Chester A Arthur entered the Mexican war as a drummer boy of 13 and is reputed to have been the fourth American soldier in that war to set foot on Mexican soil. In the Civil war he served in the 81st New York regiment and came to Madison Barracks at the end of the war. There he met and was married to Miss Ermina Webb, a schoolteacher whose family resided in this house.
It is of historical interest that all of his ninedaughters and his son as well as five grandchildren were schoolteachers, all but the grandchildren having gotten their education in the Hounsfield schools and in Union academy at Belleville; that one of his daughters taught New York's late Mayor Fiorella LaGuardia and his sister; that another daughter was a noted poet and educator; that three of his sons-in-law were clergymen and a fourth was the son of a clergyman; that five of the sons-in-law were military men and that one of them was at the head of Americanization work in New York state. Built probably 107 or 108 years ago the Butler homestead occupies 26.86 acres of land extending back from the old Scotch Settlement road to Lake Ontario. It is believed to have been built by Michael Moore of New York City and that he was connected with the Webb family who occupied it. Mrs Clarissa Webb, born December 25 1799 died September 29 1874.
On May 18 1846 George Hounsfield, merchant, Sheffield, England, through Edward Adam Froggate, attorney, sold 23.86 acres to Michael Moore of Brooklyn. On July 6 1846 Hounsfield sold an adjoining three acres to Mpore.
Next on May 8 1891 Michael and Clarissa Moore, Brooklyn, conveyed both parcels to Mrs Laura Evans, Brooklyn, widow, and October 2 1893 she deeded them to Irene and Frances Josephine Moore, Brooklyn, who conveyed them for a nominal price to James Edward Butler, Yonkers, only son of Captain James J and Ermina Webb Butler, on September 16 1920. Six days later James Edward Butler transferred a nine-tenths' interest to his nine sisters, Miss Clara M Butler,Mrs Louise B Littlefield, Miss Laura M Butler, Mrs Cynthia H Bronk, Mrs Phila Butler Bowman, Mrs Norma B McEnhill, Mrs Grace Shaw, Mrs Marion O Bond and Mrs Nellie Butler Shaw, all of whom are now dead except Mrs McEnhill and Miss Laura Butler.
Mrs McEnhill was married to Enhill. 2nd U S Cavalry, deceased, time in Manila, Philippine Islands. Butler married Captain Joseph Ernest Shaw, Spanish War veteran and died in 1928. Miss Marion Octavia Butler married W Hayes Bond, son of a Methodist clergyman, and died December 15 1940. Her children are Mrs John H Cleveland, city, and James Edward Bond. Miss Cynthia H Butler married Daniel L Bronk, Lassellville. and died November 24 1941. Miss Phila Butler married first Major Robert W Bowman who died April 21 1931 and second Major Herbert Stanley Smith who died June 6 1944. She died in April, 1942. Miss Clara Margaret Butler died March 6 1941. Miss Louise Butler married Reverend Seward L Littlefield and died January 8 1949. James Edward Ruller died May 16 1950 and Mrs Nellie Butler Shaw in 1950.
It was Miss Laura Butler who taught little Fiorella LaGuardia and his sister when their father was bandmaster at Madison Barracks. Mrs Phila Butler Bowman Smith, poet-educator, contributed to leading magazines, wrote "The Little Brown Bowl" and several other books of poems, succeeded hec husband, Robert W Bowman as school superintendent of the fourth supervisory district and headed the kindergarten committee of the state federation of women's clubs.
Major Bowman was state Americanization chairman, an army chaplain and former Church of the Bedeemer rector. Major H S Smith was also an army chaplain. James Edward Butler was eventually connected with the National Surety company. Miss Clara M Butler founded the Powell Cadets and the Knights of the Round Table at Sackets Harbor, and her brother and all of her sisters were noted school teachers. Their mother, born in 1838 died in 1903. At eight she came to live in this house when it was first built, one of the first two frame houses constructed on Chestnut Ridge. It is cozy and has nine rooms. Its front entrance is beautiful.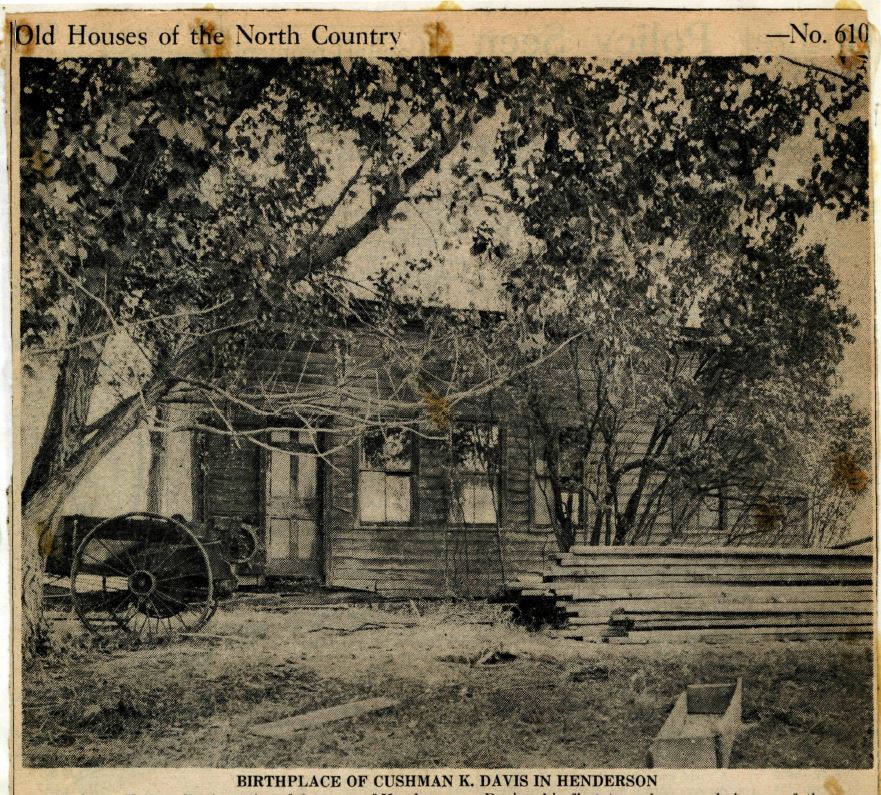 8832 NY 178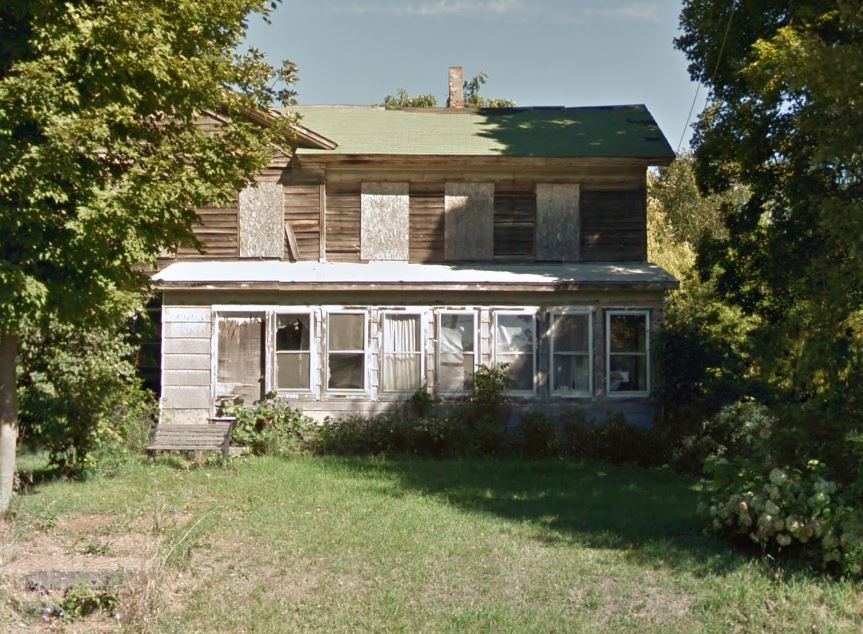 Cushman Kellogg Davis, native of the town of Henderson, and of Mayflower ancestry, became a national figure as a lawyer, United States Senator, father of interstate regulation of railway freight rates, author of the resolutions that led to United States declaration of the Spanish-American war, and as governor of Minnesota. His grandfather, Roswell Davis, born in Vermont in 1785 located on Bishop Street, town of Henderson, becoming the first tavern-keeper in the town and, adjoining the latter's farm, was born George Peck, cousin of Cushman K Davis, editor of Peck's Sun and author of "Peck's Bad Boy."
In this humble little farmhouse, near Scott's Corners which had degenerated into a farm storage shed when the above photograph was taken and which is no longer standing, Cushman Kellogg Davis was born June 16 1838 son of Horatio Nelson and Clarissa Cushman Davis. Clarissa Cushman Davis was directly descended from Robert Cushman, the financial agent who fitted out the
historical ships Mayflower and Speedwell and who was influential in procuring the Massachusetts grant from King James.
No record is found of Horatio Nelson Davis having ever owned land in Jefferson County, and possession of the above house has always been in the Barrett and Lane families. When Cushman K Davis was but a few months old his parents removed to Waukesha, Wisconsin, where he first attended a log schoolhouse, later went to Carroll college and then to the University of Michigan from which he was graduated at 19 studied law, was admitted to the bar at 21 and began practice in Waukesha. As a second lieutenant of the 28th Wisconsin Volunteers, he entered the Civil war, became assistant adjutant general with captain's rank and served late into 1864. In 1865 he removed to St Paul, Minnesota, and immediately developed a celebrated law practice.
Shortly hebecame a Republican leader in the state, was elected a state senator in 1866 was United States district attorney from 1867 lo 1871 by presidential appointment, was elected governor in 1873 declined a second term, and was elected United States senator in 1887 after defeats for this During his first term he was chairman of the pensions committee and championed the Sault Ste Marie canal. In 1893 he was re-elected. He was one of the most active members on the foreign relations committee, and brought out the basis for the treaty between Great Britain and Venezuela ending their dispute. On April 13 1898 he fathered resolutions forming a practical declaration of war against Spain. The following August he was made a member of the Spanish-American peace commission.
He married Miss Anna Malcom Agnew of St Paul ; in 1880. He was awarded an LL D by the University of J Michigan in 1884 and was author of several works including "Modern Feudalism" in 1870 and "Law in Shakespeare" in 1884. He died November 27 1900. The farm upon which Cushman K Davis' birthplace stood is made up of several parcels.
On March 16 1820 Chester Barrett bought 30 acres of it from Moses and Cynthia Barrett in Henderson. On April 5 1825 he bought 12.75 acres from Jonathan and Lydia S Russell adjoining in Ellisburg. On April 1 1828 he acquired 34 acres in Henderson from Elisha and Polly Morgan, and March 31 1838 from D N and Cynthia M Barney, 135 acres in Henderson. On April 1 1853 he bought 20 acres in Henderson from Grout and Mary Mixer. Then on April 17 1862 Chester Barrett sold all to Nathan and Gustavus Barrett and March 6 1869.
Gustavus deeded his interest to Nathan, who conveyed it back iSeptember 29 1871. On February 3 1876 Marcy Barrett sold the 135-acre, 20-acre and 12.75-acre parcels to Jane E Lane who was the daughter of Chester Barrett and wife of Thomas N Lane, son of Thomas and Charlotte Williams Lane, natives of England, who settled in Hounsfield in 1832. Thomas N Lane married Jane E Barrett in 1862 and from them this place passed to a son, Frank, by deed January 7 1915.
Frank Lane married Minerva Weaver of Worth, January 6 1897 and died March 12 1916. On February 27 1928 Minerva Lane and daughter, Bertha Overton, deeded their interest to Joshua Lane. Joshua Lane was the son of Frank and Minerva Weaver Lane and brother of Mrs Overton, wife of Lester Overton of Smithville. Mrs Minerva Lane died December 25 1950. From Mr and Mrs Joshua Lane the operation of the farm has passed to their son, Howard Lane, and his wife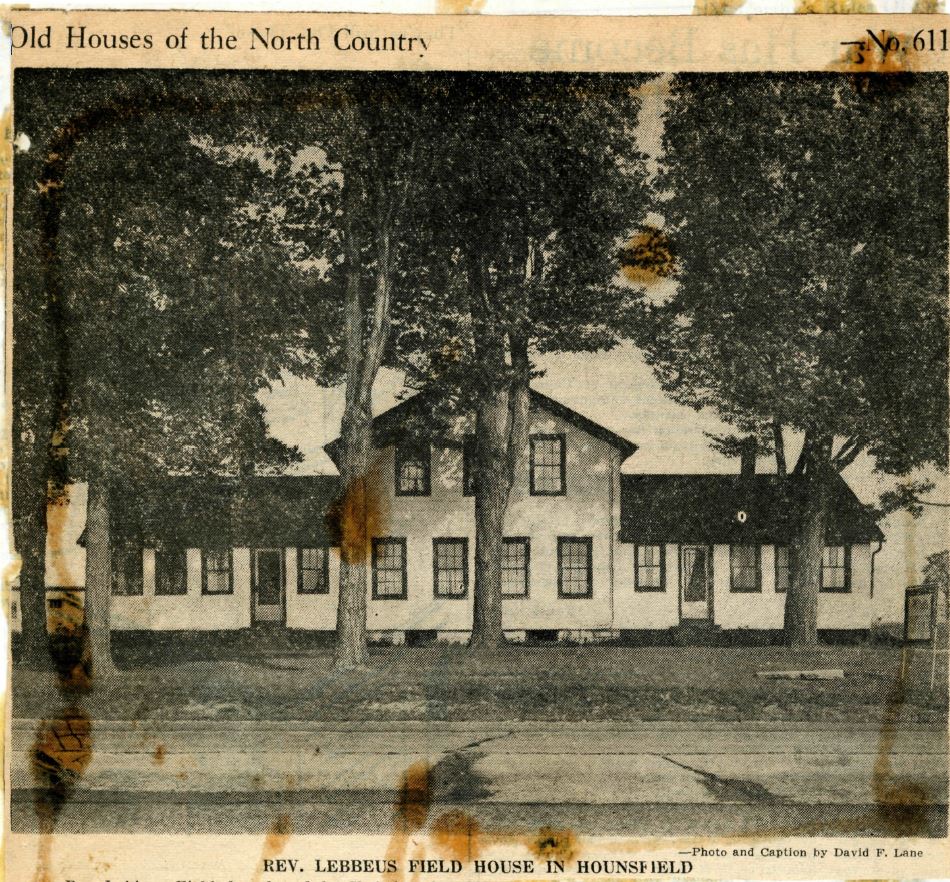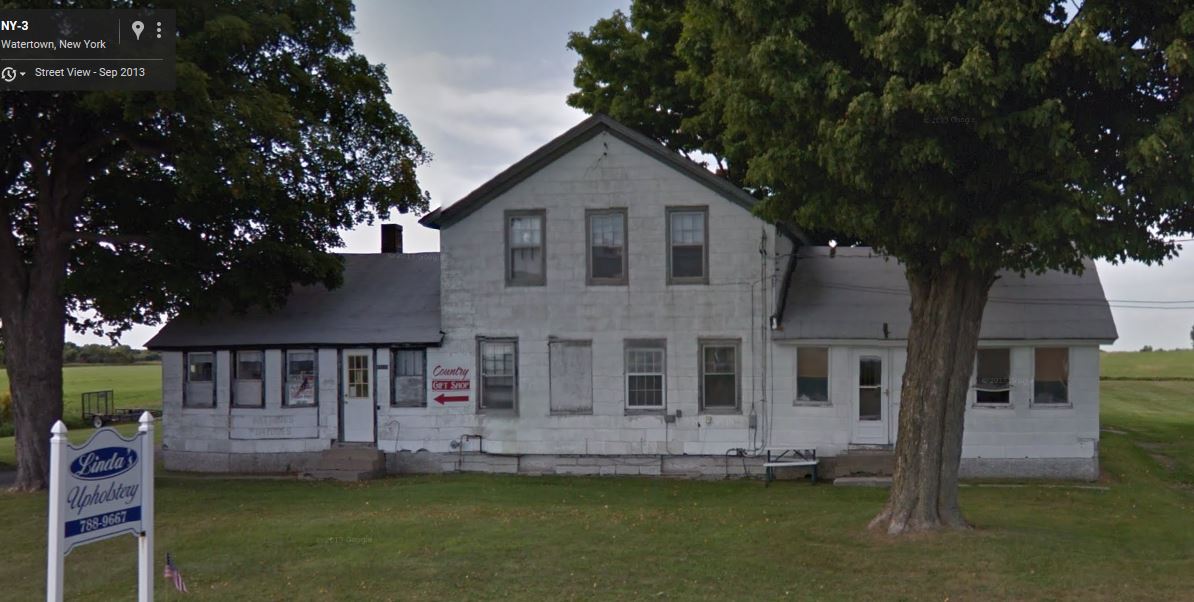 Reverend Lebheus Field, founder of the Christian church Photo and Caption by David R Lane at East Hounsfield which was immediately east of his residence shown above on the Watertown-Sackets Harbor State highway, was one of the three clergymen-sons of Elijah Field of Woodstock, Vermont, who came in 1806 to settle in the town of Hounsfield. Each of these three sons was f a different Protestant denomination It was in 1807 that Reverend Lebbeus Field followed his lather's family to Hounsfield and June 29 1815 he bought his first acreage in the town.
On July 10 1817 he bought 50 acres in the locale of the house and from that time on until 1837 he added othier acres in several parcels. On March 23 1848 he and his wife, Eunice, deeded 106 acres of their farm including this house to their son, Hezekiah, who with his family, resided there until his death April 15 1893. Reverend Lebbeus Field also resided there with them m his latter years dying September 6 1879 aged 99.
On January 10 1817 Reverend Mr Field organized the Christian church society at East Hounsfield, an offshoot of the Christian church of Woodstock, Vermont, and about 1840 deeded from his farm the half-acre of land upon which the church edifice, dedicated December 31 1842 still stands. Nearby on the opposite side of the road is the East Hounsfield Free library, formerly the Halfway House, a tavern erected by Stephen Blanchard, a Vermonter, who located there about the beginning of the War of 1812. Accordingly the spot became known as Blanchards Corners.
A short distance southerly is Field Settlement. Elijah Field, father of Reverend Lebbeus Field and ancestor of City Councilman William T Field of this city, was born at Mansfield, Connecticut, April 20 1756 and served as a drummer boy throughout the Revolution. On January 26 1774 he married Tamson, daughter of Hezekiah Crane of Mansfield. They were parents of twelve children and in 1806 left their Woodstock, Vermont, farm to settle in the town of Hounsfield. This Field family is of Alsatian origin seated at the Chateau de la Feld near Colmar, formerly in France. Hubertus one of the Counts de la Feld of Colmar settled in England in 1069 and was recognized by William the Conqueror. Because of the English wars with France in the 14th century the family dropped the French prefixes from the name and changed the spelling to Field.
Hezekiah Field, son of Reverend Lebbeus Field, died April 15 1893 survived by his widow, Luthera, two daughters, Mrs Lenora Pierce of Hinesburgh, Vermont, and Mrs Adelaide Adams of Dwigtt, Illinois, and two sons, Edgar D Field of Decorah, LA, and Frank W Field of Kokomo and Hezekiah Field had built the 106 acres sold him by his father to 183.05 acres when he died.
On April 10 1900 Judge Brayton A Field as administrator of Hezekiah's estate, disposed of this house and farm to the late Merritt A Cleveland, a Brockport, NY engineer and contractor, and on January 20 1915 Milo L Cleveland and Harold Cleveland, brother and son of Merritt A Cleveland, disposed of this property to William H Place of this city. On March 2 1916 William H and Anna S Place sold it to Harry A L and Maggie L Potter who kept the historic farm until October 13 1933 when it was purchased from them by Donald J and Anna M McPhail of this city. They are the present owners and occupants.
Mr McPhail formerly operated a retail milk business in this city and purchased the farm, establishing his own dairy there to supply the commodity which he distributed to his customers in the city. After a number ot years Mr McPhail discontinued the milk business, disposed of some small parcels of the farm, but continues occupancy of the house and main part of the property, catering to the tourist trade. Merritt Cleveland was one of the Cleveland brothers including Stephen R, and Milo L, who constructed many important enineering projects in this country and Canada, but Merritt Cleveland never resided on this farm after he purchased it.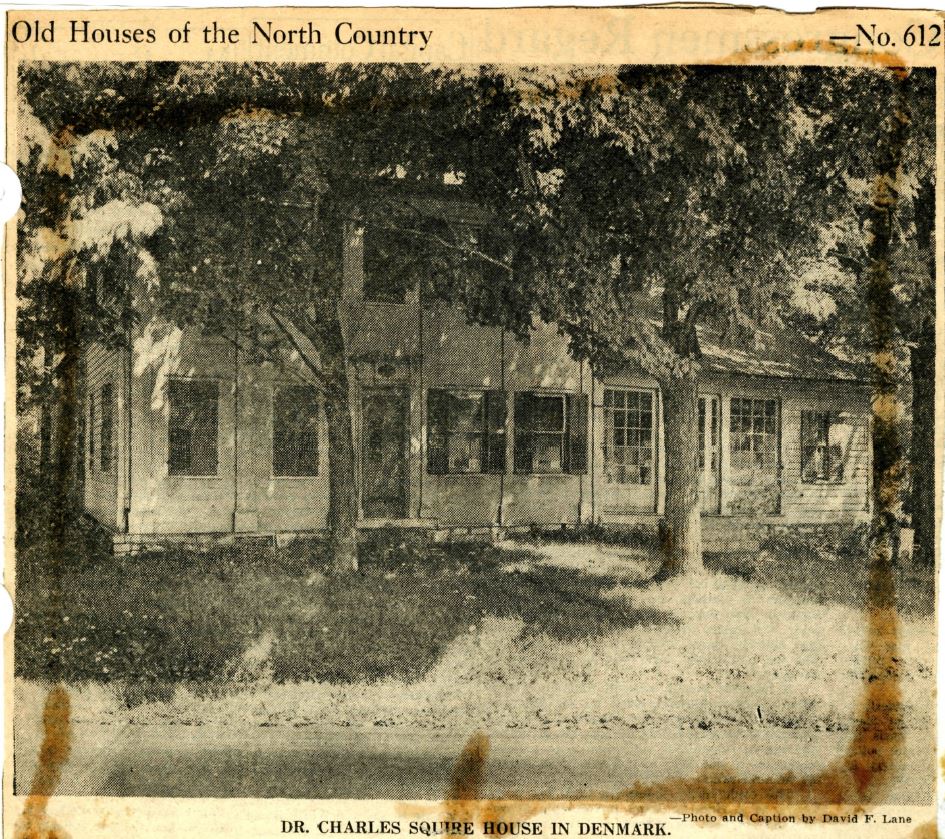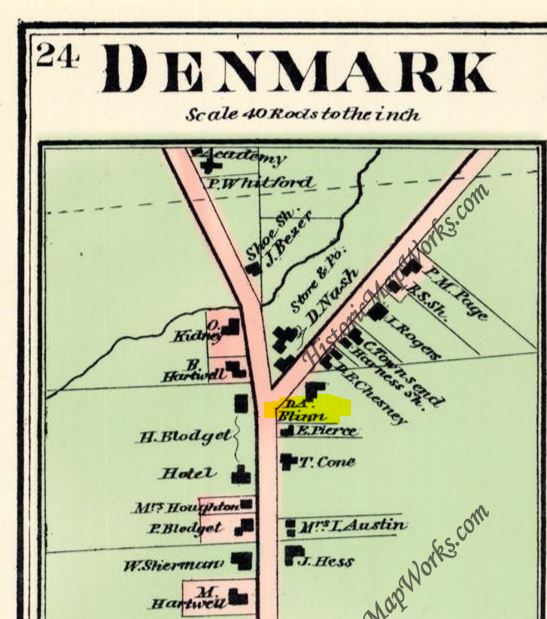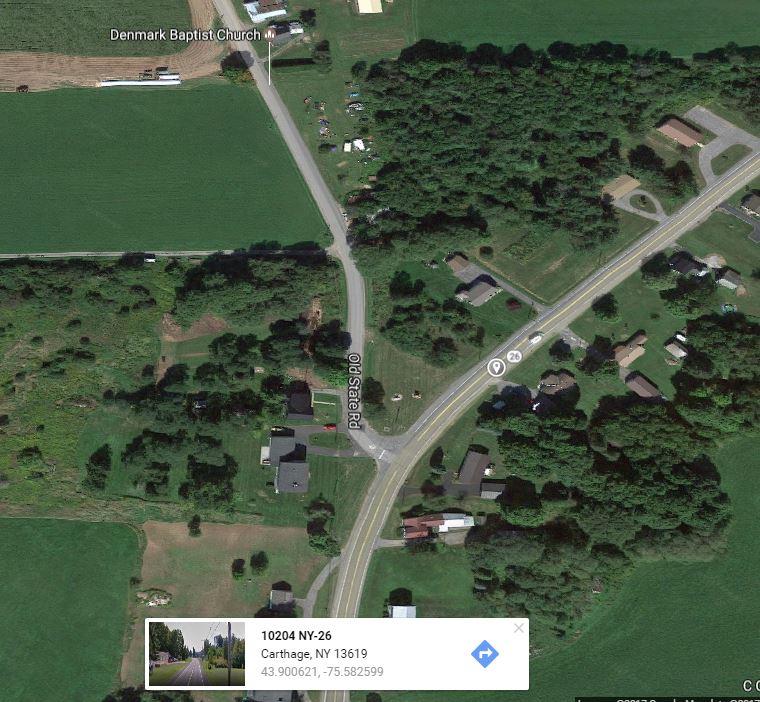 It was in the parlor of this house that stands near the fork of the road in the hamlet of Denmark that were married the parents of Charles J Guiteau, assassin of President James A Garfield. The title of the property at the time of that wedding was in the original ownership of Dr Charles and Eliza Evens Squire, and the bride was a servant in the Squire household, but the ceremony was attended by the Blodgetts, the Blinns and all of the other leading citizens of the alert little hamlet that was the birthplace of the twin counties of Jefferson and Lewis.
The house, a most attractive old type with its recessed window-arches, is said to have been built-in 1814 and soldiers of the War of 1812 were still marching through on their way to Sackets Harbor, for Denmark with its three taverns, stores and several small industries, was an important stagecoach junction point. Here fresh horses were relayed to the coaches which came from Watertown, Sackets Harbor, Brownville, Carthage; Ogdensburg, from Boonville, Utica and Albany.
In the 140 years of its existence the house has been in the hands of only two families, the Squires until 1868 and from then on the Blinns, of whom that 94-year-old Lewis county patriarch, Walter D Blinn, whose keen memory and rich knowledge extends nine decades into the past, has been the owner for 44 years.
Dr Charles Squire, one of the noted early physicians of the North Country, was born in Duchess county November 5 1783 son of Stoddard Squire an Englishman and Theadocia French, a girl from France. Dr Squire studied medicine with a Dr Willoughby of Newport and attended medical college at Fairfield, NY. On receiving his diploma he located in Denmark in 1810. In the War of 1812 he served as an army surgeon.
On January 15 1814 he married Miss Eliza Evens of Fairfield, and on October 13 1814 bought of Thomas Cotterill 4.86 acres and built his house shown above. On November 20 1810 he purchased a half acre from Jacob and Hannah Horr, on May 17 1830 an adjoining 4.24 acres from Marcus L Horr, and on August 19 1831 parcels of 18.4 rods and .16 of an acre from Isaiah and Mary Bailey.
Dr Squire lived until September 15 1867 but on March 1855 he and his wife deeded this house and entire acerage to their son, Charles D Squire, reserving the right reside there the balance of their lives. On February 7 1868 Charles D Squire sold the place to Duane A Blinn, who operated a small shoe and boot factory, employing four workmen a hundred feet away, until his health failure; Then be went to help his father, Celotus, on the Blinn farm at the foot of the cemetery hill nearby. After his health was restored he resumed his shoe business for a time, marketing his products over an extensive territory.
However, in 1878 he died aged 50 years five months and ten days and the property went first to his widow and then to his daughter Mrs William (Addie May) VanKoughnet and to his son, Walter D Blinn, the latter of whom purchased the former's interest July 30 1910 and has owned the place ever since, occupying it alone since the death of his wife, Mrs Nettie Russell Blinn, on March 10 1943.
Celotus Blinn, grandfather of Walter D Blinn, was a native of Columbia county and came about 1830 with his wife, who was a Miss Dickinson from Chenango county, to establish the Blinn homestead farm at the foot of the Denmark cemetery hill.
Duane A Blinn, son of Mr and Mrs Celotus Blinn, learned the boot-and-shoemaker's trade and followed it most of his life, marrying Miss Katherine Bellinger, whose parents had settled upon a farm at the top of the cemetery hill about 1830.
Walter D Blinn and his sister, Mrs VanKoughnet, were educated in the district schools of Denmark and in the academy, and Walter D Blinn has followed farming a considerable part of his life. On July 2 1890 he was married to Miss Mary VanKoughnet, sister of his sister's husband, but that marriage ended in divorce and June 24 1914 he married Miss Nettie Russell of Canton. Mr Blinn's mother died in 1910 after which his sister conveyed her interest in this house to him. His memory contains a wealth of history of the region running back into the Civil War period and the last of the stagecoach days.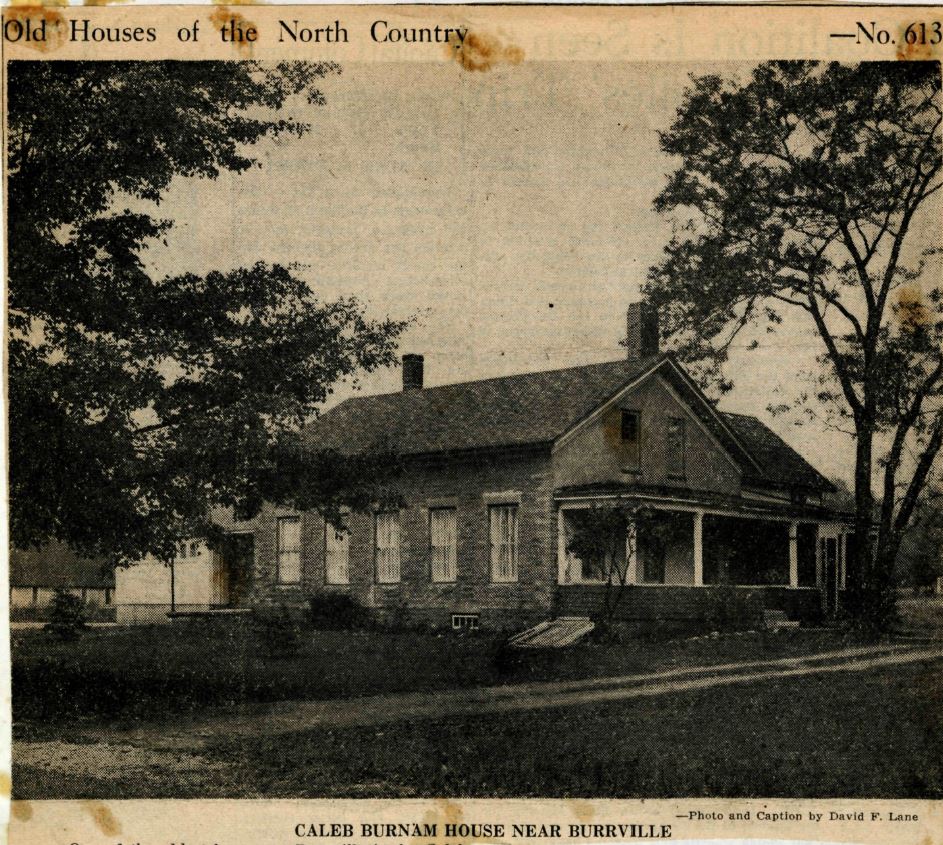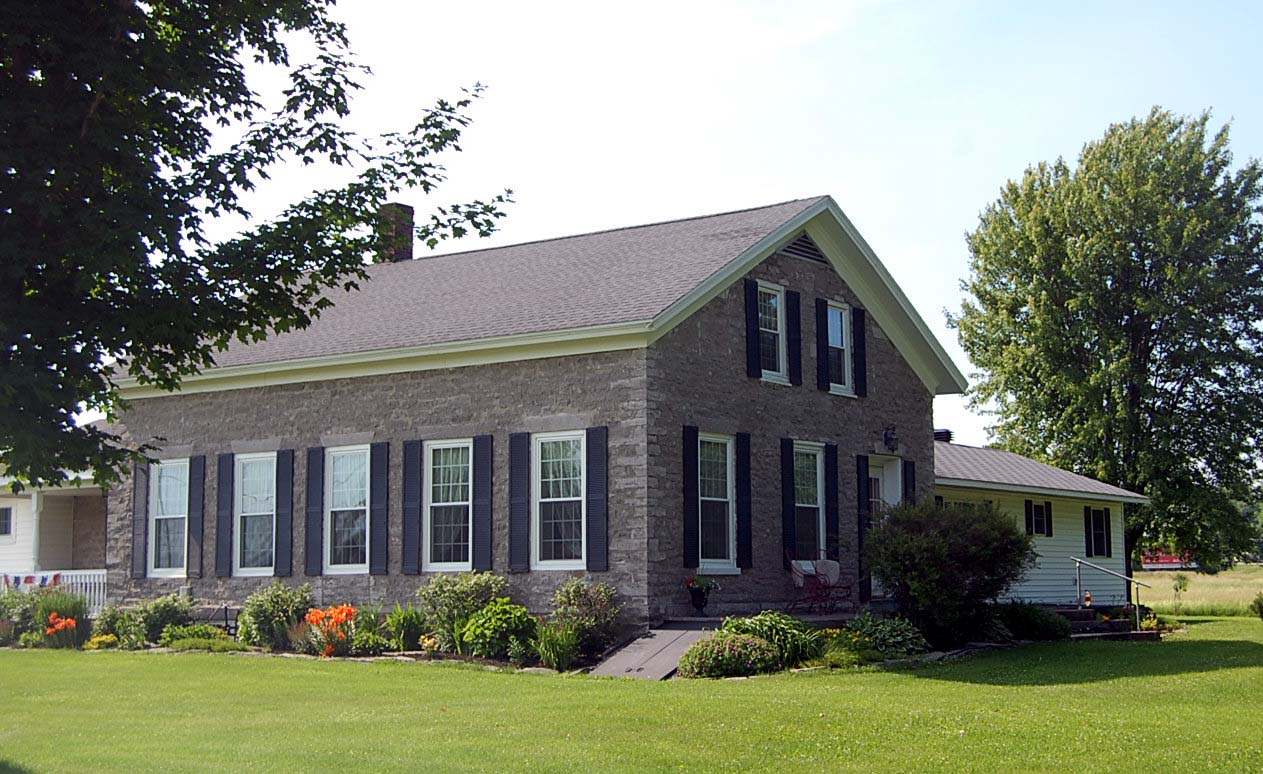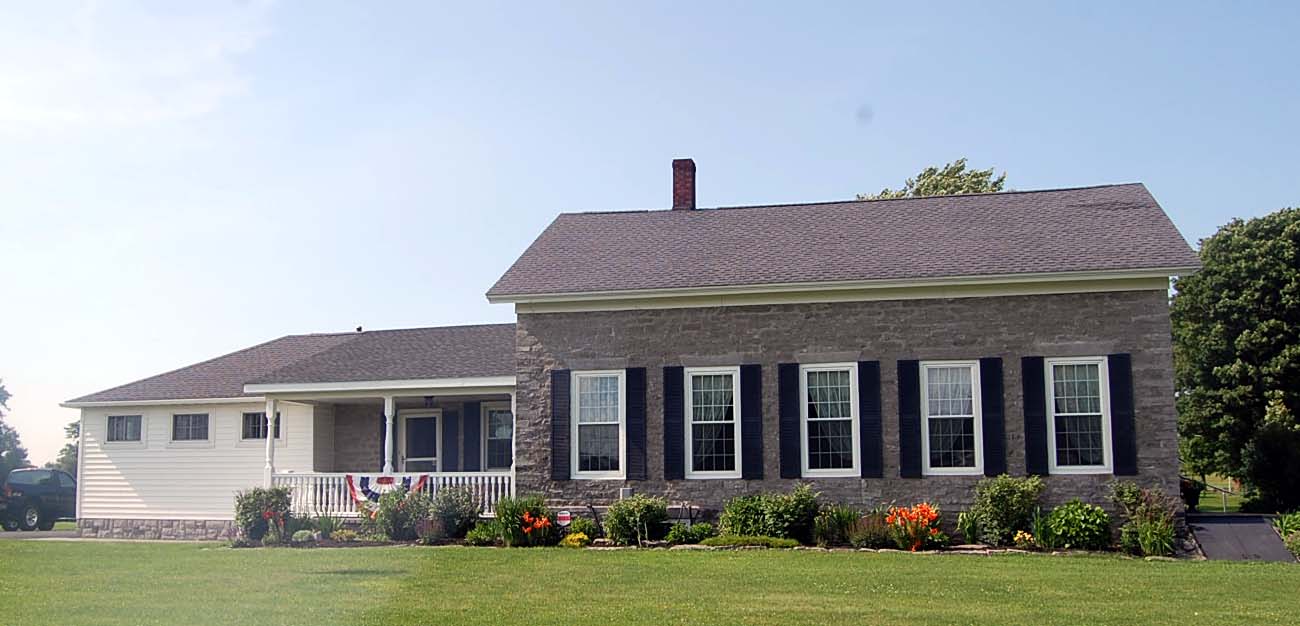 One of the oldest houses at Burrville is the Caleb Burnam native limestone house at the bend of the road as the traveler swings left from the Watertown highway to the hamlet of Burrville. The house is believed to be in the neighborhood of 140 years old, and originally had no verandah or stucco covering on the front. The wooden wing is also a much later addition, however. Dr Wilbur S Bull, who purchased the house, barns and about lb' acres of the farm nearly two years ago, last year restored the interior and plans to bring the exterior back as near as possible to its original appearance. Caleb and Nathaniel Burnam, brothers, came to Burrville in 1801 or 1802 and were among the first pioneer settlesr there, when it was a serious rival of Watertown.
It was on June 3 1803, that Reverend Ebenezer Lazell of Burrville, organized the First Congregational church of Watertown in Caleb Burnam's barn, where the first religious meetings of the area were held. This church was the first in the town and possibly the second in the county. It was the foundation of the First Presbyterian church of Watertown and Mr Burnam and Colonel William Lamson were the first deacons.
On March 28 1804 Caleb Burnam took title to 178.24 acres of land, purchased from Hart and Lucy Massey in the locale of this house. Mr Burnam was a son of Nathaniel and Mary Burnam of Lyndeboro, New Hampshire, and was descended from Lieut Thomas Bumham, who camne from Norwalk, England, in the ship "Angel Gabriel" in 1635 to settle at Ispwich, Massachusetts
For $6,265.40 Caleb Burnam sold 188.03 acres including this house to the late Lorenzo D Hill and it remained in the Hill family until June 13 1928 when the late DeWitt W Nichols acquired it from Herbert M Hill's estate. From the original Lorenzo D Hill is passed to another. L D Hill, who died in 1918 from having been gored by a bull. The latter's widow, Mrs Emma Jewett Hill, died, aged 87 at the home of her daughter, Mrs J Franklin (Elmina) Trube in Boston October 15 1951.
However, in the early spring of 1919 Mrs Emma Jewett Hill and her children, Mrs Trube and Lynn D Hill conveyed this property to Herbert M Hill of Buffalo. He died intestate July 3 1927 and thereafter his children transferred their interest in this property to their mother, Mrs Amanda I Hill, who sold it to Mr Nichols. Mr Nichols, prominent farmer and maple sugar producer, resided in the house and operated the farm for many years. During the last two years of his life he resided in this city, where he died June 13 1951. On July 25 1952 his son, Charles F Nichols as executor of his estate, sold the above house, buildings and original 188.03 acres plus about 150 additional acres to Kenneth W Coseo, town of Watertown. Then on August 6 1952 Mr Coseo sold off the house, barns, and 16 acres to Dr and Mrs Wilbur S Bull, the present owners.
Dr Bull, born January 12 1915 is the son of Hudson C and Ethel Stuart Bull, prominent Jefferson County farmers of Rutland Center. He was educated in the Watertown district schools, the Watertown High school and Penn State college. In his youth he was a 4-H club leader and was one of two state delegates to the national 4-H convention in Washington, DC, in June, 1935.
InJanuary of that year he was elected president of the Rutland Community association and in May 1942 enlisted jn the United States army. Being a veterinary surgeon he was assigned to veterinary service in World War II On March 3 1945 while holding the rank of corporal he was married to Miss Mary Locke Earle, daughter of Mr and Mrs Forrest Earle of Dover, New Hampshire For a time they resided at Chaumont where Dr Bull practiced his fession, and where they were still residing when they purchased tins property. The barn has been converted and equipped for veterinary hospital service. It is no the same barn however that Caleb Burnam built.
The house is one of the several fine old stone houses in the Burrville area, most of which are of a vintage prior to 1825.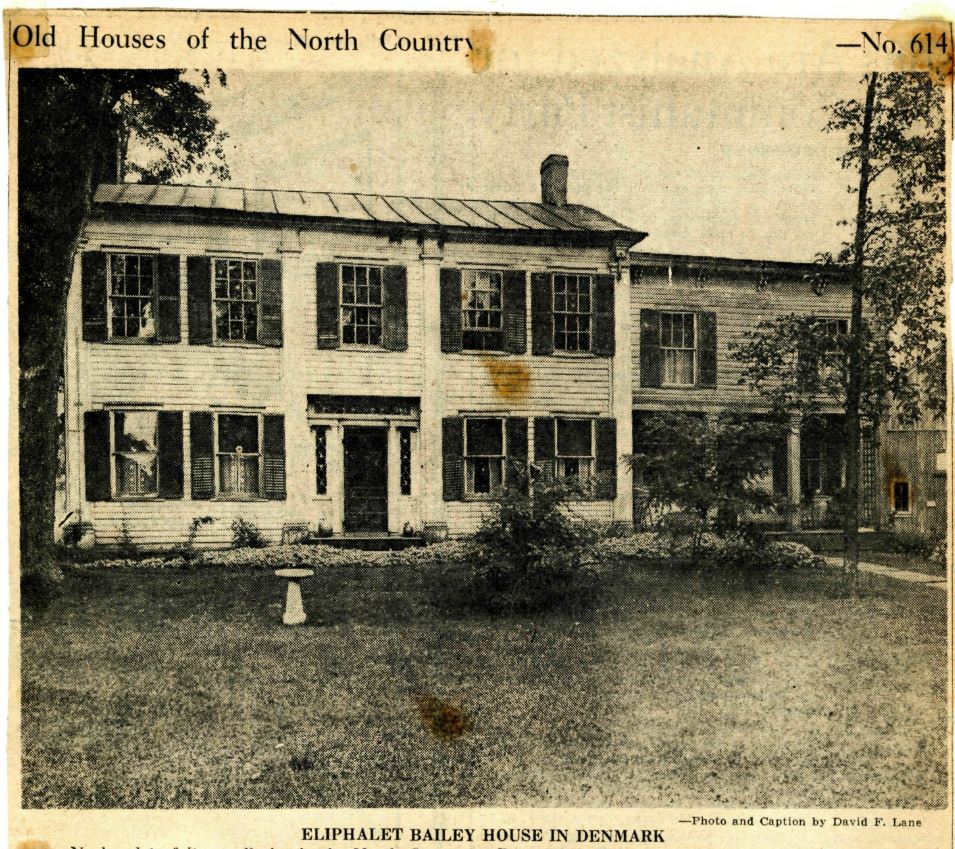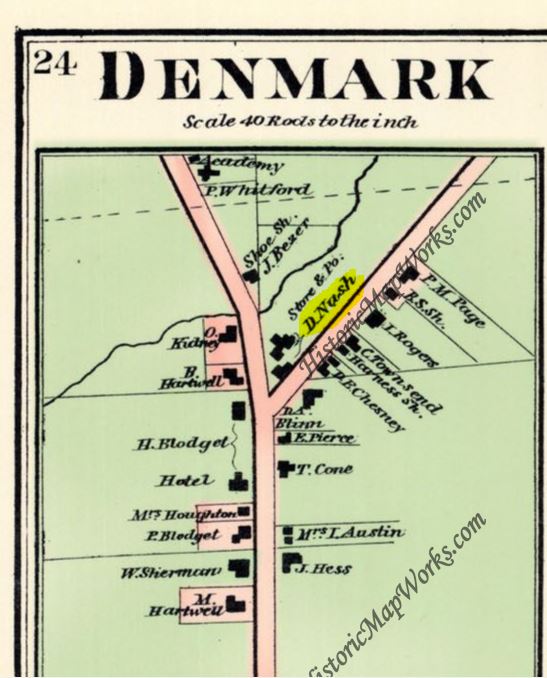 No hamlet of its small size in the North Country has more historic houses than Denmark. Built probably at the beginning of the War of 1812 the attractive Georgian structure shown above is believed to have been erected for Eliphalet Bailey at the juncture of the old Oswegatchie road with the Lowville road. There on July 11 1810 Eliphalet Bailey purchased 87 acres of land from the William Constable heirs and is believed to have shortly afterward built this house more familiarly known as the Darwin Nash house. On February 18 1814 Eliphalet and Nancy Bailey Westmorland, sold the property to William Boot of Denmark for $1,100 and June 2 1828 William and Cynthia Root disposed of the house and 7.97 acres of the land less a half acre to Amos Buck. Buck became financially involved and assigned to Samuel Clark and Elon G Parsons April 9 1850. On April 11 1851 they sold this place to Philo B Blinn who, with Helen M Blinn conveyed it to Aaron C Blinn the following December 29.
Then on April 30 1858 Aaron C and Caroline C Blinn transferred it to Darwin Nash. Mrs Emma L and Darwin Nash deeded it to Chauncey L Lasher June 21 1905 on condition that they continue to reside there and be cared for the rest of their lives. The furnishings were to go with the property. Lasher's heirs sold to George E and Grace L Wilson, Champion, October 5 1938 and September 24 1943 they disposed of it to Henry J and Alice B Lundy who sold to Harry B and Mary B Osterhoudt September 18 1945 from whom Yale Francis Skinner acquired it July 11 1946 and sold it to Richard F and Mary L Sawyer January 12 1948. The latter disposed of it June 5 1953 to James I and Virginia D Burr of Turin, present owners.
The histories disclose nothing about Eliphalet Bailey, but William Root was a Denmark settler before it was set off as a township from Harrisburgh April 3 1807. He was born in Tolland county, Connecticut, September 15 1780 removed to Whitestown, NY, in 1790 removed to Denmark in February 1804 then to Martinsburg in the spring of 1828 the year he sold this house to Amos Buck, and in September 1833 removed lo Carbondale, PA. He was one of the founders of the Denmark Ecclesiastical society and an original trustee of the Presbyterian society formed at Copenhagen January 20 1824.
Amos Buck was also one of Denmark's pioneer settlers, having been there before the town was set off from Harrisburgh and is listed in the electors' census of 1807. He was one of the most prominent early residents of Lewis county, having been assemblyman in 1825 and 1843. He was one time postmaster of the hamlet of Denmark, was town clerk in 1834-5 and 1838 and for some time prior to his failure in 1850 was a Denmark merchant having his store at his house. He died July 11 1855. Elon G Parsons, one of those to whom he assigned his properties for benefit of creditors, was town clerk 1848-9 and 1853 and during the Civil war was on the town committee to raise funds to pay bounties. Darwin Nash, who owned this house many years, operated a harness shop in Denmark for a considerable period, was town clerk in 1857 and 1802 and supervisor of the town of 1882. Aaron Nash was one of the original constables of the town in 1807.
James I Burr, the present owner of this house, is the son of the late Willis Burr of Turin, a graduate of the Boonville High school, a former employe of the Adirondack League club at Little Moose Lake and prior to buying this place was steward of the Carlowden club. On October 7 1939 he married Miss Virginia Davidson daughter of Mr and Mrs George Davidson of Boonville.
She is a graduate of the Oswego High school and the Oswego State Teachers college and assisted her husband at the Carlowden club. They have converted this house into a restaurant.

The facade of the house is imposing with its tall pilasters, beautiful front entrance and original smallpaned windows in the second story. Inside it has a nice hallway, excellent woodwork and well lighted rooms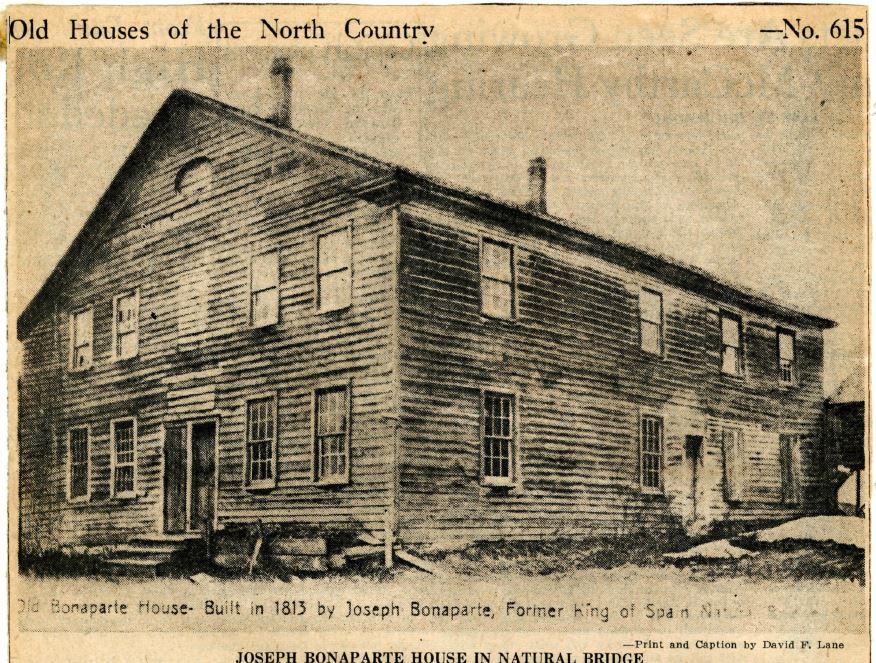 Notwithstanding his extensive ownership of Jefferson and Lewis county lands a century and a quarter ago Joseph Bonaparte, one time king of Naples and the two Sicilies, later king of Spain, elder brother of the Emperor Napoleon, is now almost a mythical personage so far as northern New York is concerned. His big, barnlike house which stood on what is now the main street and in the present business heart of the village of Natural Bridge, has been gone from the scene for half a century, and a lot vacant except for a small private garage at the rear, is all that marks the spot. Even his hunting lodge on the elevation back of the Catholic chapel overlooking Lake Bonaparte was taken down in 1901.
Not only is Joseph himself now a mythical or mystical character, but many of the fantastic tales that have been told and written about him have been debunked. For example, his big Natural Bridge house, although constructed strongly with huge timbers for its framework, and undoubtedly well appointed and richly furnished in the tenor of his day, was neither more fortlike nor more bulletproof than the ordinary large dwelling of the period. Nor was it erected in 1813 as the caption on the photograph-postcard from which the above picture was taken, unless, perhaps, it was started in that year by someone else.
That very well may have been, for one writer of the past states that Joseph bought it from a man named Bingham and had it finished in 1828. Nor did he spend a great deal of time in it or at his
Lake Bonaparte hunting lodge. From reliable sources it comes that he did not make more than four trips from his great Bordentown, NJ, estate to his northern New York empire, the first of these having been in 1828 and the last in 1829. Likely his fabled Lake Bonaparte gondola also was nothing more than a large, six-oared barge. Doubtless he made his northern New York trips in a sumptuous coach and six-horse hitch with outriders and wagons of equipment, traveling in grand style, but it is unlikely that he brought gold plate, and the story of his $200 dinner at a Mohawk valley tavern en route may be discounted
Historians say that while James D LeRay de Chaumont was visiting him at Blois in 1815 after Waterloo, as Joseph was preparing to flee France, wagonloads of Spanish crown jewels and silver went by and Joseph told LeRay to take about $150,000 of it in exchange for northern New York wilderness lands. The record also shows that on December 21 1818 Peter Stephen Duponceau of Philadelphia, PA, took a trust deed of 150,260 acres less 32,260 acres previously sold by LeRay in Jefferson and Lewis counties, because Joseph, not an American citizen, could not own these lands then. The price is said to have been $120,000 but that later diamonds depreciated in value, and Joseph finally got only 26,840 acres for $40,260.

In any event a law was enacted March 31 1825 enabling Joseph to own lands in this country and on July 16 1825 Duponceau conveyed to Joseph 118,000 acres for $120,000. The record also shows that on June 11 1835 Joseph Count de Survilliers, that being the name Joseph adopted in this country, sold 107,000 acres of Jefferson and Lewis county lands to John LaFarge for $80,000. The sale also included some scattering farm parcels. At that time Joseph was residing in England.
Joseph fled from France July 25 1815 sailing from Royan in the American brig "Commerce," and under the name M Bouchard. He landed in New York August 20 1815. July 2 1816 he bought a 211-acre farm near Bordentown N J, increased it to 1,800 acres and built a magnificent mansion. In Philadelphia he soon became enamored with attractive Annette Savage, alleged Quakeress who, with her mother operated a ladies' furnishing store. He lived with Annette morganatically and had children by her. Whether a Quakeress or not, Annette was not a Philadelphian but a member of a Virginia family. Bordentown society frowned upon the alliance, and Joseph established her in "Bow Hill," a brick house at Lamberton, NJ, where she had two daughters, Pauline Josephann who died December 6 1823 at the age of four, and Caroline Charlotte born in 1822. In 1869 while Caroline Charlotte and daughter were on a visit to France Annette's common-law marriage to Joseph was legitimatized by Emperor Napolon IIIinois, who recognized Caroline as a princess.
When Annette Savage Bonaparte left "Bow Hill" and came to reside in the big stone house Joseph built for her near Ansted's bridge on the Indian river in the upper part of LeRay is undetermined. Nor is it definite when Joseph released her and she married Joseph Delafolie, but as Joseph Bonaparte prepared to forsake America in 1932 and return to Europe he conveyed Jefferson County property to her, and she was then going under the name, Ann Delafolie. One deed to her from Joseph Bonaparte dated April 10 1832 conveyed to Ann Delafolie "of amberton," NJ, the Ansted Bridge estates of 413.56 acres, a stone business block in Evans Mills, and 15 farm contracts all for $11,997.50. On May 6 1832 he conveyed about 154 more acres to her for $941.60.
After Delafolie's sudden death Annette married Henry Horr and removed to New York City. Her daughter Caroline Charlotte was married to Colonel Zebulon Hart Benton of Oxbow, a picturesque character, promoter and speculator, at Trinity Episcopal church in this city in July 1839. For many years she received a $1,200 annuity from France, but in her latler years she taught French in this city. She died in Richfield Springs December 25 1890 and is modestly buried at Oxbow where also is buried her husband, who died May 16 1893.
243 S Massey St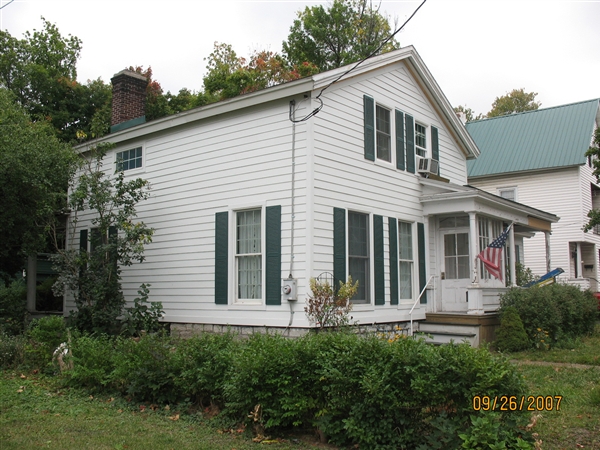 While it is difficult to pin down original ownership of this attractive old frame house at 243 South Massey Street, it may first have been the home of Marcellus Massey who, on February 28 1863 while a resident of Brooklyn, joined with his wife, Frances, in selling .556 of an acre of land starting about 193 feet from the northeast corner of Clinton Street, to Elizabeth D Roach, wife of Jerry H Roach, a painter, the parcel being on the east side of South Massey Street about where this house is.
The lot was originally part of the holdings of Hart Massey, one of the founders of Watertown, and who on June 19 1847 sold a large lot extending northward from Clinton Street to a line and then westerly to "a board fence on the east side of a grove of maples recently set out" by Massey. Hart Massey sold that large lot to Judge Frederick W Hubbard and John H Dutton. Hubbard transferred his interest to Dutton May 1 1852.
On January 15 1853 Dutton disposed of it to Anthony Freeman, a machinist, who had the house on Clinton Street where Dr W Weber Young now resides. On April 20 1858 Freeman sold that house to Elizabeth B Cooke, wife of Henry P Cooke, who was a member of the local dry goods firm of Cooke & Cadwell and grandfather of Henry E Cooke of the present George H Hyde, Inc On May 27 1863 the Cookes sold that place to Matilda, wife of Henry B Mosher, who was a partner of John C Sterling in the local book store of Sterling and Mosher.
On August 18 1863 Mrs Roach also sold her place on South Massey Street to Miles Strickland, who resided there several years and sold it to Mrs Mosher's daughters, Matilda T and Agnes P, on March 31 1890 and they conveyed it to their mother November 30 1894 she deeding it next day to her son, Edmund G Mosher. He deeded to his wife, Grace G Mosher, June 15 1896 and she sold parcels of the two properties containing this house to John Brady November 3 1900.
Mr Brady was a New York Central engineman for many years and it is known that Henry B Mosher was residing in the former Dr Eric S Simpson house next north of the present Carpenter residence in 1900 the year Mr Brady bought this Carpenter house. The Moshers had some time previously resided on the north side of Clinton Street not far from the Massey Street corner, and Mr Carpenter has elusive and unconfirmed information that his house was moved from Clinton Street to the present Massey Street location at some time. However, Miss Clara Massey, who for a number of years resided on the other side of Massey Street, asserts that she has no recollection of the Carpenter house having been elsewhere than in its present location, and its good foundations have the appearance of having always been there.
It was on October 22 1917 that the late John Brady and his late wife, Josephine, sold the house shown above to the late Mrs Mary Knickerbocker Carpenter, wife of the late Frederick M Carpenter, uncle of Robert F Carpenter. Mr and Mrs Frederick M Carpenter resided there a number of years. He had been a partner in the local food and clothing market firm of Carpenter & Bergevin, of which his father, the late John M Carpenter, and the late John E Bergevin were founders. Frederick M Carpenter died March 1 1925 and on November 22 1928 his late widow sold this house to Mrs Marion B Carpenter, wife of Robert F Carpenter.
They have since been its owners and occupants. Robert F Carpenter, is vice president and trust officer of the Watertown National Bank. His wife is the former Miss Marion Barney, daughter of Mr and Mrs A W Barney of Sparta, Wisconsin, to whom he was married November 10 1924.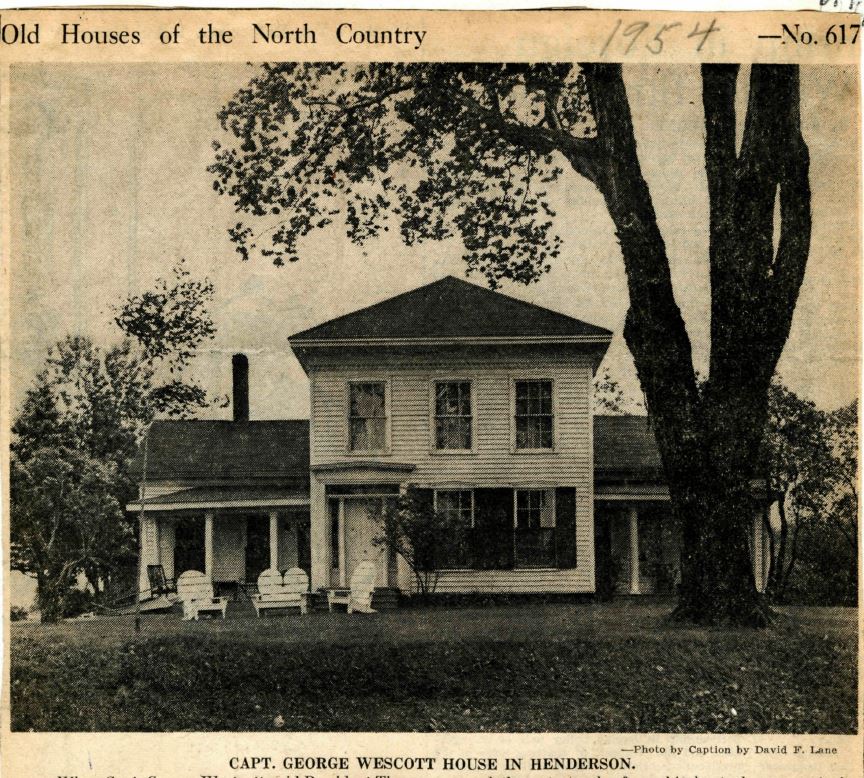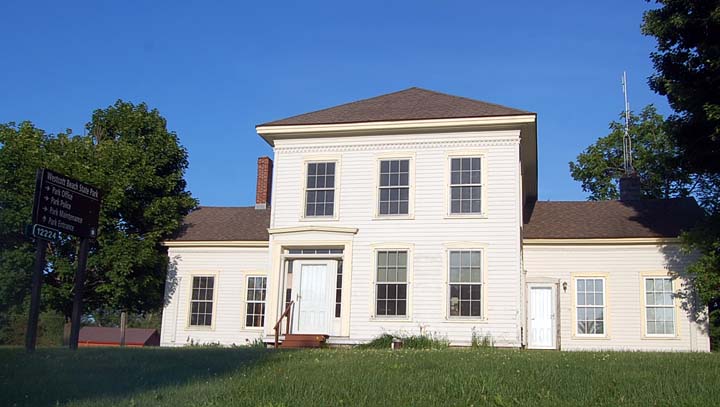 12224 Co Rt 3 Henderson NY
When Captain George Westcott paid President Thomas C Chittenden of the Bank of Watcrtown $1,000 for the 190 acres on March 19 lfi51 that formed the principal part of this "Lake Shore Farm" in the town of Henderson just over the Hounsfield line, he little suspected that 28 years later two of his sons would lose their lives in one of the most tragic drowning accidents at this end of Lake Ontario.
Shortly after he acquired the 190 acres Captain Westcott built this fine square house with the symmetrical wings and colonial front doorway overlooking the 3,000 feet of bathing beach, one of the finest in the state, and now controlled by the state of New York. The house contains twelve rooms and a beautiful stairway in the broad front hall. This house is now over 100 years old and is shown on the county map of 1855.
Captain Westcott was born in 1813 and when a young man was married to Catharine, daughter of Mr and Mrs Thomas Bell, and to them were born a daughter, Flora A, who died in 1859 aged 20; Wellington G, who located in Adams; Edwin D, who went to Winona, Minn; Byron M and Nelson L, who remained home on this farm and lost their lives in their sailboat "West Wind," a mile and a half out from this house about noon September 5 1879.
About 11 that morning they set out from Campbell's Point to participate in a regatta and clambake at Henderson Harbor seven and one half miles away. Although carrying two tons of ballast they recklessly allowed seven friends to go along. The wind was blowing a gale. The lake was rough, and when a mile and a half out they capsized and sank in 18 feet of water. Although good swimmers the two Westcott brothers, Allen Ramsey, Drake Lewis, Shuler Howard, Edgar York and Edward Benjamin, weighted by heavy clothing, were drowned.
Morgan Weeks and Charles Washburn clung to the mast and were saved by Captain David Sperry who witnessed the catastrophe from his boat also en route to Henderson Harbor but was unable to get to the scene in time to rescue the seven unfortunate men. After purchasing the original 190 acres of this farm Captain George Westcott added 41 more acres. He died intestate June 27 1863 having been injured a few years before from a fall off his barn. His estate went to his widow and four sons, who later quitclaimed their interest to their mother. The next year after the drowning of Byron and Nelson, Mrs Catharine F Westcott quitclaimed her interest to their two widows Hattie M and Sarah E Westcott, who operated the farm for a number of years.
Hattie M and Sarah E Westcott were the former Murphy sisters, daughters of Henry and Laura Fuller Murphy of Dexter. Hattie married Byron M Westcott in 1869 and their children were Belle M, who married Jesse Ingram and George Henry Westcott. Sarah E Murphy married Nelson L Westcott in 1878 and had one son, Frank N Westcott, now a resident of this city. George Henry Westcott, Mrs Ingram and Frank N Westcott eventually inherited the farm and this house.
George Henry Westcott continued to reside on and operate the place until his death at 70 on March 26 1915 survived by his widow, the former Miss Matilda L Weeks, to whom he was married September 20 1901. In his last years he operated his fine beach for bathing purposes. On May 18 1916 his widow, Matilda Weeks Westcott, Frank N Westcott and wife Emma M Westcott, and Mrs Ingram joined in selling the house, barns and 170.3 acres of the farm to the state for $30,000. The state developed it into a state park called the Westcott Beach State park, which adjoins the equally fine Campbell's Point bathing beach.

Prior to the Bank of Watertown taking over this farm on mortgage it was owned by Solomon Robbins and was known as the Lake Shore Farm.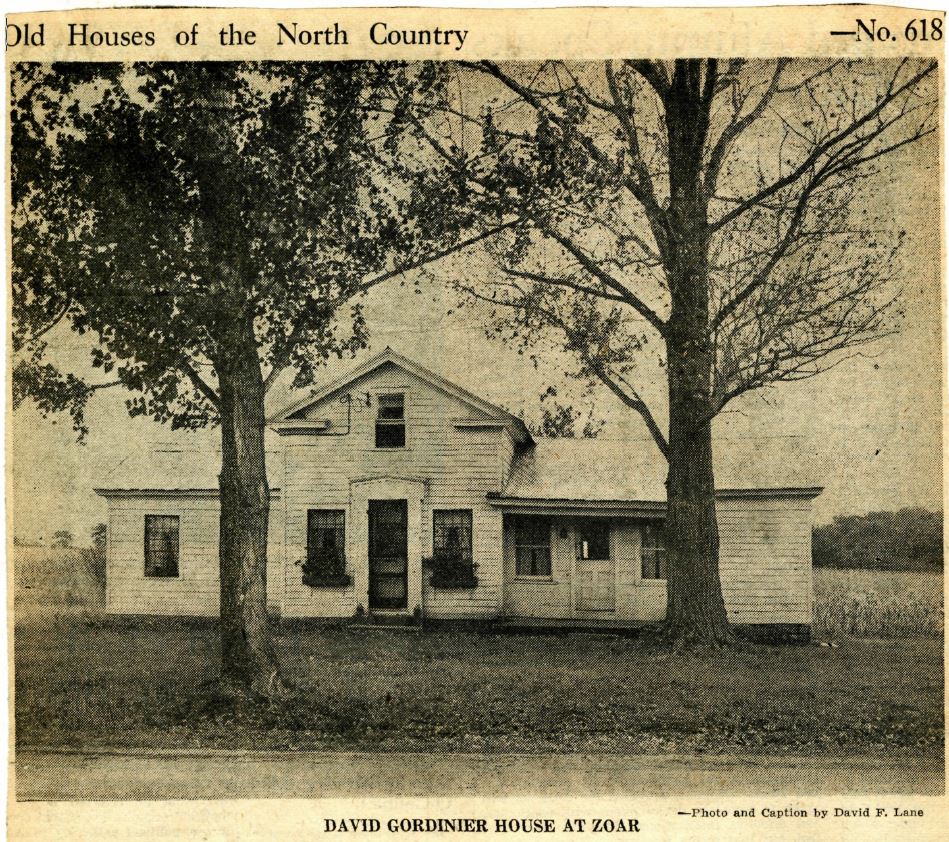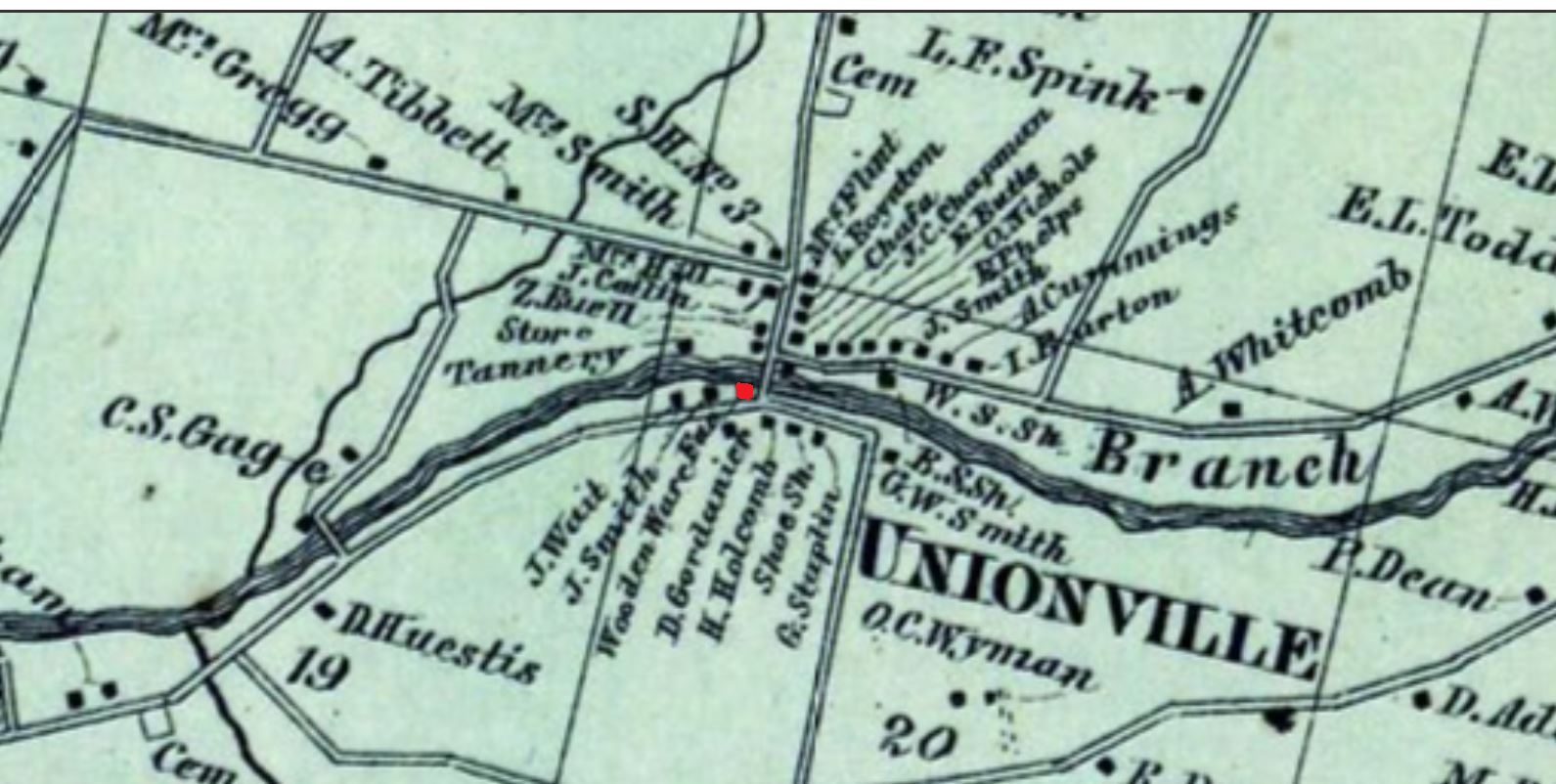 Erected at Zoar about a century ago, but whether by David Gordinier or a predecessor in ownership is not known, however, this picturesque little house faces the traveler en route to Rodman as he crosses the Zoar bridge.
David Gordinier was a brother of Henry Gordinier who fought through the War of 1812 and at the close of that conflict settled in the town of Rodman where Zoar is located. The record seems to be indefinite as to when David Gordinier purchased or built this small and attractivewhite house with the handsome doorway and cornices, but on December 1 1865 he and his wife, Loretta S Gordinier, sold the place to William Clary, who was connected with one of the industries at Zoar. Prior to selling the place to Mr Clary, David Gordinier operated a mercantile store at Whitesville, and afterward he conducted a similar establishment at Pulaski. His wife was the former Loretta Sisson. A son, Adelbert Gordinier, who died July 2 1934 was also a merchant.
At the time David Gordinier resided in this house, Zoar was an exceedingly busy little hamlet with a hotel, two stores, a tannery, sawmill, grist mill, a factory for making cloth and nap hats, a fulling mill, a blacksmith shop, cooperage shop, wood-working shop and vinegar plant. On the same side of the road and next towards the village of Rodman from his house was a wooden ware factory, and next to his house on the other side was the residence of Henry Holcomb, while next beyond that was a shoe shop. The tannery was located diagonally across the road from the David Gordinier house, which is but a few rods to the west of the George W Smith house, now owned by Mr and Mrs George A Worden, prominent Rodman farmers
William Clary, who bought this David Gordinier house on December 1,1865 resided there about 15 years. On October 11 1892 he was joined by his wife, Almira M Cleary in selling the property to Fred L Wolcott of the town of Rodman, the Clarys having removed to this city about a dozen years prior to that. Here Mr Clary followed his occupation as a machinst and eventually purchased residence property at the then Nos. 79 and 79-A Franklin Street, which was on the north side of the street a few houses from Rutland. Mr Clary died August 20 1904 willing all of his property to his widow.
Fred L Wolcott and his wife, Mary, disposed of the Zoar residence to Mrs Cora Shepard on June 15 1911. Mrs Shepard died intestate leaving her husband, Lewis Shepard, who died in November 1948 besides a son, Virgil S Shepard, and a daughter, Mrs Leola L Hughes. Virgil S Shepard was then a resident of the town of Ellisburg and Mrs Hughes resided in Mannsville
On December 22 1948 Mr Shepard and Mrs Hughes sold this Zoar house to James E and Laura I Ford of this city. Mr Ford is a real estate broker and on May 26 1950 he and Mrs Ford disposed of this David Gordinier property to Irving M and Edna M Smith of Rodman, who reside across the road. They have repaired and improved the property with modern conveniences
There is an unconfirmed tradition that the house was built by a member of the pioneer Smith family, but however that may be, a record in the county clerk's office shows that it occupies a site of three-tenths of an acre of land and that on October 15 1867 William Clary added a strip of land eight rods nine feet long and three rods wide to the site. This strip he purchased for $25 from George W Smith, one of the early settlers of the town, whose own house now owned by Mr and Mrs Worden was built about 1850.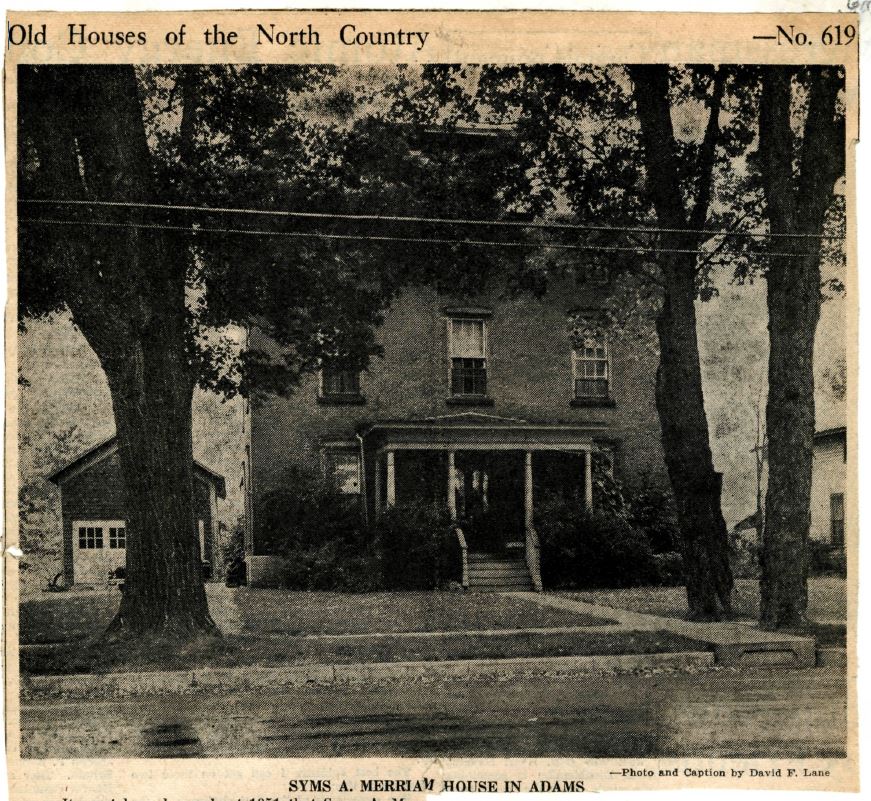 54 East Church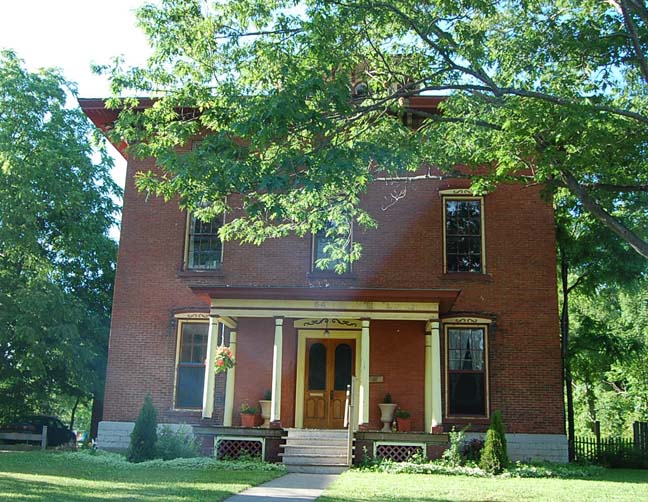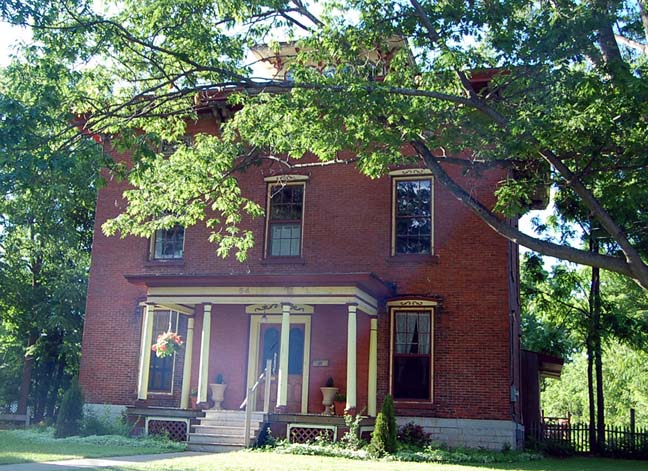 It must have been about 1851 that Syms A Merriam, a prominent early resident of the village of Adams, built this big square brick house, with its dozen large, high rooms, and cupola atop, on the village's proud residential Church Street. On January 1 of that year Merriam bought the five-acre site from Jeremiah and Eunice Strong Griswold for $464.06. Griswold was an early harness and luggage merchant in Adams. Merriam must have later overextended himself financially, for on October 20 1871 he assigned all of his property to William A Gilbert for benefit of creditors, and on June 1 1872 Sheriff A W Wheelock sold this residence property to Samuel N Bond, Adams dry goods merchant and partner in a cabinet shop, who had married Elizabeth C, daughter of Peter and Lorany Blackstone Doxtater, and whose daughter, Lillian D married Judge Joseph Atwell of this city.
Retaining title but a few months Samuel N Bond and wife, Elizabeth C, sold the place October 1 1872 to Samuel T Potter who, with his wife, Barbara K, owned it until April 13 1875 when they disposed of it to Joseph Langford Greene. Mr Greene, born at Berlin, NY, February 8 1808 became a clerk along with Russell Sage in a Troy grocery between 1825-1830 but could not condone his employer's methods of sanding the sugar and watering the whiskey. He had married Susanna, daughter of David Maxon of Petersburg, NY, and shortly settled on a farm in Brunswick, but in 1835 purchased a farm near Adams, was successful, gained a competence and retired to this big brick house in the village.
Mrs Greene died in March, 1876 and later he married Mrs Esther E McAlpin. He died April 6 1886. His two sons, Albert Sivillian Greene and David Maxon Greene, were graduated from Rensselaer Polytechnic Institute and attained high distinction, Albert Sivillian Greene retiring from the United States Navy as a lieutenant commander after 33 1/2 years of service.
On November 13 1877 Joseph Langford Greene sold this house to his son, David Maxon Greene, then of Troy, for $8,000. The latter had graduated from RPI, as a civil engineer August 29 1851 going back as an instructor in October, leaving in March to become chairman of the Erie canal enlargement, and in the fall of 1853 was made division engineer of the Wheeling & Lake Erie R R He later served on other railroads and in January 1855 married Maria N, daughter of Judge Calvin Skinner of Adams, returning to RPI in September as professor of topographical drawing.
In February 1856 he was sent to West Point as private pupil of General Thomas H Neill, completing a course in topographical engineering. Early in 1861 he was appointed engineer in the U S Navy, was attached to the U S Frigate "Susquehanna" and took part in the capture of forts at Hatteras Inlet and Port Royal. In September 1862 he became assistant professor of natural and experimental philosophy at the U S Naval academy then located at Newport, RI, and was instructor in steam engineering. He Mas the first engineer officer ever ordered to duty at the Naval Academy.
He was detached in June 1865 at his request and later ordered to the engineering bureau of the navy department in Washington as assistant to the bureau chief. In May 1868 he was given six months' leave as principal assistant engineer in charge of investigating extension of the Albany Materworks. Later he had other notable navjr service resigning in the fall of 1869 to engage in private engineering practice in Troy, but in 1870 was made engineer to the commission studying the use of steam power on canals. In January 1874 he was made engineer of the eastern division of New York state canals. In January, 1878 he resumed private practice in Troy and in September was made director and professor of geodesy at RPI He was a director of the Troy City National bank, Citizens' Steamboat company and a number of corporations. Also he was a member of many important engineering societies. He died in mid-summer of 1913.
On September 3 1913 his widow, Maria N Greene, sold this house to Mrs Kathryn T Brownell of New Bedford, Mass, wife of Charles E Brownell. Mr Brownell died September 5 1933 and Mrs Brownell July 19 1939 deeded the house to herself and daughter, Kathryn. The latter was married May 15 1917 to W Karl Rice, graduate of Brown university and son of the late Arthur L Rice, Adams paint manufacturer. W Karl Rice is now on the county welfare department staff. A son, Arthur, is a teacher on the South Junior High school staff, and a son, Theodore, is a teacher in the schools at Chateaugay
The big brick house with its fine old original smallpaned windows, the home of Mr and Mrs Rice, is one of the outstanding residences of Adams, and Mrs Kathryn T Brownell, now 87 resides there with them. The house and grounds are maintained in attractive condition, with a large garden at the rear.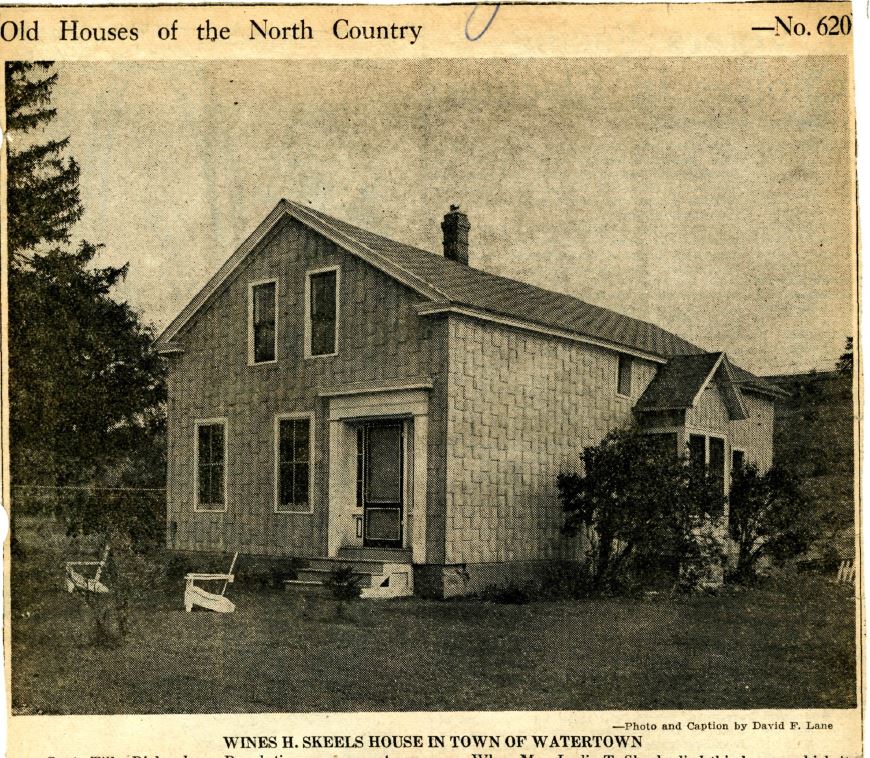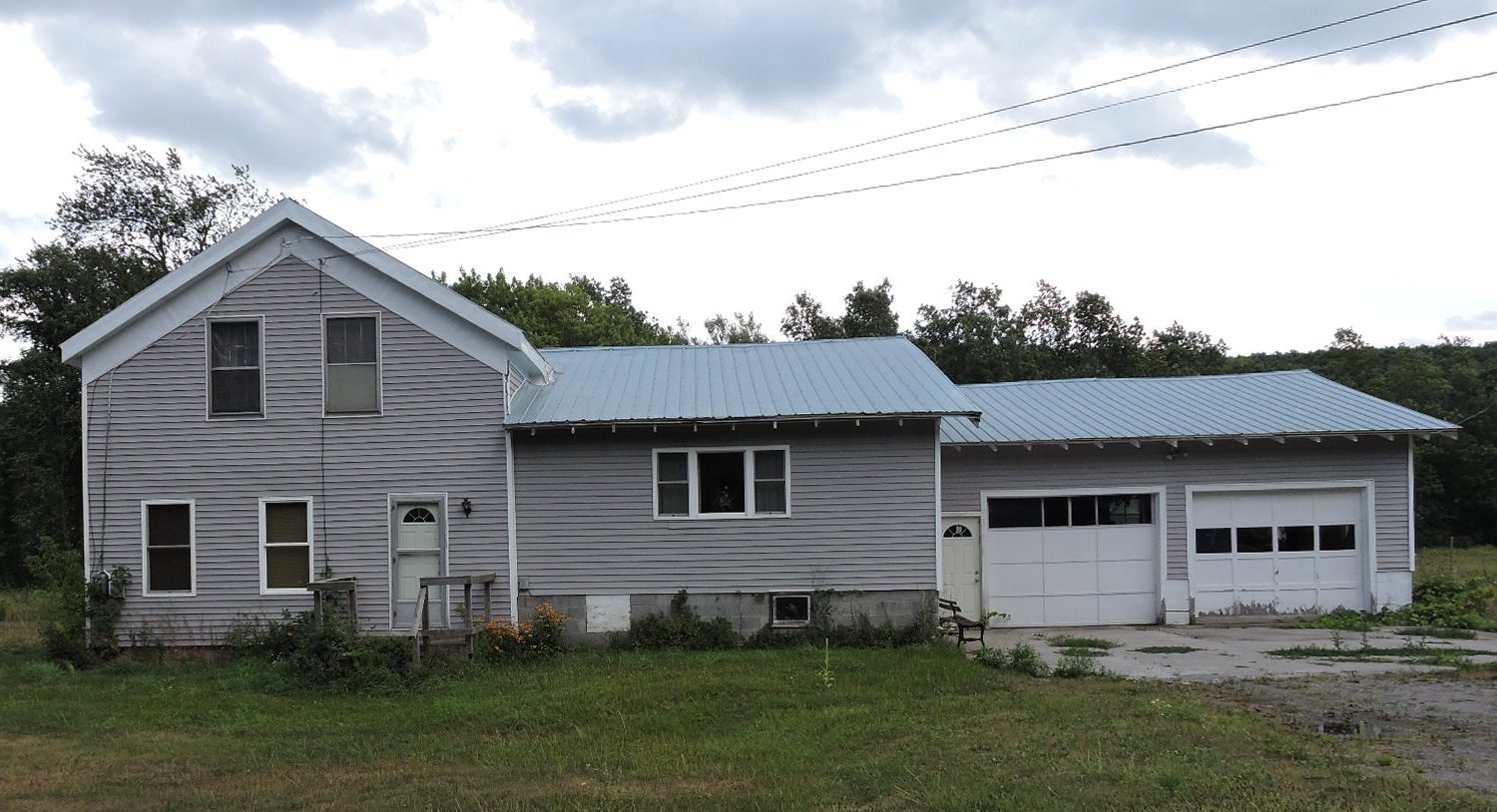 Captain Tilly Richardson, Revolutionary war veteran, one of the leading Jefferson County pioneers, first came with Dry Hill's Joseph Sheldon in the spring of 1802 to take up land in the Sandy Creek valley section of the town of Watertown and returned to Litchfield, Connecticut, for the winter. In March 1803 he came back with his family to locate and later several of his children married settling in that area to form a family community. One daughter, Hepzibah, wedded Joseph Sheldon. Dorothy married Edward Mantle and Lydia T, became the wife of Wines H Skeels. Nancy married John Paddock.
Mary married Timothy Hungerford. Susan was unmarried. The sons were Josiah and John. Born at Sterling, Massachusetts, March 22 1759 he served at 16 with the Colonials at Dorchester Heights against the wishes of his father, Tilly Sr who, although a Massachusetts native, was an arrant Tory. Later young Tilly served at Saratoga and Newport, RI. Returning to Sterling after the war he found that his father, brothers and sisters had moved to Halifax, N S He never saw them again. In 1781 Tilly Jr, married Mary Thurston in Lancaster, Massachusetts, and resided there until 1789 when he removed to Litchfield, Connecticut. In the town of Watertown he was a leading citizen serving as its supervisor in 1809-1810.
In February, 1811 he became a founder and trustee of "The Religious Society of Watertown," committed to build a church at Watertown Center where Aaron Brown kept tavern. The project failed. Captain Richardson, who gained that title in the militia, had two sons and six daughters. He died in January 1852 and, with his wife, children and their spouses, is buried in Brookside cemetery. His daughter, Lydia T, born in January 1804 was married to Wines H Skeels and to her on May 28 1849 her father conveyed the 60.83-acres plot where this house is for $1,825. Back of it is one of the largest cold springs in the valley, and the spring fed a brook which so teemed with trout that they were said to have been a frequent item of diet on the Skeels table. Mr Skeels operated a tannery, shoe shop and cheese factory as well as the farm
When Mrs Lydia T Skeels died this house, which it is claimed her husband built in 1843 and farm went to her son, Wines Richardson Skeels, his sisters, Mrs Mary S Parker and Mrs Emma J Simmons selling to him their interest for $1,800. But on January 2 1883 he disposed of it to Byron E Ball for $3,150. He transferred it to his wife, Lovica E Ball January 6 1894. It was their farm home, along with the additions that the Skeels family had made to it, for a number of years, and later became the property of Arthur B and Nora A Ball of Adams Center.
On November 1 1923 the Watertown city board of education acquired control of it from Mr and Mrs Arthur B Ball and, stocking it with a herd of cattle, has used it since for the dairying activities of the Jefferson Farmschool. Wines Richardson Skeels, who became an outstanding agricultural and horticultural figure in Jefferson County for many years, was born in the town of Watertown June 12 1843. He was trained as a farmer and received his education in the district schools. On April 2 1873 he married Miss Delia A Chapin, daughter of Oscar and Zuba Wade Chapin of the town of Adams. He and his wife were charter members of Watertown grange and in 1874 he was active in the organization of the Watertown Dairymen's Board of Trade, of which he was secretary for the first five years.
Also he was secretary of the Jefferson County Agricultural society for many years and an active figure in the county fairs, except for an interim of six years from 1883 to 1889 when he and his family resided at Homer, Mich, where he operated a florist establishment. Upon his return he took up residence in this city and was employed by the R W & O railroad until 1893 when he started a greenhouse on Washington Street. This he also conducted for many years. He died in 1916 aged 73. Mrs Skeels died at the family residence, 1385 Washington Street, December 20 1932. Both of their children, Reverend Wines Harris Skeels, a Universalist minister and former superintendent of the New York State Universalist Convention, and Mrs Charles L (Lumira Skeels) Ward, city, are also deceased.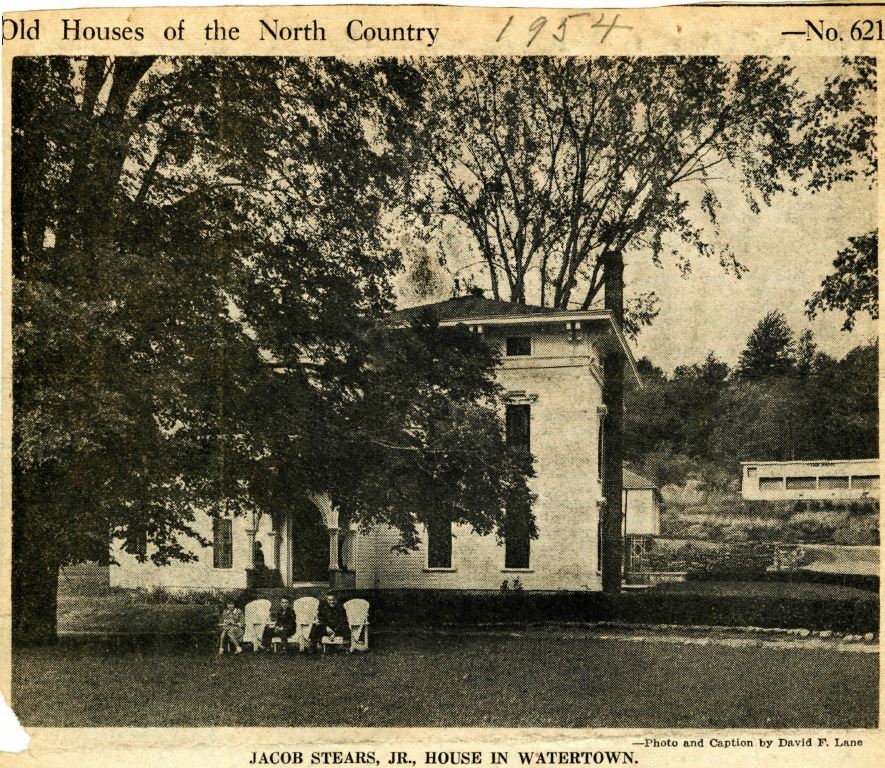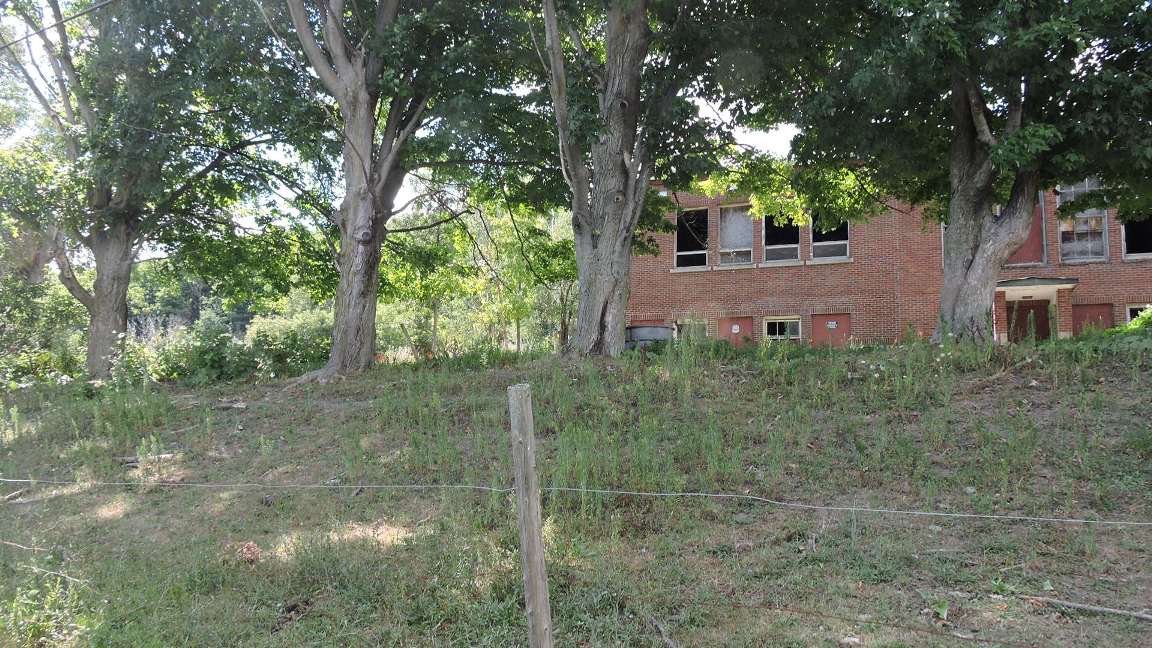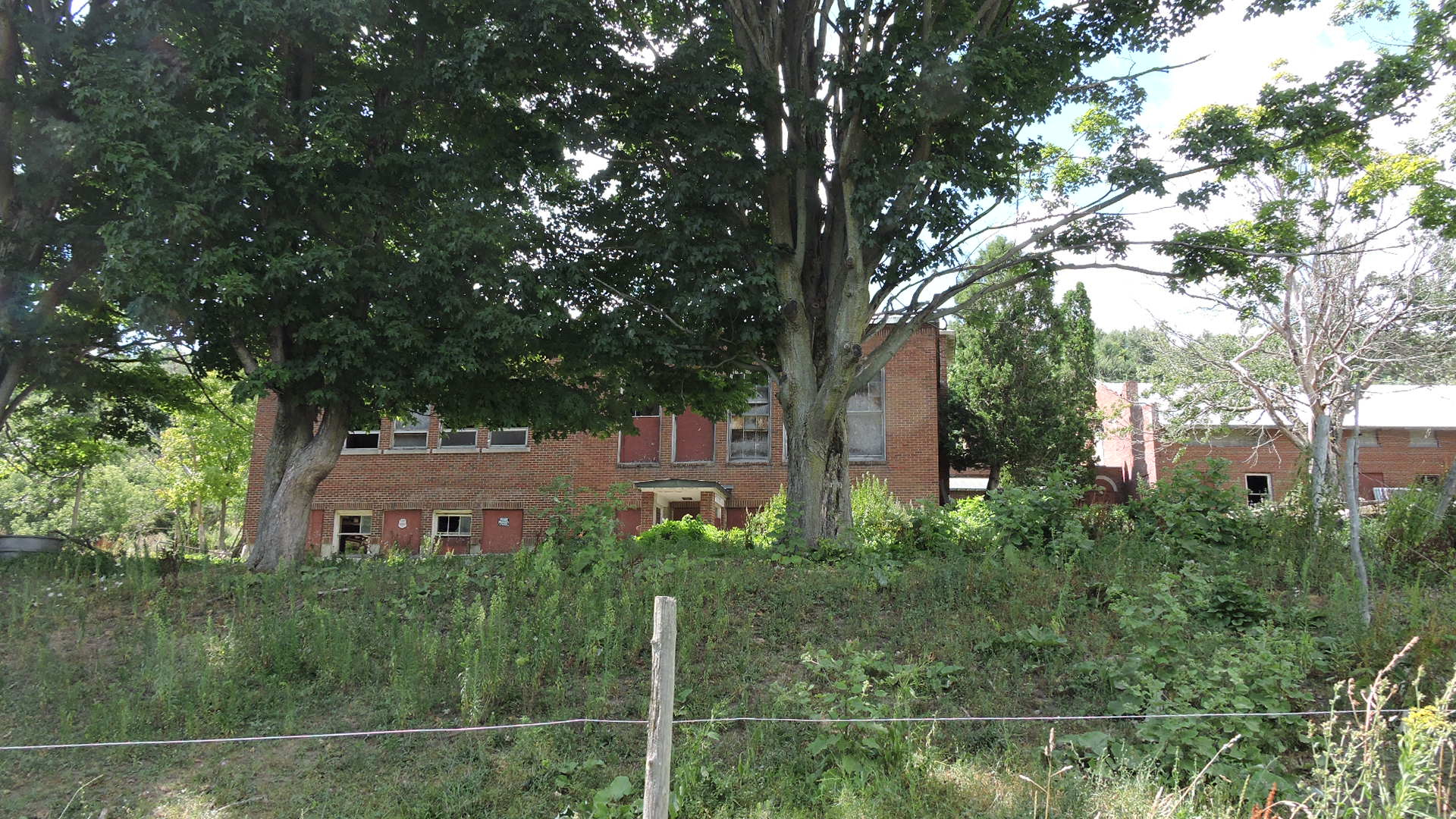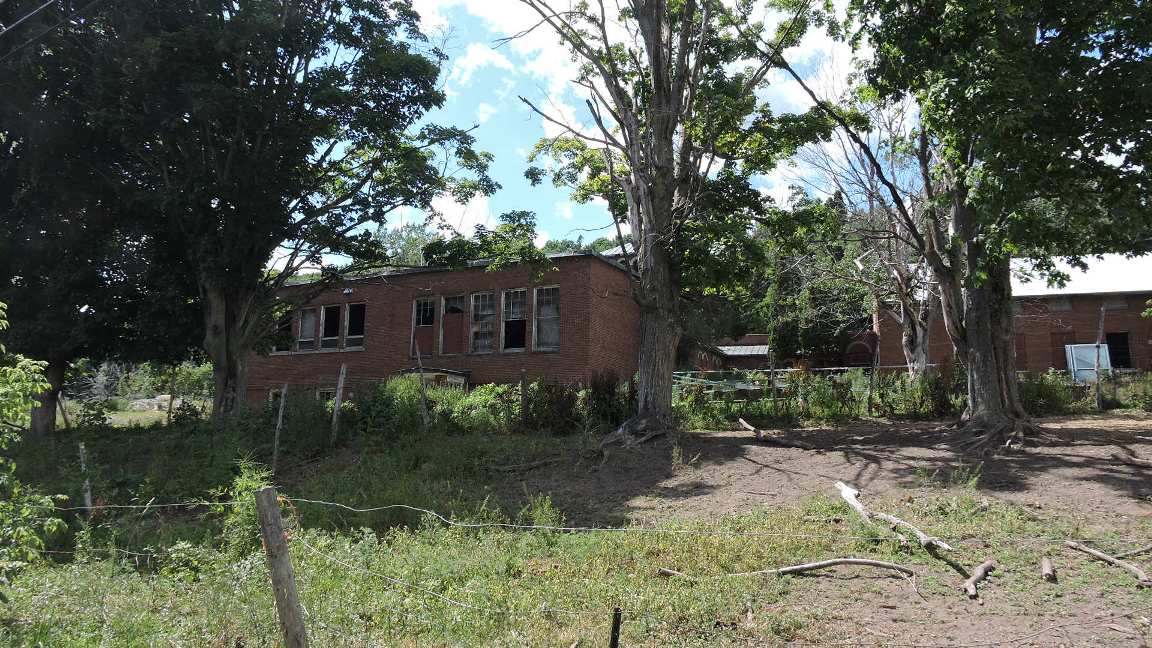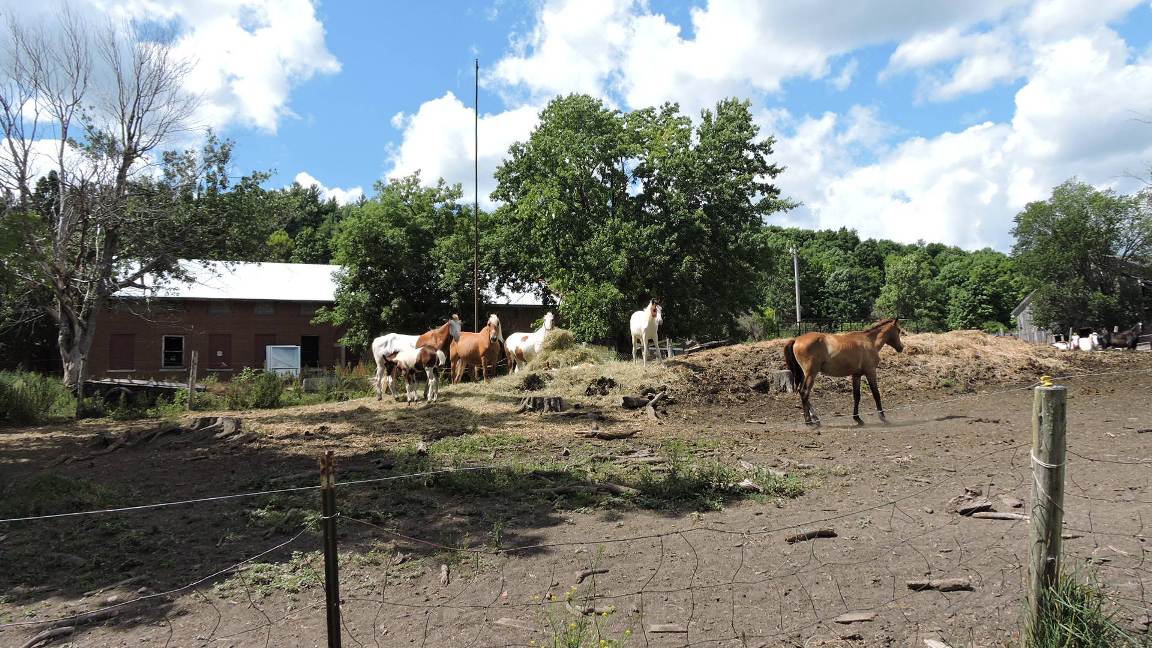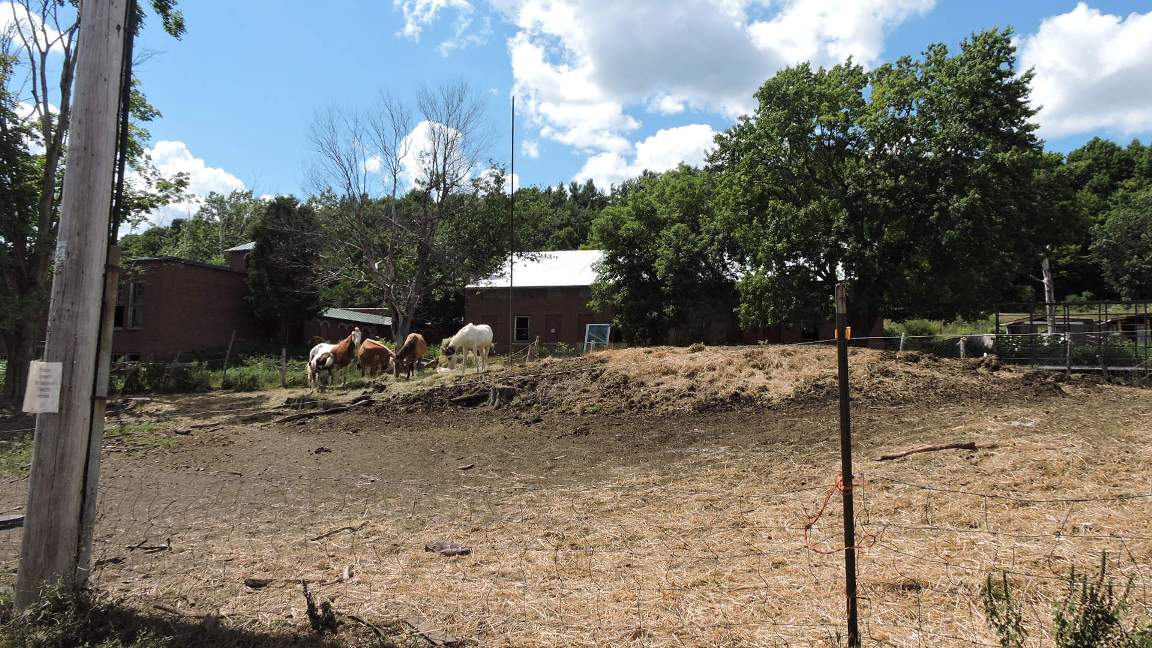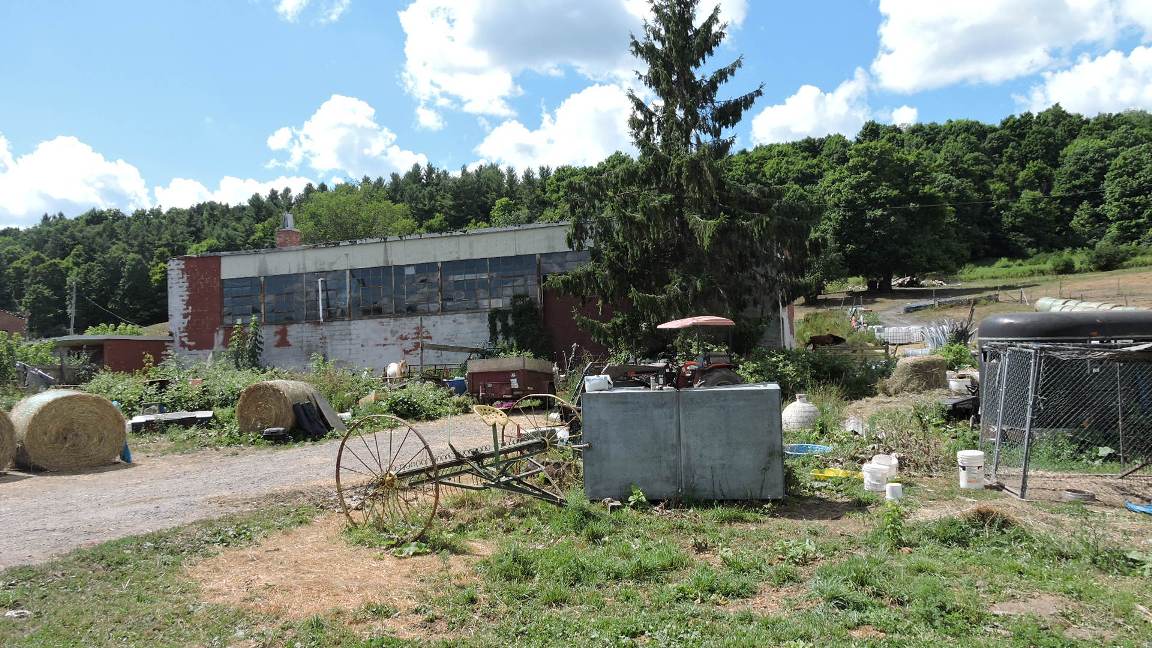 Most people driving down the Sandy Creek valley road towards Rodman will recognize this as the administration building and superintendent's residence of the Jefferson Farm school. Originally it was the farm residence of Jacob Stears Jr, clerk of the Jefferson board of supervisors for 18 years, county clerk in 1870 supervisor of the town of Watertown 1885-6 deputy clerk of the state assembly 1886-1890 engrossing clerk of the state senate 1891-4 and assessor of his town for twelve years.
Historian John Sheldon wrote of him: "Jacob Stears Jr, could not be classed as a successful farmer, but as a manager of political campaigns he had few equals, and was one of the best known men in the county. He was an elegant penman, and the records of the county clerk's office and board of supervisors will long stand as a monument to his ability in that line. He was strictly temperate, never touched liquor or tobacco in any form, and tender-hearted as a child. He would not sell or give away a horse bred upon his farm; would not keep swine because he would not have them killed, and fed every animal on his place to the full extent of his ability."
He bought the best quality food for his family and livestock, never kept personal accounts, when a horse died had it buried in a coffin, and when he himself died September 29 1896 was virtually a bankrupt. Jacob Slears Jr, was born in the locale of this house December 8 1828 son of the senior Jacob and Sally Pratt Stears, Massachusetts native, sister of General Tilly Richardson Pratt and niece of Captain Tilly Richardson. Jacob Slears Jr, was educated in the district schools, Rodman Seminary and Clinton Liberal Institute, a military academy at Fort Plain. He was married to Miss Lorinda Fitch of Fayetteville. No children were born to them. In 1860 he was elected assessor of his town. In 1863 he began eight consecutive years as board of supervisor clerk. In 1886 he started another ten-year service as clerk of the board, beginning six years after he had completely remodelled this house which was originally built in 1853. Besides operating his farm he conducted a creamery at the lower end.
Jacob Stears Sr, was born in Johnstown in 1790 and came to Jefferson County in 1801 with his uncle, John Blivin. His first wife was born in Leominster, Massachusetts, in 1797 mother of his children. His second wife was Mrs Bethia Mantle Barlow. On March 18 1825 he bought 99.07 acres in the town of Watertown from Nicholas Low of New York, and November 20 1841 bought the 39.48 acres where this house is from Captain Tilly Richardson for $1,184. With John Blivin he bought 76.76 acres where he resided from Stephen Hawkins December 21 1813.
Jacob Stears Sr conveyed the 39.48 parcel to his son, Jacob, February 26 1858 and the latter bought several parcels until he had a large farm. The senior Jacob Stears died intestate March 6 1874 leaving his widow, Bethia and sons, Jacob and Solomon. On November 25 1891 Jacob Stears Jr, mortgaged the 39.48-acre parcel to Justice Milton H Merwin, and February 10 1892 mortgaged the balance of the farm to the Agricultural Insurance company. When he died in 1896 he willed the property to his widow. On July 28 1897 Mrs Adeline Smith Barrows, Potsdam, bought the 39.48-acre parcel at mortgage foreclosure sale and the same day sold it to Dr Lois F Mansfield of this city. On April 1 of that year Dr Mansfield had acquired at mortgage foreclosure sale the parcels that had been mortgaged to the Agricultural Insurance company.
Dr Mansfield conveyed them all to John C Knowlton of this city February 1 1901 and on May 20 1909 he transferred them to the city board of education which, in turn conveyed them to the city of Watertown on October 1 1912. Since then a number of modern fireproof structures consisting of brick dormitory, power house and concrete block gymnasium have been built and the Skeels farm acquired. However, the institution now known as the Jefferson Farm school, was started in this big white house as the Jefferson County Truant farm in 1898 while the property was under private ownership. The board of education has indicated that it will close the institution September 1.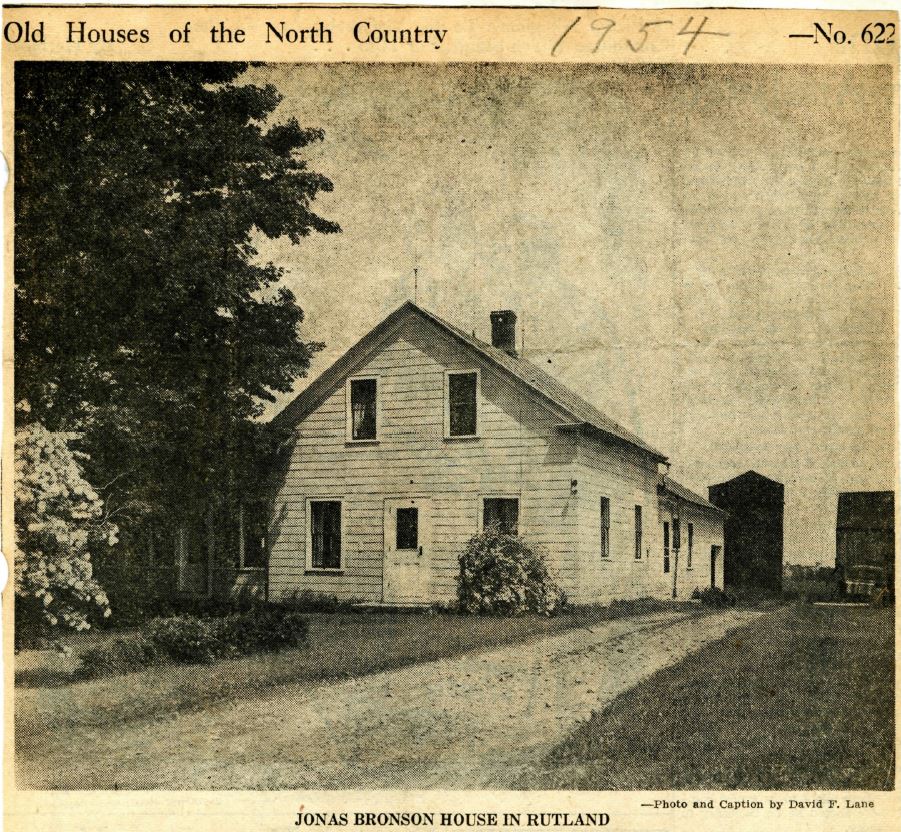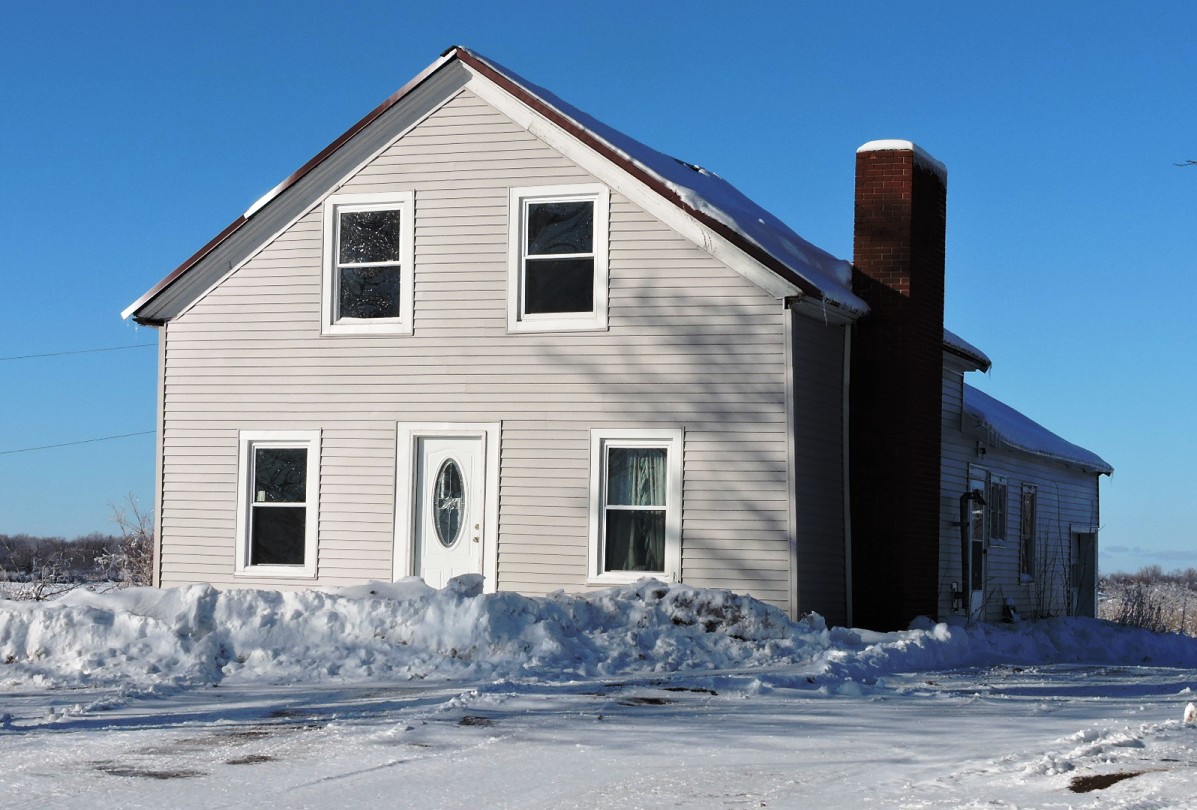 At the top of the hill near the east end of Rutland's Middle Road is the quaint little farm house of Jonas Bronson. Conflicting data in the county histories regarding Jonas make the time of construction far from definite, and apparently Jonas Bronson's first land purchases are not recorded. One history relates that he came to Rutland from Middlebury, Connecticut in 1811. Connecticut was where Dr Isaac Bronson also lived in 1804 when he bought the township of Rutland and part of Henderson from William Henderson. But the relationship between Jonas and Dr Isaac Bronson who lived in Greenfield, is said to have been remote. It must have therefore been remote to Ethel Bronson, who settled in the middle of the town of Rutland in 1805 as Isaac's land agent and later became an important figure in this county. He was brother of Isaac.
Another article States that Jonas came to Rutland about 1827 and built a log cabin at the foot of the hill upon which this house is now located, and family tradition has it that the log cabin preceded the house by a few years. The history declares that on May 2 1823 Jonas' son, Marcus, was born on this homestead farm, which, accordingly may have been purchased by Jonas prior to that time but there appears to be no record of it in the county clerk's office.
Notwithstanding that the ownership of the house and farm later passed from Jonas to his son, Marcus, and eventually from Marcus to Hiram I Bronson, son of Marcus Today the house and its 173.264 acres are owned by Hiram's daughter, Mrs Anna Bronson O'Neil, and her husband, T Francis O'Neil.
The farm consists of three parcels of land, one of 50 acres, one 90 acres and one 33.264 acres. On August 1,1827 Dr Isaac Bronson sold Jonas Bronson 20 acres out of a 90-acre tract and on August 15 1835 Isaac sold Jonas the balance of the 90 acres. On December 7 1850 Orville and Mary K Kelsey sold 50 acres to Marcus Bronson. But whether Jonas Bronson had owned it before Kelsey, is not clear. Nor is it clear when the Bronsons acquired the 33.264- acre tract.
Dr Isaac, the land speculator and original owner of the land in this farm, was a merchantman ship surgeon who sailed to the East Indies and amassed wealth which he invested in lands in this county upon his return to his native Connecticut. His brother, Ethel's son, Isaac H Bronson, studied law in Watertown with Judge Micah Sterling and became a partner in the noted Sterling & Bronson firm.
Ethel was a founder and initial vice president of the Jefferson County bank, the county's first bank, and its president from 1820 until his death in 1825. He was first vice president of the Jefferson County Agricultural society when organized October 25 1817. He was several years Rutland supervisor and board chairman in 1808. He was a founder of the First Religious Society of Rutland, which built the Middle Road church in 1841 and he and Jonas Bronson were members of the first prudential committee formed October 26 1815. He was one of the first trustees of The Rutland Farmers' Library, organized November 11 1806 and assemblyman 1810-11 and 1814-15. His son, Isaac H Bronson, served in congress.
Deacon Jonas Bronson died October 6 1871 aged 93. His wife, the former Malinda Baldwin, died January 31 1853. aged 71. Their son, Marcus, died in 1901 aged 78. His wife was the former Sarah Church of New York. They had three daughters, one of whom married Elbert J Fuller; and a son, Hiram I Bronson, who married Mary Araminta Andrus, daughter of Stillman Andrus. Hiram I
Bronson died February 19 1930 and his wife August 18 1945. All of the above Bronsons are buried in Maple Hill cemetery, the land for which was given by Dr Isaac Bronson in 1804. After the death of Mrs M Araminta Andrus Bronson this farm went to her three children: Mrs O'Neil, Carl S Bronson of this city and Marcus E Bronson, Flint, Michigan Mrs O'Neil purchased her brothers' interests in the farm and deeded the farm jointly to herself and husband. Mr and Mrs O'Neil were married October 18 1924 and have two children, Mrs Edward (Nancy) McCaffrey, city, and Lyndon, a June honor graduate at Copenhagen Central school.
In the house are many fine antiques, mostly from Jonas Bronson's family, but some from the Andrus family. The house has nine rooms and modern conveniences.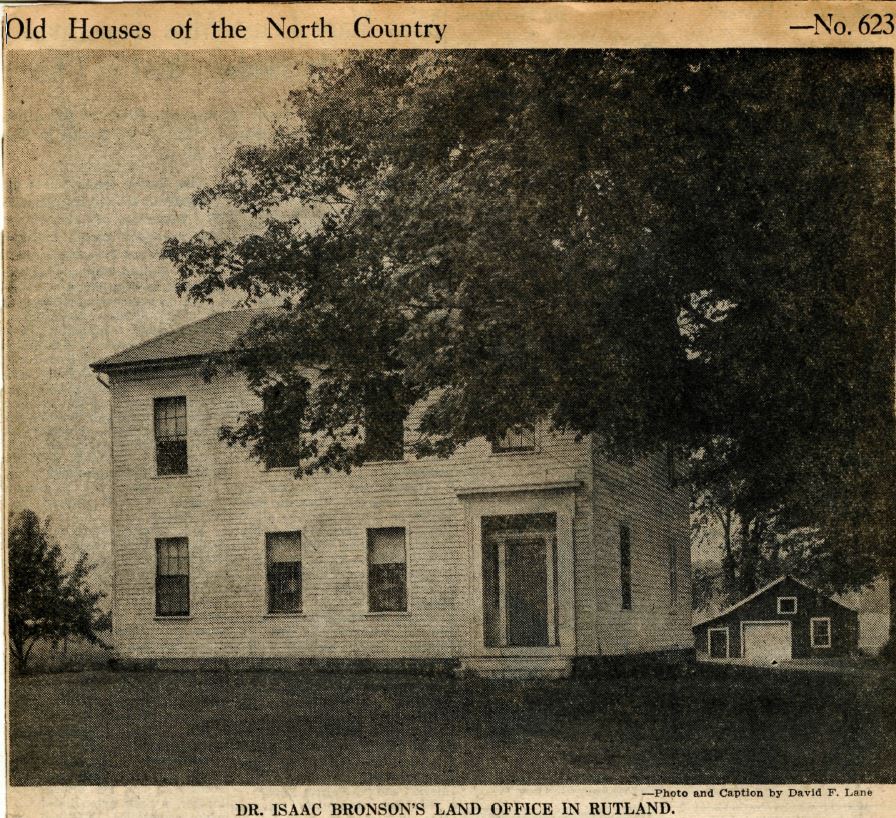 It is said that Dr Isaac Bronson, Fairfield county, Connecticut, early owner of most of the town of Rutland and part of the town of Henderson nearly a century and a half ago, once had his land-office in this large white house on the Middle road. If that were the case and the house was built prior to 1825 it is likely that his brother. Assemblyman Ethel Bronson, who was his land agent was located in it. Ethel Bronson died in 1825 and after that Major George White was Dr Bronson's agent. At the present time the house and farm is owned and occupied by Mr and Mrs Glenn C Harter.
In any case the property was owned by Dr Isaac Bronson and on July 1 1840 his executors, Oliver and Arthur Bronson, sold it to Benjamin F Hunt of Rodman for $3,490.28. The farm then consisted of a 222.53- acre parcel and an 81.14-acre parcel. Mr and Mrs Hunt resided there a half dozen years and March 21 1846 Benjamin F and Lunette Hunt disposed of it to David Hamlin and John Cande for $7,500. Mr Cande resided at Trenton, NY, and on February 25 1852 he and his wife Eliza deeded their interest in the place to Mr Hamlin who, about 1859 established one of the county's first cheese factories there.
A few years later Mr Hamlin, who owned considerable other property in the city and county, retired and took residence at 7 (145) Sterling Street. Mr Hamlin died February 6 1894 leaving 75 per cent of his estate to his two daughters, Mrs Mary (A TenEyck) Lansing and Miss Martna Ida Hamlin and the rest to two grandsons, Clarence and Amos Bissell. Through ensuing intra-family switches title finally went to Mr and Mrs Lansing and on July 20 1920 Mr Lansing sold this farm to Alexander Stuart of Rutland. On October 19 1929 Alexander and Elizabeth Stuart sold it to Glenn C and Harriet M Harter, the present owners, minus some parcels that had been previously sold off. Dr Isaac Bronson is best known as a Connecticut physician who went as an American ship surgeon to the East Indies and amassed considerable wealth, which he later invested in huge tracts of Jefferson County lands. His brother Ethel came here as his land agent, located in the center of Rutland and became an important northern New York political and industrial figure. He was one of the founders of the Rutland Woolen company September 25 1811 Jefferson County's first woolen company.
Benjamin F Hunt, born in 1810 in Rodman was the son Benjamin taught school at 16. With the death of his mother in May 1831 he took over management of the Hunt properties in Rodman. In 1832 he became a Kingston, Ontario, merchant, but was driven out by cholera in 1834 and six years later bought this large farm on. the Middle road of Rutland. After selling it to David Hamlin he returned to Rodman and engaged in the mercantile business with Robert S West, but in 1857 removed to Monroe county as the Canadian representative of Briggs Brothers, Rochester seedsmen. In 1873 he engaged in business with his son, F S Hunt in Bridgeport, Connecticut, retiring in 1894 and lived his last years in this city, dying April 7 1898.
David Hamlin, descended from an early New England colonial family, became one of the wealthy and leading farmers of Rutland. His wife was the former Lydia Ann Pierce. They had three daughters, Mrs Mary Lansing, Mrs Sarah Bissell and Miss Martha I Hamlin. When he died he willed $1,000 to the First Congregational church of Rutland, two double houses on lower Franklin Street to Martha, and the remainder three-eighths to Mrs Lansing, three-eighths to Martha and one-eighth each to the sons of his deceased daughter, Mrs Bissell. His wife had pre-deceased him.
Mrs Lansing died June 21 1919 aged 62. Miss Martha Hamlin who lived with the Lansings in the former Hamlin residence died May 3 1932 aged 72. Mr Lansing, who survived her several years, was many vests treasurer of the Jefferson County Savings bank, and was a brother of Stuart D Lansing, Charles S Lansing and Addison F Lansing, all of whom are deceased and all of whom were members of Watertown's early and prominent Lansing family.
The big house on the Middle road is in excellent condition with a beautiful front entrance, broad hallway and fine staircase and is shaded by fine old trees
Mr and Mrs Harter have been married since October 2 1923 Mrs Harter having been the former Miss Harriet M Allen, daughter of Mr and Mrs Bert A Allen, formerly of Rutland and later of this city. Besides being a dairy farmer, Mr Harter has been justice of the peace of Rutland for 13 years. of Simeon Hunt, Rodman's first inn-keeper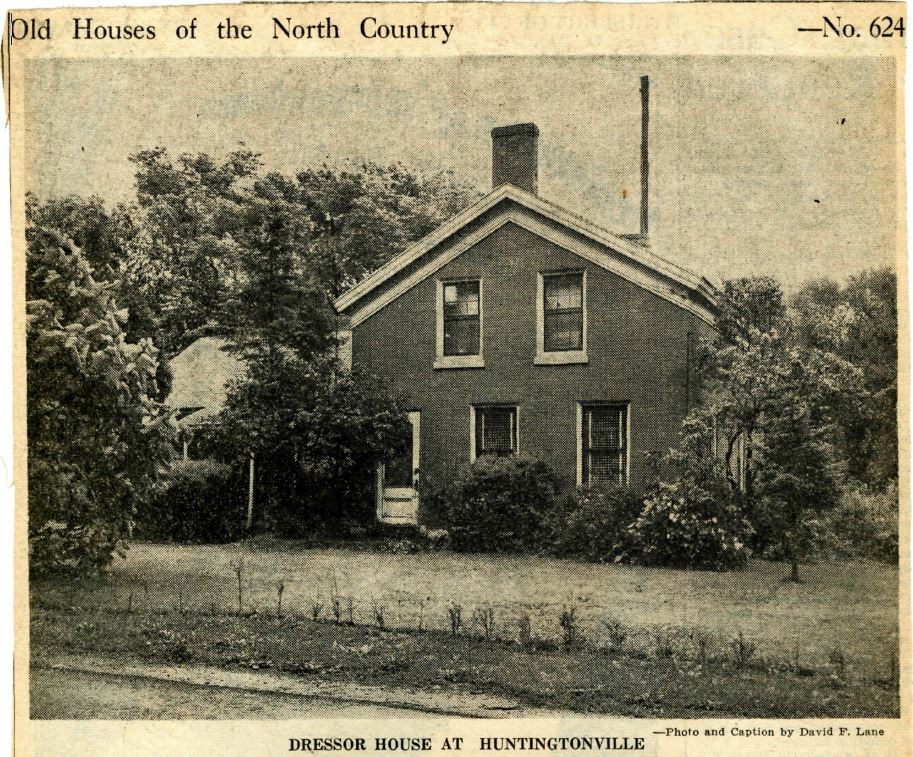 Back in the "Gay Nineties" and into the first years of the 20th century before the automobile became common, Dressor's grove at Huntingtonville was one of the popular picnic grounds of this part of the county. Although private property it served the same uses as our Thousand Islands state parks today. Horse-drawn carryalls with scenes painted on their sides hauled the picnickers and their food to the grove, which bordered the banks of Black River.
There Dressor's livery rented rowboats for a trip on a beautiful curving stretch of the river to and above the Woodward hill. The Dressor red brick house with its original windows still stands in good condition and, with 9.68 acres of the original Dressor farm, now belongs to Glenn E and Margaret M Chamberlain. However, this parcel of land does not include the waterfront.
The Dressors, descended from John Dresser who came to the American colonies from England and located at Bowley, Massachusetts, as early as 1639 were among the earliest settlers of the town of Watertown. In 1795 the family changed the spelling of the name to Dressor.
Alanson, son of John and Sarah Dressor of Pomfert, Connecticut, married Elvira Lathrop February 7 1793 and settled in Tunbridge, Vermont, until 1804 when they came to the Huntingtonville area. There Alanson bought 105.75 acres from Nicholas Low on August 30 1805. He bought other parcels in 1806 and 1808. He died October 6 1808 aged 40 and his widow later married William Huntington, founder of Huntingtonville or Huntington's Mills as it was first called because of the industries Huntington established there at an early date. Chauncey Dressor, son of Alanson and Elvira, was born at Tunbridge November 9 1800 taught school winters, worked on his father's farm, later became foreman of John Felt's lumber business at Felts Mills, and then salesman and bookkeeper of the Keyes & Hungerford lumber business at Dexter.
On December 6 1838 Chauncey married Lydia Spencer Stiles and of their ten children were Alanson Lathrop Dressor, George Farrington Dressor, a Civil war veteran, who was a familiar figure in this city many years, and Dr William Henry Dressor. Chauncey Dressor bought 70.96 acres of land at Huntingtonville from Nathan M and Jennette Olean May 2,1859 which Olean had bought from Amos B and Sarah C Page August 15 1850. Page had acquired it in two parcels from Cornelius and Nicholas Low June 26 1843 and March 26 1846. Chauncey died July 20 1876 and his wife January 24 1904. Mrs Lydia Dressor lived on the property for a number of years and on May 29 1919 Dr William H and Anna M Dressor sold 9.68 acres, 14,68 acres and 35.6 acres to Zey H and Sophie Storms.
On May 13 1925 Mrs Sophie Storms sold the 9.68-acre parcel minus the waterfront to Stanley A and Hazel Inman. On July 28 1928 this same property was acquired by Clement G and Augusta E Klein who disposed of it to the Home Owners' Loan corporation August 21 1939 and that organization sold it to George and Gertrude M Bushnell December 17 1947. From the Bushnells Mr and Mrs Chamberlain purchased it February 18 1948.
The old Dressor farm became a colorful institution in this part of the county 70 years ago and the house is said to be at least 105 and possibly 110 years old. In it members of the Dressor family continued to reside until it was sold to Mr and Mrs Storms, Alanson Lathrop Dressor, who was also a son of Chauncey and Lydia Spencer Stiles Dressor, residing there for several years after the death of his mother. Following his death his brother, Dr William Henry Dressor, who had for a number of years practiced dentistry in Philadelphia, Pennsylvania, brought his family there and resided until he and his wife sold it to Mr and Mrs Storms.
So excellent was the Dressor grove before the automobile era that the late Dr Murray M Adams of this city had a boathouse and motorboat there and took frequent cruises up the scenic stretch of the river.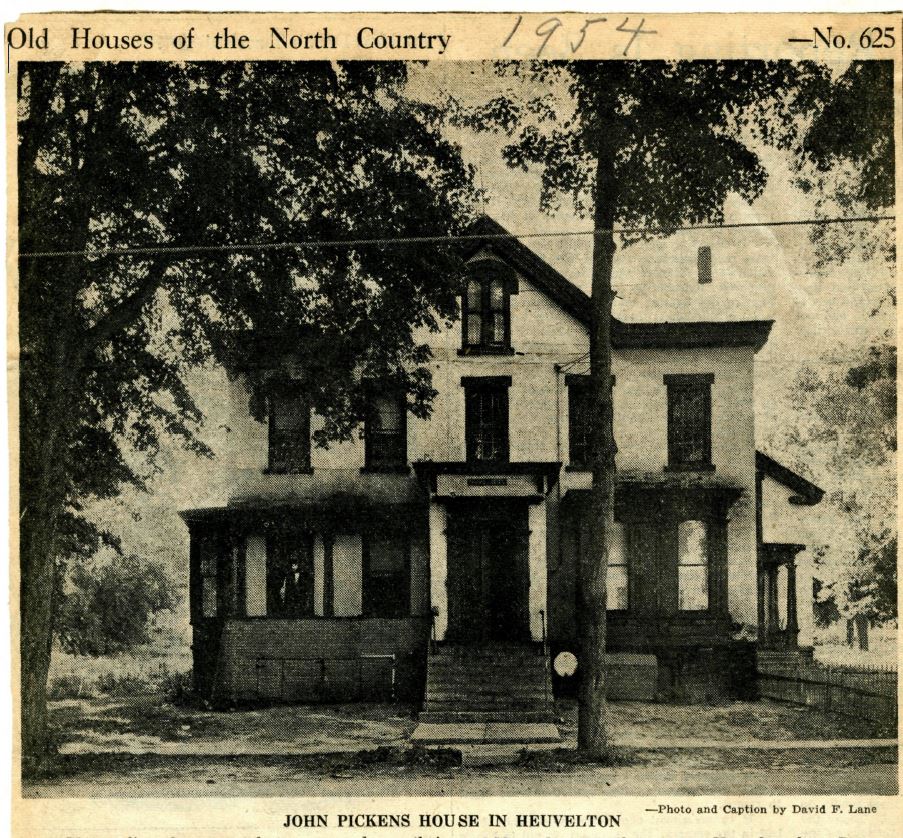 Metropolitan Opera stars have come and gone their way with the years. Many of them who loomed with brilliance in their day are almost forgotten. Among the latter, Bessie Abott, a beautiful and vivacious soprano of a half century ago. And yet her true name was Pickens and not Abott, nor would her stage name have been spelled "Abott" but for a careless printer who dropped the other "b" out of her name on a vaudeville program, a more careless proofreader not catching the error. Notwithstanding all that, whatever lustre has been cast upon the family comes from her talent as a great singer and her most attractive personality. During the height of her stardom she sang before King Edward VII and Queen Alexandria in Windsor castle.
Bessie Abott was born in Heuvelton, a twin sister of Jessie who was a good singer but of lesser ability than Bessie who was taken up, and studied under the great French Jean de Reszke. The two sisters began their careers as little girls singing in village church festivals. Next they were in metropolitan vaudeville and it was then that they began to attract widespread attention. Bessie and Jessie Abott were daughters of John and Frances J Abbott Pickens and they were born in 1878 in Heuvelton where their father was a merchant who later removed to Canton to help organize and become cashier of the First National bank of that village, with Dolphe S Lynde president, in 1887. Cashier John Pickens was the son of John Pickens who was born in Ireland of Hugenot descent. The family had been driven from France in Louis XIV's reign. John came to the United States in 1819 and is said to have been in the employ of Jacob Van den Heuvel, founder of the village of Heuvelton. John Pickens prospered and erected a stone business block in which the Ducett store is now established.

That same year, 1858 he erected this big brick mansion on Water Street facing the Oswegatchie river and at the corner of York Street. It was on this site that Jairus Remington, former Presbyterian minister, native of Massachusetts, who came to Heuvelton from Putney, Vermont, in the fall of 1806 erected,and operated the tavern that served the in-flowing travelers. Nearby the first bridge of the community crossed the river and Remington built a sawmill. Van den Heuvel, wealthy landowner, coming in 1820 built a grist mill, church and otherwise developed the village.
The first John Pickens became a prosperous merchant and trader and was one of the wealthiest men in Heuvelton when he died in 1865. His son, John, father of the twin sisters, succeeded to ownership of the mansion and other Pickens properties, and in the mansion Bessie and Jessie were born April 5 1878. Their mother was the former Frances Josephine Abbott, a native of Westville, NY, and she was an ambitious woman. The family of John Pickens Jr, lived beyond their means and while Bessie and Jessie were receiving their musical education the big brick mansion in Heuvelton was mortgaged to Margaret Mace, a New York actress, to whom the property was eventually deeded in 1893. On January 26 1896 she sold it to John Trainor of Heuvelton, who leased it as a hotel and at various times it was operated by John Cook, John Montroy, Frank White and others including Michael Denny.
It was known as the Grove hotel, but now is the Grove apartments. Upon the death of Mr and Mrs Trainor title passed to their daughter Josephine, Heuvelton postmaster, who sold it November 16 1945 to Mr and Mrs LeRoy Manford, who also own the old VanHeuvel House, the hotel at the corner of State and Lisbon Streets. Today there are seven apartments in the Pickens mansion and, some recall that the telephone company had its switchboard and offices there at an earlier date. Also in the 1940's the Sunnyside Rebekah lodge, No. 514 occupied an apartment as a lodge hall in the building. But at the present time much of the history of the house has been forgotten as well as the history of the family that lived lavishly and gave to the musical world a great and noted singer.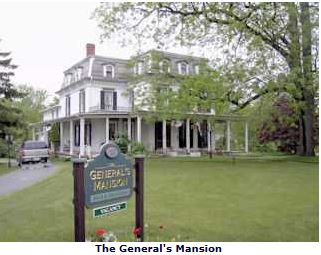 With his barn stabling 18 fine riding horses and his kennels housing 50 hunting dogs used in riding to hounds, Brigadier General Delos Bennett Sacket frequently entertained noted Civil war Union generals in this immense 25-room, three-story house which occupies four acres of beautiful grounds on the west side of James Street in Cape Vincent.
Born in Cape Vincent April 14 1822 General Sacket entered West Point at 18 and on July 1 1840 was graduated in the class of Major General William Tecumseh Sherman who, in the Civil war led that historic march to the sea. As a young cavalry lieutenant, General Sacket fought in the Mexican war in 1846. In 1850 he was in the recruiting service and from December 10 1850 to April 6 1855 was assistant instructor in cavalry tactics. March 3 1855 he was commissioned a captain of the First U S cavalry. Except for a period in 1856-7 when he was in Washington, DC on the board to revise army regulations, he saw considerable western service.
In 1859-60 he was in Europe on leave and January 31 1861 was made a major of the First cavalry. Later he went into active Civil war service as acting inspector general at Washington, and later was mustering and disbursing officer in New York. October 1 1861 he became a colonel on the inspector general's staff, was inspector general of the Potomac army December 13 1861-March 10 1863 but in the forepart of 1862 was in Major General George B McClellan's staff in the Virginia peninsular campaign. His military service was varied and extensive and March 13 1865 he was brevetted brigadier general. He was in Washington as inspector general at the time of his death March 18 1885. General Sacket was the son of Dr Gideon Shepard Sacket, Cape Vincent pioneer who served in the War of 1812 Battle of Sackets Harbor. Dr Sacket was a native of Westfield, Massachusetts, who later was collector of the port of Cape Vincent.
Dr Sacket's wife was a member of the Lewis county Bush family. General Sacket was married to Miss Frances Ann Williams, New York, whose father owned from Broadway to First Avenue between 14th and 20th Streets in New York. General Sacket was a Republican in politics and member of many Masonic bodies. His children were Francis Williams Sacket, Cornelius Tiebout Sacket and Eliza Boss Sacket who married Captain Charles M de Valin, M D, USN
On March 19 1872 General Sacket paid Sarah Bushnell $3,700 for 2.47 acres and the small house that stood upon it on the west side of James Street. On January 5 he bought an adjoining acre from Lorenzo T and Margaret Kelsey for $300. On April 21 1852 Sarah Bushnell had acquired the 2.47-acre parcel from Otis P and Beulah Starkey for $332.63 and doubtless built the small house there shortly afterward.
General Sacket made the small house a part of his big house with mansard roof which stands far back from the street in a setting of beautiful big trees. A fine stairway runs up from the broad central hallway of the house. On either side are large, high rooms with excellent woodwork, circular plaster relief ornaments to the ceilings for the chandeliers and conventional Greek patterned cornice borders.
After the death of General Sacket, his children deeded their interest in the property to his widow, Mrs Frances Ann Sacket, and this interest included the boathouse property on the lake shore, and the large farm to the west of the village. February 11 1897 Mrs Frances Ann Sacket conveyed the mansion property and shore property jointly to her three children. December 5 1898 she deeded the farm to her daughter, Mrs Eliza B de Valin, to whom her two brothers transferred their interest in the mansion and shore properties April 14 1904.
Mrs de Valin resided in the big mansion for years until her death November 28 1935 leaving an estate of over $250,000 to her daughter, Mrs Frances Sacket Haigh, wife of Thomas Devereaux Haigh of Darien, Connecticut, and they occupied it summers. However, Mrs Haigh sold the place May 9 1951 to Claude J Solar, city, and his niece, Mrs F Walter (Emma Millen) Beady, former superintendent of Lee Haven hospital in this city, now conducts the Maplelawn nursing home there. Mrs Beady maintains the mansion in its original beauty inside and out and has the main rooms furnished lavishly with fine antiques of her own and the Marshall families and also has a beautiful black walnut buffet from the old John LaFarge mansion at LaFargeville.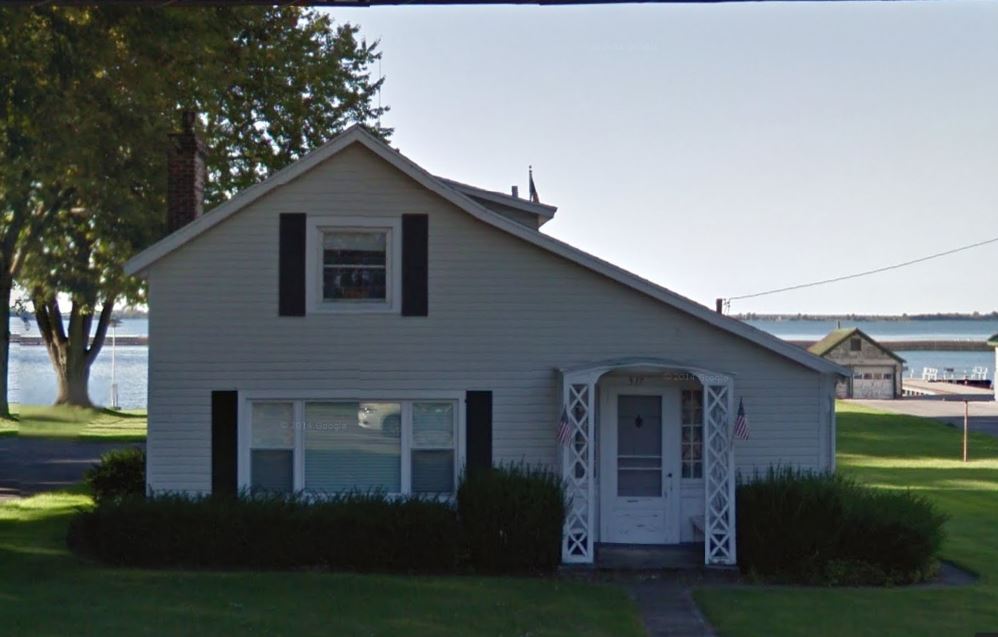 A cozy look attires this small cottage-type house that was once the home of Mrs Nelie Horton Casler on the north side of Broadway at Cape Vincent. Mrs Casler was the author of "The History of Cape Vincent," which was published in 1906 and she was prominent in many of the societies of founders and patriots of this country. She was decended from one of the pioneer families of the county and died December 28 1933 widow of William A Casler, who pre-deceased her on October 3 1931. The property, near the corner of Murray Street, runs back to the lake, and until 1895 the old stone grist mill, which is now the federal fish hatchery, was a part of it. The house itself is approximately 100 years old, and the site upon which it stands was early owned by Cape Vincent's prominent pioneer Ainsworth family.
On July 11 1854 Richard W and Harriet Ainsworth sold the place to Sidney W Ainsworth for $1,000 and the following January 4 he and his wife, Lycette C Ainsworth, disposed of it to J Antoine Duvillard for the same price. In 1856 Duvillard, who was a native of Geneva, Switzerland, built the big stone grist mill, that is now the fish hatchery, down by the shore. On May 12 Duvillard mortgaged the property to the Watertown Bank & Loan Company for $5,000. The mill was not a successful venture and under mortgage foreclosure judgment Sheriff Abner Baker disposed of the entire property to John R Bartlett of Providence, RI, January 26 1861. On April 1 1864 John R and Ellen E Bartlett conveyed it to Francis A Cross for $4,000. In his will, recorded April 22 1893 Cross gave all his estate to his widow, Louisa A, who conveyed the house, mill and much of the land, excepting two lots previously sold off, to George Grant.
In January 1895 George Grant sold the grist mill to the United States for a hatchery. On April 30 1921 his son, George R Grant, and wife, Anne K Grant, and Frances M Grant sold the house and balance of the property to William A Casler. Mr Casler and his wife, the former Nelie Horton, occupied it until their deaths. On May 21 1936 J Schuyler Lowe and George I Horton as executors of Mrs Casler's estate, sold the residence property to Mrs Ruth M Gordon of Chaumont. The following October 21 Mrs Gordon disposed of it to Mrs Lillian M Lowe, wife of J Schuyler Lowe, and there they now reside, Mr Lowe being head of the J A Scobell Lumber company.

Sidney W Ainsworth, an early owner of the place, was a onetime president of the village, son of Willard and Sally Green Ainsworth, and Willard was a son of a Revolutionary war veteran, Henry Ainsworth, of St Albans, Vermont. When the town of Cape Vincent was formed April 10 1849 Francis A Cross was made an overseer of the poor. He was a son of Joseph and Marion Whitcomb Cross of Swanzey, New Hampshire, Joseph having been a shoemaker, tanner and currier. Francis A Cross, many years cashier of the Bank of Cape Vincent, married Louisa, daughter of Eli and Hannah Squires Frink. George F Bartlett, who was associated with Antoine Luvillard in the mill, was supervisor 1865, 1867-8 and died February 27 1888. Robert C Bartlett, who was a founder of St John's Episcopal church January 25 1841 was supervisor 1850-1.
Mrs Nellie Horton Casler, historian, member of the Daughters of the American Revolution, of the Colonial Dames, Founders and Patriots, Daughters of Colonial Wars of the 17th Century, Daughters of the American Colonists and St John's Episcopal church, was directly descended from James Horton, who, in 1806 became the first settler of Point Salubrious and built the fine stone house there which is now a summer home. The family stemmed from Barnabas Horton who was born in Leicestershire, England, in 1600 and settled at Southold, Long Island, in 1630. On her mother's side Mrs Casler was descended from Martha White, native of Rhinebeck. Mrs Casler's husband, William A Casler, was a native of Dexter, was New York Central station agent at Cape Vincent 1879-1909. Later for 22 years he had the contract for cutting ice at Cape Vincent and filling the company's ice houses throughout northern New York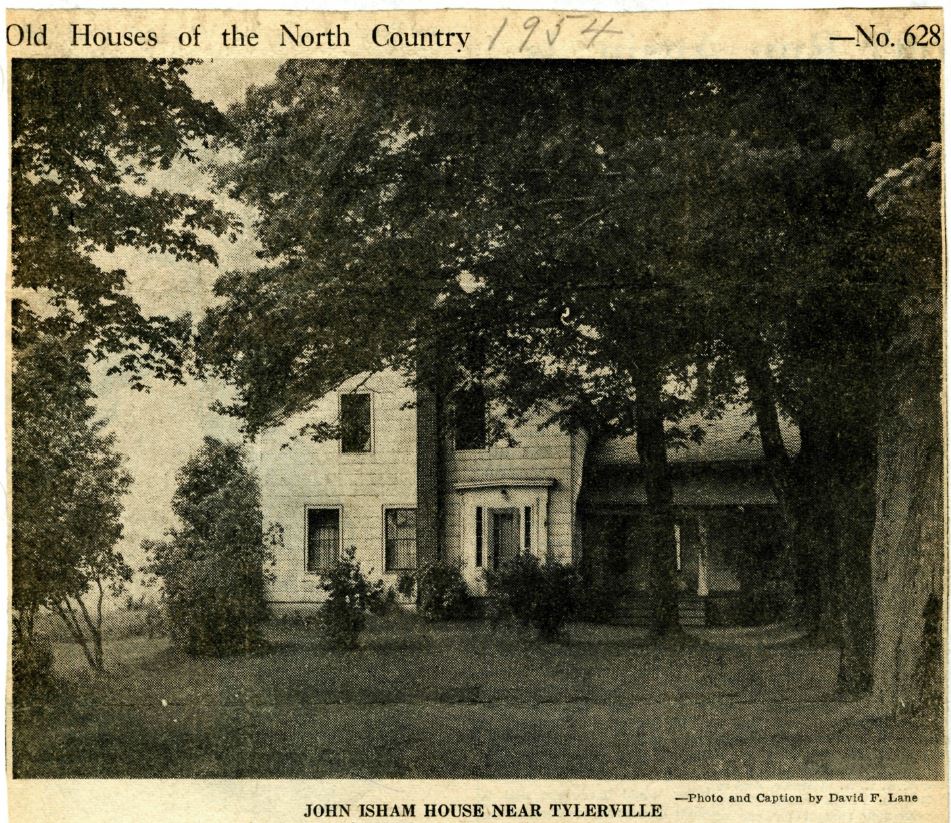 17272 Co Rt 161 Copenhagen (Tylerville)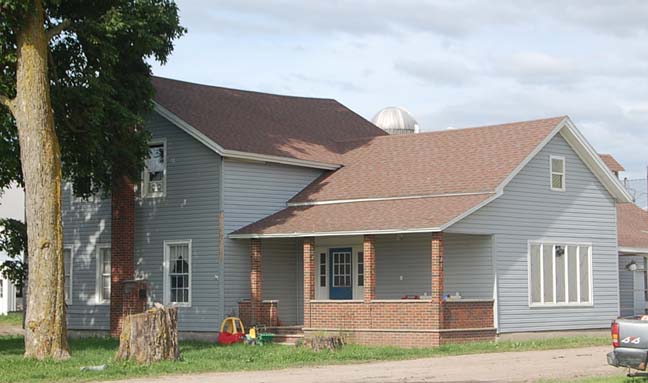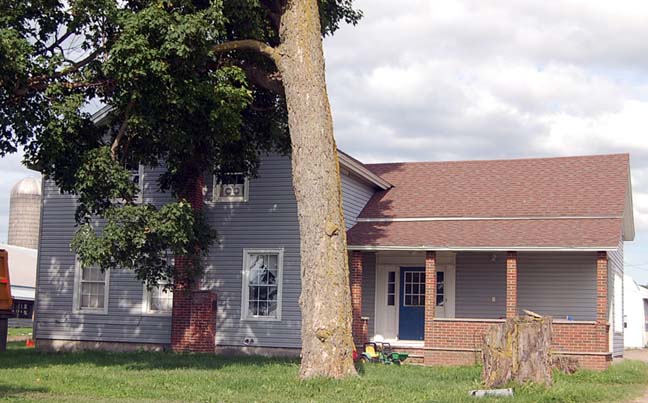 While this farmhouse on the road leading from Rutland's South road about a mile outside the hamlet of Tylerville may be most familiarly known as the Charles A Fuller place, it was earlier the John Isham house and prior to that was for a time owned by Frederick Tyler, one of the founders and leading pioneers of Tylerville. Frederick Tyler came to the South Rutland area about the turn of the 19th century and as early as May 14 1805 bought a small farm west of the present Tylerville. On March 1 1816 he and Samuel Budlong of Otsego county bought of Gardner Cleaveland 231.60 acres of which the present farm is a part. Nine years later Budlong conveyed his interest to Tyler who, May 28 1825 sold that interest to Samuel Tyler, and together on April 1 1836 they sold it in its entirety to Alfred Isham, formerly of Wilbraham, Massachusetts
On December 22 1841 Alfred and Sarah Isham sold 300 acres in this locale to John Isham of Wilbraham. Daniel T Isham, Wilbraham, as heir of John Isham, sold 144.05 acres where this house is to Charles A Fuller for $9,000 having previously acquired the interest of his brother, William Y Isham, Rodman, and other heirs, in the estate. February 20 1890 Charles A and Mary Ann Fuller disposed of the place to Daniel V and Sarah A Fuller who, on February 10 1904 purchased an adjoining 112.52 acres.
Daniel V and Sarah A Fuller later retired and removed to this city and November 1 1916 the estate of Daniel Y. Fuller sold this house, barns and the two parcels of land to Thomas O'Neil for $12,500. When Mr O'Neil died he gave his widow, Mary A O'Neil, a life-use of this property, and after her death jointly to two sons, John N and William O'Neil, according to the will of Thomas recorded September 27 1951.
It is now owned and operated by John O'Neil, whose brother, T Francis O'Neil, and wife, Anna Bronson O'Neil, own and operate the old Jonas Bronson farm on the Middle road of Rutland.
This present O'Neil farm is one of the oldest in the southern section of the town of Rutland and is located across the road from the old William L Isham farm. William Y Isham early owned an interest in this farm located in the town of Rodman. This Tyler-Isham-Fuller-O'Neil farm is located between the former Charles Cramer farm now owned by Henry Cramer, and the Harley Stebbins farm, and Mrs Stebbins, the former Ella J Isham, was the daughter of the late William L Isham and Jane E Russell Isham, who owned and occupied the farm across the road. William L Isham was the son of William Y Isham. The Isham family was formerly of Wilbraham, Massachusetts, before locating in Jefferson County's town of Rutland more than a century ago.
Frederick Tyler, the first owner of this present O'Neil farm, was one of the first pathmasters of the town of Rutland, chosen at the first town meeting held March 7 1803 when Henry Coffeen was elected supervisor. That meeting was convened at the house of David Coffeen and afterward adjourned to the tavern of Levi Butterfielcl. The first actual town meeting in what is now the town of Rutland, or in Jefferson County, was held at Asher Miller's house March 14 1800 in the southern part of the town.
Frederick Tyler, who, in 1821 purchased the mill property of the Rutland Woolen company, at Tylerville, the first woolen company in the county, owned a considerable amount of property in the South Rutland area, including the original grist mill at Tylerville, built in 1805 by Erastus Lathrop; sold to Webb & Smiley in 1815 and acquired from them by Frederick Tyler in 1825. Frederick Tyler was also engaged in mercantile trade in Tylerville early in its history. Aside from the modern brick chimney built up the middle of the facade of this O'Neil house, its appearance is much the same as it was over a century ago. The original small-paned windows are still there and it retains the beauty of its old front doorway.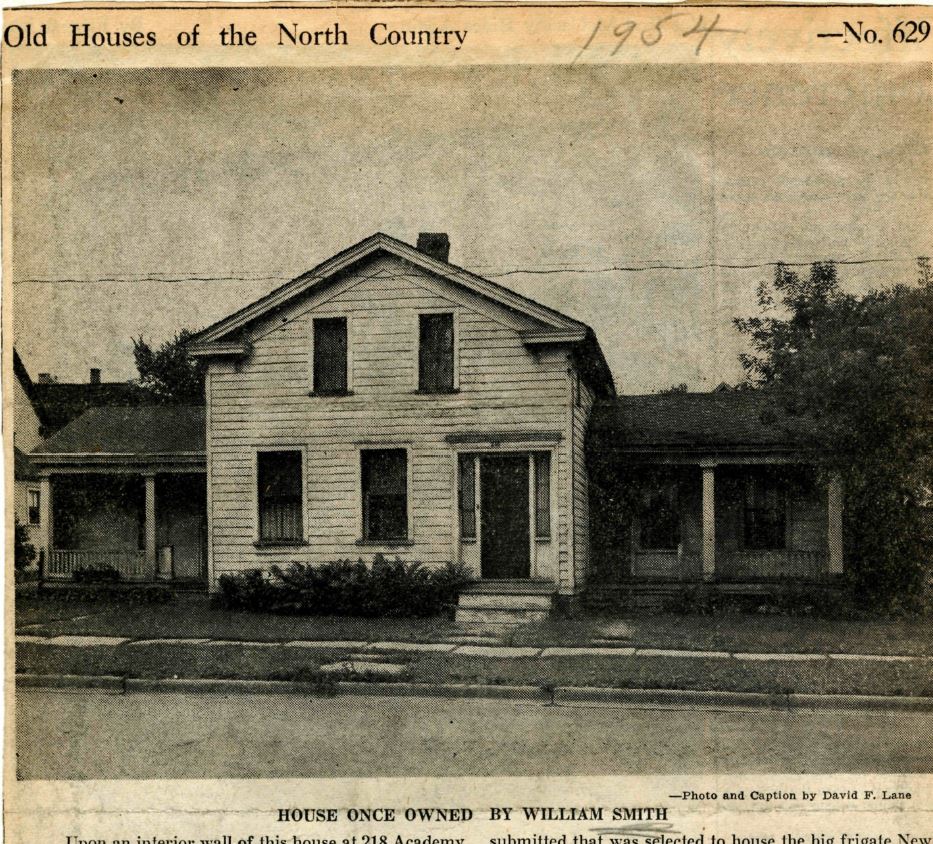 Upon an interior wall of this house at 218 Academy Street, the present owner, Ralph A Balfour, has found an inscription, "September 2 1832 " which would seem to date it 122 years ago. The house, a Cape Cod type, symmetrical with wings, is bricked up between the studs as was the custom a century and more ago and it still has its fine old front doorway with original door. The west line of the lot runs through the center of an ancient well. Micah Sterling, one of this community's leading citizens and lawyers early in the last century, whose fine old stone mansion is now the Holy Family parochial school, sold about an acre of land in the Balfour house area to Buckley Stedman September 7 1829 for $200 and the deed states that the lot abutted the north line of Perley Keyes' property back of the present north line of Keyes avenue.
On December 25 1840 Buckley and Lydia Stedman sold the same parcel of property to Noyes Tuttle for $1,425 the price indicating that there was then a house on the lot. It may be assumed that Stedman built the house. Tuttle, who was a partner of Harlow Scovill in the firm of Tuttle & Scovill in the carriage manufacturing business near the junction of Franklin Street and Public Square, had built houses across the street from this one. It was in the Tuttle & Scovill factory that James Liddy, blacksmith and bed-spring inventor, was once employed.

On February 9 1847 Noyes and Harriet P Tuttle sold the Balfour house and lot to William Smith, one of the great early promoters of Watertown. Smith was born in New Haven, Connecticut, in 1777 and came to this locality about 1802 or 1803. He died November 24 1859 aged 82. In partnership with Captain John Paddock he opened the first local store. Prior to that he made potash barrels in his cooper shop. In 1806 he built the first brick building in Watertown, a two-story business block near the present YMCA building. In 1807 he was one of the commissioners to select a site for the county buildings and in 1813 he was appointed county treasurer. He was a member of the Black River Cotton & Woolen Manufacturing company formed in 1814 and planned and supervised the construction of its stone factory where the Olga Knitting mill now is.
After the War of 1812 it was his design out of 124 submitted that was Selected to house the big frigate New Orleans at Sackets Harbor, and it was he who, in 1817 planned the grounds and rough-sketched the buildings for Madison Barracks. However, he owned this house but a short time disposing of it October 31 1848 to Ray G Vaughn. On May 1 1852 Ray G and Marcia Vaughn sold it to Godfrey I Shew, a retired farmer who resided there with his family for a number of years. On May 2 1852 Godfrey I Shew transferred title to the property to his daughters, H Elizabeth, Lydia D, Frances L and Emily D Shew. Three of the daughters later married, Elizabeth's husband being Cary Eddy, while Lydia's was Benjamin Barbour. Emily manned a Goulding and moved to Glens Falls. Anna married a Sherman and went to Oakland, California, and Frances L Shew also went there. Mrs Eddy, however, was the one who continued to live in this house after her parents died.
On September 26 1892 all of the daughters joined in selling the house to Mrs Almira P McKee of Frankfort, NY, who, on May 20 1895 disposed of it to the late George Seipel, one of the most prominent barbers of the city, grandfather of Dr George Seipel Nellis. Mr Seipel owned other neighboring houses, his own residence being the large house three doors away at the corner of Academy and Clay Streets.
When Mr Seipel died all of his property went to his widow, Justina, according to his will recorded April 14 1905 and on February 13 1906 she conveyed this Balfour house of her daughter, Mrs Wilhelmina S Martin, wife of Bruce F Martin, who was many years Watertown's deputy postmaster and later postmaster.
Here at 218 Academy Street, the Martins resided for some time and on October 8 1938 Mrs Martin deeded it to Dr George S Nellis, her nephew. Dr Nellis retained title to it until December 18 1946 when he sold it to Ralph A and Caroline L Baltour, the present owners and occupants. Mrs Balfour is the former Miss Caroline Lewis, daughter of Mr and Mrs William G Lewis of this city. Mr Balfour is the son of Mrs Bessie Blake Balfour and the late F Augustus Balfour. With his brother, John B Falfour, Mr Balfour operates a wholesale tobacco business and manages the tobacco and news stand of the F Augustus Balfour estate in the Hotel Woodruff lobby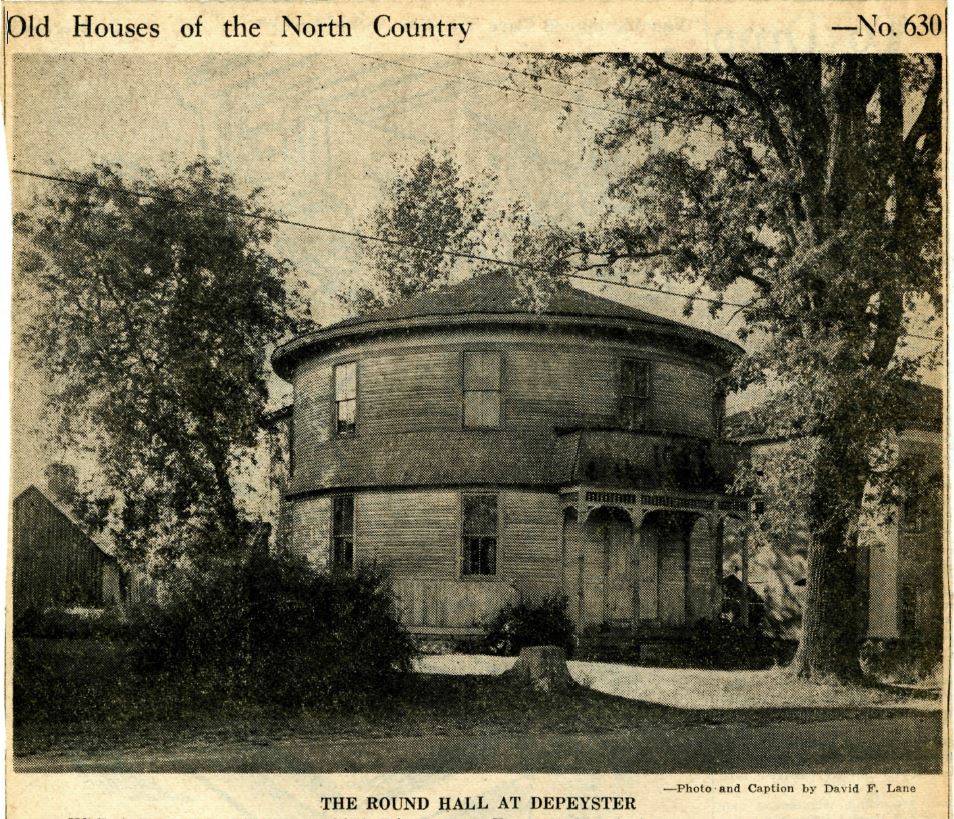 4395 Co Rt 10, Heuvelton NY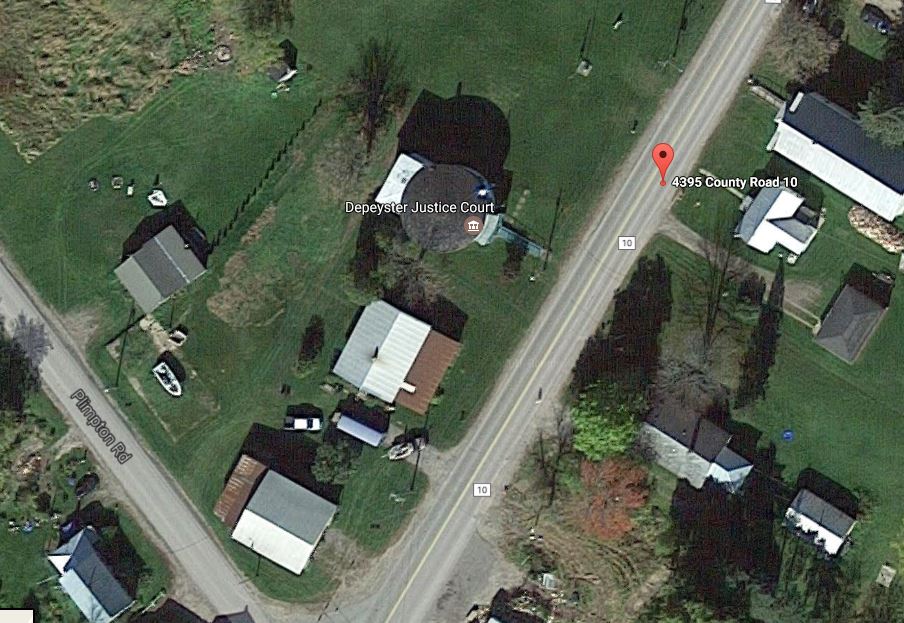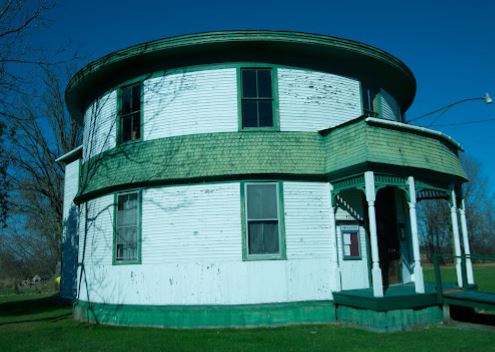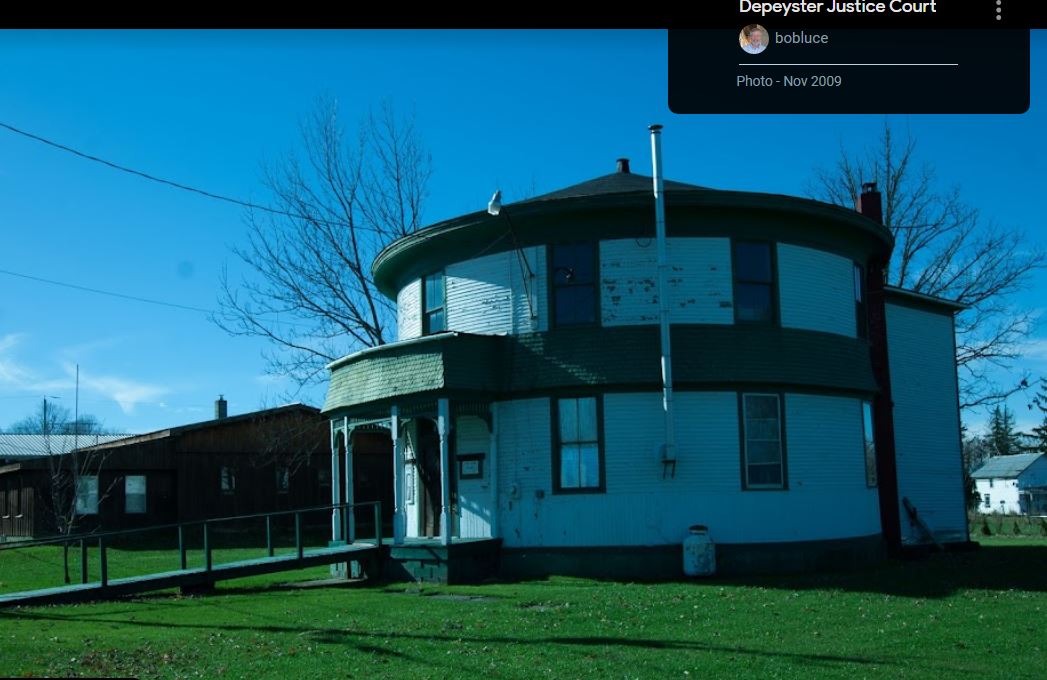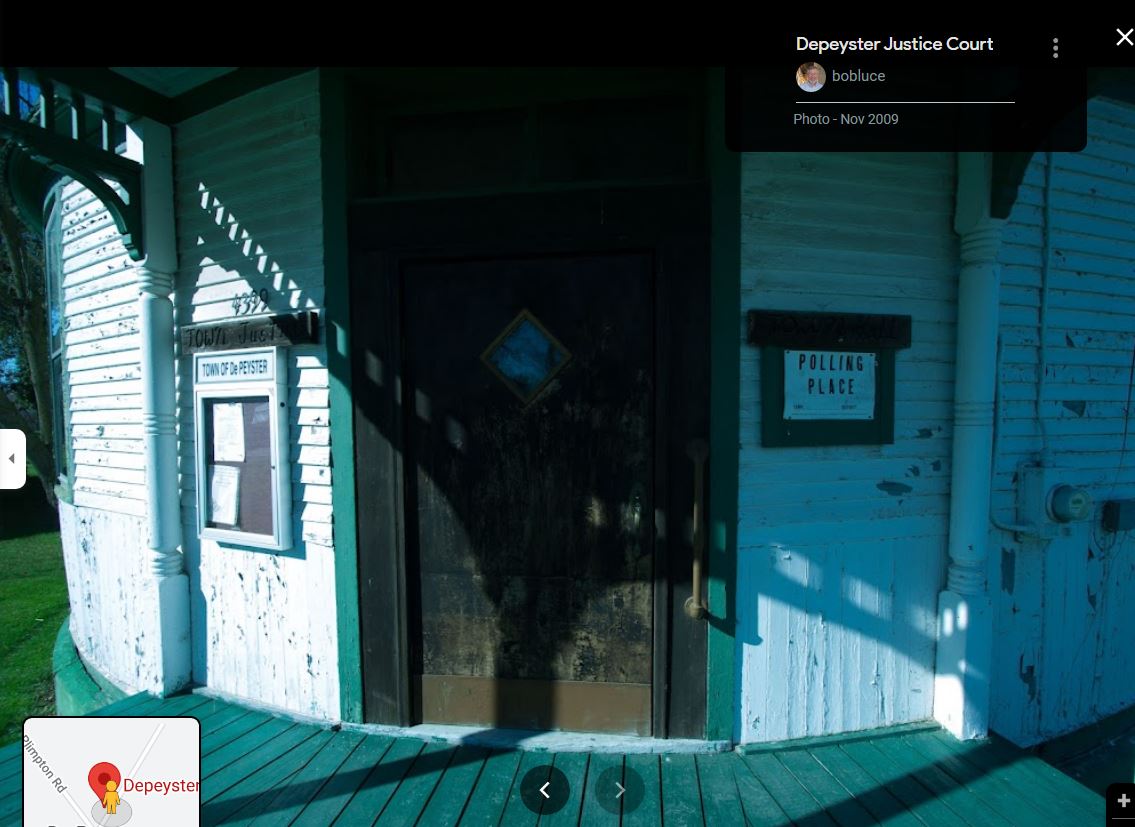 While it is not a dwelling house, this hall in the St Lawrence county village of Depeyster is one of the most unusual buildings in upstate New York because it is round. And as it is not a dwelling, neither is it a centennarian in age, for it was not constructed until 1896 a matter of 68 years ago. It is located in the heart of the village and is the Odd Fellows hall, being owned by and used as a meeting place by Depeyster lodge, 535 IOOF Sharing its use with the Odd Fellows is its sorority or sister organization, Old Oak Rebekah lodge named for the old oak tree which stands in front of the hall. Old Oak Rebekah lodge was instituted January 6 1926.
But the old hall has a much broader utility than meeting place for secret societies. It serves both as a town hall and as a polling place in the village and town. The site upon which the hall stands was purchased from H O Mason at a cost of $200 and the hall was built not for the Odd Fellows but for the Independent Order of Foresters, a fraternal insurance society, during the palmy days of fraternal insurance organizations and especially of the Foresters.
It was upon the recommendation of Dr David M Foss, a Depeyster practicing physician and noted skin specialist at that time who removed to Gouverneur to practice for many years, that the Depeyster Foresters had their hall built round instead of either oblong or square, and its original cost was but $1,500. The plans for it were made early in January 1896 and the following September 17 its formal dedication took place. Owing to the unusual shape of the building, which incidentally has a diameter of 40 feet, the dedication of the structure drew an immense crowd of people who came from miles around, spending a large portion of the day and night, making a veritable field day of it. Dr Foss was the principal speaker. A roast beef dinner was served at noon. There was a program of sports in the afternoon. In the evening there was a public dance, in which hundreds participated.
While octagon houses are not a commonplace, there are a number of them in northern New York and throughout the state, but round houses are a distinct rarity. As a consequence this Odd Fellows hall in Depeyster attracts almost as much attention of tourists as a circus parade. Although the round hall has nearly a fourth less square-footage than a square building 40 by 40 it is said to have less lost space and to be unusually utilitarian. When the hall became inadequate to meet the demands of its users, an addition was constructed at the rear. Depeyster lodge, 1222 I O F, the original owner grew rapidly from 1896 into the early part of the current century, and in 1902 a complementary ladies' unit, Court Dorcas, 150 was formed with a substantial membership. But as the years passed fraternal insurance societies lost their popularity and went into a decline which sounded the death knoll for Depeyster Foresters' lodge, 1222 and it found itself unable to support the lodge hall. The result was that the building and all of its furnishings were sold by the Foresters to the Odd Fellows, who have continued to own and occupy it since. As a town hall it has been the scene of many a lively political caucus and spirited election.
And the oft made jocular reply of persons queried about where they attend religious service, "I go to the round church," may not be as ridiculous as it would at first seem. In any case the historic village of Depeyster boasts of having one of the most unusual buildings north of the Mohawk.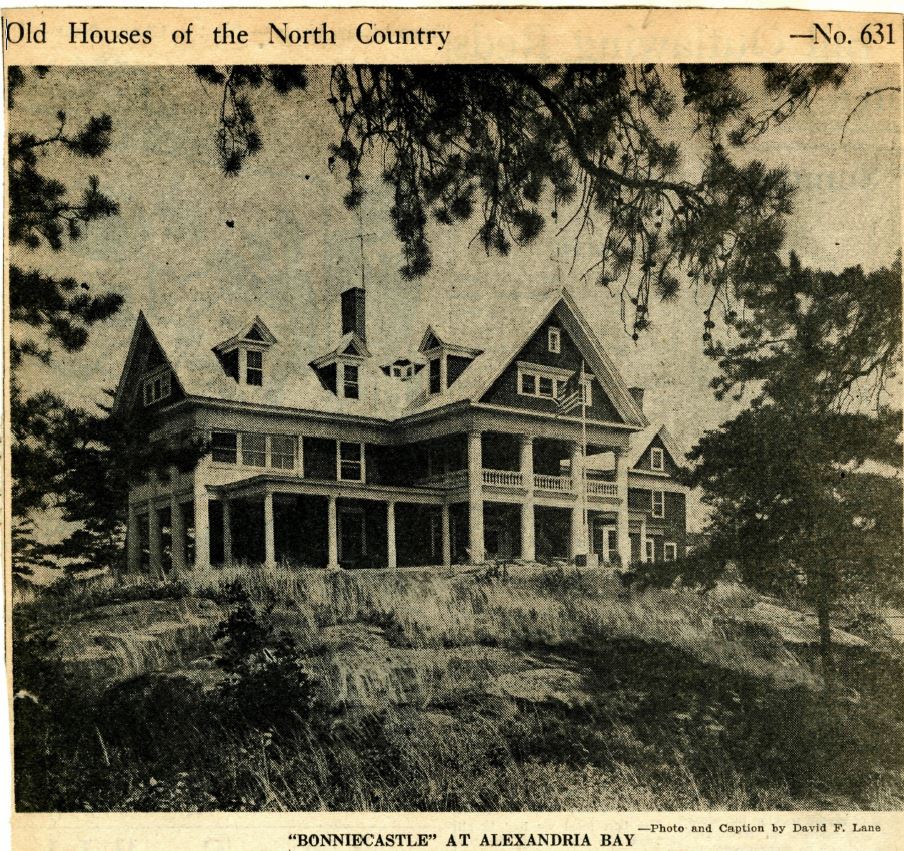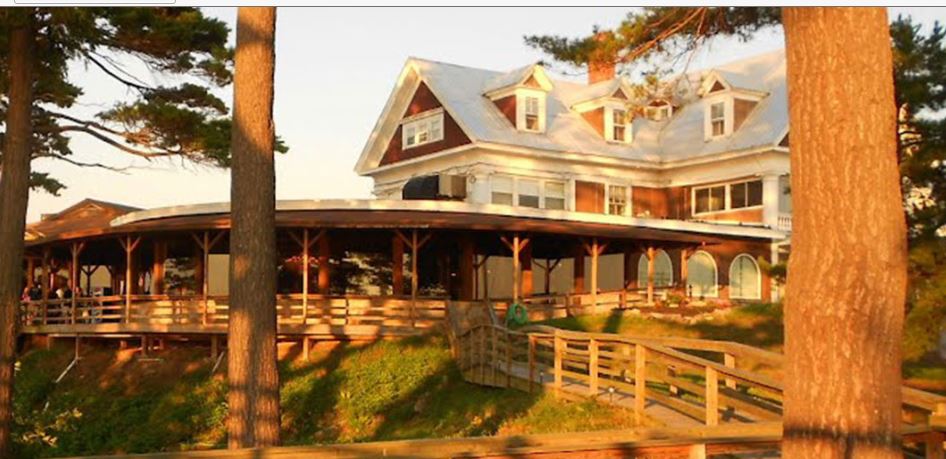 None of Jefferson County's great Thousand Islands estates is endowed with a greater wealth of historical distinction than "Bonniecastle" across the little bay downriver from Alexandria Bay. It was built in 1877 by Dr Josiah Gilbert Holland, MD, high upon the rocky Root's island (no longer an island due to manmade filling of the channel) and it commands a majestic view up and down and across the St Lawrence. Since mid-summer, 1942 it has been the White Fathers of Africa novitiate seminary, of which Father Anthony Coolen, a native of Holland, is now the superior.
A native of Belchertown a few miles from Amherst, Massachusetts, Dr Holland, close friend of the poets, William Cullen Bryant and Emily Dickinson, was for some years a member of the editorial staff of The Springfield Republican, later a founder and several years editor of Scribner's magazine, noted lecturer, and author of several novels including "Seven Oaks" and "Captain Bonniecastle," for which he named his Thousand Islands summer home.
Tall, erect, with black eyes and straight black hair Dr Holland looked like an Indian chief. From a boyhood of poverty he became a physician, but was an indifferent and mediocre practitioner, taught school in the south for a time and then launched into literature, for which he had much talent. As a lecturer he was mentioned with Oliver Wendell Holmes, Bayard Taylor and George William Curtis. Amherst gave him an honorary A M degree in 1851 Edward Dickinson, father of Emily having been treasurer of the college. On Scribner's magazine Richard Watson Gilder was his associate editor.
On October 7 1845 Dr Holland married Elizabeth Chapin, a relative of the Seelyes, a descendant of whom was Dr Laurens Hickok Seelye, former president of St Lawrence university. Dr Holland started with Scribner's in November 1870 and moved to New York in 1872. He began coming to the Thousand Islands in 1876.
From that time until his death October 12 1881 he was one of the most ardent enthusiasts and promoters of the region. He was most adored in Alexandria Bay, which has a street named for him, and where he founded the Holland public library still a flourishing institution and also where he had much to do with the expansion of the Reformed Church of the Thousand Islands, sometimes known as the Holland church.

Shortly after he built "Bonniecastle," early sketched and described by Howard Pyle, noted artistauthor, he acquired a small steam launch. This was soon replaced by a large one of a guaranteed speed of 15 knots an hour and which he delighted in racing against other yachts up and down the river.
Dr Holland first took title to four acres of land, which he bought from John F and Mary H Walton and Charles H and Harriet Walton July 16 1877 on Root's island. From the same parties he bought 9.6 acres June 14 1881 a few months before his death. In his will, executed January 21 1878 Dr Holland directed that he be buried in Springfield, Massachusetts, and gave his children, Annie H Howe, Kate H Van Wagenen and Theodore Holland each one-fifth of his real estate. He gave to his widow a life-use of two-fifths. In October 1882 she sold her Park avenue house in New York, but continued to come to "Bonniecastle" several years.
Mrs Holland died April 26 1896 and September 28 1901 her children sold "Bonniecastle" to Gilbert T Rafferty, Pittsburgh coke and coal millionaire, who greatly improved and remodelled the place for his summer home, after acquiring the interests of George C Boldt and James H Oliphant who had joined with him in the purchase.
The Rafferty family, including the children who succeeded their parents in ownership, retained the "Bonniecastle" estate 40 years, and on May 20 1941 St Cyril's Catholic church of Alexandria Bay was given full title to the property from the last of the Bafferty interests. The next year St Cyril's church transferred it to the White Fathers of Africa, who there began the training of young men for Catholic missionary service in Africa and, with its present 17 acres of land "Bonniecastle" makes a quiet and ideal environment for this training.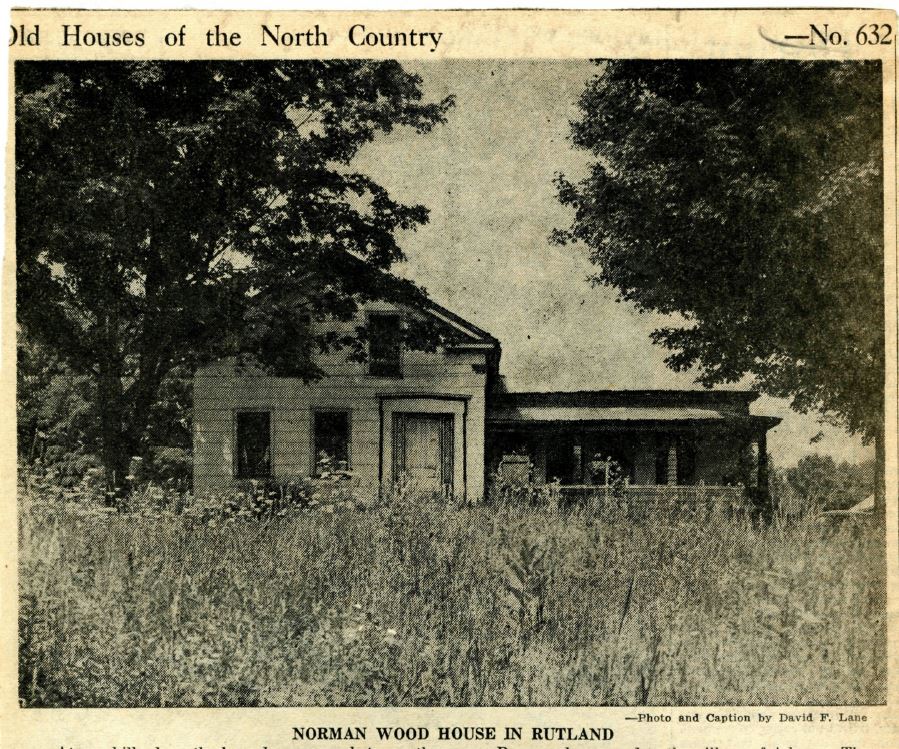 Atop a hill where the boundary passes between the towns of Rutland and Champion is the nicely-typed old farmhouse once owned by Norman Wood, a farmer and hunter of exceptional prowess. This house is to the northward and within easy sight of the Watertown-Copenhagen state highway. It faces a narrow dirt road that taps the state road about two miles from Eames' Corners towards Copenhagen
This house is in the neighborhood of 120 or 125 years old. It may have been built by Ebenezer Crouch, who acquired most of the land in this farm between February 17 1807 and March 12 1823 mostly from Isaac and Ethel Bronson, or it may have been built by Mr Wood who purchased the chief 280.64-acre parcel from Ebenezer Crouch March 17 1835 for $3,100 and the price would indicate that the house was in existence at that time.
The wife of Norman Wood was Cornelia Kellogg, who was an aunt of Virgil K Kellogg, prominent Watertown lawyer, Republican leader and former district attorney of Jefferson County. Mrs Wood was a daughter of Eli Kellogg, one of the pioneer settlers of Lewis county who located in the Lowville area having come there from Massachusetts jn 1805. In 1806 he married Grace, daughter of Captain Jonathan Rogers, another pioneer Lowville settler.
After their marriage Mr and Mrs Kellogg removed to Martinsburg, then the county seat of Lewis county, and remained until 1822 when they removed to Rutland. Of their several children was Sylvester Kellogg, who was for several years farmer, dealer in cattle and horses and later tavern proprietor at Tylerville. He was the father of Virgil Kenyon Kellogg. Sylvester Kellogg's wife was the former Irene Gerry, who was of the same American family as Elbridge Gerry, one time vice president of the United States in War of 1812 days.
Norman and Cornelia Kellogg Wood remained on this Rutland farm, which also extended into the town of Champion, until December 14 1855 when they sold it to Alanson Rose, and removed to the village of Adams. There, on October 21 1856 they bought a house and 3.454 acres of land on the west side of upper Church Street. Shortly thereafter Mr Wood loomed into prominence in the village and became a member of the Adams village board in 1857 when John Cowles Cooper was village president.
In 1866 1872 and 1873 Mr Wood served as president of the village. He died in the last days of 1877 and on January 1 1878 his will was up for probate. He provided a life-use of his estate to his widow, and arranged that after her death a bequest of $500 should be paid to a niece, Miss Carrie Wood, Knoxville, Tennessee, daughter of a deceased brother, William W Wood. The residuary estate following payment of that bequest was to be divided equally among the following brothers and sisters, Le Roy Wood, Alonzo H Wood,Mrs Mary A Wilmot and Mrs Matilda Graves.
The Rose family occupied this old Norman Wood farm in the town of Rutland a number of years and on March 1 1881 after they had become residents of this city, Alanson and Betsey Rose sold the farm which then consisted of the 280.64-acre parcel and a parcel of 37.79 acres to Delia A Inglehart, city. The price was $10,500 and on October 24 1893 Delia A Inglehart disposed of it to Mary Inez Smith, city, for $15,500. Mary Inez Smith conveyed it to Byron W Curtis, town of Cape Vincent, March 1 1894 and under his will it went to his daughter, Mrs Florence Curtis Newhart, March 25 1930. Mrs Newhart and Let tie Maude Thompson who had an interest in the estate sold the farm to Edward J and Lillian G Vautrin, Rutland, August 3 1931.
Ten years later Mr and Mrs Vautrin sold to Fay R and Martena W Whitney and Mrs Whitney succeeding to the ownership disposed of it to Sherman Rerrus of Lowville September 30 1949. On October 6,1953 Mr Berrus conveyed the farm to Theodore F Micek and his wife, Irene Micek of Lowville, and they are occupying, improving and building up the property to accommodate a herd of 75 head of cattle.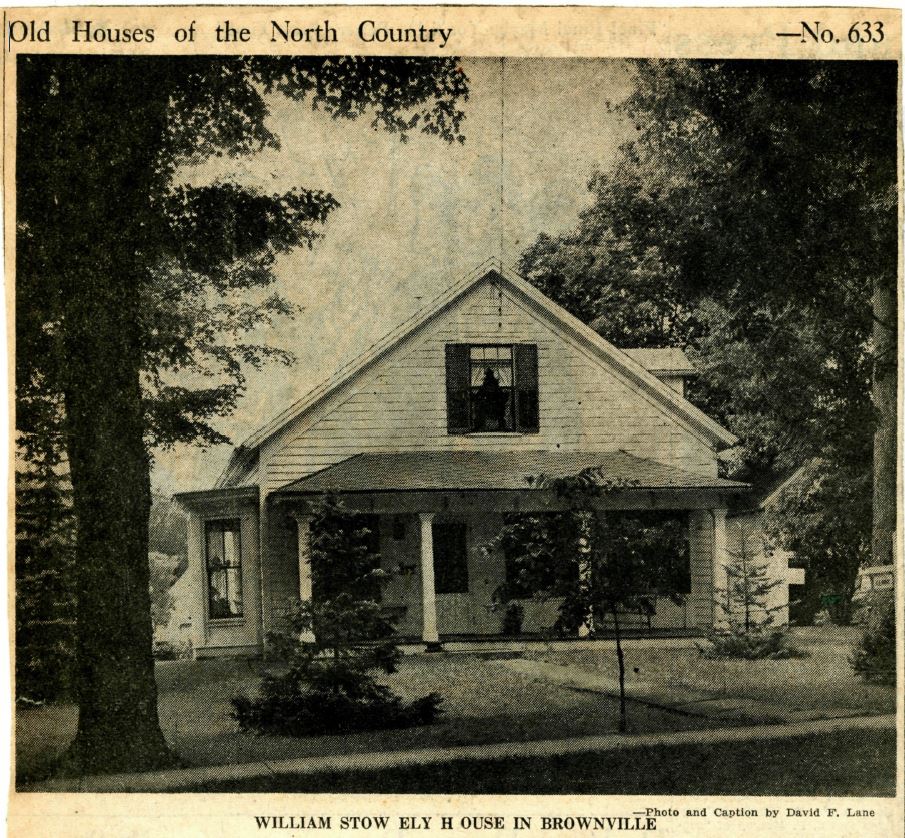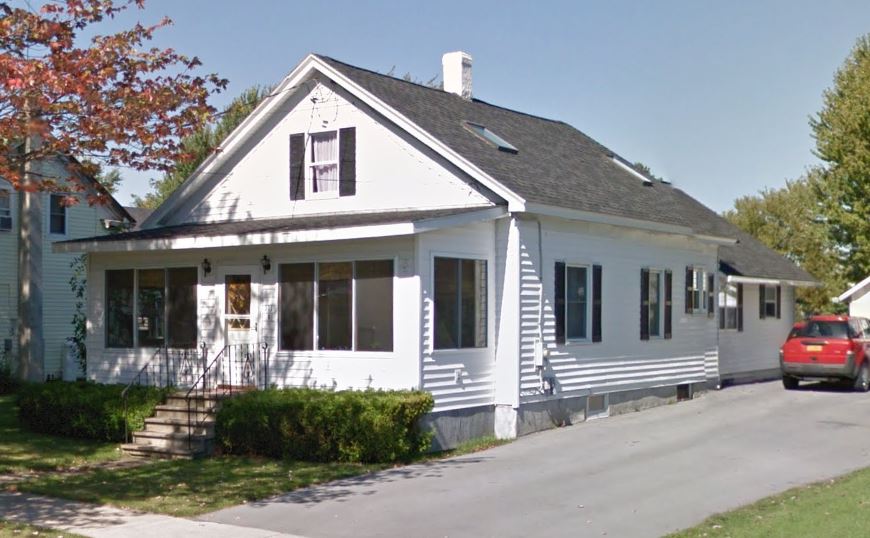 Directly across Brown Street from the Major General Jacob Brown mansion in Brownville is the small, pleasingly-typed white house that is said to have been used as officers' quarters in the War of 1812. It is but a few houses above the large white house on the same street that is claimed to have been used as a hospital for sick and wounded soldiers of that war. Both sites were originally owned by General Brown. On December 6 1809 Jacob and Pamela Brown sold land in the locale of the house shown above to George Brown Jr, for $200 On January 22 1835 Henry Brown sold it to William Stow Ely, prominent Brownville resident and brother of Adriel Ely of this city. Mr Ely, having died April 3 1853 his estate disposed of this little white house on the following May 27 to William Winch of Brownville.

Mr Winch kept the property only until March 30 1855 when he and his wife, Catharine, sold it to James Skinner. Mr Skinner removed to Aurora, Illinois, about 1870 and on April 15 1872 he and his wife, Eliza B Skinner, conveyed the place to Almarin Wilson. On February 6 1875 Almarin and Caroline Wilson disposed of it to Harriet L Wilder, and on April 3 1883 she disposed of it to George Ransom Jr, of Brownville. The next conveyance was by George Ransom Jr, and wife, Emma F Ransom, January 18 1890 to Attorney Lafayette E Pruyne of Adams.
Attorney Pruyne never resided there and on December 11,1929 his executors, Emma S and L Sumner Pruyne, transferred it to Mrs Minnie Giles Beebee of Brownville, whose mother, Mrs Edwin N (Viola A Campbell) Giles, was a sister of Attorney Lafayette E Pruyne's first wife, the former Gertrude Campbell. Mr Giles was foreman of the Black River Paper company. Mrs Beebee, widow of Frank P Beebee, who died in 1912 conveyed the property jointly to herself and daughter, Mrs Vera Beebee Hunt, on June 1 1942. Mrs Beebee died August 18 1953 at the age of 80 and title to the house and lot automatically became vested in her daughter, Mrs Hunt, who now resides there with her husband, Charles A Hunt, to whom she was married June 8 1929.
The house, consisting of eight rooms, is heavily framed and on some of the doors are original handcrafted locks and H hinges of the type of the 1700's. William Winch, one of the early owners, was first president of the village. Whether Attorney Lafayette E Pruyne was in any way related to the Elys, is not apparent, but the name Sumner awarded to his son also appears in the Ely genealogy.
William Stow Ely was born in Lyme, Connecticut, March 17 1789 son of Adriel Ely Sr, and Sarah Stow Ely. He removed to Brownville in 1811 and in 1813 formed a partnership with John Paddock in the mercantile business. Paddock died in 1816 and Mr Ely succeeded to the business. He was prominent socially, civically and in a business way and held many positions of truSt He was one of the original stockholders in the Brownville Manufacturing company, formed in 1814 to manufacture cotton and woolen fabrics. He was a militia major in 1817 and colonel in 1821. He was town clerk in 1826 and the same year became a vestryman in St Paul's Episcopal church. He became interested in the founding of the county poor house and was its superintendent. He was village president in 1829 and a trustee in 1830 and 1834. In 1832 he was notary public and agent for Revolutionary pension claims. He was part owner of the steamboat, "Brownville," built in 1827 to navigate Black River.
Mr Ely was descended from Richard Ely, who came to Boston from Plymouth, England, in 1660 married the widow of John Cullick in Boston and settled in Lyme, Connecticut, two years later. Adriel Ely, father of William Stow Ely, was married to Sarah, daughter of Jacob Stow of Saybrook, Connecticut, and was sergeant in a company which marched from Lyme to the relief of Boston in April 1775. William Stow Ely was a Jackson Republican and he was strongly supported for the postmastership of Brownville to succeed George Brown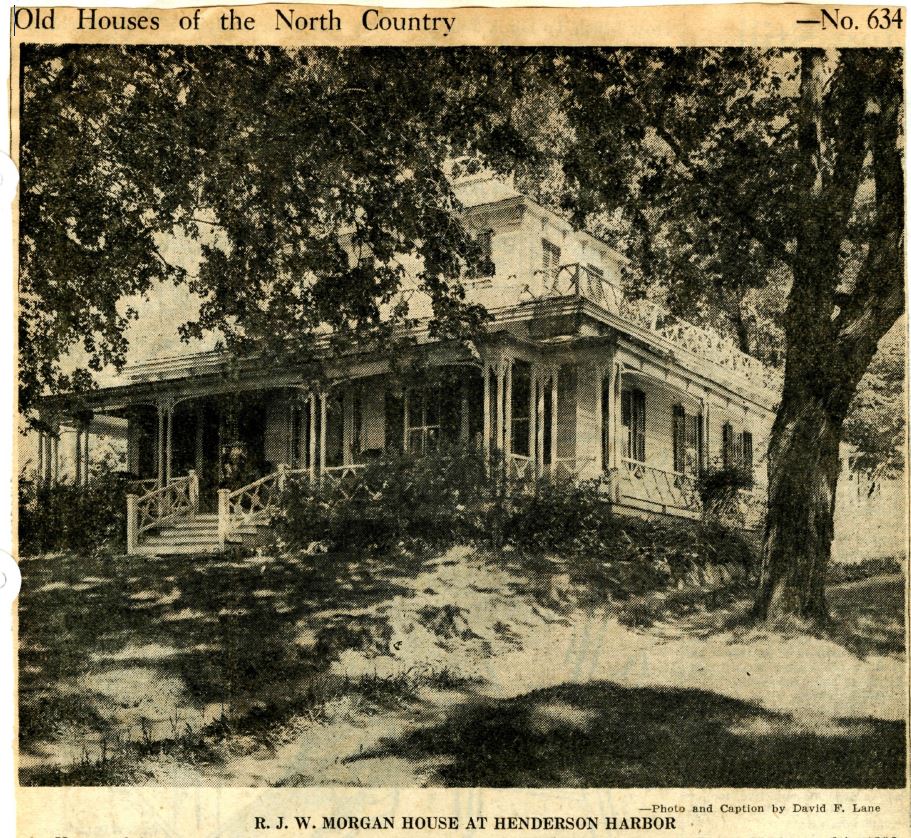 13370 Main Street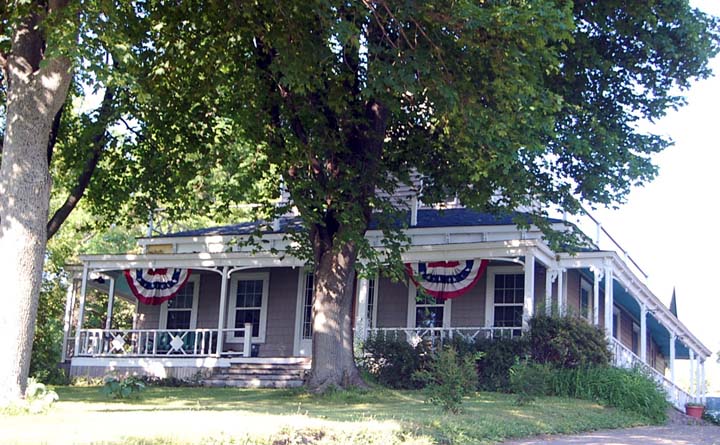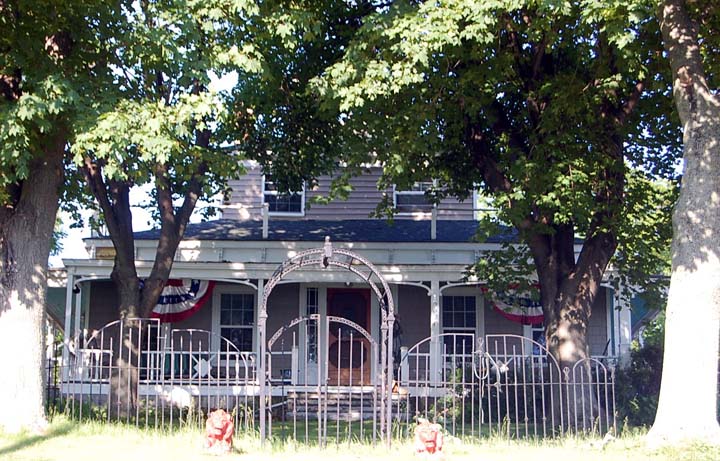 Houses of the cup-and-saucer type are extremely rare in northern New York. That of Miss Alice Austin at Henderson Harbor is not only a fine specimen of this style of dwelling, but it is a large, dignified and especially attractive house.
From its hillside location high above the main street it commands a view of picturesque Henderson Bay. Presumably the house was built by Remembrance J W Morgan about 105 years ago. Almost nothing is known about Remembrance J W Morgan, who began buying land in Henderson township December 1 1839 transferred his interests to Henderson Harbor November 27 1848 and bought parcels of land in this house locale as late as March 5 1849. The fact that there was a captain's walk atop the cup or second story of the house, and that the front and side verandahs were very narrow would indicate that Morgan was a Great Lakes sailor, probably a ship's captain to judge from the spaciousness of his fine house. Perhaps he was also a shipbuilder. Some of his Henderson Harbor land was bought from George Eggleston, some from Edwin Burnham.

Apparently he died in straightened circumstances late in 1873 for on January 19 1874 his widow, Deborah, and James Pettingill, administrators of his estate, sold his house and shorefront properties and on April 4 his Lorraine farm interests to pay up his indebtedness. The 1.12-acre parcel containing his house and small barn went to William Pitt Davis and Arthur J Armstrong, and a 2.55-acre parcel with no buildings to Alden C Stevens. Davis acquired his partner's share in the first parcel and sold it to Stevens April 1 1878. Stevens and wife, Mary, disposed of both parcels to Captain William Gilbert, Ellisburg, December 1 1883. Captain William Gilbert, native of Ellisburg, was the son of Peter Gilbert, who was born on Long Island in 1794. Peter settled at the mouth of Sandy creek and learned the ship carpenter's trade. William Gilbert was the son of Peter by his second wife, Elizabeth Ann Skelton, sister of Peter's first wife, Polly.
Captain William born in 1827 at 13 shipped as cook aboard the schooner William L Marcy. He sailed the lakes until 1848 then built and captained a schooner five years, sailed other ships and, in 1863 with William McLean built the 140-ton schooner Billow. Later he bought and sailed other ships. In 1879 hejbuilt the schooner Gilbert In 1883 he located at Henderson Harbor and in 1888 remodeled a schooner into the steam barge William Gilbert. He built a dock, warehouses and engaged in the coal, flour, feed, salt, lumber, shingle and water lime trade. In 1853 he married Elizabeth, daughter of Esquire and Phena Washburn Ellis of Ellisburg, and had two sons and a daughter. On October 24 1903 Captain William Gilbert conveyed his Henderson Harbor properties to his son, Grant A Gilbert, of Adams who, November 25 1904 sold to Fred Hamm and Nelson Hovey of the Henderson Harbor firm of Hamm & Hovey, coal and feed dealers. On March 11 1918 Fred and Nellie Hamm, Nelson and Leona Hovey sold the property to the Adams Coal company, of which O D Greene was the head, and the Hoveys shortly removed to Idaho. On May 3 1921 the Adams Coal company in turn sold the house and its site of .33 of an acre plus a fourfoot right-of-way at the rear to Miss Austin, present owner who, with her mother, Mrs John J Austin, occupy the place summers.
Miss Austin, teacher in the Geneseo State University Teachers' college, was graduated from the Adams High school in 1930 and from Syracuse university in 1936 There she majored in drama and minored in English. She was a member of Theta Phi Alpha, Zeta Phi women's professional society, Boar's Head, English club, Tambourine and Bones club. In 1937 she went to Port Jefferson High school to teach public speaking and dramatics. Later she coached dramatics, taught English and was librarian at the Henderson school. This summer she headed the Henderson Harbor Yacht club entertainment staff. Her father brought his family from New York to Henderson Harbor in 1921 when he became assistant manager and purchasing agent for the General Electric company at Association Island. He held that position until his death eleven years ago.
Miss Austin's attractive old cup-and-saucer house is of unique construction. Its foundation walls are about 30 inches thick. The exterior walls are bricked up. An attractive balustrade borders the first story and cornices are supported by artistic brackets. The narrow front verandah has been deepened. Sidewall paneling upstairs opens into storage caches. The interior woodwork of the house is handcrafted and stained brown. The wide pine boards of the original floors are now Veneered with modern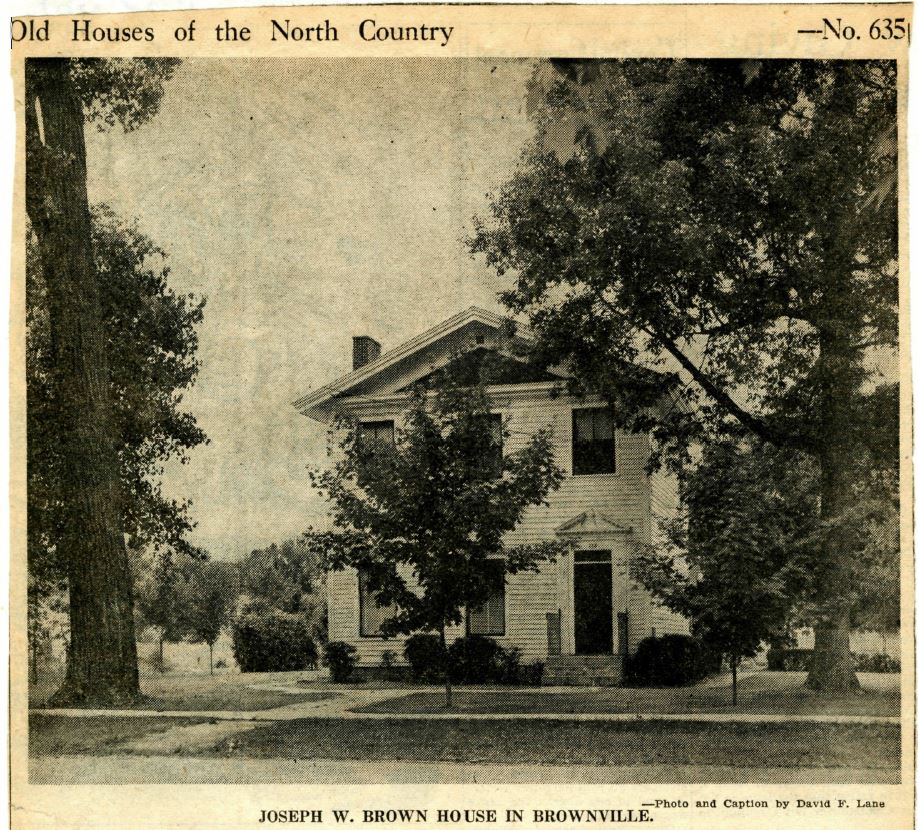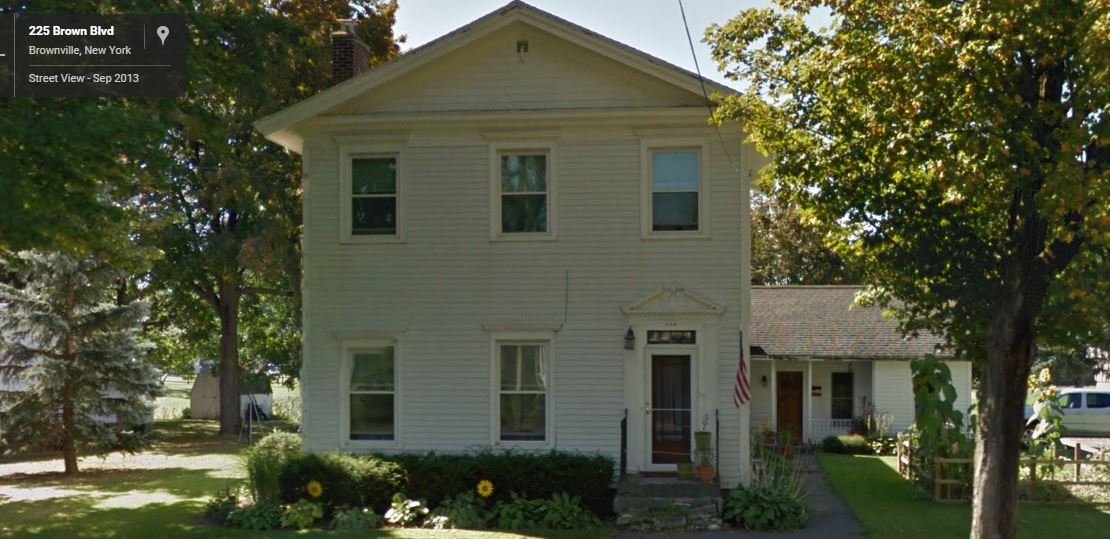 Diagonally across Brown boulevard from the Major General Jacob Brown historic stone mansion in Brownville is the beautiful old house that once belonged to Joseph W and Cornelia Brown, who more than 120 years ago moved to Tecumseh, Michigan. He was a member of the Samuel Brown family, of which Major General Jacob Brown was a son.
Old Brownville residents say this house was built in or shortly after the War of 1812 period on land once owned by Major General Brown. Since the Joseph Brown ownership it has had many possessors, the present one being Mr and Mrs Kenneth C Thompson, who maintain it in extra fine condition and with great pride. Originally it had a wing on the south side and porches.
It is a large house, but has no original fireplaces. Attractive among its exterior features is the broad low triangle in the front gable, a feature reminiscent of many old St Lawrence county houses. The beautiful dentils of the window caps and around the broken triangular front door head are other fine features. It has a 181-foot frontage on the street and the grounds now consist of about 2.5 acres, although there were six acres when Joseph W and Cornelia Brown, then of Tecumseh, sold it June 10 1833 to John E Brown, who was a prominent resident of Brownville for many years, and its president in 1847. John E Brown and family owned and occupied the house until September 27 I860 when he and his wife sold to Franklin Keenan, another outstanding Brownville resident, noted for his educational proclivities, who was president of the village in 1867. Mr Keenan, however, retained the property only until August 22 1870 when he disposed of it to Albert E Lord, a Brownville dry goods merchant and trustee of the First Universalist church of Brownville. Mr Lord kept the place only until September 1 1871 when he and his wife Ann A Lord sold it to Mrs Julia A Scofield. Mrs Scofield died March 19 1881 and her executors Hellen S Smith and Marion Torrey sold the property May 23 1882 to John N Halliday, another Brownville prominent resident, who was one time president of the school board of District No. 1.
For 14 years Mr Halliday held title to the place, selling it to Peter A and Mary C Helbock, on March 5 1896. Their ownership continued ten years and on March 14 1906 they disposed of it to Christian H and Josephine Stall. On November 7 1907 they sold it to Moses M Petrie of the town of Pamelia. Mr Petrie held ownership 24 years until his death July 8 1931 when it went by will to his widow, Ella, who died 18 days later and on December 1 1931 Marion Petrie Thompson of the town of Ellisburg, who had inherited the property, sold it to Mrs Hattie Liddy of this city.
After the death of Mrs Liddy, her estate represented by Miss Ola I Liddy, Frederick A Liddy, Nina Woodworth and Miss Margaret E Liddy made disposition of it to Kenneth C and Evelyn S Thompson, the present owners. Mr Thompson is a carpenter and mechanic and has made a number of improvements including stone steps and ornamental iron rails on either side at the front entrance.
While the original small-paned windows have not been retained, this dwelling a most attractive one gleams with its coat of fresh white paint. The setting and vista is expecially Tine and the grounds are nicely landscaped. Its front gives a sidelong glance across Brown boulevard which, formerly was Main Street and prior to that was known only as the Rome state road. It looks through the deep, tree-studded lawn of the beautiful big limestone mansion built in 1815 and which Major General Jacob Brown, hero of the War of 1812 defender of Sackets Harbor and the Niagara peninsula and for seven years general-in-chief of the United States army until his death in 1828 claimed as his residence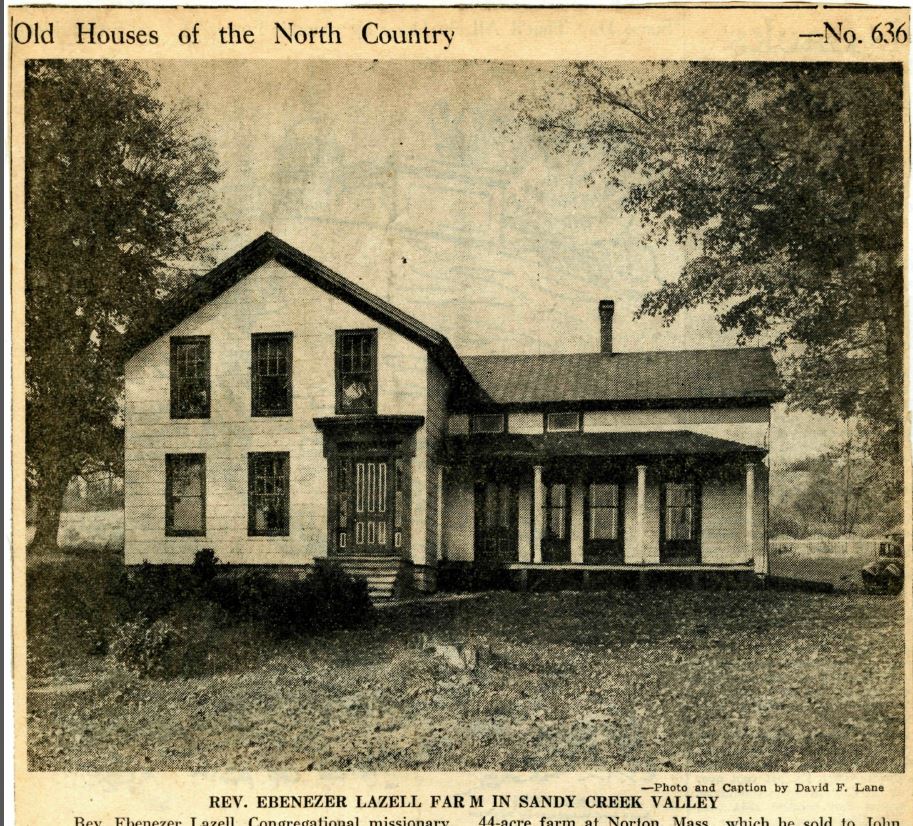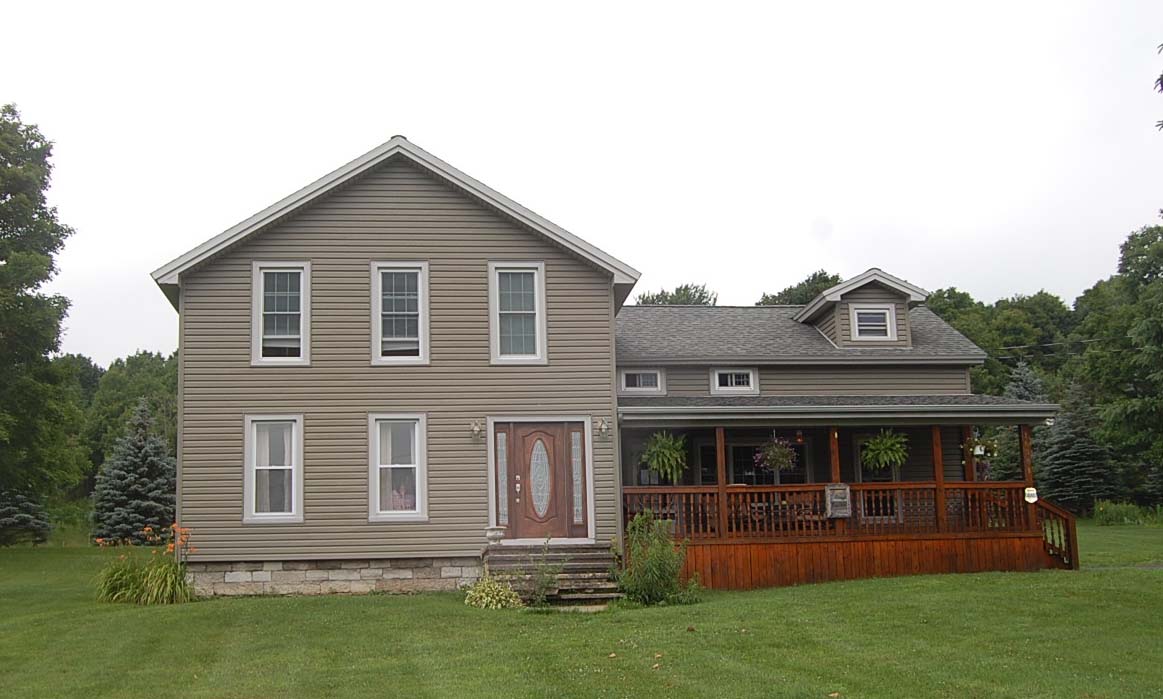 Reverend Ebenezer Lazell, Congregational missionary, was one of the very first and most vital pioneer settlers of Jefferson County. Historians credit him with having preached the first sermon and built the first whiskey distillery in the town of Watertown. At Burrville June 3 1803 he organized the First Congregational society of Watertown, which soon split, one group becoming the foundation stone of the First Presbyterian church of this city.
On September 22 1805 he founded the Congregational church of Rodman, and he played a similar part in forming other Congregational churches in Jefferson and Lewis counties. Yet not more than a small paragraph of fact has here been known to date. Dr Franklin B Hough lists him as having taken land from Nicholas Low in the town of Watertown in 1800 which he may have on contract, but the first deed on record is of 109.75 acres from Low beyond the Farm school March 21 1808 for $485. This, on September 20 1819 when he resided at Henrietta, NY, he sold to Thomas Baker for $1,000. Historian John A Haddock says Lazell built a distillery at Burrville in 1801 or 1802 and sold it to Thomas M Converse in 1803. There were two distilleries in Burrville and one nearby and there is no record of Lazell having owned any of them. On the contrary, on July 12 1804 Captain John Burr, who owned the Burrville grist and sawmills, sold a distillery, malthouse and brewery at Burrville, with right to take water from the dam to Thomas Converse of Rutand and Thomas M Converse of Watertown for $7.

Herewith for the first time we print the largest data that has been published in this area about Lazell. Historian John Sheldon states that he was "an enterprising man of great executive ability. I have heard many interesting anecdotes of a kindly nature of this early missionary, who went forth to preach the Gospel in the wilderness, like John the Baptist in Judea," he declares.

Reverend Ebenezer Lazell was no ordinary "homemade" minister of his day. He was born at Bridgewater, Massachusetts, in 1761 son of Isaac and Bethia Alger Lazell. In 1788 he was graduated from Brown university. On November 21 1792 he was ordained a pastor in the Second Congregational church in Attleboro, Massachusetts, and served until he resigned January 3 1797. On April 11 1797 he bought a 44-acre farm at Norton, Massachusetts, which he sold to John Patten April 1 1801 and moved to the Black River country.
At Attleboro on January 15 1793 he married Chloe, daughter of Abiathar and Martha Faulkner Richardson. Chloe was born in 1775. New England records stated that Reverend Ebenezer Lazell died at Black River in 1828 but there is no record that he died in this area, nor has there been uncovered, after much research, the date or place of where he died. It is stated that he had several children, one of whom was William, but trace of them seems to be lost. The deed of his 109.75-acre Sandy Creek valley farm gives his wife's name as Lucy, which may be an error unless he was twice married.
Thomas Baker was also an early Watertown settler, having been born in Sullivan, New Hampshire, in 1788 descendant of John Baker of England who located in Ipswich, Massachusetts, in 1638. Thomas settled in the Sandy Creek valley in 1817 two years before he bought the Lazell farm. Thomas Baker occupied the Lazell house and died in 1841. His widow, Betsy, continued to reside there as did her son, W Clark Baker, who built the present house shown above.
W Clark Baker, who married Ruth Bull, took title to the property from his father's estate May 30 1856 and when he died the Baker farm including the 109.75 Lazell acres was acquired by his son, William C Baker, who was born June 16 1854 and died April 10 1937 leaving no children.
He was long one of the prominent men of the town of Watertown, graduate of the Hungerford Collegiate Institute, town assessor six years, supervisor from 1899 to 1909 assistant clerk of the board of supervisors for a time, county purchasing agent 1914-1915 onetime master of Watertown grange, and former president of the Jefferson County Agricultural society.
His wife, the former Delia C Smith of Rutland, pre-deceased him, dying on March 17 1935. This Baker-Lazell farm was sold April 22 1932 after 113 years in the Baker family, to Chark H Thomas of Theresa. On August 1 1945 Mr Thomas sold to William, Susan and Carl Dushane, the latter acquiring full title April 15 1946. He has since sold the farm in parcels, Mr and Mrs George B Clark, city, buying six acres with the above house May 31 1950 and now occupy it.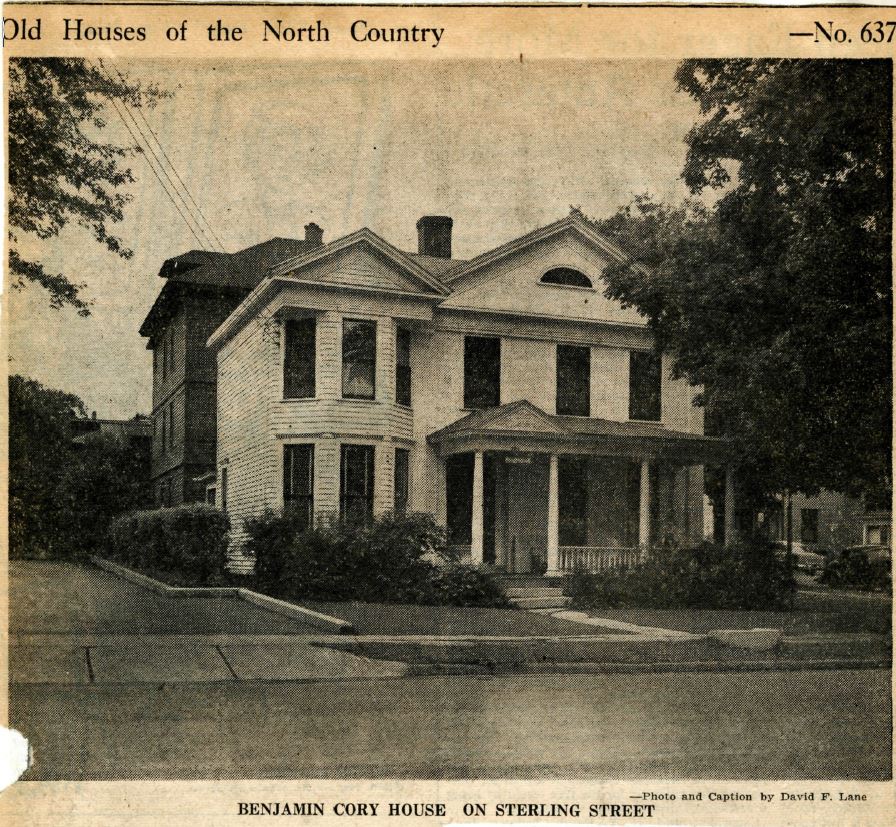 Benjamin Cory was one of Watertown's colorful newspaper editors and leading public figures a century and a quarter ago. He onetime served as village president, later as village trustee, and is credited with inspiring the Public Square fountain dubbed "Cory's Punch Bowl" and the oval parks either side of it. In 1837 he built the above house on the south side of Sterling Street at the northeast corner of Gotham Street.

Early in 1830 Cory came to Watertown and May 1 of that year bought partnership with Henry L Harvey in The Watertown Register and General Advertiser, an independent weekly newspaper,and together they also operated a book store and job-printing plant. On June 29 1831 Cory bought out Harvey and September 9 1832 dropped "General Advertiser" from the paper's masthead, also making it an anti-Jackson organ. About March 23 1835 he changed the name to The North American and for six months John Haxton was editor. On September 29 1839 he sold out his printing business, H S Noble became editor of the paper and the name was changed back to The Watertown Register.
Benjamin Cory then turned his attention to various business enterprises. He was of impeccable character, a good business man and financier and was a founder and prominent officer of the Bank of Watertown in 1839. At one time he was actively interested in the Cataract flour mills at the north end of the Mill Street bridge. Also he was prominent in Trinity Episcopal church.
Cory came from a newspaper family, his father, Benjamin Cory, having published The Telescope, a Federalist paper at Herkimer, first newspaper in Herkimer county, which he sold in 1805 to David Holt and J B Robins. Watertown's Benjamin Cory was born September 23 1794 in Warren, Herkimer county, son of Benjamin and Rhoda Freeman Cory who are buried in the Dibble cemetery at Salisbury Center. He was at Sackets Harbor and several other points as a volunteer soldier in the War of 1812. After the war he learned printing in Oxford, NY, was editor and publisher of The Milten Gazette and Roanoke Advertiser in Milton, N C, from 1822 to April 27 1826 returned to Oxford and was editor and publisher of the Oxford Gazette and People's Advertiser from September 8 1826 to December 10 1828 when he sold out and later came to Watertown.
He was married to Miss Olivia (Leafa) Balcom September 20 1827. She died December 9 1860 and he on June 4 1861 leaving a son and daughter. A brown sandstone obelisk marks the Cory plot in Brookside cemetery. As a newspaper editor Benjamin Cory was a fighter and trenchant writer. As a politician he was astute and in mid-summer, 1839 succeeded Jasan Fairbanks as military store-keeper at the local arsenal. He was president of the village in 1844 and a trustee under President Joseph Mullin in 1853 the year that the Public Square.
On January 2 1837 Norris M Woodruff and wife sold Benjamin Cory the lot for his house on Sterling Street. His daughter, Miss Julia A Cory, sold the property to David B Sanford of the local dry goods firm of Sanford & Bartlett June 15 1869. The Agricultural Insurance company foreclosed the Sanford mortgage, Attorney George S Hooker, referee, selling the place to Stanley E Hunting August 29 1896. On August 5 1905 Stanley E and Grace L Hunting disposed of it to Mrs Nanine K Acker who sold it the following October 28 to B Mason and Stella O Ladd and May 14 1929 Mrs Ladd deeded her interest back to B Mason Ladd, long an employe in the local postoffice.
Mr Ladd died April 22 1940 willing all his property to his second wife, Mrs Elizabeth Mae Ladd, who, on May 15 1948 sold the house to E Lee and Ruth O Yager, the present owners and occupants. The upright looks much the same as when Benjamin Cory owned the house, but the east end shows new construction, probably the converting of a one-story wing to a modern two story structure. A fountain and parks were planned.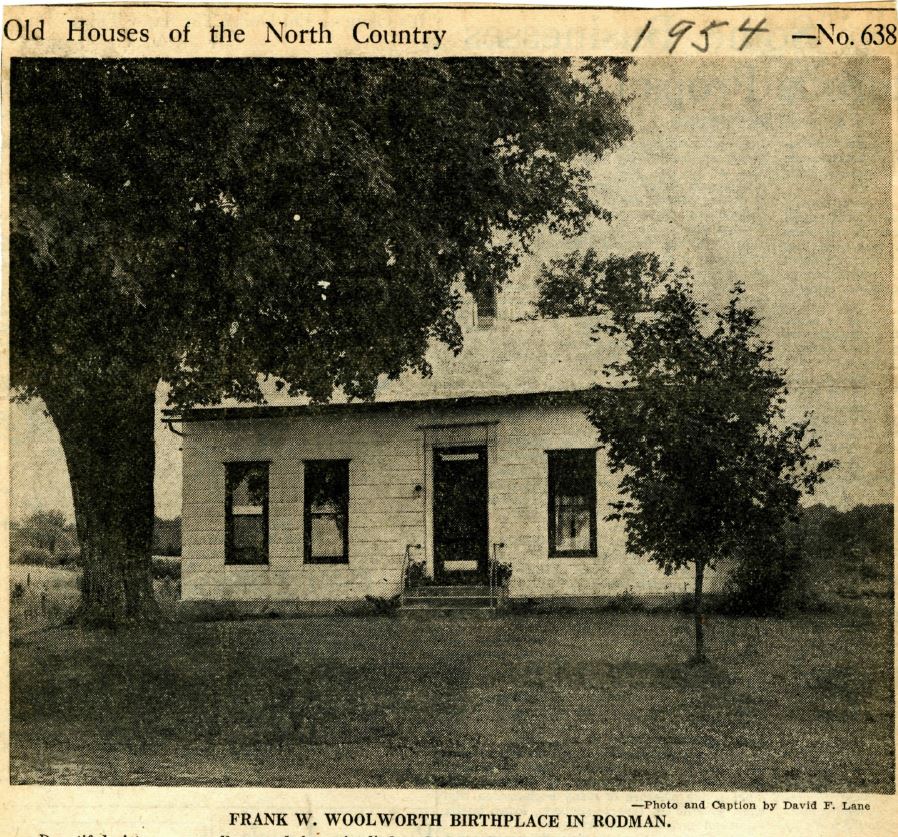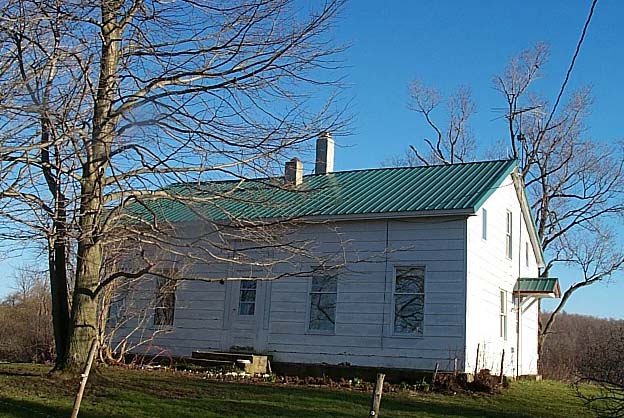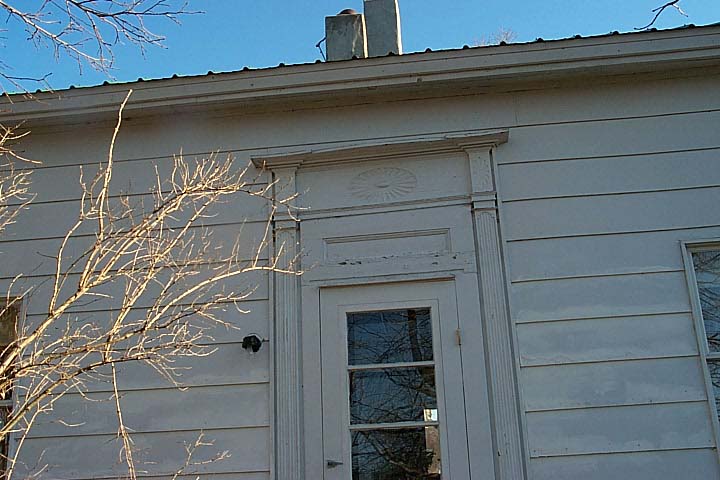 Beautiful vistas sweep all around the quiet little vale where this modest farm house sits among the rolling Rutland hills as they ramble into the town of Rodman. It was in this house that Frank W Woolworth, founder of the most famous chain-store enterprise in the world, was born April 13 1852. It was owned by his grandparents, Jasper and Elizabeth G Buell Woolworth. Into it the future five-and-ten cent tycoon's father, John Hubbell Woolworth, had brought his bride, the former Fanny McBrier of Pillar Point, after his marriage to her January 14 1851.
Frank W Woolworth's parents never owned this house and farm which went with it, and young Frank was not quite seven when his grandparents sold the property on February 25 1859 to Chauncey B Lawton for $6,000. The day before that Frank's parents had bought themselves a 103.5-acre farm of their own just a short distance outside of Great Bend on the road to Champion. Eight days after Jasper and "Betsey" Woolworth sold this Rodman farm they purchased another of Gilbert L and Harriet Reed partly in the towns of Adams and Hounsfield.
This Rodman birthplace of Frank W Woolworth of nearly 150 acres was bought by Jasper Woolworth on April 1 1850 from Anson and Ruth Moody. Prior to that Jasper and Betsey Woolworth had owned a small 80- acre town of Watertown farm in the James Brintnall-James Wadley district which they had bought November 19 1844.
With its carved oval sunburst front-door head-piece, its original paneled door and its original small-paned windows this Frank W Woolworth birthplace must have been a work of beautiful simplicity. It consists of seven rooms and formerly there was a cooking fireplace and bake-oven in the middle of the house, but the fireplace is now gone.
Across the dead-end road upon which the house sits are the barns. A couple of miles to the south is the hamlet of Zoar. Frank W Woolworth spent the most of his boyhood days and youth on the Champion farm of his parents only a few hundred yards south of the Great Bend Methodist church which the Woolworth family attended and which he rebuilt and dedicated September 5 1915 into the beautiful tall-spired edifice that stands there today.
Probably at least 110 years ago the house of Frank W Woolworth's birth was built among the Rutland hills. Most of the time during the past 95 years it has been owned by the Lawton family, the present owner being Mrs Hazel De Marse, widow of Levi De Marse and grand niece of Chauncey B Lawton who bought the property from Jasper and Betsey Woolworth.
Chauncey B Lawton and his wife, Jane A Lawton, conveyed the place to their sons, Charles W and Arthur O Lawton on March 1 1889 but on March 1 1892 they transferred it back to him. After Chauncey B Lawton died intestate his widow, Jane A Lawton and daughter, Mrs Matie E Williams, deeded their interests again to Charles W and Arthur O Lawton on January 1 1902 and Jane A Lawton then went to reside in a house next to the Methodist church in Rodman. In 1925 the Frank W Woolworth birthplace farm was split into two nearly equal parts on June 29 Charles W and Cora M Lawton taking title to one part and Arthur O and Gertrude Lawton to the portion where this house is.
On November 28 1925 Gertrude O Lawton, then of this city, sold the latter part to Eugene N Daniels who, on November 26 1926 disposed of it to Carl A Phillips, a real estate dealer, she taking a mortgage. This, through Attorney John C Lamon as referee, she foreclosed April 30 1930 bidding in the property herself.
Next, on September 7 1933 as Gertrude O Lawton Wolcott, she sold the place to Arthur M Trowbridge and on April 20 1951 he conveyed it to Mrs Hazel DeMarse, the present owner, who maintains the propetry in attractive condition.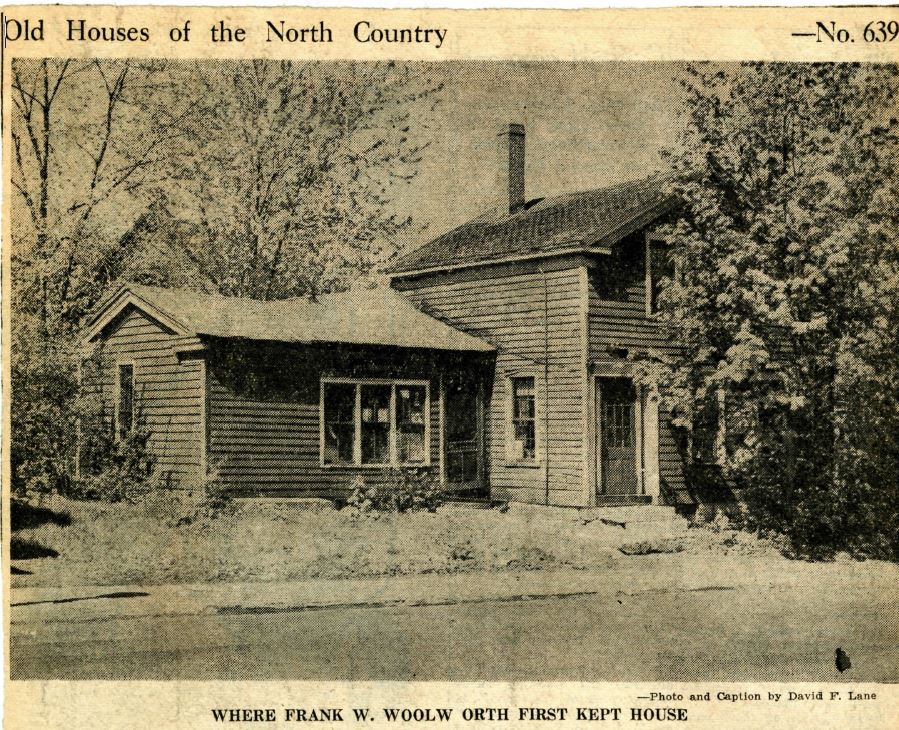 Frank W Woolworth, chain five-and-ten cent store tycoon, returned to Watertown in June, 1877 after a 15- month illness at the home of his parents near Great Bend. He came at a salary of $10 a week to the dry goods store of Moore & Smith. With him he brought his young wife, the former Jennie Creighton, whom he had married June 11 1876 and they established themselves in the wing of the above house, then 30 Franklin Street but now 236. In the upright of the house lived Nelson H Pierce, owner, a painter and man of local prominence who had been master of the Watertown Masonic lodge and high priest of Watertown chapter, No. 59 R A M Four months before his return here young Woolworth had paid his grandfather, Henry McBrier, $900 on February 15 for the latter's six-acre place near Great Bend, Mrs McBrier having died on January 11. Three years later, on March 22 1880 Woolworth sold the property for $500 but he was then on the road to success.

A short time after his return to Watertown hard times cut his salary from $10 to $8.50 per week. On July 17 1878 his daughter, Helena Maud, was born in this Franklin Street wing and on April 20 1904 she was to marry a New Yorker, Charles E F McCann and later become the mother of Mrs J V (Constance) McMullan, New York City, the present owner of 236 Franklin Street, cousin of Barbara Hutton.
In the spring of 1878 a man named Golding, who had been a clerk in the local A Bushnell store, gave W H Moore the five-cent counter idea and with $100 worth of goods Moore started his sale the following August with Frank W Woolworth in charge. Woolworth cleaned the counter in one day. That was about five weeks after his first daughter was born in the Franklin Street house.
On February 22 1879 Woolworth started his own first store in Utica, a failure, which closed the following May 28. Doggedly confident, he opened his Lancaster, Pennsylvania, store the next June 21. It stuck, beginning the chain which left him with total annual sales of $107,175,700 and a personal fortune of $27,205,283 when he died April 18 1919.
With a plan of making this modest Franklin Street house a memorial to her mother, Helena Maud Woolworth McCann, and to her grandparents, Frank W and Jennie Creighton Woolworth, Mrs Constance Woolworth McMullan bought it for $10,000 from the McMullan Realty corporation, New York, on May 28 1947. The late Architect Albert M Skinner prepared plans for rehabilitation and the porches were torn off. Then the work stopped because she could not acquire the adjoining property where Balfour Brothers now are.
The McMullan Realty corporation purchased this house September 4 1945 from Augustus and Mary Guardino, who had bought it from Mrs Elizabeth J Paterson February 4 1924. It was conveyed to Mrs Paterson, November 21 1902 by her husband, John M Paterson, a local shoe merchant. Mr Paterson bought it November 27 1888 from Nelson H Pierce, the painter.
Mr Pierce had bought it jointly April 1 1863 with Albert S Green, a traveling salesman, from Benjamin F and Sarah L Wright, and they occupied it together for a number of years. Mr Wright was a sign-painter and decorator. On January 27 1866 Mr Green sold his interest in the property to Mr Pierce. Benjamin F Wright purchased the place from Peter and Sabra M Horr on March 11 1859. Mr Horr was a local clothing manufacturer and merchant, onetime assessor and former head of the local Masonic lodge and Royal Arch chapter.
Horr had bought the house from William H and Freelove Child of LeRay July 31 1849 and Child had acquired it November 7 1848 from William H Sigourney and wife, Julia H Sigourney, was a local jewelry merchant and later postmaster, and had bought the property November 15 1846 from George C and Mary Ann Sherman, who got it June 19 1841 from Abraham and Mary Welch, Abraham Welch having been a Court Street merchant. Welch, who probably built the house about 1835 purchased the site May 27 of that year from Loveland and Sophia Paddock, banker and real estate dealer. For the past many years the house has been the home of Charles E Robb, typewriter dealer, who has his shop in the wing where Mr and Mrs Frank W Woolworth started housekeeping in this city 77 years ago.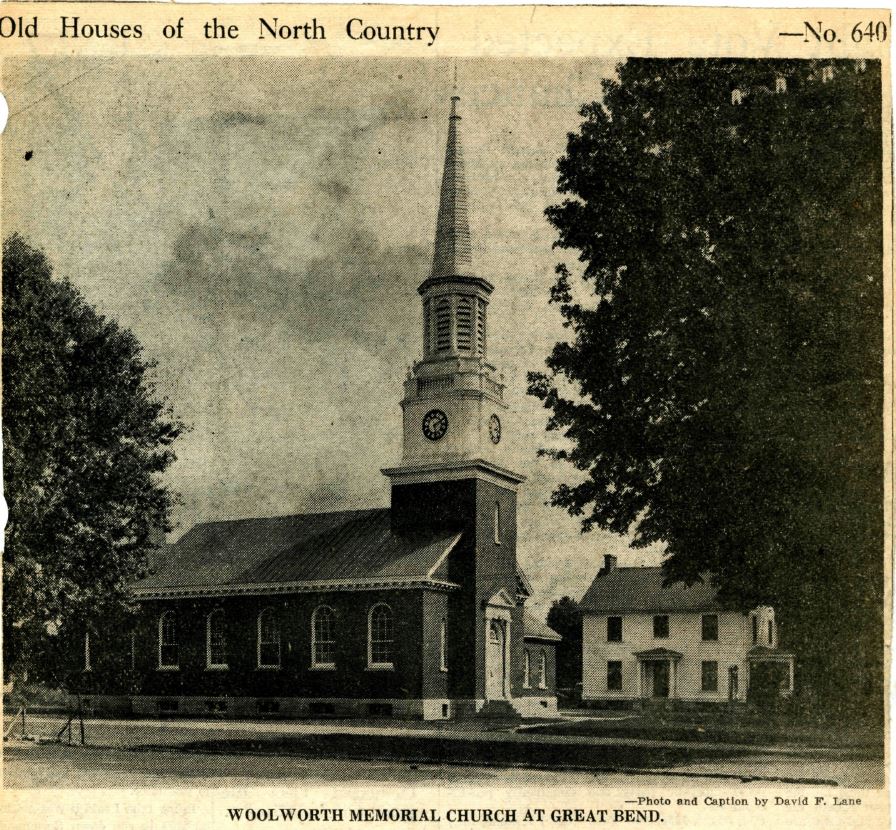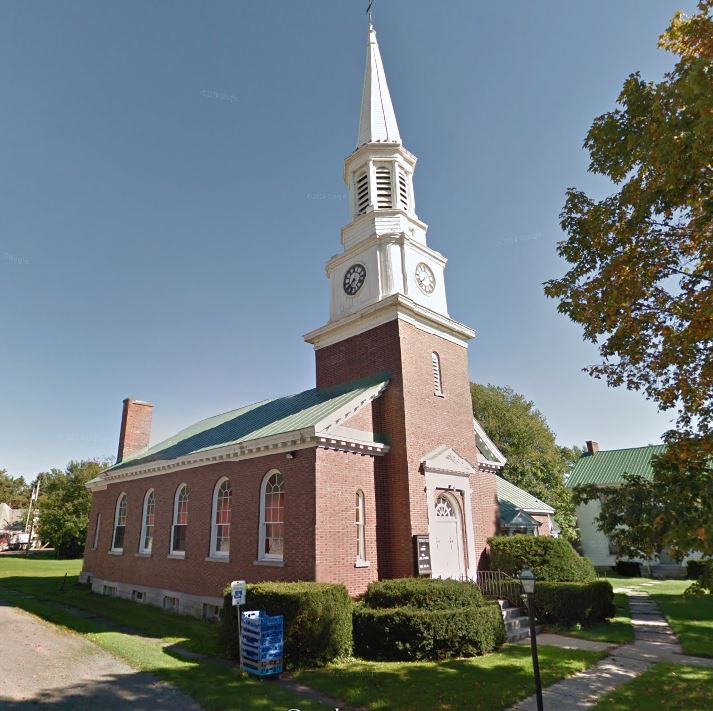 One of the most beautiful churches in northern New York is the Methodist church at Great Bend. It is of tapestry brick, finely designed by the late Albert M Skinner, Watertown architect, and has an exquisite white classic entrance, white, dentilled cornices and tall, graceful spire with clock. It was built as a memorial by Frank W Woolworth to his parents, the late John Hubbell and Fanny McBrier Woolworth, and symbolizes the warmth of deep affection that he had for members of his family.
It stands within a stone's throw of where his parents lived when he was a young man. Ground was broken for it May 26 1914 the cornerstone was laid the following July 21 and September 15 1915 was dedicated by Bishop John W Hamilton, with Reverend Burt J Davison, its first pastor. Mr Woolworth, with his wife, his three daughters, Mrs Helena McCann, Mrs Edna Hutton and Mrs, Jessie Donahue, and his brother, Charles Sumner Woolworth were present.
The church occupies the site of the old wooden church erected in 1887 and attended by his father but not by his mother, who had died February 15 1878. She and her husband had attended the First Methodist church of Champion, which had been built two miles further away in 1826. Aside from the Moore & Smith store on the American corner, city, it was the third structure with which Frank Winficld Woolworth, founder of the great Woolworth chain of five-and-ten cent stores, had had intimate contact in Jefferson County. The other two were his birthplace in the town of Rodman, and the house on Franklin Street, city, where he lived when he was first married. Unfortunately, the farmhouse of his parents near Great Bend burned about seven years ago, making it impossible to obtain a contemporary picture of it.
The present Woolworth building on the American corner, which houses the home offices of the F W Woolworth company, was not erected until 1920. While Mr Woolworth planned for the erection of that building to realize a dream he had long cherished, it was tragic that he died April 18 1919 the year before it was constructed. There, each May, the annual meeting of the Woolworth company is held in a directors' room set aside for it. Outside of Watertown and Jefferson County, Mr Woolworth had many places with which he was closely associated.
There was his first successful store in Lancaster, Pennsylvania. But his great pride was the great Woolworth building designed by Cass Gilbert which stands 792 feet above the sidewalk at Park place and Broadway, New York City. It was constructed in 1912 financed by Mr Woolworth without any mortgage indebtedness and formally opened April 24 1913 when President Woodrow Wilson pressed the button in Washington that flashed on the building's 80,000 electric lights. It was then the tallest building in the world, and high in its tower was the famous Empire room copied from Napoleon's palace at Compiegne in which Mr Woolworth had his private office.
Mr Woolworth also had his house at 990 Fifth avenue and his great Versailles-like mansion, Winfield Hall, at Glen Cove, Long Island, with its enormous and beautifully landscaped grounds with fine drives and walks, trees and shrubbery, and along the drives were many beautiful pieces of statuary.
Yet with all of the grandeur of environment of his later life, it is doubtful if any places occupied a more nostalgic place in his heart than the home of his birth, the Great Bend home of his parents from which he set out for Watertown to embark on one of the greatest mercantile careers in history, the little house-wing in this city where he brought his bride and where his first daughter was born, or the handsome church edifice which he had constructed as a memorial to his much loved parents at Great Bend.
The picture of this church, shown above, also includes the parsonage of Georgian type which stands just beyond it on the road out of Great Bend to Champion.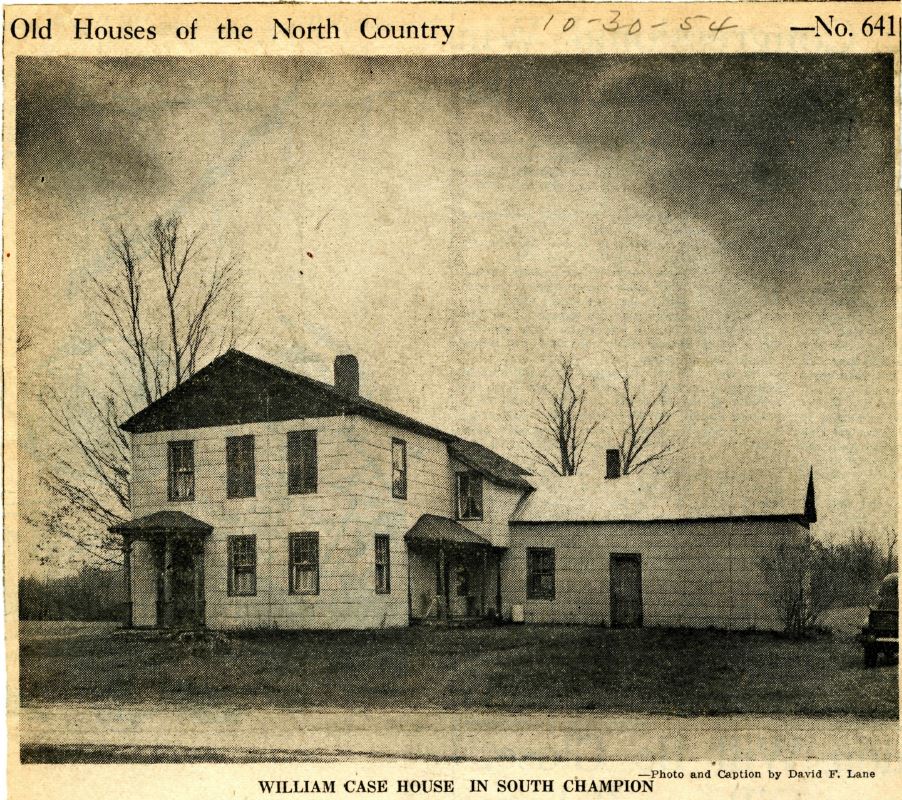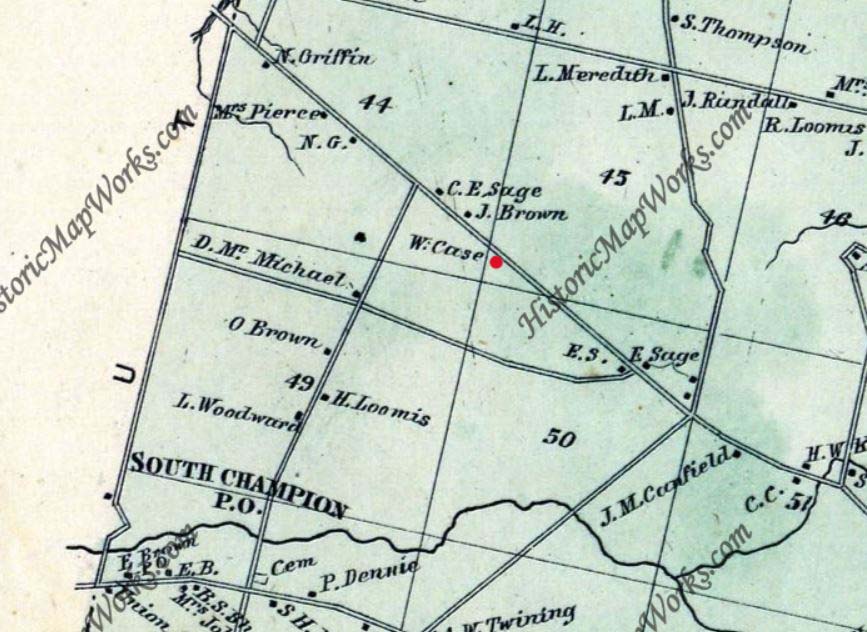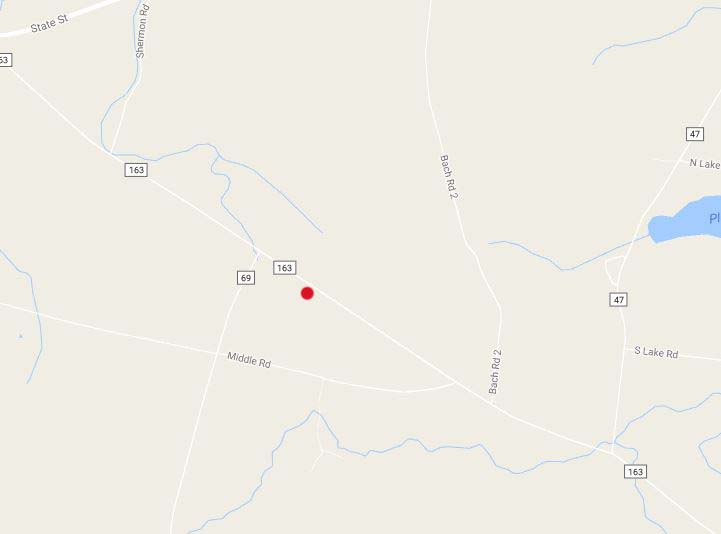 It was probably about 110 years ago that this farmhouse was built, and its original owner is believed to have been Willard or William S Knowles. For 88 years, however, it was the property of the Case family, having been sold out of that family by Fred H Case, city, and Allan B Case, Black River, July 25 1945 to Leon E and Florence E Laribee, Copenhagen. They are the present possessors and occupants.

The farm, upon which the house stands, is next north of the farm of the late Colonel Elias Sage, a builder who clearly recalled the time that the beautiful LeRay mansion was constructed near LeRaysville 1825-7. Located in the southern part of the town of Champion, this house is on the road through South Champion to Copenhagen not far from its junction with the Watertown-Champion-West Carthage road. The Knowles family owned several parcels of farmland in that locale and on July 3 1837 Willard A and Deborah K Knowles sold two parcels of 41.72 acres and 41 acres to William S Knowles, who also acquired from them that day 69.28 acres, but on May 15 1848 William S and Nancy Knowles conveyed the 41.72-acre parcel back to Willard
'who, on January 30 1854 sold Richard Dean four parcels totaling 69.02 acres. On January 3 1855 William S Knowles sold Dean another 60 acres there.
It is known that Dean, his wife, Diadama, and family owned and occupied the house shown above in 1855 and that on February 23 1857 they sold to William Case and John Brown the parcel of 92.08 acres where this house is. On March 11 1857 Bernard and Hannah Sage sold Case and Brown two parcels of 62 acres and fiveeighths of an acre further up the road. On March 21 1863 William and Susannah W Case conveyed their interest in the 92.08 acres to Brown and Brown conveyed his interest in the other two parcels to Case. Mr Case was the son-in-law of Brown and on August 26 1879 took full title to the 92.08 acres where this house is.
William Case was descended from one of three brothers who came to New England from England in the 1630's. A descendant of William's immigrant ancestor settled in Windsor, Connecticut, and in 1732 located in Berkshire, Massachusetts, where a son, Philip, was married to a girl from Wales. They had a son, Abraham, who was born in Berkshire but in young manhood took his horse, gun, plus a few other personal effects and journeyed to Hebron, Washington county, NY. He was the grandfather of William Case and was twice married, his second wife having been the sister of his first. Abraham was the father of 14 children, one of whom, Hiram, became William's father.
Born in Hebron, NY, son of Hiram and Polly Case, William Case, whose first wife was Susan Wilson Brown, daughter of John and Margaret Brown, settled in Pamelia in 1856. The next year they located in South Champion and resided a few years in the house on the 62-acre parcel a little to the south of the one shown above. In that house Fred Hiram Case, 92 teacher, historian, farmer, was born February 15 1862. In 1868 his parents, William and Susannah W Case, bought another farm a short distance north of the house shown above.
There Mrs Case died August 15 1872 and later Mr Case married her sister, Sarah M Brown, moving to the house shown above in 1879. There William Case died April 15 1915 and his second wife in January, 1919. Fred Hiram Case, now of this city, after attending the Champion district school, studied at Perkins academy, taught school in Lewis county four years and then entered the Bochester Business school conducted by Williams and Rogers, graduating in May 1888.
Next he taught at Tilford Collegiate academy at Vinton, IA, and after a year was called to teach in the Bochester Business school. Later he taught at Duquesne university and still later in Child's Business college at Springfield, Massachusetts, until about 1894 when the breaking down of his fathers health necessitated his return to the farm, which he operated until 1944 when he removed to this city. He is regarded as an authority on history of the town of Champion and is a daily visitor at the Jefferson County Historical society museum. Two of his brothers, William J Case and George Case, died some years ago.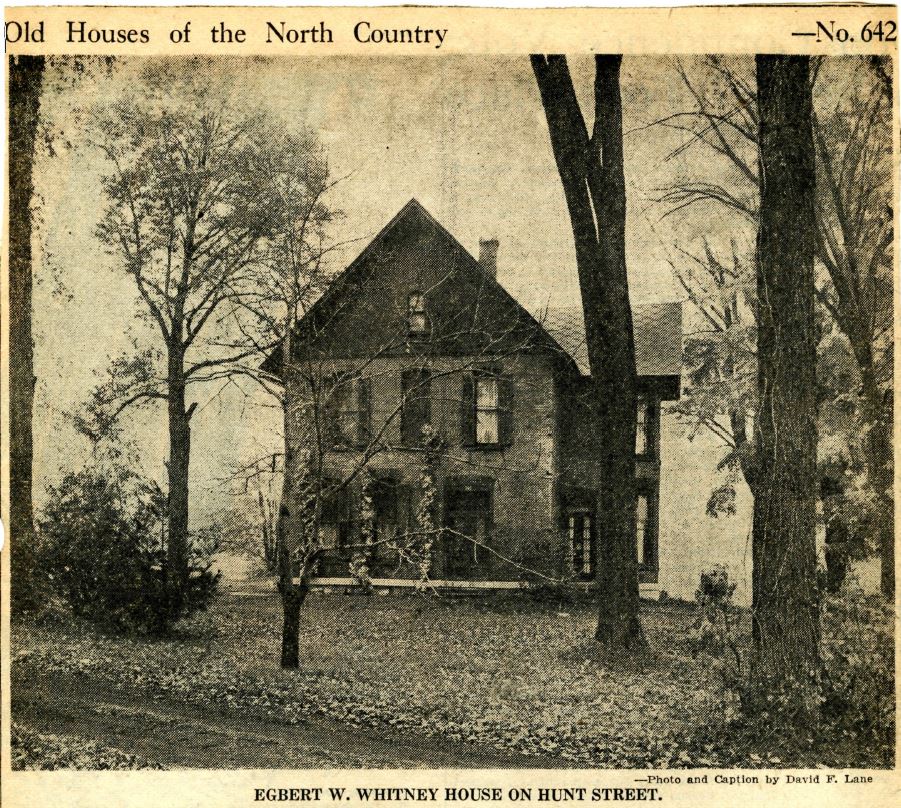 280 Hunt Street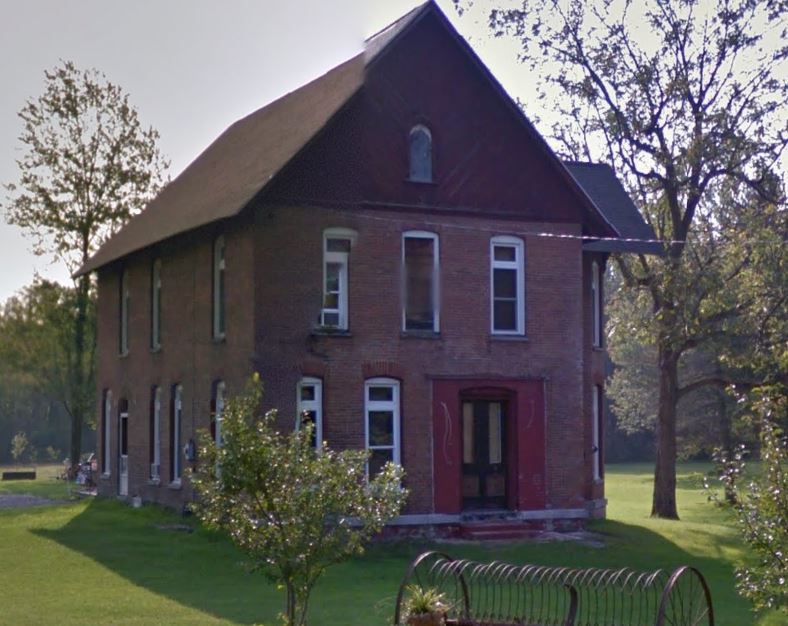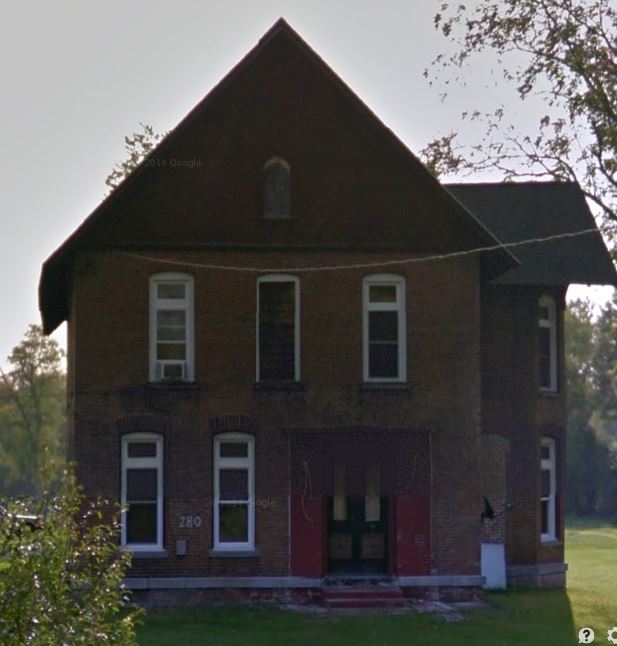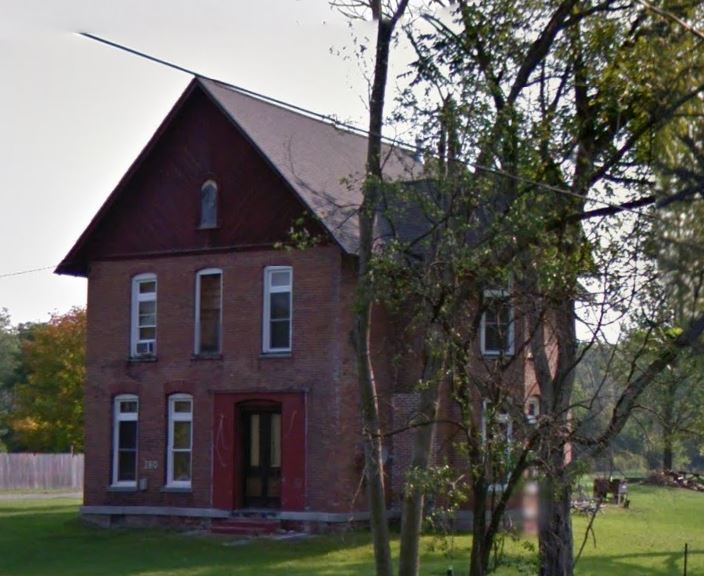 Essential industries first concerned the pioneer settlers of Watertown after their coming in the spring of 1800. As food was a must, grist mills were immediately established. Next came sawmills to provide lumber for domiciles. Brick yards soon followed to create bricks for chimneys. In the triangle between Public Square and the foot of Franklin Street Eli Rogers set up a brick yard in the first five years of the local settlement. Brick from this were used by William Smith in constructing in the summer of 1806 his brick business block on the site of the present YMCA It was the first brick building in Watertown.
Later other brick yards were set up here. The county industrial and business directory of 1886-7 shows that Caleb Henderson had one at Arsenal and Howk Streets; Alonzo M L Peterson had one at Huntingtonville and Egbert D Whitney had another on a crossroad near Huntingtonville. On November 1 1869 Alonzo M L and Jane A Peterson sold Whitney two parcels. One of one acre beginning in the center of the river road at Huntingtonville and running along the west side of the burying ground. The other of 6.59 acres beginning at the river-edge at the northwest corner of Chauncey Dressor's and running to the center of Cold creek. Peterson had bought it from the H D Sewall estate March 15 1851.
On February 6 1870 Whitney acquired 20 more acres from Lucy Stewart, Mary A and Amos Goulding touching Frederick Woodruff's and Daniel Smith's lands. On February 27 1872 Whitney bought .9.1 of an acre on the north end of the present Hunt Street near Cold creek, and about the same time 4.73 acres and .94 of an acre from Charles H and Lucy E Whitney.
Egbert D Whitney operated his brick yard until his death February 16 1885 being in partnership with Daniel Smith the first year. In October 1884 he started construction of this big ten-room brick residence on the east side of Hunt Street. It occupies a twelve-acre site and succeeded his homestead frame residence now owned by Edward Godkin further north on Hunt Street nearer the river.
Brick for the house shown above were made by Whitney. The cherry and oak interior woodwork was from timber cut on the site. It was not finished when he died, a conservatory, north bay window and verandah being among the things yet to be added, and which he requested his executor to build. He willed his widow a life-use of his residuary estate including this house, now the property of his granddaughter, Mrs Esther vonRapp Green and occupied by her and her husband, Bernie J Green.
Egbert D Whitney was born in the village of Watertown February 19 1822 son of Captain Job and Sylvia Delano Whitney. At ten Job had come here in 1802 with his father, Job Whitney Sr, from Vermont. Captain Job fought in the battle of Sackets Harbor in the War of 1812. Egbert remained at home until 21 and then engaged in brick making with Daniel Smith. On August 17 1851 he married Anna A, daughter of Joseph Safford of Oswego, a girl of New England lineage.Their children were Juliette E, Franklin C, Etta D, Lillie Belle and Egbert A Whitney.
On June 4 1903 Etta D, married Louis von Rapp, son of a German physician who came from Germany during the Civil War. Louis was an apprentice seaman in the U S Navy discharged June 13 1890 became an electrician and died from an explosion in the city power house October 11 1942. His wife had died in this brick house April 23 1940. She had been a teacher in the little old schoolhouse at Huntingtonville.

Their only child was Esther, born February 11 1906 and married to Bernie J Green of Rodman February 25 1925. They have two children: Richard who married Phyllis Duegaw, Carthage, and have one child, Richard; and Edith who married Robert Zacker, killed in Korea in November, 1950 leaving his widow and a son, Lawrence.
This house came to Mrs Etta D vonRapp from her mother and passed from Mrs vonRapp to Mrs Green. The brick yard has long been idle but on January 25 1896 was leased by Mrs Whitney and Mrs von Rapp to Rollin N Calkins. Egbert D Whitney owned considerable property at various times including 25 acres in Champion, land on Emerson and Hamilton Streets and December 10 1847 bought property from Job Whitney near the old court house and the tavern of Jairus Rich on lower Court Street. It ran to the river bank and near the Tubbs & Canfield hat factory. Some of it had been owned by Henry Delano as early as 1828 and some of it by Job and Sylvia Whitney as early as 1836.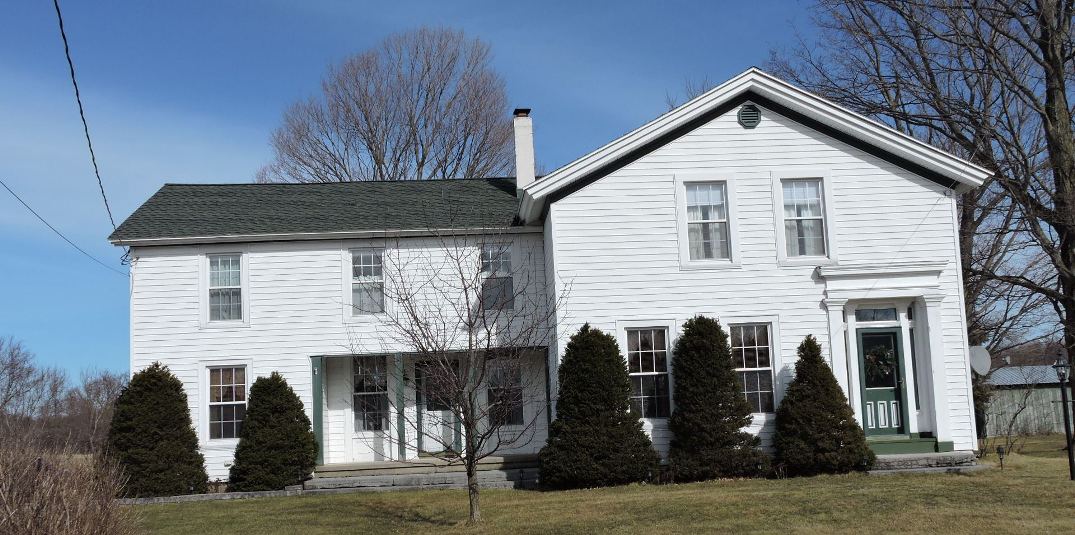 A little way north of Champion Huddle on the road from Champion to Great Bend is this attractive old farmhouse nicely shrubbed and set off with beautiful big old trees. It may have been built in the early 1820's by Jeremiah Babcock, father of William Powers Babcock and grandfather of Henry Holmes Babcock, founder of the H H Babcock Buggy company of this city. Or it may have been erected by Alfred Lathrop a little earlier than that. Jeremiah Babcock was descended from James Babcock who was born in England in 1612 and was first recorded on this side of the Atlantic at Portsmouth, RI, in 1642. Later he settled in Westerly, RI, where he died in 1679 and where the family remained for several generations.
On November 23 1766 Jeremiah Babcock was born at Westerly, son Of Christopher and Mehitabel Chalker Babcock. Prior to 1800 Jeremiah removed to Hamilton, Madison county, and from there came to Champion about 1820. On April 29 1823 he paid Alfred Lathrop $1,300 for 158.75 acres in the locale of this house. He was married to Amy, daughter of William Angell, January 5 1792 and had ten children, two of whom were Joshua, father of Henry Holmes Babcock; and William Powers Babcock.
Amy, wife of Jeremiah Babcock, died February 17 1835 and Jeremiah died April 9 1847. Under the terms of his will all of his real estate, including this house and farm plus all of his personal property not specifically bequeathed went to his son, William Powers Babcock.
William Powers Babcock was born at Exeter, NY, September 2 1809 and came with his parents to the town of Champion, where he was educated. On November 25 1830 he married Roxy Lewis, a native of Champion and daughter of Esquire Eseck Lewis, who was long a town of Champion magistrate. William Powers Babcock was not only a prominent farmer but held several town offices.
Among them was the town highway commissionership. Also he was assessor for several terms. Besides farming he operated a number of cheese factories, one of which was near this house. He was a devout Methodist and staunch Democrat. His children were William A, Esther who first married Samuel McNeil and second Elisha Greenfield, Lysander W, and Elizur and Eliza who were twins.
The American hotel, which stood where the Woolworth building is on the corner of Arsenal Street and Public Square, was a leading Watertown hostelry in the early 19th century. On March 19 1841 Charles Perkins leased it from John Brown. To secure a debt of $800 Perkins assigned the lease to George W Hungerford August 31 1842.
A little later, with Hungerford's consent, Perkins leased this tavern stand and stores to William Powers Babcock, his brothers, Christopher Babcock, Elias Babcock and Ambrose Spencer Babcock, and Noah Perkins, to cover a $2,400 debt to them. William Powers Babcock died in 1877 leaving a will executed March 22 1875 by which he gave his widow, Roxy L, a life-use of this house and farm, except the cheese factory, the use of which he gave to his daughter, Mrs Esther McNeil on condition that she reside with her mother as long as the latter lived. After the death of Mr McNeil, Esther married Elisha B Greenfield, son of Elisha Greenfield who had come from Trenton, NY, to locate in Champion in 1823.
To satisfy a mortgage given to Jules Rene Payen the property was sold by Sheriff Levi Washburn to Attorney John Lansing of this city June 27 1891 and the same day Mr Lansing conveyed it to Elisha B Greenfield, the acreage then being 139.775. On March 11,1899 Mr Greenfield disposed of the property to Charles Feistel. On October 20 1942 Charles F Feistel, widower, Carthage, R D 3 conveyed the house and 137.775 acres to Raymond E and Hazel F Murdock, the present owners. Mrs Murdock is a daughter of the Charles Feistel who died at 85 on April 29 1944. Mrs Murdock's mother, who died April 2 1920 was the former Miss Nellie Petty of Philadelphia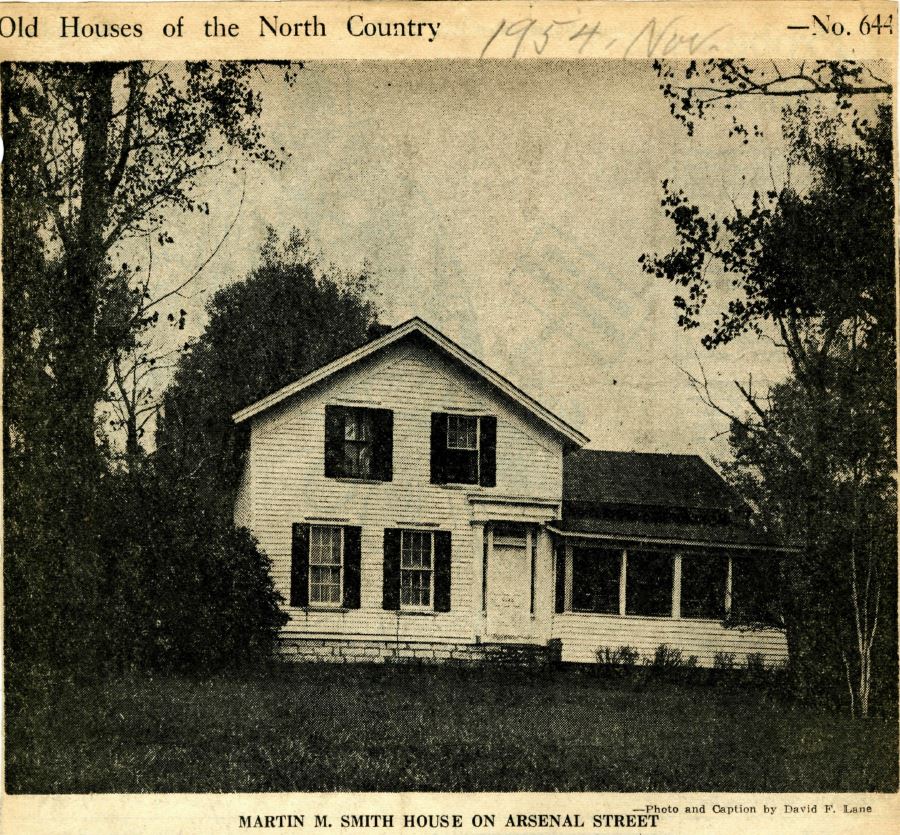 Always immaculate and maintained in as fine condition as a recently constructed house is the old Smith residence at 1142 Arsenal Street, at the western outskirts of the city; It has the distinction of having been the home of one of northern New York's most noted schoolteachers, Miss Delia V Smith, who died last June 25 aged 88 with a 53-year record of teaching, most of it in Cooper school, of which she was long the principal.
She lived in the house her entire life. The house also has the distinction of having been the home for a number of years of two men who became prominent Watertown physicians, Dr J Monroe Smith who died May 10 1935 and Dr M Lee Smith who died January 19 1938 brothers of Miss Delia V Smith.
For approximately 90 years the house and nearly 45 acres of lands have been owned in the same Smith family. The present owner is Mrs Theodore H (Marietta Lee Smith) Forepaugh, daughter of Dr M Lee Smith who, with Miss Delia V Smith owned the house jointly and who resided there at the time of his death. Mrs Forpaugh, whose husband is in the engineering department of the St Regis Paper company, inherited the interests of both her father and aunt in the property.
The house, of twelve large rooms, beautiful front entrance and original small-paned windows, undoubtedly is more than a century old and may have been the original home of A Palmer Smith who, with his brother. Timothy A Smith, were extensive hop-growers and owners of hundreds of acres of land in that area a century ago. A map of 1864 shows that the place was the property of Lewis Loomis at that time, and a deed of January 16 1861 shows that Lewis H Loomis, Champion, paid Timothy A & A Palmer Smith $1,100 for a parcel of ten acres and another of 9.51 acres there.
On January 3 1865 Lewis H and Eliza P Loomis sold those two parcels to Martin M Smith of Stockbridge, Madison county, for $4,087.50 the price indicating a house on the site at that time. Martin M Smith, grandfather of Mrs Forepaugh, was a native of Germany and also was a hop-grower at the western end of the city. The deed to him of the tenacre and 9.51-acre parcels from Loomis states, that the ten acres came off 46.91 acres owned by Thomas and Julius Wheeler June 14 1849.
Martin M Smith married Sarah M Stewart, onetime residents of Munnsville. In 1916 he died at 86. She died three years later but it seems that for many years she had title to this homestead property and on December 22 1911 deeded it and its 45.75 acres jointly to Dr M Lee Smith and his sister, Miss Delia V Smith. A deed of January 26 1872 states that the Martin M Smith homestead of 45.75 acres was acquired by Sarah M Smith from Warren and Mary Bridges. Bridges got the same property from T A & A P Smith for $6,405 on January 26 1871.
That deed states that it is the same which A P & T A Smith bought from Guevera M and Martha I Wait December 16 1871. A judgment of $1,096.86 docketed October 12 1869 in favor of Wait against Martin M Smith may explain how the homestead got out of Martin M Smith's ownership and three years later into the hands of his wife, for after coming to Watertown from Stockbridge in 1864 Martin M Smith purchased two other parcels of land besides the two purchased from Lewis H Loomis, and the four parcels totaled 46.16 acres which amount corresponds closely to the 45.75 acres mentioned in the deed of 1872 to Sarah M Smith.
These two additional parcels which Martin M Smith purchased consisted of ten acres from John and Margaret M McCutchin January 3 1865 the same day that Smith bought the ten and 9.51 acre parcels from Lewis H Loomis and wife. The fourth parcel bought by Martin M Smith was from John and Rosa Casey on January 11 1866 and consisted of seven acres which, the deed said, adjoined the land already owned by Smith and adjoined the latter's west line.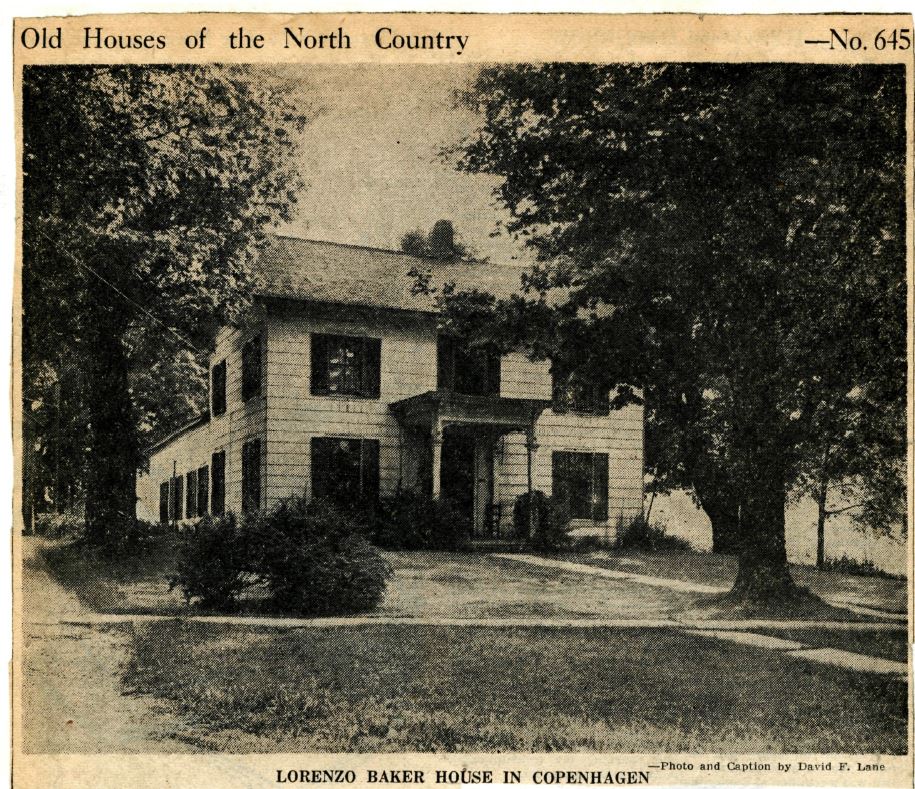 One of the stately old mansions in the village of Copenhagen is the Lorenzo Baker house erected in 1838. For the last 42 years it has been the home of Mr and Mrs Harry J Henry and it is filled with many beautiful antiques, historical documents and relics for Mr Henry, historian, is the historian of the town of Denmark, Lewis county.
Lorenzo Baker, whose wife is believed to have been Emily Canfield, died December 26 1864. He was one of the leading shoemakers of Lewis county and his shop, which still stands, is directly across the street from the house, and his original account book which shows the names of his first patrons is in the possession of Mr Henry. Baker was Emily's second husband, her first having been Nathan Marvin, and strangely the house was built by Lorenzo on land which he did not own, but which had been purchased by Marvin.
From the Marvin marriage Emily had two sons, William Wallace Marvin and George C Marvin. From the Baker marriage she had a son and a daughter, Lorenzo M Baker and Adeline E Baker who married Major Charles F Smith, a Civil War veteran. The house is on a two-acre lot, which is part of a five acre tract purchased by Nathan Marvin from Julius and Mira Cone, Harrisburg, March 14 1820 for $300. On January 10 1852 George C Marvin and wife, Cynthia M, quitclaimed their interest in a three-acre portion containing the house and barn to Emily Baker and William Wallace Marvin. On the same date Emily Baker and William Wallace Marvin quitclaimed the other two acres to George C Marvin. Thus the original five acres was split up.
On October 5 1864 Emily Baker and William Wallace Marvin conveyed the house, barn and three acres to Adeline E Smith. So the title remained until Adeline's death early in 1908. Originally, it is said, her name was Emma Adeline, but later she switched the order. Also it is said her mother's name was Emetine rather than Emily. Some time before the Civil war Adeline E Baker was married to Major Smith and together they resided in this house many years. In her will Mrs Smith gave her husband a life-use of the property and then outright lo her brother, Lorenzo M Baker.
Major Smith died in 1911 and September 6 1912 Lorenzo M Baker, then of Columbus, Ohio, sold the property to Mrs E Florence Henry, wife of Harry J Henry. Before his retirement about 1936 Mr Henry was of state-wide political prominence. He was born upon a farm near Copenhagen, was graduated from the Copenhagen High school, taught school for six years and then was school commissioner for another six years, having 110 Lewis county schools under his supervision.
On January 1 1919 he was chosen from competitive examination to the post of animal husbandman in the State division of agriculture. Later he was promoted to assistant director of animal industry and from that he moved up to the responsible position of director of animal industry.
His next promotion was to assistant commissioner of agriculture and markets of the State of New York. During his approximately 17 years in that department he served under Commissioners Charles S Wilson, George E Hogue, Berne A Pyrke and Peter G TenEyck and under Governors Alfred E Smith, Nathan L Miller, Franklin D Roosevelt and Herbert H Lehman.
Mr Henry is a Republican. He has always been deeply interested in the history of northern New York, and last spring was chairman of the ceremony attending the unveiling and dedication of the State marker at the old Freedom Wright tavern at Denmark where the convention was held in November, 1804 that resulted in the formation of the twin counties of Jefferson and Lewis.
His residence is one of large, commodious rooms with a beautiful central hall and fine stairway. It is one of the most historic ones in Copenhagen, and is nicely located in the heart of the village, but just off the main-traveled route. Not far away is the picturesque Deer river.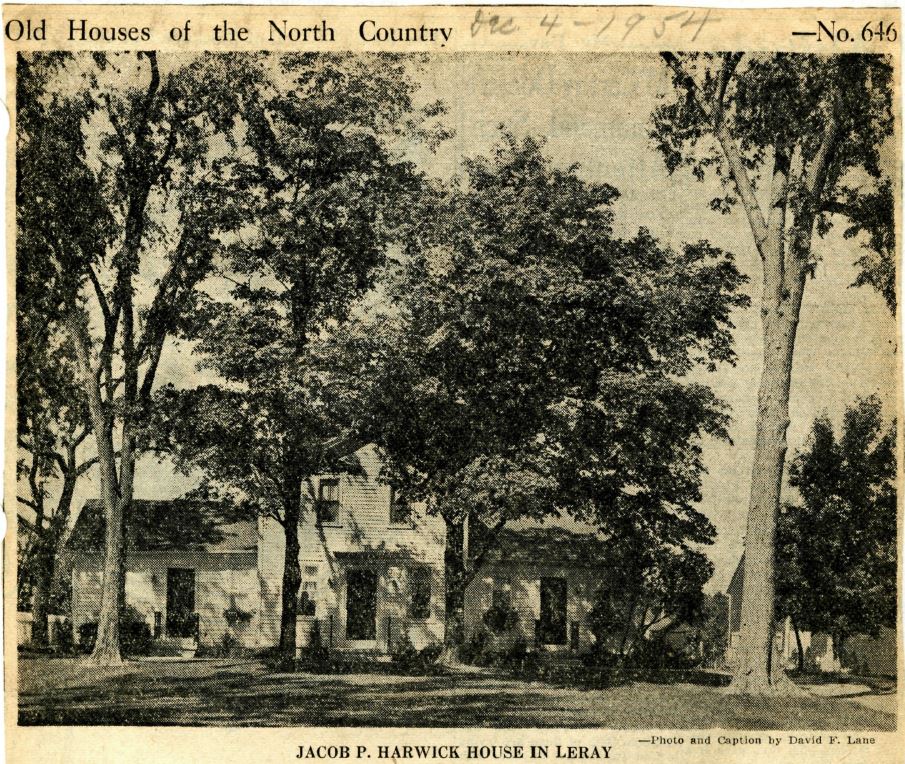 A beautiful country place is that of Mrs William E Love of Chicago on the north side of the old Military road in the town of LeRay, about two miles beyond Pamelia Four Corners.

It was probably built about 117 or 118 years ago by Jacob P Harwick and remained in the Harwick ownership about 87 years. For the past 27 years it and the 77.60 acres of land that goes with it have been the property of Mrs Love, the former Miss Lcla Mae Wicks of the town of Antwerp. Many things' conspire to make it an ideal country residence. One of these is its setting among tall elms and other trees. Another is its location, far back from the highway, with a broad and deep lawn spread out like a thick-piled green carpet in front of it.
The house itself is of simple but attractive architecture with handsome central main entrance and balancing wings. It is completely symmetrical and maintained in the most sound and immaculate condition. The original small-paned windows have been replaced with larger ones, but Mrs Love has done much to rehabilitate and enhance the house with ornamental iron rails at each of the three front entrances and by tasteful landscaping. The history of the property goes back more than a century and a half to the Antwerp Company of Holland, which invested in a vast expanse of northern New York wilderness.
On December 6 1830 the Antwerp company representatives sold this farm's two parcels of 57.00 acres and 20 acres, excepting the quarter-acre schoolhouse lot, to Joseph Wyeth of the town of LeRay. Then, on August 3 1835 Joseph and Sarah Wyeth disposed of it to Parker Wyeth, town of Denmark, and on September 11 of that year he sold to Joseph Harwick, town of Warren, Herkimer county, for $1,314.93 which indicates that the house may already have been built.
Joseph Harwick kept the place only until March 2 1836 when he conveyed it to Jacob P Harwick, who was probably his son. How long Jacob Harwick owned and occupied the property is not shown by county records, and later possession passed to John K Harwick. John's wife, Rose M Harwick, was a sister of the late Stephen N Gould, LeRay, father of William S Gould, president of the Savings & Loan association of Watertown. Mr Harwick was a breeder of grade Ayrshire cattle. John K Harwick died December 26 1923 survived besides his widow by a sister, Cornelia M Harwick. On April 25 of that year, Mrs Harwick quitclaimed her interest in this property to George W and Bessie C Closs of this city, and to them on April 28 1924 the interest of Cornelia M Harwick was quitclaimed. On October 29 1926 Mr and Mrs Closs sold to Dr John P Kane, DeKalb, IL, formerly of this city.

Joined by Mrs Kane, who was the former Miss Leta Mae Wicks, Dr Kane transferred this place to Attorney Howard B Donaldson, city, on June 3 1927 and three days later Judge Donaldson conveyed it back to Mrs Kane. Dr and Mrs Kane used it as their summer home until his death. About 1946 Mrs Kane was married to William E Love, a business man who had offices in Chicago, New York and San Francisco. Mr and Mrs Love continued to use the property as a summer home until Mr Love's deatli at his home in Oak Park, IL September 16 1951 at the age of 67. Since then Mrs Love has continued to use the place as before.
Mrs Love is the daughter of the late Wallace A and Martha Evans Wicks. Mr Wicks, son of Benjamin and Emily Puffer Wicks, was born on the homestead near Oxbow in the town of Antwerp, December 23 1856 and died at his home near Pamelia Four Corners June 19 1941 aged 84. His wife died on October 1 of that year, aegd 79. She was a daughter of Charles and Elrika Evans of Alexandria Bay. Mrs Love was one of their eight children.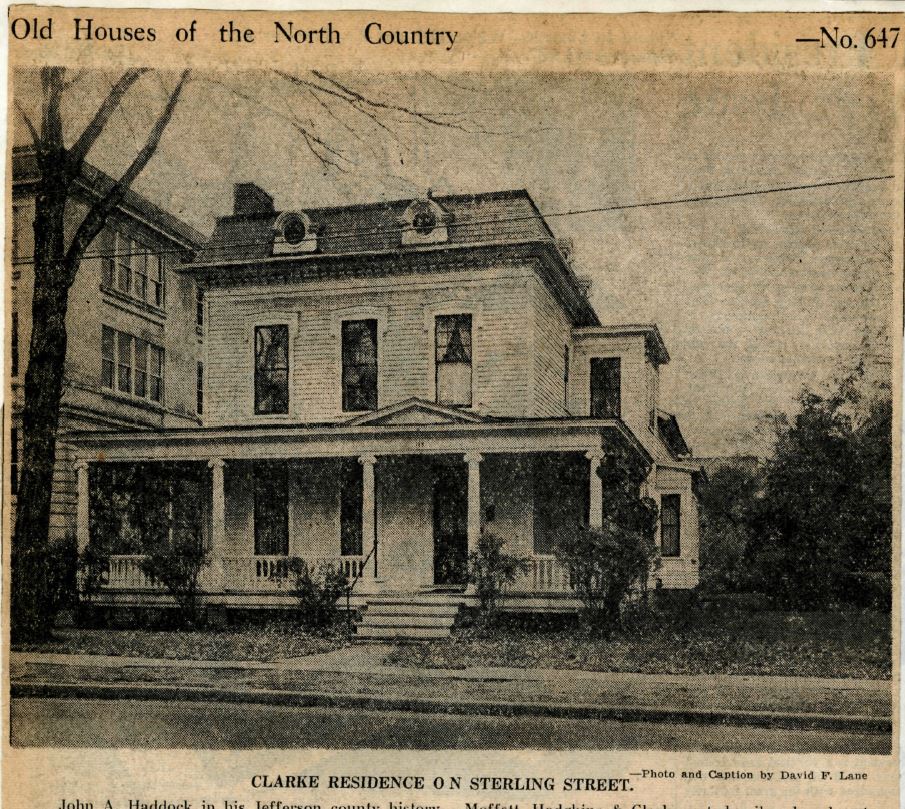 John A Haddock in his Jefferson County history characterized Charles E Clarke, lawyer, Whig assemblyman, congressman, and Jefferson County industrialist of a century ago, as one of the most able and outstanding men this county has ever had. Mr Clarke was of old New England ancestry. Son of Ezra and Betsey Whittlesey Clarke, he was born in Saybrook, Connecticut, in 1789. was graduated from Yale, began law study in Greene county, completed it in Watertown and was admitted to practice in 1815 establishing his office here. In 1825 his brother, John, born in Saybrook May 1 1799 was admitted to the bar and joined him under the firm name of G E & J Clarke. It was one of the leading ones in Watertown at the time.
While Charles E Clarke bought a grisl mill, sawmill and distillery in Great Bend about 1830 from Angel Poller, he later removed there giving most of his attention to these enterprises. In 1839-40 he was assemblyman and in 1848 congressman, but for a number of years continued to try important lawsuites and up to 18.50 aided his brother in the preparation of cases.
In 1845 he built the four-story limestone grist mill at Great Bend which later became the plant of the Great Bend Paper company incorporated in February 1868 with George W, Clarke president. When the present county court house was completed at the corner of Arsenal and Sherman Streets Charles E Clarke made the dedicatory address October 7 1862. Charles E Clarke was married to Miss Hannah Sanford. Their children were John Victor Clarke, Juliet, Florence, and Charles E Clarke Jr. Charles E Clarke died at his Great Bend home December 8 1863 and later his widow removed to this city, purchasing the bouse shown above from Mayor George W and Mary E Flower on August 30. 1869. The house was probably built about that time, was immediately west of Attorney John Clarke's residence, and immediately east of Mayor Flower's Sterling Street brick apartment house.
John Victor Clarke, born at Great Bened November 14 1859 came to Watertown with his mother, sisters and brother after his father's death and was educated in the Watertown schools. He then went to work for George B Phelps, extensive railroad contractor, learned civil engineering and, with John F Moffett and H C Hodgkins formed the construction engineering firm of Moffett, Hodgkins & Clarke noted railroad and waterworks builders for a number of years in the west. They later removed to New York City where the firm ultimately dissolved. Mr Clarke then went to White Plains and became president of Le Valley Carbon Brush company.
He died June 9 1904. In 1884 he married Miss Lucile Copley, daughter of Hiram Copley of Chaumont. Their children were John Victor Clarke Jr., Copley Clarke and Carree Rosalind Clarke. Mr Clarke was a member of the Colonial and Knowlwood clubs and the Larchmont Yacht club.
His mother, Mrs Hannah Sanford Clarke, and her daughters, the Misses Juliet and Florence Clarke, continued to live in this Sterling Street residence for many years.
On October 9 1899 Mrs Hannah S Clarke sold this property to Frederick S Flower, son of Mayor George W Flower, and to Mr Flower's wife, Hilda Clarke Flower. On April 6 1907 they disposed of it to Mrs May E Robinson, a sister of Frederick S Flower, and on December 26 1916 Mrs Robinson sold to the late John Byron Taylor, father of Frederic H Taylor Sr, and Attorney Roswell F Taylor. On June 9 1917 John Byron and Edith Mac M Taylor disposed of the property to the late Hiram J Wright, then of 274 Ten Eyck Street.
Mr Wright was a leading contractor and builder in northern New York for many years and, on May 23 1943 conveyed title to this house and lot to his wife, Mrs Marion Balmat Wright of northern New York's noted pioneer Balmat family. Mrs Wright continues to occupy the property with her daughter, Miss Kathryn F Wright. The house is of a Mansard roof type and may be close to 90 years old, as the property at one time belonged to N B Hungerford, who bought the site from Russell Woodruff Sherman and wife, Martha A Sherman, February 18 1853 for $1,700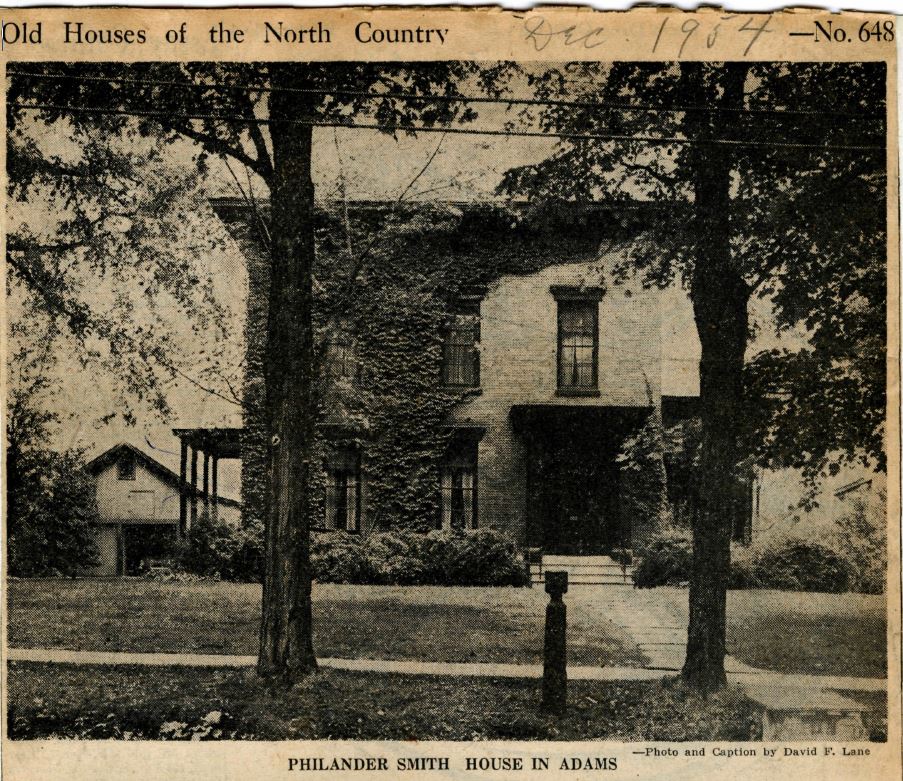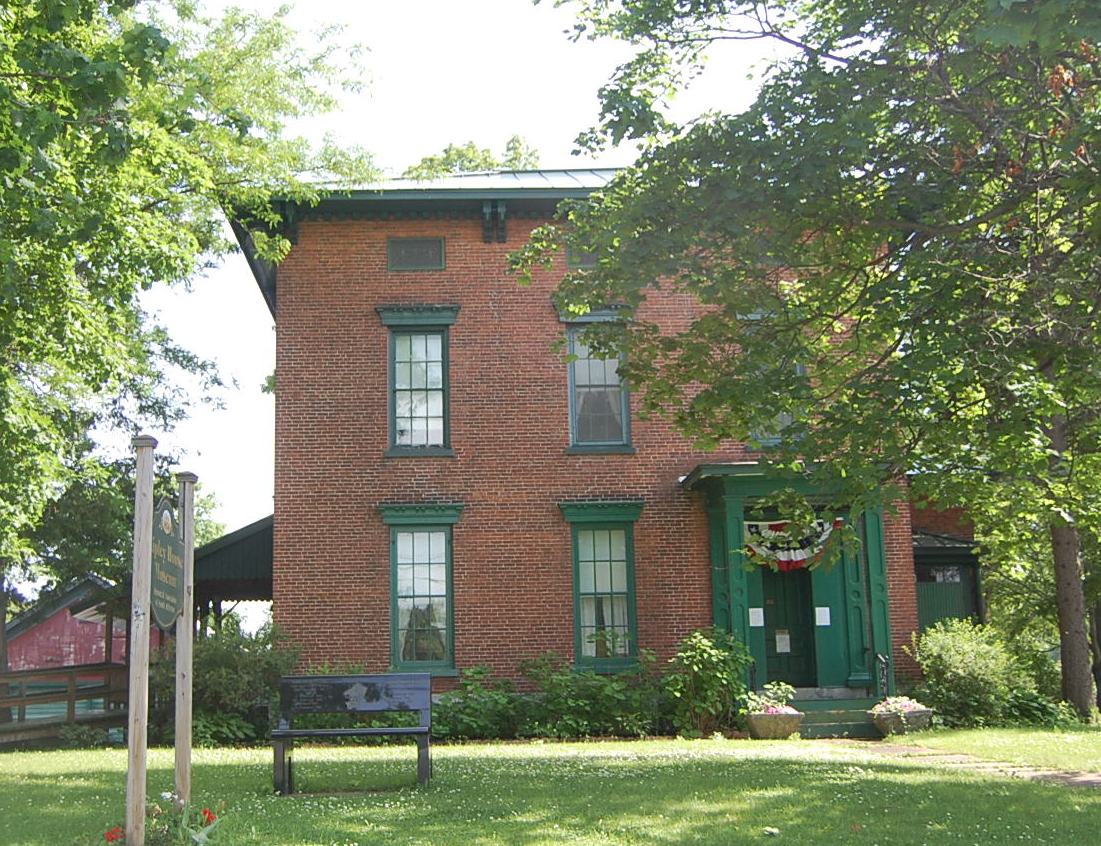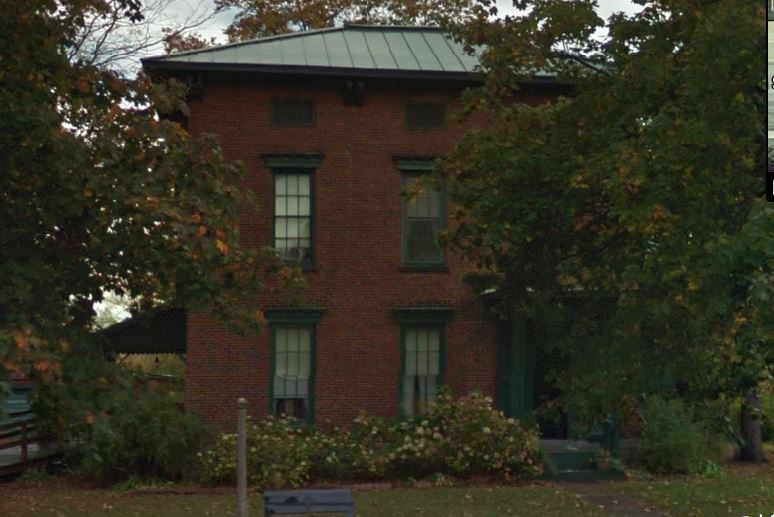 This large, square, brick house, one of the finest residences in the village of Adams, was built by Philander Smith in 1854-6. Philander, one of the first trustees of Hungerford Collegiate Institute as well as one of the original directors of the Hungerford bank when it was originated September 1 1853 was a son of David Smith, founder of the hamlet of Smith's Mills, later named Adams.
David Smith came in the spring of 1800 taking up 500 acres of wild lands at $3 an acre in the present village area, agreeing to clear a certain number of acres each year. His son, Philander, became one of the leading and most influential men in the village and during his lifetime was engaged in many real property transactions.
Among the parcels were several in the locale of this house, which is next west of the Presbyterian church on the south side of Church Street, which was originally known as Meeting House Square because of the number of churches on it. On February 25 1851 Philander Smith bought of Isaac W Baker a lot on the road leading from the village down the north side of Sandy creek. The lot touched the S D Tarble west line.
On April 15 1851 Philander bought of William W Nellis the old R B Doxtater house and .75 of an acre at the northeast corner of Meeting House
Square, and on February 1 1856 three adjoining lots of Hiram and Sarah B Salisbury, one on the west side of the meeting house lot, an adjoining half acre on Winslow Greene's east line and touching the southwest corner of the Presbyterian church lot, and the third bounded north by the Presbyterian church lot, west by Salisbury's garden, south by Sandy creek and east by land of Seth Gaylord, Asa Tarble and part of the Doxtater garden. All of these parcels arc in the locale of this brick house. June 1 1868 Philander and Adeline Smith sold this brick house and large grounds to Olive A Stearne for $8,000 and July 19 1876 she conveyed it to Richard H Huntington.
The following August 11 Richard H and R Anna Huntington disposed of it to Mrs Arthur J (Roxanna or Roxcene) Brown, and on April 21 1881 she sold the place to Mrs Rufus (Vermeelya E) Ripley, and for more than 70 years it has been in the Ripley family, the present owners being the retired banker, Rufus W Ripley, and his wife, Carrie P Ripley.
The Ripley family is one of the oldest in Adams. Joseph Ripley, son of Abram and Roxy Ann Webb Ripley, was born in Massachusetts and located in Adams in the early 1800's. One of their seven children was Rufus, born in the town of Adams in 1817. He was reared on a farm, educated in Hungerford Collegiate Institute, engaged in the grocery and bakery business in Michigan a number of years, returned to Adams in 1810 and carried on a shoe and furniture business.
On November 14 1840 he married Vermeelya E Wells, daughter of Samuel and Elizabeth Gordon Wells. Of their three children was Adelbert D, born November 25 1841 educated in Adams and later associated with his father in business. Adelbert D Ripley was married July 8. 1867 to Clara Amanda, daughter of William H and Clarissa Averil Gray. Their children were Mary E, Nellie G, Alice M, and Rufus W Ripley, the latter born February 5 1879. Besides his business career, Adelbert D Ripley was town trustee and trustee of the Adams Collegiate Institute. Rufus Ripley died June 25 1883 and the next year his widow, Mrs Vermeelya E Ripley, grandmother of the present owner, bought this brick house.
After the death of Mrs Vermeelya E Ripley this house went to her four grandchildren, of whom was Rufus W Ripley, present owner, who purchased the interests of his three sisters, Mrs Nellie G Hart, Mrs Mary E Hughes and Mrs Alice M Fox on July 31 1915. On July 12 1938 Mr Ripley deeded title jointly to himself and wife. Rufus W Ripley was graduated from Adams High school in 1897 became a clerk in the Citizens National bank of Adams August 15 1901 cashier January 9 1912 and director August 11 1915.
July 3 1919 the bank became the Citizens Trust company with Mr Ripley secretary treasurer. The Farmers National bank joined it in 1932 to form the Citizens & Farmers Trust company, which was bought by the Northern New York Trust company March 24 1947. In 1932 Mr Ripley became treasurer, later vice president, secretary and treasurer. After the Northern New York Trust company acquisition Mr Ripley became an assistant secretary of the parent bank. He was married October 3 1906 to Miss Carrie Peach of North Adams, Massachusetts, and has a daughter, Mrs Frank Steele. He retired January 1 1950 is past president of the Jefferson-Lewis County Bankers association, is treasurer of the village board of education and president of Elmwood Cemetery association.
214 Paddock Street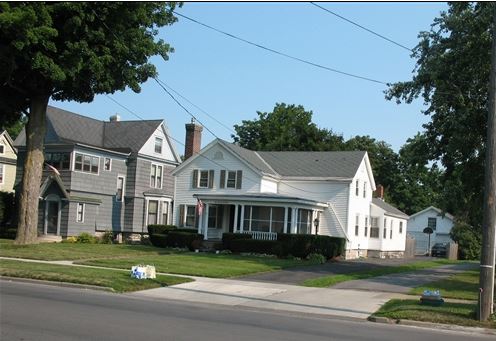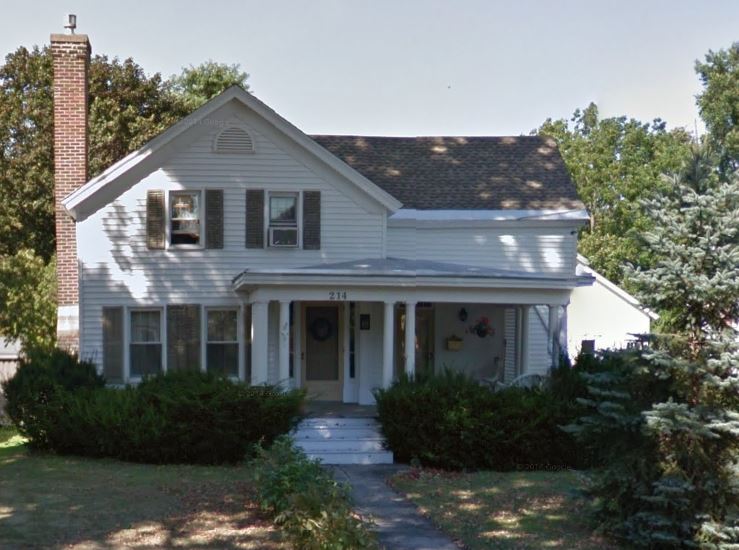 Almost 100 years ago this historic old house was built on the north side of Paddock Street a short distance west of Sherman Street by Reverend Aaron A Thayer and occupied by him until the close of his local pastorate. Reverend Mr Thayer was the second pastor of the First Universalist church of Watertown to occupy the pulpit of the big brick edifice that was built in 1851-2 and dedicated November 4 1852 when Reverend John H Stewart was pastor.
Reverend Mr Thayer succeeded Reverend Mr Stewart and served the church as pastor from 1854 to 1859 inclusive, leaving in 1850 to locate in Syracuse and being succeeded here by Reverend E W Reynolds. The brick church stood where the Electric building now is and was razed in 1906 to make room for that building which became the LeRay hotel. At the same time the present Universalist edifice was built on Washington Street and the name of the church society was changed to All Souls.
While a resident of Syracuse Reverend Aaron A and Mary E Thayer sold this Paddock Street house, the site of which they had purchased from Edwin L Paddock July 30 1855 to John J Becker for $1,771 on October 1 1862. Mr Becker was a music teacher who was living at the Hotel Woodruff in 1855 and at 13 State Street in 1859.
On August 31 1858 he and his wife, Mary F Becker, disposed of this house for $3,000 to John G Harbottle, Daniel W Bickerson, Samuel Clark, George L Davis and William H Wilson trustees of the First Baptist church society and, for a time it was used as a parsonage, although the trustees had conveyed the property to Mr Harbottle for $3,200 on February 23 1870.
Apparently Mr Harbottle never resided in this Paddock Street house, and on October 11 1887 his wife, Marcia A Harbottle, joined with him in selling it to Mrs Eunice D Ball. Mrs Ball was the wife of Henry M Ball, a local produce dealer who had a store on the street floor of the old Baptist church and who was for many years a trustee of the First Universalist church. Mr and Mrs Ball resided on the south side of Paddock Street.
The house shown above was leased for a number of years, the late Dr E S Willard, who was for many years city health officer, having been an occupant for a time.
Ownership of the property remained in the Ball family 33 years and on May 17 1920 was sold by W Drullard Ball, A Rea Ball and Mrs Lorraine Ball Porter, children and executors of Mrs Eunice D Ball to Guy H Miller, district engineer for the New York state highway department in this city. Mr Miller and his family resided in the house about two years and on April 15 1922 he and his wife, Mrs Marguerite Lansing Miller, disposed of it to Mrs Frances S Johnson, widow of John T Johnson.
Mrs Johnson resided in the house for about three years and then sold it to Charles B and Mrs Natalie B Benton, Mr Benton having been a traveling salesman. He made extensive additions and changes in the house and on January 25 1933 disposed of it to Albert B and Katherine D Scholl. At the time of that sale Mr Benton was residing in Fulton. Mr Scholl, present principal of the Watertown High school, has long been a teacher in the city schools and held the principalship of the North Junior High school before attaining the principalship of the high school. For ten years Mr and Mrs Scholl resided in the Paddock Street house, which has been number 214 since 1908 and on November 29 1943 sold it to George H and Josephine Y Balfour, the present owners and occupants.
Mr Balfour is chief accountant at the Watertown National bank, with which he has been connected for many years, and has long been prominent in local Masonic bodies, having been master of Watertown lodge, No. 49 F & A M, high priest of Watertown Chapter, No. 59 R A M" commander of Watertown Commandery, No. 11 K T, and for the past several years has been recorder of Media Temple, A A O N MS, and secretary of Watertown Chapter, No. 59 R A M
Mrs Balfour is the former Miss Josephine Young, daughter of the late Mr and Mrs Peter Young, Peter Young having for many years been manager of the gas division of the former Northern New York Utilities, Inc.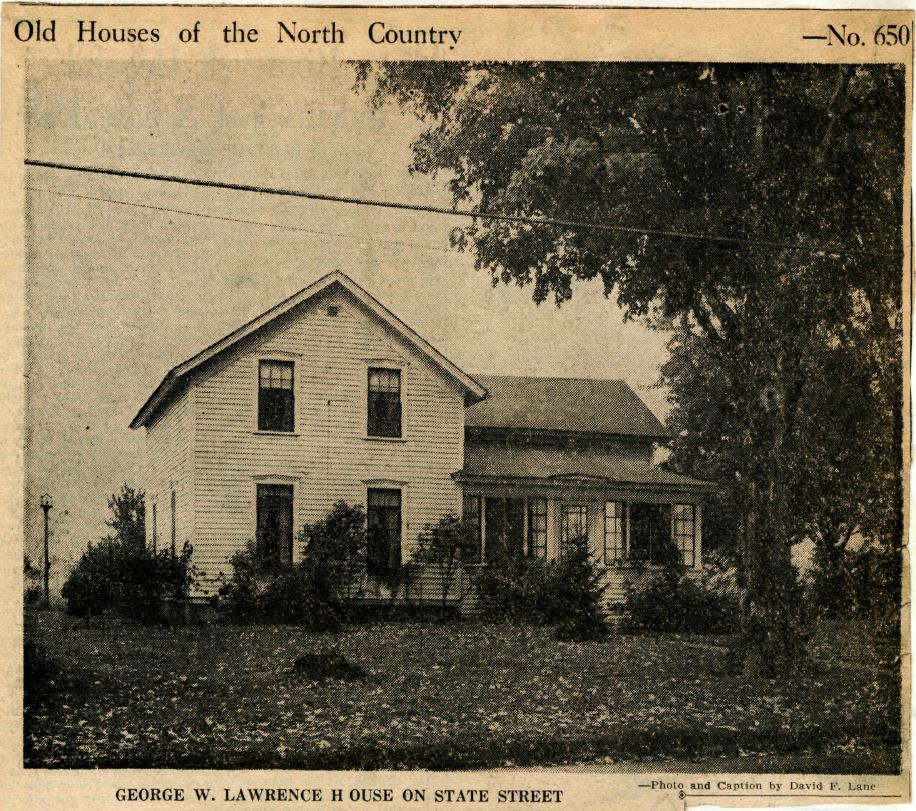 Since September 8 1949 this residence at 1816 State Street, has been the home of Dr Hobart W and Katherine M Tillson and it now carries with it a lot of 120 feet State Street frontage and depth of 325 feet. Members of the pioneer Woodruff family believe the house was built upwards of a century ago by Walter or Gilbert Woodruff, prominent Watertown builders/»f the early and mid-19th century. Whether it was constructed for other Woodruff family members is unknown. It is believed that a little later it was owned by Theodore Tuttle who, likely, was a son of Colonel Gershom Tuttle, one of the earliest pioneers of this area
It was Colonel Gershom Tuttle who, in partnership with Seth Baiiley built a grist mill on the north side of the river in the locale between the Court Street bridge and the present Taggart paper mill in 1806. During the second battle of Sackets Harbor, May 29 1813 Lieutenant Colonel Gershom Tuttle commanded about 400 militia against the British. He eventually moved to Auburn and died in the summer of 1829. Theodore Tuttle was administrator of his estate.
Unquestionably there was a close link between the Woodruff and Tuttle families for the inventor of the sleeping car bears the name Colonel Theodore Tuttle Woodruff, who was a son of Simeon and Rosanna Adams Woodruff. Frederick Woodruff, brother of Simeon, owned the house in recent years the property of Mrs Mabel Bisnett and her husband, the late Walter H Bisnett, next east of this house on the south side of upper State Street. Theodore Tuttle's son, Theodore F Tuttle, was a onetime partner in the Jefferson Flouring Mills here. Theodore Tuttle died in this city July 23 1884 and is buried in Brookside cemetery. His first wife, mother of his children, died July 12 1852 aged 55 and is buried in the Arsenal Street cemetery. His second wife,
Permelia, died February 1 1892 aged 86 years eleven months and is buried in Brookside.
On April 1 1856 Theodore and Permelia Tuttle sold 67.17 acres of land in the locale of this house to his son, Theodore F Tuttle, for $4,250 which the latter broke up into smaller parcels. On April 2 1864 he and his wife Abby sold 7.14 acres to George W Lawrence, who acquired an adjoining ten acres from George and Emily Blanding May 1 1862 and an adjoining 32.5 acres from Martin and Almira Thatcher June 30 1864.
Lawrence was engaged in many Watertown land transactions and enterprises and apparently over-extended himself financially for on September 26 1874 Mrs Mary R T Hinds foreclosed on Lawrence's upper State Street holdings and Sheriff George Babbitt sold the ten-acre, 32.5-acre and 7.15-acre parcels to Roswell P Flower, later governor, for $3,900.
After Governor Flower's death this property passed to his estate and on January 2 1900 Mrs Sarah M Flower and Mrs Emma Flower Taylor, widow and daughter of Governor Flower, disposed of 9.35 acres embracing the lot and house shown above to the late Frederick R and Rebecca Bisnett. The deed states that the 9.35 acres was part of the three parcels of land which Lawrence had owned.
Mrs Bisnett died November 1 1916 and her estate went to her husband, and son, Walter H Bisnett. Fred R Bisnett died July 13 1941 and Walter H Bisnett gained full title to the property. Waiter H Bisnett died March 21 1946. On September 8 1949 his daughter, Mrs John P (Marion Ellen) Constable as executrix of his estate, sold the above house and lot that goes with it out of the 9.35-acre parcel to Dr and Mrs Tillson, present owners and occupants.
Dr Tillson, veterinarian and city meat and milk inspector, to which latter position he was appointed August 5 1939 is a native of Morris, Otsego county. He was graduated from the state veterinary college at Cornell in 1914 and began practice at Oneonta. Later he became county veterinarian of Otsego county.
For five years he resided in Cooperstown and at one time was county veterinarian of Madison county. In 1930 he removed to this city where he has since followed his profession. He has also been a state veterinarian. It is believed that Theodore F Tuttle once resided in this house.