STONE HOUSES, MANSIONS AND OTHER OLD HOUSES
OF THE NORTH COUNTRY
Originally published in The Watertown Daily Times
(730) Articles and photos by David Lane, Newspaper Staff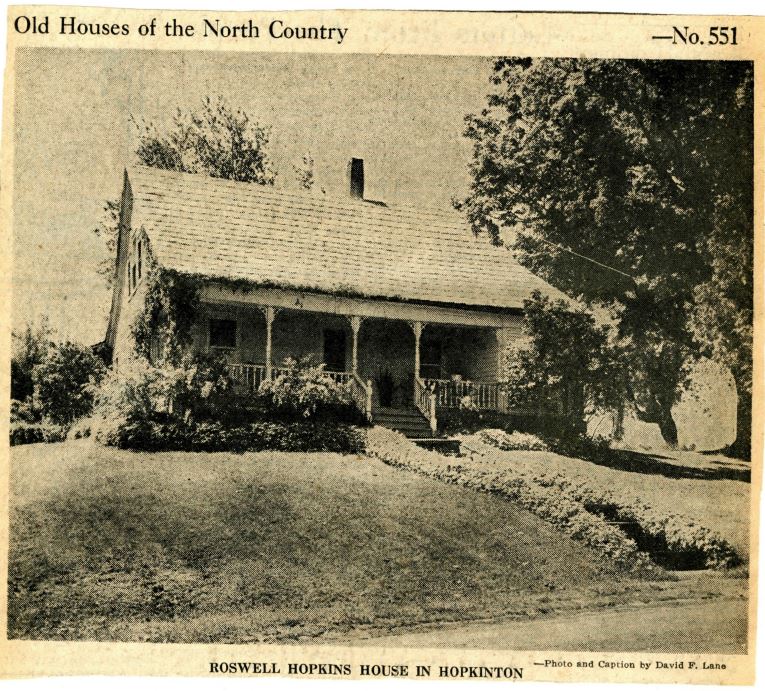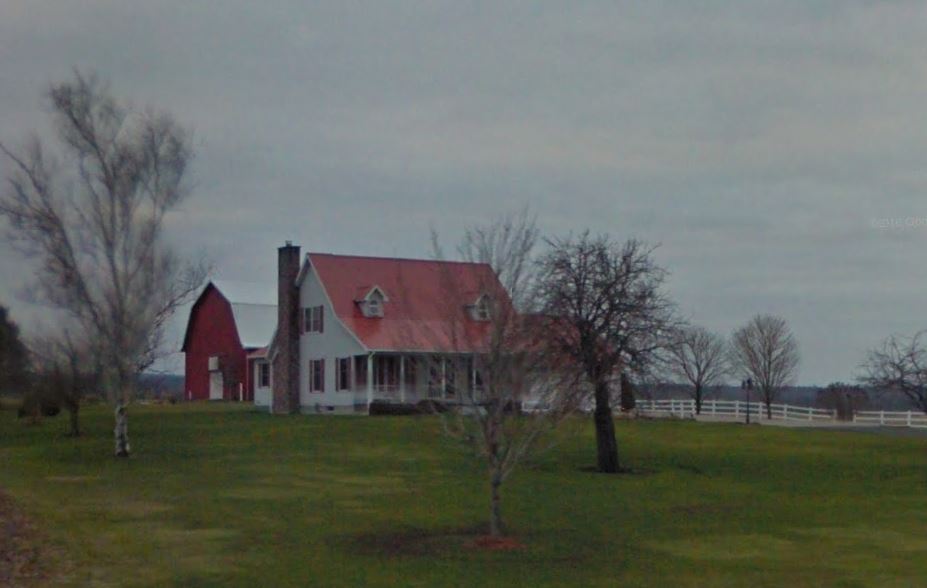 Marvelously well preserved and maintained, environed by fine old trees a beautifully shrubbed well-kept lawn with flower-bordered walks, the early home of Roswell Hopkins believed to have been standing as early as March 1805 sits high and aloof from the south side of the Potsdam highway looking askance at the purling Lyd brook a short distance west of the village of Hopkinton.
Oldest in Hopkinton, which was named for the original owner of this house, it is also one of the oldest dwellings in St. Lawrence county. Home of the founder of a town almost a century and a half old, its ownership by an optimistic pioneer settler, into whose life crept a sad element of tragedy, is rendered historically rich by his many distinctions.
For 14 years Roswell Hopkins had served as the first secretary of state of Vermont. As a youth he had fought in the Revolution's historic battle of Bennington. He had seen Gentleman Johnny Burgoyne of the British army surrender at Stillwater. He was a volunteer in two campaigns at West Point, was captured and held aboard a British prison ship at Newport, RI. He was a lieutenant colonel at Fort Independence and is said to have been made a brigadier general.
He had been clerk of the Council of Safety and had led one of the largest exoduses of Vermonters to settle in St. Lawrence county wilderness. When the town of Hopkinton was legally set up March 2 1805 he was the first justice of the peace and two days later was elected its first supervisor serving until 1809 and 1810-1813 inclusive he was assemblyman from St. Lawrence county. He was the first president of the St. Lawrence County Bible society.
Roswell Hopkins was born in Amenia, NY, May 17 1757 and was first married June 22 1780 to Lydia Dewey who became the mother of his seven children and who died June 15 1816 aged 55. For his second wife he married Mary Armstrong of Hopkinton who died August 27 1850.
Early in his life he established in Vermont, settling in Arlington after the Revolution. There he resided until he became Vermont secretary of state when he removed to Bennington, then its capital, conducted the first drug store in that village, practiced a little medicine, was a justice of the peace and clerk of Addison county. With his son Benjamin W Hopkins, his brother-in-law Jared Dewey, Samuel and Joel Goodell and Eliphalet Brush he came from Vergennes, Vermont, in May 1802 by way of Malone and Bangor into St. Lawrence county where, on July 6 1802 he took title of 6,780 acres of the town of Islington, for which he paid Abijah Hammond $10,170 or $1.50 per acre. The next year he built saw and grist mills near the village on the Lyd brook, which was so named after his wife Lydia and it was probably not much more than a year later that he built this house.
He was a man of some wealth when he came into Islington and he worked zealously to colonize his two mile strip of land. He operated a store in his house. On July 9 1808 he gave land for the village green and he was doing well until his son Benjamin, for whom he was Point, Alabama, and the St. Lawrence county sheriff sold out all of Roswell's holdings to Jacob Rutsen VanRensselaer January 12 1820 for a paltry $3,400 in order to satisfy three judgments of $114,762.20.
VanRensselaer sold the property to Richard Malcom the following March 2 for a nominal $100 and February 26 1821 Malcom sold to Abraham Varick for $7,657.51. However, Hopkins through sheriff's deed sold this house and its 63 acres to Varick July 28 1823 for $1,099.50 and the ensuing December 1 Varick sold it to Roswell's son, Isaac R, for $800 he transferring back to Varick September 28 1836 for $10. Later transfers brought it to Elizabeth C Malcom who, May 1 1850 conveyed the 63 acres and other lands to Clark S Chittenden for $3,000. Chittenden on February 9 1867 sold 70.70 acres including the house and 63 acres to John A Harran for $4,000 and the property has been in the Harran family ever since, it now being owned and occupied by Mrs Dora Fuller Harran. The tragic life of Roswell Hopkins came to a tragic end September 5 1829 when his horse ran away and he was thrown from his buggy and killed at Chazy. The last of the Hopkins family was Miss Marion Hopkins, a great-great-granddaughter and school teacher who died June 14 1941 aged 50.

Also an old Hopkinton family is the Harran family, Albert S Harran having in 1834 purchased a fine tract of virgin pine three or four miles from Hopkinton on the Parishville road. There he lived, harvested the pine, farmed and brought up his son, John A Harran, who married Miss Emma Cutler, daughter of John Cutler, and in 1867 bought the Roswell Hopkins homestead. John A Harran was one of the substantial men of the town, was superintendent of highways several years and devoted practically all of the Hopkins farm to the growing of hops, for which there was an excellent market. After John A Harran died in 1902 his son, J Mark Harran, who was born on the Hopkins homestead June 22 1869 and had married Miss Dora Fuller of the Lake Ozonia district September 25 1894 came back from three years of farming in Connecticut and took over the Hopkins homestead.
One of nine children Mark was the only son and his surviving sisters conveyed to him their interest in the old Hopkins place, which he converted into an outstanding modern dairy farm and became one of the prominent men of the town. Several years he had charge of county road construction. For 18 years from 1918 he was town supervisor and June 13 1933 he was elected director of the Citizens National bank of Potsdam. He died April 24 1949 aged 80 survived by his wife and son, John A Harran, 2nd. The latter, born in this house May 2 1904 graduated from Potsdam Normal High school in 1922 from St. Lawrence university in 1927 went with Colonial Motor Coach lines in this city in 1928 until it merged with Eastern Greyhound and he was transferred to Cleveland, OH, in 1931. For three years from 1934 he was with the Farm Credit Administration. In 1943 he bought an interest in Lennon & Clarke in this city, sold out in 1947 went with Fitzgerald Brothers bus line for three years and then joined with the Fitzgeralds in buying Thomas Hardman, Inc, of this city and is its secretary-treasurer.
On September 19 1932 he married Miss Louise McCauslin of West Stockholm, cousin of William Benjamin, owner of the St. Lawrence County Creameries. Mr and Mrs John A Harran, 2nd, have one son, J Mark Harran, 13. They reside in this city.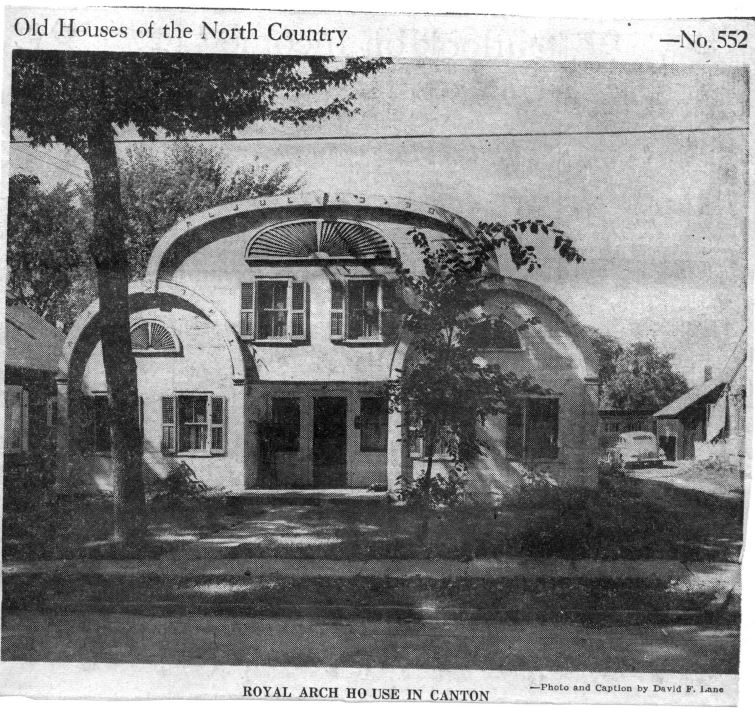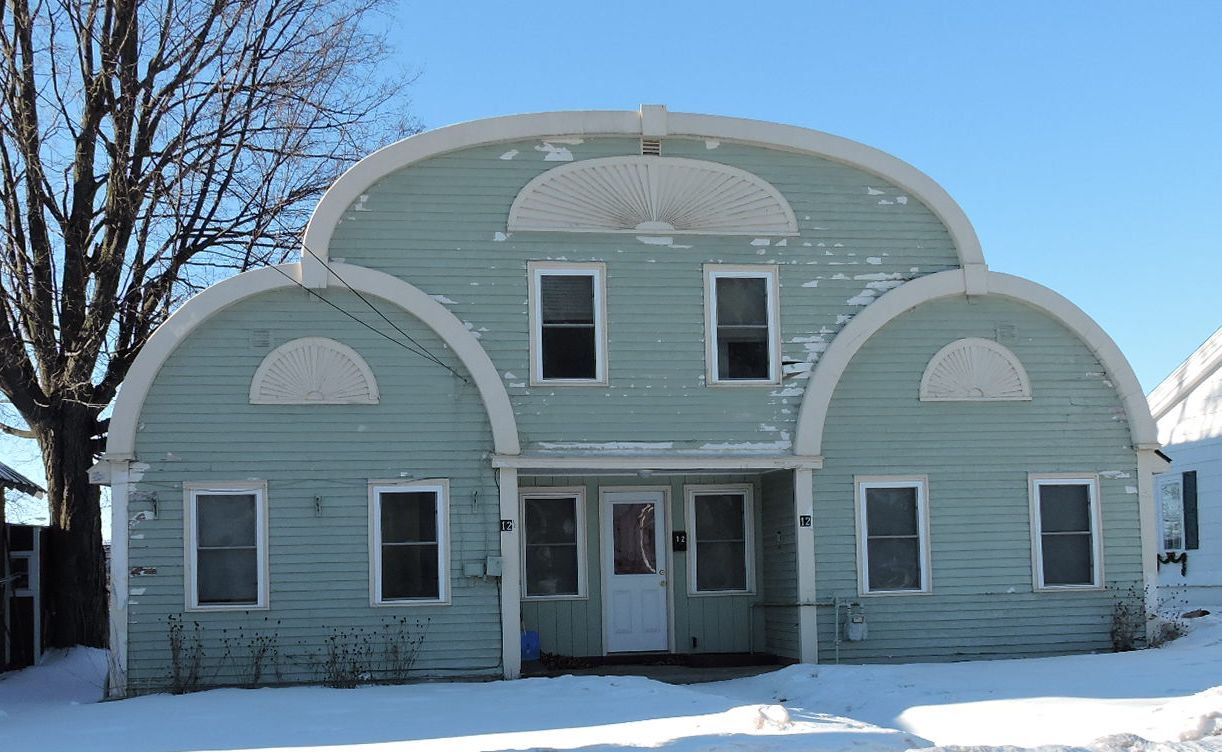 Nowhere in the eastern United States is there a more unusual house than the "Royal Arch" or "Masonic" house owned by George K and Margaret R Taylor on the north side of Pine Street in Canton. Nor has sensational journalism unwound more bizarre, fantastic and groundless tales than those printed 35 or 40 years ago about this dwelling and its builder, Paul Boynton.
Utterly absurd and truthless is the tale that Boynton left his native Vermont on horseback impelled by a vow to do so if that state went in 1828 for William Wirt, Anti-Masonic presidential candidate, arrived in Canton a week after election, traded his horse and watch for a gunsmith shop, built this house with a secret room where Masons met clandestinely during the years of anti-Masonic excitement following the mysterious disappearance of William Morgan in 1828 and that over a small forge that glowed many a night into the wee hours of the morning this man of mystery practiced alchemy in an effort to transmute base metals into gold.

The tale is pure fiction because: 1. Paul Boynton left Vermont in 1824 and was not then a member of the Masonic fraternity. 2. The last seen of William Morgan was September 19 1826 and not in 1828. 3. William Wirt, the only Anti-Masonic candidate for president, ran in 1832 not in 1828. 4. This house was not built by Paul Boynton until after December 1 1856 more than 30 years after Captain William Morgan disappeared and well after the anti-Masonic feeling had died out.
Had these exponents of sensationalism confined themselves to the facts about Paul Boynton they would have written biography intensely interesting and romantic, for this Vermonter was a finely skilled and versatile inventor and mechanic who built things from fine clocks to steamboats and was also a musician of ability.
Not only the creator of one of the first American pipe organs, he also made one of this country's first player-organs. He constructed on Black Lake in 1830 for Ogdensburg interests the steamboat Paul Pry, later used as an Ogdensburg-Prescott ferry boat that became hated by the Canadians during the Patriot war's battle of the Windmill in mid-November, 1838. And for Vincent LeRay and others he built at Carthage at a cost of $6,000 in 1832 the "Cornelia," the first steamboat that ever ran on Black River between that village and Lowville. Of Norman origin established in England long before the Conquest, Paul Boynton was born at Weathersfield, Vermont, July 22 1789 son of Colonel John, a Revolutionary hero, and Elizabeth Beaman Boynton. In due course Paul Boynton, youngest of eleven children, married Hannah T Rowe of Newburyport, Massachusetts, and settled in Windsor, Vermont From there the Boynton family genealogy says that he removed to Canton, NY, in 1824.
It is likely, however, that he first located in Ogdensburg, for New York state grand lodge Masonic records show that in 1825 he was there initiated, passed and raised in Masonry. Ogdensburg's first Masonic lodge was St. Lawrence Lodge No. 186 F & A M, warranted September 6 1809 and which voted February 19 1827 to surrender its charter. And doubtless Paul Boynton was residing in Ogdensburg when he built the "Paul Pry."
After he was commissioned by Vincent LeRay and others to build the "Cornelia," a 90-footer, at Carthage, he bought a quarter of an acre of Mr LeRay next to Eli West's lots in that village December 27 1832. On March 12 1833 Boynton sold part of his lot to Blodgett & Gilbert.
Probably it was not until 1834 that Paul Boynton and his family located in Canton because on May 13,1834 a Jefferson County deed states that he and Hannah T Boynton sold the remainder of their Carthage lot containing their house to Samuel W Gilbert. In Canton Paul Boynton had a clock and watchmaker's shop where, it is said he also made beautifully crafted guns. John A Finnigan, editor and publisher of Canton's Commercial Advertiser, says the Boynton shop was on the south side of Main Street near where the present Commercial Advertiser building is, and that after a time it was removed to Pine sheet and perhaps incorporated in this unique "Royal Arch" house.
An enthusiastic Mason, Paul Boynton was one of the petitioners, No. 8 on the register, for a Masonic lodge in Canton in December 1845 and St. Lawrence Lodge, No. 111 , was warranted June 10 1846 with Elijah Baker master and himself junior deacon. Later Boynton became treasurer. When St. Lawrence chapter, No. 132 Royal Arch Masons, was instituted February 3 1848 with Elijah Baker high priest Paul Boynton became its first scribe.
Naturally he would not have been inspired to build a "Royal Arch" house before he was a companion of that capitular unit of Masonry, and St. Lawrence county records show that it was not until December 1 1856 that he bought the site of this house, paying his son, Frederick, $50 for .108 of an acre. This was part of a half acre which Frederick had purchased from Samuel J Bingham for $350 on January 12 1853. Bingham had bought it for $200 from Ebenezer Hodskin March 16 1850 and on March 11 1850 Hodskin had acquired it for the same
price from George W and Mary Palmer. Boynton designed his "Royal Arch" house with three arches, around the cornice of which is an inscription in carved wdoden characters of the Royal Arch code which some say spelled "Home Sweet Home," and others "Holiness to the Lord." However, disarrangement by painters or others down through the years have left the inscription meaningless today to scholars of the craft.
The house has low, plain rooms and a recessed porch in the main or central part. On June 10,1861 Paul Boynton sold it to his son, George, for $901.20 and the following July 21 Paul died at the age of 72. There is no indication today of Avhere he is buried. George Boynton sold the house to Maria Dowling May 25 1867 and since then there have been several owners, Mr and Mrs George K Taylor having acquired it December 21 1946 from John H Wade.
Active and prominent in Masonry Paul Boynton also stood high with the people of Canton for between 1846 and 1852 he was village president. Inventor and mechanic of ability he inherited his talent from his greatgrandfather "Deacon Joseph" of Rowley, Massachusetts, who at 70 hewed a beam for a church without chalk-line. In Canton Paul built a player-organ for the Masonic lodge that worked with a crank and played a half-dozen cylinder records like a music box. After many years the lodge discarded it for a more modern one and today it is owned by a Boynton descendant in Oswego.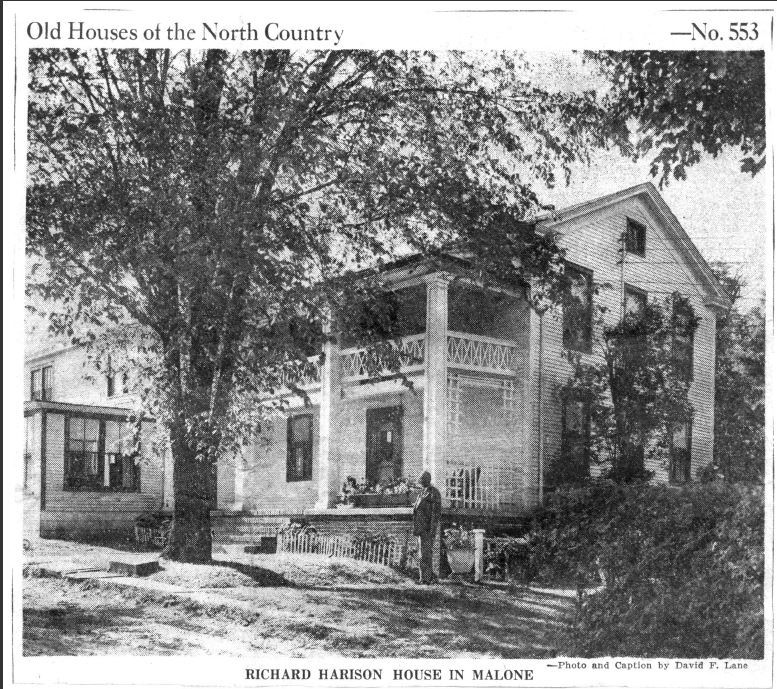 A state education department marker announces that this striking old frame house at the southern end of Webster Street in the village of Malone was the home of Richard Harison, and Major General James Wilkinson's headquarters during a few months of the War of 1812. Richard Harison was a wealthy resident of New York City and one of the big figures in the beginning days of this Republic. He was a protege of President George Washington, a law partner of Alexander Hamilton, and at 13 had been a classmate of Governor John Jay at Kings College now Columbia university. In fact he and Jay and Robert R Livingston had planted the sycamores which early studded the campus of that institution. Among Alexander Hamilton, Aaron Burr, Brockhoist Livingston and two or three others credited with lending great lustre to the early metropolitan bench and bar, Harison was reputed the most brilliant scholar. More than 150 years ago he bought thousands of acres of northern New York lands, owning the town of Malone in Franklin county and parts of other townships including some in Jefferson County.
Probably about 1805 or 1806 he built this house, but it is doubtful if he ever spent much time in it other than to visit it on occasion now and then when on a trip from New York to inspect his northern New York holdings. On June 2 1834 his executors deeded this house and other lands to Jane Harison, a single woman who, on January 12 1853 conveyed it out of the family to Abram S White. Abram S and Pamelia White sold it to George H Atwood April 1 1869 and to satisfy a mortgage of Atwood, Sheriff James At Stockwell sold it to the Mutual Life Insurance company of New York November 15 1878.
The latter disposed of it to Sylvanus Dewey, Malone, April 13 1882. Dewey's heirs, Mary L Wescott, Carrie Dewey Williamson and Jessie M Dewey Wescott, sold it to Herbert S Delong July 24 1896. On April 25 1898 Herbert S and Delia C Delong transferred it and 14.78 acres to Sabra J Delong who became Mrs Ernest E Muller and sold the property to Amy S Heck October 5 1918. The latter conveyed it to Eli Robideau and Ovila W Boyea August 25 1924. On June 24 1937 Eli and Prudence Robideau sold their interest to Fred Lascore, who later acquired the Stephen and Ovila W Boyea interests. The last conveyance was by Charles M Morehouse, administrator of Fred Lascore, to Mrs Ruth S Burns, wife of Felix J Burns, a prominent Malone jeweler and plastics manufacturer, the present owner. A fine old house in a beautiful setting of stately trees it attained one of the most vivid phases of its history after the Battle of Crysler's Field fiasco on November 11 1813 which thoroughly frustrated the expedition of some 8,000 troops which had set out from Sackets Harbor by water October 21 under Major General James Wilkinson, commander of the United States army's department of the north, to capture Montreal.

After that ill-fated battle, in which General Leonard Covington lost his life, Wilkinson withdrew his troops to French Mills (Fort Covington) and, himself ill, was carried from there on a litter to occupy this house, accompanied by a bodyguard which occupied the caretaker's lodge. Here he remained until shortly after the war department February 9 1814 ordered the evacuation of his troops, relieved him of his command the ensuing March 24 and the next year subjected him to an unsuccessful court martial.

Northern historians have failed miserably in recording the history of this house, of Richard Harison, or the members of the Harison family who lived in it. Born in New York in 1747 Richard Harison was a grandson of Francis Harison, queen's counsel, who came to America with Lord Lovelace, the newly appointed governor of the Province of New York in 1708. Two years later Francis became sheriff, later judge of the Admiralty court and recorder. At 13 Richard Harison entered Kings college, studied law after his graduation, was admitted to the bar at 21 and became a partner of Alexander Hamilton. From 1787 to 1790 he was secretary of the state board of regents.
From 1787 to 1789 he was assemblyman. With Hamilton and others he was a member of the 1877 convention that adopted the federal constitution, and early in 1789 President Washington appointed him United States attorney of the New York district and he served until President Jefferson replaced him with Edward Livingston in 1801. When a pew was set aside for President Washington in New York's Trinity church March 8 1790 Harison was a vestryman. He had onetime declined Washington's nomination to a United States district judgeship, and died in New York December 7 1829 aged 82. Harison was a federal district attorney when he invested in immense northern New York lands including the town of Malone, which was surveyed for him in 1801-2-3 by Joseph Beman and Enos Wood.
First known as Harison, the settlement became Ezraville in 1808 in honor of Richard Harison's friend, Ezra L'Hommedieu, and June 12 1812 the name was changed to Malone in honor of Edmund Malone, Irish Shakespearean actor, critic, scholar and also friend of Harison.
In 1806 the citizens built an academy on a site given by Richard Harison, who was ever an enthusiastic promoter of the area. This was used as a meeting house, court house, jail, as well as academy and following a special town meeting in 1810 he deeded another four acres for school purposes which were later transferred to Franklin academy, when it was chartered in 1831. In 1810 the Malone Aqueduct Association was incorporated with George F Harison one of its three promoters, evidencing again the Harison interest in Malone. Early in the settlement of Malone, Nahum Baker laid out Main and Webster as its principal streets and upon the latter Richard Harison chose to build this house with its tree-bordered drives, its greenhouse, beautiful gardens and caretaker's lodge. After the evacuation of General Wilkinson a dozen discarded muskets were found in its cistern.
Consisting of 14 rooms and maintained in excellent condition by Mr and Mrs Burns, natives of New York City who came to Malone in 1938 it is occupied by them and their three children, Carole, Felix Robert and William John.
This should be JAMES MORE. The David More stone house is across the road. See # 504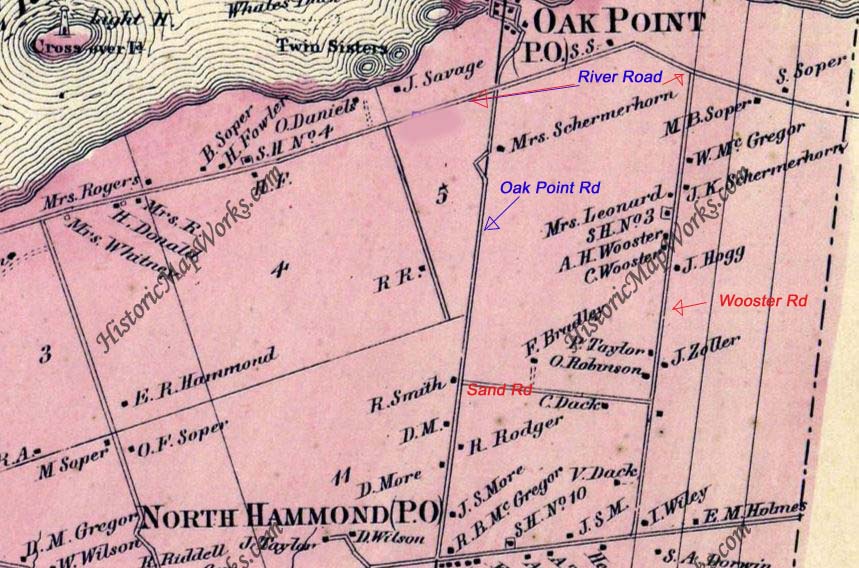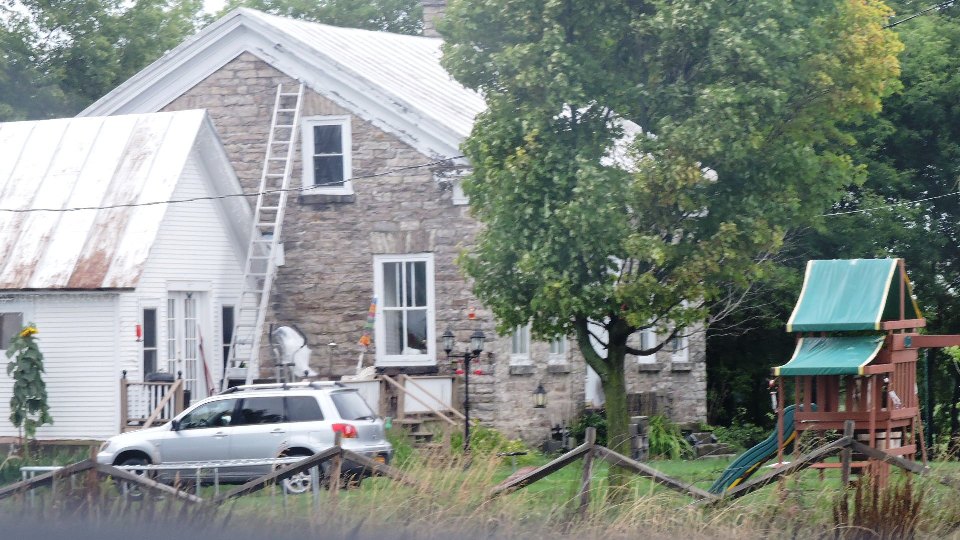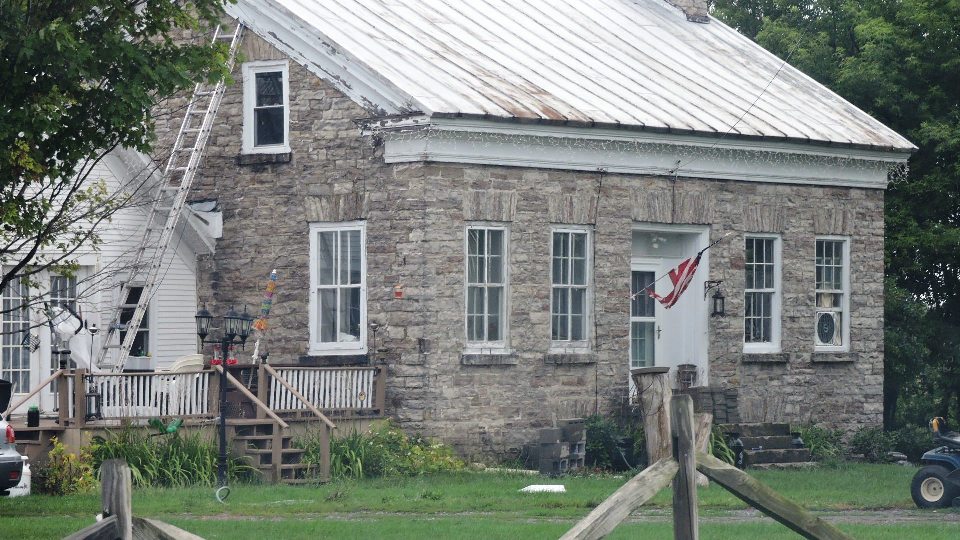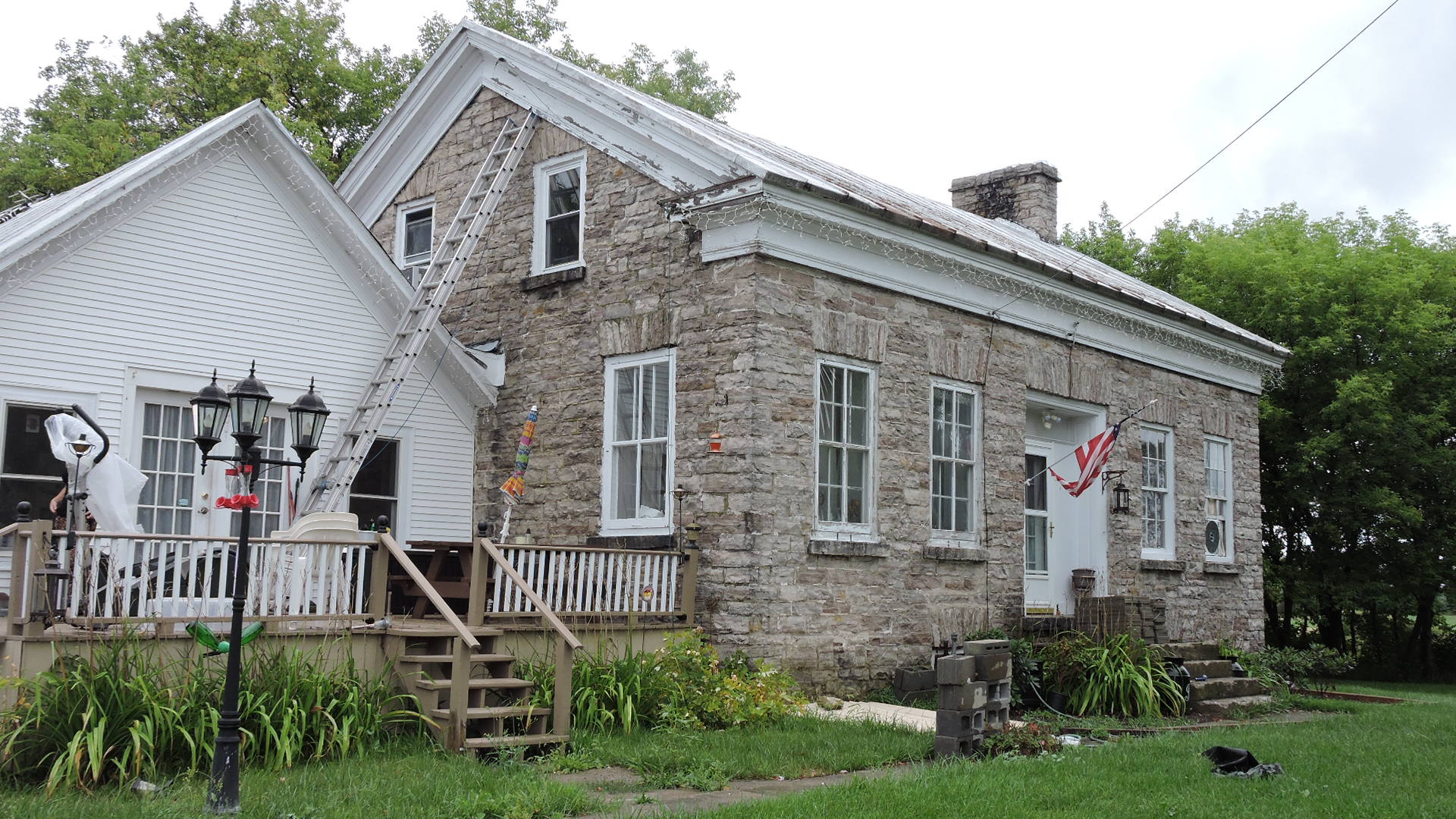 One of the many thrifty Scots who settled in the town of Hammond, St. Lawrence county in the 1830's was David More, apparently a native of Perth, Scotland, who brought his wife, Christian, and children along with him, stopping for a time in Quebec before deciding to settle in northern New York.
On July 1 1840 he contracted to purchase a parcel of 57.83 acres of land on the Oak Point road from George Parish of Ogdensburg, but did not get the deed of it until March 7 1853. A date marked in the rear of this house, constructed of native sandstone quarried nearby, indicated that it was built about 1854. Its windows are set deeply in its thick, sturdy walls.
Its low rooms are graced with plainly-styled but finely crafted white woodwork including artistic doors and a nicely-typed old mantel to the one fireplace, which is located in the living room.
There are four rooms including a bedroom downstairs and four upstairs bedrooms, and the house occupies this 57.83-acre parcel which, with an adjoining 73.80-acre plot purchased by David More from his son-in-law, James W Hogg on May 4 1867 make up the farm of 131.63 acres as it is today, Hogg, whose wife was the former Margaret More, coincidentally contracted to buy the 73.80-acre parcel from Parish on July 1 1840 the same day that More bought the 57.83-acre parcel, but Hogg, got title to his parcel on July 10 1851.
David More died January 30 1881 leaving a will executed May 11 1876 and recorded April 25 1881 giving his widow a life-use of this house and farm. After her death it was to go to a son, David More Jr, to whom the other children transferred their interest in the 73.80-acre piece April 17 1883.

David More Jr, died November 2 1900 leaving a will dated September 5 1893 giving his widow, Elizabeth F More, this place, and his other heirs deeded their interest to her also. Mrs More kept the house and 57.83 acres until November 17 1913 when she deeded a two-thirds interest to Aaron Norton. On the same date Norton acquired the other third and all of the 73.80-acre parcel from David's other heirs. Norton died February 17 1917 and the property went to his son, James W Norton, who conveyed it to his wife, Martha J Norton, March 24 1917. On September 21 1925 she transferred it to George W and Esther M Norton and on November 18 1931 they sold it to Murray A Norton. The property went out of the Norton family on May 19 1937 when he conveyed it to Benjamin J and Irene L Gordon. Benjamin J Gordon died June 10 1945 and the property went to his widow, Mrs Irene L Gordon, who sold it to Karl D Storie, present owner of an adjoining farm, on May 23,1950. Storie sold the place on the following June 7 to Frank E and Marjorie L Allen DuBois, the present owners, who operate it as a dairy farm with a herd of 20 registered Holsteins.
Mr DuBois is the son of Mr and Mrs Arthur DuBois of Newburgh. He attended Rutgers, took a business administrative course in New York City, and on June 17 1941 was married at Ogdensburg to Miss Marjorie Louise Allen, daughter of Mr and Mrs Horace Allen of Pleasant Valley. They have done much to bring the farm to a forward state.
For 60 years it was held in the More family and for 24 years in the Norton family. That the original David More Sr, was a man of thrift who amassed a neat fortune for his day is evident from the fact that he left this fine old farm to his son, David, and some years before conveyed a neighboring farm with another fine old stone house on the other side of the Oak Point road and but a few rods away towards Hammond village to another son, James S More. The latter farm was acquired by David More Sr, August 24 1844 and transferred to James S More September 27 1864. It is now owned by Cyril and Irene McDougall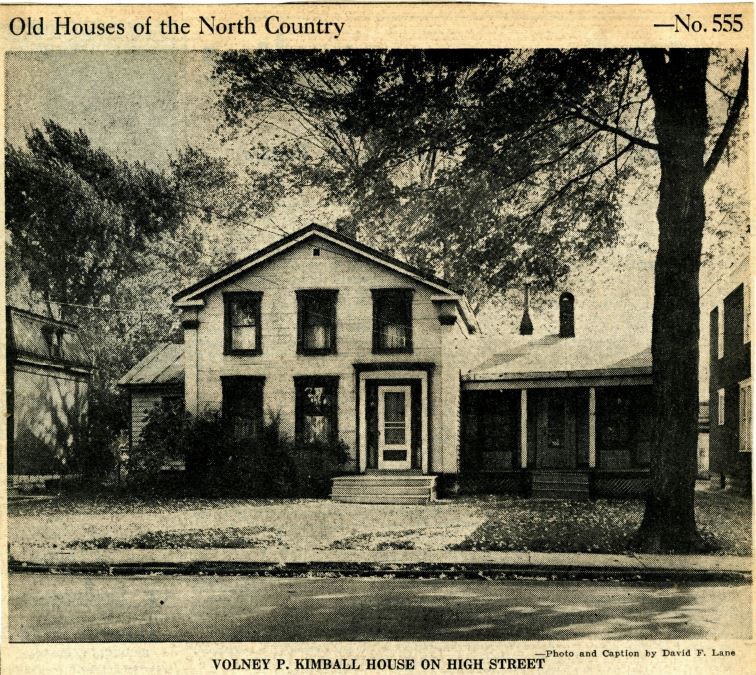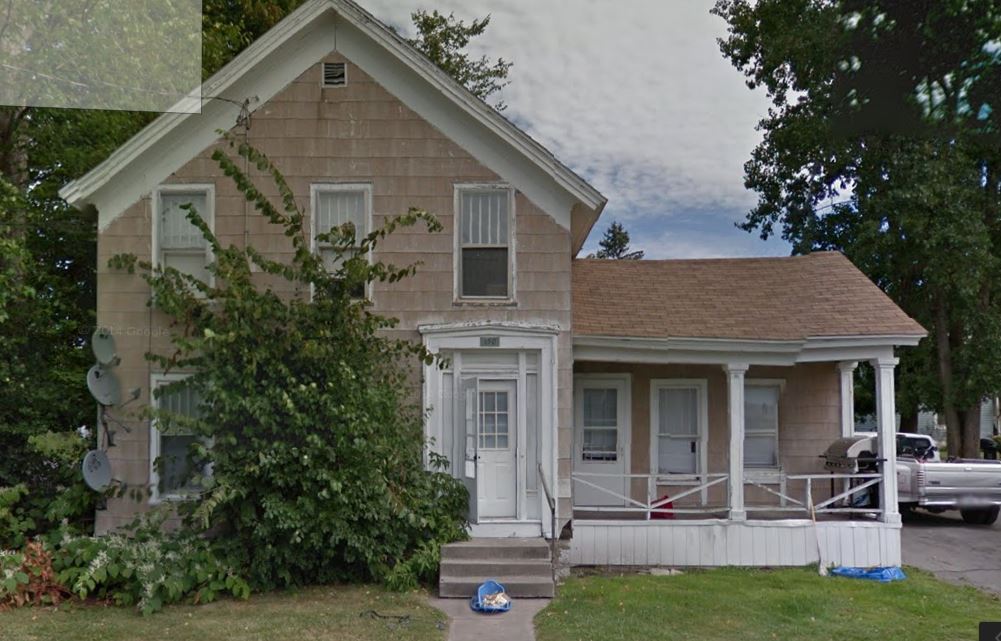 One of the fine type old houses in the city is the residence of Orel E Briceland on the east side of High Street a few rods from State Street and designated No. 114. In its early days it was No. 2 and was built probably about a century ago by Dr Crafts P Kimball of Burrville for his son, Volney Porter Kimball. Dr Crafts P Kimball came into the town of Watertown in the first decade of the 1800s, was one of the first physicians in the town, built for his residence the fine old stone house known as "Graystone" just above Burrville and served as a surgeon in the War of 1812. He was the great-grandfather of Supreme Court Justice Henry J Kimball, Mrs David B Otis, Frederick H Kimball, Elliot K Harroun and Norman K Mack of this city. He was the grandfather of Mrs Clarence A Mack, this city.
His son, Volney P Kimball, was one of the early millers of Watertown, having established a pearl barley mill on Fairbanks Street close to the river in 1847. This he operated for many years. In 1897 it was acquired by Farwell & Rhines and operated by that firm for many years as a flour and cereal plant.
On January 26 1850 Dr Crafts P Kimball bought the site of this house from Reverend Dr James R and Elizabeth C Boyd of Clinton, for $200. On February 23 1856 Dr Kimball conveyed the property to his daughter-in-law, Mary Hall Kimball, who was the wife of Volney Porter Kimball, for $1,300 this price indicating that there was a house on the site at that time and that it was undoubtedly erected between 1850 and 1856.
Volney P Kimball died June 28 1886 and his wife June 13 1888 and they are buried in Brookside cemetery. They were the maternal grand-parents of Elliot K Harroun, city, whose mother was the former Alice Kimball and whose father was the late John Elliot Harroun. It is also interesting to note that Reverend James R Boyd, for whom Boyd Street in this city was named, was pastor of the Sackets Harbor Presbyterian church 1827-1830 and 1835-1836 and that he was the son-in-law of Colonel Elisha Camp of Sackets Harbor, having married Camp's daughter, Elizabeth. Also Reverend Dr Boyd was an early master of Sackets Harbor lodge, No. 135 F & A M, and early high priest of Sackets Harbor chapter, No. 68 R A M
Not only that but he was a partner of his father-in-law in a Watertown land subdivision involving several acres of land purchased in 1837 and 1838 from Micah Sterling and others on both sides of State Street east of the present High and William Streets. At that time State Street was known as the State road and High Street was Weaver Street, and the lands purchased by Camp & Royd were in the district through which flowed the power canal built by Camp in 1832 from Huntingtonville to Sackets Harbor and familiarly known as "Camp's Ditch."
On October 1 1864 Mary H and Volney P Kimball sold this High Street house to Dan N Bosworth, who was also engaged in the milling business, for $2,750. The Kimballs later resided at 3 Park Street. Next on April 29 1868 Dan N and Sarah M Bosworth sold the High Street property to Reverend Lafayette D White who, in 1855-6 was the fourth pastor of the old State Street Methodist church, precursor of Asbury.
Reverend Mr White sold the place on contract March 17 1887 to the late Thomas E Briceland of this city for $2,800 and on January 6,1889 Reverend Mr White and his wife, Cordelia, delivered the deed to the property to Mr Briceland who for many years afterward operated hacks and a livery stable in the horse-and-buggy days. At the time Reverend and Mrs White transferred the house and lot to Mr Briceland they were residents of Utica.
Mr Briceland, native of Wolfe Island, died May 13 1902 and the title to his High Street residence then went to his widow, Mrs Ellen Laughlin Briceland who continued to reside there until her death September 8 1936 at the age of 78. She was also a native of Wolfe Island and was survived by four children, Mrs Mabel B Kenney, Orel E, Thomas H, and Clarence W Briceland who inherited the place. Through ensuing transfers Orel E Briceland acquired the interests of the other heirs and now occupies the fine old house. For a number of years he was steward of the Knights of Columbus club, but now is employed in the Mason liquor store.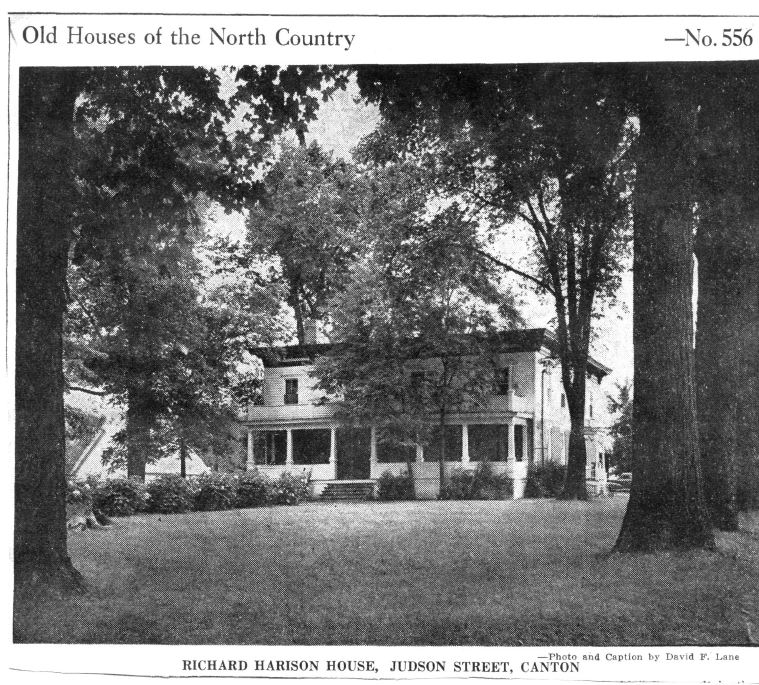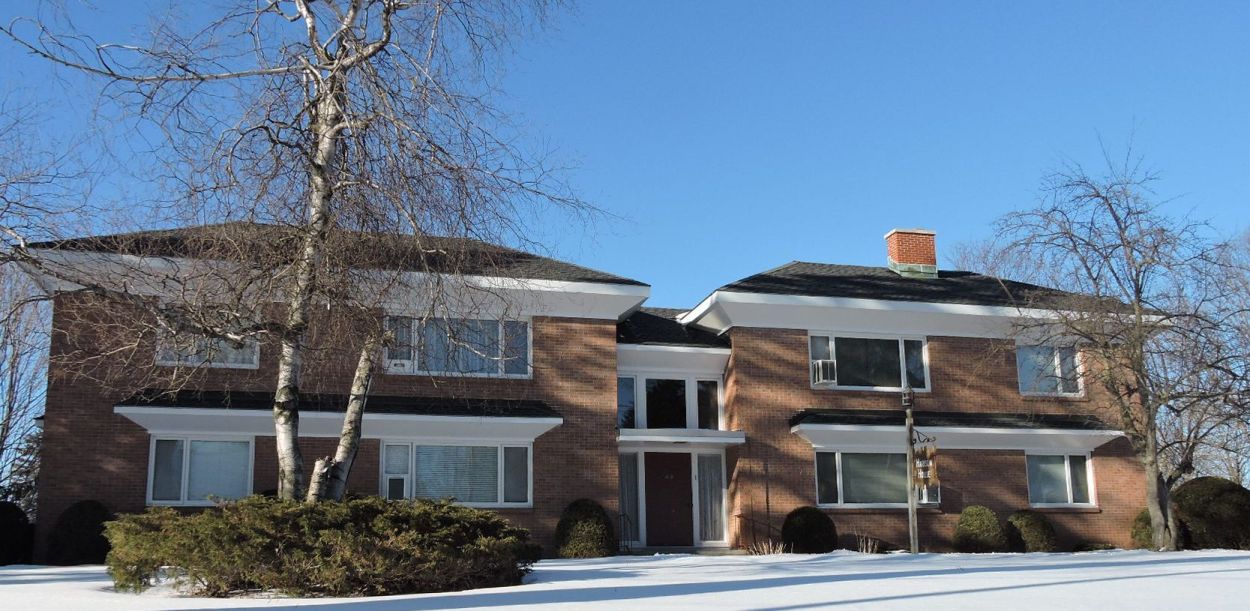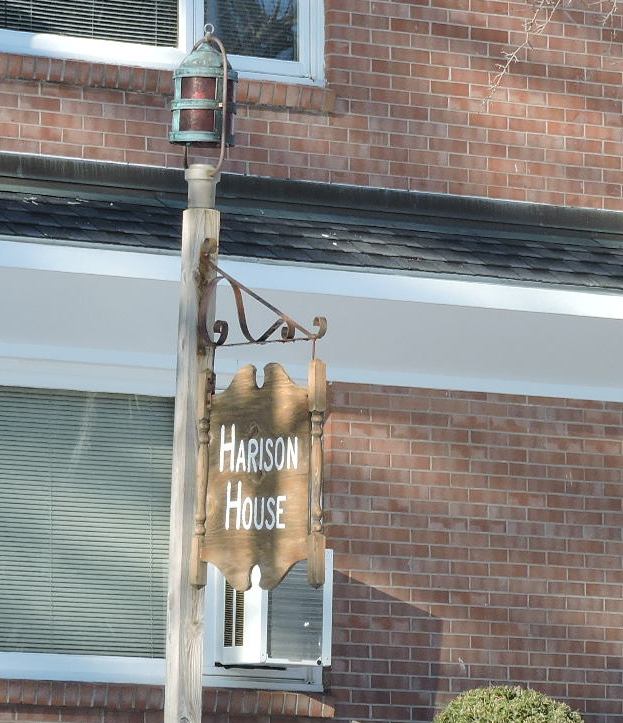 The Harison family was Canton's leader a century ago. Its members had three houses in the village. There was the large pretentious brick one, now the Kappa Kappa Gamma lodge on the north side of East Main Street, the farmhouse, which now is the St. Lawrence university president's residence across from it on the south side of the same street, and this Richard Harison house, which is directly north of both of them and on the north side of upper Judson Street. Less than a block to the west is Harison Street connecting Judson and East Main Streets, and in Morley a few miles away is another Harison house, that of the late Thomas L Harison.
Original occupants of all of these houses were descendants of that Richard Harison, wealthy New York lawyer, partner of Alexander Hamilton, friend of George Washington and John Jay, and owner of thousands of acres of St. Lawrence, Franklin and Jefferson County lands who died December 6 1829 aged 81.
Richard N Harison, who died February 8 1846 son of Hamilton's partner, may have built all of these three Canton houses, for he was a Canton resident and owned extensive lands there. When Canton's Grace Episcopal church was formed August 22 1836 he was one of the first vestryman. He became a first trustee of Canton academy organized April 24 1837 and when the third St. Lawrence County Agricultural society was created May 5 1841 he was its first president. In 1843-4 he was town of Canton supervisor, and when he died his estate went to John Champlin Harison, bachelor, who was town pathmaster in 1842; William R Harison, Frances L Harison, Penelope M Harison, Richard Harison, Minturn Harison and Anna Marie Harison.

The latter Richard is said to have built this Judson Street house, perhaps shortly after Richard N Harison's death in 1846. Constructed of brick a story-and-a-half high, this house then occupied 24 acres of grounds and the estate was luxurious and imposing. Over in the East Main Street big brick mansion John Champlin Harison and the Misses Frances L and Anna Maria Harison lived in splendor and all of the members of the family had their fine coaches drawn by the finest of horseflesh.
After the Judson Street Richard Harison died, his administrators and Elvira Harison sold this Judson Street house and its 23.98 acres to Worth Chamberlain, Canton lawyer and politician for $4,800 on March 26 1881 and it became better known in recent years as the Worth Chamberlain estate than as the Harison estate. Graduate of St. Lawrence university's law school and student in the law offices of Judge Sawyer and Judge Russell he was admitted to the bar in 1874. Naturally dramatic, and eloquent of speech, Worth Chamberlain proved a spellbinding orator and meteored to wide popularity.
When the Clipper Dramatic club was organized in 1875 he had a prominent role that winter in its first play, "Oliver Twist," and, in 1878 became president of the club. When the board of supervisors met May 2 1877 and decided to build a new town hall, the electors chose Judge Leslie W Russell, William H Kimball and him a committee to legalize the bond issue. In the fall of 1879 Worth Chamberlain was elected one of the three St. Lawrence county assemblymen and served with the late President "Teddy" Roosevelt in the lower house of the state legislature in 1880-1-2 warmly regarded by Roosevelt as a friend the balance of his life. Chief engineer of the Canton fire department in 1881-2 he moved up to village president in 1885. He was an ardent temperance advocate and sponsored many "dry" bills in the state legislature to the dissatisfaction of some of his constituents. For a time he was a law partner of the late Judge Ledyard P Hale as Chamberlain & Hale, and the Hon. Worth Chamberlain was an outstanding community figure.
He was married to Emeline J Dezell, daughter of Robert Dezell of Waddington and on April 2 1884 he transferred his Judson Street residence to her. They resided there about ten years after that and sold the place April 14 1894 to Levi W Wellington for $5,000. On November 14 1895 Wellington was sold out to Mr Chamberlain on mortgage sale for $2,500 and on August 26 1899 Mr and Mrs Chamberlain disposed of it to Thomas Fields, prominent Canton farmer and onetime superintendent of the county house.

In the fall of 1901 Mr Fields leased it to Alpha Omineron chapter of Alpha Tau Omega fraternity, which occupied it as its "frat" house until it purchased the Judge Leslie W Russell brick residence near the university campus which property it still owns and occupies. Mr Fields died January 21 1909 leaving his widow, Helen, a life-use of his estate, which, on November 5 1910 sold the Judson Street house to Judge Almeron Z Squires and Cyrus F Clark. Judge Squires died August 20 1913 and on September 2 1914 his estate sold his interest in this house to Mr Clark.
Cyrus F and Alice E Clark disposed of the place July 7 1923 to Alpha chapter of Theta Gamma, Agricultural college fraternity which was sold out on mortgage foreclosure sale December 31 1926 to Mr Clark again. He died December 17 1950 leaving life-use to his widow, Alice E Clark, and then in equal interest to Cyril R Clark, Mabel S Maltby, Rollin E Clark, Maxwell A Clark, Richard I Clark and Marie Clark.
Today the house is an apartment house and through the selling off of building lots the grounds have been reduced to less than an acre, but it still has a huge deep lawn studded with beautiful old oaks, maples and elms. Some time after the death of Richard Harison a second story of wood was added to the lower one of brick and the place has undergone much remodeling, some of it by Mr Fields over 50 years ago.
It is said that Richard Harison married an Ogden girl of Waddington and that they resided in Waddington from 1852 to 1873 Mr Harison owning and operating mills there several years. On Easter Sunday, 1852 he became a vestryman of Waddington's historic St. Paul's Episcopal church. The next year he was made clerk. In April 1863 he was elected junior warden, and senior warden on April 13 1868. After Isaac Ogden's death he served a time as church treasurer, and on April 22 1873 severed his church affiliation to move, presumably back to Canton. He had no children. In Canton he was reputedly a great lover of animals and warred relentlessly against any who mistreated them.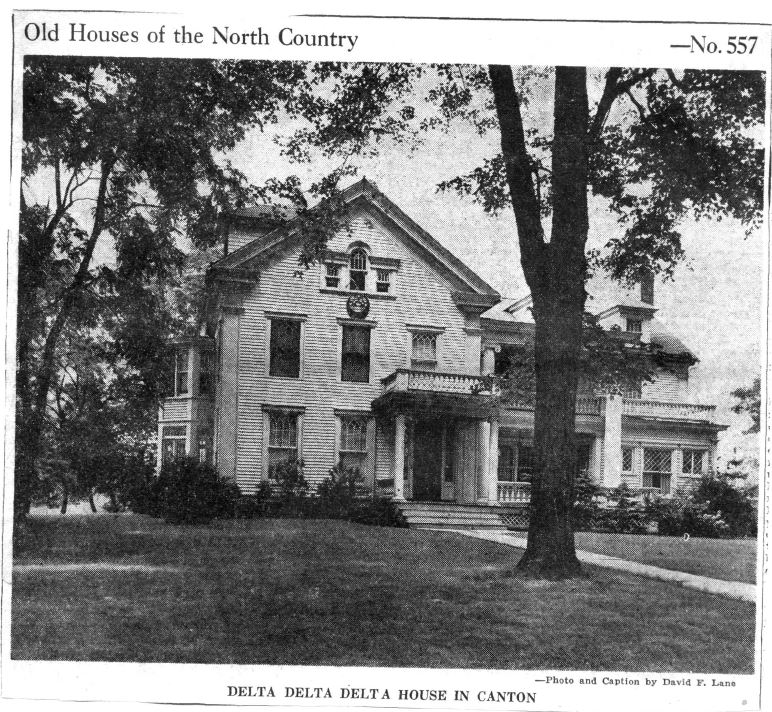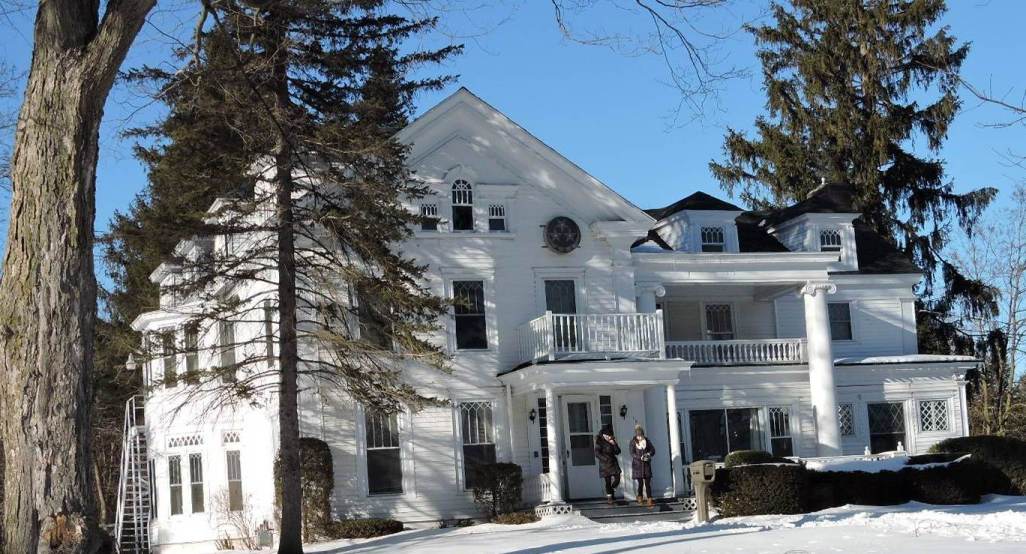 For the past 39 years this striking house on the north side of Judson Street, at the foot of Church Street and only a block away from Canton- East Main Street, has been the chapter house of Beta chapter of Delta Delta Delta sorority of St. Lawrence university. Although remodelled on the interior and much embellished by exterior additions the house is an old one, probably about a century in age. Slightly more than 50 years ago it was also, for a few years, the chapter house of Alpha Omicron chapter of Alpha Tau Omega fraternity of St. Lawrence university.

As Alpha Omicron chapter was the second Greek letter fraternity established at St. Lawrence university, the late nationally-famed American novelist Irving Bacheller having been its leading founder, so Beta chapter of Delta Delta Delta was the second sorority of that institution, it having been chartered December 24 1891 with Florence M Jackson '93 (Mrs B A Greene) as its leading spirit. For many years there was a close friendship alliance between Beta and Alpha Omicron chapters, the former of course being an organization of girl students and the latter one of boy students.
Judson Street, upon which the house stands, was named for David C Judson, a wealthy Ogdensburg banker, promoter and real estate developer who owned a considerable amount of land in Canton and particularly along this street which bears his name.
Mr Judson was one of the early settlers of the Ogdensburg area, having come there not long after the town of Oswegatchie was set off from the town of Lisbon March 3 1802. In 1821, 1825, 1826, 1831, 1835 and 1847 he was an Ogdensburg village trustee and village president 1862-3. On June 13 1853 was formed the Judson bank, a state institution which became a private one about June 1 1866. He was its guiding star. He died in 1875.
On June 20 1850 David C Judson sold .48 of an acre of land on the north side of Judson Street to Theodore Caldwell for $25 and on September 19 1853 Mr Caldwell bought from Mr Judson for $500 five acres adjoining on the east. Mr Caldwell, a Canton village promoter, owned a considerable acreage in this Judson Street sector. A few years later he with Levi B Storrs, Nathan Fletcher and Barzillai Hodskin worked to establish St. Lawrence university.
That Theodore Caldwell probably built this house shortly after he acquired one or both of these two parcels might be conjectured from the fact that on April 7 1864 he sold both of them, with other lands, to Albert Farmer for $3,500.
It was about that time that Farmer with his wife, Belinda, and their young son, Herbert Morton Farmer who later became St. Lawrence county sheriff, moved into Canton from their West Potsdam farm. That they occupied this house seems likely, but May 20 1872 Farmer sold this property plus other lands to Benjamin Hosley, a prominent early Canton resident, for $11,000 progenitor of a well known Canton family.
Benjamin Hosley died September 27 1873. His estate went to his widow, Millicent, and son, Henry. Henry quitclaimed his interest to his mother September 21 1874. She died July 2 1876 leaving Henry her only heir. He kept this place until August 20 1889 when he sold it with other lands to Horace Sackrider, a village merchant, and Barzillai Hodskin. Sackrider died January 27 1890 and Hodskin purchased his interest. On August 10 1892 Hodskin disposed of 5.14 acres including this house to John Wilbur for $4,000 and Wilbur transferred it to Edith B Wilbur November 7 1894. Then on October 23 1901 she conveyed it to Orson Wallace who died the ensuing December 24 and his heirs disposed of the property to Mrs Mary A B Cheetham April 21 1903. Mrs Cheetham and her husband, John E Cheetham, extensively remodelled the house and occupied it. On February 6 1914 Mrs Cheetham sold the property to the Beta Alliance of Delta Delta Delta, present owner.
Born at Lincoln, Dorsetshire, England, November 17 1850 John E Cheetham at 13 came to AmericA In 3875 he graduated from SLU and got his master's degree in 1878.

For four years after that he was principal of the Madrid High school, then from 1880 to 1888 principal of Canton academy, and the following two years of Ogdensburg Free academy. After that he taught several years at Newton, NJ In 1900 he returned to Canton and entered the insurance business, but shortly came to Watertown to manage the local New York Life Insurance company office for several years until he was transferred in a similar capacity to Washington, DC In 1913 he returned to Canton, engaged in the insurance business with C Y Fullington and remained until his death several years later. His wife, who died July 15 1946 was the former Miss Mary Amanda Butterworth of Canton, to whom he was married in Glens Falls December 24 1890. Three sons were born to them, Dr John G Cheetham, Portland, Oregon; Dr Donald B Cheetham, Athol, Massachusetts, and Paul L Cheetham, Brooklyn.

Beta chapter of Delta Delta Delta continues one of St. Lawrence university's leading sororities and one of the leading Tri-Delta chapters, a chapter which started its career with modest rooms on the third floor of Richardson hall and which, grew to several times receive national recognition in the selection of several of its alumnae to national posts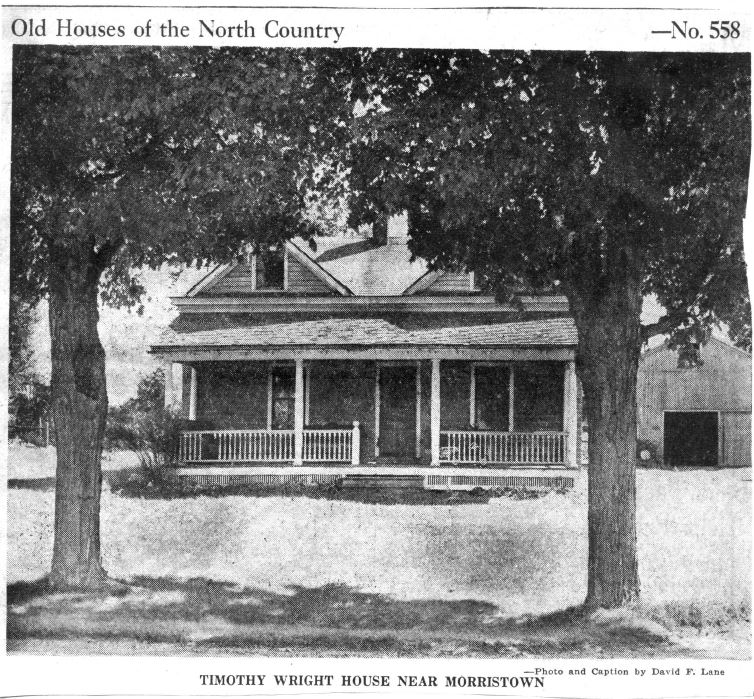 It was about 1830 that this house was constructed of native blue limestone, quarried nearby on the south side of the highway six miles from Ogdensburg. It was built by Samuel Wright Jr's son, Timothy, a native of Connecticut, Samuel having purchased the 101.39-acre farm site, upon which it stands, from David B Ogden through Nathan Ford as his agent and attorney.
Just before or during the War of 1812 Samuel Wright Jr, with his third wife and children migrated from Connecticut to Canada to support the British government. There finding that his sons were going to be conscripted into the British army, Wright moved back to the states in the spring of 1815 crossing the St. Lawrence in a rowboat and towing his possessions on a homemade raft.
On June 14 1815 he bought his 101.39 acres and put up a log cabin across the road from where his son, Timothy, erected this stone house about 15 years later. While in Canada a daughter of Samuel Wright Jr, married Reverend Sir John Heck, who was one of the six children of Barbara Heck. It will be recalled that Mrs Paul (Barbara) Heck established Methodism in America in the summer of 1760 and ultimately located near Prescott, Ontario, in 1783. There she died August 17,1804 and was buried in the cemetery of the Blue church.

The Wrights were also Methodists and when the first Methodist church was formed in Morristown in 1843 Nelson Wright was one of the first trustees. In 1S Wright was superintendent of its Sunday school.

Samuel Wright Jr, died about three years after buying this farm and his will, probated in 1818 gave this place to Timothy, who retained it until he conveyed it to his son, Reverend Benjamin S Wright on October 14 1852. It was in that year that a school district was formed and a small plot taken off this farm fronting on the highway for a schoolhouse, in which was educated many of the Wrights including Walter H Wright, now of Morristown, last of the family to own this house and farm.
When Reverend Benjamin S Wright died February 8 1892 he willed his property to his son, Melville S Wright, who had been born in the stone house March 17 1836 completed his education in Lowville academy and married Mary Day January 4 1855. Only three years after Melville S Wright took title to this farm he transferred it August 31 1895 to his one son, Levings L Wright, who later acquired adjoining parcels sufficient to build the farm up to about 200 acres. It was Levings L Wright who erected a wooden addition and built the dormer windows into the house in 1904 thereby greatly changing its original appearance. At the same time he placed the verandah across the front and made other changes.
After 33 years of ownership Levings L Wright conveyed it to his son, Walter H Wright, on March 29 1928. A year and a half later came the depression of 1929 and Mr Wright was compelled to mortgage it to the Federal Land bank of Springfield, Massachusetts, which foreclosed and sold the property to J Franklin Sharp of Ogdensburg February 3 1937 for $6,000.
Mr Sharp, a pioneer and wealthy Ogdensburg automobile dealer, took the Wright farm as an investment and sold cottage lots off its river front to the north of the highway. Mr Sharp died suddenly on January 11 1949 and this place is now owned by his widow, the former Miss Mabel B Bristol of Ogdensburg, to whom he was married in 1902.
But the farm is one of the few in northern New York that has the distinction of having been owned in the same family for more than a century. It has other distinctions too, for this Wright family, which was one of the first to settle in St. Lawrence county, was notably religious having not only sent some of its members into the ministry but having been directly tied into the highly religious family of the-famous-Barbara Heck who caused American Methodism to be preached first in New York City immediately after she landed there with her family from Ireland August 11 1760. Not the least of this Wright family distinctions was its relationship to Gov. Silas Wright of Canton.
As for the old house itself it has seen stirring history, having had a ringside seat to some of the most hectic acts of the Patriot War of 1837-8 in which one Stephen S Wright was one of those who set out from Sackets Harbor aboard the famous steamboat United States on November 11 1838 and ended up a British prisoner in VanDiemen's Land. It is family tradition that it was some years after the thick stone walls of the house were built, the roof on and the place had been lived in, before it was entirely finished on the interior. And even today, one may see slight evidences of the old lime kiln where the lime was burned a quarter of a mile away for the mortar in which the stone was laid.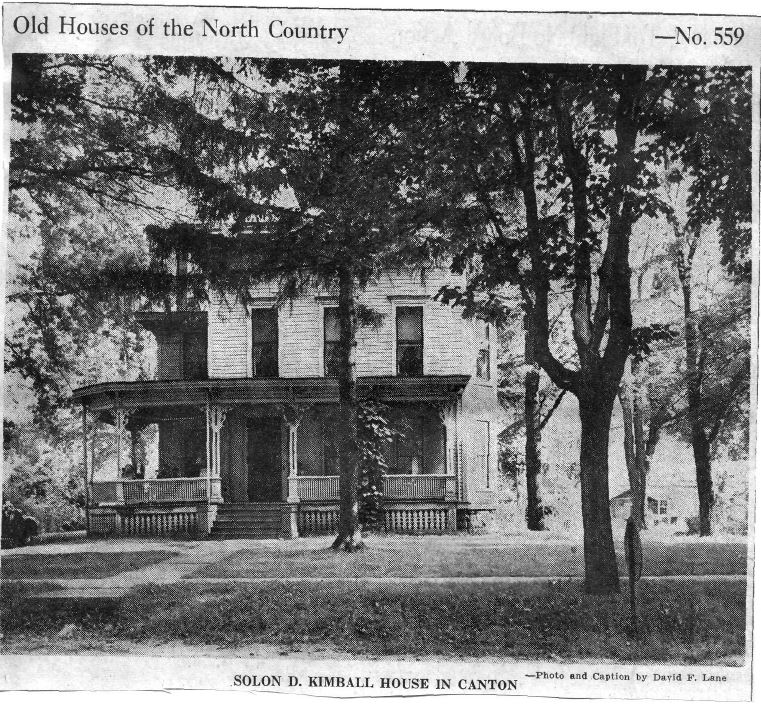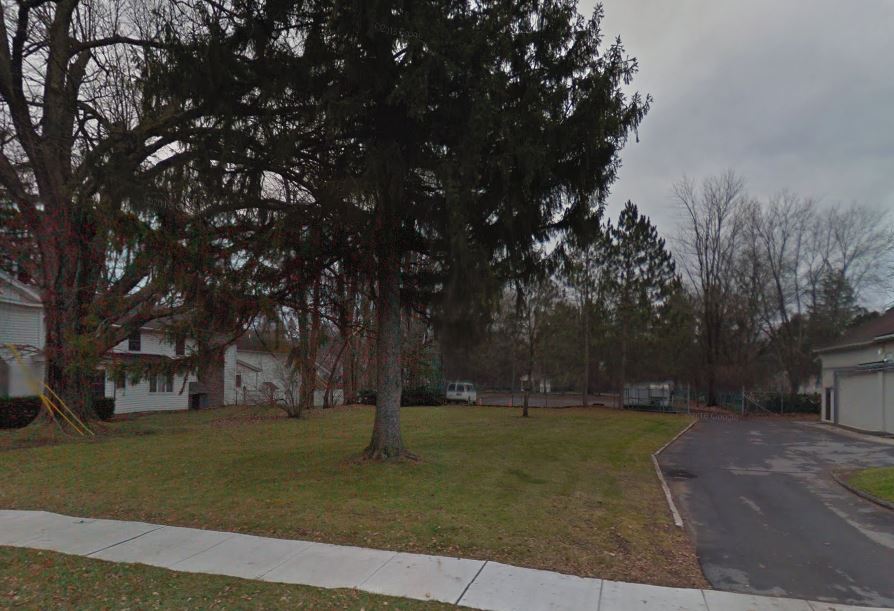 For a dozen years Canton had had a hard time getting a sound banking institution started. R M Godard & company opened the first one there in 1858 but it folded up in 1860. In 1862 H J Messenger of Cortland organized a Canton branch, which two years later became the state Bank of Canton. It failed in 1868 and the Commercial bank, which had started during the former's career, lasted but a few weeks due to its absconding manager.
In 1869 Solon Dexter Hungerford, who had established Hungerford's Bank in Adams in 1845 decided with W H Kimball, Marcellus Massey and Colonel Lawyer to set up a bank in the St. Lawrence county county seat and did so the following January with two able young Jefferson County men at its head. It started on the site of the former Bank of Canton. William H Kimball was its president and his brother, Solon Dexter Kimball, was its cashier.
Capitalization was $50,000 and that same year of 1870 a building of its own was erected. This was the St. Lawrence County bank, which prospered from the first under the Kimball control and eventually became a national bank. William H Kimball after some years removed to New York after having been village president of Canton, supervisor of the town and assemblyman from St. Lawrence county's second district. Later he became a state bank examiner and in New York he rose to the presidency of the Seventh National bank. Solon D Kimball, who had been out of service in the Civil War 's Union army but a few years when he removed from Adams to Canton, had married Jane Greene, daughter of Henry Greene of the town of Ellisburg. At first they resided in the big brick Ellsworth house next to the town hall on Main Street, but on November 24 1877 purchased a lot above the park on the south side of that street and built the house shown above.

The lot was across the street from Grace Episcopal church and was part of three acres, which Medad Moody had bought of Stephen Van Rensselaer August 23 1826. Moody died May 15 1827 and his son, Lucius, acquired the three acres from the estate.
Solon D Kimball arose to the presidency of the St. Lawrence County bank and died in 1910 at the age of 67. Mrs Kimball died in 1914 aged 66 and both are buried in Canton's Feirview cemetery.
Descended from noted New England colonial families, which had their roots in England, they became the foundationof a distinguished family of their own. One daughter, Charlotte, married Walter Kreusi of New York. Another daughter Harriet, married the late James H Gannon of Canton, who at one time was chief financial writer for The New York Times and later was president of the Ridgeway company which published "Everybody's" magazine. The youngest daughter, Ruth, now of Montclair, N J, married the late Millard H Jencks who was president
of St. Lawrence university at the time of his death in 1945. Walter Gardner Kimball, youngest of the children and only son, became president and later chairman of the board of the Commercial National Bank & Trust Company of New York, president and director of the Commercial National Safe Deposit company, a governor of the Bankers' Club of America, treasurer of the Army Relief Society and a director of Best & Company. At one time he was vice president of the Columbia Trust Company of New York. He started his banking career with his father in the St. Lawrence County National bank, and like his sisters was a graduate of St. Lawrence university.
He died May 31 1951 aged 63 survived by a son, Dexter H Kimball in the Marine Corps, by his widow and his three sisters. So, the old St. Lawrence County bank, founded by his father, his uncle, Brig. General Solon D, Hungerford, who was a founder of a great banking institution in Jefferson County as well as founder of the Hungerford Collegiate Institute at Adams, owner of the famous Valley Park Farm at Adams and onetime president of the New York State Agricultural Socienty; Marcellus Massey who was president and Colonel Joseph A Lawyer, secretary and treasurer of the Rome, Watertown & Ogdensburg Railroad company, became the start for an outstanding family of bankers.
The Solon D Kimball residence for 36 years remained in the family, one of the leading residences in Canton. It was sold out of the family by Mrs Jane Greene Kimball on August 19 1913 the year before her death, to Mrs Mary Loretta Burke. Mrs Burke died on May 30 1931 leaving Louise Morgan Burke, who conveyed the house and premises to Thomas Burke on June 11 1931 for a nominal sum. He in turn transferred it to Adeline A Bowers on February 23 1935 who on the same date deeded it jointly to him and Mary Burke. Ten years later, on May 24 1945 Mary L Burke sold it to Bernice MacLeod and it is now utilized as a tourist house, but on its fine grounds among large trees its exterior is much the same in appearance as it was 40 years ago when still in the Kimball ownership.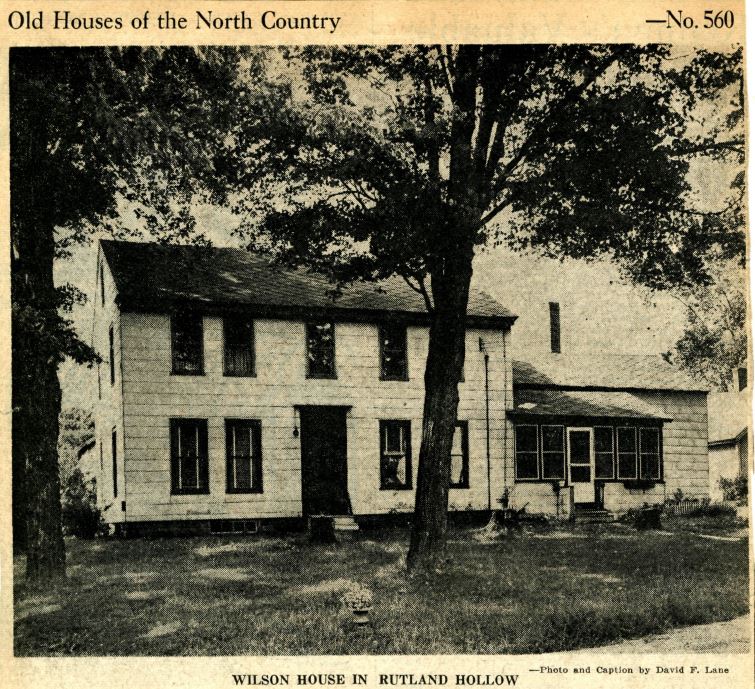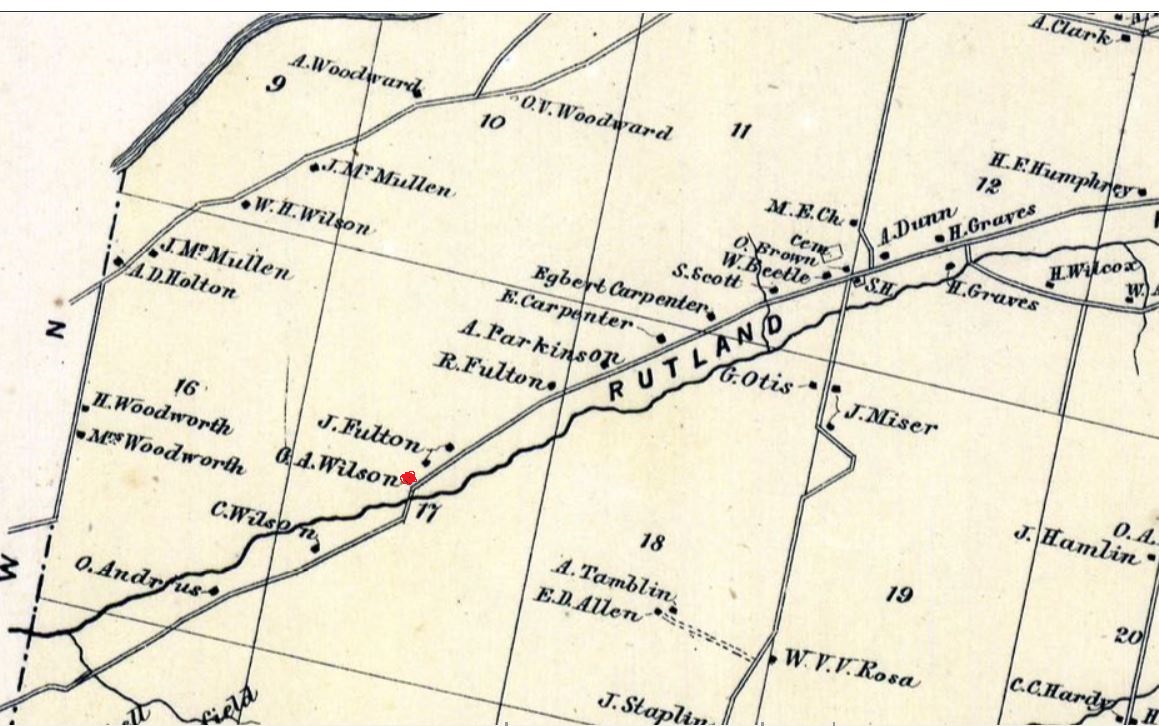 In point of settlement Rutland Hollow is one of the oldest as well as one of the most picturesque spots in Jefferson County. Sequestered and scenically beautiful the Rutland Hollow road was a favorite drive for swains and their maidens and was familiarly known as "Lovers' Lane" in the horse-and-buggy days.

Along it are a number of most interesting and nicely typed farm houses of a century or more in age. Among them is this Wilson house and its approximately 200 acres of land. Family tradition has it that it originally belonged to James Wilson, but according to the record his brother Samuel may have been the first owner. An unbroken chain of title is difficult to trace. Again, according to tradition three Wilson brothers owned about 1,000 acres of land in the Hollow at one time.
The Wilsons were located in that area almost at the beginning of the 19th century. Certainly they were there when the county was formed in 1805 for on June 10 1806 a deed states that James and Samuel Wilson had bought 118 acres from Isaac and Anne Bronson of Fairfield, Connecticut, in the locale of this house. On February 6 1807 James bought 223.75 acres in the same area from Nicholas and Alice Low of New York. On September 8 1808 James and Samuel Wilson acquired another 107.73 acres from the Bronsons and on November 11 1810 James and his wife Lucy L sold their interest in this parcel to Samuel. James, on the other hand, purchased the interest of Samuel and Susan A Wilson to a 139.26-acre tract in the same section on December 3 1810 which the two brothers had bought from the Bronsons on September 25 of that year.
The county atlas of 1864 shows that George A and Charles Wilson were owners of adjoining farms, that of the former being next south of this one shown above. If this house were built by James Wilson it must have some time come into the possession of George A Wilson, for on March 6 1871 he and his wife, Matilda M Wilson, sold 234.43 acres to Samuel Wilson who, with his wife Lucy, conveyed it to their son, Walter M Wilson, September 5 1873. On January 1 1874 Walter M and Clare Wilson sold 71.81 acres of this 234.43 acres to Starr H Thomson. This 71.81 acres is said to be the parcel upon which the house and buildings stand and appears in the title of the property as the title is today.
On December 20 1883 Mr Thomson bought a 9.81-acre parcel from Walter M and Clare Wilson then residing in Raymond, Dakota, and on January 16 1891 Walter's sister, Mary Belle Thomson, wife of Starr H Thomson and daughter of Samuel Wilson, acquired another parcel of 31.28 acres from her mother Lucy.
Starr H Thompson died April 27 1903 and this house and the land that then went with it became later the property of his daughter, Mrs Ina May Thomson Wadsworth, wife of Wilbur H Wadsworth, formerly of Pamelia, to whom she was married May 22 1900 and who now resides at 1994 State Street.
Mr and Mrs Wadsworth resided in this house and operated the farm for 43 years, Mr Wadsworth building it up through purchase of adjoining parcels, which had at one time been owned by members of the Wilson family. Not only did Mr Wadsworth operate the farm, but for a period of ten years from 1921 to 1931 he was highway superintendent of the town of Rutland and was prominent in the affairs of the town, having actively participated also in the affairs of the Republican party.
Mrs Wadsworth, who was prominent in Baptist church and Eastern Star affairs, was born in this Rutland Hollow house on August 23 1874 daughter of Starr H and Mary Belle Wilson Thomson, and resided there the greater part of her life. She died at 1994 State Street on December 5 1852 aged 78 she and her husband having sold this farm to Harold J and Anna H Andrews and Hattie L Andrews on December 6 1943. It is now owned and operated by Mr and Mrs Andrews.
Harold Jay Andrews is the son of the Mrs Hattie L Andrews and the late Jay Andrews, one of the old town of Rutland families. His wife, to whom he was married October 20 1930 is the former Miss Anna H Gray, a native of Canada, and they have three children. While the house has been somewhat modernized by a shingled exterior and replacement of the original smallpaned windows with larger ones, it still displays the beauty of its original lines and is one of the attractive old places along the historic Rutland Hollow road.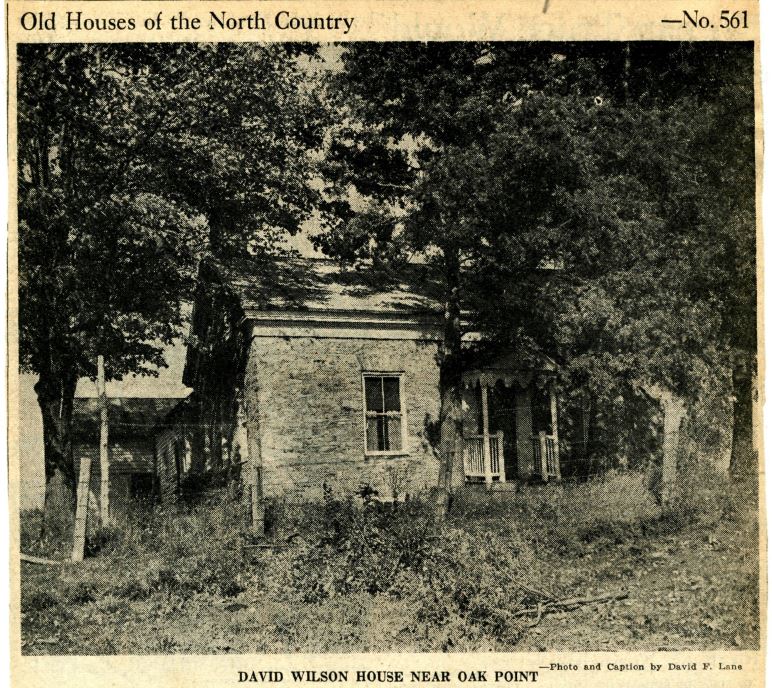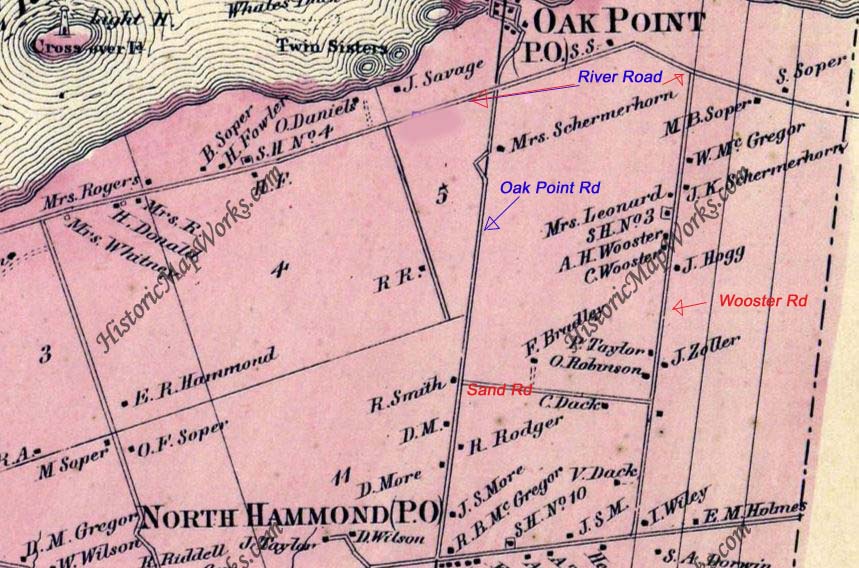 Securely hemmed in by a barbed wire fence and partially hidden by trees this primitive native sandstone house, more than a century old, sits far back from the side road that connects with the Hammond-Oak Point highway. Nor is it a great distance from the latter road.
It is believed to have been built by David Wilson, one of the early settlers in the town of Hammond, about 1848-9 and with it today is a farm of 118.23 acres. This farm consists of a parcel of 80.23 acres which David Wilson bought from George Parish March 30 1848 for $541.23 a small parcel of 1.12 acres which David Wilson purchased from Rutherford Rodger on May 23 1866 for $54 and 37.48 acres which Rodger had sold to David Wilson's son, John D Wilson, at the later date of February 14 1868 for $2,000. Rodger had acquired this 37.48-acre parcel, from Silas Robinson's 247.84-acre place, for $1,499 and the 247.84 acres had originally been bought by Ebenezer Marvin from David Parish for $743. When David Wilson died February 22 1877 he left a life-use of his estate to his widow, Mrs Margaret Wilson, and provided in his will that after her death their son, John D Wilson, should have a life-use of the property. After the death of John D Wilson it was to go to his heirs.
Like his father, David Wilson, John D Wilson was a successful farmer in the town of Hammond and in 1878 was assessor of the town. John D Wilson died December 7 1886 survived by his widow, Mrs Mary A Wilson, a grand-daughter, Lena A Leadingham, and an adopted son, George E Wilson. His estate went to his widow and to John Taylor in trust and on February 26 1891 they deeded it to James Leadingham for $5,000.

On January 15 1917 Leadingham sold the property to Clarence D Storie, a native of the town of Macomb, who lost his life in the disastrous fire that consumed a number of buildings in the business heart of the village of Hammond Easter Sunday, March 25 1951. Mr Storie, who was of Scotch descent, paid $8,700 for the farm and retired from it August 1 1950 to the second-story apartment on Main Street, Hammond, in which he was to lose his life less than a year later. Under the provisions of his will this farm went to his widow, Mrs Mary H Storie, who has contracted to sell the place to a son, Kenneth M Storie, the present occupant of the farm.
Clarence D Storie was born in the town of Macomb July 22 1876 son of John and Elizabeth House Storie. He was educated in the public schools of that town and on January 28 1903 was married to Miss Mary Holt of Woodstock, Vermont. Mr Storie was survived, besides his widow, by two sons, Karl D Storie and Kenneth M Storie, who now reside on adjoining farms.
Kenneth M Storie, owner of the house shown herewith, was educated in the schools of Hammond where he was born, and on August 5 1949 was married to Miss Alta A Wheater, daughter of Mr and Mrs Hobart Wheater of Ogdensburg.
Little is known about the history of the Wilson family that originally owned this house and farm or of the house itself. It is of extremely plain and simple construction, modest in every way and, as it sits far away from the road, seems to be decidedly aloof from the rest of the places in that part of the town.
As in the case of most of the old stone houses throughout the north country, however, this house must have had a worthwhile history. What that history was, however, has undoubtedly been lost for all time, a situation which too often exists among the old houses of northern New York, and, quietly it carries on, in a world so vastly changed from that of a century ago, dreaming perhaps of the life that has gone on within it during a period of ten decades, if a house can dream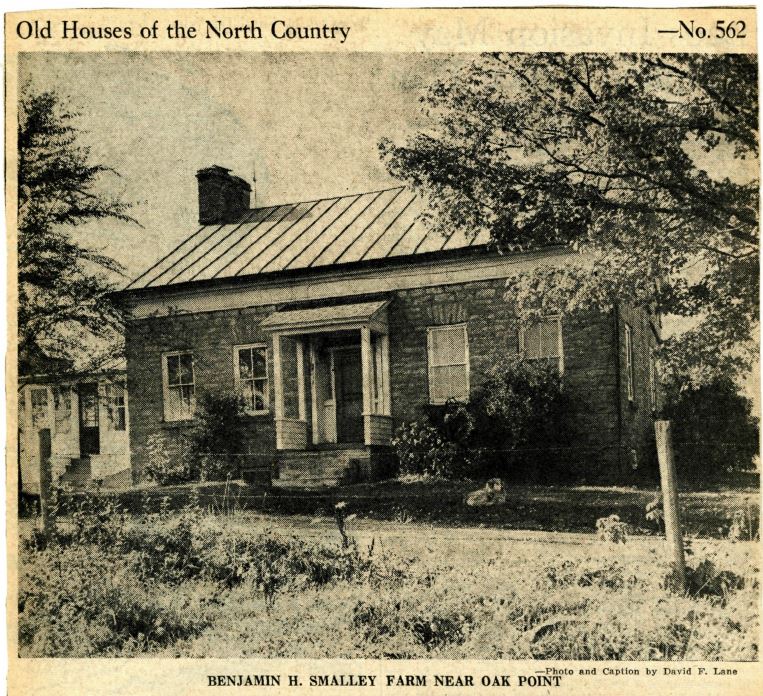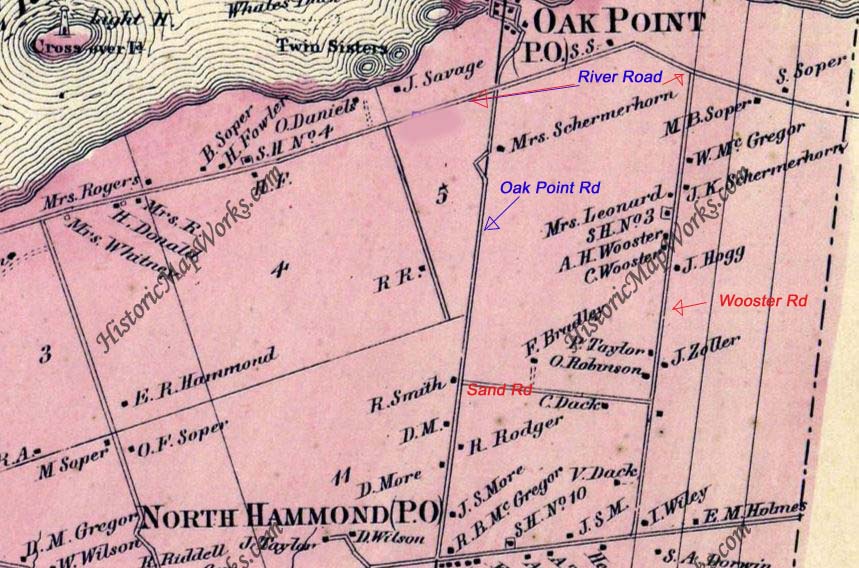 The next farm beyond that owned now by Kenneth M Storie on a cross road leading off the Hammond-Oak Point road is owned and occupied by his brother, Karl D Storie. It is made up of two parcels consisting of 39.77 acres and 80.18 acres, the former parcel coming out of the 247.84-acre tract bought by Ebenezer Marvin from David Parish on February 22 1819.
This Karl D Storie farm is one of three adjoining ones said to have been owned by three members of the same family at an early date. The other two are the Frank DuBois farm and the Kenneth M Storie farm. Benjamin H Smalley acquired the 247.84 acres from the Marvins on April 13 1838.
It would appear that Smalley built this attractive old stone house made of native sandstone sometime after that date and disposed of it and the parcel upon which it stands to Silas Robinson October 4 1857 for $4,600. A few years later Robinson sold off 37.48 acres that is now part of the Kenneth M Storie farm. The 39.77-acre plot which is part of the farm shown herewith was deeded by Silas B Robinson on December 6 1865 to Martin S Robinson, Alfred W Robinson and Arthur W Robinson for $4,600 and on March 1 1878 they transferred it back to him for the same price. He then sold it to John A Taylor on April 12 1880.
On February 20 1847 John Taylor had purchased the 81.18-acre parcel from George Parish for $512.58 although he had apparently occupied it under contract since July 1 1840. When Taylor died is not apparent, but on November 27 1875 his estate sold the 81.18 acres to John A Taylor, who died unmarried November 1,1926 leaving a long number of heirs, and on the following October 24 his executor conveyed the 39.77 acres and the 81.18 acres to Eva B Felt for the nominal sum of $1.

Eva B Felt sold the two parcels to Karl D and Rita E Storie, husband and wife, on April 18 1929 about eight and one-half months after they were married. Mr Storie's father, Clarence D Storie, died at the age of 74 in the disastrous fire that hit the business section of the village of Hammond Easter Sunday morning March 25 1951. Karl D Storie's mother was the former Miss Mary Holt of Woodstock, Vermont. Karl D Storie was born in the town of Hammond and educated in its schools. On August 1 1928 he married Miss Rita E Nicol, daughter of Mr and Mrs W W Nicol of Hammond and nearly all of the time since then they have resided on this farm. That the house was erected about 1840 seems evident.
Its architecture is of the cottage type, and it has undergone some modernization as the porch and windows indicate, but its walls are in excellent condition and as plumb and true as when they were first laid up. It is also maintained in excellent condition. The identity of the builder seems indefinite from the information at hand as no data could be obtained from Mr Storie. While, from such information as is available, the conclusion may be reached from the record that Benjamin H Smalley was the original owner there is also the possibility that it was constructed by John Taylor about 1840. Regardless of which of these two built the house, it was in all probability created about that time the records seem to indicate.
Like the house now owned by Kenneth M Storie and prior to his acquisition of it by his father, Clarence D Storie, from 1917 until his tragic death, the history of the house above is unknown.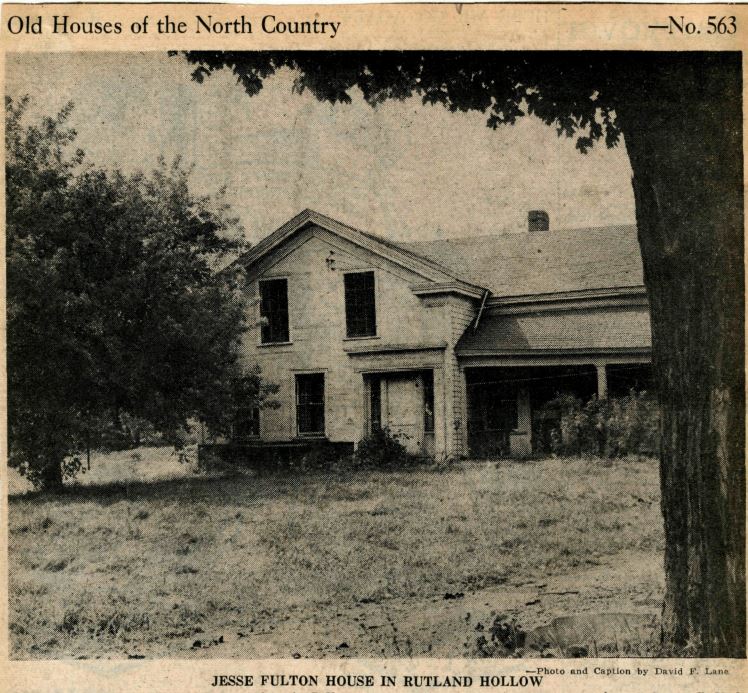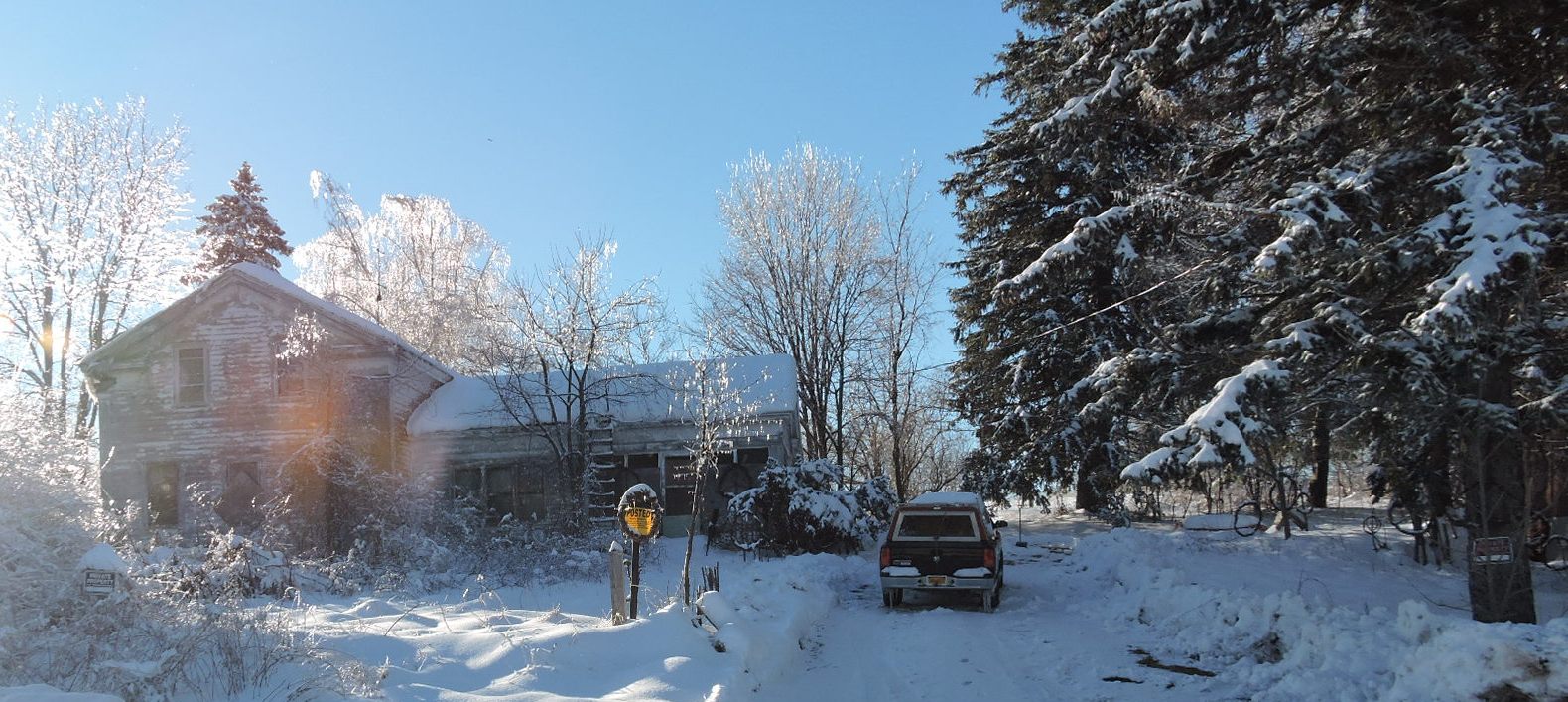 The Fulton family is.one of the oldest in Jefferson County. A native of Colerain, Massachusetts, James Fulton Jr, was born there May 7 1775 son of James and Hannah Ellis Fulton. Before leaving Massachusetts the junior James married Sarah Choate in 1799. In 1806 they slowly breaded their way through the wilderness to first settle in the town of Champion and be to fight later in the battle of Sackets Harbor of the War of 1812. The next year he bought a farm in the town of Champion.
On March 14 1838 he paid Abel and Lucretia Carpenter $5,701 for their 158.15-acre Rutland Hollow farm next to the Asa Parkinson farm. There he died the following June 20. He was a grandson of Robert, who was a native of Colerain, county Antrim, Ireland, a founder of the village of Colerain, Massachusetts. The family is also said to have had relationship with the steamboat inventor, Robert Fulton.
One of the nine children of James and Sarah Choale Fulton was Jesse, born in the town of Champion March 5 1812 a few months before the outbreak of the War of 1812. On May 3 1838 James sold off 108.15 acres of his Rutland Hollow holdings to Jesse, who acquired another 50 acres from Nathan Fulton January 16,1842 a small parcel of 6.15 acres from Richard Fulton April 6 1846 a parcel of 77.03 acres frQm Samuel and Lucy Wilson January 19 1849 and 17.28 acres from Elias and Welthy Woodward April 5 1855.
Jesse Fulton was married on August 2 1847 to Mary daughter of Reuben and Sarah Golding Scott, also early settlers of the Hollow and this Jesse Fulton house, now over a century old and of nice type, was probably built in the 1840s and in it was born to him and Mary Scott Fulton, a daughter, Ida Eudora Fulton, who was educated in the schools of the district and married George Benjamin Hadcock on December 20 1870.
Ida Eudora Fulton Hadcock was born September 7 1849 and was but 21 at the time of her marriage to George B Hadcock, who had been born in Harrisburg, Lewis county, June 18 1843 son of Benjamin and Mary Pickert Hadcock. After their marriage George B and Ida E Hadcock remained on the Fulton farm and operated it developing an extensive dairying and stock-raising business. There were born their children, Jerome F Hadcock of this city and his older brothers, the late Jesse B, and Lynn G Hadcock.
Mrs Mary Scott Fulton died January 20 1889 and on March 12 1893 her husband, Jesse, passed away in tin's city, his son-in-law and daughter having previously left the farm and moved to a big house on upper State Street. Jesse Fulton left Mrs Ida Eudora Hadcock as his only heir and she inherited the Rutland Hollow homestead. Upon her death it went to her estate and on June 11 1947 her son, Jerome F Hadcock, an attorney; her daughterin-law, Mrs Nellie G Hadcock. and granddaughter, Mrs Blythe Hadcock Smith, disposed of it to Robert H Staplin of this city.
Thus it was owned in the Fulton family at least a hundred years. Mr Staplin purchased the farm merely as an investment and shortly sold it and the 186.33 acres that remained of the original Fulton farm to George and Regina Barbalich.
On December 29 1948 George and Regina Barbalich transferred it to Albert B and Irene B Barbalich, the present owners and occupants. It remains one of the attractive old houses that are to be found in the Rutland Hollow section of the county, although in need of some restoration. The front doorway remains in the original and is an excellent specimen of main entrance. The ground-floor windows have been replaced by modern ones, but the fine, original twelve-paned windows are still in the upper story. The house is marked by heavy return cornices.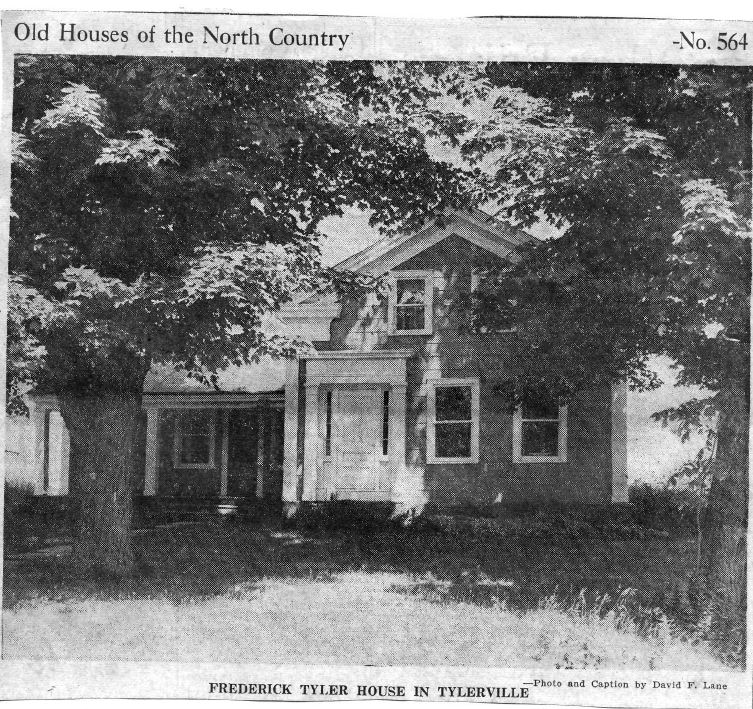 28615 Co Rt 69 Copenhagen (Tylerville)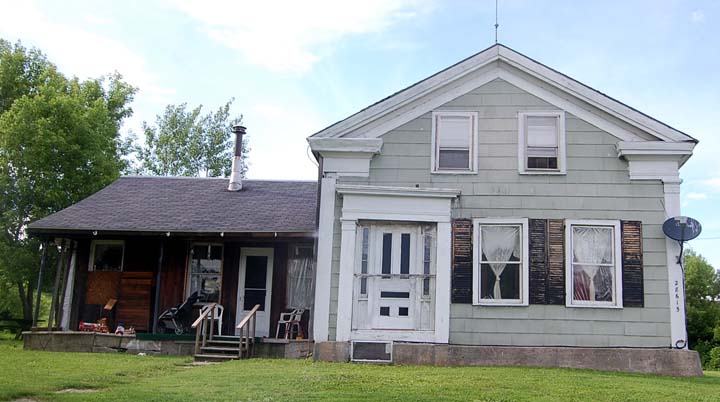 Named for the Tyler family, of which Josiah and Frederick Tyler were among the earliest Jefferson County exponents, the hamlet of Tylerville is one of the most historic communities in the county, for, among other things, it was the home of the Rutland Woolen Manufacturing company, owner and operator of the very first textile factory in northern New York.
In 1796 Benjamin Wright surveyed the town of Rutland, of which William Henderson became the owner and on June 6 1799 sent up Asher Miller of Middletown, Connecticut, as his land agent. In June 1800 Frederick Tyler took up 146 acres of land there and in May 1804 David and Josiah Tyler settled there. For them Tylerville was named.
After the state legislature incorporated the Rutland Woolen Manufacturing company on March 22 1811 Josiah Tyler, Ethel Bronson and Daniel Eames became its first trustees and a factory was built on the banks of the north branch of Sandy Creek at Tylerville. The capitalization of the company was $25,000. The plant operated successfully through the War of 1812 but by 1817 competition of British fabrics sounded its death-bell.
In 1810 Josiah Tyler built the first store in Tylerville and, after a few years was succeeded in its ownership by Kraft cheese factory. After some years the house came into the possession of Simeon Oakes, who had been born September 27 1803 in Athens, Vermont, of which his father, Nathaniel had been one of the founders in 1779. Simeon came to Tylerville in the late fall of 1836 from Mayville NY, to which he first went from Vermont in 1824 or 1825. Prosperous as a farmer, hotel owner, merchant, miller and manufacturer at Tylerville, Simeon Oakes, whose first wife, Florilla Davis, to whom he was married May 4 1823 becoming the mother of his children, was the father of Rensselaer A Oakes, merchant, editor, historian, author of the genealogical history of Jefferson County and onetime city editor of the Watertown Daily Times.
Educated at the Black River Institute in Watertown and Cazenovia Seminary, Rensselaer Allston Oakes gave up his first plan to be a Universalist minister and opened a grocery on the north side of Public Square in 1856. Later he was clerk here in H P Cooke's dry goods store, operated a dry goods store in Middletown, NY, three years, was a member of the local crockery firm of Murray & Oakes for a year and a half, edited the Jefferson County Union and the Watertown Post and later became city editor of The Times.
Born in this house, he published a volume of his poems in 1859 was a frequent contributor to Century, Independent and other magazines, was a charter member, custodian and corresponding secretary of the Jefferson County Historical society. For 18 years he was manager of the Watertown Book club and it was he who inspired Olin L Lyman, a Times reporter, to write that popular north country historical novel, "The Trail of the Grand Seigneur," upwards of 50 years ago. On September 11 1855 Rensselaer A Oakes was married to Miss Myra Mooar of Hollis, New Hampshire His one son was the late Robert P Oakes of this city, and his grandson, the late Harold Oakes. Simeon Oakes, whose second wife was Miss Rosetta Crosby, died October 1 1862. In his will he gave his widow his dweling house and about a quarter of an acre of land, but she later married Adolphus Cornwell. This farm of 136.45 acres he willed to his daughter-in-law, Mrs Fylinda Oakes, wife of Oscar S Oakes, but Mrs Fylinda Oakes died June 7 1864 willing this farm and residuary estate in equal shares to her two sons, Frank A Oakes and Oscar L Oakes.
This house and quarter-acre which Simeon gave to his widow, Rosetta, was part of the farm and on February 23 1881 as Rosetta C Cornwell she quitclaimed her interest in it to Florance A Oakes, wife of Frank A Oakes. Through an interchange of deeds in 1878 and 1879 title eventually to this entire farm property came to Mrs Florence A Oakes, who conveyed it to Frank Hadcock February 24 1881. On September 23 1881 he and Emily A Hodcock sold to Luther Read of Henderson. Mr Read died in 1901 willing life-use to his brother, Calvin, and then to a Calvin and Hannah Read conveyed full title to Mr Hanscom of Ironwood, Michigan, on December 23 1901 and on December 4 1915 Charles A and Effie M Hanscom sold to Ornis Trembley of Tylerville. On January 11 1916 Ornis and Carrie L Trembley disposed of it to George and James Parish of the town of Pinckney, after which George, James and Rosetta Parish conveyed this house and farm to H Duane Parish on January 20 1927. Then on February 15 1941 H Duane and Alleen Parish transferred to the Federal Land Bank of Springfield, Massachusetts, and the following May 16 the Land Bank sold to Mrs Eleanor L Parish, wife of John W Parish then residing in this city. Mr and Mrs Parish removed there from here and still own and occupy the property, acquiring and adding to it several hundred other acres in the vicinity of Tylerville, until they now have a total of about 500. John W Parish is the son of H Duane and Rosetta Rohr Parish and was born in the town of Pinckney, Lewis county. On June 16 1923 Mr Parish was married at Canton, NY, to Miss Eleanor Louise Cornell, daughter of Ethan Allen and Etta Knox Cornell, well known residents of that village. The marriage ceremony was solemnized by the late Dr James M Payson.
Mr and Mrs Parish operate their farm in a most forward manner and maintain this old house, which is well past the century and a quarter mark, in excellent condition. It is of a fine old type and the original front entrance is of especially fine design.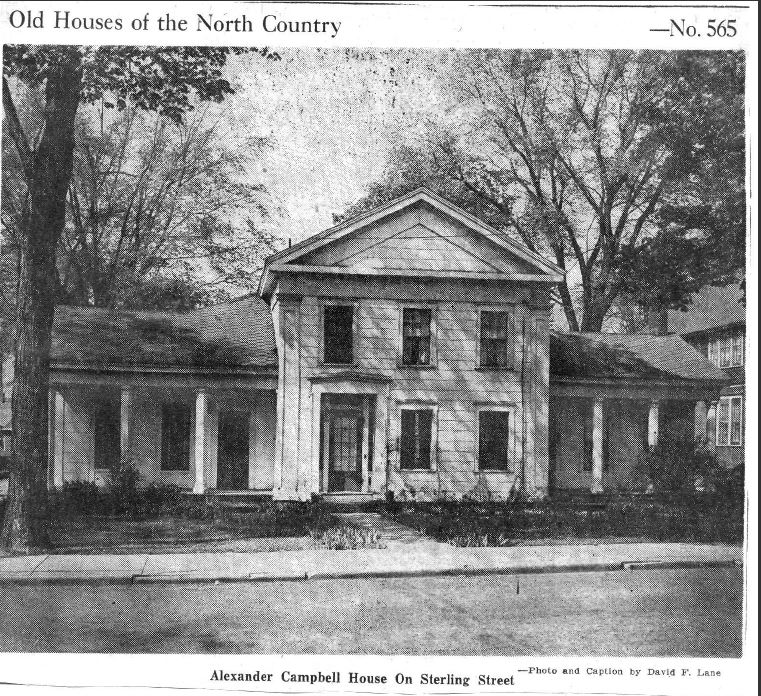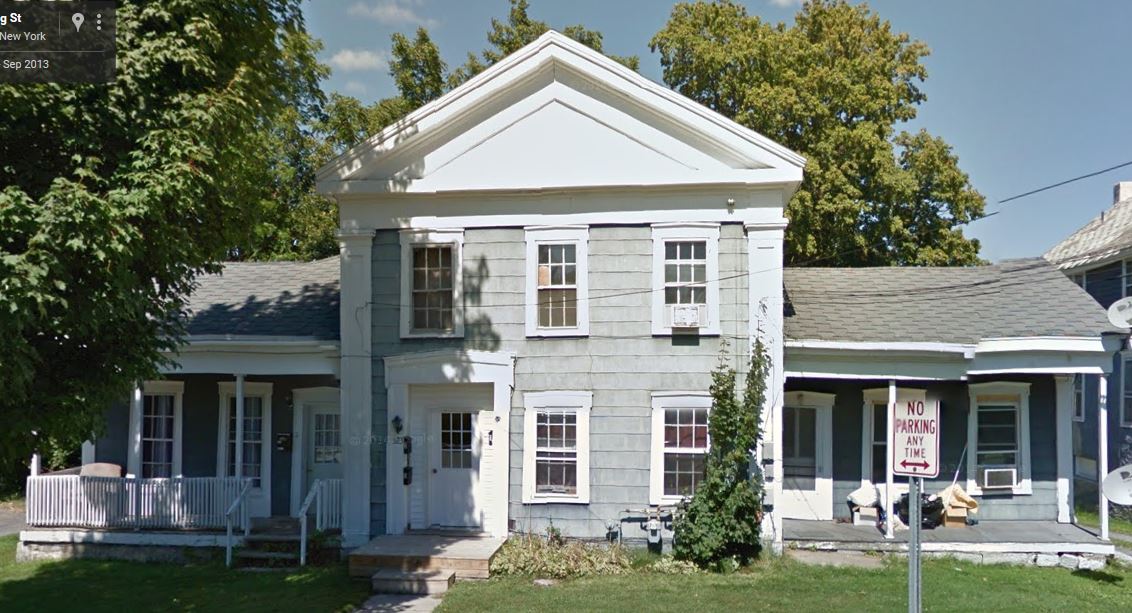 A fine old type of dwelling house of symmetrical design with evenly balancing wings, heavy cornices and attractive top and side-lighted main entrance in the upright is this 24-room residence built more than a century ago. The site originally belonged to the extensive estate of Micah Sterling, whose beautiful limestone mansion, now the Holy Family parochial school, is barely a block away and was built in 1826.

It would seem that the house shown above was built about 1850 and probably by Gilbert Woodruff, who constructed many of the houses and business buildings of Watertown in that period, for a deed dated November 21 1850 shows the Micah Sterling estate conveying the site of this house to Woodruff.
Doubtless Alexander Campbell owned the place more than once, for the local directory of 1855 shows him living there at that time and Albert P Brayton, a local hardware merchant boarding with him. Deeds on record on the county clerk's office indicate that perhaps Campbell was at a loss to decide in just what locality he did want to reside. On March 9 1853 he bought a lot from Wooster Sherman on the west side of Sherman Street. On March 8 1856 he purchased a lot from his business partner, Aaron C Cady, on the south side of TenEyck Street. September 22 1857 found Alexander Campbell buying from Supreme Court Justice Frederick W and Mary P Hubbard the lot immediately west of Judge Hubbard's residence on the south side of Clinton Street and the deed says: "Being the same lot on which said Campbell is now building a dwelling house." That is the tall-pillared house at 253 Clinton Street, now the residence of Mr and Mrs Robert G Hon. But Alexander Campbell must have soon tired of the house or have seen an opportunity to make a profit on it, because on March 21 1859 he and his wife, Helen M Campbell, sold it to Judge James F Starbuck for $4,000 and on the following September 4 he paid Garret and Eliza Ives, town of Watertown, $2,700 for this Sterling Street house, where he and his wife and son resided the remainder of their lives.
Of Scotch descent this elder Alexander Campbell was born in 1817. Early he was living in Watertown, was a brilliant, oratorically inclined scholar who graduated about 1844 from the Jefferson County Institute. He later engaged in the dry good trade, was active in politics and married Miss Helen M Brayton, daughter of Albert P Brayton, hardware merchant and sheriff of the county about 1840.
The Watertown directory of 1855 shows that this senior Alexander Campbell was in the wholesale and retail dry goods and dry groceries business with Aaron C Cady and J A Lawyer under the firm name of Cady, Campbell & Lawyer at 7-8 Washington place. On 1859-60 Cady was out of the firm which had become Campbell & Lawyer in the same business at 7 Washington place and by 1872 the location had been transferred to 8 Court Street and the firm to Campbell & Farwell, Frederick R Farwell having become Mr Campbell's partner.
Having been a staunch Republican Alexander Campbell Sr, became postmaster of Watertown on January 28 1874 under appointment by President Grant, but for years Mr Campbell had been in frail health and on, April 28 of that year he died aged 57 leaving one son, Alexander Jr, and two daughters, Louise C who became Mrs F B Hooker and Nellie C, who became Mrs Charles H Lane.
This Sterling Street residence went to his widow, a stately and dignified woman, to whom her friends paid homage as to a queen up to the time of her death June 28 1905 her son, Alexander, who never married having lived there with her. Young Alexander had, upon his father's death, succeeded to the business, which became Campbell, Farwell & company and remained in the upper Court Street location. Mr Campbell was related to Mr Farwell, whose mother was Miss Margaret Brayton, sister of Reverend Isaac Brayton.
Eventually Alexander Campbell Jr, took in another partner, Philo C Moulton and the firm became Campbell & Moulton for many years. Later William H Holley succeeded Mr Moulton as a sort of silent partner taking a small interest and it became A Campbell & company. Finally Mr Campbell took full ownership again and eventually sold out to the late Leon D Welch. On January 18 1935 Mr Campbell died at an advanced age and up to the last had been an ardent horse fancier and baseball fan. He never married and under the provisions of his will his residence and contents went in equal interest to two nephews, Alexander Campbell Hooker of Cambridge, Massachusetts, and Francis Brewster Hooker of New York.
The record of title to the house shows that on March 23 1871 Alexander Campbell Sr, and wife, Helen M Campbell, sold this property to Louise C Brayton and that on April 15 1887 Louise C Brayton transferred it back to Mrs Campbell, Mr Campbell having died, but apparently the Campbells never discontinued their residence there. Only a few months after Alexander Campbell Jr, died, Alexander Campbell Hooker and wife, Harriet G Hooker, then of Hingham, Massachusetts, sold the property to Mrs Amanda R Banford of this city, wife of William R Banford. After refinishing the house they began occupancy of it and have continued to date. On July 13 1940 Mrs Banford conveyed title to herself and two sons, Robert L and Richardson W Banford of Pearl River, NY, with life-interest to her husband. Mrs Banford was the former Miss Amanda Richardson of Oswegatchie, on August 13 1900 was married to William R Banford and for a number of years they were in the wholesale candy business, and had their own confectionery and ice-cream store after that for a period of five years. Then for a number of years Mr Banford was engaged as an insurance salesman.
The woodwork of the large, low rooms of their house is original and beautifully crafted. There is a fine stairway in the hallway and the rooms are furnished with beautiful antiques, while the large grounds are handsomely landscaped.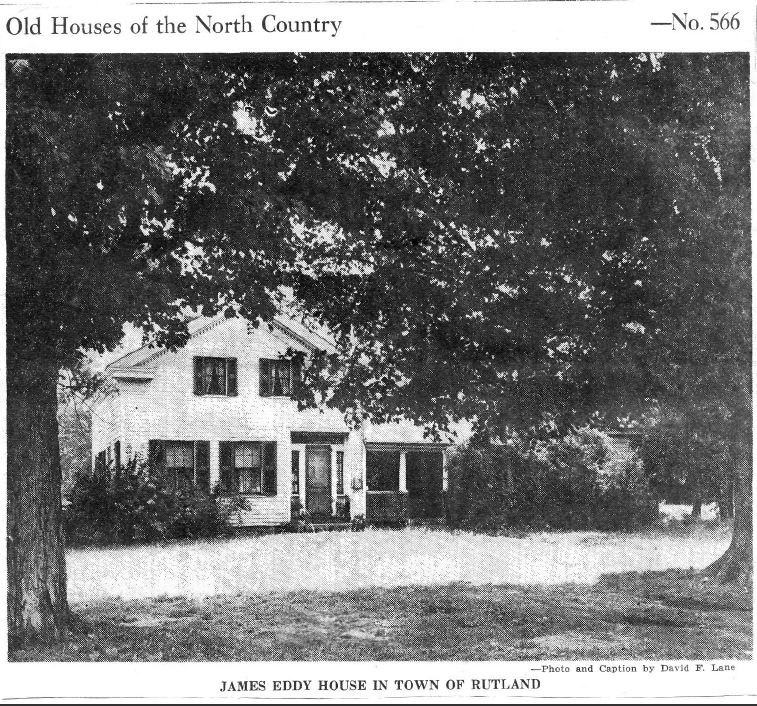 The excellently-typed James Eddy house, constructed by him in the summer of 1847 has never been out of possession of the Eddy family for the more than 100 yearsof its existence, and its well-kept condition with its fine main doorway make it a target for the admiration of all who pass that way. While of frame construction, it is of that early style which is bricked up between the studs.
Born at Rutland, Vermont, October 18 1792 James Eddy was a twin brother of Enoch Eddy Jr, who purchased a farm of 200 acres in the town of Pamelia on September 25 1824. They were sons of Enoch and Cynthia King Eddy who came from Rutland, Vermont, in June, 1800 with Major George White to begin settlement in the town of Rutland, Jefferson County, NY, according to county histories, although members of the Eddy family maintain that the elder Enoch came in 1799 and moved his family by ox-team through the wilderness in the spring of 1800. Child's history says 1801.
Both the history and family tradition declare that Enoch Eddy Sr, located his farm where this house now is, which is probably not the case at all, according to the record in the county clerk's office. In all likelihood the elder Enoch either located nearer Major White in the town of Rutland or further towards the middle of the town of Rutland than this house is, although there are no county records which show that he took title to much, if any land in the county. Notwithstanding that, Child's history states that in December 1807 Enoch Eddy and George White each took 35 bushels of wheat to Albany and sold it at 80 cents per bushel.
James and Enoch Eddy Jr, on the other hand bought extensively of Rutland lands beginning with a parcel of two acres acquired from George and Lydia White October 6 1813 nearer the Hollow than this farm. On April 18 1814 they bought 282.71 acres together from Land Speculator Isaac Bronson and wife, and February 26 1818 Enoch Eddy Jr, purchased 80 acres in the town of Watertown, while on July 14,1820 he took 16.6 acres in the town of Rutland and the following December 7 his brother, James, conveyed his half interest in the 282.71 acres to him. Then on November 10 1821 Enoch Eddy Jr, bought another 56 acres near by. On December 9 1820 Enoch Eddy Jr, and his wife, Huldah Aldrich Eddy, deeded 127 acres to Enoch Eddy of Herkimer county for $2,000 and on September 24 1824 Enoch Eddy Jr, and Huldah transferred their interest in the 282.71 acres back to James Eddy and the next day acquired their 200-acre farm in the town of Pamelia.
That the farm where this house is was definitely a James Eddy project, with which his father was never identified, the record in the county clerk's office seems to indicate, for it is now composed of four parcels, three of which were purchased by James and identified by him in his will as the "Homestead" farm upon which he resided at the time of his death and which he willed to his son, Egbert H Eddy, and the fourth parcel was later purchased by Egbert. The first and main parcel of this "Homestead" farm was purchased by James Eddy from Isaac and Anne Bronson of New York City on July 27 1830 for $500 and it consisted of 170 1/2 acres.
There, it is said that he first built a log cabin and later a Cape Cod type house, which he eventually moved back to become a slaughter house, and then built the house shown above in 1847. In 1835 he erected his North barn and in 1841 the South barn. Both are of sturdy type with heavy, hand-hewn timbers pegged together with wooden pins. In 1908 they were joined togeher and still stand. On June 7 1849 James Eddy bought a second parcel of land to add to his homestead farm. It consisted of ten acres and he purchased it from Hiram and Emeline Howland. His third parcel he acquired April 7 1865 from Amos W and Emily Mallery. It consisted of 16 1/4 acres. On April 22 1887 his son, Egbert, who in 1881 had built the storehouse that housed the first Fairbanks standard hay scales in the county, added a fourth parcel of five acres to the farm.
During the history of this farm it has been noted for sheep-raising, the growing of beef cattle and slaughtering them to meet a heavy market demand, the raising of hay, and at one time the production of thousands of bushels of apples annually from one of the best orchards in the north.

Both James and Enoch Eddy Jr, served in the Battle of Sackets Harbor, War of 1812. In May 1812 James married Cynthia Philbrooks, granddaughter of a participant in the Boston Tea party. They were parents of five children. Mrs Eddy pre-deceased her husband, who died in 1876 at the age of 83. In his will dated January 13 1876 and recorded December 23 of that year he gave to his son, Egbert H Eddy, "who lives with me, the homestead farm, where I now live" and described it as consisting of 170 1/2 acres bought from Bronson, ten acres from Howland and 16 1/4 acres bought from Mallery. When Egbert H Eddy died on October 26 1906 aged 76 leaving a will executed September 27 of that year, he provided for his widow, the former Emily Higby of Turin, but the realty went to his two sons, James and Horatio Nelson Eddy. To James went the Gifford farm of 205 acres and to Nelson the homestead farm. James died intestate January 7 1917 leaving his mother, his brother, Horatio Nelson, and two sisters, Mrs Cynthia J Cross and Mrs Alice M Oakes, all of whom conveyed their interests in James property to Horatio Nelson.
But on October 18,1918 Horatio Nelson Eddy died intestate during the flu epidemic possessed of both the Gifford and the homestead farms. Pie was survived by his mother, two sisters, his widow, the former Anna M Shannon whom he had married October 7 1908 and four young children, Egbert H, John T, J Wilson and Charles M. All of the sons are now married and have farms of their own but John, who resides with his mother, Mrs Anna M Shannon Eddy, and operates this homestead farm that James Eddy built up. It is interesting to note that Horatio Nelson is a favored name in this Eddy family, which claims the noted baritone singer, Nelson Eddy, as a distant cousin.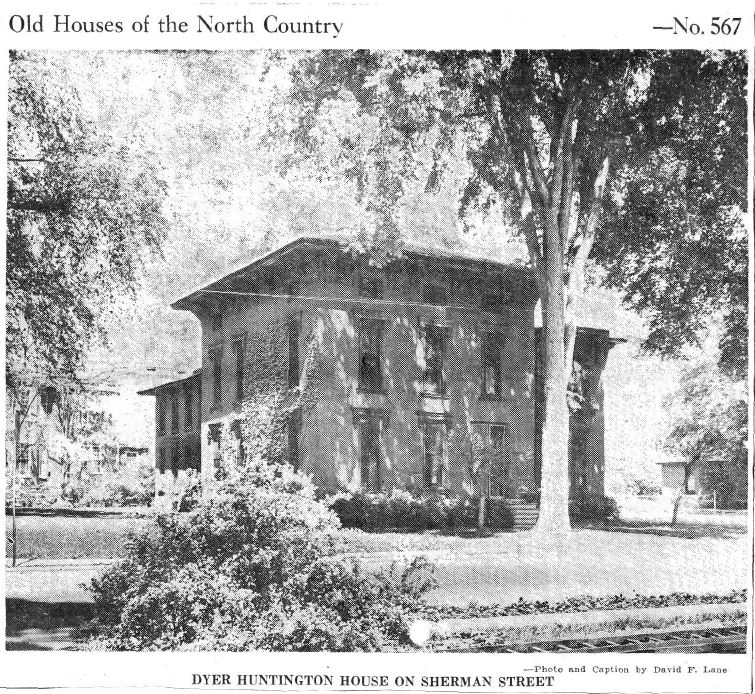 More than 100 years of distinguished ownership is attached to this house at 134 Sherman Street, formerly known as Benedict Street and prior to that as Prospect Street. This ownership runs through Dyer Huntington, George A Bagley and Mercy hospital. The big square, red brick house has been owned 28 years by the hospital and used as a nurses' home. Dyer Huntington and George A Bagley were among Watertown's outstanding citizens. Born in Cheshire county, New Hampshire, Dyer Huntington at 18 came to Watertown with his father, William Huntington, to become one of Watertown's earliest settlers in January 1804 and the Jefferson County Historical society has a map drawn by him showing Watertown as it was in that year with location of streets, dwellings and other buildings.
His father, William Huntington, was born in Tolland, Connecticut, in 1757 moved to New Hampshire in 1784 and 20 years later moved here. In 1821 he located at and founded Huntingtonville, built a dam across Black River to Huntington island, erected a large sawmill and shingle plant, established a scythe factory and clover mill. Early Dyer Huntington resided in a two-story frame house on the east side of Washington Street about where the V F W building now is and had his drug, paint, oil and glass shop just south of the alley and where the north end of the Black River Valley club is.
Watertown incorporated in 1816 Dyer Huntington I was a village trustee in 1818, 1819, 1822, 1823, 1824, 1829, 1830, 1831 and 1844. In 1837, 1838, 1845 he was village president. He was master of Watertown lodge, 289 F & A M, in 1820-1821 and when a fire company was formed August 6 1832 and attached to the Jefferson Cotton mill he was chosen chief engineer.
When the Jefferson County Agricultural society held its anniversary ball at Hungerford's hotel October 2 1823 Dyer Huntington was one of the ball managers. His father, who died May 11 1842 aged 85 became one of the founders May 14 1805 of the Watertown Social library, which was the community's first library. On September 6 1839 Dyer Huntington paid George A and Sarah Benedict of Cleveland, Ohio, Harriet Ann and Amelia C Benedict of Watertown $900 for the site of this house at the northwest corner of Stone and the then Prospect Streets. The site consisted of 2.2 acres and extended west to Massey Street. Later he sold off the west portion of it.
Presumably he built his house shortly after buying the 2.2 acres and resided there until his death August 8 1851. On December 21 1852 Mrs Eliza Ann Huntington, widow of Dyer Huntington, sold this place to George A Bagley for $2,000 there being .81 of an acre of land with it and the deed stating that it was "the house and lot occupied by Dyer Huntington at the time of of his death and now occupied by Eliza A Huntington" Then 26 George Augustus Bagley was a young attorney who was later to be one of northern New York's leading industrialists and most prominent citizens. He had been born in Watertown July 22 1826 son of Attorney Bernard and Zurviah Gates Bagley. After attending the common schools here George A Bagley studied law in his father's office, practiced for a short time but disliked the legal profession and abandoned it.
With George Goulding and Edmund Q Sewall in 1853 he rounded out the firm of Goulding, Bagley & Sewall which took over the foundry and machine shop that Goulding had started on Sewall's island in 1823. The firm operated making castings and machines of different kinds until 1861 when Goulding retired and the firm became Bagley & Sewall, which incorporated July 6 1882 at a capitalization of $100,000 and George A Bagley president. Not long afterward the company took up manufacture of Fourdinier papermaking machines and became one of the leaders in that line in the world, a position it still has continued to retain under the ownership of Abe Cooper for 14 years. George A Bagley was unmarried when he purchased the Huntington house and his father lived with him for some years dying June 26 1878. Shortly before purchase of the property George Bagley was made first treasurer of the Watertown Gas Light company formed March 3 1852 was intensely active in Republican politics as well as in business and civic affairs. His marriage to Miss Sabine P Clark, daughter of Colonel Ambrose W Clark, took place in 1858. He was collector of internal revenue 1863-1870 Watertown member of the board of supervisors 1865-6-7-8 village president 1866 a representative in the 44th and 45th congresses 1874-1878 was president and a director of the Davis Sewing Machine company, a director of the Eames Vacuum Brake company, a factor in the building of the Carthage, Watertown & Sackets Harbor railroad, was a director of the Watertown Cemetery association, was a founder of the Watertown Brass & Manufacturing company April 11 1893 of the Excelsior Carriage company November 2 1889 first vice president of the Watertown board of trade formed January 4 1889 an original trustee of the House of the Good Samaritan established in 1881 a,director of the Stiles & Fladd Press company incorporated November 16 1895 and active in many other projects.
George A Bagley died May 14 1915 and his widow, Mrs Sabine P Bagley inherited his estate. She died November 24 1916 leaving a son, Ambrose C Bagley and three daughters, Mrs Virgil K (Jessie) Kellogg, Mrs Stuart D (Carrie) Lansing and Miss Madeleine Bagley. The estate deeded this house to Miss Madeleine Bagley who, on April 21 1925 sold it to Mercy hospital of Watertown, the present owner.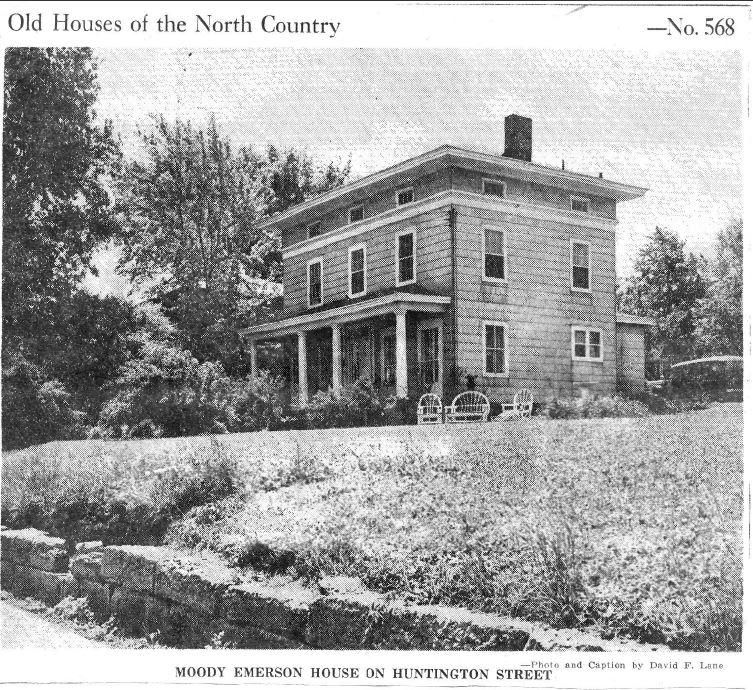 714 Huntington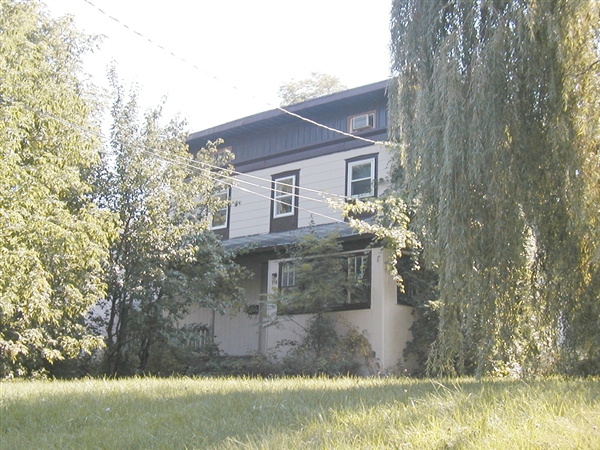 One of the most dignified and imposing old houses in the city is the large, squarish one at 714 Huntington Street which looks from its large grounds and highstone-walled location at the corner of Lee Street. The view before it to the northward is over the south channel of Black River to Sewalls island and the Bagley & Sewall plant. In a much earlier day there came more immediately to its gaze the paper mills of the old Remington Paper company on the south shore of the island. A broad, central hall with beautiful cherry staircase runs through the middle of the house from the attractive front door. Its five ground-floor rooms are large and pleasant and from the front ones long French windows open onto the verandah. Originally there were fireplaces in the house, one of which, with its bake-oven. was in the basement. On the second floor are four large bedrooms. This house must have been built nearly 130 years ago, for the deed of the property consisting of 1.06 acres from Marinus and Sally E Gilbert to Moody Emerson September 1 1828 states that Emerson was then residing there and that the Gilberts had bought it exactly a month before from Noah W Kiniston, the noted stagecoach operator. The deed also reserved from the west end of the lot a twelve-foot "common way," which undoubtedly became Lee Street after many years.
The deed also describes the lot as touching on Franklin Street and the Huntington road, the latter of which, became Huntington Street and leads to Huntingtonville. Neither city engineer's records nor old maps show a Franklin Street, but it is likely it was that stretch on Huntington Street between Factory Square and Lee Street.
Old Watertown directories show Moody Emerson and his wife, Catharine, having lived there many years, but who Moody Emerson, was seems much of a mystery. No tie-in has yet been found with former Supreme Court Justice Edgar C Emerson's nor Engineer Arthur H Emerson's lines. Nor with the line of Fred Emerson, a prominent Watertown resident for whom Emerson Street was named. Moody Emerson, however, early resided in the town of Hounsfield and at Sackets Harbor and on November 13 1819 Moody Emerson, then of Hounsfield. bought 49 acres of Hounsfield land from Benjamin Griffin of New Rochelle.

Six years later, with Henry Caswell of Watertown he bought land in this community. At that time he resided at Sackets Harbor. With Caswell he had other ensuing land deals in Brownville and in Wilna. Then on April 26 1871 Moody and Catharine Emerson conveyed this house and 1.06 acres to Miss Eliza Emerson for $3,000. An old deed of Emerson's widow in 1878 indicated that he died before that, probably shortly before, but the city directory of 1881 shows that Mrs Emerson was still residing in this house.

There seems to be no record of the estates of Moody and Catharine Emerson in the surrogate's office and the trail to the disposition of their properties breaks in the county clerk's office. That the Emersons and the Scotts of the towns of Rutland and Watertown were probably linked is likely, for on May 29 1837 Emerson H Scott was born to Thomas H and Betsey Middleton Scott of the town of Rutland and the will of Miss Eliza Emerson, executed July 3 1902 and recorded October 1 1902 gives this house and all of her other property to Mrs Minnie E Ecott, wife of Reuben H Scott.
On April 16 1920 Minnie E Scott, town of Watertown, contracted to sell this house and lot to N Wallace Mack, but on June 14 1924 Mrs Scott as executrix of Mack sold it to John and Mary Karpinsky through Attorney Arthur L Chapman as referee. Next on August 17 1925 Mr and Mrs Karpinsky sold to Almon P and Jannie J Wooledge. On August 10 1937 Mr Wooledge, widower, conveyed it to C Wesley Gamble, who sold to Fred C and Mary M Thomson January 22 1941. Mr and Mrs Thomson, Long Beach, Calif., disposed of it to Nelson H and Marion Thomas May 25 1946 and on February 10 1950 they sold to Mrs Austin (Martha Anderson) Chambers, the present owner.
Mrs Chambers, who has the house filled with many beauliful antiques, states that it is of the finest construction and the excellent woodwork of the best craftsmanship. At one time there was a large barn and coachhouse at the rear and an old well provided the best of drinking water for the neighborhood. Apparently, she says, the Emersons originally owned a stretch of land running nearly to Rutland Street and across Huntington Street to the river. For many years, from the early 1880's until his death September 27 1893 this house was occupied by Simon P Huffstater and was known as the Huffstater place, although no record can be found that he ever owned it. Mr Huffstater came to this county from Oswego county in 1839 taught school for about eight years and then operated the, old Jefferson Hotel, which later became Huffstater's Hotel near the old Watertown & Rome passenger depot at the west end of the city for about 25 years. After that until his death he conducted a wines and liquors store on upper Court Street. His wife was the former Miss Mary A Moulton of Sackets Harbor, who died in this city August 14 1895. One of their five children, Mary, was the first wife of Richard Holden, who served the city first as supervisor and then as clerk of the board of supervisors for several decades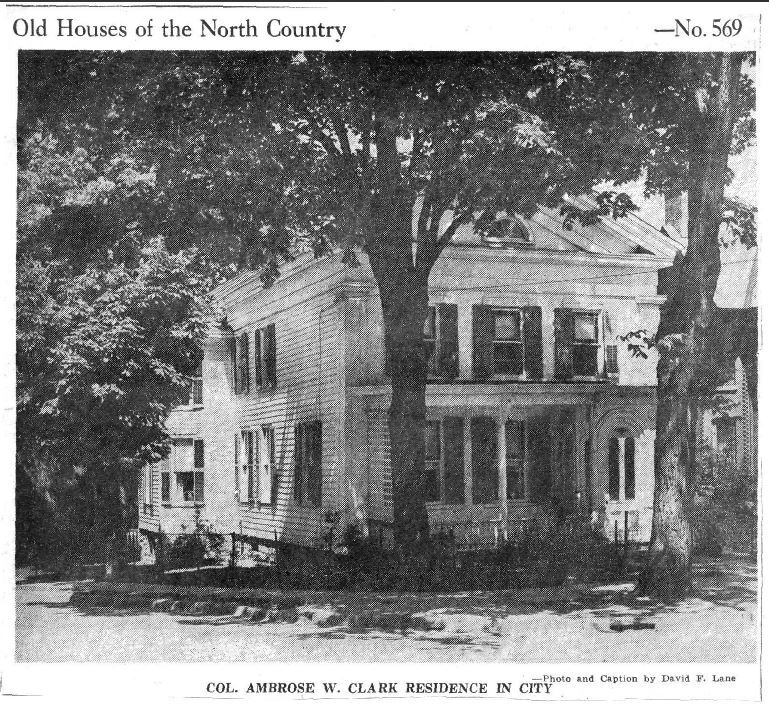 One of northern New York's outstanding newspaper editors was Colonel Ambrose W Clark, an active member of the Whig party who, when the Republican party was organized, became its leader in Jefferson County, served two terms in congress from 1860 to 1864 inclusive and went to Valparaiso, Chile, in 1865 to serve with distinction as United States consul. His early residence in Watertown was the present home of Mr and Mrs Ambrose T Plunkett at 150 South Masssey Street. Colonel Clark was born near Cooperstown February 19 1810 and died in this city in 1887. His daughter became the wife of George A Bagley. Colonel Clark began his newspaper training at an early age and in 1836 he established a newspaper in Lowville, where he remained for ten years, came to Watertown, took over the Watertown Tri-Weekly Journal started by Joel Greene in 1846 and changed the name to the Northern New York Journal. A few years later with John Favel under the firm name of Clark & Fayel, Colonel Clark purchased the Northern State Journal from Smith & Noble, Upon being elected to congress, Clark's newspaper interest waned and Fayel took over but in a short time went into the federal postal service in Washington, where he died July 12 1864. Colonel Clark was president of the village of Watertown in 1859 and supervisor from Watertown in 1859-1860. On December 8 1849 he purchased this house from Walter N and .Emily Woodruff and Merritt M Andrus. After living in the house six years Ambrose W and Pauline S Clark sold the property to Joseph Addison Lawyer on November 7 1856.
The house was built in 1849 and the site was part of the holdings of Hart Massey, who was one of Watertown's first five settlers. This is substantiated by the record which shows that on May 17 1849 Hart and Lucy Massey sold the lot to Hiram B Stevens for $380. Then on December 8 1849 Hiram B and Emma A Stevens disposed of it to Walter N Woodruff and Merritt Andrus of the local grocery firm of Woodruff & Andrus for $2,100 the same price which they received from Colonel Clark.
Inasmuch as Woodruff was in the contracting and building business with his brother, Gilbert, the inference is that he built the house for Stevens who, apparently, was dealing in real estate in that section. At any rate the house has had a distinguished ownership. Colonel Lawyer was quite as outstanding as Colonel Clark. Born in Schoharie county June 22 1825 his mother died when he was two and his father when only seven. He attended Schoharie academy and a boys' school in Poughkeepsie. At 20 he entered a wholesale dry goods store in New York City and after his sister Mary married Samuel B Upham of Watertown young Lawyer joined him here in the general dry goods business in 1848.
When the Civil war broke out Joseph Addison Lawyer was made an additional paymaster of volunteer troops until 1866 with the rank of lieutenant colonel. After the war he returned here and engaged in business until 1876 when he was made secretary-treasurer of the Rome, Watertown & Ogdensburg railroad. He held that position for over ten years when the New York Central bought the road. However, Colonel Lawyer continued to hold the title of secretary-treasurer until his death. He was active in Masonry, having been commander of Watertown Commandery, No. 11 Knights Templar, in 1869, 1870, 1871, 1874 and 1875 master of Watertown lodge, No. 49 F & A M, 1871-2 and member of the Scottish Rite bodies as well. Also he was a vice president of the Jefferson County Savings bank. Colonel Lawyer's wife was the former Mary Huntington and their children were Edward Lawyer and Mary, the latter of whom married Willard D McKinstry, editor of the Watertown Daily Times until his death early in 1919.
On April 25 1888 Colonel and Mrs Lawyer sold this house at the corner of South Massey and Stone Streets to John Hardiman, prominent local contractor and builder and former owner of the Hotel Hardiman, now the New Roosevelt. Mr and Mrs Hardiman occupied the property until November 14 1906 when they sold it to Mrs Catharine Loughlin, city. Mrs Loughlin was the widow of Martin Loughlin and when she died all of her property, both real and personal, went to her daughter, Mary Lyman Loughlin, who had become the wife of Ambrose T Plunkett according to the recording of her will on April 30 1942 and Mrs Plunkett still has title to the place.
For some years Mrs Plunkett was organist at St. Patrick's church in this city until 1928 when she and Mr Plunkett removed to New York City, where he was connected with the main office of the St. Regis Paper company and its subsidiary, the Taggart corporation, until his retirement July 1 1948 as vice president and director of the St. Regis Sales corporation and also of the Taggart corporation.
Prior to his association with the St. Regis and Taggart companies Mr Plunkett was for a number of years identified with the office of the Union Carriage & Gear company in this city. He is a son of the late Mr and Mrs Patrick Plunkett, his father having been a prominent local builder. He is also a brother of Mrs Valorus A (Alice E) Bradbury and Miss Mary K Plunkett, both of this city, and of the late Rt. Reverend Msgr. John L Plunkett, former pastor of St. Patrick's church. The Massey Street house is one of the fine old houses of the city.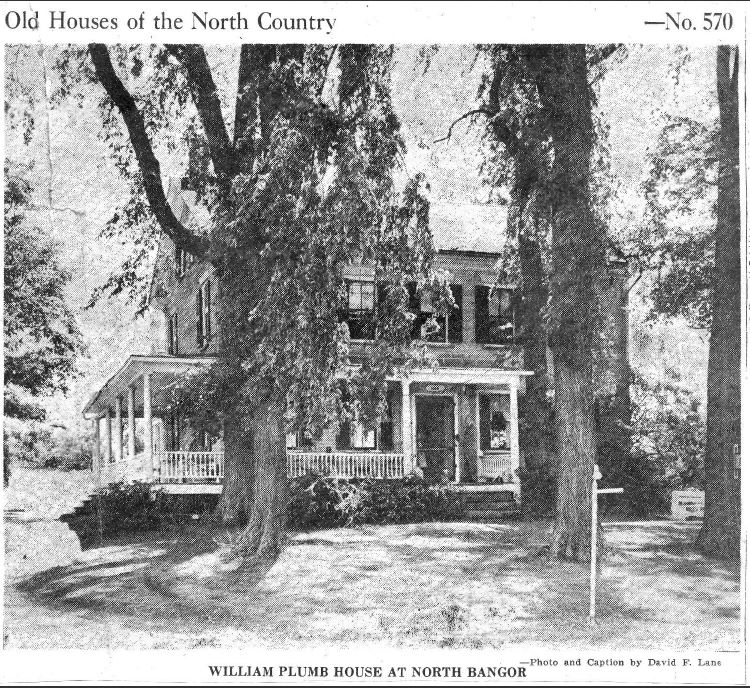 Franklin county has few more historic houses than that of Wililam Plumb built in 1838 at North Bangor. It consists of 14 spacious rooms and is constructed of native gray sandstone quarried in the Rider district between there and Malone and erected upon a farm of more than 800 acres setted in 1804 by William's father, Joseph. Joseph Plumb, a Revolutionary soldier and Vermont merchant first came by ox-sled from Brattleboro in 1802 to the area known as Moira and not then erected as the town of Bangor, to become that latter town's first settler.
He had been married in Vermont to Rhoda King and of their five children, William, born August 26 1791 was the oldest. And both Joseph and William became land agents for Joseph Pitcairn of New York City. Long established in colonial New England the Plumbs were of English descent.
The town of Dickinson was set off from Moira April 4 1808 and in 1810-1811-1812 Joseph Plumb was Dickinson's supervisor. The town of Bangor was set off from Dickinson June 15 1812 and Joseph Plumb was chosen Bangor's first supervisor serving through 1817 again in 1821-1825 and last in 1828. On March 8 1830 he conveyed his big farm to William, who was supervisor of the town 1833 and 1835. In 1864-5 William's son, George, was town supervisor and next George's son, William Plumb, was supervisor in 1882-3.
Joseph Plumb, who had first built a log-cabin, which he followed with a frame house which was later moved across the road to make room for the big stone house, died October 3 1838 but is credited with having lived in the latter a short time to start the record of seven generations of Plumbs to have resided in this stone house, which has never been out of ownership of the Plumb family. At the age of 36 William Plumb in 1827 married Caroline Tarbell of Windsor, Vermont. Not only did he serve as supervisor of the town, but for ten years he was town clerk and it was he who deeded seven acres of land for the Rutland railroad station. William Plumb continued operation of the big farm, located in the finest agricultural section of Franklin county, until 1868 when he transferred it to his son, George, whose wife was the former Helen McCullough. That deed showed only 250 of the original 800 or more acres.
The following year, George Plumb sold the place to his brother, William W Plumb, and he operated the farm until 1883 when it was sold back to his mother. In 1894 however, transfer was made to Howard F Plumb, son of George and Helen McCullough Plumb.
Howard F Plumb, like his father, had been born in the house and at 14 had become a clerk in the North Bangor store of his brother, William H Plumb. After that he was a traveling salesman for some years in the Eastern states and in 1889 started a 41-year railway mail clerk career on the Rutland railroad which he ended in 1930. He had moved onto the farm in 1899.
Notwithstanding that he continued operation of the homestead farm all that time, built the first silo and grew the first alfalfa in the area, was several years local Dairymen's League president, was a member of the Bangor grange and active in the Holstein-Friesian Association of AmericA On January 16 1892 he was married to Miss May Taylor at Woodstock, Vermont, and at 78 died on March 12 1942 leaving his widow and three sons, George T, Frederick and Ralph.
Mr and Mrs George T Plumb now own, occupy and operate the farm. With them reside their son, Miles and daughter, rlelen. Another son, Howard L, resides in this city and has a daughter, Susanne, who spent the first year of her life in this fine old Georgian sandstone house, making the seventh generation of Plumbs to live beneath its roof.
Mr and Mrs George T Plumb are proud of the old house, in front of which is a state marker announcing that Joseph Plumb was the first settler of the town of Bangor. On either side the beautiful front doorway are fluted pilasters of sandstone surmounted by cornerblocks and capstone.

Keslangular sandstone blocks excellently cut, faced,and laid up, form the exterior walls. There is a marvelously crafted dentiled cornice. Off the attractive front hallway are homey east and west drawing rooms with matching fireplaces and beautiful black mantelpieces. Over that in the west room hangs a fine large oil portrait of Mrs Caroline Tarbell Plumb, while over the one in the east room is a like portrait of her husband, the original William Plumb, builder of the house. Both died comparatively young.
Solid inside wooden shutters cover the windows, with their deep embrasures in the thick stone walls and the house is furnished with a fine collection of gneuine antique furniture of the Plumb family. In the old kitchen is the original cooking fireplace with bake-oven, crane, three old iron kettles, fire-carrier and ash shovel. It is said that a whole dressed venison, a half bushel of potatoes and a ten-quart pan of Indian pudding could be cooked there at one time. Over the broad mantel hangs a musket and two duelling pistols.
The family antiques include a beautiful highboy with curly maple front, a cherry stand with curly maple top and equipped with two drawers. There are also many other beautiful pieces of furniture and bric-a-brac. Indeed, this historic house is one well worth seeing inside and out.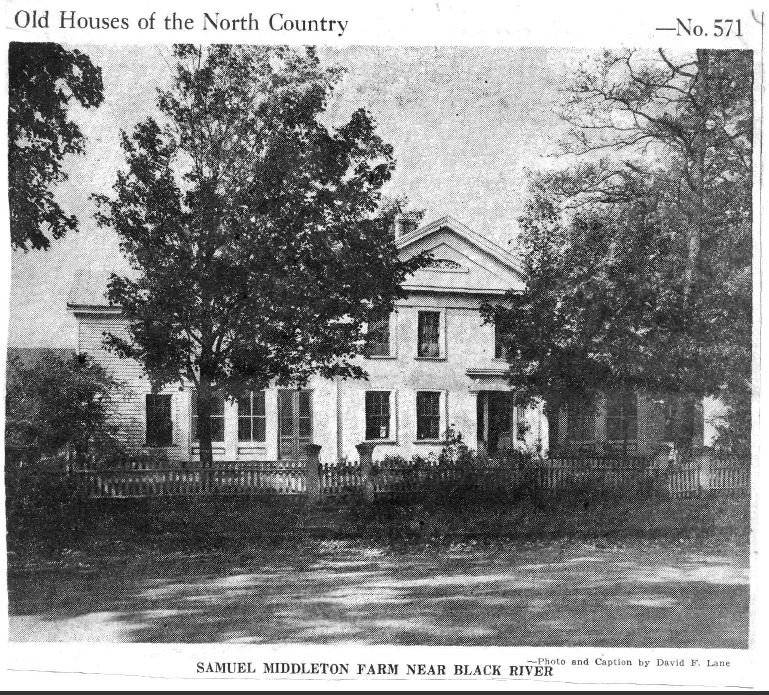 The Middleton farm on the Middleton Hill in the town of Rutland near the village of Black River is one of the best known in the north country. First of the Middletons to settle in that locale was Andrew and his family consisting of his wife, four sons and three daughters in 1807 and among the sons was Samuel.

Andrew Middleton was born in 1749 came to the United States about 1790 and located in New Jersey. Later he removed to Schoharie county and before coming to the town of Rutland, Jefferson County, was in Charleston, Montgomery county. There his son Samuel was born in 1796. At the age of 84 Andrew Middleton died in 1834.
Samuel was 11 when he came with his parents into the town of Rutland. He worked on his father's farm, attended the district school and on April 26 1821 was married to a young woman christened Seraph. They were the parents of three sons and three daughters and Samuel became one of the outstanding farmers of the town, owning a farm of over 230 acres which, on January 1 1863 he and his wife sold to his son Andrew C Middleton for $10,000. Samuel Middleton died on November 5 1873 aged 77 leaving a $35,000 estate.

While this stately house writh its fine entrance and original small-paned windows is believed to have been built by Samuel Middleton well over 100 years ago, the exact date is not known. A county map of 1857 shows it and a deed of a small parcel of land to Samuel Middleton September 29 1857 refers to-the small parcel as being smith of Samuel's dwelling.
Andrew C Middleton, second son of Samuel and Seraph Middleton, was born in Rutland April 5 1824 was educated in common and academic schools and taught school several winters. He was 23 when he married Nancy Butterfield of Rutland in 1847 and in 1849 he became school superintendent for two years. By politics he was an ardent Whig until the Republican party was formed and in 1858-1859-1860 he was elected supervisor of the town of Rutland. In 1868 he was elected for another term. During the Civil war he was deputy collector of internal revenue. He was president of the Jefferson County Farmers' club in 1872-3. Also at one time he was president of the State Council of the Grange. A convention of farmers on October 20 1873 nominated him for senator of the 18th district and he was elected by a large majority. In the state senate he headed the committee on agriculture and was a member of the public expenditures and grievances committees. In presidential elections it is said that he voted for Fremont, Lincoln, Grant and Hayes. Of his three children one died young. His daughter, Gertrude I, married Henry T Gipson, a Watertown lawyer, and his son, DeWitt C Middleton, organized the first electric company in Watertown, was a founder and president of the Northern New York Trust company and for many years was the head of the Republican party in Jefferson County.
Andrew C Middleton added to and improved the homestead farm he purchased from his father and when he died June 29 1909 he left an estate of about $60,000 willing his wife all personal property on the farm except money, notes and securities, and he gave her $4,000 and a life-use of the farm. To his grandson, Eugene H Gipson, he willed two-fifths of the residue of personality and real estate and the balance to his son, DeWitt C Middleton. The latter, however, acquired the interests of the other heirs and became sole owner of the farm, which he greatly expanded and modernized, establishing a herd of about 100 head of pure-bred Holstein cattle. DeWitt Clinton Middleton was born in Rutland April 11 1850 was graduated from the Watertown High school, clerked four years in the J & A Bushnell dry goods store in this city, established a shoe store of his own which he operated many years, was a member of the local board of education two years and mayor of Watertown in 1884-5.
In August 1885 he organized the Watertown Electric Light company, of which he was president and principal owner arid this company furnished the first electric lighting of Watertown streets, hotels, business places and dwellings. Later it was merged into the Watertown Light & Power company and then into the Northern New York Utilities.
Mr Middleton was one of the founders and an early president of the Northern New York Trust company which came into being in 1910. He was engaged in many other business and civic activities and for some years was chairman of the Republican county committee. On June 17,1897 he was married to Miss Lucy A Tuttle, who died July 5,1926. Mr Middleton died August 5 1932
On March 15 1934 the Northern New York Trust company as executor of his estate sold this house and farm to Frank J Walton, who is now supervisor of the town of Watertown, owner and operator of a large faun in that township and farm property appraiser for the Trust company. Mr Walton kept the farm for three years and on June 15 1937 sold it to Clarence A Dorr of this city, a milk producer and marketer. Mr Dorr is the present owner of the property.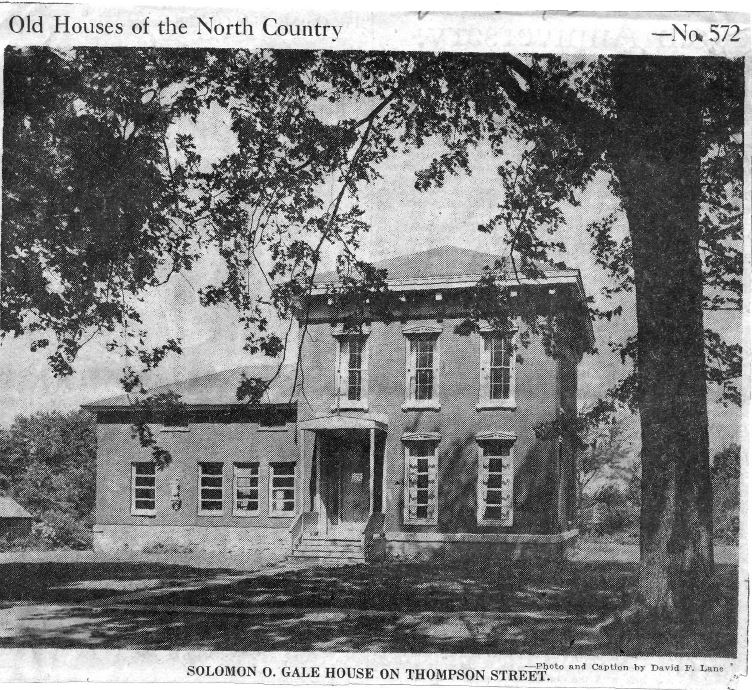 669 Thompson St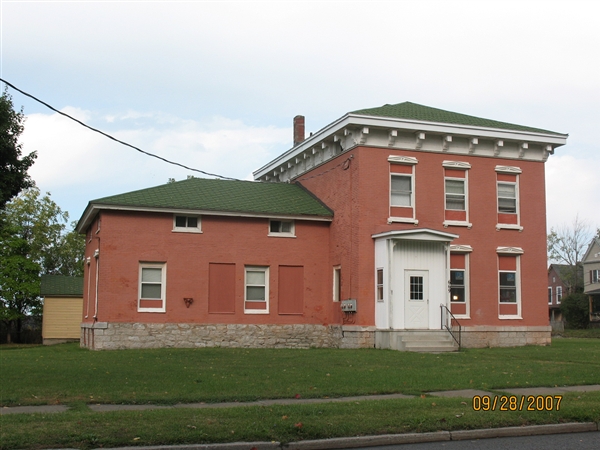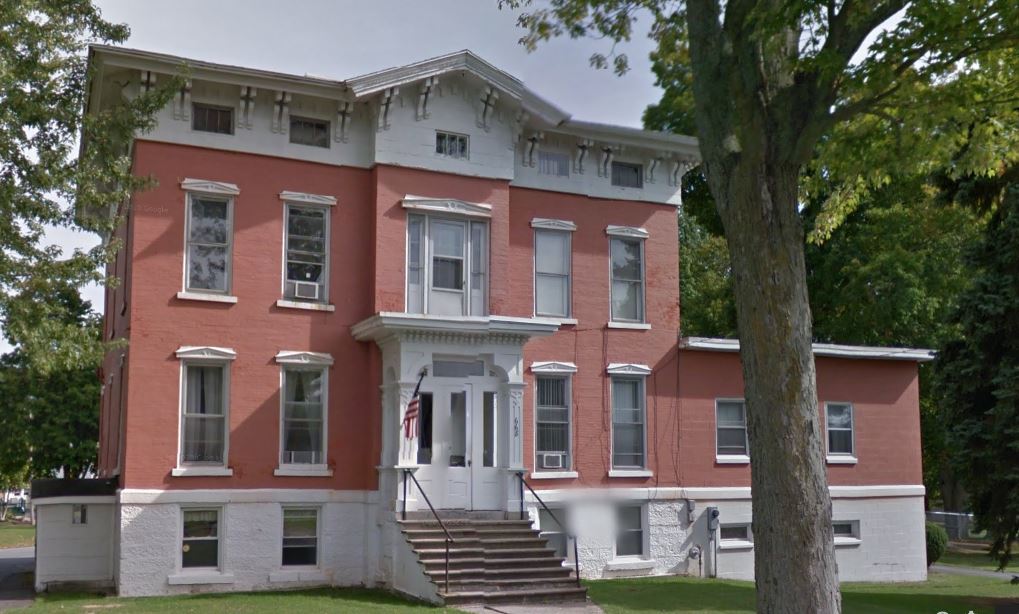 The Sacred Heart kindergarten school which now occupies the big red brick house at 671 Thompson Street, at the corner of Gale Street was once the residence of Solomon O Gale, for whom Gale Street was named. It was built almost a century ago by Walter N Woodruff, an early Watertown builder who constructed many outstanding houses and other buildings in this community.
At that time Thompson Street was Munson Street, Gale Street was Elm Street and many other north side streets bore different names then than they do today. For example, Mill Street was North Street, Cooper Street was Sherman Street and that part of West Main Street beween Mill and LeRay sreets was Evans Street. In fact that part of the north side was a separate village called North Watertown and was part of the town of Pamelia.
On June 10 1851 Henderson and Emily Howk sold a, chunk of 45.66 acres of undeveloped farm land in that area of the village of North Watertown to James G Lynde, for whom Lynde Street was named, and Walter N Woodruff. The partnership of Woodruff & Lynde immediately proceeded to lay it out into streets and building lots and prepared a map of the subdivision. Shortly thereafter Lynde transferred his interest in a couple of small portions of the tract to Woodruff, but most of it remained in the ownership of the partnership.
Apparently it was not a profitable venture for Woodruff & Lynde and as the result of a mortgage foreclosure action brought against them by Howk, Sheriff Abner Baker sold them out to Joseph S Frisbie of the town of Pamelia on August 20 1856. This brick house was covered in that transaction and a map of 1857 shows it located and Frisbie as then owner.
The house was probably built about 1852. On March 3 1862 Frisbie and his wife, Eliza, then residents of Utica, disposed of it to John Griffin, who had removed here some years before from his native Dutchess county and was the father-in-law of Solomon O Gale. Gale had just moved to North Watertown from his farm in the town of LeRay and took up occupancy of the house, but did no purchase it from his father-in-law until August 17 1864. Solomon O Gale transferred the house and lot to his wife March 29 1893. Two years later Gale died on March 6 1895 and the property remained in possession of his widow until her death on November 22 1905. On February 15 1907 Judge Brayton A Field and John K Harwich, executors of her estate, sold it to Helen N Gardner. On July 20 1844 HeJen Smith Wright, Watertown Star Route, town of Rodman, sold it to Henry F Brooks and on March 15 1950 Mr Brooks disposed of it to the Church of Our Lady of the Sacred Heart, the present owner.
Descended from Richard Gale, a native of England who settled in Watertown, Massachusetts, in 1640 and whose house was sold about 1860 to General Banks to be converted into a pretentious mansion, Solomon O Gale was seven generations removed from that ancestor.
Born in the town of Champion October 25 1812 Solomon O Gale was the son of Nehemiah and Lucy Parker Gale who came to Champion from their native Vermont in 1810. Nehemiah, in turn, was the son of Deacon Solomon Gale who was a native of Massachusetts. Nehemiah Gale, who was born August 24 1788 was 24 at the outbreak of the War of 1812 and served aboard the U S Schooner "Julia" in the attack on Prescott, Ontario, during that war. At the close of the war he settled for a time in the town of Hounsfield upon a farm and it is of historical interest that it was Nehemiah Gale who found the small package of bills that U S Army Paymaster Samuel Whittlesey purposely dropped to divert suspicion from him as the embezzler of $30,000 in army pay that he wds bringing back here. Gale at once turned the money over to the authorities, and it was not long after that that Perley Keyes and Jasan Fairbanks wrung a confession from Whittlesey.
Although Solomon O Gale was married December 22 1842 to Miss Jane Griffin, daughter of Mr and Mrs John Griffin lie remained on his father's farm until he was 30 years of age. He then purchased the interests of the other heirs in his father's homestead farm in the town of LeRay and occupied it until he removed to North Watertown in 1862 to begin occupancy of this big brick house. In spite of the fact that Solomon O Gale did not have an extensive education, and the most of that education was obtained in a crude log schoolhouse, he taught for six winters. As a farmer he was thrifty and when he left the homestead farm in LeRay to come to this locality it consisted of about 300 acres.
A staunch Whig in politics he became an equally ardent Republican with the organization of that party and for several years after coming here he was one of the local assessors. At the time of his death his estate was estimated about $28,000 of which about $19,000 was in realty and the other $9,000 in personalty. He was an uncle of William S Gould, president of the Savings &. Loan association of Watertown and former chairman of the Jefferson County board of supervisors.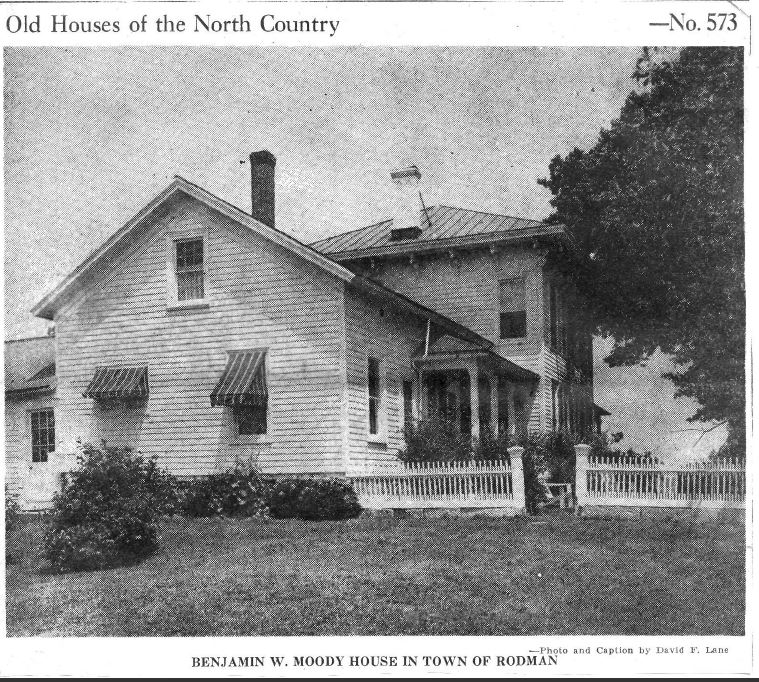 The town of Rodman is one of the finest farming districts in the county and one of the finest dairy farms in that town is the one owned by former County Treasurer Earl K Flanders. It has been in continuous possession of the Flanders family for 88 years and is operated by Mr Flanders and his son, Harold J Flanders. This farm is graced by one of the largest, most imposing and best kept farm houses in Jefferson County. It contains some 22 rooms and was built by the Moody family more than 100 years ago. Enclosed by a white picket fence, it never fails to engage the attention of the passerby The big, square upright of the house is balanced by two flanking wings, but huge old maples so screen the front that it is impossible to satisfactorily photograph it in the summer time.
The farm is only a few miles outside of Rodman village towards Watertown and the main parcel of land in the farm consists of 190.89 acres. It came into the Flanders family on January 25 1865 when Earl K Flanders' grandfather, Gideon Flanders, paid Hiram and Lydia Priest $12,407.85 for it.
The Priests made a good profit on it, for Hiram Priest bought it from Benjamin W Moody on January 3 1854 more than 99 years ago, for $7,063 a price which wipes out any doubt about the house standing on it at that time. How long before that the house had been built is a matter of conjecture, but it may have been nearly ten years. On November 3 1843 Epaphas and Phoebe Moody had sold Benjamin W Moody 89.33-acres in that same great lot for $2,047 and on April 5 1849 Benjamin W Moody bought another 100.06 acres in the same great lot from O E and Mary Moody for $2,600. The two parcels almost make 190.89 acres.
The relationship of Benjamin W Moody to Epaphas Moody does not appear from the records, but Epaphas Moody was one of the earliest settlers in the town of Rodman, having come there in 1801 and having been a member of Rodman's first Methodist organization in 1804. As for Gideon Flanders, he had first located in the town of Orleans, where he purchased a farm from John F and Nancy Snell on April 1 1853. Five years later he removed from that town to the town of Theresa, where he bought another farm on October 22 1858 from Arthur Hughes. Gideon's next move was to the town of Rodman in 1865. There he died January 20 1892 survived by his widow, Mary Snell Flanders and their children, of whom the son, Joshua succeeded to the ownership of the farm. Joshua Flanders was born in the town of Orleans October 3 1852 removed with his parents to Rodman when he was 12 attended the Rodman schools and on April 27 1877 married Miss Stevannah Klock, daughter of Stephen and Anna Bellinger Klock who resided on outer Washington Street in the town of Watertown about where the J George N Smith farm now is.
Mr Flanders not only successfully operated this Rodman farm but amassed a considerable wealth buying hay and grain in Jefferson, Lewis and Oswego counties. In 1907 he embarked in the theater business in this city by building the Orpheum theater as a vaudeville house on Polk Street and paving that street part way northerly from State Street at his own expense. The late Jack Stack became the first manager of the theater, but it was a losing venture and in May 1916 was purchased by the Sullivan Lumber company of this city for a storehouse. On March 9 1936 Mr Flanders died at the age of 84. His widow lived until January 13 1945 to die at the age of 92. She was a native of the town of Lyme, where she was born April 24 1852. Their son, Earl K Flanders, born in this house, succeeded to the ownership of this farm, was educated in the Rodman schools and the Waterlown High school, and has become one of the outstanding dairymen and milkmarket leaders in the state.
Prominent also in Democrat politics he became county treasurer of Jefferson County March 15 1934 under appointment of Governor Herbert H Lehman. The appointment was to succeed Burton S Hayes, Republican, who had recently died, and this being a Republican county Mr Flanders served only until the next January.
In 1933 he was the Democrat nominee for assemblyman from this county, but was defeated, and early in 1935 he was strongly advocated for the post of state commissioner of agriculture and markets to succeed Charles H Baldwin. He was married to Miss Maude Richmond, daughter of Lewis and Flora Davis Richmond of Rodman, in February 1902 and to them were born three children: Harold J Flanders, Rodman; Miss Helen M Flanders, R N, city, and Mrs Carl W (Agnes F) Stetson, city. Mrs Flanders died November 16 1951 and Mr Flanders, assisted by his son and the latter's family, continues the operation of the homestead farm, in which four generations of Flanders have lived.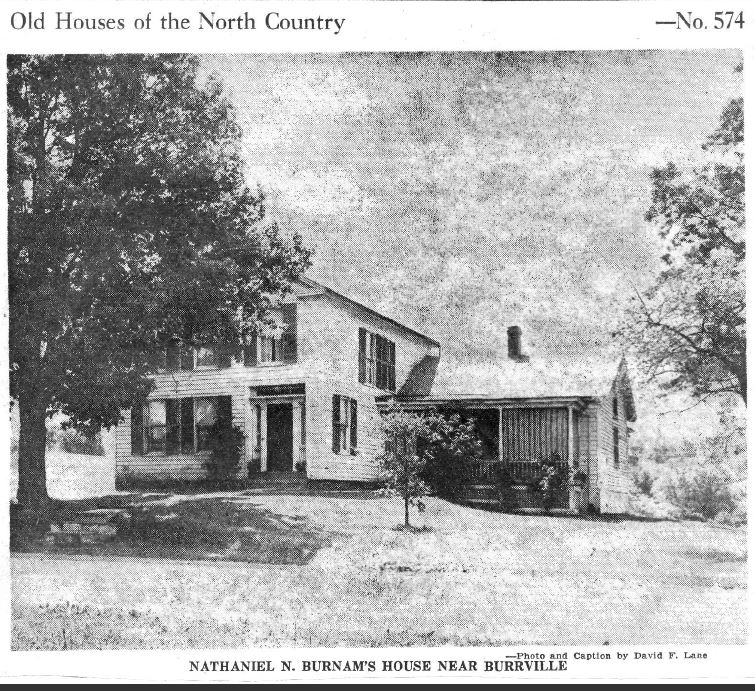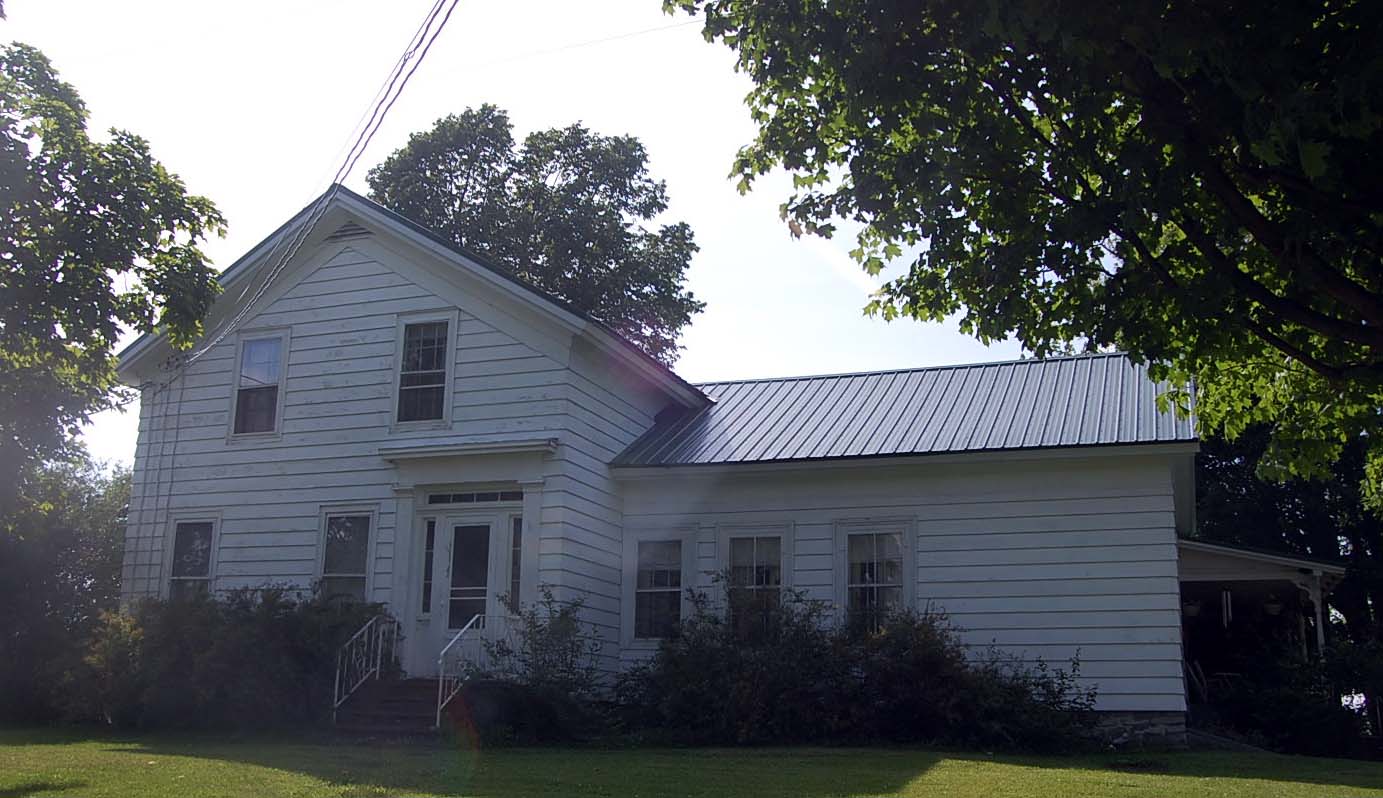 Charles S Wilson, one of the oldest justices of the peace in northern New York, holder of that position in the town of Watertown for the past 37 years, has been the owner of this house and the acre of land that goes with it since July 6 1916. On that date he purchased it from Mrs Louisa M Bibbins, to whom it came from her husband, Schuyler Hose Bibbins. He in turn acquired it from Mrs Bibbins' father, Nathaniel Noble Burnam on March 27 1883 and Nathaniel Noble Burnam got the land upon which it stands as part of the farm which was conveyed to him by his father, Nathaniel Burnam, January 2 1836.
Nathaniel Burnam, who had settled in the Burrville area in 1802 and was one of the earliest pioneers in the county, bought the part of the farm, upon which this house is, on August 22 1814 from Calvin and Alsaia Brown. Nathaniel Burnam lived and died in the house next to the east of this one, and it seems probable that this house was erected by his son, Nathaniel Noble Burnam sometime after 1836 for it appears to have all of the earmarks of a dwelling more than 100 years old. Its type is of the Georgian influence, its white-painted interior woodwork I of of excellent craftsmanship with corner-blocks. Its rooms are low, its main stairway in the front hall is enclosed, and the house, which occupies a slightly pastoral location, has always been well maintained.

The Burnam family is an ancient one running back to the English Burnhams of "Burnham Beeches," mentioned by the noted English poet, Alfred Lord Tennyson in one of his poems. The "h" was dropped from the name by Nathaniel Burnam. The immigrant ancestor of Nathaniel Burnam was Lieutenant Thomas Burnam, who was born in Norwalk, England, in 1623 came to New England in 1635 and settled in Ipswich, Massachusetts. In 1645 he married Mary, step-daughter of Thomas Lawrence.
Nathaniel Burnam was born in Lyndebore, New Hampshire, in April 1778 son of Nathaniel and Mary Burnam, and prior to settling in Burrville he lived in Vermont. In 1803-4 he built the house in which he lived the balance of his life and in 1806 he married Susan Noble, a girl of New England stock. He was prominent in the development of Burrville and one of the original members of the First Presbyterian church of this city. Later he was a deacon of the Burrville Congregational church. He died in 1868 and his wife in 1880.

Nathaniel Noble Burnam was born July 29 1809 became a carpenter but returned to help his father operate the latter's farm and on June 9 1836 married Mary Florilla Leonard, native of Middlefield, Connecticut She died November 2 1880 and he on April 22 1891. Like his father he was a deacon of the Burrville Congregational church, Originally a Democrat he later became a Republican with the formation of the latter party. One of their three children was Louisa Mary, born in this hbuse September 20 1840.
On September 26 1865 she was married to Schuyler Hose Bibbins, who was born on a farm in the town of Rodman March 4 1833 son of Charles Woodworth and Harriet Fawcett Bibbins. The Bibbins family was also of old New England origin, Arthur Bibbins, the immigrant, having been living in Glastonbury Connecticut, in 1692.
The firing on Fort Sumter prompted Schuyler H Bibbins to enlist November 12 1861 in Company F, 94th New York Volunteers. He served in several important engagements and was wounded in the second battle of Bull run. After the war he bought his father-in-law's farm, except for this house and the small plot upon which it stands. When he was mustered out of service he had the rank of sergeant. He was a member of the State Street Methodist church in this city, was a Republican in politics but never sought public office. One of his three children was Dr Charles Nathaniel Bibbins, who was long one of the leading Watertown physicians, member of the onetime firm of Spencer, Bibbins & Pierce and later head of the firm of Bibbins, Montgomery & Vincent.
Schuyler H Bibbins lived in this house at the time of his death and later his widow sold it to Mr Wilson. Charles Woodworth Bibbins, father of Schuyler Bibbins, was born in Saratoga county September 22 1808 son of Arthur and Pamelia Hunt Bibbins. As a small child he settled with his parents in Rodman where he died March 3 1885 and she on February 18 1899. His father, Arthur Bibbins, was born in Hampton, Washington county in 1779 but later resided in Saratoga county where he married Pamelia Hunt and soon after that located in Rodman, where he died March 14 1862 and his wife on March 8 1880. His daughter, Carline, married Harry O Moody of Pulaski. Charles S Wilson, present owner of the old house, was born in the town of Rodman March 29 1873 son of Morris and Marion Thursion Wilson. He is a retired farmer and has lived the greater part of his life in the Burrville area. On September 11 1895 he married Miss Avis Cook, daughter of the late George and Derinda Cook of the town of Watertown. They have three children, George Wilson of Black River, Mrs John (Marion) O'Neil of Tylerville and Ross Wilson, Burrville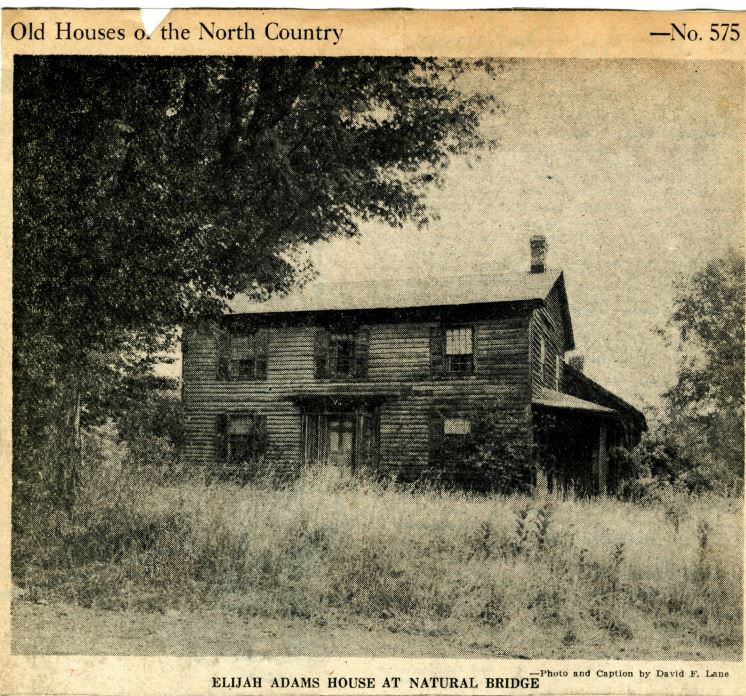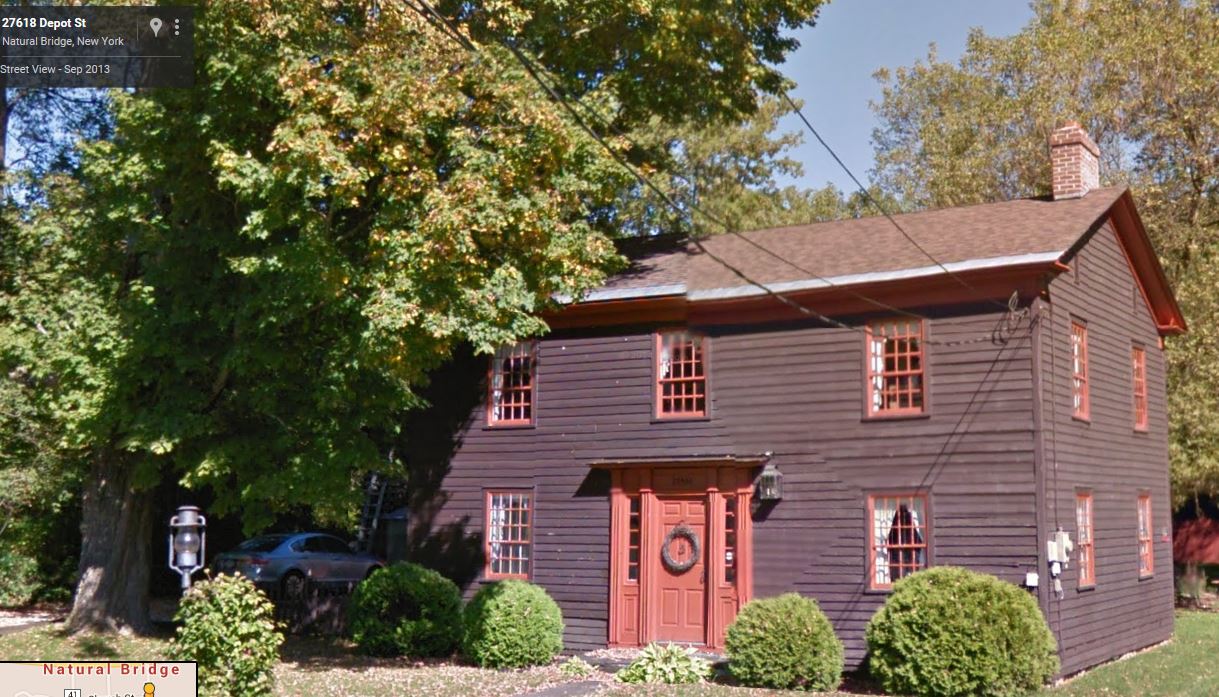 It was not long after the onetime Emperor Napoleon Bonaparte's brother Joseph, former king of Spain as well as of Naples and the two Sicilies, began coming to his bullet-proof wilderness retreat at Natural Bridge that this beautifully typed old house was built. Joseph, who was living in the United States under the name Count de Survilliers, first inspected his lands in the Natural Bridge-Lake Bonaparte area in 1828 and the next year his big house at Natural Bridge was completed On January 9 1830 Elijah Adams bought 25.4 acres of lands there at Natural Bridge from Vincent LeRay de Chaumont. Next, on October 29 1832 Adams purchased some adjoining acres from LeRay and, presumably, began the erection of this house shortly thereafter.
It is located on Mill Street near the banks of the Indian river and about two blocks away from where the Count de Survilliers had his sturdy big house, which he is said to have visited bill four summers, the last visit probably having been about the time this Adams house was constructed. With the Adams house was a grist mill, sawmill and water power.
Elijah and Anna Adams disposed of the property to Orin D Nutting February 15 1838 and on January 1. 1839 Nutting sold it to Richard Pearce of Philadelphia. On November 11 1839 Richard and Elizabeth Pearce got rid of it at a profit to William Christian, who operated the sawmill for years before joining with his wife, Amanda, in selling it to Samuel Greaves of Champion on July 17 1845. On June 25 1851 Samuel and Sally Greaves sold back to Christian. Both deeds mention the house, barn, grist mill and about nine acres of land described in the deed from Adams to Nutting. William Christian was a prominent man in the town of Wilna and not only prospered in the milling business for years , but served the town of Wilna as its supervisor in 1850, 1851, 1857, 1864, 1865, 1866 and 1870. On May 1 1869 William and Amanda Christian sold this house, barn, saw mill and waterpower to George and Almeda R Wilson and Calvin C and Alice M Gates. From that time to this the house has been in the ownership of the Wilson family, the last of whom to occupy it being Miss Clara M Wilson, a daughter of George and Almeda.
Although for some time vacant, the house is of a style and location that would lend itself to restoration for either a fine country home or a summer home George Wilson died November 28 1872 survived by his widow, who lived until May 21 1916 survived by their four children: Alice M, who was the wife of Calvin C Gates; Harriett A, wife of Reverend Augustus L Rice; George G Wilson and Miss Clara M Wilson. A few days before his death, Wilson disposed of his grist mill, November 11 1872 to Robert Shiell.
Miss Clara M Wilson continued to reside in the old Natural Bridge homestead after her mother died, but Mrs Rice was then living in Amesbury, Massachusetts, while Mrs Gates and George G Wilson were residing in the town of Brownville. On February 15 1924 Mrs Gates, then a widow, conveyed her interest in this property to Mrs Rice. On November 7 1935 Miss Clara M Wilson did likewise and on August 1 1938 Mrs Rice deeded to her son and daughterin- law, Ernest W and Lucia F Rice of Amesbury, Massachusetts, and Engelwood, FlA
Mrs Rice spent her summers in the Natural Bridge house for a number of years during the occupancy of her sister. Mrs Rice was born at Theresa November 12 1851 and removed with her parents to Natural Bridge in 1869. In 1872 she was married to Reverend Augustus Luther Rice, an Universalist clergyman who, during his ministry served various parishes in New York state, New Hampshire and Ohio. For years Reverend Mr and Mrs Rice resided with their family in this city. Later they removed to Amesbury, Massachusetts, where Reverend Mr Rice died November 22 1922.
The old sawmill by the bridge and riverbank is still in operation, and the house with its beautiful, original old front door and doorway and its fine old 20-paned windows is much weathered but still sturdy. It is a mute relic of the days when a Bonaparte used to come up royally in his coach-and-four from his palatial estate at Bordentown, NJ, accompanied by servants and companions and sometimes bringing a gold dinner service with him. Those visits were made in the summertime and Joseph Bonaparte, who had chosen his extensive wilderness lands for their picturesqueness and wild game always took occasion to go to his hunting lodge at Lake Bonaparte for hunting and fishing, maintaining a gondola on the lake which was named for him. Natural Bridge as a community was young when this house was built. It was located in the Mile-Square set aside for it and settlement did not begin there until shortly after 1815.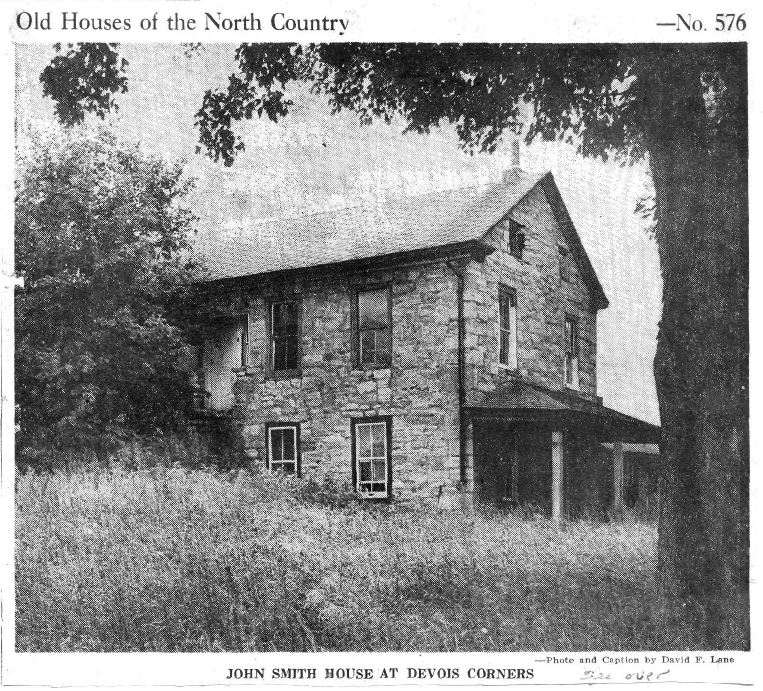 Check Russell Turnpike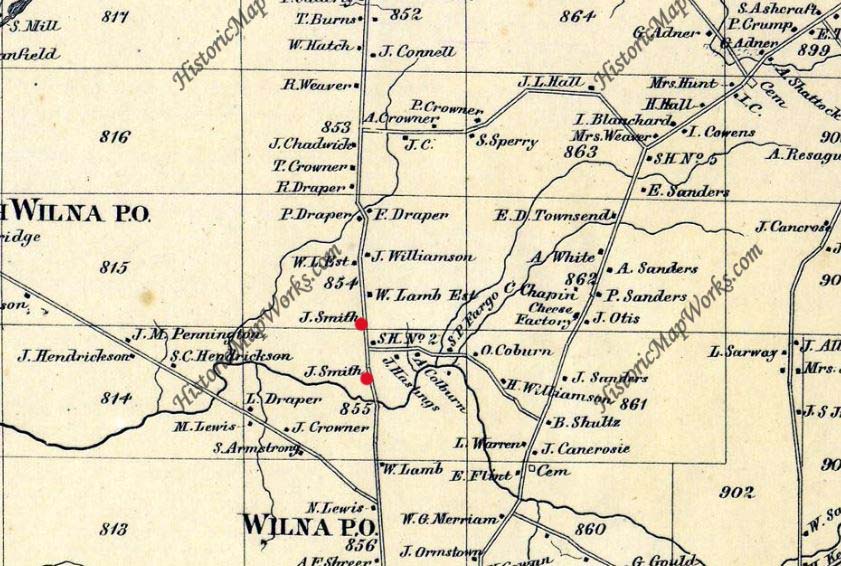 From the coat of the Count de Survilliers (Joseph Bonaparte), one-time king of Spain and brother of Emperor Napoleon the great, there is in the museum of the Jefferson County Historical society a large and ornate button of dark blue enamel background and border imitating pearls. It is said to have come from a visit of Joseph to this John Smith house one time when Joseph was at his big house only a few miles away at Natural Bridge.
The button came to the museum from a descendant of Simeon Fulton, whose wife, Larissa, was a daughter of John Smith. A son of John Smith was Alonzo who married Marianne Balmat, a French girl, daughter of John D and Nancy Goodar Balmat, Mr Balmat having been a one time land agent of James D LeRay de Chaumont, all of which probably accounts for the visits of Joseph Bonaparte to the Smith house.
Early in the 19th century John Smith came from New Jersey to settle in the Devois Corners area of the town of Wilna about four miles from Carthage and about a mile from Fargo's. There he bought 100 acres, next to land of Anthony Balmat, from Charles Normander January 18 1819 and on April 15 1820 Smith purchased 50 more acres from Joseph Victor Belmat or Balmat. The latter was a son of Joseph Victor and Genevieve Tigny Balmat, was a native of Chamonix, France, and was a brother of John D Balmat.

It is likely that John Smith, whose wife was the former Susannah Ryneer, built this house of native limestone shortly after he made these two purchases of land. Haddock, in his Jefferson County history, says: "The old stone house which he (John Smith) built still stands (1895), around which cluster many pleasant memories of the generous hospitality of the host and of his good wife.
John Smith, father of eight children, died December 22 1864 aged nearly 84. His wife died March 2 1882 aged 85. Both are buried in the Sand Hill cemetery at Natural Bridge.
Their stone house passed to the ownership of their son, Alonzo, and daughter-in-law, Marianne Balmat Smith, who is referred to in old deeds as Mary Ann Smith. The latter Smith continued to operate the farm and resided in the house which had long been occupied by the John Smiths.
In that period the house of Georgian type with beautiful doorway in the middle of its broad north side, must have been most attractive. It looked out upon Devois Corners, named for Francis Devois, a native of Paris, France, who had come with his mother from Beaver River to locate in this section of Wilna in 1808 his father, John James Devois, who had come from France to Beaver River about 1797 having died in 1803. Only a stone's throw away from the Smith house was Devois Corners and the Devois house.
On September 22 1890 Alonzo and Mary Ann Smith sold this old stone house and John Smith farm to James W Canfield of Antwerp, whose wife was the former Janet Dickson, daughter of Robert and Ann Wilson Dickson, town of Antwerp farmers. Mr Canfield operated the Smith farm for years as the Smiths had done before him, but on September 14 1898 conveyed it to Gennett Canfield, who may have been his wife, Janet, and moved to Carthage, where he died in 1917. Mrs Janet Canfield died in Carthage June 11 1935 at the age of 78 she having been born December 15 1856.
The county records show that on November 2 1903 Gennett Canfield sold this farm with its old stone house to A Bion Carter, a prominent Carthage banker of that erA Next, on August 26 1915 Mr Carter disposed of it to William Erwin Lashure of Gouverneur. Mr Lashure, who was born in the town of Macomb, St. Lawrence county, September 6 1873 son of Oliver and Mandy Morrow Lashure, died June 5 1952 aged 78. His wife, whom he married May 30 1905 was the former Miss Bessie Whalen of Gouverneur, and besides her he is survived by a daughter and three sons. Mr Lashure was a member of the Carthage grange.
Today the steps are gone from the beautiful main entrance to this old stone house, which is in a state of some dilapidation. And located well off today's beaten highway it is a forgotten memory of the days when the Smiths, the Balmats, the Devois and the Fultons were prominent figures in that part of the town of Wilna and a Bonaparte who had ruled two European kingdoms during the sway of the great Napoleon used to pay a casual visit, leaving through accident or by device an ornate button from his coat on one of them.
At the age of 90 Mrs Nancy Goodar Balmat, whose father, Major Francis Goodar, had been on General Lafayette's staff during the American Revolution, died in this "house, having lived there for some years with her son-in-law and daughter, Mr and Mrs Alonzo Smith. Her husband, John D Balmat, had died in 1862. Today there are a number of northern New York descendants of this Balmat family, which stems back to Joseph and Jeanne Marie Balmat-of Chamonix, France, in the early 18th century. Mrs Hiram J Wright, the former Marian Balmat, is a granddaughter, while her daughter, Miss Katherine Wright, city, and Mrs Ward B (Helen Balmat) Gorman, Felts Mills, are great-granddaughters of John D and Nancy Goodar Balmat.
Undoubtedly the smallest octagonal dwelling in the state of New York is the above one-room cottage out on the point of Campbell's Point which, for many decades has been one of the most beautiful summer colonies at the eastern end of Lake Ontario.
As long as any now living can remember this little cottage has been a landmark at Campbell's Point, named for Archibald Campbell, who, with a group of other members of the Campbell family, first bought adjacent land in the town of Henderson from Isaac and Anne ! Bronson of Fairfield, Connecticut, April 6 1815.
Just west of Campbell's Point is the Hounsfield-Henderson town line and it was only a little way over that line in the town of Henderson that the Campbells bought their 96-acre farm from the Bronsons. Just east of that boundary in the town of Hounsfield is Campbell's Point, which now consists of 29.36 acres contained in the original 41.43 acres purchased by Archibald Campbell.
That 41.43-acre tract was apparently purchased by Campbell early in 1843 as a record in the county clerk's office shows that the parcel was surveyed on January 9 of that year by S Shields, and at that time Campbell's Point was without doubt a wilderness. It is traditional among Campbell's Pointers that Archibald Campbell first built a cabin, of which the stone fireplace chimney of this octagon cottage was a vital part. From his cabin on the point it is said that be went on many fishing expeditions and that not a few of. his catch were broiled in this fireplace. And on February 1 1867 he added to his holdings in that area by buying Snake island from the George Camp estate. This and Gull island had been patented by the state to Commodore Melancthon T Woolsey on November 3 1823.
Archibald Campbell's wife was the former Sarah Holden, member of another old early Hounsfield pioneer family, and their daughter, Helen L Campbell, married Justus McWayne, who also came from an early Hounsfield family that had its roots in Massachusetts, Josiah McWavne having come to Hounsfield before 1800. On March 1 1877 Jane A Campbell sold this 41.43-acre Campbell's Point tract plus several adjoining acres in Henderson to Helen Campbell McWayne for $3,000 and it is likely that Campbell's Point began to be recognized for its fine bathing beach and picturesque summer resort possibilities about that time. Eighteen years later Helen Campbell McWayne sold the 41.43 acres to Wellington G Wescott of the town of Adams for $9,000 and on April 3 1899 Wellington G and Mary E Wescott, for whom the adjacent Wescott's Beach state park is named, disposed of the 41.43 acres to Levi Washburn of Rodman, William D Snell and Alton D Green of Adams for $13,000 less two parcels amounting to 12.07 acres.
Campbell's Point had long been well established as a summer colony long before that time and on February 1 1904 Levi and Ella L Washburn and William D and Julia E Snell sold the 29.36 acres to the Campbell's Point association made up of a considerable number of cottagers including several from this city.
For a number of years before and after that time Campbell's Point had been more or less of a public resort as well as a place of summer enjoyment for the cottagers. Every year hundreds of people flocked there for the fine bathing advantages. There was a hotel there. Many organized picnic parties spent the day there and the Watertown High school and other high schools held their annual outings there, being transported in the picturesque old carryalls which were operated for such occasions as well as to and from the county fairgrounds in this city at county fair time.
Eventually that situation of too much public became intolerable to the cottagers, whose private beaches were overrun with picnic parties and uninvited groups of bathers in large numbers.
The outcome was the formation and incorporation of the New Campbell's Point association in the early summer of 1919 when Attorney William K Mott, city, a cottager, acquired title to the tract for the purposes of transfer and on June 16 1919 the transfer was made by him to the corporation.
This New Campbell's Point association, of which Kenyon A Plumpton of this city is at present the president, immediately established rules, excluding the public, as a means of protection of the cottagers. On August 30 1919 the New Campbell's Point Association, Inc., conveyed lot No. 16 the boundary line of which runs through this little octagon cottage, to the late former Mayor John B Harris and by the terms of his will it is now owned by his son, Robert L Harris. Title to the octagon cottage, however, is still claimed by the association. Just when the cottage was built is unknown today, but it is believed to have replaced the old Archibald Campbell cabin at least 75 years, or possibly more, ago. In the building of the cottage the old original stone chimney and fireplace was retained, relic of the days when Archibald Campbell constructed his cabin more than a century ago. By the side of the one and only door is a faded sign, which says: "The Old Homestead."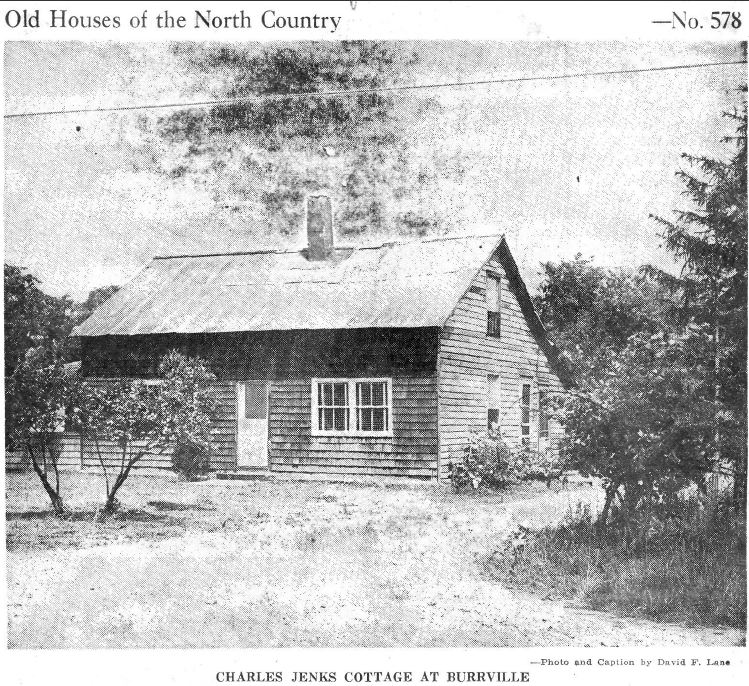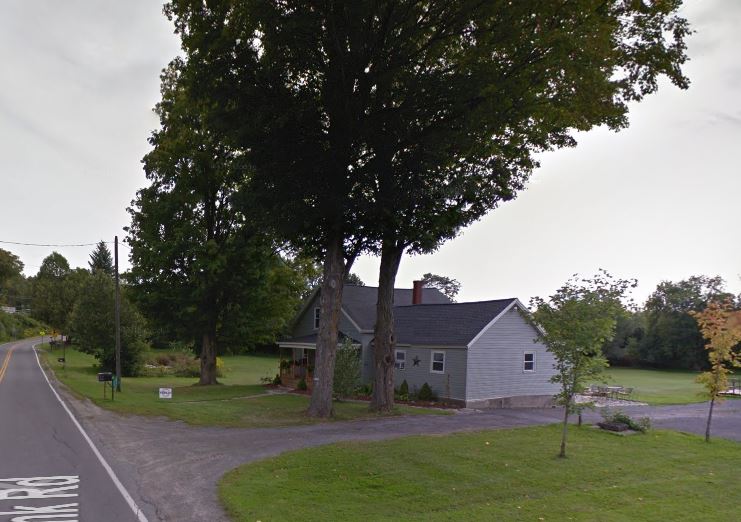 In its simple Cape Cod type the little shingled cottage that stands on the north side of the road as one drives into the hamlet of Burrville helps to complete a picture such as is rarely found outside some quaint New England community. If landscaped with tiger lillies, colorful phlox and hollyhocks it would make an ideal subject for the landscape painter.
Situated just west of the little bridge that crosses North Sandy creek its site was once part of the holdings of Caleb Burnam who came from Vermont in 1802 to be one of the earliest settlers oi the town of Watertown. On April 13 1816 Caleb and Mehitabel Burnam sold the acre of land upon which the little house stands to Charles Jenks for $50. It may be assumed that Jenks built the modest cottage about that time, and on December 30 1833 he and his wife, Sarah, then of Lorraine, sold it for $165 to George Sterret, an early Burrville industrialist. Sterret sold off .75 of an acre to Miss Lois Abbott on February 21 1835 and on May 7 1838 sold her the other .25 of an acre. Miss Abbott, who later married John E Jones, joined with him in disposing of the entire property to Alice, Hannah, Sarah and Submit Fellows for $300 on March 12 1847.
The Fellows family was also one of the early and distinguished Burrville families, William Fellows having settled there sometime between 1803 and 1812 becoming one of the first trustees of the first church formed in the town, that of Reverend Ebenezer Lazelle in 1803 and which held its first meetings in Caleb Burnam's barn. As the survivor of the Fellows ownership, Mrs Submit C Fellows Lewis disposed of the property June 12 1876 to Electa Yendes for $500 and on April 23 1877 she sold it to Zephaniah Archer, Martinsburg, for the same price.
Zephaniah Archer was born in Martinsburg August 15 1818 married Margaret Jones of Wales May 8 1848 and engaged in farming and hop-growing. On July 22 1882 he and his wife Margaret conveyed this place to their daughter, Emma, who became the second wife of Edward M Todd, a native of the town of Rodman, where he was born on the farm of his father, David M Todd
The latter's wife was the former Phoebe Babbitt. Todd had bought the old mill at Burrville in 1887 and operated it for a number of years. Then on April 7 1896 Todd joined with his wife in selling this little Burrville cottage and acre of land to Mary L Richards, who kept it until May 2 1907 when she disposed of it to Bert D Raymond of Burrville.
Mr Raymond retained title to the property until May 9 1932 when he transferred it to his son-in-law and daughter, Edward J and Audrey M Marcellus, the present owners. Although the house is probably the oldest one in Burrville it is likely some years younger than tradition would have it. According to that tradition it was built about the time of the coming of the first settlers, in the vicinity of 1800.
However, it is in the heart of one of the most historic settlements in the town of Watertown or in the county, for it was there that Reverend Ebenezer Lazelle built the first church in this area, a church which was the second if not the first in the county. It was here also that Hart Massey built the first grist mill south of the Black River in the latter part of 1801 and and sold it the following year to Arnold Burr, for whom Burrville was named.
And up by the three-headed falls William Lamson, pioneer blacksmith of the settlement, who came in 1801 or 1802 built the first iron smelter and forge in the county. He was a specialist in the making of edged tools and also operated an axe factory and trip-hammer, which was motivated by water power from the falls. Lamson was the first captain of the Watertown Rifles, formed in the spring of 1813 first uniformed military company in the county. Here also was established some of the first stores in the town, Jabez Foster, later of Watertown village, having started business there. Mr and Mrs Marcellus, the present owners of this house, are now in process of completely remodelling the interior and adding to the rear of it. Mrs Marcellus, the former Miss Audrey M Raymond, attended the Burrville school and Watertown High school. At the time of her marriage to Mr Marcellus in Syracuse January 5 1927 she was employed in the local store of the F W Woolworth company. Mr Marcellus was then an employe of the Watertown Ice company. A son, Cpl. Raymond C Marcellus, was top honor man of Flight 27 while attending Vale Technical institute at Blairsville, Pennsylvania, and arrived in Japan October 12 1951.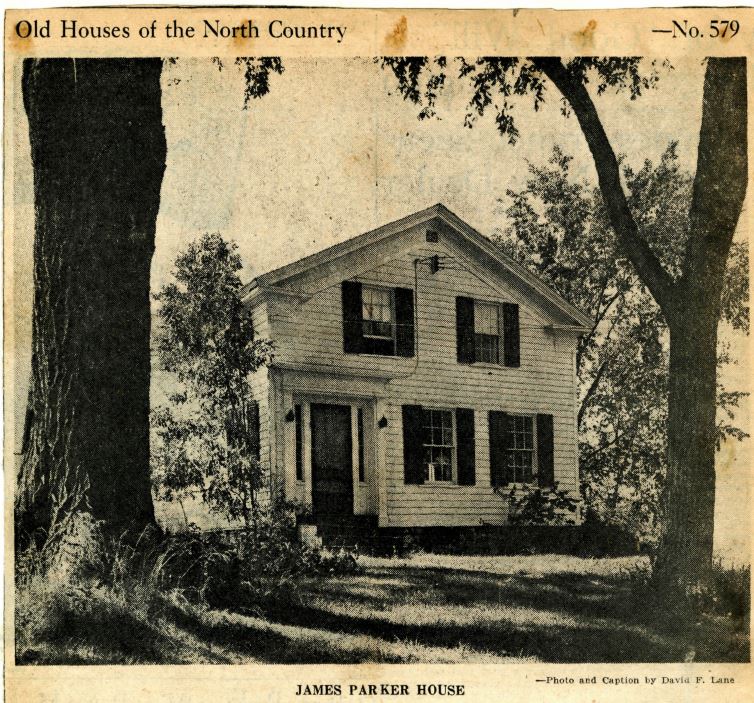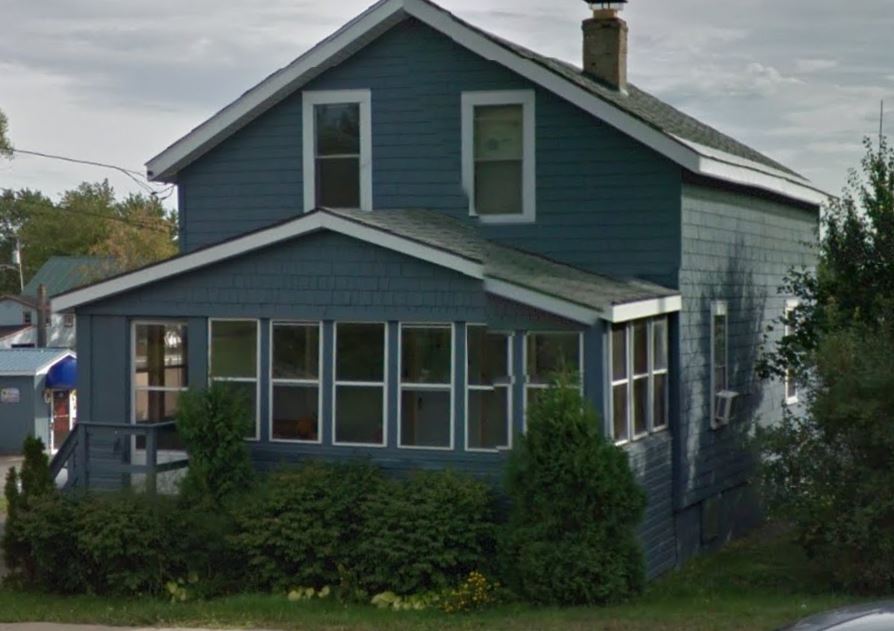 In this sleek and beautiful white house that stands atop a hill a short distance outside of the city on the south side of the Coffeen Street road have lived six generations of the James Parker family. The house, other buildings and the present 144 acres of land that goes with them have never been owned outside of the family, but have been passed down from one generation to another.
The front or upright portion of the house was built in 1841 by James Parker, 2nd, son of the pioneer James, who walked through the wilderness from Shrewsbury, Vermont, to take up land in this location about 1800. The rear part of the house was built first, was located at the foot of the hill and later moved up to be attached to the front part of the house which has the beautiful doorway.
The original James Parker was born at Salem, New Hampshire, September 29 1764 and served in the Revolution. His wife was the former Miss Martha Houston, a relative of General Sam Houston of Texas fame. James Parker, 1st, was a millwright as well as a farmer and early made millstone out of suitable granite boulders for the first grist mills of the settlers. His first recorded purchase of land in this county was a parcel of 50 acres in the town of Antwerp November 16 1812 from David Parish, then of Philadelphia, Pennsylvania Upon this land was much good granite and it is said that. his oldest son, Alexander, went there and made millstones for years.
For a price of $827 he took title April 12 1814 to a parcel of 318 acres in the locale of this house in the town of Watertown, having made the purchase from Nicholas and Alice Low, extensive northern New York land owners. On May 1 1816 James Parker acquired another parcel of 70 acres in the town of Watertown from Isaac W and Hannah Bostwick. James Parker was an outstandingly good farmer, a charter member of the Jefferson County Agricultural society and, in the second annual fair and cattle show of that organization he won the ploughing match, for which he was awarded a silver trophy now in the possession of Mrs Marion Parker Coulter, a descendant.
On January 26 1828 James Parker died but his widow lived until April 14 1841 and her portrait now hangs in the homestead. Both are buried in the Brownville cemetery
Their son, James, took over the operation of the farm and later acquired title to the house, bains and a substantial portion of the farm lands of the original pioneer James.
James Parker, 2nd, was born on the homestead and married, Mary, daughter of Jacob and Ann Beavers Swayze. She died June 8 1853 and he later married Orinda Knapp, mother of Edward E Parker, who eventually succeeded to the ownership of the farm. Edward E Parker was born April 27 1859. James Parker, 2nd, died June 23 1885 survived by his wife and children.
On January 7 1885 Edward E Parker, who was for years a justice of the peace of the township, married Elizabeth G Zimmerman. They were both members of the grange, in which they were prominent for years. For 43 years she was secretary of the Jefferson County Pomona, a national record. Edward E Parker died April 1 1926 and his wife on February 21 1938. They had owned this farm since 1888.
Ownership of the farm moved to their son, Neil James Parker, who was born in the town June 25 1890. He married Miss Helen Sturtevant and for about 25 years they resided at Wilton, NY, where he manage d the health farm of the Metropolitan Life Insurance company. However, in the early summer of 1939 he began to take title from the other heirs to this homestead farm and moved to it from Wilton. James W Parker, who was born to Mr and Mrs Neil James Parker, is a graduate of the state agricultural college at Cornell and his wife from Buffalo State Teachers college. She is the former Miss Ida Louise Gonseth, to whom he was married December 21 1940. They have two daughters and recently purchased this Parker homestead farm from Mr Parker's parents. James W Parker, an agronomist, represents the fifth generation to own this farm. Mrs Parker is a teacher of home economics in the Brownville High school. While there are other farms in northern New York which have been owned always in the same family and have passed down through as many generations, their number is few and none has a more outstanding record of operation than this Parker farm a short distance beyond the western limits of the city on the old Brownville road.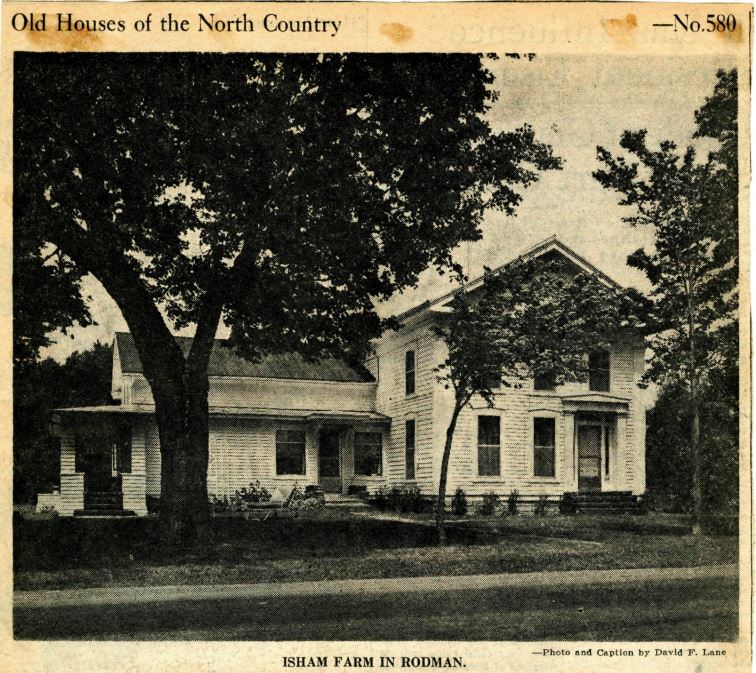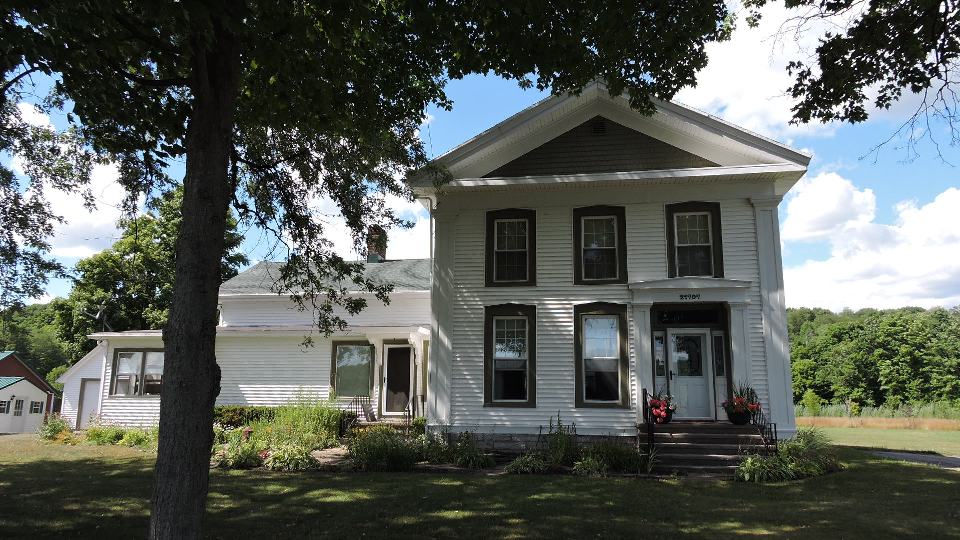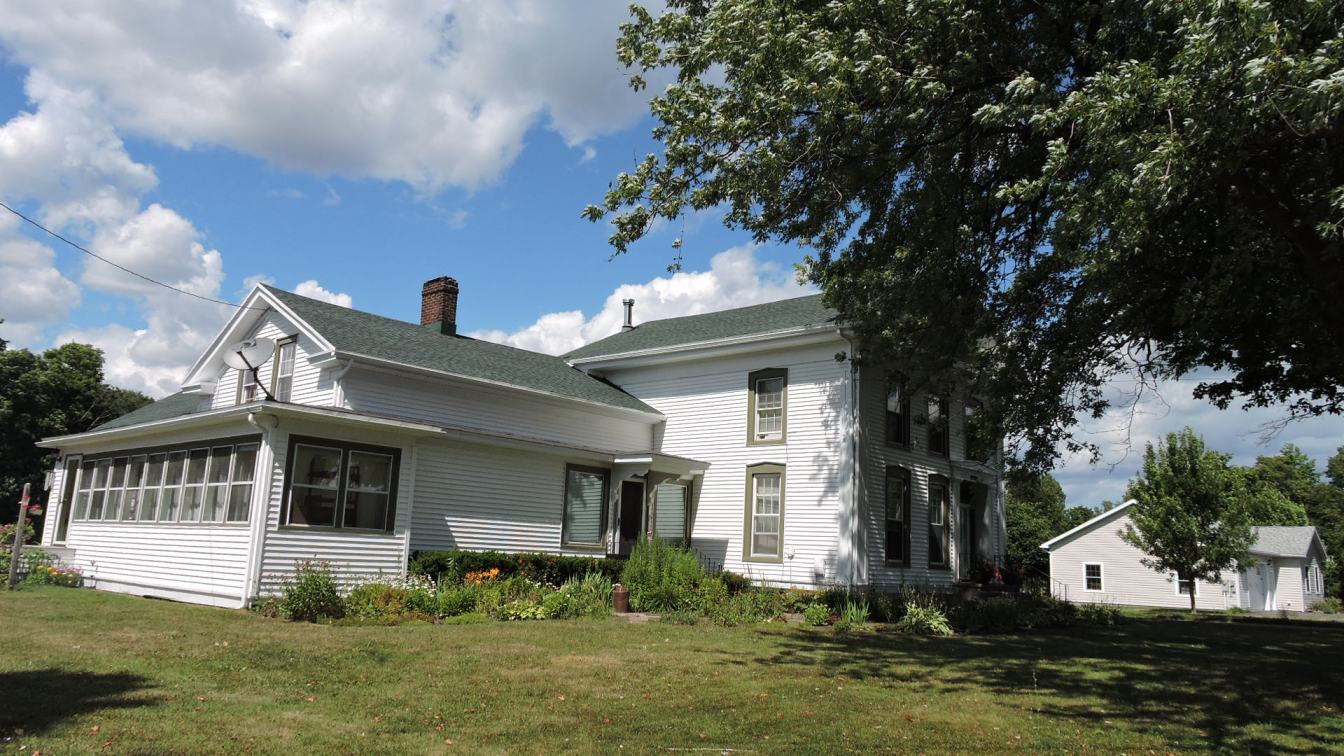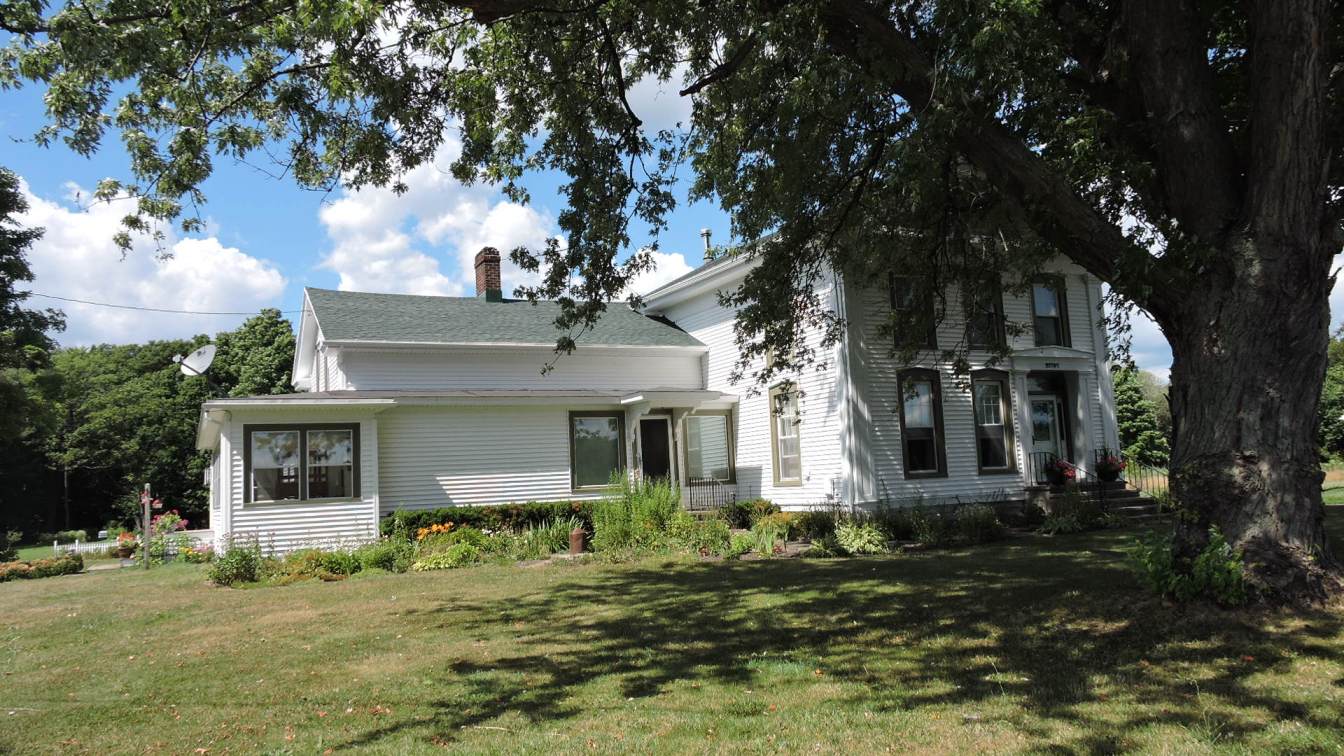 Where Simeon Hunt established the first tavern in the town of Rodman some 150 years ago stands the attractive, well-kept and modernly-equipped farm residence of Mr and Mrs George C Isham. It is at the eastern outskirts of one of Jefferson County's most beautiful hamlets, the hamlet of Rodman, located in the Sandy creek valley. The farm is situated at a spot where two brooks make their junction, the so-called Gulf Stream and the north branch of Sandy Creek. And it was where this Isham farm house, Georgian in style, is placed, that Simeon Hunt built his log cabin when he came from Vermont through the northern New York wilderness in 1801 to make his future home. It was there that he conducted his tavern for many years, and history relates that for the first six months after his coming his wife saw no other female. The nearest grist mill was at Brownville and life was primitively rugged. Hunt, it is said, was a devoutly religious man and was active as one of the first members of the first church organized in Rodman.
For 108 years the farm has been in the ownership of the Isham family, handed down from one generation to another. It now has a large acreage and is reputedly one of the best farms in the county, but its nuclear parcel consists of 98 acres and 18 perches of land. On October 20 1838 Benjamin F Hunt, son of Simeon, was joined by his wife, Sarah, in selling this nuclear parcel plus 24.43 acres to Horatio N Hunt and on May 10 1844 Horatio N and Eliza Hunt of Rodman, Anna H Hunt and Benjamin F Hunt of Rutland conveyed a one third interest in the 98 acres and 18 perches to George Gates of Rodman. On July 5 1844 Gates acquired the other two-thirds from Western W Wager, Brownville, mastery in chancery.
It was in 1846 that William Y Isham came from Massachusetts and settled first in Rutland, later removing to Rodman where, on May 1 1847 he purchased the 98 acres and 18 perches less some minor exceptions, but plus 15 acres, from George and Pamelia Gates. Then on April 1 1848 he bought 88 more acres in another location in the town from Elisha P and Louisa F Cook of Ellisburg. Benjamin F and Lunette Hunt sold him 6.66 acres in the town of Adams September 21 1850 and February 3 1851 Hiram and Paulina P Herring sold him a small parcel in Rodman. He acquired several additional parcels later, and after his death his widow, Martha I Isham, and other heirs sold them to his son, George F Isham, on January 1 1868.
George F Isham made other additions to and greatly developed the farm, dying intestate on April 22 1899 when his estate went to his widow, Marion A Isham, and son, Fred E Isham. On October 9 1899 Marion O Isham released her dower interest in the farm to Fred E Isham, who operated and improved the farm until his death January 22 1934. Mrs George F Isham was Miss Marion A Kellogg prior to her marriage.
Fred Eldon Isham, who was married to Miss Harriet Grimshaw of Lorraine, on September 14 1898 willed his widow a life-use of his entire estate including this farm. However, Mrs Isham survived her husband only until May 7 1935 when she died at the age of 57. She was a member of Deborah Champion chapter of the DAR, and was active in Rodman civic, church and grange affairs. Under the provisions of her husband's will all that remained of his estate after her death was to go equally to his two children, George C Isham, the present occupant and operator of the farm, and Mrs M E (Edna Isham) Marlow, New York City. George C Isham of the class of 1926 St. Lawrence university, now eastern regional sales manager of the tube division of Sylvania Electric Products, Inc, will be recalled as a varsity football star and basketball team manager. He was married to Miss Marjorie S Goodnow, native of Ogdensburg and also SLU graduate, in early August 1929.
One of the present-day luxurious summer homes and show places in the village of Cape Vincent is that of Errington A Whiteford, 420 Lexington avenue, New York City, head of the Wfiiteford Paper company.
Located immediately east of "The Stone House," which was built in 1815 as a residence for Vincent LeRay de Chaumont for whom Cape Vincent was named, the Whiteford house site which was once a part of LeRay's property is on the north side of Broadway. The house itself has undergone so many alterations, modernizations and expansion as to bear little resemblance to its original appearance. Some bizarre and fictitious "history" of this Whiteford house has been written and repeated, as exampled by the statement that General the Marquis de Lafayette visited there when he made his post-Revolution tour in 1824. On that tour Lafayette did not come into this section of New York state, and it is doubtful if the original or nucleus of this present house was built until many years later. The large lot, with its wide Broadway frontage, upon which the Whiteford house stands, runs back to Lake Ontario and is part of 7.5 acres which Vincent LeRay sold to Hyacinth Peugnet on May 2 1850 along with 1.63 acres on the opposite side of Broadway. The fact that Peugnet paid $6,000 for the two would seem to be an indication that there was a building or buildings on one or the other of the parcels, but Stone's Atlas of 1864 shows no building on the Whiteford house site at that time. The historic "Stone House" which is said to have been purchased by Hyacinth, Louis Desire and Theophile Aime Adolphe Peugnet from Vincent LeRay in 1837 is credited to Hyacinth in this Stone atlas.
The three Peugnet brothers, of whom Hyacinth was one, were adherents of Napoleon, came to the United States after his downfall and established a boys' school in New York City, in which the Confederate General Beauregard received his first military instruction under Captain Louis Desire Peugnet.
On April 4 1837 these three Peugnets bought from Mmne. Eulalie Francoise Fresnel, of Paris, France, about 675 of 1,000 acres in the town of Cape Vincent that her distinguished father, Count Pierre Francois Real, creator of the Cup-and-Saucer House, had owned. On July 21 1849 Theophile Peugnet conveyed to his brother, Hyacinth, 610 acres west of Cape Vincent village, 450 acres three miles south of Cape Vincent village and 470 acres between Natural Bridge and Lake Diana (Bonaparte) in the town of Watson, Lewis county. On January 27,1853 Theophile sold to Hyacinth about six acres of Count Real's farm near the village of Cape Vincent. Hyacinth Peugnet was born June 24 1794 and died June 13 1865. His wife, Emeline Joseph, was born March 24 1804 and died December 24 1878. Both are buried in St. Vincent de Paul cemetery, Cape Vincent. They had two sons and three daughters, Eugene of Fordham; Alfred Peugnet, New York; Mrs Nathalie Fort, New York; Mrs Marie Beaufort, Montreal, and Emeline Peugnet, Cape Vincent. On May 20 1879 they constituted Alfred, their attorney to handle their affairs.
By his will Hyacinth Peugnet gave his widow a lifeuse of all of his property and granted her power to dispose of it among her children and grandchildren as she saw fit. On May 30 1881 these Hyacinth heirs sold out of the 7.5 acres which he bought from Vincent LeRay in 1850 209 1/2 feet frontage on Broadway to Henry L Fox, a Cape Vincent hotel proprietor who later supplied 500 horses to the Union army in the Civil war. On August 2 1882 they conveyed to James Arnold, Chicago, another Broadway frontage of 104 feet out of the 7.5-acre tract. The two Broadway parcels were adjoining each other. James and Sarah J Arnold sold their parcel to James C McDonald February 13 1883 and April 27 1886 James C and Mary H McDonald sold it to Henry M Levingston of Saratoga Springs, who acquired the adjoining parcel from Henry L and Eliza R Fox May 27 1885. Mr Levingston, widower, sold the two of a total 313.75-foot Broadway frontage to Mme. Virginie S Peugnet, St. Louis, Missouri, May 4 1891.
On November 5 1892 Mme Virginie S Peugnet conveyed to Virginia A Berthold of St. Louis and on May 8 1920 Claire P and Eugenie Berthold of St. Louis conveyed their Interest to Maurice A Long, city. On June 21 of the same year he purchased the other part from Claire P, Eugenie and Anne Caroline Berthold.
Mr Long, who was head of Long's, Inc, a local ladies furnishing store, made some alterations and improvements in the house and with his brother, Matthew D Long, sister Mary J Long and other members of the family used it several years as a summer home. Maurice A Long died July 7 1935 but the Peugnet house in Cape Vincent continued in the Long family until June 2 1945 when Matthew D Long and his sister, Mary J Long, the latter recently deceased, sold the property to Errington A Whiteford and wife, Mrs Elizabeth McM Whiteford, the present owners. Mr and Mrs Whiteford made still further modifications and improvements, among which was the installation of a Colonial front entrance.
It is said by members of the Long family that the original portion of the house was fist located much nearer the lake shore than the present house now is and that it was at some time moved up towards Broadway. In the event that it may have been built at a very early date by Vincent LeRay or after 1850 by Hyacinth Peugnet who had acquired "the Stone House' it was for some unknown reason not marked upon the Stone atlas of 1864 and probably was of not the same importance as "the Stone House"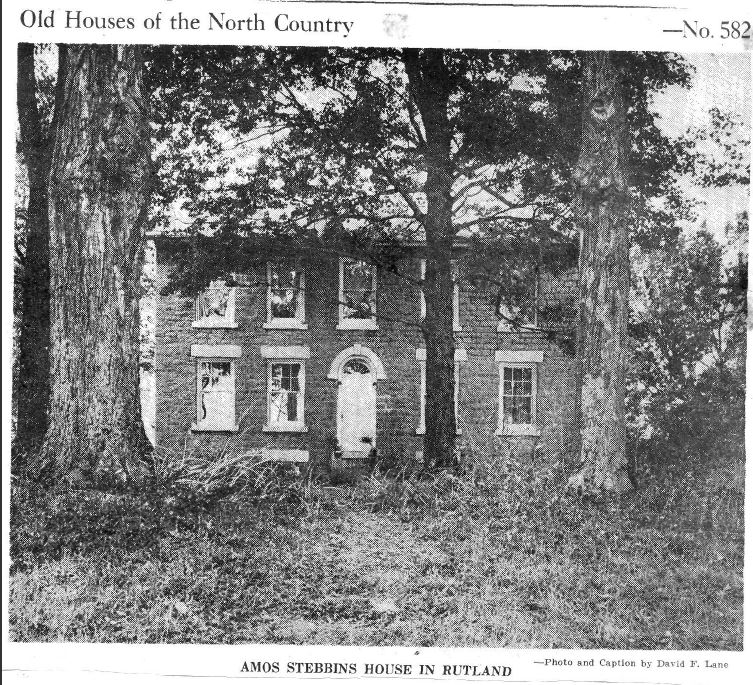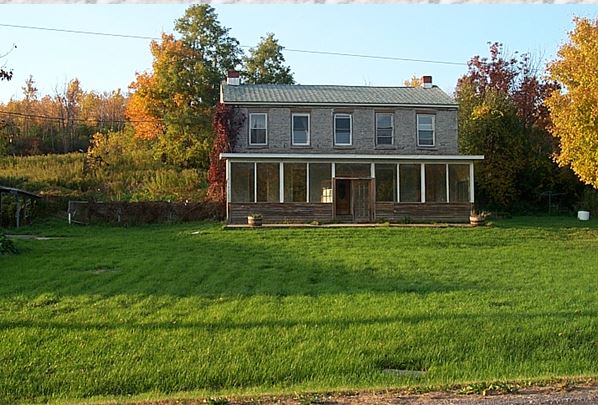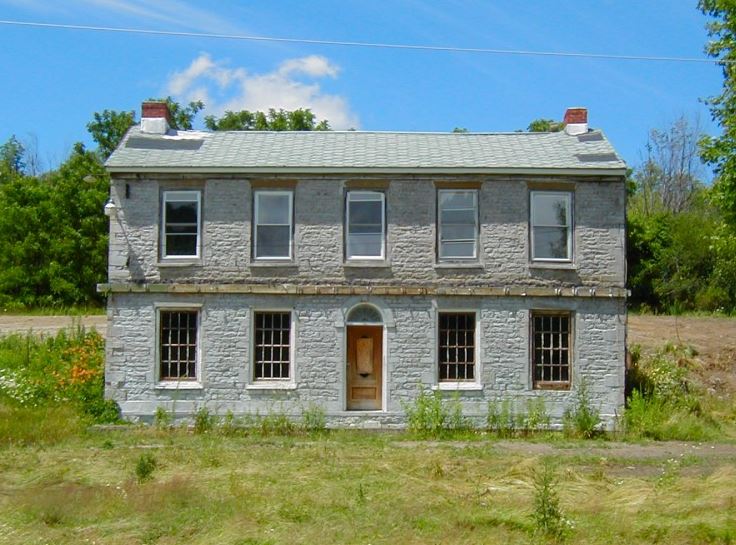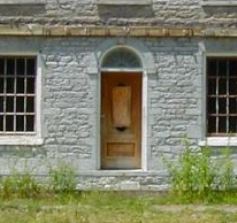 An excellent job of restoration of one of the county's oldest stone houses, one that had been vacant for upwards of a quarter of a century, is being done by Samuel K Frink on his farm residence about five miles outside of the city on the north side of the Watertown-Champion road. More than a year ago Mr Frink, Rutland farmer, began this restoration, and while it is riot yet completed it is now well advanced. Although constructed between 1812 and 1815 for Amos Stebbins, one of the pioneer settlers of the town of Rutland, the housse and farm of more than 300 acres has been in possession of the Frink family for oyer 82 years.
It first came into ownership of the Frink family on March 1 1871 when another Samuel Frink, grandfather of the present owner, purchased it from Simeon and Jannette Hadcock for $17,594.40. That Samuel Frink was born in the town of Rutland in 1819 son of Trustrim and Betsey Clark Frink, pioneer settlers who came into that town from their native Stonington, Connecticut. He married Lucy Ann, daughter of Robert Hardy, became a prosperous farmer, served as town clerk, justice of the peace and in 1869-1870 was the town's supervisor.
After Samuel Frink's death this stone house and farm were acquired by one of his sons, Asa B Frink, on March 26 1903. Asa B Frink died unmarried on February 26 1924 and on the following May 29 his heirs conveyed this property to his nephew, Samuel K Frink, who has ever since been the owner.
Samuel Kellogg Frink, who now has title, is a native of the town of Rutland, son of the late Carl H and Stella Kellogg Frink. He was educated in the Black River High school from which he graduated, is prominent in the grange, is et member of Orient lodge, No. 238 F & A M, and Watertown Chapter No. 59 R A M He is a member of the Tylerville grange, a charter member of the Rutland Community association, a member of the Middle Road church, of which he was long Sunday school superintendent and is active in church Affairs.
His wife is the former Miss Mabel L Cooley, daughter of the latefc Frederick H and Harrietta E Flynn Cooley of this city, to whom he was married April 28 1952. Mrs Frink was graduated from the Watertown High school and the Potsdam State Teachers college. She is employed in the Watertown office of the Social Security Administration, has been president of the local Luncheon Forum of the YWCA, is a member of Trinity Church Service League and of the Watertown home bureau Mr Frink's father, Carl H Frink, was long a member of the Democrat county committee, was several years clerk of his town and in 1890-1 was supervisor from the town of Rutland.
Going back to Amos Stebbins, the original owner of this house, it should be pointed out that on September 19 1807 he and William Keyes jointly purchased from Isaac and Ann Bronson the original 321.48 acres of this farm, and that on June 7 1812 Keyes conveyed his interest to Stebbins.
It is believed that this stone house was started shortly after that and probably completed about 1815. A native of Massachusetts, he was a son of Menuman and Hannah Keyes Stebbins and a cousin of William Keyes who joined him in the purchase of this property. Amos Stebbins was married to Hannah Prior. He served at Sackets Harbor during the War of 1812 was town clerk several terms, assemblyman in 1816 1817 and 1821 and supervisor in 1824-1826. A daughter, Cornelia, who was born to him and Mrs Stebbins in 1815 was married to Dr Isaac Munson, a young Evans Mills physician, on May 24 1836. Shortly afterward Amos Stebbins deeded this house and farm to them, and there they resided until Dr Munson was elected county clerk in 1849 when they removed to this city. In 1853 Dr Munson became one of the founders of the Agricultural Insurance company, first served as its vice president, then as secretary and later as its president, a position which he held at the time of his death March 8 1886.
On December 5 1855 Dr and Mrs Munson sold this farm and stone house to Pliny Monroe of Delhi, NY, whose wife was the former Miss Samantha Ball of Rutland. Mr and Mrs Monroe, grandparents of Mrs Fannie Baxter, city, kept the place until March 7 1864 when they sold it to Simeon Hadcock and removed to a large house on upper State Street in this city. The Hadcocks seven years later disposed of this stone house and its farm to Samuel Frink as previously noted. That Amos Stebbins was a member of the Masonic fraternity is evidenced by the fact that the Masonic square-and-compass emblem is carved in the keystone of the stone arch over the doorway. Formerly there were wooden wings at either end of the stone upright, but these disintegrated and were razed several years ago. The house is located in a most ideal and pleasant setting looking across a valley to a beautiful vista beyond. It is doubtful if there is a more attractive environment in northern New York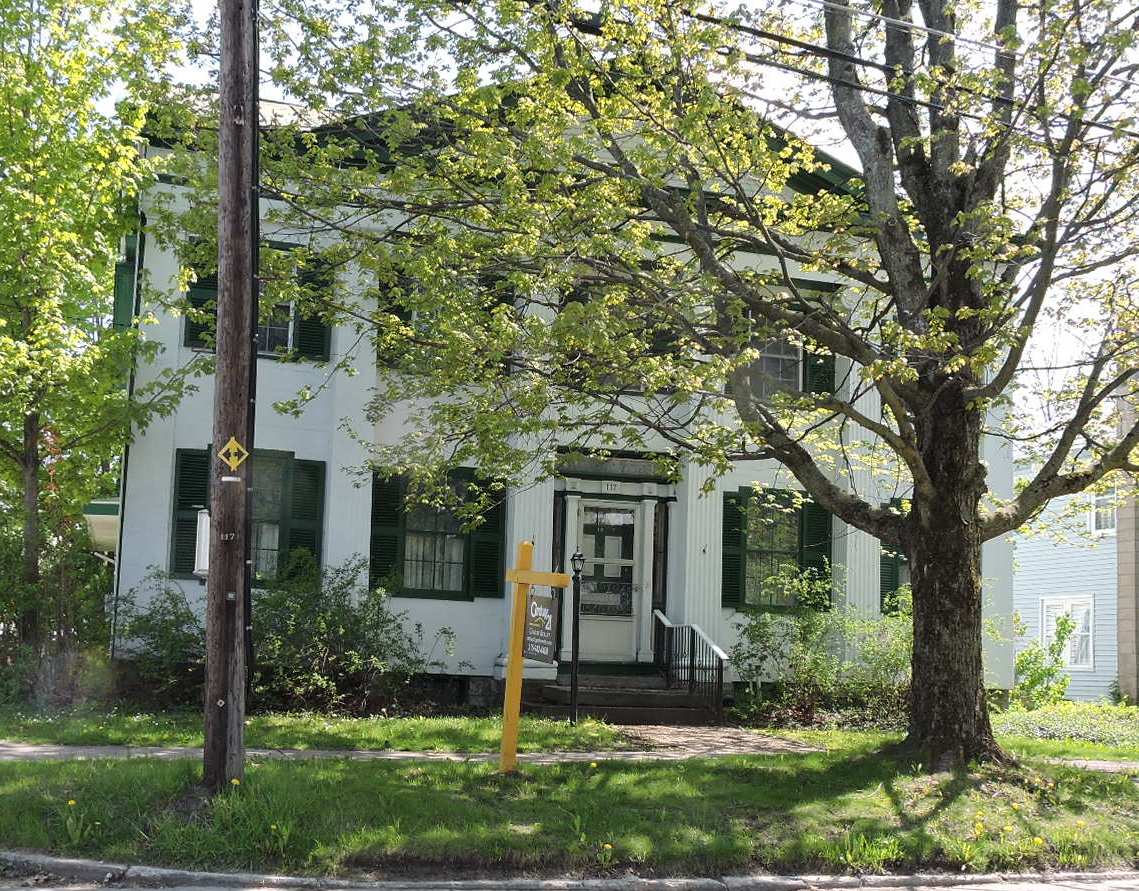 One of the most striking of the fine old houses in the thriving village of Boonville, which is in Oneida county, is that whicli was built about 1830 by Noyes Tuttle on the south side of West Schuyler Street. It is now owned by Mr and Mrs Cleo L Hughes and is close to the business heart of the village not far from the historic Hulburt tavern erected in 1819.
The Tuttle mansion, with its beautiful central front doorway, its fluted pilasters and Ionic capitals, began with a small house constructed about ten years before and which is now the rear part of the main structure. Noyes Tuttle. who died in 1832 about two years after the big house was completed, was a skilled carpenter and carved the pilasters of butternut and the capitals surmounting them. It is not unlikely also that Mr Tuttle made the graceful semi-circular stair, with its natural grain banister and urn-topped newel post, that winds up in the broad hallway.
Rectangular sidelights and transom grace the beautiful original seven-paneled front door. To the left of the hall is the large living room, while to the right is the pleasant dining room. Back of the dining room is a bedroom. At the back of the hall is the kitchen and at the rear of the house the huge summer kitchen, above which is a woodshed chamber. The upper hall is large and square. Off it are several bedrooms finished with canopied four-posters and other beautiful antiques. At the rear of the upper hall are three more bedrooms.
But antiques are not exclusive to the bedrooms. The entiie house is attractively furnished with them, and another feature of the mansion is the original white pine floors of broad boards finished natural and polished. The exterior walls are bricked up to make the house strong and warm.
The windows are the original twelve-paned ones and the mansion is located in the earliest settled section of the village. To the east of the house was the carriage shop bult by Burton Tuttle about 1830 and owned in later years by Tanner & Wooley. There were made carriages, wagons, cutters, baby sleighs, etc. From John Owens, Noyes Tuttle bought the mill which Owens' father, Ephraim, had built in 1817 and which about the, middle of the 19th century became the Sargent chair factorv owned by N M Sargent.
On February 25 1840 title to this Noyes Tuttle mansion passed to his son, Whiting, who died April 4 1856 aged 56. His first wife, Susan, had died June 11 1833 at 31. His second wife, Clarissa, survived him to die February 22 1877 aged 72.
The next owner of the mansion was Whiting Tuttle's daughter, Jane, who had married Sterry Hawkins, son of the founder of Hawkinsville. Mrs Hawkins inherited this property and, on May 3 1883 sold it to John T Watts who operated a blacksmith shop bearing a sign, "Watts You Bet" around the corner across from the depot.
John Watts died January 30 1918 and his heirs conveyed the mansion place to Williams, who was one of his three children. Sometime later William Watts sold to Wescott W and Mary Porter, who occupied the house. Mrs Porter died about two years later, survived by her husband and a daughter, Czarina, who married Joseph Lenway and moved to another house. Mr Porter took a second wife and after Mr Lenway's death and the death of her father, Czarina came back to reside with her stepmother.
On May 17 1941 Wescott W and Madge Potter Porter sold the mansion to Mr and Mrs Hughes, the present owners but with the condition that the Porters be permitted to remain there ten years. In January 1952 they relinquished it to Mr and Mrs Hughes, who now occupy it with their two daughters, Mary Lucille and Nancy Ruth. Mr Hughes, son of Mr and Mrs Ralph Hughes of Edinburg, Texas, was educaled in the Edinburg High school, the John Tarleton Military academy of Texas and Tarkio college at Tariko, Missouri He is head of the Ford & Mercury Motor Sales company of Boonville. He was married in Boonville December 25 1934 to Miss Ruth Virginia Harvey, daughter of Mr and Mrs C Ray Harvey, prominent Boonville residents.
Mrs Hughes was educated in the Boonville High school and also attended Tarkio colege. Her father, now deceased, was for several terms supervisor of the town of Boonville, which town was named for Gerrit Boon, agent for the Holland Land company.
But the beautiful Tuttle mansion, much the same as it originally was, except for some changes made in it by the Porters, stands today not only an historic landmark in Boonville but one of the outstanding dwellings in that community.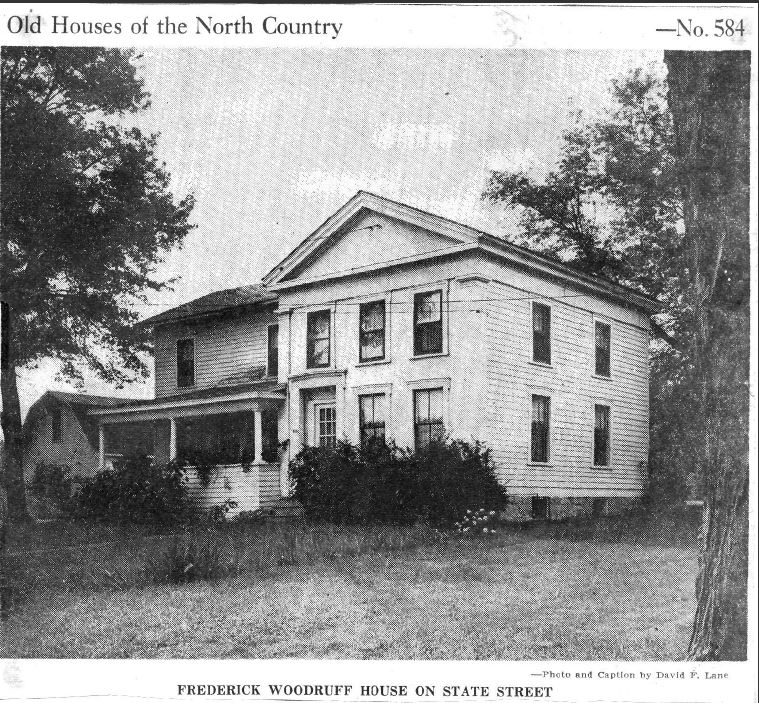 1838 State St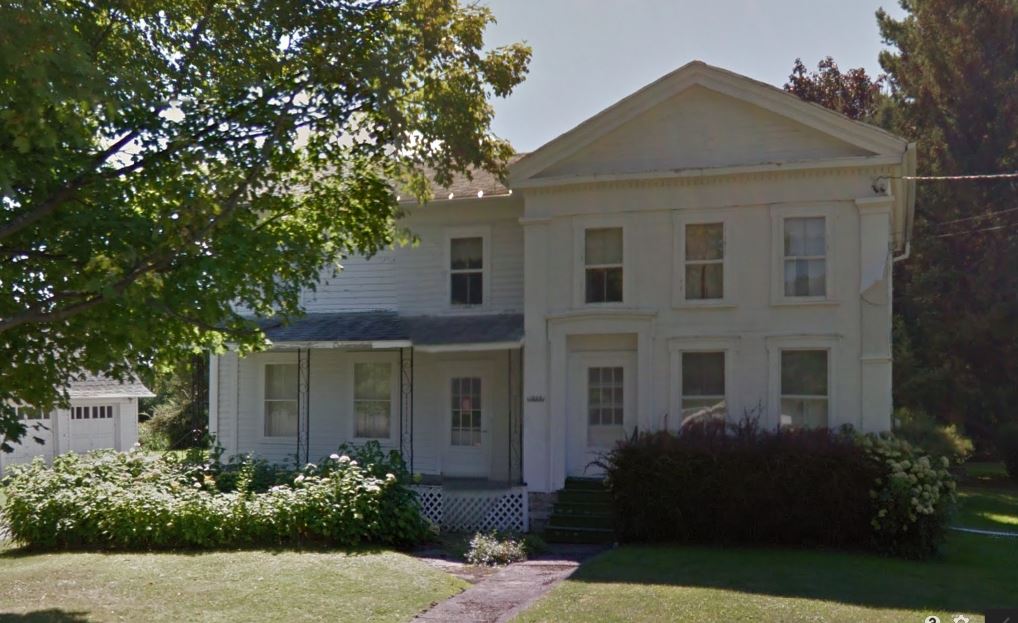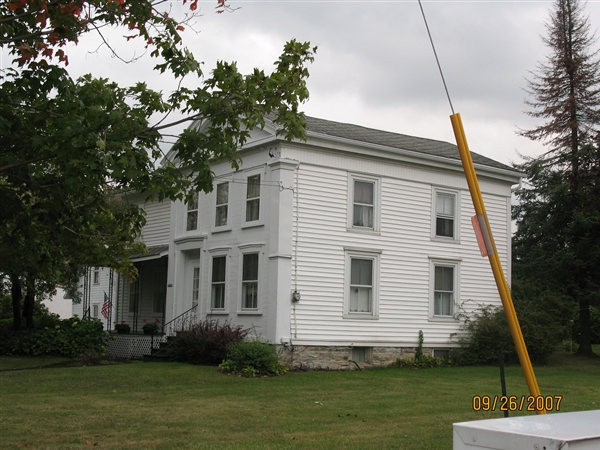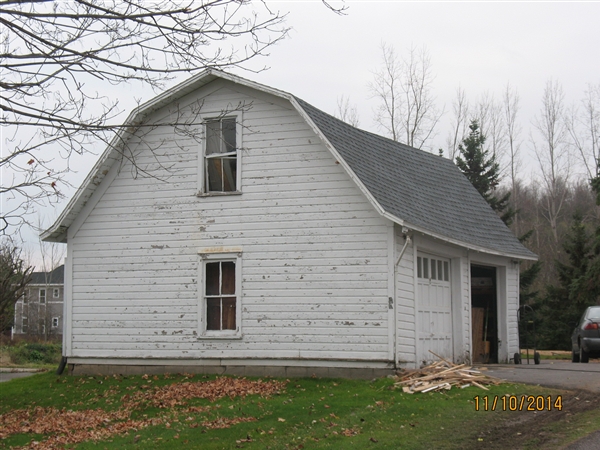 The Woodruffs have all played a prominent role in the history of Watertown. Sgt. Jonah Woodruff, a Revolutionary war veteran, and two of his sons, Simeon and Benjamin, of Litchfield, Connecticut, having tarried a few months in the town of Steuben, came in 1799 to take up a tract of land to the eastward of Cold creek and to the northward of Burrville. Early in 1800 they brought their families on by ox-team. Frederick, a younger son of Jonah, was born in 1788 and in due course married Lodema Andrus, daughter of Ezekiel and Martha Munson Andrus, formerly of Farmington, Connecticut, but Mr Andrus became a Rutland settler in 1800. Until 1839 Frederick and Lodema Andrus Woodruff remained upon the farm in the Woodruff settlement, and then took residence in this attractive white house, now 1838 State Street, last house on the south side of State Street within the city limits.
They were the parents of George, Diadema, Gilbert, Walter, Jackson, Betsey and Orlin H Woodruff. Diadema was named after the twin sister of her mother. Gilbert and Walter became the leading contractors and builders in Watertown during the middle of the 19th century and not only erected many of the important business buildings including the Washington hall, which eventually gave place to the present YMCA building at the corner of Washington Street and Public Square, but also constructed many of the fine residences in the better residential sections. Their brother, Jackson, was also identified with them in some of these projects.
They were fine mechanics, a talent which seemed to mark this family, for their cousin, Colonel Theodore Tuttle Woodruff, was also outstandingly gifted in this wry. It will be recalled that Theodore Tuttle Woodruff, who was the son of Simeon and Rosanna Adams Woodruff, was the first inventor of a practical sleeping car. What the connection was between the Tuttles and the Woodruffs does not appear from a superficial study of their genealogies, but it is of interest to note that the next two houses to the west of this residence of Frederick Woodruff were the homes of Theodore Tuttle Jr, and his father, Theodore Tuttle. It is also of interest that on February 3 1849 Frederick Woodruff bought of Harrison and Sarah Tuttle and of Theodore and Mary Tuttle about 30 acres next to that upon which this Frederick Woodruff residence stands. Frederick Woodruff served in the battle of Sackets Harbor during the War of 1812. He died in September 1856. Later George W and Martha Lawrence acquired this Woodruff residence, which probably was built about 1839 when Frederick and Lodema Woodruff moved there. On April 5 1865 Mr and Mrs Lawrence sold it with eight acres of land to Mrs Almira Ransford, wife of Edward V Ransford, and on August 7 of that year they disposed of it to Eleazer Florida of Lewis county.
However, Mr Florida must have experienced financial difficulties for, to satisfy a mortgage held by Joel Florida against Elezear and Jane Florida, Sheriff A W Wheelock on December 10 1870 sold it at mortgage foreclosure sale to John F Moffatt, a prominent Watertown banker and contractor. On the same day Mr Moffett transferred a half interest to Norris Winslow, banker, merchant and builder and together they sold it to Morrell T Hill of Lorraine on June 20 1871. A few years later there were subsequent conveyances which took the title of the house and eight acres to Mrs Ellen M Hill and on November 24 1880 she sold the property to Mrs Theodora E Ballard of Utica.
The next transfer was on August 11 1885 when Mrs Ballard disposed of the place to Frederick R and Rebecca Bisnett. After some years Mr Bisnett, an enterprising dairyman, acquired adjoining lands, operated an extensive milk route in the city, rernodelled and enlarged the wing of the house along more modern lines. Still later he discontinued dairying and established a feed store at the corner of State Street and the Cold creek road.
This business, established in 1900 developed a wholesale angle and took on a farm implement department. Eventually Mr Bisnett associated his son, Walter H Bisnett with him, and when the health of the elder Bisnett no longer permitted him to give attention to it in 1924 his son took over its management. It was he who added the farm implement department.
Mrs Rebecca E Ingram Bisnett died November 4 1916 and her husband, Frederick R Bisnett, July 13 1941. Their son, Walter Harrison Bisnett, who was educated in the local schools and the Northern Business college of this city, died March 21 1946 at the age of 54. His widow, the former Miss Mabel N Zeswitz, to whom he was married in this city December 9 1914 has since been the owner and occupant of this house, while the feed and implement business operated under the name, Walter H Bisnett, Inc., is managed by her son-in-law, John Pierrepont Constable.
The house, maintained in excellent condition, is marked by a fine main entrance and heavy return-cornices with well-cut dentils.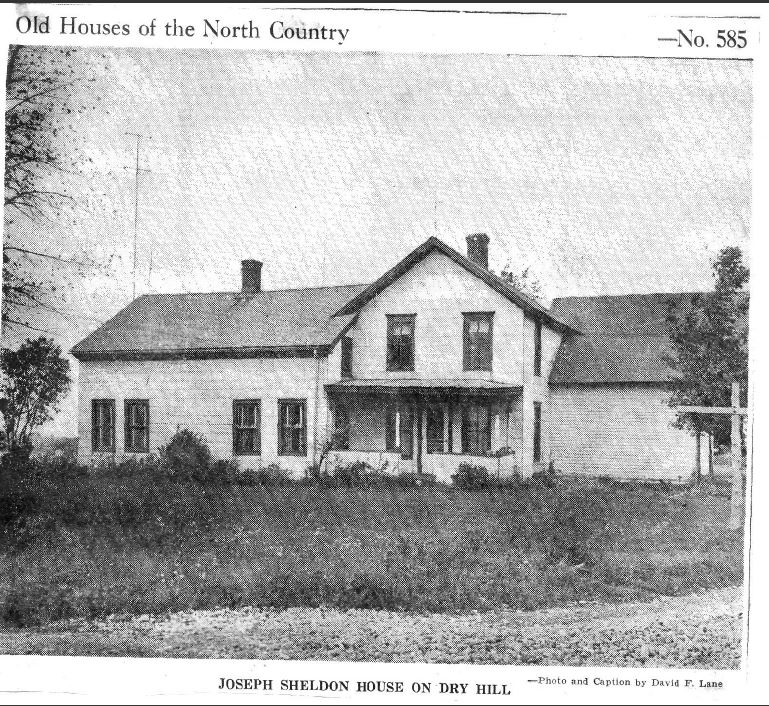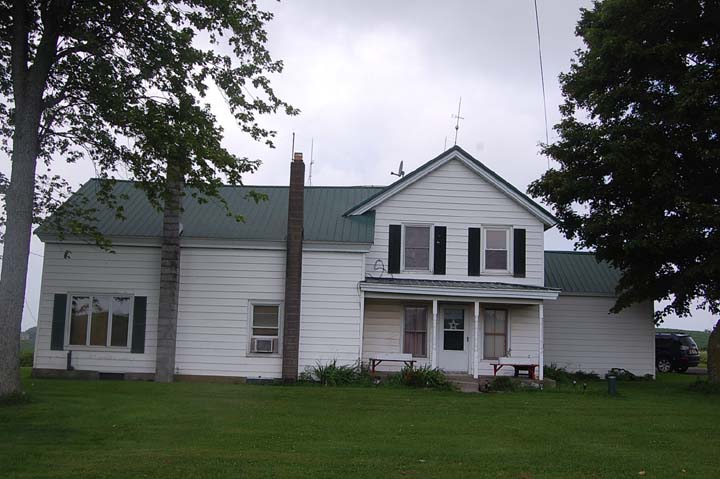 Jefferson County has few houses more historic than that of Joseph Sheldon. It is on a farm atop Dry Hill and is just off the Dry Hill-Rodman road on a short road that connects the latter with the Sandy Creek road. It is historic because it stands upon the farm where Joseph Sheldon is credited with having established the first dairy in the county about 1833 with a herd which numbered 40 head the next year. And it was here that the first horserake in the county was owned and used about 1835. Furthermore it was from the distillery which Joseph I Sheldon erected near his house in 1805 and operated until 1832 that "Dry Hill" got its name, due to the droves of "thirsty" patrons who came to this still to buy his corn whiskey. Born in the town of Lisbon, Connecticut, in 1782 Joseph Sheldon and Septimus G Adams migrated to Herkimer county early in 1801 worked there until fall, when the two of them with William Smith and Gurdon Caswell came on to inspect the Dry Hill country. They went back to Litchfield, Connecticut, but returned here in the spring of 1802 and worked that summer clearing land on the Creek road for Reverend Ebenezer Lazelle, the congregational minister who founded the First Presbyterian church of Watertown in 1803.
While family tradition credits Joseph Sheldon with having that summer bought the land which John Babcock and John Partels had cleared and where this farm is located, there is no county record of his having bought land earlier than December 26 1812 when he purchased a small parcel from Joseph and Betsey Wadley and next on November 6 1815 he bought 100 acres in the great lot of the town of Watertown where this house is from Nicholas and Alice Low of New York City.
First he built a log cabin. In 1804 he built an ashery and in 1805 a distillery In 1807-08 he is said to have built the upright of this frame house and brought his young wife Hepzibah, whom he had married in 1803. She was the daughter of Captain Tilley Richardson, a Revolutionary war veteran and also one of the pioneer settlers of this part of the towrn of Watertown.
The first child of Joseph and Hepzibah Sheldon was Tilly R Sheldon, whose daughter, Marcia Victoria, married George Joslin Wilder. Another son, Mark Sheldon, owned one of the first mining claims of the famous Comstock Lode, while another son, Judge Joseph Sheldon, became a famous New Haven, Connecticut, jurist, and another son, John Sheldon, founded the Davis Sewing Machine company in 1868 and was first secretary-treasurer of the Empire State Life Insurance company of this city in April 1869. The pioneer Joseph Sheldon also played an important part in the early industrial life of Watertown. With Philo C Moulton he bought the grist mill lot of Jonathan Cowan on the south side of Black River opposite Cowan's mill on Beebee's island May 20 1829 and July 16 1829 Sheldon & Moulton bought an adjoining parcel also on the north side of Factory Street from Charles Clark. Thus Sheldon & Moulton became early flour and feed millers and they not only built the first bridge across Black River at the present Mill Street but the following year, 1836 built the limestone Union flour mills. On April 28 1834 Joseph Sheldon became a founder of the Sackets Harbor bank and on March 8 1836 an incorporator of the Jefferson County Insurance company, a fire insurance company.
He died in 1857 naming his son, Joseph, and his sons-in-law, Jencks P Thompson, and Willard S Eddy, executors with power to dispose of his property. Accordingly on November 22 1875 they sold this homestead farm of 143.61 acres to George Joslin Wilder for $6,100 who, on January 14 1857 married Joseph Sheldon's granddaughter, Marcia Victoria. And one of their children was Mark Sheldon Wilder who became one of northern New York's wealthiest and most outstanding industrialists. Born in East Charlemont, Massachusetts, January 3,1835 George Joslin Wilder was son of Abel and Hannah Johnson Wilder. At 16 he went to work in a North Amherst, Massachusetts, woolen mill and later in a Mittineague, Massachusetts, cotton factory. In 1855 he came to the Dry Hill area and bought the Robert Adams 100-acre farm from John and Adaline Cushman.
In 1864 he bought more land in the town and in 1867 about 100 acres just across the town line in Rodman, but it was on the Robert Adams farm that Mark Sheldon Wilder was born July 7 1862 began living in this Joseph Sheldon house at 13 and at 20 became a bookkeeper for the Davis Sewing Machine company.
Next he went to the Adams National bank, became a founder, cashier and vice president of the Carthage National bank, formed May 1 1887 became a founder and vice president of the Carthage Machine company, a founder, director and vice president of the Carthage Sulphite company, secretary-treasurer of the West End Paper company.
From then on his rise was phenomenal. He became the leading factor in the Diana Paper company, the head of the Remington Paper & Power corporation, the founder and owner of the Colonial Motor Coach Lines, forerunner of Eastern Greyhound, and one of the principals in the ownership of radio station WSYR, Syracuse.
When George Joslin Wilder died early in 1912 in Harrisville, where he then lived, all of his estate including the old Joseph Sheldon farm, went to his widow, Marcia Victoria Wilder. Under her will executed April 22 1914 and recorded July 26 1917 her residuary estate which included this farm was given to her daughter, Miss Mabel E Wilder of Harrisville.
On September 28 1923 Miss Mabel E Wilder sold the Joseph Sheldon historic farm to Fred H and Nora Dean of the town of Rodman and on February 25 1946 Mrs Dean disposed of it to John S and Erva M Bezner, town of Rodman, the present owners. Mr and Mrs Bezner also this year acquired about 125 more acres in that area.
At the present time and for more than 75 years the Joseph Sheldon farm has been more familarly known as the Wilder farm and it should be said that George J Wilder not only operated this farm, but a cheese factory as well, was justice of the peace 28 years, one of the first members of the town board of health, one of the first members of the Republican party In the county, a member of Rodman Masonic lodge, Watertown Chapter, Watertown Commandery and Media Temple.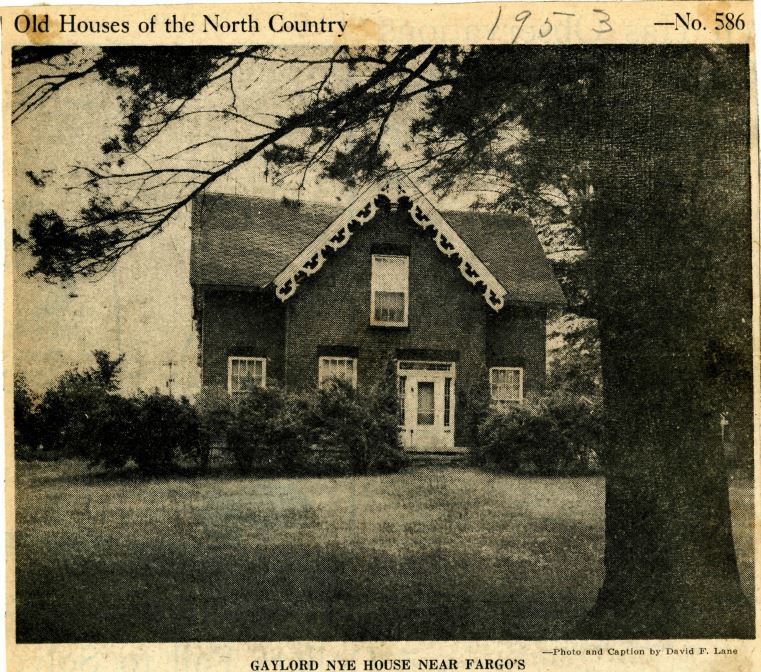 Architecturally a mixture of Gothic, Georgian and the 90'S this clean-lined, sleek red brick house a short distance above Fargo's and beyond the "Y" towards Natural Bridge, always has a fascination. Distinctive features are the gingerbread cornices and the castiron lintels that cap the windows and main entrance. Shrubbery and huge pines embellish the neat lawn and it occupies grounds 234 by 330 feet.
Paul L and Sophie Maier Williams have owned and occupied it since May 23 1946 when they purchased it from Paul and Sophie Volkert and the Volkerts acquired it from Harry J and Edith B Moore of Gloversville on January 7 1942. The Moores of Ormand, Florida. had owned it since they bought it from Henry and Jennie Pierce and .Fared and Helen Pierce, town of Wilna, on June 1 1926. Said to be over 100 years old, as the beautiful original front door, doorway and small-paned windows indicate, it is apparent that the house has undergone some changes of a more modern flavor in more recent years. Apparently the plot of land upon which it stands was part of a farm in the not too distant past, and certain deeds in the county clerk's office refer to it as the Gaylord Nye and the William Graham farm.
To some born in that area it is today more familiarly known as the William Graham farm, and a quit-claim deed executed September 8 1947 shows that on that date Gaylord Nye and his wife, Jane, sold 2.50 acres there to William Graham. On January 23 1838 Graham had bought 25.27 acres that this 2.50 parcel touched, and on April 24 1838 he bought another parcel of 53.05 acres in the immediate vicinity. The two parcels were purchased by Graham from Caleb S Woodhull of New York City, executor of the estate of Gerardus Post of New York. A year earlier than Graham, Gaylord Nye had acquired substantial tracts in the same area, two deeds of December 1 1837 showing that on that date he bought from William and Catherine Post of New York City a half interest in 50 acres there and from Caleb S Woodhull as executor of Gerardus Post he purchased the other half interest in the same 50 acres which had been jointly owned by William and Gerardus Post.
The two Posts were wealthy New Yorkers and land speculators who, on June 23 1825 had paid Vincent LeRay de Chaumont $17,000 for 11,880 acres of land embracing 27 entire great lots of 440 acres each in the town of Wilna, Jefferson County, and in the adjoining town of Diana in Lewis county.
Evidently Gerardus Post had died before his brother, because on March 2 1835 Woodhull as executor of Gerardus had sold Gaylord Nye 27.80 acres, 110 acres, 35.53 acres and twelve acres in the section where this brick house is. Similarly on November 14 1848 Woodhull sold Nye 15 acres touching his 53.05-acre plot and William Graham's 25.27-acre plot. And again on February 6 1852 Nye bought of Woodhull 41.29 acres just to the south of these Nye and Graham farms.
In the current century Henry and Jared Pierce, who disposed of this brick house and site to Harry J and Edith B Moore on June 1 1926 owned a considerable amount of land in this sector, one deed showing that on March 12 1891 they had bought 36.36 acres near the David Graham farm from Demaris Atwood, who was prior to her marriage, Demaris Nye. Then on November 20 1899 the Pierces purchased 75 acres from Joseph Nye and Joseph Nye in turn had bought the Gaylord Nye farm from James P and Maria Nye on August lt 1879 the latter having acquired it from Demaris Nye, heir of Gaylord Nye, on February 17 of the same year.
From the different transfers it would seem likely that this house was built by Gaylord Nye, later passed into the possession of William Graham and eventually by a succession of transactions came into the possession of Henry and Jared Pierce and from them definitely on through the Moores to the Volkerts and the present owners, Mr and Mrs Williams.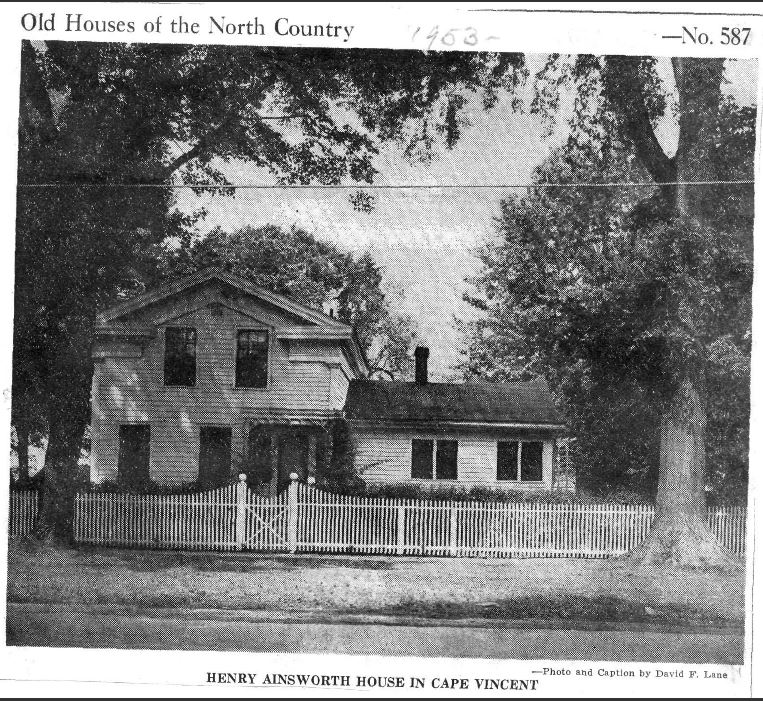 Born in 1785 probably in Pomfret, Vermont, son of Henry and Hannah Throop Ainsworth, Henry Ainsworth Jr, was one of the early settlers of what is now the village of Cape Vincent, where he built a house, operated a store and was one of the leading citizens of the community, having been village president for a number of years from 1822. Like thfe LeRays, the Esselstyns and the Kelseys, the Ainsworths had a prominent role in the early development of the village, Dr Avery Ainsworth who located there in 1809 immedately erecting a house and store, having been its first physician. In fact it was his store that Henry Ainsworth later conducted. The Ainsworths of Cape Vincent, were descended from Edward Ainsworth who came from England in the 1600s to settle in Roxbury, Massachusetts. The descendants seem to have gradually migrated westward, getting into Vermont and from there into this section of New York state.
The origin of this house is not known. Whether it was built by Dr Avery Ainsworth or at a later date by Henry cannot be determined, but it is likely that it was the home of Henry Ainsworth for some time prior to his death on October 10,1841. In any event there is a transfer of this identical property on July 6 1848 by Vincent LeRay to Henry Ainsworth, Richard W Ainsworth, George A Ainsworth, Danforth H Ainsworth, Sarah A Ainsworth, James B Ainsworth and Hannah H Ainsworth, children and heirs at law of Henry Ainsworth. The transfer covers a number of parcels and specifically mentions the .38-acre site of this house on the north side of Broadway at the west margin of Murray Street, and reserved unto the widow, Hannah H Ainsworth her dower rights in the property.
Henry Ainsworth left a personal estate estimated at least $10,000 and there was a difference of family opinion about its administration. The widow died February 19 1870 and title to this property seems to have eventually gone to George A Ainsworth who, with his wife, Sarah C Ainsworth, residents of Minneapolis, Minnesota, conveyed it to Mrs Minnie A Hinckley, July 31 1884. After her death it went to her husband, Captain Coleman Hinckley Jr, who, on January 20 1893 sold it to David A Anderson and wife, Clemence de Z Anderson.
Beginning with Samuel and running,down to today's Coleman A and T M Hinckley the Hinckley family has also been a prominent one in Cape Vincent as well as in the navigation of the Great Lakes. Captain Coleman Hinckley Sr, died July 25 1899 survived by the following children: Dexter of Wolfe Island; Mrs Oliva Ainsworth of Port Leyden; Mary J and Augustus R of Cape Vincent; Coleman Jr, Kingston, Ontario, Delos T of Kansas and Mrs Isabelle H Webb of Buffalo. Captain Augustus R Hinckley, a colorful shipowner, commander and figure on the Lakes for many years, was the executor of his father's estate, and died on his farm at Parishville June 25 1935 aged 79.
Mrs Anderson sold this house and lot to Horace T Stoel, successful farmer, breeder of fine horses including a number of trotters, was five years president of the Cape Vincent Agricultural society, six years assessor and a California miner in the gold rush of over a century ago. He died early in 1907 and on March 22 1912 his estate sold this property to Mrs Nellie F Jackson, New York City, whose husband was a coffee importer.
The Jacksons occupied the place until September 24 1920 when she disposed of it to Mrs Katherine Gardner Jones, who later conveyed it jointly to herself and husband, Garrett S Jones, who had but recentl\r returned from World War I service in France. The purchase was shortly after their marriage and from the spring of 1923 until October , 1927 they operated it as "The Three Trees Inn." Mrs Jones died September 3 1929 and December 9 1930 Mr Jones disposed of the house and lot to Miss Emilie C Adams, 2nd, who, with Mrs Frank W Sacket resided there together until Miss Adams' death June 15 1945. Since then it has been the residence of Mrs Sacket, the former Miss Edith Scobell who, with her late husband were members of two other leading Cape Vincent families.
During the Jones ownership "The Three Trees Inn" was the meeting place for an historical and archeological' tour to Carleton island. Mr Jones, now general superintendent of the Hungerford-Holbrook company in this city, is a former president of the Franklin Benjamin Hough chapter of the New York State Archeological association. He is a past commander of Watertown Commandery, No. 11 Knights Templar, and on July 25 1943 was married to Miss Lena Pauline Farmer of Great Bend. They reside at Felts Mills.
Miss Jeannette Paul, Carthage, is authority for the statement that last weeks house, No. 586 near Fargo's was built and belonged to her maternal grandfather, William Graham, a native of England and mason by trade. The first stone piers of the first railroad bridge at Carthage were built by him. Into his house he built a beautiful stair rail and newelpost, handsome wainscoting and paneling in some rooms and an attractive mantel in the parlor, Miss Paul states. He began buying land in the area of the house early in 1838 and was then residing in the town of WilnA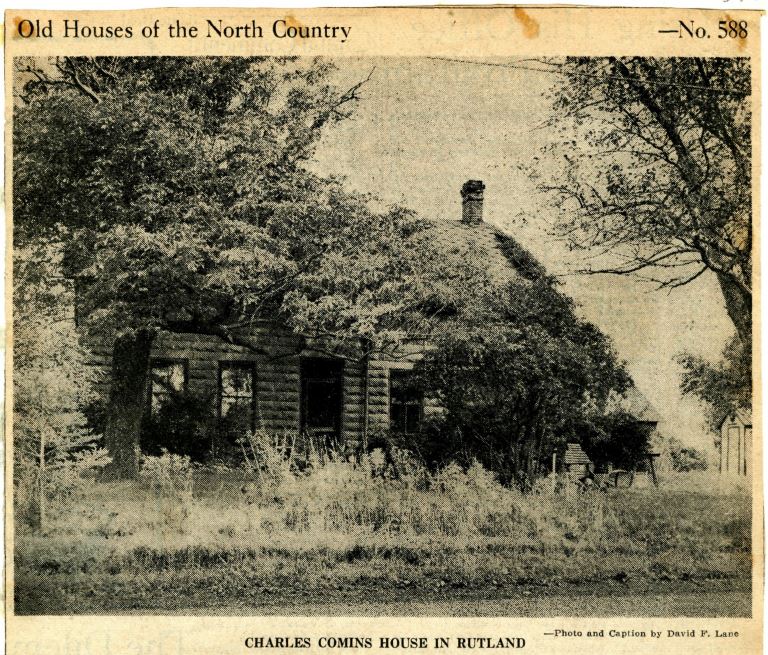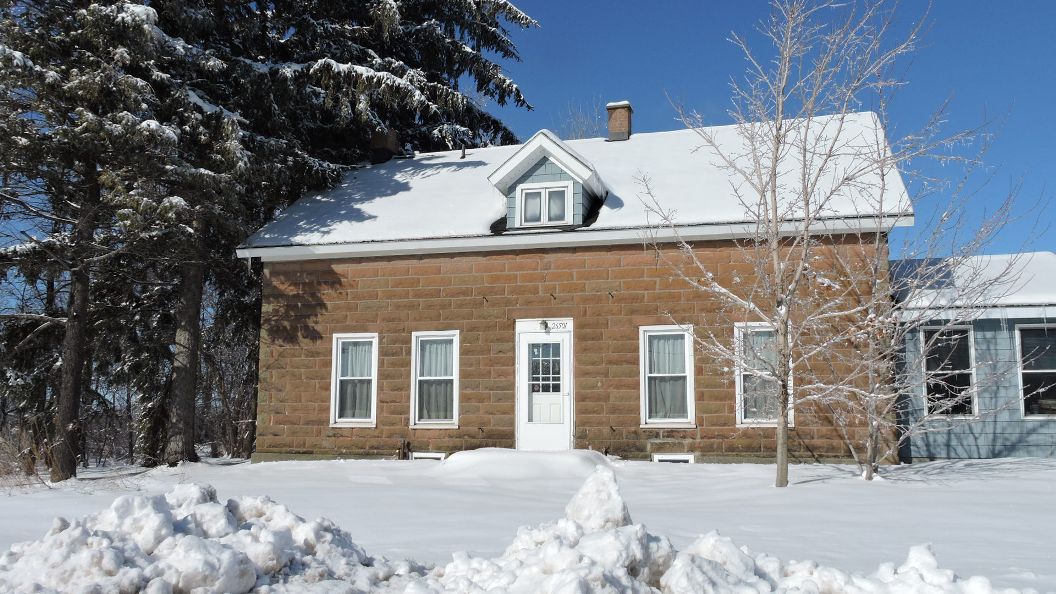 One of the sightliest spots in Jefferson County is the hill where the WWNY-FM tower is on the old state road from Watertown to Champion. On the opposite side of the road from this tower is this old limestone house which looks like something out of an old English countryside. From an elevation of about 1,000 feet the view from there sweeps westward over the city of Watertown, nestling in the Black River valley, and far beyond to the glistening Lake Ontario.
An inscription "1820" in one of the stones is the only thing indicating the construction date of the house. Another inscription states that 1907 was the date the ill-looking concrete block front replaced the original limestone, which, fortunately remains untouched in the other three outer walls. A few yards west of the old house is the boundary line between the towns of Watertown and Rutland. Hamilton Child in his history of Jefferson County states that in 1800 Charles Comins bought 128 acres in this area and presumably it was he who first owned the old stone house. The earliest county clerk's record of Charles Comins taking title to land in the county, however, is June 9 1834 when Liberty and Gracie Ann Comins and Rawson M and Minerva Comins conveyed to him about 55 acres out of the 128.07 acres which Child states he took up in 1800. Incidentally Liberty and Rawson M Comins owned lands and water rights along Factory Street near Mill Street and also adjacent to the old stone cotton factory at Factory Square.
But little is known of Charles Comins, except that on September 21 1857 he deeded this house and 20 acres of land to his wife, Parley Ann Comins.
On November 16 1840 Charles and Parley Ann Comins had placed a small mortgage on this property to Egbert Ten Eyck, but on September 30 1867 the property was released to Parley Ann who, at that time, was the wife of William K Butterfield. And as the county atlas of 1864 shows W K Butterfield residing in the old stone house Charles Comins must have died between 1857 and the latter date. Mrs Parley Ann Butterfield kept the house and 20 acres until June 6 1870 when she sold it to Dexter B Scott, a prominent Rutland settler and on March 2 1874 Dexter B and Catharine A Scott disposed of it to Alice M Tredway. The Tredways were also Rutland pioneers, Samuel Tredway having bought land in this area between 1800 and 1801.
Alice M Tredway on March 9 1883 sold the house and 20 acres to Sherman Warren Johnson who, on October 24 1853 had been born nearby on the farm of his parents, Warren Wallace and Charlotte Pierce Scott Johnson and who, on December 24 1874 had acquired their farm. On the same date also he was married to Miss Kate A Campbell. Mr and Mrs Johnson resided in this old stone house a number of years until they removed to this city in 1899 where Mr Johnson had established the S W Johnson Builders' Supply business incorporated in 1922 and acquired by the Watertown Builders Supply company in 1932 a year before his wife's death March 31 1933.
Mr Johnson died February 25 1940. On April 6 1903 Mr and Mrs Johnson sold the old stone house and 20 acres to Erwin B Emerson and on January 7 1907 Erwin B and Stella J Emerson disposed of the property to James C Nye, a meat dealer. James C and Grace Nye resided there until July 21 1915 when they conveyed it to Otis J Tredway and on July 18 1921 he sold it to James J Weldon of this city. Mr Weldon, native of Watertown, prominent wholesale flour and feed dealer for many years and founder of the Weldon & Weldon Coal company which he long headed, purchased the stone house and 20 acres as a summer residence for the benefit of his children who were then young. Just the year before he had completed three years of service as alderman of the third ward. September 23 1908 Mr Weldon was married to Miss Marguerite M Smith, daughter of Mr and Mrs John A Smith, city.
From March 27 1933 until January 1 1938 he served as a city councilman. Mr and Mrs Wreldon kept and used the stone house and 20 acres on the outer State Street hill until September 2 1927 when they sold it to Max A and Mary Stackel who, on August 10 1935 sold to Walter C and Pearl M Evans. On December 16 1936 Mrs Evans sold the property to Robert L and Elva A Woodard. Mr Woodard, a paper mill machinist, died January 31 1948 and title to this stone house and 20 acres went to his widow, who was the former Miss Elva Schantz of New Bremen.
On September 2 1949 Mrs Woodard was married to Orbin J Martin, who had also been previously married. Mr and Mrs Martin continue their residence in this attractive and slightly property, Mr Martin being an employe of the town of Rutland.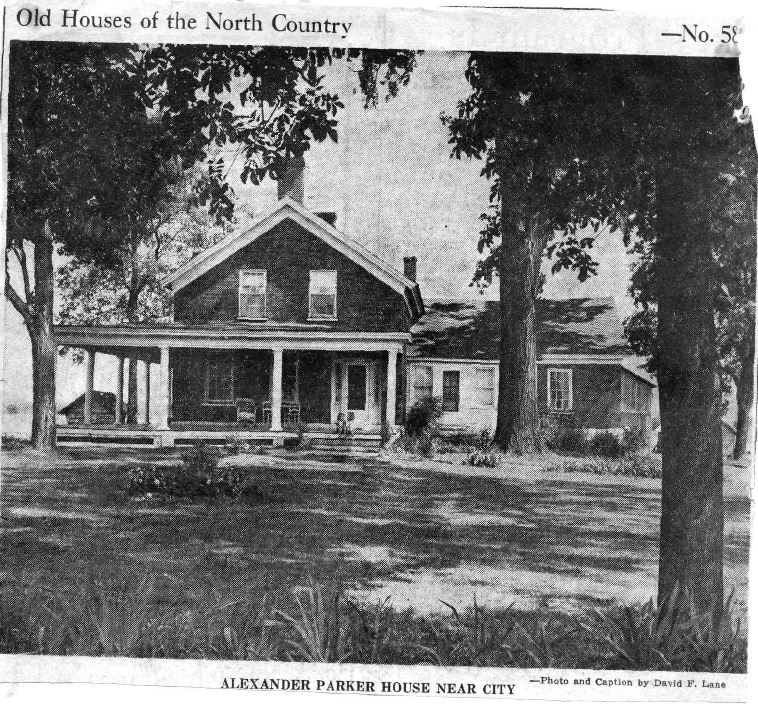 More than 126 years ago this fine old red brick house was built a short distance west of the city limits midway between Watertown and Brownville and on the north side of the Coffeen Street road by Alexander Parker. Evidence of this is found in a historical reference to the birth of his oldest son, James A Parker, October 10 1827 "in the fine brick house on his father's homestead." Alexander Parker was one of the most notable and historically interesting of Jefferson County's very earliest pioneer settlers. His uncle, Samuel Parker, in 1800 at Felts Mills for David Coffeen, built the first grist mill in Jefferson County and it started operating in March, 1801.
Then in 1801 Samuel built a grist mill at Burrville for Hart Massey and Silas Stow, and was assisted in the work by his nephew, Alexander, who was then a boy of but 14. It was in March 1801 that Alexander Parker and his father, James, trudged across Vermont through unbroken forests to settle in the area of the town of Watertown where this brick house is. They first built a shanty, and young Alexander worked through the spring, summer and fall. The ensuing winter he lived nearby in the family of Deacon Oliver Bartholomew who was the first of the town's initial pioneers to stay through that winter in the town the year before after their first coming early in 1800. Seven years later, on January 15 1808 Alexander married the deacon's daughter, Betsey.
Alexander Parker was born at Ackworth, NH September 3 1787 son of James and Martha Houston Parker, Martha being a relative of General Sam Houston. James had been a Revolutionary soldier, three of his sons served at the Battle of Sackets Harbor in the War of 1812 and he was a charter member of the Jefferson County Agricultural society, an outstanding farmer and millwright.
Both James and his brother, Samuel, influenced young Alexander to become a millwright and November 16 1812 James bought of David Parish 50 acres bearing a great ledge of gneiss in the town of Antwerp installing Alexander there to manufacture millstones which were shipped to Rochester and other places by sleigh.
On April 27 1815 James and Martha Houston Parker conveyed to their son, Alexander, 70 acres as the nucleus of the farm where Alexander built this brick house shown above. James Parker died January 26 1828 and on March 8 .his widow deeded Alexander three more parcels of 30.30 acres, 2.12 acres and .83 of an acre to which he added 36 acres, two rods and 37 perches from Nathan and Ruth Coffeen June 7 1817. It is likely that the brick house was jbuilt not too long after that. Ultimately Alexander built up a farm of about 240 acres arid there he raised a family of ten children, the oldest of whom was James A, who married Cornelia A Burnett of Cape Vincent and for a time operated a drug store with his brother, Franklin in Theresa, but suceeeded to the ownership of this brick house and farm which, at the time of his acquisition of it June 6 1879 consisted of 118.97 acres. Alexander Parker who had died May 29 1871 was for some years a warden of Trinity church in Watertown.
It is interesting to note that among James A Parker's children were three dental surgeons, Dr Clinton B Parker, Dr Virgil Franklin Parker and Dr DeWitt Lansing Parker, all of whom practiced in the metropolitan area, Dr Virgil having been the one who, in 1893 diagnosed President Grover Cleveland's ailment as necrosis of the jaw bone. The brick house and 118.97 acres of land passed out of Parker ownership December 18 1902 when Cornelia A and Julia F Parker disposed of it to Charles Norton Sherman of this city for $9,000 title having been conveyed to Cornelia and Julia January 21 1890 by the heirs of James A Parker who had died January 14 of that year. Mr Sherman, born in this city June 18 1871 son of Charles Augustus and Caroline Norton Sherman, was a great grandson of Noadiah Hubbard. After completing his education Charles Norton Sherman was associated with his brother, George C Sherman in the Taggarts Paper company for seven years.
In 1894 he was married to Miss Grace A Stebbins, daughter of Jean R and Adelaide Cooper Stebbins and they became the parents of Nathaniel S Sherman and Mrs Walter Fox (Adelaide Sherman) Smith. After purchasing the old Parker farm he spent several thousand dollars improving it, adding the verandah and a number of conveniences and resided there for some years. He died January 6 1915 and his widow who later married Winfield A Fox of this city, died March 27 1940. On February 24 1914 Mrs Sherman sold the farm and brick house to Marcus J Hall and after his death April 13 1915 title passed to his widow, the present Mrs Mary J Hall Dana who sold it October 29 1951 to Myron and Daisy Lewis of Sandy Creek. Two days later they conveyed it to Fred J and Margaret M Door, the present owners and occupants. The house contains ten rooms, a fine stair rail in the hall and two fireplaces one in the living room and one in the dining room. In addition there is a substantial tenant house on the farm.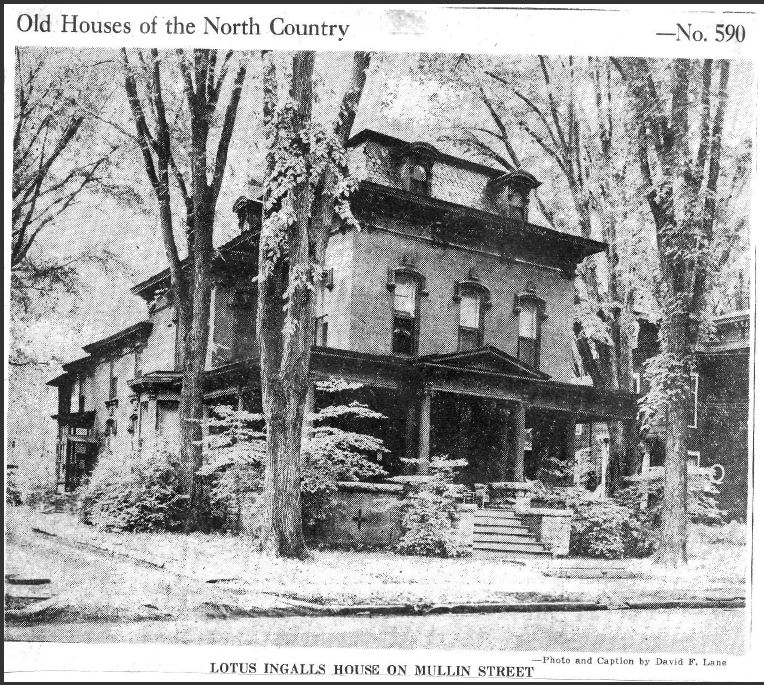 The unique feature of this house, constructed of red brick probably baked in one of the early local brick yards, is that it was originally built on the site of the present postoffice and federal building on the south side of Arsenal Street for Orren G Staples, first owner and operator of the palatial Thousand Islands hotel at Alexandria Bay and later operator of the Willard and Riggs hotels in Washington, DC , for many years.
About 1889 when the United States was preparing to erect Watertown's first postoffice building the site Lotus Ingalls, one of the founders of the Watertown Daily Times, purchased the house and engaged Contractor Patrick Phillips to transfer it to its present Mullin Street site. It was taken down, each brick numbered, and set up in its original design at what is now 171 Mullin Street.

It is of historical interest that just before the present brick postoffice and federal building was erected, Contractor Milo L Cleveland purchased the marble postoffice building which replaced this house and had it transferred stone by stone from the same site and set up at the corner of Arcade and Stone Streets, where it is now the Elks clubhouse and lodge hall. Thus have two buildings been removed from the same site and set up in original design in new locations. Created with a Mansard roof, the house, which is a large one, is believed to have been erected on the Arsenal Street site about 1863-4 for Mr Staples. It is said to have been built by Roswell D Murray, a brick and stone mason who had charge of laying the stone walls of the James D LeRay mansion near LeRaysville, the John Felt mansion at Felts Mills and the Woodruff hotel in this city.
Incidentally Mr Murray was the father-in-law of Editor Lotus Ingalls. In the house are 22 heavy black walnut doors of beautiful craftsmanship. Two beautifully handcarved wreaths of leaves and fruit in medallion ornament the front doors. The present verandah was an addition of later date. Among those who have lived in the house besides Mr Staples and Mr Ingalls have been Vice President Chauncey A Paterson of the Agricultural Insurance company, Dr Andrew M Brodie, former pastor of the First Presbyterian church; Dr Frederic R Calkins and Mr and Mrs Frank M Williams. The house's Arsenal Street site was part of the Woodruff hotel owner's estate, Norris M Woodruff, who lived in the next house to the west which later became the mansion of his son-in-law, Governor Roswell P Flower. Heirs of the Woodruff estate deeded this Staples house site to Mr Woodruff's daughter, Sarah M Woodruff Flower, August 10 1859.
On September 3 1860 Mrs Flower sold the east part of the site to Mr Staples and on May 21 1863 Mrs Flower sold the west part to Mrs Helen M Staples, wife of Mr Staples. On April 15 1889 Helen M and Orren G Staples disposed of the property to the United States for $ 15,000 for a postoffice location and the next year congress appropriated $75,000 for the building, which was opened in 1892. Mrs Marinda E Ingalls purchased the main part of the Mullin Street site from Emma E and Orville E Hungerford on July 31 1889 having bought an adjoining strip off the Dr Henry M Stevens lot the day before. The transfer of the house from Arsenal Street probably took place in the ensuing months.
Lotus Ingalls died April 24 1897 and title to the house went to his widow, who died intestate at her home in Brooklyn February 16 1904. This Mullin Street house then went to her daughter, Mrs Alice E Woolley of Brooklyn who sold it January 22 1906 to the Watertown Ecclesiastical society for a First Presbyterian church parsonage. On July 12 1912 the society sold the property to Frank M and Adda Barnes Williams who occupied it many years as a residence and on June 22 1948 Mrs Williams disposed of it to John R and Rosamond B Burns, the present owners, who operate it as an apartment house.
Orren G Staples was an important Watertown and Jefferson County figure as well as a prominent figure in Washington, DC Grandson of Lieutenant George Staples, Revolutionary war veteran and Rhode Island whaler, Colonel Orren G Staples was born October 14 1838 on the first State Street hill, son of Nathan and Amanda Curtis Staples. Orren worked on the farm until 17 and then manufactured patent medicines here. Later he was a merchant in perfumes, drugs and cigars: When the Thousand Islands began to develop, having built 57 houses in Watertown, he built the Thousand Islands holel in 1872-3 with accommodations for 650 to 700 guests, opening it in July, 1873. Next he bought the Willard hotel in Washington and moved there in 1883. Next he bought the Riggs hotel in 1891. Lotus Ingalls was born on a farm in the town of Rodman January 12 1820 son of James and Laura Ingalls. He completed his education in the Black River Religious and Literary institute here winters and studied law in the Lansing & Sherman offfice and was admitted to the bar, was town of Watertown superintendent of schools in 1845 and commissioner of education in 1867. In 1864 he went to Virginia to record the vote of Jefferson County soldiers. He was active in promoting the Carthage & Watertown railroad of which he was a director and four years secretary-treasurer. In 1872 he was Republican county chairman and in 1875 was elected to the assembly.
On August 28 1850 with A H Burdick and L M Stowell he started the weekly New York Reformer, forerunner of the Watertown Daily Times. Beman Brockway became his partner in the paper March 22 (illegible) the Daily Times resulted. December 12 1873. He was active in promoting his interest to Brockway and bought the Watertown Post of R A Oakes.
Frank Marion Williams, 1897 graduate of Williams college where he was associate chemistry professor 1897-8 chemistry professor at Clarkson college 1898 -1909 head of the Williams Apparatus and Williams Size & Service companies, founder of the Grapefruitola company here, was born in Lockport, NY, October 27 1873. He died September 20 1946 and his wife, the former Adda Barns, inherited the Mullin Street house.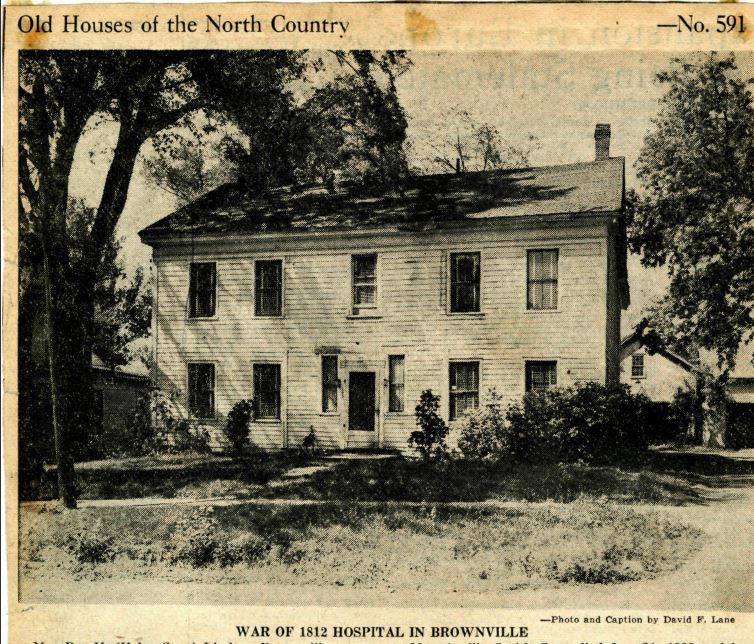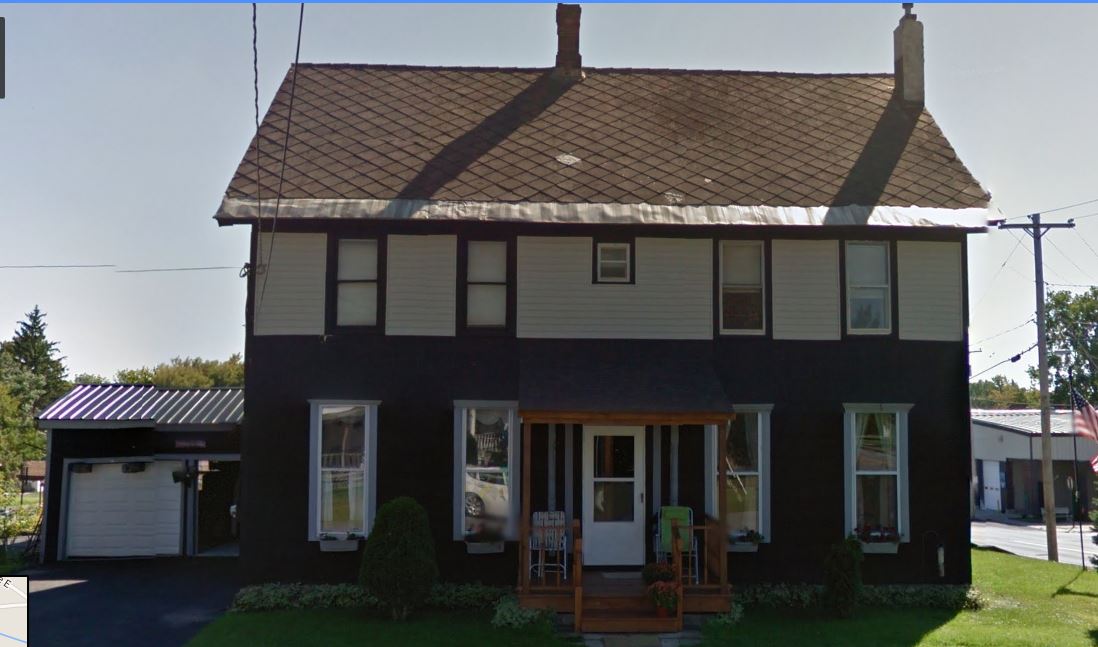 Mrs Roy H (Helen Gove) Lindsey, Brownville, owner of this apartment house on the west side of Brown Street, diagonally across from the Major General Jacob Brown mansion and facing the end of Pike Street in that village, relates the tradition that during the War of 1812 it was used by General Brown as a hospital for wounded soldiers. This would seem to be borne out by a recorded deed in the county clerk's office which states that on July 11 1815 General Brown and his wife, Pamela, conveyed it to his brother, Samuel, deputy quartermaster general of the United Stales army for and on behalf of the United States. It is further recorded that under authority of an act of Congress approved March 3 1819 Secretary of War Joel R Poinsett, conveyed it to Mrs Emma Everett, widow of Elias Everett.
On April 3 1811 Mrs Everett, who was then Mrs John C Wright, sold the place to Ga'ylor Field of the town ofOrleans and on August 26 1844 Mr Field disposed of it to Charles Sexton Jr, of Orleans county. Then on October 31 1846 Charles and Nancy M Sexton sold it to Captain John Bradley, formerly of the United States Army. Captain Bradley was evidently a man of considerable means, for he was involved in many real estate transactions in the village and town of Brownville, in the village of Dexter and in the town of WilnA He was one of the key figures, with S Newton Dexter, in the organization of the Jefferson Woolen company of Dexter in 1836 and also was one of the principals in the Brownville Woolen company about the time he bought this house.
After three years' ownership Captain Bradley and wife, Sarah M, conveyed this house and site to Charles P Plumb and on April 2 1860 Charles P and Sarah Plumb sold it to William Henry Browne.
A deed of May 1 1879 shows his widow, Mrs P Augusta Browne deeding this house and lot to her granddaughter, Pauline Arnoux, then unmarried, but ten years later, on January 14 1889 there is a deed giving the same property to Mrs Arvilla Smith Gove, who was the daughter of Charles W and Helen Russell Smith. Under the will of Charles W Smith recorded February 26 1907 his residuary estate went to Mrs Gove, whose husband was Clarence T Gove and the will of Mrs Helen Smith recorded February 18 1901 had also made Mrs Gove one of her residuary legatees Mrs Arvilla Smith Gove died January 31 1939 and her will, recorded May 5 of that year made her daughter, Mrs Roy H (Helen Gove) Lindsey, Brownville, her residuary legatee after providing her with life-use of this house. Mr and Mrs Lindsey reside in another house in the village of Brownville and rent this one to four families. Despite its age, being one of the oldest houses in Brownville, this house now designated 205 Brown Street, still displays its plain and attractive style. It is one of the landmarks of the village and the fact that it stems from Major General Brown, hero of the War of 1812 who outranked and out-generaled both General Andrew Jackson and General Winfield Scott, and that it was used as a War of 1812 hospital, gives it an historical richness out of the ordinary.
Captain John Bradley, who was an early owner of the property, probably was the John Bradley who was appointed an ensign in Lieutenant Colonel Jabez N M Hurd's regiment in Madison county in 1809. He was village president of Brownville in 1844 as was William Henry Browne in 1858-1861. Charles W Smith, grandfather of Mrs Lindsey, was a constable in 1878 and for many years was a traveling salesman for the Babcock carriage company. Clarence T Gove, father of Mrs Lindsey, was at one time professor at Ives Seminary in Antwerp, one of the leading north country academies a half century and more ago. Later he founded the Northern Business college in this city. He died in Cambridge, Pennsylvania, in 1903. If tradition is correct this old house probably is older than the Major General Brown native limestone mansion in the large grounds, one time ten acres, diagonally across the street, for historians state that the big limestone mansion, which is now Brownville's historical museum and civic center was erected in 1814-1815 as the War of 1812 was closing. As for the street upon which this house is located, it also has a history. Early Brownville deeds refer to it as State Street. Later it became Main Street and only during the past few years has it been known as Brown Street, in honor of the founder of the village and town, Major General Jacob Brown, general-in-chief of the United States Army from 1821 until his death early in 1828 during the administration of President John Quincy Adams.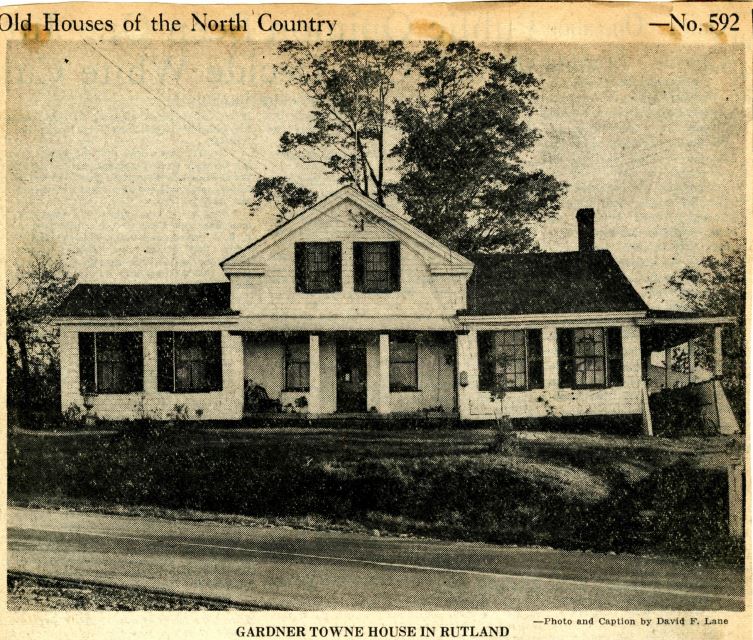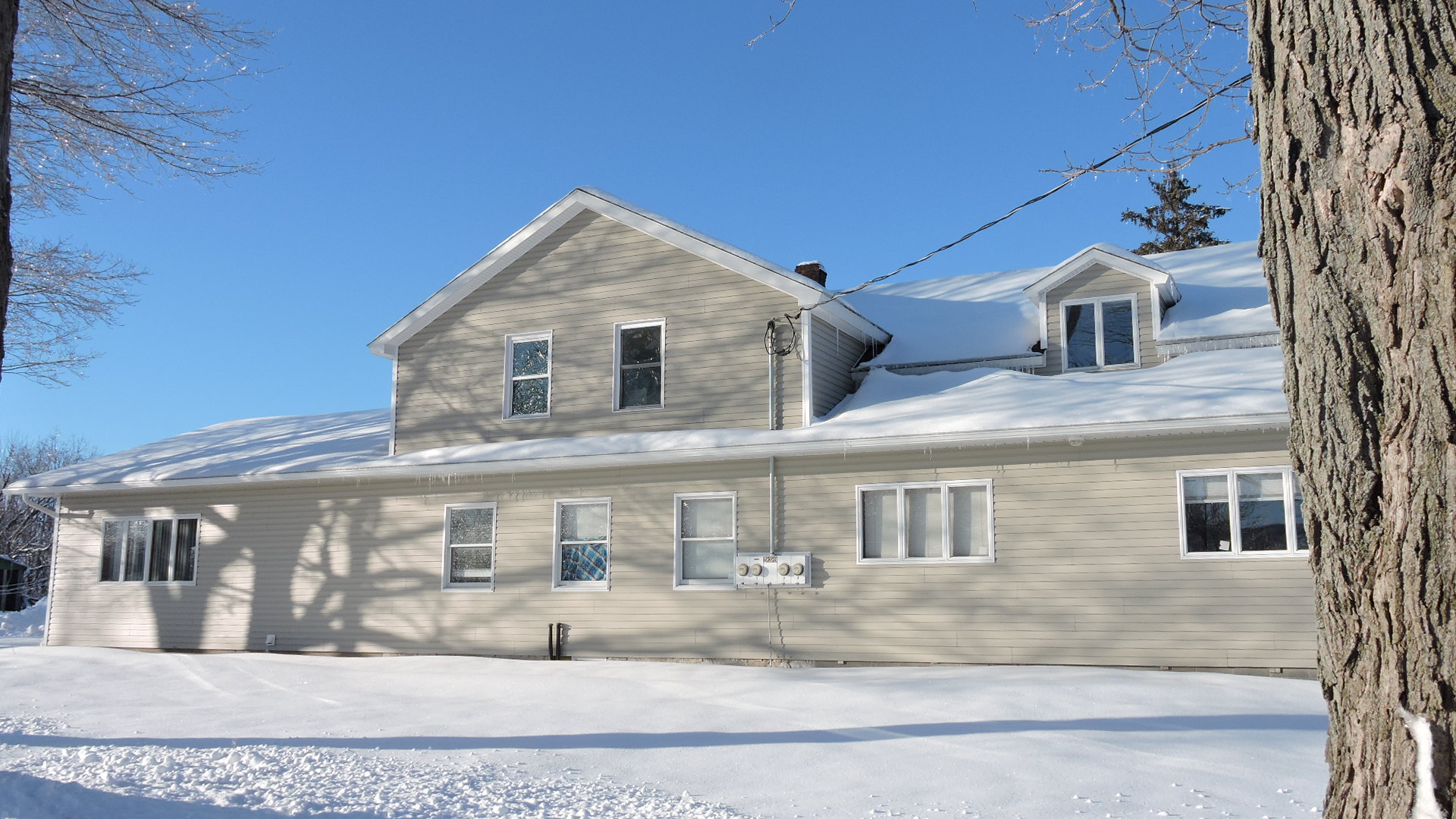 Most attractive in style and general neatness is this white house with the flanking wings which is located on the south side of the Watertown-Copenhagen state highway not far from the Lewis county line and which was probably built about 1825-6 for Gardner Towne. For the past 46 years it and the 140.45 acres of land that now goes with it have been owned by Mr and Mrs George B Woodruff, members of another noted pioneer Jefferson County family. Born at Binge, New Hampshire, in 1795 son of Francis and Belief Towne, Gardner and his brother, Luther H Towne, came with their parents through the northern wilderness to settle in the town of Rutland in January 1804. While fixing a tub at a corner of their house to catch the rain, Relief Towne was struck and killed by lightning the following August 16 becoming the first person to die in the township.
Gardner Towne became one of Rutland's early school teachers and in 1826 the year after he purchased the first parcel of this farm which is in the old Eames district, he was married to Dorcas, a sister of Moses Eames, Jefferson County's noted inventor and diarist. During his last two years in this house, Gardner Towne was Rutland supervisor in 1861-2. He was a strong temperance advocate and in 1855 was named on the Temperance party ticket for State senator of the 21st district consisting of Jefferson and Lewis counties. Endorsed by the Whigs, he was elected and served the district in 1856-7. In November 1862 he moved here, taking residence on Sterling Street, and later served for several years as a director of the Agricultural Insurance company. In Rutland he attended the Rutland Congregational church, but after coming to Watertown became an active member of the First Presbyterian church.
As state senator he succeeded Robert Lansing of Watertown and was himself succeeded by Joseph A Willard of Lowville. The one child of Gardner and Dorcas Eames Towne was Janetle, who married William G Pierce, and after Mr and Mrs Towne moved to Watertown Mr and Mrs Pierce occupied and operated this farm in Rutland. The farm then consisted of the original 63-acre parcel which Towne had bought from Daniel W and Laura Eames April 9 1825; a 45.75-acre parcel bought from his brother, Luther H Towne, December 28 1833; two parcels of 25.08 acres and 45 acres purchased from Benjamin Merriman, October 27 1862; a parcel of 67.24 acres acquired from Daniel Eames, April 28 1845 and a parcel of 22 acres bought from John Beecher, April 27 1847. On March 5 1867 Gardner and Dorcas Towne sold the above farm with this white house to John VanSlyke of Copenhagen for $12,000. VanSlyke apparently became financially involved for on December 26 1899 Attorney E Robert Wilcox as referee in a foreclosure action brought by Jane Stanton vs. Sarah J VanSlyke et al, sold the property to Philo T Hammond and Orville M Rexford. George B Woodruff purchased the house, barns and 140.45 acres of the big Gadner Towne Rutland farm from Philo T and Helen B Hammond and Orville M and Isadore S Bexford on September 11 1907. and, with Mrs Woodruff, has since owned, ocupied and operated it. Mr Woodruff is a great grandson of Benjamin Woodruff who, with a brother Simeon, came from Litchfield, Connecticut, with their parents, Sgt. Jonah and Mary Woodruff to settle in the famous Woodruff settlement of the town of Watertown in 1799.
Sergeant Jonah Woodruff, born at Litchfield, February 8 1748 was a veteran of the Revolutionary war and his wife was the former Mary Olmstead. Their son, Benjamin, was in the second battle of Sackets Harbor in May 1813 and their son, Simeon, was the father of Theodore Tuttle Woodruff, inventor of the first practical sleeping car, and of Jonah Woodruff, the portrait painter from whose brush came many of the portraits of leading early Watertonians now hanging in the museum of the Jefferson County Historical Society. In that museum also are excellent paintings of Mr and Mrs Gardner Towne, Mr Towne having died in this city June 20 1879 aged 83 1/2 and his wife on July 7 1887 aged 86. George B Woodruff is a grandson of Clark S and Julia Drummond Woodruff and son of the late Benjamin Bernard and Sarah A Scidmore Woodruff and is a brother of Walter Clark Woodruff of Brownville. The marriage of George B Woodruff to Miss Nora Cummings took place October 5 1904 in the old Sterret stone house now owned by Mr and Mrs Richard Ennis in Burrville. Mr and Mrs Woodruff are prominent Rutland farmers and active in the affairs of the township. Furthermore they have a just pride in their home, which is now equipped with modern conveniences. They are the parents of five children: Mrs Florence Woodruff Hassler, Gerald Woodruff, Theodore C Woodruff, Miss Nellie Woodruff and Lloyd G Woodruff, all of whom have been provided excellent educations. The first of their Woodruff family line to settle in this country was Matthew Woodruff, a native of England, who settled in Hartford, Connecticut, and in 1640 moved to Farmington, Connecticut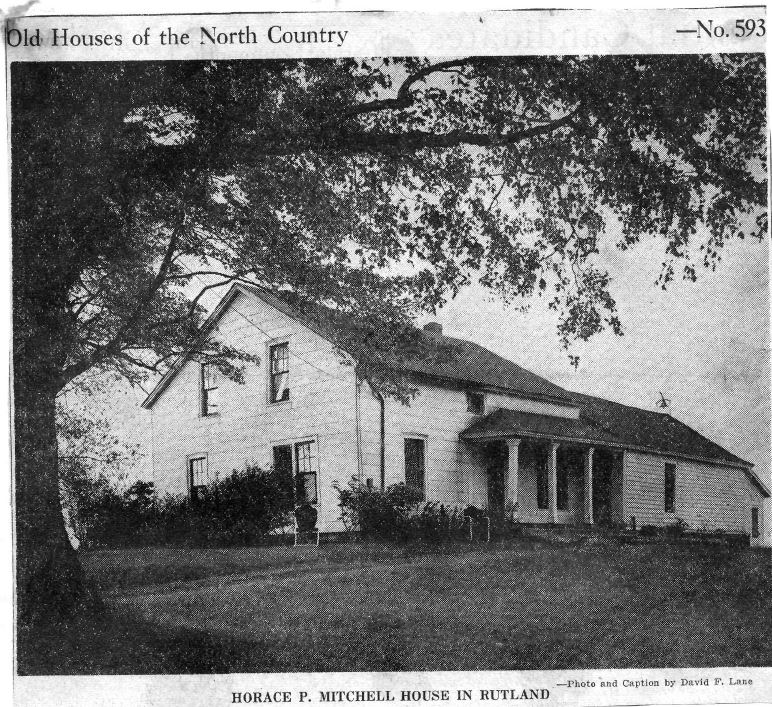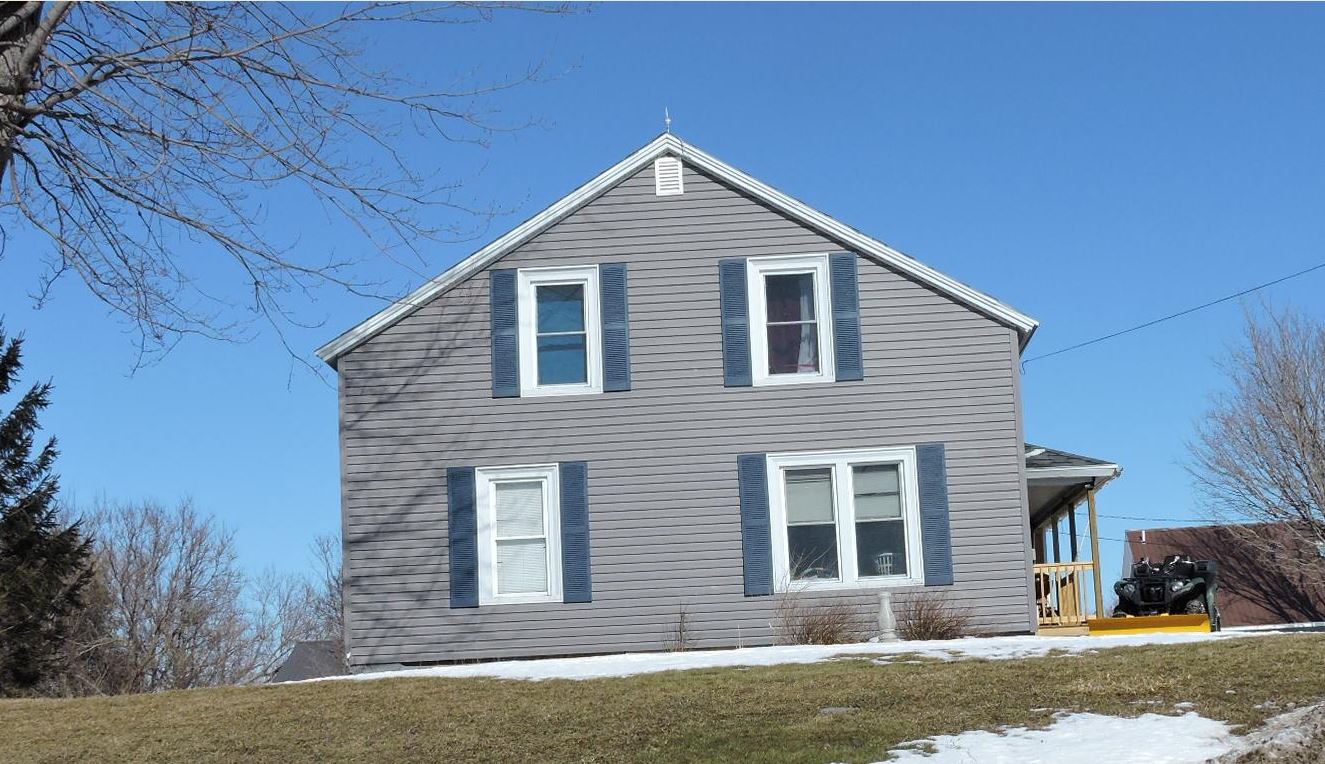 Few old North Country farmhouses today retain the old bells erected outside to call the men folk in from the fields to dinner and supper, but the old Cape Cod type home of Supervisor Ross D Andrus on the Middle road of the town of Rutland has an unusually fine specimen. The house, a simple and fine old style excellently maintained, has been in continuous ownership of the Andrus family for 75 years and is diagonally across the four-corners from the Middle Road Congregational church.
It was apparently built between 1827 and 1830 by Horace P Mitchell and early in its existence had several owners, but its title in the last three-quarters of a century has been in three generations of the Andrus family which was one of the first pioneer families to settle in the town of Rutland having come in the spring of 1800. The farm now consists of 104.18 acres of land plus the right to use a spring across the road and pipe water from it to the buildings as well as the right to a windmill. Originally the farm consisted of two parcels, one of 70.30 acres, upon which the house stands and one of 30 acres adjoining.
On September 4 1827 Horace P Mitchell paid Isaac Bronson, the land speculator, $300 for the 70.30 acres. Prior to that Branson had sold the 30-acre parcel to Alden Bucklin for $90. Bucklin sold it to Samuel Tucker October 1 1825 and Tucker disposed of it to Mitchell February 26 1829 for $330. Mitchell, perhaps built the house after purchase of the first parcel aim on April 6 1836 sold the buildings and two parcelsyfo Erastus Hosmer for $1,600.
To foreclose a mortgage that had previously been given by Mitchell the property was disposed of by Charles D Wright, master in chancery to Orville Hungerford of this community May 28 1842. Hungerford conveyed it to Thomas W and Julius M Wheeler April 18 1845 and September 10 1847 Julius deeded his interest to Thomas who, on December 7 1850 sold the whole to Datus Osmer for $3,033. On December 17 1855 Osmer sold to Stephen A Tyler who on December 21 1857 transferred the place to Franklin Tyler. Again a mortgage was foreclosed and Solon D Hungerford, banker acquired it May 17 1858. From him Gustavus Blodgett and William Fox of Water town bought the property February 3 1859 and April 1 of that year sold to Charles H Cole for $4,500. In another foreclosure action Charles Strong, referee, conveyed to Mrs Alniira Fox January 14 1864 and February 7 1865 she sold a half interest to Mrs Caroline Rockwell and the other half to her husband, Simeon Rockwell.
Mr and Mrs Rockwell sold to Frank Hadcock January 4 1868 and March 1 1869 Hadcock disposed of the property to J S Campbell for $5,209. Campbell deeded to Charles M Paris March 15 1875 and the following October 10 Paris sold to John Scidmore who, on February 20 1877 disposed of it to Oscar P Hadcock, Watertown banker. Mr Hadcock sold to Stillman Andrus March 4 1878 but Mr Andrus who resided on a nearby farm did not move onto this place until 1884. On May 11 1893 Stillman and Mary A Andrus transferred the property to their son Clinton E Andrus and on September 1 and November 12 1921 by two conveyances Ross D Andrus acquired it from his father's estate.
First of this Andrus family to come to America was John Andrus of England, who settled in Farmington, Connecticut, in 1640. His great-grandson Ezekiel, born in Southington, Connecticut, in 1745 was first of the family to settle in this county and one of the first pioneers to locate in the Middle road district of Rutland. Ezekiel was married to Martha Munson June 26 1782 eventually removed from Connecticut to Kinderhook, NY and then to Utica where he lost nearly all of his property and his wife, who died August 20 1799.
With an ox-cart bearing his possessions and a horse carrying three of his daughters he came through the wilderness to Rutland in the spring of 1800 took up and cleared 140 acres of land and built a log cabin. Father of eleven children and grandfather of 67 he died March 14 1828 aged 67. His son Ezekiel, 2nd, who had been born in Farmington May 17 1792 located on a farm later occupied by his grandson Elon Oscar Andrus and served at Sackets Harbor in the War of 1812. On January 16 1816 Ezekiel, 2nd, married Tryphene Gilbert who died July 17 1872. He died August 5 1879. Stillman Andrus, born in Rutland March 8 1833 was a son of Ezekiel and Tryphene Andrus, attended the Black River Literary Institute in Watertown, was first maried to Araminta Rudd May 29 1857 and located on a farm not far from this one. He was a prominent member of the South Rutland and Pomona granges and a staunch Republican. By his first wife, who died in January 1862 he had two sons, William Nye and Elon Oscar.
On February 15 1865 Stillman Andrus married Mary A Warner by whom he had a son Clinton Ezekiel and a daughter Mary AramintA Stillman Andrus died January 18 1916.

Clinton Ezekiel Andrus, born in the town of Rutland May 18 1866 was also a prominent farmer and Republican of the town. Also he was prominent in the South Rutland grange. On February 14 1893 he married Anna Josephine Scaniin, sister of David Scanlin of this city. They had two children, Ross David and Florence Marguerite, the wife of Paul J Brodeur of this city.
Clinton E Andrus Died January 26 1920 and his wife June 23 1946. After the death of Mr Andrus, Elon O Andrus as surviving executor of the estate sold the interests of Mrs Andrus and her daughter, Florence Marguerite, to Ross D Andrus. Ross D Andrus, who was born on this farm August 27 1896 and educated in the schools of the town, served in Wrorld War I, has been active in the South Rutland grange and in Republican politics of the town, which he has represented on the board of supervisors since 1937 serving in 1950-1 as board chairman.
On December 21 1921 Supervisor Andrus was married to Miss Helen M Gibson, daughter of William and Elizabeth McCourt Gibson of Hammond. Four children were born to them, Donald C, Roger W, Charles E and Sallv L Mrs Andrus died May 27 1943 and November 28 1947
Supervisor Andrus was married to Miss Muriel Hadley, daughter of George and Jennie Webster Hadley of Black River. They continue to operate this farm in a progressive manner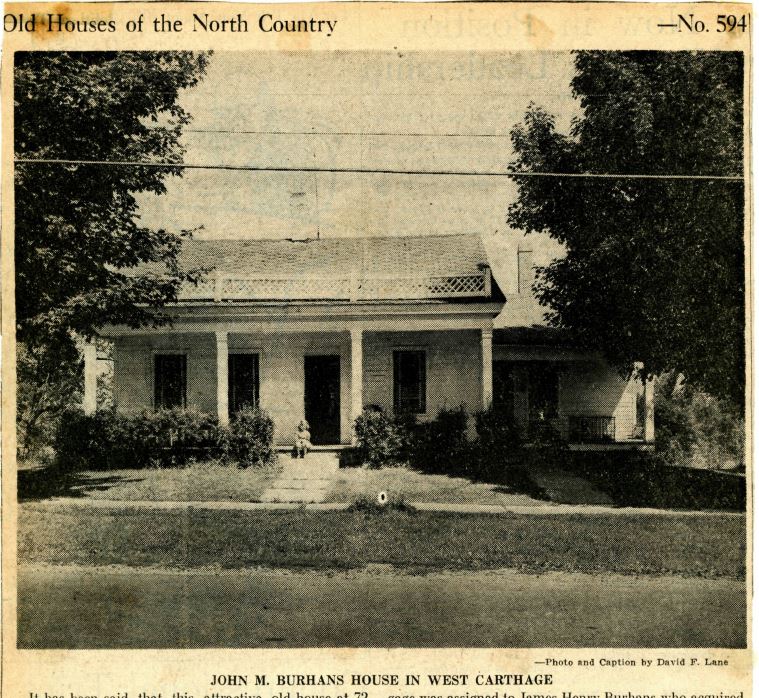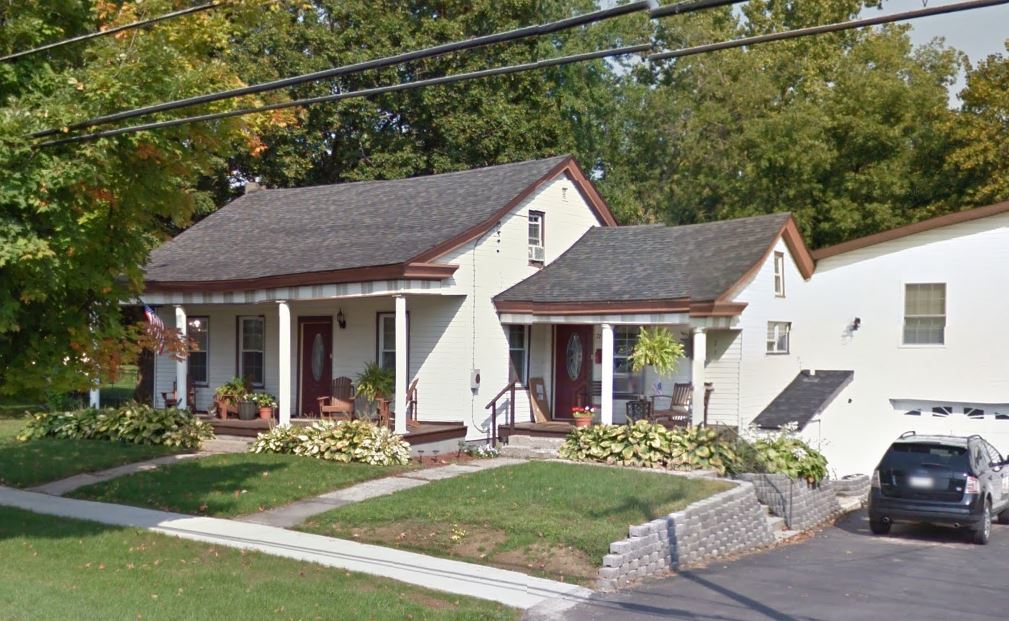 It has been said that this attractive old house at 72 Champion Street, West Carthage, was built in 1843 by Hiram H Wait. County records, however, do not show Mr Wait owning land in that area prior to»niid-January, 1854 when it appears that he acquired this site. From the records it might seem that James Douglas erected the house about 1844-5.
In any event it was owned in the Burhans family for 81 years from 1856 to 1937 and is now the property of Kenneth E and Nina E Schloop who purchased it April 4 1949 from Olen F and Ora Corbine. Of Dutch origin the Burhans family is one of the oldest in this county. The first of the name in this country was Jacob who appears March 28 1660 as a soldier in the company of the Director General and the following December 7 was one of the founders of the Dutch Reform church of Willwyck near Kingston, NY.
First of the line to settle in Jefferson County was David Burhans, born November 16 1775 married Elizabeth Flagler of Saugerties, Ulster county, July 8 1798 and December 5 1809 took up land in the town of LeRay where he died March 31 1834. On February 16 1839 Gilbert and Eliza Burhans quitclaimed their interest in David Burhans' estate in LeRay to Peter and James Madison Burhans, and on March 29 1850 Peter and Fidelia Burhans deeded their interest in the same to James Madison Burhans.
Nearly six years later James Madison Burhans transferred from LeRay to West Carthage, purchasing this house and several acres of land from Hiram H and S Maria Wait on December 3 1856 for $2,400. James Madison Burhans was twice married. By hls first wife, Harriet Swain, he had two sons, Madison and James Henry Burhans. Sometime after her death he married Elmira Miller. On March 17 1870 Robert Weir and Elmira F Clark, executors of the estate of James Madison Burhans, sold this house and two and a half acres to Lester Carter, whose wife was Cordelia E Burhans, daughter of Gilbert Burhans. Mr and Mrs Carter placed a mortgage on the property the day of purchase and October 5 1872 the mortgage was assigned to James Henry Burhans who acquired the place through mortgage foreclosure October 5 1876.
Born in Evans Mills February 7 1854 James Henry Burhans became a druggist serving nearly 50 years in the pharmacy of E M Merrill and the latter's successor, Fred N Westcott, in Carthage. On February 15 1875 he was married to Miss Inez Vrooman, daughter of Mr and Mrs Abram Vrooman of the town of Denmark. They had three daughters, Eugenie who married Ralph Roberts and died in 1916; Mrs H Earl (Daisy J) Mavnard, and Mrs Charles E (Mabel A) Putnam, both of this city. Mrs Inez Vrooman Maynard, organist of the West Carthage United Christian church for 17 years, died November 11 1932 aged 80 years . Her husband died March 6 1935 aged 81 and on November 29 1937 Mrs Maynard, Mrs Putnam, both of this city; Miss Eugenie I Roberts, then of Beaver Falls and Charles B Roberts as distributees of James Henry Burhans' estate disposed of tin's house and 1.84 acres of land to Louisa Laliemore of West Carthage. On May 1 1939 Louisa Laliemore, then of Benson Mines, sold the same to Olen and Ora Corbine of West Carthage, who kept it until April 4 1949 when they conveyed it to Mr and Mrs Schloop, the present owners and occupants.
Mrs Maynard, whose husband, H Earl Mavnard, is a New York Central passenger conductor, was one of her father's children to be born and brought up in this house. Oak 2 x 8-inch studs and stringers were used and the exterior walls are bricked up inside. The doors and all interior woodwork are of the best lumber and cornerblocks are used in the fluted casings of the front entrance. At the roof-eaves is a latticed balustrade and originally there were fireplaces inside. With four bedrooms, a commodious parlor, silting room, kitchen and service rooms the house is much larger than it appears from the outside. Until recent years there was also a white picket fence about the yard.
Mr and Mrs Maynard will celebrate their golden wedding next January 21 having been married January 21 1904. They have one daughter, Miss Dorothy Maynard, R N, of New York City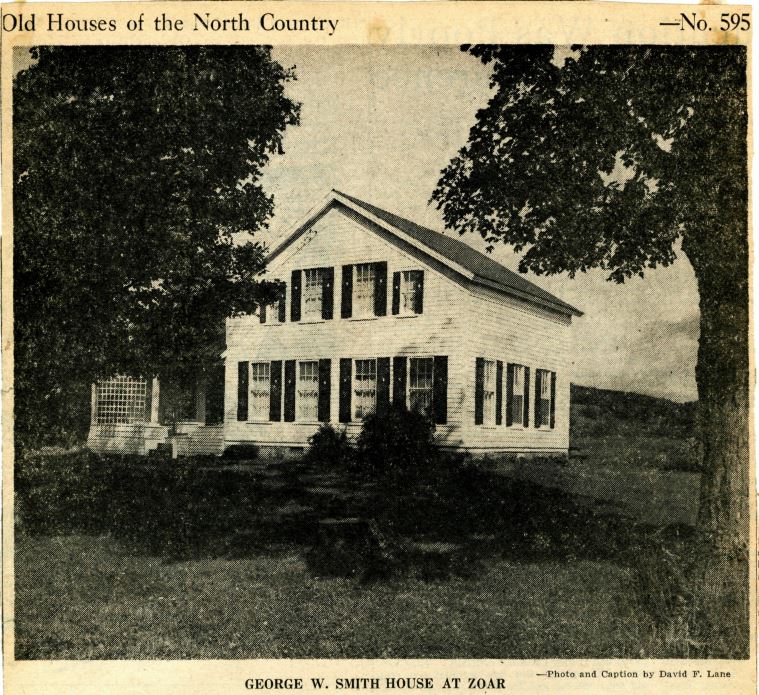 13122 Bibbins Rd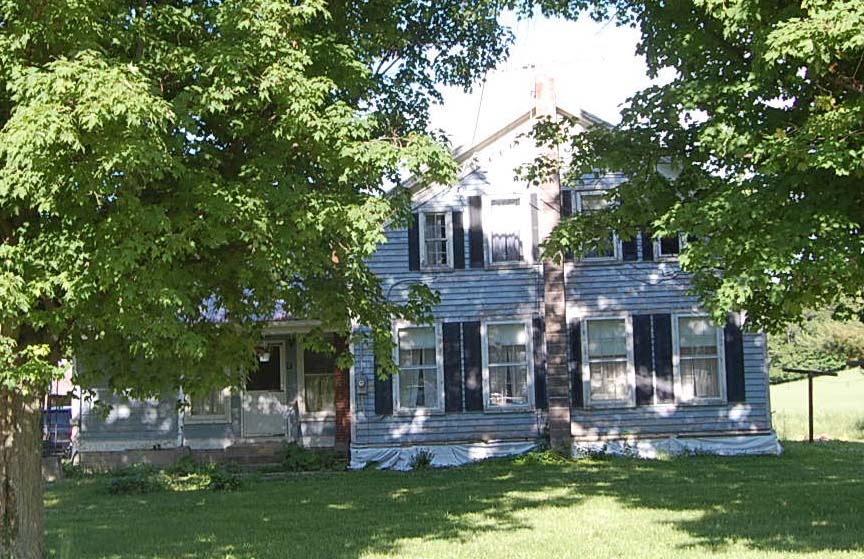 Zoar is a name unfamiliar to most residents of Jefferson County today, and its location is something much more puzzling. However, it was at one time a thriving little hamlet with two stores, a tannery, a woodenware shop, a shoe shop, a blacksmith shop and a physician. It was also known as Unionville and as the tourist follows the picturesque Sandy Creek valley down from Tylerville through Whitesville to Rodman and starts to cross the bridge about a mile and a half from Rodman village there is Zoar.
And just a little easterly of the bridge and on the south side of the creek is the attractive house built for George W Smith, a prosperous Rodman farmer, a little more than a century ago. The builder is said to have been John Wait, a carpenter who also constructed the Congregational parsonage in the hamlet of Rodman. The similarity between the two houses is striking.
George W Smith was one of the ten children of Reuben and Pamelia Wrright Smith. Reuben Smith was born August 22 1782 at Nelson, New Hampshire, son of Ezra and Phoebe Walcott Smith and was one of the first settlers of the town of Rodman, having come there in 1802 and on October 6 1908 having bought 100 acres of Harison & Hoffman, land speculators from New York. George W Smith was born on that farm in 1812 and in 1840 was married to Fanny, daughter of Jesse Merwin, town of Rodman. For the next two years George W and Fanny Smith resided on the homestead farm and about 1850 removed to this house at Zoar, having purchased the farm upon which it stands from Ziba and Zurviah Ruel on November 12 1849.

George W Smith died January 12 1871 leaving a widow and four children, Mrs Zelia F Gardner, Reuben Z Smith, Ora F Smith and Mrs Emma R Holley. His widow, Fanny Merwin Smith, died in 1896. Under the terms of Mrs Fanny Merwin Smith's will this house, barns and 30 acres of land where they stand went to her son, Reuben Z Smith, Reuben Z Smith was married to Mary G, daughter of Almanson Tibbitts of Rodman in 1866 and their children were Fannie E, G Raymond and Milton E Smith. Mrs Smith died in 1876 but Reuben Z Smith did not pass away until May 6 1929. In his will he named his surviving son, Milton E Smith of Adams, and grand-daughter, Mrs Ruth S Worden, residuary legatees, after having given his son 75 per cent of the Tibbitts farm of 172.5 acres which he had acquired March 20 1866 from Walden A and Jennie P Tibbitts, the other 25 per cent of that farm being divided equally among three grand-daughters, Mrs Worden, Mrs Jeannette E Gates and Mrs Esther Simmons Hodge.
Fanny E Smith, daughter of Reuben Z and Mary G Smith, was married to Pitt G Simmons and died in 1903 leaving five children, the second of whom was Ruth who went to reside with her grandfather, Reuben Z Smith, after her mother's death. She was educated in the Adams Center schools and went under the name of Smith. After acquiring a business education, she came to Watertown and was employed as a stenographer in the offices of the wholesale grocery concern of Sears & Pruyn for about three years prior to her marriage May 15 1918 to George A Worden of the town of Adams. At that time Mr Worden, having trained at Camp Gorden, GA, was in the army and awaiting transport to France to participate in World War 1. On January 9 1930 Mr and Mrs Worden purchased the interest of Milton E and Fannie I Smith of Adams, Jeannette S Gates of Rodman and Esther Simmons of Brooklyn in this farm. On August 6 of the same year they acquired the interest of Henry P and Jennie Tibbitts of Syracuse.
Mr and Mrs Worden have two children, Mrs Harlow Huchzermeier of Minoa, the former Miss Alice Wrorden, formerly in the engraving department of The Times, and John Worden, who is also married.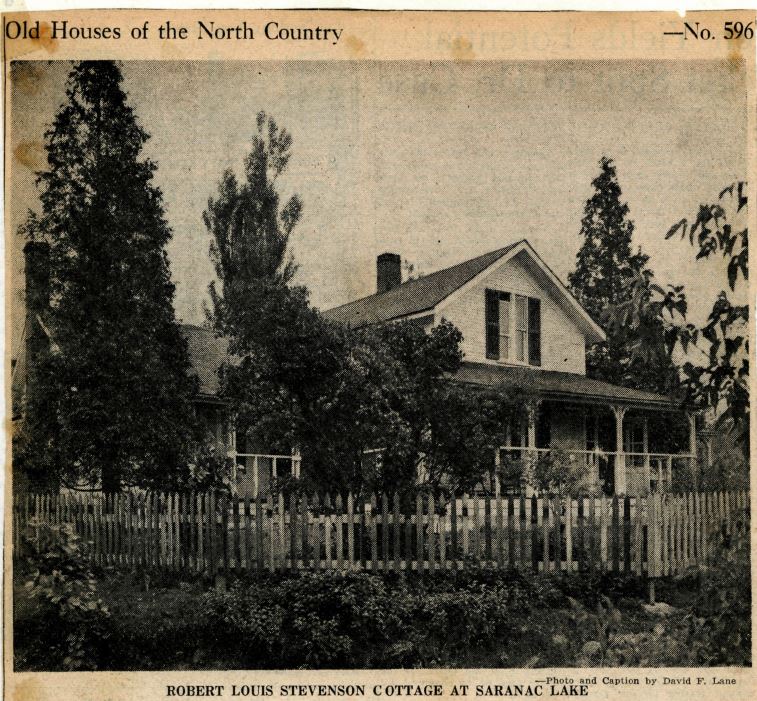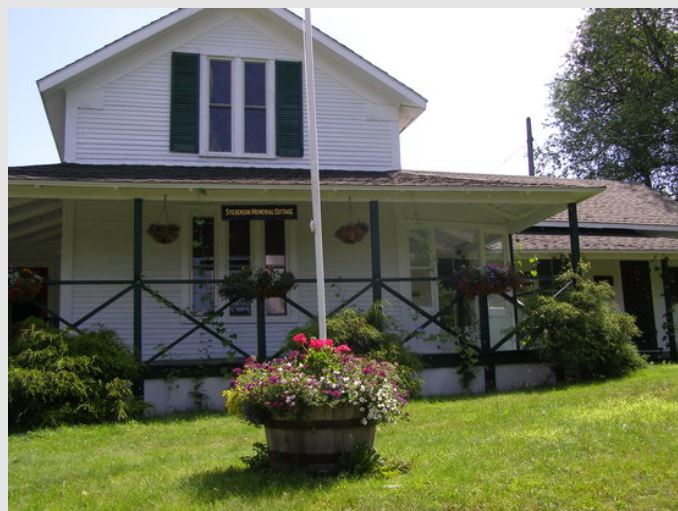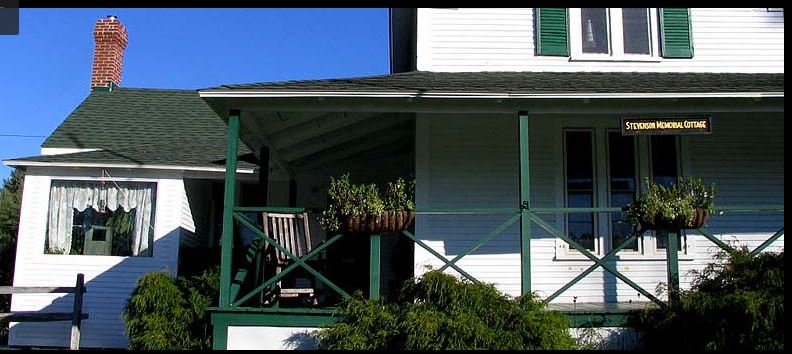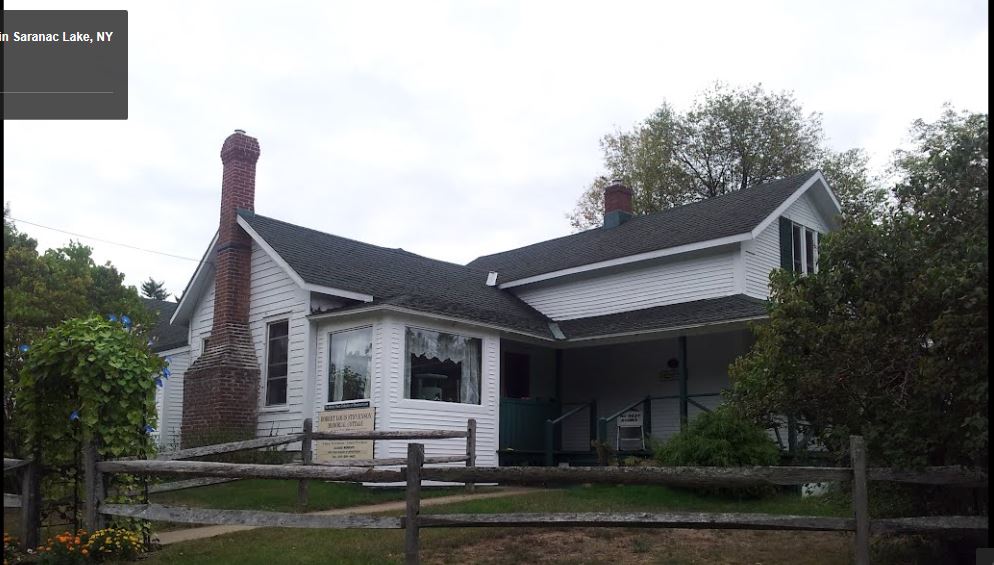 One claim to distinction by the Adirondack village of Saranac Lake is that 65 years ago Robert Louis Stevenson, the great Scotch novelist of youth enchanting romance, spent almost seven months there for his health, for he was afflicted with tuberculosis. Behind a picket fence on a hillside overlooking the village, today stands the plain, much-verandahed white cottage changed very little from the time he spent those bleak and rugged months there with his family and much in the companionship of Dr Edward L Trudeau, founder of the Trudeau tuberculosis sanatarium.

This nine room house was built in 1865 by Andrew J Baker with the idea of serving boarders. Baker was a noted Adirondack guide who, at that time, guided those guests, but prior to that bad worked as guide for the guests at his father's place, the Baker hotel, which stood at the corner of Pine Street and Stevenson, lane and was the nearest place, to this Stevenson cottage.
In 1915 the Stevenson Society of America, consisting of admirers of the writings of Robert Louis Stevenson, purchased the cottage from the Baker family and converted it into a national shrine and museum to the memory of Stevenson. Then in 1950 the village corporation of Saranac Lake acquired it from the society. LeRoy A Grinnell is and has been the curator for some time.
It is a low, rambling structure of seven large rooms on the first floor and two upstairs rooms over the living loom and front bedroom. Of the two fireplaces today, that in the living room was built with the house and was there when Stevenson was there. This was the second fireplace built in the village and now the oldest one remaining in the areA Among the many things of historical interest displayed to guests of the museum are some of Stevenson's manuscripts, a smoking jacket with a sprig of Scotch heather in the breast pocket, the ice skates he used that winter on every occasion when the ice on Moody pond was clear, many original letters of Stevenson, childhood photographs of his, a lock of his hair, his yachting cap and hundreds of his personal effects. Except for the installation of a central heating system, the installation of a bathroom and a fireplace in the dining room, the house is the same as when the Stevenson family was there. And in the days when Andrew J Baker operated it there were eight acres of land, two or three cows and a flock of chickens for the benefit of the table.
It was on October 3 1887 that Stevenson, then 37 and already up in literary fame with "Treasure Island" and "The Strange Case of Dr Jekyll and Mr Hyde," to his credit, arrived with his mother, Mrs Thomas Stevenson, at the Baker cottage for the winter. And there were joined by Stevenson's wife, Mrs Fanny Van de Grift Osbourne Stevenson, her son, Lloyd Osbourne, Valentine Roch, the maid, and a boy to chop wood and do the chores. Besides the fireplace in the living room and the cookstove in the kitchen the only heat in the house was a stove in each bedroom.
Stevenson had traveled and lived much in France, Italy, Switzerland and England. He had been at Davos in the Austrian Alps and at Bournemouth on the very south shore of England where there is much yachting. And it was in late August 1887 that he sailed for New York in the S S Ludgate Hill. Although Stevenson's wife and mother did not like Saranac Lake and spent as much time as possible in warmer sections, it greatly improved Stevenson's health. He wrote the early chapters of "The Master of Ballantrao," an exciting novel. He wrote a series of 12 essays for Scribner's magazine which began December 1887 to run one a month. At Saranac he began to make money, for which he cared little. "Wealth is only useful for two things: a yacht and a string quartet," he wrote and on June 28 1888 he saild for the south Pacific islands on a seven-month cruise in a chartered 95-foot American schooner.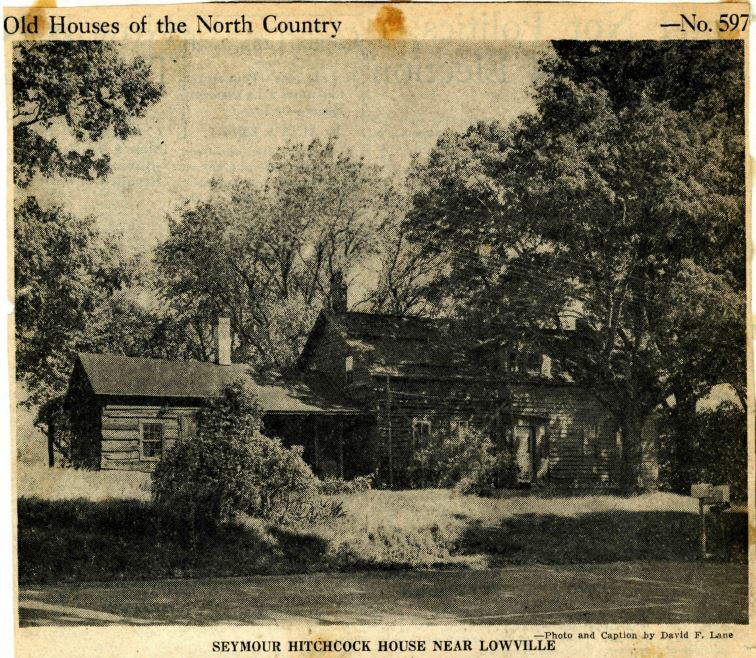 In spite of its present state of dilapidation this worn, weathered, wood-colored house about two miles outside of the village of Lowville on the state road to Watertown is still picturesque and, in its setting, a subject for the artist's brush. It is said to have been built by a man named Wood about 1823 probably Lemuel Wood who owned farmland in that immediate vicinity, and is one of the oldest farmhouses in the town of Lowville.
At the present time it is owned by Charles W Hitchcock, member of one of the old Lowville pioneer families, who resides there alone and who has been a school trustee for eight years. Mr Hitchcock believes that Seymour Hitchcock purchased the house, outbuildings and 81 acres of land from a man named Brown about 1832 but a deed in the Lewis county clerk's office shows that on November 25 1852 Seymour Hitchcock purchased 69.03 acres of land in the locale of this house for $800 from Abel S Rice, the price indicating that there was a building on that property at that time.
Abel S Rice, born in Berkshire county, Massachusetts, in 1792 one of the early settlers of the town of Lowville, served in the War of 1812 and opened a carding mill in the vicinity of this house which later became a feed and cider mill. It Was the first carding mill in that section. A deed recorded in Lewis county states that Abel S Rice paid Jehiel and Pernal Rice $1,600 for 123 acres of land January 16 1816 the property bordering the banks of Mill creek and being near the house shown above. But while the Rice family was an early one in the town of Lowville, the Hitchcock family was another. An evidence of that is the 1807 census of Lowville electors which indicates that Jesse Hitchcock was residing in the town at that time.
Constructed on simple but nice lines this Hitchcock house still has one of its original fireplaces, but the big kitchen fireplace with bake-oven is no longer there. Seymour Hitchcock is said by Charles W Hitchcock to have died about 1877. By the terms of his will, recorded March 20 1880 he gave all of his property to his widow, Sophronia. Under terms of her will, recorded March 23 1898 a part of her personal estate went to her daughter, Mrs Harriet E Johnson, but this house and farm she willed to her son, Warren D Hitchcock.
Warren D Hitchcock died June 9 1917 survived by his wife, Marietta Wilder Hitchcock and son, Charles W Hitchcock, and when Mrs Marietta Wilder Hitchcock died November 15 1923 this house and farm became the property of Charles H Hitchcock, the present owner and occupant, who is now 79 years of age and well versed in the history of his town. His father, Warren D Hitchcock, was pathmaster of the town for a number of years. Whether the house was built by Lemuel Wood or whether it had been built by Abel S Rice is not definitely known. Rice had ownd a number of parcels of land there beside the 123 acres he bought of Jehiel and Pernal Rice in 1816 for he had bought six acres from the latter on February 12 1821 and another 25 acres in the great lot where this house is from James H and Stephen Leonard on March 19 1828 for $700 while on September 19 1835 he bought 32.11 acres from Cornelius and Nicholas Low; on February 23,1836 a parcel of 7.26 acres from Lemuel and Hannah Wood for $2,500 and on March 28 1836 a parcel of 63.5 acres from Nathan and Elizabeth Chase for $1,200. Thus the story of the builder and the date of building of the old house is somewhat indefinite.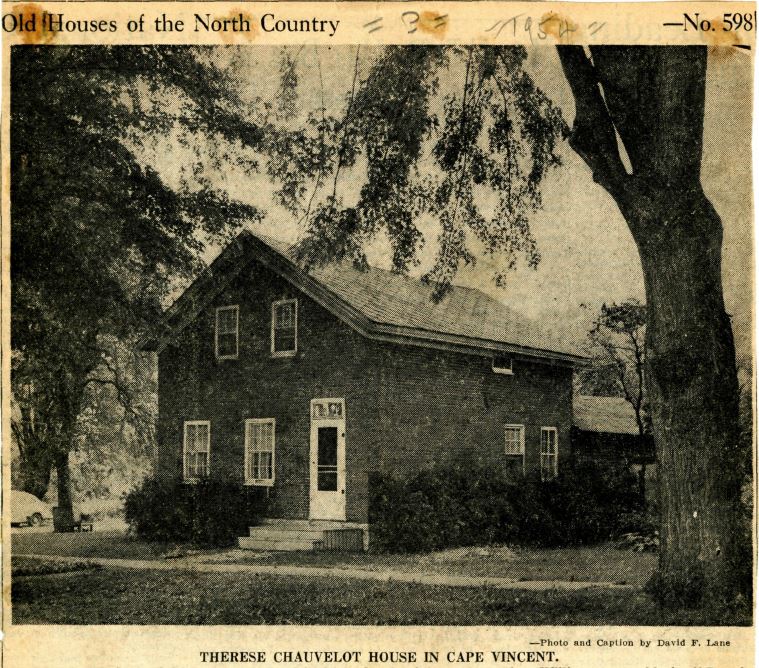 When a little knot of the most notable and faithful adherents of Emperor Napoleon I fled to America after Waterloo and located at Cape Vincent, Henry Crevolin and his wife, Annette Dumastier Crevolin, were among them. Both of them became large landowners at the Cape and in 1881 their son, Henry Joseph Crevolin, built the big $100,000 brick St. Lawrence hotel on Broadway that later became the Algonquin.
About 1840 Henry Crevolin Sr, built the stately and beautiful tall-pillared brick mansion, "Beechwood," now owned by Colonel and Mrs Harold Remington and set in spacious tree-ornamented grounds along the Tibbitt's Point road lakefront. From France Annette Dumastier Crevolin brought Therese Chauvelot as her personal maid and the latter served her for many years, in fact so well liked by her mistress that on November 1 1860 she deeded her this plain lit lie brick house and a half acre of land for $200. And when Annette Dumastier Crevolin died April 21 1868 aged 68 she willed to this Maria Therese Chauvolet $300 and three village lots to be selected by her executors. Incidentally it is of interest that in spite of the fact that she was unmarried, Mrs Crevolin's deed of the brick house was made as "Annette Dumastier"' and in that name also was made out her will, which was executed April 18 1868 three days before her death and in which she named her son, Henry Joseph Crevolin and his wife executors.
On August 17 1864 Mile. Chauvelot paid her brother-in-law and sister, Frederick and Rosalie Chauvelot King $950 for a farm of 30.41 acres next to the Jean Branche place in Cape Vincent township. And on June 10 1867 Annette Dumastier sold another half-acre lot on Bay Street to Miss Chauvelot for $200. At the time Maria Theresa Chauvelot acquired the brick house it stood on William Street a block off Broadway, but from a two-rod strip taken off the north side of the lot an alley was converted into an extension of Joseph Street. As a result the house is now at the corner of William and Joseph Streets having a 56-foot frontage on William Street and 155-foot on Joseph Street.
Maria Therese Chauvelot died June 2 1900 and by the provisions of her will, which had been executed January 4 1890 she gave her entire net estate in equal shares to the children of her sister, Rosalie King. They were Therese King, Louise King Fitzgerald, Augustus J King and Julia Maria King Shankland. In 1910 and 1920 Mrs Shankland purchased the interests of Mrs Fitzgerald and Miss Therese King and April 6 1923 Mrs Shankland, New York City and her brother, Augustus J King, Cape Vincent, disposed of the brick house to George F Kilborn of Cape Vincent.
Mr Kilborn, a fishing guide, who died August 12 1951 at 66 deeded the property jointly to himself and wife, Mrs Velma B Kilborn, who has held full title to the property since her husband's death, but now leases it to tenants. On July 12 1915 Mr Kilborn was maried to Miss Velma Buchanan. Their children are Mrs Hubert (Barbara) Johnson, St. Lawrence; Mrs Glen (Pauline) Gonseth, Stamford, Connecticut, and Paul C Kilborn, Auburn.
The brick house is believed to have been built by the Crevolins at least 110 years or more ago and is one of the oldest and quaintest dwellings in Cape Vincent. It is made of the old fashioned, native soft red brick. It is of excellent construction and the interior woodwork, while plain, is most attractive and excellently crafted. Arthur H Parker, Cape Vincent insurance and real estate broker as well as his sister, the late Miss Mattie C Parker, were born in and spent their childhood days in this house.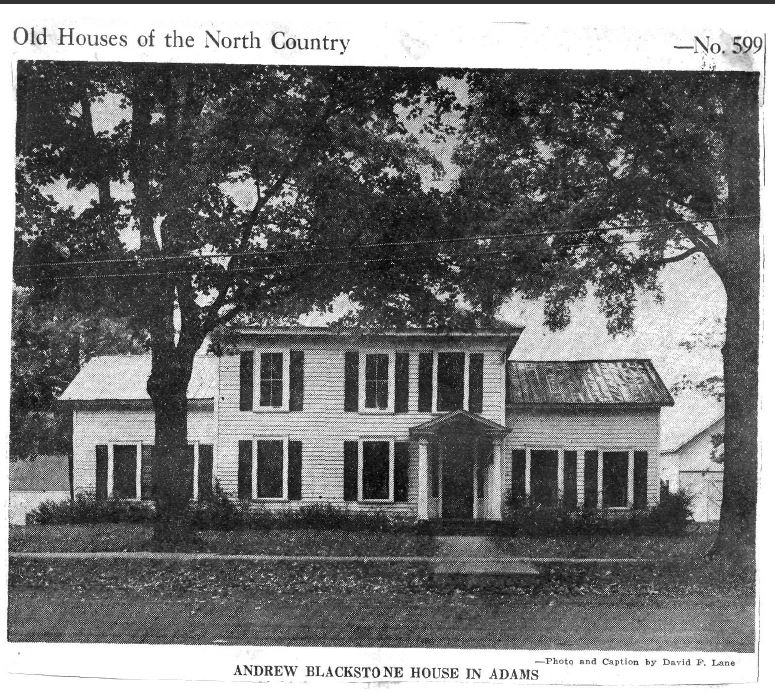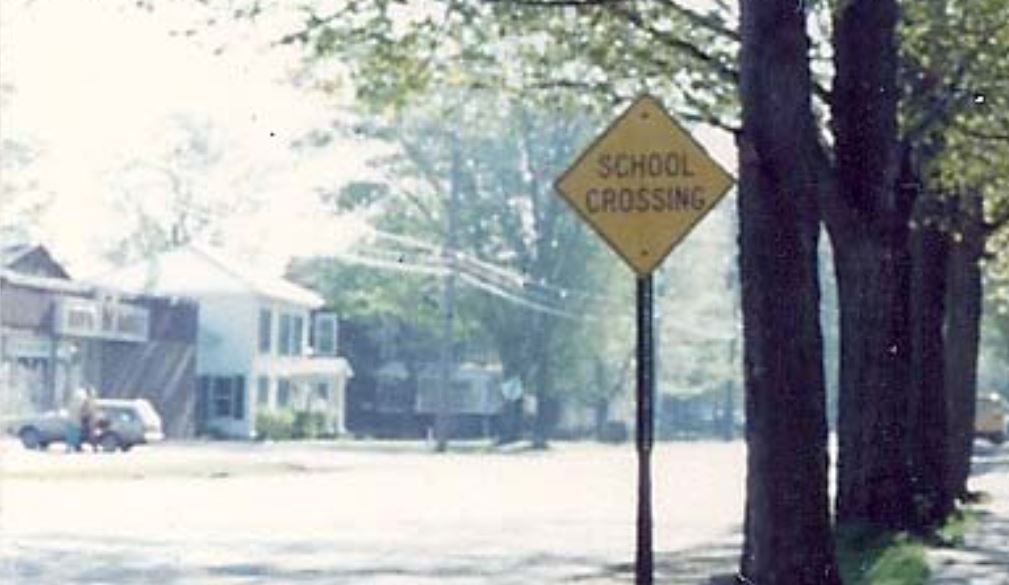 torn down to make a parking lot for ROD'S BIG M. However, Rod moved the store to Rt 11 and Family Dollar took the store over so the house was razed for nothing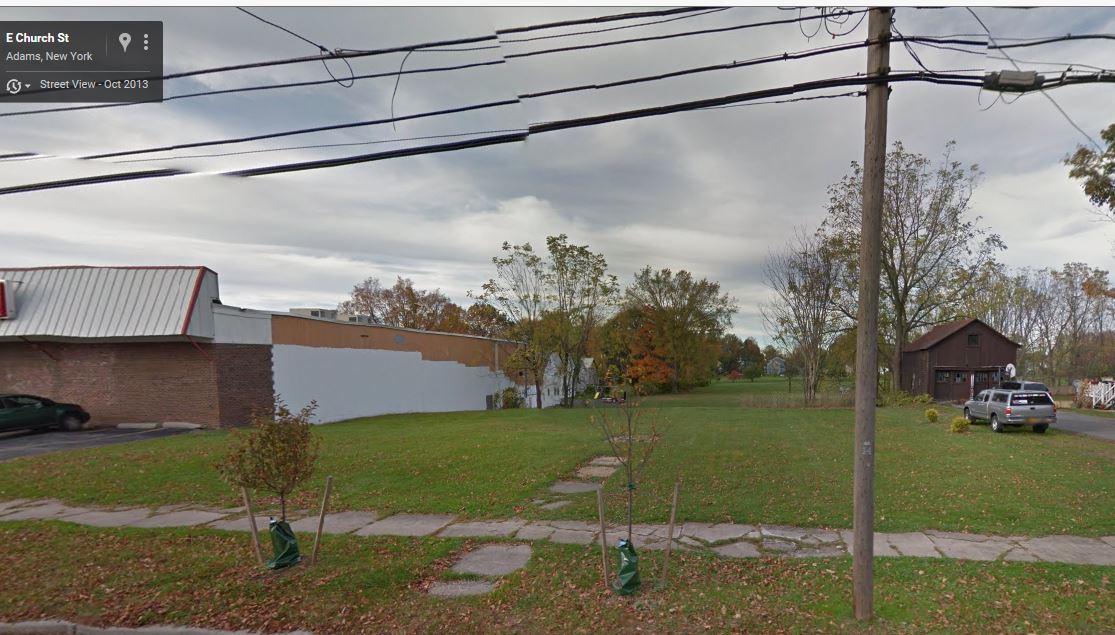 Just how much over a century old this house is, is not certain, but it was probably built at least 110 years ago, for a mortgage given by Andrew Blackstone upon the premises November 20 1850 declared that Blackstone had then been residing there "several years." Among the earliest settlers of the town of Adams were Manning and Andrew Blackstone, brothers. Manning died in 1834 but Andrew, who is described by one historian as "a quaint character and a favorite in the community," lived to a ripe old age and, with his wife the former Sally Crane, celebrated his golden wedding in 1887. It is understood that he was active in the early business and industrialism of the village.
His residence on the north side of Church Street, and now owned and occupied by Supervisor and Mrs Daniel F Griggs, was next east of that of Solon D Hungerford, banker, founder of the Hungerford Collegiate Institute and outstanding figure in this county.
On December 31 1885 Andrew and Sally Blackstone conveyed this property with its Church Street frontage of 112.5 feet and 850-foot depth to their son, William E Blackstone, formerly of Adams, but then of Oak Park, Illinois On June 7 1909 William E Blackstone, widower, then of Los Angeles, California, transferred the property to his sister, Mrs Lorany D Saunders, wife of Attorney Thomas P Saunders, another leading citizen of Adams.
August 14 1912 found William E Blackstone residing in Nanking, China, and an agreement bearing that date with Mrs Saunders directed that she not dispose the Blackstone homestead during her lifetime, and another signatory of the agreement was Rena P Saunders. Rena was a sort of adopted daughter of Mr and Mrs Saunders and she promised in the agreement to advise and assist Mrs Saunders in carrying out the contract. When T P Saunders died in 1911 having executed a will July 9 of that year he gave his widow a life-use of all his estate and provided that after her death it was to go absolutely to Rena Saunders Baumgras, reared in his family as a daughter. Following Mr Saunders' death his wife and daughter took residence at 176 West 86th, Street, New York City, and December 26 1912 Mrs Saunders conveyed the Adams property to Rena Saunders Baumgras who on August 10 1918 sold it to Mr and Mrs Griggs.
Thomas P Saunders born in St Petersburg, NY, in 1821 located in Adams in 1836 studied law with Judge William C Thompson of that village, was married to Miss Lorany D Blackstone in 1850 and was admitted to the bar in 1851. He was the son of Isaac and Matilda Wells Saunders, natives of Rhode Island. In 1851 he was active in the incorporation of Adams village, which took place November 11 and in 1853 he became village president, bringing about the establishment of an electric plant during that administration. Prior to that, in 1851 he had been instrumental in building Adams' first public hall.
Notwithstanding his law practice he was prominently connected with many activities. It is said that he built many of Adams' public and private buildings. He was a founder of the Adams Foundry & Machine company. With David O Holman he bought a hoe and fork factory. He was extensively engaged in farming and also in lumbering, having bought a large Redfield timber tract and established a sawmill in 1864. In 1862-3 he again served the village as president. Under President Polk he served as postmaster of the village and one time was elected county judge under Democratic nomination.
The political traditions that Attorney Saunders imprinted on this house, one of the fine historic residences of Adams, have been carried on and expanded by Supervisor Griggs. Born August 11 1879 in the town of Henderson, son of Newell N and Ella May Fuller Griggs, Supervisor Griggs, of Scotch ancestry, was graduated from Union academy, began as a clerk for W S Rice & Company, married Miss Mabel Hammond of Adams, in 1905 was census supervisor in 1915 was village clerk two years, served a term as supervisor from January 1 1920 was village postmaster January 1 1922 to January 1 1930 was a clerk in the state assembly several years and January 5 1921 became clerk to Speaker H Edmund Machold for several years. He came back as supervisor in 1951 and has started another term.
He has many years been a Republican county committeeman, served as a member of the executive committee under Chairman Fred H Moore from October 14 1932 conducted a store in Adams twelve years, became president of the Farmer's National bank September 1 1917 later president of the Citizens & Farmers Trust company, became a director of the Northern New York Trust company January 17 1936 and president of the Jefferson-Lewis Counties Bankers association the following May 25. When the Northern New York Trust company took over the Citizens & Farmers Trust company, he became the latter's vice president and manager, serving until his retirement at the end of 1950. Mr and Mrs Griggs are the parents of two children, Helen K Griggs and D Fuller Griggs.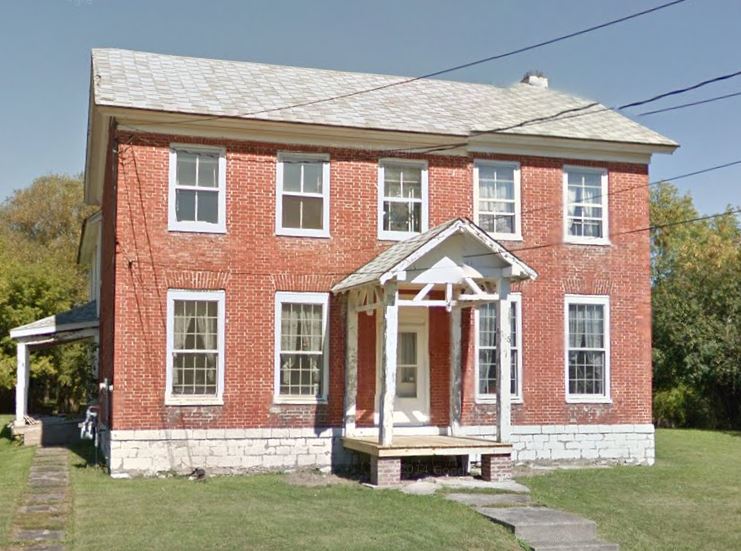 Brown mansion in the village of Brownville is this interesting brick house now owned by Mr and Mrs Gerald A Ball. In the early days of the village it was on the old Black River state road, but today that thoroughfare is khown as St. Lawrence avenue. There are some who say that the old house was originally a tavern and that after the waning of the stagecoach days it became a private dwelling. It is only across the road from the once extensive, ten-acre mansion grounds of General Brown, War of 1812 hero and general-in-chief of the United Stales army from early 1821 until his death early in 1828. And like the rest of Brownville the one acre of land, upon which this brick house was erected, was owned by General Brown.
A deed dated March 20 1820 shows that he and his wife, Pamela, conveyed it to Levi Torrey. On April 13 1840 Mr Torrey and his wife sold it to Isabella Adamson, of Brownville and on November 20 1857 while she was a resident of Fond du Lac, Wisconsin, she disposed of it to Alexander Campbell of Watertown. Mr Campbell was a Watertown merchant and early postmaster, father of the Alexander Campbell, who long headed the local dry goods firm of A Campbell & Company and who resided in his father's homestead in Sterling Street.
However, the elder Alexander Campbell retained possession of this brick house in Brownville only a year and on November 1 1858 Alexander and Mrs Helen M Campbell sold it to Samuel Knapp of Brownville. A native of Litchfield, Connecticut, Mr Knapp was born March 5 1782 descendant of an early Massachusetts family. He came to Lewis county about 1800 and April 28 1808 married Miss Abiah Thompson. Two years later they removed to Brownville, where he was a successful farmer, a founder of the Brownville Methodist church and member of its first board of trustees. He died December 18 1862 but on February 3 1860 he and his wife, Abiah, had disposed of this brick house to Austin Mattison. Mr Matteson, who, 20 years earlier had owned the stone store, tavern and ashery at Stone Mills, kept the, Brownville brick house but six year's and, with his wife, Almira, sold it to Isabel Jane C Hatch of the town of Henderson. Mrs Hatch kept it until November 4 1870 and sold to Mrs Almeda Kemp of Brownville. Mrs Kemp was the wife of Levi L Kemp and on December 19 1885 she disposed of this property to John C Knapp.
Mr Knapp was a son of Samuel and Abiah Knapp, was born in Lewis county September 9 1809 and was also an active farmer and Methodist like his parents. He died April 22 1886 but prior to that on February 27 of that year he transferred it to Mrs Almira Knapp and by her will, recorded January 9 1901 it went to their son, John W Knapp, who also followed farming, retired and removed to this city where he died in 1923 aged 85.
By his will recorded January 25 1923 he gave his widow, Mrs Elizabeth M Knapp, his household goods and furnishings and his residuary estate to his daughters, Ida L Knapp, Mrs Fred (Almira B) Donaldson, Mrs Ernest (Cora M) Thomas and Mrs Scth C (Cornelia A) Jones.
On May 25 1925 they sold it to Herbert A and Helen B Shene. Mr Shene, a native of Fine, married Miss Helen Booney of Harrisville, was long employed by the Brownville Board companv and died in Utica January 20 1952 aged 79. His wife died April 10 1939. On September 24 1948 Mr Shene, then residing near Harrisville conveyed the brick house and lot on St. Lawrence avenue in Brownville to Gerald A and Evelyn M Ball, then residing near Copenhagen. They maintain the property in excellent condition, although the house has been considerably modernized, the front porch having been an addition and the original windows having been replaced.
Mr Ball, son of Mr and Mrs Chauncey Ball of Copenhagen, was a master sergeant in the United States army in World War II, is a graduate of the Philadelphia High school, as is his wife, the former Miss Evelyn Mae Massicks, daughter of Mr and Mrs John Massicks, to whom he was married at Fort Jackson, SC, June 4 1942.
In last week's picture of the Blackstone house in Adams it should have been said that Mr and Mrs Daniel F Griggs' daughter, the former Miss Helen K Griggs, is now Mrs Thomas T Crenshaw, of this city, wife of a member of the architectural firm of Sergeant, Webster, Crenshaw & Folley