STONE HOUSES, MANSIONS AND OTHER OLD HOUSES
OF THE NORTH COUNTRY

Originally published in The Watertown Daily Times
(730) Articles and photos by David Lane, Newspaper Staff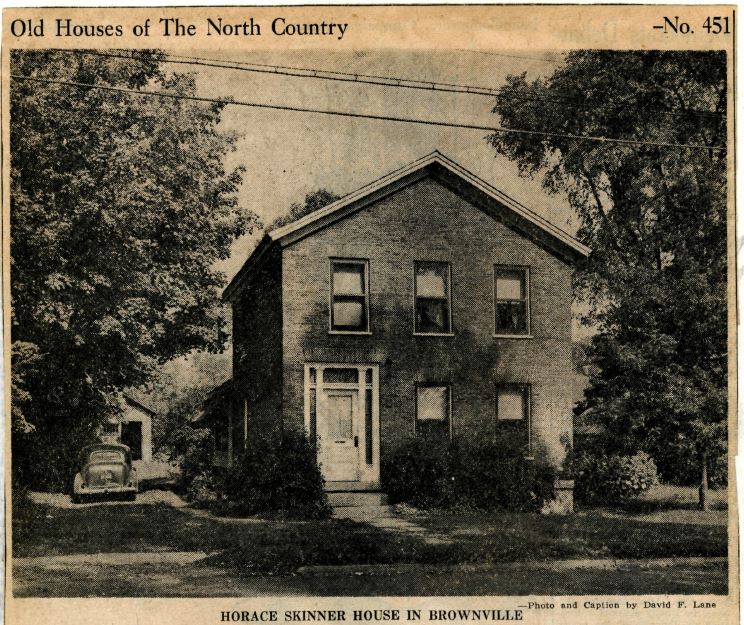 For more than a century this fine old brick house on the North side of Basin Street, not far from the historic Brownville Hotel, has been in possession of the historic Skinner family. It will be recalled that in 1814 there came to Brownville Alanson Skinner, native of Westmoreland, New Hampshire, born May 21 1794, son of Mr and Mrs Timothy Skinner. At Brownville he became a partner of Colonel William Lord in the firm of Lord & Skinner, operators of a foundry and machine shop where they made plows, stoves and other implements of iron and steel.
A little later Mr Skinner headed his own firm of Skinner & Davis. This gave way to A Skinner & Sons, one of whom, Horace Skinner, became the title figure in the succeeding firm of H Skinner & Brothers.
Alanson Skinner, General Jacob Brown and Colonel William Lord were three of the ace pioneer settlers of Brownville. Mr Skinner was married to Miss Mary Woodward September 29 1819. Their son, Horace, was born September 27 1820. Their later children were Mary who married Reverend Luther Rice; James who became a resident of Aurora, IL, and William I Skinner of Brownville. Alanson Skinner was village trustee from 1832 to 1819; town supervisor in 1839 1840 and 1846. In 1836 he was village president and in 1850-1851 he was state senator. In the National Union bank of Watertown he was a large stockholder and several years president. He died June 7 1876.
The county records show that on May 12 1847 Thomas Y and Mary How sold Horace Skinner one-half the deep garden lot of Hoel Lawrence on the north side of Basin Street for $250. That deed states that the lot was between the Colonel William Lord lot, upon which was the dwelling of Gilderoy Lord, and the Brownville Hotel garden lot. It is more than likely that Horace Skinner, whose wife was the former Miss Harriet Emory, built this substantial eleven-room brick house on the lot that same year. Horace Skinner died October 3 1894 leaving an estate of over $42,000 which included 31 shares of National Union bank stock, $8,000 of Remington Paper company bonds, $2,000 of St Lawrence Paper company bonds and $500 of Watertown Paper company bonds. He willed all of his personal property to his wife and gave her a life-use of the rest, which was to go to their two sons, Cyrus A and Frank W, after her death. Frank W Skinner was named executor.

Frank W Skinner, civil engineer, was graduated from Cornell university in 1879 and became one of the nation's noted men in his profession. He was a consulting engineer on the George Washington bridge. For many years he was associate editor of The Engineering Record and its editor from 1914 to 1916. Also for a number of years he lectured at Harvard, Yale, Brown, Wisconsin, McGill and other universities. His wife was the former Rachel A Sumner.
On December 25 1932 he died at 74. A son, Alanson B, was a prominent enthnologist.
Cyrus A Skinner, born December 7 1865 at Brownville, married Miss Allie May Ingalls of Pillar Point, and for many years was inspector of the Bethlehem Steel company and the Carnegie Steel company. Their sons were Horace M, Rollin I and Ralph E, the latter of whom became secretary of the Harmon Paper company at Brownville, and father of the present owner of this house, Warren I Skinner.
On June 1 1911 Frank W Skinner conveyed the property as executor of Horace and trustee of Cyrus to the Northern New York Trust company, which, as trustee of Cyrus conveyed it to Rollin I Skinner January 7 1944. On October 30 1946 Rollin I Skinner, Carthage, deeded it to Warren Ingalls Skinner and wife, Martha Kelly Skinner. Warren Ingalls Skinner served in the U S Navy in World War II, is a mechanic for the Ryan Plumbing & Heating company and was married to Miss Martha Patricia Kelly, daughter of Mr and Mrs James J Kelly, 117 Phelps Street, November 28 1943.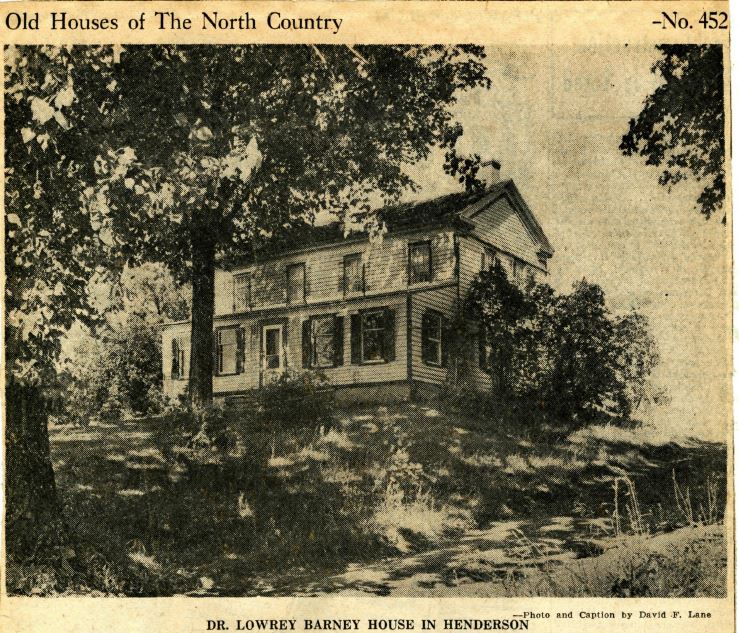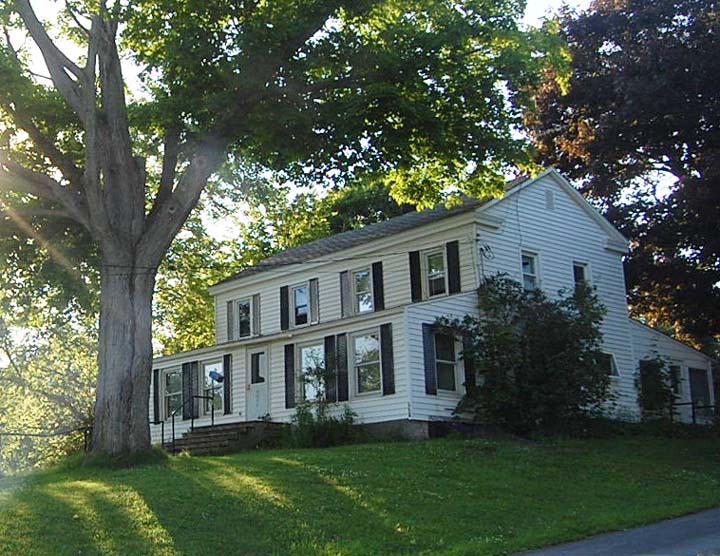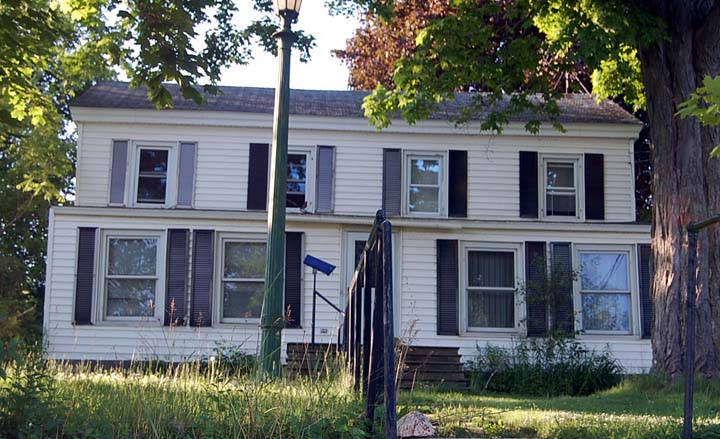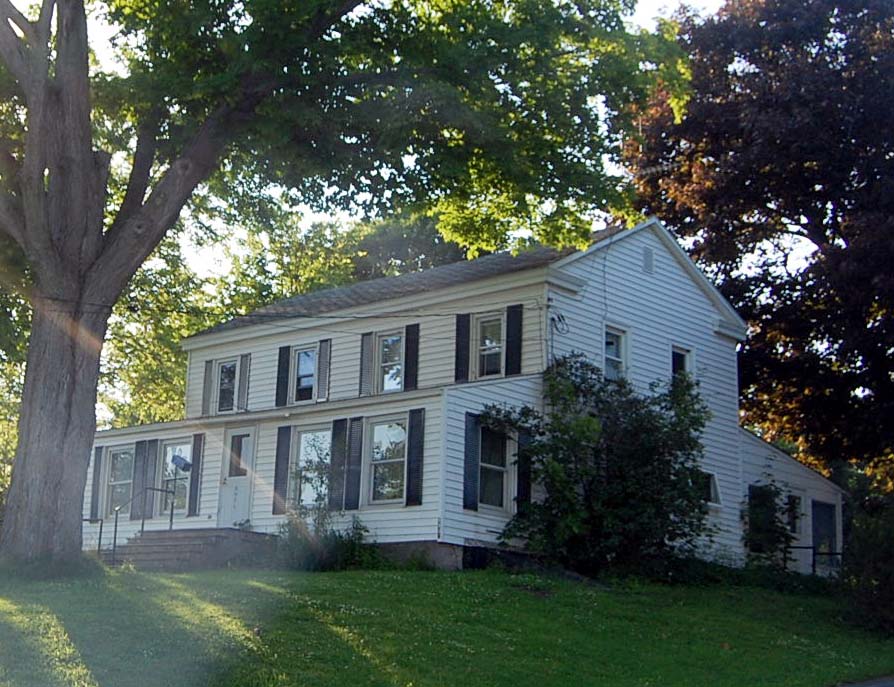 It was a century ago this coming summer that a tall, slender, brown-haired U S Army officer of 27 suddenly appeared in the beautiful little village of Henderson. He was of quiet, retiring mein, religious in temperament, a stickler for duty and unswerving in the performance of it. Five years before he had been graduated from West Point with George B McClellan and immediately catapulted into the Mexican war's siege of Vera CruZ
Now, in this year of 1851 he was a major and had just been appointed professor of natural and experimental philosophy and artillery tactics at Virginia Military Institute. Suffering from dyspepsia he had come to Henderson for treatment by Dr Lowrey Barney, whom he had but recently met in New York City, and of whom he was to be a six weeks' guest in this Georgian Barney house, daily quaffing buttermilk and eating brown bread in the regimen of the "cure."
This officer was Major Thomas Jonathan Jackson, born January 21 1824 at Clarksburg, VA, destined a decade after his Henderson visit to become a major general in Confederate army and, while stoically and determinedly rallying his troops when things were going badly in the Civil war's first battle of Bull Run, being pointed to by General Bernard Bee who remarked: "Look at Jackson, standing like a stone wall." Thus he was dubbed "Stonewall' Jackson, and though he died from mortal wounds suffered in the battle of Chancellorsville he was already one of the. world's immortals.
But Dr Barney's treatment in 1851 was effective and such a warm friendship sprung up between the two men that Jackson came north during a number of ensuing summer vacations. Native of Rhode Island, Dr Barney was born in 1793 son of Dr Daniel and Abigail Bucklin Barney. Dr Daniel Barney, born at Swansea, Massachusetts, July 2 1768 brought his wife and infant son, Lowrey, to Little Falls in 1791. In 1802 Dr Daniel Barney became one of the earliest physicians in the town of Rutland, but the next year removed to Adams and April 7 1807 transferred to Henderson. In Watertown he became one of the founders of the Jefferson County Medical society December 17 1806 and was at that time made its vice president. He died May 19 1828 prominent as both citizen and physician.
Even more so were his sons, Lowrey and Hiram. In 1811 Lodowick Salisbury had established the first store in Henderson. The next year Lowrey became a clerk there. Later Lowrey studied medicine with his father and December 15 1820 was given a medical degree from the College of Physicians and Surgeons. From Fairfield Medical college he received a similar degree January 6 1823.
In 1821 Dr Lowrey Barney married Almira Spencer who died in 1838 and one of their children was Marie Louise Barney who at 16 married a Dr Shew, moved to New York to reside at 47 Bond Street and befriend the famous poet-mystery story author, Edgar Allen Poe and his child bride. It was at the suggestion of Mrs Shew and in her home that Poe wrote "The Bells," and after Poe's death October 7 1849 some of his furniture and bric-a-brac acquired by Mrs Shew came to the Barney homestead in Henderson.
This homestead was built for Dr Barney in 1827-8 he having purchased the one-acre site on the north side of Henderson's Main Street and high above the roadway from Francis Wolley August 13 1827 for $65. In his will, executed August 11 1880 and recorded March 31 1885 Dr Barney having died December 17 1884 specifically gave this house to his daughter, Elva Phaethusa Barney, born May 17 1849 daughter of his second wife, Pamelia Farrell Barney.
Amid the beautiful Barney and Poe antiques Miss Elva Barney lived in the old house until her death, February 18 1937 aged 87 but on June 7 1907 she deeded the property to her niece, Mary Sawyer Houghton, who later married Floyd C Overton of Adams. Mrs Overton was a daughter of the former Mrs Shew who had become the wife of Dr Boland S Houghton after the death of Dr Shew. At the age of 80 Mrs Overton died July 13 1942 and on the ensuing December 28 Rufus W Ripley as her executor, conveyed the old Barney homestead to E June Scott, who in turn transferred it to Edward and Joyce Stuckey on July 12 1947.
Last July 1 Mr and Mrs Stuckey sold the property to Victor A Scott, Henderson garage and service station proprietor, Mrs Bessie E Scott taking joint title with her husband. It is regrettable that in repairing the house Mr Scott removed the kitchen at the rear with its fine fireplace and old Dutch oven.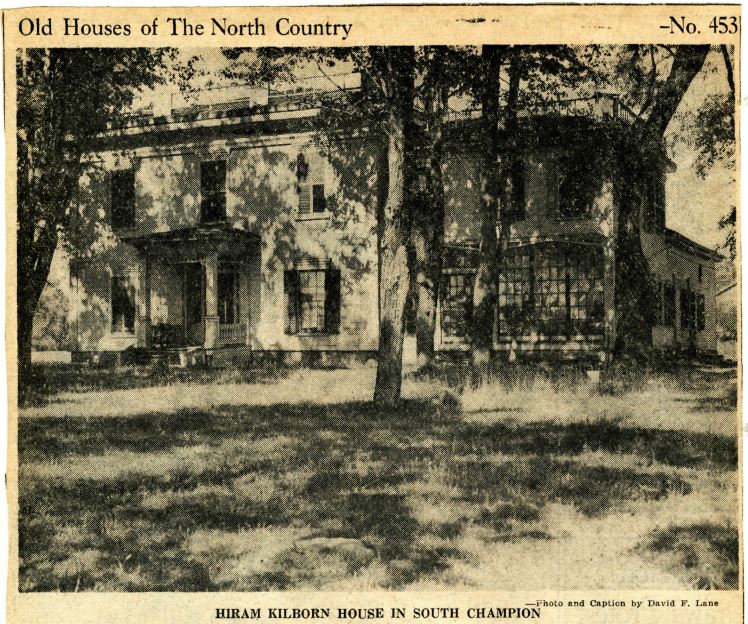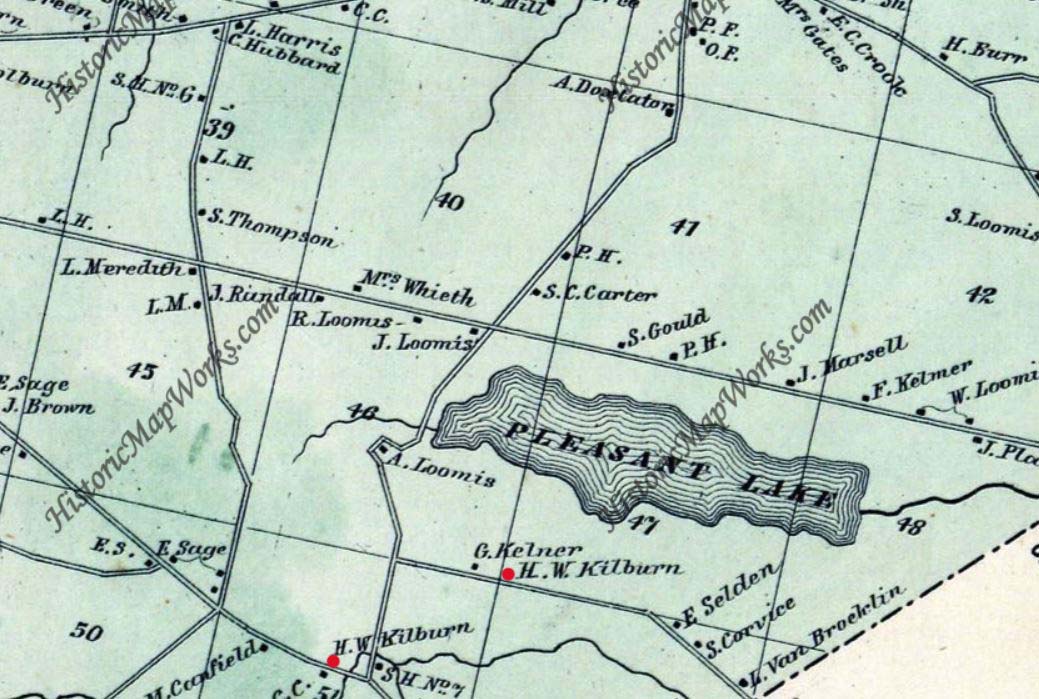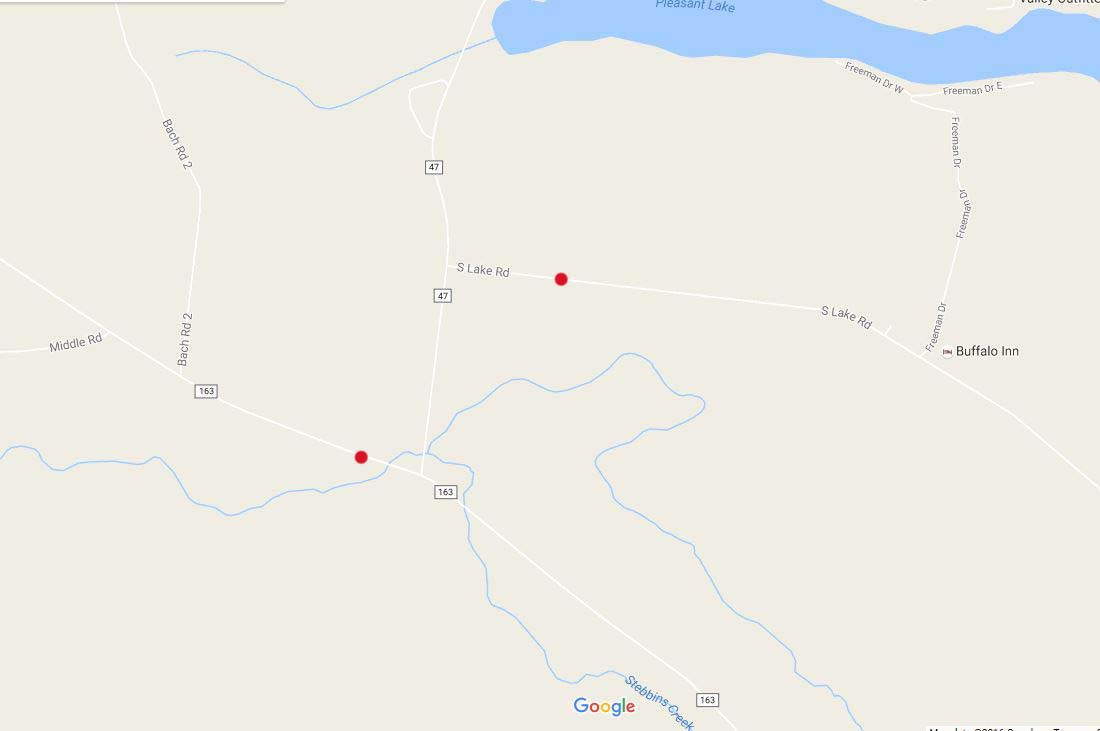 Unoccupied for more than a decade this large and rambling 20-room farm house, scene of much social splendor in the Civil war era, is rapidly going to ruin. Into its much faded but once colorful history there is an intriguing thread of mystery. The big framed portrait of Stephen A Douglas, the "Little Giant" and Democratic opponent of Abraham Lincoln, that hangs upon the mouldering walls of the broad central hall, types the politics of Hiram Wellington Kilborn, farmer and business man of onetime considerable wealth, said to have built this big, squarish mansion more than a century ago.
There are still those who recall the tradition of the grand parties of the Hiram Kilborn family which brought stately carriages bearing a couple of scores of the elite of Watertown and were hauled by some of the finest horseflesh in the county. And there are still some who remember when Fred N Kilborn, son of Hiram W and Olive White Kilborn, bred fast trotters by his stallion Deceive and worked them out on his own half-mile track upon the farm.
Hiram W Kilborn, who died upwards of half a century ago and is buried in Riverside cemetery at Copenhagen, was descended from Thomas Kilborn, native of Wood Ditton, England, who emigrated to New England in 1635 and settled at Wethersfield, Connecticut. Hiram was the son of Allen and Rhoda Canfield Kilborn, and a sister of Hiram was Nancy, who became the first wife of Edward Swain Massey, who built the stone house which stood where today is the residence of Roswell F Taylor on South Massey Street in this city.
On December 11 1895 Hiram W and Olive White Kilborn deeded the four parcels that make up the present farm to their sons, Fred N and George D Kilborn. The fortune which Hiram W Kilborn is reputed to have made here and in New York had by then sadly shrunk. Fred N Kilborn continued to reside on and operate this farm, raising fast horses, while his brother, George Darius, mine-owner and metalurgist, became a millionaire in Colorado.
A year before he died on September 28 1912 Fred N Kilborn had left the farm, was a special agent for the S P C A and was residing in the Cottage hotel in Copenhagen. By his will, recorded November 22 1912 he gave his estate including his interest in this old homestead to his sister, Mrs Fannie E Paris, New York City, to whom George Darius Kilborn had deeded his half interest in the homestead two days before. Mrs Paris died in Champion March 27 1914 willing all her property to her brother, Fred, but as he had pre-deceased her the old homestead went to her only heir, her other brother, George Darius Kilborn, to whose estate it still belongs.
George Darius Kilborn was a colorful figure. Born in this big house April 6 1853 he spent his youth there, was graduated from the Brown-Otis college in this city, spent several years in New York managing his father's property, established a laboratory at Rhinebeck for the study of metallurgy and chemical geology, went to Colorado in 1879 to engage in mining, metallurgy and assay work, became managing director of the Empire mine at Cripple Creek, Colonel , built and Operated the first cyanide mill in Colorado, and in 1898 gained control of the famous Isabella silver mine. Three years before, he had married Miss Katherine Wright Anderson at Aspen, Colonel , on November 2 1895. In 1901 he contracted tuberculosis and was several years recovering, but the Isabella mine had made him a millionaire. Then in 1907 to protect a $100,000 loan he was compelled to take over the Nevada State Journal at Reno and for twelve years he was its owner and publisher. In 1919 he retired to reside in Auburn, California, and in the Sierra Nevada mountains a lake is named for him.
Patron of the arts, a lover of horses and dogs he died March 19 1930 willing his widow a life-use of his estate and then providing that after her death the income be employed in the establishment and maintenance of a sanatorium or home for all indigent persons named Kilborn in this big, square house in South Champion. Mr Kilborn is buried in Morningside cemetery, Syracuse, his widow resides in California and the big mansion slowly goes to ruin. The record shows that Hiram W Kilborn bought two of the present parcels of the farm from his parents January 3 1837 one from Jeremiah Chase March 1 1948 and one from George Kelner February 18 1867.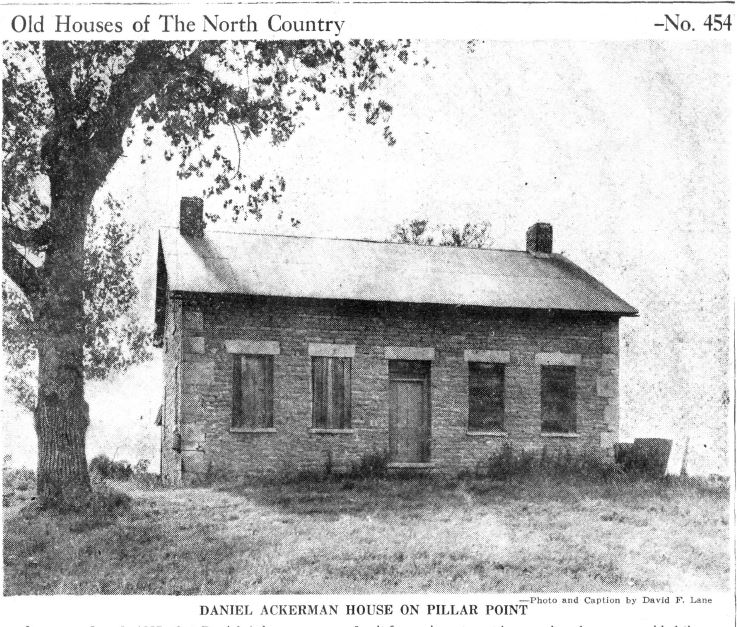 The image and info below is from:
https://www.stonehousesofjeffersoncounty.org/historic-houses-inventory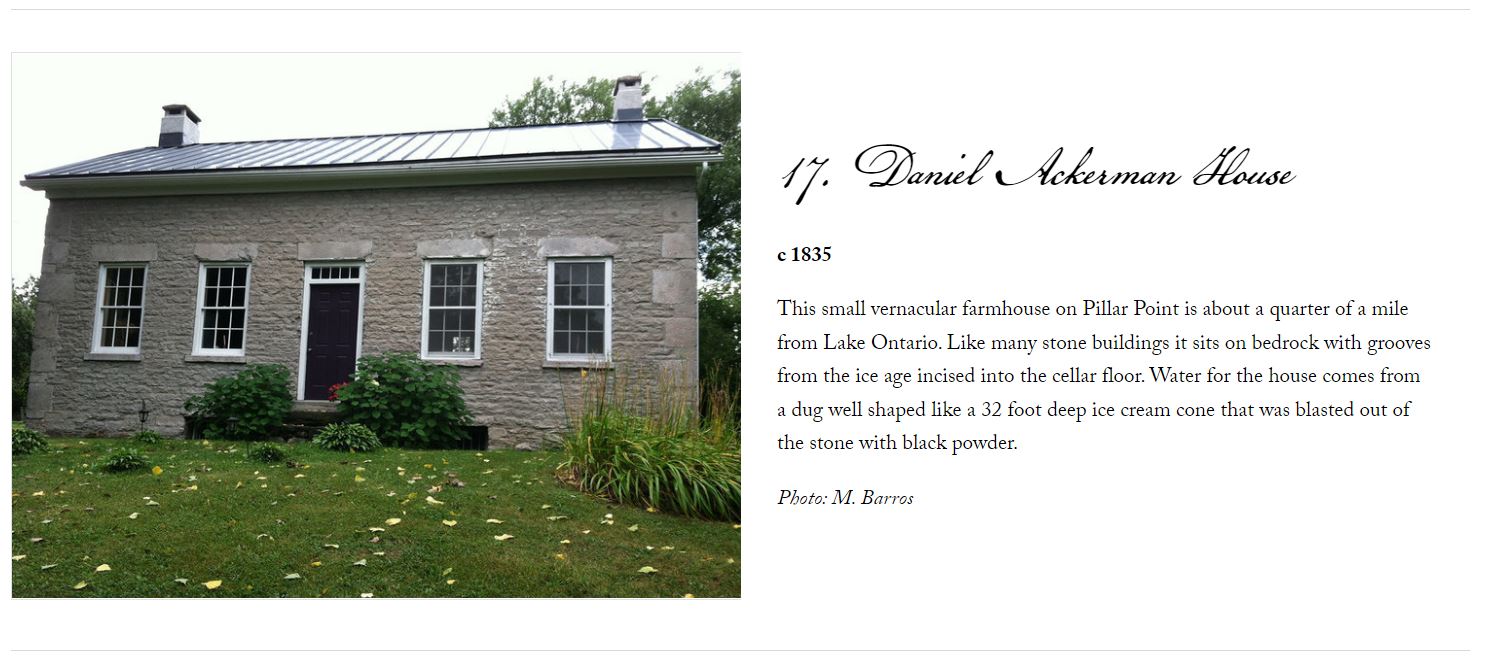 It was on January 3 1835 that Daniel Ackerman, one of the earliest settlers in the town of Brownville's Pillar Point area, purchased a plot of 40.49 acres of land from Thomas W Ludlow and Thomas Ludlow Ogden of New York City for $243.42. On November 17 1836 he paid Washington and Stephanie Coster of New York $178.48 for an adjoining parcel of 50.17 acres. These two parcels constitute the small farm, upon which this low native limestone house stands.
The house now vacant for some time was built about the time of purchase of the land by Ackerman, and on December 24 1853 he and his wife, Elizabeth, disposed of the place to Joseph Swart for $3,000. There was included in that transaction a third parcel referred to in the deed as a fishing ground which Ackerman had purchased from William and Eleanor Gladwin May 6 1846 but this was disposed of separately at a later date.
Joseph and Catharine Swart kept this house and the two original parcels aggregating 90.66 acres only five years. On November 15 1858 they sold the property to John D Ingerson and on December 31 1858 John D and Mary Ingerson conveyed it to William G Phillips of the town of Hounsfield. Henderson Tuttle, Watertown, bought this farm from Phillips on April 22 1862 and on June 19 of the same year Tuttle and his wife, Sophronia, transferred the place to his brother, Theodore F Tuttle, also of Watertown village. On March 11 1871 Theodore F and Abby Tuttle sold this farm to James Drury for $3,500 and it has since been much referred to as the "Drury" farm. The Drurys occupied the property for a decade and on January 1 1881 disposed of it to Gilbert Bradford, prominent Watertown citizen and industrialist, who apparently took it for an investment inasmuch as he never resided there. Born at Hartwick, NY, September 8 1814 Mr Bradford learned card making and blacksmithing as well as becoming an expert machinist. Locating first in Clayton he removed to Watertown in 1838 had charge of the George Goulding & Company machine shop for several years until 1850 there conceived the idea of a portable steam engine, built two, took Charles B Hoard into partnership in the name of Hoard & Bradford and organized the Watertown Steam Engine company. In 1858 he was elected to congress.
Mr Bradford died April 4 1885 and on December 11 1895 George W Knowlton as executor of his estate sold this Pillar Point stone house and farm to Andrew Taylor, native of England, who, with James A Reeves, formed the firm of Reeves & Taylor, which built a large cheese factory on Pillar Point in 1885. Mr Taylor, whose daughter, Ella M, married Judge George W Reeves of this city, Pillar Point native, died July 6 1900 willing life-use of this farm to his son, Frank M Taylor, and then to his grandchildren, Floyd E and Mildred E Reeves, Andrew K Taylor and Angie T Gardner, Dexter.
Frank M Taylor died November 13,1931 and December 29 of that year the grandchildren of Andrew Taylor sold this property to the late Mrs Nellie E Poole, first wife of Arthur W Poole of Dexter. On February 3 1944 Mrs Poole sold this place to Ross F Savage and wife, Elizabeth, the present owners, who added it to the adjoining 101.40 acre Gould farm, which they had purchased from the estate of Morris J Gould April 5 1921 and upon which they reside.
They are considering rehabilitating this sturdy old stone house as a home for their son.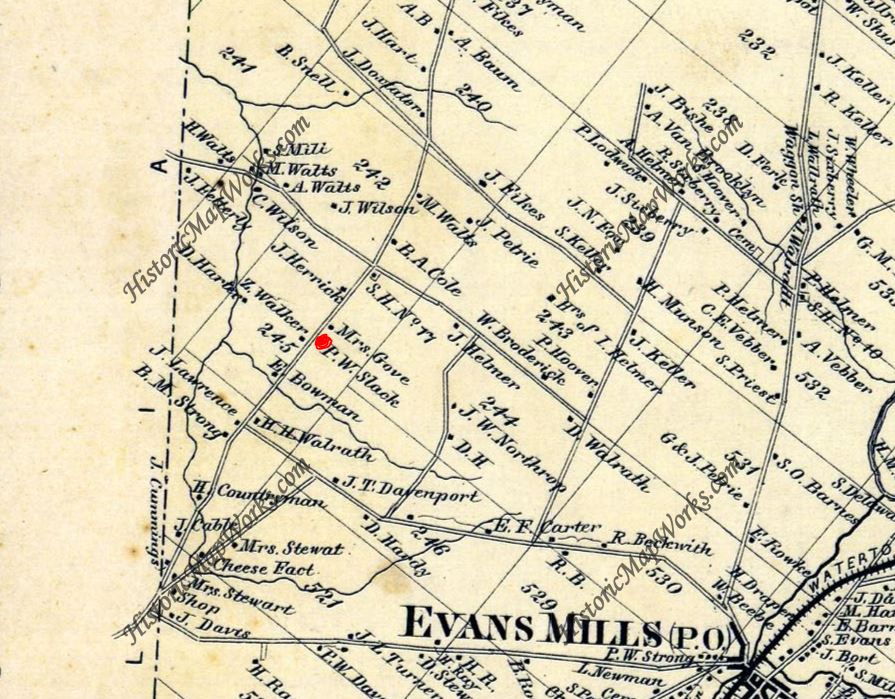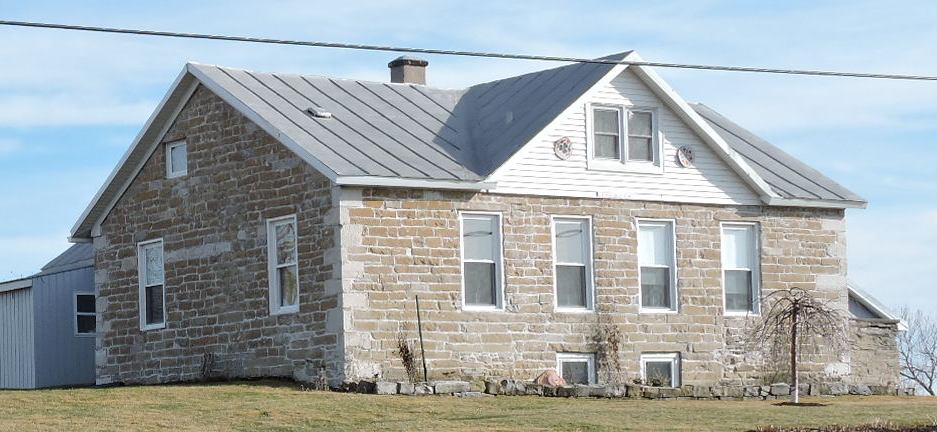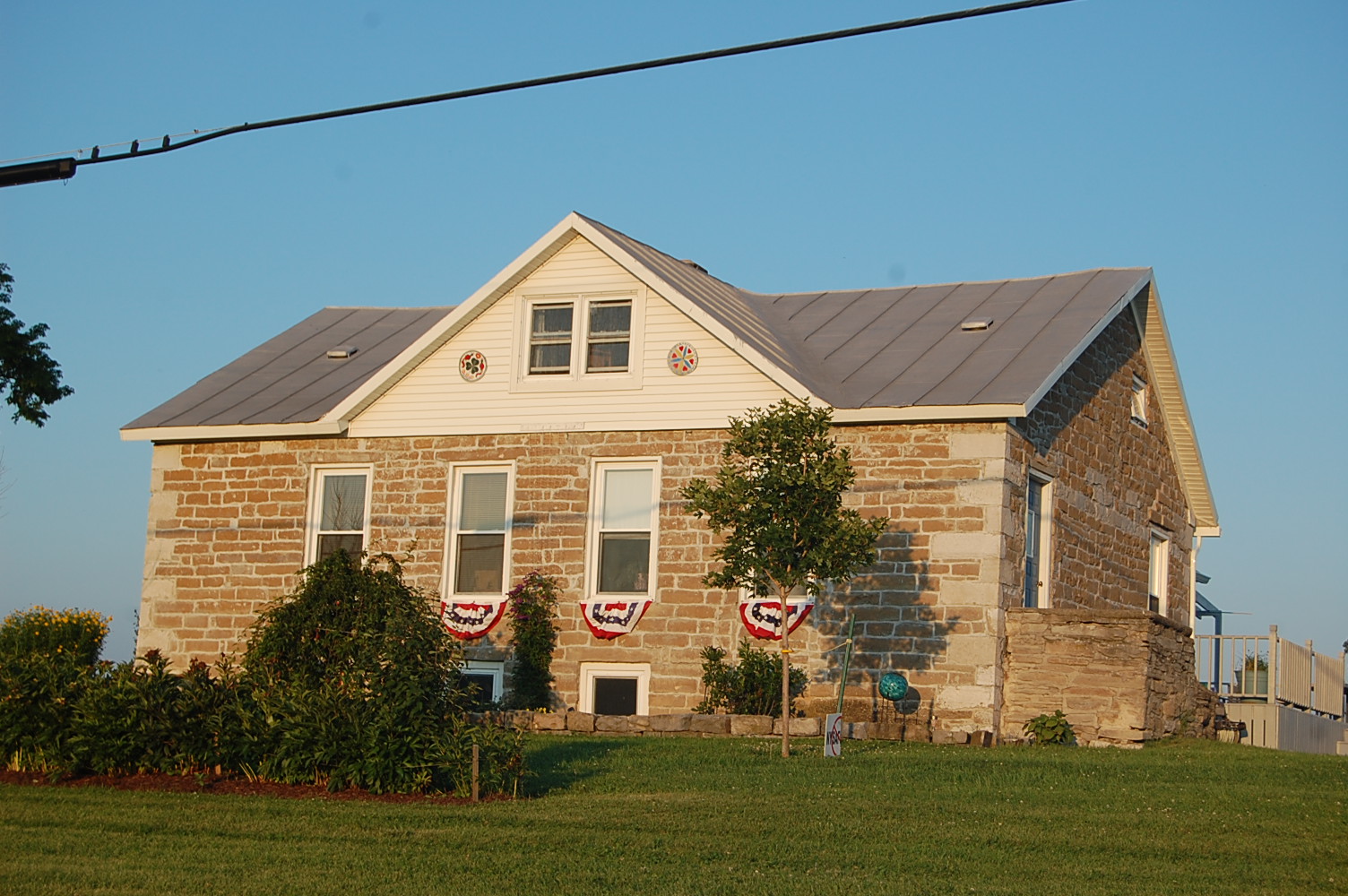 A face-lifting operation accomplished during the past year has restored this old native limestone house to a closer approximation to its original appearance than it has possessed in a quarter of a century. This face-lifting has included the removal of a verandah which almost completely hid the stonework of the road side of the house, the installation of hardwood floors and modern conveniences and the addition of a large frame kitchen and workroom at the rear. Also the stone walls have been given a thorough cleaning and pointing-up so that the structure has a fresh and almost new appearance. Located on the old Military road's south side in the town of LeRay, a short distance above Pamelia Four Corners, the house and farm has been owned since February 15 1941 by, Mrs Mary L Love, Chicago, who with her husband, William E Love, are engaged in the women's clothes business in the west. And under her ownership the rejuvenation of the old house has been undertaken.
The vintage of the house is of a century and a quarter ago. In fact its site is part of a farm of 149.44 acres purchased October 9 1824 by Isaac Lawrence of Attorney William H Harrison, New York City, for $991. The house was probably built the next year and November 4 1835 the entire property was sold by Isaac and Mary Lawrence to Jacob Walker of Root, NY, for $3,600. On February 27 1851 Walker disposed of 65 acres of it and buildings to his son, Zephaniah B Walker, the deed containing the provision that the actual transfer should not take place during the lifetime of Jacob.
At a later date the place came into the possession of Peter Wilbur Slack, a man who, in his earlier years devoted a part of his time to giving singing lessons at Evans Mills, LaFargeville and neighboring communities. He also operated his farm, pressed cider and wine in the basement of his house and in his later years he was adorned with a set of whiskers that came to his belt line.
Peter Wilbur Slack was born March 18 1830. His father, Peter Slack, born at Windsor, Vermont, in 1797 came first to Watertown in 1804 and then moved to the Pamelia area. His wife, a native of Salem, Massachusetts, descended from Mayflower stock. Their children were Mrs Anna Hardy, Peter Wilbur Slack and Marshall B Slack. And when Peter Slack died October 21 1885 he willed his widow, Vestha, a life-use of his estate including the 190-acre farm where they resided. After her death his two sons were to be his residuary legatees. At 22 Peter Wilbur Slack married Adelia E, daughter of Daniel Harter and located in Pamelia, but three years later he purchased his farm on the Military road.
July 12 1907 his wife joined him in the sale of the house pictured above and land to Lorenzo J and Alice D Hall who disposed of the place April 14 1914 to Amos D and Lillian E Hicks, now of Evans Mills. It was Mr Hicks who added the large verandah to the house, and it was he and Mrs Hicks who sold the property to the present owner, Mrs Love, seven years ago, retiring to Evans Mills. Mr Hicks, son of the late William and Janet Pickard Hicks of Pamelia Center, was married to Miss Lillian S Amo at Felts Mills January 3 1900. Three sons, Stanley, Carlton and Frederick, were born to them. Mr Hicks is now 74 and Mrs Hicks 70 and in Evans Mills they reside in the house formerly owned by Mrs Hicks' parents. Both Mr and Mrs Hicks have been active in grange, fraternal and activities of the Methodist church. Peter Wilbur Slack was elected a justice of the peace of the town of LeRay in 1858 and served eight years in that capacity.
Mrs Love, whose former husband was a Dr Kane of Chicago and now deceased, owns an attractive white house a little further up the Military road on the way to Theresa, and spends part of each year there.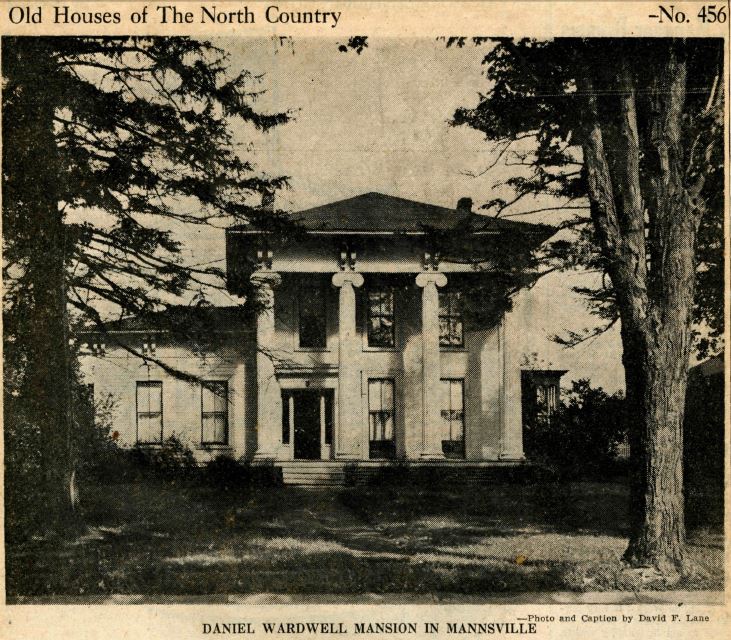 These pictures taken June 2015: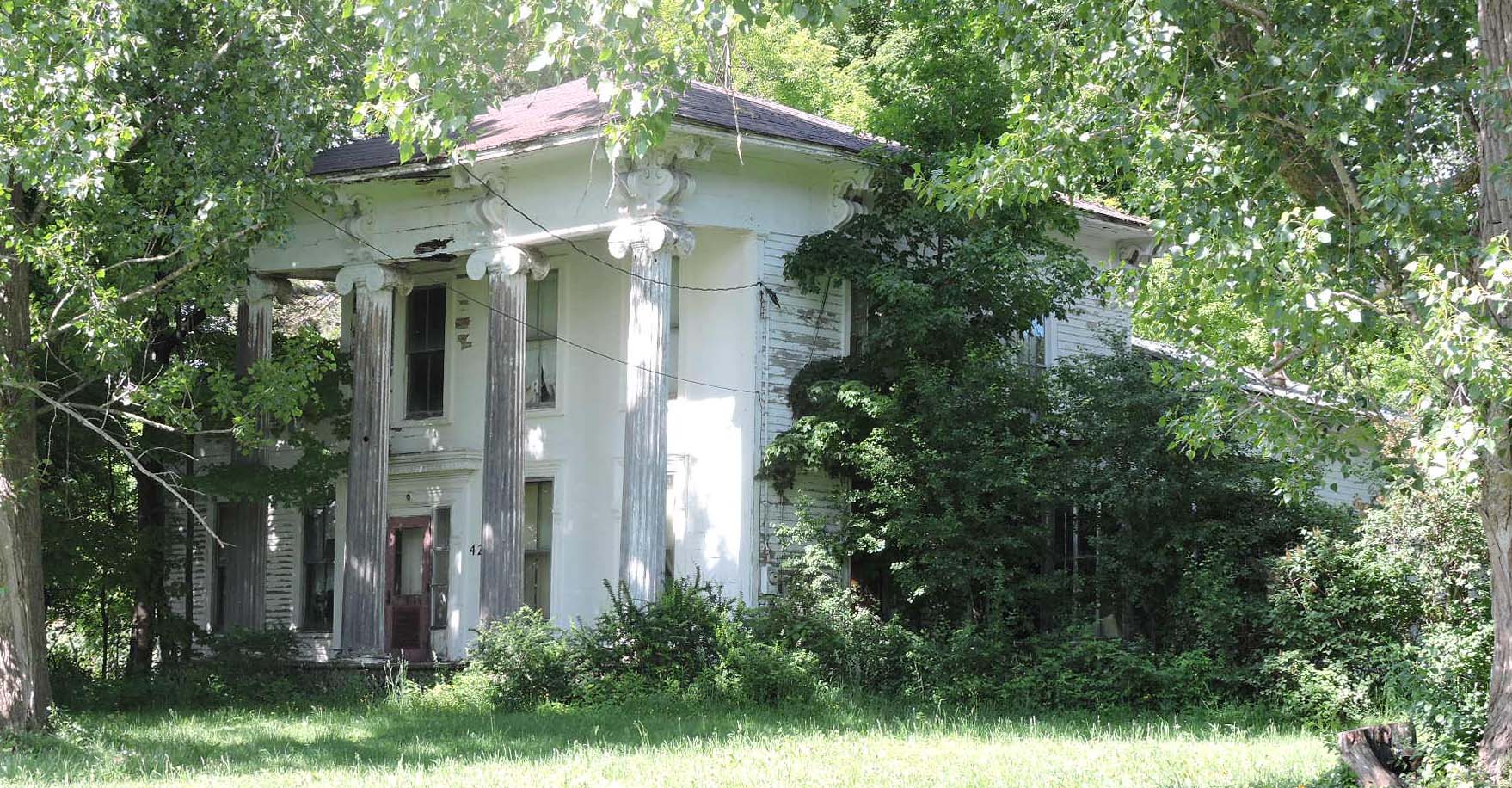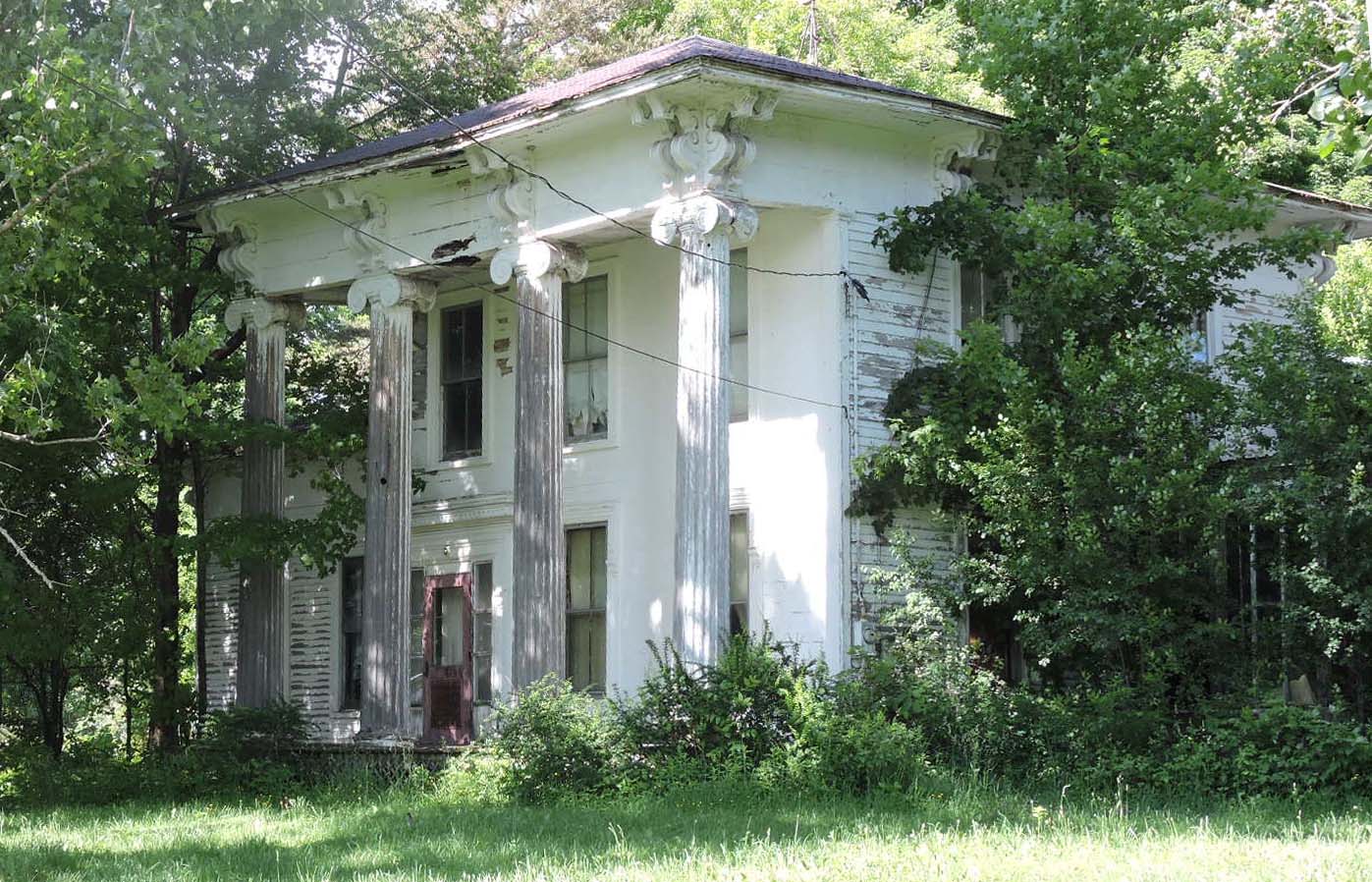 Stately and classic and well-kept this house draws the attention of every tourist passing through Main Street of the village of Mannsville. By county records title to it can definitely be traced back to July 20 1861 when Philip and Roxana Wheeler conveyed it to Melvin J Earl.
A deed dated December 15 1838 from Daniel and Hetty Wardwell transferring about 170 acres of land in Mannsville to Philip Wheeler for $6,000 states that it is the same farm now in possession of Daniel Wardwell and on which he now resides in said village of Mannsville.
A biographical sketch of Mr Wardwell relates that he resided in Mannsville until about 1860 when he removed to Rome, NY In a similar sketch of Philip Wheeler it is declared that while Mr Wardwell was a member of congress Mr Wheeler purchased the Wardwell holdings amounting to approximately 200 acres, gradually selling off the land until much of the village of Mannsville was built upon it.
These facts would seem to leave little doubt that this tall-pillared white house was originally the residence of Congressman Daniel Wardwell and that it was probably built in the late 1820's or first 1830's. The lot upon which the house stands is described precisely in all of the deeds from the present back to and including the Wheeler-to-Earl deed of July 20 1861 as consisting of .89 of an acre.
Daniel Wardwell, Democrat who served this district in the house of representatives 1830-1836 during the regime of President Andrew Jackson, was an outstanding north country figure. Son of Colonel Samuel Wardwell, he was born in Bristol, RI, in 1791. In 1815 he was married to Hetty, daughter of Newton and Abigail Maxey Mann, and resided in Rome. In 1817 they removed to Adams and in 1822 to Mannsville where he erected a 600-spindle cotton factory, which operated until it burned February 16 1827. Two and a half years later he was elected to congress and at the end of his service moved back to Rome, where he died in 1878 aged 87. His wife had died 20 years before him.
Philip Wheeler, who succeeded Judge Wardwell in the ownership of this house, was born June 30 1800 on a 1200-acre tract of the former VanRensselaer estate near Troy. Philip became a Troy merchant and also rafted timber to New York. About 1824 he married Roxana, daughter of Thomas Shepherd and descendant of the Rhode Island Browns of John Brown tract fame. Philip and Roxana Wheeler came to this county about 1825. For 20 years he was a prominent Mannsville merchant, a founder of the Manasville Methodist church and was a vital force in developing the village. He died in 1872 his wife in 1869.
Melvin J and Polly M Earl retained this property but five years, selling it April 17 1866 to Captain John Minar, a seasoned and colorful seaman of the Great Lakes and descendants of him still own the fine old mansion, maintaining it as a summer retreat. Born in Schenectady February 15 1811 Captain Minar was son of John and Catherine Colon Minar. Described as a veritable Hercules, weighing 250 pounds and strong as three men, he sailed the lakes for 40 years rising from cabin boy to master, and then owner of fleets. He sailed with Elbridge G Merrick on the schooner "Lucinda," became part owner and commander of the "Adriatic," the "Pathfinder" and others. He was deeply religious. His first wife, Betsey R Blount Minar, mother of his children, died May 16 1860. On February 9 1865 he married Mary Myers Fiske. Captain Minar died April 2 1898 aged 88. Willing his widow a life-use of his property he provided it next go to his children, Walter J Minar, Mrs Fannie R Ford and Elbridge G Minar. But on September 5 1897 he had conveyed the house to the daughter, wife of Reverend James Wallace Ford.
Born June 22 1852 Mrs Ford became a nationally famed Sunday school teacher, Bible history authority, lecturer and author. She died June 2 1922 directing that this house be kept for use of all her family including her brother, E G Minar, and that her daughter, Mrs Frank R (Marietta Ford) Russell have charge of it. A granddaughter by marriage, Mrs Frances Evans Ford, Washington, D C, is said to be the present owner.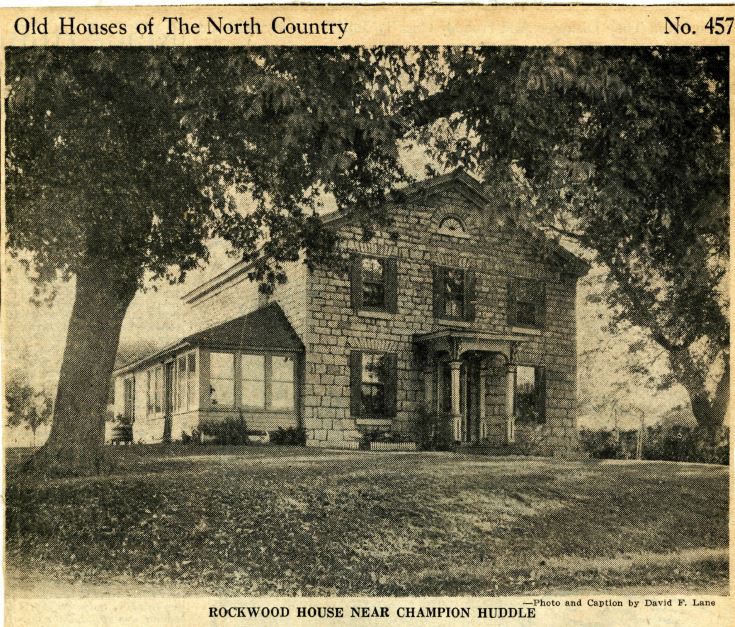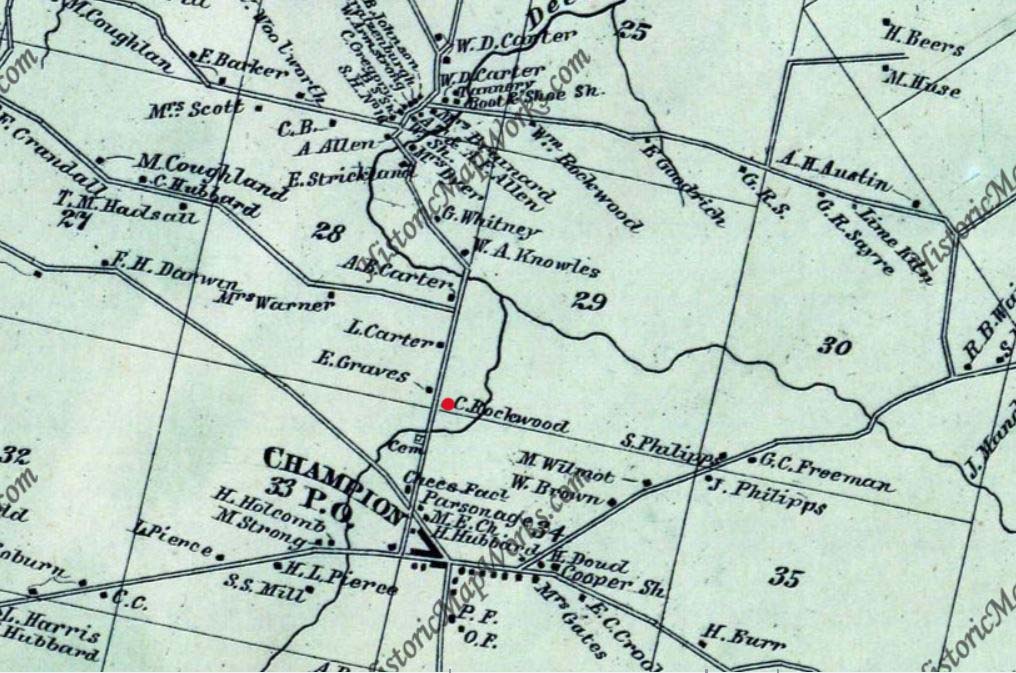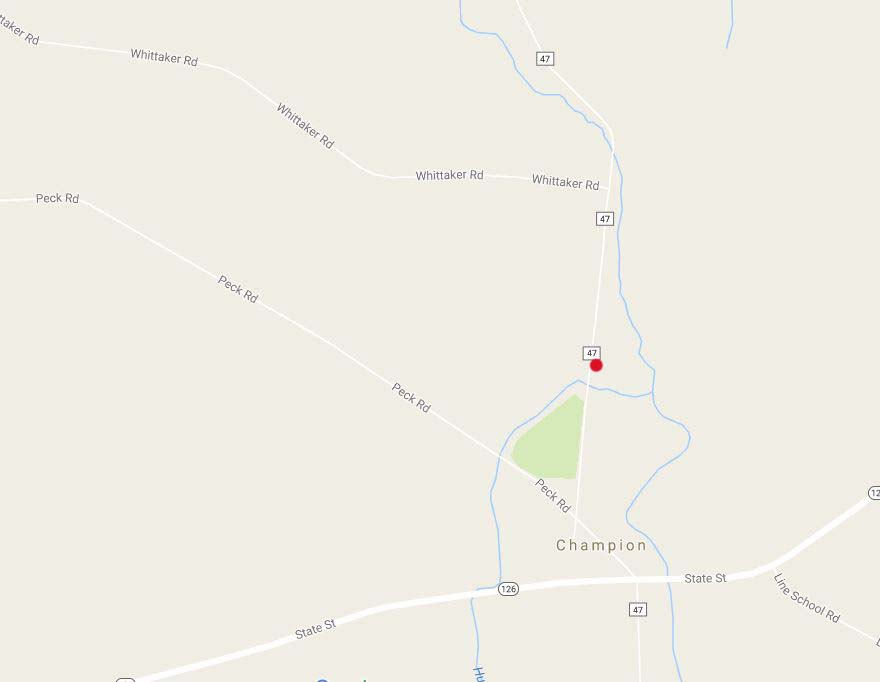 An atmosphere of contentment born of a beautiful pastoral scene and the peace and quiet that reigns on a secluded country road is the environment of this wellkept and handsome old house of native limestone. Off the beaten trail, it is located in the town of Champion about two miles north of the hamlet of Champion and a half mile east of Champion Huddle.
Mr and Mrs George L Fleming, present owners, acquired it March 21 1935 from Mr and Mrs William A Babcock, now deceased, and state that the house was built in 1812 by Horace Champion and David Rockwood. No Horace Champion appears in the county records, but the house may have been built in 1812 for the Rockwoods were among the earliest settlers in Jefferson County.
At 21 William Rockwood, New England native, settled in Champion in 1799. The next three of his brothers, David, Asa and Roswell, came on the next year with their father, Reuben. Reuben became one of the overseers of the poor at the first town meeting in 1800.
Mr and Mrs Fleming relate that David Rockwood and wife, Raley, sold this house and farm to Elizur Goodrich Jr, in 1825. The county records show that on November 23 1825 David and Raley Rockwood sold three parcels of 50 acres, 33.25 acres and 24.93 acres in this locale to Mr Goodrich for $800 and that on the same date Mr Goodrich paid Asa and Amanda Rockwood $800 for 48 neighboring acres. Eliza C Goodrich joined her husband in the purchase. They were residents of Hartford, Connecticut, and wealthy for that era.
It is unlikely Mr and Mrs Goodrich ever resided on this farm. It is probable they bought the place as an investment. The county records report that they bought many parcels of farm lands in Jefferson County and always it was noted that they were residents of Hartford, Connecticut. When Mr Goodrich died November 4 1868 his residence was still in Hartford and his estate was estimated not in excess of $400,000.

On January 31 1878 his executor, Nathaniel Shipman of Hartford, sold this farm to Lysander W Babcock of Carthage, and on May 14 1914 Mr Babcock, then of West Carthage, conveyed it to his son, William Alfred Babcock and wife, Theresa. That deed defined the land as about 180 acres. On March 21 1935 when William A and Theresa Babcock sold to Mr and Mrs Fleming the transfer stated the farm to contain 181.47 acres of land. Lysander Whitfield Babcock, born March 17 1836 relative of Henry Holmes Babcock who founded the carriage business in this city, was married to Mary Jane Merrill November 10 1857. Their son, William Alfred Babcock, their successor in ownership of this house and farm, was born February 7 1860 married Miss Theresa Wagner, New York City, October 1 1884 and died October 24 1936 survived by his daughter, Miss Mildred E Babcock, West Carthage, Mr Babcock having taken residence there after selling the farm to the Flemings.

Two of the daughters of Lysander W and Mary Jane Babcock now reside in West Carthage. They are Mrs William (Lida B) Chaufty and Mrs Edward (Alfreda B) Harrington. Two other daughters, Mrs W P (Nettie B) Phillips and Mrs Thomas (Lizzie B) Williams are deceased.
Upon acquiring this property Mr and Mrs Fleming removed an eight-room wooden addition placed on the house by the Babcocks about 1886 and furbished it up with wooden blinds. Five years ago Mr Fleming and son, Merlin D Fleming, opened a lumber business and woodworking shop, which they have transferred to the former plant of the Carthage Wood Products company, which they purchased June 7 1950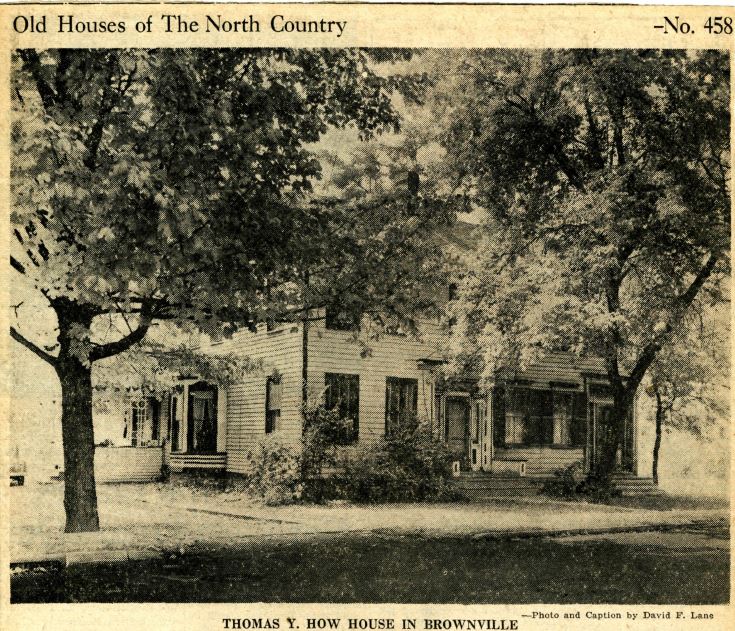 204 W Main
Thomas Y How, of Trenton, NJ, close friend and benefactor of Major General Jacob Brown, Brownville's founder, was Jefferson County's first Princeton graduate as well as one of its very first pioneer settlers. Back at the very beginning of the last century while Jefferson County's 1,293 square miles were still a part of Oneida county, and while Pierre Joulin was the attorney and land agent of James D LeRay de Chaumont, Thomas Y How on April 23 1801 and February 10 1802 bought 1,060 acres in three parcels north of Limerick and Brownville in the Perch River area from Mr LeRay. In later years he bought other lands.
He is described as a most agreeable companion, a man of great culture and polish, a valuable acquisition to the community, but a man of little business acumen. With him from New Jersey he brought a patrimony of $10,000 and loaned large sums to the Browns of Brownville to help them finance their enterprises.
History relates that Mr How engaged Jacob Brown to clear, fit and plant 100 acres for him on the Perch River flats; that Jacob Brown employed "Honest John" Brown, father of Aaron and George to do the job with the result that he became known as "How-job John" Brown; and that July 9 1802 Jacob Brown wrote his own brother, John, a New York bookseller: "We this year pay a debt of $2,000 to my good friend How, for clearing and putting in crop of his 100 acres, for it will amount to that sum. The work is in a very forward state."

When the Brownville library was incorporated February 10 1807 Thomas Y How was one of its founders and most zealous promoters.
On August 19 1842 Thomas Y How paid Joshua and Betsey Hemingway $1,950 for the lot where this house stands on the south side of Basin Street near Store House Alley in the village of Brownville. It abutted the old military cemetery where War of 1812 soldiers were buried and which was owned at that time by Colonel Edmund Kirby, General Brown's son-in-law.
It may be presumed that this double house with its two beautiful doorways was on the How site at that time, for on September 10 1838 Hemingway had paid Nathan Rathbun of Maumee, Ohio, $3,000 for the property. Thomas Y How died May 9 1855 willing his widow, Mary M How "all real estate consisting of two houses and other buildings now occupied by General Loomis and myself." The latter was General Thomas Loomis, one of the incorporators of the old Brownville Cotton Factory and one of the first village trustees when Brownville was incorporated April 5 1828.
On October 9 1863 Mrs How sold the west side of the house to Alonzo Forward for $600. From Forward is passed to Stephen Fair, then to William Penn Massey, who sold to William Gibbs. Gibbs sold to Alfred G Taylor, who deeded it to his daughter, Mrs Anna M Mallett, who died June 21 1933 willing life-use to her daughter, Mrs James E (Hester) Gilmore, whose children will ultimately inherit it.
In late 1885 Mrs How died at the home of her sister, Mrs Sarah F Benedict, Cleveland, Ohio. July 26 1886 Mrs Benedict sold the east side of the house to Charles P Plumb. March 10 1894 his recorded will gave it to his widow, Sarah A Plumb. Her will recorded May 7 1901 gave it to her niece, Susan E Allen, Decatur, Michigan, who sold to Frank B and Billa M Walrath September 16 1903. Mrs Walrath later died. Mr Walrath passed away September 21 1941. Norman S and Regena W Gurney bought it May 6 1942 sold it to Orville and Genevieve Brownell January 31 1944 who conveyed to Charles and Adeline Brenon and Bertha M Center, present owners, May 28 1947. Almost a quarter acre had been sold off the east side of the lot to former Mayor Fred L Page July 15 1902 by Susan E Allen.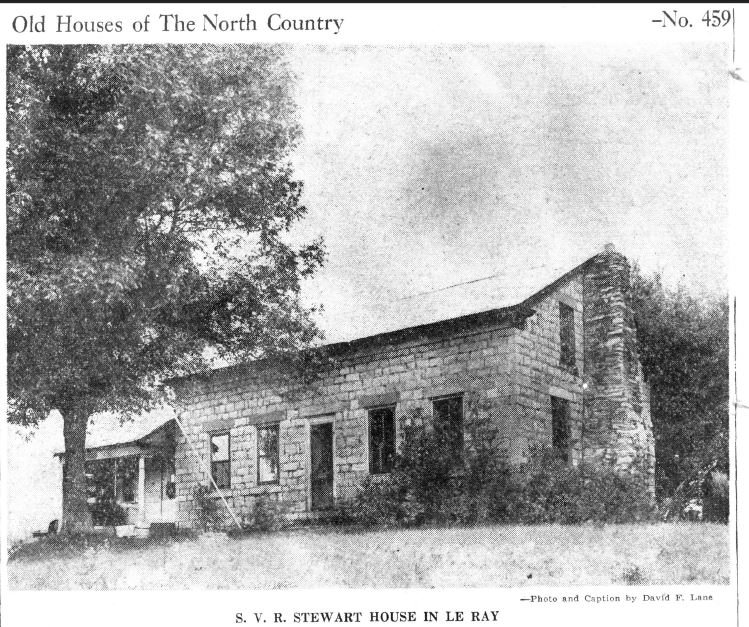 Well away from the turmoil of traffic and not far from Pamelia Four Corners stands this old house of native limestone on a quiet country road that leads off the old Military highway. The record would indicate that the old dwelling was built about 115 years ago by Stephen VanRensselaer Stewart, although there is the possibility that it was constructed about 15 years earlier by Timothy Brockett.
The farm of 150.81 acres is made up of four parcels. One of these consisting of 50 acres was sold by James D LeRay to William Stewart Jr, June 11 1819 and on September 1 1835 Stewart and wife, Lucy, conveyed it and 34.96 acres, which they had bought from the Mechanic Fire Insurance company March 6 1830 to Stephen VanRensselaer Stewart for $500. William Stewart Jr, and S V R Stewart were brothers.
On June 1 1836 Washington and Stephanie Coster, New York, sold to S V R Stewart an adjoining 39.52 acres for $279.51. The fourth parcel of 50.76 adjoining acres had been bought by Timothy Brockett for $304.56 from the Mechanic Fire Insurance company on February 8 1830 and sold to S V R Stewart February 24,1849 for $1,000.
This price may indicate the house was erected on this parcel and by Brockett sometime after 1830. Otherwise it was built by Stewart shortly after 1835 or 1836.
Stephen VanRensselaer and William Stewart were among eight children of William and Caroline Billson Stewart who settled in the town of LeRay in 1811. The senior William Stewart was born in Londonderry, Ireland, in 1768 and at four came with his parents to America. In 1792 he married Caroline Billson and lived in the Cherry Valley for a time before coming to Jefferson County.

Stephen V R Stewart helped clear the wilderness in LeRay , became a carpenter and constructed some houses near Pamelia Four Corners. His first wife, Susan Jenkins, died in 20 months and in 1850 he married Sarah Elizabeth VanEpps.
Not much is known of Stephen VanRensselaer Stewart outside of that. He lived near Pamelia Four Corners in the town of LeRay all his life and died September 4 1862 willing this farm with the stone house to his son, Clarence J Stewart, while the house in which he was residing at the time of his death he devised with contents to his widow. One Philander Locke was tenant on this farm at the time S V R Stewart made his will.

Clarence J Stewart later removed to Santa Monica, California, and died there August 5 1890 but on December 20 1889 he and his wife, Lilla M, had sold this farm and stone house to Constantine Ganter for $5,000. After C J Stewart's death his widow married C E Johnson of Lisbon, ND

Constantine and Mary A Ganter, real estate dealers, sold this farm to Frank J Miller February 27 1893. Mr Miller's will recorded September 6 1910 gave most of his property to his sons, Frederick W and William J By the will of William J Miller recorded December 3 1915 all of his share went to his brother, Frederick, who the same day sold this place to William E Cable. Mr Cable and wife, Katherine M, disposed of it to Elbie G Hoover November 9 1931 and July 15 1940 the Hoover estate conveyed to the present owners, David and Elrena V VanTassel. Mrs VanTassel is a daughter of Mr Hoover, prominent Evans Mills merchant and farm implement dealer who died suddenly October 3 1933.
The old house, of quaint design, consists of eight rooms and is located in a picturesque area of the county which yields an unusual number of old stone houses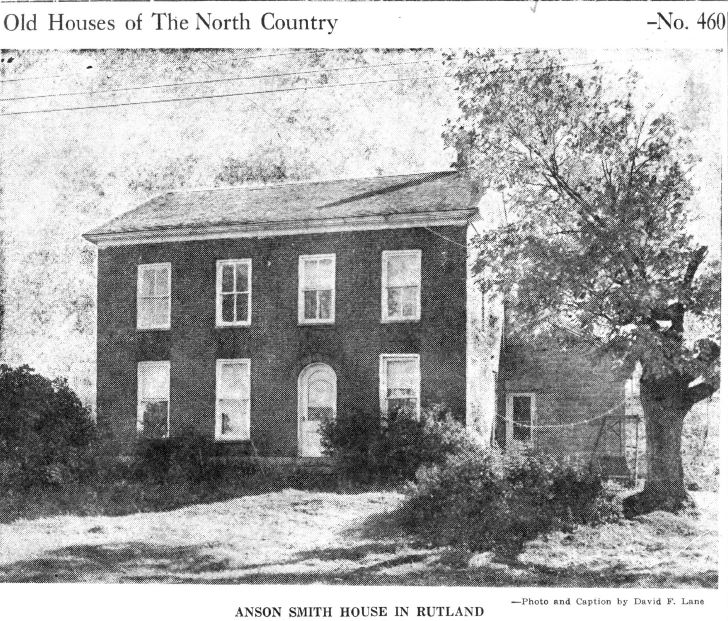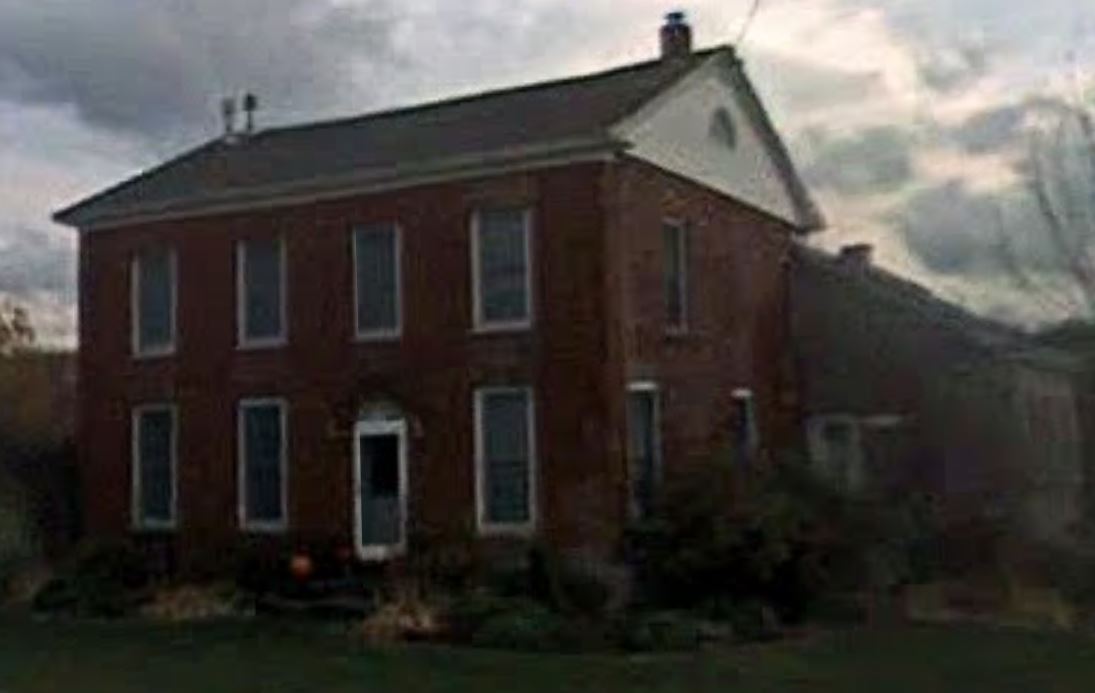 Grist mills, sawmills, cotton and woolen factories and tanneries were essentials to the pioneers who settled Jefferson and the adjoining counties upwards of a century and a half ago, and one of the first Jefferson County tanners was Anson Smith. Smith also was one of the earliest settlers in the town of Rutland.
He was a resident of that town January 25,1812 the date of his first recorded purchase of real estate in the county. That purchase, made jointly with Eli Smith, from Shubal Butterfield, Watertown, was of slightly more than half an acre on the north side of the mall (Public Square) and carried the right to use so much water from the Butterfield spring as might be necessary to operate their tanning and currying business. But on June 2 1813 Anson and his wife, Polly, sold their half interest to Eli, having on February 22 1813 bought 134.40 acres in the town of Rutland, not far from the Champion line, from Isaac and Anne Bronson. That land was on the south side of the old state road which ran from Watertown through Rutland Center to Champion.
On May 9 1815 Anson acquired 50 adjoining acres from Goldsmith and Reform Coffeen. There he established a new tannery and also built the brick house displayed above. And he acquired substantial adjoining tracts in ensuing years, some of which he later disposed of. No record of his estate is found in the surrogate's office and the sale of the brick house and and tannery before 1850 undoubtedly means that he left this section of the country.
On March 18 1840 Anson and Polly Smith sold 100 acres in this Rutland locale to Charles D Smith for $2,000. On November 17 1848 they sold another 100.40 acres to Edwin S White for $1,950 and eleven days later, on November 28 1848 they disposed of 65.03 acres and the tannery to Charles Pool for $2,420. That deed refers to Anson Smith's "brick dwelling," shows that the line of this 65.03 parcel started one chain 87 links from the northwest corner of the brick house and that the tannery was west of it. Pool ran the tannery about 25 years.
The brick house with its stone wing at the rear was part of the property acquired by Charles D Smith, but on November 10,1851 he and his wife, Sabra, sold it and 159.72 acres to Deodatus Ferguson for $6,388. Deodatus Ferguson, who added an adjacent parcel of 17.81 acres, died November 10,1887 willing his widow, Lura and children, John, Clark, Charles and Laura Ann, a life-use of this property.
However, during the next three or four years Charles acquired the interest of the other heirs. By his will, recorded August 1 1902 Charles Ferguson gave all to his widow, Zilpha, and son, Clinton D Ferguson, expressing the desire that they live together and operate the farm. Her will, recorded May 12 1913 gave her son a life-use of her residuary estate and then to C Mortimer Shorey, C William Shorey and Mrs Catherine Greene, brothers and sister. They later transferred their interests in the estate to Clinton D Ferguson and on October 29 1930 Theodore Bond as administrator of his estate, sold this brick house, farm buildings and two parcels of 159.72 acres and 17.81 acres to Jay Frink Staplin, well known Rutland farmer.

In 1946 Mr Staplin disposed of this property to Nelson Jardin, the present owner, a school trustee in that district, who operates the fram. But the old Smith tannery disappeared many years ago.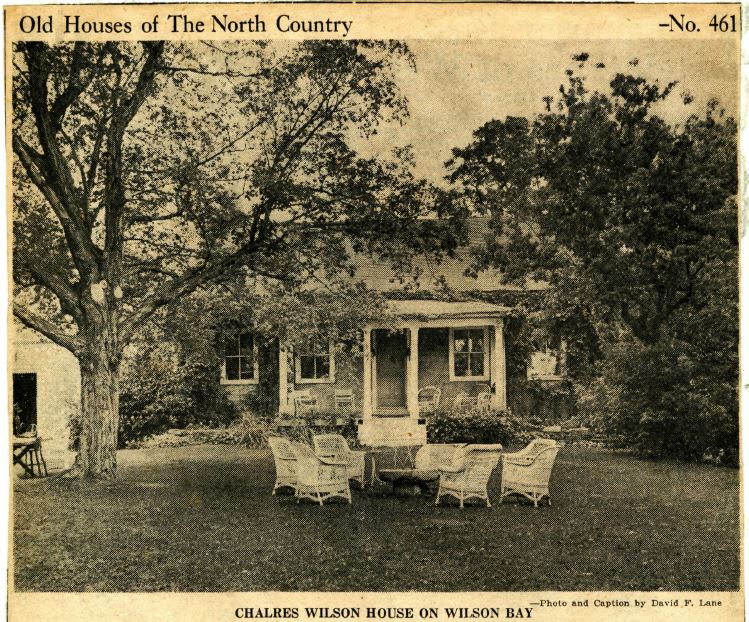 Charming for the great natural beauty and shelter of its waters, the peace and quiet that comes from the absence of a clutter of crowded cottages, Wilson's Bay, just around the shore from the Tibbett's Point lighthouse, is a rendezvous an artist, a novelist or a poet might seek.
Upon the north shore at the innermost end of the bay is "Shore Haven," the joy and attractive home of Mrs Philip H Brown, whose late husband, prominent in the textitle industry, was president of the Harlomoor Company, Inc, when he died at his Scarsdale residence July 21 1943. Mr Brown, it should be mentioned, was a native of Watertown, son of the late Senator Elon R Brown who was not only one of the great constitutional lawyers of the state but was one of the most powerful leaders the New York state legislature ever had.
Mrs Brown, present owner and occupant of "Shore Haven," was the former Miss Agnes Schlemm, born and educated in Germany, daughter of Mr and Mrs Leonard H Schlemm who later came to make their residence in the fashionable Boston suburb of Brookline, Massachusetts. Mr Brown, to whom she was married in Brookline August 15 1914 was a graduate of Bowdoin college and of the New York Law school.

It was on June 16 1941 that they bought from Mrs Margaret Bowen McHenry "Shore Haven" with some 2 1/2 acres of land, its broad, deep lawn rolling down to the bay. The low, wide native limestone house with long, attached garage at the westerly end, luxuriates in an atmosphere of contentment, far from the noise and turmoil of traffic and busy communities.
For a score of years from 1845 to 1865 this old stone house with its simple entrance, now artistically graced by old carriage lamps on either side, was the home of Charles Wilson, for whom Wilson's Bay was named. Before that the site was part of the farm of Benjamin Tibbett, son of the man for whom Tibbett's Point was named. From the record the odds seem strong that Benjamin Tibbett built this house about 1820 but if not, it was likely the work of Charles Wilson, and the lot upon which it stands was definitely a part of the 599.06 acres, which the state of New York patented to Captain John Tibbett of Troy, on November 18 1800.
It was for Captain Tibbett, it will be recalled that Tibbett's Point was named, the extreme head of which has become familiar to mariners because of the lighthouse, which the federal government erected there in 1827.
County records show that on April 17 1801 Captain Tibbett deeded 200 of his 599.06 patented acres to his sons, George and Benjamin, for a nominal consideration of $15. Then on June 5 1820 Sarah Tibbett joined with her husband, George, in conveying his half interest in the 200-acre parcel of which this house site is a part, plus, some of the patented acreage, to Benjamin.
On February 5 1833 Benjamin and Elizabeth Tibbett sold this 200 acres and two adjoining parcels to Rowell T Lee and Henry Ainsworth, an old Revolutionary veteran from Vermont and early Cape Vincent settler. March 2 1839 found them conveying the same to Charles and James G Wilson, and February 5 1845 James G and Eleanor Wilson transferred their interest in 150 acres of the 200-acre tract to Charles G Wilson. On November 5 1865 he sold the 150 acres to Thomas VanSchaick for $6,750. VanSchaick retained ownership 47 years and January 9 1912 he and Nancy his wife disposed of it to Dwight M Borland, who on March 1 1920 sold the property to John W Milligan.
Next, on September 12 1928 John W and Katherine Milligan sold off this house and 2.4 acres from the 150 acres to Margaret Bowen who, as Margaret Bowen McHenry conveyed to Philip Hayward Brown and his wife, Mrs Agnes Schlemm Brown June 16 1941.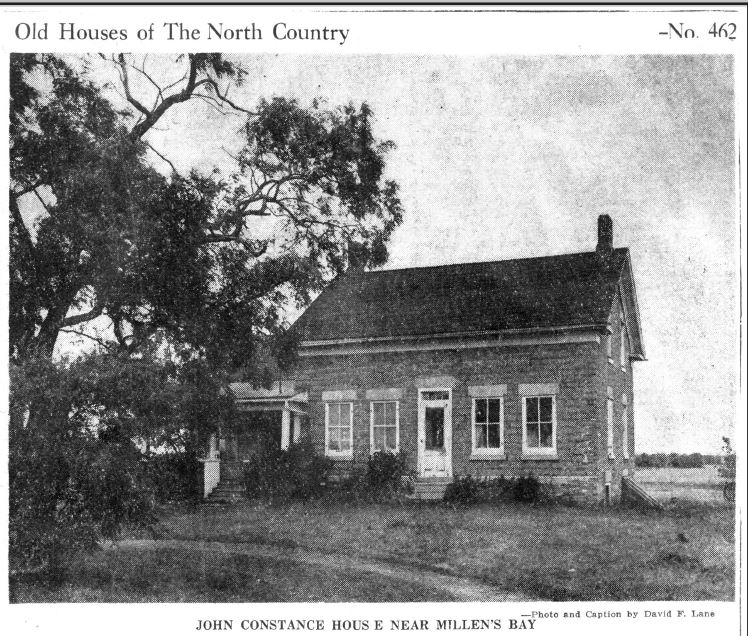 Upon "Brandy Lane," a sector of the meagerly traveled route from the old French Settlement of the town of Cape Vincent to the river road that runs frome Cape Vincent village to Clayton, this pleasant native limestone house stands not far from Millen's Bay. For nearly a century it has been the property of the Constance family and with its 124.45 acres of land is now part of the Charles E Constance estate, of which Mrs Elizabeth White Constance, his widow, has a life-use. After her death, according to the will of her husband, who died May 6 1943 it is to be divided among their children.
The farm, of which this house is the manor, consists of three parcels of 24.31 acres, 24.72 acres and 75.42 acres. These all came to Charles E Constance by deed from his father, John Constance dated July 2 1901. The two smaller parcels were transferred to John Constance by Lawrence Constance Jr, and his wife, Barbara, for a consideration of $1,000 on October 25 1858. The large parcel of 75.42 acres was acquired by John Constance from William Rice Parish and wife, Emeline, on February 28 1859 for $3,280 a price which indicates patently that there was a house and buildings on this tract at that time.
Mr Parish bought that 75.42-acre parcel from Vincent LeRay de Chaumont through the latter's attorney, Patrick Somerville Stewart, for $347.90 on January 21 1856 that price making it evident that there were no buildings on the parcel at that time.
All three parcels were originally part of the vast LeRay family holdings in the north country. When the LeRays disposed of the 24.31-acre parcel it is difficult to determine, but on December 8 1849 it was sold by Thomas and Margaret Robbins to Otis P Starkey for $300. On March 17 1855 Starkey and wife, Beulah, sold it to Lawrence "Costancar" for $500 and October 25 1858 the latter conveyed it and the 24.72-acre parcel to John "Costancar" for $1,000.
The 24.72-acre parcel was purchased by Lawrence "Costancar" from Vincent LeRay through Patrick Somerville Stewart for $277.13 on November 15 1853.
Through the county clerk's records the name of the family, known as Constance for the past half century, 'is variously spelled "Constance," "Costancar" and "Constancer." It is of German origin, the original Jefferson County Lawrence Constance, native of Germany, having emigrated to the French Settlement of the town of Cape Vincent with his wife Elizabeth and children in 1840.
Among those children was Lawrence Constance Jr, who, upon reaching maturity, was married to Barbara, daughter of John and Elizabeth Smithling of Clayton. Mr and Mrs Lawrence Constance Jr, were the parents of eleven children: Elizabeth, Mary, Theresa, Lawrence, Helen, Edward, Katie, Joseph, Emma, William and John F Lawrence Constance Jr, was a prosperous Cape Vincent farmer for many years, as was his brother, John, to whom he sold the parcels comprising the farm where this stone house now stands. The entire Constance family was one of the substantial old families of the town of Cape Vincent.
The Esselstyns were almost as prominent in the development of the village of Cape Vincent as were the LeRays. In May, 1803 John B Esselstyn came from Hudson, Montgomery county, where he was in businses with his brother, Richard M, to settle a mile below Port Putnam. He was joined in 1806 by Richard. They formed J B & R M Esselstyn, built a store and house in 1809 operated a mercantile establishment and lumber business at Gravelly Point, now Cape Vincent, and were leading figures in the community.
Timber, which they purchased from the LeRays, they rafted in enormous quantities to the Montreal market and it is said they were the largest makers of barrel slaves in the country. In the War of 1812 a large amount of their lumber on shore was burned by Major General James Wilkinson's army and more of it was washed down the river. Their store was at the foot of James Street.
When Cape Vincent was made a port of delivery March 2 1811 John B Esselstyn was appointed first deputy collector and when a custom house was created April 18 1818 he was chosen first collector. After declaration of the War of 1812 General Jacob Brown commissioned him major in command of the Cape Vincent militia, and government stores were housed in the Esselstyn storehouse.
The two Esselstyns were charter members of Cape Vincent Lodge, No. 344 F & A M, chartered March 8 1822 John B becoming first master. On August 14 1824 he was a founder of the union library. When he died December 19 1857 his principal heirs included his widow, Clarissa, and son, William. On August 20 1817 John B Esselstyn paid James D LeRay de Chaumont $106 for .66 of an acre of land in the Gouvello Street area of the village down near the waterfront.
His will, recorded June 24 1858 states that he was giving his son, William, the residence on Gouvello Street, and was naming William, a son-in-law, Simon Howard, and a friend, Philetus Judd, executors.
William Esselstyn and wife, Maria, sold the Gouvello Street residence to Mrs Harriet E Hance of Bloomington, Illinois, for $1,000 on May 2 1860. On April 1 1867 Mrs Hance, wife of S B Hance, disposed of the place to Willard Ainsworth Jr, who mortgaged it for $2,000 to James G Wilson, Picton, Ontario, November 10 1875 and at mortgage foreclosure sale August 21 1888 Attorney William A Nims, referee, conveyed the property to Stewart Wilson Jr, and Jane Wilson, Picton, for $1000. It was later acquired by William W Sheley who, with his wife, Mary E, sold to Mrs Eveline A Clark on September 24 1898 for $2,500.
On February 7 1900 Eveline A, wife of Charles M Clark, conveyed the place to William Henry Johnson for $2,200 and 40 years later the Citizens bank of Cape Vincent took title from Mr Johnson, a Cape Vincent merchant. Then on July 1 1941 the bank sold the property to Abraham J B Fairburn and wife, Reba Peo Fairburn, present owners, for $1,000.
Graduate of Penn State College and Columbia university, Mr Fairburn served in U S Flying Squadron "A" in World War I, became identified with the New York Edison company in 1925 was appointed a member of the Cooper Union Institute of Technology faculty in 1927 and September 3 1931 was married to Miss Reba Marion Peo, daughter of Mr and Mrs Leon L Peo, Cape Vincent. Mr Fairburn's father, the late Reverend John Fairburn, native of England, was for seven years rector of St. John's Episcopal church, Cape Vincent. William W Sheley, farmer, born June 15 1827 in the town of Orleans, was the son of Martin Sheley Jr, and Betsey Weeks Sheley, who came from Herkimer to Orleans in 1820. William M Sheley married Mary E King of Orleans. William Esselstyn died January 3 1880 leaving Maria, widow, and children, John B Esselstvn, Helen M Parker, Clarissa J Dodge and Frances C Kilburn.
Willard Ainsworth Jr, born 1830 son of Willard and Sally Green Ainsworth, married Mary C Herrick, was deputy collector of customs four years, and grandson of the Vermont Revolutionary soldier, Henry Ainsworth, and Hannah Throop Ainsworth.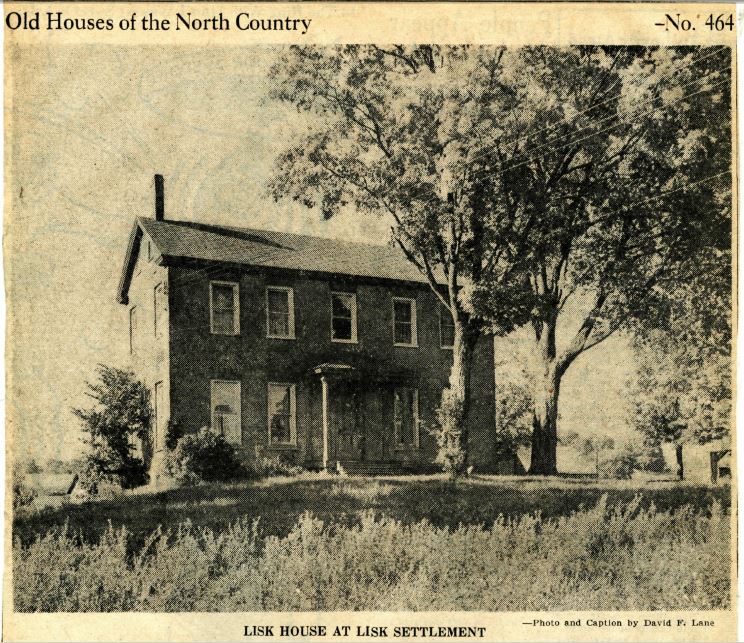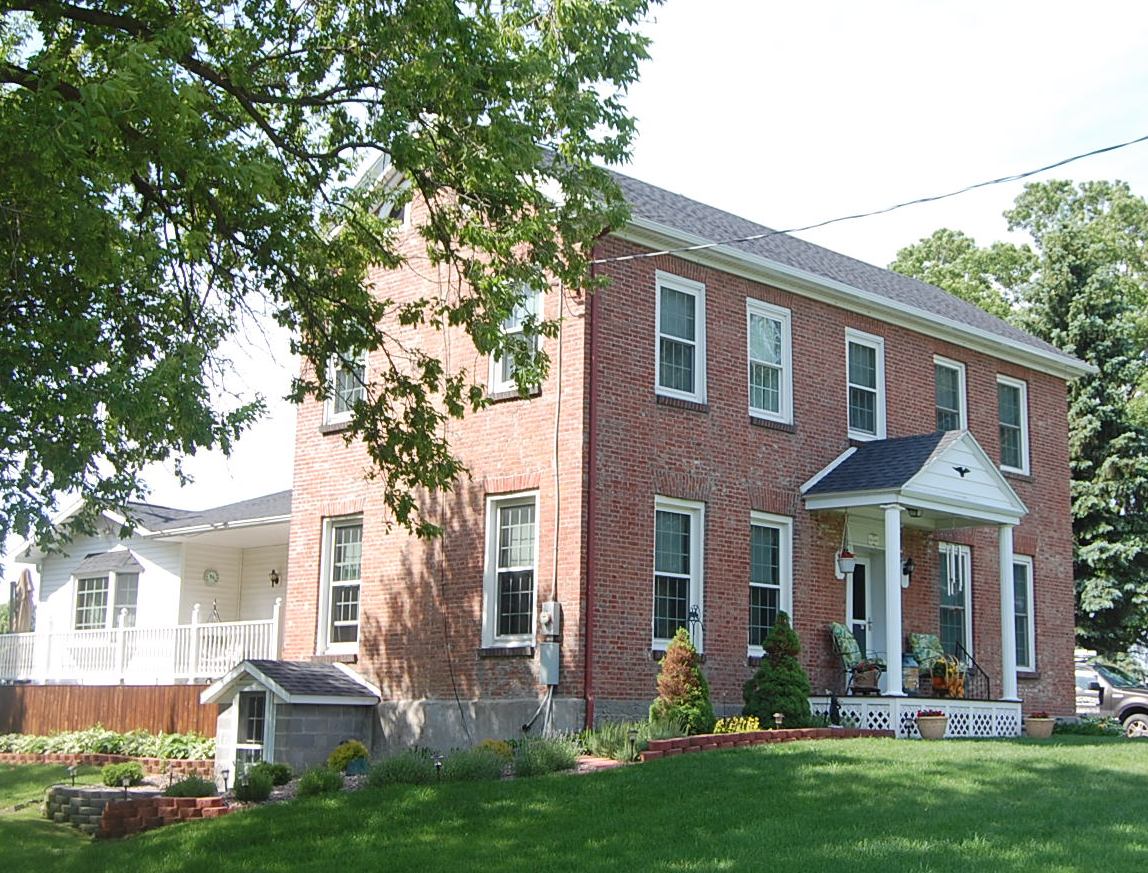 It was about 150 years ago that Bradford Lisk became one of the earliest pioneers of the town of Adams. He chose a location on Sandy creek about a mile and a half from Smith's Mills (Adams village) on the Rodman road. In that area Samuel Fox in June, 1800 made the first clearing in the town of Adams, and at Eliphalet Edmund's house March 1 1803 the first Adams town meeting was held
A little later Bradford Lisk and Francis McKee erected a tannery there and a man named Munn built a tavern. Across the north branch of Sandy creek a bridge was swung, which became known as the Lisk bridge, and althougli it was superseded by a covered structure, which some years ago was replaced by the present steel truss span, it has always been known as the Lisk bridge and the settlement has likewise been Lisk Settlement.
On November 1 1808 Bradford Lisk bought 127.25 acres from Nicholas Low, New York, speculator in Jefferson and Lewis county lands. Upon this Lisk built his house.
On September 11 1810 he sold off 23.98 acres to David and Francis Brown and Matthew Brown Jr, all of Rome. On January 1 1818 Lisk and wife Jerusha conveyed off another plot of slightly more than 18 acres to Eli Wright. Later a half acre to David Jones, and then added to a five-acre plot to his own farm. Thus Bradford Lisk was left 90 to 92 acres with his house and outbuildings.
This property he mortgaged to Maus V V Rosa, wealthy Adams business man, on January 22 1834. To satisfy the mortgage the plaee was sold by Charles D Wright, master in chancery, at mortgage foreclosure sale June 28 1841 to John M Thompson, Hounsfield, son-in-law of Lisk, for $2,200.
Thompson and wife Charlotte conveyed it to John H Whipple, Adams merchant January 1 1845 and February 23 1846 John H and Elizabeth Whipple disposed of it to John H and William A Gilbert, Adams. William A Gilbert, Adams, lawyer, banker, assemblyman, Congressman, was joined by his wife Julia April 1 1850 in selling it to Philander Smith, Lorraine. Smith and wife, Adeline M deeded it to Jesse W Smith for $6,000 May 1 1856 and June 8 1872 Jesse W and Priscilla K Smith transferred the 90 to 92 acres with this large brick house to De Witt Strickland, Rodman native for $7,000. Since that time 79 years ago it has been known as the Strickland farm.
Born in the town of Rodman in 1830 DeWitt Strickland was a son of Rial and Lorinda Gager Strickland. Rial Strickland, schoolmaster and Massachusetts native, was born February 13 1787 settled near Rodman village in 1810 became a fruit grower, was a Whig by politics, served as justice of the peace and was a man of influence.
DeWitt Strickland was a Republican. He served in Company B, 10th New York Heavy Artillery in the Civil War, became a member of the GAR, was a Baptist, on March 18 1863 was married to Samaria C Burnham of Henderson by whom he had three children: DeAlton who died young; Nellie M and William R. Mrs Strickland died September 29 1881 and January 4 1883 DeWitt Strickland married Susan E Simmons for his second wife. He died May 21 1897. A son, Howell G Strickland, city, was born of his second marriage.
William R Strickland, born in Henderson October 26 1864 became the succeeding owner of this old brick house and farm. A business course graduate of Adams Collegiate Institute he was a successful dairy farmer, was a Republican, member of the Lincoln League, Rising Sun Lodge No. 234 F & A M, Adams Grange and January 24 1894 was married to Pearl E, daughter of Nathan Aldro and Emerette A Wright Whitford of Whitford's Comers. Mr Strickland died some years ago. His widow, who died August 15 1947 gained prominence in 1930 by offering this property to the government as a sanatorium for drug addicts, but it was not accepted and is now owned by her only child, Miss Samaria Strickland, Adams, and the farm is operated by tenant. This big house, which once had. fireplaces in each of its two living rooms, overlooks five roads, the Lisk bridge and Sandy creek. Originally the neighboring farm was owned by Joseph L Green, direct descendant of Major General Nathaniel Green, and administrator of Bradford Lisk's estate following the latter's death in 1851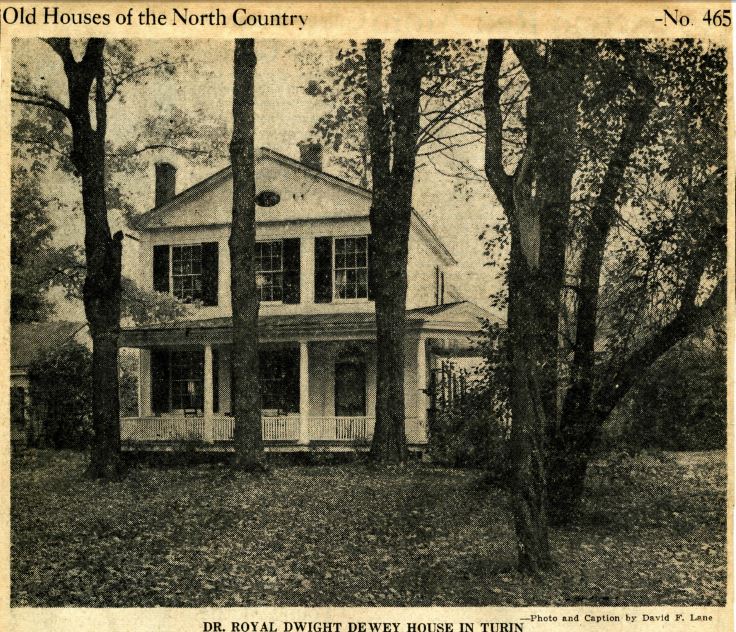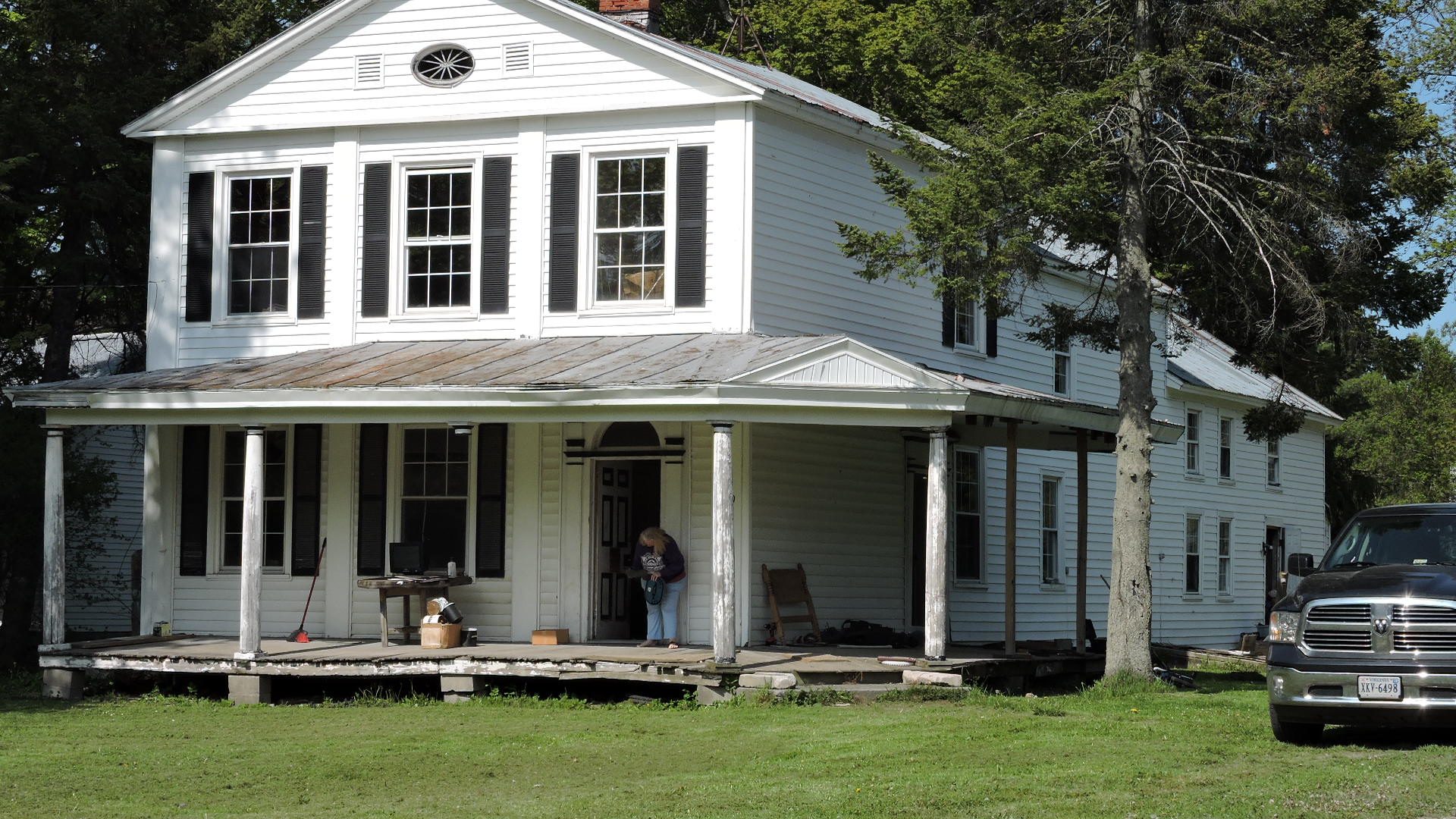 Sleek, spotless and beautiful this white Georgian house with handsome front entrance, original twelve-paned windows and delicate oval louver in the front gable, stands on the main street of historic Turin and is said to have been built in 1818 by Dr Royal Dwight Dewey. It is now owned by his great-great grandaughter, Miss Helen C Holden, Newark, NY.
One of Lewis county's earliest physicians, Dr Royal Dwight Dewey was born October 3 1791 in Westfield, Massachusetts, son of Aaron and Sibyl Cadwell Dewey. They later removed to Franklin, NY. There Royal Dwight Dewey resided until 1809 when be began studying medicine with Dr Walter Dewey in Collinsville and was licensed as a physician July 13 1812. As W & R Dewey they practiced there together until 1816.
That year Dr Royal Dwight Dewey established himself in Turin. Married Melinda, daughter of Stephen Hart March 10 1818 and built this house that year. The same year he was appointed postmaster and justice of the peace, serving several years, and in 1836-7-8-9 served the town as supervisor. Mrs Dewey died May 8 1838 and November 13 1839 Dr Dewey died. They were parents of six sons and four daughters.
Of the latter Delia married Emery Bennett Holden in 1840 died in 1843 and later Mr Holden, grandfather of the present owner, married Delia's sister Maria continuing residence in this house, Mr Holden operating a drug store next door.
Emery Bennett Holden, son of Asa and Pluma Wilcox Holden, was born in Floyd, Onedia county in 1814 came to Turin in 1834 worked for his uncle, Ozias Wilcox, merchant, later headed E B Holden & Co., drugs and general merchandise.
Wilcox & Holden became the successor, followed by Holden & Dewey formed in 1858 Duane Dewey, brother-in-law, being the partner of Mr Holden, and after the death of Mr Dewey, Mr Holden continued the business alone. For some years he had also owned a two-thirds interest in 5,000 acres of Tug Hill timberlands and the Holden sawmill doing an extensive spruce lumber business.
He was many years a justice of the peace, was a Republican, twice postmaster, several times supervisor, member of the senate war committee during the Civil War, and member of the Turin board of education from its formation in 1869 until his death in 1878. Succeding him in business and the membership of this house was his son, William Duane Holden.
William Duane Holden was born in Turin May 25 1857 was educated there in the public schools and entered his father's store in 1876 joining with his brother E Dewey Holden in forming Holden Brothers to continue the business after the death of their father in 1878. E Dewey Holden's death in February, 1920 ended the partnership and William D Holden carried on the business as sole owner. Learning the printer's trade as a boy, William D Holden operated a job printing office as a young man and in 1883-4 published The Turin Independent as a side issue. He was a Republican, was clerk of the board of supervisors in 1903 village and school district treasurer several years, president of the county Child Welfare board many years, treasurer of the county war chest in World War I, treasurer of the Turin Cemetery association 25 years and director since incorporation. He was a Presbyterian elder, church trustee 40 years, Sunday school superintendent 45 years and superintendent emeritus after 1931. Twice he was commissioner to the general assembly. Often he was delegate to Republican state conventions. In 1915 he was county supervisor of census.

On October 17 1883 he married Carrie Hunt Lee, daughter of Alfred H and Elizabeth Hunt Lee. Mrs Holden died in December, 1926 and Mr Holden on April 7 1934. Their children are Mrs C Willard Rice, Geneva; W Stuart Holden, Morrisville, and Miss Helen C Holden, Newark. So this beautiful house, which boasted the first woodburning furnace in the area, has always been owned in the same family, Miss Helen C Holden being the great-great granddaughter of the original owner.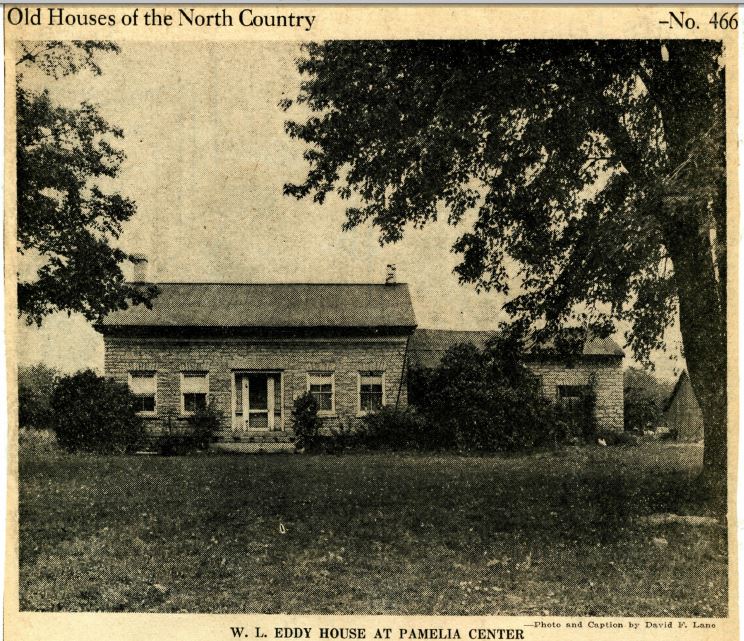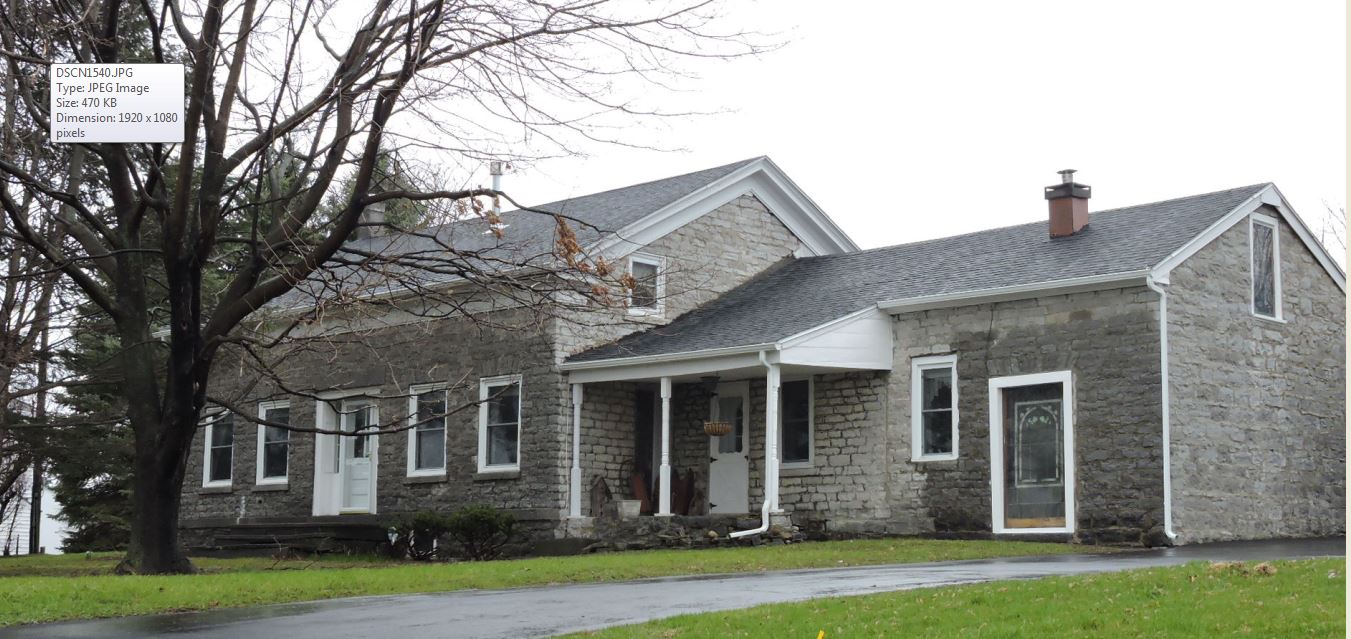 Near Budget Inn M0otel on Rt 342
1864 Plat Map: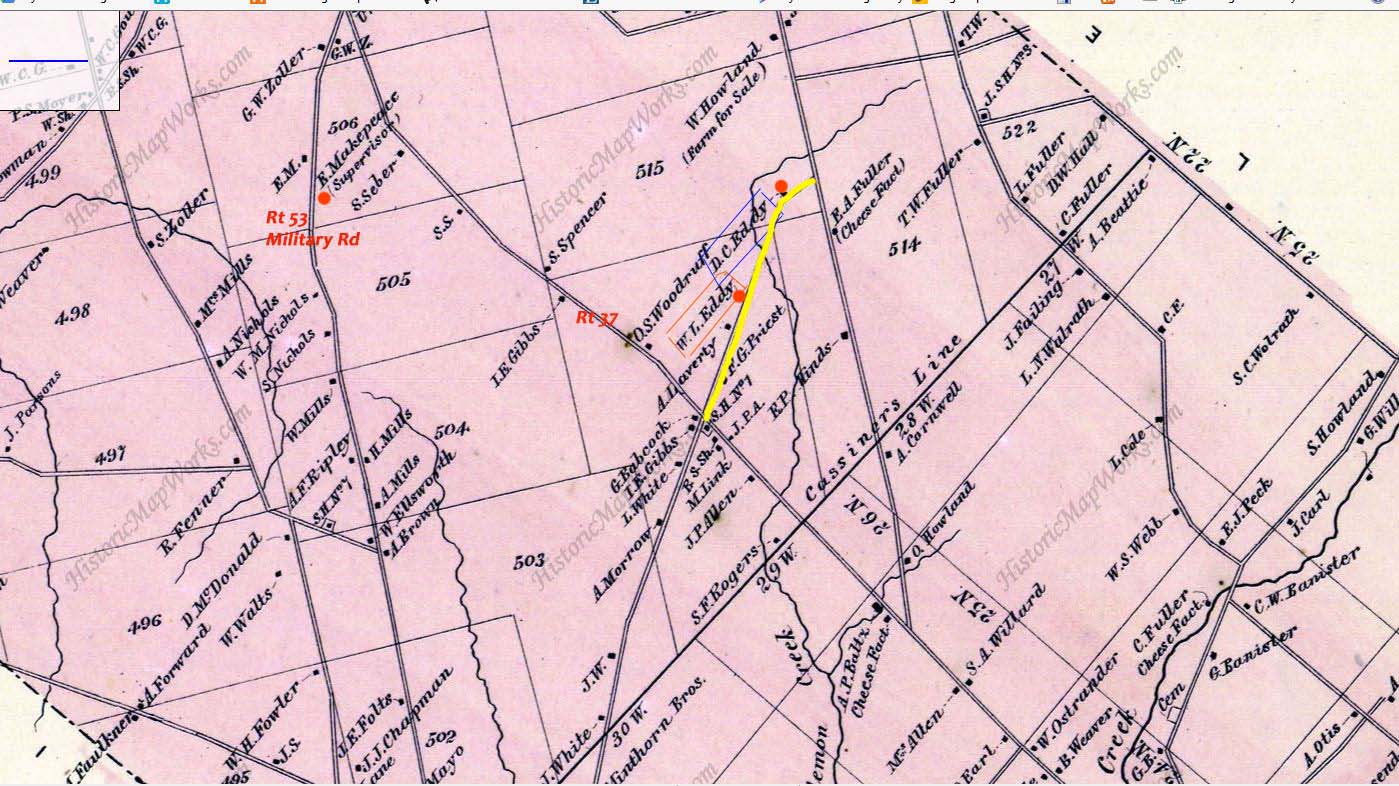 Enoch Eddy Jr, a stone mason, early settler of Jefferson County, is believed by descendants of the Eddy family to have constructed this house near Pamelia Center in the early 1830's. The opinion also is that he constructed it for his brother, Willard L Eddy, prominent Pamelia farmer, who willed the property to his son, Pitt A Eddy.
Twin brother of James Eddy, Enoch Eddy Jr, was one of ten children born to Enoch and Amy King Eddy, the senior Enoch Eddy having come from Rutland, Vermont, in 1799 to take up land in our town of Rutland to which he brought on his family in June, 1800 to settle. In 1831 Enoch Eddy Sr removed to the town of Pamelia, where his wife died in 1818 and he two years later.
This long, low, attractive Georgian house with central hall and long, single story wing, all of native limestone, was the home of Willard L and Mary Sheldon Eddy for about 35 years it is believed, and was willed by Willard L Eddy to'his son, Pitt A Eddy. That will was executed February 12 1867 but on October 18 1870 Pitt A Eddy sold the property to Wilson H Countryman, Pamelia, and transferred to the far west, later dying in Portland, Ore. Mr Eddy's wife was the former Huldah Aldrich.
On April 24 1879 Wilson H Countryman and wife, Betsey A, conveyed the place and its then more than 170 acres of land to Alexander Countryman, who died intestate May 1 1891 and this house and farm went to his two sons, William M and Gershom J Countryman. Shortly thereafter Gershom purchased the half interest of his brother and retained possession of the whole until October 2 1919 when he and his wife, Cora A VanAllen Wood Countryman, disposed of it to Leo Dermady of Cape Vincent. On October 15 1928 Mr Dermady and wife, Alice, conveyed it to James D and Mabel A Mclntyre of the town of Pamelia.
Mr and Mrs Mclntyre kept it only until December 6 1930 when they sold it back to Gershom J Countryman. Mr Countryman, however, prosperous farmer, Republican and member of Pamelia Grange, No. 168 died March 6 1932 and on February 25 1938 his estate, represented by his widow and children, transferred it to James Wetmore.
Mr Wetmore lived but a short time after acquiring the farm and on April 1 1940 his estate, represented by his widow, Eva L Wetmore, and daughter, Mrs Mildred Wetmore Vrooman, conveyed it to Mrs Cora A Countryman, widow of Gershom. Mrs Countryman then sold the property to Ernest D and Nina M Fitzgerald on May 24 1943. Mr Fitzgerald died shortly after that and by his will, recorded October 26 1944 this place went to his widow. Not long after that she disposed of this stone house, barns and 97.56 acres of land to Roy E Marlowe, the present owner.
For three-quarters of a century it has been familiar as the Countryman farm, and few people today know anything about the connection of the Eddy family with the property. Both the Eddy and Countryman families are old established ones in Jefferson County. Henry Countryman, founder of the Countryman line in the Pamelia area, came there in May, 1823 to build a shop and engage in the making of carriages. He was a native of Danube, Herkimer county, son of George and Roxana Spraker Countryman, the latter of whom was sister of Robert Spraker, onetime president of the New York Central railroad.
About four years before coming to Pamelia, Henry Countryman had been married on October 19 1919 to Elizabeth Walrath of Danube, member also of the well known Walrath family which wrote its name prominently upon the pioneer roster of Jefferson County families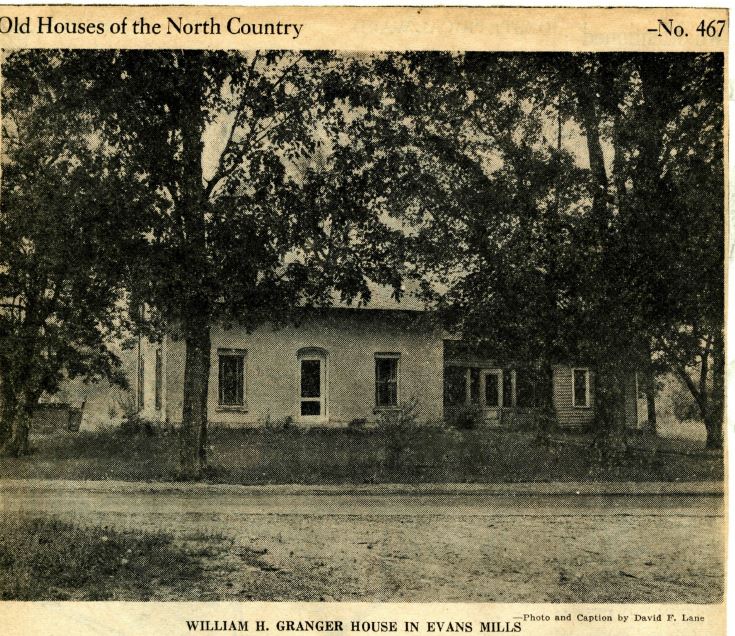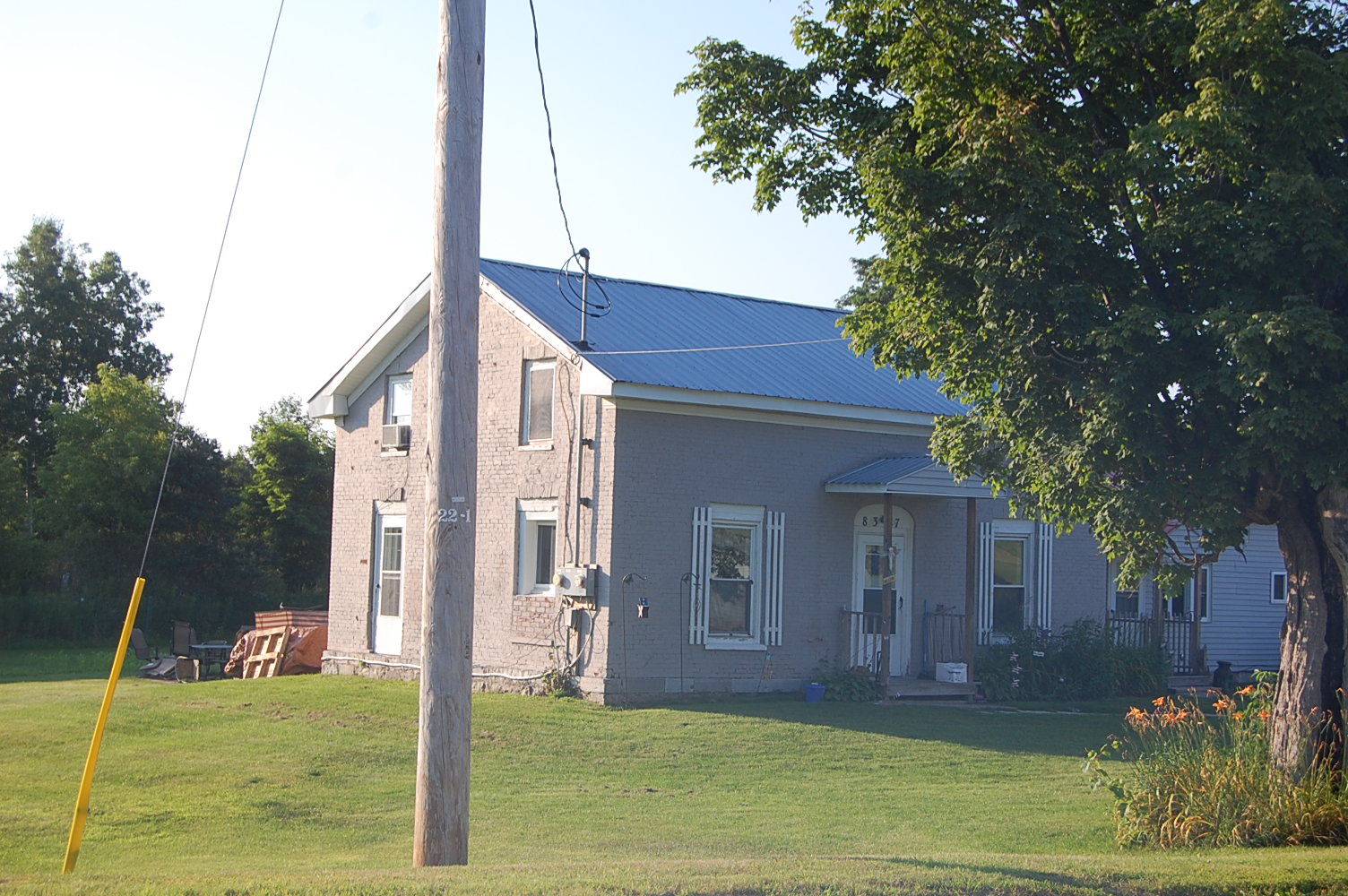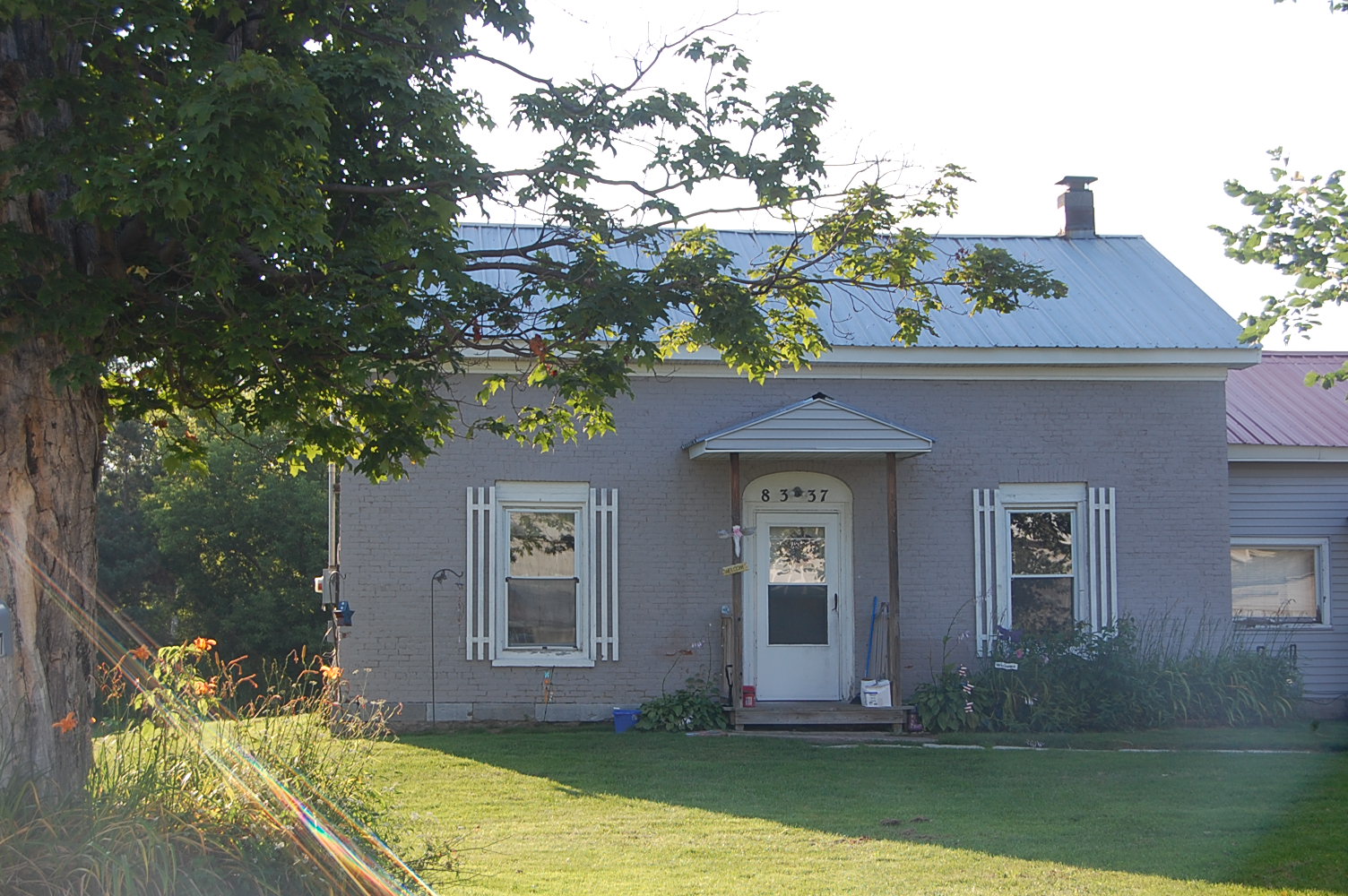 There is a plain beauty about this brick house near the railroad crossing on the westerly outskirts of Evans Mills which never fails to halt the attention of the passerby.
Perhaps the soothing charm of the setting lends more than its fair share to the overall picture. It was probably in 1833-4 that this house was built for William H Granger who, with Ethni Evans, James Anthony, Ruel Kimball, Peter Hoover and others, became one of the earliest and one of the most prominent settlers of the town of LeRay.
Granger, one of the earliest of distillers and tavernkeepers in the area of Evans Mills named for Ethni Evans, joined with Captain Sanderson in the building and operation of a distillery, of which there were then many in the north country, by the little stream at the south end of the village.
To Elisha and Lydia Steele on February 16. 1830 he paid $254 for 23.09 acres, first of three parcels which constitute the farm where this house stands. The second parcel of 48.43 acres was purchased by him for $658 from Washington and Stephanie Coster, New York City, Jefferson County land speculators, on January 28 1833. The third parcel of 3.33 acres was bought by Mr Granger for $20 on February 2 1833. from Vincent LeRay as assignee of the properties of his father, James D LeRay de Chaumont, thereby completing a farm of 74.85 acres. One of William H Granger's sons, Hezekiah L Granger, who died November 14 1867 served as supervisor of the town of LeRay in 1844-5. Another son, Cleanthus P Granger, who died May 5 1882 was assemblyman from the second of the county's three districts in 1856 and in 1863-4 was supervisor of the town.

Although William H Granger did not die until May 6 1872 he conveyed this house and farm to his son-in-law, Horatio N Eddy, and daughter, Ann P Granger Eddy, for $2,500 on March 24 1852. Horatio Nelson Eddy, whose first wife was Philinda Welch, was born October 30 1806 and died April 21. 1891. His father was Enoch Eddy Sr, and a brother, Willard L Eddy, was owner of last week's house. Henry Welch Eddy, son of Horatio Nelson Eddy's first marriage, not only became first representative from Oregon, but had the first apple orchard there, selling his first eight bushels of apples in San Francisco for $500 in gold.
Four children were born of his second marriage, to Ann Phelps Granger, two of whom, Mary E, who married William Cooper, and Sophronia, who married Henry R Larned, later figured in the ownership of this place. Horatio Nelson Eddy died intestate September 21 1891 but pursuant to an agreement made March 1 1883 to sell this property to his daughter, Mary E Cooper, it was conveyed to her by his estate December 3 1891. Eight years later Mrs Cooper died, willing a life-use of this farm to her sister, Mrs Larned, and providing, after Mrs Larned's death a life-use to Mrs Larned's daughter, Mrs Anne Lily Foster, wife of Delevan George Foster, long a prominent Watertown furniture dealer.
Mrs Foster, who died September 5. 1949. disposed of this Evans Mills house and farm March 6 1912 to John R Cornwell. prominent LeRay farmer, who died September 19 1938 willing it to his son, George W Cornwell, St. Louis, Missouri, a graduate of the University of Wisconsin, with the request that when he sold the place, he give testator's widow, Mrs Bernice E Nims Cornwell, and daughter, Mrs Claude J (Hazel) Ashton, equal shares.

Accordingly on August 22 1939 the property was transferred to Mrs Lucille R Wilcox, city, for a nominal sum, and the same day Mrs Wilcox conveyed it back in equal interests to George W Cornwell, St. Louis, Missouri; Mrs Bernice E Cornwell and Mrs Hazel Ashton the present owners. Mr and Mrs Ashton operate the farm and reside there with Mrs Cornwell.
Undoubtedly it should be mentioned that Nelson Eddy, famed American baritone singer, is related to the Eddy family which was linked with the ownership of the houses of this week and last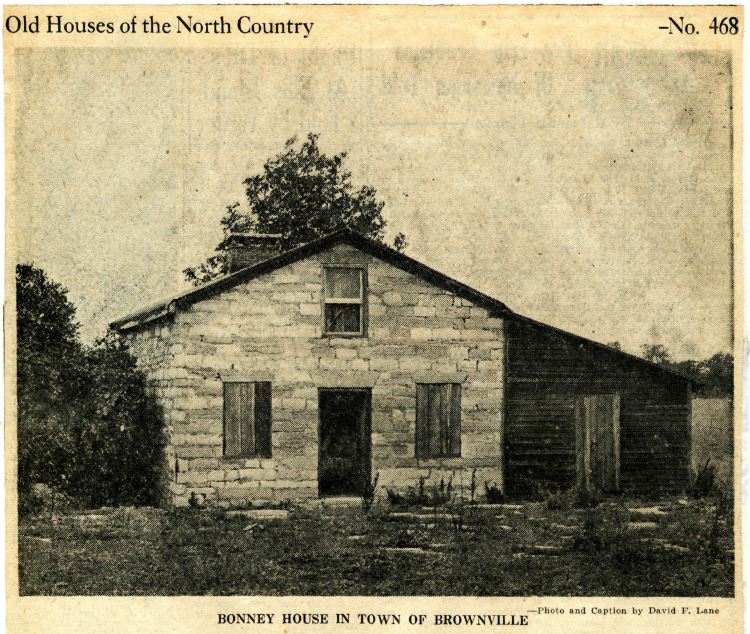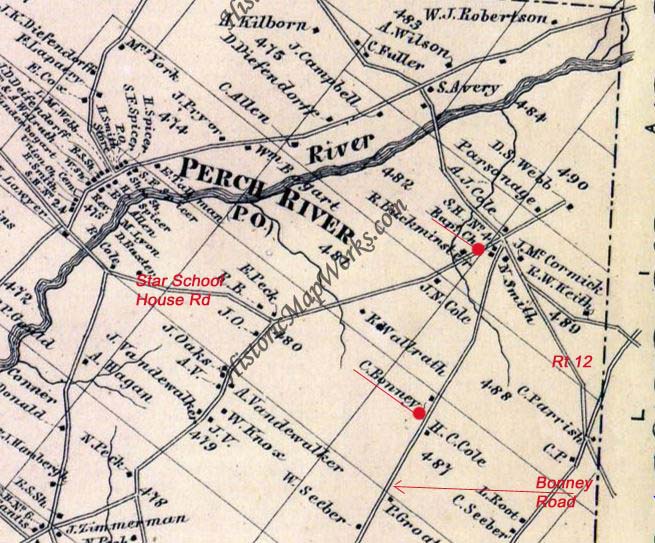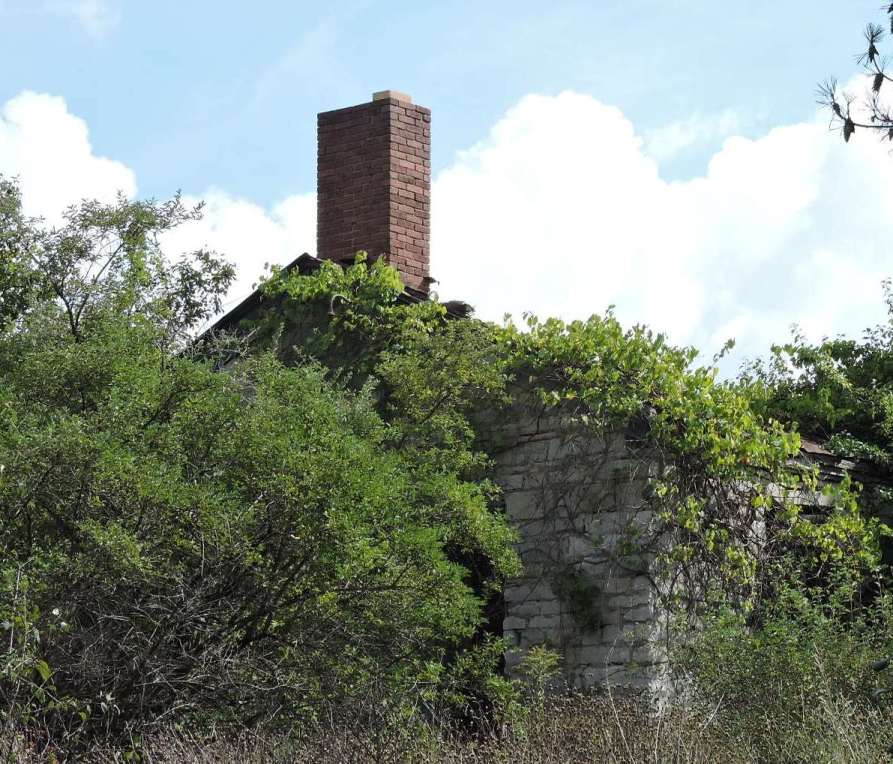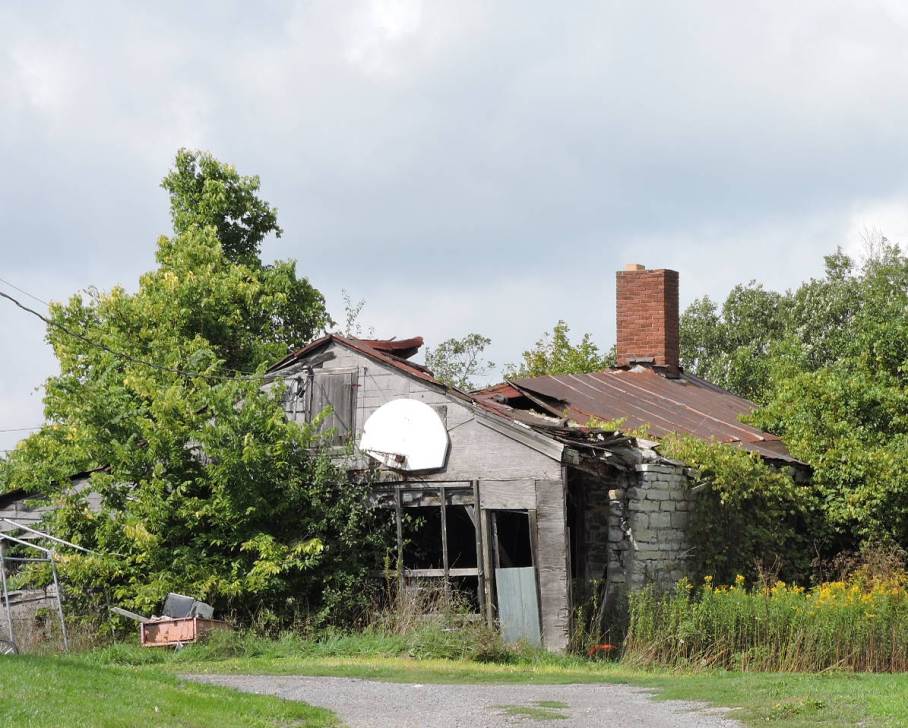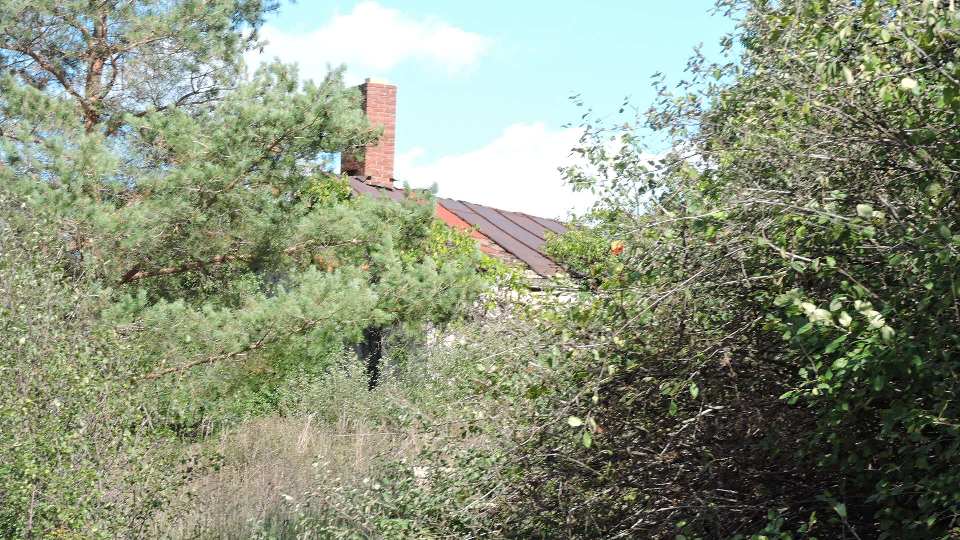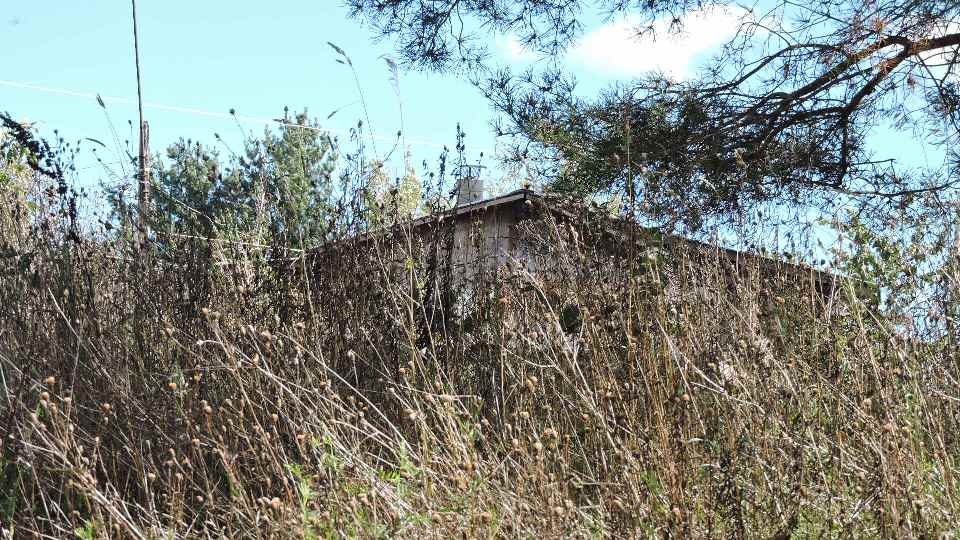 Having all of the characteristics of having been one of the earliest of limestone houses to be constructed in Jefferson County, this long idle structure is located only a short distance west of the Clayton state highway. It is on a side road tapping the latter at a point near the old stone Baptist church, just south of Perch river and thence running into the village of Brownville.
There is little in the record today to show who the original owner of the house was. Until sold comparatively recently to Mason Mosher, the present owner, the property was owned many years by Mrs Marian Balmat Wright, city, widow of Hiram J Wright, prominent contractor and builder.
It was during the Wright possession that some old newspapers were found in a partition which seemed to indicate vintage of the War of 1812 period, but whether the first owner was George Brown of Perch River, Josiah Bonney or George Bonney is the mysterious question.
It was on March 7 1911 that Mrs Wright purchased the farm from the late Joseph A and Addie E Hinds. It consisted of one parcel of 234.42 acres less a plot of 31.92 acres, and two small parcels, and plus a parcel of 62.5 acres. Mr and Mrs Hinds acquired it from Msgr. Cornelius J Crowley, now deceased, November 3 1909 and it was in the Crowley ownership from December 7 1897 the Misses Mary and Marion Crowley, city; Miss Nellie Crowley and Mrs Margaret Bowes of Worcester, Massachusetts, and John P Crowley of Flushing being sisters and brother. Prior to that the place had been owned by Constantine Ganter, by Mrs Harriet A Adams, by the Lester S Boynton estate, Mr Bovnton.having bought it from Benjamin Helmer March 26 1894. Mr Helmer bid it in May 5 1873 in foreclosure by Alta E and Aswell C Bonney, minors, vs. Marcellotte Chawgo, administratrix of Abner Chawgo. Chawgo had in turn purchased it from these two plaintiffs April 1 1868 and given them a mortgage in the transaction.
The April 1 1868 deed to Chawgo mentions the 234.42-acre plot as surveyed December 10 1861 by Alexander Brown, stating that the survey covers two parcels deeded by George and Josiah Bonney to Walter Bonney January 12 1850. Those two parcels consisted of 107.71 acres and 55 acres, the first of which was sold to Josiah Bonney for $619.88 by Henry G Wisner, Goshen, NY, on October 1 1824 and the second one of 55 acres by Mr Wisner to Josiah for $220 on September 1 1829.
The Chawgo deed of April 1 1868 states that about one acre had been sold off the north end of the farm to Nathan Smith, and .94 of an acre on the west side of the road from the stone church to the widow of Josiah Bonney some time before Chawgo bought the place.
Furthermore, Mrs Betsey M Bonney, widow, on April 1 1868 quitclaimed her right to the remainder of the 234.42 acres.
From all this the inference might be drawn that the 107.71 acres and 55 acres bought by Josiah Bonney from Wisner are part of the 234.42 acres and that Bonney built the stone house over 120 years ago. However, Mrs Wright states that the house is on the 62.5-acre plot, which did not become a part of the present farm until March 22 1899 when Rodney H and Martha E Pierce sold it to Mr Ganter for $1,562.50 which throws a different complexion on the origin of the house.
Mr Pierce bought this tract from Martin and Maggie Schrodt June 7 1892. They got it from Peter A Helbock December 31 1881. Chester and Catherine Jane Parish sold it to Helbock January 31 1866 and they got it from George Brown, P R, April 4 1860. Brown had bought 108.26 acres in this locale from Henry G Wisner October 1 1824. Did he build this house about that time? Today it stands a shell, the interior having been torn out years ago in an effort to remodel. In the basement were a large kitchen fireplace and bake-oven. If Josiah Bonney built the house, it should be said that he, native of Cape Cod, came to Brownville in 1808 served at Sackets Harbor in the War of 1812 married Betsey Morse of Vermont and died in 1848 at 61.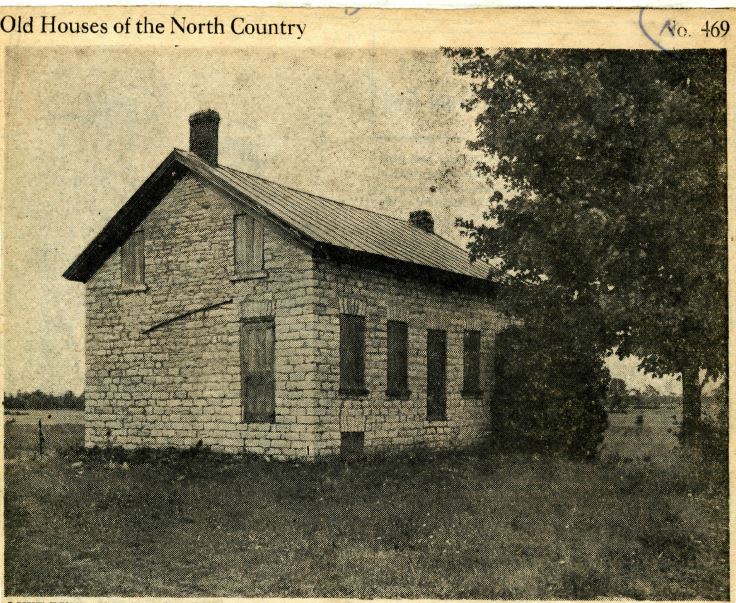 LUKE DUNLAY HOUSE IN TOWN OF CAPE VINCENT

A little more than a mile south of the St. Lawrence river towards the French Settlement of the town of Cape Vincent is this old stone house. It is on the road which leads off the Cape Vincent-Clayton river road about a mile west of Millen's Bay.
It is owned by Louis E Doyle, a Cape Vincent farmer, who purchased it and the small farm which goes with it from the estate of William J and Helen R Constance Dunlay, September 21 1946. It has been unoccupied for some time, Mrs Dunlay having died May 3 1942 and her husband in 1913.
The farm consists of 74.88 acres built up of three parcels, two of which are exact halves of 49.88 acres and title to it was in reality acquired by William J Dunlay from the estate of his father, Luke Dunlay. To make the title good William J Dunlay, as executor of Luke Dunlay's estate, conveyed the place to Victor L Gosier March 10 1900.
Ten days later Victor L and Katie Gosier transferred it back to William J Dunlay individuals for $2,938. Luke Dunlay bought the south half of the 49.88-acre parcel from Mary Barrois March 8 1869 for $2,000. She in turn acquired it from John Claude Barrois November 30 1868 and Mr Barrois purchased it from John Branche March 17 1857. Mr Branche in turn got it from Vincent LeRay February 15 1853.

The north half of this tract was bought By Luke Dunlay from Benjamin Jackson and wife, Hannah, for $1,600 on May 14 1884. It was sold to Mr Jackson by James Carvin October 3 1883 and Mr Carvin purchased it from Vincent LeRay on January 8 1857.
The other 25-acre tract was bought by Luke Dunlay from George Wegman on September 26 1872. As for the year of construction of this house, which is of native limestone obtained in the area and along simple cottage architectural lines, it is apparently more than a century old, but the name of the original owner is not now known to members of the Dunlay family.
It may well have been built for Calvin Wright, who acquired a small acreage in that same vicinity from James Parish in 1850 and sold two years later to Terry Connell. If so, it is believed that Mr Connell and his wife, Sally, sold it to Richard Connell, who in turn conveyed it to James E Connell.
In any event this stone house, in which several members of the Dunlay family were born since 90 years ago, is one of the old and substantial ones in the town of Cape Vincent, and its walls are of a sturdiness promising good restoration possibilities.
Luke Dunlay and his wife, Margaret Russell Dunlay, were natives of County Cork, Ireland and came to the United States in the forepart of the last century, settling in the town of Cape Vincent, where they followed the occupation of farming. One of their children was the late William J Dunlay who succeeded to the ownership of this farm. Another son of Mr and Mrs Luke Dunlay was the late Jay P Dunlay who died at the age of 81 on April 21 of this year. His wife was the former Miss Evadena Lucy Mance and they resided for a time in this house. There one of their three children, Miss Margaret T Dunlay, city, was born. His other children are Mrs LoVetta Gillen, city, and Russell D Dunlay, a town of Cape Vincent farmer. May P Dunlay was married to Miss Mance in the church of' St Vincent de Paul, Cape Vincent, on January 25 1899.
William J Dunlay was married to Miss Helen R Constance and their children are Floyd ODunlay, Svracuse; Lawrence E Dunlay, city, and Miss Elizabeth H Dunlay, Cape Vincent.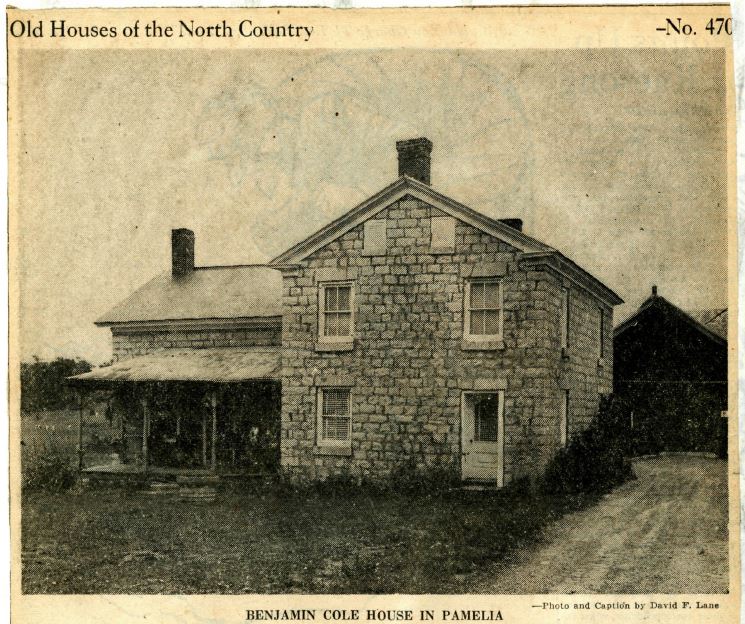 23856 Co Rt 16 Pamelia NY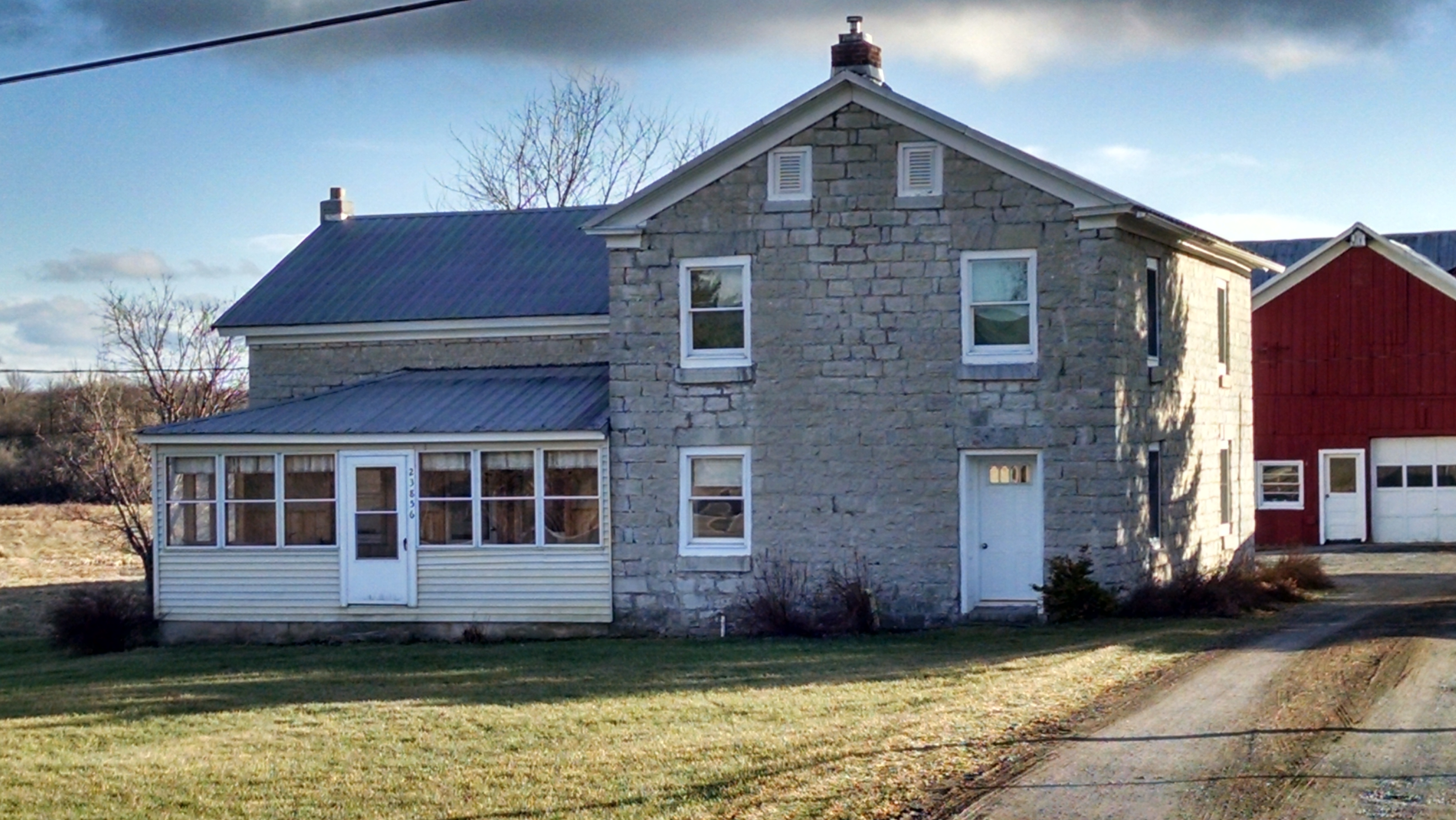 It was before the War of 1812 that Benjamin Cole became one of the early pioneer settlers of the town of Pamelia. In all likelihood he came from Herkimer county as did some of the other Pamelia families of that area.
As early as August 1 1837 he sold the 180.09-acre farm upon which this native limestone house stands to Walter Fox, also a native of Herkimer county, grandfather of the late Dr Walter Fox Smith of this city. One may reasonably conjecture that Benjamin Cole built this house before August 7 1837 for it was on that date he and his wife, Charlotte, sold this 180.01 acres and buildings to Walter Fox. On June 18 1838 Fox purchased an adjoining 1.49 acres from Isaac and Betsey Shimmel for $64.50. Then on October 29 1800 he bought another adpacent parcel of 45.95 acres from William C and Mary Gould for $250.

These three parcels constitute the farm as it is today, but there was an additional parcel of 50 acres, purchased on March 30 1855 by Walter Fox from Nelson and Mary A Jenkins for a nominal sum, which parcel was later sold off.
Because of the fact that Benjamin Cole received $5,402 from Walter Fox for the 180.09 acres the house must have been upon the farm at that time. And in all likelihood it was erected for Cole at some earlier period.
However, Walter and Ruth Fox sold the property to John Dorr November 1 1865 for $14,336. Fifteen years later, on February 6 1880 John and Amelia Dorr, town of Clayton, disposed of the place to the late Constantine Ganter of the town of Pamelia for $7,250. From that time to this, a mailer of more than 71 years, the farm, which lies a short distance outside Pamelia Four Corners on the road running towards Perch Lake, has been owned by the Ganter family. On March 1 1900 Constantine and Mary Ganter conveyed it to thejr son, the late Rubert H Ganter, for a nominal consideration. Then on February 24 1906 Rubert H and Metta E Ganter transferred it to George F Ganter for $1. George F Ganter died March 15 1946 he having moved here from the farm in 1919. Next Charles F Ganter, Syracuse, as executor of the estate of George F Ganter, sold the property to himself and is still the owner.
Constantine Ganter was born in Tutlingen, Wittenberg, Germany, May 17 1847 son of Lukas and Katharine Honer Ganter. He received his education in the schools of Germany. At 20 he came in 1867 to settle near LaFargeville, having already learned the wagonmaker's trade. After his arrival he worked for farmers for a time in that area and then leased this farm, which later he bought in 1880. Still later he acquired other farms and other properties, and in 1903 turned this farm over to his son and moved into this city to devote his attention to real estate, joining with Silas D Ball to form the firm of Ball & Ganter.
On October 12 1871 Mr Ganter married Miss Anna Zimmcr, a native of LaFargeville, she having been born October 20 1848. Their children were Rubert H, Frederick, George F and Nellie.
The name of Ganter was onetime attached to the limburger cheese industry of the county, once noted for the quality and quantity of this product. Walter Fox, born in Herkimer county June 12 1838 was a son of Benjamin and Margaret A McNeal Fox, both of Herkimer county. Waller Fox was educated in common and select schools and at the age of 20 removed to Alexandria Bay and entered the employ of H Sisson, merchant. In 1863 he formed a partnership with Sisson, whom he bought out in 1884 after remaining in the store 38 years. Mr Fox married Miss Maria A Hastings in 1865 and they had one daughter who became the wife of the late Dr James Monroe Smith, city.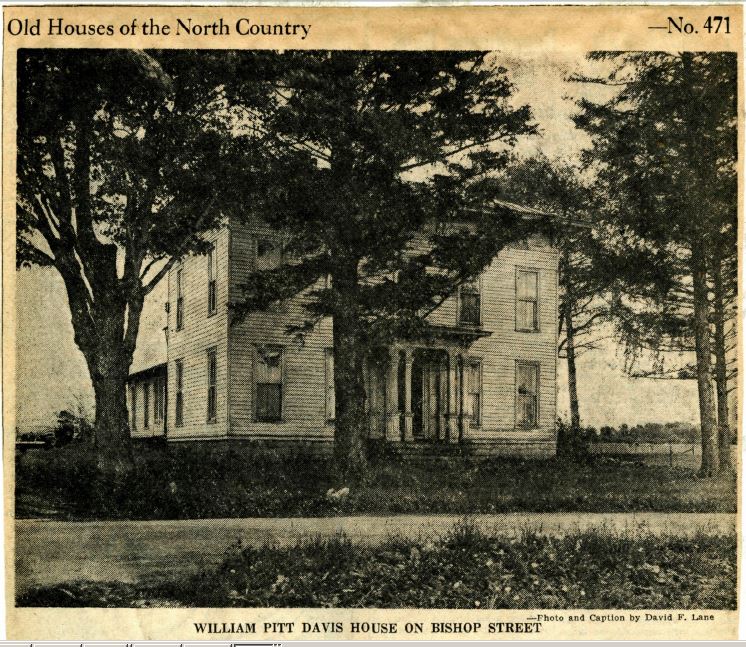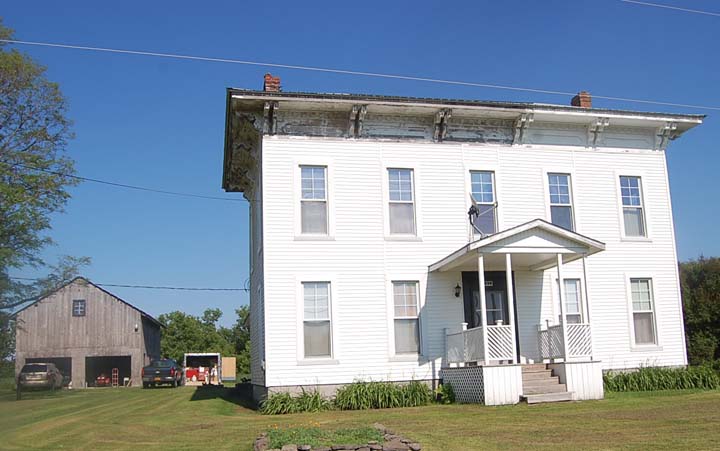 11938 Bishop St Road

Approximately a century old is this huge frame house built for William Pitt Davis on that straight stretch of highway known as Bishop Street in the town of Henderson. Next to the 232-acre farm upon which it stands was the birthplace of George Peck, nationally-famed for many decades as the author of that humorous book, "Peck's Bad Boy," and editor of a newspaper titled "Peck's Sun."
With its church, school, saw and grist mills, tannery and cluster of houses Bishop Street, in its hey-dey long ago, was a thriving community in itself. And it was on this thoroughfare that Roswell Davis, father of William Pitt Davis, established his farm when, as a young man of 26 he came from his native Lunenburg, Vermont, in 1811. Reputed to have been the first tavern-keeper in the town of Henderson, Roswell Davis, who died in 1848 at the age of 63 was also one of its most historic figures.
Several times he was called out to service in the War of 1812 and that service found him at the battles of Sackets Harbor and Big Sandy, as well as participating in that colorful but arduous jaunt in the carrying of the frigate "Superior's" huge hempen cable from the mouth of Big Sandy, a distance of 20 miles, in June, 1814 to Sackets Harbor where Henry Eckford was completing the "Superior" for Commodore Isaac Chauncey's American battle fleet.
About 1840 Roswell Davis also became the owner of the Reuben Putnam farm, in the house upon which was held March 11 1806 the first town meeting after Henderson was set off from the town of Ellisburg, February 17 of that year. In his will executed July 2 1846 Roswell Davis gave to his son, William Pitt Davis, "all my homestead farm containing about 50 acres upon the East side of the highway running from Bishop Street in Henderson aforesaid to Smithville."
The wife of Roswell Davis was Clarissa Bishop and among their children besides William Pitt Davis were Albert K Davis, a Cleveland, Ohio, lawyer, and Horatio Nelson Davis, who was the father of the famed United States Senator Cushman Kellogg Davis of Minnesota, born in the town of Henderson June 16 1838. William Pitt Davis, born in Henderson town in 1826 original owner of this big house and farm which has never since been out of possession of the Davis family,was a picturesque and adventurous man, who joined the great California gold rush in 1849. He went by way of the Isthmus of Panama, remained a little more than a year, returned to become a Smithville merchant for a short time and then to build this house and establish himself on this Bishop Street farm.
He married Miss Ermina Eliza Smith, daughter of Harvey and Sarah Bell Smith. On April 21 1851 William Pitt Davis conveyed to the Sackets Harbor & Ellisburg Railroad company a strip of land 1,594 feet long, 1811 acres in area and three rods wide, for a right of way across his farm. Today, some distance to the rear of this big house, can be plainly seen where the tracks were.
As the years progressed William Pitt Davis acquired several tracts of land in the town of Henderson and he amassed substantial wealth. Jointly, with Arthur J Armstrong, he purchased from Shubel H and Matilda Stevens on April 1 1874 between 60 and 70 acres constituting the islands known as Sixtown Point, with right of way. One of these islands with hunting camp is still known as Davis island and is owned by Attorneys Stanford H and Wesley L Waite of this city, George and Lila Bull and Ernest Shaad, Belleville.
Upon his retirement William Pitt Davis moved into a little house at Henderson Harbor, getting his meals at the Hotel de Snow. On June 14 1906 he fell off a dock and drowned leaving an estate estimated at $10,000 personalty and $26,000 realty. By his will, executed April 6 of that year, he provided that his nephew, Arthur W Davis, Battle Creek, Michigan, son of Albert K Davis, should have a 100-acre farm at St. Charles, Michigan, and 3,000 shares of Dexter Mining & Development company stock.
The Universalist church of Henderson was given $1,000. This big Bishop Street house and farm went to Edward C B Davis, Detroit, present owner and son of Arthur W Davis. For the past eight years Dewey Phillips has been tenant and C A Whittier, Adams, manager. There were other bequests, and residuary legatees were Amasa Hungerford and Laura Littlefield, nephew and niece of testator who, with his wife, Ermina Eliza Davis, is buried in Elmwood cemetery, Adams.
On a quiet country road off the beaten path near Millen's Bay is this almost century-old native limestone farmhouse of Xavier Chevalier, a name which in later years was changed in county history and in records of the county clerk's office to Swallia and Swalia.
The Chevalier family was of French origin, but came to Jefferson County from the Province of Quebec. Peter Chevalier, born in the latter province, married Catharine Marcott there, removed to the town of Cape Vincent and died there at the age of 40. Their children were Peter, Mary, Frances, Josephine, Eliza, Zoe and Xavier, all probably born in Canada.
At least history records that Xaxier was, that he located on old road 18 in the town of Cape Vincent and married Sarah, daughter of Nicholas and Elizabeth Cornaire. By occupation they were thrifty Cape Vincent farmers. It is said that they built this house about 1854 but it is likely that they erected it two years earlier than that.
The farm, upon which it stands, consists of 108.25 acres composed of two parcels. The first of these was bought by Xavier Chevalier on January 27 1852 from Vincent LeRay through the latter's attorney, Patrick Somerville Stewart, for $395.70 and it is probable the stone house was constructed shortly thereafter. The second parcel of 50.86 acres was bought by Mr Chevalier for $141.12 from James LeRay de Chaumont, Marquis de St. Paul, through Patrick Somerville Stewart on February 22 1860. The two parcels adjoin each other and this farm, maintained in trim and excellent condition in its pleasant setting, is now owned by Malcolm E Bates Sr, and wife, Mrs Edna Bates.
Xavier Chevalier, whose will bears the name Swalia indicating that he must have changed it to that, died in the town of Cape Vincent November 22,1900 leaving his widow Sarah the life-use of his 50-acre Malar farm and providing that his children should share equally eventually in all of his real and personal property. His property was valued at $9,600 and his children were: John, Rosiere; Joseph, Chetek, Wisconsin; Harriet Aubertine, Rosiere; Clarissa Doyle, Marysville, Ontario; Julia M Kitts, Riverview; Mary Kimmes, Rosiere, and Carrie Mason, Rosiere.

On October 8 1901 these children and their spouses sold this farm for $5,412 to Adelbert B Kitts, town of Cape Vincent, husband of Julia, and the property became known as the Kitts farm
Julia Margaret Chevalier was born in the township June 5 1854. In January, 1874 she was married to Augustus Charles. To them was born one daughter, Sophia, who became the wife of Marcel S Blanche. Mr Charles died in 1884 and on February 14 1888 his widow was married to Adelbert B Kitts. No children were born to them. Mr Kitts died April 6 1919 and his wife on May 6 1935.

This farm and stone house then went to her only child, Mrs Sophia E Blanche who, on March 24 1936 sold it to Mr and Mrs Bates, Mrs Blanche's husband, Marcel S Branche, having quitclaimed his interest in the property to her on that same day.
Mrs Branche, the former Sophia Charles, was married to Marcel S Branche at Rosiere September 5 1899 and two years ago they celebrated their golden wedding.
One of their five children, Lewis V Branche, has recently served as supervisor of the town of Cape Vincent. Malcolm E Bates, present owner of this property, is the son of Martin Bates and graduate of the Cape Vincent High school. On December 25 1923 he was married to Miss Edna Babcock, daughter of Mrs G W Babcock, at Glen Park. She is a graduate of the Brownville-Glen Park High school and the Northern Business school of this city. Prior to her marriage she was employed in the office of the Shaughnessy Knitting company. They have a son, Malcolm E Bates Jr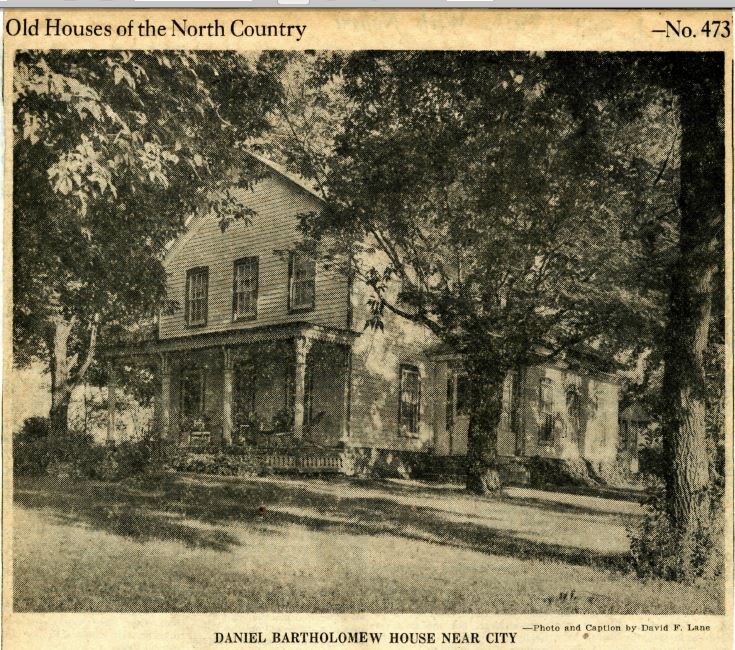 This house is now gone.
The 1864 Map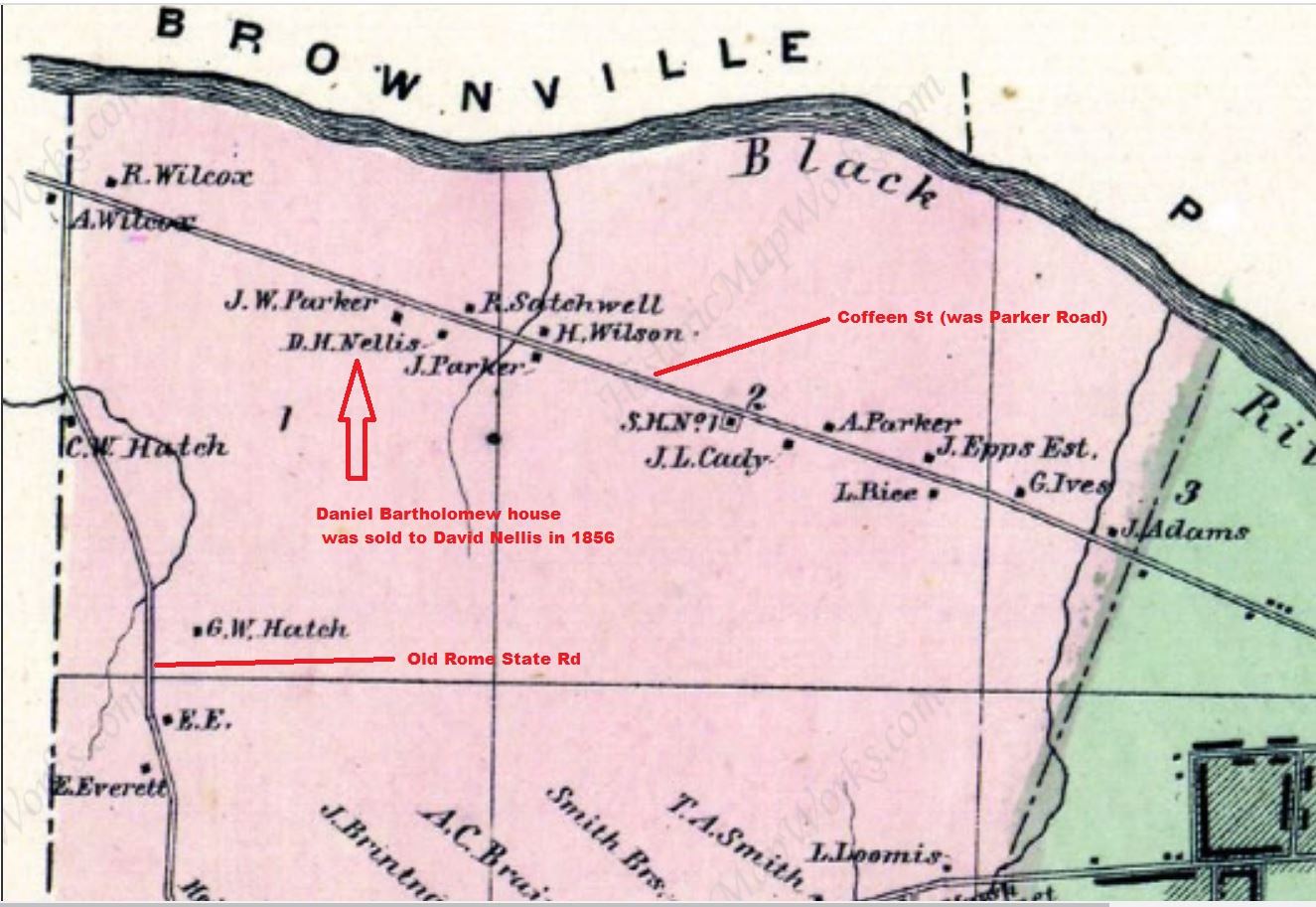 The 1888 Map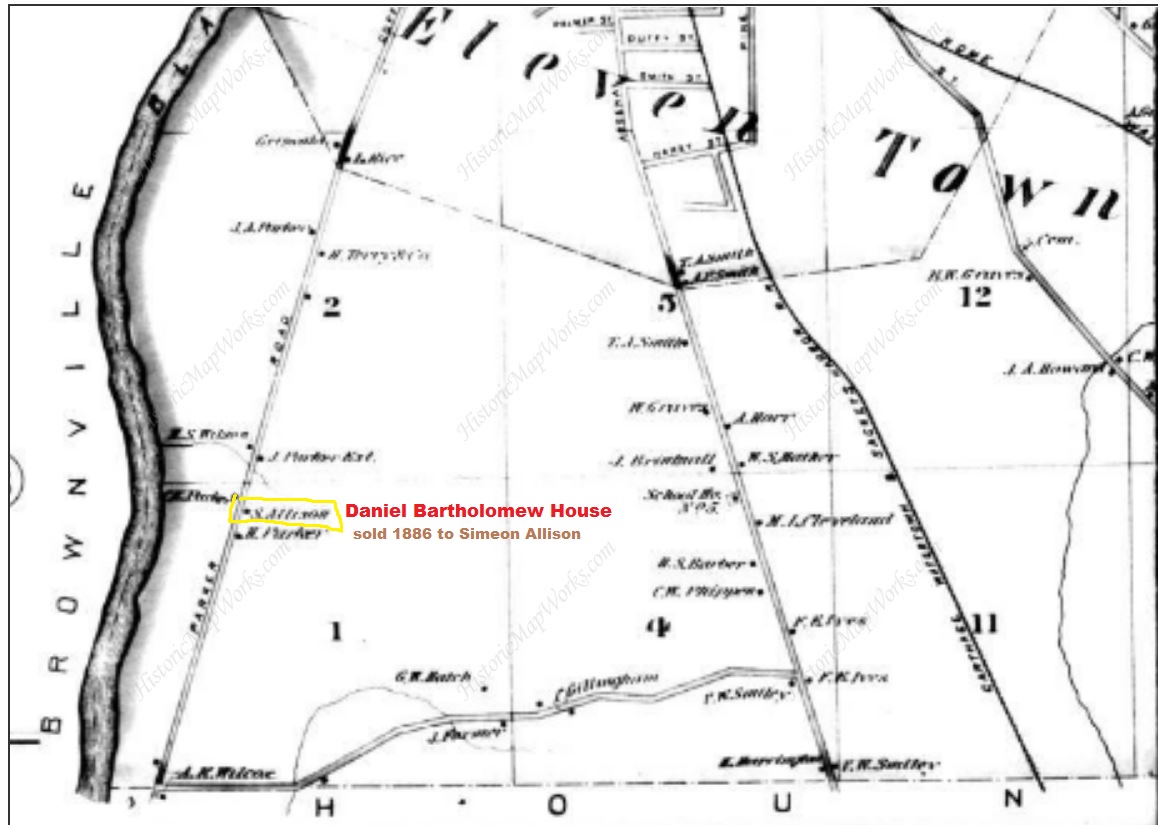 Built probably well over a century ago by Daniel Bartholomew 2.8 miles from this city on the 101.51-acre farm now owned and occupied by Mr and Mrs Donald S Burns on the Watertown-Brownville, or Coffeen Street road, this bouse has the distinction of being on land of the town of Watertown's first settler.
That settler was Deacon Oliver Bartholomew, native of Connecticut and Revolutionary war veteran, who had contracted for the land in October 1799. In March 1800 he came on to settle it, Historian Hamilton Child giving the location as1.5 miles from the village of Brownville which location Avell matches the 1.3-mile measurement made by Mr Burns.
Deacon Baratholomew, characterized one of the most exemplary and industrious settlers, came simultaneously with Henry Coffeen and Zachariah Butlerficld, first two permanent seltlers of what is now the city of Watertown. These three, Bartholomew, Coffeen and Butterfield with their families were the only settlers to stay through the winter of 1800-1801.
Their coming was coincidental with the setting off from Mexico March 11 1800 of the town of Watertown, first known as Leghorn or No. 2 of the Eleven Towns. The next year, 1801 the "Deacan" engaged to build a bridge across the river at Brownville that south shore settlers might trade at the store, grist and saw mills of Jacob Brown near Philomel creek. The bridge was finished in 1802 but washed out in 1806 and rebuilt.
Dean Baratholomew was a familiar figure on Brownville Streets and conducted Sabbath worship before the formation of a religious society there. He died June 18 1850 aged 92. His wife, Anna, had predeceased him and his residuary estate went to his sons and Daniel Bartholomew.
When Deacan Bartholomew came to settle his wilderness land he built a log cabin, said to have been located close to the Brownville road and just west of the present driveway of Mr Burns. May 11 1815 Deacon Bartholmew took title to this farm from Nicholas and Alice Low, of New York City, for $294. On December 22 1825 the "Deacon" and wife conveyed it to Daniel and Oliver Bartholomew Jr, for $1,700. Oliver Bartholomew Jr, and wife, Mary, deeded their interest in it to Daniel May 21 1839 for $600 and on December 4 1856 Daniel and Sarah G Bartholomew sold theplace to David H Nellis, town of Alexandria, for $5,000.
Undoubtedly this 14-room house, with its original small-paned windows, some of the original doors and thumb-latches, was in existence then and probably had been since shortly after 1839.

On January 23 1866 David H and Olive A Nellis disposed of this property to Mary Yale of Watertown for $5,000 and May 22 1886 she sold to Simeon Allison, town of Brownville, for $6,800. Simeon and Helen Allison deeded it to Mrs Winnie E Cole, town of Pamelia, February 26 1906. By the provisions of her will recorded May 4 1937 the old Bartholomew farm and all her real estate went jointly to her three children, Mis. Lloyd H (Ella G) Niles, Pamelia; William J Cole, Watertown, and Mrs Bert (Sadie C) Walrath, Chaumont.
They sold it to Donald S Burns and wife, Ada O Burns, city on September 22 1939 and they make their permanent residence there, treating it as a country estate, in which they have done considerable landscaping. Mr Burns, assistant engineer in District 7 state highway department, is secretary-treasurer of the Men's Garden club of Watertown. Mrs Burns is past president of the Women's Garden club of Watertown. She was the former Miss Ada Olmstead, daughter of Mr and Mrs Herbert B Olmstead of Auburn. Mr Burns is son of Mr and Mrs Harvey Burns, late of this city. Mr and Mrs Burns call attention to the old cut nails and wooden dowels used in construction of the woodwork of their house, to the ancient construction of the old barn, and to a pair of fire tongs excavated by Mr Burns in his garden.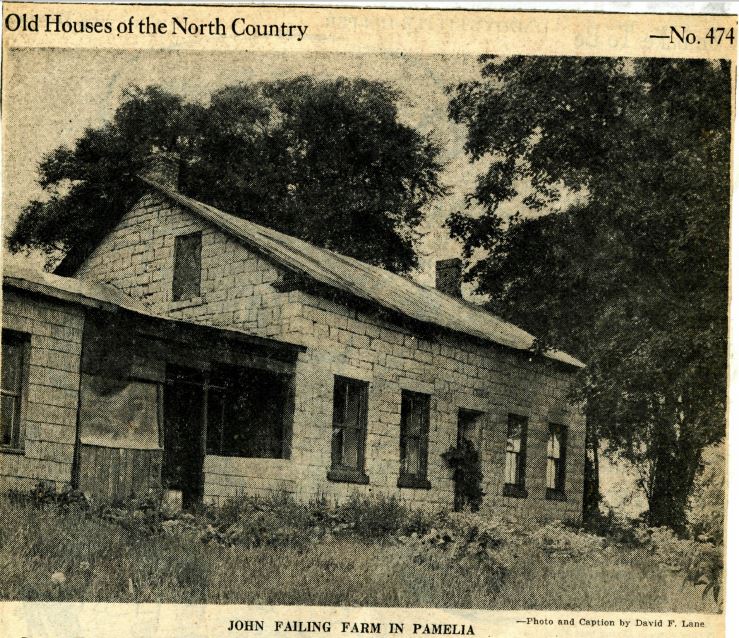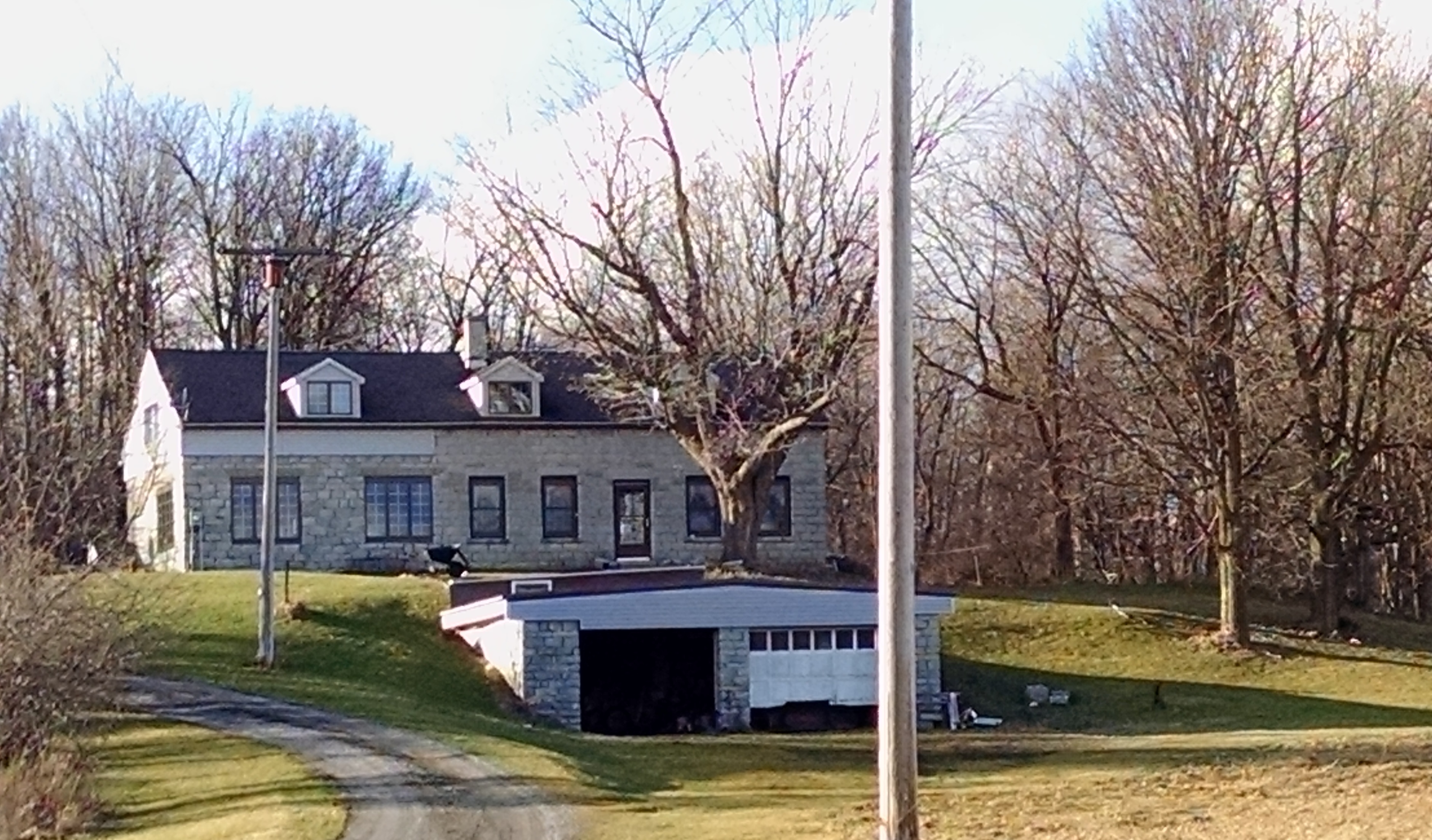 Due to its extensive limestone deposits the town of Pamelia claims one of the largest collections of old stone houses in Jefferson County. One of these is the now vacant structure of cottage type constructed probably about 115 years ago. On the so-called Parrish road which runs toward Perch lake from the Bradley Street road at a point about six miles outside this city, it sets on high ground far back from the main highway to command a view across the broad and beautiful valley that stretches before it.
Son of a veteran of the American Revolution, who was captured by the Indians, taken to Canada and sold for whiskey and afterward married a girl named Smith, John tailing was born at St. Johnsville, Montgomery county. He was born in 1812 and came to this county about 1820
His wife was the former Catherine Elwood and they had five sons and three daughters.
On March 1 1865 John and Catherine Failing sold their 237-acre farm on the Parrish road, (so named for John L Parrish who had a large stone house there which still stands in excellent condition ) to Daniel Gould for $10,480. The deed states that part of this farm was conveyed to Failing April 16 1835 by Daniel Fox and part of it by Washington and Stephanie Coster, New York City, on the following day.
For the 109.76 acres bought from Daniel W and Betsey Fox on April 16 1835 Failing paid $1,500 and for the 66.26-acre and 54.46-acre parcels which he purchased from the Costers the following day he paid $1,156.98. They were surveyed in 1809 by Cadwallader Child.
An April 14 1857 Failing bought a 5.47-acre parcel from Allen G Mathewson of Providence, RI, and there were excepted from the farm two parcels of two and three acres.
Daniel Gould, born near Rutland, Vermont, in 1802 son of John Gould who became one of the early settlers of the town of Pamelia, kept the Failing farm until June 21 1884 when he conveyed it to Madison J Gould of Pamelia for $400 "and other good and sufficient consideration." Then on November 23 1886 Madison J and Lillian Gould sold the property to Joshua Flanders, wealthy Rodman farmer and hay-buyer. Joshua and Stevannah Klock Flanders disposed of the farm to Ball & Ganter, prominent Watertown real estate operators on November 1 1911 and on February 15 1913 they sold it to S Harold Gates, of Adams, the present owner. Evidently there was a cheese factory upon the farm in the early days, for the deed from Madison J Gould and Daniel Gould to Mr Flanders states that only a third interest in this factory is conveyed. Today no cheese factory stands upon the farm, but there is a long and high limestone foundation but a few rods from the old house which may be the ruins of that factory. It is recalled that Joshua Flanders, owner of the farm for 25 years and father of former county Treasurer Earl K Flanders, was at one time so interested in the vaudeville business in this city that he built the former Ornheum theater on Polk Street in 1907 and at the same time paved that street. That theater building has for many years been a storage plant of the W A Sullivan Lumber company on the same street.

Son of Gideon and Mary Snell Flanders, Joshua Flanders was born m the town of Orleans October 3 1852 and died in the town of Rodman March 9 1936. His wife, the former Stevannah Klock born in the town of Lyme April 24 1852 was married to him April 27 1877 and died January 13 1945. She was the daughter of Stephen and Anna Klock.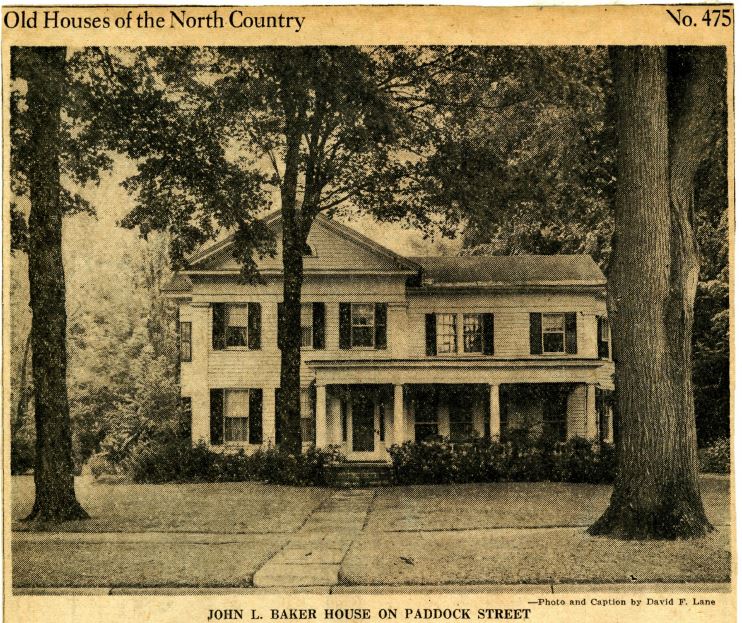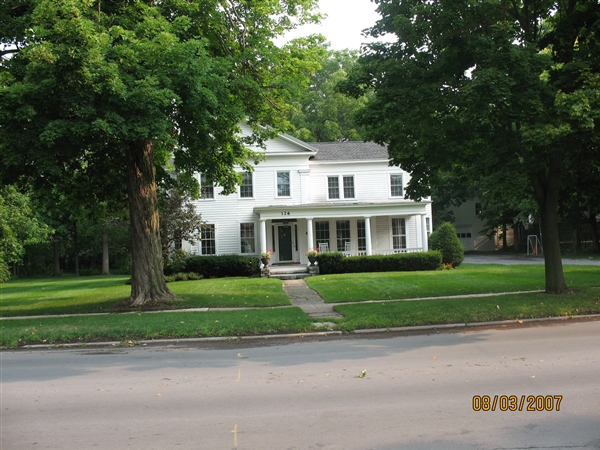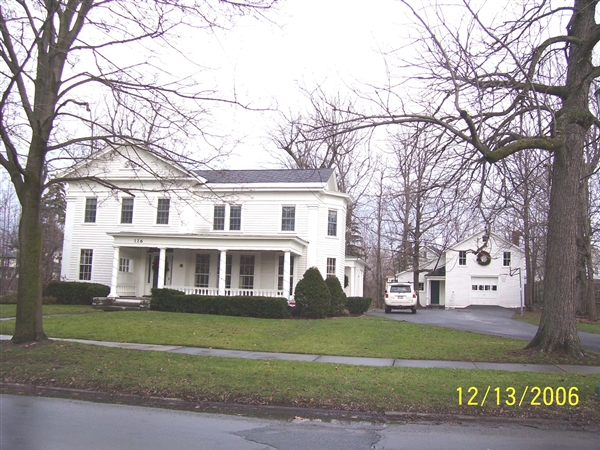 Environed by a spacious lot of slightly more than an acre, beautifully landscaped with striking flower gardens at the rear, handsome shrubbery and fine old trees on its broad carpet of lawn at the front, is the residence of Mr and Mrs Clyde Lansing Harvey at 126 Paddock Street.
Built about 1853 almost a century ago by John Leonard Baker, it remains one of the outstanding old single residence properties in the city. The lot, upon which it stands was purchased by Mr Baker January 21 1853 from Oscar Paddock, Edwin L Paddock and wife, Olive A Paddock, owners of much of the land in that sector of the city's best residential area. In 1865 and 1867 Mr Baker expanded his grounds by acquiring the lots on either side, and until Mr and Mrs Harvey purchased the place from Bernard A Gray, January 12 1950 it was out of the ownership of the Baker family but a few months from the time the house was built.
Son of Jonathan Baker, one of the earliest pioneers of the town of Watertown, John Leonard Baker was born November 26 1824 on his father's farm atop the Baker hill a short distance outside the eastern bounds of this city. He attended district school and worked on the farm until May 1844 when he became clerk in the old Franklin house which stood east of the archway on part of the site of the present Hotel Woodruff. Failing health inspired him to join the crew of a fishing smack August 11 1845 on a 120-day cruise off the Grand Banks for cod, and on his return he became a clerk in the local dry goods store of Truman Keeler. In 1849 he joined Jackson F Woodruff in buying Gilbert Woodruff's grocery at 5 Exchange block. The store burned May 13 of that year and in August, 1852 he sold his interest to his partner joining Keeler in the firm of Keeler and Baker.
In 1853 John L Baker sold out to his partner, made a trip west, returned to Watertown, became superintendent for J Ball & Company trenching for the Watertown water works. Supervising the construction of the Jersey City waterworks in 1854 he took contract the next year to build the waterworks in Pittsfield, Massachusetts. For five years and seven months beginning June 6 1856 he was Watertown water commissioner and in 1860 built the water pumping main from Beebee's island to William Street. The next year he opened a ticket and insurance office here, bought in 1862 the business of McComb & Chittenden, manufacturers of cigars and dealers in hunting and angling goods. In May 1863 T C Chittenden became his partner. On October 4 1848 Mr Baker married Miss Cornelia Lydia Hewitt.
Mr Baker became a director of the Jefferson County Savings bank that year. In 1864 he became undersheriff under Sheriff Nathan Strong and also served under Sheriffs James Johnson and A W Wheelock. He was elected a director and vice president of the Black River Insurance company in March 1872 became undersheriff to Sheriff George Babbitt in 1874 dissolved partnership with Chittenden in 1879 and was joined in business by his son, Frank L Baker. The latter, a graduate of Hope college and civil engineer of the old Sackets Harbor & Watertown Railroad company, incidentally was a founder and first treasurer of the Watertown Electric Light company in 1885.
Upon the death of John Leonard Baker April 12 1883 Frank L Baker acquired an interest in this house, and following his death October 28 1895 that interest went to his two sisters, the Misses Amelia A and Alice M Baker, who owned and resided in the house for many years, during which they took especial pride in their flower garden and accumulated a fine collection of photographs of old stone houses in the county. Miss Amelia A Baker died March 9 1935 aged 83 her sister, Alice M Baker, then becoming sole owner of the house. At 86 she died September 10 1949 willing it to Mr Gray. It is of interest that Jonathan Baker, native of Keene, New Hampshire, whose wife was Dorcas Fellows of Sherburne, Massachusetts, came here February 13 1800 and found the cabins of Henry Coffeen and Zachariah Butterfield, disproving the historical statement that the latter came in March 1800.
Mr Harvey, native of Martinsburg, graduate of Syracuse university, is, an attorney and for several years high school principal and superintendent of schools at Hoosic Falls. Mrs Harvey, the former Miss Eunice Louise Bagg, graduate of Rogers Hall, Lowell, Massachusetts, is the daughter of the late Samuel F Bagg, native of Utica, graduate of Hamilton college, and for many years secretary-treasurer of the Watertown Steam Engine company.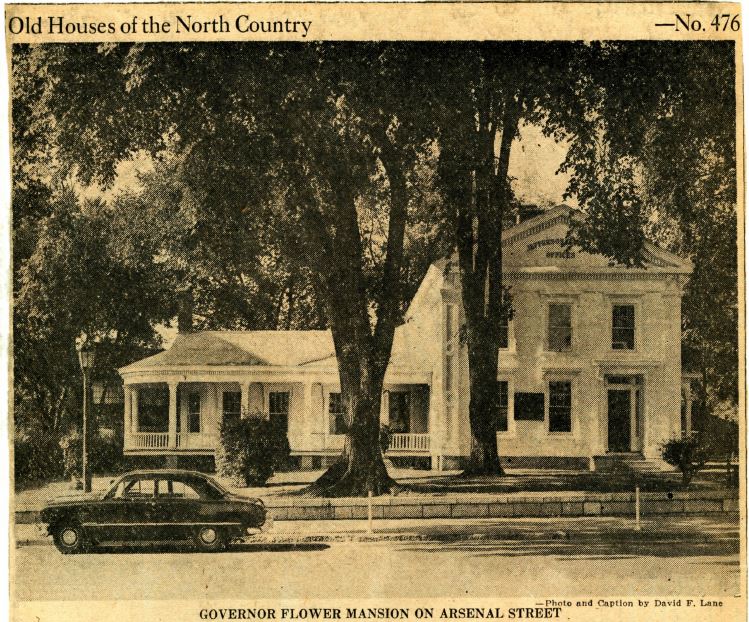 Roswell Petlibone Flower, born a poor boy in the village of Theresa August 8 1833 died suddenly at the Long Island Country club, Eastport, Long Island May 12 1899. He was rated 25 times a millionaire and the only native north coun tryman to have served a full elected term as governor of New York state. Like Silas Wright of Canton, chosen governor of this state at an earlier date, he was a Democrat, but Governor Wright was a native Vermonter. Head of the investment house of R P Flower & company Governor Flower had for some years been king of Wall Street at the lime of his death. Former congressman who had defeated William Waldorf Astor, he was New York state's one-time Democratic leader who had also been mentioned for the presidency. Master financier and major philanthropist he was Watertown's most distinguished citizen. As such his daughter, the late Mrs Emma Flower Taylor, cast his memory in permanency with her gift to Watertown of the Roswell P Flower Memorial library while thefamed sculptor Augustus St. Gaudens deftly recreated his robust physique in ageless bronze.
And there still stands at 175 Arsenal Street, the big white house that was for long years his residence and which had originally been owned by his noted father-inlaw, Norris W Woodruff, powerful figure in Watertown's life a century and a quarter ago and builder of Watertown's leading hostelry, the Hotel Woodruff a century ago. This Arsenal Street mansion, owned for 22 years by Jefferson County presents a dignified and little changed exterior while inside it houses the county's juvenile court, board of elections, grand jury, and probation department.
Upon the site of the Flower mansion there once stood a stone house, which Russell and Nancy Sherman sold on March 31 1828 to Norris Woodruff for $2,500. April 10 1824 Sherman had bought the 133-square rod lot from Solomon White. The ensuing November 28 Solomon and Lucy White sold an adjoining vacant lot to Woodruff for $265.
On January 22 1829 Woodruff expanded his grounds further with a still larger parcel purchased from the Whites for $500.
It is likely that shortly afterward Norris M Woodruff, native of Litchfield county, Connecticut, replaced the stone house with a more pretentious frame house that became the nucleus of the Flower mansion, for after Governor Flower came into control of it he expanded and improved it extensively.
Owner of 75 per cent of the north side of Public Square, Norris M Woodruff, partner of John Jacob Astor in a Green Bay, Wisconsin, land deal, president of the old Jefferson County bank 15 years, veteran cavalryman of the War of 1812 former chief of the Watertown Volunteer Fire department, died January 16 1857.
His widow, the former Miss Roxana Terry Bush whom he had married October 5 1817 a few years after the death of Woodruff, became the wife of Judge Stephen Strong and July 28 1862 the Woodruff estate quitclaimed to her its interest in this house. In Mrs Strong's will dated July 13 1876 and recorded December 28 1883 she gave this house and contents to her daughter, Mrs Sarah M Woodruff Flower, wife of Governor Roswell P Flower. In turn Mrs Flower in her will executed December 3 1907 and recorded March 28 1929 gave this property and furnishings to her daughter, Mrs Emma Flower Taylor. On March 27 1929 Mrs Taylor disposed of the place to Jefferson County for $40,000. The latter remodeled it as a county office annex and has so used it since the late Summer of 1929. Since then the ornamental iron fence, the hedges and the two stone dogs in front have been removed, but the house remains, reminder of a family which has left a monumental impress upon Watertown and its people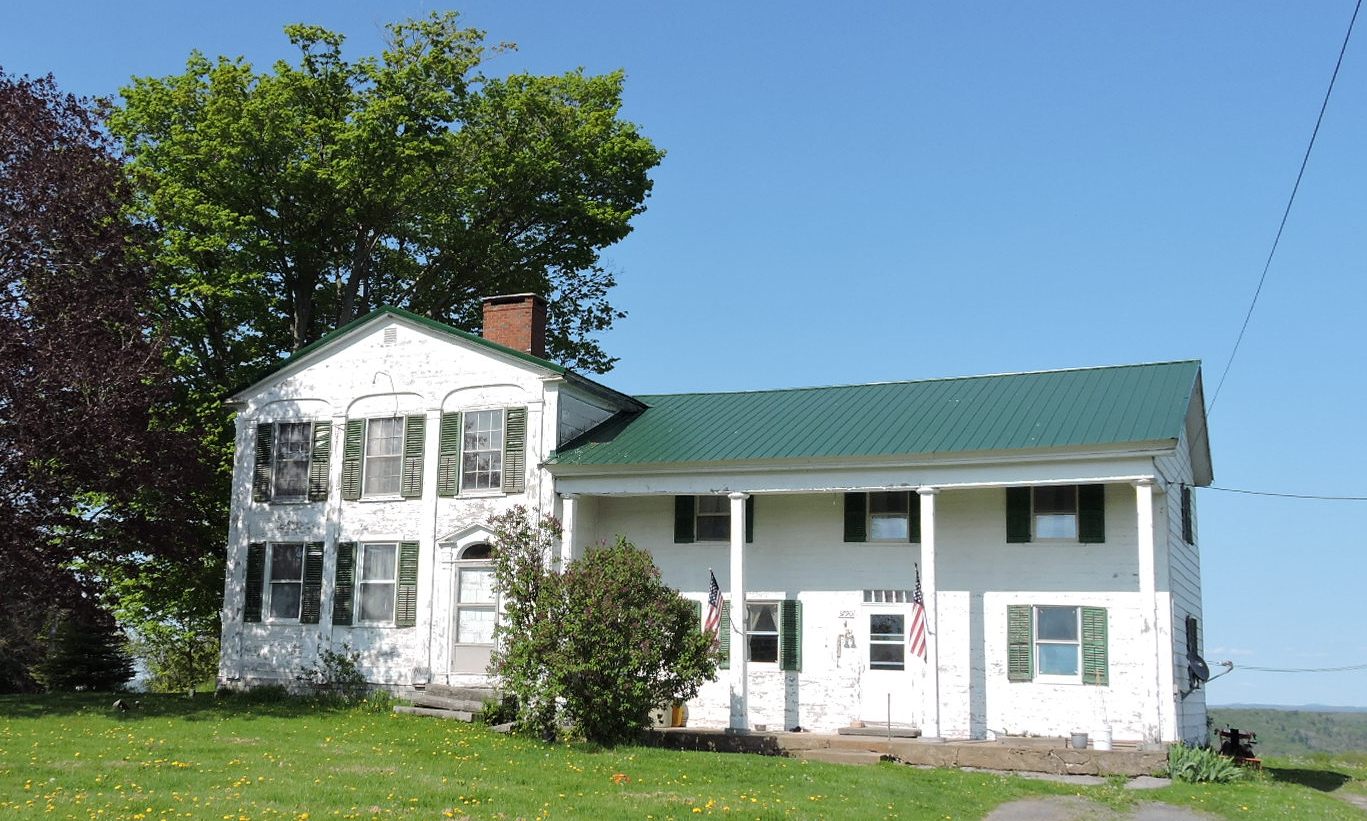 Almost a century and a half ago, workmen of the highest skill put the finishing touches on this handsome white frame house at the diminutive crossroads settlement that was once the thriving Lewis county village of Collinsville. It was built for Levi Collins, Connecticut Yankee born February 24 1778 son of that Revolutionary war veteran Jonathan Collins. Jonathan, born at Wallingford, Connecticut, May 3 1755 had emigrated from Meriden, Connecticut, in March 1797 to the township of West Turin.
On January 3 1799 Jonathan bought of Nathaniel and Lucy Shaler 188.25 acres a mile and a half west of High Falls, now the busy papermill village of Lyons Falls and on May 9 1801 transferred it to his son Levi for $600. It is said that shortly thereafter Levi caused this beautiful house to be built atop the high hill at the crossroads that is Collinsville.
Shoe and harness shops and other small industrie mmediately sprung up there and in a building of limestone, quarried upon the farm, erected near the house, Levi operated the store that became a brisk and profitable business. He was a man of substance and influence and in 1813 became assemblyman. But on March 31 1819 he died and later his son, Charles Bush Collins, succeeded to the ownership of the farm and house, in which had been held in 1817 the meeting for formation of St. Paul's Episcopal parish.
Charles B Collins resided in New York City, but spent his summers in this homestead and, from the two limestone quarries on the farm, got the stone for the sturdy barn foundation and the picturesque arch bridge, which bears the date 1878 and which spans the gully to the right-rear of the long, two-story house wing. That wing is probably almost, if not quite, as old as the upright of the house itself.
No house in the north country is more commandingly located. From its rear, the beautiful, breath-taking vista of the broad Black River valley and village of Lyons Falls spreads far below it. Finely architectured is the house facade with its four tall pilasters and the three arched recesses that span the three upper windows. From the flagstone basement rises the five and onehalf by seven-foot chimney which supports the hearthstones of the fireplaces constructed above. The floors of the house are of ash almost two inches thick. The stair rail in the hall, the doors and woodwork are beautifully crafted from the choicest woods. With handcut nails the clapboards are stoutly attached to a sheathing of two-inch thick planks. Handsome handwrought iron locks, thumb latches and hardware grace the house, with its attractively fanlighted front entrance. The five-roomed upright with its bath and two halls has the original twelve-paned windows. The tall, gracefully-pillared wing has seven rooms. Strong hand-hewn beams and sturdy framework supports the house, the large timbers nine by 11.5-inches in cross-section. Ash sleepers are eight by ten. The larger of the two living rooms is 14 by 18 and the other slightly smaller.
By the will of Charles B Collins dated August 4 1873 and recorded September 12 1881 this magnificent place went to his half-sister, Mrs Caroline Hart Merriam, who died intestate March 28 1893 when the property went jointly to her son, Dr Clinton Hart Merriam, founder of the United States biological survey, and daughter, Mrs Florence Merriam Bailey. On July 1 1918 they and their spouses, Virginia Elizabeth Merriam and Vernon Bailey, all of Washington, D C, sold to Charles Collins Merriam, Lyons Falls. On October 27 1924 he and Florence Lyon Merriam conveyed to Simon and Elizabeth Frank, who sold to Sherman H and Winifred G Burdick on October 3 1941. Then on January 24 1947 Mr and Mrs Burdick disposed of it to Fred J Hughes Sr, the present owner.
Mrs Caroline Hart Merriam, daughter of Judge Levi Hart and Mary Bush Collins, was the wife of Congressman Clinton L Merriam, who made a fortune in Wall Street. Their son, Charles Collins Merriam, brother of Dr Clinton Hart Merriam, and a scholar and world traveler, married Miss Florence I Lyon, daughter of Lyman R Lyon, and was a brother of Mrs Florence Merriam Bailey. Stemming from Jonathan Collins, the original Caleb Lyon and Judge Nathaniel Merriam, outstanding pioneer settlers of Lewis county who left their names firmly impressed into the history of that county, the owners of this house have themselves added lustre to the familv traditions.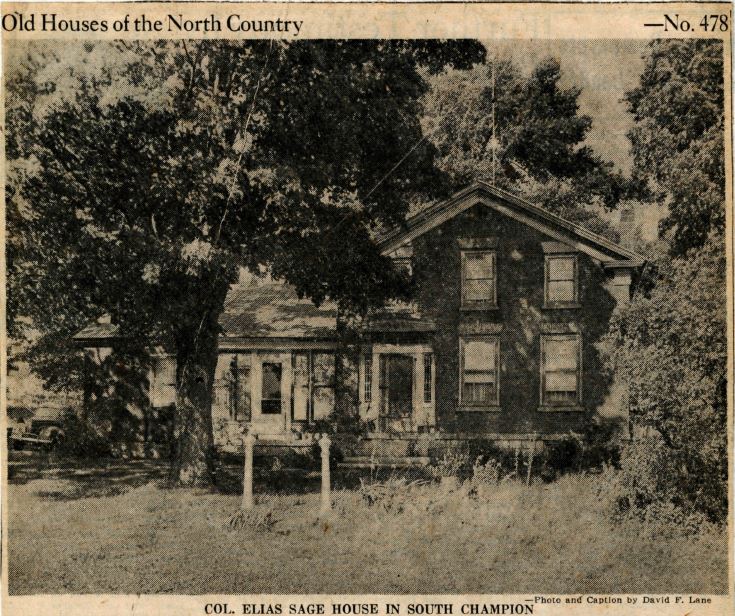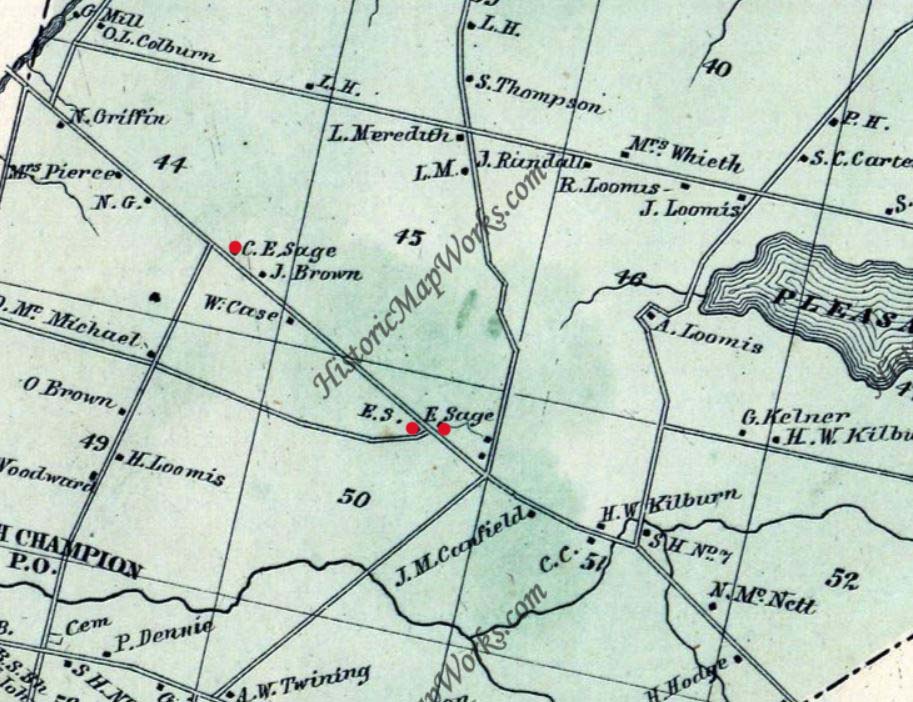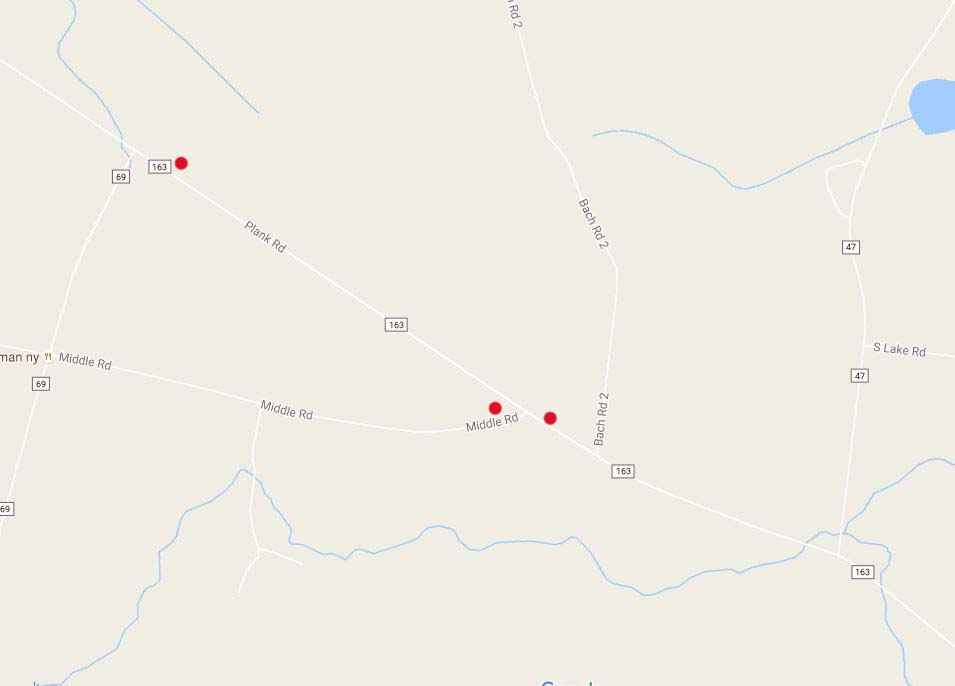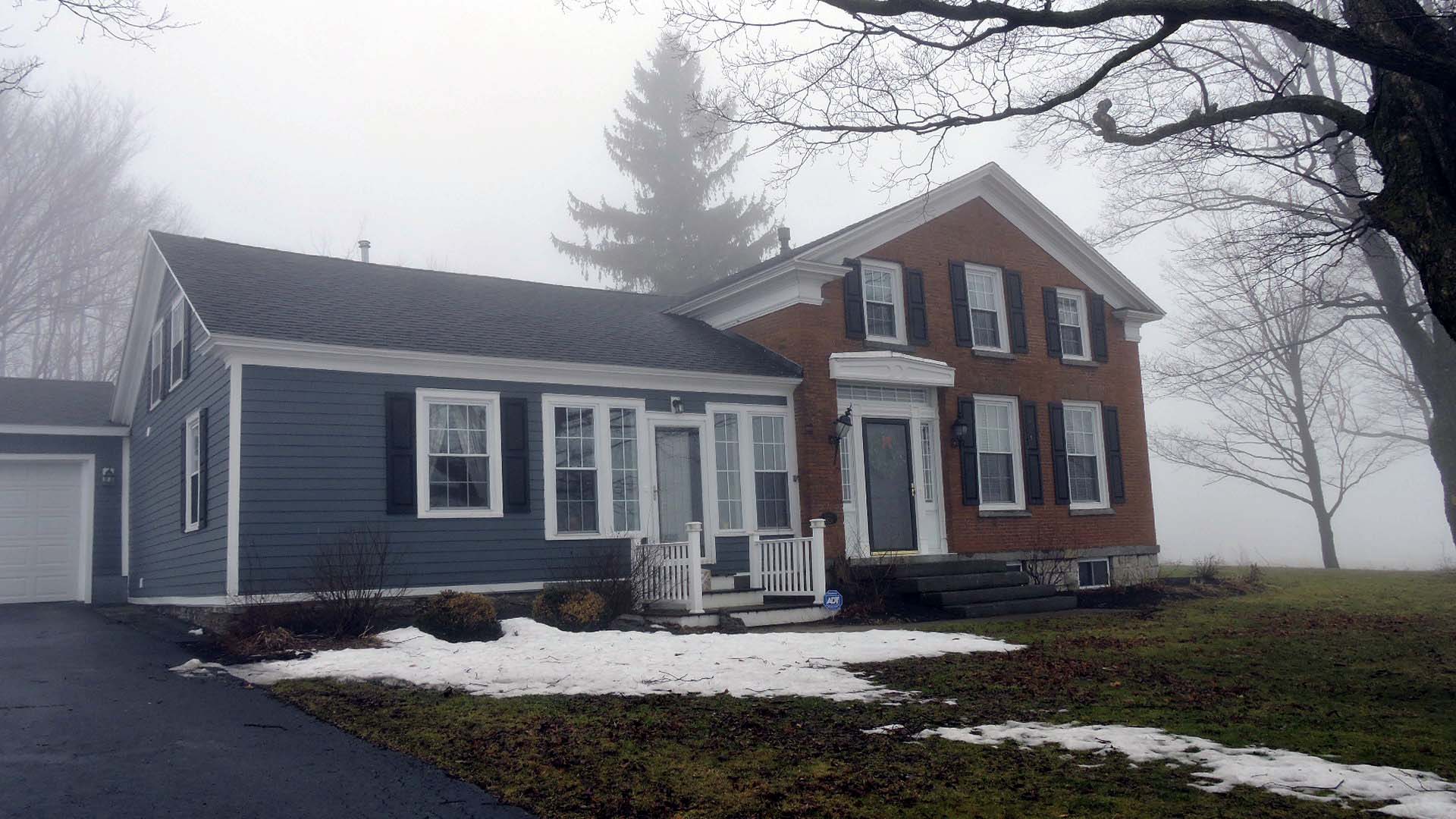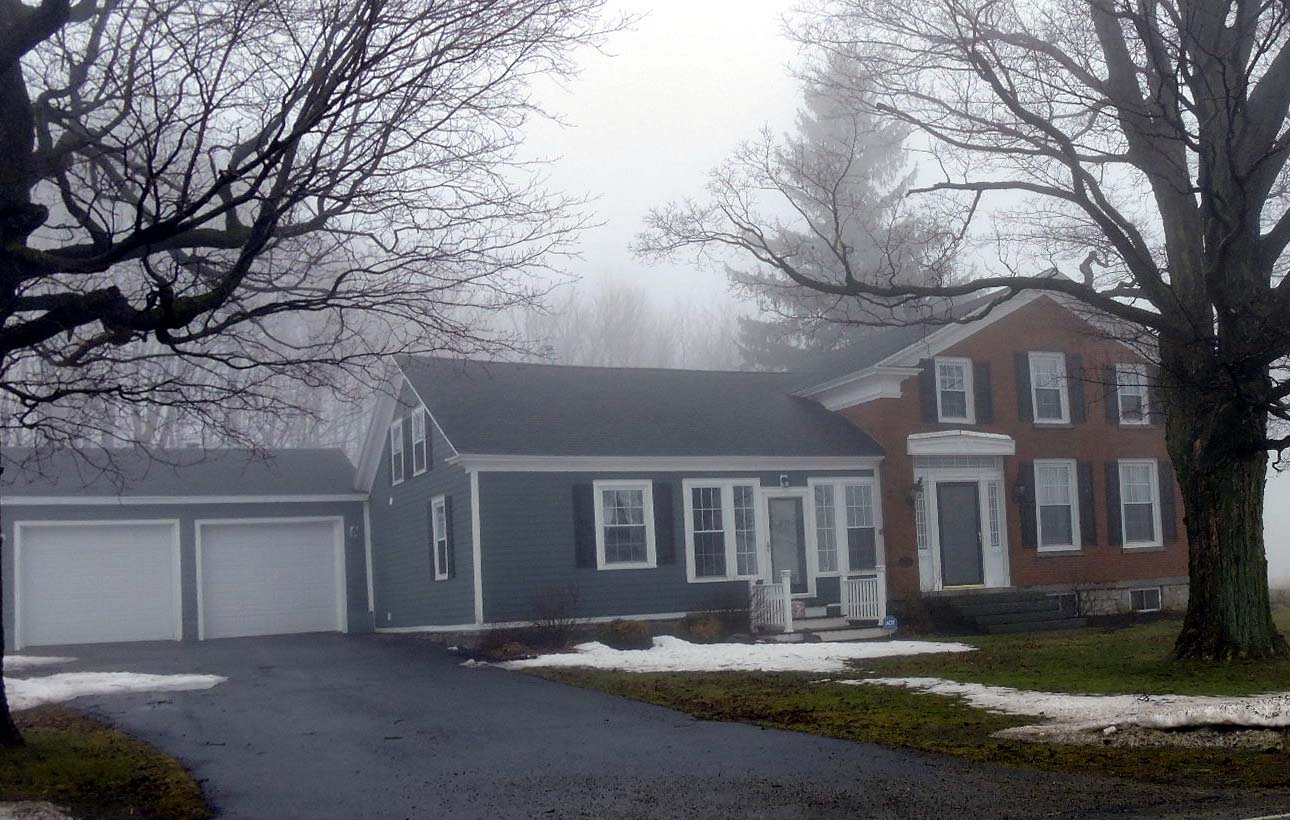 Colonel Elias Sage who, under the tutelage of Deacon David Granger, became one of the most skilled carpenters in northern New York, is distinguished in north country history for having been chosen to work'on James D LeRay 's beautiful mansion when it was constructed 1825-7 near LeRaysville.
Born at Sandisfield, Massachusetts, February 27 1799 son of Elias and Elizabeth Sage, he removed with his parents to Lewis county in 1800 attended district school and when 15 removed to South Champion,. The next year he was apprenticed to Deacon Granger and at 21 was a full fledged journeyman carpenter.

From then on he pursued his trade "with gratifying success," and when Deacon Granger was made master builder of the LeRay mansion, young Sage was selected work with him. Many houses and other buildings were erected by him in the ensuing years, and it is said that as fast as his earnings accumulated he bought land. Also it is said that he was the first to raise a building in the town of Champion without the use of liquor.
Colonel Sage's first land purchase was approximately four acres from David and Lucy Granger for $100 on March 8 1824. On July 2 1824 he bought 85.1 acres in the same locale from Willard and Lois Knowles for $800. Undoubtedly he shortly began construction upon his brick house shown above, for the Oakes history of 1905 comments as follows regarding the Sage home: Built over 80 years ago was one of the handsomest in location and general character to be found in the county. It is now occupied by his daughter, Mrs Seymour A Woolworth, and retains its desirability in every way, being the abode of cultivated taste and hospitality. Mr Sage himself did most of the interior work on the house.
In early manhood Elias Sage Jr, became a corporal in the 14th New York Cavalry. Promotions were steady until his colonelcy. On January 7 1827 he married Hannah White of Rutland. She died October 25 1844. On January 18 1847 he married Emily O Randall of Troy. Of their two daughters. Martha J married Seymour A Woolworth and Emily G married Chauncey Loomis. Colonel Sage died August 25 1884 and Mrs Sage December 28 1890. The name Sage, typifying wise man, was first found in the Battle Abbey Roll of William the Conqueror after the battle of Hastings in 1066. The family line in America was established by David Sage who settled in Middletown, Connecticut, 1650 or 1652 having come from Wales with his mother, the former Elizabeth Randall.

On September 27 1884 Emily O Sage, widow, and Martha J Woolworth, daughter of Colonel Sage, quitclaimed their interest in this house and 259.69 acres to Mrs Emily G Loomis, wife of Chauncey A Loomis, and he with Otis C Loomis on December 24 1902 conveyed the property to Mrs Matilda Edghill of Copenhagen. Widow of Robinson Edghill, Mrs Matilda R Edghill transferred the place on August 5 1910 to John and Mary Wallace Edghill, William D Edghill and Lena E Hall, all of Watertown; Edith E Wolf of Rochester, and Mabel E Gray of Clayton. Then on April 9 1936 former local Police Captain William D and Sarah H Edgill, city; Lena Hall Weller and Edith M Wolf Power, Rochester; Mabel A Gray, Carthage, sold to Nelson J and Rertha L Hastings of the town of Denmark, the present owners. Mr Hastings is descended from Emerel Hastings, who was one of the earliest settlers of the town of Champion and Jefferson County, and he keeps the old Colonel Sage house looking practically identically today as it did when Colonel Sage resided there three-quarters of a century ago. It is one of the historic landmarks of the county. Elias Sage Sr, father of Colonel Sage, died in the town of Champion February 29 1852 at the age of 93. He was a Revolutionary war veteran drawing a pension of $60 per annum.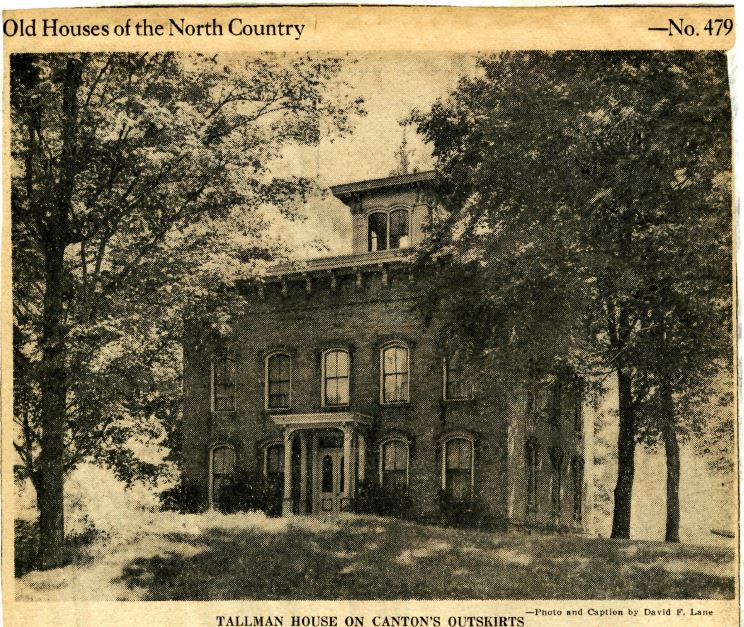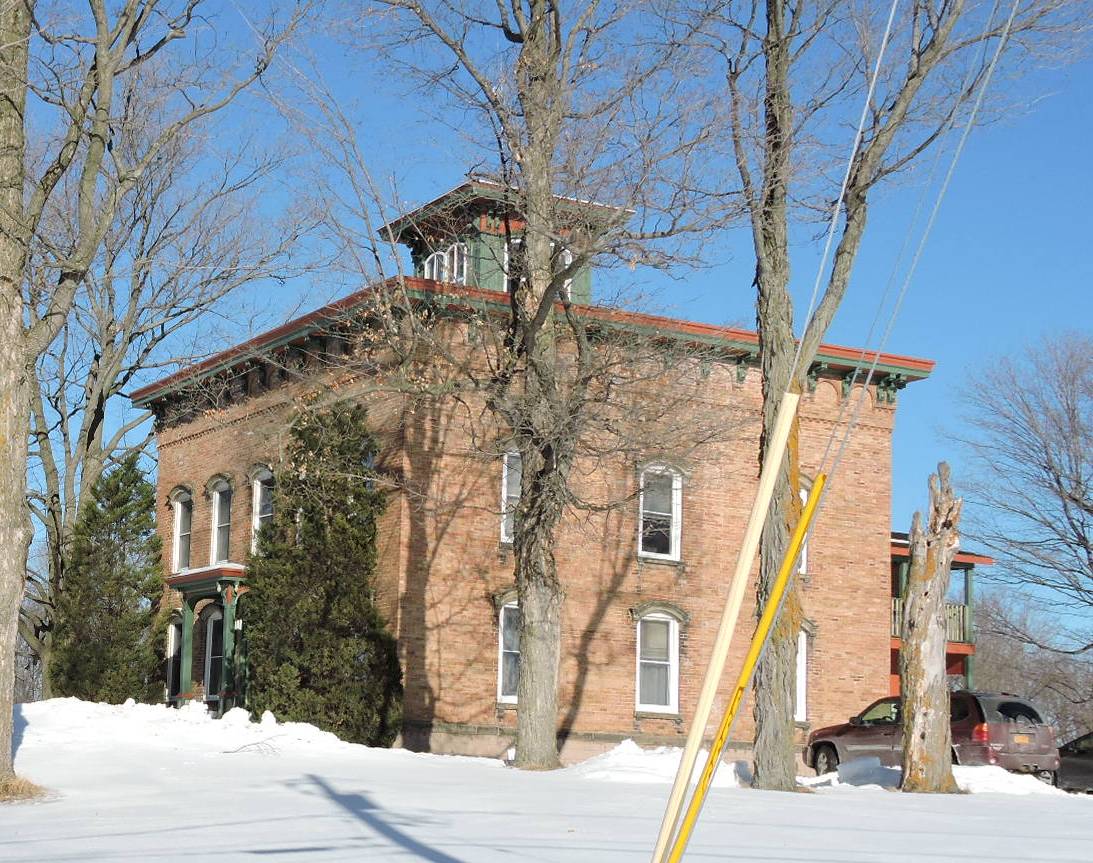 Sitting upon the highest point of land overlooking the village of Canton and the sweeping Grasse river far below it, this large brick farmhouse of Frederick T Tallman arrests the attention of the majority of people entering the St. Lawrence county county seat from the south either by railroad or highway. With its 17 high rooms, high attic, cupola observatory and, downstairs the capacious central hallway it is an exceptionally good piece of craftsmanship throughout.
True, strong, beautiful masonry forms the outer walls. Ash and black cherry of the best quality and workmanship from the interior woodwork. Wallpaper 53 years old and still in good condition covers the walls of the left front parlor. Antique furniture fills the house and huge 18-pronged elk antlers of an upwards five-foot spread, one of the largest specimens ever seen in the North Country, graces the front hallway, and once occupied the Hoddskin "house," now the Hotel Harrington, in its early days. The elk is believed to have been shot by the late Barzillai Hodskin.
For 75 years this house and almost 276 acres of land has been owned in the Tallman family. Ownership for a period of about ten years prior to that was in John Boorman who, legend says, bought it with the expectation of a dowry from England which never came and forced him to sell it. From the record it would appear to have been built by Lorena and James H Leonard about 1860. Part of the town of Canton's so-called "Literature" lot, it was included in 640 acres sold by Lowville academy to Paul Abbott for $2,500 on May 27 1822. Abbott sold that to Nathaniel Hodskin and Giles Gilt February 26 1836.
There were ensuing sales until Lorena and James H Leonard acquired essentially the present farm from Charles Rich. Harvey Leonard succeeded to title of James H Leonard's interest and together Lorena and Harvey Leonard sold this farm to John Boorman October 25 1866 for $9,900. The price leaves no doubt that the house was then there. The house is said to have cost $10,000. Replacement today would approximate $60,000. Next on March 9 1876 John Boorman conveyed the house buildings and 275.95 acres to William H Tallman for $10,000 subject to a $7,000 mortgage. William H Tallman, for some time a trustee of the First Presbyterian church of Canton, died December 6 1920 and on July 5 1922 his son, Frederick T Tallman, who had always lived on the farm with him, received an executor's deed of the property.
Native of the Black lake district of the town of Oswegatchie, William H Tallman was a son of John E and Elizabeth Rosegrant Tallman. John E Talman, a native of Troy, settled in the Black lake region in 1820 and was a grandnephew of Major General John E Wool who ranked next to Major General Scott in the Rebellion. Elizabeth Rosegrant, who became the wife of John E Tallman, was a niece of General Herkimer and General Rosegrant, Revolutionary heroes.
William H Tallman was married to Miss Margaret Doran, native of St. Lawrence county, daughter of Jacob I Doran of Morristown. Mr and Mrs William H Tallman were the parents of 11 children, one of whom, Charles F Tallman, was a partner in the Watertown hardware firm of Sponenberg & Sterling and later of the Canton hardware firm of Tallman & Howe. Jacob I Tallman, another son, graduated from St. Lawrence university, studied law with Nelson L Robinson, practiced law in Tupper Lake several years, and died in March 1943 aged 76. A sister, Katherine, also graduated from St. Lawrence university.
Frederick T Tallman, present owner of this place, remained to help his father on the farm and carried out the St. Lawrence university tradition by sending, three of his four children through that institution. His wife is the former Miss Nellie Paul, to whom he was married June 28 1898. One of their children. Robert P Tallman, S L U graduate, is a teacher at Fredonia. Another son, William H Tallman. S L U graduate, teaches at Marcellus. F Theodore Tallman, third son, remains to assist with the farm. A daughter, Harriet, also a graduate of S L U, was married June 11 1930 to Stanley Spears, son of Mrs Mary Spears and the late James Spears, and resides in Canton.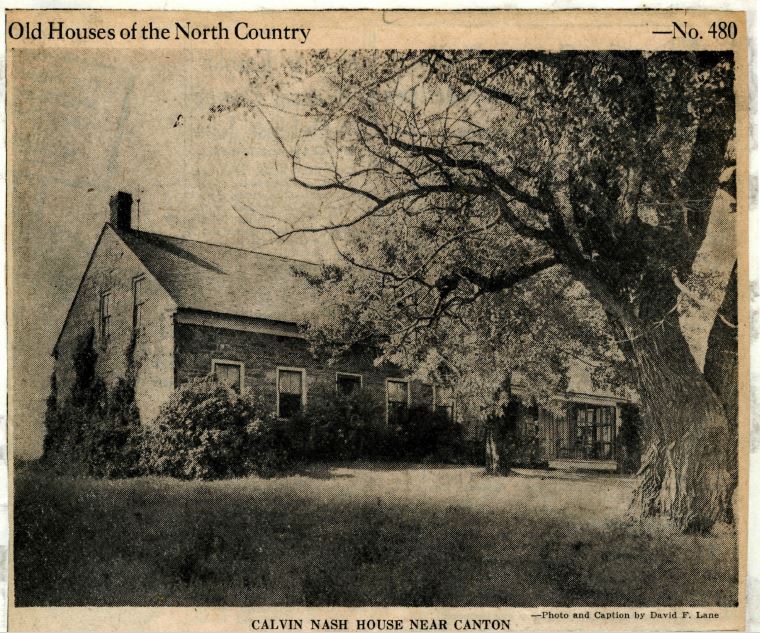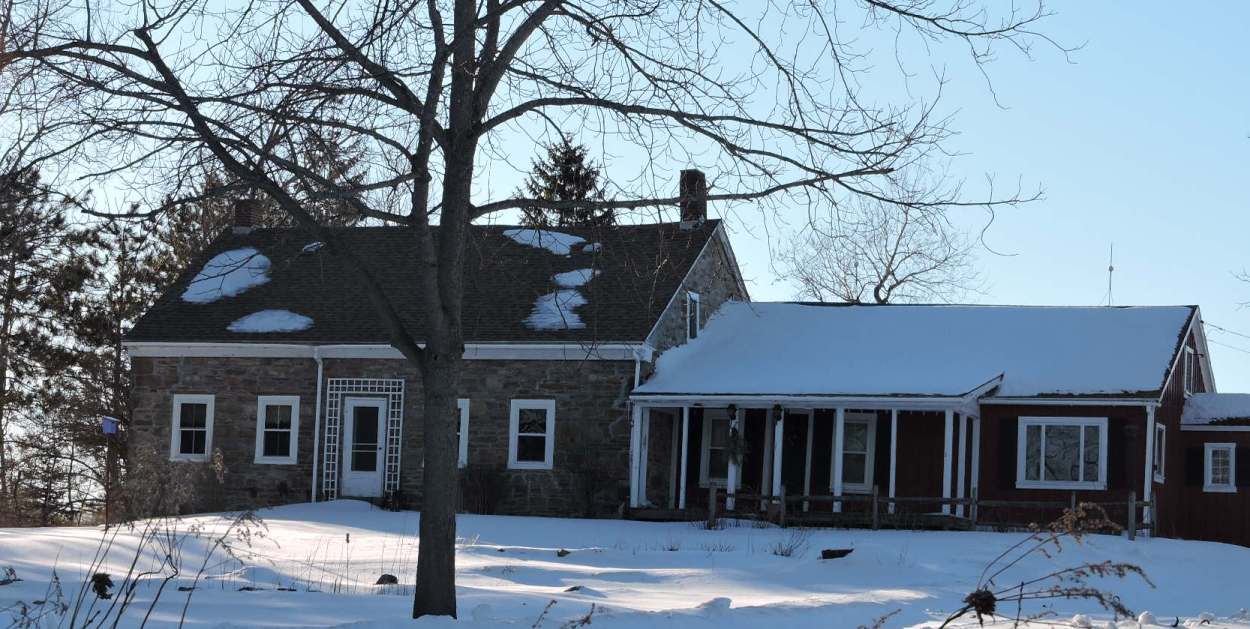 Picturesque like an ancient cot upon some time-mellowed country-side of old England this old sandstone farm house some three miles south of Canton is something to look at. Since November 1 1913 it has been owned and occupied by Mr and Mrs Dennis Farrell. It is on the Pike road, which is little more than a wagon track and is said to have been built about 135 years ago by Tubal Nash. More likely it was constructed for his son Calvin, for the name of Tubal appears nowhere in the abstract of title.
Beautifully architectured it consists of 14 rooms and two old fireplaces, and is excellently maintained. An officer on the government side in Shay's Rebellion Tubal Nash, born in Greenfield, Massachusetts, October 31 1754 came with his wife, the former Mary Corse and children, to Canton near the beginning of the last century. His son, Calvin had been born back in New England June 16 1779.
A daughter, Cynthia, was born July 12 1796 and on November 30 1817 was married at Canton to Frederick Cleaveland, a maker of wooden ploughs. Frederick's father, Frederic, was a soldier in the Revolution.
It is interesting to note that on August 2 1822 there was born to Frederick and Cynthia Nash Cleaveland a son, Francis, who in time attended the public schools, then went to Quincy, Massachusetts, to learn the stonecutter's trade, operated a produce market in Boston, returned to Canton to be a commission merchant and in Russell March 29 1854 married Harriet Emeline Ellsworth, a Jefferson County native. To Francis and Harriet Cleaveland was born March 6 1855 a son, Frank Nash Cleaveland, St. Lawrence university '77 graduate, lawver, title abstractor and S L U secretary from 1893 until his death March 6 1922.
Another son, Rollin Ellsworth Cleaveland born February 13 1857 was long a Canton commission merchant, and prominent Canton citizen. Tubal Nash was a descendant of Thomas Nash who, traditionally from Lancaster, England, sailed July 26 1637 with Reverend John Davenport's party, temporarily located in Boston, sailed from there March 16 1638 for New Haven, Connecticut, and there followed the blacksmithing trade.
Like Tubal Nash, John Farwell, a Vermonter, was an early settler of Canton, having come there via Troy in 1805. The same year came Harvey Knox. On March 19 1811 John Farwell bought 296 acres, of which this Dennis Farrell farm is a part, from Richard Harison, a wealthy New Yorker who had invested extensively in St. Lawrence county land. A part of this farm is 100 acres which Farwell sold to Calvin Nash October 28 1814 which is about the time this house is said to have been built. Later Farwell sold off other parcels, one of 50 acres, which became a part of this farm, having been purchased April 24 1823 by Clarissa Richardson. Parts of the original 296 acres went through an intricacy of transfers down to the time Mr Farrell bought approximately 182 acres.
Calvin Nash died intestate March 19 1843 leaving his widow, Tirzah and children, Samuel L, Thankful Maria who married Parlin Barrows, Charles A, William C, Robert H, Richard D, Albert C, and Edwin D Nash. Lurnan Moody, Richard D Nash, Samuel L Nash, Sylvester L Tracy, Hiram S Richardson, Elmore E Jackson, Irod C Wilmarth, Ira S Wilmarth, Leonard S Farmer, Chauncey Woodworth, Julius E Richardson and Harvey Knox are some of those who had title to portions of the farm at different limes. On May 4 1868 Hiram S Richardson sold Harvey Knox the 50 acres plot Clarissa Richardson had bought from John Farwell in 1823 and then sold it to Leonard S Farmer May 18 1878. Farmer also owned the 100 acres Calvin Nash bought in 1814.
Farmer also held some small pieces. On November 19 1908 Leonard S Farmer died intestate and his daughter, Mrs Leila Meirell inherited this farm, which she sold October 18 1912 to Albert M Pike and in turn he sold to Mr Farrell, son of James and Ellen Dromey Farrell. February 10 1897 Mr Farrell married Elizabeth, daughter of Thomas and Catherine Colter White, and together they reside on the farm.
23 Main St - Front has been enclosed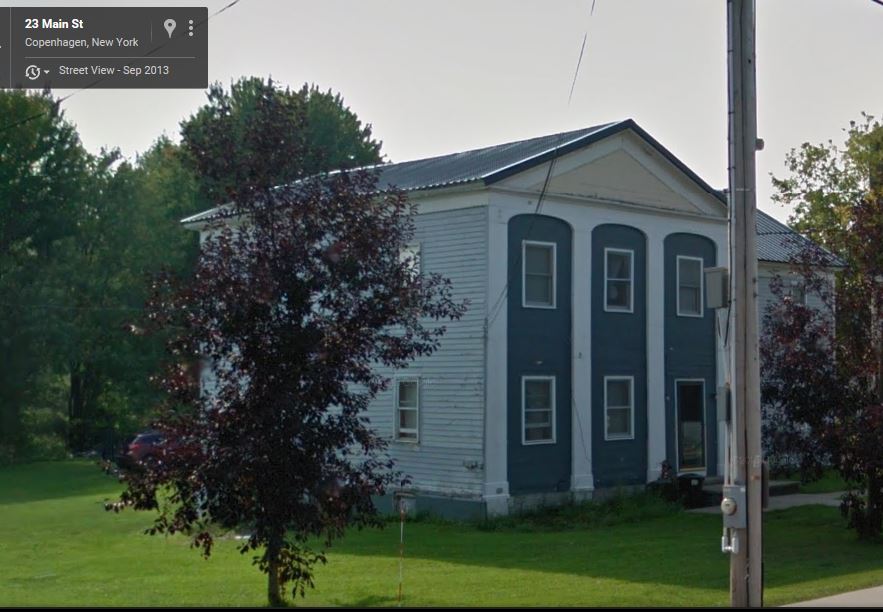 Grecian influence in the architecture of this house owned by Mr and Mrs Joseph A Jones in Main Street makes it one of the most striking and its location makes it one of the most commanding in the busy little Lewis county village of Copenhagen. Built probably about 1833 by Curtis Barker who, in later years became a resident of Oswego county, the history of this beautiful old house ties in with the first settlement of the community made by the Nathan Mungers in the spring of 1801. This is so because Jonathan Barker, one of the earliest of the settlers, was the father-in-law of Nathan Munger, and Curtis Barker was the son of Jonathan Barker.
That Jonathan Barker was a man of standing in the town of Denmark is evidenced by the fact that he was the first master of Orient Lodge, 238 F & A M, one of the earliest Masonic lodges in this area. And on Apiil 26 1810 he sold 59 acres in the great lot where this house is to Curtis Barker. On May 8 1833 Jonathan sold 87.63 acres in the same great lot to Curtis for $1,500 and July 30 1833 he sold to Curtis 25.66 acres in the same great lot. One may draw the inference that Curtis buill the house about that time, if Jonathan had not previously erected it on the $1,500 parcel.
It will be recalled that the Nathan Mungers, millwrights, erected a grist mill in the settlement in 1803 and it took the name Munger's Mills. After the British stormed Copenhagen, Denmark, in 1807 the name of the community was changed to Copenhagen out of sympathy.
On July 23 1853 Curtis Barker, then of Oswego, conveyed this house to his daughter, Chloe Angle, wife of William N Angle for $1,000.
William N Angle, town clerk in 1847 and 1851 raised the first Civil War company of volunteers in Copenhagen in April, 1861 and became its captain. On June 26 1865 Captain Angle as guardian special of his son, Curtis Barker Angle, a minor, sold the property to Allen Snell for $1,500 and on February 15 1868 Allen Snell, who was then of Lanark, Illinois, and wife Jane E Snell, disposed of it to Amos K Hedden for $2,350. Hedden had been appointed postmaster of Lowville by President Lincoln in 1861.
Amos K and Ann W Hedden on August 25 1870 sold the place to Caroline Goodwin Sage, wife of Hiram H Sage for $2,800 and after her death in 1912 her will, recorded September 25 1912 shows that all of her property went to her daughter, Miss Ella Sage.
Miss Sage, an invalid from the time she was 17 when she fell and injured her back at a young ladies' school, lived in the house until her death June 23 1931 at the age of 80. Her will, probated January 20 1932 and recorded March 3 of that year, gave this house on the east side of Main Street to the Second society of the Methodist church, and on December 30 1937 the church sold it to Dr Willis W and Margaret Purdy Allin.
Upon their removal to Texas, Dr and Mrs Allin disposed of the property to Dr Robert Squier Outsell and wife, Grace L Outsell, and they resided there until their removal to Carthage in 1942. Before becoming resident physician at the Chattahoochie state hospital in Florida March 15 1950 Dr Gulsell by joint transfer with his wife sold this house and lot to Joseph A and Laura G Jones, the present owners and occupants. Mr Jones is an expert in the use of explosives and operates in various places.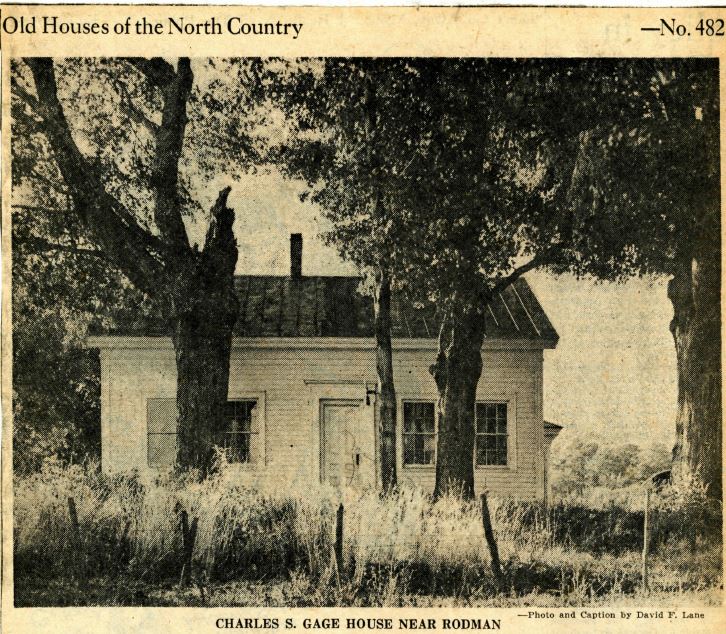 Worden Rd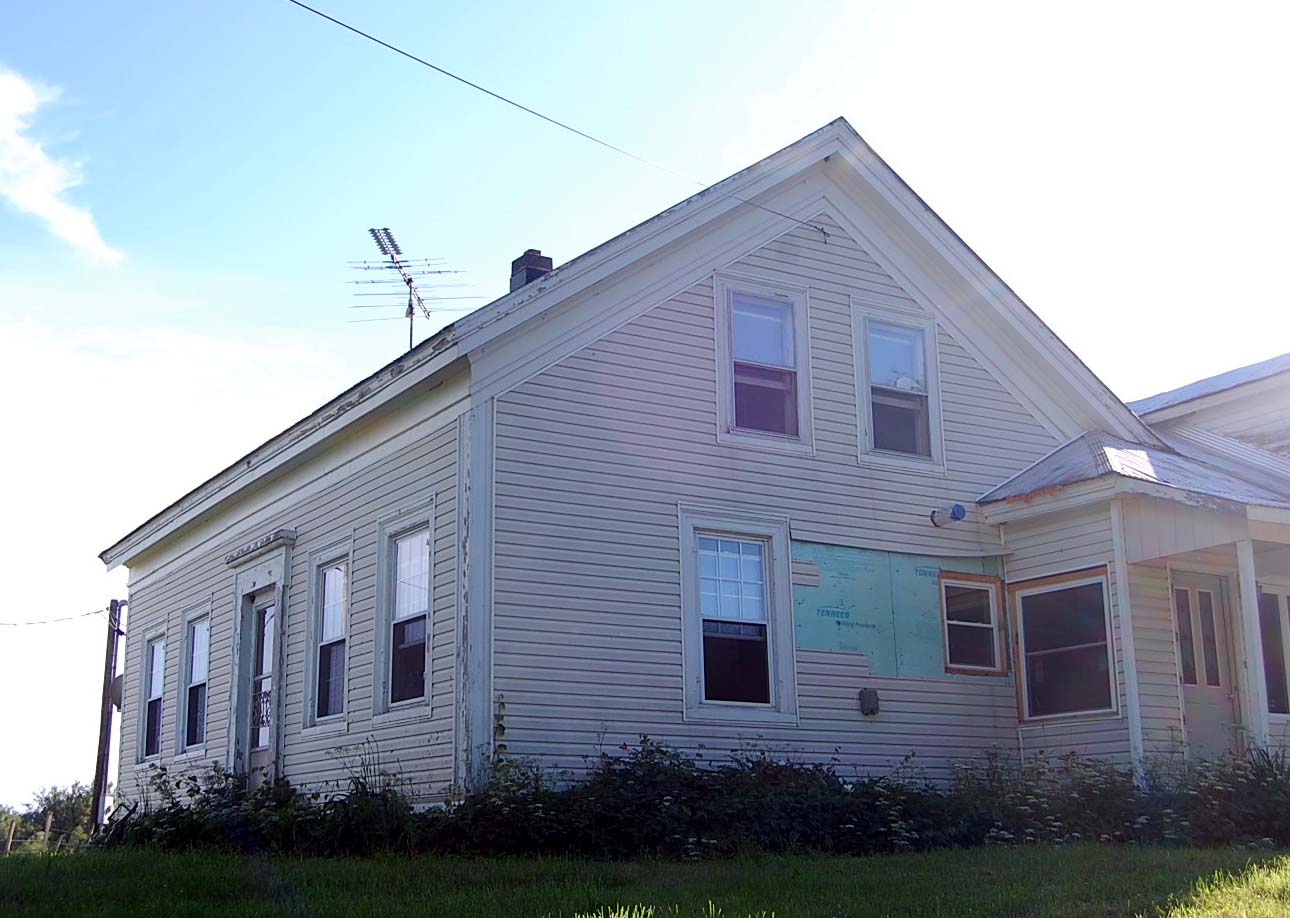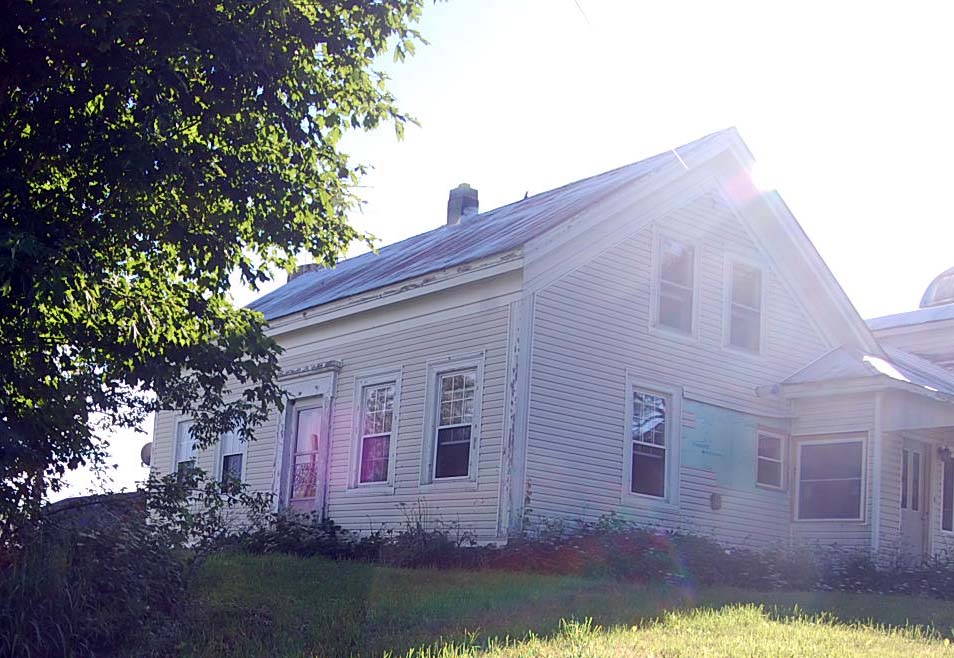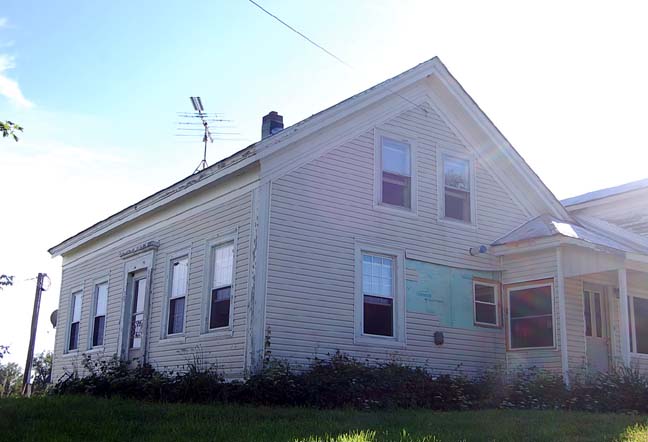 Charles S Gage, who was born about 1807 and served as a lieutenant in the so-called "Flood Wood" militia company that guarded the frontier at French Creek during the "Patriot War" of 1837-8 is supposed to have built this handsome little white house with the beautiful doorway just outside the village of Rodman somewhere near the year 1835. Well back from the road that runs from the ghost hamlet of Zoar to Rodman, it is connected by a small bridge that crosses Sandy creek, and in this house Charles S Gage resided until his death January 4 1897 aged 90.

Mrs Gage, the former Miss Mary Smith, was a daughter of Reuben Smith, the great-great-grandfather of John Worden, present owner and occupant of the house and its 132.92-acre farm. In 1805 Jonathan Wyman, a native of Concord, Massachusetts, and his wife, Abigail, who was a daughter of John Adams of Nelson, New Hampshire, came to settle on a part of this Gage farm.
Reuben Smith, great-great-great-grandfather of Mr Worden, was also a native of Nelson, New Hampshire, and in 1802 located in what is now the town of Rodman. His wife was the former Pamela Wright, daughter of Jesse. One of their ten children was George W Smith, born in 1812 and, in 1840 he married Fanny Merwin of Rodman. Reuben Z Smith, one of the four children of George W and Fanny Merwin Smith, was married to Mary G Tibbits of Rodman in 1866.
Mr and Mrs Reuben Z Smith were the grandparents of Miss Ruth Smith who, on May 15 1918 was married to George A Worden, at that time a young soldier in the United States Army stationed at Camp Gordon, GA, who on the night of their marriage he boarded a transport for France.
Mr and Mrs George A Worden are the parents not only of John J Worden, the present owner of this house and farm, but of Mrs Harlow (Alice Worden) Huchzermier, former engraver for the Watertown Daily Times.
On October 22 1949 John J Worden was married to Miss Patricia B Casselman, daughter of Mr and Mrs Charles A Casselman of Ogdensburg. At that time Miss Casselman, a graduate of the Ogdensburg Free academy and the Watertown school of commerce, was a secretary in the local concern of J E Harroun & Son, Inc. Mr Worden, a graduate of the Adams Center High school, was a young farmer and had owned this place six years, having purchased it on October 27 1943 from S Herbert and C Gordon Gates of Rodman.
This place had come fo the Gates brothers from their mother, Mrs Fannie G Gates by the terms of her will recorded November 22 1940. To her it had come by will of her husband, Charles W Gates, recorded May 20,1936. Charles W Gates had acquired it in 1929 from William and Ernest Wyman who had owned it for 22 years, having bought it in 1907 from Oren M Woodward.
Oren M Woodward was a great-grandson of Caleb Woodward, a Revolutionary captain, who had come from Dutchess county to settle in the town of Rodman in 1803.
By the same token Oren M Woodward who, in 1871 had married Metta E, daughter of Charles S and Mary Smith Gage original owners of this house, was a grandson of Milton Woodward was one of the soldiers of the War of 1812 who had helped carry the frigate "Superior's" great cable from the mouth of Big Sandy creek to Sackets Harbor. Milton Woodward had married Hannah Webb in 1816. Their son, Marquis, had married Eliza A Taylor in 1847 and they were the parents of Oren M Woodward.
It was to Oren M and Metta E Woodward that this house and farm were conveyed from the estate of Charles S Gage.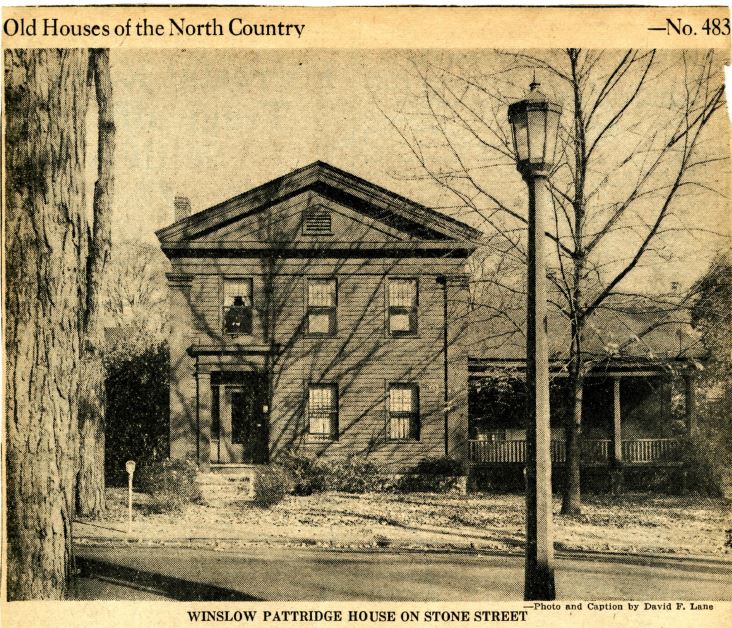 The big brown house with the massive pilasters and entablature owned by Aloyse Stoeckle, retired florist, at 190 Stone Street, is one of the notable old residences of this city. There, on the north side of the street, it has stood for over a century, having been built by Winslow Pattridge about 1847-8. A cloth-dresser and wool-carder by trade, Winslow Pattridge, was one of the early textile manufacturers of Watertown and built himself a satinet factory on the west end of Beebe's island to the rear of the present Par Market.
It was in 1818 that Winslow Pattridge settled in Watertown to follow his calling. A little later he bought a tract of about 12 acres of land from Hart Massey and engaged in a housing development which netted Watertown many of the best houses on Arsenal, Clinton, Massey and TenEyck Streets.
His eldest son was Major Joseph Curtis Pattridge, paymaster in the United States Army during the Mexican war, and it is said that he brought into the home of his lather many objects of art which remained there until the death of his sister, Miss Caroline M Pattridge, 34 years ago when the Pattridge ownership of this house terminated at the end of seven decades. Interestingly, her executor then discovered many thousands of dollars, in money and a number of fine jewels, including diamonds, sequestered in the house. Winslow Pattridge was born in Chesterfield, New Hampshire, July 1 1791. One of 12 children, he was the fourth son of Joseph and Sarah Warren Pattridge, New Englanders.
Sarah Warren Pattridge was the daughter of Captain Warren, a near relative of General Warren of Revolutionary fame.
Learning the cloth-dressing and wool-carding business Winslow Pattridge became a partner of Jonathan Wood in Otsego county where, in 1816 he married Levina Wood, daughter of Jonathan. Two years later they became residents of the young village of Watertown, bringing with them their infant son, Joseph Curtis Pattridge, who was born in Richfield Springs April 10 1817 was educated in the Watertown schools, was graduated from Union college in 1837 studied law with Judge Isaac Bronson, was appointed an examiner in chancery, but disliked the law and became a paymaster in the army. Next for a time Major Joseph Curtis Pattridge was a merchant miller in Watertown, but at 40 on May 3 1857 he died a bachelor and intestate.
Winslow Pattridge retired in 1846 and W Conkey look over his Beebee island factory which, on March 21 1848 was burned by the fire which started in the Union Mills and also swept the paper mill of Knowlton & Rice. On June 2 1864 Winslow Pattridge died willing his widow all the contents of his house, of which house he provided her a life-use. There she resided with two daughters, the Misses Levina E and Caroline M Pattridge, until her death April 13 1884. These two daughters became the eventual owners of the place, living there together until their deaths.
Miss Levina E Pattridge died May 17 1915 willing her interest in the property to her sister Caroline, who continued to occupy the house until her death May 13 1916. Three days before her death Caroline made her will giving $10,000 each to Mrs George B VanDoren, Attorney George R VanNamee and John Gilligan, later police chief. She bequeathed her antique furniture to LeRay de Chaumont chapter of the D A R, and her $60,000 residuary estate to All Souls Universalist church. Winslow and Levina Wood Pattridge were the parents of ten children, five of whom died young. A daughter, Julia Ann, married Luther J Dorwin, noted local lawyer and water rights authority. A son, Robert Kirkwood Pattridge, located in San Francisco.
On March 5 1847 Winslow Pattridge paid $775 to George A and Sarah Benedict, Cleveland, Ohio, for two adjoining Stone Street lots of ten rods frontage and built this house. On January 13 1917 Attorney George R VanNamee, executor of Miss Caroline M Pattridge, sold this house and outbuildings to Frank H and Rose E Edwards, real estate dealers and December 8 1919 they disposed of it to Aloyse and Mary Wingel Stoeckle, Mr Stoeckle having long been a leading local florist.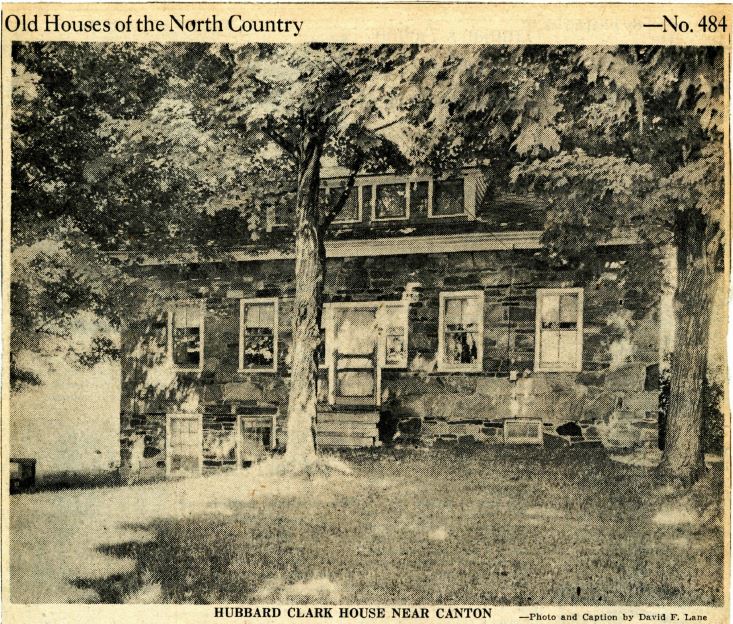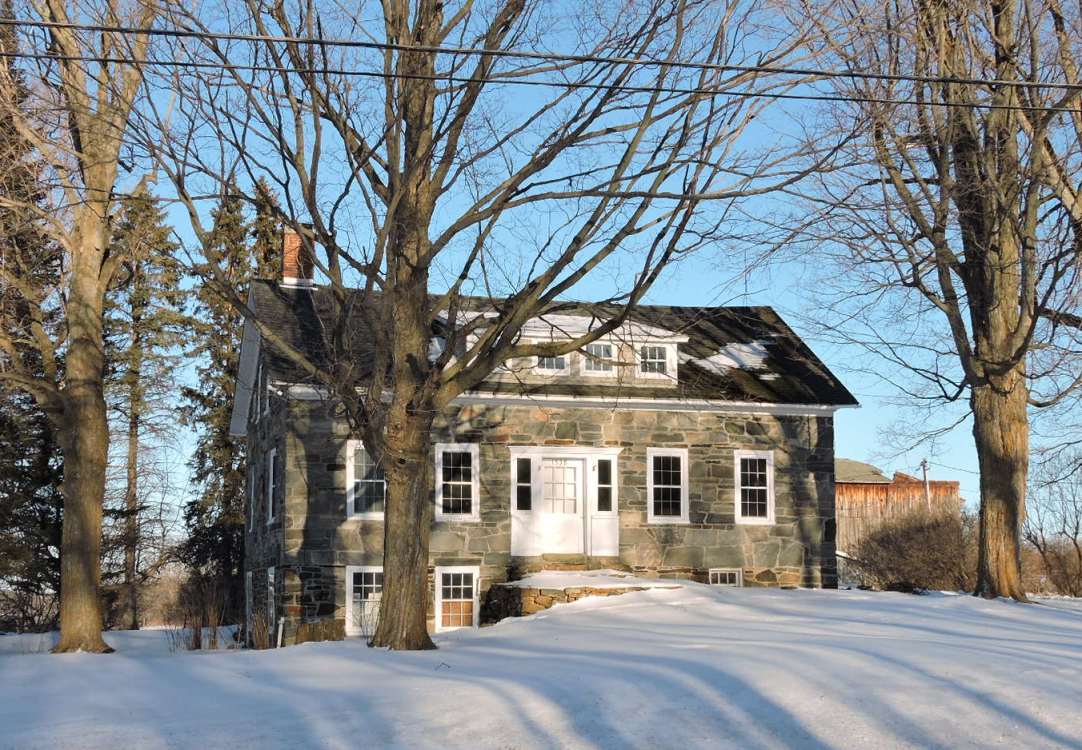 Quaint in type is the nine-room house of Mr and Mrs Millard Poole said to have been built in 1820 by Hubbard Clark, pioneer settler of the town of Canton, St. Lawrence county, at Barnes Corners, three miles south of Canton village
It is on the North Russell road and is constructed of irregular blocks of sandstone, field stone and granite from the 176.84-acre farm, upon which it stands. The woodwork in the house was also obtained from the forest of the same farm, and the mortar was made from lime burned in an ancient kiln on the hill southwest of the house. The house is but a few rods south of the site of Clark's original log cabin. Handmade nails, door latches and other hardware were employed in the construction.
Payment for these and other costs of the house and the land was made from the proceeds of the sale in Ogdensburg of furs, haunches of venison and smoked trout yielded by the denizens of the forest and the brook in the vicinity.
Land from which the farm was carved was originally owned by the wealthy Stephen and Henry VanRensselaer of an early historic New York state family, and while Hubbard Clark was one of the original town of Canton highway overseers chosen March 4 1806 at the first town meeting held at Stillman Foote's house, his name does not appear in the title abstract of this property. This probably means that the land was bought on contract. The first parcel of the farm was 74.53 acres sold by Stephen VanRensselaer to Alanson Clark May 3 1831.
On August 10 1838 Alanson bought 40.05 acres from Henry VanRensselaer and on July 15 1843 a plot of 47 acres. September 7 1807 Alanson bought 15.20 acres from Ira Starks.
Alanson Clark died January 20 1879 leaving his wife, Laura, a life-use of his property, and then to his daughter, Tilly, wife of George W Goodnough. Mary Clark Martyn, wife of Albert T Martyn, also an heir of Alanson Clark, deeded her interest in the place to George W Goodnough August 1 1879.
Tilly E Goodnough died intestate leaving George W Goodnough, husband, and Sybil, Caroline, Clark H, Laura and Emma, her children, as heirs. On January 24 1900 they sold this house and farm to Lewis H Whitney for $6,230.
Whitney died May 8 1901 leaving Almeda N, widow, Sumner J Whitney, Cornelia M Phillips and Alma L Whitney, children. Mrs Almeda N Whitney died May 8 1915 and July 13 1915 W Howard Phillips as executor of Lewis H Whitney sold this property to Berton and Flora Moore Poole. Mrs Poole died April 12 1938 aged 60 and September 26 1942 Berton Poole conveyed this farm to his son, Millard. On July 23 1947 Millard transferred it to himself and wife, Marion, the present owners. Berton Poole, retired cheesemaker-farmer, native of Canton, died December 9 1945 aged 75.
He was born June 10 1870 son of Joseph and Erneline Clark Poole. August 28 1900 he married Flora Moore, daughter of Hiram and Martha Peterson Moore of Russell.
Dr John Stebbins Lee, one time president of St. Lawrence university, solemnized the ceremony. Mr and Mrs Poole were both members of Silas Wright Grange, and for 23 years Mr Poole was associated with his brother, Forrest, in cheesemaking.
It will be recalled that Clark Hale Goodnough, son of George W and Tilly Clark Goodnough, was for many years a prominent Canton druggist. Born February 8 1872 he was graduated from the Albany College of Pharmacy in 1898 and for 40 years followed pharmacy in Canton, first in the Don Spencer store and then as owner of the store until he sold it September 19 1939 to Walter E Russell. Mr Goodnough married Sadie M Nichols, Potsdam, April 19 1899. She died May 15 1939 and he on January 24 1942.
Mary S Clark married Albert T Martvn, one time Canton postmaster, first manager and president of the Canton Electric Light & Power company established in 1887 promoter of the telephone in Canton in 1884 secretary and president of the St. Lawrence County Fair society and later secretary and president of the St. Lawrence Board of Trade.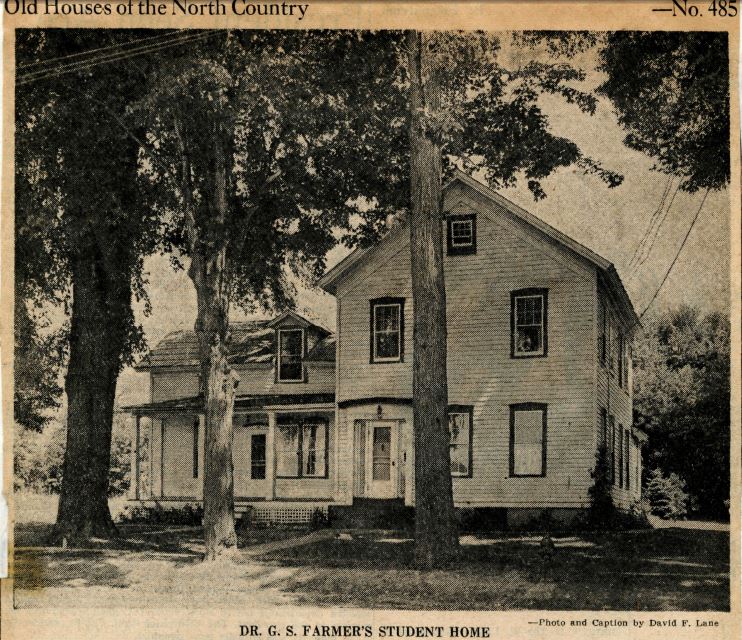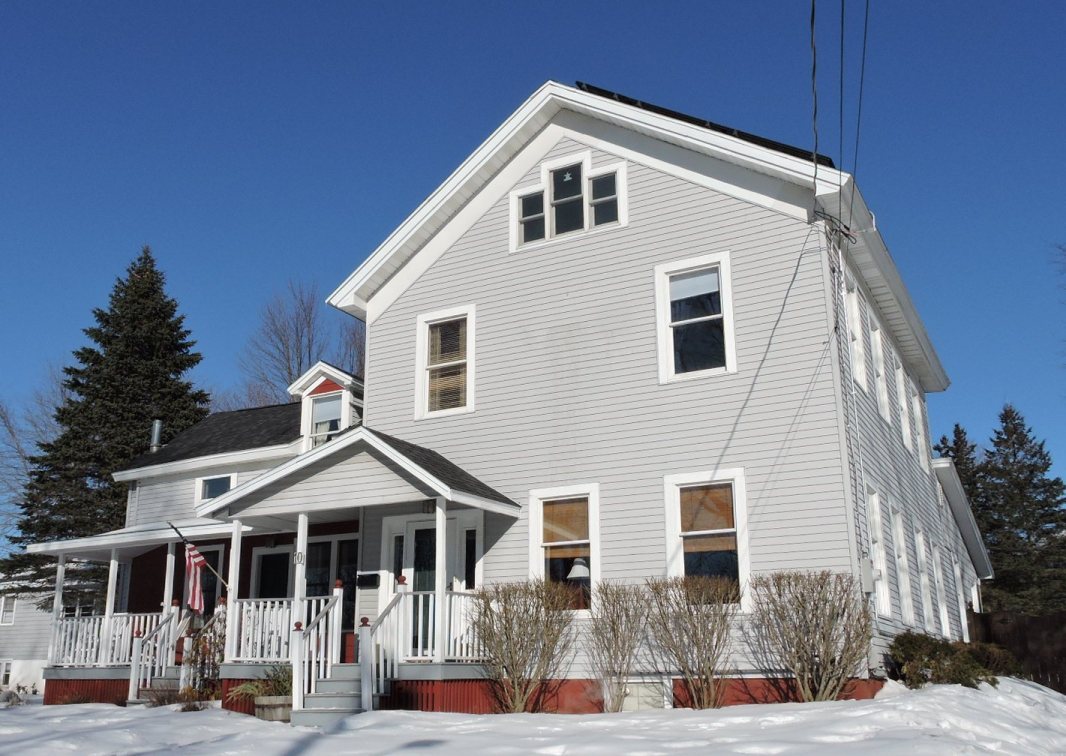 A house that was once the home of a founder of St. Lawrence university, later became the home of a student who is now the university's oldest alumnus, and now is the home of the head of the university's geology department, provides a figure in the historic tapestry of that institution which is of unusual interest. While modern in present appearance the house, more than a century old, has changed little exteriorly in several decades, and occupies land in Canton village that once was part of the vast St. Lawrence holdings of Stephen VanRensselaer, J Ogden Hoffman and Richard Harison, great historic land barons of 150 years ago.

The farm upon which this house was built was sold July 21 1836 by Catherine J Harison to Roswell and .lane K Green. On September 20 1839 they conveyed it to Barzillai and Sarah A Hodskin. From them Theodore and Harriet Caldwell acquired it December 1 1845. Hodskin and Caldwell were among Canton's outstanding early citizens. Both become charter trustees of St. Lawrence university. Either may have built the house, and probably in the early 1840s. At least it was there on April 14 1866 when Francis Farmer, town of Fowler farmer, native of Herkimer and father of Dr Grosvenor S Farmer, bought the place from the Caldwells and began occupancy.
In the fall of 1867 Dr Grosvenor Swan Farmer, then 17 entered St. Lawrence university and graduated in 1871. That was 80 years ago. His student days were spent in this house. Today in his 102nd year he is the university's oldest alumnus and New York state's oldest physician.
Son of Francis and Louisa M Homer Farmer, Dr Farmer was born in Fowler January 6 1850. In 1863-4 he attended Gouverneur Wesleyan Academy. After S L U graduation he studied medicine with Dr M M Gardher in Utica and New York Homeopathic Medical college. On March 4 1874 he got his M D, was licensed to practice, established in Gouverneur, married Miriam L Conkey of Canton January 5 1876 moved to Watertown in 1880 and December 8 1881 his wife died shortly after the birth of their son, Dr Harlow G Farmer. On June 6 1883 Dr G S Farmer married Miss Flora Holden of this city and to them was born Mrs John A (Rosalind) Remington and Francis H Farmer. Mrs Flora Farmer died December 18 1938.
Baptized with water from the Jordan by St. Lawrence University President Dr John Stebbins Lee, Dr Farmer was born during Millard Fillmore's administration and has lived through the terms of 20 presidents and four major wars. He is the last of the first medical staff of the House of the Good Samaritan, was health officer of the town of Watertown 1892-1934 is Black River Valley Club charter member, president of the former Farrington Medical association, of the Jefferson County Homeopathic Medical society and of the Watertown Savings, Loan & Building association, member of the New York State Medical society, and.the American Medical association. His first wife was a sister of Mrs Charles C Caldwell.
Mr Caldwell, former St. Lawrence county sheriff, was son of Theodore Caldwell.
On July 8 1901 this house, now 10 Farmer Street, Canton, was bought by John and Mary Fields, prominent farmers, who sold it to Rollin E Cleaveland, Canton commission merchant, March 22 1905. His widow, Jennie H Cleaveland disposed of it to Walter M and Irene Maude Wilmshurst April 11 1940. Mr W7ilmshurst, son of the late Reverend Walter G Wilmshurst, of this city, is an officer of the St. Lawrence County National bank and recently was elected vice president of the St. Lawrence County Bankers' association.
On June 4 1948 the Wilmshursts sold to Edward D Frick, who conveyed the place the following August 30 to Dr Ralph O Bloomer, the present owner. Dr Bloomer, University of Virginia BS '37 M S '38 and University of North Carolina Ph.D '41 author of technological books, came to St. Lawrence university's geology department in September1944 from the University of Virginia and now heads this S L U department.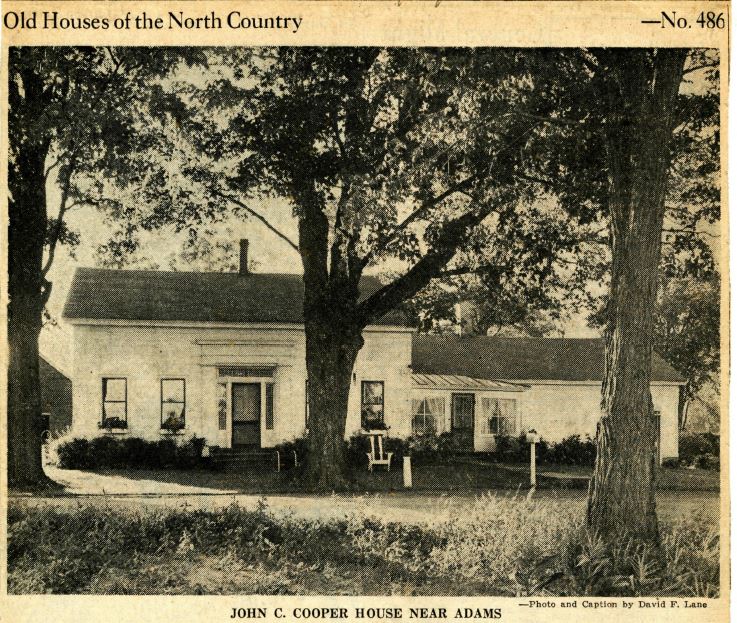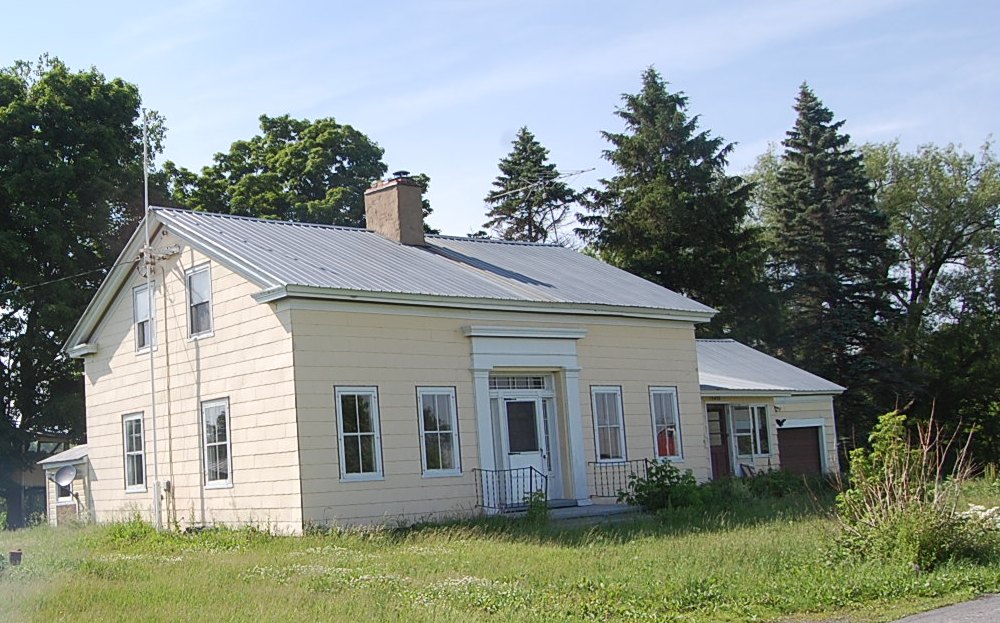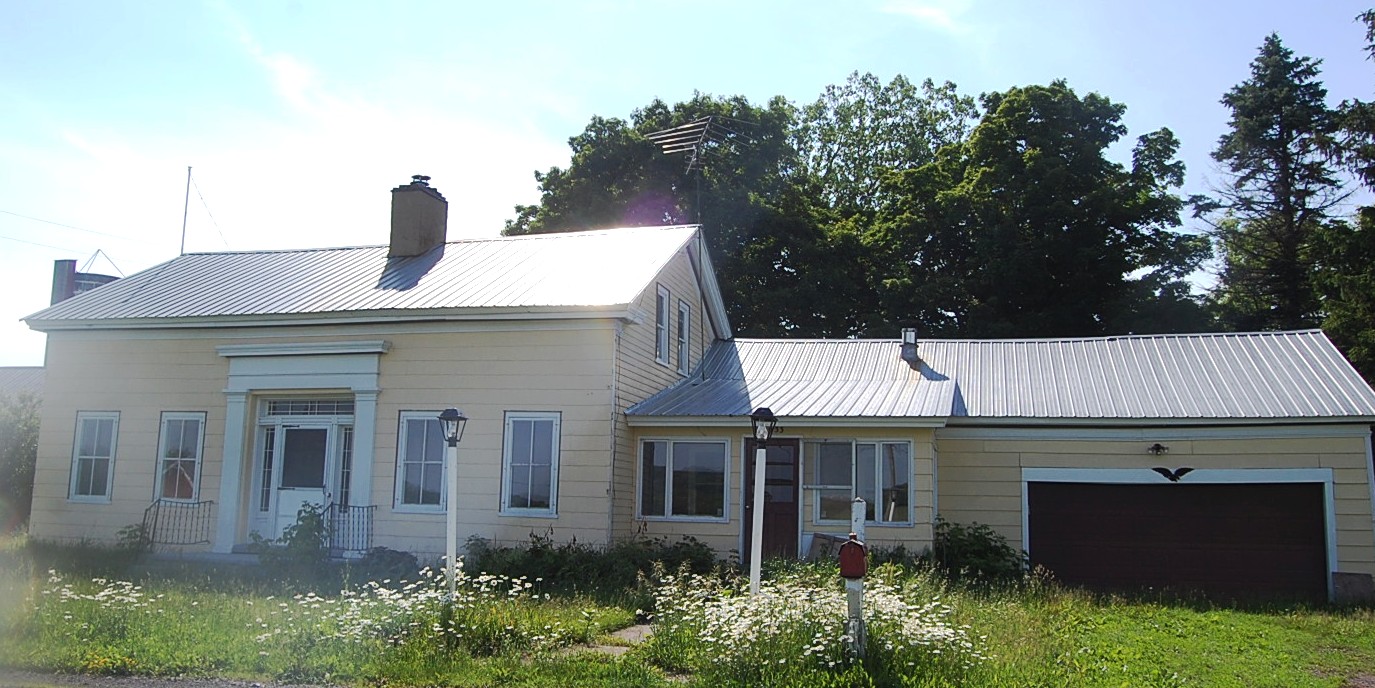 A stone's throw from the Lisk bridge and a mile and a half from the village of Adams on a quiet road by itself this beautiful and excellently maintained Georgian farmhouse is believed to have been constructed approximately a century and a quarter ago for John C Cooper, one of Jefferson County's most prominent citizens.

John Cowles Cooper, second president of the Agricultural Insurance company and father-in-law of Jean R Stebbins who was a later president of the same institution, was a native of Durham, Connecticut. Born April 12 1800 son of Miles and Asenath Cowles Cooper, he came with them to settle in the town of Adams in 1803. At first Miles Cooper built a log cabin on Church Street, Adams.
In 1811 he erected the first frame house in the village. When 14 John Cowles Cooper heard battle cannon booming in the Big Sandy conflict and ran to the scene. At 20 he and a cousin walked through the forests to the Mississippi. On April 6 1824 he bought from Charles I and Nelson Wentworth the 66.25 acres nucleus of this 143-acre farm and probably shortly thereafter built this house. On September 15 1824 he married Elvira, daughter of Daniel Fox. From Elias Babcock on April 3 1829 and..from Miles and Asenath Cooper August 15 1835 he acquired augmenting parcels of this farm.
Successful farmer and sheep-raiser John C Cooper sold wool in the Kingston, Ontario market. He introduced Wood's mower and reaper in the county. A promoter of the Watertown & Rome Railroad company he became one of its early directors. In 1849-1852 he was supervisor from Adams. He was a founder of the Agricultural Insurance company, director, and president from January 8 1855 until his death January 26 1877.

Active in the Thousand Island Park association he had a large cottage at the park. His daughter, Adelaide, married Jean R Stebbins, Little Falls, who was president of the Agriculture Insurance company May 8 1886 to April 25 1808. His daughter, Gerladine, married General Bradley Winslow, Civil war hero. Melissa, another daughter, married U S Gilbert.
On Jan 16 1860 John C Cooper deeded this house and farm to his son, Levi F Cooper, who sold it to Betsey Stone March 15 1865 and on November 19 1866 she, wife of Oliver Stone, disposed of it to David W Hubbard of Henderson. David W and Harriet E Hubbard sold it to Leander Lawrence September 7 1868 and December 2 1872 Mr Lawrence purchased 35.37 adjoining acres from William G and Georgia E Scott to add to it. Mr Lawrence died April 2 1894 willing the place to his brother, Loren B Lawrence, and sister, Mrs Alvira Bates. Mrs Bates quitclaimed her interest to Loren B Lawrence September 3 1895.

Loren B Lawrence, who died January 28 1911 conveyed this house and farm to his son, Willis D Lawrence, on January 22 1910. When Willis D Lawrence died October 14 1930 the property went to his widow, Jennie Allen Lawrence, and upon her death September 21 1947 title passed to her daughter, Mrs Ward A (Alma) Hall, the present owner.
For 83 years this property, not far from where the wealthy Bradford Lisk built his big brick house, has been owned by the Lawrence family and today is familiarly known as the Lawrence place. For 57 years of that period it has been in the immediate family of the present owner, first in the ownership of her grandparents,. Loren B and Mary Curtis Lawrence, and then by Mr and Mrs Willis D Lawrence, her parents. Willis D Lawrence and Jennie Allen were married February 20 1889 and spent all but the first few years of their married life on this farm. Mrs Hall was four when her parents established themselves there and so has spent her ensuing years in the old house with its fine doorway. For the past 33 years Mrs Hall has been a teacher in the Adams Center Central school. Her husband is employed by the New York Central, but together they operate the historic farm.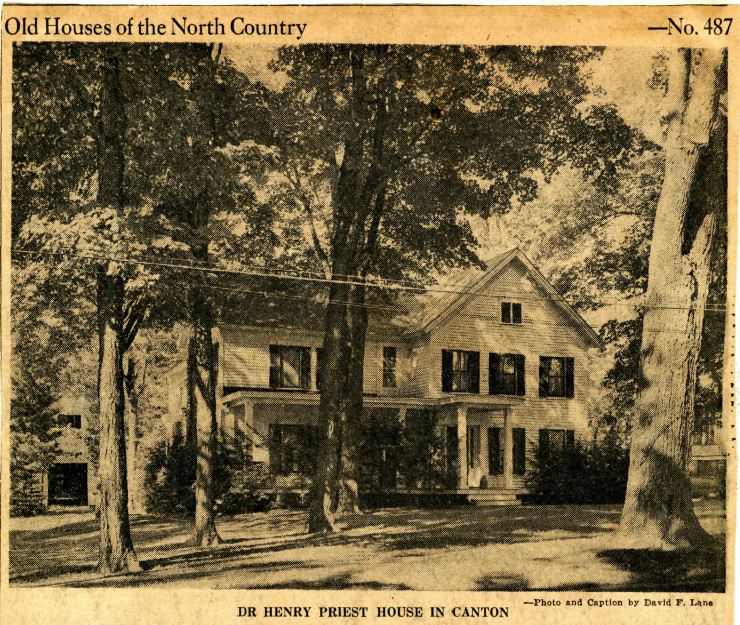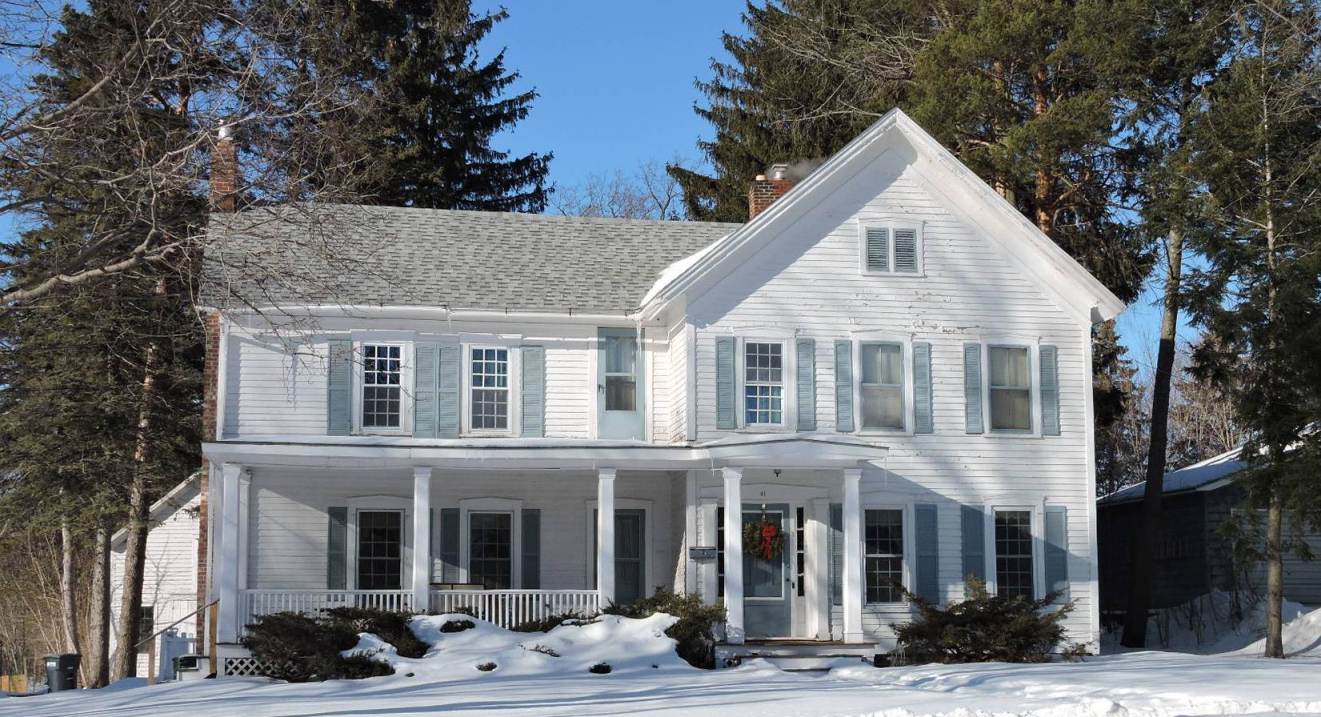 In all the 95 years' history of St. Lawrence university no figure stands out more luminously than Dr Henry Priest, Ph.D, a man of great ability and strong, positive character, dean of the institution for 23 years and faculty member for 29 years prior to his sudden death in the university chapel September 27 1912. And it is recalled that he ever staunchly supported the claim of Professor Amos Emerson Dolbear to the invention of the telephone over that of Alexander Graham Bell.
Upon a farm on a hill outside Mechanicville, Vermont, highest community in the Green mountains, he was born May 5 1847 son of Ethan and Hannah Priest. Giant in mind and stature he disliked farming but remained on his father's farm until 21. Student at Perkins academy or Green Mountain Institute at South Woodstock, Vermont, he later completed his preparatory course valedictorian at Dean academy and entered Tufts college in 1870. There, a member of Zeta Psi fraternity and the college crew, he graduated with honors in 1874 the year that Professor Dolbear, scientist-inventor, became a faculty member. In 1853 Dolbear invented the string telephone. Later and allegedly before Bell he perfected the electric instrument.
At Barre, Vermont, in the fall of 1874 Henry Priest became principal of Goddard, Vermont's leading academy, and after her graduation from it Miss Flora Coburn Eaton joined him as preceptress. In 1881 she became his bride. Born March 17 1854 at Calais, Vermont, she was a daughter of Caleb Curtis and Susan Coburn Eaton and older sister of Emily Lovisia Eaton who became the wife of Alonzo Barton Hepburn, eventual millionaire, Chase National bank president and philanthropist, native of Colton, St. Lawrence county.

In 1877 Tufts gave Henry Priest his MA degree. Also during his career at Barre he was selectman of the town and later assemblyman. In 1883 he removed to Canton to be Hayward professor of physics, chemistry and mathematics at S L U under President A G Gaines, and in 1889 dean under President A B Hervey. Later he served under Presidents John Clarence Lee and Almon Gunnison.

A story-and-a-half house was bought by Professor Priest at 41 Judson Street, Canton, from Marcia A Willson September 8 1883. Just around the corner from the house where Dr G S Farmer spent his college days, it occupies part of the Theodore Caldwell site and was built by Mrs Willson in 1861. From 1883 till her S L U graduation in 1886 Emily Lovisia Eaton lived in this house with the Priests and then Professor Priest built both upright and wing to two stories providing in it a study, a workshop, small foundry and photographic darkroom. With student aid in the shop he made the original laboratory equipment for his physics and chemistry classes. From Lombard college came his Ph.D in 1898 and for the next ten years his mother-in-law, Mrs Susan Allen Coburn Eaton resided in this house with him. Upon the death of Dr A G Gaines he took the Craig chair of psychology and ethics until his death. Because of ill health a sabbatical year was granted him in 1911 and he and Mrs Priest traveled Europe, Canada, the Northwest, West Indies and Panama. Just before his death the $200,000 Henry Priest chair of philosophy was created.

Ardent Prohibitionist, Dr Priest was a dominant leader in the cause for moral and political reform. As W C T U head and Woman Suffrage advocate Mrs Priest, who lived until January 1 1943 complemented him, was active in many civic movements and gave Priest Athletic field to Canton's grammar school. On September 27 1912 she took title to this house and conveyed it to her son, Dr Ward Curtis Priest, October 12 1916. He, with his wife, the former Miss Barbara Cramer, S L U '08 and family occupied it when he died December 20 1945 and the property went to his widow, present owner-occupant. In the house Dr Ward C Priest, noted physicist and promoter of radio station WCAD, was born June 16 1886 got his St. Lawrence B A in 1907 Harvard M A in 1910 and DSc. at Clarkson in 1935.
On June 28 1911 he married Miss Cramer. Their son, Dorman Eaton Priest S L U '37 now a nationally prominent physicist, succeeded his father as professor of physics at St. Lawrence for three years until Prof. Alfred Romer was appointed, and now is connected with Band Associates at Cambridge, Massachusetts

Mrs Hubert Reginald (Helen) Rogers, West Brattleboro, Massachusetts, sister of Dorman E Priest and graduate of Columbia, is one of the nation's outstanding teachers of the dance. Her sister, Mrs Frank J (Alice) Dunn, Canton, S L U '40 formerly attracted national attention in testing milk at West Brattleboro while her first husband, Staff Sgt. Jeremy Hitchcock Graves, World War hero killed in action in the Western theater November 16 1944 was battling at the front.
Notable, indeed, is this Priest family through three generations, especially in the field of physics in this country.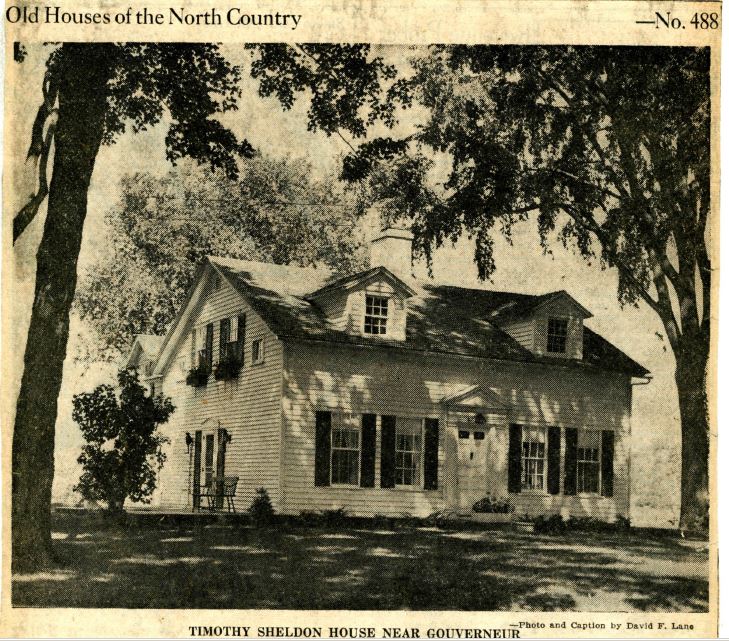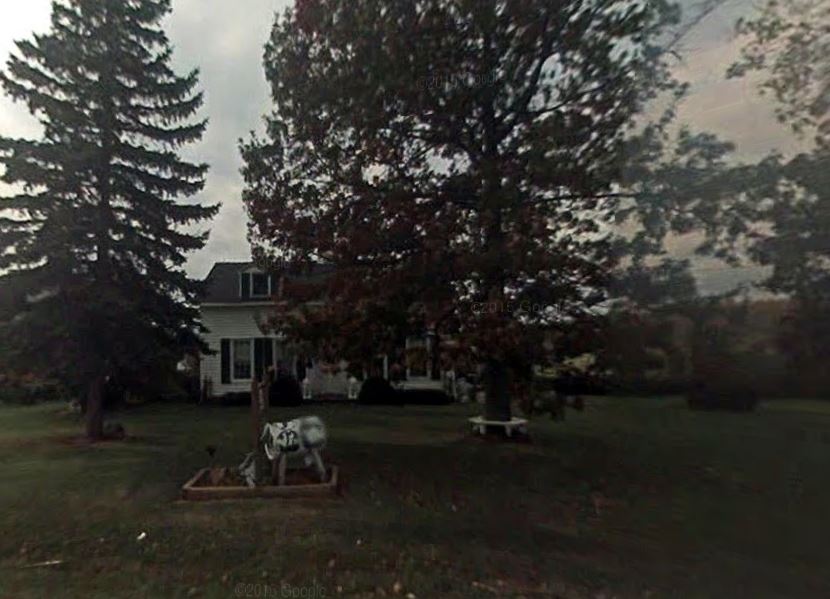 Home of the 39th district's State Senator Paul D Graves, owned by his father, Perle Atwell Graves, and located a little way out of Gouverneur towards Richville on the state road, northern New York has no more beautiful country estate than this. And it carries the unique distinction of having been the home of Senator Graves' immediate predecessor in office and late mother, Mrs Rhoda Fox Graves, first and only woman member of the New York state senate.
Manor house of a 288.18-acre farm, it was built in 1823 by Timothy Sheldon, and was restored, with little exterior modification, under the artistic guidance of the late Senator Rhoda Fox Graves some 15 years ago. War of 1812 veteran, Timothy Sheldon was born April 23 1788 in Pawtucket, RI and, in 1808 settled in Cambray, now Gouverneur. Descendant of John Sheldon, tanner and native of Warwickshire, England, who located in Providence, Timothy Sheldon married Nancy Bowen of Providence and became the father of twelve children. On horseback Timothy, Nancy and their first child came to Cambray and August 1 1829 Ann Carey Morris as executrix of her late husband, Gouverneur Morris, famed American patriot and as guardian-trustee of their son, Gouverneur, delivered to Nancy Sheldon deed to the slightly over 50 acres where this house stands. Later Timothy Sheldon alone, and with his wife jointly, acquired adjoining parcels of Gouverneur Morris lands. Using ox teams Timothy cleared the trees, having first built a log cabin, predecessor to this house. He also had his own blacksmith shop, sawmill and private creamery for manufacture of butter and cheese.

Nancy Sheldon died in 1856 and some years before his death, May 20 1868 Timothy resided in a brick house in Gouverneur. Under Timothy's will this house and original farm went to his son, Gray B Sheldon, and other parts of the farm to other children including Henry Sheldon, father of James Otis Sheldon, long president and now chairman of the board of the Bank of Gouverneur and always much interested in the history of this farm.
Gray B Sheldon died November 4 1905 willing this place to his wife, Phedora Babcock Sheldon. On March 28 1922 she conveyed it to her son, Le Roy G Sheldon, who operated it some years and on September 23 1935 sold it to Perle A and Rhoda Fox Graves. Sole title went to Mr Graves upon the sudden death in Hollywood, FlA, January 25 1950 of Mrs Graves who, after eight years in the assembly and a subsequent 14 years in the senate, retired December 31 1948 with a record of public, civic and social service rarely achieved by any individual.

Born on a farm in Fowler July 2 1877 daughter of Leander and Rhoda Burt Austin, adopted daughter of Lafayette and Rhoda Ann Shippee Fox, descendant of Sir Roger Conant, Salem, onetime colonial governor of Massachusetts, she married Perle Atwell Graves, Gouverneur, April 26 1905. For 27 years she was vice chairman of the St. Lawrence county Republican committee. In the legislature she sponsored bills beneficial to dairy farmers, for the creation of women jurors, for the development of the St. Lawrence seaway, was chairman of the senate agricultural committee and once presided over the senate. She was sent to Republican national conventions in Kansas City and Chicago and was identified with an endless list of organizations.
To her husband, now 82 retired head of Gouverneur's Seaker-Graves Motor company, long a clerk in the state legislature, son of Daniel and Helen Hyde Graves of Gouverneur, worker for the dairy farmer, former member of the Gouverneur school board, was due in large measure her campaign successes through his management. Upon her retirement her mantle as senator and champion of the farmer was taken over by her elder son, Paul D Graves, resident and operator of this farm for the past ten years, born at Gouverneur November 23 1907 educated at Colgate university and Harvard law school, veteran of World War II, husband of the former Miss Jane Anderson, Buffalo, whom he married May 4 1940 and father of Christopher Fox Graves.

Besides the Sheldon farm Perle A Graves owns another farm, Senator Paul D Graves has a farm of his own and two other farms are owned jointly by the senator and his brother Mark, all five farms being managed by the senator, whose practical knowledge of farming fits him eminently for the senate agricultural committee on which he serves, along with other prominent committees. Also he champions the St. Lawrence seaway.
As for this house with its living room, dining room, kitchen, four bedrooms and two baths, its massive frame is tied with wooden pins. In the clear pine floors are 20-inch boards. The massive chimney stemming from the cellar serves three fireplaces and one Dutch oven, practically in original condition. The main staircase in traditional mahogany and white with mahogany hand-rail and newels bearing old New England witch carvings, was bought by Senator Rhoda Fox Graves from an Austrian antique dealer in Connecticut. The house is one of great beauty inside and out, as is also the tenant house, and the barn is a masterpiece of old craftsmanship.
The beautiful front doorway with fanlight was also purchased by Senator Rhoda Fox Graves and installed. Inside the house the furnishings are choice and handsome antiques and the main lighting fixture of the living room is Timothy Sheldon's hand-shaved ox-yoke.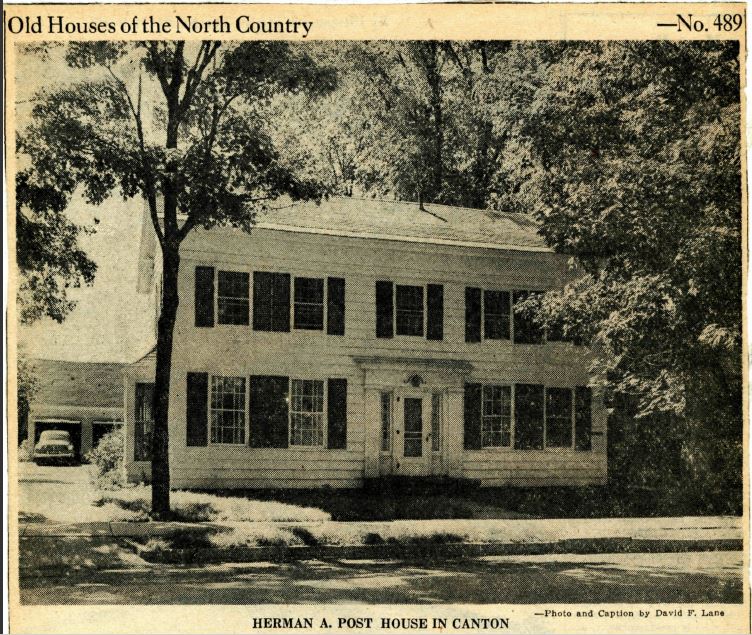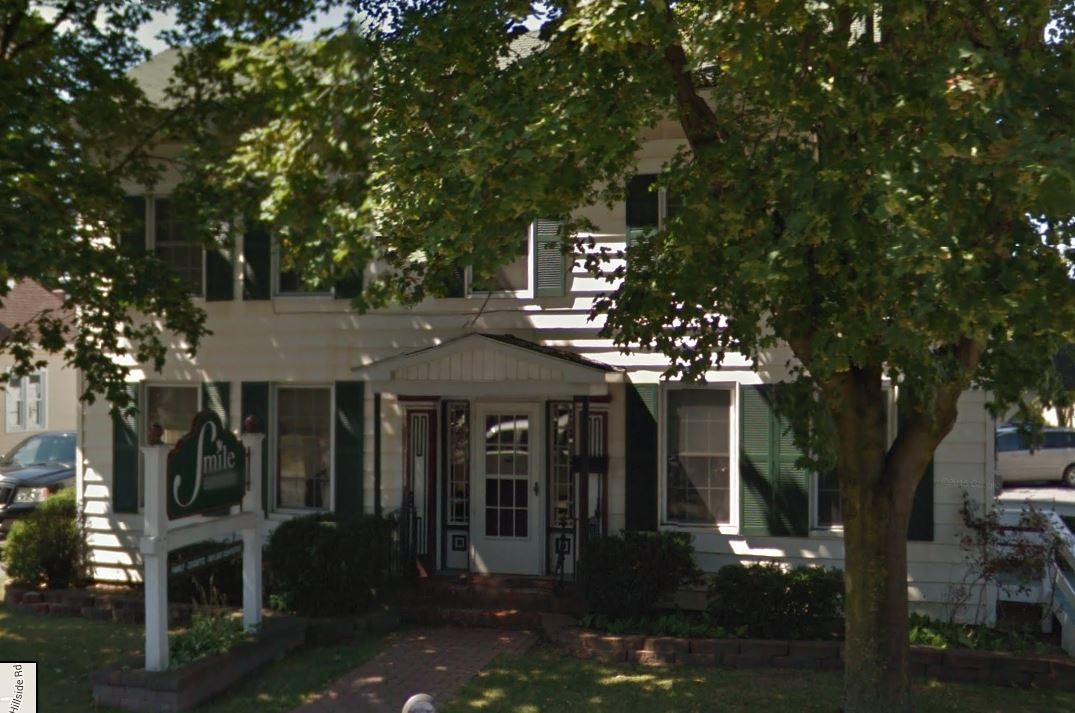 Although modified somewhat from its original appearance, this beautiful white frame house on the lower west side of Park Street close to the main business artery of Canton, county seat of St. Lawrence county, handsome Georgian Colonial in architecture, has been made one of the finest residences in that village. Probably built an almost exact century ago by Herman A Post, an early member of one of Canton's outstanding families, the house has been owned and occupied for the past eleven years by Dr Ernest H Stretton. For 66 years prior to that the property of the Wallace family, another old and outstanding family in the town of Canton. The site was originally part of the extensive St. Lawrence county lands of the noted and wealthy land speculator, Henry VanRensselaer, who sold it to Vincent Cone October 9 1847. On May 2 1849 Mr Cone sold the site to Emulus E and Herman A Post, and on May 20 1851 Emulus transferred his interest to Herman for a nominal sum.
It is likely that at that time Herman A Post built the original house and at the end of about six years sold it October 25 1856 to George Woodbridge for $l,500. Woodbridge was the father of Emory G Woodbridge who, early operated a stagecoach tavern about two miles out of Canton on the Ogdensburg road. Upon the death of George Woodbridge his widow Philenus and Emory G Woodbridge sold the property to Mark W Spaulding May 1 1872.
Mark WT Spaulding was county clerk of St. Lawrence from 1858 to 1861. He was prominent socially, politically, and civicly in Canton and later operated a grist mill in that village. On November 1 1872 he sold this house to Willard Aldrich.
Next, on March 7 1874 Aldrich disposed of the place to Solomon Wallace and on July 5 1880 Solomon conveyed to Edwin Wallace, who retained the property until his death May 23 1902 when it went to his three sons, Henry, Charles and Alvin. Alvin acquired the interests of his two brothers December 31 1902 and owned the house until his death at 86 on March 20 1934 and on July 20 1940 his son, Robert G Wallace, Carthage, took full time, selling to Dr Ernest H and Edith E Stretton on September 5 of that year. They are the present owners and occupants. Robert G Wallace, graduate of St. Lawrence university in 1915 has been superintendent of the Carthage schools nearly 30 years.
It will be recalled that the original owner of the house, Herman A Post or Poste, and his wife, Matilda Bailey Post, were the parents of the late William A Post, native of Canton, graduate of S L U in 1871 associate for a time of the late Supreme Court Justice Leslie W Russell, later prominent New York attorney, and deputy attorney general under Attorney General Denis O'Brien, of this city, from 1883 to 1887. Mr Poste married Miss Anna E Ellsworth, daughter of Joseph R and Mary Clark Ellsworth, prominent Canton residents. On January 21 1896 William A Post died comparatively young. His widow died at the age of 87 on August 26 1945.
Concerning the Wallace family, it is related that Matthew Wallace and wife Martha came from Vermont by ox-team in 1807 to settle near Parishville. In 1820 when their son Edwin was 14 they moved to the Brick Chapel area south of Canton, cleared the timber off and paid for the farm by selling the black salts, product of leaching the ashes of the burned timber from the land.
Alvin Wallace, owner of the this house for the 32 years preceding his death, was a retired farmer and owner of several farms. He was born October 27 1847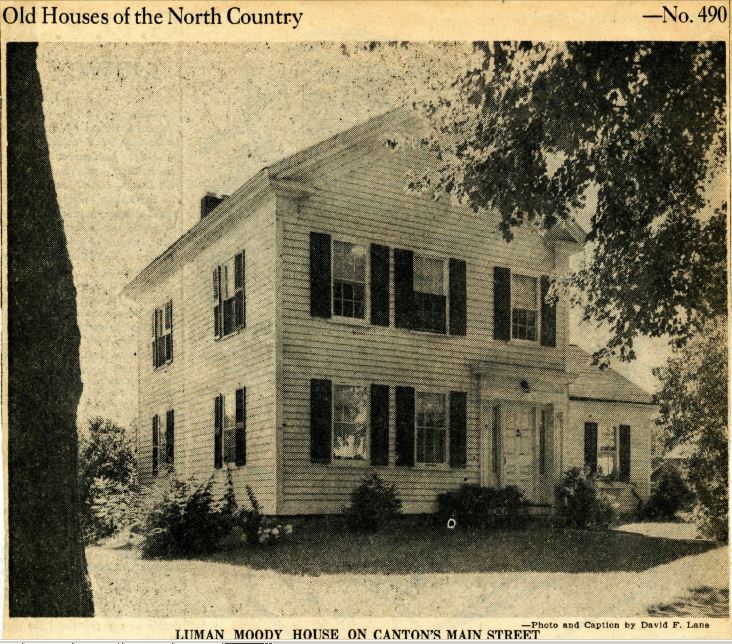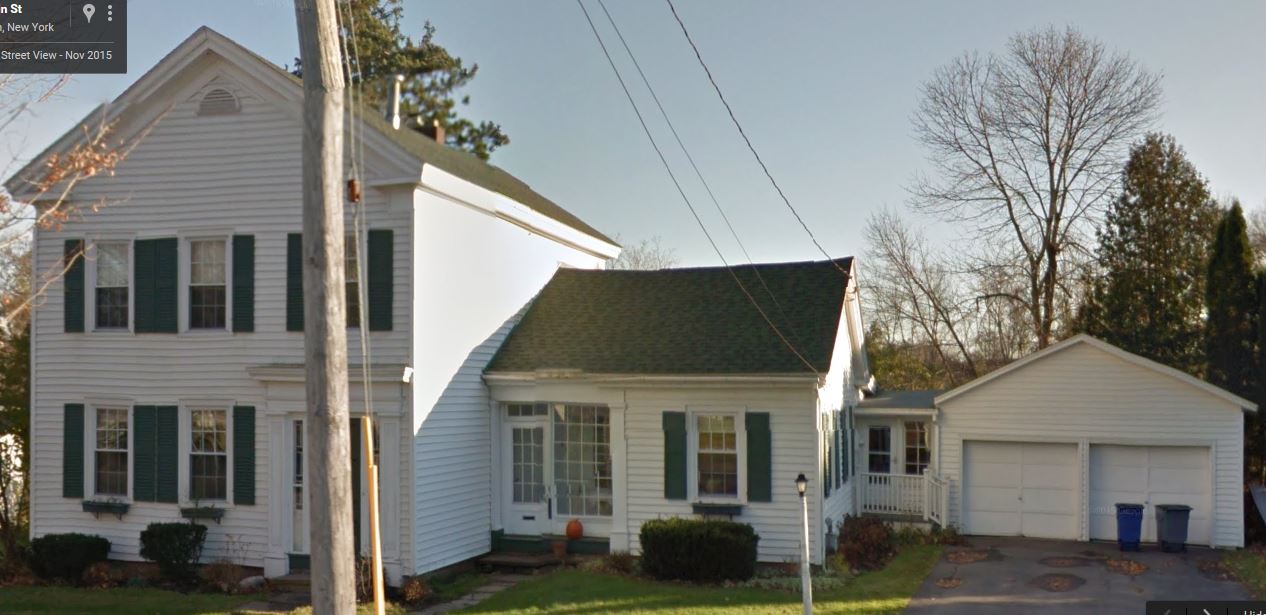 Foote, Moody and Bullis, names of three families that led in the early history of Canton village, thread the story of this old frame house with the handsome front doorway, the wide-board original soft pine floors, the return cornices and the small-paned windows.
There is a tradition that the house, located at 19 West Main Street, near the residence of John A Finnigan editor and publisher of Canton's Commercial Advertiser newspaper, was built in 1806 by Medad Moody. From the record, however, it seems more likely that the house was constructed some 106 or 107 years ago by Medad's son, Luman, who became president of the village of Canton about 1852 or possibly earlier built by Stillman Foote, owner not only of Canton's first tavern but of the mile square, upon which Canton stands. In any event the Moody house is just across the street from the big Foote tavern said to have been established a century and a half ago.
The site of the Moody house apparently came from 615 acres of land contracted by Stephen VanRensselaer to Stillman Foote, Middlebury, Vermont, at the beginning of the last century for $750 although title to the tract was not actually delivered to Foote until November 14 1834 six weeks before his death on December 27 1834.

Stillman Foote left a widow and several children, one of whom was Henry who acquired the interests of the other heirs. On June 27 1843 Henry Foote and wife Amelia sold this lot with other land to Luman Moody for $3,217.92. On October 10 1853 Luman and Lydia R Moody sold to Henry G Foote for $4,000 and December 8 1857 Henry G and Anne W Foote conveyed to Dexter R Nash. October 3 1859 Richard D and Patience Nash sold to Lydia R Moody.
Then on May 28 1869 John Wheaton Bullis bought .16 of an acre from Lydia R Moody and part of the present Wilmarth place, and 1.73 acres, also part of the Wilmarth place, from Mary S Bogue, Clarissa M Smith and husbands, Lydia R Moody quitclaimed her interests in the 1.73 acres. John W Bullis, settler at Waterman hill in 1841 died March 23 1884 giving his widow, Mercy R Fonda Bullis, life-use, and then absolute to two daughters, Angeline and Annette, sisters of Henry and J Fonda Bullis who, for many years owned the big Stillman Foote tavern property across the street.

Mercy R Fonda Bullis died in 1887 and Miss Angeline Bullis died in this house July 24 1917 and later title was cleared to Miss Annette, who sold this-old house and lot to Clifford L Wilmarth and wife, Mary E Wilmarth, the present owners on July 22 1936. Annette then lived in a home in the eastern part of the village until her death October 23 1940 aged 94. Her brother, Henry, had died eight years before aged 99. Annette, who attended and taught school in the Waterman Hill district had the distinction of having Irving Bacheller, celebrated American novelist, as a pupil. She was born on Waterman Hill February 16 1846 five years after her parents had moved there from Plattsburgh and for 110 years the Bullis family has played a role in Canton history. Henry Foote one time owner of this property acquired the old American hotel in 1840.
Medad Moody, native of Amherst, Massachusetts, came to Canton in 1804 from Weybridge, Vermont, and his daughter Clarissa later became the wife of Governor Silas Wright. His first location was on the south side of the Grasse river just above the bridge and in 1820 be erected a square frame house on the site of the present Harrington Hotel. In the War of 1812 he served as a militia captain.
But concerning this beautiful old white house, Mr Wilmarth, a book-keeper, and his wife have it in tip-top condition. It consists of nine rooms, its original floors of pine boards, some 22 inches wide, have been beautifully conditioned. Fine antiques grace the house and handsome hardware adorns the front door as well as the interior doors.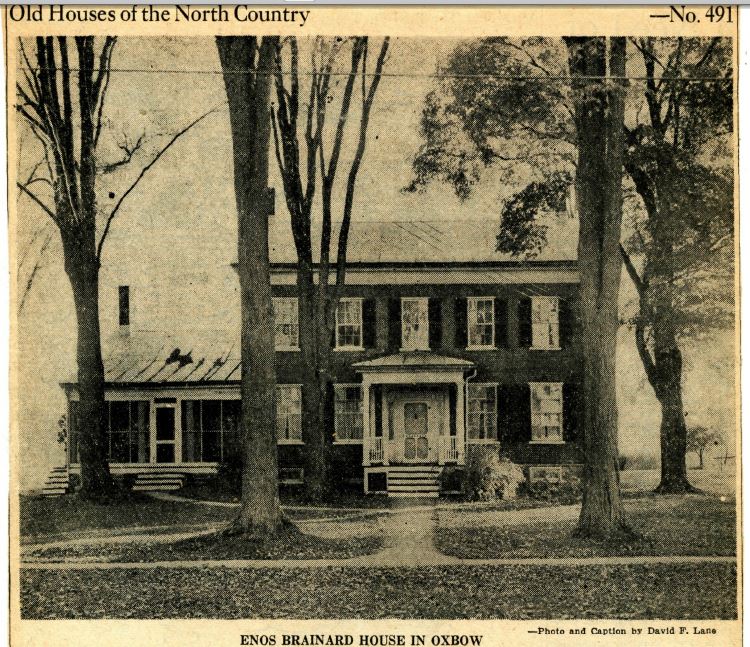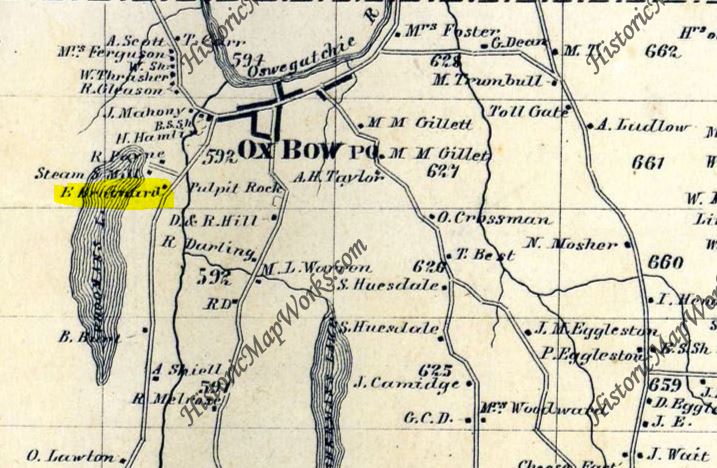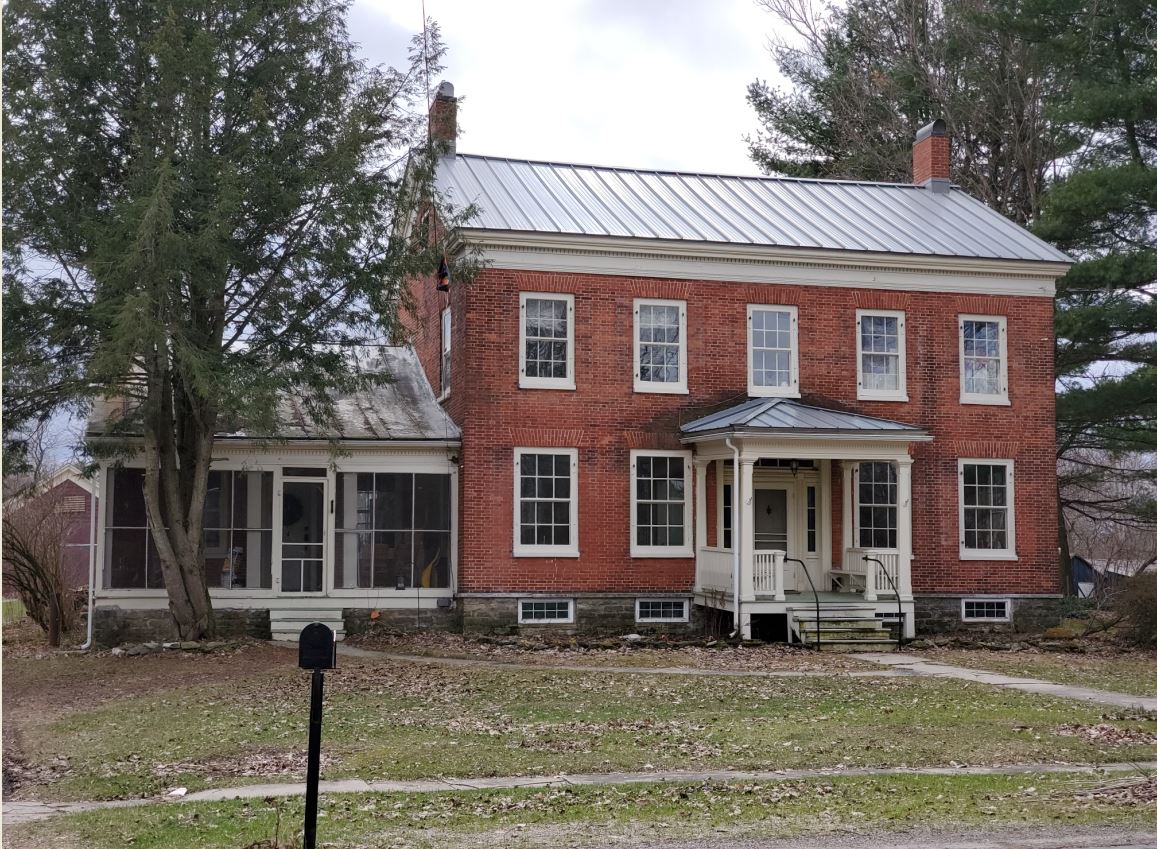 Thanks to Shelene Atkinson for providing this photo
On the south side of lower Main Street in the quaint and historic village of Oxbow is this magnificent old brick house. Said to have been built in 1848 by Enos Brainard, it is across from the Dr Abner Benton brick house, in which Caroline Charlotte Bonaparte, daughter of Spain's King Joseph and niece of the great Napoleon, began her married life with Dr Benton's son, Colonel Zebulon Howell Benton in July 1839.
Not since it was built over a century ago has this brick house, little changed in appearance down through the decades, been out of possession of the Brainard family.
The Misses Mary V and Frances E Brainard, sisters and veteran school teachers, granddaughters of Enos, present owners and occupants, have possessed it from the death of their father, Attorney Martin VanBuren Brainard February 14 1895.
Deacon Daniel Brainard, immigrant ancestor of this family, was brought from England by the Willys family to the American colonies in 1641. Deacon Daniel became one of the proprietors and original settlers of Haddam, Connecticut. Born at Haddam, Enos Brainard came to Norway, NY, in 1806 and, at 21 from there to Oxbow in 1819.

That was the year that Abraham Cooper, founder of Oxbow in 1817 built the village hotel, which later became known as the Loomis tavern, which Enos Brainard bought from Foster Nostrand of New York City October 14 1839 and operated until he built this brick house. Enos Brainard, whose wife was the former Content Woolworth of Watertown, first operated an ashery and tannery in the town of Antwerp before he engaged in the tavern business. He died August 5 1872 and all real estate including this house went to his son, M V B Brainard.
Martin VanBuren Brainard not only followed his profession as a lawyer, preferring the peace and contentment of life in the hamlet of Oxbow, but operated his farm. There in this brick house he died on February 14 1895 at the age of 65 leaving a widow, Mrs Minnie Brainard and his two daughters. After following the profession of school teacher at Teaneck, NJ, Miss Mary, the elder daughter, retired in June 1948 and resides in this house. Her sister, Miss Frances, is still teaching in the schools of Batavia, and resides in Oxbow summers.

The house, in beautiful state of preservation and maintenance, consists of seven rooms on the main floor and four bedrooms upstairs. There is still one fireplace in the dining room designed for cooking. The brick, from which the house is built, came from the same local kiln as the brick for the two Benton houses, on the same street, and the Robert Darling house facing the public square and across it to the old cemetery where are buried the Coopers and the Bentons including Caroline Charlotte, daughter of Joseph Bonaparte by Annette Savage. Beside this woman, of royal lineage, sleeps her adventurer-husband, Colonel Zebulon Howell Benton, the one time picturesque character of the black frock coat and Napoleonic cocked hat.

The kiln, in which the brick were baked, was located in a deep excavation not far from this house, being at the end of Brainard's hill. A mason named Scott is said to have laid the brick walls of the Brainard house. The beautiful and well seasoned woodwork of the handsome front door and doorway as well as that of the interior is believed to have been crafted by David Hamlin. The casings, painted white, are of good width, fluted, and ornamented with corner blocks not unlike those of the front doorway.
One of the finest of the large old houses in the North Country today, the old Brainard mansion never fails to attract the attention of the tourist passing through the old hamlet where a Bonaparte princess once lived her troubled life more than 100 years ago.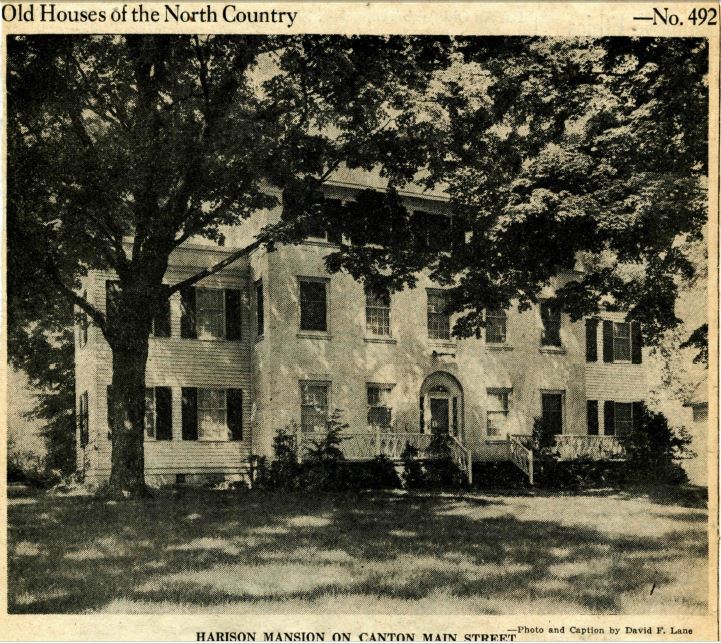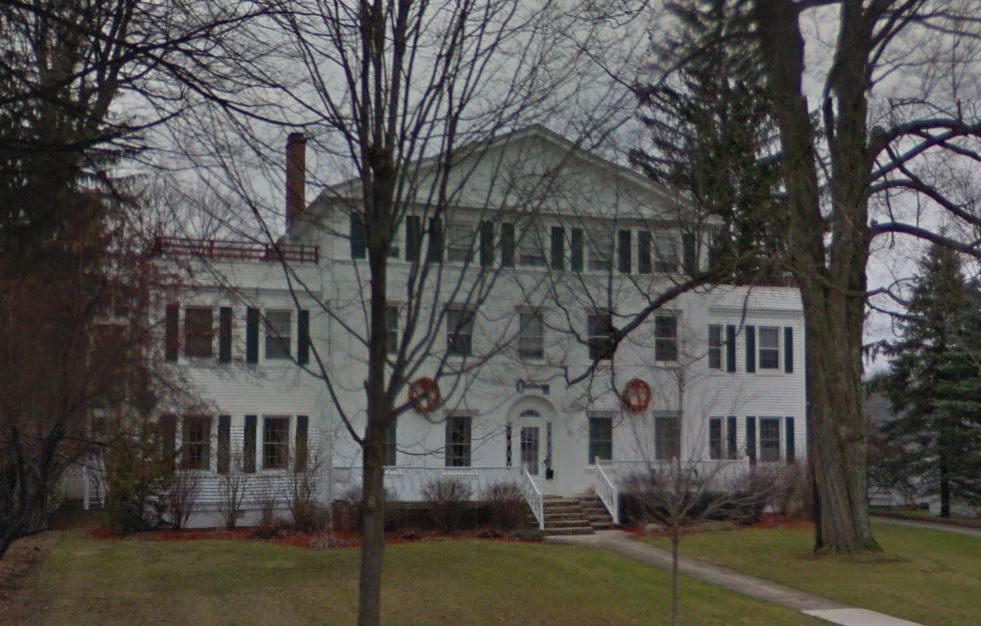 Venerable maples, like stalwart grenadiers stationed upon a broad, deep lawn, stand sentinel while summer sunlight splashes across the brickwork of Kappa Lodge, white, beauteous and dignified old Harison mansion at 45 East Main Street, Canton. For half a century it has been the home of Beta Beta chapter of Kappa Kappa Gamma, oldest sorority of St. Lawrence university.
Although now much expanded, the original mansion was built over a century ago by descendants of Richard Harison of New York City, friend of George Washington, Alexander Hamilton, Gouverneur Morris, John Jay, Stephen VanRensselaer and other luminaries of the early years of this great American republic.
Born in New York City of notable parentage in 1747 Richard Harison, classmate of John Jay, entered King's college at 13 became a famous lawyer, partner of Alexander Hamilton, assemblyman 1788-9 New York City recorder 1798-1801 United States district attorney for New York appointed by President Washington, counsel to William Constable and Hezekiah B Pierrepont, northern New York land barons, after the tragic death of Hamilton.
July 15 1795 Harison, Nicholas Low, William Henderson and Josiah Ogden Hoffman bought the Black River tract of 300,000 acres. Harison, Hoffman and Stephen VanRensselaer also bought the towns of Canton and Lisbon from Alexander vonPfister and in their division Harison took the eastern portion of 39,460 acres. Harison died December 6 1829 aged 81.
On September 30 1828 David S Jones and William H Harison, trustees, and Richard Harison sold 40 acres including the site of this mansion in Canton to Hiram S Johnson. Johnson conveyed it February 2 1835 to Richard N Harison who died February 8 1846 and this estate went to his heirs.
They were John Champlin Harison, William H Harison, Frances L Harison, Penelope M Harison, Richard Harison, Minturn Harison and Anna Marie Harison. Richard and Minturn conveyed their interest to John Champlin May 1 1847. William H conveyed to Frances L, Penelope M, and Anna Maria July 1 1852 and April 20 1853 Penelope conveyed her interest to John Champlin, Frances I, and Anna Maria. In splendor the latter three resided in this imposing mansion with its handsome hallway and cherry staircase, its wine cellar, its separate land-office with stables and coach-house to the rear housing fine horses, phaetons and other striking equipages. Some of these Atwood Manley recalls having seen still stored in the carriage house when his father moved to the Keeler place across the street in 1905.
This big house was one of three owned by the Harisons in Canton. Across East Main Street from this mansion was the Harison farmhouse, now the President's house of St. Lawrence university. Back on Judson Street Richard Harison had built himself another large brick house, probably after he disposed of his interest in this property.
These Harisons bulked large in the life of Canton. In 1842 village records list John Champlin Harison as path master, and he, a bachelor, died April 23 1879. Anna Maria died February 18 1889 and early in 1892 Penelope is said to have moved to Georgia. On March 7 1892 Frances Ludlow Harison sold this big house to State Senator Dolphus S Lynde, who later built a smaller house for himself at 43 East Main Street, next door. Senator Lynde died June 29 1902 and his daughter, Miss Grace P Lynde, disposed of this big mansion to an organization of alumnae of Kappa Kappa Gamma for a sorority house.
Born in the town of Antwerp July 1 1833 Dolphus S Lynde was the son of Benjamin Franklin Lynde, a Vermonter, and Catherine Cheney Lynde, native of Antwerp. Educated in an Antwerp district school and Gouverneur Wesleyan seminary, Dolphus S Lynde married Esther S Caul of Antwerp February 14 1853 removed to Hermon in 1857 operated a dry goods and grocery store there for 30 years, built the Lynde block in 1872 was one of the first stockholders and directors of the First National Bank of Gouverneur organized February 19 1881 and was prominent in Republican politics.
In 1868-70 and 1885-7 he was supervisor of the town of Hermon. For four terms, 1871-5 he was a member of the assembly and for six years, 1878-84 he was state senator. As a member of the state legislature he worked for greater water power facilities along the St. Lawrence and Oswegatchie rivers, for the manufacture of oleomargarine and was a pioneer for woman suffrage.
From Hermon he removed to Canton in 1887 when he became a founder and first president of the First National bank of Canton. During his lifetime he owned a number of farms and other real estate and was much interested in agriculture. His widow survived him 34 years, dying June 14 1936 in her 99th year.
Their daughter, Miss Grace P Lynde, who continues to reside at 43 East Main Street, was this year cited by St. Lawrence university as an outstanding North Countryman. Graduate of S L U in '93 where she was a member of Kappa Kappa Gamma, she became a clerk in 1897 in the Canton bank her father had founded, assistant cashier in 1903 cashier in 1922 auditor and vice president in 1927 and so continued until she retired October 1 1941. For many years she has been financial adviser and counselor of Beta Beta chapter, K K G, of which Miss Anne Ellsworth, Canton, is now the president. This chapter started September 20 1875 as the Browning society. Mrs Cammie P Woods Gaines, wife of Dr Charles Kelsey Gaines, was the first initiate. In September 1881 the society became Beta chapter of Kappa Kappa Gamma, a national sorority.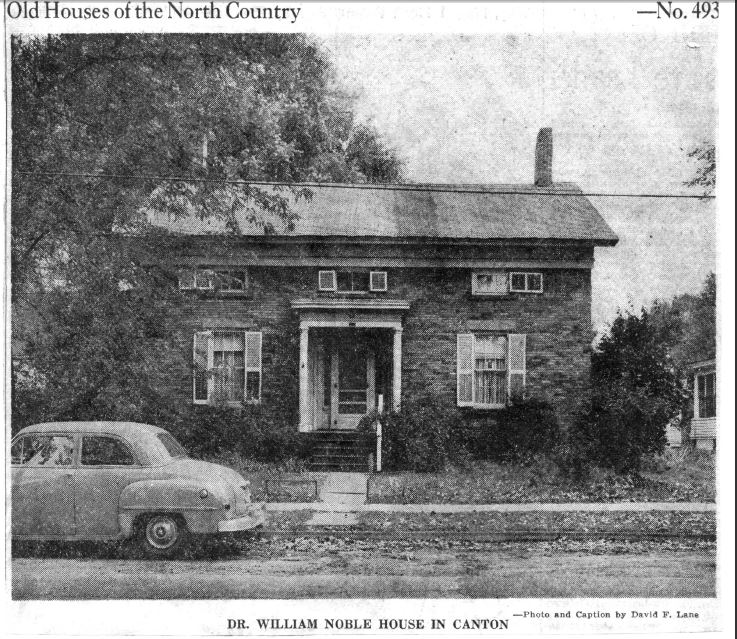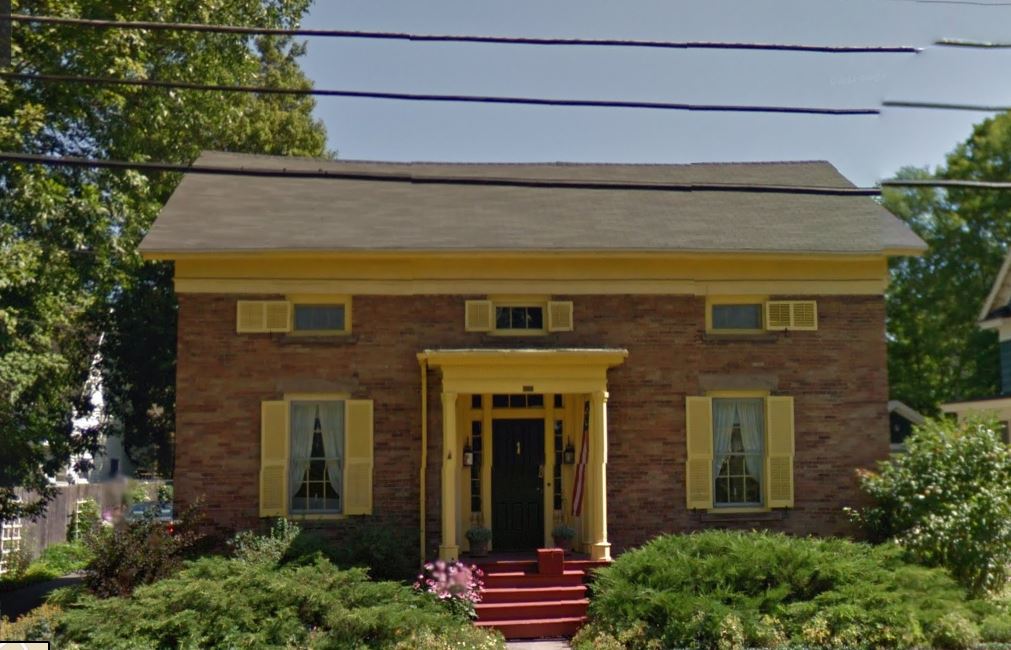 Almost within stone's throw of St. Lawrence university this handsome old red brick house on the east side of Canton's Park Street has had a long and distinguished ownership. Designated No. 49 it was the residence of Dr William Noble, Canton's first physician, nearly a century ago. It is commonly known as the Dr Noble house, but unquestionably it was built by Calvin Hill or Alanson K Hill almost a quarter century before Dr Noble acquired it.
On May 11 1827 Stephen VanRensselaer sold a 30-acre tract which included the site of this house to Governor Silas Wright Jr, and Joseph Barnes for $538.50. Then they sold 27.25 acres of it to Calvin Hill November 11 1828 for $763 and on July 29 1836 Calvin conveyed it to Alanson K Hill for $1 plus maintenance. This may mean that the house was on the plot at that time. Undoubtedly it was there on April 28 1837 when Alanson K and Mary S Hill transferred it back to Calvin for $2,000.
Calvin Hill apparently died between 1838 and 1842 leaving this property to his widow Harriet and children, Alanson K, Lester K, Julia Wilson, Clarissa Hosley, Russell and George W Hill, and these children quitclaimed their interest to their mother. Mrs Hill transferred the 27.25 acres to her son, George W Hill, April 29 1850 with the condition that he support her the balance of her life. Dr William Noble, who had come to Canton about 1805 to become its first physician, purchased two lots of the place from George W Hill and wife Harriet for $2,000 on November 1 1859. He had early owned and operated a stone tavern and a store on the Potsdam road (East Main Street). On February 1 1836 the Richard Harison heirs had sold him 40.3 acres where the Harison farm house was on East Main Street.
Greatly modified, that farm house is the St. Lawrence university president's house today and January 6 1855 Dr Noble sold all but 3.63 acres of that 40.3-acre tract to Jacob Noble. The sale included the farm house. Dr Noble owned the land where St. Lawrence university is. Upon the northerly of the two Park Street lots he bought from the Hills was the brick house shown above, and on October 28 1862 he conveyed them to Martha and Eliza Noble for $1 reserving life-use to himself and wife Ruth. He died February 18 1871 and April 1 1889 Eliza Noble Delance deeded her interest in the brick house and lots to her sister Martha Noble, who resided there for many years and died January 14 1916 leaving the property to her nephew, Dr William Lincoln Noble, who sold it to Leslie R and Emma Smith on December 15 1917. On April 25 1918 they disposed of it to Mrs Sarah B Raymond Miles, wife of Dr Edson Russell Miles. Mrs Miles died March 20 of this year and the place went to her husband.
The Hills, first owners of the property, were early Canton settlers. Dr William Lincoln Noble, who died October 14 1937 at 76 was born on a farm in the town of Russell near Canton December 23 1860 son of William and Phoebe Grant Noble. He attended Canton academy and graduated from S L U in 1885. While in college he lived in this house with his aunt Martha. In 1888 he graduated from Rush Medical college, Chicago, and became a famous Chicago physician and educator. He took up residence in Evanston, Illinois In 1919 he was elected a trustee of the University of Illinois, and in 1922 became president of the board serving for eight years. He was a faculty member of the Illinois Post-Graduate Medical school and president of the Illinois State Medical society in 1916. On November 1 1899 he married Marion Holden of Chicago. Their children are William H, Henry H and Jane H Noble.
Dr Edson Russell Miles, present owner and occupant of the house, is also a man of much distinction. Born at Mount Gilead, Ohio, he was graduated with honors from S L U and its theological school in 1900. There he was a member of Alpha Tau Omega frateinity and the scholastic Phi Beta Kappa, an outstanding baritone singer and director of the university glee club.
On September 4 1900 he married Miss Sarah B Raymond, Clinton, NY, kindergarten teacher, preached in the Universalist church at Binghamton three years, then studied dramatics at the American Academy of Dramatic Art in New York, was graduated in 1905 for three years was with E H Sothern and Julia Marlowe in Shakespearean plays, from 1907 to 1912 in repertoire and stock in the East with Sir Guv Standing, and with Theodore Roberts in "The Right of Way."
Returning to the pulpit he preached in the Grove Hall Universahst church at Dorchester, Massachusetts. On August 31 1917 he became Ryder professor of homiletics and pastoral care in the S L U theological school, was instructor in speech and dramatic art in the university, received his D D from Tufts college in 1930 and retired in June 1948. He is a member of the National Association of Teachers of Speech, of the Boston Arts & Crafts society, the New York Society of Craftsmen, and twelve years was chairman of the St. Lawrence County Child Welfare board. His hobby is silver crafting. His eleven-room brick house has a central hall with fine black walnut stair rail, graceful spindles and S-shaped newel. Over his front porch is a small brass plate bearing the word, "Home." It has intrigued the curiosity of many a passerby, but it means that it was once insured by the Home Insurance company.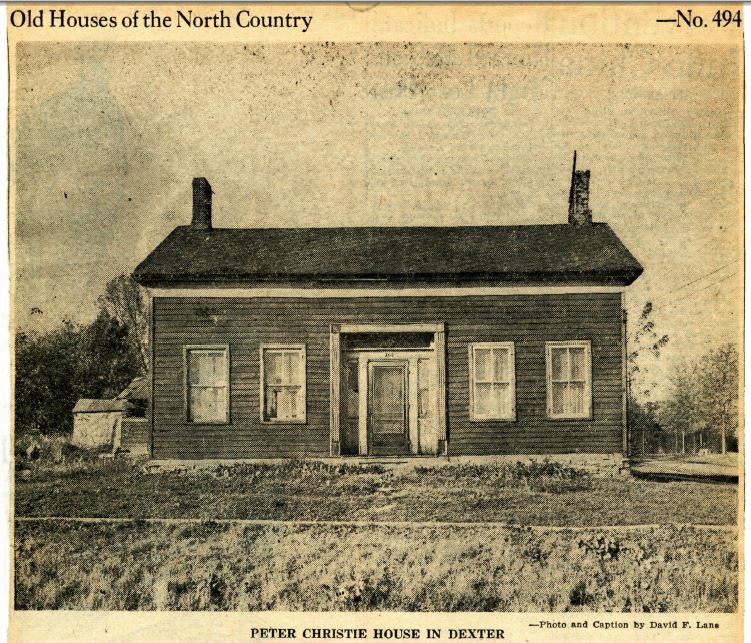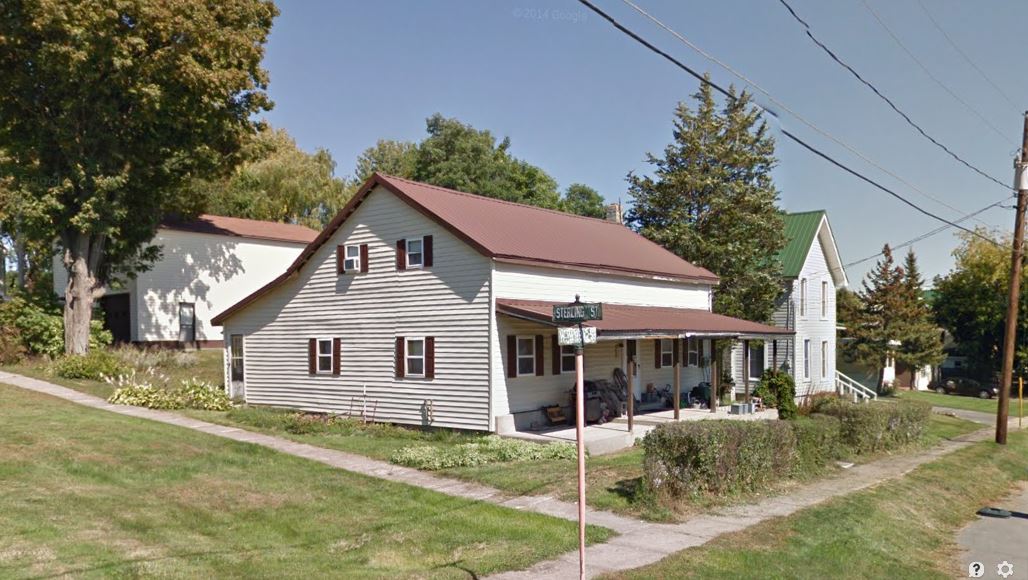 Upon the high North side of Kirby Street at the corner of Sterling Street in the village of Dexter is a weathered old house of fine, simple type with imposing central front entrance. It spells dignity in every line and augurs an importance that it must have once had among the prominent residences of the community.
The architecture and present condition of this dwelling, now designated 302 indicate an age of at least a century, but there is no proof as to the builder. It is now owned by Mrs Sarah Morehouse Christie. She is the widow of Fred Lewis Christie, who died January 8 1949 aged 72. For 50 years he was an employe of the Dexter Sulphite, Pulp & Paper company, holding the position of sulphite foreman in his last years there. Mr Christie was the son of Peter and Katherine Ewing Christie. This Peter Christie was Peter Christie, 3rd, son of Peter Christie, 2nd, and Lucinda Gardner Christie, and Peter Christie, 2nd, was the son of the Peter Christie, native of Quebec, who died on Amherst island near Kingston, Ontario, and whose wife's name was Rachel. Peter Christie, 2nd, located in Dexter in 1838. Twice married he had five children by Jane Ferguson, his first wife and eight by his second wife, Lucinda Gardner of Pillar Point. Of the latter eight was Peter, 3rd, who enlisted in Co. K, 14th NY Cavalry in the Civil war, transferred to the 18th NY Cavalry, re-enlisted in the Tenth NY Heavy Artillery and married Kale Ewing of Peru, Ind.
There Fred Lewis Christie was born July 24 1876. On August 27 1886 Peter Christie, 2nd, bought this property from Edgar and Mary A Leonard, George E and Lucy A Leonard, William E and Lillian L Leonard, James A and Addie E Gilmore. Peter Christie, 2nd, died intestate June 6 1890 and his widow, Lucinda B Christie, and Frank D Seeber were made administrators of his estate, which included two houses, of which this was one, and several lots. This house later became the property of his grandson, Fred L Christie, who, on April 6 1945 transferred it to himself and wife, Sarah Morehouse Christie.
In 1837 S Newton Dexter, for whom the village was named, Colonel Edmund Kirby, son-in-law of Major General Jacob Brown, John Brown, John Bradley and John Williams formed a company to develop 1,049 acres into the village of Dexter. On October 7 1840 this company sold the lot on which this house stands and other lots to Colonel Kirby. This house may have been built by the company or by Colonel Kirby. Colonel and Eliza Brown Kirby on March 1 1843 sold this property to the Jefferson Manufacturing company, which had succeeded Mr Dexter's Jefferson Woolen company. Then on November 5 1853 the Jefferson Manufacturing company disposed of it to Thomas H Magee, New York City. Magee was the head of T H Magee & Company, which succeeded to the ownership of the Jefferson Manufacturing company, manufacturers of blankets and other woolen textiles.
John H Magee, sole survivor executor of Thomas H Magee, sold this house and other properties in Dexter to Talcott H Camp, a Watertown banker, on March 8 1884.
On June 23 1886 Talcott H and Ann Elizabeth Camp conveyed the same property for $8,000 to Edgar Leonard, George E Leonard, William E Leonard, James A Gilmore, long engaged as the Leonard & G nore firm in the lumber business and in the operation of a large woodworking shop in Dexter. It was from them on the following August 27 that Peter Christie, 2nd, acquired this house and other properties.
Despite its age and weathered appearance the old house has in recent years commanded the admiration and respect of the passerby. At the time the picture was taken last October 18 plans were on foot to cover the beautiful, fine quality old clapboards with some of the modern patented sidings, regrettably.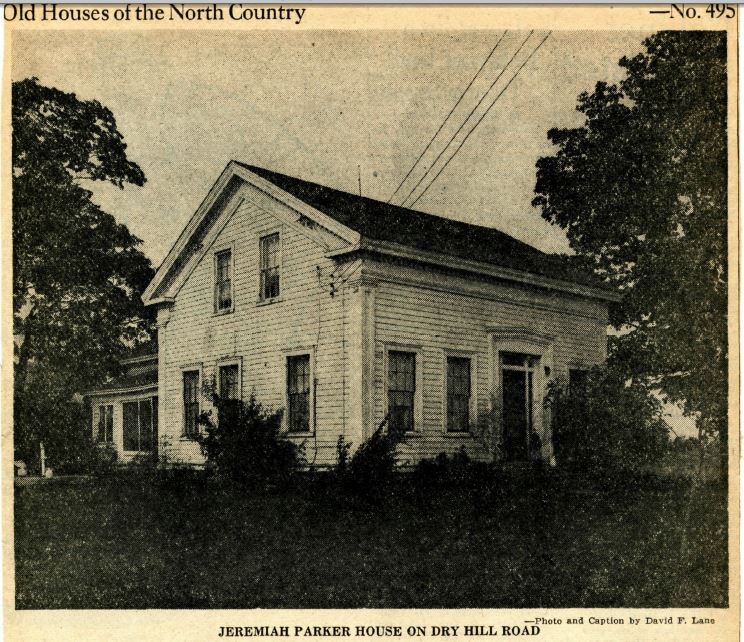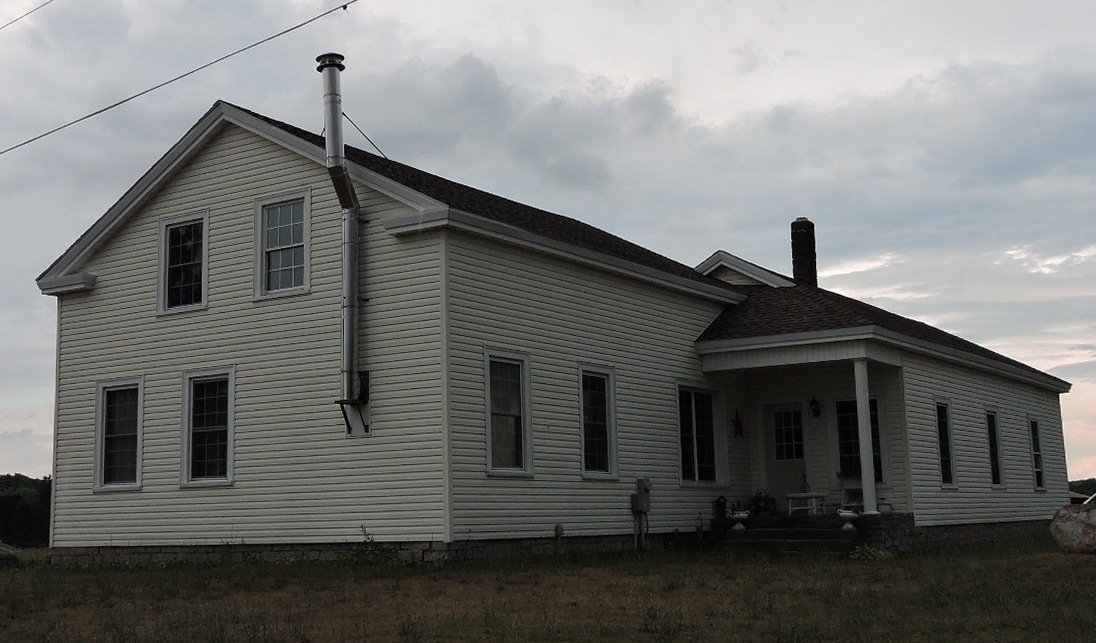 One of the interesting and well-kept old houses along the historic old Dry Hill road, which runs from Watertown Center through the towns of Watertown and Rutland is this Parker house, said to have been built over 100 years ago.
It is in the town of Watertown close to the Rodman line and part of the 217 acres that now goes with it is in the town of Rodman. Since May 1 1941 when it was sold by the Mrs Miranda H Parker estate and the heirs of her deceased husband, it has been owned by George Hamilton and his son and daughter-in-law, Lyle J and Nancy L Hamilton.
Mrs Miranda Parker, who died in this city June 25 1940 at the age of 99 was the widow of Franklin Marcellus Parker, who was Jefferson County treasurer 16 years from January 1 1897. She was the former Miranda H Wilder, daughter of Abel Wilder and granddaughter of another Abel Wilder who was a soldier in the American Revolution. Also she was the mother of the late Charles J Parker, former division engineer of the R, W & O division and later principal assistant engineer of the New York Central system. A daughter, Maude E Parker, became the wife of Ralph T Horton, civil engineer 47.5 years in the New York Central service.
The late Mark S Wilder, north country paper manufacturer and prominent in the moulding of the Eastern Greyhound lines, was her nephew. Her grandson, Frankline P Wadley, retired January 1 as Greyhound's regional manager after 49 years in the transport business. It was on October 2 1861 that Miss Miranda H Wilder became the wife of Franklin M Parker, who was born in the town of Adams January 20 1842 son of Jeremiah and Fransina Kenyon Parker. Until 22 Franklin worked on his father's farm. Then in 1864 he began clerking in an Adams Center store. After his father's death May 19 1872 he inherited the residuary estate, a farm of 154 acres however, going to his brother, Thomas C Parker. Franklin M Parker resided in this house until he became county treasurer, when he bought a residence on Park avenue, this city.
Franklin had been three years assessor of the town of Adams, five years supervisor of the town of Watertown, 15 years treasurer, and president of the Jefferson County Agricultural society, and seven years appraiser for the Jefferson County Savings bank. He died December 7 1914 willing his residuary estate to his children, Charles J Parker, Mrs Ralph T (Maude E) Horton and Mrs Clinton J (Nettie F) Wadley, mother of Frank P Wadley.
Franklin M Parker was descended from William Parker, who came from England in the early 1600's with Reverend Thomas Hooker and his congregation, first stopping at Cambridge, Massachusetts, but soon moving into Connecticut to found Hartford.
Ezra Parker, great-grandfather of Franklin M Parker, served as an orderly under Benedict Arnold in the expedition against Quebec, fought in the battles of Saratoga and Bennington, and came to this section in 1802 to buy 20 acres on the Dry Hill road. A son of Ezra and grandfather of Franklin M Parker was Hippocratus Parker, born in Sangerfield, NY, June 17 1785 and died in Adams February 15 1844.
Jeremiah Parker, son of Hippocratus and Olive Fuller Parker, was born March 20 1814 in the town of Watertown, at 19 bought 50 acres of land in the town of Adams, married Miss Fransina Kenyon September 20,1836 was shortly afterward in the Patriot war, was the father of three children and died May 19 1872. On April 1 1847 he bought from John Ayers 390.5 acres, upon part of which this house stands, in the town of Watertown, and on February 22 1849 purchased another 58.32 acres from James and Eliza Ann Webb in the same township. Ultimately he owned 550 acres.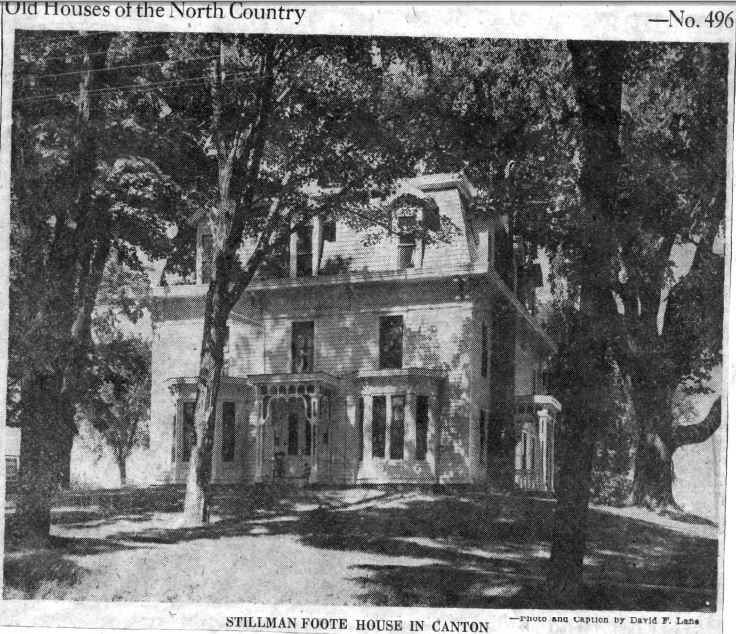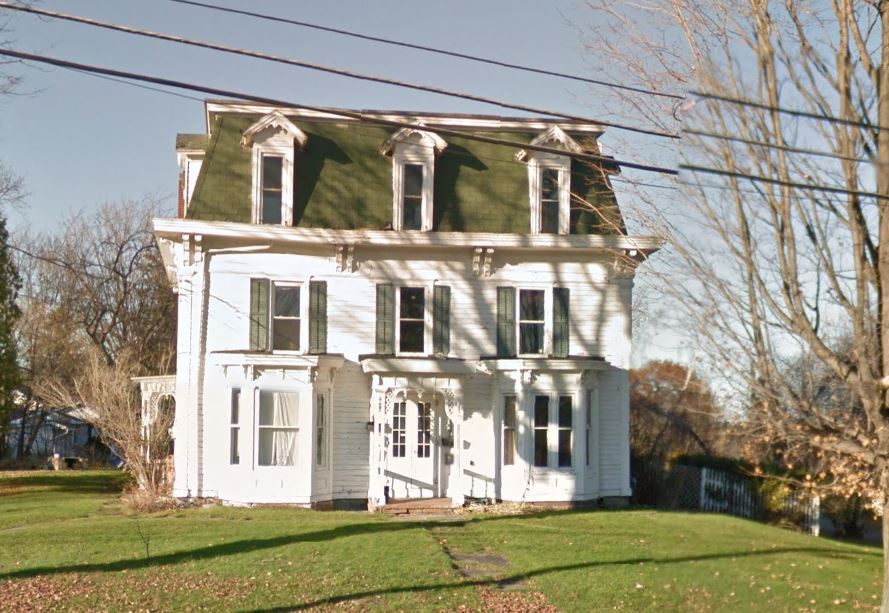 Considerably modified from the original appearance of 1804 when, as a two-story, pitched-roof building, it was opened to the public by Stillman Foote as Canton's first tavern, this big house stands atop the hill just west of the Grasse river bridge. Denominated No. 18 it is on the north side of Canton's West Main Street. From its front upper east window there is a sweeping vista, which rakes eastward straight through the midle of Canton's Main Street business section. Insurance against any obstruction of this view was made by the brothers, Henry and J Fonda Bullis, after they acquired the house and acreage along Main Street 84 years ago, by restricting the purchaser of any of their Main Street lots from fronting a building over a gunshot line from that upper window through Main Street's center.
Canton, St. Lawrence county seat, stands upon the mile square of land that Stillman Foote bought for the saddle, bridle and horse that had just brought him in 1800 from his home in Middlebury, Vt, through the dense northern wilderness. The trade was made with Daniel Harrington, who threw in to boot the 60-bushel wheat crop that was growing in a clearing.
In 1801 April ended with Stillman Foote, his aged father Daniel, and party leaving Middlebury headed for Canton with two teams hauling furniture and provisions.
They arrived, built a log cabin, and were erecting the frame of a sawmill by the river side when Stillman broke a leg, smallpox struck the party and took his father, to record the first death in the town on March 10 1801. First permanent settler of Canton, Stillman Foote was also the first saw and grist miller, first distiller and first iron smelterer of the area.
Came 1802 and he began building this tavern on the brow of the hill overlooking the river. In 1804 he opened it to the public. There being no bridge, north and south traffic forded the stream to the rear of the inn. The town of Canton was set off from Lisbon March 28 1805. On March 4 1806 the first town meeting was held in this tavern. Stillman Foote was elected first town supervisor, George Foote an assessor and overseer of highways, and Mason Foote, collector and constable. Stillman was also magistrate and poundmaster. Ensuing years found Stillman a side judge and a virile factor in promoting the business, industry and welfare of the community. July 4 1810 Stillman presided at Canton's first Independence Day celebration.
There is a tradition that when the family came from Vermont the women brought three Vermont elm seedlings with their roots wrapped in moist linen and planted them near this house. One of these elms is seen today at the extreme right of the picture. Another of them had to be cut down early in 1948.
In February and March, 1835 the estate of Stillman Foote conveyed this property to a son, Chauncey. On March 4 1845 he transferred to Edward C Foote, who deeded to Henry G Foote February 23 1850 and December 8 1857 he sold it out of the Foote family to Henry and J Fonda Bullis. Young men at that time these Bullises were sons of John Wheaton and Mercy Fonda Bullis, who had come from Plattsburgh to the. Waterman Hill sector of Canton in 1847. Of the two brothers J Fonda is said to have been the originator and Henry the negotiator.
After buying the old Foote tavern the Bullises look out six of the seven fireplaces, created a third story by means of a Mansard roof and dormers, added porches and other "improvements," and brought the rooms to a total of 16. On July 16 1901 J Fonda Bullis deeded his interest in the property to Henry, but on the west side door remains the old brass plate inscribed "J F and Henry Bullis."
These Bullises were powerful factors in the business of Canton. They had their own slaughter house and they operated a grist mill and store. Henry was a founder, director, vice president and chairman of the board of the First National Bank. Fonda was the first of two to die. Henry, born in Plattsburgh December 18 1832 died August 24 1932 aged over 99. His wife and daughter had passed away some years before. Under the provisions of Henry's will the one time Foote tavern and farm went to his grandchildren, Helen McMillan, Dorothy Salisbury and Henry J McMillan and on July 21 1933 the property was purchased by J Leslie and Jane Harper Craig, then of Canastota. Mrs Craig, a native of Lisbon, bad been a Canton schoolteacher several years, and died June 12 1942. Mr Craig, a Canastota landowner, died June 4 1943 and this place went to his son, John H Craig who, on August 20 1929 was married to Miss Ruth Middleton, daughter of Mr and Mrs John Middleton of Lisbon. Mr Craig is a graduate of the agricultural college of Syracuse university and for some time taught agriculture in the Westfield High school. They have two daughters, Jane Elizabeth, who is graduating from the House of the Good Samaritan in this city, and Mary Inez, a sophomore in St. Lawrence university.
Mr and Mrs Craig take great pride in the nearly 150-year old house with its butternut interior woodwork, its clear pine floors having boards six to 16 inches wide and the many beautiful pieces of antique furniture including a tall, four-poster bed in the upstairs east bedroom. And in the westerly parlor downstairs one may see where was located the bar of Stillman Foote's tavern. As for the Foote family Stillman Foote Jr, became a prominent Ogdensburg lawyer and surrogate of the county. Henry acquired the old American hotel in Canton in 1840. Chauncey was a vestryman of Grace Episcopal church and early trustee of Canton Academy. Henry G Foote was a secretary of the county agricultural society.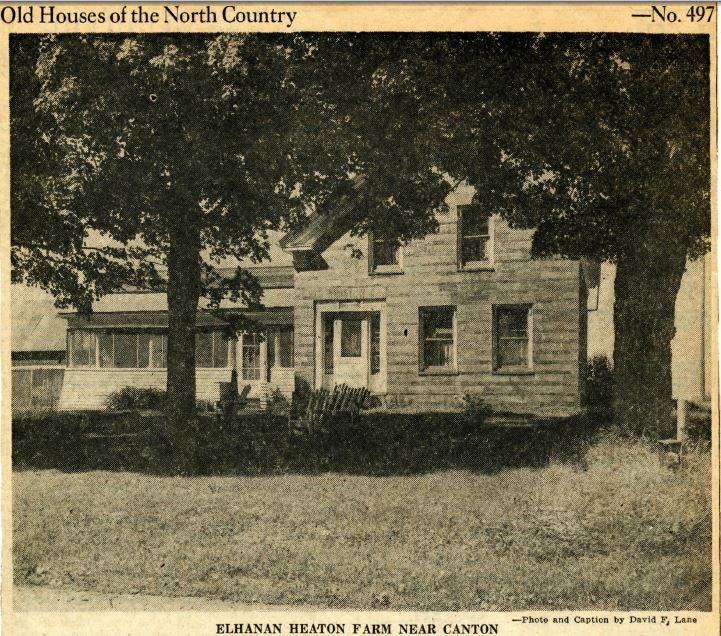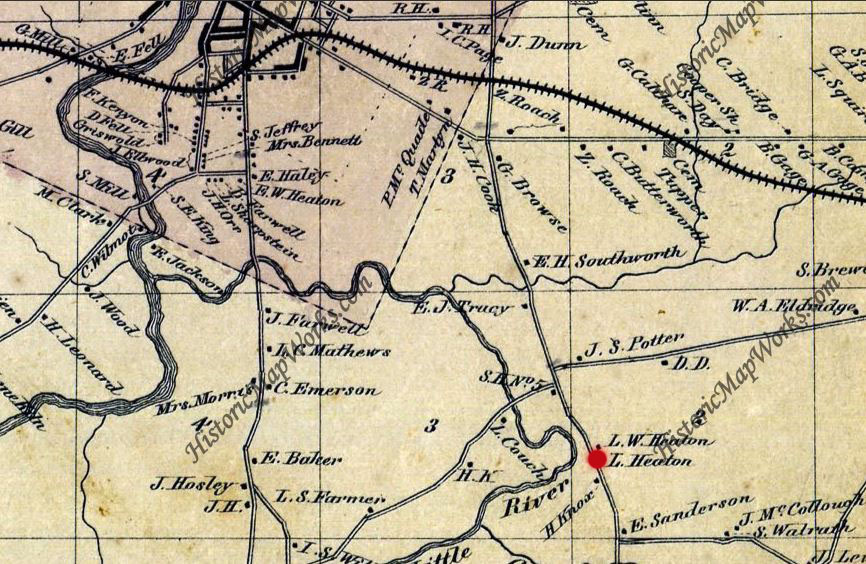 The Heaton family, with its tap root firmly anchored in the earliest of New England colonial history, is a prominent one in the annals of St. Lawrence county's town of Canton. About two miles southeast of Canton village at Heaton hill on the Pierrepont road settled John Heaton in 1821 and John Heaton was the grandfather of John Langdon Heaton, famed editorial writer of The New York World, one of the big figures in the newspaper history of the United States.
About the same distance to the southwest of Canton on the Old DeKalb road Elhana'n W Heaton in 1834 began building up the farm with this fine old native red sandstone house.
The relationship between John and Elhanan W Heaton is indeterminate from data now at hand, but doubtless both stemmed from that James Heaton, who was born in England in 1633 and died October 16 1712 in New Haven, Connecticut, where he had become a prominent citizen, was ensign in a train-band and had large tracts of land granted him by the colony.
On November 20 1662 James Heaton married Sarah, daughter of Reverend Nicholas Street of Taunton, Massachusetts, and New Haven, Connecticut. Joseph and Nathaniel Heaton, believed to be descendants of James, moved from Hamden, Connecticut, to Hanover, New Hampshire A John Heaton, also believed to have been a descendant of James, was of Colrain and Shelburne, Massachusetts, and a revolutionary veteran.
It was on December 9 1834 that Elhanan W Heaton bought 94.5 acres on the north side of the Old DeKalb road from Stephen VanRensselaer. On May 17 1843 Elhanan bought two parcels of 30.10 and 24.16 acres on the south side of the road from Henry VanRensselaer. On October 25 1843 Elhanan bought 75 more acres on the north side of the highway.
This was acquired from Clarissa, Simeon, Lucius, Luman and Horace Moody, children of Medad Moody. They had bought it from Stephen VanRensselaer June 11 1827 and it was just east of Elhanan's 94 1/2 acres. A plot of 10.75 acres on the south side was purchased by Elhanan from Henry Van Rensselaer July 19 1851 and on April 25 1857 Elhanan bought another 10.5 acres from Adolphus Hosley. Elhanan W Heaton and wife Eliza on July 2 1860 sold 231.14 acres to John Galbraith for $8,089.90 and on October 6 1863 Galbraith and wife, Alice, disposed of it to Willson Freeman for $9,800. Willson and Louisa Freeman sold it to Jefferson Balcom for $10,000 October 26 1865 and February 26 1872 Balcom conveyed it to Ferguson Meservey for $10,865.
For many years it was known as the Meservey farm. Ferguson Meservey died October 7 1882 but it was not until May 11 1911 that Myron, Byron and Orville Meservey sold this house, farm buildings and 181.14 acres to William J O'Driscoll, well known as a dealer in horses and town of Canton farms. O'Driscoll and his first wife, the former Miss Anna Boyle of Rensselaer Falls, in turn disposed of the property to Arthur G Maine on October 19 1918. Mr Maine, all his life a farmer, was born July 27 1880 in the town of Hermon, son of the late Herman and Christine Maine, and died February 4 1942 at the age of 61. The place then descended to his widow, the former Miss Alice M Hamlin, who still owns and operates it. Their children are Walter, Malcolm, Ceylon, Herbert and Christine. The house, consisting of ten rooms, is a fine and sturdy specimen of the builders' skills and the excellent sandstone of its walls is beautifully crafted.
Of the Meserveys it will be recalled that Myron, a produce merchant and insurance broker of Canton, died in January, 1927 leaving an estate of about $200,000.
Byron died in 1924 and his widow, Margaret, passed away at Lake Placid only last September 20. William J O'Driscoll, a native of Lisbon, at the age of 80 was instantly killed October 28,1940. When driving alone, his coupe was struck by a railroad train on a Gouverneur crossing. His first wife, mother of his three sons and six daughters, died May 12 1929 and his second wife, the former Miss Lillian Patterson of Gouverneur, on April 14 1942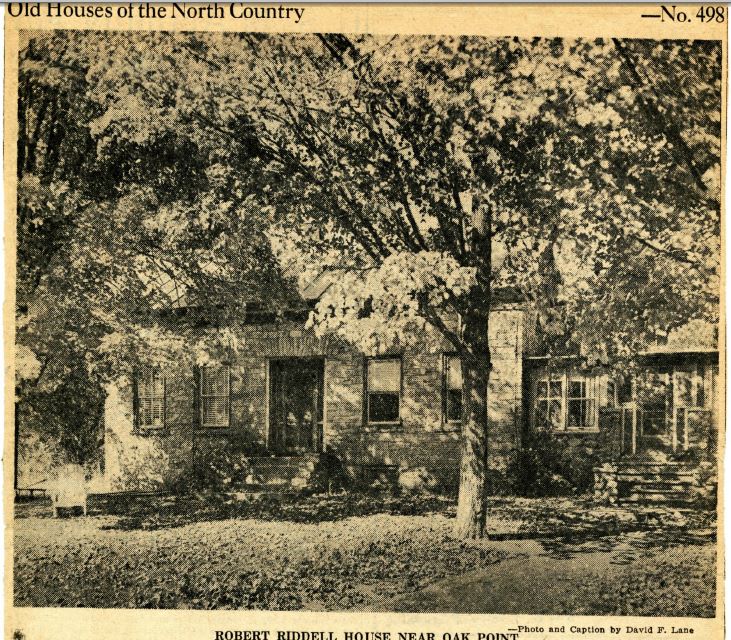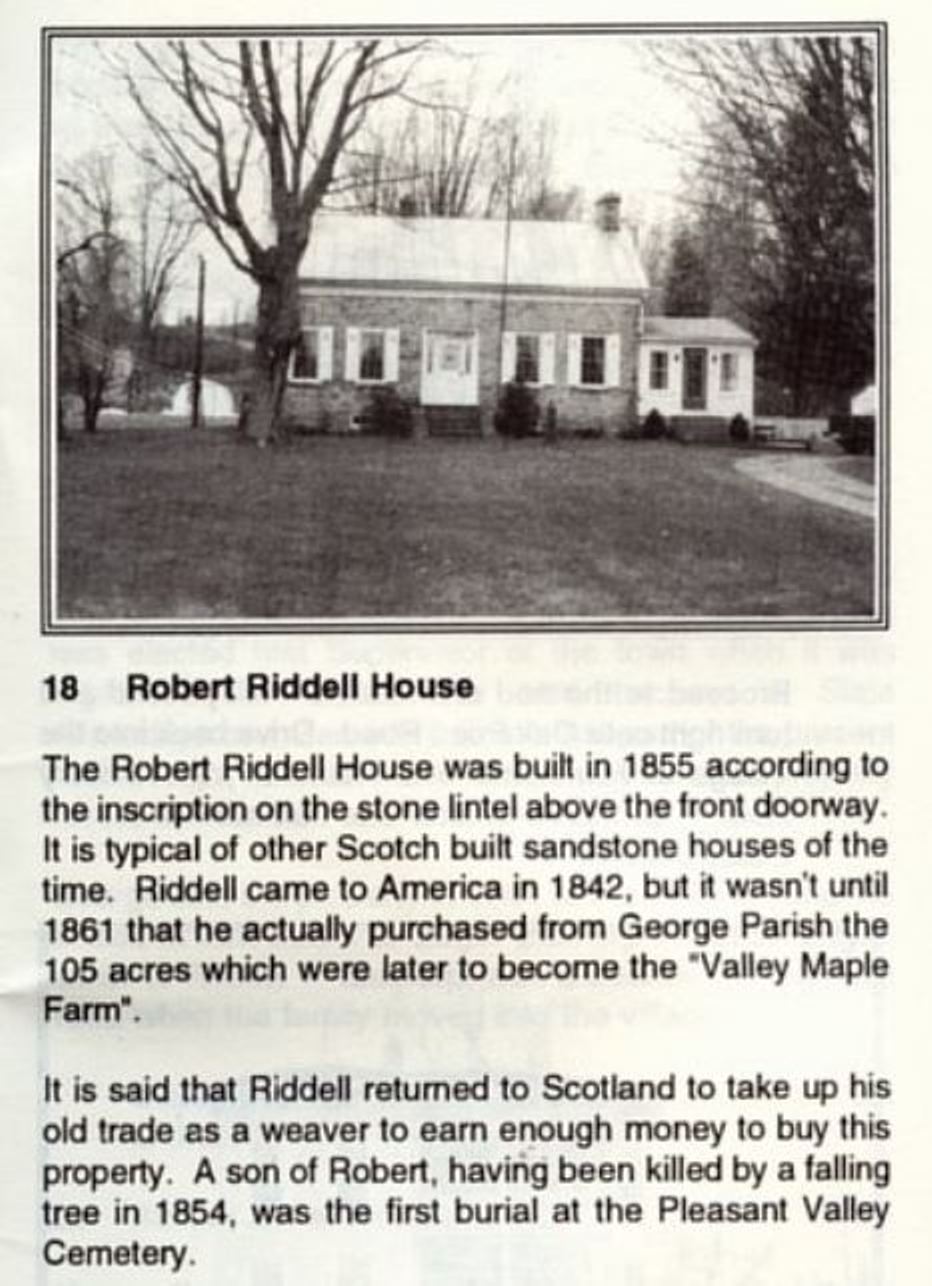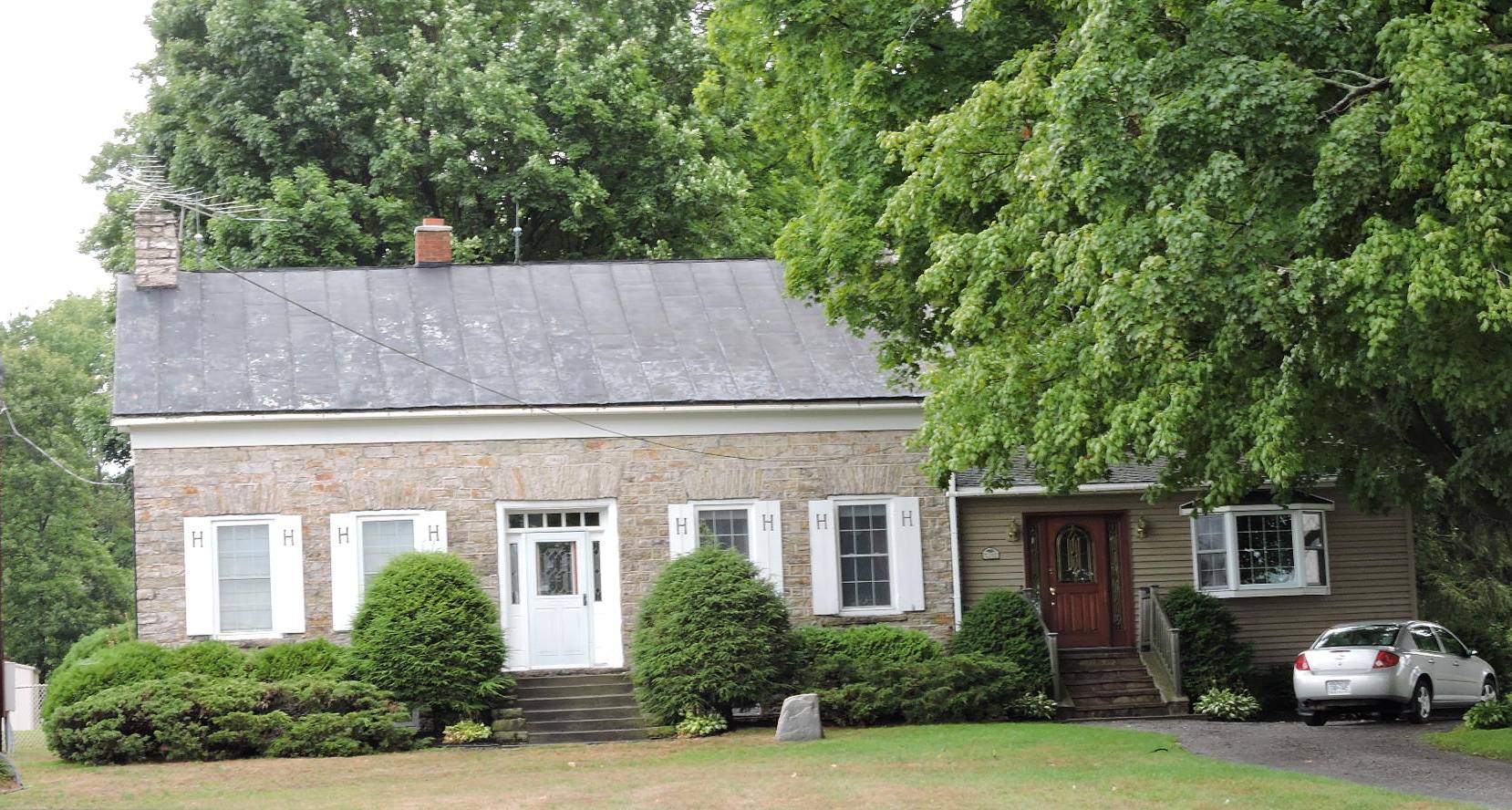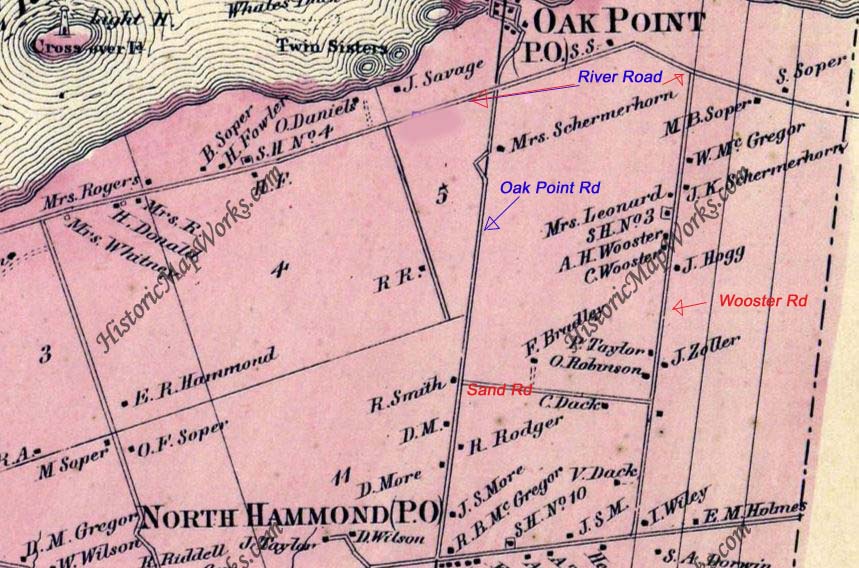 Screened by fine old sugar maples this old native sandstone house, erected in 1855 according to the inscription in a block of stone over the front doorway, is in a quiet, picturesque environment. With it is the "Valley Maples Farm" of 104.56 acres of land, which was once part of the vast north country holdings of the wealthy George Parish of Ogdensburg. Today it is owned by Leslie Robert Hunter and his wife, Dorothy. Its location is on a quiet, narrow road, only a short distance from its junction point with the Hammond-Oak Point road in the town of Hammond.
There are four rooms and bath downstairs with a red brick fireplace in the dining room, a nice front door, a commodious, open, central hall with stairs running to the four bedrooms on the second floor. A low wing of granite cobbles extends to the right. Who built the house is unknown. Possibly the Parishes, for six years after the house was built George Parish conveyed the property to Robert Riddell on June 25 1861. Little or nothing is known about Riddell, who, after 22 years of ownership, sold the property to Norman Young. Likely Riddell bought on contract and built the house.
Nor is much known about Young, who died December 17 1914. On March 1 1916 his executors sold to Alonzo Swain for $6,273.60 and on July 11 1928 Swain disposed of the property to James G and Bernice Hunter, parents of the present owner. Mr and Mrs Hunter transferred the farm to their son, Leslie Robert Hunter, and wife, Dorothy, February 1 1950.
A graduate of the Hammond High school in 1937 Leslie Robert Hunter took over the operation of the farm and on June 15 1941 was married to Miss Dorothy Aznoe, daughter of Mr and Mrs Gordon Aznoe and graduate of the Alexandria Bay High school in 1939. The county highway, upon which the Valley Maples Farm is situated, is known as the Pleasant Valley road. It is within easy distance of Oak Point and Chippewa Bay in the town of Hammond, St. Lawrence county's most western township bordering the St. Lawrence river.
Concerning the Swain ownership it may be said that Swains have been residents of that area since before the War of 1812. History relates that at the time of the War of 1812 Abner Swain was a tavern proprietor on the windfall, which later grew up to briers and resulted in the name "Brier Hill," now in the town of Morristown. The tavern was on the Indian trail much followed by people from Ogdensburg, Morristown, Hammond and Rossie, and during the War of 1812 gangs of horse thieves and pirates operated over this old Indian trail. Many stagecoaches were held up and robbed in a lonely spot of flat land. Horses and cattle in considerable numbers were stolen from the settlers.
N L Swain, who lived to be a nonogenarian, often recounted that thieves one season stole two horses from Tavernkecper Abner Swain, one of the horses having been a fine mare valued at about $150. Also in one season of the War Abner lost eleven head of cattle, which likely went to feed the British soldiers across the St. Lawrence river in Canada.
Oak Point, now a summer resort, began to be settled in 1824 by one George Elliot, and the following year a man named Cowan established a small grocery store there. On the little island directly in front of the summer hotel that is now owned by the Presbyterians and used as a retreat and summer camp, a wharf was built. From the island a bridge led to the mainland where the Presbyterian retreat is. Steamboats used to land at the island, take on lumber and also wood for fuel for their engines, but that practice ceased long ago. Diagonally across the St. Lawrence from Oak Point is the Canadian city of Brockville, which is plainly in view.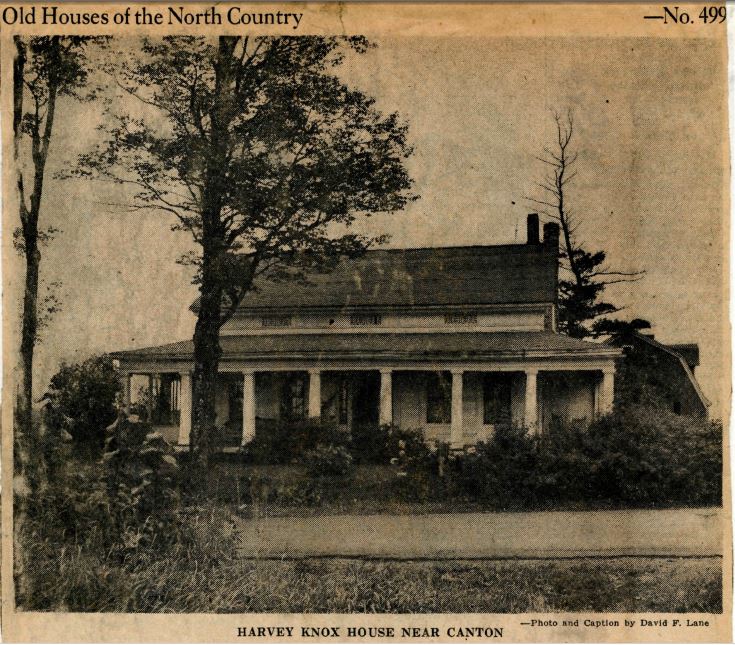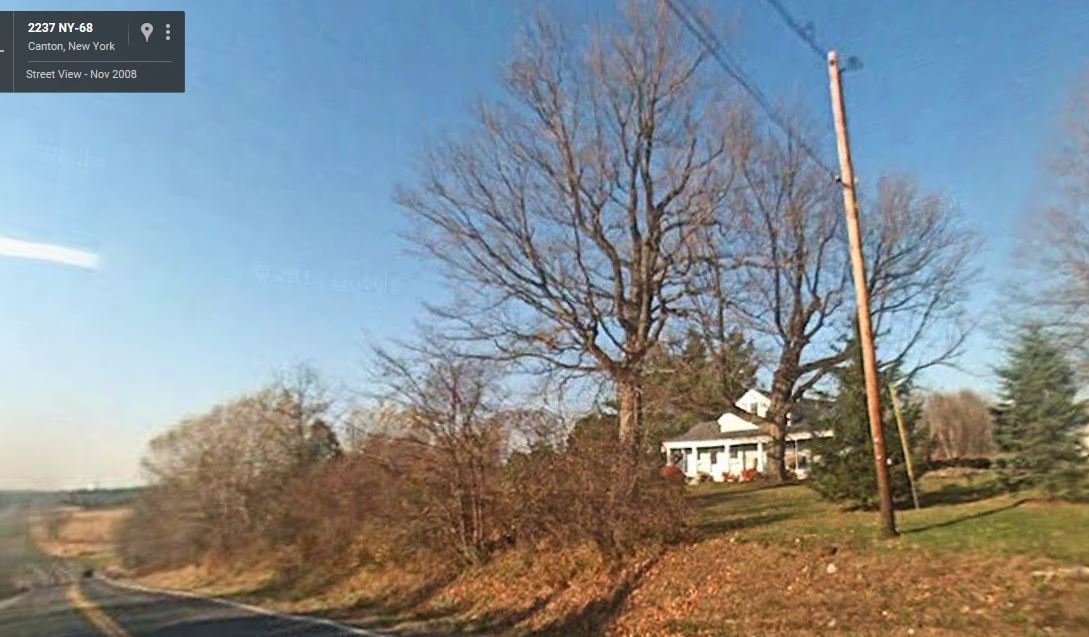 Built in 1844 by Harvey Knox about two miles outside the village of Canton on the Pierrepont road this Colonial-type house, with the low verandah running around three sides, is practically the same in appearance inside and out as it was originally. Broad, nicely crafted handmade woodwork with carved corner blocks graces the 14 rooms, and upon the floor of the hallway still are footprints that were made when the house was constructed, Among the present furnishings are a black walnut davenport and two chairs that belonged to the first owner. Also there is a black cherry secretary. In the 108 years of its existence the house has always been owned by members of the Knox family, the present owners being Harvey Knox Pike, for some years broker in real estate and insurance and manager of the St. Lawrence National Farm Loan association, and his wife, Mrs Beatrice F Pike.
The story of the farm, which now bears this old historical landmark, begins on February 1 1802 when Stephen VanRensselaer sold 320 acres to Joshua Raymond, and to March 19 1811 when Richard Harison sold 296.56 acres to John Farwell. Out of the 320 acres came 48 ncres conveyed by Jonathan and Abigail Hale to Adolphus Hosley July 17 1838 while from the 296.56 acres came 50 acres acquired by Hosley March 15 1843 from the heirs of Madama Hale, daughter of John Farwell and widow of Jonathan Hale. John Farwell died in May, 1839 and his executor sold 16.18 acres to Hosley.
It was on November 14 1844 that Adolphus and Harmony Hosley disposed of these three parcels constituting 114.18 acres to Harvey Knox, who had come into the town about 1802 and following this purchase begun the construction of the house which is said to have taken about three years. Knox later purchased adjoining parcels. On January 17 1883 Harvey Knox transferred the 114.18 acres, 48.86 acres and 23 acres to his son, Harvey W S Xnox, who died December 13 1908 leaving his widow, Horal H Knox, and children, Alice G Pike, Anna Cornell, Harry Mason Knox and Alda R Flanagan. These heirs later quitclaimed their interests to Harry Mason Knox, who on February 20 1913 transferred the farm to his brother-in-law and sister, Clement J and Alda Knox Flanagan.

Some time after that Albert M Pike, whose wife was Alice Grace Knox, daughter of Harvey W S Knox, purchased the farm and on January 2 1926 transferred the 114.18 acres to their son, Harvey Knox Pike, who had bought the other parcels prior to that.
Harvey Knox Pike, for 14 years secretary 6f the St. Lawrence district of the National Farm Loan association, was married October 30 1921 to Miss Beatrice F Parks and they have three children, Gerald, Harvey Jr, and Ellis Pike.
Albert M Pike, father of Harvey Knox Pike, was born at Burke May 20 1868 moved to Canton when seven, became a farmer in the Waterman Hill area, was the son of John Booth and Ellen Lewis Pike, married Alice Grace Knox, daughter of Harvey W S and Horal Hickok Knox October 5 1892; the ceremony being performed by Dr John Stebbins Lee of St. Lawrence university, was town collector 1907-8 moved into Canton in 1919 where he was bookkeeper for different firms, was assessor of Canton 30 years, was elected president of the St. Lawrence county Assessors' association May, 17 1945 and died November 17 1950 aged 82. His wife, born September 1 1870 holder of the Golden Sheaf certificate of Silas Wright grange, and daughter of two charter members of Empire chapter, O E S, died February 14 1949 survived by her son, Harvey Knox Pike, and daughters, Mrs Murray Smith,
Mrs Noel Grant and Mrs Theodore P Gibson. Harry Mason Knox, son of Harvey W S and Horal Hickok Knox and brother of Mrs Alice G Knox Pike, AvAs born March 3 1878 attended St. Lawrence university and Cornell graduating from the latter's agricultural college in 1901 traveled seven years for Quaker Oats, in 1925 became central New York district representative of the Larrowe Milling company, was a real estate and grange insurance partner of Harvey Knox Pike, was breeder of prize Holstein-Friesian cattle and owner of the two-years' milk production world's champion Holstein in 1922 a national Holstein show judge, director of the New York State Dairymen's association, first secretary of the St. Lawrence County Holstein-Friesian association, married Mrs Anna Lawrence Price in 1923 who died January 25 1939 a year after he died December 3 1937 and is survived by a daughter, Miss Cecile Knox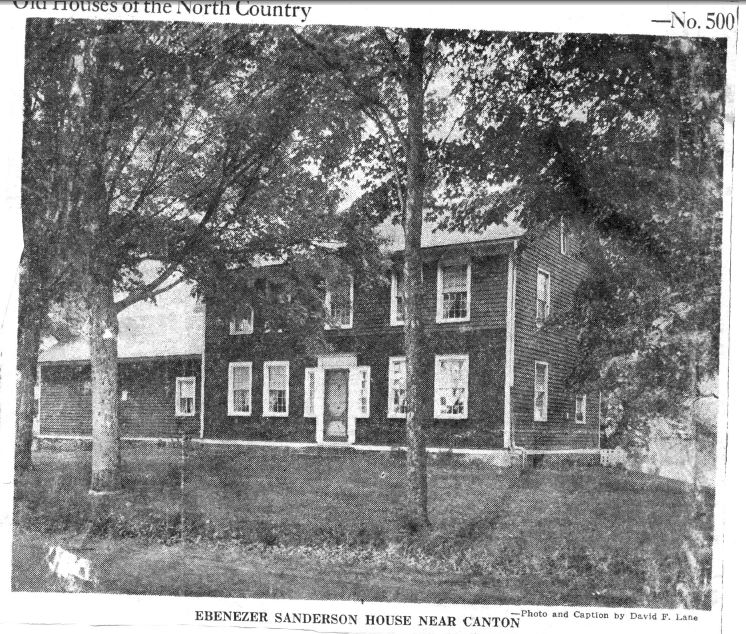 From the crest of the Heaton Hill on the old Pierrepont 'road this handsome old Colonial country house takes a picturesque glance to the rear across a broad valley to the village of Canton and the campus of St. Lawrence university two miles away. Beautiful in type, still strong and true in its construction, this house was erected for Ebenezer Sanderson sometime between 1815 and 1820. A Vermonter born February 4 1793 Ebenezer Sanderson was married at Shrewsbury February 12 1814 to Lucy Priest, whose birth was on April 29 1795.
Shortly after their marriage Ebenezer and Lucy turned their thoughts to settling in northern New York and set out from Vermont by ox-cart over the Chateaugay trail. On November 15 1815 Ebenezer bought from Jeduthan Farwell the 50-acre plot upon which this house stands.

First he built himself a log cabin. Later, having prospered, upon a 30-inch native stone foundation he built this house with its stout hand-hewn oaken frame pegged together with wooden pins, its beautiful front door and 24-paned windows, its four fireplaces, all still usable and that in the dining room yet having its original iron crane and iron kettles. And in the twelve rooms today are many fine antiques including three tables that belonged to Governor Silas Wright, who was a brother of the greatgrandmother of Dickenson B Elmer, the last owner of this place and its now approximately 200 acres. On the farm January 2 1817 was born Nelson Sanderson to Ebenezer and Lucy Priest Sanderson. He later attended Canton academy and became one of the leading men of the neighborhood, marrying Zaida, daughter of Peter Langdon, a neighbor, on December 25 1839.
Peter Langdon, founder of Langdon's Corners, was also the progenitor of John Langdon Heaton, noted New York World editor. To his daughter Zaida, who was born September 5 1818 and Nelson Sanderson were born Ebenzer L, Carrie and Emma M Sanderson. Carrie, who had been born in this house April 16 1845 studied in the district school, prepared three years for St. Lawrence university, taught some years in district schools, being the first teacher of Dr Richard Eddy Sykes. who became president of St. Lawrence and on October 6. 1867 married George H Elmer, who had served three years in the 71st Pennsylvania Volunteer Infantry in the Civil war.
Mr Elmer was descended from John Elmer and the sister of Silas Wright, and, it is related that John Elmer and his wife were on the point of departing from Canton when they received the news of Silas Wright's sudden death. And they hastened on and settled. Nelson Sanderson died September 18 1882 leaving his widow, Zaida, and children, Ebenezer L, Emma M Sanderson and Mrs Carrie Elmer. Ebenezer L quitclaimed his interest in this place to Emma and Carrie. Emma died unmarried July 2 1913 leaving her interest to Carrie.

George H Elmer died December 7 1898 but his widow lived on until February 17 1935 to die at the age of 89 a member of the Canton Universalist church and Gouverneur Morris chapter, DAR. She was survived by her son, Dickenson Baker Elmer, a daughter, Mrs Frank E (Maude E) Wass of New York, and Harold E Jamieson, Ethel O'Brien and Stanley Jamieson, grandchildren. The other interests were quitclaimed to Dickenson B Elmer January 14 1936 and he resided there with his wife until his death at 80 on February 4 of this year. Born in this house December 13 1871 Dickenson B Elmer, great-grandson of the original owner, descendant of the noted Wrights and Langdons, attended Canton academy and the Eastman Business college, became an accountant, operated clothing stores in Canton and Gouverneur several years before retirement, was married to Miss Cevilla A Dailey in this city December 5 1900 and died leaving her, two sons, George R, an electrical engineer, and Richard H of Pulaski, and a daughter, Mrs Anthony (Ruth) Schmidt of Syracuse.

Ebenezer Sanderson had acquired several adjoining parcels to the original 50-acre plot after he built his house and these were conveyed by him to his son, Nelson, at different times the 50-acre, 28-acre, 13-acre and twelveacre plots being transferred May 8 1873. Originally Ebenezer created a dance hall on the second floor of the house, holding frequent dances there, the proceeds of admission fees being applied towards payment on the farm. Since then the hall has been converted into four bedrooms. In the basement are four rooms including a milk, butter and cheese room with its pine shelves.
Great-Grandma Sanderson's comb-back rocker as well as Ebenezer's big horsehair covered rocker are still in the upstairs living room and the house looks much as ut originally did, although the exterior is now painted red. In all of its 132 to 135 years of history it has never been owned outside of the Sanderson family, and it is the desire of Mrs Cevilla Elmer and was the desire of her late husband, who died less than two weeks ago, that their children retain possession of it.