STONE HOUSES, MANSIONS AND OTHER OLD HOUSES
OF THE NORTH COUNTRY

Originally published in The Watertown Daily Times
(730) Articles and photos by David Lane, Newspaper Staff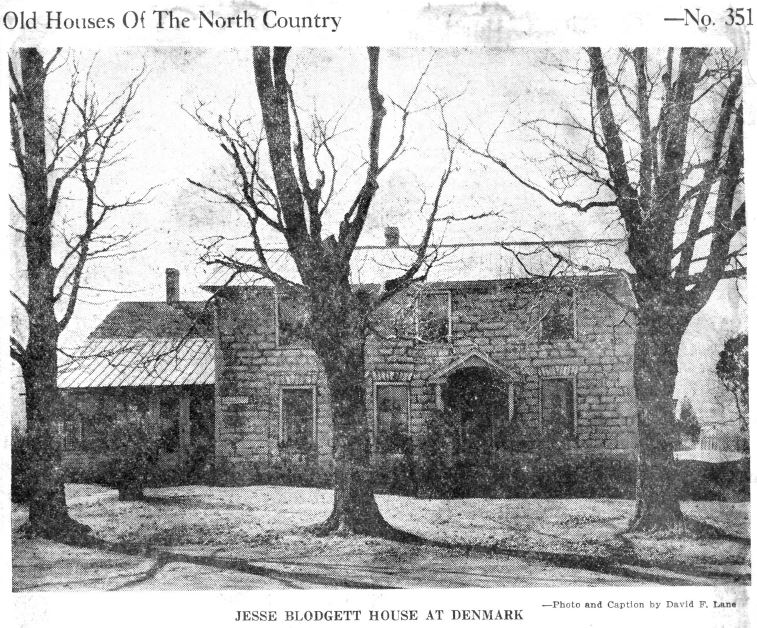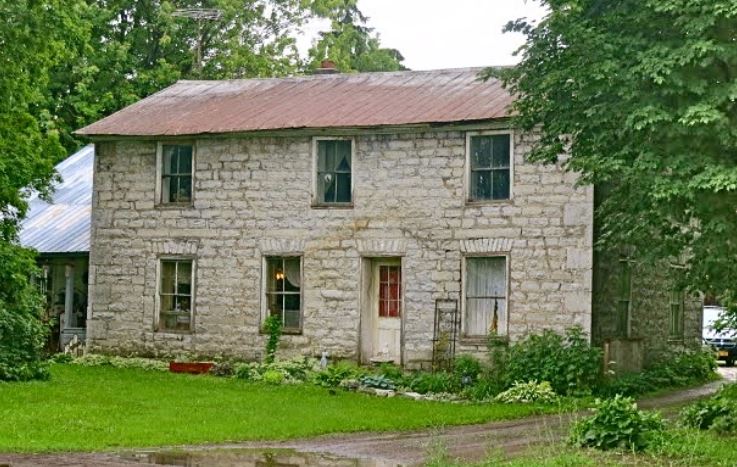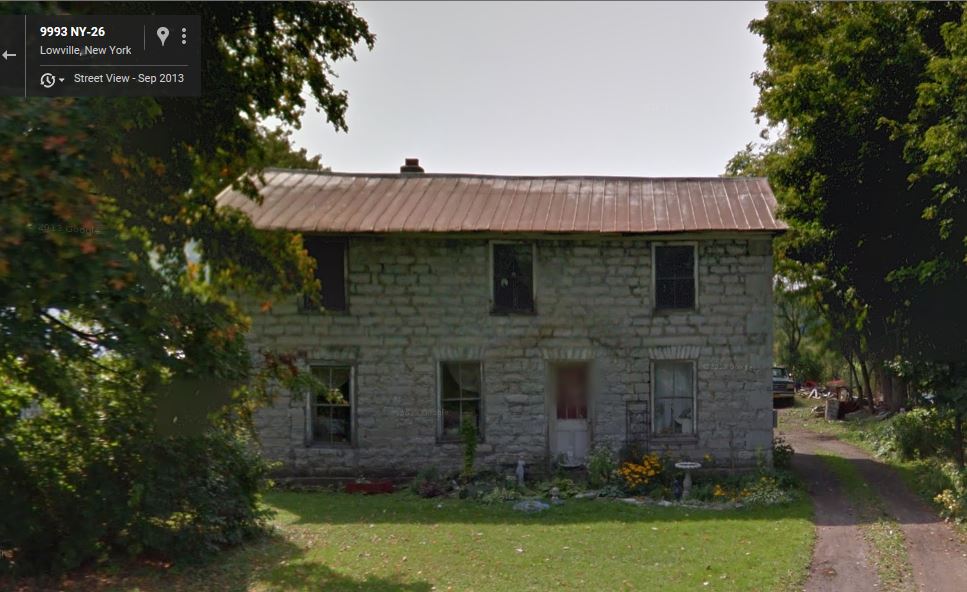 Jesse Blodgett, who hailed from New Hampshire, in 1800 became the first actual settler of what is now the hamlet of Denmark, Lewis county. His son, Harrison, born there March 18 1801 was the first white child born in the present town of Denmark, which became part of the town of Harrisburg until set off by itself as a township April 3 1807.
On September 28 1801 Jesse Blodgett purchased of Richard Harison and Josiah Ogden Hoffman the substantial tract of farm land in the present hamlet of Denmark, oldest community in the town, where today's old stone house stands.
This house of native limestone, quarried on the farm, is believed to have been built by Jesse Blodgett about 1812 a dozen years before he erected his three-story limestone tavern next door, but his first habitation is said to have been a log cabin put up a short distance back of this place.
Jesse Blodgett and his wife, Eunice, conveyed this house and about 100 acres of land to his son, Harrison, on September 30 1833. Harrison married Diantha Dewey, native of Boonville, and had a son, Philander, who was married to Emily J Stevens of Lowville in 1857. On December 20 1847 Harrison and Diantha Blodgett deeded the property to Philander Blodgett and on December 1 1879 Philander conveyed it to his brother, Walter H Blodgett. The latter and wife, Charlotte Boshart Blodgett, conveyed back to Philander's wife Emily on the same day. When she died intestate April 21 1902 the place was inherited by her son, Fay, and on February 7 1905 he conveyed it to his wife, the former Susan Schantz, whom he had married December 21 1887. Susan died only on March 4 of this year, aged 85 at the home of a son in Lyons Falls but sold this property to Mrs Sarah Brenon September 21 1916. Mrs Brenon disposed of the place to Geno Leonard on September 5 1918 and on October 16 1922 he disposed of it to Claude Pierce, the present owner. Mr Pierce and his wife, the former Miss Elizabeth A Root, daughter of' Rufus and Jane Warner Root, whom he married August 29 1890 have since resided there with their daughter, Mrs Clarence S Crook, wife of the postmaster of Denmark. He has the postoffice in the wing of the building.

Mr Pierce is a native of Denmark, son of the late Asa and Emma Parsons Pierce, descendant of the pioneer Pierce family which came to the sector at the time the Blodgetts did and helped transport their goods. Jesse Blodgett, who first operated a wooden tavern across the road, which burned in 1821 before he erected the large stone one in 1824 that was a popular stagecoach stop for many years, died on January 9 1848. His wife, Eunice, passed away August 5 1844. Their son, Harrison, who died January 4 1875 was a prominent politician for some time, member of assembly in 1831 and leader for many years in the Lewis County Agricultural society. Philander Blodgett, son of Harrison, was long a hotel proprietor, operator of a general store in Denmark and died in 1915. He was supervisor of the town in 1859.
One of the first post offices in Lewis county was established in Denmark in 1804 but a postoffice has been located in this house only a comparatively small part of its history, the house having been a dwelling for most of its existence.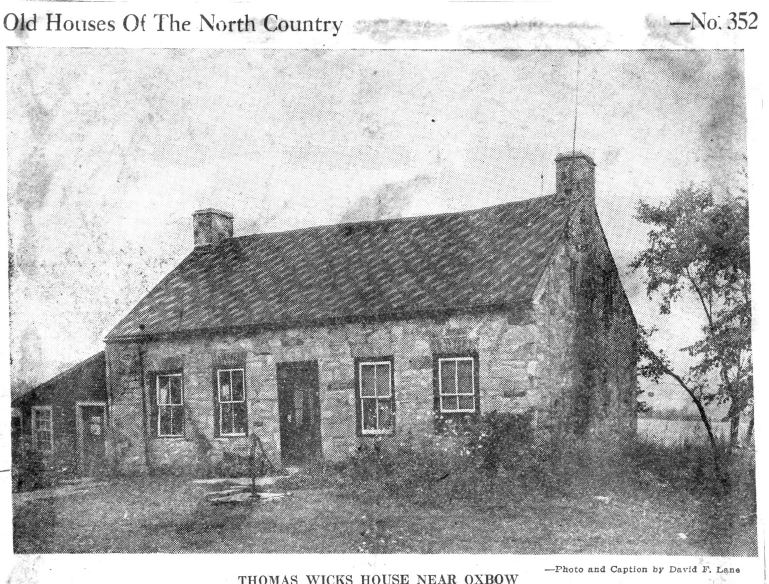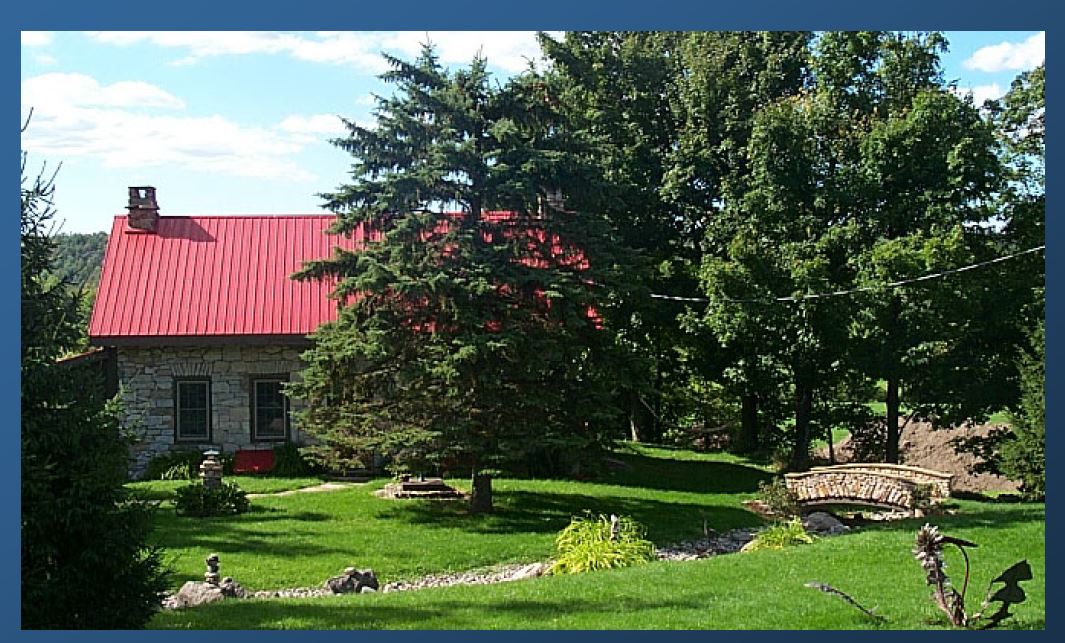 This old house on the Oxbow road past Pulpit Rock has all of the earmarks of antiquity. It follows the extremely severe cottage style of architecture, is constructed of native sandstone and would appear to have been built about a century and a quarter. Its first owner was likely Thomas Wicks, one of the earliest settlers of the town of Antwerp. Mr and Mrs Arthur M Rose are the present owners and occupants and the farm, on which the house sits, consists of 202.26 acres.
Mr Rose purchased the property consisting of two parcels of land, 101.75 acres and 100.51 acres within the past few years from Grant and Etta F Casselman. They in turn acquired it from Alberto H Pickard, widower, Antwerp, on October 1 1942. Mr Pickard, former New York Central station agent and telegraph operator at Antwerp who died March 10 1943 and his wife, the former Iviaola Scott, received it March 24 1909 from Mrs Hannah Scott, the mother of Mrs Pickard and the widow of Henry Scott. Mrs Hannah Scott, daughter of Dr and Mrs Rowland Briggs of Antwerp, was married to Mr Scott on November 19 1863.
Henry and Hannah Scott purchased the property from W Brayton Bentley of Antwerp October 16 1897. Mr Bentley, who with Mrs Alice E Bentley, was an administrator of the estate of William T Bentley, disposed of the place to Mr and Mrs Scott after Sheriff Samuel B Kellogg had conveyed it to Mrs Alice E Bentley April 23 1897 pursuant to a judgment of sale in the estate. Mrs Bentley, who was the former Miss Alice E Parker of Theresa, was the widow of William T Bentley prominent Antwerp merchant, who died September 10 1894.
Mr Bentley, who was one of the four merchants to build the Syndicate block in the business district of the village of Antwerp, had bought this old house and farm on November 26 1883 from Cornelius and Jane Clark and Henry D and Cordelia Brown of Grand Rapids, MI, when he was engaged in farming. The Clarks and Browns when residents of the town of Philadelphia had purchased the place from Robert and Sarah Melrose on February 26 1869.
Mr Melrose had bought the 100.51-acre parcel of the farm from Abraham and Harriet Cooper, of Antwerp, April 27 1859. The other parcel of 101.75 acres Mr Melrose purchased from Miles and Harriet Amelia Strickland of Watertown on March 7 1863. While a resident of the town of Philadelphia, Mr Strickland, who was a man of considerable wealth and owner of much land in the county, bought the parcels then described as 101.75 acres and 100.53 acres from Thomas Wicks. Wicks had bought the 100.53-acre tract from Abraham and Harriet Cooper on April 6 1821 and the 101.75-acre tract from Chester Hayden as master in chancery at the National Hotel in Utica March 6 1836 under a mortgage foreclosure judgment held by Philip Hone, onetime early mayor of New York City. William Laidlaw of Macomb figured in the ownership of part of the farm when he bought the 100.53-acre parcel from Miles Strickland and wife on March 1 1851. Thomas Wicks had sold the same parcel plus the 101.75-acre plot to David Wheeler for $3,000 on December 11 1840 but Wheeler and his wife, Sophia, conveyed them back to Wicks for the same price on January 26 1843 almost a year before Wicks sold them to Strickland.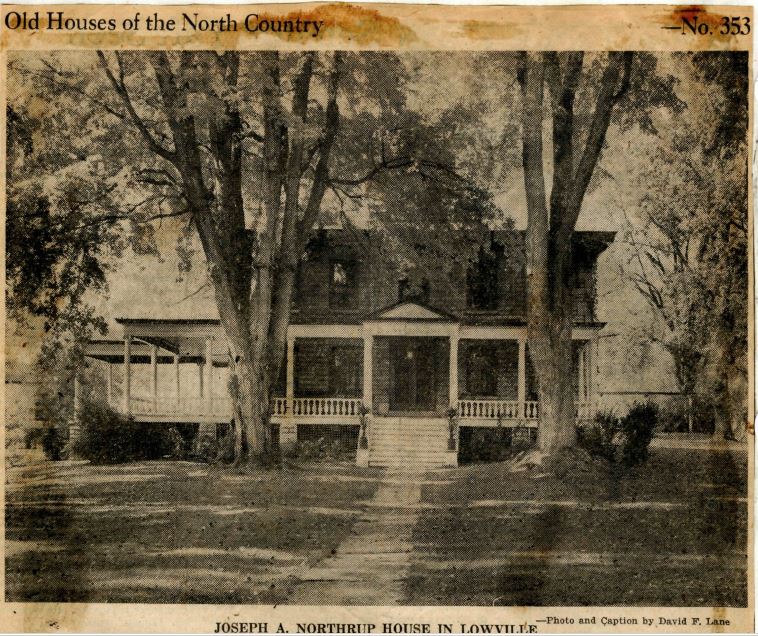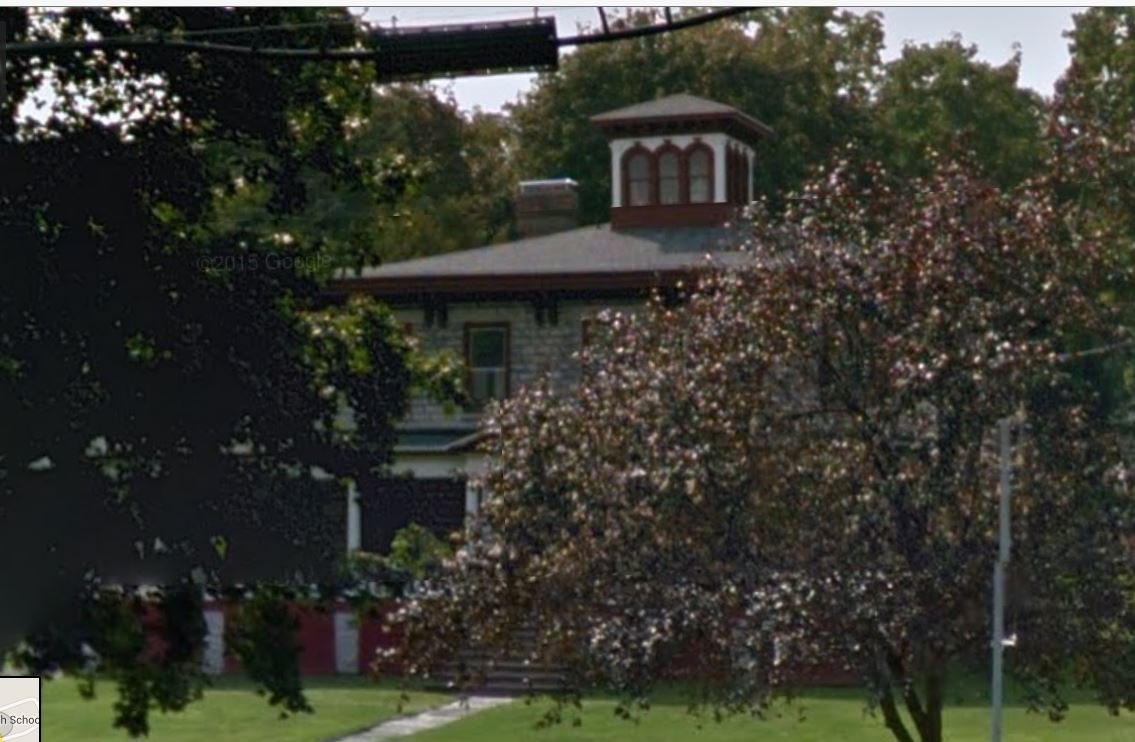 One of the show places of Lowville is the native limestone house of Raymond S Richardson which occupies about three acres of nicely landscaped grounds on State Street not far from the picturesque Presbyterian church. Set far back from the street among large, graceful elms, with an ornamental iron fence at the street line, the property is impressive.
It is claimed to have been built about 1840 by General Joseph A Northrup, a tanner and harnessmaker from Vermont, whose name in the 1807 list of Lowville electors shows that he had settled there before that time. He and Reverend Isaac Clinton were among those recognized by the New York state board of regents March 4 1808 for contributing towards Lowville academy, of which Reverend Mr Clinton became the first principal in 1807 and served until 1817 at the same time acting as pastor of the Presbyterian church.
Born at West Milford, CT, January 21 1759 Reverend Mr Clinton, cousin of Governor DeWitt Clinton of New York, obtained his release December 2 1807 from his Southwick Massachusetts parish to accept the Lowville academy principalship. He was graduated from Yale in 1786 married Charity Wells of New Stratford, Connecticut, March 12 1787 and their daughter Maria married Ela Collins of Lowville. Reverend Mr Clinton owned and cultivated about 200 acres of land at Lowville, introducing and distributing many of the best varieties of apples. He was a striking man always Colonially attired in broad beaver skirted broadcloth coat, knee breeches, silver buckles and silk stockings. In 1808 he built a house near the church. January 1 1829 he sold the site of the Northrup house to General Northrup and died May 3 1840. Did he possibly build this house and much before 1840?
He was president of the academy trustees many years before his death. General Northrup vigorous Abolitionist, also a Presbyterian and academy trustee, died July 26 1870 aged 86 his widow Margaret taking title to this house. On September 27 1897 the estate sold it to Charles R Scott, an underwriter of the Equitable insurance company, who spent about $70,000 remodelling the house, adding immense verandahs, generally changing the Colonial appearance of the place, adding elaborate stables, greenhouses and gardens. Mr Scott died in 1902 and on December 24 1907 his mother, Mrs Cornelia M Scott, disposed of the property to Congressman Charles L Knapp.
Born in Harrisburg July 4 1847 Congressman Knapp was educated at Lowville academy and Rutgers college '69. He practiced law at Lowville until elected state, senator in 1886 from the Lewis-St. Lawrence- Franklin district. During his term the St. Lawrence State hospital was located at Ogdensburg. President Benjamin Harrison appointed him consul-general to Montreal in 1889. In 1901 he was elected to congress to succeed Colonel A D Shaw and served until March 3 1911. He obtained the creation of Pine Camp, favored the oleomargarine bill, Cuban reciprocity and brought improvements to Madison Barracks and Fort Ontario, procured the Watertown postoffice and Cape Vincent breakwater. At the Republican convention in Pulaski in 1908 a record of 332 ballots was required to nominate him under the opposition of Isaac L Hunt, Adams, who withdrew prior to the final ballot.
His wife, the former Sarah Dorrance, Camden, died in 1911. He died January 3 1929 leaving over $100,000 estate and on March 13 1929 his mansion property was purchased by Mr and Mrs Richardson, present owners. Manager of the Kraft cheese business in the Lowville district, son of the late S Brown Richardson and Mrs Rchardson, Raymond S Richardson is a veteran in the New York state cheese industry, having long been a member of the Miller-Richardson company. Mrs Richardson, the former Ruth Brown, daughter of Mr and Mrs Henry W Brown of Brattleboro, Vermont, was in childhood a neighbor of Rudyard Kiplmg in Vermont. She is past president of the Lowville P-T and the 20th Century club, has served on the board of education and otherwise been active.
Their children are Henry, Stephen and Anne.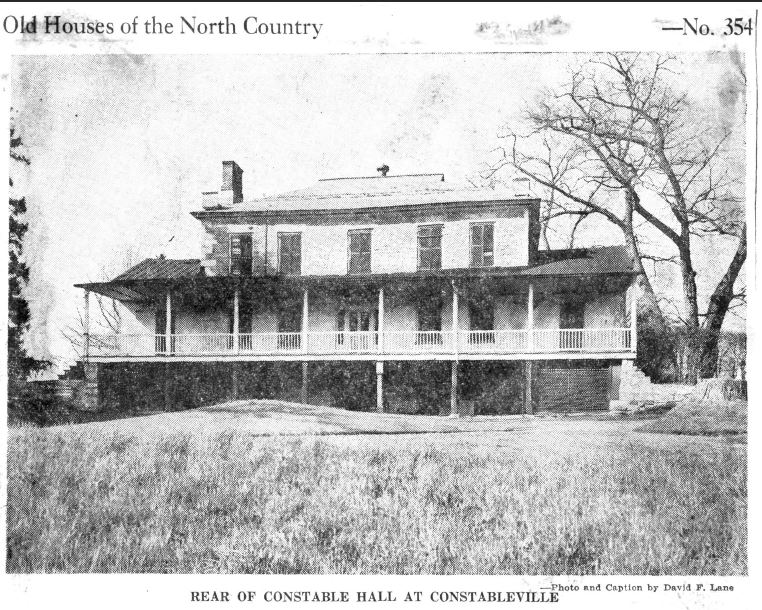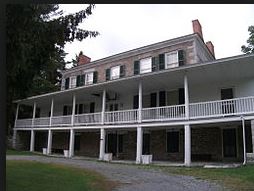 Often has been published a photographic representation of the facade but never of the rear of Constable Hall, one of the few truly great historic show-place mansions of the north country. Herewith is a rear view taken before restoration and repairs were started following transfer of title a year ago by John P Constable Jr, city, to Harry S Lewis, Beaver Falls paper manufacturer and industrialist.
That transfer of the mansion, outbuildings and 22 acres of land for a price of $10,000 took place under an arrangement by Mr and Mrs Lewis and Mr and Mrs Harold L Cornwall, brother-in-law and sister of Mr Lewis, to acquire the place and recondition it for a Lewis county historical museum and memorial. Since then several thousand dollars have been spent in replacing wornout timbers and adjuncts of the house plus redecoration preparatory to throwing the place open to the public this year.
Until John P Constable Jr, sold it last May, Constable Hall had never been out of possession of the Constable family from the time that it was built. The building of Constable Hall was started in 1809 but it was not until 1819 that it was completed. The finest quality of Trenton limestone was quarried at Talcottville seven miles away and hauled by ox-team to the site of the mansion, a third of a mile to the east of Constableville.
Here the finest of stone masons cut, faced and laid the blocks of stone, and the best of carpenters and cabinetmakers wrought the woodwork of the interior. It is said that two years before it was completed William Constable Jr, moved into the house. He had been educated in Europe, had married Eliza, the daughter of John McVickar and moved to Constableville in June 1810.
William Constable Jr, was the son of William Constable and was born on April 4 1786. He died May 28 1821 two years after Constable Hall was completed. His son, John, took over the management of his estate and management of his house. Succeeding occupants and owners of the property which formerly consisted of about 350 acres of land were Casimir, James, John Pierrepont Constable Sr, who was killed in a trolley car accident at Glens Falls October 21 1926 and John Pierrepont Constable Jr, city, head of the W H Bisnett feed and agricultural implement and supplies business.
William Constable Jr, owned a substantial acreage in Lewis county, but his father, William Constable Sr, was one of the great land barons of northern New York a century and a half ago. He was a graduate of Trinity college, Dublin, Ireland, where he inherited a large estate and where he was born January 1 1752 son of Dr John Constable.
Dr John Consable was a surgeon in the British army who brought his young son, William, to Montreal during the French war and in 1762 removed to Schenectady after Gov. Cadwallader Colden of the province of New York had appointed him surgeon in the first regiment m the pay of the province.
William Constable Sr, upon returning to America from Dublin, engaged in business with his brother-in-law, James Phyn, and during the Revolutionary war served as an aide to General Lafayette.
Filled with many interesting and historic mementoes of the Constable family, Constable Hall is an imposing manor house, environed among huge evergreens and facing northward across a beautiful little valley that stretches broad, deep meadows before it, while upon the rolling lawn near the gracefully curving drive is the musical tinkle of a small fountain in summertime.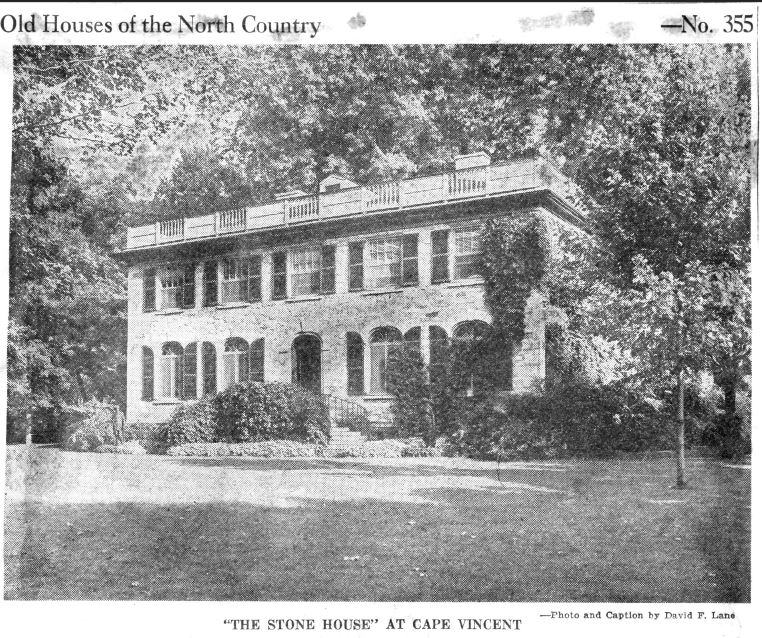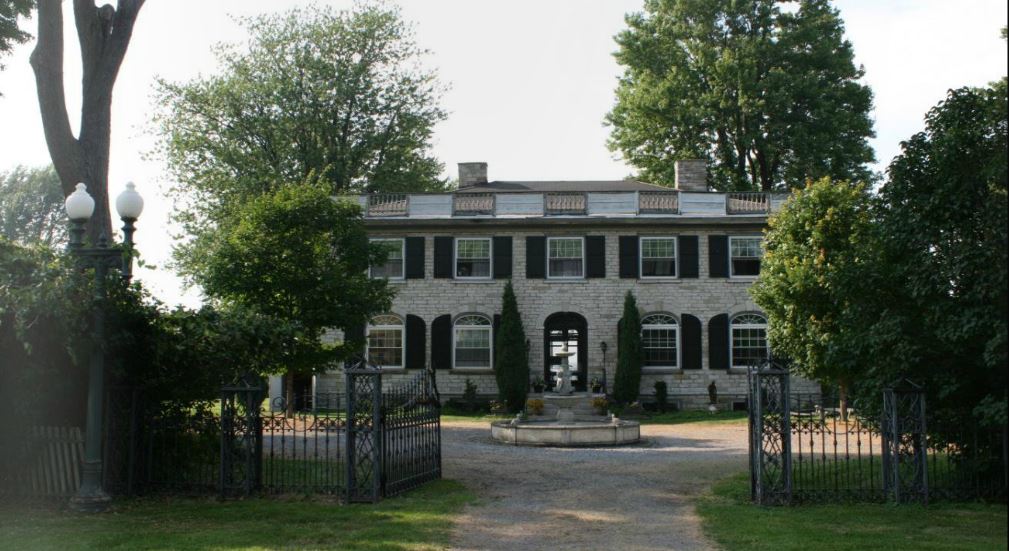 Originally the residence of Vincent LeRay de Chaumont, "The Stone House," which has one front on Broadway in the village of Cape Vincent and another front gazing contentedly across a deep, rolling lawn to the St. Lawrence river, is one of the great show-places of the North Country. An historic marker along the margin of Broadway announces that this mansion was built in 1815 but diaries of some of the early Cape Vincent residents relate that it was still unfinished two or three years later.
It was constructed of limestone which was transported by boat from Carleton island by Othniel Spinning, the master mason of the job was Hugh MacPherson, a Scotchman, who went to Cape Vincent in 1815 and remained there until 1818 which was about the length of time it took to complete the house. And in March, 1815 the state legislature authorized James D LeRay de Chaumont, father of the first occupant of this mansion, to build the Cape Vincent turnpike which went through the village of Chaumont and became a part of the route to LeRaysville, where the elder LeRay had his own mansion.
Vincent LeRay located in Cape Vincent that he might more conveniently market his extensive land-holdings and those of his father in that area. Eventually he took over the management of his father's vast North Country lands, when the elder LeRay became insolvent in 1823.
The mansion of Vincent LeRay has always been known as "The Stone House," because of the fact that it was the first of that material to be erected in Cape Vincent, a village named for Vincent LeRay as was the town in which it stands.
Mrs Nelie Horton Casler, in her History of Cape Vincent, relates that after "The Stone House" had been vacant for some time it was purchased with other property of Mr LeRay by those staunch Napoleonic brother adherents, Hyacinthe, Louis and Theophilus Peugnet. The record in the county clerk's office, however, declares that "The Stone House" property consisting of about four acres fronting on the north margin of Broadway and running down to the south shore of the St. Lawrence river was part of lands sold by Vincent LeRay de Chaumont through his attorney, Patrick Somerville Stewart, to Hyacinthe Peugnet on May 2 1850 for $6,000.
Mr Peugnet, who had a distinguished record as an officer in the army of the great Napoleon, died at Cape Vincent June 13 1865 giving his wife Emeline a life-use of all of his property with the authority to sell and convey. After her death the property was to go to their children, one of whom was Mrs Nathalie Fort, wife of Edward Fort. Eventually, in mid-summer of 1898 Mrs Fort, resident of New York City, acquired the interests of the other heirs and made "The Stone House" her summer home.
Mrs Fort died in New York City March 30 1908 willing all of her property to her two daughters, Mrs Louise Adele Vatable and Miss Frances E Fort, who resided at 231 West 45th Street. On February 28 1922 Mrs Vatable and Miss Fort sold the place to Mrs Ethel M Johnston, then of St. Louis, Missouri, wife of John L Johnston and daughter of the late New York State Senator Elon R Brown, onetime majority leader in the state senate. Mr and Mrs Johnston have since made "The Stone House" their summer home. Mr Johnston, former president of the Liberty Central Trust company of St Louis, was long president of the Lambert Pharmical company, subsidiary of the Lambert company, of which he was also president until he retired at the end of 1948. This is the river front of "The Stone House." The Broadway front appeared in this series some time ago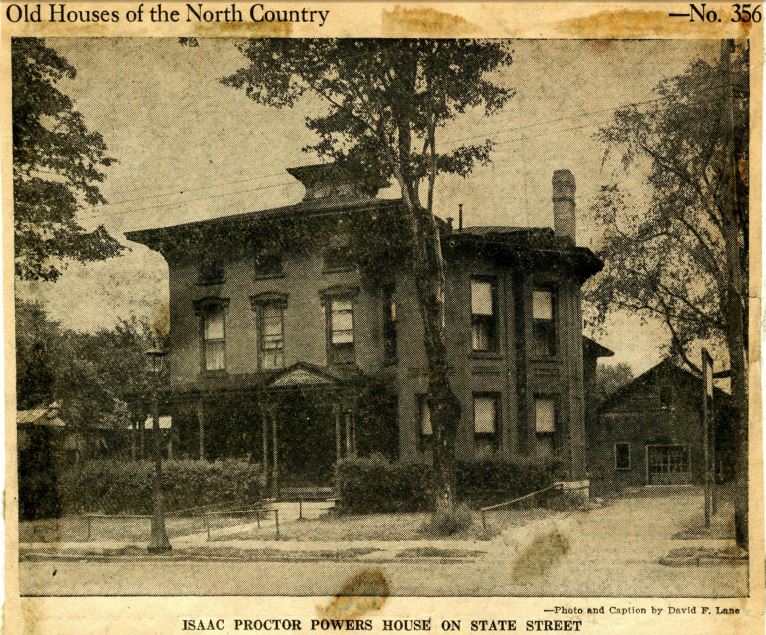 Francis Lamon, born in Washington county in 1775 married Miss Philena Crane in 1800 bought 100 acres of land on Dry Hill in 1802 and became one of the earliest settlers of the present Jefferson County. By 1836 his holdings there had grown to 450 acres, and he sold them. On March 15 of that year he bought 7.79 acres in this community from Samuel W and Helen S Osgood. The tract started at the corner of State and High Streets, extended down High Street to the Knowlton & Rice lot, then stretched westerly to the corner of Daniel Bealls' property, came southerly from there to State Street and followed the north margin of State Street to the point of beginning.
At the corner of State and High Streets Francis Lamon established his residence. There he lived until his death July 29 1862 and with him for a time boarded a son, Francis R Lamon, who operated a grocery here for a short time and then purchased the Centre House, a hotel at the junction of Mill and Factory Streets. Later he bought and sold several farms.
On May 1 1833 Francis R Lamon married Susan, daughter of Jonathan E and Lucinda Sheldon Miles, Dry Hill pioneers. One of their children, Lorinda, was married to Isaac Proctor Powers September 16 1858 and four years later they began acquiring the site for this large brick house on the north side of State Street between High and Mechanic Streets. The site was part of the 7.79 acres purchased by the senior Francis Lamon March 15 1836 and was only a few houses west of the latter's residence.
First, on September 4 1862 Isaac P Powers bought the interest of Joel Lamon, Sycamore, OH, son of the elder Francis Lamon, and on June 28 1864 he acquired the interest of Francis R Lamon. On August 16 1864 Mrs Mercy Lamon, widow of the elder Francis Lamon, disposed of her rights in the site to Mr Powers.
Of English ancestry Isaac Proctor Powers was born September 6 1826 in the town of Fowler, St. Lawrence county, son of Leonard and Diadema Caldwell Powers. His father was a native of Proctorsville, Vermont, and fought at Sackets Harbor in 1812. His mother was a member of the St. Lawrence county Caldwells.
Leonard Powers operated a farm for a time and then bought the old Hiram Baxter sawmill on the Oswegatchie river northeast of Little York. His son, Isaac Proctor Powers attended the district schools, later taught at Carthage and Denmark, came to Watertown in January 1852 clerked in Keeler's store and in the store of Norris Winslow, resided at 50 Franklin Street and operated as an auctioneer for a time.
He was thrifty, amassed some wealth, became a director, secretary and treasurer of the Watertown Steam Engine company, was a director of the Watertown Carriage company, became president of the Watertown Thermometer company, was a director of the Taggart & Moffett Land Improvement company, was a director and vice president of the National Union Bank and one of the first directors of the City National Bank. He was a partner of D S Miller in D S Miller & company, dealers in books and stationery, a concern succeeded by the Powers Book & Stationery company, predecessor of E N Smith & company. Also Mr Powers owned the Powers block, now the north wing of the Trust company building. Mr Powers died March 24 1908 willing his large and fine residence with a $900 fireplace mantel to his wife. She died August 11 1922 willing that property and the bulk of her estate to her grandson, Chard Powers Smith, poet and author of the historical novels, "Artillery of Time," and "Ladies Day." Mr Smith, son of the late Supreme Court Justice Edward North Smith and the late Alice Powers Smith sold the place to Frank B Alguire January 21 1928 and it has for some years been an apartment house designated as 545 State Street, although its original number was 33.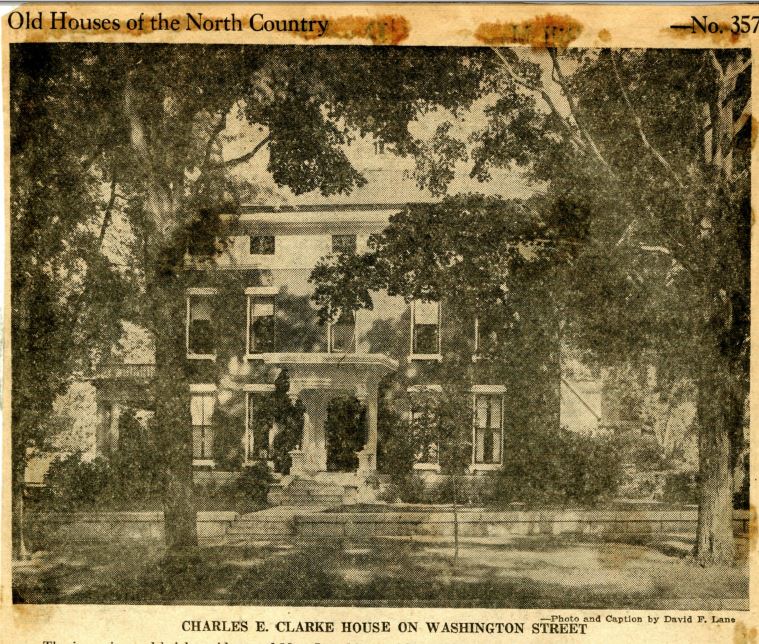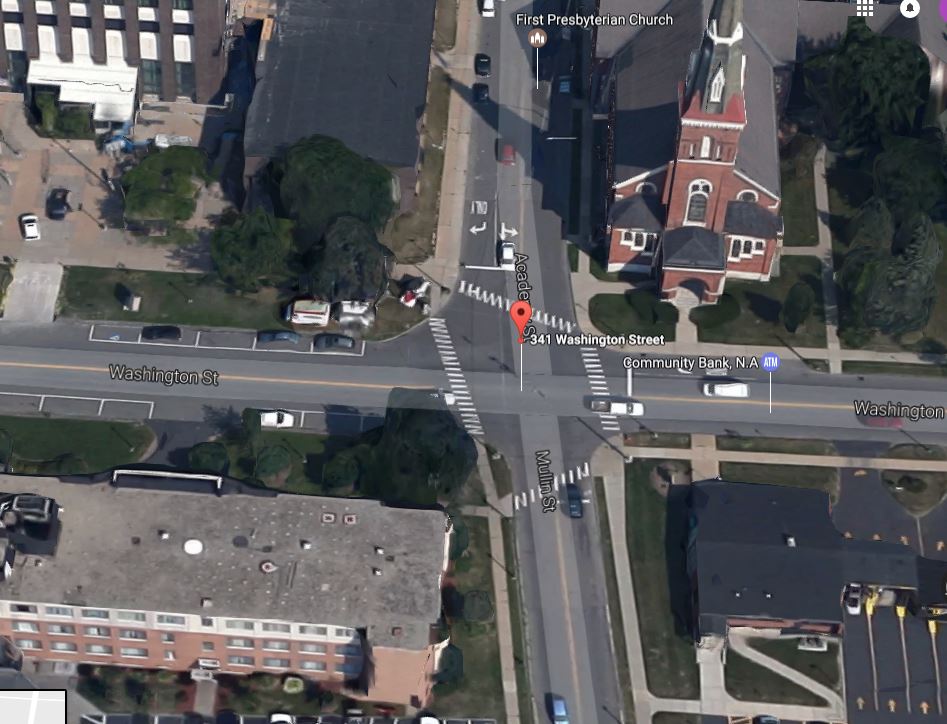 The imposing red brick residence of Mrs Josephine C Taggart at 341 Washington Street, has had a long record of distinguished ownership. That record has included the brothers, Charles E and John Clarke, noted North Country lawyers of a century ago; Henry Keep, the poor Adams boy, who became a millionaire and president of the New York Central; Maus VanVranken Rosa, a wealthy native of Herkimer county, who early located in Adams and was the father of Dr William V V Rosa, distinguished Watertown physician; Dr Isaac Munson, president of the Agricultural Insurance company, and Mrs Mary H Sherman Lansing, wife of Dr Edward S Lansing, also a prominent local physician.
Also Norris Winslow, banker, merchant, builder of more than 100 buildings in Watertown; Byron B Taggart, the elder, founder of the paper bag industry in the north. Byron B Taggart Jr, who developed that business and became chairman of the board of the great Taggart corporation, late husband of the present owner and occupant of the big mansion.
Mrs Taggart is of the opinion that the house was constructed in 1852 which was the year that M V V Rosa sold it to Dr Munson for $2,500 but it is likely that a portion or nucleus of the present house was there when Charles E Clarke, later assemblyman and congressman, conveyed the property to his brother, John. That conveyance states that John Clarke (Whig, Abolitionist, attorney for large landowners, defender of "Patriots,") was occupying the property at that time. The date was April 6 1832.
John Clarke sold the place to Thomas White October 3 1840 and White and wife deeded it to Henry Keep January 18 1850. On June 11 1851 Henry and Emma A Woodruff Keep conveyed it to Maus V V Rosa and October 29 1852 Mr Rosa and wife, Catherine, disposed of it to Dr Munson.
Dr Munson resided there until January 22 1859 when he and his wife, Cornelia, sold it to Mrs Almira Thatcher, wife of Martin Thatcher, a commission merchant. Mr Thatcher joined with his wife in selling the house to Mrs Mary H Lansing, wife of Dr Edward S Lansing, a native of Herkimer county and graduate of New York's College of Physicians and Surgeons. During the residence of the Lansings in the house their sons, Charles S and Stuart D Lansing, were born, the former on February 19 1863 and the latter November 21 1866.
Mrs Lansing disposed of the place to Norris Winslow March 16 1867 and with her husband and family removed to Vineland, N J. Mr Winslow, founder of the Merchants bank, builder of the Commercial building where the chamber of commerce building is, head of the big dry-goods firm of N Winslow & Company at 16-22 Court Street, where the Empsall store is, and also built over 100 houses and other buildings. After his failure this residence was sold by Daniel G Griffin, referee, to the Agricultural Insurance company July 5 1882. Ten days later it was conveyed to Mary Sweeney and on July 17 1882 she sold it to Byron B Taggart. Native of LeRay, captain of Co. K, 10th New York Heavy Artillery in the Civil war, founder of the paper bag business in 1865 and later president of Taggart Brothers Paper company, of the Taggart Paper company, a founder of the Watertown Thermometer company, of the Watertown National bank, head of the Alexandria Bay Steamboat company, of the Watertown Street Railway company, of the Taggart-Moffett Land company, mayor of Watertown and prominently identified with many other activities, Mr Taggart resided in the house until his death January 20 1897.
His will gave his widow, Mrs Fanny Brown Taggart, a life-use of the mansion and then the place went to their son, Byron B Taggart Jr, who was graduated from Hamilton college in 1897 joined the Taggart Brothers Paper company, made it and its development his chief interest in life, greatly expanded it, became a founder of the Northern New York Trust company, a heavy stockholder in the former Watertown Daily Standard, a director of the Jefferson County National bank, vice president of the Alexandria Bay &. Redwood Electric Railroad company and an enthusiastic promoter of the Thousand Islands. He died in Atlantic City April 13 1941 aged 67.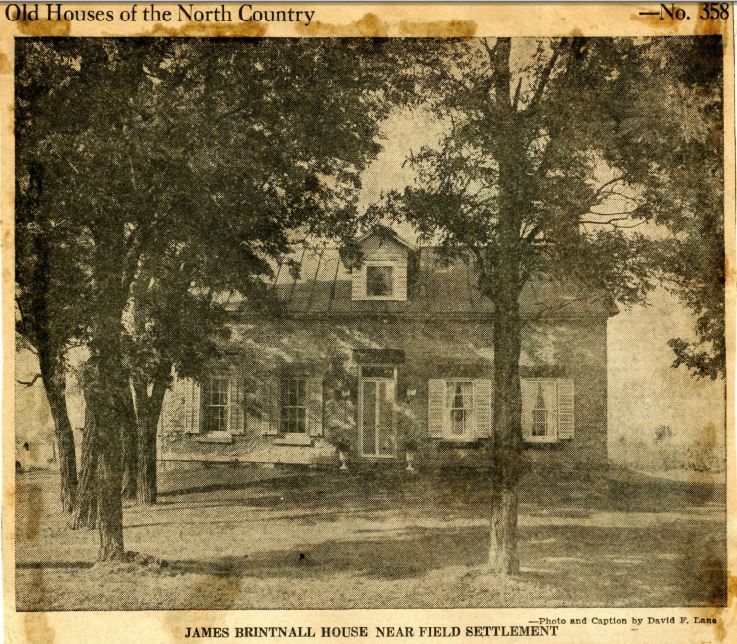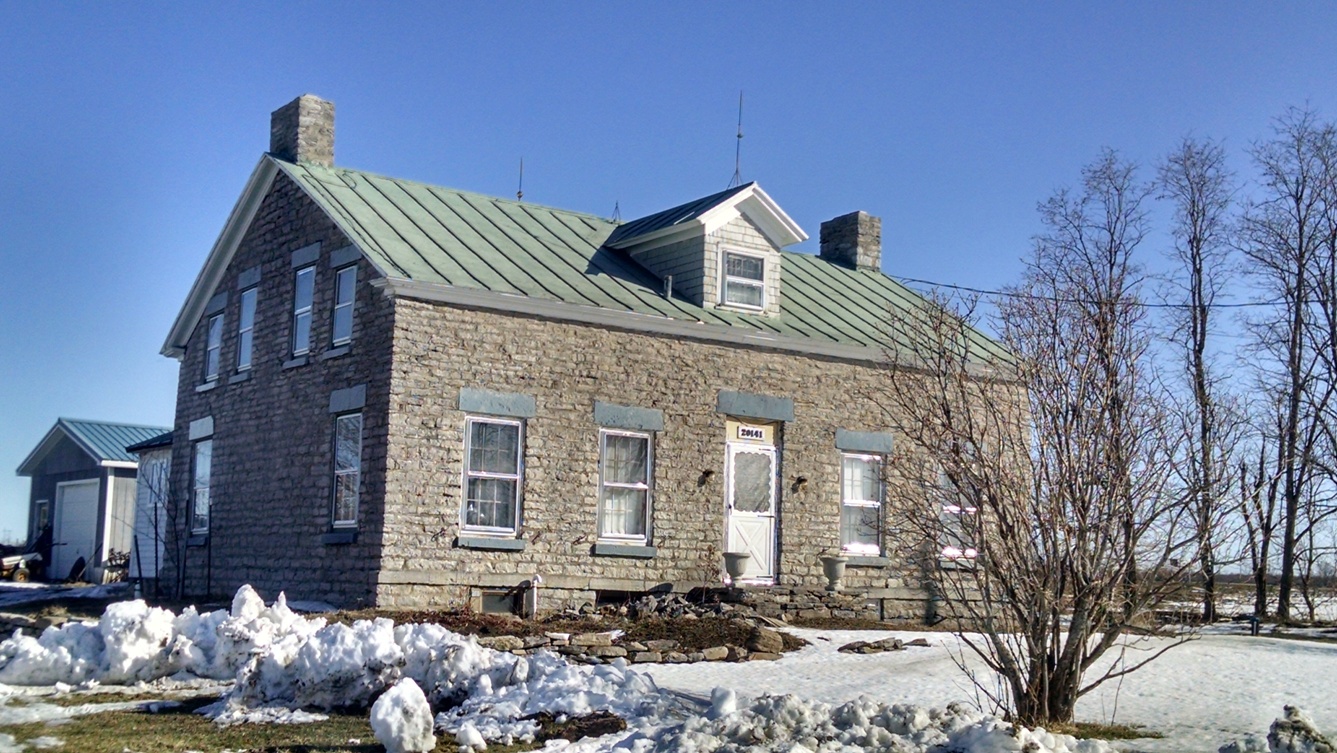 NOTE: Field Settlement is at the junction of Old Rome State Road and Massey St. Beaver Meadows is Ives Street. This house is at 20141 Beutel Rd which now dead ends because of Route 81. it would have connected to the Gillette Rd
There is probably more history and not a little romance connected with this simple native limestone house located upon the unimproved town road which runs from the Beaver Meadow Road to Field Settlement than is to be found in the record. It was likely built about 115 years ago.
History relates that Lydia Smith, born July 29 1786 at Dracut, Massachusetts, lost her father when she was seven and went to live with an uncle, Ezekiel Hale, at Haverhill Massachusetts, woolen manufacturer. There she met Jonathon Ingalls, married him in the Fall of 1803 and the next February came to the wilderness lands he had bought near Field Settlement. There they were building a frame house when the War Of 1812 broke. At the battle of York next year Ingalls was captured and died in captivity. The next Spring Lydia Ingalls leased her farm for three years to young James Brintnall, a New Englander who had located in the Town Of Watertown in 1800 and who became her second husband.
Later James Brintnall acquired a considerable acreage in that area and among the parcels was 134 1/2 acres in Great Lot 25 where this house is located. This 134 1/2 acres was owned by the Ingalls heirs and Ward E Ingalls sold his interest to Brintnall March 25 1826. On March 7 1829 Phebe Ingalls disposed of her interest to him. A similar interest had been purchased by Brintnall from Stillman and Almira Massey on February 19 1827. Joel and Mary Ives sold another interest October 22 1830; Willard Ingalls on January 5 1831 Lydia Ingalls and Joel and Mary Ives sold their interests to Brintnall on January 1 1835.
The 1825 census shows James Brintnall owning 200 inproved acres, 38 cattle, 11 horses, 62 sheep, 28 hogs. In his household were four males and seven females. The 1850 census shows his real estate valued at $7000, his age 61 and that of his wife Lydia 64.
James Brintnall's will recorded June 30 1882 gave his son Isaac a life-use of all of his real estate and then among other things provided that Isaac's son Titus should have 75 acres including dwelling house and other buildings. The late Fred B and Frank D Rice, great grand-children of James Brintnall were among his residuary legatees.
Isaac Brintnall's will, recorded December 4 1896 gave a life-use of his residuary estate to his son Titus, and then in equal shares to Fred B and Frank D Rice. A condition was imposed that if either of the latter two died without issue his share should go to the other. Frank D Rice left no children but Fred B Rice was survived by a daughter, Mary Farwell Rice who later became Mrs Robert O Mason.
On December 22 1941 Mary Farwell Rice Mason disposed of this stone house, outbuildings and two adjoining parcels of land consisting of 88.62 acres and 33.42 acres to Wesley J Morrison, partner of his brothers, Corydon H and Charles E Morrison, in a local garage business. Mr Morrison who owns another large farm on that road was married to Miss Marie Healy of this city December 30 1941.
Mr Morrison's deed to this stone house farm shows that the 88.62 acre parcel was devised by James Brintnall to Titus Ives Brintnall and that the 33.42 acres is the same deeded by Elijah Field and others to Isaac Brintnall March 9 1852. On February 25 1901 Titus and Martha Brintnall conveyed 88.62 acres to Devillo M Rice, parents of Fred B and Frank D Rice.
Mr and Mrs Morrison have done an excellent job of rehabilitating the house and equipping it with beautiful antiques including a magnificent chandelier of crystal pendants. They have also done fine work refinishing the antiques. The large coach lamps at the front door were installed by them.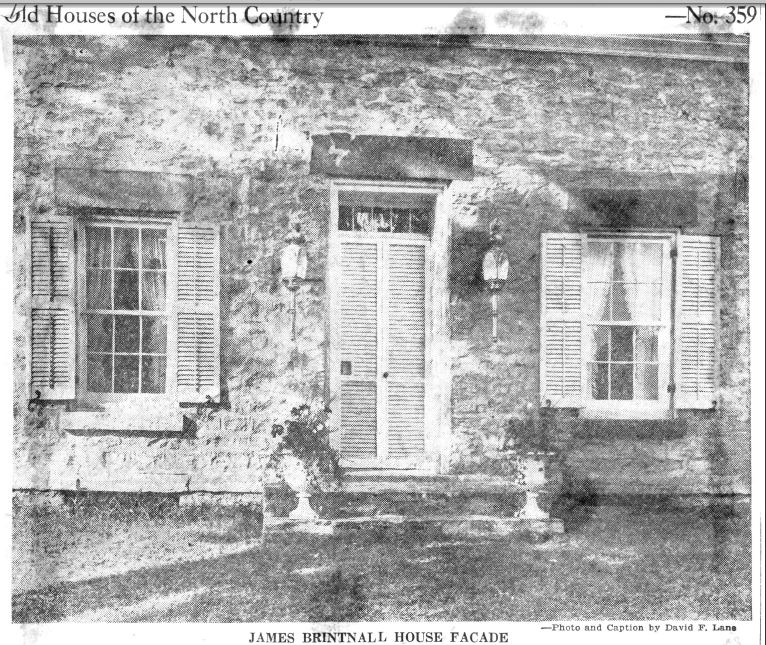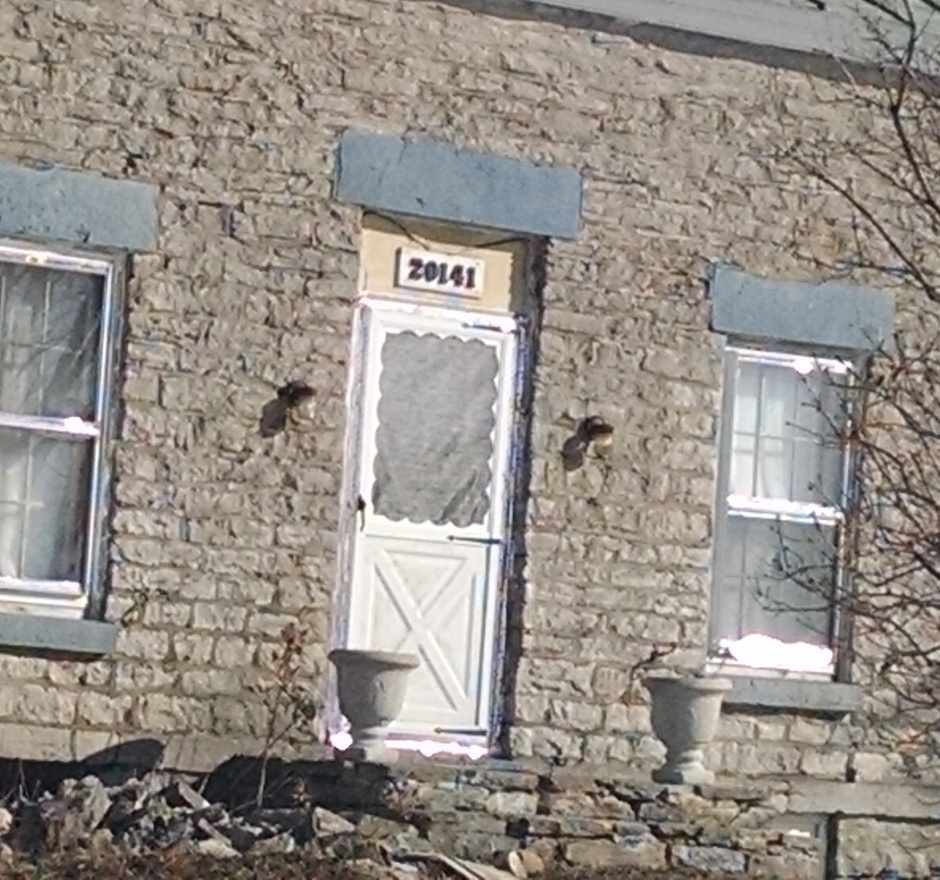 Although the type of architecture of this low, two story house is extremely simple, it is unusually attractive. The facade in particular is appealing and shows the detail of the front entrance with two of its flanking windows.

It is of the James Brintnall house, of which a full view of the front elevation was shown in this space a week ago. Built of native limestone, the Brintnall house with its one front dormer, occupies the north side of the town road which runs from the Beaver Meadow road to Field Settlement. Probably built about 115 years ago it has been owned by Wesley J Morrison since December 22 1941.
He purchased it from Mrs Mary Farwell Rice Mason a week before his marriage to Miss Marie Healy of this city. With good judgment Mr and Mrs Morrison have retained the original twelve-paned windows which are attractively equipped with slat blinds fastened back by the old-fashioned S-iron. The doorway is extremely plain and the door itself, here hidden behind the shuttered stormbreak when the picture was taken, needs some restoration. An extremely beautiful pair of coach lamps, procured by Mr and Mrs Morrison, has been installed, one lamp on either side of the front entrance. These lamps have been wired to provide outside illumination. As antiques, relics of the horse-and-buggy days when Watertown and every other community of size had their own rather handsome public and private coaches, they are a quite valuable item, for they are not only of beautiful and expensive craftsmanship but their condition is perfect.
Admirers of antiques and possessed of good sense in acquiring them, Mr and Mrs Morrison have filled their attractive old house with them. In the refinishing of many of the items Mr and Mrs Morrison have gone at the work with a keen sense of adequacy and appropriatenesss and have used the rooms at the rear of the house as a workshop or laboratory. Similarly they have refinished the nice old interior woodwork of the house.. The soft, yellow pine floors have been cleaned of the paint which once covered them, and given a natural finish. Beautiful old trees grace the deep lawn and provide cool shade for the house. The setting is ideal for the vistas are beautiful in all directions and the narrow, unimproved road assures peace and quiet such as only a highway free, of heavy trucking and other traffic can insure.

The house was long in the ownership of the original Brintnall and its related Rice family. When the will of James Brintnall, a pioneer settler of the town of Watertown, was recorded June 30 1882 it showed that he had given his son, Isaac, a life-use of all of his real estate. James provided that after the death of Isaac Brintnall, Titus Brintnall, a son of Isaac, should have a strip of 75 acres including the dwelling house upon it and that the balance of the estate should be divided among grandchildren and great-grandchildren. Among the latter were two brothers, Frank D and Fred B Rice. They were the sons of Sarah Antoinette Brintnall Rice, who was a daughter of James Brintnall's son, Isaac. Thus Frank D Rice resided upon and operated the farm for many years and upon his death without issue his share in the property passed to his brother, from whom title went to the latter's daughter, Mrs Mary Rice Mason, who sold the property to Mr Morrison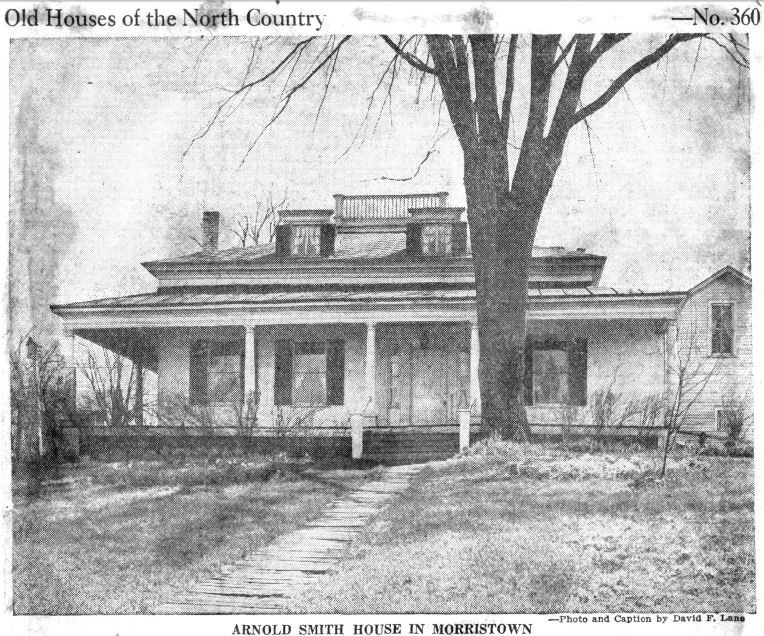 It is a Funeral Home now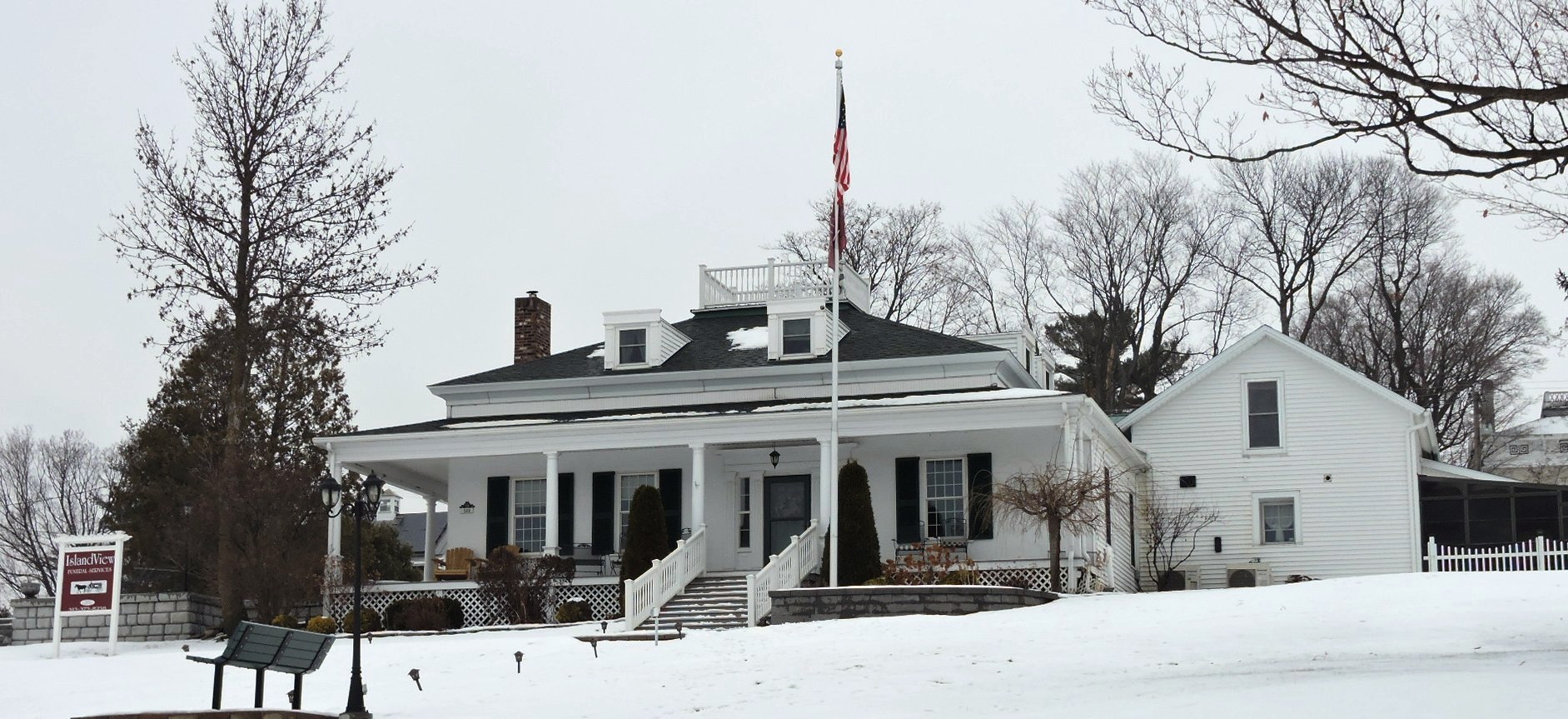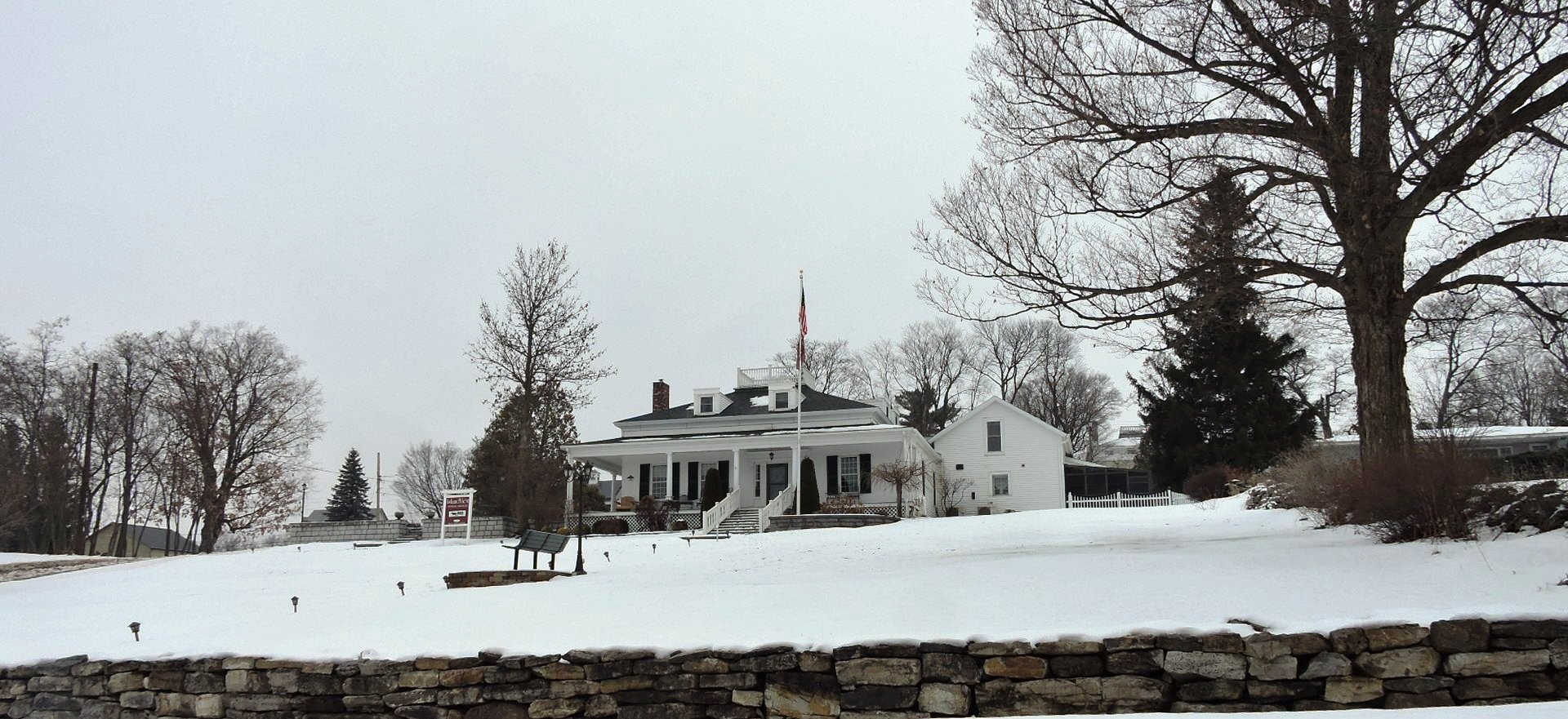 Whether the town and village of Morristown along the St. Lawrence river in St. Lawrence county were named for Gouverneur Morris, noted Revolutionary patriot, or for Morristown, N J, may be a moot subject for debate. Be that as it may, this fine old cup-and-saucer type house, which stands on the corner where the old Ogdensburg and Rossie turnpikes meet, is one of the most ancient dwellings in Morristown village.
From its lofty site it looks placidly across the mile width of river to the city of Brockville, Ontario It seems likely that it is at least 135 years old and occupies land once owned by Gouverneur Morris, the two parcels of the lot having been sold by Morris September 1 1815 to Arnold Smith, first tavern-keeper in the town of Morristown. According to the deed Smith had a house upon the site before Gouverneur Morris transferred the land to him. This must have been so, for the next day Smith conveyed the same property to John Hooker, a native of New Haven, Connecticut, for $3,475.
Smith had located in the town shortly after Colonel David Ford had opened it up for settlement in 1808. History relates that Hooker moved in from Turin in the fall of 1815 and bought Arnold Smith's hotel. That statement and the date in the deed of this property to him would imply that it early was a tavern.
Hooker kept the place until August 23 1823 when he sold it and a garden plot in the rear to Alfred Hooker, and the following November 23 married Melinda, daughter of John Canfield, another early settler of the town, which had only been legally set up on March 27 1821 with Canfield add Paschal Miller assessors and Hooker overseer of the poor. David Ford was first supervisor.
Hooker also was first collector of the port. Canfield built the first storehouse and in 1817 constructed the first wharf. On November 12 1831 Alfred Hooker disposed of this property to James M Stocking, who sold it to John Canfield Jr, March 15 1837. On May 4 1838 Canfield conveyed it to Paschal Miller, who had been supervisor in 1825-6 and March 28 1843 Miller sold to Augustus Chapman, James Averell and Samuel Stocking. August 19 1844 Stocking conveyed his interest in that and other lands to Averell and Chapman, who, on December 26 1857 sold to John Giffin. Giffin died January 16 1868 and his executors, Emily Giffin and Henry Russell disposed of the place to John D Soper on November 1 1880. Soper died September 30 1881 leaving the property to his daughter, Mrs Mary E Pierce. She died March 17 1932 willing this house and land to her husband, Thomas W Pierce, to whom she had been married in 1879 and who was long a prominent Morristown merchant and politician. He had been village treasurer, member of the school board and on February 29 1892 was appointed postmaster by President Benjamin Harrison.
Mrs Janet Murray, the present owner, acquired the property from Mr Pierce on August 12 1832 five months after he inherited it from his wife. Located on the main business street it commands instant attention of the tourist and, designated the "Colonial," has for some time been conducted as a tourist home by Mrs Murray. Its central front door is of beautiful Georgian and opens into a hall, which equally divides the house. The main rooms are large and the house has ample size.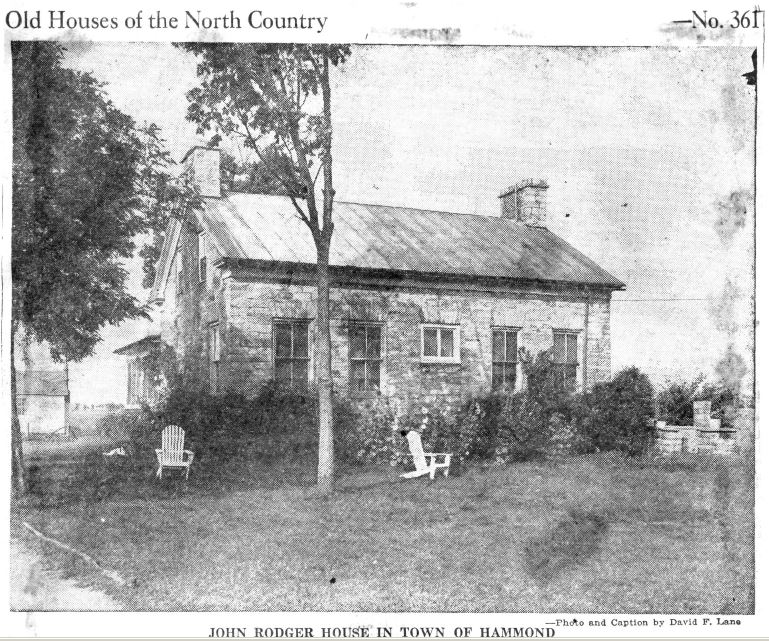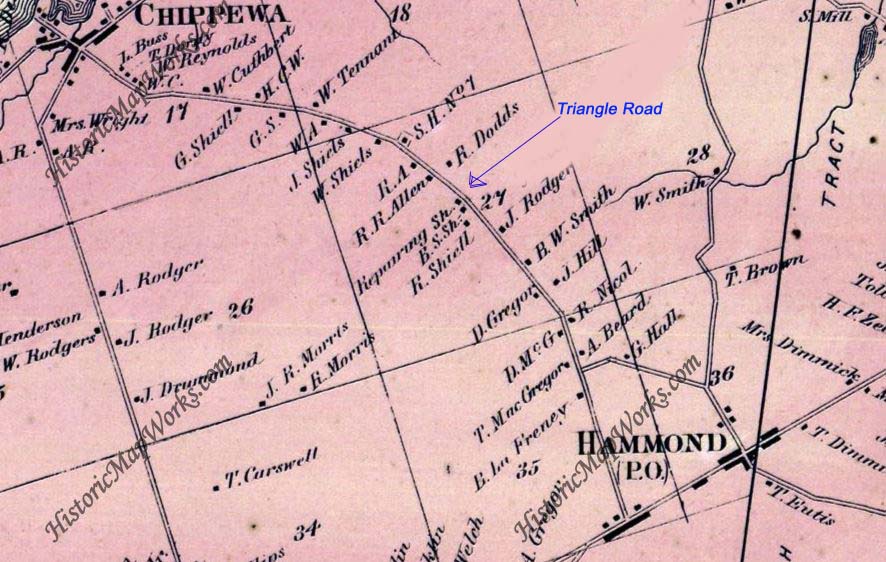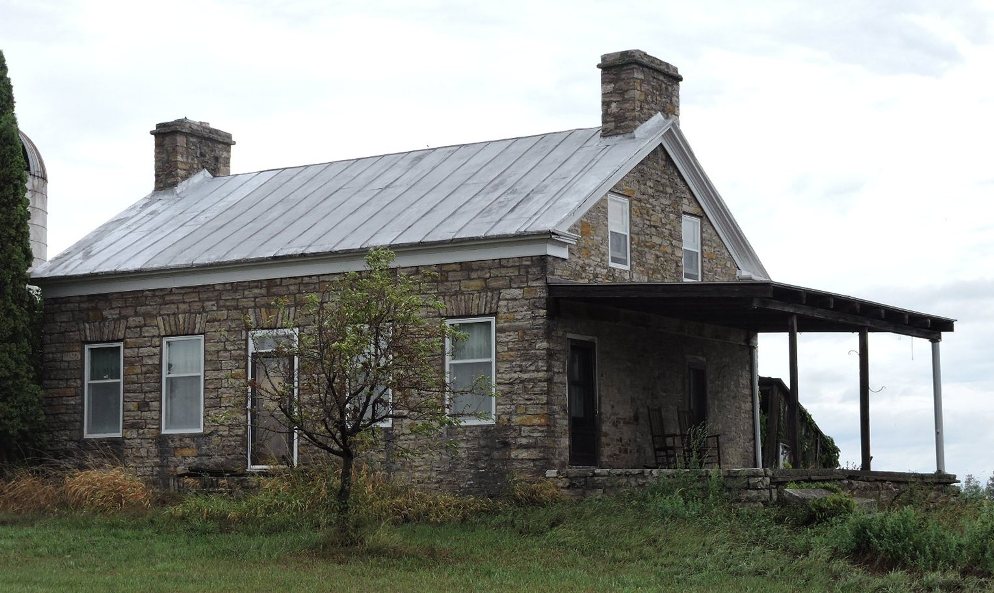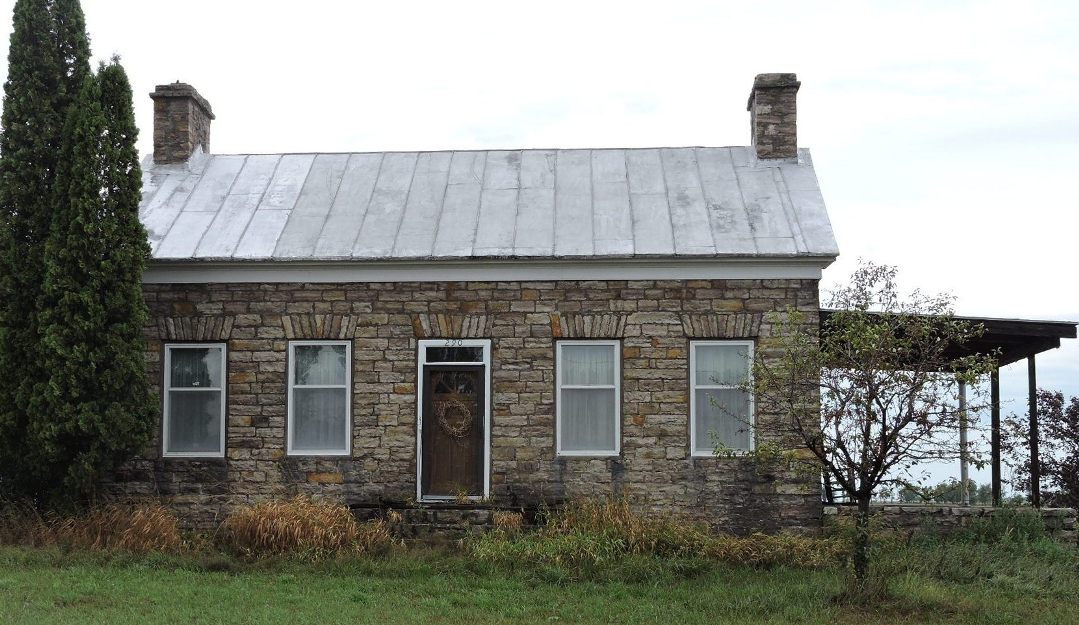 Born and bred in the Kelso area of Scotland, several members of the Rodger family, substantial and thrifty, came to the United States upwards of a century ago and, attracted by earlier Scotch settlers, who came 1818-1821 located towards the Chippewa Bay sector of the town of Hammond.
In that district, because of the rich deposit of sandstone that ran through the town, many native sandstone houses were built. That the Rodger family was a thrifty one is shown by the fact that St. Lawrence county records indicate that several of these houses and the farms that go with them were owned by Rodgers.
James Rodger came to Kingston in 1828 and John in 1830. The first money they saved went to bring other members of the family from Scotland. The Parishes of Ogdensburg owned thousands of acres of Hammond land which they sold to Scotch settlers, and April 26 1838 George Parish sold 176.4 acres of this land to John Rodger on the Triangle road where this house is. On January 2 1855 Rodger disposed of 87.93 acres of this parcel, but on June 15 1869 acquired an additional parcel of 21.92 acres from David Gregor, who had settled in the town in 1818. A third parcel of 39.02 acres was purchased by John Rodger from William Rodger on April 30 1879.
John Rodger died May 16 1894 leaving his estate to Nancy and Addie Rodger, the latter of whom became Mrs Brown, and on January 5 1915 Nancy and Addie conveyed the three parcels totaling 149.41 acres, plus buildings, to Arthur A Rodger. He, in turn, sold this property to Joseph Eugene and Mary Seguin, the present owners, on June 3,1942
On the same date Mr and Mrs Seguin purchased another 144.16 acres on the other side of the road from the estate of William Rodger, who died July 25 1929. Mrs Seguin is the former Mary Hitsman Bass and she was married to Mr Seguin at Ogdensburg on November 1 1933. The two chief parts of the farm as divided by the Triangle road give them a total acreage of 293.57 the 144.16 acres, which came from the William Rodger estate, having been built up from an original plot of 94.29 acres which George Parish sold to Robert Morris on October 28 1833.
Morris then sold 19 acres off that to John Morris on March 20 1839 and the balance of the 94.29-acre parcel to Robert Morris Jr, on September 20 1843. The latter disposed of his parcel to David Gregor March 20 1866. Gregor died July 9 1894 and on May 28 1895 his executors sold 37.64 acres to William Rodger, who acquired 87.52 acres and the 19 acres from John Morris on April 30 1879. This had been purchased by Morris from George Parish on April 10 1841 pursuant to a contract dated June 30 1837. These two parcels of 87.52 and 19 acres plus the 37.64 acres which William Rodger bought from the David Gregor estate on May 28 1895 make the 144.16 acres of the farm which lie on the lefthand side of the Triangle road as one drives towards Chippewa Bay.
The one and one-half story sandstone house as now owned by Mr and Mrs Seguin shows that the central front doorway has been partially stoned up to form a window and a terrace constructed at the right end of the house where a new main entrance was made. The house and lawn are neatly and attractively maintained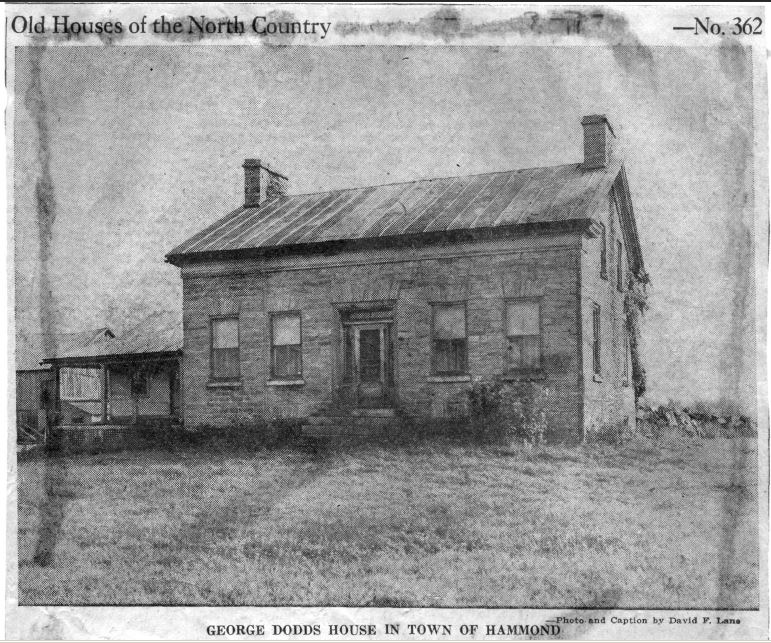 HAMMOND TOUR BROCHURE: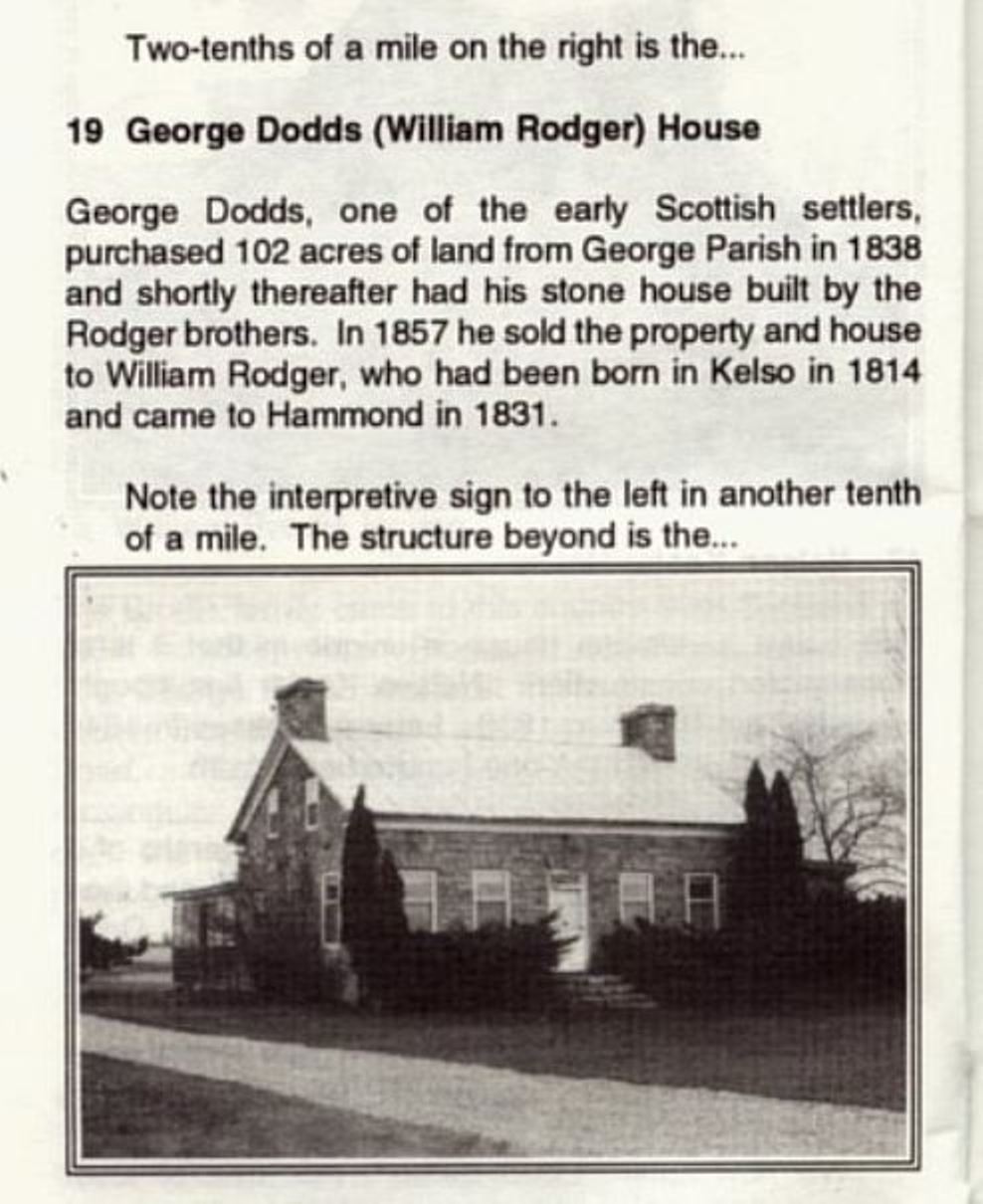 'The structure is beyond the John Rodger House. These are in the 'Little Kelso' area.
From the Hammond Tour Brochure:
Travel down Factory Road another 4/10 of a mile and take a right turn, then a quick left and then a quick right on Route 12 (the Seaway Trail). Drive about 2 and 1/2 miles on this scenic highway and make a right hand turn on to the Triangle Road. Proceed up the hill and travel a little less than a mile. We now enter 'Little Kelso" which is the area settled in 1831 by the children of William Rodger of the village of Kelso in Berwickshire, Scotland. Sons James and John first immigrated to Kingston, Ontario and earned money to bring other members of the family from Scotland. They all acquired the trade of carpenters and masons
The 'interpretive' sign: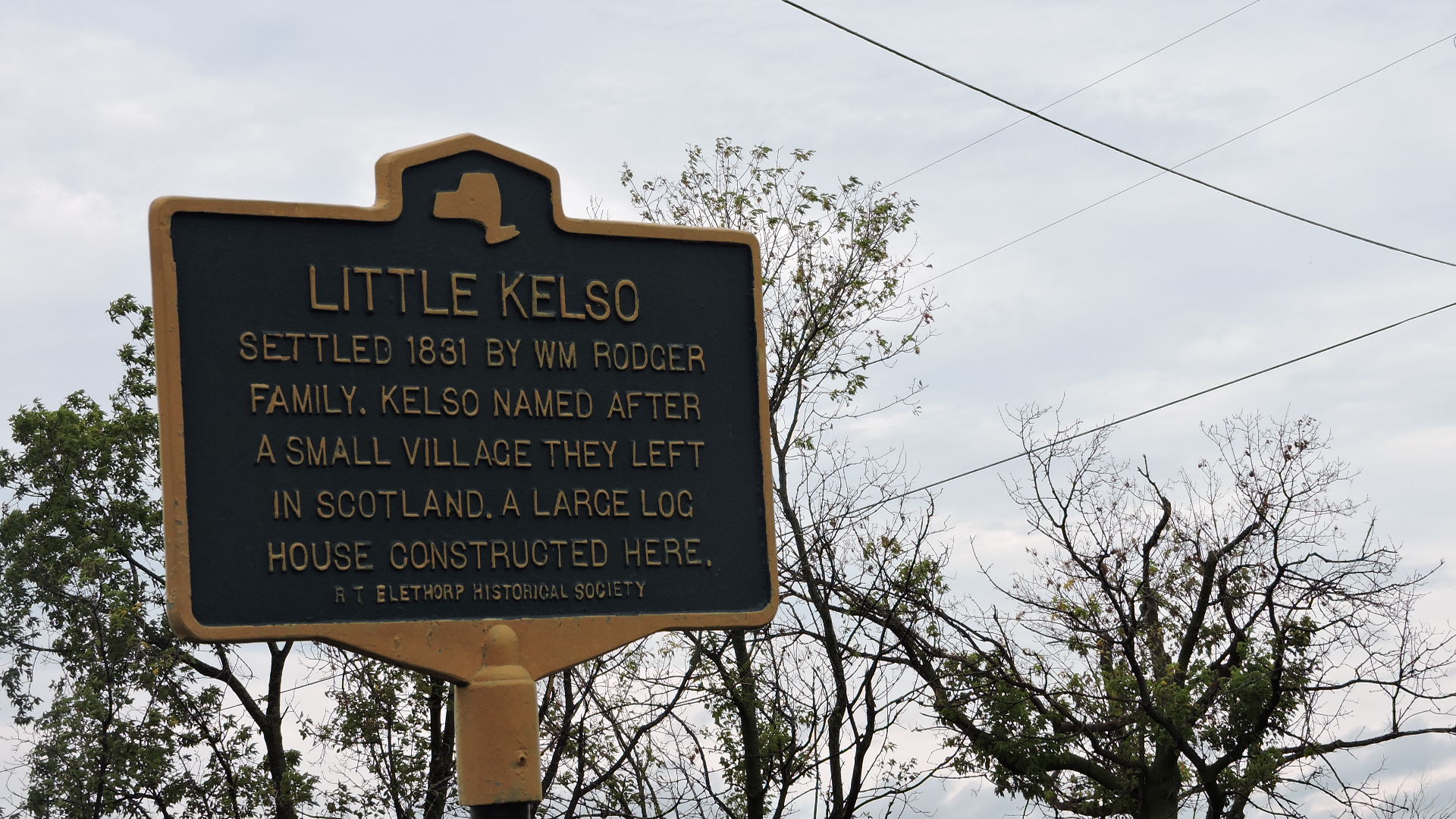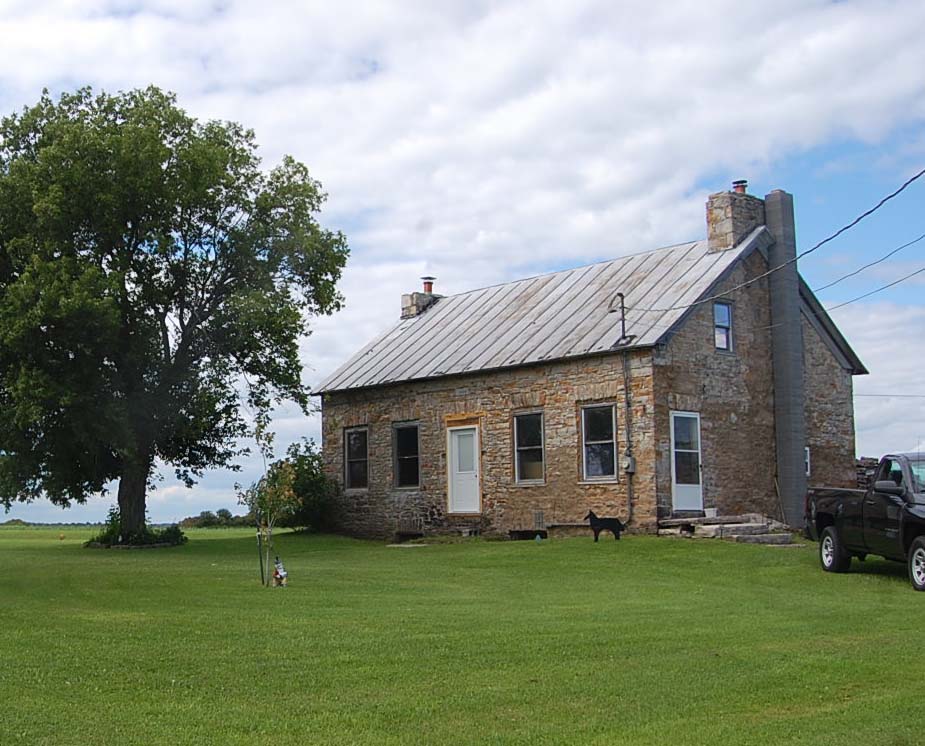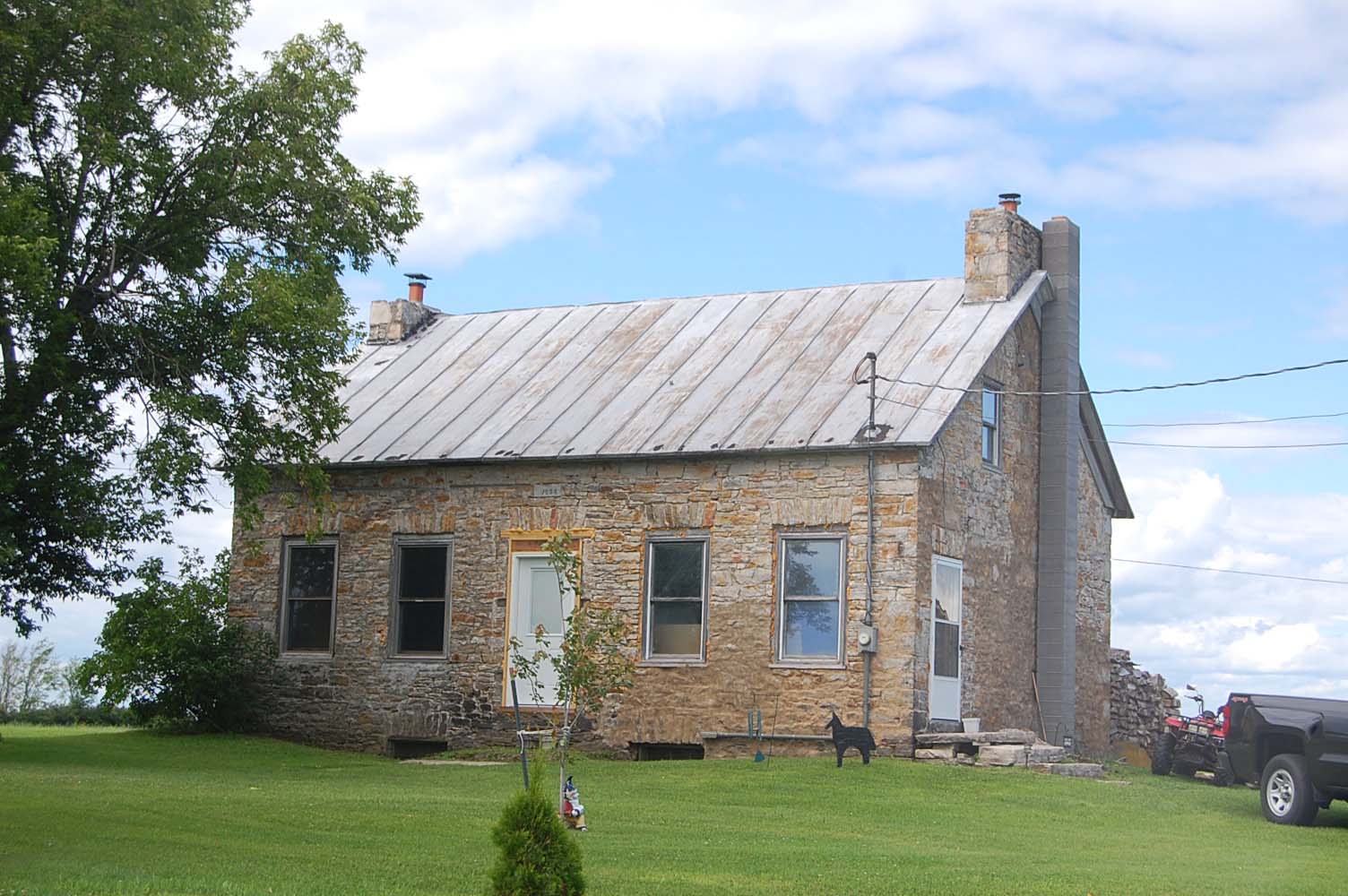 Across the Triangle road from the Joseph Eugene Seguin sandstone house published last week is another old native sandstone house, that of Mr and Mrs Arnold Bass, in the Scotch settlement of the town of Hammond. The two houses are of about the same vintage, having been built about 110 years ago. This house, of simple architectural style, occupies a farm of 151.42 acres, the land having been a part of the 28,871-acre tract purchased by David Parish on September 12 1814.
This farm is made up of two parcels, one of which consists of 102.72 acres and the other of 48.70 acres. George Dodds, one of the early Scotch settlers of the town of Hammond, purchased the larger of these two parcels from George Parish January 15 1838 and on January 4 1857 sold it and the house to William Rodger. On October 1 1856 Rodger bought the second parcel of 48.70 acres from George Parish and added it to the first. Like George Dodds, William Rodger was also a Scotchman, was born June 17 1814 and in 1848 was married to Isabel Shield of the town of Hammond. Rodger, it will also be recalled, owned a portion of the present Seguin farm at one time. William Rodger owned the above house and larger parcel of its farm for about 41 years.
When he died on June 26 1891 he willed his widow a life use of it and provided that after her death it should go to a son, James H Rodger. The latter died intestate on November6 1902 and the title to the 151.42 acre farm with this stone house and buildings went to his widow, Adelaide, and to a sister and brothers.
However, in less than a year, she conveyed her interest in the property to George H Rodger, Leslie R Rodger, Agnes O Rodger and Ella Rodger Thrall, brothers and sisters of James H Rodger.
They retained the property approximately a year and a half and then on March 1 1905 conveyed the house, buildings and 151.42 acres to Alexander Nelson for $7,845.76. Mr Nelson remained in possession of the premises until his death on August 26 1916. Pursuant to a contract which he had executed August 23 1910 it was conveyed by his executor on July 20 1925 to William A Laidlaw, prominent town of Hammond merchant, owner of several farms and onetime assemblyman. Under the terms of that contract Mr Laidlaw paid $6,500 for the place, and kept it until a few weeks before his death, selling it to Alvin R Smithers on October 2 1934.
On February 10 1940 Mr Smithers transferred it and other lands to his daughter, Margaret Smithers Wheater, wife of Charles B Wheater. On July 13 1948 in accordance with a contract entered into about four years before she deeded it to Arnold and Ella Bass, the present owners.
Mrs Bass was the former Miss Ella Childs, daughter of Mr and Mrs Rella Childs of Kendrew. She is a graduate of the Rensselaer Falls High school and the Ogdensburg Business school, and for a time was secretary to Attorney Edmund Fitzgerald of Ogdensburg. Mr Bass attended the Hammond schools and follows the occupation of farmer.
Alvin R Smithers, retired Hammond farmer, died April 8 1910 at the age of 63. William A Laidlaw, who was born in the in the town of Macomb June 12 1871 taught school for a time, married Adelaide. Hartman of Redwood December 23 1902, operated stores at Redwood and Hammond, was a St. Lawrence county assemblyman in 1922 1923 and 1924 was president of the St. Lawrence county Dairymen's League and was identified also with the G L F
NOTE: We found another DODDS house in Hammond that we think deserved a mention: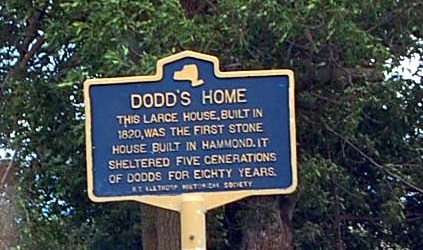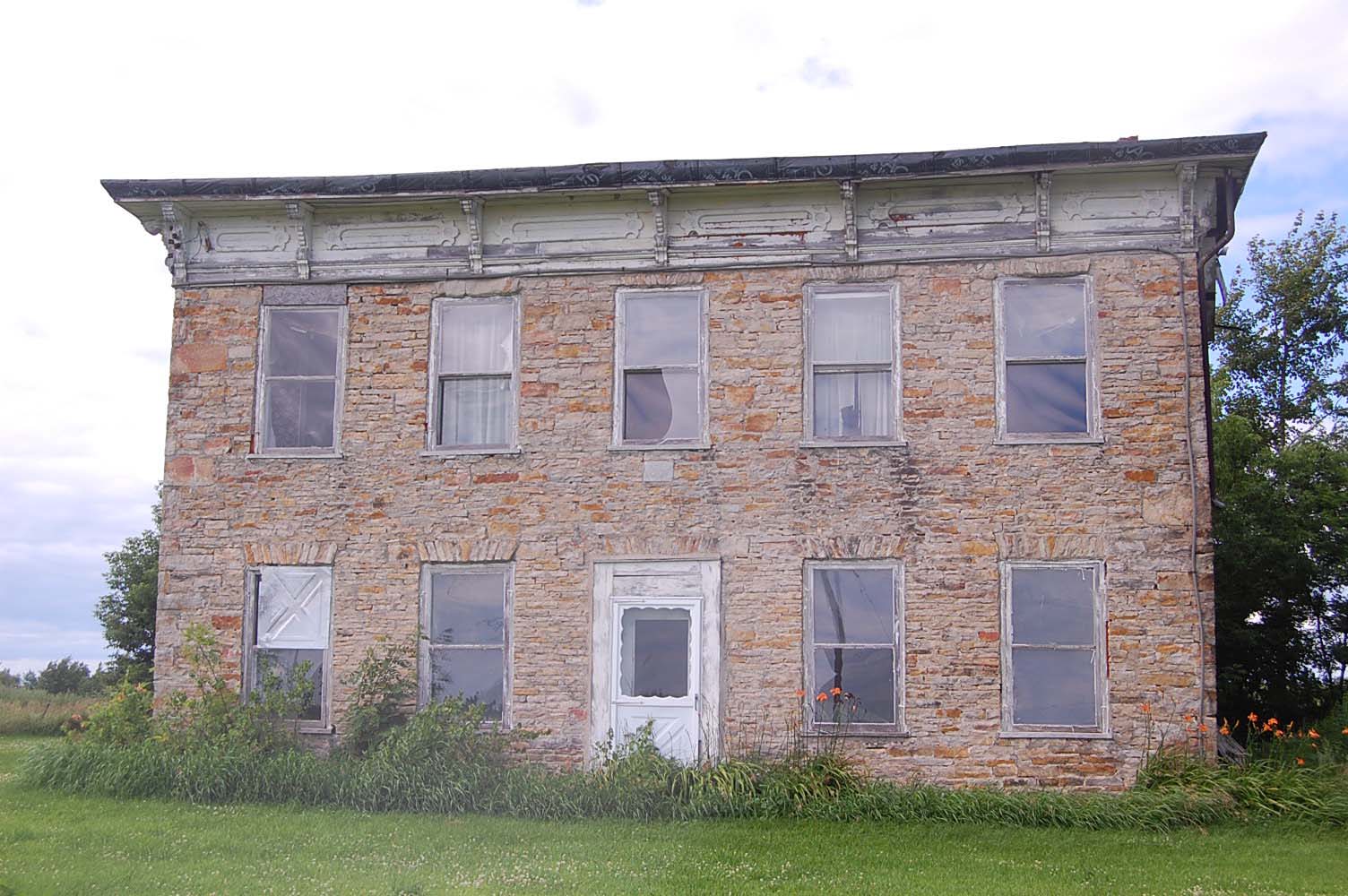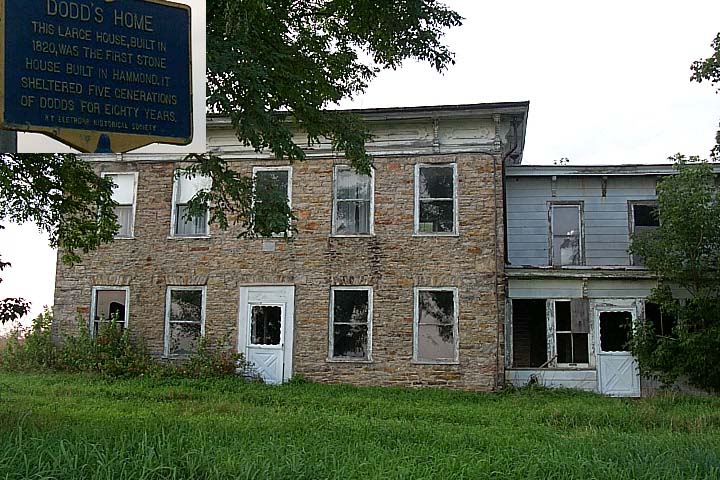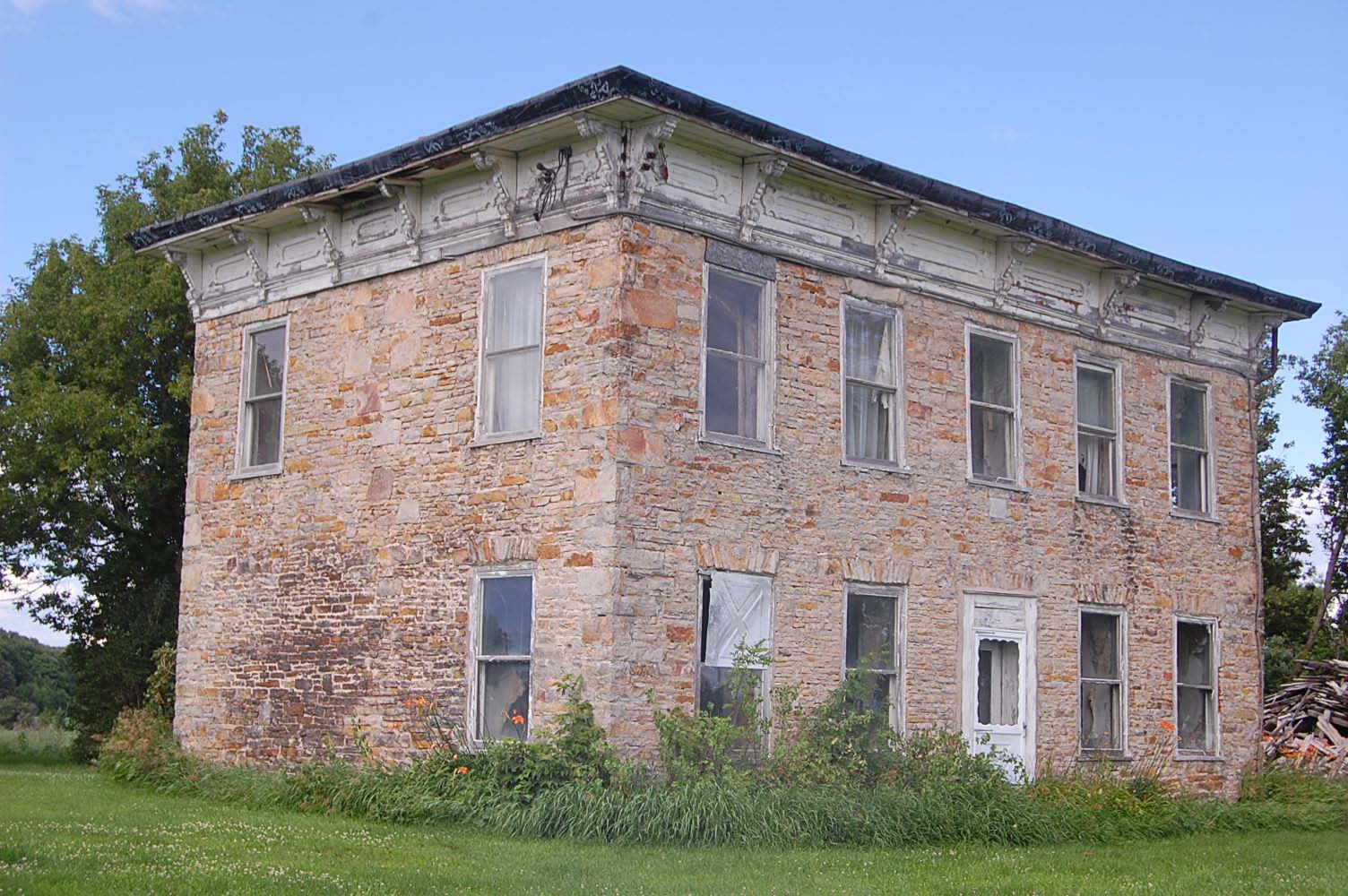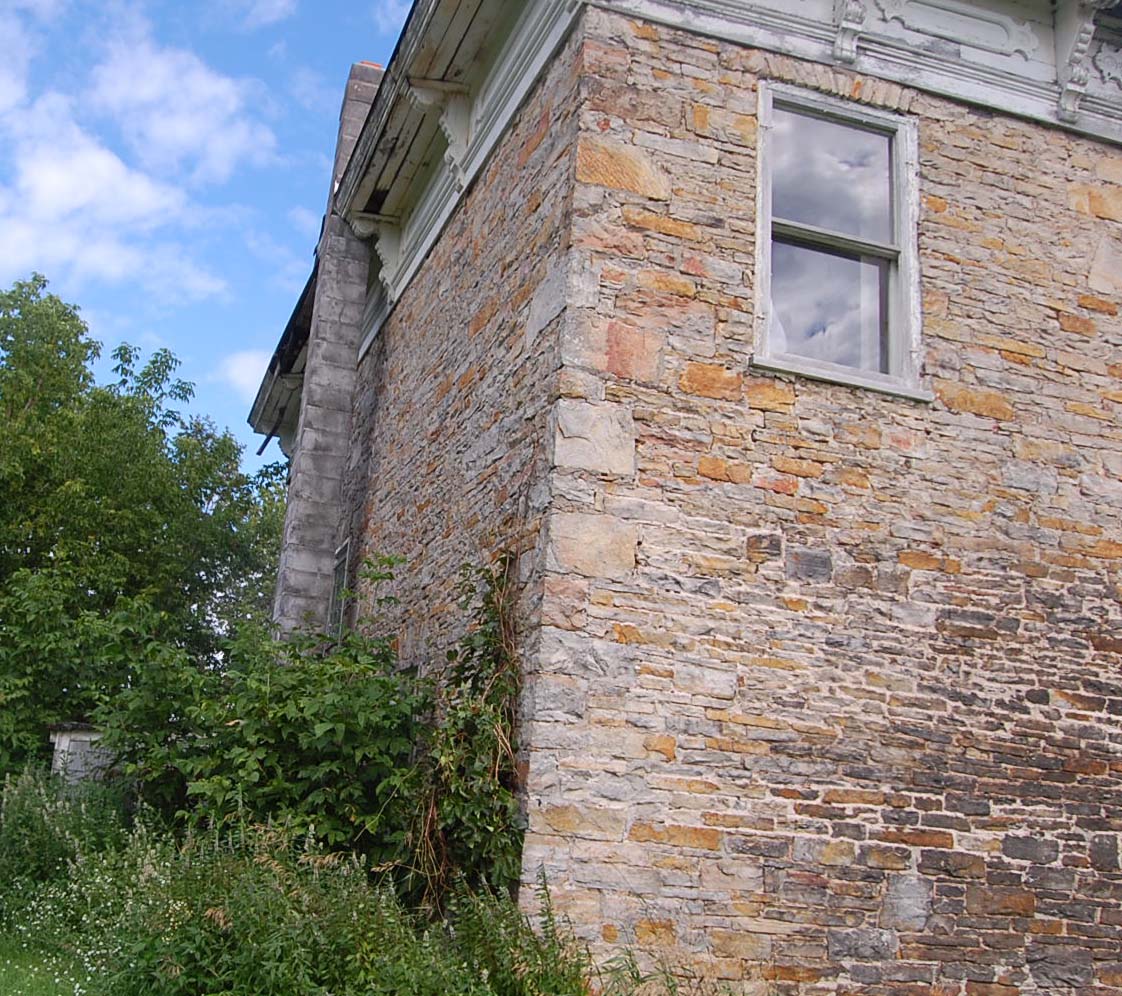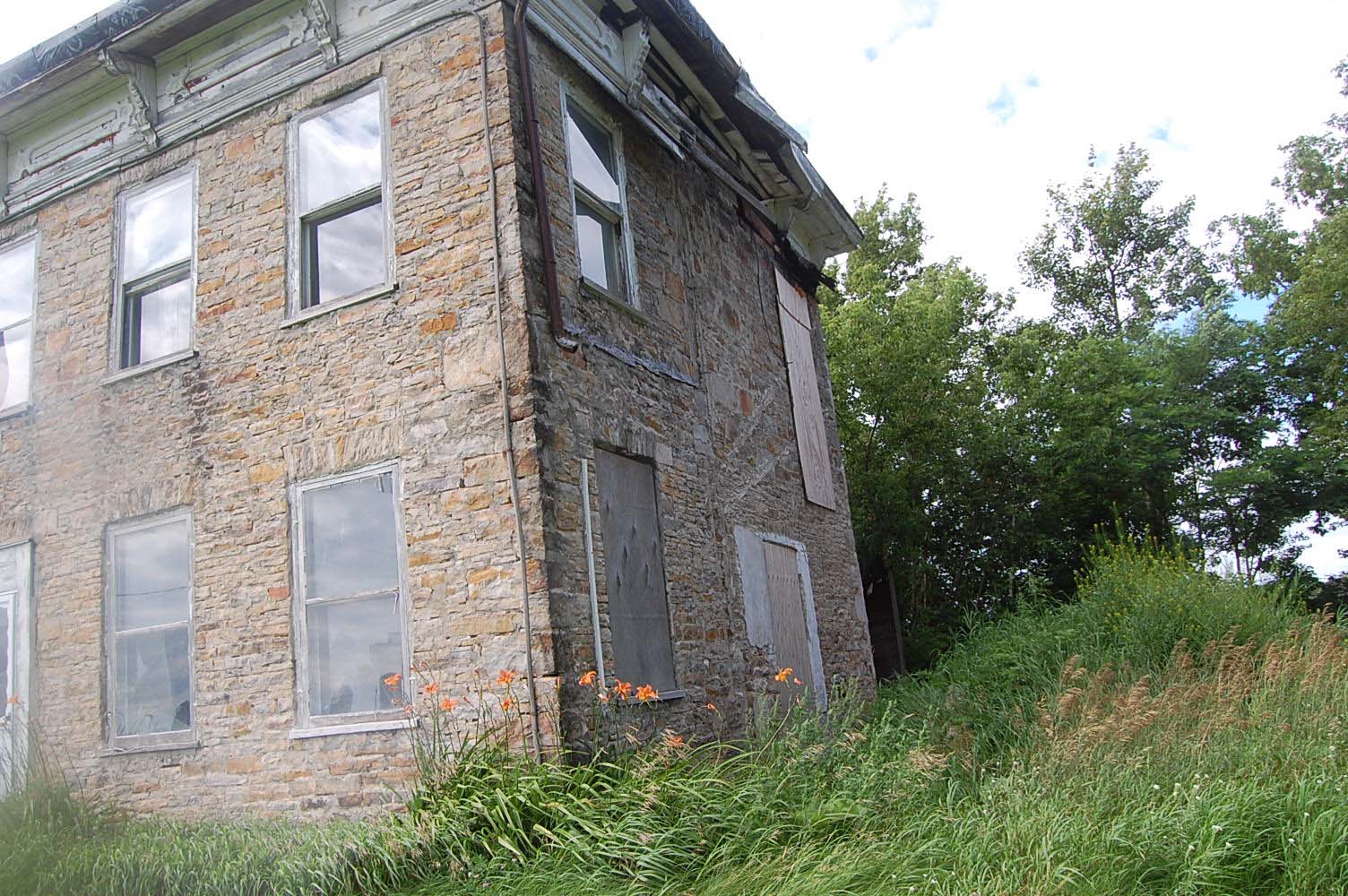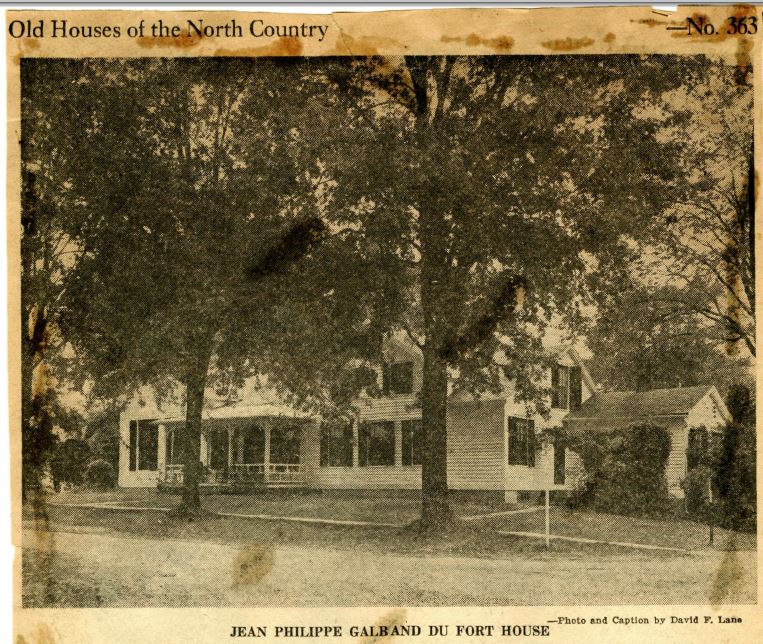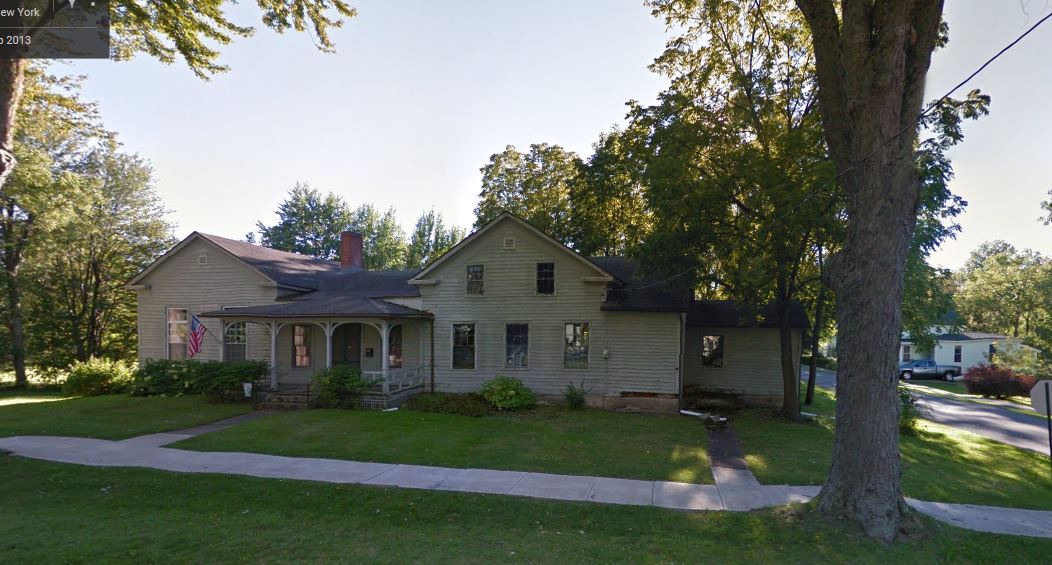 Distinctive for its attractive architectural simplicity as well as for its unique history is this long, low, immaculate white house owned and occupied by Mr and Mrs David B Otis at the southwest corner of James and Lake Streets in the historic village of Cape Vincent.
Having all of the indications of considerably more than a century of existence, the story of its origin is elusive notwithstanding. Jean Philippe Galband du Fort, also known as Jean Louis du Fort and Louis Philippe Galband du Fort, a distinguished Frenchman, Chevalier des Ordes Royales et Militaires de la Legion d'Honneur, of St. Louis and Maximilian de Baviere, was the first owner, so far as any record has been found.

The tradition is that he built it, but when no one knows. It is also the story that a barn was at some time moved over and attached to the original house and made a part of it; that M du Fort employed a young French artist to create the 24 oil portraits with their deep moulded framing on the ceiling of the 24x25 foot drawing room at the south end of the house. At the extreme south wall of that room is a beautiful and huge French plate mirror, while opposite at the other end is a handsome Italian marble fireplace. From the ceiling depends a magnificent chandelier and the room is filled with beautiful antiques.
The assumption is that the house was erected during the era of the distinguished Napoleonic refugees, who came to Cape Vincent mostly about 1818-1821 but there is no proof of it. There is nothing in the record to show when M du Fort acquired this site. Not until May 25 1854 the date that he and his wife, Emerance de Lisle du Dreneuf du Fort conveyed the property to James Bruce Ainsworth, another prominent early settler of Cape Vincent, is there any evidence at all that du Fort owned the property.

Interesting indeed, is the provision in that indenture and in every transfer of the property down to the present time, that "it being understood that the large mirror, chandelier and marble mantle are attached to the house and conveyed" with it. There is a confusing statement in Haddock's history of Jefferson County concerning the ownership of this house, it being declared that it was the property of Count Augustus du Fort, who was a midshipman under Commodore Oliver Hazard Perry at the Battle of Lake Erie September 10,1813. The record does not evidence that Auguste du Fort ever owned this house, although there are records of joint purchases of other property by him and Jean Philippe Galband du Fort.
The latter owned several properties in Cape Vincent village and a large acreage at the western end of the township, opposite Grenadier Island, but strange it is that neither he nor Auguste purchased any real estate before 1850 so far as the record is concerned.
James Bruce Ainsworth, whose wife was Julia Electa Sacket, daughter of Dr Gideon Shepard Sacket, one of the very early residents of Cape Vincent, joined with his wife on July 20 1857 in selling this house and its almost an acre of land to Dr Gideon S Sacket and Laban H Ainsworth.
Then on December 18 1858 Laban H and Sarah Ann Ainsworth quit-claimed their interest to Dr Sacket. From him the title got to his daughter, Mrs Ainsworth and on July 12 1913 she deeded the place to her daughter, Mrs Amanda Sacket Ainsworth Otis, wife of David D Otis and mother of David B Otis, present owner.
David D Otis, assistant treasurer of the New York Air Brake company, died June 14 1923. His wife, Amanda Sacket Otis, died March 5 1939 willing this place to her two sons, David B and Delos S Otis.
On May 15,1948 David B Otis, whose wife is the former Miss Jessie Anne Kimball of this city, acquired his brother's interest. Mr Otis is a teller at the Watertown National Bank.
Both he and Mrs Otis are proud of their attractive and historic home, never ceasing to marvel at the ceiling portraits of George Washington, Marquis de Lafayette, Napoleon and hateaubriand, surrounded by paintings of angels, birds, sun, moon, lightning, etc.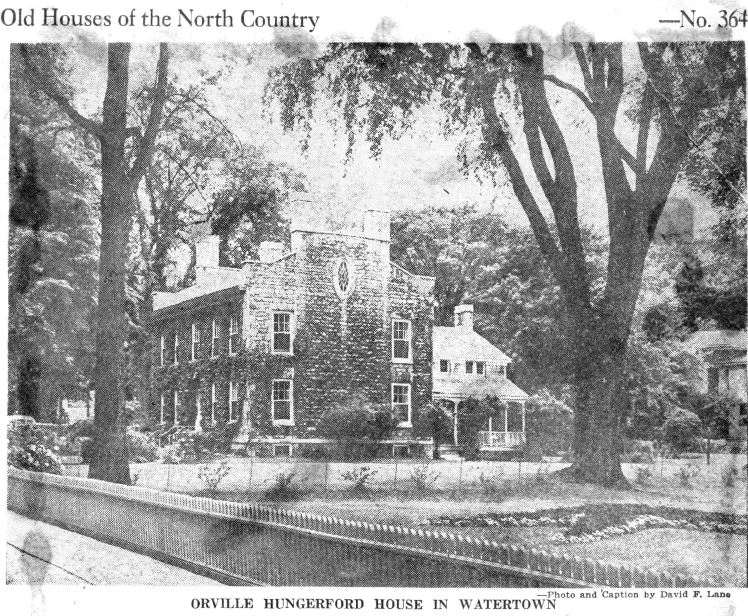 Not until the Queen Ann style brick mansion of the late Richard E Hungerford at 330 Washington Street, was razed a year ago was it possible to obtain this view of the north end of the old Georgian native limestone mansion of the late Orville Hungerford next door at 336 Washington Street. Today, where the brick mansion stood, there is a fine, green lawn making the beautiful old limestone mansion of the North Country's first railroad president stand out in bold relief.
One of the beautiful show places of northern New York, the Orville Hungerford mansion, which is located on the north corner of Washington and Mullin Streets, is owned and occupied by his granddaughter, Miss Harriet R Hungerford. She gained full title to it in the summer of 1946 with the death of her sister, Mrs Leland G (Helen H) Woolworth, Mrs Woolworth willing her interest in the property to the present owner.
It was on August 30 1823 that Orville Hungerford purchased the site for this house, and the adjoining one of the brick mansion, from the late Olney Pearse. Shortly after that construction of this stone house was started by the most skilled craftsmen that Mr Hungerford could employ. It is understood that it required approximately two years to build the house and on November 11 1825 Mr Hungerford and his family moved into it.
Born at Farmington, Connecticut, October 29 1790 Orville Hungerford was 14 years old when he removed to this county with his parents in 1804. Shortly after that he went to work in the general store of Jabez Foster in Burrville, and when Foster set up business in Watertown in 1808 young Hungerford came to clerk for him. A few years later he became a partner under the name of Foster & Hungerford and ultimately withdrew to operate his own business.
In 1816 Mr Hungerford became a founder of the Jefferson County Bank and for a number of years was its president as well as a director. Also he became an extensive real estate operator in early Watertown and when the Watertown and Rome Railroad company was organized he was chosen its first president. But his death occurred April 6 1851 several months before the first train reached Watertown, which was on the night of September 5 of that year.
An ardent Democrat of that era he served two terms as congressman, being first elected in 1842 but in 1847 was defeated for the governorship. He was active in the Jefferson County Agricultural society, in the Jefferson County Bible society and was one of the largest contributors to the fund for the construction of the First Presbyterian church edifice.
On October 13 1813 he was married to Miss Betsey P Stanley, a native of Wethersfield, Connecticut, who survived him ten years to die on September 17 1861. Their children included Mary S, who married Adriel Ely; Orville, Richard E, and Marcus, Martha and Frances E Hungerford. The latter never married but shared occupancy of the old mansion with her brother, Orville, and his wife, Emma, for many years. The late Mr and Mrs George H Seiple, and their daughter, Miss Betty Seiple, also resided in the mansion for a number of years, Mrs Seiple having been the former Miss Grace Hungerford. On May 20 1921 George H Seiple as executor of the estate of Miss Frances E Hungerford conveyed that estate's interest in the property to Mrs Helen Hungerford Woolworth and shortly after that Mr and Mrs Woolworth began occupancy of the mansion. Following Mr Woolworth's death Miss Harriet R Hungerford joined her sister in residence in the house and when Mrs Woolworth died title to the house went to Miss Hungerford.
Miss Hungerford maintains the place with great evidence of pride, lavishing much attention on the oldfashioned flower gardens which never fail to attract the attention of the passerby, and keeping the appearance of the house in an immaculate state of maintenance.
HUNGERFORD MANSION RESTORED — The Orville Hungerford mansion of native limestone which stood for over 135 years back of its front flower garden at 338 Washington Street, where a portion of the Carriage House Motor Inn is now located, is in the final state of restoration at 315 Flower avenue west. All of the original materials including the doors, windows and woodwork have been employed and re-established in accordance with the original floor plan, except for the wing, which has been left off. John R Burns, the present owner and rebuilder has devoted over two years to the restoration. The interior work will be carried on through the winter and Mr Burns expects to have the mansion of the first president of northern New York's first railroad, the Watertown & Rome R R, finished by next summer. The original fence was recently re-set, but the entrance walks to the mansion is straight instead of curved around with two entrances on the street.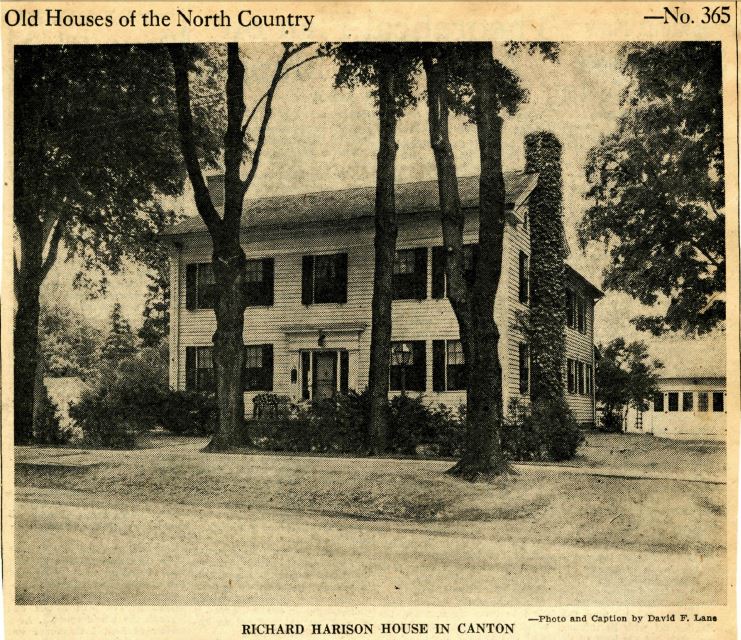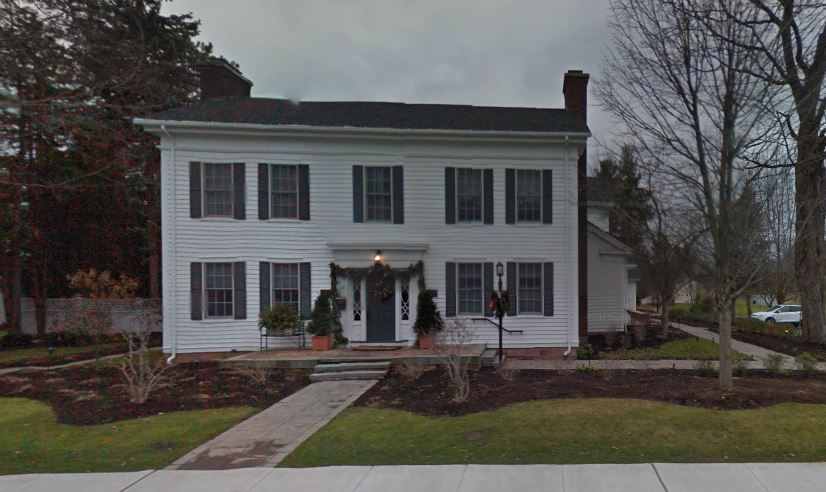 Richard Harison, early owner of immense lands in St. Lawrence and Franklin counties, aristocrat, Federalist, native of New York City where he was born in 1747 was a graduate of King's college, now Columbia university, classmate of John Jay and law partner of Alexander Hamilton. He was also a close friend of George Washington, first president of the United States.
A son, Richard N Harison, resided in Canton, county seat of St. Lawrence county, and was one of the first vestrymen of Grace Episcopal church, of Canton, when it was formed August 22 1836. Richard N Harison was also supervisor of the town of Canton in 1843-4 and became president of the third St. Lawrence County Agricultural society to be organized. There were other members of the Harison family to occupy portions of their North Country lands.
On February 1 1836 the heirs of Richard Harison, who died about 1830 sold 40.3 acres of East Main Street land in Canton to Dr William Noble. Dr Noble, one of Canton's first three physicians, located there in 1804 or 1805 built a stone hotel above this house and operated it for a time. Also he had a store on the same road before 1835.
Dr Noble conveyed all but 3.63 acres of this 40.3-acre plot to Jacob Noble on January 6 1855 and the sale included this house, which is said to be well over a century old. Jacob Noble died intestate May 20 1868 leaving a widow, Melissa Abigail Noble and three daughters, Emma M, Ida R, and Mary E Noble, who on April 5 1869 sold the property plus other lands to William R Harison for $6,680. The Harisons operated it as a farm, and for the most part lived across the street in the house, which for many years has been the sorority house of Kappa Kappa Gamma of St. Lawrence university.
William R Harison transferred this Harison farm consisting of 210 acres to Jane A Parks for $40,000 on July 2 1874 and on January 13 1877 she sold it to Margaret L Pope, who conveyed it to William R Martin April 3 1879.
Alonzo Rarton Hepburn, the Colton native and young lawyer, Middlebury college graduate, St. Lawrence county assemblyman, bank examiner, purchased the place on March 26 1888 from Mr Martin and made his residence there, having only a few months before married Miss Emily Eaton of Montpelier, Vermont, July 14 1887. They occupied the property until July 20 1891 when they sold it, including the then 211.5 acres of land, to Duncan C McKinlay, and removed to New York City.
There Mr Hepburn developed into an internationally famed financier and president of the world's largest bank, the Chase National. On January 3 1893 Mr McKinlay sold the property back to Mr Hepburn who, on the ensuing May 2 conveyed it to Supreme Court Justice Leslie W Russell. Judge Russell had visions of restoring the house, but on October 1 1902 disposed of it and the 211.5 acres to Reuben T WTells, wealthy lumberman, horseman and president of the First National Rank of Canton. On December 18 1913 Mr Wells sold to Henry Douglas, who deeded to Mrs Loretta Burke, wife of Thomas Burke, former American Hotel proprietor, May 25 1920. On June 30 1925 Mrs Burke sold the house and 158.88 acres to Owen D Young, then president of the St. Lawrence university board of trustees.
Under plans made by Architect Addison F Lansing of this city Mr Young had the Georgian house remodeled. The remodeling did not interfere with the beautiful entrance, the fireplace in the dining room or the magnificent white pine boards of the floors. When the work was completed, he gave the house and a large lot to St. Lawrence university for "the President's House" June 15 1927. It is designated 56 East Main Street. Four university presidents have occupied it. First was Dr Richard Eddy Sykes until his retirement July 1 1935. Next Dr Laurens Hickok Seelye until his retirement, August 15 1940. The late Dr Millard Henry Jencks and his wife, the former Miss Ruth Kimball of Canton, occupied the place until Dr Jencks' death, February 14 1945.
His successor in the house is Dr Eugene Garret Bewkes, the incumbent president, who was appointed April 2 1945.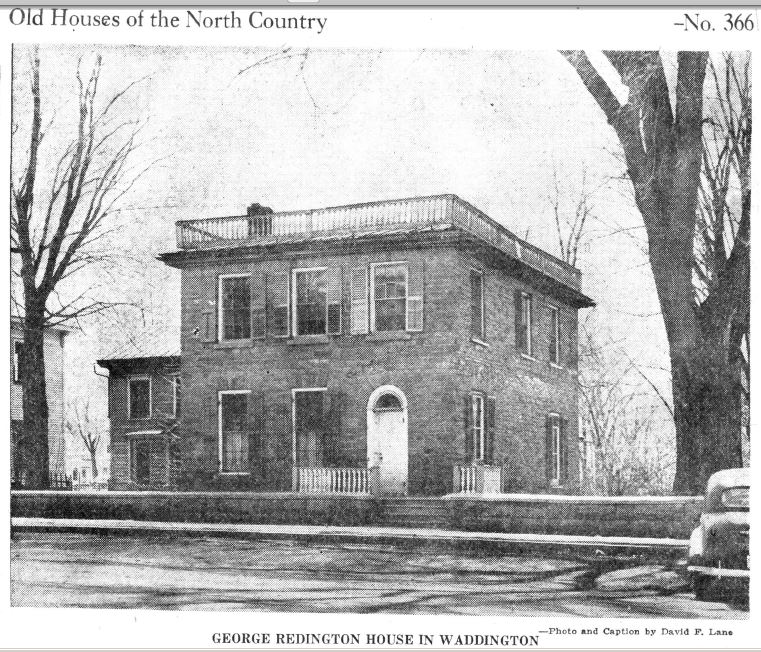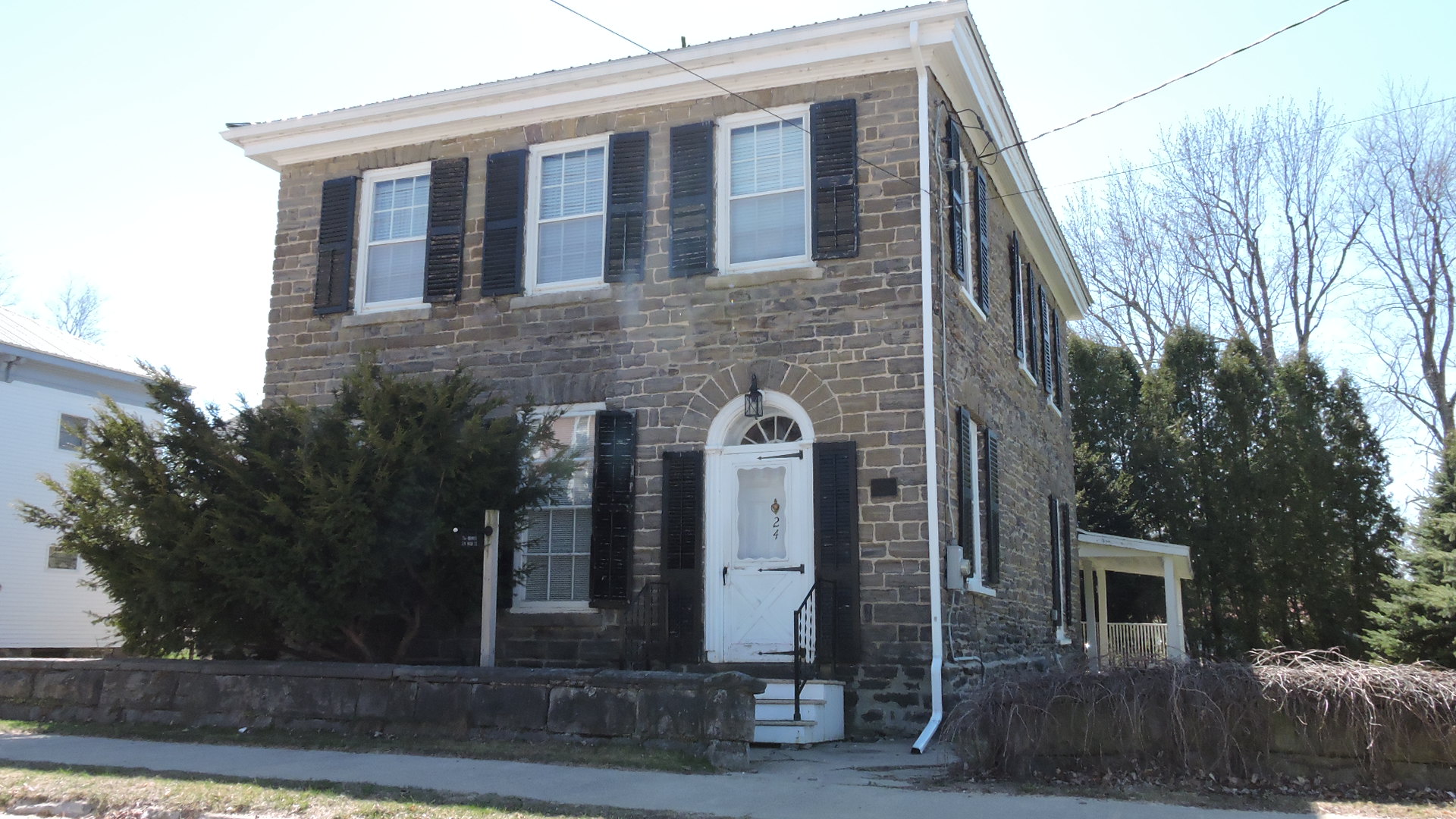 Lawyer, lumber merchant, land agent, assemblyman, judge, George Redington was one of the early promoters of whfet is now the village of Waddington, St. Lawrence county. Second son of Jacob Redington, a Colonial army veteran of the Revolutionary war, George Redington was born at Vergennes, Vermont, November 23 1798. In June of 1800 he removed with his parents from Vermont via Montreal to the present Waddington area, his father having purchased land there. And the wilderness stretched to the valleys of the Mohawk and the upper Hudson.
At the age of five infantile paralysis crippled one of his legs. In 1813 his father moved to Potsdam where George attended St. Lawrence academy for three years and in 1816 went to Montreal where he taught school. Returning to Waddington in 1819 he studied law in the office of Gouverneur Ogden, where also was Henry Vining, a nephew of Ogden. In 1823 young Redington was admitted to the bar and practiced until 1831 or 1832 when he engaged in the real estate business and became agent for several landowners who resided in New York City.
Erecting several mills he engaged in extensive production of lumber and square timber for the Montreal, Quebec, Albany, Troy and New York markets. In 1840 he joined the Congregational church, and in 1841 was elected assemblyman, serving three terms, when he was appointed judge of common pleas and served for several years. From 1833 to 1836 and in 1840 he had been supervisor.
He was a Democrat, but joined the Free Soil party in 1848. He voted for Martin VanBuren. He aided materially in the construction of the railroad from Ogdensburg to Rouses Point and became a director of the company. On January 3 1825 George Redington paid David A and Rebecca Ogden $250 for the lot where this fine old native stone house stands on the west side of LaGrasse Street, now more commonly known as Main Street. It is likely that he started construction of the beautiful house that year and that it was ready for his occupancy when he married Amorette, daughter of Daniel Stone of Madrid, November 28 1827. She died February 21 1843. Children: Sarah A, Harriette C, Jane E, George S, Anna M, Mary E, and Henry Vining. On September 18 1844 George Redington married Miss L U Sheldon. Children: John J, Charles M, Lyman W Mrs Redington died March 14 1849 and on September 15 1850 Judge Redington died.
On July 16 1852 Judge George Redington's estate sold a small part of the LaGrasse Street lot to Alexander Mills for $122.36. The deed mentioned the George Redington-stone office. George Redington's daughter, Anna M, became the wife of State Senator James F Pierce of Brooklvn and on June 16 1887 she paid $3,000 to her brother, Lyman W Redington and sisters, Mrs Sarah A Phillips, Mrs Harriette C Sheldon, Mrs Jane E Miner and Mrs Mary E Wilson for their interests in this mansion property.
Henry Vining Redington was alive but did not sign the deed. George S, John J, and Charles M Redington had died several years before. Upon the death of Mrs Pierce this property came into the possession jointly of her daughter, Mrs William Hugh (Jessie F) Dunn, Creek Road, Rutland, VT and son, James F Pierce who resides in Westport, Connecticut, and at the Yale Club in New York City. Two other children of Mrs Anna M Pierce are deceased. They were Mrs John (Jane) Wetmore and Mrs Robert (Mary) Bussing.

The mansion, long since divested of the veranda that ran across the front and ends, is occupied during the summer season by Miss Ann Redington Clark, a cousin of Mrs Dunn and Mr Pierce. The ownership of the property has never been out of the Redington family.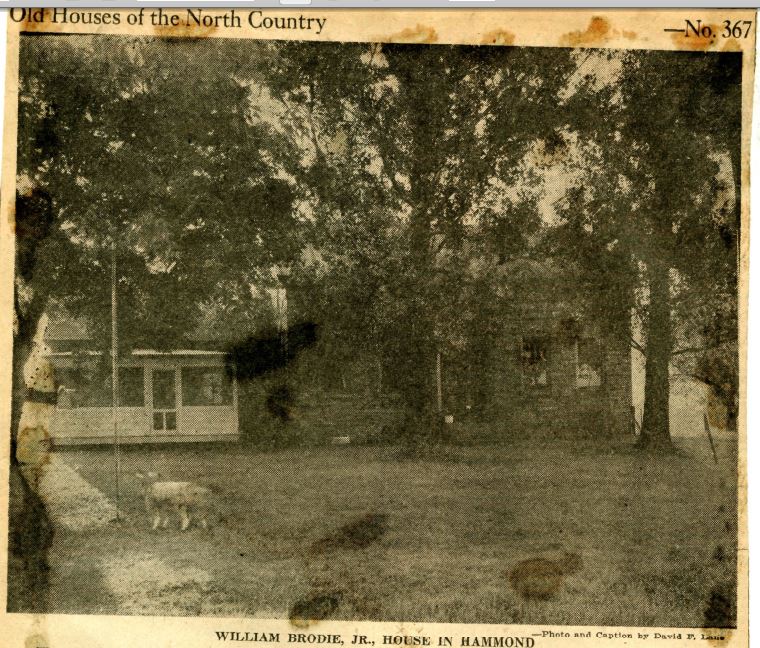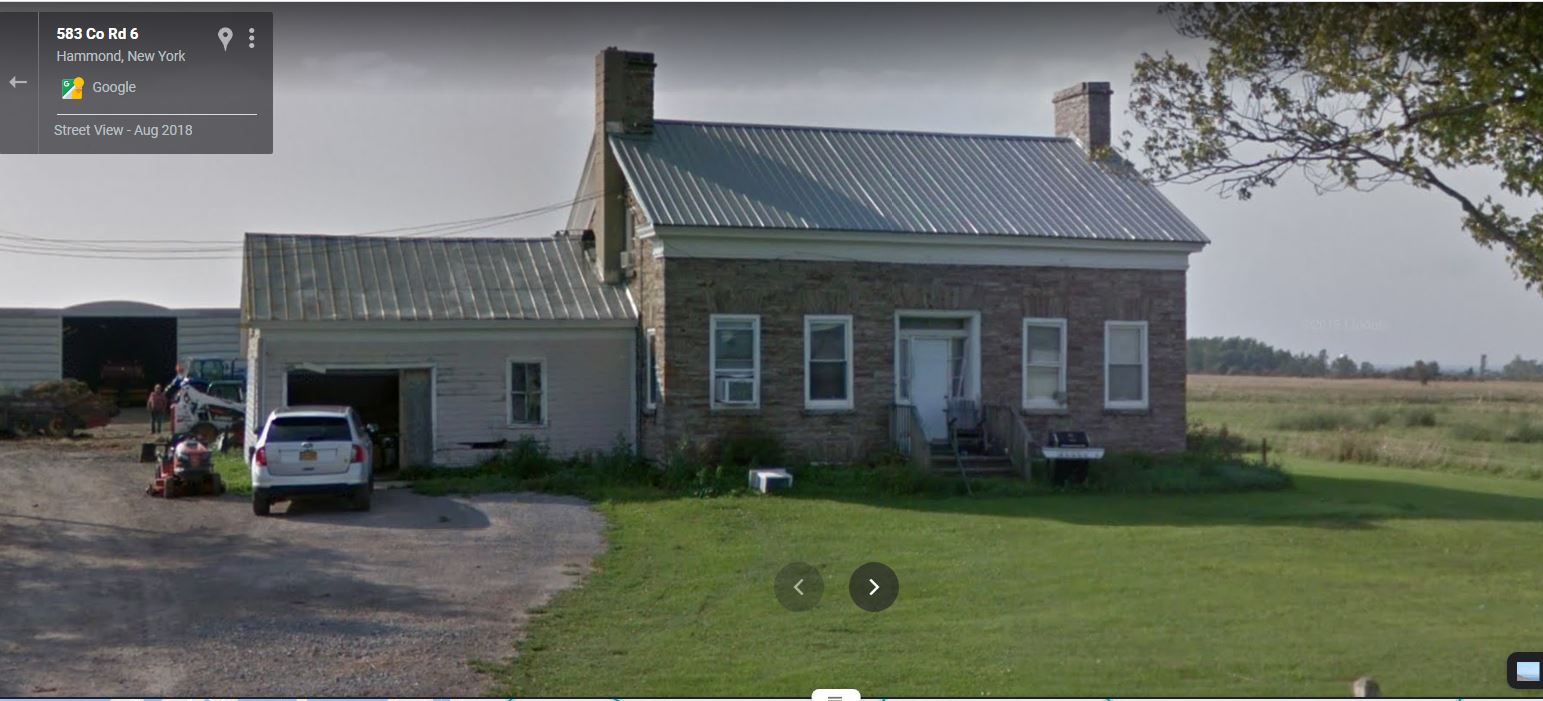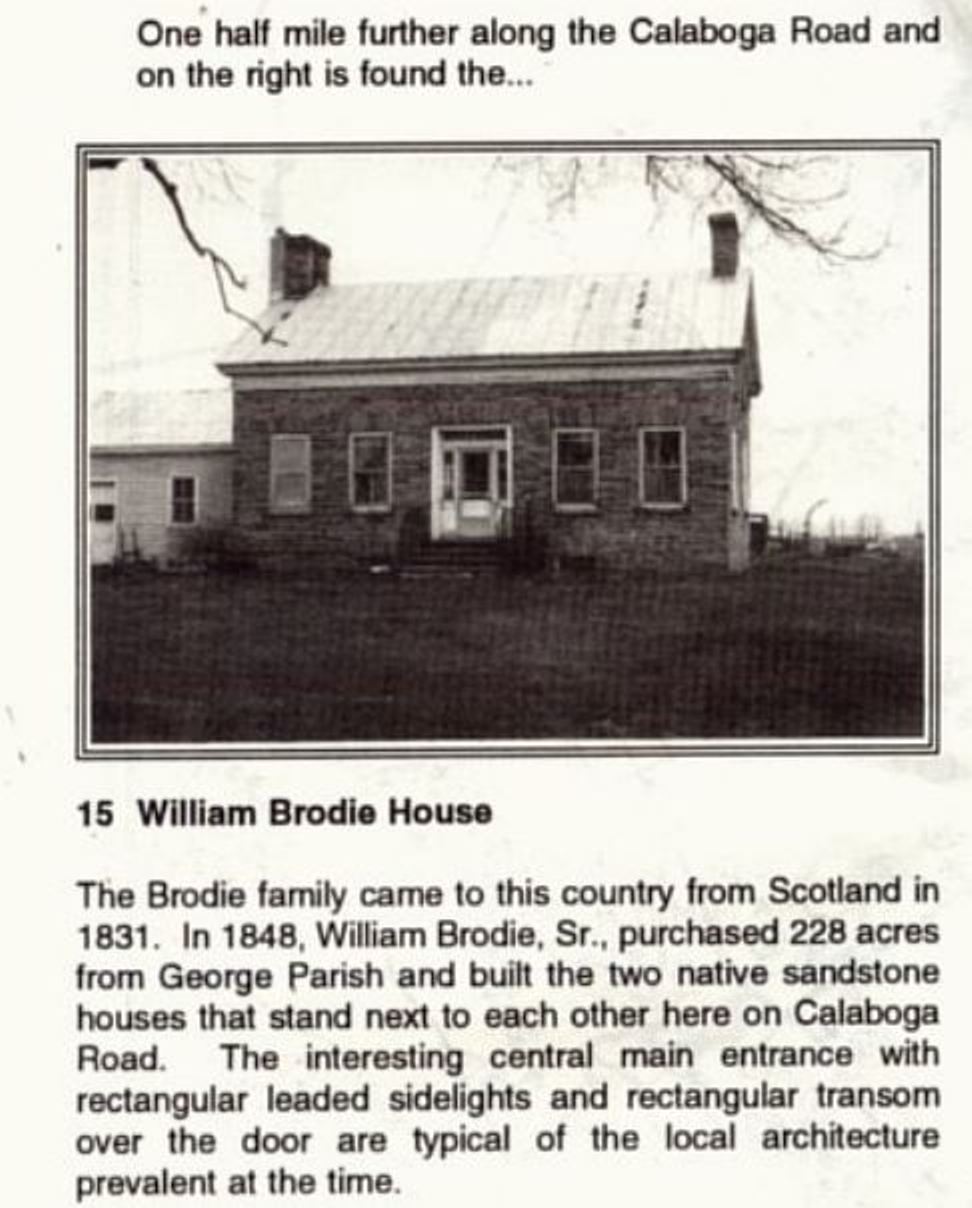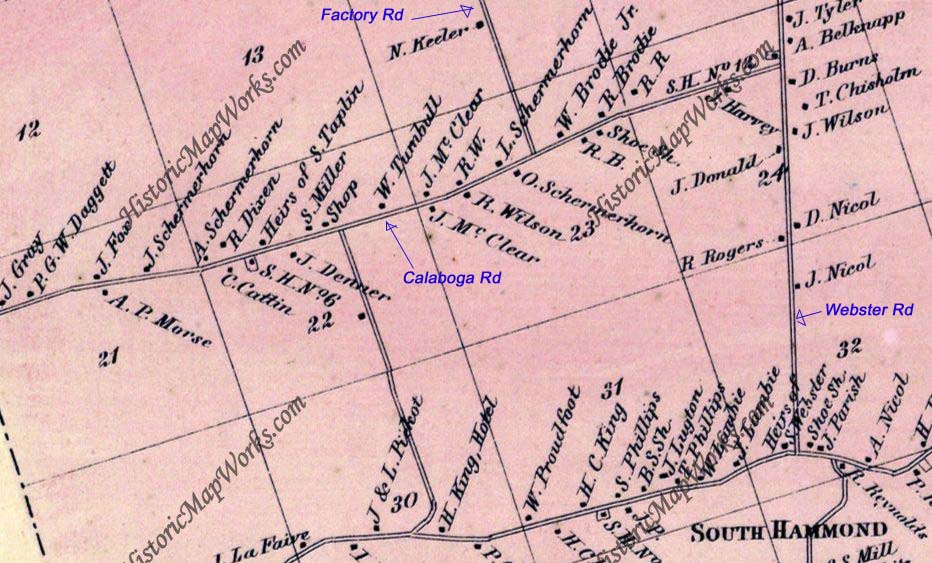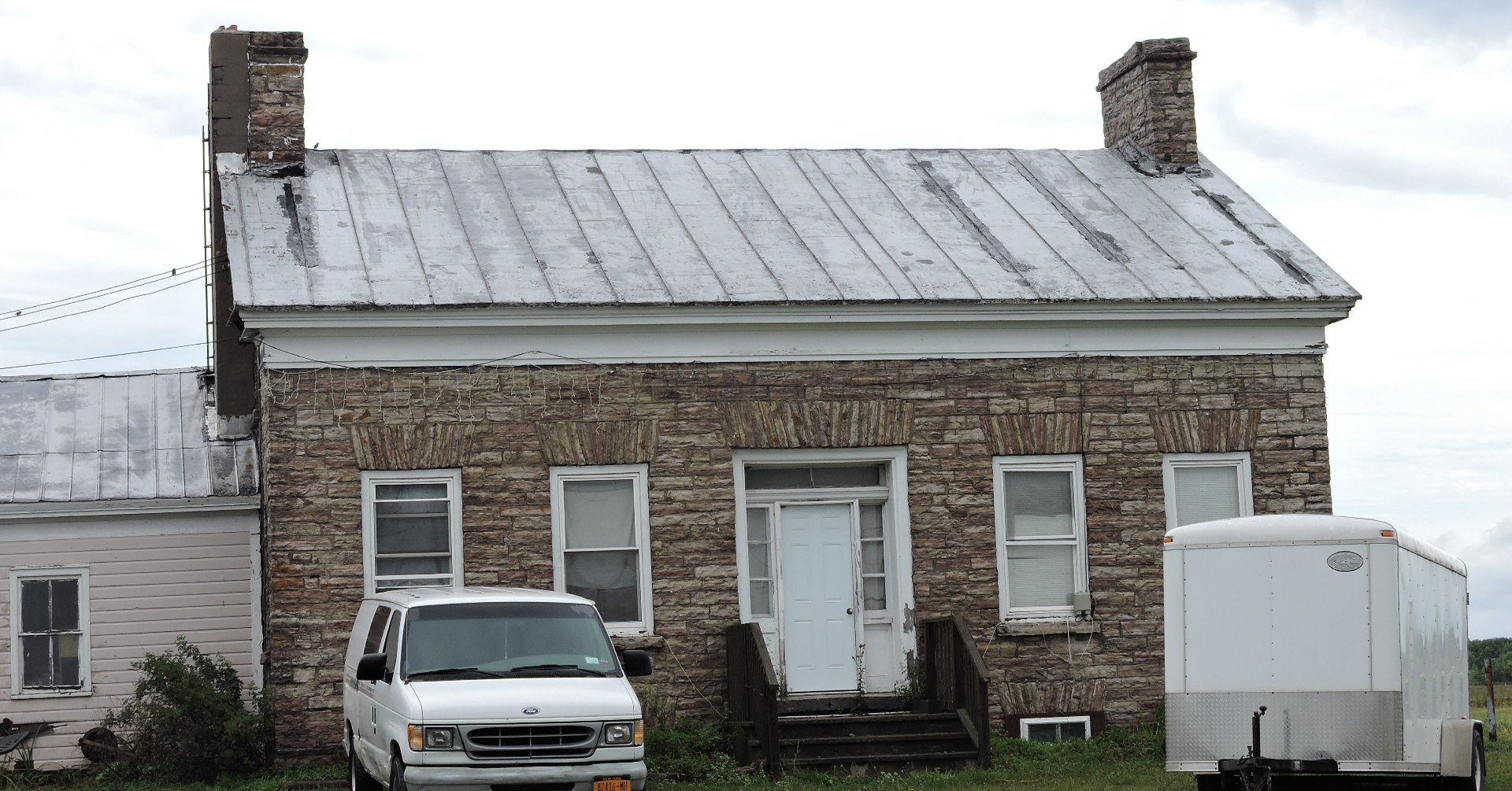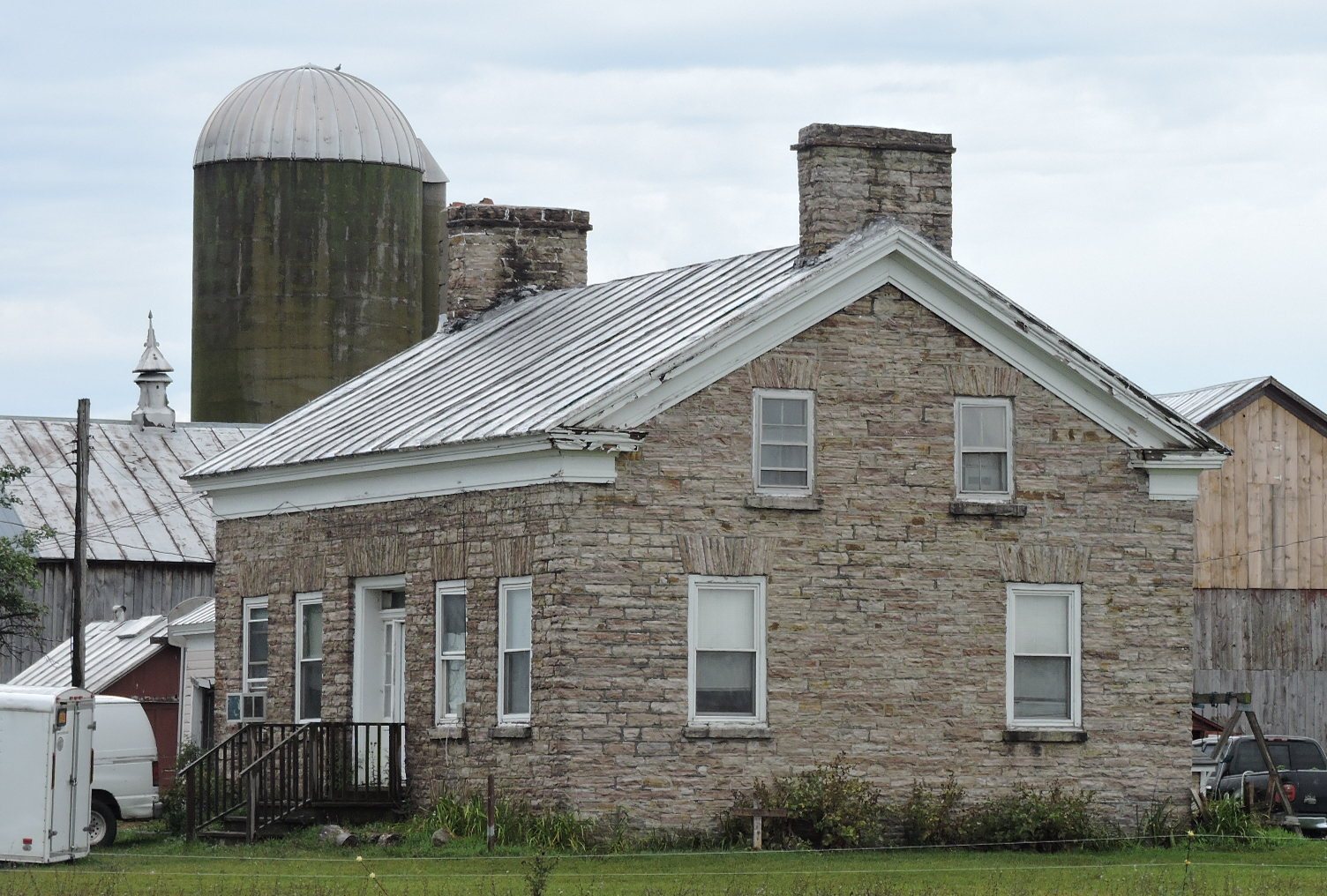 This old native sandstone house on the Calaboga road in the town of Hammond, St. Lawrence county is approximately a century old. It is so similar in architectural type to that on the neighboring farm owned by Rosair A Amyot, on the same side of the road but nearer to the Triangle road, that there is no question of its having been constructed by the same builder and at approximately the same time. Two deeds of exactly the same date, November 29 1856 one of 138.35 acres from William Brodie to his son William Brodie Jr. and the other of 137.67 acres also from William Brodie to his son, Robert Brodie, might seem to spell into the record that the elder Brodie was trying to aid those two sons and treat them exactly alike the bouses on the two places are as alike as two peas m a pod as to both size and architecture. The Amyot house has the wooden wing on the north end. The other house now owned by Paul H Denner of St. Albans Vt has the wooden wing on the south end. And it is this house, more familiarly known as the Denner house that is shown above, the Amyot house having been published some time ago.
Located in the Scotch Calaboga district of Hammond William Brodie, one of the early and thrifty Scotch settlers there, accumulated considerable farm land and a comfortable fortune. On June 10 1848 he purchased two adjoining parcels of 160.6 acres and 66.73 acres from George Parish who owned a large part of the town On June 13 1852 Brodie bought another adjoining 47.34 acres from Joel Tyler and Tyler had acquired this same parcel from George Parish also, but on February 21 1851
It was from these parcels that William Brodie took the two farms, which he conveyed on November 29 1856 one to his son, William Brodie Jr and the other to his son, Robert. The records in the surrogate's office at St Lawrence county do not show the estate of William Brodie Jr, but in the St. Lawrence county clerk's office a deed of this William Brodie Jr, house and farm by Elizabeth Brodie, Mary Bell Brodie, Mrs James H Rutherford, James F Brodie, Lena G Brodie and Robert G Brodie to Mrs Lydia Denner on March 9 1893 would indicate that it was his estate which disposed of the place. Since March 9 1893 the property has been in Denner ownership, a period of 56 years, and Mrs Lydia Denner, the former Lydia Buss, who was born in the Chippewa Bay region November 2 1840 daughter of John and Ann Bailey Buss having retained the property until her death at 89 on February 2 1930.
Under the provisions of her will her son, Captain Charles Eugene Denner, was to have a life use of the farm and then it was to go to Paul H Denner. Captain Charles E Denner was also 89 when he died at his home near Hammond on July 1 1948. For years he sailed the Great Lakes. His father before him, Captain Henry Denner, had also sailed them and one time commanded the New York plying between Ogdensburg and Chicago.
Captain Charles E Denner married Marion Hazen in Hammond February 3 1887. For 16 years he was assessor of the town of Hammond and for eight years he was its supervisor He is survived by his widow and by a son, Sheriff Henry G Denner of St. Lawrence county, and by a son Paul H Denner of St. Albans, Vermont, both of whom were border patrolmen in prohibition days. A third son, Captain Archie Denner is now a border patrolman in the customs service at Ogdensburg.
Captain Charles E Denner, having a life use of the old place on the Calaboga road from 1930 moved away from it about 1925 when he purchased a farm about a mile from Hammond on the Watertown road.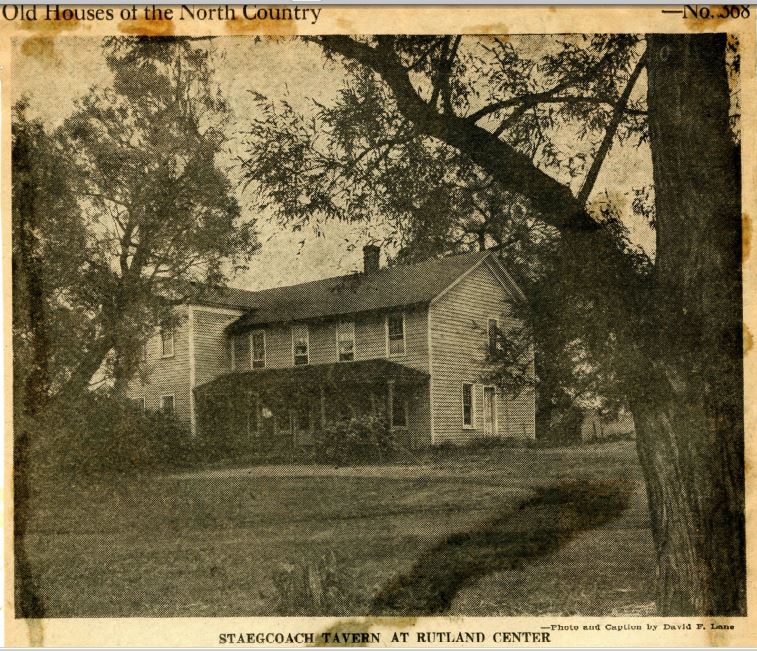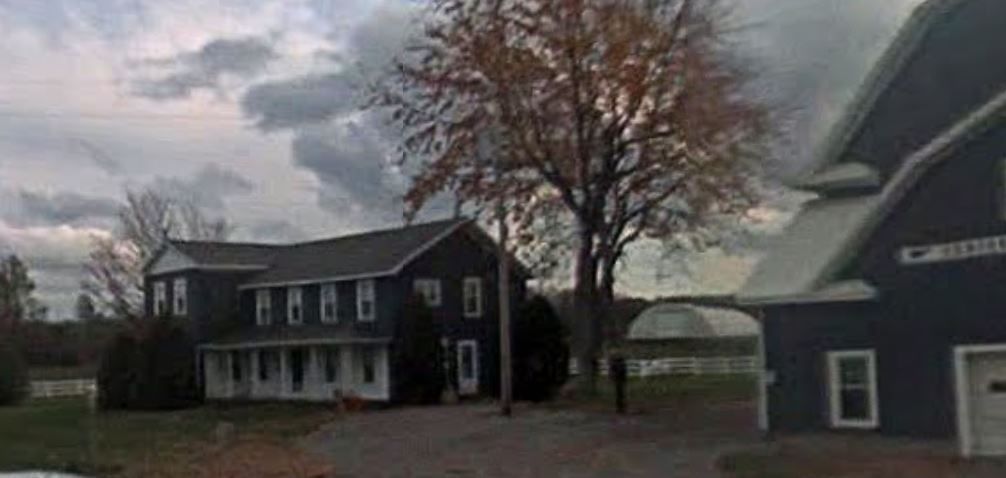 At Rutland Center four or five miles east of this city on the Champion road stands this old house, the wing part of which is said to have been the first tavern in the town of Rutland. Some historians claim it was built in 1803 by Levi Butterfield as the town meetings were held at his house in 1803 1805 and 1806. Durant & Pierce, in their history published in 1878 however, say: "There is a question as to whether Dr Hugh Henderson or Levi Butterfield opened the first public house" in the town.
The early county records do not positively identify this property "before 1819 although on June 10 1806 Isaac Bronson conveyed to Warren Dodge three and one half acres of adjoining land which touched the northeast corner of Dr Henderson's dwelling, and which latter had previously been Clift French's house. On September 7 1807 Mr Dodge sold this same three and one-half acre property of Levi Butterfield. A deed dated November 8 1813 of 21 acres in the same vicinity, which may have included the above three and one-half acres, described the property as running to the northwest corner of the old tavern house, indicaling that that was the former Dr Henderson house. Dr Henderson, believed to have graduated from the Fairfield medical school, was the first physician in Rutland.
In 1806 he was a founder and first secretary of the Jefferson County Medical society, of which he was the first represntative to the state society. He was supervisitor of the town in 1808 and died shortly after that. Dr Henry H Sherwood succeeded him as physician and medical society secretary.
Once known as Brooksville for Curtis G Brooks, an early and prominent settler, Rutland Center was a thriving hamlet in its early days. Dr Samuel Tucker had an apothecary shop 1820-1825. There were two blacksmith shops and a starch factory, and from 1847 to 1850 a shoe shop owned by Rufus Scott. In later years the postoffice was maintained in the tavern and the grange also met there.
Zuriel Periniman, who was born at Keene NH, February 13 1788 owned and operated this old tavern more than 130 years ago, but when and from whom he acquired the property the county records do not show. They do show that he sold this tavern property of 52.73 acres minus six and one-fourth acres that had previously been sold off, on August 19 1819 to Henry L Woolsey. Woolsey and wife, Eunice, disposed of it January 8 1821 to Ethel Bronson, and from the latter's estate it is believed to have passed to Isaac Bronson of New York City.
On April 19 1837 Isaac and Anne Bronson sold it to Ambrose H Dodge, and on March 2,1839 Ambrose H and Matilda Dodge conveyed it to Jeremiah Tattle of Salisbury, NY. He in turn joined with his wife, Patty, in selling it to Hiram W Tuttle on May 28 1855. Laura Tuttle and Andrew C Middleton as executors of Hiram W Tuttle transferred the property with three other adjoining parcels totaling 112.77 acres to James Ganes of Denmark, NY, February 1 1867 and Jeremiah Crandall as executor of Ganes disposed of all of it to Warren J Lasher on January 29 1877.
Lasher and wife, Matilda S, conveyed to their sons, Frank C and Fred J Lasher, April 22 1895 and on July 8 1915 they and their wives conveyed to Thomas J Fry who, on the same day transferred to Frank C and Belle C Lasher and they disposed of it in 1927 to F Harrison and Lucy A Staplin Stackel, who acquired enough additional land to make 200 acres and maintained a herd of Jerseys. Mr Stackel died April 13 1947 and the property is now owned by his widow.
In the old tavern-days the bar ran across the righthand or west end of the wing and back of that room was, a small one, in which tramps were permitted to sleep. The tavern was a regular stop for the stagecoaches operating from Utica to Watertown and Sackets Harbor, the highway from Champion past the tavern having been the old state road. In War of 1812 days the tavern was the scene of much activity.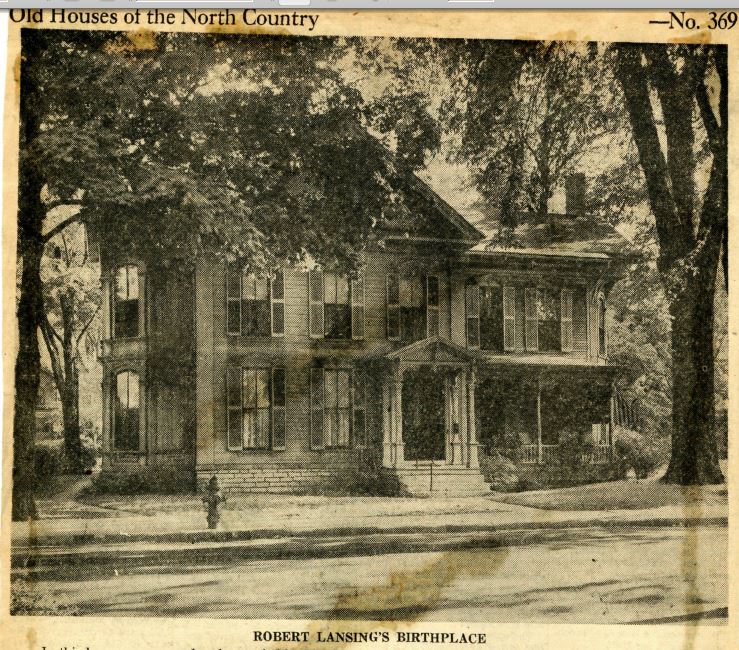 In this house now owned and occupied by his sister, Miss Emma Sterling Lansing, at 143 Clinton Street, was born on October 17 1864 Robert Lansing, President Wilson's World War I secretary of state. At that time in 1864 the property, which was designated No. 9 consisted of 1.34 acres of land extending back to the present Mullin Street from the south margin of Clinton Street.
The birth of Robert Lansing occurred ten and a half months after his father, Attorney John Lansing, had purchased the place from Reverend Isaac and Elizabeth Brayton. On Christmas day 34 years later a large portion of the Mullin Street end of the lot was conveyed by John Lansing to his son for a residence, which is now the home of Dr Walter S Atkinson.
With his acquisition of the place from the Braytons on December 3 1863 John Lansing, head of the prominent local law firm of Lansing & Sherman, decided later to expand and alter the house. That he djd, bringing it up to a spacious residence of 14 or 15 rooms, raising its height, adding a two-story bay window on the east end and changing the architecture from Georgian to Victorian type. According to Lansing family tradition Reverend Isaac Brayton caused the original house to be built. When purchased by John Lansing for $7,000 in 1863 the property comprised two adjoining parcels of land. The first of these, 65/100ths of an acre on the south margin of Clinton Street, having been bought by Reverend Mr Brayton from Eli and Margaret A Farwell for $3,000 a price in that day which would indicate that there was a residence upon the land. The second and adjoining piece of 110 square rods or .69 of an acre was purchased by Reverend Mr Brayton from Mr and Mrs Farwell on April 24 1860 for only $400.
Thus, if the Lansing family tradition is correct, the house dates soon after 1845 and is slightly over a century old, while if there was a house on the .65 of an acre plot when Reverend Mr Brayton acquired it that house may have been Constructed 120 years ago, for on January 31 1828. Eli Farwell bought an acre of land on the south side of Clinton Street from Olney and Elisa Pearce for $300.
Be that as it may this house has been in the Lansing family for nearly 89 years. When John Lansing, prominent lawyer, citizen and onetime member of the board of education, died July 5 1907 his residence went in equal interests to his three children, his wife, Maria L Dodge Lansing, having pre-deceascd him. Some time after John Lansing died, his son, Robert, deeded his rights in the homestead to his two sisters, Misses Emma Sterling Lansing and Katherine TenEyck Lansing. The two sisters lived together there until the death of Katherine TenEyck Lansing November 14 1933 after which her share went to her sister, Miss Emma Sterling Lansing, present owner. Together in World War I they gave distinguished service in France. Together they were leaders in First Presbyterian church activities. For many years Miss Emma S Lansing has been one of the outstanding figures of the Democrat party in the north.
For more than a century this house, through its occupants, has figured prominently in the history of the First Presbyterian church. Reverend Isaac Brayton, pastor of the church from August 31 1837 to early 1864 brought 470 new members into the parish. John Lansing was a trustee and all the members of his family have given it important service.
Robert Lansing, who died October 30 1928 aged 64 was a great leader in Presbyterianism in the country. Graduate of the local high school in 1882 he took his degree from Amherst in 1886 was admitted to the bar in 1889 was associate counsel in the Behring Sea controversy in 1892-3 member of the local board of public safety 1894-1905 state department counselor 1915 secretary of state June 23 1915 to February 13 1980 member of the law firm of Lansing & Lansing, president of the Fortnightly club. His wife was Miss Eleanor Foster, daughter of former State Secretary John W Foster, and his own family, the Lansings of Albany, were close frierids of the Schuylers, VanRensselaers, TenEycks and others of Hollandish descent.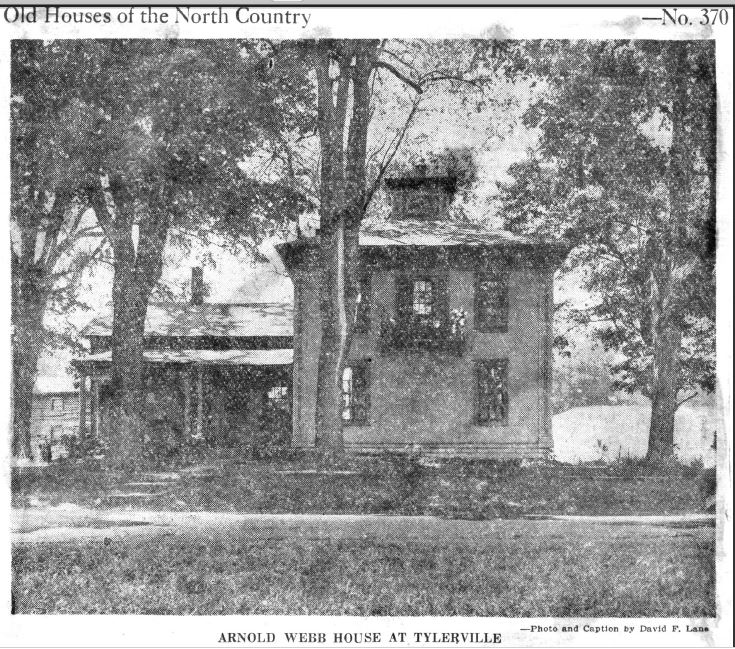 28529 Co Rt 69 (Main St) Tylerville (Copenhagen)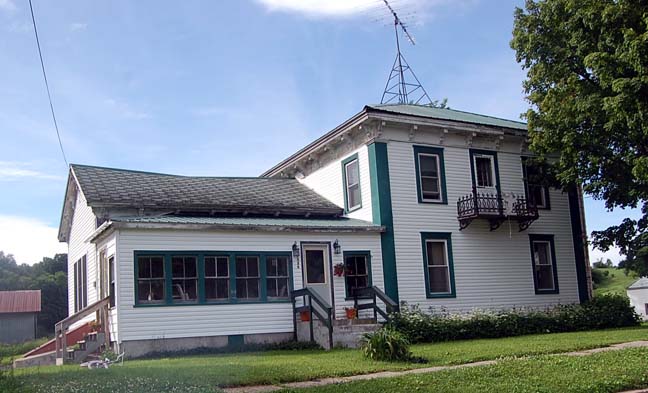 With its ornamental balcony and its ornate cupola this house, constructed 90 years ago, has been the most pretentious one down to the present time in the hamlet of Tylerville. It stands on the north side of the main street near the mercantile section and an inscription in the basement indicates that it was built for Arnold Webb in 1859.
Descended from an outstanding family of New England pioneers, Mr Webb was a man of culture and refinement, precise and methodical in the extreme, and long Tylerville's leading citizen. He was born in the town of Rutland January 4 1808 son of Joel and Amy Stanley Webb, received a good education, remained with his parents on the farm in Tylerville, became a Jackson Democrat, at 47 married Miss Jane D Henderson, daughter of an early Oswego county settler, in 1855. When the Tylerville Baptist society desired to build an edifice in 1869 Arnold Webb donated a lot on the main street near his residence and was a trustee of the church. When he died on June 12 1885 he left a comfortable estate but no children to share it.
He gave his widow a life-use of his 100-acre farm, while the contents of his house and the personal property on the farm went to her outright. She died in 1902 and on August 7 of that year Edgar C Emerson as referee conveyed the property to the highest bidder, William O Campbell, prominent Rutland farmer. Mr Campbell died October 21 1931 of fatal injuries in an automobile accident, leaving two daughters, Mrs Fred E (Gladys A) Hodge and Mrs Henry N (Nettie J) Cramer. On October 21 1932 Mrs Cramer conveyed her interest in this place to her sister and brother-in-law, Mr and Mrs Hodge, the present owners. The transfer excepted parcels that had been sold off the 100 acres. However, Mr and Mrs Hodge have added to the farm until they now have 177 acres, which they work. Postmaster of the hamlet since January 1 1933 Mrs Hodge has her office in the wing of the house. Also she has long been active in South Rutland Grange, No. 53 of which Mr Hodge is a past master.
For the last seven years Mr Hodge has been fire director of the grange and this fall he seeks another four-year term as justice of the peace, an office in which he is now completing 16 years. Assisting Mr and Mrs Hodge in the operation of the farm is their son, Francis E Hodge, who is also a substitute mail carrier on R D 2. While this house was built for Arnold Webb nine decades ago, the land upon which it stands had been a part of his father's farm much earlier than that.
Born in Vermont January 25 1780 Joel Webb, father of Arnold, received a good English education, and at 16 came to Lewis county, working by the month at farming for two years. Then he is reputed to have cleared the first acre of land in the town of Pinckney for this entire region was a dense forest.
In 1804 he came to the town of Rutland and bought 200 acres of land at 50 cents an acre. First he built a log cabin, then married Miss Amy Stanley, daughter of one of the earlier settlers. Later he built a small frame house, which still stands, is occupied and is located next to the large house shown above. Of Joel's nine children, Arnold was his eldest son.
Joel died May 18 1853. His will, recorded September 26 of that year gave his widow a life-use of one-third of the real estate and of one-third of the personal property. After her death, which occurred October 25 1855 the entire estate went to Arnold Webb on condition that he pay his two brothers $200 and his four sisters $100 each without interest within one year. These legacies were cleared in 1859.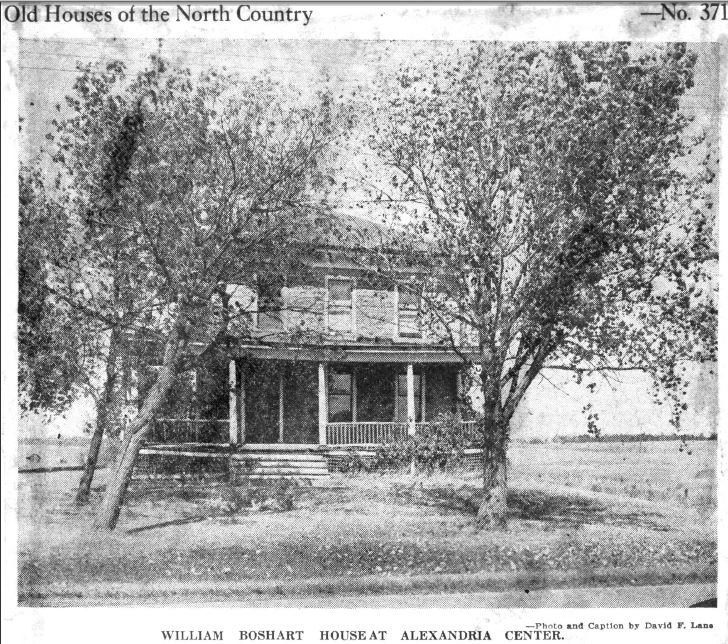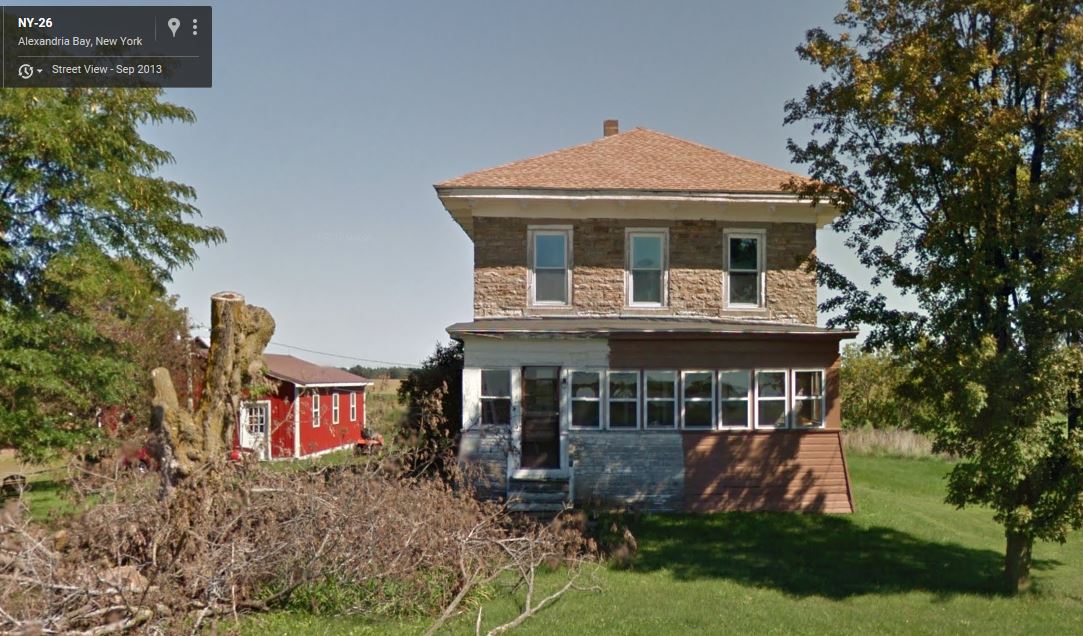 Greatly showing the effects of modernization this old native stone house near Alexandria Center between Plessis and Alexandria Bay is nevertheless close to 110 years old, it is estimated. As purchased by the present owners, Roy C and Regina Hall from Alexander R Shoulette of this city on October 25 1946 it is composed of five principal parcels of 58.26 acres, 43.15 acres, 29.25 acres, 27.5 acres and 16 acres.
On November 25 1830 Landowner Francis Depau sold the 58.26 acre parcel to Jonathan Sprague for $61.16 and on April 14 1837 Sprague sold it to Garret Boshart of Lowville, for $638. On January 29 1838 the executors of Depau sold the adjoining 43.15-acre parcel to Garret Boshart, who on November 9 1840 disposed of both of them to William Boshart of Lowville for the nominal $1. On the same day Nicholas Boshart, Lowville, deeded the 29.25-acre plot to William Boshart, Nicholas having acquired it from the Depau heirs January 9 1838.
William Boshart purchased the 27.5-acre tract from the Depau heirs February 3 1849 and later he bought two small pieces of .65 of an acre and 16 acres. All five parcels he sold to John L Giltz of the town of Croghan on October 28 1867 for $8,740.50.
That price is proof positive that the stone house, barns and other buildings were on the farm when William Boshart, still accredited a resident of Lowville, sold the place to Giltz in the fall of 1867. Mr Giltz was one of the prominent and prosperous farmers of the town of Alexandria and for 35 years this farm was in the ownership of his family. Then on March 1 1902 his heirs sold it to Conrad Haller and Henry Leonardt of Alexandria for $8,500. Six years later, on February 29 1908 Haller disposed of his interest to Leonardt. Born March 10 1867 in Hesse-Darmstadt, Germany, son of George and Margaret Zimmer Leonardt, Henry Leonardt later emigrated to this country and became a thrifty and respected citizen. His wife, Elizabeth Zimmer, a native of his own sector of Germany, he married in June, 1889. For ten years they resided upon and worked this farm, and then in 1912 retired and moved to Alexandria Bay.

A staunch Republican, he soon got into politics, and for six years was a member of the Alexandria Bay village board of education. From 1926 to 1934 he was the village postmaster and for eight years he was a justice of the peace. Mrs Leonardt died in November 1929 but Mr Leonardt lived until September 10 1943 when he passed away at the age of 76.
One year later, on October 13 1944 his executor sold this farm to Alexander Shoulette, who retained it until he disposed of it to Mr and Mrs Hall on October 25 1946. It is probable that William Boshart caused the sizeable stone house to be built shortly after 1840 but whether he leased the property is not certain. A town map of 1864 lists his name on the site and but a short distance from this house towards Plessis there was then an old tavern.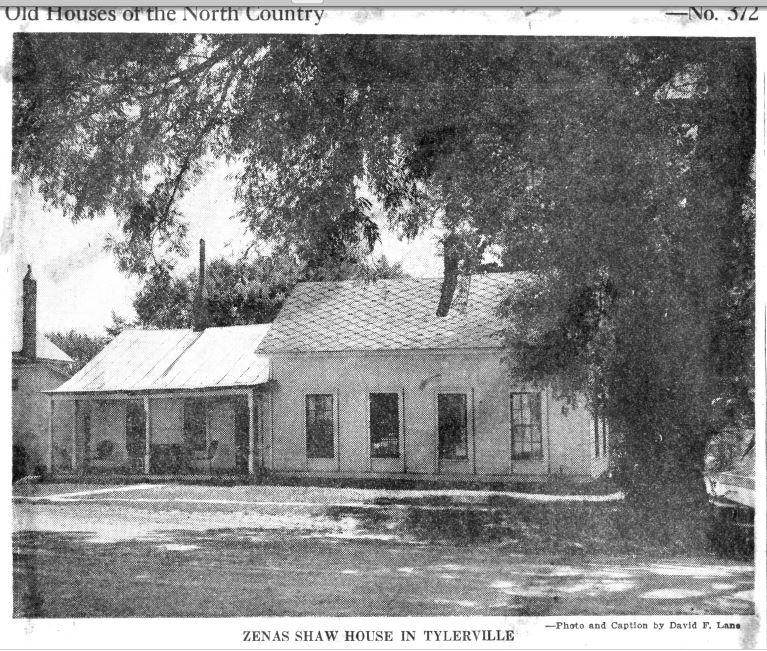 28578 Co Rt 69 Copenhagen (Tylerville)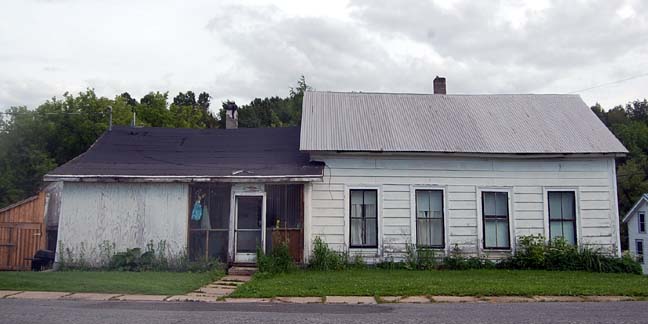 Still highly attractive in the retention of practically all of its original charm is this Tylerville house of Zenas Shaw built well over a century ago. Little is known about Shaw, but on October 22 1841 he paid Simeon and Florilla Oakes $100 for the .36-acre site of this house upon the main street in the heart of the hamlet. It is at the corner where the road to Pinckney swings across Sandy creek to climb the steep Mill hill on the other side. On the banks of the creek just to the rear of the house stood the old grist mill, which may have been operated by Shaw.
On the opposite corner there used to be the old J B Visscher store, while across Main Street Simeon Oakes, native of Athens, Vermont, farmer, miller, merchant, hotel owner, ashery operator, conducted a general store which he built shortly after he came to Tylerville in the fall of 1836 and on September 15 of that year bought 122 acres from Frederick and Elizabeth Tyler. Where the Kraft cheese plant now is, also directly across Main Street from the Shaw house, stood the old hotel, once conducted by Sylvester Kellogg, father of Attorney Virgil K Kellogg.
By his first wife, who was Florilla Davis whom he married March 4 1823 Simeon Oakes was the father of Rensselaer Allston Oakes, who was variously Watertown grocer, crockery merchant, city editor of the Watertown Daily Times in the late 1870s, and compiler of the Oakes Genealogical history of Jefferson County. A child by Simeon Oakes' second wife, the former Rosetta Crosby, whom he married February 22 1847 was Oscar Simeon Oakes, who carried on the Oakes general store in Tylerville until his death in 1875.
A few hundred yards down Sandy creek was the Rutland Woolen Manufacturing Company's mill erected in early War of 1812 days, first woolen mill in the North Country.
On January 1 1847 Zenas and Dilla Shaw sold this house to Apollos Stephens of Denmark, and on December 1 1853 Apollos and Betsey Stephens, then of Copenhagen, disposed of it to Charles L Pickett. Mr Pickett was a harnessmaker and operated a shop, turning out work of such excellence that it was in demand by the elite of this entire section. The upshot of that situation was that on March 1 1867 Mr Pickett and his wife Lucippa sold this house to Charles Snell, came to this city, opened a store near the easterly end of the north side of Public Square and incidentally in the early 1880s Dr G C Madill had an office next door.
Mr Pickett on August 23 1870 purchased a house here between Sterling and Academy Streets on the south side of Franklin and resided there until his death on April 7 1886. His children were: Charles Grant Pickett, who was prominent in local musical and theatrical entertainments, later for many years a traveling representative of drug concerns and resident of Newton, Massachusetts, when he died in late July, 1940; and the late Mrs William O Baker of this city and Utica
Charles and Sally Snell sold the Tylerville house to Frank A Oakes on March 28 1870 and a few years later he conveyed to Fowler N Butts, who with his wife Julia Ann, transferred to Fayette F Corry August 11 1888 and after a time Mr Corry opened a store next door. On September 23 1907 Fayette F and Hattie A Corry sold to David T and Nora O Waldo, and on January 6 1925 Nora OWaldo disposed of the place to Lottie M Munger. Mrs Munger died in this city July 11 1947 and on August 10 1948 her-estate conveyed to Dirwood F and Eleanor B Daynard, the present owners. Mr Daynard is proprietor of the general store next door, the only store now in the hamlet. Mrs Daynard is the former Miss Eleanor Bibbins, daughter of Mr and Mrs Clarence Bibbins of Tylerville, and was married to Mr Daynard November 25 1932.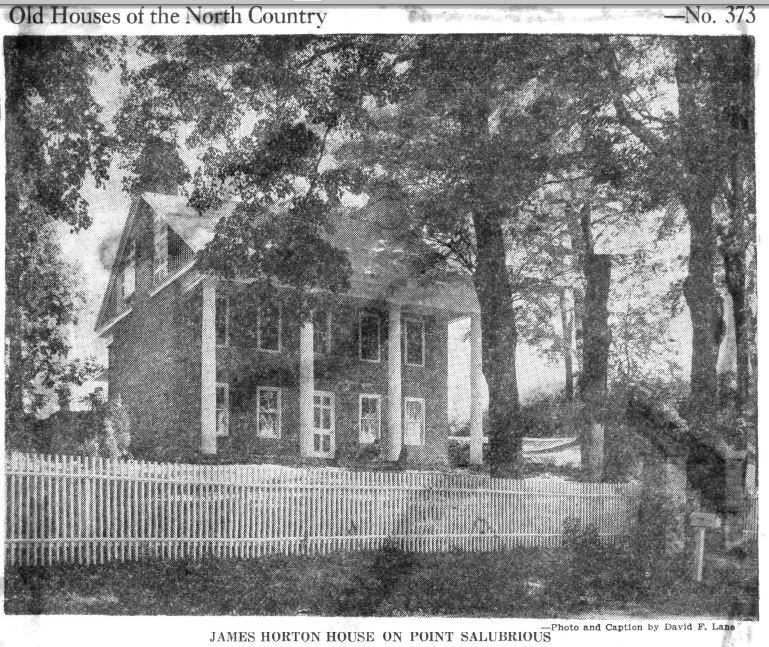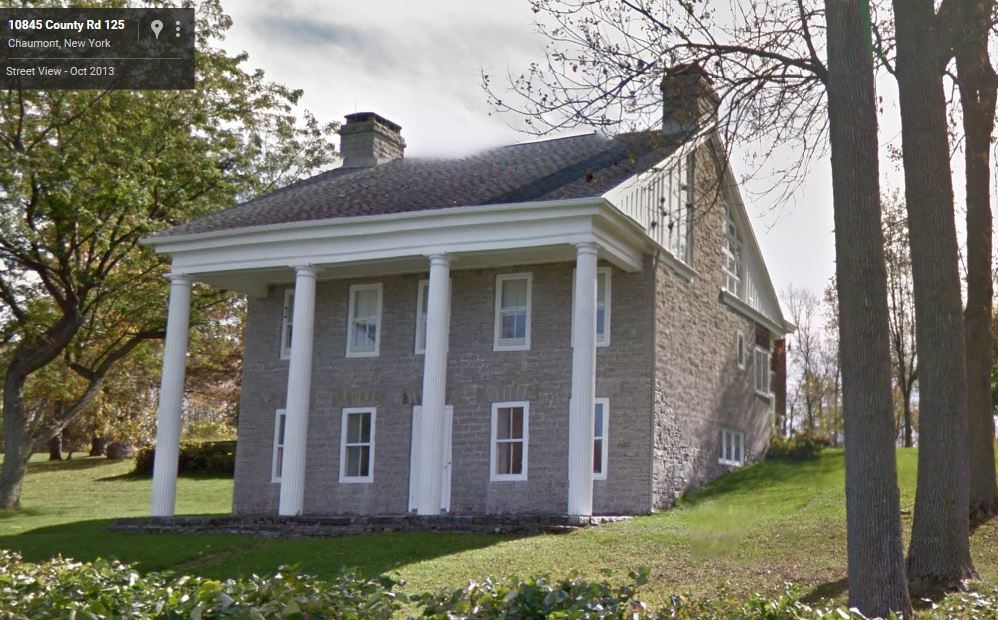 "Greystone," the native limestone mansion completed for James Horton at Horton's Cove on Point Salubrious in 1819 is now a thing of beauty again as metamorphosed with graceful white Doric columns in front under the artistic designing of Architect Horace C Montgomery Jr
Mr Montgomery was given the commission by Mr and Mrs Edward J Madill, Potsdam, the present owners after they acquired the property from Mrs Edith W Stebbins on September 13 1948 it having been transferred to her the preceding July 30 by Mrs Barbara Williams Winslow.
Originally an attractive two-story limestone Georgian house under the James Horton ownership, the place later underwent the addition of a wooden third story, an unharmonious one-story verandah which stretched across the front as well as across both ends and became an architectural monstrosity some decades ago. So it remained until Mr and Mrs Madill purchased it and ordered alterations which lend a magnificence never possessed in its first years even.
James Horton in 1806 became Jhe first permanent settler on Point Salubrious and built a log cabin which gave way to the stone house in 1819. His wife was the former Martha White, niece of Stephen VanRensselaer, "the Patroon," Albany.
On November 5 1833 James Horton died. His son, James I Horton, became the support of the family, paid up the mortgage and gave his mother clear title to the property. On March 27 1849 she deeded it to Cornelius W VanRensselaer Horton, William Henry Horton and Sarah M Horton. For some years William Henry Horton occupied the lower story and C W V B Horton located in the upper one. In 1862 1863 and 1864 the heirs of "VanRenss" Horton, and William Henry Horton disposed of the place to Alexander Copley.
By 1880 the house was a deserted ruin, the roof had fallen in and the floors were decayed. Hiram Copley who had succeeded to the ownership of it sold it to Hector Adams on March 17 18S4. Mr Adams employed Orrin Pomeroy to rehabilitate the house and in so doing the old woodwork and fireplace mantels were removed, the replacements being vastly less attractive.
Created by an ex-British soldier, who fought at Sackets Harbor during the War of 1812 only to desert and remain on this side of the border, the fireplace mantels and interior woodwork installed when the house was erected are said to have been exquisitely beautiful in quality of wood and workmanship. September 1 1900 Hector and Sarah E Adams sold this place to Mrs Grace Eleanor Barron, wife of William D Barron and on November 2 1903 Mrs Barron, then a resident of Rochester, disposed of it to Mrs Carrie Baglcy Lansing, daughter of one of the founders of the Bagley & Sewall company and wife of Stuart 1). Lansing who became president of that company. On May 16 1924 Mrs Lansing who, with her husband, had endeavored to restore the interior as much as possible, sold to Bertrand N and Mabel F James, local automobile dealers. Mr and Mrs James became bankrupt. On August 18 1925 their trustees conveyed to Lena J Reid, who immediately conveyed to Frank J Winslow of Utica. On June 30 1942 his widow, Laura B Winslow, transferred to Mrs Barbara W Winslow, wife of Frank Winslow, and they occupied the property for a few years.
The mansion as rehabilitated and restyled has become one of the show places of the county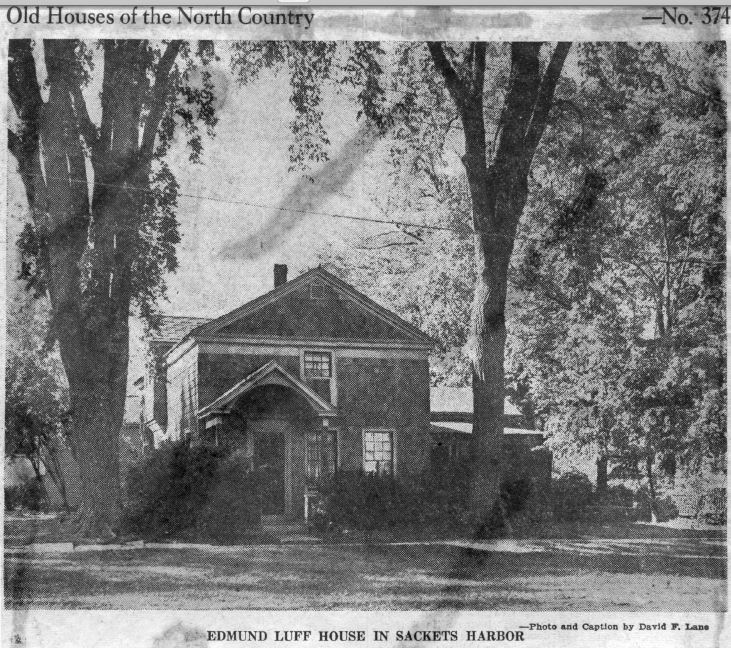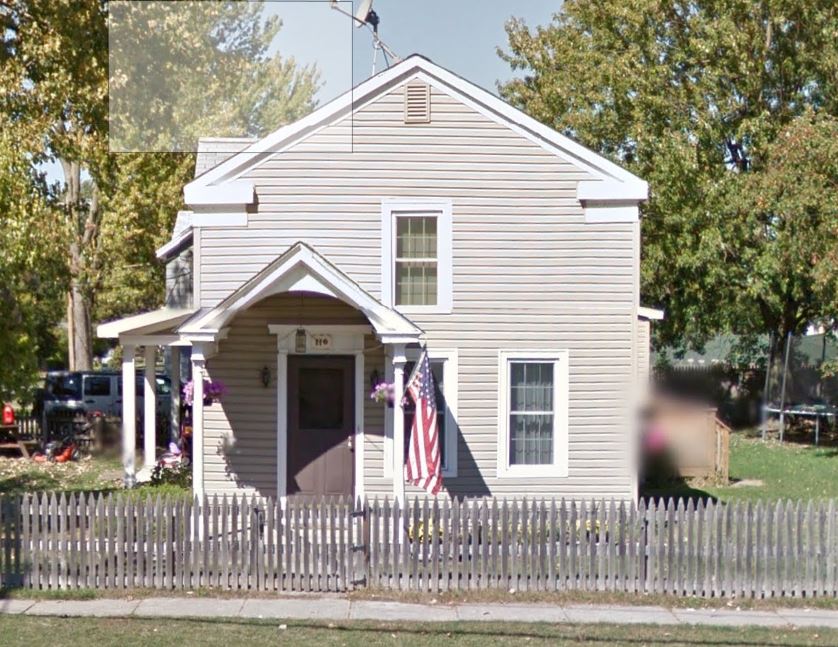 One of the most historic houses in the village of Sackets Harbor is that which Edmund Luff built on the northeast corner of Broad and Washington Streets, some time after 1805 and prior to the War of 1812. It was the first house of Christian worship in that village. There Mr Luff, an Englishman, preached for a number of years before his death in 1822 and he accepted no remuneration. Mr Luff was one of four sons of Samuel Luff to come to Sackets Harbor with the latter as part of an English colony in 1805. Edmund, a clergyman, called himself a Restorationist, his creed being similar to that of the Universalists. This little house, which he used as a church, he also threw open to the use of any other Christian faith whether Protestant or Catholic. During the War of 1812 the house was turned over for use as a hospital or other humanitarian services.
It was on October 4 1805 that Augustus Sacket, founder of the village, and wife, Minerva, sold Mr Luff his first plot of land in Sackets. On December 21 and 22 1808 Mr Luff bought three other parcels,of land in the village. In the next six years he bought several other parcels. From July 24 1845 to March 30 1850 Mrs Mary Ann Dickey, wife of John O Dickey, acquired the interests of the Luff heirs in this little house described in the deeds as the "meeting house" property. On April 5 1864 Mrs Dickey, then of Clinton county IA, sold the place to Ellen Harlow and on March 27 1872 she disposed of it to Perry Knowlton, Hounsfield, for $1,000. He conveyed it to John T and Emma J Lee on October 2 1878 and it remained in the ownership of that family for 25 years.
Mr Lee operated a store in Sackets Harbor for some years, and on November 11 1903 his widow, Emma J Lee, sold it to Mrs Carrie A Stearrie who, on June 17 1909 transferred it to her son, Clarke M Stearne. Prominent Democrat, Mr Stearne was long one of the most prominent residents of Sackets Harbor. There he operated a store for a long time, was president of the village, for several years was postmaster, was collector of customs of the port, was a number of times Democrat candidate for public office, and for some time was president of the village education board.
Born at Sackets Harbor August 15 1866 Mr Stearne was the son of Aaron and Carrie L Morseman Stearne, his mother having been a member of the well known Morseman family. In 1887 Mr Stearne married Miss Louise M Metcalf, daughter of Mr and Mrs Albert H Metcalf, another prominent early Sackets Harbor family, Mr Metcalf having taken command of the United States naval station there in 1866 and after his death was succeeded by his widow, who served as long as the station was maintained.
Clarke M Stearne died on May 20 1944 at the age of 77 and the house, which had been considerably altered and improved under the Stearne ownership, passed to the possession of his daughter, Mrs Beatrice M Whitney, the present owner. Mrs Whitney was for a number of years a teacher in the Academy Street grammar school in this city.
The house, now covered with shingles which have been stained to give a weathered appearance, and with a small portico over the front door, stands facing Broad Street. Two tall elms tower on either side of it as graceful guards of the building which became the first place of religious worship in Jefferson County's historic military and naval center of an earlier era.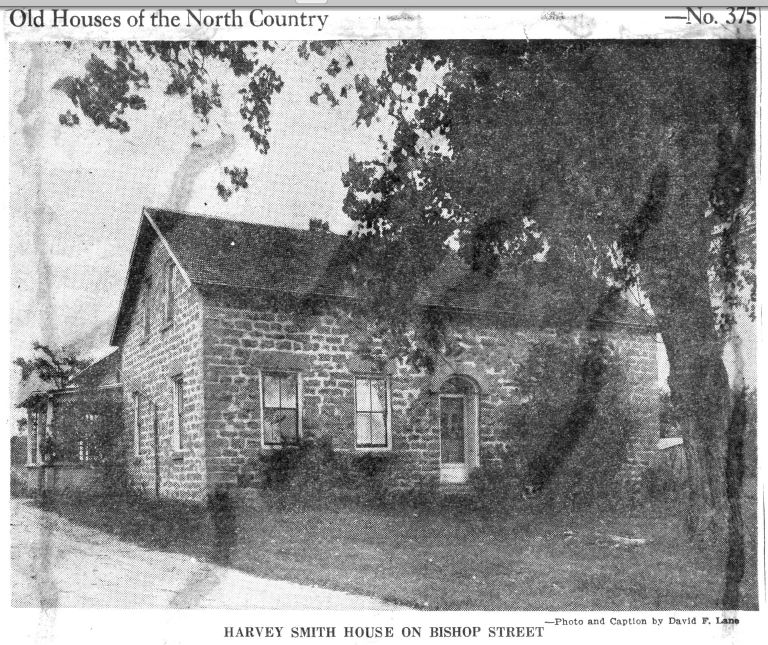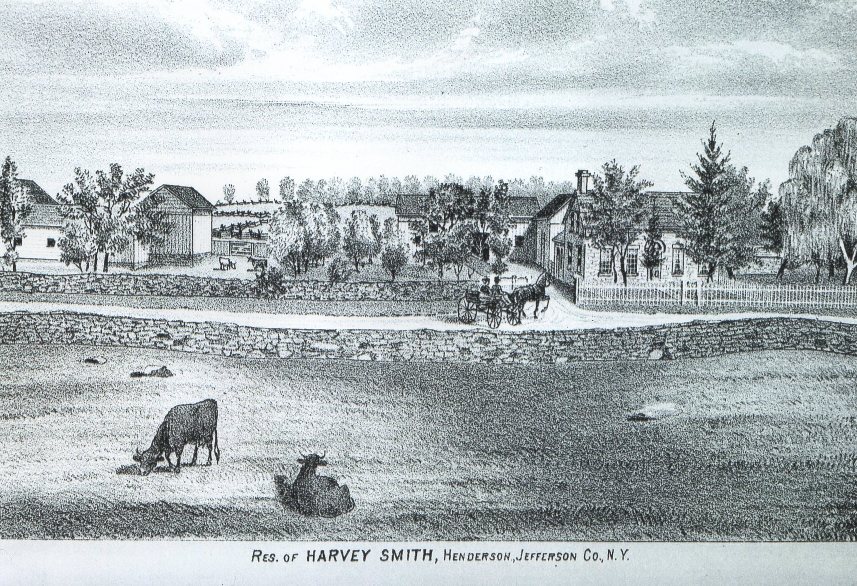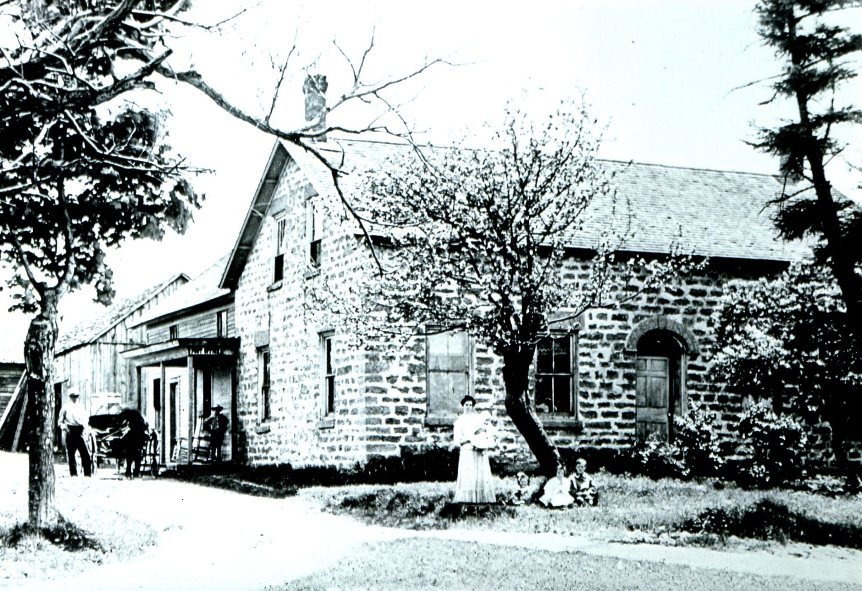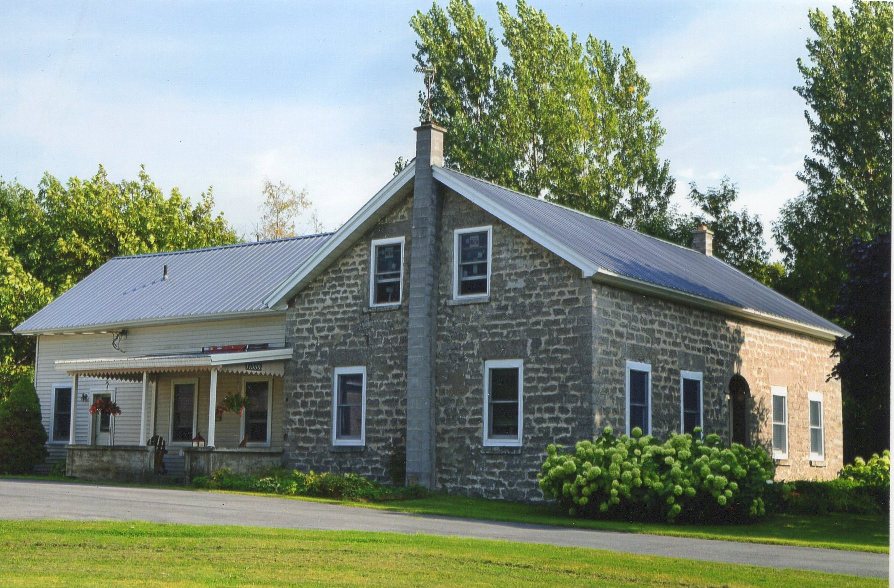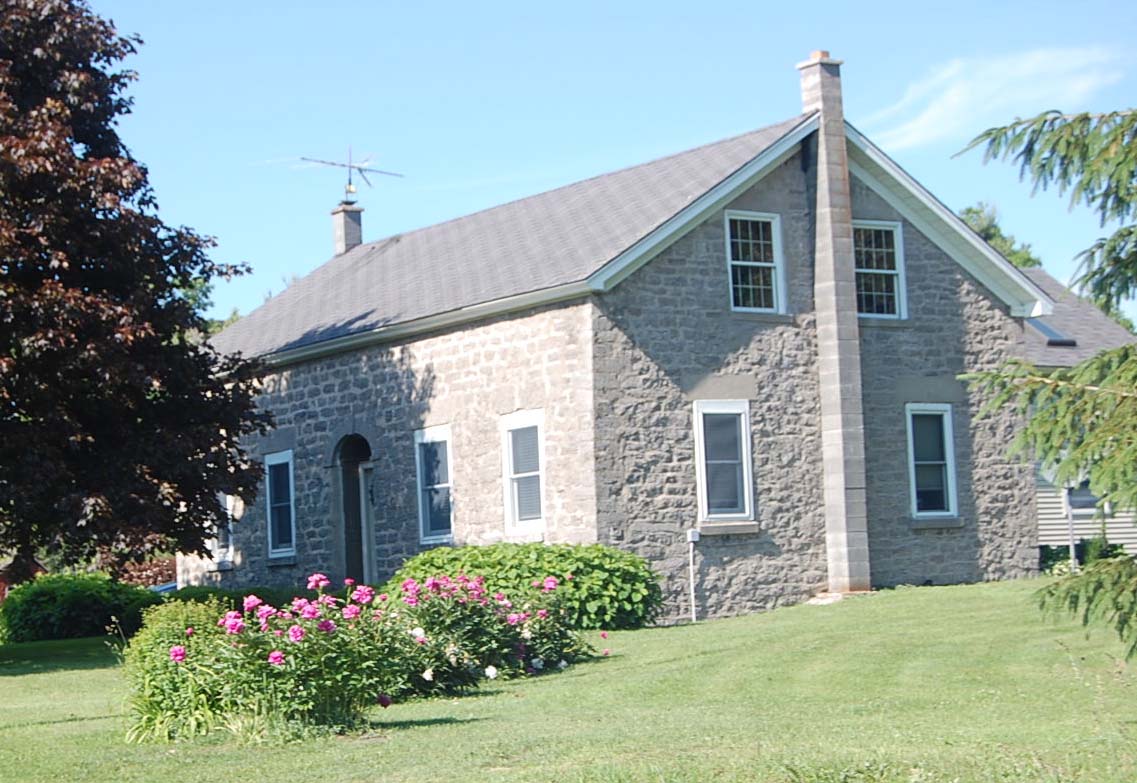 Said to have been built in 1839 on the road known as Bishop Street in the town of Henderson, this native limestone house, owned by Mr and Mrs Ralph C Kohl along with its 92.53 acres of land, presents a most attractive picture. Maintained in excellent condition by its present owners, who purchased it December 7 1944 from Mrs Nellie E Brissont, the house, which is now equipped with modern conveniences, has seven rooms in the main part and two in the rear.
In its early days it was also provided with a fireplace, but this has had to give way to the more modern systems of heating. In its early days also it was part of an active little community which included a Methodist church, sawmill and blacksmith shop and once a railroad ran along its back door from Pierrepont Manor to Sackets Harbor.
Nor was that all. The street has the distinction of having given two governors and at least one immortal author to the nation, for upon Bishop Street was born Cushman K Davis, one of the great statesmen of the United States, who became governor of Minnesota, and George Peck, author of the immortal youth-novel, "Peck's Bad Boy," editor of "Peck's Sun," and governor of Wisconsin. Harvey Smith, original owner of this house, son of Asa and Elizabeth Smith, was born in Galway, Saratoga county, May 24 1797 and came to the town of Henderson with his parents in February, 1805. On February 2 1824 he married Sarah Bell of Albany county and had nine children. Mrs Smith died June 13 1868 and on October 5 1871 he married her sister, Mrs Nancy Cook of Wisconsin. Harvey Smith was a devout Methodist and from his farm he gave half an acre of his land to the First Methodist church as a site for church sheds.
While he lived until December 22 1883 attaining an age of more than 86 he conveyed his farm to his children on September 12 1871 when he was in his 75th year. The property continued in the ownership of that-family until April 14 1923 when Attorney William K Mott as referee in a partition action to settle the interests of the various memers, conveyed it to William S and E Shirley Weldon.
On March 29 1937 they disposed of it to Alice M Davis of the town of Ellisburg and on November 10 1941 she sold it to Albert E and Nellie E Brissont of the town of LeRay. Mr Brissont died shortly after that and on December 7 1944 Mrs Brissont transferred the place to the present owners, Ralph C and Hilda Kohl. Mr Kohl, a young man who has had considerable experience in farm management, is the son of the late Conrad and Grace Carter Kohl, the latter having been the daughter of the late Charles and Florence Carter.

But concerning the Smith family, Harvey Smith's father, Asa, was a prominent resident of the town of Henderson as evidenced by the fact that he was elected supervisor of the town in at least three different periods. A daughter of Harvey Smith, Ermina E Smith, was married to William Pitt Davis, a neighbor, in 1856. He was the owner of the largest house on Bishop Street and was uncle of Cushman K Davis who, at the age of about one year removed to the middle west.
Article 376 missing from NCLS list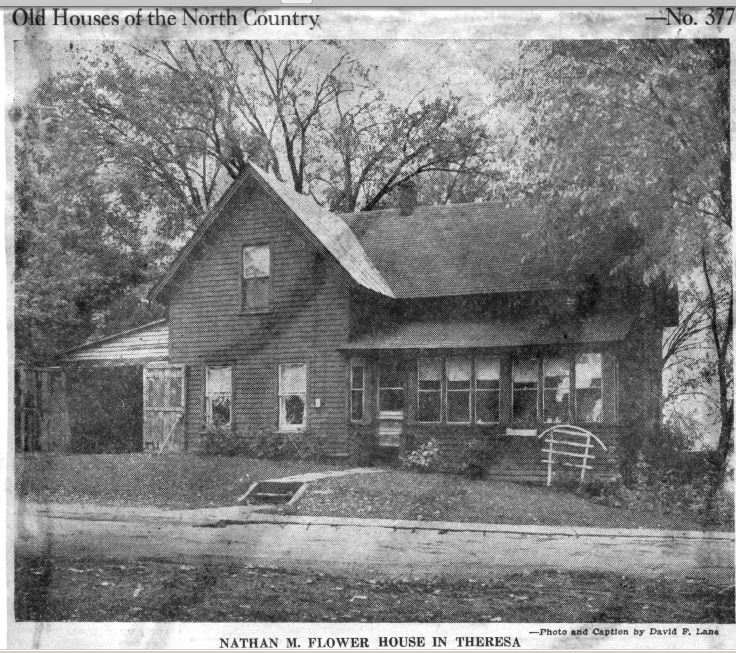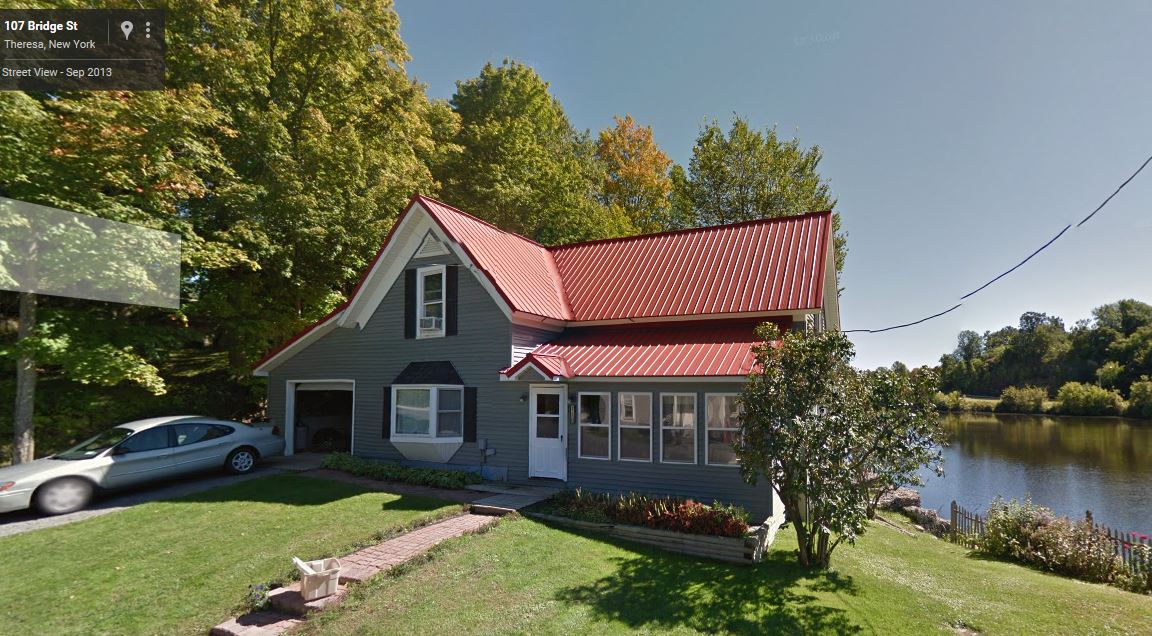 Roswell Peltibone Flower, the barefoot boy who became king of Wall Street and governor of New York state, was born in this house August 8 1835. Exactly two months before that his father, Nathan Monroe Flower who had started a fulling mill and cloth-dressing plant across the street in 1822 had purchased the house property on June 8 1835 from Azariah and Mary Walton of the town of Alexandria. The house must have been standing at that time, because the deed relates that it was then occupied by the purchaser.
Since then, however, the house has undergone considerable of a face-lifting which has increased its capacity and comforts but not improved its architectural design. There seems little doubt that the original consisted of a story-and-a-half upright with one-story wing, while the roof was low-pitched. Today it is two stories high throughout, with sharp-pitched roof and ah enclosed verandah of modern accretion.
Nathan Monroe Flower, who hailed from Oak Hill, NY, was but 46 when he suddenly died on April 4 1843. John C Collis in 1840 had bought a half interest in Mr Flower's business and upon petition of Mr Flower's widow, Judge Philo Gridley of fifth circuit court permitted the sale of the remaining half-interest in addition to the house and lot to Collis, Judge Joseph Mullin of this city acting as special guardian of the several minor Flower children.
This house, located on what is now Foundry Street, Theresa, is at the north end of the bridge by the lower falls of the Indian river. From it Mrs Flower removed to a much more pretentious place on Main Street in the same village.
Roswell P Flower worked in the factory and clerked in a store while he was attending school. At 18 he finished high school and then taught for a time. Next he came to this city, became a clerk in the postoffice, saved $1,000 which he invested in the jewelry business, into which he later took his brother, Anson Ranney Flower, under the partnership of R P & A R Flower. In 1859 he married Sarah M Woodruff. After the death of Henry Keep, who had been president of the New York Central, he moved to New York to settle the Keep estate. He founded the Wall Street banking and investment house of R P Flower & Company and made a vast fortune for his day.
In 1876 he defeated William Waldorf Astor for congress from the eleventh New York district and was re-elected in 1888-9. In 1891 he defeated J Sloat Fassett, Republican, for the New York state governorship. He died suddenly at Eastport, Long Island, on May 12 1899 after having made a remarkable record in Wall Street and as a railroad builder and director of many banking and industrial enterprises. His daughter was the late Mrs Emma Flower Taylor, noted local philanthropist, and his grandsons are her son's, Frederic H and Roswell F Taylor of this city.
From John C and Elizabeth Collis this house of Roswell P Flower's birth passed to Rosell C and Angelia L Collis, who conveyed it to Willard C Porter on June 8 1882. Later, after intervening ownerships, it was acquired by Hiram E Bowles about 43 years ago and from him it went to his son; John E Bowles, the present owner, a resident of Redwood who leases the old house to tenants.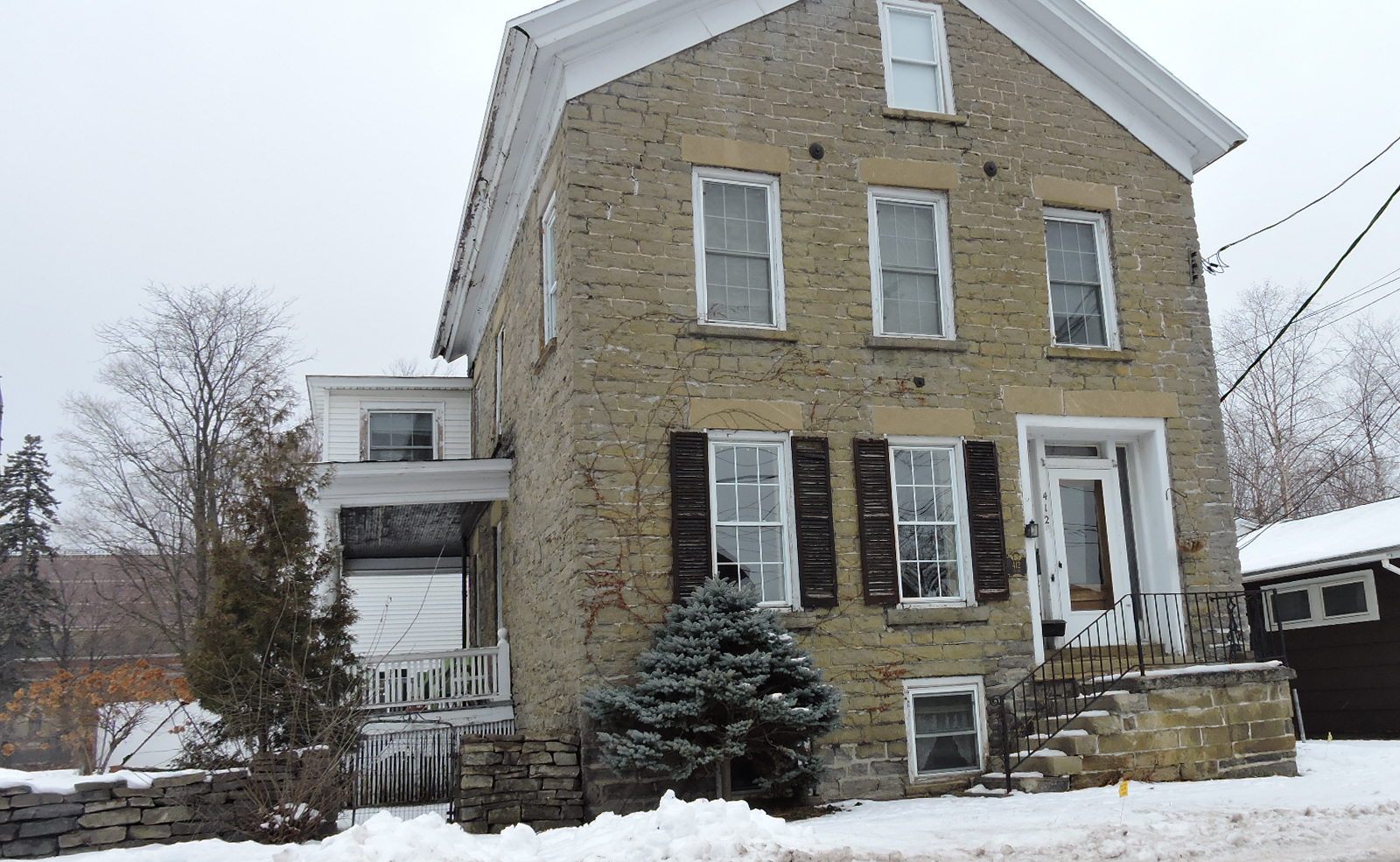 Son of an English stone mason, Anthony Furness, born October 15 1797 in Chilburn, Westmoreland, emigrated to Ogdensburg in 1818 acquired a stone quarry, became a contractor and builder and constructed several of Ogdensburg's finest residences. Among them was his own, now the home of Mr and Mrs Edgar L Schwartz at 412 Jay Street, Mr Schwartz being the manager of Nathan Frank's Sons store, and Mrs Schwartz being the former Eleanor Frank, daughter of former Mayor Julius Frank. The present site of the house, consists of two parcels of land, one of which contained the old Amaziah B James place, later the residence of Dr Grant C Madill which has been razed since Dr Madill's death March 26 1943. Together, the two parcels total about two-thirds of an acre. It is likely that the house, Georgian and well built, was erected shortly after Anthony Furness acquired Lot 6 Block 31 (except 66.166 feet on the north side), from George Parish on June 8 1836. Mr Furness died September 4 1878. His wife, Margaret Gilmour of Morristown, whom he married in 1823 died August 6 1867. Under partition judgment this residence property was sold to Daniel Magone, noted lawyer and Democrat, July 31 1880 along with other Furness lands.
Native of Oswegatchie township, Daniel Magone was admitted to the bar in 1853 was supervisor 1882-3 chairman of the Democrat county committee, later chairman of the Democrat state committee 1875-6 had a voice in nominating Samuel J Tilden at the Chicago convention in 1884 and was collector of the port of New York 1886- 1889. He died September 4 1904 leaving a widow, Mary, and daughter, Mary Magone Haskell. On September 6 1905 Mrs Magone released her rights in the property to her daughter, who died December 30 1911 leaving her property to her husband, Frederick T Haskell. Frederick T Haskell deeded it to John C Howard, prominent Ogdensburg lumber merchant and industrialist; on May 28 1912. On the same day Mr Howard sold a half interest to William Wright and together they and their wives conveyed the place to Lois W Bell March 3 1913. Mrs Bell and husband, Walter Allen Bell, occupied the premises until March 10 1924 when they sold to Mrs Madge O McKee.
Mrs McKee was the wife of George McKee, then head of the Algonquin Paper company, and they resided in this house until August 26 1926 when they removed to Montreal, where Mr McKee became the head of another paper company and disposed of their Ogdensburg residence on that date to Julius Frank, who later conveyed it to Mr and Mrs Schwartz, son-in-law and daughter of Mr Frank.
The present grounds of the house involve a number of early land transactions, one of which was a parcel by George Parish to Amaziah B James November 28 1840. Another parcel was sold by Parish to Asaph Bradley Sherman June 8 1836 while still another was deeded by Parish to George Ranny August 1 1825 and he conveyed a part of it to James on May 20 1857. James died July 6 1883 and eventually that property went to his son, Edward C James, and from the latter to his daughter, Lucia James Madill.

Concerning the present owners of the Furness mansion and its present grounds, it may be said that they are prominent residents of Ogdensburg. Mr Schwartz, native of New York City, came to Ogdensburg 23 years ago. He was married to Miss Frank on April 29 1924. He has been a major in the state guard, is a past commander of the American Legion and former trustee of the Legion home. Mrs Schwartz has also been prominent in civic affairs. She is a past regent of Swe-kat-si chapter of the D A R, was five years president of the United Helpers Home and has given much outstanding service to the Red Cross and other civic enterprises.
Their residence was originally ten rooms with three fireplaces, one of which is in the basement dining room. The basement is plastered and furnished as is tne third floor. It is a most attractive property.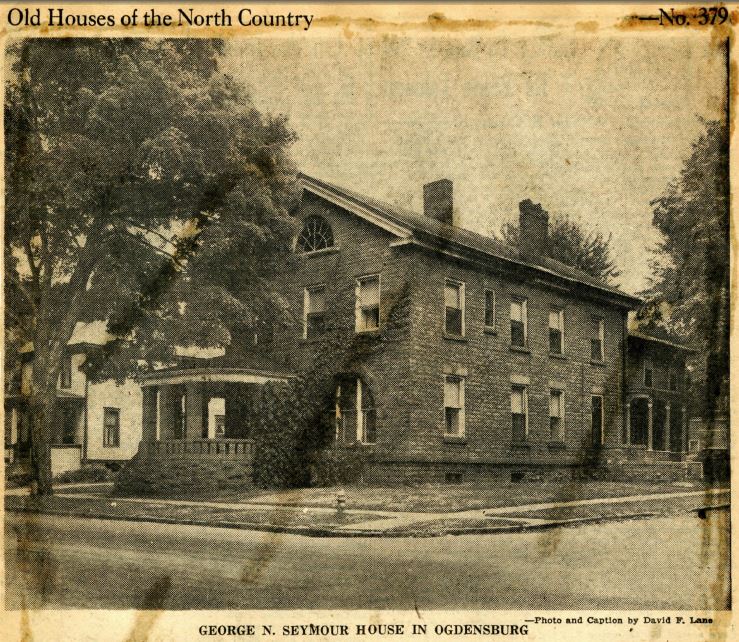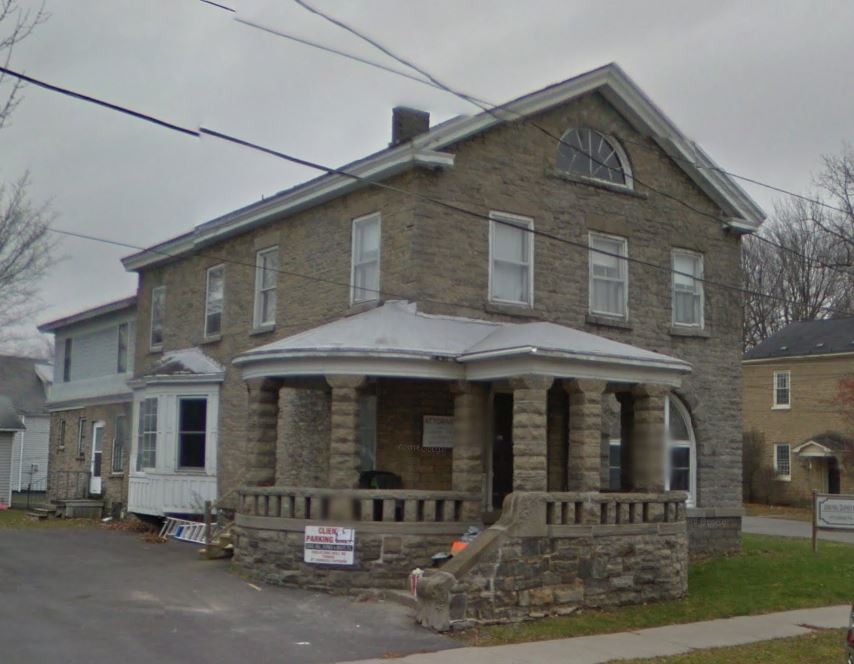 Except for the modernizations such as the circular veranda in front, the large front arched window and the other windows also of comparatively recent type, this house at 536 State Street, Ogdenshurg, presents evidences of being at least a century old. Especially does the masonry construction of the limestone outer walls indicate that.
The site, upon which it stands at the corner of State and Jay Streets, was part of a lot sold by David B Ogden through Nathan Ford as attorney to Levi Chapin on November 1 1809. On August 29 1812 Chapin sold it to Daniel Thorp for $800 and on March 18 1815 Daniel and Miriam Thorp conveyed it to Bela and Roswell Chapin. They and their wives transferred it to George N Seymour for $580 on January 29 1834.
On May 24 1836 Seymour and wife, Sophia M, sold the property to Peter C Oakley for $1,000. A year and a half later Oakey disposed of the part, upon which the house stands, to Erastus Vilas, the date of transfer being December 14 1840.
The date of death of Erastus Vilas or of his wife, Lucy M Vilas, does not appear, but on May 13 1878 Lucy Vilas Fairchild, who was probably his daughter, sold the house and lot to Erastus Vilas, 2nd, for $6,000. The latter and his wife, Sarah B, disposed of it to George Hall on October 4 1886 also for $6,000 and Mr Hall kept it until March 15 1897 when he and his wife, Helen B Hall, disposed of it to John C Howard for $7,500. On May 27 1912 Howard sold a half interest to William Wright and on June 25,1913 they and their wives sold the property to George Leslie Silver. A number of transactions involving the property and portions of it ensued in the Silver family, but George L Silver died January 17 1920 leaving his property to his wife, Mrs Barbara E Silver, the present owner. Only 47 when he died Mr Silver was prospering as a manufacturer of paper veneer.

Prices in deeds may well indicate that the house was built for George N Seymour, although there is a possibility that it was erected in its original form without the porches and other modernizations by Levi Chapin. There is still another possibility that it may have been constructed about a century ago by Erastus Vilas.

George N Seymour, born at Springfield, Vermont, April 14 1794 came to Ogdensburg in 1808 was bound out to Rosseel & Lewis, merchants. He served at Sackets Harbor in the War of 1812. In 1815 he entered David Parish land office and in 1818 married Sophia Mary deVillers, Wilna.
After the expansion of the St. Lawrence hotel in 1851 it became the Seymour house and was owned by him. It had been originally built in 1842.
Erastus Vilas, one of the early residents of Ogdensburg, was a village trustee in 1819 and 1828 and in 1837 was village president. In 1828 he built a large tannery, which'he operated until his death. As late as 1894 it was operated by his nephew, Erastus Vilas. George Hall, former mayor, wealthy coal merchant and philanthropist, resided in this house.
Born in Sackets Harbor March 11 1847 Mr Hall died in Montreal June 24 1919. His first wife was Helen Brown of Sackets Harbor. Their children were Henry Brown Hall and Mary L Hall. Beginning as a telegrapher, he formed George Hall & Company in 1880 became the. chief stockholder in 1893 when he reorganized as the George Hall Coal company with a capital of $650,000 and also created a fleet of freight steamships. He became Democrat county chairman, was alderman in 1886 mayor in 1887 1888 1890 1899 to 1904 and was one of Ogdensburg's most prominent citizens in every respect.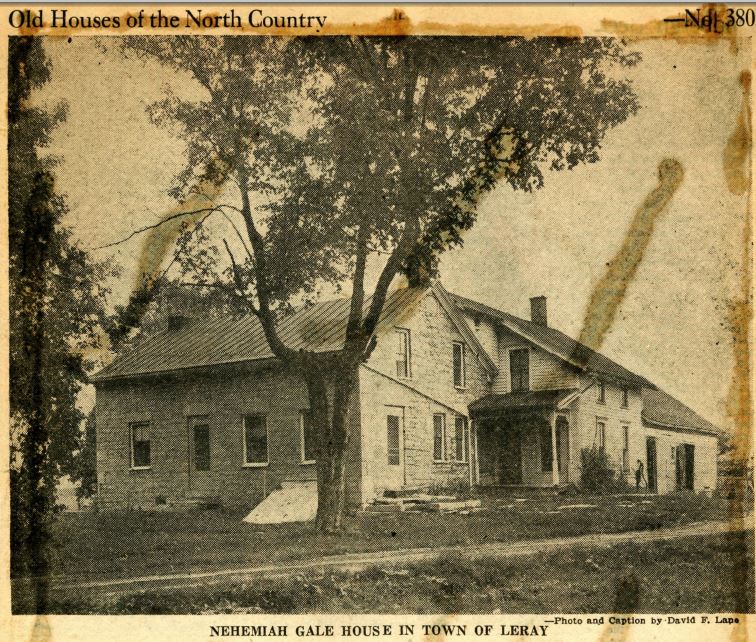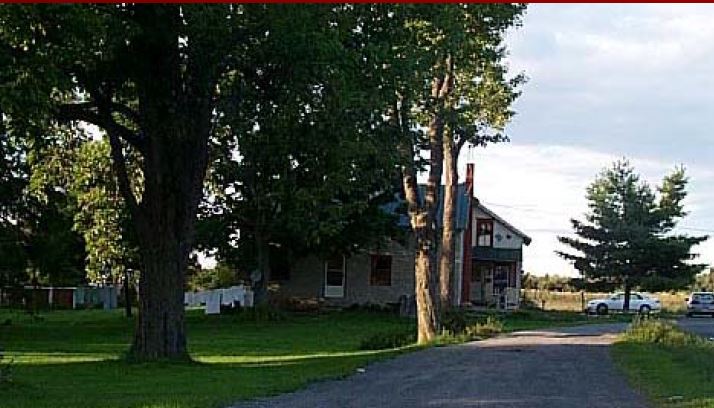 Now owned with about 206 acres of farmland by William S Gould of this city, chairman of the Jefferson County board of supervisors, this house, the original part of which is of native limestone, carries some intriguing bits of romantic history.
It is located approximately two miles from Evans Mills in the town of LeRay, and was probably built by Nehemiah Gale about 1830. Born at Bennington, Vermont, August 24 1788 one of Gale's distinctions was that he was the son of Deacon Solomon and Phoebe Gale, upon whose farm the Battle of Bennington was fought in the Revolution. Also Gale served aboard the "Julia," one of Commodore Chauncey's fleet during the War of 1812 attack on Prescott, Ontario
Most interesting of all, however, is the part he played in the unmasking of Samuel Whittlesey, of this community, the militia paymaster who attempted to embezzle $30,000 at the close of the War of 1812. Bringing the payroll money up from New York he declared that he had been robbed of it near Schenectady. Then to divert suspicion from himself he marked a $400 pack of bills and dropped it on the Sackets Harbor road. Gale, who lived in Hounsfield at that time, found the bills but promptly reported the find, thereby vitiating Whittlesey's diabolical plot. The story of how Perley Keyes and Jasan Fairbanks forced a confession out of Whittlesey and recovered the money, and of how Mrs Whittlesey, the master mind of the crime, drowned herself in Black River, is well known.
Gale built up his LeRay farm through purchase of several parcels of land. On June 12 1829 he and his wife, the former Lucy Parker, bought 55.6 acres in the tract where the house is from Samuel and Eunice Wright. On March 11 1833 he bought another parcel from Ivah and Persis Holbrook.
Two other parcels were acquired that year and some in 1835 1836 and 1838. But in 1844 Mr Gale was kicked by a horse and died. In 1847-8 his estate conveyed the place to his son, Solomon O Gale, who was born in Champion October 25 1812 married Jane Griffin December 22 1842 came to Watertown in 1862 owning considerable land in the Gale Street area and served several years as assessor. Solomon died March 6 1895.
On March 1 1874 he conveyed this old house and farm to his brother-in-law and sister, Sylvester and Lucy Gale Gould, grandparents of the present owner. Sylvester Gould, who was born at Gould's Corners in 1819 was the father of Stephen N Gould, who in turn was the father of William S Gould of this city.
It was in Sylvester Gould's time that the religious camp-meetings were held in the maple grove adjoining this house. Also it was near the house that the celebrated Gould cheese factory was located. And it was on this farm also that Stephen N Gould pressed thousands of gallons of sweet cider.
Stephen N Gould was born in Pamelia May 12,1845 lived a part of his boyhood in Russell, then came to LeRay and worked in the cheese factory, married Viola Watts in January, 1873 and purchased this farm from his parents September 22 1884. In 1885 he joined the Watertown Produce Exchange, largest inland cheese board in the world, of which he was to become president and oldest member. He was a veteran member and treasurer of Pamelia Grange, No. 68 a director of the Patrons' Fire Relief association, president of the Canton Co-operative Insurance company, controlling stockholder of the North Country Telephone company, director of the People's Bank of Evans Mills where he resided from 1902 until his death November 11 1927. He was also a past master of Pisgah Masonic lodge and a member of the LeRay Supply company
He willed this farm jointly to his son, and daughter, the late Mrs Lula G VandeWalker, whose interest the present owner acquired from her on October 28 1930. Then mother, Mrs Viola Watts Gould, died May 3 1930. William S Gould, besides heading the board of supervisors, has several years been president of the Savings, Loan & Building association, has been potentate of Media Temple A A O N M S and prominent in other Masonic bodies.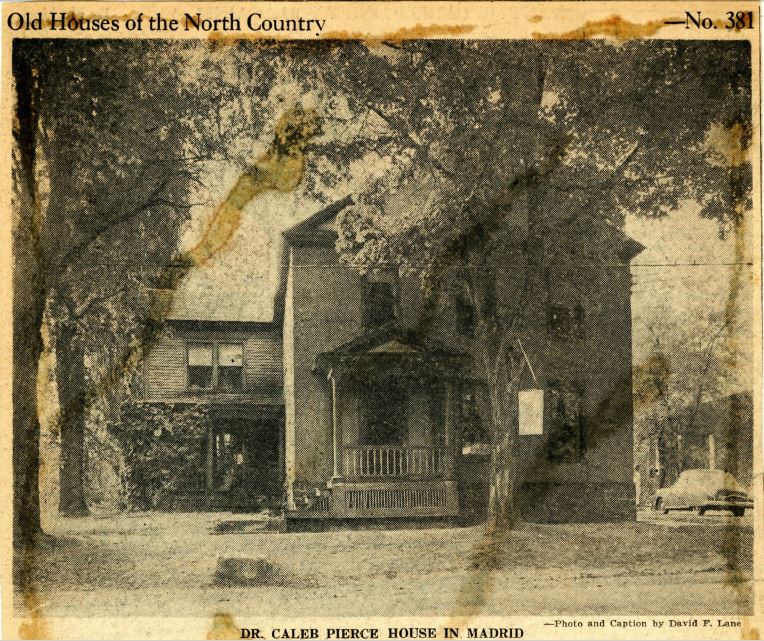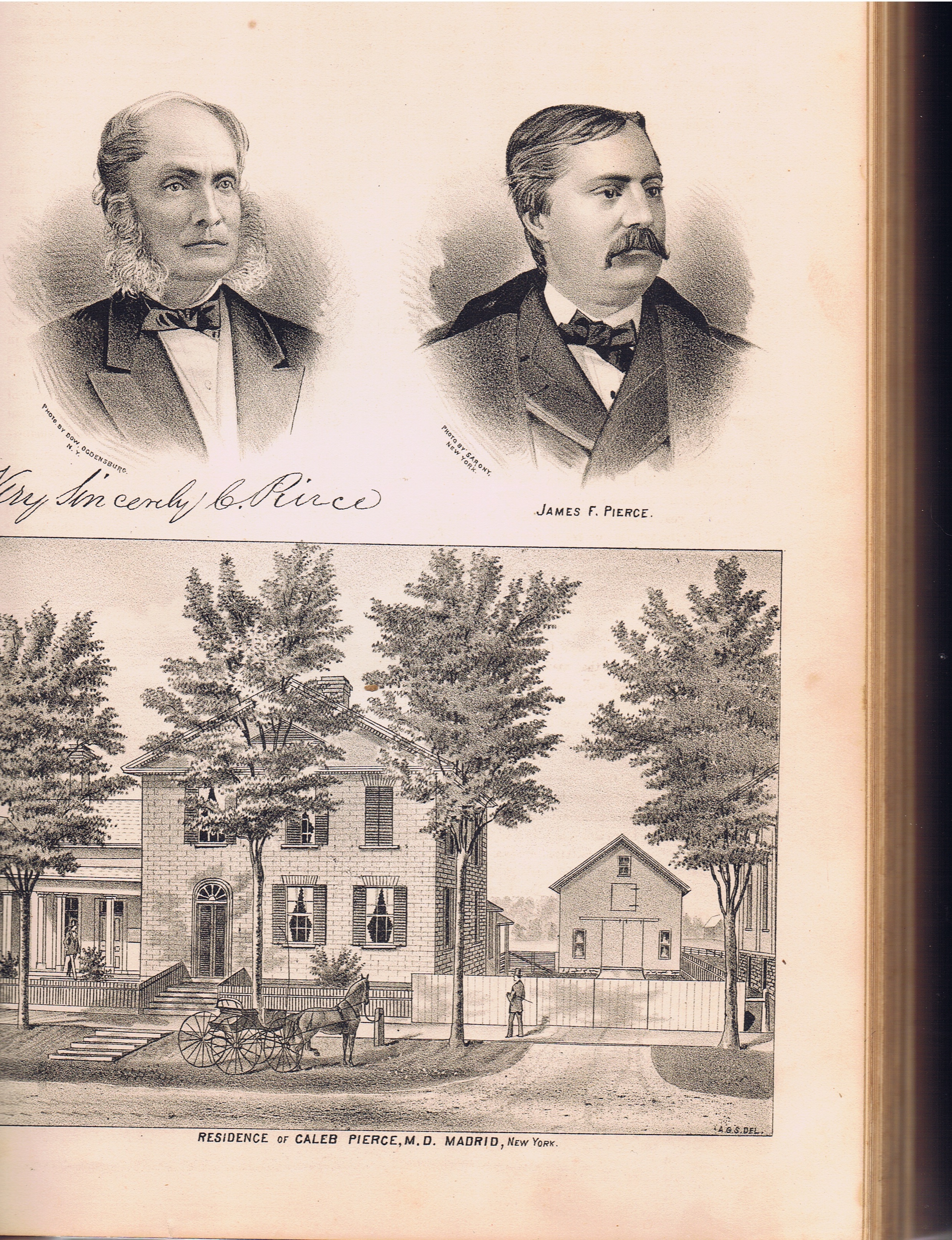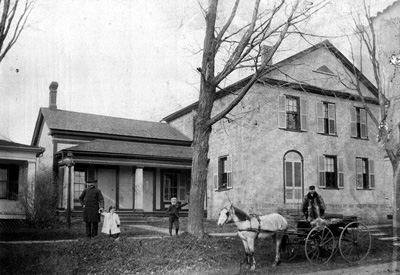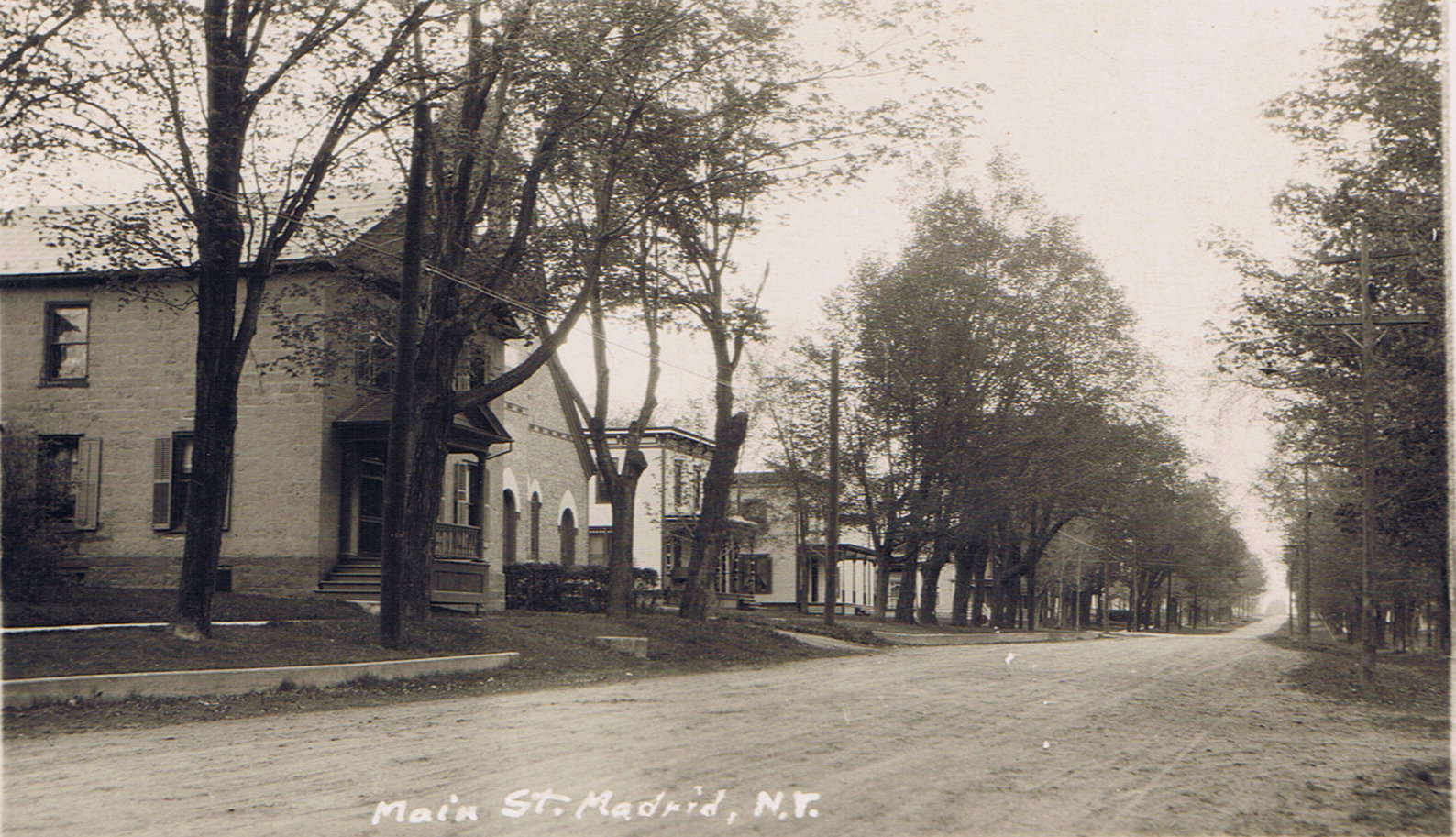 The stone house, which was built about 120 to 125 years ago on the main street of the village of Madrid, St. Lawrence county as one comes into that community from Ogdensburg, is considerably altered from its original appearance by a thin plaster-surfacing of the outer walls, the addition of a porch at the front doorway and the lifting of the wing to two stories.
Dr Caleb Pierce, who was one of the outstanding physicians of St. Lawrence county, purchased the site from Samuel Burr on January 30 1826 for $750. Burr, in turn, had acquired it for $100 from Oliver Spencer on January 24 1825 and it was one of two adjoining lots which Spencer had bought from Rufus Lord on November 23 1823.
While there is perhaps more than a possibility that the house was erected by Samuel Burr, it is generally known as the Dr Caleb Pierce house. Born August 6 1800 at Royalton, Vermont, Dr Caleb Pierce was the son of Bestor Pierce and grandson of Nathaniel Pierce of Plainfield, Connecticut. The family was of English lineage and descended from the Percys of Northumberland.
At the age of six Caleb came with his parents from Vermont to Potsdam. His mother, who was a daughter of Eden Burroughs, died April 4 1813 and in 1816 his father married Margaret McChesney. Raised on a farm Caleb attended St. Lawrence academy and at 19 went to Lebanon, New Hampshire, to study medicine with Dr Phineas Parkhurst and Prof. R D Mussey, both of Dartmouth college faculty. In the fall of 1822 Caleb was licensed to practice, and the next year settled in Madrid, a small village originally known as ColumbiA
Soon he joined the St. Lawrence County Medical society, of which he was later vice president and then president. At 25 he married Sarah, daughter of General James Farnsworth of Fairfax, Vermont, and of their six children one was James Farnsworth Pierce who was born April 8,1830. This son, a Jeffersonian Democrat, studied law with Pierson & Beach, Troy, graduated from the Albany law school in 1849 spent some years in Florida for his health, became a partner of Sawyer & Russell in Canton in 1857 and of Robert Sewell in New York City in 1865. In 1870 he was elected state senator from Brooklyn. On June 24 1856 he married Anna M Redington, daughter of George Redington of Waddington.
Dr Caleb Pierce resided in Madrid until his death, June 14 1887 and willed his house to his son, James, who sold it for |2,000 on the ensuing January 27 to William R Short. Short kept the property until August 15 1896 when Mrs Emma J Kelly purchased it of him for $1,600. Mrs Kelly transferred the place to her husband, Frederick H Kelly, December 1 1908. Mr Kelly raised the wing to two stories and made other alterations.
Mr Kelly died September 14 1927 giving his children, Helen J Kelly, Lauris E Kelly, F Howard Kelly and Frederick S Kelly, the place after life-use to his widow.
She died in 1935 and Lauris E Kelly and wife, Charlotte, acquired the interest of the other heirs on January 18 1937 and they conveyed it to their son-in-law and daughter, Mr and Mrs John Barnett Heaton on May 13 1946. Lauris E Kelly, for some time a Madrid feed and coal dealer, has the distinction of having been an original appointee to the St. Lawrence county A B C board. His daughter, Elizabeth Jean, who married John Barnett Heaton December 10 1943 was Madrid High school valedictorian in 1938 graduated from St. Lawrence university in 1942 and worked for the Aluminum company. John Barnett Heaton, lieutenant in the air forces with the Air Medal for meritorious achievement in many missions in the South Pacific, is the son of Mrs Elizabeth Barnett Heaton and the late Frank C Heaton, Canton jeweler who died August 5 1941. John Barnett Heaton was graduated from Canton High school in 1937 and then was employed by the Aluminum company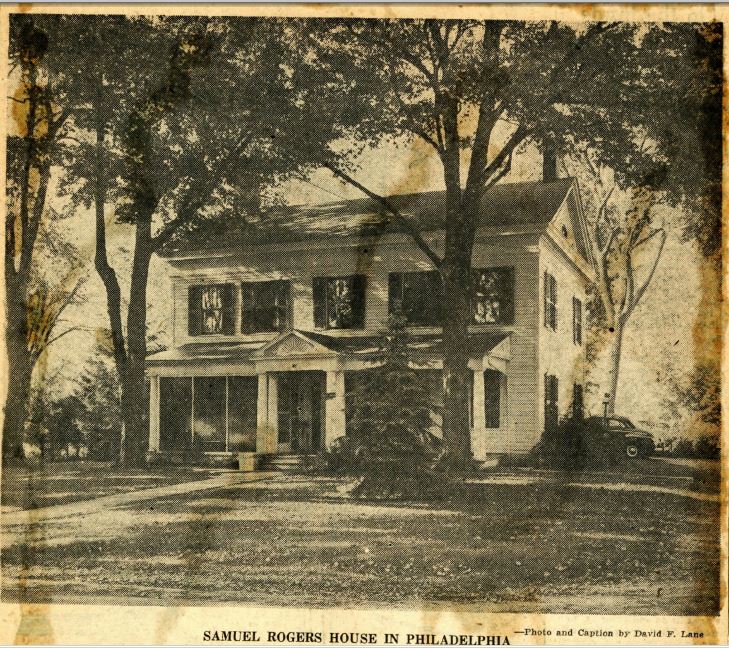 The village of Philadelphia was a Jefferson County Quaker stronghold a century and a quarter ago, and in the heart of the Quaker section, at 25 Mill Street, just off the main stem, is this beautiful old Georgian house built in 1839 by Samuel Rogers, prominent Quaker mill-owner. Both architecturally and environmentally it is one of the most attractive residences in the county, the home of Dr and Mrs Frederick F Andrew. It is a large house, which has undergone some additions and alterations with the years. Two of its three fireplaces, however, are original and the place has a general air of charm.
Born in 1797 Samuel Rogers was son of James and Deborah Smith Rogers of Marshfield, Massachusetts, and descendant of the martyr, John Rogers. Coming to Philadelphia as a surveyor in 1821 Samuel Rogers bought 350 acres at Strickland's Corners. In 1824 he married Rachel, daughter of John and Margaret Strickland. She died in 1863 and in 1866 he married Eliza, widow of Thomas Townsend, who was one of the company that bought 7,040 Philadelphia acres from James D LeRay on February 16 1804 when LeRay gave the center lot of 440 acres for
religions use to this Quaker group. Upon part of this center lot stands the present Andrew residence.
Apparently the Quakers had religious compunctions about selling the center lot, for the LeRay Monthly Meeting of Friends at Indian River 9th of first month of 1845 a committee reported that while it might not be strictly legal to do so, the meeting should be at liberty to direct Robert Townsend, Samuel G Slocum and Naylor Child, trustees, to give quitclaim deeds to settlers.
Although Naylor Child was a son-in-law of Samuel Rogers he refused to join with the other two trustees in deeding a part of the center lot to his father-in-law on January 20 1845. It must have been a conveyance legalizing a previous one made by Miles Strickland to Samuel Rogers in the same area June 1 1837 for it states that upon one of the parcels were standing Samuel Rogers' dwelling house and barn.
Samuel Rogers died March 9 1884. He had for some years operated grist and sawmills near his residence. On July 8 1885 George E Tucker and George H Rogers executors of Samuel Rogers, sold this house and over five acres of land to George Washburn. Washburn, native of Antwerp, had prospected six years in California, Idaho and Nevada and had been a farmer and hotel proprietor in Antwerp. On January 13 1891 he and his wife, Mary J Washburn, sold this house and grounds to Andrew C Comstock, one of Philadelphia's most prominent men. Besides operating grist and sawmills, conducting a hardware store serving as postmaster from 1877 to 1884 Comstock had been supervisor for all but two years from 1880 to 1888 was assemblyman in 1887-1888 and for some years was president of the Bank of Philadelphia. His wife was the former Mary M Melrose.
Andrew C Comstock did not die until February 9 1333 but on March 12 1907 he and Mrs Comstock sold this property, to Francis Marion Peck, who had been cashier of the People's Bank at Potsdam and at one time-officer of the Madrid bank. Mr Peck after retirement resided with his family in the house and on December 27 1905 his daughter, Etta, was married to Dr F F Andrew, a young dentist, native of Louisville, NY, who had just established in practice in Philadelphia the year before.
Mr Peck's will, recorded September 14 1922 gave all of his property including this residence to his daughter, Mrs Andrew, the present owner, and in a part of the house Dr Andrew has his offices. Dr and Mrs Andrew have long been prominent in civic life. He was the organizing master of Philadelphia Lodge, No. 916 F & A M, was district deputy grand master of the Jefferson-Lewis Masonic district in 1919-1920 and was made president of the Philadelphia Historical society in 1942. Mrs Andrew is past matron of Philadelphia Chapter, No. 646 OES and is active in the Congregational church. They have two sons, Kingston and Paul.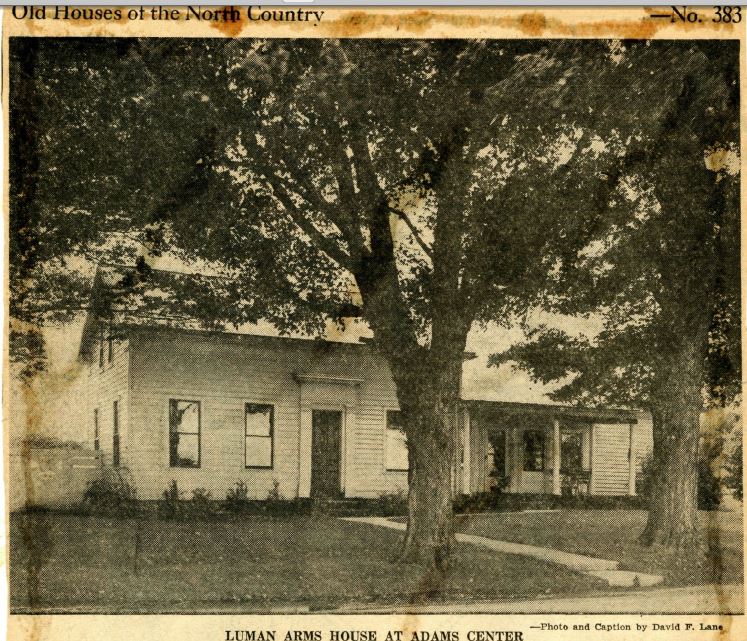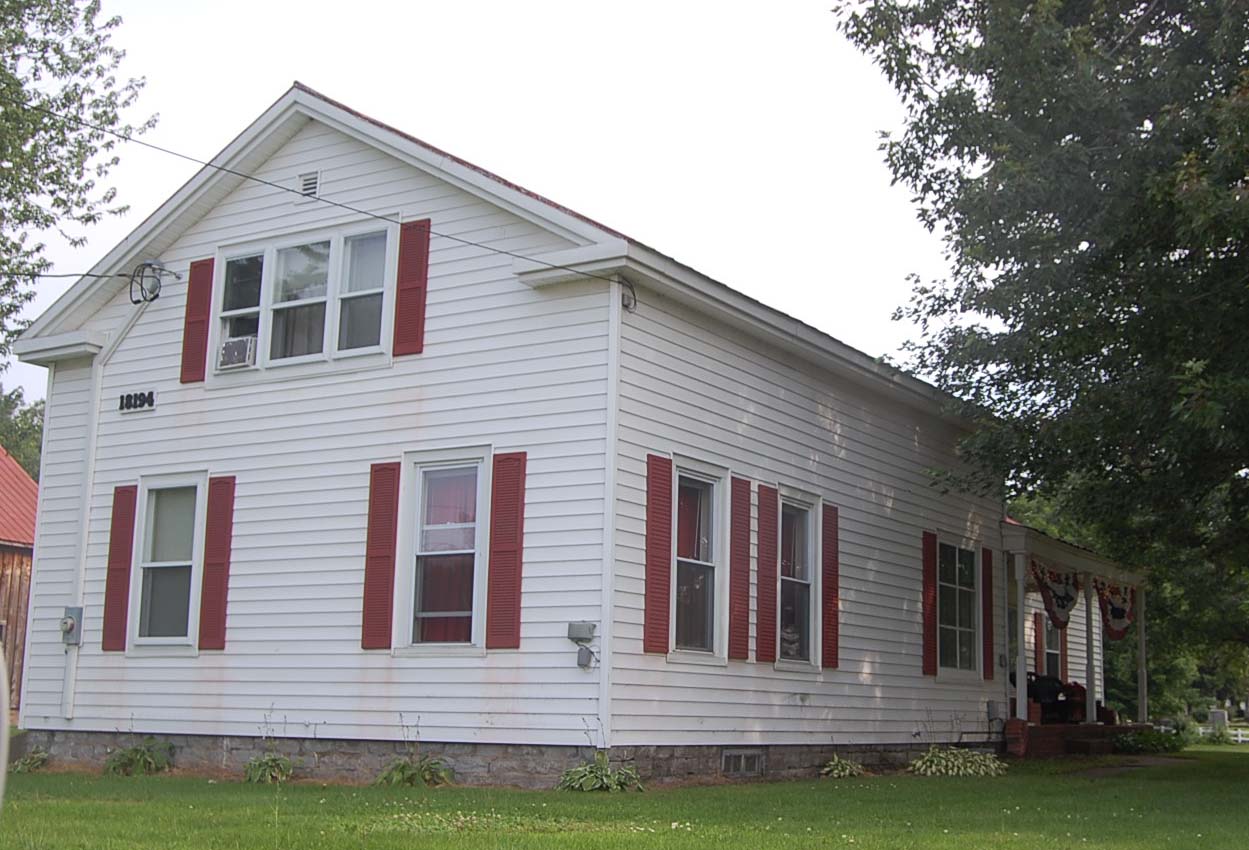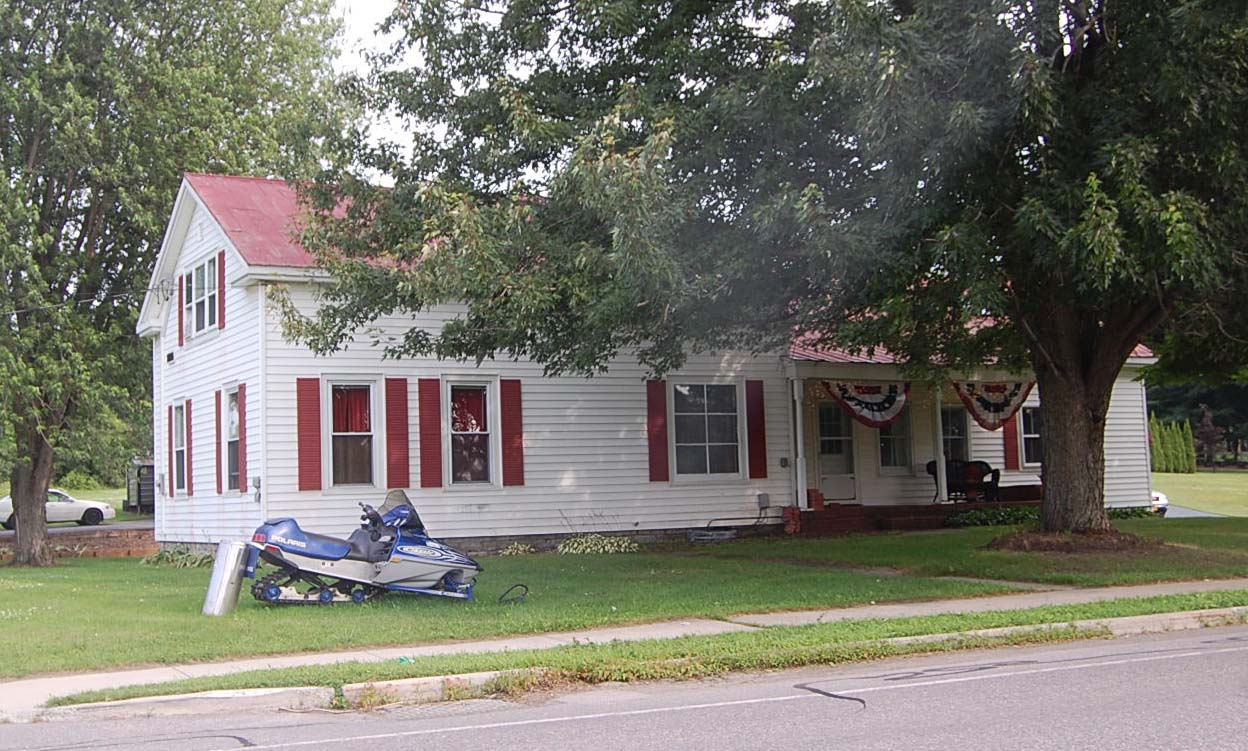 On the southern outskirts of Adams Center, and adjacent to that community's Union cemetery is this attractive little Georgian house, residence of Mr and Mrs D Fuller Griggs since March 31 1945 when they purchased it of Mr and Mrs Riley Harrington. It is located on Sand Street and is claimed by its owners to be 125 years old, oldest house in that community. Its type and appearance do not belie that claim, but its early record appears to be more or less legendary.
On May 31 1922 it was acquired by Riley and Florence B Harrington from Albert G and Lillie Sweeny, and they purchased it on May 19 1921 from Leon M Whitford of Melrose, Massachusetts. He in turn got it from his mother, Salina Bunce Whitford on December 18 1918 and to her it was conveyed by Nellie G Oatman on October 6 1904. She purchased it from the heirs of Horace G Green on May 25 1903 Mr Greene having purchased it from Justus H and Charlote Kenyon June 18 1884. Mr Kenyon purchased it from Luman and Elizabeth C Arms on March 1 1871. From there backward the record fans out. The description of the property set forth in a deed from Hamilton and Melinda Dickerson to Luman Arms on September 17 1842 of 68.37 acres, less 26-1/2 acres which Reuben Warririer had sold to Simon Hart, and also excepting the dower rights of Warriner's widow, in all probability included this Griggs' property. That Dickerson property definitely was conveyed to Melinda Dickerson by Samuel W Richards on April 30 1841 and Richards purchased it from Daniel Bealls of Watertown March 7,1832.
On August 8 1917 The Watertown Daily Times carried a story based on an old scrapbook which stated that in 1824 Luman Arms rented a hotel on Sand Street where Justus Kenyon now lives. That would date the scrapbook clipping prior to June 18 1884 when the Kenyons sold the property to Horace C Green. Mr Griggs is authority for the statement that a double log cabin known as Warriner's Inn frequented by War of 1812 soldiers, stood on his house site and was moved back where his barn now stands to make room for a frame house. Before the house was finished Arms acquired it, and completed it in 1824 he relates.
This is doubtful. It is more likely that Arms rented the place as The Times article states. At any rate it was probably the first frame house in Adams Center.
Luman Arms, son of Lemuel and Sarah Arms, was born at Deerfield, Massachusetts, on August 30 1794. With his parents and three brothers Luman made a 31-day journey through the wilderness via the Mohawk valley and Redfield to this section in the fall of 1804. At the outbreak of the War of 1812 Luman Arms served with the militia at Scotch Settlement. In 1814 he served two months at Sackets Harbor and worked also getting out timber for the frigate New Orleans.
In 1816 he and his brother, Hiram, made the first settlement at Adams Center; In 1820 Luman married his cousin, Caroline Arms, and one of their children, W D Arms, who became a prominent Adams merchant, was supervisor of the town from 1881 to 1895. Of that time he was chairman of the board five terms. Luman Arms built the first schoolhouse in Adams Center in 1820. He and Hiram built two other schoolhouses and 22 other buildings after that. They had the first blacksmith shop in Adams Center and for 25 years made wagons.
A daughter of Luman Arms, Mrs Gertrude Arms Heath, widow of Charles Heath, was born October 15 1845 and died in Rochester last summer aged 103. She is buried in Union cemetery.

Mr Griggs, son of Mr and Mrs Daniel F Griggs of Adams, is a graduate of Adams High school, and of Amherst college in 1937. He is a real estate broker. On July 4,1944 he was married to Miss Shirley Louise Pierce, Cornell Phi Beta Kappa '43 daughter of Mr and Mrs Loren E Pierce of Cooperstown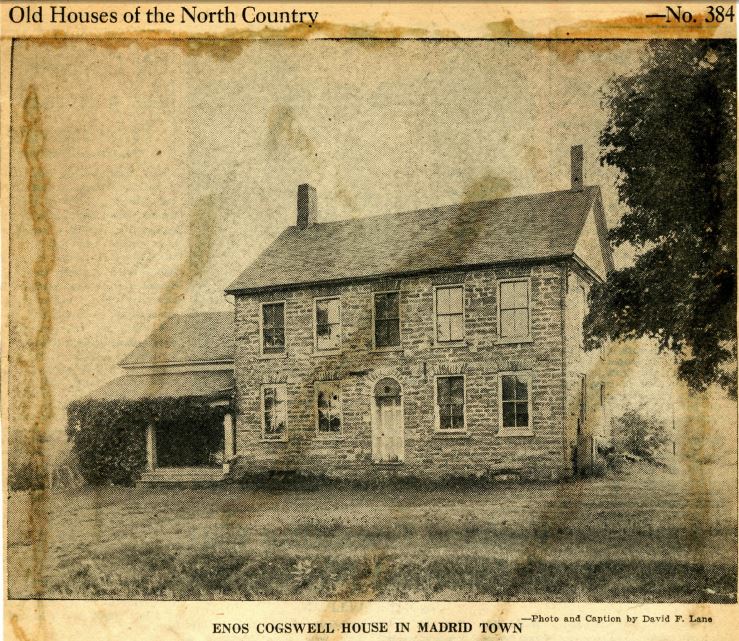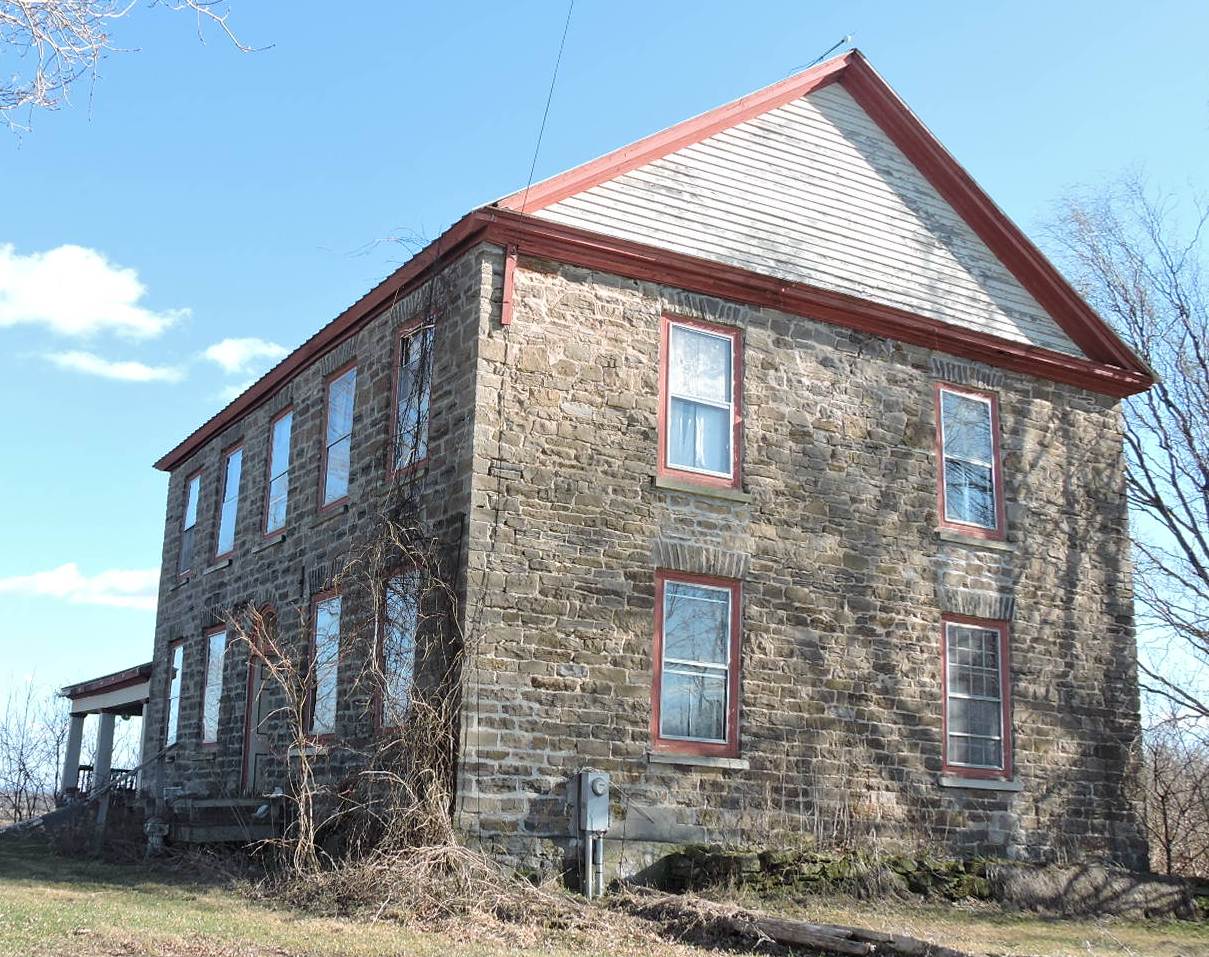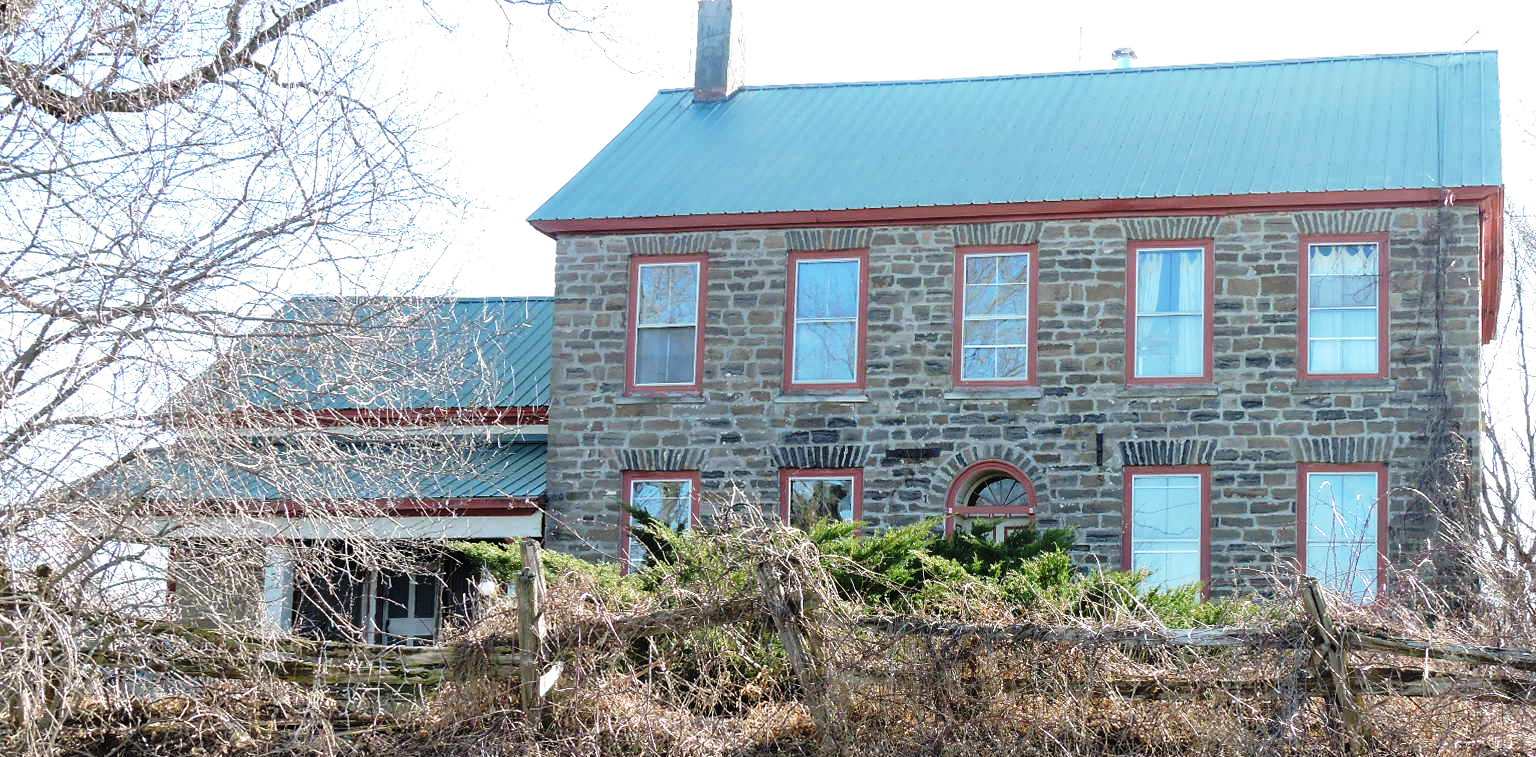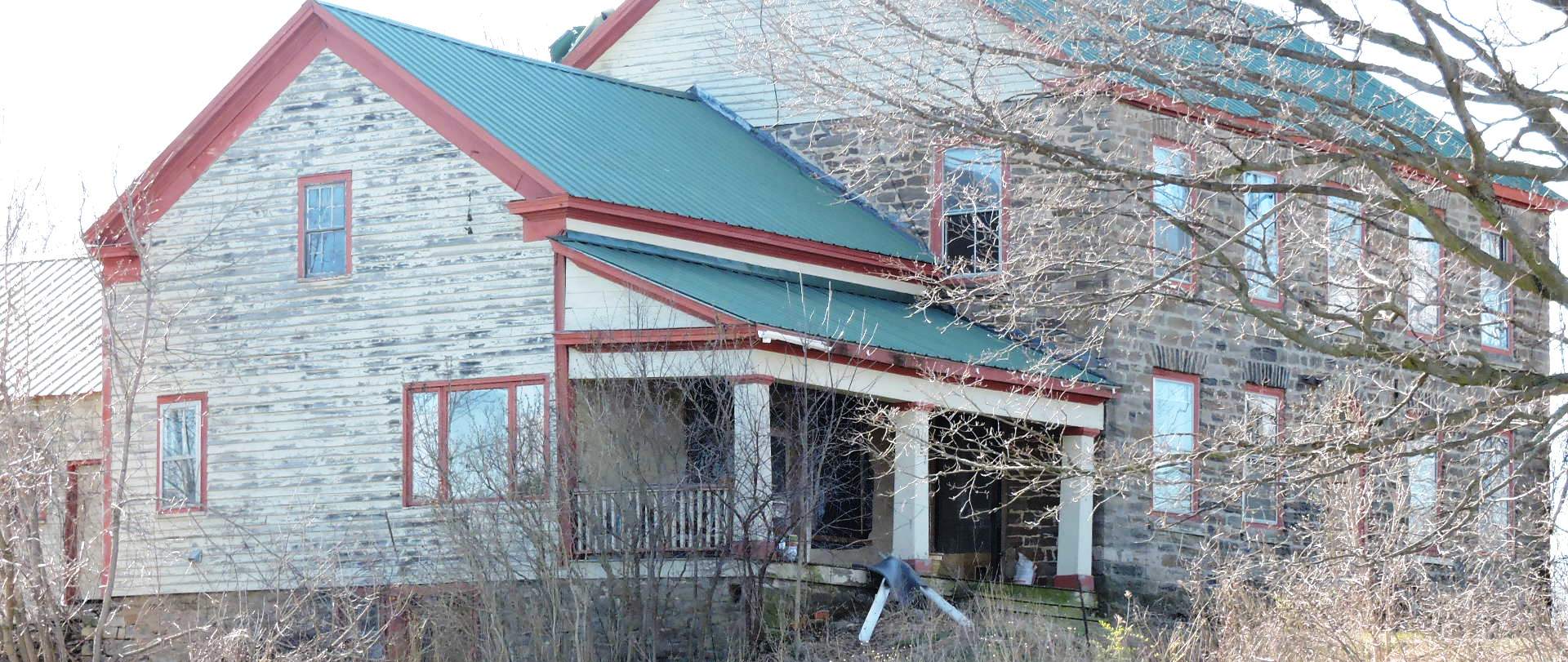 Generally known as the Enos L Cogswell house, this impressive 15-room native sandstone house on the Pine Grove-Madrid road, is at least 105 years old and its construction indicates that it may be much older. Since August 22 1936 it has been owned by Harold B Carkner and his wife, Alta M, who claim 156 acres in their farm. This is made up of several parcels.
One parcel of 43 acres is part of 54.28 acres which Enos L Cogswell bought from the estate of Landowner Joshua Waddington on June 12 1851. Another is a 50-acre parcel which Thomas L Ogden, another North Country land speculator, sold to Chauncey Rice on April 26 1814 while a third consisted of what remained of a 66-acre parcel, sold by Thomas L Ogden to Levi Cole on May 5 1817 after ten acres and a small chunk had been disposed of.
The record shows that on July 12 1842 Enos L Cogswell bought 95.11 acres from Thomas L Ogden and if this house was built by Mr Cogswell, it is likely that it was completed within the next two years. The 50-acre lot bought by Chauncey Rice April 26,1814 was conveyed by Rice to Thomas Wright April 10 1820 for $300. On May 5 1817 Thomas L Ogden sold the 66-acre parcel to Levi Cole, who disposed of it to Thomas Wright November 11 1819 for $700. Wright sold off ten acres of the latter to Tartas Montgomery March 13 1840 for $150.
Enos L Cogswell died April 14 1896 and in the partitioning of the estate by his heirs the 43-acre parcel was acquired by William H Phillips December 27 1898 for $430. After a round-robin of ownership in his family it came back to him March 22 1924. He died December 22 1925 leaving his property to Hazel Cogswell, but the estate sold this parcel to Ross F Segar March 30 1926. He conveyed to Weltha P Segar May 17 1932 and she sold to Mr and Mrs Carkner August 22 1936.
On April 24 1886, Enos L Cogswell and.second wife, Elmina C, sold the 50-acre tract and that part of the 66-acre tract east of the highway to Seth L Cogswell, son of Enos, for $2,500. On April 24 1884 Enos had sold the part of the 66-acres west of the road plus ten acres east of the road to Margaret, wife of Seth L Cogswell, for $600. She died intestate September 26,1886 and her purchase of these lands was acquired by Seth from her estate. He eventually sold entire holdings in the farm to William H Lenney on January 4 1909. Mr Lenney and his wife, Catherine, conveyed to Edward C and Ross F Segar August 25 1923.
Ross deeded his interest to Weltha P Segar May 17 1932 and on August 22 1936 she sold to Mr and Mrs Carkner who purchased Edward C Segar's interest September 8 1936. Enos Loomis Cogswell, born June 14 1804 in the town of Sherlock, Vermont, son of Seth and Hannah Martin Cogswell, at the age of three came with his parents to the town of Madrid. Seth had first come there and built a cabin in 1805 near the site of the present stone house. In March 1806 he returned with his hired man. In the spring of 1807 he brought his family. In the fall of 1814 the British soldiers raided his farm and took a team of oxen.
When the Republican party was formed, Enos L Cogswell who had been a Democrat, joined the new organization and held a number of town offices. He was a founder and active member of the First Universalist church of Madrid. He first married Celinda E Gibbs February 16 1831 and had four children, one of whom was Seth Loomis Cogswell. On June 12 1879 Enos L Cogswell and his second wife, Elmina Bailey Cogswell, whom he had married September 7 1856 his first wife having died February 19 1852 moved to the village of Madrid where he purchased a house and ten-acre lot. At that time he left the operation of the farm to his sons.
Seth Loomis Cogswell, born December 8 1850 first married Maggie Martin of Winchester, Ontario, and had two daughters. Second he married Alice E, daughter of William Phillips and had a daughter, Hazel R. Mr Cogswell was a prominent farmer, marble and nursery salesman, agricultural implement and carriage dealer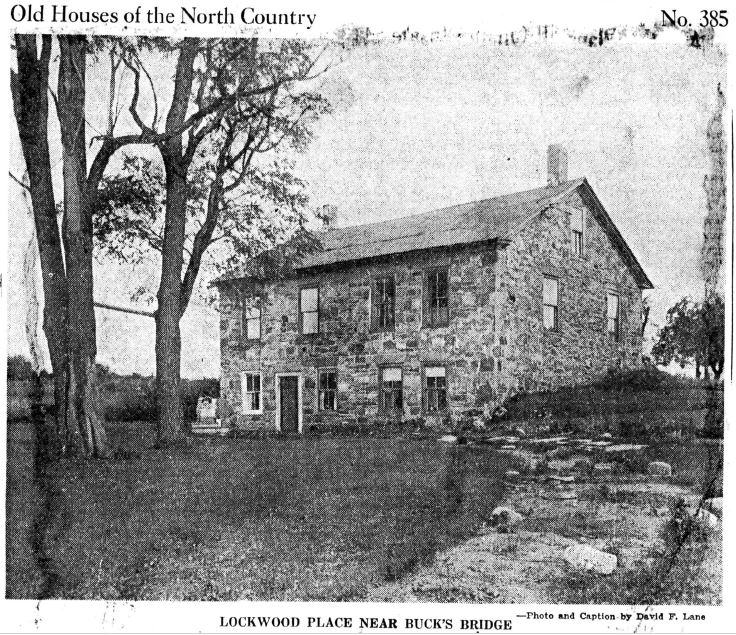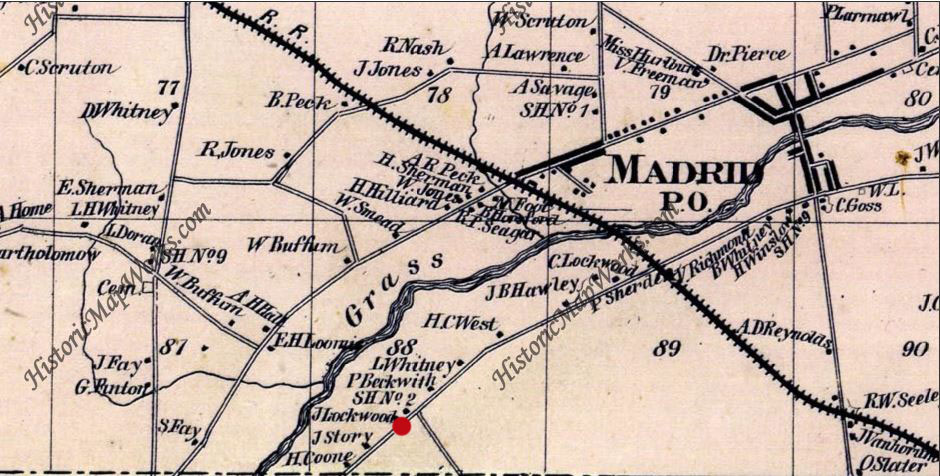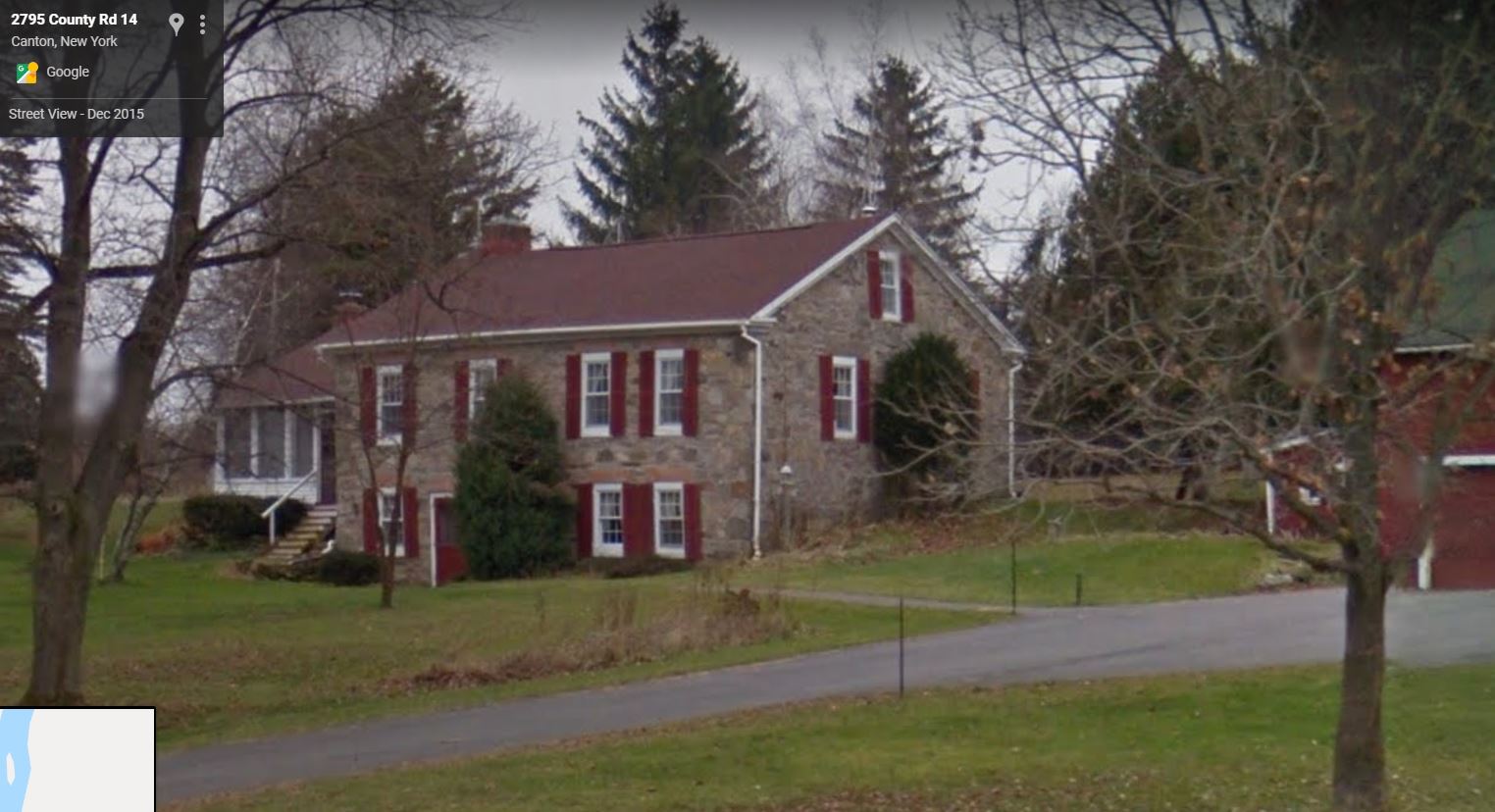 Rugged but attractive in appearance is this ancient native stone house a few miles outside of the village of Canton. It is near Buck's Bridge between Madrid and Morley and the vista that spreads down in front of it over the highway and across the Grasse river flats is one of tlie most beautiful in the north country. The title record of the property does not give a true hint of its age, but the construction and architectural type of the house with entrances on two levels indicates that it may well be near 140 years old. The present owners, Prof. William Dwight Weed and wife, Mrs Barbara Ann Weed acquired only 3.06 .acres of the original farm when they purchased the house from Garth T and Vesta C Allen on July 23 1918. Located on the "Ogden Tract" where. Isaac. Buck built bis cabin in 1805 to start the Buck's Bridge hamlet, this farm consisted of 205.93 acres when Jonathan, David and Thomas L Ogden sold it on September 25 1809 to Robert McEwen for $1,190.78.
Included in that parcel is 110.72 acres, from which Mr McEwen and his wife, Olly, conveyed back 09.53 acres to Thomas L Ogden on April 2 1835. Ogden on October 8 1810 conveyed the latter piece to William McEwen under contract of November 10 1835.
Another parcel of 07 acres from the 116.72-acre plot Robert McEwen and wife conveyed to William McEwen on October 1 1823 for $556.95. Next on March 29 1852 William and Susan McEwen sold the entire 110.72 acres to David White for $2,350 and two days later David and Laura White, disposed of the same to Silas H Clark for $2,700. Clark conveyed it to John Murray Lockwood for $2,334 on April 24,1852.
Lockwood retained the property until his death on May 21 1903 when it went to his children, Florence W Witherbee, Mary E Dowd, Lewis H Lockwood, Delia E Lockwood and Louisa M Lockwood. On December 9 1915 Mrs Witherbee and Mrs Dowd deeded their interest to Lewis H, Delia and Louisa M Lockwood. Delia died November 29 1922 leaving her interest to Louisa M and Lewis H, and when the latter died March 3 1933 he left his property in trust with power of sale to his nephew, Carl M Witherbee, of Canton.
On December 4 1913 Louisa M Lockwood sold the place to Mae H and Edithe Westaway, who also got the Lewis H Lockwood interest from his executor on the same date. The Westaways held the property until March 28 1944 when they sold it to Garth T and Vesta C Allen. The Misses Westaway, like the Lockwoods, were from an old family of that section of the town of Potsdam, being the daughters of John and Betsey Westaway. The Lockwood family owned this old house for 91 years, the two maiden sisters, Louisa M and Delia, and their brother, Lewis H, residing there together as long as Delia and Lewis H lived. Then Louisa M continued in the old house alone for ten years. Three years after she sold it she died on December 4 1946 at the age of 88. In the house both she and her sister, Florence, were born and .the later was married there on January 26 1881 to Charles M Witherbee. They became the parents of Carl M Witherbee of Canton, for some time vice president of the. Canton Savings & Loan association
Professor Weed, who, with his wife, owns the housed is associate professor of sociology at St. Lawrence University and received his education in Ohio State univerisity and Northwestern University. He and Mrs Weed are restoring the house and grounds for their own occupancy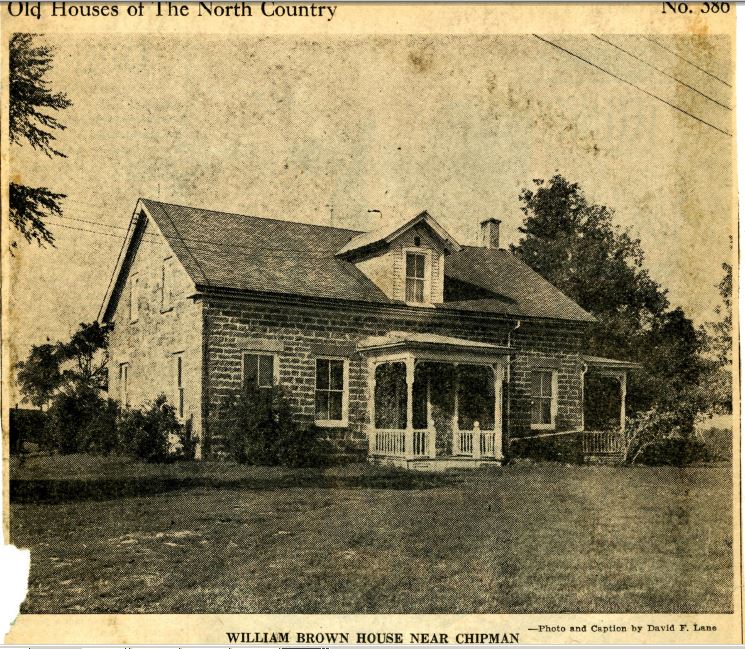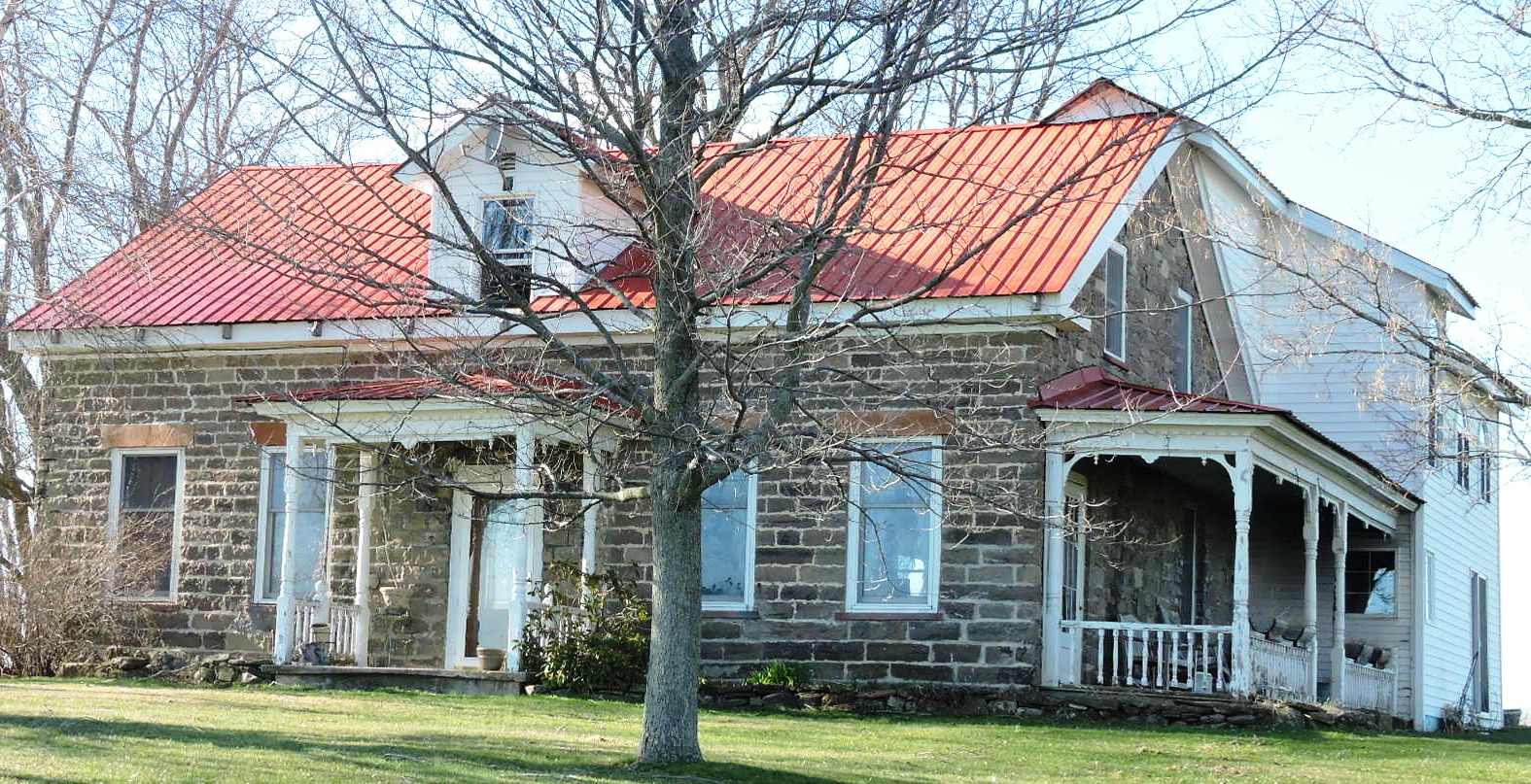 On the Pine Grove-Madrid road near Chipman in the town of Waddington, St. Lawrence county, is this attractive cottage-type native stone house, which is slightly over a century old and is owned by Earl J Porteous along with about 200 acres of land.
Located in one of the old Scotch settlements of St. Lawrence county the record of ownership of this house and farm has been Scotch down through the decades and the place has been maintained in neat and ship-shape order down to the present time.
It was on December 1 1840 that Joshua Waddington, the north country land baron for whom the town was named, sold a parcel of 72.42 acres of land to William Brown. On April 21 1849 the executors of Waddington's estate sold an adjoining parcel of 81.75 acres to Brown.
William Brown died September 10,1862 leaving his homestead farm to his son, Hugh, except for 20 acres on the west side which he willed to his son, David. But ten years before that, on March 2 1852 William Brown and wife, Jane, conveyed 51.51 acres along the entire west side of the two parcels which he had purchased from Waddington, to his son, Samuel. Samuel Brown died September 14,1858 leaving Margaret, his widow, and Sarepta, his daughter, and on April 29 1886 Sarepta Rutherford and Margaret ierr deeded 40.64 acres of the 51.51-acre tract to Nelson Rutherford. To him also on the same date went 1.6 acres from John A and Emma M Brown along the East side of the homestead farm.
On December 18 1889 John A and Emma M Brown sold 101.06 acres of the two original parcels to Lewis F Rutherford for $4,000. On December 29 1894 Nelson and Agnes Rutherford and Lewis and Lottie Rutherford transferred 124.9 acres of the property to Mary R Porteous and David William Porteous, the latter being the father of the present owner. David William Porteous died in this house on January 11 1945 and on October 19 1948 his widow died. Since then their son, Earl J Porteous, who was born there, has had full title, except for 17 acres sold off the south side of this homestead farm by David William Porteous and wife and Mary R Porteous to John Hobkirk for $350 on January 10 1899. Hobkirk, son of Adam J and Christian Riddle Hobkirk, came from Scotch parentage like the other owners of this place.
David William Porteous, son of Joseph and Mary Rutherford Porteous, was born in Chipman February 7 1873 and on June 25 1897 married Elizabeth Walker of Chipman. Samuel Porteous, born in Scotland in 1785 was a stone mason who laid the dam and some of the stonework for Judge David B Ogdens on Ogden island 135 years ago.
Nelson Rutherford, one of the owners of this property, was born in Waddington June 6 1827 son of George and Isabella Rutherford, who were among the first settlers of the town. Nelson Rutherford married Agnes Fisher of Madrid. One of their children was Lewis F Rutherford, who was another owner of this place. Lewis F Rutherford was born in Waddington March 10 1860 and was some years later married to Xharlptte Young. Nelson Rutherford's father, George Rutherford, was born in Scotland December 30 1798 and was only two years old when he came to the town of Waddington with his parents.
The house contains eight rooms and one fireplace, which is closed up. Not only have the owners of the property been Scotch but practically all of them have been Scotch Presbyterians.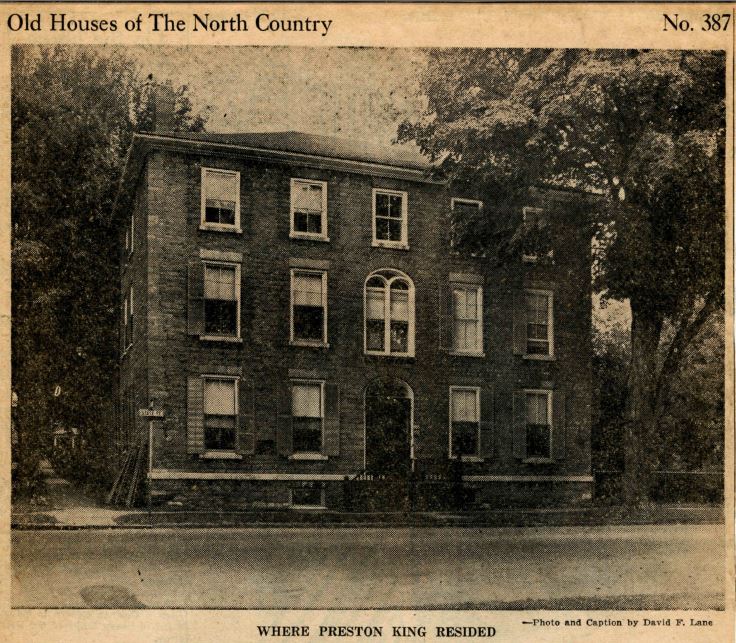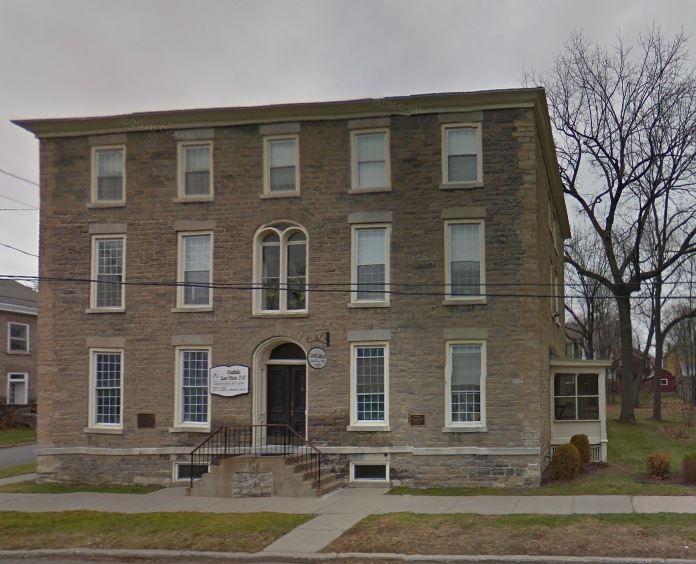 This large, three-story native stone mansion now operated as a tourist home by Mrs Marie E Bridges at 602 State Street, corner of Jay Street, in Ogdensburg, bears a bronze plaque upon the front which reads: "This house was built 1800 was the home of Preston King, member of assembly 1835-1838 member of congress 1843-1853 U S Senator 1857-1863 Presidential Elector 1865 Collector of Port of New York 1865."
A founder of the Republican party in 1856 a political lieutenant of Gov. Silas Wright and President Martin VanBuren, he was responsible for nominating Andrew Johnson running mate of Abraham Lincoln. An outstanding figure of his time in the federal government, Preston King is one of the great men in national history. He was born in Ogdensburg October 14 1806 son of John and Margaret Galloway King. Preston was but a small child when his father, one of the earliest Ogdensburg residents, representative of the land-owning firm of Ogden & Ford, died. John King's prominence is indicated by the fact that in 1802 he was the first Fourth of July orator in Ogdensburg. When he died, he left a small trust fund for his son, with Louis Hasbrouck as guardian.
Preston King attended the Ogdensburg public schools, St. Lawrence Academy in Potsdam, was graduated from Union college with highest honors in 1827 studied law with Louis Hasbrouck and Judge John Fine, became editor of the St. Lawrence Republican, a Jacksonian newspaper in 1830 was appointed postmaster in 1832 was village trustee in 1833-1834 became involved in the Patriot War and its Windmill affair in 1838 and then moved to state and national prominence. He never married. Subject to spells of melancholia he ballasted himself with 25 pounds of gunshot and jumped off a Hoboken ferry boat to his death on November 12 1865 a few months after becoming collector of the port.
St. Lawrence county records would seem to disprove the building of this house in 1800 for on September 9 1826 George Parish sold a part of the site to Hezehiah Wright, who deeded it to Adaline Denny June 26 1828 and June 25 1829 she bought the balance of the site from Parish. References show she married Elizur Goodrich Smith, who later, with other members of the family, disposed of this place to James W Ripley. Ripley and wife, Sarah, sold to Robert J Marvin September 22 1853. On October 23 1853 Marvin and wife, Achsah, conveyed the south part to Amaziah B James and the north part with house to Rawlings Webster.
It was long known as the Webster house. On September 11 1854 James sold his part to Simeon Smith who with wife, Jane, deeded to Preston King December 27 1859. On February 2 1860 King bought the Webster part. Preston King died without lineal descendants. Mrs Martha Galloway, aunt of Preston King, deeded her interest in the property to her daughter, Margaret Webster, wife of Rawlings Webster November 27 1865. Margaret deeded it back to her mother, August 22 1866 and on December 24 1866 a partition suit was started resulting in sale to Mrs Webster June 12 1867. Mrs Webster sold to Jane Smith July 15 1876 and December 22 Mrs Smith sold to W Allan Newell as trustee of Jane Elizabeth Smith and Margaret Janet Bridges. As such trustee Mr Newell transferred to Jane Elizabeth Smith on September 25 1914. On October 14 1914 Mrs Smith transferred to Mrs Marie E Bridges who conveyed a joint interest in it to her daughter, Mrs Margaret Carlisle, August 18 1948.
Mrs Carlisle, the former Margaret J Bridges, graduated from St. Lawrence university in 1926 and June 6 1928 married Richard W Carlisle, graduate of M I T and nephew of Maclyn Arbuckle, great American actor. Mrs Carlisle's father- was the late Captain Harry W Bridges, U S A She comes from proud old Ogdensburg stock on both sides including Dr Zina B Bridges, one time mayor, and Dr Elisha H Bridges, who were members of her Bridges family.
Mrs Jane Elizabeth Smith, born in Ogdensburg October 15,1818 married Simeon Smith, 40 years paymaster in the U S Army. Mrs Smith, aunt of Mrs Marie E Bridges, lived to be over 104 years old and for some time resided in this house with Mrs Bridges. The house is a distinguished north country mansion.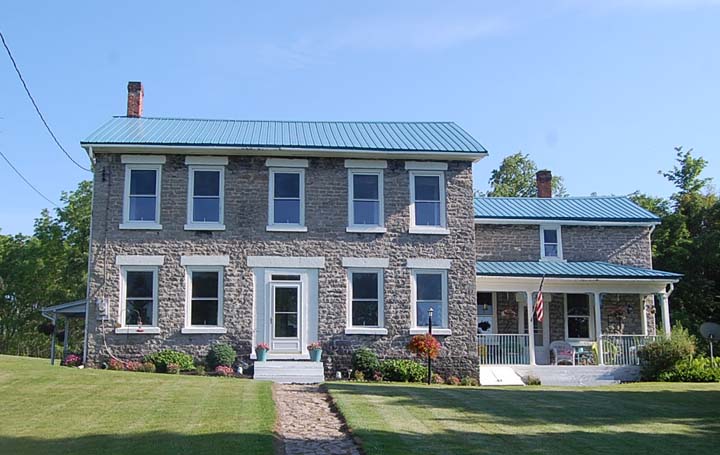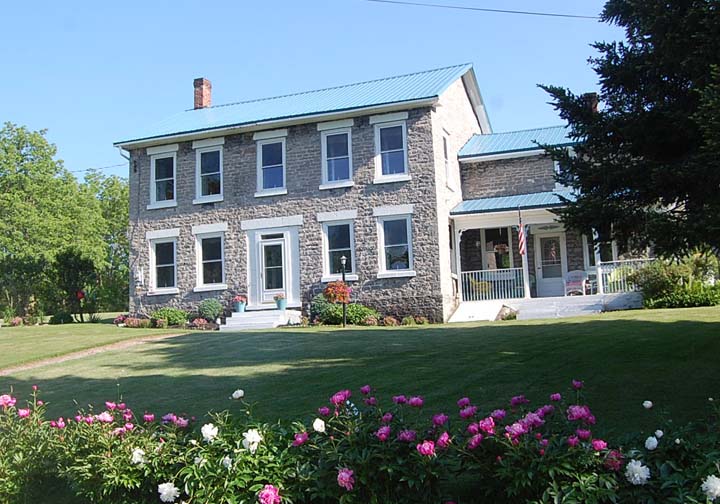 Glenn J Montague, Henderson lumber dealer and former Henderson Harbor fishing guide, with his wife, Mrs Jessie N Montague, a Henderson Central school teacher, owns this fine old native limestone house. It is located on Water Street on the south side of Stony creek just across from where Deacon Fellows built the saw and grist mills which started settlement of Henderson village, originally Salisbury's Mills, in 1807. It also was near the mill of the old Henderson Woolen Manufacturing company organized in 1814.
Both the upright and the wing of the big house are of stone. Up the east end of the house from the basement extends a large chimney, which provides draught and smoke-flue for the original fireplace. This fireplace is still in use, except for the old bake-oven which has been closed up for many years.
Member of one of the oldest and most prominent families of the town of Henderson, Mr Montague and his wife acquired the property from Mr Montague's father, the late Herbert E Montague, along with about 1 ]/4 acres of land on November 12 1932. Herbert E Montague, who died October 10 1937 aged 78 was a son of Justus and Emily Bulfinch Montague. Justus Montague, born in Henderson in 1825 was in turn a son of David and Elizabeth Hungerford Montague, and David, son of Adonijah and Mary Simonds Montague, was born in Pawlet, Vermont, in 1795. Adonijah, one of the earliest settlers of Henderson, was born in Sunderland, Massachusetts, in 1757 moved to Bennington, Vermont, with his parents and fought with the Colonial army in the Battle of Bennington.
Herbert E Montague bought this old house March 23 1915 from William H and Maria Reese of LeRay, Mr Reese having bid it in February 23 1915 at mortgage foreclosure sale, Edward L Everson, the former owner having acquired it on March 5 1914 from Mrs Helen Jane Green. By the will of her husband, Lyman Green, recorded July 11 1912 and by conveyance from the other heirs of his estate Mrs Green obtained title to the property. Mr Green had purchased the place from Clara L Snow and husband, Goodwin M, on February 15 1908 and in a partition sale April 7,1905 Mrs Snow had purchased the interests of the other heirs of her mother, Mrs Laura Barney.
Mrs Barney was the wife of LaMort M Barney, who was the son of Dr Lowery Barney, early Henderson physician and friend of Confederate General Stonewall Jackson. Mrs Laura Barney was also the daughter of Heman L Reed, and the house went to Mrs Barney's children June 1 1882 upon the recording of her will. She in turn had secured title April 26 1879 from the other heirs of her father, Heman L Reed.
On July 15 1844 Heman L Reed, Massena, had purchased the house, and grist mill across the road from it, from Samuel H and Lucy Weeks and on November 20,1865 Mr Reed sold the mill to Luther M Fillmore and George W Finney.
Back of 1844 it has been difficult in the time available to trace the ownership of this venerable house, which unquestionably is considerably over a century old. A deed to 5.95 acres of land from Frederick White, the early Sackets Harbor tavern owner, and wife, Mary B White, to Jonathan Bullard and Emora Sprague on September 5 1825 contains landmarks in the description which may at least embrace the site of this house. Alonzo Sprague quitclaimed to Emora Sprague his interest in the property March 26 1831 and the ensuing June 27 Bullard transferred a part of the property to Emora which is described in the 5.95-acre parcel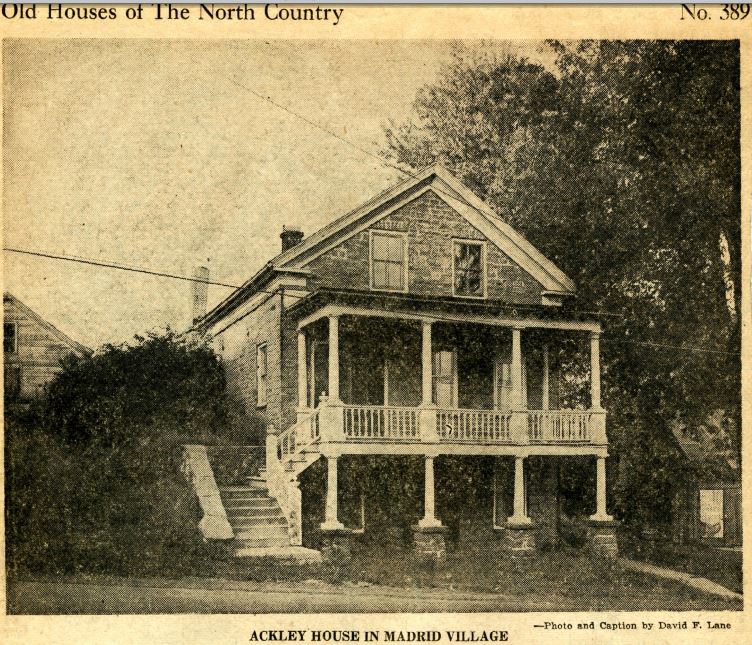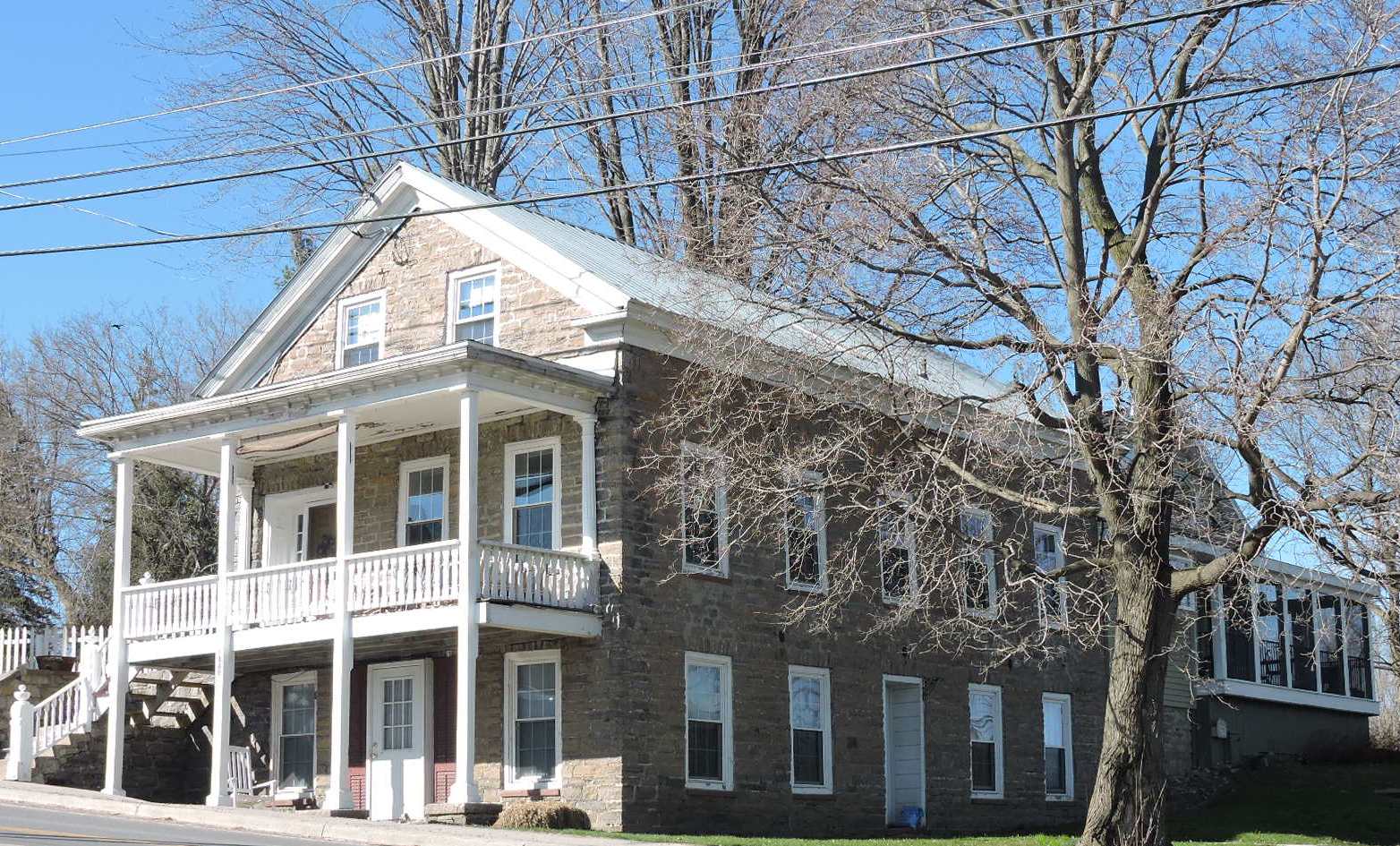 Over the entrance to the first floor of this three-story native blue granite house in the business heart of Madrid the date 1843 is engraved in a piece of marble indicating the year of construction by G W Ackley, the master builder. The old stone grist mill, which goes with the house, was built in 1856 by Hiram Horton to replace the old mill, which had been destroyed by fire that year and which had been erected by Timothy Reed sometime following a fire in 1814 which in turn had wiped out the old, original historic grist mill constructed by Seth Roberts in 1806.
That original mill was one of the first industrial plants in Madrid and was constructed when the community was known as Grasse River Falls. A little later but prior to 1812 the name was changed to Columbia Village and some years later to Madrid.
Jarah or Jerah Meach, who operated a small store in the community prior to the War of 1812 owned the mills at the time of the 1814 fire, having acquired a part of the property from Chauncey Rice October 1 1810 and the dower interest of Rice's widow, Esther, July 11 1814. Meach had bought another part containing the grist mill from Asa Lord October 8 1811. Transactions involving the property followed between Jerah and Ezra Meach and Barnabas Holmes. Then Holmes sold it to Timothy Reed, said to have rebuilt the mills some time after the fire of 1814. Reed became involved financially and May 1 1821 conveyed the property to Hiram Safford. On March 20 1823 Safford and wife, Charlotte, sold half of the property to Hiram Horton Sr, who purchased the other half from them September 16 1823.
When Hiram Horton died he willed his property to John and Hiram Horton Jr, and John and Charlotte Horton sold a half interest to Hiram Jr, September 25 1838. On February 10 1849 John and Hiram Jr, sold the lot 30 x 65 feet where the house stands to George W Ackley. Ackley disposed of it to Ira Hawley, who sold to Joseph Whitney January 21 1853. Frederick H Fuller bought it of Whitney November 20 1857 and sold the house to John Oliver December 17 1859. Both Fuller and Oliver had mortgaged the property to John and Hiram Horton. Hiram acquired full title on foreclosure May 8 1861 and sold the house, grist and saw mills with other lands to De Witt C and George M Douglass for $20,000 January 1 1865.
That partnership was settled July 28 1871 by George M deeding his interest to his brother, who conveyed the house, grist mill and other lands back to George M on October 1 1872. For benefit of creditors George M Douglass made a general assignment to Elias Nichols February 11 1887 and Nichols conveyed as assignee to William B Maloney June 10 1887. On May 6 1893 the house and grist mill properties were separated, William H Hall acquiring the house. Bela B Smith, Heuvelton, bought a half interest with him in the mill, operating it under the name B B Smith & W H Hall. Mr Hall conveyed the house to his wife, Agnes E Hall, April 15 1910. Mrs Hall died December 1 1912 leaving her property to her daughter, Miss Edith M Hall, who after the death of her father in 1913 bought the Smith interest in the mill property, which she rented until November 1 1919 when she entered into a partnership with her cousin, William E Stanley Tennant, a member of the famed Princess Pats in World War 1. They operated the mill until he died March 28 1948. On March 1 this year she rented the mill, closed the house and now spends her winters in Oxford, NY
Miss Hall graduated from Potsdam State Normal college in 1900 taught several years in this state and North Carolina, toured North America, had a federal statistical position in Washington, D C, five years, served in the Madrid bank and has been assistant postmaster of Madrid. An ancestor came to New England on the Mayflower's sister ship, Renown, about 330 years ago. She is an ardent feminist and in her sturdy old mansion are many exquisite family antiques that came from Vermont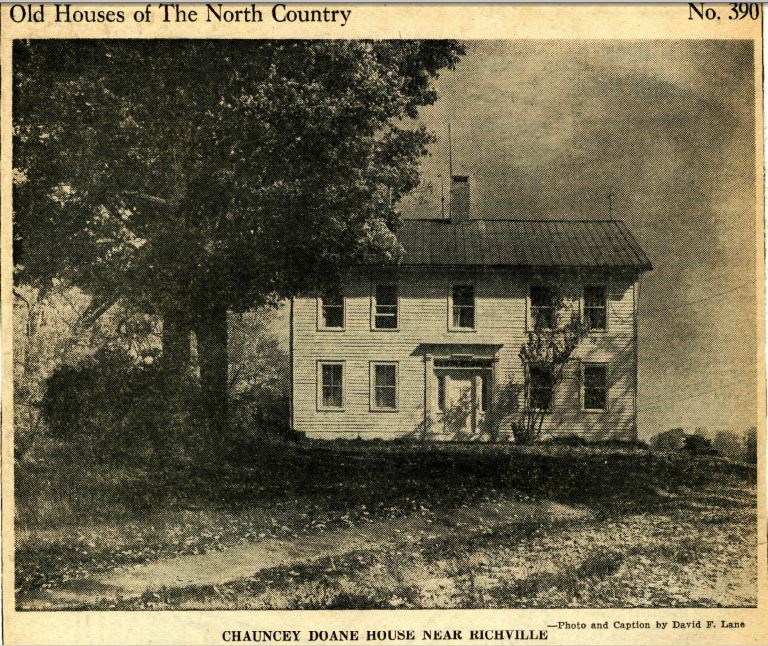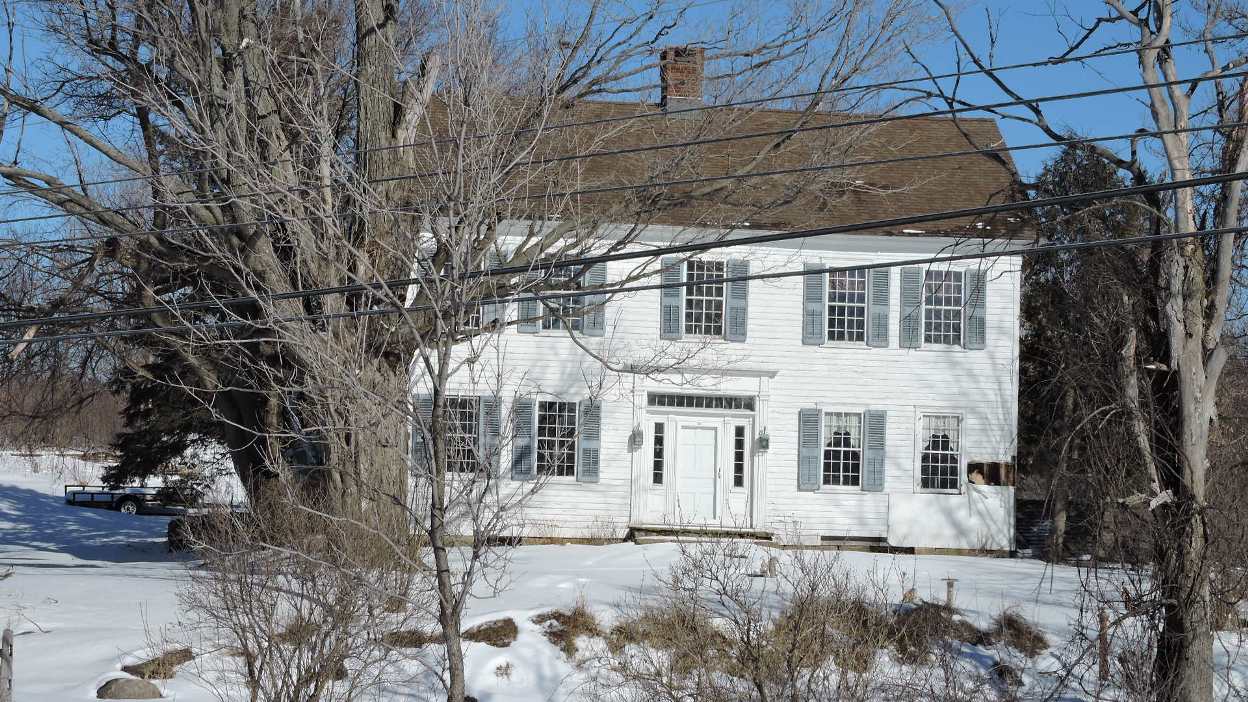 Spotless and gleaming in its new dress of white paint this example of Georgian architecture, with its handsome central doorway and original front door, a short distance above Richville in the town of DeKalb, constitutes one of the most beautiful farm houses in northern New York. Believed to have been built about 1831-1832 for Chauncey Doane, farmer and owner of one of the earliest of North Country cheese factories, the property and its approximately 170 acres of land has been possessed by the Spooner family for the last 59 years.
Atop a lofty knoll well back from the state highway between Watertown and Canton, it has three large fireplaces clustered around the big central chimney to warm the eleven large rooms of this staunch old house now owned by Mrs Harriet Seavey Spooner of Richville, and operated by Mr and Mrs Bernard A Raymo,tenants. The first parcel of land in this farm consisted of 100 acres purchased March 1 1831 by Chauncey Doane from Lloyd S and Susan Danberry for $400. On June 8 1843 Marshall Allen and wife, Belinda, sold an adjoining 39.69 acres to Chauncey Doane for $152 while on December 5 1848 Harlow and Mary Ann Godard disposed of a half acre next to the Doane cheese factory to Doane for $35. A fourth parcel of 88 acres was bought by Chauncey Doane from Mrs Susan Danberry for $616 on April 17 1849. These four parcels made a total of 228.19 acres.
Chauncey Doane or Doan died January 7 1862 and on December 2 1865 Martha A Cross, wife of Onslow Cross, and Onslow Cross, apparently heirs, sold their interest in the four parcels together with other lands to Chauncey W Doane.
That the Gardner family, antecedents of the late Charles O Gardner and his wife, the former Caroline Gardner, native of Richville, whose father was Elon G Gardner and mother was Caroline Doane Gardner, is evidenced by the transfer of the rights of other heirs of Chauncey Doane to Chauncey W Doane on January 10 1866. The heirs joining in this transfer were Lucy J Gardner, Caroline Doane Gardner, John W and Elizabeth Doane, Joseph E and Margaret Doane, Charles E and Harriet M Doane, Lucia A Bowling, William H and Margaret Doane and Asenath, widow of Chauncey Doane.
Then on March 1 1866 Chauncey W and Sarah M Doane conveyed two parcels of 29.86 acres and 24.71 acres to Elon G Gardner for $1,700 leaving 173.62 acres in the farm, from which the state later bought 3.78 acres for highway uses.
Chauncey W Doane died May 6 1889 leaving his property to his widow, Sarah M Doane, who disposed of the farm to John C and Ida L Spooner on May 11 1891. John C Spooner, who had resided in Hermon for a time prior to his marriage to Ida L VanValkenburg Richardson on March 9 1882 removed to Richville shortly after that and purchased this farm, which he operated for a number of years.
His wife, daughter of Caleb and Sarepta VanValkenburg, was adopted by Ferdinand Richardson of Hermon after her mother's death. On February 10 1917 she and her husband, John C Spooner, conveyed the farm with this house to their son, Carleton F Spooner for a nominal sum. Shortly after, in 1917 John C Spooner died and his widow went with a daughter in Fort Plain. On December 2 1939 Carleton F Spooner, 44 died from automobile collision injuries and his property went to his mother and to his widow. On January 15 1940 his mother transferred her interest to her daughter-in-law, Mrs Harriet M Spooner, who was Miss Harriet Seavey of Richville, prior to her marriage to Carlton F Spooner on August 24 1917. Mrs Ida L Spooner, who suffered a hip fracture at Fort Plain in 1919 was an invalid from that time until her death in Schenectady on September 12 1946 at the age of 82.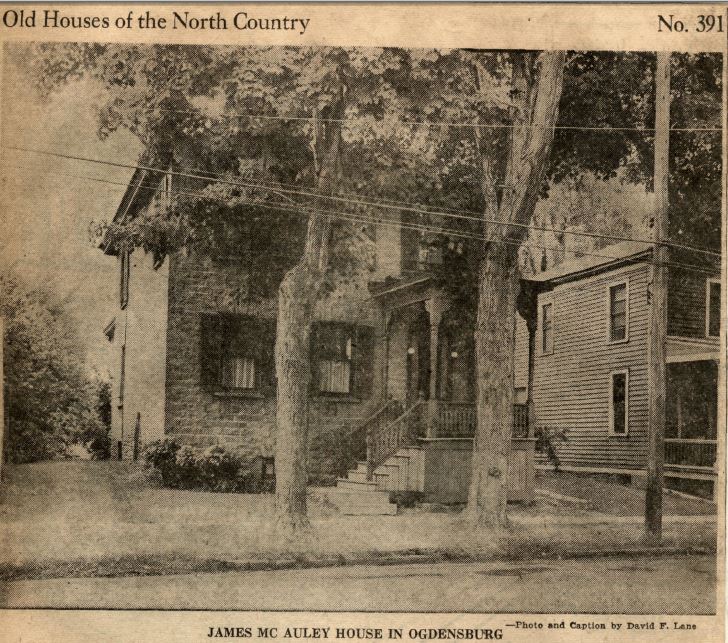 At 704 Caroline Street in the city of Ogdensburg, St. Lawrence county, is this old native stone house, which was probably constructed about 120 years ago for Reverend James McAuley, who had been called to the pulpit of the First Presbyterian church of Ogdensburg in February, 1821. During his pastorate, differences arose among his parishioners and in 1825 the situation had become so acute that part of the congregation split off and held services in the court house, different clergymen being called in to minister to them.
Reverend Mr McAuley, however, remained with his church. Judge John Fine and B Perkins were called in by the church officers for consultation, which resulted in a healing of the breach. In the spring of 1826 however, Reverend Mr McAuley resigned. The record shows that on July 29 1825 he bought two adjoining lots, upon one of which stands this house, paying Nathan Ford, the land owner and Ogdensburg promoter $100 for them. A decade later on July 29 1835 he disposed of them to Alexander Gray for $500.
On February 19 1839 Gray sold off the West part of Lot No. 3 to Samuel Day for $200 and that deed mentions the McAuley stone house on Lot No. 2. Two years after that transaction Gray sold the east part of Lot No. 3 to Day for $110. While the date of death of Alexander Gray does not appear, nor the disposition of his property, it is apparent that this house must have gone to his heirs as a part of his estate, for on August 8 1861 William Wallace Gray and wife, Mary, quitclaimed their interest to Alexander's widow, Susan, who had become the wife of William Elliott.

Mrs Elliott retained the property for a period of about 39 years and then, on June 14 1900 disposed of it to Asahel Elliott. The latter kept the house until August 14 1919 when his wife, Alice, joined with him in conveying it to Frank H Farley, who was their son-in-law, he having married their daughter, Bertha Elliott, on March 6,1899.
Frank Farley is well known in Ogdensburg for his restaurant and meat market businesses and now resides at 708 Caroline Street. His wife died April 2 1948 but they had long before that time disposed of this place to Bertha L Steinberg, the transfer having taken place on September 22 1920.
Nearly eight years later Bertha L Steinberg sold this old house and lot to Mrs Lucy M Charlesworth. There followed some exchange of conveyances back and forth in later years to correct an error in title, but for approximately 22 years, Mrs Charlesworth, widow of Fred Charlesworth, has owned the property, although conveyances of March 1 1945 show that she and Miss Mary E Charlesworth became joint owners on that date.
Miss Mary E Charlesworth is a daughter of Mrs Lucy M Charlesworth, whose husband has been dead for a considerable period of time and who has herself been for some years a teacher in the Ogdensburg schools. A son of Mrs Charlesworth, William Charlesworth, chemical engineer at the Brookings laboratory at Upton, Long Island, is the husband of the former Miss Charlotte Daley, daughter of Mr and Mrs Bernard E Daley of Brownville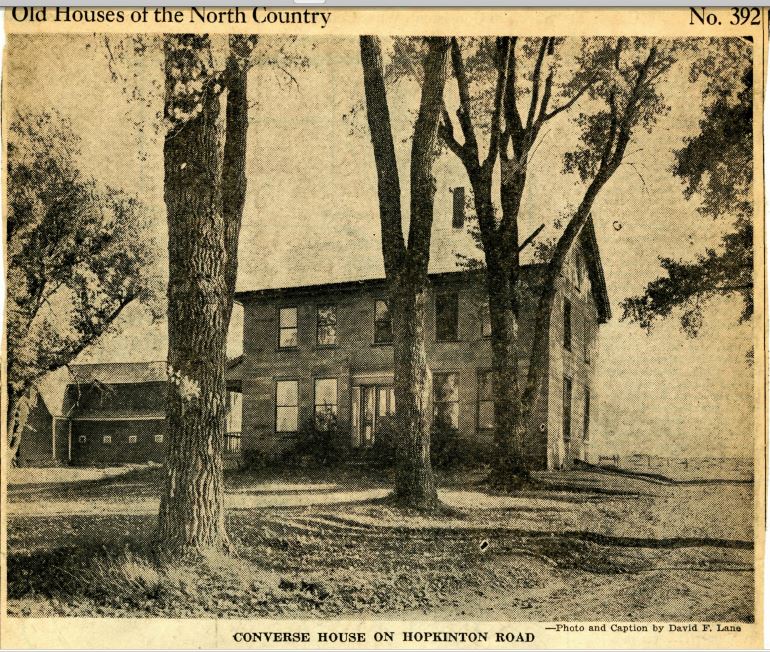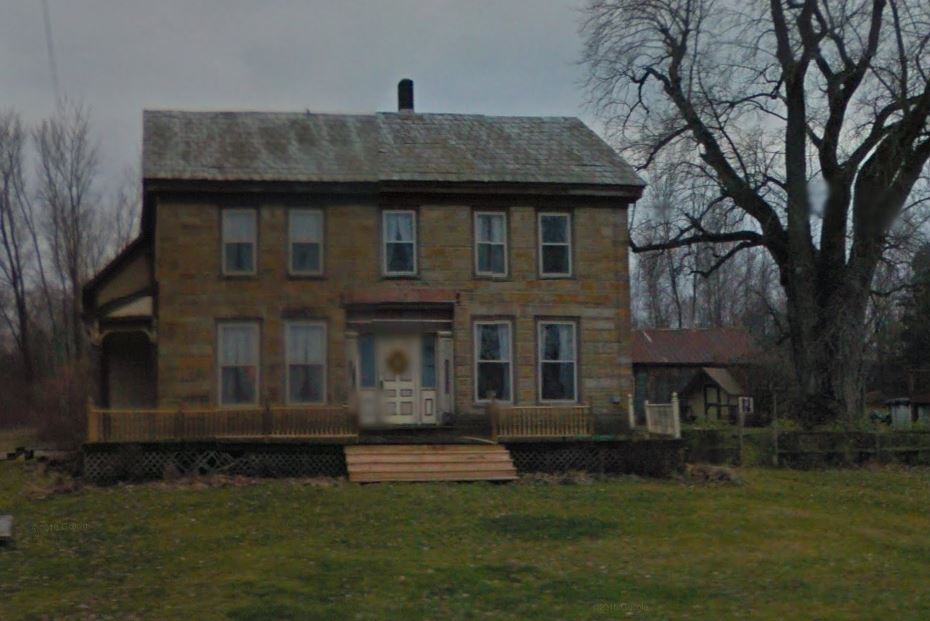 Through the middle of this house, which was constructed of native sandstone in 1849 for Elijah Converse, runs the boundary line between the St. Lawrence county towns of Stockholm and Parishville. In front of the house with its twelve rooms and fine central doorway runs the road from Potsdam to Hopkinton, and the present owner of the property, Herbert Lawrence Phippen, is a descendant of Elijah Converse.
Born in Middlesex, Vermont, on March 3 1792 Elijah Converse, son of Josiah, was young when he removed with his parents to Crown Point. In 1819 they all settled in the town of Stockholm. Elijah married three times, his first wife being Rhoda Wilson, his second Mrs Betsey Hutchins Dewey and his third Mrs Almeda Jane Scott Peck by whom he had a son, Horace J Converse.
Sarepta, one of Elijah's daughters, was born January 21 1826. On February 9 of that year Aniasa Phippen was born at Crown Point. Amasa and Sarepta were married on September 17 1854 and one of their children was Herbert, born on May 23 1859. Herbert, who died December 6 1940 became a charter member of the Potsdam grange, married May Hall November 26 1890 and one of their children was Herbert Lawrence Phippen, present owner of this house and farm of about 300 acres.
Native of Stockholm, Herbert Lawrence Phippen attended the Brasher-Stockholm High school, has been a member of the St. Lawrence county farm bureau nearly 30 years and the Winthrop grange 22 years. He has a herd of 45 cattle. He married Miss Mildred B Pelsue, North Stockholm, August 17 1936 who trained at the St. Lawrence state hospital school of nursing and served several years as a nurse at the Potsdam hospital before her marriage.
In his day Elijah Converse was one of the leading farmers in that part of St. Lawrence county and for twelve years was one of the assessors of his town
The farm, upon which this house stands, consists of several parcels, all of which were owned by George Parish, the great land-owner of St. Lawrence county.
On July 20 1830 one parcel of 42.44 acres was sold by Parish to Thomas Fearl or Ferrill. After Fearl's death this parcel evidently passed to Silas Fearl who quitclaimed it to John Fearl December 5,1856 and November 17,1860 he and his wife, Mary, sold it to Jeremiah P Converse. On September 2 1874 Converse and wife, Helen, conveyed to Josiah H Converse. (Probably Horace J)
Parcels of 102 and 45 acres were transferred by George Parish to Elijah Converse on December 13 1849 pursuant to a contract of June 30 1831. On April 17 1879 Elijah and wife, Almeda Jane, conveyed a half interest in these two parcels to their son, Josiah H, who was probably the son known as Horace J. The latter was born July 9 1853 and on December 8 1875 married Louisa, daughter of John P and Peninah Trask, Vermont natives. One of their children was a son, Era E Converse.
Elijah Converse died November 4 and his wife December 19 1879 only a few months after selling the two parcels to their son, Horace. Horace, breeder of the Wilkes strain of Hambletonian horses and part owner of Defendant Wilkes, had a herd of 30 cows, established the Southville Creamery on his farm in 1885 and produced 100,000 pounds of butter annually. On November 23 1899 Horace bought 42.56 acres from Frank Stone, who acquired it January 17 1881 from Minerva Stone. She got it from her husband, William, who died October 15 1880 and he bought it from George F Needham and wife, Ellen, March 11 1871. Needham got it from Reuben Welch April 1 1863 and Welch bought it from George Parish March 18 1859 under contract dated June 30 1834.
Horace J Converse died June 10 1907 leaving this entire farm of all the parcels listed to his widow, Louisa. On September 10 1926 she conveyed it to her son, Era E Converse, who, with his wife, Lillian, transferred it to Herbert Lawrence Phippen April 20 1932. On March 9 1949 Phippen conveyed it to himself and wife, Mildred Bernice, jointly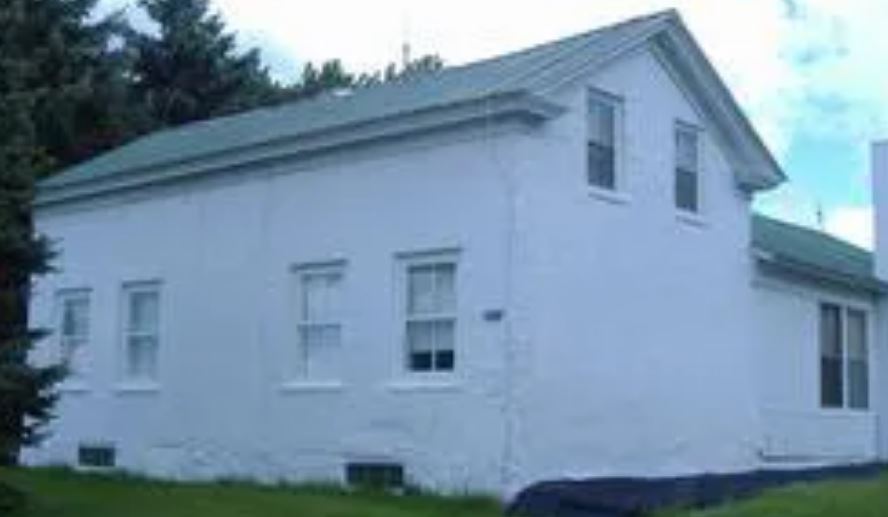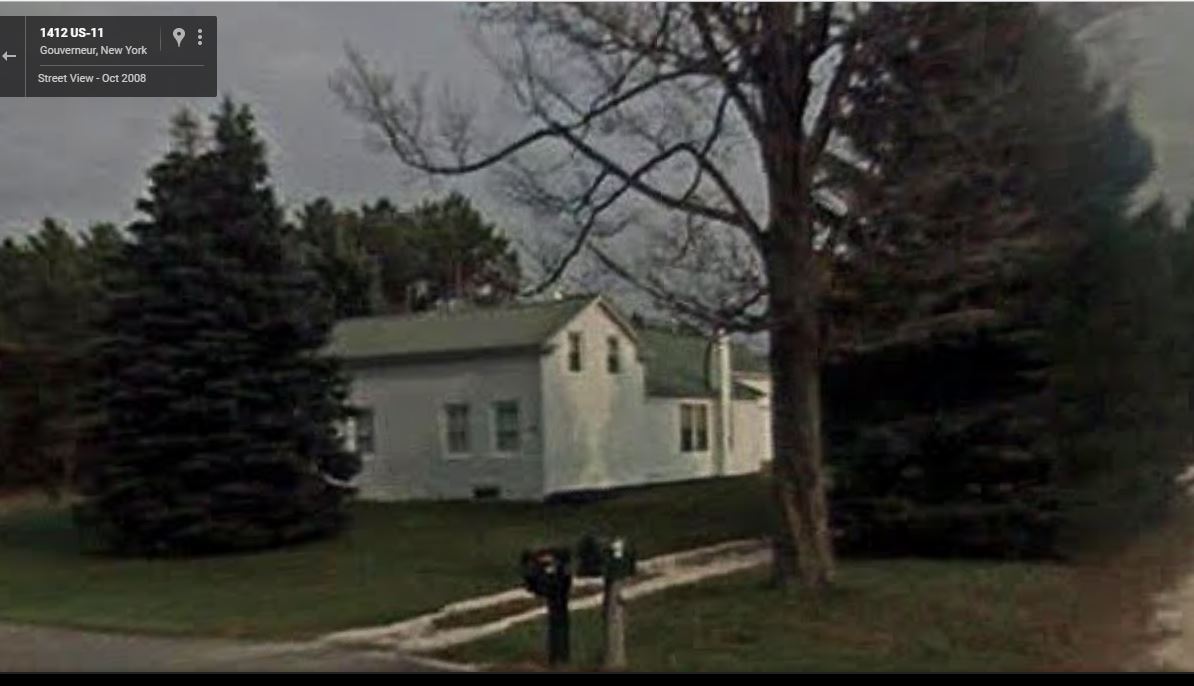 It was in the fall of 1827 that Almon Barrell, or Barrel, and his father, David, settled in the town of Gouverneur, but it was about 20 years later, in all likelihood, that he constructed this brick house which stands on the Gouverneur-Richville road. It is only a short distance outside the village of Gouverneur towards Canton and consists of eleven rooms and three sealed-up fireplaces. With the house goes almost 108 acres of land and the property is owned by Dr Erwin A Conklin, veterinary surgeon, and his wife, Lucy.
Originally this farm was part of the vast St. Lawrence county landholdings of Gouverneur Morris, wealthy Revolutionary patriot and statesman who lived at Morrisania. It was on February 9 1846 that Almon Barrell paid Charles V and Ann Phelps $500 for the 56.68-acre tract on the Richville road where this house stands. Phelps had acquired it from Harvey D and Mary Smith June 19 1837 and Smith had bought it February 3 1836 from Colonel James M and Cassandana Spencer. On April 4 1835 the Gouverneur Morris estate had sold the tract to Spencer.
An adjoining tract of 55 1/2 acres to the rear on the Scotch Settlement road was bought by Almon Barrell from James and Mary Porter for $700 on March 29 1847. Porter had purchased this plot from Joshua and Betsey Heath on January 14 1841 and Heath had bought it September 28 1833 from Ann Carey Morris, widow and executrix of Gouverneur Mortis.
It is likely that Barrell began building the brick house soon after he bought the first parcel of 56.68 acres in 1846 and he and his wife, Sally M Barrell, kept the property until September 27 1867.

On that date they disposed of 213.11 acres including this farm to Volney W Morris for $8,290. Morris regained it until April 5 1879 when he and his wife, Olive A sold off 107.53 acres, which lies to the east of the original Barrel farm. And it was Almon Barrell who bought this 107.53 acres from the Morrises, paying them $4,181.21. Volney W Morris died August 13 1894 survived by Olive A, his widow, and son, Bower J Morris. The latter acquired his mother's interest and with his wife, Sarah A Morris, sold the 111.19 acres, which takes in most of the original Barrell farm, to Martin L Holland on November 1 1909. Holland then sold to Homer A Smith December 31 1912. Smith died March 10,1937 leaving the property to his son, Emerson H Smith, who in turn deeded it to his son, Henry H Smith and wife, Minnie J, November 16 1945 and on June 14 1948 they sold the 111.19 acres, minus 3.15 acres and .23 of an acre, to Dr Erwin A Conklin, the present owner.
It should be pointed out that Volney W Morris was the son-in-law of Almon Barrell, the builder of the quaint old brick house, and native of Vermont. Bower J Morris, son of Volney W and Olive A Morris, was born June 9 1852 on the Richville road, was educated in Gouverneur Wesleyan Seminary, worked in the Boston postoffice some years, came home, married Sarah Turner, Antwerp, in 1888. Mrs Morris died September 7 1942 and Bower J Morris on September 25 1942.
Colonel James M Spencer was born in Gouverneur May 26 1811 son of Dr John and Elizabeth Burnett Spencer who came from Windsor, Connecticut, in 1807. Dr John, veteran Gouverneur hotel operator, bought the old brick hotel in 1882. Colonel Jim followed him as a hotel man. It was in Dr John's hotel that the first town meeting of Gouverneur was held March 5 1811.
Colonel Jim married Cassandana Boynton October 8 1833. He died March 15 1884. His son, Dr James M Spencer, born January 23 1845 was a brave Civil War hero and Gouverneur dentist. Harvey D Smith, one of the owners of the property, was born in Pawlet, Vermont, November 9 1789 became a successful merchant, married Harriet Murdock of Martinsburg, served 37 years as justice of the peace, supervisor 1827-1835 and in 1837 assemblyman in 1829 surrogate 1859 and died September 28 1864. Homer A Smith member of the Gouverneur grange, retired in 1908 and moved to Gouverneur.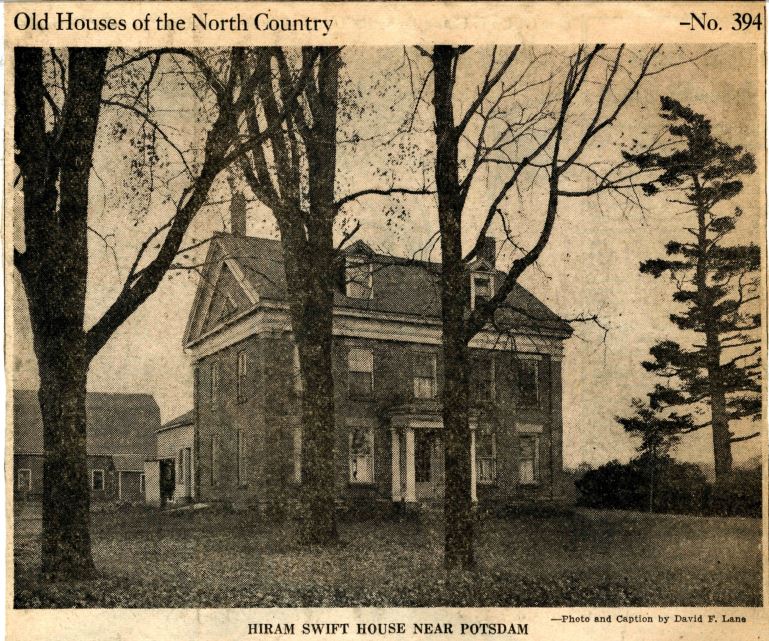 Hiram's sister Betsey Swift was married to Aurilla's brother Benjamin Franklin Foster, which created a very tight-knit community with Foster brother and sister marrying Swift brother and sister. The two families constructed houses facing each other, with the Hiram and Aurilla living on the east side of the old Potsdam-Parishville road, and Franklin and Betsey living on the west side of the old Potsdam-Parishville road. The two homes are both standing today facing each other as they have for the past 150 years.

There is a stately, dignified beauty about this almost century-old red brick mansion which stands on the old Parishville road a short distance outside of the village of Potsdam and since March 23 1945 has been owned by Charles E Rushlow. With the fine old mansion is about 125 acres of land. In spite of the largeness of the house, it contains only ten rooms large and high and no fireplaces.
The Swifts constituted an old family, descended from William Swift of Bocking, Suffolk, England, who came to New England in 1630 moved to Watertown, Massachusetts, then in 1637 moved to Sudbury and thence to Sandwich, June 28 1641. A descendant of William was Lemuel Swift who was born at Plymouth, Massachusetts, February 26 1737-8 and married Rebecca Whitfield of Rochester Massachusetts, December 8 1756. Lemuel, soldier in Captain Nye's company of the 4th Plymouth county regiment, was a soldier of the Revolution and father of Levi who located in the town of Potsdam about 1805 and brought his family there in March, 1806.
A son of Levi was Harvey, who was born in Barnard, Vermont, in 1799 and died in Potsdam November 8 1862. Harvey's wife, the former Hannah Avery, died December 12 1863 at the age of 68. One of their sons was Hiram, who was born in the town of Potsdam September 11 1820 educated at St. Lawrence academy, married Miss Lucy A Foster, native of Massena, in March, 1849 and built this brick house with its triangular gable window and louvre, which is an attractive characteristic of many of St. Lawrence county's old houses, particularly the brick ones.
A son of Hiram and Lucy Swift, who are said to have built this house close to a century ago, was Judge Theodore Hiram Swift who not only served as county judge of St. Lawrence county but came to head the New York state court of claims.
Judge Swift was born on this farm June 14,1850 and died there June 9 1913. Educated in the common schools of the district and in St. Lawrence Academy, he entered the law offices of Dart & Tappan in Potsdam at 18 to study law. In 1871 he was graduated from St. Lawrence university law school, was admitted to the bar that year and for two years was in the office of Tappan & Irwin. In 1873 he opened his own office in Potsdam and two years later took C E Sanford into partnership.
This was dissolved three years later and Judge Swift continued alone in practice in Potsdam until June, 1880 when he engaged in practice in New York City for eight years winning the noted James H Paine estate case. From May, 1888 to May, 1892 he was in partnership again in Potsdam with C E Sanford, took Frank L Bell into association with him in December, 1892 and in 1894 was elected county judge. In 1900 he was re-elected but resigned in 1902 to become judge of the state court of claims which he headed in 1906.
On July 5 1871 he married Miss Mary A Perkins of Parishville and one of their children, Hiram H Swift, who was born June 25 1875 and died April 3 1941 lived for some years on the farm, which comprises several parcels. One of these of 53.48 acres was bought by Harvey Swift June 27,1831 from John C and Louisa M Clarkson. May 27 1937 25 acres was bought by Harvey Swift from Thomas S and Elizabeth Clarkson, and on December 24 1839 Swift bought 20.32 acres from Herman LeRoy and on March 17 1837 Swift bought 130 square rods from Ira A and Sibyl Brown. On April 10 1860 Harvey and Hannah Swift transferred the four parcels to their son, Hiram, who no April 17,1846 had acquired another 25 acres from the Clarksons. Hiram Swift died January 4 1861 and his sort, Judge Swift, ultimately came into possession. Nathan E, Clark, Frank L Cubley, James F Donnelly, Robert H Byrns, Arthur L Merrill and Clarkson college held later title and Mr Rushlow bought it from Clarkson college.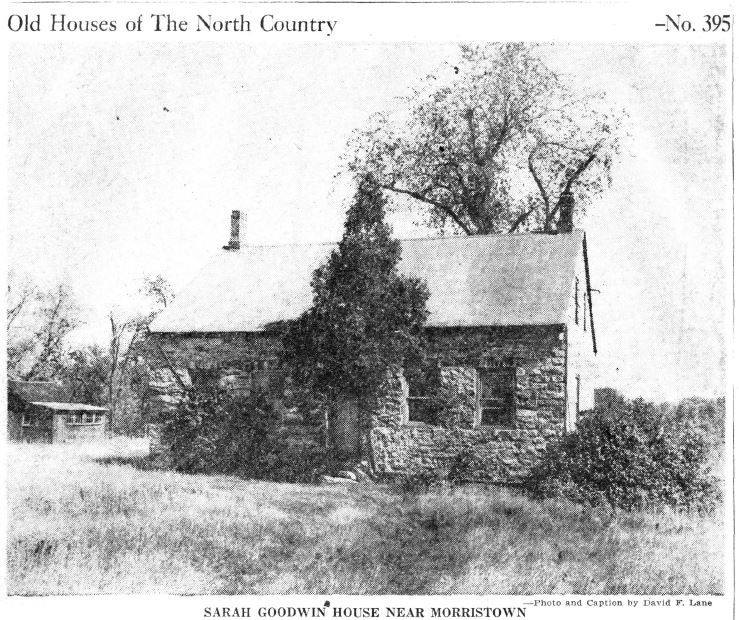 About a mile from the village of Morris town on what is known as the old "Four-rod road," a very crude and little-traveled route which leads towards Edwardsville and the Black Lake country, stands this old cottage-style house of native stone. It is far back from the road, lonely but picturesque in its location and in the spring the lilacs in front are in blossom making it something that might have been taken from a beautiful calendar.
There are no fireplaces in this little seven-room house with its most interesting stairway, and its age is entirely a matter of conjecture. Its appearance indicates that it may well be over 130 years old. On the other hand a century may be its entire span.
The record marks it as "being the place formerly occupied by Sarah Goodwin." Who was Sarah Goodwin? Was she the widow of Benjamin Goodwin who settled in that verv Morristown-Edwardsville or Marysburgh district in 1810?
The farm, upon which this inviting little house stands, was once part of the vast St. Lawrence county holdings of Gouverneur Morris, for whom Morristown was named when it was taken from Oswegatchie March 27 1821. Mr Morris had died before that date and, except for a few lots, Moss Kent sold most of the town on June 23 1823 to Abram Cooper who shortly conveyed to Samuel Stocking of Utica, James Averell of Ogdensburg and Augustus Chapman of Morristown.
In 1845 Stocking disposed of his interest in the town to his partners, Averell and Chapman and on July 25 1856 we find them selling 87.87 meres containing this house to Robert Long and Robert Marr Long for $1,486.98 the price indicating that the house already existed and the deed stating that it was formerly occupied by Sarah Goodwin.
In 1817-1818 a group of English immigrants settled in this area, forming what was known as the "English Settlement," and Robert Long, one of the purchasers of this property from Averell and Cliapman, was one of those who settled there in 1817. The date of Robert Long's death is not known, but on March 1 1871 his widow, Elizabeth Long and children, Ann Holliday, Margaret Battels, Andrew P Long, Robert M Long, Jessie E Long, Mary Long, Sarah F Long, sold the property to John Smith for $3,514.80.
On June 19 1874 John Smith and his wife, Marian, sold off 2.65 acres to the Black River & Morristown Railroad company as a right of way. After the death of Mr Smith this house and farm went to his widow, who died October 31 1900 leaving the property to her daughter, Lydia. Lydia become the wife of William H Downey. She still owns and occupies the house and operates about 33 acres of the land having sold off some of the 87.87 acres, which her father originally purchased and to which he had subsequently added about 42 acres.

If the complete story of this house were known it would form a record of romance with a thread of tragedy running through its pattern. About its atmosphere there is a breath of solitude, peacefulness and quiet which would lend itself to the uses of an author seeking to write a romantic novel, away from the hurly-burly and distraction of the world.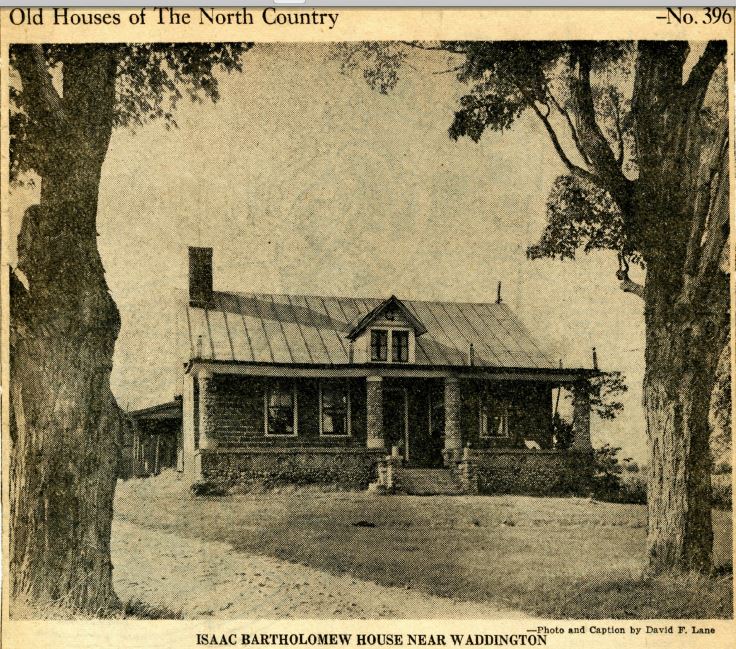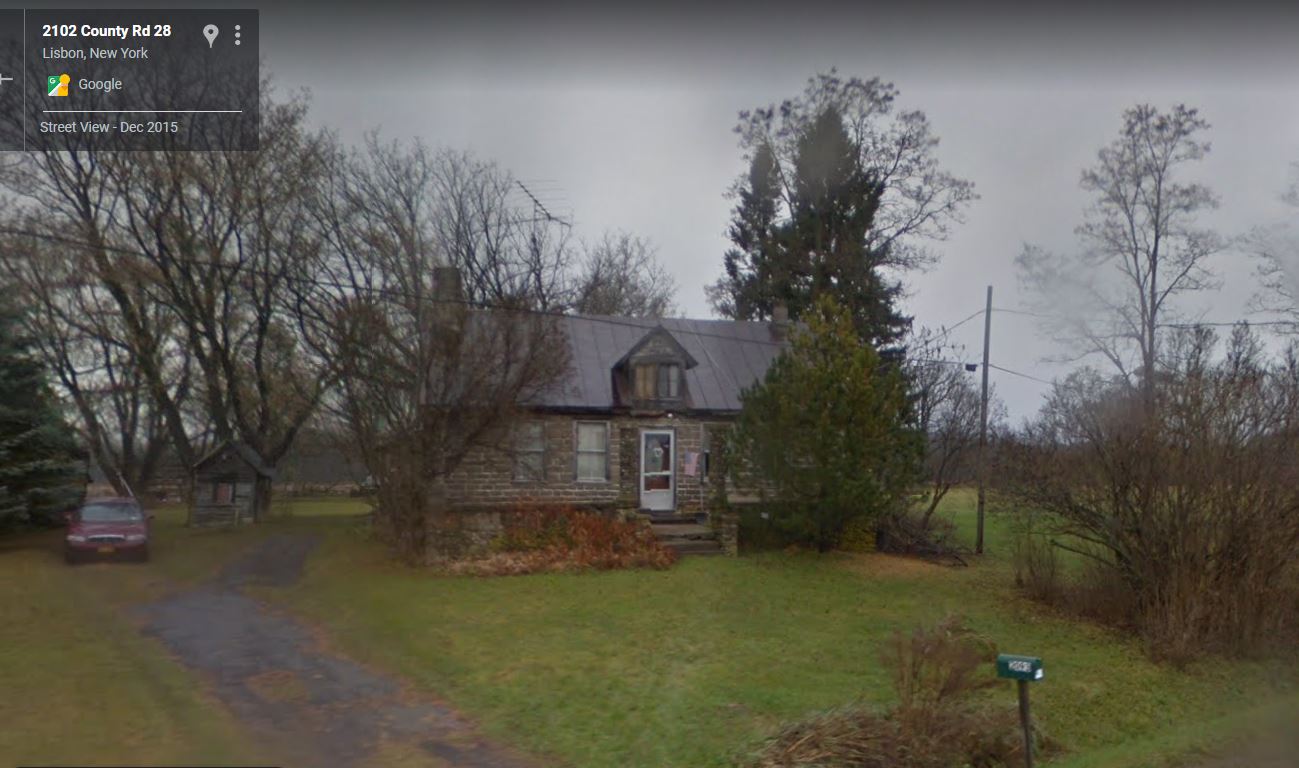 A comparatively modern and ornate cobblestone porch rather disguises the antiquity of this native sandstone house located not far outside of the village of Waddington. It is towards Ogdensburg from that village and probably one of the first dwellings to be erected in that section.
Although its original part is plain and simple in type, consisting of seven rooms and a fireplace, it was first owned by one of the earliest and most prominent families in the town of Waddington - the Bartholomew family which retained its possession down through several decades. Isaac Bartholomew, for whom the house was built, was a Vermont native who came to St. Lawrence county as a young man and settled in the town of Waddington, which was then a part of Madrid. In fact he was one of the earliest settlers of St. Lawrence county, and when both the county and the town of Madrid were set up on March 3 1802 Isaac Bartholomew played an important role.
The first town meeting was held on April 1 1802 and at that time Isaac Bartholomew was elected a highway commissioner. A decade later he was to become an American soldier in the War of 1812 and it was on September 7 1812 before the war had advanced but a few months that he made a purchase of 160 acres in this district of the then town of Madrid from David A and Thomas L Ogden, owners of most of the Iowa. Sometime after that purchase was made it is likely that the house was constructed.
On January 20 1832 Isaac Bartholomew sold 20 acres on the west side of the 160 acres to Truman Bartholomew and then on March 20 1852 as committee of Truman sold this 20-acre plot to Charles D Bartholomew, who had bought 12 1/2 acres nearby from Joshua and Gertrude G Waddington May 9 1836. But four years prior to that Isaac Bartholomew had conveyed 129.50 acres to Charles D Bartholomew on January 20 1832.
By conveyance November 23 1854 Charles D Bartholomew acquired a small gore lot of 6.24 acres from the Ogden and Waddington estates, the gore joining the Bartholomew farm on the west and wedging itself between the towns of Madrid (Waddington) and Lisbon.
Charles D Bartholomew, who had been a town assessor, died February 12 1889 leaving his property to his children Ira H, Henry D, Anna E , Juliet W, Charles C Bartholomew and F Laurinda Wright. On October 30 1890 the Charles D Bartholomew estate conveyed 168.24 acres to Thomas A and John L Dunn for $10,500. They were sons of Robert F and Jennie Veitch Dunn, and for $2,000 on March 18,1896 John L Dunn deeded 85.67 acres, being the west part of the 168.24 acres, to Thomas A Dunn.
Thomas A Dunn and wife, Minnie B Dunn, transferred this 85.67 acres containing this old stone house to Grover Green for $5,250 on October 23 1899. Mr Green died January 30 1946 leaving two daughters, Mrs Nellie Spears and Mrs Juanita I Price who disposed of the 85.67 acres to Forrest and Bertha Dezell on January 23,1947. It was from Mr and Mrs Dezell shortly afterward that Ernest Baker bought the house, barns and 85.67 acres. He is the present owner and occupant.
Thomas A Dunn, who took the ownership of this property from the hands of the Bartholomews 60 years ago, was born in the town of Waddington and died in that town March 17 1934 aged 69. On November 7 1889 he was married to Minnie Bell Powell, and she and a daughter, Bessie, and son, Homer, of Lisbon, banker of that place, survived him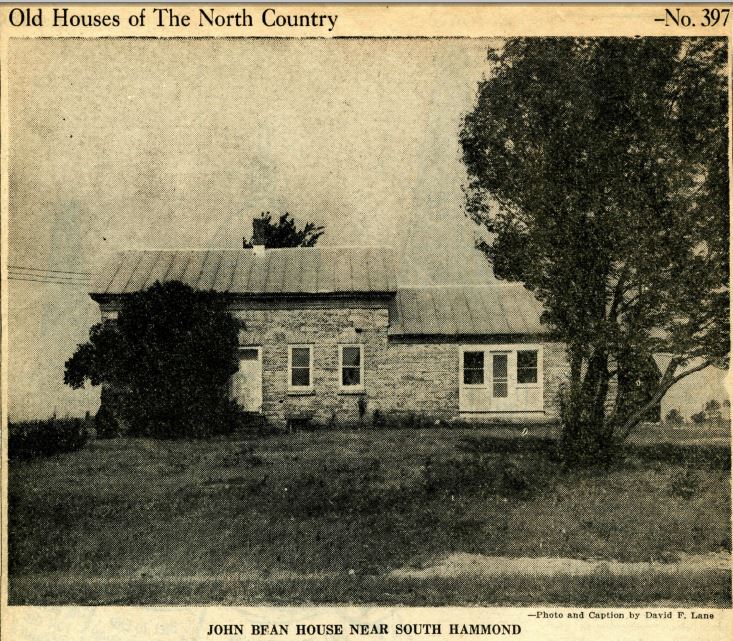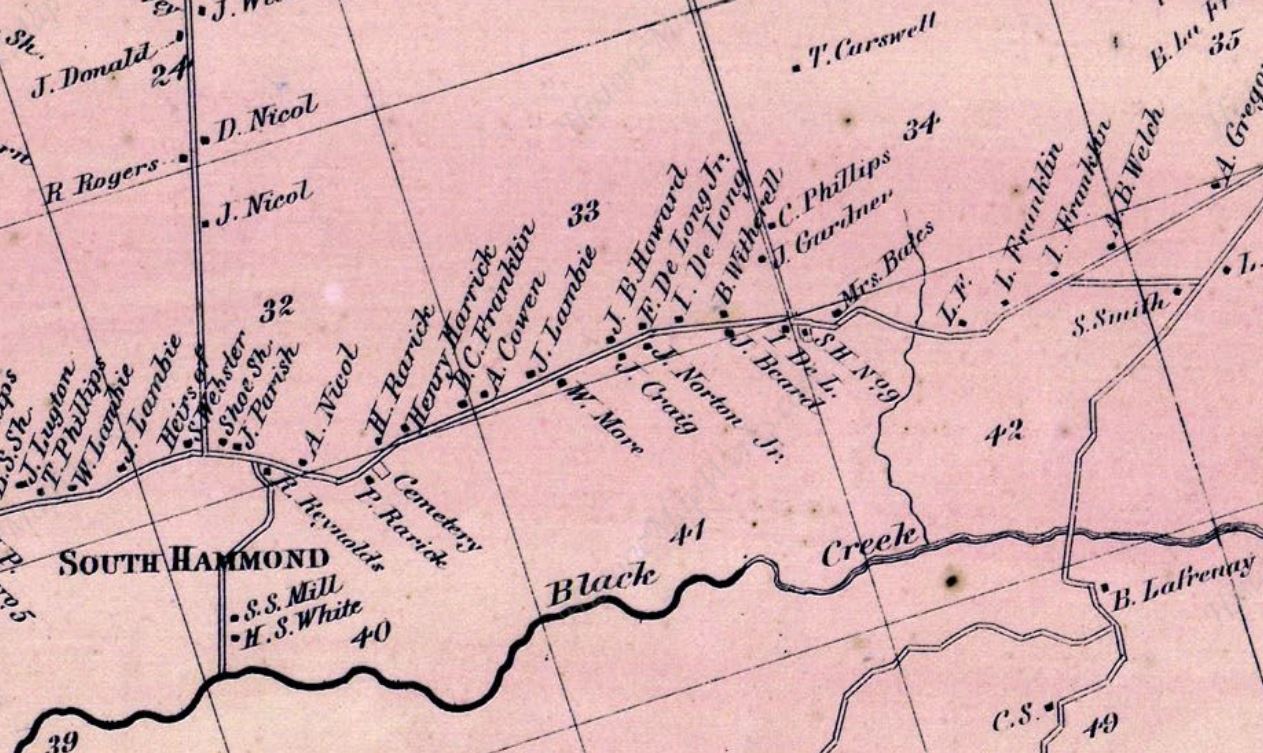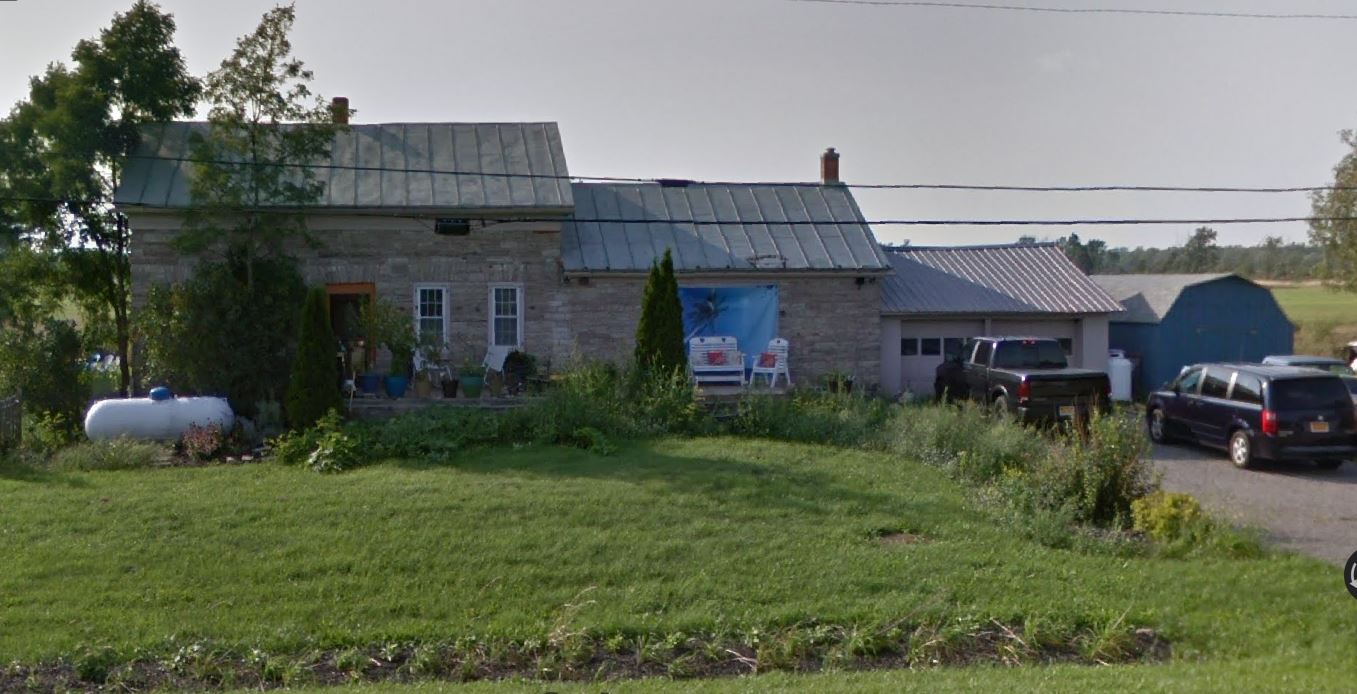 On Rt 37, on left side of Road. 963 NY-37 or thereabouts
This native sandstone house near South Hammond, St. Lawrence county, is of an extremely modest type. It consists of five rooms downstairs and three on the second floor. There is a fireplace at each end of the house, that at the east end being in the kitchen. The chimney for it was so constructed that there was a Dutch oven, which was entered from outdoors, an unusual arrangement.
According to a notation in the will of John Bean, original owner of the house, this will having been executed March 1 1851 this stone house had then been but recently erected.

Bean died April 29 1852 and under the provisions of the will the house and 115.28-acre farm was given in life-use to John Bean Howard, a nephew who had been adopted as a son.

John Bean purchased the 115.28 acres from George Parish of Ogdensburg on October 28 1833 for $474.87. Parish had succeeded to most of the land that constituted the town of Hammond from David Parish who purchased 28,871 acres there on September 12 1814. The first physician in the town of Hammond was Dr John Bean, who was practicing his profession there as early as 1820. According to the county histories, which are indefinite to say the least, he removed from Hammond to Richville about 1856 and died a few years later. If that is the case Dr Bean cannot have been the John Bean who owned this house. But owing to the sketchiness of the record it is possible that Dr Bean was the one who died April 29 1852 and was the first possessor of this place.
A Hammond cemetery record shows that a John B Howard was drafted into Company C, 9th New York Volunteers on July 30 1863 was captured by the Rebels August 19 1864 imprisoned ax months and six days, then paroled to come home and die March 25 1865 at the age of 36.
County clerk's records show that on October 8 1883 Lennette Drummond, who was the widow of John Bean Howard and had inherited the property after the latter's death pursuant to the provisions of John Bean's will, conveyed the house and 115.28 acres plus 39.92 acres to Minnie A Eddy for $3,000.
Mrs Minnie A Eddy and her husband, Mark W Eddy, sold it on January 6 1892 to Aaron Norton for $5,764 the land being minus the 39.92 acres. Mr Norton, who owned and occupied the stone house upon the farm across the road, conveyed this Bean farm to his wife, Martha J Norton, on February 5 1896 and on November 21 1931 she transferred it to her son, Murray A Norton.
Murray A Norton still owns most of the land, but on August 31 1946 sold the house and one acre of land to Melvin Allen Calvert and wife, Lena M Calvert of Chippewa Bay. Mr Calvert, formerly a St. Lawrence division train dispatcher and resident of this city until his retirement from 36 years of railroad service on April 16 1949 has reconditioned and redecorated the house for his residence.
Mrs Martha J Norton, who owned the place until November 21 1931 was born in the town of Hammond December 25 1849 daughter of Alexander Moore, married Aaron Norton who died February 16 1935. She died September 25 1936. He was born June 18 1845 son of Jeremiah and Mary Osterhout Norton, who had come up from the Mohawk valley to settle in the town of Hammond.
Jeremiah Norton was born January 16 1803 probably at Oppenheim, Montgomery county. On January 16 1825 he married Mary Osterhout who was born on September 5 1806.
Jeremiah, who built the stone house about 1830 now owned and occupied by his grandson, Murray, died February 2 1885 while his wife died May 22 1893.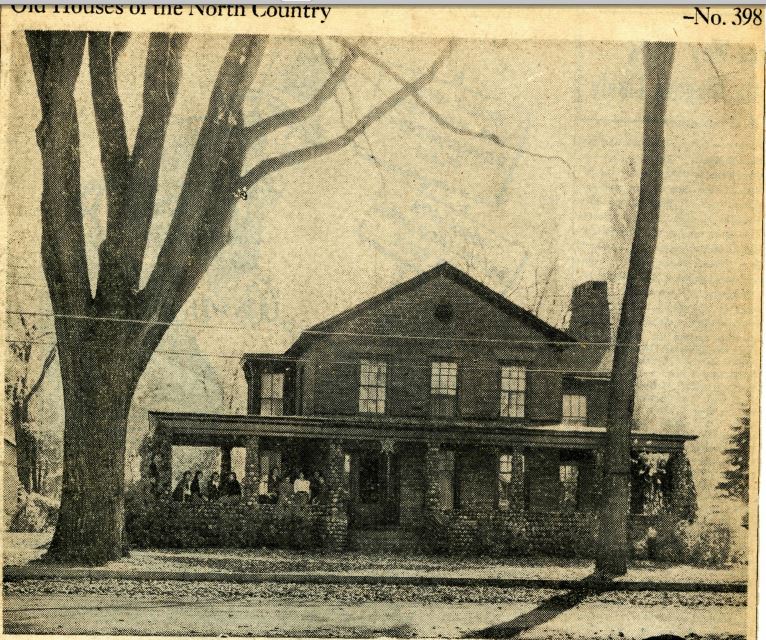 MYRON POWELL HOUSE IN POTSDAM VILLAGE
Myron Powell House / Lockwood House (demolished in 1998)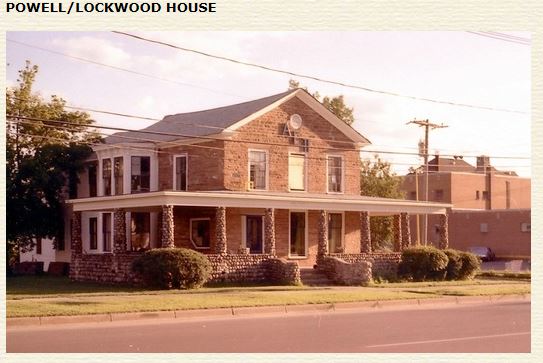 For approximately 20 years this old native brown sandstone house at 29 Elm Street, Potsdam, has been the sorority house of Kappa chapter of Alpha Delta. Prior to that it was the home of Aldis L Lockwood, merchant, manufacturer, and onetime circusman for a year in 1894 as partner of George S Cole in Cole & Lockwood's circus.
But prior to that it was owned by George L Eastman, builder of the old sandstone town hall and Presbyterian church. He was father of Lee J Eastman who founded and edited The Potsdam Recorder, served as Watertown Daily Times correspondent and later became president of the Packard Motor company of New York as well as vice president of the parent company in Detroit.
The house is understood to have been built by Myron Powell over a century ago. Powell purchased the site from Isaac G H VandenHeuvel, May 13 1837 and on October 1 1852 Powell and wife, Julia Ann, conveyed it to Benjamin C Rich. On July 24 1861 Catherine T Scriver, wife of John A Scriver, purchased it from Renjamin C and Margaret Rich and four days later Mrs Scriver deeded it to Mrs Rich.
Mrs Rich retained the property until February 15 1870 when she sold it to Ellen, wife of Albert H Brown. It was next bought by Henry L Harter on April 10 1875 and on April 1 1876 Henry L Harter and wife, Amelia W, disposed of the place to George L Eastman, who died November 1 1891 willing it to his widow, Eunice L Eastman. She sold it to Kathryn Fuller Lockwood on May 21 1906 and on October 2 of that year Mr Lockwood deeded his interest to his wife. She died April 27 1926 willing her to her husband, who died September 30 1932. On August 10 1933 his executors conveyed the place to Alpha Delta Sorority of Potsdam, Inc.
However, the Alpha Delta sorority had occupied the major portion of the house under lease for some years before the death of Mr Lockwood. Aldis L Lockwood, born in Parishville in 1860 was the son of Aldis L Lockwood Sr, and Gratia Durant Lockwood, natives of Stafford, Vermont.
The elder Lockwood had early settled in St. Lawrence county, had operated starch factories at Parishville and Crary's Mills, and moved to Potsdam in 1870 engaging i n the insurance business for several years. His son, Aldis L Lockwood Jr, owner of this house, was educated at the Normal school, Syracuse university and the New England Conservatory of Music.
His health caused him to leave the latter, teach music two years at Stephens Point, Wisconsin, where he met and married Kathryn Fuller February 14 1893. Upon returning to Potsdam he organized Lockwood's department store on Market Street, became a founder of the Northwood Manufacturing company producing souvenir postal cards, calendars and paper novelties, and also formed the Northern Wall Paper company of Potsdam. After 22 years he sold his department store to J A Ritchie in November, 1913. Also he sold his interests in his Quality grocery store, giving full attention to the postal card and calendar business.
George L Eastman was born in Hopkinton August 11 1837 came to Potsdam at 19 studied law with Dart & Tappan, helped Lieutenant Hopkins raise Company R, 16th NY Volunteers, and became a lieutenant at the outbreak of the Civil war. He went to California after the war, was a merchant in Idaho City three years, operated a hardware store in Potsdam six years, and operated a Kansas sheep ranch two years. He had married Eunice J Mernam of Malone, in 1872. He was appointed postmaster of Potsdam in 1890 by President Harrison, who appointed Mrs Eastman to the same post after her husband's death November 11 1891. Their son, Harry M Eastman, became deputy postmaster. At 18 Lee J Eastman, another son, helped found The Potsdam Recorder, and George L Eastman Jr, located in Los Angeles, Calif., to head the prosperous George L Eastman Building Materials company.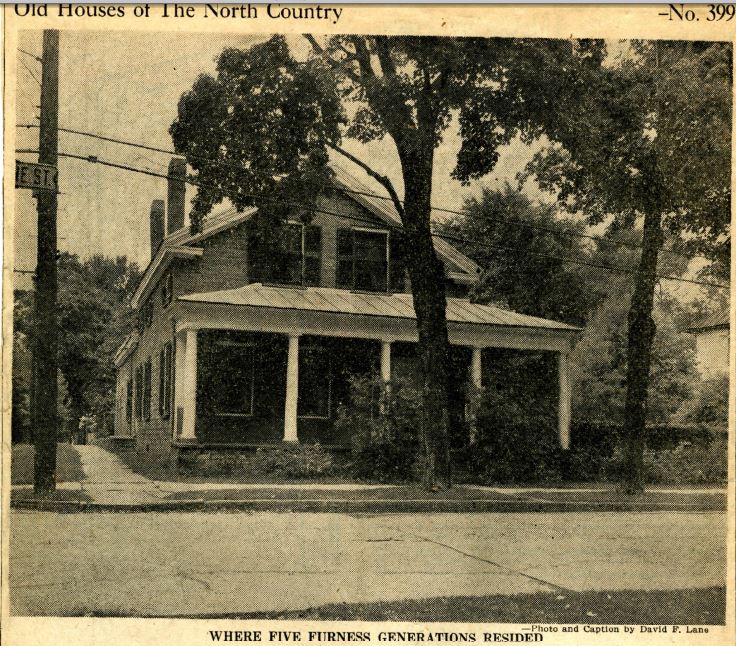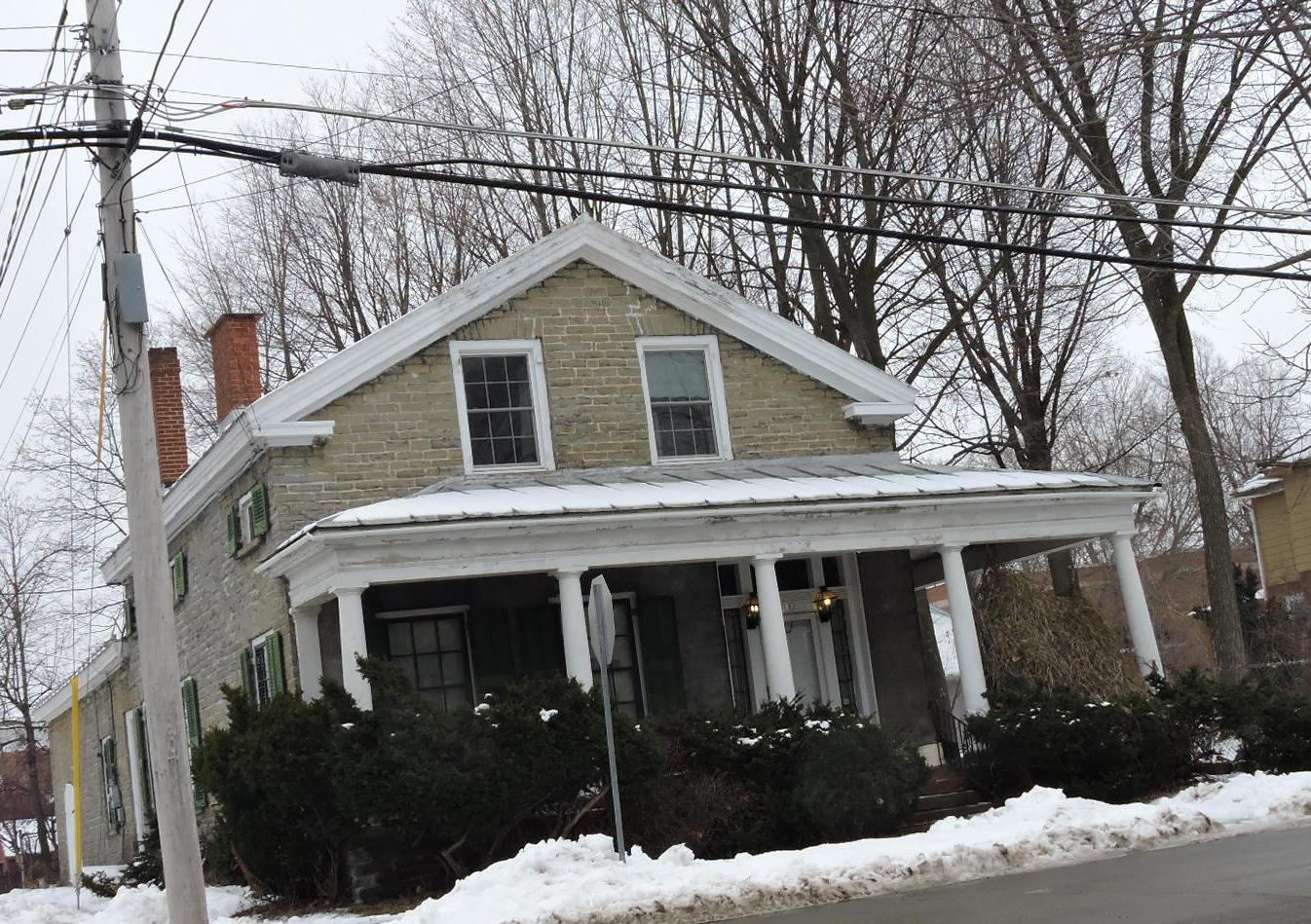 Anthony Furness, skilled stone-mason, contractor and builder, who erected some of Ogdensburg's finest stone mansions better than a century ago, came to that city at the age of 21 via the city of Quebec from his native England in 1818.
Eldest of the tea children of John Furness, Anthony was born in the parish of Cliburn, Westmoreland county October 15 1797. John Furness was an expert English stonemason, who had accumulated a comfortable fortune and was disposed to give his children generous education.
Anthony and four of his brothers elected to follow in the footsteps of their father and also became stone-masons. He was 26 when, in 1823 he married 20-year-old Margaret Gilmour of Morristown, but native of Paisley, Scotland. She had come to America with her father, James Gilmour, June 20 1820. One of the nine children of Anthony and Margaret Furness was Mary, who married Seth Pomeroy and went to Detroit to live, but he died in June, 1861 and she returned to reside with her father in this house now designated 600 Caroline Street, Ogdensburg, and located at the corner of Jay Street. William, a brother of Mrs Pomeroy, studied law in the office of Daniel Magone. George A, another brother, became a prominent Ogdensburg dry goods merchant.
It was on April 10 1828 that Anthony Furness paid George Parish $325 for the lot where this house stands at the corner of Caroline and Jay Streets. On November 28 1840 Mr Furness bought half of the adjoining lot from the Parish estate for $330.43. History has it that he built this attractive Georgian house of native stone in 1846 using stone from his own quarry. A few years before he had built on his own land the attractive house of stone at 412 Jay Street, now owned and occupied by Mr and Mrs Edgar L Schwartz.
But for the historical notation to the contrary, one might reasonably assume that 600 Caroline Street was constructed shortly after 1828. However, Mr and Mrs Furness resided here the balance of their lives, she dying August 6 1867 and he on September 4 1878. Both had been active in the Presbyterian church and brought up their children in the Christian way. He early became a Whig in politics but joined the Republican party at its formation.
In 1878 the year of his death, he was a victim of the Judson bank failure. His heirs instituted suit to partition his property after his death and at the resulting sale July 31 1880 this house and the Schwartz house were of his property bid in by Attorney Daniel Magone for $5,550. On December 13 1882 Attorney Magone and wife, Mary, conveyed 600 Caroline Street to William Furness and Mrs Mary Pomeroy, children of Anthony Furness, for $2,350. On May 15 1905 William Furness conveyed his interest in the house and the lot where it stands to his sister, Mrs Pomeroy, and on September 6 1905 deeded his interest in the other part to Mrs Pomeroy's daughter, Mrs Thomas (Mary Elizabeth) Mitchell, who had acquired her mother's interest in the whole property August 14 1905. Mrs Mitchell, granddaughter of Anthony Furness, in turn transferred the place to her son-in-law and daughter, Allen J and Marion Spaulding Mitchell Acker, on July 23 1925. Mr Acker died July 4 1947 leaving Mrs Acker, owner of the fine old house, which her greatgrandfather had built and in which she continues to reside.
Married May 25 1916 Mr and Mrs Acker became the parents of two daughters, Mrs William M (Marion) Hankins of Attica, and Mrs John W (Jane) Ridder of East Liverpool, O, and they became the fifth Furness generation to live in this house at 600 Caroline Street.
For years Mrs Acker has been active in Ogdensburg civic affairs, being registrar of Swe-kat-si Chapter, D A R, and a consistent worker in St. John's Episcopal church. Mr Acker was likewise intensely active. For 24 years prior to his death he was a traveling auditor of the state comptroller's office. Before that he had for some time been connected with the Ogdensburg Savings Bank. He was also active in Media Temple A A O N M S, the York Rite Masonic bodies, the Elks, Knights of Pythias, Sons of the Revolution and in St. John's Episcopal church.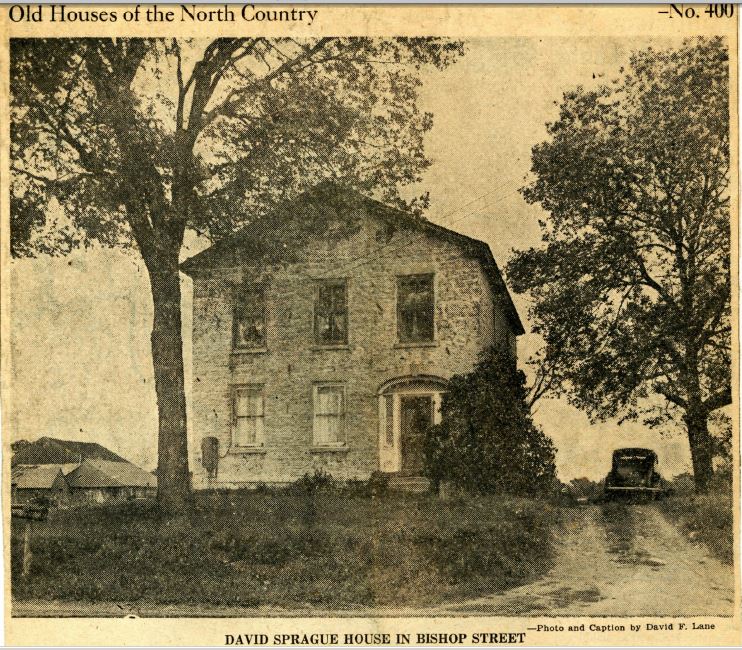 For close to a century and a half the name of Sprague has been tied into the history of the town of Henderson, and one of the earliest Henderson settlers bearing the name was David Sprague, first owner of this Georgian native limestone house, said to have been built in 1834.
The 40 acre tract which provides the site for the house was bought on March 25 1817 by David Sprague from Jacob and Julia Davis for $400 and there was first constructed upon it a log cabin. Eventually.the cabin was replaced by this stone house, which was intended to be used as a tavern. Accordingly, the second floor was finished off into two bedrooms and two ballrooms. The latter were separated by large folding doors which could be opened to make one large ballroom should the occasion demand, and a stencil design decorated the gray, painted interior walls upstairs. An air space is made in the double exterior walls, which bulged outward after many years requiring the use of a number of iron rods with which to bolt the two walls together. That was done during the ownership of the property by David Sprague's son, Reverend Orren D Sprague, Methodist minister, whose wife was Helen Rathburn Sprague.
Bishop Street was a thriving community with a Methodist church, a wagon and blacksmith shop, sawmill, wood-turning plant and tannery, and power was furnished by Stony creek several decades ago. David Sprague was the shoemaker of the community, and his descendants have, among other things, his lapstone, apron and hammer. When he died April 17 1864 he willed this home farm and all appurtenances in life-use to his widow, Sarah, who was also to have his sawmill and all personal property after paying bequests of $100 each to a son, Orville C, and daughters, Mrs George (Laura Mahala) Wright and Mrs Albert (Alhira E) Barney.
The will provided that after the death of Mrs Sprague the house, home farm and remaining estate should go to the son, Orren David Sprague, but February 1 1868 she quitclaimed her interest to the latter and the other heirs signed off their rights at about that time. With the 40 acres when David Sprague died, there was also about four acres, which he had purchased from Leonard Persons October 10 1833. The 40-acre plot acquired by David Sprague in 1817 from Jacob Davis had been purchased by the latter on April 4 1814 from William Henderson, proprietor of the town.
On April 14 1902 Orren D and Helen R Sprague sold this old house and farm to John D Hunter of the town of Ellisburg. Then on September 12 1905, Hunter and his wife, Anna M, disposed of the place to William H Putnam of Henderson. The heirs of Mr Putnam sold the property to Ervin D and Maud E Beattie on July 30 1920 and on February 13 1942 they conveyed it to Mary M and Peter B Paddock of Mannsville. However, the Paddocks held possession only until August 13 1943 when they sold to Roy Peters and his wife, Mary M Peters, who have resided there until recently, they having disposed of it on February 16 of this year to Ralph C Kohl, who owns the old Smith stone house and farm a little further up Bishop Street toward Smithville.

There are still living a number of direct descendants of David Sprague. And many Watertown residents still remember his grandson, the late Frank H Sprague, who died May 19 1940 who had resided here for several years during a considerable portion of which time he was connected with The Hunting company and during three years of which time he was deputy sheriff under Sheriff Michael Gleason. Frank H Sprague was son of Orren D and Helen R Sprague.