STONE HOUSES, MANSIONS AND OTHER OLD HOUSES
OF THE NORTH COUNTRY

Originally published in The Watertown Daily Times
(730) Articles and photos by David Lane, Newspaper Staff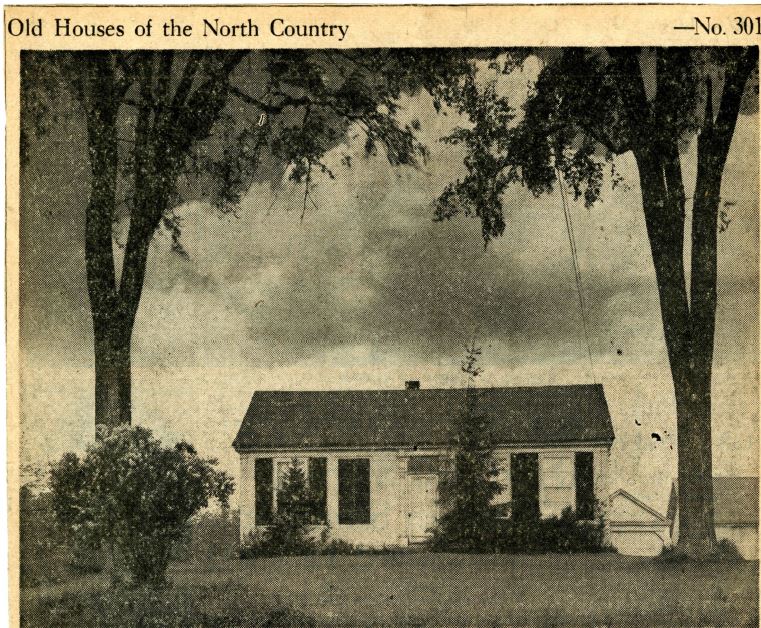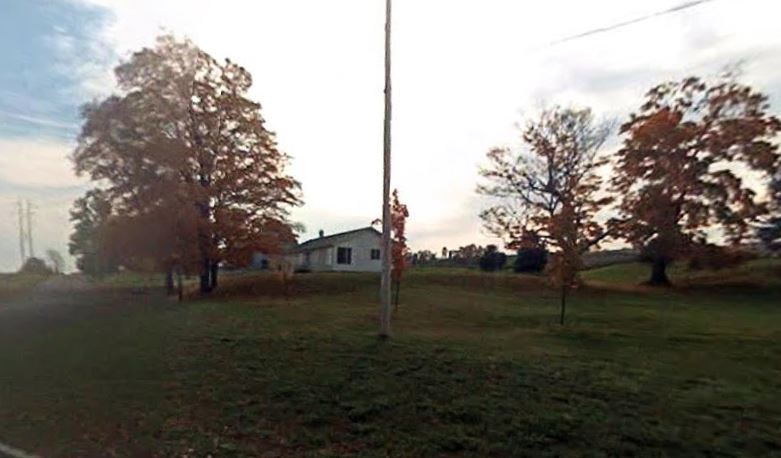 Judge Silas Stow, land owner, land agent, lawyer, public officer who was one of the leading figures in the development of what is now Lewis county, built this little white house in the summer and fall of 1802 upon an eminence overlooking outer State Street, Lowville, where it still stands today. It is one of the oldest dwellings in the north country.
Originally it was a story and a half high, had a large Kitchen and woodshed on the rear and offices, separated from the main house by breezeways, at either end. Some 5 years ago it was remodeled to its present appearance by the then owner, Mrs E Channing (Gertrude Arthur) Gaylord, who caused the kitchen and woodshed to be taken off and the south office removed and converted into a garage. The north office had been previously taken down.
Born at Middlefield, Connecticut, December 21 1773 Silas Stow was the youngest son of Elihu and Jemima Payne Stow, When Nicholas Low took Town II, now Lowville, August 5 1796 as part of his share of the 11 towns. Silas Stow became his first land agent and served until about 1802 when he was succeeded by Morris S Miller, who in turn was succeeded by Isaac W Bostwick in 1806. Prior to 1796 Stow had been Low's agent in Leyden. On April 20 1798 for $8,000 Low sold Stow 4,000 acres of the finest farm lands in the present Lewis county. These were in the center of the town and became known as Stow's Square, in which the first settlement was made by Moses Waters
Opening sale of Low's lands in 1797 Stow caused a clearing made and a shanty built. In 1798 he erected a log house opposite the bridge at the lower mill. Stow's brother-in-law, Daniel Kelley, received the first deed April 12 1798. On March 14 1800 the town of Lowville was formed from Mexico. The first town meeting was held at Stow's house and Kelley was elected supervisor. A sound and excellent lawyer, Stow never practiced at the bar, but January 28 1801 was appointed a judge of Oneida county and on July 28 of that year married Mary Ruggles of Boston. They had three sons, all educated at Lowville Academy, the site for which Stow gave
January 8 1807 Alexander W became chief justice of Wisconsin. Horatio J was a prominent lawyer and recorder of Buffalo, state senator and member of the Constitutional Convention of 1846. Marcellus K was a merchant in Fond-du-Lac, Wis. Judge Silas Stow was supervisor of Lowville a month in 1805. A strong Federalist he was congressman from the tenth district 1811-1813 sheriff of Lewis county, of which he had been a leader in forming March 28 1805 in 1814-1815 and county judge of Lewis county from January 27 1815 to January 24 1823. He died penniless at the home of Lemuel Wood, grandfather of the late Mrs C P Kirley, January 19 1827 aged 53. Stow's desire to be first county clerk was upset by Richard Coxe. One of the founders of Lowville Academy, Judge Stow delivered the address at the first Lewis county fair, which was held at the academy. The First Presbyterian church of Lowville was formed on Stow's Square December 8 1818. Stow, himself, seldom attended church and he had a great antipathy against hunters.
On November 10 1810 Silas Stow sold this house to James H and Stephen Leonard who conveyed to Rufus and Betsey Chambers. They sold it September 3 1852 to John and Roxana J Arthur, who disposed of it November 3 1855 to Lucy Dyer, and April 1 1858 S D Dyer deeded it to William Arthur, native of Martinsburg and grandson of Hannah Bradford Arthur who was a direct descendant of Gov. William Bradford of the Mayflower company. William Arthur, well-to-do cattle dealer, first married Sarah Hildreth. By his second wife, Elizabeth Reynolds, he had four children, one of whom was Gertrude Louise born September 12 1862 and married to E Channing Gaylord May 19 1887. Mr Gaylord died in October 1925 and she on December 26 1943. They were the parents of Lewis County Highway Superintendent L P M Gaylord, Mrs John (Florence Gaylord) Alm and Miss Viola Gaylord.

On October 30 1945 the Stow house and 28.45 acres of land was sold to Leon Farney, the present owner and occupant, by Mrs Gaylord's estate.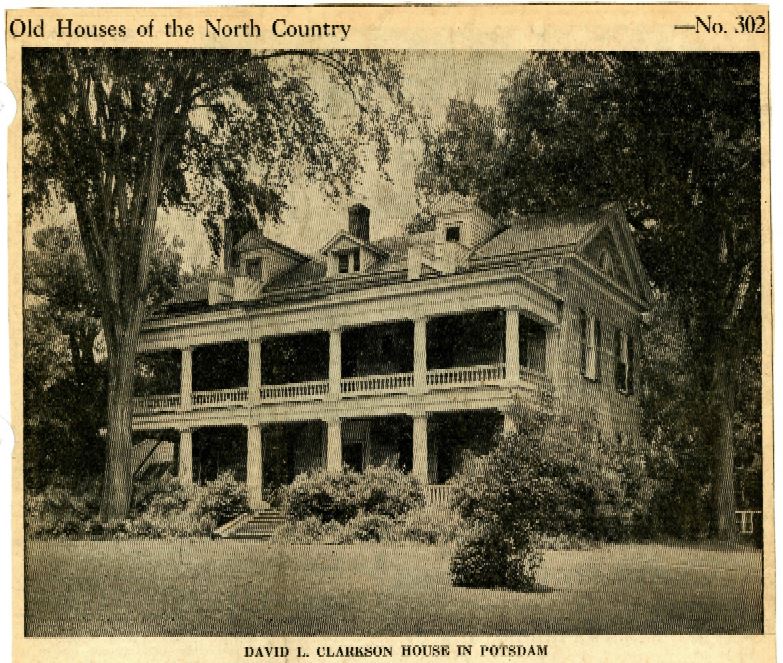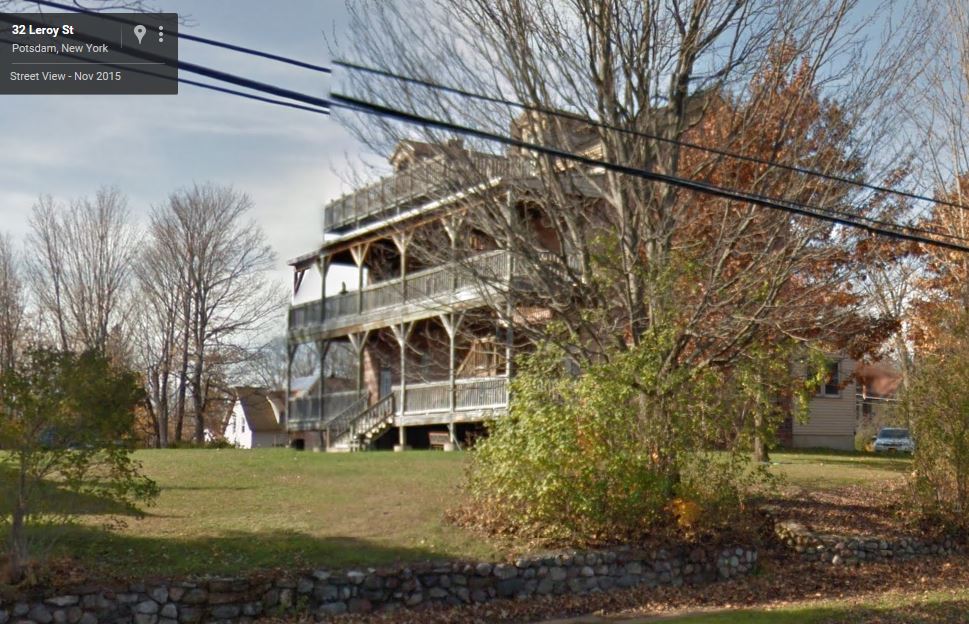 The name, Clarkson, looms large in the history of the village of Potsdam, St. Lawrence county, and about 110 or 111 years ago this imposing Georgian house was built there by David L Clarkson. It is located at the southeast corner of Garden and LeRoy Streets and is constructed of native Potsdam red sandstone quarried nearby. Originally it occupied a lot of 3.31 acres, which has been reduced to less than two acres through the selling off of lots through the years.
A descendant of Reverend David Clarkson, a Bradford county, England, Church of England rector whose son Matthew landed in New York January 28 1691 and later became secretary of His Majesty's province, David L Clarkson purchased a large block of land in Potsdam from William H LeRoy for $11,200 in 1836. In March of the preceding year David L Clarkson became one of the founders and vestrymen of Trinity Episcopal church in Potsdam and with John Charlton Clarkson and Augustus L Clarkson was on the committee to build the church edifice.
Another Clarkson, Thomas Streatfield Clarkson, operated a valuable sandstone quarry near Hannawa Falls from 1877 until he died August 19 1894 from crushing injuries sustained at that quarry. It was in his memory that the Thomas S Clarkson Memorial college was founded in 1895 by his three sisters, the Misses Lavinia, Elizabeth and Fredericka. On May 24 1864 David L Clarkson and his wife, Margaret L, sold this house and 3.31 acres to Edwin Wilkinson, another prominent early resident of Potsdam, who became a voluntary bankrupt and on March 26 1870 Wilkinson's assignees, Aaron T Hopkins and Albert Town, sold this property to General Edwin Atkins Merritt. General Merritt sold off some parcels of the lot but retained the house for his residence with the outbuildings and about two acres, conveying them to his wife, Eliza R Merritt May 5 1898. By her will, probated April 23 1912 this house and all real estate went back to her husband.
General Merritt died December 26 1916 and by his will probated January 2 1917 left the property to his daughter-in-law, Mrs Edith Sophia Merritt, in trust for her daughter, Esther M Merritt, until she reached 25. The latter, who had become Mrs Stanley H Sisson, attained 25 on June 11 1921 and seven days later her mother conveyed the house to her. Mrs Esther Merritt Sisson retained it until May 7 1937 when she sold it to Angelo Ditano, a contractor and builder who made certain alterations and additions converting it into a seven-apartment house. On June 11 1946 Mr Ditano deeded the place to Loretta Ditano, the present owner.

The identification of General Merritt with this house makes it of especial outstanding importance. He was born at Sudbury, Vermont, February 26 1828 son of Noadiah and Relief Parker Merritt. General Merritt's great-grandfather, Noah, was a minute man at the Lexington alarm April 19 1775 and the latter's son, Noah Merritt Jr served in the battles of Bunker Hill and Saratoga in the Revolution.
General Merritt came to St. Lawrence county in 1841 taught school several years, became a surveyor in the Adirondacks and published the first map to guide tourists into the Adirondacks. He did the engineering work for the eastern end of the R W & O railroad.
From 1854-1859 he was supervisor of Pierrepont; 1857-1860 clerk of the board; was married to Eliza Rich May 5 1858; 1859 elected to the assembly; November 1 1861 appointed quartermaster 60th NY Vols; January 1 1865 appointed quartermaster general to Gov. Reuben E Fenton's staff and represented the governor on Lincoln's funeral train; 1867 elected member of Constitutional Convention; March 29 1869 President Grant appointed him naval officer of port of New York; 1875 defeated for state Treasurer on Republican ticket; December, 1877 named by President Hayes for surveyor of port of New York; July 11 1878 promoted to collector of that port; August 1881 President Garfield appointed him consul-general at London and he served until May 1885.
He was an intimate friend of Horace Greeley; was a bearer at Silas Wright's funeral; was president of the board of trustees of St. Lawrence university for a generation; was instrumental in establishing the state normal college in Potsdam and was a member of the board of Clarkson College of Technology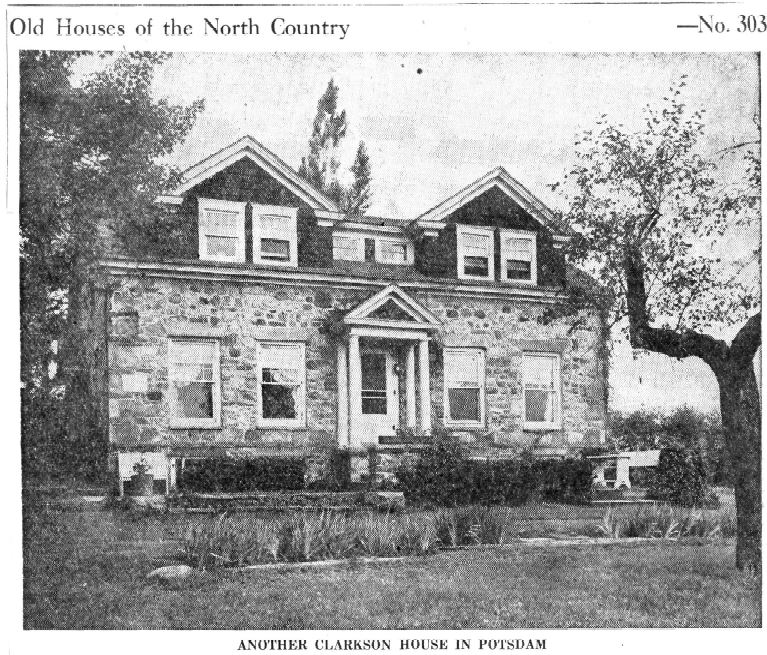 The inscription "A L 1830" cut in the face of a big granite stone which is laid in the upper walls of this granite house in Potsdam not only dates its construction but indicates that it was built for a member of the Masonic fraternity. From its location on outer LeRay Street there unfolds a picturesque view of the Adirondack foothills, and the property includes a parcel of about 13 acres of land.
Since August 3 1920 the place has been owned by Mrs Harold (Dorothy Sisson) Castle, but originally it was part of the David L Clarkson estate, which estate embraced the big red sandstone mansion at the corner of Garden and LeRoy Streets which later for a number of years was the residence of General Edwin Atkins Merritt. Much modernized with a columned portico and two heavy dormers, the house is actually a story-and-a-half structure of six rooms on the ground floor and five rooms upstairs. There is one old fireplace left in it, but formerly there was another one which was removed some time ago.
Like so many of the old North Country houses its history seems to have been pretty well lost, although it is likely that it was the caretaker's residence on the David L Clarkson estate. Mrs Castle has been informed that it was used as an emergency hospital for returned soldiers of the Spanish-American war a half century ago, and that a chapel was maintained in the wooden annex at the rear. Mr and Mrs J Kenneth Young are now tenants of the property, the construction of which gives it a solid, rugged appearance, to which the landscaping has added an interesting beauty. David L Clarkson, early owner of a large acreage of land in Potsdam, was a member of the distinguished family which played such an important role in developing the village of Potsdam. In 1836 he paid William H LeRoy $11,200 for a large tract of which this plot was a part and which latter he owned until June 29 1863 when he sold this house and 14.2 acres to John S Parker for $1,200.
Parker sold off three small parcels, one to Samuel Covey in 1888 one to Callie E Johnson in 1890 and another the same year to Elizabeth Jane Covey. In 1894 Mr Parker died and willed part of this property to Celia M Parker and the rest to Celia M Parker and Laura A Parker, his children.
On July 18 1894 Mary J Lamb, Laura A Parker, Celia M Brown, Celia Olmstead, Lucy Foster Madison, Allie Foster, Sophia Parker, Sarah Jackson, John Parker and Clark Parker sold the whole 13 acres and buildings including the house to Jennie May for $1,500. The latter retained title until April 1 1913 when she conveyed it to John A May for the nominal sum of $1 and on April 8 1920 John A May and wife, Johanna, disposed of it to George W Barnett for $3,000. Mr Barnett, however, kept it only four months when he disposed of it at a profit to Mrs Castle.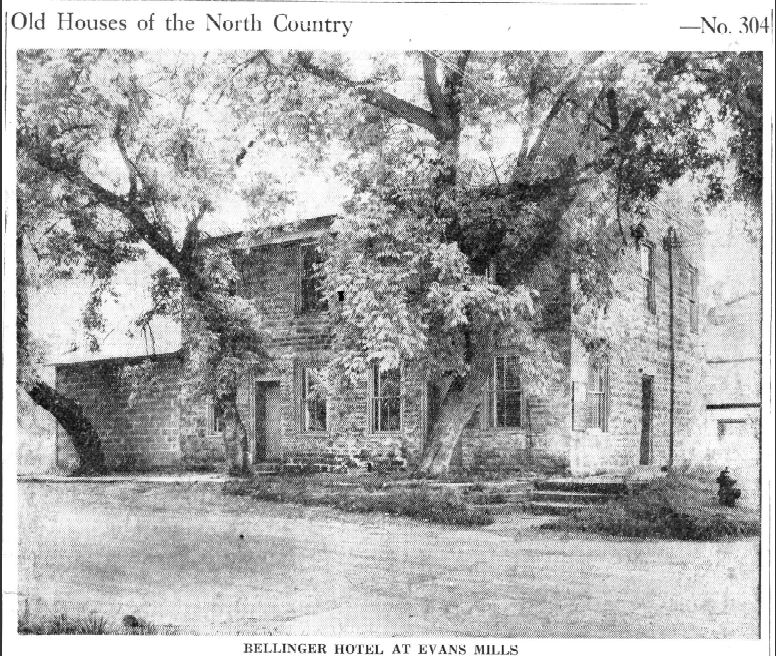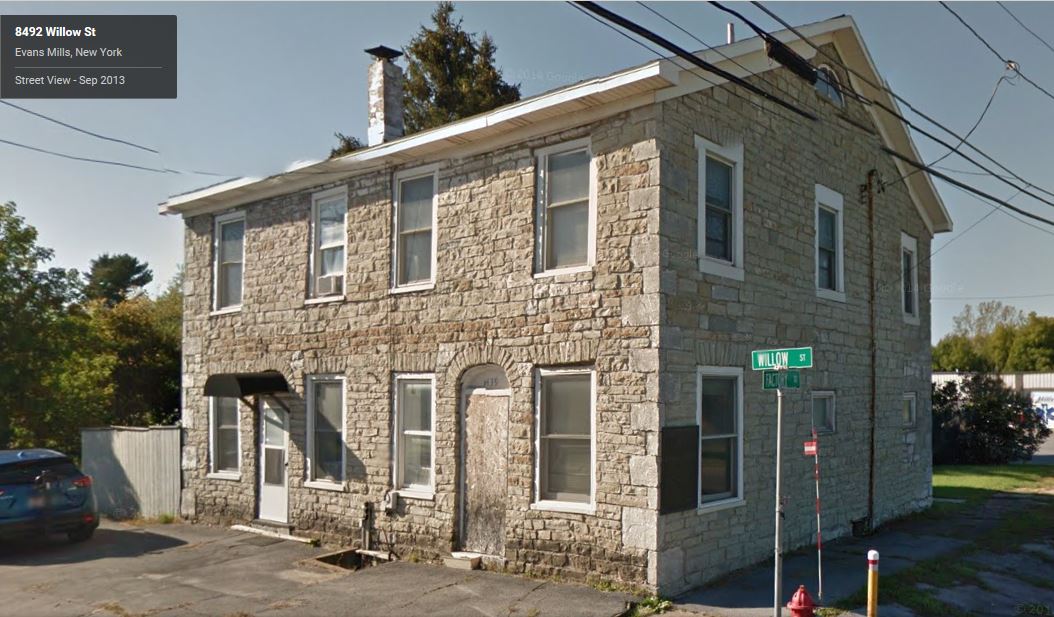 It was in the ballroom of this old stone hotel, said to have been built in Evans Mills in 1816 by Adam P and Peter Bellinger, that the now large and important Agricultural Insurance Company of this city had its birth when a group of Jefferson and Lewis County farmers met in August 1851 to form a mutual fire insurance companies insure farm property in this area.
Deeds of three or four years later refer to it as Adam P Bellinger's stone tavern, oldest of Evans Mills' three early hotel buildings still standing. The other two are Captain John Hoover's stone tavern built at the corner of Main and Noble Streets in 1821 and now occupied as a grocery store by its owner, Sterling Waggoner, while directly across Main Street and still used as a hotel is the brick hostelry constructed by Captain Hoover in 1827.
The Bellinger hotel, constructed of native limestone, was built just across from West Creek at the corner of Willow Avenue and Factory Street, into which highway junction also runs Noble Street. Years ago the present Factory Street was known as Bebee Street. Down through the 132 years of its existence the Bellinger tavern has had approximately 30 owners and during the first 50 years of its history it changed hands often and many times. Among its proprietors after the Bellingers were Elias Holbrook, David Kilborn, Oliver Pierce Aaron Root, Levi Root, William Stewart, Alderson Bebee, Jacob Davis, Henry W Lawton, Fayette Granger, Benjamin Helmer, Sidney A Sixbury, George M Brooks, John Butler, William M Whitney and wife, Mrs Ida B Whitney. Mrs Ida B Whitney, now about 90 and in excellent health, still resides in Evans Mills.
The Whitney ownership was longest of all, covering a period of 39 years and extending from March 5 1886 when William M Whitney bought the tavern from John Butler, until April, 1925 when Mrs Ida B Whitney sold to Clarence M Hawn. Mr Hawn retained it until September 27 1941 when he sold to the Agricultural Insurance Company, which had hoped to convert it into a sort of historical museum of the company. However, the company abandoned that project and on October 5 1945 disposed of the place to Charles P and Helen Redmond who operate a frozen food locker business there.
There are still many of the older residents who recall the days when William M and Ida B Whitney conducted the hotel under the name, Whitney House, serving excellent meals and playing host to many an all-night dancing party in the big ballroom, there averaging one of these parties a week through the winter months. It is also recalled that there at one time appeared in one gable the sign, "Whitney Opera House," a sizable stage having been built at one end of the ballroom, where traveling medicine shows, minstrels and even operas were presented.
The Agricultural Insurance Company did not get under way until February 28 1853 when Alden Adams was elected president and U A Wright, secretary. Under lease the company had its quarters in the ballroom, the secretary having his desk in one corner of it, but at the end of about a year or so headquarters were moved to another building in Evans Mills. In January 1863 the company was chartered a stock company and removed to this city, where it has since been.
The old stone building in Evans Mills with its four big chimneys, two at either end, continues, however, to be one of the most picturesque and historic landmarks in Jefferson County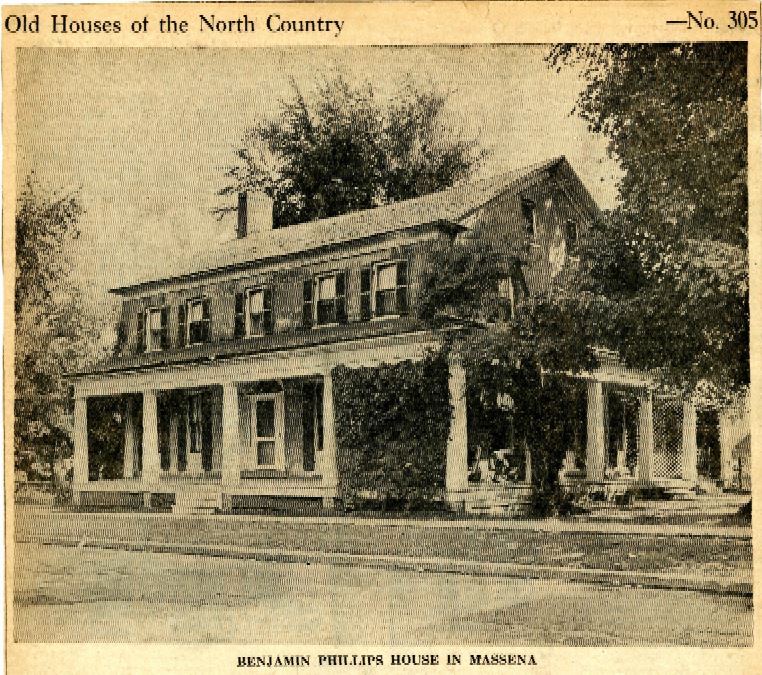 At 16 Phillips Street in the heart of downtown Massena is the fine old Georgian native limestone house built by Benjamin Phillips about 1833-1835. Its ownership has never been out of the Phillips family, although it is understood that it is now on the market.
Said to have been born in Canada in 1796 Benjamin Phillips died April 29 1865. As a member of the second contingent of pioneer settlers he came to Massena in the early 1800's. Among the first leading merchants of Massena he was one of the most prominent early residents and promoters, and is still noted for building the United States Hotel and for his ownership of the health-giving mineral springs.
About 1827 he erected the stone building where he long maintained a general store and which in recent years was given a brick veneer and occupied by Leo Devine. In addition to operating a store in Massena Mr Phillips had one at Louisville Landing and also engaged in the lumber trade sending rafts of logs down the St. Lawrence to Montreal.
Benjamin Phillips was married to Electa, daughter of Stewart and Lydia Boynton. When the First Congregational Society of Massena Center, formed February 15 1819 was incorporated August 8 1825 he became one of its original trustees. Likewise he was a trustee of the Second Congregational church formed at Massena village September 4 1833 and incorporated October 15 1844. He was supervisor of the town of Massena in 1840-1841 and in 1846, 1848 and 1849 his son, Allen B Phillips, was supervisor.

Along with the mineral springs Benjamin Phillips acquired the Harrowgate House erected by Ruel Parsons in 1828 for a health resort, and in 1848 built the brick, 200-guest United States Hotel across the street on an eminence overlooking the springs. The United States Hotel was burned in 1871 and was replaced by the Hatfield House, which burned in 1932.
On May 6 1833 Benjamin Phillips paid John D and Ann Eliza Dickinson and Uriel H and Laura L Orvis $287.50 for the lot upon the street named for him. It is likely that he at that time there, began construction of his beautiful residence and in those days it took approximately two years to build such a structure.

The limestone, nicely cut and faced, was quarried out of the bed of the Grasse river below the dam east of the Main Street bridge. Two stories high the body of the house has a 40-foot front and 30-foot depth. Lime burned in kilns near the site was used in the mortar of the 30-inch walls and in the interior plaster. Large fireplaces and chimneys were at either end of the house and in the basement was a large cooking fireplace and brick oven. The lumber and heavy, hand-hewn timbers came from Mr Phillips' woods. There were originally three large rooms on the ground floor and three upstairs. The roof shingles were made in the mill across the river from the old Mica plant.
When Benjamin Phillips died his house was devised to his widow, Electa. From her the residence and other realty went to her children, one of whom, Mrs David (Nancy O) Nevin bought the interests of the others October 10 1866 for $8,500. On November 8 1867 Mrs Nevin sold the homestead to her brother, Edwin S Phillips for $2,500. The latter died intestate January 19 1876 leaving a widow, the former Susanne M Kirkbride, and two sons, Allen E and James K. The widow died August 29 1910 and December 17 1914 James K deeded his interest to his brother, Allen Edwin Phillips, who was born in the house May 5 1868 and resided there until his death January 18 1944.
Graduated from Massena Union school and Eastman Business college, Allen E Phillips was many years partner of Evan W Summers as Phillips & Summers in the clothing business. Until August 1932 he was also teller and trust officer of the Massena Bank & Trust company.
On March 25 1896 he married Sophie W, daughter of Robert and Sophia Buchan. Mrs Phillips continued to reside in the house until her death, September 6 1947. The house is now owned by her estate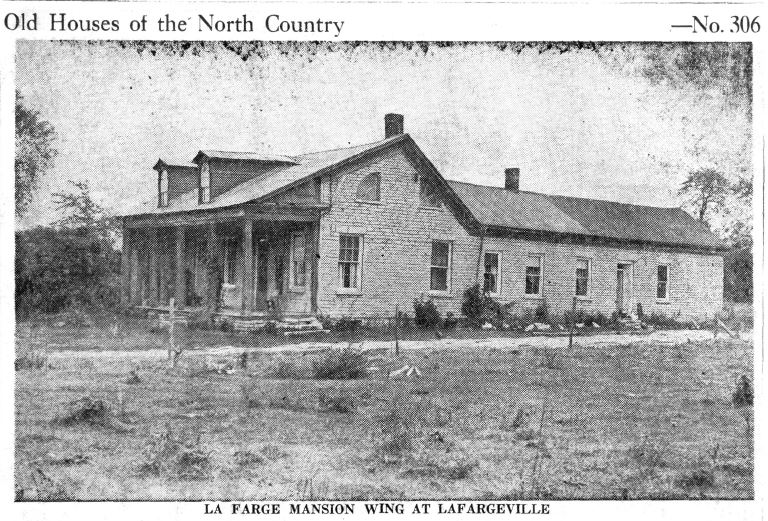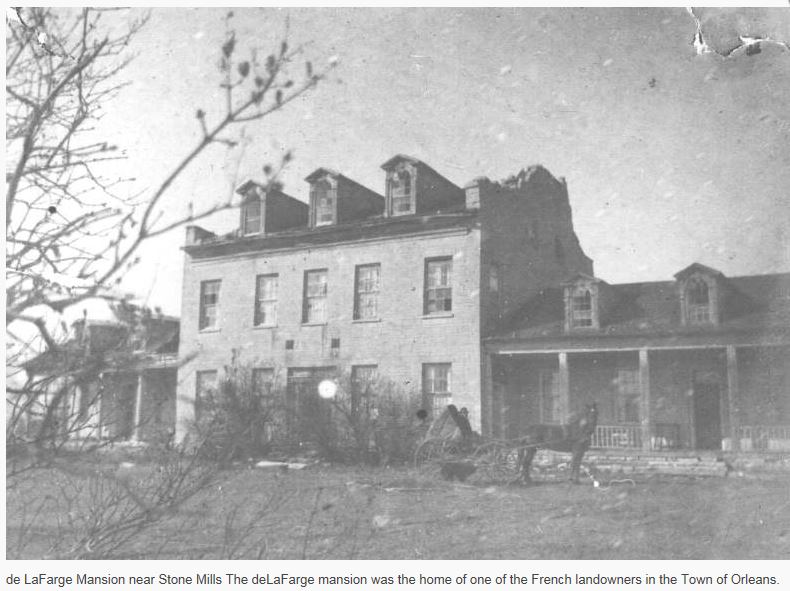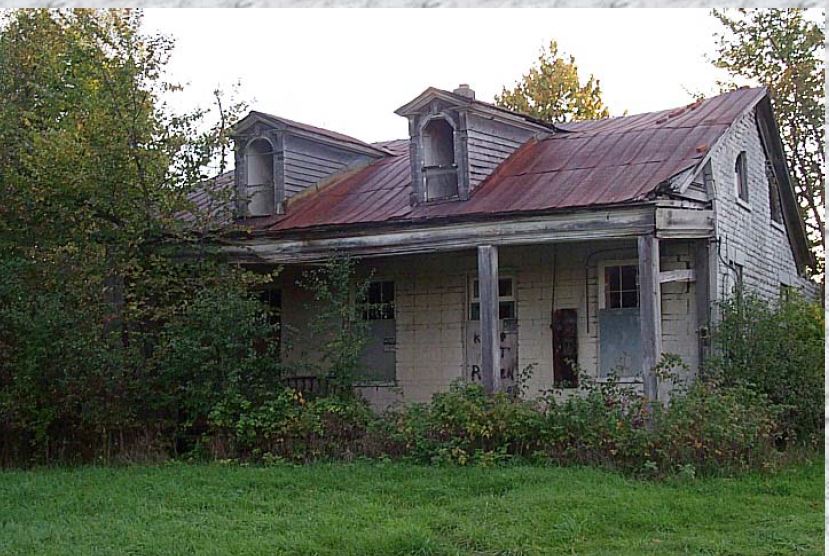 See also Article # 143 - same topic
Something of the immensity of the LaFarge mansion, which stood just outside the village of LaFargeville toward Stone Mills on the road leading to Watertown, is evidenced by the north wing, which is all that remains of the imposing structure, built of native blue limestone quarried nearby.
The mansion was constructed in 1832 and 1833 for John LaFarge, who was born in France in 1786 and when a young man went as a soldier in Napoleon's expedition against Santo Domingo, later becoming a merchant of Harve, France, trading extensively with the West Indies and New Orleans.
It has been often told of his purchases of the greater part of Penet Square in this county, of his building of several houses here including the great one at LaFargeville, of how his young wife, Louisa, did not like this wilderness country and of how on March 1 1838 LaFarge disposed of the mansions, overseer's house across the road and about 436 acres of land to the Rt. Reverend John DuBois, RC, third bishop of New York.
There Bishop DuBois established a Catholic theological seminary, which was discontinued in about two and one-half years. The bishop died December 20 1842 and willed the property to Archbishop John Hughes of New York, who established his brother, Patrick, there. The archbishop died early in 1864 and by his will probated in April of that year conveyed the place to his brothers, Patrick of LaFargeville and Michael of Chambersburg, Pennsylvania. On February 10 1876 George Wilder acquired it from the Hughes family, and later it came into the possession of Mrs Mabel C Lehr of Philadelphia. In 1901 the main body of the mansion and south wing were razed because of the dangerous conditions of the walls. Mrs Lehr sold this north wing and 103.84 acres of land to Charles and Beatrice Berkman, the present owners and occupants.
The mansion was symmetrical in design, the body being 2.5 stories high with wings of equal type and frontage. The architecture was a mixture of French and American and there were narrow dormers on the main part and wings, while each wing, one story in height, had pillared verandahs. The entire frontage of the mansion including verandahs was 100 feet and there were 47 rooms, all of which were high.
Several of them contained fireplaces with Italian marble mantels and there was beautifully crafted interior woodwork, while ceilings were ornamented with beautiful cornices and center pieces of plaster in relief pattern created by Thomas Drake. The master mason of the mansion was Hial Cook.
It was meant to be a country manor house of great magnificence and splendor with the finest furnishings and equipment of that day, but it failed to hold enchantment for Mme. LaFarge and so the master of the place was prompted to seek the more exciting social life of New York City. Nevertheless the LaFarge mansion, largest of the many North Country land barons of another day, still lives in the printed word to intrigue the imagination of the historically-minded.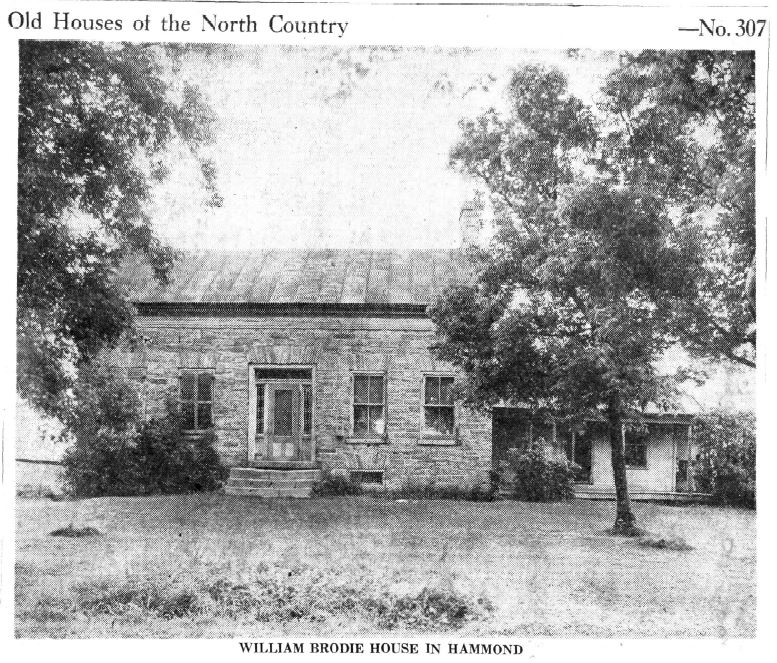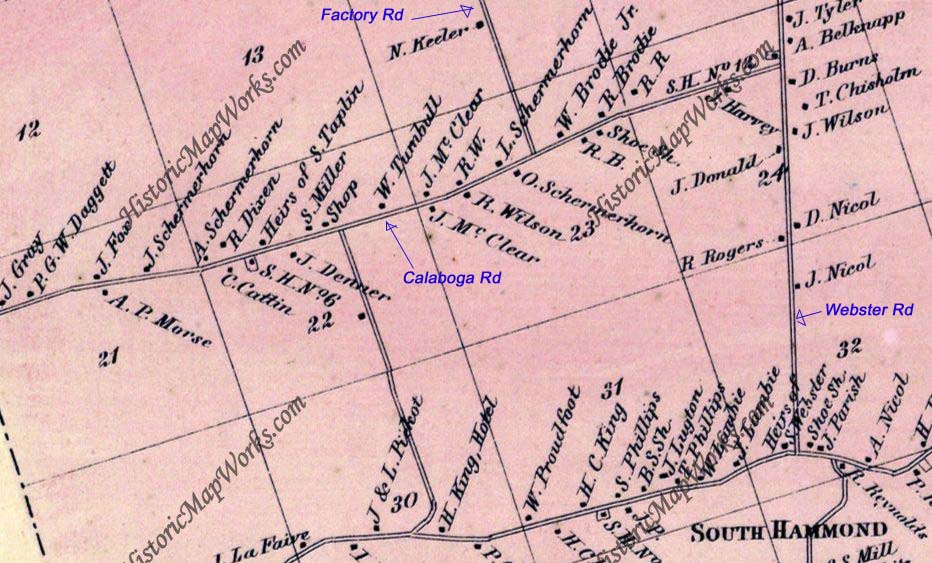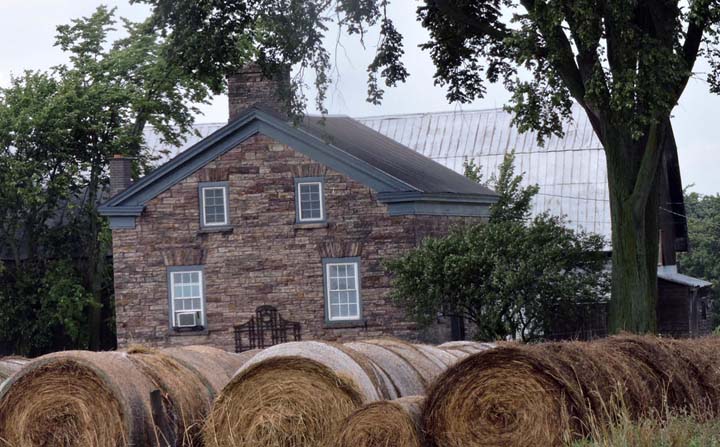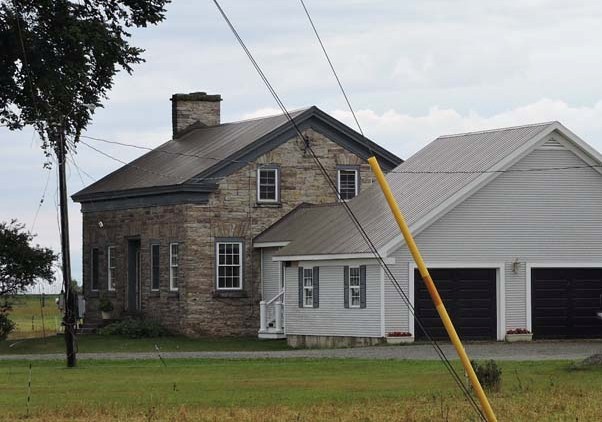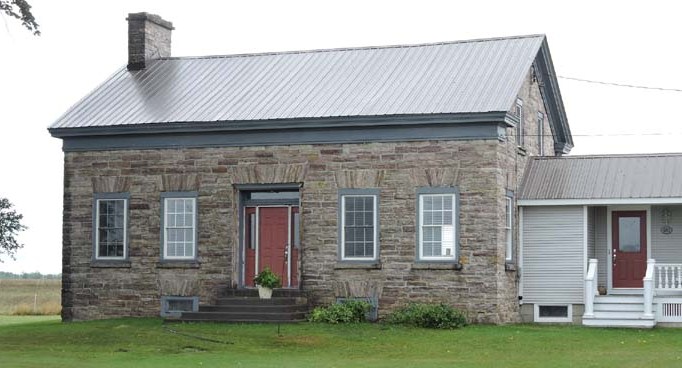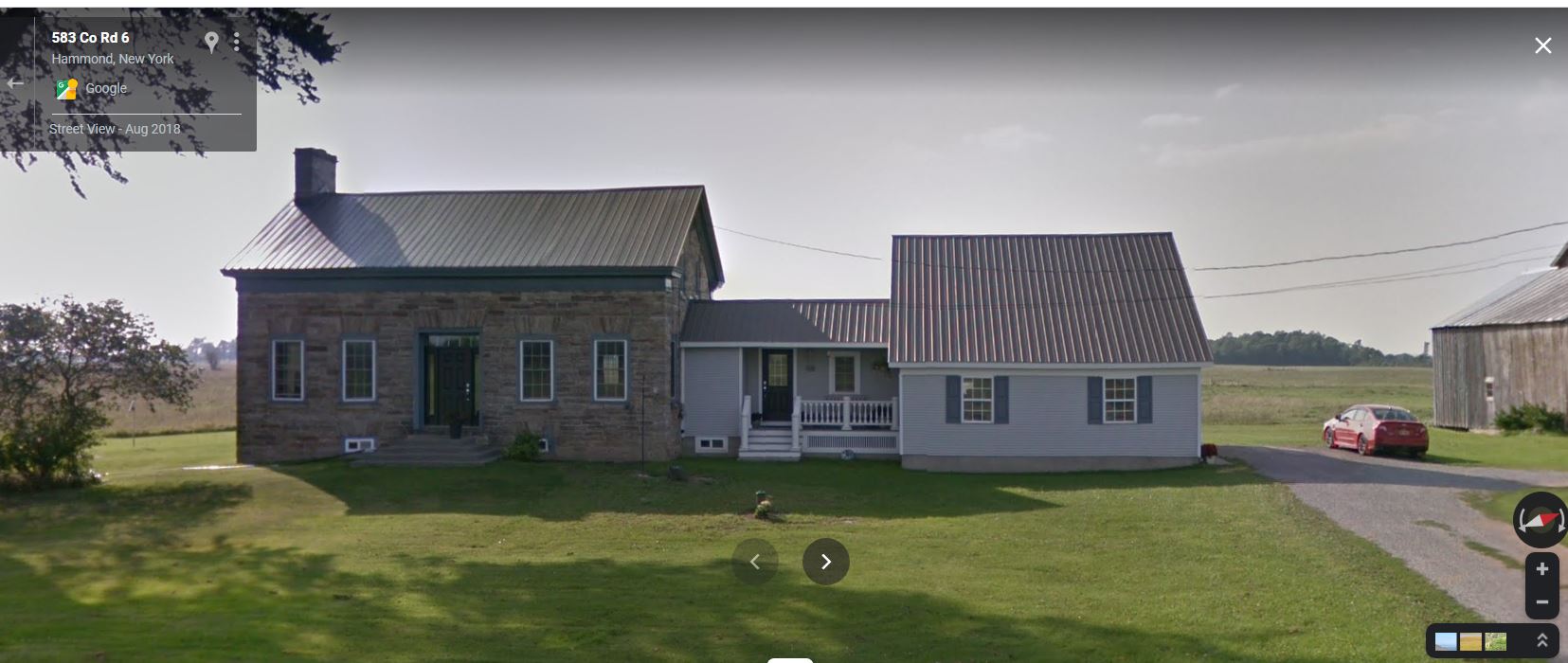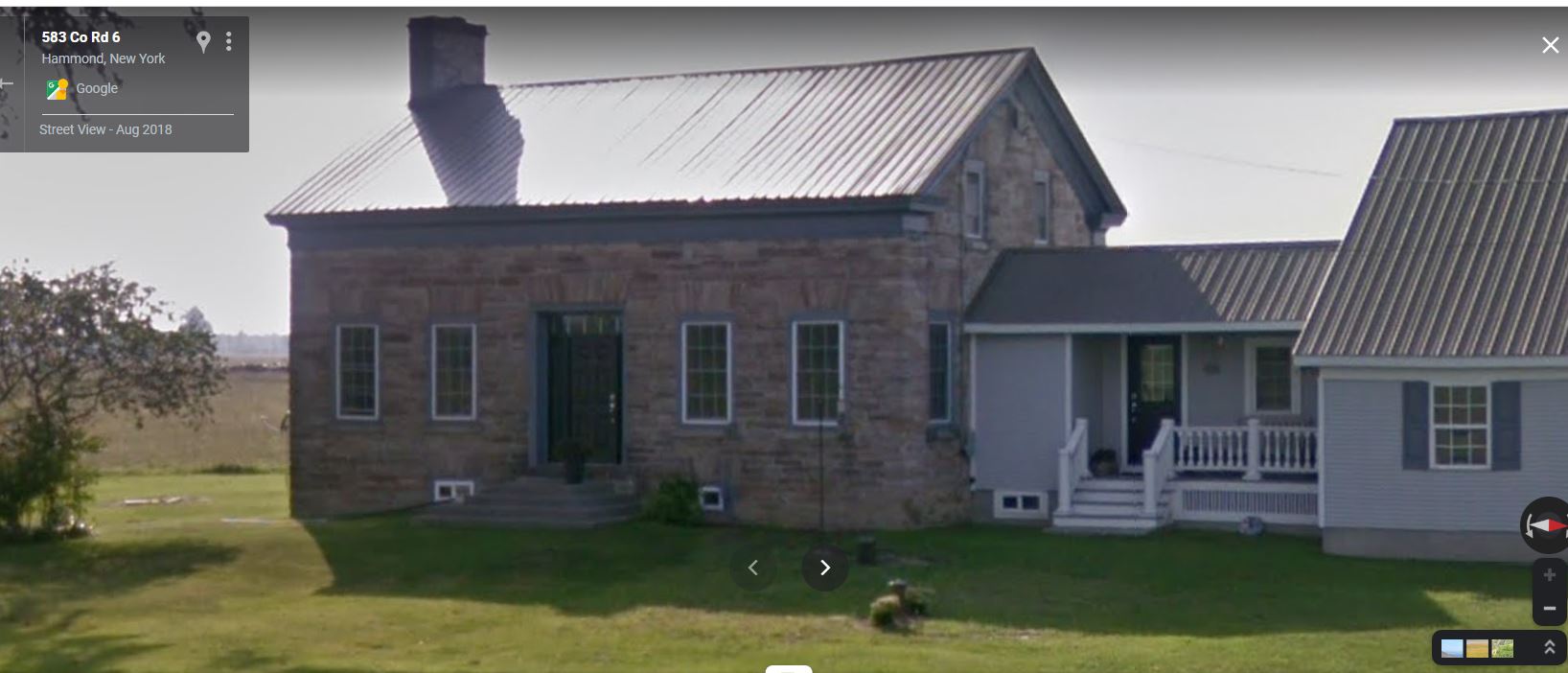 Low and quaint is this native sandstone house in the Calaboga district over towards the Chippewa Bay section where so many Scotch immigrants settled in the town of Hammond more than a century and a quarter ago. This house, one of several of similar style in that town, was built by William Brodie close to a century ago. Little is known of its history, except that it occupies land once owned by David Parish, noted European banker who built a fine mansion in Ogdensburg in 1810 and did much to promote that community and St. Lawrence county where he had heavy land holdings.
On September 12 1814 Parish bought 28,871 acres from Abijah Hammond, of New York City, for whom the town was named and who was a brother-in-law of David A Ogden. Scotch families who came over in 1818 1819 and 1821 met agents of David Parish and were induced to buy land and establish farms in the Chippewa Bay area. There they erected several stone houses, for an extensive deposit of sandstone runs from Black lake through the town. The thrifty Scotch settlers created an extensive wheat belt in the region of their settlement, but long ago the growing of wheat was discarded for the more profitable agricultural enterprise of dairying. On June 10 1848 William Brodie Sr, purchased one parcel of 161.15 acres and another of 66.73 acres for $709.48 from George Parish. On June 30 1852 Brodie paid Joel and Mary Tyler $1,200 for 47.34 acres of land, for which Tyler had paid George Parish $167.07 on February 21 1851.
Out of this 275.22 acres of land in the town of Hammond William Brodie Sr, conveyed the sandstone house, outbuildings and land inclusive of the 137 acres that now go with the buildings, to Robert Brodie. The latter died intestate in October 1884 and his widow Catharine and two children, Margaret R Brodie and William D Brodie inherited the place
Mrs Catharine Brodie died in February 1890 and her interest was inherited by the two children, of whom Margaret R Brodie was married to Charles W Robeson June 22 1892. In April 1936 Mrs Robeson quitclaimed her interest to her brother, William D Brodie.
William D Brodie and wife, Alice M Brodie then disposed of the property, consisting of the house, barns and 137 acres to Rosair A Amyot the present owner. The house is simple and attractive in design, consisting of the sandstone upright and small, one-story wooden wing. It faces the east and there is an interesting, rectangular central main entrance with rectangular leaded sidelights and rectangular transom to the door. The lintels are of long, narrow blocks of sandstone set on end and splayed. The original windows have been replaced by more modern ones, and a metal roof now takes the place of the wooden shingles which first were there.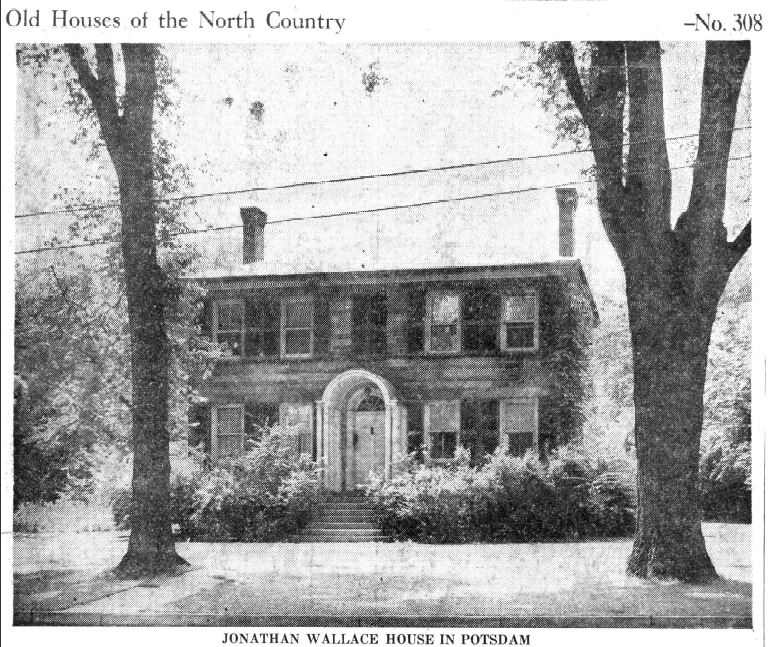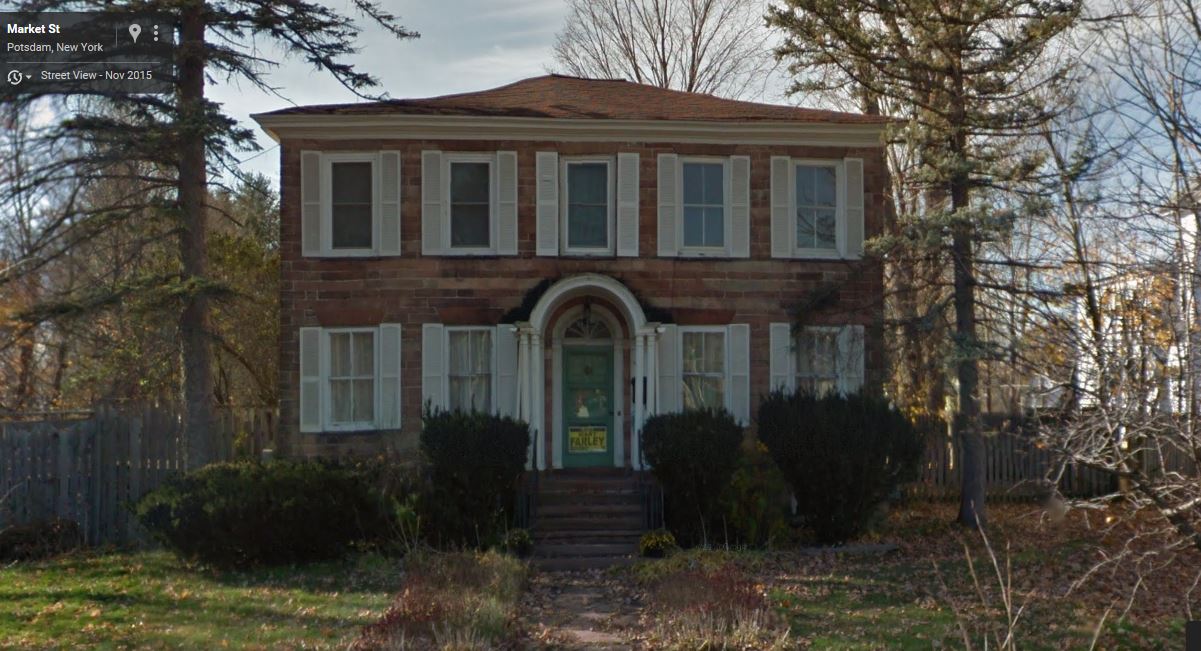 At 99 Market Street, one of Potsdam's prominent thoroughfares, is this unusually fine native sandstone specimen of Georgian architecture built by Jonathan Wallace, a leading early settler, some time after 1828. Some say the front or main portion of the house was constructed in 1837 but it seems likely that it was earlier than that. It was on April 10 1821 that Herman LeRoy, one of the early promoters of Potsdam, purchased 8.5 acres of land from Matthew Clarkson. The parcel reached from the Union road, now Market Street, to the Racquette river and from about Washington Street to the middle of the present Walnut Street. It included pasture lot No. 7 out of which came the site of this house.
On February 25 1828 LeRoy sold the tract to Jonathan Wallace for $278 who later built the front part of the house, which had the kitchen in the basement, and a few years later there was erected a rear addition which nearly doubled the house size.
This sandstone addition is said have been built by the next owner, William H Wallace, who bought the place from Jonathan Wallace and wife, Lucy, on August 15 1846 for $1,261. William H Wallace, who served as village president 1860-1862 created an elaborate rose garden on the south lawn with a fountain in the center. Many of the roses were imported from England. A few of these century old roses still bloom. Included in the collection were some moss roses.
Mr Wallace, who was also on the original commission to procure plans and specifications for the village waterworks constructed in 1871 served on the state normal school board from December 31 1875 to May 6 1878. William H Wallace died September 18 1877. His administratrix sold the house and grounds to James Lemon for $3,700 on March 8 1880. Some time before a ten-foot strip had been sold off to help form Walnut Street. In 1854 the railroad crossed the lower end of the property. Lemon conducted a harness shop next to the bridge.
He died February 11 1909 devising a life-use of the place to his widow, Weltha A Lemon. There were some allied conveyances among the Lemon heirs after Mrs Lemon's death. She willed her own estate to Laura A Lemon, Anna G White and Florence M Farnsworth, to whom the Lemon heirs also gave quitclaim deeds September 26 1913.
Laura A Lemon then quitclaimed to Anna G White and Florence M Farnsworth June 24 1914 and on May 27 1915 they sold the property to Blanche S White, Donald P White and Frank S White for $4,650. On September 28 1915 Donald P White and Frank S White conveyed to Blanche S White and on October 15 1923 Blanche S White transferred to Donald P White and wife, Marjorie S White.
During the Lemon ownership a gingerbread Victorian porch was added to the house front and they built an ornamental gallery around the edge of the roof. In remodeling, Mr and Mrs White caused these to be removed built an attractive little portico at the beautiful Georgian entrance with its semicircular transom over the handsome front door, and constructed a sandstone hatchway at the rear. They also modernized the interior, which retains the beautiful Georgian fireplace mantel and excellently crafted woodwork and paneling around the windows. Mr White is president of the Sisson-White Lumber company. Mrs White's father was Charles H Sisson, an officer of the Racquette River Paper company. Mr and Mrs White are the only owners of this house who have brought up children in it. They have three sons.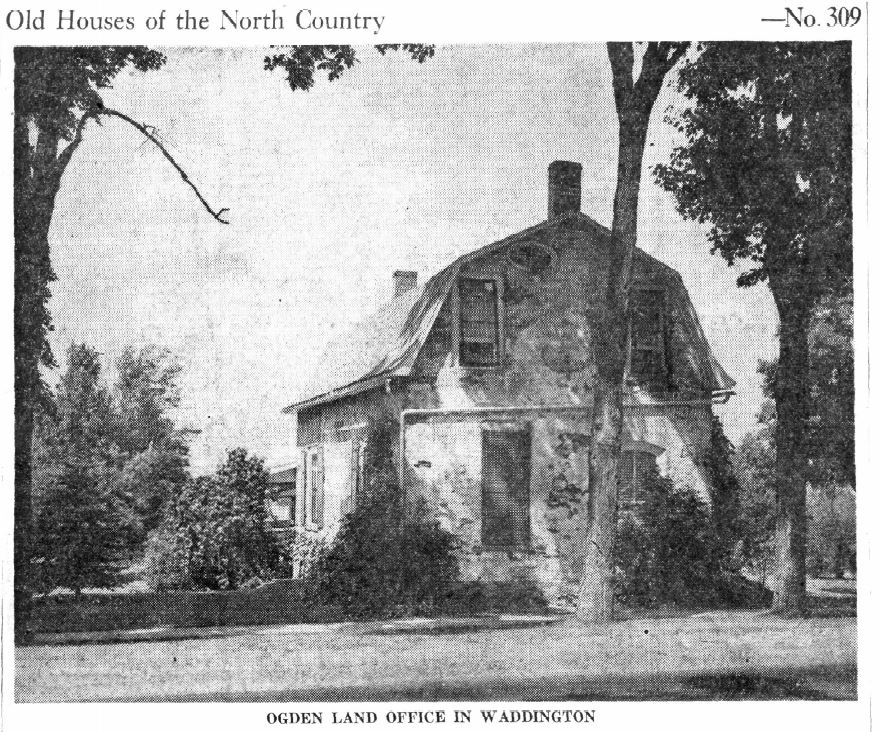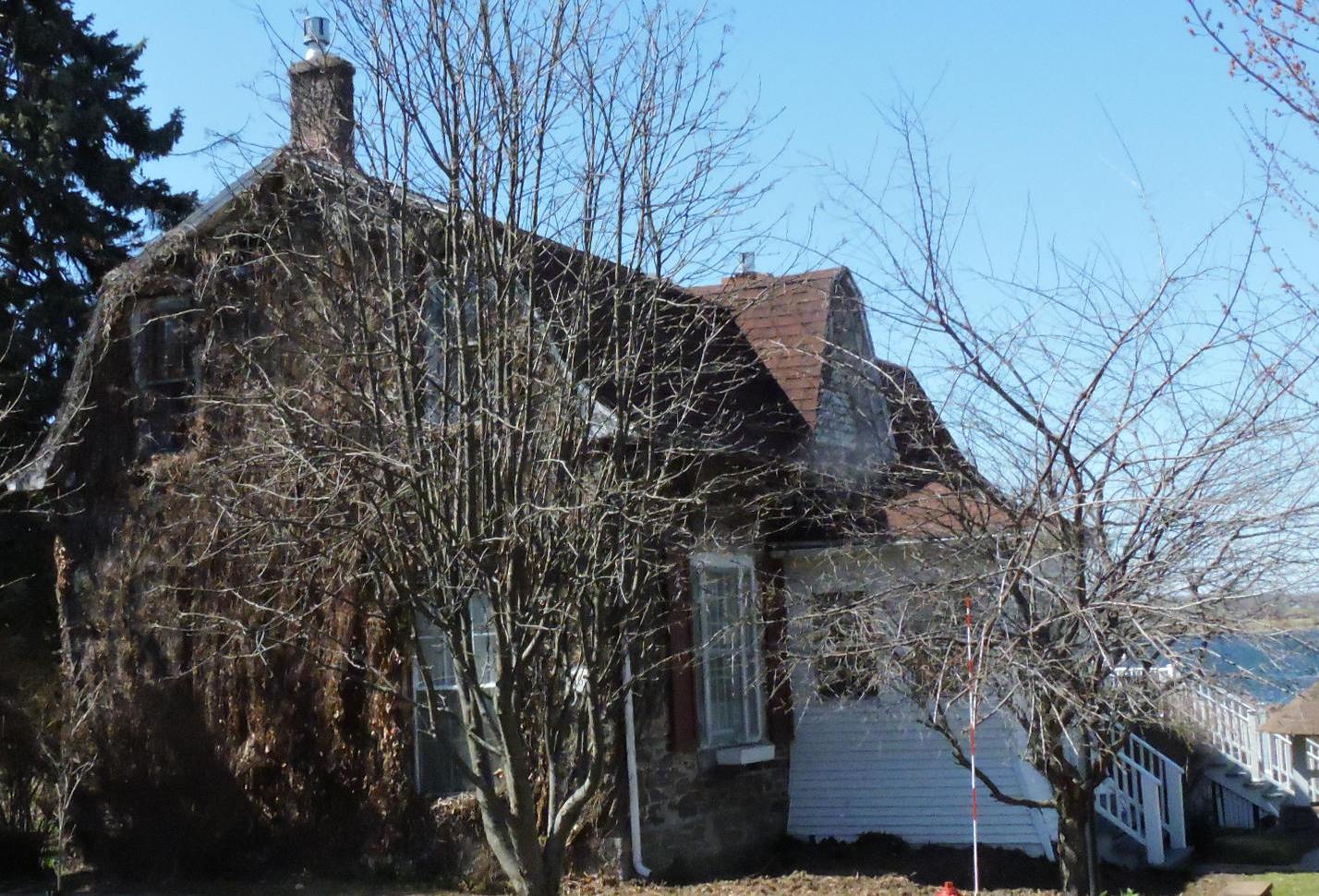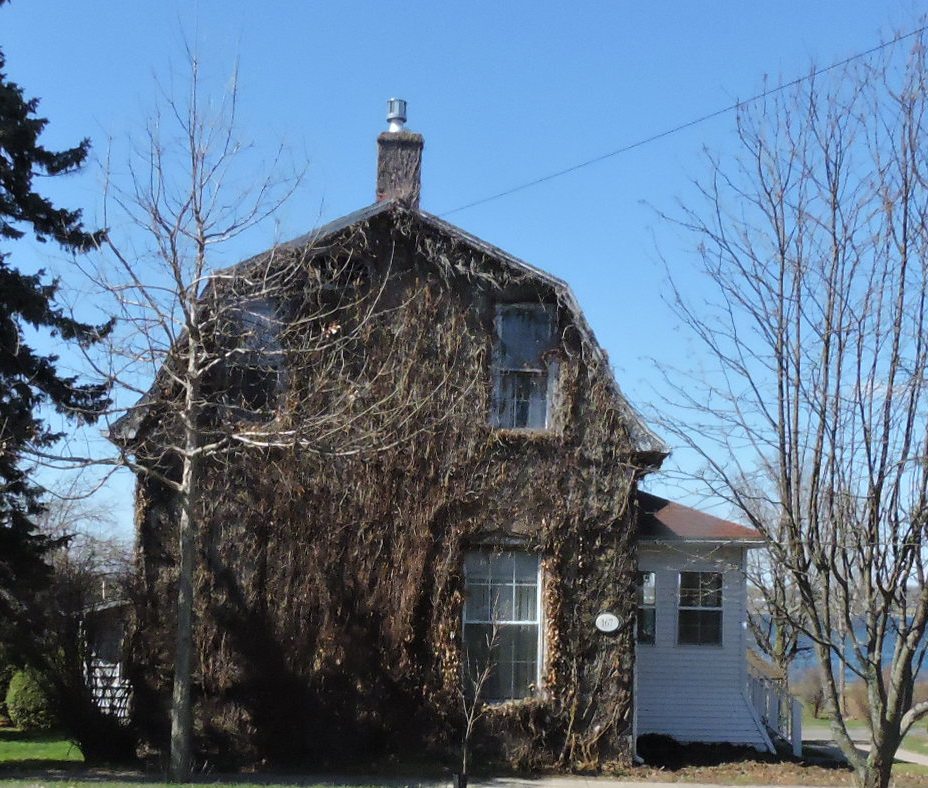 In spite of the fact that it is an architectural hybrid, there is a charm about this little stone house, on the river side of St. Lawrence avenue in the village of Waddington, which captivates the sightseer. The one-story stone nucleus of this house is referred to in some of the deeds as "the Land Office," and was probably built about 135 years ago, shortly after David A Ogden received the 1,135 acres that embraced Waddington village and Ogden island across the St. Lawrence river from it.
It was in 1811 when David A Ogden, Thomas Ludlow Ogden and Joshua Waddington divided up the original town of Madrid, that David A Ogden took the 1,135 acres, mills, water rights and dam as part of his share. To promote sales of land it is likely that he caused the land-office to be constructed about that time. Shortly afterward his large, 52-room limestone mansion was erected on Ogden island to become a rendezvous for Federalists and many notables of that era. The town of Madrid had been bought for $60,000 in June, 1796 by Abraham Ogden, his sons, David A and Thomas Ludlow Ogden, and Josiah Ogden Hoffman. Natives of New Jersey David A and Thomas Ludlow Ogden had been law partners of Alexander Hamilton in New York City, and so the present village of Waddington was first named Hamilton. By January 1 1820 David A Ogden had become heavily involved financially and his properties were taken over by other members of the family.
The little land-office was located upon what was referred to in some of the early deeds as "the Furnace Lot," where, in 1834 the Ogdens built a quarter-furnace, in which they smelted bog-iron ore from the Grass river two miles away, making pigs and various types of castings. Then came the depression of 1837-8 the business became unprofitable and by 1840 the furnace was shut down.
In December, 1834 Letitia Ogden, wife of Isaac Edwards Ogden, released her dower in this lot and other lands to Joshua Waddington, Thomas Ludlow Ogden and Isaac Ogden. On November 14 of that year Isaac Edwards Ogden, William and Harriet Ogden conveyed to Joshua Waddington, Thomas Ludlow Ogden, Gouverneur Ogden and Isaac Ogden. On November 25 1839 Gouverneur Ogden deeded his interest to Joshua Waddington, Thomas Ludlow Ogden and Isaac Ogden. There was another transfer among them February 1 1846 and on January 21 1868 the estates of Thomas Ludlow Ogden and Joshua Waddington conveyed the premises to De Witt C Stark.
Under mortgage foreclosure instituted by Edward Leishman against Stark the property was bid in by Leishman and deeded to him September 25 1872. On September 26 1872 Edward Leishman transferred to Sellar Leishman who, with his wife, Harriet W Leishman, sold the place to Elsie J Haskell June 3 1914 for $1,500 and on April 3 1928 she conveyed to J Lindsay Davis and wife, Jane P Davis. Mr and Mrs Davis sold the property to Fanny E McKay August 7 1936 and on June 22 1942 the latter disposed of the place to Vernon J Taylor and wife, Lenora S Taylor, who have a son, Vernon J Taylor Jr. Mr Taylor is engaged in the garage business in Massena.
It was during the Haskell ownership that a second story with the present roof was added and the off-center oval window was placed in the front gable. Mr and Mrs Davis added a frame kitchen overlooking the St. Lawrence at the rear and under the McKay ownership the grounds were landscaped. A false window recess in the living room shows where the Ogdens had a safe. Old partitions divide the basement into three rooms. When campaigning for the governorship, Franklin D Roosevelt became so interested in the little house, now partially plastered, that he stopped and went into it.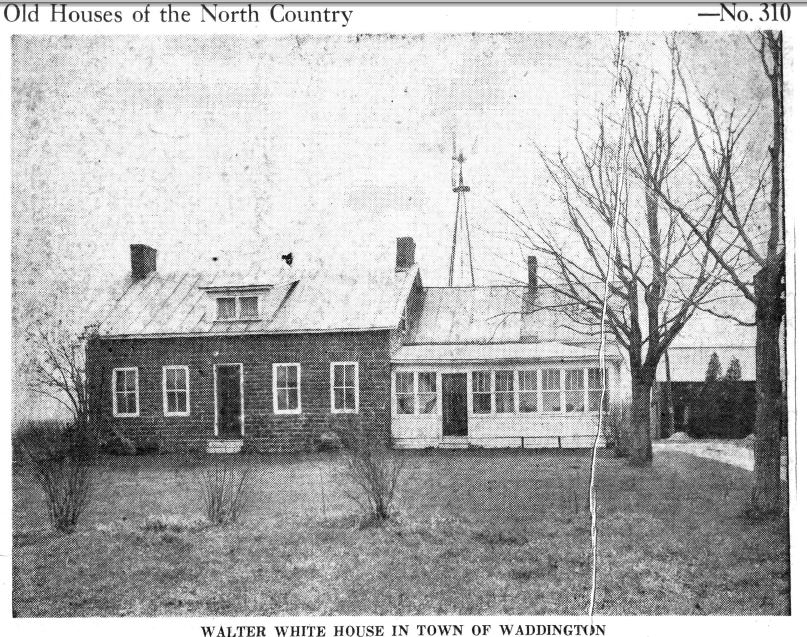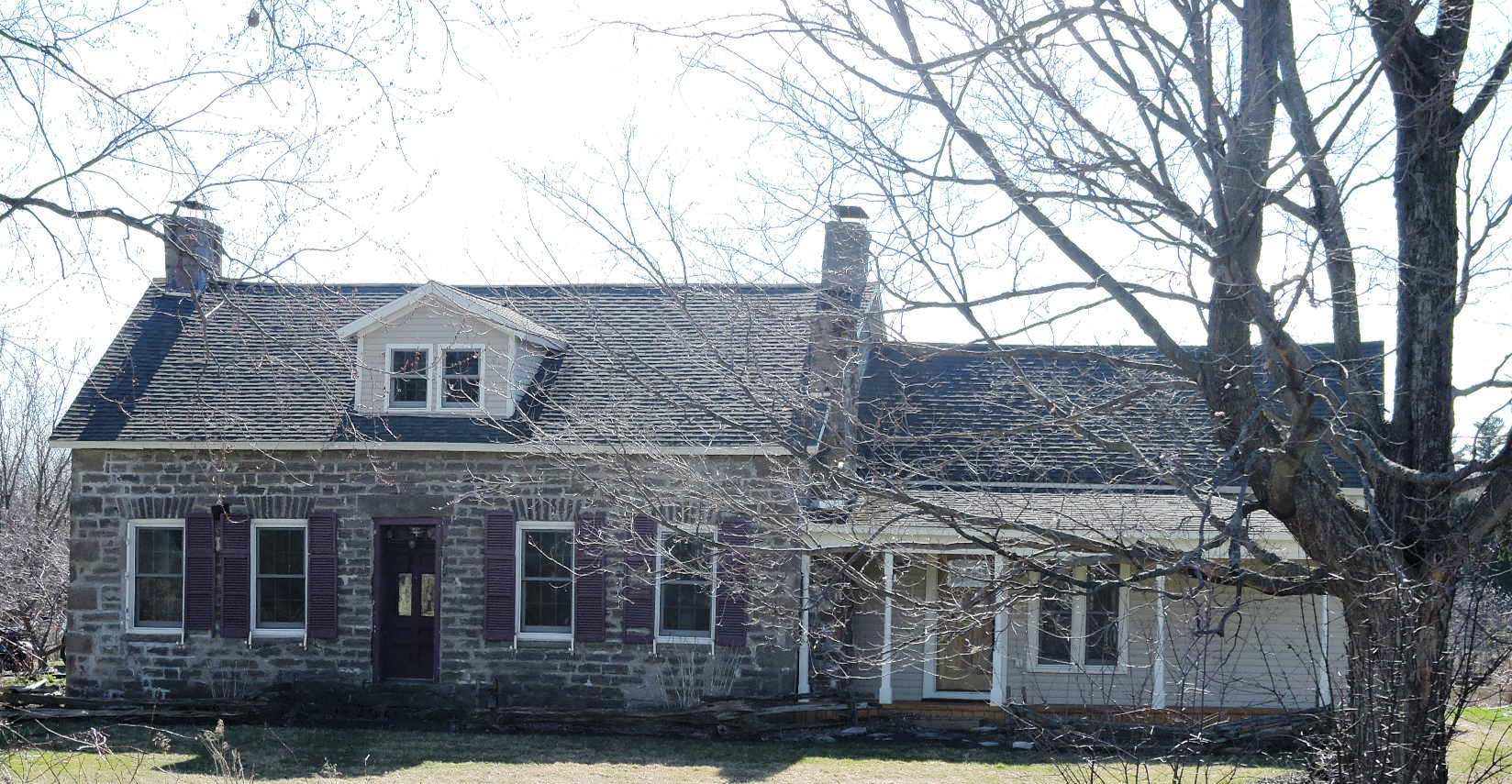 Beginning with the four Rutherford brothers, Andrew, Walter, Thomas and Richard, natives of Scotland, back in 1800 a large number of Scotchmen settled in what is now the town of Waddington, setting up what became known as "Scotch Settlement" a little to the southwest of the village of Waddington. Then in 1819 came Walter Wilson, 22 another Scot, who grew to be a prosperous St. Lawrence county merchant, supervisor of the town of Madrid in 1839 first president of the village of Waddington that same year and again in 1867 and first supervisor of the town of Waddington in the spring of 1860. Another early Scot to settle in Waddington was Walter White, a stone mason, who acquired a farm a few miles from Waddington village on the road to Madrid. His granddaughter, Miss Mae B White, is authority for the statement that he first built himself a log cabin and later built the native sandstone house upwards of a century ago which is shown herewith. The record, however, would seem to indicate that the house was built by someone else and that Mr White did not own the property until considerably less than 100 years ago.
Known as the Pleasant Valley Farm it consists of 124.8 acres made up of three parcels of 103 acres, 17 acres and 4.2 acres. When Walter M White, grandson of Walter White, died intestate January 11 1945 the place went to a sister, Miss Mae B White, and niece, Delia M Norris.
Walter M White was active in the Dairymen's League and president of its local unit a number of years. He was also prominent in the Waddington Presbyterian church and farm bureau. He possessed the farm from April 27 1907 when his mother, Euphemia White, deeded it to him until his death. Mrs Euphemia White's husband, Thomas White, died intestate April 15 1873 leaving, besides her, three minor children, Ida B White, Mae B White and Walter M White. Mrs Margaret White, widow of the original Walter White and mother of Thomas White, was then living and on October 31 1873 quitclaimed her interest in the property to Mrs Euphemia White and her three children. That deed mentions it as the homestead farm of Walter White. On January 17 1893 Ida E Shaver, Mae B White and Walter M White conveyed their interest to their mother.
Originally the land, was part of the holdings of Joshua Waddington, owner of the town, and on August 15 1855 his executors sold to Walter Wilson 88 acres which contained the 4.2-acre parcel in the present farm. On November 1 1855 the executetors of Joshua Waddington sold to Walter Wilson for $5,512.60 the 103-acre parcel and other lands. The price might indicate that the stone house was then there.
Walter Wilson and wife, Anna, sold the 103-acre parcel to Walter White on March 8 1865. On November 11 1865 Walter Wilson sold the 4.2-acre parcel to Thomas White, son of Walter White, and on March 20 1868 Walter White conveyed the 103 acres, which front on the road, to Thomas White for $2,000. Concerning the 17-acre parcel on December 3 1834 Joshua Waddington sold 22 acres, containing part of this 17 acre, to John Taylor for $155.21 and on November 7 1837 sold to Taylor 41.76 acres for $208.80 in which plot was also a part of the 17 acres. January 8 1848 Waddington for $118 sold to the heirs of John Taylor 23.76 acres, which contained part of the 17 acres. On September 8 1857 these Taylor heirs sold 43 acres containing the 17 acres to Robert Brigham Jr, for $800 and through mortgage foreclosure Thomas Peacock acquired the 43 acres on August 18 1863 for $490.03. Peacock then sold the 17 acres to Thomas White November 1 1867 for $300.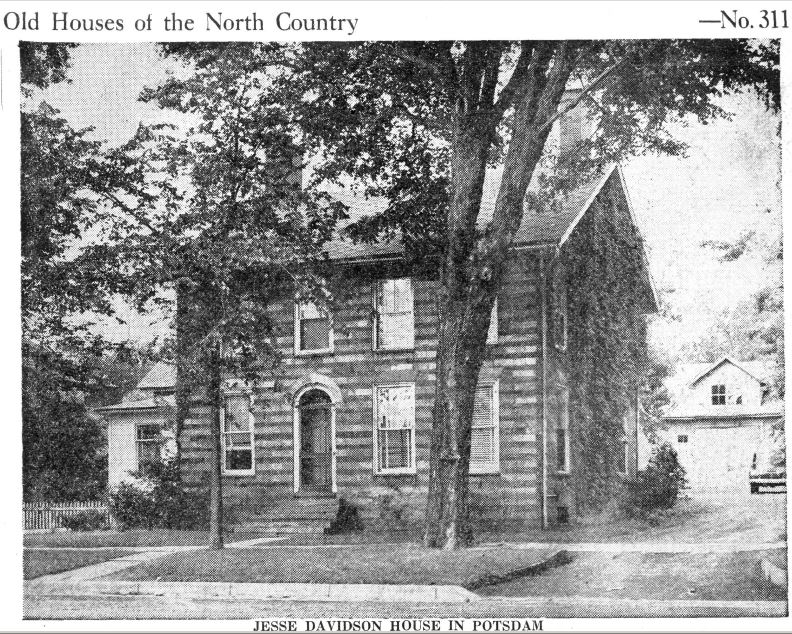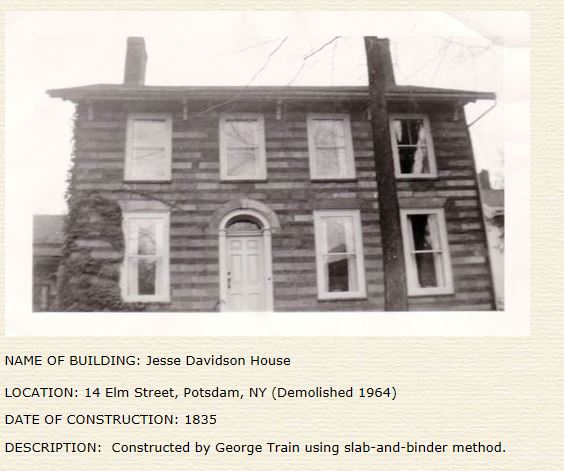 Said to have been one of the first three houses constructed of native sandstone in the village of Potsdam this attractive Georgian structure on the north side of the downtown end of Elm Street is probably about 112 years old and is undoubtedly best known as the Judge Charles O Tappan residence. Prior to the Judge Tappan ownership it was the property of his father-in-law, Dr Henry Hewitt, who was born October 8 1797 at New London, Connecticut, studied medicine at Yale, practiced at Vergennes and Coventry, Vermont, and removed to Potsdam in 1840.

Dr Hewitt engaged in the hardware business, fought a serious epidemic in 1842 got a $10,000 legislative grant in 1849 to develop the Racquette river in transporting logs, built a large gang-saw mill and established Hewittville, was surgeon of the 92nd NY Infantry Volunteer Regiment in the Civil war and died July 22 1869. Judge Tappan, who married Sarah A Hewitt February 24 1857 was born at Addison, Vermont, April 17 1831 son of farmer Jacob Tappan who served several years in the Vermont legislature. After a course at Moriah academy he studied law at Moriah with John F Havens, was admitted to practice July 4 1853 formed a partnership with Edward N Dewey a month later and the next year was joined by William A Dart in the firm of Dart, Dewey & Tappan. Dewey withdrew in 1856 to go to Chicago and then the firm was Dart & Tappan.

An ardent Republican Charles O Tappan was appointed U S district attorney in the spring of 1861 and made Dart his assistant. In the fall of 1869 Tappan was appointed U S consul-general to Canada. Two years later he became county judge. Later George Z Erwin joined him in the law firm of Tappan & Erwin. As St. Lawrence academy trustee Mr Tappan helped secure the state normal school and was of the committee superintending its construction.
Instrumental in forming the Racquette Valley & St. Regis Valley Agricultural society in 1870 he was its first president for three years. Also he was first president of the St. Lawrence County Bar association, formed in 1876 and January 1 1878 became a supreme court justice. He died August 20 1895. He was the father of four children, Mary, Ruth, Charles O Tappan Jr, and Ogden. On April 27 1835 the site of this house was bought by Jesse Davidson from the heirs of Nicholas Fish, who was one of the early promoters of Potsdam, for $150. Davidson and wife, Julia, sold the propertv for $1,725 to David S Sheldon June 22 1836 and on November 27 1838 Sheldon conveyed to Asa Brainard Jr, for $1,800. Asa Brainard and wife, Mary G, sold to Dr Henry Hewitt for $1,600 on April 1 1843. Both Brainard and Hewitt had mortgaged the place. Tappan foreclosed the two mortgages in 1859 and acquired title with the result that November 25 1862 Charles N Hewitt, son of Dr Hewitt, and surgeon of the 50th NY Volunteers in the Army of the Potomac, quitclaimed his interest to Tappan.
On April 11 1914 Mrs Sarah A Tappan, individually and as executrix of her husband, Judge Tappan, conveyed this and other property of the estate to Mary Reynolds, Albert H Reynolds and Elizabeth Reynolds. They, in turn conveyed to Dr Wilbur H Reynolds December 16 1914. An expert horticulturist, Dr Reynolds developed outstanding gardens on his premises. He died December 16 1924 and the property went to his widow, Libbie A W Reynolds, who died February 10 1935.
Her executors, Blythe M and Dr Robert J Reynolds, then disposed of this house to Dr Thomas M Watkins and wife, Melta A Dr Watkins, who has served as physician at the state normal college and been president of the St. Lawrence County Medical society, was named chief of staff of the Massena Memorial hospital a few years ago. About a year and a half ago he sold this house to Dr William Carson, present owner and occupant
Imposing is the three-story native limestone residence said to have been built about 87 years ago by James G Averell, banker, shipbuilder and builder of buildings, at the corner of Washington and State Streets, Ogdensburg. The site, originally part of the landholdings of George Parish, a zealous promoter of the development of Ogdensburg, was built up by accretion of parcels of land until it occupies a whole city block on State Street and about a third of a block on Washington Street.
James G Averell was born in Ogdensburg November 4 1818 and died there August 11 1895. His brother was William J Averell, father of Mary Averell who married E H Haniman, the noted multi-millionaire railroad magnate and father of Averell Harriman of present-day diplomatic fame.
James G Averell and William J Averell were sons of James Averell, who was born at Cooperstown in 1790 brought his bride to the town of DeKalb in 1809 and cleared a 3,000-acre tract bought by his father from the father of James Fenimore Cooper. For many years James Averell was lumber dealer, merchant, trader in association with Sylvester Gilbert and Amos Bacon.
His son, James G Averell, first married Charlotte Seymour who died in the 1860's. On September 5 1864 he married Harriet, daughter of Sylvester and Nancy A Seymour Gilbert and cousin of his first wife. James G Averell's father was president of the Ogdensburg bank and in 1840 was appointed judge of the court of common pleas.
When the Oswegatchie bank went into operation on November 19 1854 Augustus Chapman was made president and James G Averell, vice president, but the latter became president May 29 1860 following the death of Chapman. On June 11 1866 it became a private bank known as the Averell & Chapman bank until December 1 1873 when James S Bean joined and it became Averell, Chapman & Bean.
The mansion was willed by James G Averell to his widow, Mrs Harriet Gilbert Averell, who died February 2 1910 leaving it to her son, Sylvester Gilbert Averell. On August 20 1913 he sold it to John C Howard who, on October 9 1913 joined with his wife, Charlotte S Howard, in its sale to Henry W Lawrence.
Mr Lawrence, who early in his career had operated a hotel at Mooers Junction, NY, later in life became manager and part owner of the Claypool hotel in Indianapolis, Ind. There Mr Lawrence died immensely wealthy and the Ogdensburg mansion, which he had named "Rencelaw" and upon which it is said he spent about $250,000 on magnificent furnishings including a $50,000 imported Carrara marble mantlepiece, went to his widow. She was the former Adelaide Cunningham, daughter of the late James F Cunningham of Ogdensburg, which was the place of her nativity.
Mr and Mrs Lawrence had used "Rencelaw" as their summer home. She died March 7 1937 in her apartment in the Claypool hotel and provided in her will that "Rencelaw" should become the property of Wadhams Hall, a college maintained in Ogdensburg by the Roman Catholic diocese for the education of young men seeking to enter the priesthood.
Accordingly under deed dated May 29 1939 it was conveyed by her executors to Wadhams Hall, an institution which was established in 1924 in the Ashley mansion on Hamilton Street, Ogdensburg. Following that "Rencelaw" was renovated and made suitable as the diocesan minor seminary which became Wadhams Hall and which contains dormitories with a capacity of about 30 students and is equipped with the necessary class rooms, offices and adjuncts. It is designated 232 Washington Street, and is near the Bemington Art Museum, the Public Library and other important Ogdensburg public buildings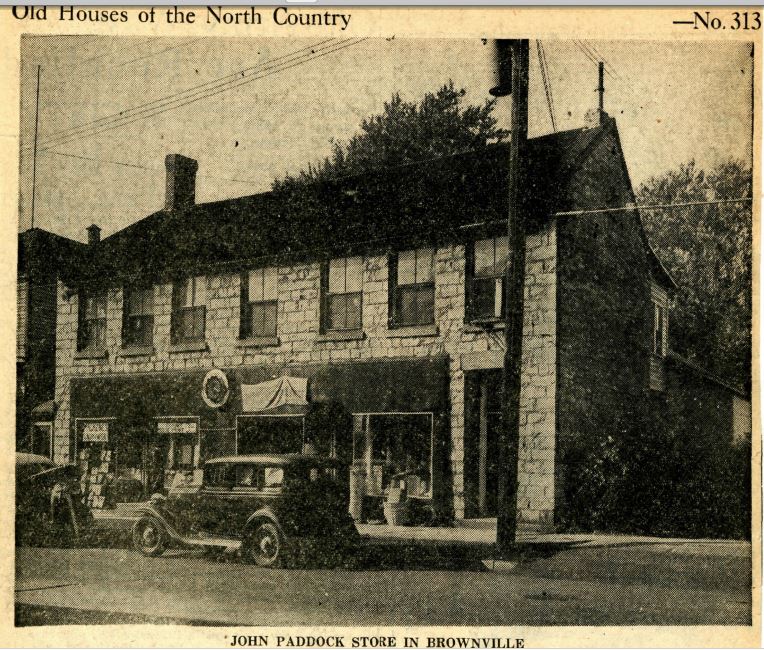 109 E Main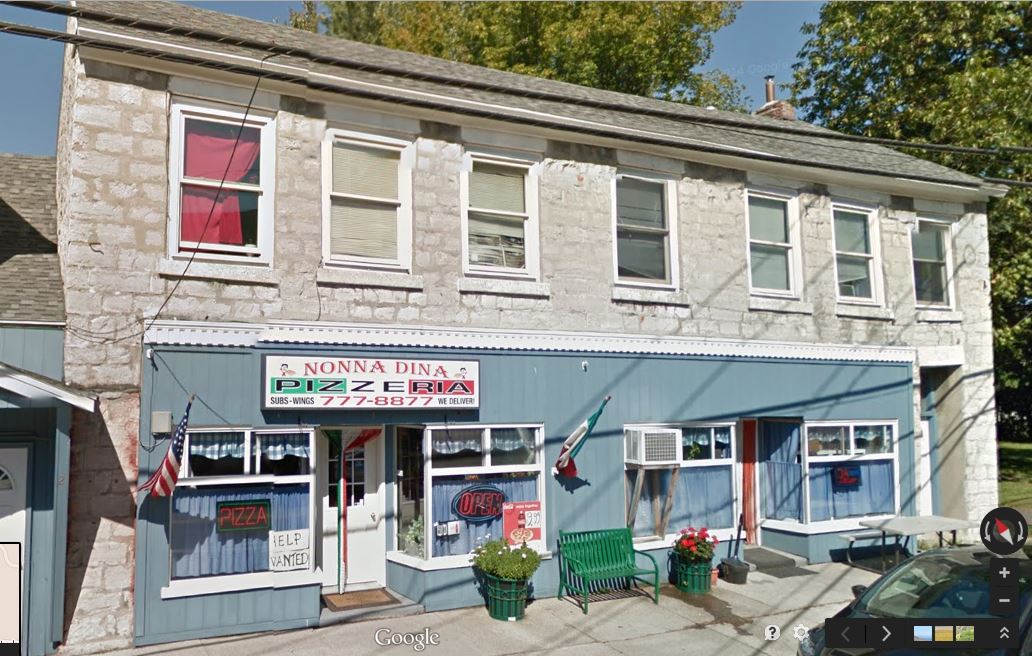 John Paddock, born at Middletown, Connecticut, December 3 1777 son of a sea captain who was in post-Revolutionary commerce between the United States and the West Indies, was one of the earliest of Jefferson County's most important citizens, yet today his remains lie in an unlocated grave in Brownville.
In partnership with William Smith he opened the first store in Watertown in 1805. In 1816 he became the president of the newly-formed Jefferson County Bank first real bank in the county, but he was not long to head that institution, for on December21 1816 he died at the age of 39 years in Brownville where he had established himself.
There, in 1813 John Paddock formed a mercantile partnership with William Stow Ely. Ely was born at Lyme, Connecticut, March 17 1789 and in 1811 moved to Brownville to clerk a year and a half in the store of Hoel Lawrence before going into partnership witli Paddock. After Paddock's death Ely continued the business alone, and on April 3 1835 he died, aged 46. His wife was Lydia Skinner and one of their children was Charles Newell Ely, later of Watertown.
Like John Paddock, William Stow Ely was one of the leading business figures of Jefferson County. In 1814 he became one of the original stockholders in the Brownville Manufacturing company, organized to engage in the cotton textile business. In 1817 he became a major and in 1821 was advanced to a colonel of militiA He was one of the founders of the Brownville Navigation company and was one of a syndicate that earry purchased the Brownville hotel. He was a vestryman in St. Paul's Episcopal church, was a Jackson Republican and shortly before his death was recommended for the Brownville postmastership to succeed George Brown.

When this store, constructed of native limestone, was built is not known, but it May likely have been before the War of 1812 for on August 3 1818 it was sold by Loveland Paddock and Captain Tilley Richardson, administrators of John Paddock's estate, to Ely for $2,182 and today is the electrical appliance department of Genter & Brenon's business. It is located on the north side of Basin Street with the old red brick Female academy on the east and with but one building between it and Main Street and the old limestone Brownville Hotel on the west.
Whether John Paddock or Hoel Lawrence built this old limestone store has not been definitely established, but Edwin L Paddock of this city is authority for the statement that John Paddock did a banking business in Brownville a few years before his death and it may have been in this building. Loveland Paddock, one of the administrators of John Paddock's estate, was not only a brother of John Paddock but a prominent early merchant and banker of Watertown. The other administrator, Captain Tilley Richardson, was the father-in-law of John Paddock, the latter having married Nancy Richardson.
In 1853 the heirs of William Stow Ely quitclaimed their interest in all of the latter's real estate to their brother, Charles Newell Ely. That real estate included the Rrownville residence, this stone store building, the adjoining "yellow" store and in the town of Hounsfield the old William M Lord farm. Charles Newell Ely operated the business for some years but since then there have been a number of other owners and business occupants, among the latter having been Schermerhorn & frazier and C F Dano. For some years the stone building was owned by the Buchanan family. By the recording July 28 1936 of the will of Margaret A Buchanan it became the property of her sister, Stella E Decker who, on August 11 1936 sold it to the firm of Genter & Brenon, then consisting of Henry W Genter and Charles F Brenon.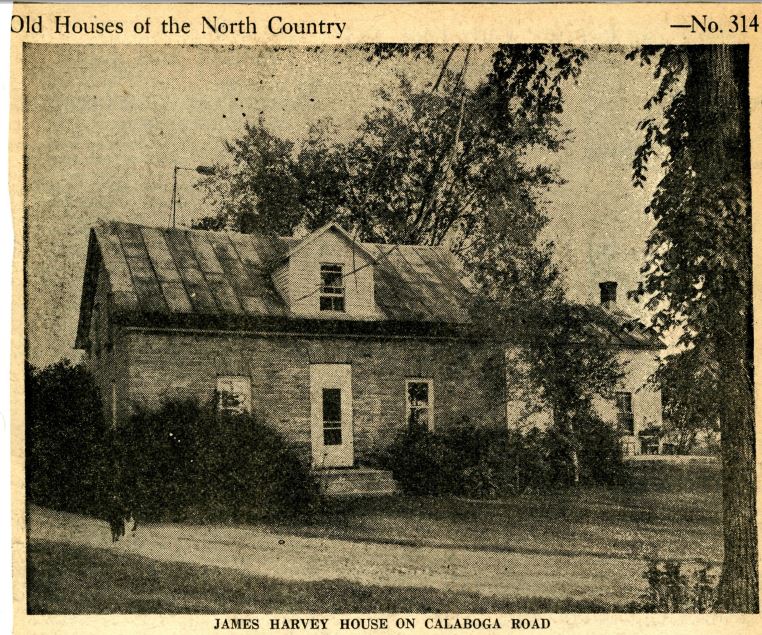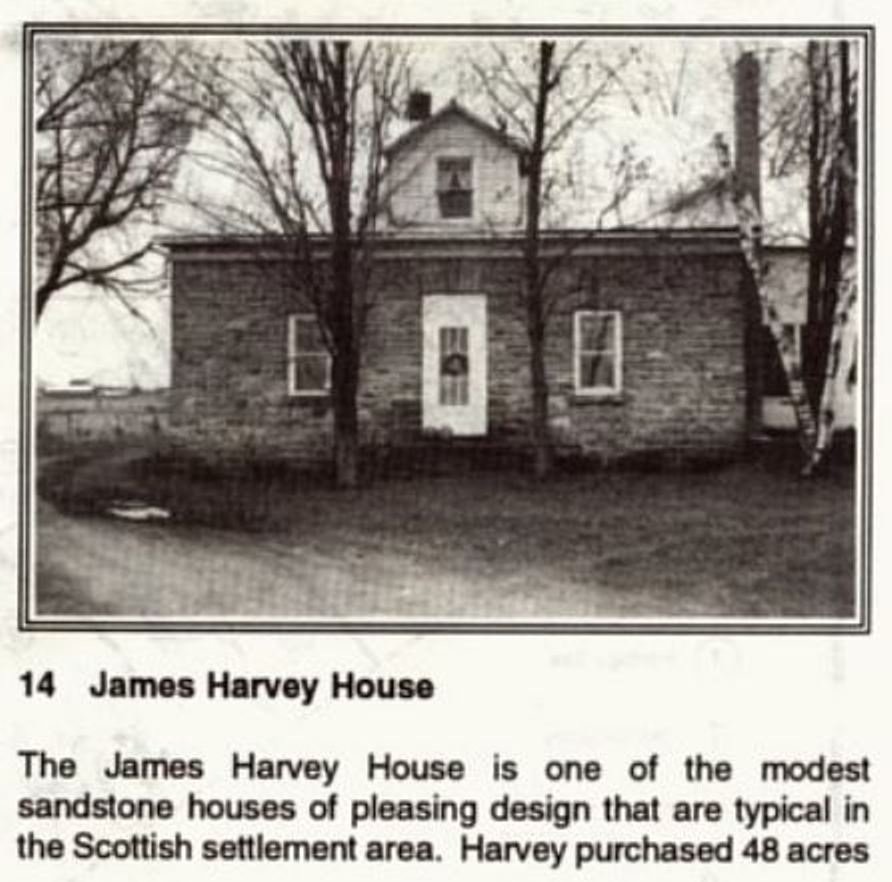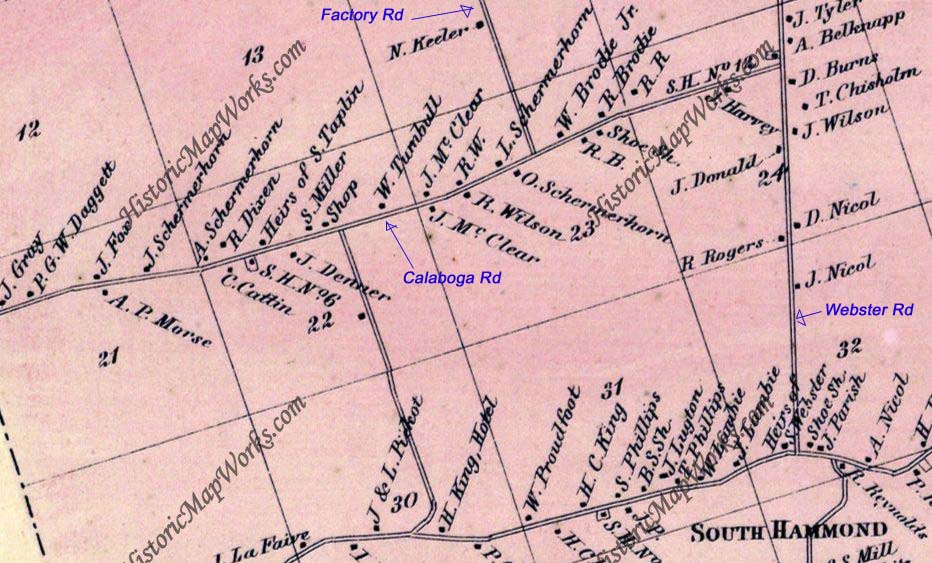 The town of Hammond, St. Lawrence county, rich in sandstone deposits, naturally contains many old houses constructed of this native building material. Not a few of these are in the Chippewa Bay section of the town where numbers of thrifty immigrants from Scotland settled. These houses in the Calaboga district are low and squatty, of the cottage type as influenced by the Georgian and quite a number of them in this district, which was named by the Scotch settlers, bear evidence of having been designed and built by the same person.
The James Harvey house near the beginning of the Calaboga road as it branches off the Rodger road is one of these simple, modest houses of pleasing design. When it was constructed is not known, but it has all of the earmarks of having been erected at least a century ago.
Inasmuch as David Parish, international banker, heavy North Country land-owner and promoter, purchased 28871 acres of land in the town September 12 1814 it is to be expected that numerous farms there were, purchased from David Parish or his successor George Parish, and the farm site of the James Harvey house is no exception to that rule.
On November 15 1836 James Harvey paid George Parish $136.09 for 48.2 acres of this farm. The appearance of the house shown herewith would seem to indicate that it was constructed within an extremely few years after that and that the stone was quarried near by. Harvey added 62 acres ot the tract by purchase from George Parish October 22 1844 paying $227 for it.
The house has a central entrance and has a low, second story. It has always been well cared for, especially by the present owners, Everett George Burns and wife,
Mrs. Belle Burns. After the death of James Harvey, the property ownership passed to Ann Clink and Mary Harvey, who jointly conveyed the entire 110.2 acres with house and buildings to John Harvey for $1,900. The transfer bears date of Jan. 29, 1879
John Harvey retained possession 27 years and on March 8, 1906 sold it to J Murray Harvey for $1,600. The transaction also included another parcel of 183, which
indicates that the sale was a family affair and that the price was therefore nominal. J Murray Harvey, in turn, kept the place 22 years and sold the house, outbuildings and 110.2 acres on June 13 1928 to Everett George Burns and wife, Mrs. Belle Burns for $4,500.
In addition to maintaining the house in neat and trim condition, Mr. and Mrs. Burns have nicely landscaped the immediate grounds, which include a carefully cropped lawn throughout the summer months. A few hundred rods down the Calaboga road are other old native sandstone houses of an architectural type not greatly dissimilar to this one. The Harvey family, which held ownership of the property 92 years, is one of the old and well known families in the town of Hammond.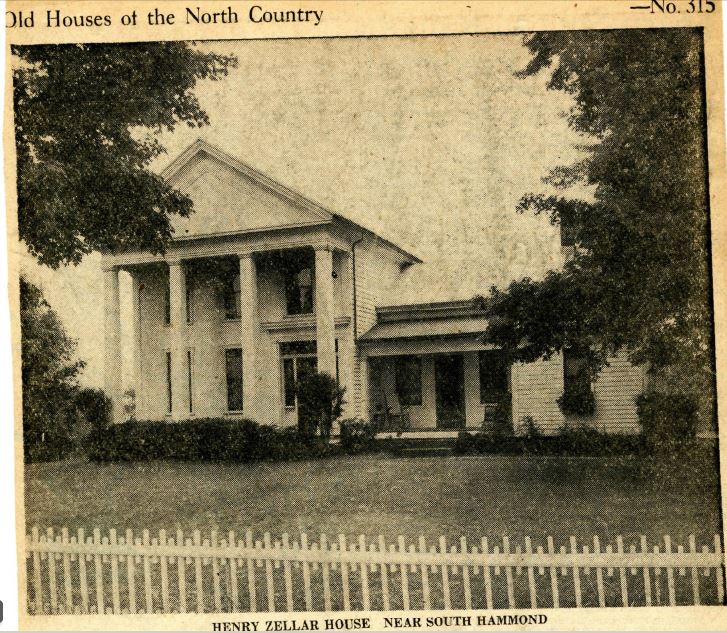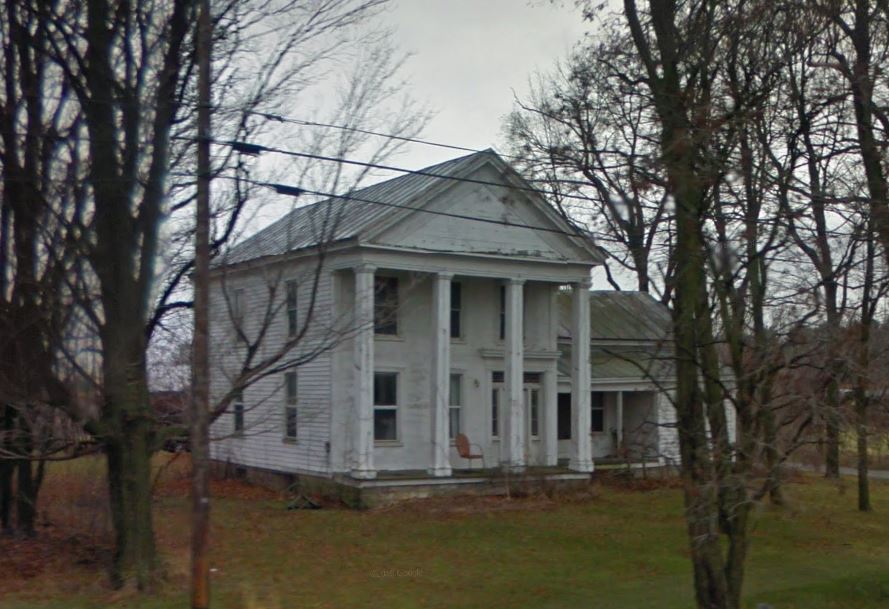 The name of Phil Kearny, brave, intrepid union calvary officer, hero of the battle of Southern Pines in the Civil War, scion of an early wealthy New York family comes into the title of the farm land upon which stands this beautiful Greek revival type house located on the south side of the main Watertown-Ogdensburg highway near South Hammond. The house, said to have been built about 1831 and 197 acres of farm land are owned by Newell E Welch.
Today the ashes of Fighting Phil Kearny, who recruited his cavalry horses from the Gouverneur area, rest peacefully in Arlington National Cemetery.
Mr Welch is the son of the late David Moore Welch, who was born in the town of Hammond November 12 1844 married Alice daughter of Jeremiah Zellar or Zoller in January 1872 and died February 24 1923. David M Welch's grandfather Robert Welch emigrated to America from England in infancy Robert Welch married Mary Moore, a native of Scotland.
Alice Zellar was a daughter of Jeremiah J Zellar who died November 14 1866. His widow Ludentia A Zellar later married Anthony W Sigourney who died November 25 1871. Jeremiah J Zellar was a son of Henry F Zellar, who was born at Springfield, NY, November 23 1823 and at nine came to Pamelia with his parents Henry and Nancy Fralick Zellar who were natives of Minden, Montgomery county. Henry Zellar was a son of Jacob Zellar, long a resident of the Mohawk valley.
On March 17 1837 Henry F Zellar and parents came from Pamelia to locate in the town of Hammond, where on February 22 1849 he married Charlotte, daughter of Ebenezer N Demick. An ardent Republican from 1857 Henry F Zellar was active in politics, was justice of the peace 12 years, overseer of the poor two years and voted in every general election. His father was supervisor of the town of Hammond in 1848-9 and both were prominent St. Lawrence county farmers as was David Moore Welch.
May 13 1846 George Parish sold Henry Zellar 50.94 acres for $850 to supplement 70.87 acres which he bought Mar 12 1838 for $1,000 from Benjamin and Fannie Simons. They had acquired this parcel September 29 1828 from William T and Mabel Scott, who purchased it from Philip Kearny Sr, on January 6 1827. In 1814 Phil Kearnv Sr, friend of the Ogdens Hart sons Parishes and Fords, bought 10,000 acres of land stretching from Gouverneur to the St. Lawrence river from David A Ogden and Gouverneur Morris and Henry Zellar's 70.87-acre plot was a part of that.
It is quite possible that Zellar built this beautiful white house, shortly after 1838 rather than in 1851 for on August 8 1859 he conveyed the 70.87 and 50.94-acre parcels to Jeremiah J and Abram Zellar for $6,000. September 14 1874 Abram and Louisa M Zellar deeded their interest to Alice Zellar Welch and her mother Ludentia A Sigourney. Later Alice Zellar Welsh undoubtedly inherited her mothers interest and died Mar 22 1931 leaving the entire property to her son, Newell E Welch, the present owner.
Phil Kearny Jr, who lost an arm in the battle of Cherubusco, Mexican war, died of wounds sustained in the Civil War battle of Chantilly September 1 1862 and is bulgedm Arlington cemetery, comes into the picture of the Welch property in a deed to 25 acres dated April 3 1854. It runs from Major Philip and Diana M Kearny to Anthony W Sigourney and eventually came to the possession of David Moore Welch October 25 1877. Fifty-three acres of other town of Hammond lands sold by Cornelius and Nicholas Low to Joel J Emmes February 22 1838 came to him January 15 1886 from Ludentia A Sigourney.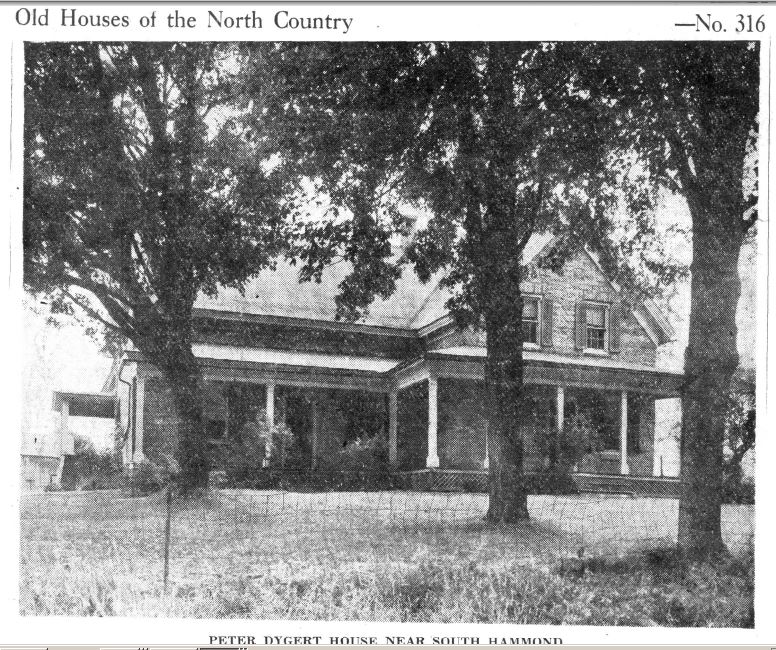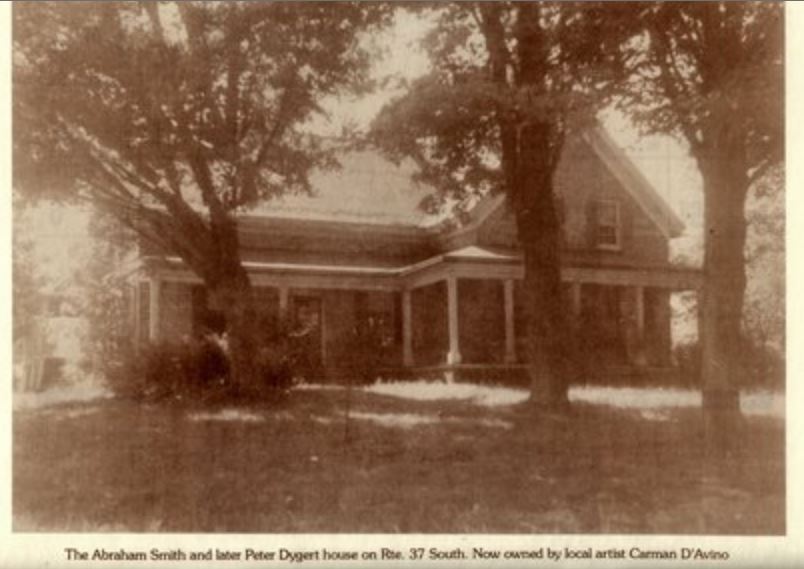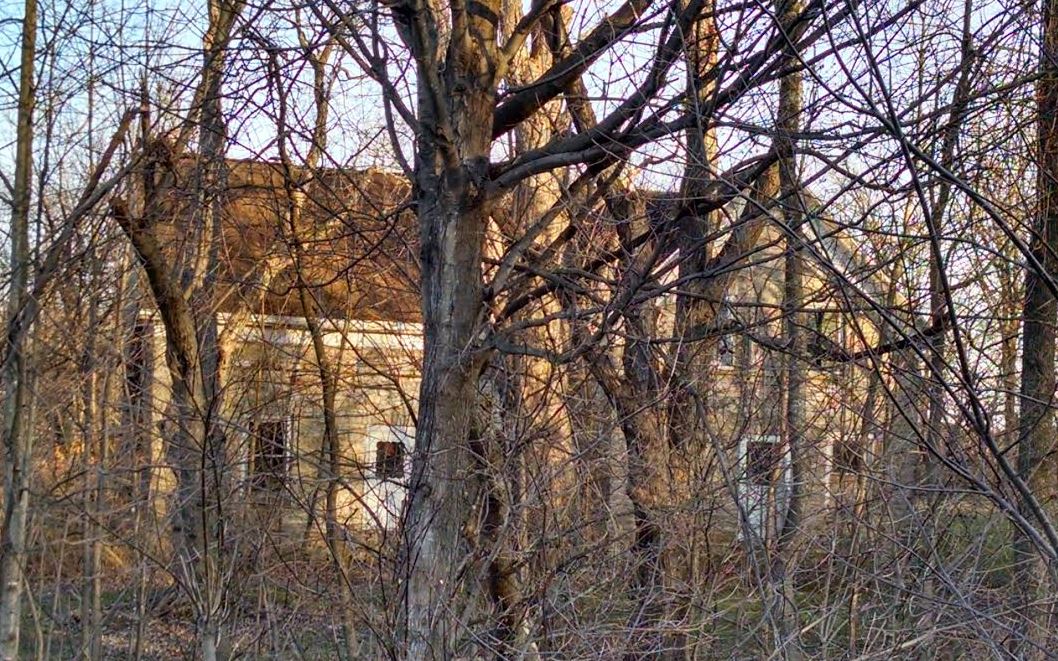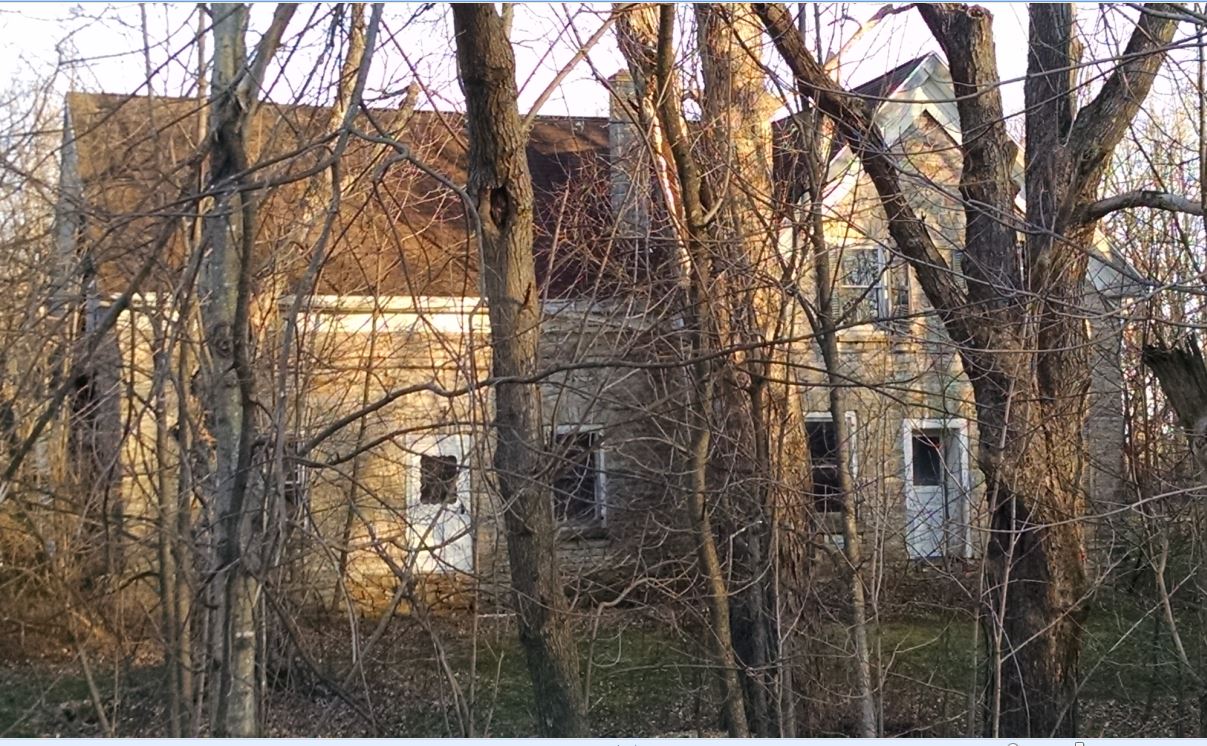 In the Webster district near South Hammond in the St. Lawrence county town of Hammond stands this native sandstone house on the south side of the main state highway between Watertown and Ogdensburg. Dygert family tradition has it that the house was built by Peter Dygert, who was of Dutch descent and came from the Mohawk valley to St. Lawrence county early in life. From the record, however, it would seem that the house might have been erected upwards of a century ago for Abraham Smith, who sold substantial parcels of land going into this farm to Mr Dygert about 88 years ago.
Since then the house and farm, which now consists of about 200 acres, has never been out of the Dygert family and for the past few years has been owned by Forrest C Dygert, who maintains his apiary there and holds a considerable distinction in the production of honey.
Where other northern New York honey-producers market their product in the strained or liquid form, Forrest C Dygert sells it in the comb. He is reputed to be the only North Country producer who does so market it. His bees range through the clover of the Dygert and adjoining farms and he is particular to hive only the best strains. He finds an unusually heavy demand for honey in the comb and in years when there has been a state fair he has brought home many blue ribbons.
His big, rambling sandstone house contains 19 rooms but no fireplaces, and the large, comparatively modern verandah is evidence that the structure has been considerably modified from its original appearance by some of his predecessors.
Mr Dygert is a son of the late Charles P and Ida Honeycombe Dygert. Charles P Dygert died April 2 1945 willing the farm to his son. Mrs Ida Honeycombe Dygert, who was a native of Gouverneur, died March 19 1935. Charles P Dygert was born upon the farm and was the son of Keller and Margaret Zoller Dygert, the latter having been born at St. Johnsville October 20 1847 daughter of Charles and Eliza Zoller, also of Dutch descent. She died at this old house near South Hammond May 31 1937 at the age of 89. Her husband, Keller Dygert, a veteran of the Civil war, died August 16 1904 leaving her a life-use of the property and providing that after her death it should go to their son, Charles P Dygert.
Keller Dygert was the son of Peter Dygert and the record shows that on October 23 1879 Peter G W Dygert and wife, Charlotte M Dygert, sold four parcels constituting 173.93 acres to Keller for $6,000. This included the house and buildings and on October 2 1890 Peter G W Dygert and wife, Charlotte M, sold 35 more acres to Keller for $500 making a total of 208.93.
Peter G W Dygert purchased three of the parcels in the farm amounting to 167.15 acres from Abraham and Judith Smith for $3,000 on December 31 1860. The price would indicate that there was a house on the property at that time.
Smith purchased one of the parcels from George Parish January 23 1841 two of the other chief parcels from Parish April 1 1841 and for all three of them he paid a nominal price showing that there were not buildings on the land. Doubtless the house was built shortly afterward by Smith. Other parts of the farm came to Peter G W Dygert through Henry C King and wife and King acquired from Parish also.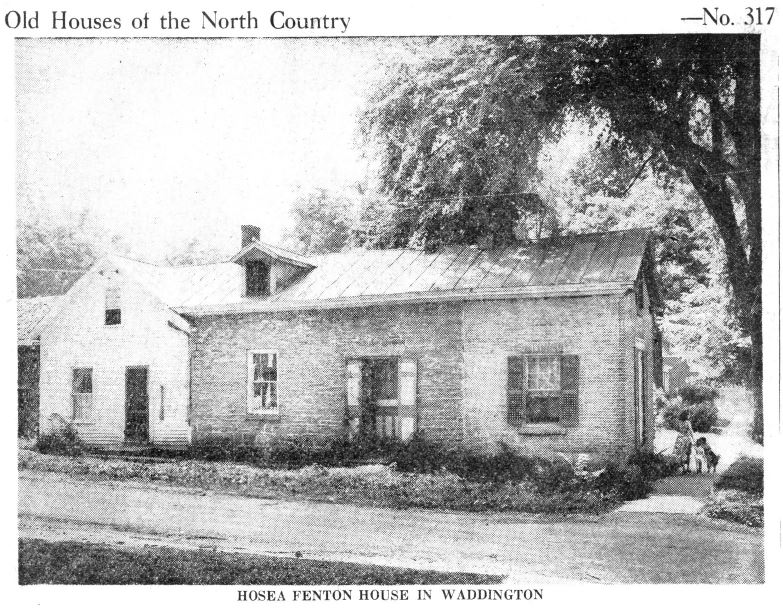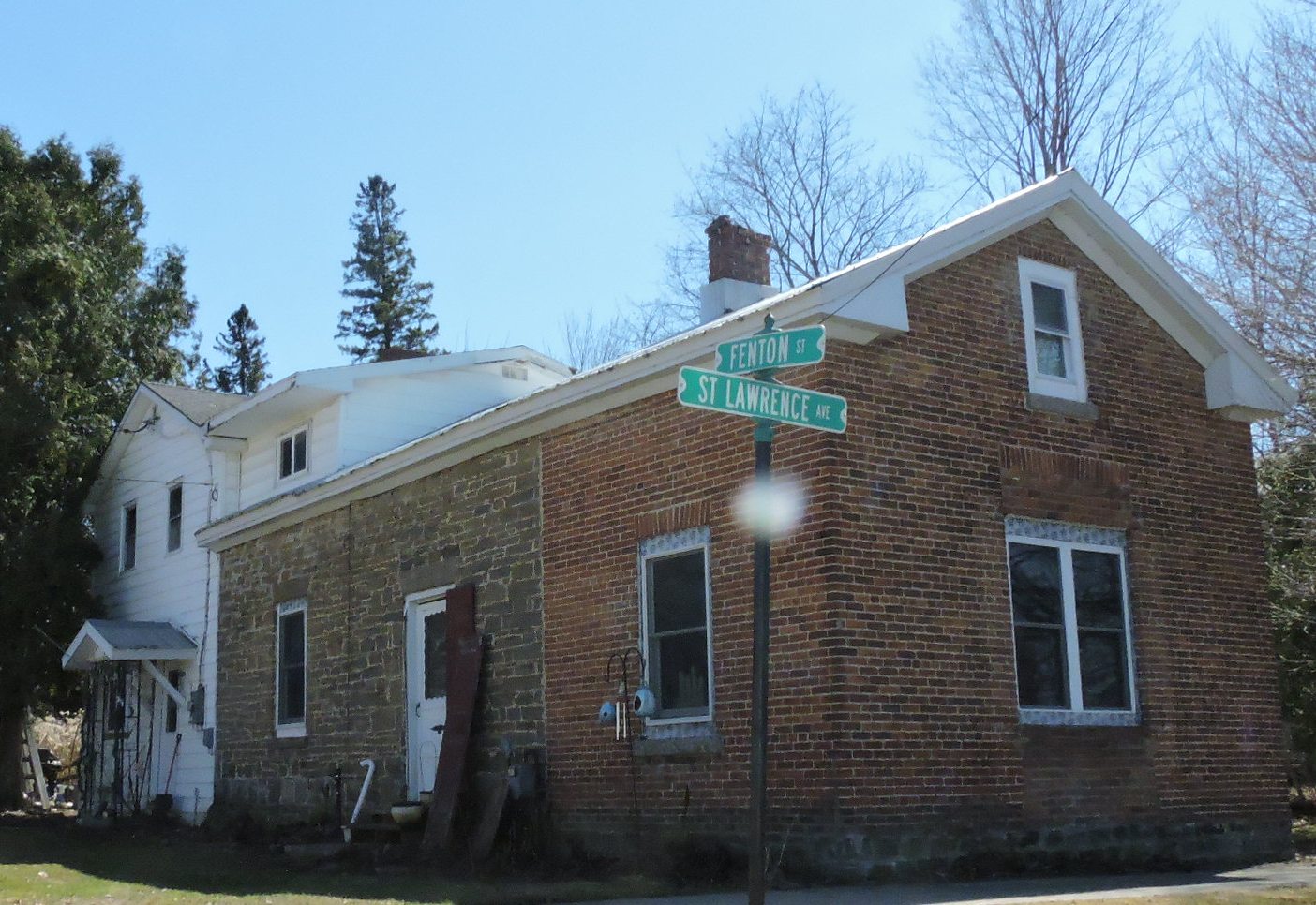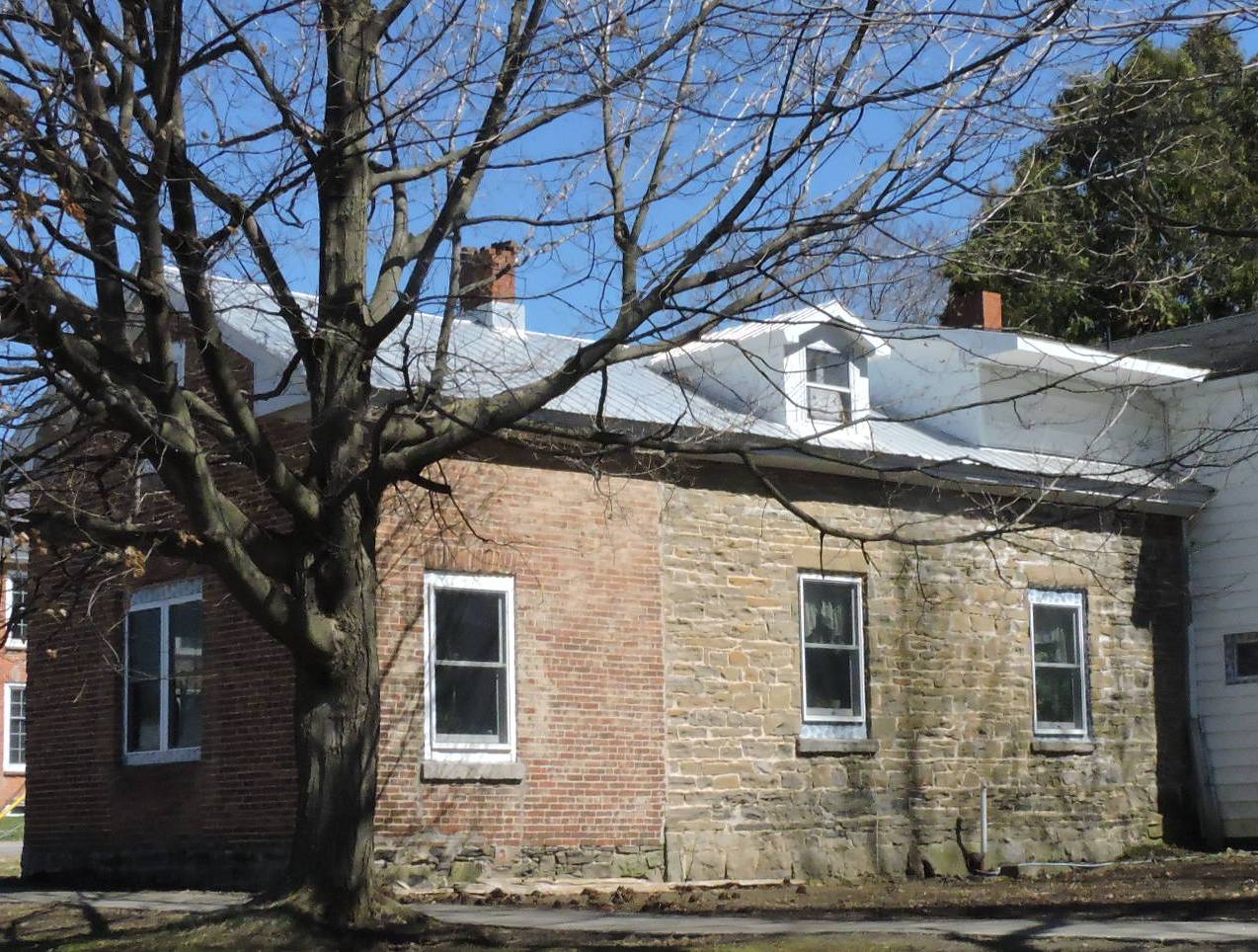 Brick, limestone and frame construction are all found in the same house, a long, low, modest one at the corner of Fenton Street and St. Lawrence avenue in the village of Waddington, St. Lawrence county. The stone portion, which contains the simple entrance, is said to have been built by Hosea Fenton and probably about 110 years ago. At some later time the brick portion was added to carry the house out flush with St. Lawrence avenue. Still later the wooden addition was constructed on the end which is up Fenton Street, upon which the house faces.
Joshua Waddington, New York City, the landowner for whom the town and village of Waddington were named, Thomas Ludlow Ogden and William Ogden sold the site of the house to Sally or Sarah Fenton November 15 1834 for $150. Mrs Fenton was the wife of Hosea Fenion, and when she died December 11 1809 she left her property to her husband. Apparently Hosea married again for when he died August 19 1872 intestate he left a widow, Mary, and his estate disposed of the property to Charles G Idler on August 7 1873.
On January 29 1874 Idler quitclaimed to Leonard J Proctor, who died October 9 1899 leaving Ellen, his widow, and William W Proctor, Carrie E Rose and Anna B Chalmers, his children. By referee's deed the Proctor heirs sold the place to Eva H Rutherford, wife of Winfield Scott Rutherford, and when Eva H Rutherford died December 3 1938 the place went to her son, Winfield Scott Rutherford Jr, the present owner.
The Rutherfords and the Fentons were of Scotch origin, were among the earliest settlers of the Waddington district and were prominent in the early history of that part of St. Lawrence county.

Asa and Jason Fenton settled there in June, 1800 Jason was supervisor of the town of Madrid 1816-22 and Francis Fenton in 1852. In 1818 Jason was appointed a judge of the court of common pleas and served 13 years. When St. Paul's church was incorporated in 1818 he and Thomas Rutherford were among the first vestrymen. In 1827 Judge Fenton built a tannery in Waddington which was operated by him and his heirs for 30 years. Thomas Rutherford, born in Rexburyshire, Scotland May 12 1794 first studied for the Presbyterian ministry, but on coming to this country went to Washington county where he married Jane, daughter of John Fenton and then came to the town of Madrid,now Waddington. One of their sons was Major John T Rutherford, born in Waddington August 23 1823 was admitted to the bar in 1854 shortly taking contract to build St. Lawrence university, had a distinguished Civil war record, was appointed collector of customs at Waddington September 29 1800 served until January 1 1875 was village president in 1868 supervisor in 1877 was prominent farmer and village merchant, married Belinda Eveline Castleman October 14 1855. They were the parents of Winfield Scott Rutherford Sr, and grandparents of the present owner of this house.
Fenton Street, upon which this house stands, was named for Judge Jason Fenton and the Fenton family was one of the leading ones in St. Lawrence county. Winfield Scott Rutherford Jr, finds himself descended from both the historic Rutherford and Fenton families. Of equal prominence with the Fentons and Rutherfords were the Proctors. Leonard J Proctor, who owned this house 25 years, was for many years owner of the old stone grist mill. In 1893 he was village treasurer and assessor and was otherwise prominent.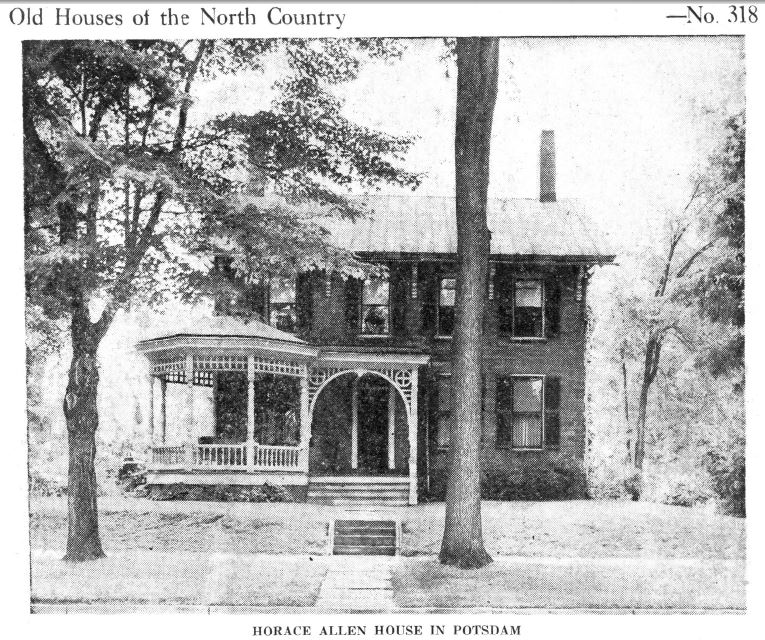 Now a Parking Lot
Like the Jonathan Wallace house and the Jesse Davidson house, the Horace Allen house at 77 Market Street is one of the oldest in Potsdam. The Wallace house at 99 Market Street is only a block away from the Allen house. The Davidson house is on Elm Street, but it also is comparatively near by. All three of these houses are constructed of Potsdam sandstone, they were built about the same time and there is a similarity in type which spells a likelihood of having the same builder.
The Allen house was probably built about 1835-6. Judge Horace Allen was one of the leading early residents of Potsdam. He was supervisor of the town in 1826-7 was later surrogate of St. Lawrence county and also for some time served as postmaster of Potsdam. He acquired the site from Samuel Partridge and wife, Abigail, August 11 1835 for $643. Partridge, who had been supervisor several terms, president of the village several times, a superintendent of the poorhouse and an early vestryman of Trinity church, sold the site to Azel Lyman June 21 1830 but took it back by sheriff's deed August 3 1835.
On March 29 1847 Judge Horace and Samantha Allen sold the place to Abner Pride, but John Bronson bought it at mortgage foreclosure sale February 26 1852 and on March 11 that year quitclaimed it to Sarah Pride who sold it to Luke Usher July 18 1864 for $3,500. Usher conveyed all but the part west of the railroad to Isaac Small October 20 1871 and November 1 1871. Isaac and Susan Small deeded it to Usher's wife, Hannah E Small Usher. She died intestate May 23 1917 leaving two daughters, Mrs Nathaniel R (Anne E) Usher and Miss Susan S Usher.
Mrs Anne E Usher died May 21 1924 survived by her husband, Rear Admiral Nathaniel R Usher and by her sister, Miss Susan S Usher. Rear Admiral Usher died January 8 1931 making his sister in law Susan, legatee and when she died September 12 1940 she willed this house and contents to her second cousin, Matthew Small, Little Falls, and wife, Emily Clobridge Small. After their decease the property is to go to their children, Selden C Small and Mrs Katherine H Cummings.
In Potsdam the house is known only as the Usher house. Luke Usher, who purchased it 84 years ago, was born in Herkimer April 22 1830 son of Bloomfield Usher, prominent Whig politician and banker who served three years as state superintendent of canals and got his son, Luke, his first job, engineer on enlarging the Erie canal. Next Luke came to Potsdam May 1 1851 as cashier of the Frontier bank, which Bloomfield as director and Colonel H P Alexander as president of the Agricultural Bank of Herkimer and Cashier J C Dann of the Sackets Harbor bank had purchased from Henry Keep and moved to Potsdam. The bank later became the National Bank and finally the People's Bank. Luke ultimately became president of the National Bank, was president of the Potsdam Lumber company at Hewittville and owned vast Adirondack timberlands.
From the time of his retirement April 7 1918 until his death January 8 1931 Rear Admiral Nathaniel R Usher resided in this house. Born at Vincennes, Indiana he was no relation of the Potsdam Ushers. Graduate of Annapolis, he took part in the Greeley relief expedition, served on the Kearsarge and Constellation, commanded the pioneer torpedo boat Ericsson in 1897 was at Key West when the Maine exploded, became rear admiral in 1911 commandant of the third Naval district and Brooklyn Navy yard September 26 1914 and there received the first government order ever transmitted by wireless telephone, Naval Secretary Josephus Daniels giving the order from Washington.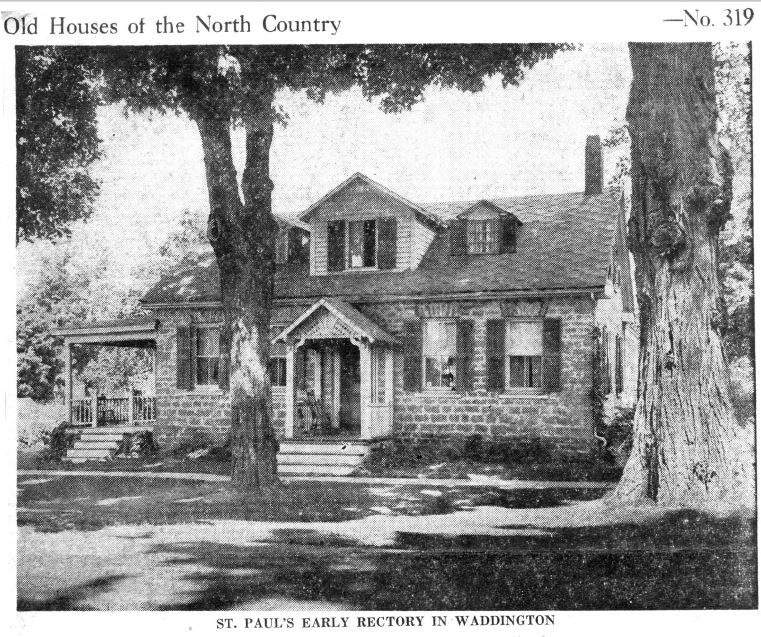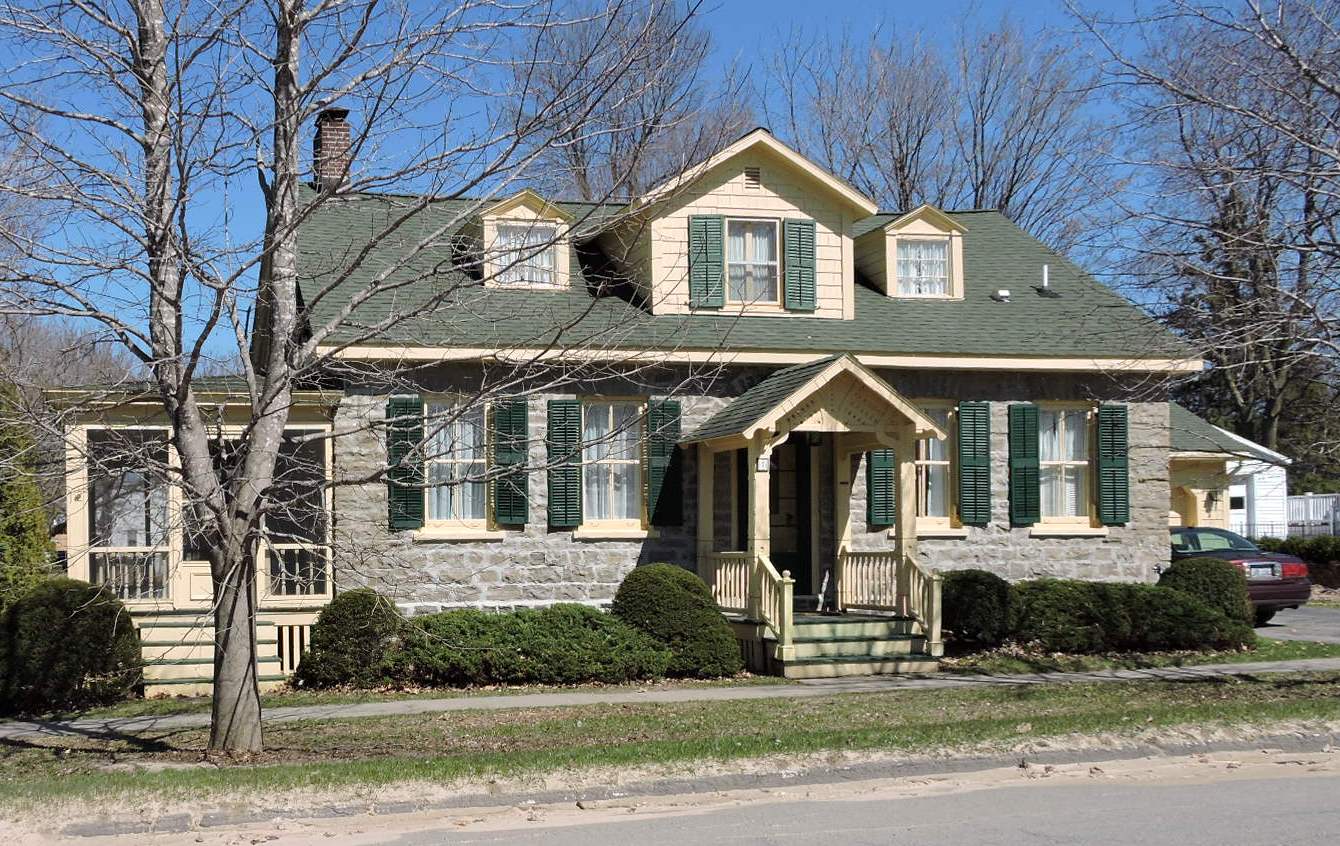 Upon Maple Street in the village of Waddington and within sight of the St. Lawrence river rapids at that place is this quaint old limestone house which was acquired as a rectory for historic St. Paul's Episcopal church 94 years ago. Even before Maple Street was designated the house was there according to Frank Nash Cleveland's map covering the period of 1826-1830. In fact this house may be as old as St. Paul's itself and St. Paul's was started in 1816 being completed two years later, Bishop Hobart dedicating it on August 22 1818 and Reverend Amos G Baldwin becoming the first rector.
St. Paul's, it will be recalled, was copied after old St. Paul's in New York City, except for the tower, and was built by Judge David A Ogden and by Trinity Episcopal church of New York City.
In association with his father, Abraham Ogden; his brother, Thomas Ludlow Ogden, and cousin, Josiah Ogden Hoffman, Judge Ogden had in 1796 purchased the 64,000 acres tnat comprised the original town of Madrid, then included in which was the present town of Waddington. Judge Ogden and his brother, Gouverneur Ogden, who became original wardens of St. Paul's in Waddington, were close friends of Alexander Hamilton and had not only studied but had practiced law in Hamilton's office in New York City.
The fact that Rebecca Ogden sold this property to Darwin Mott on March 18 1839 for $160 would indicate that it was a part of the estate of her husband, Judge David A Ogden, who died in Montreal June 11 1829. Darwin and Sarah Ann Mott conveyed the place to Dr James A Mott, onetime president of the St. Lawrence County Medical society, on February 8 1842 for $100. If the prices named in these two deeds are an indicator the house was probably built slightly over 100 years ago by Dr Mott and not by Ogden at an earlier date. At any rate it is so situated that it is within view of Judge Ogden's huge stone house on Ogden island across the south channel of the St. Lawrence.
If this ten room house on Maple Street were built for Judge David A Ogden, it must have been for one of his agents or employes. If he gave its use as a St. Paul's rectory history is silent on that point. From the record it seems more likely that the house was built by Dr Mott. Its walls are thick, its windows are deep, its interior woodwork is simple and nicely crafted and the wooden mantel of its one remaining fireplace is artistically made.

On April 10 1854 Dr James A and Maria Mott sold the property to the wardens and vestrymen of St. Paul's church for $1,200 and from that time until 1860 it was occupied by Reverend Liberty A Barrows, rector. From 1861 to 1866 inclusive it was tenanted by his successor, Reverend J E Johnston. On October 14 1878 it was sold by the wardens and vestrvmen to William H Parlow for $825.
Parlow deeded it to his wife, Clara L, March 15 1889 for $1,140 and October 1 1895 she conveyed it back to him for $1. Under mortgage foreclosure George H Bowers as referee sold it to Laurette Harper for $500 June 28 1900 and the latter sold to Mrs Flora Macdonald December 19 1905.
Mrs Macdonald was the widow of Reverend Angus C Macdonald, who had been rector of St. Paul's some 50 years ago. Mrs Macdonald died February 14 1924 leaving her property to her daughters, Miss Blanche C Macdonald who is a teacher here in the Cooper Street school; Mrs Mary M Slater, Annie T and Jessie W Macdonald. Mrs Slater and Miss Blanche C Macdonald occupy the fine old house as their summer home.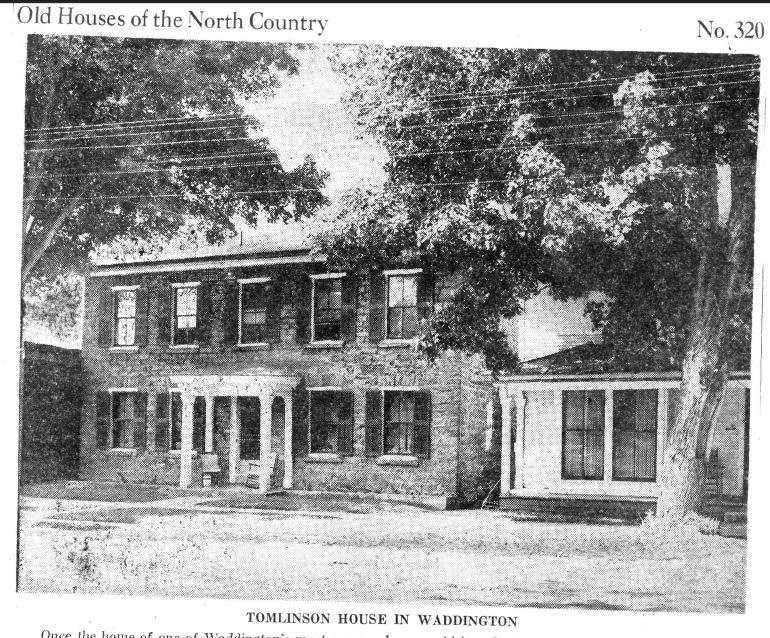 Once the home of one of Waddington's most prominent early residents, the record of its first ownership is difficult to trace. A large house of native limestone, it has all of the evidences of being at least 120 years old and stands close to the sidewalk on the north side of St. Lawrence avenue, formerly known as East North Street in Waddington village. It abuts the heart of the business district and the St. Lawrence river flows but a few rods from its back door. Across the narrow channel is Ogden Island and the palatial mansion owned and occupied by Judge David A Ogden early in the last century.
That this house was first owned by one of the Ogden family or an associate of that family concerned with the development of the village and town of Waddington seems likely. At the St. Lawrence county clerk's office it was said that no record of its ownership could be found prior to March 30 1857 when William and Martha Tomlinson sold it to Thomas Peacock Jr. How long the Tomlinsons had owned the property, or from whom they purchased it, does not appear.
Like the Rutherfords and the Wilsons the Peacocks were outstanding residents of Waddington village, which was known as Hamilton in honor of the Ogdens' friend, Alexander Hamilton, prior to 1839. Thomas Peacock Jr, was made town clerk when the town of Waddington was set off from Madrid November 22 1859 and John Peacock was not only president of Waddington village in 1852 1855 and 1859 but was the first master of Waddington Lodge, No. 393 F & A M, when it was instituted June 23 1856.
For 37 years this house remained in possession of the Peacock family. Thomas Peacock Jr died November 12 1871 survived by his widow, Anna E Peacock, and son, Walter. On April 19 1894 Walter B Peacock and Hannah E Peacock Rutherford who had inherited the house, sold it and other lands to George H Russell. Mr Russell died September 15 1905 and his executor disposed of the place to Van Chamberlain on February 8 1908. On April 9 1913 Chamberlain sold it to C L Siverly who joined with his wife, Minnie, in conveying to Tamerlane T Chamberlain June 5 1916.
Chamberlain, who died in late March 1936 was pharmacist mate, first class, for 16 years in the United States Navy, was later associated with his brother George in the contracting business, and was the son of Adelbert L Chamberlain, who was for some time in the customs service at Waddington.
Tamerlane T Chamberlain deeded this house to his brother, George A Chamberlain March 3 1925 and he and wife, Goldie May, sold it on June 1 of the same year to Fred W and Texenia Scott. Designated "the Worker Father of 1946 " George A Chamberlain came again prominently in the news January 4 1947 by reason of having married New Year's eve Mrs Jennie Mitten, a New York City widow who had been his boyhood sweetheart in Waddington. Chamberlain was a widower with seven sons at the time and five of them were in the navy with a total service of 31 years. In 1946 resident of Johnstown, he had been designated the "Worker Father" by the National Father's Day Committee.
Fred W and Texenia Scott sold the house to John M and Rose E Doyle March 12 1927. Scott, retired farmer and Waddington merchant, died May 15 1938 was a prominent granger, Presbyterian and one-time auctioneer. He was a native of Lisbon. Mr Doyle has been manager of the Waddington Milk company for a number of years. From Doyle the house went to the St. Lawrence County Savings bank January 28 1943 and on May 22 of that year the bank sold it to George and Ida Pemberton, the present owners. Mr Pamberton is a member of a family that has long been active in the affairs of Waddington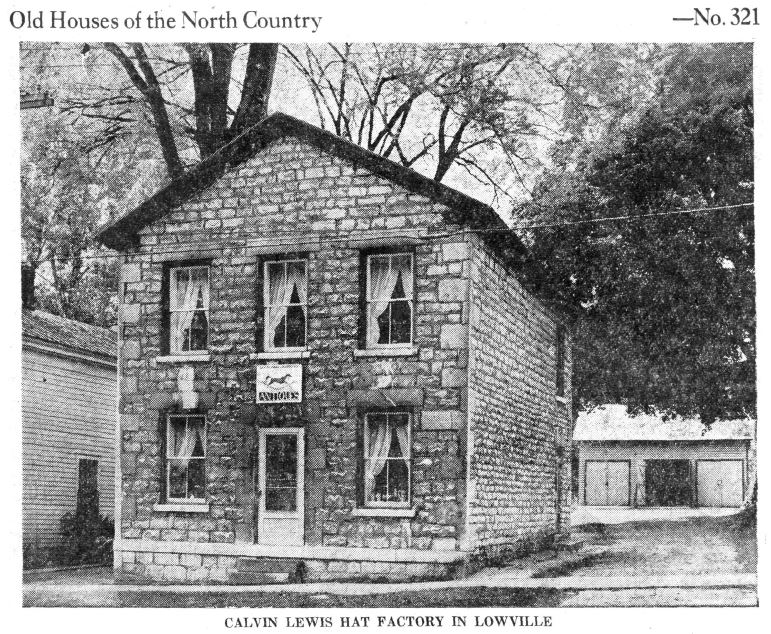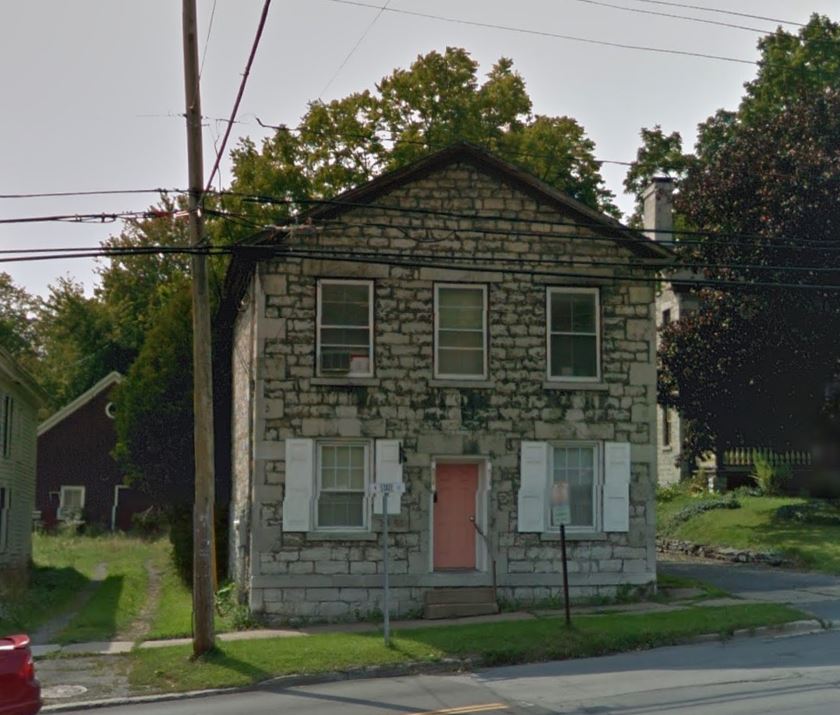 Like the weaving of woolen and cotton cloths, hat manufacture was one of the early North Country industries.When the first pioneers settled the wilderness a century and a half ago, they built grist mills to grind flours, meals and feeds for food for themselves and livestock. Next they erected sawmills that they might create domiciles. Then they constructed textile mills and hat factories to provide more refined garments than homespuns, for transportation was slow, tedious and expensive and it was costly to ship such goods in from the larger centers.
In 1802 Calvin Lewis became one of the earliest settlers of the Lowville sector of Lewis county and in 1810 paid $500 for the site, upon which this hat shop and his adjoining residence have stood for more than a century. It was in 1826 that he built his large and pretentious native limestone mansion of Georgian architecture on the eminence to the right of the shop. Six years later he built the native limestone shop close to the Street on the lower corner of the lot. Both are on the west side of State Street, opposite Monument park, Lowville, and only a few rods from the tall-spired limestone Presbyterian church. In this shop Calvin Lewis manufactured top hats, and other fine hats, for men for many years, and after his death the shop was converted into a dwelling and so utilized for a long period of time. It has always been considered a part of the mansion property, however, and has always been conveyed with it.
Calvin Lewis was a confirmed Abolitionist and it is said that he used his property as a station on the underground railway for the spiriting of escaped southern negro slaves northward across the Canadian border to a safe haven in Canada. Men like Calvin Lewis, who were Abolitionists, were men of strong and positive character in those days. He was one of the outstanding early residents and industrialists of Lowville. His wife was Betsey Lane, one of the first class to graduate from Lowville academy. Lewis was one of the group that called a meeting to organize the Bank of Lowville in 1838.
After he and his wife had died the residence and hat shop passed to their two maiden daughters, the Misses Mary and Betsey. They lived there together to become prim old ladies, who dressed alike with shawls and bonnets. When Mary died her interest in the property passed to Betsey. Betsey died January 23 1907 leaving several nieces and nephews in Minnesota and Betsey's estate sold the property to Joseph S Tardy, a Lowville jeweler.
Mr Tardy made many improvements through installation of modern conveniences. Following his death his heirs disposed of the estate to Mr and Mrs Fred Schantz November 16 1918. Mr and Mrs Schantz later removed to Georgia where Mr Schantz died a few years ago and the Lowville stone house and hat shop were sold November 22 1922 to Mr and Mrs H Lynn Alexander, the present owners. Mr and Mrs Alexander are descended from early Lewis county pioneers and colonial New Englanders.
Something over two years ago Mr and Mrs Alexander leased the hat factory to Mrs Leonard Pelton of Lowville, who has used it as an antique shop. The building is plain, having no embellishment or any attractive architectural features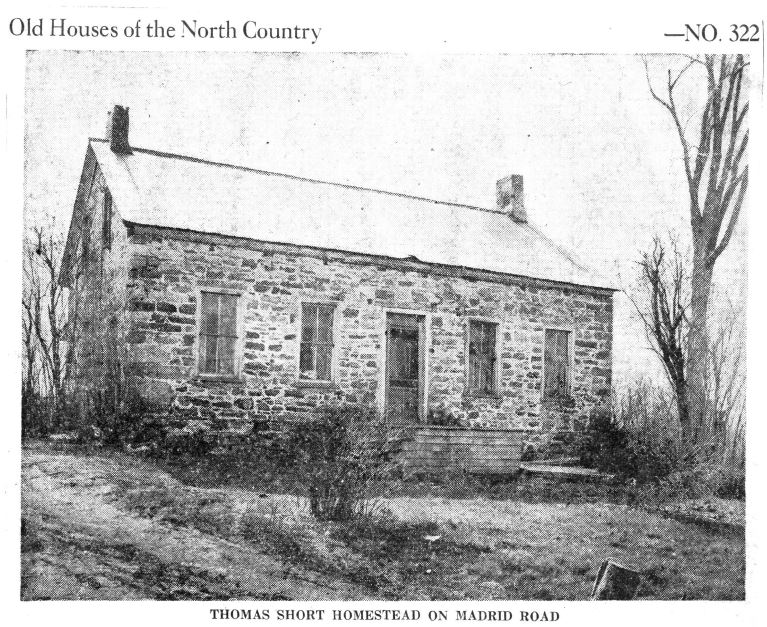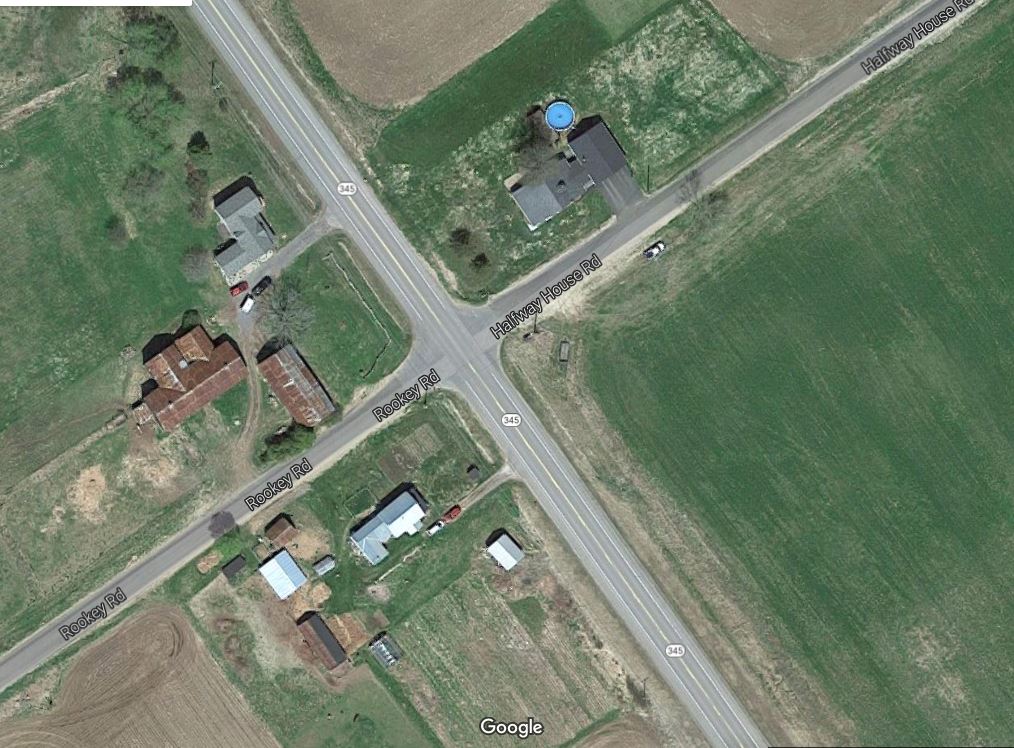 One of the oldest houses in the town of Waddington, or its predecessor territory in the original town of Madrid, is the Deacon Thomas Short homestead of native sandstone, designed in plain and simple type. It is only a comparatively short distance from the village of Waddington on the right-hand side of the highway that leads from that village to the village of Madrid.
It was probably constructed about 1818 on 66.56 acres of land which Short, one of the original vestrymen of St. Paul's Episcopal church when it was incorporated October 19 1818 purchased October 1 1817 from Joshua Waddington, for whom the town of Waddington was named. On January 10 1837 Thomas Short purchased 10.82 acres of land from Rebecca C Ogden widow of David A Ogden, which he added to the original 66.56 acres.
Thomas Short of Scotch-Irish lineage, was one of the earliest and most prosperous settlers in that region. He died November 26 1854 leaving his widow, Jane, a life-use of this place which was to go to his son, James, after the widow's death. When James died is not recorded, but Jane died intestate in May 1875 leaving a son, Charles R Short, and daughter, Mary Loretta Burke. On August 30 1909 Charles R Short and wife, Anna, quitclaimed their interest in the property to Mary Loretta Burke. Mrs Burke, who died in 1931 and was the wife of Thomas H Burke, one time proprietor of the American and Harrington hotels in Canton, sold this old place to James and Margaret McGinnis on December 1 1917. McGinnis died a few years later and about 1926 Mrs McGinnis became housekeeper at Wadhams Hall, Ogdensburg, a position she held until her death May 25 1946. A native of County Cork, Ireland, Mrs Margaret O'Connor McGinnis had come as a young girl to Canada and there married her husband, who died about twelve years later.
On February 26 1924 she disposed of this Deacon Thomas Short homestead farm to Chesley W and Minah M Hanes. Mr Hanes, native of Canada, came to the village of Waddington in 1887 and died September 6 1943 at the age of 81 established himself in the hardware business about 1893 and became a prosperous and prominent factor in the life of the community. He was for some time vice president of the Waddington bank, was a member of the board of education and village board, of the volunteer fire department, a trustee of the Methodist church and was the owner of several farms of which this was one.
His wife, whom he had married in Canada, was the former Miss Minah Barkley of Chesterville, Ontario His daughter, Flossie, was married to Donald Hanson who became a partner in business and has continued it since Mr Hanes' death.
On December 26 1947 Mrs Minah M Hanes sold the old Deacon Thomas Short place to Charles J and Nellie Helen Pelky, the present owners. Mrs Agnes Common Short, this city, widow of William I Short and mother of the late Mrs Horace C Montgomery, recalls the old Deacon Thomas Short homestead and some of the early members of the Short family in the town of Waddington
The present village of Dexter was known as Fish Island in the early days of the last century and up to 1836 it consisted of a sawmill, a grist mill and about a dozen dwellings. In that year a postoffice was established there and the hamlet was named Dexter in honor of Simon Newton Dexter, of Whitesboro.
Simon Newton Dexter had been buying land at that place in 1836 on November 7 of which he organized the $100,000 Jefferson Woolen company, John Williams of Utica, Colonel Edmund Kirby of Brownville, John Bradley of Brownville, Rodney Burt and O V Brainard of Watertown being associated with him.
On March 1 1837 the Dexter Village company was formed to plan out a village on 800 acres on the north side of the river and 249 acres on the south side. S N Dexter and Colonel Kirby were leaders in that company. James A Bell, 23 who had spent a year in the drug and grocery business with Dr J K Bates in Brownville in 1836 withdrew his interest and went to Dexter where he established a grocery in 1837. His store was a room in a warehouse and he prospered.
From those constituting the Dexter Village company he purchased the lot October 7 1840 upon which he constructed his commodious brick house. The site for this house was on the north side of Water Street at the corner of Liberty Street. Directly back of it on the south side of Factory Street, which parallels Water Street, he purchased two lots. On the one immediately back of the house he erected a small frame structure about 1841 for his store. It is shown herewith and stands across the canal and directly north of the brick house.

Bell had been in business but a short time in Dexter when he formed a partnership with Colonel Kirby under the name J A Bell & Company.
This company engaged extensively in the produce and warehouse business, built a steamboat and two sailing ships and entered broadly into the carrying trade on the lakes. Colonel Kirby died August 20 1849 and after settling up the business Bell erected a substantial brick store on the main street, operating it for a number of years. It was later for several years the store of O M & G W Wood and is now occupied by the Grand Union company. Having amassed a substantial fortune James A Bell interested himself in politics. After serving several terms as school commissioner and supervisor he was elected state senator in the 18th or Jefferson-Lewis district in 1859 and served three terms.
Dexter had just become an incorporated village May 8 1855. When the Civil war broke out, Senator Bell became active in the enlistment of troops. At Albany he had become instantly popular and during his first term served is president pro tempore of the senate. In 1867 he was elected to the constitutional convention and the same year bought thousands of acres of government land in Minnesota, organized the First National Bank of St. Cloud and became its president.
When first elected senator, he gave up his business and never returned to it. After he built the brick store about 1850 the little frame store was converted to a dwelling and still is so used. In 1874 he became interested in real estate in Arlington, N J, moved there and April 16 1883 sold his residence and the little original store to his brother, William P Bell, who died January 7 1897 leaving these two places to his widow who survived but a short time. Subsequently his daughters, Susan Vance and Eliza McWayne, acquired title and in 1906 Mrs Vance, her daughter, Mrs Mary Jackson, and son, Deputy Sheriff Fred V Jackson, began occupancy of the brick house. Mrs Vance died in 1927 and Mrs Jackson and her son, the well known deputy sheriff, are now the sole occupants.
They continue to rent the little frame house, which is Dexter's oldest store structure.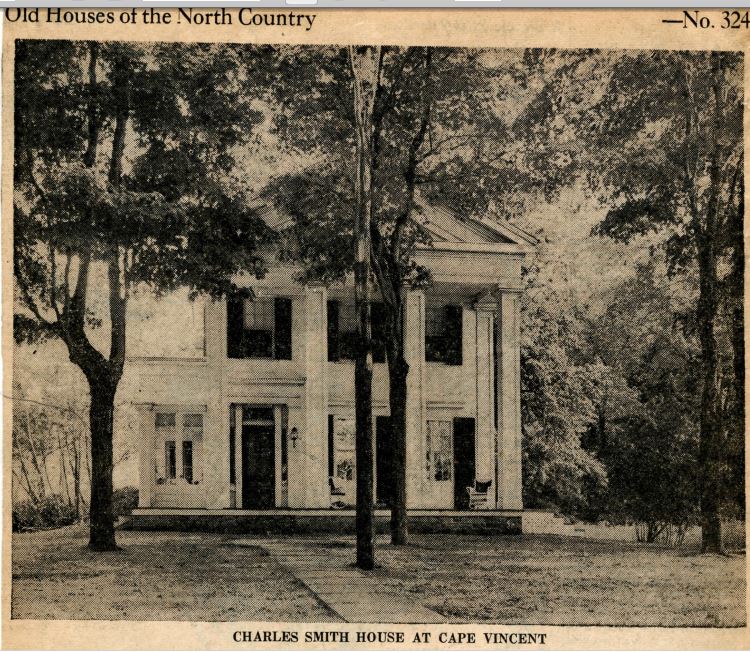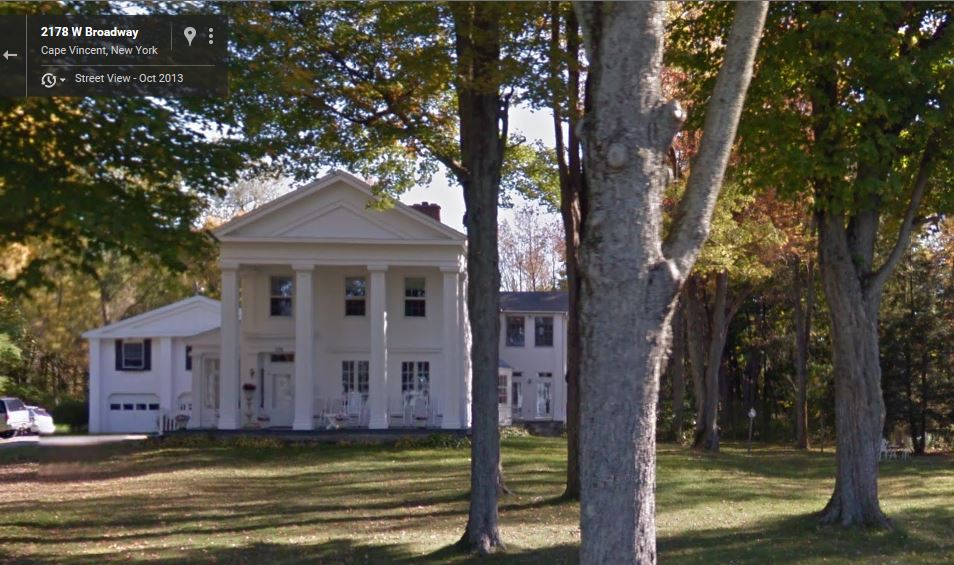 A modified Greek revival type of house, the Charles Smith or more familiarly known Dezengremel house on outer Broadway, Cape Vincent, where it looks across the St. Lawrence river to Wolfe island, is one of the most attractive residences of that historic village. Its history dates back at least a century and possibly more.

According to the Dezengremel family tradition the house was constructed by Charles Smith. He early owned Carleton island, was extensively engaged in lumbering, served as supervisor in 1852 1858 to 1861 was one time village president and died October 22 1882. There is a slight possibility, however, that the house was built by Theophilus Peugnet.
The three Peugnets, Theophilus, Louis and Hyacinthe, strong adherents of the Emperor Napoleon I, were among the French refugees who settled in the town of Cape Vincent after Waterloo. There the Peugnets bought much land.
On April 24 1838 Vincent LeRay , who resided in the beautiful "Stone House" on the opposite side of Broadway towards the heart of the village, sold the 9.22 acres that constitutes the site of this white, stately, tall pillared house, through his attorney, Patrick Somerville Stewart to Theophile Peugnet for $567.47 Theophile or Theophilus sold the same parcel to Charles Smith November 3 1847 for $1,000 and the price may indicate that there was then a house on the property, for building was done cheaply in those days.
Since known as "Maple Grove," this place is a little east of Colonel Harold Remington's "Beechwood," which stands at the corner of Broadway or Tibbett's Point road and the Pleasant Valley road. And Peugnet, who became a trustee when Cape Vincent village was incorporated June 14 1853 was collector of customs 1857- 1861.
On March 26 1870 Charles and Harriet A Smith disposed of this house and the 9.22 acres, which includes a broad shorefront, to Hannah R VanVechten of New York City for $7,300 and on February 28 1877 she sold it to Francis P and Mary Augustine Seraphine Dezengremel for $4,500. Under the joint will of Mr and Mrs Dezengremel, recorded September 29 1893 the property went to their son, Frank Dezengremel, long a prominent merchant and insurance broker in Cape Vincent, who served as village trustee in 1906 later retired and resided in this city, where he died October 11 1914. He and his wife, Harriet J Dezengremel had also made a joint will by which one gave a life-use to the other and then in equal shares to their daughters, Mrs Gerald S (Harriet Blanche) Austin and Miss Edna Marion Dezengremel.
The latter died August 14 1915 while her mother, Mrs Harriet J Dezengremel did not die until December 7 1926. As a result, under the provisions of her will recorded April 26 1927 the beauitful white house and lands went to Mrs Austin, who is now interested with her husband in the Austin Ice Cream company.
On March 20 1940 Mrs Austin sold "Maple Grove" to Mark Anthony and wife, Mrs Ann M Anthony of Cedar Rapids, lA, the deed describing the place as part of the Mile Square. The Mile Square was the name given to a tract extending back one mile from the south shore of the St. Lawrence river and bounded east by Bay Street and west by the Pleasant Valley road. This Mile Square was surveyed at Gravelly Point in 1811 by order of James D LeRay de Chaumont, when settlement of Port Putnam bogged down.
Under the ownership of Mr Anthony, an accomplished western architect, "Maple Grove" has been made most attractive inside and out. Its eight rooms, exclusive of three baths, are filled with beautiful antiques and the property is one of the show places of Cape Vincent.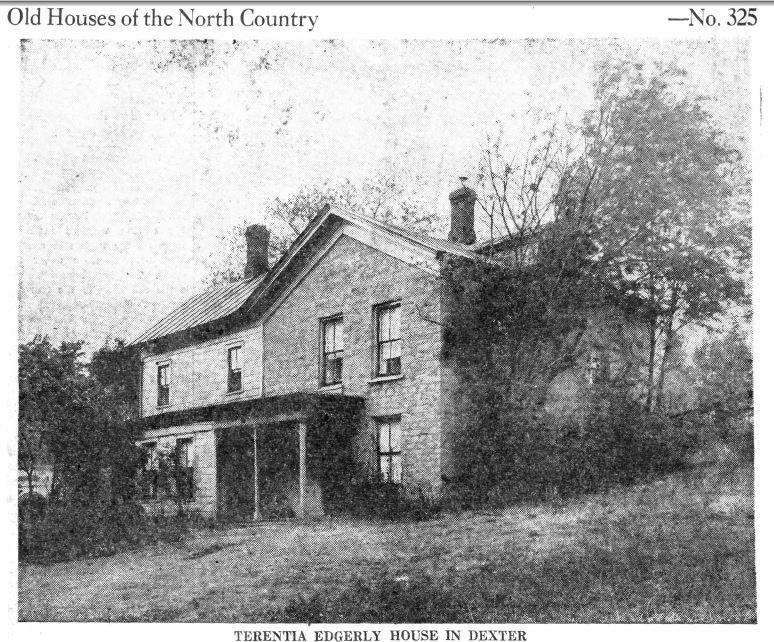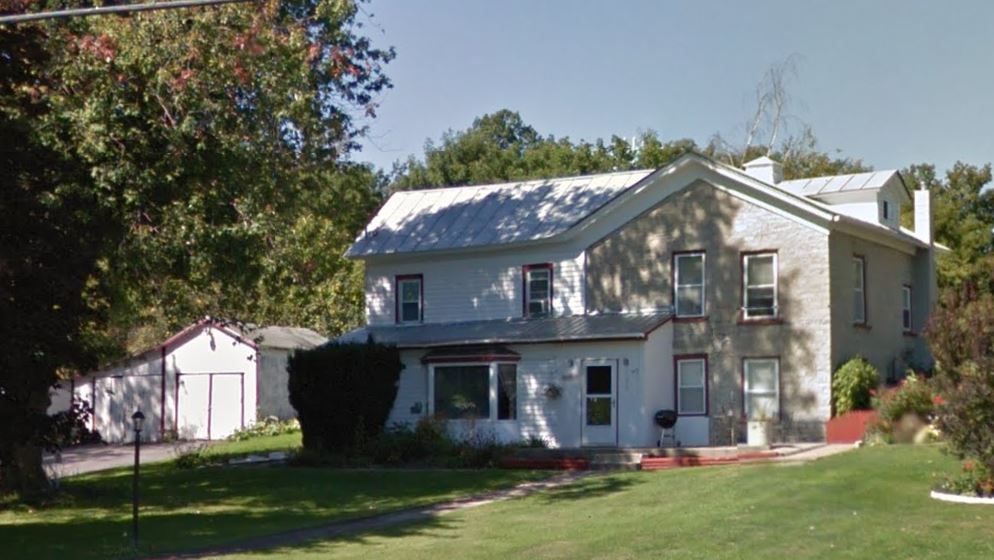 Although located in a rich limestone country the village of Dexter is not as replete with limestone houses as some other sections of the county. One of the few such dwellings in that community, however, is the almost century-old Terentia Edgerly place at 122 West Grove Street, and now owned by Harold E and Doris S McCumber. It was purchased by Mr and Mrs McCumber July 28 from the estate of Miss Ida M Northrup, a retired school teacher who had resided there many years and died on June 13. The site upon which this house stands consists approximately of one acre.
Little is known of the history of the house. The lot was part of the lands of S Newton Dexter, an Oneida county native and industrialist for whom Dexter village was named. On May 1 1849 Mr Dexter and his wife, Martha, sold the lot to Terentia Edgerly for $100. The native limestone house, with three-foot thick walls, was undoubtedly constructed during the ensuing year and was occupied by the Edgerly family for some time.

On September 20 1860 Richard Edgerly quitclaimed the property to Clarissa Edgerly, who with Caroline Babcock, wife of Kendrick Babcock, mortgaged it to Samuel Francis on March 7 1863 and on January 3 1873 Francis took the property over at mortgage foreclosure sale. Next on July 14 1879 Samuel and Hannah F Francis sold the premises to Reverend Daniel C Davis and on January 3 1882 Reverend Mr Davis and wife, Euphemia, disposed of it to Frank Pearse of the town of Orleans. Mr Pearse, who died February 22 1935 at the age of 81 later became a Dexter village trustee.
Son of George and Casandra Shimmel Pearse, Franklin Pearse was born in the town of Theresa January 30 1854 and became a carpenter and contractor. After removing to Dexter he had charge of construction of the mill of the old Frontenac Paper company and was also a contractor on construction of mills for the Newton Falls Paper company and Piercefield Paper company. In addition he erected a number of houses in this city and in Dexter.
On April 20 1896 Mr Pearse sold this house and site to Alice and Ida M Northrup who resided there during the ensuing years until their deaths, Ida having been the last to pass away. Her death occurred early in the past summer, the house having been in her possession 52 years. She was a daughter of the late Albert and Alice Gould Northrup and was born near Perch River July 23 1868.

Some years after the original stone upright of this house was constructed, a large frame addition was built and its construction shows that it has existed for many years. It is the opinion of Mr and Mrs McCumber that at least one fireplace was contained in the stone upright originally and was removed when the addition was erected. Mr and Mrs McCumber plan to rehabilitate the old house and premises to a considerable extent for the site has a most pleasant outlook and possesses excellent opportunities for landscaping.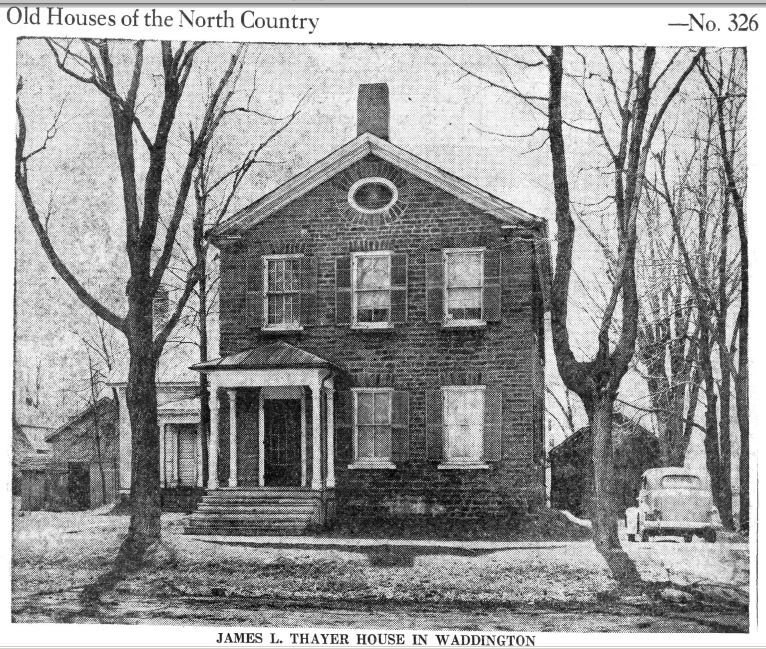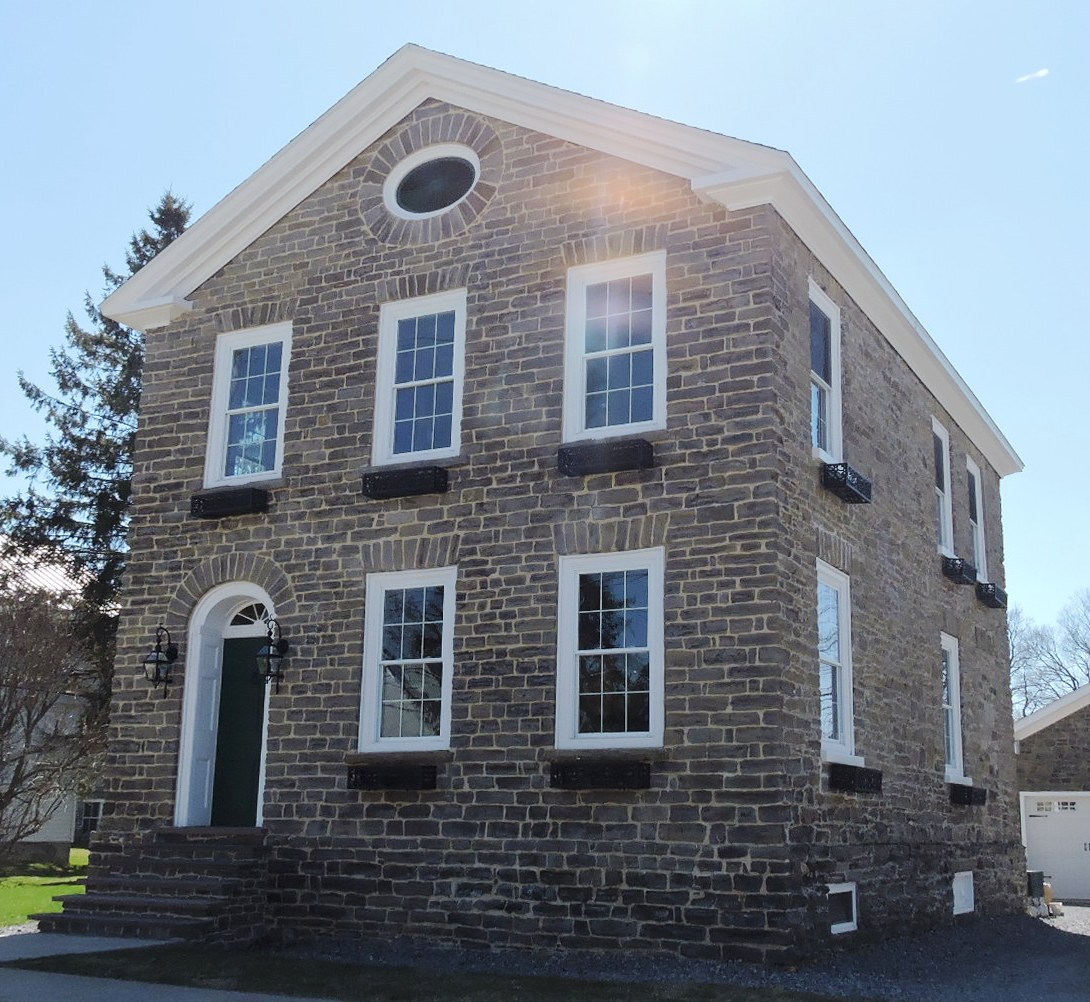 Perhaps 110 years old is this native stone house on the west side of LaGrasse Street in the village of Waddington. On October 14 1809 before David A and Thomas L Ogden and Joshua Waddington divided up the town of Madrid which then contained the territory now in the town of Waddington, this trio of owners sold the lot upon which this house stands to Phillip Shay for $54. Over a quarter of a century later Shay and wife, Hannah, sold it to James L Thayer for $300. The price would indicate that there was no house upon the land at that time, the date of that transfer having been February 15 1836.
Thayer, however, sold the property to Walter Wilson May 6 1837 for $1,800 and there was unquestionably a house on the site then. Mr Wilson was one of the most prominent, men in the town, having been a prosperous merchant, public officer and dealer in real estate during his career.
Two years later on April 2 1839 Walter and Ann Wilson sold off the north 88 feet of the lot and the house to William Roebuck for $1,600 and on April 2 1842 William and Susan W Roebuck sold the same property back to Mr Wilson for $1,400. How long Mr Wilson who was at one time president of the village, supervisor of the town and Madrid and later supervisor of the town of Waddington, retained this house and lot is not known for there is no record of his conveyance to Thomas Short, 4th, another prominent resident of the town of Waddington.
It is likely that Mr Short, of Scotch-Irish descent, resided in the house and kept it for a considerable length of time, he and his wife, Jeannette, selling it on April 17 1882 to Thomas Blythe for $1,200.
Blythe, a retired farmer, lived only three years after the purchase of this property and died on April 3 1885. His children, who were his heirs, Isabelle Blythe Wood, Jane Blythe Packard, Mary Blythe Short, Ellen Blythe Elliott and Betsey Blythe Pringle disposed of the place 23 years afterward to Samuel P Young and wife, Caver, March 26 1908. Mr Young died on January 17 1933 and his sons, Clarence A and Eugene Young sold the place to Leavenia Young Newsom for the nominal sum of $1 but the latter kept the property only until October 20 1937 when she sold to Frank Lassla.
Mr Lassla, who was employed on the Waddington-Morrisburg ferry, sold to Mrs Winifred H Hosmer May 17 1945 and only a little more than a year later died on July 1 1946.
Mrs Hosmer, who was the former Miss Mary Hague, native of Minnesota, died May 8 1947 after a short illness of a heart attack, and on July 20 of this year her husband, Ira H Hosmer, as executor of her estate and inheritor of this property, disposed of it to Herbert H and Olga T Hilyard.
The house is unusually well built and undoubtedly has had an interesting history, which has apparently long ago been forgotten and unrecorded. In its later years it has been considerably modernized by the removal of the original outside doors and windows. An unusual feature of its construction is the oval window in the front gable.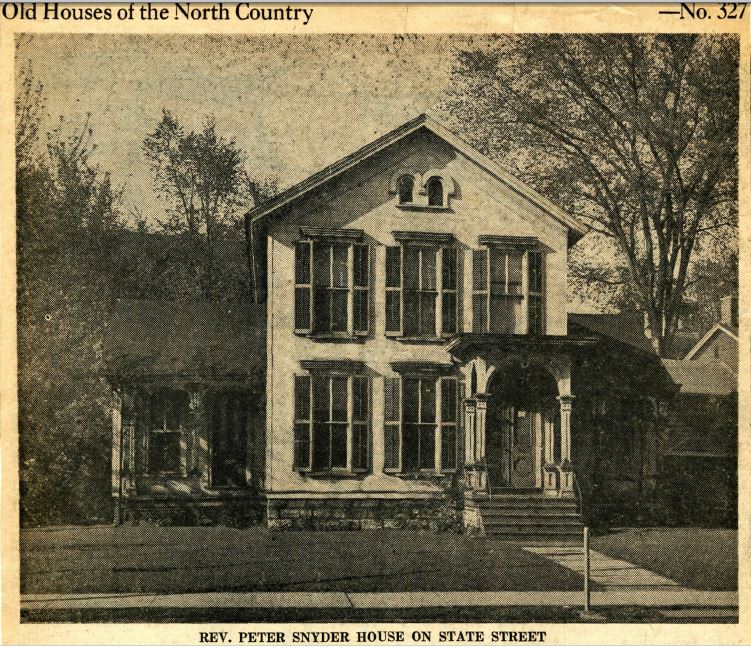 Almost a century old this house at 528 State Street, has a most distinguished history. Once part of Micah Sterling's fine estate, it has housed as guests at various times General Ulysses S Grant and Benjamin Harrison who became Republican presidents of the United States.
Several times Frances Hodgson Burnett, author of "Little Lord Fauntleroy" and "Sarah Crew," stayed here in the Gay Nineties. Other guests of note have been Mrs Alfred E Smith, prior to her marriage; Methodist Bishops Charles Henry Fowler, D W Clark, John W Hamilton and Matthew Simpson; John W Vrooman, once grand master of the grand lodge of Free and Accepted Masons of the state, and Reverend Manley Hand, graduate of Genesee college, predecessor of Syracuse university.
Started in 1850 and completed in June 1852 as an adjunct to the Micah Sterling estate it stood at the northerly edge of Sterling park with the imposing Georgian native limestone mansion of Micah Sterling, intimate friend of President VanBuren, a few rods to its rear.
Then on February 1 1858 Lewis B Sterling and John C Sterling, executor of the Micah Sterling estate, sold it to Reverend Peter Snyder, noted Presbyterian divine whose grandson, Reverend Franklin Bliss Snyder, is now president of Northwestern university.
Reverend Peter Snyder, born at Schoharie in 1814 was educated at Williams and Union colleges, Princeton and Union theological seminaries, was pastor of the Second Presbyterian church at the corner of Factory and Mechanic Streets from May 1848 until his death December 13 1863 and it was through his efforts that funds were raised for the successor, Stone Street Presbyterian church. Reverend Mr Snyder's wife was the former Marcia Penfield of New Rochelle.
On October 21 1870 Mrs Marcia Penfield Snyder sold the property to Judah Lord, native of Woodstock, Vermont, cabinetmaker and foundryman distinguished for having wooded the first iron plow in the North Country, inventor of a rotary stove and for many years manufacturer of plows, which he had himself perfected, on Beebee's island. Coming to Watertown from Brownville in 1823 he bought land and water rights, on Norton's (now Sewall's) island, next to Gurdon Caswell and Ralph Clapp's papermill lot and built a shop on the site of the present Bagley & Sewall company.
With his nephew, Gilderoy Lord, he formed the firm of J & G Lord and opened a shop on Beebee's island in 1847. In 1865 he sold his interest to Gilderoy and the next year became first superintendent of the Davis Sewing Machine company. He died February 29 1876 his widow Almira Smith Lord, taking a life-use to his estate, which later went to his daughters, Mrs Ross C (Frances Almira) Scott, Mrs James (Mary J) DeLong and Miss Lydia C Lord. His son-in-law, Ross C Scott, four times elected surrogate of Jefferson County, was executor of the estate. Later this house, first designated 42 State Street, became the residence of Judge Scott and has family for many years through settlement of the estate among the heirs. Judge Scott, born in Rutland October 19 1838 attended Gouverneur Wesleyan seminary, graduated from Genesee college, was admitted to the bar in 1863 after studying law in Bagley & Wright's office, served as justice of the peace, town clerk, alderman and Republican leader in the county.
In 1868 he was appointed clerk of surrogate's court and in 1877 was first elected surrogate. He was a trustee of Syracuse university, vice president of its alumni association, a director of the National Union bank, secretary of the Jefferson County Savings Bank, joined the Neptune Hose & Steamer Co. No. 1 of the local Volunteer Fire department in 1864 soon became a department director, was elected secretary in 1865 and served until his death September 20 1898 with the longest service record of any fireman in the state. His wife died September 1 1903. His sons, Allyn R and Charles H Scott, professional genealogists, have continued to reside in the house which they own, and for years it has been filled with rich antiques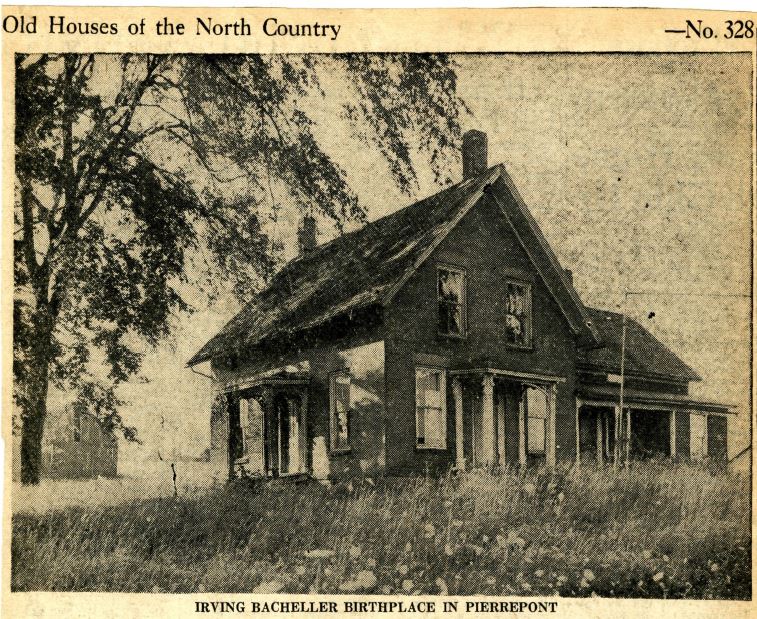 Irving Bacheller, one of the literary great of America, articulate voice of Yankeedom, homespun poet of the North Country, who observed his 89th birthday on September 26 has often said that he was born here. The now dilapidated red brick house with the steep-pitched roof stands upon A truly beautiful countryside about six miles southeast of Canton in the Waterman Hill area of the town of Pierrepont, St. Lawrence county. From its lofty site it looks down with contentment upon a scene so picturesque and soothing that Bacheller himself has referred to it as "Paradise Valley." But in spite of the tall, spreading elm with its arms stretched tenderly over the old house that once was the home of one of the most lovable American families, the house itself presents a spirit of sadness.
Author of some 30 books besides numerous essays and magazine articles, Addison Irving Bacheller was born September 26,1859 son of Sanford Paul and Achsah Ann Buckland Bacheller and grandson of Samuel and Sally Sanford Bacheller, native Vermonters who had come into the Canton region of St. Lawrence county in 1829.
While Irving Bacheller, who early in life dropped the Addison off his name, is descended from Mayflower stock and is a member of the Society of Mayflower Descendants, his parents were poor in this world's goods and the record in the St. Lawrence county clerk's office does not show that his parents ever had title to this house and 200-acre farm. In any event the tradition is that Irving spent the first dozen years of his life in this house, that it burned, to later be rebuilt, and that in the fall of 1872 his parents moved into Canton village after having spent a short time at the neighboring farm of Irving Bacheller's Uncle Perry. When Irving's cousin, Henry A Bacheller, died January 4 1933 in this house it was mentioned as Irving's birthplace and old Bacheller homestead.

Today this property, which has been considered for an historic shrine to the memory of a great American novelist and poet, is owned by Frank B and Flora B Aldous of Hermon. They purchased it November 23 1943 from Beatrice Gardner, Nelson A Maybee, Laura Gilmore and Mildred McKenney, who acquired it from John H Maybee April 1 1940. Mr Maybee bought it November 10 1933 from Clarence S Cook as executor of the Henry A Bacheller estate.
Henry A Bacheller purchased it July 23 1898 from William A Barrows, executor of Perry L Bacheller's estate, the latter, father of Henry, having died April 9 1897. Perry had bought the 200 acres December 2 1884 from Orson and Betsey Wallace and they in turn had got it April 26 1864 from Jonathan and Sylvia Bullis, who had bought it plus ten acres from Lemuel and Elizabeth Buck December 13 1845 and on January 1 1852 had sold off the ten acres to Henry Bacheller, uncle of Irving Bacheller, for $50.
Back of that the record becomes diverse and hard to follow although the land was early in the 19th century part of the vast North Country holdings of the wealthy New York Harison family.
If the house in which Irving Bacheller was born was visited by fire when he was a young boy and rebuilt he has nevertheless considered it his birthplace, although he has ever deplored the fact that he was not born in a log cabin.
Be that as it may he has wrought well in a long and valuable life, wherein his first great public recognition came on July 2 1900 when he brought out that fine novel of northern New York Yankeedom, "Eben Holden, A Tale of the North Country," and since then the northern counties of St. Lawrence, Jefferson, Lewis and Franklin have been commonly known as "The North Country."
Graduate of St. Lawrence university, long a trustee of that institution and of Rollins college, close friend of William Dean Howells, Frederic Remington, Hamlin Garland, Edmund Clarence Stedman and Andrew Carnegie, associate of the original Joseph Pulitzer and the Gunnisons, founder of the first feature syndicate and discoverer of Stephen Crane, Irving Bacheller, preserver of pioneer Yankee history in clean literature will ever live in the hearts of wholesome Americans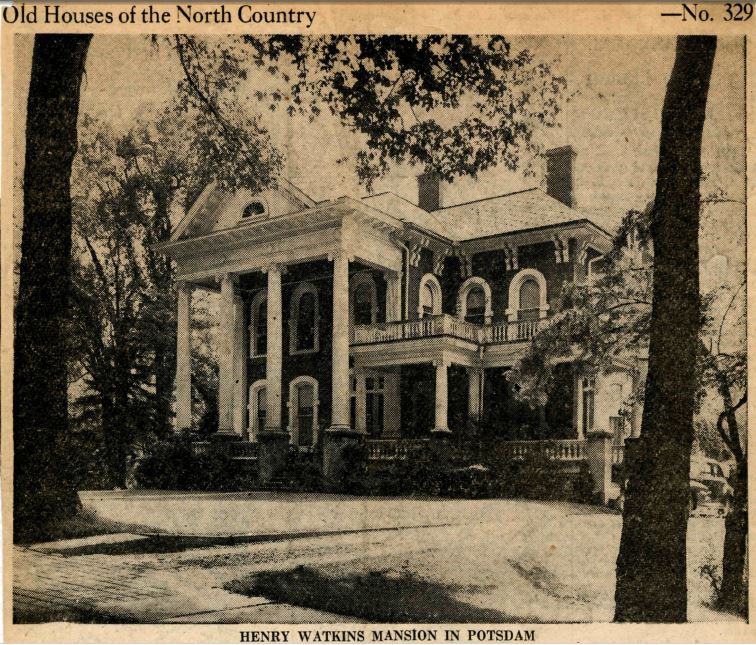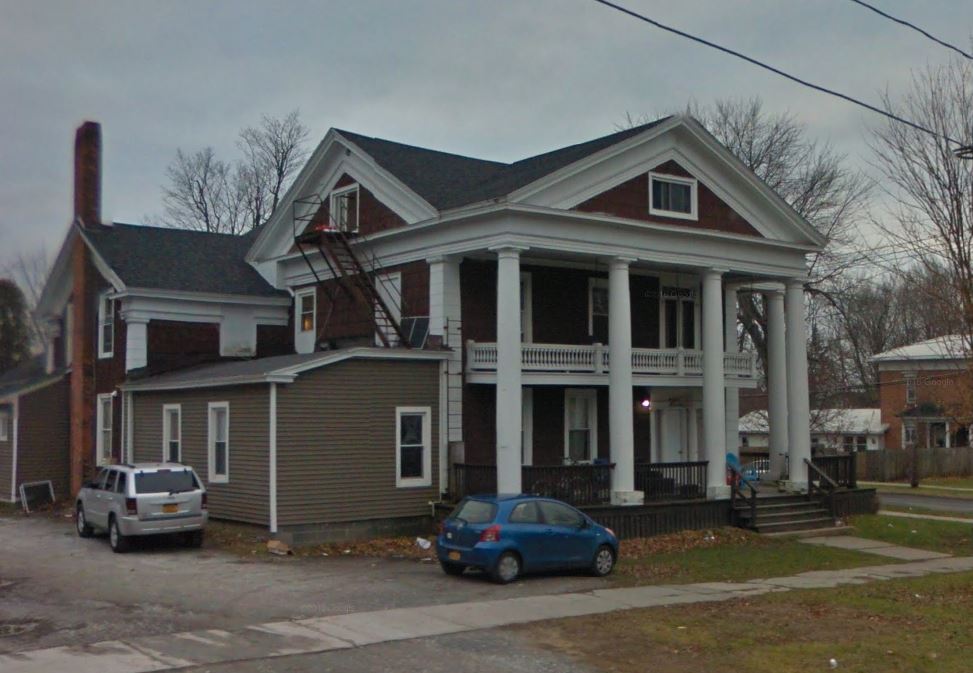 One of the show places of Potsdam is the big brick mansion with the tall Corinthian pillars at 14 Leroy Street, in that village. It was built about 1863-4 by Henry Watkins, native of Rutland, Vermont, who was born in October 1819 was graduated from Middlebury college and as a young man of 22 came to Potsdam in 1842 to teach mathematics in the old St. Lawrence academy. After holding this position for a few years, in 1847 he engaged in the foundry business, later taking Charles W Leete into partnership. There they made plows, stoves, potash kettles and mill irons in the foundry that had been built in 1830 by Judge Jabez Willes. On June 16 1863 Watkins paid David L and Margaret Clarkson $1,400 for the lot upon which this house atands at the corner of Leroy and Broad Streets and later acquired adjoining land to extend his grounds. He must have been near the peak of his prosperity in 1863 for in that year the firm of Watkins & Leete also bought a sawmill on the west side of the river. In 1872 the partnership dissolved, Leete taking the foundry and the hardware store they had conducted, while Watkins took the sawmill and operated it until his death March 29 1891. He was a great factor in obtaining the normal school and was president of its board until his death. Also he was prominent in the Presbyterian church.
With its beautiful curved staircase, its large, high-ceilinged rooms, the exquisite natural-finished interior woodwork and fine doors with the initial "W" on the knobs, the mansion was indeed a show place as it originally was without the portico.
On January 17 1895 Referee George W Sweet sold the mansion propery to Darius A Moore to satisfy a $5,000 mortgage placed on it by Henry and Augusta H Watkins March 27 1876. Darius A and Emily Moore conveyed to Jessie C Moore, wife of Frank W Moore, July 21 1896 and January 27 1900 she sold it to County Judge Clarence S Ferris, who resided there a short time and disposed of the property May 1 1903 to George Wing Sisson Sr. For 45 years the mansion has been owned by the Sissons a family ranking with the Clarksons in Potsdam prominence. One of the founders, in 1891 of the Racquette River Paper company, George Wing Sisson Sr, was born at Glens Falls December 19 1828 son of James and Gulia Elma S Wing Sisson, and died February 3 1913. There was a Quaker strain to his old English ancestry which came to New England three centuries ago, the Sissons settling at Nantucket and the Wings at Sandwich, near Cape Cod.
James Sisson, father of George Wing Sisson Sr, was a Glens Falls merchant and his son, graduate of the Glens Falls academy, lived at home until he was 19. Then he clerked in Schenectady. Early in 1849 he started a drug store at Coxsackie, moved his business to Glens Falls in 1860 sold out January 1 1867 came to Potsdam, bought a half-interset in the Pomeroy & Pearson sawmill, failed in the depression of 1873 became manager of the A Sherman Lumber company January 1 1875 eventually acquired sole ownership, founded the Racquette River Paper company and became its first president, manufacturing book, news and manila papers.
Marrying Sarah A Hamilton of Kingston, NY, in 1854 he raised six sons and two daughters. A Presbyterian and early a Whig he became a Republican with the birth of the party in 1856. In 1901 his son, George Wing Sisson Jr, succeeded him as president of the paper company and another son, Frederick TenEyck Sisson, became general manager. These sons still hold those posts in a $4,000,000 business.
The senior Sisson added the portico to the house and modernized the interior. His widow resided there until her death April 27 1916 when a life-use went to their daughter, Grace S, who resided there two years. On October 26 1918 all the George Wing Sisson heirs quitclaimed mansion title to Sarah Thompson Sisson, wife of Francis TenEyck Sisson, who took title after her death, February 20 1939. Industrialist, accomplished musician, world traveler, skilled golfer Mr Sisson is the present owner and occupant of this fine estate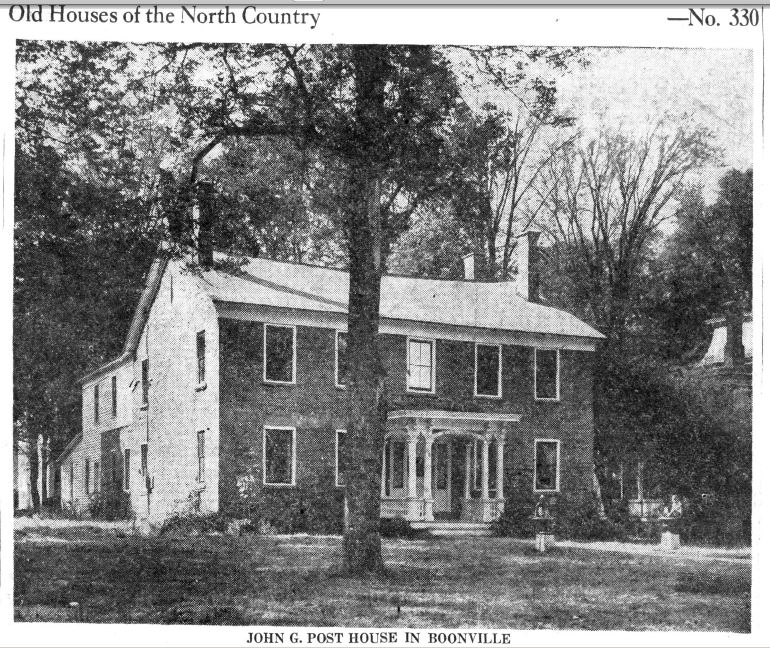 Corner of Post and Schuyler now has two vacant lots and the other two are NOT this home
One of the most historic houses in the Village of Boonville, Oneida county, is the residence of John G Post, one of the town's first and most prominent settlers. Facing Post Street, named for this early settler, and located at the corner of Schuyler Street, this large house constructed of Black River limestone, abundant in the town, is placed almost a hundred feet back from the roadway.
The date of construction of the house is not definite, but about 1802 there was a residence used as a schoolhouse on this site, and Miss Lydia Buckley who later became Mrs John G Post was one of the first teachers. There is also a tradition that Post built it about 1817.
Records in the Oneida county clerk's office may well indicate that the house was built at a very early date, for on August 5 1817 Peter VanEghen, Hendrick Vollenhoven, Walrave VanHarkelorn and Aermont VanBeeftingh conveyed this property to John G Post and Peter Schuyler for $3,400. Schuyler, an extensive landowner in that section, must have quitclaimed his interest to Post, for under the will of John G Post dated June 6 1855 and recorded July 16 of that year the place went to Mary G Post, Louise B Post and Sophia A Post.

Eventually it came into the possession of Louise, who quitclaimed to George B Post January 9 1889 and on November 11 1891 he conveyed to Bertha L Alger. Next transfer was December 8 1903 when Elizabeth Alger Bailey, Fannie Alger Kent, John P Alger and wife and Louise Alger Davis, great-grandchildren of John G Post sold the property to Eugene N Hayes and others as special committee of Summit Lodge, No. 243 IOOF, which held the place until November 30 1945 when it sold to C Ray Harvey, well known Boonville business man for $6,050. Dr Leslie Brown, dentist, and the Band Box Dry Cleaners are the tenants
Named for Gerrit Boon, agent for the Holland Land company, the town of Boonville was not created until April 22 1805 and it was Gerrit Boon's desire that it be named Kortenaer for a distinguished man of Holland. The citizenry would have none of it and named it in honor of Boon.
At that original town meeting held at Joseph Denning's house Jacob Rogers was elected supervisor and John G Post was made a pathmaster. In 1806 Post's associate, Peter Schuyler, was made supervisor, and Post himself served two terms as supervisor in 1808-1809.
Schuyler had come to Boonville from New Jersey and among his other honors he was the first postmaster of what is now Boonville village. It is said that when a post rider brought the Albany mail pouch in late June following declaration of the War of 1812 Postmaster Schuyler received a notice which caused him to shout to the bystanders: "Listen, citizens! A letter from the governor declares that a state of war exists throughout the country," whereupon Post cried out, "Let us arm quickly but the pity of it is that we have no arms to speak of, except our old flintlocks and fowling pieces."

There were fears of an Indian uprising in the valley and John G Post was made head of the defense committee. Long did the old stone house remain in the possession of the Post family, which contributed the land across the street for the Erwin Library and Institute. It would be a most suitable museum for this beautiful little village near the headwaters of the Black and Mohawk rivers, at the summit of the old Black River Canal, which, opened in 1850.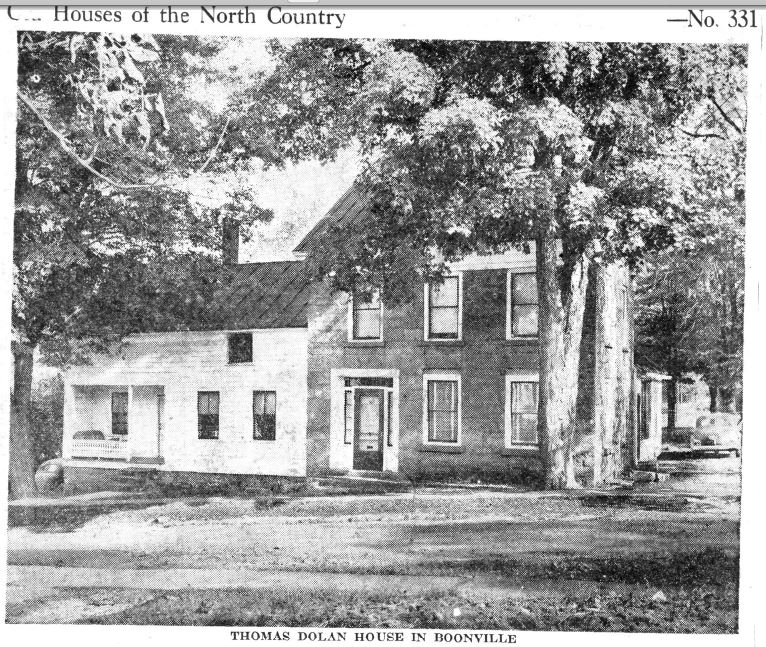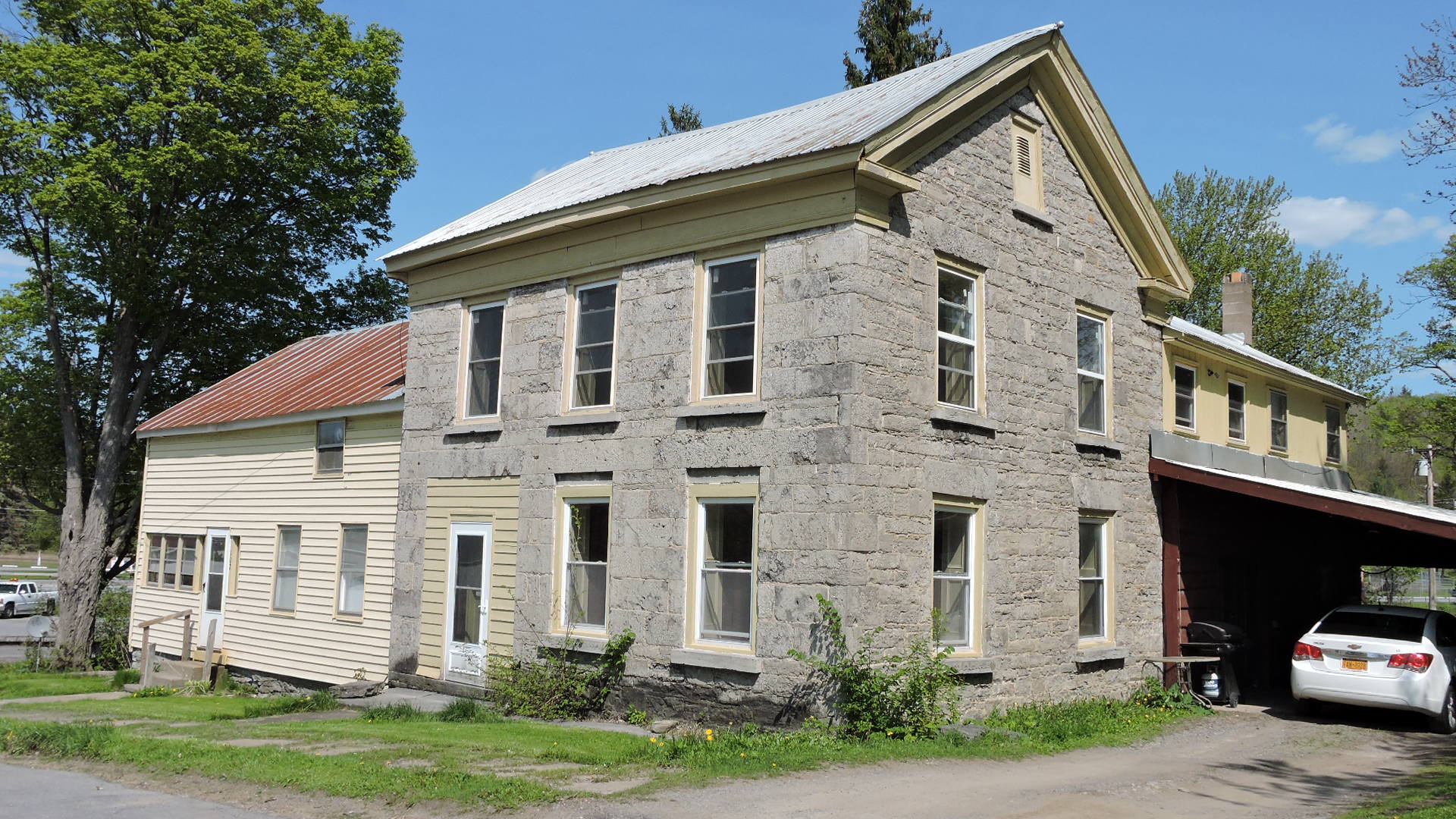 From a financial standpoint the long-ago abandoned Black River canal, which tapped the historic Erie canal at Rome and then came up through Boonville to Lyons Falls to terminate at Carthage, was a rank failure. As one of the interesting and picturesque institutions of the North Country it was a decided success, and it is regrettable that many of its old locks of finest masonry, created out of beautifully crafted native limestone, have been completely obliterated.
In the 25-mile stretch from Rome to Boonville there were 70 of these locks overcoming a lift of 693 feet, Boonville being the summit of the canal. Thirty-nine more locks were employed in the 386-foot descent of the canal from Boonville to High Falls, now known as Lyons Falls and up to September 30 1857 the net cost of construction and operation had reached a total of $4,050,406.70 while it had not been able to meet the expense of repairs in any one year.
Many stone masons were brought over here from Ireland to work on the canal and a colony of them established themselves in the north section of Boonville.
Thomas Dolan was one of these native Irish stone masons and on February 1 1858 he purchased a substantial lot on Second Street from the executors of the Philip M Schuyler estate. Upon this lot, during his spare time, he constructed the native limestone upright of the house shown herewith. So well did he select the stone and so excellently did he cut and lay it that it stands today like a solid block, a fine testimonial to the excellence of his workmanship.
Some time after Thomas Dolan had erected the limestone body of his residence the substantial frame wing was added, and only a short distance to the east of it was the canal upon which he had worked so well. Thomas Dolan resided in his house for a number of years and after his death the place went to his widow, Maria, who disposed of it on May 5 1890 to George V Meurer, a cobbler. Mr Meurer also resided there several years until his death, when the place went to his widow, Augusta V Meurer and Arthur C Meurer. By referee they conveyed it April 18 1934 to the National Exchange Bank ot Boonville. On September 21 of the same year the bank sold it to C Ray Harvey and wife, Mrs May A Harvey. They are the present owners, but the house, which is in the finest state of preservation and maintenance, is occupied by their son, Robert Harvey, and family. And one will travel far and wide through this section of the state to find a better piece of masonry.
Mr Dolan, the builder and first owner of the house, was a devout member of the Roman Catholic church, but m his first years of occupancy of the place there was no Roman Catholic edifice in Boonville, whose residents of that faith were spiritually served by an itinerant priest, in that others of the faith besides himself might benefit by the service Thomas Dolan turned over the use of his house for masses on Sundays and other sacred days, it is interesting to note.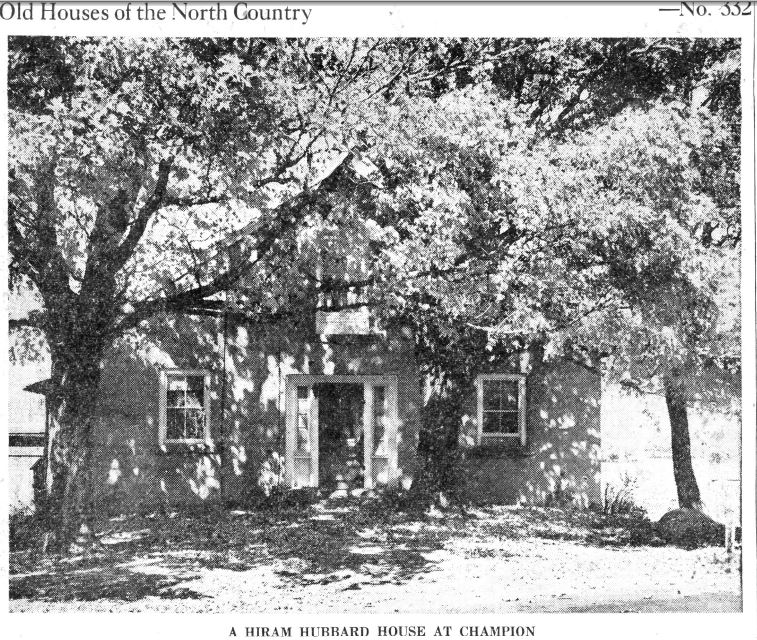 34299 State St, Carthage NY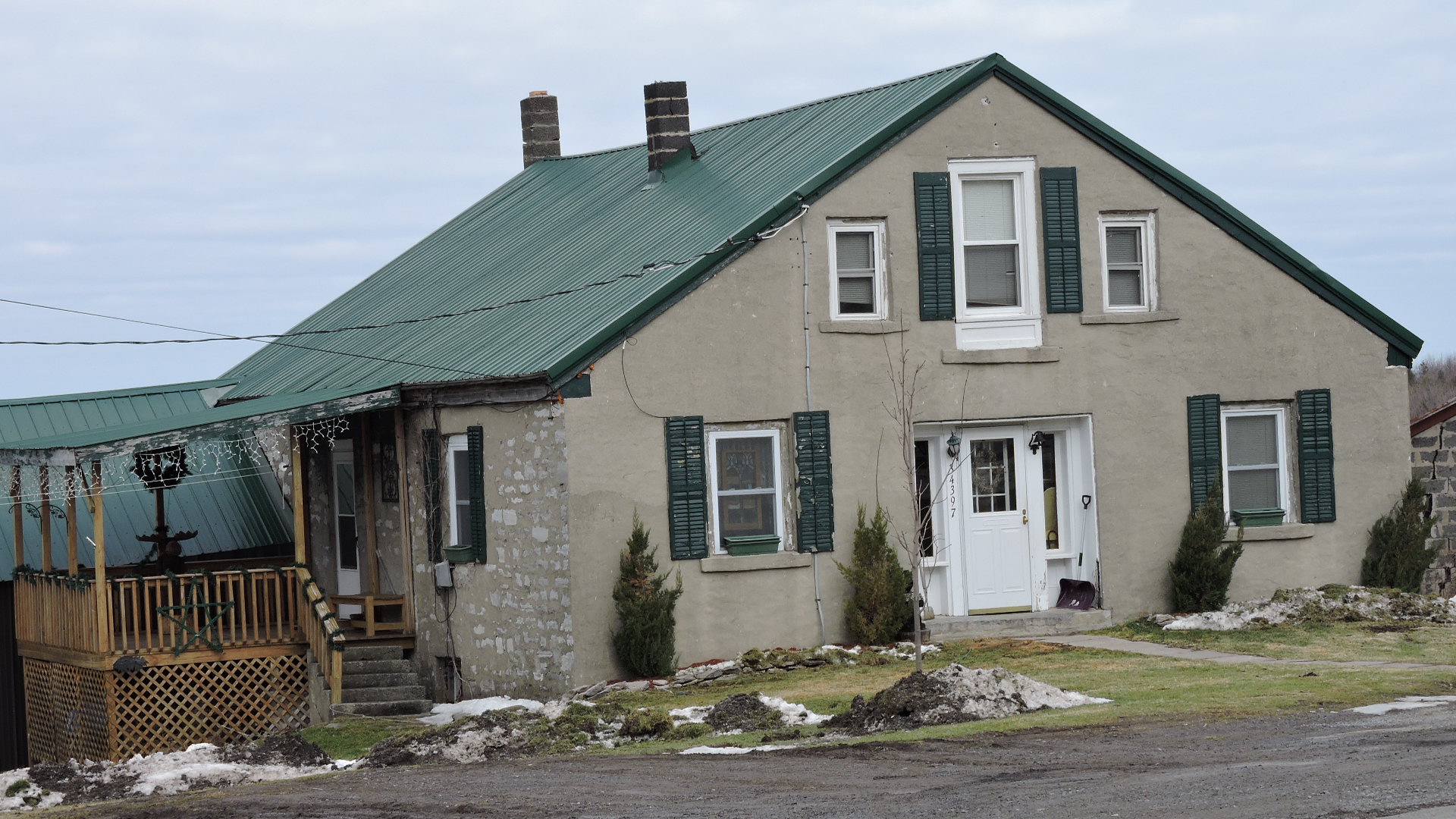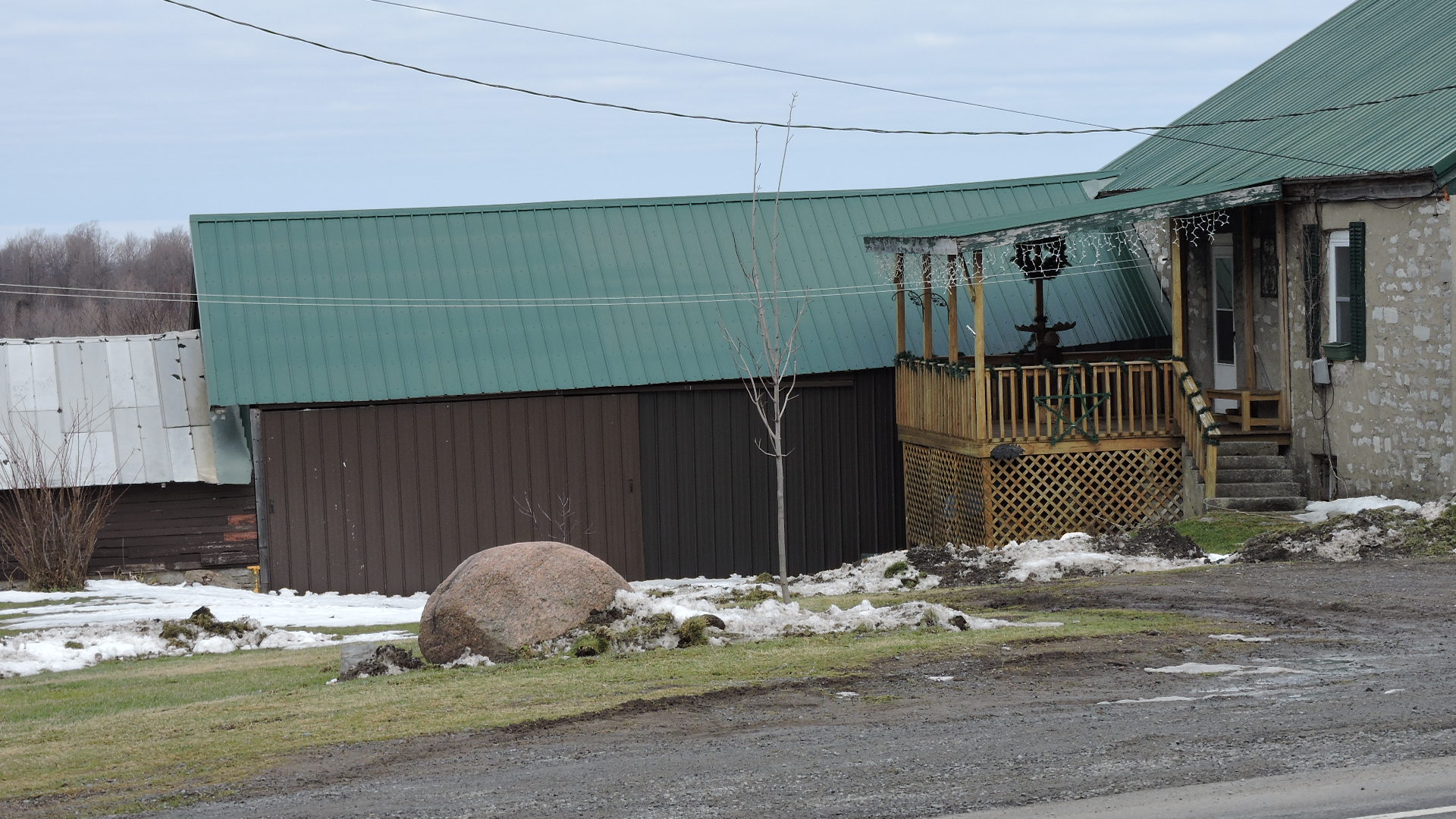 Probably one of the oldest houses in the village of Champion is the quaint little cottage-type native limestone structure owned and occupied by Roy C Hubbard, greatgrandson of Joel Hubbard, who was a brother of Captain Noadiah Hubbard, one of the two first settlers of the county.
It is on the lefthand side of the road that leads to West Carthage at the junction of that road with the old state road, and is only a short distance above the Hiram Hubbard house with the beautiful front doorway. The latter house was built about 1820.
The house shown herewith, the front of which has been given a coat of stucco in recent years, may have been erected earlier than the Hiram Hubbard house, but the year of its construction is not known and the name of its first owner is difficult to trace from the county records.
It is in a little group of Hubbard houses, for diagonally across from it on the old state road is the big mansion which Captain Noadiah Hubbard built for himself in 1831 and which is now owned by Miss Lina Pierce. Hiram Hubbard was the eldest son of Captain Noadiah Hubbard, who was a native of Middletown, Connecticut, and a great-great grandson of George Hubbard, who was born in England in 1601 who became the immigrant ancestor of the line and as a young man settled in Connecticut. Under the partnership name of N & H Hubbard a general store, distillery and ashery were conducted by Captain Noadiah and his son, Hiram, in Champion village and in 1815 they erected a limestone store, one of the porch stones of which is a part of the steps of the beautiful old mansion erected for Hiram in 1820.
The county atlas of 1864 indicates that at,that time Hiram Hubbard owned the house shown above. On March 1 1870 he and his wife, Charille Matilda, who was the daughter of Dr Jonathan Sherwood, one of Champion's first physicians, sold this property and about 113 acres of land to Joel C Hubbard. Joel C Hubbard died April 23 1922 and this house and farm went to his son, Rayton, who, with Nellie, his wife, disposed of it to Robert M and Eva L Hart February 28 1929. On July fifth, 1938 the Harts conveyed it to Emma J Duff and Wilbur T Stoddard, executors of the estate of Mary C Stoddard, and on July 14 of the same year they sold it to Roy C and Bessie L Hubbard, the present owners.
Roy C Hubbard is the son of the late Alfred O and Huldah Ann Tripp Hubbard. Albert O Hubbard was a brother of Joel C Hubbard who purchased this farm from Hiram Hubbard on March 1 1870. The parents of Albert O and Joel C Hubbard were Charles Hubbard, born September 5 1813 a twin of Charille Hubbard, and Miss Fiana Loomis Hubbard who was married to Charles July 4 1834.
Charles Hubbard, in turn, was the son of Joel Hubbard, who was born in Middletown, Connecticut, October 30 1772 married Mercy Austin in 1797 and died January 1 1851. Joel Hubbard was a younger brother of Captain Noadiah Hubbard and came with him to Champion permanently to settle in 1799. It will thus be seen that Roy C Hubbard is a great-grandson of Joel and a great-grand nephew of Captain Noadiah. And while there was a short interim when the ownership of this house was outside of the Hubbard family, it has probably been held within the family close to a century and perhaps more. Roy C Hubbard continues to operate the farm that goes with the house.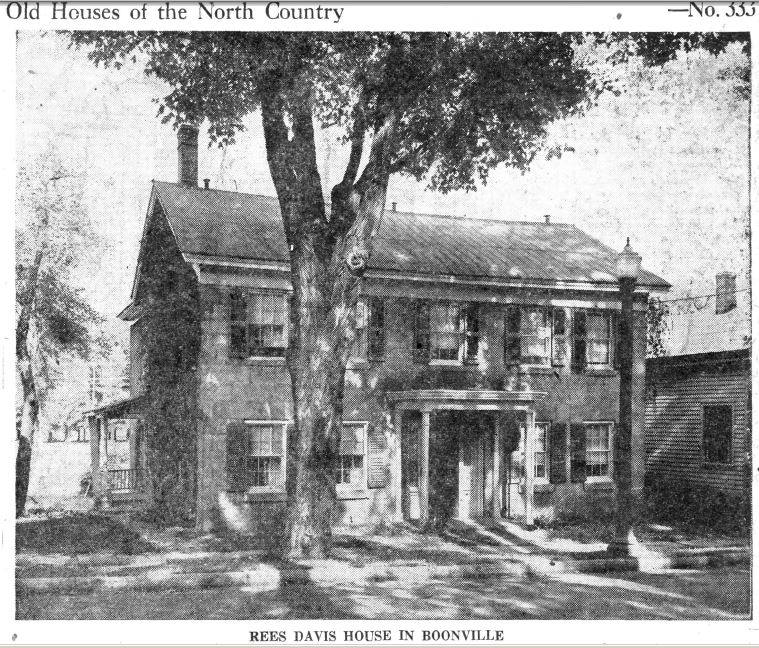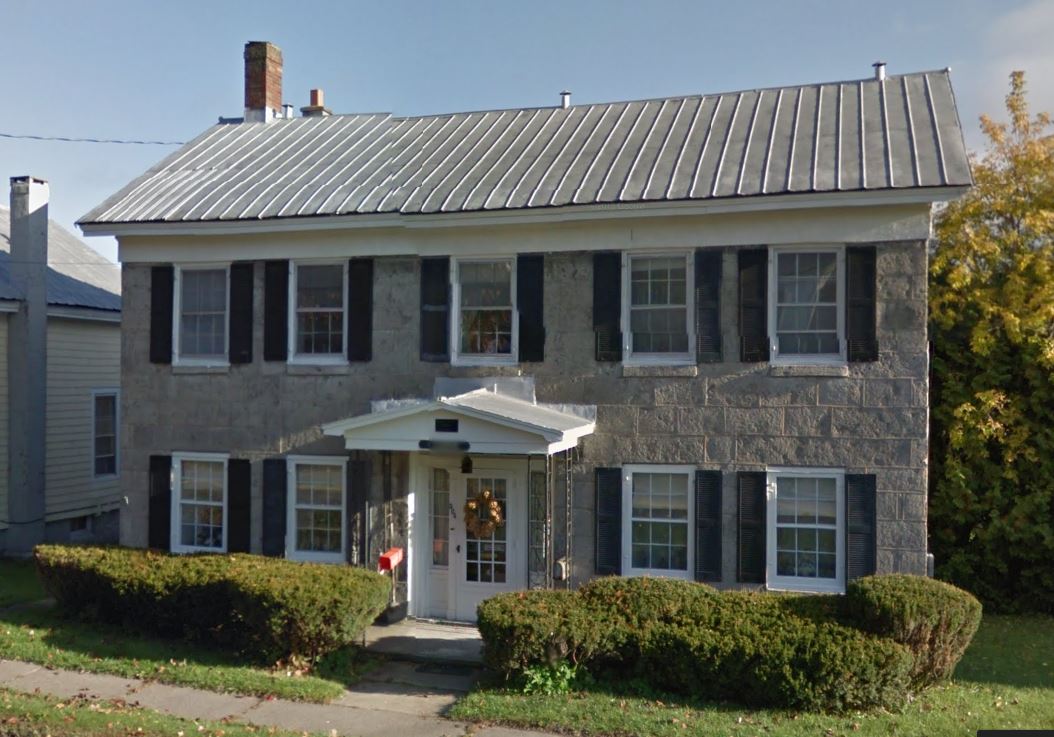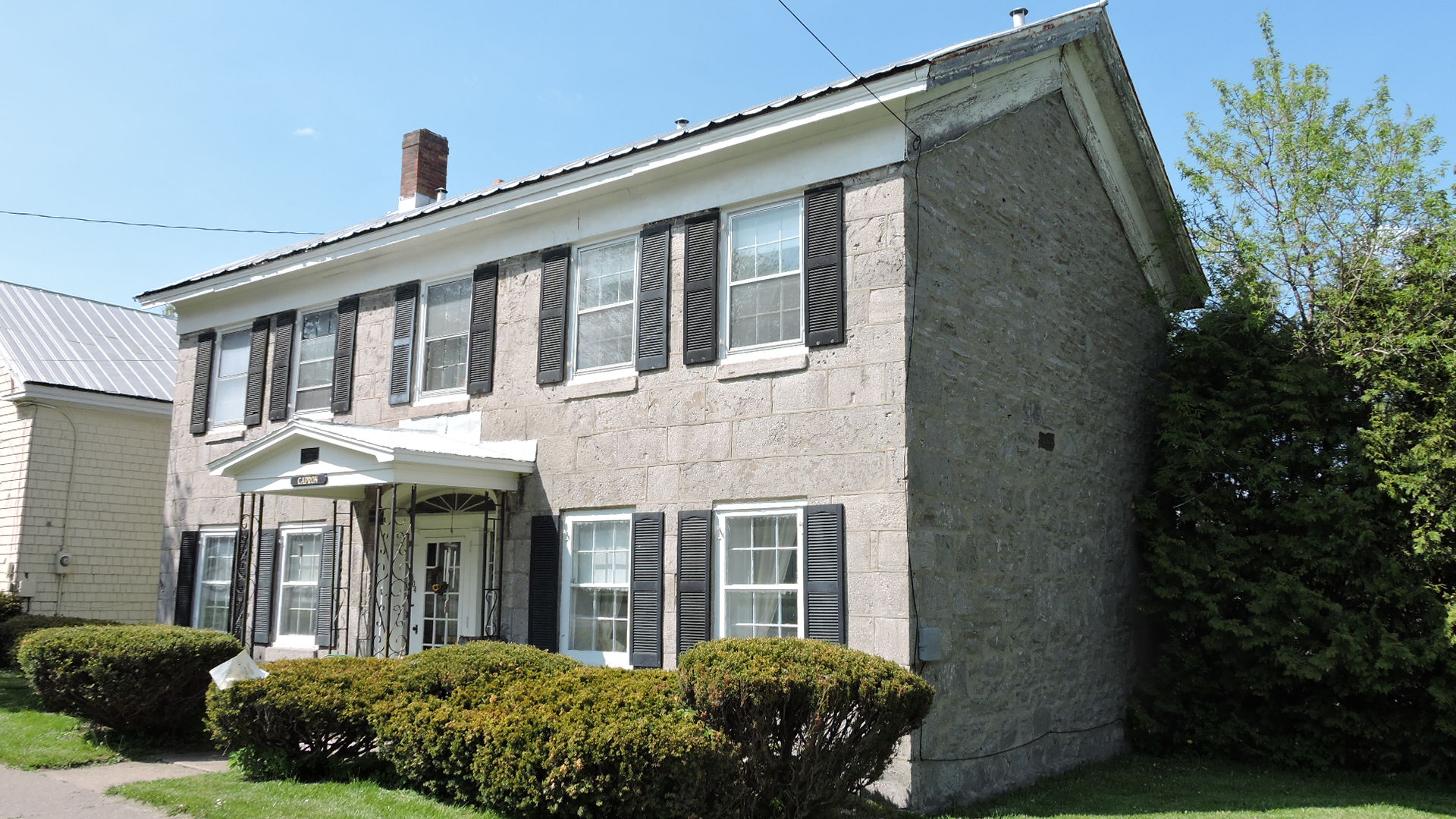 Upon the north side of Main Street in the attractive village of Boonville, Oneida county, is the fine old native limestone house constructed there nearly a century ago by Rees Davis.
Davis, himself an excellent stone mason, contractor and builder, constructed the mansion for his own uses, using only the choicest blocks of Black River limestone, which he cut and faced with the greatest of skill. Part of the stone was quarried on the site of the house. The balance of it came from a quarry called the Rock Cut, located a short distance south of Boonville near Lock 70 on the Black River canal.
As in the case of the Thomas Dolan house on Second Street the Davis house was meticulously laid up with the result that its thick walls are square and true today and appear almost like one block of stone. A beautiful feature of it is the retention of the original twelve-paned windows, although the original front door has been replaced by one of more modern design.
At the time he erected the house Mr Davis resided outside of the village in the country, but traveled back and forth every day and it is understood that he consumed about a year in the building, finishing the house late in 1851.
The site for it he purchased from Philip M Schuyler and wife, Salome C Schuyler, November 9 1850 for $277.36. Schuyler, a descendant of the original Albany Schuylers, was an extensive landowner in the Boonville sector and was prominent in the affairs of the village and county, having served as supervisor of the town of Boonville for three years during the time when supervisorship terms were one year long.
Boonville, at the summit of the Black River canal, was a thriving community with most promising prospects at the time Rees Davis built his house, for the canal had just opened for traffic in the spring of 1850.
Mr Davis and his family spent the balance of their lives in this house and after his death it passed to his widow. On June 7 1922 for the nominal consideration of $1 it was conveyed to his granddaughter, Mrs Jessie J Seavey and her husband, Dr Webster S Seavey, by Eleanor Alice Davis.

Dr Seavey was a dentist and until his death in 1947 occupied an office, which was built on the rear of the house in 1924 or 1925. Since Dr Seavey's death the title to the property has been held by his widow, who resides there with her daughter. The dental office is leased to Dr Zeitlan. The ownership of the place has never been out of the Davis family during the nearly 100 years of its existence.

Named for Gerrit Boon, acting agent for the Holland Land company which held a vast acreage in that section of the state, the town of Boonville had for its first settler Captain Andrew Edmunds who came there in the spring of 1795 to represent Boon. He brought a number of employees with him to begin development of a community. The town was considered in exceptionally good location, as it was at the headwaters of the Black and Mohawk rivers and another stream, Fish creek being almost in the same neighborhood. At the time the Black River canal opened the village of Boonville had a population of about 1,000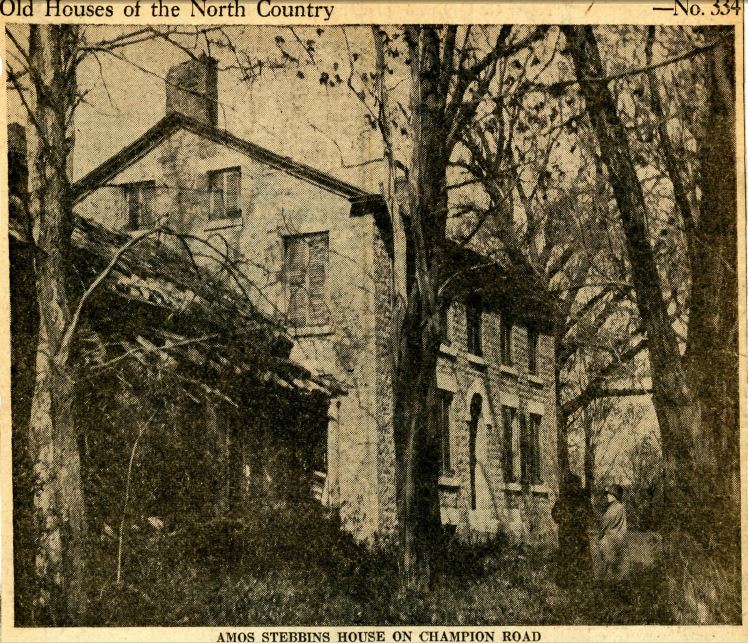 27843 State St, Carthage, NY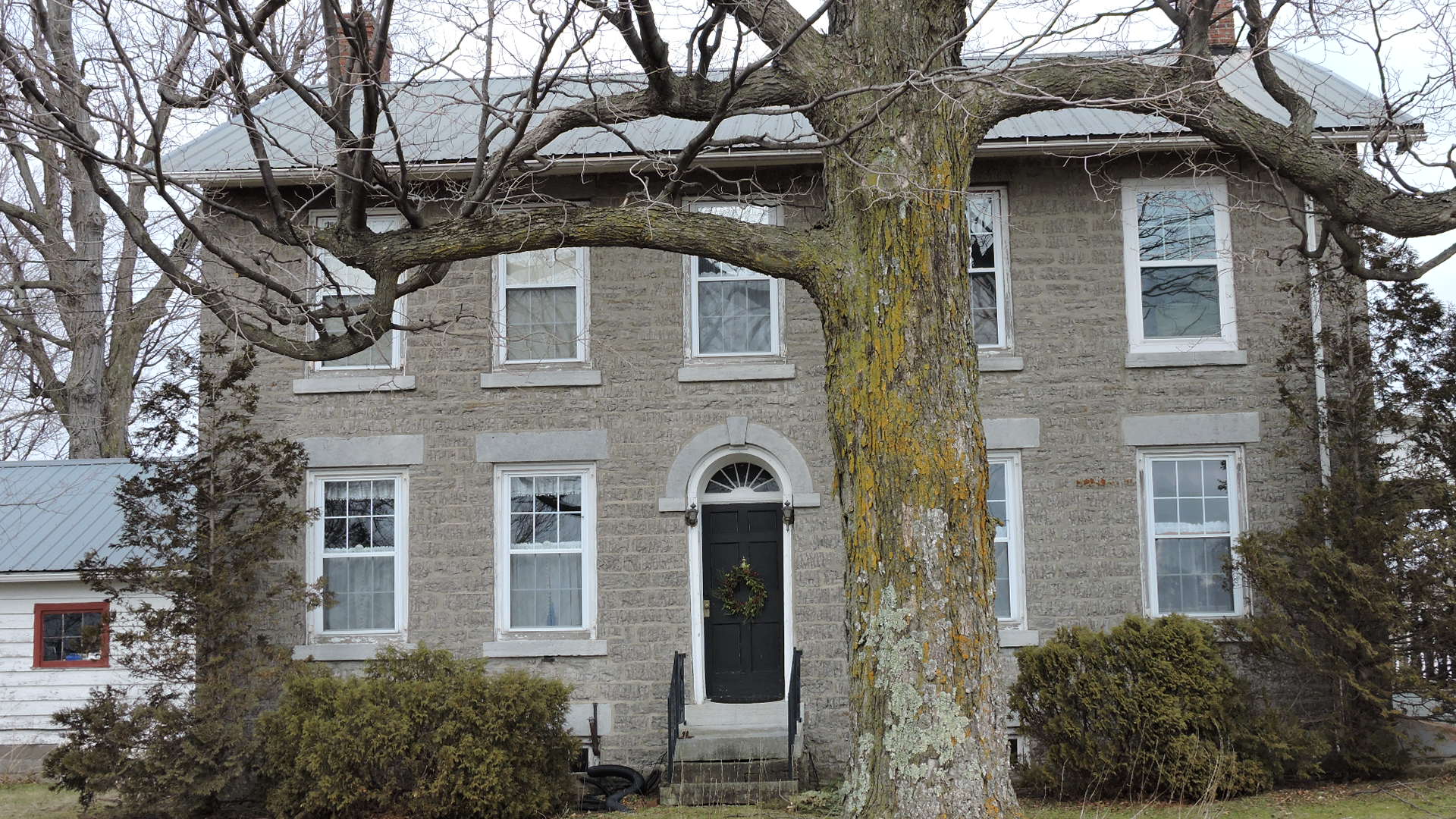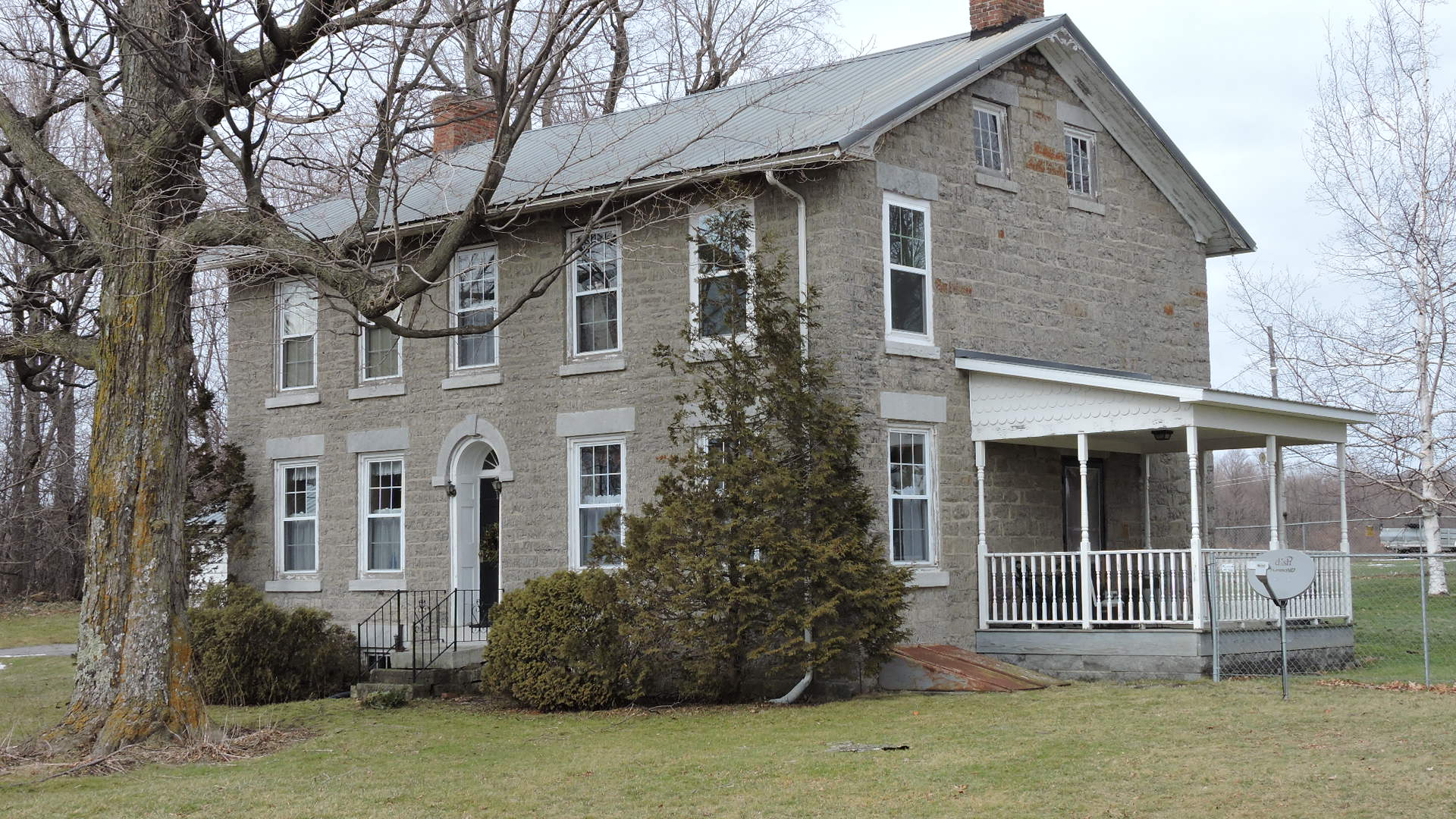 Mystery has wrapped itself so completely about this house that for years it has piqued the curiosity of more people than any other in the county. This has been due to the fact that it has been vacant for a quarter of a century, during which time it has lapsed into such a bad state of ruin that little semblance of its original grandeur remains.

In that time have disappeared two flanking wooden wings that gave perfect symmetry to this Georgian native limestone structure, which was one of the notable houses of the north country. The original floors and interior long ago went into the cellar.

About five miles from this city, it was constructed about 1815 on the north side of the old state highway that leads to Champion, for Amos Stebbins, who fought at Sackets Harbor during the War of 1812. He was also for several terms clerk of the town of Rutland, assemblyman in 1816, 1817 and 1821 and supervisor in 1824-1826.

Son of Mehuman and Hannah Keyes Stebbins of Massachusetts, Amos was cousin to the brothers, William Keyes and Perley Keyes, judge and senator. In 1798 this trio contracted the purchase of adjoining farm lands in the locale of this house, and until recent years there existed on this farm a pig sty constructed by Stebbins & Keyes before 1812.
On September 19 1807 Isaac and Ann Bronson, Fairfield, Connecticut, conveyed 321.48 acres to William Keyes and Amos Stebbins and on June 7 1812 Keyes deeded his half to Stebbins. In 1815 a daughter, Cornelia, was born to Amos and Hannah Prior Stebbins and on May 24. 1836 Cornelia was married to Dr Isaac Munson, a young physician from Evans Mills.
Dr Munson was born March 4 1812 at Salisbury, Herkimer county. He was graduated from the College of Physicians and Surgeons of Western New York at Fairfield in January, 1834. Until his marriage he was a partner of Dr Ira A Smith of Evans Mills and then moved to the Stebbins stone house in Rutland. Not long afterward Stebbins, "in consideration of love and affection" for his daughter, conveyed the property to her and Dr Munson for $1. But in 1849 Dr Munson was elected county clerk and later moved to Watertown. On December 5 1855 he and Mrs Munson sold the house and 300 acres to Pliny Monroe, a native of Delhi, NY, who married Samantha Ball of Rutland, and became a farmer prosperous enough to pay $13,500 for this property.

Meantime Dr Munson helped organize the Agricultural Insurance company in 1853 serving as its vice president from February 25 of that year until May 3 1855 as its secretary from that date to April 21 1882 and as president from then until his death on March 8,1886. His sons were the late Frank H and Henry S Munson, long prominent in insurance in this city. Mrs Edward L (Elizabeth M) Day of Sackets Harbor, and Mrs Isaac (Edith Munson) Munson, Avoca, are daughters of Frank H Munson.
On March 7 1864 Pliny and Samantha Monroe retired, sold this place to Simeon Hadcock, descendant of John Hadcock of Norwich, England, for $15,000 came to this city and built a fine residence on upper State Street near Monroe avenue, which is named for Mr Monroe.
Simeon and Jannette Hadcock disposed of this stone house and farm to Samuel Frink for $17,594.40 on March 1 1871. Born in Rutland in 1819 son of Trustrim and Betsey Clark Frink, pioneer Rutland settlers and Stonington, Connecticut, natives, Samuel Frink married Robert Hardy daughter, Lucy Ann, became a prosperous farmer, served as town clerk, justice of the peace and in 1869-1870 as supervisor. His children were Carl H Frink, Asa B Frink and Mrs Lulu M Staplin. After Mr Frink's death, Mrs Staplin and Carl H Frink on March 26 1903 deeded their interest in the property to Asa B Frink who died unmarried February 26 1924

The following May 29 the heirs of Asa B Frink conveyed the place to Samuel K Frink, son of Carl H and Stella K Frink. Samuel K Frink, present owner and well known Rutland citizen, recalls that a square and compass were cut in the stone over the beautiful front doorway.
His father, Carl H Frink, who served as supervisor in 1890-1 died October 17 1936.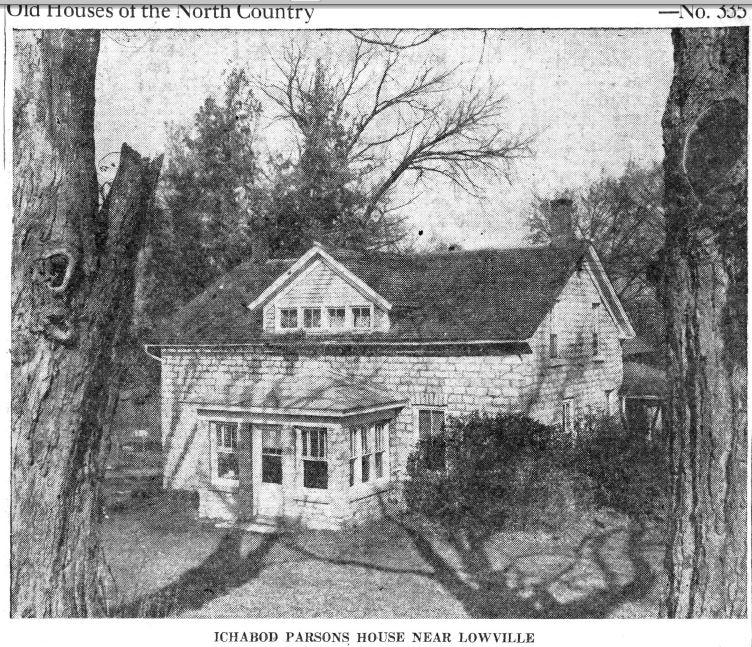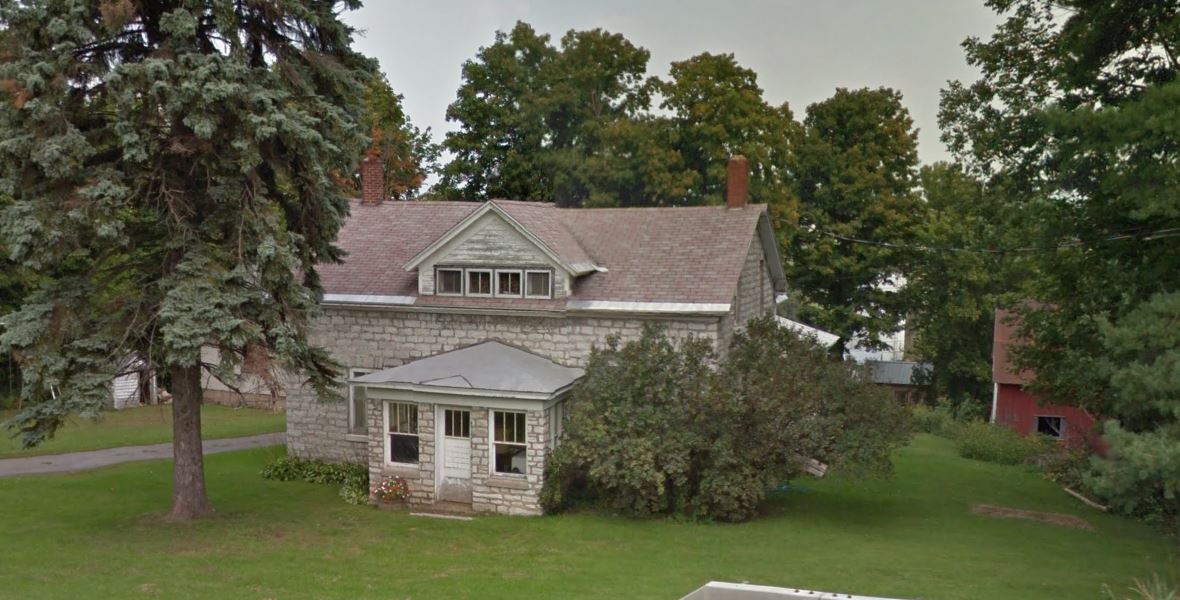 Ichabod Parsons was one of the earliest settlers in what is now the town of Denmark, Lewis county. It is likely that he was there shortly after the turn of the 19th century, possibly within a year or two after Jesse Blodget came with his family, first to spend a winter there, which was the season of 1800-1801.

The electoral census of 1807 shows Ichabod Parsons, Elihu Parsons, Stephen Parsons and Asa Pearce among the residents of the town at that time. Ichabod Parsons died September 9 1867 age 91. Stephen Parsons died August 30 1832 aged 58 and Asa Pearce or Pierce died September 10 1845 aged 76.
The town of Denmark was set off from the town of Harrisburg on April 3 1807. The first town meeting was held at the house of Simeon Dunham when Lewis Graves was chosen supervisor and Stephen Parsons and Sueton Fairchild, poormasters. Elon G Parsons was town clerk in 1848-9 and 1854-5. It was on June 6 1809 that Ichabod Parsons purchased his farm site from William Constable, land baron of that area. This Parsons farm site was in the town of Denmark close to the Lowville town boundary and on the road from the hamlet of Denmark to the village of Lowville.
His cottage-type native limestone house shown herewith was probably built 130 to 135 years ago and was an excellent piece of craftsmanship as indicated by its fine condition today.

On February 4 1861 it was acquired by Dennis Pierce, who likely was a relative of Asa Pierce and also of Lewis Pierce who was supervisor from 1842 to 1850 again in 1854 and also in 1857-8.
The property passed out of the Pierce ownership when Locke Parsons purchased it on March 27 1875 and for the next 28 years it was a Parsons place again, DeWitt Spalding buying it on July 6 1903. At the end of nine years John A Wallace, another Denmark farmer who was born in the town October 30 1882 son of William and Emma Allen Wallace, bought it.
The former Miss Ida May Peck of Copenhagen, became the wife of John A Wallace, who grew to prominence in the town. He was a director of the Lewis County Cooperative, a director of Denmark Grange No. 535 and president of the Hillside Cemetery association. He died in the House of the Good Samaritan on June 27 1946. In 1930 he remodeled the interior of the house extensively, rebuilding the rooms and fireplaces and also creating the enclosed front porch as well as putting the dormer in its present condition.
From the Wallace estate Rudolph Jantzi, a young former Martinsburg farmer, purchased the house, outbuildings and the 82 acres of land on September 17 1946 and maintains the property in an extremely neat and highly attractive condition.
Son of the late Solomon and Anna Lehman Jantzi, who were identified with the Mennonite faith, Mr Jantzi married at Lowville April 5 1941 Miss Margaret Stoffel, daughter of Mr and Mrs William Stoffel of Martinsburg. Solomon Jantzi, a native of Canada, died at the House of the Good Samaritan in this city July 24 1945 aged 69. His widow, the former Miss Anna Lehman, died in Lowville the following December 24.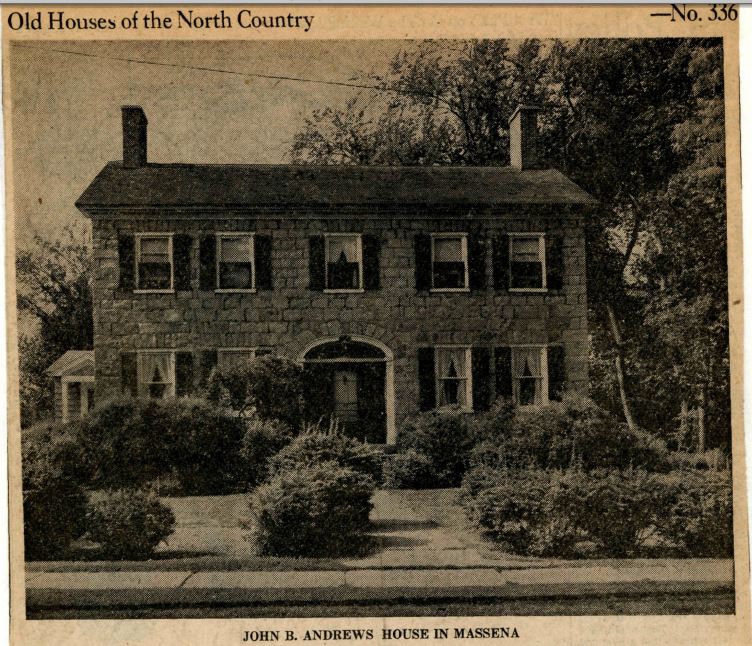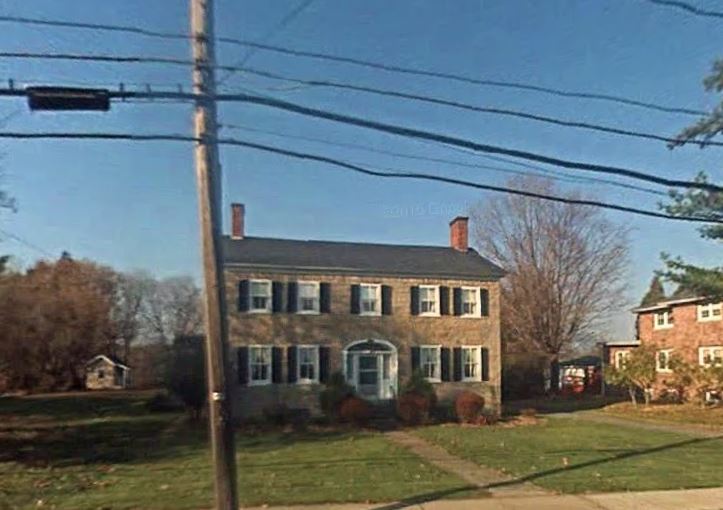 One of the most beautiful houses in the North Country is the Georgian colonial native limestone house of Mrs Russell H Andrew at 80 Andrews Street, in the village of Massena. It was constructed about 1833 from stone quarried from the bed of the Grass river for John B Andrews, one of Massena's earliest prominent residents. In this respect it was like the house erected at practically the same time on Phillips Street for Benjamin Phillips, also one of Massena's earliest prominent citizens. In both cases the streets were named for these settlers.
John B Andrews, Benjamin Phillips, Uriel H Orvis and J Clark were first merchants in Massena, and Mr Andrews was born at Claremont, New Hampshire, July 23 1788 son of Martin and Phoebe Bellefield Andrews. It was in 1810 that John B Andrews came to Massena and on January 1 1815 he married Susan Boynton. Among their six children, their sons, Guy B and Alexander H Andrews, clerked in their father's store and later formed the mercantile firm of G B & A H Andrews. Like his father Guy B Andrews was supervisor, serving 1855-1860 and 1863-1864.
Several terms John B Andrews was supervisor of the town. Those terms were 1822-1824, 1831, 1842-1844, 1851-1852. Also he was one of the early postmasters of Massena. His son, Alexander, served too in the latter capacity under President William Henry Harrison, joined the Republican party when it was founded and was elected assemblyman in 1867-8. Incidentally it should be said that John B Andrews and Benjamin Phillips became trustees of the Second Congregational church when it incorporated October 15 1844 ten years after it was formed.

It is of interest that active building began in Massena after 35 acres was divided into 71 building lots in 1831. Andrews bought lot 51 from John D and Ann Eliza Dickinson and Uriel H and Laura L Orvis April 22 1833. Phillips bought lot 62 from the same parties the ensuing May 6.
John B and Susan Andrews conveyed this house to Adeline, wife of their son, Guy B Andrews, October 14 1852. Adeline died June 8 1885 providing for the support of her husband who died December 28 1898. Then one-half the use of the property went to their daughter, Mrs Harry (Susan) Andrews Haworth and the other half to Mrs Phila Ann King Andrews, wife of their son, Ralph, to whom she was married March 28 1884. He died in 1915 but she lived to die November 19 1947 aged 88.
On September 23 1926 Mrs Phila Ann King Andrews sold this house which had housed four generations of the Andrews family, to W Gilbert Hawes, former Cities Service official and mayor of Massena, who died November 10 this year. Mayor Hawes disposed of the property to Dr Russell H and Elizabeth Ladd Andrew on May 18 1940. They remodeled the residence, which has a beautiful arched front door with fan and sidelights, central hall and graceful stair rail. A large living room and large dining room are on either side of the hall, both rooms having handsome fireplaces, while upon the beautiful old six-paneled inside doors are the original latches. However, Dr and Mrs Andrew briefly enjoyed the house together, for at 32 he was fatally hurt in an automobile accident April 21 1942 and died seven days later. Son of Herbert S and Agnes Mein Andrew he was born at Louisville May 26 1909 graduated from Massena High school in 1927 took his pre-medical course at Hamilton college, graduated from McGill medical school in 1935 and on October 16 1937 married Miss Elizabeth Ladd, daughter of Mrs Mary Traver Ladd and the late Dr Alexander L Ladd of Canton.

The house, with its thick walls constructed of the best of building limestone laid up staunchly by skilled masons, is one of the show places of the North Country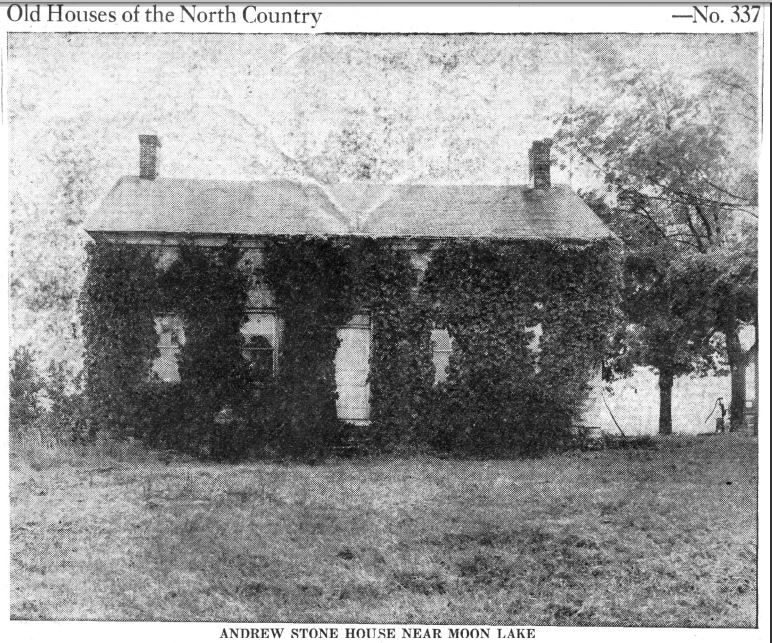 On the dead end road, Stone Road. At the end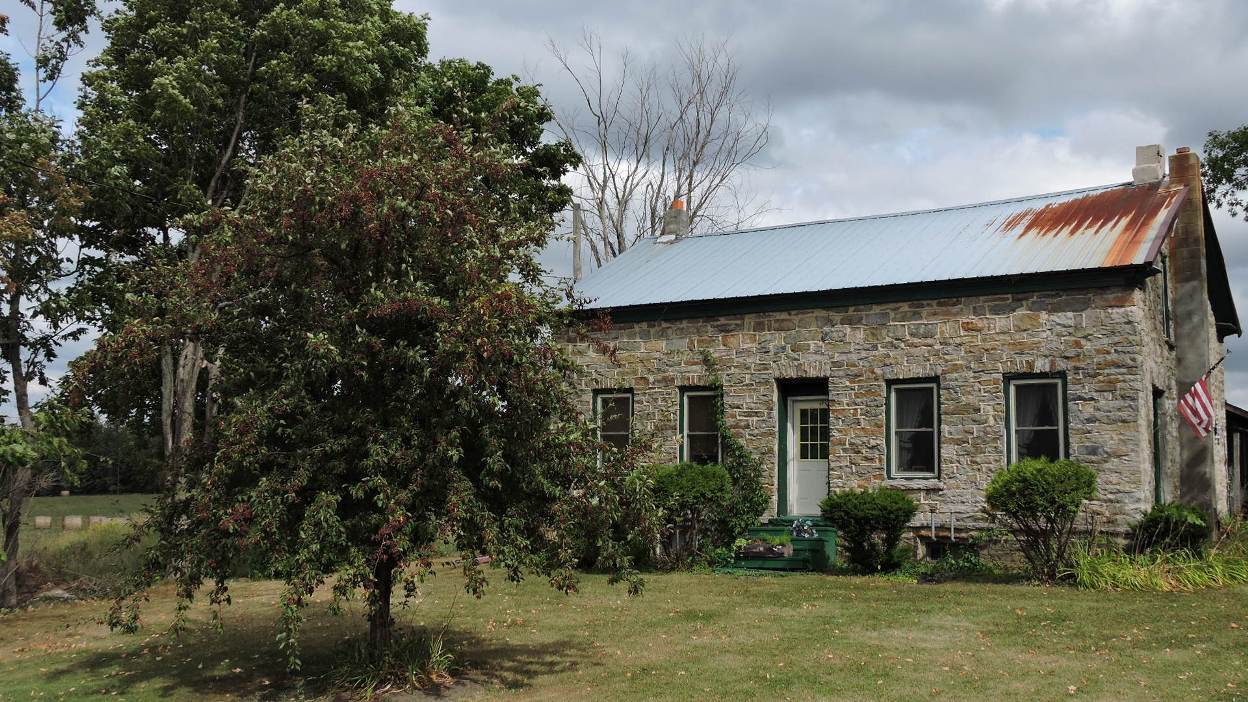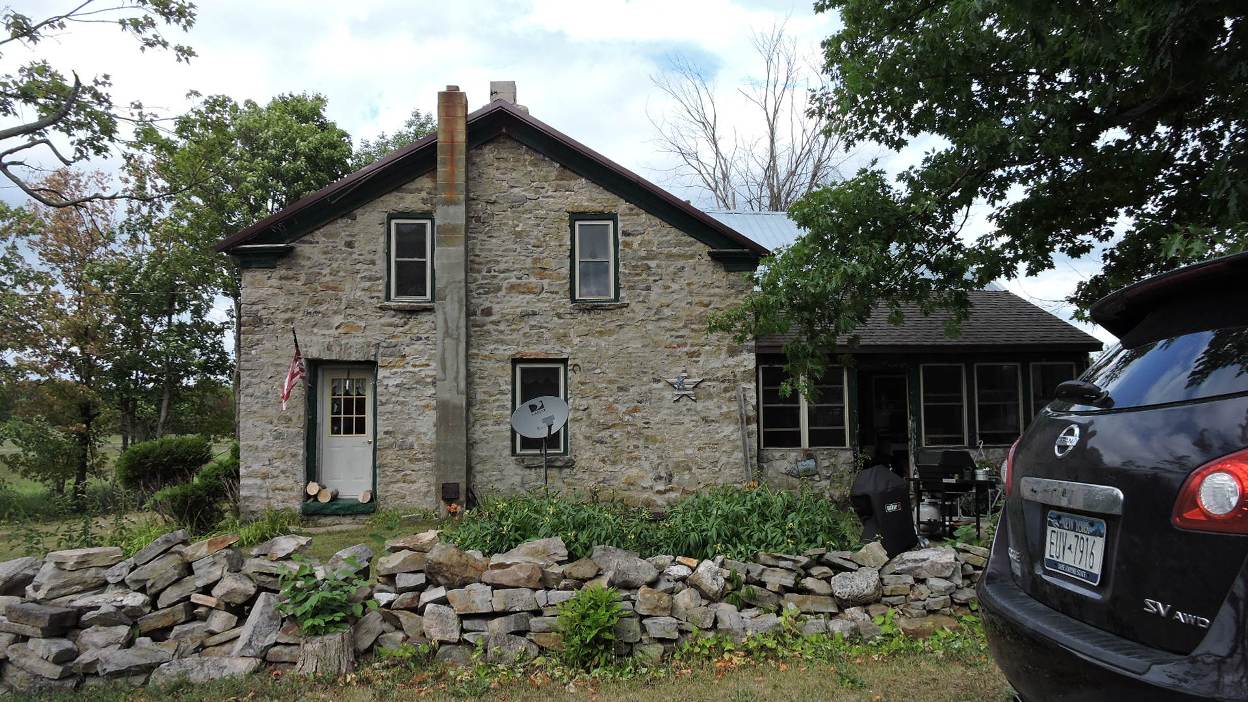 With its facade almost completely blanketed with a beautiful leafy vine, which assumes a brick-red hue in autumn, this quaint little house of native limestone, built in cottage type in the Moon lake sector of Jefferson County, stands far back from the road that runs from Theresa village to Oxbow.
Tragically, Andrew Stone, comparatively young farmer who at 21 had come from his native New Hampshire in 1816 to settle in this county, died in the winter of 1833 after he had quarried the stone but before he could realize his dream of constructing the house.
Courageously his widow carried out the plan, hiring a master mason at $1 a day and helpers at 50 cents with a day's work running from sunrise to sunset, and the building was erected in 1834.
Mrs Stone was the former Hannah Shurtleff, daughter of James Shurtleff, who in 1817 was one of the two first settlers of what is now the town of Theresa. And it is interesting that Hannah Shurtleff's marriage to Andrew Stone about 1819 was not only the second in that town, but that the marriage ceremony was solemnized by her father.
When Andrew Stone first came to the county he worked for two years upon a Rutland farm before settling in the Antwerp-Theresa wilderness, and when he took up the wild land there to clear for farming it was purchased in the town of Antwerp, except for the 1.21 acres upon which the house and barns are situated. It was on October 21 1826 that he bought from Abraham and Harriet Cooper, land speculators, the first tract of 102.3 acres. On March 16 1827 he purchased 52.25 acres more, from John and Thankful Pool and both tracts were in Antwerp.
Family tradition has it that because taxes were cheaper on the then Alexandria side of the town line, he bought the one-acre-plot for his house there from the successors to the Antwerp company on May 11 1833. That was the year of his death and on February 27 1838 his widow purchased from George W and Catharine Humphrey .21 of an acre more at the east corner of the one-acre plot. Loren Stone, son of Andrew and Hannah Shurtleff Stone, was born February 12 1820. On September 29 1846 he was married to Jeanette, daughter of Archibald Stimson and about 1850 to late 1854 he acquired the interests of the other heirs to his father's farm. There he lived until he retired in 1874 to move into Theresa village. Later he conveyed the homestead to Norris, one of his sons, but hale and hearty Loren Stone himself lived to the ripe old age of almost 101. He died on December 27 1920 after a short illness.
Eventually the place came into the possession of Howard Stone, son of Norris Stone, and owner of the property for the past few years. Thus the record shows possession of the property for approximately 123 years for most of it and of the house itself for 115 years.
Its location is in the sequestered and picturesque Theresa lakes region of the county and despite the simplicity of the house it compels the attention of the traveler by its resemblance to some of the ancient abodes of the back country of old England or of Scotland or Ireland. Withal there is an atmosphere of loneliness about it however need the rest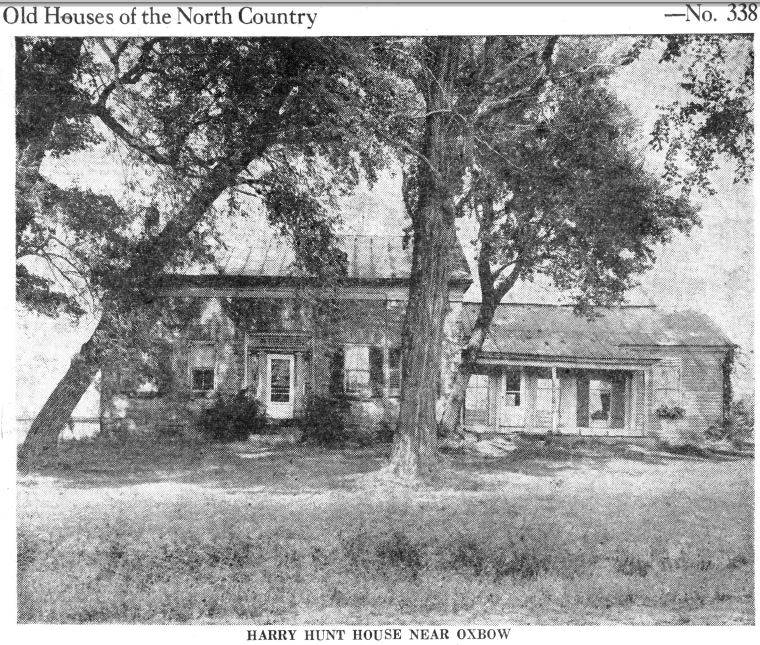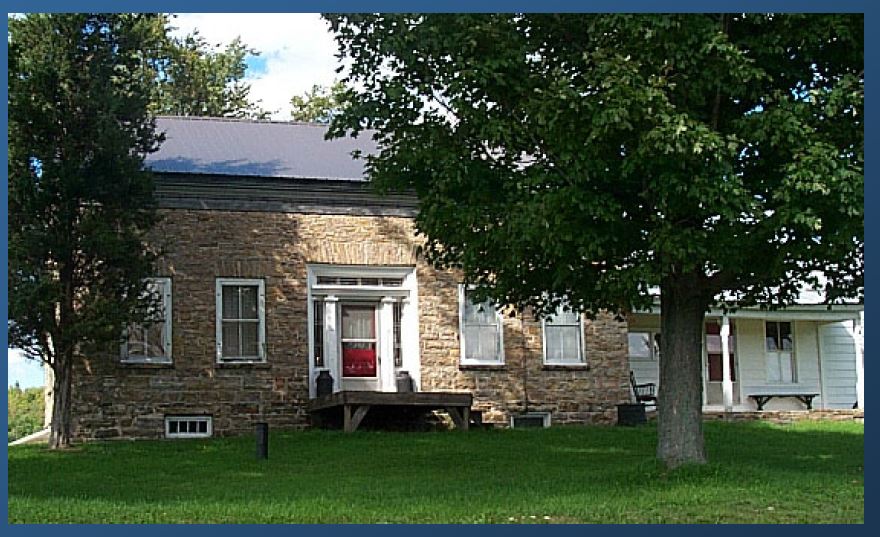 The road leading from the village of Theresa past Moon and Vrooman lakes to the hamlet of Oxbow yields a number of interesting old native stone houses. One of these was constructed in the 1830's by Harry Hunt well on the way from Theresa to Oxbow.
With its twelve rooms but minus the fine fireplaces that once were in it, the house is maintained in an excellent state of preservation by Mr and Mrs Leon B Raymon, the present owners. And connected with it is a farm of approximately 195 acres, which has been built up by the purchase of a number of parcels of land through the years.
Harry Hunt was one of several of that family name to become early settlers of the town of Antwerp and it is said that he built a log cabin before constructing this house of Georgian tvpe from stone quarried there. On March 20 1830 he paid Charles and Ruth Hunt, town of Antwerp, $200 for 88.75 acres, which was part of a tract which they had bought from Abraham and Harriet Cooper the year before, the Coopers having been large land-owners in that section of the county.
The farm touched that of Peter Vrooman who, in 1803 was one of the first two settlers of the town of Antwerp and became one of its first tavern operators.
Harry Hunt kept the property for 27 years and on December 29 1857 his wife, Sophia, joined with him in disposing of the 88.75 acres, minus a small plot for the schoolhouse next to it, to Joseph D Hunt for $4,050. Joseph D Hunt was a son of Charles Hunt who had died May 5 1846.
Joseph D Hunt lived until May 3 1880 and willed his widow, Julia E Hunt, a life-use of his estate. Among other things he provided that his son, William H Hunt, should work the farm five years for the benefit of his mother. Another condition was that William H Hunt should pay each of his two sisters, Mrs Frank C (Cora F) Drake and Mrs Charles L (Frances J) Hungerford, $400. In return William H Hunt was to have the 88.75 acres. He died October 11 1927 and the farm went to his two sisters. On October 3 1928 they sold it on contract to Cyrus Harten, but on October 10 1933 took it back again through foreclosure, Mr Harten having died in the meantime. Mrs Hungerford then acquired her sister's interest and on May 22 1936 conveyed the property to her son, Stanley, and daughter, Beulah Hungerford, of Fayetteville. They in turn sold it to Leon B and Ruth O Raymon, the present owners, on April 16 1941.
The sale included not only the farm, which had grown to nearly 195 acres through the decades but all of the cattle, equipment and fodder. Making up the farm besides the 88.75 acres, minus the schoolhouse site, are some small parcels consisting of 30 acres, 29.85 acres, 15.525 acres, 15, 6, 3, 2 and 2 acres.
Mr Raymon is formerly of Depeyster and his wife is the former Miss Ruth Mitchell of Macomb. They were married in Heuvelton February 17 1934 and are active young farmers of this county. Their house is in type similar to the Zalmon Pool house, which is nearer Theresa and there is a likelihood that the same master mason had charge of the building of both structures.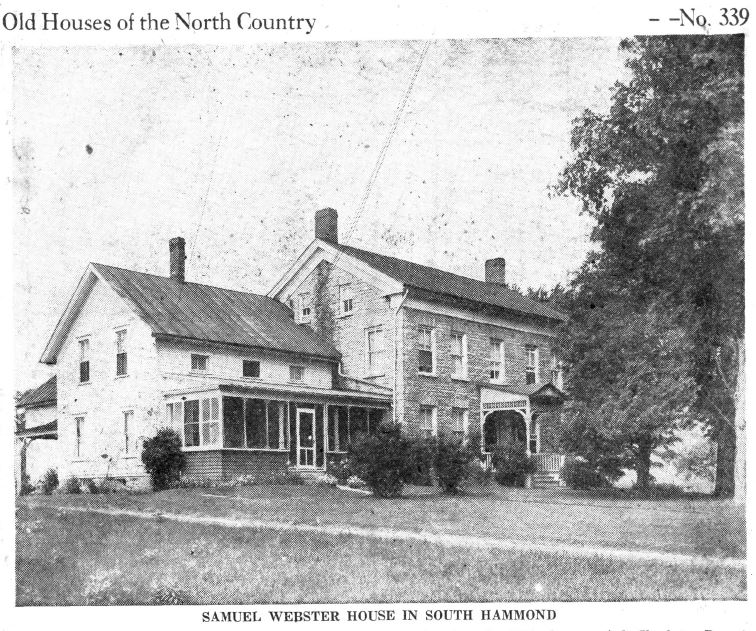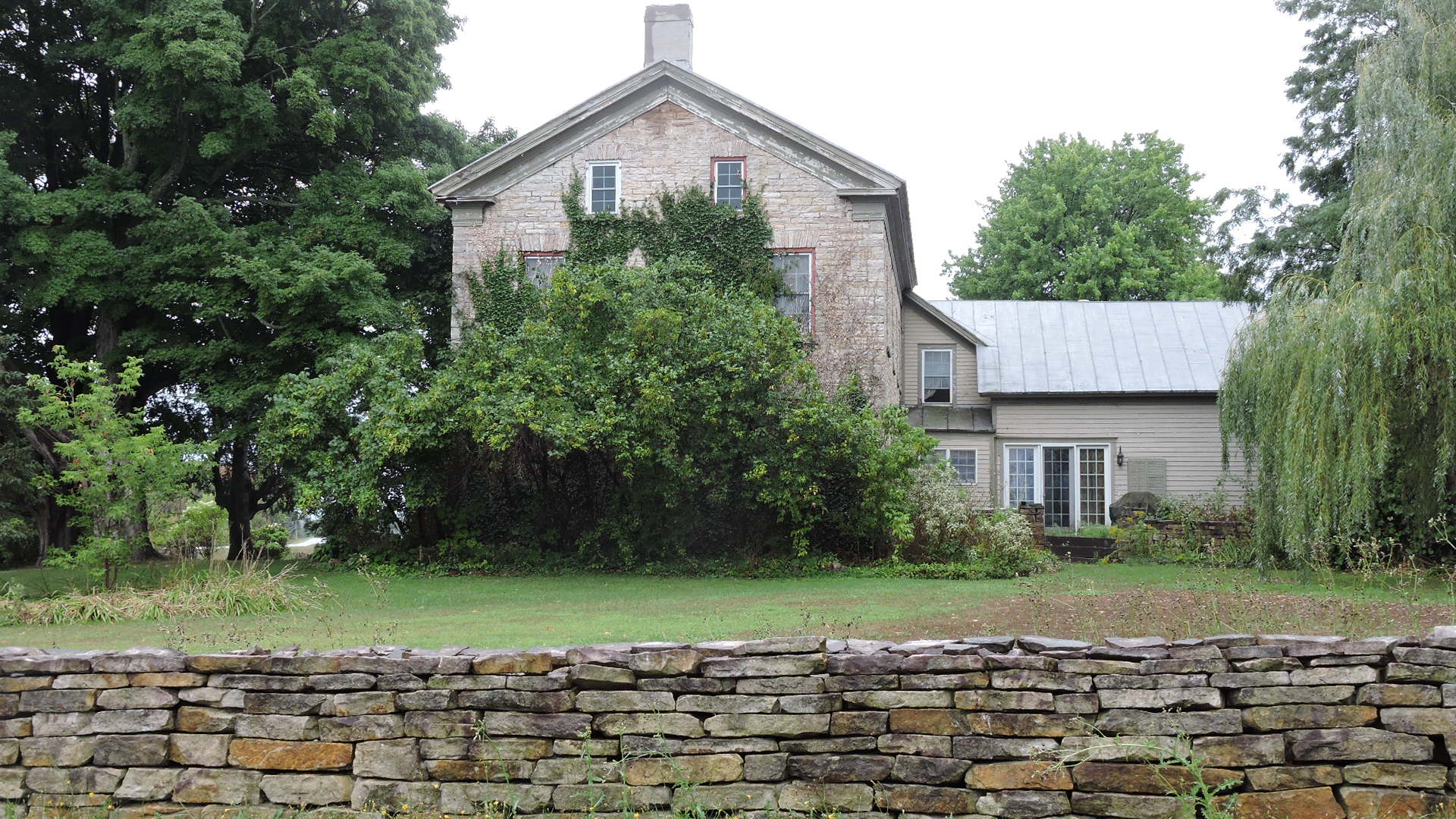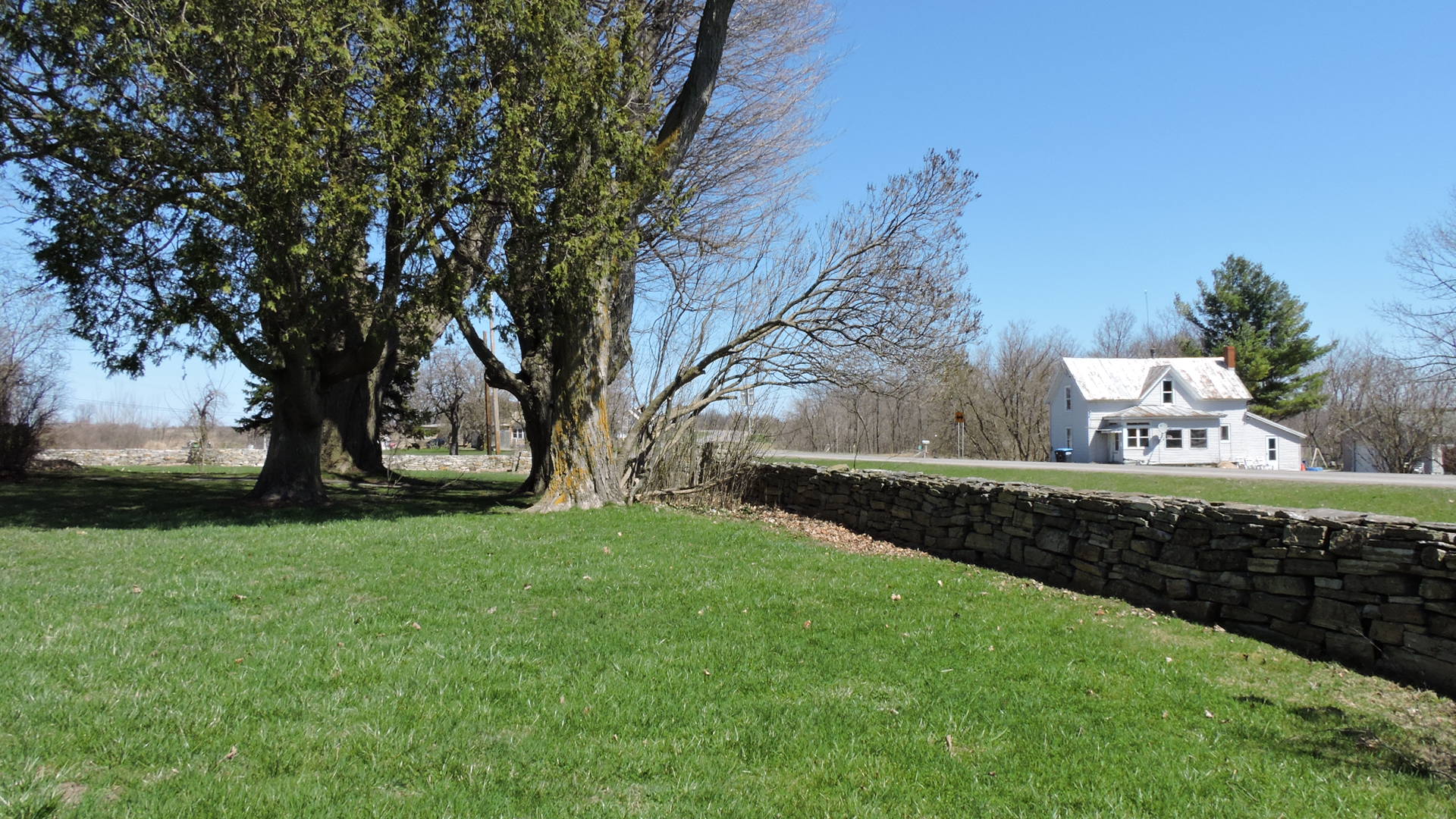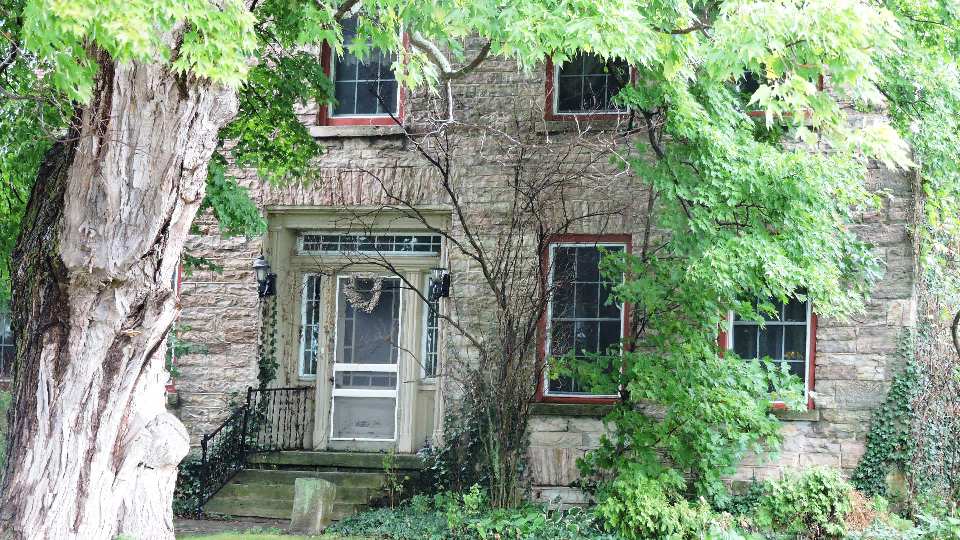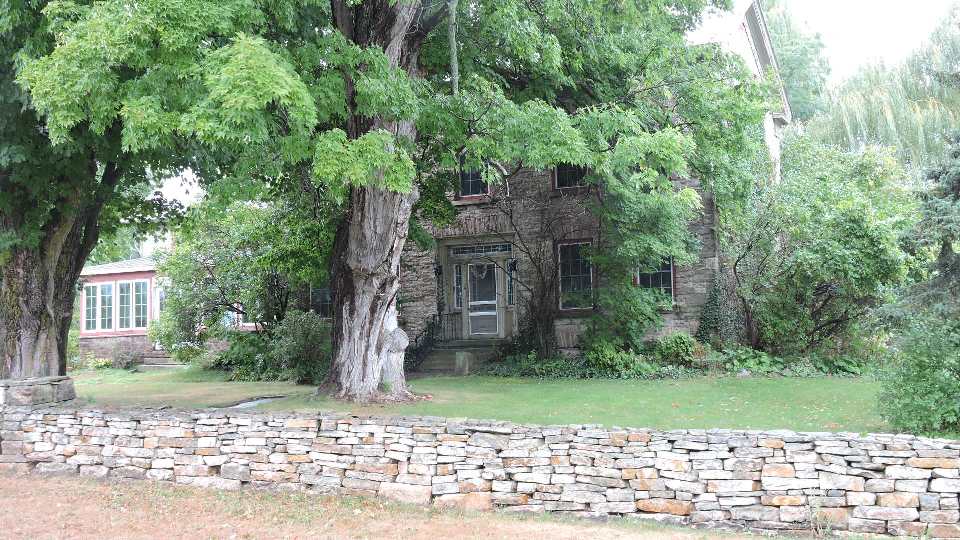 Tourists driving along the highway between this city and Ogdensburg are impressed with the dignity of the big native sandstone house on the north side of the road near South Hammond. It is said to have been erected in 1842 by Rodger brothers, skilled stone masons of the town of Hammond, for Samuel Webster. Samuel Webster came to the town of Hammond from New Hampshire in 1818 and first erected a log cabin for himself and family. This later gave place to a frame structure and after that the stone house, which now dominates a farm of about 700 acres through the acquisition of many adjoining parcels down through the years.

The nucleus of the farm was a parcel of 68.22 acres purchased by Samuel Webster on December 22 1837 from George Parish, the Ogdensburg landowner. After the stone house was built Samuel Webster purchased another parcel of 148.39 acres from Parish November 4 1853 and on January 23 1857 Parish sold him a third tract of 97.43 acres. To this Webster added a fourth parcel of 186.76 acres, which he obtained from Parish April 6 1860.

Mr Webster died June 5 1864 leaving a widow, the former Harriet Beach of Connecticut, and several children. To his widow he willed a half interest in the house and a third of the rest of the real estate, the balance going to his children, among whom there was a son, William Alfred Webster.
William Alfred Webster was born in the stone house May 12 1843 and on December 5 1865 acquired most of this property from the other heirs. He was one of nine children and in 1863 enlisted in Company A, 16th New York Heavy Artillery, serving until the end of the Civil war, when he acquired the homestead farm.
On January 5 1871 he married Charlotte Dygert, granddaughter of Peter Dygert, who also had a large stone house in the vicinity. Mr Webtser was a justice of the peace for many years and followed farming until 1884 when he engaged in the lumber business and owned a fine sash, door and blind factory in Clayton. His wife died June 13,1914 and on April 8 1930 he died after an illness of only one day. He was one of the prominent residents of the town and was always active in town affairs. About three years before his death he conveyed the homestead farm to his son, Dr William L Webster on December 25 1926 and who has spent practically his entire life there. There he still resides with Mrs Webster and his daughter, Helen, is employed in Tucson, AZ

Thus there have been four generations of this Webster family who have lived in this house, and the property has never been out of the family, which has a record of ownership of it for 112 years. The big house, designed in the Georgian manner, is two stories and a half high and now has one large fireplace. It is an example of the finest craftsmanship both as to masonry and interior woodwork and has always been maintained in such excellent condition that it has the appearance of having been but recently built.

The large frame wing, which has a number of commodious rooms, was added to the mansion after William Alfred Webster acquired the property at the close of the Civil war. While the deed of the heirs of Samuel Webster to William A Webster is dated December 5 1865 there is another deed conveying the interest of the latter's brother, Samuel B Webster, to him on November 20 1871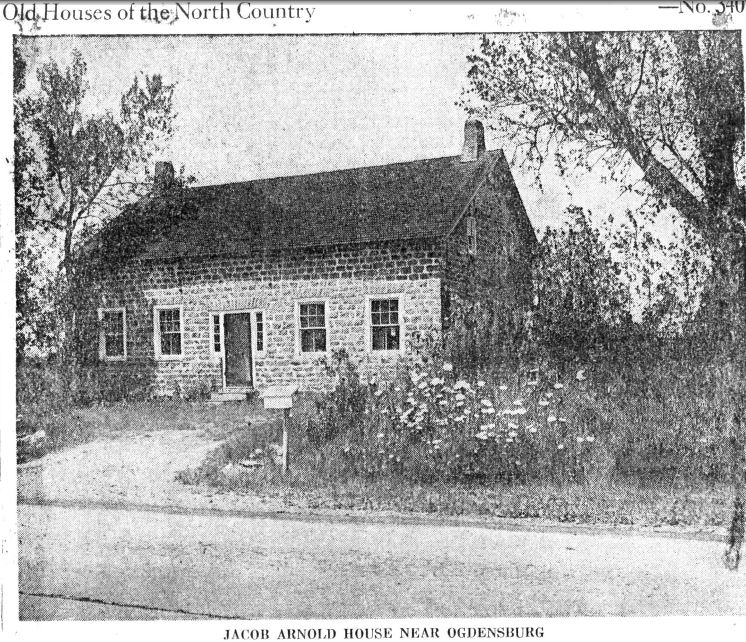 Quaint and picturesque, like something an artist might have painted, is this old cottage-type native stone house owned by the Ogdensburg Country club on Riverside drive, town of Oswegatchie. It is the club's caretaker house at the golf greens and a short distance back of it flows the St. Lawrence river.
The house was probably built about 1831 by Jacob Arnold, one of the prominent early settlers of the town of Oswegatchie, who served as supervisor of it in 1830. The site, upon which the house was erected, was part of the lands owned by Nathan Ford. Ford, who had been assistant quartermaster general in the Continental army during the American Revolution, came in 1796 to open up for settlement the extensive lands owned by Colonel Samuel Ogden and on August 17 1798 acquired a large tract of these lands from Ogden.
On January 16 1830 Ford's executors sold the initial tract of 64.67 acres of the lands now owned by the Ogdensburg Country club to Jane R Shaw, wife of Benjamin Shaw. As the result of a partition action Benjamin and Jane R Shaw together with other heirs of Mahlon Ford convened their interest in this tract to Jacob Arnold on October 5 1830.
Four years later, on October 30 1834. Jacob and Maria S Arnold sold 50 acres off the east side of this tract to Gershom Truaz, who sold the same 50 acres to Hiram Alger on January 21 1840. Alger mortgaged the property to Gustavus W Kruger August 5 1842 and Kruger assigned the mortgage to George N Seymour who foreclosed and bid the property in 1852. Then on November 22 1856 Seymour and wife, Sophia M, sold 77.65 acres including this plot to Patrick O'Brien. O'Brien died May 30 1880 willing the 77.65 acres to his son, Denis, it being known as the stone house farm. Denis and Margaret T O'Brien kept the farm until November 21 1891 when they disposed of it to James Leland Howard, son of Reverend Porter and Martha Payne Howard of New England. Born in 1834 Howard resided upon and worked the farm until August 14 1913 when he conveyed the property to his son, James H Howard, and died, 17 years later, aged 95 at the latter's home in Ogdensburg. The date of James L Howard's death was February 11 1930
James H Howard retained the place only until December 18 1919 when he sold it to the Ogdensburg Country club, which had been incorporated at $50,000 three days before with Louis C Nash, C O R Bell, John C Howard, Edward L Strong, Edward Dillingham, John T Hannan and W Allan Newell as directors. The sale price to the club was $4,800.
Also on December 18 1919 the newly formed Ogdensburg Country club paid Mrs Margaret Ann Soper West $6,825 for an adjoining 41.10 acres, plus 49 acres, which had come to her from Henry H Soper on March 22 1864. Soper had acquired on November 15 1856 from E R Allen and Edwin and Sarah S Clark the 41.10-acre and 49-acre plots, which were described as adjoining the first tract of 64.67 acres on the west.

Henry H and Rachel Soper transferred the two parcels to John D Soper May 19 1862 but on March 2 1864 he conveyed it back to Henry H Soper. Prior deeds to the time that Edwin Clark and Elijah B Allen purchased the property show that it originally belonged to Nathan Ford.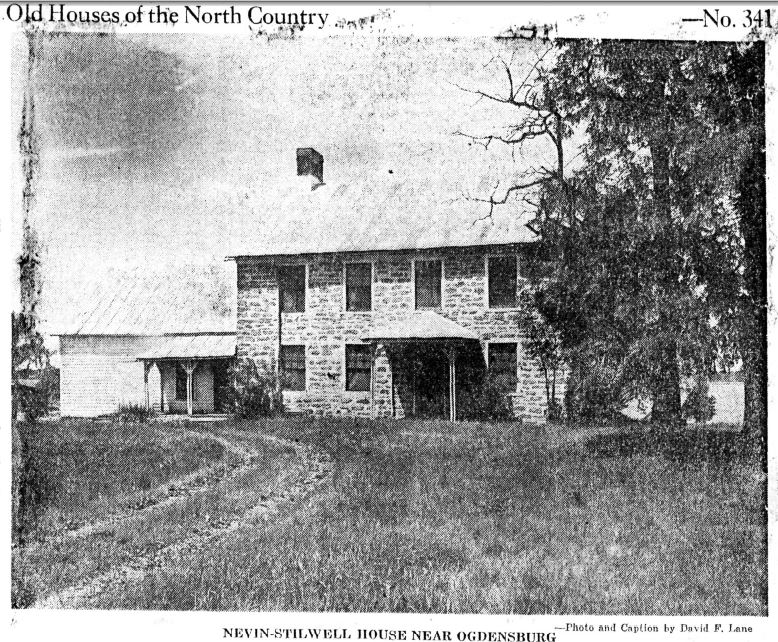 Built probably in the 1830s this old native stone house stands on the north side of the state highway between Morristown and Ogdensburg with the St. Lawrence river running close to its back yard. Who the original owner was is difficult to tell. It may have been John Millions, who acquired a 40-acre parcel of the farm from John Snider for $307.72 on October 22 1823 and sold it to George Allen for $1,000 on March 6 1848. The property is now owned with its makeup of several parcels including the 40-acre plot by William Pitcher Stilwell, son of the second Smith Stilwell, who died September 19 1921 willing the property to his son.
As in the case of the Jacob Arnold stone house, which is now owned by the Ogdensburg Country club and which is nearer Morristown, it is located on Riverside drive.
On January 24 1850 one ten-acre tract of the present farm was acquired by the first Smith Stilwell from George Allen, who had bought it two years before from John Millions. On the same date Stilwell purchased the 40- acre tract from Millions. The ten-acre tract had come to Millions from the executors of Nathan Ford April 2 1830. The 40-acre tract came down through a number of transactions from David B Ogden and Nathan Ford who owned it as early as 1810. Another tract of 33.86 acres in the farm which Stilwell purchased March 13 1854 was owned by Samuel Ogden and Nathan Ford prior to 1805.
A part of one of the tracts was sold by Smith Stilwell, the first, to Benjamin Nevin September 26 1854. On April 28 1854. Stilwell had sold another part of tlhe tract to Cornelius VanWaters, who sold it plus other lands on the same date to Henry VanRensselaer, and VanRensselaer and wife conveyed it all to Benjamin Nevin on December 1 1859
It remained in the Nevin family down to 1898 and later this part of the farm was acquired by William H Stilwell September 6 1902 from Jemima C Laidlaw, the transfer covering 20 and 22.8 acre parcels.
Smith Stilwell, the first, died January 20 1881 and left his farm to his son James and the latter's children. The ten, 40 and 33.86-acre parcels of the present farm were involved, and by deeds from the heirs of James Stilwell February 23 1891, May, 1891 and February 28 1891 the three parcels went to Smith Stilwell, No. 2. The latter also acquired 53.25 acres and 22.5 acres, excepting 13.75 acres, from Alanson and Harriet Perry October 31 1870. All of the parcels, embracing the ten acres, 40 acres, 33.80 acres, 20 acres, 22.8 acres, 22.5 acres and 53.25 acres, excepting 13.75 acres, were willed by Smith Stilwell, No. 2 to his son, William P Stilwell.
The Stilwell family was one of the prominent families of the town of Oswegatchie. Smith Stilwell, the first, was made secretary of the second St. Lawrence County Agricultural society when it was formed February 4 1834 with George Parish as president. Henry VanRensselaer was one of the vice presidents along with Silas Wright Jr, and John C Clarkson.
Benjamin Nevin, born at Donaghadee, Ireland, September 20 1797 came to the town of Brasher in May 1819 as land agent of Daniel McCormick, owner of vast north country lands, located at Helena and was postmaster several years.
After the town of Brasher was set up April 21 1825 the first town meeting was held June 6 of that year at Nevin's house and he was elected supervisor. He later served in that capacity in 1829, 1831-1833. In 1851 he moved to the town of Oswegatchie, carrying on his land agency work and farming until his death November 25 1866. At Fort Covington January 28 1835 he married Sarah Woodbury, whose father, Levi Woodbury of New Hampshire had been a judge of United Stales court. Their children were David A, John H, Jemina, Abigail C, Oswald B and Washington Nevin.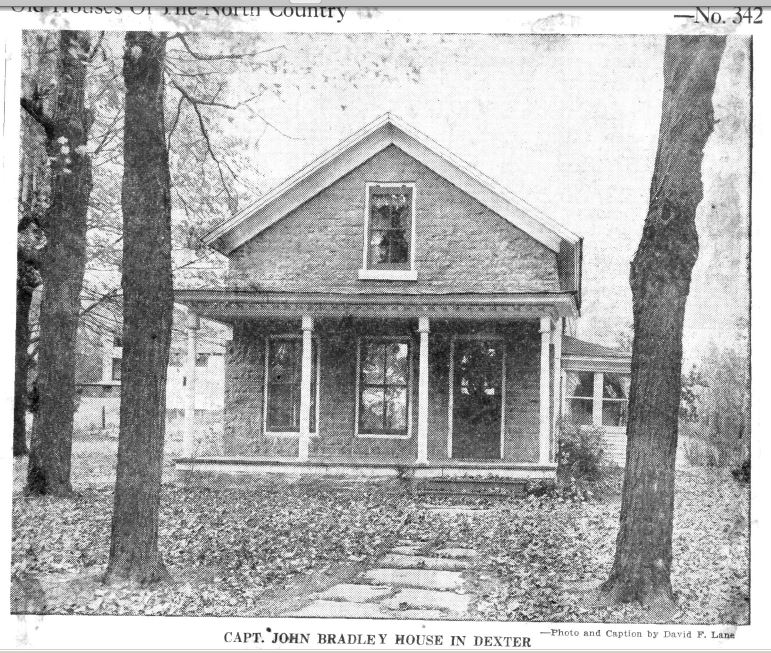 Captain John Bradley, who early deeds refer to as of the United States Army, began buying industrial property at Brownville in the first 1830's and was apparently a man of importance and excellent abilities in that section of the county. A little later he transferred his activities to Dexter where, on March 7 1836 he joined with Colonel Edmund Kirby, S Newton Dexter, John Williams, O V Brainard and Rodney Burt in organizing the $100,000 Jefferson Woolen company.
On March 1 1837 Captain Bradley, Colonel Kirby, John Brown and Messrs. Dexter and Williams formed the Dexter Village company, which laid out streets and building lots in 800 acres on the north side of the river and 249 acres on the south side of the river in Dexter.
Upon the northern outskirts of the 800-acre section he purchased a substantial acreage for himself and probably about 110 years ago erected the little native limestone house shown herewith on the north side of East Grove Street.
Captain Bradley acted as an agent for the Dexter Village company which was dissolved January 6 1846. On June 8 of that year Colonel Kirby appointed him agent to settle up business affairs, and dissolve a partnership with Alexander Copley, an extensive lumber operator.
On August 20 1846 Captain Bradley and wife, Sarah M, disposed of the little stone house in Dexter and 30 acres of land to James Thompson and later moved to this city, where he engaged in the lumber business and died July 9 1870. His will provided for the removal of the body of his son from the Naval cemetery in Brooklyn
Thompson retained the house and 30 acres until April 23 1855, when he and his wife, Jane, sold the property to Elisha H Parker of Buffalo. Parker was also a man of prominence in Dexter, for he was village trustee in 1863, 1868 and 1872. For 20 years he owned and occupied the house, joining with his wife, Mary, in selling the place to Brainard Everett of the town of Orleans. Everett and wife, Flavilla, sold to William H Everett. William H Everett died March 1908 leaving all of his property to his widow, Mrs Mercy A Everett, who resided in the little stone house on East Grove Street for many years. On June 2 1929, she died at the home of her son, the late Fred Everett, Saranac Lake clothing merchant, and willed the stone house and what remained of her Dexter land to her daughter, Mrs Margaret N Gleason. Prior to her death however, Mrs. Everett had sold off several building lots out of the 30 acres and Mrs. Gleason kept the house until March 21 1946 when she sold it to Philip G and Marion H Evans, Dexter, the present owners and occupants, and removed to this city.

The house which consists of six rooms and one fireplace, which has been closed up, is now designated as 49 East Grove Street and is not far from the highway which runs through over the old route to Limerick. A unique feature of the interior of the house is a stone step which leads up from the dining room level to the kitchen. The property is maintained in excellent condition and Mr and Mrs Evans are gradually making interior restorations to the early appearance of the house.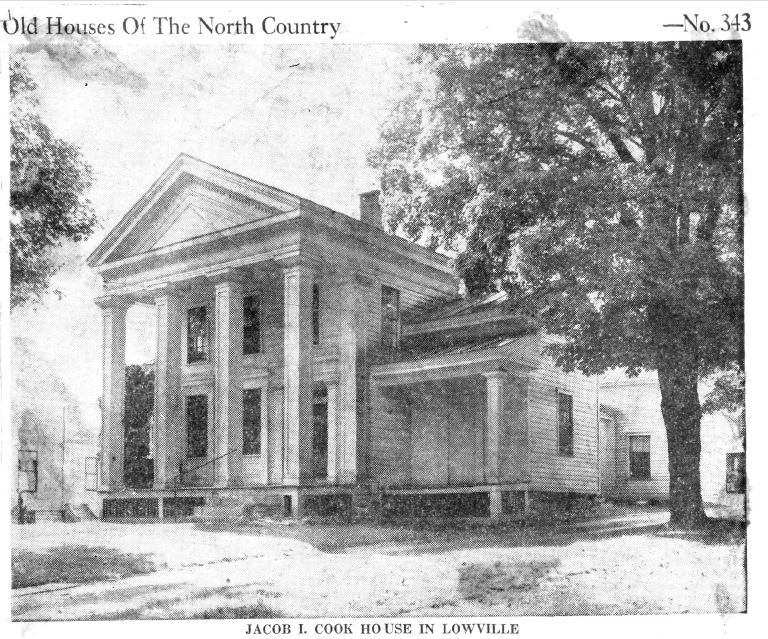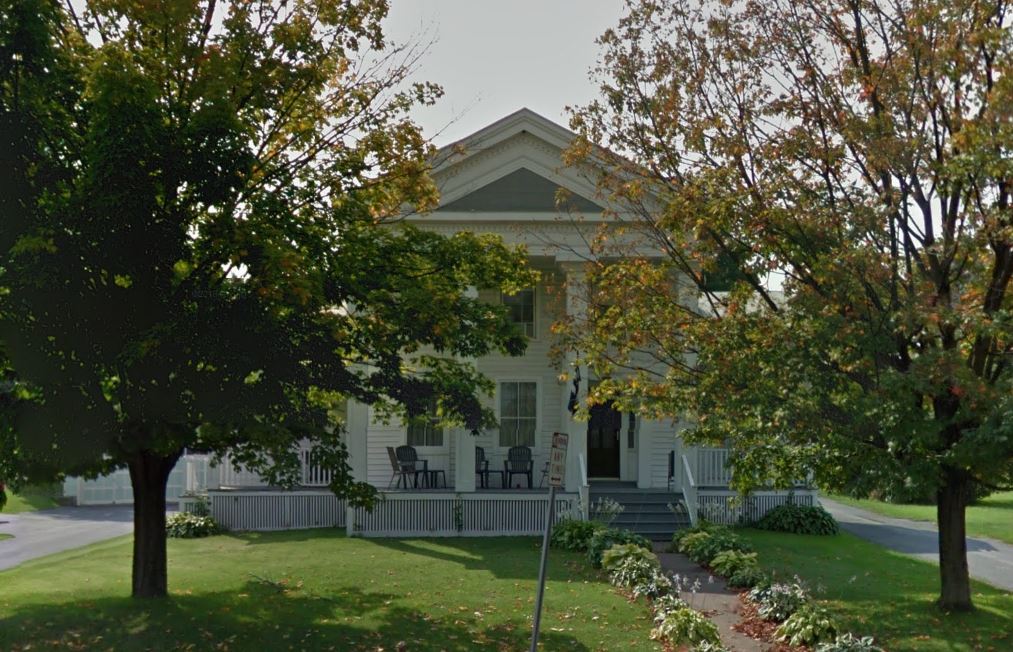 Scattered through the North Country is a surprising number of these tall-pillared houses of the Greek Revival type. This one built about 1850 at 88 South State Street in the village of Lowville for Jacob I Cook is a well-constructed and well-preserved example of that class. It is commodious, consisting of 15 large, high rooms. It occupies a site which was once part of the vast northern New York land-holdings of Nicholas Low, for whom the town and village of Lowville were named.
Before Lewis county was set off from Oneida in 1805 the site of this house formed part of the large holdings purchased by Daniel Kelley, native of Norwich, Connecticut, from Low in 1797. Kelley, who married Jemima Stow, was a brother-in-law of Silas Stow, land agent of Low. Incidentally Kelley was the first supervisor of Lowville from 1800 to 1804 inclusive and again in 1808 became one of the first judges of the court of common pleas October 25 1805 became first county judge March 29 1806 and was first town clerk in 1807.
In 1814 Daniel and Jemima Kelley sold this lot to James Henry, native of Chester, Massachusetts who died in 1827. Upon partition of Henry's real estate, his son-in-law, William Lyman Easton, who had married Henry's daughter Emeline, bought up all of the shares. Easton, native of Hancock, Massachusetts who learned printing at the Little Falls Courier, came to Lowville and established the Black River Gazette October 10 1825. He was an incorporator and president of the Bank of Lowville, a trustee of Lowville academy, surrogate four years and in 1852 delegate to the last National Whig convention at Baltimore when Major General Winfield Scott became the presidential nominee. On January 1 1849 William L and Emeline Easton sold this site to Jacob I Cook who caused this big, dignified house to be erected. Born in Schoharie county November 17 1806 Cook, whose wife was the former Elizabeth Petrie of Herkimer county, came to Lowville in 1824. There he became a prosperous blacksmith and builder of handmade carriages and cutters. He died on January 14 1891 but on November 10 1875 he disposed of this house to Charles P Leonard, who acquired it as an investment and rented it to tenants until February 28 1883 when he sold it to Norman Bradt, a Martinsburg farmer.
Charles P Leonard, born in Lowville August 22 1826 was a son of Stephen and Jane Leonard, his mother having been a daughter of Brig. General Walter Martin of Maftinsburg. Following his father as merchant and miller, Mr Leonard later engaged in the lumber and chair manufacturing business, heading the Lowville Steam Manufacturing company. He first married Sarah Tyler of Lowville January 11 1849. She died May 27 1865 and on November 11 1869 he married Elizabeth Glasgow Pelton, widow of Charles E Pelton. In 1875 he was a founder of the Black River National bank, of which he later became president.
Norman Bradt resided in this house until his death December 12 1894 and then his widow, Sarah Kilmer Bradt, continued to occupy the place until her death in 1909. As her executor, William B Breen disposed of the property to George W and Harriet Weller Stoddard on November 1 1910. Mr Stoddard, member of a well known Lewis county family, was succeeded in ownership by his widow and children, who conveyed to the present owners, Walter and Alma Moshier, on November 1 1920. Mr Moshier conducts a garage on the premises.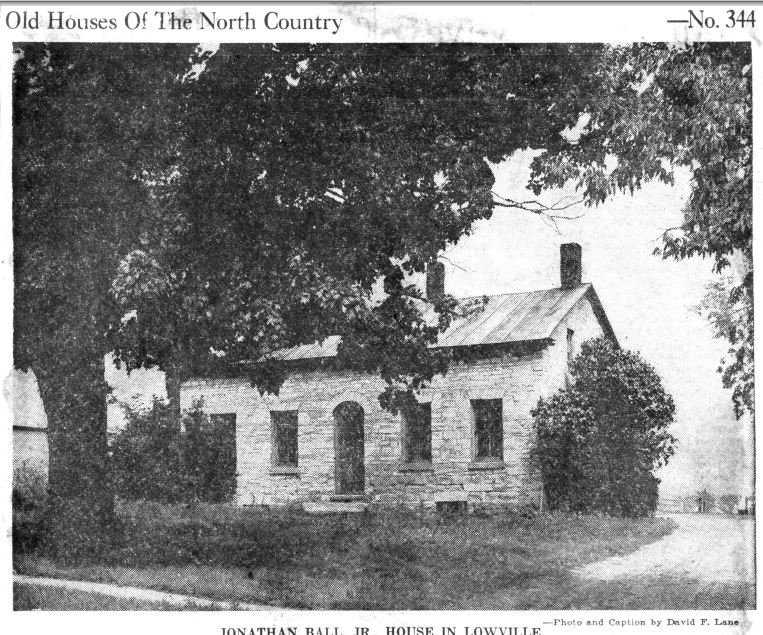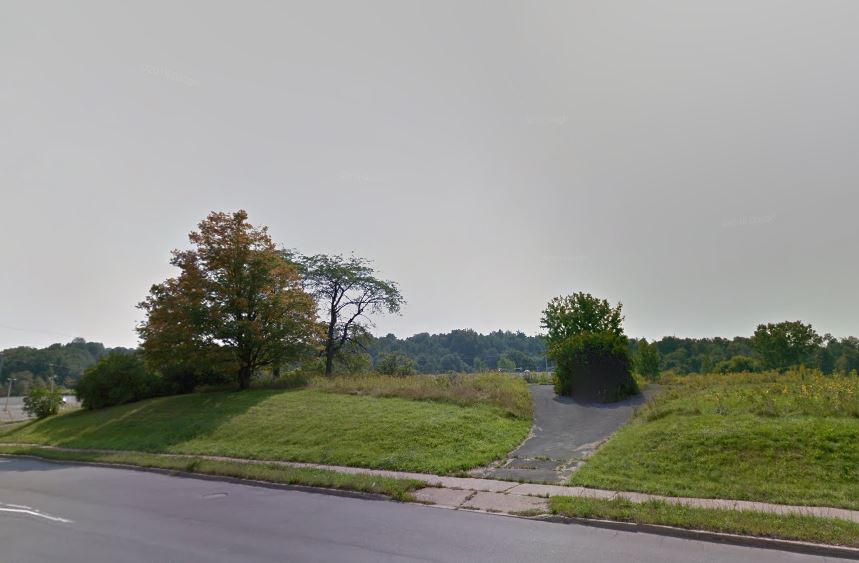 Upon outer East State Street in the village of Lowville is the quaint little native limestone house built by Jonathan Ball Jr, about 1820. Born at Southbridge, Massachusetts, August 15 1783 son of Jonathan and Anna Gibbs Ball, Jonathan Ball Jr, was descended from a Ball family line collateral to that from which George Washington, commander of the Continental Army and first president of the United States, sprang. So today there are in the North Country many Ball family descendants who can trace a faint relationship to "the Father of His Country."

It is recorded that between 1635 and 1640 six sons of William Ball of Wiltshire, England, settled in the American colonies. One of them was William Ball Jr, who located in Lancaster county, Virginia, and became the grandfather of Mary Ball, mother of George Washington.
Another son of William Ball of Wiltshire was John Ball, who settled near Boston, Massachusetts, great-great grandfather of Jonathan Ball Jr, of Lowville
Jonathan Ball Jr, came with his parents from New England about 1804 to become one of the early residents of Lowville. Jonathan Ball Sr, fought in the American Revolution. Jonathan Ball Jr was a soldier in the War of 1812 and became a man of influence in the town of Lowville.
On September 5 1805 he married Lucinda Ballard of Hatfield, Massachusetts. They had four sons and two daughters. In November, 1818 Jonathan Ball Jr, bought the farm, upon which he built this fine little stone house two years later. He acquired the land from Heman Stickney who early had an oil mill at Lowville and served the town as supervisor in 1816-1817. His wife was Paulina, daughter of Rufus Stephens, a Martinsburg pioneer.
Stickney had purchased the site of this house from Nicholas Low, proprietor of the town of Lowville, on April 26 1813. The heirs of Jonathan Ball Jr, sold the site and house to Jonas Smith on April 9 1838 and on April 6 1844 Jonas and Miriam Smith conveyed the property to Hiram Smith, On April 5 1847 Hiram and Catherine Smith deeded it to Lewis Stevens of the Glastonbury, Connecticut, family. Lewis married Emily Gates in 1827. His grandfather Elisha was a line regiment soldier and saw seven active years of service in the Revolution.
The heirs of Lewis Stevens sold this property to Lewis H Fults of Herkimer, whose wife was Caroline of the prominent Lewis county Mills family. Mr Fults died intestate and his widow and children sold this place to William Dence on September 29 1866. Dence, a native of Montgomery county, and his second wife, the former Mary Waters, disposed of the property to Ira and Hannah Dence Austin September 6 1874. Twenty years later on April 25 1894 Mrs Austin conveyed to Phoebe Langworthy Crumb, wife of William Crumb, and on March 5 1903 Mrs Crumb transferred to her daughter, Mrs Florence Kloster, wife of John Kloster.
Mrs Kloster died and by her will, dated August 29 1920 and recorded the following month, she gave the place to her sister, Mrs Fred (Jennie) Brown, and niece, Annie Gordon, reserving a life-use to her husband, John Kloster. It is now reported that the property was recently sold.
The house contains four rooms downstairs and a similar number upstairs. The interior woodwork is plain and simple and the two fireplaces were long ago closed up. For many years the place has been rented to tenants, the Klosters residing in a large house next door.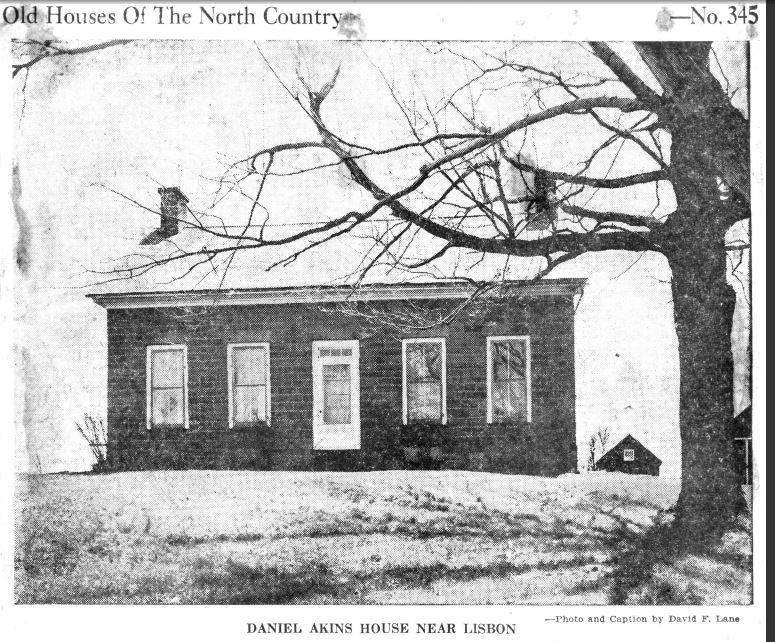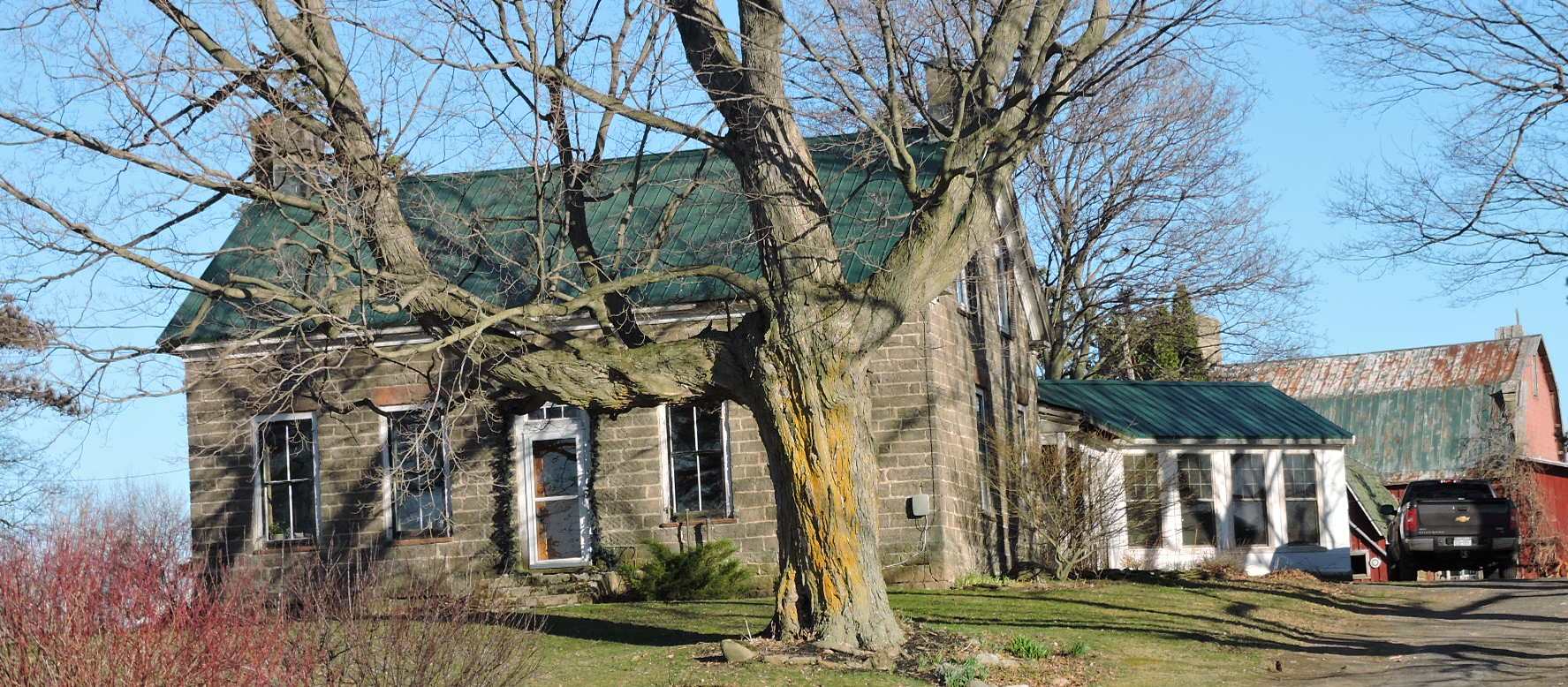 A plain, simple cottage-type house of native sandstone in the town of Lisbon, St. Lawrence county, stands on the south side of the highway leading from Ogdensburg to Waddington. It was built by Daniel Akins about 1834 and was sold by Akins and his wife, Lydia, along with 100 acres of land to John Martin July 2 1835 for $1,200. It is now owned by Mr and Mrs Frank Clair Wilson, who purchased it November 27 1945 from Homer M and Gladys L Dunn of Lisbon.
The farm now consists of about 94 acres of good Madrid loam. The house, which is now equipped with running water and modern conveniences, consists of six rooms downstairs and three upstairs. The owners are young people. Mr Wilson, a native of Heuvelton, served in the United States Navy during the last war. Mrs Wilson was the former Miss Sylvia Rood of the DeKalb road near Canton. They were married March 30 1943 and have a daughter, Priscilla.
Richard Harison, wealthy New Yorker who once had large holdings of northern New York land, early owned the acres which constitute this farm. On August 22 1808 Harison sold 160 1/2 acres to James Akin, who disposed of 77 acres and 99 rods of it to Daniel Akin on April 5 1819.
On March 21 1834 Harison's estate sold an adjoining 54.93 acres to Daniel Akins, who undoubtedly built the house shortly afterward. From the 77 acres 99 rods and the 54.93 acres Daniel Akins and wife sold the house and buildings together with 100 acres to John Martin for $1,200 on July 2 1835. John Martin died March 2 1886 leaving his widow, Sarah, a life-use of the property and the residue to his son, Frederick B Martin. The will mentions the stone house with shed attached.
Frederick B Martin died intestate September 3 1896 leaving Sarah L Martin, widow, and five children and on April 9 1898 the widow personally and as administratrix conveyed the property to Wilber S and Jane Elizabeth Moore for $4,365. That deed conveyed 97 acres. On October 31 1899 Moore and wife, Jane E, sold for the same price to Thomas A Dunn and on January 7 1909 Dunn and wife, Minnie B, disposed of the house and 94 acres to John A Powell for $5,250.
On June 14 1911 Powell and wife, Nora, sold this place to Leslie J Smithers and on June 17 1917 Leslie J and Jennie Smithers deeded it to Charles C Livingston, who on February 1 1918 joined with his wife, Addie, in transferring to Frank M and Grace Murray
The Murrays sold to Jedediah Martin on December 2 1918 and on April 1 1920 Martin sold to Homer M and Thomas A Dunn for $6,500. Thomas A Dunn conveyed his interest to Homer M Dunn July 2 1921 and on November 27 1945 and Mrs Wilson acquired it. Mr Dunn, whose wife Gladys L Dunn, is a Lisbon banker. The Martins, Livingstons and Dunns are old families in that area of St. Lawrence county. The same is true of the Akins family, Daniel Akins having been made a trustee of the Methodist church of Lisbon when it was organized April 25 1822. Also John Martin became a trustee of the First Wesleyan Methodist society when it was formed February 14 1843.
The town of Lisbon was erected March 6 1801 and Robert Livingston settled there in 1803 later serving some years as supervisor and in other offices. Upon Livingston's Point were located the mills of Lisbon in 1877 Joseph and Samuel Smithers having been the builders and owners of some of them just prior to that year.
At the corner of Front and Bradley Streets on the Hounsfield side of the river, as one proceeds across the bridge into the business heart of Dexter, stands this little native limestone house erected approximately a century ago. The lot was originally part of the subdivision laid out by the Dexter Village company organized by Simon Newton Dexter, Colonel Edmund Kirby, John Williams, John Bradley and Jacob Brown on March 1 1837.
On October 6 1841 S Newton Dexter and wife, Laura, of Whitestown, John and Eliza Williams of Utica, Edmund and Eliza Kirby, John and Sarah M Bradley and Jacob Brown of Brownville sold this lot to Margaret L Brown of Brownville. On September 1 1849 she and her husband, John E Brown, sold it to Horatio N Norton for $200 and he is believed to have erected the modest little house about that time.
Horatio N and Minerva Norton, town of Pamelia, disposed of the place to Silas G Norton, Hounsfield, January 20 1854 and on June 19 1862 Silas G and Nancy Norton, Plessis, and James A and Rachel P Bell, Dexter, conveyed it to John Patrick. John and Jessie Patrick, Hounsfield, in turn sold it to Safford Plumb, Hounsfield, on December 18 1879 and on August 28 1905 Safford L Plumb transferred it to William Knapp, Chaumont, and Frank Knapp, Hounsfield, retaining a life-use of the property. James A Gilmore acquired William Knapp's half interest and on February 4 1909 James A and Addie Gilmore transferred that half interest to Frank M Knapp, who sold the whole property to John C and Roza M Barnes on July 11 1917.
John C Barnes, native of Oswegatchie, and employe of the Dexter Sulphite company, died October 19 1936 aged 66 and the house and lot are now owned by his widow, Mrs Roza Cole Barnes.
The house has undoubtedly played a role in the history of the industrial village of Dexter, but unfortunately that history appears to have been lost. Several of the owners never resided in it. John E Brown, one of the early promoters of Dexter, erected a grist mill there in 1826. Silas G Norton, Plessis, who died late in 1890 was a son of Horatio N and Minerva Norton, the latter of whom died January 20 1883.

James A Gilmore, who died March 30 1909 was a manufacturer of doors, sash and blinds. He was a son of James E and Sarah Livermore Gilmore, and his maternal grandfather, Levi Livermore, was a veteran of the War of 1812. James E Gilmore was a son of Horace Gilmore, native of New Hampshire, and Horace Gilmore was a son of Robert Gilmore of Scotch descent.
On July 27 1876 James A Gilmore was married to Addie E, daughter of Edgar and Mary A Huntington Leonard and they were the parents of the late Charles P Gilmore, well known architect. Mrs Addie E Leonard Gilmore was born March 28 1856 and died August 15 1938. The firm of Leonard & Gilmore was for some time in existence in Dexter, where it operated a sash, blind and door factory and did a thriving millwork business.
Frank M Knapp, one of the later owners of the house, was a guide, fisherman and artist, son of Moses Knapp and died March 20 1927.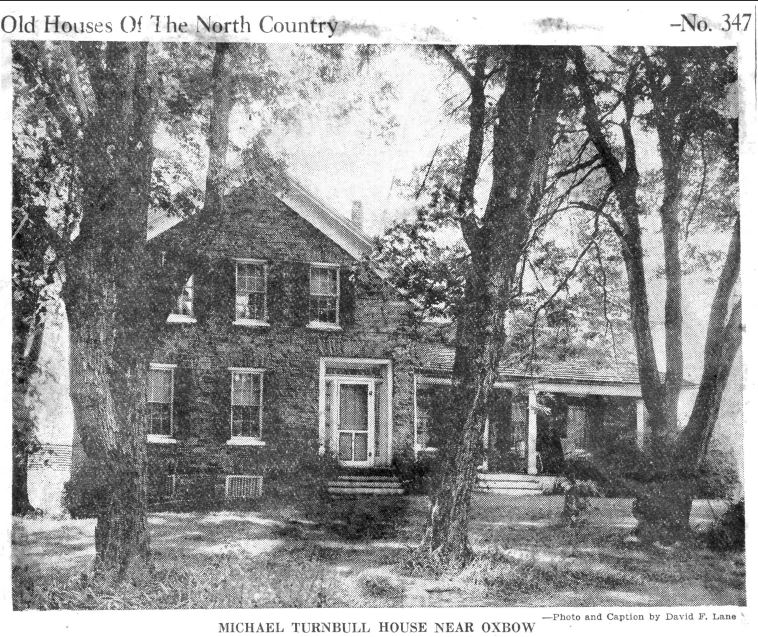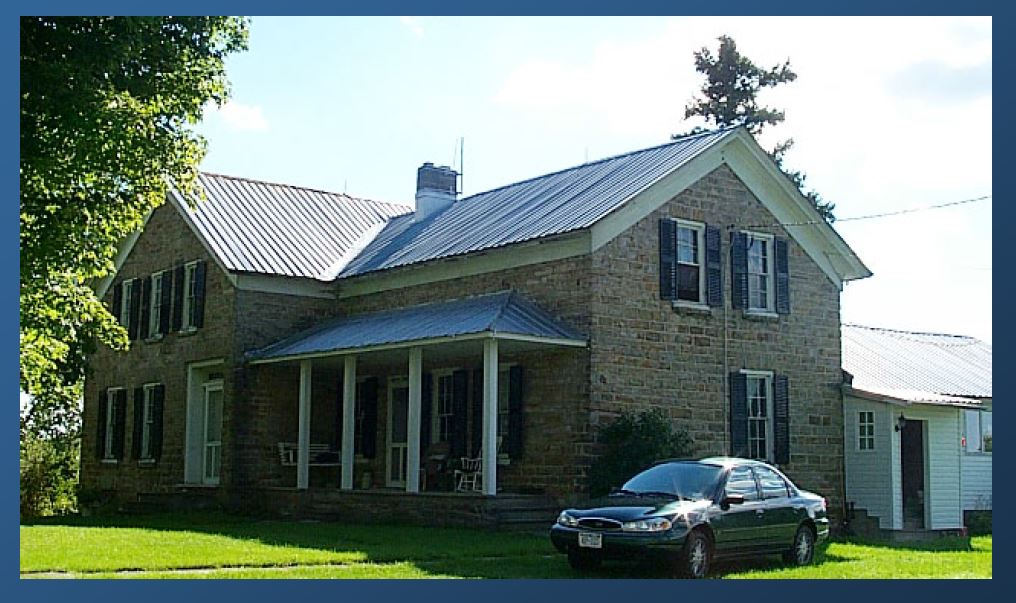 An atmosphere of beauty and contentment surrounds this fine old native sandstone house built by Michael Turnbull in 1848 near the old toll gate about two miles southeast of the hamlet of Oxbow. It is on the road leading through picturesque country to the village of Antwerp and has always been in possession of the Turnbull family.
This twelve-room house is kept in excellent repair. Its two fireplaces have been greatly modernized through rebuilding. The general architectural type of the house is Georgian, and with it is a farm of 288 acres. Michael Turnbull was born in Scotland in September 1810 son of Thomas and Sarah Wood Turnbull. Thomas died in Scotland and in 1820 his widow and nine children including Michael came to Rossie, St. Lawrence county. There they bought a farm of George Parish in the Scotch settlement between the Indian and Oswegatchie rivers. On December 18 1835 Michael Turnbull married Margaret B Laidlaw, who was born in Scotland January 7 1811.
They came to the town of Antwerp and contracted June 30 1840 to buy land of George Parish of Ogdensburg, but their first recorded purchase was of 70 acres from Sylvanus and Phoebe Reynolds March 15 1841 where this house is. On September 29 1849 they purchased of Parish two adjoining parcels of 97.61 and 44.47 acres pursuant to the 1840 contract. From Parish on May 30 1857 they bought parcels of 55.25 and 62.6 acres and on October 24 1857 they acquired 59.85 more acres from Parish.
On March 25 1871 they purchased the residence of George and Helen Ormiston on the east side of the Public Square, diagonally across from the old stone Presbyterian church and dircctlv opposite the old cemetery in Oxbow.
Michael Turnbull died March 26 1880 giving his widow the furnishings of their home, a horse, buggy, cutter and accessories, a life-use of their Oxbow residence and a life-use of his farm then occupied by his son, Andrew F Turnbull. He named his sons, Alexander Z, William P, James B, Adam W, John M, Andrew F, and Michael Angelo Turnbull, residuary legatees. Andrew F Turnbull on April 8 1884 purchased the interests of the other heirs to the farm for $9,428.58
His wife was the former Margaret C Rutherford, who inherited his entire estate when he died April 28 1901. She died intestate February 7 1920 and her estate estimated at $21,500 went to their children, Eleanor Carpenter, town of Antwerp; Candace Davies, Gouverneur; Leslie M Turnbull, Pontiac, Michigan, and Harry F Turnbull, Spragueville. Harry F Turnbull and his wife, Eva M Turnbull, purchased the interests of the other heirs in this homer stead farm and are the present owners and occupants. The date of acquisition of the property by Mr and Mrs Harry F Turnbull was November 21 1942 and they are prominently known as prosperous farmers and lifelong residents of the town of Antwerp. A son, Donald, also resides on the farm.

All of the land in the old Michael Turnbull farm as it was originally set up was at one time part of the extensive Parish holdings, the county records showing that the 70-acre plot purchased by Michael Turnbull March 15 1841 from Sylvanus Reynolds had in turn been bought from Parish by Reynolds on December 16 1834. An interesting sidelight is that Arthur Carpenter, city, retired horseman, son of the late George F and Louisa D Hoard Carpenter of Spragueville, was a brother of Mrs Jennie L Carpenter Turnbull of Gouverneur, widow of Andrew H Turnbull, who died May 7 1928.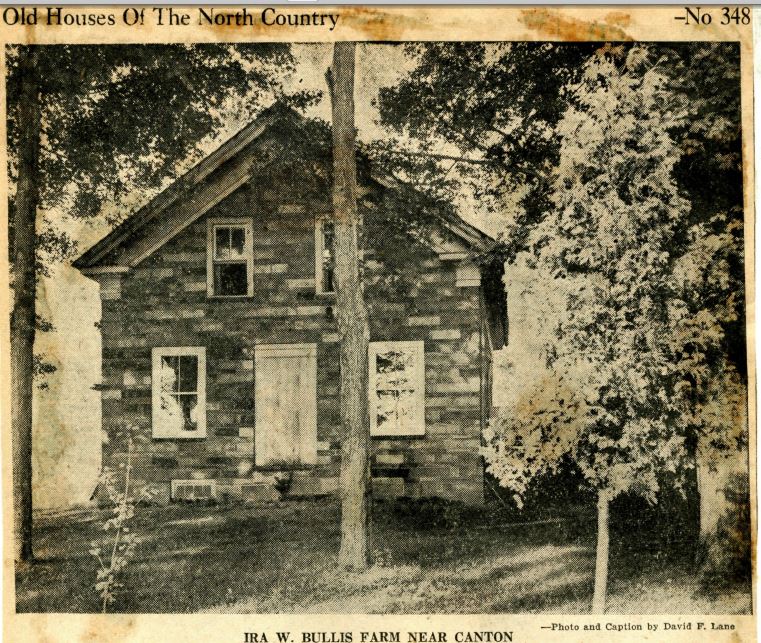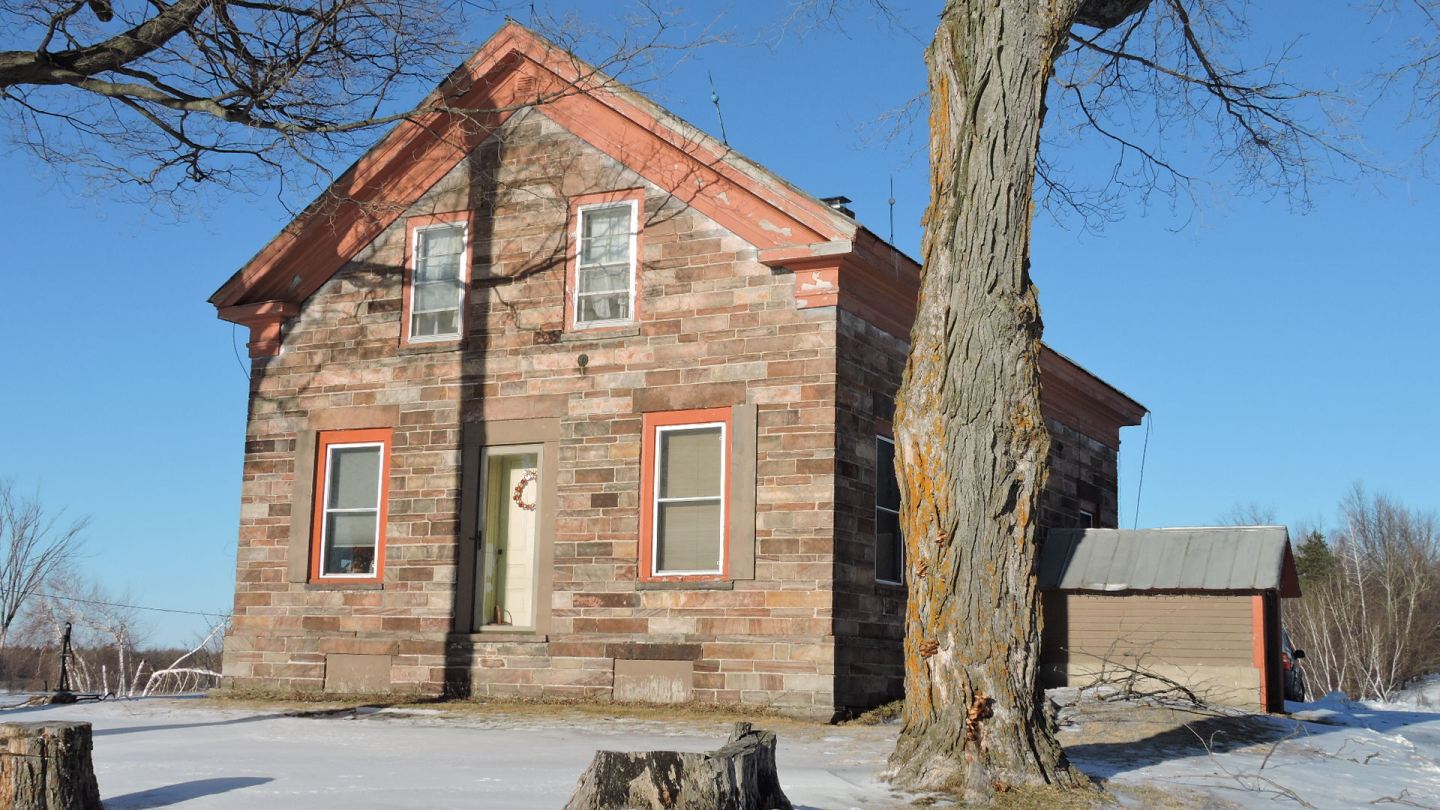 At the foot of the famed Waterman hill out the Park Street road south of the village of Canton is this plain old farm house of Potsdam sandstone which has been owned by the Bullis family through the past 77 years. It is on the edge of the Pierrepont hills and not far from the much-sung Paradise Valley where was born Irving Bacheller, celebrated American novelist. The house was built about 115 years ago and has been owned since November 28 1908 by Ira Wheaton Bullis and his wife who was the former Carrie Marie Crary of Pierrepont, she having been the daughter of George and Julia Clark Crary.
Descended from an old Vermont family, Mr Bullis is the son of the late James and Mary Butterworth Bullis. Ira W Bullis was born in the shadow of Waterman hill March 13 1869 and on December 12 1894 was married to Miss Crary. His father, James Bullis who died intestate June 8 1908 leaving his widow and three children, Ira W, Herbert J, and Cora Hogle, was a son of John W and Mercy Ann Fonda Bullis who came into the Brick Chapel area of the town of Canton in 1841.
John W Bullis, who was born at Plattsburgh in 1804 was the first of the Bullis family to own this old stone house and farm, he having purchased it for $5,000 on March 11 1872 from Darius E Kent and wife, Jane A Kent. Mr Bullis died March 23 1884 willing his widow, the former Mercy Ann Fonda, a life-use of the property and provided that after her death it should go to his daughters, Annette and Angeline. His other children were John F, Henry, James, Lewis, Mial, Maria and Mercy A. Incidentally Henry, prominent Canton miller and business man lived to be 99 and his sister, Annette, died October 23 1940 at the age of 94. As executor of the John W Bullis estate, Henry Bullis sold the place to James Bullis on April 11 1894. Darius E Kent and wife, from whom John W Bullis had purchased this farm on March 11 1872 had acquired it March 10 1862 from Madison Farmer and wife, Julia, and from Maria Farmer, wife of Ebenezer. Madison Farmer had bought a 25-acre parcel of the farm from Lovina Reed and Mercy L Wait January 10 1862 and this particular parcel came to them from Isaac Reed who had purchased it on April 12 1832 from the heirs of Richard Harison, extensive St. Lawrence county land baron.
In the farm there is a 51.62-acre parcel which was sold by the Harison heirs to Sarell Wood on April 12 1832. On June 15 1827 Wood bought an adjoining plot of 50 acres from Harison and on September 6 1838 Wood conveyed both parcels to Dorus, Denia, Wilson, Don Carlos and Ausker Wood for $1,200. On September 18 1847 Dorus Wood acquired the interests of the others in the property. On September 27 1858 Dorus Wood and wife, Maria sold the two parcels of 51.62 and 50 acres with the house which was probably built about 1833-4 to Madison and Ebenezer Farmer for $3,550 and on May 25 1861 Ebenezer Farmer conveyed his interest to Madison Farmer for a nominal sum.
Another plot of 46 1/2 acres came from Frances D Harison to Nelson Belding on May 16 1857 who sold immediately to Ebenezer and Madison Farmer. On September 27 1858 Ebenezer and Maria Farmer and Madison Farmer and wife, Julia for $4,000 sold to Hiram Rhodee. On January 11 1860 Rhodee sold it back to Madison Farmer, who, with his wife disposed of it to Mercy L Wait January 10 1862 and she and Allen Wait sold it Jo James Bullis February 8 1866.
A few years ago the Ira W Bullis farm at the foot of the Waterman hill was the scene of an unique plowing match in which participated a team of oxen, a team of horses and a tractor showing the evolution of North Country plowing back to Indian days.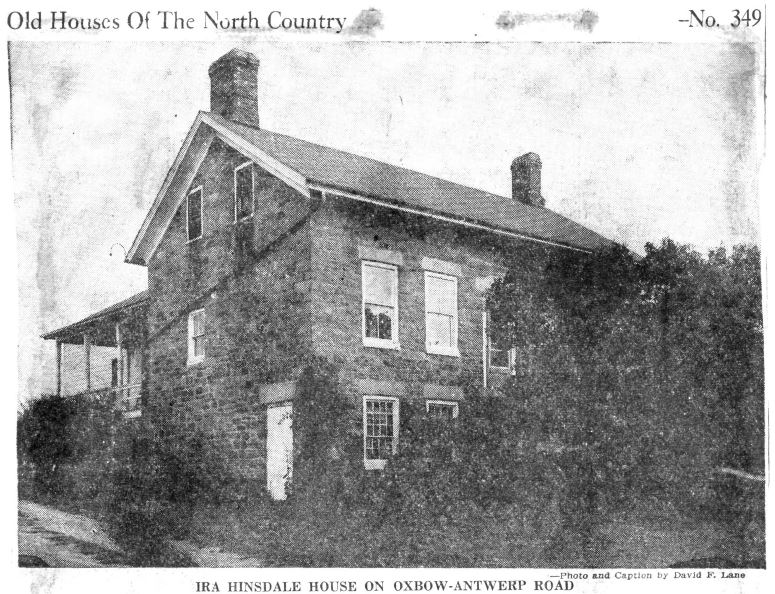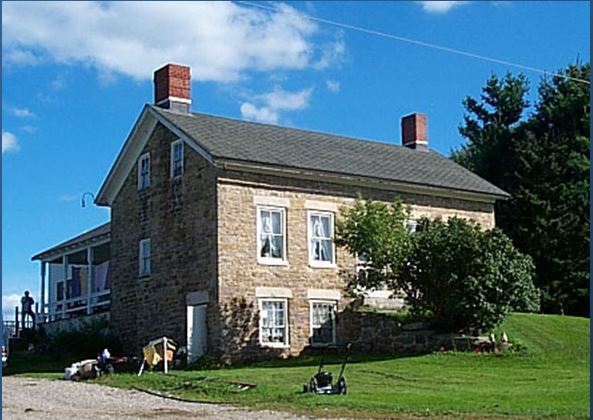 It was on March 1 1819 that David Parish, then a resident of Philadelphia, Pennsylvania, sold the initial tract of 109.75 acres of this now 336.56-acre farm to Ira Hinsdale of the town of Pompey, Onondaga county. Only A few months before, Hinsdale, then a young man of 21 had married Hannah, daughter of John and Ann Woodworth Stephens, on November 4 1818 and it is likely that within a few years after his purchase of this parcel, he erected this house of native sandstone quarried nearby, for there were some excellent sandstone deposits in that vicinity.
He introduced Merino sheep into that sector of the town of Antwerp and was outstandingly successful in the sale of wool, both during and after the Civil war. He was a staunch Democrat and a member of the Universalist church.
Ira Hinsdale, born at Pompey, June 6 1797 was a son of David and Farazina Bemus Hinsdale, farmers of that place and was a great-great-great grandson of Robert Hinsdale, native of England, who on November 8 1638 became one of the founders of the first church of Dedham, Massachusetts.
Ira Hinsdale died at Oxbow, March 24 1882 and his wife passed away at the same place on November 26 1879. The estate of Ira Hinsdale was estimated about $21,000 at the time of his death. His children were Nancy Cooper, Antwerp; Elizabeth Wait, Gouverneur, and Helen Rich, Brasher Falls. A son, George, who had operated an adjoining farm and later was proprietor of a hotel at Rensselaer Falls, pre-deceased them.
On February 28 1885 David H McFalls, referee in an action to partition the Ira Hinsdale property, sold the place to Henry Robinson of Antwerp for $10,769.76.
Besides the original parcel of the farm, Ira Hinsdale had bought 49.32 acres from George Parish, March 1 1833; 102 acres from Parish, January 20 1838; 18.92 acres from Parish, September 4 1838; 5.5 acres from Emerson and Caroline McAllaster, April 16 1846; 9.645 acres from Samuel and Elizabeth Cook April 8 1851; 52.33 acres and 88.69 acres January 2 1850.
In his later years, Ira Hinsdale retired and moved to Oxbow, where he and his wife died. After his retirement, the farm was leased by him until his death. Henry Robinson, the purchaser of the place from the Hinsdale estate through the partition action of the heirs, was also a prominent town of Antwerp farmer, who died at the age of 75 on November 8 1909 leaving an estate then estimated about $24,000. He also had leased the farm for a number of years as a dairy farm. He died intestate, leaving a widow, Lovica A Robinson; two sons, Dr Clare E Robinson and Henry E Robinson, and one daughter, Mrs Mary A Conklin of Antwerp.
On February 9 1910 Mrs Conklin of Antwerp, Henry E Robinson and wife, Jennie O Robinson of Gouverneur, disposed of their interest in the estate to Dr Clare E Robinson, who has for many years been engaged in the practice of dentistry in Antwerp. During his ownership of the farm he has also continued to rent it as a dairy farm and it is maintained in excellent condition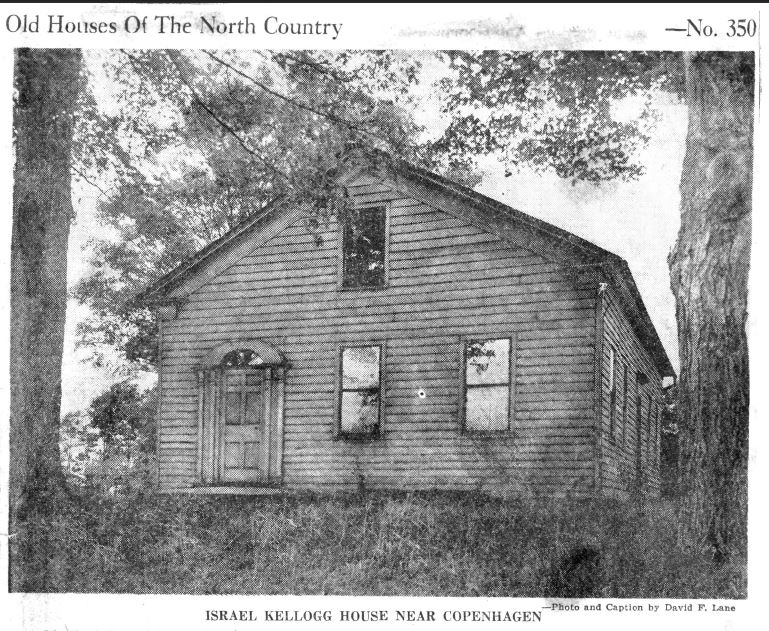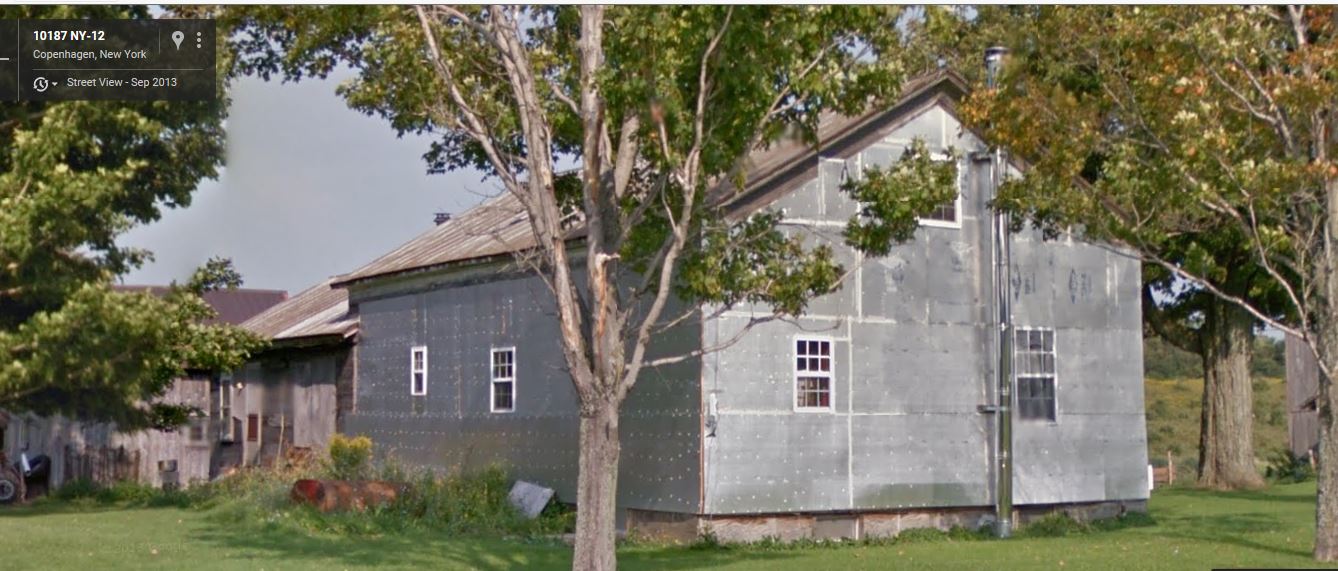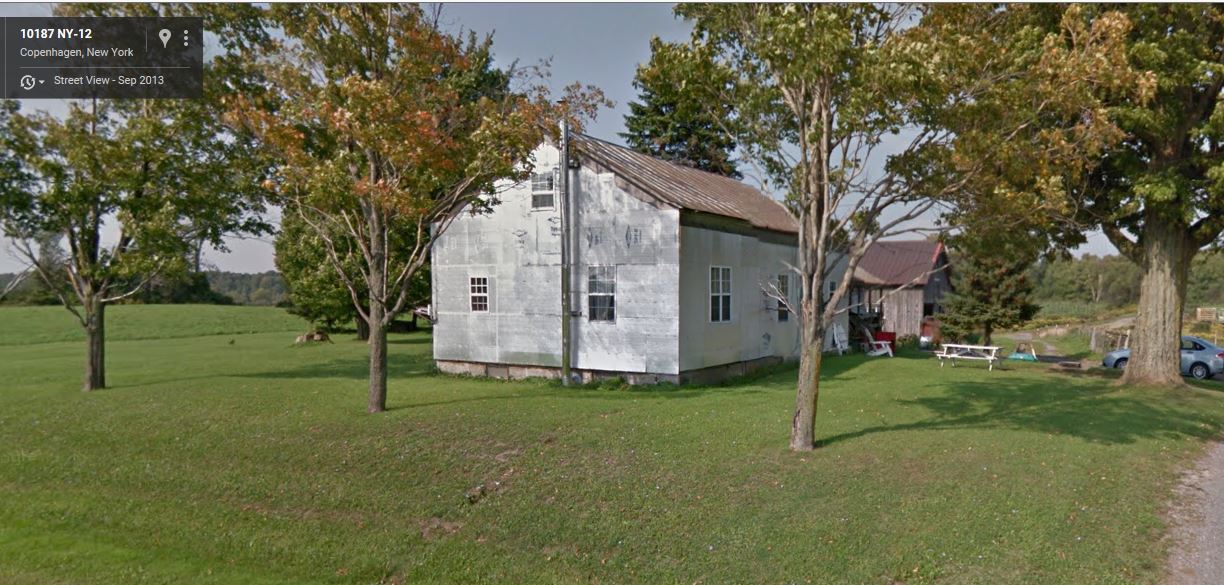 Of all of the old houses in the North Country not one has a doorway like that of the old Irsael Kellogg house that stands on the lefthand side of the state highway towards Watertown on the outskirts of Copenhagen. It is not only a beautiful doorway but an interesting one with the unusual fluting of the lintel over the fanlight transom.
This graceful and artistic doorway, apparently in its original state, has never been duplicated in the north. The house, plain and modest in architectural type, is of frame construction and probably approximately 130 years old, for Israel Kellogg Jr, bought the land upon which it stands from Hezekiah B Pierrepont as executor of the estate of William Constable, heavy northern New York land-owner, on February 15 1814. The property comprises a farm of 163 acres.
Born at Colchester, Connecticut, in 1782 Israel Kellogg Jr, was a militia captain at Sackets Harbor in the War of 1812 and at that place on January 8 1817 was married to Honor Burt, daughter of Lieutenant Ithamir and Prudence Dickinson Burt who had come there from Deerfield, Massachusetts.
Israel Kellogg was supervisor of the town of Denmark in 1817-1818. On April 15 1847 he and his wife sold this farm and old house to David Weller, descendant of Richard Weller, who came from England to settle in the northern colonies in 1650. David Weller was born in Lewis county on April 22 1806. David was the son of Silas who was born in Westfield, Massachusetts, June 20 1770 married Nancy Bush on January 9 1800 and in 1801 moved by ox-cart to the northern part of the town of Lowville where Silas died March 24 1848 and Nancy died on March 30 1851.
They were the parents of eleven children, of whom David, their third son, was married to Maria Knowlton of Hounsfield on December 24 1834. Maria was born in Madison county in 1814 but the Knowlton family came there from Rutland, Vermont.
On May 28 1874 David Weller deeded this house and farm to his son, Monroe Knowlton Weller, and on the following September 2 David Weller died, his widow, Maria surviving him until February 21 1893. Monroe Knowlton Weller, who was born in this house in 1837 was married to Clemenza, daughter of John C and Achsah Bush Rogers in 1870 and resided there until his death on November 22 1918. The homestead then was inherited by his son, Eugene, and his daughter, Mrs Frank (Grace Weller) Lago. Mrs Lago acquired her brother's interest on May 6 1925. Mr Weller lived, however, until July 22 1945. Mr Lago died in 1933 and his widow continues to reside upon and operate her farm.
In the old house, which stands high above the roadway and is maintained in excellent condition, is a beautiful old fireplace with artistically carved mantlepiece. Downstairs there is a parlor, parlor bedroom, clothes room, dining room, small pantry, kitchen and two other bedrooms. The present kitchen is at the rear of the house. Upstairs there are two low bedrooms.
The front doorway, however, never ceases to intrigue tourists passing along this highway, and whether it was designed by the first owner, Israel Kellogg, who removed in 1863 to North Tonawanda and died there in 1875 or by some master builder, there is no information on record.