STONE HOUSES, MANSIONS AND OTHER OLD HOUSES
OF THE NORTH COUNTRY

Originally published in The Watertown Daily Times
(730) Articles and photos by David Lane, Newspaper Staff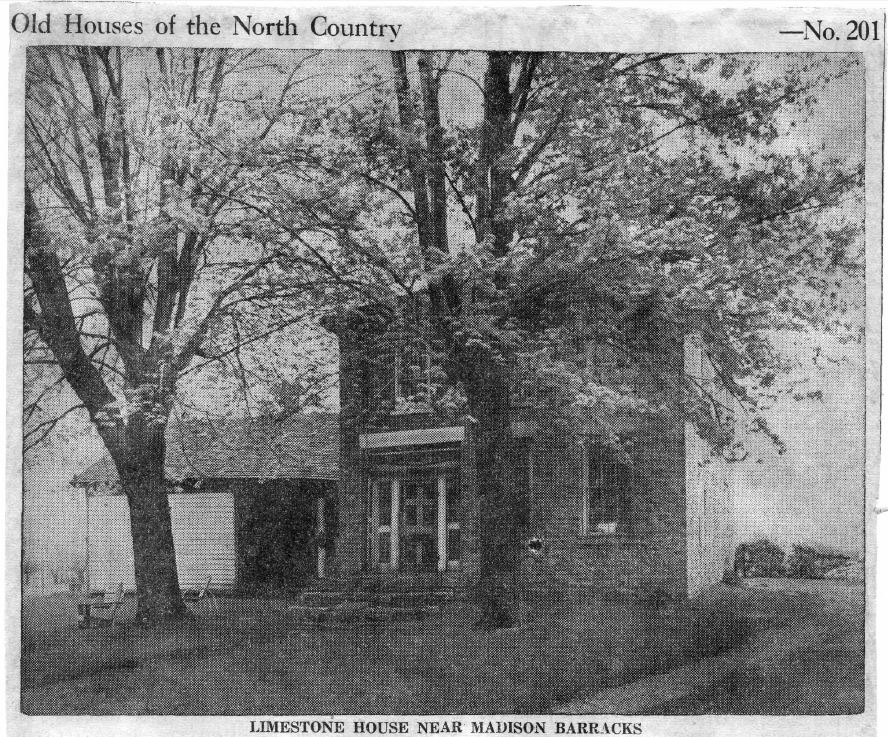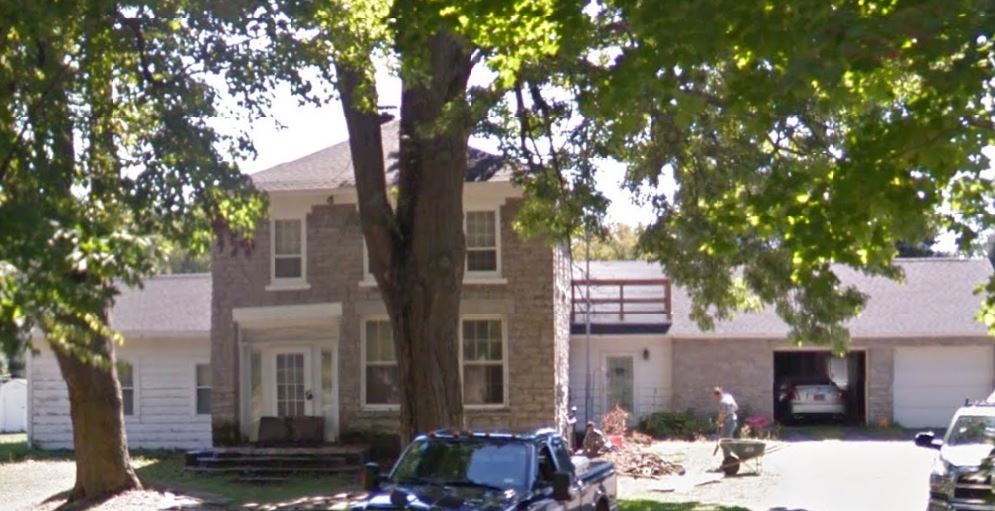 Thousands of people know that Dr Samuel Guthrie, discoverer of chloroform in 1831 lived in the plain red brick house at Jewettsville about a mile east of Sackets Harbor on the Watertown highway at the time. Some know that he was born in Brimfield, Massachusetts, in 1782. Almost no one knows that when he died October 19 1848 at the age of 66 he passed away in this house of native limestone on the old Military road less than a mile from Madison Barracks. Not far from Black River Bay, it was almost directly back of his own brick house and was then owned and occupied by his daughter, Cynthia, and her husband, Francis F Burt, who had become Sackets Harbor's leading merchant.
Today the property is owned and occupied by Hugh Kelly and his family, the Kelly ownership extending back through his immediate antecedents a period of 87 years. This Kelly ownership began August 16 1859 when Philander B Grant and his wife, Miranda, sold the place and 6.87 acres to John Cannon, Honora Kelly and Thomas Kelly for $1,050 and eventually Thomas Kelly became the sole owner.

From him it came down to Hugh Kelly, the present possessor. Philander B Grant, who became a prominent figure in the life of Jefferson County and who long prior to his death in this city January 31 1911 had operated a leading Watertown grocery under the name of Grant & Mould, retained this stone house but a brief space. Following the famous gold rush of '49 Mr Grant, then a sailor, set out from Sackets Harbor for New York City April 1 1850 to board the James K Polk April 11 for a stormy voyage around the Horn.
After his return in the spring of 1853 to Sackets Harbor, where he married Miranda Stone, he settled down to a business life and July 11 1857 purchased the stone house property from Truman R and Frances E McKee. The McKees had bought the place December 24 1849 from Francis F and Cynthia Burt, Mrs Burt's father, Dr Guthrie, having died there little more than a year before. Less than nine months before his death Dr Guthrie wrote to his other daughter, Mrs Thaddeus S (Harriet) Chamberlain of Fort Madison, IA: "I am sitting in Cynthia's sitting room at 10 o'clock at night and all quiet and abed." Then he commented sorrowfully of the recent news of the death of his son, Edwin, captain of Co. K, 15th Infantry, who had been killed in the Mexican war. He also commented upon the fact that newspapers were beginning to credit him with the discovery of chloroform which only the previous November had become the first anesthetic, in the hands of Sir James Young Simpson of Edinburgh.
"I live with Cynthia but shall soon fit up the old vinegar house in Jewettsville or the powder mill and live again as I once loved to do and cook my own dinner," he continued. Then a little further on he wrote, "Cynthia has a beautiful home and filled to the ridge-pole with rich furniture. Three days before he died he made his will, giving her six village lots in Sackets Harbor, making her his residuary legatee and naming her and her husband joint executors of his estate.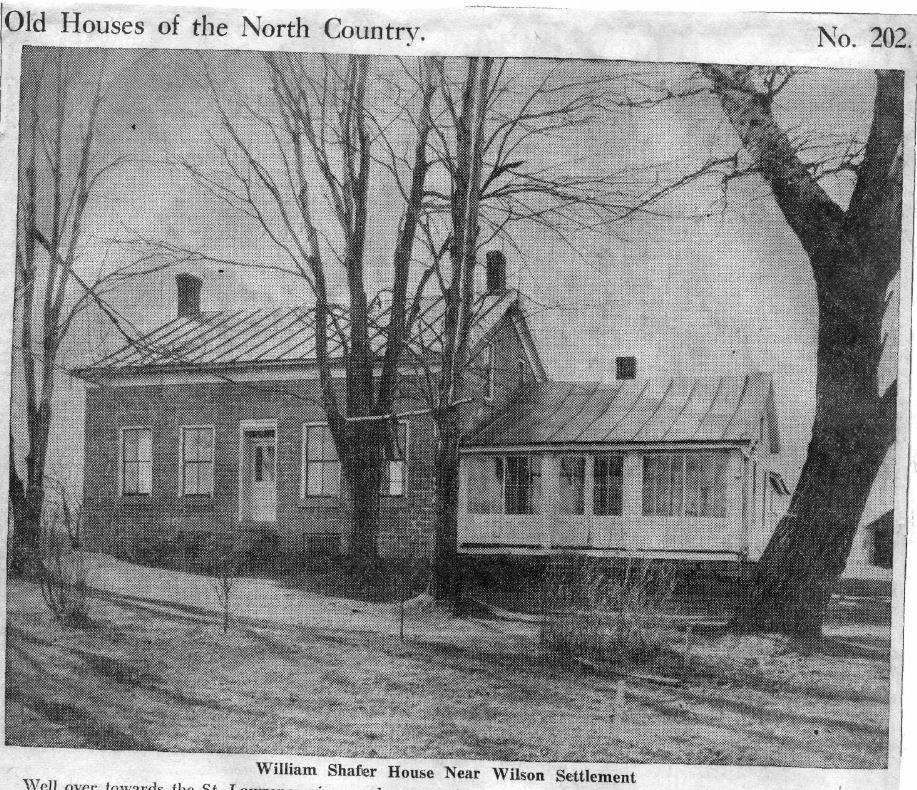 Well over towards the St. Lawrence river and somewhat east of the village of Cape Vincent is the old William Shafer house completed probably about 100 years ago and owned today by Frederick Wiley. It is constructed of native limestone and is of the low, cottage type of architecture with a wooden wing. Standing well back from the Wilson Settlement highway its surroundings are most pleasant and peaceful. With it and its outbuildings is a farm of about 50 acres.
This farm was built up of two parcels of land about equal size and an interesting feature of the property is that the part upon which the house and buildings stand was a portion of 44.55 acres purchased by Shafer March 12 1845 for $83.57 from Pierre Joseph DeCaters and Jean Joseph Remer Osy of Antwerp, Belgium, survivors of Charles Xavier Knyff, Charles Joseph Geeland Dellafaille and Jean Joseph Pinson deceased, late of the same city. There, was formed the Antwerp Company which took over a vast tract of northern wilderness in June 1793 and in this companies there men were prominent figures, having become its trustees.
William Shafer was a native of Nida, Germany, came to the Untied States in 1831 and not long after settled in the town of Cape Vincent near where this house is. In 1831 he married Miss Margaret Hailfinger of Wurtemburg. One son was Frederick G, and a daughter, Rosella, married Edgar J Vincent. Vincent acquired the adjoining 25 acres October 2 1885 from the heirs of Almon Whitcom, who had purchased that parcel from Alexander Copley well known of Antwerp timberland owner and lumberman April 16 1867. Copley in turn had obtained it from the LeRays.
It was Peter Wiley who bought the William Shafer parcel and the Almon Whitcom parcel together into one farm of about 50 acres. This he did by buying the Shafer farm of 24.65 acres from Frederick G Shafer, son and executor of William Shafer, February 9 1889. On March 23 1900 Edgar J and Rosella W Vincent sold Mr Wiley the Whitcom parcel of about 25 acres. Peter Wiley was a son of Ignatius and Mary Fry Wiley, natives of Germany, who settled also in the town of Cape Vincent, where the Wiley family became prominent.

When Peter Wiley died in 1926 he willed this homestead farm of about 50 acres and its attractive house to his son, Edward C Wiley the latter died about a dozen year ago and by the terms of his will, recorded February 23 1934 gave the property to his son, Frederic, the present owner, town of Cape Vincent resident who maintains the neat little house in excellent condition.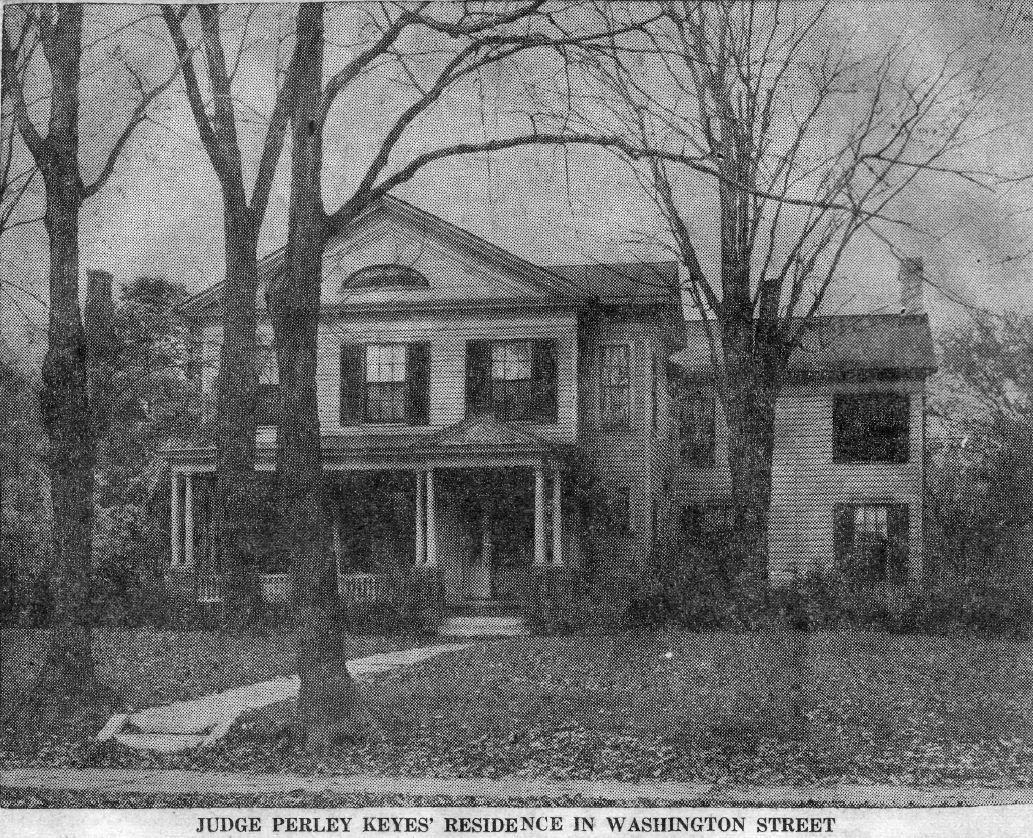 417 Washington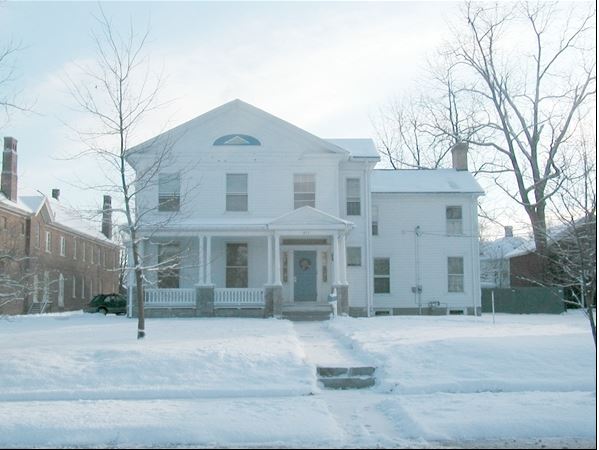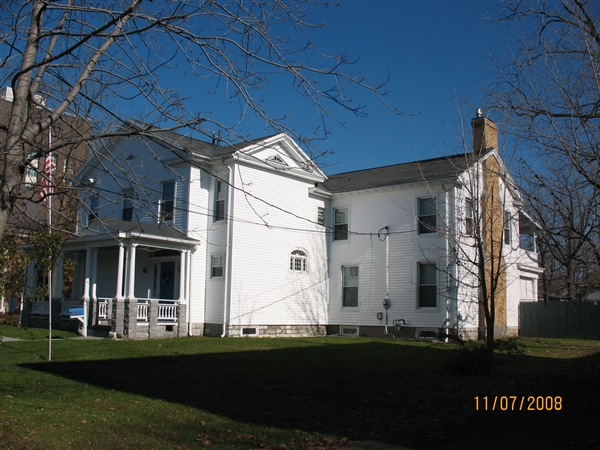 Judge Perley Keyes, one of the most outstanding political leaders upstate a century and a quarter ago, was a most forceful figure. He was a member of the "Bucktail" wing of the old Democrat party of that time and as such was the chief of the so-called "Watertown Regency," which was credited with having dictated appointment of all of the major national and state officeholders from this county.

Perhaps never in the history of the county was a more bitter campaign waged for public office than that between Judge Keyes and Micah Sterling of the Clintonian faction of the Democrat party in 1821. Judge Keyes was born at Ackworth, NH, February 24 1774. By way of Montreal and Kingston he came to the town of Rutland to settle in 1799 but tarried there briefly before moving on to Watertown. When Jefferson County was set off from Oneida in 1805 Augustus Sackett of Sackets Harbor was appointed first judge of the court of common pleas and Keyes and Joshua Bealls were made side judges. March 15 1808 he was appointed sheriff of Jefferson County and it was the next year that he located in this village, buying 55 acres of valuable land between Washington and Franklin Streets. In 1814 he began a 4 four-year service as collector of the port of Sackets Harbor.
During the governorship of Daniel D Tompkins he was first elected state senator from this district and served six terms, being named to the important council of appointment February 5 1816.
The story has often been written and told how he and Jason Fairbanks wrung from Brigade Paymaster Samuel Whittlesey a confession of theft of a $30,000 payroll intended for War of 1812 militiamen. In New Hampshire November 20 1796 Keyes married Lucinda White and together they ranked high in the social scale in early Watertown. For this family Keyes avenue, one of the city's better residential streets, is named.
Nearly 120 years ago Judge Keyes built himself a pretentious and dignified mansion on the east side of Washington Street. It stands immediately south of the First Presbyterian church and is reputed to have been erected in 1831 although one early writer related that it was new in 1830. Some have pointed to the similarity in architectural style between it and the old Justin Butterfield house diagonally across the street and now owned by Augustus S Holmes. The Butterfield house was constructed in 1828-9 and it is likely the Keyes house was built not far from that time.

Judge Keyes died May 13 1834. His widow continued to occupy the mansion until her death February 23 1855. Their son, Perley Gardner Keyes, died November 25 1856 and eventually the mansion went to his son, Reverend Richard Goodell Keyes. On May 6 1899 he conveyed it to Harriet E Hall Keyes, adopted daughter of his father, and George B Massey as her executor conveyed the property to Mrs Mary S Treadwell June 3 1913. On October 5 1938 her executors, Brainard H Treadwell and Helen Treadwell Huntington, disposed of it to the Jefferson County National bank as trustees of the Howell Cooper estate, which sold it to Glenn A Rice and his wife, Mrs Ruth M Rice, present owners. During the war it was operated as a tea room and tourist place.
On 13519 LEE ROAD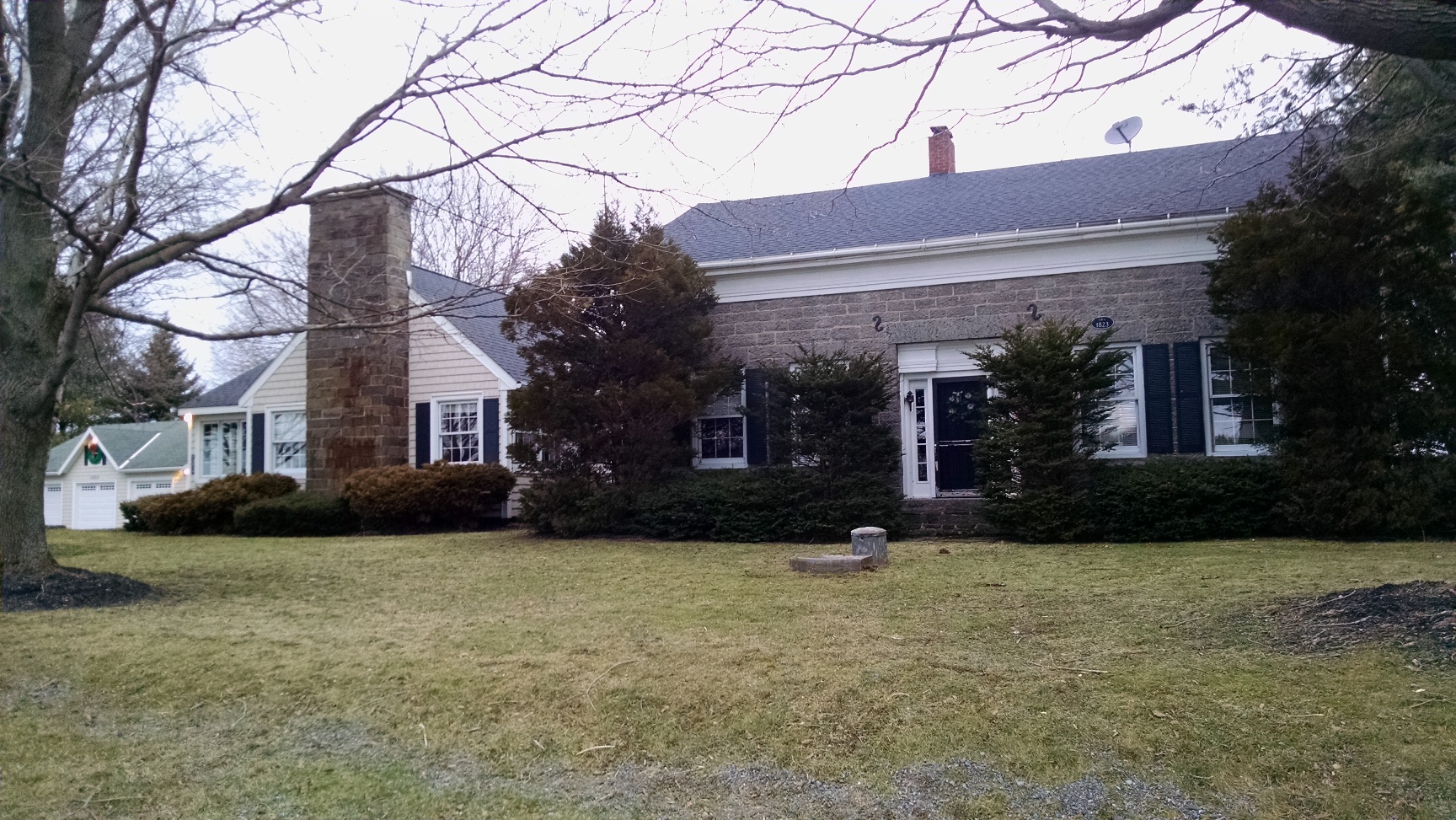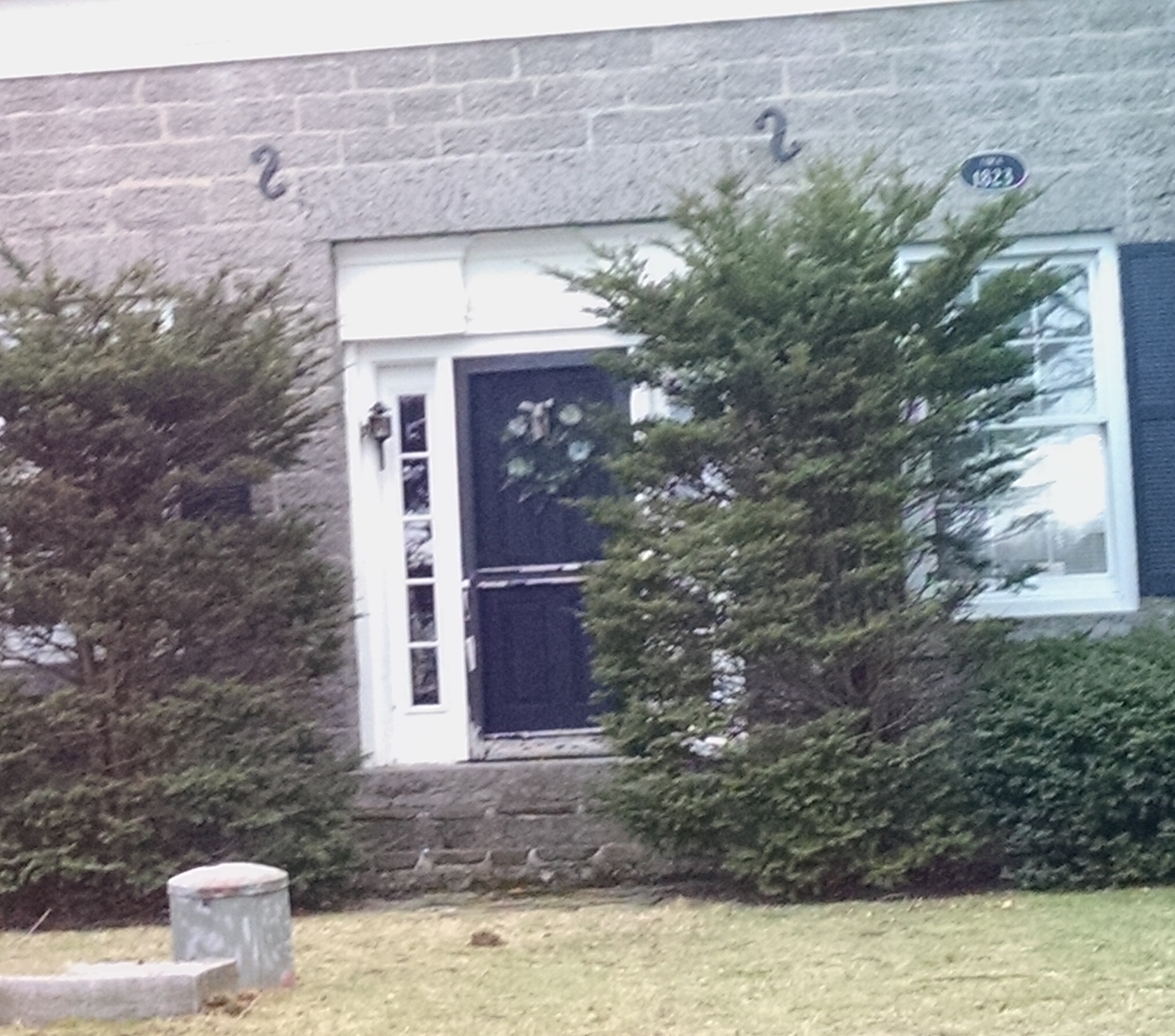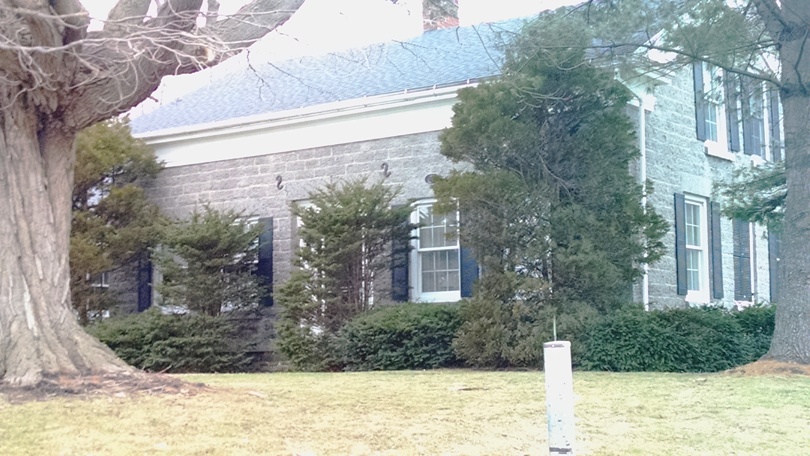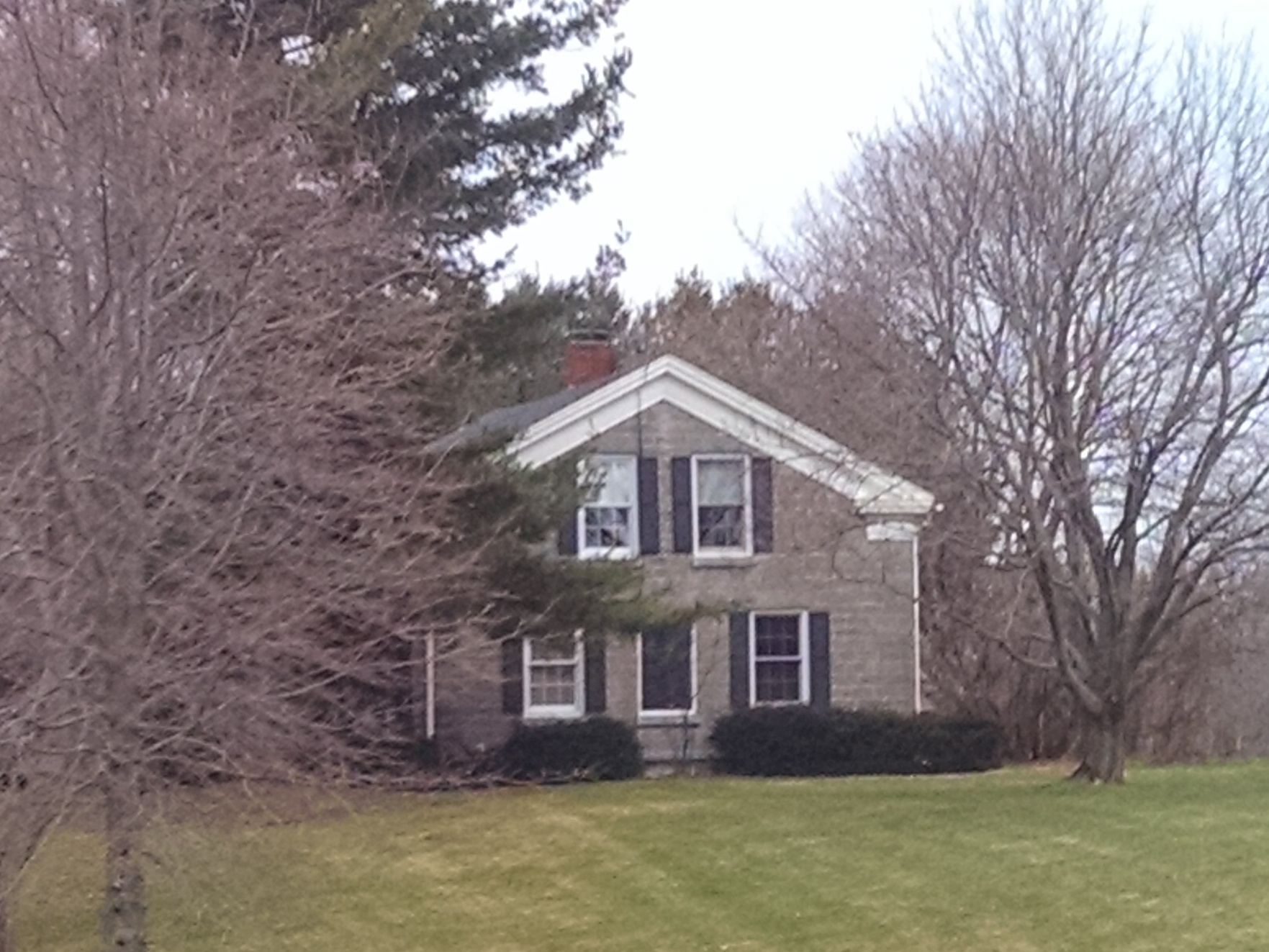 There is a region in the town of Ellisburg which is reputed to be one of three most nearly perfect farming districts in the country. In this favored area, perhaps a mile or two from the village of Ellisburg and also near Wardwell Settlement as the crow flies, is located the neat and attractive native limestone house shown here. The upright part of the house is reputed to have been built almost 120 years ago by Amos Heald, one of the early settlers of the township, although there is a possibility that it was constructed earlier than that by a member of the Edwards family.
The exterior walls are square and true, unusually well laid of good building stone. There is a pretty central entrance with "S" irons on either side of the capstone, but the original door is gone. The house is two stories but low and it has plain but pleasing cornices. Inside there are about ten rooms. Since the stone part was built an abnormally long frame wing has been added. The farm consists of 126.48 acres of land and forms a part of the immense Machold farm lands, that stretch for approximately a mile and a quarter along the highway, constituting one of the model farming tracts in the North Country.
This particular farm is owned by Mrs Jennie A Ward Machold, wife of H Edmund Machold, former speaker of the New York state assembly, former chairman of the Republican state committee, former president of the Niagara Hudson Power corporation, the Taggart corporation, the Northern New York Trust company along with a number of other connections.
Mrs Machold purchased the property August 5 1935 from the heirs of Mabel A Hill, daughter of Dr Albert C Hill of Albany. Dr Hill's wife was a daughter of Mr and Mrs Rensselaer B Heald, uncle and aunt of Mrs Machold. The record shows that Dr Hill purchased this farm from Rensselaer B Heald March 14 1896 for $6,000. September 4 1916 Dr Hill conveyed it to his wife, Jennie A Hill, and under the terms of her will, recorded June 8 1931 she devised it back to him or in event of his death to Mabel A Hill.
Rensselaer B Heald acquired the house buildings and major part, amounting to 118.48 acres of the farm, from his father, Amos Heald, the reputed builder of the place, April 23 1858 for $8,294. The deed description of the property begins it in the center of the road on the north line of great lot 34 in the town of Ellisburg and at the southwest corner of Isaiah Pool's widow's land. It also runs to the center of the south branch of Sandy creek and also touches another brook known as Mason's creek. Amos Heald bought the bulk of this farm from William Edwards of the town of Sodus January 1 1828 for $1,055 and there may have been the stone house on the land at that time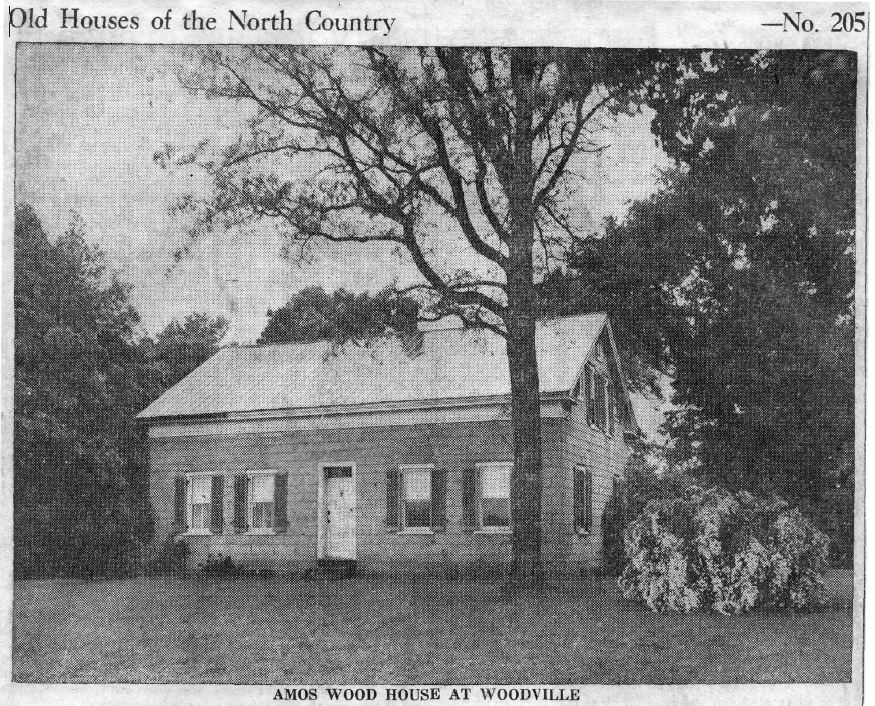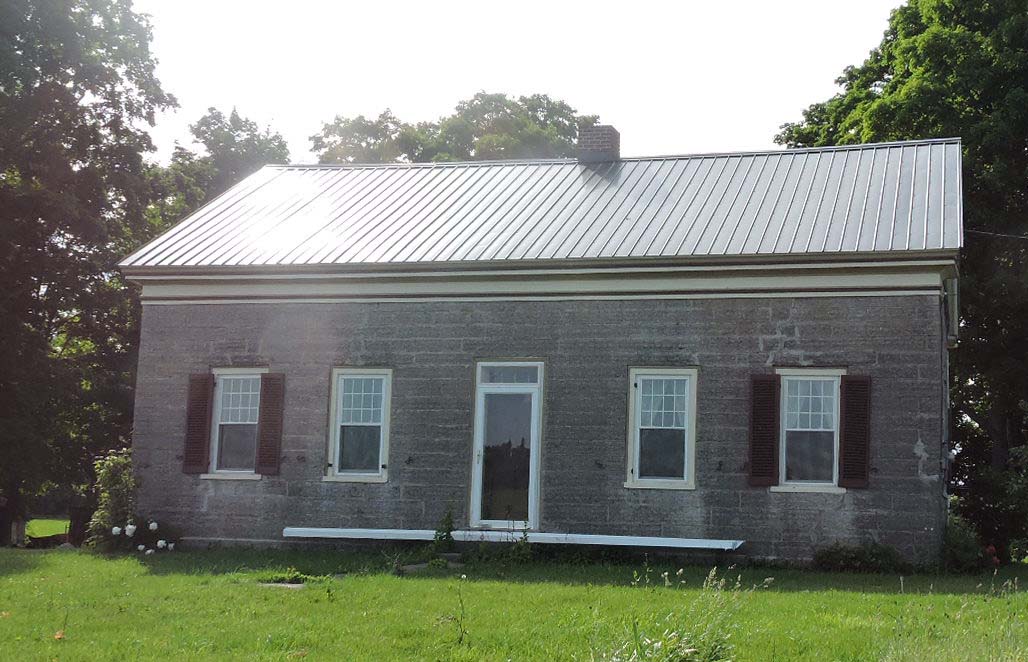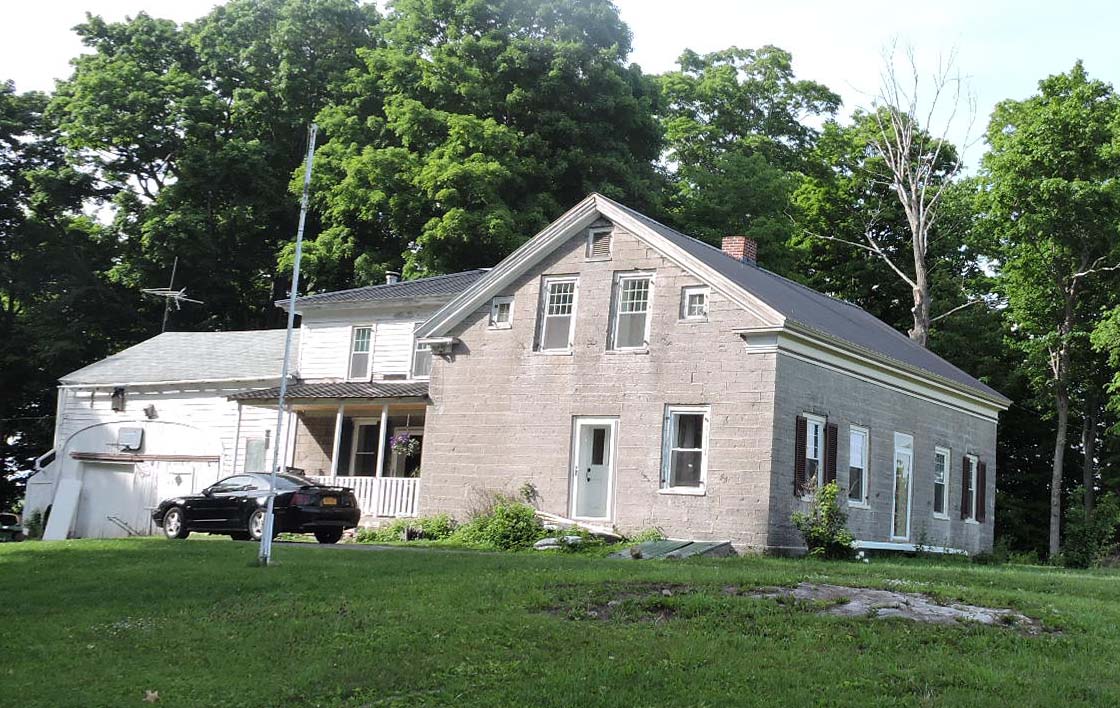 Close to Woodville upon the Woodville Landing road is this Amos E Wood house, said to have been erected in 1825-6. The house itself, constructed of nicely tooled blocks of limestone quarried from "The Flat Rock Hole" in the bed of the North branch of big Sandy Creek, is a gem of workmanship and architectural simplicity. In the beauty of its landscaping and its natural setting it forms a scene which might well attract the artist. The spot from which the stone was obtained is on the property.
There is a Cape Cod cottage influence to the Georgian architecture. The stone are 16 inches wide and of varying lengths up to eight feet. The courses of stone range from seven to ten inches in thickness, but any particular course is of unvarying thickness around all four walls of the house, the body of which is 42x28 feet. There is a stone ell 18x20 feet on the rear which is used as a kitchen. Adjoining the ell is a two-story frame structure originally used for a woodhouse, but now converted into a garage for two cars, without having destroyed the initial design and its woodshed arch. Three-inch cedar was used for window sills. Four hand-hewn timbers 12x16 inches cross-section extend across the main part of the house and are joined to another of the same dimensions extending the full length of the building.
Surrounding the house is a spacious lawn 200 feet deep with 225 feet of frontage on the highway as part of 19.745 acres, of which 16 acres are mostly covered by a grove of fine old sugar maples each two or more feet in diameter, A stone fireplace, outdoor furniture, beautiful plantings of flowers grace the rear lawn. The present owner displays pride in his market gardening and in the neatness of his home and premises.
Mr Judson's daughter, Ulrica, is the widow of Kenneth Randolph Wood, for two years dairy price specialist for the O P A, and prior to that for 13 years division representative of the Dairymen's League in Albany. He was a son of George M Wood Jr, of Woodville, and great-great-grandson of Ebenezer Wood who, with his brothers, Ephraim and Jacob, bought a 754-acre tract May 26 1804 and founded Woodville.
These three brothers were sons of Reverend Nathaniel Wood, for many years Congregational minister in Norwich, Connecticut, and later at Middleton, Vermont, before coming, at the age of 75 with his daughter and three sons to Ellisburg township in June, 1804. His grandson, Amos E Wood, builder of this house, was born in Norwich in 1787 son of Ephraim and in 1819 married Hannah, daughter of Samuel and Rachel Chamberlain Dean. Amos was the father of two sons and four daughters. One of the daughters, Elvira O, married Edwin R Finn and had two sons, George A and Edwin R Finn.
Amos E Wood, farmer, shoemaker, tanner, currier and operator of a sawmill before the War of 1812 was a soldier in that war. For several years he was justice of the peace and also held other town offices at times. He was a staunch Democrat and member of the Masonic fraternity.
April 11 1844 he sold this house and about 50 acres to his daughter, Elvira O Finn, reserving the use of the house. July 2 1883 she leased the property to Hannah Wood and Marian M Eastman. Upon Mrs Finn's death July 19 1909 the homestead went to her two sons who later died and November 24 1924 their estates sold to George I and Clara A Williams. The latter sold to Edward A Denison March 24 1936 and April 15 of that year he sold to George M Wood Jr. Mr Wood kept 35 acres and sold the house plus 19.745 acres to Mr Judson April 15 1939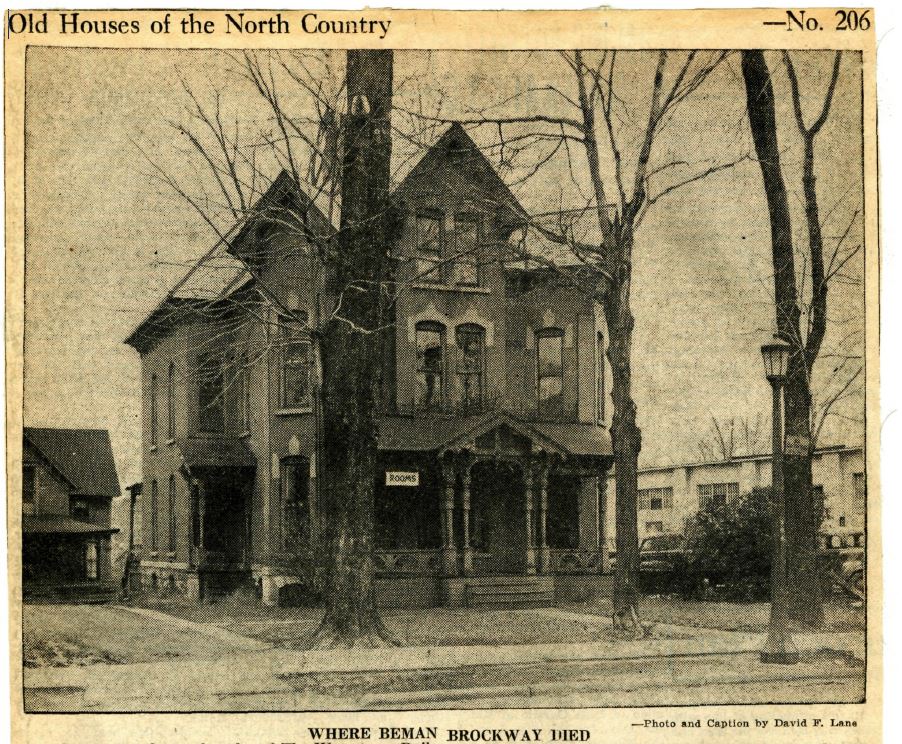 Beman Brockway, founder of The Watertown Daily Times, intimate friend of Horace Greeley and for two years an editorial writer under Greeley on the New York Tribune and assemblyman from Oswego county for a short time, died in this house at 3 on Friday afternoon, December 16 1892. Mr Brockway was 77 years, eight months and four days old at the time, of his death. At 10 Monday morning, December 19 1892. Dr S A Hayt pastor of Stone Street Presbyterian church, officiated at he funeral and with former Mayor John Nill. William G Williams, George Smith, William Howard, William Loan and T S Graves as bearers his body was laid to rest in Brookside cemetery.
During the past week the brick residence at 250 (formerly 56) Arsenal Street, in which Mr Brockway lived his last years and died, has practically been leveled to the ground to make room for the new Sears, Roebuck establishment. He began occupying the property shortly after his wife, Sarah Warner Wright Brockway purchased it January 7 1886 from Emily Dillenbeck for $10,000. On the same date Mrs Brockway sold their former residence at 56 (now 412) Stone Street, present residence of Mr and Mrs Claude H Green, to Mrs Dillenbeck for $3,800. The Stone Street property had been purchased by Mrs Brockway from Judge James F Starbuck December 28 1868. It was then the third house west from Orchard Street on the north side of Stone Street. The next-door neighbor of the Brockways to the west was Dexter VanOstrand, a telegrapher who became superintendent of the local office of the Montreal Telegraph company.
Mr Brockway was of great and strong character which, due to his modesty, has never been adequately measured by his reputation.
Born April 12 1815 upon a farm at Southampton, Massachusetts, son of Gideon and Nancy Williams Brockway, he was descended from a long line of early New Englanders, the first of whom was Wolston Brockway who bought land in Lyme, Connecticut, December 3 1659. Beman Brockway's mother was a daughter of Lucretia Willard Williams and thus he was descended from the same line of Willards as Mrs James B Wise and the late Miss Julia E Willard of this city. Keziah, a sister of Mr Brockway, married Benjamin Greeley, a cousin of Horace, who came from the same area in Massachusetts.
The story of Beman Brockway's 59-year newspaper career which took him from ownership of the Mayville Sentinel in Chautauqua county, to which his parents had moved when he was a boy, through owning and editing the Oswego Palladium until he came to The New York Reformer, predecessor of The Watertown Times, in the spring of 1860 has been previously written. It has been told bow Governor Fenton appointed him to the state canal board in 1865 and how he served in settling damage claims of the Black River flood in 1869. He also served on the New York Tribune with Charles A Dana, Bayard Taylor, George Ripley, W H Fry and George M Snow.
His first wife, Elizabeth Alien Warner Brockway, died September 10 1854. His second wife died May 26 1891 in the house in which he died and June 29 1892 he married Mrs Catherine C Allen who survived him and with his daughter, Mrs Elizabeth Gertrude Lamb of Troy, sold the brick house at 56 Arsenal Street January 30 1905 to the late Otis A and Rosalie M Hunt.
Since then it has had many ownerships and been used mainly as a rooming house. Its unpleasant rococo architecture would indicate construction in the early 1870's. Its ground plan is that of a fortress, its materials and workmanship were of the best. April 2 1835 George C Sherman sold the site to Elnathan Lucas. The next year Lucas sold to Eben White who conveyed it to Samuel Way the following year. February 21 1871 Way sold to Esther Lifts, who probably built the house and sold it to Mrs Dillenbeck April 17 1882. Last year the Sears Roebuck Co. acquired it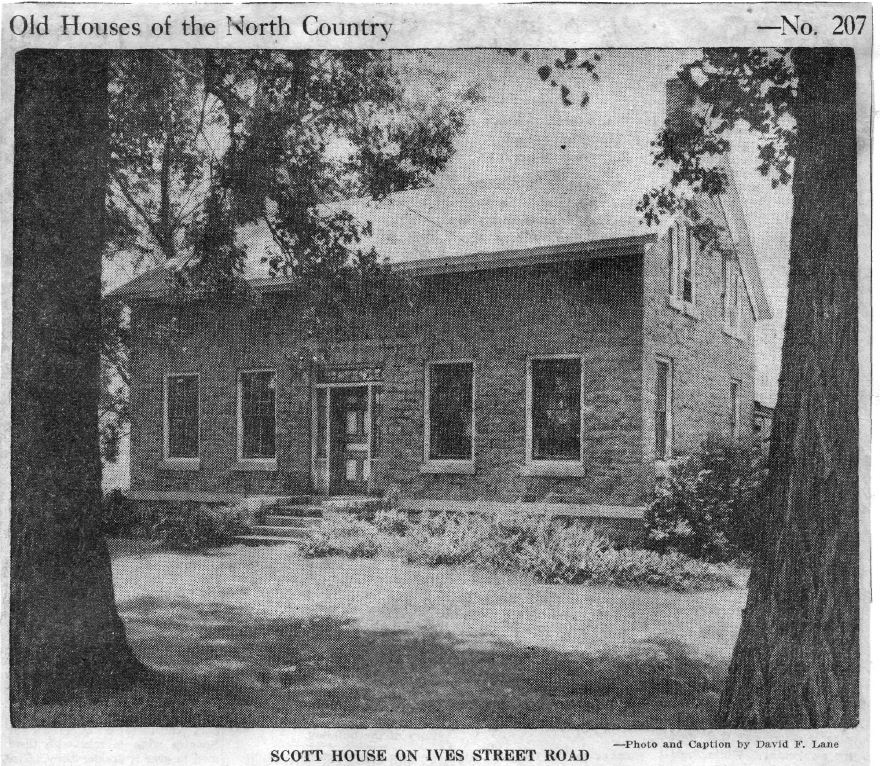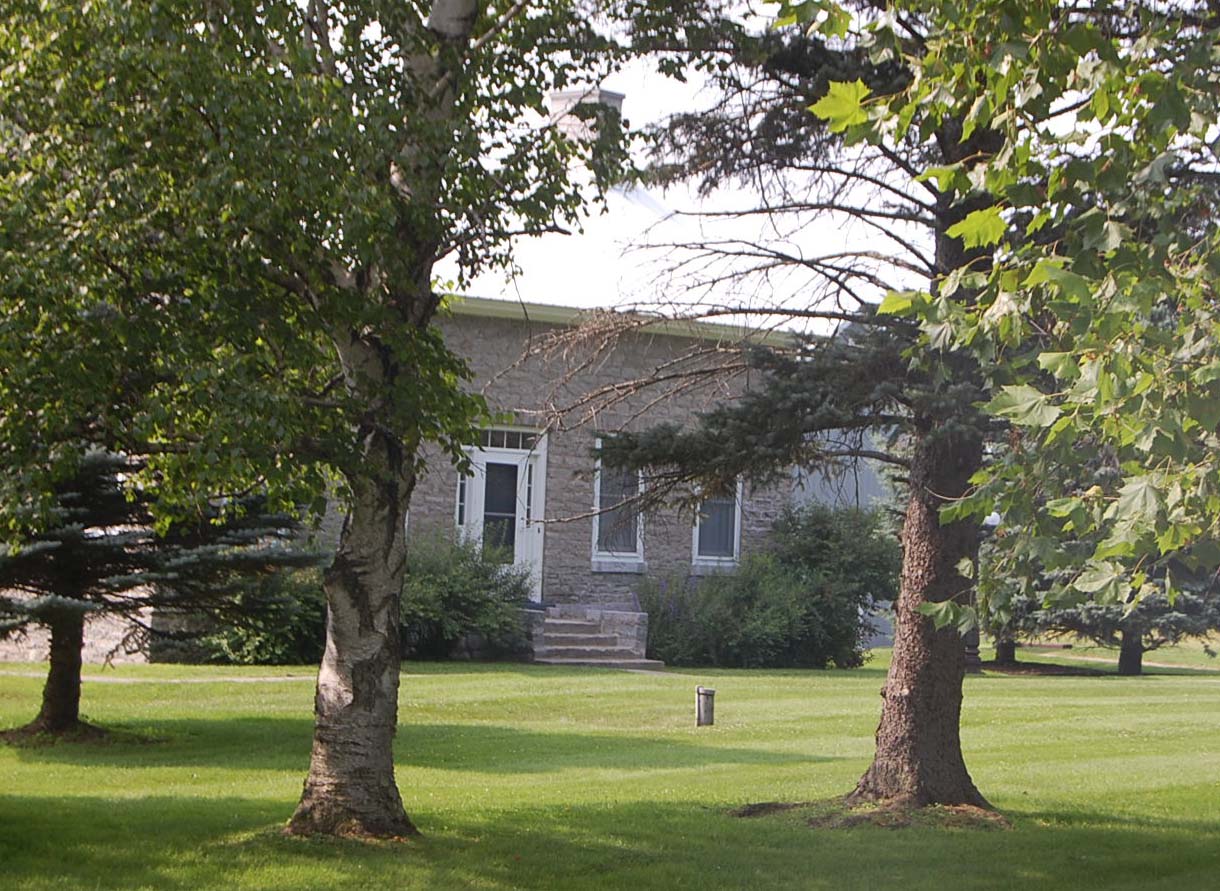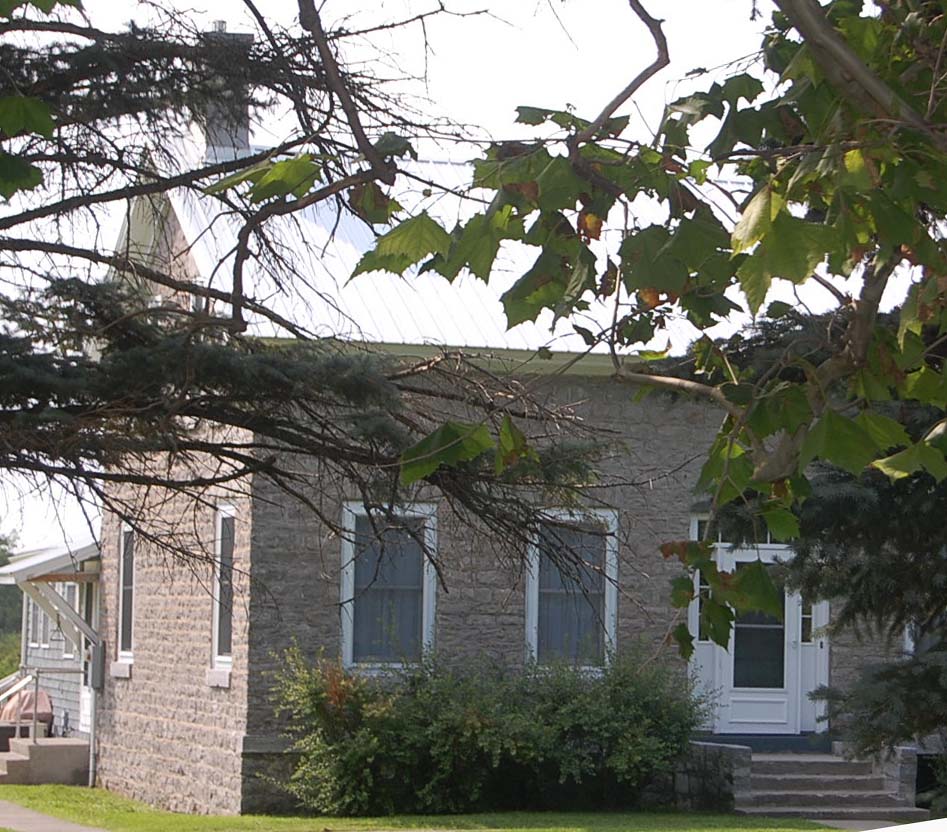 Beyond the Beaver Meadows on the Ives Street road, which connects with the Watertown-Syracuse state highway at Talcott's stand, there is an atmosphere of peace reminding one of David Grayson's "Adventures in Contentment." Upon the west side of this road about three miles from the heart of the city is the captivating Scott farm house said to have been built about 1831 from native limestone quarried near Black River and hauled by ox teams. Framed between two large trees it presents a beautiful picture.
Abel Scott, who established this family in this county, came into the town of Watertown from Bridgewater, Connecticut, about 1803 bringing his family, which included two sons, Abel S and Reuben Scott. First he built a log cabin and later there was a frame house before the stone house was erected. This, it is believed, was built for the two brothers and, there is a family legend that the builder got the first story one course of stone too high and vainly attempted to make the next story pay the penalty.
By purchase of several parcels the Scott farm grew to near 400 acres although it now amounts to only 78. One of the first of these parcels was sold by Abel Scott to Abel S and Reuben Scott jointly February 9 1814 for $1,000. It comprised 81 acres. March 6 1816 Abel S and Reuben purchased an adjoining 61 acres where the house stands from William and Polly Spencer of Deerfield. As early as February 19 1807 Abel Scott had bought the 81 acres from Joseph and Peggy Moors of Otsego county for $200 and September 15 1811 Judge Jabez and Hannah Foster had sold Abel S and Reuben 50 acres in the same vicinity. Down through the years there were many realty transactions in the family.
Never since the house was built has it been out of the Scott family. July 16 1854 Reuben, bachelor, died in his 67th year and was buried in Brookside cemetery. On August 16 1860 his brother, Abel S, died, aged 76 leaving a widow, Hannah, who lived until May 28 1892 to die at 94 years four months at her then home in this city. From these two brothers passed the most of their Ives Street farm lands to Abel, son of Abel S and Hannah Scott.
Under provisions of Reuben's will recorded December 11 1854 all of his personal property and all of his real estate, both that which he owned individually and that which he owned jointly with Abel S, went to the latter's son, Abel. The latter was born October 12 1828 and died December 3 1882. His wife, Henriette Emerson Scott, died October 30 1896. To their son, Reuben Homer Scott, went the farm, upon which he was born April 22 1862. There he remained during the 83 years of his life. He died April 27 1945. His widow, the former Miss Minnie E Morse, daughter of the late Mr and Mrs George W Morse of the town of Watertown, now owns the old homestead, upon which five generations of Scotts have lived, and resides there with her daughter, Miss Katherine L Scott, school teacher. A son, Homer W, Scott, resides on the State Street road, while another daughter, Mrs Georgia N Mayers, resides in Baltimore, Md.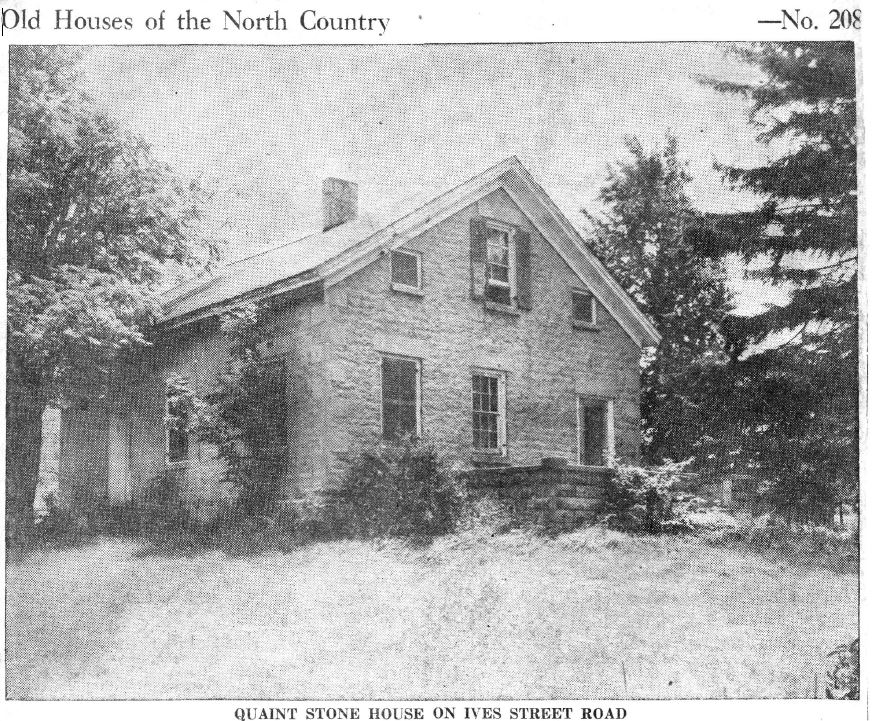 House was left to fall down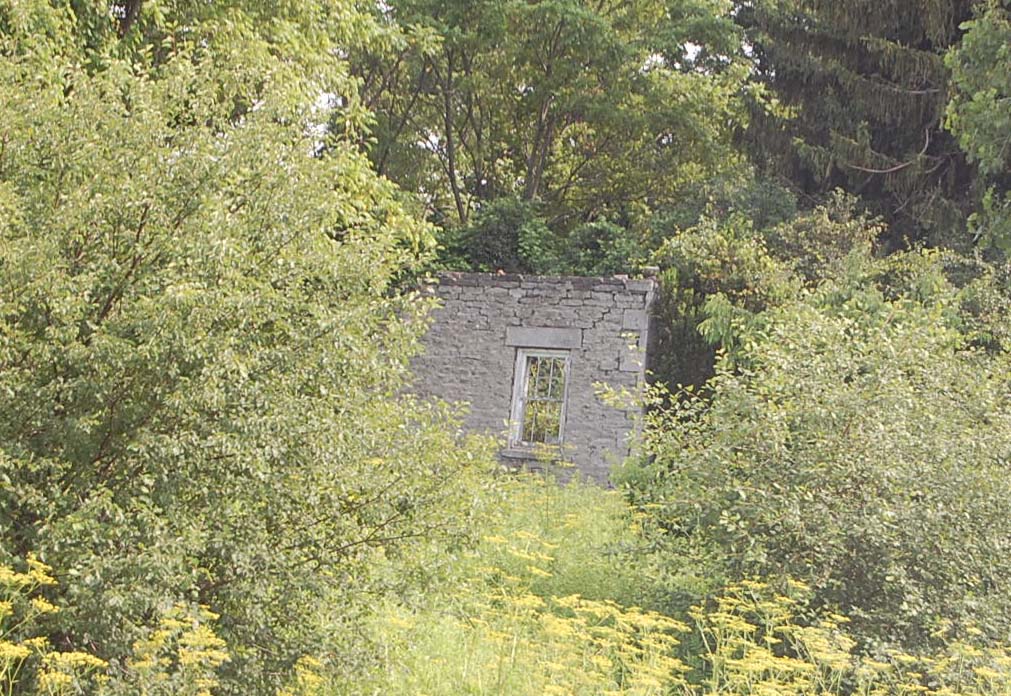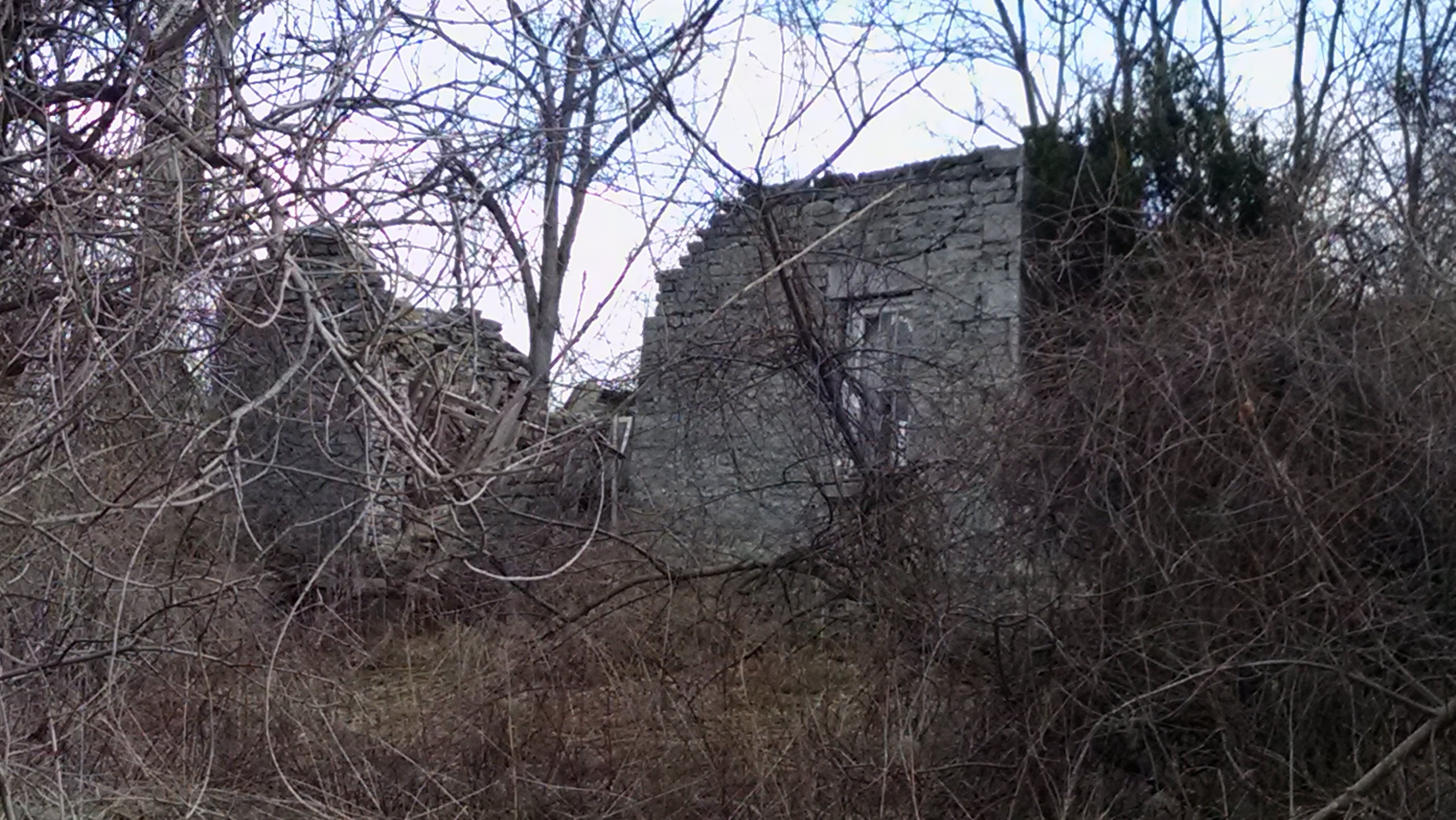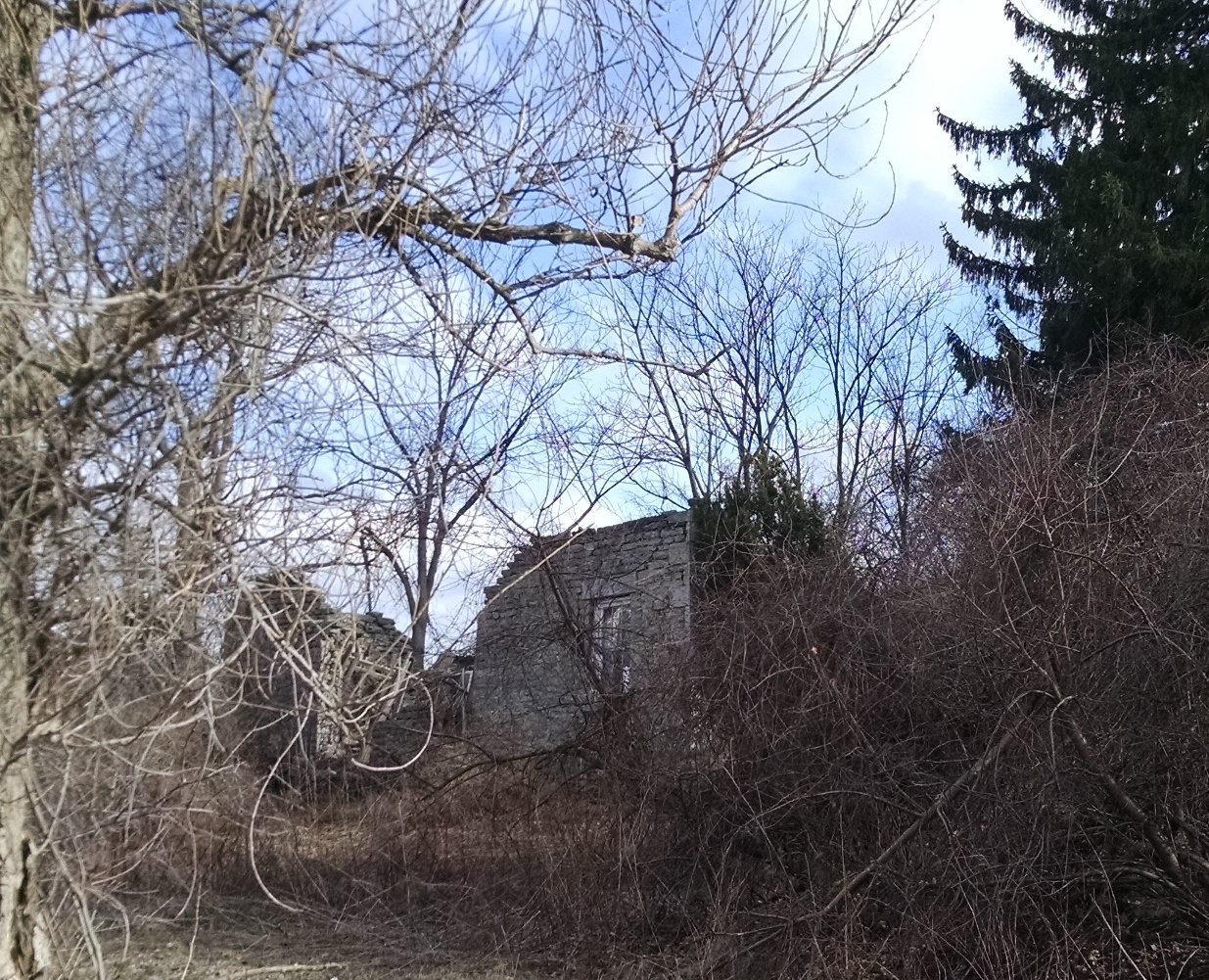 While this is one of the oldest native limestone houses in Jefferson County its origin and first half century of its history is obscure. Some believe that it was built by Powell Hall, early town of Watertown farmer and master of Eastern Light Lodge, No. 136 F & AM, in 1806-7-8 Watertown's first Masonic lodge. Much research fails to confirm or deny this belief. The record shows that this house and farm of 111.44 acres adjoins the Abel Scott farm shown last week. Also the record shows that Powell Hall's farm abutted that of Abel Scott, but such data as is available seems to indicate that the Powell Hall house was in a slightly different location.
Built probably as early as the 1820's this house is simple and pleasing in its architecture and retains most of its original charm. Its setting and outlook are also beautiful and it is off the beaten path, just a short distance south of the Beaver Meadows. Since Sanford Worth Goodrich purchased it from George E and Faith R Gilmore December 12 1907 it has been owned by the Goodrich family. Mr Goodrich died December 8 1932 and it has since been occupied by his widow, Mrs Mary Goodrich, her daughter, Edith, and her son, Earl, who works the farm.
Mr Gilmore, for some years a local wholesale candy merchant, purchased the place January 9 1905 from Mrs Sarah A Canfield, who acquired title July 2 1880 from Delmer D Lee, the day after it had been conveyed to him for $1 by Sheldon Canfield. Sheldon S Canfield, of New England lineage, was the son of Reverend Rufus Canfield who was a native of Massachusetts. Mr Canfield purchased the property from Asa M and Mary Greene and Josephine A, widow of Joel M Greene, June 26 1871.
Joel M and Josephine A Greene, who removed to Adams after transferring the farm to Asa M Greene February 15 1869 bought the place from Chauncey L and Emeline M Reed March 1 1866 and earlier than that the trail of ownership is lost, although there is recorded evidence that Mr Reed obtained the farm from James H Reed some years earlier, the latter having owned an adjoining farm.
It is related in some of the county histories that a Joel Greene took over one of the country's early newspapers, the Sackets Harbor Journal after Edmund M Tiff had retired from its ownership in the spring of 1841. Mr Greene sold it after his second year of control to Calvin Greene. Calvin Greene discontinued this weekly newspaper in 1843. Mr Luff had established the Journal in October 1838. Joel Greene also published another newspaper, the Black River Journal, at Sackets Harbor but moved the press eventually to Watertown and in 1846 it was taken over by A W Clark. Greene had attempted to make it here a daily in 1846 but shortly changed it to a thrice a week and soon Mr Clark took over.
Doubtless this house has had an interesting history, but it seems to have faded away long ago and at the present time there is little that is definite left concerning it.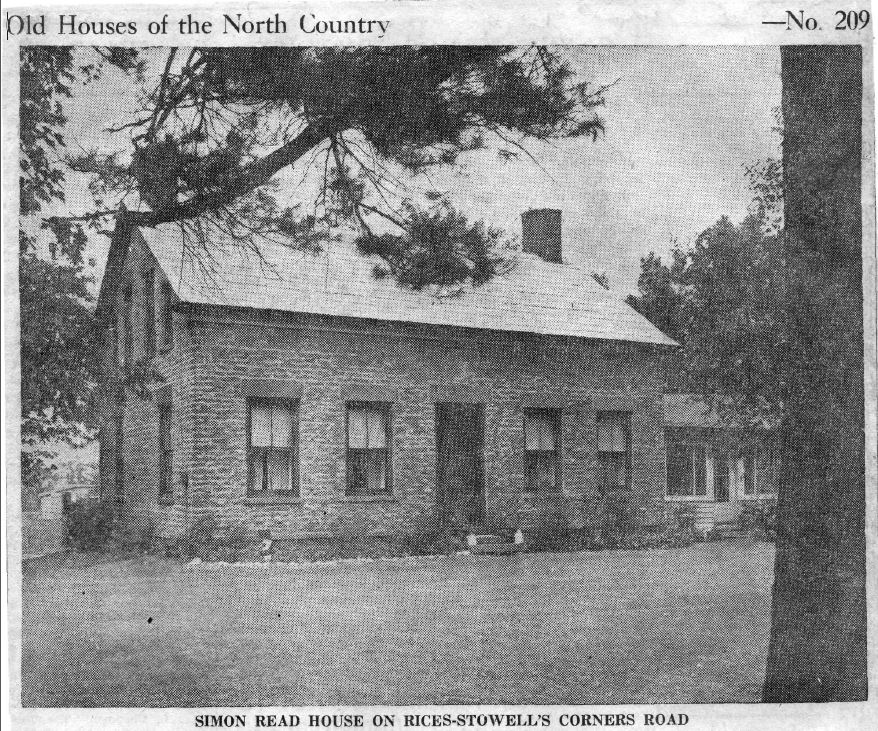 This is on CADY ROAD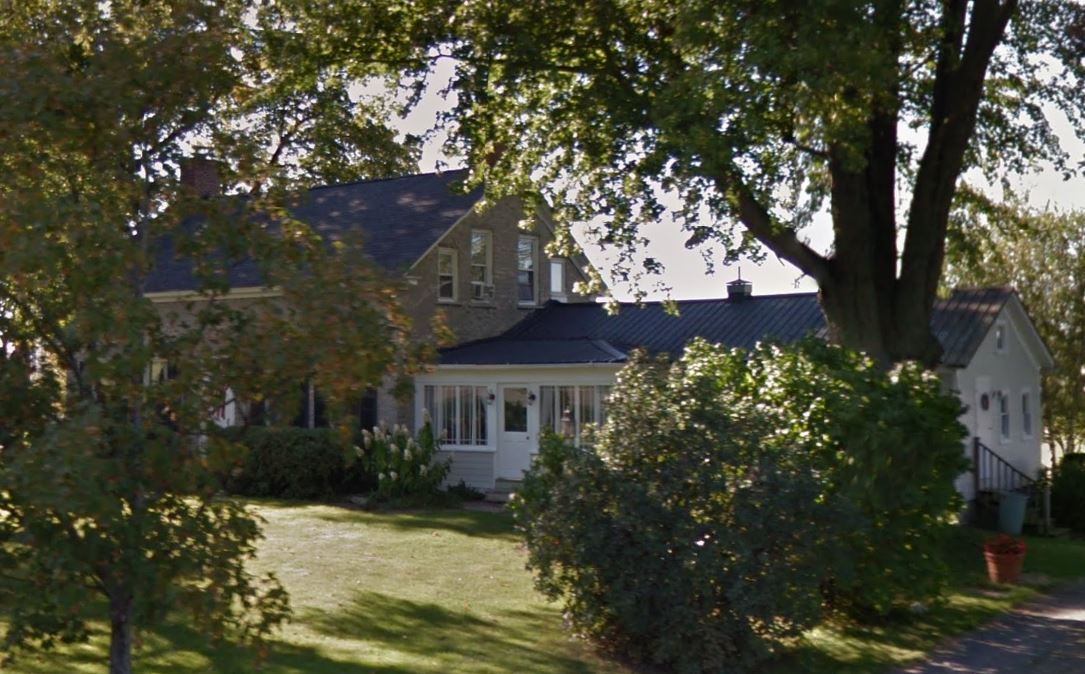 Cady Road, Adams Center NY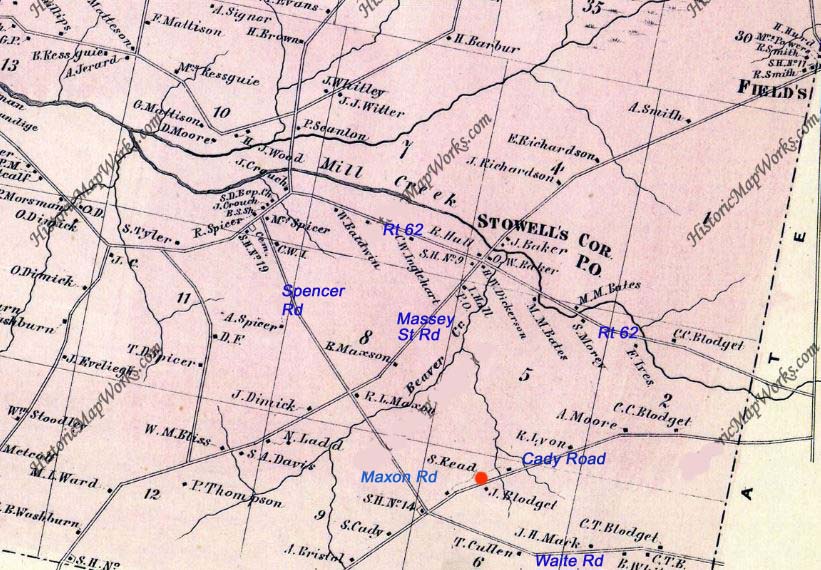 Percy O Hardman, master of the town of Hounsfield's Star Grange, No. 9 a position he has filled for ten years, has for approximately 29 years owned the model Read farm of 182.04 acres on the Rices-Stowell's Corners road. The house, of native limestone, is said to have been built in the 1820's by Simon Read, but whether for Simon Read Sr, or by Simon Read Jr, is not definite, although it is believed to have been by the former.
Simon Read Sr, Revolutionary soldier, died May 18 1846 at 84 and is buried in North Adams cemetery. Whence he came is not known, but there is likelihood it was from Vermont. His first wife, Rocsa, died at 60 in 1831. Simon was one of the early settlers of Jefferson County and July 10 1816 purchased 193.09 acres of land in the Read Settlement region where the Hardman farm now is. County records do not show a connected chain of title to this farm, but the will of Simon Read Jr shows that he owned it and devised it to his son, DeEstaing C Read.
Simon Read Jr, born in 1793 died October 24 1868 leaving an estate of about $6,000 and is buried in Brookside cemetery with his wife, Phylena Richards Read who died at 64 in 1870. Besides their son, DeEstaing, they had a daughter also named Rocsa. The will of Simon Read Jr gives the size of the farm then as about 111 acres, indicating that a small part may have been sold off the original purchase.
DeEstaing C Read became one of the most prominent farmers of Hounsfield. In 1879 he was clerk of elections in the town and the next year he succeeded S N Hodges on the county board of supervisors. W D V Rulison of Watertown was clerk of the board and Isaac P Wodell, Republican, of Ellisburg, was chairman. Mr Read was also a Republican and was chairman of the corporate property committee. He died at Liverpool, NY, August 18 1906 aged 71 at the home of his daughter, Mrs Elmira Read Green. Mr Read also left a son, Willet W Read, head of the Read-Coddington Engineering corporation, of Niagara Rails, builders of power canals.
It was on March 1 1917 that Percy O Hardman entered into agreement to buy the farm, then consisting of 182.04 acres, but the actual transfer of title to him was not made by Manford D Green, administrator of his deceased wife, Elmira, and by Willet W Read until November 1 1929.
Besides being master of Star Grange No. 9, Mr Hardman is a member of the Republican county committee. His farm is not only one of the best in the town, but it is excellently maintained. There he has a herd of 50 cattle and frequently harvests 100 acres of hay in a good year. Mrs Hardman is the former Miss Ella Cook, daughter of Charles and Jeanette Resseguie Cook, and besides keeping the ten-room Hardman stone house, she teaches in the Sackets Harbor High school.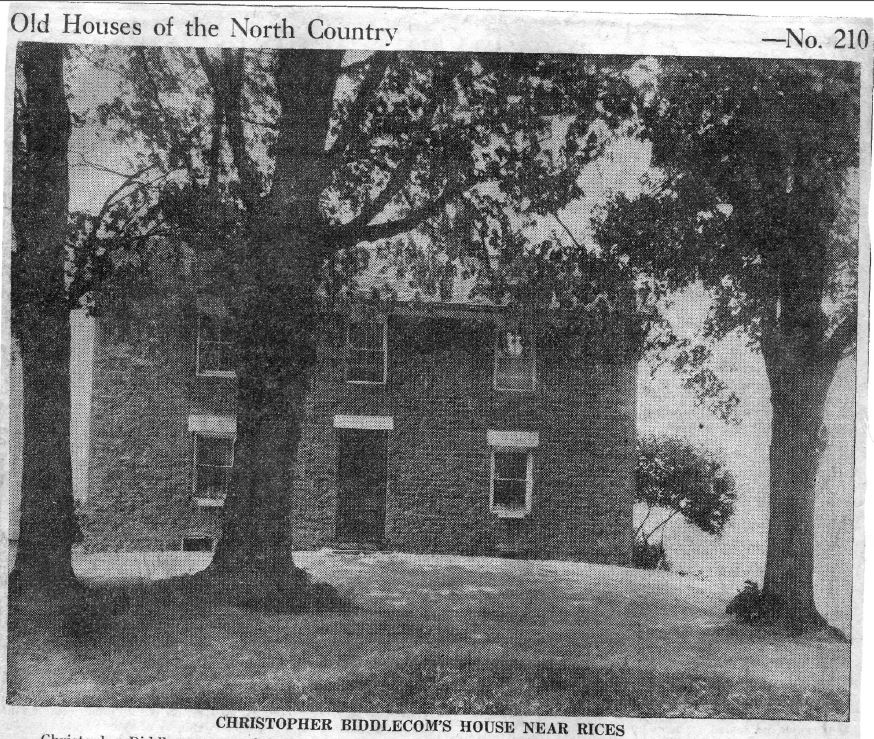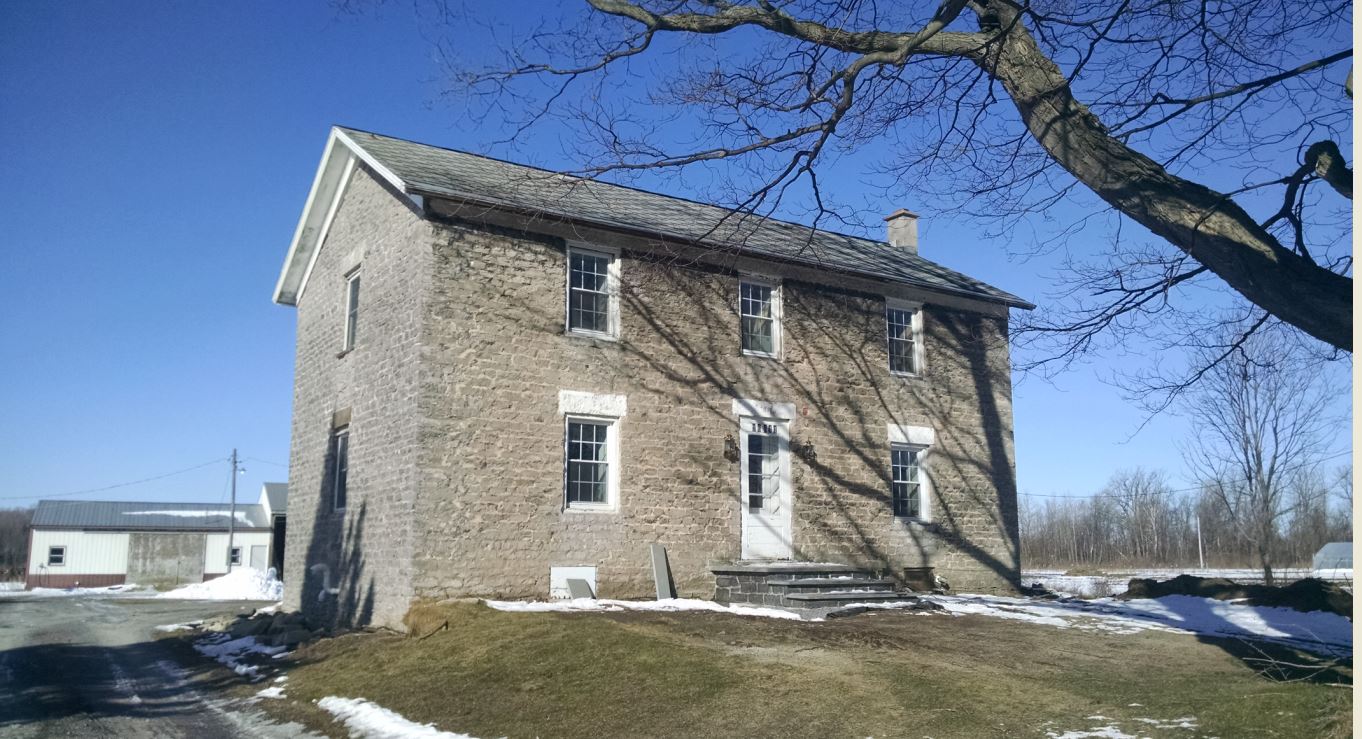 Christopher Biddlecom, one of the earliest settlers of the town of Watertown, built this old native limestone house upon the old Rome state road about a mile west of Rices. It is not far from Major Daniel Talcott's limestone tavern which was built in 1824 and which still stands on the Watertown-Adams state highway. Likewise the Biddlecom house was probably built about the same time as the Talcott tavern, having undoubtedly been preceded by a log cabin. There is a legend that early in its history the Biddlecom place was used as a postoffice and that carriers on horseback stopped there to discharge the mail for the people of that section, taking on the outgoing post for points both north and south.
Christopher Biddlecom purchased the land for the farm 100.5 acres, from Nicholas and Alice Low of New York City for $180 November 1 1808. He was then a man of 31. He kept the property for 38 years, selling it with the stone house and buildings to James Sparks of Hounsfield March 25 1846 for $2,000. Mr Biddlecom's wife, Abigail, had died about a year and a half before, September 15 1844 at the age of 61. Two years after he disposed of the place he died on February 21 1848 at the age of 71. Both are buried with their sons, Stafford and Clarke, in an old cemetery near Talcott's
Stafford Biddlecom was only 53 when he died February 16 1863 and was the father of the Misses Flora and Dora Biddlecom who long lived together in a little house on William Street, in this city. Their mother was the former Miss Maria E Scott, daughter of Abel Scott, and their paternal grandmother was Abigail Rice, daughter of the pioneer settler of Rices. Flora, once a New York City school teacher, died here March 7 1939 aged 83
Dora lived until the following December and died at 80 She was a talented soprano and sang in a large chorus m New York. Also at one time she and her sister toured the country m the cause of temperance, Flora lecturing and Dora singing appropriate songs as part of their program
At the end of 13 years James Sparks sold the Christopher Biddlecom stone house and farm to Stephen S Hodges for $3500 and March 20 1863 Hodges disposed of it to George Hart who resided on the farm for many years, before moving to this city. It was during Fay Marvin's tenancy in 1894 that the interior of the house was burned out because hog thieves frightened by a dog knocked oyer a lighted lantern in the woodshed. It was immediately restored and consists of about ten rooms.
When Mr Hart died February 19 1905 he willed his widow Louisa, a life use of the property providing that after her death it should go to their daughter, Mrs Amelia S Bates Fields in life use and then go to the latter's children, George W Bates, Eva S Bates, now Mrs fred N Baxter, Frank J Bates and Mrs Ella L Hambley
Mrs Bates, who had been twice married, first in 1868 to Warren W Bates, who died in 1888 and second in 1890 to John Fields who died in 1914 lived to be 96. She died on July 14 1944. However, February 25 1909 she and her stepson, Talcott Fields, who occupied it until 22 years ago when his son, Harold S Fields came on as tenant and still resides there, under his father's ownership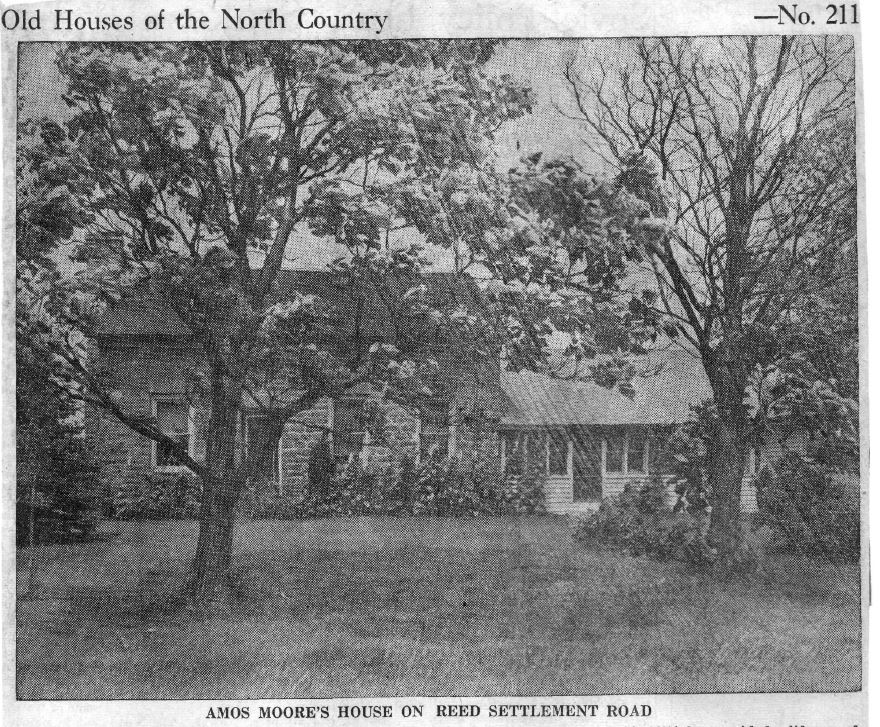 THIS IS ON CADY ROAD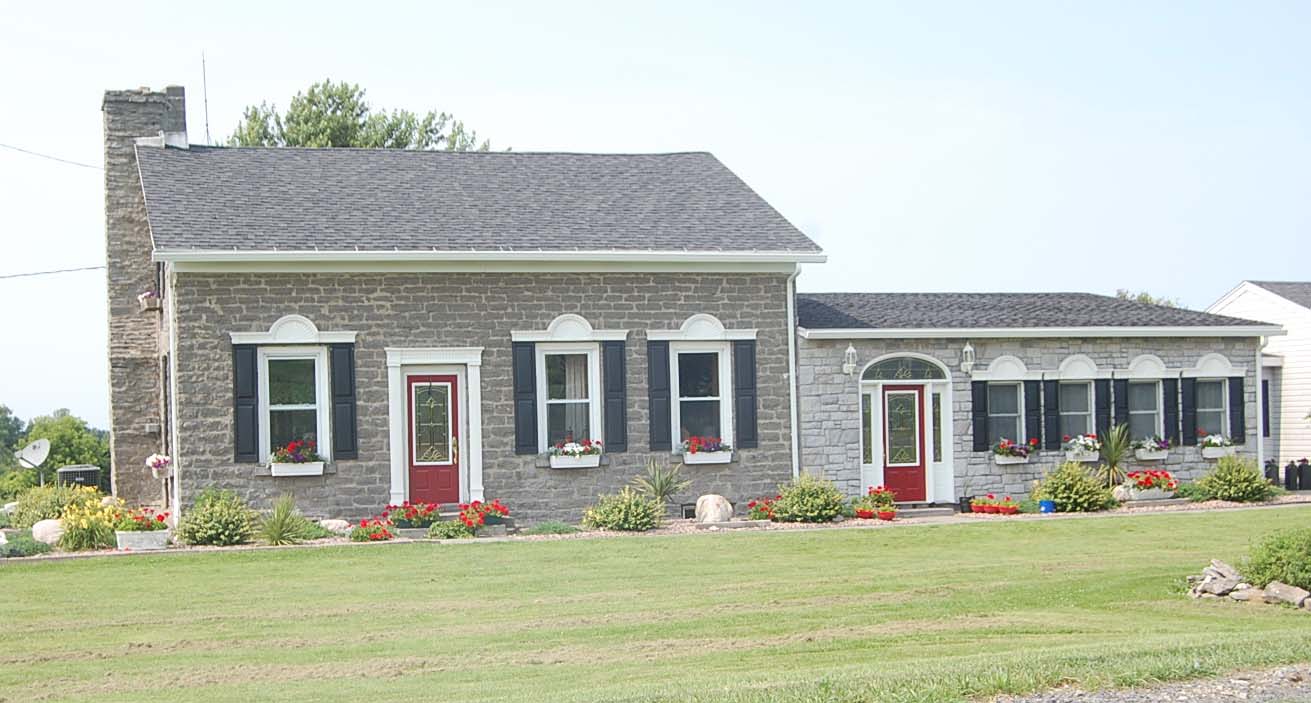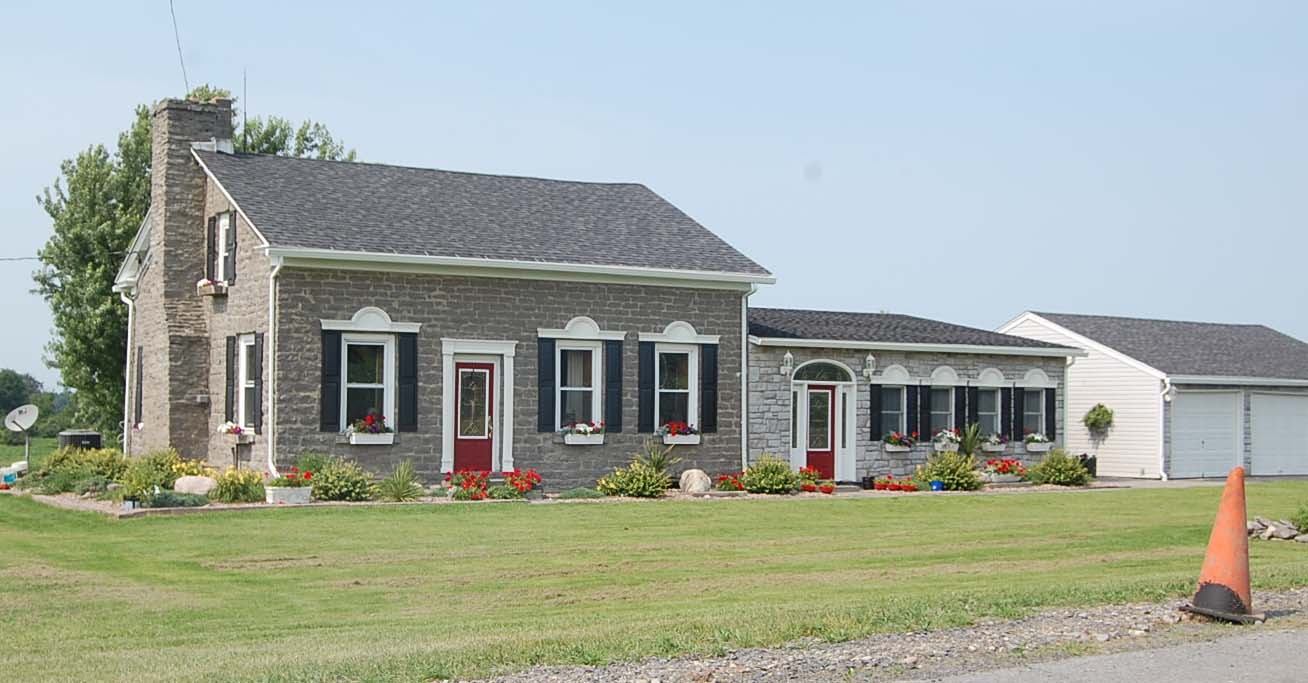 This house had inside pics shown below at zillow, reator, etc because listed for sale: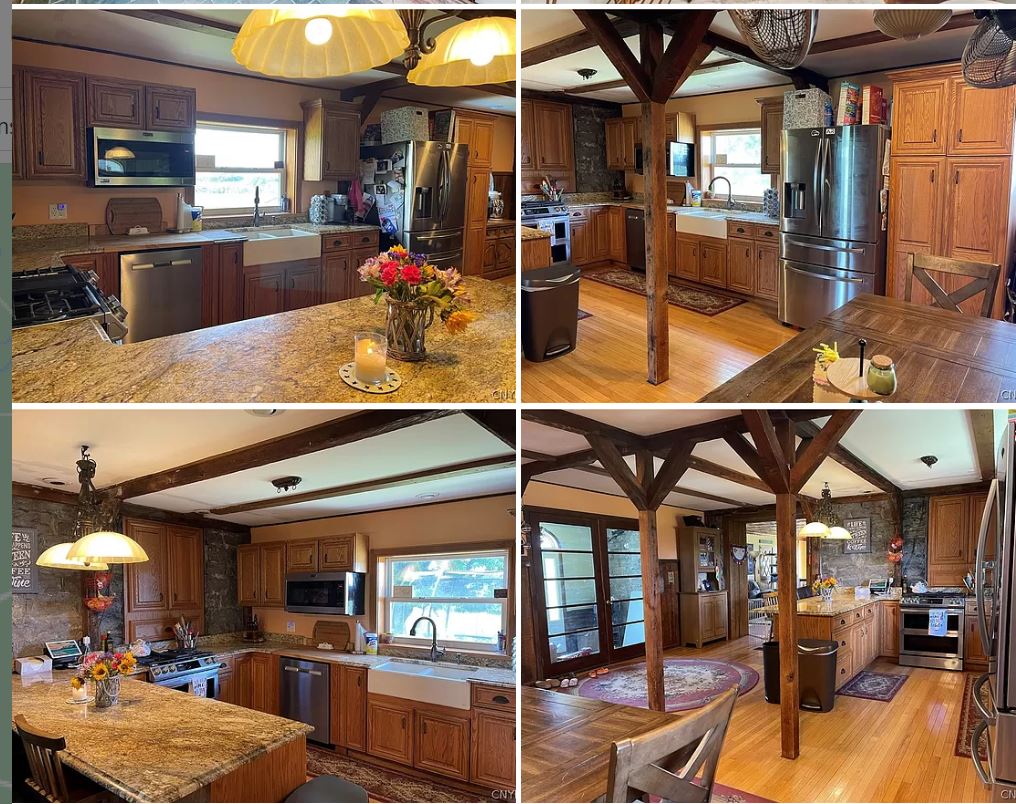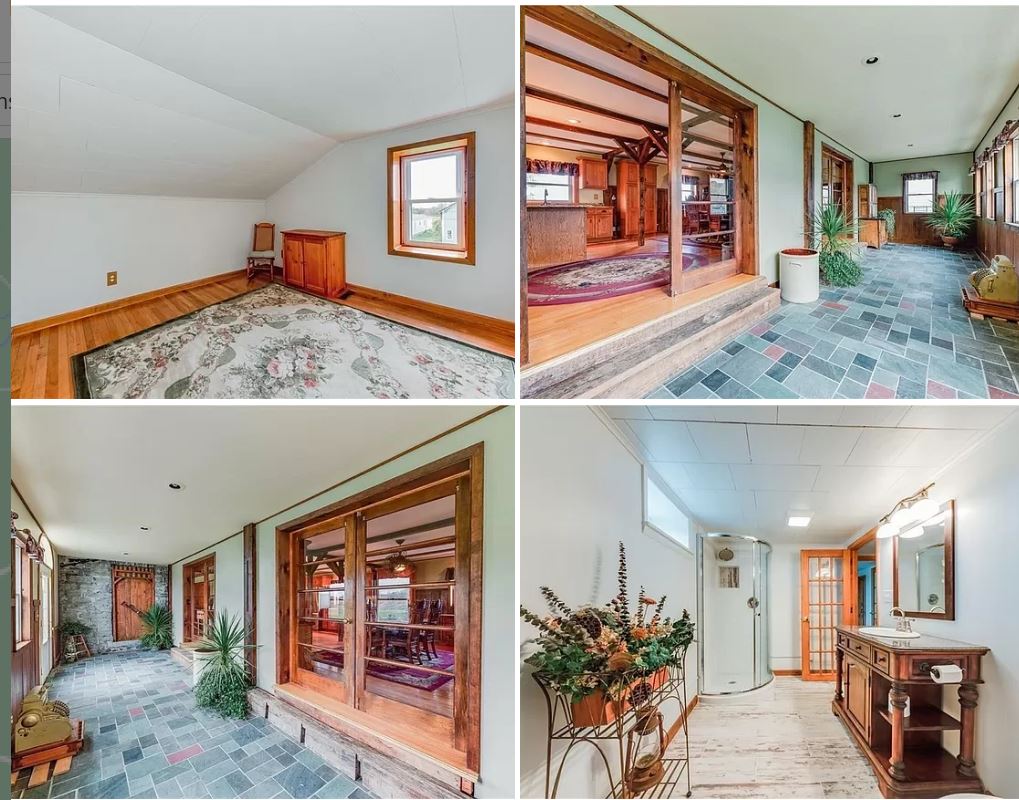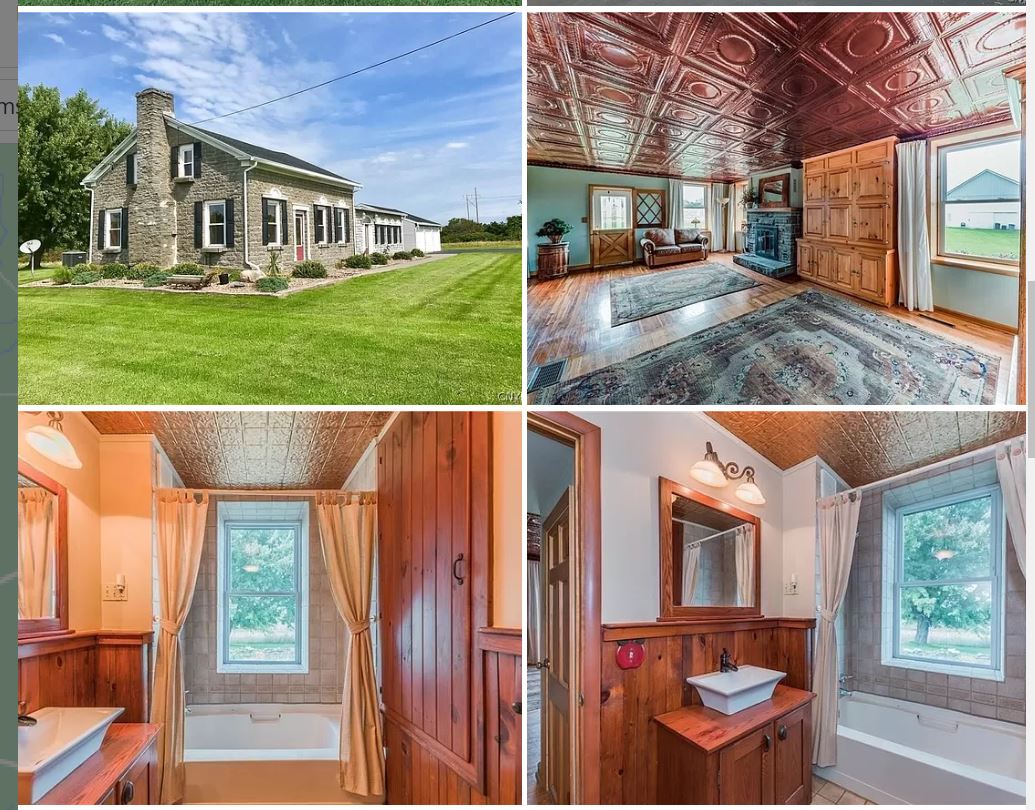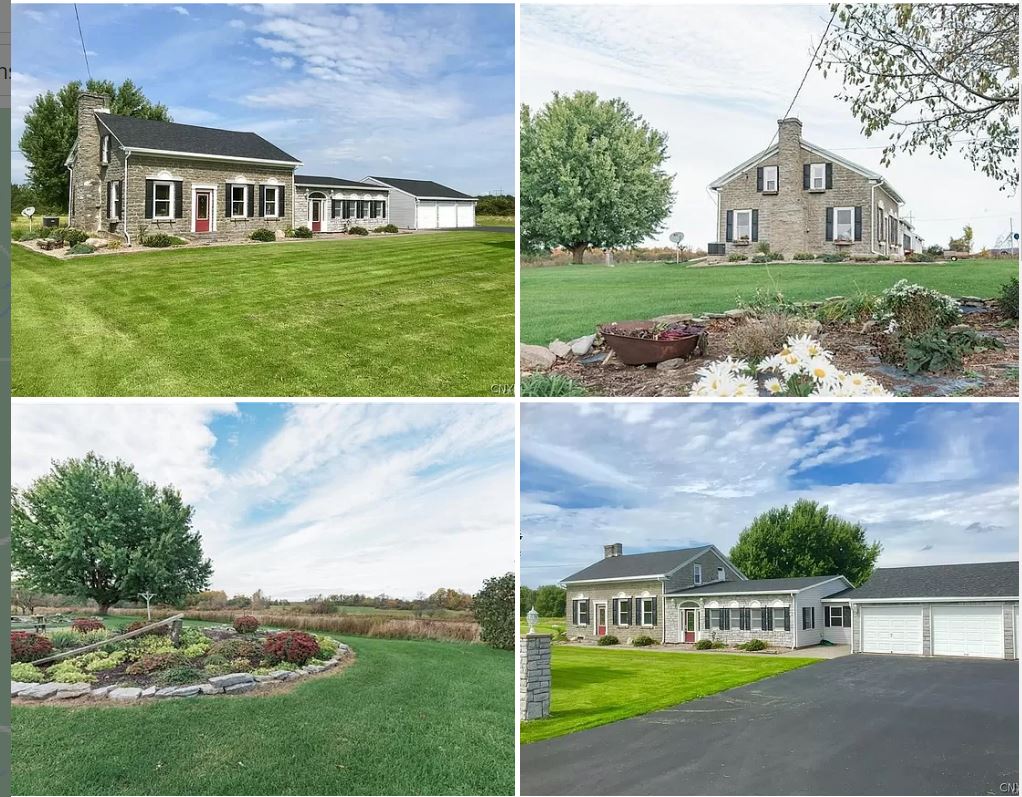 AMOS MOORE'S HOUSE ON REED SETTLEMENT ROAD
Construction of this quaint limestone house on the road from Rices to Reed Settlement indicates that it was built more than a century ago and the record shows that it has been in the same family ever since. Fred H Spencer and his wife, Laura Etta, have owned it and its 71.14 acres of land since her parents, Amos and Amanda Smith Alexander, conveyed it to them December 15 1911.
Located at a comfortable distance from the highway and with a well-kept, tree-studded lawn in front, the house of stone quarried on the farm is made colorful by hollyhocks and other flowers planted close to its front wall, while at its west end is an old fashioned outside fireplace chimney.
Born in 1796 Amos Moore was one of the earliest settlers of the town of Hounsfield, where he resided in the extreme southeastern section for many years. He married Miss Harriet Smith Barnes and they began housekeeping where this house is situated. One county history states that when a young man he received this farm as a gift his father, but a recorded deed dated June 21 1837 relates that Amos Moore bought 67.74 acres of land in the southern division of Hounsfield from Elisha and Sophia Camp. This may indicate the approximate time of construction.
Amos and Harriet Moore had no children but adopted a litle girl who grew up to marry John Alexander and they had a son whom they named Amos Alexander. When Amos Moore died March 30 1874 he provided a life use of this farm and furnishings to his widow, devising the place to Amos Alexander after her death.
In 1873 Amos Alexander married Amanda Smith and they had four children, one of whom was Laura Etta. After Mrs Harriet Moore died in 1882 Mr Alexander took over the stone house and farm in accordance with the provisions of Amos Moore's will. About two years before Mr Alexander's death February 26 1914 he and his wife conveyed the property by deed to Fred H Spencer and wife, Laura Etta, the latter being one of the four children of Mr Alexander. Mrs Amanda Alexander lived for 19 years after the death of her husband, dying on July 18 1933.
It is related among the family traditions that there was a pretty romance connected with the marriage of Laura Moore and John Alexander. Alexander, born at Dunbarton, NH, to which place his grandfather, Robert had migrated, probably from Stotesbury, Massachusetts, had drifted from into this north country after his father, William, had faced westward from New England.
Becoming a school teacher in the Reed Settlement area he found attractive Laura Moore one of his pupils and for a time boarded in in the home of the Moores. The acquaintanceship between him Laura ripened into an affection and they were married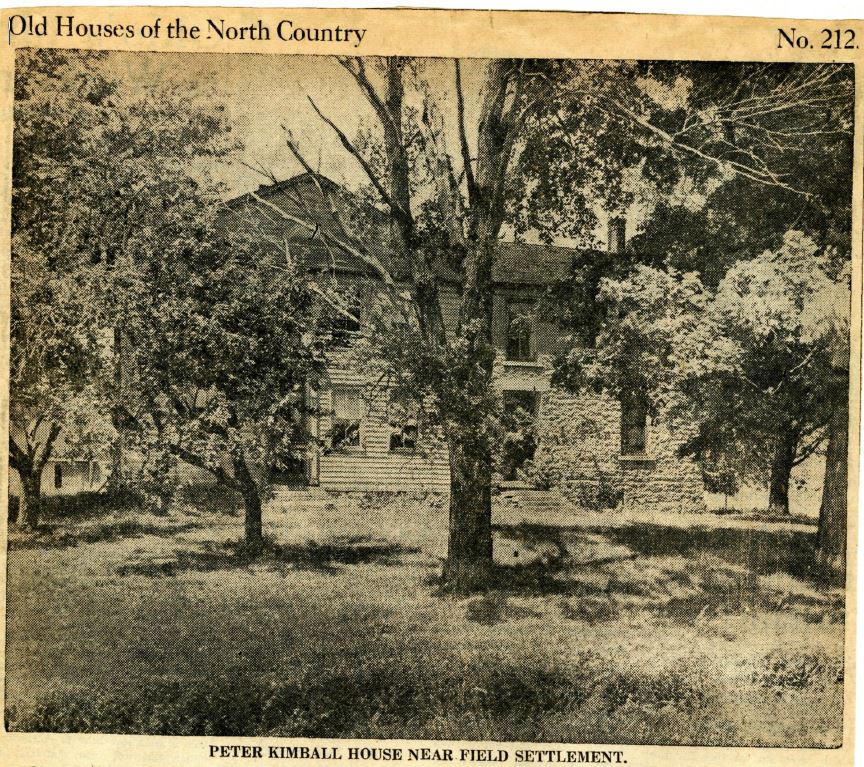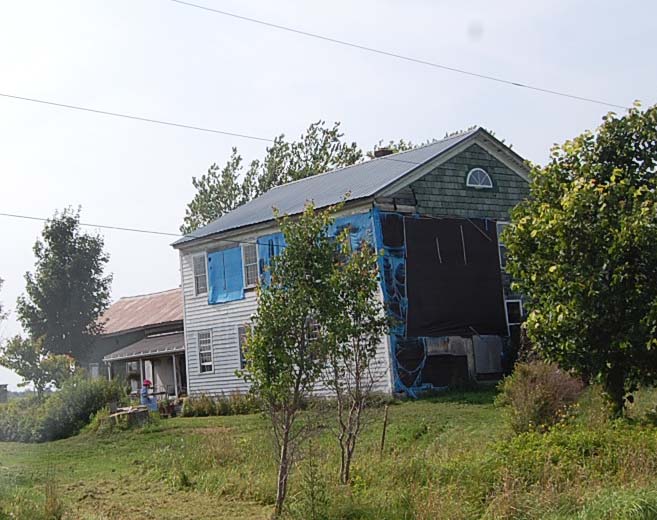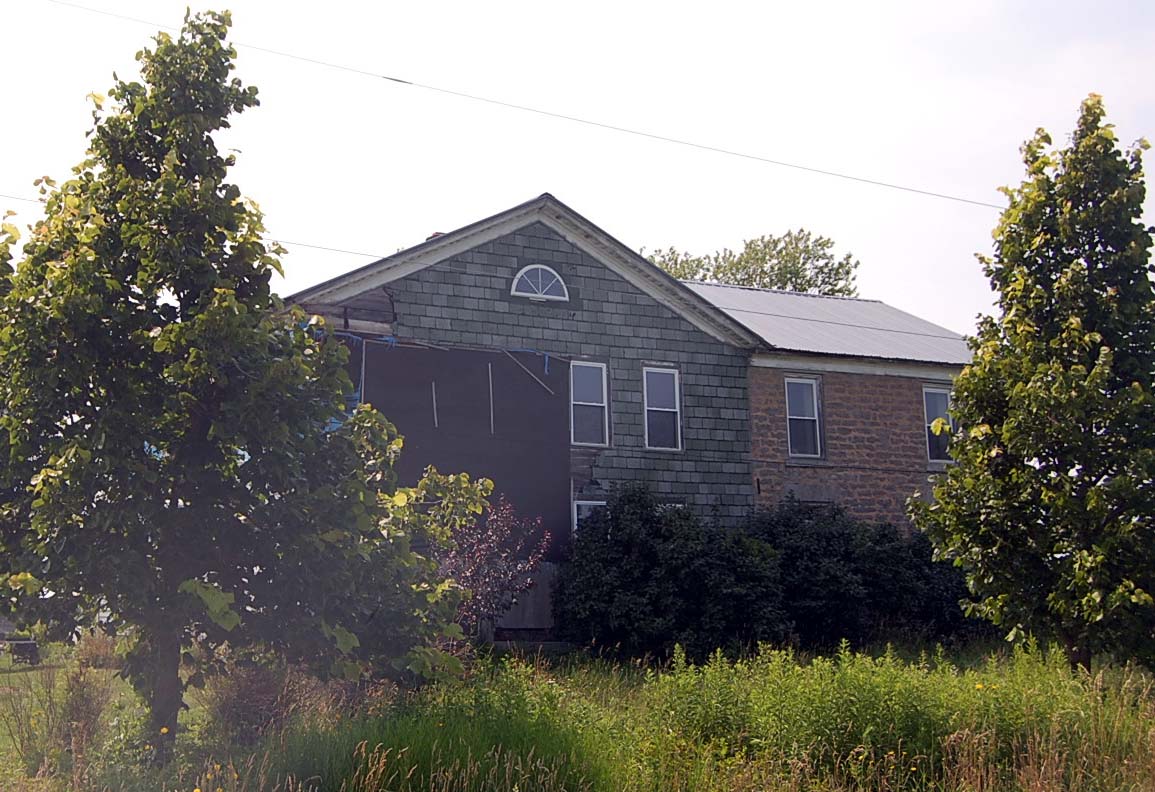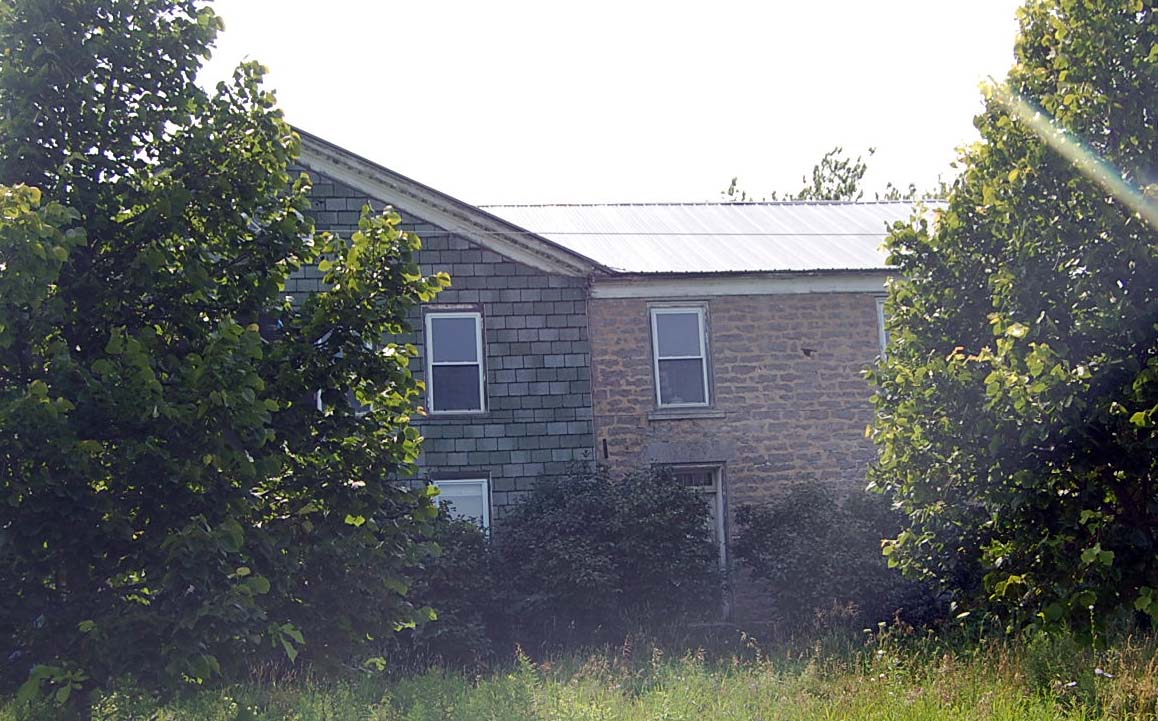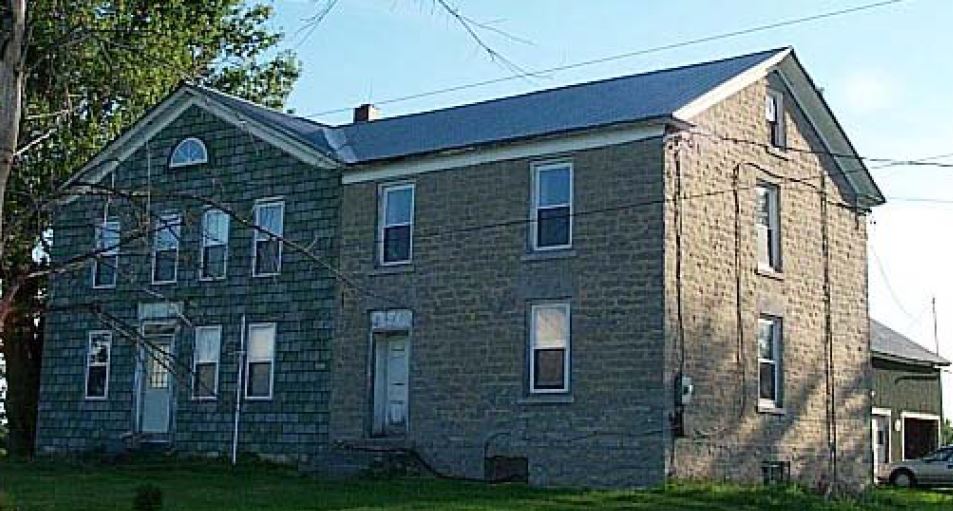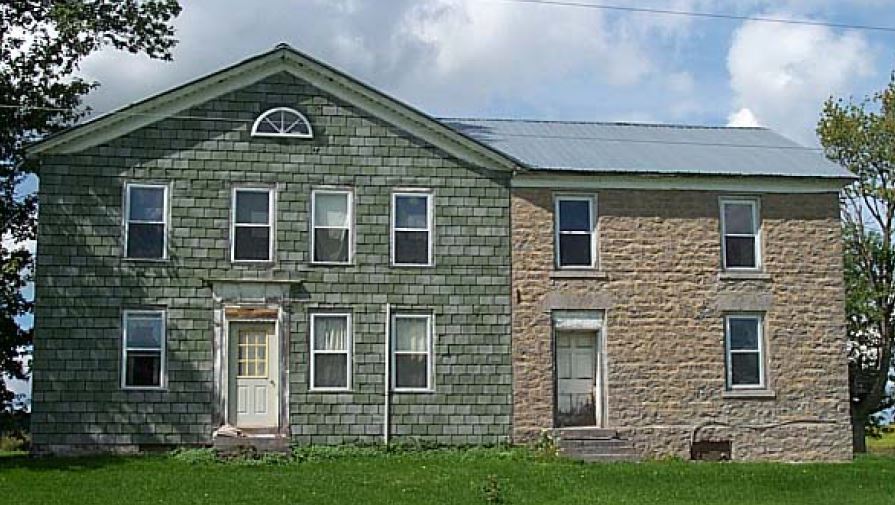 Constructed partly of limestone and partly of wood the old Peter Kimball place on the Rome state road between Field Settlement and Rice's has certain indications of having been one of the town of Watertown's early taverns. One of the most striking of these features is the old wooden shed attached to the rear of the house. Large and rambling the latter itself smacks considerable of the early tavern of wilderness pioneer days.
The stone portion of the house, undoubtedly erected before the wooden part, is the smaller of the two, is of exceedingly plain type and now serves as a wing to the wooden upright with its weathered clapboards and Georgian architecture.
Who Peter Kimball was is unknown, but in April 1821 he sold the farm and its 277.43 acres to Titus Ives with his brothers Jotham and Erastus, was one of' the earliest settlers of the town of Watertown. It will be recalled that Jotham, who was born in Torrington Connecticut June 8 1777 bought land in the town of Watertown in 1801 for which on August 20 1802 he received a deed, the first issued in that town.
Also he grew the first wheat crop in that town. The three Ives brothers from Connecticut, descended from Captain Willam Ives who landed in Boston harbor from England aboard the ship, Truelove in 1635 became large Jefferson County land-owners and their descendants became outstanding citizens.
This Ives place near Field Settlement, the stone part of which is probably more than 135 years old, remained in the Ives family 123 years after Titus Ives purchased it from Peter Kimball in 1821. Its last owner, Lewis G Ives Jr, disposed of it to Stewart David about two years ago thereby ending the Ives family connection with the property.
Titus Ives was the father of Willard Ives, founder of Ives Seminary at Antwerp, assemblyman, supervisor like his father, Watertown bank president and contributor to Syracuse university. He inherited this farm from his father and May 1 1867 disposed of it to Garret Ives, son of Jotham, for $20,000. Garret Ives, an exceedingly wealthy farmer and heavy landowner in Jefferson County was a breeder of fine horses and dealer in cattle. He was born in 1806 the same year as his cousin, Willard and died April 28 1889. Garret Ives was three times married his second wife having been Louisa Read Sheppard, widow of Elihu Sheppard, and Lewis G Ives Sr, was their son.
On December 25 1873 Lewis G Ives Sr, married Mary Jane Livermore and they began housekeeping in this house of stone and wood near Field Settlement LG having purchased the place from his father for $10,000 the preceding June 12. Like his father Garret he was one of the outstanding farmers in the town, but he removed from this old farm in 1902 and with him went his son Lewis G Ives Jr, who was born in the house of brick and wood.
Lewis G Ives Sr, died January 10 1925 and this farm went to his son, Lewis G Ives Jr, who kept it until a year before his death which occurred last October 27. He was also a prominent farmer and Democrat like his predecessors and for 17 years was treasurer of the Jefferson County Agricultural Society. His wife is the former Miss May E Rice.
Descended from Erastus Ives is Arthur Ives, city, author of a history of the Ives family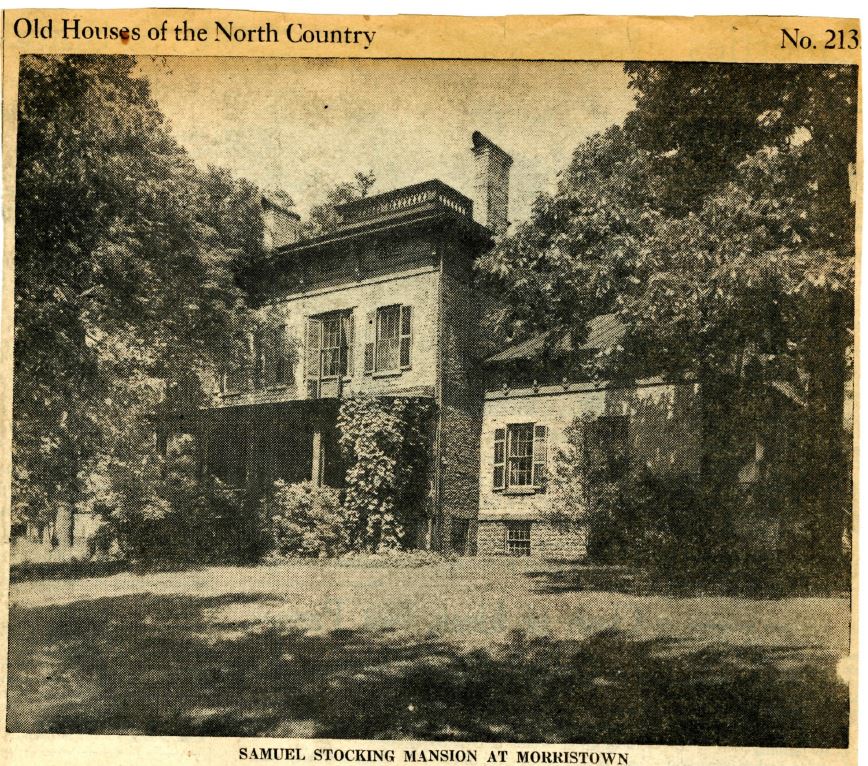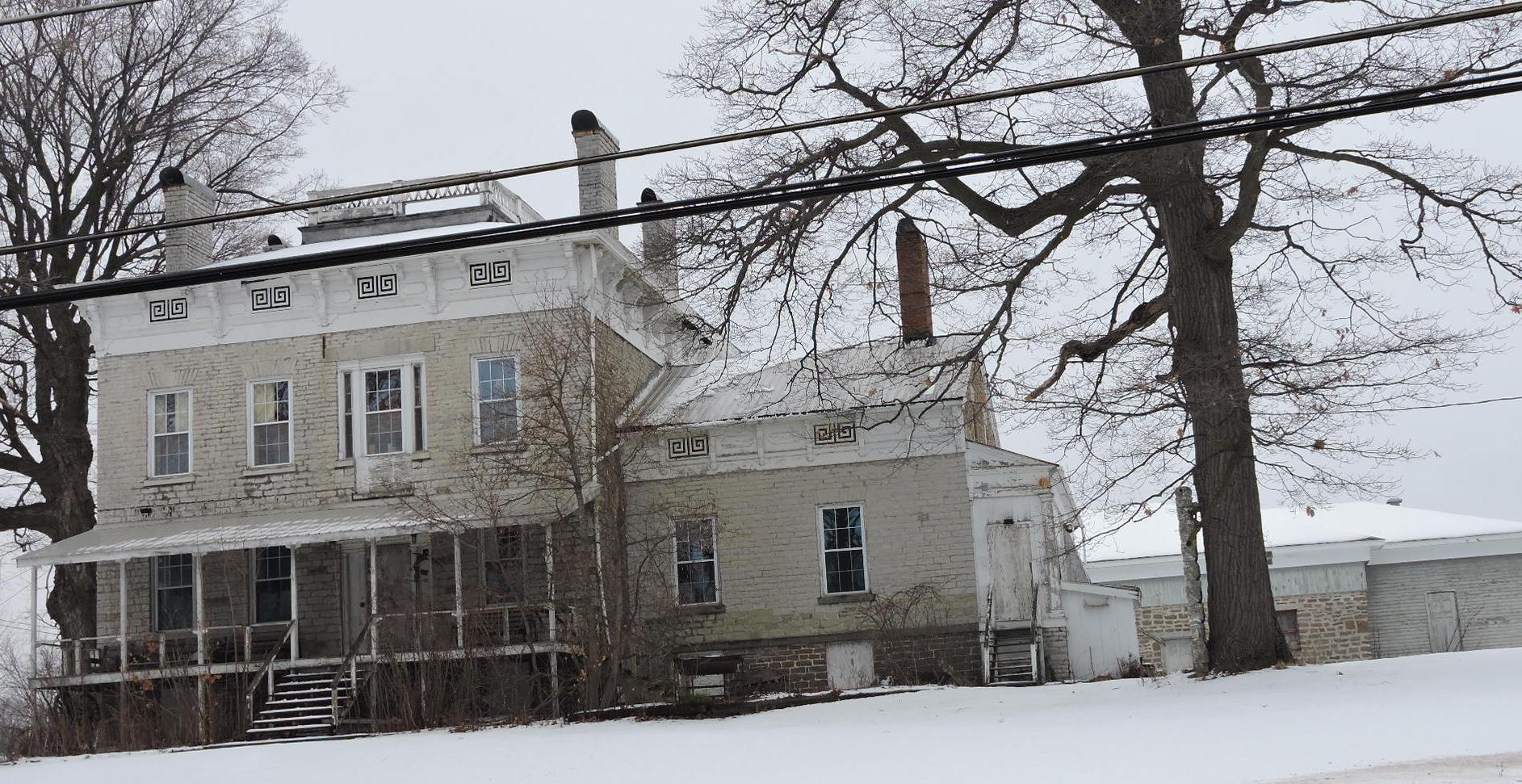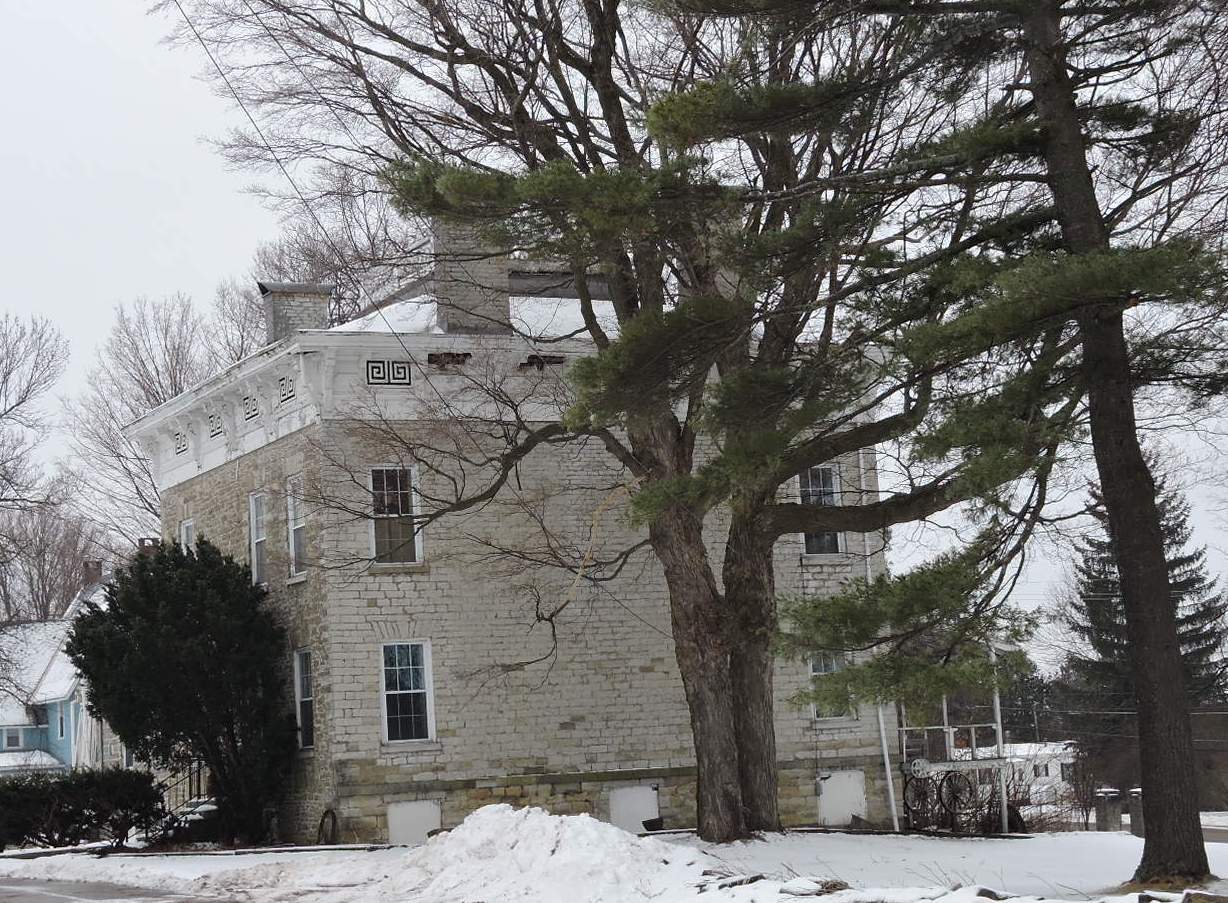 An air of grandeur is everywhere about this Samuel Stocking mansion built almost 120 years ago in the village of Morristown and now owned by Miss Elizabeth Leary, who has within its walls a valuable collection of antiques and objects of art from India, China, England and the early American period. But Samuel Stocking was one of the outstanding North Countrymen of his time associating with the Parishes, the Ogdens and the Fords, intimately identified with that section of St. Lawrence county. He, Augustus Chapman and James Averell owned nearly all of the township of Morristown and waxed wealthy out of the sale of land.
Tall and square except for the west wing, it is built of native stone. A broad hall cuts through the upright from front to back. The rooms are large and enormously high. A captain's walk graces the roof. There are nine fireplaces, two of which are in the basement, which was finished for servants' quarters and also contained a brick oven and below the basement is a sub-basement. A double drawing room consumes the entire east end of the house. West of the hall is the dining room, kitchen and other rooms. Ceilings are decorated and there are ornamental plaster cornices. The painted pine woodwork is finely crafted with oak-leaf carvings in the corner blocks while the doors are painted and grained to simulate mahogany. Some of the mantels are of black Italian marble. Upon the second floor are many bedrooms.
The grounds contain 1.6 acres and roll up high above Morris Street, which is part of the old Ogdensburg turnpike. The site is square and is bounded east by Ann Street and west by Gouverneur Street. The line is 264 feet on all three streets, which carry the names of Gouverneur Morris and his wife, Ann. Miss Leary holds the belief that the mansion was built for Gouverneur Morris, but this is dispelled by a record in the St. Lawrence county clerk's office of conveyance by Stocking May 3 1841 to Augustus Chapman for $3,700. Known and distinguished on a map of said village as Block No. 10 says this deed, and in the transfer from Murray N Donald and wife of Oswego to Miss Leary and her late sister, Cathie M Leary May 1 1923 the property is identified as Block No. 10. Furthermore, the 1841 conveyance from Stocking to Chapman declares, "being the same lot on which a stone dwelling and other buildings have been erected by the said Samuel Stocking," leaving no question as to who built the house.
Samuel Stocking came to Morristown from Utica June 23 1823. Abram Cooper of Oxbow bought the town of Morristown, except for a few lots, from Moss Kent who had been a former land agent for James D LeRay de Chaumont. This was the land later acquired by Chapman, Averell and Stocking. April 5 1825 shows Chapman deeding a third of 23,252 acres in the town to Stocking. Probably he built his big stone mansion about that time and flourished in great style with coaches and footmen and postillions.
Four years after Samuel Stocking sold his fine manor to Augustus Chapman, Chapman and James Averell purchased Stocking's interest in the lands. Averell amassed an estimated fortune of $400,000 and Chapman $300,000
The Stocking mansion remained in the Chapman family a half century after Augustus Chapman bought it in 1841 and he bulked big in the region's development serving as supervisor in 1823-1824 and 1827 and becoming a vestryman in Christ Episcopal church when it was incorporated in 1846. After his death his son, Captain Richard B Chapman, head of the lumber firm of R B Chapman & Son resided there. September 20 1892 the place went from Chapman ownership to George M Nicol of Hammond. When he died at Morristown in April 1905 it went to Catherine M Donald who conveyed it to her brother Murray M, November 28 1911. Miss Leary, a retired schoolteacher, succeeded to the interest of her sister when the latter died. Charles S Chapman, notable American artist, great-grandson of Augustus, owns and spends his summers in the old Colonel David Ford mansion on Barnard's Point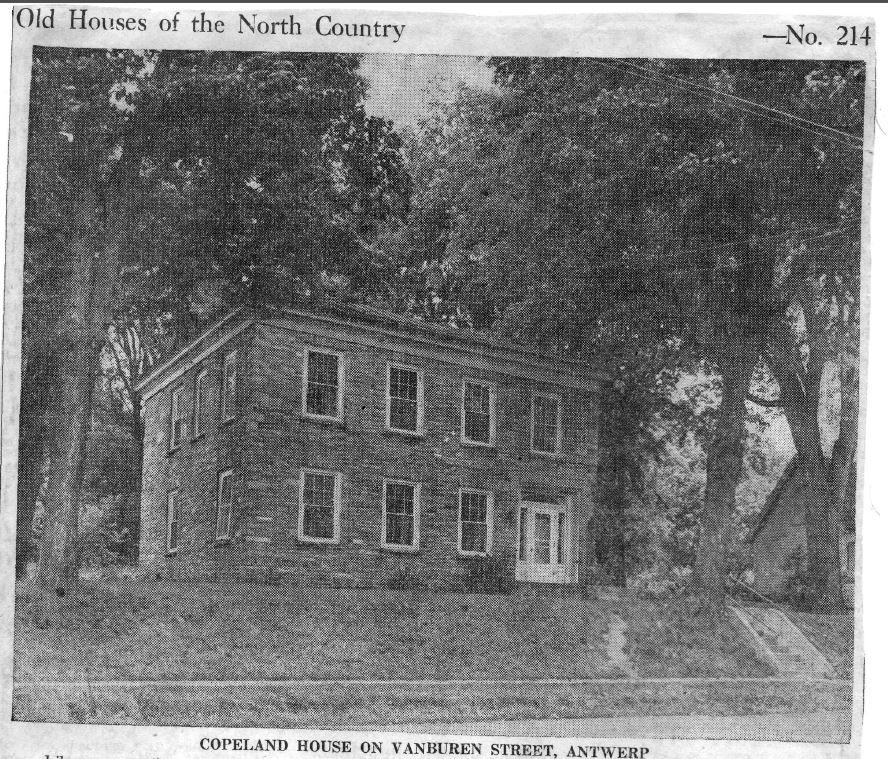 \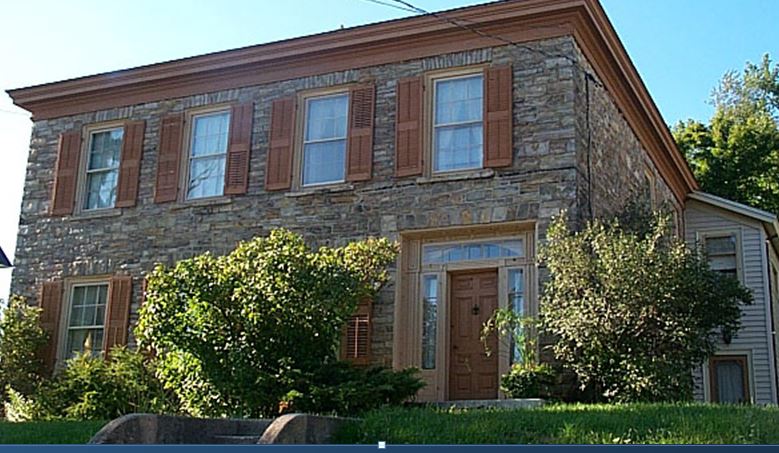 Like many another of the North Country's old stone houses, the story of origin of the old Copeland homestead n Antwerp village is not clear. Some advance the opinion that it was built by Charles B Hoard or his brother Silvius, but in the time allotted to research no indication ot record to that effect could be found. Advocates of this theory argue that the block house erected in 1812 for protection from the Indians was located in the area between this house and Indian river was a stone's throw away, that the block house was in front of Silvius Hoard's house therefore this must have been the Hoard house. But according to Haddock's history of the county, the blockhouse stood in front of the site of the Foster hotel, which was up Main Street more than a block away from VanBuren Street and the Copeland place.
Since August 23 1941 this attractive, squarish stone house has been owned by Lt. Colonel and Mrs Ridgway R Smith and their deed designates it as the former Clewly Copeland homestead. The site upon which it stands is defined as part of Lot 684 of Great Lot 4 of the Macomb Purchase, and county clerk's office records show that Clewly Copeland owned a considerable acreage and some river rights in the vicinity and all around whtre the stone house is, as did his father, Smith Copeland, before him. There is a deed of February 23 1819 from Ezra Church expert bridge builder and millwright, of slightly over 35 acres, to Smith Copeland for $3,500. From the description the parcel may have embraced the site of this house. February 1 1830 Smith Copeland and wife, Polly, conveyed this parcel to Clewly and Theopholus Copeland and February 4 1835 Theophilus conveyed his interest to Clewly.
From June 30 1820 to at least 1858 Clewly Copeland was buying acreage from David and George Parish, David McAllaster and others in the region where this house is.
The house with its present 16 rooms and originally fine woodwork is constructed of limestone obtained from the Bender quarry of old on the Theresa road. Mrs Pearl Gibbs relates that when she was a child her mother told her that her grandfather, Dean Waite, as a boy of 13 helped draw the stone by ox-team for Copeland. Dean Waite was born in 1817 which would date the house 1830.
The Copelands as well as the Hoards and the McAlasters played a vitally prominent role in the early development of the town and village of Antwerp.

Smith Copeland, first proprietor of a tavern which stood on the site of the Proctor House at the corner of Main and VanBuren Streets, was born about 1774 and and died January 21 1854 age 80. His wife, Polly, died May 4 1853 also at 80.
Their son Clewly, who succeeded his father as proprietor of the hotel, operating it for many years was born September 2 1798 and died September 28. 1878.
His widow, Fanny, died November 11 1890 at 78 and willed all her real estate including the house to her daughter, Mrs Fannie M Winans. October 4 1898 the latter sold this property to Mrs Angeline E Marsh, wife of the late John Marsh, jeweler and optician. Later their daughter. Leila M and her husband the late Dr Frank Hutchens, occupied the place several years. April 5 1939 Mrs Hutchens, whose husband died 1922 and her brother, George H Marsh, disposed of the place. It is the only old stone house in Antwerp and faces a picturesque view of Indian river. The house was probably built by Clewly Copeland.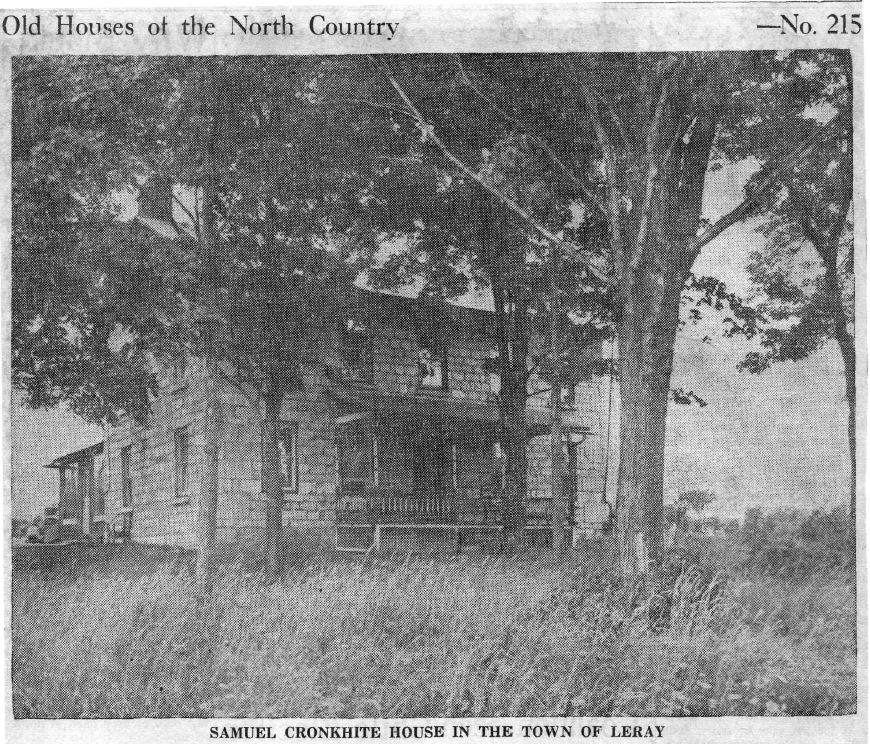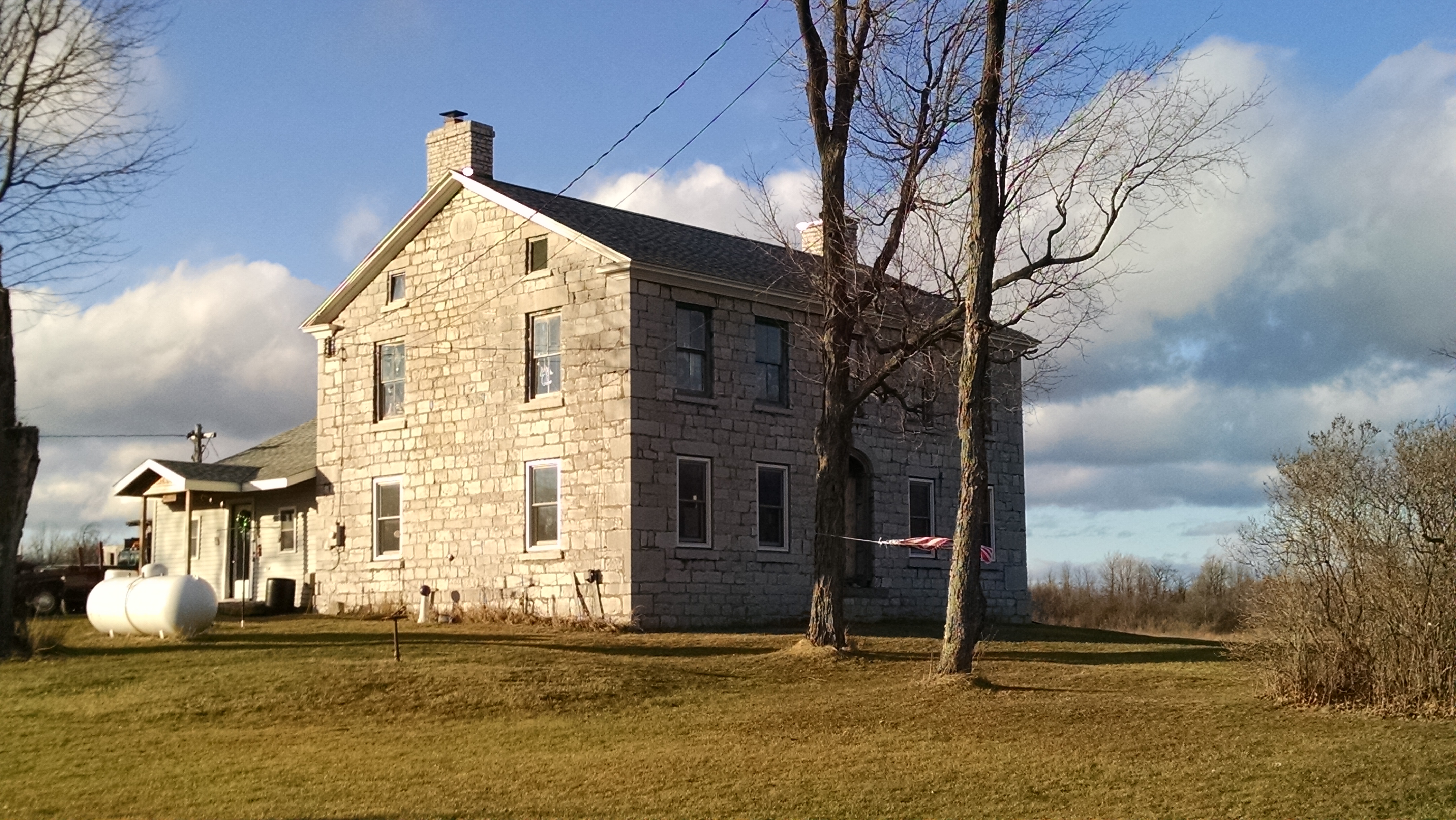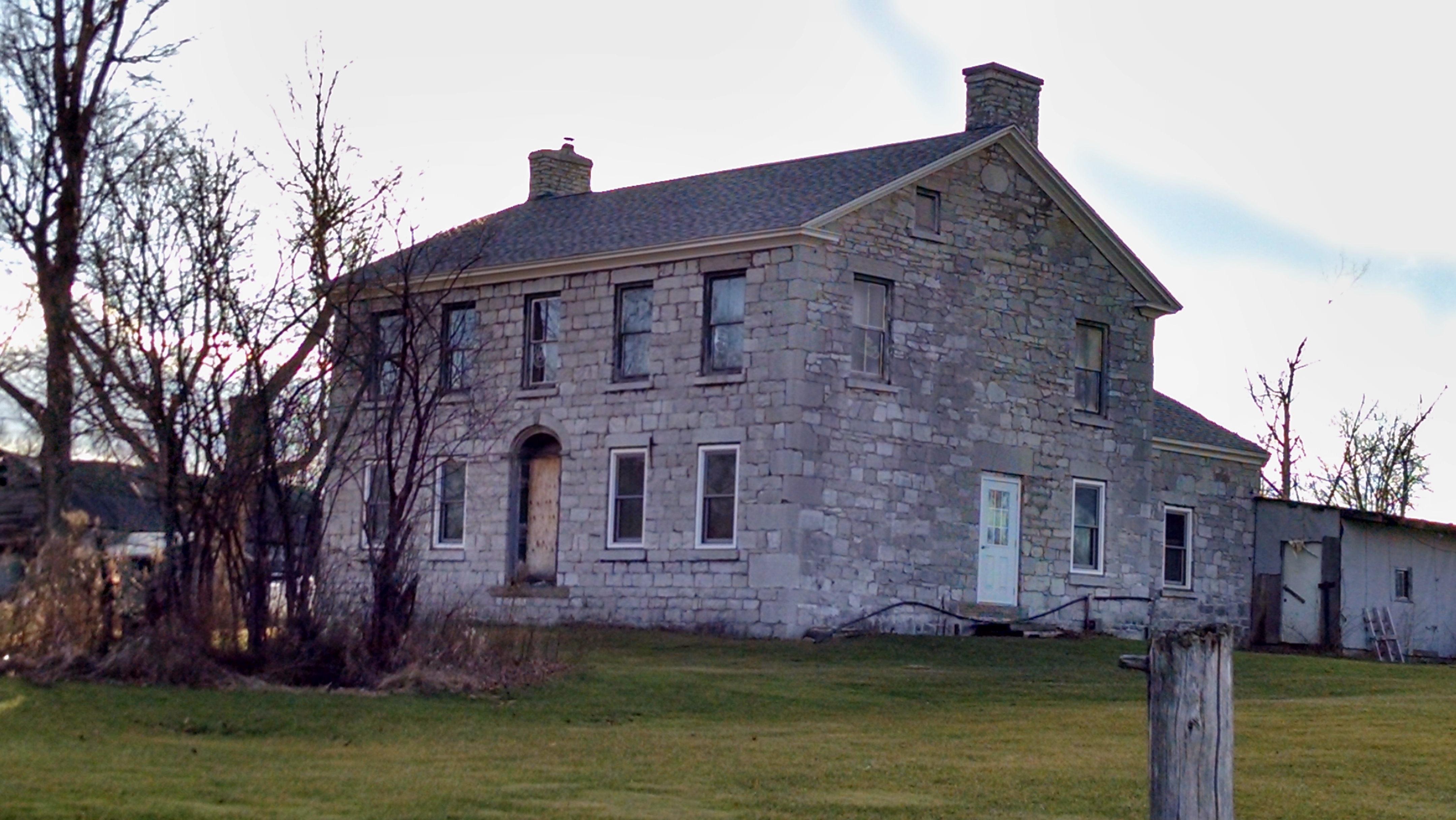 A large stone in one of the gables of this house bears the date 1820 indicating that it was erected 126 years ago. Constructed of native limestone it stands about a mile above Pamelia Four Corners on the road that leads to West Theresa and on to Ogdensburg. Practically nothing is known of Samuel Cronkhite and his wife, Sarah, the original owners, except that they purchased the 150.3 acres of farm land, upon which the house and barns stand, from Moss Kent for $1,001.89 on June 1 1815 and February 27 1837 sold the property to Daniel Zimmerman of St. Johnsville, Montgomery county, for $4,200.
The chain of title to this farm traces back easily to the Antwerp company and the 220,000 acres of North Country land which Gouverneur Morris, first American agent of the company, purchased of it January 2 1800. On June 15 1809 Morris sold 326 lots, representing 143,440 acres balance in his original tract, to Moss Kent for the nominal sum of $1 and Kent became the agent of the Antwerp company and shortly afterward of James D LeRay de Chaumont, who had taken title to another 220,000 acres of land the day after Gouverneur Morris had made his purchase on January 2 1800.

One of the 326 lots which Kent bought contained the 150.3 acres of this farm which he sold to Cronkhite June 1 1815. Daniel Zimmerman, second owner of this house which Cronkhite had built, was a brother of Jacob Zimmerman of Brownville, the great grandfather of Mrs W J Hayes and great-great grandfather of Miss Mabel Zimmerman of that village. The immigrant ancestor of the Zimmermans came to this country from Switzerland, and the descendant, Daniel, in his later years also resided in Brownville near his brother, Jacob.
Daniel Zimmerman established upon the farm a family burial ground 26 feet square, which was reserved in all conveyances from the time he sold the place.
It was on January 20 1848 that he and his wife, Lavinia, disposed of this farm to John Stewart 2nd, who retained it only until March 31 1849 and sold it on that date to Curtis Goulding Jr, whose father, Curtis Goulding, born at Holliston, Massachusetts, August 10 1776 had settled in the town of Pamelia in 1808 and was an ancestor of the late Harry M Goulding of this city. Be it said that John Stewart 2nd, born in the town of Pamelia July 2 1814 was the son of John and Olive Barnes Stewart, purchaser of the stone house and farm, married Sophia, daughter of Elisha and Polly Steel Potter.
Curtis Goulding Jr, and Mary, his wife, sold the property to Moses Hoover March 1 1854. On March 1 1859 Hoover disposed of it to John Cable. For the next 57 years it remained in the possession of the Cable family and today it is best known to middle-aged residents of the town of LeRay, in which it is located a short distance over the Pamelia line, as the Cable farm.

From John Cable, then of Redwood, it was conveyed to John Cable Jr, August 1 1899 for the nominal sum of $1 and he, while a resident of this city, sold it to Adam A Flath of the town of Alexandria on March 1 1916. Mr Flath remained there until about three years ago when he sold it to Harold C O'Donnell, the present owner, a former automobile mechanic of Detroit, who has also acquired an adjoining farm.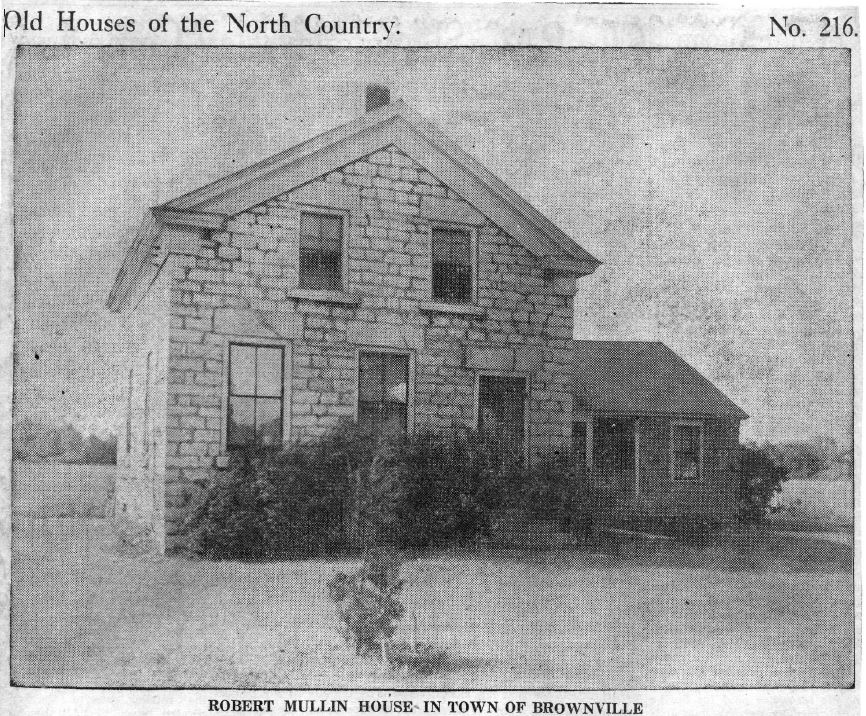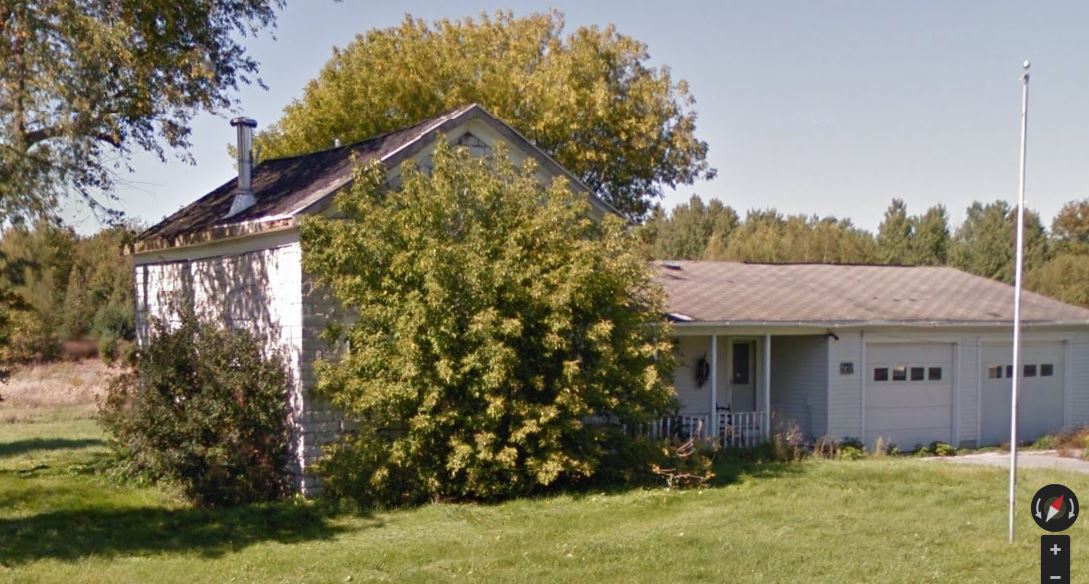 Small and plain of type is the native limestone house built about 1830 by Robert Mullin on the Mullin Street road in the town of Brownville. In an obscure and little traveled district about a mile and a half to the north of the village of Brownville the Mullin Street road leaves the Brownville-Limerick highway back of the state game farm and connects with the Perch River road out of Brownville village.

The house, out buildings and about 84 acres of land are now owned by Mrs Leone Robbins, wife of Walter Robbins, who purchased it in 1934. Prior to that it had a long list of owners over a long period of years.
It was on February 1 1830 that Robert Mullin purchased 104.76 acres of land, where the house stands, from Colonel Edmund Kirby for $382 and is believed to have constructed his house that year from native limestone quarried nearby. Five years later Mr Mullin sold off 20 acres of land to David Sibbison for $160.
Not much is known of Mullin. His wife's name was Margaret and on November 24 1856 they sold a lot adjoining the St. Paul's Episcopal church rectory in Brownville village. Mullin died intestate and his house and farm went to his sons, Robert A and John Mullin. On January 15 1882 John quitclaimed his interest to his brother. At that time John and his wife Mary R Mullin were residents of Rice county, Minnesota. Robert A Mullin held the place only a short time after that, he and his wife Marietta disposing of it April 1 1884 to Charlie E Jones for $2,500.
On March 1 1887 Jones sold the property to Mrs Priscilla Hubbs, who retained it until July 17 1889 when Imri Johnson bought it. After that it had several owners, including George Hoover, William Cook, Caroline E McGuire, Mrs Ida A Ball and Carrie Arnold Frederick of this city.
The fact that Colonel Edmund Kirby once owned the land upon which this house is built lends the most interesting bit of history to it, for Colonel Kirby, born in Litchfield, Connecticut, April 18 1794 was the son of Ephraim Kirby who was an American officer in the Revolutionary war, member of the Order of the Cincinnati and Judge of the Connecticut supreme court.
Colonel Kirby himself was a man of distinction, entering the War of 1812 as a lieutenant, serving on the northern and western frontiers and being stationed at Detroit from 1815 to 1820 when he joined Major General Jacob Brown at Brownville as aide-de-camp. He married General Brown's daughter, Eliza. When General Brown went to Washington, D C, in 1821 to become general-in-chief of the regular army Coloney Kirby went there also as adjutant general. He served in that capacity through 1823 and the following year was appointed to the paymaster's department. Between 1832 and 1840 he served in the Black Hawk, Creek and Seminole wars and later bought General Brown's estate at Brownville, the General having died early in 1828. Colonel Kirby died August 20 1849 at Avon Springs, NY, and is buried in the Brownville cemetery.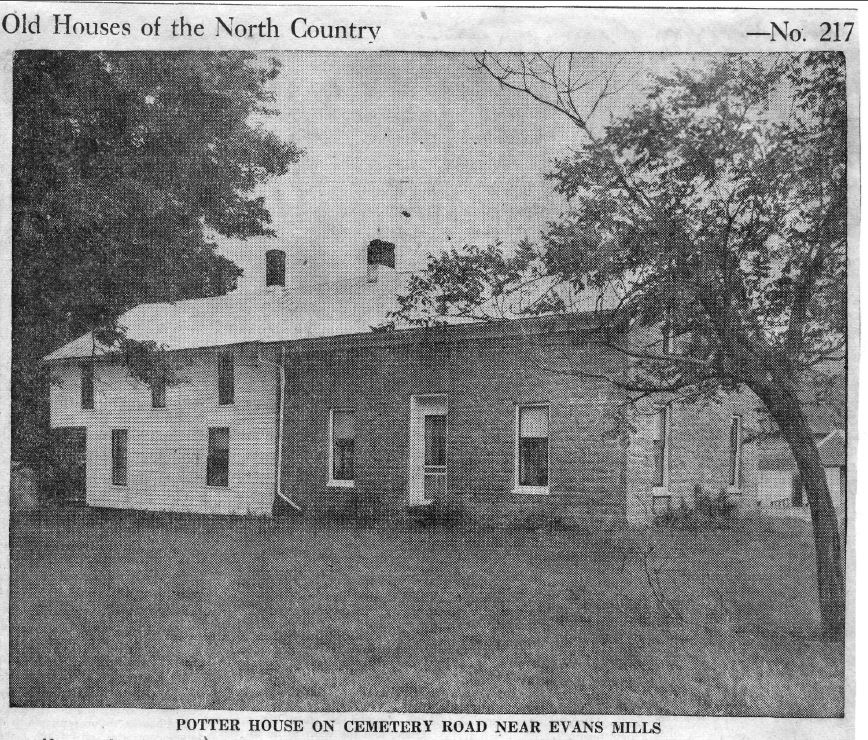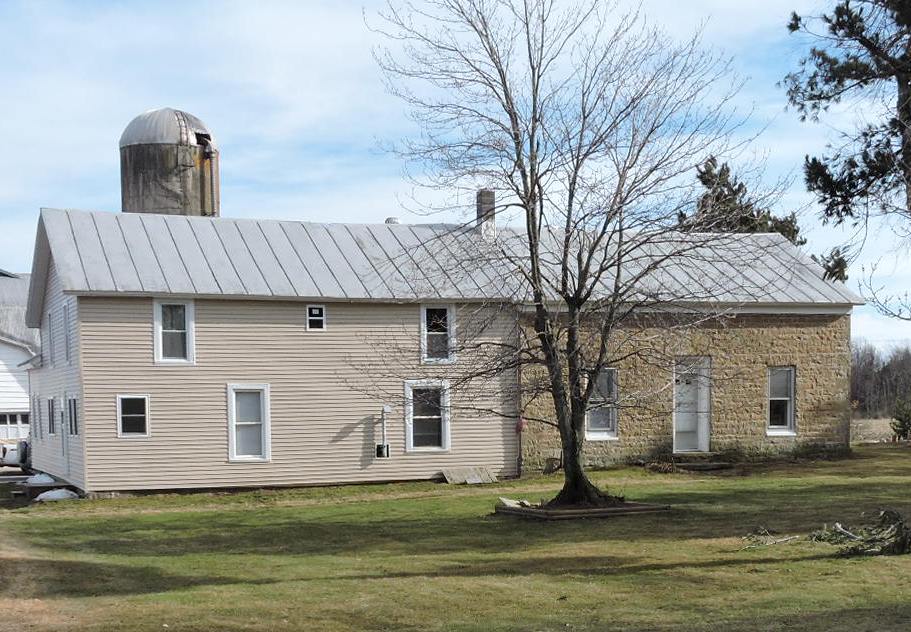 No record seems to exist as to the year of construction of this unique house of wood and stone, owned by Fred A Lingenfelter, well known farmer, and his wife, Bertha M Lingenfelter, since April 7 1925 when they purchased it from William F and Cora E Tozer of Potsdam. It is located on the south side of the old cemetery road near Evans Mills and was probably built by Elisha Potter of native limestone quarried nearby at least a century and a quarter ago. Tracing the chain of title of this property is a difficult one and regardless of the year that the store portion was erected the wooden part was doubtless added much later.
Elisha Potter was a War of 1812 veteran who fought at Sackets Harbor, who served the town of LeRay as supervisor in 1841-2 and who died March 16 1865 aged 78. He was descended from Robert Potter of Warwick, England, who came to Rhode Island in the early 1600's. If Elisha did not build this house, it was likely constructed for his son, Samuel T Potter, who, with his wife, Barbara, sold it to his sister, Mary E Tozer, June 12 1865 for $8,000. This sale was three months after the death of Elisha, father of Samuel T Potter and Mary E Tozer.
Mrs Tozer was the wife of Rezot Tozer, native of the town of Alexandria, who was born in 1824 and died at the advanced age of 97 at the home of his son, William F Tozer, in Potsdam August 9 1921. Mr Tozer, prominent LeRay farmer, resided with his family upon this farm for many years, the original 199.13 acres having been cut to 171 acres through reservation of a family burial ground when Samuel T Potter conveyed it to Mrs Tozer in 1865.
It was long known as the Tozer place, having been owned in the Tozer family 60 years. On October 19 1922 the year after Rezot Tozer died, his daughter, Mrs Frank W (Celia T) Lawton, deeded her interest to William F Tozer.
William F Tozer, born in 1861 at Alexandria Bay, joined with Arthur P Davenport in organizing the firm of Tozer & Davenport in 1895 millers and proprietors of the American Mills at Evans Mills. Elisha Potter was the grandfather of both of these partners. Also they were descended from Oliver Wolcott, a signer of the Declaration of Independence and governor of Rhode Island, their great-grandmother, Polly Wolcott, having been the mother of Polly Steele, who became the wife of Elisha Potter. Old records in the county clerk's office show that Elisha Steele owned land in the immediate vicinity of the old stone house and that adjacent to this farm Elisha Steele Jr, had at one time conveyed 97.25 acres to Elisha Potter.
The house is maintained in excellent condition by Mr and Mrs Lingenfelter and, well back from the road, the large and cozy living room in the stone part has an attractive outlook.
Interesting is the Christian name, "Rezot," borne by Mr Tozer, the elder. So far as is known no other man has been christened that name. That his parents possessed a sense of both humor and originality is evidenced by the fact that they arrived upon the determination to place it on him for life by spelling the name, "Tozer," backwards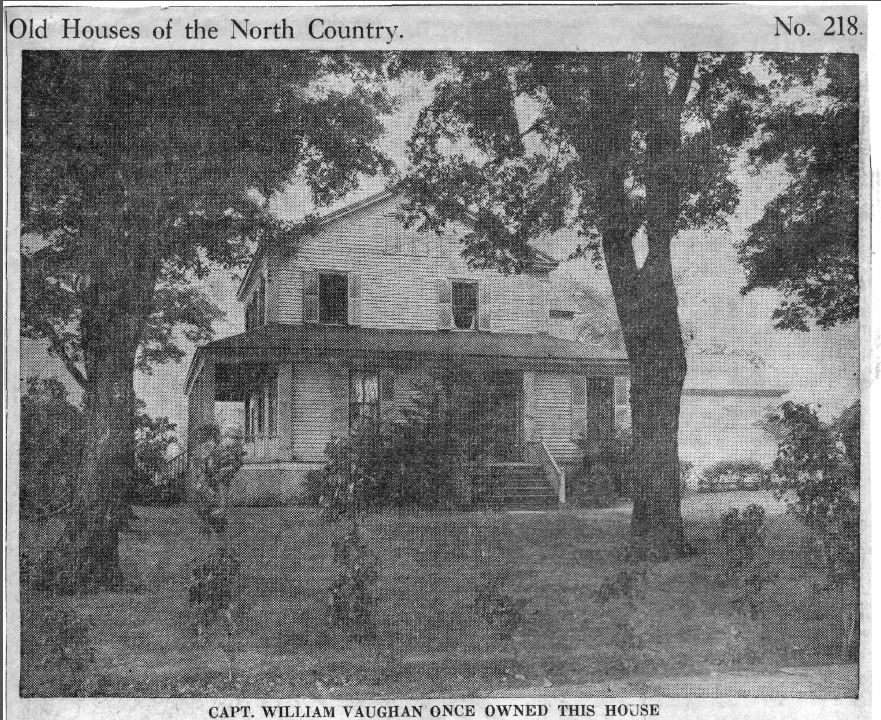 210 E Main St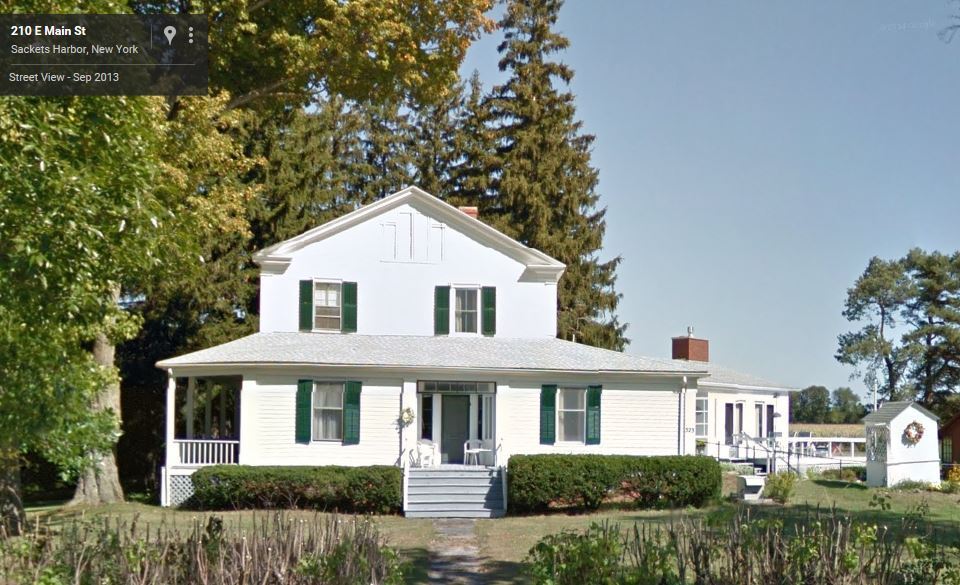 Captain William Vaughan, hero of the first battle of Sackets July 19 1812 is said to have built this house in 1842 well out beyond Christ Episcopal church on the east side of South Main Street, Sackets Harbor. Since March 21 1924 it has been the summer home of Mr and Mrs Orin R Summerville of New York, Mr Summerville being the New York sales representative of the Becket Paper company of Hamilton, OH.
Experienced Great Lakes pilot, Vaughan had been appointed sailing master at the outbreak of the War of 1812. On the morning of the first battle of Sackets Harbor, which was likewise the first land battle of that war, Vaughn had charge of the 32-pounder which Commander Woolsey had removed from the brig Oneida and mounted on the bluffs at the foot of Main Street. The story is that there were no balls to fit this cannon and that Mrs Vaughan who lived in the August Sackett house nearby tore up carpet to wrap 24-pounders. Finally a British 32-pound ball from the British ship, Royal George, was salvaged. Vaughan had it loaded into the big cannon and sent it back. It raked the Royal George killing several men and wounding others. It and the Prince Regent in consequence lost no time in hoisting anchor and sailing back across the lake to Kingston.
Captain Vaughan was born at Wilkes-Barre, Pennsylvania, in August, 1776. At 81 he died in Sackets Harbor December 10 1857 leaving a widow, Abbey, four sons and two daughters. Mrs Vaughan died January 27 1862 and was then living in the Sackett house where she had resided at the time of the war. She has been described as a small, delicate woman. The Vaughan ownership of the present Summerville residence is difficult if not impossible to establish from county records.
It is of unique construction, the side and rear outer walls being of brick, while the front is faced with narrow clapboards. The type is pleasing with its return cornices, fine old front door, the pilasters at the front corners of the house and the low, flat angle to the roof. The 1.72 acres sold with the house to Mr and Mrs Summerville by Jay D Matteson March 21 1924 was part of a much larger tract acquired by Mrs Amy Hodges, wife of Samuel N Hodges in early 1868. Mr Hodges was Hounsfield supervisor in 1876-9.
Later, on March 29 1884 Julia H Little of Adams, sold this place to Richard M Earl, Sackets Harbor, proprietor of the Earl House, a hotel built by Judge Elijah Field in 1817.
Mr Earl kept the property until February 10 1894 when he disposed of it to Mrs Sarah Elizabeth MacGowan, wife of Major MacGowam, a retired regular army officer from Madison Barracks. Major MacGowan resided there for several years and then Mr Matteson purchased the property, living in the house a number of years before selling to Mr Summerville and his wife, the former Miss Gladys Scobel of Cape Vincent.
The grounds are large and attractive with fine old trees and the location is quiet and sequestered.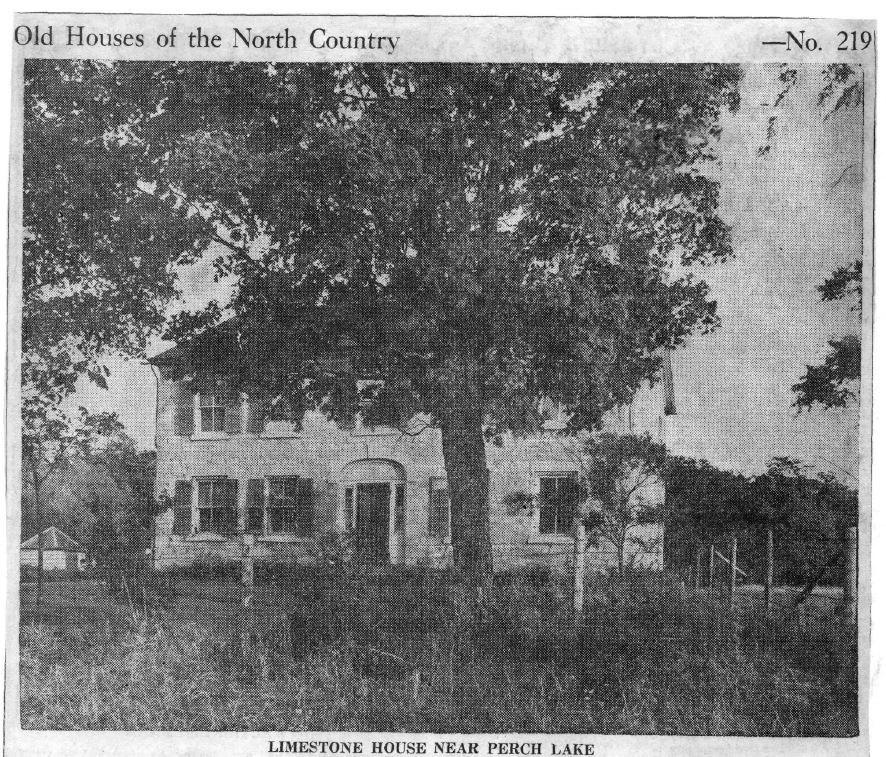 Jenkins Rd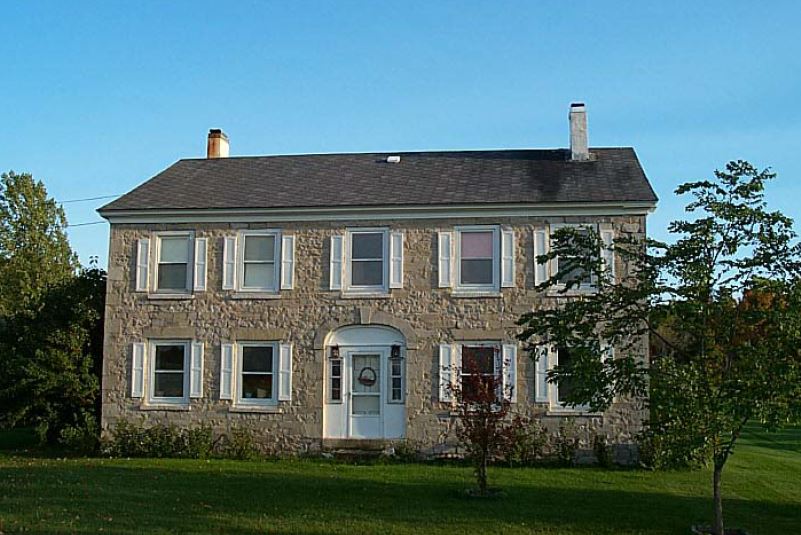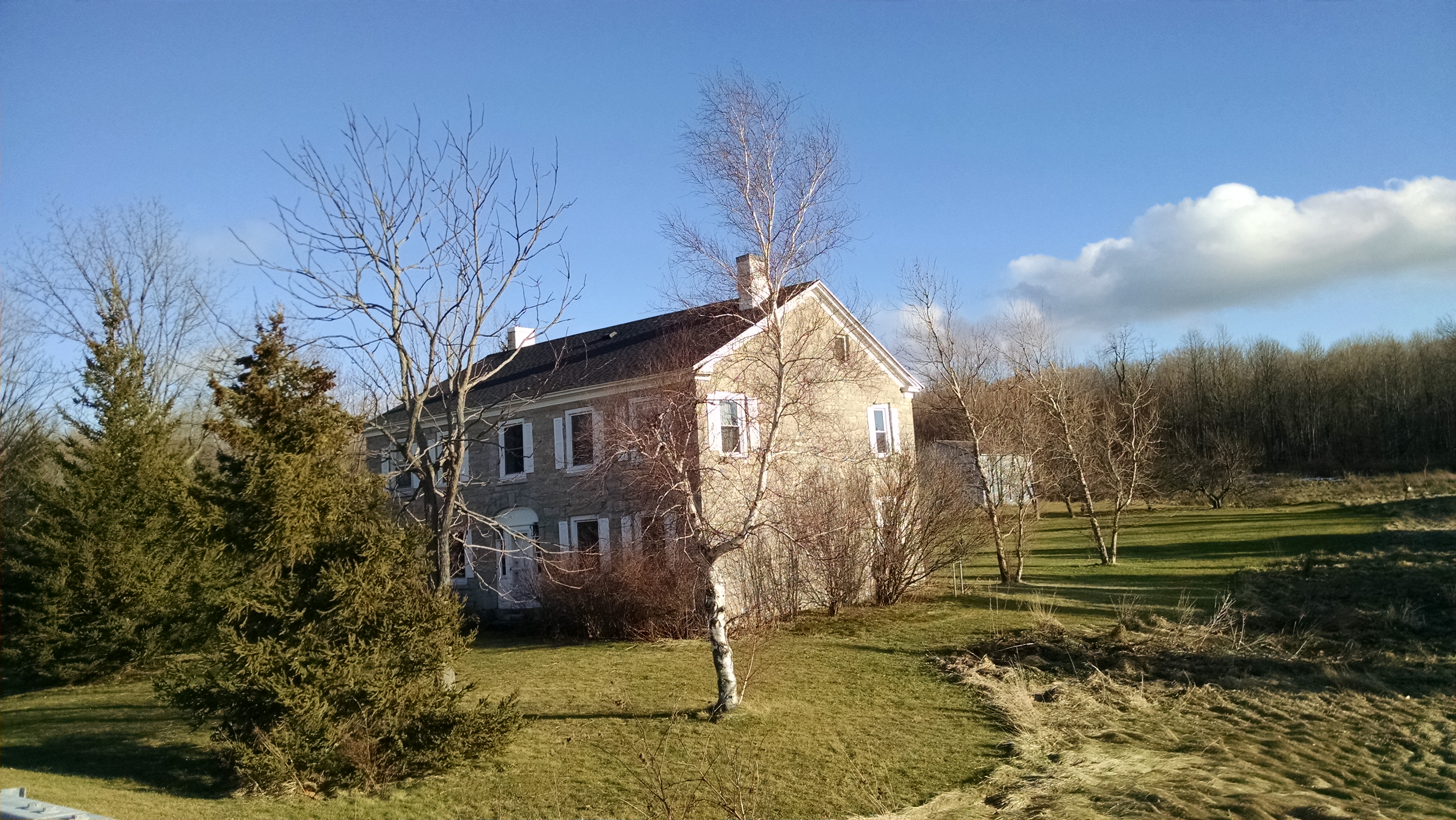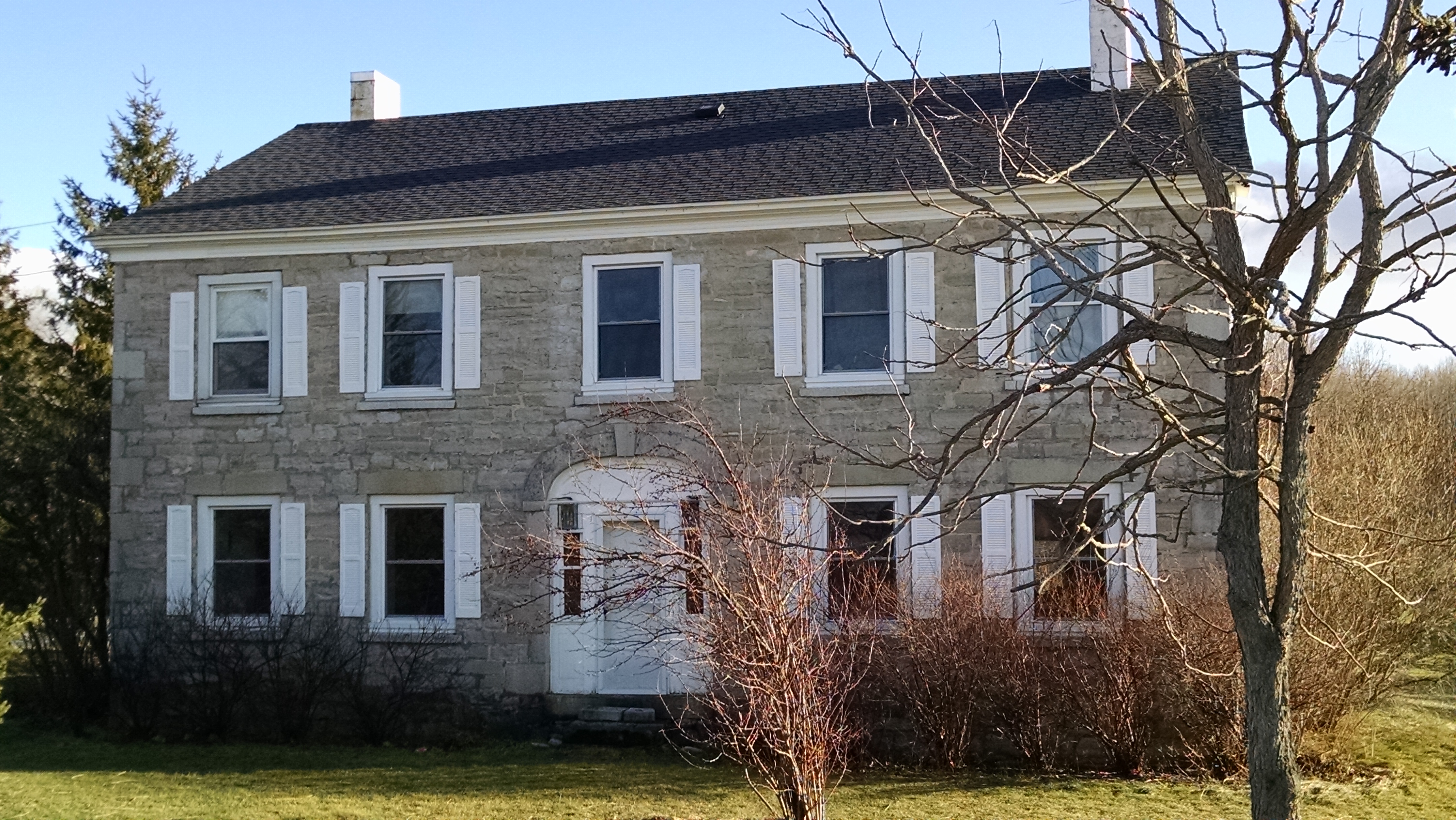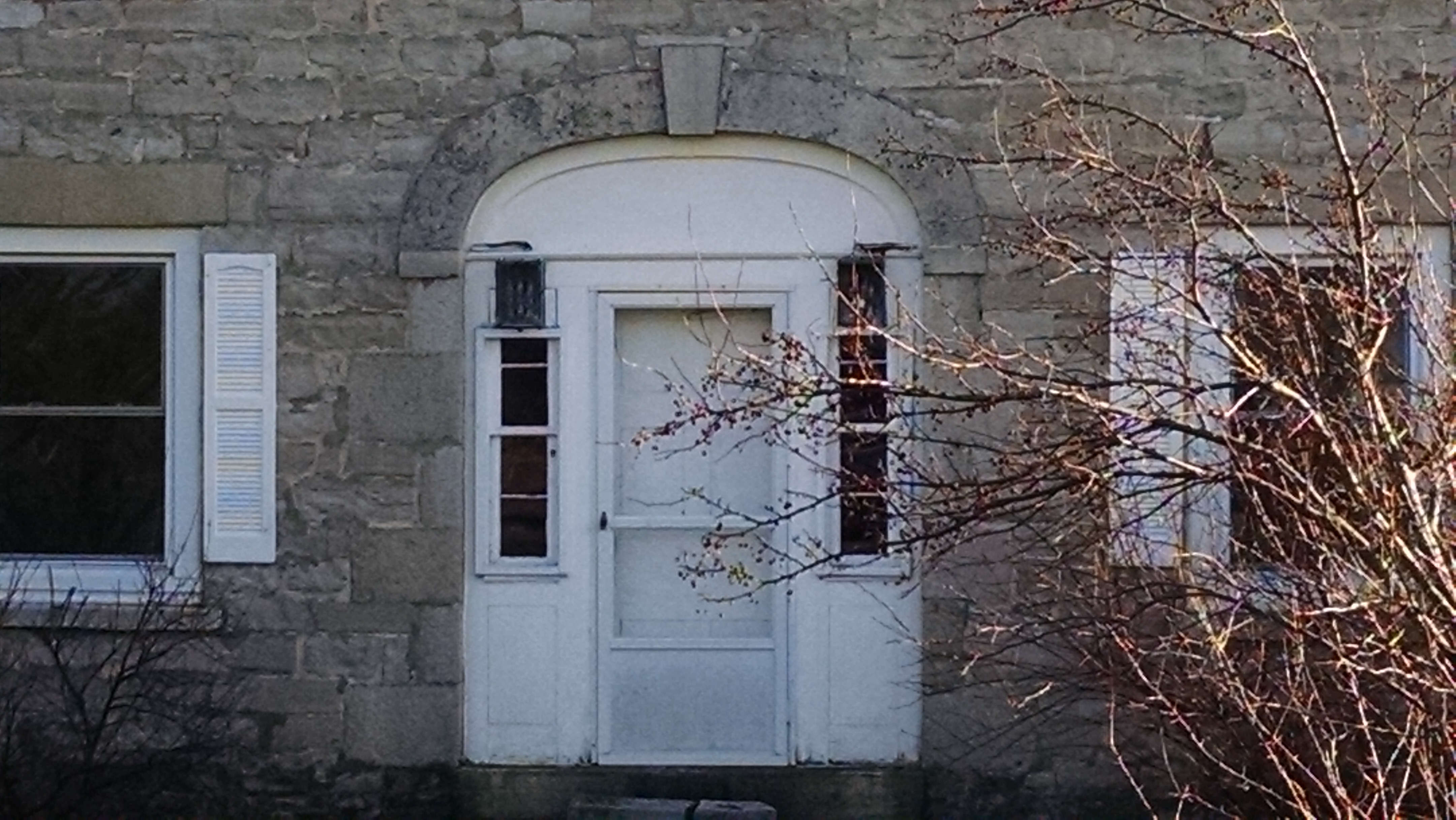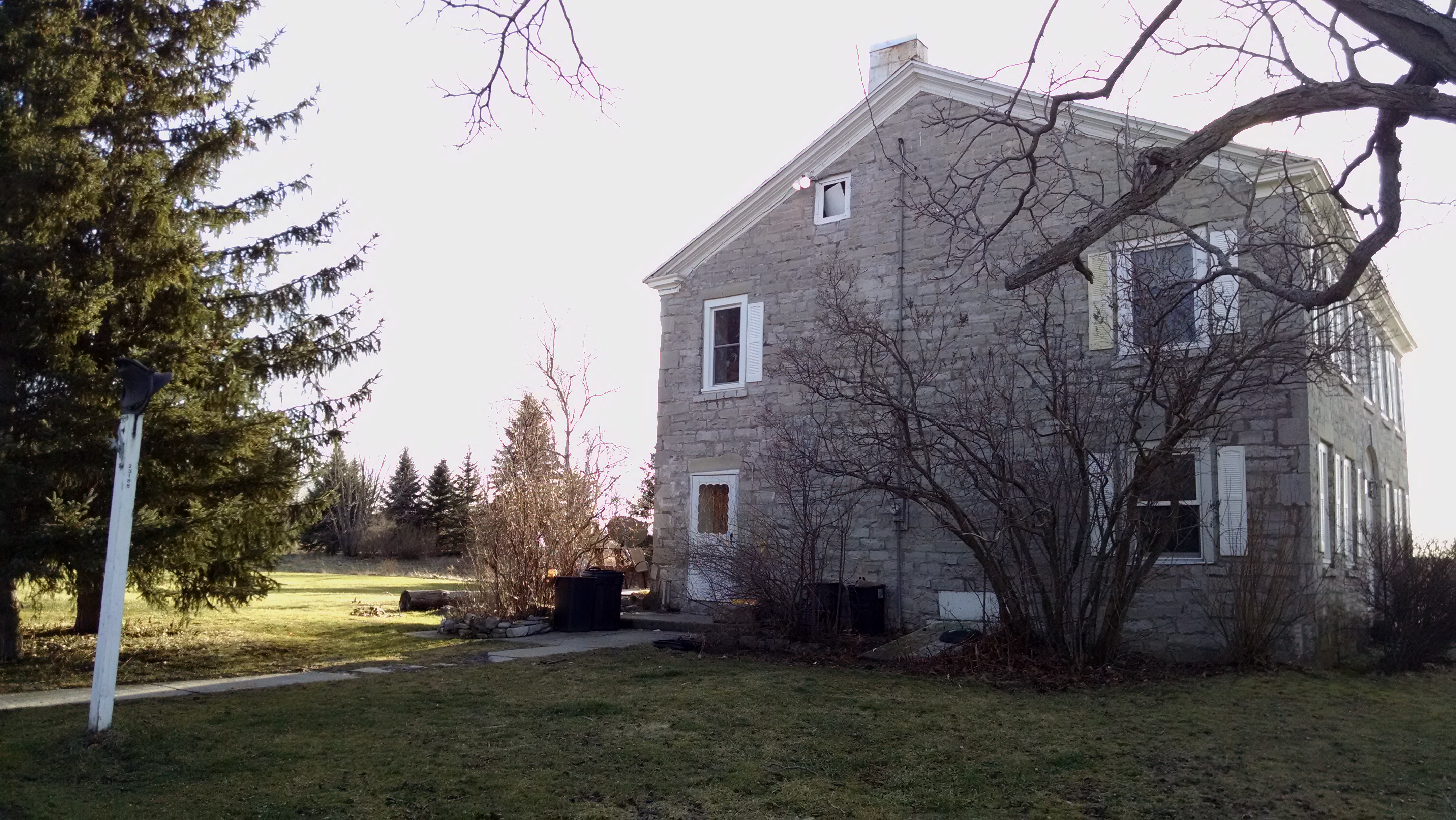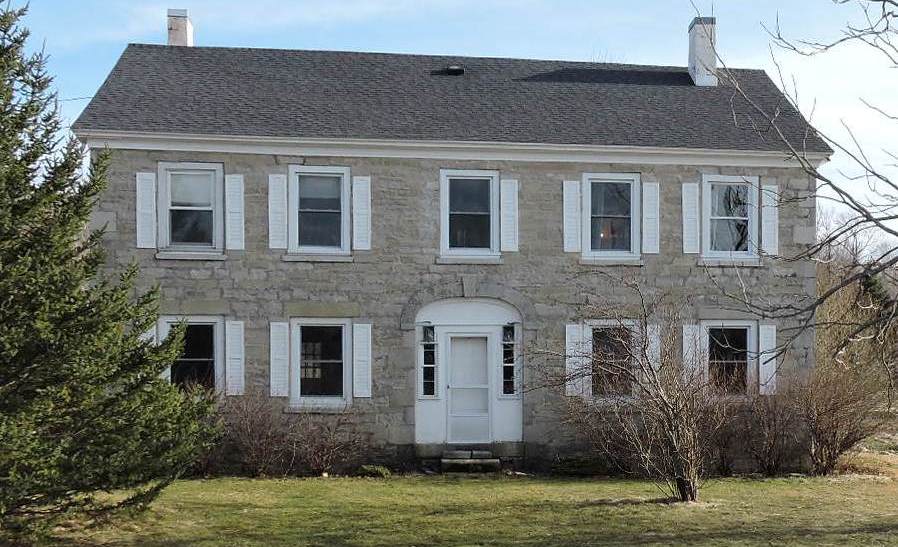 About a mile due south of the southwest end of Perch lake is this house of native limestone quarried nearby. It is located on the east side of the road that runs from Perch Lake to the Watertown-Clayton highway. It may have been built as early as 1816 by Solomon and Charles Makepeace who had come in there from Massachusetts to settle in 1802 clear the wilderness and burn the trees for potash or it may have been built about 1828 by Joseph Allen of Providence, Saratoga county.
In any event it was long known as the Zimmerman farm, having been bought of Allen along with 124.35 acres of land by John Zimmerman for $2,300 on January 29 1831 in the Perch lake sector of the town of Pamelia. From Zimmerman, who died June 20 1877 at the age of 77 it passed to his son, James, after the widow, Nancy, had had a life use. James Zimmerman retained the farm until September 22 1904 when he sold it to Jacob Vogt for $8,750 and today there are 326 acres of land with the buildings.
It is still owned in the Vogt family, which counts a possession of the property for 42 years, it having been conveyed by the estate of Jacob Vogt, who died July 4 1939 to his daughter, Mrs Paul S (Frieda M B) Grahn of this city February 5 1940. Mrs Grahn continues retention of this farm which was operated by Jacob Quencer as tenant from 1922 to 1935. Since Mr Quencer's death his widow has remained there, but the tenant-operator is his nephew, Carl Quencer, who has worked the place for the last 11 years.
The large house is nicely styled in the Georgian tradition with an imposing front entrance with graceful, keystoned arch, and central hall. Inside two original fireplaces are no longer used.
So for 73 years the house was owned in the Zimmerman family and already the Vogt family has had it 42 years. In this connection is should be said that Jacob Vogt was an exceedingly extensive manufacturer of fine limburger cheese in this county and that also he was an extensive farmer. Through his tireless work and good judgment he became one of the substantial citizens of this county and city.
Title to the 124.35 acres upon which this house stands can be traced back to the North Country empire of James D LeRay de Chaumont. On November 13 1815 James D LeRay sold this 124.35 acres to Solomon and Charles Makepeace of the town of Brownville for $824.18. On September 10 1818 Charles conveyed his interest to Solomon for $1,000 and on March 15 1828 Solomon Makepeace sold it to Joseph Allen for $1,256.81. At that time the stone house ay have been on the farm or it may not have been constructed until after Joseph Allen acquired the land. As for the design and construction of the house it can be dated as early as 1816 or as late as the 1840's. It seems likely, however, that it was built between 1815 and 1830.
The environment and outlook of this old house are pleasant and for those loving quietude away from the beaten paths of modern traffic it is ideal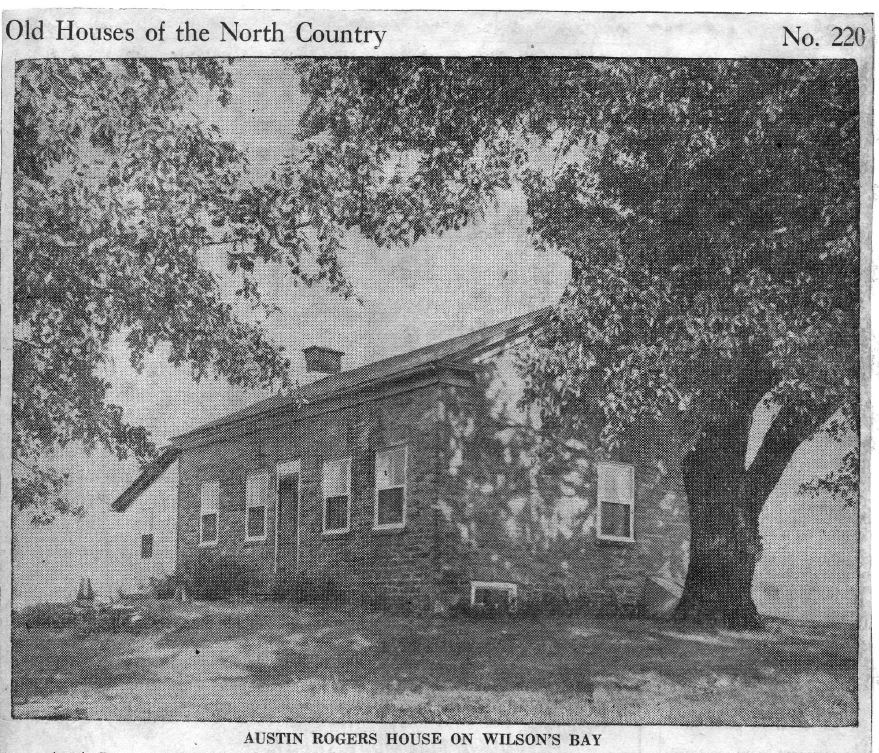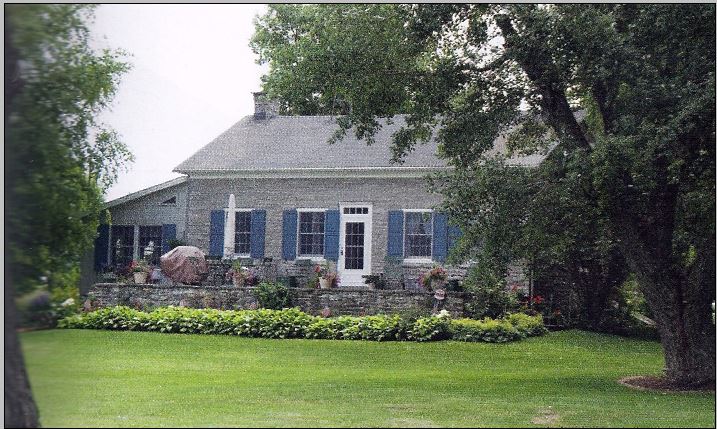 Austin Rogers, a pioneer settler of the town of Cape Vincent, came to the Wilson's Bay area of that town from West Springfield, Massachusetts, in 1815 and is said to have been descended from that American Rogers line that produced the intrepid leader of Rogers Rangers, historic organization of American soldiery.
It was on January 29 1836 that Austin Rogers purchased from Vincent LeRay de Chaumont the 58.14 acres of land, upon which he built this little native limestone house in 1838. Later he added 72.35 acres and again 100 acres to his holdings. At this point it should be said that Austin Rogers was the grandfather of the two brothers, Austin L Rogers and Everett E Rogers who, in 1876 commercially raised the first seed peas in this county and established the million dollar seed industry long located at Chaumont, later moved to Alpena, Michigan, and then farther west. These two Rogers brothers, sons of Charles A Rogers, were cousins of the late Supreme Court Justice Watson M Rogers.
The little house, a most attractive little place which stands by itself on the beautiful Wilson's Bay, has been dressed up a bit on the inside since it was purchased September 28 1945 by Mrs Jean G Shick of Madison, N J, wife of Frederick W Shick, who was engaged in the steel business and who was a lieutenant commander in the United States Navy during the recent war. Mr and Mrs Shick have approximately 65 acres of land with their attractive house and plan to make their home there.
Until they purchased the place it had not been out of the Rogers family in 109 years. It was acquired by the Shicks from Mrs Janet E Stevens Connor, Natural Bridge, a descendant of Austin Rogers. Austin Rogers, builder of the stone upright of the house in 1838 added a wooden wing in 1841. He spent the bulk of his life here and died September 13 1893 leaving an estate of about $11,000. Under the terms of his will he gave his entire estate to his son, Augustus, and his grandsons, Austin L and Everett E Rogers, the seedsmen. Everett was killed in a train wreck.

The trail of ownership by members of the Rogers family runs through a more or less devious course down to the present time. Eventually the Augustus Rogers interest went to other members of the family. Mrs Catharine Rogers Vincent willed the property to her three nieces and nephew, Bertha E Stevens Eichorn, Janet E Stevens Connor, Etta M Sheridan and Ross V Stevens. Then Ross deeded his interest to Mrs Sheridan and she shortly deeded to Mrs Eichorn and Mrs Connor. The outcome of that transaction was that on September 23 1927 Mrs Eichorn conveyed her half interest to Mrs Connor who a year ago disposed of the place to Mrs Shick.
Mr and Mrs Shick have thrown the old living room and kitchen together into one room, have removed the paint from the old pine woodwork and floors, applied a coat of wax and are refinishing the old furnnture. The house has a beautiful outlook on the bay possessing a 1,600 foot water front of its own
(Camps Mills Road is in Hounsfield area - County Rte 62)
Until his death May 15,1933 Robert Wallace Harris, father of former Mayor John B Harris and widely known as the breeder of the noted speedway queen, Lucile, and other fine horses, had owned this native limestone house and farm for a period of 24 years.
The property was first developed as a farm by Samuel Whitley, prominent early Hounsfield settler who purchased the original 74.15 acres from Bartholomew Hounsfield through his agent-brother, George Hounsfield, August 7 1833. It will be recalled that Bartholomew and John Hounsfield, brothers and wealthy manufacturers of Sheffield, England, owned extensive acreage in the Sackets Harbor region of the county early in the 19th century and that the town of Hounsfield was named for another brother, Ezra, who came to New York as their agent about 1800.
The farm is located in a rich limestone region on the Watertown-Camps Mills road and the house, a large, tall one with an attic big enough for a ballroom, was constructed of stone procured on the property. It is understood that the house was built about 1833-4 by Samuel Whitley, who resided there until January 25 1856 when he and his wife Margaret sold it to Welcome Clarke. Clarke and his wife, Mary S, retained it until November 11 1875 when they disposed of the house, buildings and 55 acres of the land to Frank P Frink who, with his wife, Minnie, disposed of it to Alson C Rounds of Pamelia December 23 1879.
On April 21 1891 Rounds sold the place to Edgar A Hovey, well known stage line operator and business man. Hovey kept the property until January 28 1909 when he sold it to Robert Wallace Harris, who resided on the adjoining farm and who was one of the outstanding breeders of fine horses and cattle in this country. Mr Harris operated the place as an adjunct to his own large farm.
Since the death of Mr Harris 13 years ago leaving a life use of his estate to his widow, Mrs Alma Barnes Harris, this farm has been under the management of his son, former Mayor John B Harris, owner and occupant of Hill Crest Farm and breeder of blooded Brown Swiss cattle. Edward E Cobb, who owns the old Membrey stone house and farm on the opposite side of the road and farther up towards Camp's Mills, recalls that his father, Elijah Cobb, tenanted the old Whitley place about 70 years ago and operated the old Frink lime kiln in the field across the road.
Just when that lime kiln was established Mr Cobb has no information but it was of the old type stoked with four-foot wood and kept burning night and day to convert the crushed limestone, which was at hand, into lime. This stone was wheeled up in barrows and dumped into the kiln. The lime was of high quality and much in demand by farmers and others for miles around who used it in building.

That the Whitley house and the Membrey house were products of the same designer and builder seems likely. Both have similar semi-circular attic windows, although that in the Membery house sweeps higher than the one in the Whitley place.
For the past nine years Harold Roosevelt Thomas has been the tenant of the Harris or Whitley farm.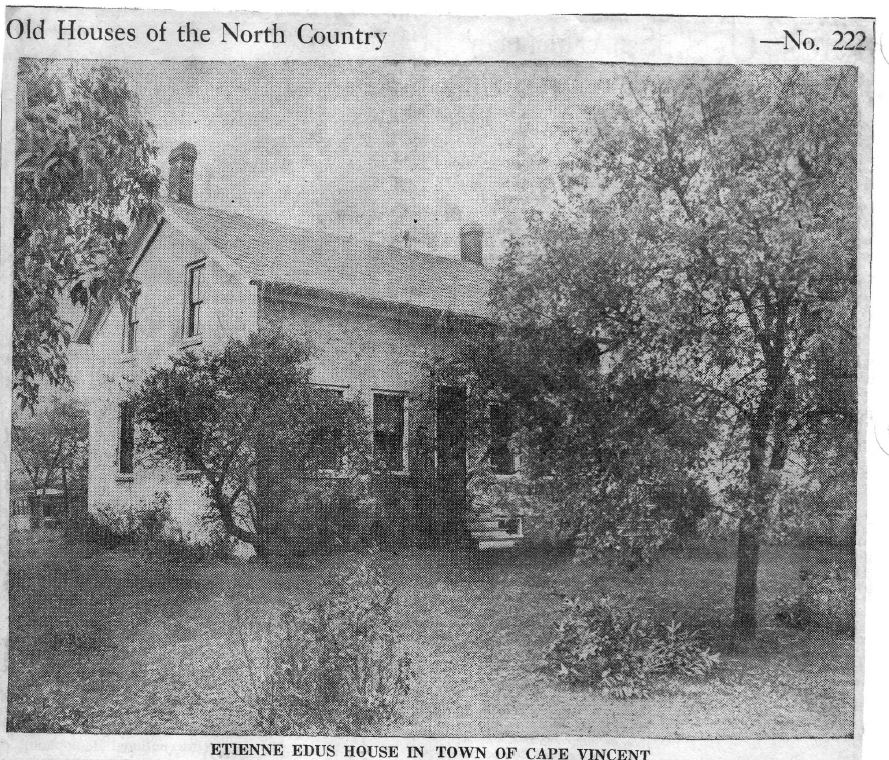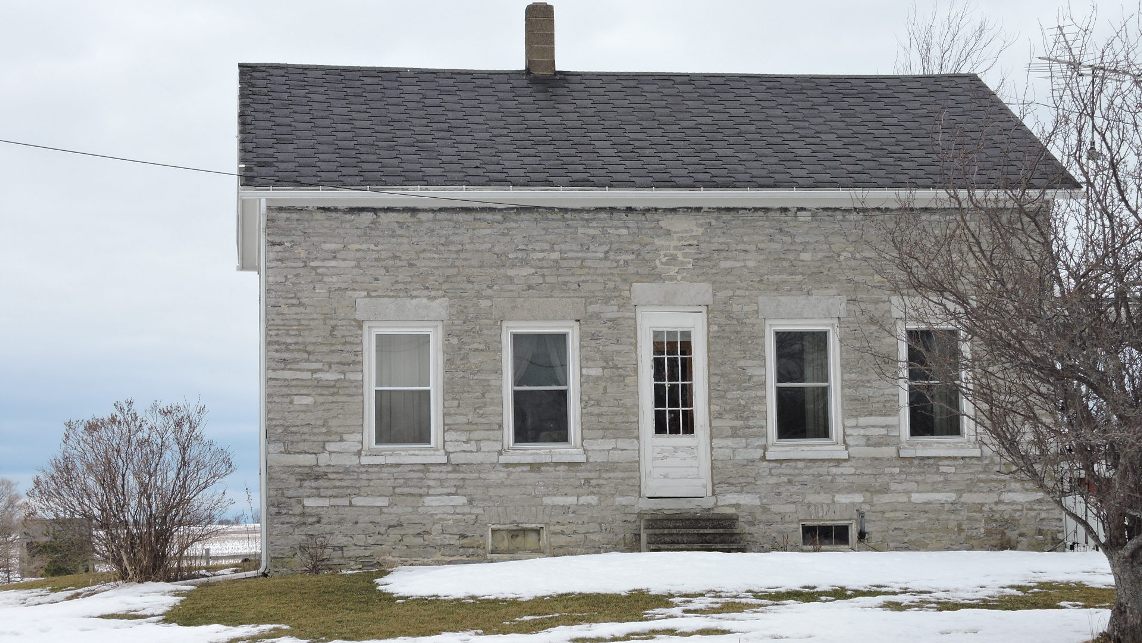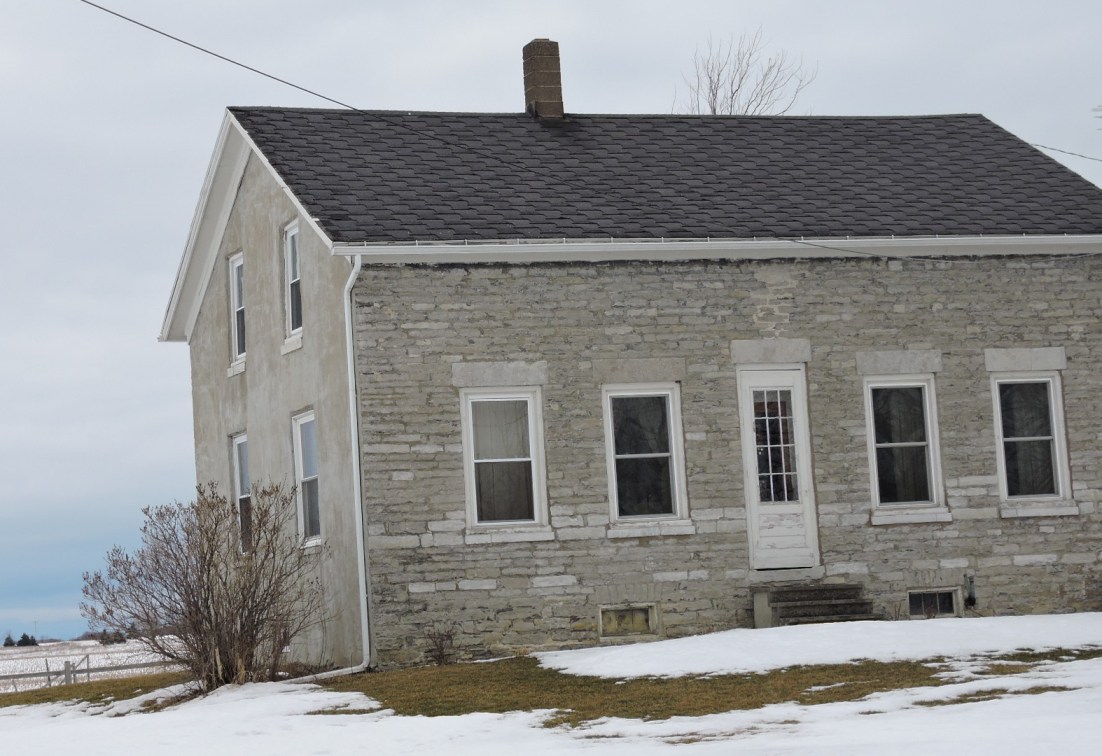 Built approximately 94 years ago by Etienne Edus on the road known as Hell Street near Rosiere in the town of Cape Vincent, this attractive cottage-type house of native limestone has such a beautiful setting with its natural landscaping of trees augmented by plantings of flowers, lilacs and shrubs that it looks in the summer like something which has stepped off an artist's canvas.
Since February 1939 the property with its nearly 118 acres of land has been owned by Aloysius M and Elizabeth D Reff who take great pride in the place. They are the parents of three children, Miss Jane Marie Reff, a cadet nurse at the Queens General hospital, Jamaica, Long Island. She trained at Mercy hospital in this city. The other two children are Noel Aloysius and Eulalia Ann.
Both the Reff and Edus families trace their lineage back into old France, the Edus clan having come from historic Rosiere, American emigrants from which brought the name and bestowed it upon that area of the town of Cape Vincent known as Rosiere, home of many a fine old French family. As for the Reff family there was Peter Reff, a native of France, who served under Napoleon, came to this country at the age of 40 settled in the town ot Cape Vincent and died at the age of 86.
The land upon which this house stands was a part ot the vast holdings of the LeRays and on November 5 1852 Vincent LeRay through his agent-attorney, Patrick Somerville Stewart, sold 50.92 acres to Etienne Edus, sometimes known as Stephen Edus, for $312.32. It was he who shortly after that erected the house from stone procured near by. At the age of 76 he made his will June 1 1887 and provided that Mary Converse should have $1,000 and his house in Cape Vincent village on condition. The condition was that George Ward who had resided with him should have a home there until he was 21 and on the further condition that she become his wife. The rest of his property went to young Ward.
Etienne Edus died May 10 1894 and February 25 1897 Mary Converse Edus and George Ward disposed of this stone house and farm on Hell Street to Mary A Mason who had contracted to purchase it of Edus September 12 1876. On February 28 1911 she sold it to Nicholas Reff, a well known town of Cape Vincent farmer and prominent member of the Democratic party who played a strong part in the town affairs of that party and was at times candidate for justice of the peace and assessor. Mr Reff was the father of Aloysius M Reff who was born upon the farm. His wife was the former Miss Elizabeth Docteur, daughter of Mr and Mrs Alfred Docteur.
While the front of their house shows the original lacing of the stone, one end has been smoothed with a veneer of cement and a wing of wood has been added to the other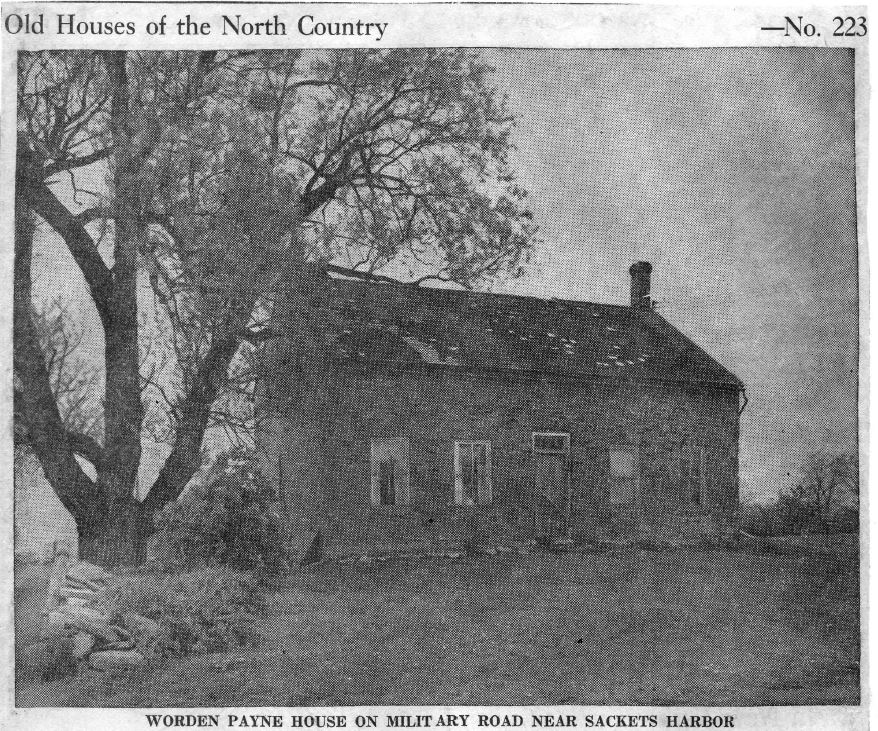 With old fashioned red brick from the kilns of one of the three brickyards established by Abram Jewett at Jewettsville, Worden Payne built his residence on the old Military road upwards of a century and a quarter ago. The house, a quaint, simple, attractive type, is located not much over a mile from Sackets Harbor and at about the beginning of the old Muscallonge settlement. It stands on the north side of the Military road and despite its dilapidated condition is one of the oldest and most picturesque houses in the county.
Known as "Lake Ledges" this farm has been owned by the Parsons family for the past 83 years and is now in the possession of Mrs Bert S (Addie M Parsons) Hazlewood, historian of the town of Hounsfield, who resides with her family on the Sackets Harbor-Campbell's Point road. It takes its name from the fact that there are three ledge levels of limestone on the farm and from these deposits was quarried the stone for the barracks and officer quarters at Madison Barracks, when they were enlarged.
From the north margin of the old Military road the farm runs back to the marshes of Black River Bay, where there has been good hunting and fishing down through the years. Besides the deposits of limestone there is such a quantity of moulding sand upon the farm that for many years it was taken out and trucked to this city for use in some of the foundries.
That Indians of an ancient day frequented the site of this farm has been evidenced in recent years by arrowheads, pieces of pottery, beads and other aboriginal artifacts which have been uncovered by the plow and by archeologists
Worden Payne purchased his first 100 acres of land in the vicinity of this farm from Henry Champion and Lemuel Storrs June 22 1815. Abram Jewett transferred his brick-making from Watertown to Jewettsville, which is on the highway between Watertown and Sackets Harbor and about a mile from Sackets Harbor, in 1818. This house was undoubtedly built a short time after that. In the will of Worden Payne recorded April 25 1849 he gave his widow, Rhoda, all of his real estate on the north side of the Military highway including his house and buildings. His children included Henry W, Charles A and William L His daughters were Ursula J, Jane A, Elvia H, Pamelia A, Lydia L, Julia A and Sarah Rosealtha who married Henry J Lane, former assemblyman and prominent Sackets Harbor merchant.
April 1 1858 Mrs Rhoda Payne sold the place to her son, William L, for $3,200 and December 30 1863 he disposed of it to Thomas Parsons of Hounsfield for $4,300. Thomas removed his family there from Storr's Harbor, where he had settled upon coming to this country from England. The old house contains four fireplaces and a large brick oven for baking. On January 8 1872 Thomas Parsons Jr, and Miss Adelaide S Case were married before a large party of invited guests in the house. Before the guests could leave a heavy snow storm marooned them there for several days. Thomas and Adelaide Case Parsons were the parents of Mrs Hazlewood. Mr Parsons died April 10 1918 and after that his son, Brenton, carried on the farm until his death less than a year later. On April 7,1920 the heirs of Thomas Parsons Jr, conveyed their interests to Mrs Hazlewood, also an heir and she has since owned the place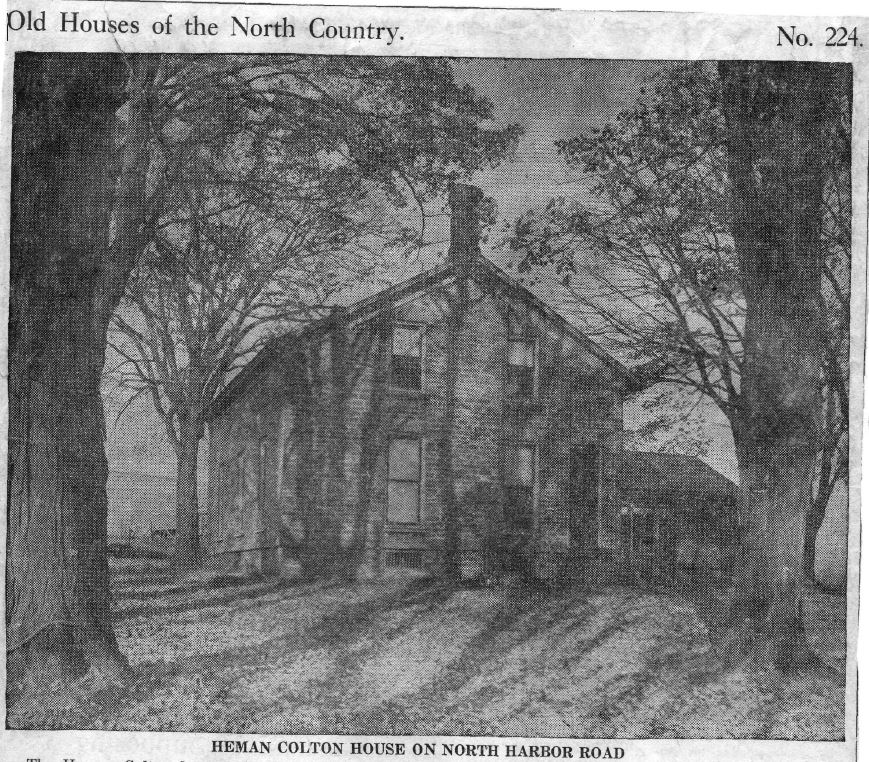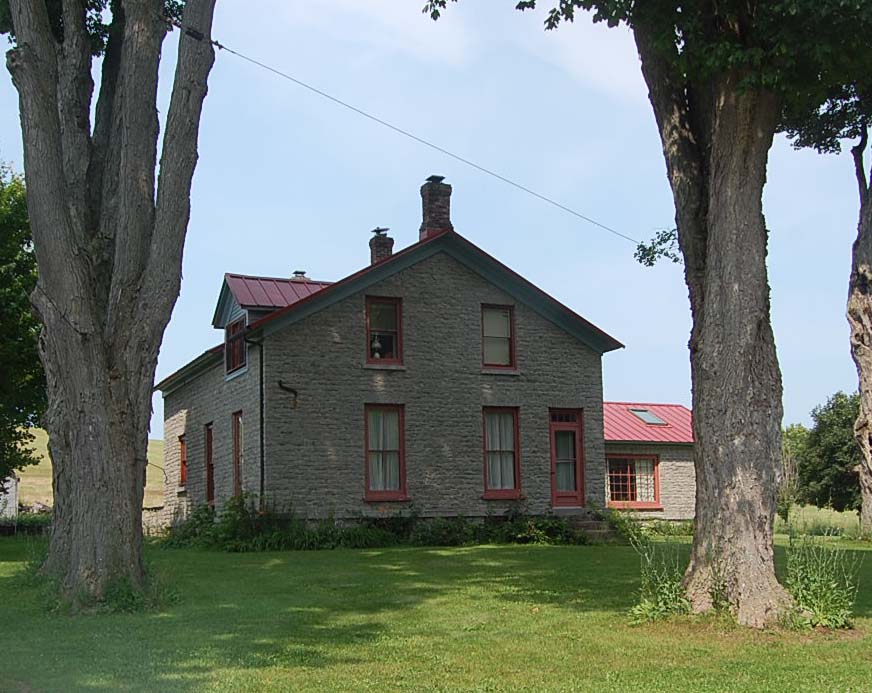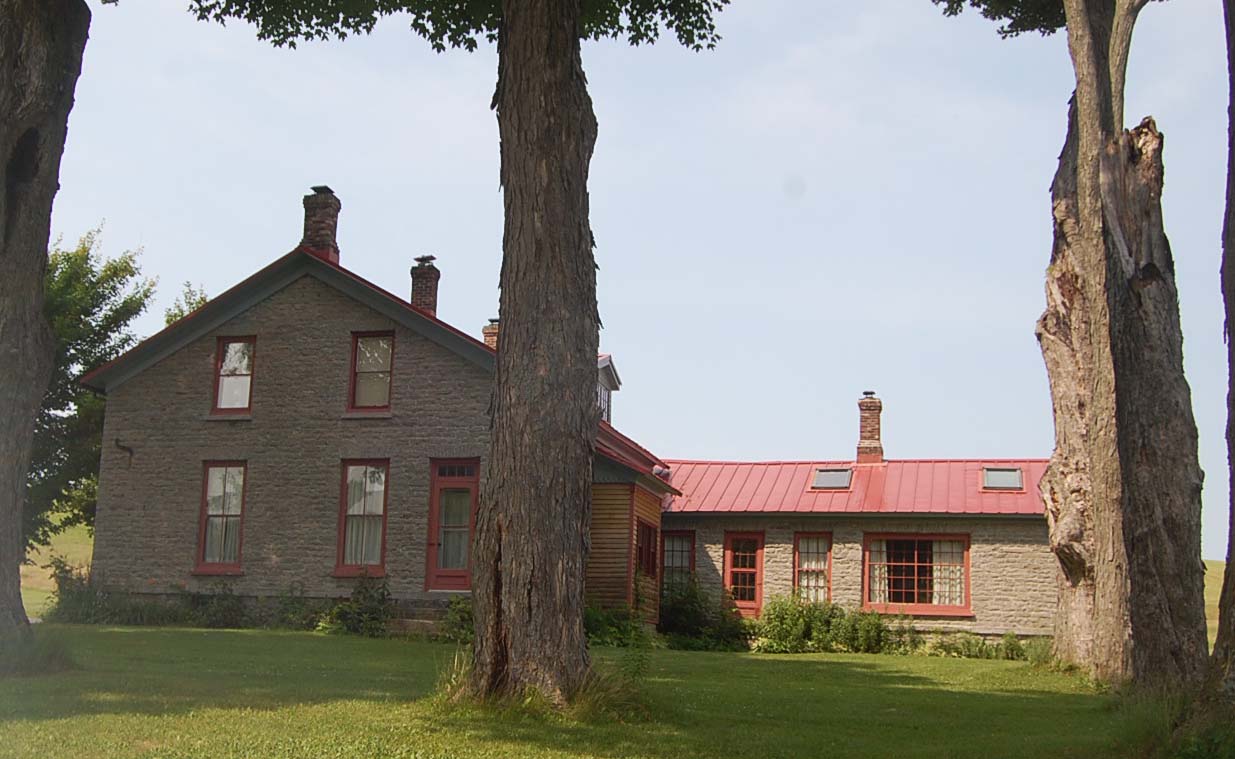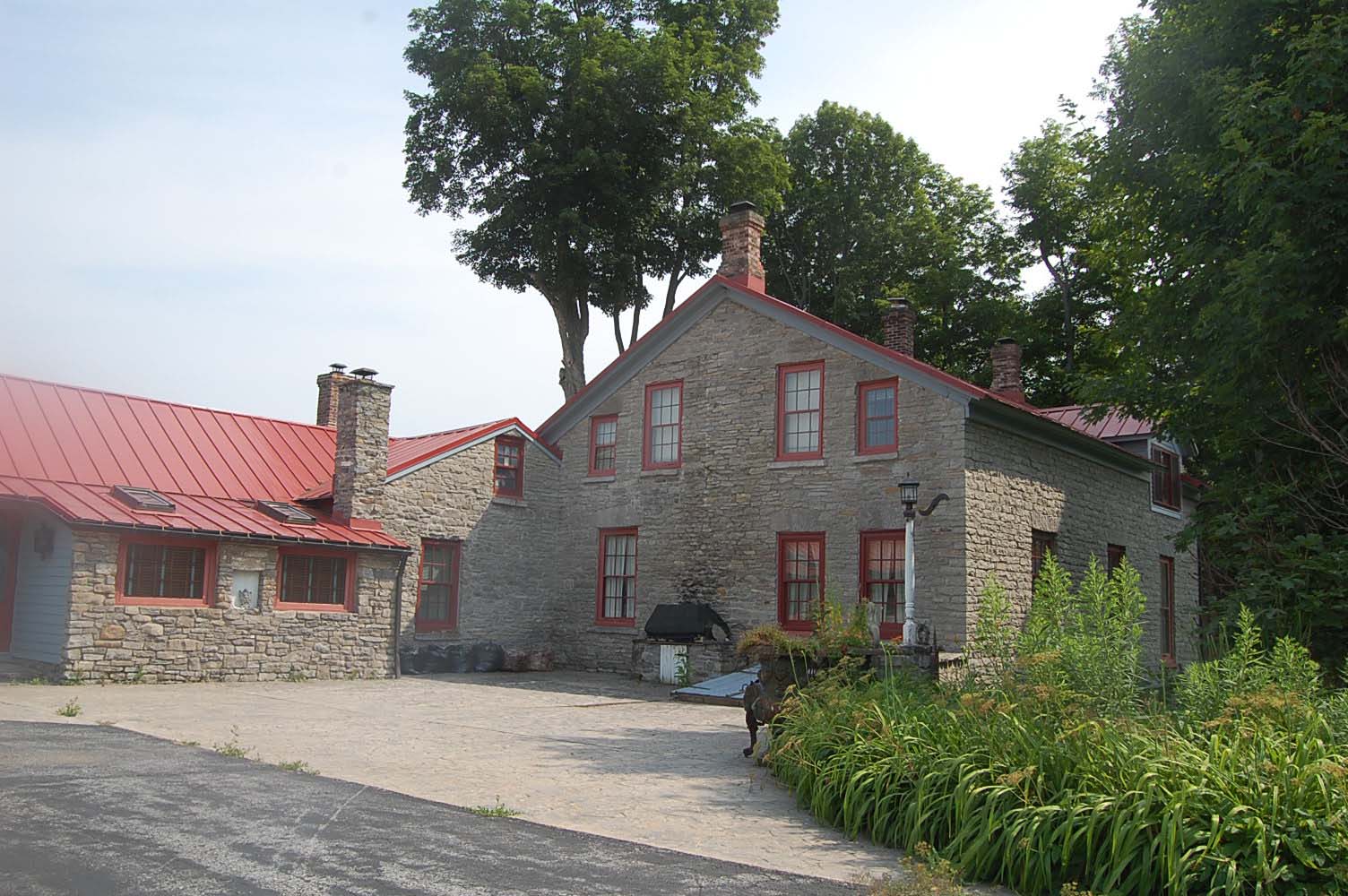 The Heman Colton house with some 285 acres of rolling land on the North Harbor road between Adams Center and Smithville occupies one of the most picturesque locations in the North Country and since March 1 1900 has been owned by John R Owens, of Adams Center, well known farmer and business man.
Heman Colton at the age of 19 came to this county from Otsego county and April 10 1826 purchased a parcel of 81.55 acres of land from David and Betsy Smith of the town of Adams, starting an acquisition in the Stony creek area, where the house is which rolled itself up through future purchases to a total of 521.06 acres. In 1832 Heman began the construction of his commodious, 16-room rambling house from limestone quarried on Dry Hill and hauled to the North Harbor road by ox-team. The house with its two large fireplaces and a woodshed large enough to drive a team in was completed in 1833 and there Mr Colton, his wife Diana R S Colton and children lived for several years. After his death the property passed to his son, Chauncey Colton, under a deed executed by his father June 6 1868 for the nominal sum of $1. Concerning Heman Colton's business operations during a portion of his life it may be said that he conducted a sawmill and lumbering activities upon his property
Chauncey Colton, however, was not so successful in his ventures. He died December 29 1891 and on February 28 1894 his widow, Angeline R Colton, and Parley Warriner, as administrators of his estate, sold the 521.06 acres of land on the North Harbor road to George W Heath for $11,970.35
Mr Heath retained the place about six years and then his estate on March 1 1900 disposed of 260 acres of it to John B Owens and his brother, the late William H Owens, and for nearly 47 years it has remained in the possession of the Owens family. The late William H Owens was also a dealer in real estate. Besides trading in hay and cattle John R Owens who controls the stone house and its 285 acres was married several years ago to Miss Minnie Kearns ot this city and for some years they resided in the old stone house. It is now occupied by Mr and Mrs Leon F Chrisman, tenants.
Sitting back among large, old sugar maples on high ground on the north side of the not heavily traveled North Harbor road it looks down over the twisting highway into the valley meadow through which winds the beautiful Stony creek. The scene is fully as beautiful as that found along the Dugway in the town of Rutland, that drive which extends from the hamlet of Tylerville or South Rutland to the hamlet of Whitesville or East Rodman. And about the sturdy old stone house there is an atmosphere of majesty and contentment. From here on Saturdays Heman Colton drove out with his family to attend the Seventh Day Baptist church and when a new Seventh Day Baptist churchl society was organized in the North Adams sector November 19 1939 Heman Colton was one of the three original trustees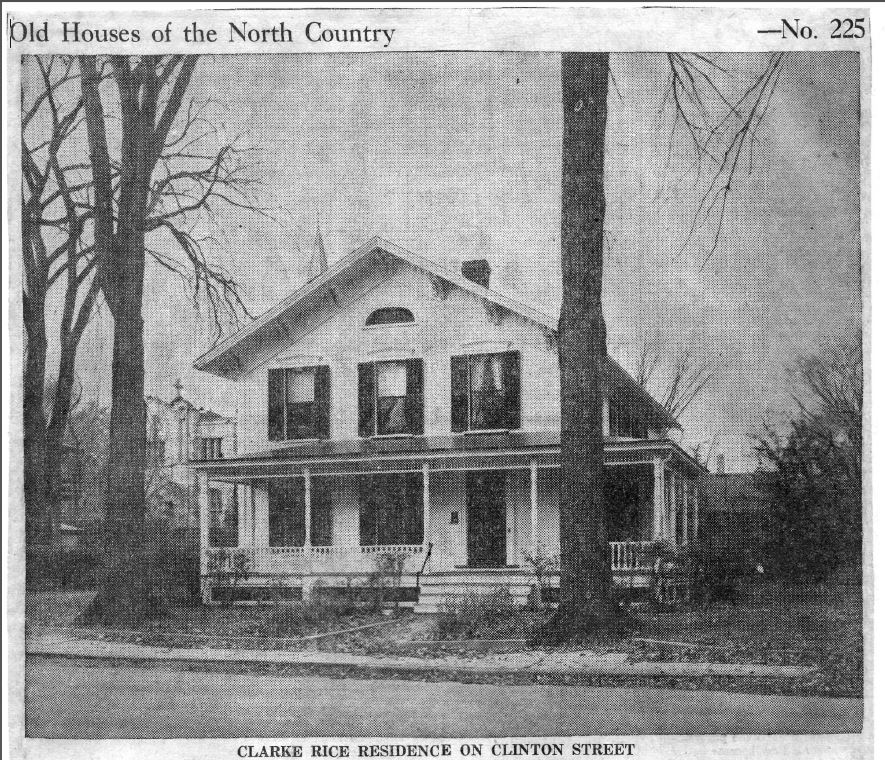 Clarke Rice was a young printer from Brattleboro, Vermont, who formed a partnership in 1824 with George W Knowlton, a young merchant of that village, to purchase the two small paper mills Gurdon Caswell had established and unsuccessfully operated in this village of Watertown.
The two mills had a capacity of 125 pounds each of handmade paper per day, but still there was not an adequate market for it and Knowlton & Rice had to operate a print shop, book bindery and book store to dispose of this product. The story of the school text books, books of literature, blank books, etc, this firm produced and sold throughout the North Country is well known.
Clarke Rice came here in 1824 to take over the mills they had purchased and was followed the next year by Mr Knowlton. October 6 1828 Clarke Rice purchased a lot on the north side of Clinton Street (so-called) it being the street running westerly from Washington Street by the house of the Reverend George S Boardman. Reverend Mr Boardman was the second pastor of the First Presbyterian church and resided on the south side of Clinton Street about two houses west of Miss Emma S Lansing's residence. It was diagonally across the street from Boardman's that Clarke Rice built his own house on the lot he had bought from Judge Jabez Foster in October 1828.
The Rice residence was at No. 16 Clinton Street in those days and there he and his family lived until his death in the late summer of 1866. When the Watertown & Rome railroad was formed to bring the first train into Watertown September 5 1851 Mr Rice, who had been prominent in founding the company became its first secretary. He was an alert, aggressive, adventurous business man and became so deeply interested in railroading that he sold his interest in Knowlton & Rice in 1856.
Two years before, Knowlton & Rice turned solely to the manufacture of paper. In 1861 Mr Knowlton disposed of his interest in the firm to his sons, George W Knowlton Jr, and John C Knowlton and then was started the predecessor of the present Knowlton Brothers, Inc.
After Clarke Rice died, his son, John Holbrook Rice, Albany, as executor, sold the residence at 16 Clinton Street to the Watertown Ecclesiastical society for $4,000 and it became the parsonage of the First Presbyterian church. Reverend J Jermain Porter was the first pastor to live there, and from 1882 to 1886 his successor, Reverend George B Stevens, resided in this house. From 1886 to 1898 it was the home of Reverend Dr Allen Macy Dulles and on January 29 1898 the Watertown Ecclesiastical society, which had acquired a parsonage on Mullin Street, sold No. 16 Clinton Street to Mrs Alice Powers Smith. From that time until his death, March 25 1943 Edward North Smith, late supreme court justice, resided there. Justice Smith for half a century had been one of the North Country's leading lawyers and jurists.
Following the death of Judge Smith his son, C Powers Smith, Falls Village, Connecticut, well known author and novelist, September 28,1943 disposed of this residence now designated 162 Clinton Street, to Albert B and Katherine D Scholl, the present occupants, Mr Scholl being a principal in the local public schools.
The house of Georgian type has undergone a number of exterior modifications through the years. It has had a notable history and stands in an historic block of an excellent residential district, a block which for many years was almost solidly Presbyterian and still is strongly flavored that way.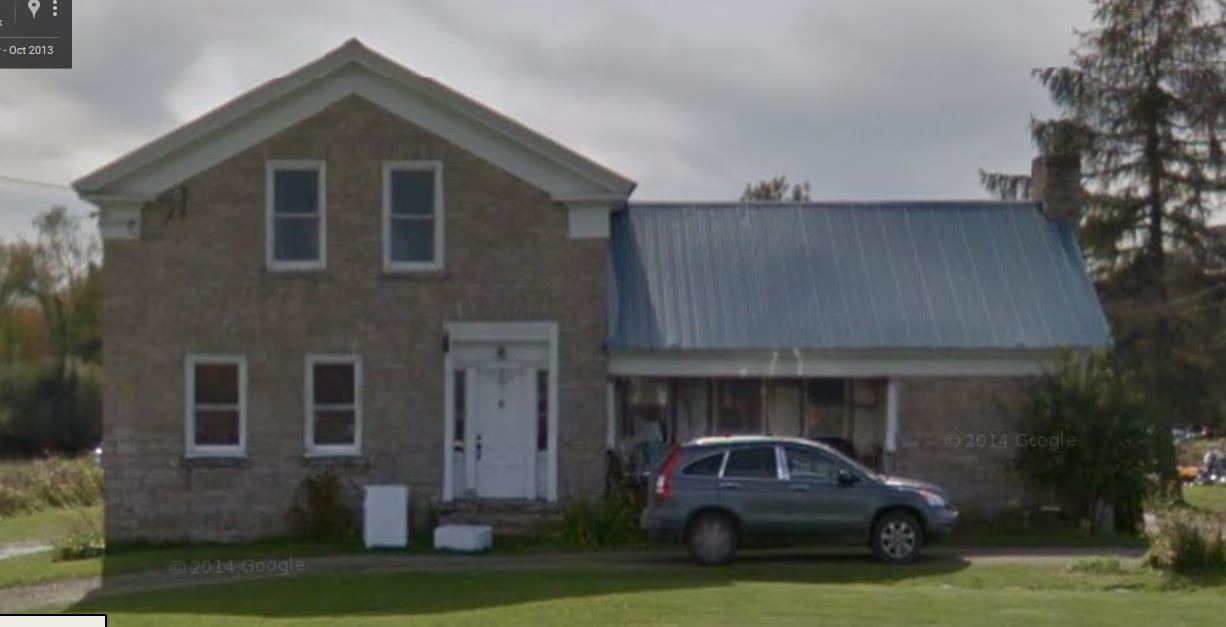 David Foster, who came from Massachusetts about a century ago to become one of the early settlers of the lakes region of the town of Theresa, purchased 102.38 acres of land from the Marquis de St. Paul, Paris, France, grandson of James D LeRay de Chaumont, through the marquis, North Country agent, Patrick Somerville Stewart, February 22 1847. It is believed that Foster immediately cleared the land for farming and erected this house from limestone quarried from a ledge near the shores of Hyde Lake. The house is on the road that leads to Plessis and Alexandria Bay from the Watertown highway that passes through West Theresa.
A sturdy Yankee farmer was David Foster, grandfather of Mrs William N (Ethel Phillips) Kellogg of Adams Center, and the late David Foster Phillips of this city, and great-grandfather of County Judge Crandall Foster Phillips and Attorney John W Kellogg, city. David Foster prospered during the years following the building of his stone house and added to his initial purchase of land from the Marquis de St. Paul. He died intestate November 19 1860 leaving a widow, Lucetta, and children who continued to reside on and operate the farm.
Among the children was one Emaretta V Foster. On January 6 1862 she was married to William D Phillips, son of John Phillips, Herkimer county native, who settled in the town of Lyme in the early 1800's. Young William D helped his father with the farm work until attaining the age of 21 and then for three years worked for David Foster. It was then that he met Emaretta, whom he married, this bridegroom enlisting August 12 of the same year in Co. F, 10th New York Heavy Artillery and serving until October 17 1865.
Besides Mrs Ethel G Phillips Kellogg of Adams Center, and the late David Foster Phillips of this city, Weston D Phillips and John H Phillips were children of William D and Emaretta V Foster Phillips. On March 28 1877 Wallace S Foster, Emaretta V Phillips and Emogene A Beman, children and heirs of David Foster, deeded the farm and stone house to their mother and sister, Mrs Lucetta Foster and Mrs Jane S Foster Place, respectively. On the same day Mrs Lucetta Foster, Mrs Place, Mrs Beman and Wallace S Foster conveyed 51.31 acres to Mrs Emaretta V Phillips.
Upon the death of Mrs Lucetta Foster the stone house and larger portion of the assembled farm became the sole property of Mrs Jane S Place, wife of Horace Place, and they resided there for the balance of their lives. After the death of Mr Place the property was conveyed by Mrs Place March 31 1924 to her adopted daughter, Mrs Maude Soper, wife of the late Colonel Fred A Soper. Mrs Soper retained the house, buildings and the 151.35 acres of land until August 17 1937 when she sold it to Gustave Ebrecht and his wife, Dorothy, who were then of Jackson Heights, Long Island, and they are the present owners and occupants, maintaining the place in a spic and span and attractive condition.

It will be recalled that it was at Hyde Lake that Jairus Rich, one of Watertown's first newspaper editors and pioneer hunter, had his terrific hand battle with a panther in 1819.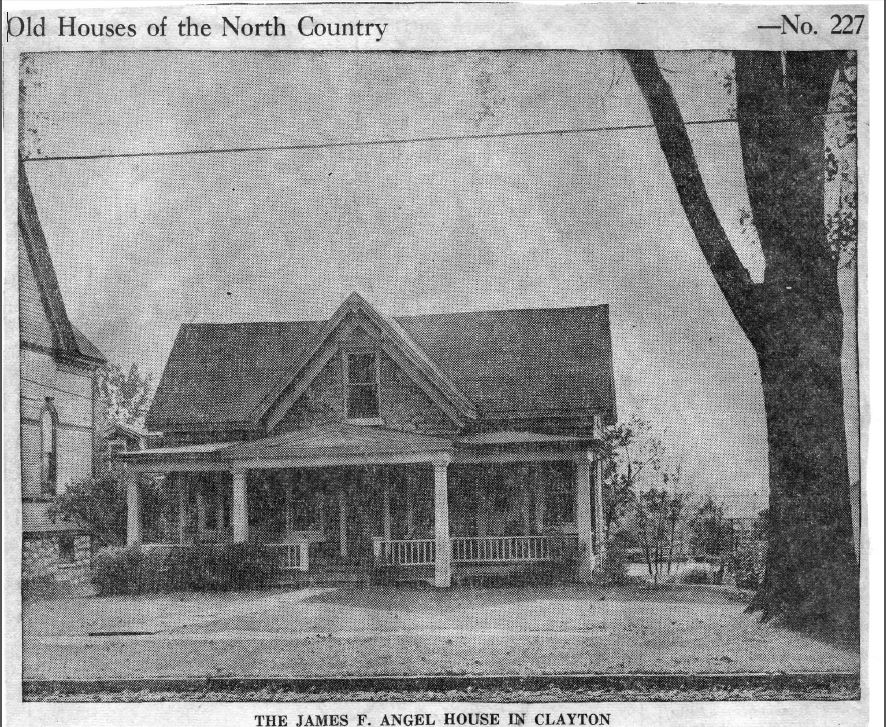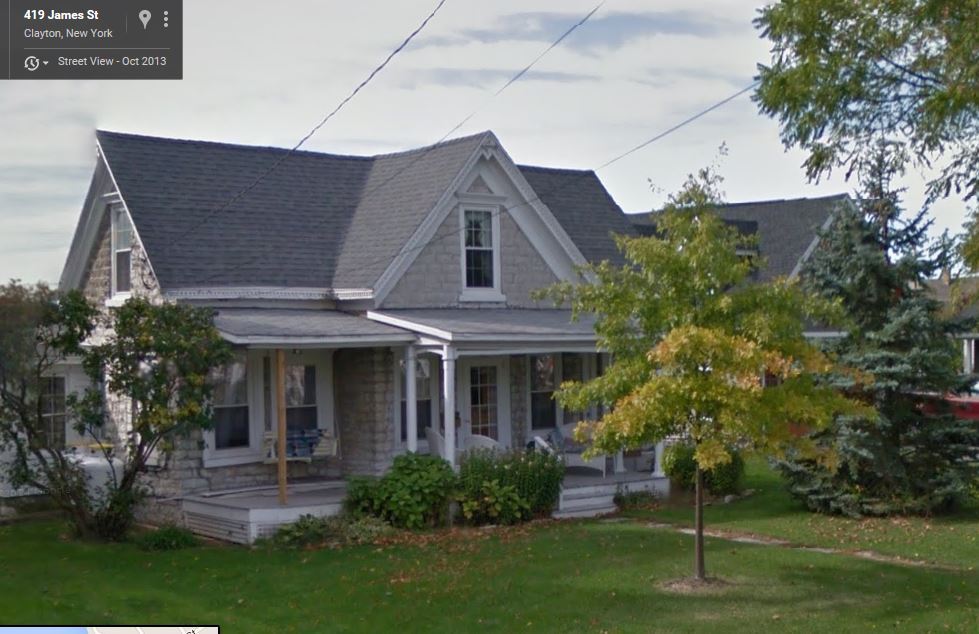 Having an approximate age of slightly over 90 years the James F Angel limestone house at 412 James Street, in the village of Clayton, evidences more recent construction and a different type than the great bulk of the native limestone houses in the county. Its style smacks strongly of a class of houses strung all along the King's Highway in Canada from Prescott to Toronto.
County records would imply that the house was built as a speculation about 1853 by Judge James F Starbuck of this city, for on May 10 of that year he purchased the site from Charles G and Maria Irene Harger, of Pamelia Four Corners, prominent packer, merchant and founder of the Harger Bank in this city. The price paid by Judge Starbuck was $216 indicating that there was no house on the property at that time. On January 20 1859 when Judge Starbuck sold the place to Mrs Hannah Angel, wife of James F Angel, for $1,000 the price indicates that unquestionably there was a house on the site at that time.
After several years the property got into other hands and on August 1 1898 Attorney Fred A Baldwin as referee in the action of Maria Johnston vs. William H Rees et al sold it to Thomas M Esselstyn for $1,100. Two days later Esselstyn disposed of it to Edmond E Francis at a $50 profit. January 29 1904 Francis conveyed it to his wife, Matilda, for the nominal sum of $1 and November 24 1906 she sold it to the late William H Pelow who died March 19 1925 and it became the property of his widow, Mrs Estelle A Pelow, the present owner.
Both the Angels and the Esselstyns were prominent early residents of Clayton and were widely engaged in its activities.
General William H Angel, a pioneer resident of Clayton lived there for a number of years, then went to Sackets Harbor and finally came to this city, owning and occupying the mansion now American Legion headquarters and becoming the builder of several important buildings in the city. James F Angel was another prominent early resident of Clayton and more than 100 years ago was owning property there. Two doors to the north of this house resided William W Angel and in those early days James Street might well have been properly designated Angel Street.
Thomas M Esselstyn, long manager of the old Izaak Walton House and owner of this stone house for a few days, was the grandson of Richard M Esselstyn Sr, one of the earliest settlers of Cape Vincent, and later an extensive lumber manufacturer and shipper at Clayton. A native of Claverack Richard rode on Robert Fulton's steamboat "Clermont," and during the War of 1812 General James Wilkinson's army used many of his staves and much of his lumber for fires to cook their breakfasts and warm themselves on. His son, Richard M Esselstyn Jr, was a member of the Clayton shipbuilding and lumbering firm of Merrick, Fowler & Esselstyn and Thomas M Esselstyn was Junior's eldest son.
The house today has a modern verandah and many other modern features, and is one of the best-kept properties along Clayton's important James Street.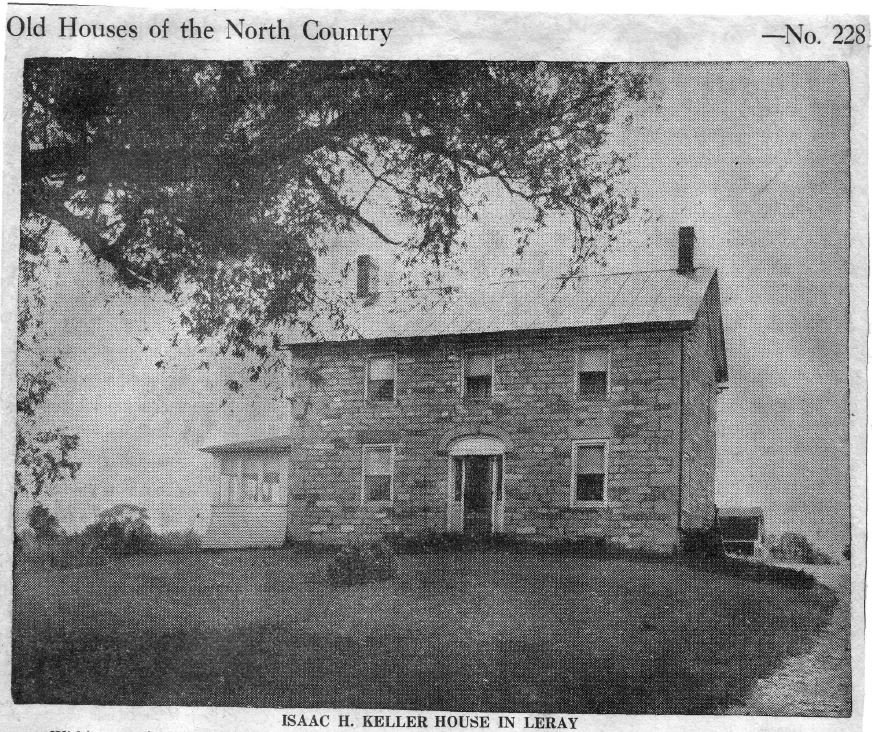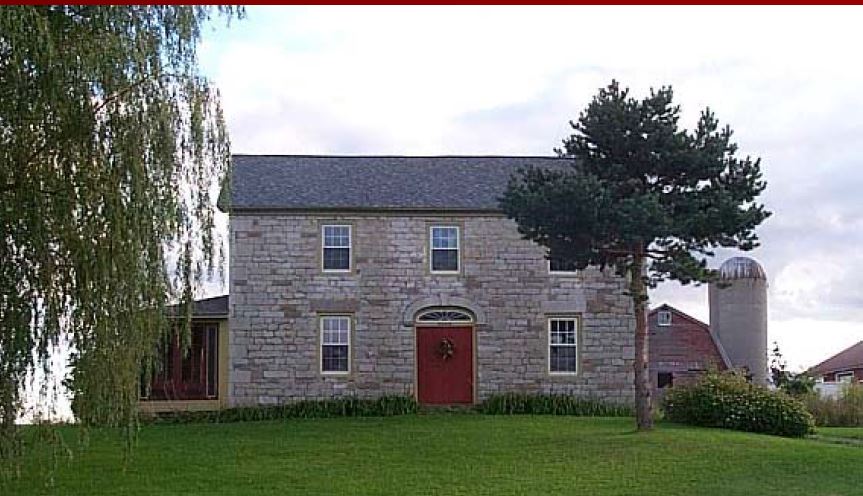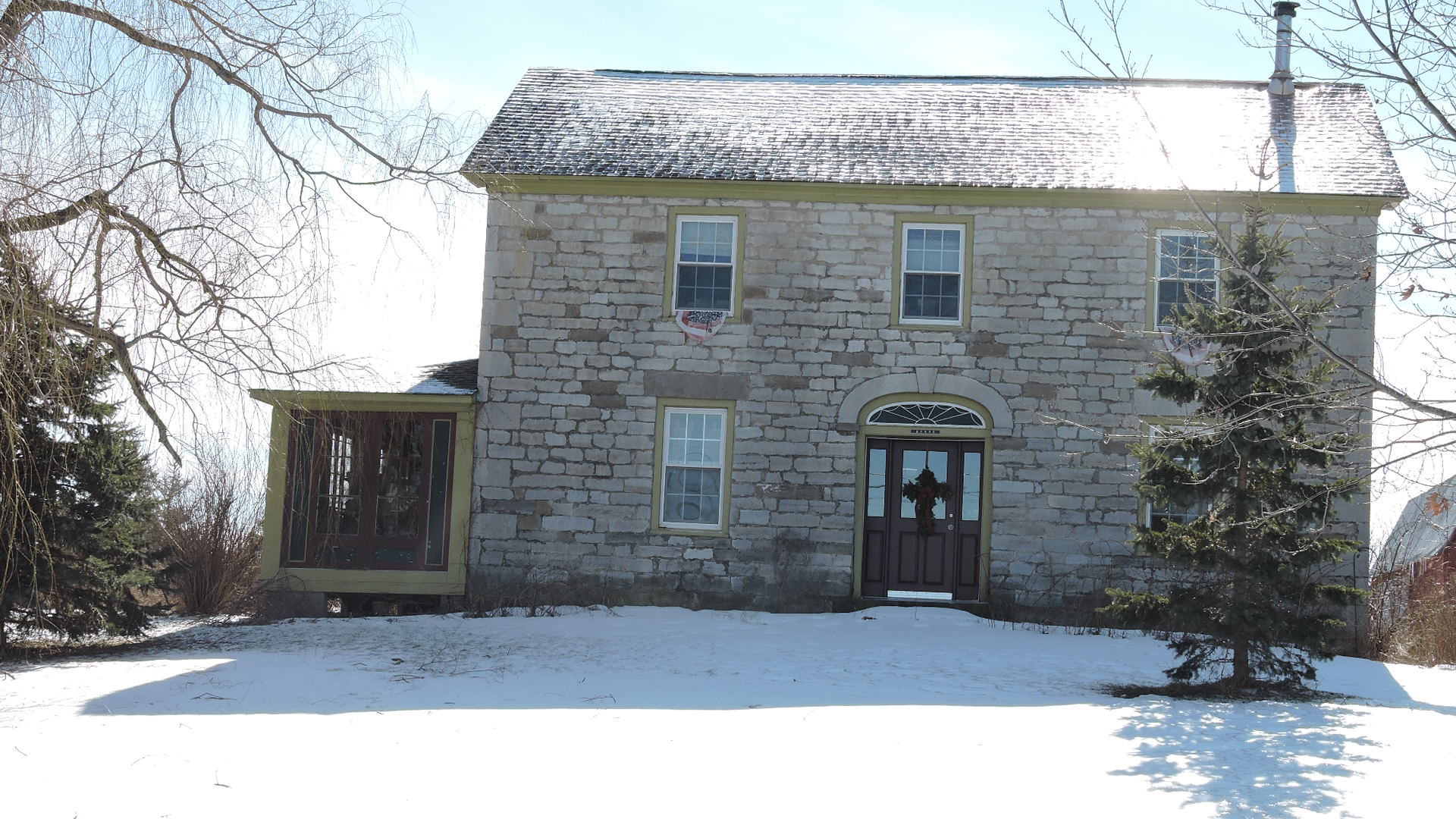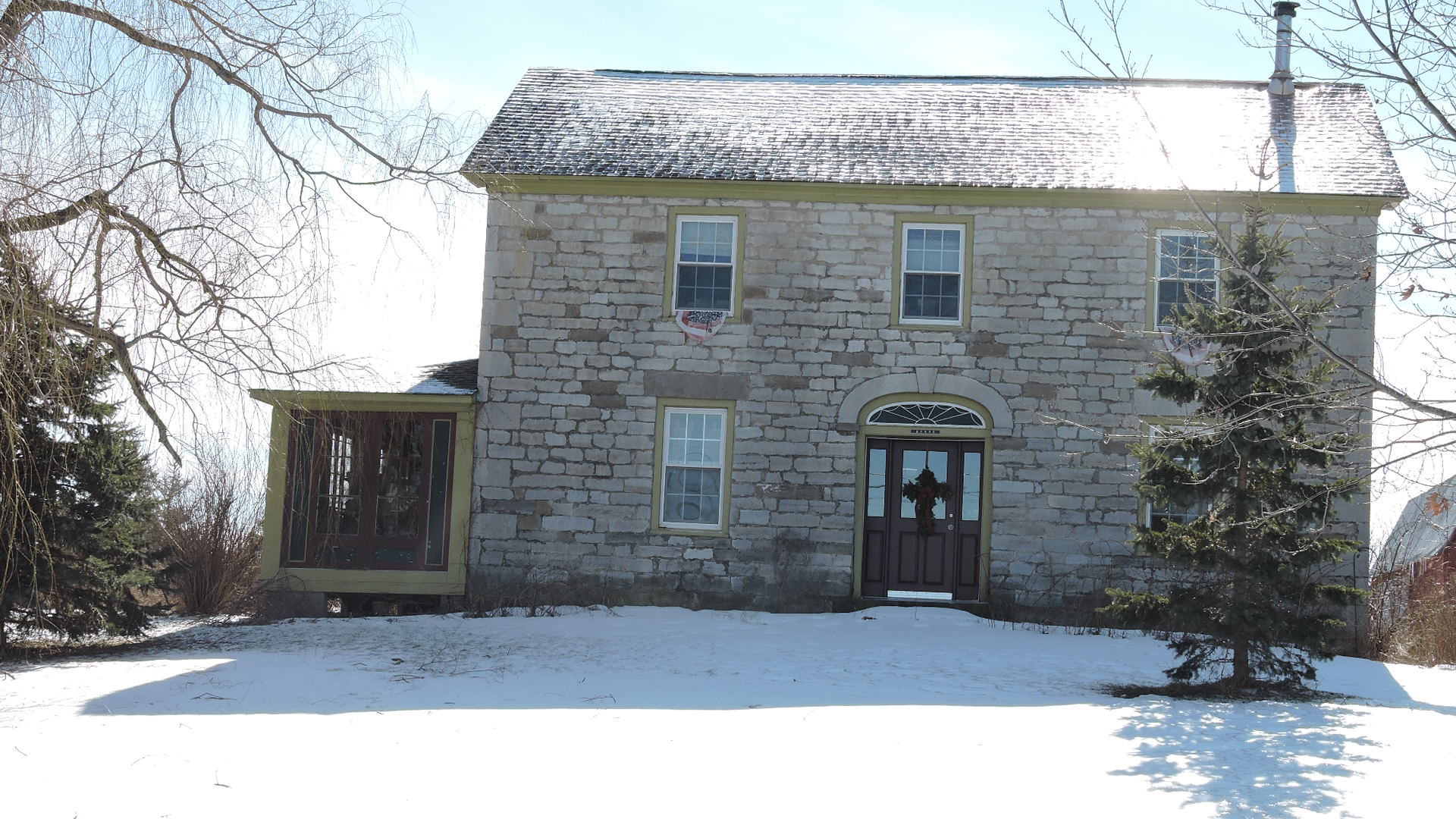 Within easy sight of the state road from Watertown to Evans Mills and on the Gould Settlement town road is the fine old native limestone house originally the property of Isaac H Keller. It is believed to have been built about 1832-3 and is the manor house of the farm of approximately 160 acres owned for the past six years by John Cooke & Son.
Isaac H Keller came to the town of LeRay in 1824 from Little Falls. His wife was the former Miss Elizabeth Casler and they had two daughters, Margaret who married Elias A Wood of Lowville and Barbara who married Samuel T Potter and later removed to Omaha, Neb.
On February 20 and April 26 1832 deeds from the Willson estate conveyed about 102 acres of land to Mr Keller and on February 12 1841 there came to him slightly over 48 acres more from Eugene Blanc of the same town of LeRay. Blanc, who in later years, resided on Main Street in this city, was a brother of Octave Blanc, the surveyor and map-maker who made some of the earliest of the railroad surveys and maps for this section. Both were sons of Jean Pierre Blanc, who bought 200 acres of land not far from this house from Ezekiel and Abigail Jewett February 2 1827. The elder Blanc and his sons came here from France and descendants believe that they were associated with the LeRays, probably in the matter of making surveys and running some of the property lines.
In any event, Octave Blanc was a man of fine talents and in 1861 served the town of LeRay as supervisor, having succeeded Lewis Palmer and having been followed by Samuel G Slocum. After his acquisition of the first parcel of land in the Cooke farm in 1832 Isaac H Keller added more land to it. He died October 15 1885 and willed the Blanc section to his grandson, Isaac A Wood, and the balance of his real estate as well as his personal property to his daughter, Mrs Margaret Wood, upon the condition that she pay her sister, Mrs Potter, $5,000. Later Margaret Wood died intestate and her share of the property went to her son, Isaac A Wood who, with his wife, Eliza L Wood, sold the complete farm to Samuel T Potter of Omaha, Neb., for $9,000 on February 19 1892. On the following October 6 Potter and his wife, Barbara, sold this farm of almost 160 acres to Jesse L Rogers of the town of LeRay for $8,000 and for more than half a century the farm has been known as the Rogers place.
At the end of eight years Jesse L Rogers and wife, Maryette, disposed of the farm to Edwin G Rogers for $6,500 and it was from his estate that it was purchased by Mr Cooke six years ago. The house and other buildings are maintained in excellent condition, and the house which has an attractive front door and central hall is a sturdy and excellent piece of masonry. It is located upon high ground with a fine vista in all directions.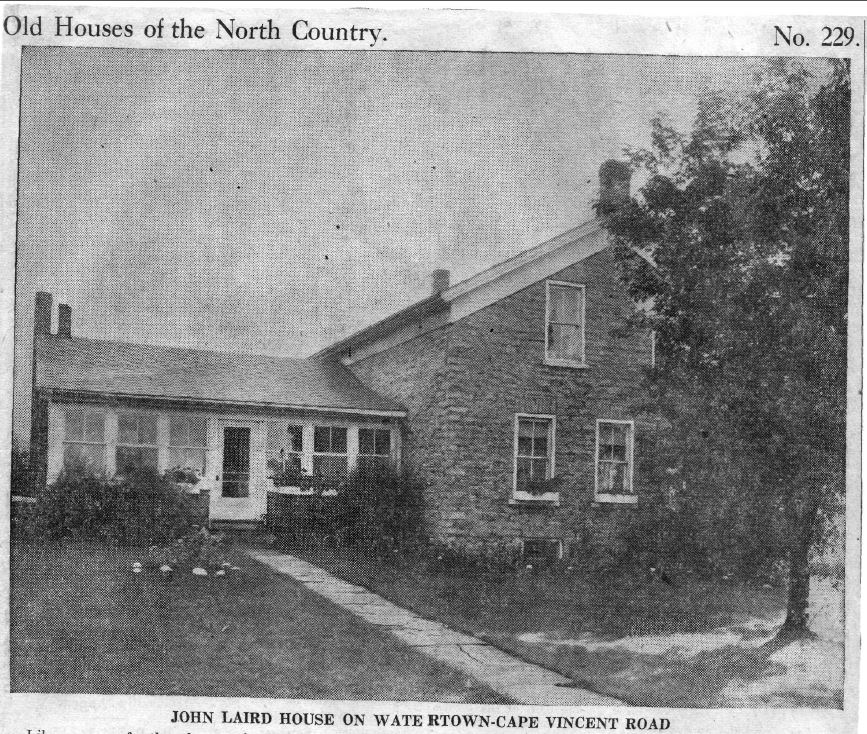 3180 NY 12E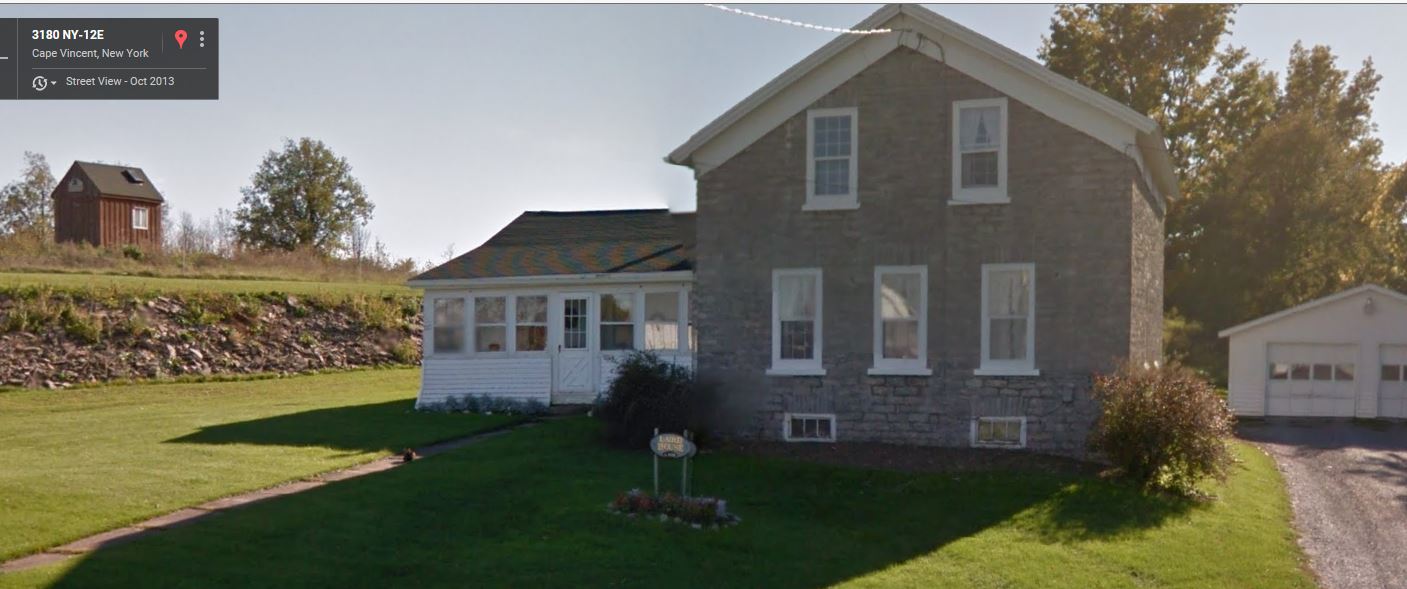 Like scores of other houses in Jefferson and Lewis counties, John Laird's house, on the west side of the "Cape Vincent turnpike" which is now the Watertown-Cape Vincent state highway, was built of native limestone. The date of its construction was probably in the early 1830s. Laird, a Scotsman, came to the United States about 1830 and purchased his first land in this location, a parcel of 50 acres near the "two-mile stake", from Minot and Sally lngalls July 2 1831. Later he acquired other adjoining parcels from Henry Ainsworth, Vincent LeRay and James LeRay (Marquis de St. Paul) until he had a farm of 196.6 acres.
Nestled back under a knoll the house frequently escapes the notice of tourists proceeding from Watertown towards Cape Vincent, and some there are who fail to see it as they proceed in the other direction. It is approximately two miles from the village of Cape Vincent and easily accessible to Lake Ontario and the St. Lawrence river. Purchased June 8 1937 from F Edward Hayes individually and as executor of George S Laird, grandson of the original owner, it has been in the possession of Willard G Stumpf and his wife, Laurene Constance Stumpf, tor the past nine years.
Thrifty young farmers, Mr and Mrs Stumpf who were married October 2 1929 have built up a substantial dairy, made a success of their agricultural venture and put their house and buildings into such attractive condition that the property has excited much complimentary comment on the part of those who stop to see it. Summers finds it with colorful flowers plantings, carefully trimmed trees and a close cropped lawn. Architecturally the house is the cottage type of design with a long, one-story but roomy wing. John Laird lived there until his death at 67 on November 17 1861 leaving Mary, widowed, and at least ten of his family of 13 children. His son, John Laird Jr, was named administrator of his estate.
Robert, another son, born April 10 1883 was married to Mary, daughter of Joseph and Barbara A Smith Baker of Picton, Ontario, and resided upon the farm in later years. They had two sons, William D and George S Laird, who became well known farmers of the county, and it was from the estate of George S Laird that Mr and Mrs Stumpf purchased the property.
Mr Stumpf is the son of Gustavus Stumpf Jr, of Rosiere, and grandson of Gustavus who was the son of John. The latter, native of Germany, came to this country about the same time as John Laird and after five years in Albany located in Rosiere. Mrs Laurene Stumpf, wife of Willard G Stumpf, is also descended from immigrant German stock, her great-grandfather, Lawrence Constance having come to this country from Germany and settled in the town of Cape Vincent, as did a substantial number of both German and French settlers upwards of a century ago. Portions of the farm adjoin land owned a century and a quarter ago by Count Pierre Francois Real, Napoleon's prefect of police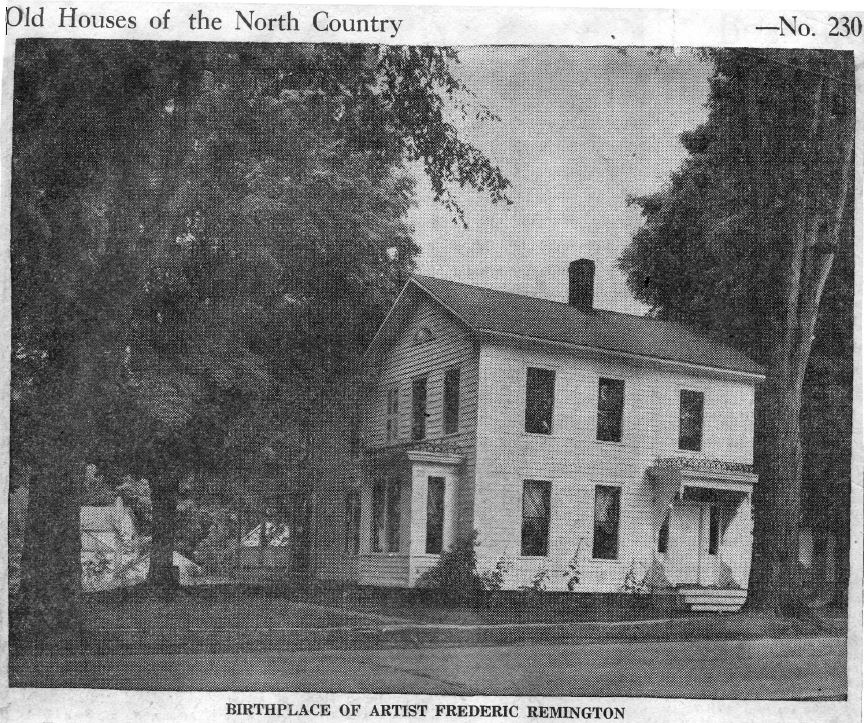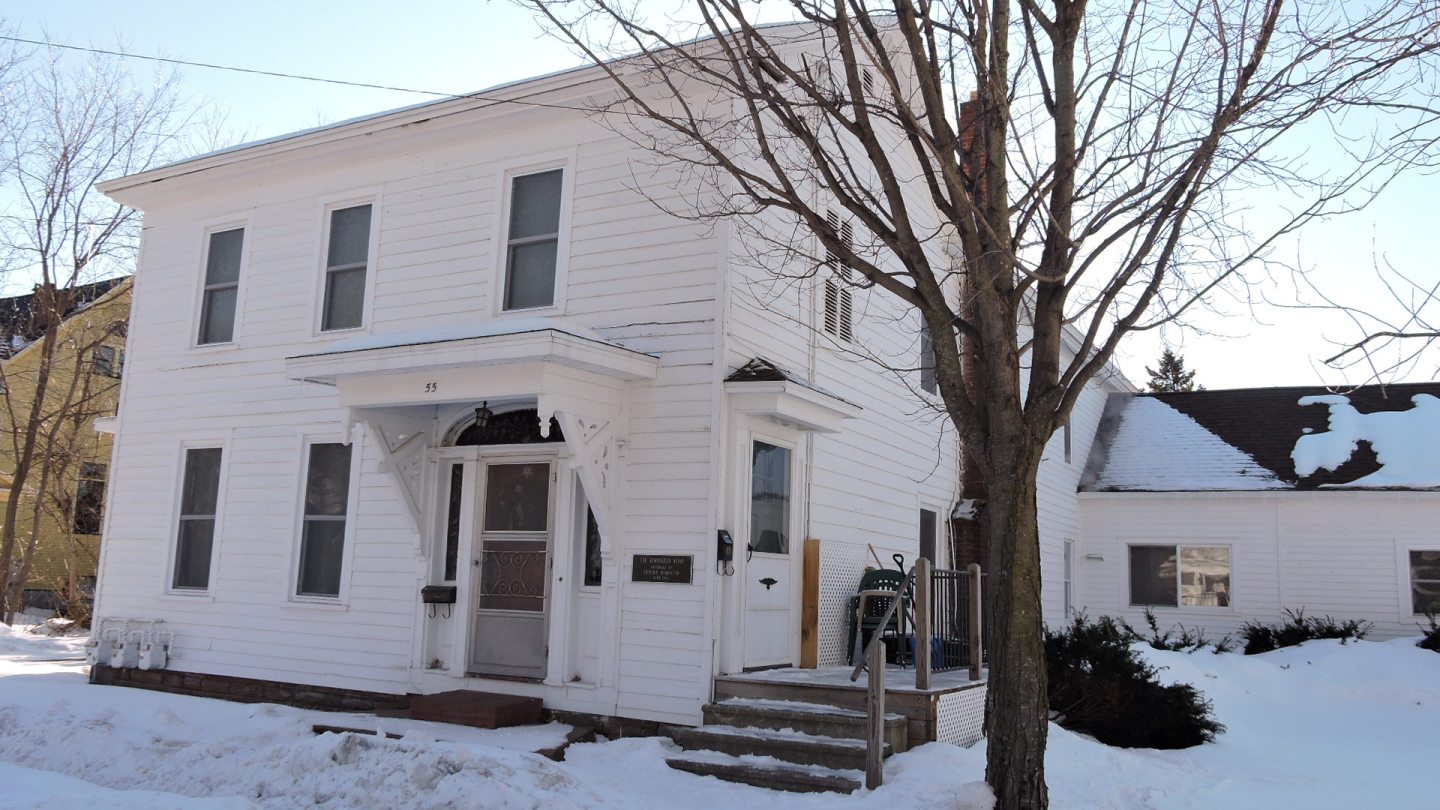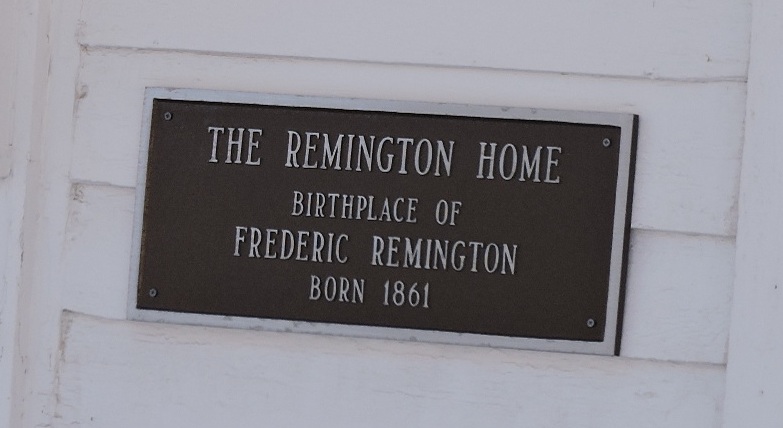 Frederic Remington, world-famed artist-interpreter of life as it was on this country's western plains from the days of the Argonauts until the 1890's, was born October 4 1861 in this sleek and appealing old white house at 55 Court Street, Canton, county seat of St. Lawrence county.
His father, Seth Pierre Remington, had come to Canton but a few years before to join with William B Goodrich in establishing The St. Lawrence Plaindealer in July 1856. His mother was the former Miss Clara B Sackrider. The house, in which Frederic Remington was born is believed to have been built between 1823 and 1825 during the ownership of the site by Alanson Clark. Its title at the time of Frederic's birth was held by his grandmother, Maria P Remington, who had purchased it November 12 1856 from Elnathan W Heaton, and she was the wite of Reverend Seth W Remington who had come to Canton about that time to assume the pastorate of the Universalist church.
Located not far from the St. Lawrence county court house and county buildings, but on the opposite side of Court Street, the half-acre lot upon which this house was built was part of the holdings acquired July 7 1806 by Stephen VanRensselaer, one of the early proprietors of the town of Canton. On December 31 1816 VanRensselaer sold off a 75 acre parcel containing this site to Joseph York, and March 6 1823 York disposed of three acres embracing he half-acre house site to Alanson Clark.
Clark kept the property until February 4 1836 when he disposed of the house, outbuildings and half acre to Lemuel Buck who that year became supervisor of the town of Canton to serve until 1841. Buck conveyed to Nathan Pratt August 13 1839.
Pratt retained the property until January 15 1856 when he transferred it to Elnathan W Heaton, who sold it to Mrs Maria Remington the following November 12. Josephine L Crichton inherited it July 16 1877 from Mrs Remington and five years later, on November 1 1882 conveyed to William R Remington. She was at that time Mrs Frank A Gibbons. On March 23 1893 Remington sold to Mrs Henry E (Charlotte E Dezell) Seaver, who held the place until August 30 1920 and disposed of it to Frank C Heaton, late prominent Canton jeweler. On February 20 this year, his widow, Mrs Bessie Heaton, sold to James Moreau Brown, assistant to the dean and director of admissions and publicity at St. Lawrence university, and he is making his residence there. Some day the property should become an historical shrine and in the near future the state should erect an historical marker there.

Frederic Remington did not live many years in this house. The year after he was born his father entered the Union army, became a colonel, returned to Canton in 1867 took over The St. Lawrence Plaindealer again and conducted it until 1873 when he sold to Gilbert B Manley and went to Ogdensburg where he edited the Journal until his death seven years later.
How Frederic Remington went to Yale school of fine arts in 1878 quit in 1880 went to an adventurous career in the west, returned east to become a great artist, is well known. His first published picture was an ink football sketch in the Yale Courant in November, 1879. Then in the early 1880's he sold his first drawing to Outing magazine and after that became a regular contributor to Harper's Weekly. Later he began painting in oils and in May 1945 one of those paintings, "A Dash for Timber," sold for $23,000. In addition to his pictures, he wrote several books of western life and created several pieces of statuary. It is of current interest that on Monday of this week three of his best bronzes, "The Bronco Buster," "The Rattlesnake" and "Coming Through the Rye," went on exhibition at the Kande galleries at Gimbel's in New York City and were up for auction Thursday night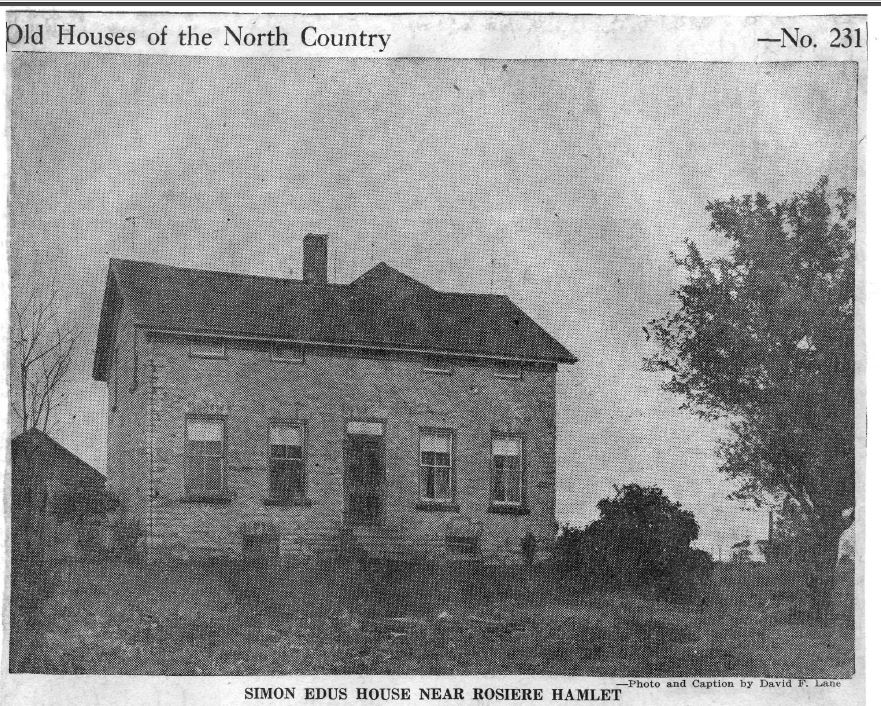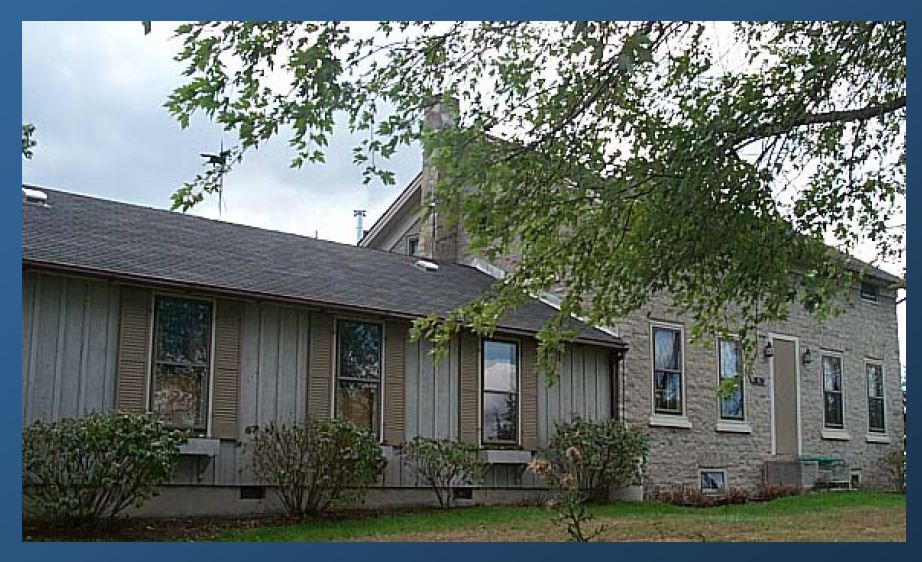 About a mile and a quarter from the hamlet of Rosiere and on the Burnt Rock road is the quaint Simon Edus house. Simon Edus and his family, natives of old Rosiere in France, emigrated to this country early in the last century and settled in the Rosiere region of what was then the town of Lyme.

On February 7 1848 Simon purchased 40.57 acres of land from Vincent LeRay for $351.05 and shortly after started construction of the eight-room upright of this house, utilizing limestone quarried on the farm. He was assisted by his sons, Peter and Francis, and the stone house was completed at least 95 years ago. Later other parcels of land were added to the farm and during the occupancy of George Edus a two-story addition of frame construction was built at the rear. Its ridgepole was about four feet higher than that of the stone house and can be seen from the front towering above the latter.
Under the provisions of the Simon Edus will, recorded February 5 1873 all of his realty and residuary estate were given in equal shares to his sons, Peter and Francis. On November 25 1876 the estate of Francis Edus, deceased, conveyed his interests in the farm to his brother, Peter, who kept the property until April 11 1882 when he sold it to John Dunlay for $6,110. But four years later John Dunlay and wife, Mary, disposed of this farm to Joseph Vautrin for $6,000.
However, the old place came back into the Edus family on March 16 1891 when Vautrin disposed of it to Xavier Edus and Frank Hubbard for $6,000 and June 30 1897 a recorded deed states that Frank B and Kate M Hubbard of the town of Cape Vincent, conveyed the Hubbard interest to Xavier Edus for $2,000 but Xavier lived but a short time after that.
Xavier's will, recorded June 10 1898 states that he gave his farm and all of his real and personal property to his widow, Genevieve A Edus, also named sole executrix. She retained the property for 38 years and after her death her recorded will, placed upon the county's title books September 2 1936 states her wish that her farm and produce be sold and the proceeds added to her money in the bank. From this her debts and funeral expenses and specific bequests were to be paid and the balance divided equally among her five children, Clara, Cora, Ross, Edgar and Peter. May 6 1938 Ross B Edus quitclaimed his share to his two sisters.
The Misses Clara and Cora Edus, who live together on the farm and operate it, own it jointly with their other two brothers, Edgar of Clayton and Peter of this city.
So the old limestone house, built in cottage style like some of the other stone houses in the town of Cape Vincent, is held in the family which developed it. The location of the farm is pleasant and quiet and the traveler who tours the town of Cape Vincent is impressed with the fact that the architect of the house must have been the one who built the Fred Smith house at Wilson's Bay as well as some of the houses near Rosiere. And it shouuld be said that Xavier Edus who owned the place for a short time was a son of the original Peter Edus and a grandson of Simon.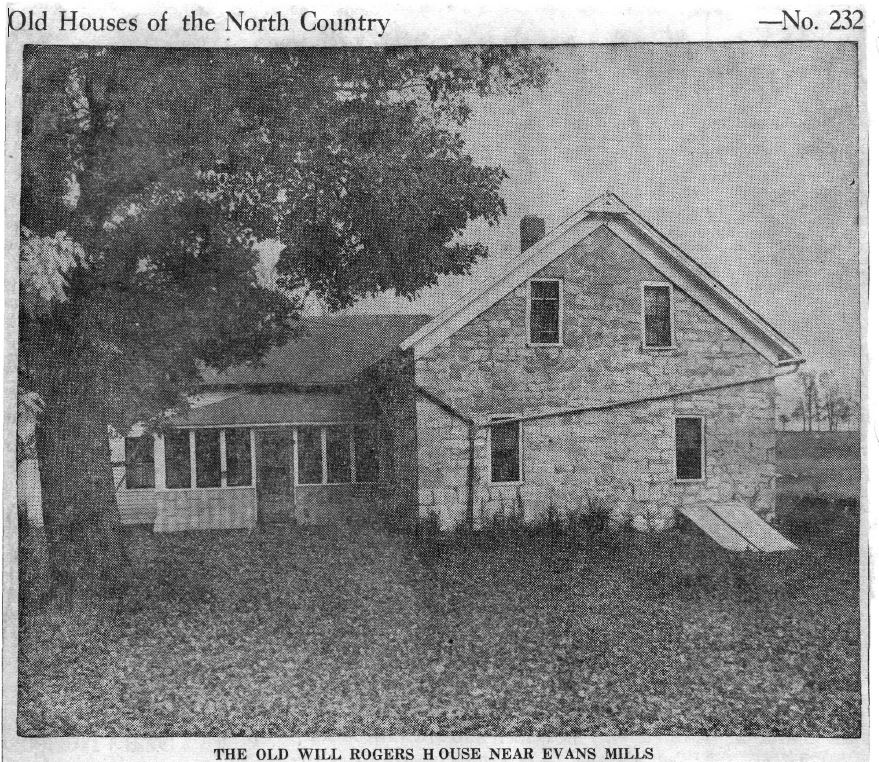 Everything about the main or limestone portion of this house indicates its early origin. Simple and severe in its architectural lines it is probably one of the oldest houses in the county. It is constructed of native limestone quarried nearby and in all likelihood was built about 1810 by William Rogers of the town of LeRay who had bought slightly over 380 acres there from James D LeRay June 13 1806.
For a long time it was owned by members of the Rogers family, but on October 12 1925 this house, barns and land were deeded by Will E Rogers and wife, Etta S Rogers, and by Eaton S Rogers and wife, Grace N Rogers, of the town of Pamelia, to the People's Bank of Evans Mills. From the People's Bank of Evans Mills it was purchased by the present owners, Freg G Meeks and wife, Mrs Pearl Meeks, September 27 1945.

Will E Rogers, a well known poultryman who now resides in a fine old native limestone house at Pamelia Four Corners, is a grandson of the William Rogers who built the house shown herewith on the old Evans Mills-Brownville road, and relates that not only was the stone for the house quarried on the farm but the lime with which it was laid up was also burnt there. When his grandfather acquired the land, it was dense wilderness and he cleared it before constructing his house.
William Rogers, original owner of the old house, died there in May, 1875 at, an advanced age. His widow was Sally S Rogers and his children, all of adult age at the time of his death were Maryette Steele, Theresa; Sally Ann Wilkie, Pamelia; Jesse L Rogers, Theresa; Martha M Sawdy, Pamelia; A Wolcott Rogers, father of Will E Rogers, and Melissa J Goonan, LeRay
Records of the county show that on January 17 1880 Mrs Sally S Rogers, widow of the builder of the house, conveyed portions of the farm to some of her children. Wolcott Rogers got two parcels totaling 31.30 acres. Mrs Sawdy took title to 35 acres. Mrs Maryette Steele acquired 19 acres and Melissa J Goonan purchased the remaining 75.24 acres paying $3,476.50 for it. This apparently included the old house and buildings, because for many years, it was known as the Goonan place. Eventually, on May 2 1912 Mrs Goonan conveyed the property to Fred T Paull and wife, Marietta, the transfer indicating two parcels of 75.24 acres and 19 acres which, two years later, on January 2 1914 were deeded to Will E Rogers and his son, Eaton S Rogers. After owning the farm for eleven years they disposed of it to the People's Bank October 12 1925.
The farm is now constituted of several different parcels of land. The chain of title is an intricate one and discloses that one portion was acquired by Captain Richardson Avery, a Revolutionary war veteran, from James D LeRay July 9 1804 before Jefferson County had been erected and while this region was still a part of Oneida county. The old house, which now has a long wooden wing, sits far back from the highway about a mile from the village of Evans Mills and round about it is an environment of coziness and contentment.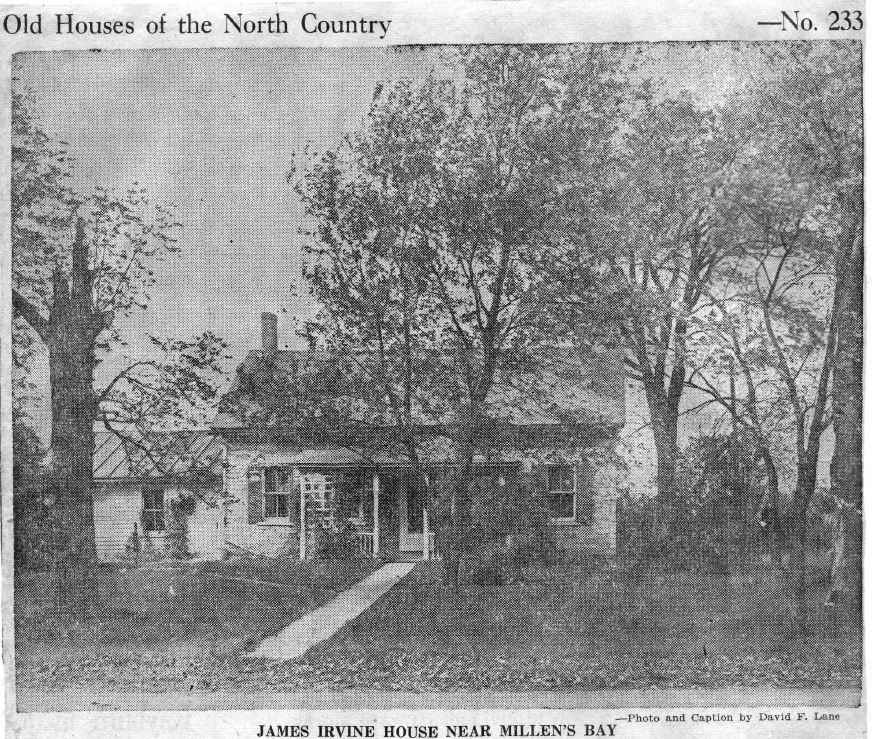 Not far from Millen's Bay toward Clayton on the river road that runs from Cape Vincent to the latter village is the cottage-type native limestone farm house built there about 1831 or 1832 by James Irvine, one of the early settlers of that part of the town of Cape Vincent. Since he acquired it from the estate of his father, Horace Truman Stoel June 29 1910 it has been owned and occupied, along with its 108.5 acres of land by Charles A Stoel. Incidentally, Mr Stoel is a direct descendant of James Irvine, for Mr Irvine's daughter, Annie, married Horace Truman Stoel shortly after his return to this county in 1859.
James and Christopher Irvine and William Stoel were among the earliest settlers of the Millen's Bay region, the two Irvines having adjoining farms. They were sons of another Christopher Irvine who was born and died in Ireland. It is recorded in county history that for a part of 1835 James Irvine served as minister of the Methodist Episcopal church in Cape Vincent township.
The Stoels come of an early New England colonial family which has been in this country for exactly 300 years. Samuel Stoel or Stowell, the immigrant ancestor, was a weaver by trade and is believed to have come from Hingham, England, to settle in Hingham, Massachusetts, in 1647. He had a son, David, who was also a weaver, and in turn that vocation was passed along to his son, David Stoel Jr, whose mother had been Miss Mary Steadman before marriage. David Stoel Jr, had a son, Samuel, who moved to Vermont in 1774. One of the latter's children was Ozni Stoel, for whom Stowell's Corners was named in the town of Hounsfield.
Ozni Stowell or Stoel, native of Vermont, brought his family including his son, William, to Hounsfield, fought in the War of 1812 at Sackets Harbor, and later for a number of years William operated an inn at Stowell's Corners, and there to him and his wife, the former Hannah Moore, was born a son, Horace Truman Stoel April 21 1829. When Horace was but twelve he removed with his parents to the Millen's Bay area in 1841. It is interesting to note that when the great Gold Rush of 1849 broke out Horace and a close friend Theodore Steadman, who likely was descended from the Mary Steadman who married David Stoel on April 7 1695 made their way overland to French Gulch, Cal. Ten years later young Stoel, then 30 returned to the town of Cape Vincent and purchased his first farm, shortly afterward marrying Annie Irvine. He became one of the leading citizens of the town, serving several years as president of the Cape Vincent Agricultural society and for six years was town assessor.
At the age of 80 years four months Horace Truman Stoel died August 22 1909 leaving Annie, widow, and the following children: Eva Stoel, Mrs Addie Reynolds, Attorney Fred Stowell who adopted the original English way of spelling the name, Thomas B Stoel, the well known educator-historian, and Charles A Stoel, all of Cape Vincent; and Horace T Stoel Jr, of Seattle, Wash.
Horace T Stoel purchased his first farm from Hiram Webb in 1859. The James Irvine farm he acquired April 11 1872 from Albert E and Mary Jane Rice who had bought it February 29 of that year from Melville D Wilson as referee appointed to sell it as the result of a lawsuit.
The first parcel of 55.82 acres in this farm was bought by James Irvine August 10 1831 from John Duvillard and Henry and Hannah H Ainsworth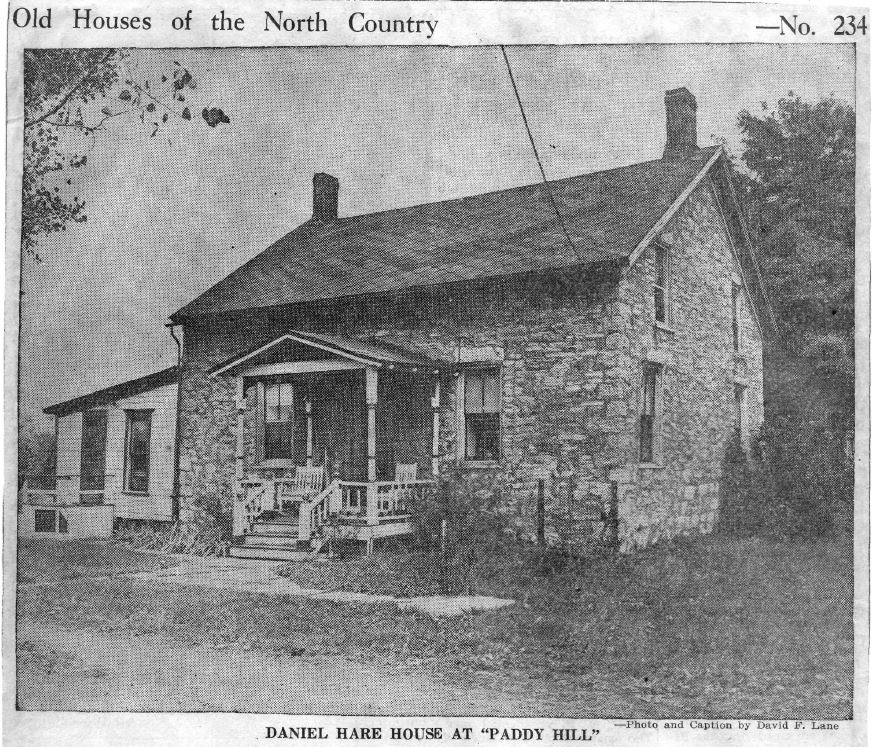 Daniel Hare, one of the early settlers of the town of Hounsfield in that section known as "Paddy Hill" on the south side of Black River from the village of Brownville, is an obscure figure. There on March 14 1826 he bought the 50 rods of land from John and Orilla Winch upon which he shortly afterward built this seven-room, extremely plain house of native limestone. Winch had bought the lot July 17 1823 from William and Mary Logan and May 1 1822 they had acquired it of Joseph W Brown, brother of General Jacob Brown. It was described as bounded on the south by the road from Brownville to Watertown, on the west by the lot of Widow Payne, on the north by the land of James Wood for whom was named "Jim Wood's Falls" a little further up the river, on the east by property owned by the Brownville Presbyterian society and occupied by Reverend W Wells.
Daniel Hare died August 25 1853 leaving eleven children and an estate estimated about $100. At that time whereabouts was unknown of a son, Daniel Hare Jr, a sailor off the coast of Africa when last heard from. Frances, a daughter, of the elder Daniel Hare, became the wife of Bernard B Bagley. Bernard B Bagley was a brother of George A Bagley, the latter of whom was one of the founders of the Bagley & Sewall company of this city, and they were sons of Bernard Bagley, one of Watertown's prominent early attorneys, and Zurviah Gates Bagley.
Attorney Bernard Bagley died in this city June 26 1878 at the age of 86. He was born at Durham, Greene county, NY, November 5 1791. His father was a native of New Hampshire and his mother of Connecticut. When Attorney Bernard Bagley died here in 1878 his son, Bernard B Bagley, had been dead some years.
Bernard B Bagley and his family resided in the little stone house of Daniel Hare and in this house was born Frederick Bernard Bagley, son of Bernard B Bagley and grandson of Attorney Bernard Bagley. Frederick Bernard Bagley became a machinist by trade and was employed by the Bagley & Sewall company until his death November 9 1906 at his home, 32 Cooper Street, aged slightly over 52. Besides his widow, Emma J Bagley, Frederick B Bagley left four daughters, Mrs Blanche Horne, Mrs Gertrude Forrester, Mrs Charlotte Hill and Mrs Allen Roblin, all residents of this city.
Mrs Frances J Hare Bagley, mother of Frederick B Bagley, did not die until April 6 1913 nearly seven years after her son, her death occurring in this city.
After the death of her parents, Mrs Frances J Hare Bagley succeeded to the ownership of the stone house near Brownville. On December 6 1876 her son, Frederick B, quitclaimed his interest in the property to Attorney Frederick Lansing of this city and Mrs Bagley was occupying the house at that time. On February 15 1890 Mr Lansing and his wife, Sarah S Lansing, conveyed the property to Mrs Bagley for the nominal sum of $l and on May 30 1904 she sold it to Alice A Doran of Hounsfield. The latter kept it until March 25 1925 and sold to Horatio and Mabel Roden, who kept it only until December 23 1927 when they deeded it to Anna B Roden of this city. On February 16 1933 she conveyed this property to Francis J Farrell and wife, Margaret E Farrell of Hounsfield, and they resided there some years, selling it October 5 1940 to Norman P and Edith Mee, present owners.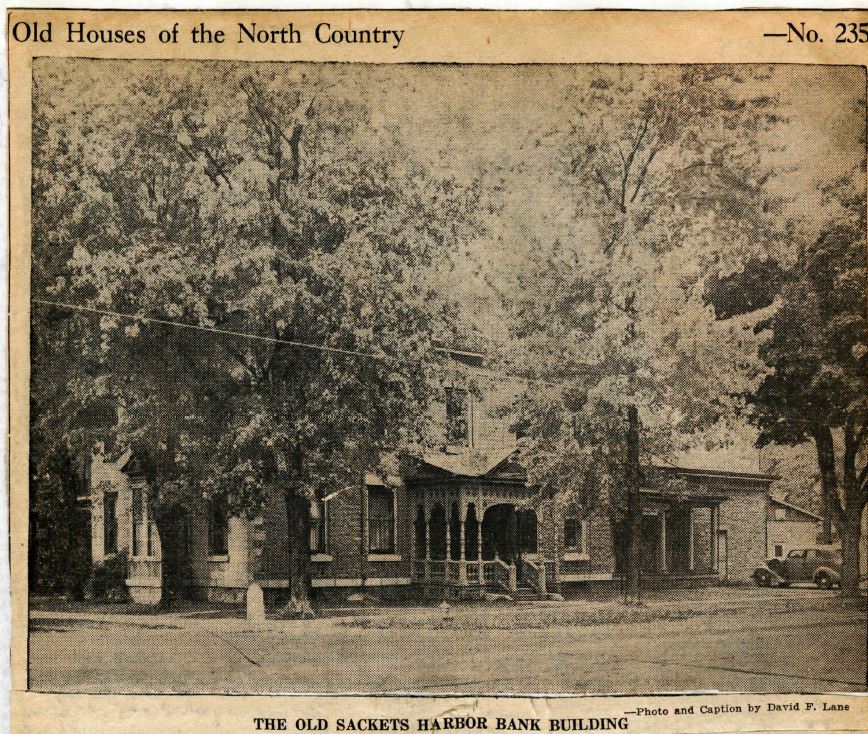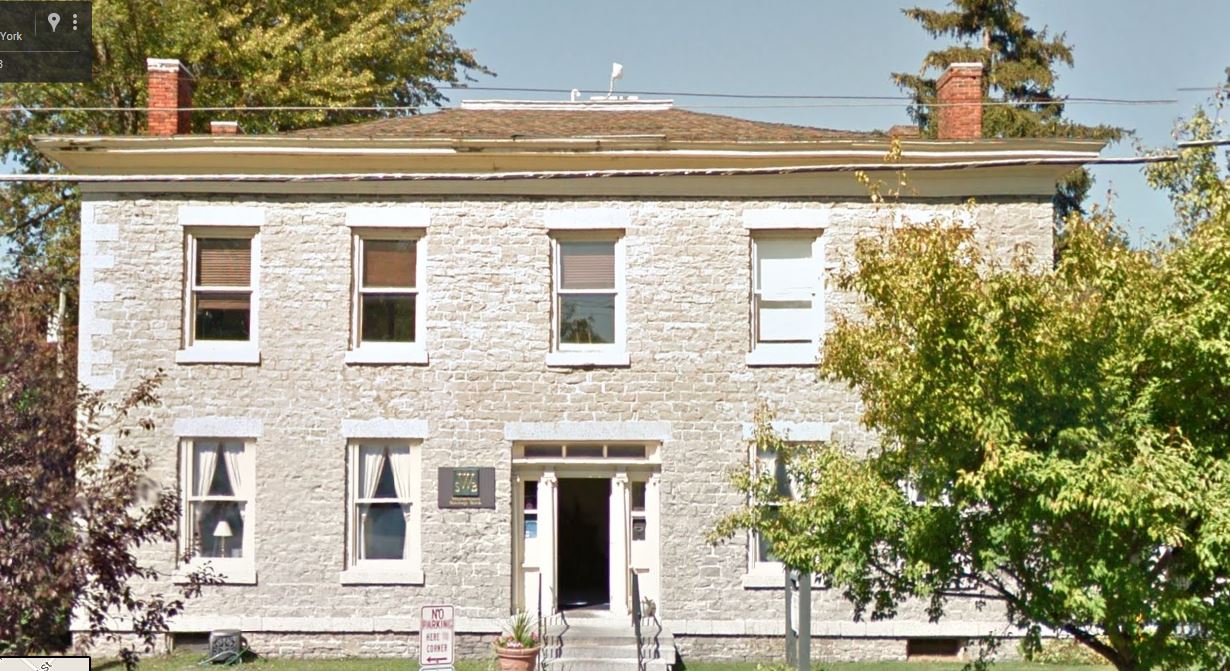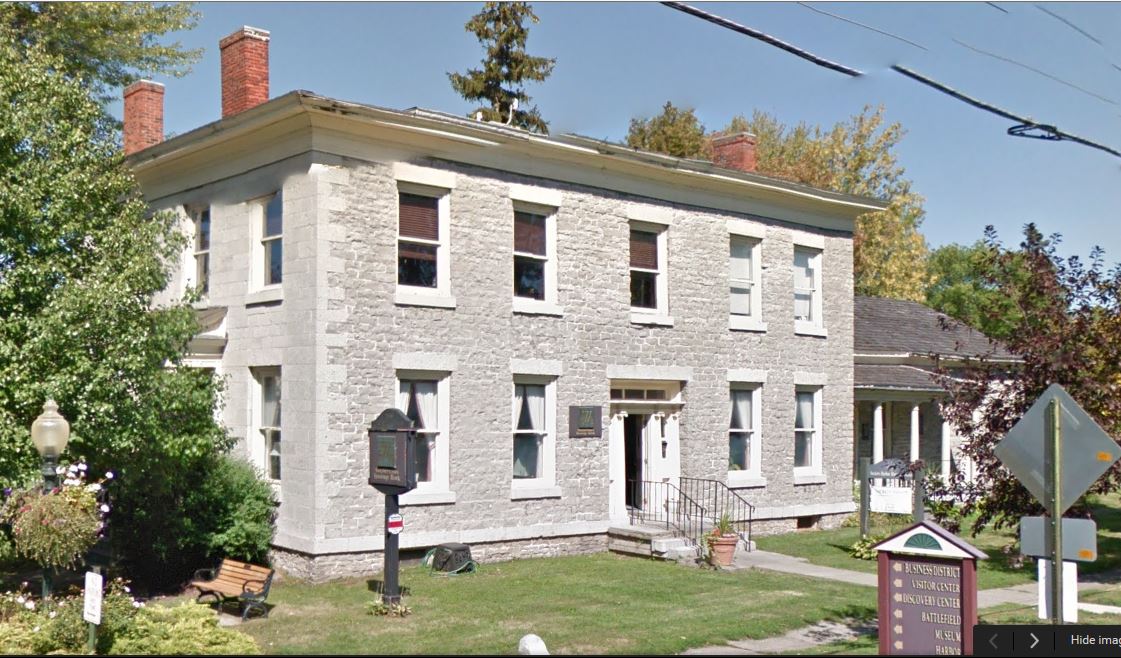 Upon the northeast corner of Broad and Main Streets in the quaint village of Sackets Harbor stands the limestone building of Georgian architecture known best as the home of the second bank in Jefferson County and also for its connection with the Inglehart and Day families. It was probably built about 1836 for the Sackets Harbor Bank, which was incorporated April 28 1834 at $200,000 capitalization, Thomas Loomis, Jesse Smith, Daniel Wardwell, Thomas J Angell, Azariah Walton, Joseph Sheldon, Woodbridge C George, Henry H Coffeen and Noadiah Hubbard being commissioners to receive stock subscriptions.
Some have speculated that General W H Angell, a builder of a number of limestone and other important buildings in the county, who moved to Sackets Harbor from Clayton about 1834 was the builder of this old bank building. This, however, is unconfirmed. However that may be, old deeds refer to the site as the Ashby lot, and February 3 1836 William Ashby, then of Marblehead, Massachusetts, sold the parcel to the Sackets Harbor Bank for $900. William Ashby was one of that group of English settlers that came to Sackets Harbor in 1805 and after that he owned many parcels of land in the village. That first deed describes the parcel as beginning at the southeast corner of the lot formerly owned by Zeno Allen and R Nichols, a lot later owned by Horace Payne. The east line of the lot was originally along George Sacket's land, but later this became known as Chapin's Alley.
Upon complaints that the bank had violated the law in handling certain checks, the assembly voted April 7 1838 to repeal its charter. Public meetings were immediately held in Watertown, Brownville and Sackets urging the senate to block that program but May 12 that body passed the bill. Nevertheless, on April 17 1839 the charter was restored and the bank operated until March 25 1852. The bank building and half-acre site then was absorbed by the Reciprocity Bank of Buffalo which handled the business in that city, and Edgar B Camp opened a bank of his own with a capitalization of $50,000 at Sackets May 17 1852. But it failed November 1 1856 and the Albany Union Bank redeemed its bills. The Reciprocity Bank of Buffalo also shortly became insolvent and September 7 1858 William Williams, its receiver, sold the Sackets Harbor property to Charles Bridge of New York at public auction in the Barrows hotel in Sackets. A number of changes in ownership ensued until John Canfield, Morristown, NY, acquired it October 30 1861 and with his wife, Clarissa, sold it to Cornelius W Inglehart for a residence March 16 1867. Native of the town of Oswegatchie, Mr Inglehart was a son of Ira, who fought in the battle of Sackets Harbor in the War of 1812. Father of former Mayor Hiram F Inglehart and grandfather of George G and Robert I Inglehart of this city, Cornelius W Inglehart was a prominent man.

Abolitionist, reformer and temperance advocate, he forsook the Democrat party because of its identification with slavery, helped organize the Republican party in Hounsfield, was a delegate to the party's first county convention as well as to the state convention of 1854 was justice of the peace of his town, was instrumental in procuring the Watertown & Sackets Harbor railroad, was a founder of this city's National Union Bank and a director of the Agricultural Insurance company.
On January 31 1883 his estate sold his handsome stone mansion to Mary A Mcintosh of Springfield, Massachusetts, and May 3 1888 she sold it to Lewis W Day, another man of wealth and prominence, a staunch Democrat who served the county as assemblyman early in the century and whose son, Edward L Day, is a resident of this city. On October 17 1917 the mansion passed out of the Day family. Many have since held title to it. April 3 1931 Chester W Inglehart, great-grandson of Cornelius, bought it for his mother, Mrs Chester C Inglehart, who operated it for a time as a tea room. Later the Excelsior Insurance company acquired it and October 8 1935 sold it to Herz Joseph Cynkus and wife, the present owners. But today the mansion no longer has a Main Street entrance as it did under the Inglehart and Day ownership.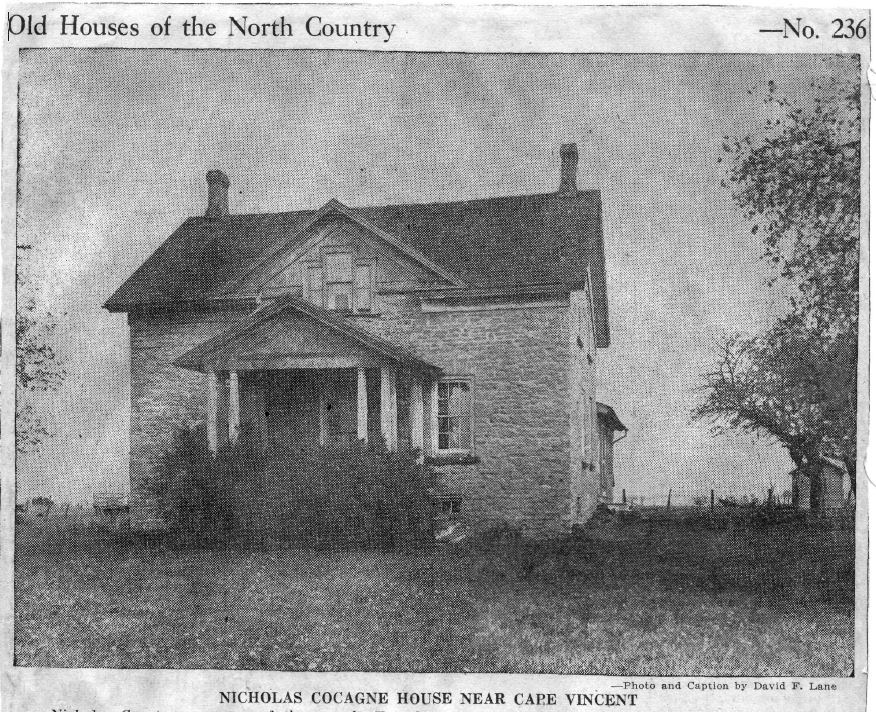 On Favret Road Cape Vincent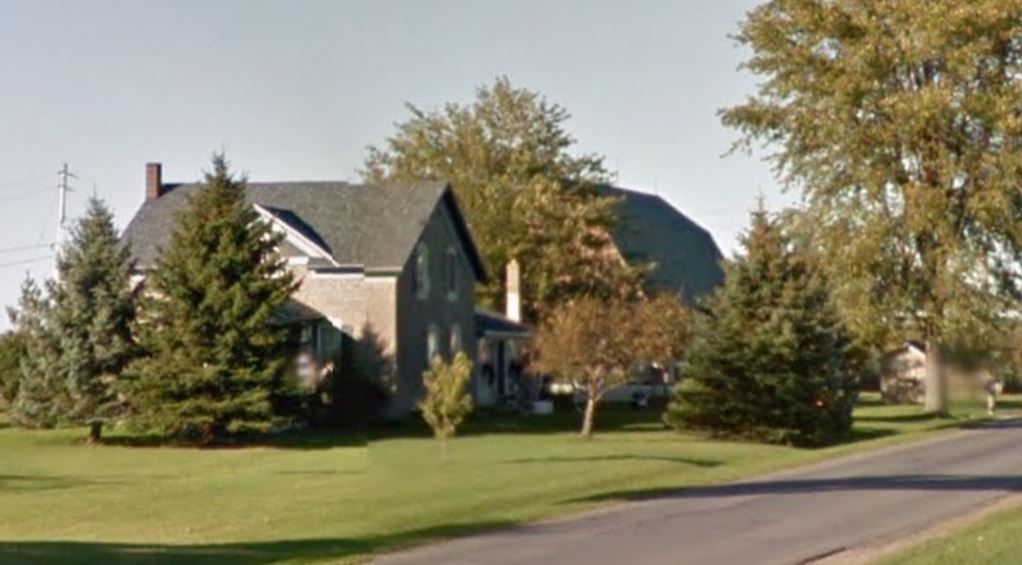 Nicholas Cocagne was one of those early French settlers who came from old Rosiere in France well over a century ago and located in what is now the town of Cape Vincent, but which was a part of the town of Lyme prior to April 10 1849. In spite of the fact that there are several descendants of Nicholas Cocagne in Jefferson County, there being Claude F Cocagne and Miss Mae H Cocagne in this city, Clyde Cocagne and R H Cocagne near Evans Mills, little is known about the history of the family.
How much more than 116 years ago it was that Nicholas Cocagne left his native France to cast his fortunes with Jefferson County is not known, but on July 13 1831 he purchased of Vincent LeRay 102.98 acres of land touching the Mile Square in the town of Cape Vincent and less than two miles from the village of Cape Vincent on the Cape Vincent turnpike, now the state highway between Watertown and that village.
Upon this piece of farmland he apparently lost little time in building his small, extremely plain and modest house of limestone quarried nearby. It stands in the angle formed by the Watertown-Cape Vincent state highway and Hell Street road that swings off to the northeast paralleling the St. Lawrence river for a way before bending to the southeast beyond the hamlet of Rosiere.
But Nicholas Cocagne did not remain in the stone house many years, he and his wife, Marguerite selling it and the 102.98 acres of land on October 24 1848 to their son Nicholas Cocagne Jr, for the nominal amount of $500. After that transaction apparently the elder Nicholas Cocagne took up his residence in the town of LeRay and was followed some years later by the son, who died in the latter town February 15 1888. The latter's survivors were his widow, Catharine E Cocagne and the following children: Anna P Dezengremel, Nicholas J Cocagne, Catharine E Panchau, Nellie A Drake, Charles N Cocagne, Carrie R W Emond of the town of LeRay; Amelia A Ruso, Frankfort; Frank N Cocagne, Croghan; Anna L J Brown, Antwerp; Louise C Meeker, city.
The record shows that Nicholas and Catharine Cocagne sold the stone house and 102.98 acres to Allen Wilson of the town of Cape Vincent March 9 1868. Mr Wilson was a son of John G Wilson, native of New York and drummer in the American Revolution, who settled in the town of Cape Vincent in 1856.
April 6 1905 Mr Wilson disposed of the farm and this stone house to Joseph and Emma Favret and upon the death of Mr Favret, Cape Vincent farmer, the place went to his widow, Mrs Emma Favret of the village of Cape Vincent, the present owner, July 6 1931. It is operated by Charles and Ernest Bourcy, who occupy the property. The house has been modernized by a wooden porch in front which does not conform to the original architecture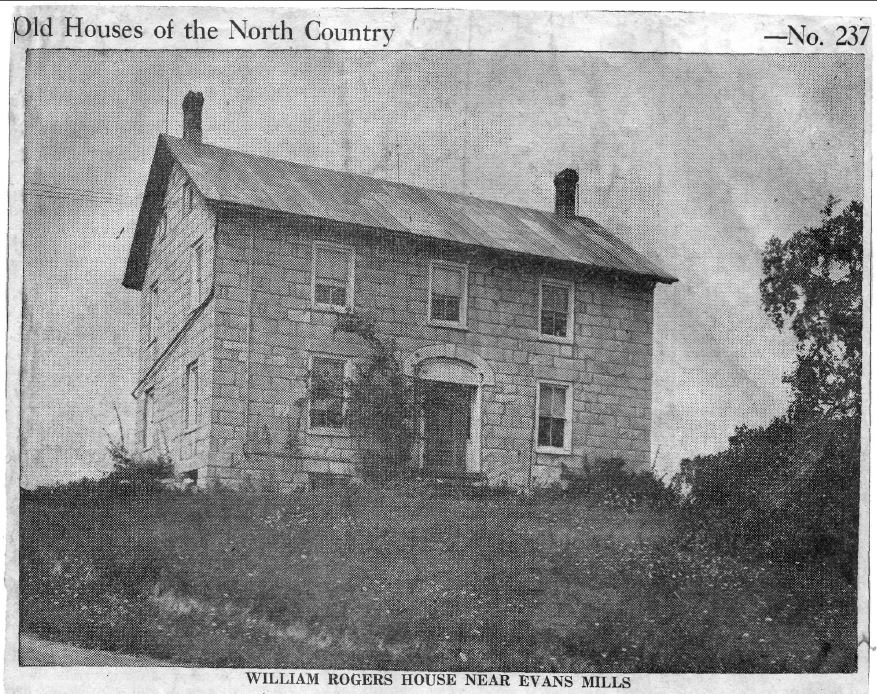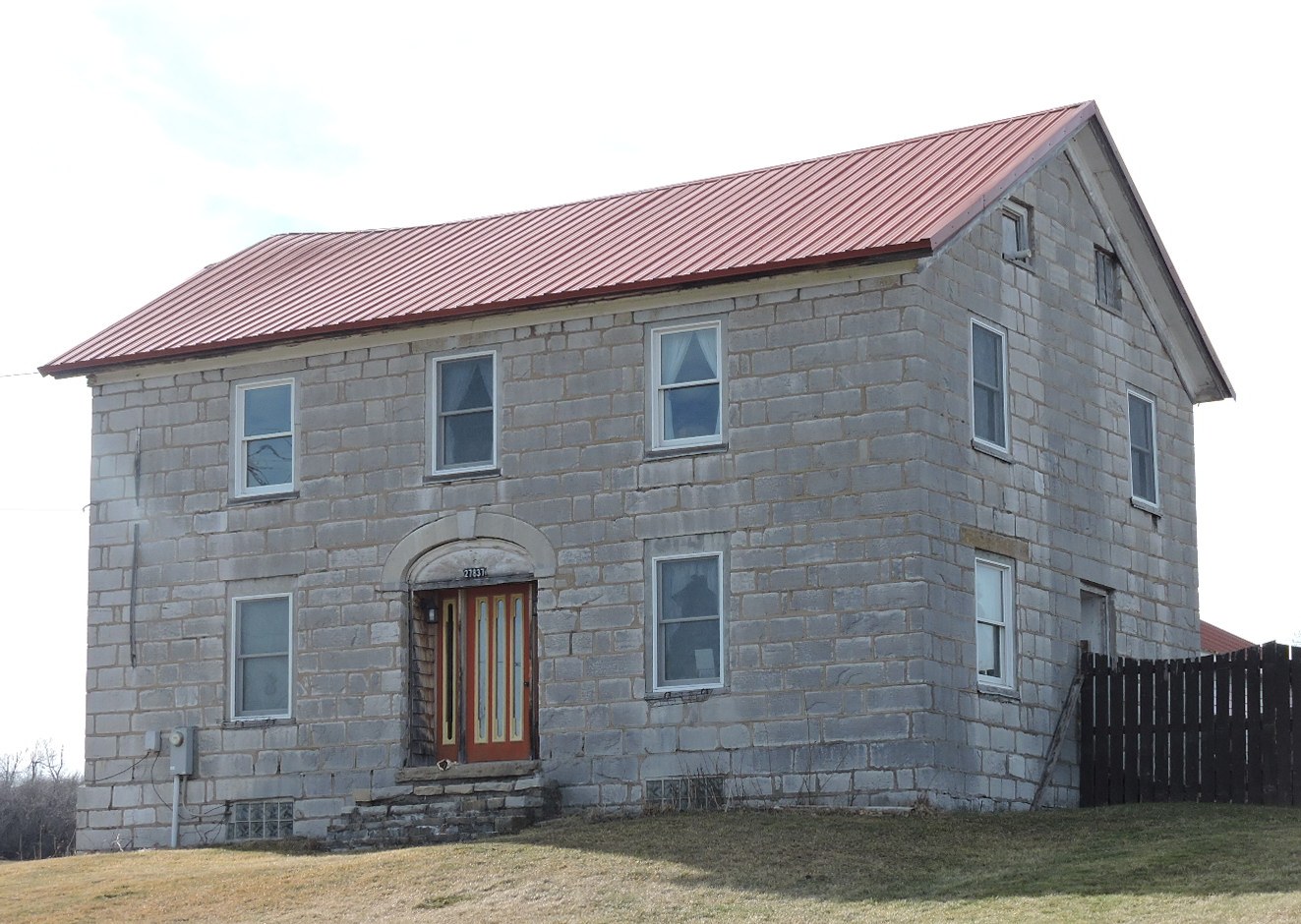 One of the earliest settlers of the town of LeRay was William Rogers, who bought 380 acres for $927 from James D LeRay de Chaumont June 13 1806 Moss Kent being attorney for LeRay in the transaction. On June 8 1820 Rogers and his wife, Elizabeth, for $100 conveyed 102 acres of the land to his son, William Rogers Jr. It is possible that the Georgian house of native limestone quarried on the farm was standing there at the time of this conveyance and that the son was charged only a nominal price for the property. If that were not the case, the house was probably built for William Rogers Jr, and is at least a century and a quarter old.
The stone is of excellent building quality, exceptionally well crafted by the cutter and expertly laid up by the mason. Its walls are as true today as they were the time the stone was laid. With its gracefully arched doorway, once ornamented with a neat fan and sidelights, opening into a central hall, the house is typed so near like that of John Cooke a mile away that it is a safe guess that it had the same designer and builder.
Located on what has been known as the Aloan Road this William Rogers house is but a little way north of the main state highway between Watertown and Evans Mills. A little distance outside of Evans Mills the Aloan road branches off the cemetery road. It is interesting to note that if one stood on the Watertown-Evans Mills highway and drew a line diagonally to the northeastward through the Cooke house, once owned by Jesse L Rogers, son of William Rogers Jr, it would pass through the house shown herewith and then farther to the northeast would strike another William Rogers house now owned by Fred G Meeks

William Rogers Jr, and his wife, Sally S Rogers, apparently resided on this farm for many years and on March 24 1871 sold it to their son, Wolcott A Rogers, for $2,600. William Rogers lived only until May 1875. Wolcott Rogers kept the property 38 years and on January 30 1909 he conveyed it to Lillie M Rogers for the nominal amount of $1. However, she died in June 1916 and the place then went by inheritance to William E Rogers a poultry man at Pamelia Four Corners.
William E Rogers and wife, Etta S Rogers, disposed of the property to Harrison K Cole, Evans Mills, a member of the family, October 1 1924 for the nominal sum of $1. Two years later, on February 26 1926 Mr Cole and wife, Emma D Cole, sold the attractive old house and farm to Howard C Kissell and wife, Ina E Kissell of the town of LeRay for $3,300 it being close to the farm where they reside.
About four years ago, however, Mr and Mrs Kissell sold the property to Ezra Ward, the present owner. Mr Ward is a well known farmer who comes from a town of Philadelphia family.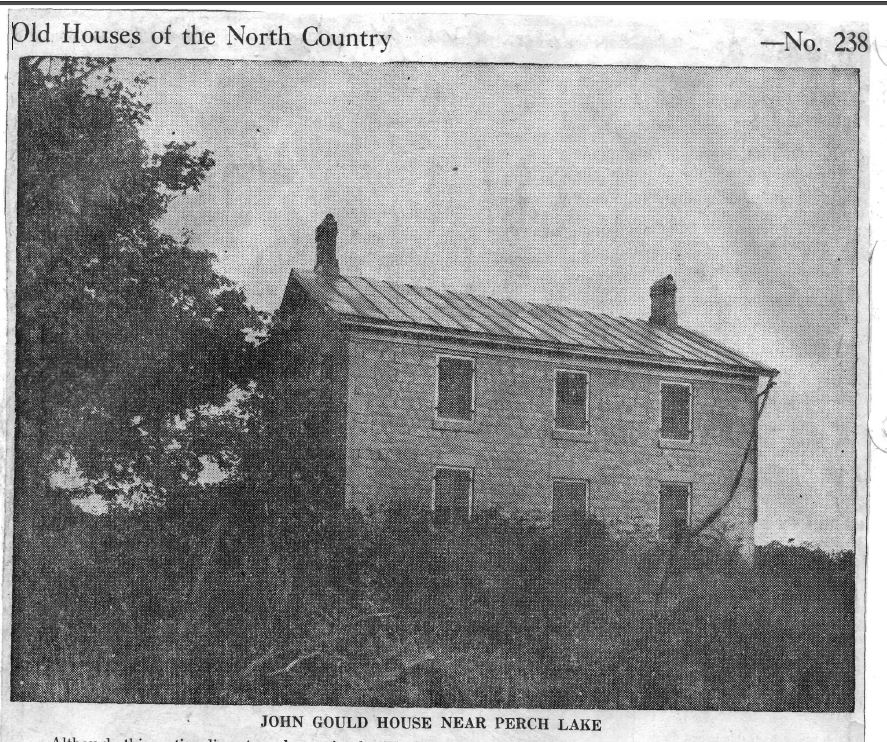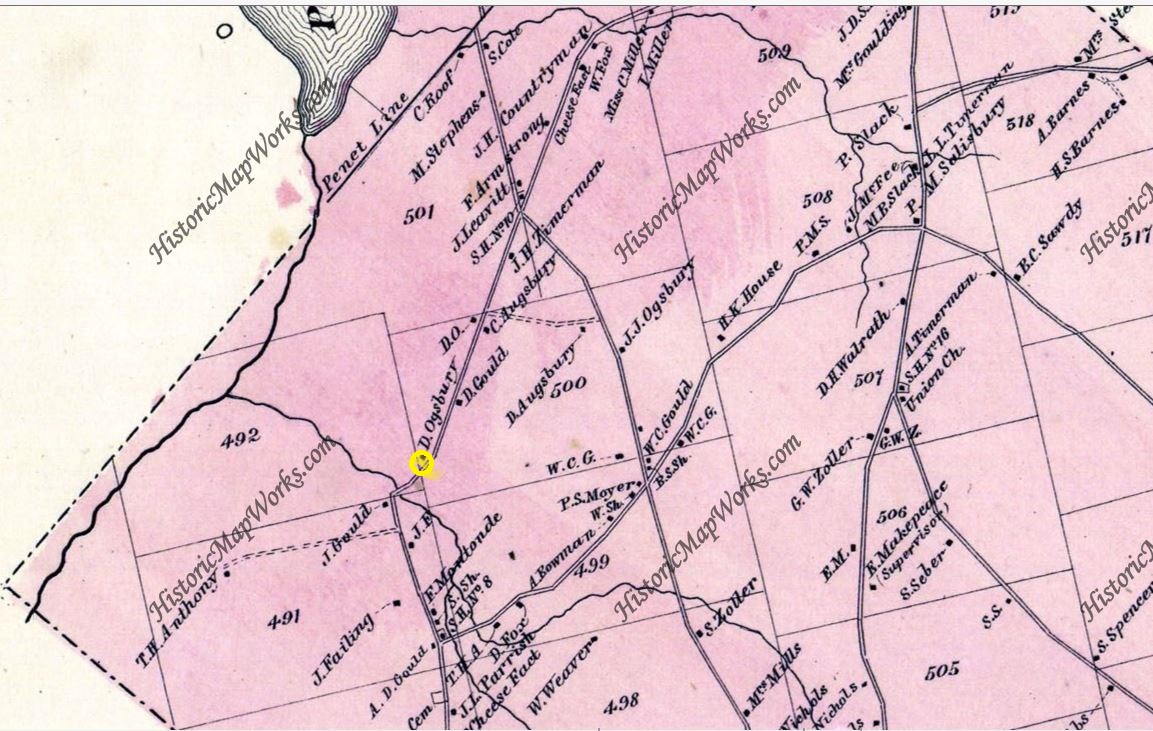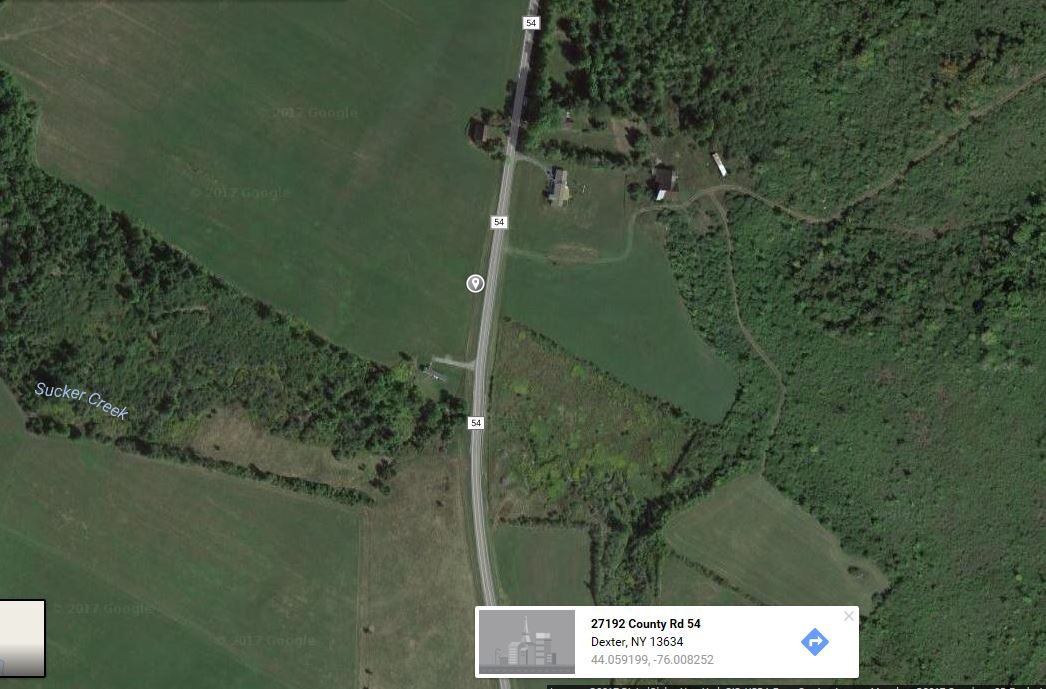 Although this native limestone house in the Perch Lake area of the town of Pamelia has been vacant for several years and the interior is somewhat in need of repairs, its outer walls still stand sturdy and true like an old fort despite the fact that they were laid up in the neighborhood of a century and a quarter ago.
It is obvious that both the stone and mason work are of first quality, and the ownership comes down through the Gould, Augsbury, Mills and Vogt families at present resting in the latter, for Mrs Paul S Grahn, city, daughter of the late Jacob Vogt, is the present possessor. John Gould, a native of Rutland, Vermont, was born in 1770 settled in what is now the town of Pamelia prior to 1812 he purchased 55.78 acres in that section from Moss Kent and August 13 1814 he bought a little more from James D LeRay de Chaumont, but none of this was in the exact locality of this house. However, July 2 1818 he bought 113.25 acres from LeRay , which likely embraced the site of the stone house. The next year the town of Pamelia was set off from Brownville.
In 1841 John Gould sold the house and farm to Abraham Augsbury who was also a member of one of the earliest families in that sector, David Augsbury or Augsburg of German descent, having come up from the Mohawk valley about 1812 only to be followed shortly after by his father, John Augsbury, and the latter's younger sons, Benjamin, Nicholas and Daniel. From Abraham the ownership of the house ran through other members of the Augsbury family including Silas and Daniel and Cyrus.
Abraham and John Augsbury had come up to this county with their families after the War of 1812. But eventually the stone house and farm land that went with it came into the ownership of John A Augsbury, who with other representatives of the Augsbury estate, disposed of this property to Kate and Ansel Mills of this city January 3 1896.
From that time it remained in the Mills family, which occupied it. On the latter date however, Edwin J Hawn and Alma G Hawn as administrators of the Ansel Mills estate, disposed of it to the late Jacob Vogt, of this city, long known as one of the leading manufacturers of limburger cheese in the North Country Mr Vogt added it to the Allen-Zimmerman farm, which adjoins it on the side nearer Perch Lake and which also has a line old native limestone house erected about the same time. On June 2 1930 Mr Vogt sold off 100 acres of the Gould farm to Joseph A and Mabel A Wenk, but kept the portion-with the house.
When Mr Vogt died the two farms became a part of his estate and February 5 1940 were sold by the estate to Mrs Grahm. The two houses are less than a quarter of a mile apart and are about a mile south of the southwest end of the road that runs past the lake to the Watertown-Clayton highways.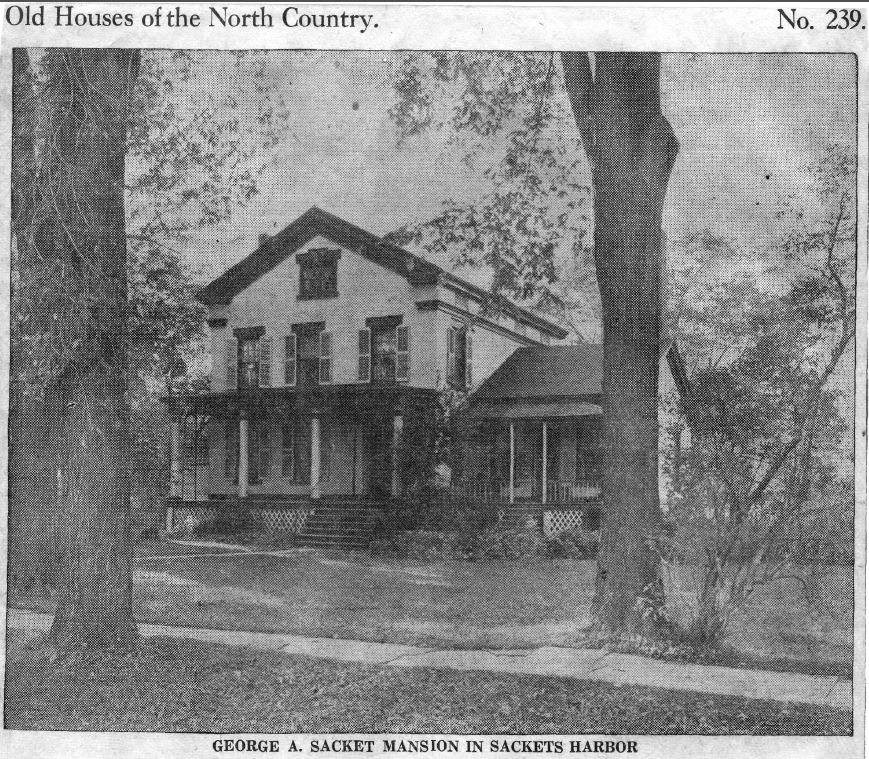 107 S Broad St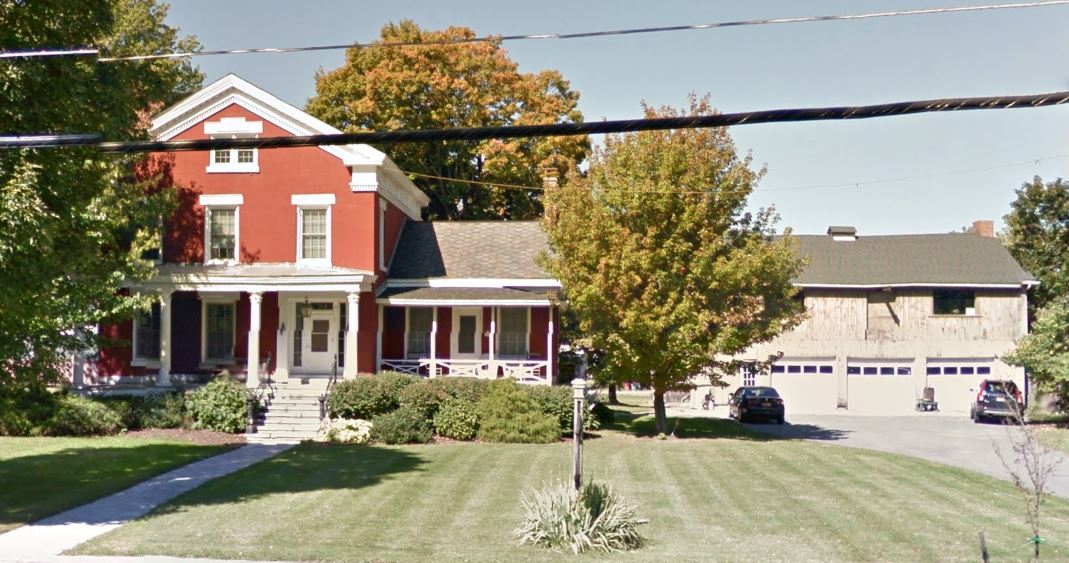 Tragic romance is written into the history of this old brick mansion said to have been built in 1839 on the north side of Broad Street, Sackets Harbor, for George A Sacket, a son of Sackets Harbor's founder, Augustus Sacket. Involved in debt George A Sacket reached a time when it is said that he was forced to relinquish this 19-room house and taking the diamond ring of his young wife, Harriet, he engraved "G Sacket, Mar 5 1849 " upon a front window-pane of the wing. Then turning to his wife he is reputed to have said: "Before the passing of one year we shall return," for they were deeply enamored of the house.
But the tragedy is that they never did return. For many years thereafter it was the property and residence of Theodore Canfield, a wealthy Sackets Harbor hardware merchant, who was long a director and vice president of the Carthage, Watertown & Sackets Harbor railroad, who served five years as supervisor of Hounsfield and in 1866 was elected to the state -assembly, dying in 1868. Relationship existed between Sackets and Canfields.
In more recent years it was the residence of Mr and Mrs Louis S Lansing, of this city, from September 11 1920 to November 14 1927 Mr Lansing having formerly been a paper manufacturer of the north country. The house consists of three floors and an attic. The basement is high and originally was done off with kitchen, dining room, pantries, large cooking fireplace and bake oven.
Mrs Lansing relates that the beautiful wallpaper - was brought from New York City over a century ago for the double drawing rooms on the main floor; that the interior woodwork is handsome, though plain; that there are six fireplaces in the house which is said to have cost $5,000 when constructed.
Although the Sacket family left a deep impress on the history of Jefferson County, its members did not remain long here. Augustus Sacket, lawyer, born in New York City November 10 1769 bought a large tract of land in 1801 created Sackets Harbor, named the town for his landowner friend, Ezra Hounsfield, sold out his interests in this county in 1809 went to Jamaica, Long Island, and after succeeding land ventures was on his way back to visit Sackets Harbor when he died suddenly in Albany April 29 1827.
His sons, George and Edward remained some years later in Sackets but were financially unsuccessful and George moved to the middle west. There a descendant of the family, George Sacket, West Pointer from Illinois, died in World War 1.
Probably to fortify a mortgage he had given Jane H Canfield, sister of Theodore Canfield, a few months before, George A Sacket executed a conveyance of his Broad Street property to her February 5 1849. Jane H Canfield died in the summer of 1854 and stated in her will that she gave to Theodore "all my right, title and interest in the house and lot deeded to me by George A Sacket, and all the real estate owned by me." When Theodore died the big house and lot went to a sister, Sarah D Hudson, wife of Sanford A Hudson of Janesville, Wisconsin, and later it went to Theodore C Hudson who, with his wife Helene sold it to the Lansings September 11 1920. Out of Lansing ownership it passed to Mr and Mrs William H Osborn November 14 1927 and November 29 1945 the Osborns sold to Mr and Mrs Merton. M Phillips of Dry Hill and their son-in-law and daughter, Mr and Mrs Wallace R Carrigan of this city.
Still there remains upon the most easterly window in the wing, the tragic inscription: "G Sacket, Mar 5 1849."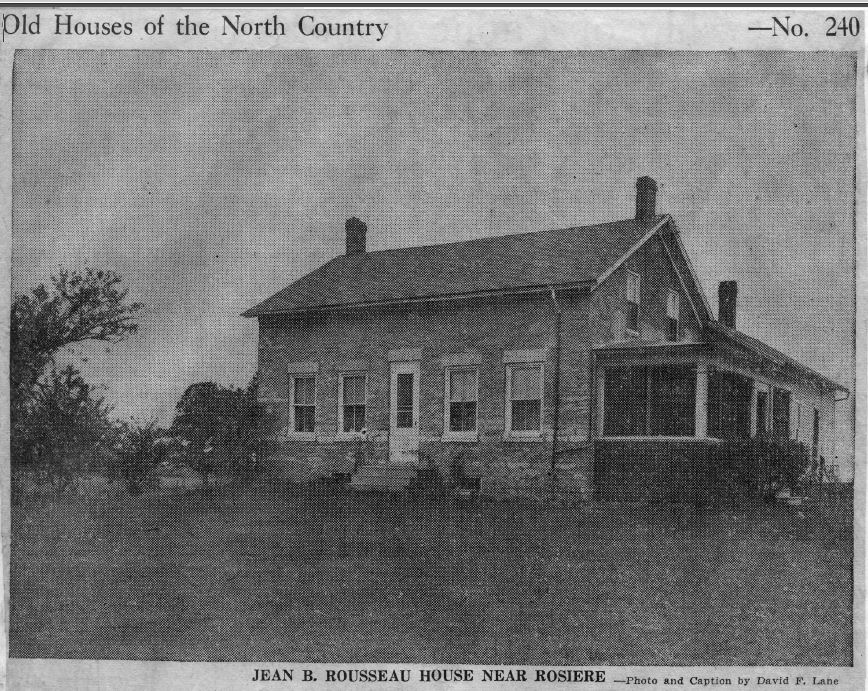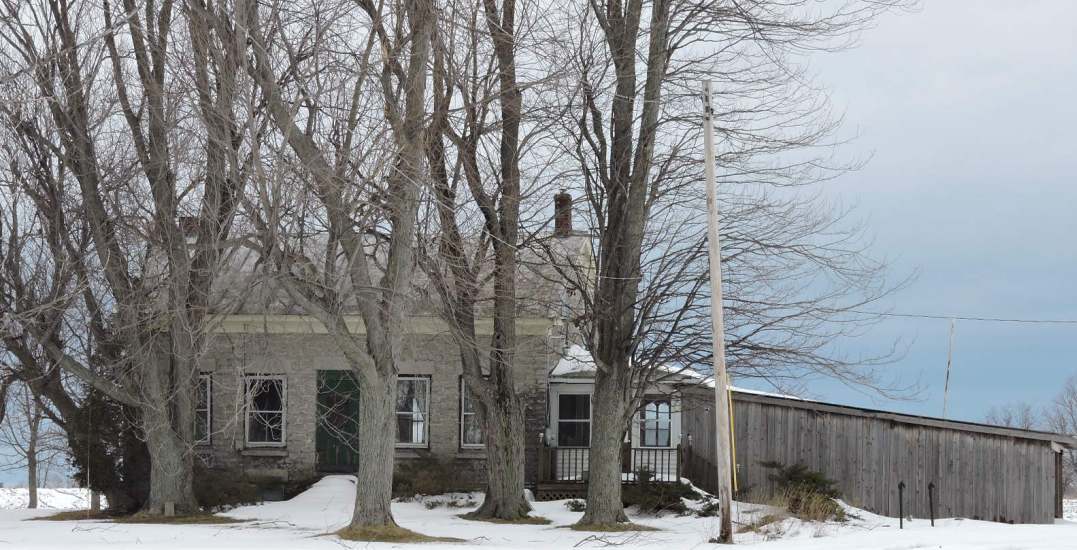 Located on what is sometimes called the Chapel Street road between the hamlet of Rosiere and the St. Lawrence river this cottage-type house of native limestone believed to have been built by Jean B Rousseau is almost a century old. The 50.4-acre tract upon which it stands was purchased by Rousseau from Vincent LeRay November 4 1851.
Rousseau is said to have been born at Ste. Justine near the city of Quebec, son of Joseph Rousseau, and to have come to the town of Cape Vincent in 1836. There he was generally known as John. Whether he was related to Jean Jacques Rousseau, noted French philosopher and author of "The Social Contact," is not known. He was twice married, first to Frances Kavanaugh by whom he had ten children, and second to Katie Chavoustie of Rosiere. Little seems to be known of him, although at one time there was a John B Rousseau who operated a hotel in Cape Vincent.
On December 23 1867 he and his wife, Frances, sold the stone house, its 50.4 acres plus a 25-acre addition to Henry Cline of Lyme for $5,127.80 and April 1 1868 Cline and Sally, his wife, disposed of the house and original 50.4 acres to Peter Zimmerman for $3,302.64. Zimmerman kept the property exactly two years and sold it April 1 1870 to John Laniger, Linager, Linnager or Leininger, (the name having been spelled in all of those ways). On April 3 1858 Laniger, a native of Germany and early Cape Vincent settler, paid Mrs Mary Morrison $2,000 for a 49.92-acre farm which adjoins the 50.4-acre Rousseau farm.
Two of John Laniger's daughters were the late Mrs George (Catherine) Lynch of this city, mother of George F Lynch, a local post office employee, and the late Mrs Christopher (Mary A) Schoeb, grandmother of Captain Carl C Shoeb and Fireman Donald J Schoeb of the local fire department
Mr Laniger was the first permanent settler on Road 40 in the town of Cape Vincent and was a thrifty farmer. He was the father of 13 children and died in 1883 at the age of 82. His will, recorded in the county clerk's office April 14 1884 provided that Mrs Lynch and Mrs Schoeb should be among the five children inheriting the Morrison farm of 49.92 acres, while the other seven children should share equally in the farm of 50.4 acres with the stone house which he purchased from Peter Zimmerman April 1 1870. Mrs Margaret Rapholz Laniger, widow of the testator, apparently had a use of the property, for after her husband's death she leased part of the entire holdings to Nicholas Reff and part to Joseph Laniger.
Grace Reff, a daughter of Nicholas Reff, was married to Walter Aubertine, son of Louis and Elizabeth Catherine Aubertine, descendants of early French settlers of Cape Vincent, and today Mr and Mrs Walter Aubertine are the owners of the stone house and 50.4 acres.
They purchased the property February 20 1915 from the late Attorney Delos M Cosgrove as referee in an action started by Joseph Leininger or Laniger against other members of that family to partition this farm. Neat and well-kept the house is attractive in its locale of a quiet part of the town of Cape Vincent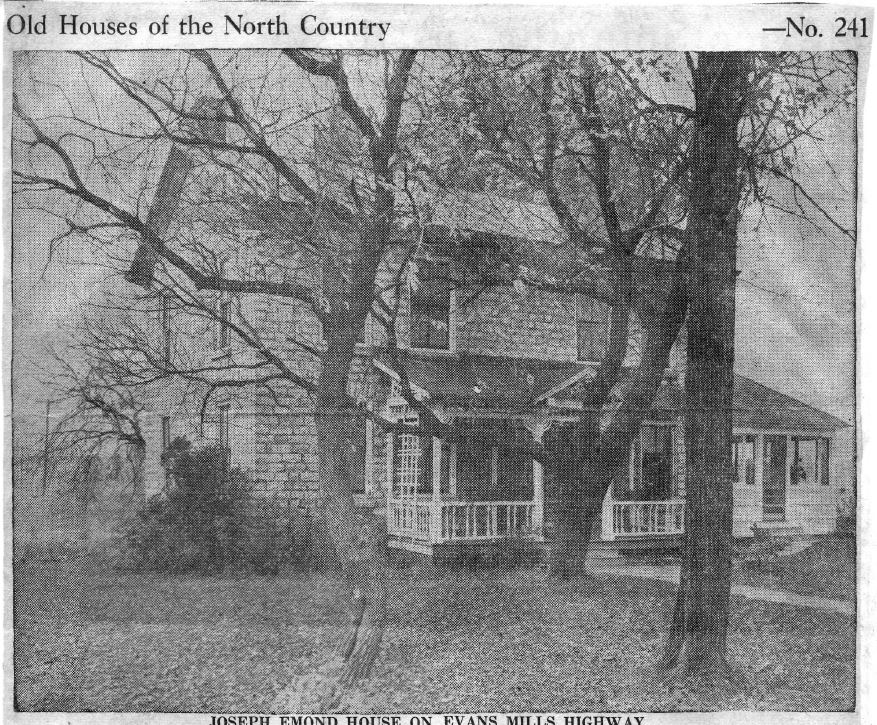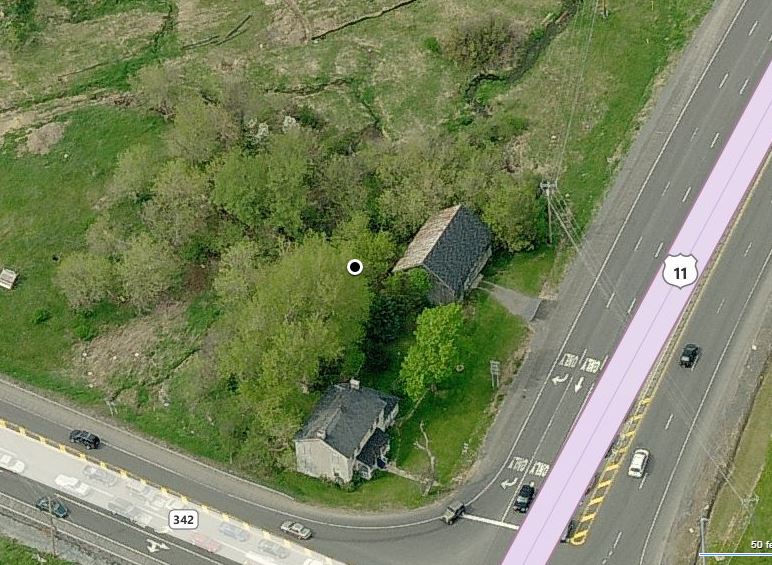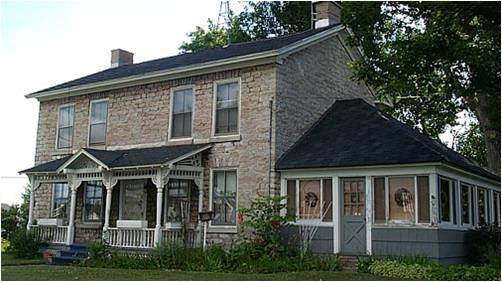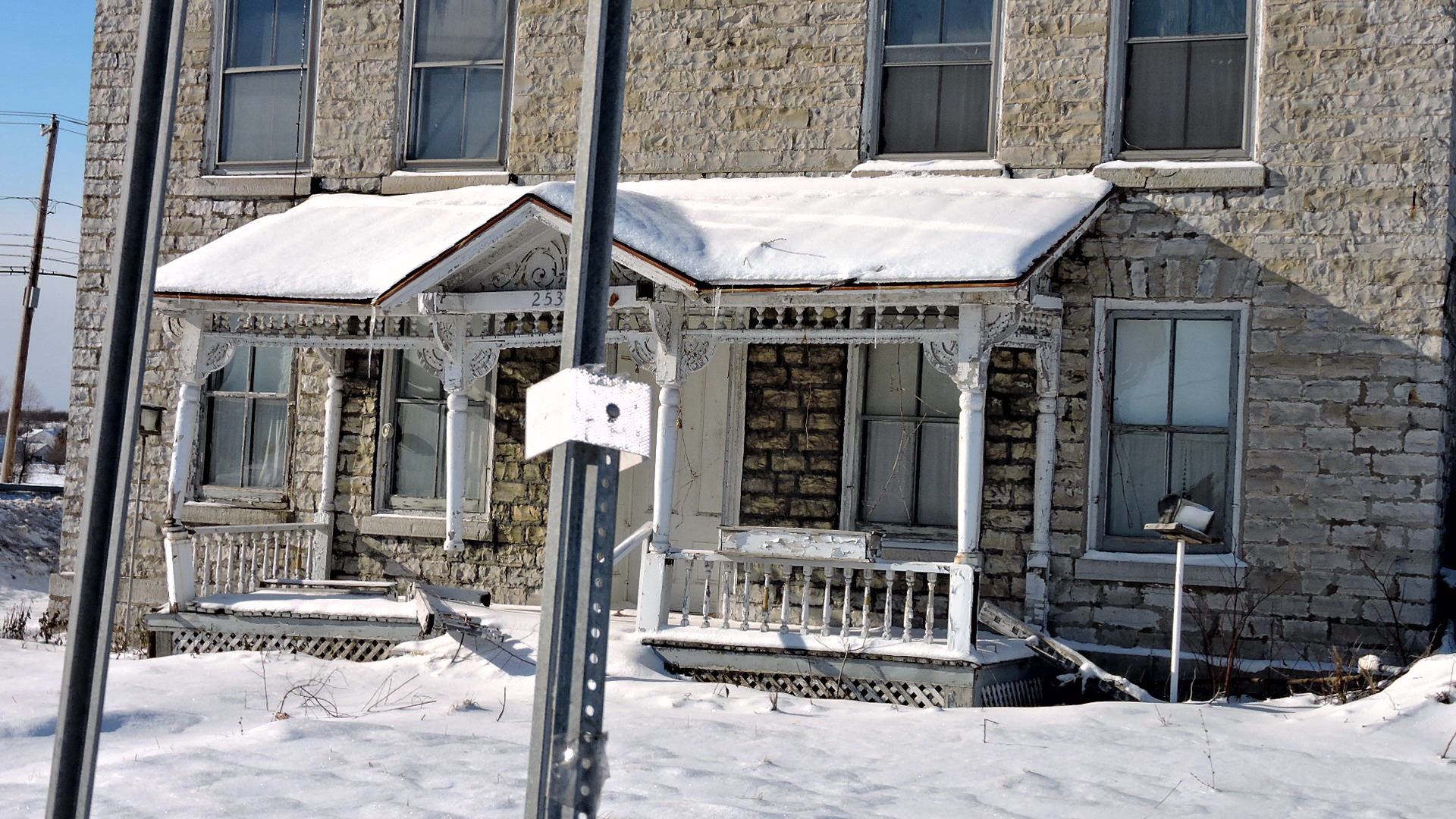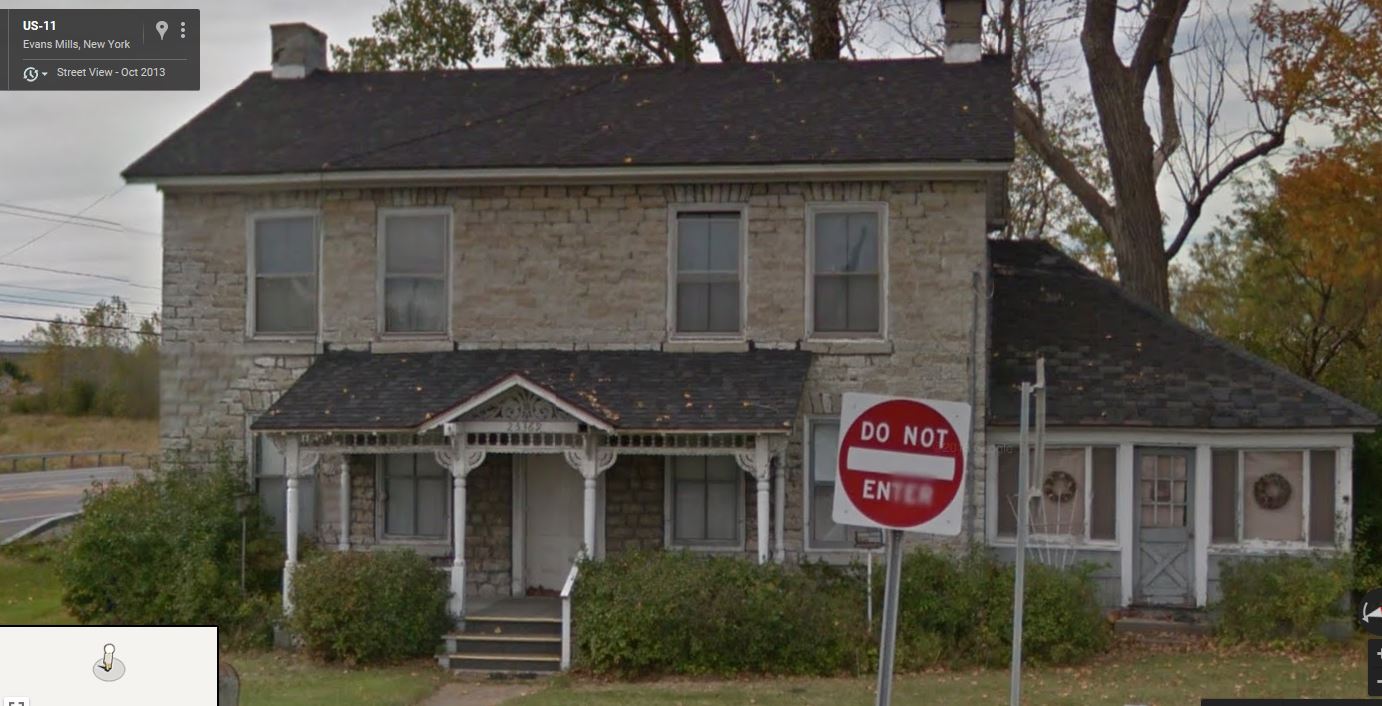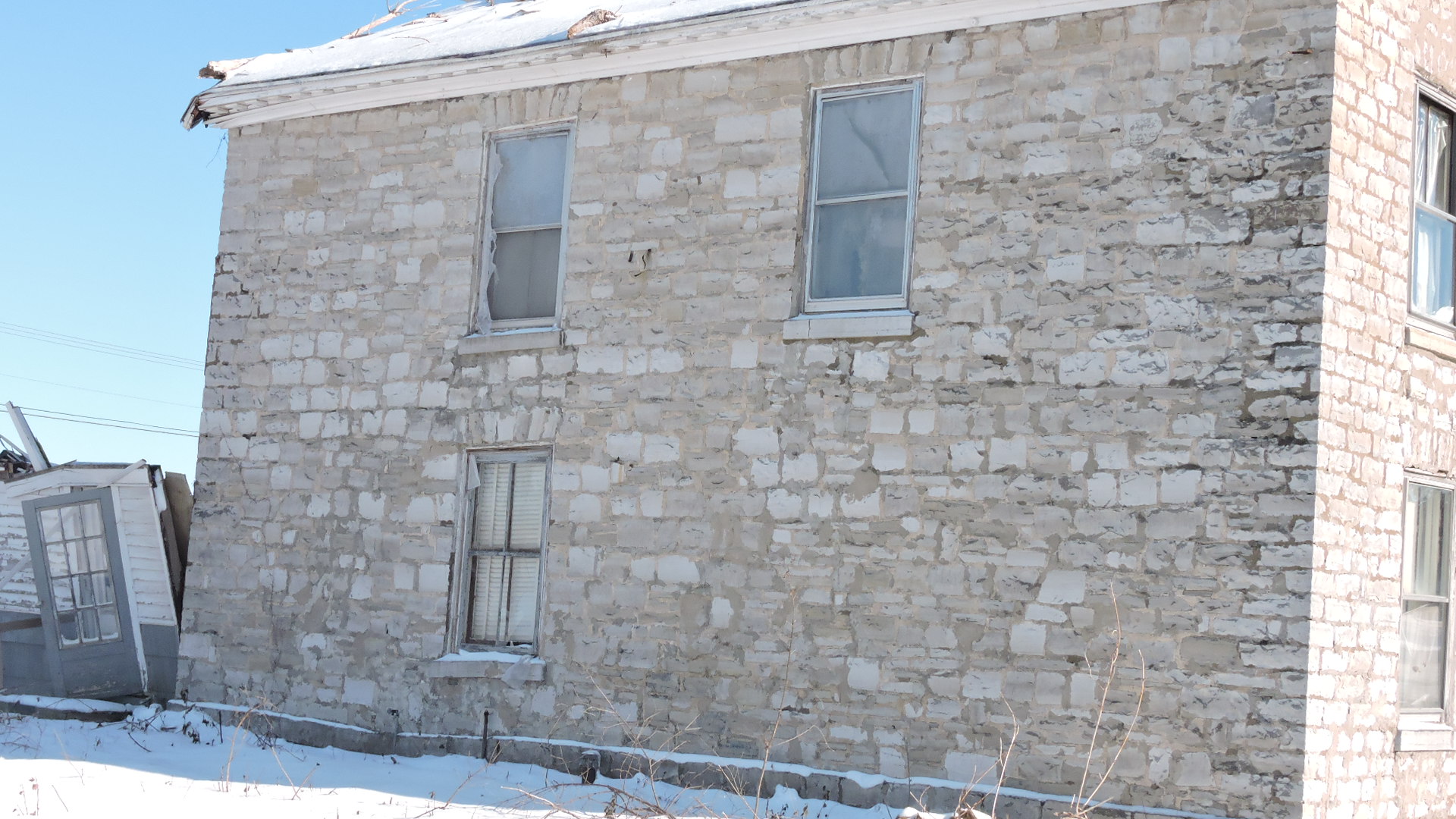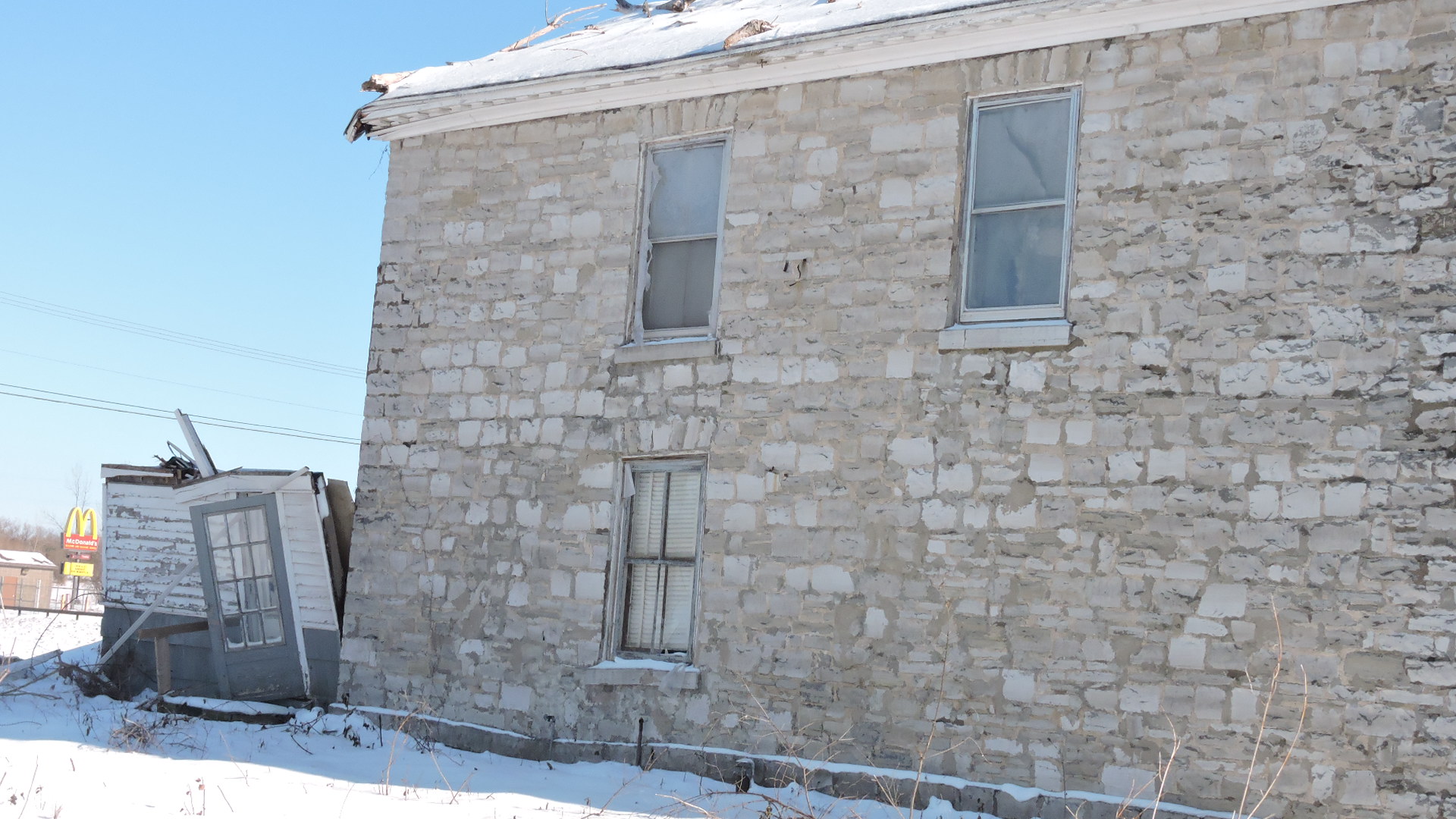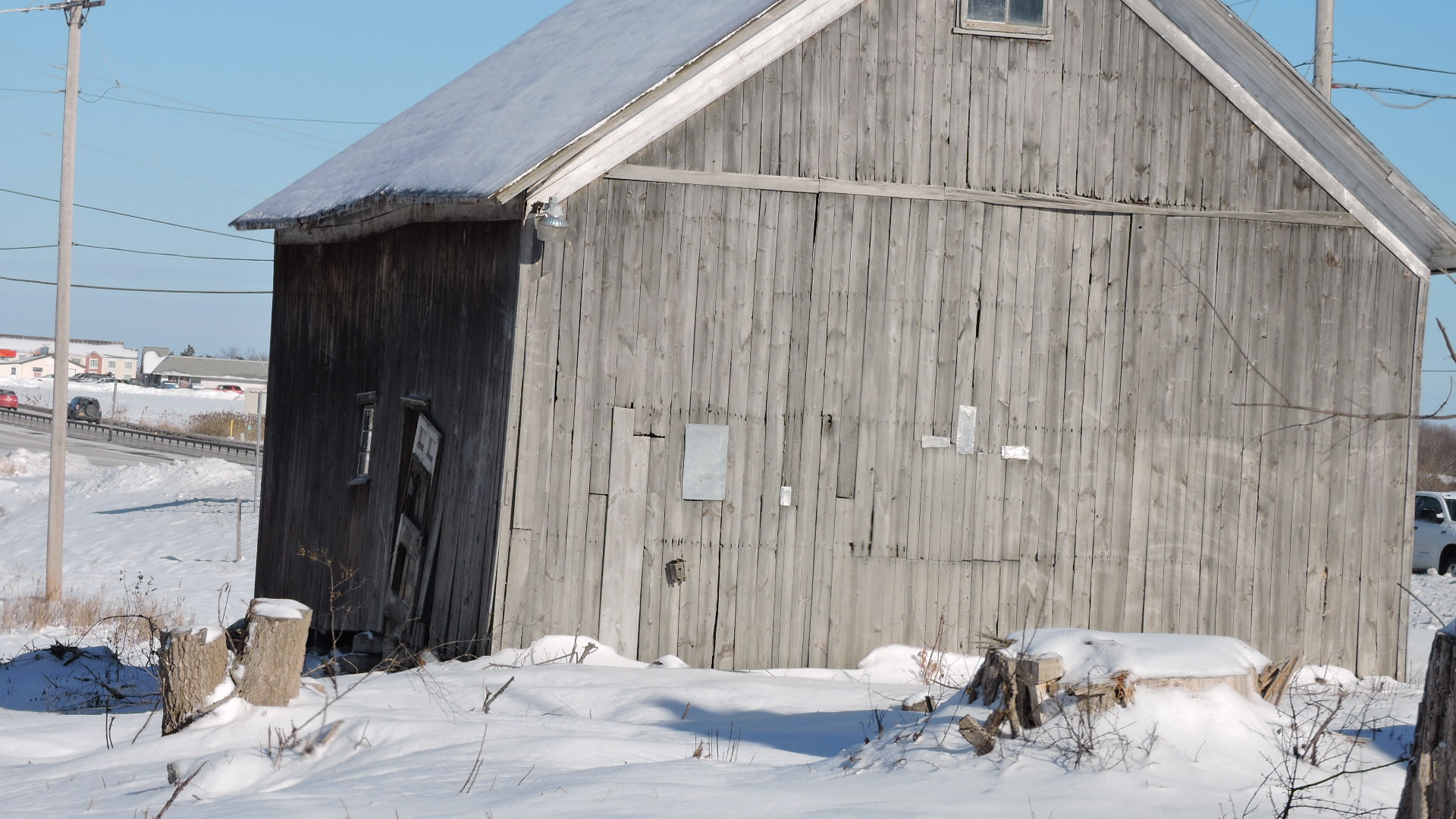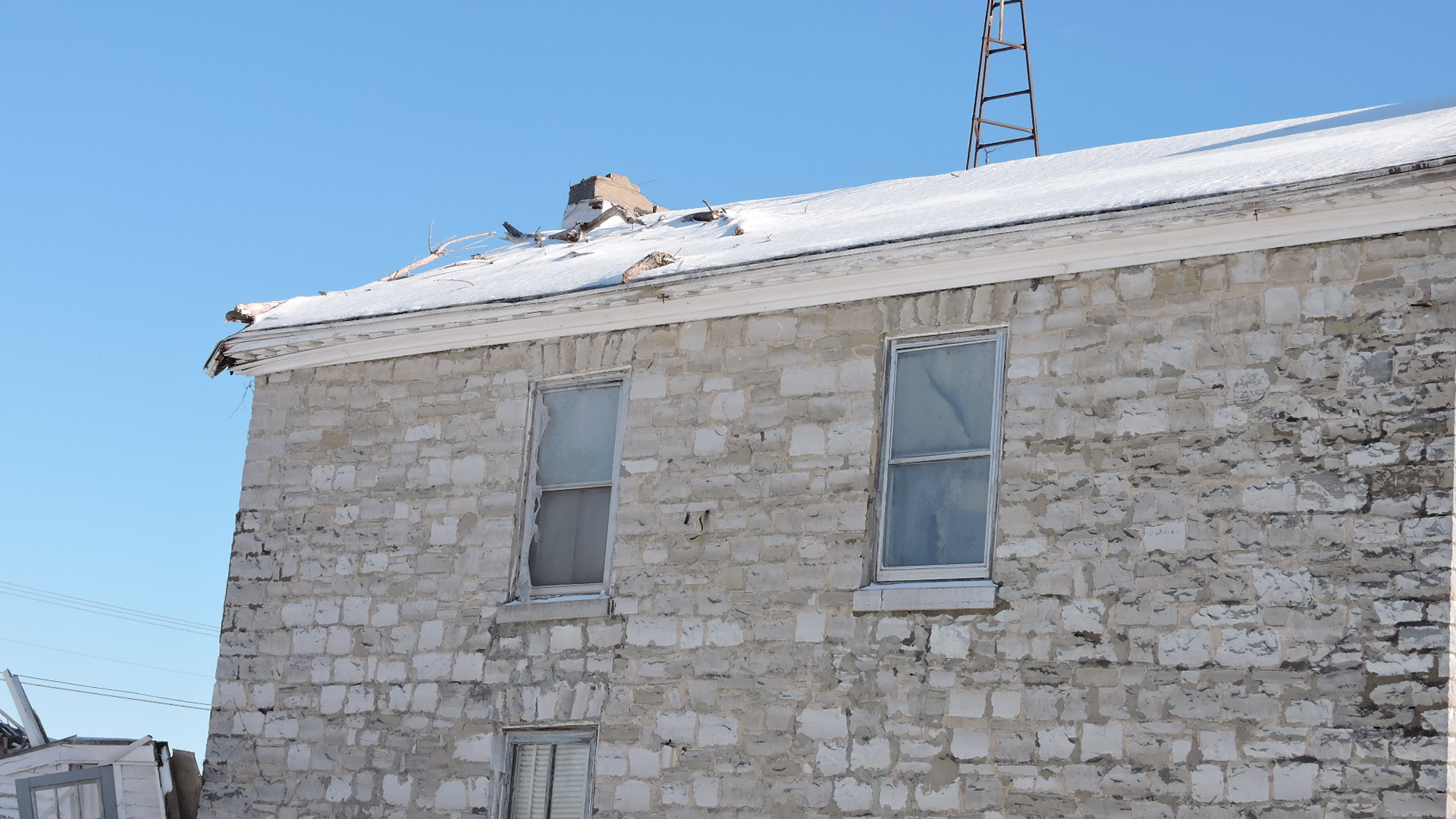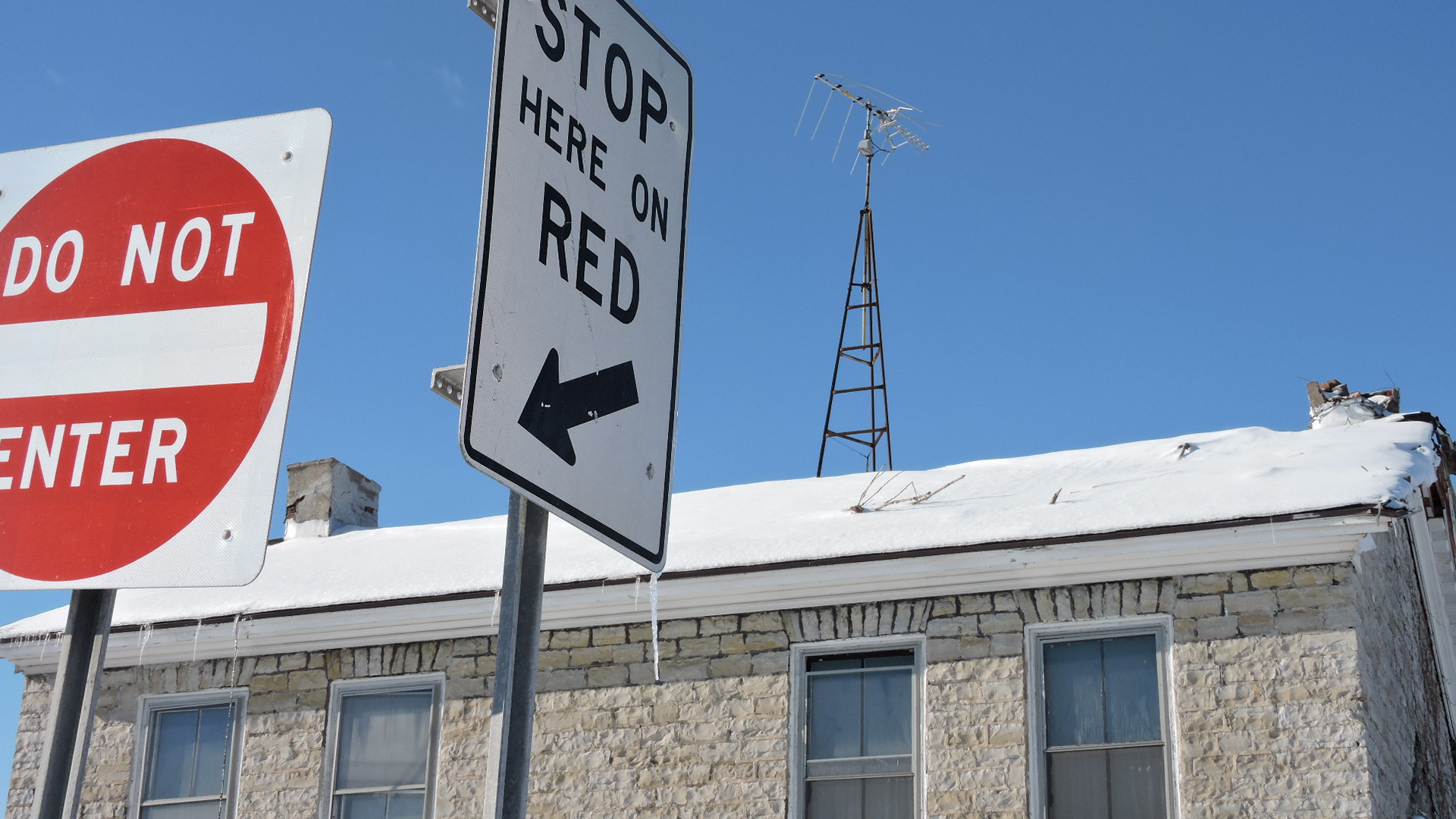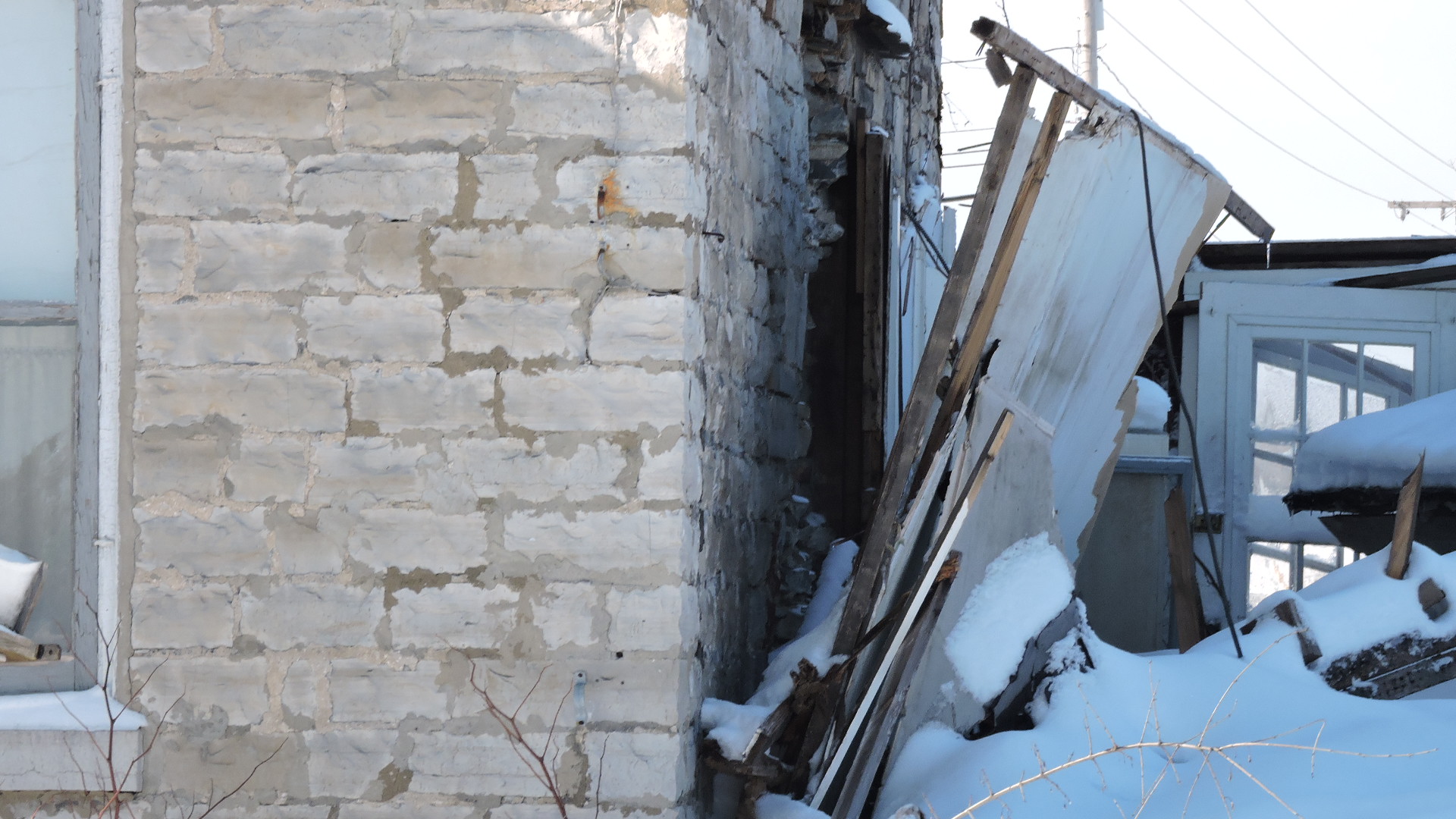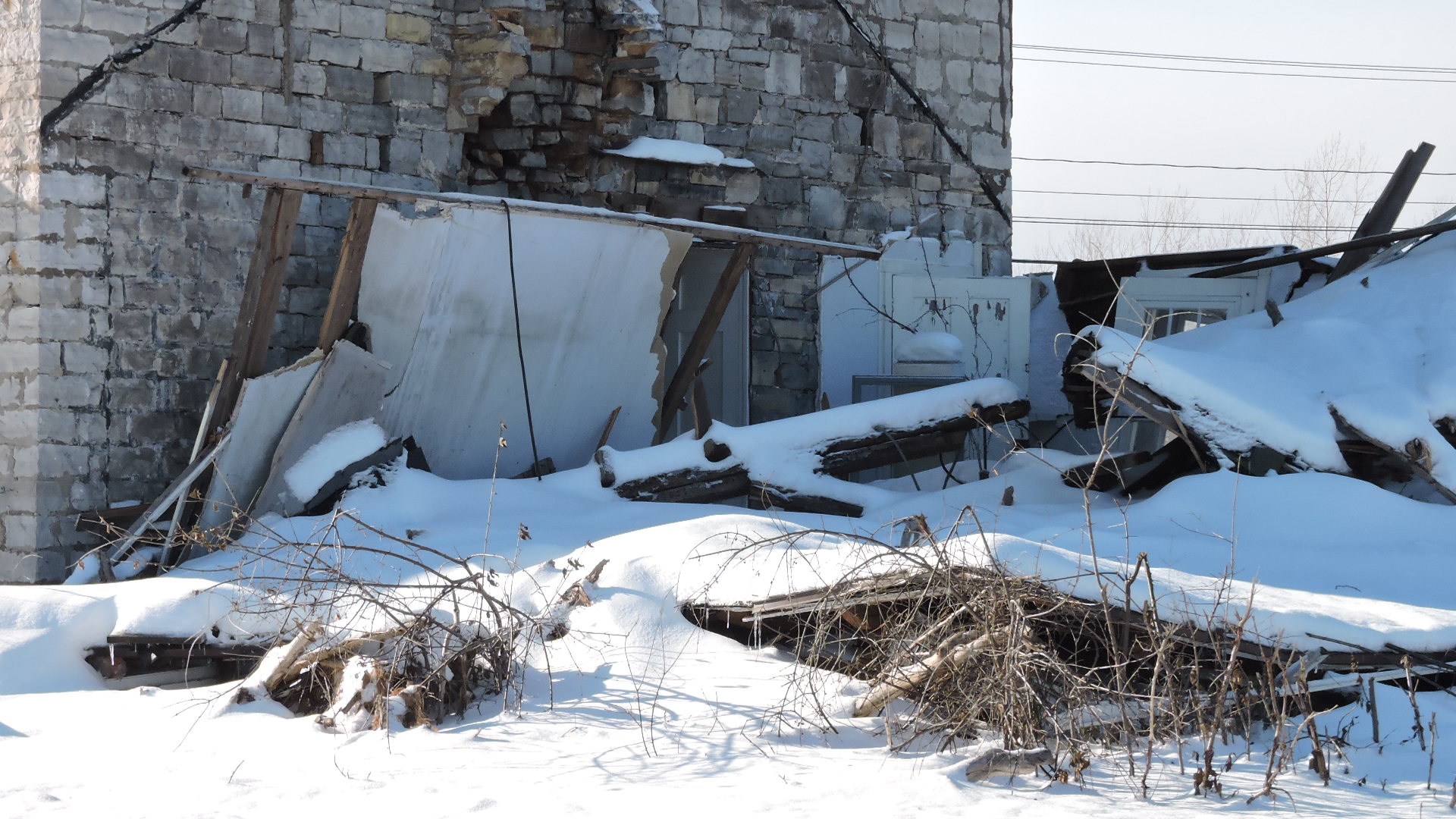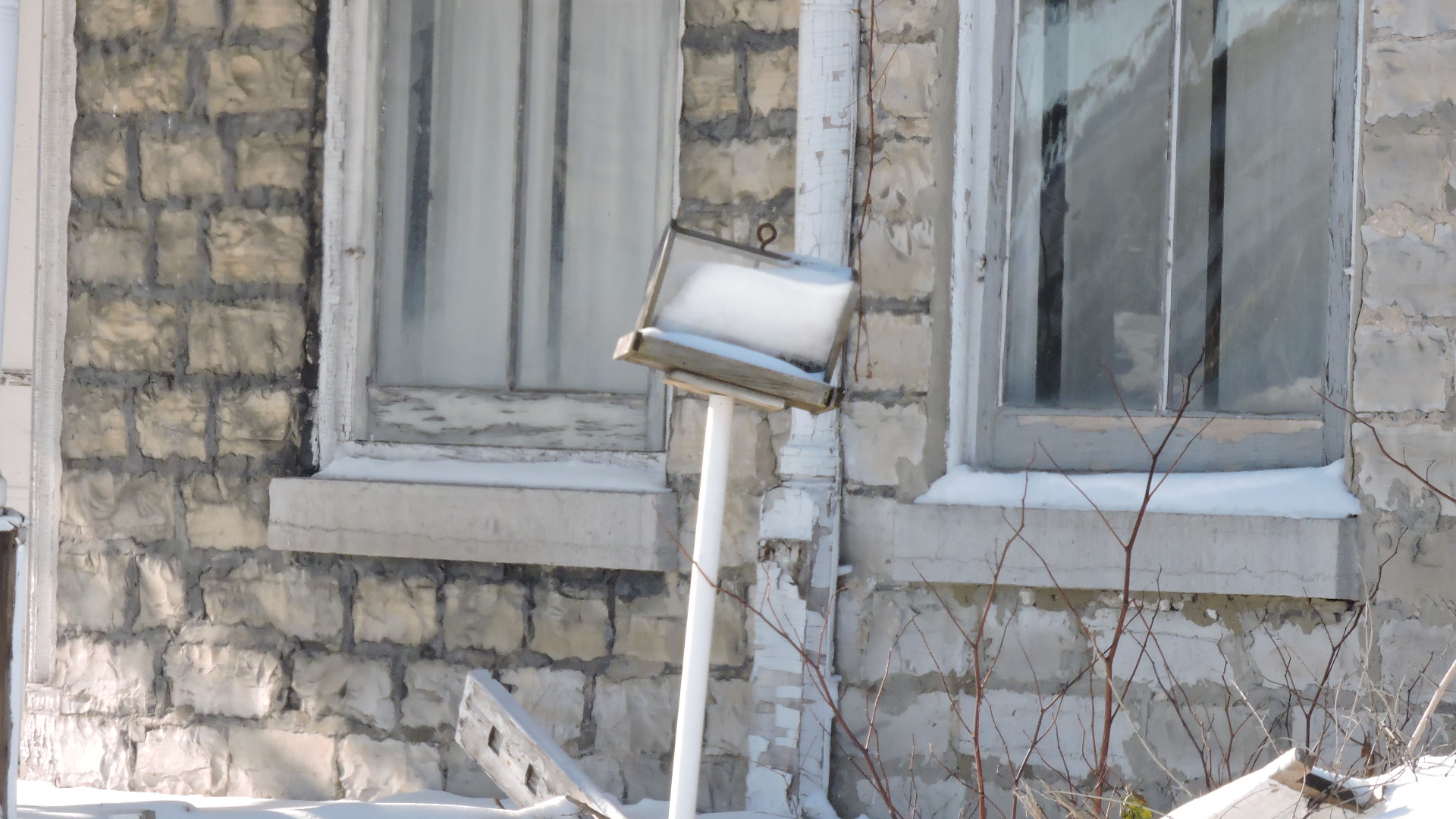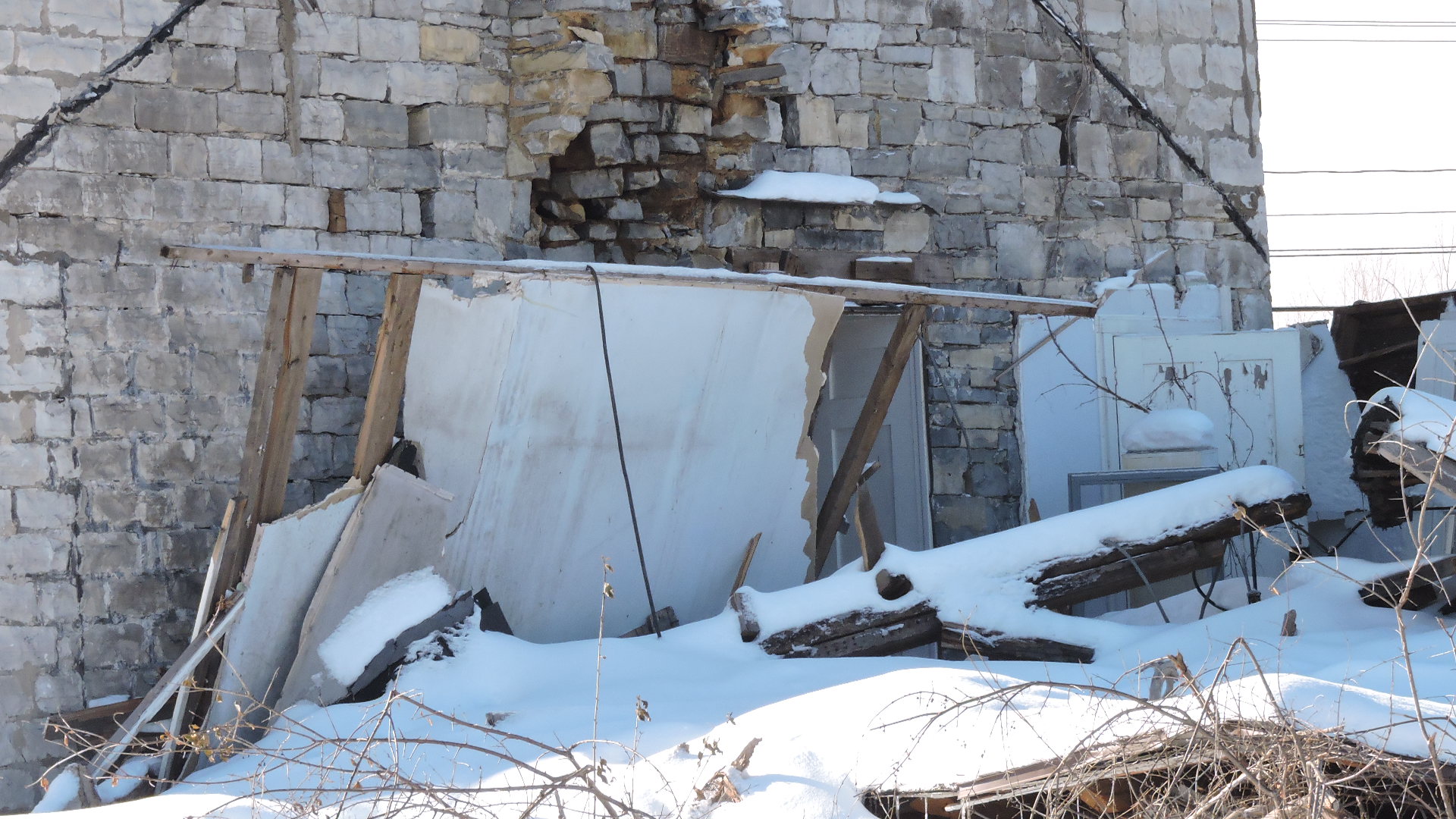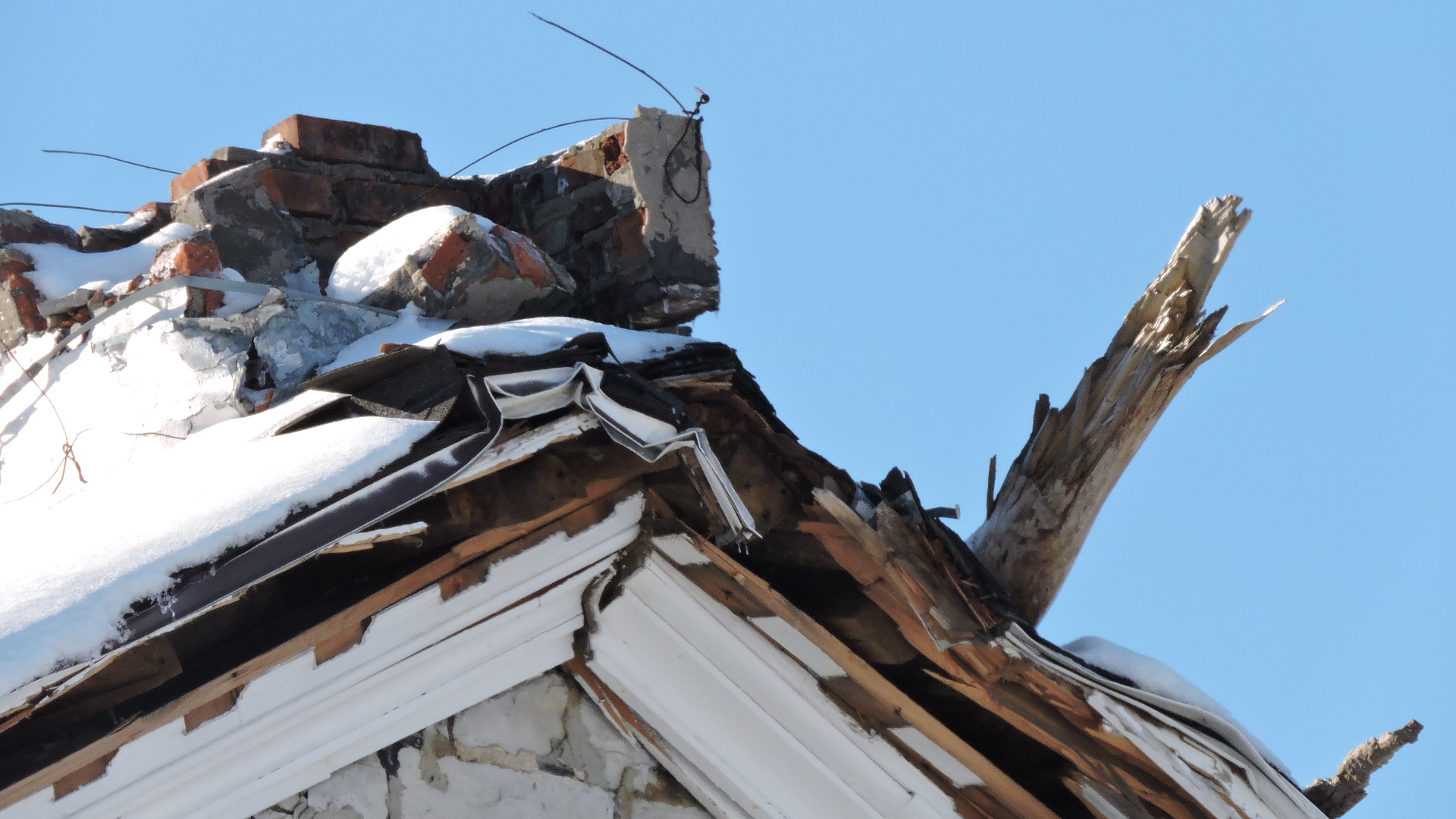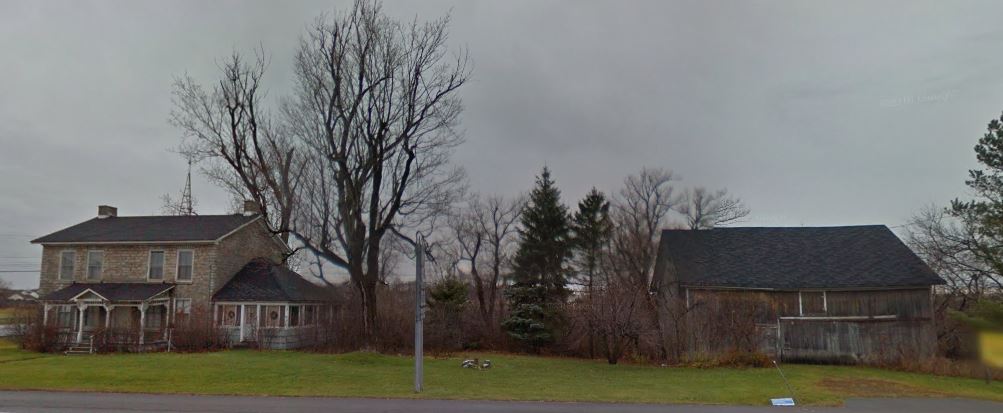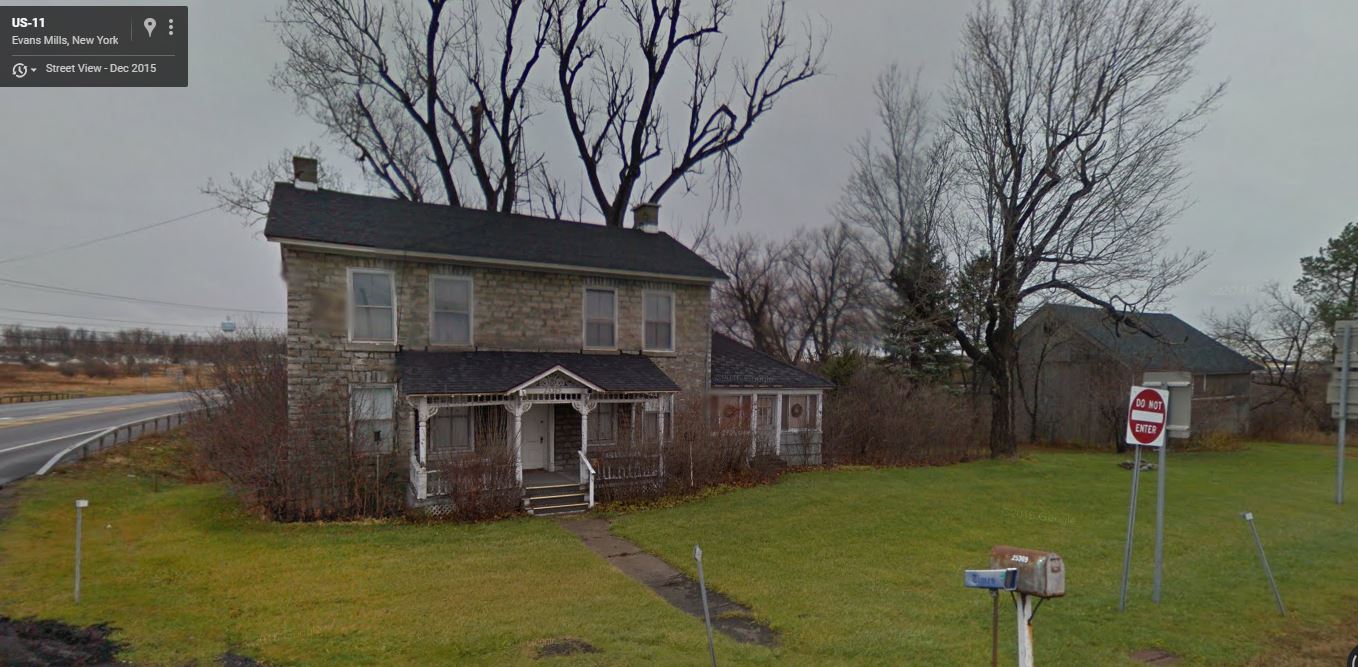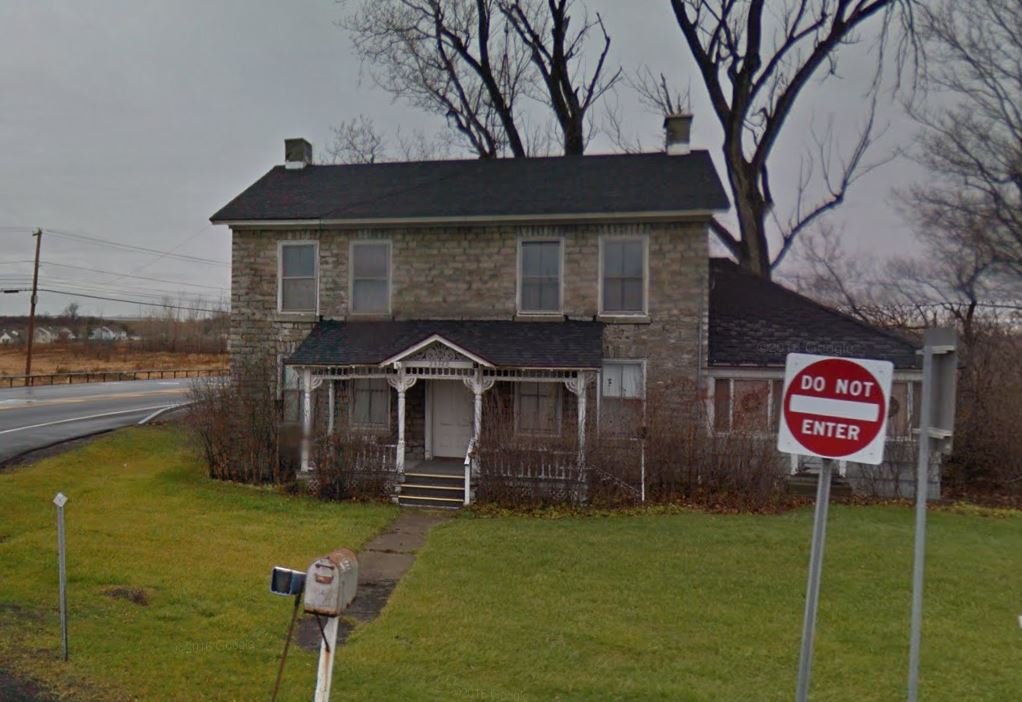 November 2016 - Tree Fell doing a lot of Damage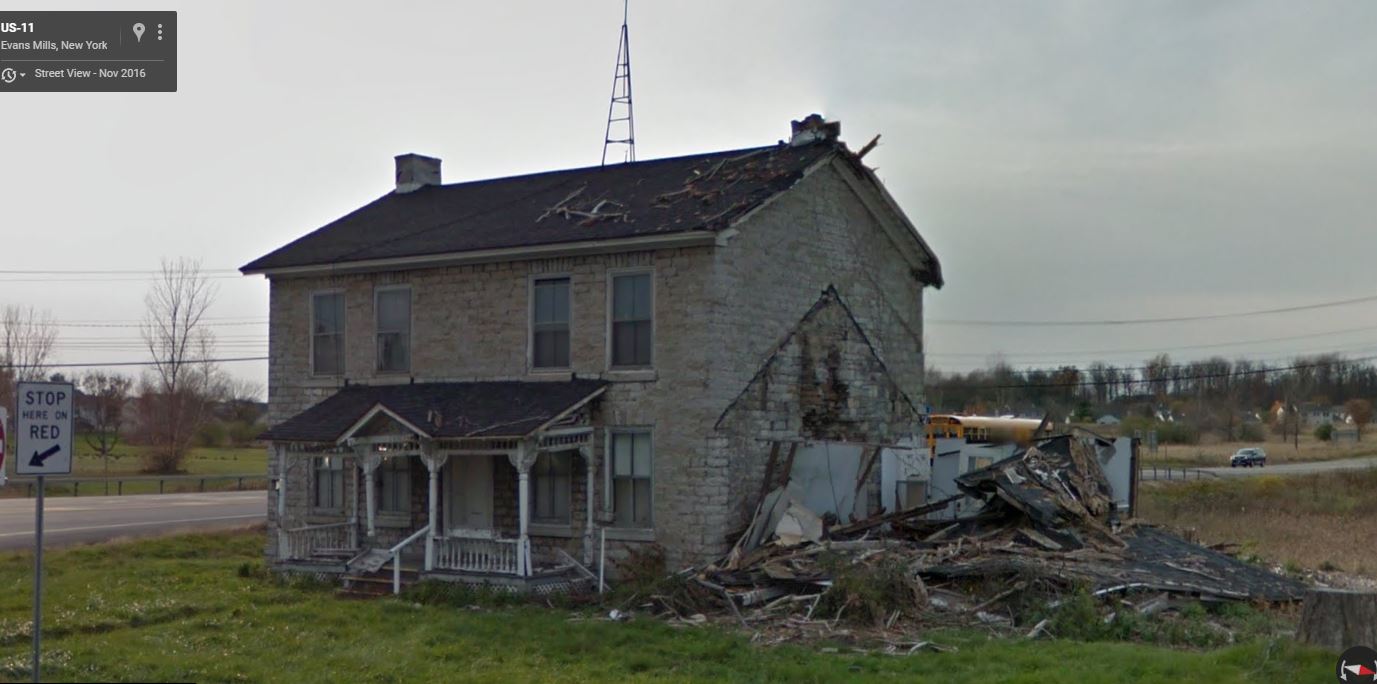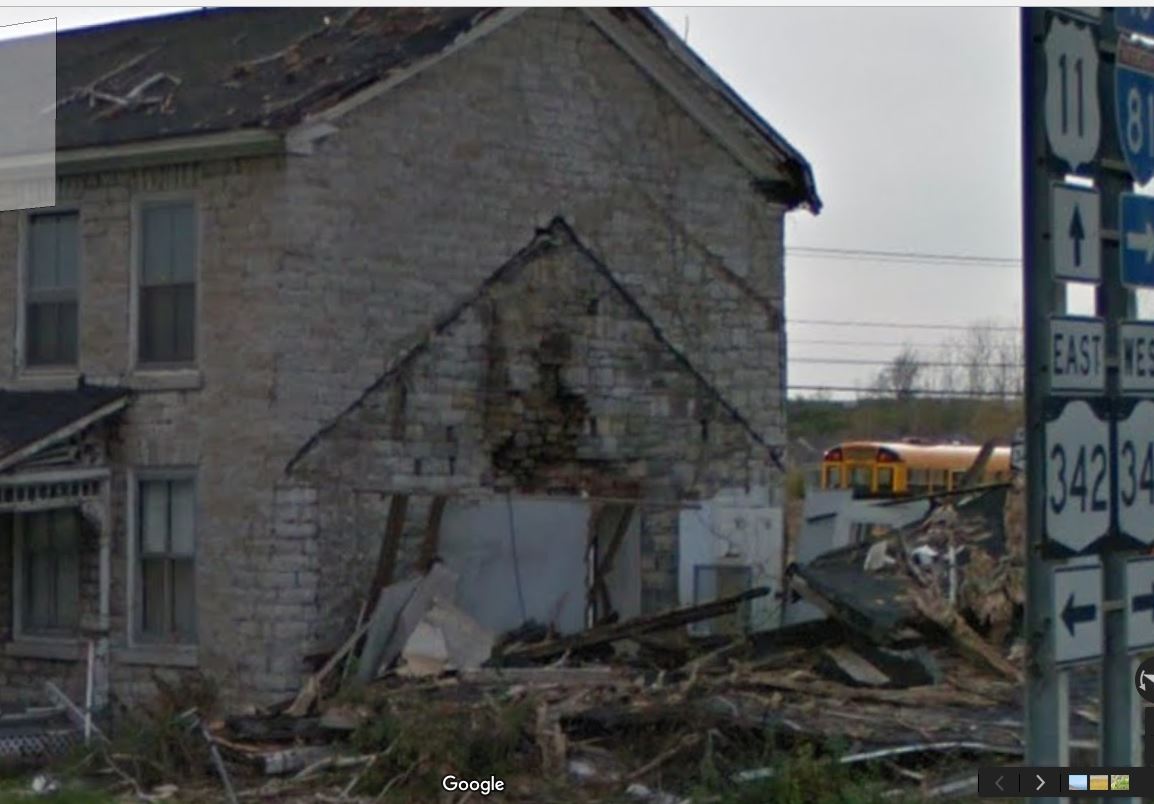 In spite of the modern exterior appearance created by the comparatively new open and enclosed porches this native limestone house owned by T Bernard Casey and wife, Marion Casey, is probably approximately 120 years old. It stands on the north side of the Watertown-Evans Mills state highway at the east corner of the Sanford's Corners-Pamelia road and is believed to have been built by Joseph Emond some time after the mid-summer of 1828.
Joseph Emond, born in France about 1785 served seven years under Napoleon including the peninsular campaign of 1813 in which was the battle of Vittorio. He came to the United States about 1828 and on August 25 of that year contracted to buy an estimated 55 acres of land in the area where this house is. It is said that he immediately set about clearing off the forest and on July 18 1835 a deed of the tract was delivered to him by Moss Kent, Plattsburgh, from whom he purchased the property. He died August 19 1840 his widow, Marie Adelaide, and children surviving.
A son, John B Emond, who was born in France in 1820 is said to have later taken over the farm and increased its acreage to a total of 300 becoming a successful farmer. His wife was the former Marietta Meeker, daughter of Mr and Mrs Barney Meeker, and their children were John F and Louis N Emond, both of whom lived to maturity and several years beyond.
Educated in the common schools of the district John F Emond worked on his father's farm until 1874 when he purchased 160 acres of it. To this he later added a couple of tracts and became one of the largest dealers and pressers of hay in the county. In 1872 he married Matilda Spohn and they had one daughter, Mary Belle Emond who was twice married: First in 1909 to Walter Lashaw who died in 1914; and, second to Anthony Webert in 1916 from whom she separated in a few years.
Her father, John F Emond, was one of the most successful farmers in the town of LeRay. He was a staunch Democrat but for six years, 1898-1903 inclusive, was supervisor of his town. He died April 26 1909 and on December 9 1912 his widow died. Their daughter, Mary Belle inherited the stone house and farm. When she died October 25 1938 the stone house, under the provisions of her will, went to the town of LeRay to be used as a town library, there going with it a bequest of $500 for the purchase of books. However, July 5 1940 the town board passed a resolution declining to accept the property on the ground that it was in open country too far from villages and would cost too much to maintain, Anthony Webert, her second husband, died April 30 1939 and on July 24 1941 Walter Webert, Black River, his administrator and sole distributee conveyed the stone house and about two acres of land to Mr Casey, the present owner, employe of the New York Air Brake company,
who commutes daily to this city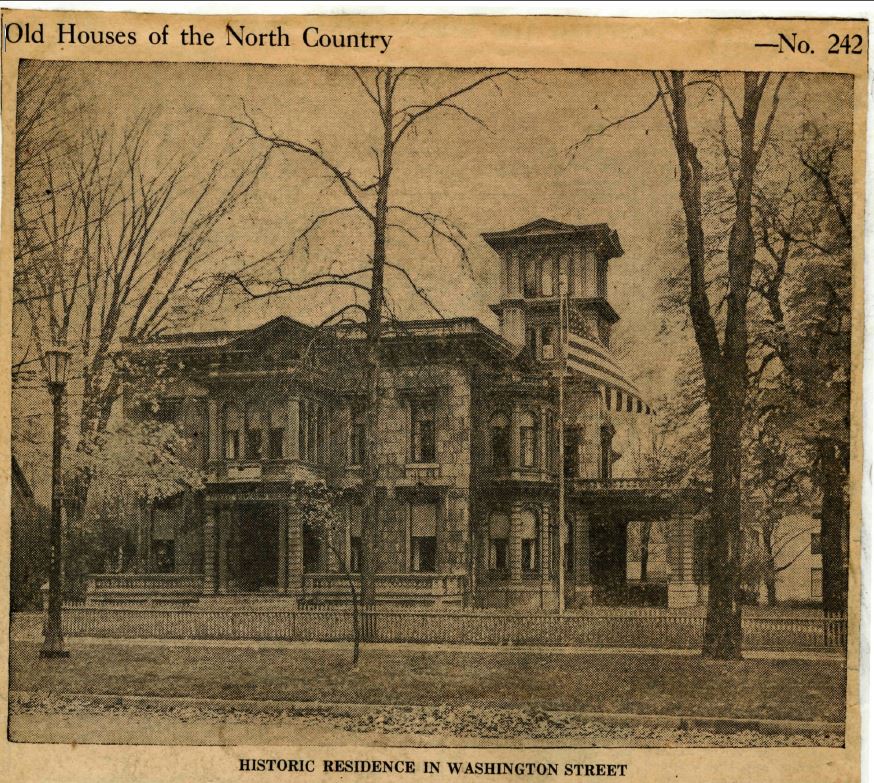 A lot of local history is tied into this pretentious native limestone house at 312 Washington Street, clubhouse of Watertown Army and Navy Post No. 61 American Legion. Built about 1820 it was originally the home of Olney Pearce, one of Watertown's earliest merchants. A little later General William H Angell, one of this community's most outstanding early contractor-builders and bankers owned the mansion and lived in it. Prior to that it was for a short time the property of Colonel Zebulon H Benton, colorful North Country mine operator, promoter and husband of Joseph Bonaparte's daughter, Charlotte Caroline.
For a decade in the 1860s and early 1870s George Foster Paddock, head of the George F Paddock & Co, bank, was the owner and occupant. Later it was acquired by the late William P Herring, noted North Country paper manufacturer and water power magnate and for over 55 years it remained in his family until his daughter, Mrs Pauline H Dillenback sold it for $40,000 to the United States government October 14 1941 for a USO club. On December 12 1945 the federal government disposed of it to the Watertown Army and Navy, post, present owner and occupant for $35,000.
At the beginning of Watertown the site was part of the holdings of Zachariah Butterfield, one of the three original settlers. Butterfield, whose widow married John Adams, great grandfather of Mrs Dillenback, sold it as part of a 50-acre plot to Hart Massey June 13 1806. Three ensuing sales steadily diminished the tract until Pearce bought the site October 23 1815.
He bought it from John C and Mary Devereaux. First Pearce built a wooden house which was destroyed by fire and replaced between 1820 and 1824 with a beautiful Georgian mansion of excellently cut and crafted limestone. A square portico protected the front door, a beautiful balustrade bordered the front of the roof line and there was a cupola with widow's walk around it. This, plus many exterior additions is the mansion we see today.
On November 3 1836 Pearce and wife, Eliza, sold the property for $6,000 to Colonel Benton, then of Antwerp. Three years later, on August 1 1839 Benton was married in this city to Napoleon Bonaparte's niece, but there is no record that he ever lived in the house and October 8 1838 he conveyed it to Abner Benton of Antwerp. But the Bentons were soon in financial straits and to satisfy a mortgage held against them by Eldridge G Merick, Clayton, the place was bid in for $3,000 by Merick at mortgage foreclosure sale held at the American Hotel by Joseph Curtis Patridge, master in chancery, July 18 1843.
Merick sold the property to his friend, Colonel Angell, August 17 1848. Angell's next neighbor to the south was Orville Hungerford in the stone mansion at the corner of Mullin Street, while just west on Clinton resided George C Sherman. July 26 1862 General Angell sold to Loveland Paddock, president of the Black River Bank for $20,000 and moved to New York. May 21 1863 Paddock conveyed to his son, George F Paddock, who added the four-story tower and porte cochere on the north, the porch terraces on the front, a second-story sun-room to the portico and a conservatory on the south side.
Paddock and Merritt Andrus partners in the Paddock bank failed in 1875 and the house was taken by assignees, who sold to the First National Bank May 6 1879. On September 28. 1881 Uriah Lott of Corpus Christi, Tex., bought it for $17,000 and sold to W P Herring, January 10 1885. founder of Herrings village and the Jefferson Paper company. It was transferred to his wife, Imogene C Herring, the following August 10. Mr Herring died August 16 1915. Mrs Herring died May 18 1933 and the property then went to Mrs Dillenback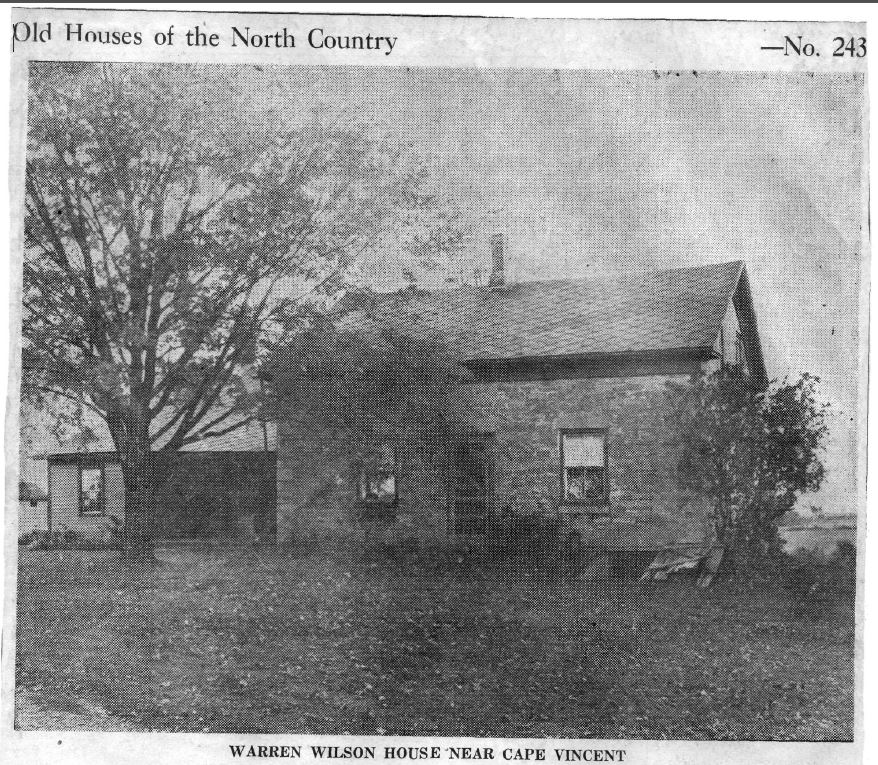 In the town of Cape Vincent since its settlement was started approximately 140 years ago there have lived many Wilsons, in fact Wilson's Point and Wilson's Bay above Tibbett's Point lighthouse were named for early settlers of the name in that area.
There were others north of Rosiere towards the St. Lawrence river. Warren Wilson was one of these, having purchased 164.74 acres on the Wilson Settlement road from Vincent LeRay on March 17 1837. The tract had been surveyed by Oliver Child June 22 1836 and it is likely that within a year or two after he acquired the property Warren Wilson began construction of the modest cottage-type stone house with the wooden wing which stands upon the farm well back from the road.
Warren Wilson died December 1 1865 but eleven years before that he disposed of the stone house, buildings and 99.74 acres of the original tract January 14 1854 to David Burnett for $4,000 and removed to a farm of 56.96 acres nearby which he had bought from Levi Shepard for $1,822.80. It was upon the latter that he died giving his widow, Mehitabel, a life use. David Burnett, son of a Connecticut veteran of the Revolution, James Burnett, located in Gouverneur in 1820 and in 1832 moved to the town of Cape Vincent where he died in 1875 at 77. His ownership of the Warren Wilson farm was short for on April 13 1859 he sold it with other acreage to William King. King, sometimes known as 'Butter' King, probably because of dealing in that commodity, was one of the first trustees of the Cape Vincent Methodist church, legally organized October 14 1851.
On February 8 1860 William King and wife, Mary, sold the house, barns and 99.74 acres to William W Sheley for $4,544. Sheley, a grandson of Martin Sheley Sr, native of Holland, kept the property for almost a quarter of a century, he and his wife, the former Mary E Adams of the town of Orleans, selling it to Henry Zimmerman April 1 1882. Born in the town of Orleans June 15 1827 Sheley moved to Cape Vincent when he purchased this farm. For some years from 1855 he was a lake captain and in 1880 moved into Cape Vincent village.
Henry Zimmerman, member of an old family in the town, owned this farm until his death and on February 20 1909 it was disposed of by his estate consisting of his widow, Mary Zimmerman, and daughter, Anna Robbins, to William J Mason and wife, Frances N Mason, the present owners.
Mr Mason is a prosperous farmer and also is a member of one of the town's old families. The farm is maintained in excellent condition and still consists of better than 99 acres. It is located in one of the thickly spotted stone house districts of Jefferson County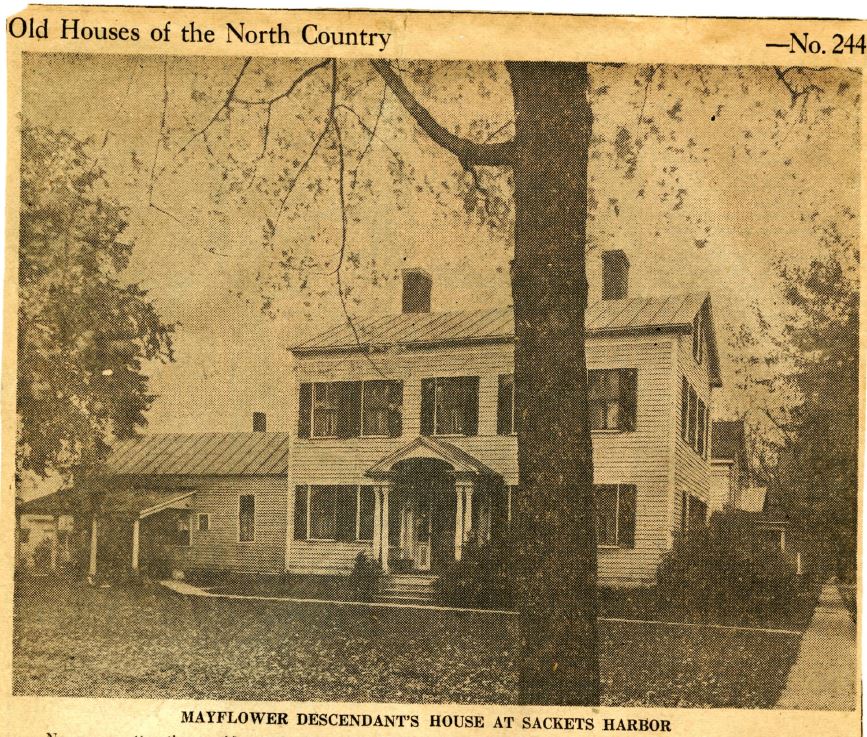 Jacob Brewster Bed & Breakfast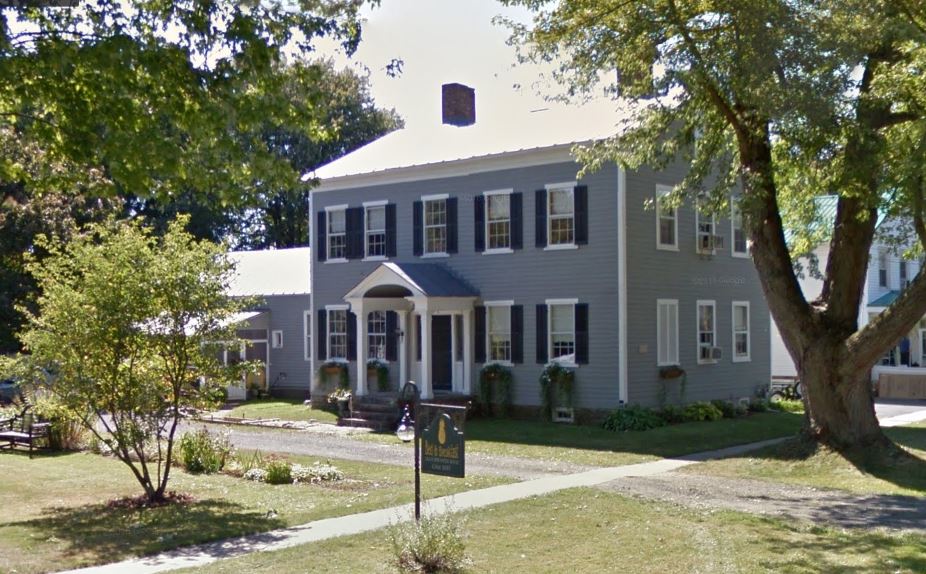 No more attractive residence is to be found in Sackets Harbor than the Deacon Jacob W Brewster home just west of the Presbyterian church on the south side of Broad Street. Since Basil Ashley VanCamp purchased it from Rudolph I Gowing April 2 1930 it has been occupied by him and his family. Mr VanCamp is the proprietor of the commercial garage adjoining.
Of attractive Georgian architecture the house was built of wood over a century and a quarter ago. On October 15 1817 the property was sold by Reverend Samuel F Snowden Presbyterian minister, and Samuel F Hooker Sackets Harbor's most extensive early merchant, to Josiah Bacon, a former army lieutenant who came there in 1815 to become a commission merchant, but returned to his native city of Boston after a few years.
Transfers brought the place into possession of John A and Margaret Bacon of Boston, who sold it September 15 1826 to Jacob W Brewster, direct descendant of William Brewster of Scrooby, England, one of the organizers of the Mayflower voyage, fourth signer of the Mayflower compact, ruling elder and spiritual guide of the Pilgrim fathers who landed at Plymouth in 1620.
Leaving his beautiful mansion on what is now the Smith college campus at Northampton, Massachusetts, Jacob W Brewster, a man of some wealth, and his wife, Harriet established in Sackets Harbor prior to January 1824 proud and dignified, he became an elder and most active in the Sackets Harbor Presbyterian church. His daughter Martha married Samuel F Hooker, direct descendant of direct descendant of Congregational minister, founder of Hartford, Connecticut, friend of Reverend John Cotton and Samuel Stone. Mr and Mrs Samuel F Hooker became the grandparents of former Corporation Counsel Harold L Hooker of this city, who is thus a great-grandson of Jacob W Brewster, and Mayflower descendant.
Jacob W Brewster died January 9 1844 leaving an estate of $50,000 to $80,000 willing his widow, Harriet his homestead, all furnishings and a life-use of $10,000
She died m 1877 and the homestead went to a granddaughter, Harriet, who had married Sidney A Sherwin a Batavia lawyer. On March 17 1877 Mrs Sherwin accordingly sold the house and lot on Broad Street to Mrs Cornelia Sophia Whitaker, wife of Ezra Jabez Whitaker chief engineer of the U S Navy. Mr Whitaker was also active m the Presbyterian church. Like Jacob W Brewster he was long a prominent figure in the life of Sackets Harbor and died August 20 1895 leaving a $28,700 estate, a life-use of which went to his widow, who died August 17 1910. Her estate of $30,764.98 was willed to her son Morris Mortimer Whitaker, naval architect, Nyack, with the request that he give a fund to The Mariners' Family Asylum at Stapleton, SI, and $5,000 to the North Adams Massachusetts, hospital as a memorial from her and her son to Ezra Jabez Whitaker.
On October 8 1912 Morris M Whitaker and wife, Mary Louise, disposed of the attractive old mansion to William S Maxson, well known Yonkers school principal, who used the property as a summer home until February 19 1927 when he sold it to Rudolph I and Inez L Gowing. They in turn resided there for a few years before selling it to Mr and Mrs Van Camp. But, although a modern porch has been built over the central main entrance, there seems still to be about the house he spirit of Deacon Brewster who, in his will assigned his body "to the dust from which it came and my soul to God who gave it a full trust and hope of a glorious immortality beyond the grave," willing among other things $5000 each to Foreign and Home Mission, $300 for Presbyterian Sabbath School books and $300 toward a parsonage, the income from the latter , however to be used for fuel for poor and needy widowers if a parsonage were built before he died.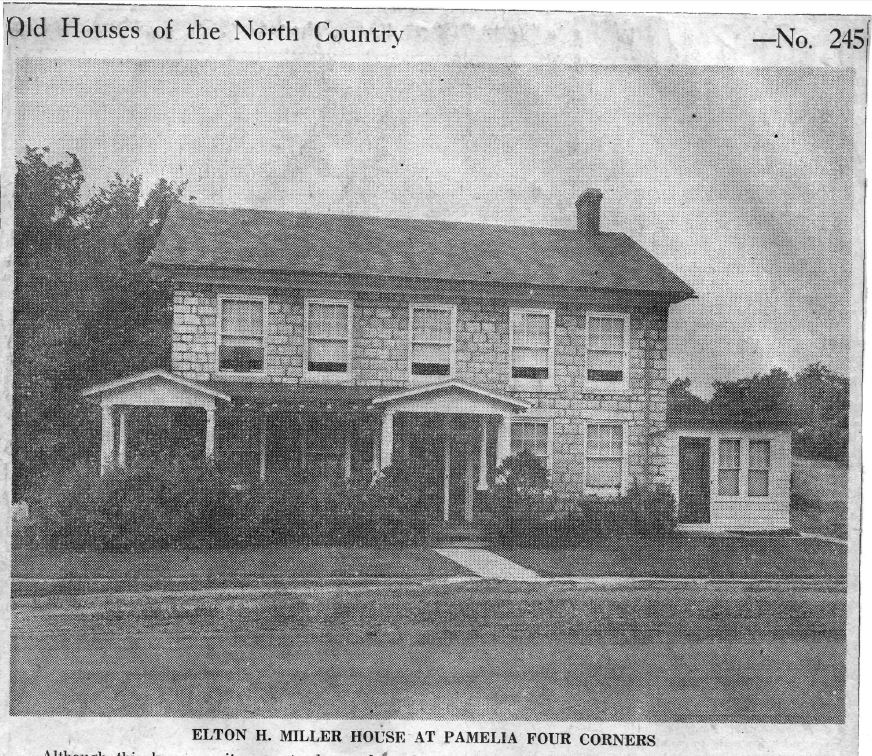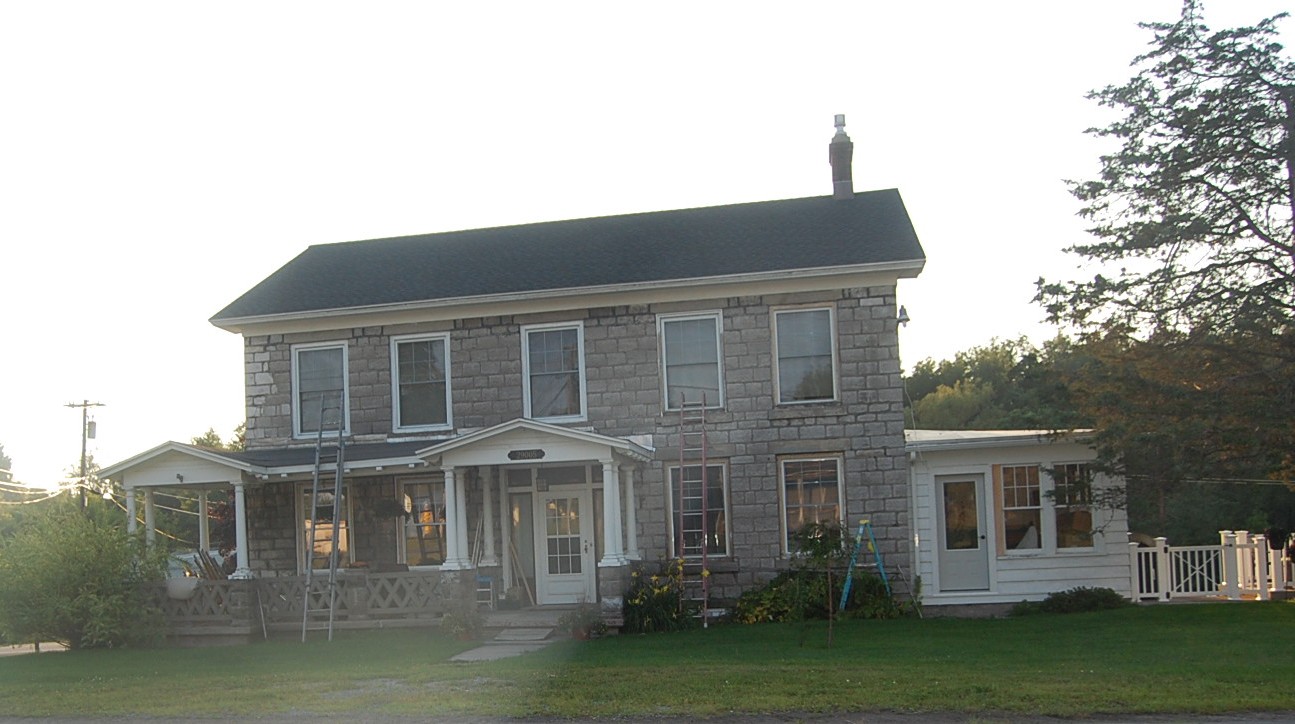 Although this house as it now stands on the old military highway at a corner in the hamlet of Pamelia Four Corners was erected only 21 years ago by the late Elton H Miller, former supervisor of the town of Pamelia 21 years and president of the Thousand Islands Bridge Authority, it stands upon the foundations of the original house built by James Jones in 1838 and is similar in appearance to the Jones house. In fact much of the stone came out of the Jones house.
James Jones, one of the early settlers of Pamelia Four Corners, not only operated a farm but conducted a tailor shop next to his house, became a man of considerable wealth and lived in style having a span of beautiful white horses and fine equipages. For a number of years he was justice of the peace of the town and in 1860 he served as supervisor. However, in his later years he suffered a mental trouble and on January 29 1878 was adjudged a lunatic. William H Miller, father of Elton H Miller, was appointed committee of his property and in 1882 Mr Jones died. He was a contemporary of the Hargers, Gouldings and Contrymans, Pamelia residents of outstanding prominence in the county.
Early in the 19th century James Jones had a small stone house in the rear of the old stone store, but on April 19,1837 he bought 51.14 acres and a small adjoining parcel from Jesse and Betsey Smith of Philadelphia town for $1,600 and is said to have immediately started construction of his large stone house there. After Jones became insane his wife, Gazena C Jones, accepted a settlement and January 28 1880 conveyed all interest in his property to his three daughters
They were reputed beautiful and were Ida V Fleming and Ellen VanNess of Webster, IA, and Julia E Zoller, wife of Orvis Zoller of Pamelia. As referee in an action involving title to the property, Frank H Peck sold the house buildings and farm at public auction to William H Miller March 12 1886 and the Miller family has occupied the property since. At the time of the sale the Zollers occupied it.
Mr Miller operated a general store in the hamlet, was postmaster several years, justice of the peace for some time, highway commissioner eleven years, conducted the Crowner hotel in this city, 1895-7 and in 1900-1 operated the Electric Mills here. He died June 2 1915. His widow was the former Miss Minerva J Helmer, who was the widow of his brother, David Miller, at the time William H Miller married her July 19 1870. She was the daughter of the late Mr and Mrs Jacob Helmer. She died April 15 1919 leaving a daughter, Mrs Metta E Ganter now of Evans Mills and a son, the late Elton H Miller. Elton H Miller was given a life use of the homestead by her, but in her will she provided that it should eventually become the property of her two grandsons, Harold M and Howard E Ganter, sons of Mrs Metta E and the late Rubert H Ganter.
The original house burned July 24 1926 and Elton H Miller rebuilt it as it is today. After his death August 5 1942 it became the property of his two nephews and on January 31 of this year Harold M Ganter conveyed his interest in the property to his brother, Howard E Ganter, the present owner.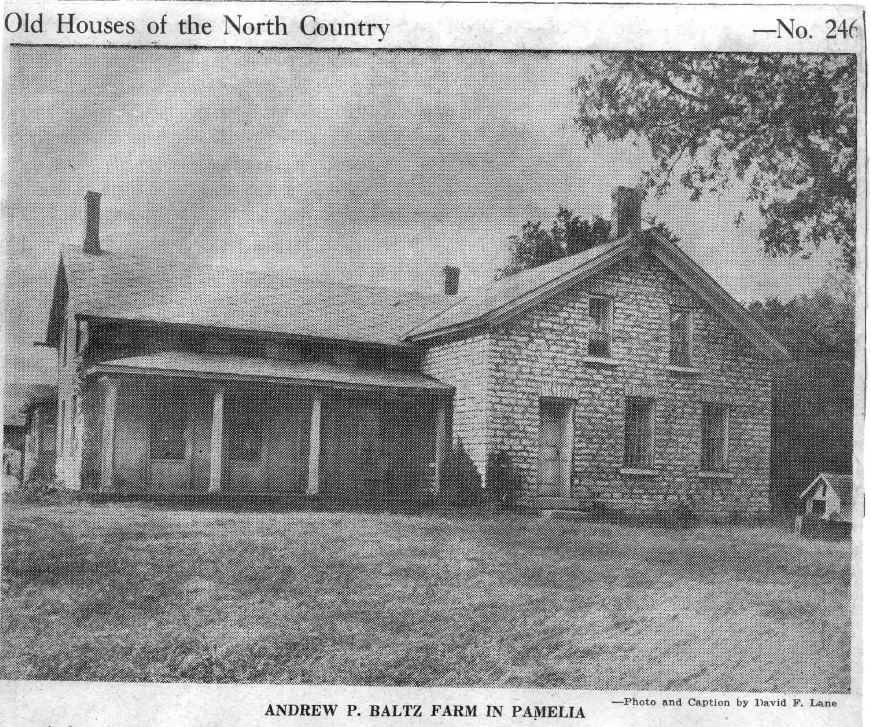 On Rt 37, left side of road just past Hinds Rd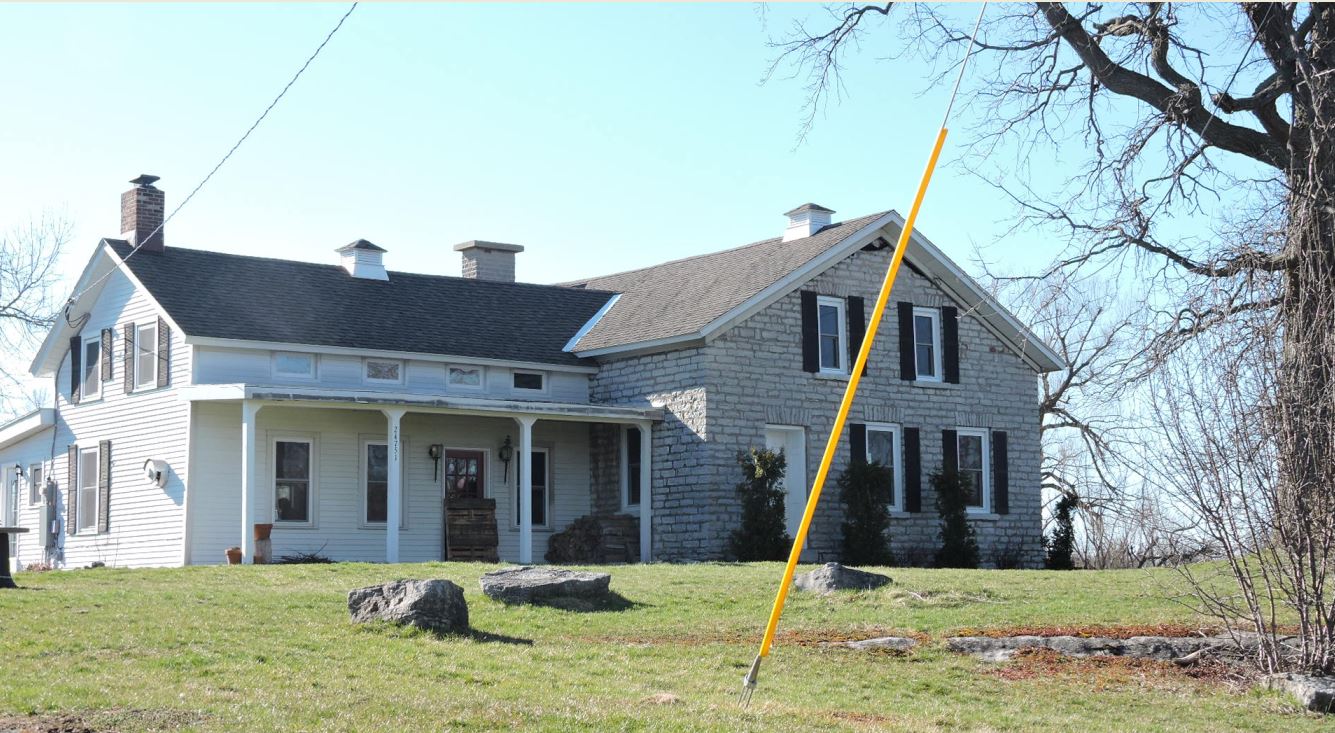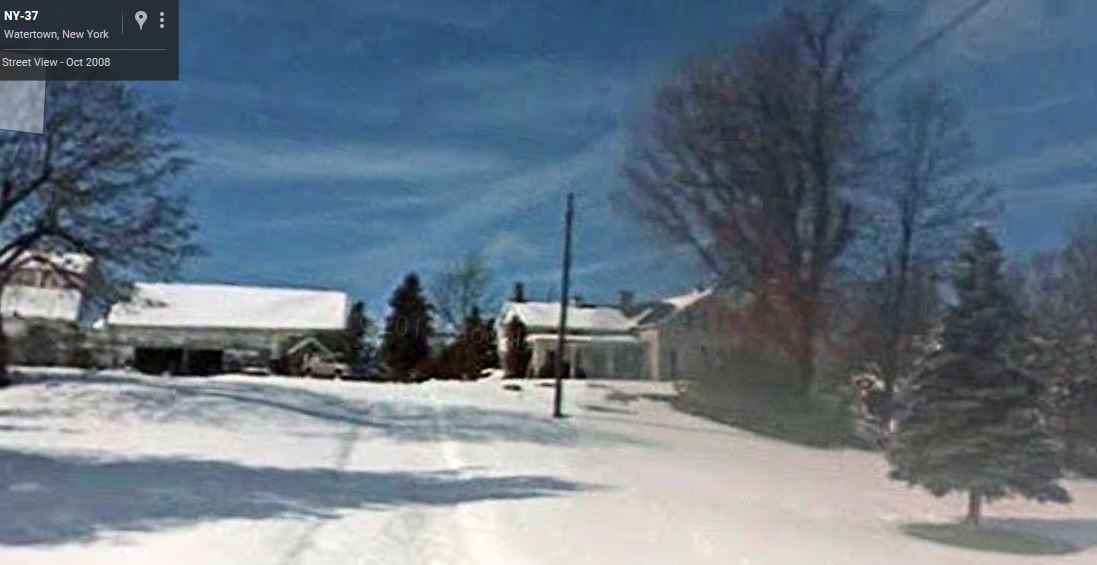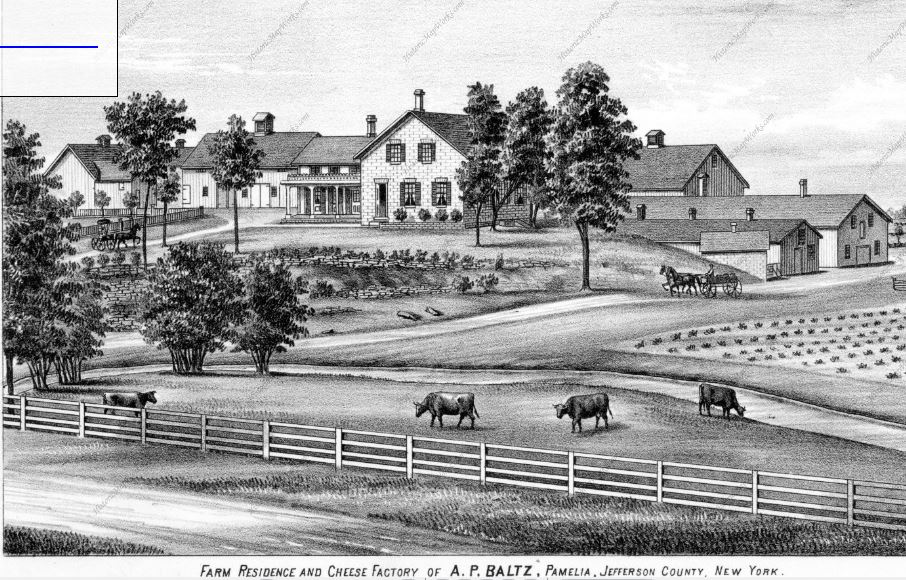 From Jefferson County Illustrated History 1878
Andrew P Baltz, one of the first limburger cheese manufacturers in the United States and for 47 years a grocer in this city until his death December 5 1919 was a native of the town of Orleans, but was of German descent. He was born December 7 1837 near LaFargeville, son of the late Philip and Eliza Dorr Baltz, who settled in the town of Orleans about 1829 having come to this country from Germany. He spent his early life in the town of Orleans, working upon his father's farm and after attaining maturity was married to Miss Elizabeth Haas of LaFargeville.
The first limburger cheese ever made in the United States was manufactured in this county in 1853 and it was five years after that, in 1858 that Mr Baltz began making it in a small way. Then on January 22 1864 he bought the cottage-type limestone house of James B and Sarah Campbell with its 206.35 acres of land in the town of Pamelia for $8,563.53 and March 1 1865 paid Phineas Hardy of LeRay, $2,354 for 53.5 adjoining acres in the same town of Pamelia. The property was especially adaptable to the building of cheese cellars for the curing of limburger and these he constructed in the side hill near the native limestone house. Although they were long since abandoned for curing cheese they still exist. The house is believed to be about 110 years old.
At one time Mr Baltz manufactured 75,000 pounds of limburger per year and with his own product and other limburger which he handled did a business of $130,000 a year. He was a member of the Watertown Produce Exchange, the largest inland cheese board in the world, belonged to Watertown Lodge, No. 49 F & A M, and to the First Methodist church, for he had left his Pamelia farm and moved to this city in 1872 to engage in the grocery business. George H, Will A, Edward G, and Fred W Baltz were his sons.
His daughters were Mrs Frank Schryver, Omar, and Mrs Howard Reed, Fishers Landing. A grandson, Orin W Baltz, a division manager of Sears, Roebuck & Company, resides in this city. Andrew P Baltz's first wife died in 1883 and he then married Mary Collis.
On December 7 1869 he sold his cheese vaults of 118 by 34 feet dimension in Pamelia to Ulrich Roethlisberger and Simon Gerber of New York City, also including with them a right of way. On October 19 1885 Abram D Sternberg as assignee of Mr Baltz and wife, Mary Baltz, sold the farm to Robert Roethlisberger and the latter on March 2 1887 conveyed it back to Mrs Baltz for $12,985.03. Two days later she sold it to Earl Bent Hinds, wealthy Pamelia farmer, for $15,591.
Mr Hinds, who was the father of the late Frank A Hinds and Oscar E Hinds, noted local civil engineers and surveyors for many years, was descended from James Hinds, an English emigrant who settled in New England in 1635. Earl Bent Hinds was the son of Thomas Hinds native of Mount Holly, Vermont, who came to northern New York in 1809 and fought in the Battle of Sackets Harbor.
Earl Bent Hinds was born in the town of Denmark October 25 1811 ultimately became a Dry Hill farmer and moved into Pamelia in 1845. He married Almira Allen. The Baltz farm, which he acquired in 1887 after his death became the property of his son, Oscar E Hinds, and upon the latter's death passed to his widow, Mrs Harriet Littlefield Hinds, who sold it to Harry E and Mary B Derosia, husband and wife, June 21 1946. Mr Derosia, native of the town of Clayton, is a member of an old Clayton family. Mrs Derosia, the former Mary B Fitzgerald, is a native of County Clare, Ireland. They have two children, operate the large farm as a dairy farm, and maintain the fine old house in excellent condition. The Pamelia Four Corners house shown last week belongs to Harold M Ganter and wife instead of Howard E Ganter and wife as was stated.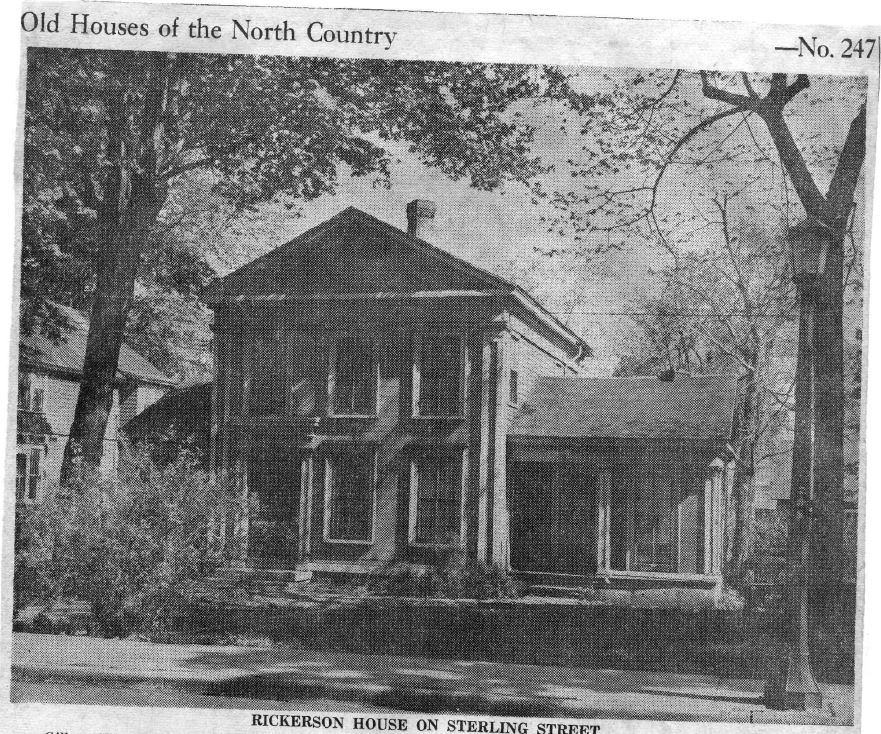 3358 Sterling St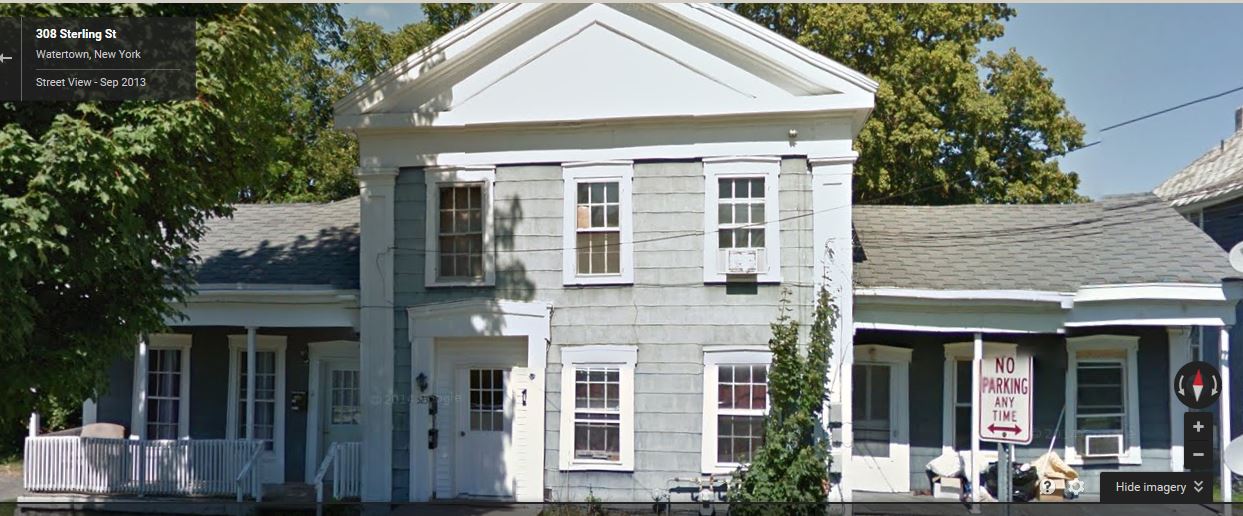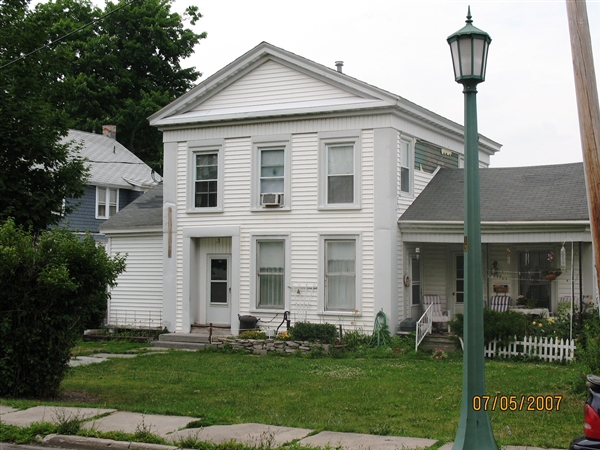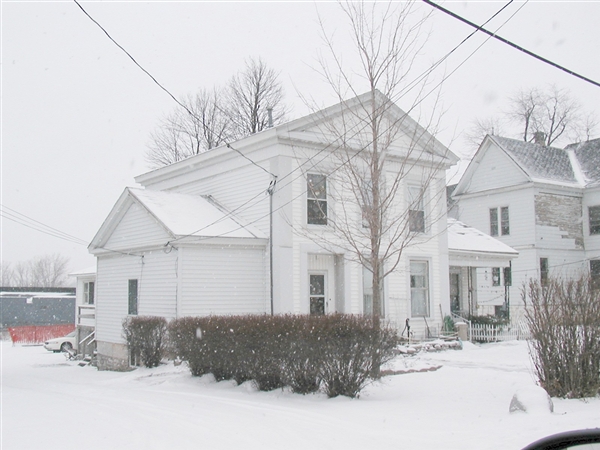 Gilbert Woodruff who moved to Rockford, Illinois in 1857 was one of the noted builders of Watertown about a century ago. Washington Hall was constructed by him and his brother Walter in 1854 and in addition they built many of the better houses in the city. One of these was the fine old house erected by Gilbert in 1852 in Sterling Street in a large lot which also face on Park Street. It was only a few feet from the west gate to the grounds of the beautiful stone mansion of Micah Sterling. In fact the lot was purchased November 21 1850 for $625.00 from John C Sterling and Lawrence J Goodale, executors of Micah Sterling's estate.
May 4 1853 Mr Woodruff sold the place to DW Rickerson who operated the Country Store at 17 Public Square, selling dry goods, groceries, provisions and crockery. Mr Rickerson lived there but a short time however, selling it on August 1 1853 to Henry Scribner for $4,350 a profit to him and his wife, Emily Rickerson of $150.00.
Mr Scribner was a druggist who was connected with the store of Walter Scribner at 36 Public Square under the old Baptist church. The Scribner store wholesaled and retailed drugs, Medicines, paints, dyes, French and American window glass, perfumes, books and stationery. Evidently Mr Scribner moved from here to Des Moines, Iowa in 1857 for on May 23 of that year he and his wife Abby were residing there when they sold this house numbered 29 Sterling Street to Dr Gordon P Spencer of the town of Champion for $5,000 and Dr Spencer came here to continue his practice.
Born at Salisbury, Connecticut, April 29 1789 Dr Spencer was one of the earliest and most skilled physicians and surgeons in Jefferson County and the first of three generations of Spencers to become noted in the medical profession here.
Graduated with honors from Williams College Dr Spencer later received his medical diploma in Connecticut in 1812 was commissioned an Army Surgeon, assigned to the 11th Infantry, served at Sacket's Harbor, Lundy's Lane and Chippewa. After the war he was returning to Connecticut when Dr John Durkee, first President of the Jefferson County Medical Society who had settled in Champion in 1800 called Dr Spencer there to assist with an operation. Dr Spencer formed a partnership with Dr Durkee and remained 42 years in the town but within two years after he bought the Sterling Street house he died, his death occurring March 25 1859. His wife was Deborah Mallery of Rutland whom he had married in 1815.
A son of Dr Gordon P Spencer was Henry G P Spencer who was born in Champion August 21 married Emily Antoinette Decker of this community and became one of the great North Country doctors of his time. In turn he had two sons who were physicians and constituted the third generation of doctors in that family. They were Drs. James D and Gordon P Spencer of this city the former becoming especially noted.
Hannah E Mallery as surviving executrix of the original Dr Gordon P Spencer sold the Sterling Street house August 29 1870 to Francis M Lamon, local clothing merchant for many years for $7,000. On Jauary 4 1908 Attorney Fred B Pitcher as trustee in bankruptcy of Mr Lamon sold the place, then numbered 335 to Silas D Ball and Constantine Ganter, real estate operators. On April 8 1911 they sold it to John T Hunter, contractor and builder who resided there until May 27 1920 when he and his wife Alice sold it to Mrs Bessie M Courtenay, wife of Charles R Courtenay who converted it into apartments and still owns it. It has a heavy but attractive style with a rich and seasoned atmosphere of dignity.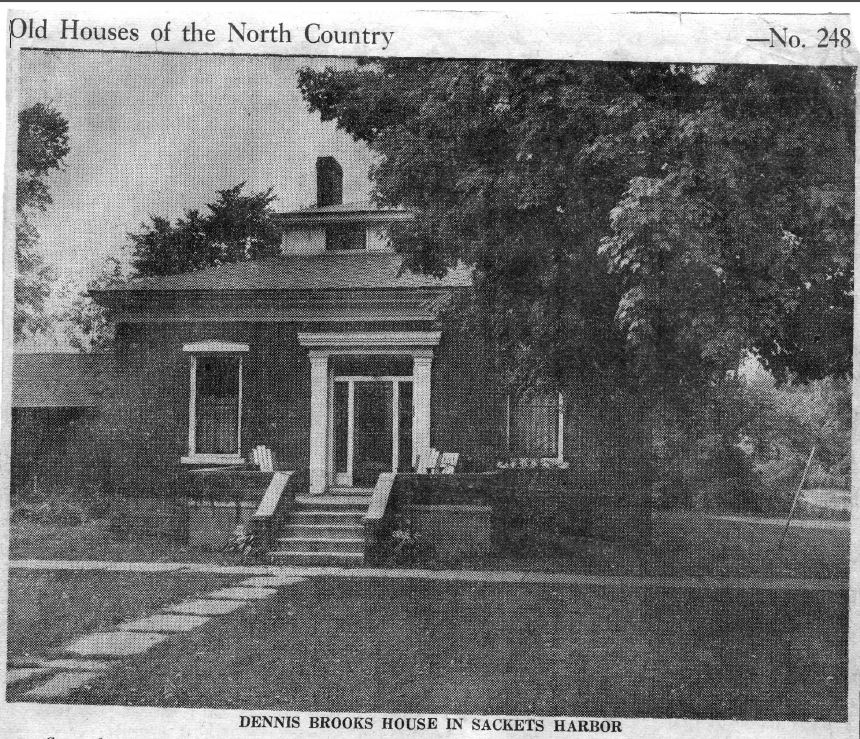 293 N Broad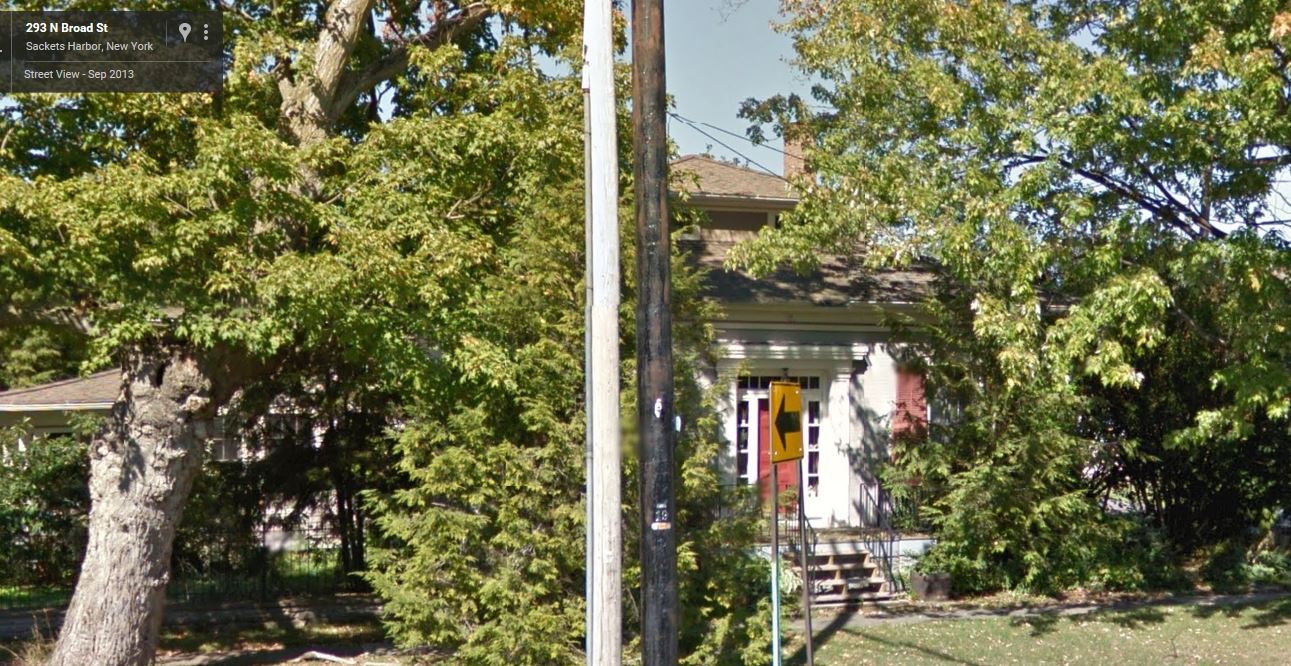 Cup-and-saucer styled houses are rare in Jefferson County, but the old parsonage of the First Methodist church of Sackets Harbor and Sulphur Springs at the northwest corner of Broad and Camp Streets in Sackets Harbor is of that type. Also it is of exceptionally old construction, having probably been erected about the same time as the Colonel Elisha Camp mansion just back of it on Ogden Street.
The Colonel Elisha Camp mansion, built of brick imported from England, was erected 1814-1816 and there are some who say that the Methodist parsonage was made of some of the same brick. In view of that fact and in view of the fact that the parsonage, although on the main thoroughfare from Watertown through the village, is at the rear of the Camp garden an opinion has been voiced that it may have been the home of the caretaker of the Camp property.
That the parsonage was built at the same time as the Camp mansion is evidenced by a deed dated August 1 1818 in which Colonel Camp and his wife, Sophia, for $150 conveyed a piece of land on Broad Street and at the northeast corner of "the house built and now occupied by the said Dennis Brooks." This would seem to prove that Brooks built the house for himself and that it was not the caretaker's lodge at the Camp mansion. The above 1818 deed was to Brooks.
Another deed dated December 31 1819 from Colonel and Mrs Camp gives Brooks more land on Broad Street. The records show that Brooks willed his house and lot to John Shaw who October 12 1825 quitclaimed title to it to Jeduthun Steele. Steele and his wife conveyed it to Michael Mooney on October 15,1831. Evidently it passed from Michael Mooney to Hugh Mooney, for on July 1 1864 the latter and wife sold it to Edwin J Harlow.
From Edwin J Harlow and wife the chain of ownership takes this brick cup-and-saucer house to William Porter April 11 1867. Porter and wife sold it to Norman Gurney April 9 1873. Mr and Mrs Gurney in turn sold it to Lyman A Crowell April 1 1878.
On November 28 1882 Lyman A and Eliza R Crowell disposed of this place to Charles Jackson and from him and his wife, Emma, it was deeded to Frank R Porter October 22 1844 for $1,200. Frank R Porter and his wife, Flora G Porter, disposed of the premises to Helen J Carpenter October 19 1886 . for $1,200 and April 28 1887 she sold it to the trustees of the First Methodist church of Sackets Harbor and Sulphur Springs for $1,200. In the two preceding deeds there was a clause reserving the furnace and heating plant.
The last deed showed a frontage of 100 feet on Broad Street and 72 feet on Camp Street, which is the street running from Broad Street past the Colonel Elisha Camp mansion to Ogden Street. The deed from Helen J Carpenter states that the property is conveyed in trust to the church trustees to be held as a residence for occupancy of preachers of the Methodist church, but for the past few years it has been rented to different families down to the present time.
Dennis Brooks was no doubt a prominent early resident of Sackets Harbor and Hiram Steele who a little later had an interest in the property was an early supervisor of Hounsfield. William Porter was a carpenter, night watchman at the customs house and in 1880 was inspector of construction at Madison Barracks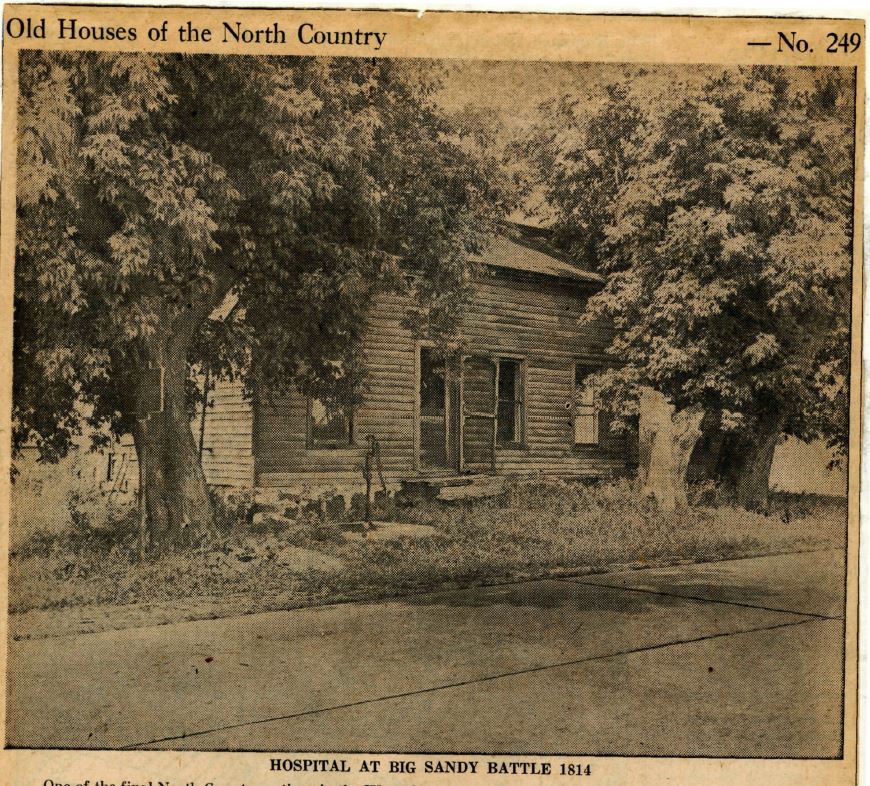 Gone now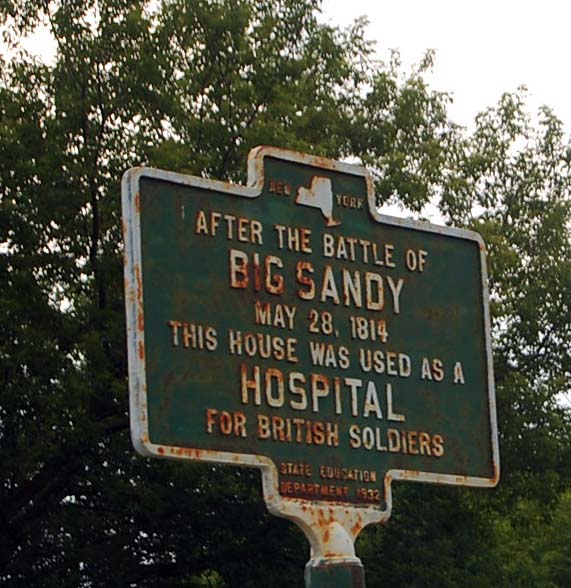 One of the final North Country actions in the War of 1812 was the Battle of Big Sandy Creek which took place on the morning of May 29 1814 in the northwest corner of the town of Ellisburg about two miles from the Oswego county line. American casualties were one wounded rifleman and one Indian ally, but the British lost 19 killed 50 wounded and 133 captured.
Joseph McKee, one of Ellisburg's earliest settlers, the man for whom McKee's Landing was named at the mouth of Big Sandy, turned his frame residence over for the hospitalization of the wounded British, who were quartered there about a fortnight. The dead were buried in a knoll to the rear of the house and a short distance back from the north bank of the south branch of Big Sandy where the engagement took place.

On the night of May 28 Lieutenant M T Woolsey, USN, left Oswego with 19 boats laden with cannon, stores and a dozen cables for Commodore Isaac Chauncey's fleet at Sackets Harbor. Accompanying was Major Daniel Appling and 130 riflemen. An equal number of Oneida Indians was to meet the flotilla at the mouth of Salmon river and follow along shore to help defend in event of a British attack. The plan was to land the armament and stores at the foot of Stony creek and then proceed overland to Sackets Harbor, but Commodore James L Yeo of the British fleet at Kingston had learned of the expedition and sent two gunboats, three cutters and a gig in command of Captains Popham and Spilsbury to intercept.
Woolsey, therefore, found it wise to enter and proceed up the south branch of Big Sandy in the hope of eluding the enemy and Major Appling ambushed his riflemen and Indians along the shore. The American forces had gone well inland and were securely hidden. It was a daylight attack by the enemy, which had been drawn into an inextricable trap and badly beaten.
Among the cables which Woolsey had brought was the 9,600-pounder of 22 inches circumference for Chauncey's new 66-gun ship "Superior" nearing completion. This was the sole cargo of one of the ten-ton boats and was carefully guarded by Colonel Clark Allen's militia until 200 of his volunteers could carry it overland to Sackets Harbor. Today marked by a state historic-site marker, Joseph McKee's old woodcolored house, owned by Byron J and Nora E Otis, stands with its gray, weather-beaten clapboarded front close to the roadside.
An almost unbroken chain of title to the site of this house carries it back to March 17 1797 when it was a part of Oneida county and William Constable, the land baron, sold 3,000 acres to Robert Bowne and Thomas Eddy of New York City. Of this tract Bowne and Eddy sold two adjoining parcels totaling 216 acres to Joseph McKee of Frankfort, Herkimer county, for $864 on July 1 1806. McKee later built his house in the 111-acre tract and April 20 1820 disposed of the house and six acres to Laura Otis for life-use, after which it was to go to her heirs by Avery Brown, her first husband.
Down through the years there have been many changes in ownership of this house, which has become one of the historic landmarks of the county. William McKindley acquired it in 1846 and sold it next year to Wiley J Finney who became the wife of Alanson P Sigourney Watertown, and in 1855 he conveyed it to George C Finney, Oswego. Finney soon sold to Nelson Gilbert, who conveyed to Walter Albro July 14 1865. Charles E Durham shortly bought it. Alonzo E Brown, Horace M Wilds, Alexander W Duran, Louise C Duran, Laura Duran, Sarah B Ward, Nora M McCune, Almeron Gilbert owned it in order until Mr and Mrs Otis bought it April 3 1942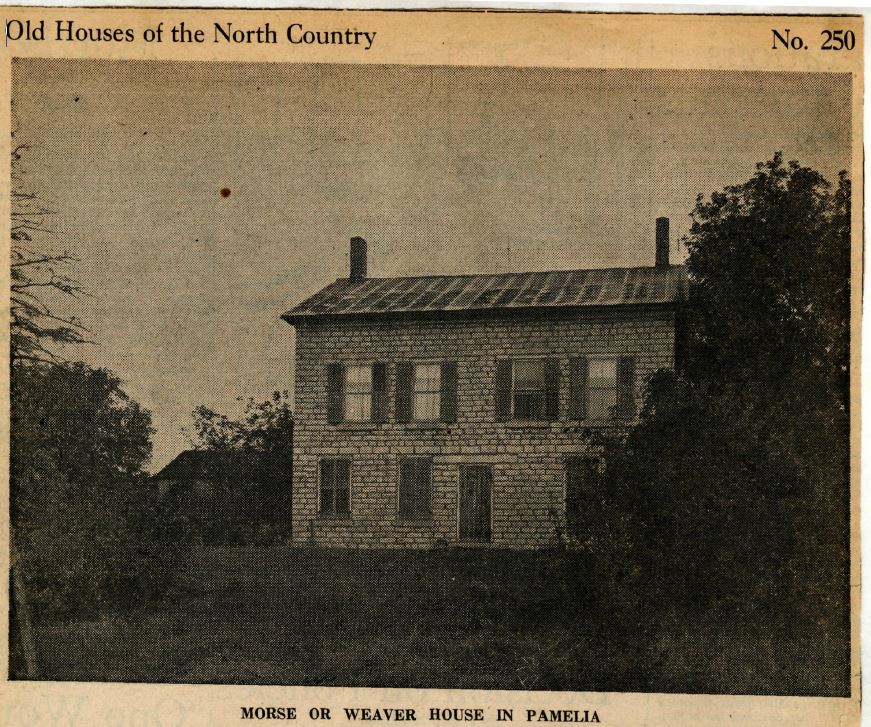 Here?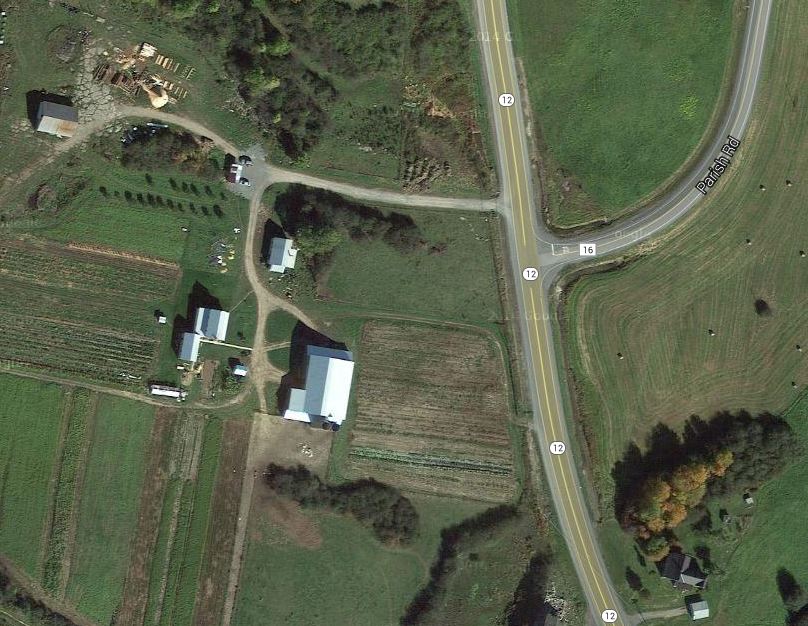 owned by John Ogsbury in 1888 at the time of this map: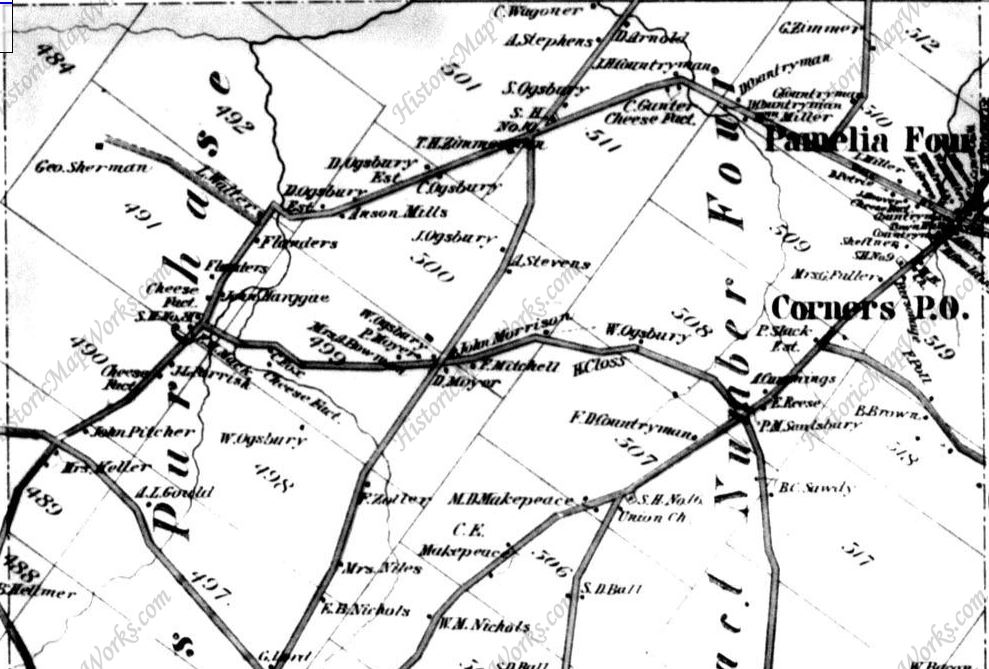 1864 Map: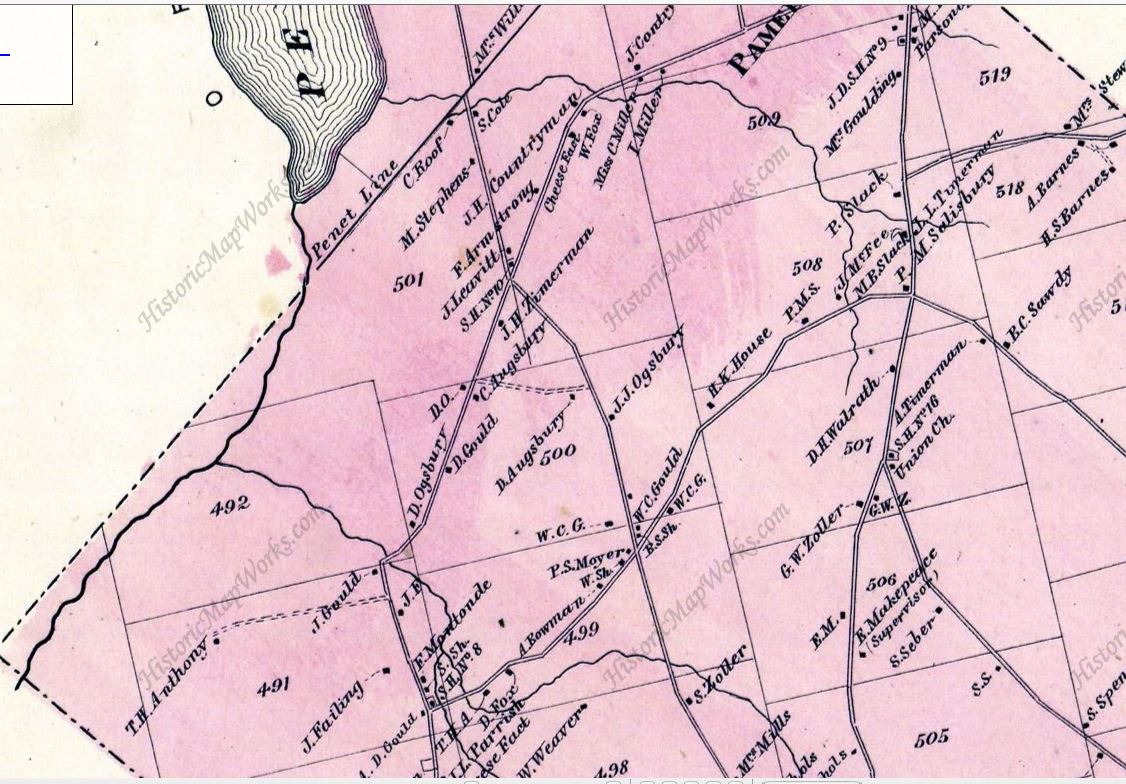 This place is no doubt the one off the long dirt road opposite Parish Rd - need to drive it
This old Georgian limestone house in the Perch lake sector of the town of Pamelia was built either by William Morse or by Walter Weaver, both pioneers of the county and is from 117 to 128 years old. The stone, from which it was constructed, was quarried on the spot where it stands, and this is on a private road of its own well off the beaten path and between the Perch Lake and Parish Street roads. There, unmolested and in quiet seclusion, it peacefully stands.
There are two adjoining parcels of land which constitute this farm property. One of these, 61.39 acres, was bought April 1 1819 from James D LeRay by William Morse who had settled in the town of Brownville before 1812. The other parcel of 55.56 acres was acquired by Mr Morse from Gouverneur Morris of Morrisania January 3 1835. On August 1 1829 Morse conveyed the 61.39-acre parcel to Walter Weaver, who had been one of the early settlers of the town of Pamelia. It is likely that Morse built the stone house and that he built it some time after 1819.
It is of simple architecture with a plain, narrow rectangle of a doorway in the middle of the side seen from the main road. This is the three-story side. The actual front of the house is on the far or two-story side, which ordinarily would be the rear.
There are nine large rooms and one fireplace on the two upper floors and two rooms including kitchen, cooking fireplace and old-fashioned bake-oven on the lower floor or basement.
William Morse (Find-A-Grave for Wm Morse) died in the summer of 1843 willing his widow, Betsey, (Find-A-Grave for Betsey Mack Morse) the household furnishings and a life use of half of the real estate, and Walter Weaver a life use of the other half. After death of all these legatees the real estate went to Weaver's daughters, Margaret, Betsey Ann and Ruth, according to the terms of Morse's will.
Walter Weaver died June 10 1872 (Find-A-Grave for Walter Weaver - NOTE: Betsey Mack Morse's sister, Nancy Mack (Find-A-Grave for Nany Mack Weaver) married Walter Weaver) without will. Betsey Ann had predeceased him leaving only Margaret, (Find-A-grave for Margaret Wever Fox) wife of John C Fox (Find-A-Grave for John C Fox), and Ruth, (Find-A-Grave for Ruth V Wever) spinster, to divide his estate. This they did except for one share of Watertown & Rome railroad stock and November 12 1874 Ruth died intestate. However, on March 1 1873 the two sisters sold the stone house and its 116.95 acres of land to John Ogsbury of the town of Pamelia for $5,800. Ogsbury was of Palatine German descent, his immigrant ancestor having come to this country in 1750 to settle in the Mohawk valley. Although spelling his name differently, he was of the same kinship of Frank A Augsbury and the late Senator Willard S Augsbury and also of Deresco Augsburg, the latter being claimed by some to be the proper spelling of this family name.

Mr Ogsbury was the son of that pioneer John Augsbury who came to this county in 1812. Also he was about the fourth member of the family to own a stone house in the town of Pamelia, David (Find-A-Grave for David Augsbury) and Abraham (Find-A-Grave for Abraham Augsbury) having been among the others. John Ogsbury, (Find-A-Grave for John Augsbury) a prosperous farmer, died May 16 1900 leaving four farms including this 116.95-acre farm and stone house which he designated the Weaver farm, and which he willed absolutely to his grandson, Ai Ogsbury after Emma, widow of a son Walter F had had a life use of it. A condition was imposed that Ai pay his brother Charles B $600 and his sister, Mrs Kate Dixon (Find-A-grave for Kate Augsbury Dixon) $400. Ai Ogsbury (Find-A-grave for Ai Augsbury) or Augsbury died September 16 1945 and, never having married, the farm, upon which he had resided from the time he was six months old, went to his sister and her son, Karl Eugene Dixon, both of Evans Mills. On August 28 1946 Karl Eugene Dixon and wife, Bertha R, and his mother, Mrs Kate Dixon, sold this place to Robert F Riordan and wife, Elizabeth C Riordan, present owners.