STONE HOUSES, MANSIONS AND OTHER OLD HOUSES
OF THE NORTH COUNTRY

Originally published in The Watertown Daily Times
(730) Articles and photos by David Lane, Newspaper Staff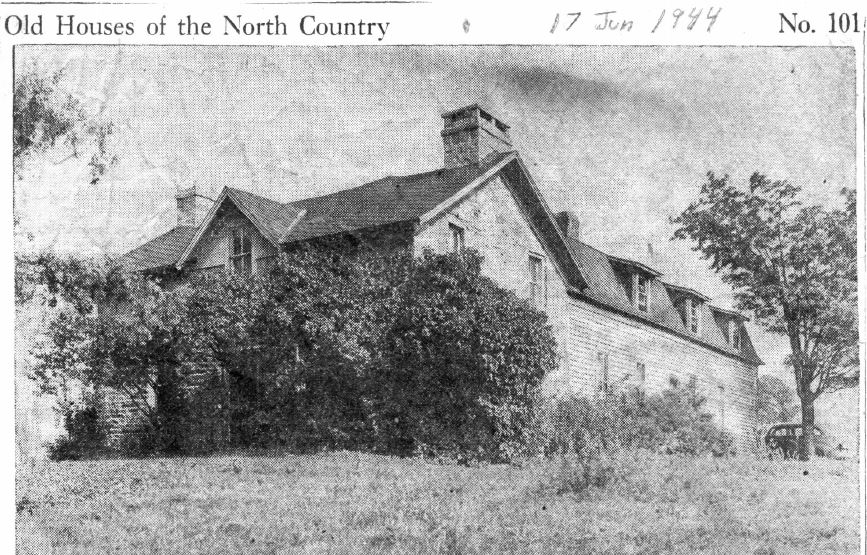 The Eli Johnson House on Point Salubrious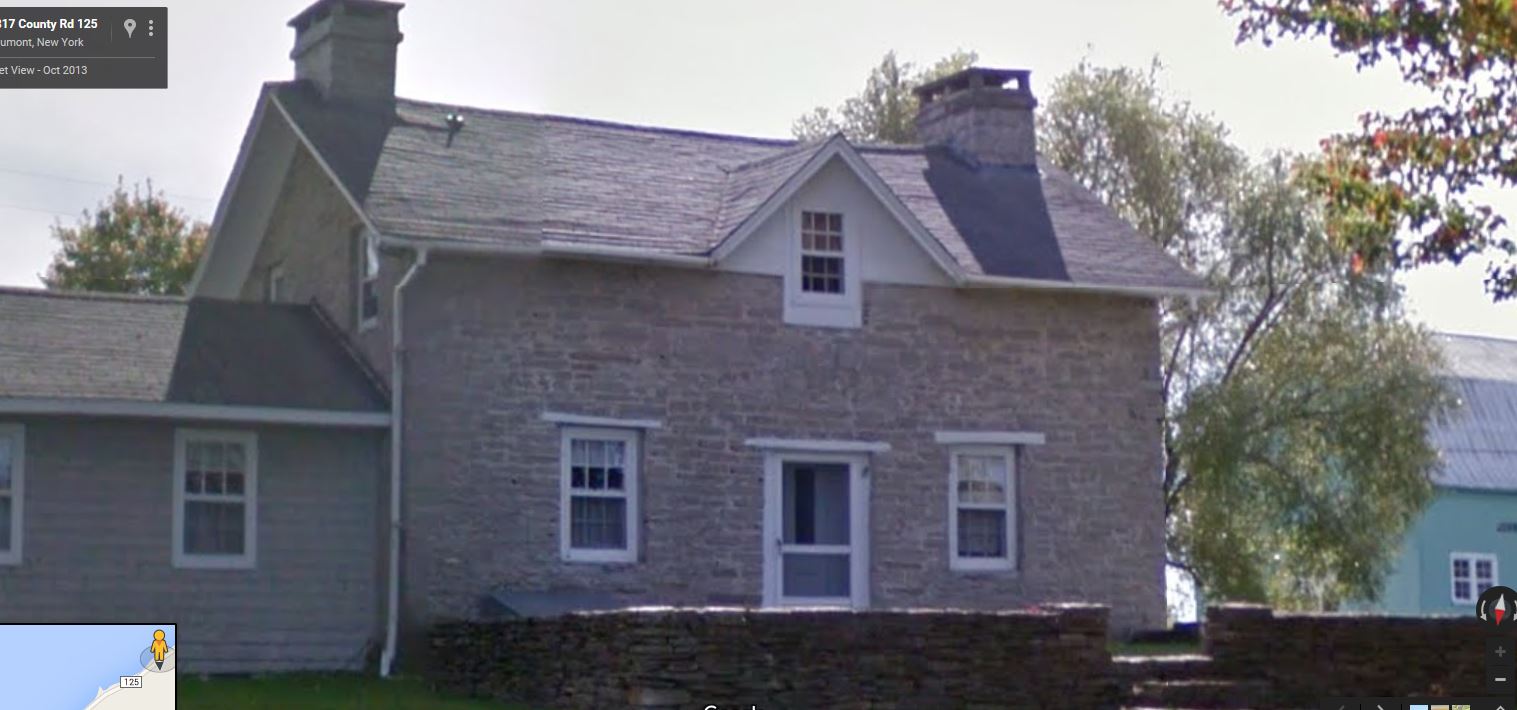 Sir William Johnson of Johnstown was one of the great figures in the American colonies up to the outbreak of the Revolutionary war, and his mansion Johnson hall stands staunch today to his memory. The General Walter Martin mansion at Martinsburg is said to have been copied after it and displays in the facade a small gable, which amounts to an exaggerated dormer. This feature seems to be a characteristic of certain British architecture and along the King's highway from Brockville to Toronto it is to be seen carried in no end of the old houses. Now and then it is found on this side of the border and one of the noteworthy instances of it is the simple and modest native limestone house of William Johnson on Point Salubrious.
This doubtless was deliberate and as it should be, for William Johnson was not only a native of Elizabethtown Ontario, but he was a great-grandson of Sir William and when a young man emigrated to Point Salubrious, married Caroline Smith May 6 1820 and purchased land. On January 23 1832 he bought of Vincent LeRay de Chaumont, as attorney for Cornelia Juhel, the farm upon which this simple stone house stands. The house is reputed to have been constructed in 1818 by one Connor or O'Connor, antedating the James Horton house by a year and the Joseph Ryder house by two years. It used to be said that the Johnson house would go inside the Horton house and that the Horton house would go inside the Ryder house.
For 112 years the Johnson house has been owned by the Johnson Family, William Johnson died in October 1842 and later ownership was held by his son, Lorenzo, father of former County Clerk Eli B Johnson. Eli B Johnson, who died May 1 1943 was born in the old Point Salubrious house March 15 1859. A staunch Republican, he was county clerk from 1907 to 1913 was president of the Adams-Duford Company at Chaumont, was vice president of the Watertown Savings Bank and one of the outstanding North Country dairymen and agriculturists. For long years up to the time of his death he owned this old stone house and original farm of his grandfather on Point Salubrious, adding much acreage to it during his lifetime. A substantial wooden addition had also been erected on the stone structure. This covered a stone into which was cut the year 1818. "When I was a boy I remember reading it in a stone on the rear of the house," he onetime said. He added: "I do not intend to part with the old Johnson farm while I live, and I hope my boys will continue to hold it after I leave." His will provided that his two sons, George F and Lorenzo H Johnson succeed him in ownership of this farm, each having an equal interest. From the high elevation the old house looks westward across Chaumont Bay and from its front windows its occupants have witnessed many a thrilling adventure of the old cisco fleets in the days when the bay teemed with millions of these silvery fish.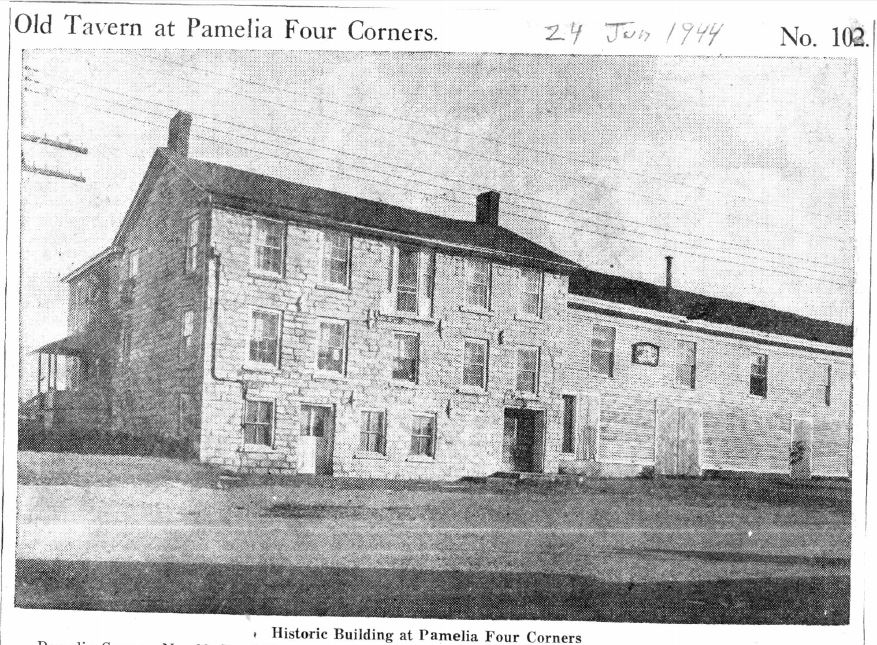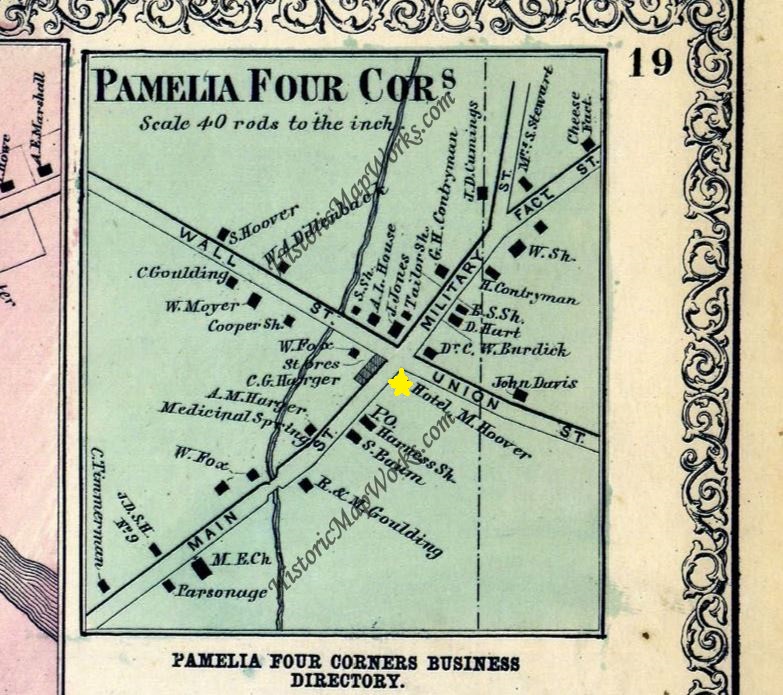 Pamelia Grange, No. 68 P of H owns and occupies one of the most historic buildings in the North Country. In the heart of the hamlet of Pamelia Four Corners it faces the old military highway built by soldiers of the U S army from Brownville to Plattsburgh in 1819. Past the free end of the stone portion of the building runs the Evans Mills-Perch Lake road, over which Joseph Bonaparte, onetime king of Spain and brother of Napoleon is said to have passed in his six-horse coach.
Rich in dramatic-romantic pageantry that sector of the county must have contributed deep color to the life of this old three-story hostelry, constructed of the fine native limestone in which the town of Pamelia abounds.

Abraham M Harger, one of the founders and outstanding settlers of Pamelia Four Corners is reputed to have caused this early stagecoach tavern to have been built, and Mrs Rubert H Ganter of this city believes construction was started in 1824 or 1825 as it has always been tradition in her family that her grandmother, Leah Walrath Miller as a girl of 18 came there from the Mohawk valley in 1827 and found the stagings still standing about the stone structure.

The well-informed Pamelia Four Corners residents are of the opinion that this fine stone tavern is on the site of the earlier timber tavern built by Aaron Dressor after the War of 1812. For more than half a century the stone building was operated as a hotel.
Thrilling must have been the scenes as men, muffled in greatcoats stiffly climbed out of the picturesque stagecoaches on cold nights and warmed themselves with a hot toddy before a crackling fire in the taproom, while roisterers sang rollicking songs at the bar. County records do not show a transfer of the property from Abraham M Harger, but July 5 1826 Curtis Goulding sold it to Noah N Harger of Martinsburg for $500.
January 27 1835 Noah N Harger, still of Martinsburg, sold it to Charles C Harger, noted Pamelia merchant-industrialist and later Watertown banker for $1,500. November 29 1847 he transferred it to John Stewart Jr, Pamelia's first supervisor, for $2,000 and on January 20,1848 Stewart conveyed it to Daniel Zimmerman. Zimmerman retained it until March 25 1857 when he sold it to Jacob Clark for $1,500 and the latter transferred it to Moses Hoover September 12 1860. The Hoover executors sold it to Helen E Jones August 11 1865 and she and her husband Alonzo deeded it Orvis H Zoller.
Later it found its way into the hands of Selah S Bradway, who operated a general store there for a number of years and then disposed of it for $1,000 to Pamelia Grange No. 68 on September 14 1889. That sale was subject to a lease held by Miller & Gove who had succeeded Bradway in the store about 1887. This firm consisted of the late William H Miller, father of Mrs R H Ganter and the late Supervisor Elton Miller, the junior partner having been Alanson Gove. The grange altered and improved the building considerably, and until a few months ago the apartment in the building was occupied by Donald Meyers, school teacher and family.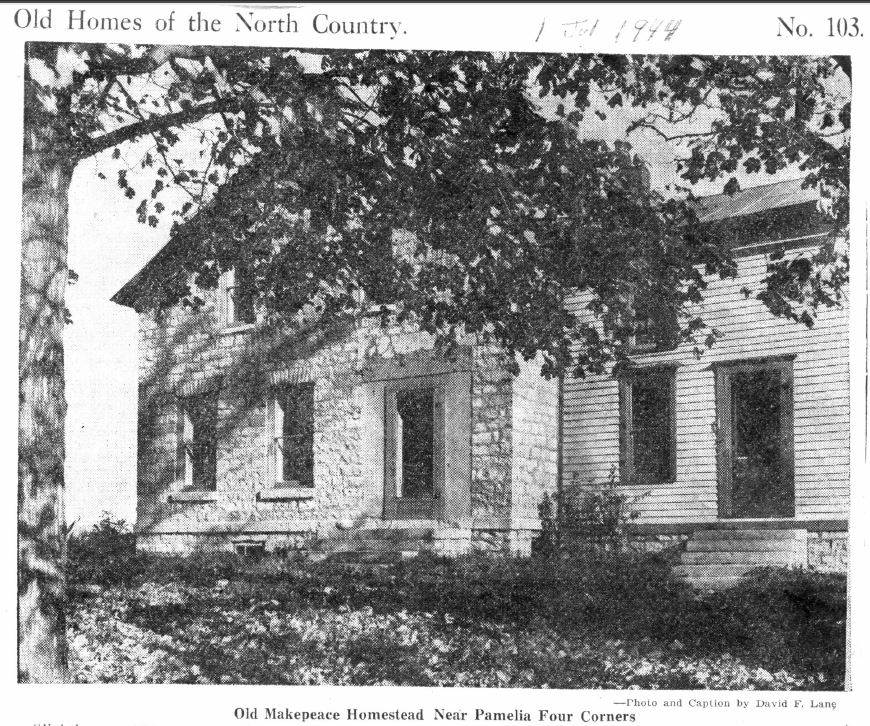 On Rt 53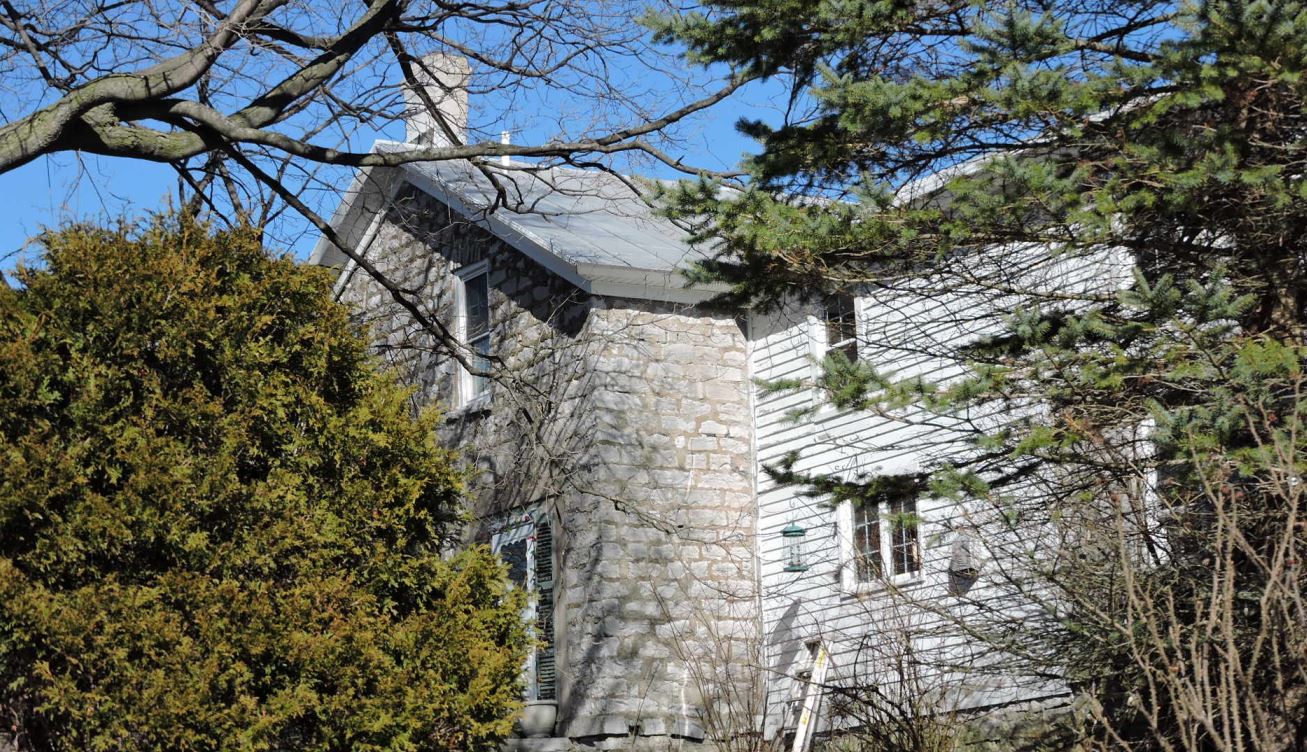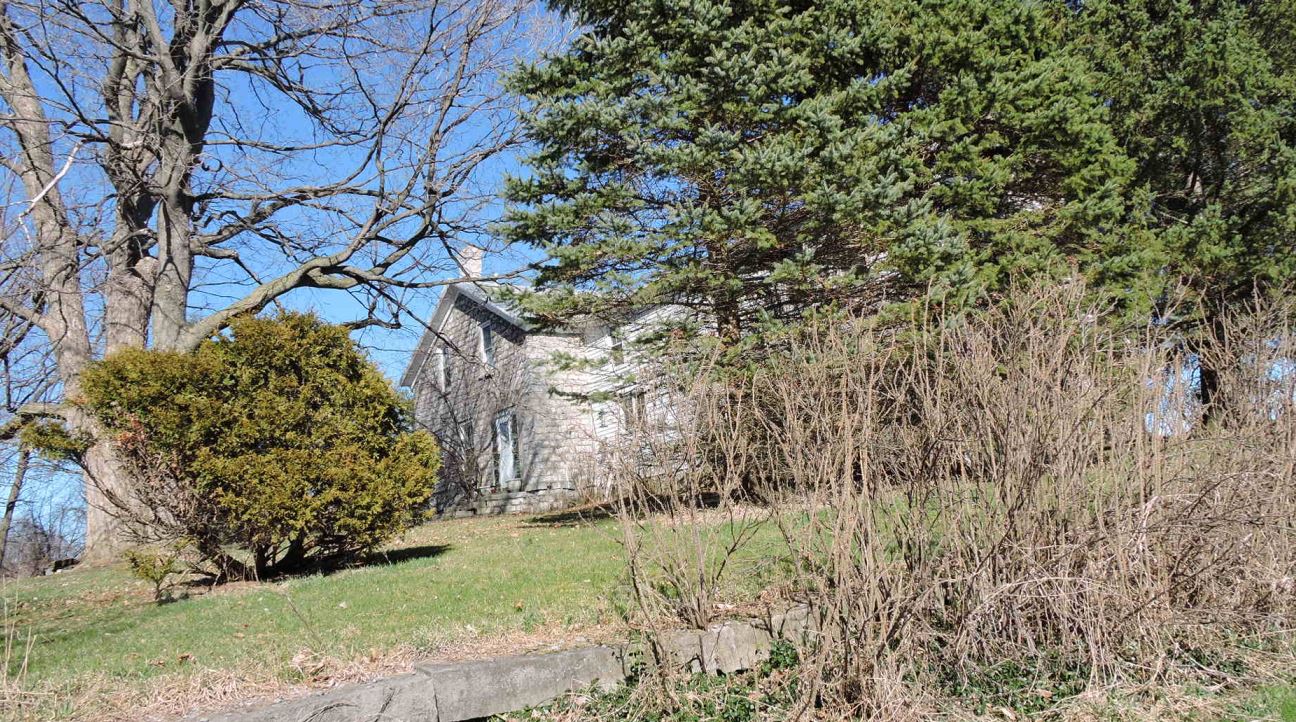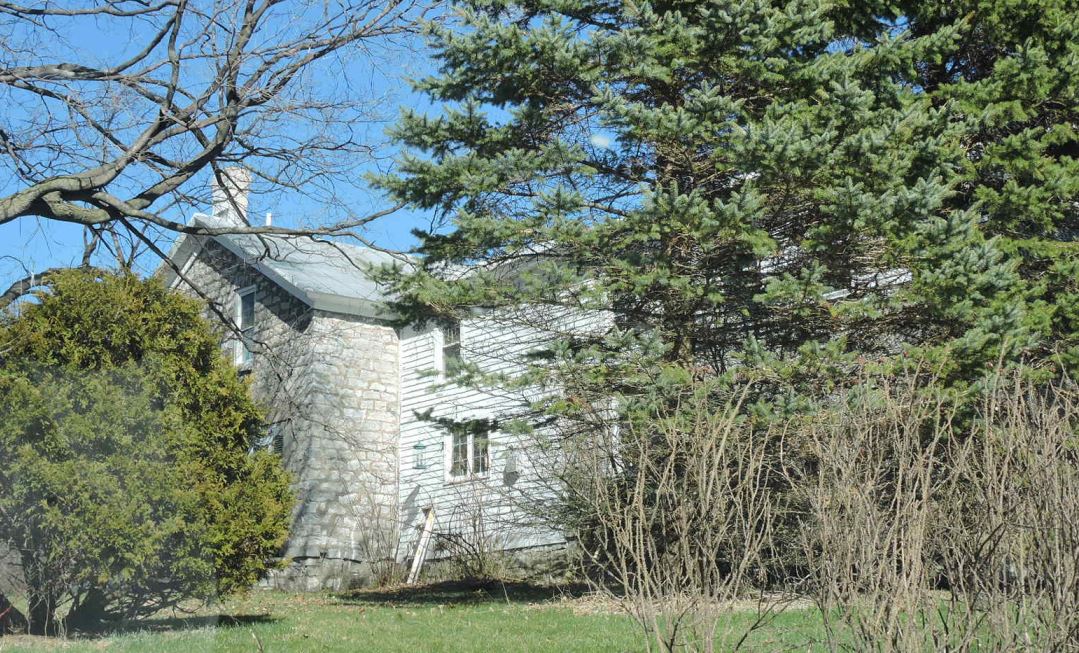 Slightly over 100 years ago Thomas Makepeace established the family homestead with its old limestone house on the south side of the old Military road midway between Scovil's and Pamelia Four Corners. Since then it has been owned by three supervisors, one of whom, Elliot Makepeace, who served the town of Pamelia as supervisor in 1864 was the founder and first president in 1877 of the Patron's Fire Relief Association of Jefferson and Lewis counties, a cooperative devoted lo insuring the farms of its members
Thomas Makepeace, original owner of the house, was born in Massachusetts in 1779. When he was 24 he removed to Bridgewater, Oneida county, but at the end of a year there he pushed on to the town of Pamelia as it is now known. On March 25 1837 he purchased 58 acres of land of Washington Coster, a New Yorker who had acquired a large amount of the lands of James D LeRay de Chaumont and added this to his 55-acre tract upon which the stone house stands. Later another tract of 78.72 acres was brought into this farm.
Anna Plumb, Connecticut native, became the wife of Thomas Makepeace and they were the parents of nine children, of whom one was Elliot Makepeace. Elliot was married to Angeline Plumb in 1848 and their two children were Mervale D Makepeace and Charles Elliot Makepeace, the latter of whom was long a school teacher of excellent reputation as an educator.
It was Elliot Makepeace, the Pamelia supervisor of 1864 who conceived the idea of an insurance organization like the PFRA to provide the farmers of this immediate section with low-cost fire insurance on their buildings and property.
In 1874-5 he was second president of Watertown grange, the world's largest grange and in 1876 was president of the county agricultural society.
His son, Charles Elliot Makepeace, the teacher, who succeeded him in the ownership of the property, became supervisor of the town of Pamelia in 1887-8 and the city's fourth ward in 1898. He died January 30 1931 aged 76. His wife, the former Miss Mate Hoover, died October 9 1934. But long before their deaths they had left the old Makepeace homestead, probably as the result of Charles Elliot Makepeace and George R Bean engaging in the flour and feed business in this city.
October 1 1904 John B Muzzy as referee sold the property at auction to the late Josiah Sayles for $7,100 under a mortgage foreclosure judgment obtained by the late Fred Waddingham as trustee for the City National Bank et al. It remained in the possession of the Sayles family for 37 years and on December 15 1941 was sold by the heirs of Josiah Sayles to Supervisor Leon Schwerzmann, 1110 Boyd Street, present owner. The sale included the 113 acres upon which Mr and Mrs Elliot Makepeace had started their married life, plus the 78.72 acres acquired later, making a total of 191.72 acres in the farm. Supervisor Schwerzmann is a member of the present Jefferson County board of supervisors, is secretary of of civilian protection here and former secretary of the Thousand Islands Bridge Authority. Also for many years he was general manager of the former Black River Traction company and for a time of the Watertown Transportation company.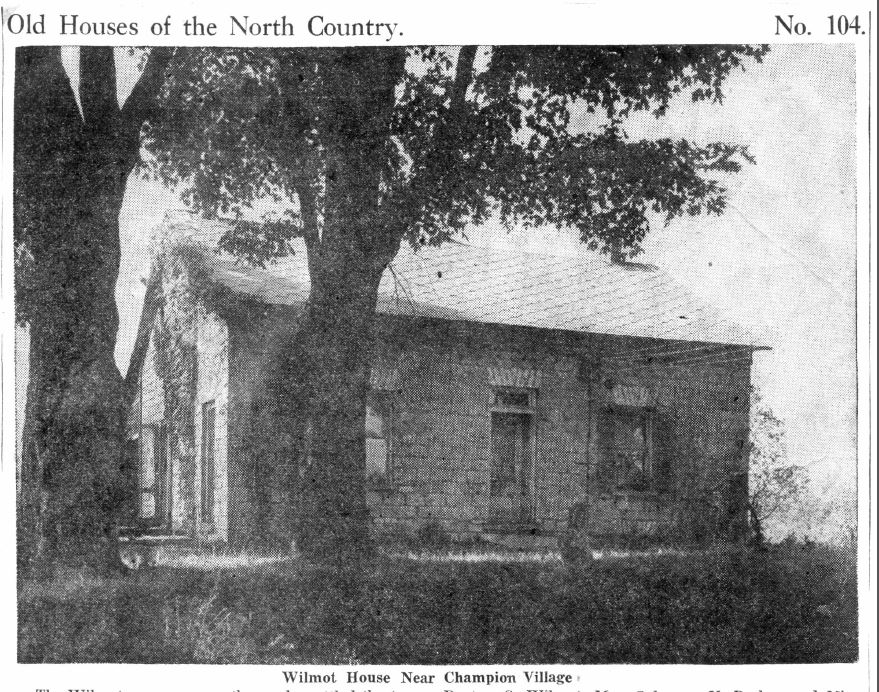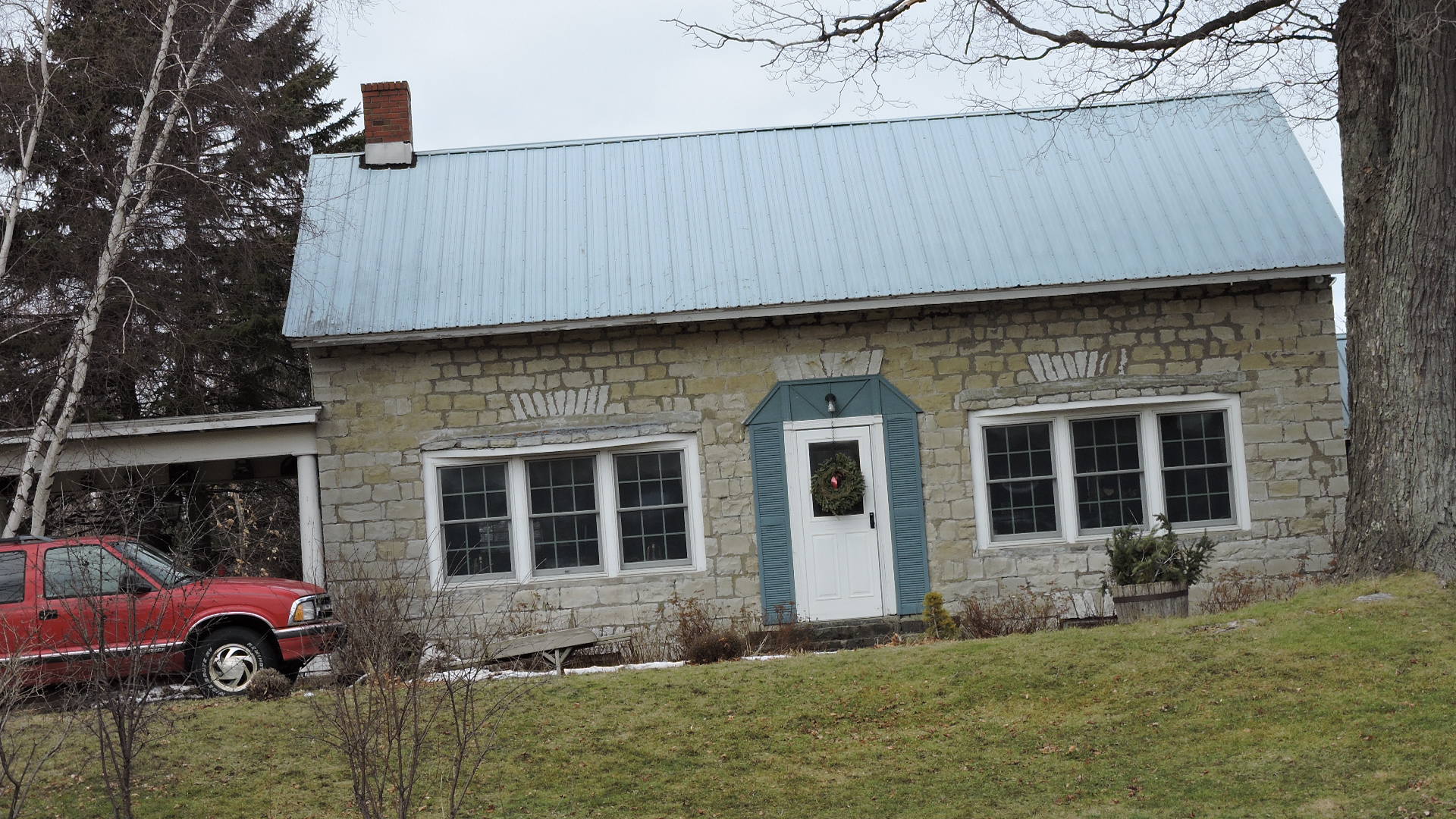 "Cottage Hill 1821" 34867 County Route 126 Carthage NY
The Wilmots were among those who settled the town of Champion before 1812. Today the little stone house of Osee Wilmot is to be seen in use on the north side of the road between Champion village and West Carthage not far east of the former place. At one time with its long wooden wing on the west end and white picket fence in front it was a much more pretentious residence.
This house, built of native limestone, is undoubtedly at least 120 years old. Members of the Wilmot family today possess no evidence as to when the house was built nor whether Osee Wilmot built it or bought it from some prior owners. Osee Wilmot came to Champion from Groton, Vermont, and was the son of Reuben Wilmot. His wife, Lydia, was also a Vermonter, and all of their several children were born in Vermont except Egbert. One of their sons was Russell I Wilmot, who married Miss Caroline S Kimball, daughter of Charles H Kimball, a Carthage stone mason who did the brick work on St. James church of that village about a century ago and who was a relative of Dr Charles P Kimball, early Burrville settler.
Russell L Wilmot, eventually became the owner of the property and there his son, Burton C Wilmot, city, prominent local musician and former W W Conde Hardware company officer and executive, was born. Today Burton C Wilmot, Mrs Sylvanus V Barker and Miss Katherine Wilmot, daughters of the late Asher Wilmot, and Mrs John Sterling, Mrs Charles D Griffith and Miss Nellie Wilmot, daughters of the late Osee W Wilmot, are the only grandchildren of Osee Wilmot, the Vermonter.
Miss Alice Mount, city, is a granddaughter of that Osee's son, Joel. Early settlers of Champion besides Osee Wilmot were the Hubbards, Dr John Durkee, Judge Egbert TenEyck, Olney Pearce, Amos Hubby and William Dorwin, Amos Colburn a name which later generations contracted to Coburn, Daniel Coffeen, the Crook family and Freedom Wright the tavern-keeper.
Osee Wilmot was a substantial farmer as were the other members of his family, who remained in Champion. Eventually, after many years, the farm and buildings including the stone house passed out of the family. Several years ago it was purchased by Fred E Bennett, who sold it February 14 1934 to the present owners, Pickert Brothers consisting of Edwin C and Paul E Pickert, large dairymen and milk dealers, who also own the old William Dorwin or W P Freeman farm with its fine stone house, in which they reside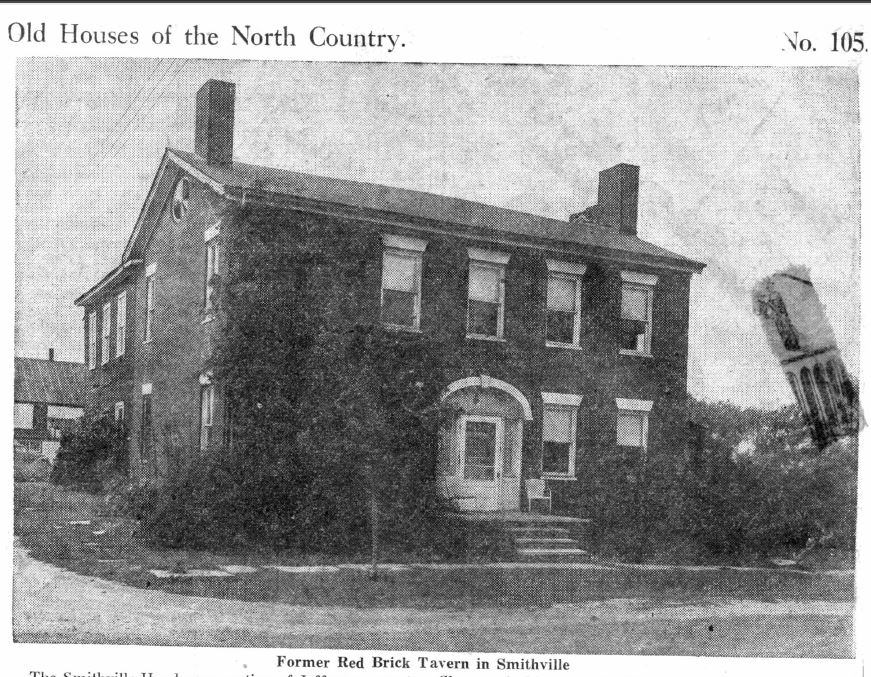 These pictures taken June 2015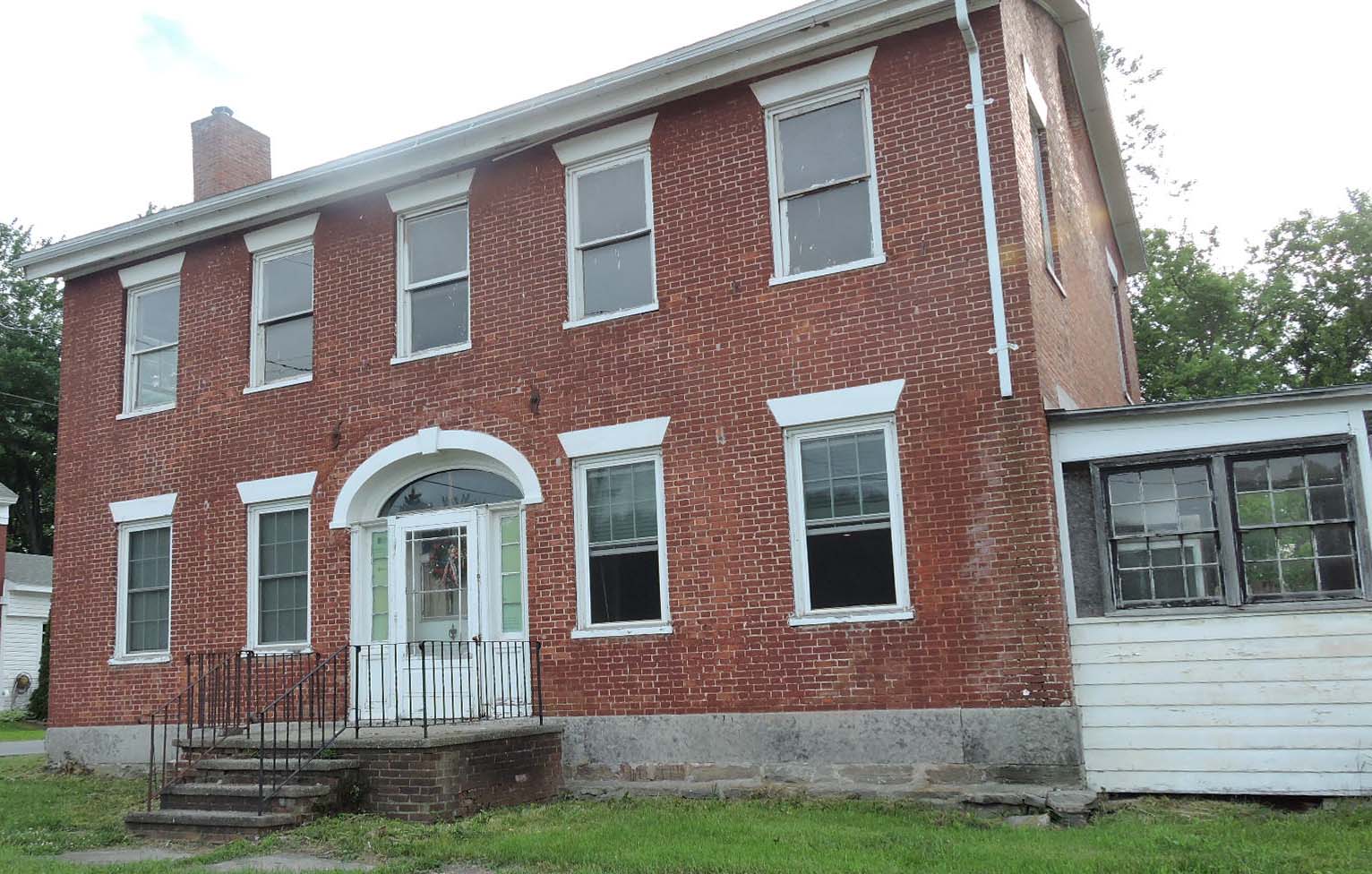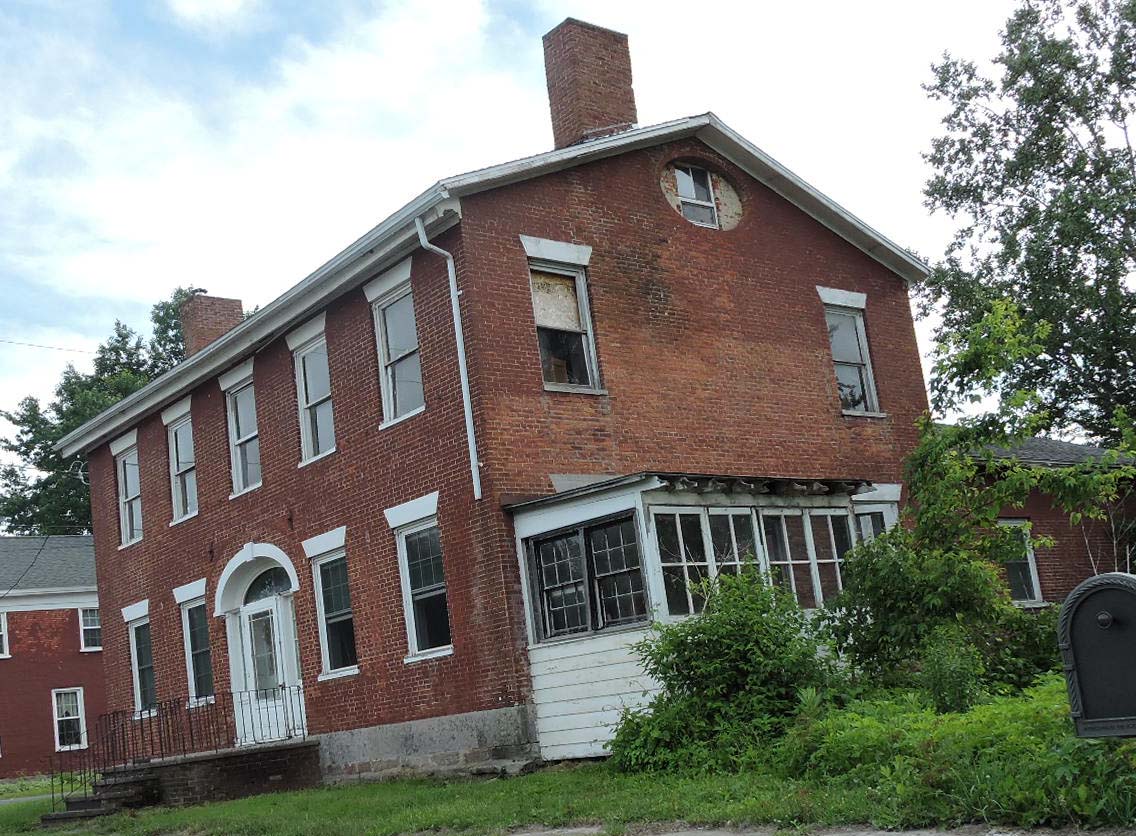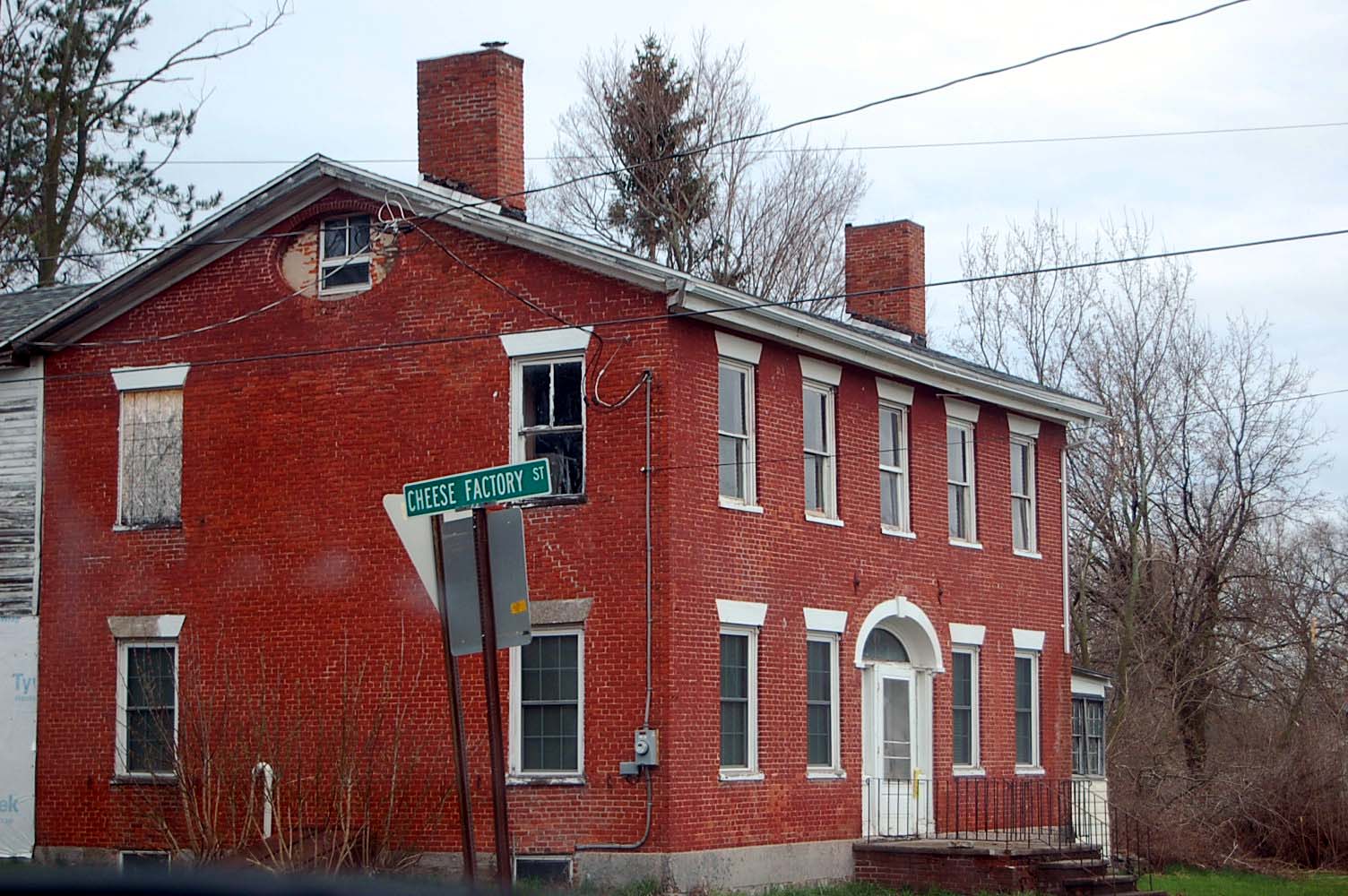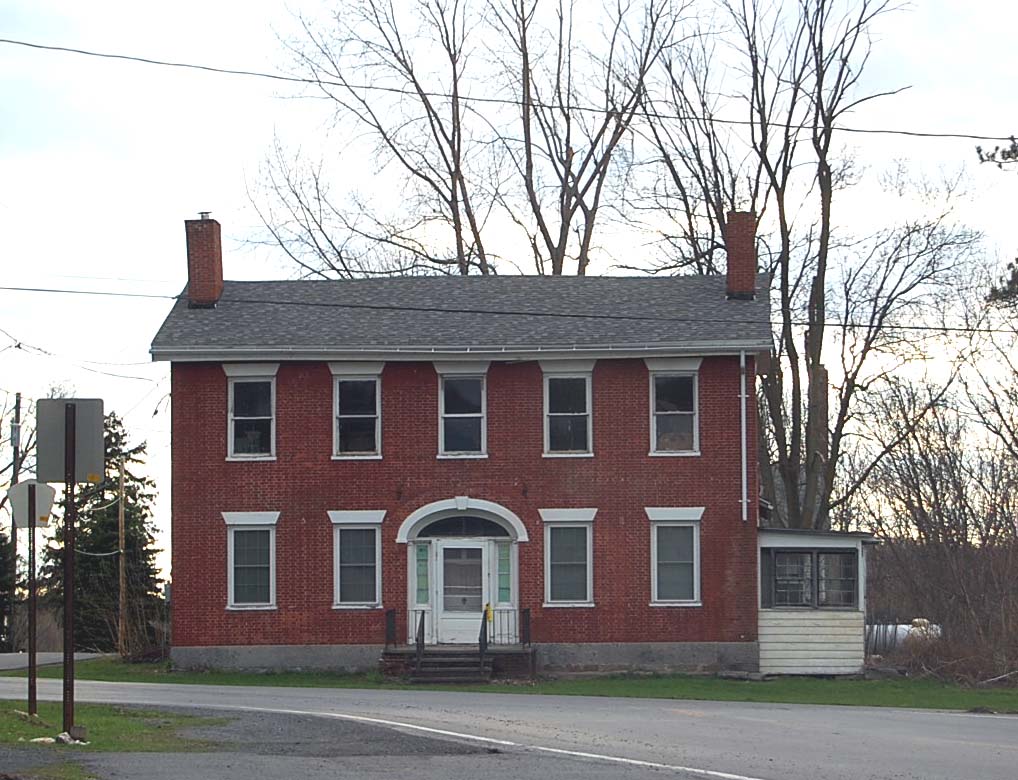 The Smithville-Henderson section of Jefferson County has a number of fine old houses. They are in the main of Georgian colonial architecture, but the majority of them have a common characteristic, which indicates design by the same architect or construction by the same builder of school of builders. This common characteristic is the shutter used in the oval window for attic ventilation. The ovals may vary as to the type of ellipse, but always the shutter displays the same influence.
Such is the case with the red brick residence of Mr and Mrs Frank Higgs, which stands upon the main street in the heart of the hamlet of Smithville and was constructed in 1828. Mr and Mrs Higgs purchased the property from Margaret Bullis, Sackets Harbor, May 22 1933 but for more than one century that preceded that there had been many different owners.
Smithville was named after Jesse Smith, an enterprising promoter of Jefferson County and its resources, but the first settler was Daniel Hardy in 1804 builder of the first sawmill there on Stony creek in 1805 and prior to 1810 Smithville's first tavern-keeper. The second tavern proprietor of Smithville was Captain Brooks Harrington, a veteran of the War of 1812 who had the distinction of having been one of Col Clark Allen's men, who carried the huge rope cable from Sandy Creek overland to Sackets Harbor in June 1814 to be used as a hawser for Commodore Chauncey's big warship, "Superior," then nearing completion.
Captain Brooks Harrington was one of Jefferson County's early historic figures and in 1818 became Smithville's first postmaster. When the Smithville library was organized February 16 1824 he was one of its first trustees. Then in 1828 he built the brick tavern, which is today used as a residence by Mr and Mrs Frank Higgs. However, Captain Harrington lived little more than a year after that. He died in the summer of 1829. Eventually his estate disposed of all of his property including the hotel, which on April 4 1864 was purchased by Benjamin Jackman, of Watertown, one of the north country's most remarkable hotel proprietors.
Jackman, who died August 29 1889 and had conducted a number of hotels in Watertown as well as in other places in Jefferson County, retained the Smithville Hotel, as it was known, only a short time and on August 22 1864 transferred it to Stephen P Jackman. For Benjamin Jackman one of Watertown's Streets is named.
The Sackets Harbor-Roberts Corners-Belleville highway runs straddle of the Henderson-Adams town boundary for more than half the distance of that boundary. In doing so it runs squarely through the hamlet of Smithville and Captain Brooks Harrington's red brick tavern is located on the Henderson side of the road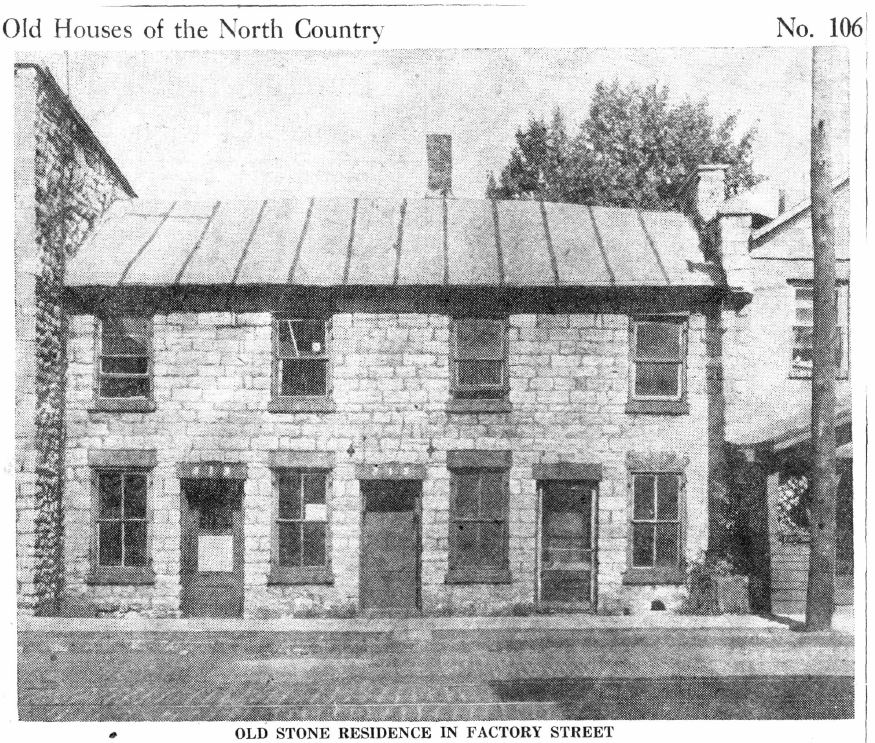 Relic of the days over a hundred years ago, when Factory Street was one of the leading residential streets of Watertown, is this old native limestone house now used as a tenement property. Known as Nos. 313-317 and 319 but prior to 1908 as Nos. 43-47 and 49 it is located on the north side of the thoroughfare and backs down to the south shore of Black River. Built about 1830 this old building, one of the last of the limestone structures on Factory Street, is within two blocks of the corner of Mill Street where Jonathan Cowan built the first grist and saw mills in 1802 having thrown a dam across the south channel of the river to what is now known as Beebee's island. Likewise the old house, which has had a somewhat varied existence, was the same distance from Watertown's first paper mill, built by Gurdon Caswell in 1808 and from Nathaniel F Butler's Center House (hotel), both of which were at the southeast corner of Factory and Mill Streets.
Jonathan Cowan once owned the land where this house stands, but it was acquired in 1824 by Henry Frey and Ellice Murdock, early Watertown industrialists, who soon became financially involved and were compelled to assign it to William Smith, business man, industrialist and builder of the first brick block here, and William D Ford, one of the first local attorneys. On January 10 1829 Smith and Ford, assignees, sold the site to John Gage, who was a partner of Smith in the foundry and machine shop firm of Smith & Gage, which operated a plant on Cowan's island, now known as Beebee's. It is believed that Gage built the house about that time, because in 1826 there had been no houses in that vicinity of the north side of Factory Street
Gage removed a few years later to Chicago and was there May 30 1839 when he and his wife, Portia, sold the stone house to John Nevill for $800. Some years later it was acquired by Mrs Parley Ann Butterfield, who disposed of it to Francois F Lefevre, a shoemaker who resided and had his shop there until January 18 1905 when he sold the property to the late Lincoln G DeCant and Charles N Sherman. Next Mrs Mabel E Barnett, widow of Mr De Cant, April 211925 disposed of it to the present owner, Mrs Caterina Chirico.
Mrs Butterfield, whose first husband was Charles Comins, was the wife of W K Butterfield, who in 1860 is listed as proprietor of the Engineer's hotel. Factory Street retained its eminence as a residential street until the railroad invaded it in 1854. During the 1830's and 1840's the street numbered among its residents N W Streeter, who owned the Streeter block, where the Wise block now is and was head of the firm of N W Streeter & Son. His son, John C Streeter, became mayor and his grandson, Fred W Streeter, city clerk. Other prominent residents were John Sigourney, cotton manufacturer; George W Tripp and Thomas Baker, railroad contractors; Joseph Mullin and Chillingsworth Colwell, carriage manufacturer. The First Baptist and the Second Presbyterian churches were there and in 1838 St. Mary's Catholic church bought the Baptist edifice. At Factory Square was Baker Massey's Tavern, the mill of the Watertown Cotton company and the foundry and machine shop of A R Skinner. After the railroad came the character of the street changed signally to mercantile pre-dominance, tapping a rich industrial sector at Factory Square and above.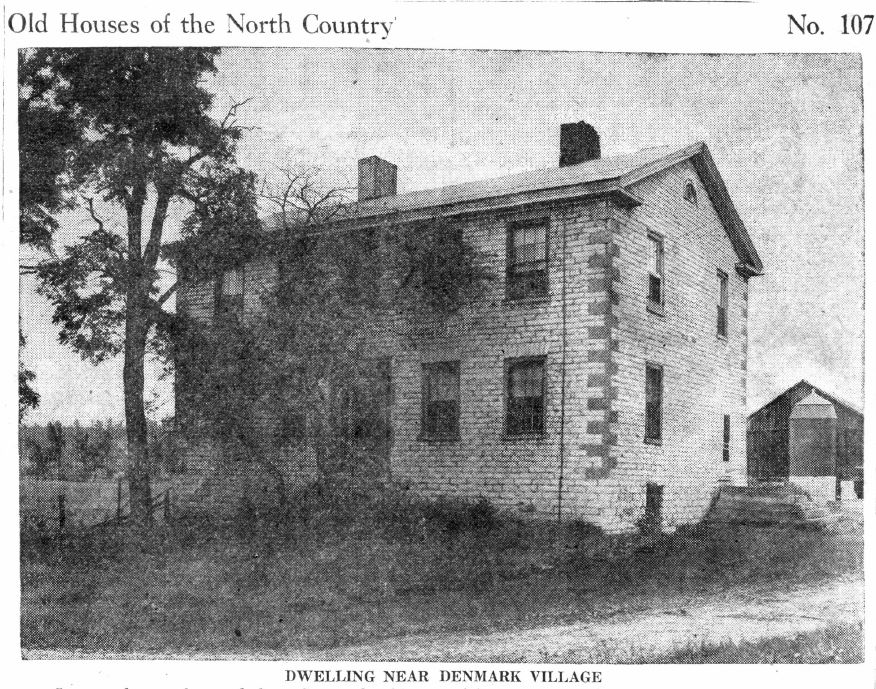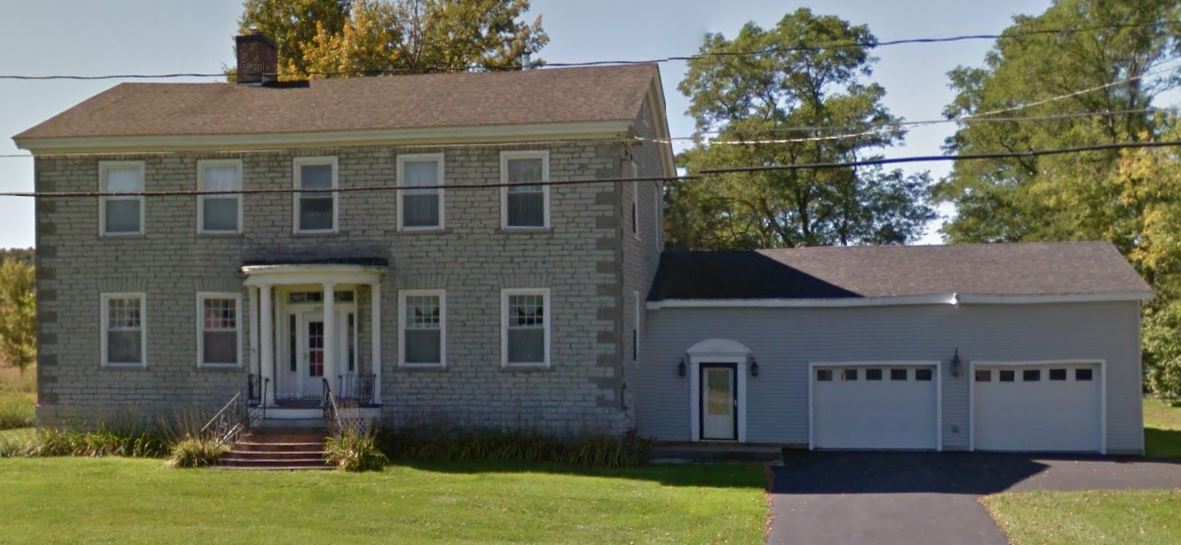 Some rods up the road from Denmark village towards Watertown is a house which has practically all of the characteristics of construction of the Blodgett tavern at Denmark. The walls are laid of similar small blocks of limestone tied in with large blocks dovetailed at the corners. The main doorway is a rectangle with rectangular transom. The widow-caps, however, instead of being thick limestone slabs, are made of nine or ten small blocks set on end. In the gables are small, semicircular windows as in the tavern. Plain return cornices are used. In fact all of the characteristics in the two buildings point to identical designers, identical builders and identical material.
This house was built also for the Blodgett family and undoubtedly it was constructed in 1824 from stone produced by a nearby quarry.
For the past ten years it has been owned and occupied by Charles Perrigo, who operates the substantial farm that goes with the house. Like the Blodgett tavern, which has been owned by William A Buckley for upwards for half a dozen years, the Perrigo house remained in the possession of the Blodgetts for approximately a century. Admirers of old stone'houses have expressed gratification that the owners of both tavern and dwelling have maintained their appearance as near as possible like the original. The same beautiful old doors and the same small-paned windows have been retained. They have been kept in an excellent state of repair and their condition is such that they should remain sturdy and comfortable for another 120 years at least.
In the first few decades of their history the tavern was a stage coach stop on the route from Watertown via Lowville, Boonville and Utica to Albany, New York and Boston and it catered to the best trade with the result that many distinguished patrons stopped there. Undoubtedly at times the overflow of travelers was accommodated in the dwelling now owned by Mr Perrigo.
In 1824 Jesse Blodgett's beautiful limestone tavern was erected in Denmark. Roswell Murray was the master mason and David Granger the master carpenter. It was three stories high with lodge rooms for Orient Lodge, No. 150 F & A M, on the top floor and the architecture was Georgian colonial. The blocks of limestone that went into the tavern walls were small, being hardly larger than oversized brick, and the building's corners were tied in with large, faced blocks of limestone dovetailed to give ornamentation as well as strength. The main doorway is broad and rectangular with a rectangular transom instead of a fanlight, and the lintels over the windows are thick, rectangular slabs of limestone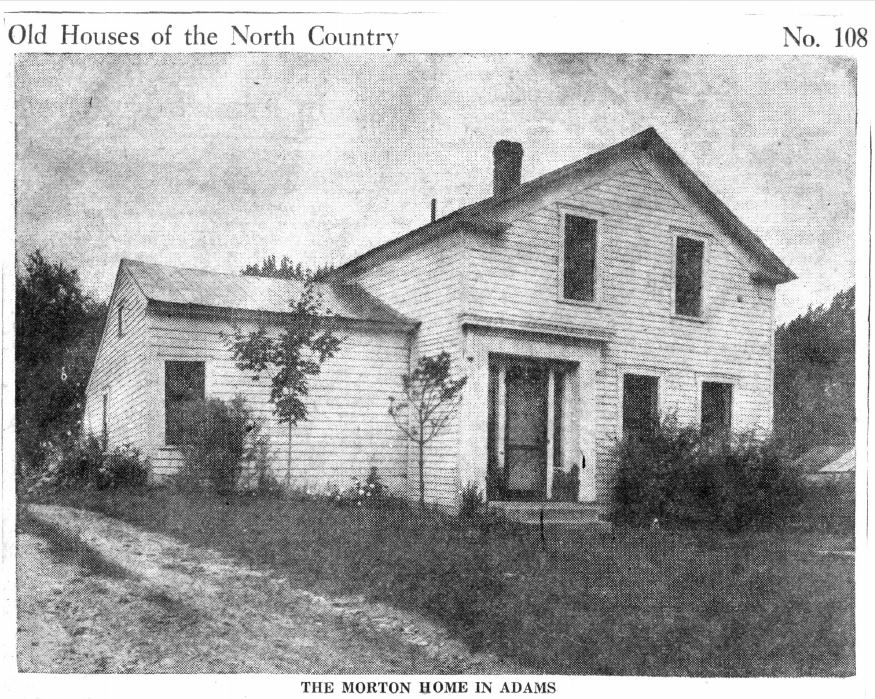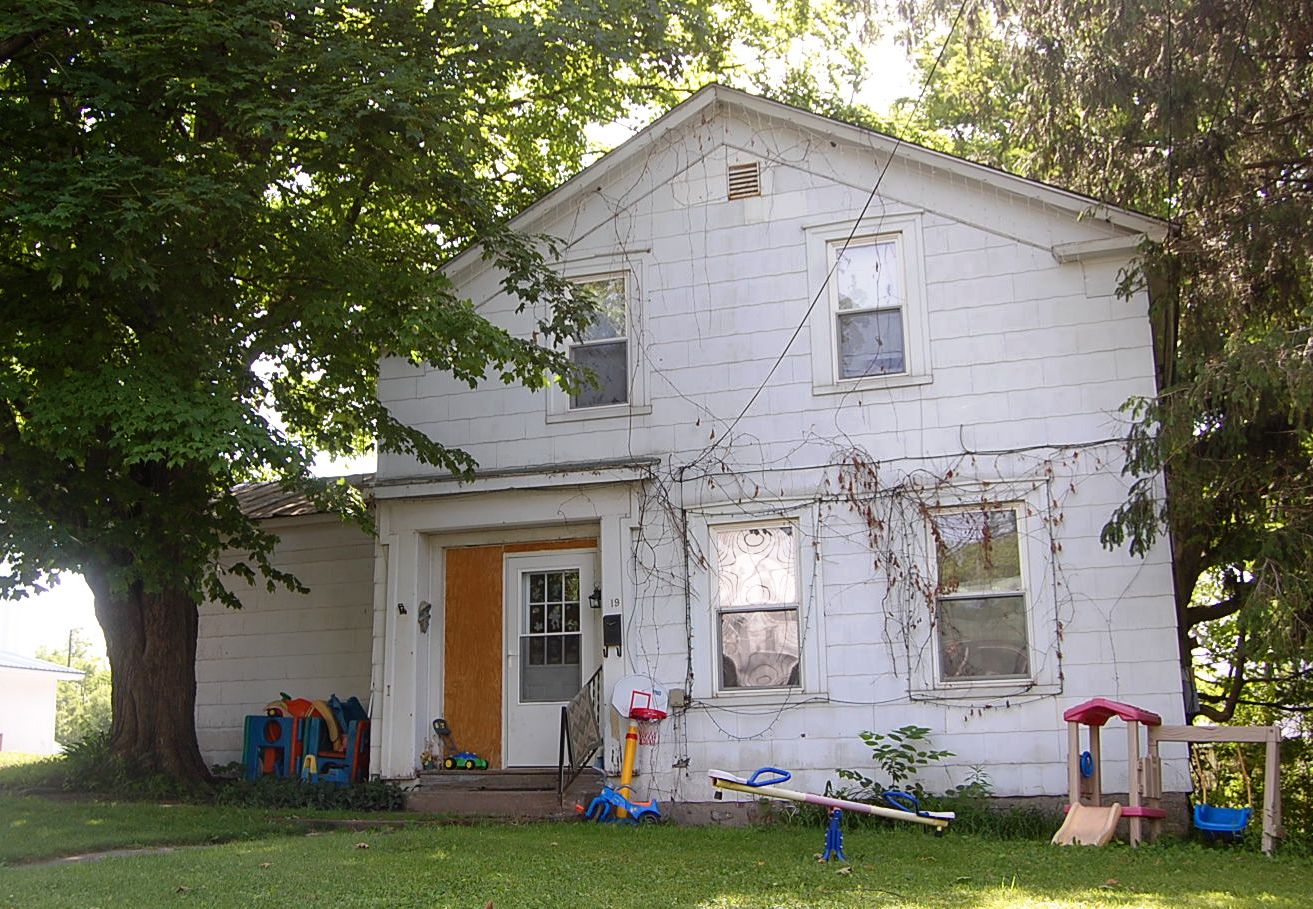 J Sterling Morton, founder of Arbor Day, was born in this house April 22 1832. In 1893 at the beginning of the second administration of President Grover Cleveland, he became United States secretary of agriculture and joined the galaxy of Jefferson County's most distinguished sons. His birthplace, a modest little white clapboarded house, owned by Mr and Mrs Edwin C Taber, still stands on the Whitcomb hill at the farther outskirts of Adams village.
It is square, attractive, immaculate, but it has not always been in its present location. In the beginning it was a little further down the road towards Lorraine, occupying a site near the entrance to the present Rural cemetery. Upwards of a score of years ago the upright part of the house was purchased by Mr and Mrs Taber, who moved it to its present lot, once part of the property of Henry Whitcomb.
The wing had been purchased by James Jimerson and severed from the main house. As a result the Tabers took the woodshed off the rear and made a wing of it joining it on where the original wing had been. Just when this house was built is not known. Julius Dewey Morton had purchased an acre and a half of land near Rural cemetery on February 13 1832 from Micah Sterling, but whether there was a house on it then there is no record. Julius Dewey Morton was the father of J Sterling Morton and had begun buying property in the town of
Adams as early as 1815 he and his brothers having emigrated from Vermont to this county.

The appearance of the house undoubtedly essentially the same as when J Sterling Morton was born in it 112 years ago. In any event he and his parents remained in Adams only two years after his birth. In 1834 they removed to Monroe, Michigan, and in June 1854 Sterling was graduated from Union college. The following October he was married to Miss Caroline Joy French and established his residence in Nebraska City, NE. Julius Sterling Morton was already destined to become one of this nation's great. President James Buchanan appointed him secretary of Nebraska territory in 1858 and for nearly a year until May 1859 he acted as governor of that territory. In 1860 he built his palatial 52-room Arbor Lodge, now one of the show places of the west and 12 years later he founded Arbor Day, an institution which has not only caused the growing of many new kinds of trees in this country, but has resulted in the ornamentation of many cities and villages and in the development of reforestation in the United States. Mr Morton died April 27 1902.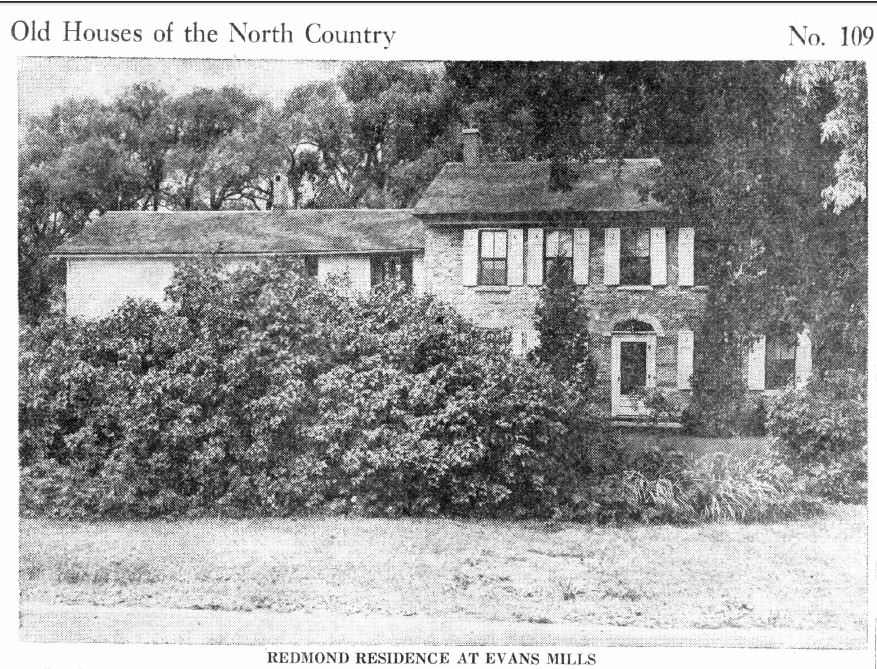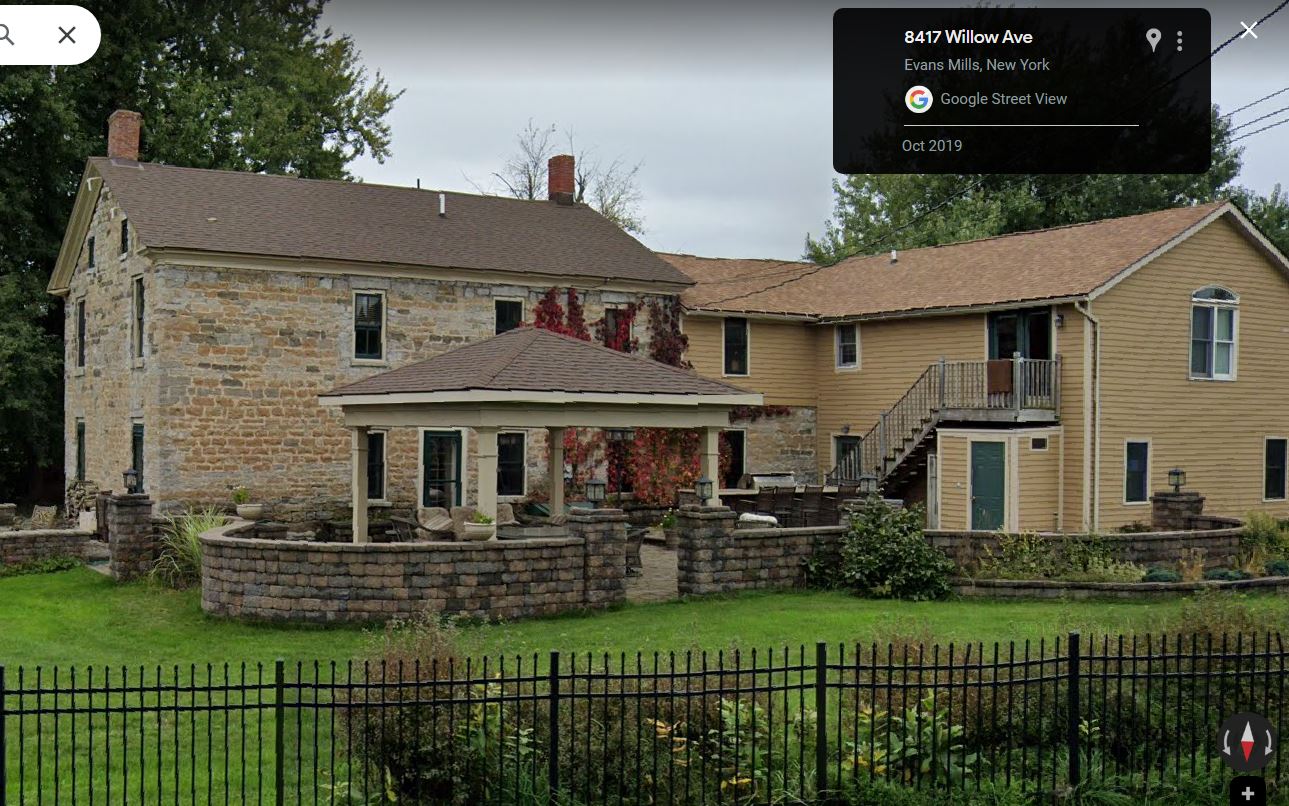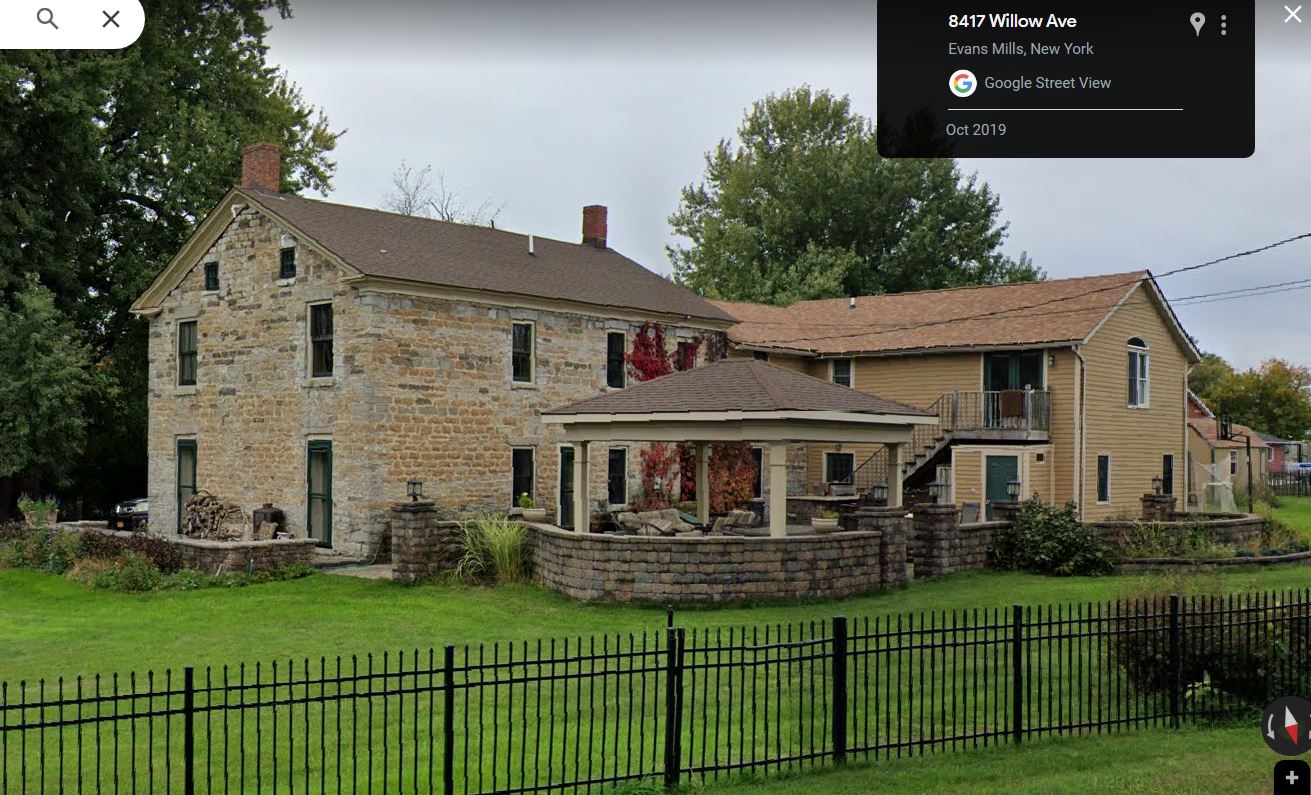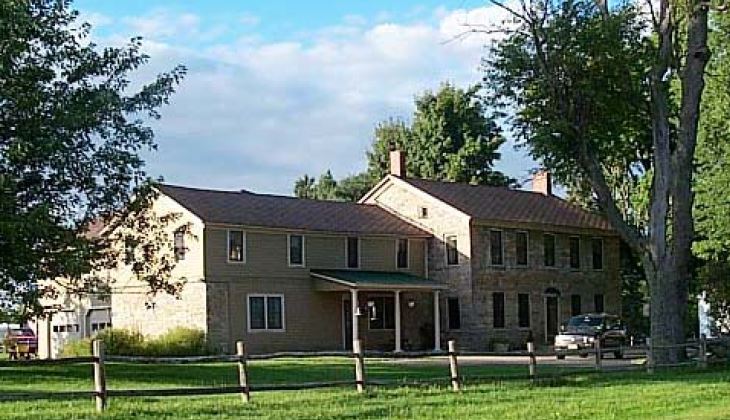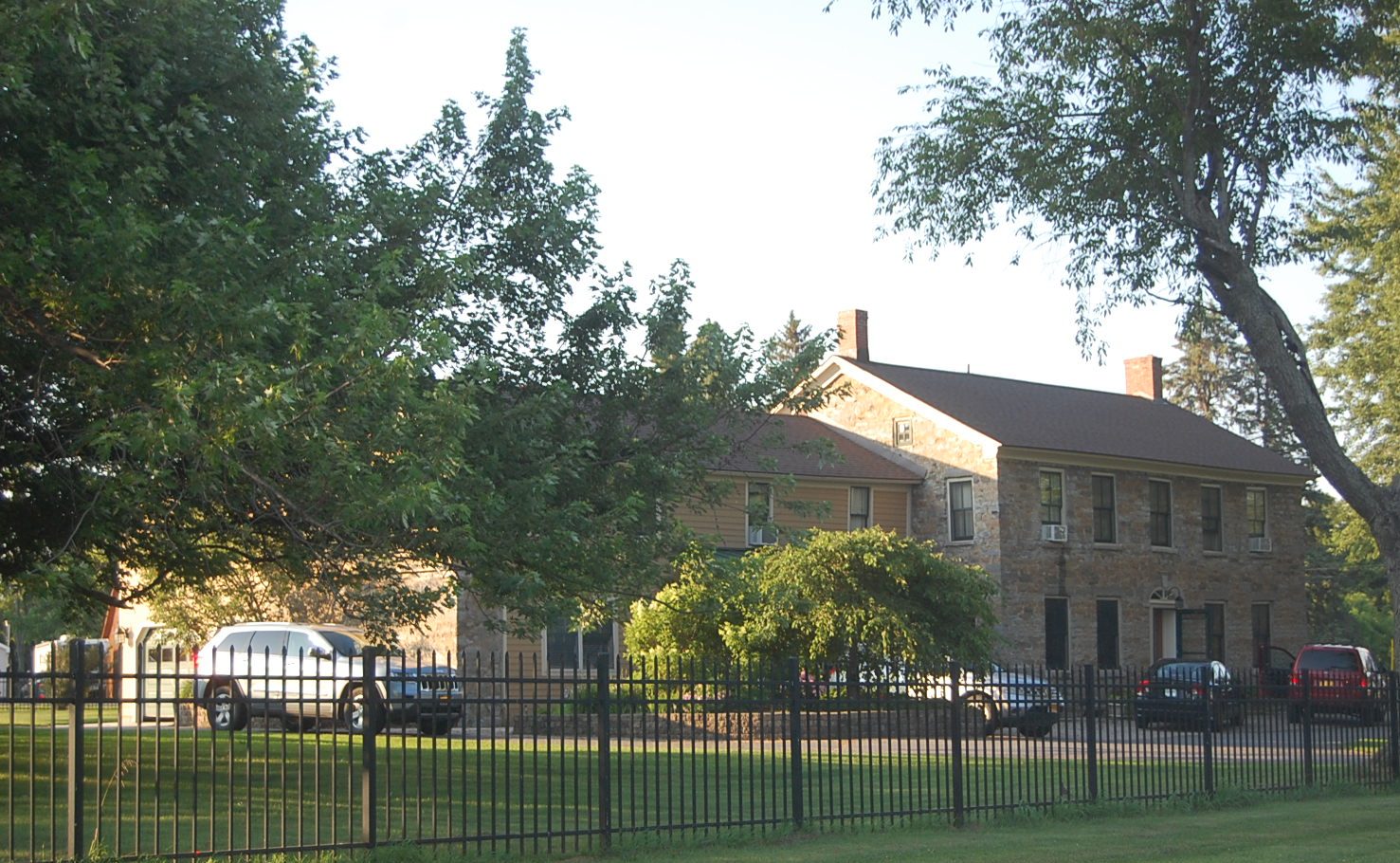 Snugly set inside the sharp angle of the "Y" formed by the intersection of Willow and Cemetery Streets in Evans Mills is the nicely maintained Georgian colonial native limestone residence of Mr and Mrs Charles P Redmond. Resting against a beautiful background of willows of venerable size, this house, believed to have been built about 1841 has a thick hedge of closely knit lilacs partially screening the front lawn while a huge willow stands in the right foreground. Shrubs also decorate the grounds.
History of the first years of this mansion is obscure. Who the builders were is not known. The site is to the rear of the main street leading into Evans Mills from Watertown. Old deeds describe it as at the intersection of the old cemetery road within the highway leading from Evans Mills to Pamelia Four Corners.
Back in Civil War days and before this property was the home of Hiram Ray and his wife, Rhoda, Hiram Ray having been the owner at various times of many pieces of real estate in the town of LeRay and that section of the county. Later it came into possession of Frank L Pitcher, unmarried, of Martinsburg and May 2 1883 Mr Pitcher sold the property to Sylvester Petrie for $3,000. That sale involved three parcels, one to three acres, three roods and 16 rods, another of 20 acres next to Eleazer F Strong's property and a third of 20.99 acres at the southwest corner of the Jacob Davis property.
For 30 years the Petrie family retained this place. Sylvester Petrie died March 9 1907 willing his widow Caroline, a life use, but shortly after his death she released her rights to her three children, Emory Petrie, Mrs Effie P Storms and Mrs Cora P Drake who disposed of it on February 7 1913 to Frank Walts of LeRay. On March 4 1916 Mr Walts sold to Frank W and Celia T Lawson and April 11 1924 they sold it to Brig. General and Mrs James S Boyer, who made it their residence for five years. On March 18 1929 General and Mrs Boyer bought the old Tisdale mansion at Sackets Harbor and on March 25 of that year disposed of this Evans Mills place to Mr and Mrs Redmond, who moved in and still occupy it.
The limestone for the latter house is said to have been quarried nearby. It contains nine large rooms finished in simple but attractive woodwork, the interior doors having been constructed with the famous witches' cross believed to possess properties of keeping witches out. There are two fireplaces with plain but alluring mantels, one of these fireplaces being in the living room and the other in the bedroom directly above. The rooms are low and handsomely furnished in antique furniture by the Redmonds. Some exterior modernizations have been applied to the house by the owners, but mainly they are in keeping with the spirit of the architecture and the place is one of the most attractive in the county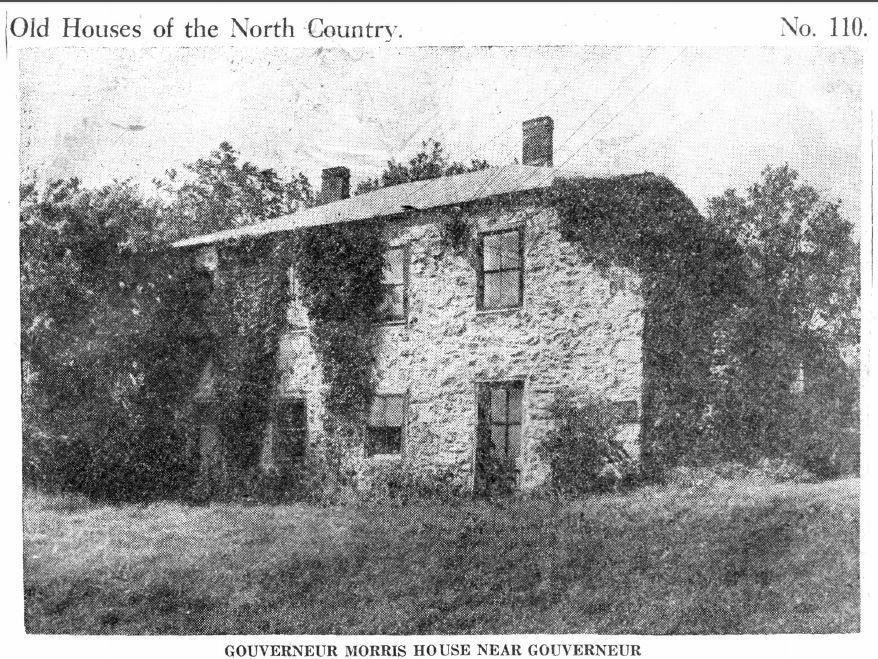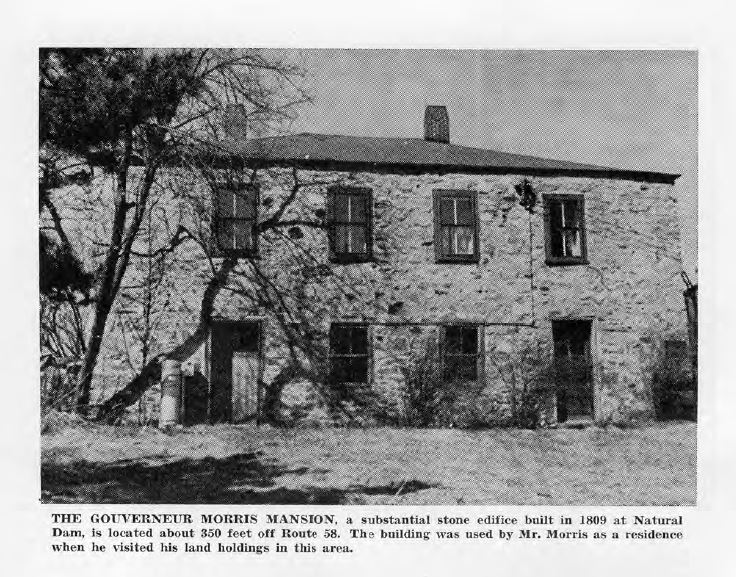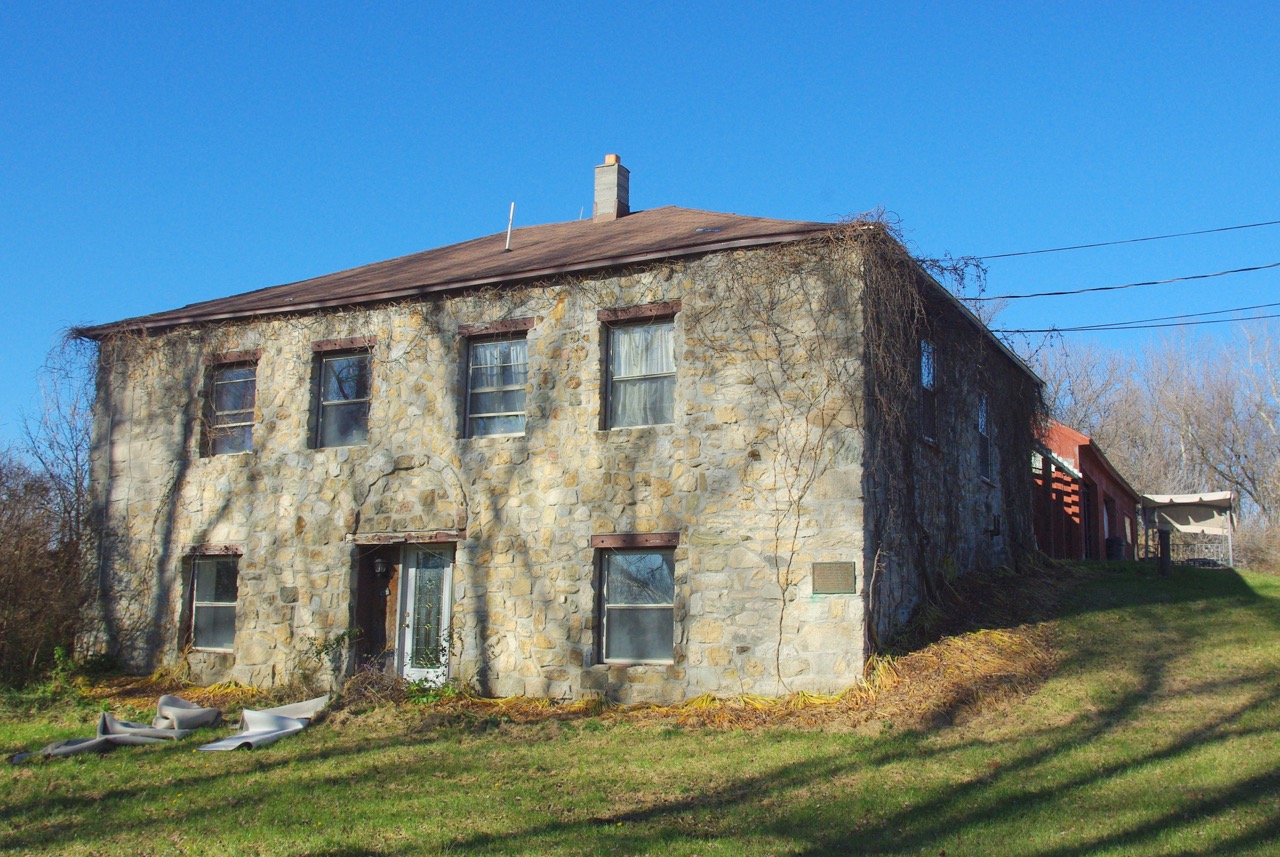 A large, square block of a stone house, architecturally plain to the point of severity, poses its rear wall into the side of a hill at Natural Dam down the Oswegatchie river two miles west of the village of Gouverneur. The stone of the thick exterior, walls are rough and unfaced. They are sturdily but irregularly laid up. The doors and windows are of the plainest type, but vines which trail down the west portion of the front and over the ends lend a bit of attractive ornamentation. The year of construction may have been any time from 1806 to 1809.
This is the North Country house erected for Gouverneur Morris, aristocrat, socialite, patriot and great statesman of the American revolution. Intimate friend of General George Washington, Alexander Hamilton, Robert Livingston, the Clintons, the Schuylers, Lafayette, Mme. de Stael and many other leading world figures of a century and a half ago, Morris, who spoke both English and French with great fluency, was the man who rewrote the federal constitution into a piece of polished English literature.

It was he, who was sent to France in 1792 to serve two years as American minister, live a gay Parisian life and involve himself in a plot to get King Louis XVI out of the French capital to safety during the terror days of the French Revolution. Gouverneur Morris had no respect for nor confidence in the proletariat of this or any other country. After the Antwerp company had taken over vast acreage of northern New York wilderness lands, Gouverneur Morris became its first American agent and on January 2 1800 he took title to 220,000 acres for which he paid $48,889. The next day a similar tract went to James D LeRay de Chaumont, his friend.

Morris was responsible for interesting Jacob Brown hero of the War of 1812 founder of Brownville and later general-in-chief of the United States regular army, in the purchase of a large tract of land in the present Jefferson County.
Born January 31 1752 at Morrisania, the elaborate Morris manor near New York City , this witty, rotund, woodenlegged aristocrat and epicure, for whom the St. Lawrence county villages of Gouverneur and Morristown were named, found his Natural Dam house in sheer contrast with the fine mansion of his birth. In 1803 with James D LeRay he made an historic fishing trip to Chaumont Bay near Cherry island and he was entertained by LeRay at LeRaysville.
Natural Dam was first known as Morris's Mills. In 1809 Morris caused Joseph Bolton to clear 80 acres and build a sawmill and grist mill there. He hoped to establish a large community there. It is said that he spent one summer at his stone house and that he had the house built as a summer home, but it is likely he had it erected as a landoffice and house for his agent. In 1810 the town as Cambray was changed to Gouverneur and Morris's Mills later became Natural Dam. For more than a century and a quarter the house has been a farm house and for 28 years Mr and Mrs Leonard B Downes have occupied it. In 1929 the Gouverneur Morris Chapter DAR, dedicated the bronze historic marker attached to the front, Harold B Johnson, editor and publisher of The Times, making the dedicatory address.
Gouverneur Morris, who delivered eulogies after the deaths of Washington and Hamilton, married Miss Anne Carey Randolph December 25 1809 not for from the time his Natural Dam house was built. He died November 6 1816.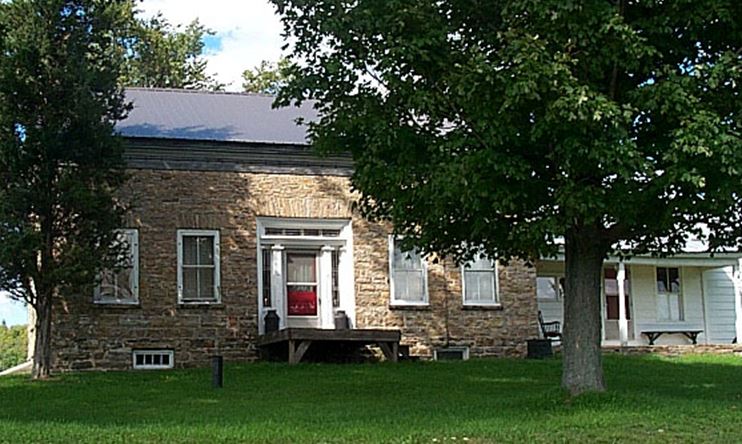 About a quarter of a mile towards Watertown from the flag station known as Keenes, where Jefferson County's town of Antwerp adjoins the town of Rossie in St. Lawrence county, there is upon an elevation of land a low, dignified native limestone house of nine rooms that was for many years the farm home of Colonel Hiram B Keene. This house was erected in 1845 as the keystone indicates over the front door, and it overlooks the 300 broad acres of the farm, which Colonel Keene cleared with his own hands more than a century ago. Located in the heart of the iron belt of the towns of Antwerp and Rossie, Colonel Keene, while ploughing one day, uncovered a deposit of ore in the low land within a stone's throw of his house.
Instead of developing it himself, however, he sold his rights and continued to devote his attention to farming with the result that eventually he owned 1,400 to 1,500 acres of land and 200 head of cattle. A native of Pompey, Onondaga county, where he was born June 17 1810 son of Job and Nancy McMillen Keene, at the age of 12 Colonel Keene settled with his parents in the town of Antwerp. There he grew to be one of the strongest and most colorful characters in the entire North Country and ever was an exponent of honesty and thrift, far above everything else he deplored waste.
Many times he told the story of his wedding day, January 17 1831 when with only $2 to his name he gave the minister $1 and divided the other dollar equally between himself and his bride, who was the former Betsey Doud of Rupert, Vt, then with his remaining 50 cents he bought an axe and went to work clearing the land to start his fortune.
Notwithstanding his frugality and thrift Colonel Keene was a progressive man and when the Potsdam & Watertown Railroad company was organized January 9 1852 at a capitalization of $750,000 to build 76 miles of railroad northward from Watertown to Potsdam he became one of the most indefatigable workers in the sale of stocks to insure its construction. When this line of railroad was finished and placed in operation in June 1857 his little community, which had once been known as Shingle Creek was named Keenes for him and he was chosen first station agent therein addition to being a director of the company.
Thus he became a potent factor in the opening up and developing of the North Country, providing an outlet for northern New York products to the markets of the world and bringing in from the outside the things needed by the people of this part of the state.
Colonel Keene was a most respected and useful citizen. For several years he was justice of the peace. For many more he was assessor of his town. For three terms he was supervisor. He was commissioned a captain in the 84th New York militia regiment and because of his service in recruiting troops for the Civil war he was promoted to a colonel. For a time he was president of the Antwerp Union Agricultural society, later during the 17 years he resided in Gouverneur he was for a lengthy period president of the Gouverneur board of trade. He died February 18 1902 but the old Keene farm and stone house have never gone out of his family and are now owned by his daughter, Mrs George H (May) Partridge, New York City .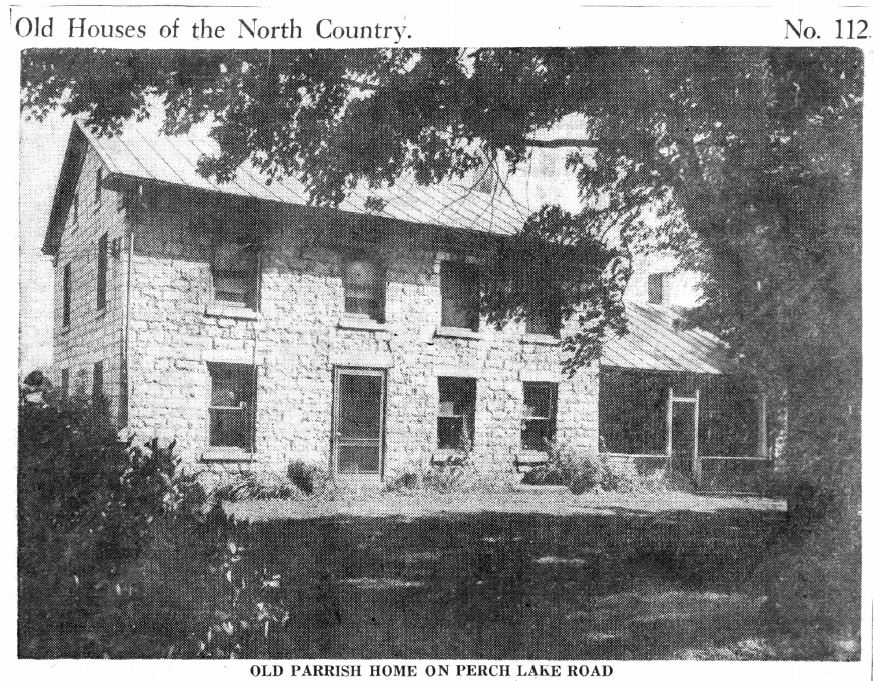 County Rt 16 (jenkins-Parrish Rd)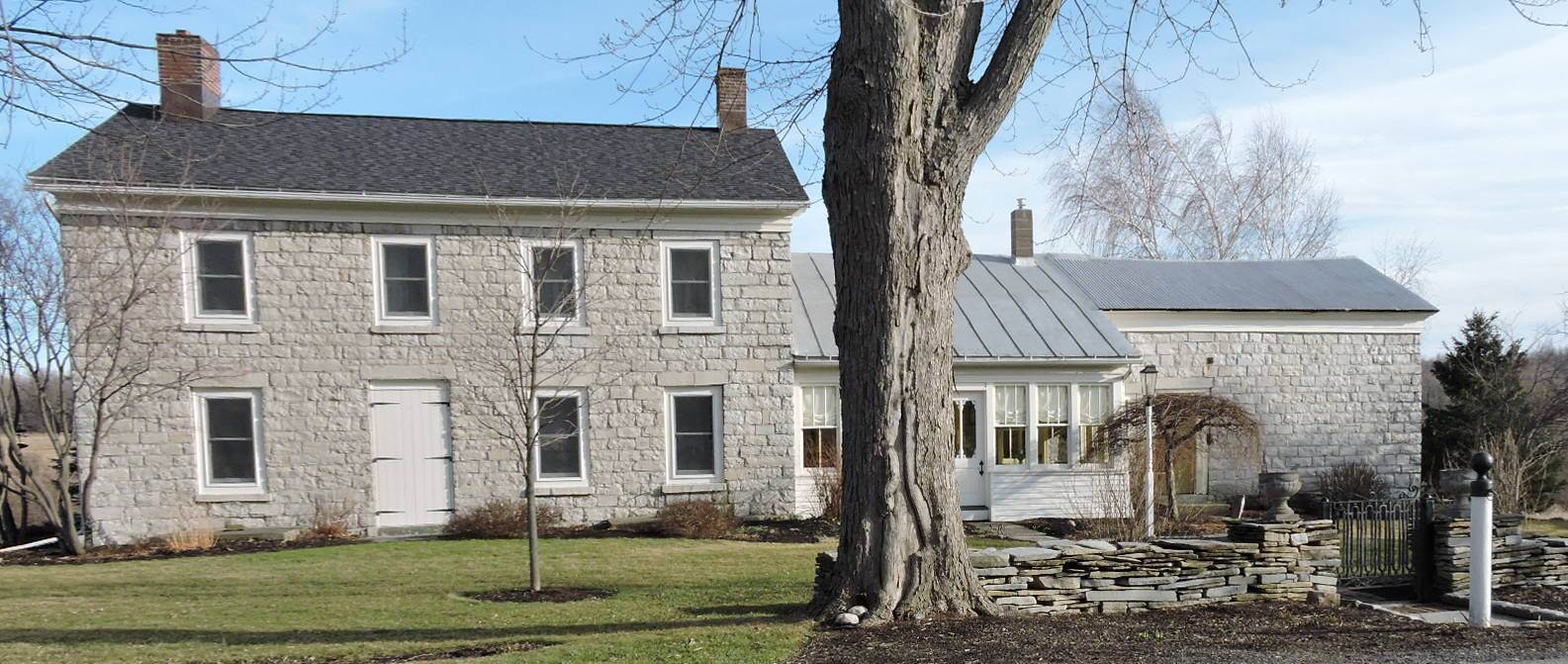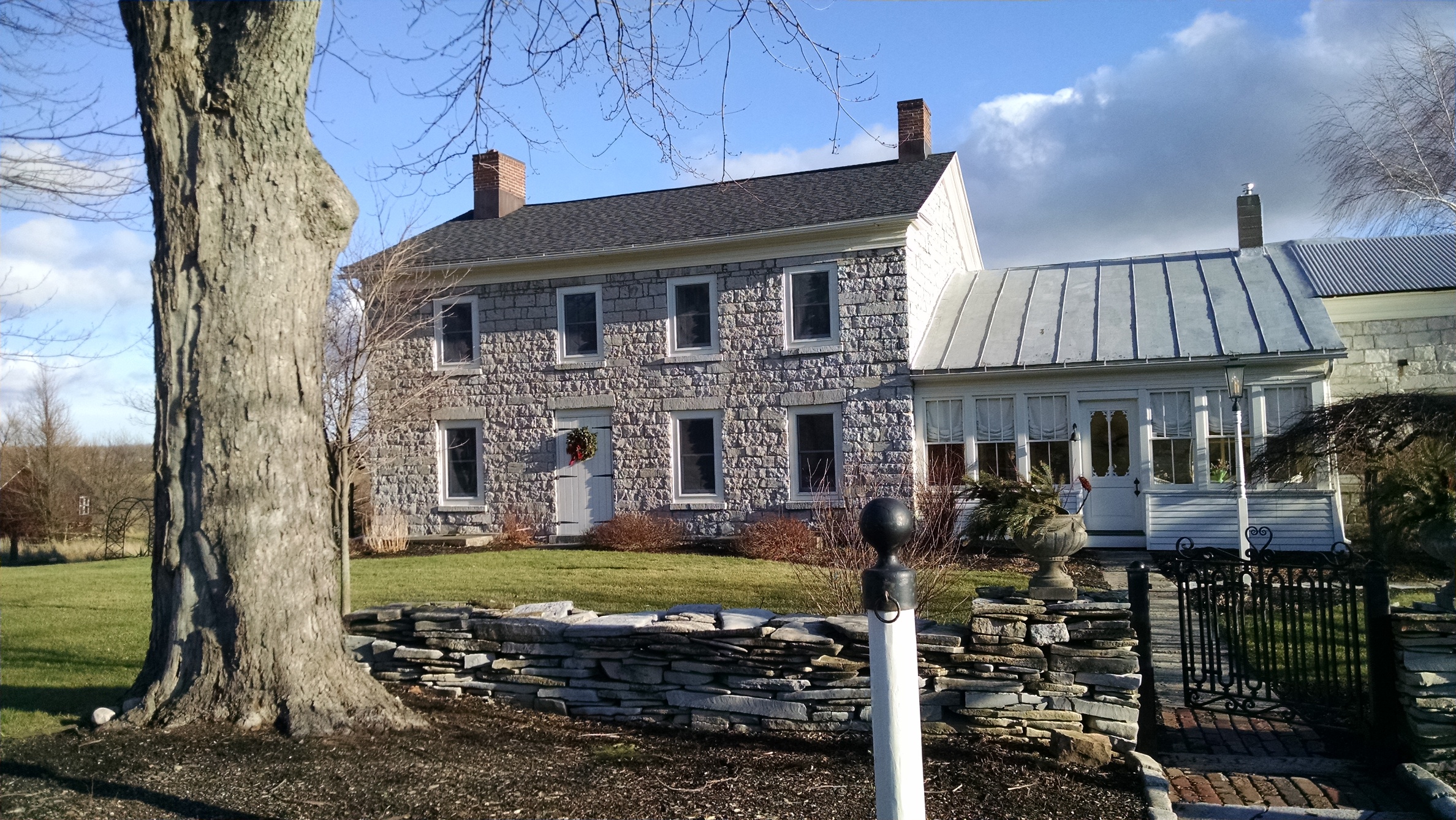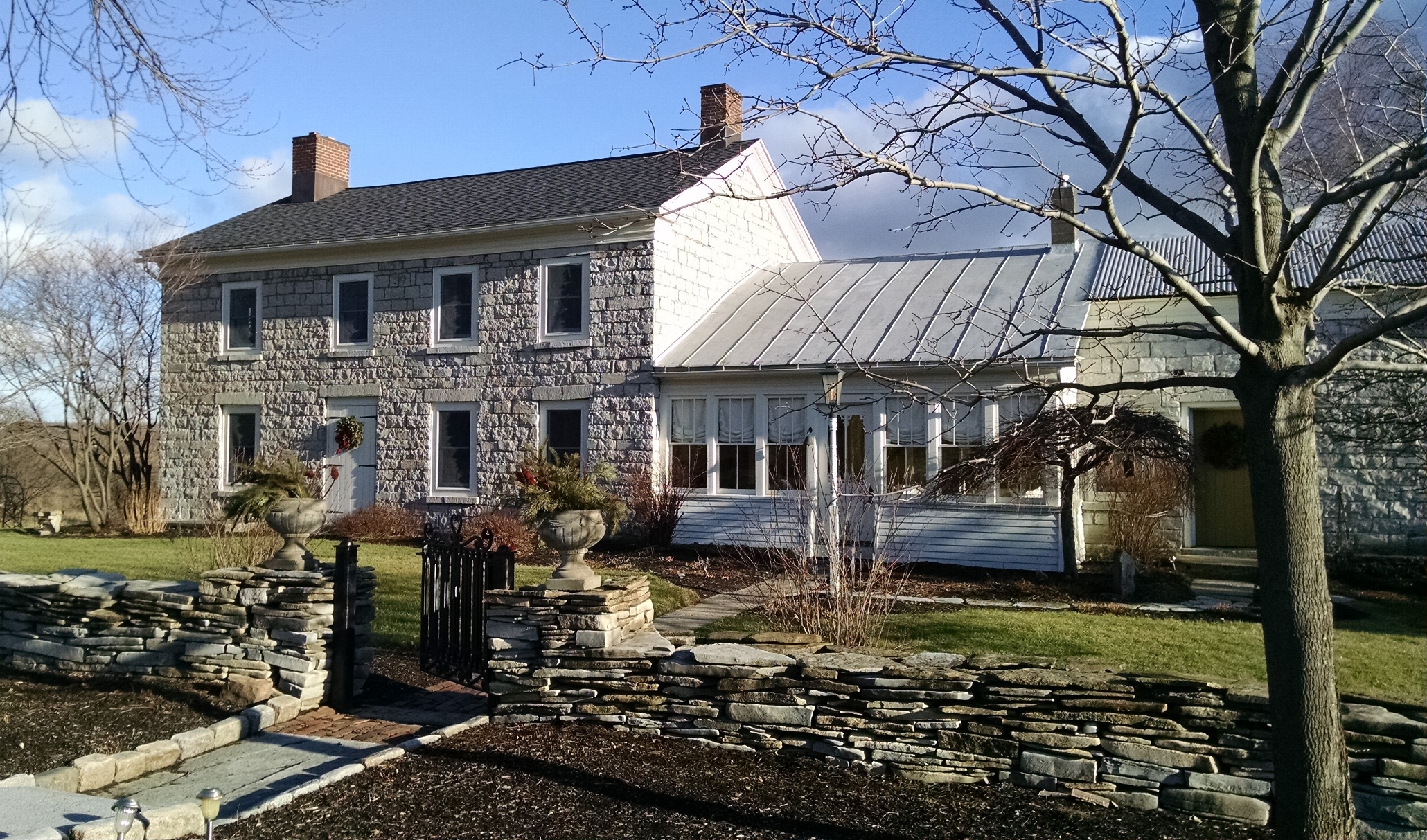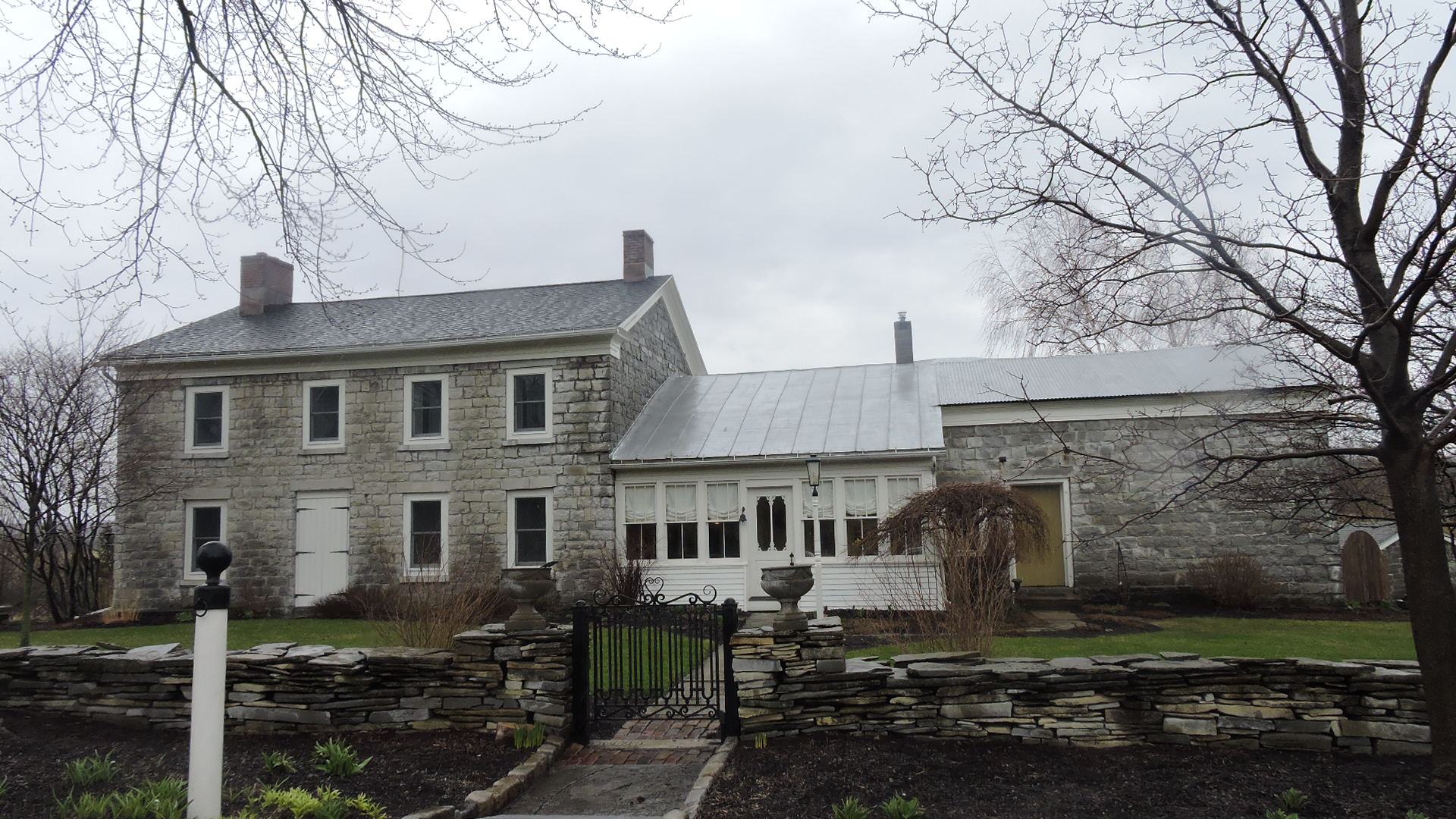 The Parrish family was among the early settlers of the town of Pamelia and the old Parrish home and farm on the Perch Lake road in the upper part of the town is one of the most picturesque ones in those confines. Owned by Mrs Alice Shimel Reese, who with her husband the late George A Reese formerly of the town of Theresa, purchased it February 1907 it is maintained in good order. Mr and Mrs Reese acquired it from Mrs Scott W (Diana B Parrish) Blodgett, then of this city. The farm consists of 183.05 acres.

Built of native limestone obtained on the property about 111 years ago, the eleven-room house of simple Georgian colonial architecture is neat and attractive. The rooms are low and the interior doors display the witches' cross in their construction. There is one fireplace. Upon the farm is an excellent sugar bush and for many years John L Parrish, who was a prominent farmer and cattle dealer as well as justice of the peace, operated a limburger cheese factory with a capacity of 40,000 pounds a year.
Son of John and Ruth Farr Parrish, John L Parrish was born in Pamelia May 1 1819 and in 1841 married Eliza Ann, daughter of Ruel and Margaret Randall, early Rutland settlers. She was born February 19 1819.
This Parrish family emigrated from England to New England long before the American Revolution. In 1793 John Parrish. a Revolutionary soldier and grandfather of John L Parish, settled in Washington county, New York. His son, John Jr, father of John L, was born in Columbia county in June 1777 and resided on the farm with his father until he was 23 when he was married to Ruth Farr. Ruth Farr, native of Massachusetts, was born in July 1783. In the spring of 1803 she and her husband, John Parrish, left their home at Fort Ann and located in Pamelia, where he had previously bought 60 acres of wilderness. With their two small children, all their worldly goods and two ox teams, they made their way here, erected a log cabin and resided in it for several years.
On October 81833 this John Parrish purchased of Washington and Stephanie Coster of New York City through Attorney Samuel C Kanady for $977.11 an acreage of 132.72 which formed the main part of the property now owned by Mrs Reese. Upon this he erected his stone house, where he brought up eight of his ten children. On February 26 1847 he sold the property to his son, John L Parrish, for $3,000. From his brother, Chester Parrish. John L Parrish acquired an additional tract of 36.3 acres, and another of 11.75 acres for $1,300. These two plots were part of land bought by John Parrish November 1 1838 from Abraham Varrick and willed by John to his son Chester. On March 5 1858 John L Parrish bought another 3.55 acres for $100 from Rufus W Keith making a total of 184.32 acres in the farm. All of this with the exception of .37 of an acre, which embraced the Parrish family cemetery, was bought by Mr and Mrs Reese from Mrs Blodgett for $7,000 in 1907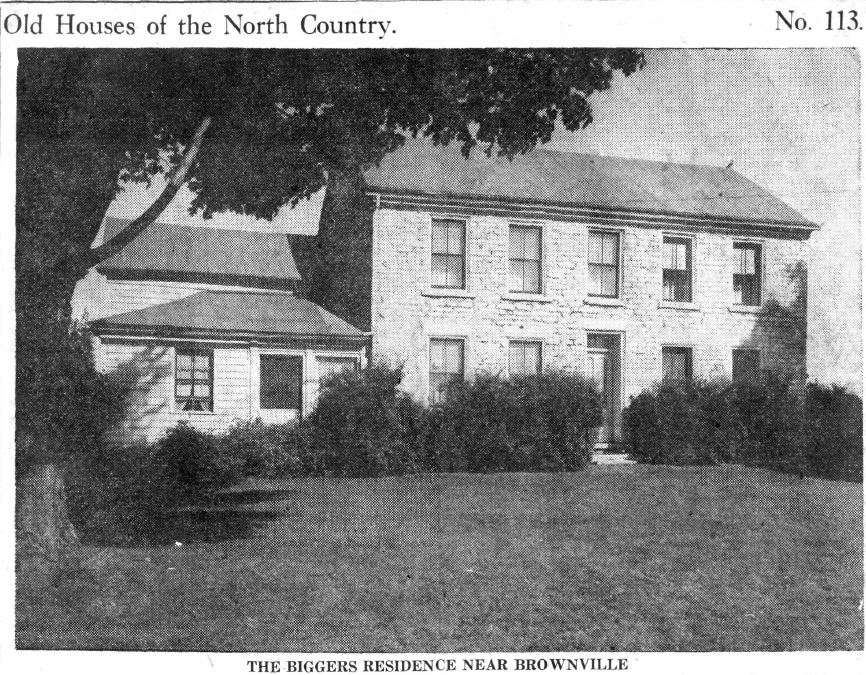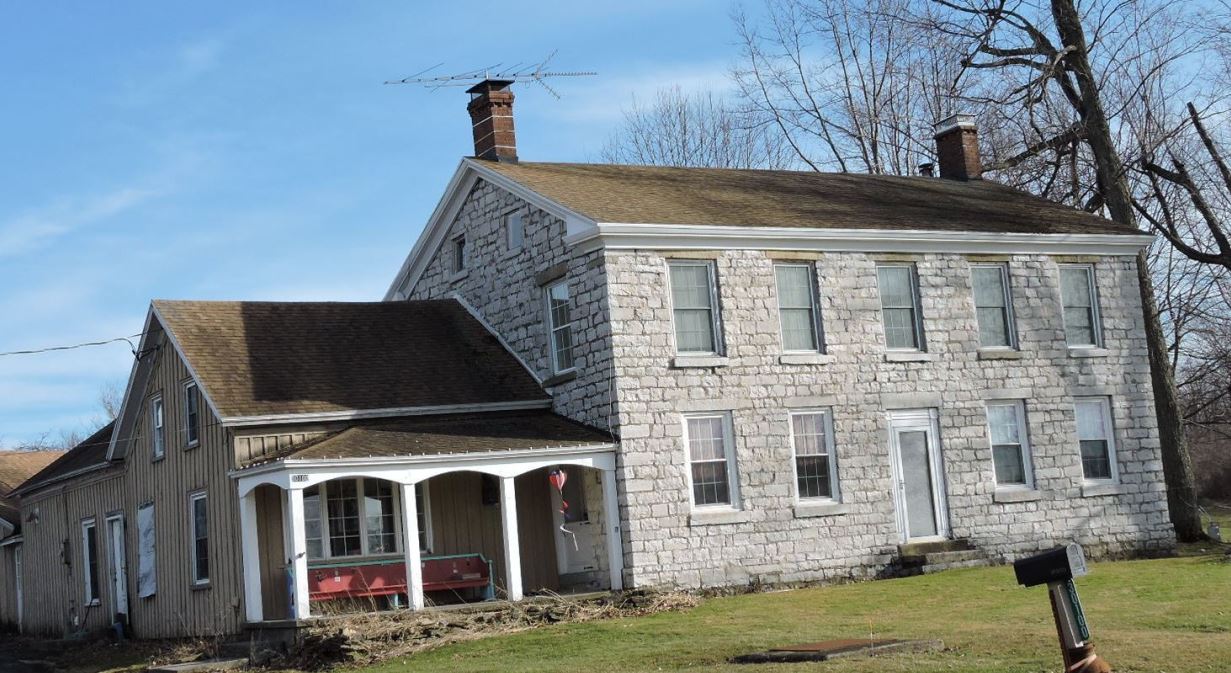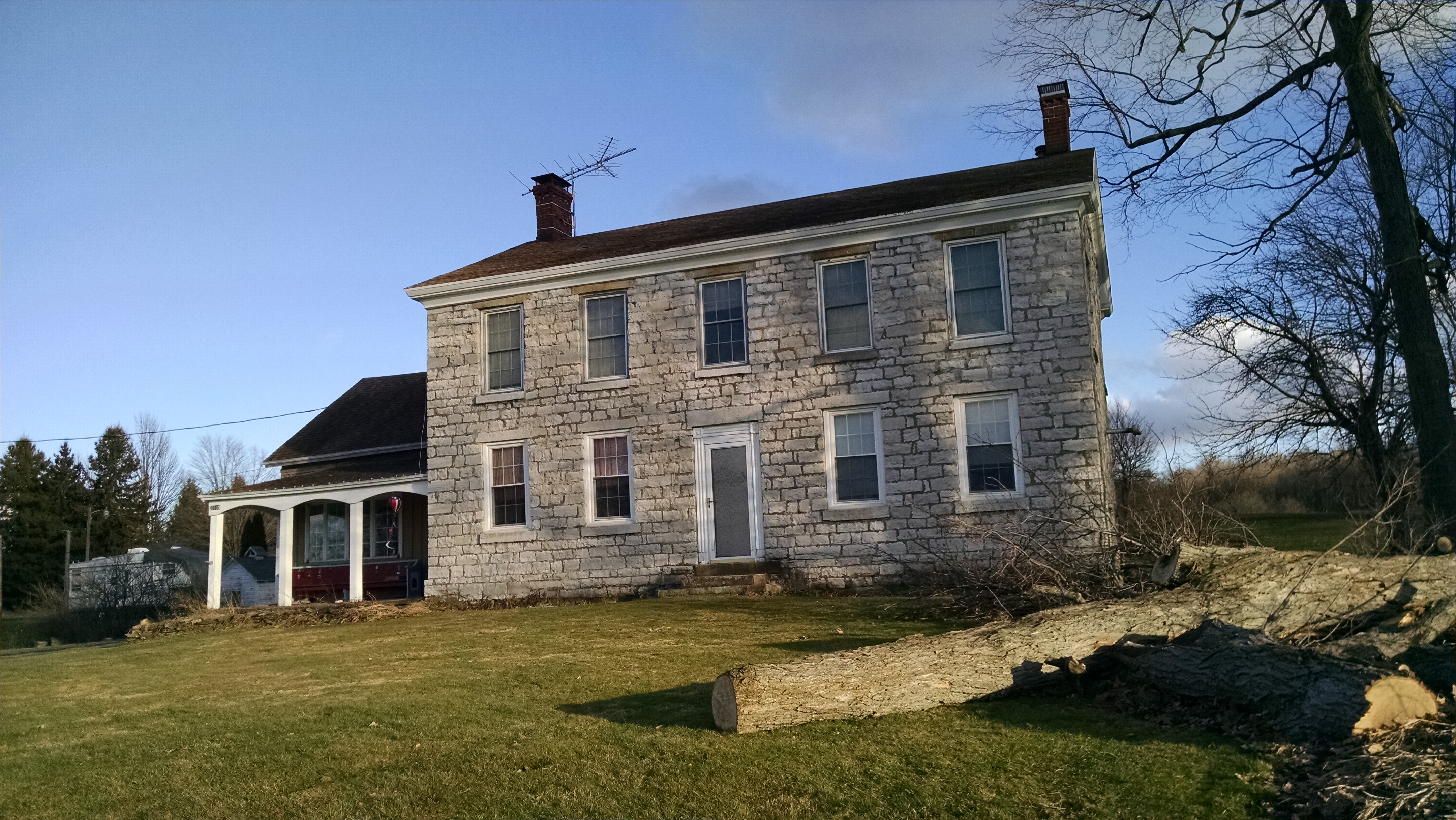 One of the best conditioned old stone houses in Jefferson County is the farm home of Mr and Mrs Arthur Biggers a few miles out of Brownville village on the Perch Lake road in the town of Brownville. It is unusually well landscaped with shrubbery and flowers and there Paul E Biggers, landscape gardener, son of Mr and Mrs Biggers, established his Floradale Gardens a few years ago. Also of Georgian colonial type, this house, constructed of native limestone obtained on the farm, is neatly faced with cut limestone in front. Upon the 127.76-acre farm, a few rods west of the house is a private cemetery containing the graves of George Brown who died January 23 1818; Oliver Stevens, 40 who died August 15 1832; his son, Albert H Stevens, who died March 23 1843 aged 24 and Mrs Sarah Stevens, 52 who died February 11 1849.
The house was probably built by Oliver Stevens in 1821 or 1822 records showing that on June 9 1821 Mr Stevens bought 27.8 acres of the farm from James D LeRay de Chaumont for $247. On September 11 1824 he purchased an adjoining tract of 49.86 acres of Louis Francois de Saint Michel of Denmark, Lewis county, for $455.09 and on November 5 1830 he paid, the trustees of the Mechanics Fire Insurance company of New York City $458.58 for the other 50 acres that completes the present farm. Heirs of the Stevens, family residing in St. Joseph, Michigan, sold the farm July 18 1866 to William J Martin for $5,365.92.
Mrs Frances N Martin, widow, disposed of the property to Peter Helbock of Brownville for $5,747.20 on February 19. 1877. Later it was acquired by Isaac Schell.
Mr Biggers has owned this property-for the past 35 years, having purchased it from Mr Schell on March 2 1909. While Mr Biggers conducts it primarily as a dairy farm, he also operates a number of agricultural side-lines including the keeping of bees and raising of honey. The extensive flower garden aids in this and supplements the clover and other blossoms sought out by honeybees.
The identity of the George Brown buried in the Stevens family cemetery on the farm is not established. Whether a relative of Major General Jacob Brown of Brownville is not known, but it is believed that the Brown and the Stevens families were connected for in the transfer of the farm to William J Martin July 18,1866 Aaron Brown of Brownville served as special guardian for Sophia Stevens, James Stevens and Ada Stevens, infants, of St. Joseph, Michigan, children of Mrs Sophia L Stevens then also of St. Joseph.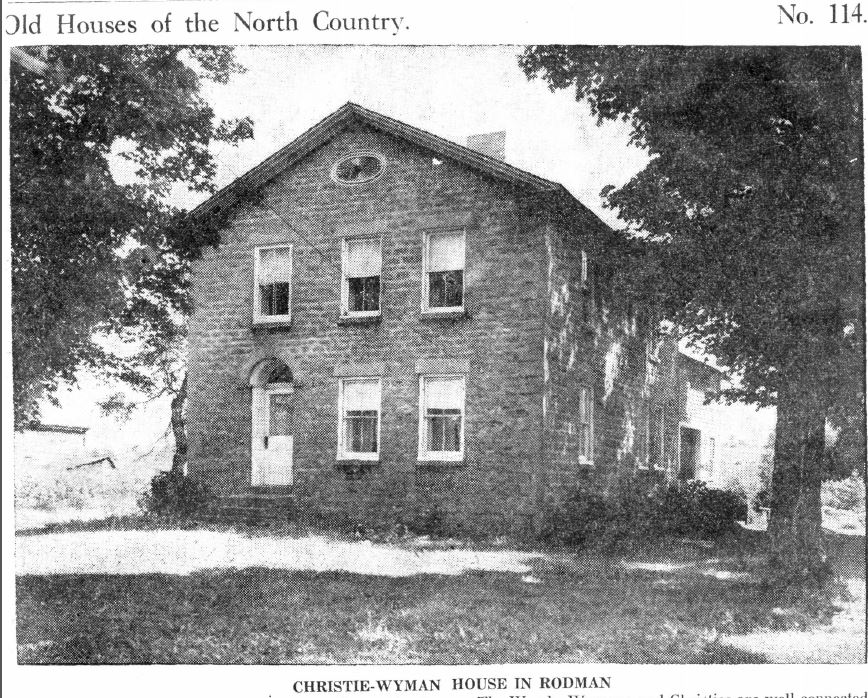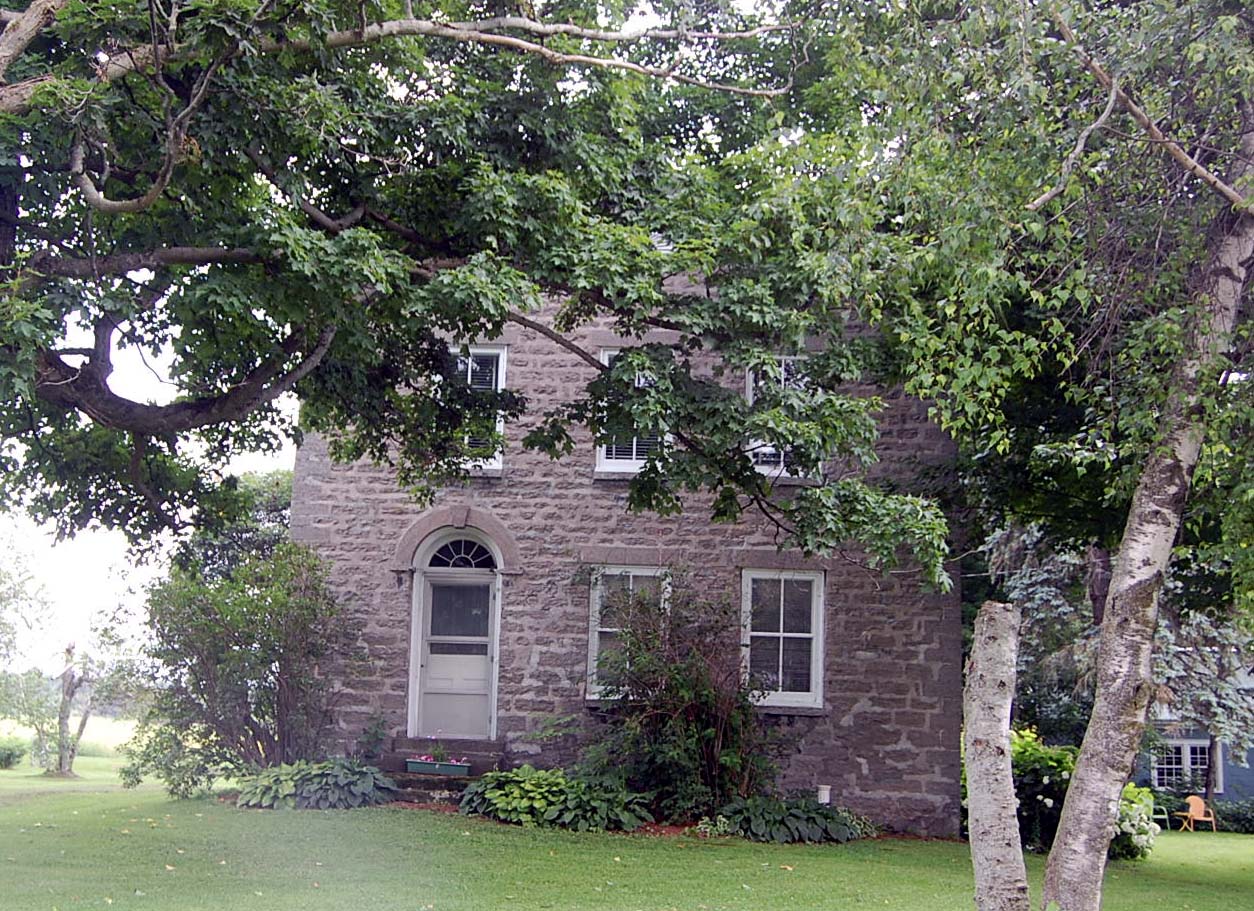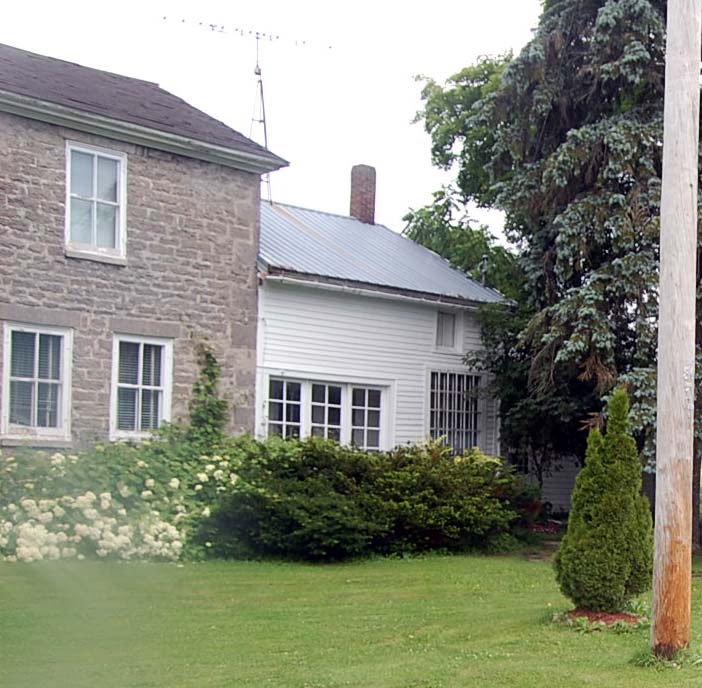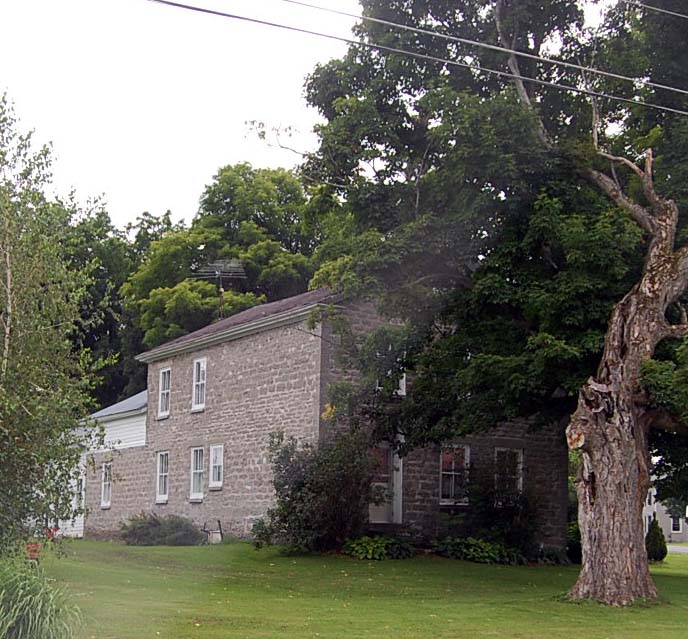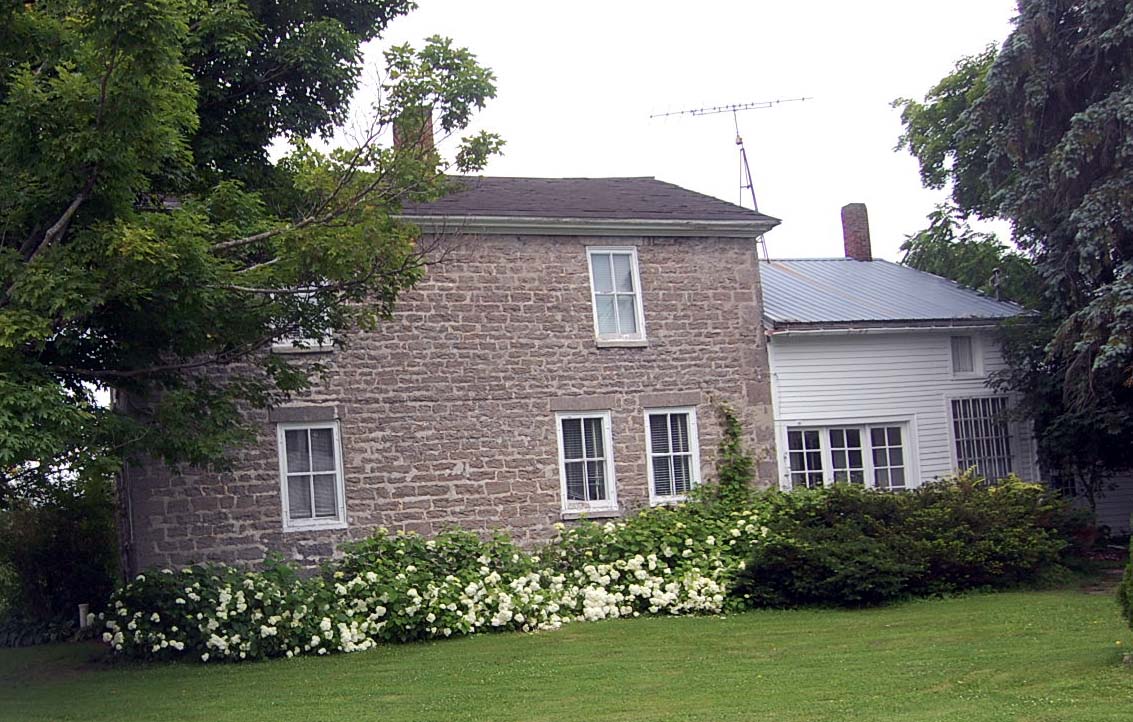 Rodman, known at different times as Town No. 8 Orpheus and Harison, is not only one of the oldest in the county in point of settlement, but it is one of the most picturesque and fertile. Pre-historic glaciers carved out beautiful valleys and gorges. Ancient Indians made village and camp sites there and in 1801 Simeon Hunt came from Vermont to set up the first tavern where the Gulf Streams comes down by Rodman village. The Wymans, Rices, Gates, Cooley and Strongs were among the first settling.
A scarcity of building stone resulted in few stone houses in the town, but in Rodman village at the junction of the Whitesville-Adams and Tremaine's Corners roads the old Christie-Wyman limestone house of Georgian colonial architecture stands as a staunch and attractive specimen. Of its ten rooms the main ones are nine feet high and there are two fireplaces, one in the living room and the other in the bedroom above. One member of the Wyman family believes it was built about 1812 by Dr Isaac S Wood, who came from Wilbraham, Massachusetts, in 1805. It would seem that it is at least 125 years old in any event, and there is a possibility that it was constructed for Jonathan Wyman. who came the same year from Nelson, New Hampshire, and on July 1 1806 bought 108 acres in town lot No. 19 in which the house stands, paying Richard Harison, Tosiah Ogden Hoffman and Thomas L Ogden of New York City $383 for his tract.
The Woods, Wymans and Christies are well connected by marriage and June 20 1851 Dr Isaac Wood's widow, Polly and children sold the property to her son, Ornaldo D Wood of Rodman and his sister, Elizabeth Wood Christie, wife of Dr William Christie, M D. The next day Ornaldo D Wood transferred to Dr Christie, who is said to have come as one of the early physicians of this county from the Gloversville region. Dr Christie practiced his profession in Rodman several years, maintaining his own apothecary shop and compounding his own medicines. From 1868 to 1872 he was supervisor of the township and March 29 1881 he died aged 66. His daughter, Leonora, married William J Wyman, grandson of Jonathan Wyman, and on April 8 1881 William S Christie and Julia H Christie of Wapello county, IA, sold the house and other holdings of Dr Christie in Rodman to Mrs Leonora Christie Wyman for $3,000.

William J Wyman was long a prominent merchant at Rodman and served as supervisor of the town from 1885 to 1890. On December 1 1917 Mrs Leonora Christie Wyman disposed of the fine old house to Merritt G Brown, cattle dealer and present owner and occupant. The site upon which the house stands consist of .95 of an acre. Today there are four children of William J Wyman living, Miss Lena Wyman and Ernest Wyman of this city, and William C Wyman and Harry C Wyman of California.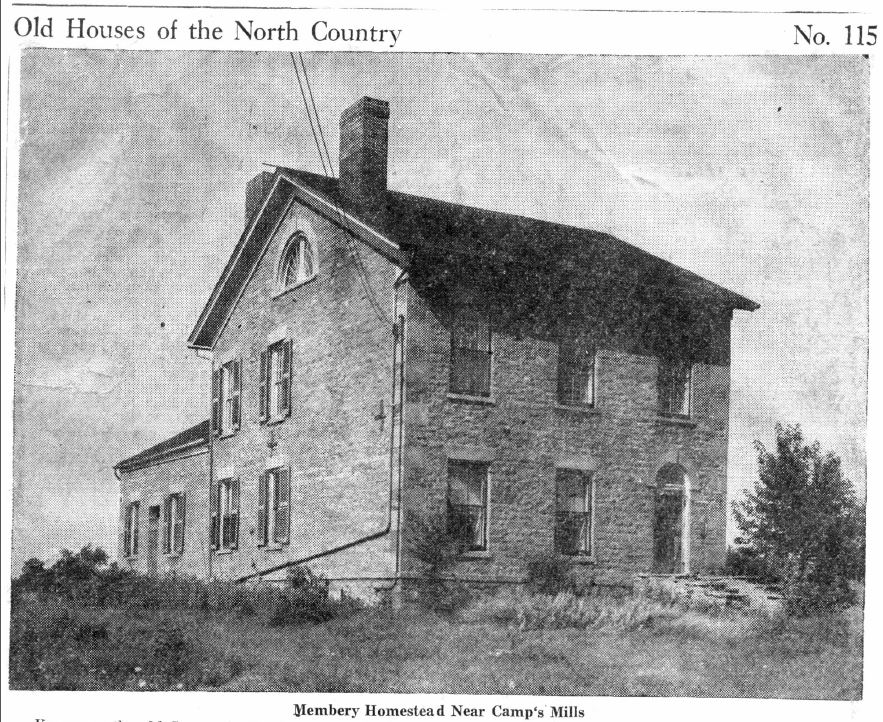 County Rte 62 Hounsfield - Salt Point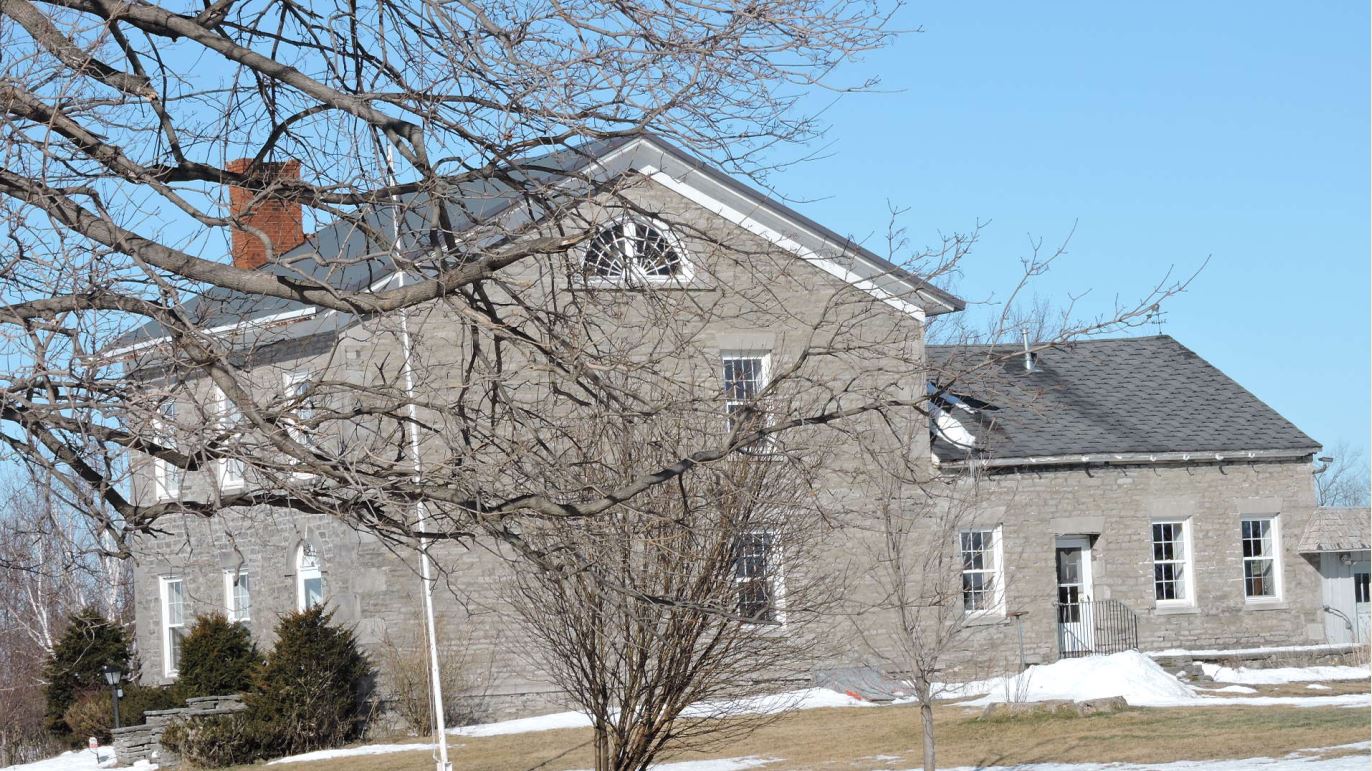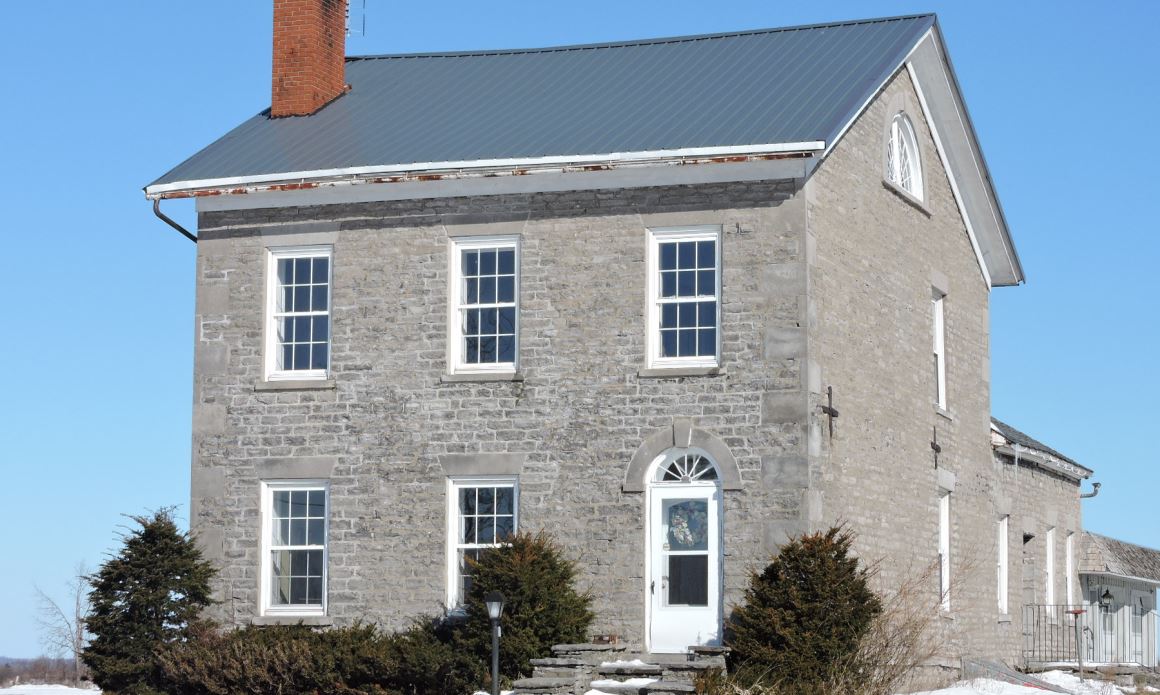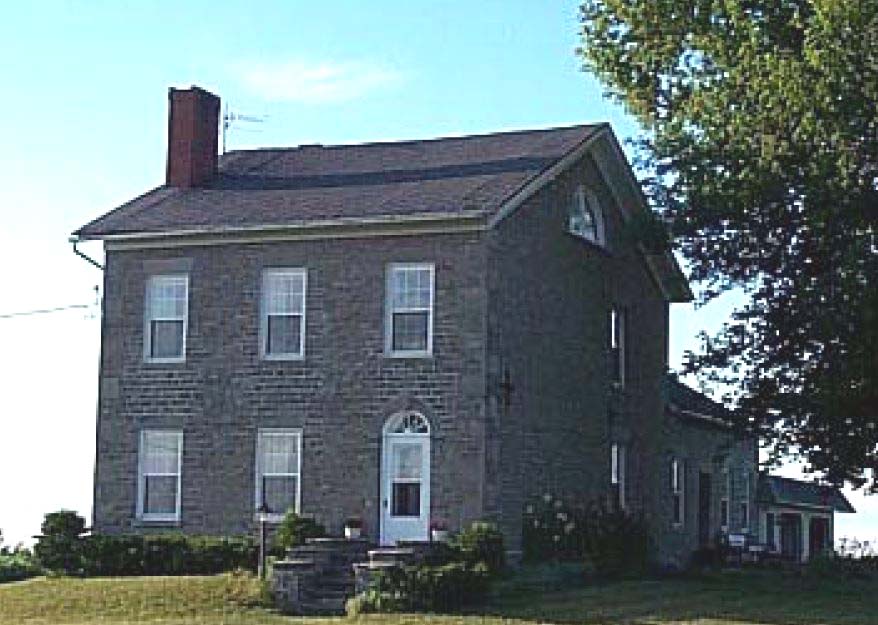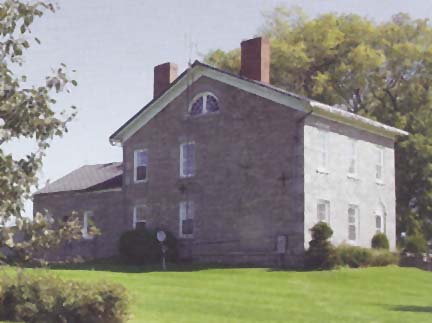 Known as the old George O Membery homestead this interesting old native limestone house near Camp's Mills on the Middle road to Sackets Harbor has been owned by Edward E and Maude H Cobb since July 5 1923. At that time he purchased the house with its 95.75 acres of land from Miss Carrie M Membery, daughter of George O and Melia I Babbit Membery. Prior to that the property had been owned by the Membery family for 80 years.

The Memberys were of an old English family of which there were several among the first settlers of Sackets Harbor and the town of Hounsfield. Amos Membery, from Devonshire, was the father of George Membery and grandfather of George O Membery. George Membery was married to Martha Orchard, daughter of Abram Orchard, another of the English settlers in the town of Hounsfield. A record in the county clerk's office shows that on September 2 1859 Colonel Elish and Sophia Camp of Sackets Harbor sold all of the real estate known as Camp's Mills consisting of a saw mill, grist mill, stone house and about ten acres of land east of the road to Benjamin Orchard for $1,000.

Camp's Mills was planned by Colonel Camp for a great industrial community when the power canal, "Camp's ditch," was completed from a point near Huntingtonville above this city, down through Beaver Meadows to Sackets Harbor, in 1832 but the project was abandoned after ten years. It was a daring enginering feat which cost several hundred thousand dollars and would have resulted in a large community near to Lake Ontario navigation had it conformed to the proper engineering requirements.

The Membery house may have been constructed better than 130 years ago, but for whom it was built seems not now to be known. It is located in a great limestone area of Hounsfield, an area where there were not onlv quarries but kilns as well. In spite of the fact that the Membery house follows extremely simple Georgian colonial architectural lines, it is most attractive. The Masonry is exceptionally well done and enduringly sturdy. The huge semicircle of a gable window is a feature, which seems to have not been duplicated in the other stone houses of this section. Its immense size not only provides a large amount of light for the attic, but affords plenty of ventilation.

Records in the county clerk's office state that the property of which this house and its 95.75 acres was a part that was sold to George Membery May 9 1843 by the heirs of Stephen Clark of Hounsfield for $3,800. Clark had purchased it April 11 1836 from Hiram and Caroline Merrill for $7,500 and the land consisted of 181 acres three roods and 16 poles. Merrill had acquired the property from Stephen and Elizabeth Seamans, prominent settlers of Hounsfield, for $3,000 and Seamans had bought the property from Ezra Hounsfield and Peter Kemble, owners of the township for $1,500 on September 9 1810. In fact the town was named for Ezra Hounsfield, one of the original owners of this farm.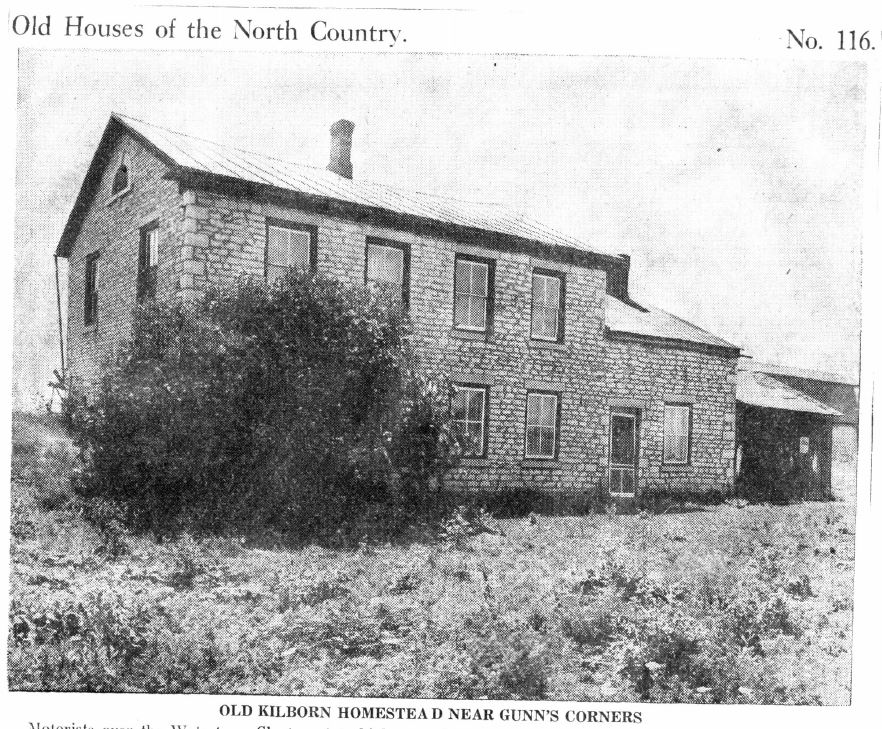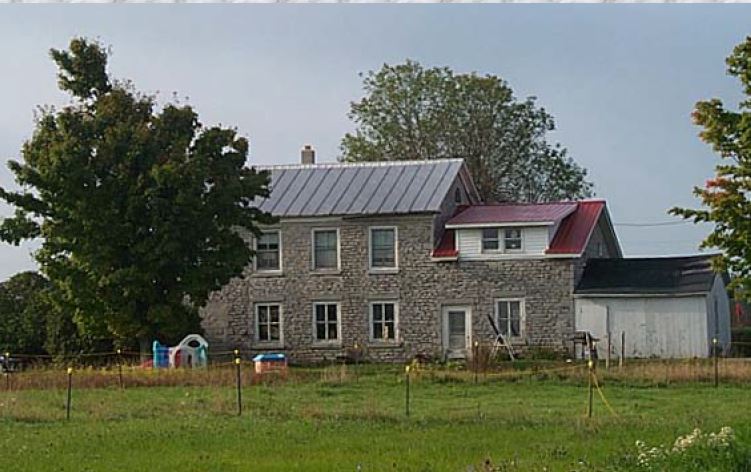 Motorists over the Watertown-Clayton state highway always notice the old stone house that stands well back from the west side of the road between Seven Bridges and Gunns Corners. It is the old Alfred Kilborn homestead and believed to be between 110 and 120 years old. Alfred Kilborn was a twin brother of Alpheus and they were sons of Jacob and Catharine Knapp Kilborn who came first to the town of Clayton from New England in 1805.

Jacob Kilborn was born in Litchfield, Connecticut, in 1770 and was the son of John Kilborn a Revolutionary soldier. Jacob was married to Catharine Knapp of Adams, Massachusettsin 1796 and Alfred and Alpheus were born in the latter place September 23 1798. In February 1838 Alfred Kilborn was married to Eliza C Cobb, daughter of Samuel and Esther Hildreth Cobb of the town of Orleans. To them was born one child, Frances E Kilborn, who was married to Charles C Steele of Brownville. Mr Steele was a son of Ehakim and grandson of Hiram Steele of Windsor Vermont. For a dozen years Charles C Steele was proprietor of a general store in Brownville, for ten years he operated a flour and grist mill, for ten years he was deputy postmaster and for one term justice of the peace.

Alfred Kilborn bought land in Jefferson County from Gouverneur and Ann Carey Morris of Morisania and also from John and Louisa LaFarge. In May 1828 Alfred and Alpheus jointly purchased 102.20 acres of land in the Brownville great lot 475 where the old stone house now stands. This was conveyed to them by Ann Carey Morris and June 29 1833 Alfred Kilborn bought 60 acres of land from Ann C Morris in the same lot.
June 9 1836 Alfred Kilborn acquired 76.4 acres from Philip and Almira Jones and part of this was in the same great lot as the house, which is of extremely plain and simple Georgian colonial arichitecture, native limestone being the material. May 11 1836 he bought more land on the same lot from Gouverneur Morris.

For upwards of 30 years Alfred Kilborn and his family resided in the stone house and after his death under the terms of his will, it went to his daughter, Frances E Kilborn January 3 1873. As Mrs Charles C Steele she died January 14 1888 and on November 29 1897 Chauncey W Kilborn of Rosenhayn, N J, disposed of the property to Asa Pickard of Orleans for $7,500. He and his family resided there until February 27 1911 when he and his wife, Elizabeth, sold the house and farm to Jennie E and Don A Schall of Orleans.
The farm then consisted of 264.96 acres the same as now and was sold by the Schalls to Norman H and Maude E Landon of the town of Clayton June 30 1941. They are the present owners but do not reside on the property.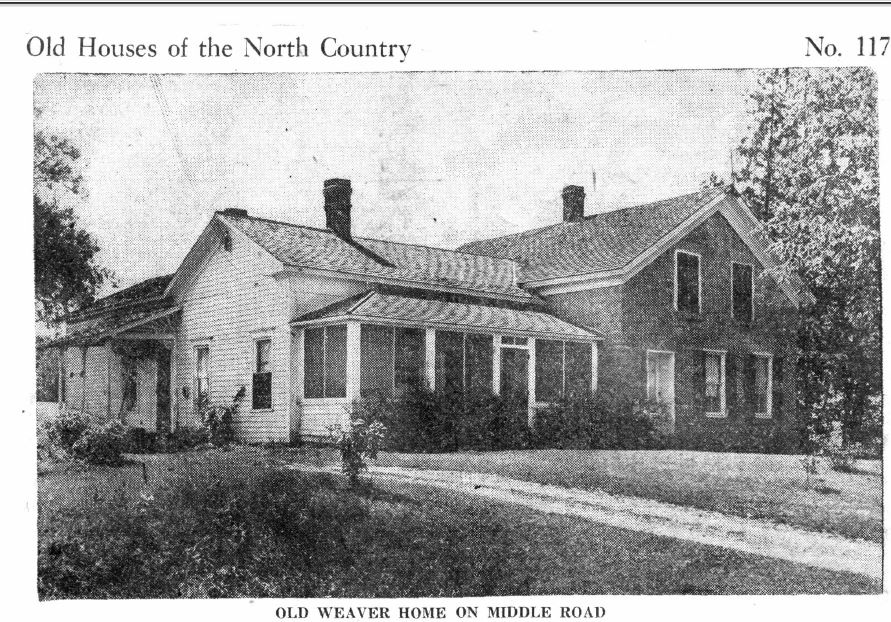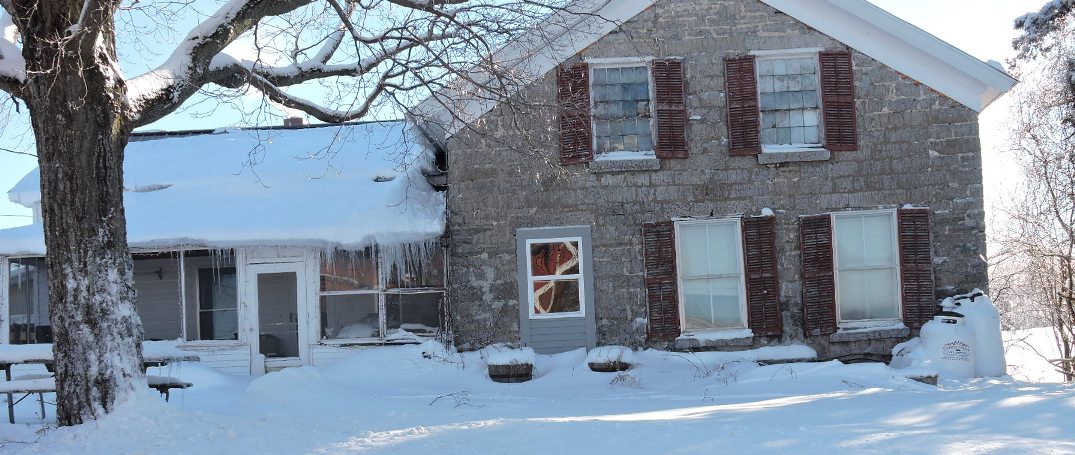 Few stone houses are to be found in the southern half of the town of Rutland, although there are plenty of them in the northern part following along the Black River valley. Even on the Middle Road, which runs east and west and divides the town into nearly equal parts, there is a scarcity of stone houses. But two are now called to mind upon that highway and one of those constitutes a wing to a frame upright. The other, subject of today's picture, consists of a stone upright and a frame wing, which was constructed several years after the main house was built.
Owned by Bert A Allen, prominent farmer who was for many years highway superintendent of the town, this property is now occupied and operated by his son, Glenn Allen. It is located in the eastern part of the town close to the line which divides the towns of Rutland and Watertown.
The stone portion of the house is of the plainest type of Georgian architecture, but excellently constructed and neat and homey in appearance. It was probably erected about 125 to 130 years ago and is referred to in old deeds as the Jacob G Weaver farm. Jacob G Weaver apparently came from Deerfield, Oneida county about 1811 but five years before that there was another Weaver also named Jacob who purchased 130 acres of land from Isaac and Anne Bronson of Fairfield, Connecticut, in the adjoining great lot where he first built for himself a log cabin, also mentioned in old deeds.
The Jacob G Weaver farm was built up of small parcels, one of the first of which was a plot of 20 acres purchased by Jacob G and George Weaver Jr, from Isaac and Anne Bronson April 18 1814 for $70. On March 11 1817 another 20 acres was bought by Jacob G Weaver from Jacob and Margaret Weaver for $200. After some years the property apparently passed to Jeremiah Weaver for on June 10 1853 the sheriff sold it, under a judgment against him obtained by Lyman and Martha B Wilcox, to Josiah Babbit and others and on September 5 1853 they disposed of it to Lyman H Nobles or Noble for $3,124.44.
Lyman H Nobles and wife, Anna, sold it March 2,1859 to William Hadcock for $5,431.40 and on February 10 1883 William and Lovilla A Hadcock disposed of it to Joseph H Jones, of Welsh descent, who came up from near Holland Patent.
Joseph H Jones was the father of Mrs Fred H Kimball of this city and Cape Vincent and the maternal grandfather of Supreme Court Justice Henry J Kimball of Sackets Harbor, Mrs David B Otis of this city and Cape Vincent and Frederick H Kimball of The Times editorial department. Mr Jones lived on the farm for some years, but ultimately retired and removed to Syracuse, where he resided February 26 1914 when a deed shows that he sold the property to Arthur W and Hattie Irving. As the result of a mortgage foreclosure judgment obtained by Mr Jones against the livings, the late Attorney Fred A Baldwin as referee disposed of the property to Bert A Allen, present owner, January 31 1924.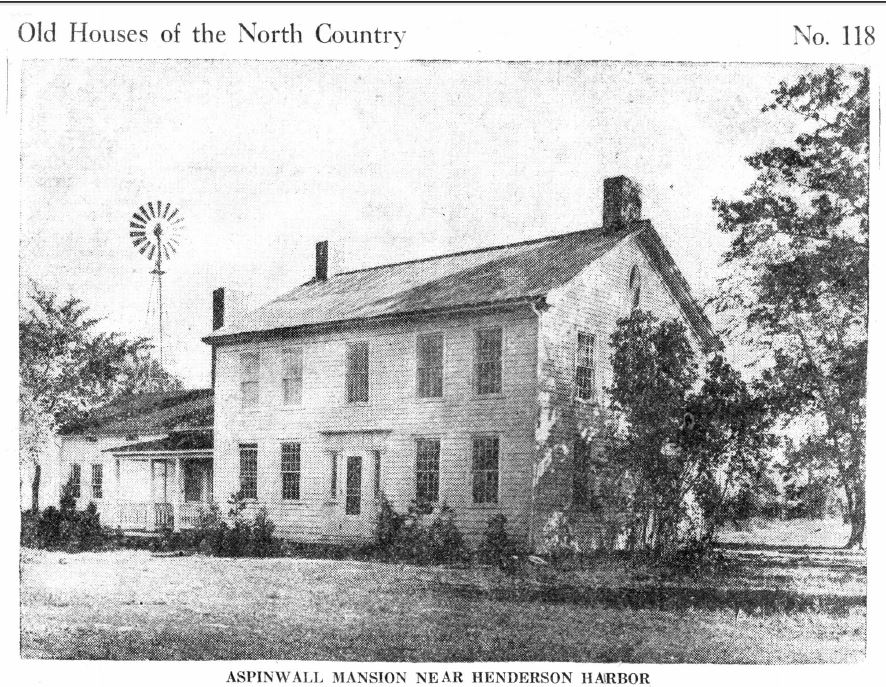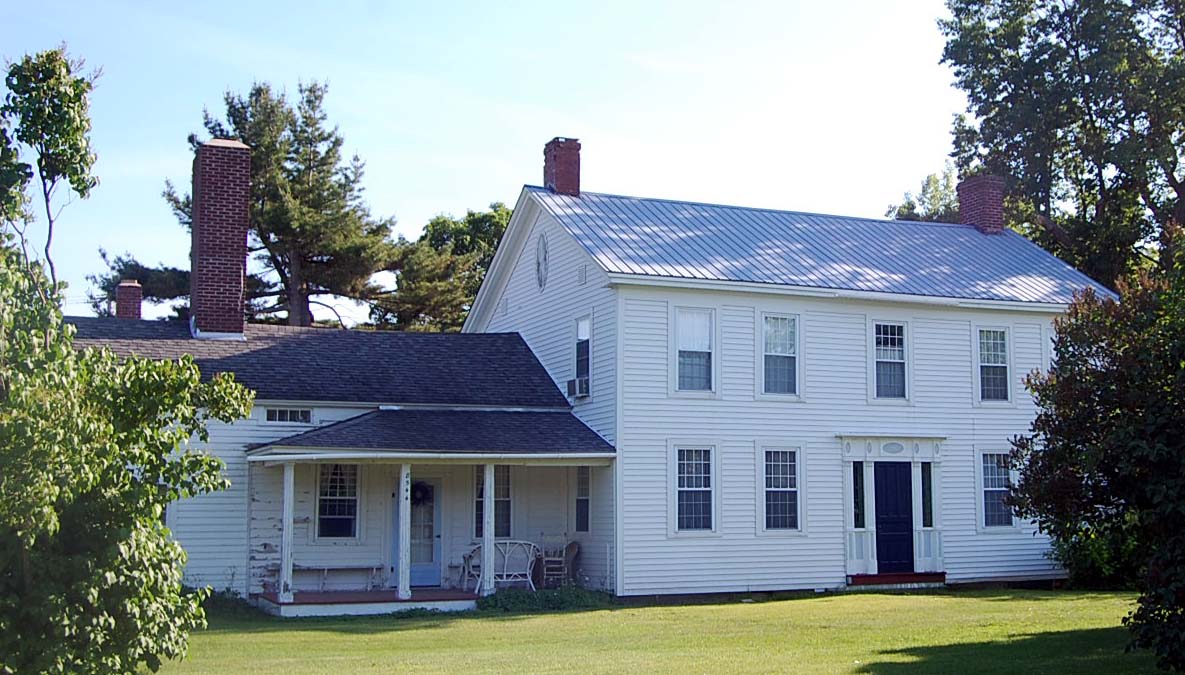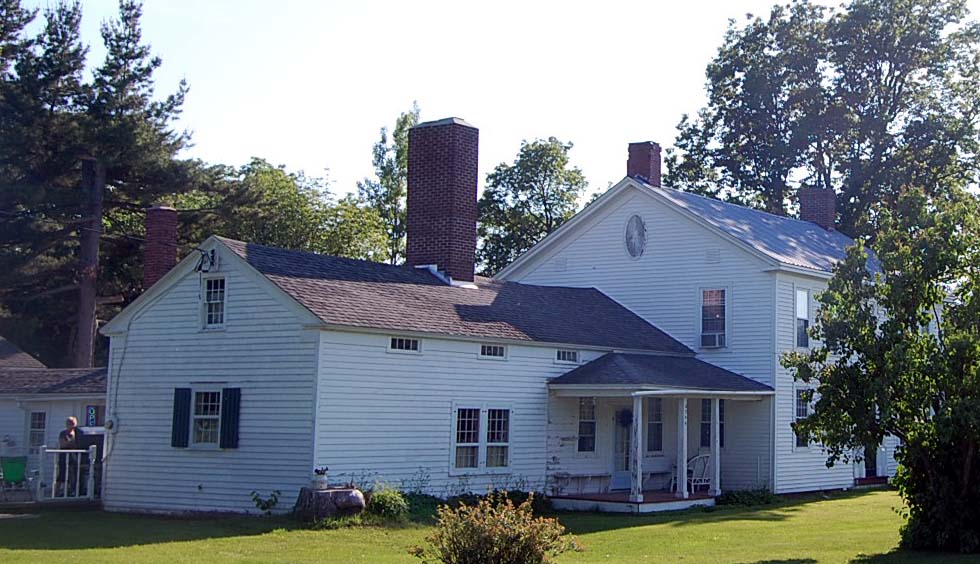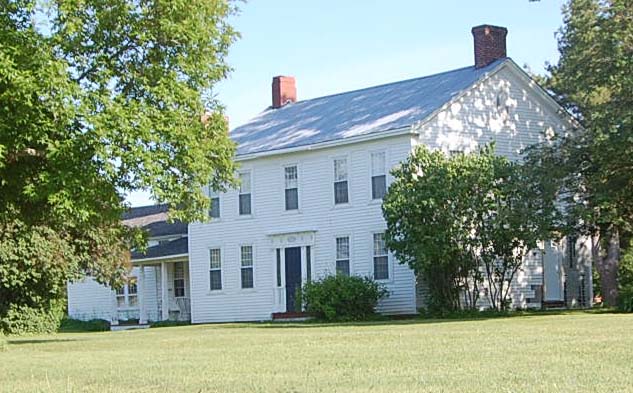 Majestic is the only word that fits the old Aspinwall mansion, located just outside Henderson Harbor in the angle which the lake shore road forms with the Henderson-Stony Point Rifle Range road. And steeped to its core it is with romantic color, for at this house Stonewall Jackson stopped daily to rest and admire the vista over Henderson Bay as he took the prescribed health-hikes between Henderson and Henderson Harbor during the six weeks he was being treated in the 1850's by Dr Lowery Barney for a stomach ailment.

In the north bedroom of the great house died Reverend Seth W Remington April 18 1881 at the age of 72 and several times during his last years there he was visited by his grandson, Frederic Remington, the lad who, as the painter of western life, was to become one of the greatest artists of all time. Then in the days of "the underground railroad," Harriet Aspinwall made it a station for the concealment of escaped southern negro slaves as Gerrit Smith sent them northward from New Hartford. Leaving Aspinwall's they went to Cape Vincent, where J W Little, grandfather of Harriet Montague, spirited them across the border into Canada.
Nor is that all. This beautiful old Georgian colonial house of frame construction with its white clapboarded sides, its original 24-paned windows, its beautiful front doorway and broad chimneys, has never been out of the Aspinwall family. By will it came to its present owner, Channing Barnes, formerly of Mundelein IL, in 1936 from his aunt, Mrs Harriet M Aspinwall Hilton of New Scotland, Albany county. Mr Barnes, grandson of David M and Harriet M Alden Aspinwall, is a direct descendant of John Alden and Priscilla Mullens
Mr Barnes recently caused the house to be redecorated inside and out and may make a tourist home of it. Filled with antiques it is most attractive and might well have served as an early tavern, although there is no such family tradition.
The family tradition is that Salmon Aspinwall, Vermonter from Pawlet who had married Mary Montague of Bennington in 1804 in 1806 at the age of 22 settled here and built the small or old part of the house, erecting the main part in 1820. He was a blacksmith and, it is said forged the door latches, window catches and handmade nails used in the house, while Briggs Alden, father-in-law of his son, David M Aspinwall, did the masonry, the chimney bricks having been baked on the shores of Henderson Bay. The interior woodwork is beautifully handwrought as is the front doorway, which has a carved mantle cap instead of a fanlight and is most artistically done. The graceful oval gable window is like so many found in old Henderson houses.
County records, however, do not jive with family tradition in regard to this property. Apparently Salmon Aspinwall bought no property in the county until November 10 1830 and it was not in the location of this house. There is in the deed, reference to labor by Jeremiah Sias, a carpenter, who at 18 came from Vermont in 1814 and built many houses. It may have been he did the fine woodwork on this house a century or more ago in the house David M Aspinwall and his family lived. There October 3 1933 a daughter, Mrs Mary Elizabeth Taggart, died at 89 and eight days later died her brother, Truman M Aspinwall, 80 who had resided with her.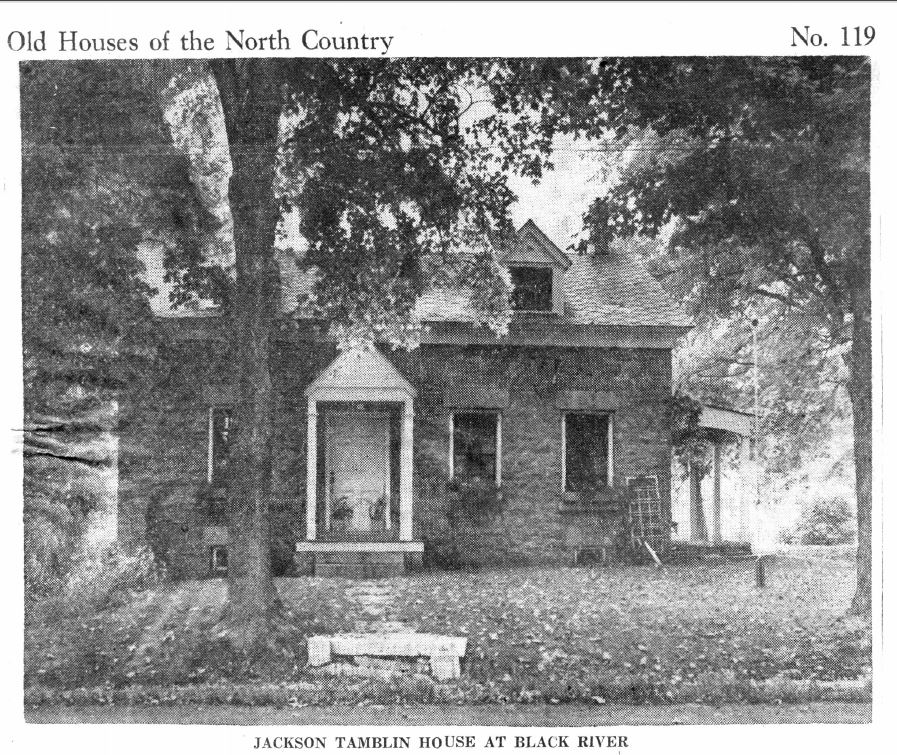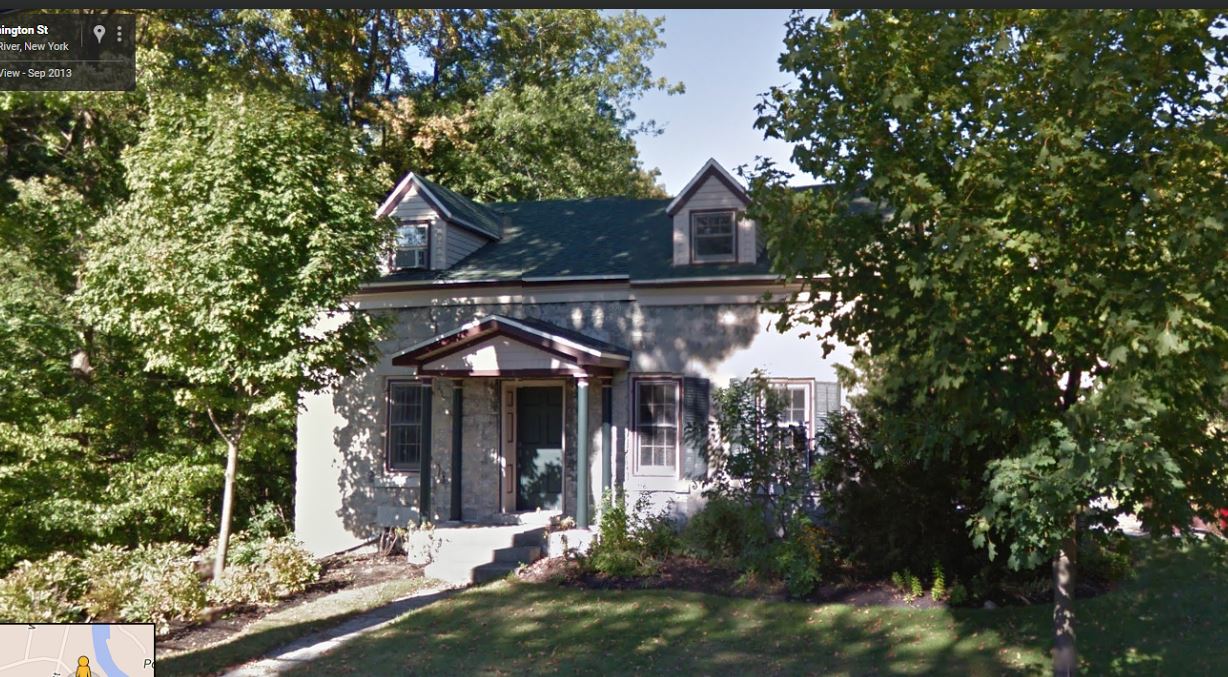 On Remington Street
Jackson Tamblin Find-A-Grave Link
Everything about the workmanship of this little native limestone house at Black River indicates construction of 100 to 125 years ago and old residents of the village also express the belief that it was built over a century ago. Its builder was Josiah Johnson, a stone mason, who erected some of the other stone houses in Black River, of limestone quarried close at hand. Johnson himself lived in the town of Pamelia and for whom this attractive little house was built there seems to be no record.
Its location is on the Watertown-Carthage state highway,standing on the northerly side and slightly towards Felts Mills from the intersection of the street that runs across the river to the main part of Black River. It is known as the Jackson Tamblin house, but it had undoubtedly been in existence for some time before Jackson Tamblin acquired it, for Jackson Tamtilin was not born until December 28 1829 and was only a little over 55 when he dropped dead March 14 1885 while on the way to take a train from Black River to Felts Mills. For 22 years he had been a justice of the peace, and for a number of years had been engaged in the insurance business. Also he was active in the Methodist church.

Born in this county, Jackson Tamblin was the son of Abner and Jane Simpson Tamblin, natives of Vermont. The paternal grandfather of Jackson Tamblin was Timothy Tamblin, born at Holliston, Massachusetts, November 11 1756 who married Susannah Webster at Killingly, Connecticut, April 12 1781. He saw much service in the War for Independence and came to this county from Vermont in 1803 to settle in the town of Rutland. In the War of 1812 he captained the Rutland Silver Grays, which trained at Sackets Harbor and built Fort Tompkins.
He died August 31 1845 and his widow was awarded a pension for his war service. In 1808 he was a trustee of Rutland's first religious society.

Jackson Tamblin, grandson of this patriot-Revolutionary veteran, was twice married, his first wife having been Mary Mallory and his second Lucina O Clark, daughter of Noble Clark. His children were Dr James H Tamblin, long a physician at Tylerville and later of Copenhagen who died November 5 1928 and Mary F Tamblin Wood, who married the late Dr Gary H Wood of Antwerp, who served many years as a physician in that village and who for a time was one of Jefferson County's assemblymen.
Dr Tamblin and Mrs Wood were born in the little stone house at Black River and also in that house the latter became the bride of Dr Wood, who was a brother of Mrs Charles E Palmiter of this city and son of the late Reverend B F Wood of this city.
On December 2 1889 Mrs Lucina O Tamblin, widow of Jackson Tamblin, sold the stone house and its 2.25 acres of land to Alexander St. John of Burrville, as executor of the estate of Mrs Charlotte St. John, for $1,650 and for some years the St. John family resided there. In 1914 they disposed of it to Mr and Mrs Myron J De Pew, who occupied it until April 16 1935 when they sold it to Harold R and Panzie E Brenon, the present owners. Mr Brenon is connected with the Empsall Drug company in this city and Mr De Pew has for some time been associated with the Endicott-Johnson shoe store here.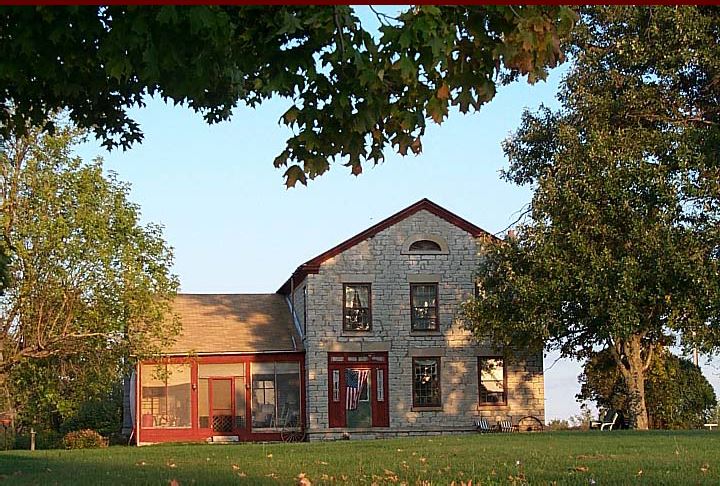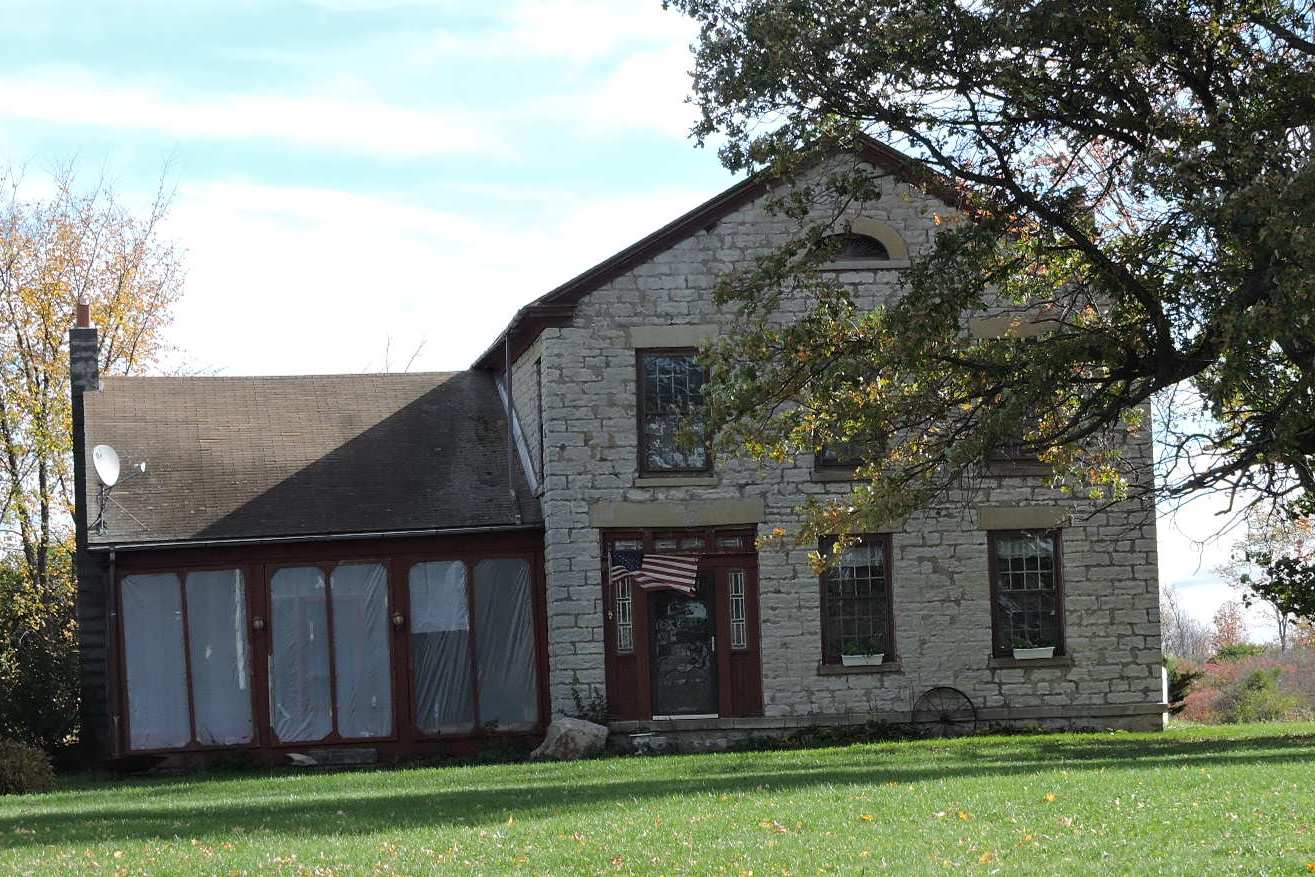 John LaFarge, wealthy French merchant from Havre, who bought thousands of acres of Penet Square lands in this county during the year 1817 to 1823 founder of one of America's most talented families, built numerous stone houses in the North Country. Besides his own residences in Theresa, at Perch Lake and the magnificent one erected in 1832-3 at LaFargeville, legend has it that he built three others. One of those, constructed in 1836 and now owned by Stewart Van Alstyne, was for the overseer of his farm and across the road from the great LaFargeville mansion. Another, said to have been built for Miss Betsey Cotter, well towards Stone Mills from LaFargeville, later the residence of John N Rottiers, Antwerp Company agent for many years, is now owned by Dr Paul Harman of Brooklyn. Then there was constructed about 1821 the stone land office, now the Orleans hotel, in LaFargeville.
On the same side of the Watertown-LaFargeville highway as his own great mansion, of which stands today only the north wing owned and occupied by Charles Berkman is the William Martin house, shown above, located about midway between the Berkman property and LaFargeville. With its eleven rooms, two halls and fireplaces, it was created of native limestone quarried nearby and is said to have been built for La Farge's secretary.
That secretary may have been William Martin, reputed by his great-granddaughter, Mrs H E Lewis, Pittsburgh, Pennsylvania, of having been a grandson of Sir John Martin of the Cherry Valley, for Martin had many real estate transactions with LaFarge, some of them of a partnership nature, according to county records. Then, about 1856 Martin, who is said to have lived in splendor in the stone house, with peacocks strutting about the grounds, moved to St. Paul, Minn., taking wagonloads of fine antiques.
William Martin and his wife, Sophronia, are both said to have been born in 1794. On April 7 1827 William Martin contracted to pay John LaFarge $1,200 for the property where the stone house is. There were 217.53 acres of land and the transfer from LaFarge to Martin was made June 7 1830. Whether the stone house was in existence then the deed does not show. Some years later the property was owned and occupied by Delano D Calvin.

Both Martin and Calvin were men of prominence in the county. Martin was supervisor of the town of Orleans in 1834. Calvin, grandson of Levi Calvin, who had been a first lieutenant in the Revolutionary war, was of colonial New England descent. His brother, Alpheus R Calvin, was master of a sloop that transported wounded men from the battle of Lake Champlain to Vergennes, Vermont, in the War of 1812. Like William Martin, Delano Calvin had many real estate transactions with John LaFarge and was a partner in some of them. With his brother Alpheus, Delano Calvin was engaged extensively in the lumber business in northern New York and Canada, rafting much timber to Montreal and Quebec. Eventually he moved to Kingston, Ontario, was a member of the Dominion parliament as was his son, and died in 1890. At one time he resided on Garden Island, Ontario, according to the deed of March 18 1882 conveving the stone house and farm near LaFargeville to Wendell Hyel for $7,000. On November 20 1922 Mr Hyel transferred it to Mrs Georgiana Jerome, LaFargeville, the present owner. Mrs Jerome is mother of Manford H Jerome, city, deputy county probation officer. During all the time Mrs Jerome has owned this property, Mr and Mrs Wallace C Decker have been the tenants.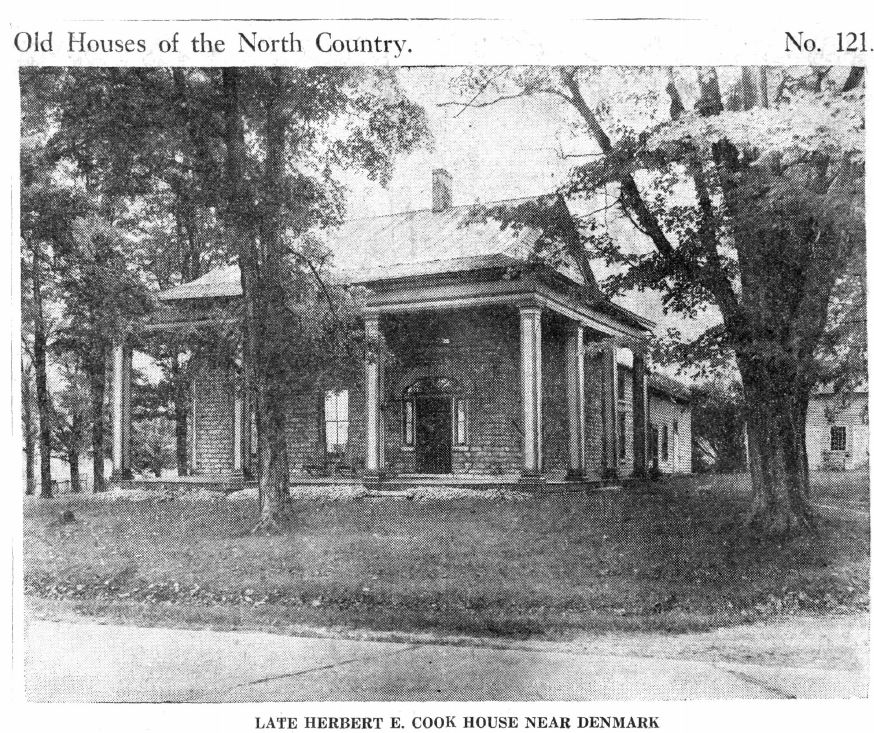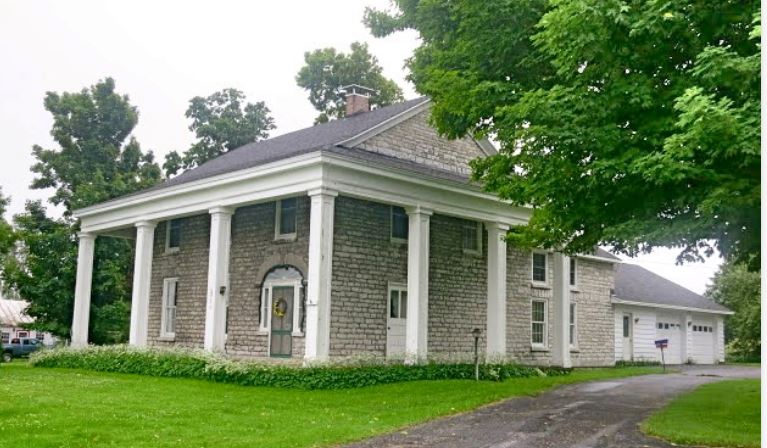 Upun the southern outskirts of the hamlet of Denmark, Lewis county is the attractive limestone house that was long the home of the late Dean Herbert E Cook of thestate agricultural school at St. Lawrence university. Under a life-use the property is occupied by Mrs Minnie S Cook, but is owned by Sheldon Merriam of Denmark. Mrs Minnie S Cook is the widow of Alson L Cook, brother of Herbert E Cook and son of the late Ellis and Anna Cook.
Built of the limestone native to the locality the house is believed to have been erected about 1832 for James Decker, who was born in 1808 and for a time operated a wholesale and retail jewelry store in Troy before moving to Denmark, where he became an extensive land-owner.
While still of Denmark he purchased a place in Champion January 29 1856 and on May 14 1857 bought of Walter N and Emily R Woodruff for $3,500 the big residence that stood on the north side of Arsenal Street, Watertown, where the Northrop garage now is. That house is believed to have been built about 1840 by Hiram Merrill, who acquired the site June 24,1840 from Egbert and Rebecca TenEyck and sold it to Emily R Woodruff March 16 1854.
James Decker, who died here July 1 1881 was a prominent North Country resident. One of his four children was Emily Antoinette Decker, who married Dr H G P Spencer, a leading early surgeon of Watertown. Another daughter, Victoria, Eugenia married Edwin R Wooley.
His sons were James H and Leonard Wesley Decker, the latter of whom inherited the Arsenal Street home. The Denmark property is said to have been bought by Ellis A Cook from Mr Decker in 1870 and there in later years it was the manor house of Herbert E Cook's model Clover Farms.

Born in Denmark December 12,1858 H E Cook became one of the most progressive and outstanding farmers in New York state as was also his brother Alson. Beginning as a buttermaker Herbert E Cook later was a farmers' institute conductor and lecturer for 15 years. He and his brother Alson became extensive manufacturers of cream cheese, operating 625 acres of their own and using the milk from 450 to 500 cows. Every modern convenience was installed and the cows on Clover Farms were scrupulously washed before each milking. The latest scientific methods were applied to the farm operation.
From 1908 to 1917 Herbert E Cook, one of the earliest and most consistent advocates of certified milk, served as dean of the state agricultural school at St. Lawrence university. In 1915 he was made director of the New York State Horsemen's association. For some time until 1921 he was president of the New York State Dairymen's association. As editor of Plow-Handle Talks in The American Agriculturist for some years he became nationally known. He practiced and preached progress in agriculture and although politically a Democrat he favored a strong protective tariff on agricultural products. He died February 21 1931.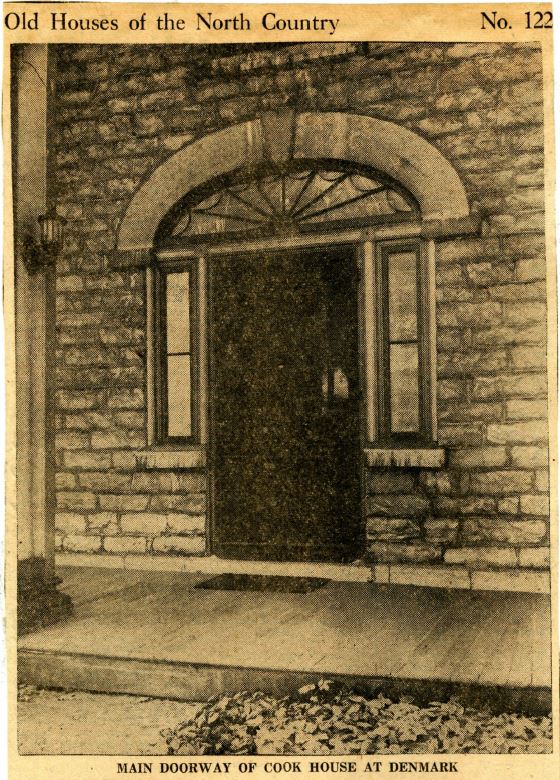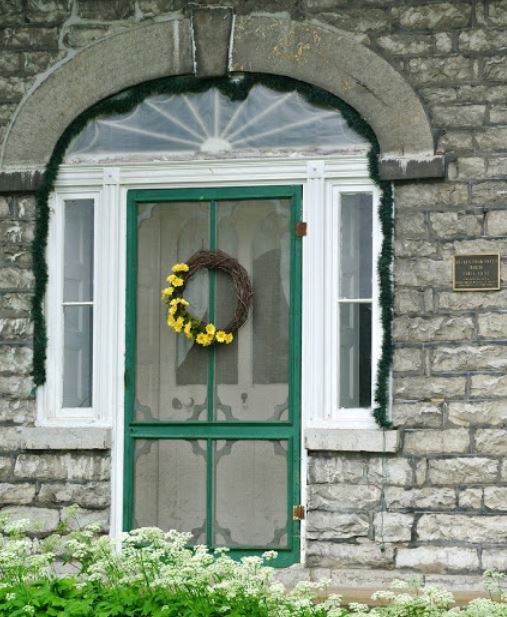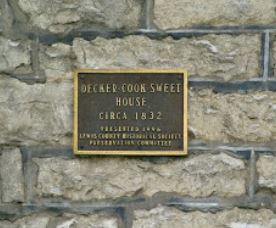 The main-entrance doorway in the Georgian-colonial limestone house of the late Dean Herbert E Cook at Denmark, Lewis county, is a feature of much pride to Mrs Minnie S Cook, the present occupant of the property. Capping the doorway is a thick and graceful elliptic with keystone in the center of the arch and beneath is a most attractive fanlight. The sidelights now are plain, but undoubtedly when the house was first constructed about 1832 they were leaded in an ornamental pattern to correspond with the fanlight above. It is also probable that the door itself was without glass and perhaps it was painted white or possibly grained instead of dark brown, as today.
Mrs Cook is authority for the statement that the glass panes have been in the door as long as she can recall. They were unquestionably installed to increase the illumination of the broad and beautiful hallway that leads back into the house. The plain glass sidelights were to facilitate the task of keeping them clean. Beneath them are no panels running to the threshhold as in the case of most doorways with sidelights, and this construction was also likely chosen as a bar against cold in the wintertime.
Upon both the front door and the side door entering the hall are the original mammoth iron locks with their huge keys, the various owners of the house having chosen to retain as many of the original features as possible consistent with their comfort.

Built of native limestone, quarried near the site, this house is said to have been constructed about 112 years ago for the late James Decker, who removed to Watertown in the late 1850's and purchased a fine residence on the north side of Arsenal Street opposite Sherman Street. The Denmark house with its large farm was purchased about 1870 by Ellis A Cook, father of Dean Herbert E Cook and Alson Cook. Supported by square pillars, which run up two stories in height the place is unusually attractive.
It is one of several fine old stone houses to be found in that locality and the vsita from the veranda off across the valley to the hills beyond adds greatly to the charm of it all.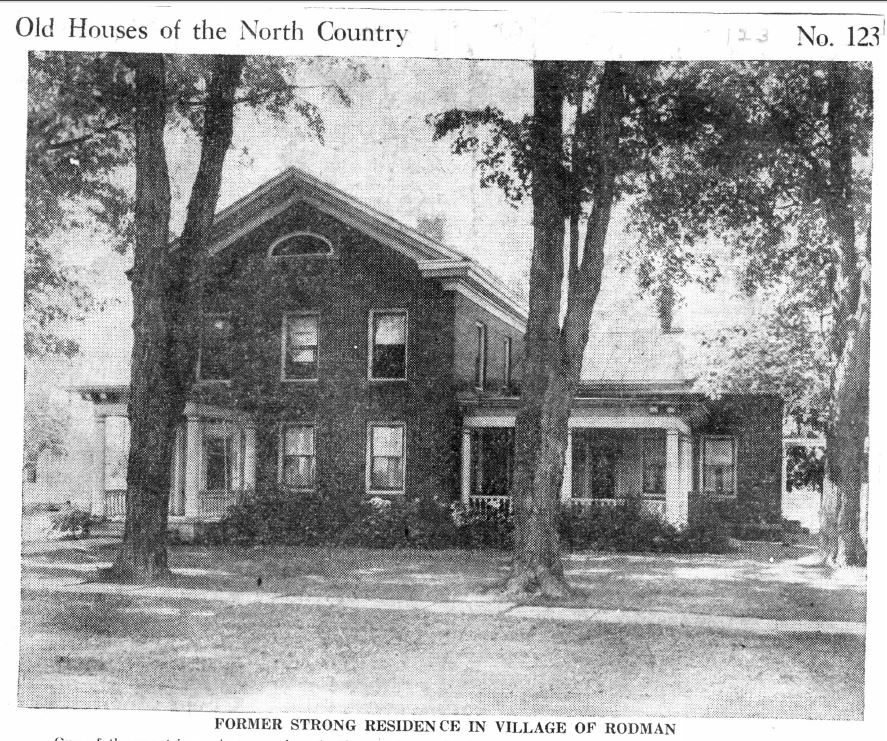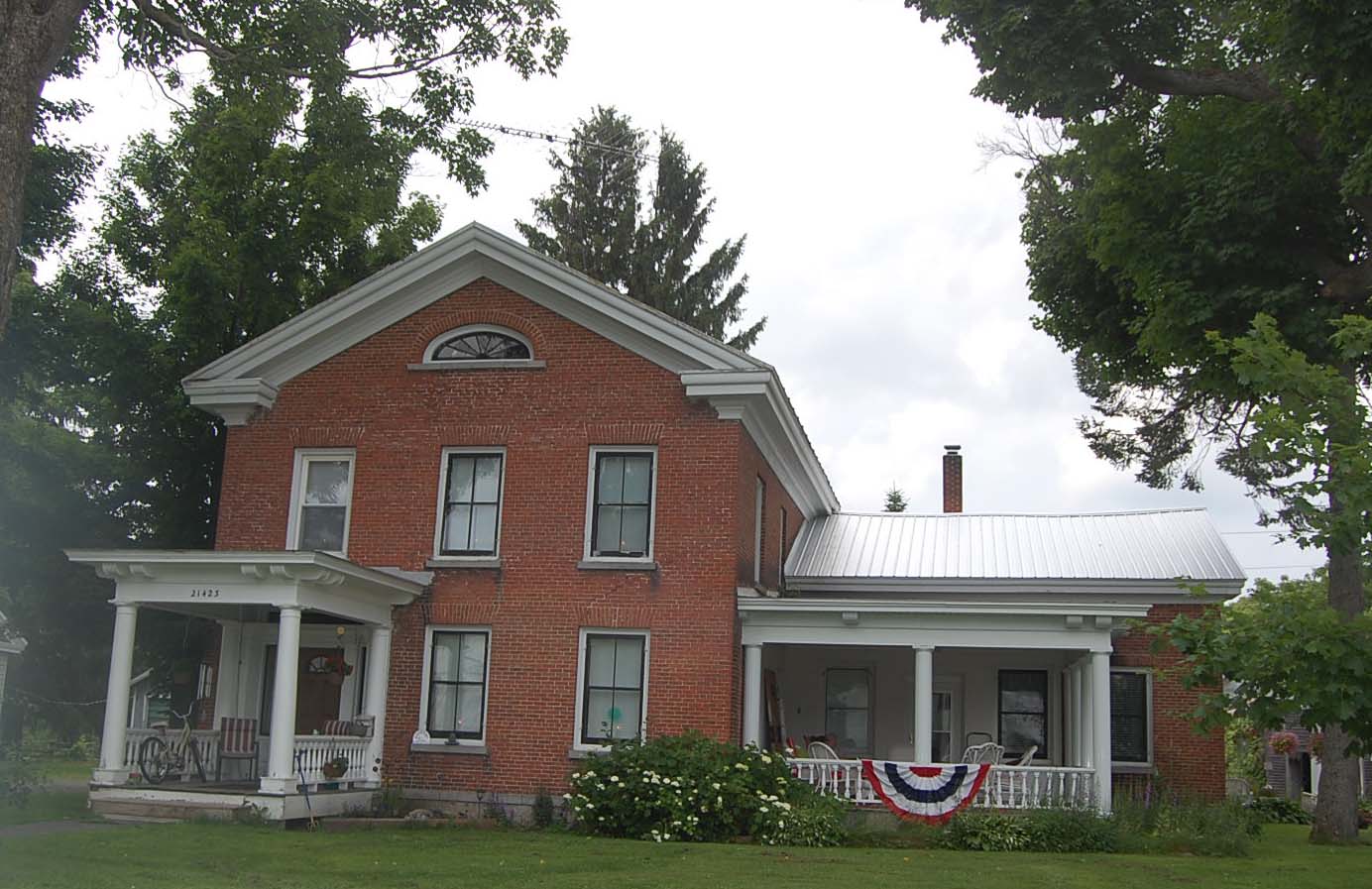 One of the most imposing mansions in the southern part of the county is the old Strong residence now owned by C Gordon Gates and upwards of a century old. It is of brick construction of Georgian type with an attractive fan-window in the gable, while the porches and windows are modem additions. This house is commodious in size, is located on the north side of the main street in the village of Rodman, and is believed to have been built for Nathan Strong, leading figure in the village during the forepart of the 19th century.
Rodman, one of the oldest towns in the county, variously known as No. 8, Orpheus and Harrison, was formed from Adams March 24 1804 under the name of Harrison, which was changed to Rodman, April 6 1808. Nathan Strong, son of Thomas and Phoebe Strong and descendant of Elder John Strong of Northampton, Mass settled in Rodman in 1810 purchased a large farm and grist mill which he operated until his death in 1841. He was justice of the peace from 1811 to 1824, postmaster from 1816 to 1841, supervisor from 1815 to 1830 and again in 1838 and assemblyman in 1832. One of his children was Herman Strong, supervisor in 1843. sheriff from 1814 to 1847 and poor superintendent from 1861 to 1876.
Herman Strong and his wife, Mary, sold the house February 21 1851 to Hiram Herring, tannery operator and grandfather of Mrs John W (Pauline H) Dillenback, city, and of Miss Helen Douglas, Black River. Hiram Herring was born at Denmark, NY, January 18 1817 son of William who was a native of Wiltshire, England. Hiram learned the leather and tanning business and settled at Rodman in 1841 buying the tannery, which Joseph Brown had constructed in 1840.
Hiram Herring was a Jefferson Democrat, a great reader and brilliant conversationalist. He married Paulina Prosser of Clarkson, Monroe county, October 22 1843. Their son was William P Herring, who was born in that house, eventually removed to this city, owned and lived in the stone mansion of the present USO on Washington Street, became a wealthy paper manufacturer and water power magnate and founded the village of Herrings. Colonel William P Herring's sisters were Jennie P, wife of Dr Charles E Douglas of Black River; Mary E, wife of R L Barney of Hartford, CA, and Ella, who married Levi Washburn and resided in the Rodman house, Mr Washburn succeeding to the Hiram Herring tannery and business.
Mr Washburn was the son of Roger Washburn, who came to Rodman from Connecticut in 1820. Levi Washburn was for some years postmaster of Rodman and died about 28 years ago. His wife died July 24 1915.
Later the property was sold to Charles W Gates, wealthy Rodman farmer and land-owner who died in 1936 leaving his residence and Washburn farm to his son. C Gordon Gates, present owner, who occupies the wing, while his son-in-law and daughter, Mr and Mrs Melville K Curtis, occupy the upright. Like the Strongs and the Herrings the Gates family is one of the oldest and most outstanding in Rodman. George Gates, born at Petersham, Massachusettsin 1787 son of Silas, came to Rodman in 1810. George Gates was father of George A Gates and grandfather of the late Charles W Gates.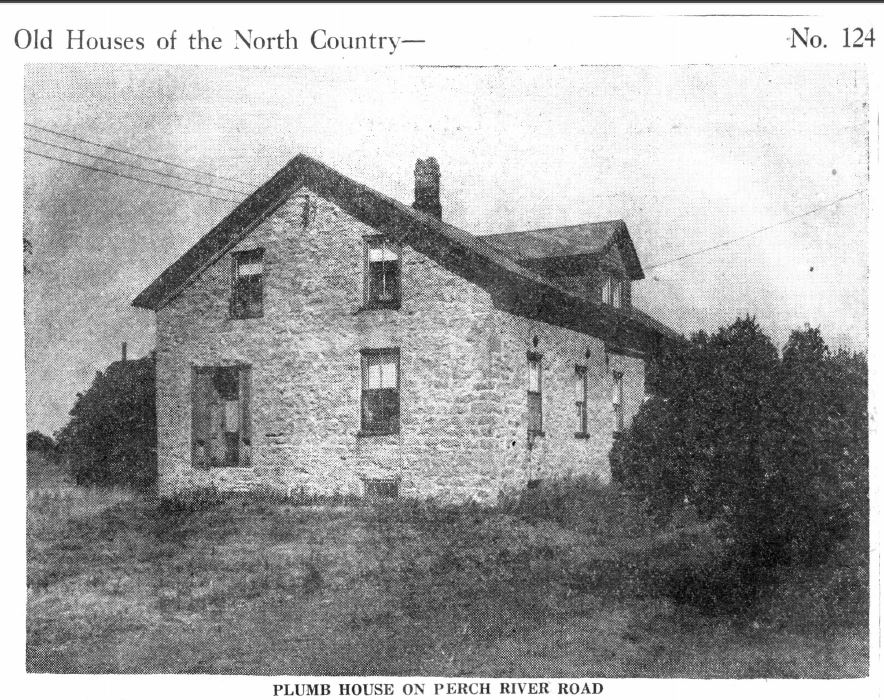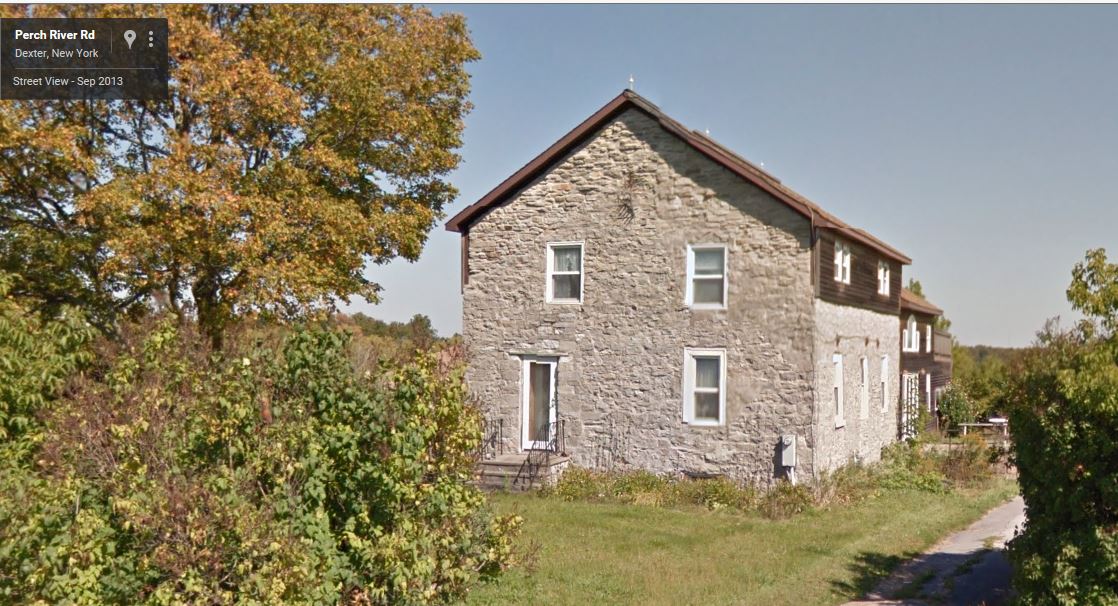 On the Perch River road, a short distance from Brownville village and beyond where that road intersects the old Military road, is an ancient but small limestone house at the top of a hill which looks across the Black River valley to this city. This is known as the Plumb house and may have been built about 1812 as a part of the present 187-acre farm, to which it belongs, was surveyed that year by J Shields and was conveyed by Jacob Brown, founder of Brownville to Shields September 1 1812. Whether Shields built the house at that time or whether it was constructed by some member of the Plumb family at a later date there appears to be no record.
One of the earliest settlers in the town of Brownville was Nathaniel Plumb, who came there in 1802 remaining until he died in 1841. He was born at Stonington, Connecticut, April 4 1760 son of Samuel and Grace Babcock Plumb. Before leaving Connecticut Nathaniel Plumb was married to Annie Langworth and they had twelve children, of whom George C, born in Oneida county, was one and Charles P, born in Brownville in 1811 was another.
George C became president or mayor of the village of Brownville 1864-6. Nathaniel Plumb served in the American Revolution in 1775 and in April 1777 enlisted for a year. His immigrant ancestor was a native of England and one of the earliest settlers of New England. Like many another colonist from England this Plumb family had a coat of arms.
County records show that Charles Plumb purchased one plot of about 90 acres of the farm October 22 1850 and another portion of it January 31 1857. A third part was bought by him at a later date and for many years he and has family resided in the old stone house. He married three times, his first wife haying been Levina S Keith, has second Elmira Stacey and his third, Sarah Allen, daughter of Waters Allen of Martinsburg. A sister of Charles P Plumb was Lucinda who married Abner Wilson, great-grandfather of Mrs J S McKenzie of Cortland and great-great grandfather of Mrs John B Smith, Field Settlement, and Mrs Marion Collins, Cortland.
The old stone house with its now warped and weatherbeaten front doorway eventually fell into the possession of Levi Rockwood and on January 17 1920 was sold by William Giles as sole surviving administrator of Rockwood to Mrs Nellie M Farr of Glen Park. Rockwood had bought it June 11 1902 from Attorney Fred A Baldwin as executor of Sarah A Plumb, widow of Charles P Plumb. Mrs Farr held the property only a short time and sold it to Robert H and Dora G Bellinger, present owners and occupants, on September 3 1931.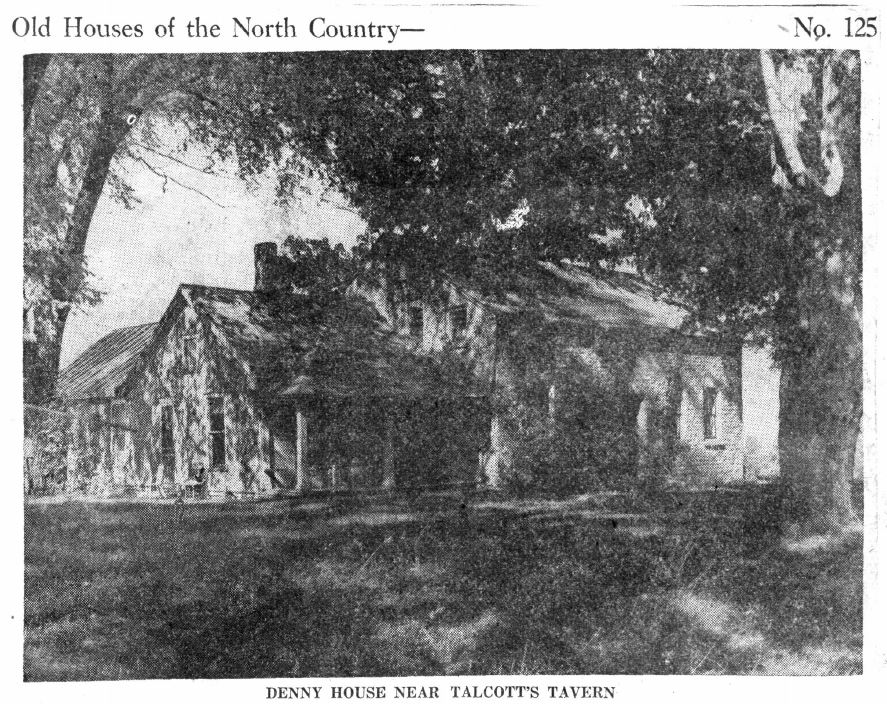 On Falls Road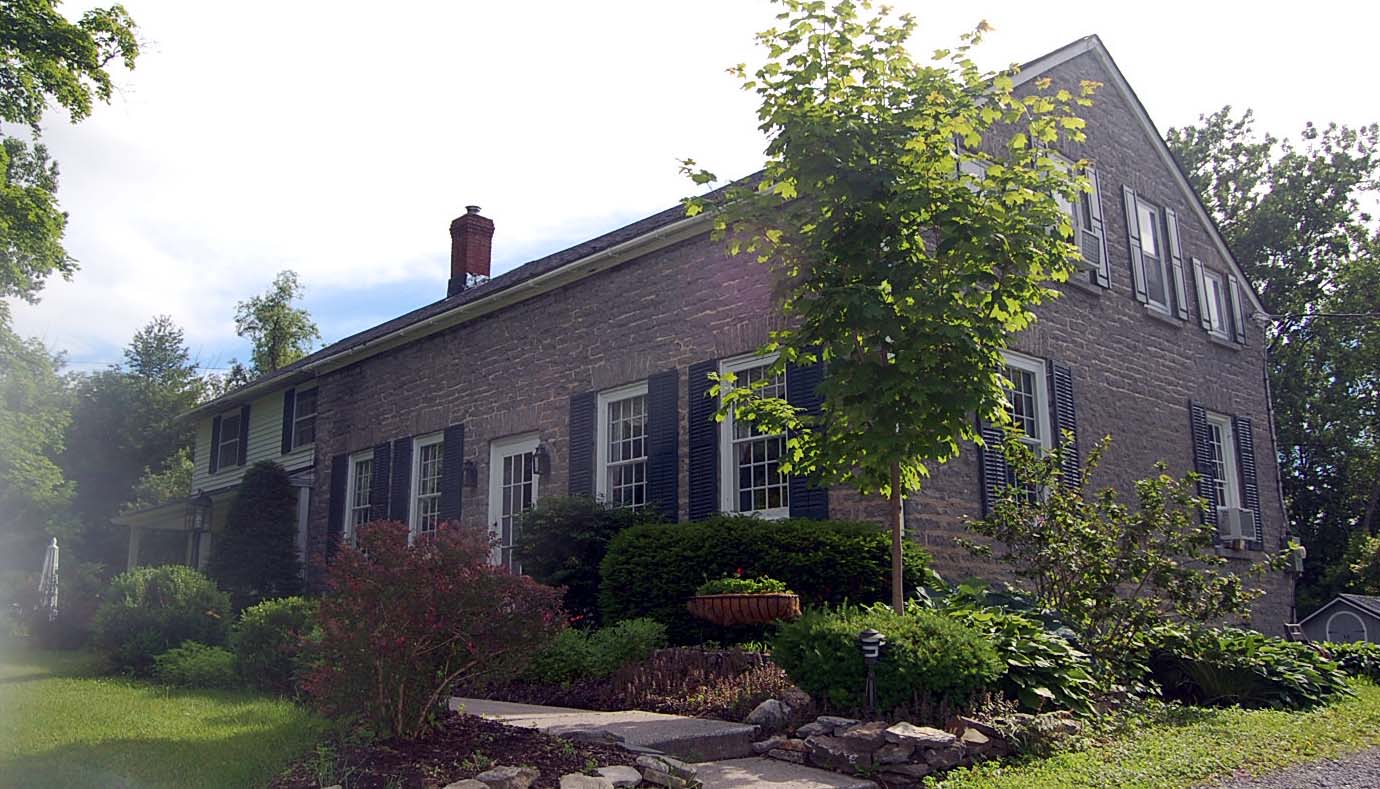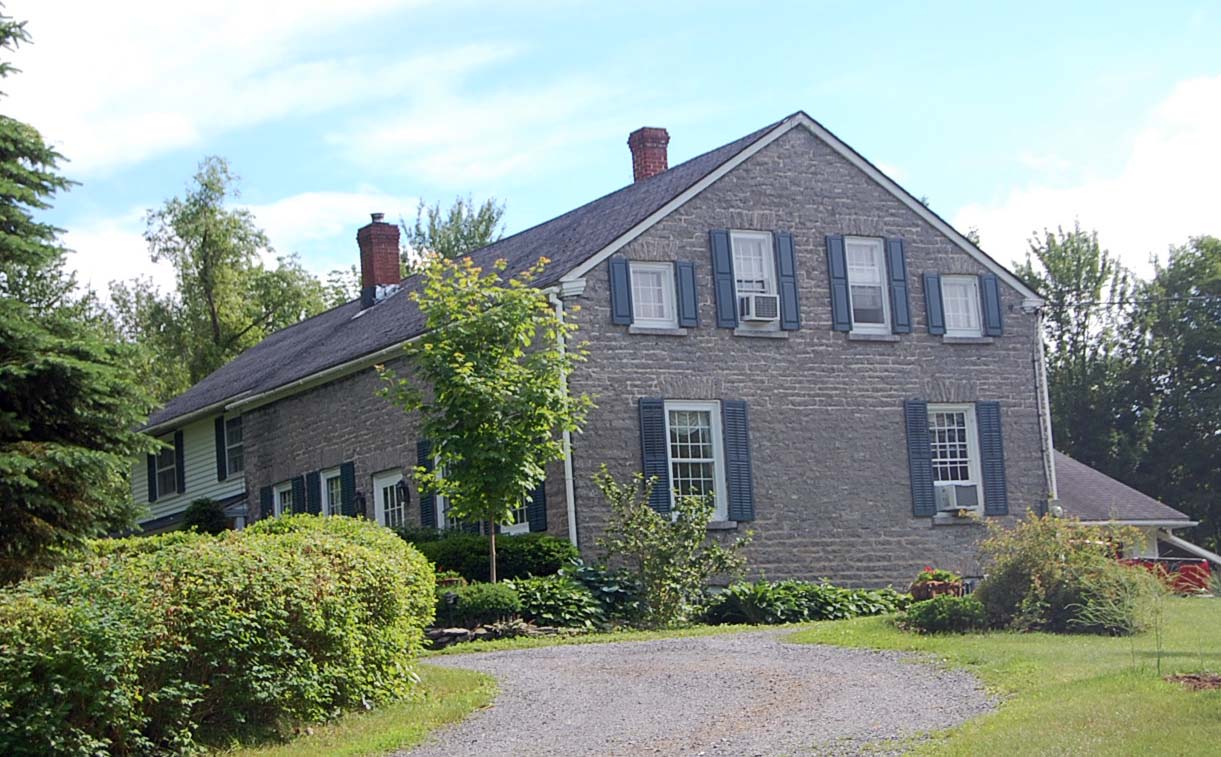 Weekly thousands of people traveling over the Watertown-Syracuse three-lane state highway pass the picturesque old limestone tavern, erected about 1827 for Nathaniel Talcott just east of Talcott's falls. Comparatively few, however, see the native limestone house of John W Denny, which is perhaps more picturesque and homey when the morning sun shines through the foliage of the beautiful old trees to splash the roof and walls of the attractively located homestead.
The Denny house is probably little more than 300 yards from the Talcott tavern, but is to the northward on the road running from Talcott's Corners to Field Settlement. Unquestionably the stone for its outer walls came from the same nearby quarry as that for the Talcott tavern and probably it was erected about the same time.
John W Denny, well known farmer, present owner and occupant of the property purchased it April 12 1909 from S Freeman Graves and wife, Ada, of the town of Adams and S Monroe Graves of Bacolod Philippine Islands. These two Graves brothers had acquired it March 1 1897 from Reverend William Graves.
The lands of this property adjoin the lands of the old Talcolt farm and one of the early owners was Samuel F Ballard, who, with his wife, Diana, transferred it April 2 1857 to Jesse Ballard for $4,000. February 26 1859 Jesse Ballard and wife, Martha J, sold it to Hiram Morey of the town of Watertown for the same price. Morey kept it for some years, but on March 15 1871 a successor to him disposed of it to Henry A Sayers and the next year, Sayers sold it to James Snell for $5,000.
Doubtless there is some interesting history involved in the story of this house and its early occupants, but at the moment it is elusive. While the architecture of the house is plain, it is beautiful in its simplicity and the location is among the most sightly in the country. Quiet and peaceful and sequestered as it is, it is nevertheless within a stone's throw of the county's best and most traveled highway and therefore easily accessible to the markets of Watertown and all points southward to Syracuse.
The masonry of the Denny house shows fine craftsmanship. The walls are exceedingly thick and the front door is of single width without top or sidelights, but deeply recessed away from the weathering of storms. Huge trees of ancient growth stud the high, deep lawn and from its vantage point a beautiful view spreads itself off across the valley to the northwest,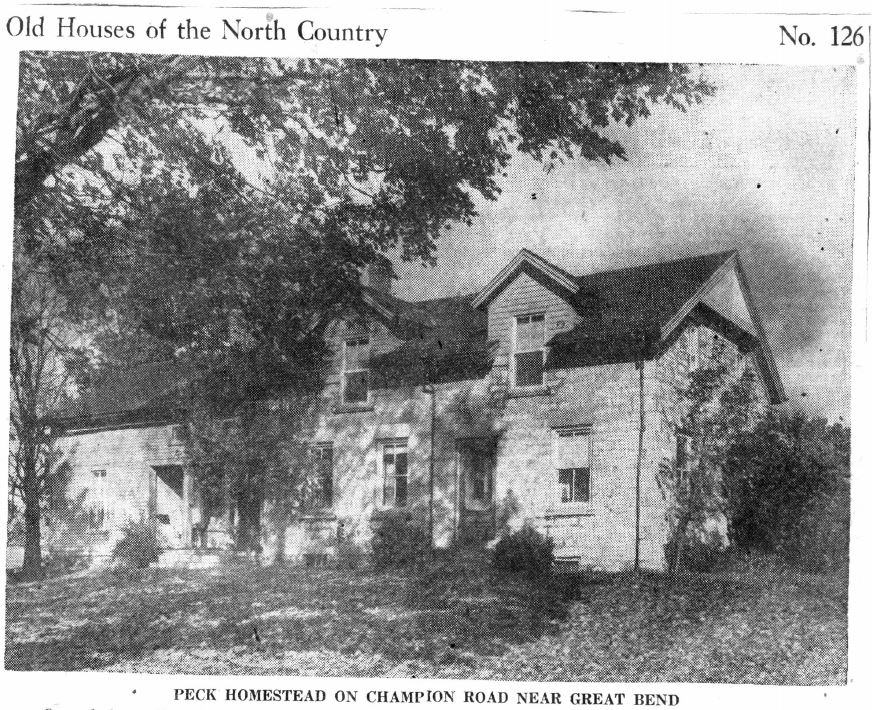 23910 County Route 47 Carthage NY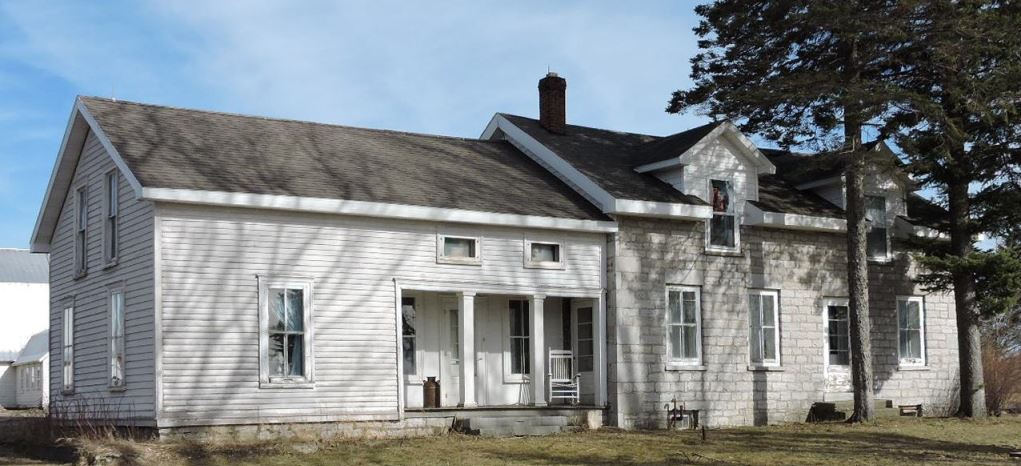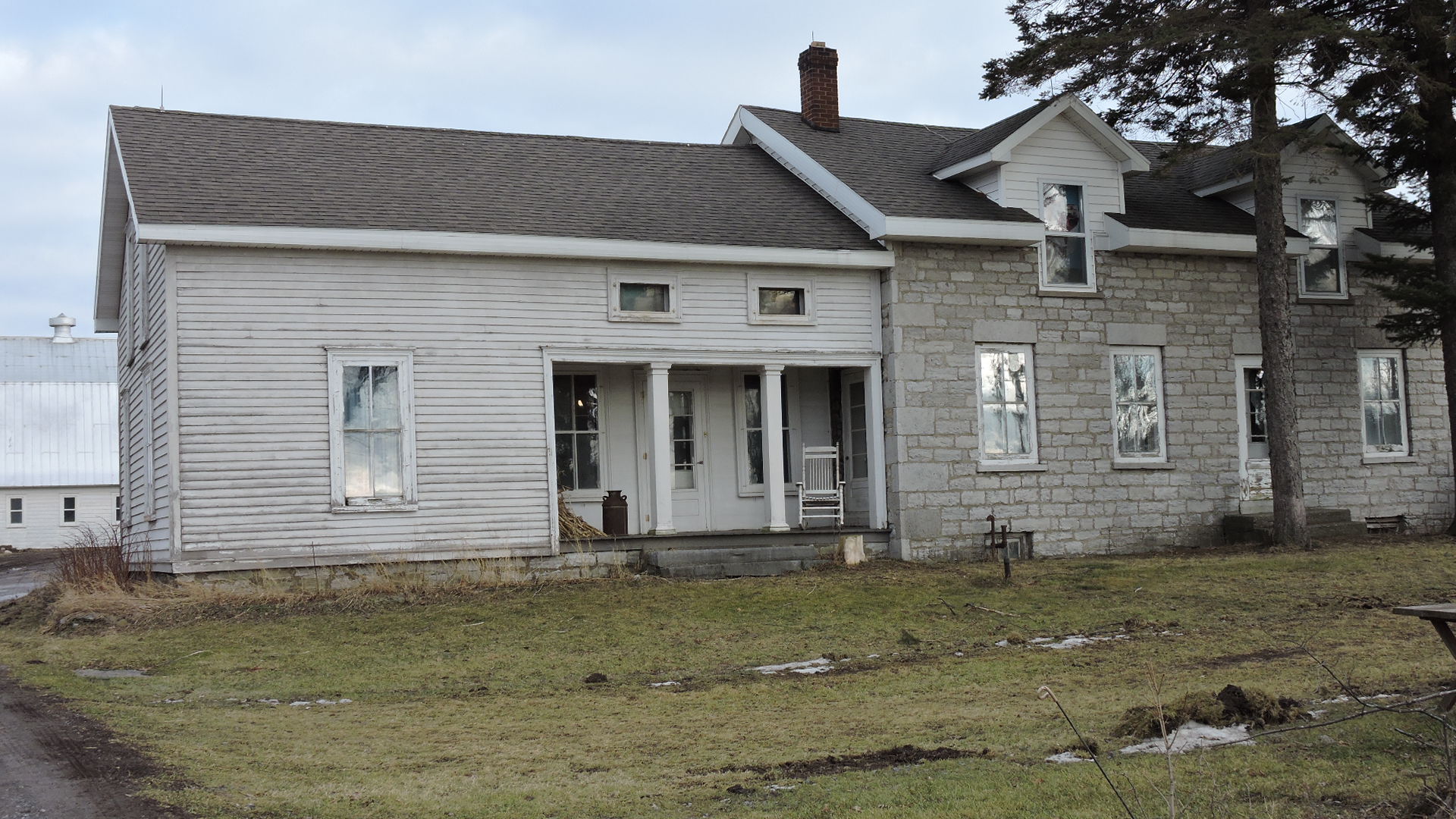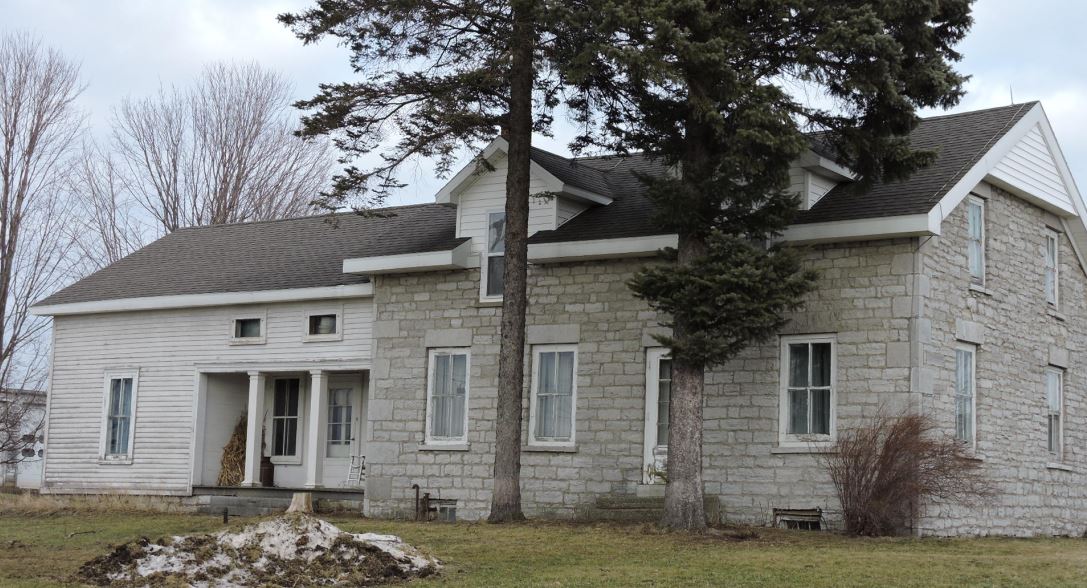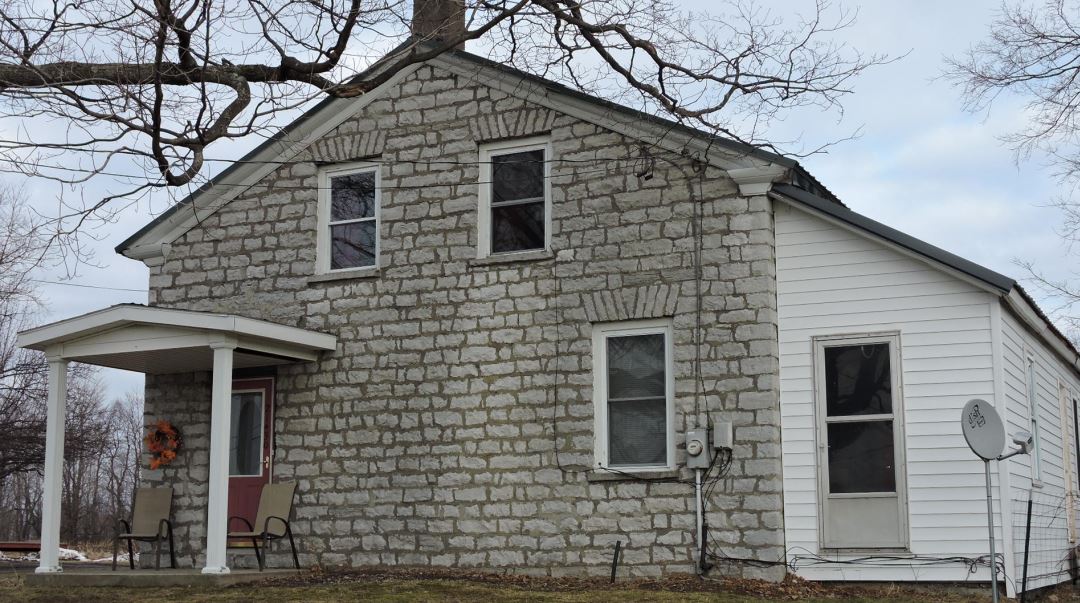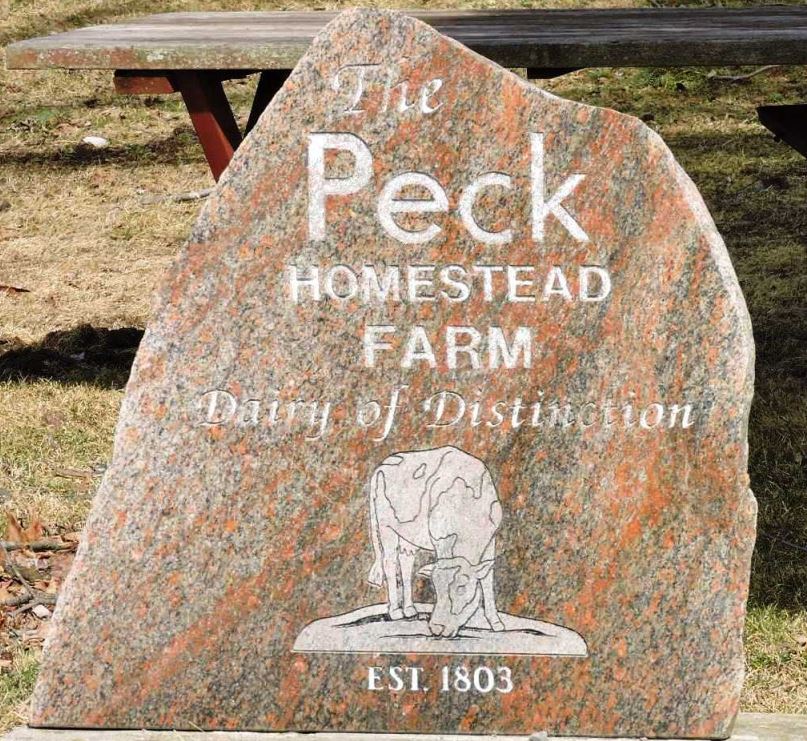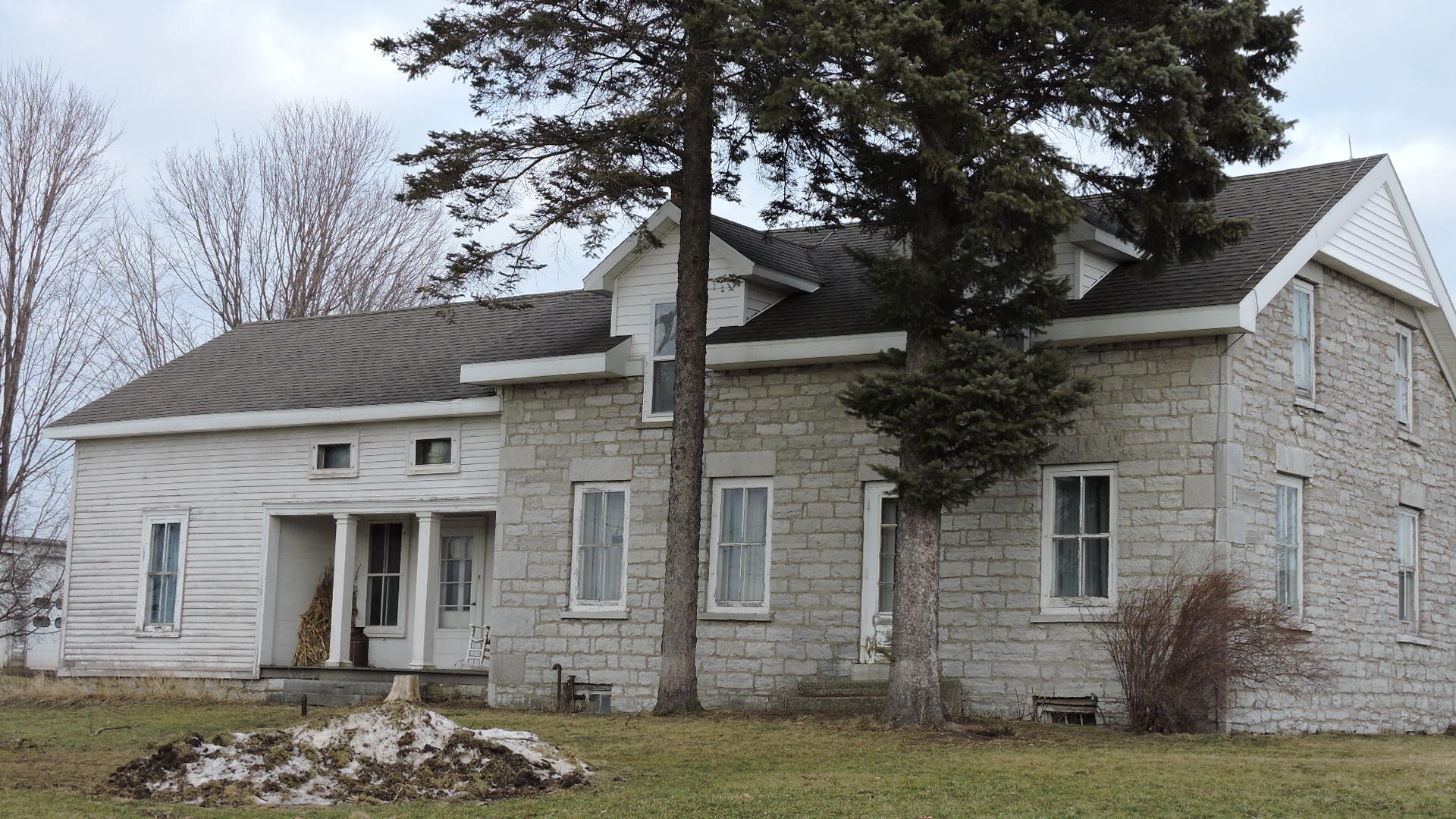 One of the earliest Jefferson County settlers was Joseph Peck, native of New Haven, Connecticut, member of the governor's Foot Guards, Revolutionary soldier of four years' service, who fought at the battle of Lexington, an artillery artificer. He settled in the town of Champion in 1803 and two years later located in a log cabin on the site of the above stone house now owned and occupied by his great-grandson Ernest F Peck, a short distance from Great Bend on the Champion road.
This stone house, always owned by the Peck family, is said to have been erected about 1827 from stone quarried out of a ledge on the nearby farm of the parents of Frank W Woolworth, the chain store magnate. When it was thought there was stone enough, construction began but the supply ran out when the walls were two feet above ground and more limestone had to be quarried. It was built by Joseph Peck Jr, son of Joseph, the Revolutionary soldier. Joseph Peck Jr, served in the War of 1812 and died in 1846. His son, the late John F Peck, born in the log cabin September 22 1824 inherited the house and farm and died January 9 1915 at the age of 90 his son in turn, Ernest F Peck, the present owner succeeding in title to the property.

John F Peck was a good farmer and staunch Republican. In 1868 he represented the town of Champion on the board of supervisors and in 1874 was elected assemblyman from the county's first district, the late George E Yost of Theresa having been assemblyman that year from the second district.
In 1855 John F Peck was married to Emily A, daughter of Thomas Gordon, and their children were Emily A, J Floyd, John G, and Ernest F

Next farm to the north of this Peck farm was that of Reverend Wilson Pennock, the old Methodist circuit rider, whose grandson, W E Pennock married Emily A Peck, who at 85 still resides in the old stone house on the neighboring Pennock farm. John G Peck, one of the sons of John F Peck, was graduated from Hamilton college, taught school at Lowville and later at Southampton, Long Island, was assemblyman of Suffolk county and later county treasurer for 15 years.
Ernest F Peck has spent his life upon this fine old homestead farm and is one of Champion's successful agriculturalists. He was for some years road commissioner of his town and for many years has been school trustee in his district. He maintains the attractive eight-room house in excellent condition. To improve the upstairs rooms with better utility and light he added the dormer windows about 20 years ago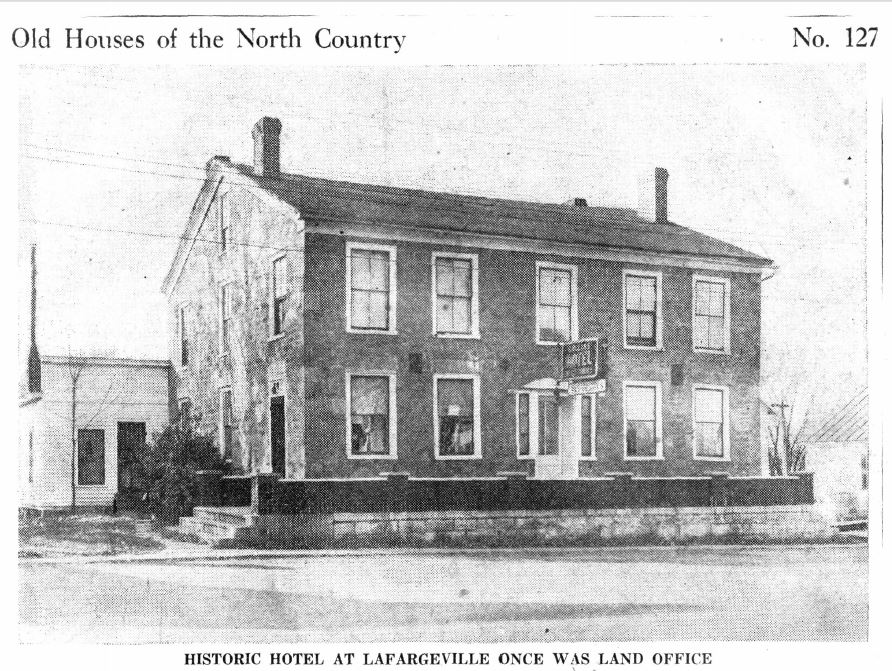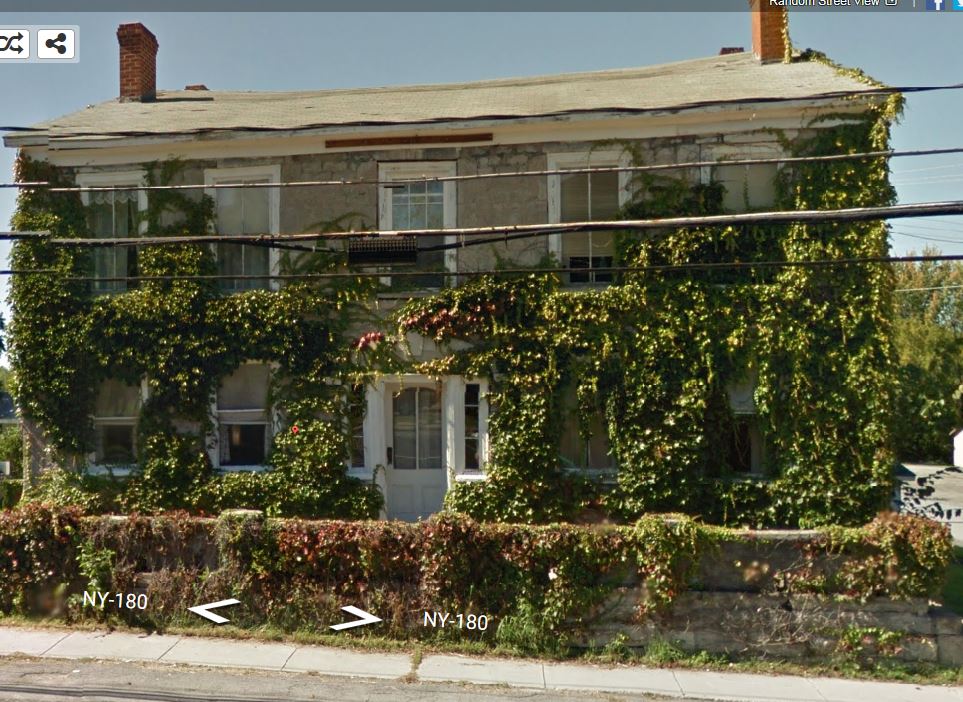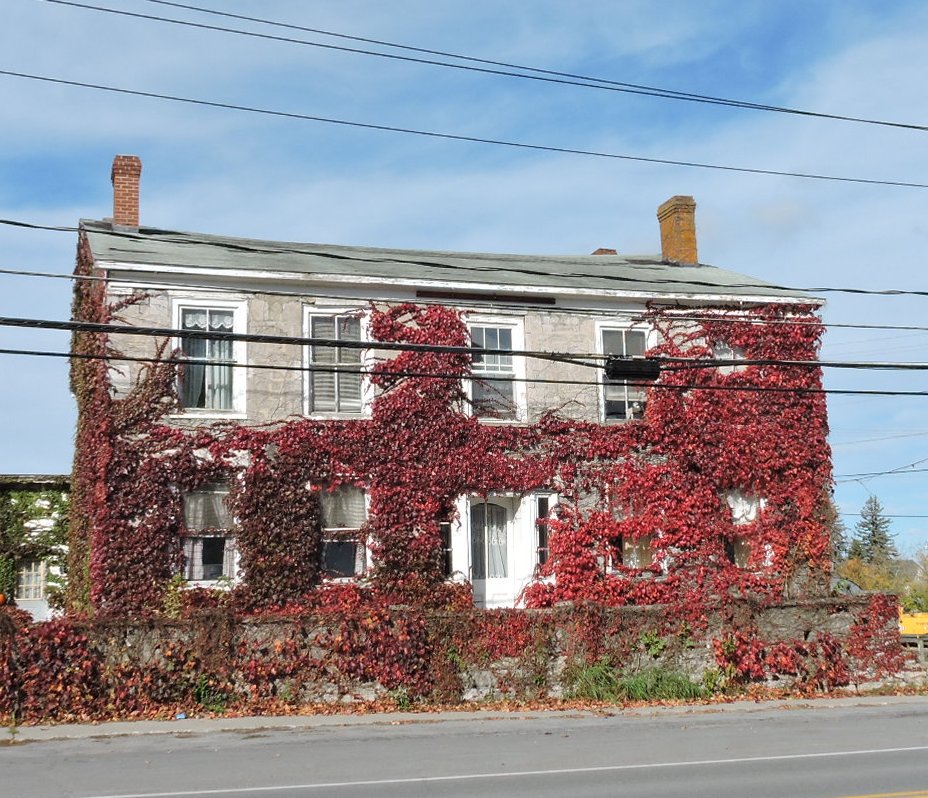 John LaFarge, member of the French mercantile firm of Russell & LaFarge of Havre, having acquired a major part of Penet Square, a 64,000 acre tract within the original town of Orleans, was a great deal more important North Country figure than the historians have credited.
LaFarge was a good business man, who wanted contracts abided by and for that he at first had disputes with squatters and such settlers as desired to pursue their own loose methods.

LaFarge is said to have come into Jefferson County some time in 1823 shortly after he purchased his lands here. July 4 1823 the name of the settlement started by Dr Reuben Andrus and Benjamin Page in 1816 and known as Log Mills was changed to LaFargeville. Soon after that the historians say he caused a commodious land office to be erected of native limestone for him in LaFargeville. The year of this construction has been interpreted as 1824 by some. John A Haddock suggests 1828 as the likely year. There is no revealed evidence on this point. It may have been either year or some year between. There is one statement that he resided in a part of the building until his pretentious mansion two miles west of the village was completed in 1833. Another statement is that he built a small limestone residence near Theresa in 1825 lived there for a time, then erected a larger stone house at Perch Lake, after which he came to LaFargeville. If that is the case then the land office was probably not built until 1828. But there is just as strong a possibility that that was not the situation and that the land office was built in 1824
Be that as it may, it has been a historic landmark as a hotel from stagecoach days until the present. LaFarge sold his great mansion in 1838 and went to New York. He had had many dealings with Delano D Calvin who may have acquired the land office about that time and converted it into a hotel. During the Civil war it was owned by Samuel Kilborn and known as Kilborn's hotel. Later it was owned by one of the Beardsleys and was known as the Beardsley House. After him it was owned by Clark Wilder and on January 24 1887 his widow, Mrs Mercy Wilder, sold the hotel, which had previously become known as the Orleans House, to Edgar, Edward and Edson Getman constituting the firm of Getman Brothers of Theresa, where they had established a reputation as hotel proprietors. They changed the name of the Orleans House to the Getman House and May 13 1893 sold it to Roswell W Gates, well known hotel man and father of Samuel F Gates and Miss Edna Gates of this city. Mr Gates operated it for some years. After him there were other owners and about 1910 Bernard E Weaver bought the property, modernizing and enlarging it, and disposing of it to Eugene Spencer in five or six years. From Mr Spencer it was transferred to Charles Hall, who sold to Richard Failing January 8 1931 and eight years later it was purchased by Patrick Hughes, present owner. The building is an example of excellent masonry and architecture. Originally it had four large fireplaces, but only the one in the lobby remains. Rich would be the history this hostelry could disclose if it could write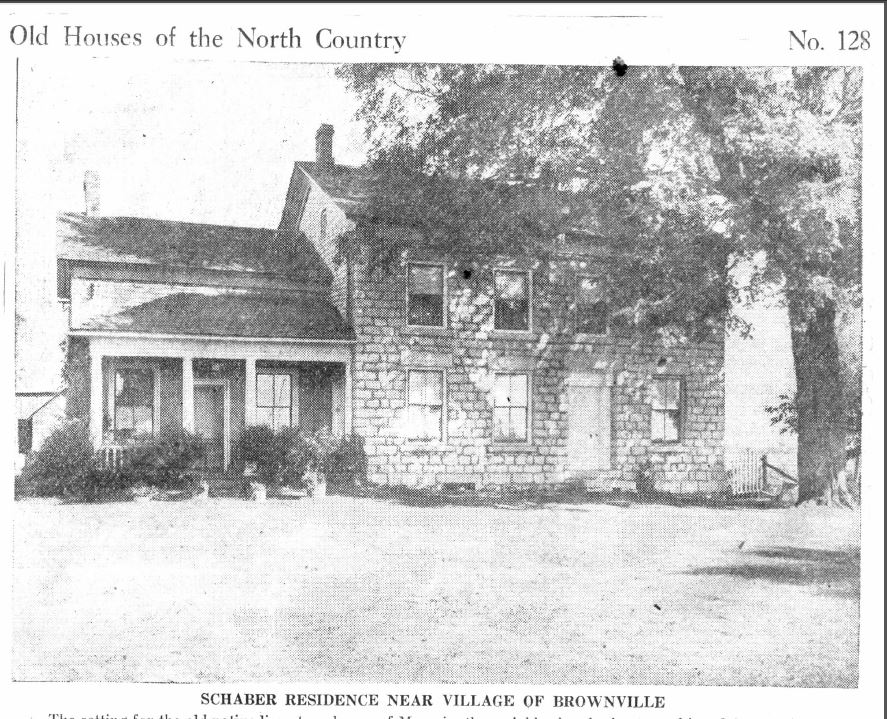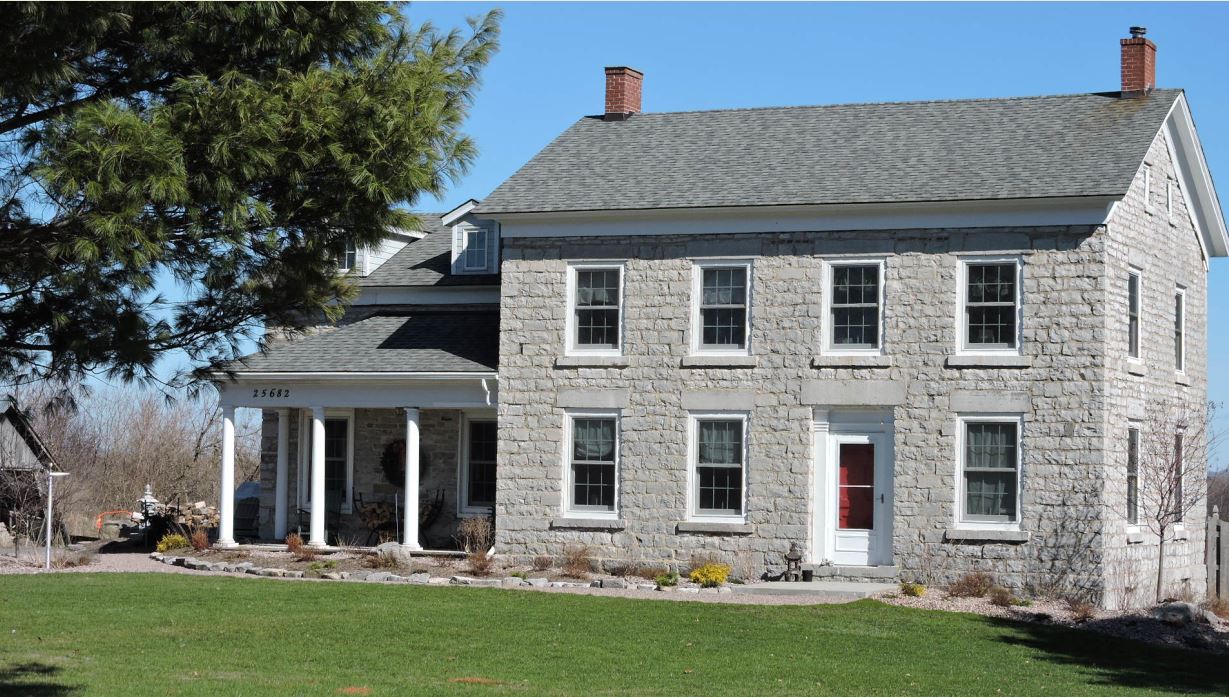 The setting for the old native limestone house of Mr and Mrs Ernest L Schaber only two or three miles northeast of Brownville village on the road from the Perch River road past the Arthur Biggers (#113) farm to join the Watertown-Clayton highway, is one of the most sightly in the county. One of the early limestone mansions of this section, the house, which follows the Georgian manner of architecture, is said to have been started in 1832 and completed in 1833. It faces north across a deep, well-kept lawn once the scene of a grove of about 30 beautiful locust trees. Back of the house, which occupies a farm of 126.34 acres there spreads southeasterly across the broad Black River valley to this city and beyond one of the most beautiful views in this part of the state.

Captain William Cole, a veteran of the War of 1812 who died July 4 1847 at the age of 69 years and nine months and is buried in the private cemetery which was once a part of the farm, is believed to have been the first owner of this property. A deed on record in the county clerk's office shows that on August 27 1832 Washington and Stephania Coster of New York City through Attorney Samuel C Kanady sold 100 acres of land in this section to William Cole for $761.50 the survey having been made by James Shields.

The stone for this house was undoubtedly quarried in the neighborhood, the township of Brownville being rich in limestone deposits. To the east end of the upright of stone is attached a wooden wing and the cellar extends underneath the entire house. There are now three fireplaces in this house. Formerly there was another one in the kitchen used for cooking as well as heating and originally there were living quarters in the wing, which is now used as a wood shed. Altogether the number of rooms is ten.
Mr and Mrs Schaber purchased the property December 31 1926 from Christopher Z and Eva D Schrodt, the deed describing the farm as beginning in the center of the road from Brownville to the old Bonney tavern. On December 1 1877 this house and farm was transferred from William and Diadema Bogers to John Schrodt. The chain of ownership prior to that is obscure, although Mr and Mrs Schaber understand that it was once owned by the Merricks and at another time by the Stewarts. The plot containing the family burying ground was sold off several years ago, this plot disposed of containing about 30 acres.
According to tradition the owner had accidentally shot and blinded a boy at a turkey shoot and was pressed for the $1,000 needed lo compensate for the injury sustained by the lad.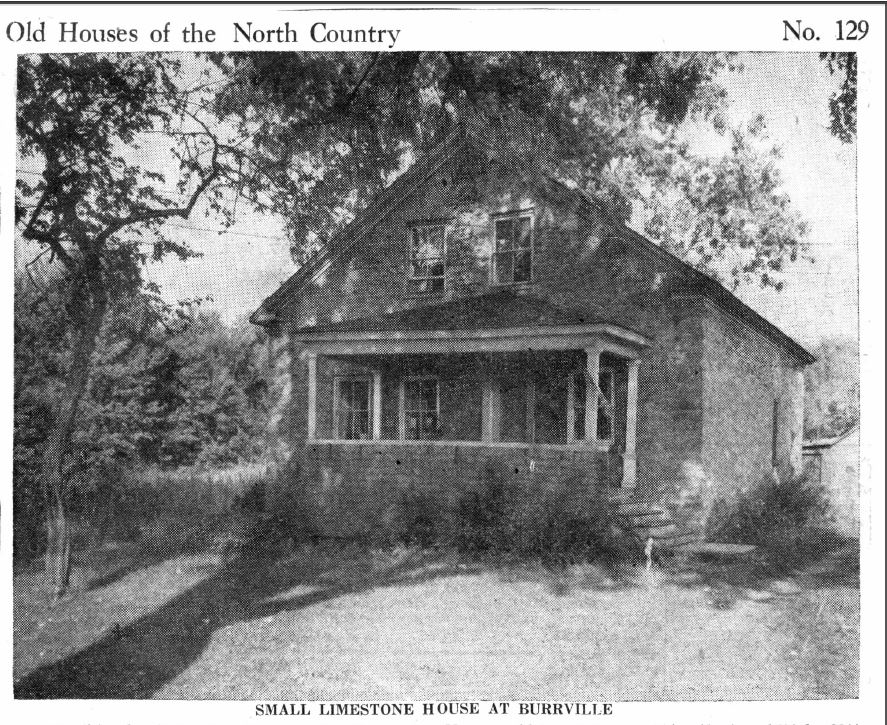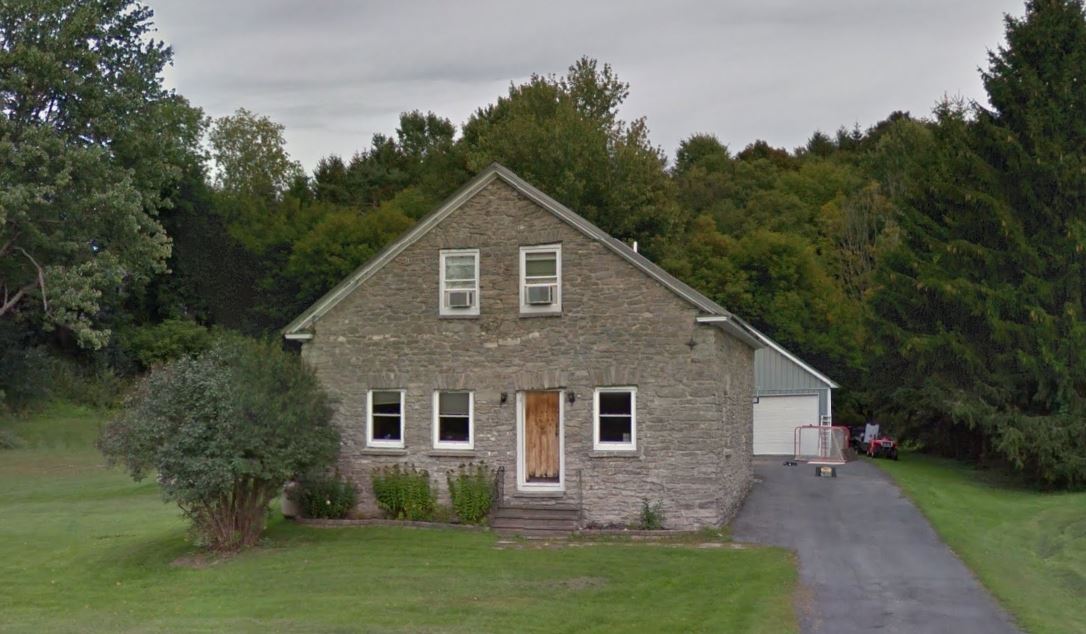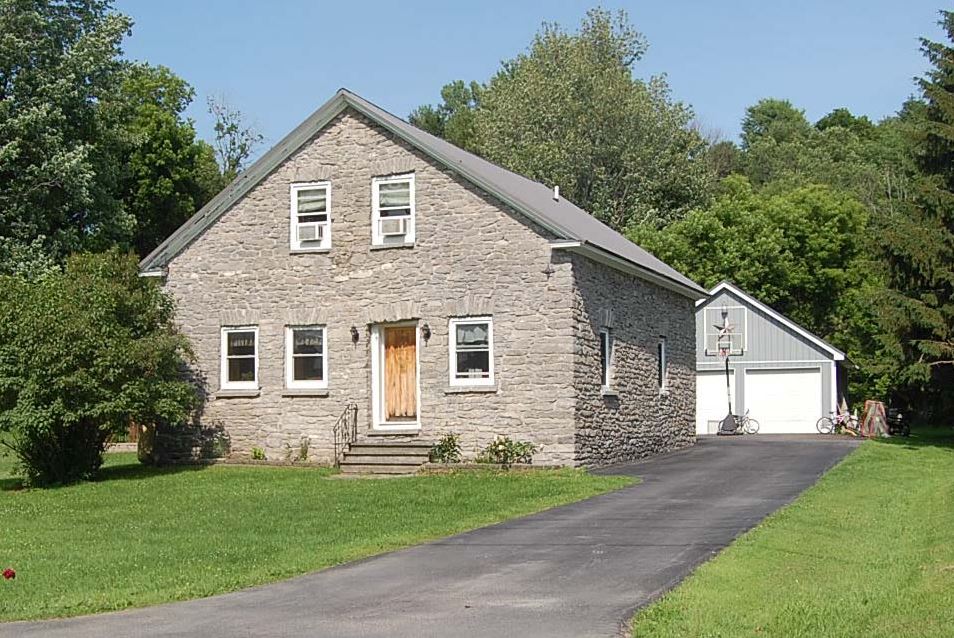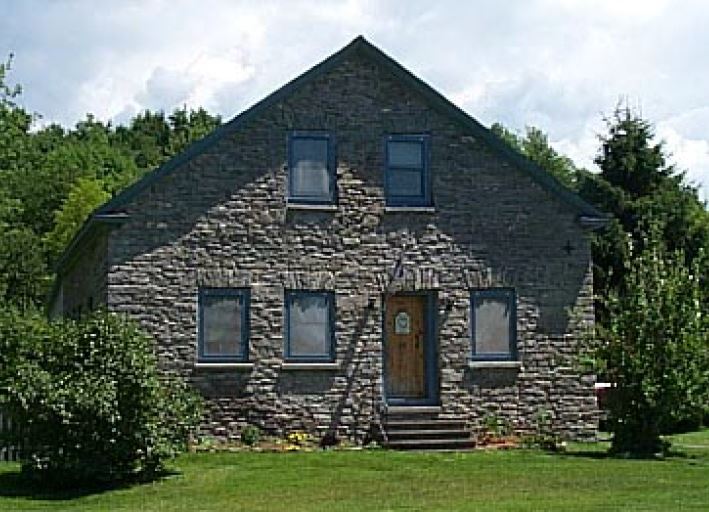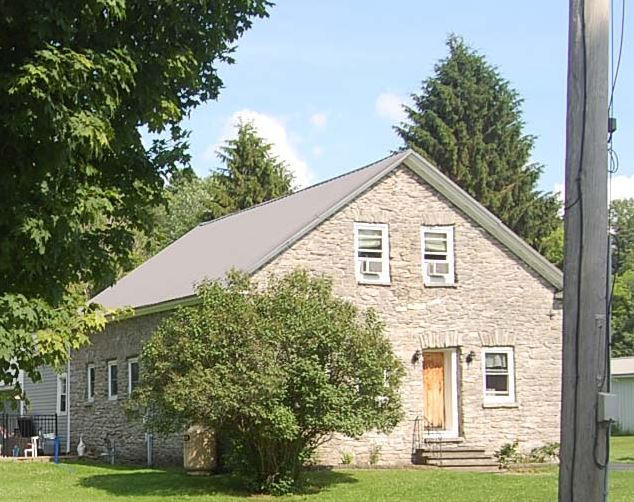 Tradition has it that Reverend Ebenezer Lazelle bought land in the town of Watertown in 1800 set up a distillery at Burrville June 8 1803 approximately the same time that he organized a Congregational society in Caleb Burnham's barn at that place (first church society in the town) and dispensed both liquor and the Gospel to the small populace. Today it is told in Burrville that Parson Lazelle, who later organized the nucleus of the first Presbyterian church society in Watertown, resided in the little limestone house shown above and that there can still be seen the blocked-up doorway that led from his home into his distillery.

Since September this house has been the property of Mr and Mrs Herbert L Smith, Mr Smith, a former New York Air Brake employee, now being in the U S Navy.
They purchased it from Mrs Laura Strobeck and Mrs Strobeck bought it about four years ago from Mrs Lewis Spies who, with her late husband, had owned it about 20 years, having acquired it from Charles Scales. The trail of ownership from there runs back through many hands including A Harlow Nye, Orville M Rexford, Oliver P Blair, Mrs Charlotte St. John, mother of Edwin St. John of this city, she having purchased it June 11 1875 from Benoni Danks who came up from Cohocton, Steuben county in February 1846 to operate the saw and grist mills he had bought at Burrville. Danks apparently did not buy the little stone house at that time, for a deed of February 28 1854 indicates he took title from Foster Lewis, who had purchased it June 25 1847 from Polly, widow of Abel Harvey.
Another deed dated December 9 1829 tells that Abel Harvey paid Arnold Burr and his wife, Ann, $700 for 28 1/2 acres of land in that vicinity beginning at the southwest corner of the dwelling John Burr built. It is possible that the stone house stands upon a part of this plot. This house is undoubtedly well over a century old and it is not unlikely that its age may run beyond the 125-year mark. It seems probable that it originally belonged to the Burr family, Captain John Burr having purchased in 1802 the saw and grist mills, which Hart Massey had built beginning in June 1801 upon three acres of land furnished by Silas Stow, land agent for Nicholas Low, owner of Town No. 2 now called Watertown.
Whether Reverend Ebenezer Lazelle ever lived in a cabin or house upon the same site is unknown, but it is extremely unlikely that this little stone house existed when he was in Burrville, at least not as early as 1802. The earliest habitations of the earliest settlers were log cabins. Then came frame structures. The first stone house of the region was probably General Walter Martin's, built 1803-5 at Martinsburg.
The Constable mansion at Constableville was erected 1809-1819 but in general the stone house era was not under way before the War of 1812 in the North Country. The Jefferson County clerk's office has no record of Reverend Ebenezer Lazelle buying any land from Silas Stow, Nicholas Low or the Burrs before March 21 1808 when he acquired 109.75 acres from Low some distance southwest of Burrville on the road from Sawyer's Corners to Rodman. On September 20 1819 he sold that to Thomas Baker and in recent years it has been known as the W C Baker farm. At the time of that sale Mr Lazelle resided at Henrietta, Ontario county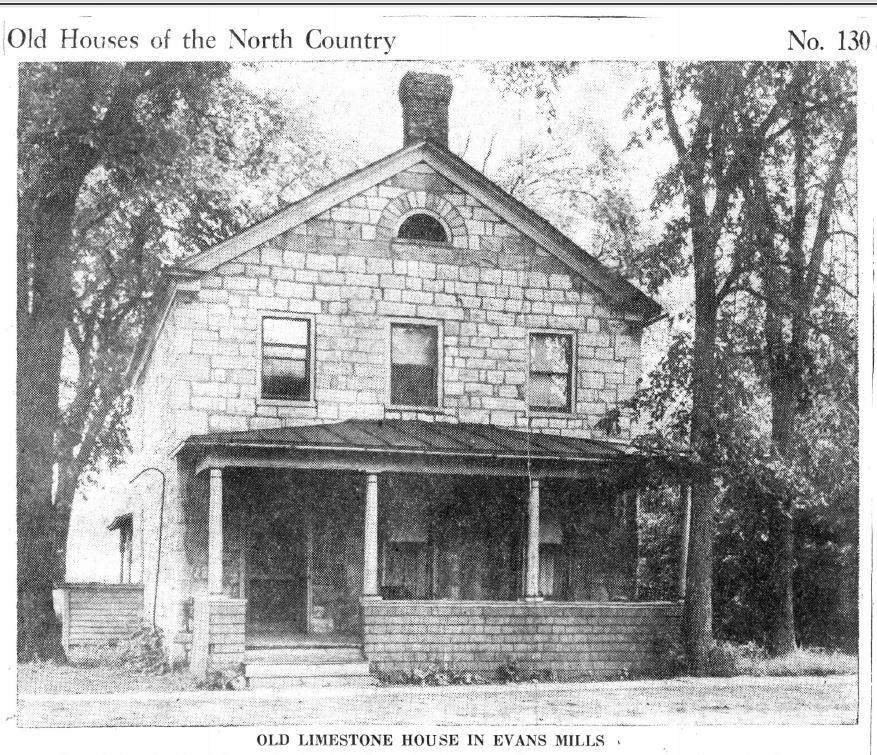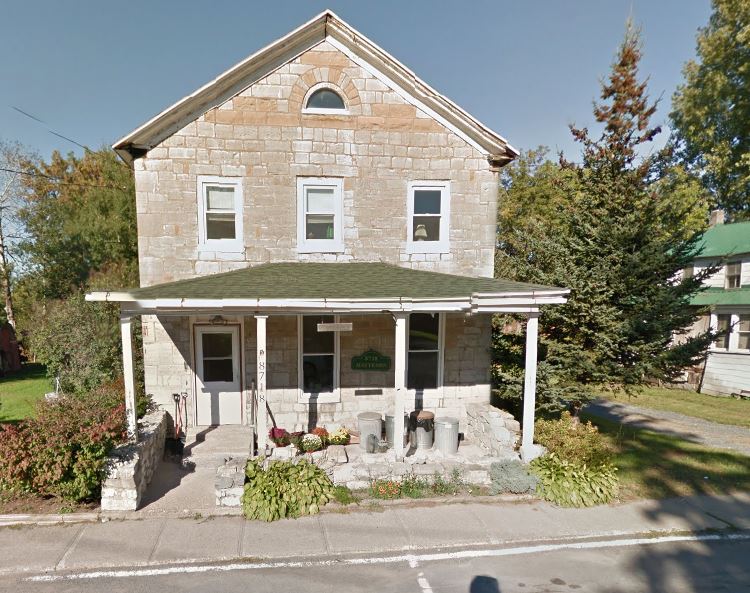 Upon the north side of LeRay Street not far from the Main Street corner where stands the old limestone and the brick taverns once conducted by Captain John Hoover in the village of Evans Mills is an old dwelling house of staunch and enduring limestone construction. Its location is by the side of the railroad tracks. In one of the most recent deeds it is described as the coal trestle property, but in some of the more ancient ones it is called the tannery lot, for upon it near the banks of Pleasant creek, which is at the rear of the lot, John Macomber had a small tannery some 125 years or so ago. John Macomber was one of Evans Mills' most substantial citizens and in 1827-8-9-1831 he was Supervisor of the town of LeRay.

Another early settler of Evans Mills was Sackett Comstock, who purchased property as early as 1825 in that village and had a blacksmith shop where later was the yard of Captain Hoover's brick hotel. Early deeds would indicate that Comstock built the stone house shown herewith for they refer to it as Sackett Comstock's stone house. So far as known he was no relative of Dr William Guilford Comstock, grandfather of Edgar J Comstock of this city and absence of surrogate records make it probable that he later removed elsewhere. February 28 1827 he sold the property to James Smith, who disposed of it to Jacob Davis October 24 1838. It was later owned by James Ward an early LeRay settler, Jonas Petrie and Elisha Potter. Mr Potter was also a supervisor of LeRay in 1941-2.
Mr Potter acquired the old house from Jonas Petrie September 13 1856 and March 31 1866 his heirs sold it to Edward Chamberlain. Mr Chamberlain transferred it to Mary Chamberlain January 30 1885 and December 18 1893 she sold it to Frank W and Celia Tozar Lawton. The Lawtons held it until January 14 1902 when they disposed of it to Frank Walts and March 1 1906 Mr Walts transferred it to Clarence M Hawn. The next conveyance was on June 8 1914 to the C B Wood Oil & Paint Company Inc, which disposed of it to F X Baumert and Company of New York January 10 1916. When the Baumert company sold out to the Borden company it transferred this stone house and site to the latter on January 2 1929 and today it continues to be the property of the Borden company, one of whose employes, Fred Brand, resides there with his family.
The house has undergone considerable modernization as to doors and windows and the addition of a boxed in front porch. Notwithstanding that, it still displays characteristics of an earlier grandeur for it was without question of the leading residence properties of Evans Mills for many years, and is close to the century and a quarter mark in age.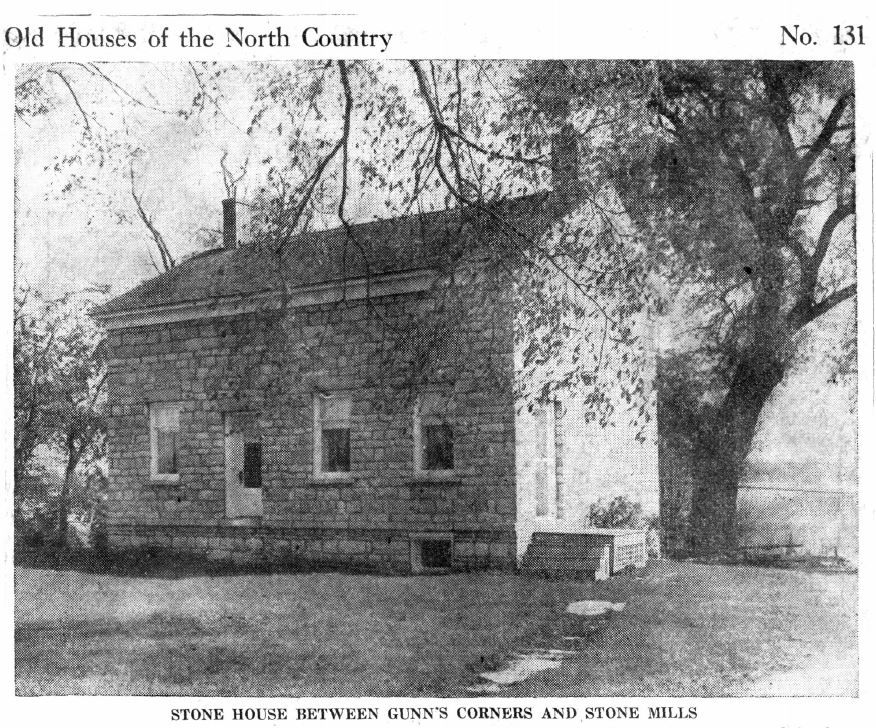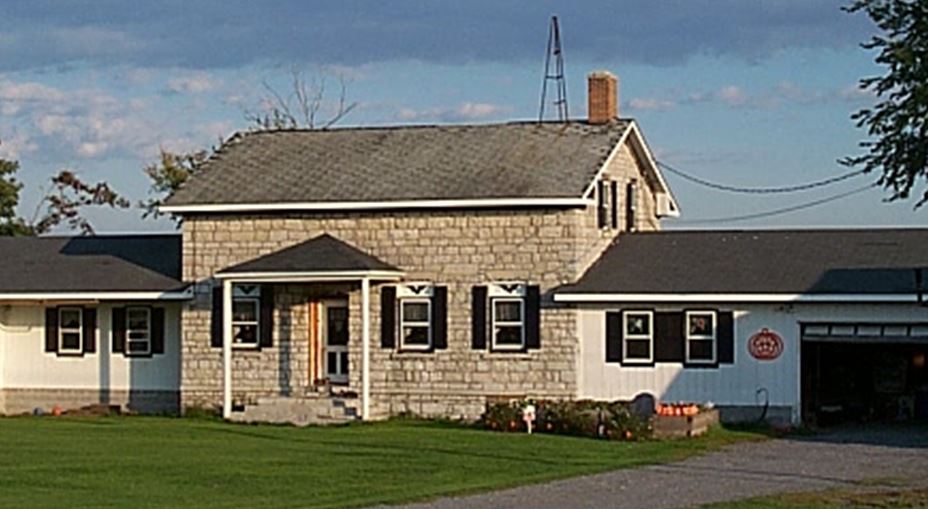 Peter Pratt was one of the historic figures and earliest settlers of Jefferson County. In 1801 he was one of those who came from Ulster county with Jonas Smith and Henry A Delmater, agents of James D LeRay, to establish a settlement at what is now Chaumont. However, in 1820 we find Pratt in partnership with J B Collins in the building of the stone grist mill, which gave the name Stone Mills to the town of Orleans hamlet between Gunn's Corners and LaFargeville. Between Gunn's Corners and Stone Mills there is located well back ffom the southeast side of the highway the architecturally plain but attractive little native limestone house, which was once the residence of Peter Pratt. For the past 15 years it has been the home of Charles C Gailey and family.
By 1807 Pratt had become a squatter in what is now the town of Orleans and it is probable that sometime after that he built the stone house now owned by the Gailey estate. In any event he must have straightened the matter out satisfactorily with John LaFarge who had bought Penet Square in 1823 for on October 31 1833 LaFarge sold Peter Pratt 312.38 acres of land in that immediate vicinity for $1,500. He had previously paid James D LeRay de Chaumont $293 for 104.4 acres on the road between LaFargeville and Brownville.

The house is distinctive in that it is one of the few in this part of the state constructed with a funeral doorway. A funeral door is one without steps and the threshold high enough so that a casket could be passed out upon the shoulders of the bearers.
Peter Pratt died October 6,1852 giving his widow, Lucy, a life use of one-third the profits of the home farm. On April 15 1853 Mrs Pratt signed off her rights in the little house and 71.34 acres of land and it was sold the same day by her son, Lewis and his wife, Minerva, to Sylvester Green of the town of Orleans for $2,068.86. The survey for that sale was made March 28 1853 by Henry D VanCamp. On November 5 1855 Hiram A Pratt, another son of Peter Pratt, sold the adjoining 312.38 acres to Calvin D Graham for $2,500.

Sylvester Green possessed the little stone house and his 71.34 acres until March 29 1890 when he sold it to Charles J Hardy of Alexandria for $4,000. Mr Hardy worked the farm and did carpenter work, married Lina L VanAmber in 1891 and together they disposed of the farm March 28 1900 to William B Gailey for $3,210. It has since been owned by the Gailey family and today Charles C Gailey and his brother, Carl E Gailey, operate approximately 600 acres of land in the Stone Mills district of Orleans.

It seems most probable that this stone house is one of the oldest limestone dwellings in the Stone Mills area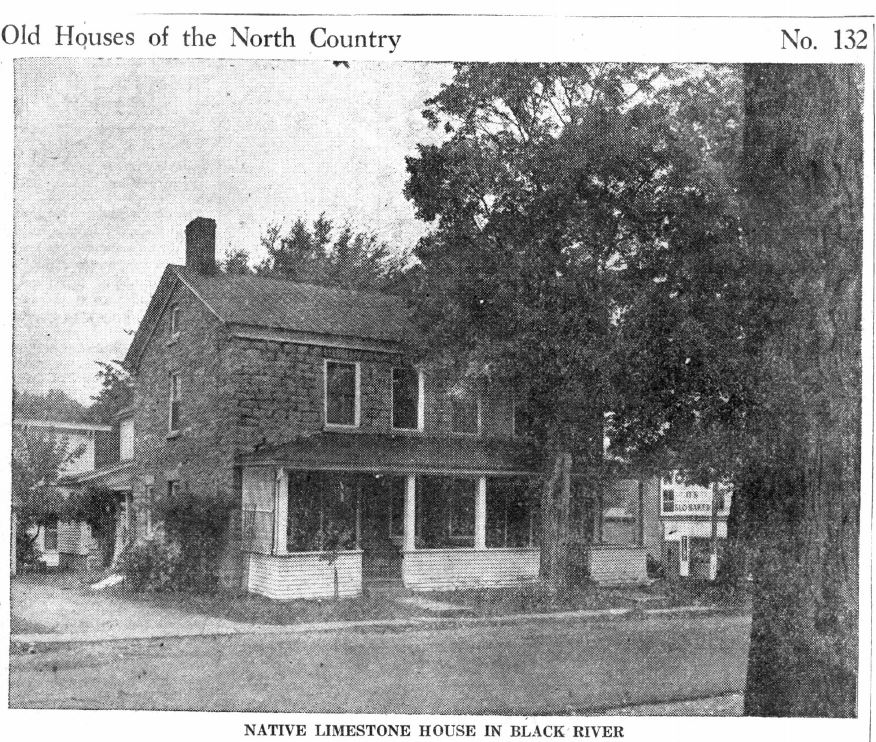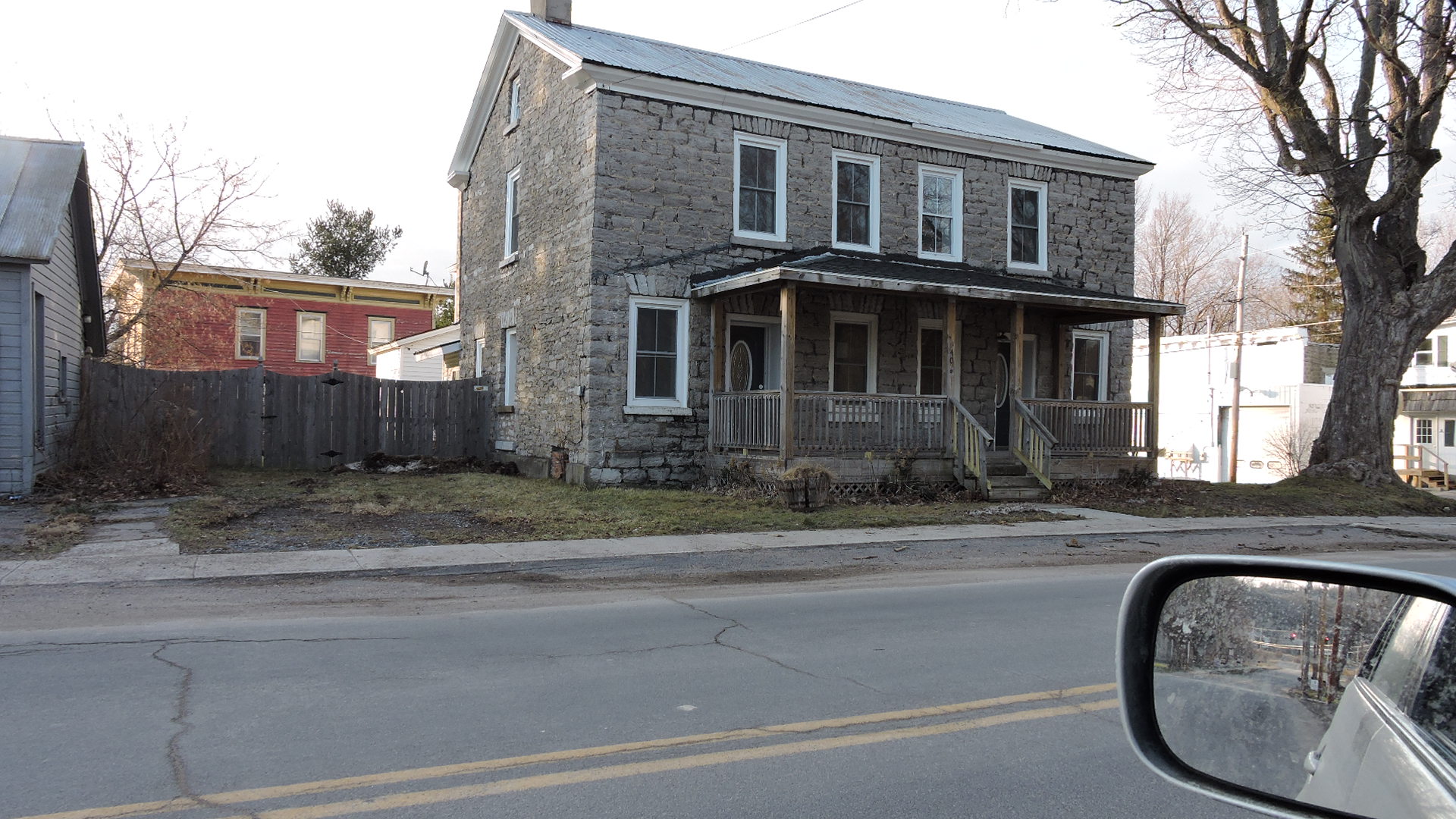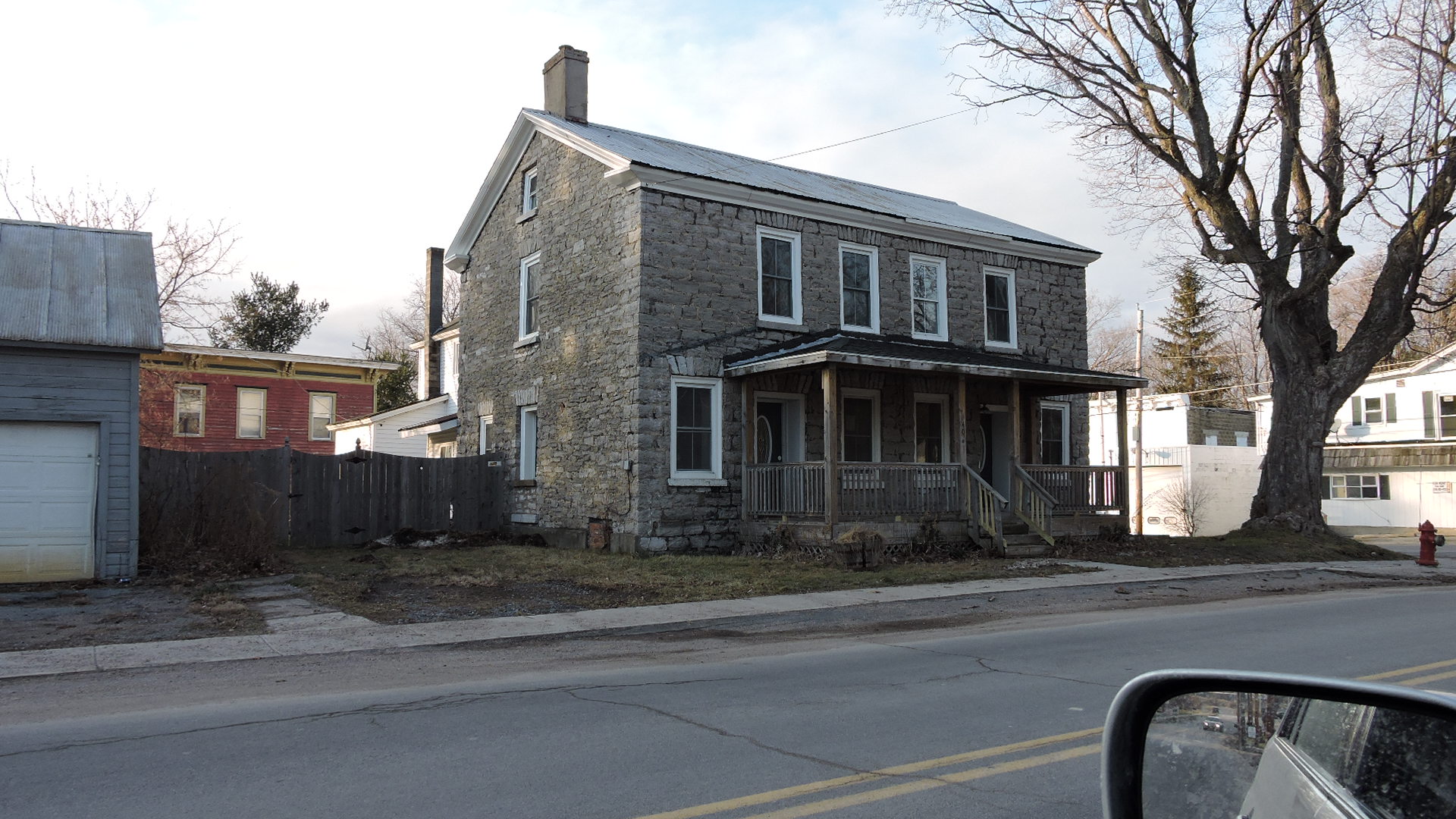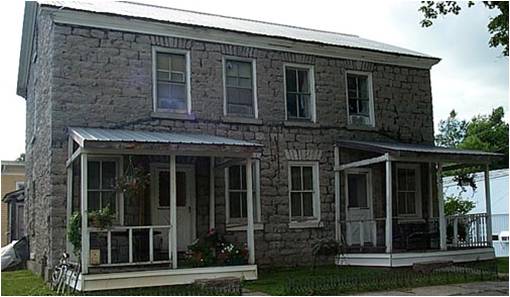 If tradition is correct the native limestone house at the southwest corner of South Main and Huntington Streets in the village of Black River was constructed in 1845 by an able builder of that era by the name of Josiah Johnson. Josiah Johnson worked extensively in the Black River section and is reputed to have built most of the stone houses in that village. A niece of his, Mrs Frank Slater, is still a resident of that community. Johnson was a stone mason by trade, and a good one at that, as is well testified by the present fine condition of the houses he constructed. He lived in the township of LeRay on what is now known as the Robert Burnup farm.
One of the first owners of this house at the southwest corner of South Main and Huntington Streets was Asa Frink, born in the town of Rutland in 1800 son of Tristrim and Betsey Clark Frink of Stonington, Connecticut. Asa Frink, who owned many pieces of property in Carthage, in the towns of Rutland and LeRay, had a son Heman H Frink, long a Carthage tinsmith, who purchased this house October 10 1872 when the property of his father was disposed of at partition sale.

The house adjoins the Methodist church just to the south of it in Black Biver and Heman Frink apparently retained it but a short time, for on March 10 1873 he and his wife, Sophia S Frink, sold it to Mrs Lovina Town. She was apparently the wife of John Town, who was the son of Otis Town, who on December 8 1801 became the first male child born in the rugged wilderness settlement, which in 145 years has developed into the present city of Watertown.
The Towns retained this property for several years and on June 20 1899 Lovina sold an eighth of an acre off the three-fourths of an acre lot to the Methodist church society. Later the house was purchased by Patrick E Williams and his wife, Edith, of this city and on June 15 1938 they disposed of it to Oliver L and Amy Goodlander, of Black River, Mr Goodlander being the representative of the Continental Baking company at that branch.
This house has undergone a considerable amount of modernization, which has altered its original Georgian appearance and today it is divided into three apartments. It is said that when the railroad was being built through from Carthage to this city the house was operated as a double house and that some of the railroad workmen boarded there.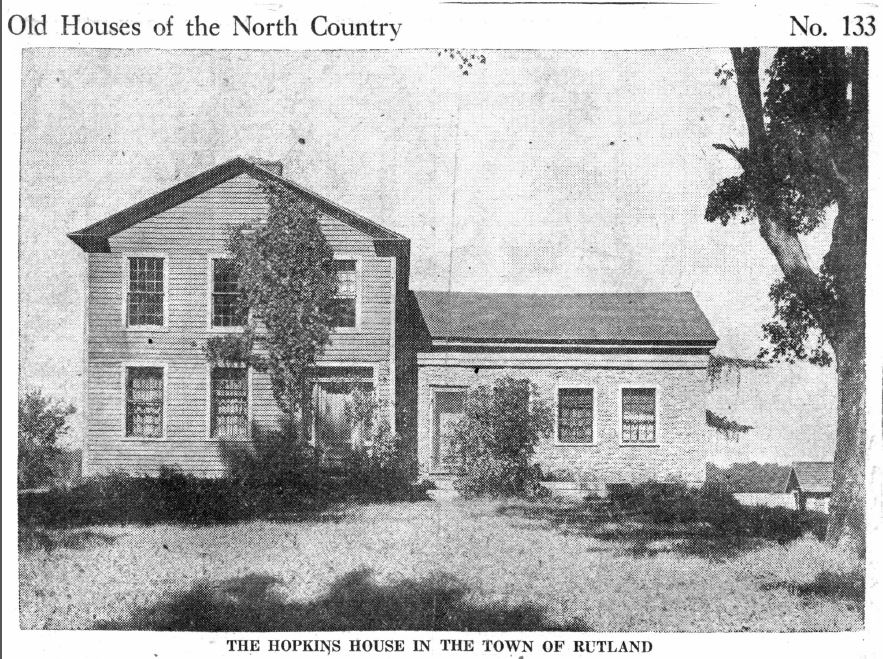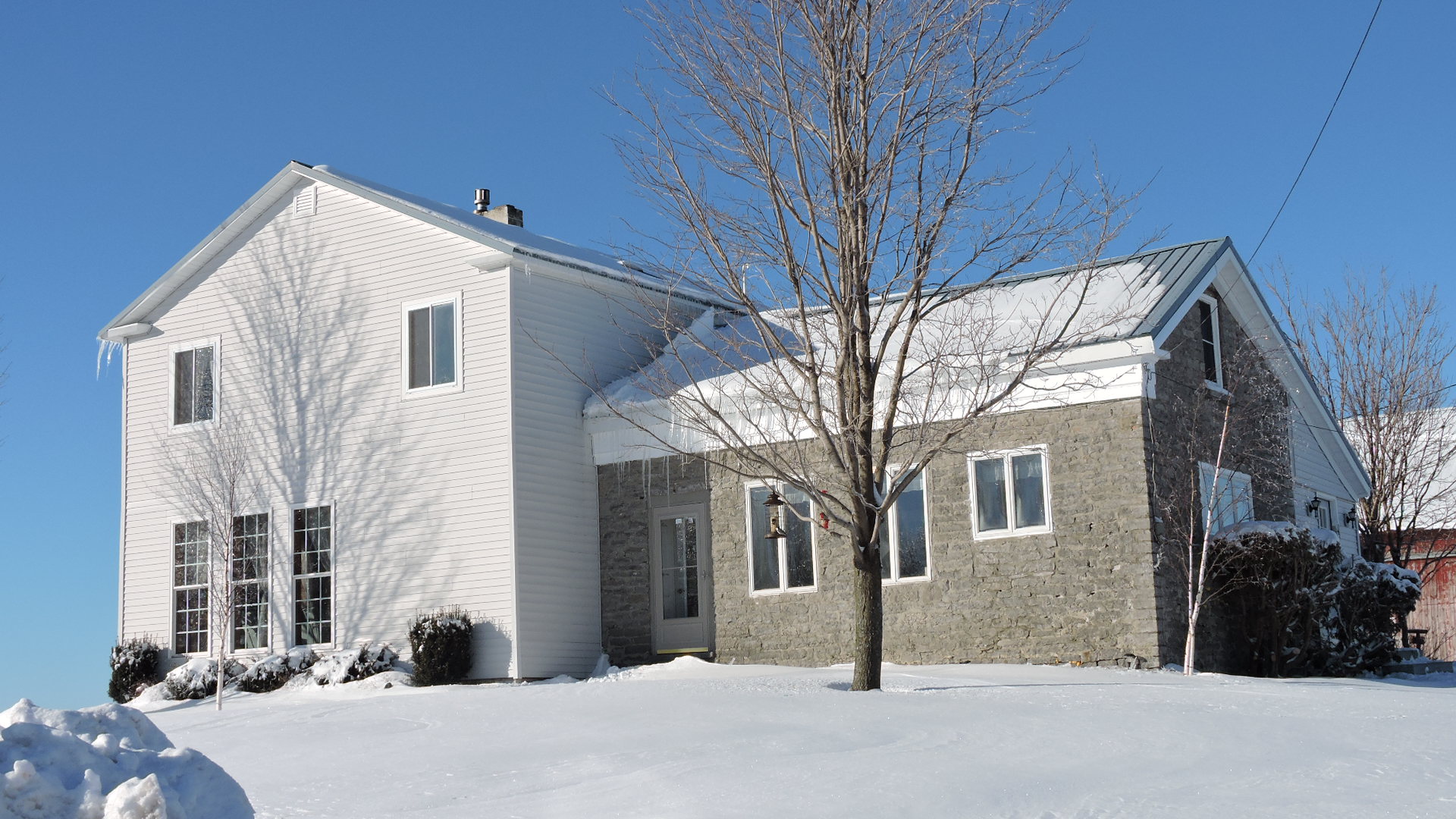 Running east and west the Middle Road almost divides the town of Rutland in half. Although there are plenty of stone houses in the northern part of the town where the profuse limestone deposits crop close to the surface along the Black River valley, there are not more than two such houses upon the high-elevated and picturesque Middle Road and but few south of it.
One of these houses erected by Henry Hopkins in 1829 and sometimes known as the Burnham house has only an east wing of limestone, the upright being of frame construction. It is on the north side of the Middle Road across from the cemetery on the Hopkins hill and not far to the eastward of the Middle Road church and the Community house. It was in this house that the first commerce in butter, cheese and pork in the North Country was started by Henry Hopkins in 1837 and pursued two years later with John A Sherman under the Hopkins & Sherman partnership, shipping out of Sackets Harbor and Oswego to New York and Boston markets.
Born at Stratford, Connecticut, February 10 1804 Henry Hopkins was descended from Mayflower stock. His father, Joseph Hopkins, a Revolutionary soldier born in 1760 married Ruth Gilbert of Salem, NY. She was a child of eight when Major Andre, the British spy stayed in her father's house overnight only to ride the next morning to capture and execution by the Colonials.
September 19 1806 Joseph Hopkins bought 96.66 acres of Rutland wild lands from Isaac Bronson of Fairfield, Connecticut, moved his family there and began clearing for his farm, having erected a log cabin for his family.
June 16 1813 Joseph Hopkins added 104.27 acres to his farm and on June 27 1829 his heirs sold the first tract to Henry, who about that time married Celestia Tyler, daughter of Deacon David and Chloe Tyler, and built the present house, the stone part probably having first been erected and later the more pretentious wooden upright. Next a west wing was added for Deacon and Mrs Tyler. Mr and Mrs Hopkins had five children, Catherine, principal of Mt. Holyoke seminary; Mrs H P (Martha) Dunlap; Mrs E H (Mary) Thompson; Charles and Henry, who married Mary Parmelee and had Henry T Hopkins as one of his children.
Mrs Celestia Tyler Hopkins died in 1863 and later Henry Hopkins married Mrs Chloe Andrus Burnham, widow of Dexter M Burnham, whose immigrant ancestor came from Norwalk, England, in the good ship "Angel Gabriel" in 1635 and settled at Ipswich, Massachusetts. Mrs Chloe Burnham Hopkins had two sons, Charles Dexter Burnham and Frank Otis Burnham by her first husband. Frank Otis Burnham married Miss Etta Hadcock and had a son, Dexter C Burnham. Frank Otis Burnham died and his widow married his brother, Charles Dexter Burnham, by whom she had a daughter, the present Mrs George F (Margery Burnham) Bock.
Four generations of Hopkins resided at the homestead, which Mrs Chloe Burnham Hopkins inherited from her husband, Henry Hopkins, and from her it descended to the Burnham family, Mrs Bock and her brother, Dexter, selling the place to Dr Herbert L Smith October 25 1923 and he in turn disposing of it to the present owners, Mr and Mrs Vernon W Whitter May 13 1938.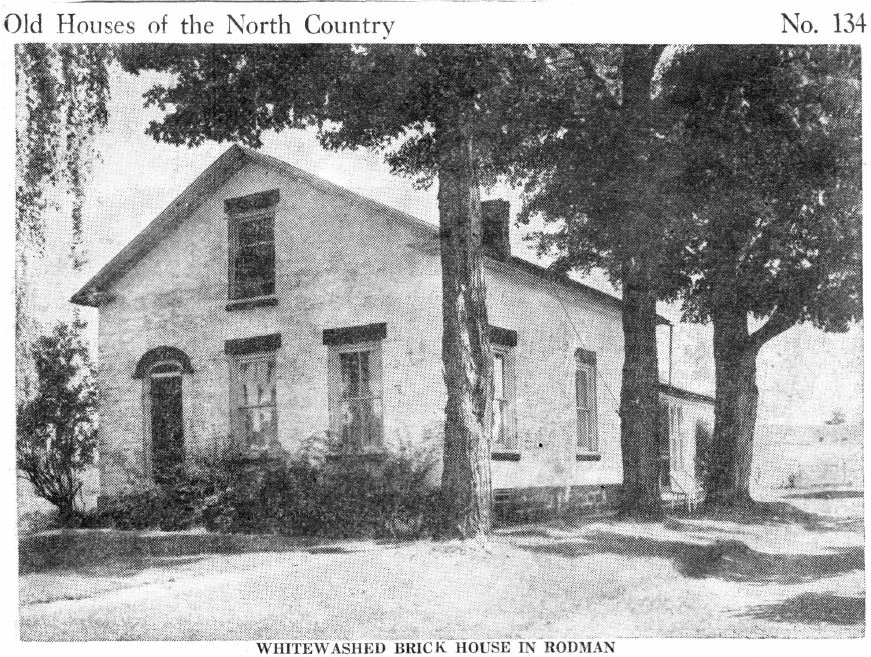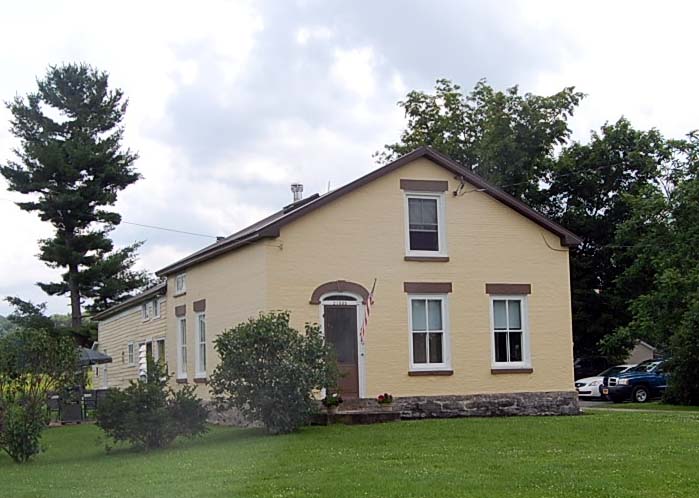 East of the Wyman or Dr Isaac Wood stone house now owned by Merritt G Brown, there is on the same side of the main street in Rodman village a whitewashed brick house with a rear wall of limestone, which has a distinctly homey appearance. Fine old sugar maples shade it and for front ornamentation there is a beautiful cut-leaf birch.
Since June 9 1931 it has been owned by J Hart Bailey, well known Rodman contractor and builder, who at that time inherited it from his mother, Mrs Hattie E Bailey. Mrs Bailey and her sister, Euphrasia Wait, purchased it jointlv from Mrs Estelle M Gilbert April 11 1916. Mrs Gilbert and her husband, William R Gilbert, prominent Rodman and Adams Center merchant, resided there for many years. They acquired the property from Amelia Spears who inherited it from her father. Its simplicity plus a pleasant site makes it unusually attractive with its general background of a village. This house was constructed well over a century ago and embraces 14 rooms, its exterior appearance being deceptive of its size.

The site likely runs back to the Harison family of New York, which early owned the town and appended the Harison name to it before that of Rodman was adopted. On July 20 1848 Jonathan H and Amelia A Flynt of Tolland, Connecticut, sold this property to Benjamin F Hunt of Rodman for $800 and the deed described it as being near the David Heustis blacksmith shop. The price would indicate there was a house upon it at that time, for the land quantity was not large.
The Hunts were a prominent family in Rodman, Simeon Hunt having been not only one of the earliest settlers, but the first innkeeper. Benjamin F and Louisa L Hunt sold this house and site to Richard Dean of Rodman for $1,200 November 28 1857 but Dean kept it but a short time, he and his wife, Diadama, selling it to Silas C Kinney December 17 1858 for the same price they paid for it, and December 26 1865 Alanson Kinney as executor of Silas C, sold it to Hannah T Spear for $800. Possibly the Spears had been residing there before that, for an old map of 1864 shows the name J P Spear on this property. John P Spear operated a sash and blind factory at Rodman at that time and for several years later during the era that it was a thriving community with the Herrings, the Gates, and others engaged in profitable enterprises.
At that time there was a big tannery or two at Rodman ond there was prior to that a distillery and a popular tavern as well as a number of stores. Up to the time that the automobile began to be a popular means of transportation, supplanting the horse, Rodman was an active community and this was one of the outstanding homes. It still retains its attractiveness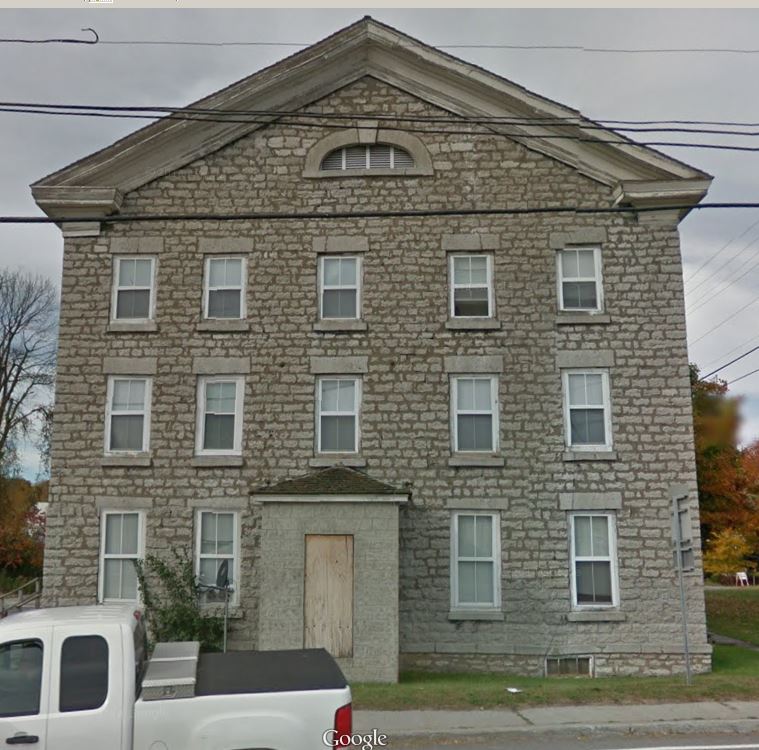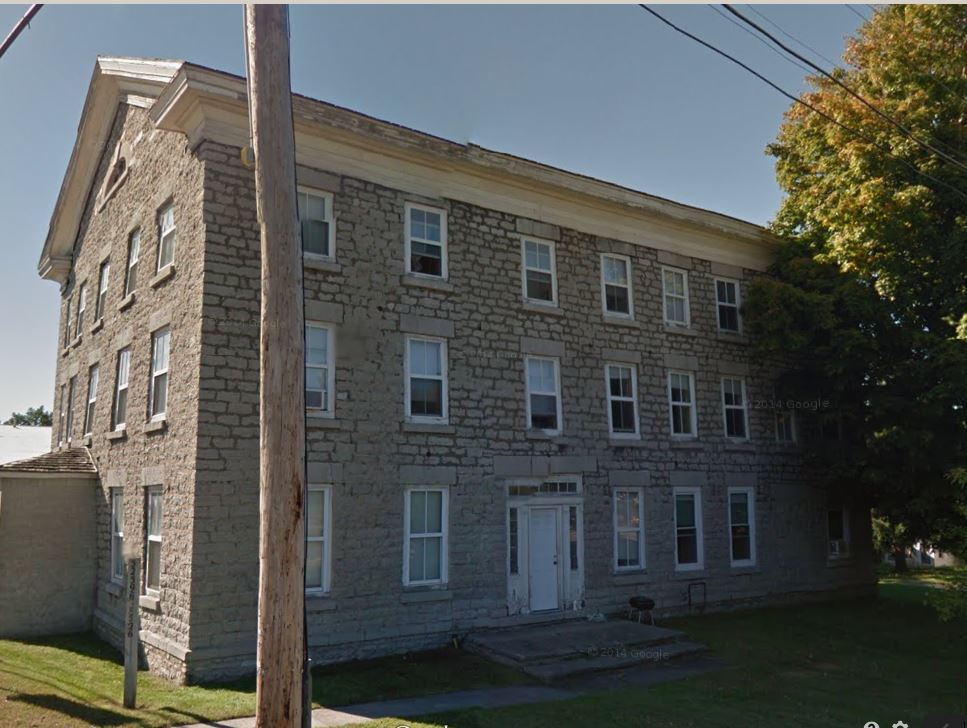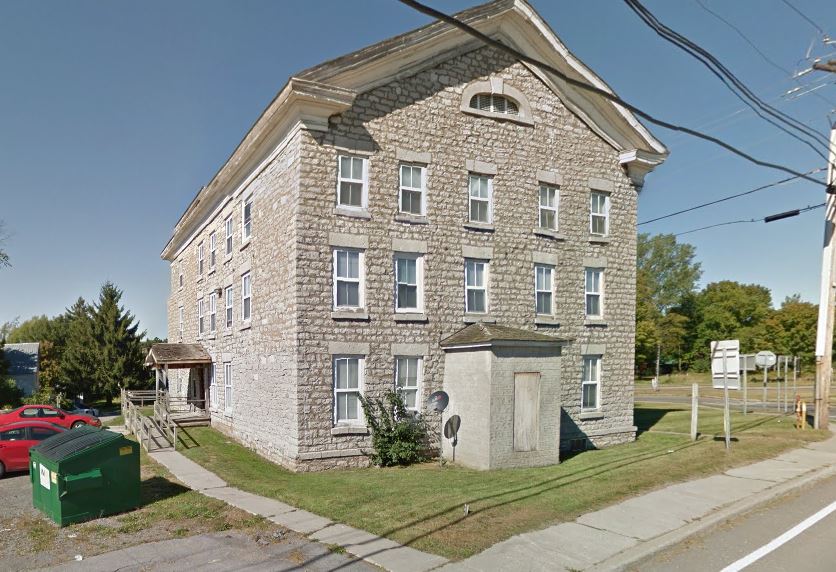 One of the finest, most picturesque and most historic of the old North Country stagecoach taverns was the Jefferson House at Great Bend, now an apartment house. Attractively Georgian-colonial in architecture, it is a massive affair of three stories, basement and large attic, a veritable upstate Waldorf-Astoria of its era. Many a celebrated personage was its guest of an earlier day, a day when swaying, clanking stagecoaches drawn by four sturdy horses dashed with considerable pomp and ceremony to its main doors.

When plank roads began to be constructed through this region in 1850 this fine tavern was on one of the most highly traveled of them all, that which connected with Watertown, Sackets Harbor and points south, and swung northward from Great Bend to Sterlingville and Antwerp before sweeping on to northern communities. During the Civil war when this section was aflame with Union sentiment and patriotically raising regiments to answer Lincoln's call to arms, it played its stirring and dramatic part. In the more recent time of 1935 when the big United States army maneuvers were held at Pine Camp, it was used as general headquarters.
Today it is a tenement house of six apartments owned by Ralph McClure Gates, head of the R M Gates Oil Co., Inc. Since July 29 1936 Mr Gates has owned it and its site of .89 of an acre of land on the northwest corner of the intersection of the Watertown-Carthage state highway with the Pine Camp-Champion road, having inherited it from his father, Fred Gates who acquired it over 30 years ago.
Originally the entire upper floor was given over to a ball room and with its fine spring-floor was the scene of many a gay and popular New Year's and Fourth of July ball before, during and after the Civil war. This hotel site was part of James D LeRay 's vast North Country holdings when the pioneers began to settle here. Then Charles E Clarke, native of Saybrook, Connecticut, Yale graduate, early Watertown attorney and later assemblyman and congressman, acquired the site, selling it to Abraham Vedder of Denmark July 30 1827. Vedder sold it to Simon P Vedder of Milton, NY, November 20 1827 for $210.
The latter disposed of it for $135 to Daniel Potter of Johnstown July 8 1829. Potter, born in Connecticut in 1801 became a prominent Great Bend resident, merchant and first postmaster, later Champion supervisor in 1861-2-3.
There is a belief that Potter built the hotel soon after 1829. However, August 28 1844 he sold this property for $550 to Loveland Paddock, shrewd Watertown merchant, banker, builder and outstanding citizen. It is possible Paddock built the hotel. If not, with true Paddock acumen, he sold it June 22 1846 for $1,450 netting a handsome profit, to Matthew G and Venus Coon and it was under Coon ownership through the Civil War. Later it was briefly owned by Wesley Briggs, Champion supervisor 1888-89-90 and February 24 1868 he sold it to George C and William H Fredenburg who conducted the hotel. William H Smith, Watertown realtor, owned it in the 1890's. Later William Wallace Olds purchased it, split the site in two selling the hotel and .4 of an acre of David M Anderson March 22 1906. The other .49 acre he sold to J W Smith. Fred Gates bought the latter part from Frank B Reynolds September 3 1909 and the former portion of D M Anderson July 6 1912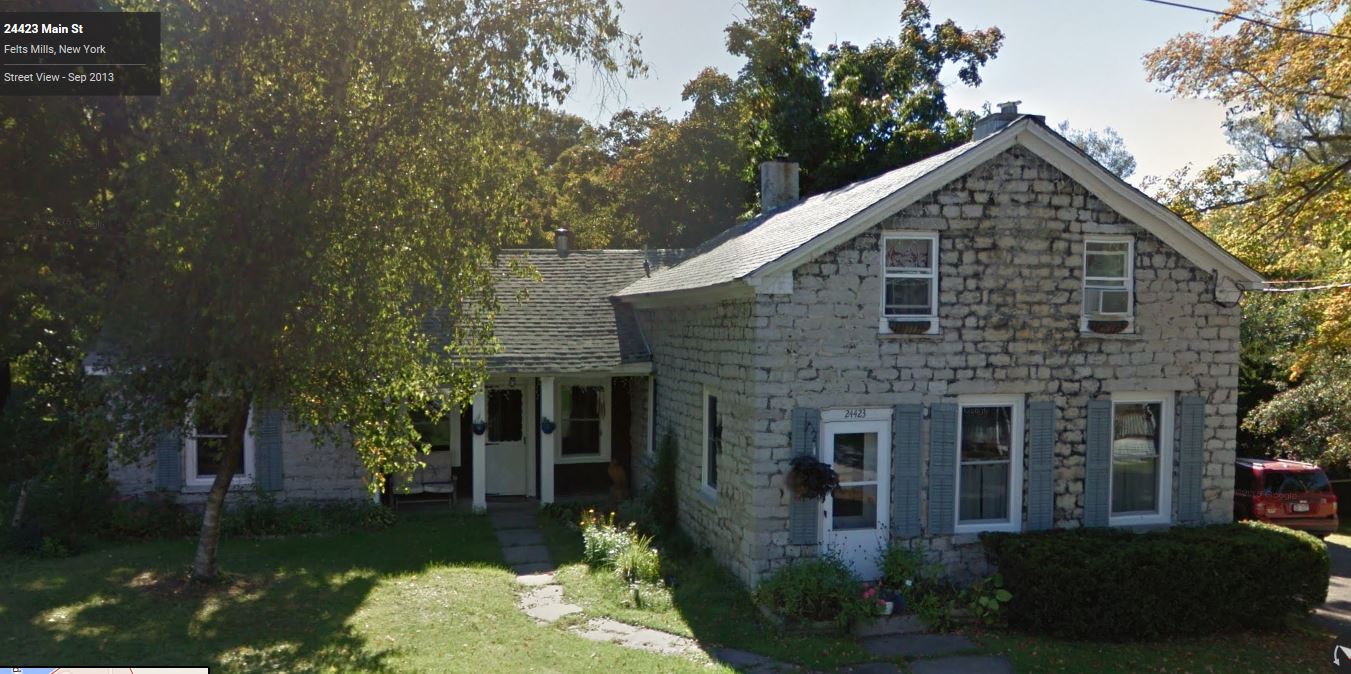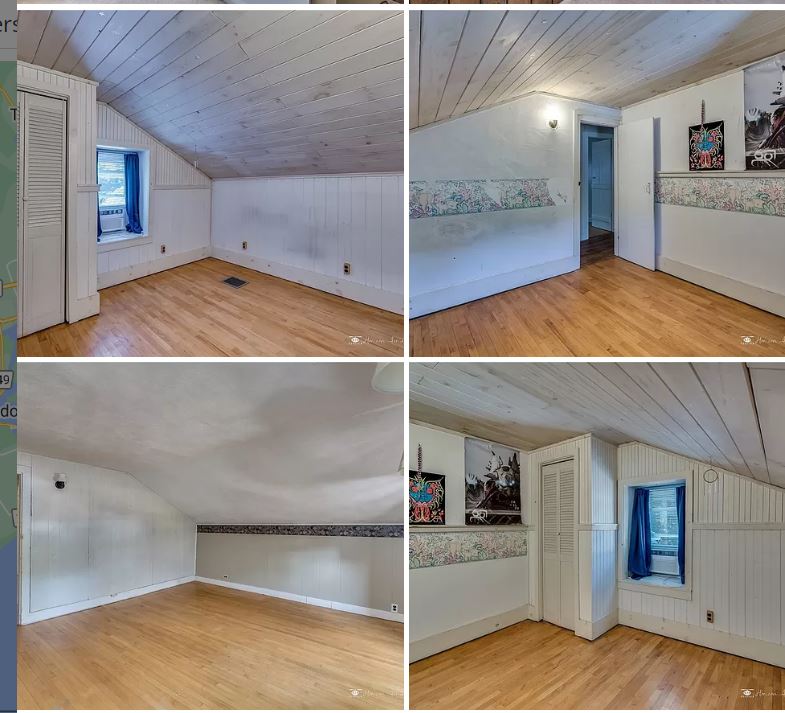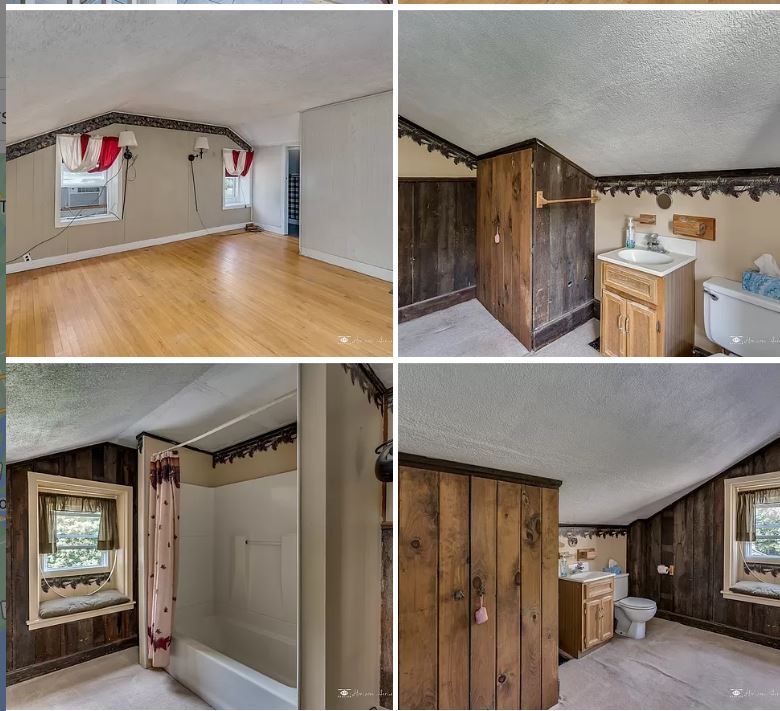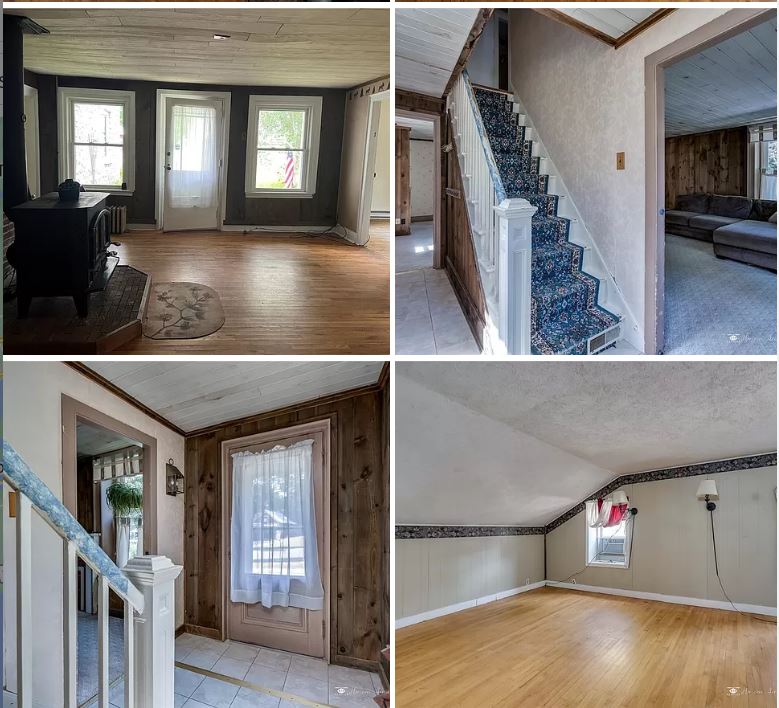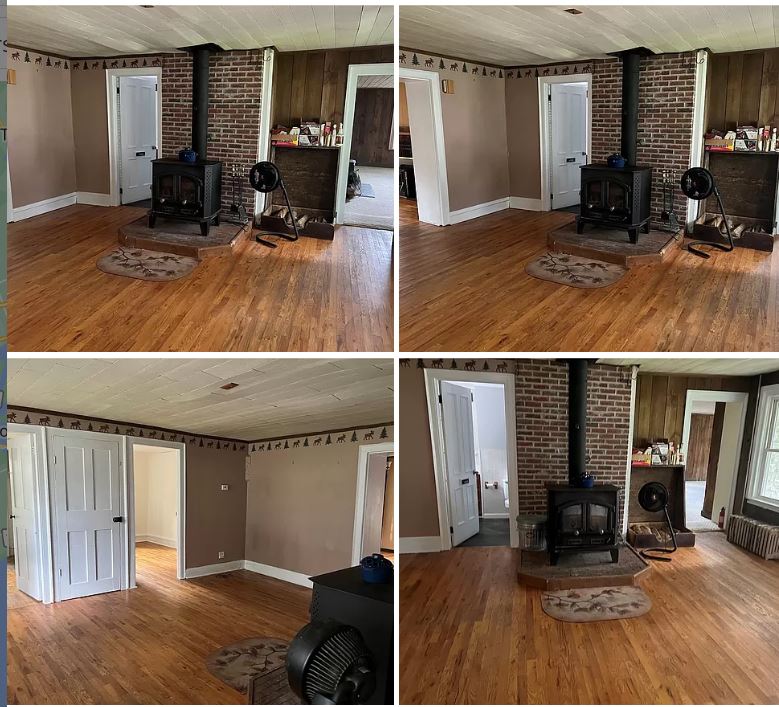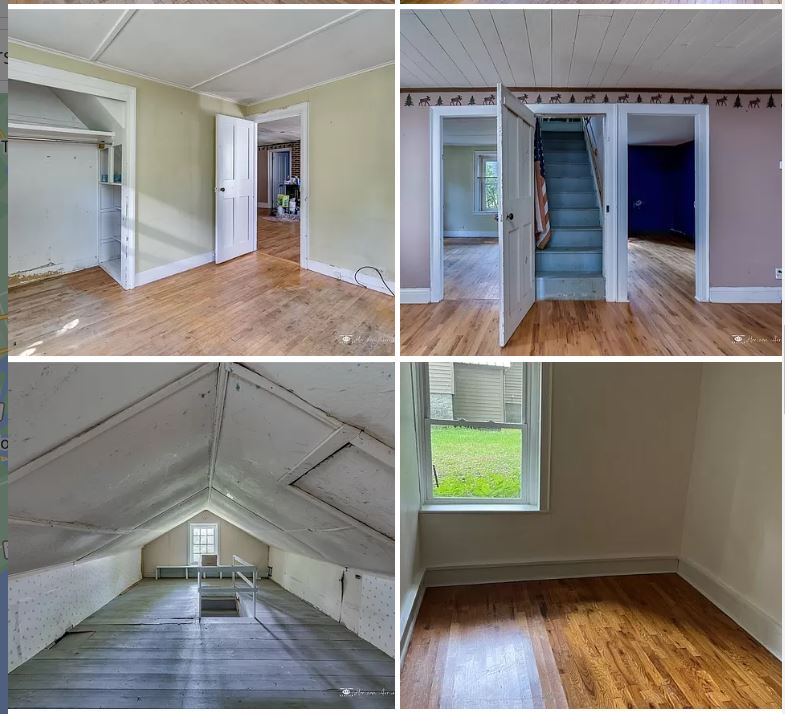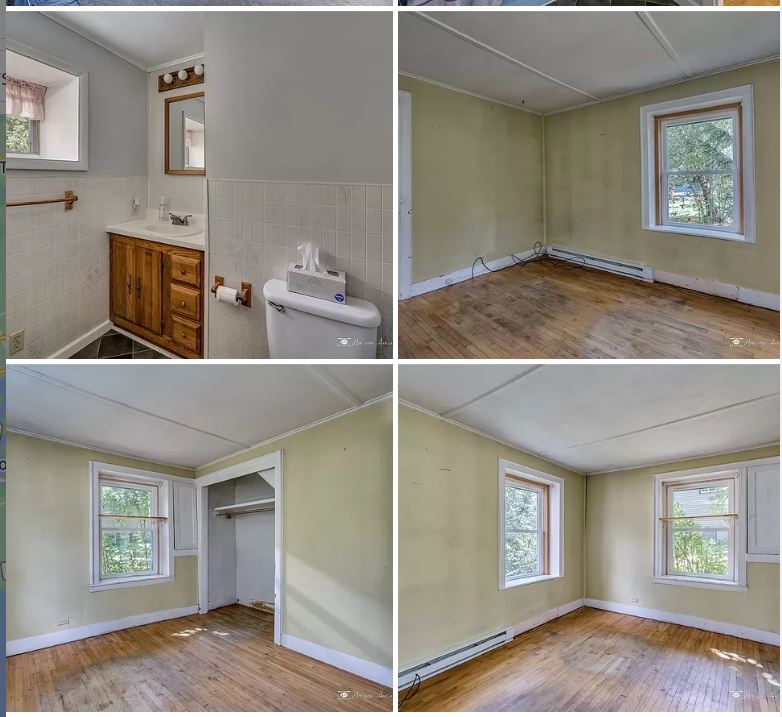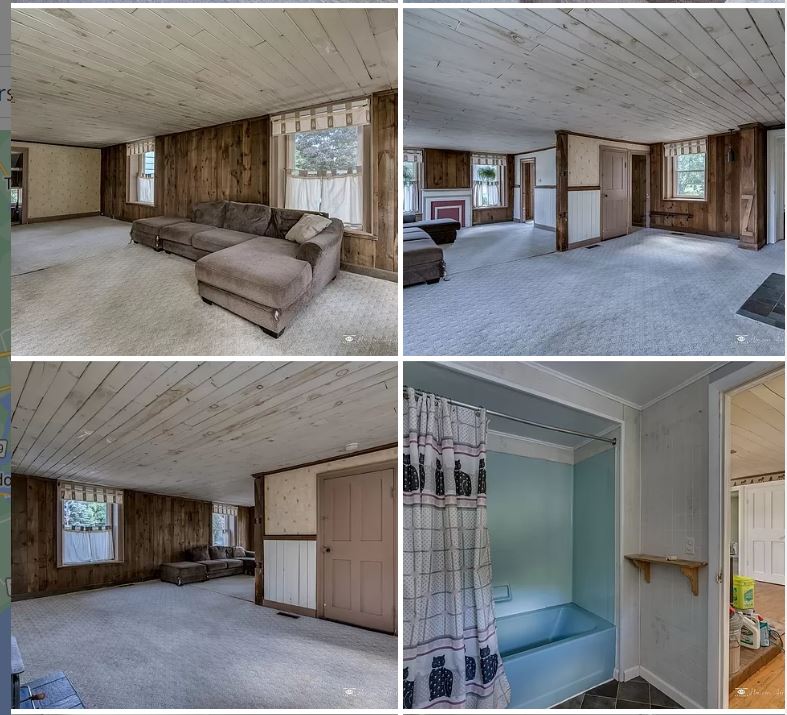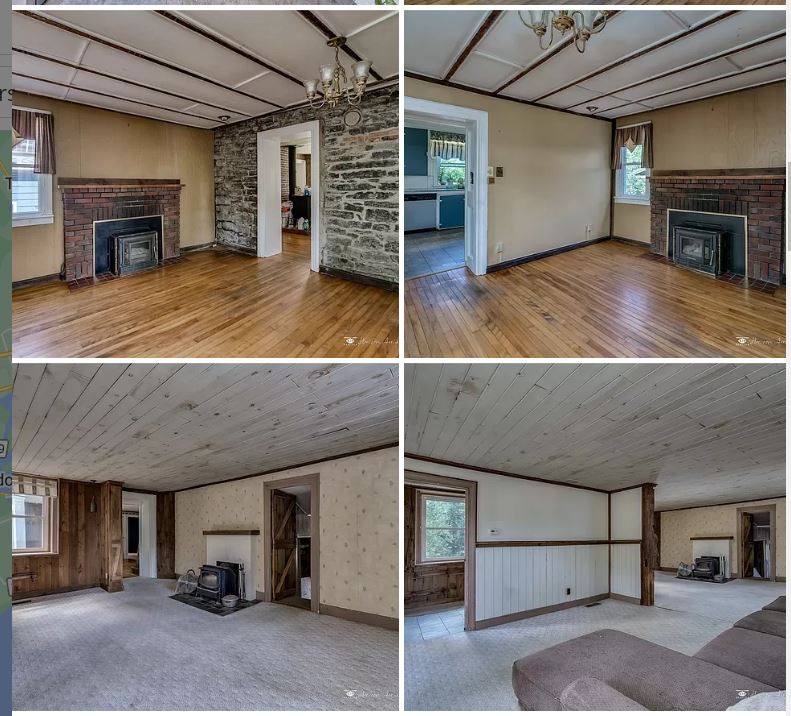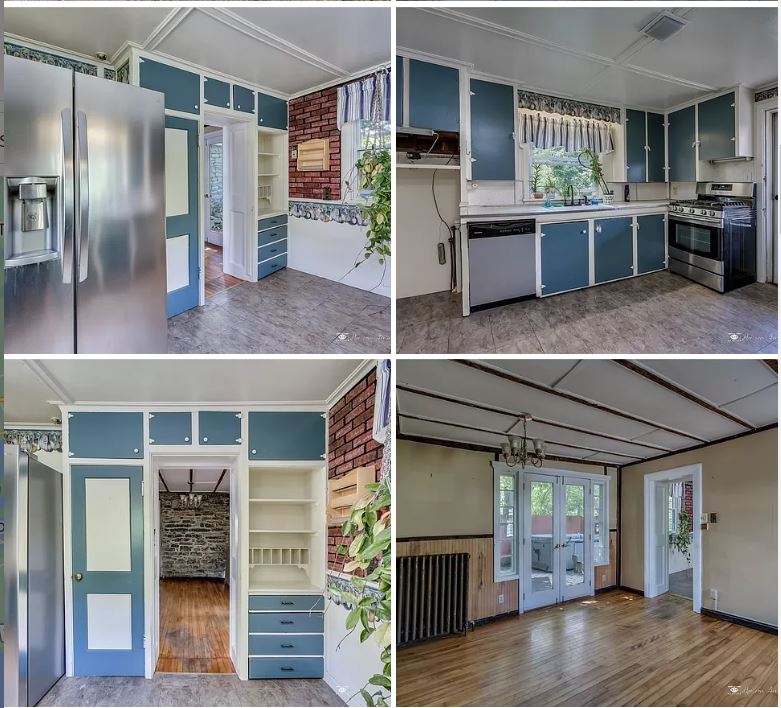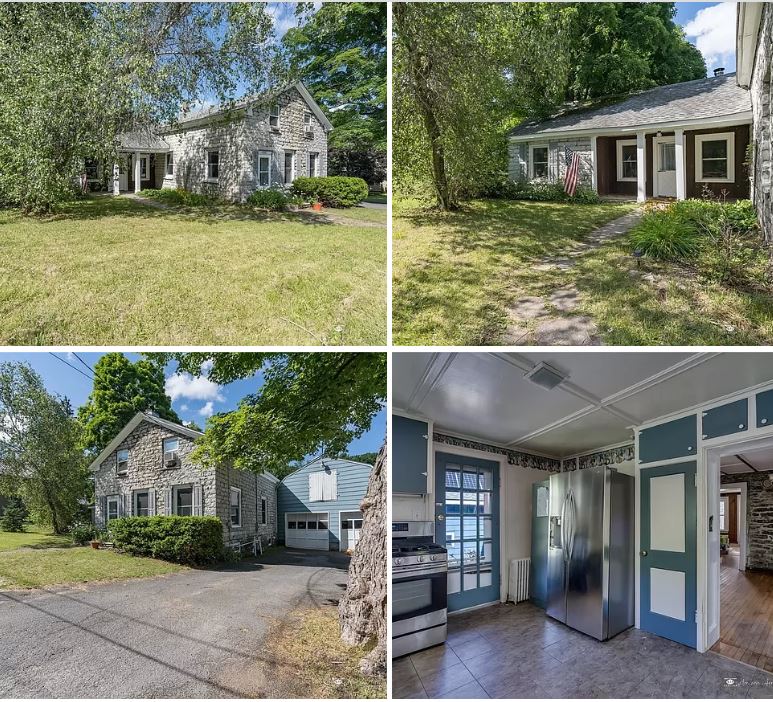 The low and rambling stone house of Edward Linn Bassett, well known to the North Country paper industry, occupies the western side of the Felts Mills street designated in old deeds as the road leading from Felts Mills to Champion. It is of native limestone construction, over a century old and may have been the home of Joshua Angell Babcock, native of Hamilton, NY, father of the late Henry Holmes Babcock who came to Watertown in 1844 to engage the next year in wooden pump manufacture and eventually to organize the great H H Babcock Buggy company that was long one of this city's leading industries. Joshua Angell Babcock, great-grandfather of Henry Holmes Babcock, vice president of the Watertown National Bank, died March 23 1843. The following year saw his son, H H Babcock, starting a new career in this city. In Felts Mills he had been associated with his father, Joshua, in the mercantile and lumber business.

Felts Mills is one of the most historic spots in the country. Originally known as Truckville until 1824 when it was named for John Felt, pioneer miller and industrialist who occupied a grand mansion of limestone there. It was the home of the county's first grist mill, built 1800-1801 by David Coffeen. Besides the Felts and Wheelocks were prominent early Felts Mills residents and in 1857 Orlen or Orlin Wheelock, LeRoy Wood, Merrill Coburn, Russell Wilmot, Martin Lisk Graves and Benjamin Crossett formed a stock company to operate a tannery that was the leading village enterprise until the Taggart paper mill was built.
The site upon which the Bassett residence stands consisted originally of two parcels, one of which was sold by Oliver A Felt to Orlen Wheelock April 26 1844. The other parcel is described as beginning so many links from the southwest corner of Joshua A Babcock's stone house and March 21 1839 there is a deed of property in that locality running from Joshua A Babcock and his wife, Laura, to Orlen Wheelock. Mrs Polly Felt Nims, of this city, who resided as a girl in the imposing Felt mansion, recalls that the Wheelocks then owned and lived in the present Bassett house. The fact that there is but one stone house on that side of the street would indicate that the Wheelock house was originally the Babcock property.
Washington Wheelock, trustee of St. Lawrence university 1870-1876 steward of the college 1884-1892 and father of William W Wheelock, the great Chicago attorney who became co-receiver of the Chicago & Alton railroad, acted as administrator of Orlen Wheelock's estate and on December 26 1866 sold this old house and site to Christopher P Clark for $1,025. In a few years Clark sold it to Lewis Aldrich and there followed a number of transfers until Fernando L Rockwood, hotel proprietor, bought it October 25 1879. On February 17 1887 he disposed of it to the late Maurice M Parker, Felts Mills and Deferiet merchant for many years. Mr Parker conveyed the house to his wife, Mrs Emma B Parker, September 2 1901 and November 16 1905 she sold it to Mr Bassett and his wife, the late Jessie H Bassett.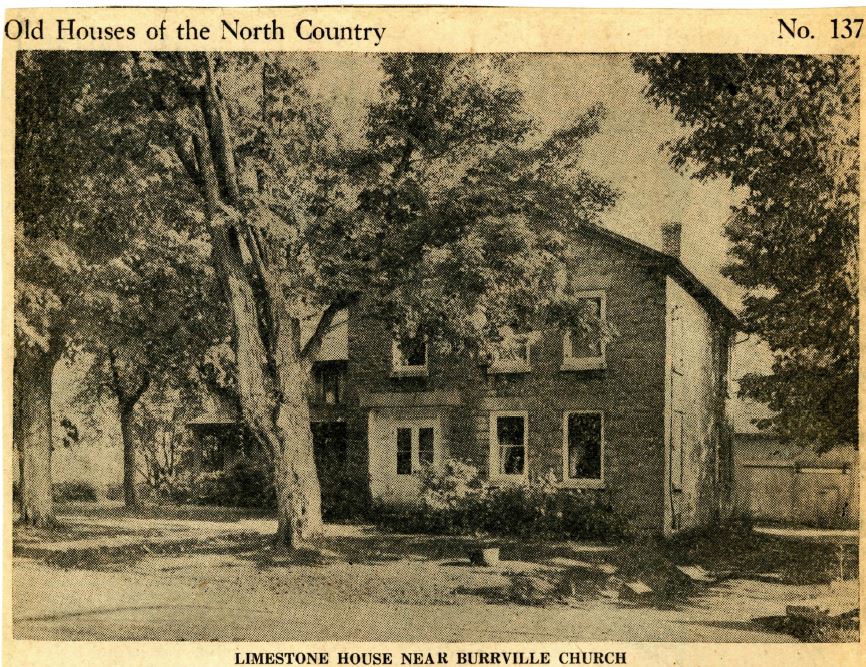 25535 NY 12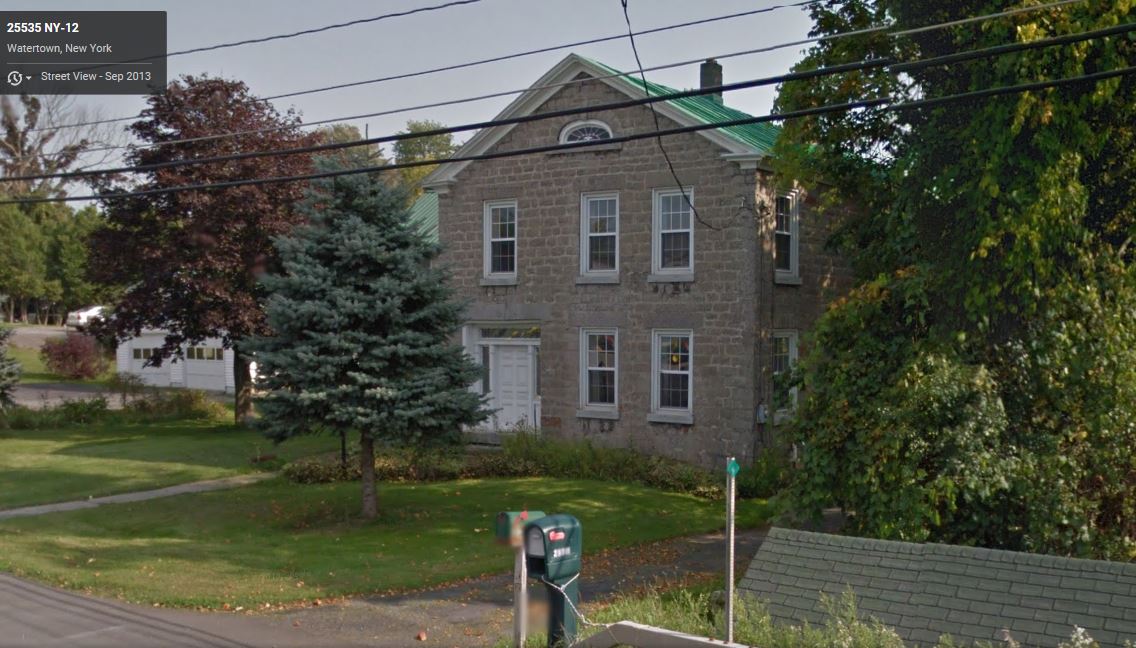 Two teams of oxen were worn out hauling the limestone from Black River for the construction of this house on the south side of the Watertown-Copenhagen state highway and just west of the Burrville Congregational church. The house is said to have been built by George Sterrett in 1832 and its hand-wrought woodwork and fireplace mantels are of the best workmanship. Also by ox-team was brought from Utica beautiful solid mahogany furniture, the finest pieces of which are still owned by Miss Emily S Penfield, Saratoga Springs, great-granddaughier of Mr Sterrett.
George Sterrett was born in York, upper Canada, November 16 1807, one of eight children. He was only a child when his father died and Captain William Lamson, War of 1812 soldier, one of the first town of Watertown settlers and perhaps this country's first blacksmith, adopted him and his sister, Mary, although they retained the name, Sterrett. Captain Lamson was one of Jefferson County's distinguished pioneers. From blacksmithing he soon engaged in the manufacture of axes to supply the settlers' need. To ease the process he erected in his shop a triphammer operated by waterpower from the dam across nearby North Sandy creek. His axes became renowned and he made other edged tools. Upon a site at the top of the highest of the Burrville cascades he built a cupola iron furnace about 1825 reputed to be the first in this section. In pre-War of 1812 days upon the flat land across from the Burrville hotel he trained the youth from miles around into militiamen.
Such was the man who brought up George Sterrett, who on December 31, 1829 married Esther Adelia Abbott, town of Rutland native, to whom was born two sons, Volney and George DeMott Sterrett. May 19 1846, Captain William Lamson deeded his nearby 160-acre farm, partly in the town of Watertown and partly in the town of Rutland, together with all the personal property, stock, farm utensils and implements to George Sterrett, reserving a life-use of "my said dwelling and garden and yards." In return Mr Sterrett obligated himself to pay Captain Lamson and his wife, Sarah D, $200 a year for the balance of their lives, half of the amount to be in money and the rest in produce. In case of their sickness the amount was to be $300 a year.

For 38 years after its construction George Sterrett retained his stone house at Burrville, selling it and the 5.2 acres of land that went with it to Manila Yandes for $2,000 on October 7 1870 and removed to Saratoga Springs where he died August 9 1881. It remained in the Yendes family until October 1890 when Caroline M Delano, Pulaski, and George M Kenyon, St. Paul, Minn., sold it to Peter Cummings, Burrville blacksmith. By his will, recorded June 9 1898 the house, lot and shop were given to his son, William R Cummings, who also followed blacksmithing. William R Cummings died August 20 1941 leaving this property to his widow, Helena Bibbins Cummings, who sold it October 29 1941 to Ralph W Harter, city, now in the service. The property is tenanted by Mr and Mrs John A MacDonald.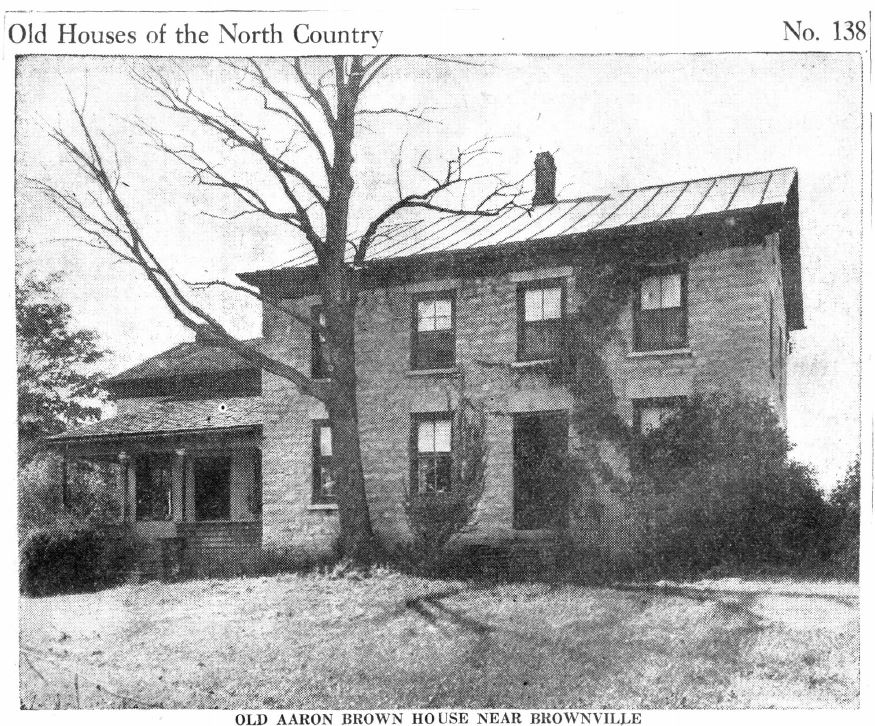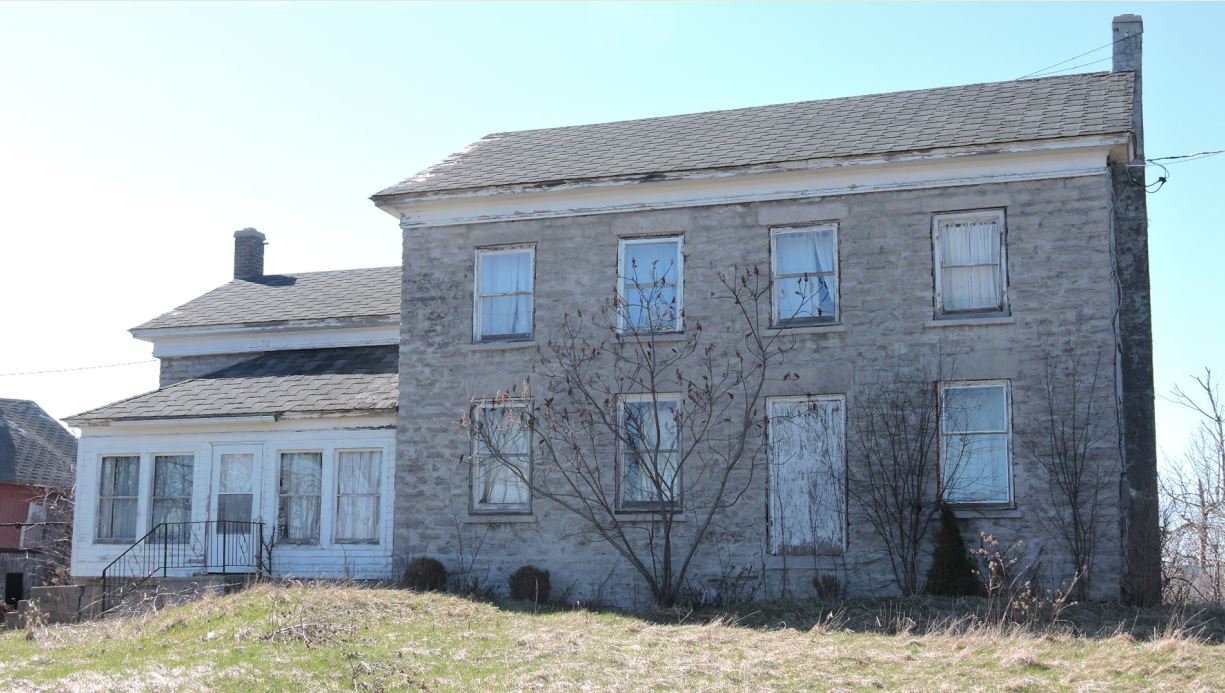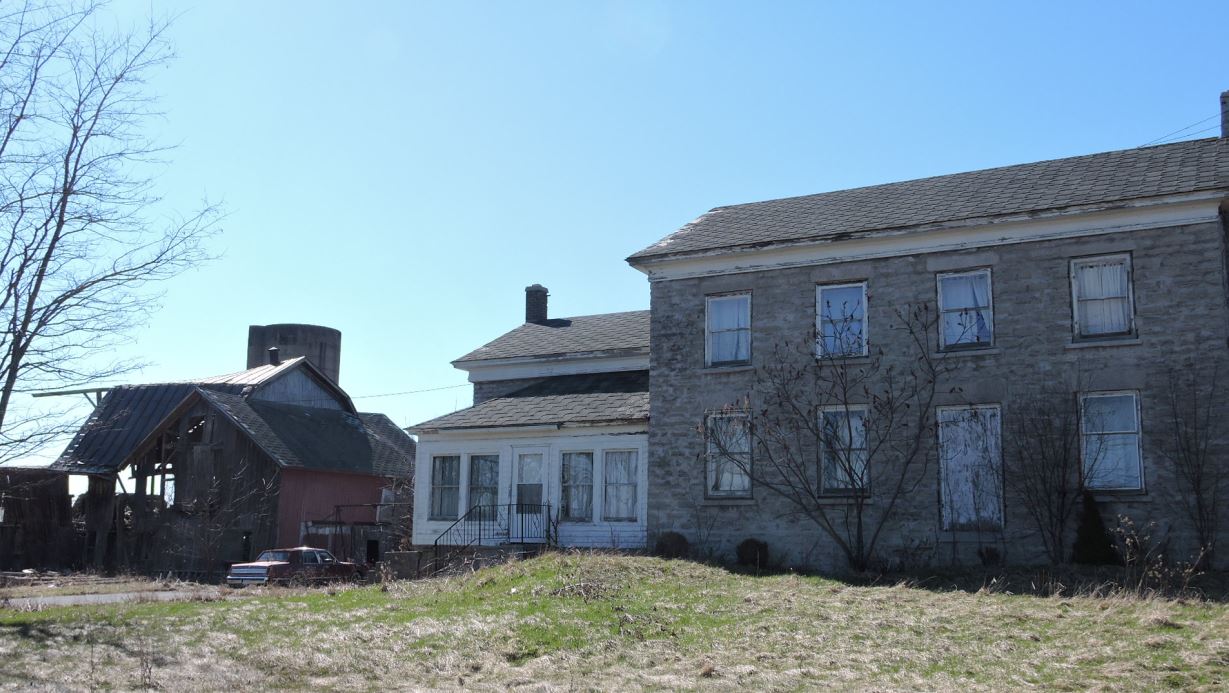 Aaron Brown, soldier of the War of 1812 native of Pennsylvania and probably a relative of Major General Jacob Brown, built this native limestone house about 1830 or 1831 on the west side of the Perch Lake road not far outside of Brownville village.

Upon becoming 65 he apparently decided to retire from farming, disposing of the house and its 126.69 acres of land March 10 1857 to James Osborn for $5,300 and purchasing a house in the village April 6 from Dr William Penn Massey on the west side of Washington Street, just north of the railroad tracks and of Dr Massey's stone mansion now owned by John J Warren: Aaron Brown and his family which consisted of his wife, Martha, three daughters, Martha J, Eliza M and Lucy A, resided in the Washington Street house until February 19 1870 when he sold it to Magdalena Conklin for $1,200. It is likely that the family then moved elsewhere for none of the cemetery records in the town of Brownville shows the burial of an Aaron Brown.
Aaron Brown Avas born in Pennsylvania in 1792 and his wife was born the following year in Massachusetts. He was only 20 when he became a Minute Man on June 18 1812 and served one monlh in Captain Azariah Thomas' company of Colonel MacComber's regiment in the War of 1812. Also he served a month from October 15 1814 as a private in Captain George Brown's company of Colonel Calvin Britain's 108th Infantry regiment. For his military service he was given two land grants, one of 40 acres and one of 120 acres. On March 3. 1830 he paid the Mechanic's Fire Insurance company of New York trustees $458.75 for 65.1 acres on the Perch Lake road and October 31 1831 paid Calvin Locke $300 for 61.59 adjoining acres.
A half dozen years earlier both these parcels had belonged to the LeRays and after Aaron Brown sold the combined property to James Osborn in 1857 the latter purchased an adjacent ten acres from William J Hunter September 7 1858. On March 31 1866 James and Delilah D Osborn sold the house and 136.69 acres to Alfred G Taylor, a native of England, who had come to Dexter in 1850 to work in the woolen mill. Taylor paid $5,500 and August 21 1896 joined with his wife, Hester, in selling it to their son, Frank D Taylor. After the latter died the Jefferson County National bank, Francis G Taylor and Martha T Wilson of the town of Brownville as executors sold the place to Merritt B Gilmore of the same town and on December 19 1938 Mr Gilmore disposed of it to James E and Hester I Gilmore, the present owners. It is of interest to note that during the early history of Jefferson County there were apparently three Aaron Browns who played a part in its development. One of these purchased land at Watertown Center in 1806 and became one of the original trustees of the First Presbyterian church. Little record is left of him. Another Aaron Brown was born in Connecticut in 1785 later was located in Washington county, New York, came to Adams in 1806 and shortly thereafter settled in Lorraine, became assemblyman in 1830 and died in May 1870. He was the grandfather of Clarence A Brown, city, and Henry M Brown, Utica, and the father of Attorney Levi H Brown and the grand-uncle of Senator Elon B Brown and Abner B Brown.
Rt 180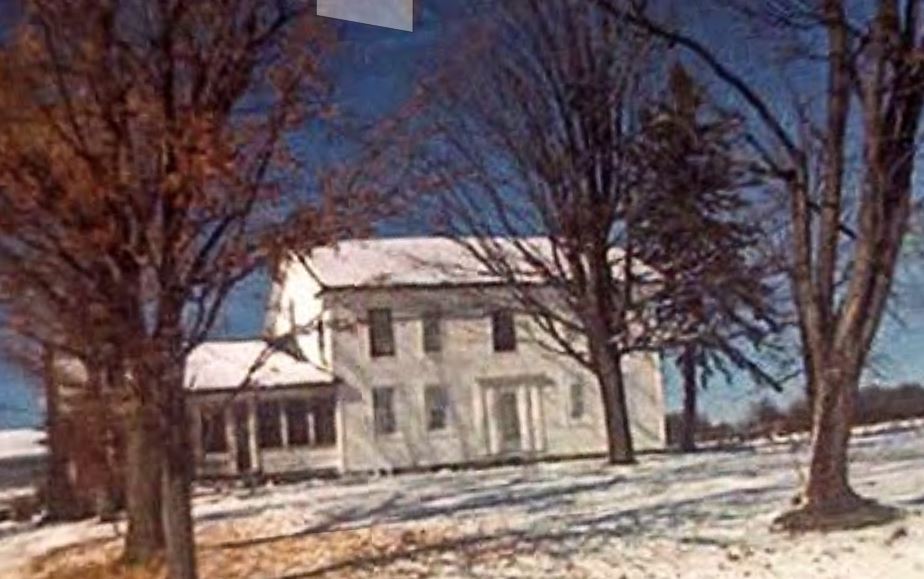 State Senator Isaac B Mitchell, who represents the 37th district in the legislature's upper house, has the distinction of owning a timber-constructed residence which, architecturally, is not only one of the finest examples of the Georgian-colonial in the North Country but has always been possessed by the Mitchell family. Located on the west side of the Watertown-LaFargeville highway about a mile and a half from Stone Mills and four miles from LaFargeville, the house is 107 years old. After an existence of 50 years it was given its first re-shingling in 1888 and when the original 18-inch handshaved pine shingles were taken off to make way for the new, one was discovered with the following inscription in red chalk upon the under side: "Built by Willard Tarbell July 10,1838"
The house was built for Hiram Mitchell, grandfather of Senator Mitchell, and the inscription ties in with a conveyance of farm land to Hiram Mitchell in that location by William and Sophronia Martin, Delano D and Harriet Calvin and John and Louisa LaFarge for $515.75 on September 23 1837. There is still in possession of the family a contract dated June 1 1833 whereby Hiram Mitchell was to purchase 93.84 acres of land from John LaFarge, but long before that, on October 17 1817, Hiram Mitchell's father, Isaac, who had come into this county from Connecticut over wilderness routes in 1806 or 1807 had been one of 25 settlers to arrange to buy land in that part of Orleans from Elisha Camp as agent for A M Prevost at $5 per acre. That Isaac Mitchell was great-grandfather of Senator Mitchell and grandfather of the Isaac Mitchell who, with Henry J Lane of Sackets Harbor, represented this county in the state assembly in 1889 and 1890.
Records in the county clerk's office show a reluctance on the part of the Mitchell family to get itself heavily documented, but the pioneer Isaac Mitchell early built a log cabin, which stood about where the senator's barn now is, and it served the family until Willard Tarbell, apparently a contractor and builder, erected the present house of strong and heavy timbers in 1839. It was a commodious house that Willard Tarbell built, there having been eight bedrooms in it, and within that house four generations of Mitchells have been born, the last having been Deanna Jeanne, daughter of Hiram Benjamin Mitchell and granddaughter of Senator Mitchell. A daughter of Senator Mitchell, Mrs Mary Mitchell Mills of LaFargeville, was also born in the house. The farm, on the other hand, now exceeding 400 acres, was the scene of six generations of this family and was started with less than 100 acres by the Pioneer Isaac.
The six generations were Isaac, Hiram, Hiram B, father of Senator Mitchell, Senator Mitchell, H Benjamin Mitchell and Deanna Jeanne Mitchell. The house and the farm which have been in the possession of Senator Mitchell since the death of his father, April 21 1921 occupy a sightly location. The front door and doorway, artistically wrought in Georgian-colonial design, form a most attractive feature. Inside, the brick oven which served to do the family baking tor many years, has been removed in process of remodeling. Senator Mitchell, who succeeded the late Senator Perley A Pitcher in the senate March 28 1939 and nearly 62 has two sisters living who were also born and spent their early days in this house. They are Mrs William Alton Denison, 137 Bowers avenue, city, and Mrs Charles J Loucks, LaFargeville.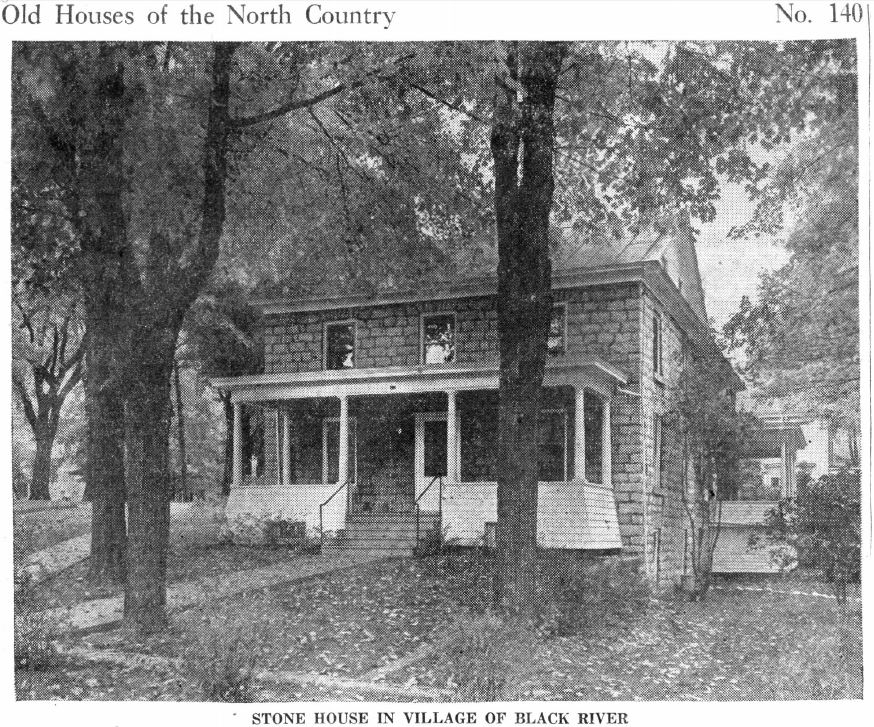 109 N Main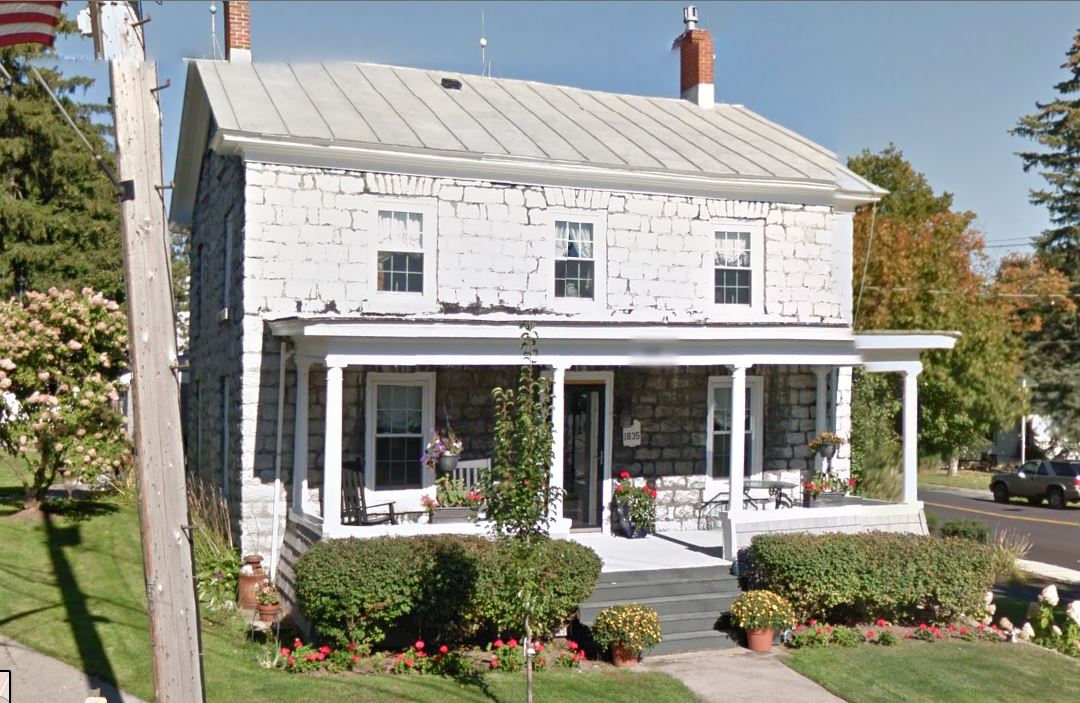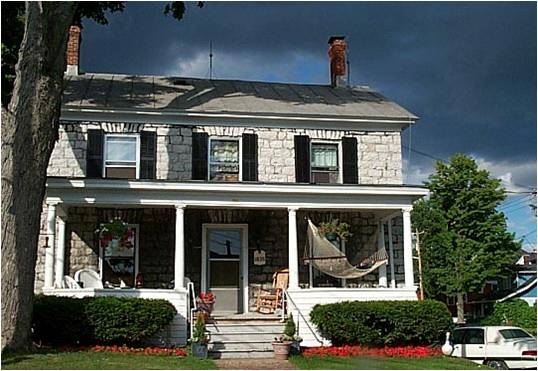 Christopher Poor, resident of the town of Rutland, purchased 150 acres on the LeRay side of Black River village in the heart of its present business section and became one of its first residents in 1829. From that time until recent years the name Poor has been prominent in village history, and even today the old limestone house in the acute angle of Black River's business district, where the street leading to LeRaysville joins that running to Felts Mills is known as the Poor mansion.
This house, like the Jackson Tamblin house and the Asa Frink house, is said to have been erected by Josiah Johnson, a well known builder in that part of the county a little over a century ago. The exact year of its construction is not known, although it is believed to have been about 1835. Nor is the identity of its first owner known, although it may have been one of the Wilcox family, which was also prominent in the early annals of the village. William S Wilcox began manufacturing caskets in Black River in 1849. Joseph Wilcox sold 3.26 acres of land in the district where this stone house is located to Almanson Wilcox, also of the town of LeRay, for $1,000 August 18 1847 and the price indicates that there was a dwelling on the property at that time. The deed shows that the property was near the house of Christopher Poor, which was first to be constructed on that side of the river.
However, Almanson Wilcox must have removed to Oswego, for on June 29 1858 when he sold the stone house and three-quarters of an acre of land to Harvey Phelps for $650 the deed states that he resided in Oswego
Harvey Phelps retained the property until September 3 1864 when he sold it to Orlin Blodget for $800 and Blodget disposed of it to Peron V Poor and his wife, Libbie G, March 29 1873 for $1,000. Peron V Poor, who died October 1 1904 left his house and property to his widow, Mrs Bessie A Poor, his second wife. She resided here until her death October 30 1939 and under her will the property went to her daughter, Mrs Charles M (Blanche Poor) Johnston, city, who sold it April 8 1941 to Dr Clark S Shuman and wife, Jennie R, the present owners, Dr Shuman now being a lieutenant in the United States Navy.
Peron V Poor was the son of Matthew Poor who died May 4 1897 and who in turn was the son of Christopher Poor. For 30 years Peron V Poor had been a Black River merchant, operating a drug store part of that time. He also owned and operated a large farm and when the City National bank was organized in Watertown March 17 1890 he became one of its first directors.
All of the members of his family had been prominent Black River industrialists. David Dexter founded a chair factory in the village and shortly Christopher Poor started a chair stock bending plant, later merging with the Dexter business as Poor & Dexter. The Black River Bending company established in 1860 was incorporated in 1889 Matthew and Peron V Poor being among the principal stockholders and Peron being president up to the time of his death. Like other wood products industries of the North Country it went out of existence with the disappearance of the Adirondack forests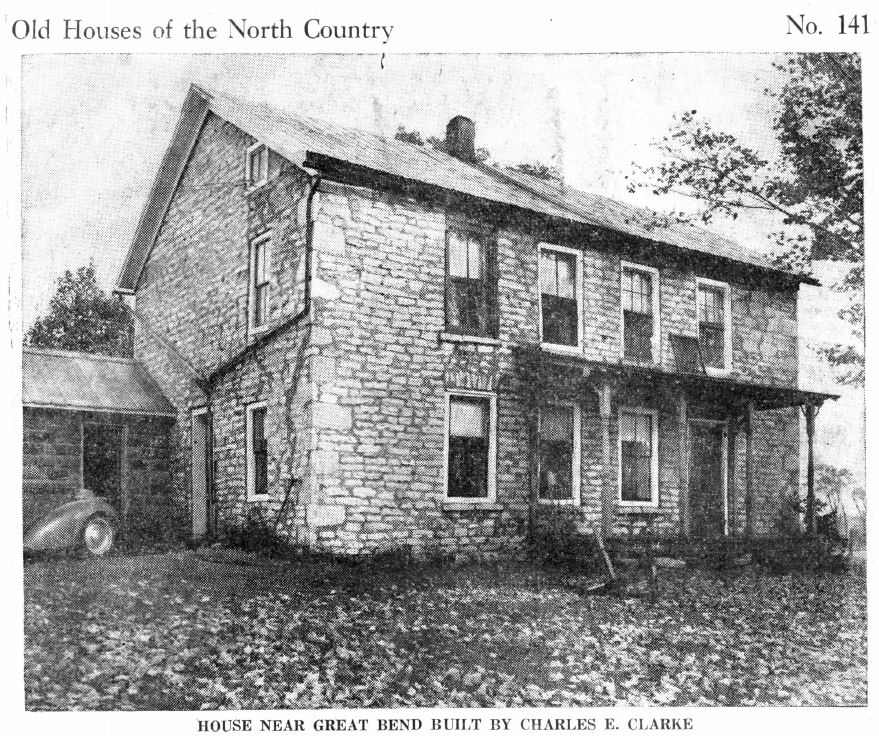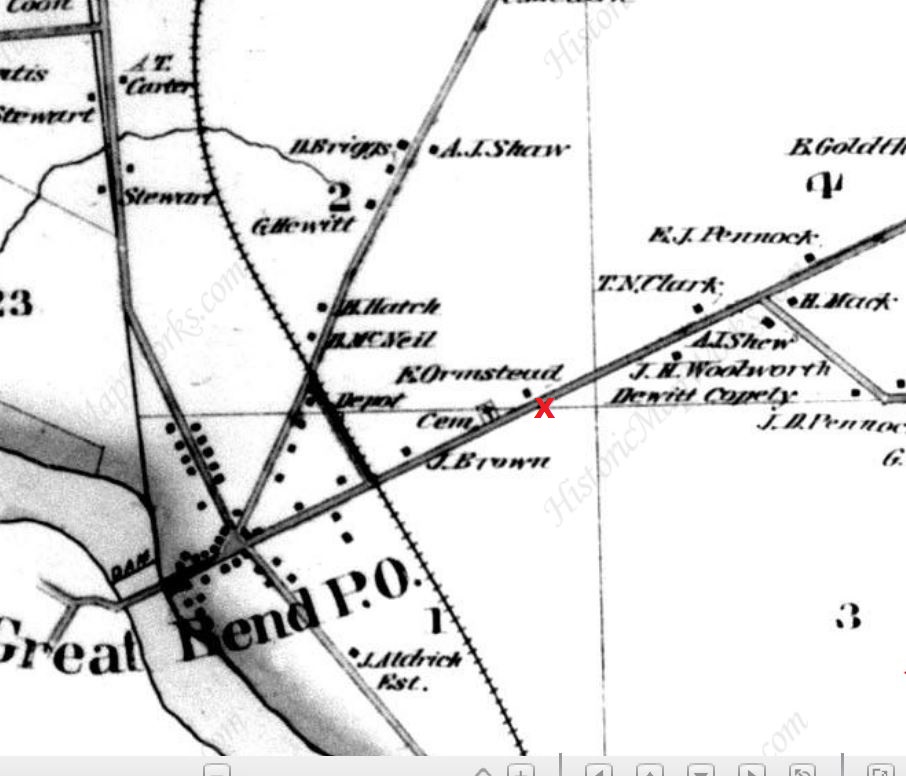 (Probably County Rd 47)
Charles Ezra Clarke, born at Saybrook, Connecticut, in 1789 graduate of Yale, later training for the law in Green county and having been admitted to practice in 1815 became one of the greatest early attorneys of Watertown and Jefferson County. He rated with Micah Sterling, Egbert TenEyck, William Ruger and George C Sherman and from 1825 to 1848 headed the Watertown law firm of C E & J Clarke with his younger brother John as junior partner. In 1839-1840 he was assemblyman in the state legislature. In 1849 to 1851 he was congressman from this district and as the friend of John Howard Payne, author of "Home Sweet Home," succeeded in having Payne returned to Tunis as United States consul.

It is related that Charles E Clarke was one of the most with humorous, eloquent and resourceful attorneys in the state. He represented some of the large land owners of this region, and defended many of the persons participating in or accused of aiding the so-called "patriots" in the Patriot War. Yale made him an LLD in 1840 and that same year his brother became surrogate. When the present county court house was dedicated October 7 1862 Charles E Clarke made the dedicatory address. On the night of December 8 1863 he died at his residence on the Champion road near Great Bend. Two days later his funeral was held at the First Presbyterian church in this city and he was buried in Brookside. A daughter, Miss Juliet Sanford Clarke, died in New York City March 14 1944 aged 90. His other children were the late Miss Florence S Clarke, John Victor Clarke and Charles E Clarke Jr.

On April 1 1824 Charles E Clarke bought the distillery, grist mill and sawmill of Watson & Gates at Great Bend for $6,000. About seven years later he removed to Great Bend to look after his business interests and shortly after that built the limestone house which stands on the east side of the road leading from Great Bend to Champion about a mile south of the Frank W Woolworth Memorial church. There in this house, now owned by Bert Thomas, he resided with his wife, the former Hannah Sanford, and their children, until he died. With his house, consisting of about ten rooms and built of native limestone, was a large farm of over 200 acres and his interest in farming led him to become president of the Jefferson County Agricultural society in 1845.
After Charles E Clarke's death his widow as executrix sold the property March 1 1870 to Edwin H Olmsted of Watertown and Elnathan Gregory of Champion. Ultimately Mr Olmsted took it over and upon his death title passed to his son, William S Olmsted, who is now associated in a technical capacity with the St. Regis Paper company. On October 13 1919 William S and Charlotte B Olmsted as heirs of Edwin H, sold the place and its remaining 180.76 acres of land to Mr and Mrs Ernest L Mills of Watertown and they retained it several years, but in recent years it was acquired by Mr Thomas.
Charles E Clarke was descended from John Clarke, native of Great Mundon, England, who settled at Cambridge, Massachusetts in 1632, but shortly thereafter removed to Connecticut. From Great Bend Charles E Clarke's family moved to the house now known as 128 Sterling Street and now owned by Hiram J Wright.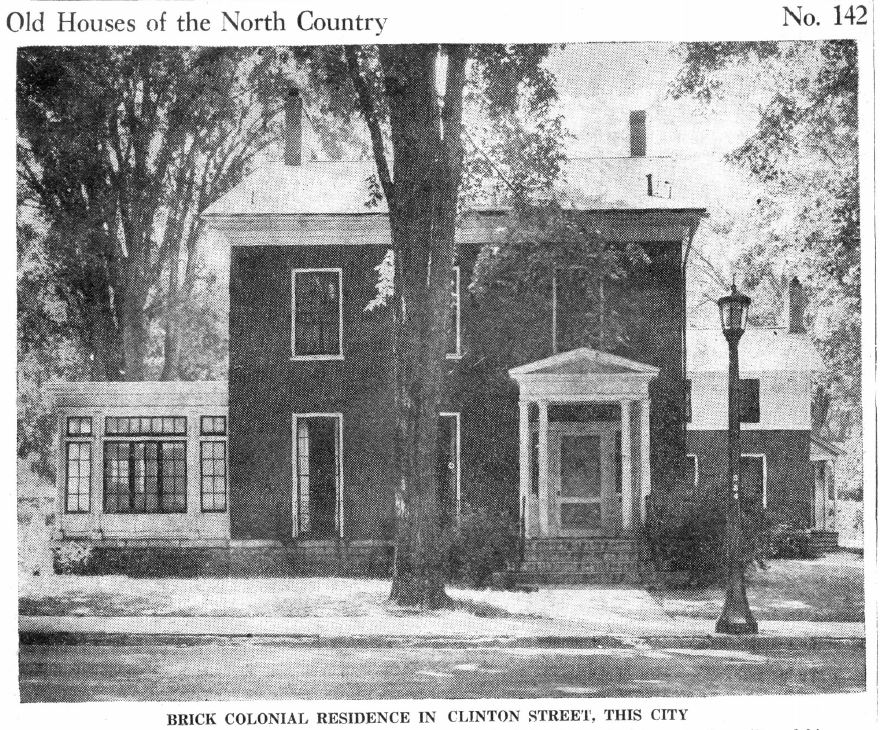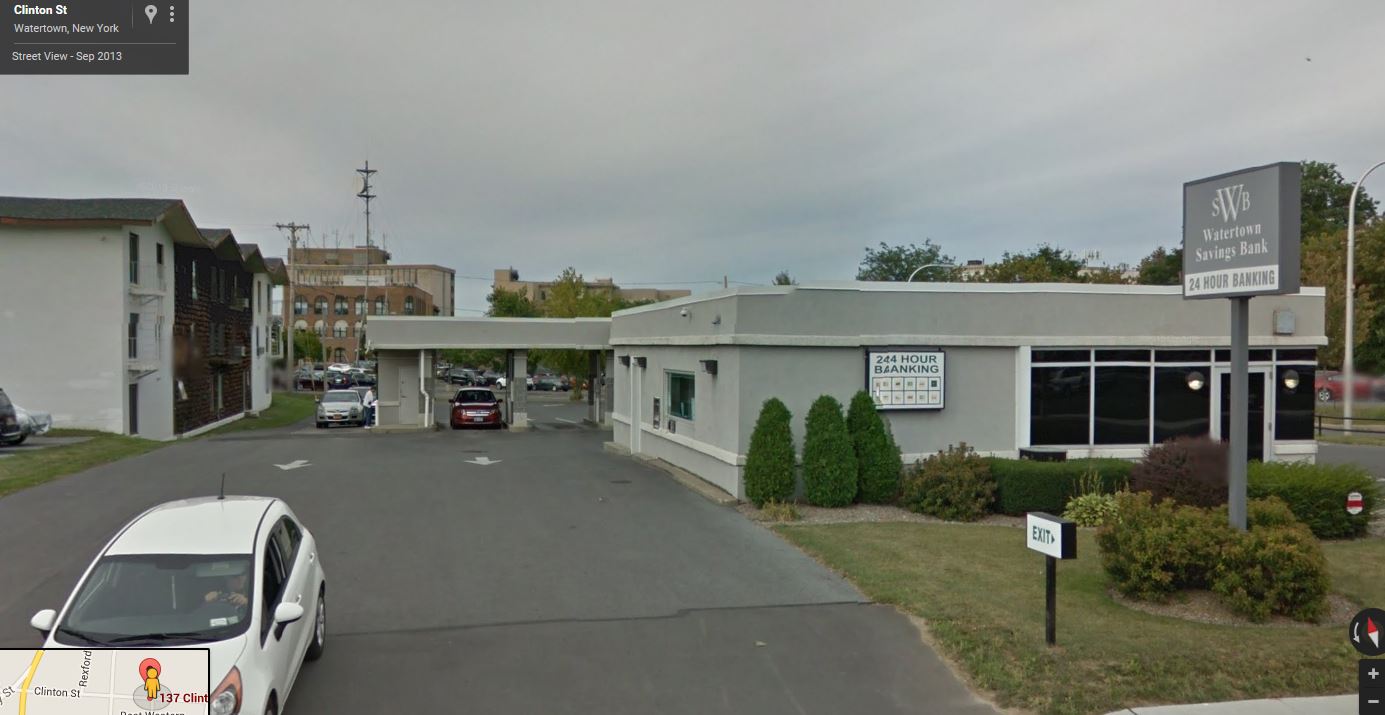 The name of Eli Farwell is intimately connected with the flour-milling business during the period when it was one of Watertown's leading industries and his fine brick colonial residence built in the summer of 1828 at 7 Clinton Street was one of the best in the city. It is now numbered 137 and for some years was the home of Mrs Marion Remington Kemp until she sold it to Dr Harry Levitt, M D, and wife, Clara D Levitt, October 15 1940.
Eli Farwell, an assemblyman from the Watertown district in 1835 one of the first trustees of the old Black River Literary and Religious Institute when it was formed May 25 1835 one of the incorporators of the Jefferson County Mutual Fire Insurance company organized as the result of a meeting in 1836, was born March 14 1791 at Whitestown, Oneida county. He was a son of Isaac M Farwell of Townsend, Massachusetts, and his mother was the former Thankful Brigham of Shrewsbury, Massachusetts. On December 23 1819 he married Margaret Adeline Brayton of Deerfield, NY.
As a young man he had learned the stone-mason trade, but his health was not robust and coming to this community in 1824 he formed a partnership with Josiah W Baker in a general store on Court Street. But again his health interfered and joining his younger brother, Samuel, of Utica they built the stonework of the Delaware & Raritan canal in New Jersey and the Boston reservoir.
Returning to Watertown he associated himself with his brother-in-law, Hiram Merrill, and in 1838 under the name, H Merrill & Co, bought the Union flour mills which had been built on River Street by Joseph Sheldon and Philo C Moulton in 1835. In 1835 he formed Eli Farwell & Company to take over the mill and his son, Frederick R Farwell was a member.
Eli Farwell had been one of the vice presidents at a meeting held at the court house in December 1838 to take action concerning those persons from this side of the border participating in the so-called "Patriot War." He died in 1866 at the age of 75 and on October 1 of that year his widow, Margaret A Farwell, sold his residence on Clinton Street and his interest in the Union mills to their son, Frederick R Farwell, who resided in the house until his death March 18 1917. However in 1878 F R Farwell formed a partnership with Foster P Rhines and they shortly thereafter purchased the City and Crescent Mills and operated them as Farwell & Rhines, Mr Farwell selling his interest to his partner in March 1916.
The residence, still one of the most attractive in the city, has had some additions and alterations since it was first built by Eli Farwell upon a site purchased January 31 1828 from Olney and Elisa Pearce for $300, Clinton Street being described as running westerly from Washington Street past Reverend George S Boardman's. The house which, some years ago, had its brickwork painted a dark red, passed by will from Frederick R Farwell to his daughter, Margaret Elizabeth Farwell, and step-daughter, Carolyn Yale. On March 11 1922 Mary Farwell Rice, granddaughter of F R Farwell, by her father, Fred B Rice as special guardian, sold her interest and his wife, Carolyn Yale Rice at the same time disposed of her interest to Mrs Marion R Kemp. Mary Farwell Rice's mother was Margaret Elizabeth Farwell, who died several years ago and some years later the latter's husband, Fred B Rice, married Miss Yale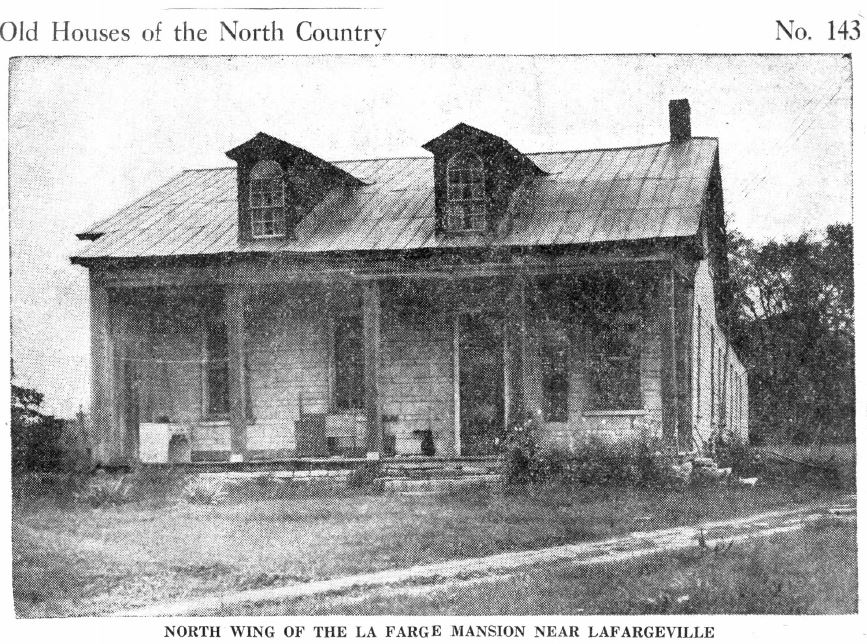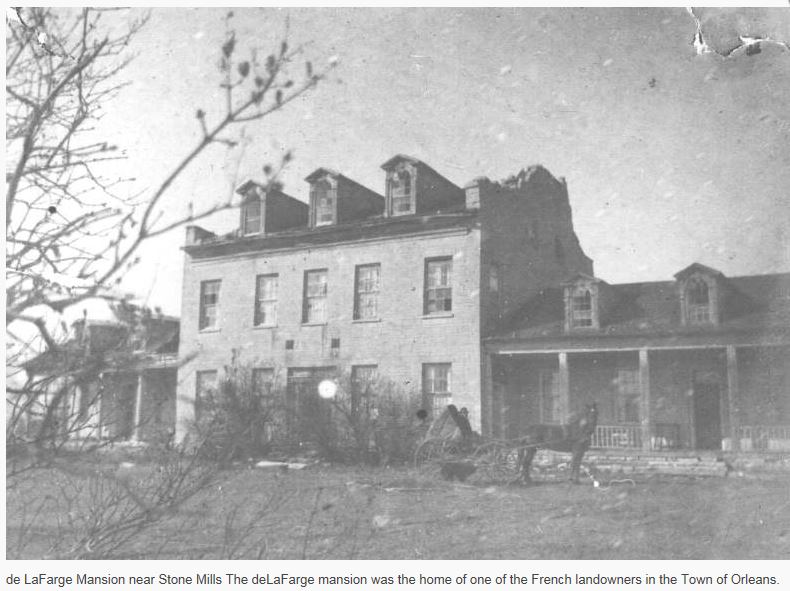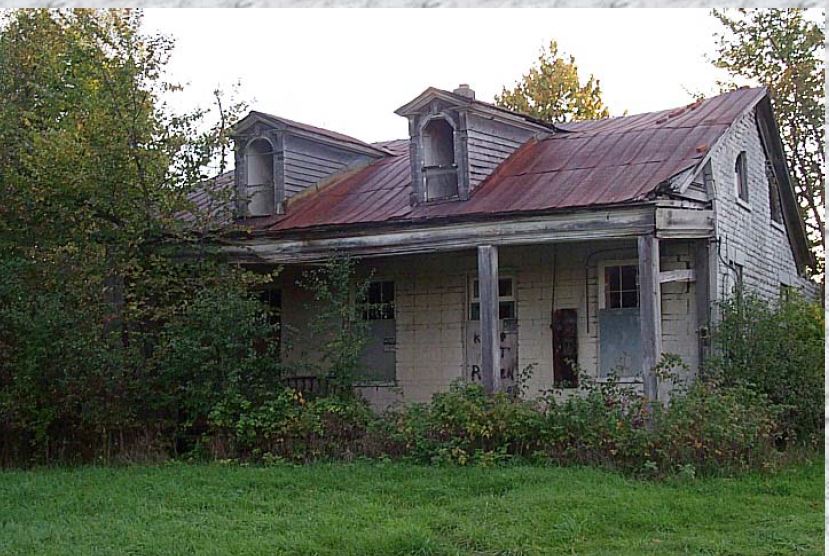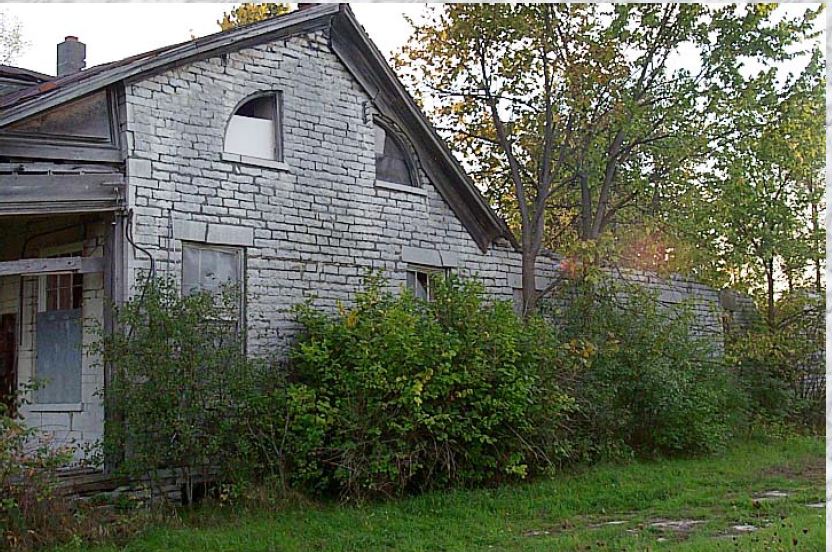 See also Article #306 - same topic
The north wing is all that remains today of the imposing mansion of John LaFarge that once stood proudly near the outskirts of the village of LaFargeville. It was located towards Stone Mills on the route from this city. This north wing is the farm house and home of Charles and Beatrice Berkman, who purchased it with 103.84 acres of land from Mabel C Lehr of Philadelphia, May 28 1943. And in spite of the fact that it is only one wing of the original mansion it is nevertheless commodious, giving just a slight intimation of the size of the entire structure when it was intact, for there was a south wing of the same size and style, geometrically balancing the main body of the house. Altogether the main house and wings had a frontage of 100 feet.
Started in 1832 the great LaFarge mansion, one of the great manors of those historic figures who began early in the 19th century to develop the upstate wilderness into thriving cities, villages, hamlets and prosperous farms, is reputed to have been completed sometime in 1833. Hial Cook was the master mason and the blocks of blue limestone that went into the construction of its outer walls were quarried and hammer-faced on the site. Workmen toiled twelve hours a day and for their labor the skilled craftsmen are said by the late Mr A C Marshall to have been paid 80 cents to $1 per day, while the unskilled employes received only 25 to 30 cents a day. The mansion was a combination of French and American colonial architecture and its interior with its beautiful woodwork and plaster mouldings, cornices and ceiling ornamentation in relief done by Thomas Drake gave an evidence of splendor.

But Louisa, the young and beautiful wife of John LaFarge, the one-time French merchant and importer who had made a vast fortune in West Indian trade, did not like this wilderness whose thousands of acres he had bought as an investment, and craved the social brilliance of New York. So on March 1 1838 they sold their fine limestone mansion with 436 acres and tenant house to Rt. Reverend John Dubois, Roman Catholic bishop of New York, for $20,000. A Catholic college was set up, out of which grew Fordham university, but from the start this LaFargeville school was not a success and was shortly abandoned. Bishop Dubois, a native of France who had resided 51 years in this country died December 20 1842 without relatives and willed this LaFargeville property to Archbishop John Hughes of New York City, who was at the time the outstanding Catholic prelate of the western hemisphere. He passed the property on to other members of his family, who finally disposed of it February 10 1876 to George Wilder. Ultimately it came into the possession of Mrs Lehr. By the beginning of this century, it had reached such a state of disrepair that as a matter of safety it seemed advisable to take it down and in 1901 Mrs Lehr asserts, it was razed with the exception of the north wing. After 112 years this still stands as the last vestige of the princely grandeur of the past.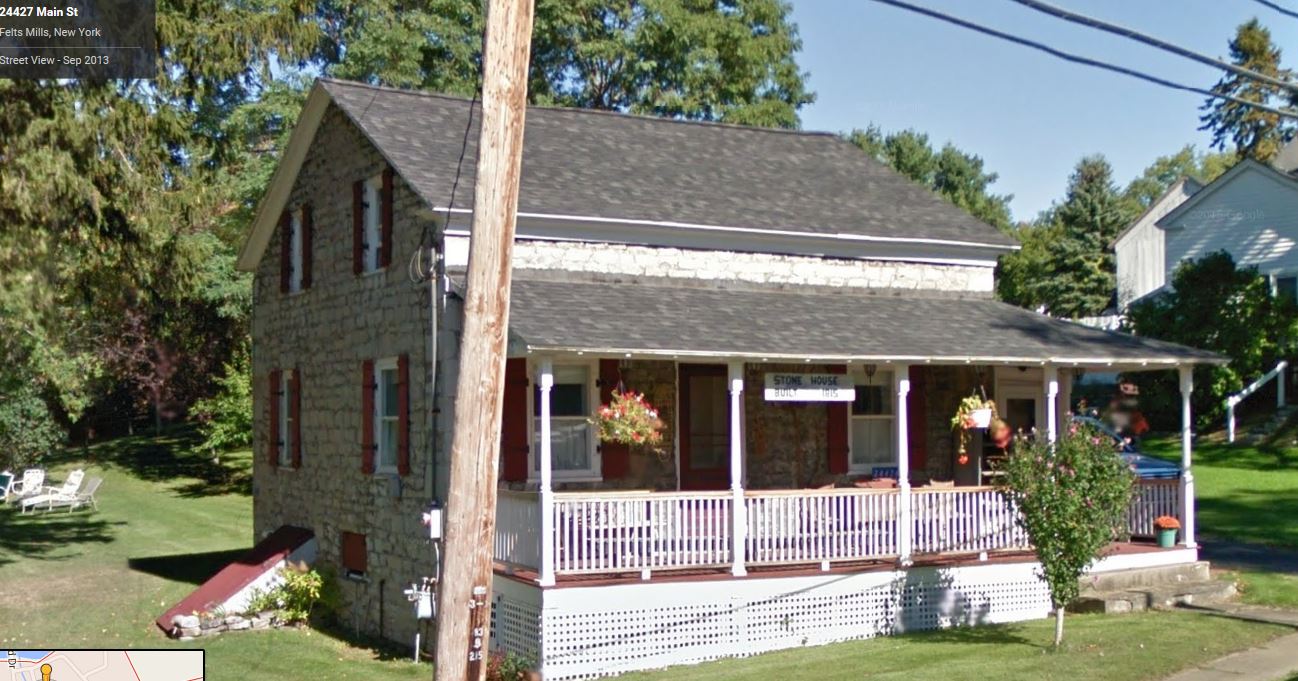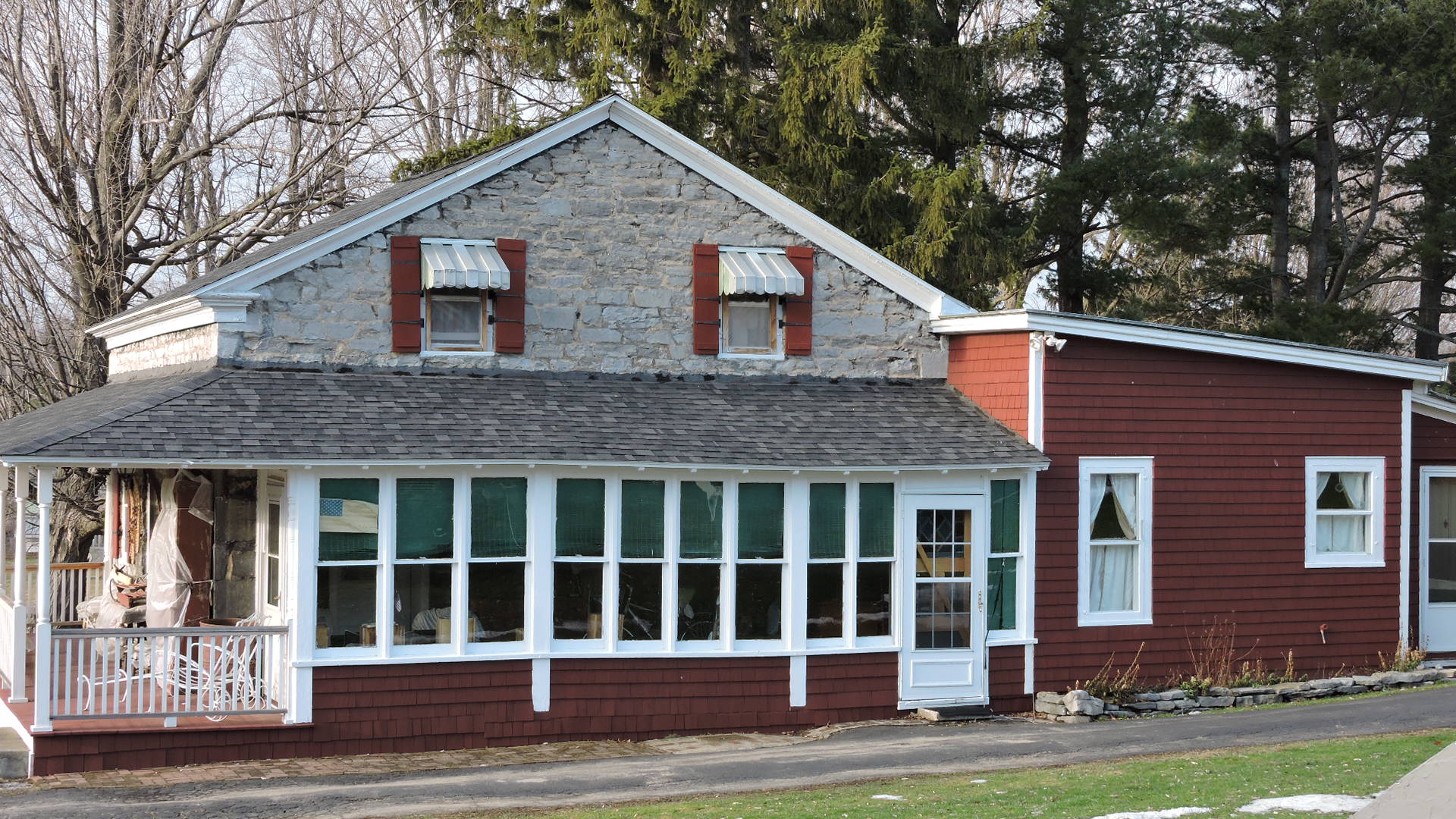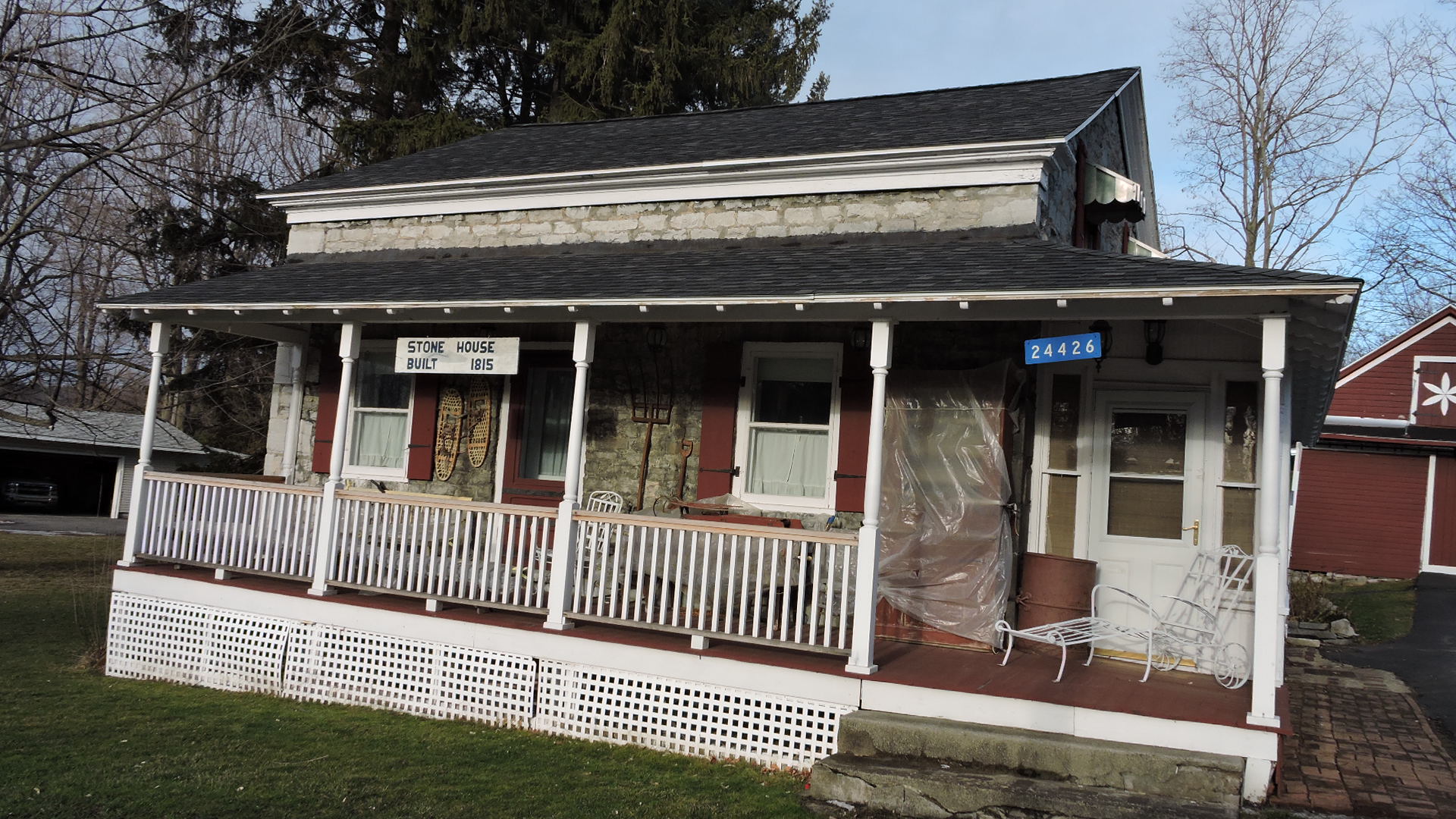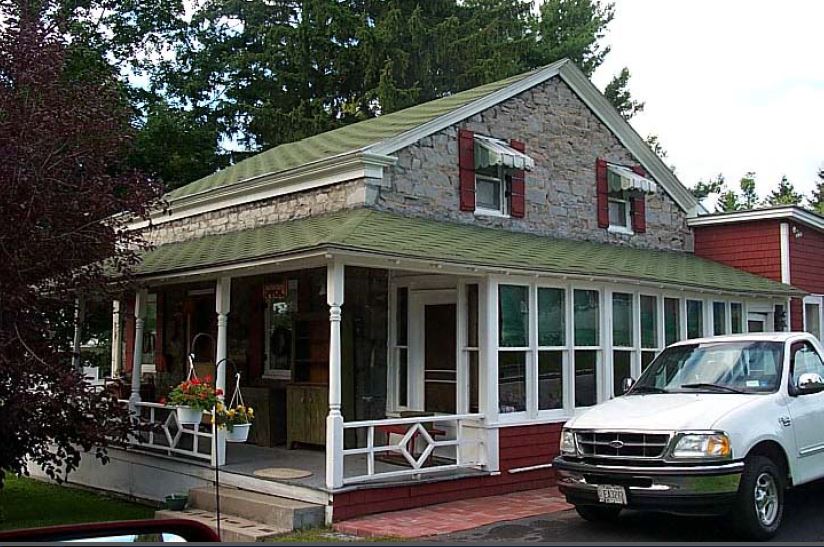 Across the street from the Bassett stone residence in the village of Felts Mills is the home of Clarence L Turner and his wife, Mrs Daisy Turner. As heirs of Mrs Minnie Thomas they acquired it March 20 1937, Mrs Thomas having been the mother of Mrs Turner. This house is a modest little, native limestone structure, erected probably in the 1830's, about the time that the Bassett house was constructed. In recent years it has undergone a considerable amount of modernization, particularly on the exterior with the addition of extensive porches, part of which have beep glassed in. Mr Turner is employed by the W W Conde Hardware company of this city and therefore commutes.

The builder and original owner of the house are not known, although it may well have been in the first instance the home of Jeremiah Babcock, the grandfather of the late Henry Holmes Babcock, who founded the H H Babcock Buggy company in this city in 1882. The early history of the house is obscure but the record shows that at some thus far undiscovered time it came into the possession of William P Babcock, who was a son of Jeremiah Babcock and uncle of the late Henry Holmes Babcock. The Babcocks were prominent in the early mercantile and industrial affairs of Felts Mills as were the Felts, the Coburns, the Copleys and a number of other well known families.
September 1 1855 William P Babcock and his wife, Roxy Lewis Babcock, sold his property to William Roberts of the town of Rutland for $500.
The deed describes the lot as bounded on the north by Merrill Coburn's land, on the east by J H Ridland's, on the south by J H Chapman's and on the west by the Great Bend-Watertown plank road.
William Roberts, the purchaser, was a prominent resident of the town of Rutland at that time and on March 6 1849 when the Union church was organized at Felts Mills he became one of the original trustees. But Mr Roberts kept this house only a short time and on June 15 1857 he and his wife, Mariah J, sold it to Cynthia White. The record shows that she retained it until April 17 1893 when she conveyed it to Charles F Pohl. Next on February 12 1898 Charles F Pohl and wife, Cynthia, sold it to Frank C Osmun, who owned it until November 16 1902 when he in turn sold this property to Henry Miller of the town of Rutland and undoubtedly of the village of Felts Mills, which lies mostly in that town.

Henry Miller and wife, Clara M, sold it to Charles and Minne Thomas, husband and wife, also residents of the town of Rutland, April 20 1915 and from them it finally passed in natural sequence to Mr and Mrs Turner. It is a cozy dwelling and without doubt has had an interesting and important history, which lies buried in the past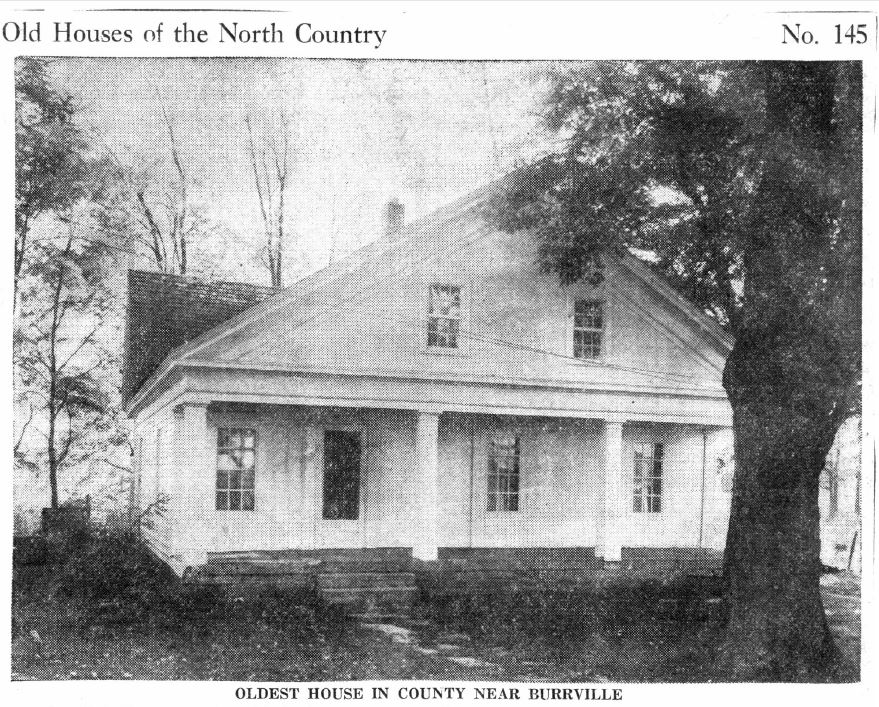 NOTE: there is a house on 801 S Massey in Watertown built 1780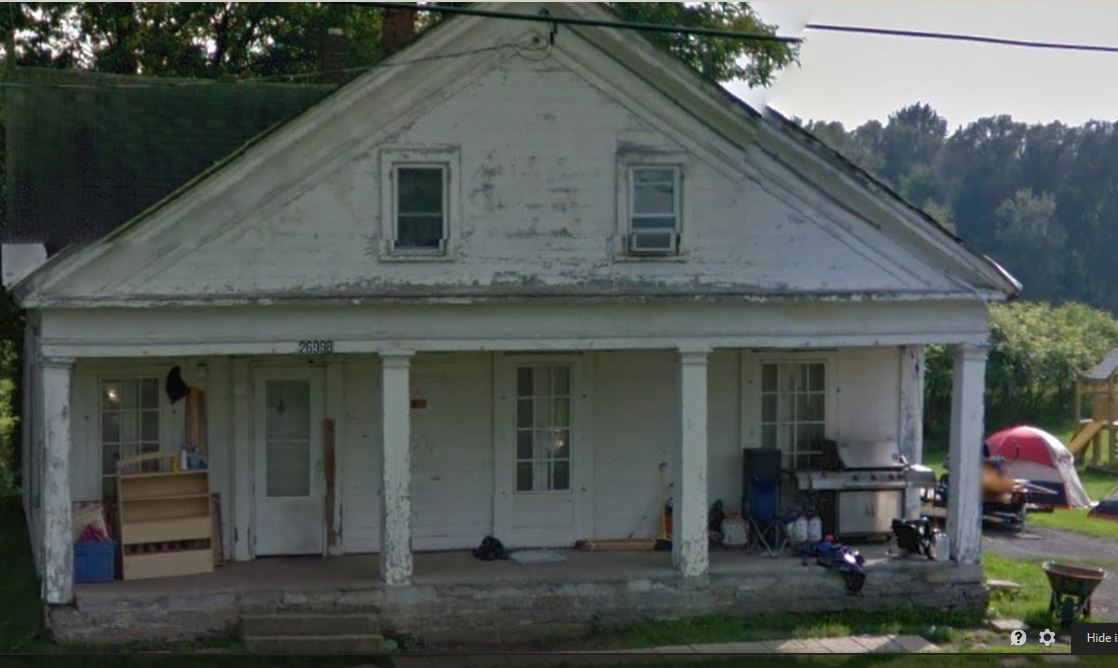 26998 Rt 12
Dr Abel Sherman, native of Brimfield, Massachusetts, was the first sheriff of Jefferson County as well as one of its earliest physicians. His house, said to have been built in 1803 excellently preserved and still in use, is the oldest one in this county. [NOTE: there is a house on S Massey St in Watertown just beyond the railroad overpass built in 1790] It is owned by Mrs Iva B Rexford, widow of Philo M B Rexford, and is located on the south side of the Watertown-Copenhagen state highway about three-fourths of a mile east of Burrville. Millard Rexford is its present occupant. Of frame construction, low and quaint of architecture and painted white, it is said to have been regarded pretentious when it was erected.
Hough states that in June 1800 Dr Sherman bought 229 acres of Rutland wilderness land and came on in 1802 from Clinton, Hamilton county, where he had lived a short time, to clear it. First county record of a land purchase by him embraces 228.67 acres and 80 acres from Dr Isaac Bronson, successor to William Henderson, and dated May 14 1805. However, it is likely that he contracted the purchase in 1800 as Hough reports and that he built his house in 1803 as a notation of the Jefferson County Historical society declares. Even if the house were not built until after May 14,1805 it is unquestionably the oldest in the county, for Dr Sherman's grandson, John A Sherman, philanthropist and donor of Washington hall, first home of the local YMCA, was born in it June 13 1809. Except for a studio added at the rear for a granddaughter and now removed, the old house is little changed today from its original appearance.
Dr Abel Sherman was appointed sheriff April 5 1805. He was succeeded by Perley Keyes March 15 1808. In 1807 he became a member of the Jefferson County Medical society formed December 17 1806 with Dr John Durkee, president.
Broken in health many years, Dr Sherman died November 23 1834. That was the year his grandson, John A Sherman, bought a herd of 20 cows, began making the first cheese in the county and in 1835 shipped the first Jefferson County cheese away to New York City. In 1839 he formed a partnership with Henry Hopkins and they extensively developed the North Country cheese, butter and farm produce business, shipping and exporting vast amounts to the big centers. In 1856 John A Sherman retired, moved off the old family farm in Rutland and took a fine residence in Watertown. The low, white house with its massive-timbered frame pegged together with wooden pegs, passed out of the family to other ownership. In 1881 it was purchased by Charles C Hardy, who, with his wife, Emily C Hardy, sold the house and 2 1/2 acres of land to John A Sherman's widow, Julia Ann Larned Sherman, and daughter, Mrs D S (Caroline A) Marvin for $3,000. There they spent their summers until Mrs Marvin died.

On December 24.1896 Julia Ann Larned Sherman sold the house, lot and all remaining household furnishings to the First Congregational church of Rutland "as a memorial to my late husband, John A Sherman deceased, and to be held and occupied by the party of the second part as a parsonage" so long as needed. On March 22 1916 the First Congregational church of Rutland sold the house and 2 1/2 acres-to Philo M B and Iva B Rexford for $500.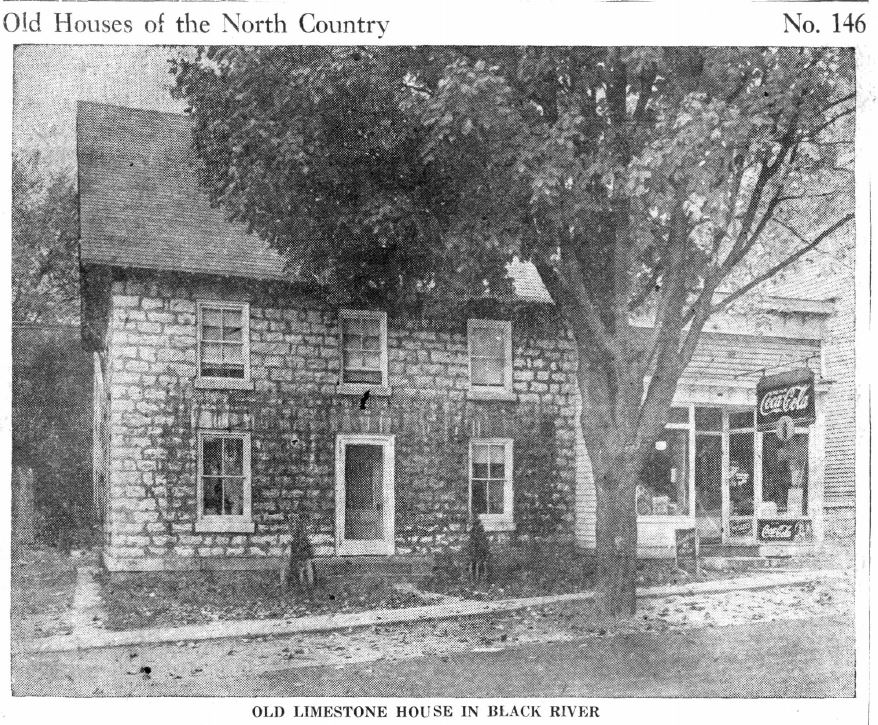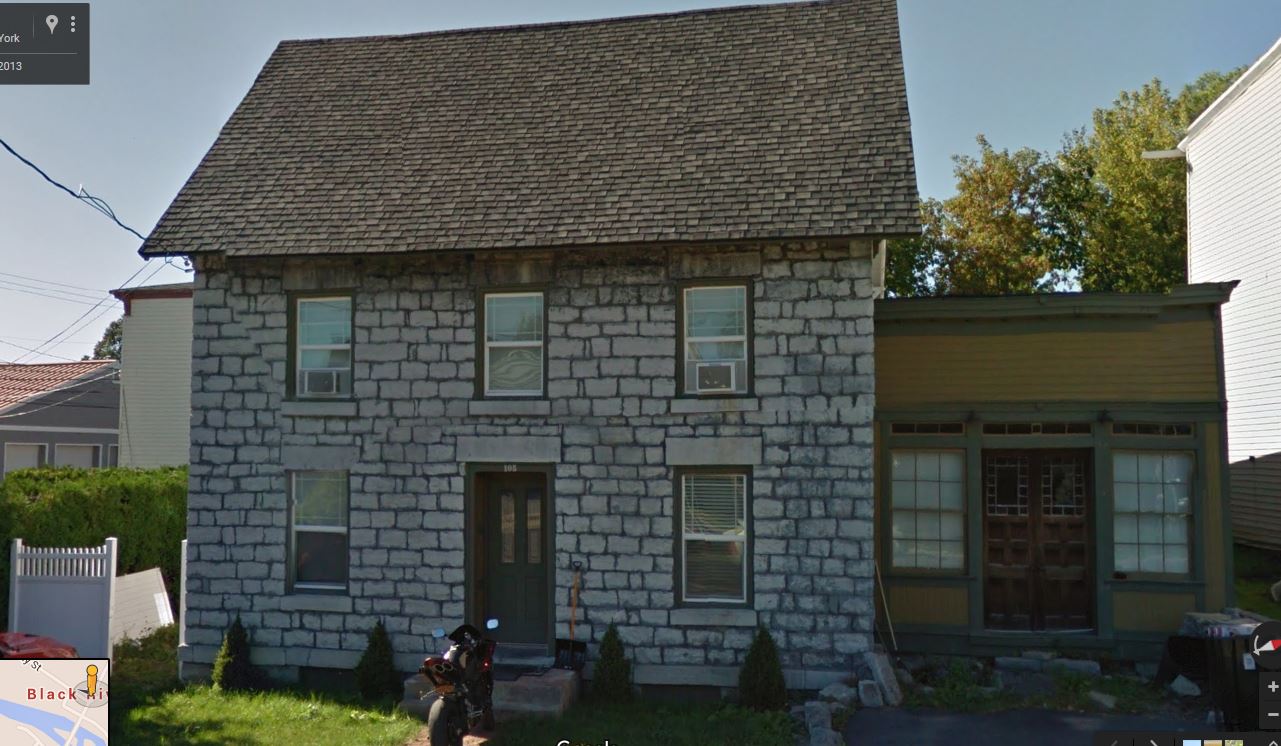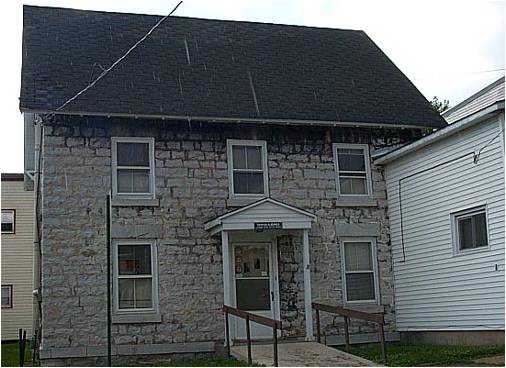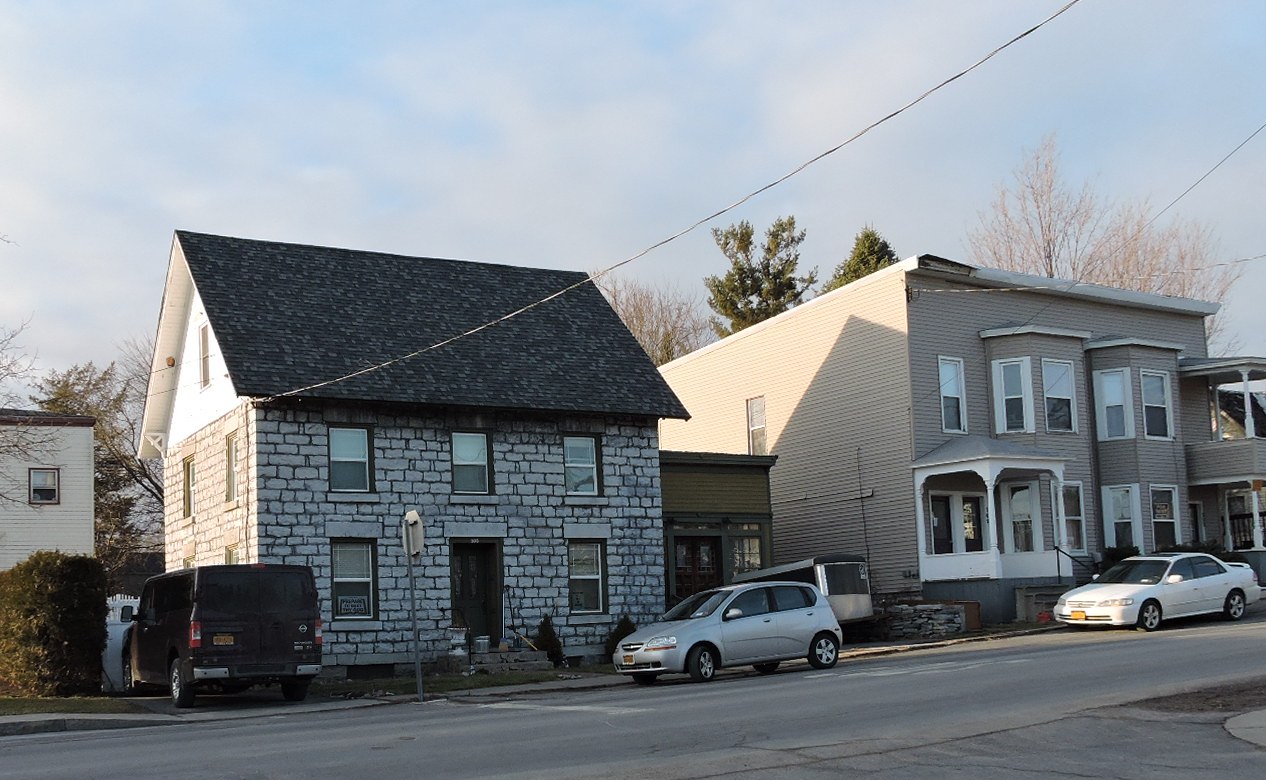 Among the several stone houses in Black River village, the construction of which is attributed to Josiah Johnson in the early or middle 1830's is that on lower Main Street at a sharp angle of streets in the business center of the LeRay portion of the community. It is diagonally across from the former Peron V Poor house now owned by Dr Clark S Shuman. This house shown today is constructed excellently of an unusually fine quality of native limestone and since its sale August 14 1941 by Mr and Mrs William E Gracey, it has been owned by Mr and Mrs Gordon T Mercer.
The first owner of the house is purely conjectural, but there is a strong belief that it was John Kennedy, a millwright by trade, native of Montgomery county, who settled upon a farm in.the town of Philadelphia in 1830 but removed to Black River five years later, which was about the time this house was built. Kennedy married Hannah Thatcher and among their eight children was John C Kennedy.
Early title to the property is obscure for the first 40 years. John Kennedy transferred property to his son, John C Kennedy, July 15 1871 which may have included this site. On December 11 of that same year the Free Methodist church was organized in Black River and its first trustees were John C Kennedy, Josiah Johnson and David Dexter, all prominent in Black River's early history. The church edifice site was given by Matthew Poor, who resided in the next house on Main Street above that now owned by Mr and Mrs Mercer.
Matthew Poor, former Black River merchant and mill owner, was a member of the distinguished Poor family, whose Christopher Poor in 1818 while a resident of Rutland purchased the 150 acres of LeRay land, from Alexander LeRay, which embraces the LeRay portion of Black River village.
April 12 1879 John C Kennedy sold the same property he had acquired from his father to Almira O VanBrocklin of the town of Champion for $1,800. On November 2 1888 Mrs VanBrocklin and her husband, Lysander, sold the present Mercer house and .26 of an acre of land to Susan N Burke of LeRay for $835. Later, after Susan Burke became Mrs Wood, she disposed of this property to Isaiah H Walker, a Black Biver businessman, on May 28 1903. Mrs Walker kept it ten years and sold to Jay H Vebber July 3 1913 and on May 31 1922 he disposed of it to Chloe T Waful who sold to L D Waful February 8 1923. Mr Waful conveyed to Frank A Evans October 4 1924 and on February 17 1925 he transferred it to Carrie M Giffin. On September 20 1926 Attorney James J Butler as referee sold the Giffin interest to Mrs Mary G Williams and August 11 1941 she sold the property to William E Gracey, who was the owner at the time Mr and Mrs Mercer acquired it.
In the big fire of February 20 1890 the roof and interior of the house were badly burned, but restoration was made and now Mr and Mrs Mercer are attempting to still further bring the building as near as possible to its original appearance.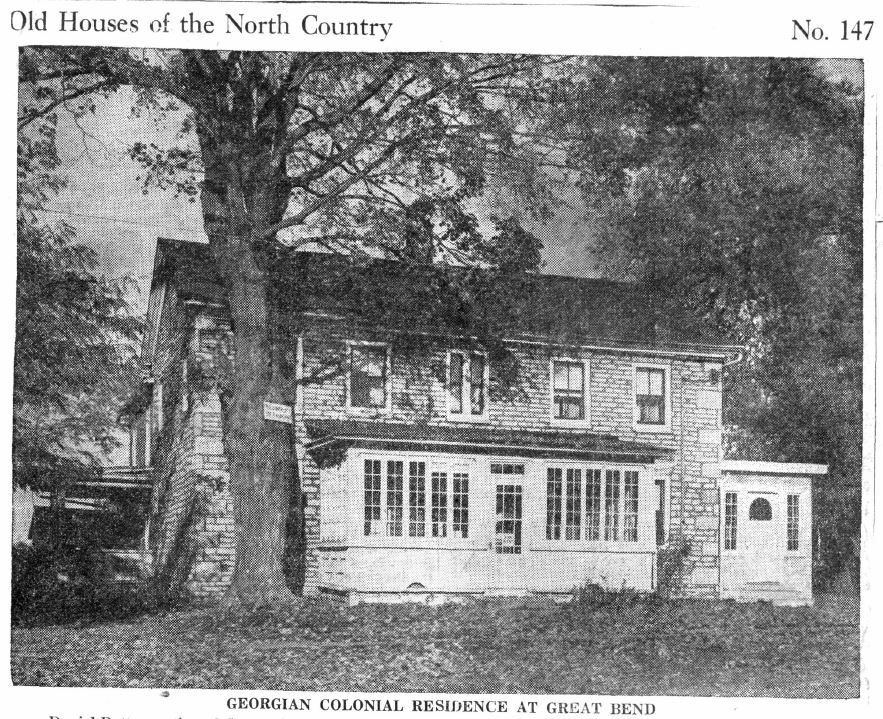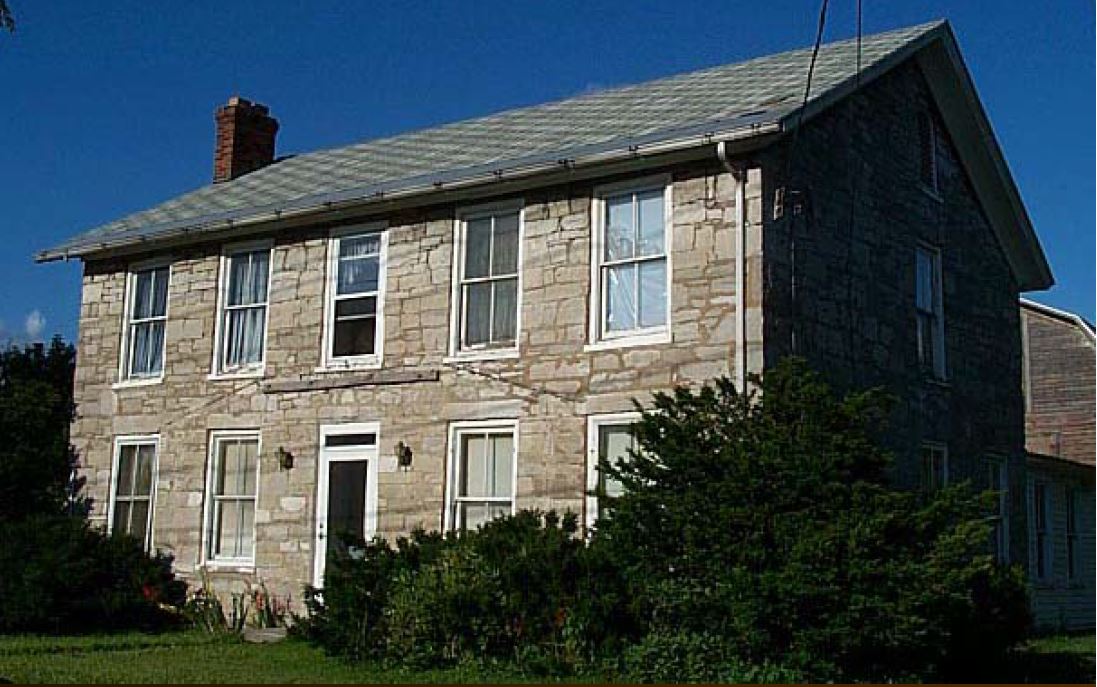 Daniel Potter, native of Connecticut, later a resident of Johnstown, Montgomery county, was one of Great Bend's most prominent early residents and promoters. He was one of its outstanding merchants and industrialists and was its first postmaster. In 1861-2-3 first years of the Civil War, he was supervisor of the town of Champion. His wife, the former Almira Potter, whom he married February 1 1831 was the daughter of Angell and Ruth Potter of Gouverneur. Daniel's brother, John, married Sarah, sister of Almira Potter and Daniel's sister, Thankful Emily Potter, married Henry G Potter, brother of Almira and Sarah and grandmother of William J G Potter, local banker.
It was about 1829 that Daniel Potter moved to Great Bend, where he had been investing heavily in real estate for a number of years. Eastward across the plaza from the fine old three-story Jefferson stone hotel stands his sturdy native limestone residence, built in the Georgian colonial manner. It is at the northeasterly corner of the intersection of the Watertown-Carthage state road with the road that runs across the river to Pine Camp. It is now used as an apartment house, much of its original beauty having been hidden by modern glassed-in verandahs.
A feature of its construction, which is believed to have been about 1830 is the fine quality of native limestone used and the excellent craftsmanship in putting it together. A few years after the Civil war Mr Potter purchased a brick block on the corner of State and Church Streets, Carthage, and removed there, selling his Great Bend house to Wesley Briggs of the same town for $1,750. Mr Briggs was a son of Elias Briggs of Pownal, Vermont, who located in Champion in 1836. Wesley, who became one of the outstanding citizens of Great Bend, married Paulina C Buck, member of a prominent early family of that section of the county. Mr Briggs was also a supervisor of the town of Champion, representing it in 1888-1889-1890.
But Mr Briggs did not retain the house long. On October 9 1871 he sold it to Chauncey B Ashley. The Great Bend Paper company had not long been in operation at that time and one of its early employes was J H Moore, father of County Clerk Fred H Moore, who leased the house for a few years before removing to Watertown. Following the Ashley ownership came the R Spalsbury ownership and through the will of Margaret M Spalsbury the property went to Mrs Lulu N Carter, who disposed of it to Reverend Jasper W Higby, Methodist clergyman, April 25 1904. Reverend Mr Higby and his wife, Alice A, later transferred to Black River and April 20 1920 sold the stone house at Great Bend with its remaining six-tenths of an acre of land to F W Krakowka and wife, present owners.
The deed describes the lot as being the west part of seven acres, which the site contained when Daniel Potter sold the property in 1869. Daniel Potter was a descendant of William Potter, who was born in England in 1608 and sailed for America on the "Abigail" in 1635. June 4 1639 finds him signing the Plantation Covenant at New Haven, Connecticut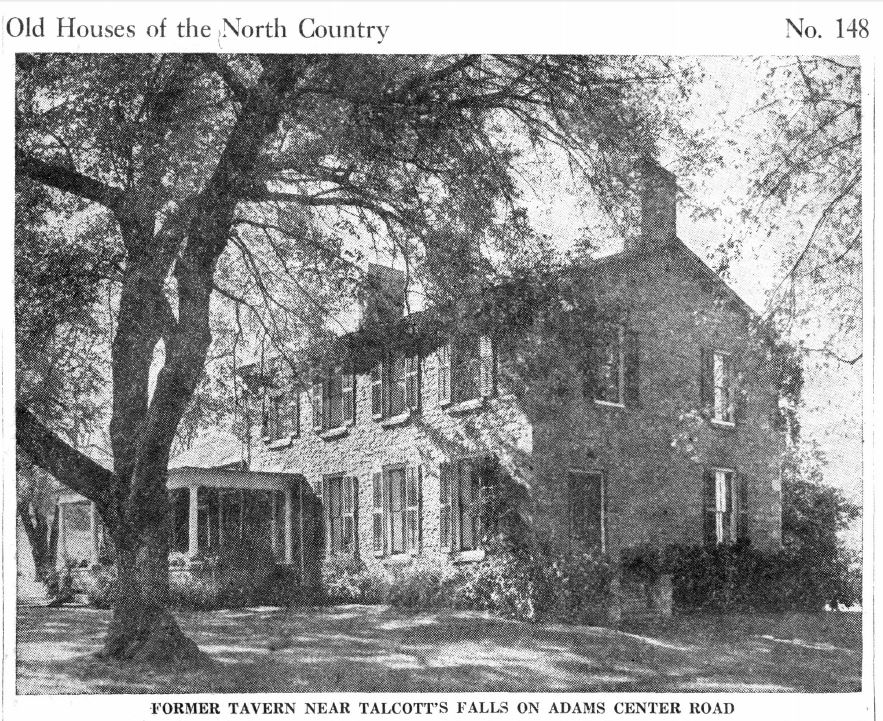 On Route 11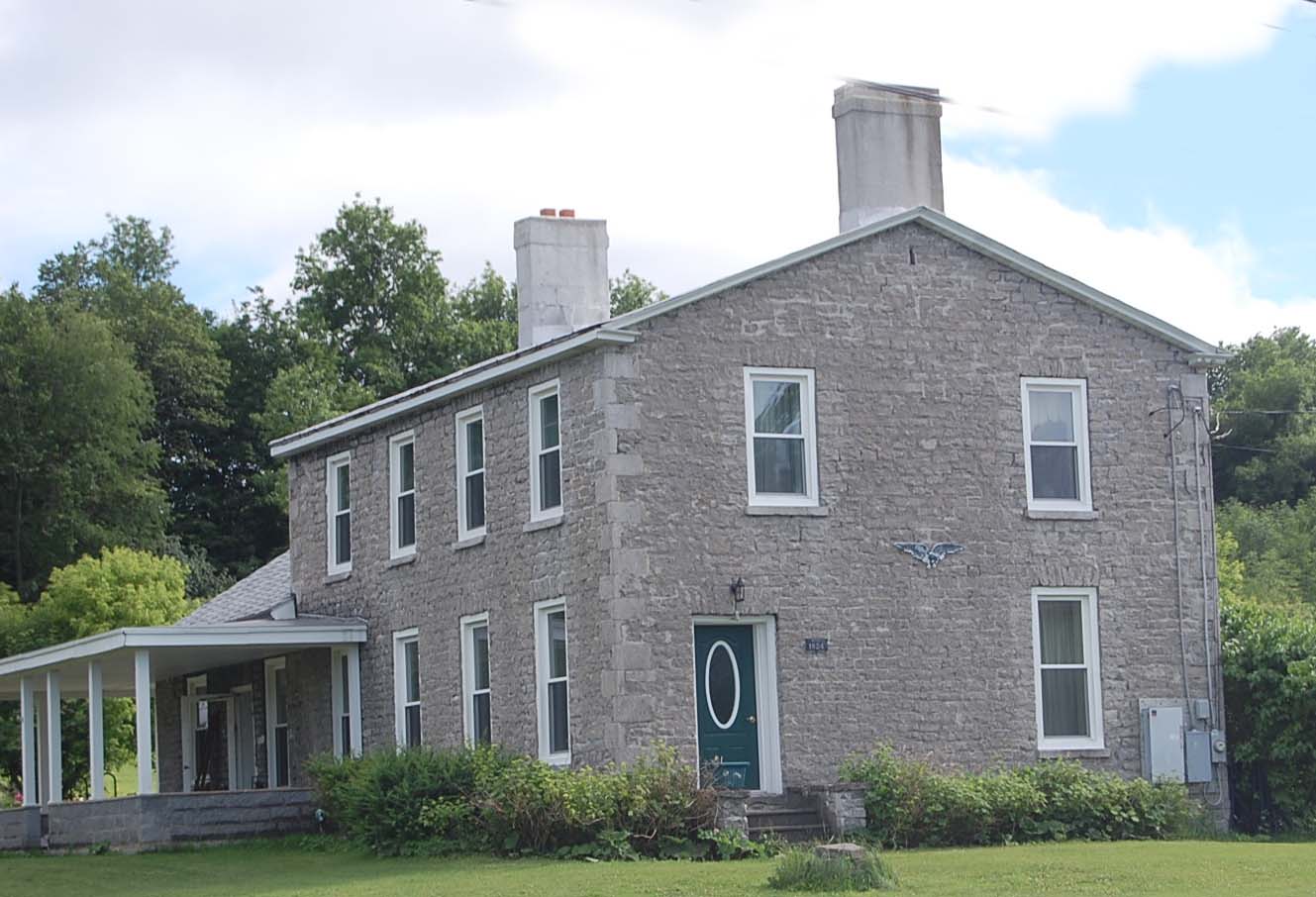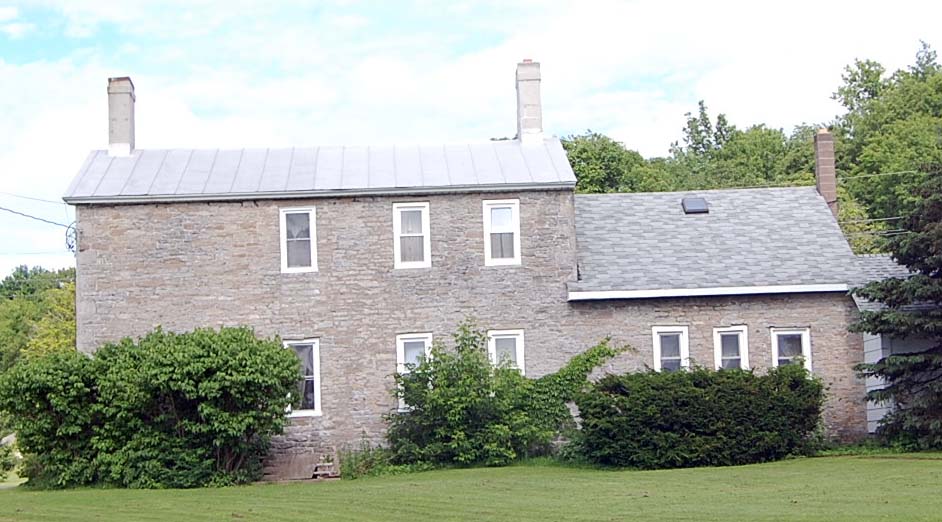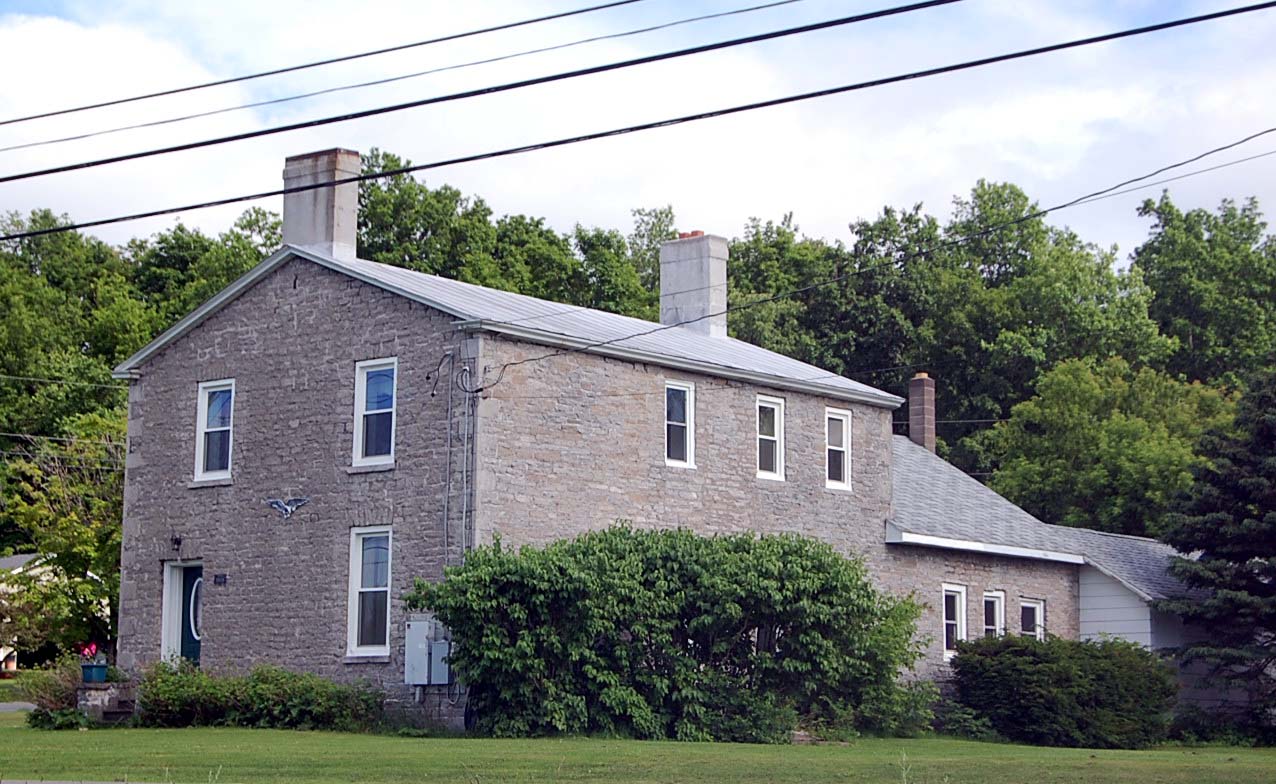 Stagecoach days were colorfully romantic days from a century to 150 years ago and every few miles along the crude highways there were friendly, picturesque taverns for the comfort of travelers and for the exchange of horses, which hauled the rumbling, clanking coaches. In all this North Country there was none of these taverns more picturesque than that of Daniel Talcott, built attractively of native limestone five miles from Watertown in 1824. Long ago abandoned as a tavern, it has for many years been the farm home of Arthur E Green and of his father, the late Edward S Green, before him.
Down through the years it has been maintained in excellent condition and in its artistic setting of green lawns and graceful trees it presents a picture that is a feast to the eye. Its location is a few hundred feet east of the beautiful waterfall and picnic grounds on the old Talcott farm, and it is in the northeast angle of intersection of the present Watertown-Adams Center state highway and the old Honeyville-Brownville road. Plainly seen in the very peak of the front gable is the little niche, in which Major Daniel Talcott caused to be cemented a bottle of whiskey when the tavern was built. This was emblematic of the fact that the inn never was without liquid cheer for its guests. Long ago, however, boys shot the bottle to pieces with a rifle.
Major Daniel Talcott was born at Windsor, Connecticut, January 22 1771 son of a successful farmer and horse dealer, and great-grandson of Gov. Joseph Talcott of Connecticut. Daniel migrated to Whitestown, NY, built a cabin in 1803 stayed about a year and then came to this region to settle.
August 30 1805 he purchased 257 acres of land from Nicholas Low and built a log cabin a few rods north of the present stone house. This cabin was more pretentious than the temporary one his family occupied when they first came through deep snows via Redfield in February 1804. The country was wild, infested with wild animals and Indians. Hiring many men they cleared and planted 24 acres the first summer. A frame house and barns eventually replaced the log buildings, but before completion a party was held with disastrous results. Gathered on the top floor, it gave way dropping them into the cellar, killing a child and injuring many.
Daniel Talcott raised and equipped the first uniformed light infantry in the 55th Militia regiment, called in frontier defense in the War of 1812 and credited by Colonel Forsythe of the famed Rifle Rangers with being the best disciplined militia in the state. Captain Talcott served several times at Sackets Harbor including the battle of May 20 1813. After the war he was made a major. In 1813 he built a sawmill near the cascade, 1815 erected a grist mill near it and later established a distillery. Five years after building his stone tavern he deeded it to his son, Nathan, June 1 1829 with 100 acres and Nathan operated it for many years. A postoffice was established at Union, afterward Appling, nearby in 1827.
Daniel Talcott died August 16 1861 and his wife November 18 1859. Nathan Talcott sold the tavern and farm to John Metcalf March 4 1873. Nathan died November 28 1877. In 1899 the Metcalf heirs partitioned the property, which was sold to Edward S Green March 21 of that year. The property then covered 147.5 acres. Mr Green died January 19 1916 and his son who has lived on the farm 46 years is the present owner.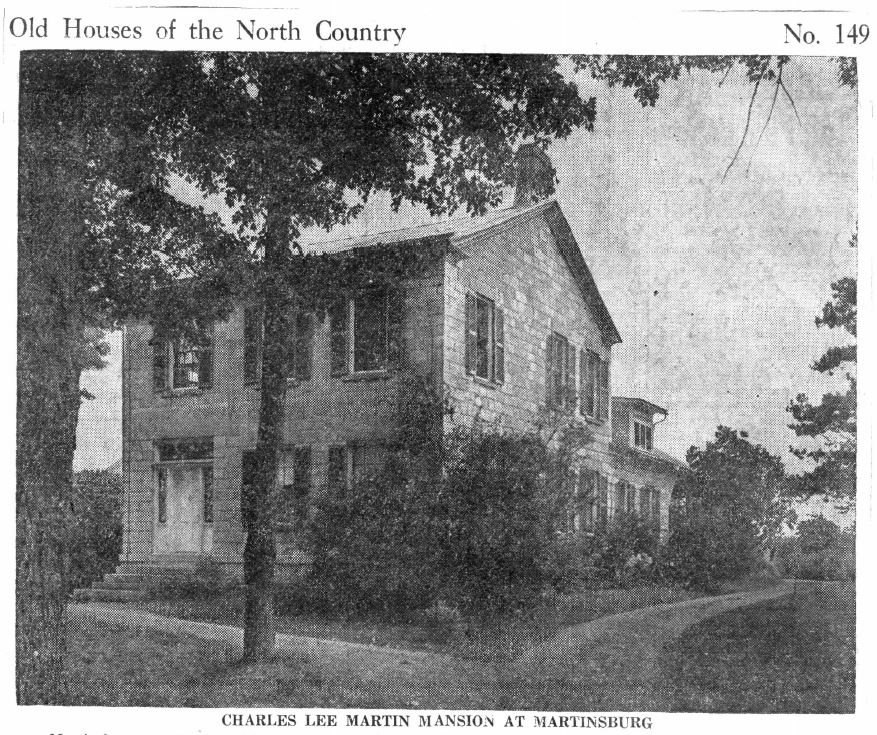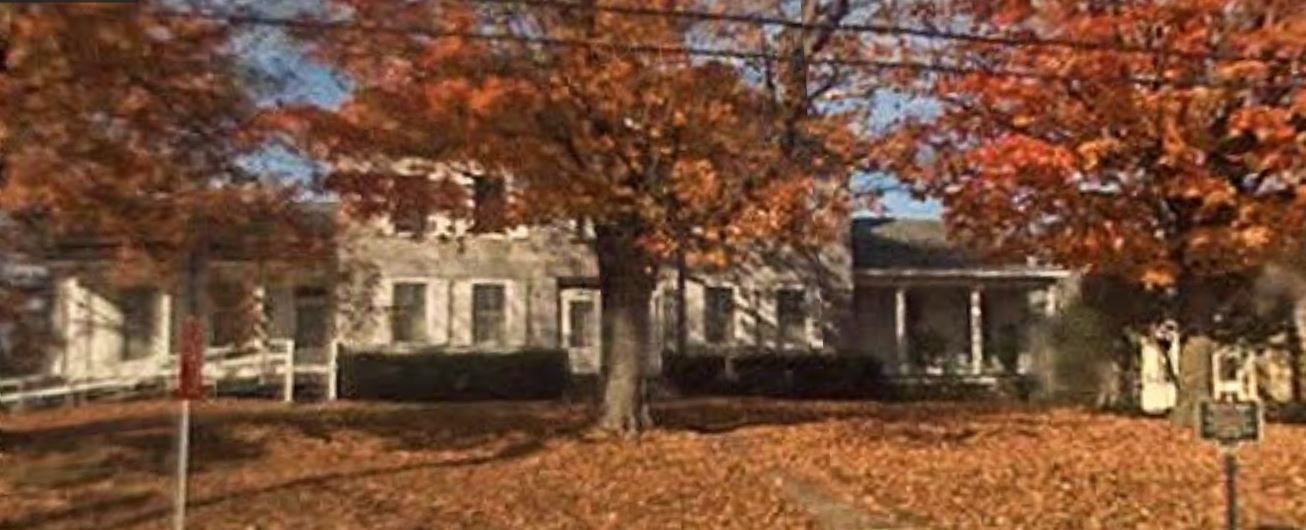 Martinsburg, county seat of Lewis county until 1864 is known for its General Martin mansion, built 1803-1805 upon the south side of the main highway as a careful copy of Sir William Johnson's historic house of Johnstown. Son of a Revolutionary war soldier and assemblyman, Walter Martin in 1801 bought 8,000 acres of land, founded the town and village of Martinsburg, became one of the most effective promoters of Lewis county, early organized one of the best-trained companies of upstate militia and served with distinction in the War of 1812 becoming a brigadier general. Among his nine children, John Williams Martin was first president of the Lewis County Bank incorporated at Martinsburg April 20,1833 with Andrew W Doig first cashier. The next year Charles Lee Martin, another son of the general, succeeded Doig and continued cashier of the bank until 1842 when he went to New York City, became cashier of the Bank of North America and died in the metropolis December 18 1868.
Charles Lee Martin, born in 1802 was first of the Martin children to claim Martinsburg as his birthplace and it is said that the beautiful mansion above was built for him in the late 1820's by the general, who died in 1834. This Charles Lee Martin mansion is one of the most alluring in the entire North Country. It is sequestered. It is maintained as nearly like its original condition as possible, being unusually well kept by the present owner, Dr Martha Anstice Harris of Elmira, and its vista across beautiful valleys to haze-blue hills beyond is one of the most captivating in this north land.
The village of Martinsburg stands upon a ledge of the finest Trenton limestone and the handsomely faced blocks that went into the Charles Lee Martin house are of finest quality. After a time Daniel Whitaker, a man of distinguished New England lineage, who was born at Trenton, NY, April 14 1818 and came to Martinsburg with his father, Clemmence, in 1835 acquired this house. Daniel's immigrant ancestor came from England and settled in Rehoboth, Massachusetts. Daniel's grandfather, William, fought in the French and Indian war, settled at Chazy, was a messenger in the Revolutionary war for the commander of Fort Stanwix to the commander of Fort Schuyler and took part in the Battle of Bennington under General John Stark. Amy Clemmence Whitaker, wife of William, was an officer in the ladies' regiment of Cheshire which made the big cheese and presented it through Elder John Leland to President Thomas Jefferson. Daniel Whitaker after purchasing the Charles Lee Martin mansion accumulated a farm of 550 acres. On April 10 1849 he married Ruth Ann Powell of Trenton. He was an outstanding citizen of Lewis county and for many years a director and president of the Lewis County Agricultural society. He died June 23 1887 and the mansion went to his daughter, Mary Alice, long an intimate friend of Dr Harris. When Miss Whitaker died July 26 1927 she willed the house and 90 acres to Dr Harris, noted educator, dean of Elmira college from 1901 to 1930 recipient of a PhD from Yale author of texts in English and literature, a successful watercolor artist, founder and first president of the William H Bush Memorial library at Martinsburg, where she has long been a summer resident.
Watertown Daily Times, 2008:
by Steve Virkler, Jul 28 2008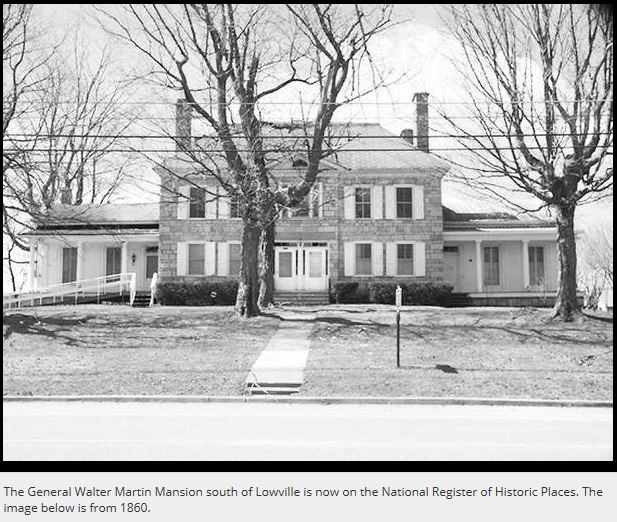 MARTINSBURG — A 203-year-old mansion envisioned as a historic-house museum has been named to the state Register of Historic Places.

That designation has allowed the Lewis County Historical Society to apply for an $800,000 state Environmental Protection Fund grant for stabilization of the General Walter Martin Mansion.
"This is a real treasure for Lewis County," said Helen C. McHale, a member of the Historical Society board and co-chairwoman of the mansion restoration committee.
In 2005 the society purchased the mansion using $150,000 from an anonymous benefactor and $75,000 from mitigation funds through the Maple Ridge Wind Farm project. The ultimate plan is to convert the 28-room, two-story structure into a historic-house museum.
"It's a once-in-a-lifetime opportunity," said Lisa J. Becker, county historian.
The historical society has retained noted preservation architect Randy Crawford from Syracuse to help guide the restoration effort, and volunteers have spruced up the building and grounds and performed small upgrades that don't diminish the building's historic character.
With the state grant funding, the society could move forward with stabilization of the mansion, including roof and chimney replacement, and accessibility improvements, Ms. Becker said.
"This is just to keep it standing," Mrs. McHale said.
Since the prospective grant requires a 50 percent local match, the society is also working to raise the requisite $400,000. Any individuals, businesses or organizations interested in donating are asked to call the society at 376-8957, or write to the society at P.O. Box 446, Lowville, N.Y. 13367.
"We're also looking for objects and artifacts that will help tell the story of that building," Ms. Becker said.
The society will also be holding a benefit book sale from 10 a.m. to 3 p.m. Aug. 9 at the Martin Mansion. Limited tours of the building will be available. Anyone wishing to donate books or magazines may call the society at 942-4891 or 348-8205.
The 10,264-square-foot limestone mansion, built from 1803 to 1805, was originally the home of General Walter Martin, for whom Martinsburg is named.
The general moved to Lewis County in 1801 and pushed to keep Martinsburg as the county seat after it was so designated at the county's formation in 1805. He donated land and money toward the construction of the courthouse to further Martinsburg's claim to the seat.
However, county government was eventually moved to Lowville in 1864.
The Martinsburg Town Hall, the county's first courthouse, was added to the state historic register in 2001.
"Shortly after Martin's death in 1834, the house passed to two of Martin's sons," states a society release. "Newspaper articles indicate that the sons' wives did not get along and, during the time of their ownership, possibly in the late 1830s, the house was extensively remodeled, creating two separate residences."
The Martin Mansion most recently housed the Greystone Manor restaurant but has also been used as a tavern, a convalescent home for Canadian soldiers of World War I and a nursing home over the years.
Following building stabilization and rehabilitation of the interior, plans are to restore different rooms as they would have appeared during each of the building's incarnations. Information on the history of Lewis County, Martinsburg and the nearby wind farm would also be on display.
The historical society is also looking for historic outbuildings, like a one-room schoolhouse or hop house, that could be moved onto the mansion grounds
Watertown Daily Times, 2014: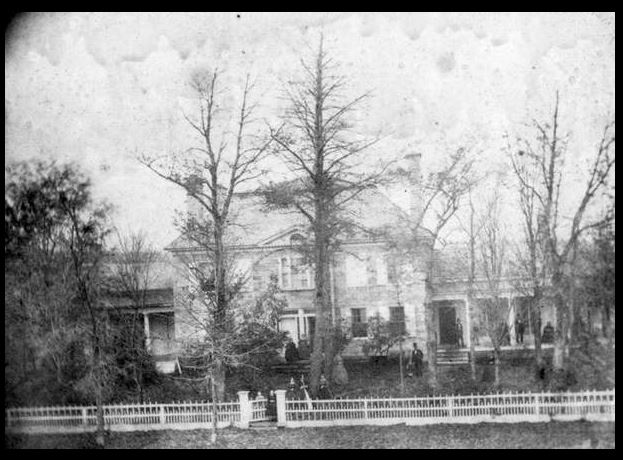 General Martin Mansion renovation project in Martinsburg to start in 2014
By Steve Virkler, Dec 24 2013
MARTINSBURG — Efforts to stabilize and restore a historic mansion are expected to finally move forward this spring, thanks to new state grant funding.
"It's been a long time coming," said Hamish Davey, Lewis County Historical Society board member and chairman of its General Walter Martin Mansion Committee.
The society is planning a $220,000 project to repair and prevent further deterioration at the more than 200-year-old structure, funded primarily through a $165,000 grant from the Office of Parks, Recreation and Historic Preservation and announced as part of the Regional Economic Development Council awards.
The society must come up with a $55,000 local match for the project, expected to take more than a year to complete, but that may include $17,000 in donated services.
The state grant program will require the society to first submit paid bills and in-kind claims before receiving 75 percent reimbursement, according to Jerry E. Perrin, office manager at the nonprofit organization.
The society already has put a portion of the required local match into an endowment fund using past donations and half the proceeds from the Home for the Holidays Festival and Black River Valley Concert Series over the past couple of years, Mr. Perrin said.
However, more donations will be needed to undertake all the repairs, he said.
"Any contribution actually brings in three times the value," Mr. Davey said. "This money will go directly" into the restoration of the building.
The society in 2005 purchased the mansion, the former home of the Greystone Manor restaurant, using funding from an anonymous donor and Flat Rock Windpower, which was developing the Maple Ridge Wind Farm. The structure was added to the state and national registers of historic places in 2008.
Volunteers over the years have spent plenty of time cleaning up the 28-room, two-story structure and doing maintenance projects that didn't require professional contractors, such as patching roofs, securing windows, installing an alarm system and removing carpeting and other materials that would draw moisture.
Some masonry work was done last summer, using a $10,000 state grant secured through state Sen. Joseph A. Griffo, R-Rome, and a $25,000 federal Environmental Protection Act grant has funded a comprehensive building condition assessment by Syracuse architectural firm Crawford & Stearns.

The upcoming project, to be administered by the firm, would stabilize the building's structure, replace the roofing, repair or reconstruct chimneys and other masonry, reconstruct the southeast porch and roof, repair the front steps, waterproof the west foundation wall and improve drainage.
"Once the building is stabilized, the Society will submit grant proposals each year to restore an element or elements of the building, such as windows, interior restoration, etc.," according to the grant application submitted to the state.
The mansion now essentially is used only during the annual Martinsburg Day for displays. However, once renovation work is completed, society officials hope to use the structure for year-round displays featuring the history of the county and General Martin and other items of local interest, as well as lectures, programs and fundraising events.
The 10,264-square-foot limestone mansion, built from 1803 to 1805, originally was the home of General Walter Martin, for whom Martinsburg is named.
Contributions may be specified for the "General Walter Martin Mansion Restoration Fund."Anyone interested in helping to fund the restoration effort can call the society at 376-8957, send a letter to 7552 S. State St., Lowville, N.Y. 13367 or send an email to lewiscountyhistoricalsociety@gmail.com.
Society officials said they have been spending roughly $2,000 per year to maintain the property, primarily for mowing, while awaiting grant funding to properly refurbish the building.
Besides a restaurant, the mansion also has been used as a tavern, convalescent home for Canadian soldiers of World War I and nursing home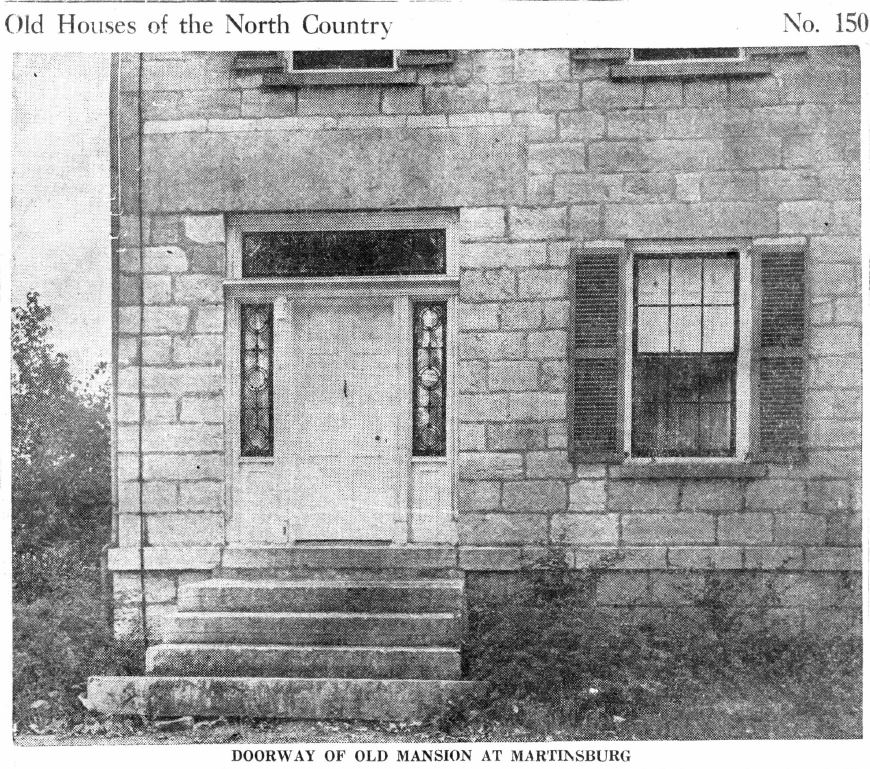 Owners of the Charles Lee Martin, or Daniel Whitaker mansion, in Martinsburg, as it is more familiarly known today, have always treated it with a care and affection and understanding that is best evidenced by excellent maintenance as near as possible to its original condition. Particularly illustrative of this are the original front door, doorway and windows. The windows have their original six-paned sash. The doorway is framed in the original rectangular transom and sidelights fashioned with leaded glass, while the simple door-knocker and knob are delicately proportioned.

Dr Martha Anstice Harris, Elmira, who came into the possession of the property as a legacy from her friend, Miss Mary Alice Whitaker, who died July 26 1927 has spent her summers in the fine old house for many years and has always displayed marked pride in the upkeep of the house and grounds. For 30 years she was dean of Elmira college, retiring in 1930 and for many years she and Daniel Whitaker's daughter, Mary Alice, had been the closest of friends. They traveled together in England, spent their summers together in Martinsburg and their winters in Elmira. A native of Madison, WI, Dr Harris spent a considerable portion of her early life in Philadelphia, Pennsylvania, and New York City, later becoming an instructor in Waynesburg college in Pennsylvania. In 1896 Yale university conferred a PhD upon her.
Charles Lee Martin, first owner of the house, was born at Martinsburg December 3 1802 and died in New York December 18 1868. The house is believed to have been built for him in the late 1820's and was sold sometime after he severed his service with the Lewis County bank in 1842 to accept a position with the Bank of North America in New York. Eventually it was acquired by Daniel Whitaker, substantial Martinsburg citizen and farmer, a public spirited man who did many things for Martinsburg village. One of these was the building of a beautiful stone bridge over the roaring brook that passes through that municipality.
He planted trees along the highways and improved the town hall at his own expense.

In his will he placed a provision that if his daughter died without children the house and broad acres should go to the town, but he imposed the condition that the town should build and maintain stone bridges, convert a large and picturesque section of the farm into a sort of public park and maintain it. This the town board did not do, although it attempted to assert itself as residuary legatee after Daniel Whitaker's death with the result that Miss Whitaker took the case to the courts and won the old mansion and a large part of the farm for herself.

In the beautiful gorges on the property the Whitakers had, themselves, maintained a public recreation ground with fireplaces and benches for general enjoyment and it was long much frequented by many people. Upon the property Dr Harris and Miss Whitaker enjoyed many a summer picnic of their own and in the winter vacations they often went there for snowshoeing and skiing.