STONE HOUSES, MANSIONS AND OTHER OLD HOUSES
OF THE NORTH COUNTRY

Originally published in The Watertown Daily Times
(730) Articles and photos by David Lane, Newspaper Staff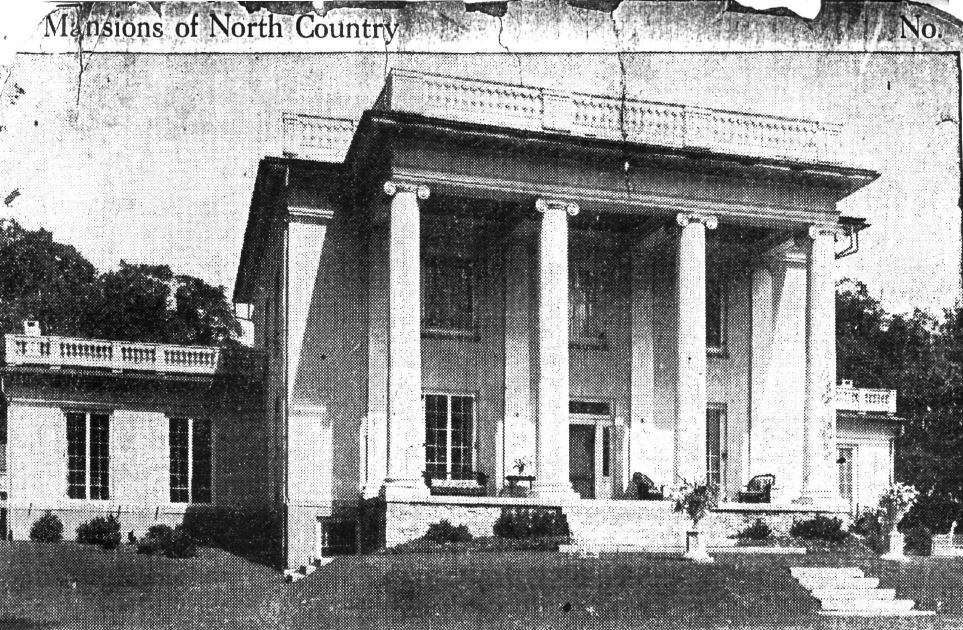 7/18/1942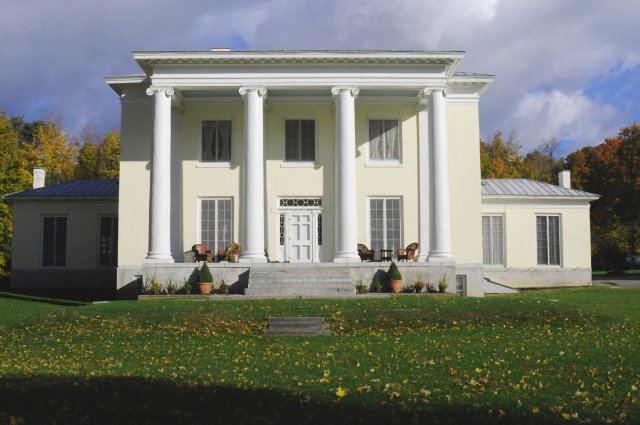 One of the most picturesque and historic houses of the North Country is the LeRay mansion at LeRaysville.
This beautiful manor place was erected between 1825 and 1827 by David Granger, (Find-A-Grave for David Granger) Champion, master builder, for James Donatien LeRay de Chaumont, wealthy northern New York land owner and colonizer. LeRay was a native of Chaumont on the Loire, France and warm friend of Benjamin Franklin, Governor Morris, Joseph Bonaparte, Presidents Monroe and Madison. He entertained President Monroe at LeRaysville in 1817 and was also host to many other noted guests. The mansion and 610-acre grounds are now owned by the federal government which took the property October 15 as part of the Pine Camp expansion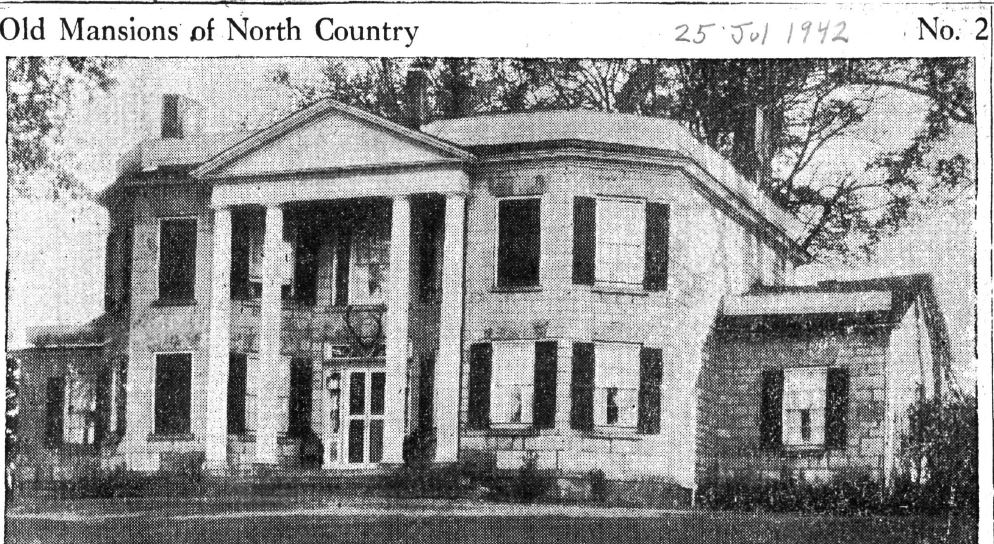 7/25/1942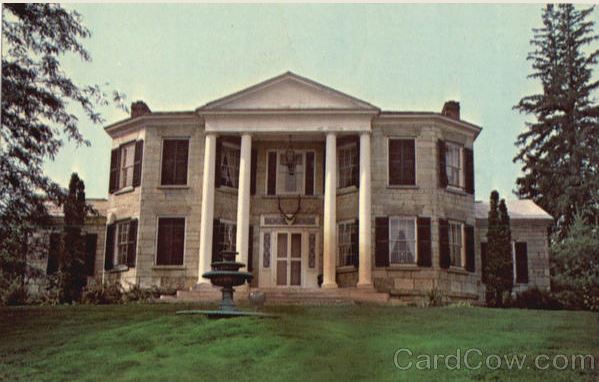 See also article #726 - same house, but a different write-up
One of the finest of the old stone houses of northern New York is Constable Hall at (5909 John St) Constableville. Styled after the family's ancestral home near Dublin, Ireland it was constructed for William Constable Jr, (Find-A-Grave for Wm Constable) one of the north country's great land barons of almost a century and a half ago.
Located in Lewis county, it required ten years to complete Constable Hall. It was started in 1809 and finished in 1819 looking over a broad, picturesque sweep of beautiful valley. Never has the estate been out of ownership of this family and it is now owned by the children of John P Constable 2nd (Find-A-Grave for John Constable) , who was killed by a trolley car some years ago. The house is in excellent state of preservation and furnished with much of the original furniture.
Constable Hall was constructed of native limestone hauled several miles overland by ox-team and native wood was used for the interior finish.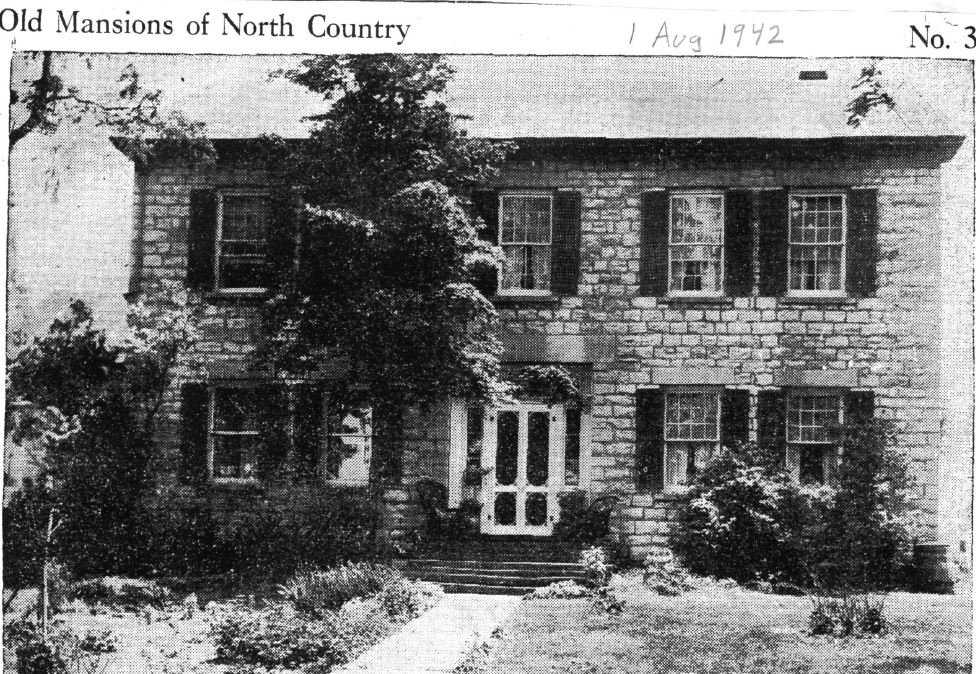 8/1/1942
(34299 State St, Carthage NY)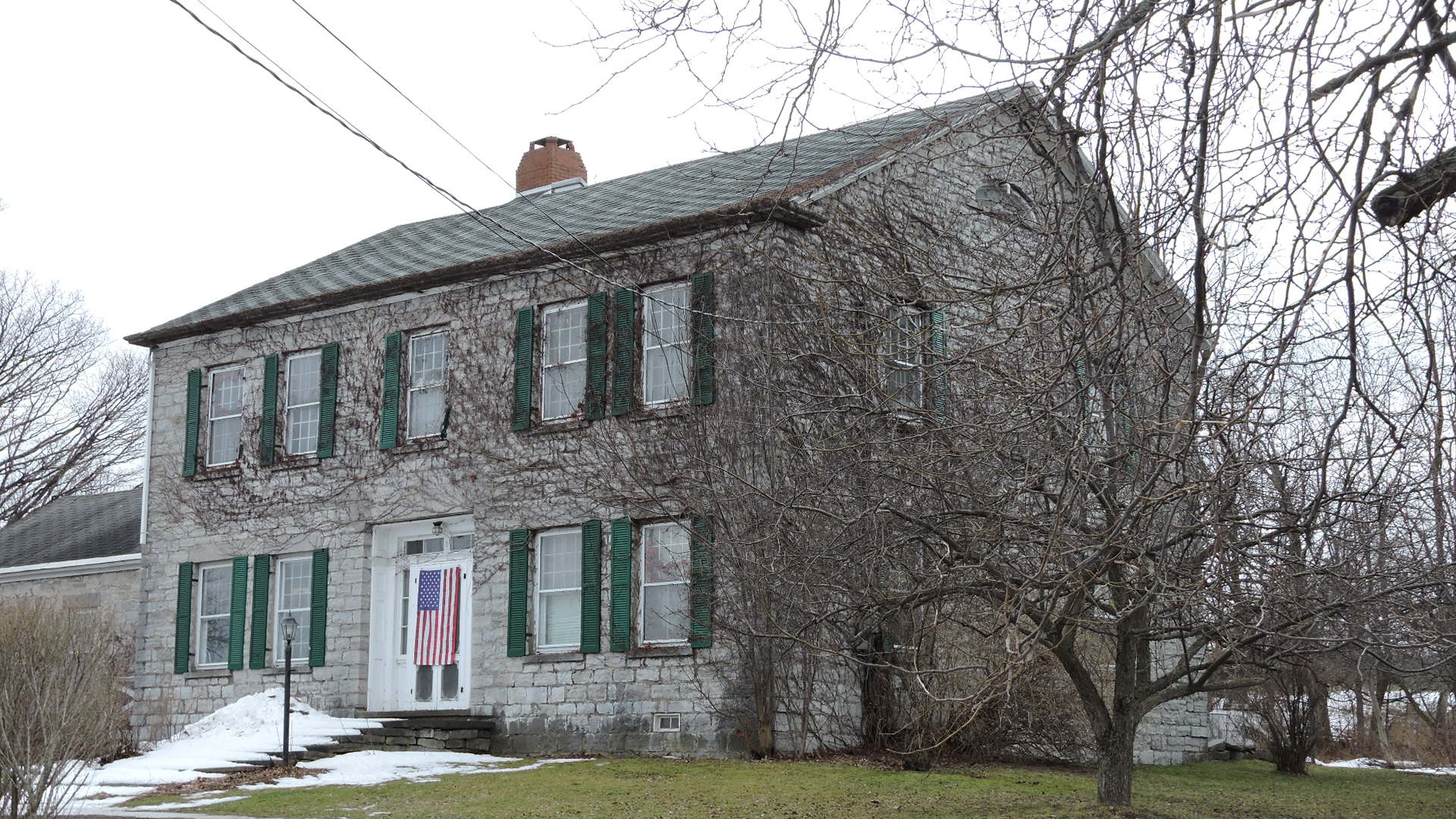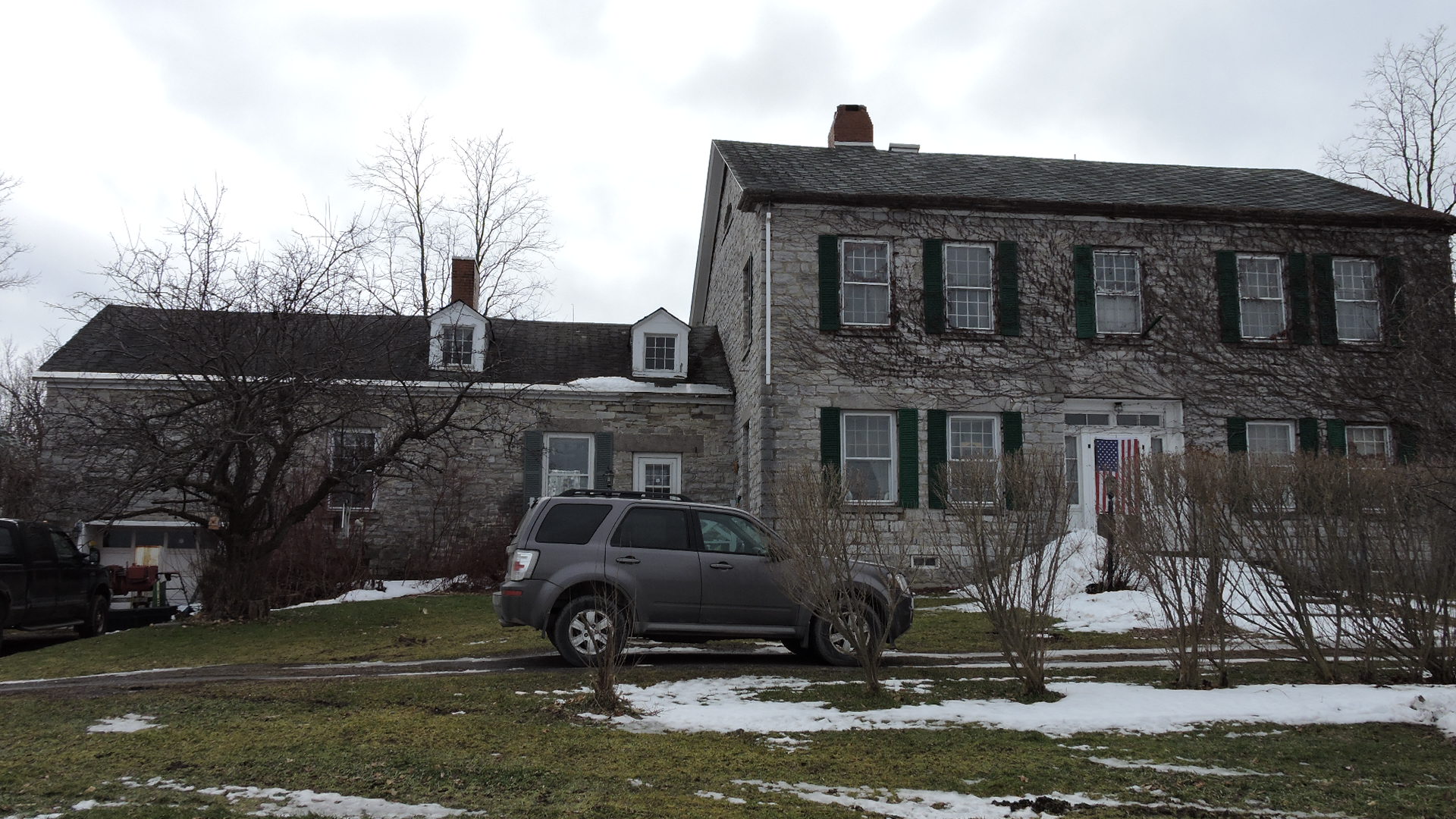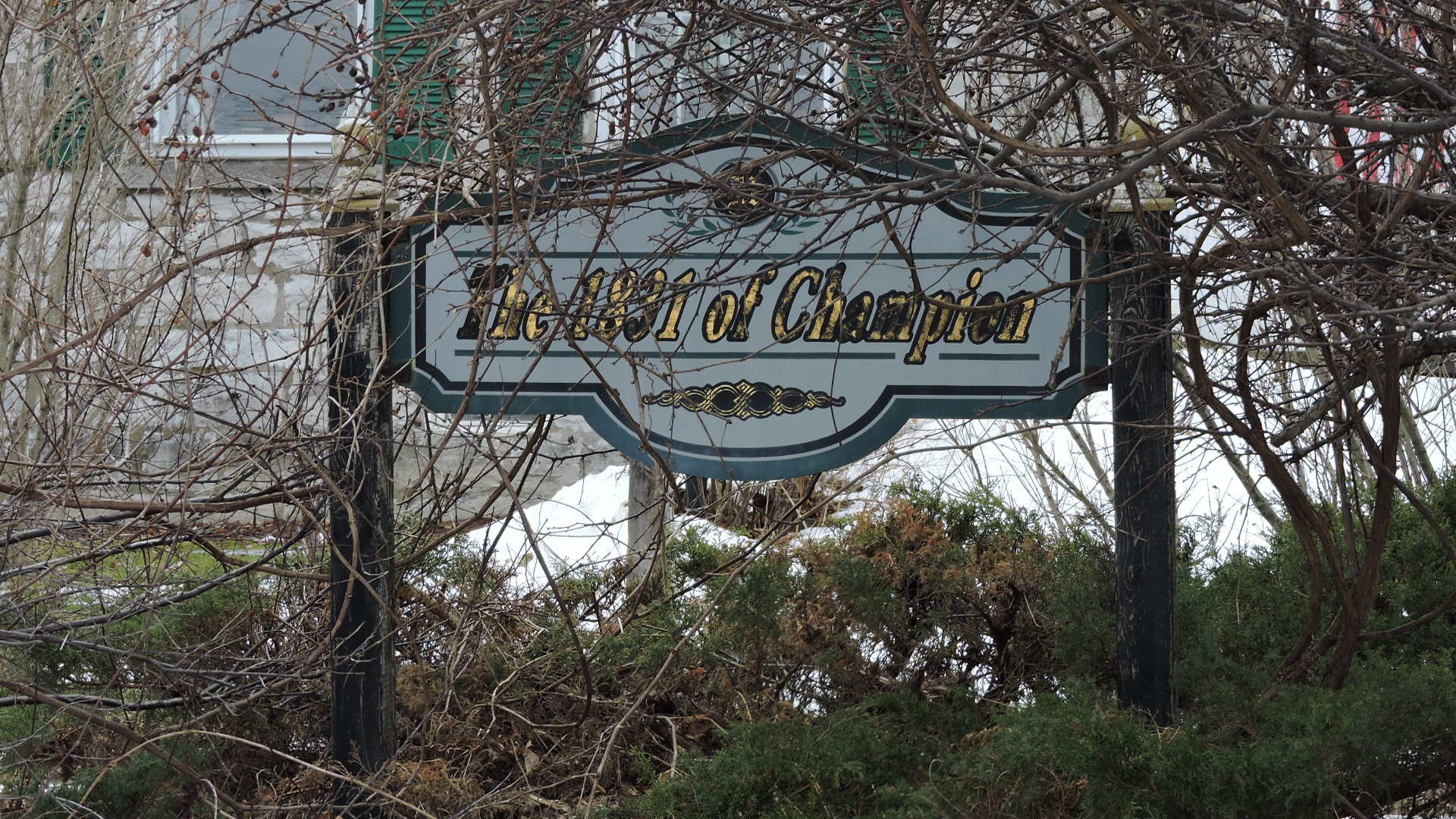 Built in 1831-2 at Champion hamlet this excellent old stone mansion was the third residence of Noadiah Hubbard who vies with Lyman Ellis (Find-A-Grave for Lyman Ellis) for the honors of being Jefferson County's first settler. When Captain Hubbard first established himself in what is now this county he occupied a log cabin. Later he erected a frame house which still stands and is in use a few hundred feet from the subject of this sketch. The house is now owned and occupied by Miss Lina Pierce (Find-A-Grave for Lina Pierce) and is maintained in the best of condition outside and in. With much pride Miss Pierce has it furnished with exquisite family antiques. The place attracts much attention of tourists as well as of residents of this section.
Noadiah Hubbard (Find-A-Grave for Noadiah Hubbard) was a pioneer settler of Jefferson Co NY and was born in Middletown Connecticut 11 October 1763. He was the son of Noadiah Hubbard and Phebe Fairchild. Noadiah Hubbard Jr was a sea faring man and made several voyages to the West Indies, a direction he gave up in compliance with his mother's wishes. She had lost her first husband and eldest son on a voyage and feared for young Noadiah. Noadiah spent several winters in Guilford Connecticut; he learned the trade of cloth dressing and also attended an evening school. In May 1791 he left home to seek his fortune in the west. He located first at Whitestown NY where he burned the first brick kiln and also made the first lime ever burned there. In the autumn of that year he bought 50 acres of land near the Leavenworth farm; he sold his improvements to Benjamin Johnson. He located in the town of Steuben, a neighbor of Baron Steuben. This was about 1794. Noadiah paid a visit to his native place in the winter and on 30 January 1794 married Eunice Ward, his early love, whom he transported to his forest home. In 1793 he was offered a contract for the construction of canal locks at Little Falls which he accepted and hired men from Middletown Connecticut to do the job. He received a dollar a day for his services and 13 dollars a month for each man; having to board them out of that money. He paid each man nine dollars a month.

In the autumn of 1797 Lemuel Storrs, a large landed proprietor, induced him to accompany him to what became known as Champion NY. Subsequent to the visit Storrs offered Noadiah 2,000 acres of land in any part of the township where he chose to locate for the sum of 12 shillings an acre and the agency of all the lands. The common market price at the time was three dollars an acre, the price settlers paid for acreage. Noadiah accepted the offer and paid five hundred dollars down and selected his 2,000 acres in the center of the township; he reserved enough for himself and sold the remainder to various individuals. Mr Storrs had failed and the failure led to a compromise by which Noadiah relinquished all the land contracts he had sold and what remained unsold receiving a deed for one hundred acres only for the five hundred dollars he had paid. The township was valuable and Henry Champion, brother-in-law of Mr Storrs, stepped in to his relief and became a partner in the land speculation. Hubbard continued to act as an agent of various other land holders for most of his life being an early settled in the county. His was thoroughly involved in county projects and was an officer in the War of 1812. He held a variety of public offices.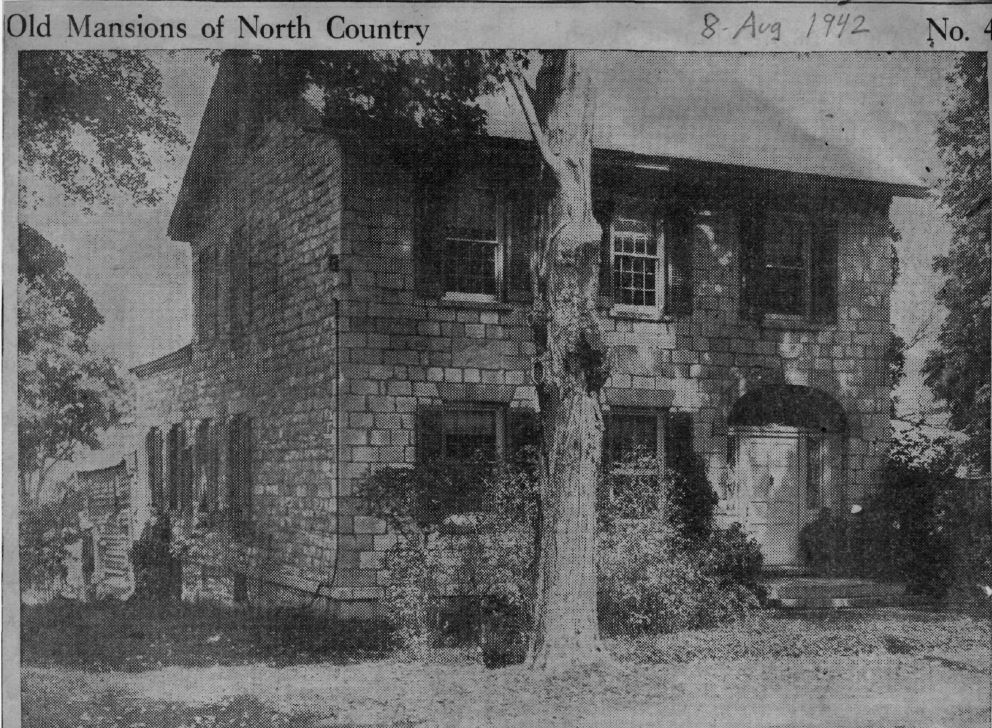 8/8/1942
34275 State St, Carthage NY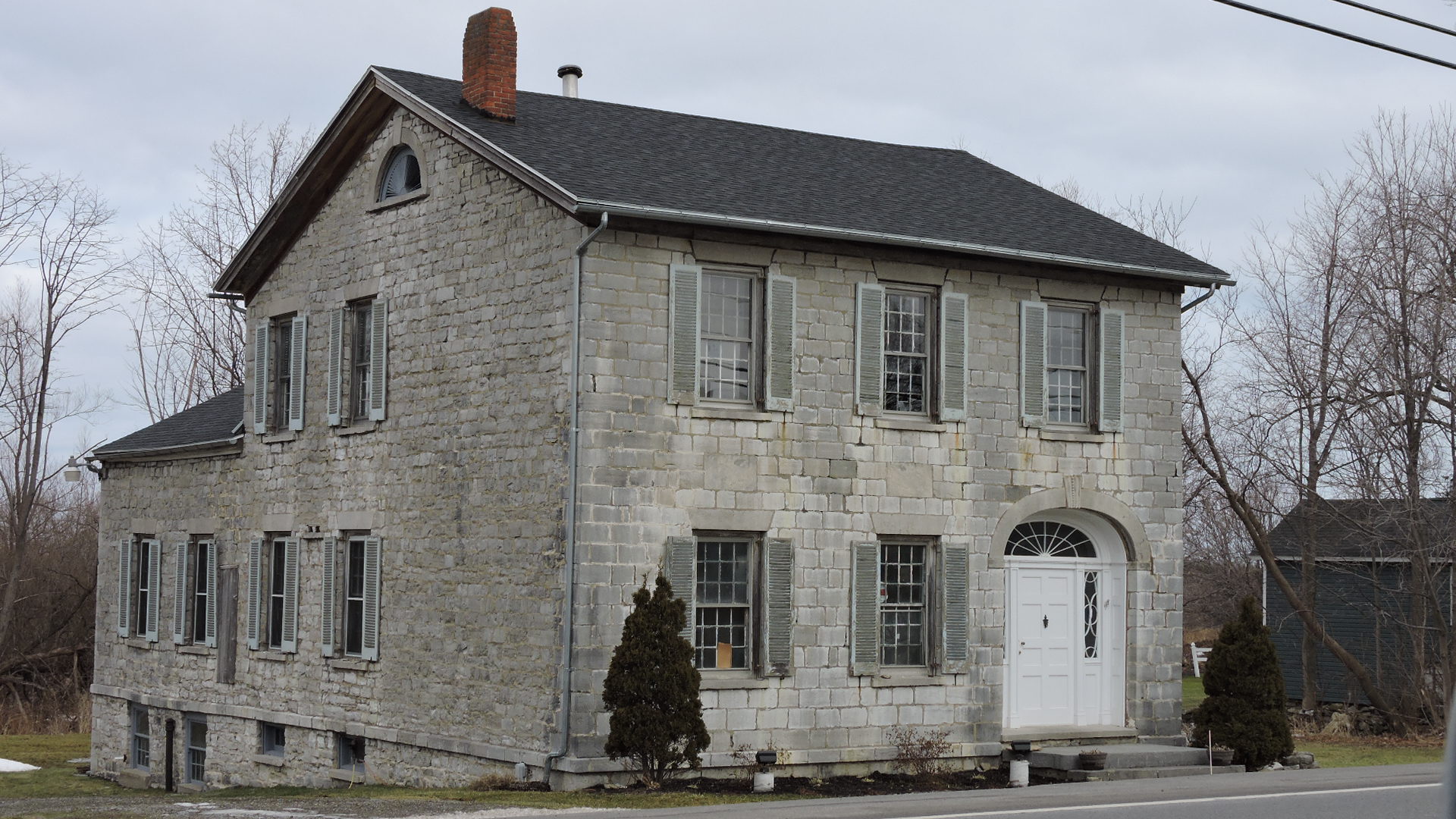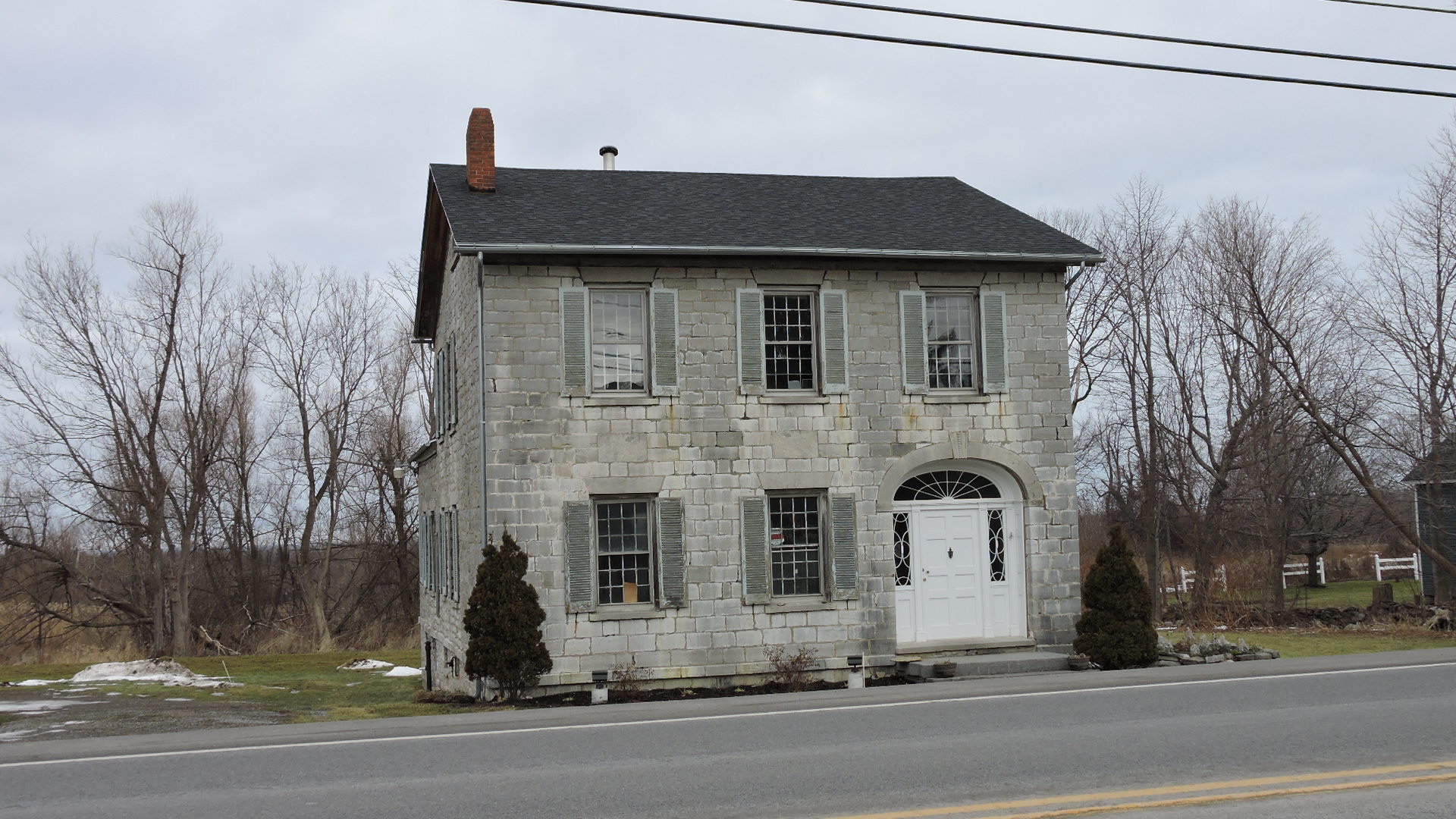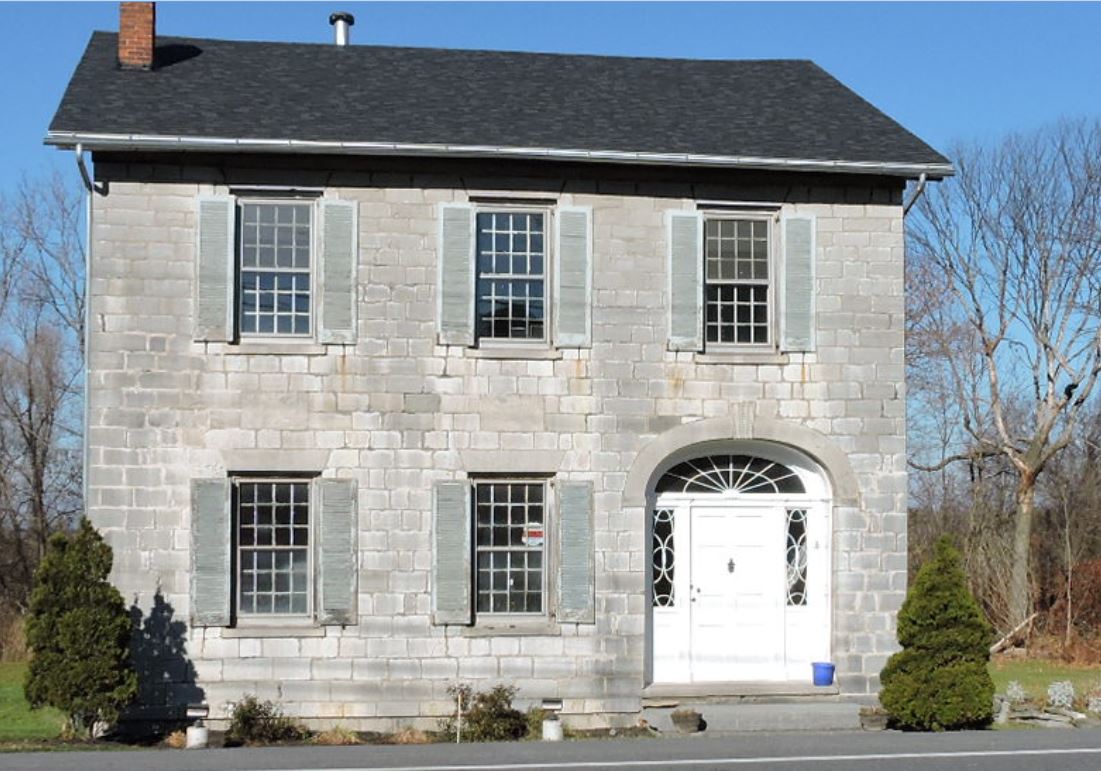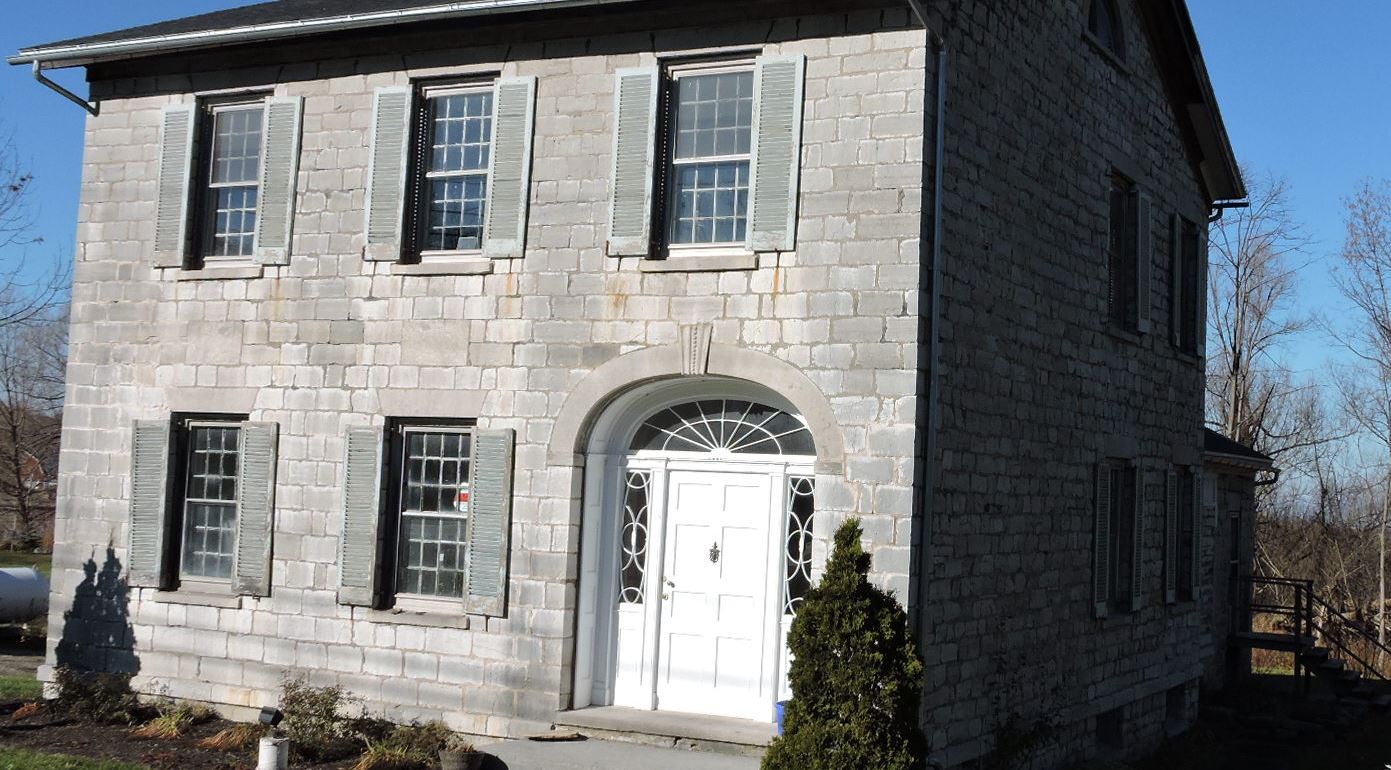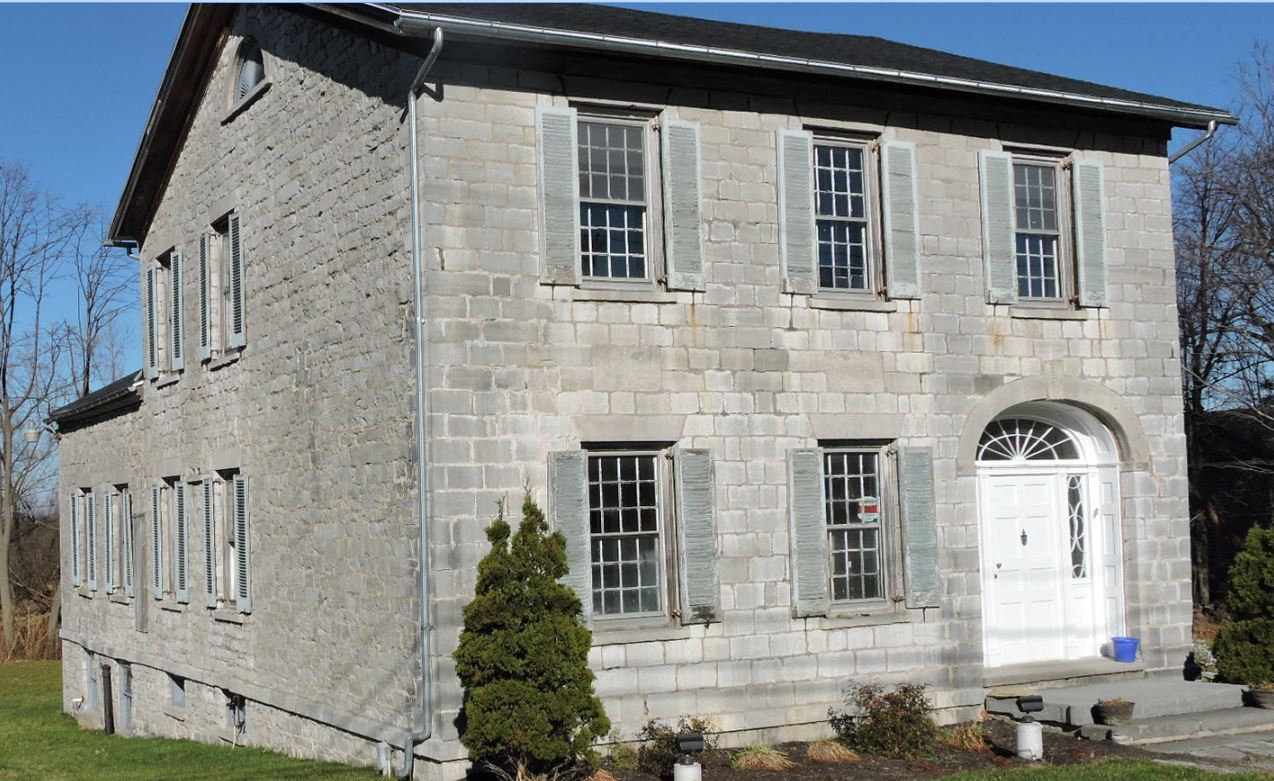 One of the most beautiful main-entrance doorways of any North Country mansion is that of the Hiram Hubbard stone house at Champion. This house was constructed about 1820 for Hiram Hubbbard, son of Noadiah Hubbard one of northern New York's first settlers. Hiram Hubbard was for a time in partnership with his father in the operation of a store in Champion. The store was constructed in 1815. This house is now owned and occupied by Mr and Mrs P R VanRiper who have it furnished it with a large quantity of antique furniture.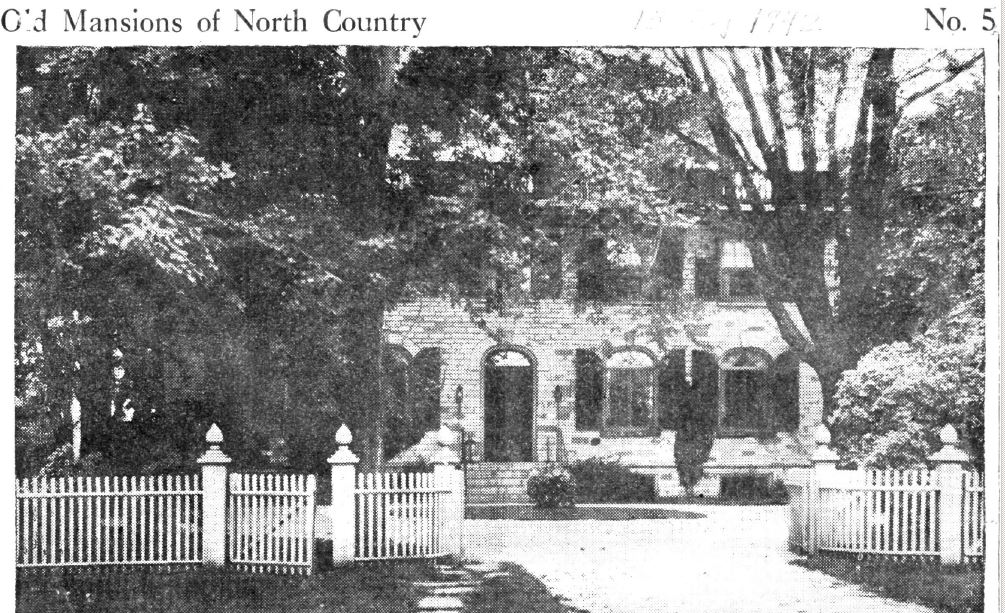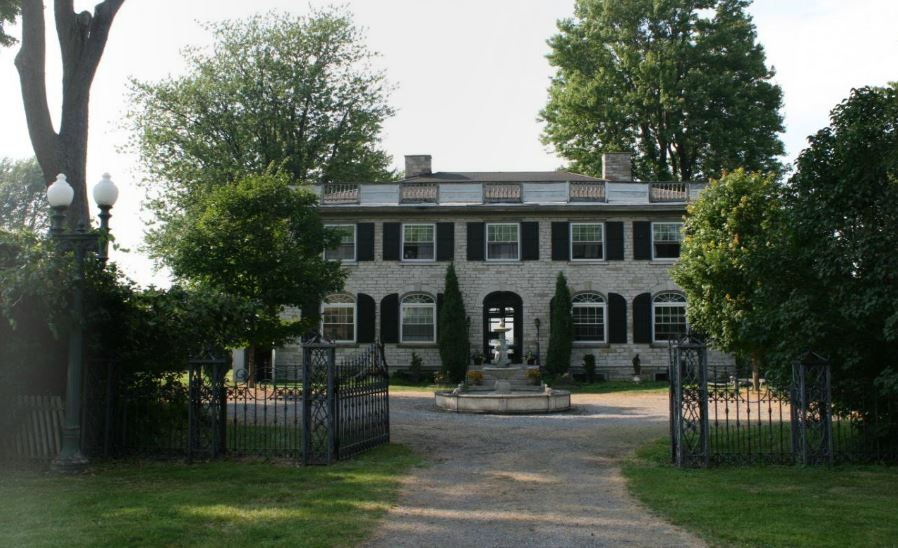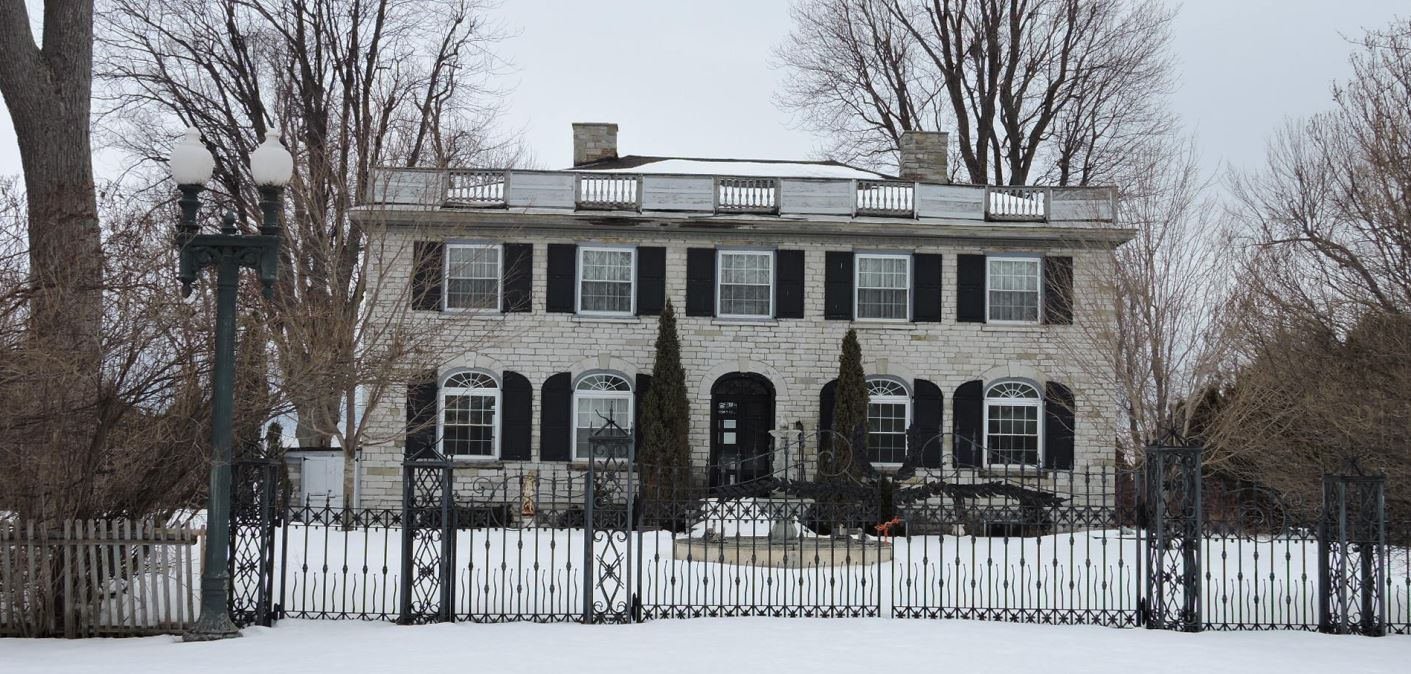 Credited by Albert M Skinner, (Find-A-Grave for Albert Skinner) local architect, with being the best specimen of domestic architecture he has ever known "the Stone House" at Cape Vincent is one of the first two of Jefferson County's most beautiful old estates. The house like many of the other old mansions of northern New York is constructed of native limestone but its splayed arches over the windows and exterior doors distinguish it architecturally from all the rest. It was constructed about 1817 as a residence for Vincent LeRay, son and property manager of James Donatien LeRay de Chaumont, owner of a vast section of upstate New York and first squire of the LeRay mansion at LeRaysville. For 20 years "the Stone House" has been owned by Mr And Mrs John L Johnston of New York who occupy it during the summer months
From: Cape Vincent and Its History

As you enter the village coming down from Tibbets Point you will pass the famous "Stone House" which housed Canadian Rebels during the Patriot War in 1838. This house has not been changed in any way.
The Stone House.
James D LeRay was authorized by an act of the Legislature in March 1815 "to make a turnpike road from Cape Vincent on the St. Lawrence River on the most direct route to Perch River at or near where the State road crosses the same in the town of Brownville to be called the Cape Vincent Turnpike Road." At this time Vincent LeRay assisted by Moss Kent was here in charge of his father's estate. His office stood on Broadway and was the first frame house erected in the village. It was removed only a few years ago. Opposite the office in 1815 Mr LeRay built the stone house. The late Deacon Rogers said: "As it was the first house in the village built of stone, the name 'The Stone House' has clung to it ever since." Othniel Spinning boated the stone from Carleton Island, and Hugh MacPherson, my great-great uncle, laid its walls. Mr MacPherson came here in 1815 and remained until 1818 when he removed to Chaumont. The interior of the stone house was not entirely finished for some years after it was erected. Vincent LeRay occupied it for several years then he left Cape Vincent and for some time the house was vacant. In 1837 it was purchased with other property of Mr LeRay by the brothers Hyacinth, Louis and Theophilus Peugnet.
The Stone House stands on the bank of the St. Lawrence River surrounded nearly to its massive walls by beautiful trees. It is probably the oldest and certainly one of the most interesting houses of stone in Jefferson County. It is now the summer home of Mrs Fort of New York City. Mrs Fort, a daughter of Hyacinth Peugnet, possesses two invaluable souvenirs of Napoleon: a cross of the Legion of Honor, presented by the Emperor to her father; the other a ribbon from which Napoleon wore the cross of the Legion of Honor suspended, given to her father by Joachim Murat.
Louis and Hyacinth Peugnet were distinguished officers in Napoleon's army who left France after the downfall of the Emperor. They resided in New York where they opened a school for boys. General Beauregard of the Confederate Army attended their school and received his first instructions in military tactics from Louis Peugnet.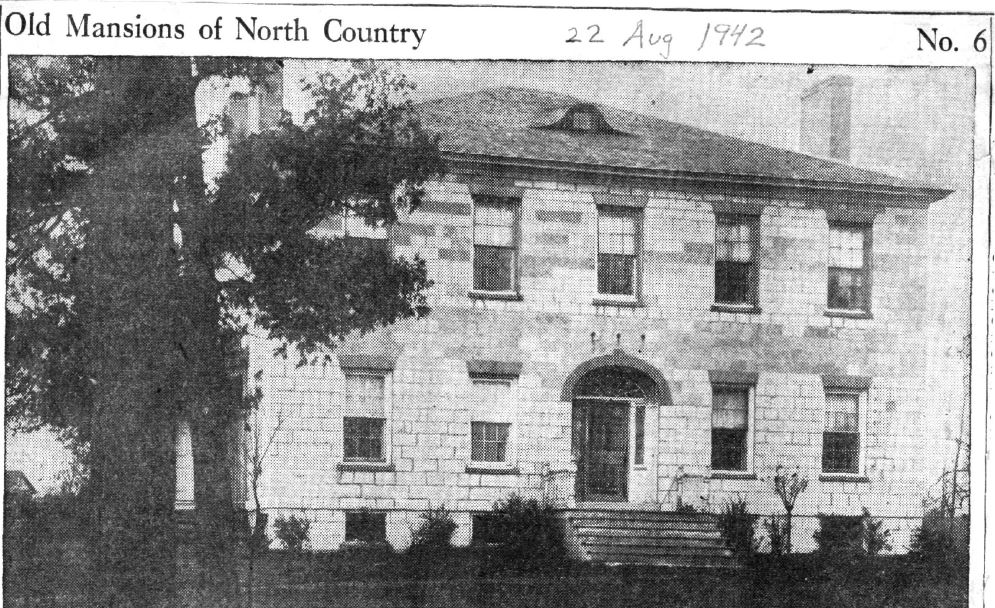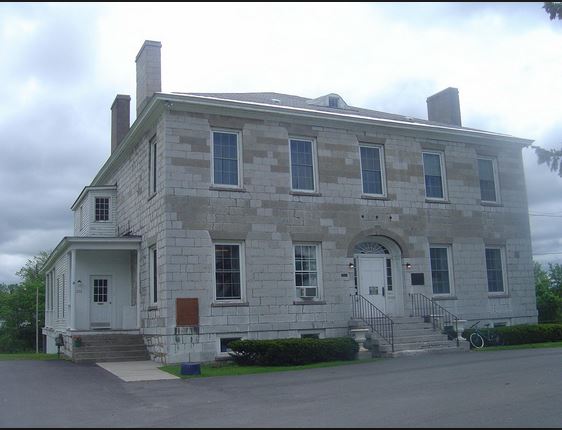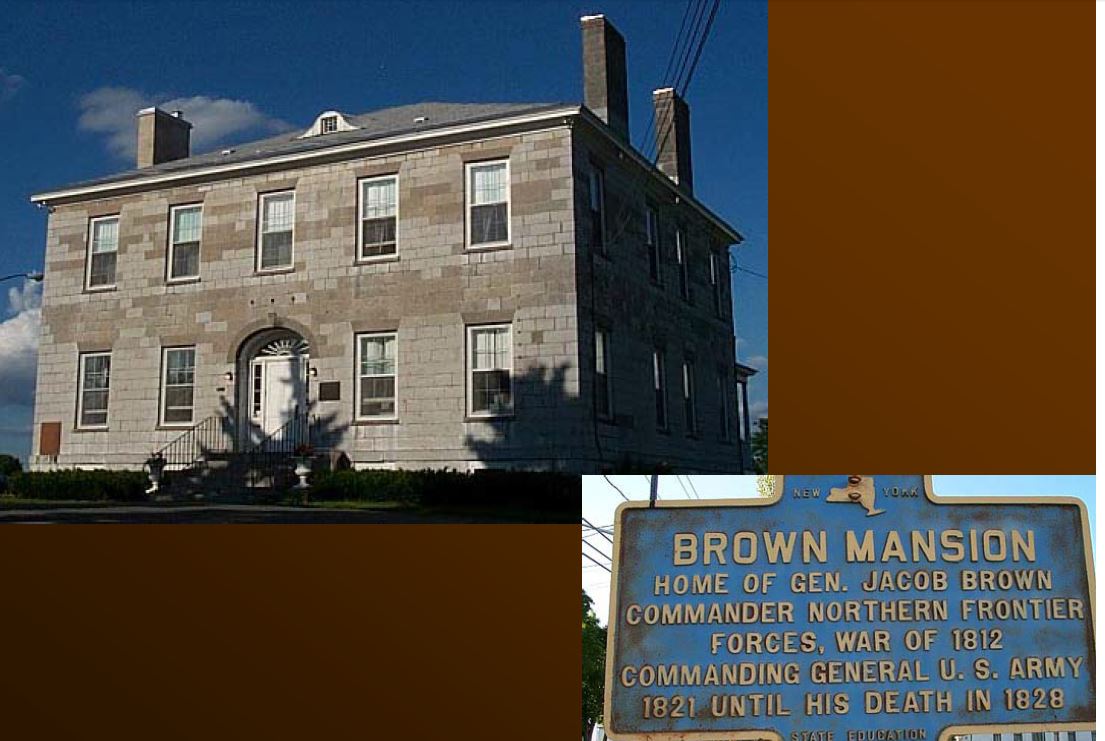 8/22/1942
Massive and blocky is the Major General Jacob Brown (Find-A-grave for Jacob Brown) mansion at Brownville. This mansion is supposed to have been constructed about 1811 for the man who had much to do with the development of Jefferson County was the hero of the battles of Sackets Harbor and the Niagara frontier in the War of 1812 and became the head of the United States army between 1821 and his death early in 1828. President James Monroe (Find-A-grave for James Monroe) was entertained at this mansion in the summer of 1817. The house is in a good state of preservation and has been owned for more than the past quarter of a century by C Howard Greene, (Find-A-Grave for C Howard Greene) city, who resides there summers. He has it profusely furnished with antique furniture, little, if any of which was owned by the Brown family. During the past few years the decorative fence around the roof edge has been removed.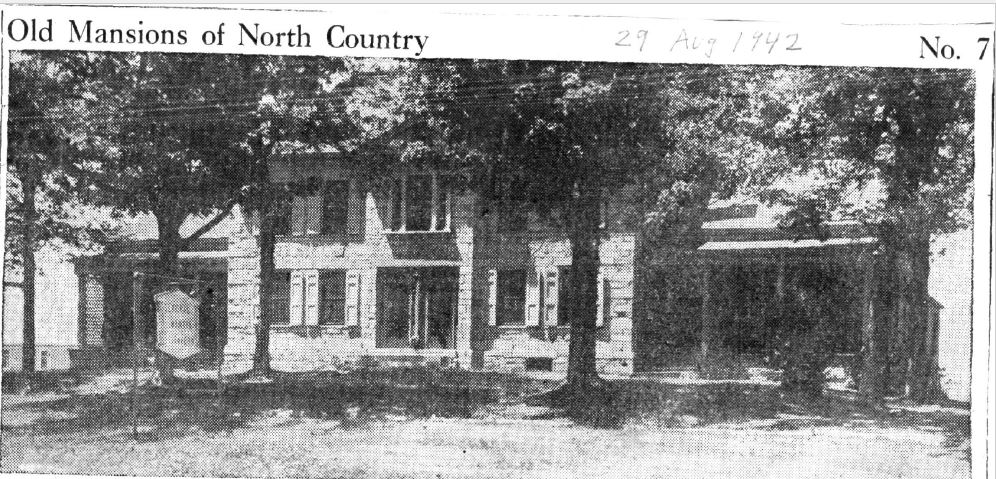 8-29-1942

One of the earliest of the old stone mansions of northern New York is that built for General Walter Martin, (Find-A-Grave for Walter Martin) War of 1812 leader in this section, industrialist and Lewis county Pioneer. This mansion was started about 1803 and completed about 1808. It was patterned after the Sir William Johnson (Find-A-Grave for William Johnson) mansion near Amsterdam to which General Martin sent his master builder, David Waters, (Find-A-Grave for David Waters) to make preliminary sketches and measurements. General Martin built the first paper mill and started the first newspaper in this part of New York State locating them at Martinsburg, now only a small community. His mansion was for some years recently operated as a wayside tavern during the summer season as the sign in front indicates.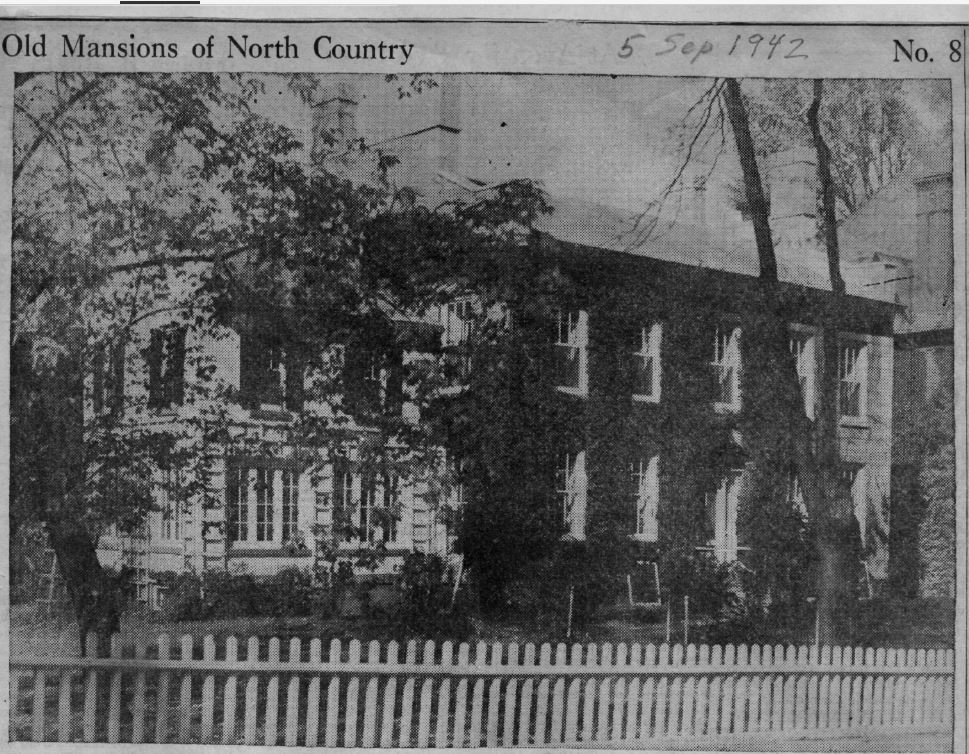 9/5/1942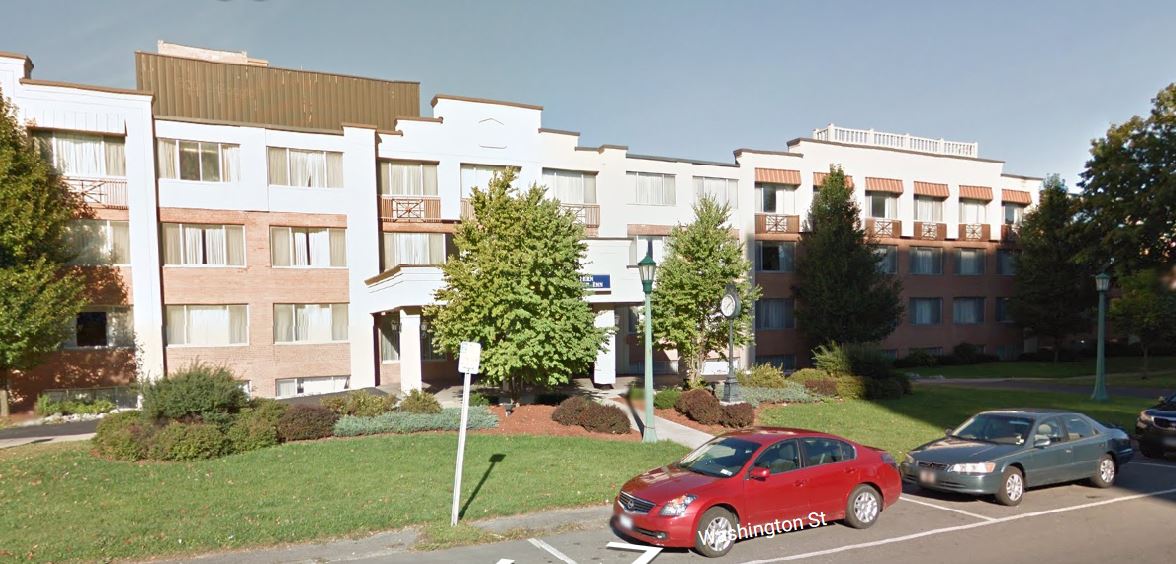 2016 Now the site of the Best Western Hotel
With its beautiful old-fashioned flower gardens in front the old Orville Hungerford mansion at 336 Washington Street is one of the show places of the city. This old stone house with its ivy-clad front wall was erected about 1824 for Orville Hungerford, (Find-A-Grave for Orville Hungerford) first president of the Watertown & Rome railroad, early president of Watertown when it was a village, one of the first local merchants, a founder of the Jefferson County Bank, prominent Democratic politician and congressman. Mrs Leland G Woolworth, (Find-A-Grave for Leland G Woolworth) the former Miss Helen Cooper Hungerford, (Find-A-Grave for Helen Hungerford) is a granddaughter of the original owner of the house. She is the present occupant and possessor.
In early 1960, the house was moved to 315 Flower Ave West by its then owners John R and Rosamond Burns who acquired it in 1959. Orville Hungerford bought the square of land from Olney and ELiza Pearce in 1816 for $500. Construction f the stone house was begun in 1824 and completed November 1825. The house remianed n the Hungerford family for 130 years, the last owner being Harriet E Hungerford who died in 1956. The estate disposed of the house to the Watertown National Bank who later sold it to the Capone Realty Corp. mr Capone employed John R Burns to raze the house and the former Herring Museum to make room for the Carriage House motor inn. Mr Burns purchased the land at 311-315 Flower Ave West from David F Lanein May 1959 and proceeded to rebuild the mansion on that site.
Following the original layout of the mansion, practically all the original material and units were installed except for the heating, plumbing and lighting systems - all the original original woodworkin the interior, main entrance with its fan and sidelights, original windows and casements and even the roof.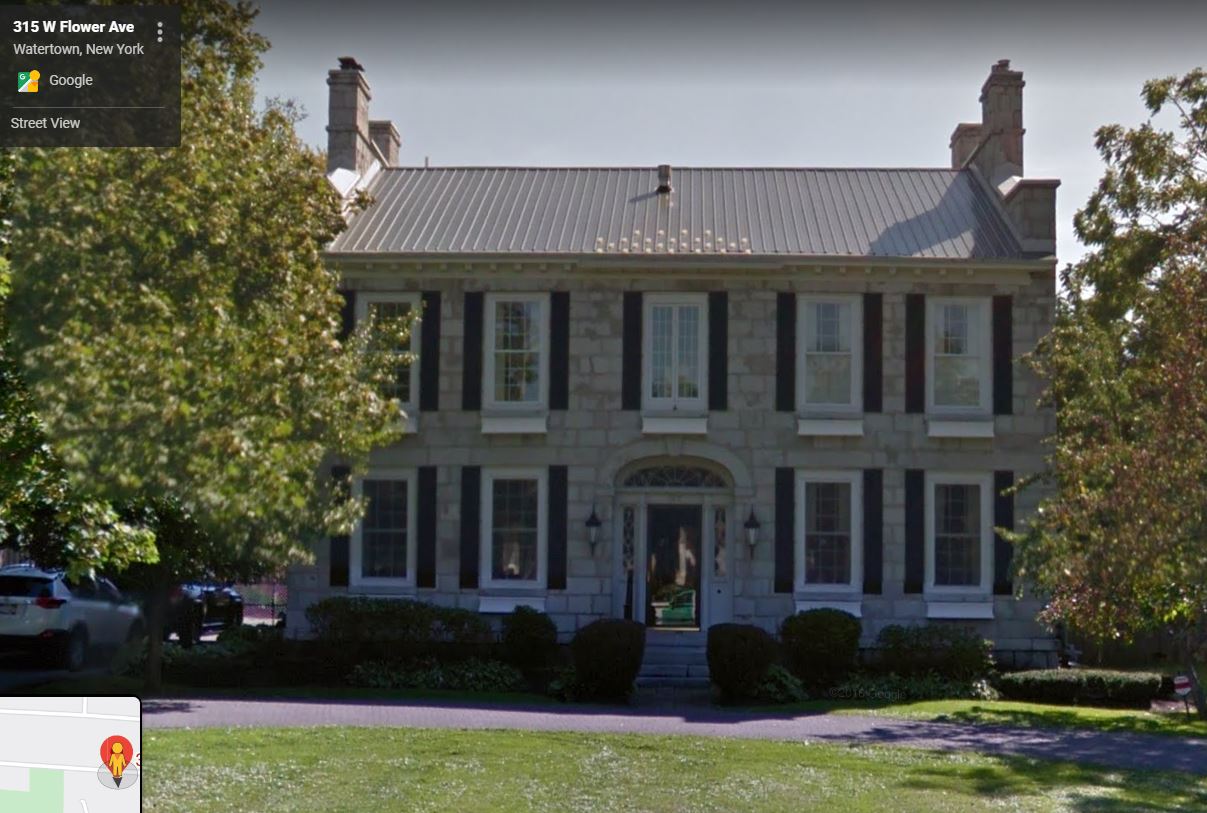 Because Watertown New York was expanding in the early nineteenth century, businessmen there needed greater access to local capital. In 1816 Jabez Foster and others successfully petitioned the legislature to establish the Jefferson County Bank. Foster was chosen to help apportion stock and choose the building location which was a contentious matter because each community in the area wanted the bank to be located there. The bank ended up being built in Adams New York and was initially capitalized with $50,000 of which half the amount was paid in. However, the bank did not fare financially well in Adams. Pursuant to an act passed on November 19 1824 the bank relocated to Watertown and the capital fund was increased to $80,000 Foster served as the second bank president (1817-1819). Orville, who often followed the lead of his brother-in-law, served as the bank cashier (1820-1833) and later as president (1834-1845). Throughout the entire nineteenth century, the bank, nationally chartered in 1865 never defaulted on its obligations and from 1824 paid its shareholders regular dividends. To put its growth in perspective: in 1821 it had resources of $91,000; by January 1 1916 it had resources of $3,000,000. In 1916 Orville's grandson, Orville E Hungerford, was vice-president of the bank.

3-dollar Jefferson County Bank note issued in 1824 and signed by cashier O Hungerford: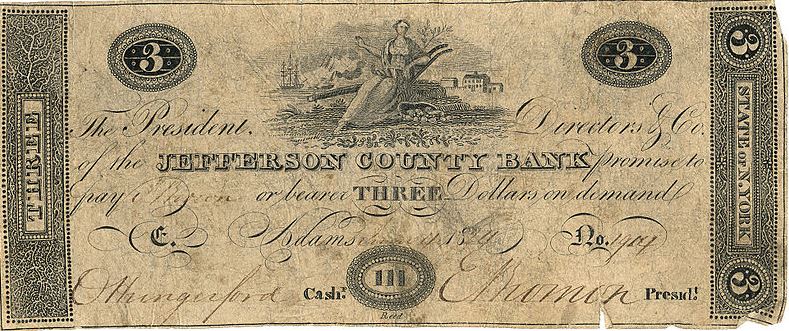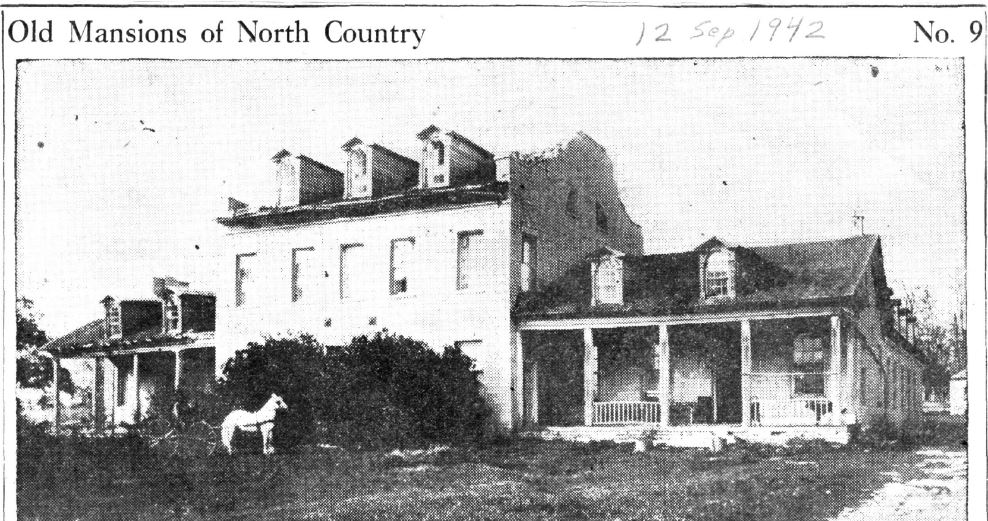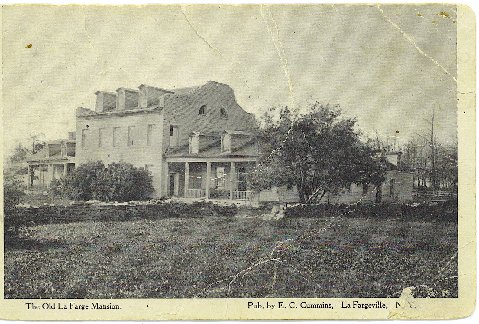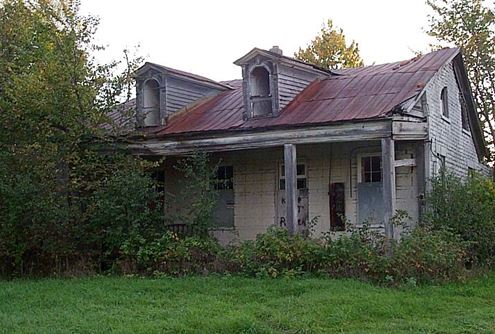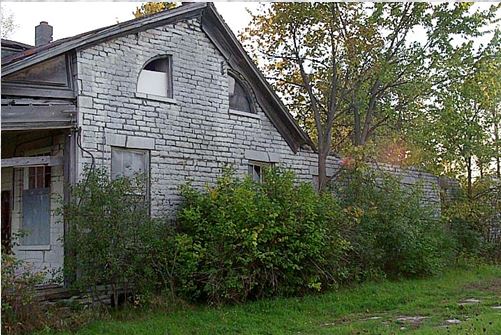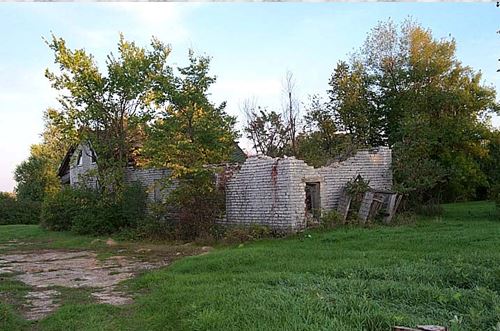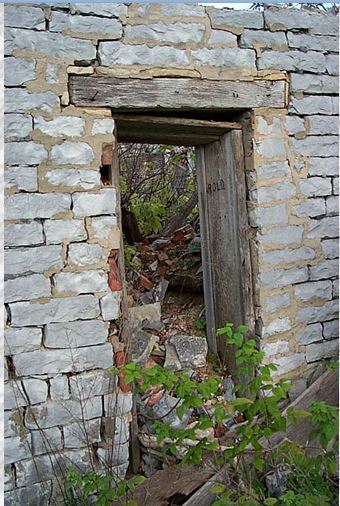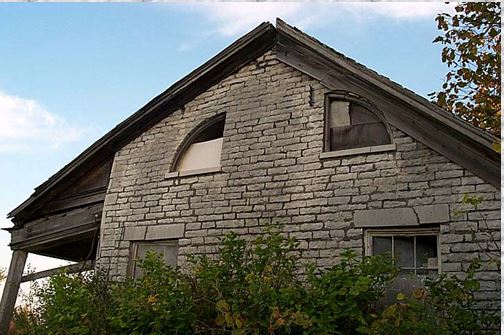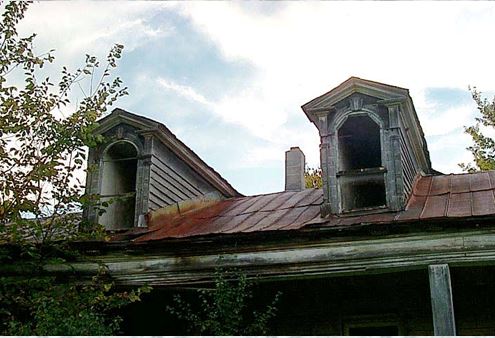 9/12/1942
John LaFarge, enterprising Frenchman who amassed a large fortune at New Orleans in West Indian trade, invested in a large acreage in Penet Square between 1817 and 1823. In the following year he came to look after his holdings and about 1827 caused his big, pretentious mansion with dormer windows and flanking wings to be erected for him at what is now LaFargeville. In developing his lands he found difficulty in passing clear title to purchasers and by his summary methods got into difficulty with them. In 1838 he sold his mansion to Reverend Father DuBois, a Catholic priest, who caused the St. Vincent de Paul seminary to be started there. The school, however was conducted only a few years. The house long since went into ruin and was razed in 1905.
Only a wing remains.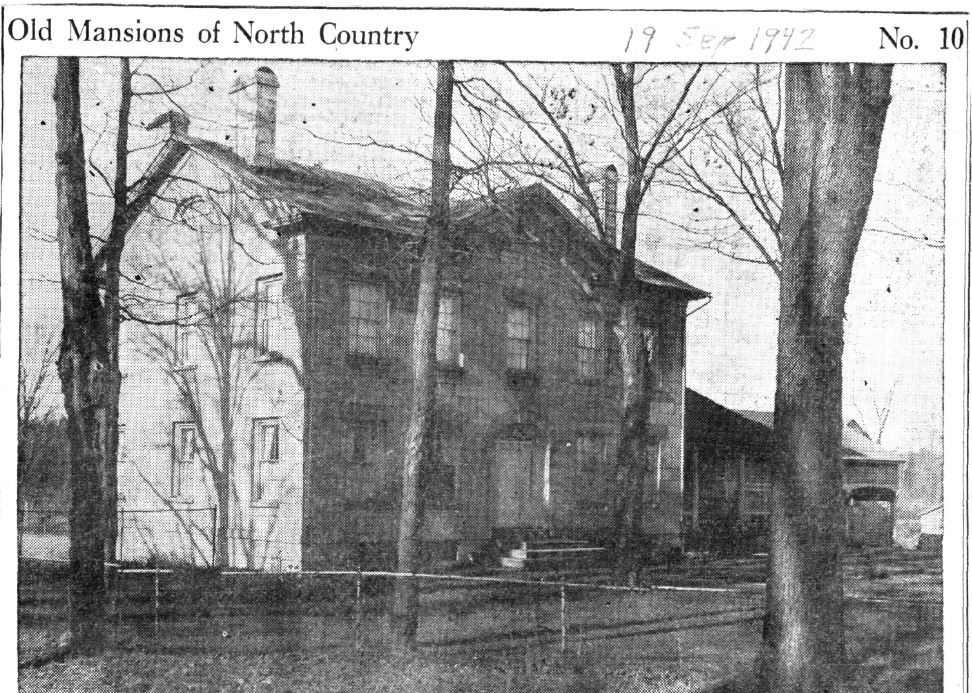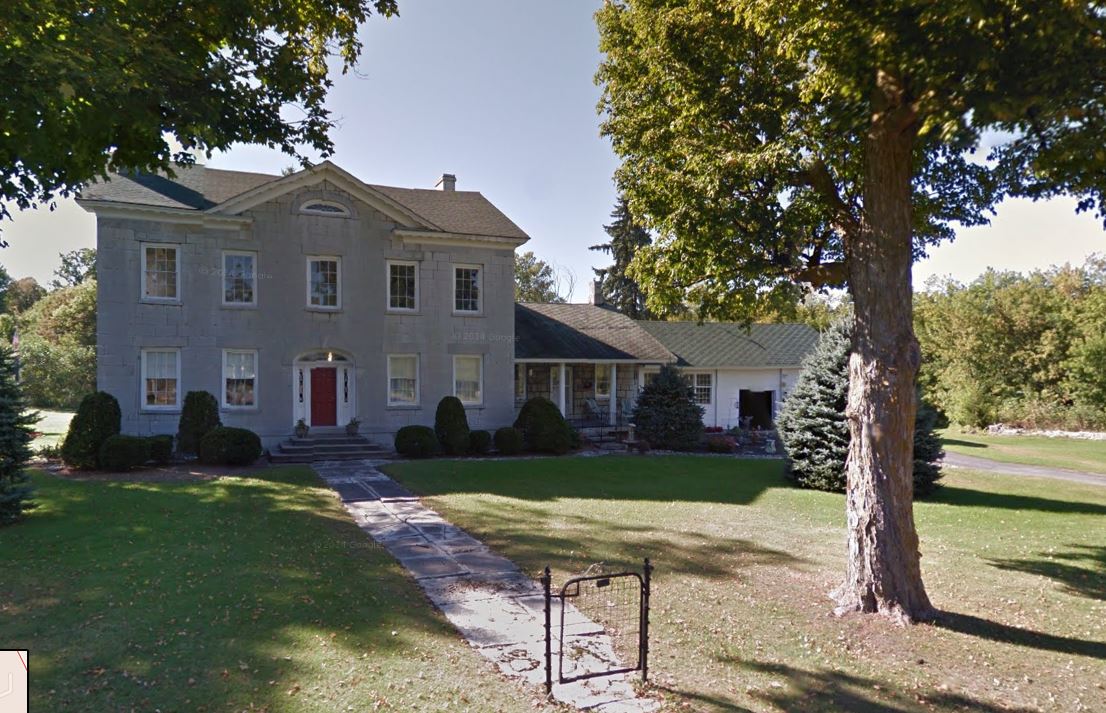 9/19/1942
BootJack Hill
Built in 1827 the John Felt mansion at Felts Mills is another of the exceptionally beautiful old stone Georgian type houses of Jefferson County. Like all of the others, its cornice treatment is just a little bit different. Its roof is low, but of the gable variety and there is a broad, low gable in front found also in many of the Canadian houses between Brockville and Toronto along the Lake Ontario frontier.
The front door and doorway of the Felt mansion is one of the finest to be seen in this part of the country. John Felt was an early Jefferson County settler and industrialist, owner and operator of grist and sawmills and for him the village of Felts Mills was named. Mr and Mrs Ward B Gorman (Find-A-Grave for Ward Gorman) and (Find-A-Grave for Helen Gorman) now occupy this mansion.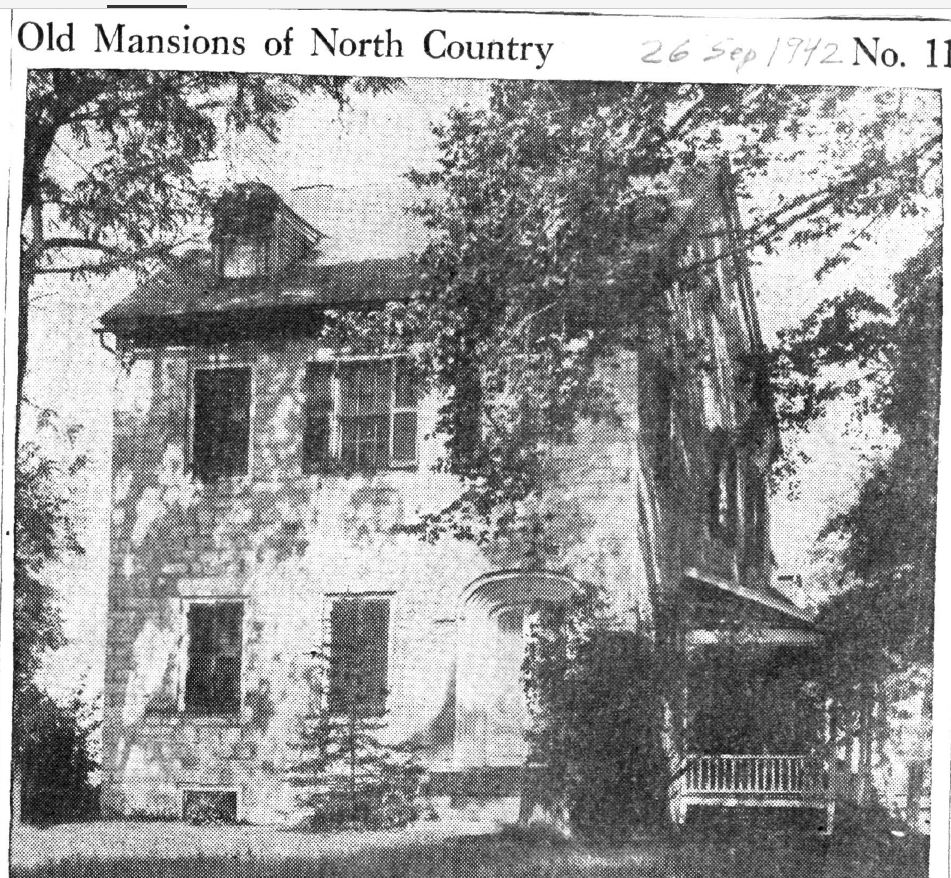 Located on County Rt 179 (Depauville/Evans St)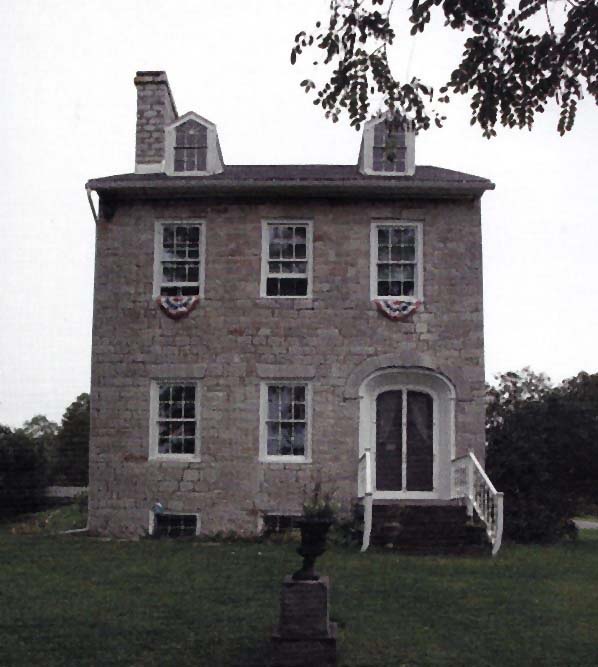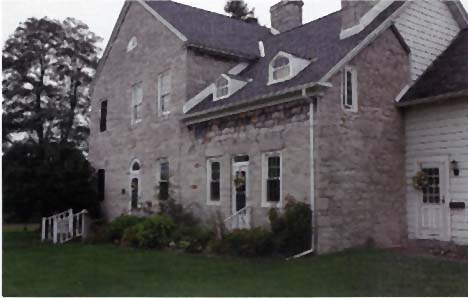 9/26/1942
Tall and narrow and with dormer windows in its gabled roof is the fine old home of Mrs Emma Dillenbeck at Chaumont. This house is reputed to have been built in 1819 for a prominent early Quaker settler of Jefferson County named Clark. Later it was purchased by Philip P Gaige, another well known early Chaumont resident. It stands along the main highway from Watertown to Cape Vincent not far from the ancient bridge that crosses the mouth of the Chaumont river. The doorway of this mansion is different from those of other north New York mansions of an early day.
The rear was a separate small house which had a kitchen and fireplace.
Built by Musgrove Evans. On a metal eaves trough is the date 1820. On August 22 1922 the Burlingame Murder-Suicide occurred there.

310 General Smith Drive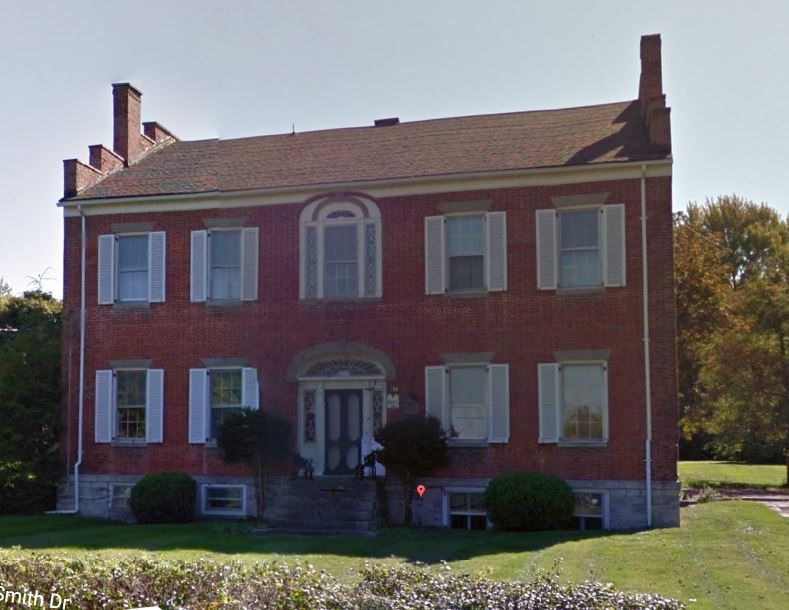 Red brick was the medium of construction of the Colonel Elisha Camp mansion, built at Ogden Street, Sackets Harbor between 1814 and 1816. Native limestone, nicely cut and dressed, was used over the windows and front doorway, as well as for the foundation. Now owned by Mrs Edward Mason, a descendant of Colonel Camp this big house, facing out upon Lake Ontario, is one of the handsomest in northern New York. Exquisite old French scenic wallpaper in the main living room distinguishes this house from all others in the North Country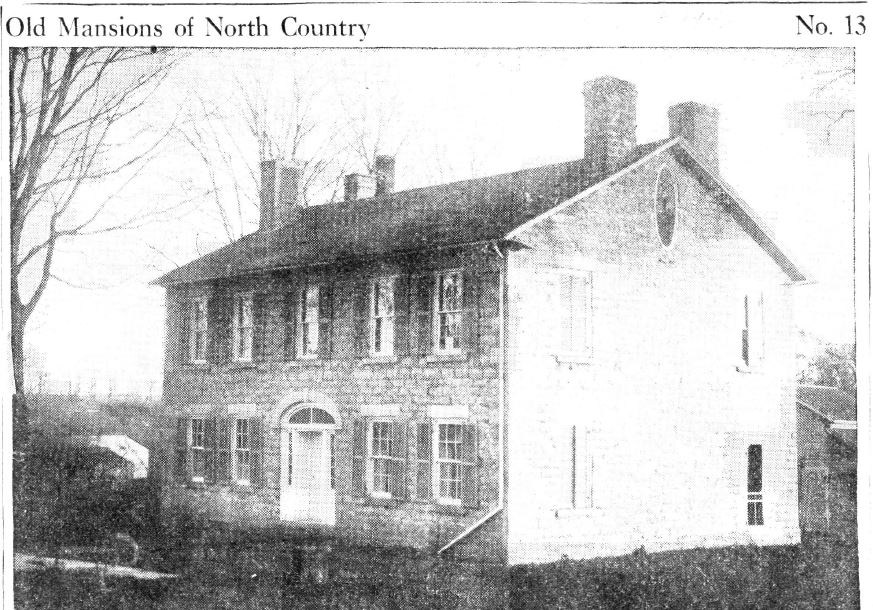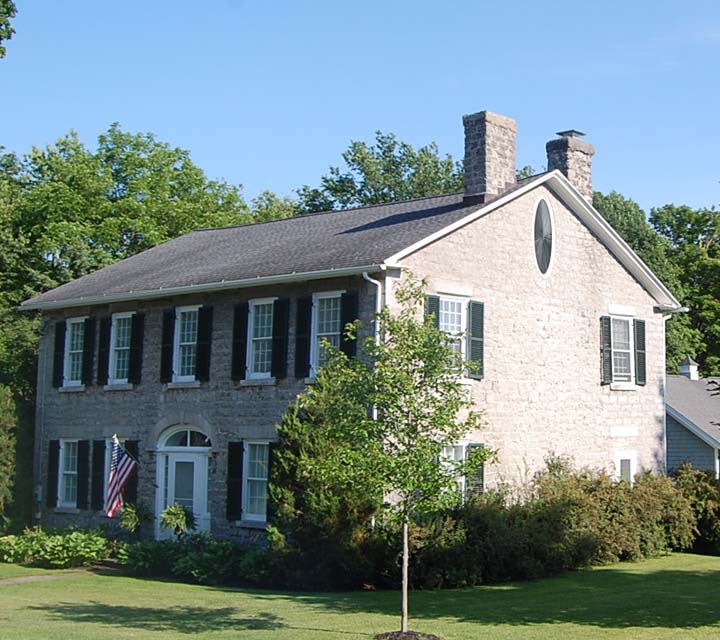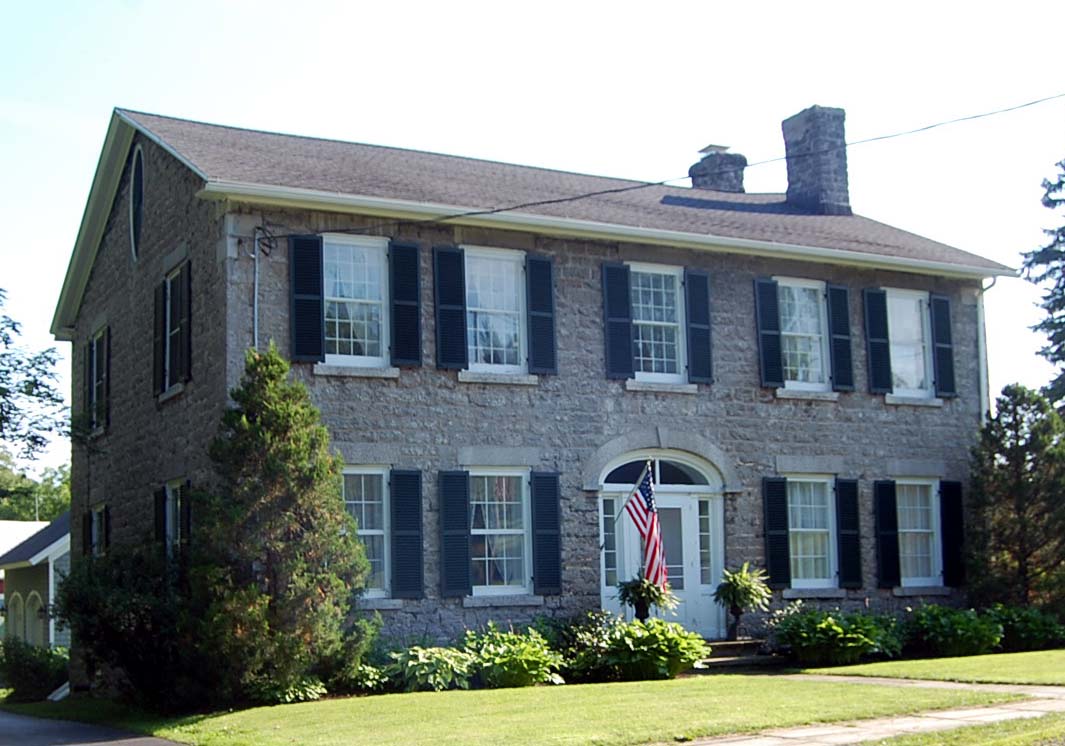 This fine old limestone mansion at Henderson is the birthplace of one of America's great men, Daniel Hudson Burnham, famous architect, who built the first of the world's tallest buildings and coined the term "skyscraper." Descended from a Pilgrim who located at Ipswich, Massachusetts in 1635. Daniel H Burnham was born September 4 1846 in the stone house shown here. The house, consisting of about ten rooms, four of which have large fireplaces, is reputed to have been built by Burnham's grandfather, Nathan Burnham, who came to this county from Burnham's Hollow, Middletown, Vermont, driven out by a flood. Similarities in architecture indicate the house may have been constructed about the same time as the original stone building of Union academy, Belleville, 1828. Edwin Burnham, father of Daniel Hudson Burnham, was married in 1832 to Elizabeth Keith Weeks, of Pilgrim ancestry, daughter of a Swedenborgian minister. In 1855 when Daniel was nine his parents left the old stone mansion at Henderson and moved to Chicago. There he was educated, his parents intending him for the ministry.
He failed to make either Harvard or Yale and imbued with an unusual talent for drawing entered an architect's office. With John Wellborn Boot he formed the firm of Burnham & Boot. After the Chicago fire in 1871 he had much to do with rebuilding the city.
In 1890 he built the Chicago Masonic temple, then the tallest building in the world. He planned the grounds and buildings for the Columbian exposition, world's fair of 1892-3; with John LaFarge, Augustus Saint Gaudens and others became chairman of the World's Congress of Architects in 1893 president of the American Art Institute of Rome, Italy, in 1894 chairman of the National Commission of Fine Arts established by President Taft June 15 1910 and built the Flatiron building in 1902 in New York City, the then tallest building in the world.
He died suddenly June 1 1912.
For the past 50 or 60 years at least the Burnham homestead at Henderson has been the property of the Scott family. It is now owned by Harley M Scott, who has had title for the past 30 or 35 years and prior to that it was owned for several years by his father, Murray Scott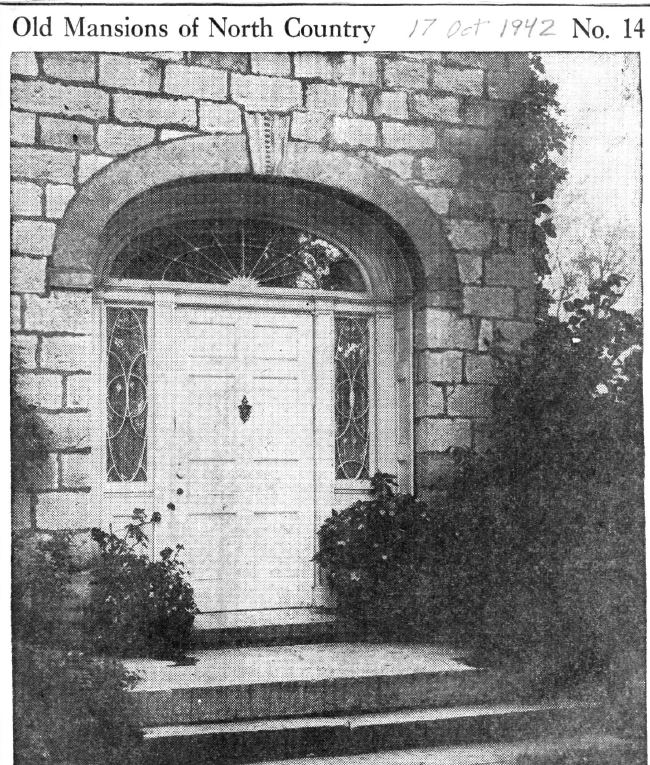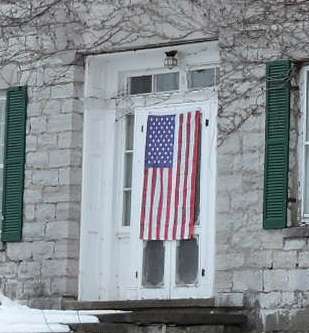 Handsome, indeed, is this front door with its leaded-glass fan and sidelights at the Hiram Hubbard mansion at Champion.
The house was built in 1820. The pattern for the eight-paneled white door with its old brass knocker, as well as the pattern for leading the glass is simple, graceful and attractive. The flagstone sidewalk leading to the entrance terminates in the long, flat slab of limestone that was once the signboard of the Hubbard store at Champion. The engraved lettering chiseled upon the stone still plainly announces "N & H Hubbard's Store," and the date of establishment in the summer of 1815. Members of the firm were Noadiah Hubbard and his son, Hiram, the latter owner of the house to which this doorway belongs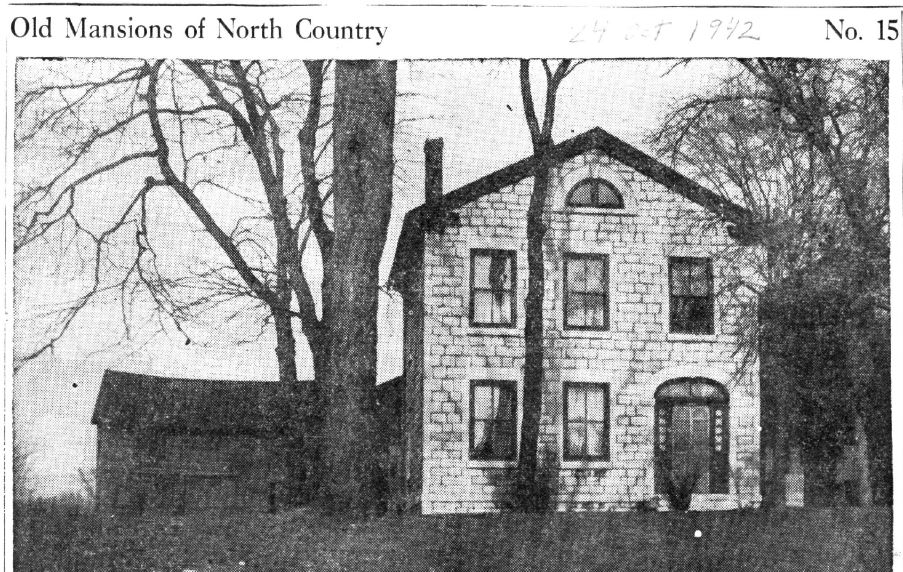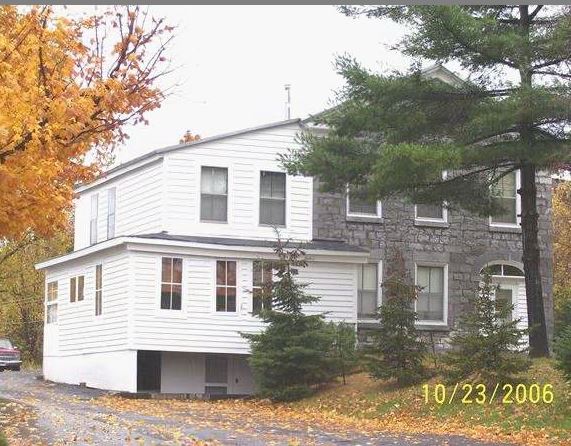 One of the few remaining old stone houses in the city of Watertown is that occupied by George H Sharlow, retired, at 540 West Main Street. The house is located on high ground on the north side of the street a short distance west of LeRay Street. It has been in the Sharlow family since 1866 having been acquired by Mr Sharlow's father, the late Christopher Sharlow, who was employed in the old W H Angell distillery, which is now a part of the Taggart paper mill, a short distance west on the opposite side of West Main Street.
This house, still in fine state of preservation, is reputed to have been built between 1820 and 1825 for Judge Bernard Bagley, one of Watertown's leading lawyers of a century ago. Judge Bagley, who died June 26,1878 at the age of 86 and who occupied the house some time, was the father of George A Bagley, a founder and head of the Bagley & Sewall company, and grandfather of Miss Madeleine Bagley and of Mrs Stuart D Lansing, city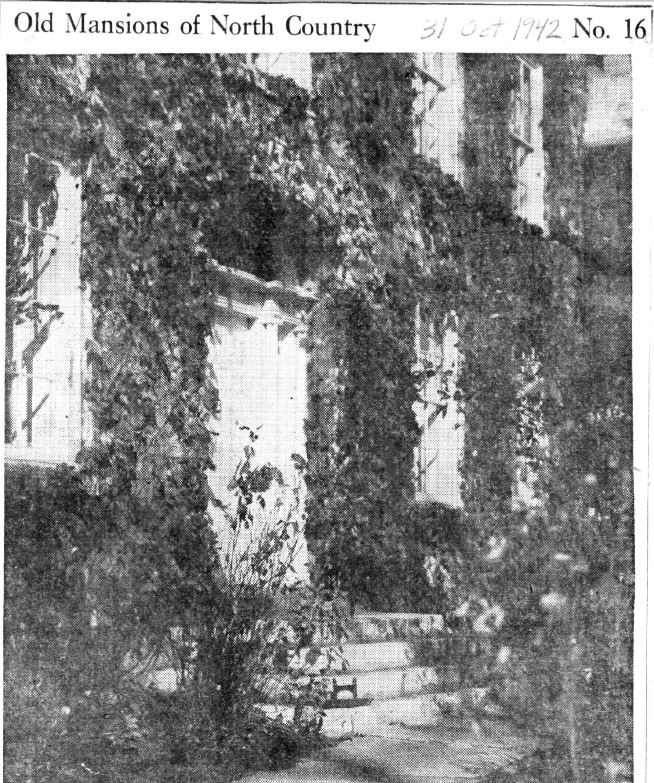 One of the most beautiful doorways and stone mansion facades in Jefferson is that of Mrs Leland G Woolworth's residence, 336 Washington Street, city.
This mansion was built by Orville Hungerford, grandfather of Mrs Woolworth, about 1824. The front of the house is rendered especially beautiful in the summer by the mass of ivy that covers it. Another attraction of the property is the circular walk leading from Washington Street past the front door, circumscribing the old-fashioned flower garden, admired by thousands of persons passing along the west side of Washington Street during the late spring and summer season.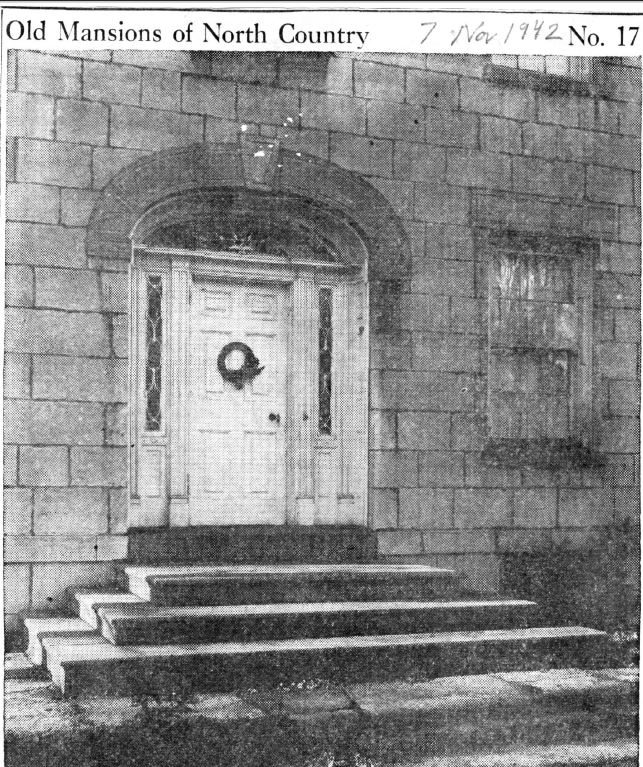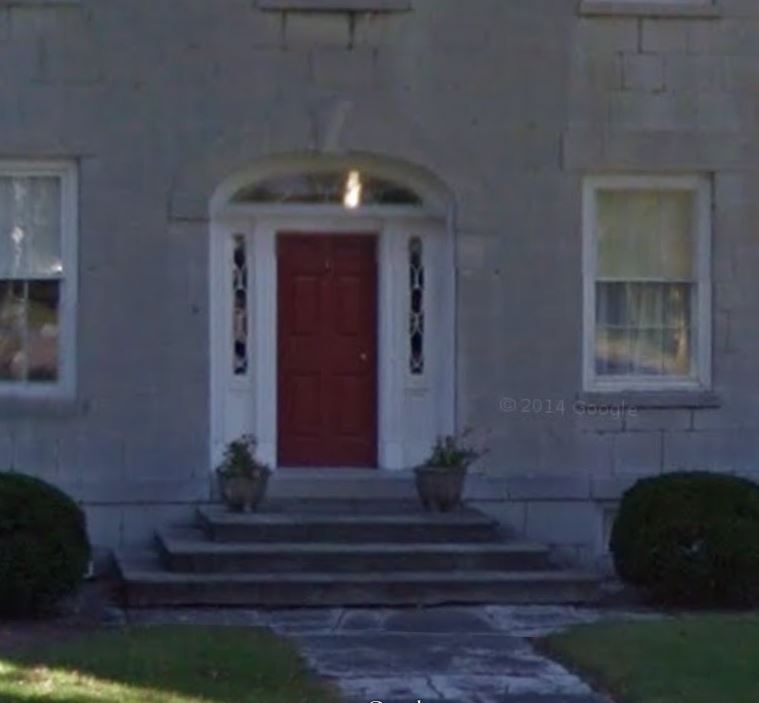 None of the North Country's old doorways has more fine grace and artistry than that of the old John Felt stone mansion at Felts Mills. This house, erected in 1827 by the early Jefferson County industrialist for whom the village of Felts Mills was named, is now the home of Mr And Mrs Ward B Gorman.
The lines of the door and the door-casings are the work of a master craftsman is the leading work for the fanlight and side glasses. The door, with its Christmas wreath, is appropriately decorated for the holiday season, now progressing. As for the house itself, the walls are as staunch and true as when laid and the stone blocks display unusually fine cutting.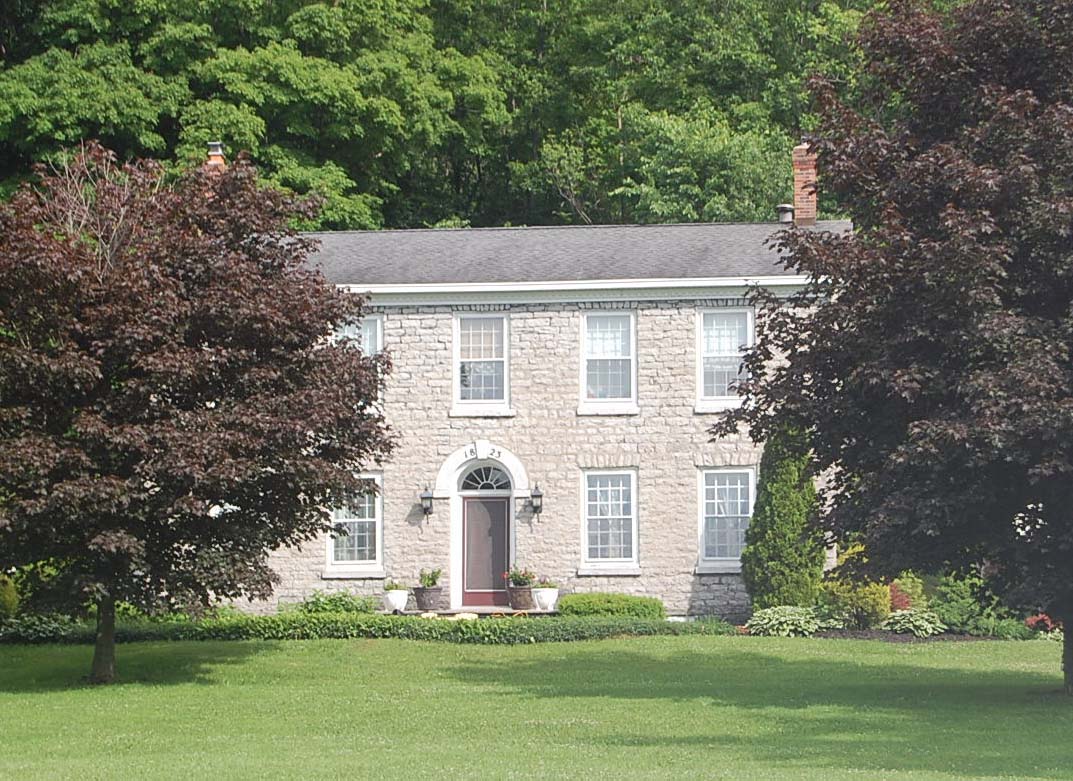 This house was listed for sale and posted these photos: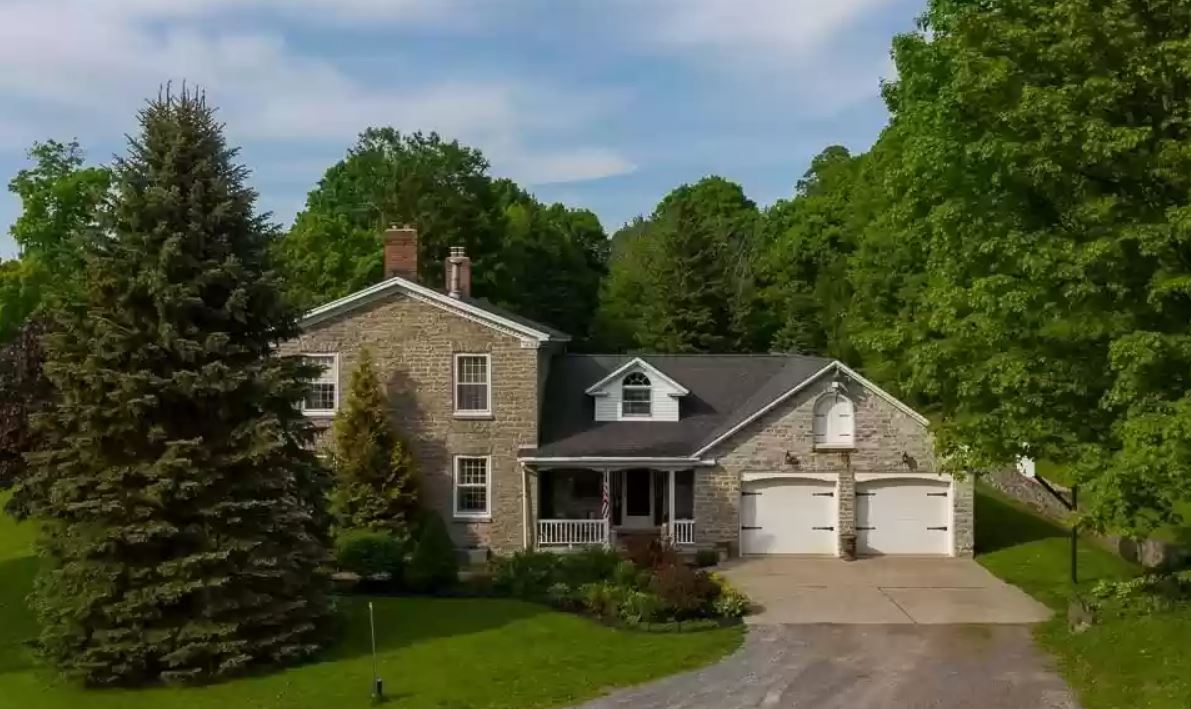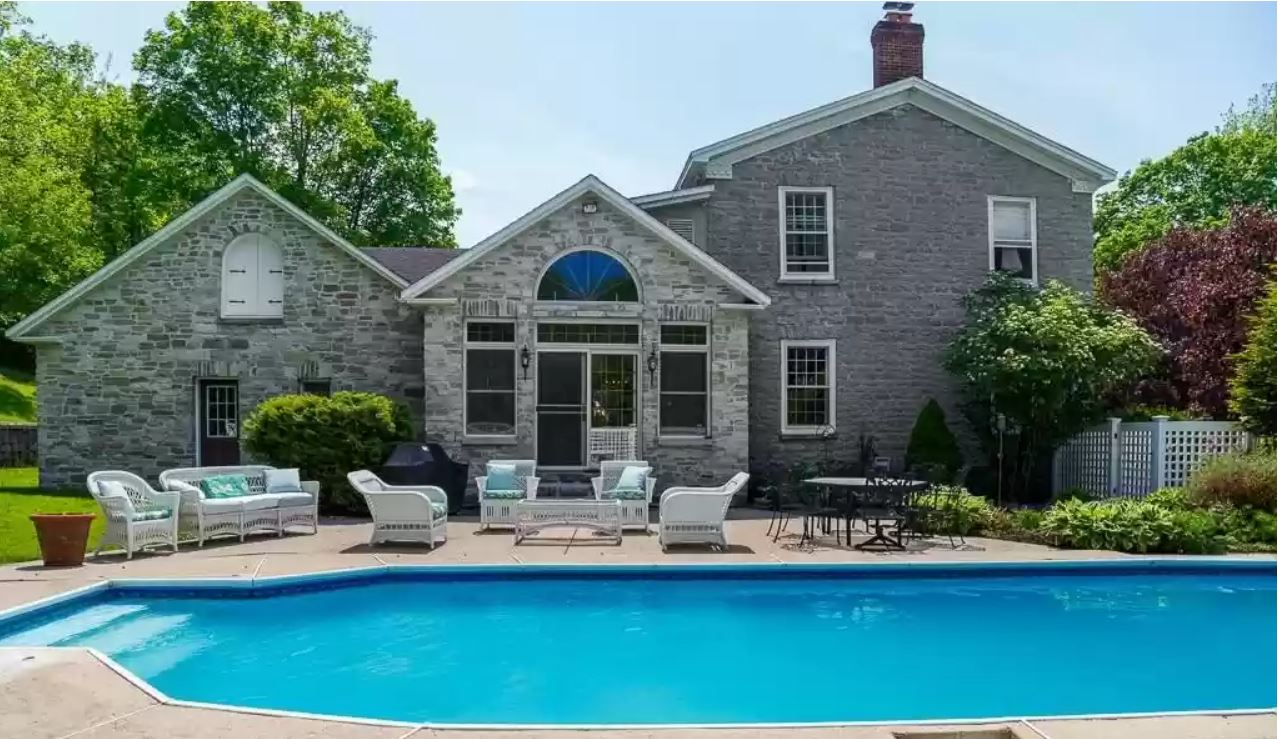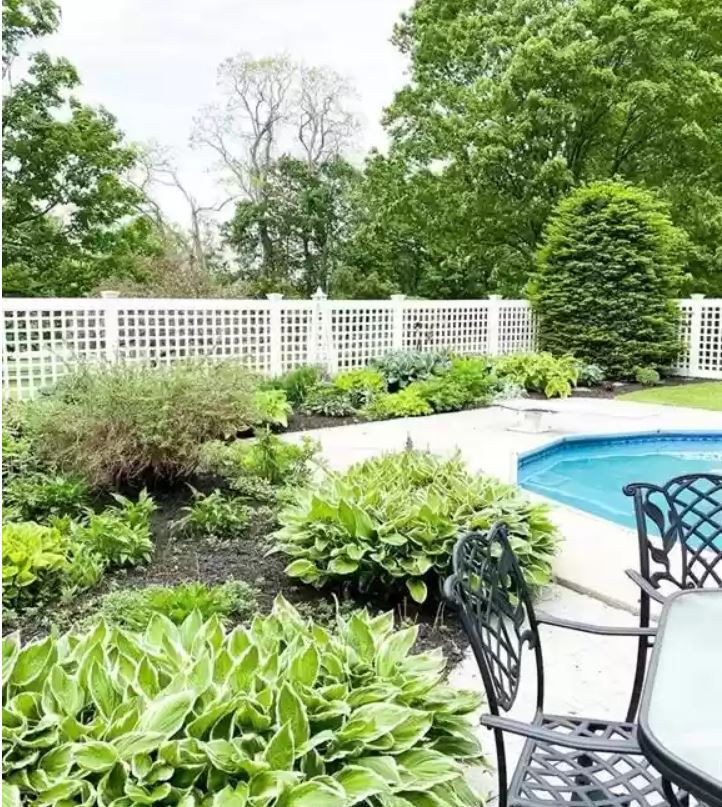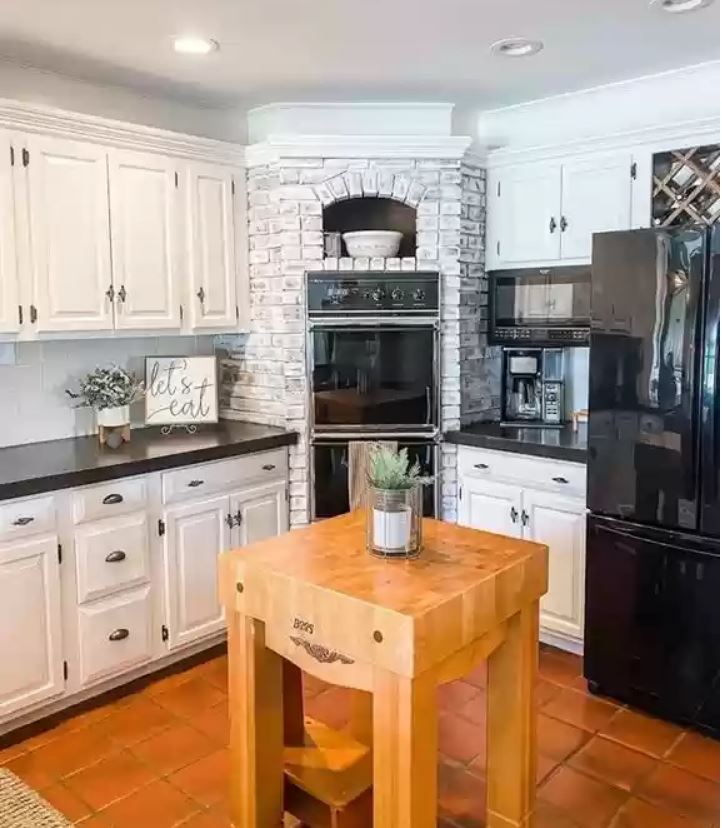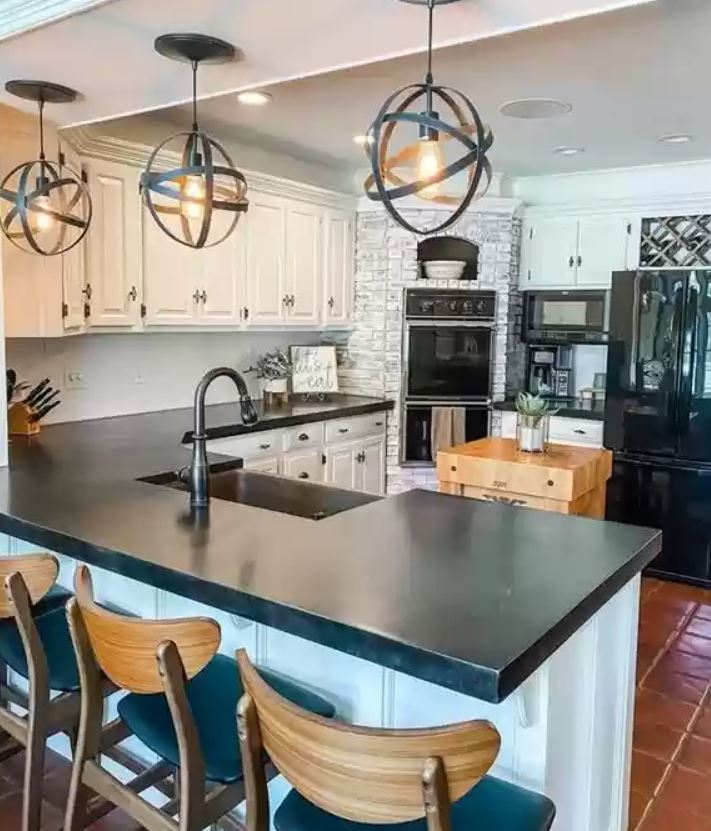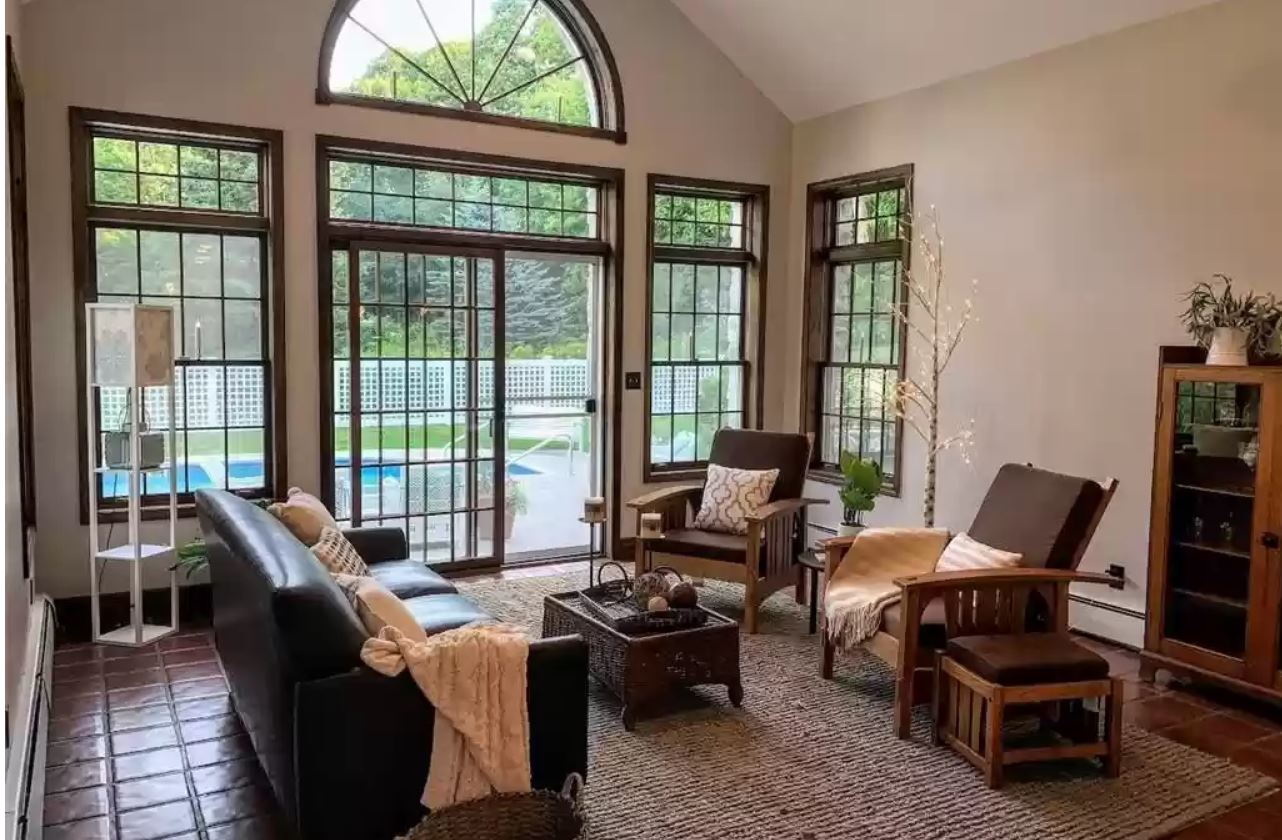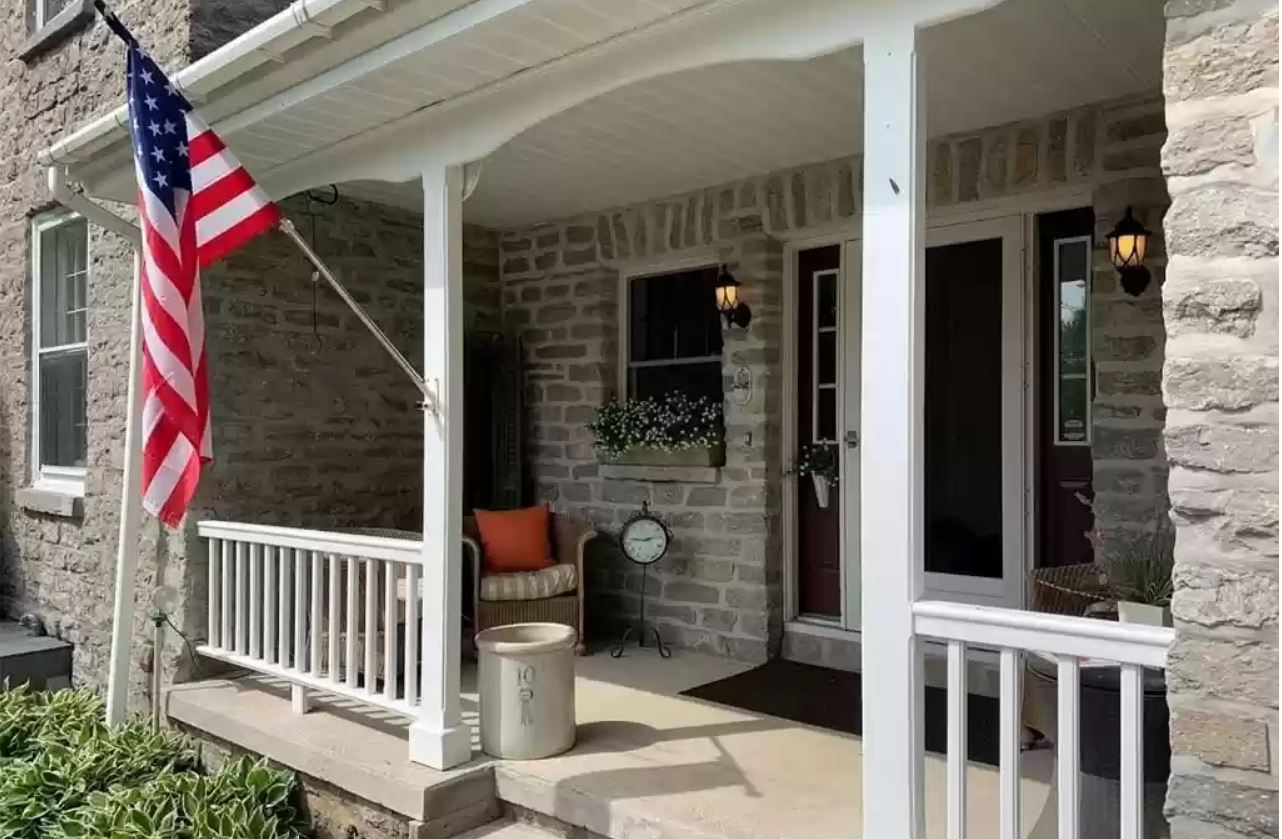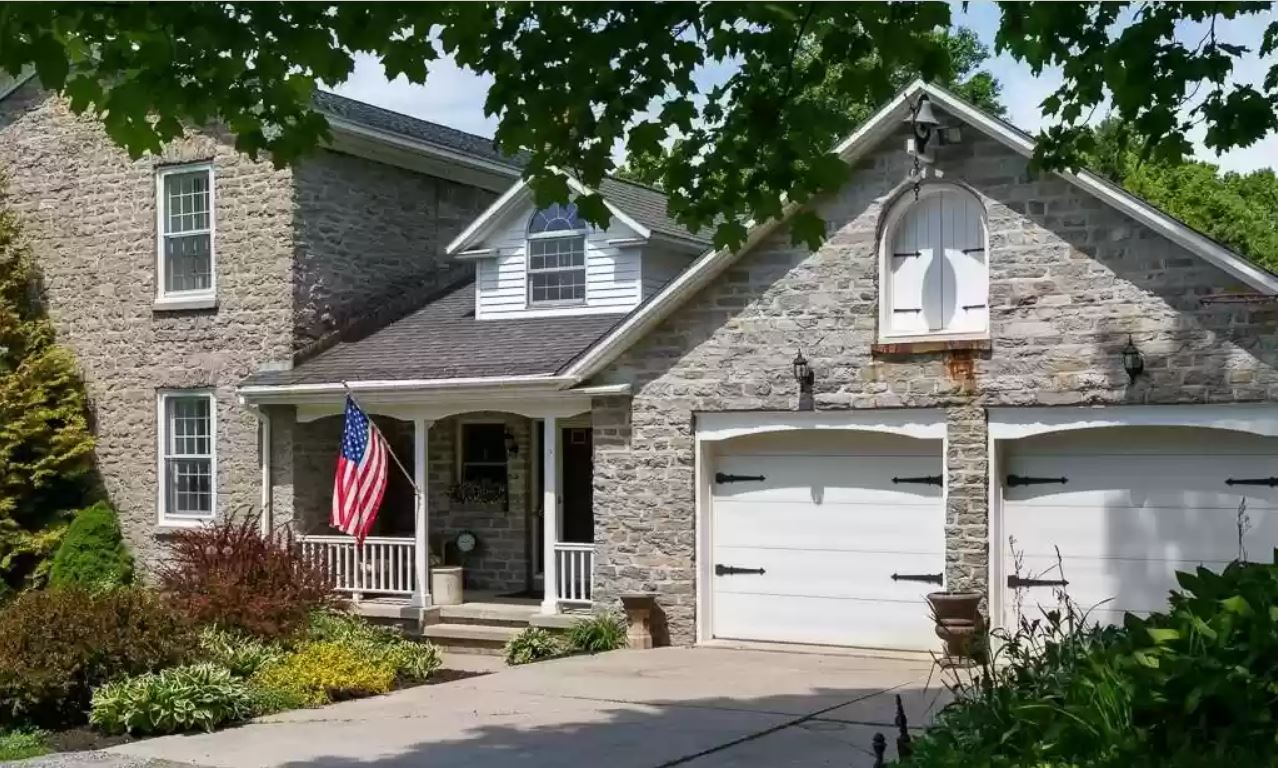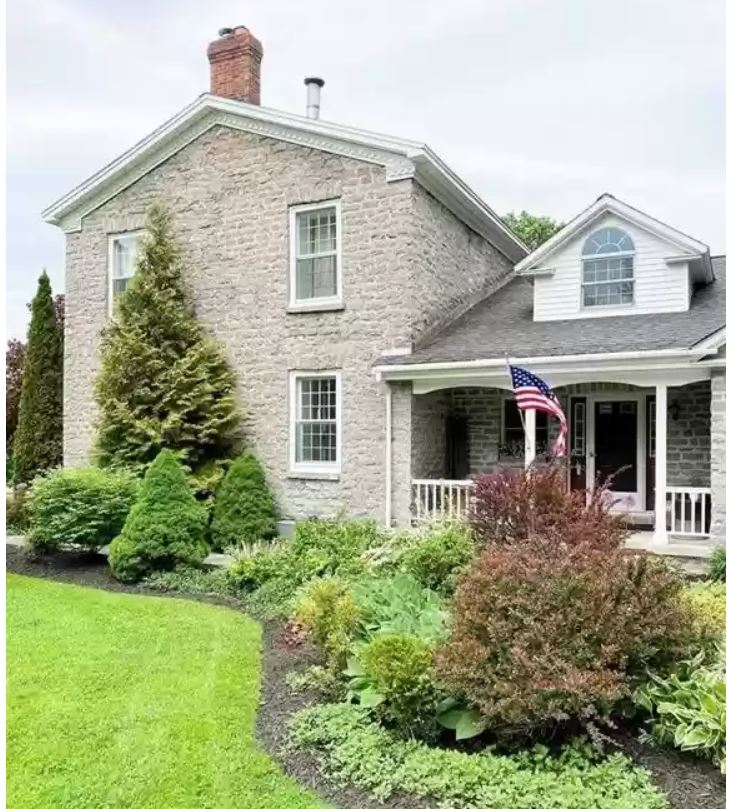 This house, now owned by Mrs Lloyd H, Casler, 261 Paddock Street, is one of Jefferson County's attractive stone mansions. It sets well back from the highway a short distance east of Talcott's on the Watertown-Syracuse state road. It is believed to have been built for John Thompson shortly after 1823 the year in which he bought the land from Francis Lamon.
For many years it was the residence of Mr Thompson's son, Jenks P Thompson, who married Susan Sheldon, daughter of Joseph Sheldon. Joseph Sheldon is credited with having made the first cheese in Jefferson County in 1834. In 1872 the late William H Mantle purchased the mansion from Jenks P Thompson and resided there with his family until about 1906. He was the father of Mrs Lavantia Blanchard, of Miss Chloe Mantle and of the late Mrs Charles Elwyn Ayers, mother of Mrs Neal Hathway. The late Harrison Fuller, assemblyman from this county, obtained the property from Mr Mantle and from Mr Fuller it passed to his daughter, Mrs Casler, who still owns it.
The house is located on a 140 acre farm and for many years was quite a show place. Its small-paned windows are distinctive. It has 14 rooms, the main ones equipped with handsome fireplaces, long ago plastered up, and during the ownership of the Mantles was heated by small stoves in the rooms.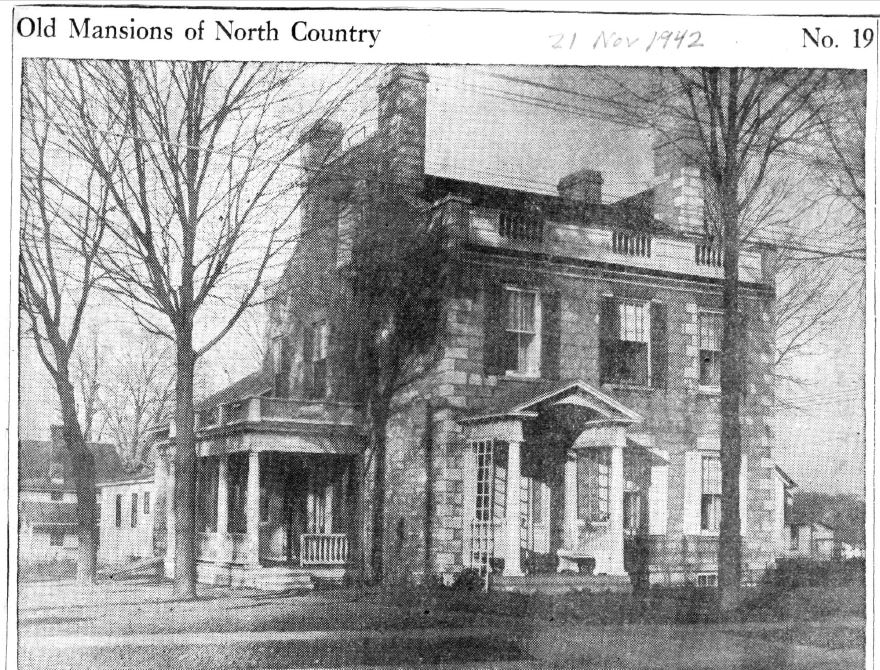 This was where the American Legion, Brownville is now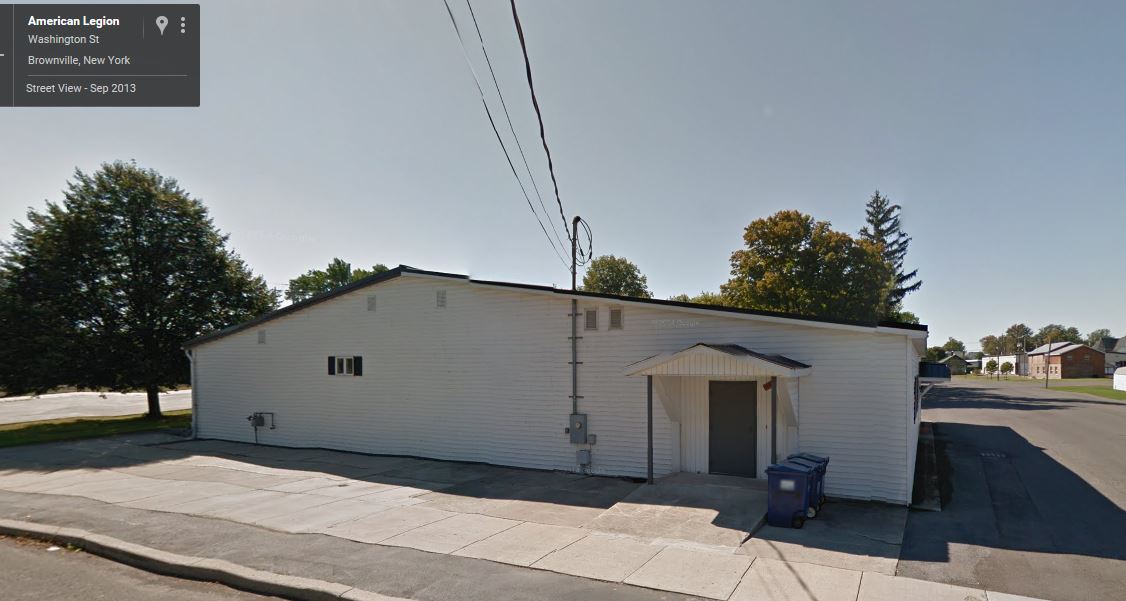 More or less modernization has been applied to this old Massey mansion of Brownville. This is especially evident on the outside in the way of porches and verandahs as well as in the windows. This house has been owned and occupied for approximately 30 years by John J Warren, retired paper manufacturer. Just when the house was built no one seems to know, but probably about 115 years ago. (Circa 1827) It was for a long time the residence of Dr William Penn Massey and afterward of his son, Dr Francis W H Massey. Both were directly descended from Hart Massey, who was one of Watertown's original three settlers in March 1800. Hart Massey's son, Solon, author of the series of local biographies of early Jefferson County residents, was the father of Dr William Penn Massey, who was born in the town of Watertown September 23 1824 went to Brownville about 1832 to reside with his uncle, Dr James K Bates who conducted a drug store, and died May 22 1885. It is possible his mansion was erected for Dr Bates. Dr Francis W H Massey was born in the house June 16 1853, graduated from the University of Michigan college of pharmacy in 1879 and from the University of New York college of medicine in 1884. He took up his father's practice in Brownville and resided there many years.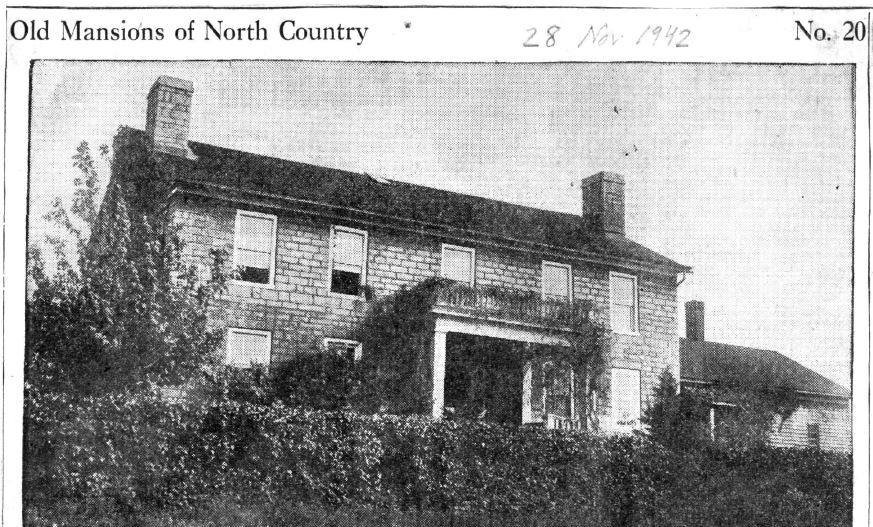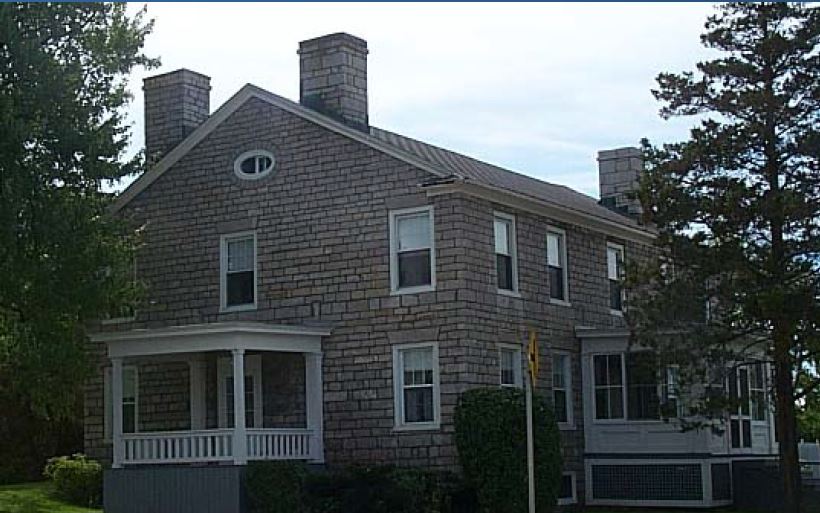 This is the home of Mrs. Charles H Congdon at Chaumont. It is one of the most historic houses of Jefferson County, having been constructed for James LeRay de Chaumont as a tavern for convenience of himself and others passing through his vast tract of North Country lands which he was attempting to develop and colonize.
The year construction was started is not known. Some estimate that it was as early as 1802. In any event it was not completed until the coming of Musgrove Evans to Chaumont with his colony of Philadelphia Quakers about 1818. Even then it was not entirely finished, although placed in service. Amos Evans was one of its early landlords. That Musgrove Evans, land agent for LeRay , must have caused the building to be put into shape for use before 1823 would seem to be proven by the fact that in that year he went to Michigan to found Tecumseh.
Many distinguished personages were guests of this hostelry in its early days including Joseph Bonaparte, once king of Naples and the two Sicilies and later king of Spain. The LeRays, James and his son, Vincent, also stopped there much in going from the LeRay estate at LeRaysville to Cape Vincent. It is constructed of native Chaumont limestone and about 45 years ago was purchased by the late George A Lance, local manufacturer, who spent several thousand dollars in restoration, occupying it as his residence for a number of years. About 1908 he disposed of it to F H Duford, Chaumont quarryman and dealer in limestone, and in 1919 it was bought by the late Charles H Congdon of this city, then publisher of The Times. Mr And Mrs Congdon used it as a summer home for many years and then made it their permanent residence. After Mr Congdon's death complete title passed to Mrs Congdon, the present owner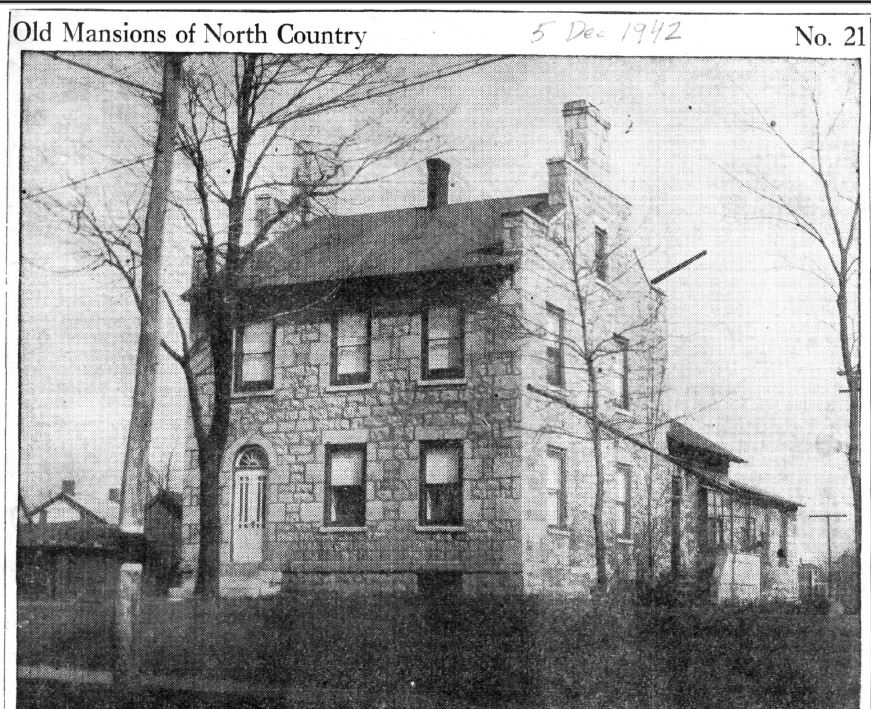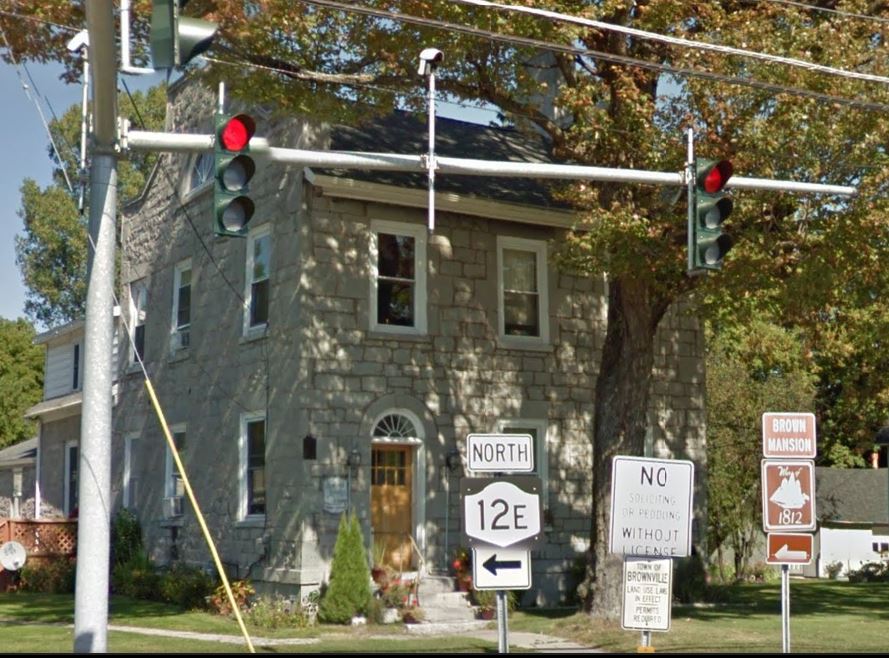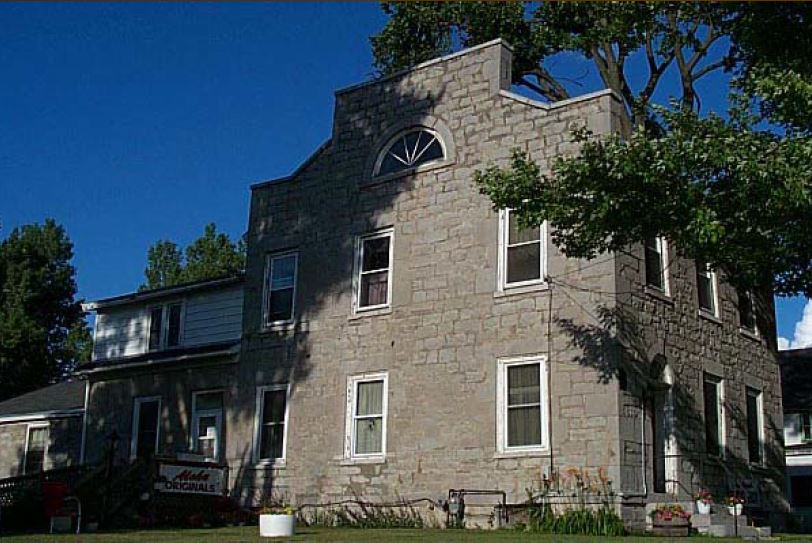 One of the interesting old stone houses of Jefferson County is this one owned by Mrs James A Kilborne on the north side of the main highway from Glen Park to Brownville in the village of Brownville. This house is located east of the John J Warren mansion and shows a similarity of type.
It is believed to have been built about 115 years ago for Thomas L Knap, who came to Brownville about 1826. Knap was one of the most enterprising of a number of Brownville industrialists of a century and better ago. He identified himself with his brother, Tracy Knap, and manufactured linseed oil from the flax that they encouraged nearby farmers to raise in large quantities and then he became general manager of the Jefferson Lead company, organized June 30 1838 for the base of lithic paints.
He also built a grist mill, tannery and was identified with other enterprises. In the 1850's he removed to Pittsburgh, Pennsylvania, and there have since been several owners of his mansion, a staunch stone structure of a dozen or more rooms, some of which were equipped with fireplaces. The Kilborne family has owned the property for several years, and it is occupied by Mrs James A Kilborne's son, Lawyer M Kilborne, and his family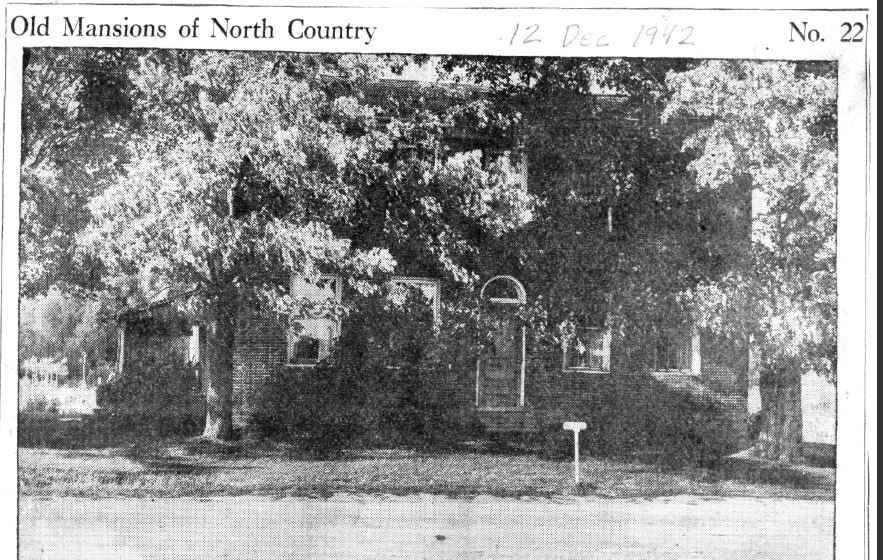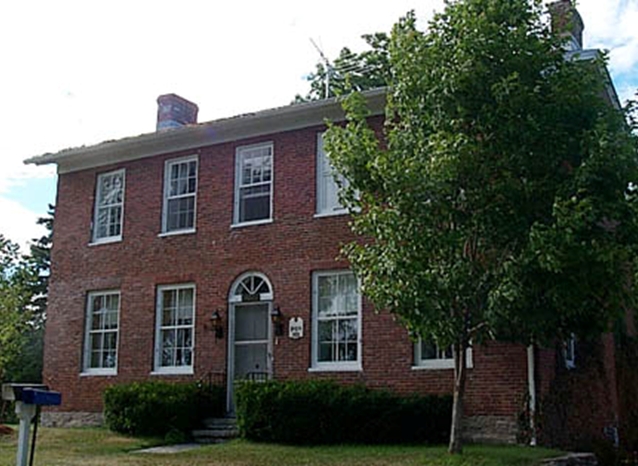 Plain and simple, but commodious and substantial is this brick house, in which Dr Samuel Guthrie, world famed for his discovery of chloroform in the summer of 1831 resided for more than a quarter of a century. The house stands on the north side of the Watertown-Sackets Harbor state highway about a mile towards Watertown from Sackets Harbor. Dr Guthrie, born in 1782 at Brimfield, Massachusetts, was an examining surgeon during the War of 1812 practiced medicine at Smyrna, Chenango county, until 1817 when he came to Sackets Harbor. In 1820 he purchased several parcels of land from Abram Jewett, founder, of Jewettsville, a mile from Sackets Harbor. Shortly afterward he caused his house to be erected from brick manufactured in this neighborhood, and also caused a blacksmith shop, vinegar house, laboratory and other buildings necessary for his experiments and for the manufacture of powder. In the summer of 1831 he attained world fame by discovering chloroform, first of the anesthetics and in the same year discovered a new process for making gunpowder. He also revolutionized the use of firearms by creating the percussion pill, a fulminate which rendered the flintlock musket obsolete and resulted in the modern cartridge used in all small firearms for war and sporting purposes. Dr Guthrie practiced medicine but a short time, devoting his energies to scientific research.
He died at his home October 19 1848. Mrs Vivian V Thomas who now resides in the Guthrie house of twelve rooms, reported that it has been owned by her family since about 1853 when it was purchased by her grandparents, Mr And Mrs Francis Fitzgerald.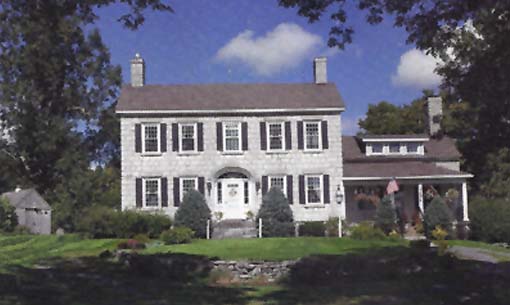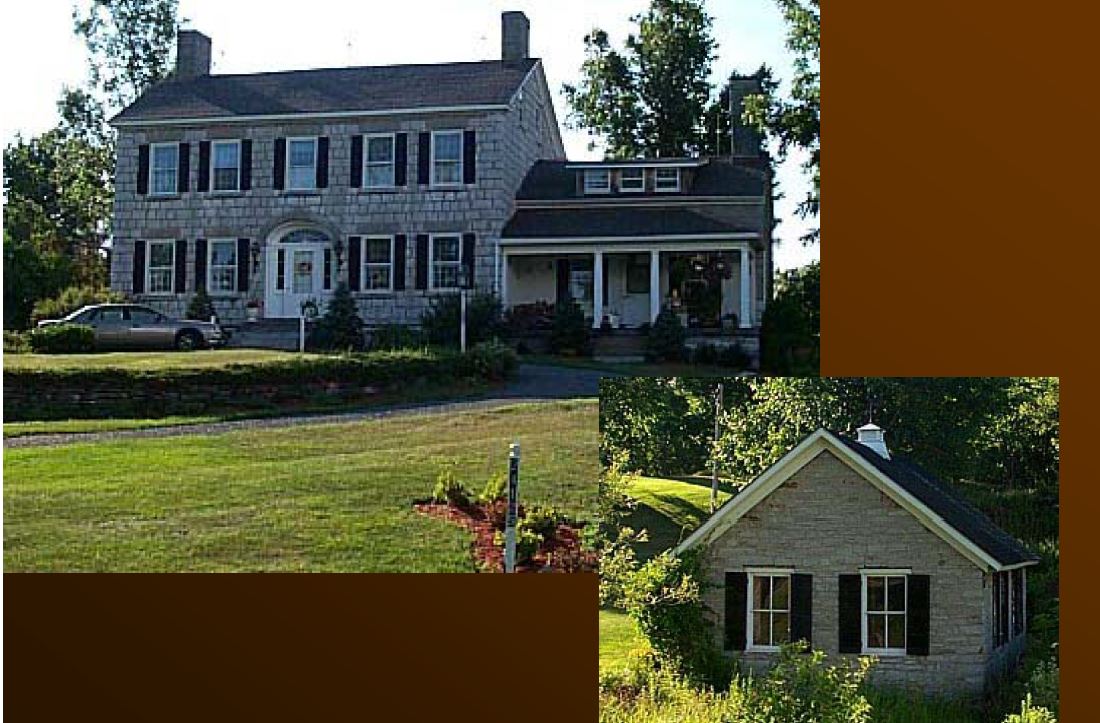 One of the finest of the old stone mansions of Jefferson County is this one, owned and occupied for approximately a quarter of a century by Mr And Mrs Charles L Geyh. It is out of the mainstream of traffic, being located but a short distance to the northeast of the village of Brownville on the road that runs to Scovils.

This house, built of native limestone, is another monument to the Brown family that established the town and village of Brownville. Like so many of the early North Country mansions the history of its origin is meager. However, it is understood this house was constructed about 1830 for Henry Brown, a relative of Major General Jacob Brown. It occupies an eminence facing the south over a town road and is built on rock with the result that it is as square and true as ever. There is a central hall, four main rooms downstairs and four bedrooms upstairs. There are four beautiful fireplaces besides the large one in the kitchen wing, which was originally used for cooking and baking as well as heating. Doubtless the mansion was the scene of many brilliant social events during its first years. Stone's atlas of Jefferson County, published in 1864 credits the place to "H Brown," who may have had a middle name, "Alexander." Mrs James A Common, whose family is linked with the Brown family, recalls having heard her parents refer to the owner and occupant of this house during the Civil war period as "Alexander." The property later was owned by the late Jacob Vogt, who sold it to Mr Geyh.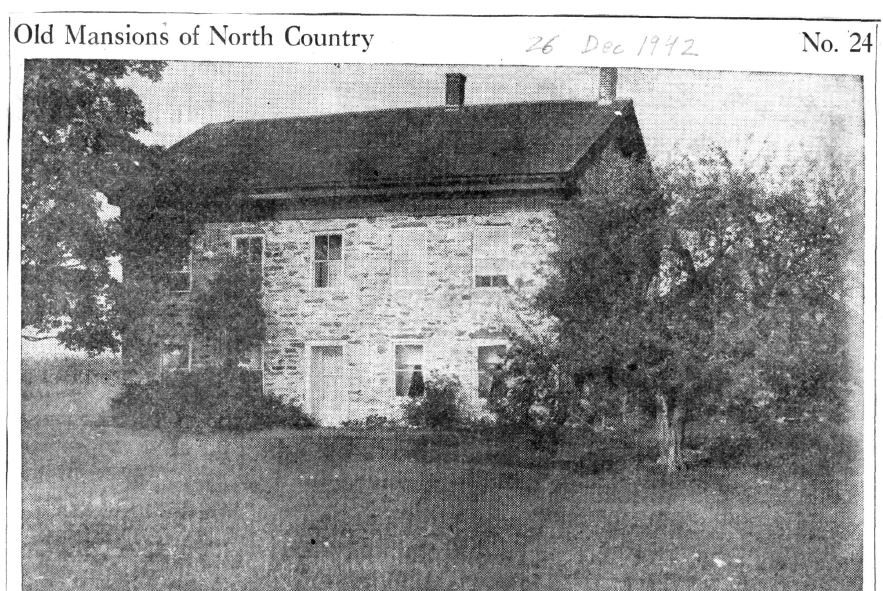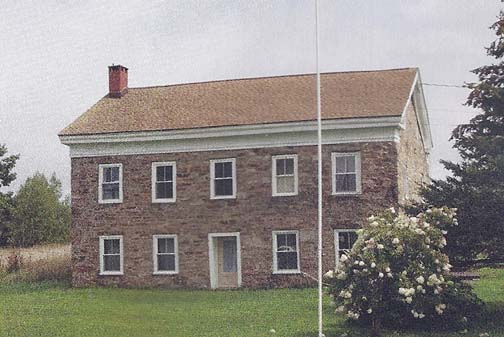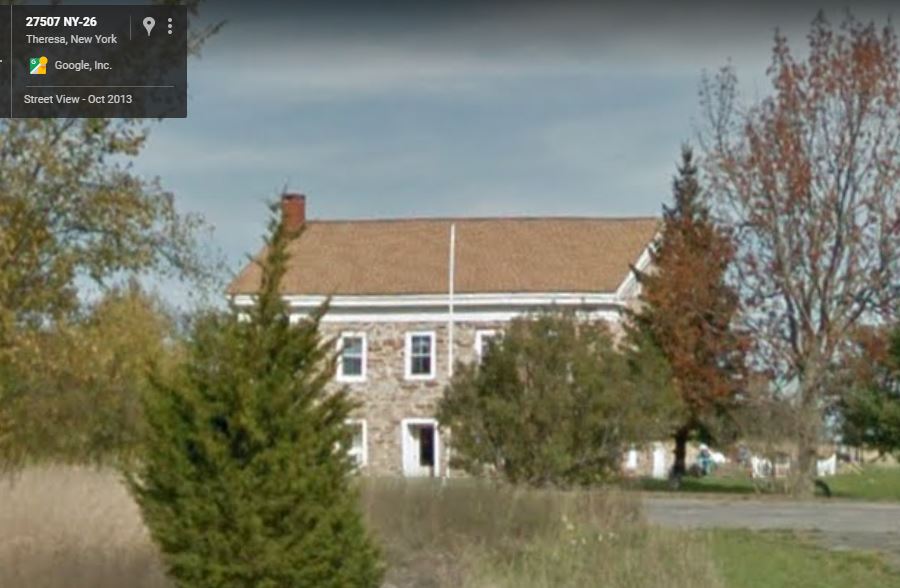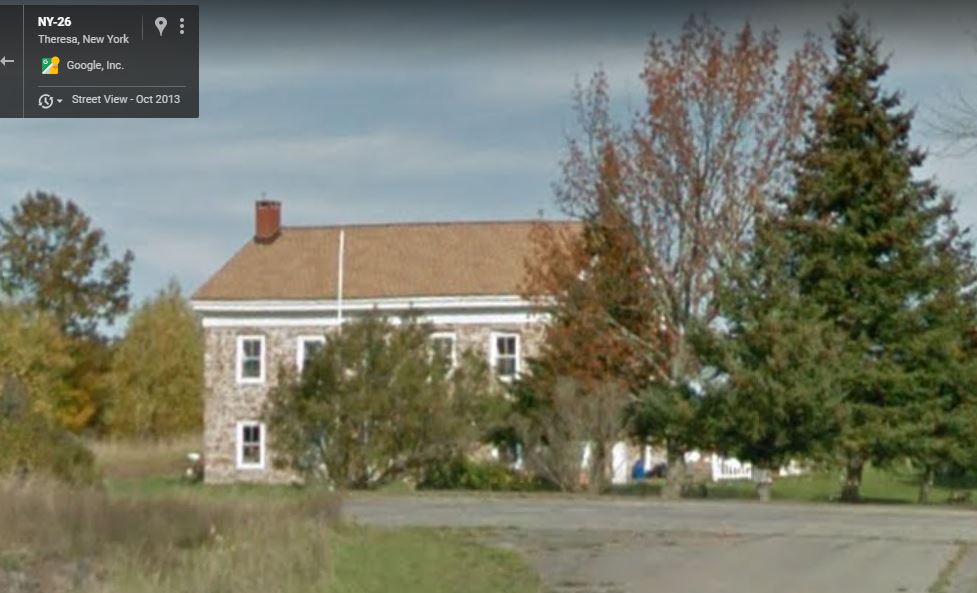 Plain though this old stone house is, there is nevertheless something intriguing about its simplicity to the traveler over the road that runs from Theresa through Redwood and Plessis to Alexandria Bay. The story about this house might prove exceedingly interesting if it were known. For the past several years it has been owned by Fred Kavanaugh, but it is most familiarly known as the Ostrander place, having been owned and occupied for a number of years by Byron Ostrander, a prominent man of Plessis, near which community the house stands. Back in Civil war times it was owned by A Parker and before that by D H Nellis. But undoubtedly built well over 100 years ago its original history is not known. It is believed by some to have been a tavern, for it contains a room that has all the earmarks of having been a taproom and another room, which has no windows, which was probably a wine cellar. Perhaps the LeRays and many other distinguished guests passing through Theresa and Plessis to Alexandria Bay, the names of which places had a LeRay family significance, stopped at this old low-set hostelry many times.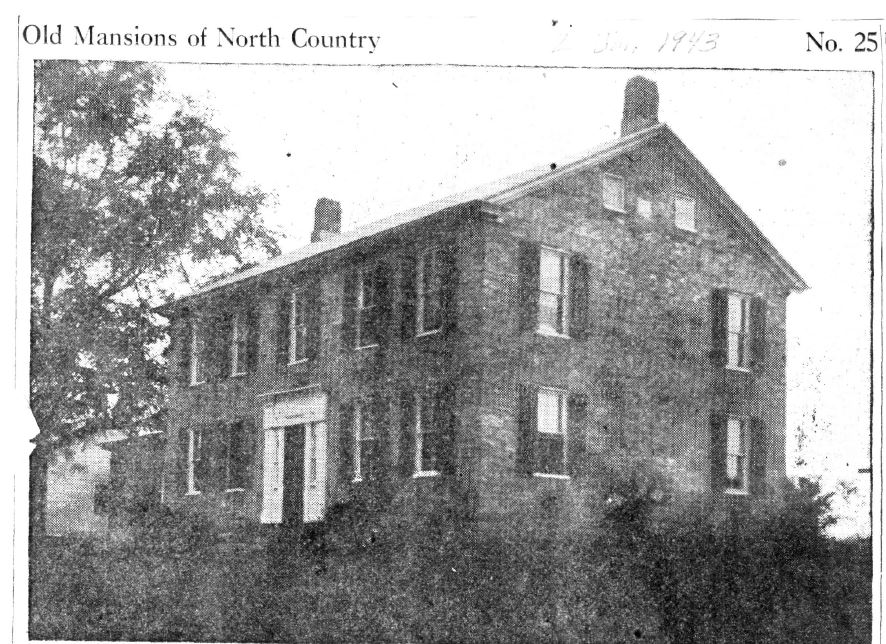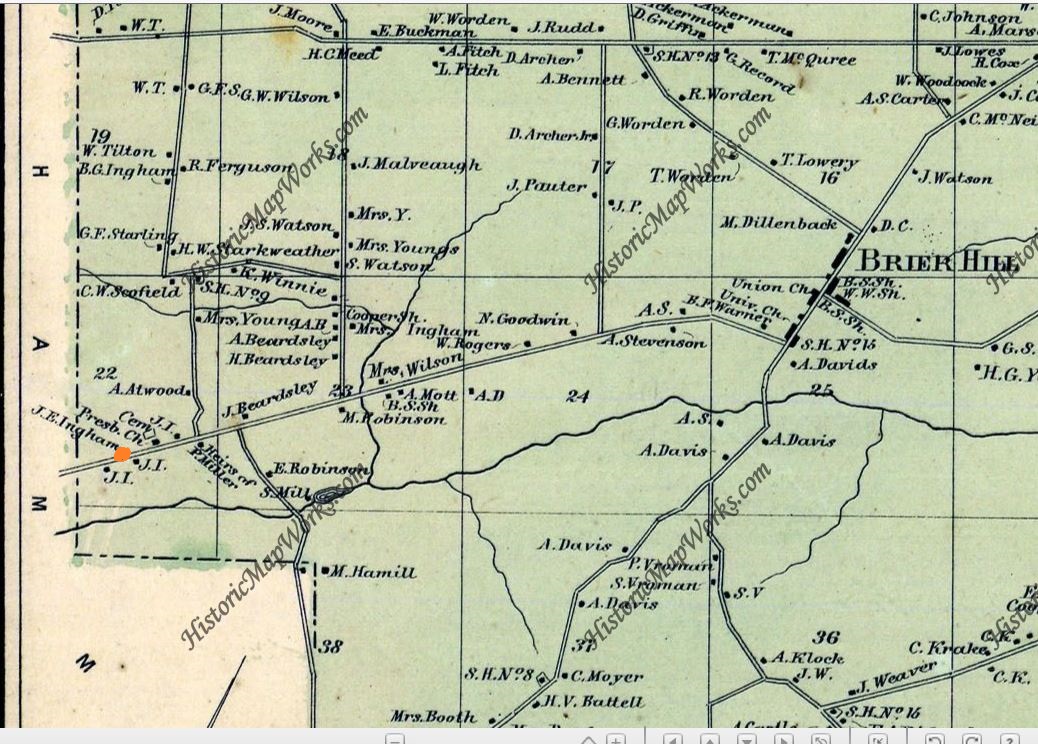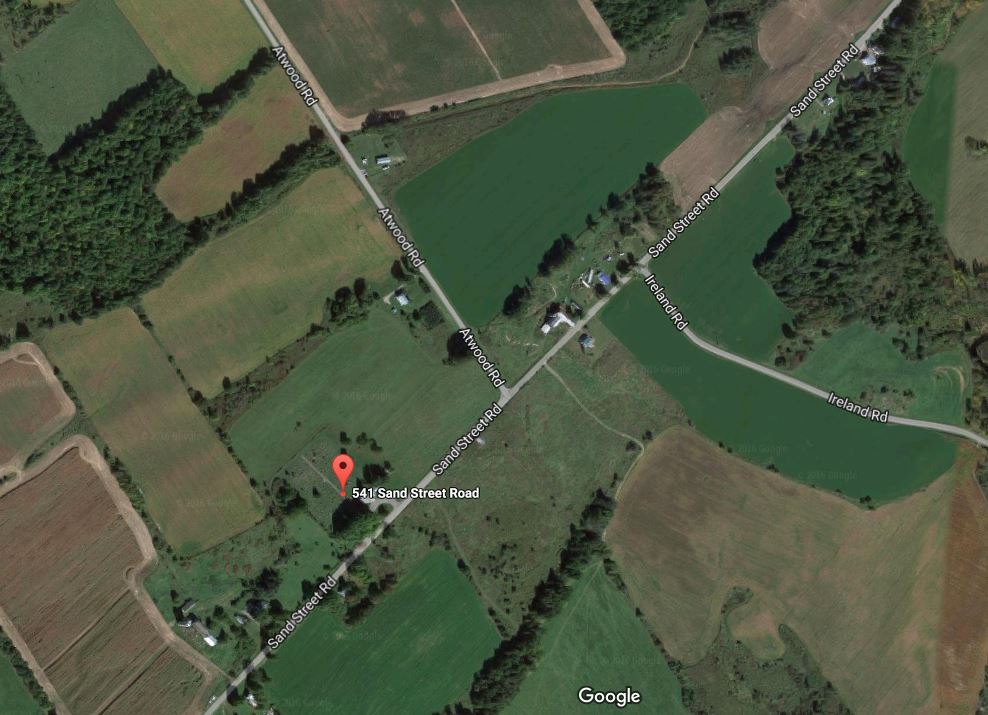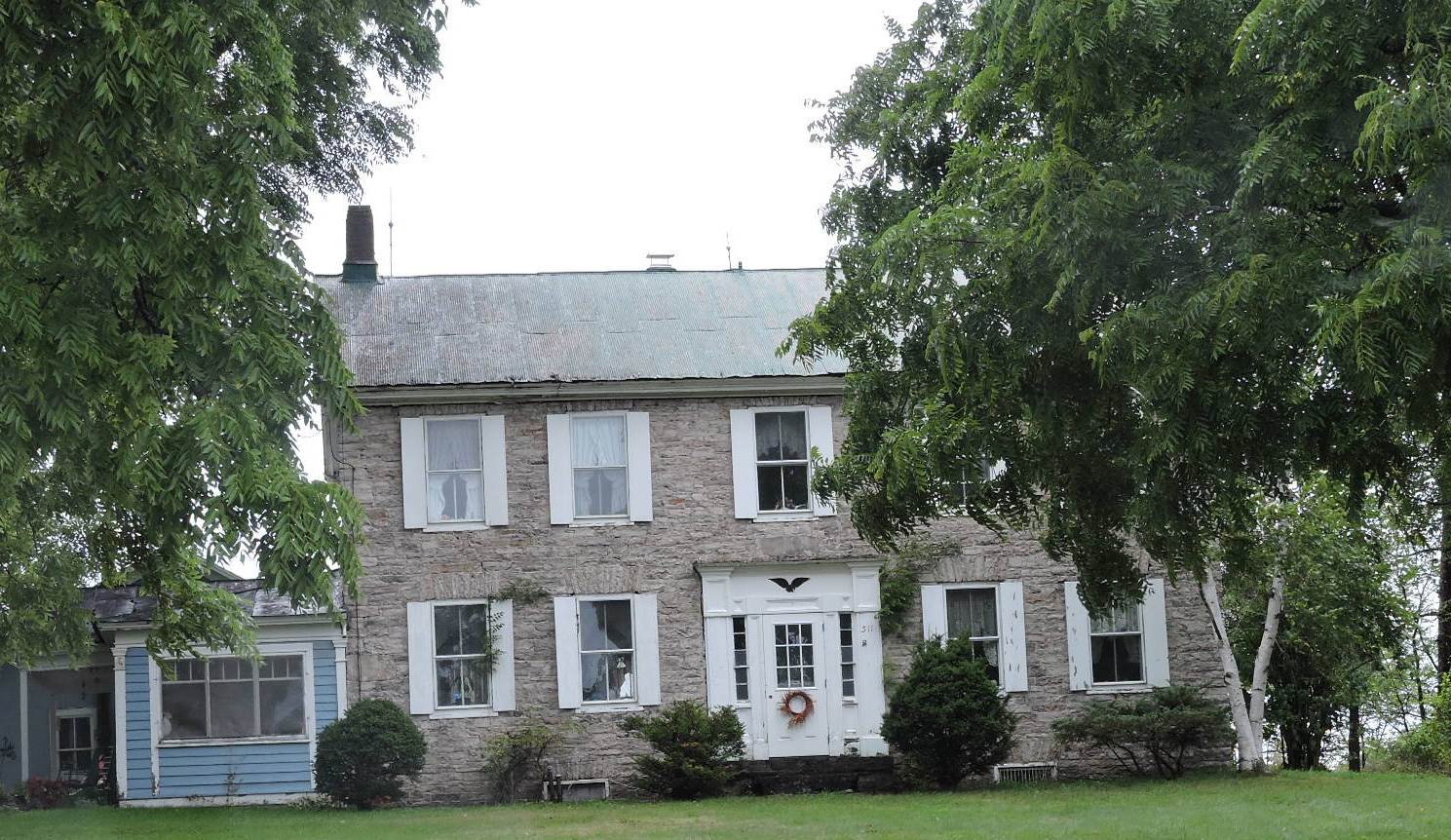 St. Lawrence county has many of the fine old stone and other historic mansions of the North Country and today this picture shows the fine old stone house of Walter Patterson near Brier Hill (Morristown NY). Mr Patterson is the county's 4-H club vice president, while Mrs Patterson is prominent in the affairs of the Morristown Garden club and together they take much pride in the upkeep of the place, which has modern improvements inside and handsome flower gardens in the rear during the summer.
The house is Georgian in type and was built by John Ingham in 1838 although the ownership of the property in the Ingham family runs back to 1825. A part of it was given to build the old Ingham church and lay out a cemetery. [ now the Chippewa Station Church, 541 Sand Street, Brier Hill in Morristown ] A feature which distinguishes this house from other North Country stone houses is the square framing of the front doorway. Mrs Patterson is a descendant of the Ingham family. Mrs W A Denison, 137 Bowers avenue, widow of former Assemblyman W A Denison and sister of Senator Isaac B Mitchell, today gave additional data regarding yesterday's picture of the stone house near Plessis. The house is believed to have been built over a century ago by her grandfather, Julius Beardsley, who entertained some noted people there, and Mrs Denison's great-grandfather lived there for a time and died in the house.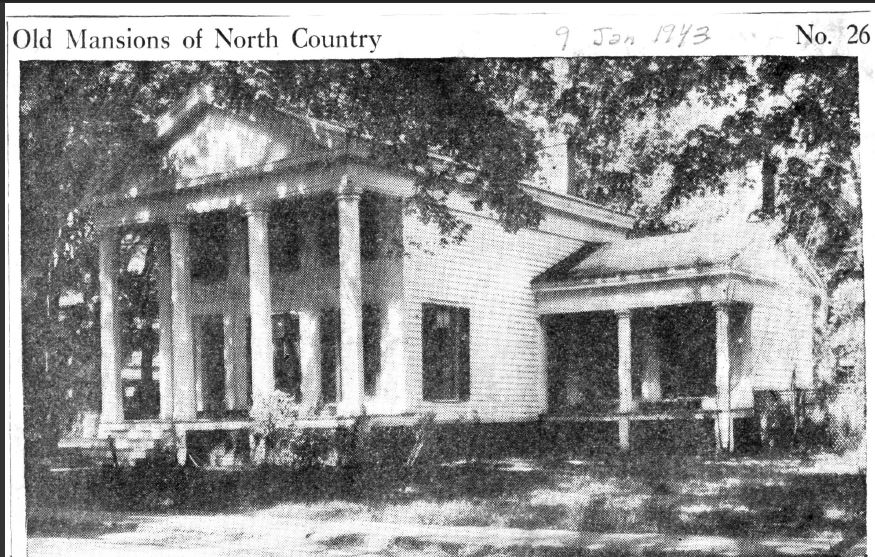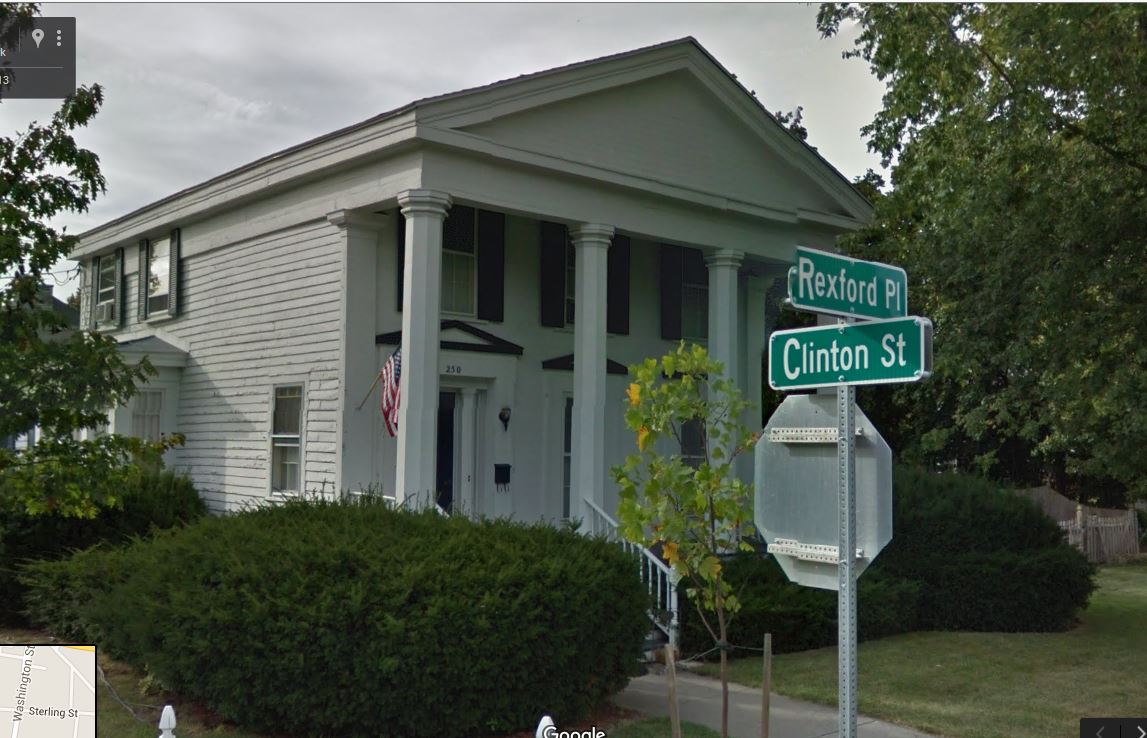 This is primarily a stone-house series and it is not intended to make many exceptions. Today, however, one of the city's most attractive old frame houses is being presented. Mottled by summer sunshine it is unusually beautiful. It is the home of Mr And Mrs J Wyatt Uhlein, 250 Massey avenue, (this is now Rexford Pl) standing at the northwest corner of this street and Clinton. The architecture is Greek revival or heavy colonial with hexagonal Doric columns to the verandah giving the appearance of the house a southern flavor. It is said to have been built by one of the Noadiah Hubbard family when Clinton Street was little more than a lane. For more than 70 years it has been owned in the same family, having been bought in 1870 by John Winslow, father of the late Norris Winslow who was a banker, merchant and builder, and of General Bradley Winslow, lawyer of Civil war fame. John Winslow, who was president of the Jefferson County Agricultural society in 1853 and for several years a vice president and director of the Agricultural Insurance company, spent his first night in the house January 7 1870. It was then known as No. 10 Massey avenue. He died July 4 1871 and the house went to Mrs Sarah Winslow, his widow, who retained possession until her death when it passed to her daughter, Miss George (Ione Winslow) Haas. Mr And Mrs Haas, now deceased, were the parents of Mrs Uhlein, the present owner. The house has nine rooms besides two large halls and bathrooms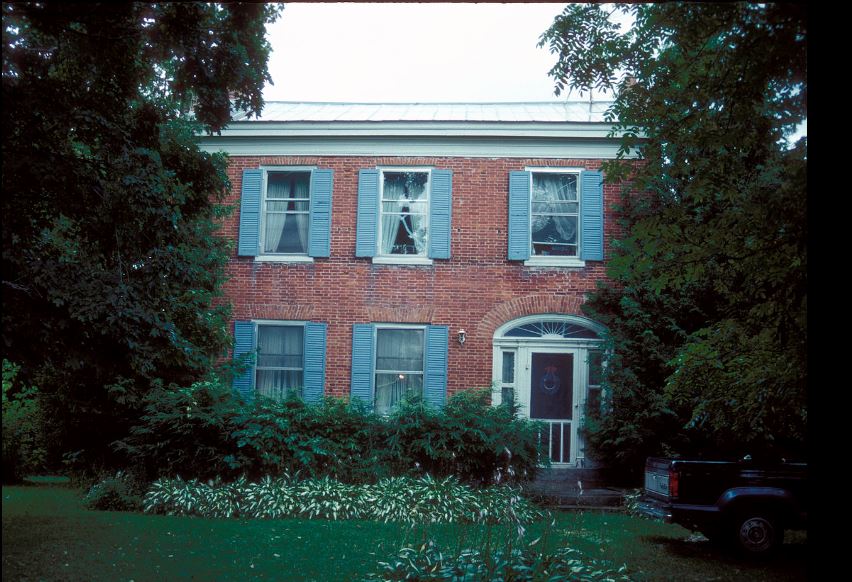 In this house on lower Main Street in the little village of Oxbow the daughter of a king, a Spanish king, began her married life 102 years ago. It was Caroline Charlotte Bonaparte, daughter of Napoleon's elder brother, Joseph and his morganatic American wife, Annette Savage, a beautiful Philadelphia, Pennsylvania, girl The untitled Princess Caroline was married in this city in July 1839 to Colonel Zebulon Howell Benton that colorful, adventurous industrialist who affected a picturesque Napoleonic cocked hat and frock coat all his adult life, and who made and lost fortunes in iron, lead and other ores at Alpine on Lake Bonaparte at Rossie, Jayville and Clifton to say nothing of South American countries and Canada. This house was the home of his father, Dr Abner Benton, who came to Oxbow from Trenton, NY, in 1818 and married Hannah Cooper, daughter of Abraham Cooper, founder of Oxbow and donor of its first school. In 1819 Dr Benton became Oxbow's first postmaster.
The Abner Benton residence is of simple, but attractive brick construction. The porch is a more recent addition
The house is now owned by Charles Storie. Dr Abner Benton its first owner, died February 6 1845 and his widow April 19 1875. Both are buried in the historic little Oxbow cemetery opposite the large tree-shaded park and near the old Presbyterian church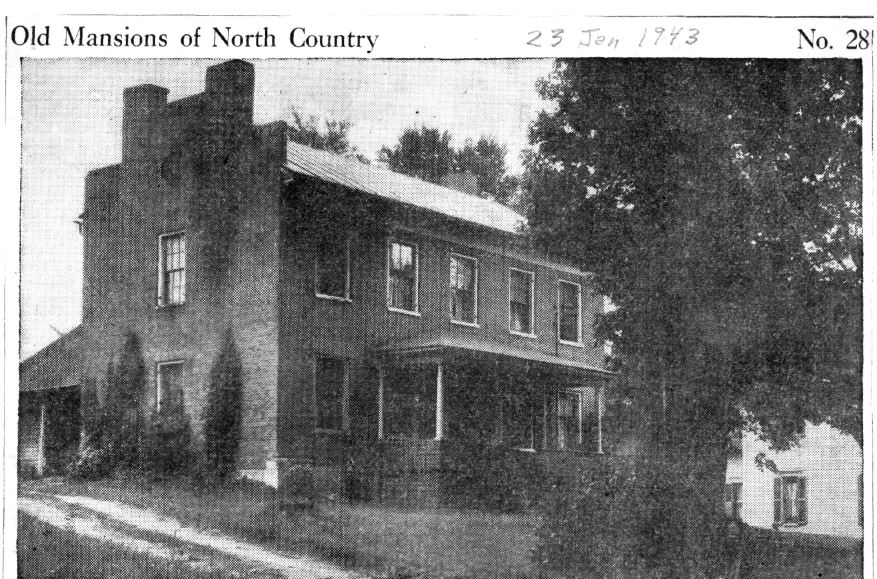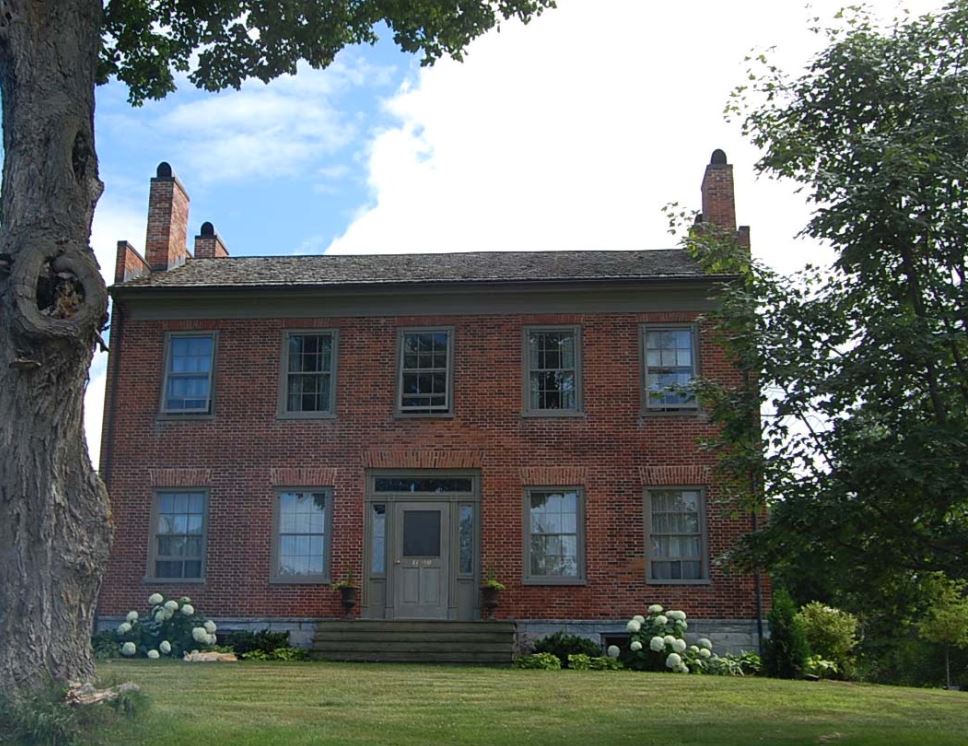 After residing for a time in the brick house of Dr Abner Benton on lower Main Street, Oxbow, Colonel Zebulon Howell Benton and his young wife, Caroline Bonaparte Benton, niece of Napoleon, moved into the much larger brick house on upper Main Street in the same village. This house, located on the opposite side of the street from the Abner Benton house, is also of brick and is now owned by Mrs Catherine Boyce. Its stairshaped gable ends lend to the dignity of the mansion. The porch is a modern addition. As in the case of the Dr Abner Benton house, there attaches to it one of the richest romances this North Country has ever known. Following a number of ups and downs in fortune, the Bentons lived apart, Caroline, the wife, daughter of the one-time King Joseph Bonaparte, coming to this city to make a living by teaching French and dying finally December 25 1890 at Richfield Springs. Her husband, Colonel Zebulon Howell Benton, near the end of a bold, venturesome career, was a familiar figure on the streets of Watertown, always wearing his black frock coat and black Napoleonic cocked hat. He died at Oxbow May 16 1803. A modest monument of polished gray marble marks their burial plot in the Oxbow cemetery, finish to the great romantic story of the North Country which began with marriage in Watertown in July 1839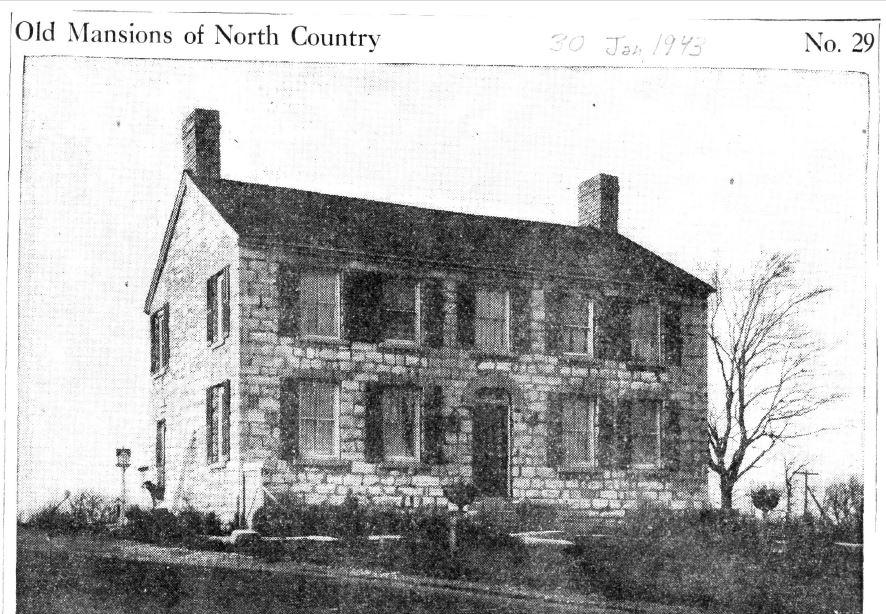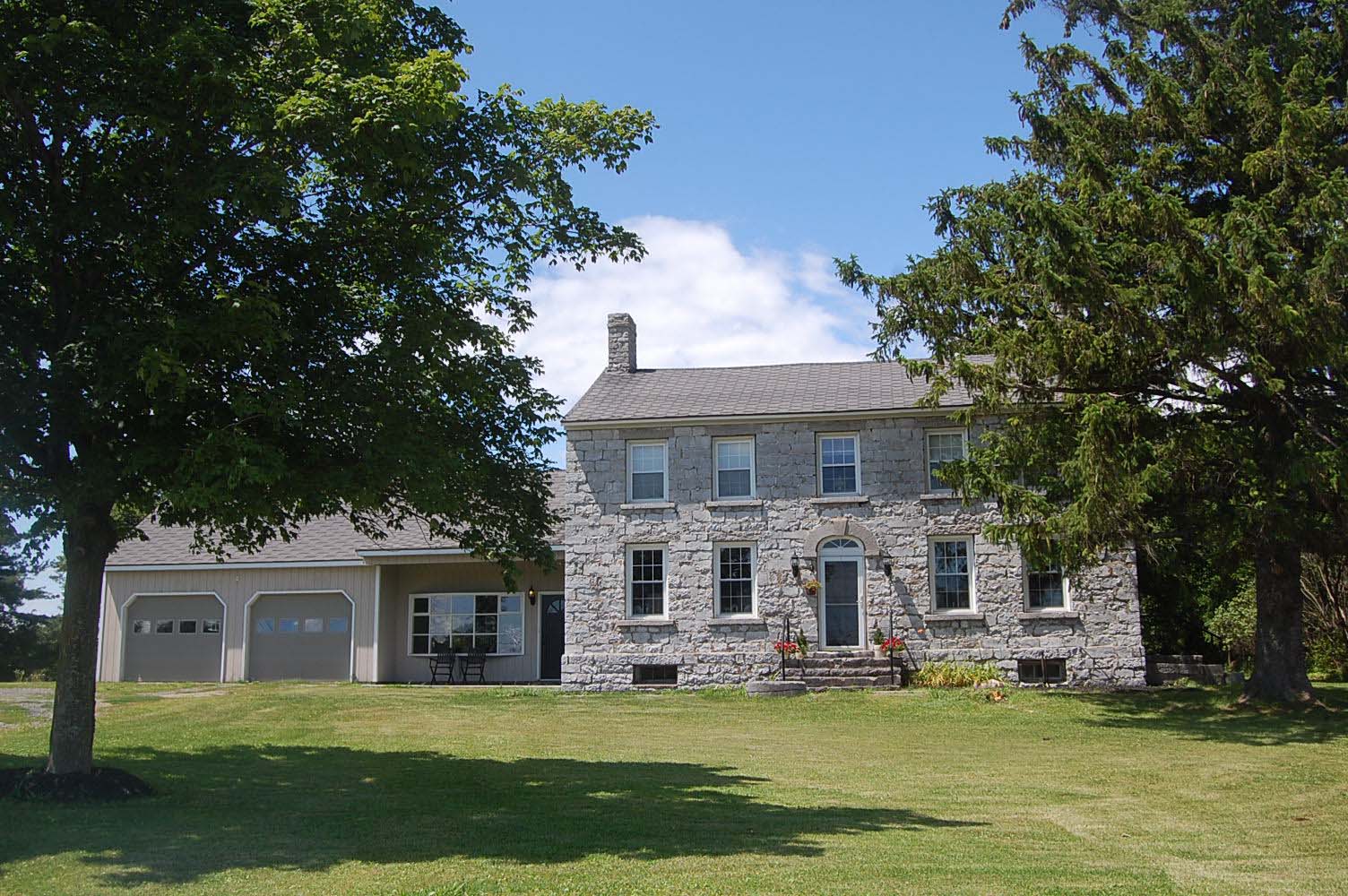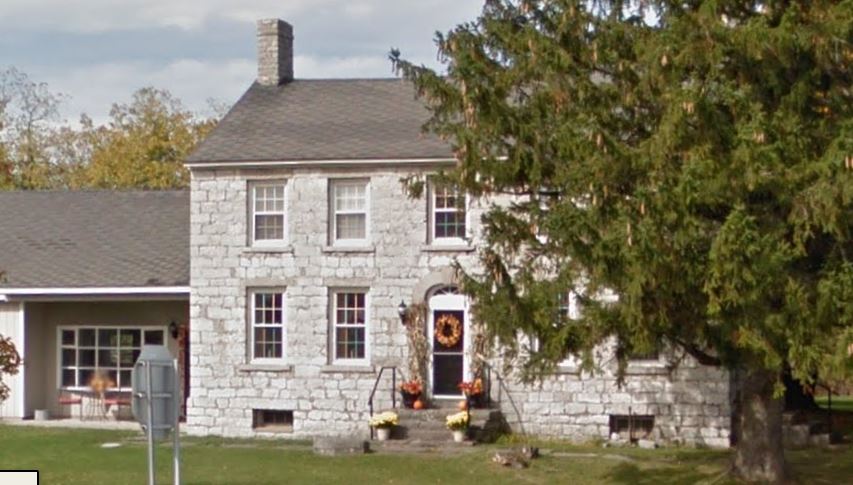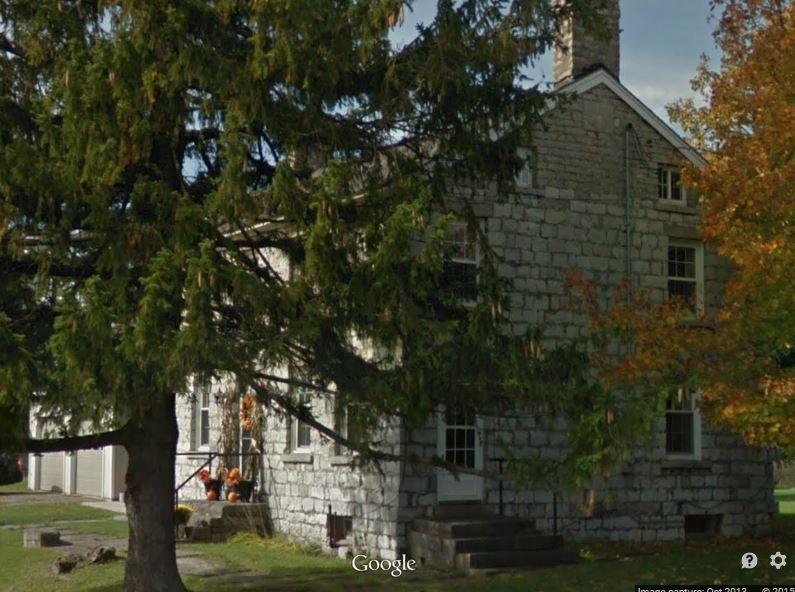 Behind this house along the road is an old Stone 'tunnel' actually a place used to cure cheese - once boarded up, is now being restored!
"the Cheesefactory in the back belong to Scovill Limburger cheese factory. And they produced around 50,000 pounds per year. Limburger cheese was very important
during this settlement time, because it would draw other settlers to come and invest in the area. And that is the reason why they call this zone virgin land. And after
Captain Joseph Mayo died Scovill purchase the tavern and that is why this corner is called Scovill's corner. This cellar ( what is used to cure the cheese and aginng )
is one of the earliest, largest, and oldest in the North country that still exists today. I'm actually currently trying to restore it to maintain its structural integrity."
Submitted by J McCleary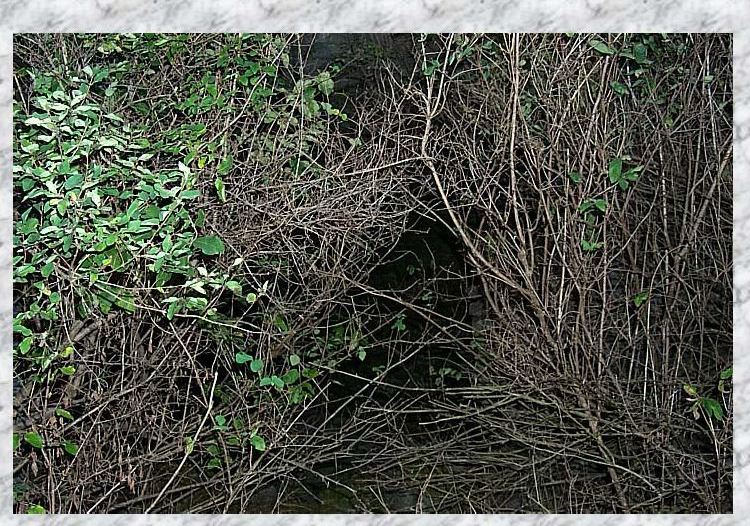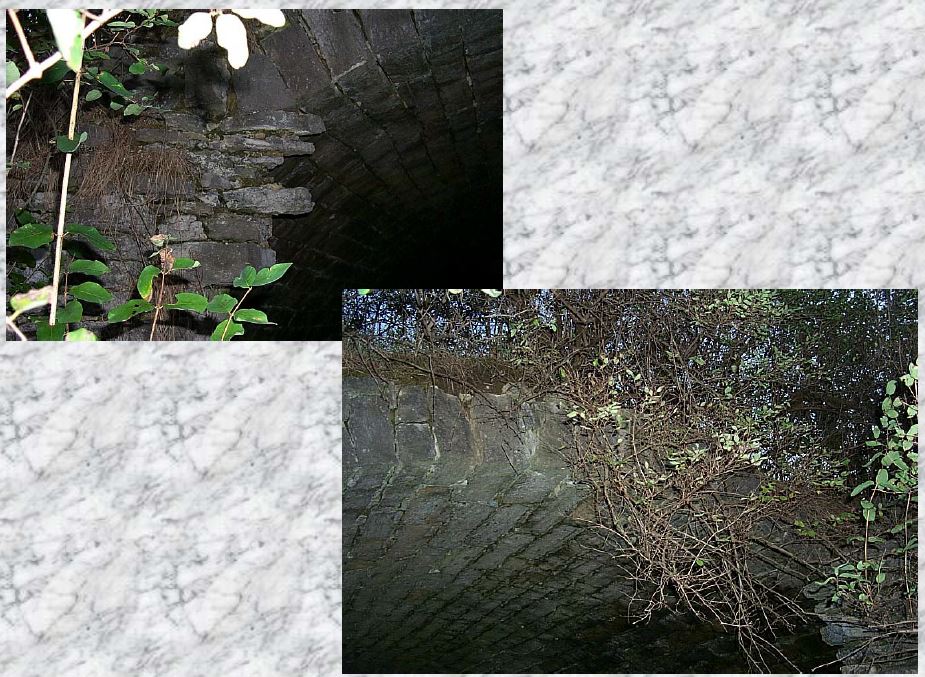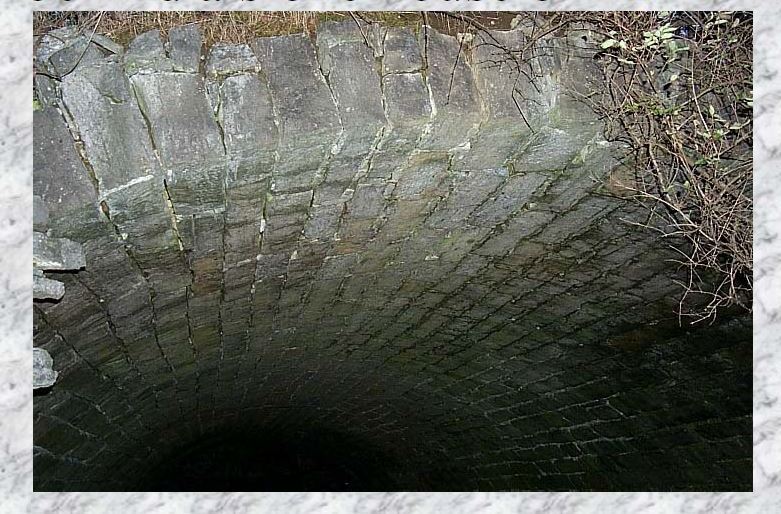 Next three photos were Submitted by J McCleary...Thank you!!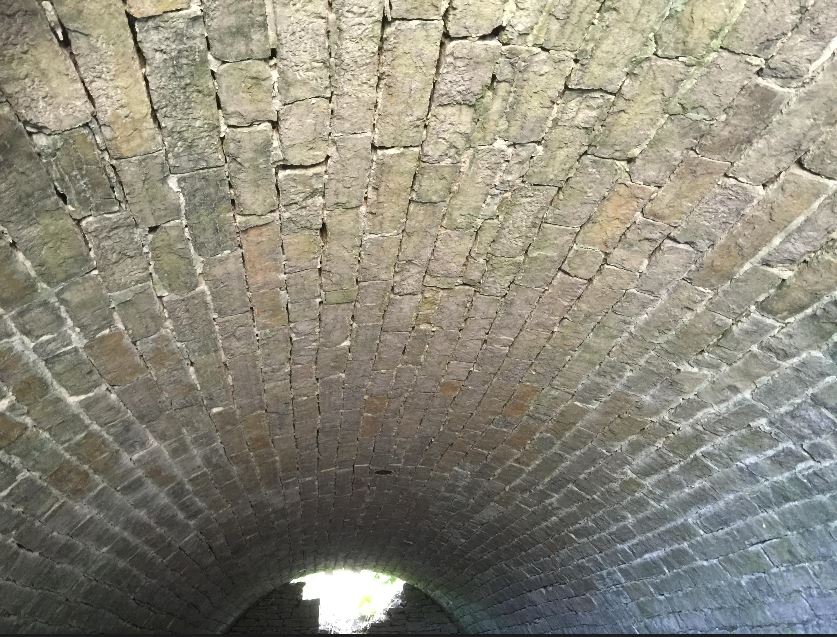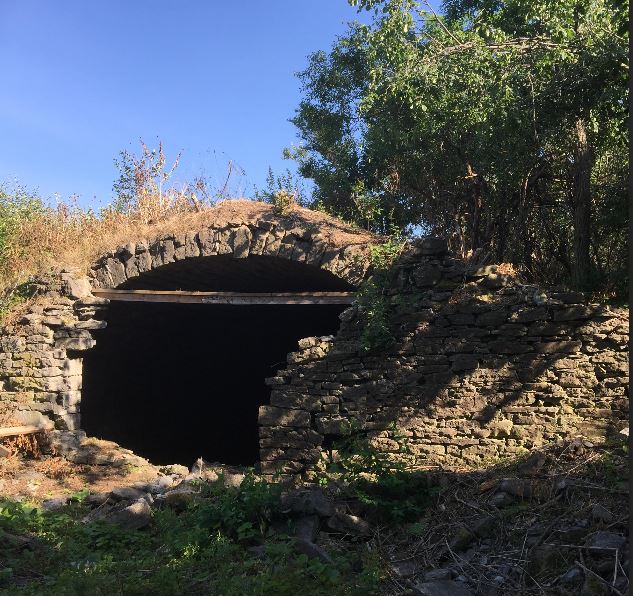 Date on the house: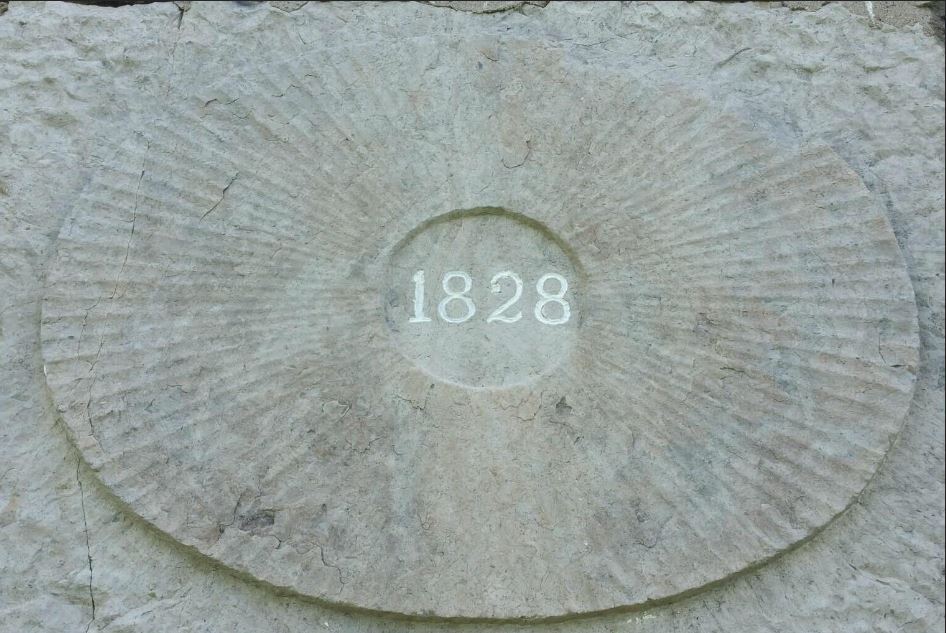 About five miles out Bradley Street on the Watertown-Clayton road stands Weldon Manor on its 400 acres, purchased by Joseph B Weldon, city, its present owner, from George Briggs about seven years ago. Rich in history as well as beauty is this old stone house, known familiarly for a long period of years as Scovills because for approximately 70 years it was operated as a tavern, first by Smith Scovill an early settler of the town of Pamelia and then by his son, John, whose daughter, Sarah Jane, married George Briggs. It was discontinued as a tavern about 1898.
It was in 1828 that this house was built as a tavern by Captain Joseph B Mayo, who fought at Sackets Harbor during the War of 1812 son of Colonel Joseph Mayo, Revolutionary war officer of Norwich, Massachusetts. Captain Mayo was born March 30 1773 and died December 9 1850.
A broken-over grave stone in a little cemetery about a mile west of the house toward Brownville on the old Military road marks his resting place. Captain Mayo was an important figure in the town of Pamelia. He settled there before the formation of the township from Brownville April 12 1819 and at the first town meeting March 7 1820 was elected a school commissioner. The military road, which passes the house, was started by the federal government in 1819 to connect with Plattsburgh and was built by Madison Barracks soldiers. Captain Mayo had six children, the eldest Henry Mayo believed by Mrs Fred W (Edith Mayo Sparks) Earle, 319 Clay Street, to be her great-grandfather. Mrs Earle is the daughter of J W C Sparks and the late Nellie Mayo Sparks, who was the daughter of Appleton P Mayo, Rome, former R W & O conductor. Several of Captain Mayo's family are also buried in the little cemetery on the Military road, including his son, Charles, who met death in collision with a bridge near Sanford's Corners, now Calcium. After the death of Captain Mayo the tavern was sold to James Davenport, who conducted it for a time and then disposed of it to Smith Scovill. Tenants of Weldon Manor today are former Supervisor and Mrs Charles L Scharch and their son-in-law and daughter, Mr And Mrs John Ward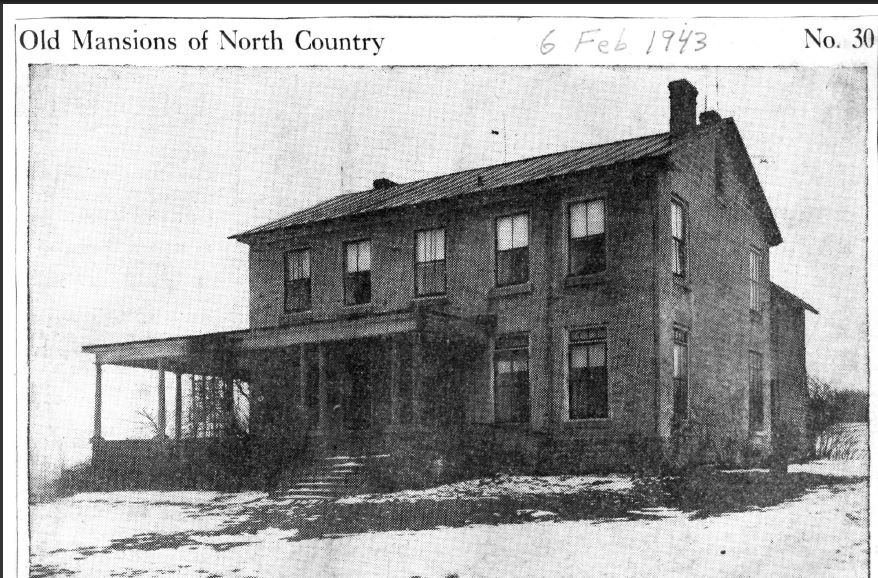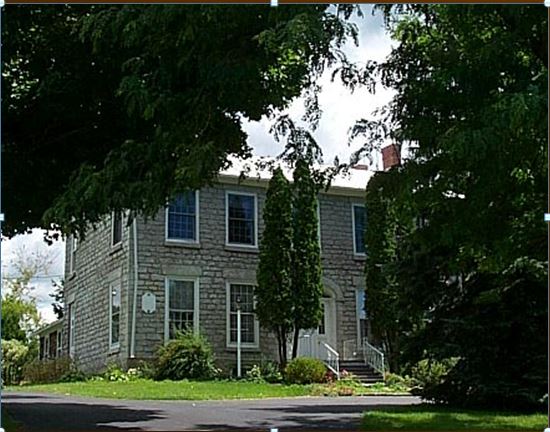 John Losee, who came to this section from the Mohawk valley in 1801 built this large stone house in 1828 on Dry Hill at the crest of the high elevation now known as the Losee hill on the road leading from Watertown to Rodman. The house, with its fine front doorway of leaded glass side and fanlights, commands a majestic view of the Black River basin and of Sackets Harbor, as well as of the city of Watertown. It also looks down upon ancient Indian fortifications. Owned by Supervisor Harry Y Stone of the town of Watertown since 1916 it is the manor house of the 210-acre Stone dairy farm. Losee, the builder and original owner of the house, first purchased 188 acres of land and his son, John Losee Jr, had 318 acres. The elder Losee died in 1845 and is buried in a plot across the road from the house. The house contains nine principal rooms besides hallways and closets and the rooms are high-ceilinged with numerous large fireplaces, most of which have been closed up. The large verandah is of modern origin. Dry Hill received its name from the fact that on it Joseph Sheldon, early and prominent settler, had a distillery.
Says one county history: "Tradition has it that at one time there was an almost continuous stream of thirsty patrons traveling up the hill to Sheldon's still, and from this fact the name of 'Dry Hill' was derived."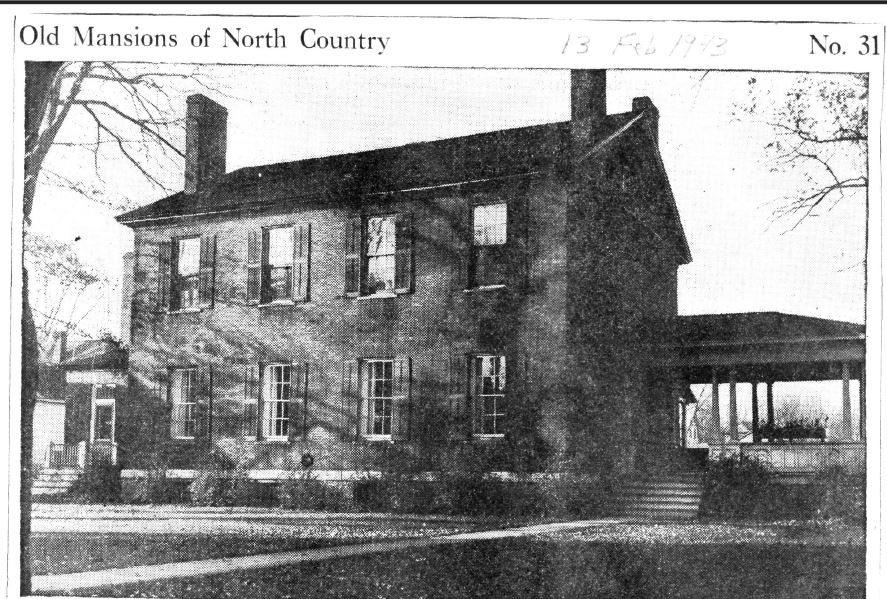 121 E Main St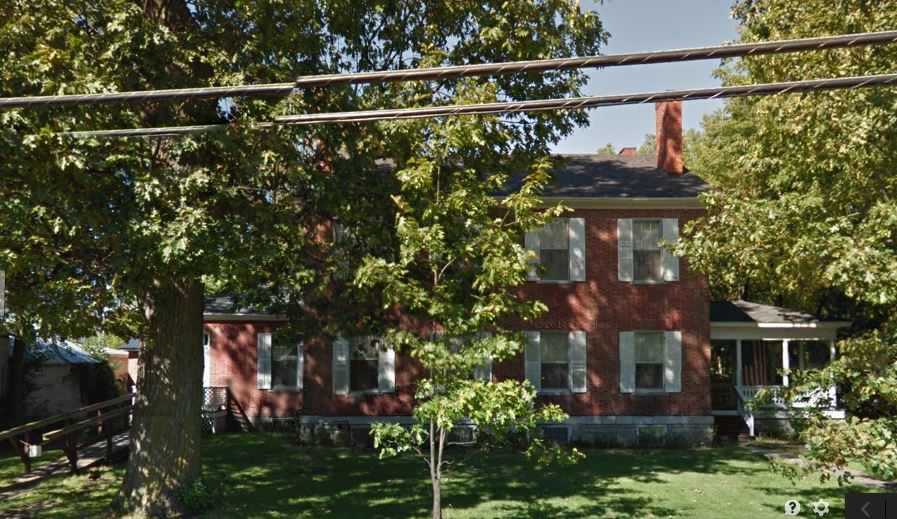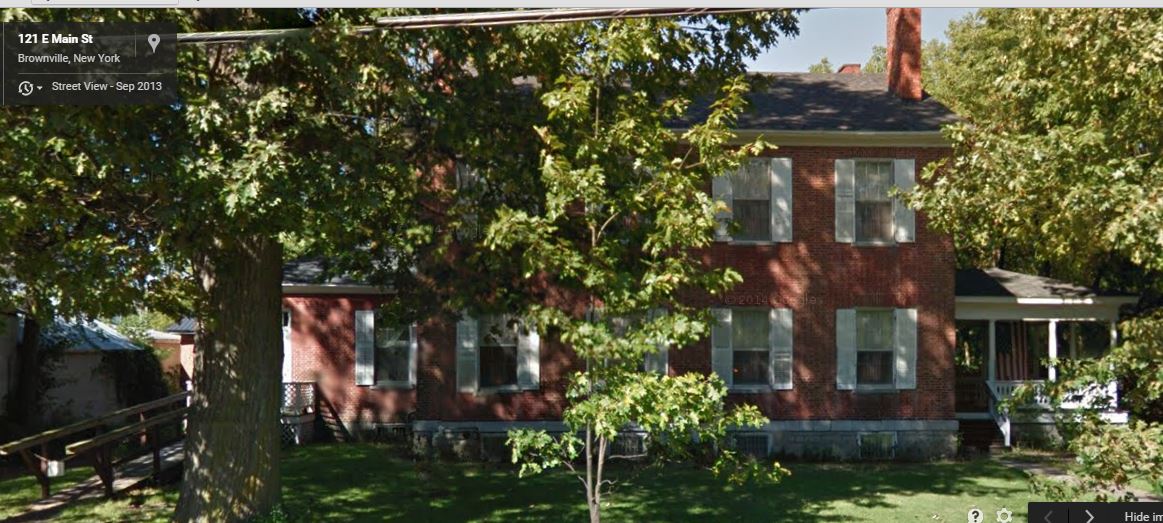 The big, twelve-room brick house of Dr L Otis Fox on the north side of the main street of the village of Brownville is one of the historic and attractive old mansions of Jefferson County. It was constructed in 1816 for Major Samuel Brown, younger brother of Major General Jacob Brown, founder of Brownville. Major Brown entered the United States army as a paymaster in March 1811 while the War of 1812 was yet in progress. He was born in Falls township, Bucks county, Pennsylvania November 3 1782 and died at Saratoga June 24 1842. His body is buried in the Brownville cemetery.
Major Brown was first married to Nancy Skinner, Brownville, June 27 1806. She died October 19 1814 aged 31 years ten months and April 19 1816 he married her sister, Eliza. On June 18 of that year he resigned from the army. His second wife later died and December 22 1831 he married Catherine Sherborne. Subsequent to Major Brown's death the property passed to Alfred Kilborne after it had been conducted unsuccessfully financially for a few years as the Brownville Female Seminary, a boarding and day-school. The Brownville Female Seminary was established in 1849 but was not opened until May 1 1850 with Miss Mary F Bloomfield as preceptress. About 1900 it was purchased by the late Dr Erwin Witt, who resided and had his offices there until his death about 1922. After that Mrs Witt continued to reside there and Dr L M Vincent, now of this city, occupied it for a few years. About 1927 it was purchased by the Harmon Paper company which remodeled it as a residence for its superintendent. In 1934 it was bought by Mr And Mrs George Tolbert who resided there until they disposed of it to Dr Fox who took possession June 15 1938. The exterior of the house has been changed, the east wing having been replaced by a porch, but the interior is little changed. There are five large fireplaces and the original kitchen was in the basement.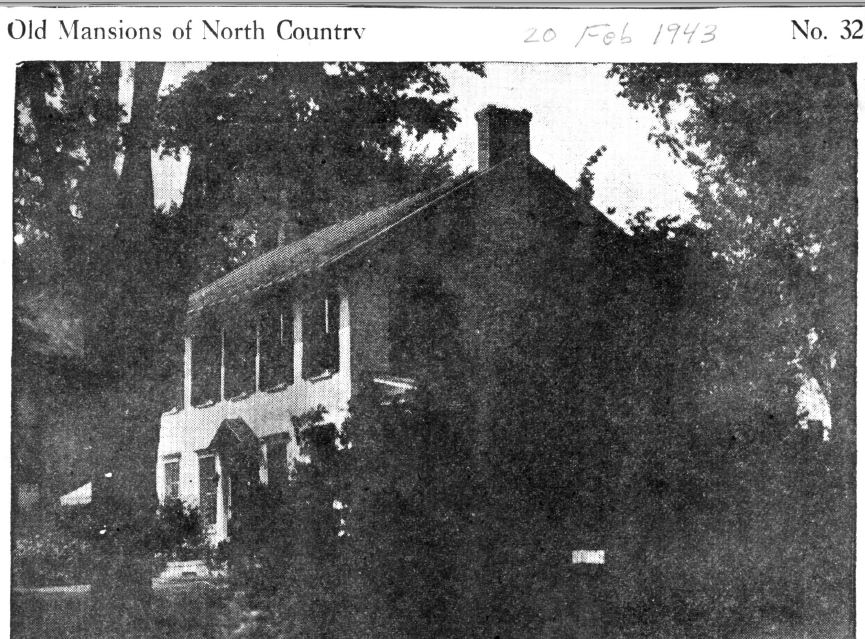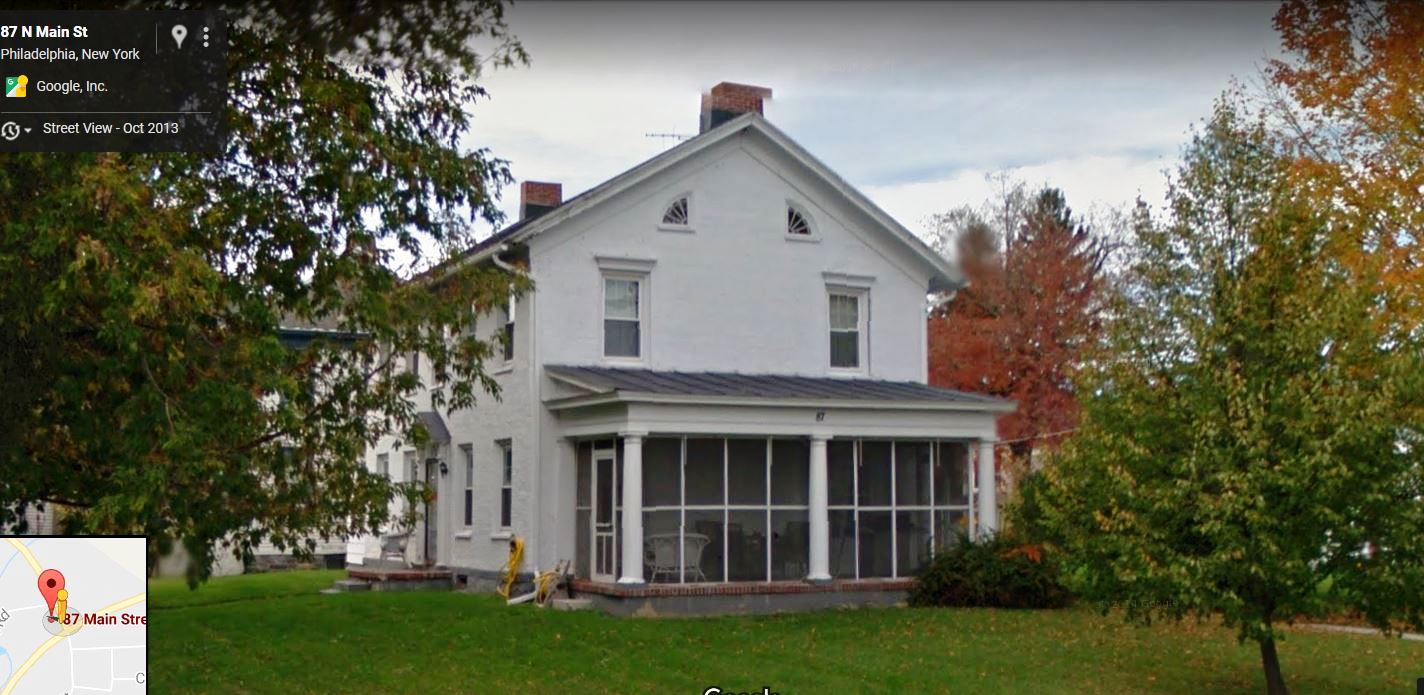 One of the show places of the village of Philadelphia is the old Edmund Tucker mansion at the corner of Main and Mill or Gardner Street as the latter is now known. Built in 1828 this was the first brick house in the township. It was of plain but attractive architecture, with four regularly-spaced large trees in the spacious front lawn looking down across the beautiful scene of the double bend in the Indian river.
Around the large lot was a neat, white picket fence. For the past several years it has been owned and occupied by Mrs W H Gardner and a few years ago was operated as a tourist home and antique shop under lease by Mrs H D Gorseline. Its exterior has been painted white and somewhat embellished in recent years, but this has been done attractively and in complete harmony with the type.
Edmund Tucker, the original owner, was a Quaker,born July 30 1793 at Granville, Washington county. He studied surveying and bookkeeping and in 1816 entered the employ of James D LeRay de Chaumont at LeRaysville as a surveyor, bookkeeper and land agent. When immigration surged to this county he engaged in selling and surveying lands in the townships of LeRay, Philadelphia, Theresa, Wilna and Alexandria.
March 19 1819 he married Ann, daughter of John Strickland Sr, and settled in Philadelphia village. At the age of 42 he died of tuberculosis January 6 1836. The village was named Philadelphia on March 5 1822 and that year the first post office was established there with Mr Tucker as postmaster. He held that position until his death. In 1826 he was nominated for assemblyman, on the ticket headed by DeWitt Clinton for governor, but was not elected. Mr Tucker was one of the most prominent men in the county. He built a grist mill at Philadelphia and with his brother-in law, Miles Strickland, carried on a flouring business for several years.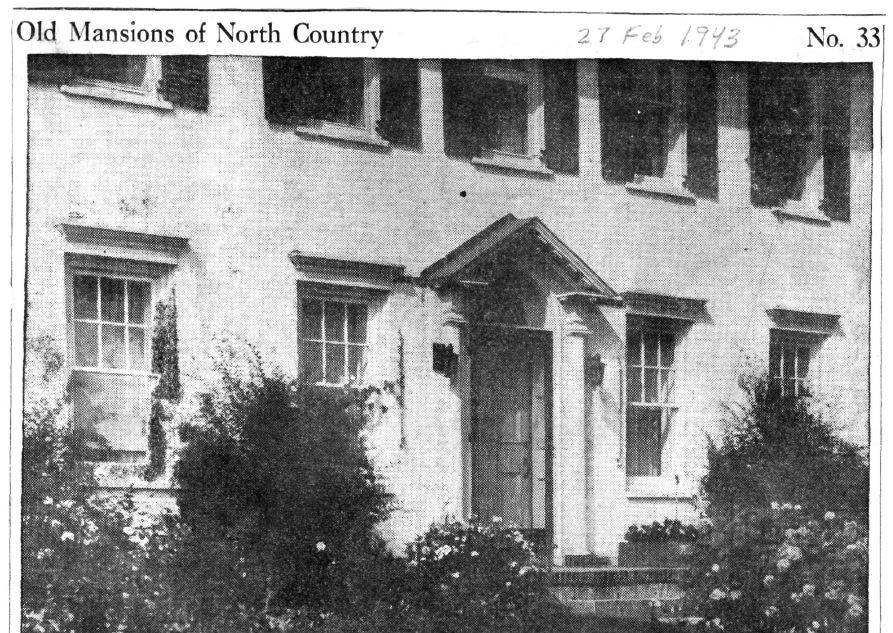 A close-up view of the facade of the Edmund Tucker mansion, built in 1828 in the village of Philadelphia, first brick house in Philadelphia township, shows the attractive embellishments added in recent years. The picture also brings out the beauty of modern landscaping. The doorway, originally plain and unprotected, has been rendered especially handsome, and set off with antique side lamps. The gable or attic windows, not visible in today's picture, but disclosed in that of Friday, were originally rectangular, there being two in each gable. Today these are replaced with quarter-circle windows.
After the death of Edmund Tucker in 1836 the mansion was owned and occupied for a time by his widow and then by their son, George E Tucker, who was also a prominent citizen of Jefferson County. After the special election of January 16 1872 at which the village of Philadelphia was incorporated, Mr Tucker became one of its first trustees.
In 1873 to 1879 he was supervisor of the town of Philadelphia and again in 1882-1883. When the Philadelphia grange was established January 26 1874 he became overseer and when the Watertown National Bank was organized in 1882 he was elected a director. Mr Tucker was one of six children born to Edmund and Ann Strickland Tucker. He was married to Miss Mary G Lamb of Ogdensburg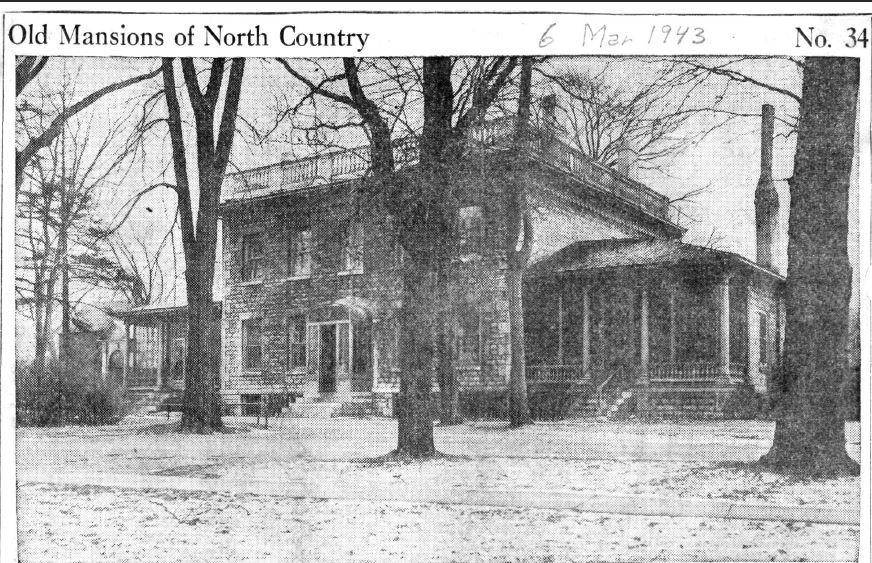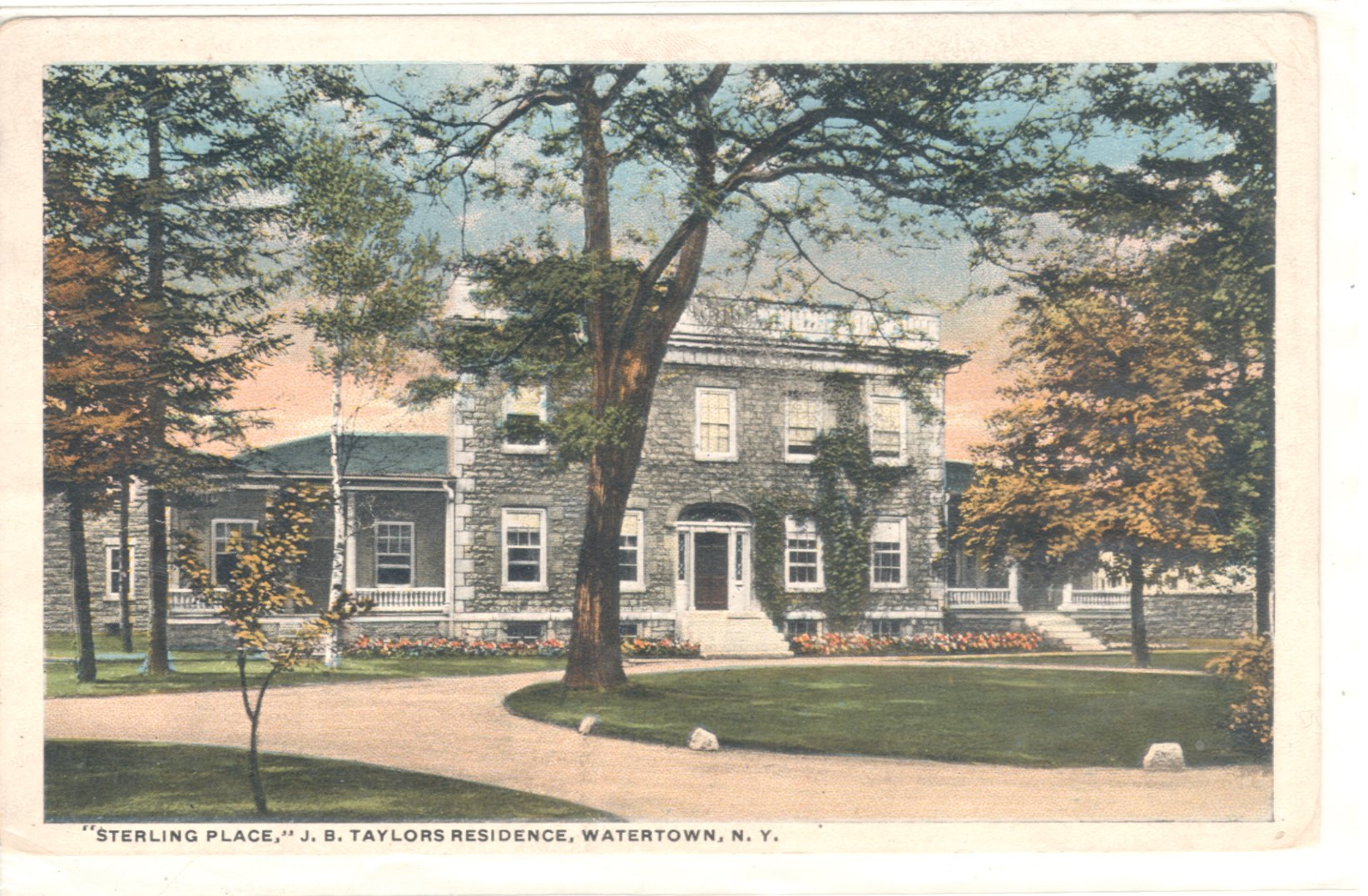 The North Country never had a more stately mansion than that of Micah Sterling, located in Sterling park, city. It was built in 1826 for Mr Sterling, leading northern New York lawyer and Democrat statesman a century ago. The Sterling family retained possession of it until August 1910 when it was purchased by the late John Byron Taylor, who made extensive additions at the rear, occupied it for a time as a residence and sold it in September 1922 to the Holy Family church society. It has since been the Holy Family parochial school.
In late August 1839 President Martin VanBuren was entertained there on his swing through northern New York, having come to Canton, Ogdensburg, thence by boat to Sackets Harbor. At that time Sterling park extended from what is now Park Street to William Street and there were no houses in front of the mansion on State Street. There was a beautiful grove of trees in front of this place
Micah Sterling was born at Lyme, Connecticut November 5 1784 was graduated in 1804 from Yale where he was a classmate of John C Calhoun and James Fennimore Cooper, studied law at Litchfield, Connecticut, and in the office of Judge Williams, Utica. He settled in Adams in 1809 and came to Watertown about 1811, formed a partnership with Thomas Skinner as Skinner & Sterling, was elected congressman as a Clintonian Democrat in 1821, formed the law partnership with Isaac H Bronson as Sterling & Bronson in 1823 and was elected state senator in 1836. For many years he was a land agent for James D LeRay de Chaumont. Mr Sterling, grandfather of John Sterling, died of scarlet fever April 11 1844 the same day that Judge Egbert Ten Eyck, another prominent Watertown citizen, died.
This will be the last of these Old Mansion pictures for the present. The series is being suspended temporarily and will be resumed in the spring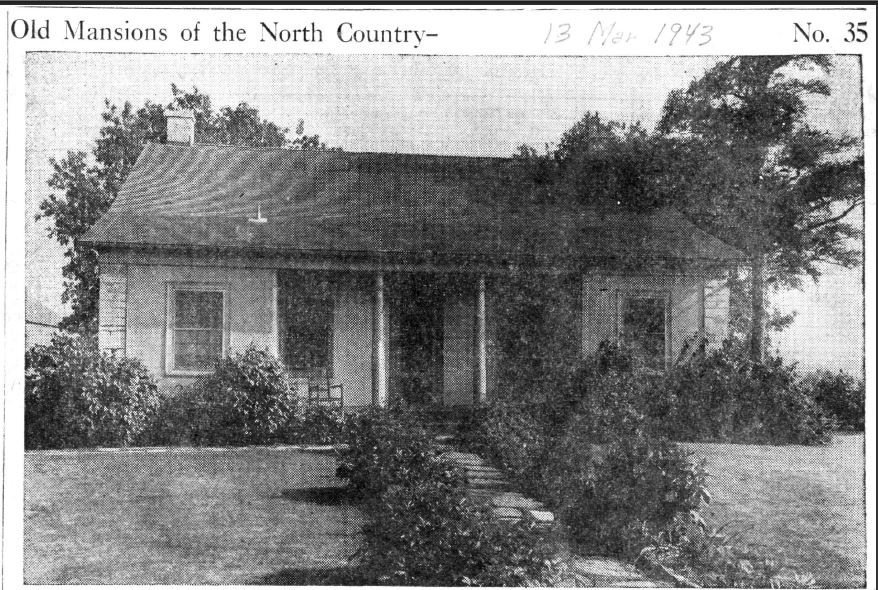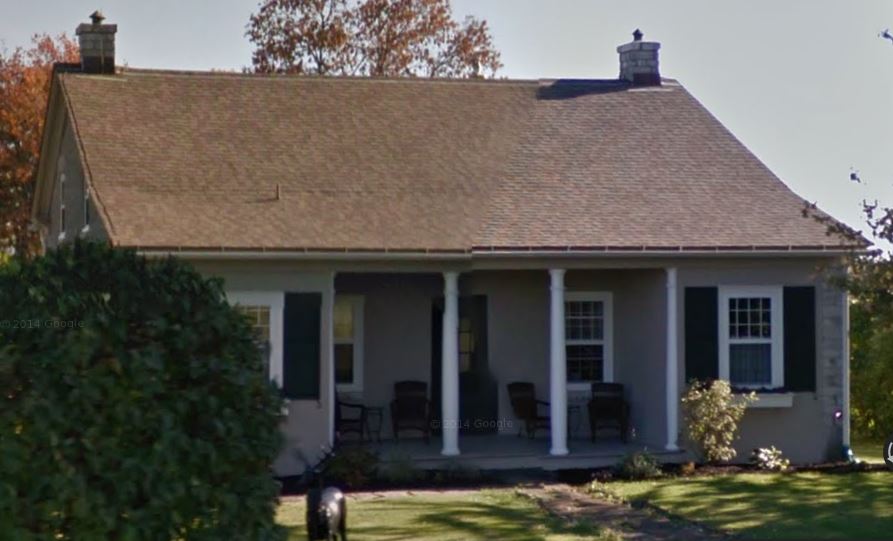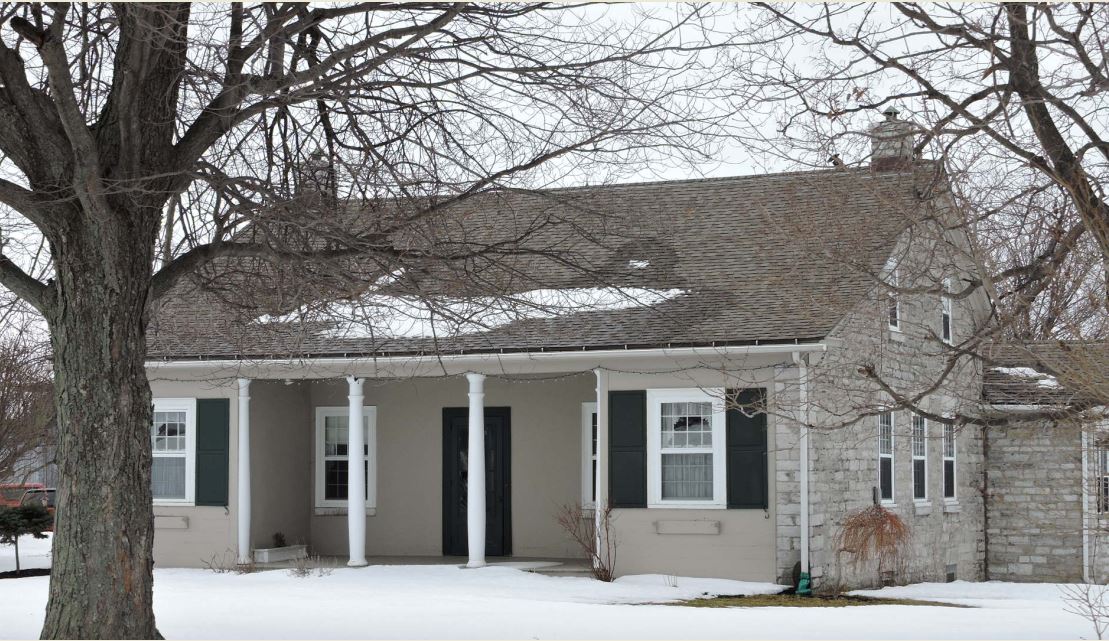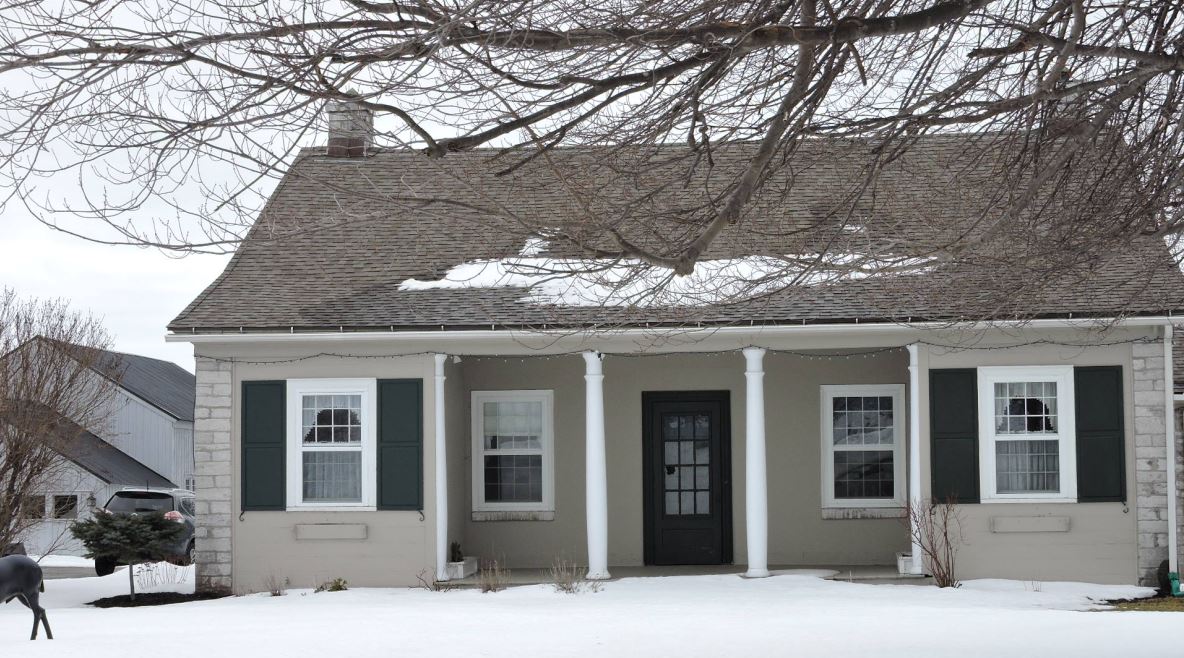 Just off the Pleasant Valley road on a short highway that connects with the Watertown-Cape Vincent state route, stands one of the most attractive old stone houses in Jefferson County. It is located about a mile and a half from Cape Vincent and is the manor of Deer Lick Farm, owned since November 25 1938 by Mr And Mrs J Reginald Newton, New York and Cape Vincent residents, who purchased it from Roy Kelsey, descendant of the original owner. Broad, low, with cozy, recessed central porch, it sits comfortably back from the road, while in summertime colorful flowers border the flagstone walk that leads in to the front steps. Under the tasteful supervision of Mrs Newton the house is furnished in the French colonial manner. This house has important historical significance for it was built more than a century ago by Eber Kelsey pioneer settler, who came in 1809 to what is now Cape Vincent to act as agent for Vincent LeRay. He purchased the original 50 acres of this farm from LeRay November 22 1832 and shortly built the attractive house. Eber Kelsey was born at Killingworth, Connecticut, in 1763 and in 1787 married Lucy Ann Leete descendant of Gov. William Leete of Connecticut colony. In the fall of 1796 Eber Kelsey migrated to Lewis county founding Kelsey's Mills now Port Leyden. Going to Cape Vincent from Kelsey's Mills he made the first clearing, erected the first house, built a blockhouse, wharf, a tavern and established a ferry to Wolfe Island. When the town of Lyme was set off from Brownville in March 1818 he named it for Old Lyme, Connecticut. He died at Cape Vincent August 18 1839.
(This series of pictures of old houses is resumed after an interim of about a year.)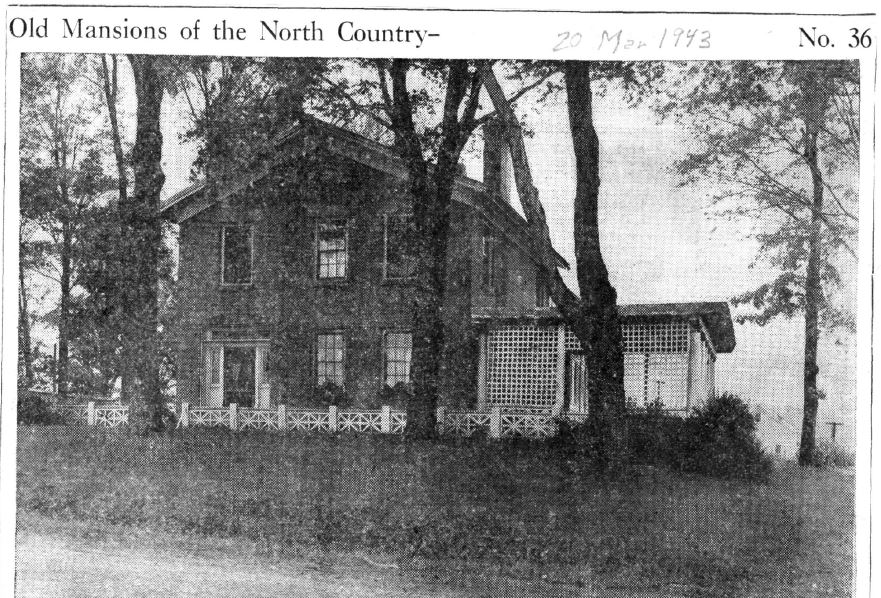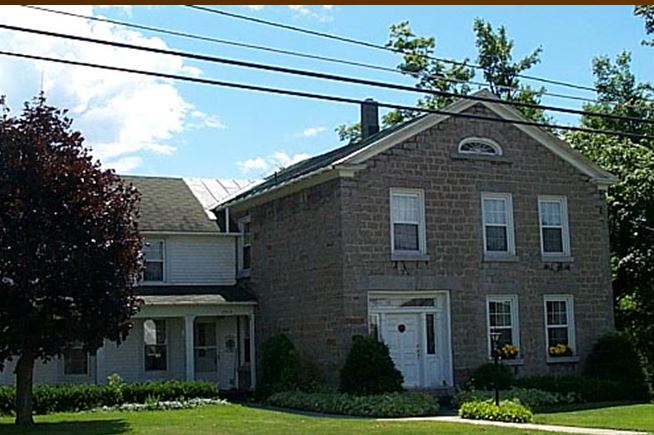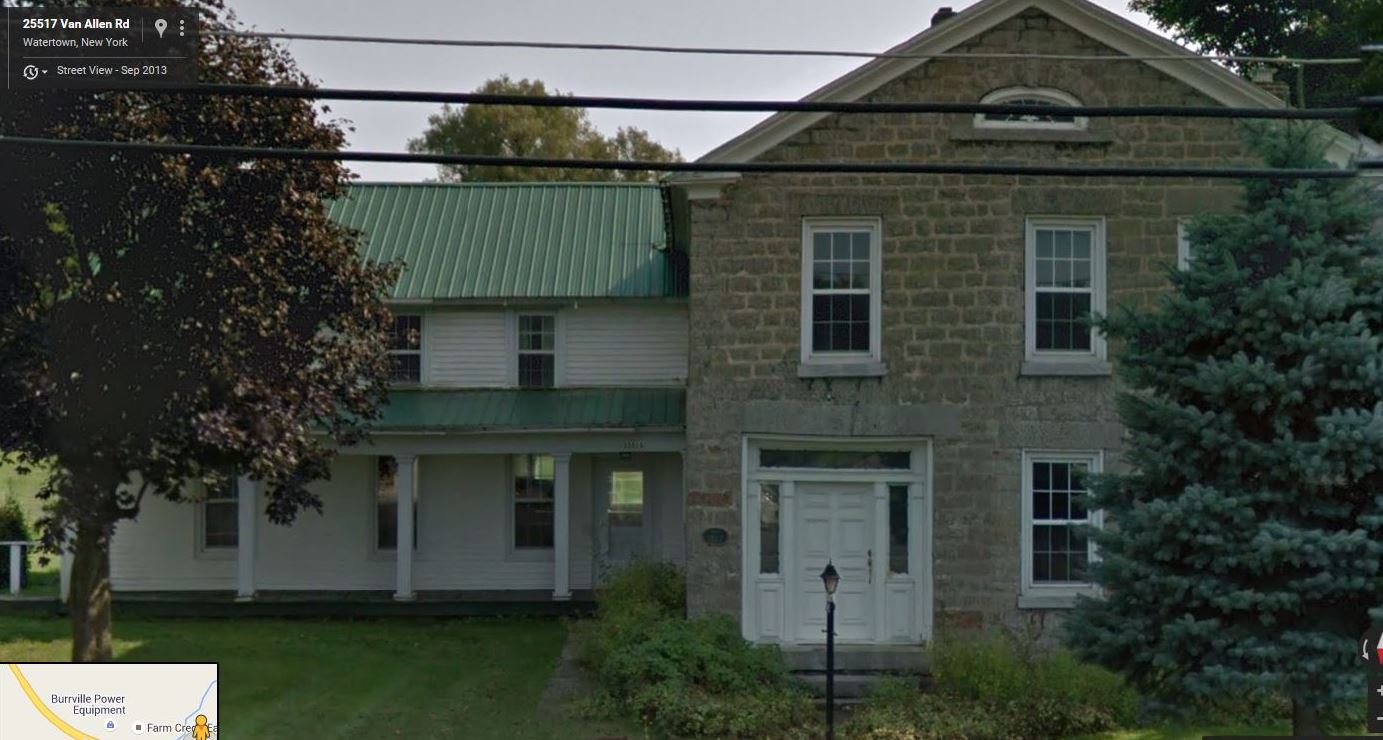 Between 1815 and 1818 Dr Crafts P Kimball, one of Jefferson County's earliest and most prominent physicians, built for his residence Greystone that stands above Burrville on the Watertown-Copenhagen state road. Attached to this old mansion is a wealth of colorful history. Licensed to practice medicine in 1810 in Otsego county, Dr Kimball settled in the town of Rutland that same year and built up an extensive ride. He bought his first land, nucleus of his mansion site, August 18 1813 from Gershom and Pamelia Tuttle. From time to time he acquired additional plots until March 20 1849. He was the great-grandfather of Supreme Court Justice Henry J Kimball, Mr David B Otis and Frederick H Kimball of The Times editorial department, all of the city. When Dr Kimball died in 1872 his large farm of nearly 500 acres passed to his son, Henry J Kimball, a lover of fine horses, who owned and trained many of them on his half-mile track on the farm. Gov. Roswell P Flower purchased this farm January 2 1890 from Henry N Kimball and converted it into an extensive duck-breeding establishment. Governor Flower lived but a few years afterward, and later it was purchased by Attorney Thomas Burns who sold it July 26 1917 to Attorney John C Trainor of Chicago. Attorney Burns bought it back December 31 1918. In recent years it has been owned and operated by the Foley Brothers as a dairy farm.

36309 Rt 3 (Herrings) Carthage NY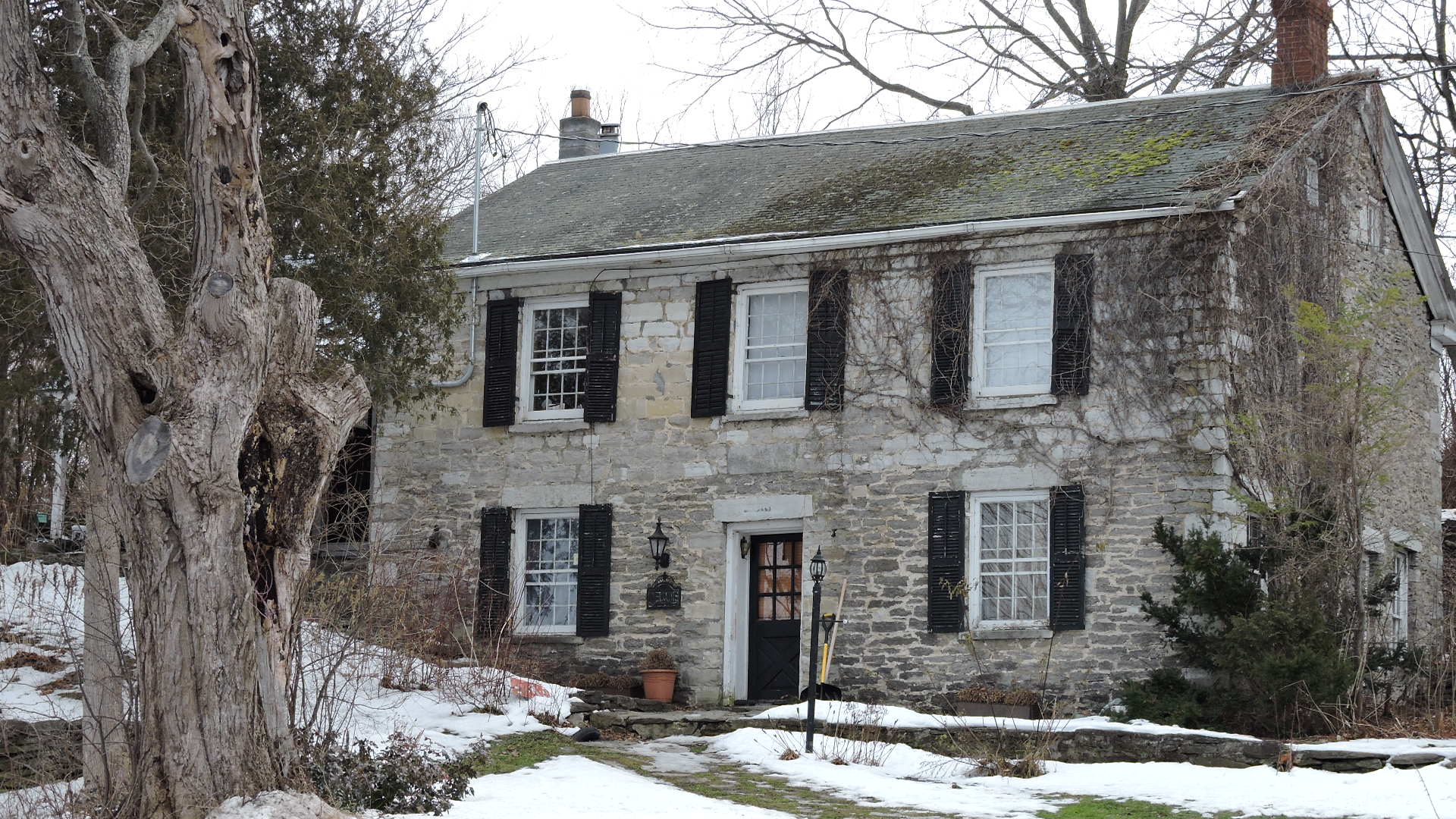 Just above the Noadiah Hubbard house now owned by Miss Lina Pierce at Champion village (the highway divides and the left-hand fork goes to West Carthage). In the hillside at the beginning of the right-hand fork stands a stone house, which has been provided by the present owners, Lewis and Eugenia Wangerin, his wife, with a most artistic setting. At the beginning of the flagstone path that winds from the road to the door is an old-fashioned post-lamp. A low stone wall in front adds to the beauty of the scene and old-fashioned flowers in summer give a bright touch. Engraved in the lintel over the front door is: "A G 1828."
On February 28 1828 Asa Gates bought the land from Noadiah Hubbard and built the house for his bride, Mira Gates, who resided there for several years after her husband died and June 6 1868 sold the property to Mrs Louisa Cone. On June 12 1872 Mrs Cone sold it to Joel A Hubbard. After that there were several owners until Mrs Wangerin purchased it from Orin Fletcher May 4 1936. The doorway and general architecture of the house is simple and attractive. Mr Wangerin, who is a decorator, rebuilt the old fireplaces and sturdy chimneys and a large part of the exterior wall. From the beginning every deed of the property has transferred the right to use the spring of the finest water.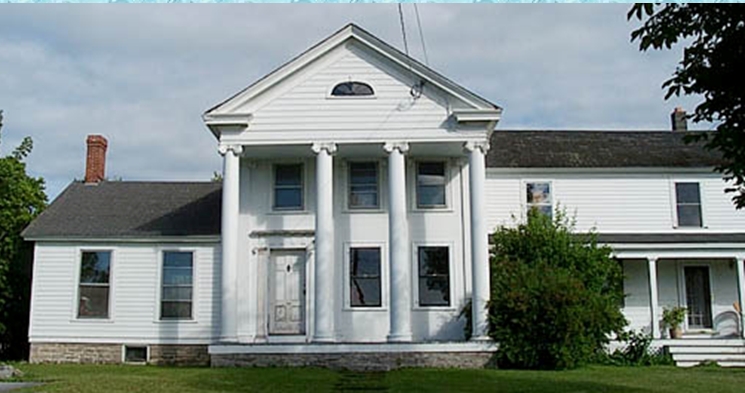 "Camp Haven," located on the west side of Main Street, across from Christ Episcopal church, Sackets Harbor, is not a stone mansion, but it is one of the most historic in the North Country. It is reputed to have been built in 1816 for Commodore Melancthon T Woolsey, an outstanding figure in the United States Navy during the War of 1812 and later. It was he, who was in command of the Brig "Oneida", only naval vessel at Sackets Harbor at the outbreak of the War of 1812 and it was he, who had the 36-pounder cannon taken off the "Oneida" and mounted on the shore to repel the British during the first battle of Sackets Harbor in July 1812. Woolsey was then only a navy lieutenant. Later he got to be commander of the frigate, "Constellation," almost as noted as the "Constitution," "Old Ironsides."
In 1827 he removed from Sackets Harbor to Pensacola, FL, where he was then stationed. Grace, simplicity and great lineal delicacy mark the architecture of the Woolsey mansion. Tall, slender pillars infinitely graceful run up two stories to support the artistic pediment of the portico. A beautiful doorway opens into the attractive old hallway at the left-hand side of the main body of the house. A rare old "eagle" knocker adorns the front door over which is a semicircular light.
Behind the door, in the hall, are a row of wooden pegs, upon which Commodore Woolsey used to hang his hats and coats. A picket fence with carriage and pedestrian gates runs across the front of the grounds. A graceful drive twists through the copious shrubbery to the mansion, partially hidden, far back from the street. At the rear of the mansion is a beautiful old-fashioned sunken garden. Many men of note a century and a quarter ago were entertained there by Commodore Woolsey. According to tradition the mansion passed to the possession of the Camp family in 1811 and for 99 years it has been owned by this family. Colonel Walter Bickers Camp, son of George Camp, publisher of The Sackets Harbor Gazette, first newspaper of the village, owned and occupied the mansion until his death in January 1916. He had command of the military depot at Madison Barracks during the Civil War and in 1885 became a founder and first vice president of the Jefferson County Historical society.
In 1893 he succeeded Beman Brockway as president. Extensive world-traveler Colonel Camp had a rare library, valuable works of art and curios in the mansion where he entertained many of prominence. When he died, he willed the property to his two nephews, the late Walter H Camp and George VanSenlvoord Camp of this city and for many years the latter's widow, Mrs Elizabeth Knowlton Camp has occupied it as a summer home.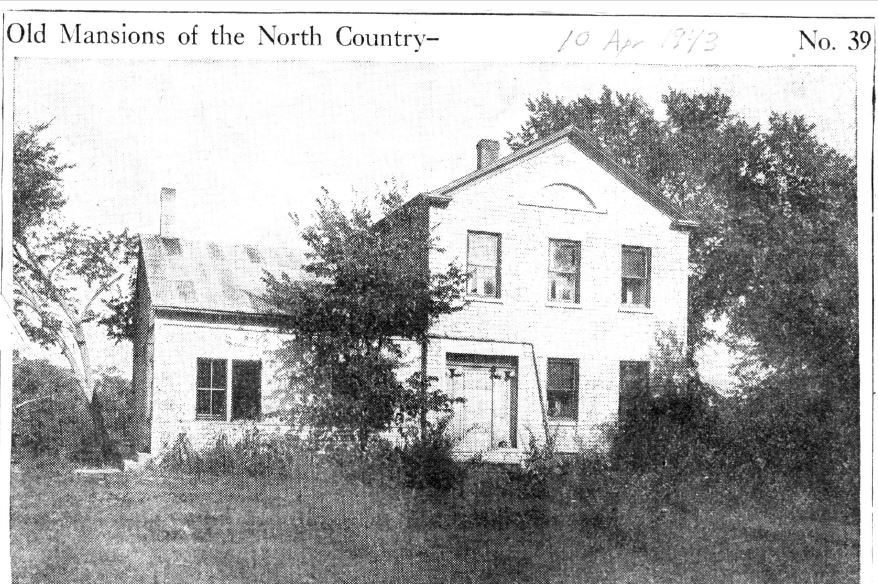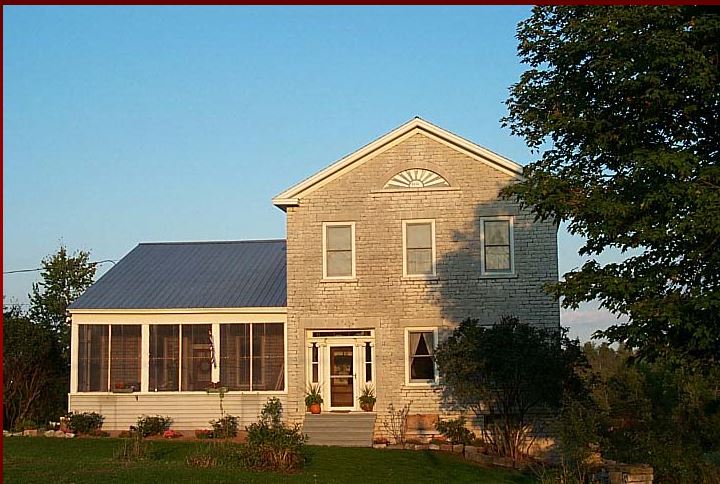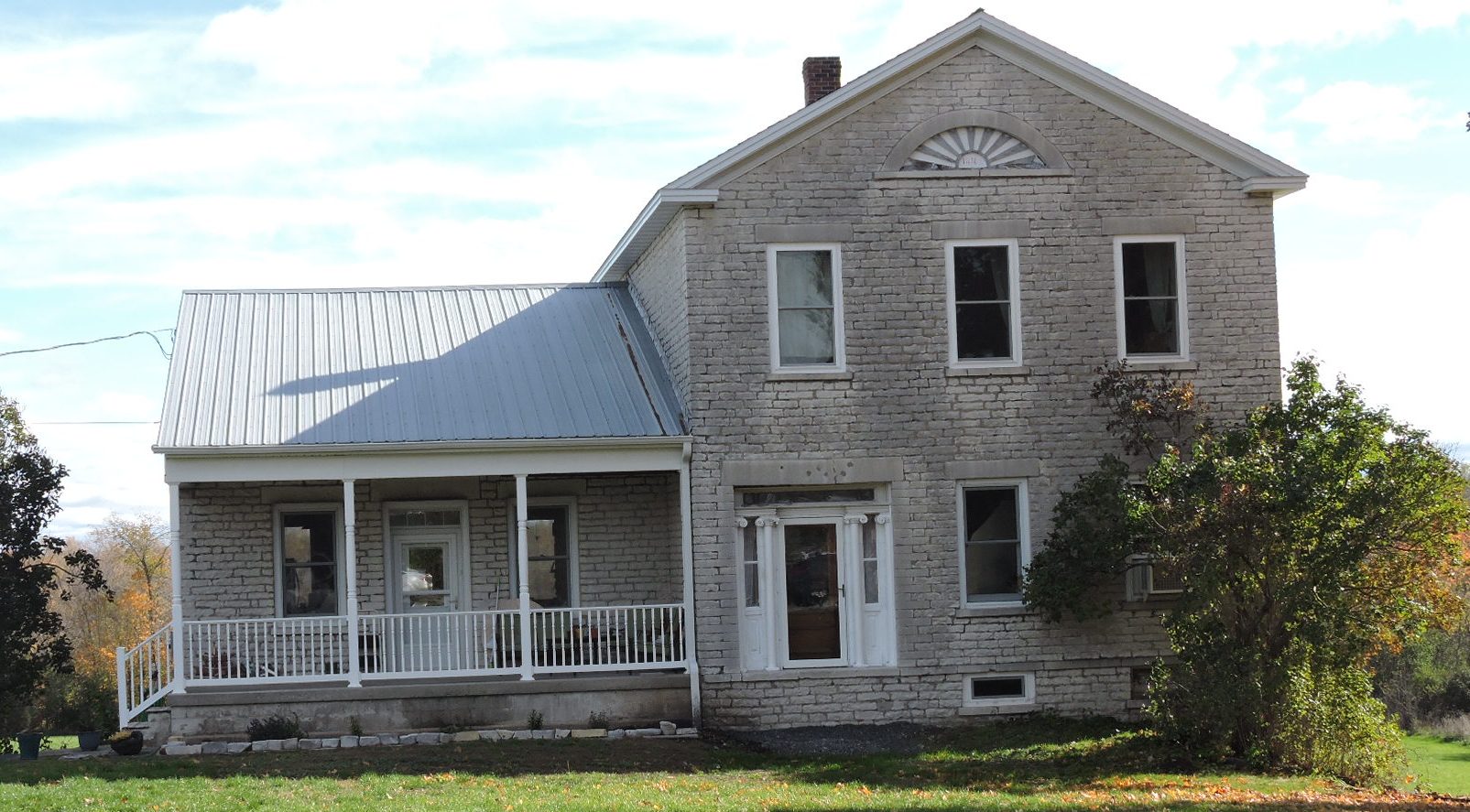 The great limestone mansion of John LaFarge, noted French merchant, pioneer North Country promoter and founder of a distinguished American family, was razed many years ago on its expansive site a mile south of LaFargeville on the LaFargeville-Brownville highway. However, the overseer's house of the luxurious John LaFarge estate still stands in a state of excellent preservation diagonally across the road.
Like the main house it was built of blue limestone, cut in small blocks and quarried on the estate from one of the finest deposits of blue limestone in the county. This overseer's house was erected in 1836 according to a date carved in the gable window. The main house was started in 1832 and completed in 1833 and Hial Cook was the master mason. Of plain, simple, Georgian construction, the overseer's house stands now as square and true as the day it was completed. July 22 1914 this house with 149.83 acres of land, part of the original 436 acres of John LaFarge's great Jefferson County estate, was bought by Stewart L and Ella M VanAlstyne, present owners, from the heirs of Morton Wilder, who inherited the farm from George Wilder.

March 1 1838 John LaFarge sold his mansion, overseer's house and 436 acres of land for $20,000 to Rt. Reverend John DuBois, R C, third bishop of New York. Bishop DuBois caused a Catholic theological seminary to be established in the mansion, but it was too remote from civilization and was discontinued after 23 years. Like LaFarge Bishop DuBois was a native of France. He died in New York December 20 1812 at an advanced age after having resided over 51 years in this country. He left no kin and his will, probated here in March 1813 provided for his burial in front of St. Patrick's cathedral, New York City, and gave all his property including the LaFarge estate to Archbishop John Hughes of New York. Archbishop Hughes established his brother, Patrick Hughes, at LaFargeville and visited there several summers. Archbishop Hughes died early in 1864 and by his will, probated here in April 1864 gave the LaFarge estate to his two brothers, Patrick, LaFargeville and Michael of Chambersburg, Pennsylvania.
Under the Hughes ownership the estate became known as Grovemunt. On February 10 1876 it passed out of the Hughes family by deed to George Wilder, who willed it to his sons Merton and Eugene and from the Wilders it came to Mr And Mrs Van Alstyne.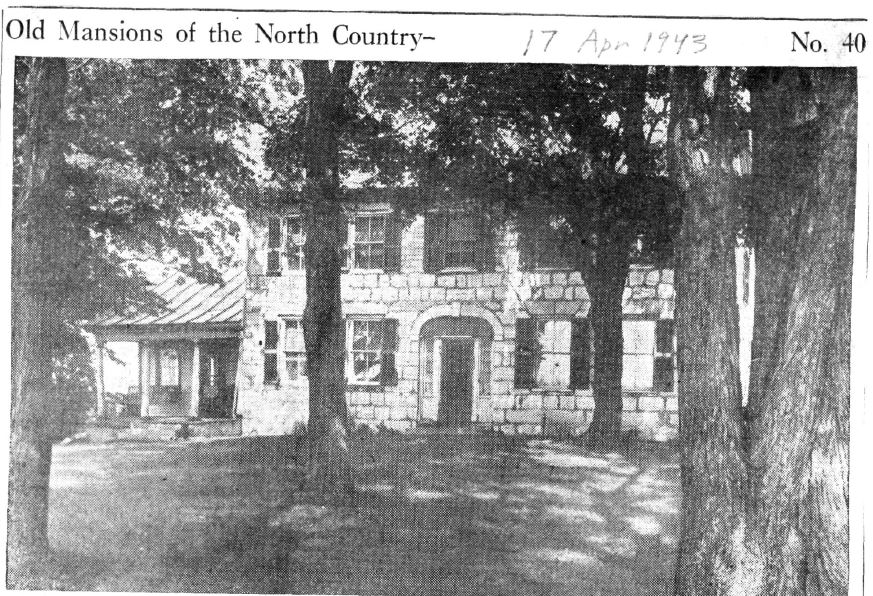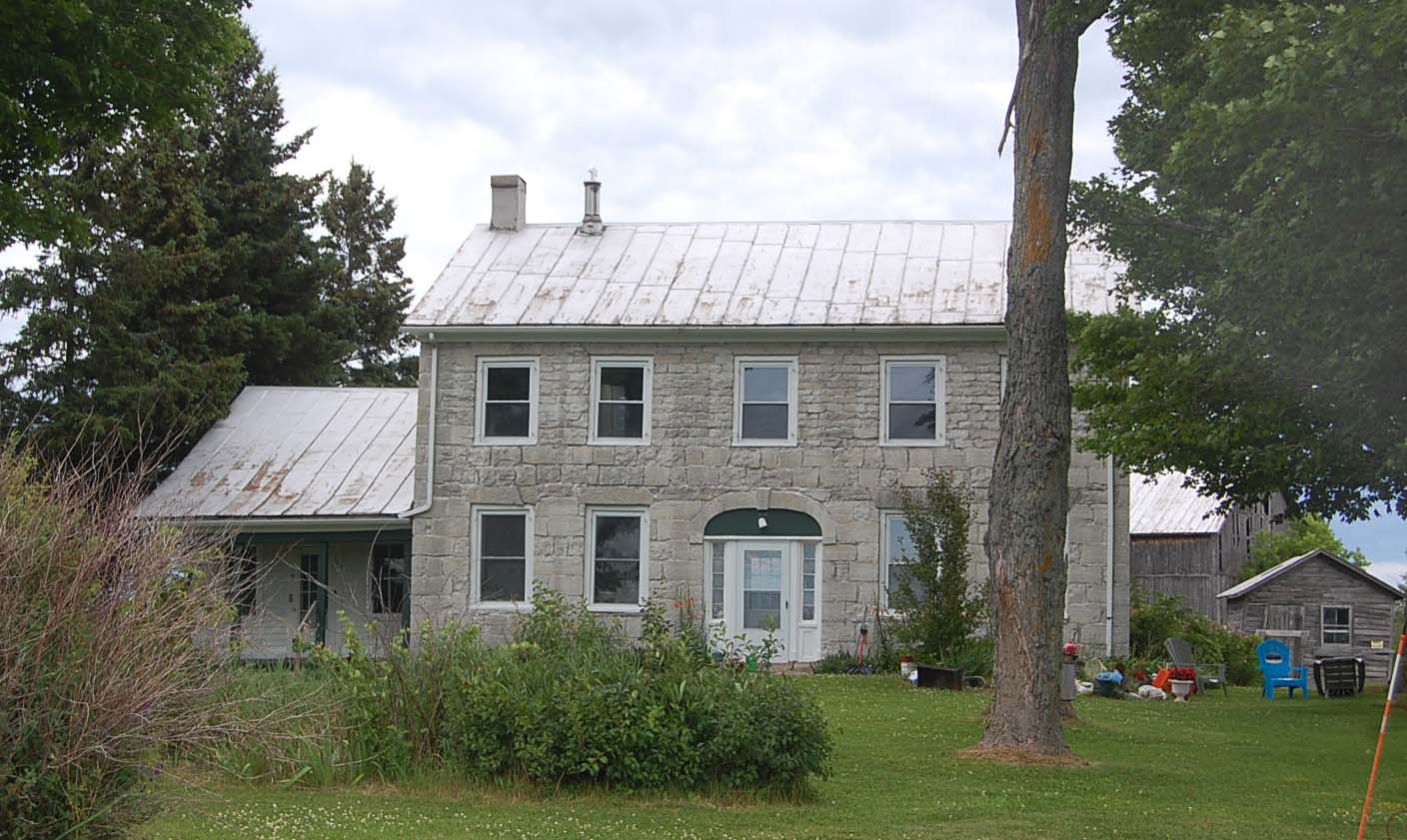 One of the most attractive old stone houses of Jefferson County, both from the standpoint of architecture and beauty of setting, is the old Norton homestead located on the Watertown-Clayton highway not far from Depauville. Unmarred by modernization the old house with its fine colonial front doorway is enhanced by its location well back from the road among large and beautiful shade trees. It is reputed to have been built by John Norton a Revolutionary soldier, from Long Island who came first into Herkimer county and then over a blazed trail from Brownville to the Depauville section in 1816. He was the first settler on a farm on that road, which became known as the Norton road, and originally built a log cabin. He was accompanied there by his son, John Norton Jr, and the stone house is said to have been built in 1823. It fell into the possession of George A Norton, grandson of the original John, and eventually came into the possession of Wilson Norton, present owner, a farmer of the county who owns 155 acres of land. The house is equipped with four fireplaces and is noticeably well-kept. It has always been owned by the Norton family and never fails to attract motorists.
In the early days of the county there were several members of the Norton family residing in that part of the county, and it is recorded that Nathaniel Norton Jr, who had been a merchant in Russia, NY, came in 1816 as agent for C H & E Wilkes, owners of 12,000 acres of the Penet Square.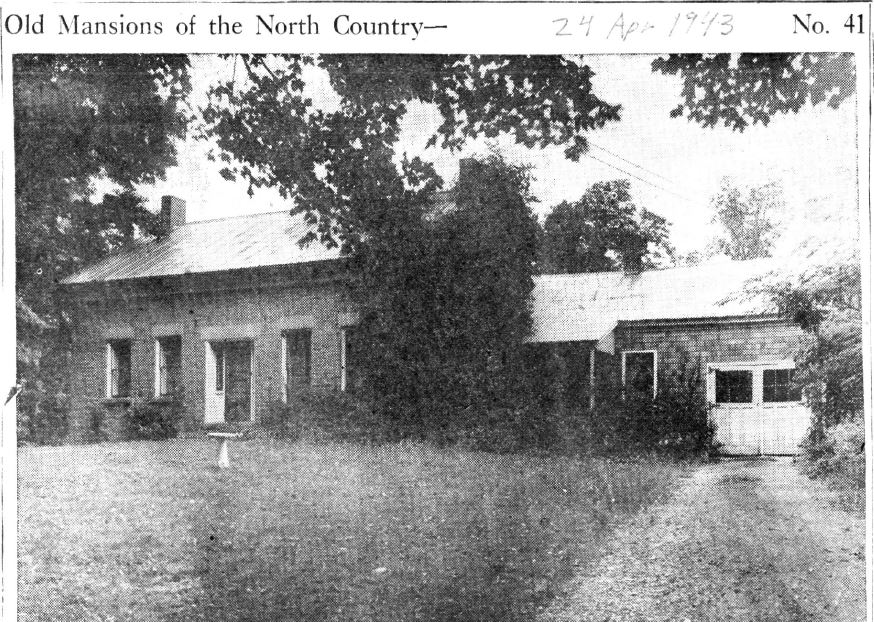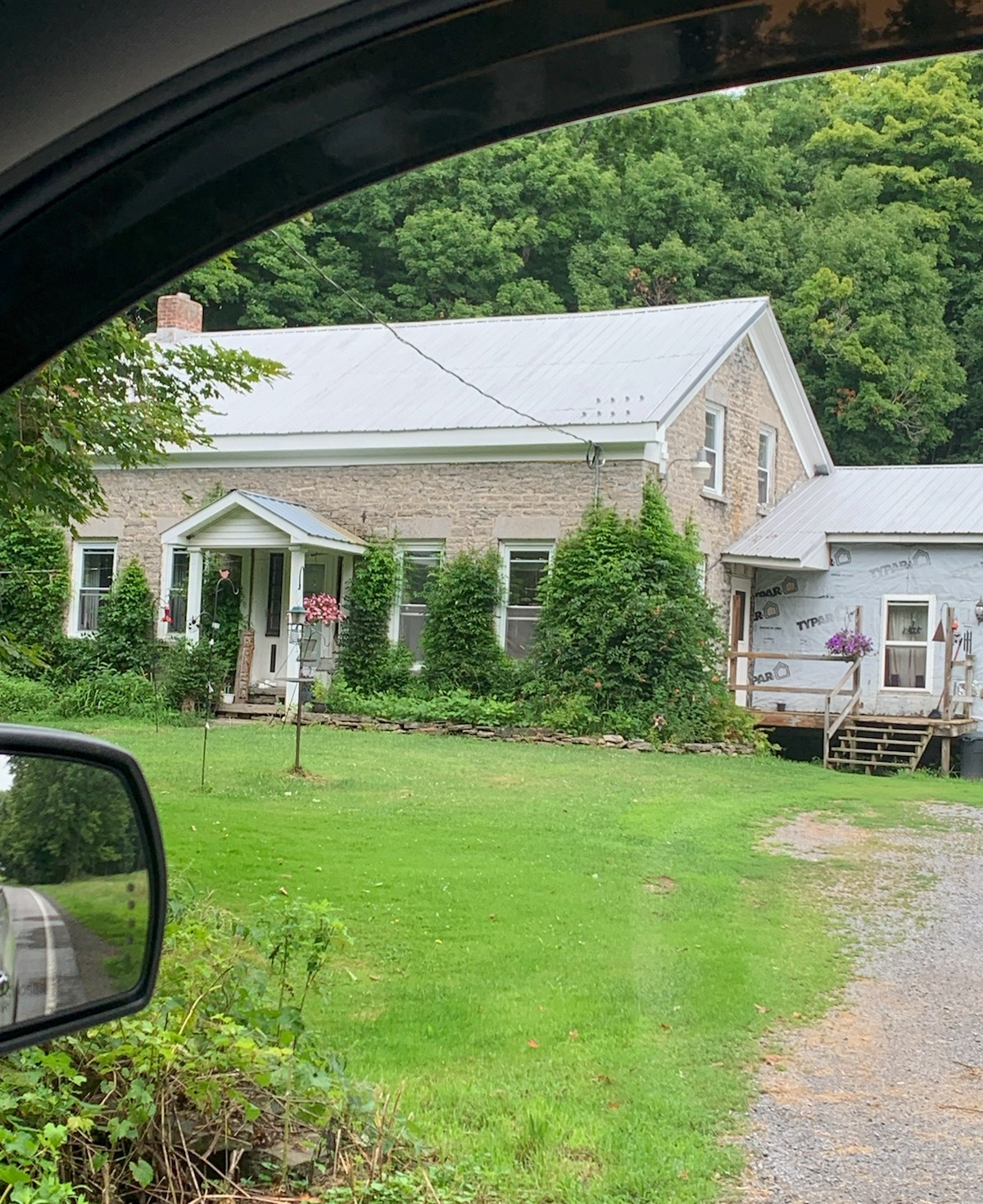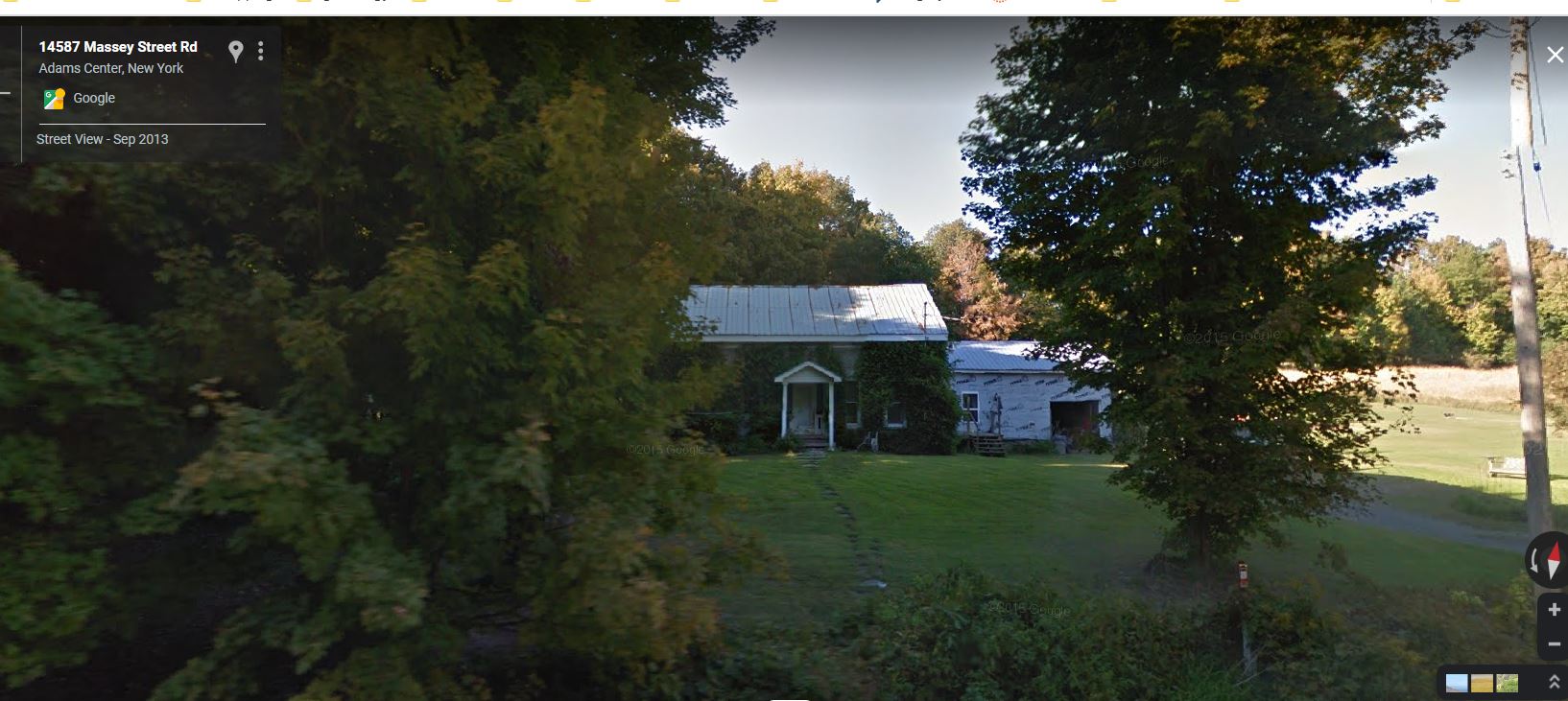 Long and low, this quaint stone house, with garage attached after the New England manner, was erected in 1816 near Smithville on the North Adams-Smithville road by John Mills, pioneer Smithville settler. Mills, whose father, Chauncey Mills, came from Connecticut in 1803 and built a sawmill on Stony creek in 1805 came to the section in 1826 and married Sarah Brown, whose sister, Loisa Brown married Riley Mills and settled on a farm adjoining that of John Mills. A brother of the two Brown sisters was the grandfather of Miss Amy Griffith, well known nurse and prominent member of the former Northern Frontier chapter of the Daughters of 1812 who has owned and occupied the fine old house since 1931. At that time it came to Miss Griffith from Mrs Malvina Mills Moore, 82 daughter of John and Sarah Brown Mills. With the house is a farm of about 60 acres.
Sitting high up from the roadway this residence has one of the most beautiful outlooks in the county sweeping down across the picturesque Stony creek valley. In midsummer the gray limestone walls of the house are colorfully ornamented by the orange-red blossoms of an ancient trumpet vine, whose main trunk has attained a diameter of four to five inches.
John Mills obtained and cut the stone himself on this farm. The master mason was E Lyons, uncle of Asa Lyons, who built the Hungerford Collegiate Institute at Adams and a number of houses in that section. The beautiful interior woodwork was made by Mr Mills, whose first residence was a log house a little back of the stone house site. From his own flock of sheep was made the woolen cloth for the clothing and winter underwear of the Mills family, who likewise obtained their linens from the Mills field of flax. Lyons, the master mason of the house, learned his trade in England and a block set over the front door gives the initials and date.
Miss Griffith treasures a dollar bill of the Bank of Plattsburgh, which was paid to John Mills in 1828 by Amos Bosworth for husking corn two days. The corn had stood out all winter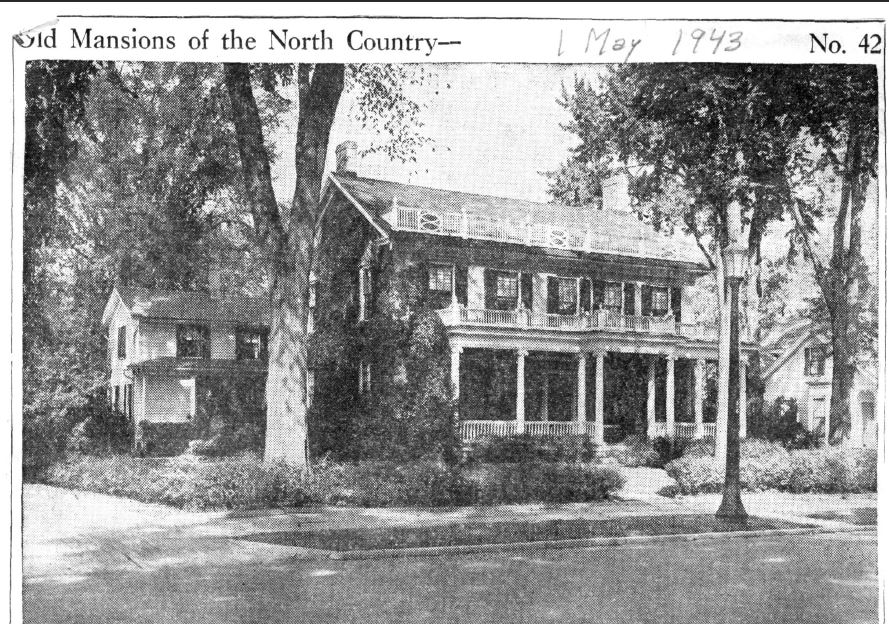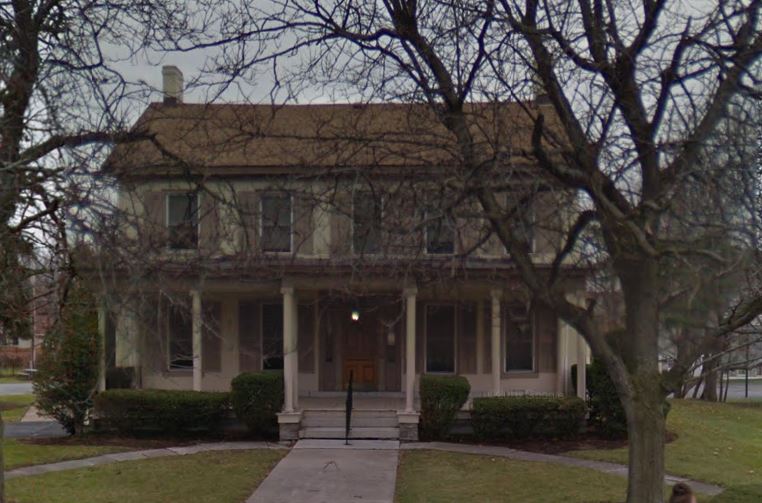 One of the outstanding Watertown residences architecturally and historically is that owned by Henry H Babcock, vice president and trust officer of the Watertown National Bank. Located at 418 Washington Street, it faces easterly towards the First Presbyterian church. Traditionally, it was erected about 1820 or 1821 but that is as indefinite as the identity of the builder. However, it is said to have been occupied at one time by Reverend Daniel Banks, pastor of the First Presbyterian church 1815-1821. The site was part of over 32 acres sold by Zachariah Butterfield, "yeoman," one of Watertown's first three settlers, to Jonathan Cowan, "carpenter," this community's first miller, September 15 1806. Cowan and wife, Amy, then sold over 31 acres of the property to Daniel Banks, August 27 1816 for $1,600 the price implying that there was then a house there, which may have been the brick or main part of the present structure. County records state that it became known as "The Banks Place," and August 13 1831 it was sold for $2,500 by Isaac Bronson to Egbert TenEyck, one of Watertown's most noted citizens.
Native of Rensselaer county April 18 1779 TenEyck graduated from Williams college in 1800 settled first near Great Bend in Champion, strove to make Champion the county seat, failed, moved to Watertown, was admitted to the bar in 1807, was a founder of the Black River Cotton & Woolen company in 1813 and of the Jefferson County Bank in 1816.
In May 1816 he was elected a village trustee, in 1817 became first high priest of Watertown Chapter, No. 59 R A M, in 1820 village president, was county judge five years, October 25 1817 was chosen first secretary of the Jefferson County Agricultural society, was member of the state constitutional convention of 1821, was elected Congressman in 1823 succeeding Micah Sterling, Clintonian Democrat, who had been chosen in 1821. Coincidentally, both Ten yck and Sterling died Thursday, April 11 1844, TenEyck suddenly from stroke at 2:30 in the afternoon, Sterling from scarlet fever at 6 in the evening. Funerals were held Saturday April 13.
The original house of TenEyck, Georgian colonial with wide central hall and beautiful doorway, has in more recent decades been ornamented with a spacious verandah having beautiful fluted, Ionic pillars, and this modification harmonizes thoroughly with the architecture of the house.
Title to the mansion passed to Joseph Mullin who had married Judge TenEyck's daughter, Lydia M in January 1839 and three times, 1857-1865-1873 Mullin was elected supreme court Justice. His son, Joseph Mullin Jr, born in the house May 29 1848 succeeded to its ownership the structure of which his father had greatly expanded by frame additions. Attorney Joseph Mullin Jr, married Mrs Rose Monroe Babcock April 20 1887, was first elected state senator from the old 21st or Jefferson-St.Lawrence-Oswego district in 1891 and died September 1 1897. It is understood his widow added the verandah about 1900 she having succeeded to the ownership of the house, which passed to her son, Henry Holmes Babcock, present owner, after her death April 2 1908.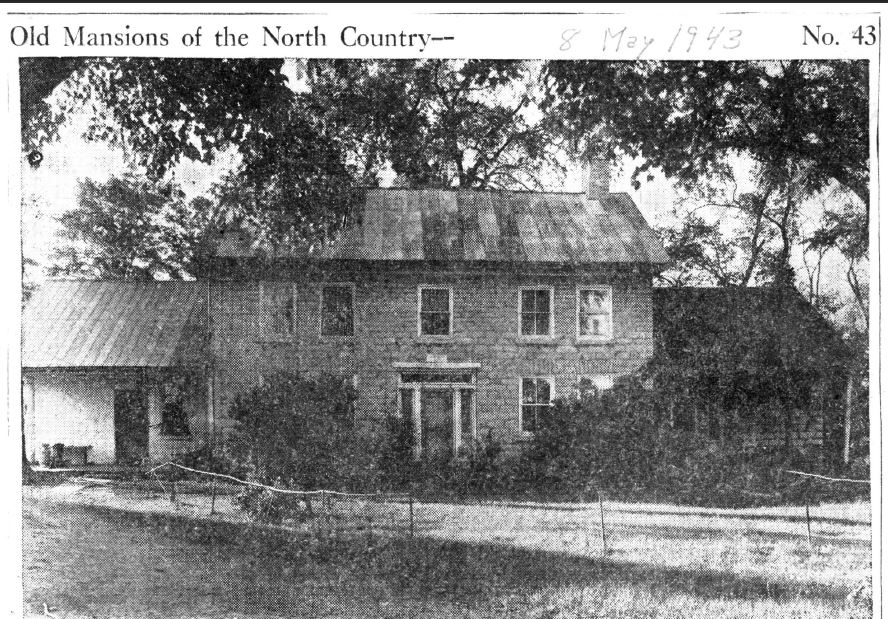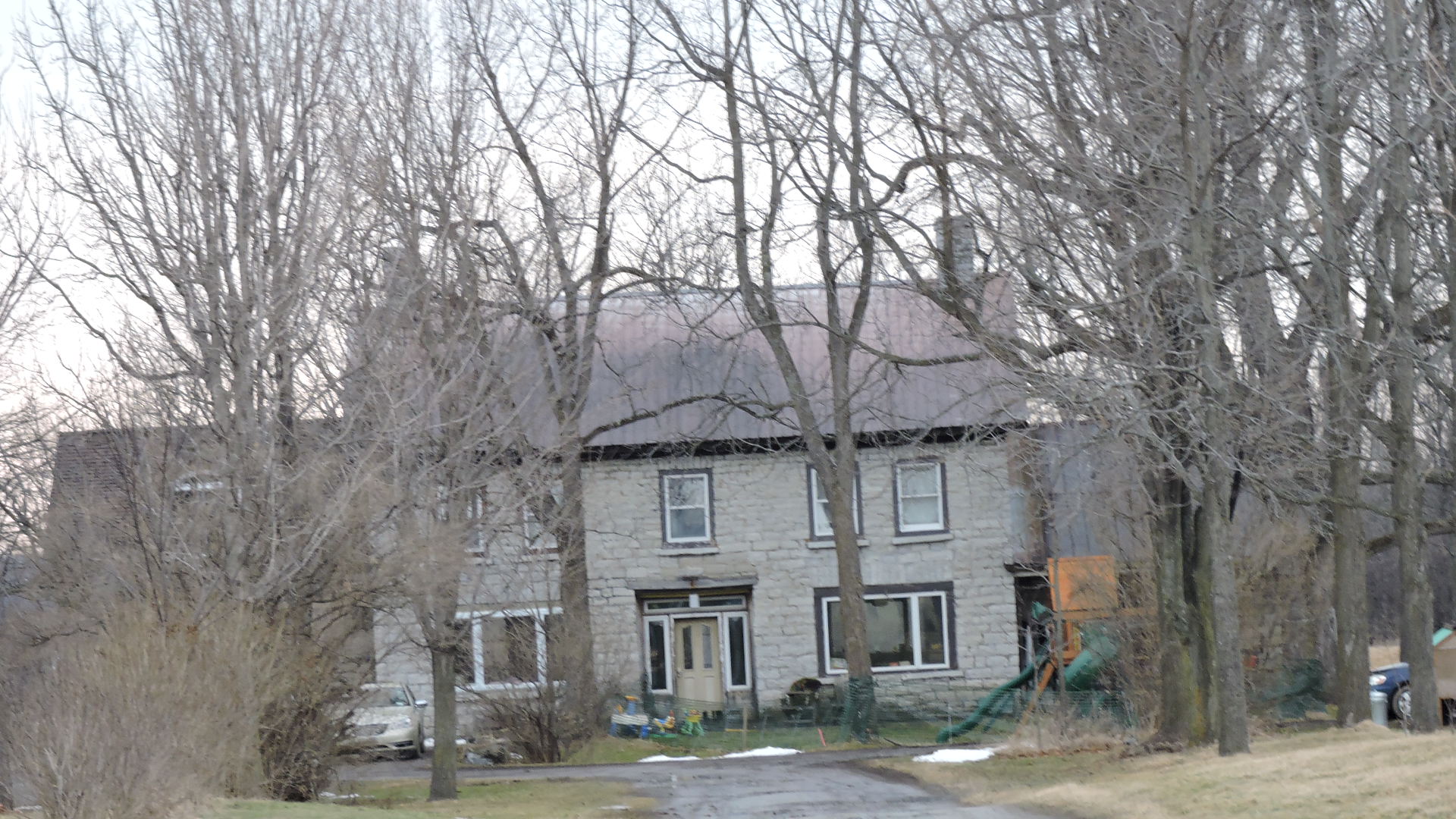 Born February 9 1788 David Augsbury was only 23 when he came from Minden, Montgomery county in 1811, bought 120 acres from James D LeRay in the town of Pamelia, built a log cabin and the stone barn which still stands near the Perch Lake end of the road to Scovil's. Indians often passed en route to Perch Lake to fish. The now extinct passenger pigeon flourished there in huge flocks and deer were so plentiful they came inside the stockade around the stone barn to feed with the cattle. David Augsbury served in the War of 1812 fighting in the battle of Sackets Harbor May 29 1813.
His log cabin burned in 1829 and his family moved across the road with a brother, John Augsbury. In 1840 the four Augsbury brothers joined to build the beautiful old blue limestone mansion that sits among the trees far back from the highway near the old stone barn.
With its two wings the house is 100 feet long and the main body 50 feet deep. It is Georgian colonial, the outer walls are two feet thick, there are fireplaces in every room and a bake-oven in each kitchen at either end. The cellar bottom is solid rock and the cellar has ten large rooms and a small one. The large ones were formerly used as a dairy and for storage of fruits and vegetables. A spring of cold water flowed into the small one.
David Augsbury, several years assessor of the town of Pamelia, died May 20 1852. With the exception of a few years when it was owned by Ashley Stevens the Augsbury mansion and farm has been in the possession of the Augsbury family. After that one conveyance out of the family it was bought back into the family by the late W B Augsbury, and his son, Albert Augsbury, now on this fine old homestead, has resided there for the past 30 years. The scenic setting ad location of the Augsbury mansion is one of the finest in this section of the state and the house has many possibilities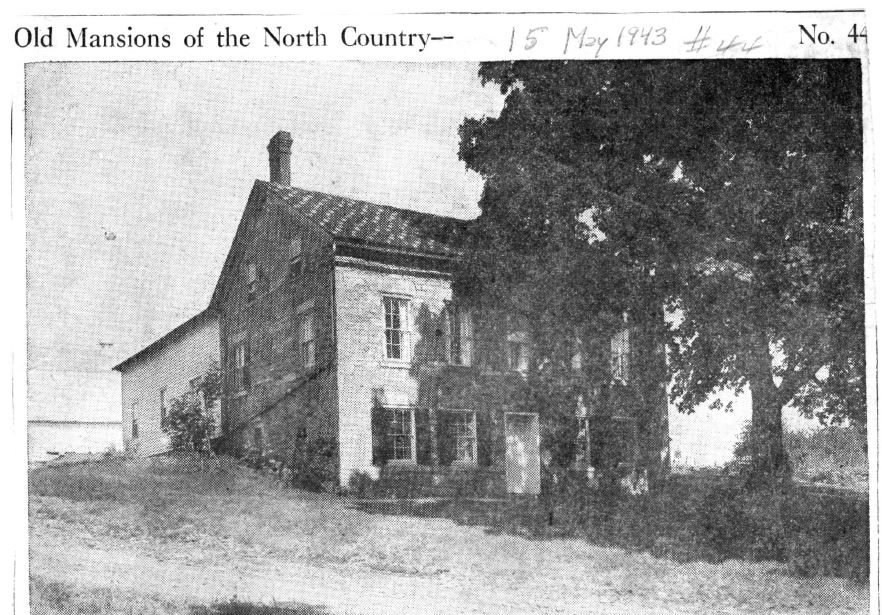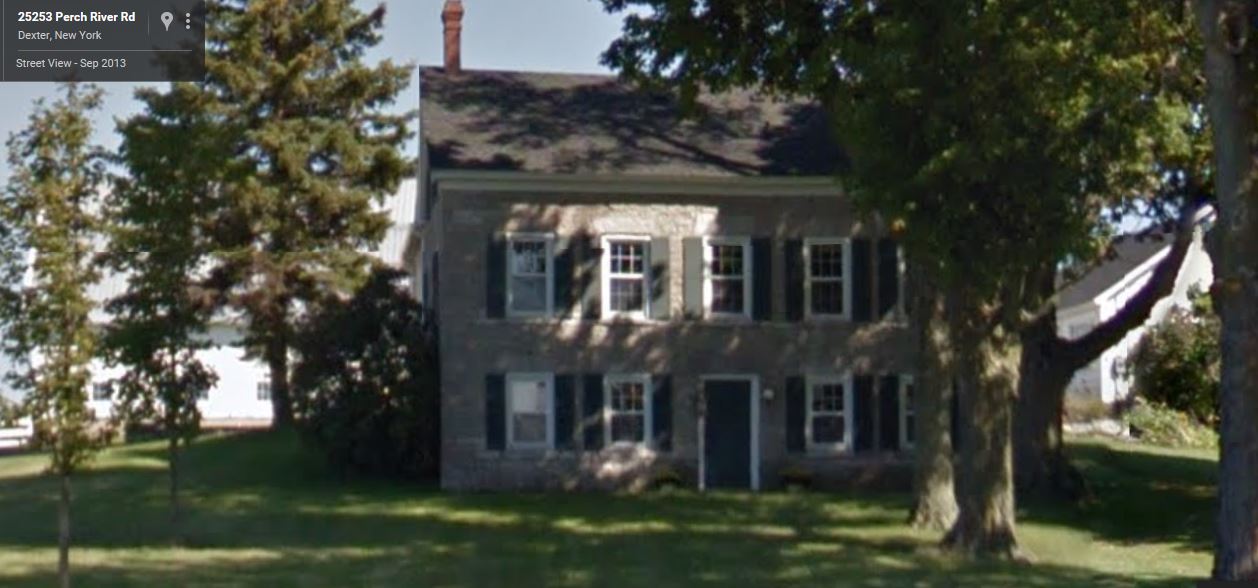 Passing the General Jacob Brown mansion, two miles north of Brownville village on the east side of the road to Perch river is a plain but most attractive house built into a knoll side. It is the home of Mr And Mrs Francis G Taylor, who bought it November 6 1941 from the heirs of Mrs Laura Allen Zimmerman and despite its simplicity a great deal of history attaches to it.
For more than a century it was owned by the Zimmerman family and before that it was known as the Calvin Britton farm. Calvin Britton (also spelled Britain and Brittain) was one of the earliest settlers of the town of Brownville, having come there in the fall of 1801 with his brother Samuel. He was a close friend of Major General Jacob Brown and himself a brigadier general of militia in the War of 1812. The house, similar to the Asa Gates hillside house at Champion and the Beardsley house in the Hyde lake sector, must have been built some time after August 2 1815 for on that date Britton bought adjoining tracts of 115 and 45 acres from James D LeRay de Chaumont for $250. There General Calvin and his wife, Betsey, lived with their family for several years. April 1 1837 they sold the farm to Warner Failing for $3,200 and the same day George W Britain sold Failing an adjoining 80-acre tract for $1,600.
April 26 1837 Failing sold the three parcels to Orville V Brainard, wealthy Watertown banker and promoter of the Watertown & Rome railroad for $3,000. In the spring of 1839 Jacob Zimmerman Jr brought his family and belongings by ox-team up from St. Johnsville, Montgomery county and on April 18 1839 he paid Banker Brainard $5,082 for the slightly more than 240 acres and buildings. One of the substantial farmer-citizens of the township Mr Zimmerman resided there until his death, at nearly 81 on November 28 1875. Possession of the farm later passed to his son, Walter, born at St. Johnsville July 10 1834. Walter was only five when he came to Brownville, but he was educated at Mexico academy, taught six years, became supervisor of the township in 1875-1881-1889-1891-1892-1893-1894 and in 1895 was elected assemblyman from the first district, being reelected in 1896 and 1897. In 1862 he married Laura A Allen and lived on the farm 68 years, retiring to Brownville village about two years before he died December 28 1910. Later his son, Charles A Zimmerman resided on the farm for a time and another son, Walter Zimmerman Jr became supervisor of Brownville, some score or more years ago. A granddaughter of Walter Zimmerman Sr is Miss Mabel Zimmerman, secretary to Watertown's superintendent of schools.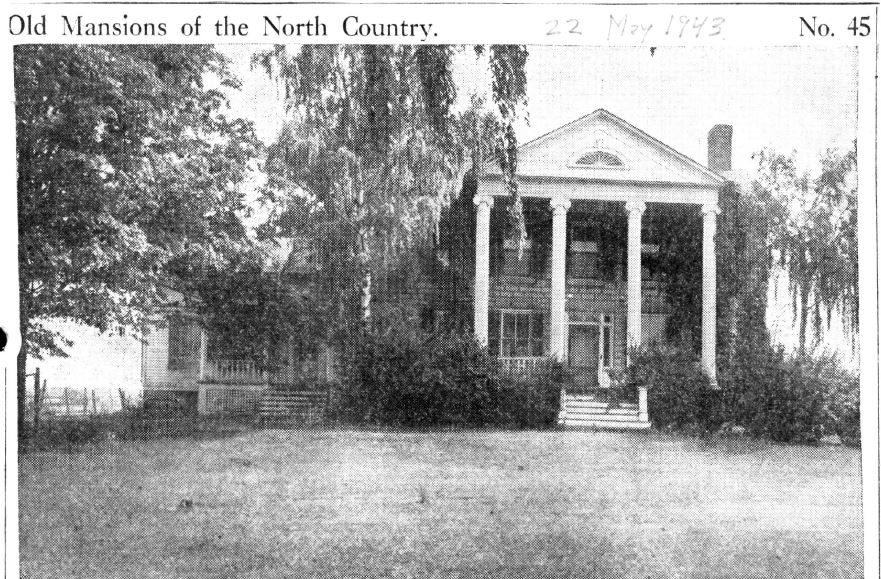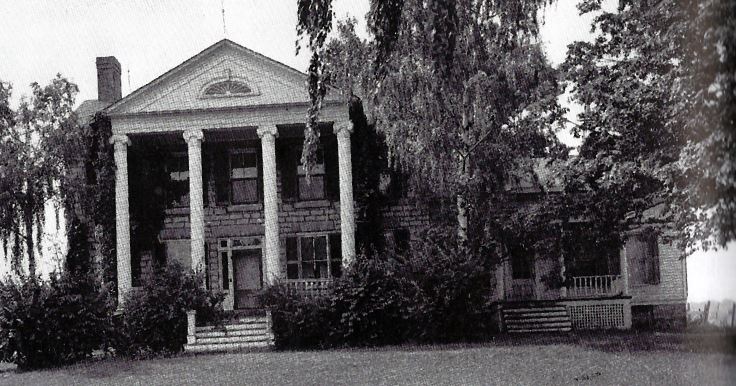 Perhaps one of the most beautiful locations in the North Country for a gentleman's estate is that of the Asa Clark mansion, now known as the Wilson Manor farm. From its position at Clark's hill on the ridge road between the Rutland Hollow road and a county road, a mile from Black River, it looks grandly over the Black River valley to the outskirts of Pine Camp. The view is a broad and beautiful panorama and the environment is ideal because of its being away from the stream of travel. In fact, its location is not known to many.
The mansion, said to have been erected in 1835 for the first Asa Clark to come to the town of Rutland, is a solid structure of blue limestone. It faces northerly through a tall, two-story portico involving high, fluted Ionic columns holding up an artistic pediment. Handsome white or cut leaf birches features the landscaping of the grounds and the farm consists of close to 275 acres.
Asa and his wife, Betsey Dalrymple Clark, brought their family and belongings from Rutland, Vermont in 1806 and first built themselves a log cabin. On September 13 1823 Asa Clark bought 112 acres of the farm from Isaac Bronson of Fairfield, Connecticut. January 15 1829 he purchased 153 acres from Stutely Wicks and April 27 1829 he bought a small strip from John Eddy Jr.
After he had completed clearing the land and fully established himself he replaced the log cabin with a brick house. This he turned over to a son, Asa, junior, when he moved into the stone mansion. Asa Sr became a prosperous farmer and died in March, 1854. Asa Jr later occupied the stone house until his death in 1882 and became one of the outstanding men of Rutland township. He was first a Whig and later a Republican, served at Rutland's supervisor in 1848 and 1849 and again in 1863. Asa Jr's wife was Betsey, daughter of Christopher Poor, and their son, Christopher P Clark succeeded to the mansion and farm.
March 1 1902 Christopher P and Martha Clark sold the estate to Charles Arthur and Ruth Wood Hadley, Black River for $4,800. The deed reserved the private, fenced-in cemetery of the Clark family and a right-of-way to it. The Hadleys retained ownership of the property over 23 years and August 28 1925 sold it to Alanson B and Lena M Wilson of this city, Mr Wilson having been a local grocer. They named the estate Wilson Manor and maintain it in excellent condition.
Christopher P Clark amassed a substantial fortune and moved to Black River. When he died he set up a trust fund for his son, Asa D Clark, for many years a local taxi operator, who died suddenly at his home in Syracuse March 3 1925 aged 55. He was the fourth Asa in the family, each generation having one of that name.

From CHILD'S GAZETTEER OF JEFFERSON COUNTY
Asa Clark and his wife, Betsey Dalrymple, immigrated from Halifax, Vermont, to this town in 1806 and settled on the farm now occupied by their grandson, CP Clark, where the pioneer Asa made a clearing and built a log cabin in 1804. Elisha and Elias Clark, brothers of Asa, settled on farms adjoining, and the locality is now known as Clark's Hill. Asa had eight children, six of whom attained maturity, namely: Asa Jr, Prudence (Mrs Peter Poor), Almanda, Lucena (Mrs Aaron Poor), Nancy (Mrs Thomas Matthews), and Chandler. Asa Jr, married Betsey Poor, daughter of Christopher, and settled on the Elias Clark farm, but later occupied the large stone house erected by his father in 1835 and resided on the homestead until his sudden death in 1882. Asa Jr's children were Christopher P, who now resides on the homestead; Lucy J (the late Mrs John Youngs); Clement, who died young; Asa D, who died in 1869; Mandana (Mrs Stephen A Merwillog), of Black River; and Chandler C, of LeRay. Mr Clark was actively interested in town affairs, was supervisor three terms, and was assessor a number of years. He was a Whig and later a Republican, and was a strict partisan. He was greatly respected by his towns people, and was often chosen as mediator for the settlement of difficulties arising between neighbors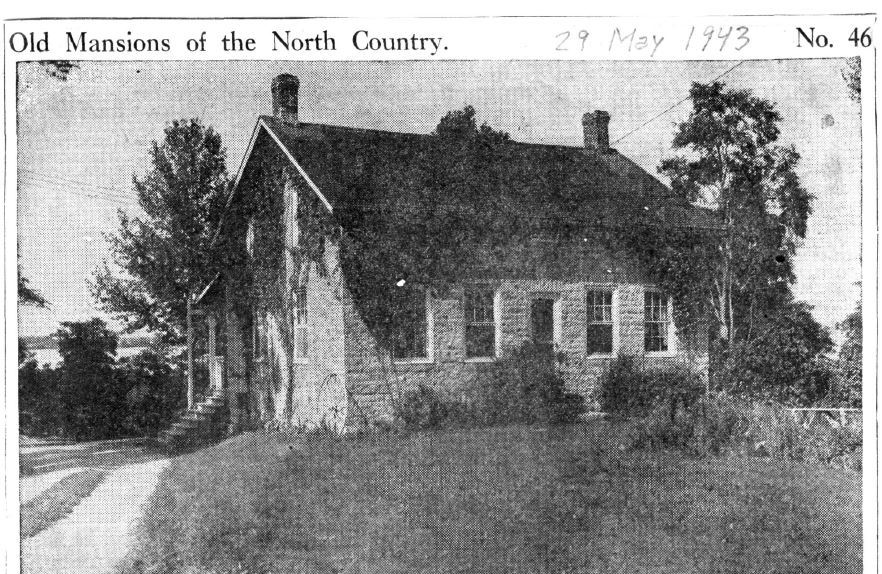 A two-story stone house of the cottage type, built at least a century ago, is situated near a profuse growth of purple lilacs and honey locusts not far from Millen's Bay on the shore road from Cape Vincent to Clayton. Dr W W Hall, Watertown physician, and his wife, Mrs Elsie R Hall, have made it their summer home since they purchased it with about 75 acres of farm land from the Joseph Vreatt estate April 10 1929.
The site includes about 1,000 feet of shorefront in one of the most entrancing regions of the majestic green St. Lawrence river. Not an inch of marsh or mud-bottom befouls this shoreline and the waters of the great river flow past cool and clear. Looking towards Canada from the rear verandah the owners find just across the south channel historic Carleton island, where British and allied Indians brewed raids against American colonists in Revolutionary days. A short distance up the shore from the house is the beautiful Burnham's Point state park. A couple of miles downstream is Millen's Bay. Dr Hall believes the house was built for one of the Napoleonic French refugees about the time Count Real built the Cup-and-Saucer house at Cape Vincent just prior to 1820 as a rendezvous for Napoleon, but there is no definite record on that and it is possible the construction was somewhat later.
Early owners were Alexandre and Zoe Bessau, his wife, whose names are also spelled Basso, Bassau and Besson by early recorders and cartographers. The property as conveyed to Dr And Mrs Hall involved two tracts, one of 51.45 acres and the other of 27.5 acres. James D and Vincent LeRay included these within their vast North Country holdings at the beginning of the 19th century and February 24 1837 Vincent sold 30 acres of this site to George Reynolds for $170. The two tracts were sold several times down through the years. August 30 1848 Bessau paid $2,220 for part, sold it to Terry Connell in 1856 and in 1866
Connell purchased the other part from another person. Connell, native of Ireland, is said to have emigrated to this country in 1824 and died February 19 1898. There is a tradition that some university medical students from Kingston, Ontario"snatched" his body from the grave for dissection. At any rate he and his wife Sally sold the two parcels of the Hall property to Willard E Burnham and wife, Nellie M, April 20 1894 for $3,000 and April 10 1917 the Burnhams sold it to Joseph Vreatt for $5,000.
Then came prohibition. The house was vacated. Vandals broke out windows and knocked off doors. It is said rumrunners dashed across the river from Canada on dark nights with their unlawful cargoes and stored them in the deserted house. The Halls found plenty of restoring to do, but the house was sturdy with two-foot thick walls and they have accomplished an artistic and satisfying job. Colorful beds of old-fashioned flowers were laid out by Mrs Hall, whose artistic taste caused an old buggy wheel to grace an outside corner of the house. Then as she visioned a flagstone walk in front, she found the old original one six inches below the surface. The ancient cluster of honey locusts is extensive, but the group of purple lilacs is said to be the largest in the county, reminiscent of the artistry of the French émigrés, for large plantings of lilacs are also at LeRay 's historic Chaumont tavern, now the home of Mrs C H Congdon.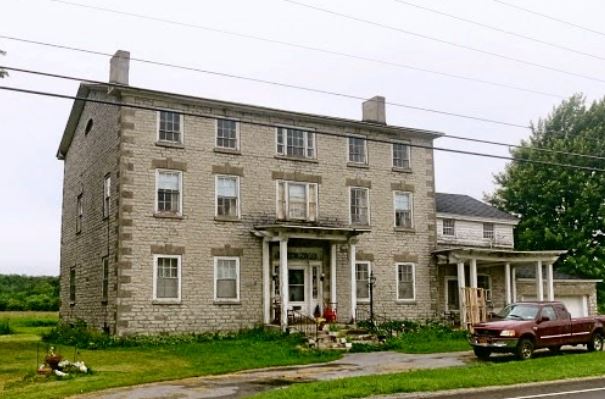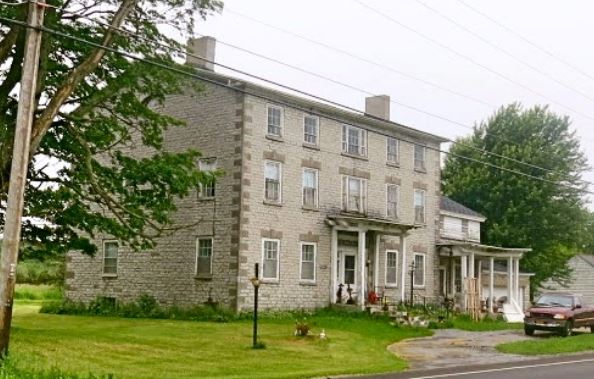 Traveling was picturesque but decidedly rigorous a century ago when four-horse stagecoaches plying between this North Country, Utica, Albany and New York swung up to the pretentious three-story Blodgett tavern at the hamlet of Denmark in Lewis county.
It was built in 1824 for Jess Blodgett, who came to Denmark in 1800 as its first settler. His wife was the first white woman in the township and their son, Harrison, was the first male child born in Denmark, later politically prominent and in 1831 member of assembly.
A plaque over the huge fireplace in one dining room avers that Roswell Murray was the master mason and David Granger the master carpenter. In 1825 Granger, a skilled builder, was engaged as master at the new LeRay mansion.
The top floor was at the time of construction leased to Orient Lodge, No. 150 F & A M for lodge rooms, the lodge, headed by Joseph Crary building the stairway and laying the floor at a cost of $70. The first meeting of this lodge, oldest Masonic one in Lewis county aside from an early one in Turin, was held in the new rooms in January 1825. This lodge was organized in 1806 and was opened October 21 at the inn of Freedom Wright under dispensation by Grand Master DeWitt Clinton. Deputy Grand Master Augustus Sacket installed the officers.
Jesse Blodgett operated his fine tavern until his death January 9 1848 when his son, Harrison, took over. He died January 4 1875 and was in turn succeeded by his son, Walter Harrison Blodgett. After that there was Walter Harrison Blodgett Jr the fourth generation of an influential Lewis county family. For more than a century the tavern remained in the possession of the Blodgett family. Then in 1929 it was bought out of the family by Gaisus J Lasher of this city, who operated it as a wayside inn and tea room. In November, 1936 Mr And Mrs Lasher sold it to Lawrence Sochia who continued to conduct it as an inn and tea room. About four or five years ago William A Buckley, real estate broker, purchased it and has since occupied the property.
Today the old Blodgett tavern, nearly 120 years old, stands as one of the soundest examples of native limestone construction. It is of simple Georgian architecture and aside from the installation of a hardwood floor to convert the third story Masonic lodge room into a dance hall there is no change in that part of the building. Still can be seen carved in the lintel over the third story middle window the emblems of the Masonic fraternity. Blodgett's stone tavern in Denmark replaced Hezekiah Hulbert's wooden one, destroyed by fire in 1822.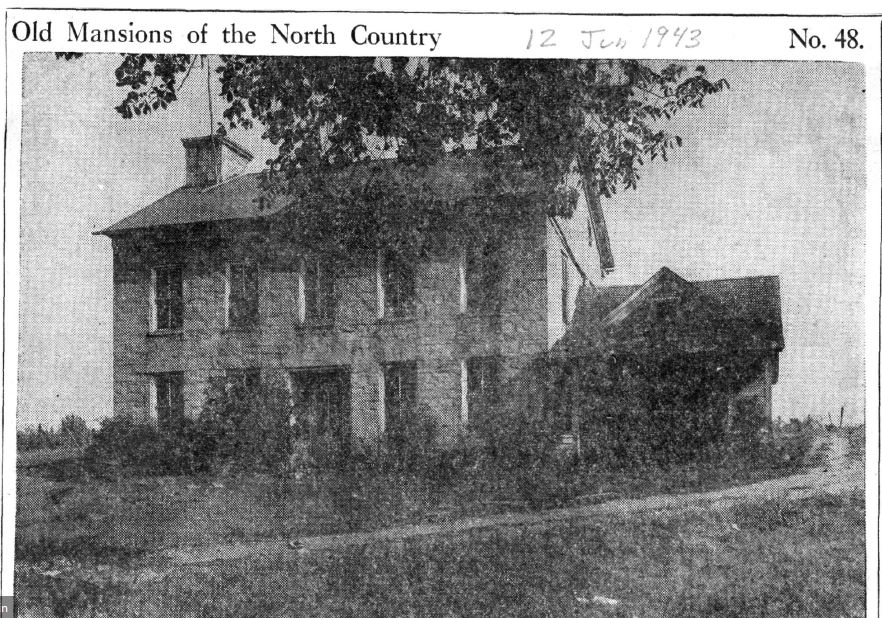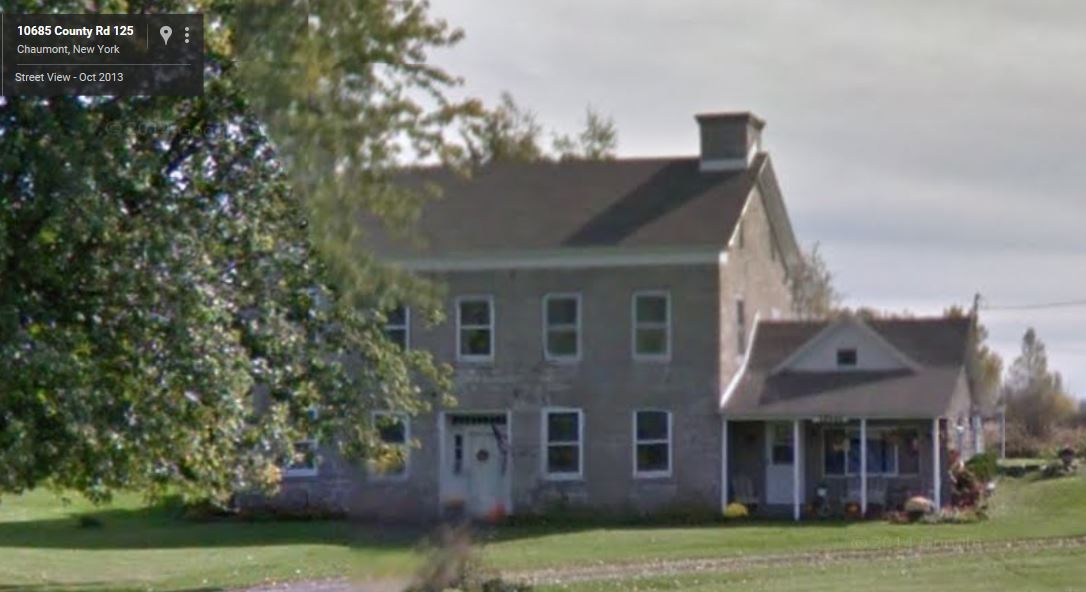 Well down the shore from Chaumont on Point Salubrious there faces out across Chaumont Bay a native limestone mansion that must have one time been quite pretentious. The mason work of its walls is excellent and it is still square as a die. Chaumont quarries provided the stone. Former County Clerk Eli B Johnson, who died recently, was authority that the house was built in 1820 for Joseph Ryder. For nearly 20 years, with approximately 300 acres of land, it has been owned by former Sheriff Frank D Walrath. Its tenant for some time has been Paul Davis.
Joseph Ryder, its original owner, was born in Boston, Massachusetts, in December 1780. In due time he was married to Mary Hill, of the same family as New York's Democrat Governor David B Hill. Joseph Ryder already has several children when he removed about 1813 to the town of Lyme, in which Point Salubrious is located, and it will be recalled that the point of land was named Salubrious by James D LeRay de Chaumont because its inhabitants remained healthy while malaria and certain fevers raged in communities elsewhere on LeRay 's vast North Country holdings. Joseph Ryder lived to the ripe old age of 91 years one month and was one of Jefferson County's most substantial early citizens. Many of his well known descendants still reside within the county's confines.
Although this Ryder family was one of the Pilgrim families of New England, it is said to have traced itself back across the Atlantic into Wales. After the death of Joseph Ryder the ownership of his fine old house and farm passed to other members of his family, and for several decades its possession was held by this family. Eventually it was sold into other hands. Its farm land acreage today under title of former Sheriff Walrath is more extensive than when Joseph Ryder built the house. In those days when Chaumont Bay teemed with immense schools of silvery, succulent ciscoes, the occupants of the Ryder mansion could look from their front windows and watch the picturesque cisco fleets hauling their nets and returning heavily laden to their anchorages. Doubtless many members of the Ryder family participated in this lucrative commerce, and there were Ryders who became hardy sailors of the Great Lakes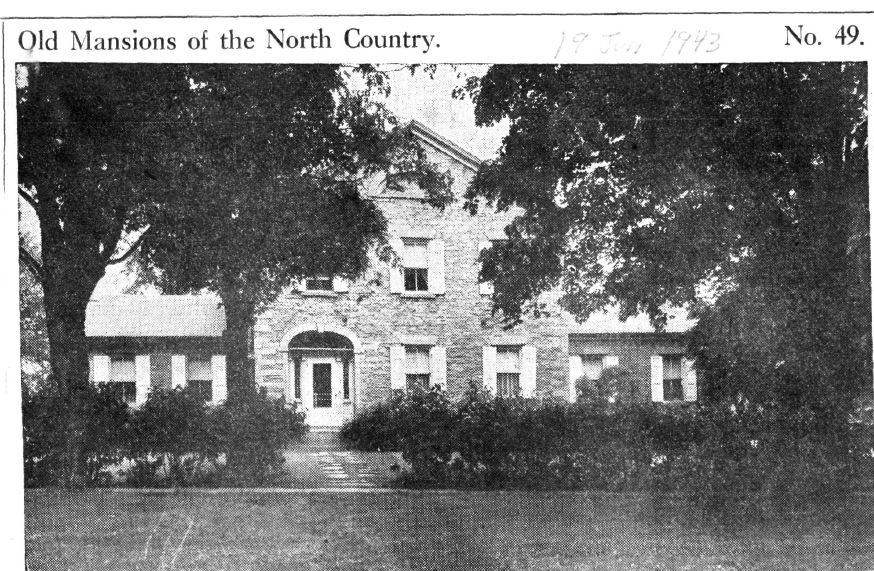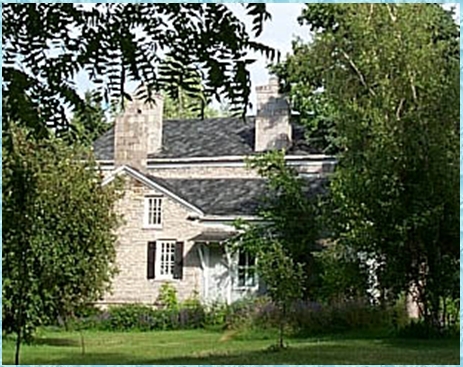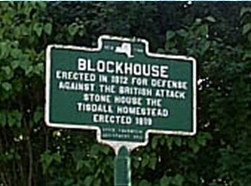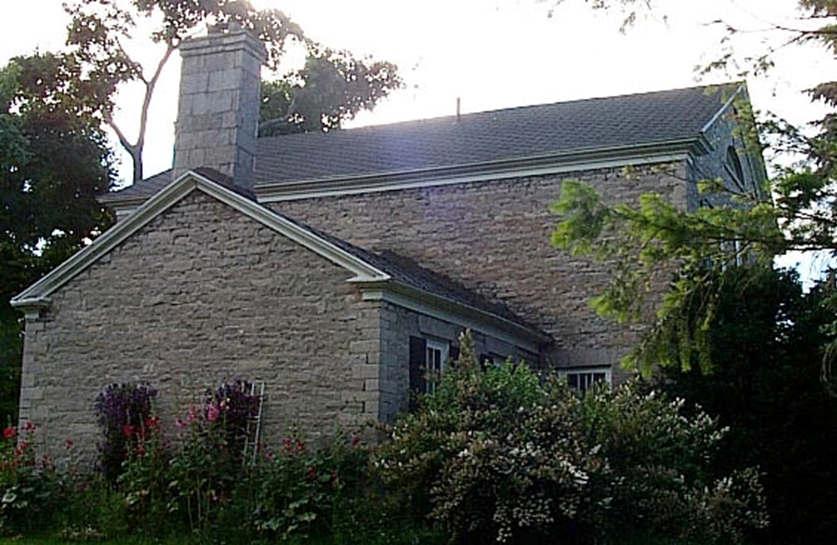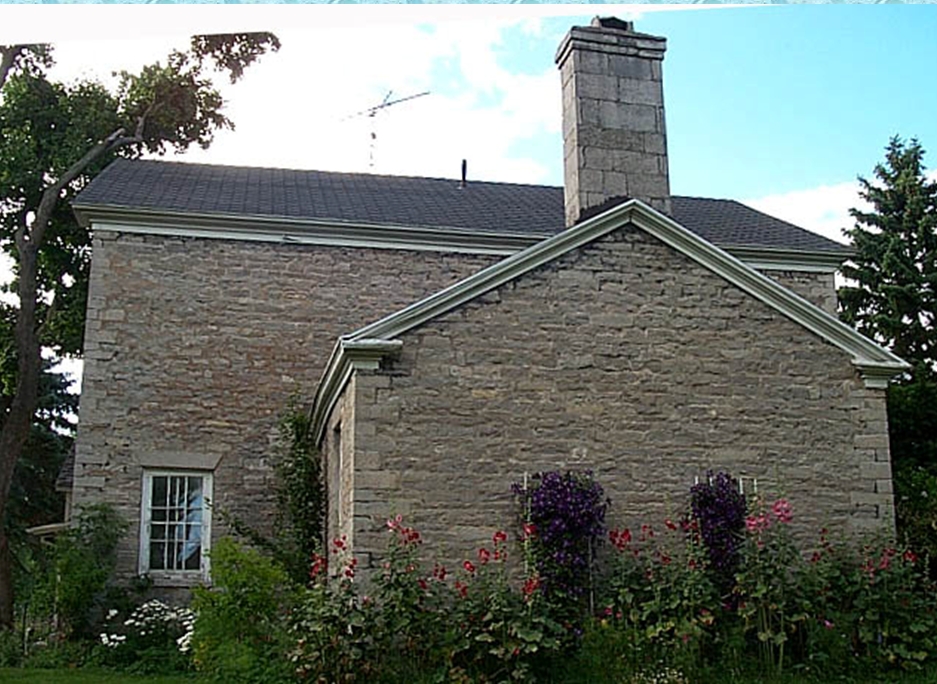 Limestone was brought from Chaumont for the appealing old Tisdale mansion now owned and occupied as a summer home by Brig. General and Mrs James S Boyer at the corner of Washington and Ambrose Streets, Sackets Harbor. An historical marker in front states that the house was constructed in 1819 and that a blockhouse was erected on the site in 1812 as a defense against the British. However, county records show that on February 21 1827 George Tisdale paid $500 for the site consisting of one acre 34 poles of land. The purchase was made from Thomas Ludlow Ogden, New York City, trustee for all the associates interested in the purchase of Sackets Harbor from Augustus Sacket. This may indicate that the house was not built until afterward.
An old ledger implies that he was head of the firm of Tisdale & Livingston and later of Tisdale & Co, which had for its customers Dr Samuel Guthrie, discoverer of chloroform; Colonel Elisha Camp, the U S Quartermaster Department at Madison Barracks and others. With Nicholas Devereux, Tisdale bought a house, lot and other buildings on Broad Street November 7 1820. During a period of 16 years he purchased several parcels of real estate in that section of the county, the latter having been the first of them.
Tisdale, apparently, was the son of George Tisdale, Revolutionary soldier from Taunton, Massachusetts, who died October 3 1828 at Sackets, aged 73. George Leonard Tisdale died July 2 1838 but the mansion remained in the family, for on August 1 1848 George A Tisdale sold it to Amelia Maria Tisdale for $3,000 and August 7 1868 Mrs Caroline C Robbins, said to have been a descendant of the famous Schuyler family that gave the first patroon, purchased it. After that it was acquired by Mrs A L Rankin. The most recent ownership before General and Mrs Boyer consisted of J Wyatt and Grace H Uhlein of this city, who bought it August 17 1921. From them General and Mrs Boyer purchased the property March 18 1929.
It is of Georgian type, symmetrical in construction with balancing wings and a beautiful doorway on the right hand side of the main body of the house. Inside are handsome fireplaces and withal the property is in excellent condition and repair, being one of the show places of historic Sackets Harbor, important army and navy headquarters point on the eastern end of the international border during the War of 1812. General Boyer, present owner, is a prominent state military leader, who saw service in World War 1 and who has long been on the Thousand Islands State Park Commission.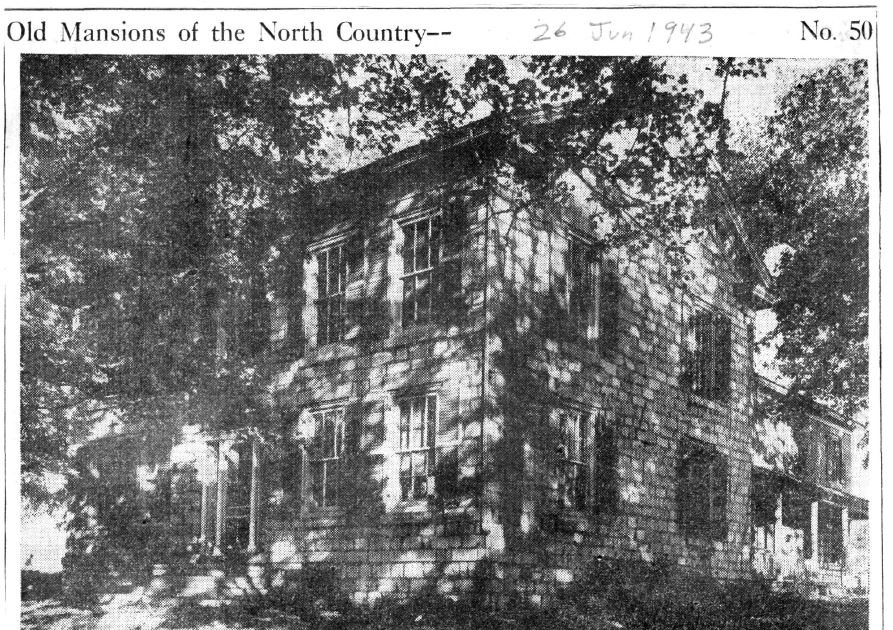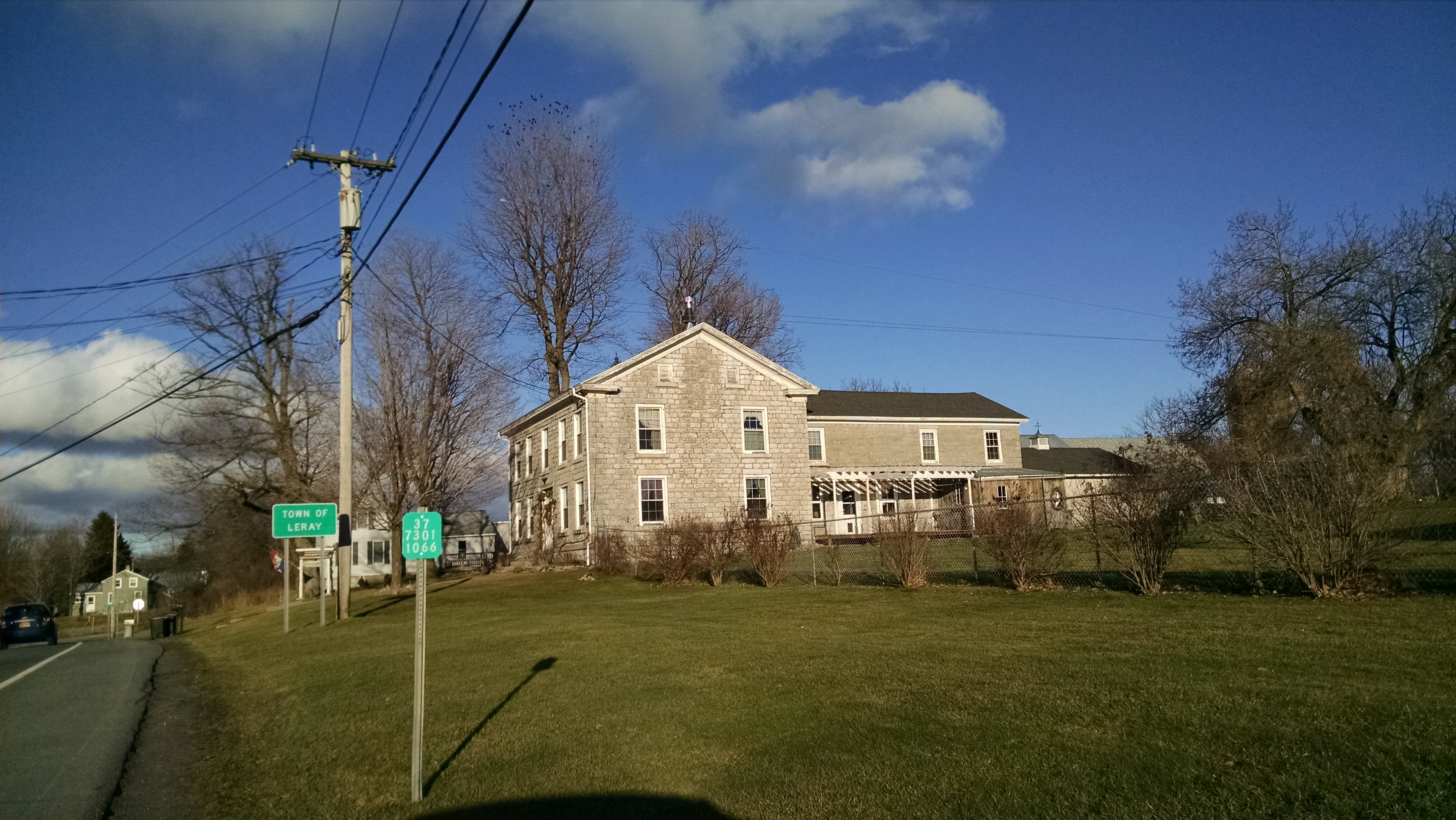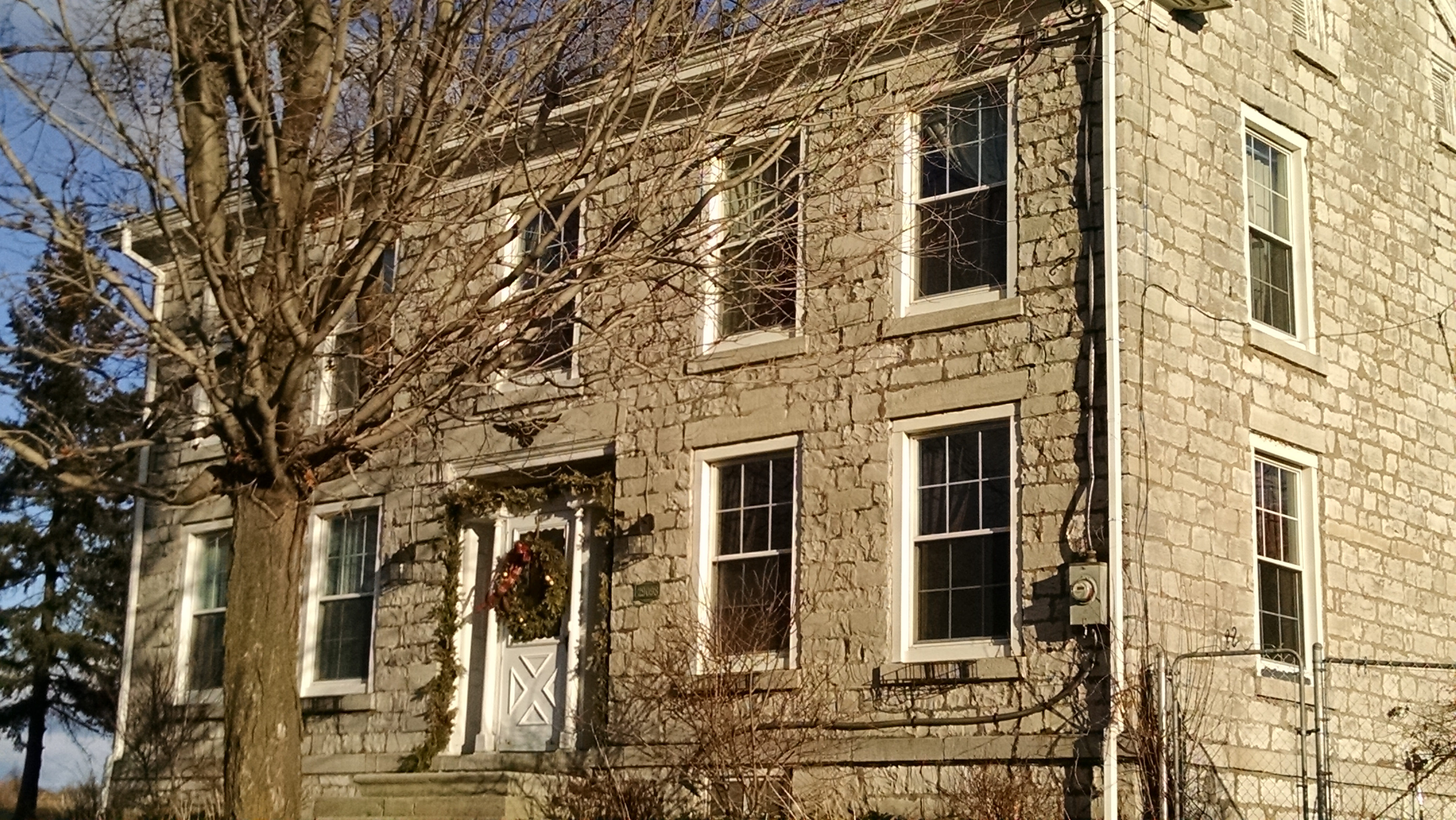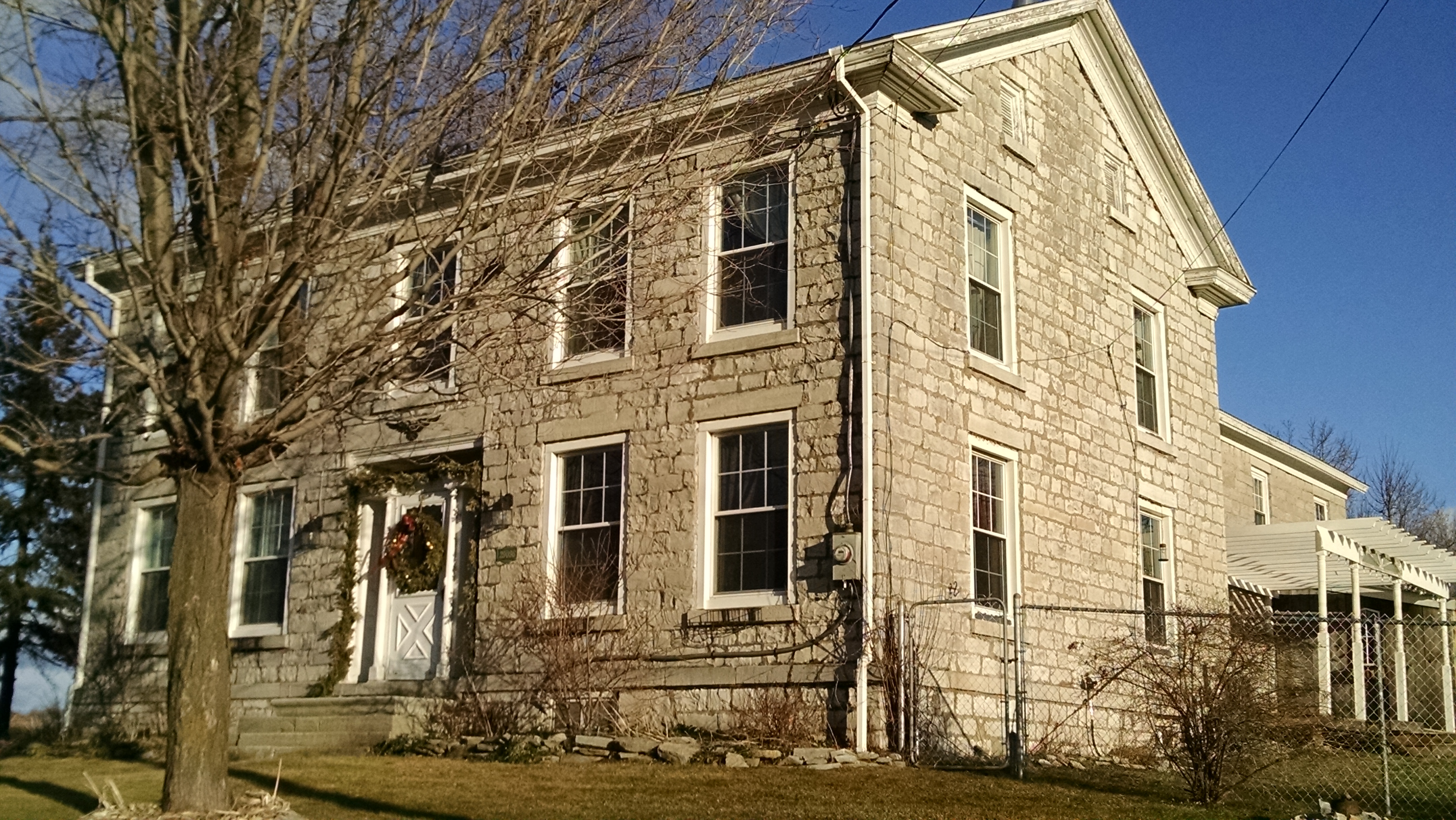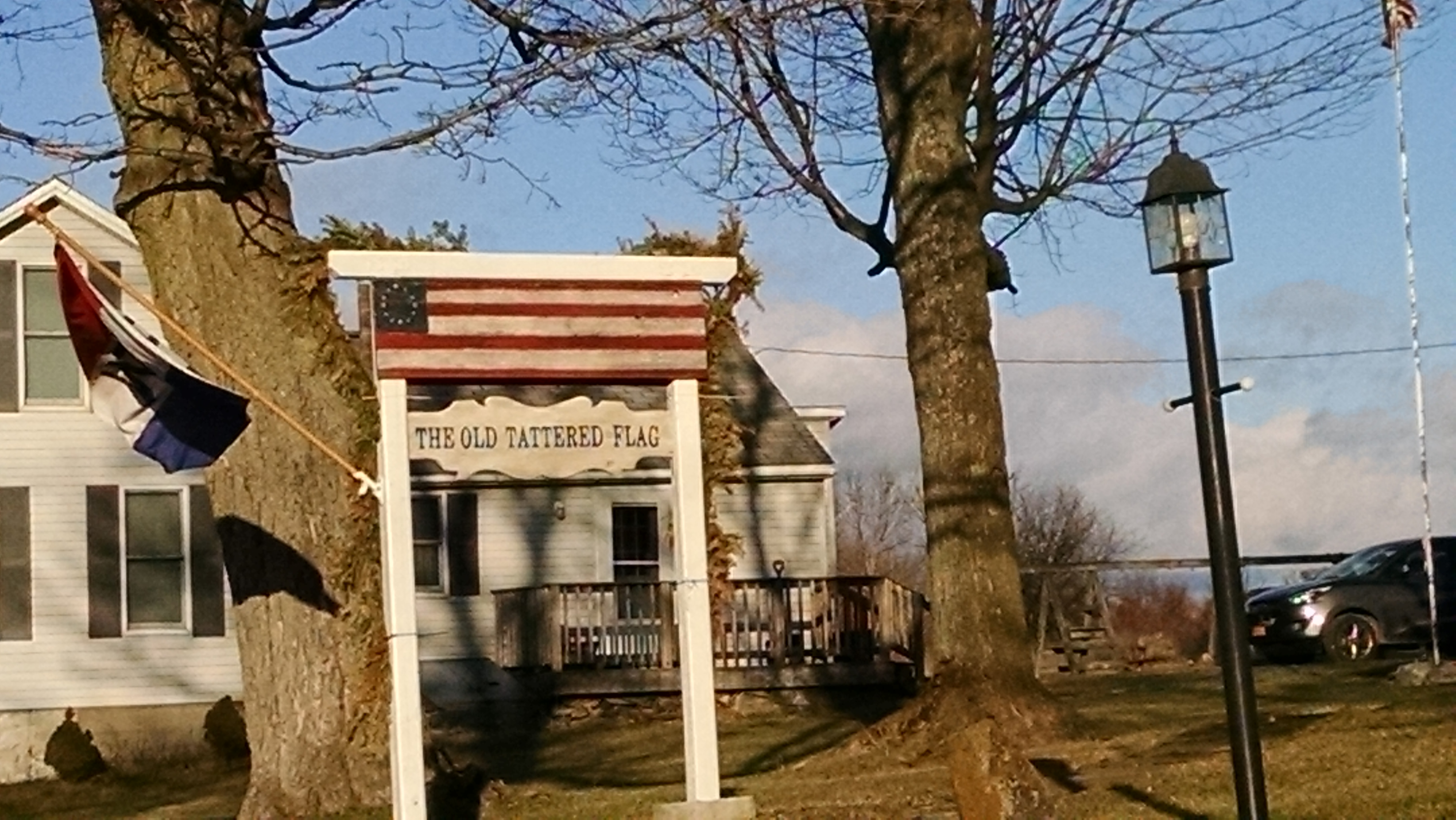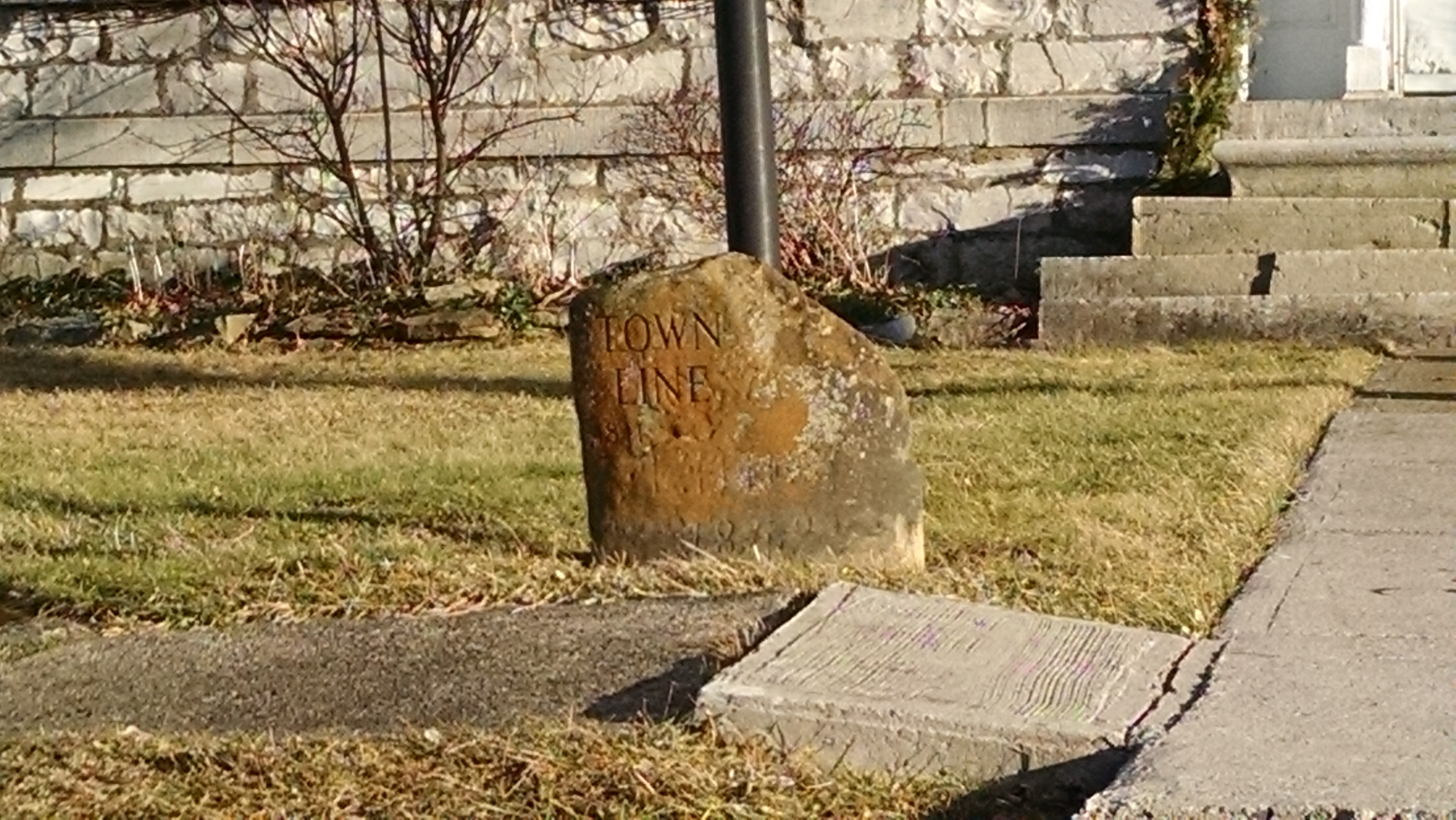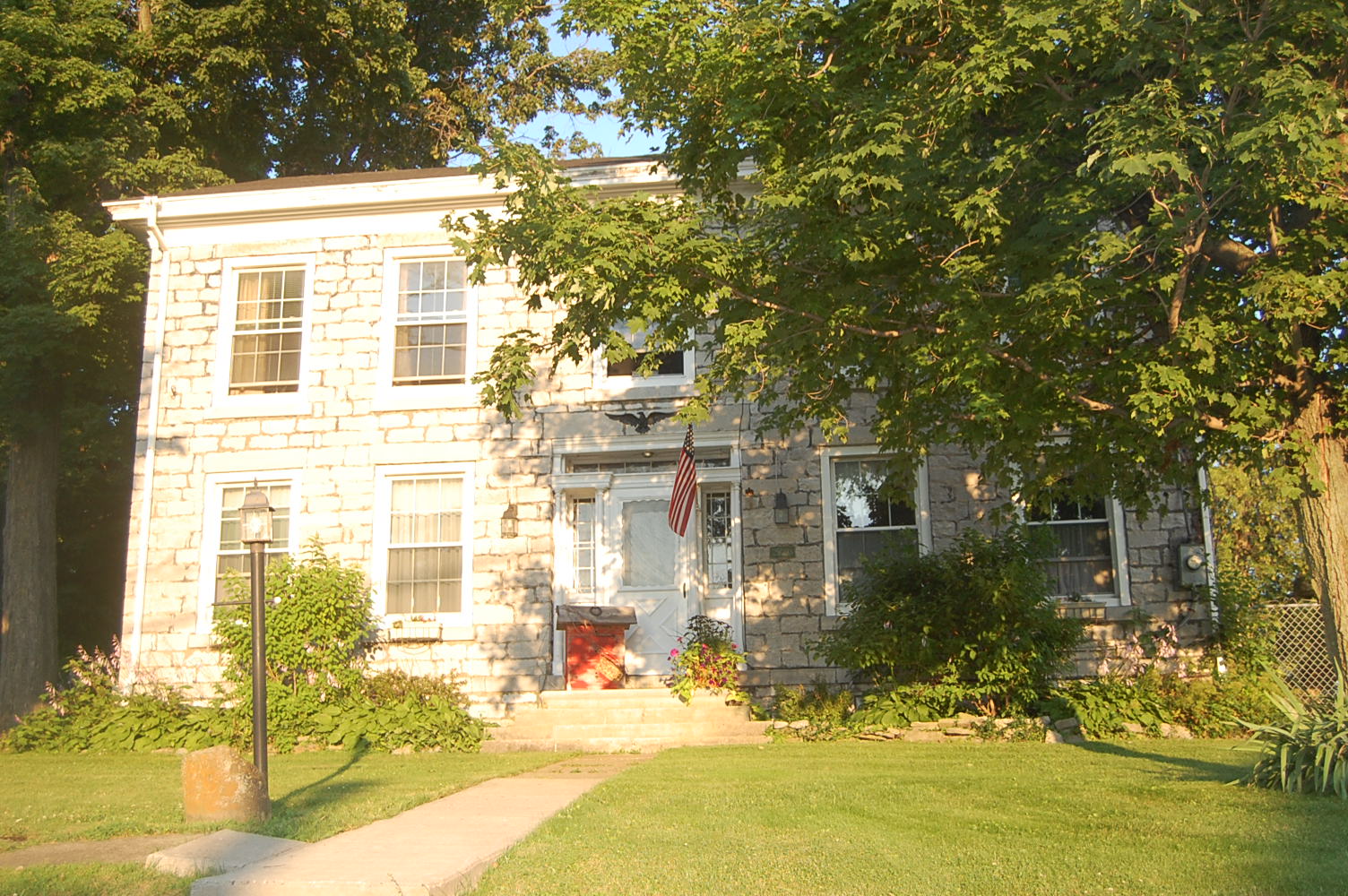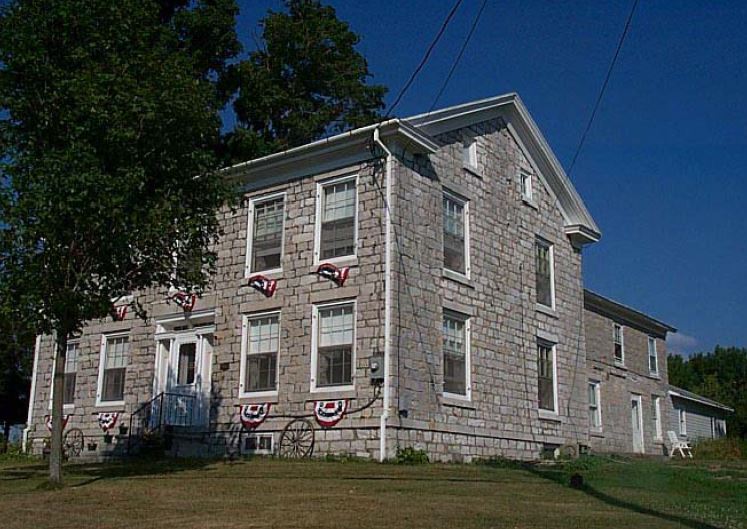 29098 Hwy 37 Evans Mills NY
Pamelia Four Corners is one of the most quaint little hamlets in Jefferson County and also has one of the largest quotas of stone houses. Upon ground high above the old military road is one of the most attractive and best preserved of these houses. It was built for Henry Countryman, pioneer settler and first carriage-maker of Pamelia Four Corners more than a century ago. Native limestone and woods were used in its construction, which follows Georgian colonial and the cost is said to have been about $8,000. Late afternoon sun shining through beautiful old shade trees handsomely splashes the facade with gold. Four generations of Contrymans or Countrymans have owned the property. Since the death of her husband, Gershom J Countryman, Mar 6 1932 title has been held by his widow, Mrs Cora A Wood Countryman. Gershom J Countryman was a grandson of the pioneer Henry.
Henry Contryman, as his name is spelled in the county records, was born Mar 7 1797 in Mohawk valley, son of George and Rohena Spraker Contryman. In 1823 Henry came to Pamelia with his young wife, the former Elizabeth Walrath whom he married October 10 1819 and with his son, Alexander. Pamelia Four Corners was then in the wilderness and Henry Contryman, establishing himself there, became one of the first wagon and carriage makers in the county.
For $54 he purchased one acre three roods and 31 rods of land from Curtis and Rachel Goulding east of the corners and one the south side of the military road leading to Ogdensburg.
First he cleared the land and built a small house. His business and his family grew. Mrs Cora Countryman, present owner, is authority that the stone house was built in 1840 but Mrs Rubert H Ganter, whose grandmother was Miss Leah Walrath, sister of Mrs Henry Contryman, states that her grandmother was married in 1834 and had always declared the stone house was erected the year before that, or 1833.
At any rate Henry Contryman carefully supervised its construction and only the most perfect stone, timbers and workmanship were accepted by him. The interior casings and woodwork were all beautifully and elaborately wrought and the present solidity of the house testifies to its scrupulous construction. As with other houses of that period it was entirely handmade.
Henry Contryman and a brother operated their shop and after a time Alexander and George H, sons of Henry, worked with them fashioning carriages and wagons which became reputed in that part of the county for their durability and style. Henry Contryman accumulated a modest fortune from his labors and steadily added to his homestead until he had over 600 acres of farm land, which some of his younger sons worked. He died June 16 1875